Power reigns supreme
It's funny how no matter what country I travel to, I always end up getting up close and personal with some GT-Rs! That is of course a very good thing and if you happen to be in Australia, there's no other shop out there that is more synonymous with the 'big R' than Croydon Racing Developments. This isn't actually the first time we've been to CRD: during our very first antipodean Speedhunting trip in 2010, Rod and I headed to their workshop where we met up with Andrej Pavicevic who showed us around the premises and the cool cars that they were working on at the time.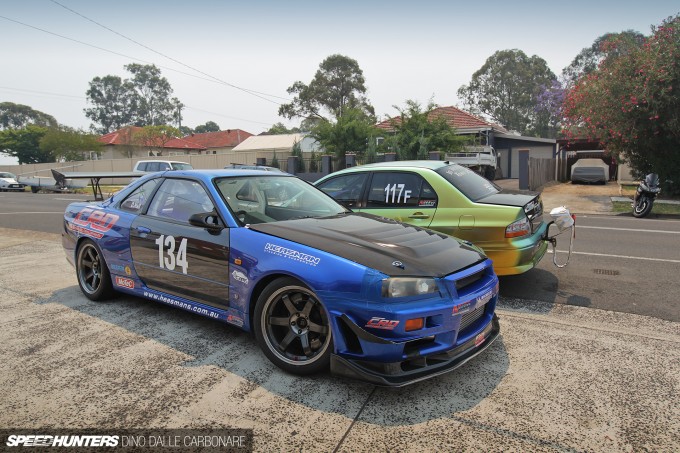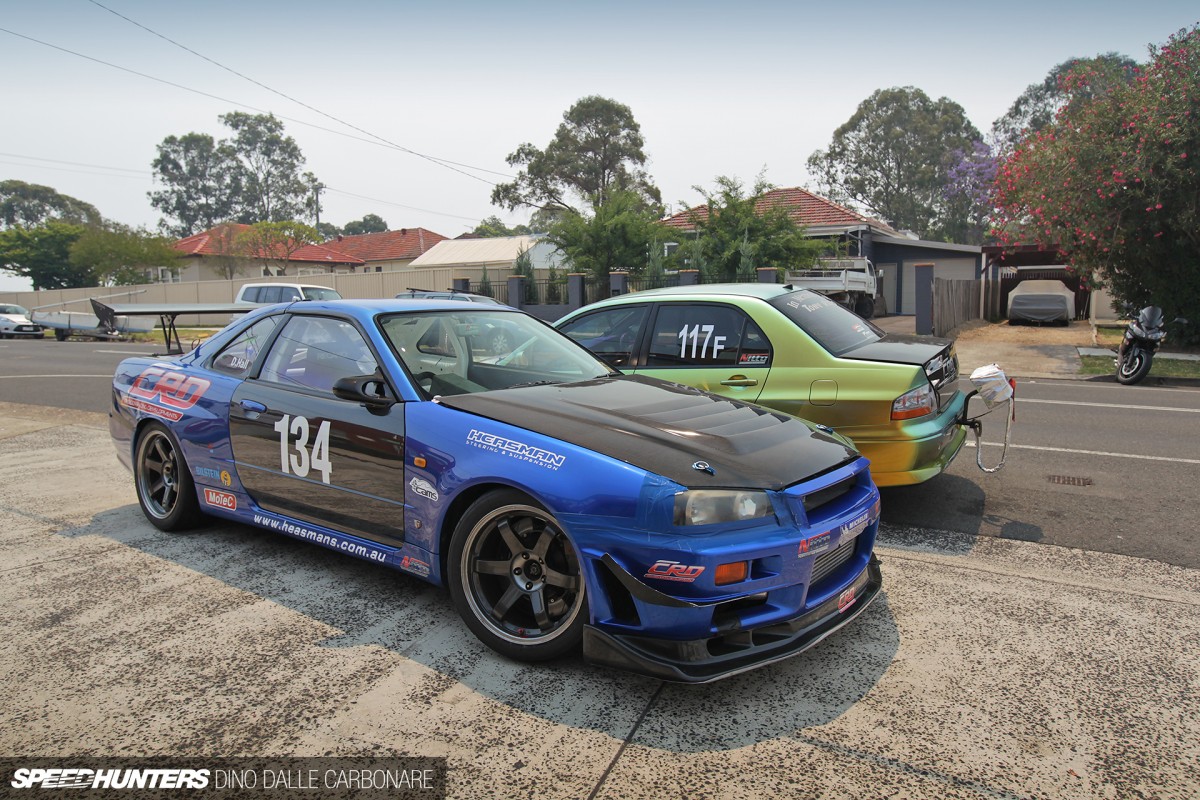 Fast forward a few years and now CRD has relocated into a new multi-level facility not too far from where they were before, and before heading to Sydney airport to catch my flight back to Japan after WTAC a few months back, I stopped by for a quick visit to check out their new set-up.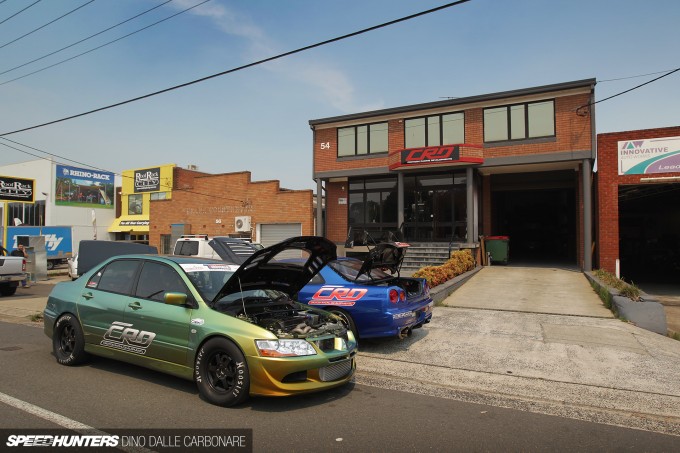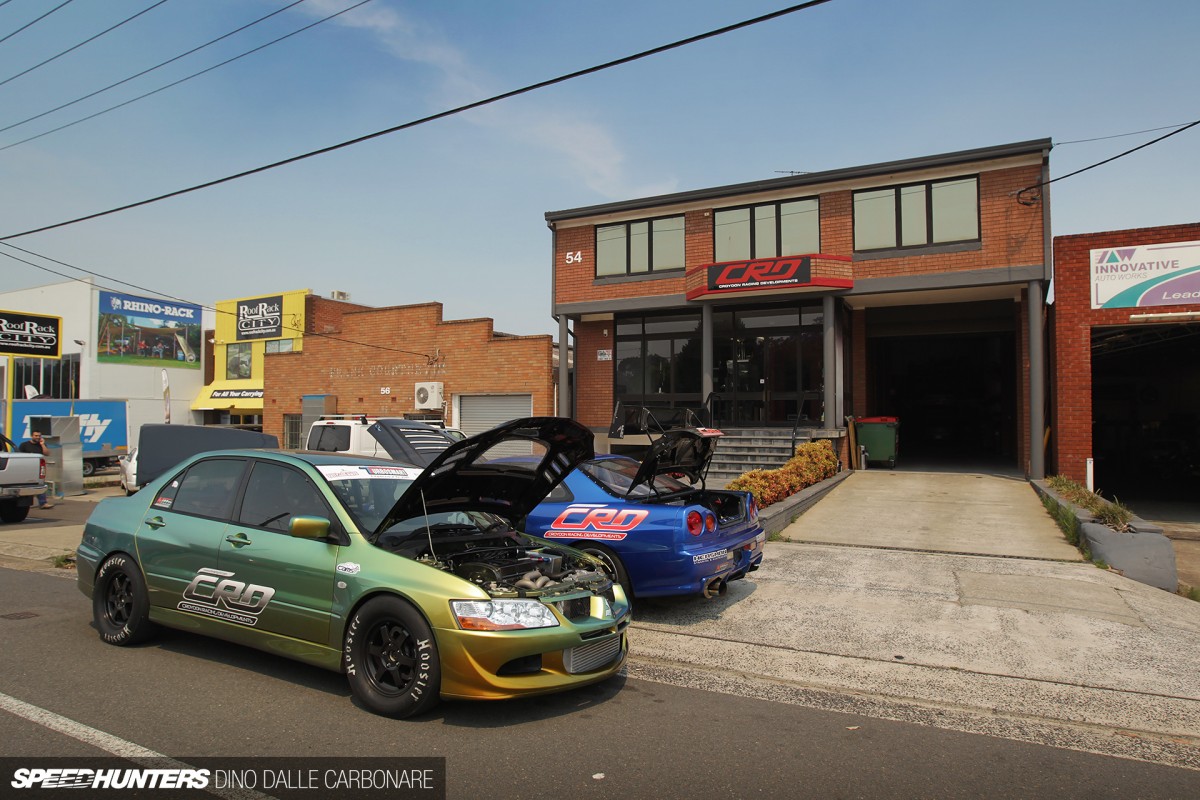 Parked up outside were a couple of their latest projects. The chameleon green Evo 8 I had seen a few days prior at Sydney Motorsport Park on display in the paddock.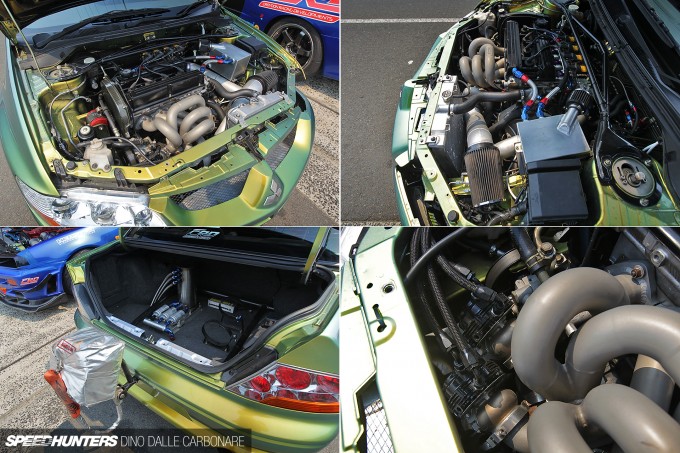 CRD are very well known in Australia and around the world for high-power drag cars and this Lancer really fits the bill. The work that has gone into the engine alone is something else, both from a mechanical standpoint as well as presentation wise. The trunk houses the three fuel pups along with the rest of the fuel system and of course there's a Simpson chute as you would expect to find on any serious drag car capable of single figure 1/4 mile times.
Here's the owner shaking down the car at the drag strip, attempting to get the suspension dialed in while working on those launches.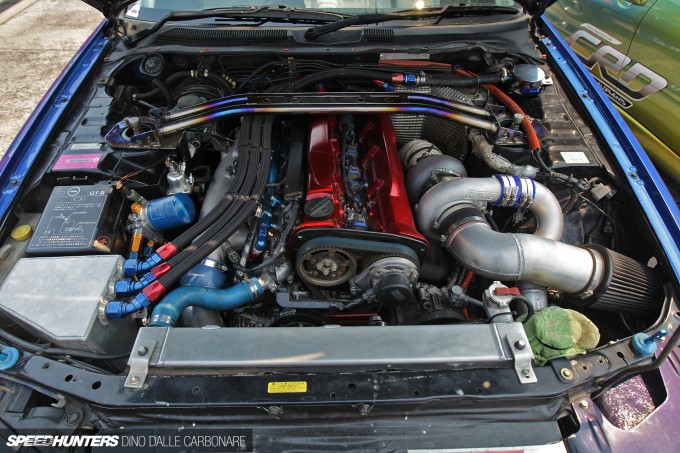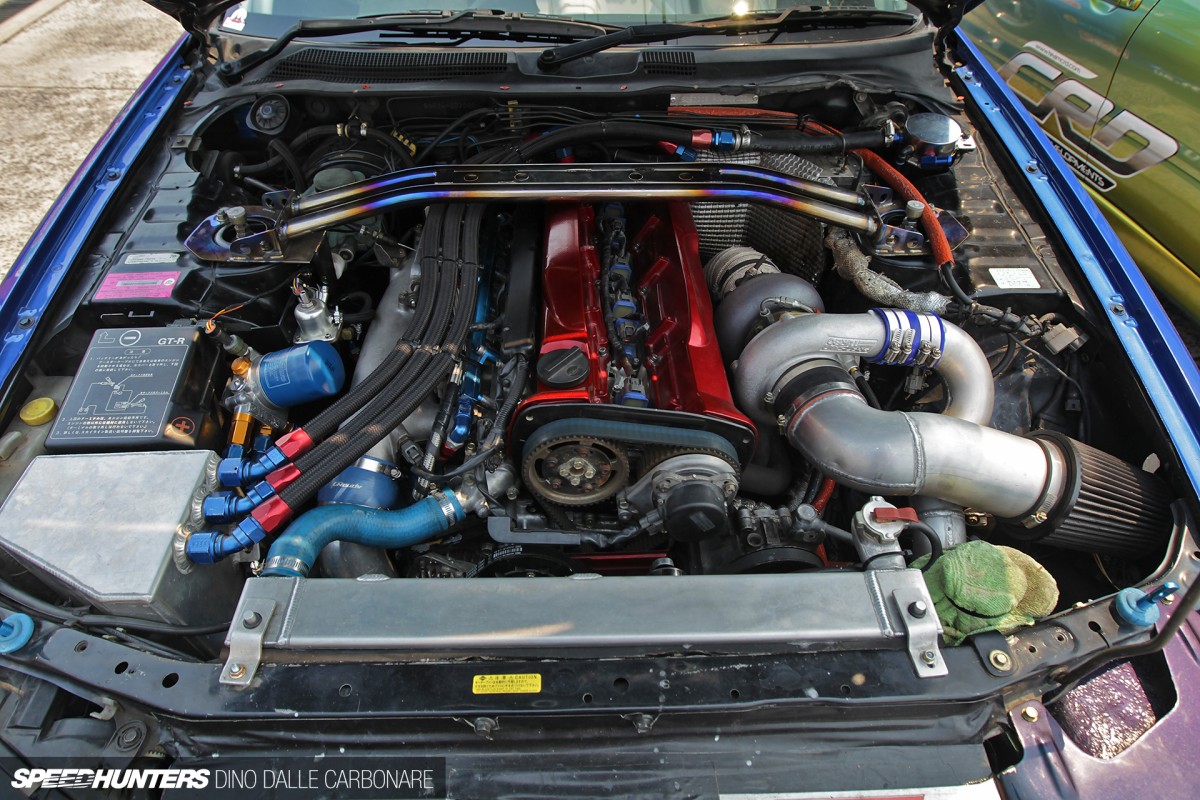 Next to it was this pretty wild BNR34 time attack build, a car that was actually supposed to be entered in the 2013 WTAC but due to the bush fires that were going on at the time, the owner was forced to pull out of the competition. A true pity as a lot of work and time was spent putting it all together and making it competitive.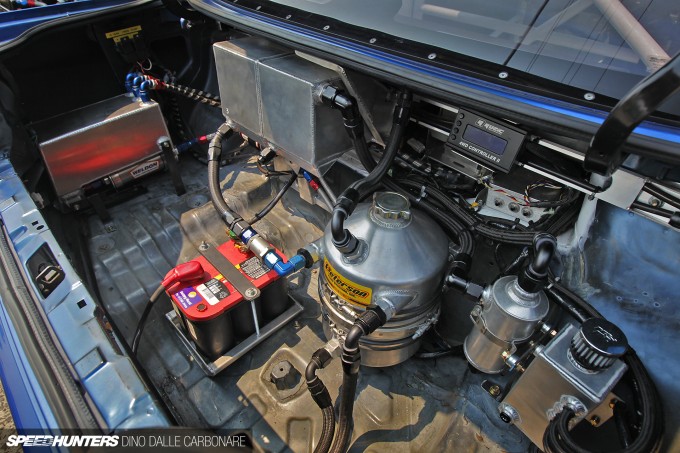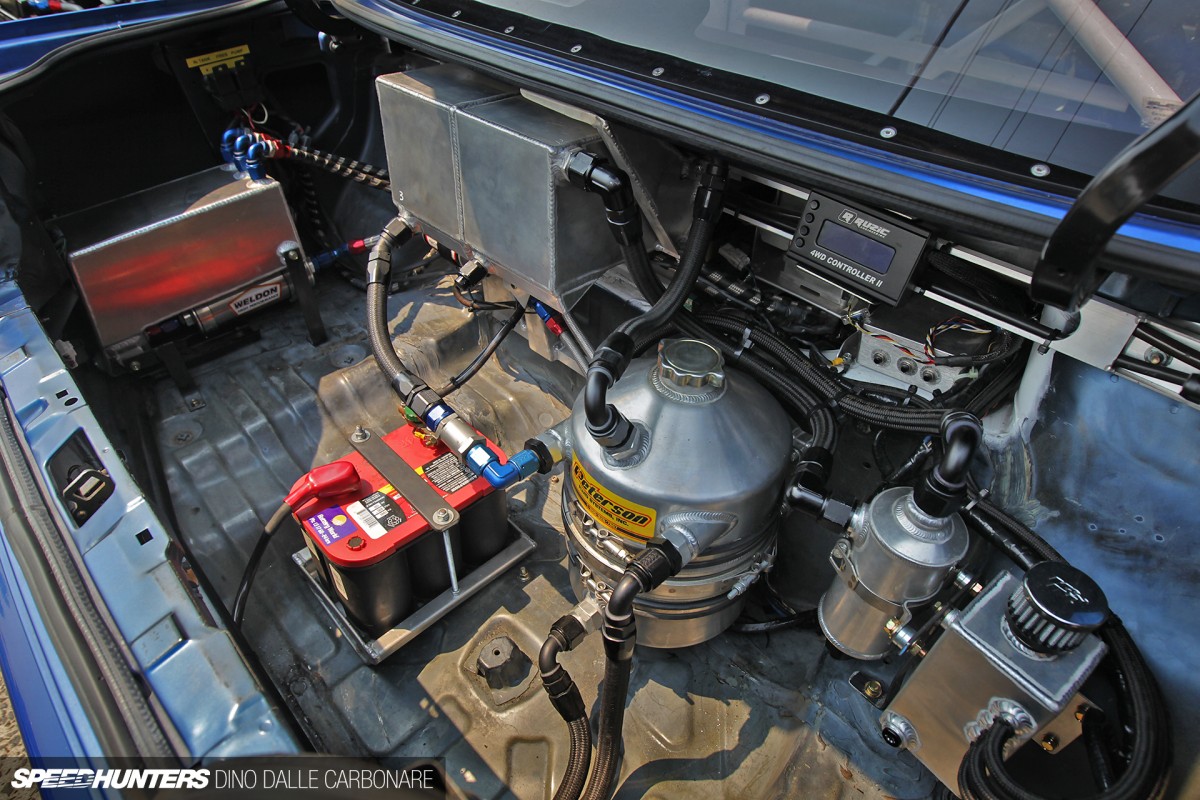 One thing that always impresses me in Australia is the 'just do it' nature of tuning. After shooting tons of track-oriented GT-Rs in Japan, I can count on one hand how many had dry-sump lubrication set-ups. In Australia, if you're serious and committed about building a pretty mean RB26DETT, you dry sump it and that's precisely what has been done to this Bayside Blue beast. You can see the oil tank sitting here in the trunk along with the fuel system and if you can spot it, the Ruzic 4WD split controller.
Here's a nice little onboard video of the R34 undergoing testing at Sydney Motorsport Park. Those shifts make me dream of a Holinger sequential!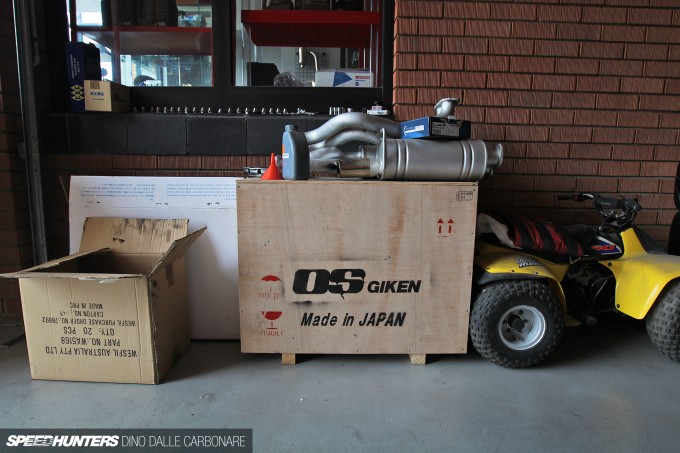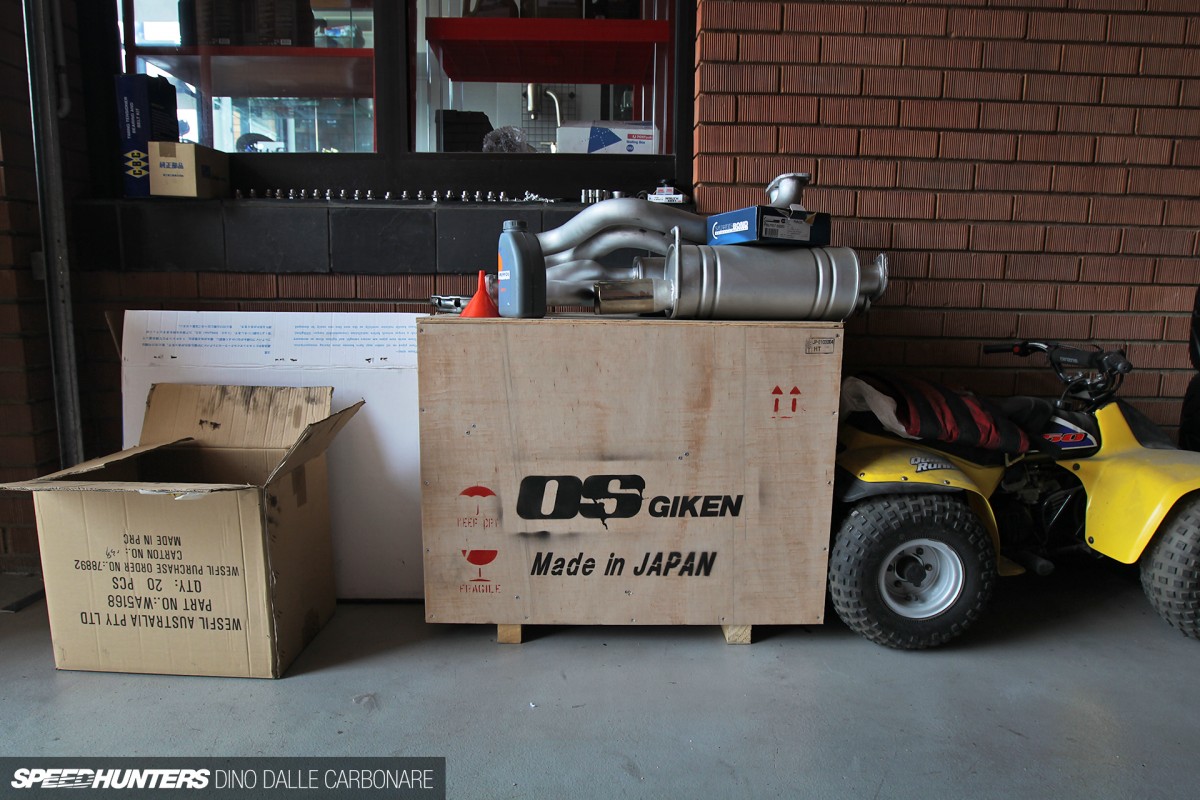 As I made my way into the workshop, which is located at ground level, I passed a crate sporting a very familiar name. CRD have always used lots of top quality parts from Japan and OS Giken engine stroker kits, clutches and sequential transmissions are some of the most requested.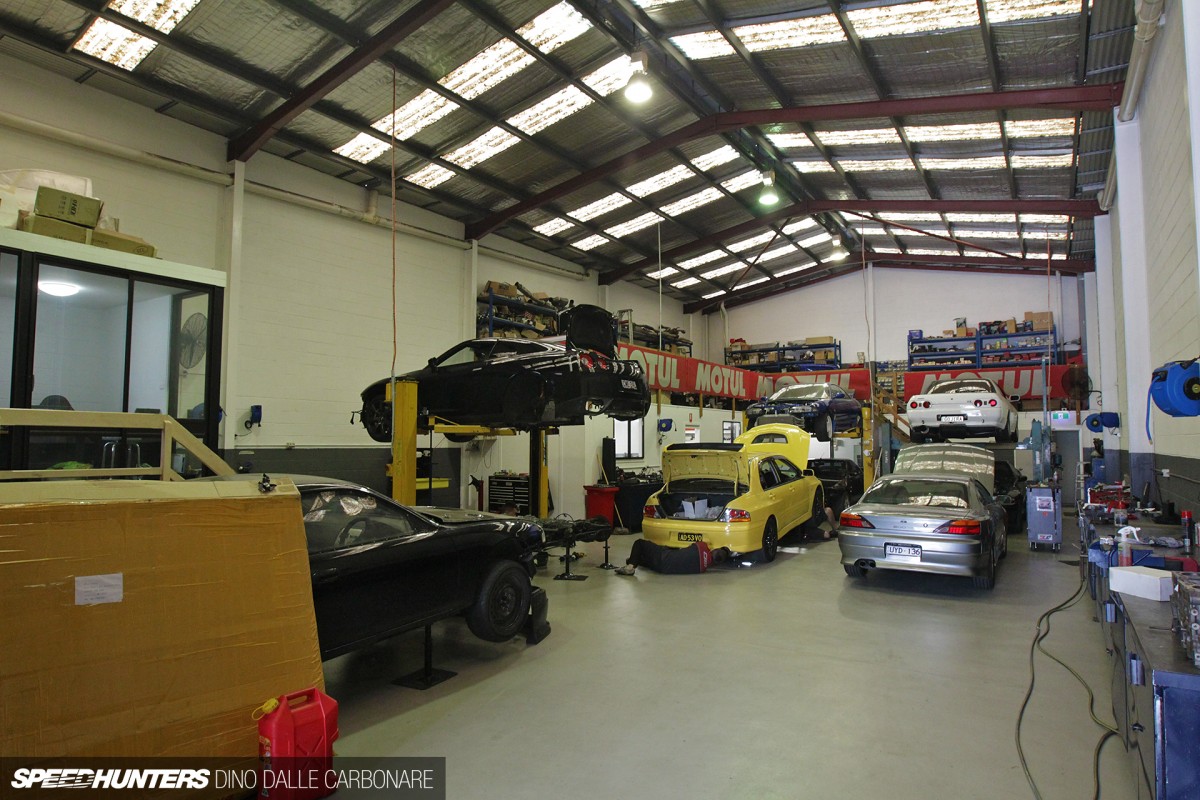 It was a business as usual sort of day, all lifts taken with either long term projects that they've been working on or looking after for years, as well as some cars in for regular maintenance or minor upgrades.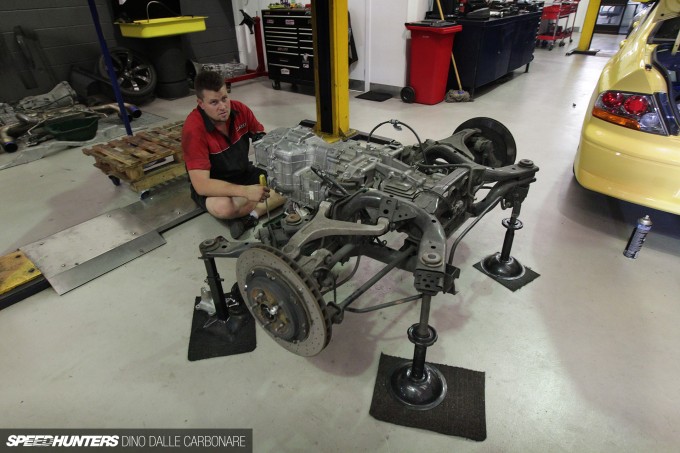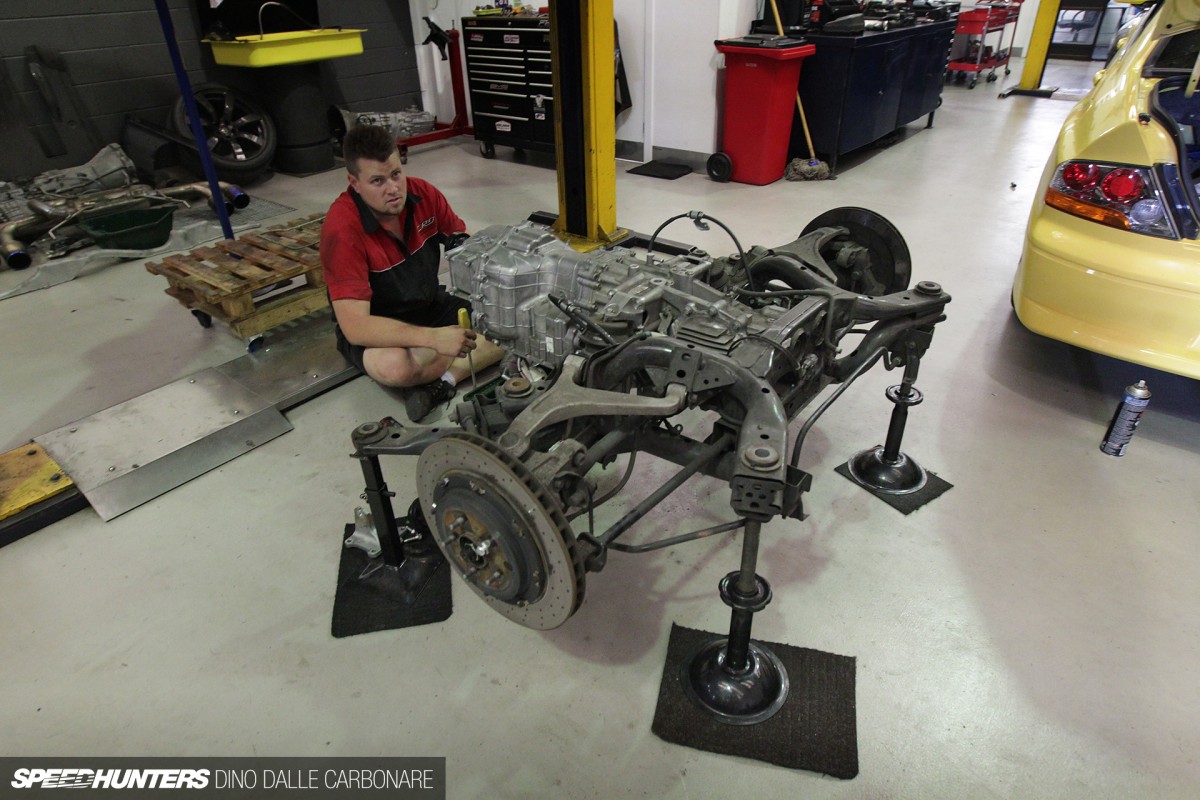 Since I last had a chance to chat with Andrej back in '10, R35 tuning has quickly become an ever increasing slice of the work that they do. While not everyone is after a 1000+ hp set-up, the majority of the work that they do is with providing general maintenance options as well as fine-tuning the car's Borg-Warner dual clutch transmission.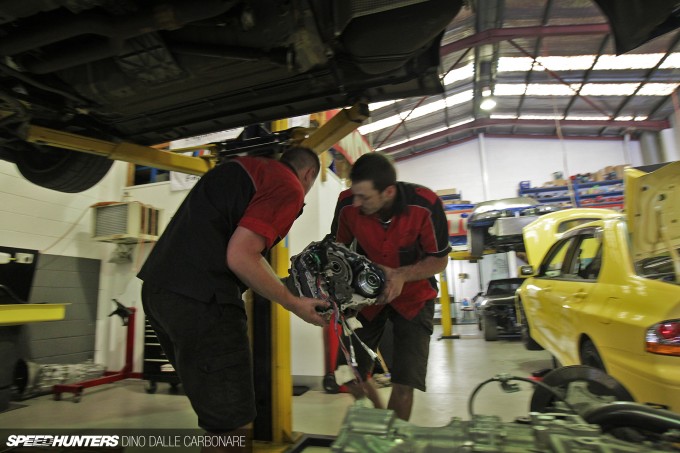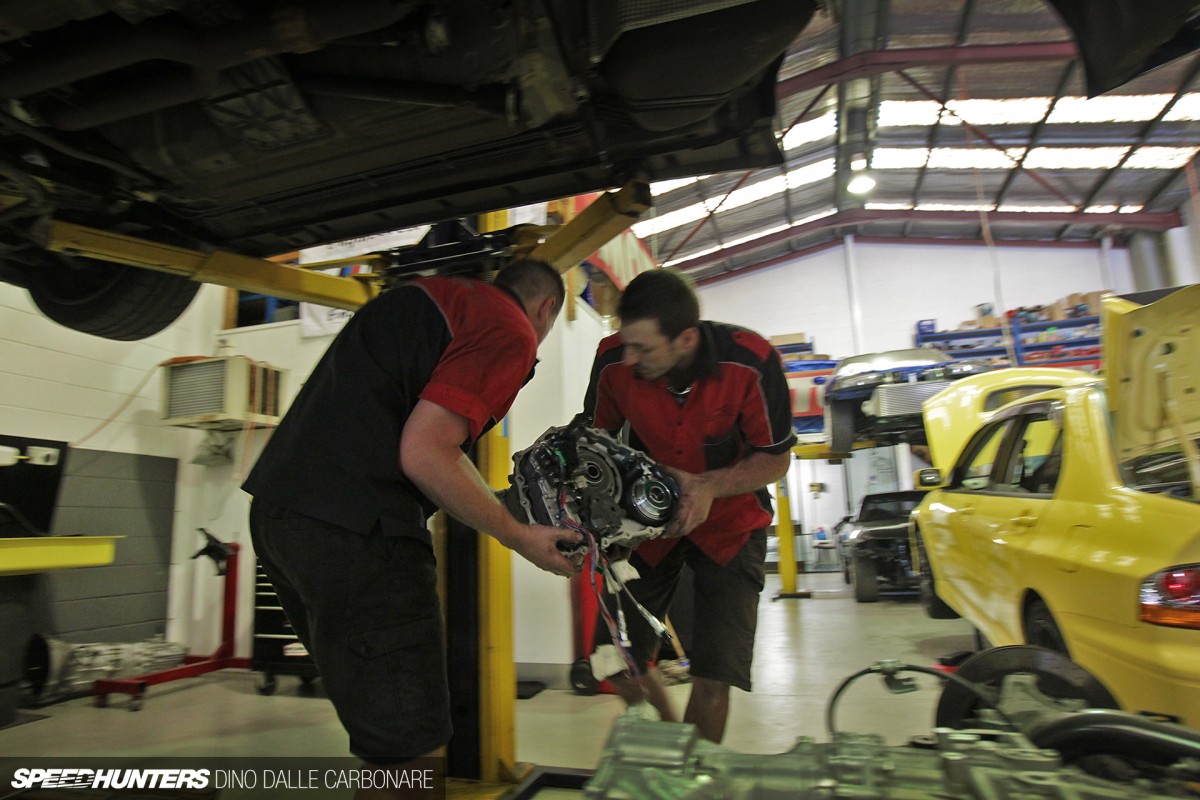 The whole transaxle assembly had just been dropped down from a black san-go and was being taken apart, something that takes some time due to all the electronics involved.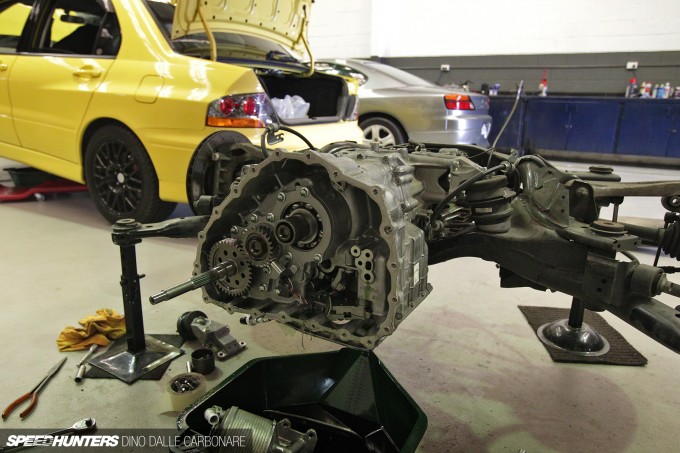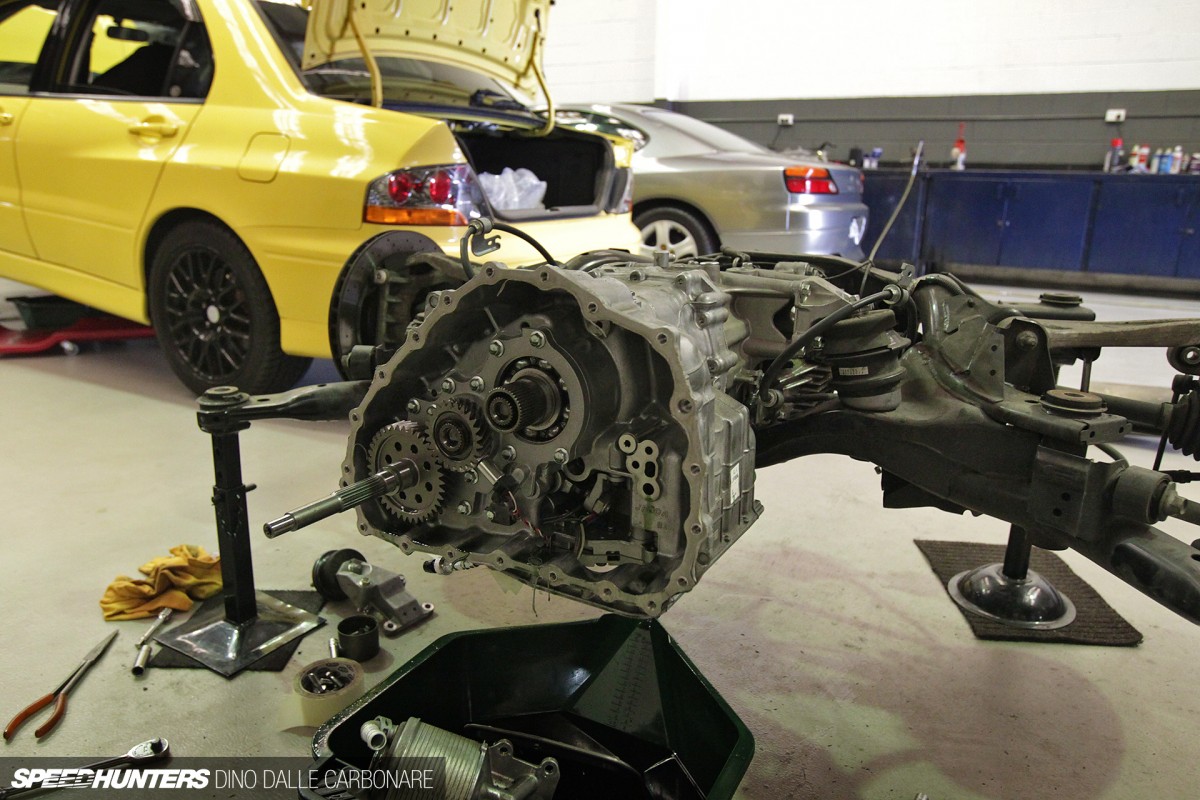 The CRD guys were then going to rebuild it with better synchro rings and tighter tolerances making the unit pretty much bullet-proof and far more suited to tuned cars.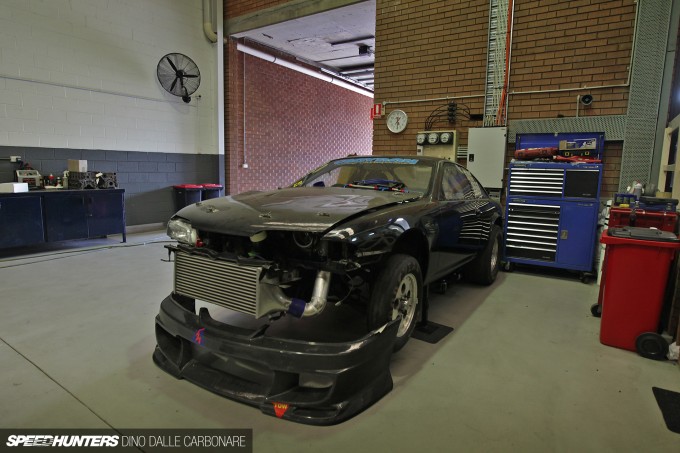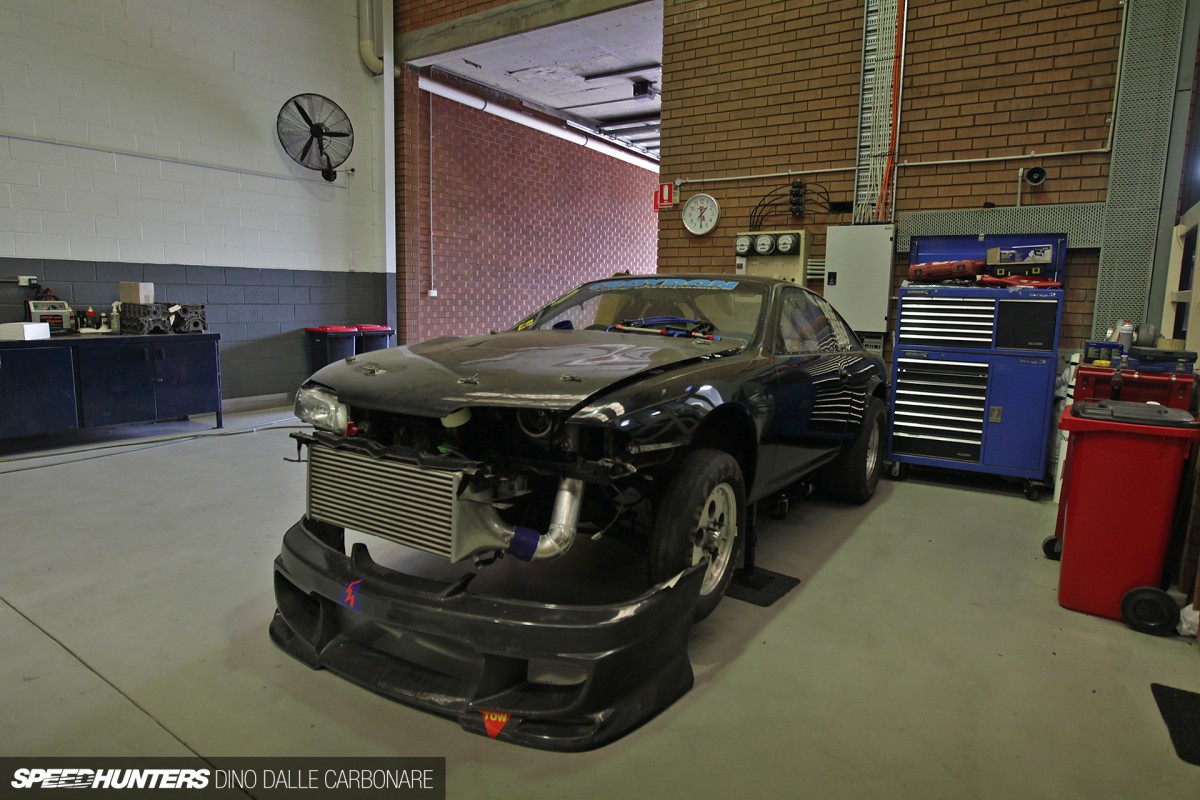 Sitting in a corner was one car that back in the day, through the old exvitermini website (set up by Mario – the man behind the GTR-700 project), was Devlsh. This car still remains the current all-body world record-holding S14 Silvia with a time of 8.766 seconds.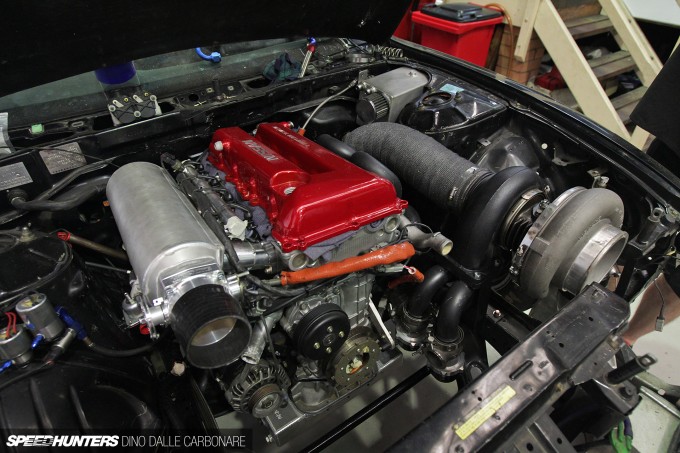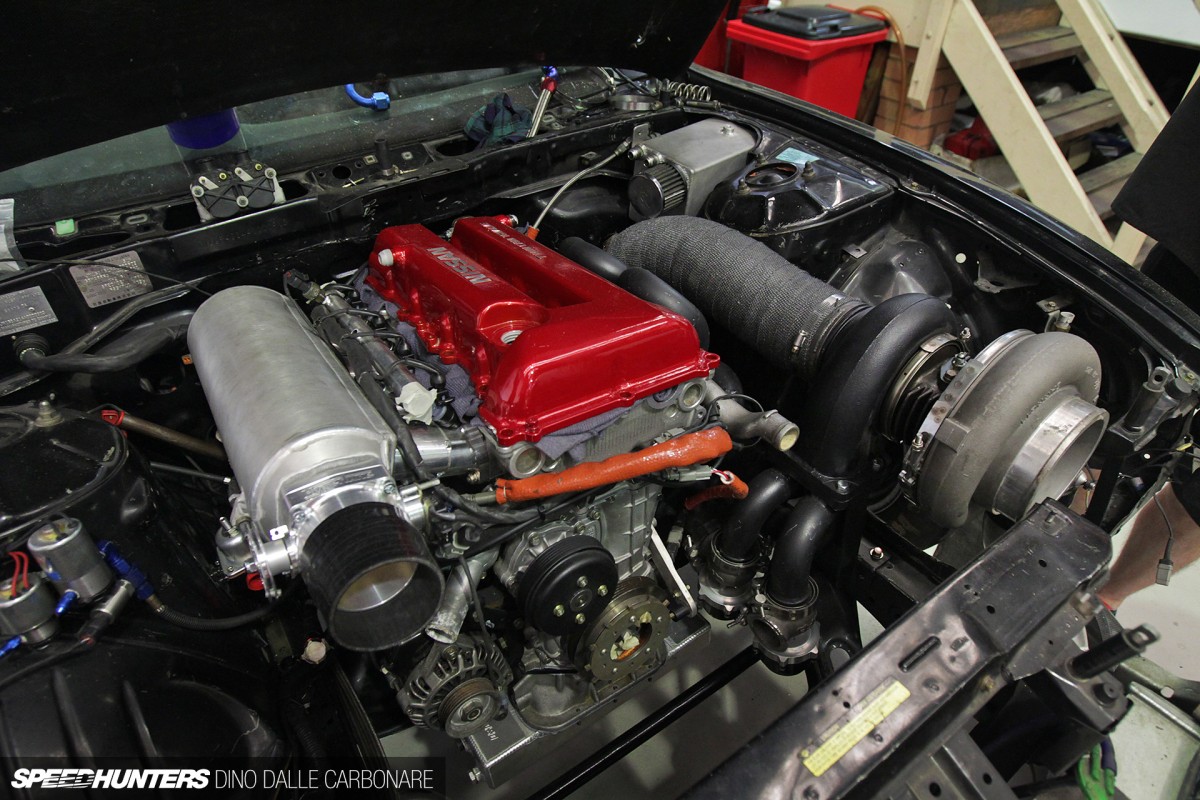 The crazy thing is that was ten years ago, and the crazy SR20 set-up powering it is getting a new breath of life courtesy of an even larger turbocharger.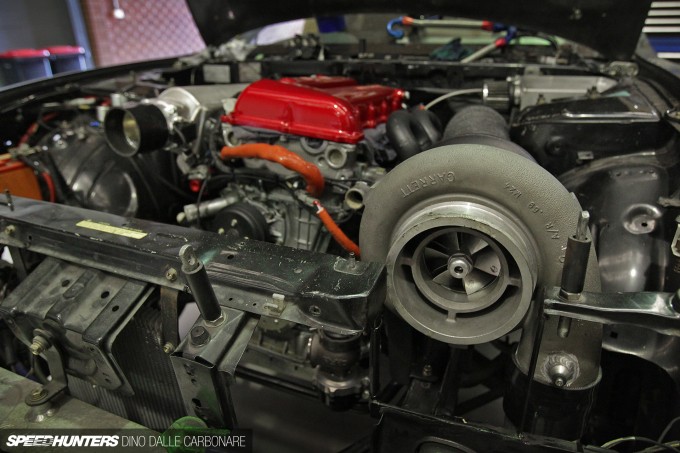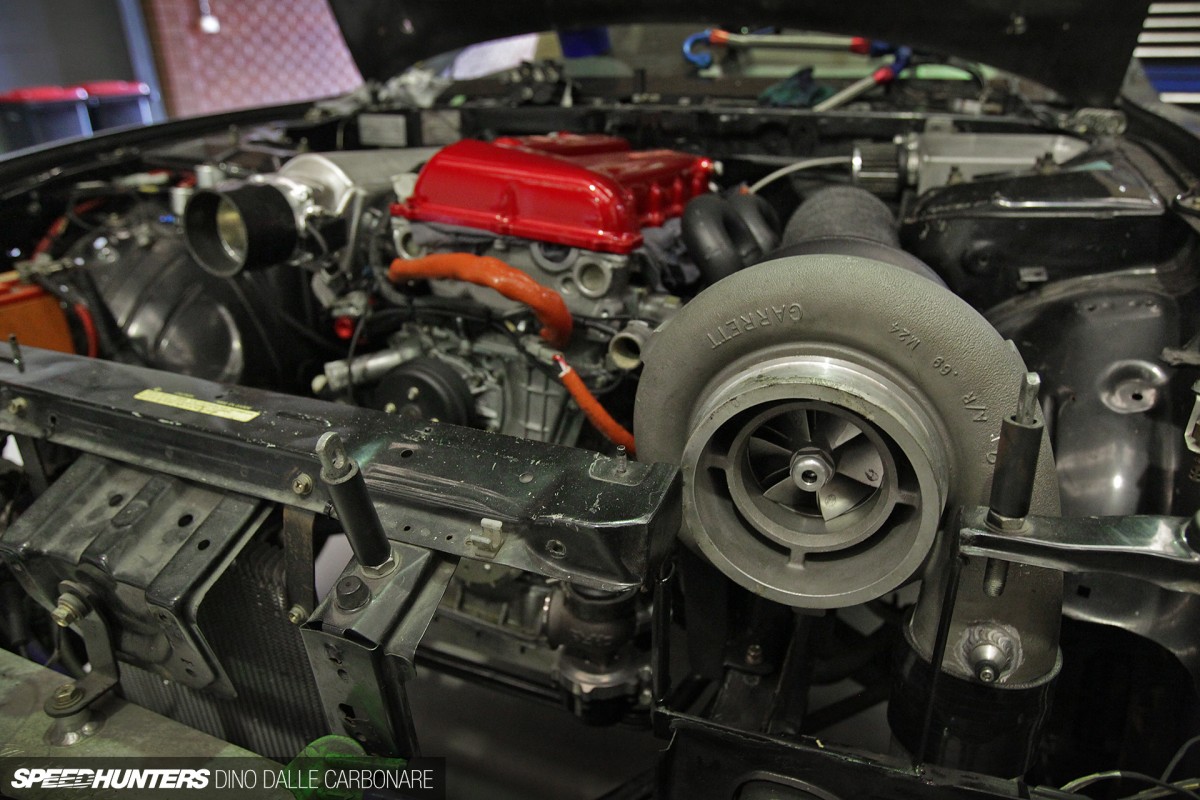 Yes, a very large one indeed! I can't wait to see what comes out of this!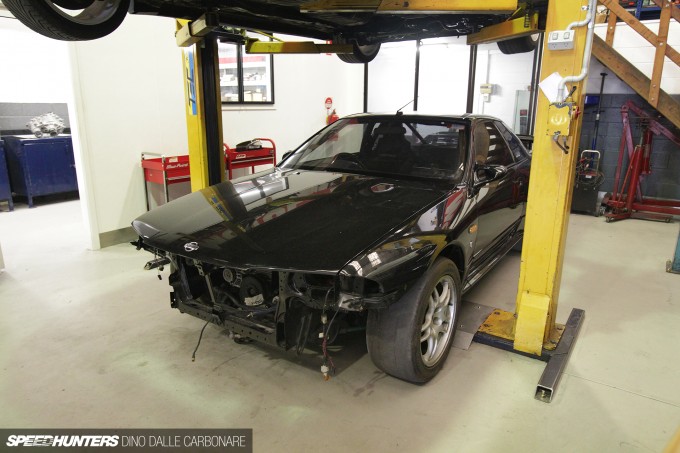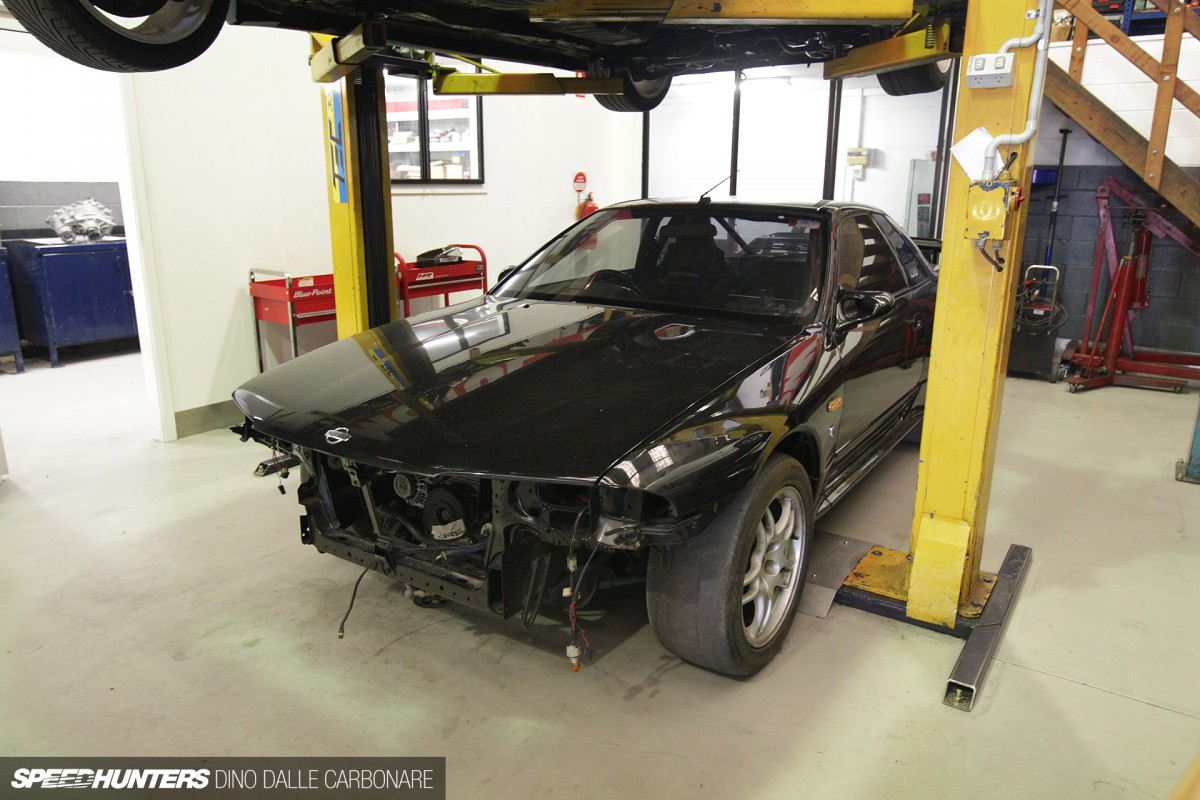 There were plenty of Skyline GT-Rs in the shop getting pretty serious work done, like this R32 that had just received a fresh new engine.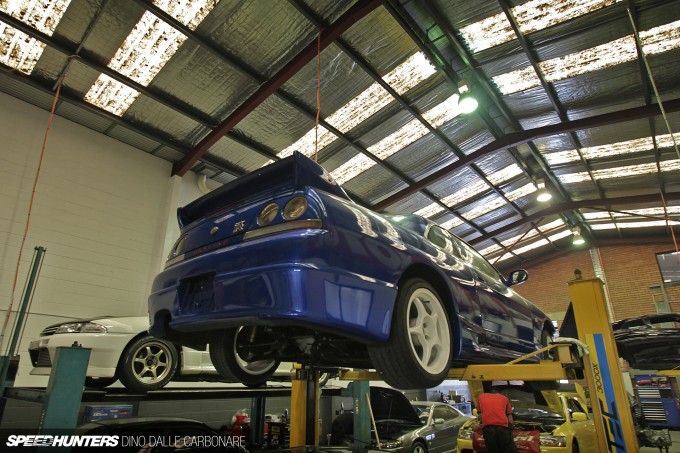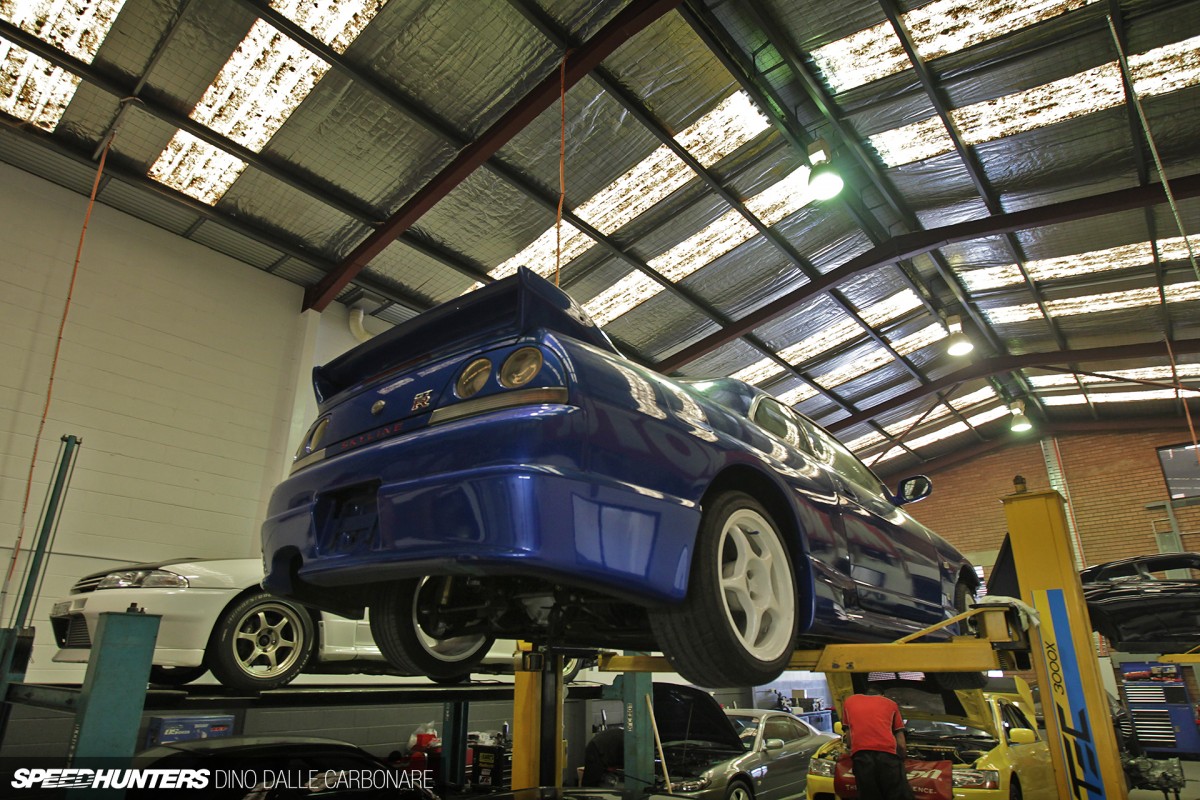 Surprisingly enough, the blue South American R33 GT-R that I saw four years ago in their old shop was still with CRD and getting the finishing touches put in place. With big full builds like this, it's often hard to comprehend just how long things take to materialize and come together.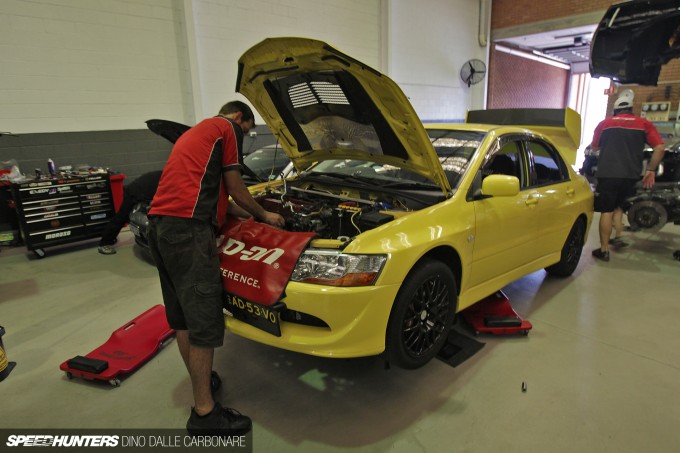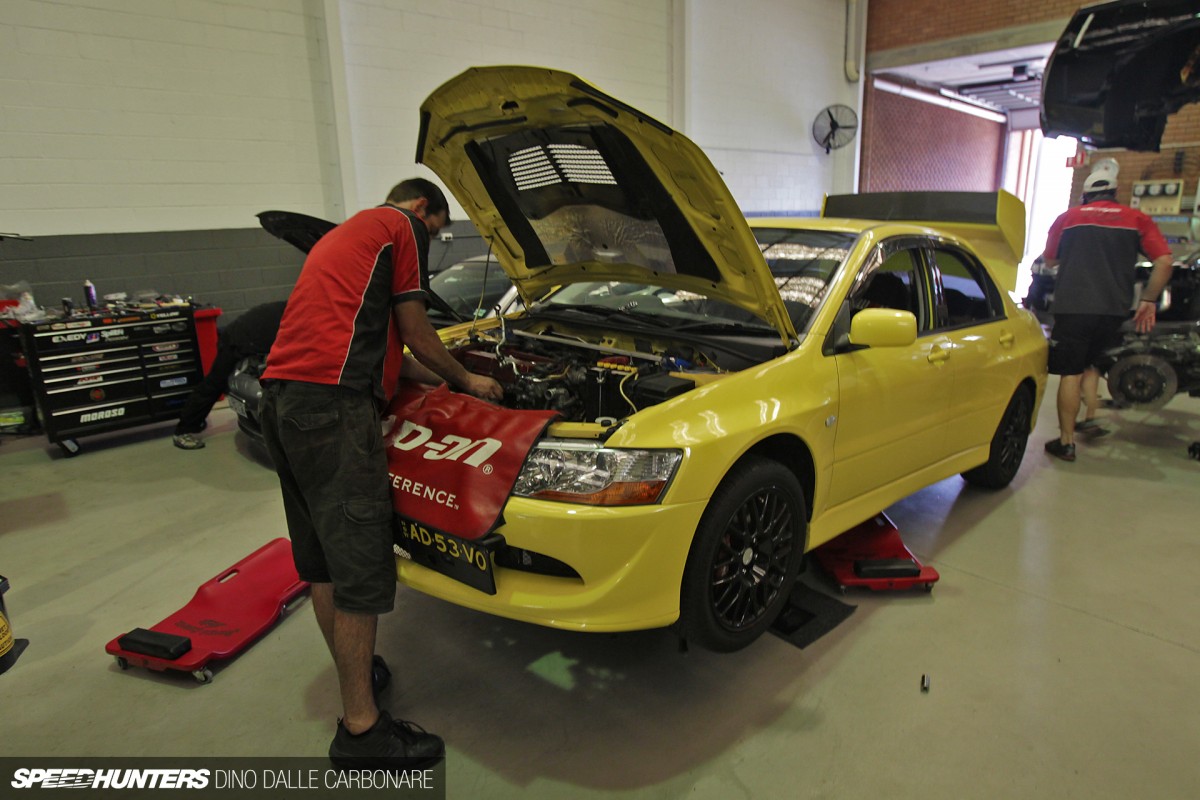 This yellow Evo was in getting a performance exhaust fitted, the first of probably many other modifications the owner will end up doing. It's a slippery road after this as they say!
Some interesting engines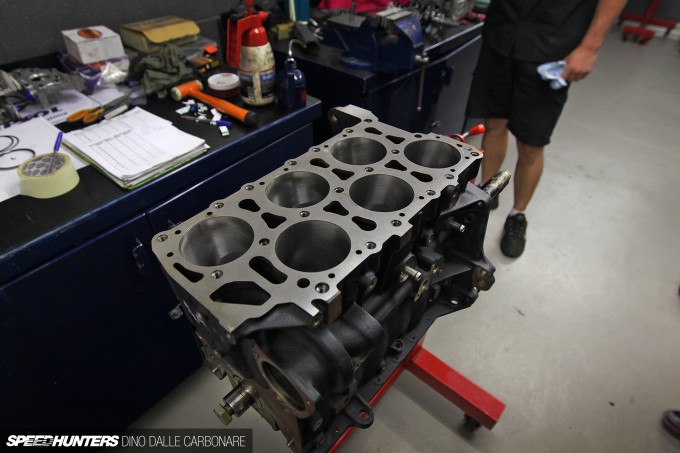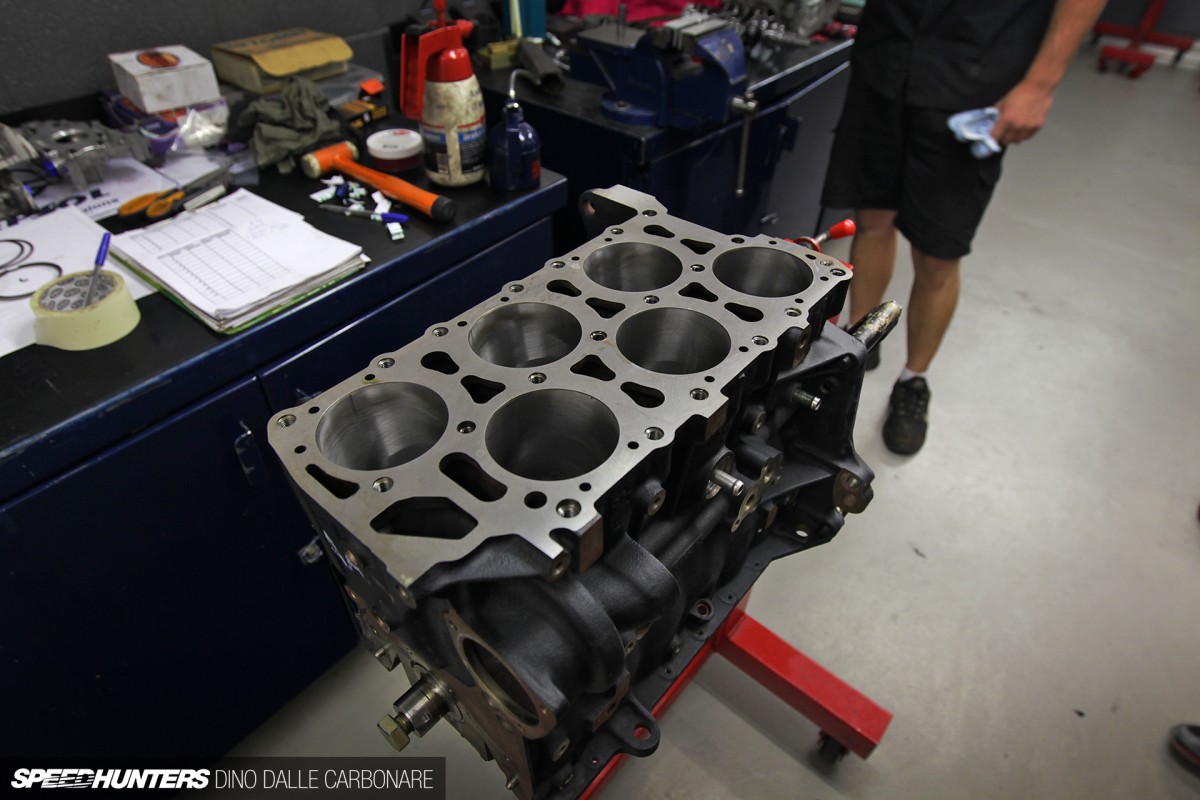 I took a step inside the climate-controlled engine build room where all of the CRD engines are hand-built. Curiously enough, the first motor I noticed had nothing to do with a GT-R or any other Japanese car – it was actually out of a VW Golf R32. And if that prepped and honed engine block looks a little weird that's because it's a narrow-angle V6 with the two banks of cylinders sitting offset to one another. These engines respond well to force feeding, which is why this unit was in at CRD.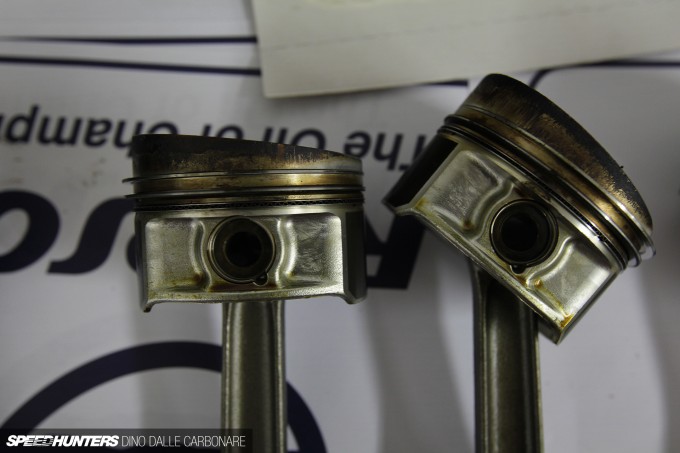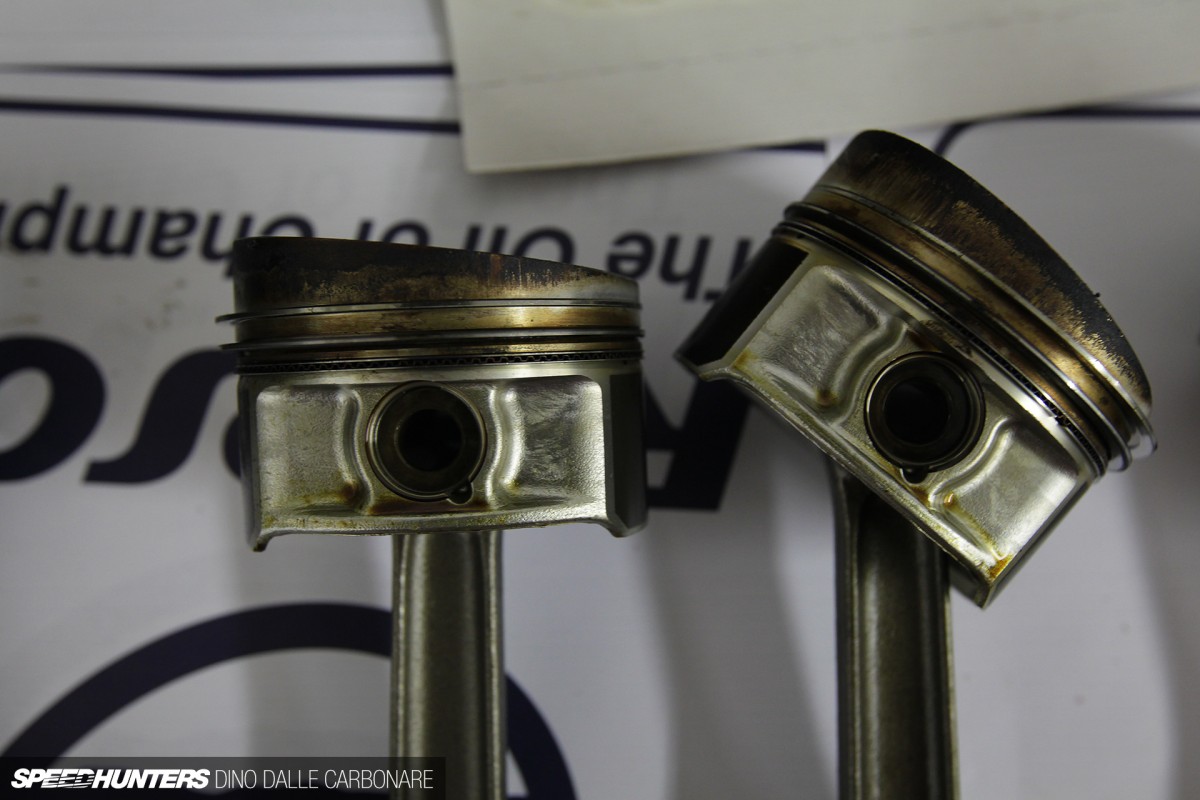 The stock pistons had been removed. Notice how the piston is cut at an angle: a feature of this engine which only runs a single head for both banks.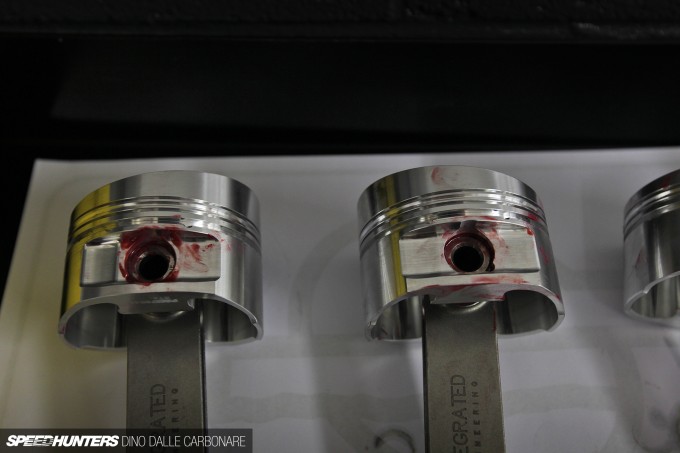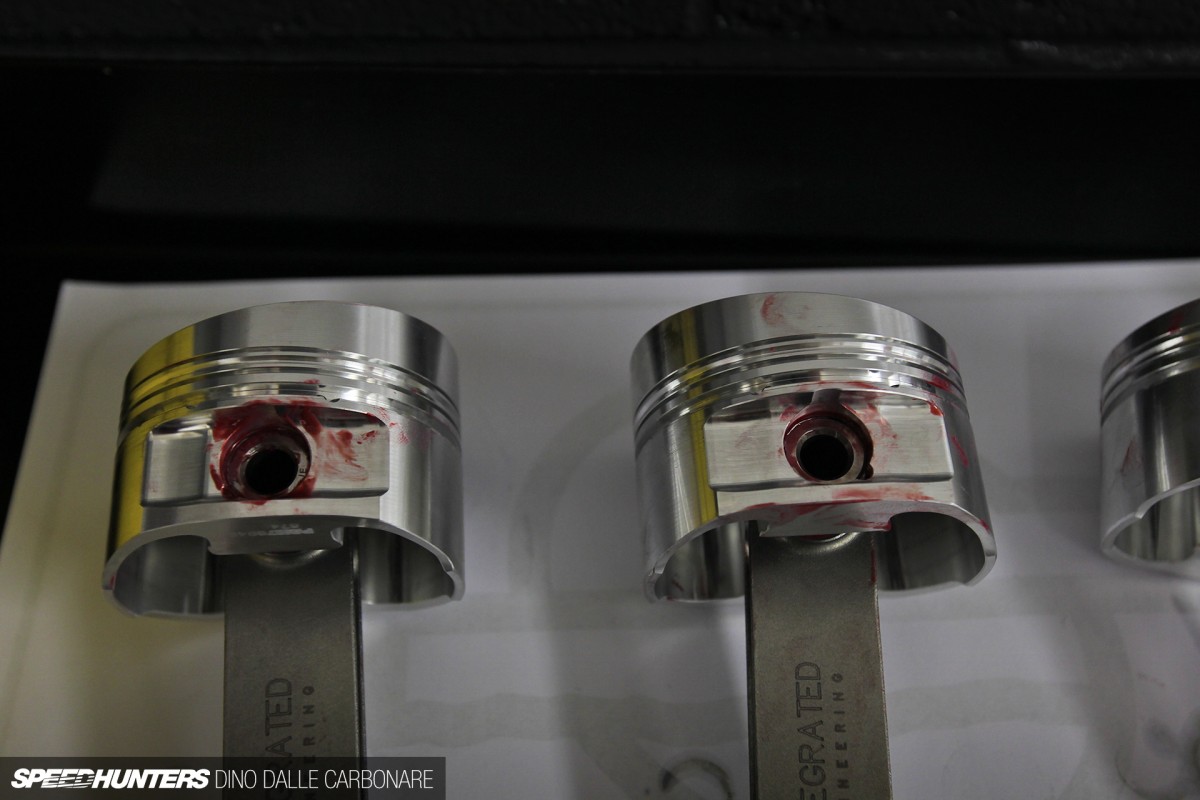 These were the slightly bigger forged aluminum replacements that were going to be dropped in place, ready to take some serious boost.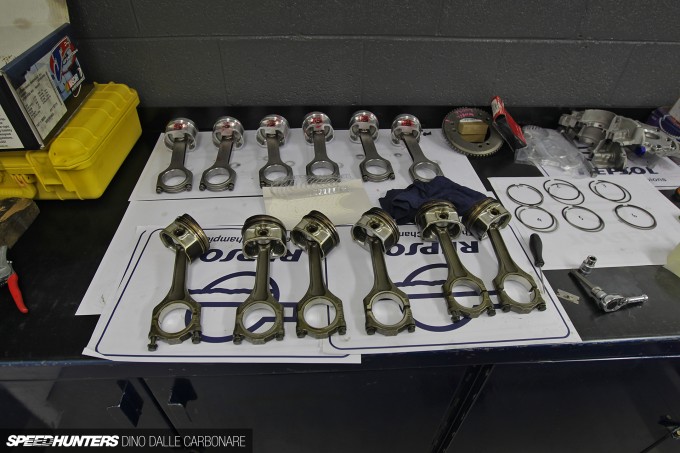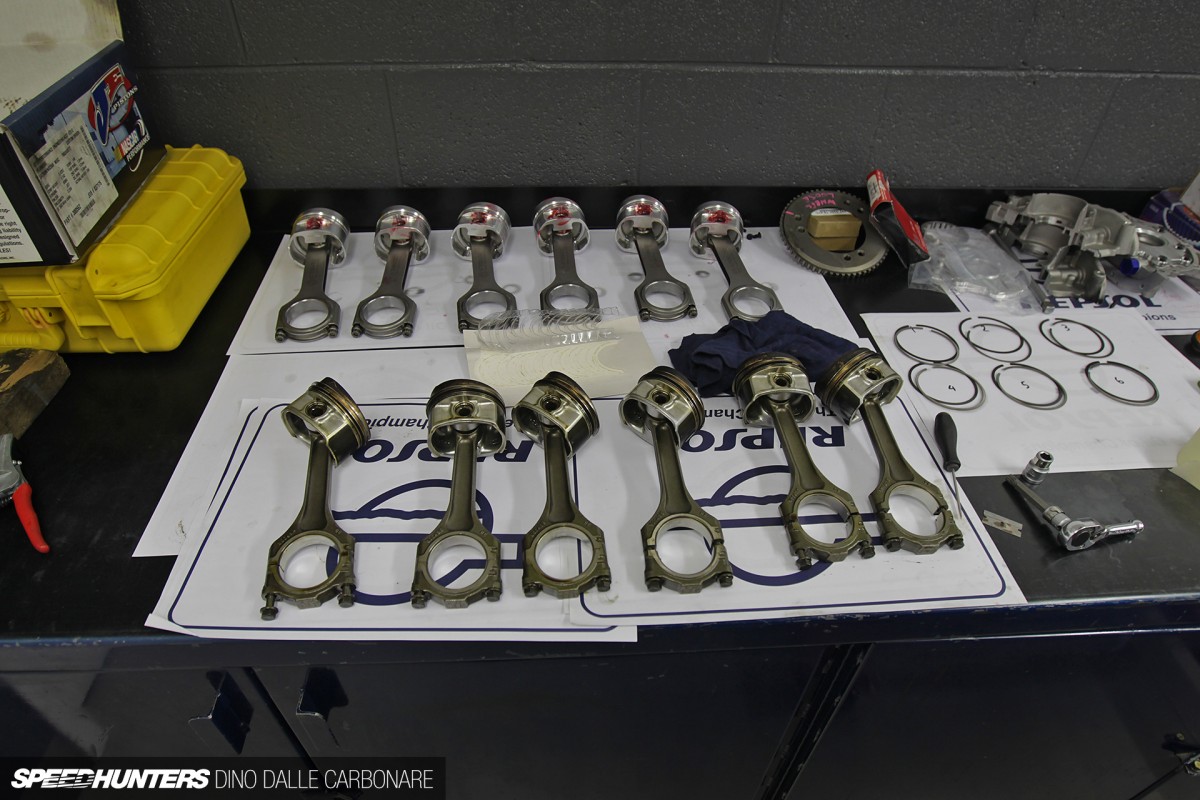 Connecting rods were also getting upgraded with much stronger yet lighter H-section items.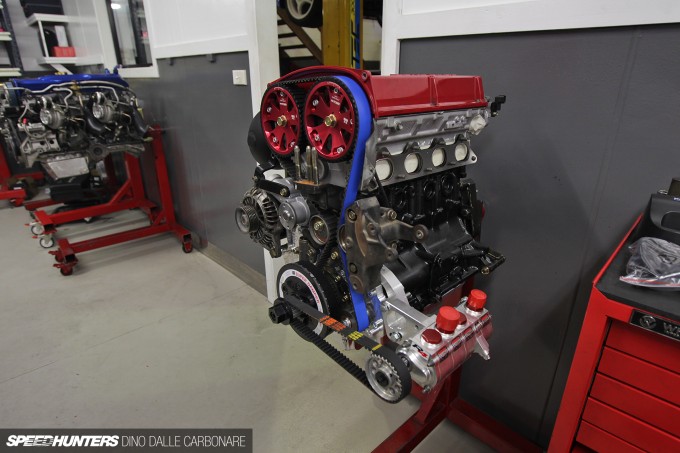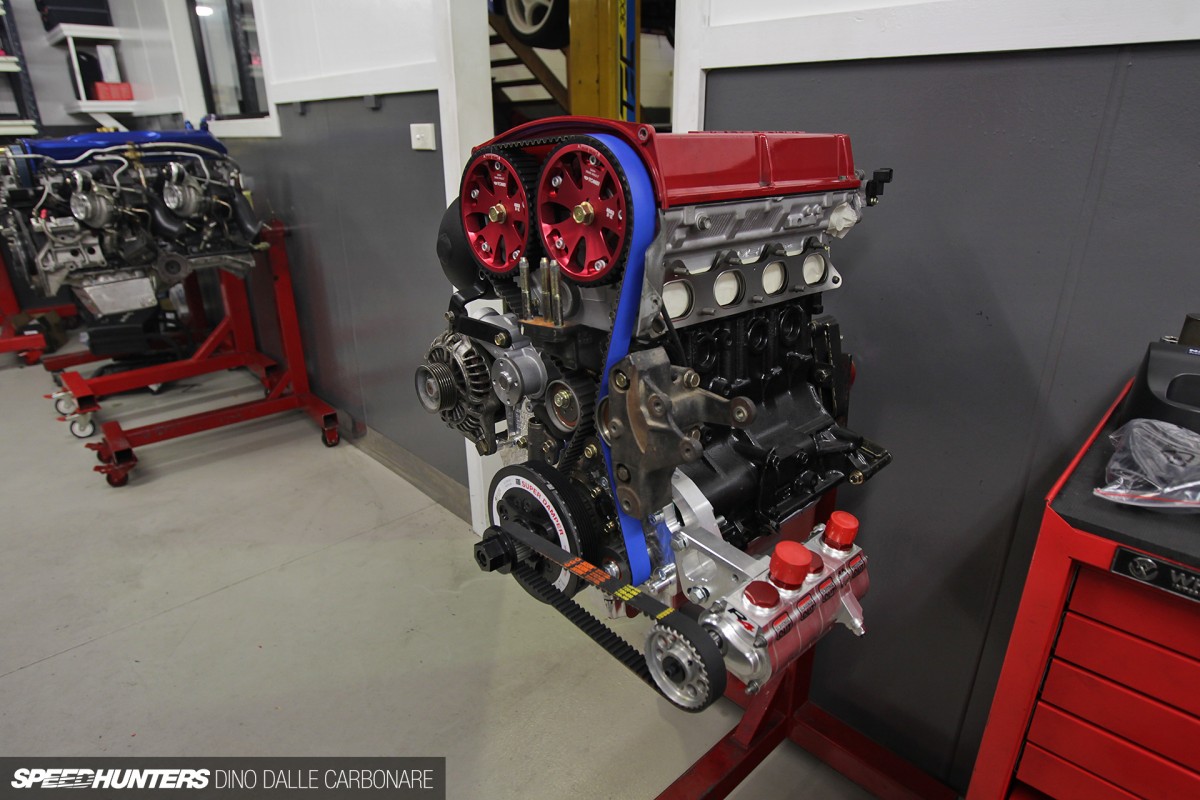 The Australians have been getting tons of power out of Mitsubishi's 4G63 and when they're built to this sort of quality, it's not surprising the sort of numbers they're getting.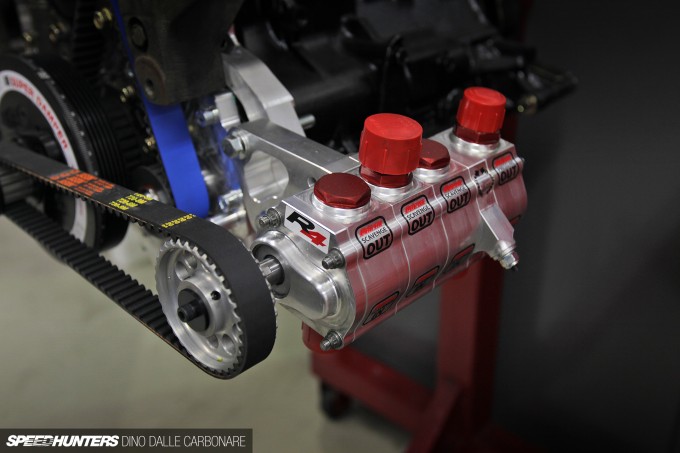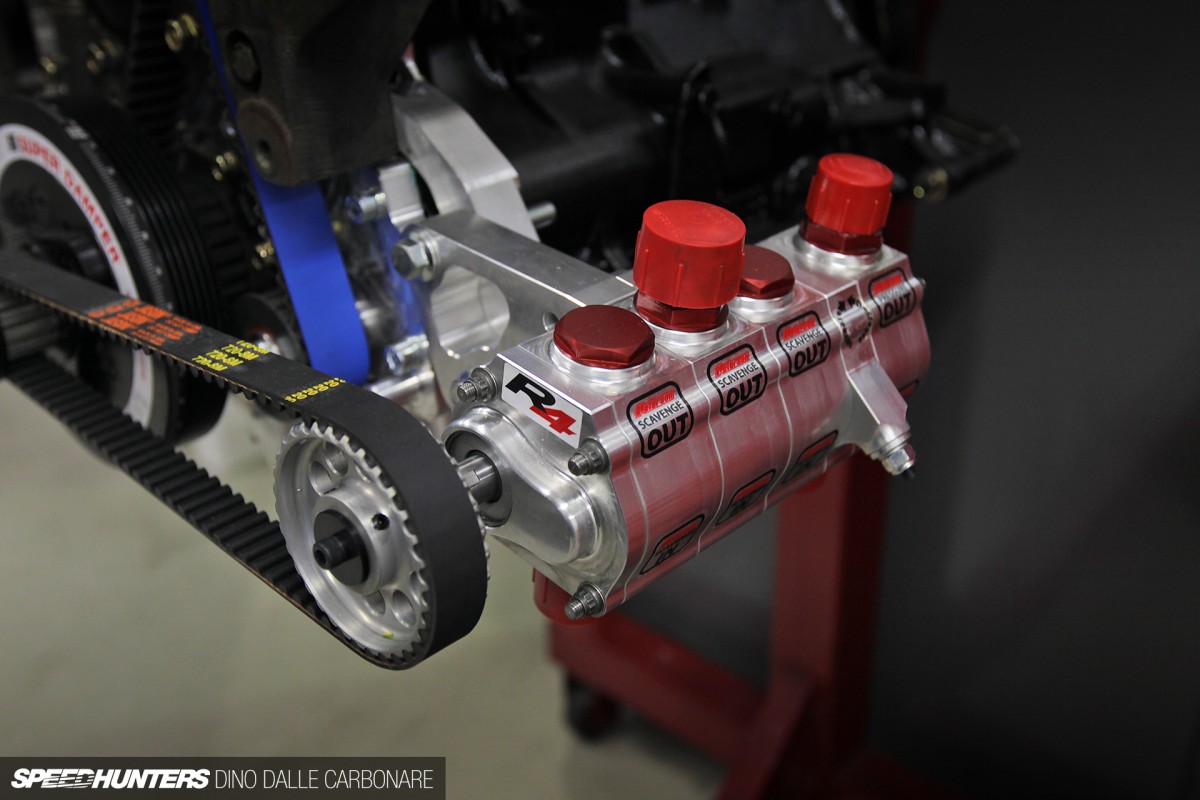 This particular motor was also running a dry sump set-up. Here's a closer look at the scavenge pump, belt-driven off the crank pulley.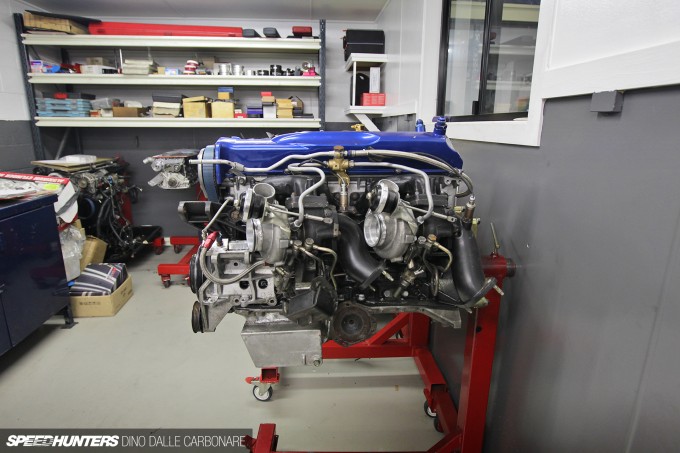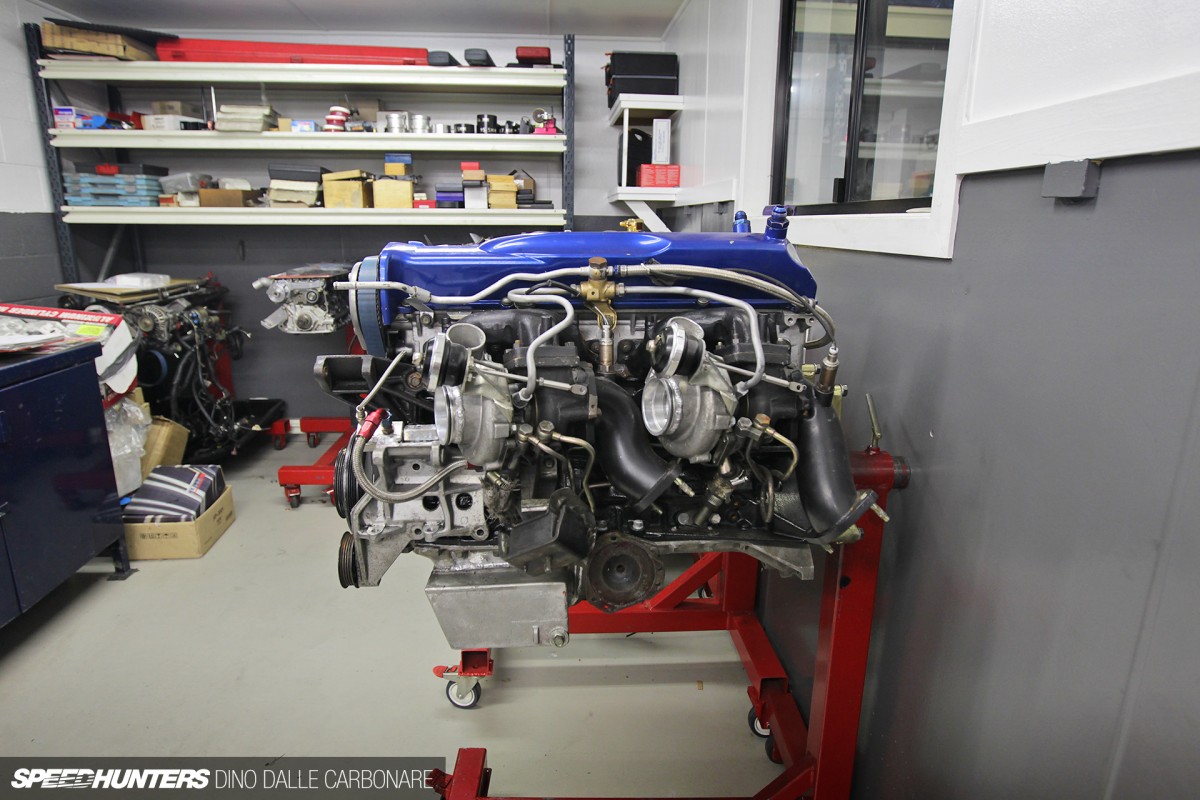 And so we get to the RBs! CRD always have a couple of Nissan's legendary straight-sixes on the go, and this low-mount twin-turbo unit had just been completed and was ready to be installed.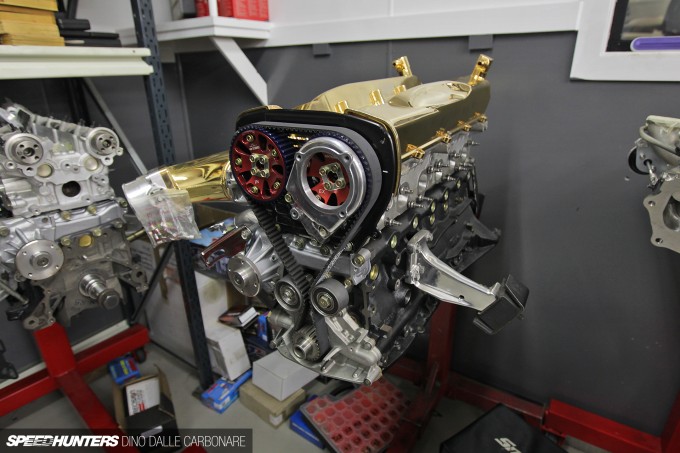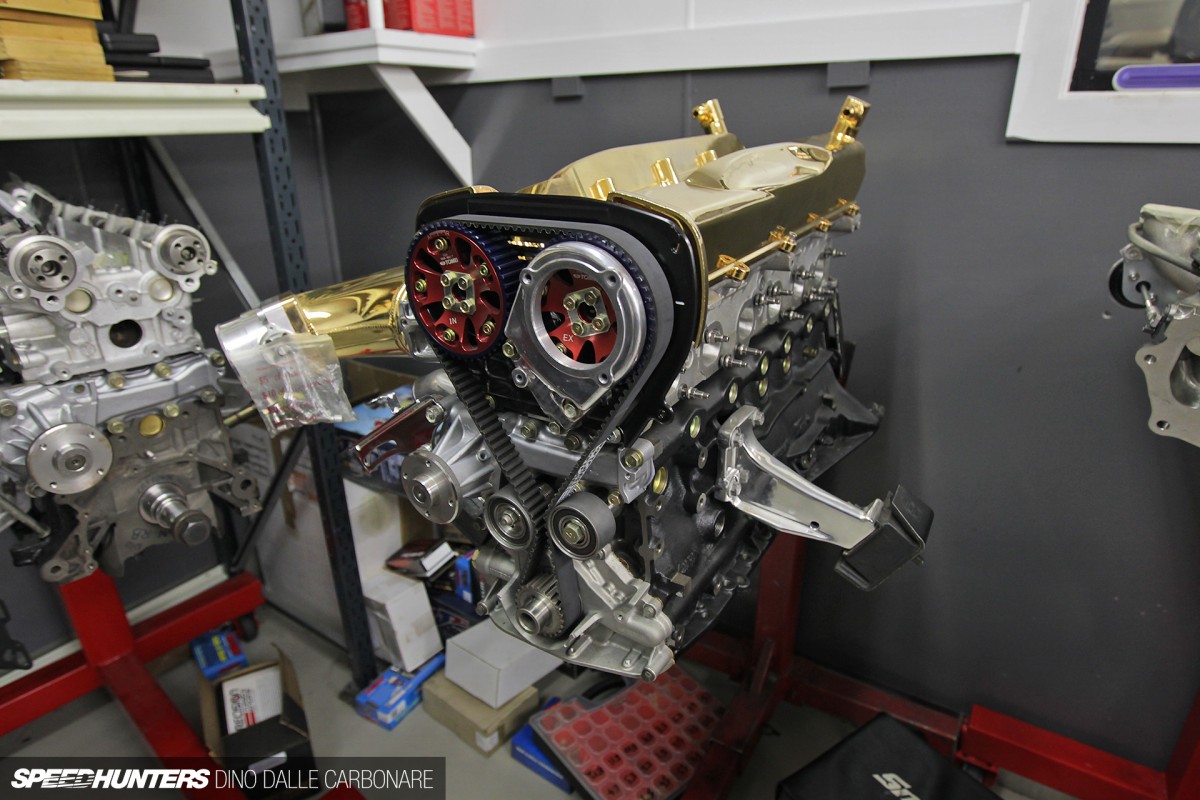 They get some pretty interesting requests from their customers, much like the owner of the GT-R this gold plated RB was going to be getting dropped into.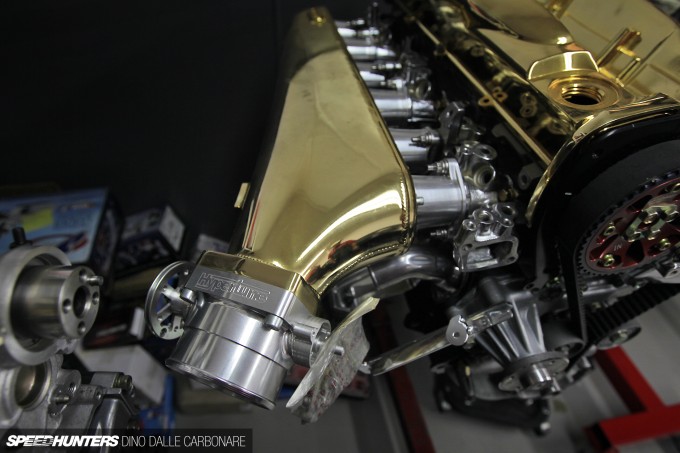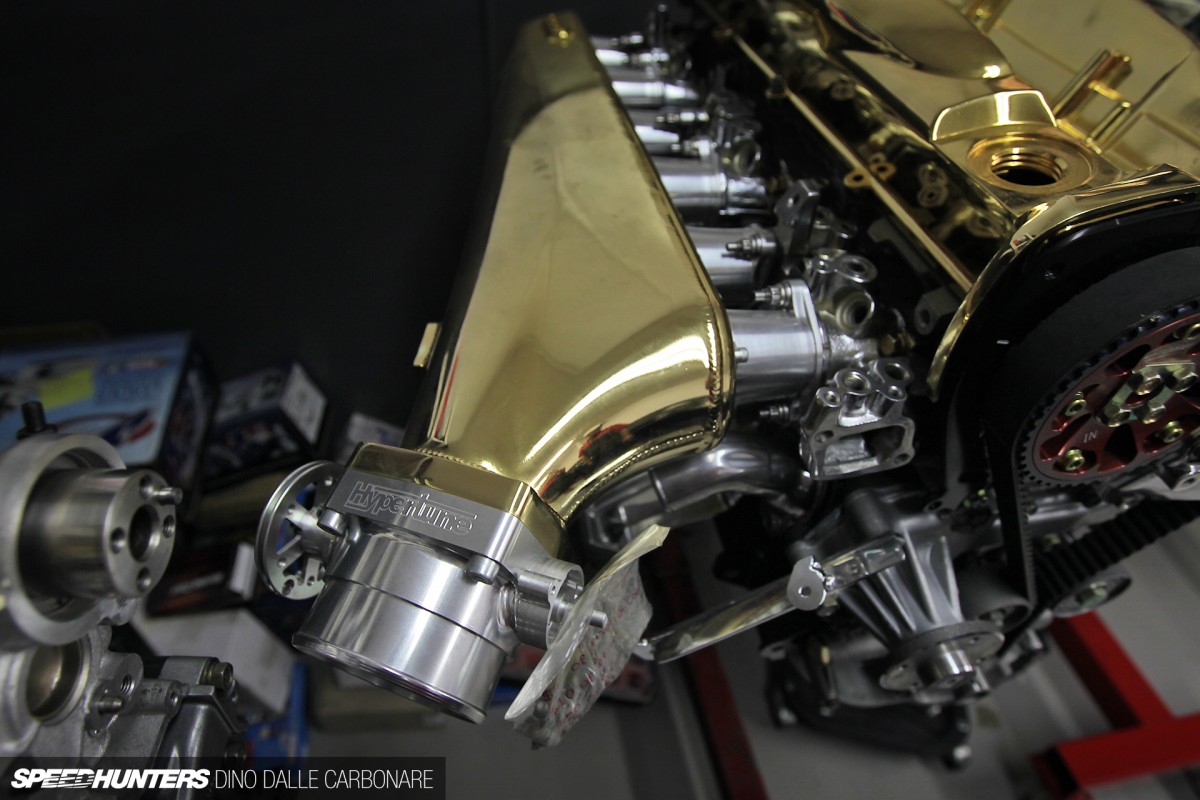 Even the beautifully constructed Hypertune intake plenum had been treated to the Top Secret-like finish.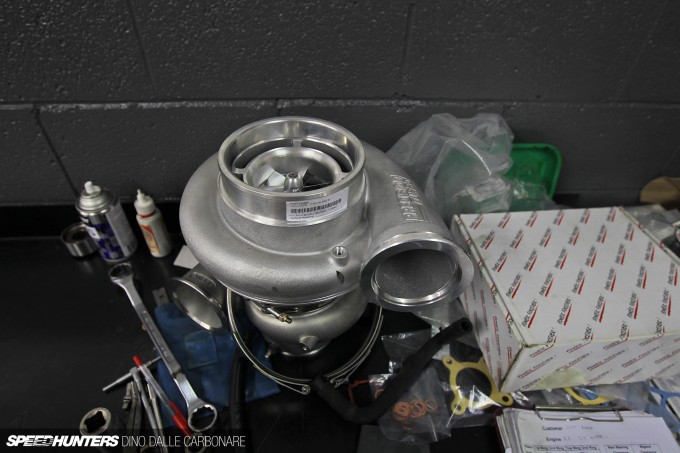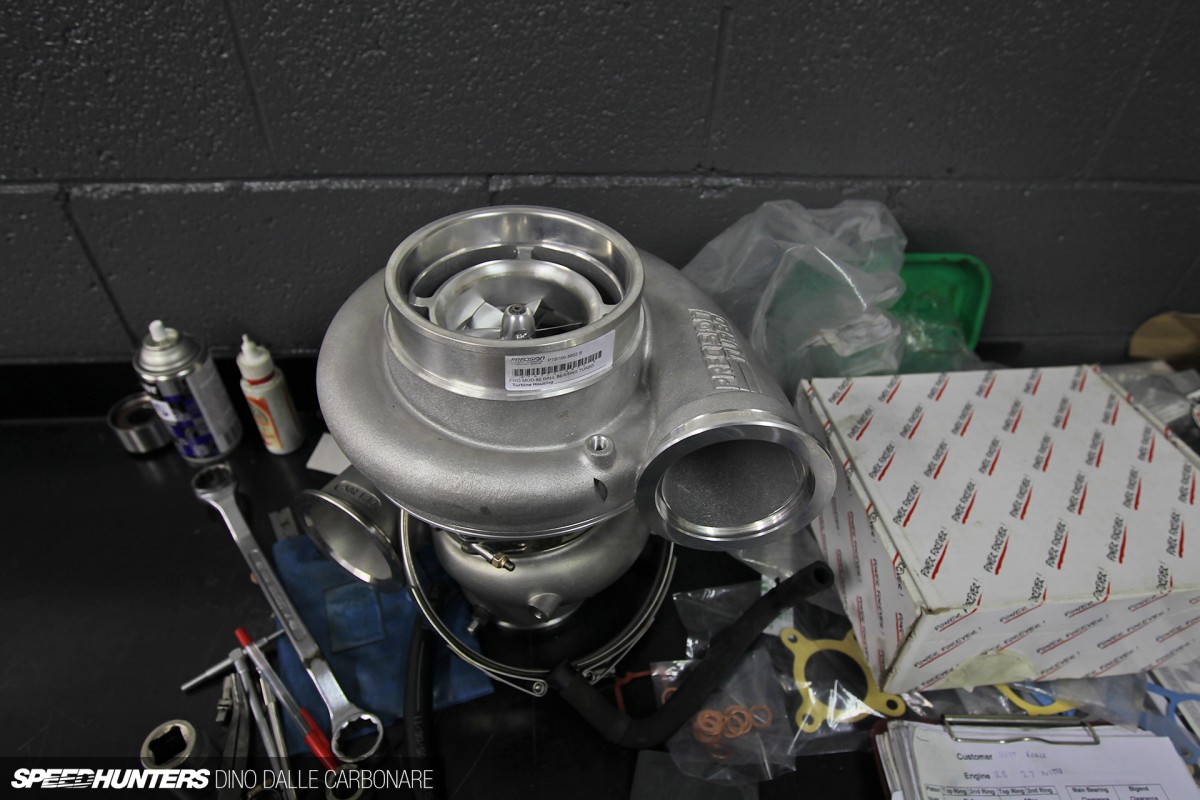 For someone based in Japan, I've always found the sheer diversity of turbos that tuners around the world run on RBs, SRs, 4G63s, 13Bs or 2JZs quite interesting. While HKS and Trust are the main brands everyone uses in Japan, it seems that there are so many more advanced options out there. In fact GCG have literally taken over the turbo market in Japan with most of the important time attack and drift cars running their fully customizable and serviceable units. It's this sort of continuous experimentation that allows evolution in the aftermarket scene, helping to get previously unimaginable power, torque and response characteristics out of the trusty old engines we all love.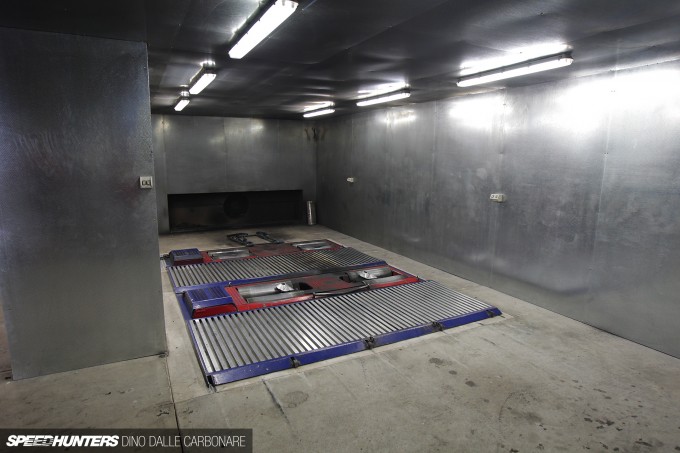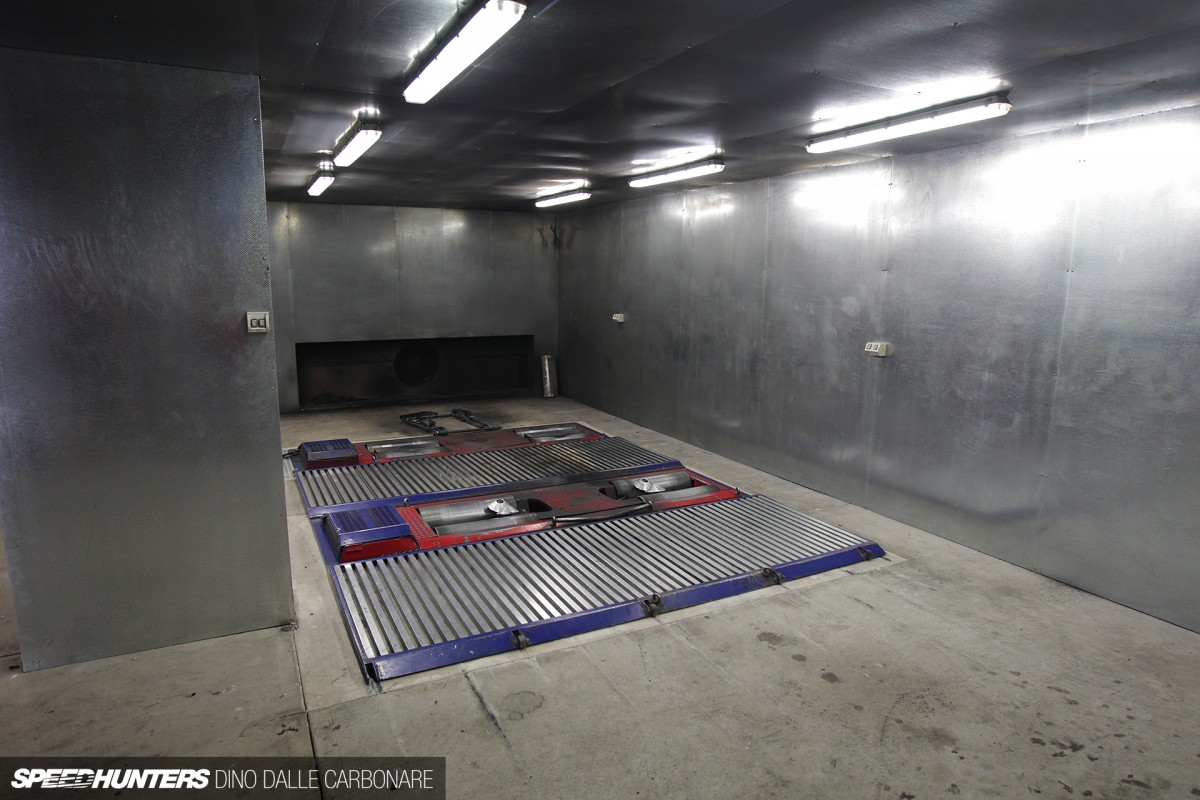 On the lower floor of the CRD building is a big storage area and a recently completed fully sound-insulated dyno room.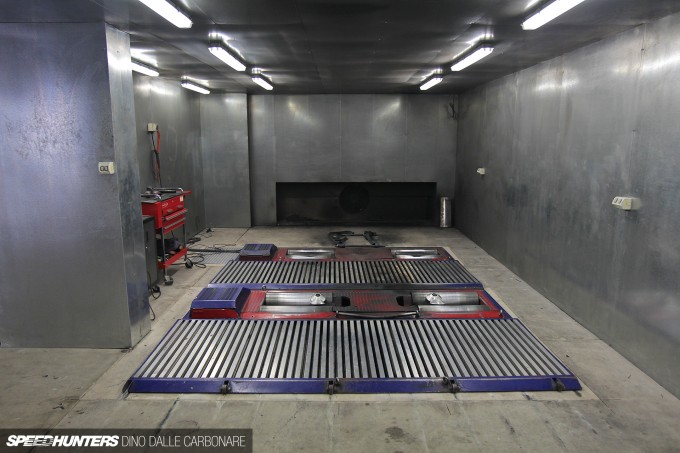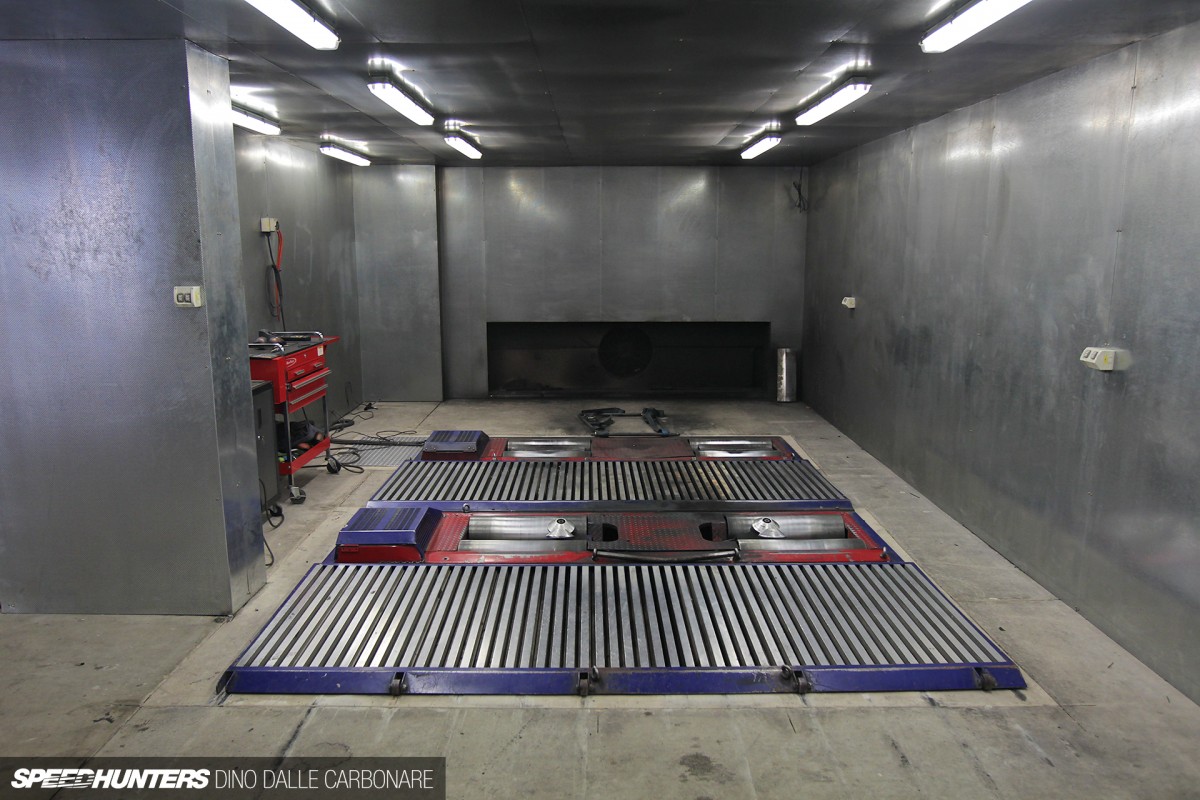 This is where CRD manager Jim Souvas spends most of his time, setting up all sorts of customer cars on the four-wheel Dyno Dynamics rolling road dynamometer. The back of the room features a heavy duty extractor that sucks up all the nasty exhaust fumes the cars throw out while being tuned, while the front end of the cars are kept cool via a massive fan.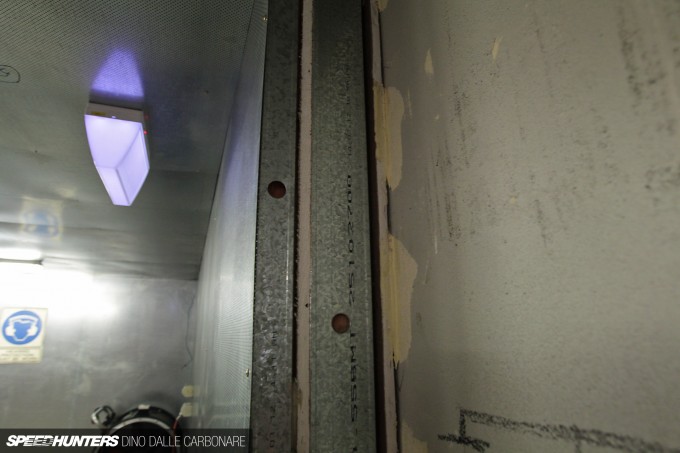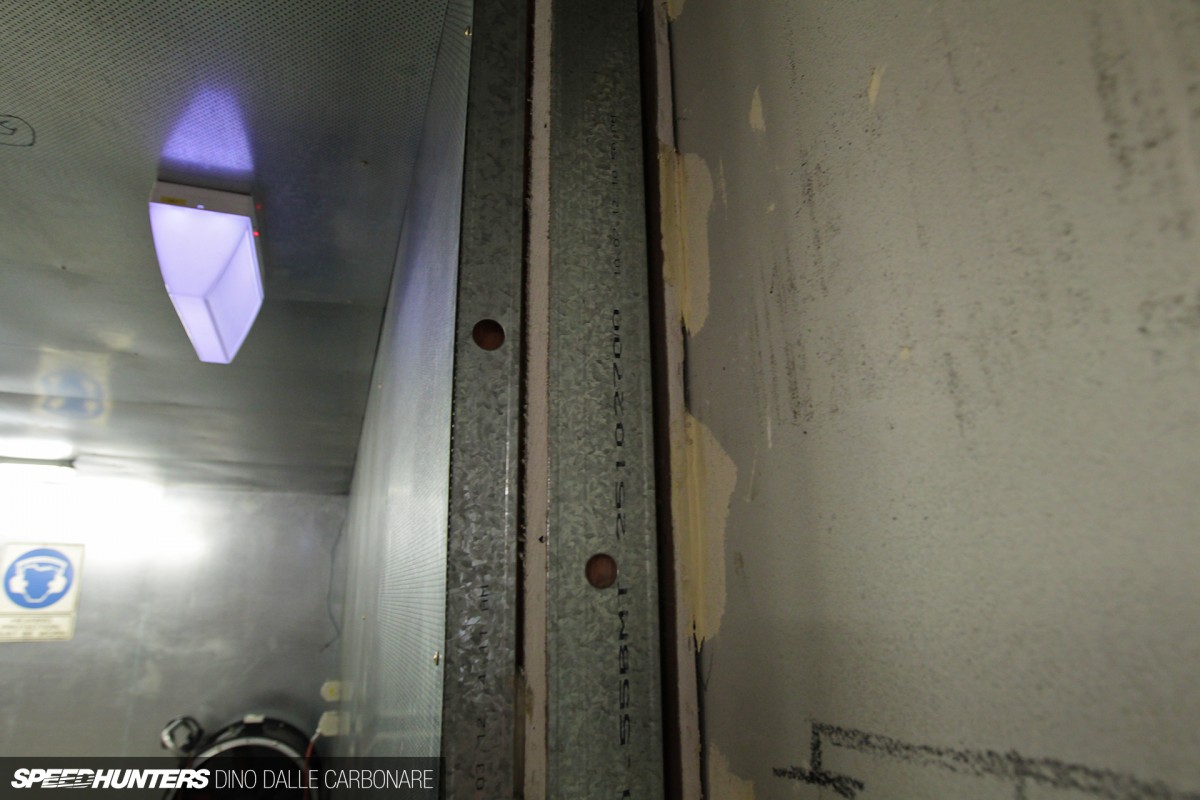 That's how thick the sound deadening is on both the walls and ceiling. Wouldn't want to piss off the neighbors!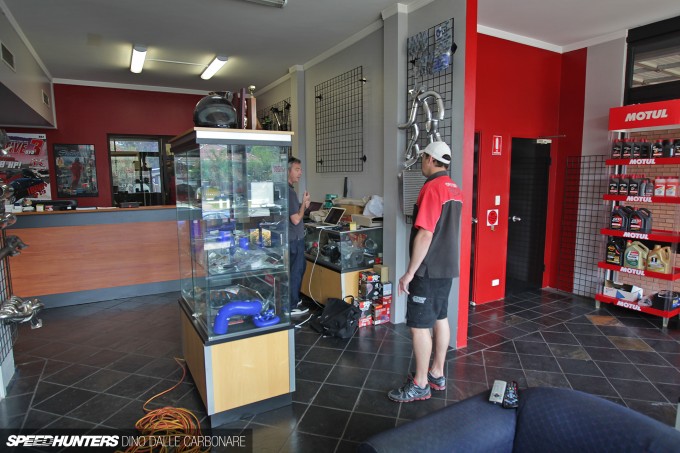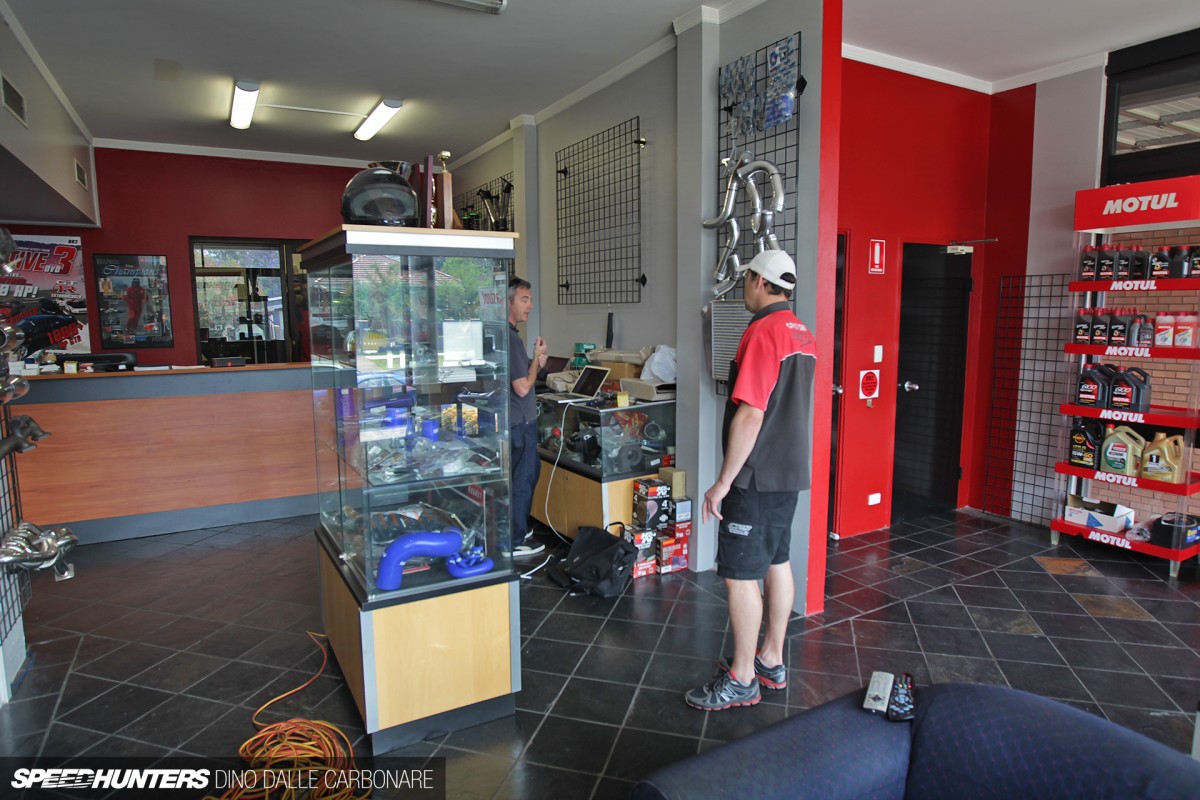 Upstairs is where the offices and main shop front area are, where a tantalizing selection of tuning products are put out on display and where you can just sit down on the comfy sofa and chat cars with Andrej.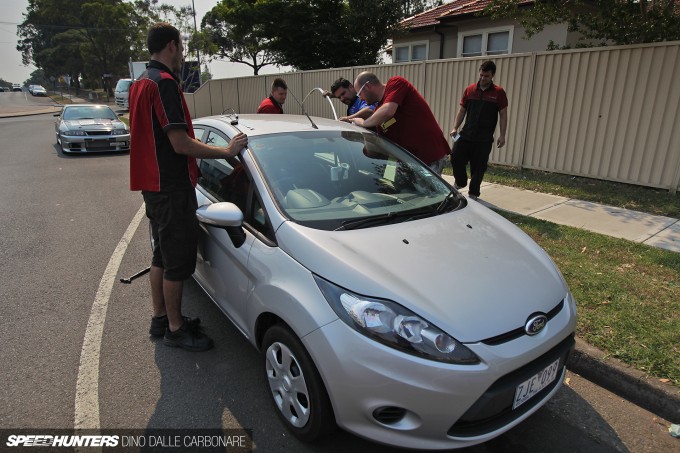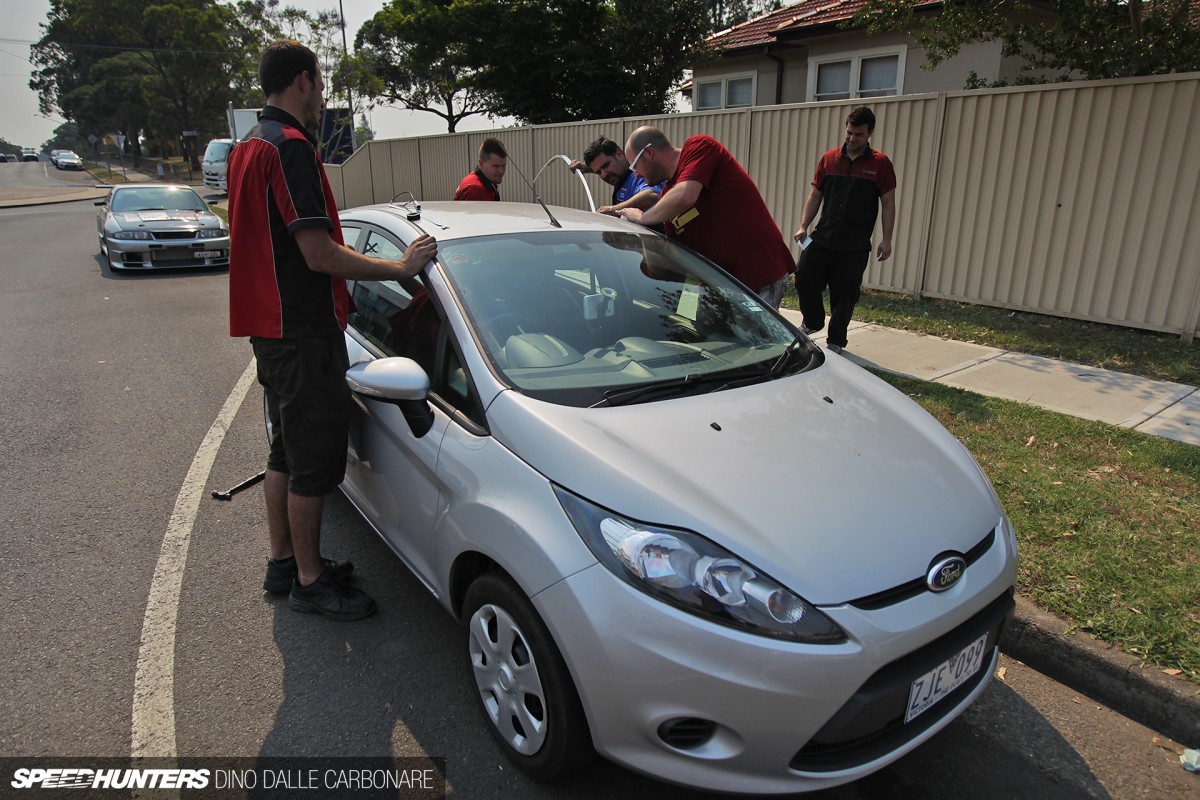 My shop tour was cut a little short due to my own stupidity, maybe combined also with the curious self-locking feature of the Ford Fiesta rental I was driving at the time. After realizing that the car keys were nowhere to be seen and having all of the CRD guys help me search for them all around the premises, retracing the path I had taken with the camera, I came to the conclusion that I might have locked them in the trunk while I was grabbing a lens earlier in the afternoon.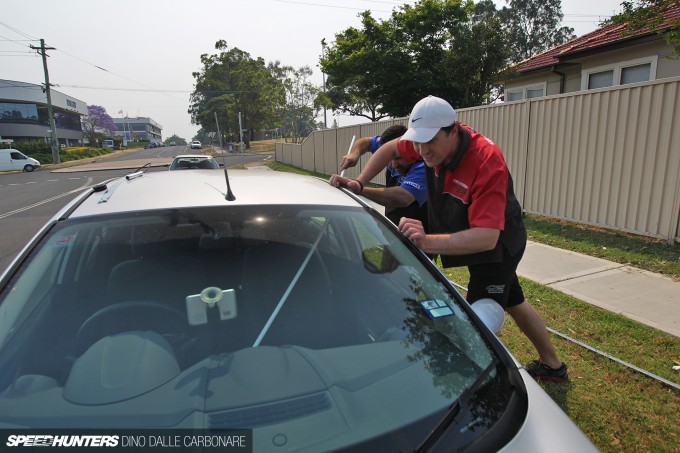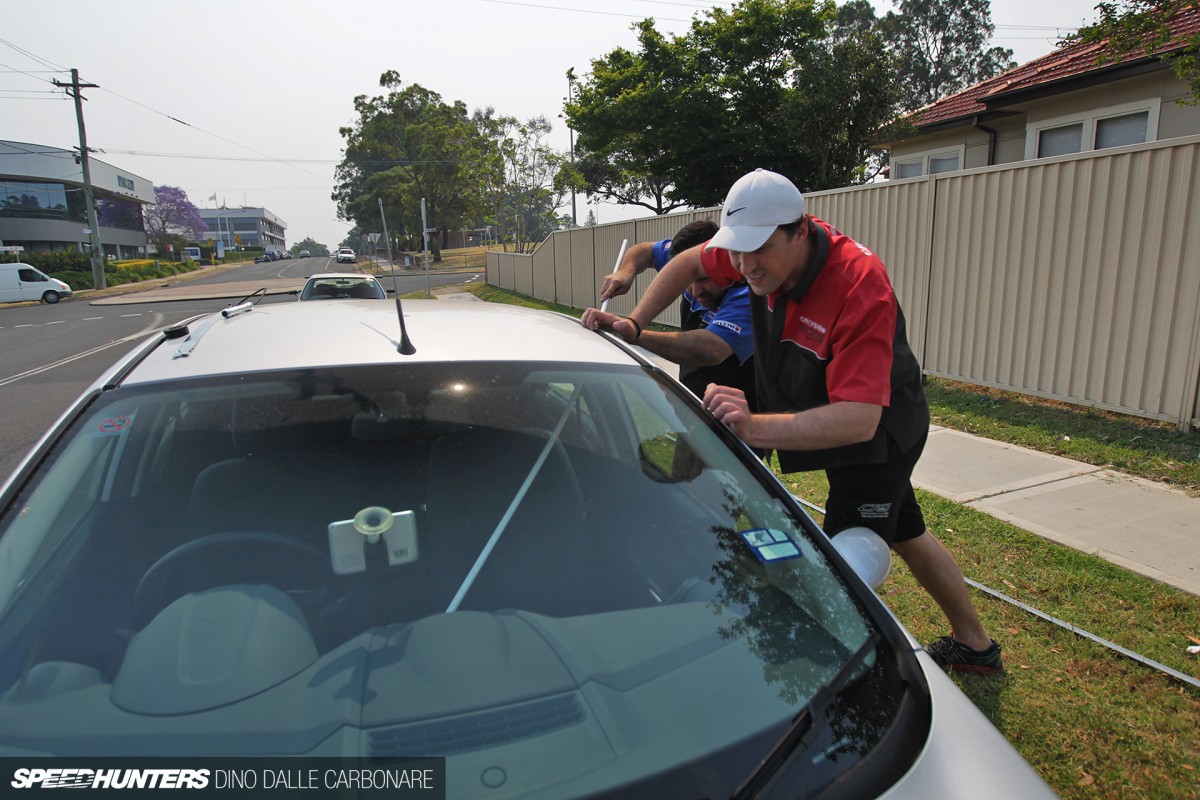 Everyone stopped work and were cool enough to come outside and help out in trying to break into the little Ford. We were all there for a good half hour trying out all sort of tools the CRD mechanics were bringing out. We left the hammer on the ground as a last measure! Curiously enough, a group of men attempting to visibly break into a car didn't attract the attention of anyone, let alone the police. Knowing Aussie cops, they were probably more concerned with people breaking the speed limit by 1 km/h rather than this sort of thing!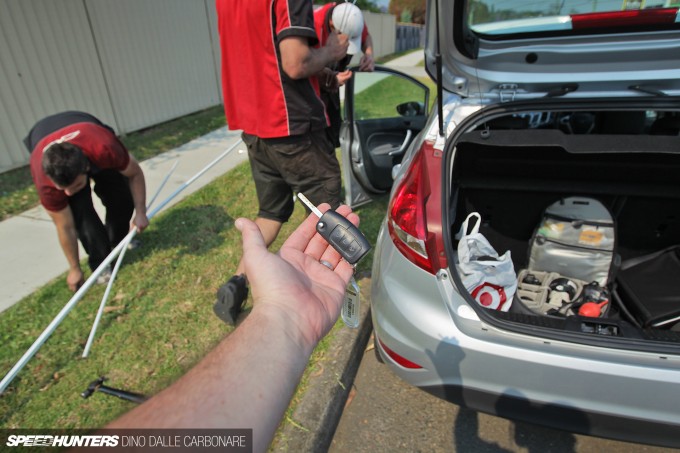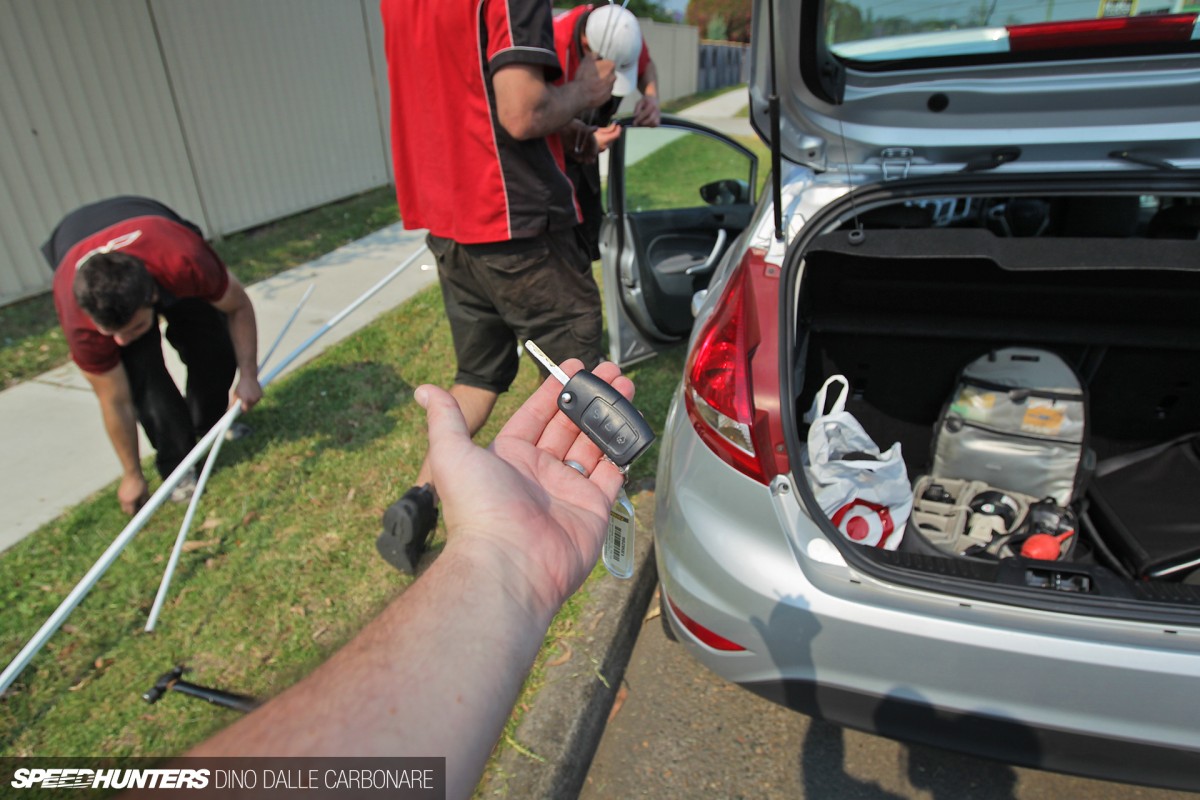 Eventually, after Jim and Andrej managed to actuate the door handle using a couple of long plastic poles pushed through the door seals, the damn thing unlocked. And as assumed, the keys were right there in the trunk, next to the plastic bag I had been living out of for five days after Qantas lost my suitcase on the way over from Japan! It was an interesting end to my Australian trip and I can't thank all the staff at CRD enough for helping me out of a potentially sticky situation. Next time I'll have to go back and do a proper feature of Devlsh and whatever they will be working on next!
Dino Dalle Carbonare
Instagram: speedhunters_dino
dino@speedhunters.com