What better way to dive into this month's Speed theme than with a look into one of the most powerful street cars I've had the pleasure of shooting. The owner, Gio, entrusted his Bayside Blue R34 Skyline GT-R to one of the most respected "Wangan-shops" in Japan. The idea was to create a highly powerful street car capable of 200+ mph speeds and 10 second passes at the drag strip, something that would require the expertise of one man. Known to most as "Smokey" due to his passion for pulling the odd burnout here and there, Nagata-san of Top Secret knows a thing or two about extracting ridiculous amounts of power from cars, so Gio knew he was in good hands.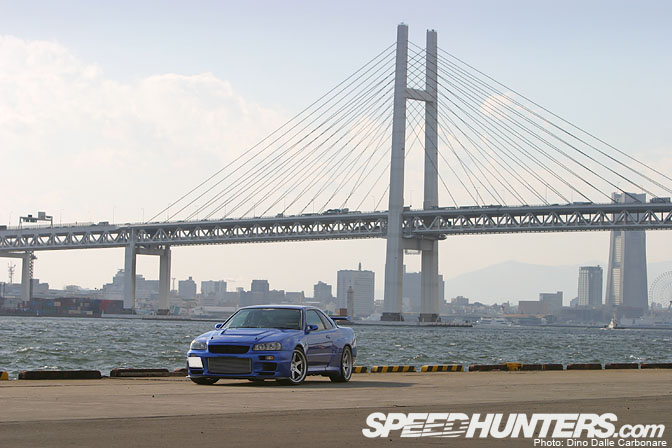 Complementing the engine modifications are a set of aero bits that take care of the aesthetic side of things. Gio had Top Secret fit their original front bumper which sports a massive central opening, precisely what you need when running a custom ARC twin entry drag-spec intercooler! The Top Secret aero hood helps expel hot air from the engine bay thanks to its various openings and is secured down to the car via a pair of safety latches.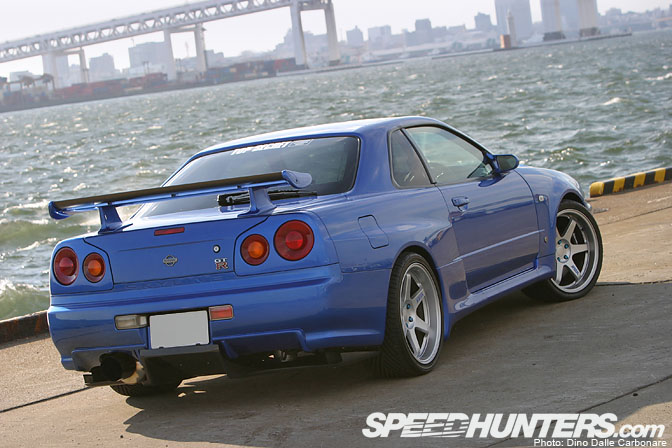 Gio knew he was going to go crazy power-wise. So when searching for a base car, he opted to go with the non-V-spec model without the active rear differential (A-LSD). This also meant no rear carbon diffuser (it was only fitted to the V-spec), so Gio had Top Secret fit their own part, which completes the rear-end rather well.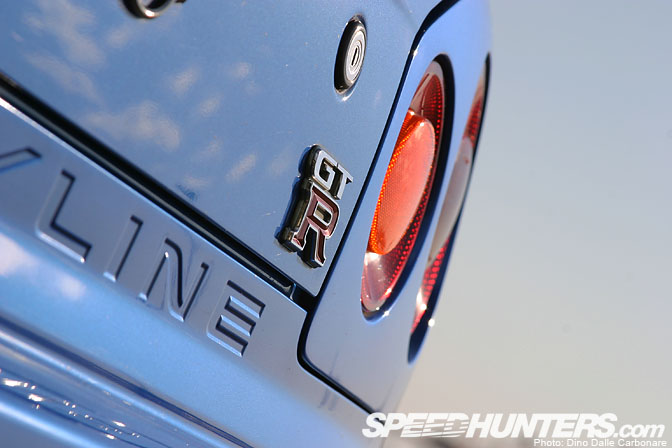 The badge that says it all!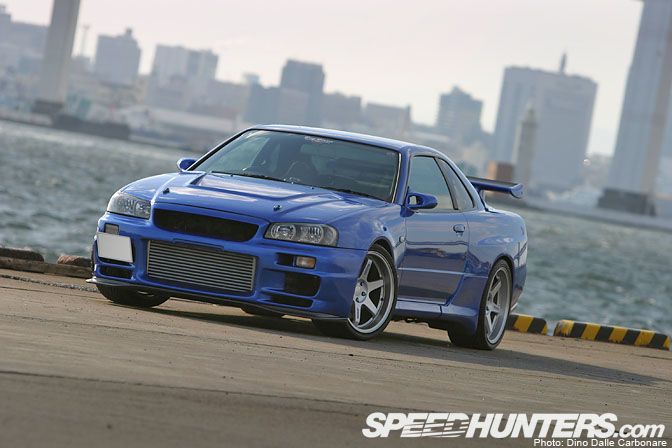 Finishing off the front end is a Top Secret carbon front diffuser which seals off the underside front section for better airflow. Ganador aero mirrors help reduce drag when blasting down the Wangan at full speed.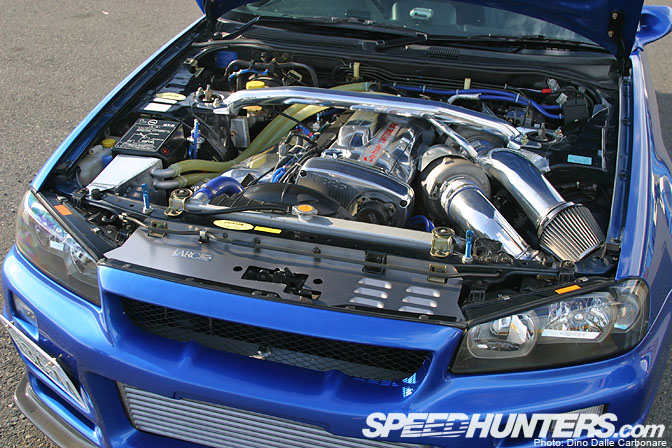 With Gio demanding a power output as close to the magical 1000 PS as possible, Nagata-san got busy on the trusty old RB26. Tons of work went into preparing the cast-iron block in order to take the top of the line HKS 2.8L stroker kit, not to mention the head which was ported, polished and fitted with Tomei valve springs and retainers. HKS step-2 272º 10.5 mm lift camshafts were thrown in along with Top Secret adjustable pulleys.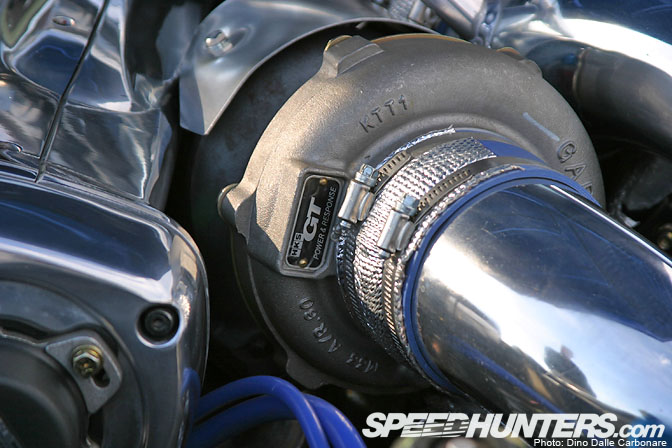 Gio and Nagata-san considered a lot of turbine configurations, but in the end settled for a pair of externally gated HKS GT3037S. A top mount single turbine always looks menacing in a GT-R engine bay. But when you have two of them up there next to each other, you know the car really means business!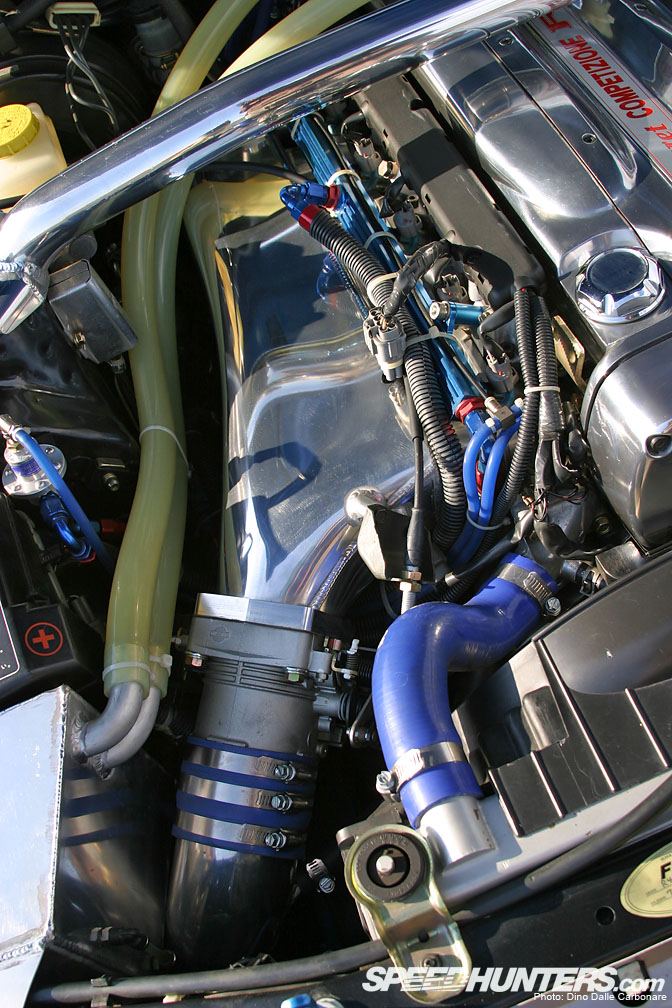 After the air is compressed at 1.8 bar and cooled by the ARC intercooler it is gauged by the Nissan Infiniti ø 90mm throttle body and then on to the Top Secret GT surge tank. Three Bosh pumps take care of the fueling, which is delivered by six 1000 cc/min injectors. Nagata-san was able to tune the engine to develop 892.7 PS on pump gas, that is 796.3 PS to the four driven wheels. With more boost and race gas the 1000 PS mark wouldn't be too hard to achieve, but the "standard" 900 PS proved more than enough for Gio once he took this beast out for the first drive!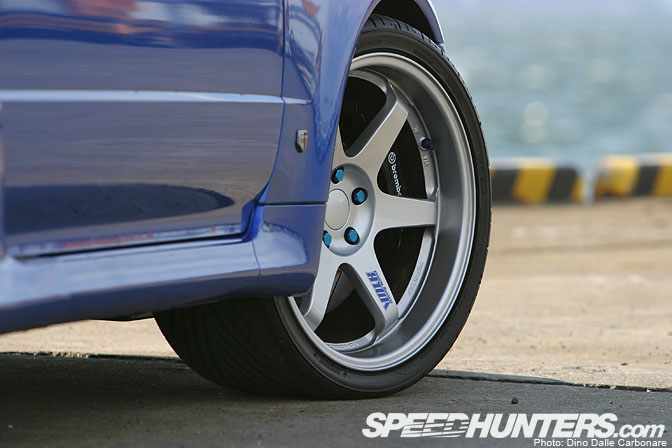 Gio didn't make any compromises and along with custom colored 19-inch TE37s he also had Top Secret fit Ferrari F50 4-pot front calipers mated to massive ø 370 mm slotted discs. At the rear the stock 2-pot Brembo calipers were joined by larger discs to help balance the increased braking force up front, HKS Hypermax dampers took care of the handling side of things.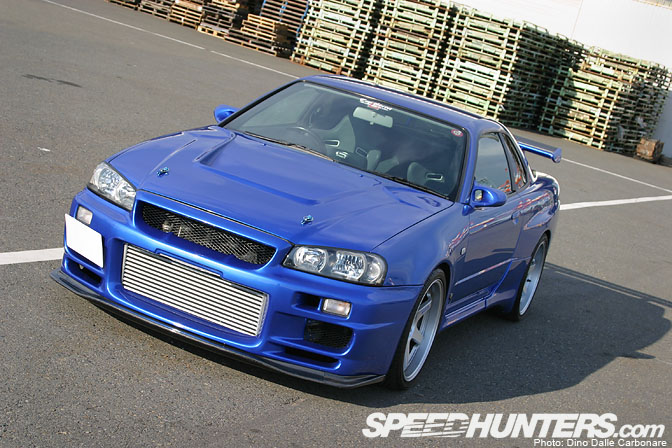 Imagine seeing this in your rearview mirror!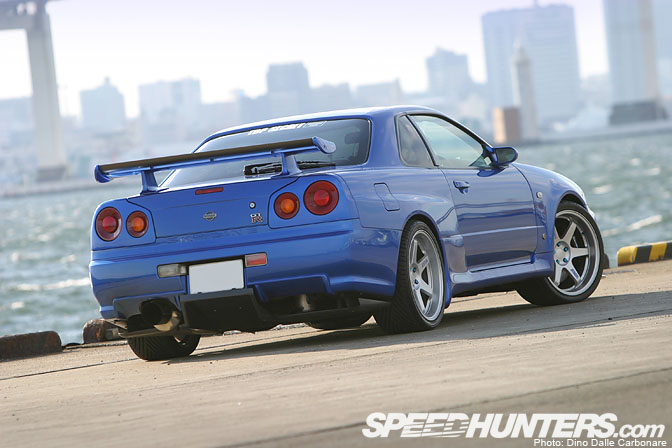 Top Secret did a great job with the fuel system. Instead of placing the Bosh pumps and collector tank in the trunk like most tuning shops do, effectively taking up most of the luggage space available, they fitted all the components under the car. You can see the collector tank clearly in this shot. With all that stuff hidden away no nasty fuel smells make it into the cabin, just what you want in a street car.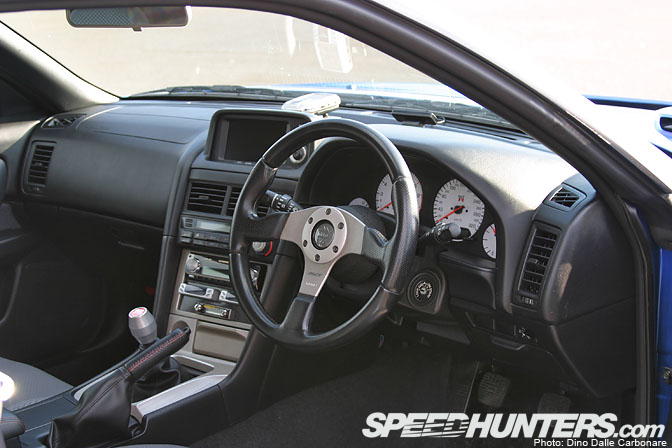 Gio didn't want to sacrifice any of his gadgets, so the interior is sporting tons of toys to keep even the most "otakus" out there happy. First up the main instrumentation was replaced with Nismo white-scale clocks with the speedo reading to 320 km/h…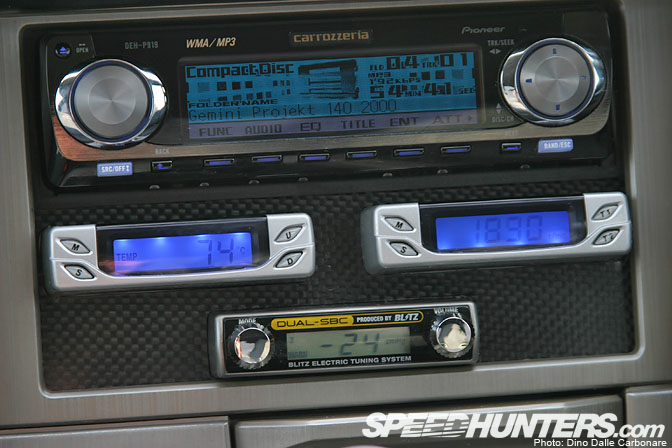 …while under the Pioneer headunit the Blitz boost controller, HKS turbo timer and HKS fan controller were neatly arranged on a custom carbon console. A very accurate Neko Corporation A/F meter/display was fitted right in front of the main instrumentation for easy consultation. A Nismo Multi Function Display Ver.2 upgrade displays a few more parameters from the LCD display, not requiring messy dials to be located around the cabin.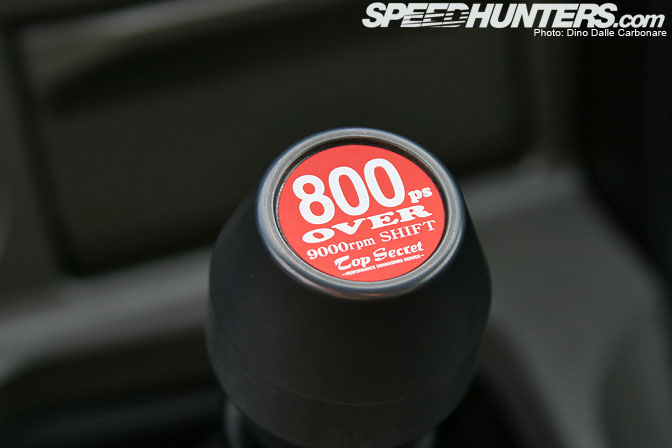 This is a neat and rather humorous touch, something that can be obtained from Top Secret if your car really does what it says on the label!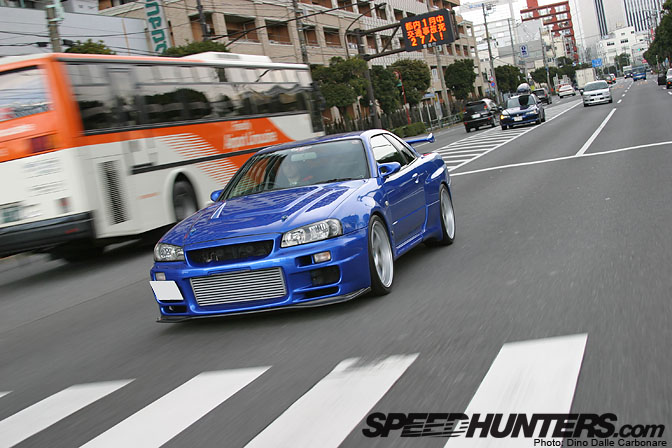 The heavy triple plate clutch can be hard to dose at times, and the massive injectors can make turning the engine on a pain at times. But Gio's Competizione-R has never put a foot wrong, proving to be usable even through the busy streets of the capital.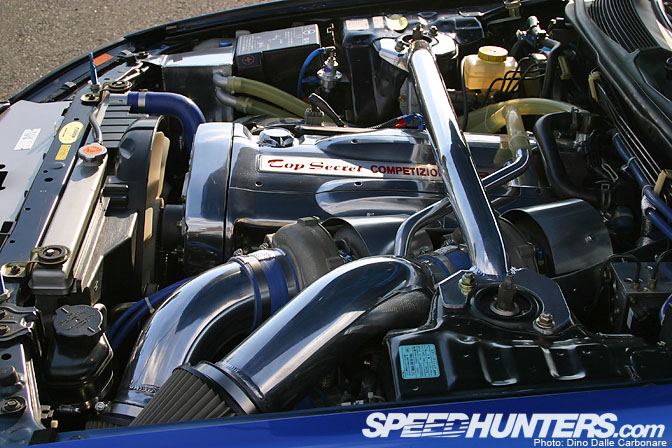 Sunglasses are always recommended when looking at the engine bay, especially on a sunny day!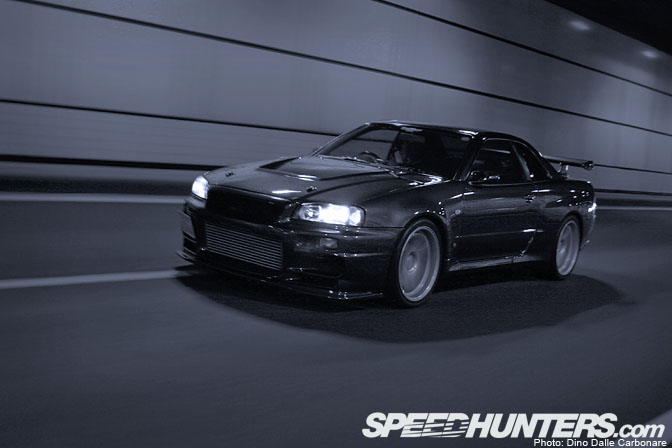 Gio has enjoyed blasting through the Wangan and its tunnels in his 900PS daily driven monster for years. The R34 has become a well known attraction at the Daikkoku PA meetings, and if anyone sees it out on the streets they will be sure not to mess with it unless they thing they can keep up! After running this set-up for a while now Gio decided to go for a little change in direction with the latest run of modifications, transforming the car completely into an even better performing Competizione-R. To find out what he has done you will have to wait until the end of the month. Don't miss it!
-Dino Dalle Carbonare