Daily Design, In 1/64
You know things have gone well when the term, 'Time flies when you're having fun' applies to your job. For the designers here at Hot Wheels, that saying holds true. How do I know? May 2014 marks my 10-year anniversary of design for the Hot Wheels brand, and the past decade absolutely flew by.
I'm always asked what it's like to work here. For most, there's this vision of a Willy Wonka & The Chocolate Factory-like environment. In many cases, that's true. We are a toy company after all, and our objective is to create the most fun and compelling toys for kids of all ages. So it's no surprise when there's some sort of rocket flying through the air over your marketing meeting, or cheers erupt from one of the creative areas as we've just made our die-cast cars do unthinkable stunts on the latest track set.
During the past decade, I've spent the bulk of my time designing for the die-cast division of Hot Wheels. This is a special place where the love of cars, design, and toys come together. Virtually everyone on the team comes backed with education and experience in automotive design. Every Hot Wheels car design, regardless if it's a Hot Wheels original, a stock licensed vehicle, or a heavily modified one, has been designed and followed through by one of our designers to make sure they look and perform their best. You get a lot of cars done in 10 years; I've designed several hundred, but I'll openly admit that I've lost track of them all. While each one has been fun to design, I do have my favorites and thought it would be fun to share these with you. Here we go…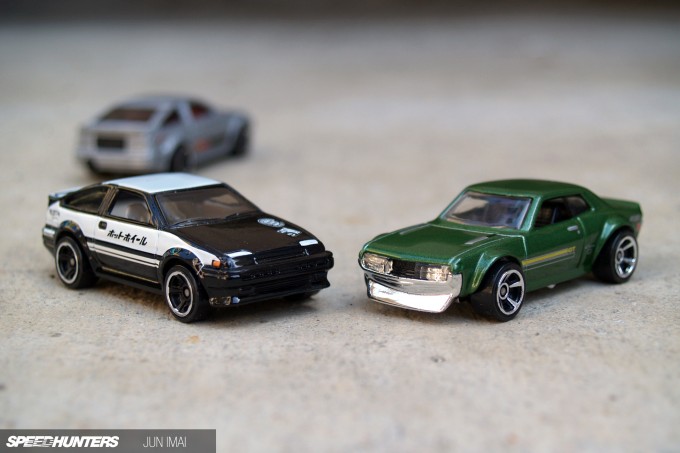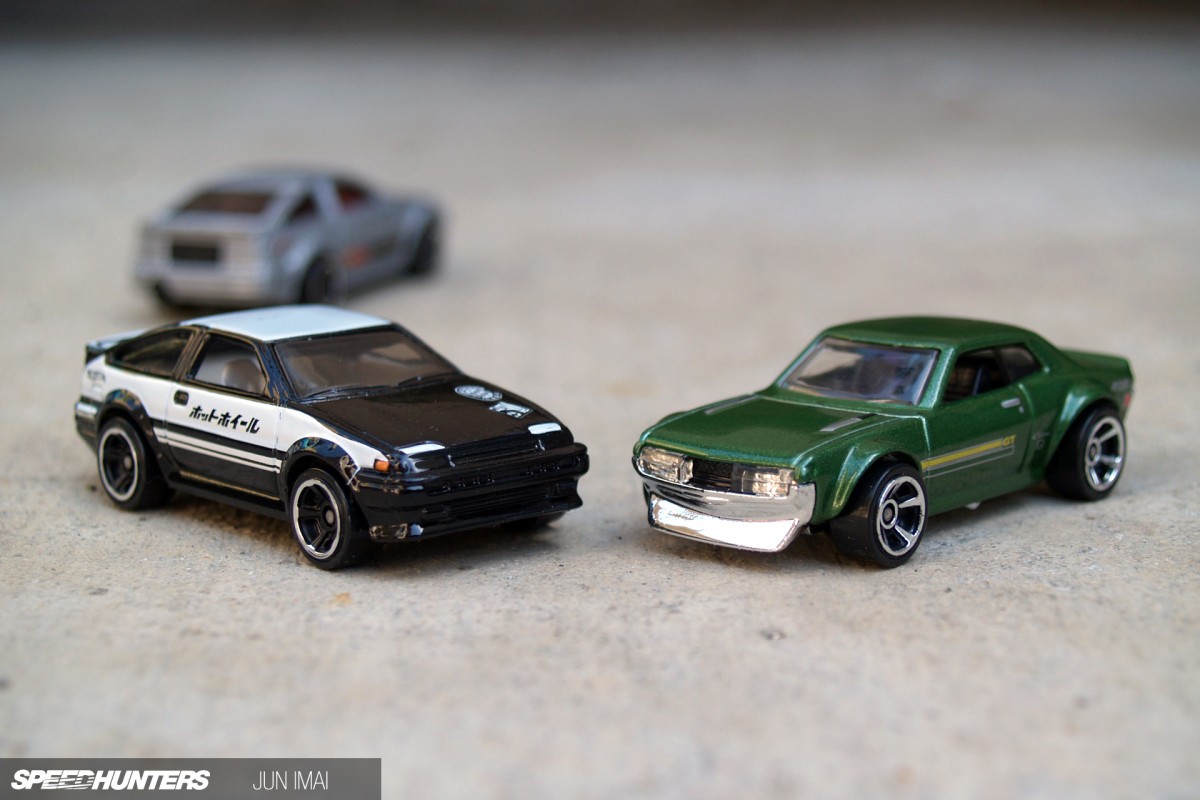 I'm starting this off with one of the very first cars I did, the AE86. This is one of the cars that started the mega rollout of classic J-tin at Hot Wheels. I especially like the more recent graphic versions we've released, like the panda pictured above; it's the quintessential Hachiroku. Hard parked next to the AE86 is the Daruma Celica which came out recently. If I were to build a Celica, I'd do it just like this – big flares, snowplow chin spoiler, and headlight covers. Regarding those covers, note that it's the same part as the windshield. Another trick we do when we design these cars is we make the most out of the four parts we get: body, window, interior and chassis. Clever breakup gets us a free detail or two!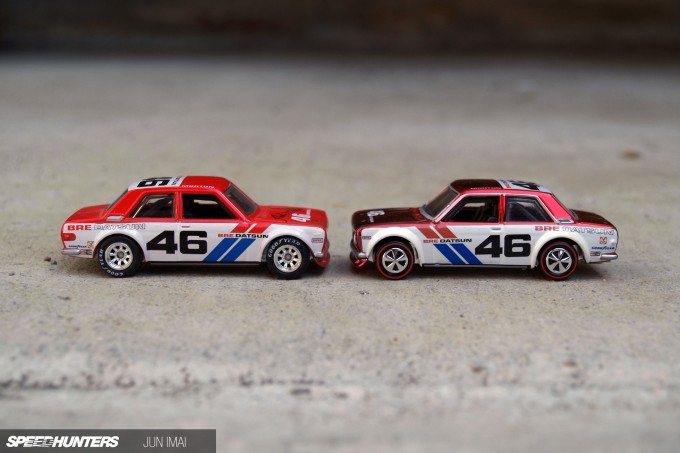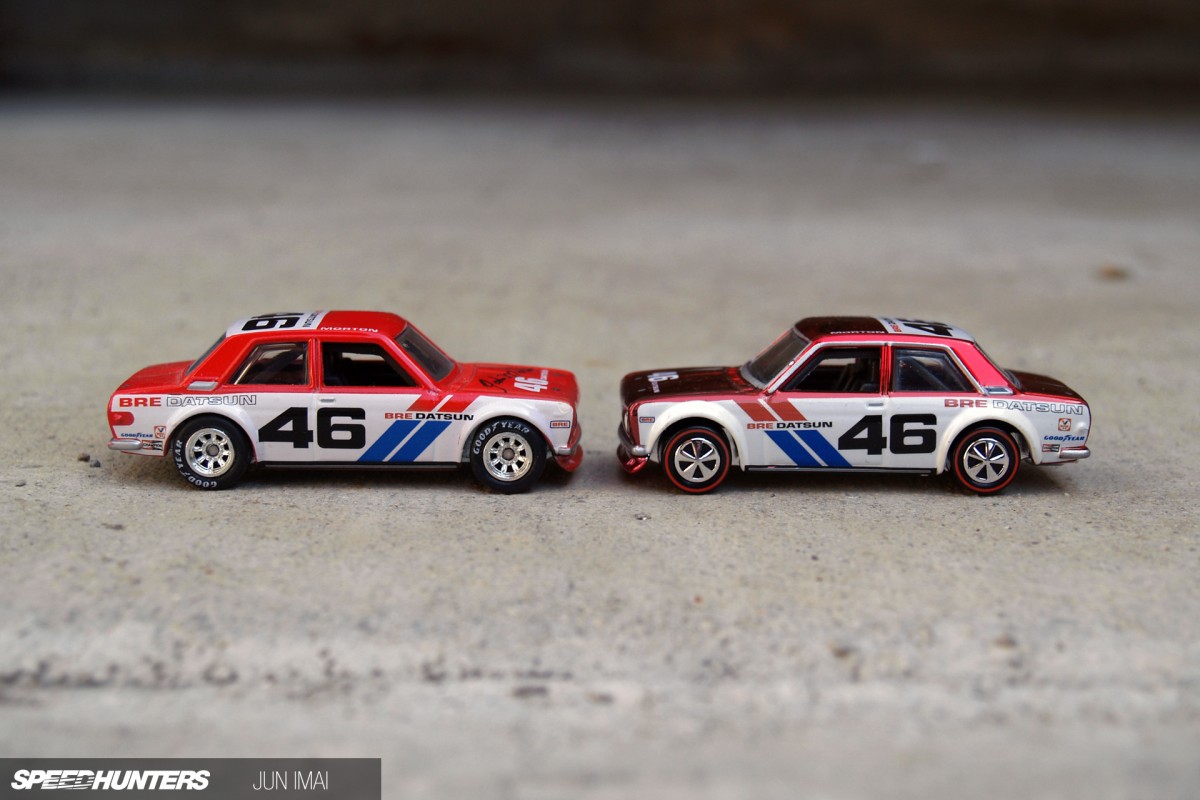 Another car I've pushed for since 2004 was the Datsun 510. Five years later, the persistence paid off and it was finally approved to become part of our lineup. We've done several graphic versions since its initial release, but it's the limited BRE cars you see above that melted down the internets on both occasions. I had the privilege of having John Morton sign both of these for me, and he even raced the one on the right down our in-house downhill track at Mattel HQ.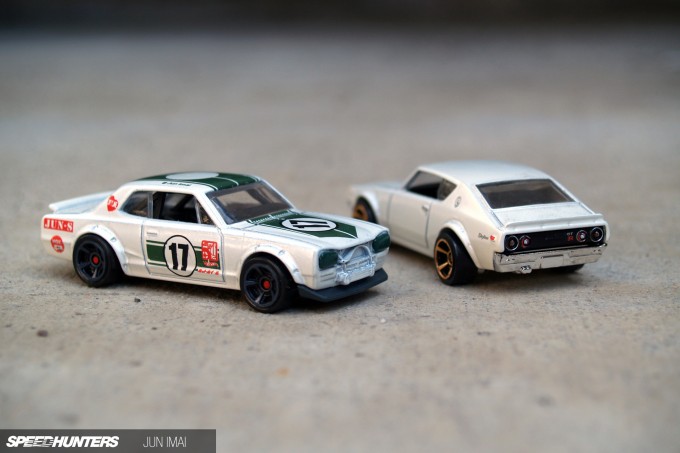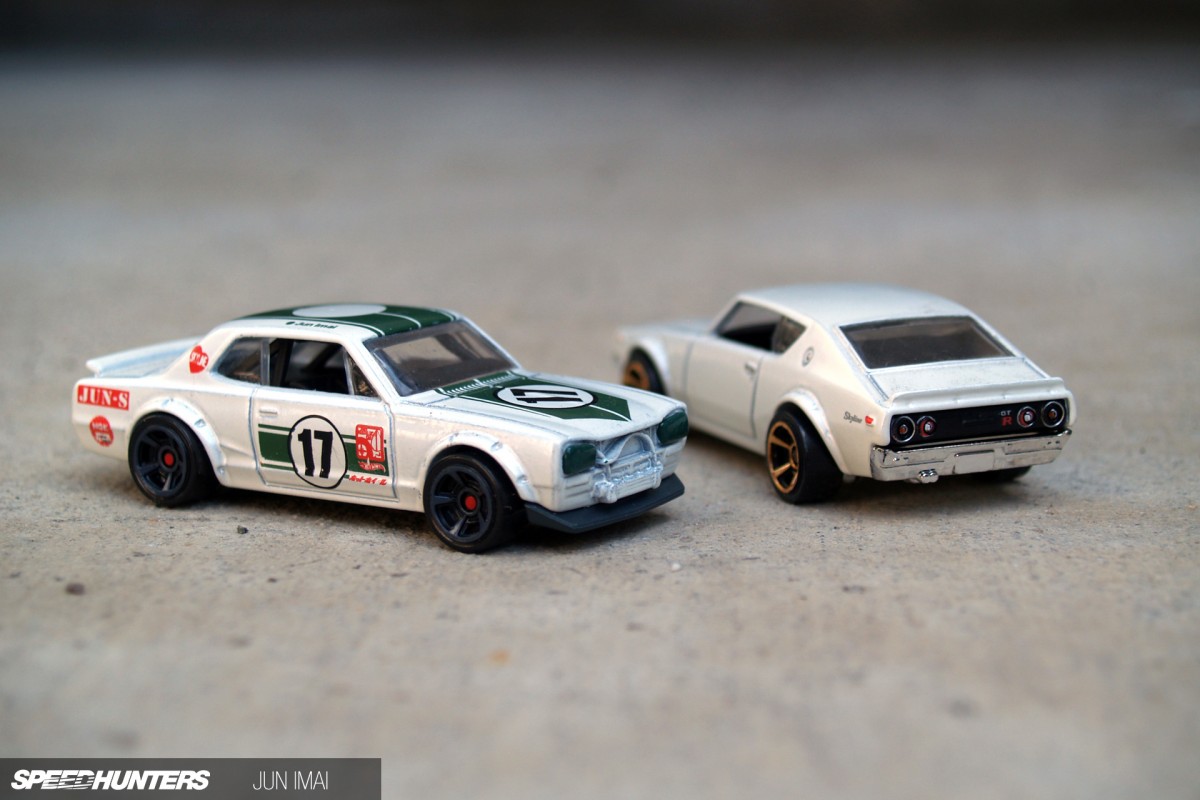 As great as the 510 release was, minds were blown when the Hakosuka and Kenmeri Skylines emerged in Hot Wheels form. Not only that, but we released them both in the same year! The Hako' is just the way I like them – racing style with headlight covers, bumper delete, oil cooler and big chin spoiler. I decided to keep the Kenmeri a bit simpler with subtle flares and spoiler. One day, I'll have one of these in 1:1 form in my stable, although right now my wife is shaking her head in disagreement…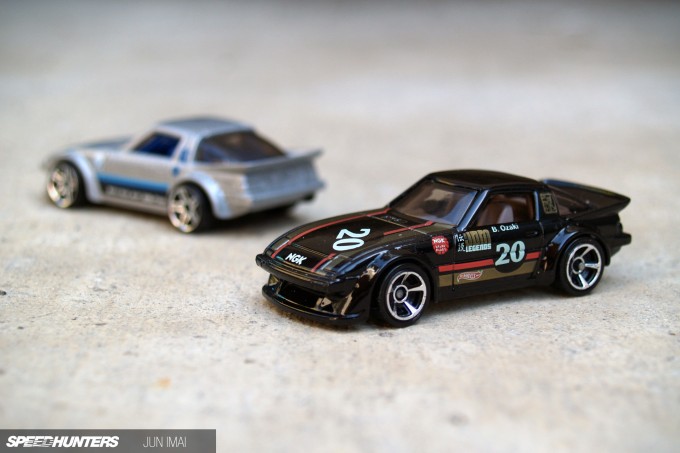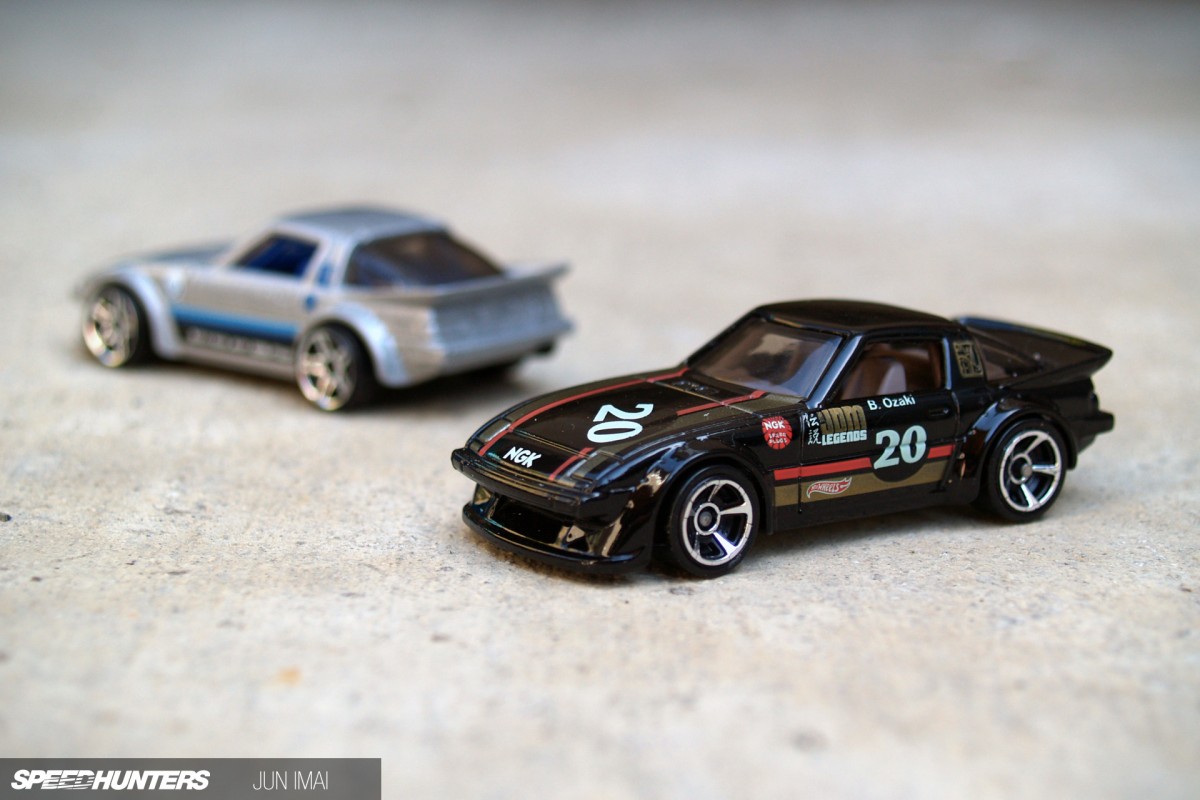 The drive to add the RX-7 to our lineup started with hallway conversations with my colleague and good friend Brandon Ozaki, a self declared hoarder of all things rotary. The fun fact is the development of the Hot Wheels version inspired two full size builds- Brandon's own RX-7 you can see here, and the JDM Legends RX-7! See what happens when you put people's names on cars?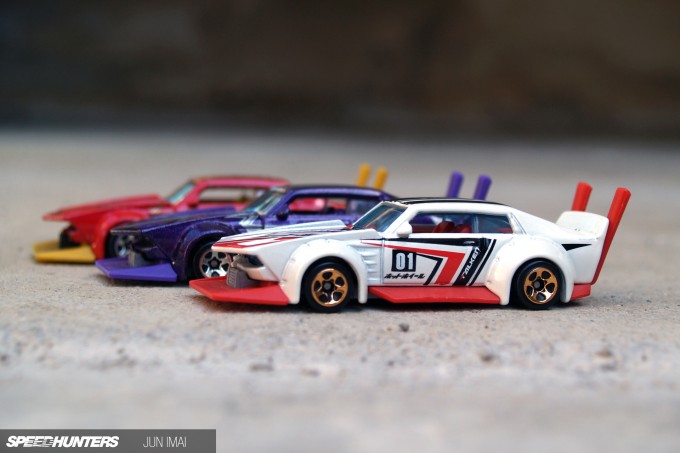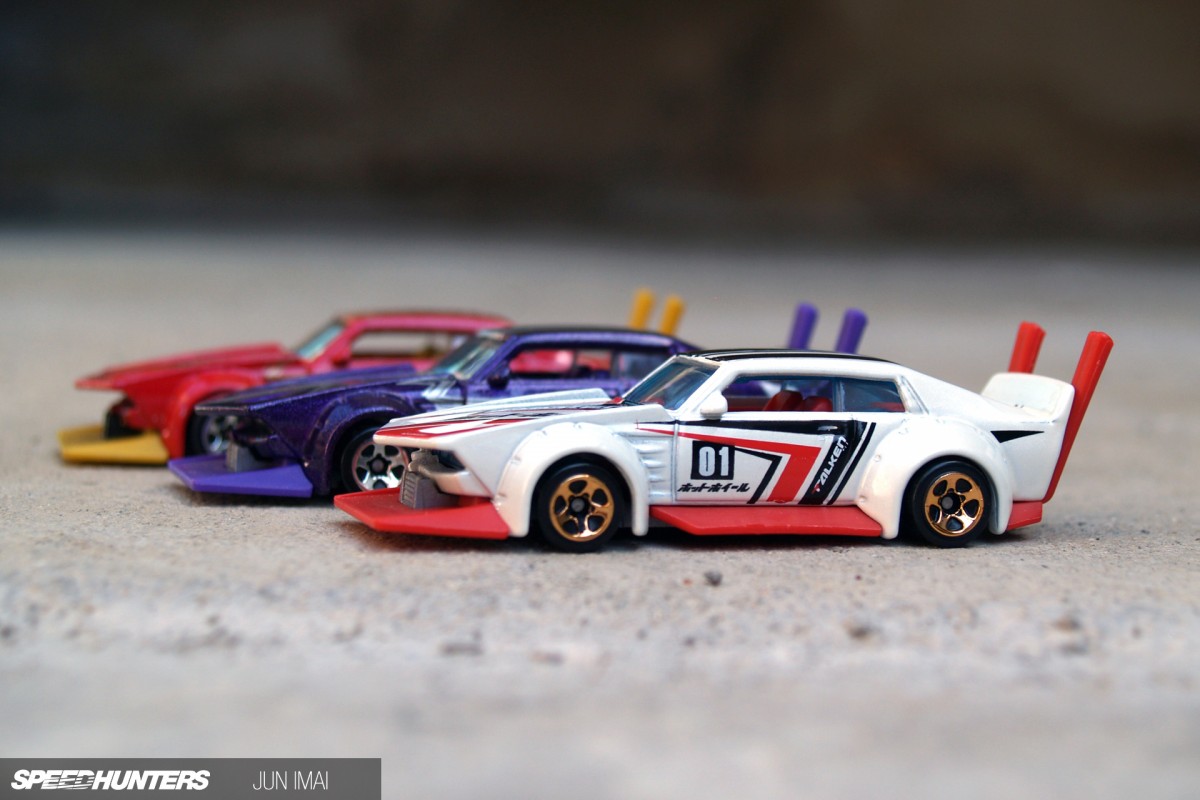 Who would have thought that you could walk into your favorite big-box retailer and pick up a kaido racer off the pegs? You couldn't, until Mad Manga™ was created. Making this possible is the fact that it's a Hot Wheels original design, giving us unlimited creative freedom. Adding the oversized ovafen, deppa, and takeyari pipes would likely have been a challenge on a licensed vehicle. To this day, there are still people trying to figure this thing out. If they only checked Speedhunters once in a while…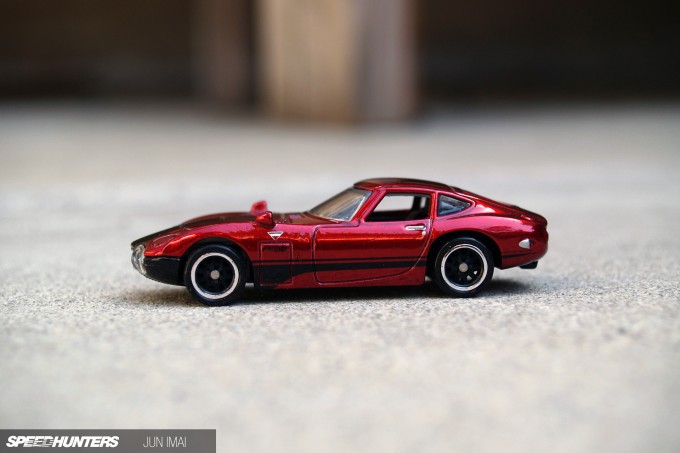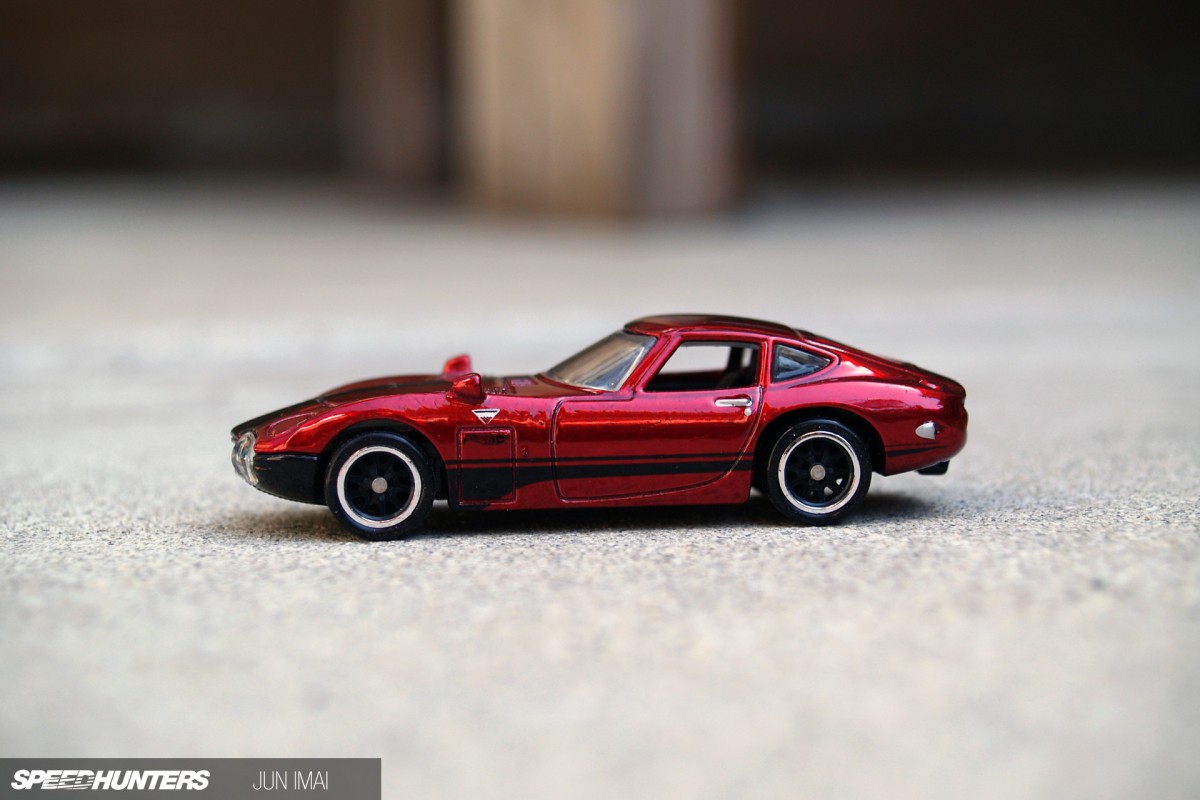 The Toyota 2000GT also took fans by surprise, because it was never announced; it just showed up. The reason is the casting was designed for a series that got canceled during production, but I wanted to make sure this one saw the light it deserved. It found its way into our basic product line, and suddenly showed up on the pegs. I'm especially happy with the details, like the fender mirrors and the light lenses. If you look at the interior closely, you'll notice it's a proper racing version with a single bucket seat and partial roll cage, hinting at what should have been in that defunct line.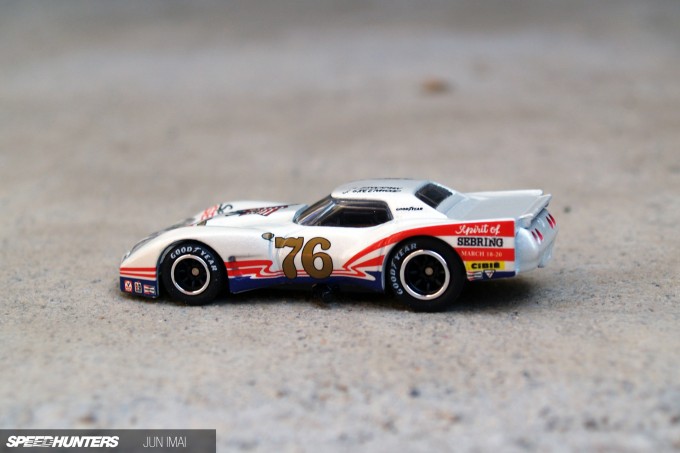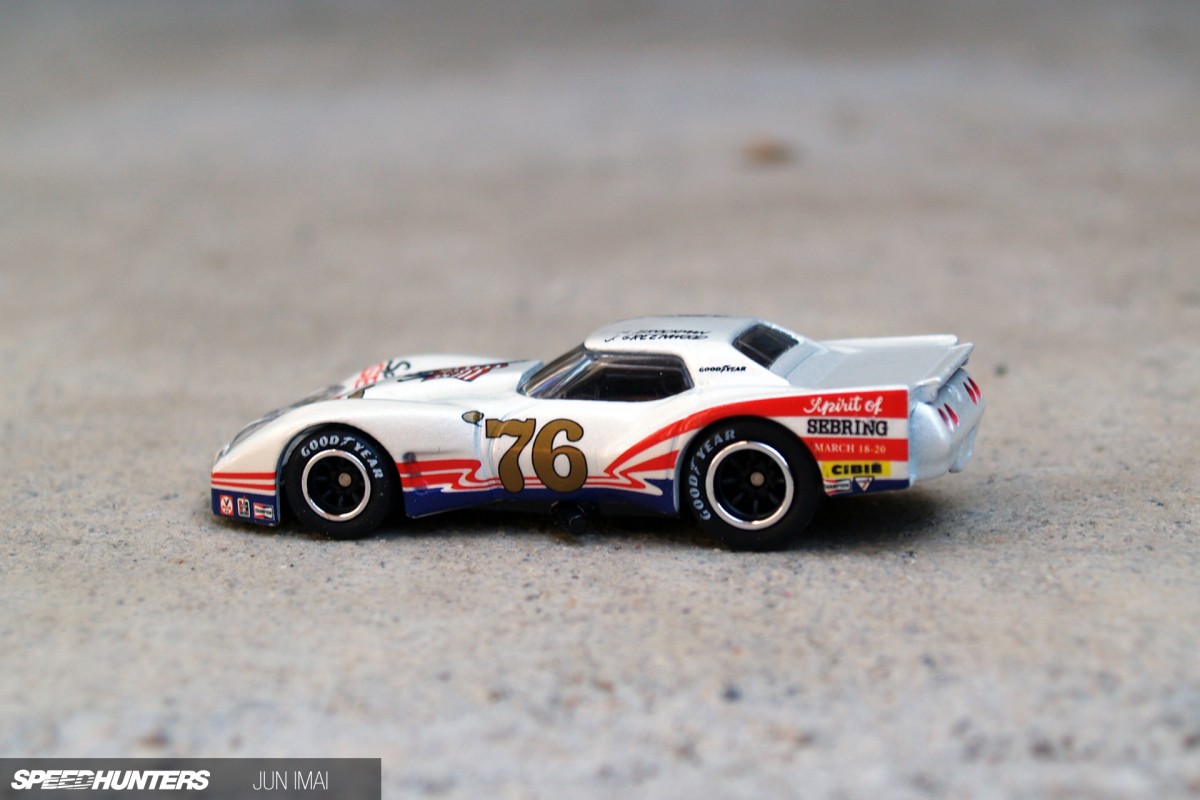 We worked hard on the '76 Greenwood Corvette to capture the menacing stance and details at our scale. Greenwood was very enthusiastic about the project, and we worked closely with them to make sure our details were accurate. This version appeared in our 2012 Hot Wheels Racing line, and we outdid ourselves on this one. Easily one of my favorites!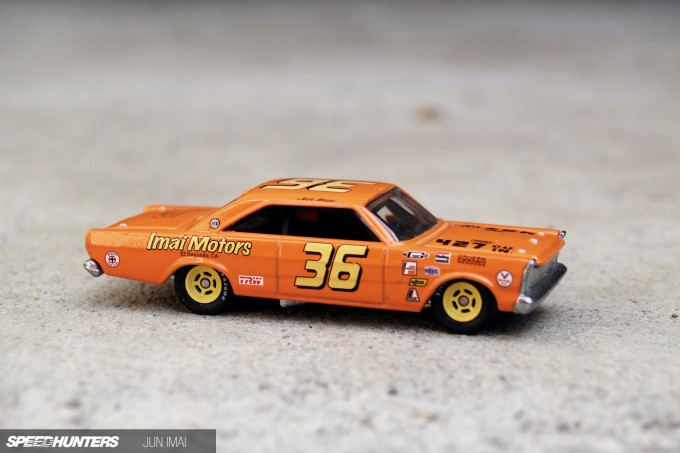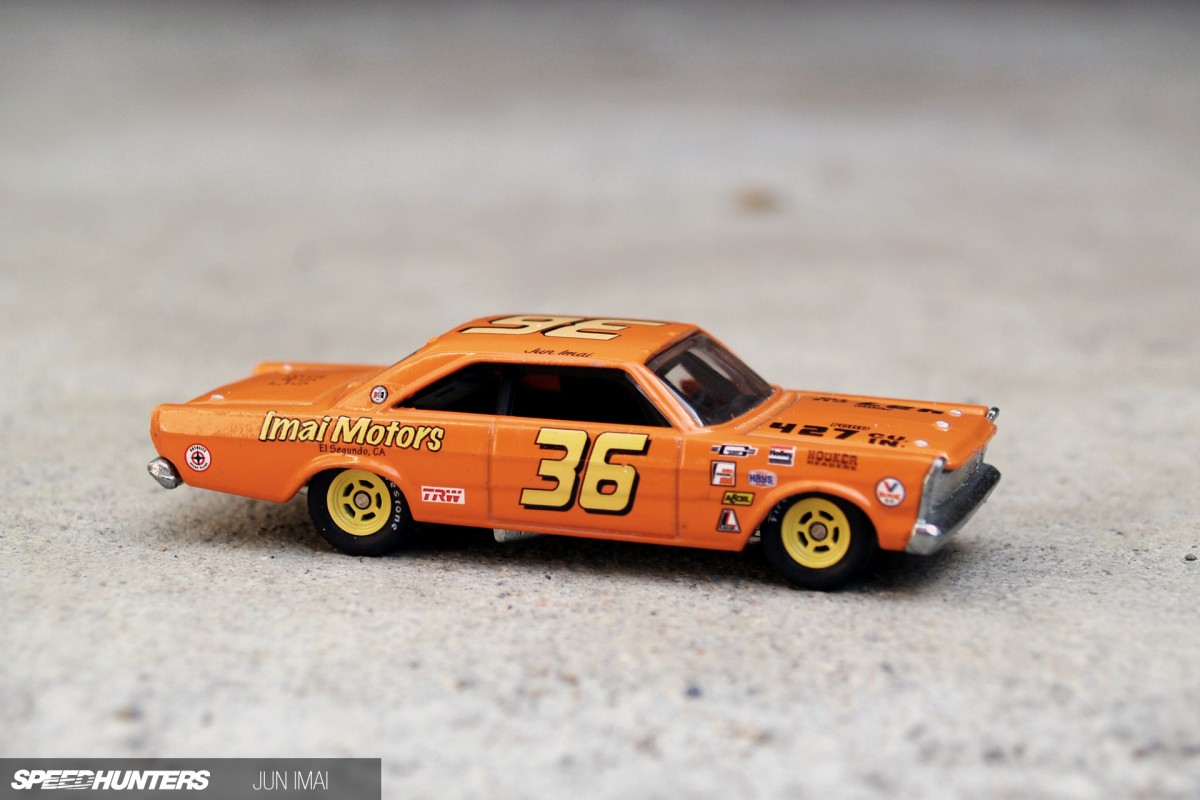 From the same series as the Greenwood Corvette came the '65 Ford Galaxie. For me, this car represents the epitome of vintage stock car racing, with its slab panels and monstrous grille. We did several variations of this one, including Junior Johnson's #26 car, but my personal favorite is the fictitious 'Imai Motors' deco in orange and off-yellow. There's a '66 for sale not too far from me, and I have those thoughts every time I drive by it… nope, it will not physically fit in my driveway. But wouldn't it be fun to build a big bodied bruiser like this to whip around track day?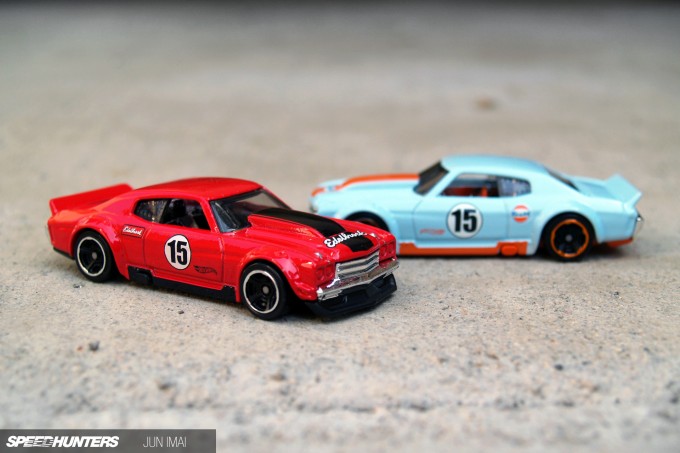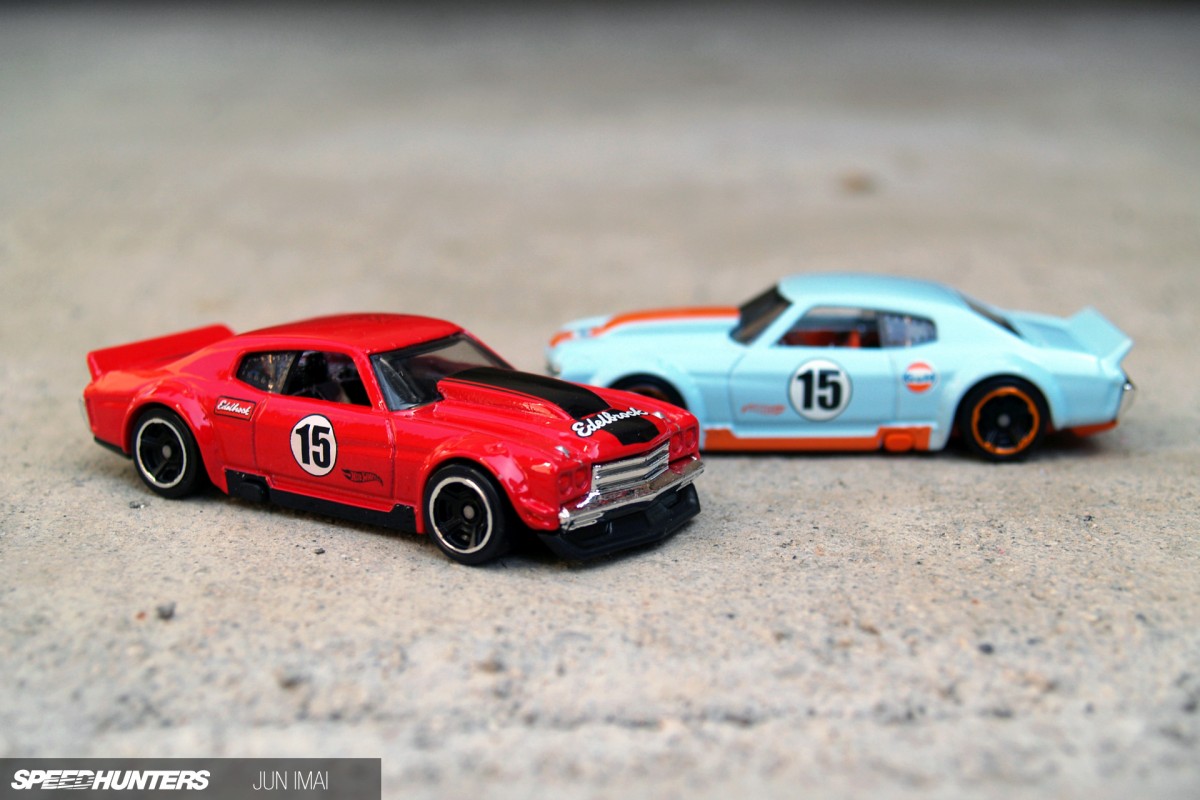 When I think of Chevelles, I usually picture them tubbed out, pro street style; but what if you built one up for circuit racing? That's what I did for my take on this '70 Chevy Chevelle SS. The body details should look familiar if you've picked up some of the classic JDM offerings from our line. The chin spoiler, bolt on flares and wing are inspired by them. Look close at the back and you'll notice an under spoiler, something you're more likely to see on an 80's zokusha on its way to Daikoku. They wouldn't be typical on a Chevelle, but it all comes together here.
Many Cars, Many Styles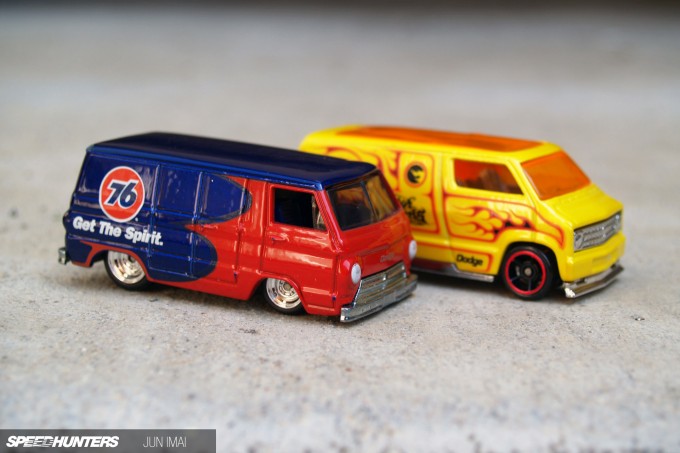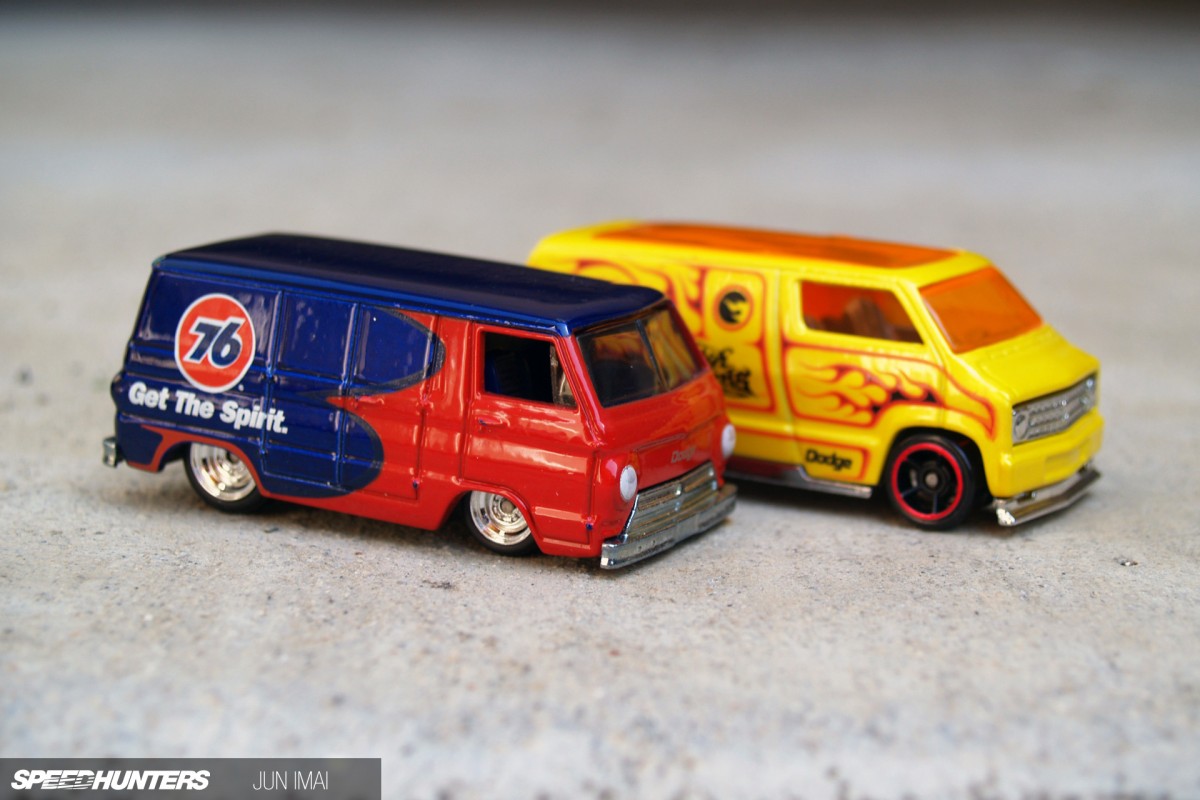 I admit, I have a love for large, slab sided vehicles and vans are no different. I've recently become a van owner myself, and can attest to their versatility now that I'm a parent of two. These two Dodge vans are among my favorites in both Hot Wheels and 1:1 form. I love the cab-over proportions of the A100, and they always look great slammed with some rake. The '77 Dodge Van next to it has modernized body panels and racy details. The panoramic roof is so fitting on a '70s van, and lets you peek inside to see something you normally wouldn't find – four bucket seats with racing harnesses.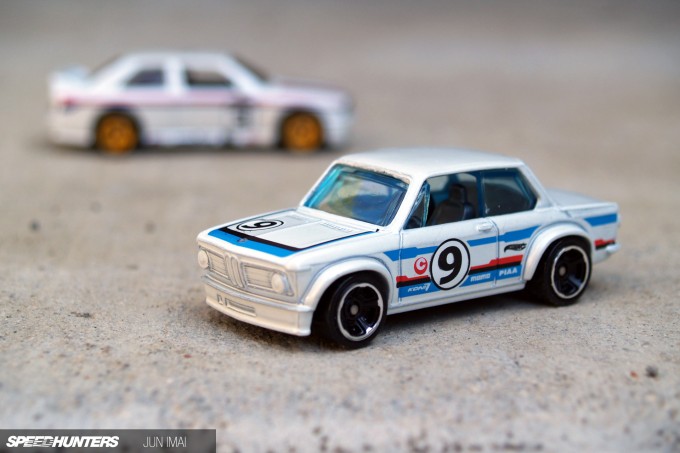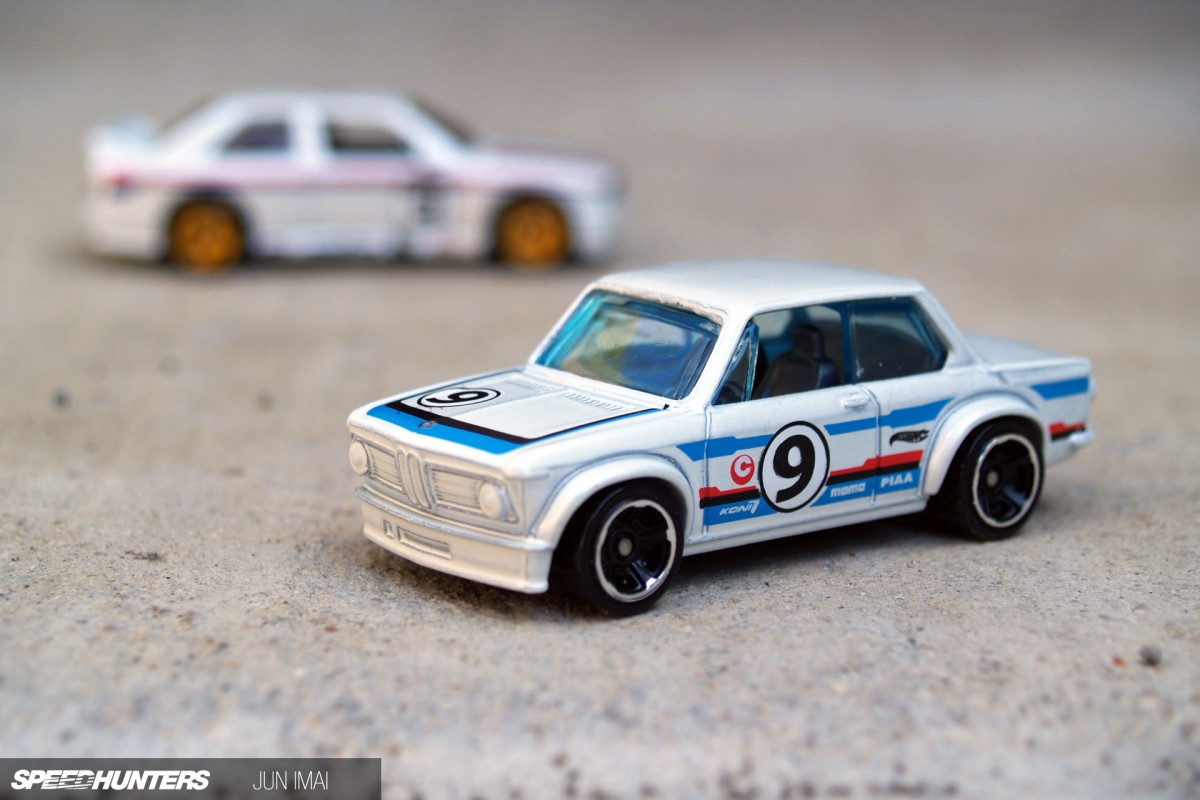 I have great admiration for German automobiles, and for me, classic BMW's and Porsches are hard to beat. I dream of them constantly, and until I can add these in my garage, a few Hot Wheels versions will have to do. Both the 2002 and E30 M3 are high on my list of wanted cars, so it was natural for me to bring them to the Hot Wheels paddock.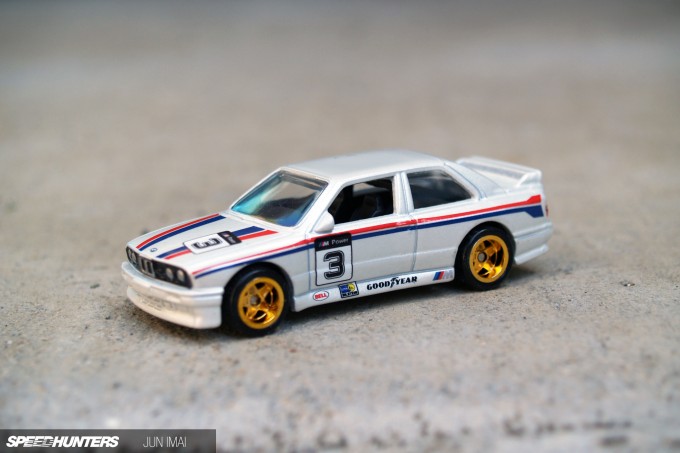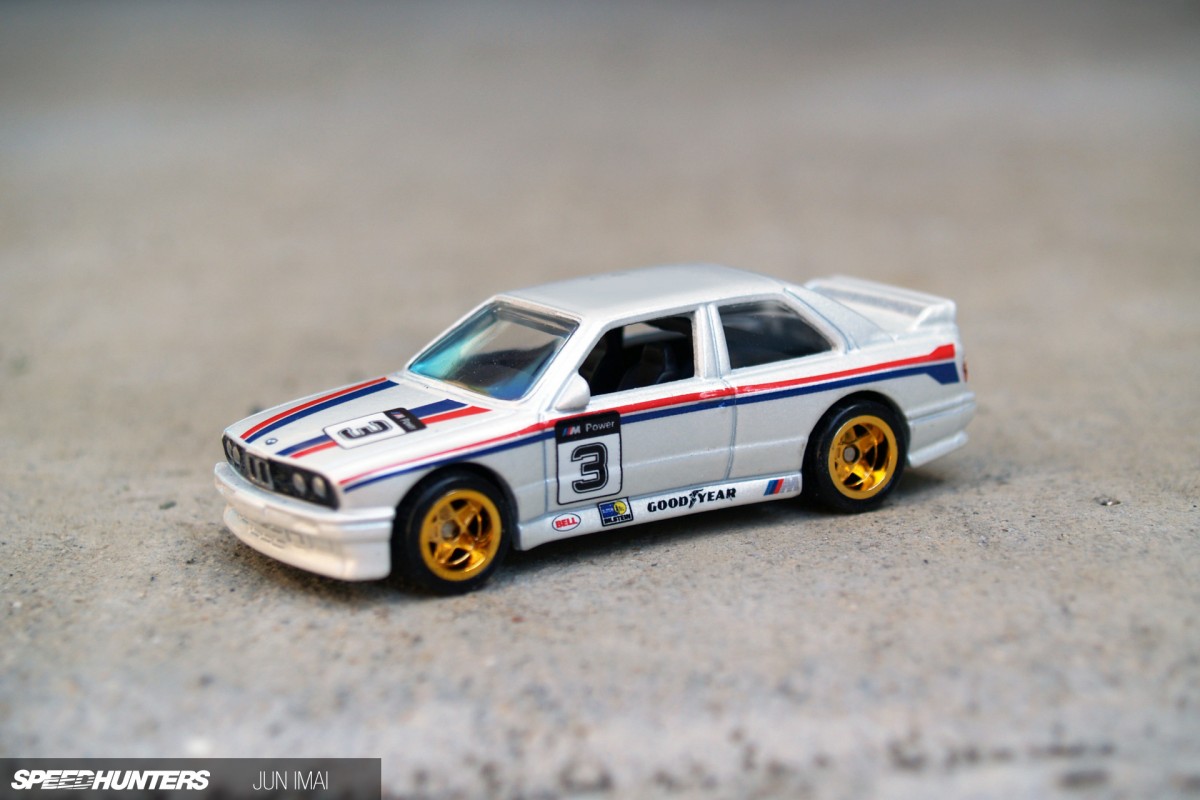 We took the E30 M3 a step further by using DTM-style mirrors, and a semi-stripped interior with roll cage. I would have preferred a flatter faced wheel on this version, but we pull what we can from our massive wheel bank, and these '80s style five-spokes fit the theme well!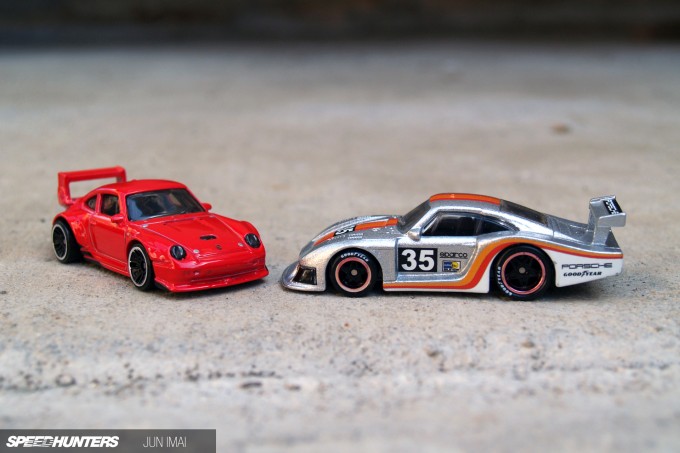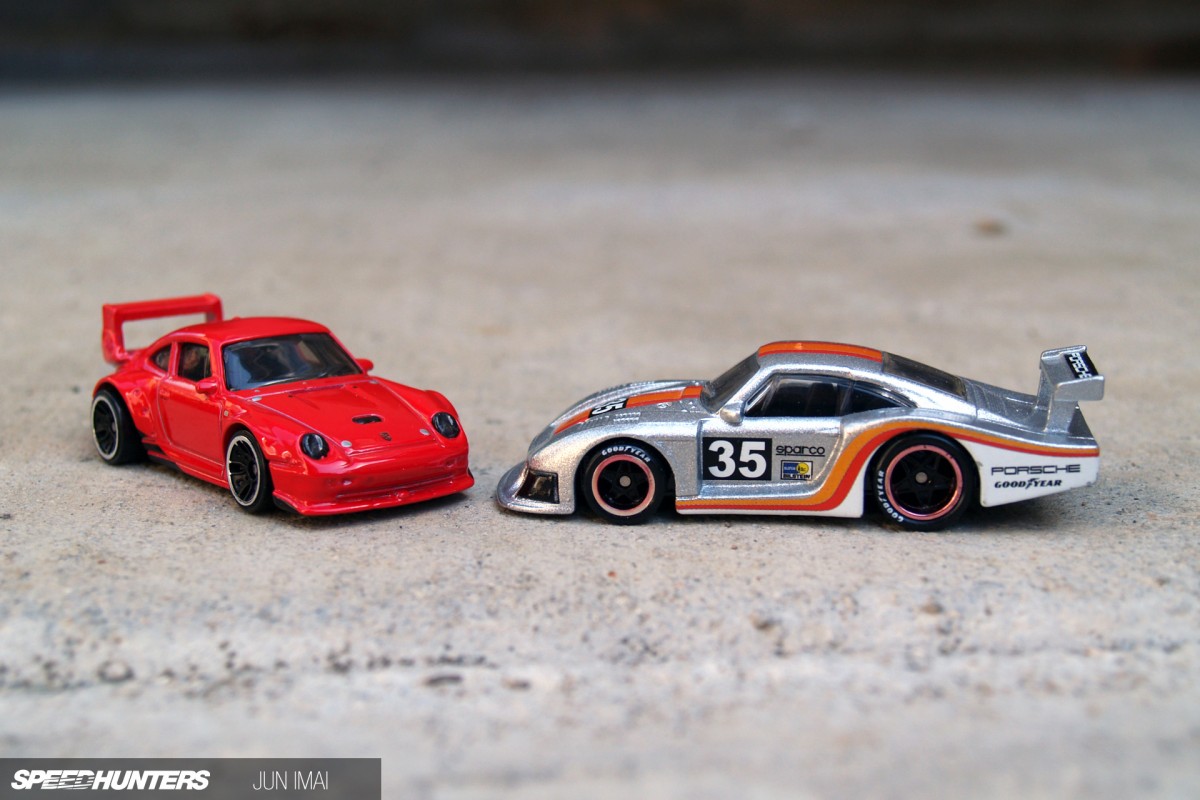 Then there's the Porsches. If there is one car I've been wanting more than anything, it's an aircooled Porsche. The 993 has been one of my dream cars since it came out in the '90s and I'm still after one, despite their skyrocketing prices (although that goes for most old 911 nowadays). For Hot Wheels, we created the GT2 version of the 993, because if you're going to dream, you might as well dream big right?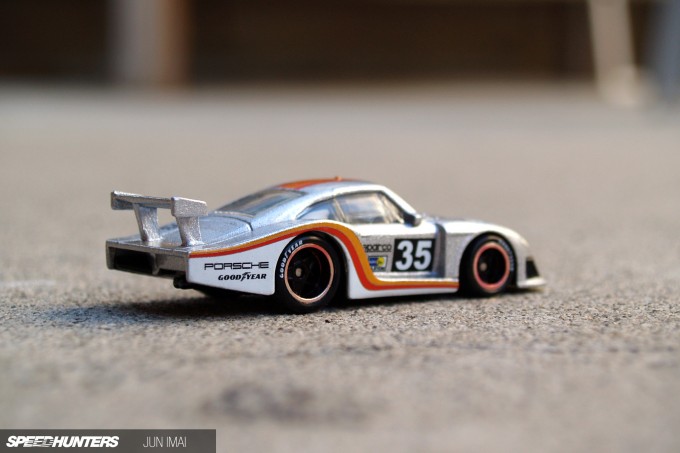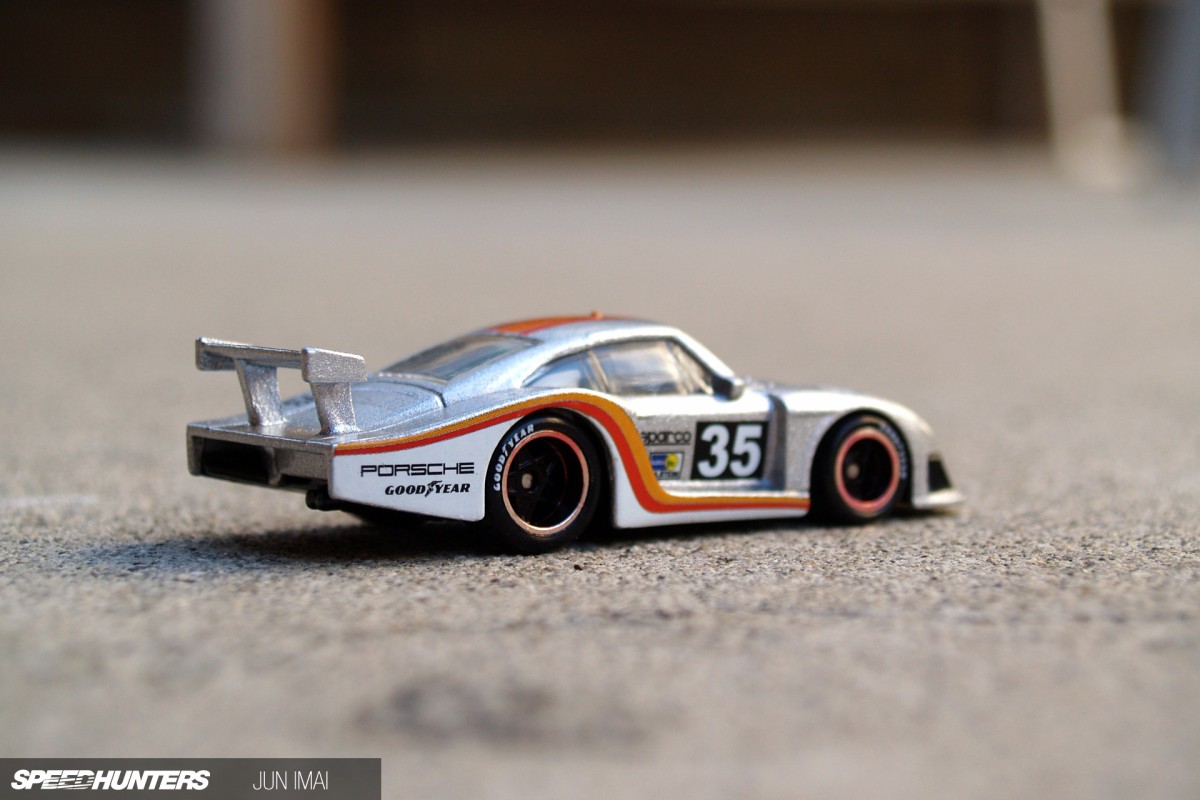 Few things in life are as beautiful and exciting as the Porsche 935/78, and I was really happy to be able to work on the Hot Wheels version. This was one that posed quite a challenge due to its proportions and shapes, and making it all work with our existing wheel sizes and axle spans. I'd love to see this one in as many different liveries as possible.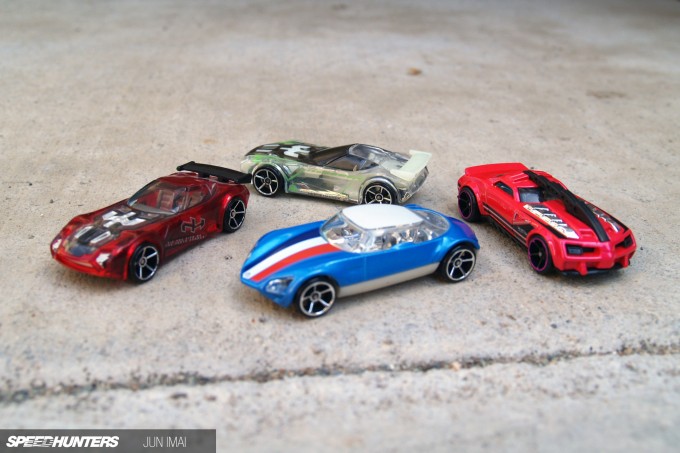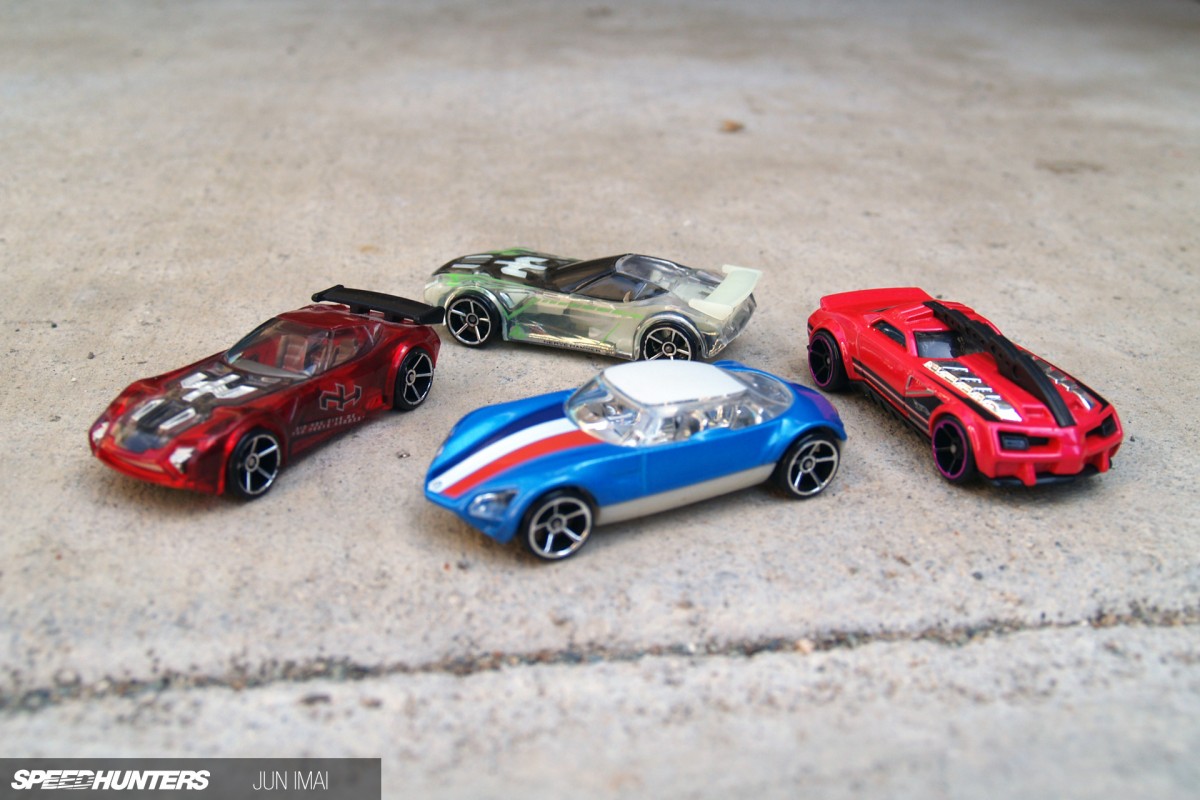 About half of our newly designed vehicles each year are Hot Wheels originals, and they vary from realistic race vehicles to sharks with blown V8s on them, and everything in between. Anything goes with Hot Wheels originals, and for these we aim to make them fun and exciting for kids. That's why you'll see features like transparent bodies, glow-in-the-dark interiors, maybe a big grind rail over the top of the car to crash through a road block. Nothing performs better on our track and play sets than these cars, as they're designed and tuned to maximize play with our sets. And the designers run wild with these cars and let ideas and concepts fly.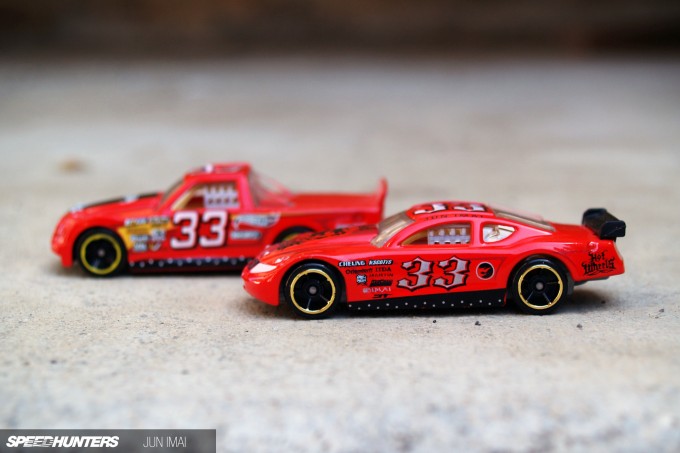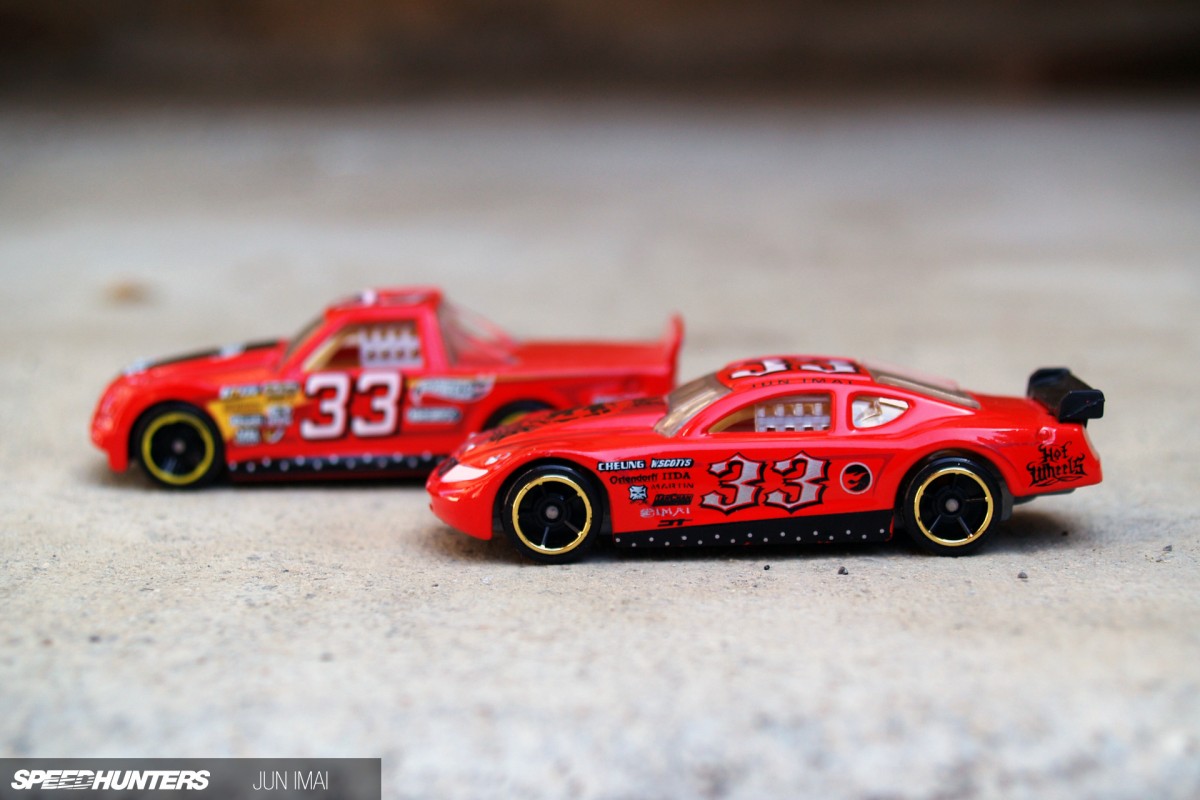 The two vehicles above, Circle Tracker™ and Circle Trucker™, are original designs I came up with as next-gen stock car racers. They're low slung and sleek for that modern oval racer look, and the interiors are designed for race duty – complete with the window netting, safety equipment and full roll cage. But what's not immediately obvious is they are designed to outperform on our track sets. The body shape, dimensions, weight, and clearances are all designed for high speed track play. They'll run the oval all day long, but they'll also negotiate loops, corkscrews and jumps just fine.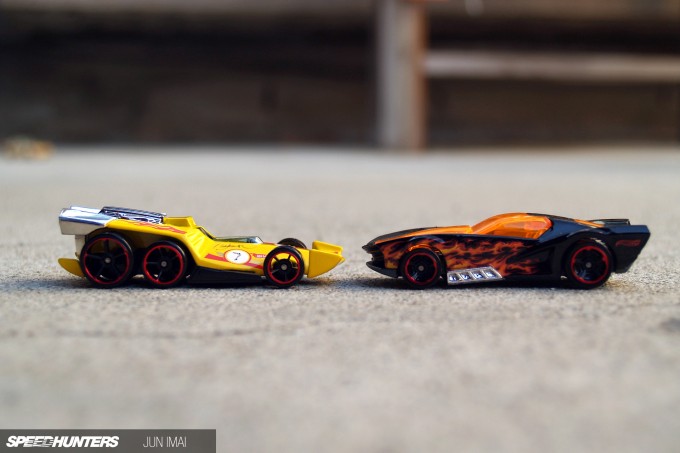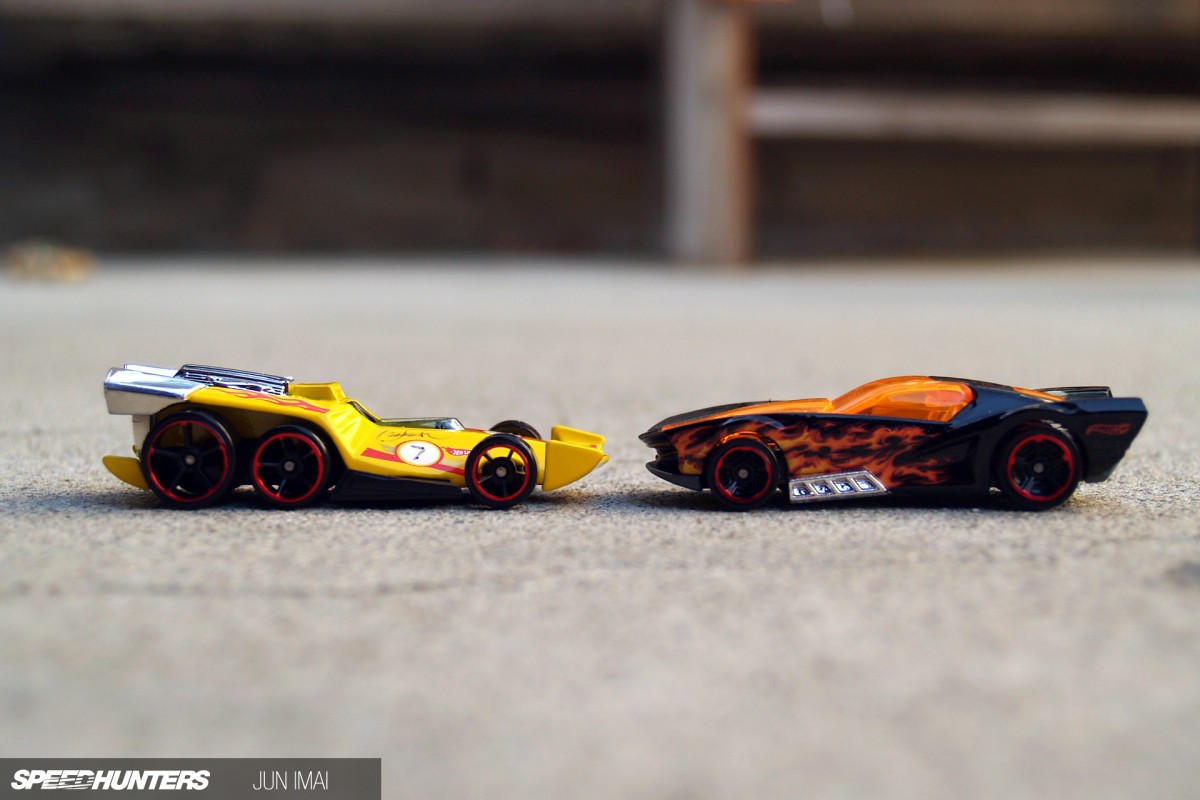 As long as we're talking ovals, I also had the opportunity to design vehicles with two of the fastest racers around – Danica Patrick and Dale Earnhardt, Jr. Armed with a stack of paper, markers, my drawing arm, their ideas, and a hundred video cameras surrounding the table, we created the two Hot Wheels cars you see above. Danica wanted a six-wheeler with wheels of all different sizes, and a wedge-shaped body to suggest power and speed. She even helped design the graphics, and on the final design, wanted blank spaces on the body so kids can write in their own racing number. You can see on my sample above, she's signed it and drawn in her number 7, and #10 on the other side.
For Dale Jr.'s design session, I visited Hendrick Motorsports and spent an afternoon with him to create what became the Hammerhead™. An exaggerated modern muscle car body, twin turbo V8, transparent hood and realistic flames were his must haves.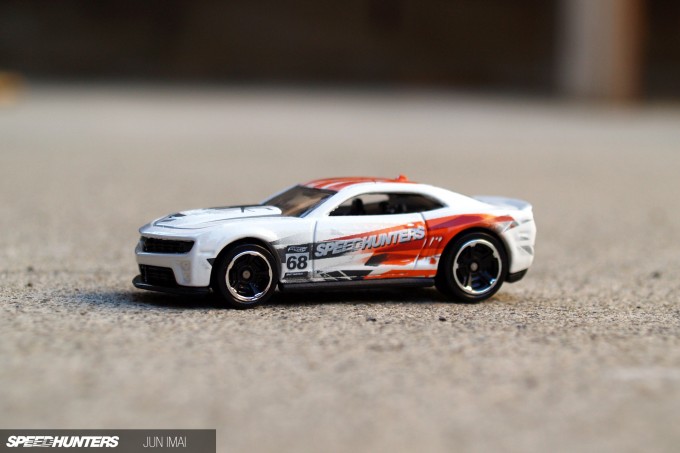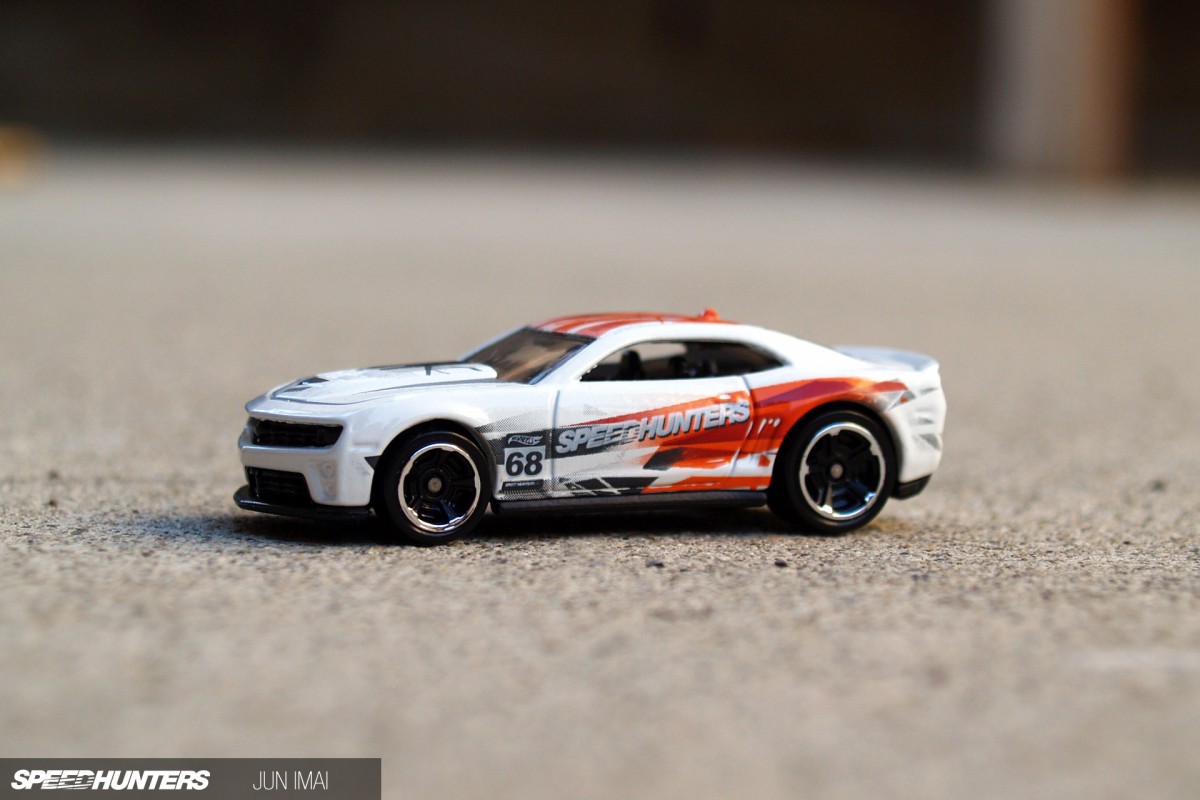 As for the image above, I wasn't responsible for the die-cast portion of the Camaro, but I'm excited for the brand that's emblazoned all over the car. A few email exchanges with the Speedhunters staff, followed by meetings at SEMA and run-ins at various car events, has become a fun partnership between the two companies. Although I am quite familiar with Speedhunters on a personal level, it was great to have them come together with Hot Wheels to collaborate on projects like you see above. This is just the start!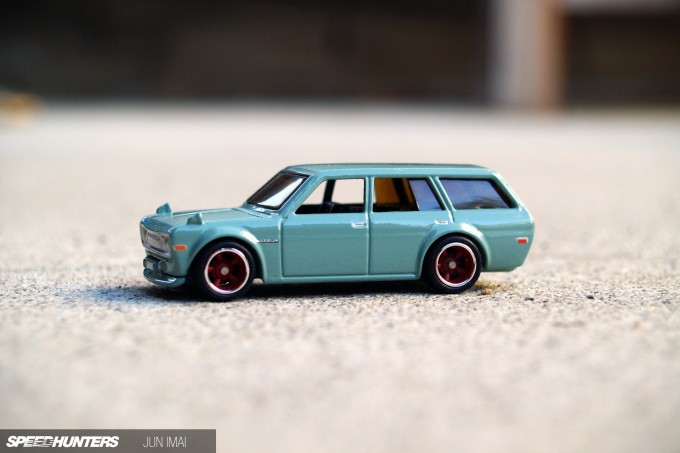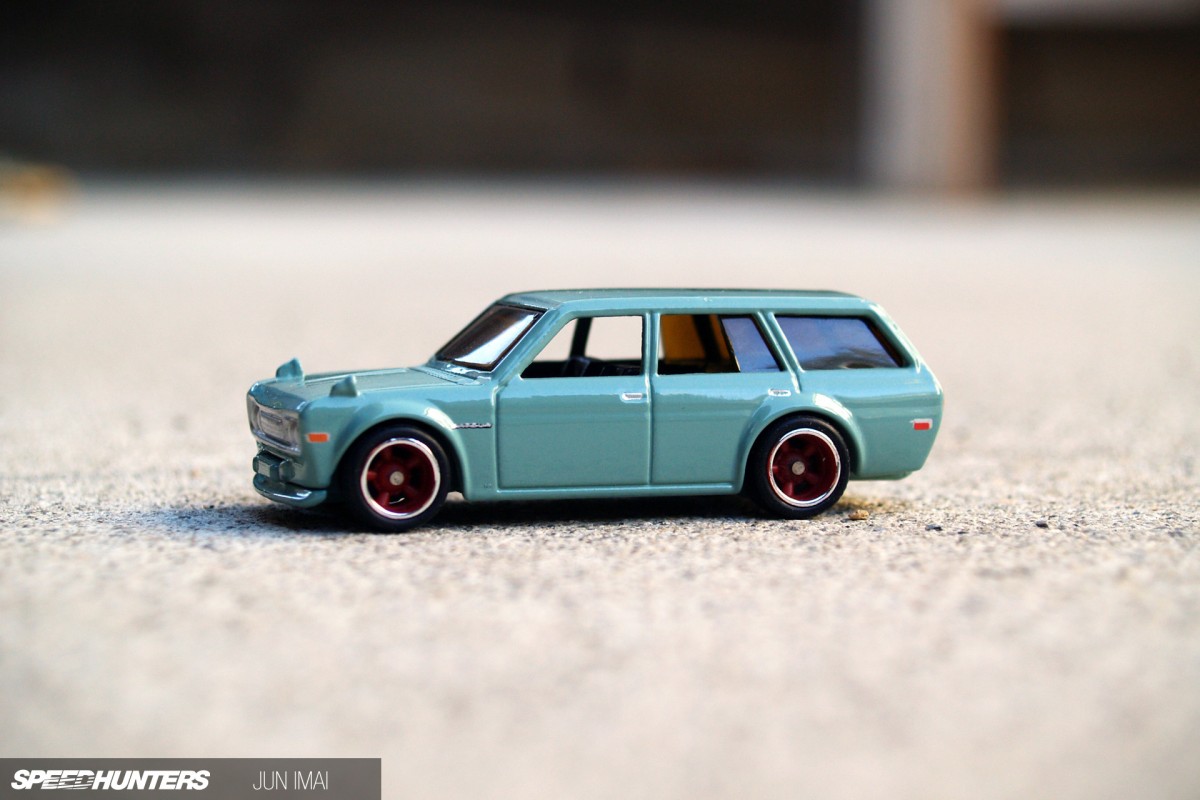 And last but not least, the Datsun 510 Wagon ranks as my all-time favorite. The design mimics my 1:1 510 down to the fender mirrors, bumper delete, oil cooler and JDM grille. Even the color, though not exact, is close! And the red centered five-spokes are a hat tip to my custom painted SSR MKII's. If you check out the 2012 JCCS coverage here, you'll see the resemblance. Since then, I've removed the decals again and went for the clean look, but that doesn't mean we don't have you covered here at Hot Wheels.
What's coming next? The big feature image at the top of the page should give you a hint… I think the internets are about to melt down again!
Thanks for allowing me to share my favorite Hot Wheels cars with you. Now, what are yours?
Jun Imai