Inspiration; it's a word we all use and understand, but I believe we seldom realize just how strongly it impacts our lives. No matter what it is we're going through we draw inspiration from past experiences which inevitably define our future. In the world of cars inspiration is the common bond we as enthusiasts have the keep us building and tweaking for year after year.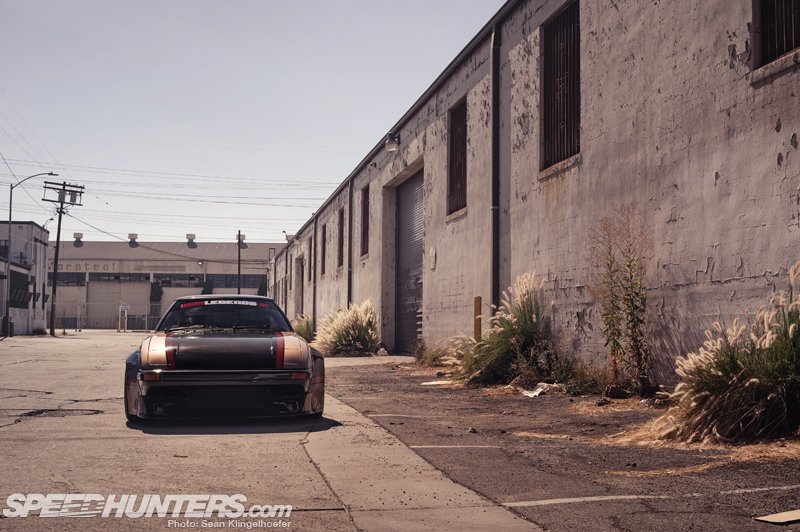 Whether people realize it or not, even the most unique harebrained one-off creations are inspired by something. Other times you can look at a car and quite clearly see the inspiration behind a certain build, and at first glance I'd presume most of you see the IMSA GTU influence that is gushing from this RX-7.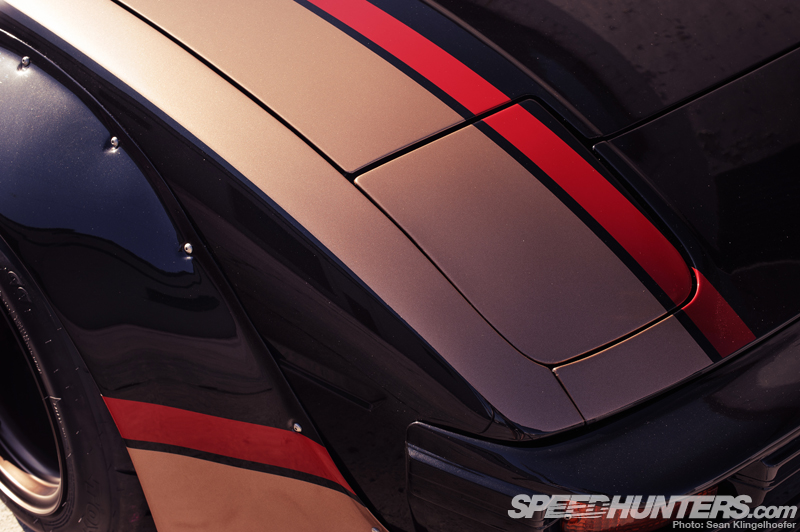 Everything about the car right down to the very deliberate color scheme screams of an era when many of you reading this were yet to be born. That doesn't necessarily mean that you can't appreciate such a machine, in fact I'd argue to the contrary. There's a saying that "everything goes in cycles" in regards to fashion and trends and I'd say that with the advent of apps like Instagram and stores like Urban Outfitters, this is a period in time that is very "in" at the moment.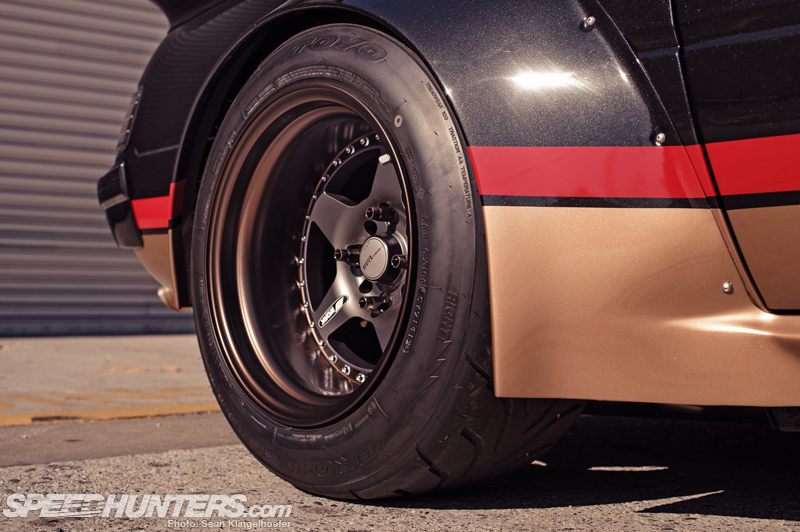 If you don't believe me, look no further than our own industry for proof. Take for example the recent trend of reproducing discontinued wheels like the beautiful Work CR-01s on this Savanna. And it isn't only Work that have taken a page from that book as Enkei has followed suit and Volk has even gone as far as to introduce brand new retro-inspired designs. But despite the obvious cues, this car wasn't inspired by the past, at least not entirely…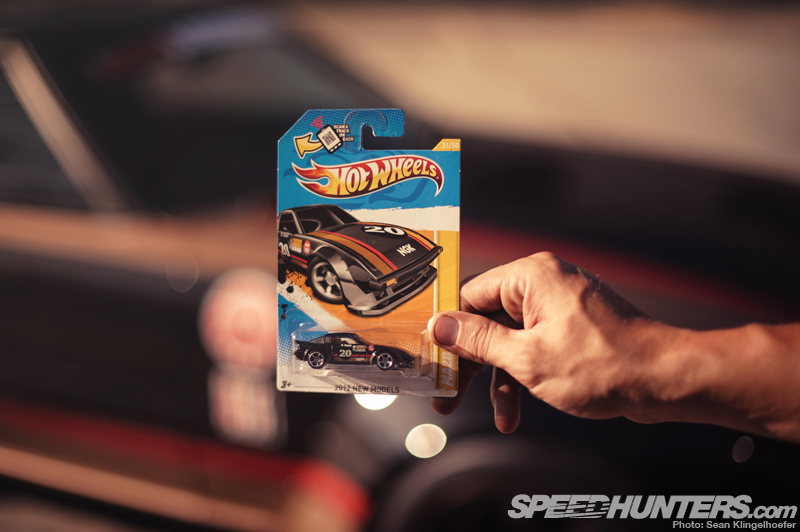 In reality this car is the byproduct of a collectable children's toy. Some months ago Jun Imai from Mattel, who's Datsun Wagon was recently spotlighted, reached out to JDM Legends about building a RX-7 and using their logos on it. Jun ended up doing the design work shaping the car while Brandon Ozaki, who also owns a SA I spotted at JCCS, did the livery.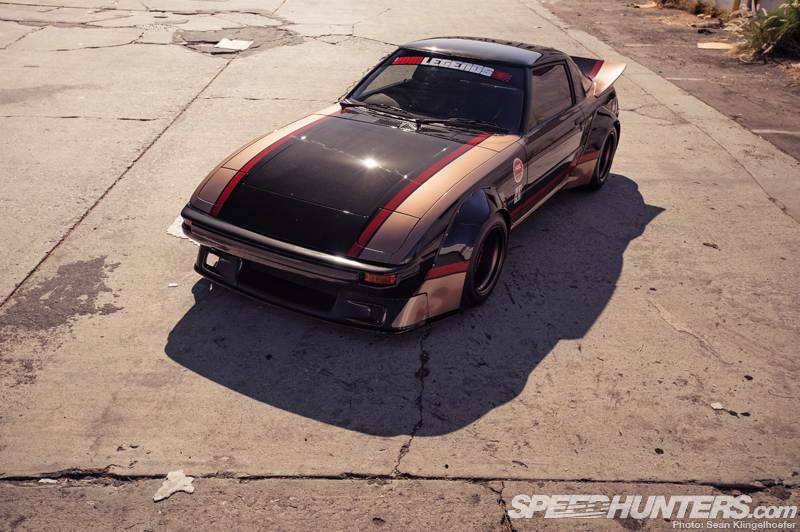 So in a strange case of automotive "chicken or the egg", this car is actually a life sized replica of the Hot Wheels car, and a what a beauty it is! Some of you might remember seeing this car in a work-in-progress state from Mike's shop visit last month. I think it goes without saying that an unimaginable amount of work was completed since then to get the car ready for JCCS.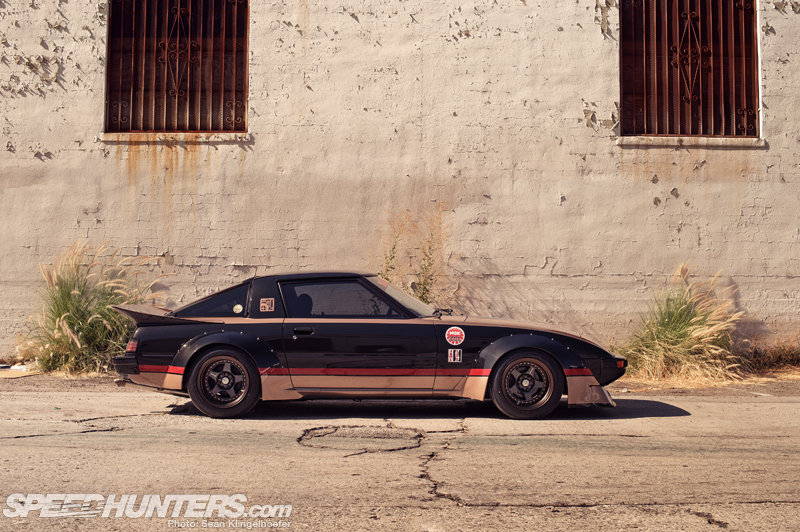 Just a few weeks ago this car was in a much more raw state, fresh off the container from Japan. For those of you that don't know much about JDM Legends, they are (amongst other things) in the business of finding, importing and selling classic Japanese cars. This RX-7 is a prime example of what they can source, a rare first generation Turbo model.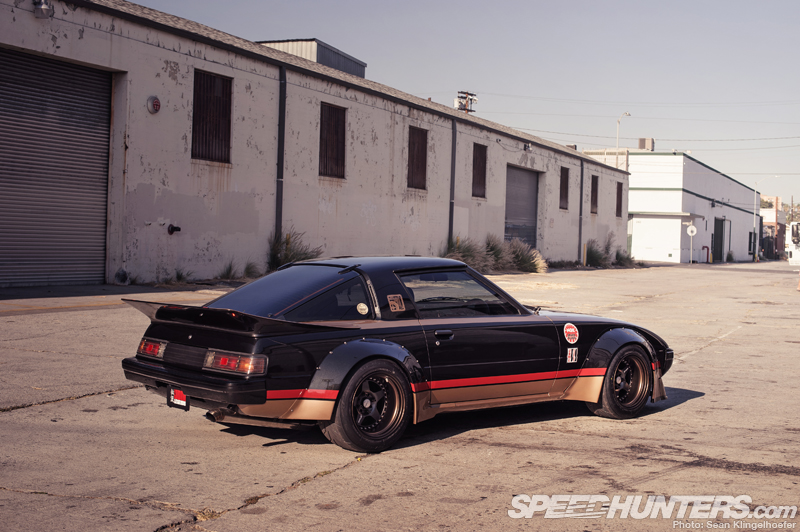 Eric, the owner of the car and shop manager at JDM Legends, was astonished to find that the original 12A engine fired up on the very first try from the container. With just less than two months before JCCS this was very good news, as Eric knew that he wouldn't have time to do a complete build so this allowed him to focus on the exterior first.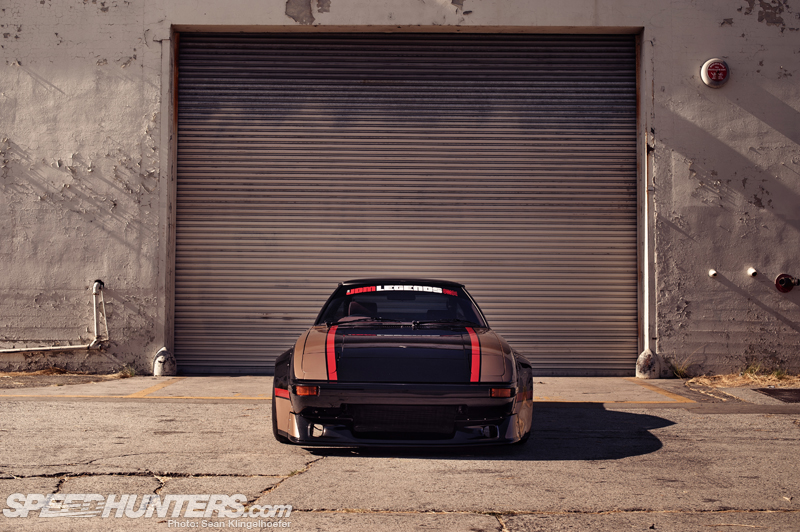 Fortunately he began planning the build before the car ever made it to American shores and already had the IMSA replica body kit sourced from Japan and sitting the the warehouse awaiting the chassis. In addition to the kit, the massive Mariah Motorsports IMSA rear wing was also shipped from SoCal and patiently awaiting the RX-7.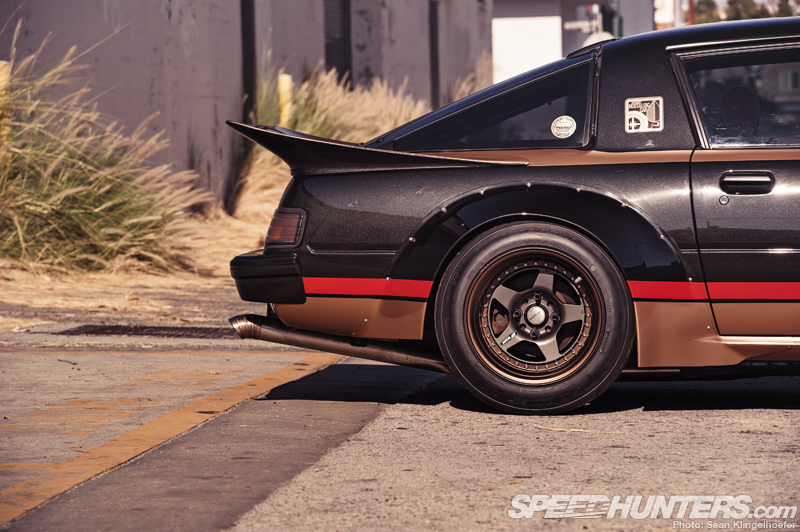 He also knew that in order to get the set of special ordered 15X10/11 Work wheels he would have to order them ASAP, so as soon as the car arrived the first thing the crew did was fit the fenders and start taking some measurements. I'd say that they were right on the money! Once everything was mocked up the car was sent off for paint and body work which included smoothing out the FRP pieces and shaving a few unwanted holes.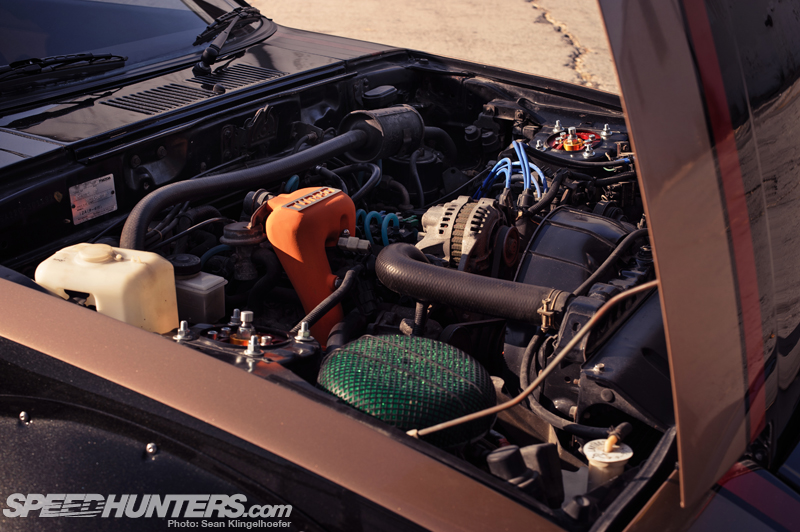 With what little time they had left over Eric decided to add a few bits to pep up the rotary. A basic tune up was the first order of business followed by an HKS filter. I've been assured that there is still lots more to come for the engine as it is destined to become a track car in the future.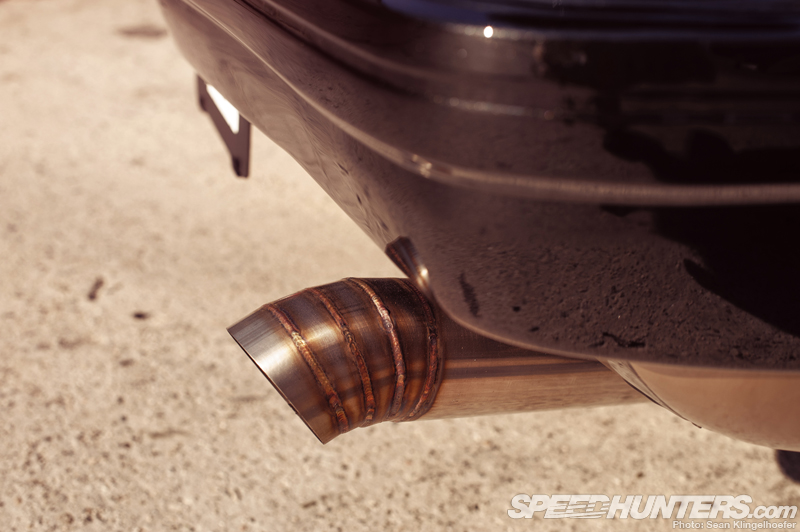 However I must admit that even as it sits the car has a pretty gnarly exhaust note, thanks largely to a custom straight exhaust with a radical turndown tip.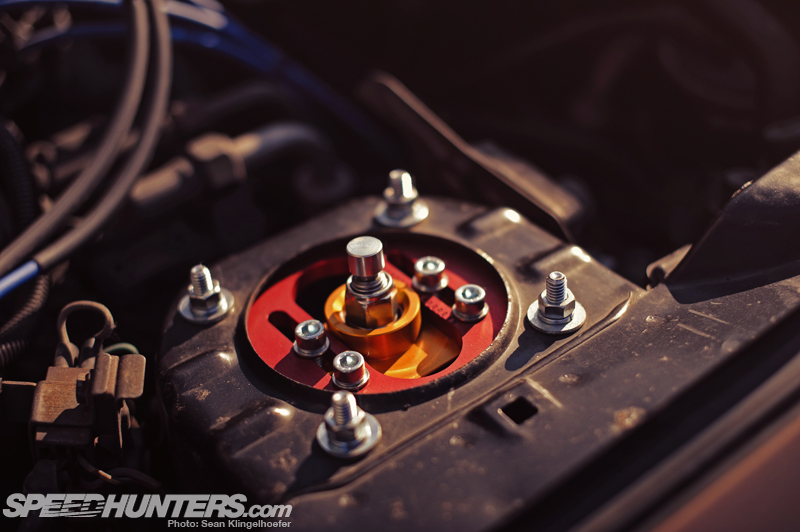 In terms of footwork Eric decided to keep it simple and go with what he knew and adapted a popular setup from the hachiroku world onto his seven. A set of shortened Tokico HTS shocks were mated to some Eibach springs and are coupled with Techno Toy Tuning front camber plates and RE-Speed rear upper mounts. The setup is likely to be further refined once some seat time has been accrued.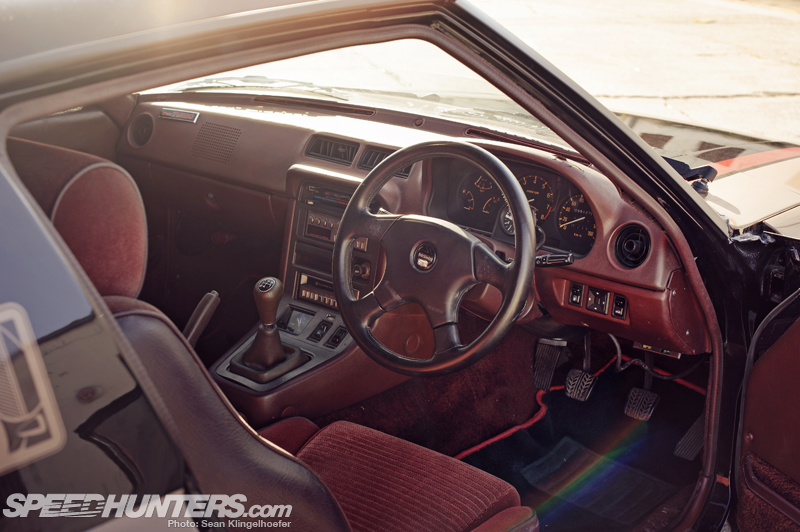 While a burly rollcage and bucket seats are in the works, at this point the interior of the car is by far and away the most stock part of the car. And my gosh does it scream '80's. There's nothing quite like a nice burgundy interior to remind me of my childhood.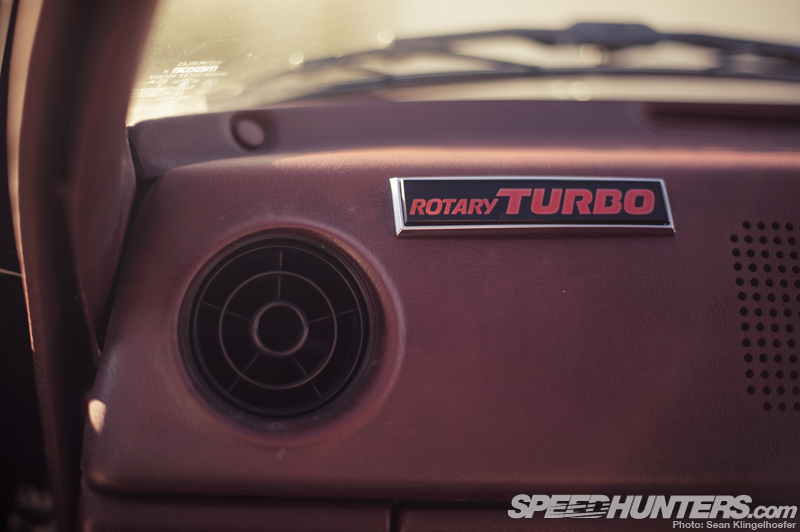 Even the details hint at the period in which this car was designed. Has there ever been a better way to say you're proud of an accomplishment besides emblazoning it on a three-dimensional badge on the dashboard? I think not. And speaking of things going in cycles, that circular air vent doesn't look all too different from those I keep seeing popping up in current vehicles.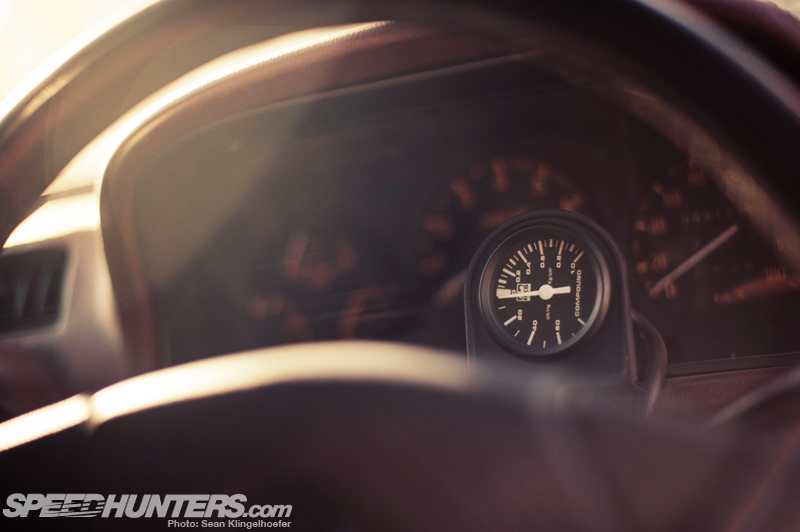 There is, however, a modification inside the car… actually there are two. The first of which is probably of little interest to anyone other than die hard rotary fans, a set of FEED floor mats. But a vintage HKS compound boost gauge on the other hand is probably filed under cool in anyone's book.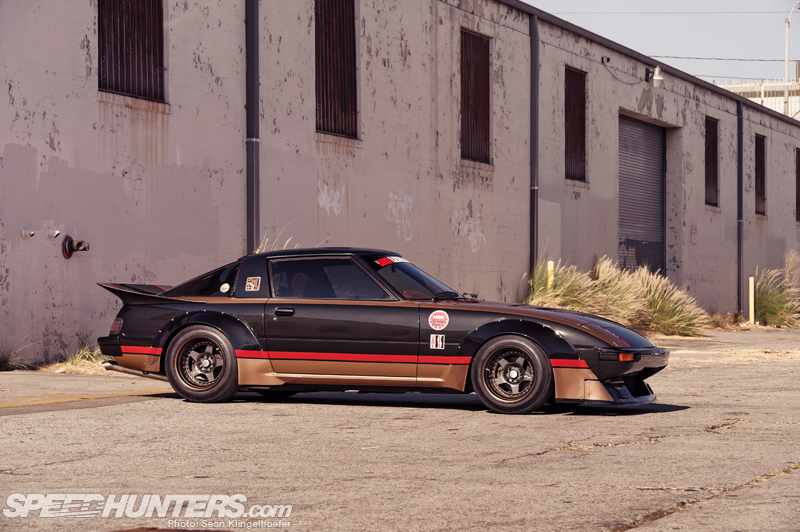 Although it still has a ways to go before Eric is happy with it, this car has had quite an effect on me providing some much needed inspiration of my own. The way I shot the car, the backgrounds I chose and the hues I selected afterward are all a result of the feeling it gave me. There's just something about it that speaks to me, it's so effortlessly cool. It's a real treat just to be around cars like this, let alone make a living from it.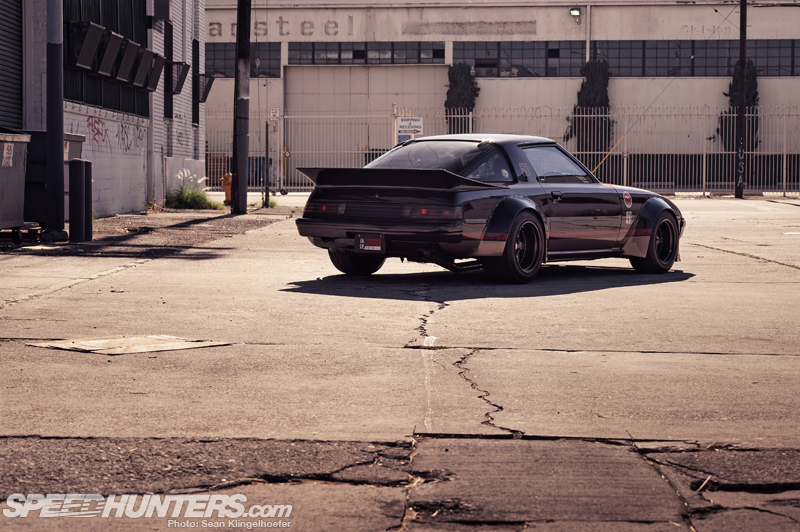 I'd be lying if I said I was ever a huge fan of the first generation RX-7 but after shooting this car I'll never look at them the same again. It's obviously aggressive but equally done in good taste, and somehow just as accessible to non-enthusiasts as it is die hard JDM junkies. Perhaps not surprisingly much like a Hot Wheels car I suppose. Hopefully those of you that took the time to see it will reap some of the butterfly effect and find some inspiration of your own – I know I have.
JDM Legends 1984 Savanna RX-7
ENGINE
Original JDM 12a turbo engine; HKS Super Power Flow air intake; custom built 3″ stainless steel exhaust
ENGINE MANAGEMENT / ELECTRONICS
HKS compound boost gauge
DRIVELINE
Factory transmission, optional factory LSD
SUSPENSION / CHASSIS
JDM Legends custom front shock setup using AE86 Tokico short -stroke HTS Shocks (f/r); T3 front spring perches, front roll center adjusters, camber plates; 400 lb. Eibach springs (f);  RE-Speed rear adjustable spring perches w/ 200lb. springs.
BRAKES
Factory 4×114 suspension with rear discs
WHEELS / TIRES
15″x10″ -28 (f) / 15″x11″ -16 (r)Work CR-01 wheels w/ Matte Gunmetal (MGM) centers and Bronze anodized barrels; 225/50R15 (f) / 235/50R15 (r) Toyo Proxes R888 Tires
CABIN
Factory interior; FEED floor mats
BODY
IMSA replica over-fenders and front air dam; Mariah Motorsports IMSA rear spoiler; shaved badges, rear wiper sprayer, antenna and mirrors; paint by Mauricio Rosales
JDM Legends shop tour on Speedhunters
More stories by Sean Klingelhoefer on Speedhunters
More car features on Speedhunters
-Sean