As car enthusiasts, events of all types play a very important role in the petrol head eco system by providing two things which we require to sustain life – incredible cars to gawk over and like minded people who are as obsessed as we are to talk with us about them. There was no shortage on the oogle-and-chit-chat-festivities at JCCS last weekend, but there were a few standout cars I thought warranted a closer look.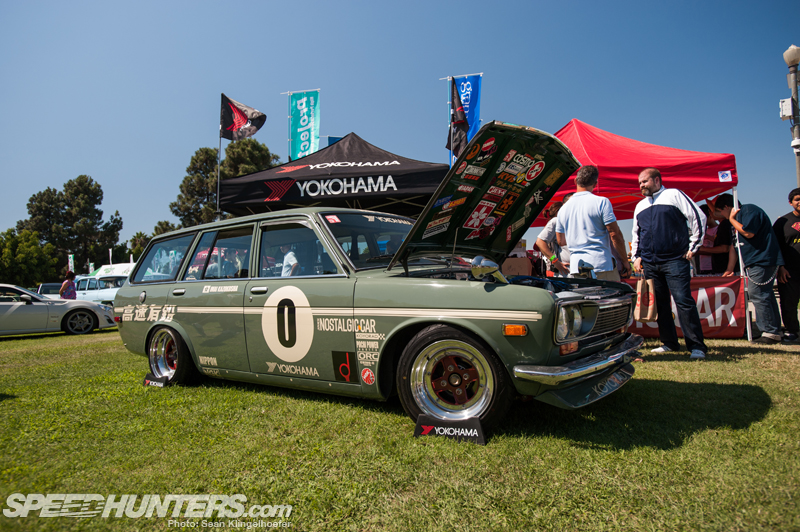 Before jumping right in let me first say that the general level of awesomeness at JCCS is completely off the charts, and if you are a first timer your head will probably explode. However for those that are regulars at the show we see a lot of the same, albeit extremely radical, cars year in and year out. For that reason there are probably a ton of truly exceptional cars worthy of a spotlight which I haven't mentioned here – I just wanted to put that disclaimer out there and express my respect for everyone at this show…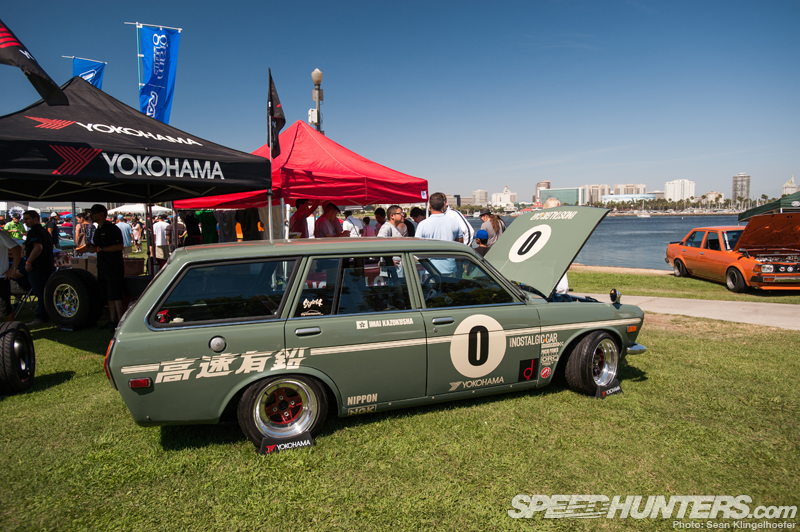 That said, one of the cars I really tripped out on was this immaculate Datsun 510 wagon, which to the best of my knowledge is owned by a guy who works at Mattel on Hot Wheels products. Knowing that makes the expertly designed and color-coordinated graphics scheme make a lot more sense, not to mention all the cool in-the-know Hot Wheels cars that have been sold in recent times.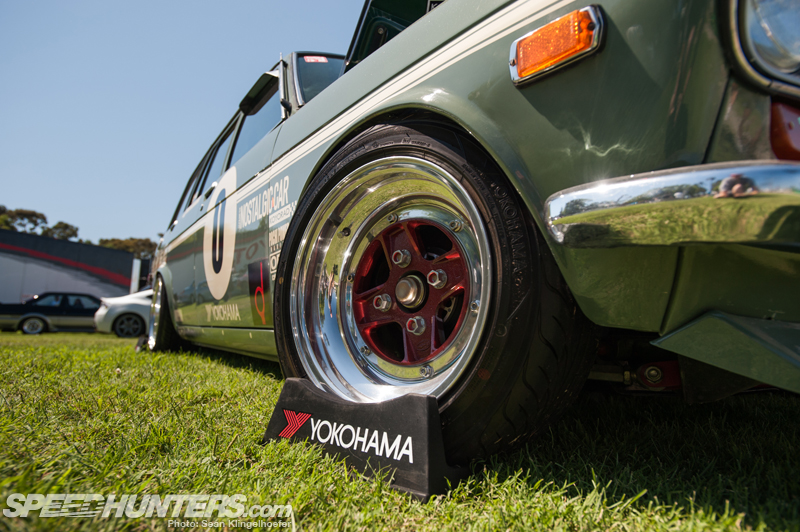 The exterior of this thing is dialed right down the lug nuts, there isn't anything I'd change in that regard. In the wheel department the owner has bolted a set of SSR MKIIs to the wagon in a size that Goldilocks could approve of – not too big, not too small but just right.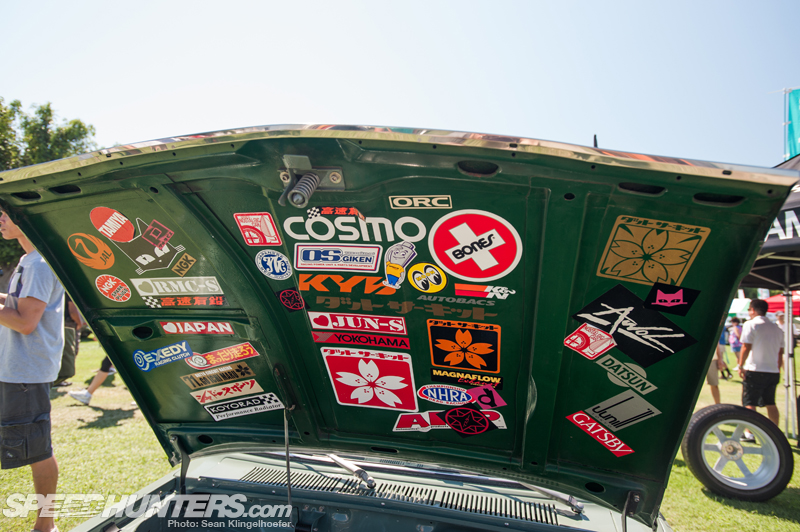 Quite literally under the hood, things are just as interesting. Often I find the stickering done under hoods to be a tacky hodge-podge of would-be-discarded stickers, but not the case here. Instead I see a well thought out curation of shapes and type faces which have been applied by someone who appreciates design.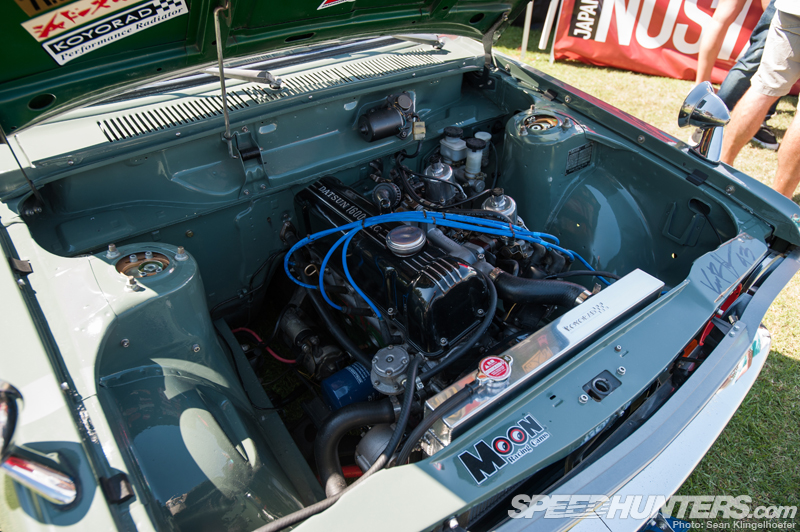 Under the hood, in a more conventional sense, is probably the cleanest L16 I've ever seen. And unless you worked at Datsun during this era, it's probably the cleanest you've ever seen as well. A Koyo radiator, some NGK plug wires and a removed air cleaner appear to be the extent of the modifications, but what it lacks in go it makes it up for in show. One day I hope to meet the owner of this car, I'd imagine he's quite interesting.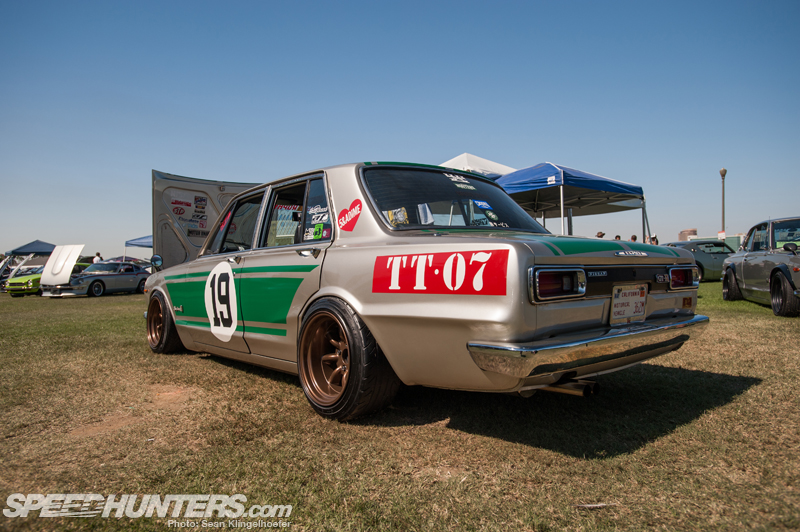 Next up is this neato Box Skyline, a car who's silhouette surely needs no introduction to the Speedhunters audience. While these cars have gone from virtually non-existent stateside to something of a regular at JCCS, they still stop me in my tracks every time I see one.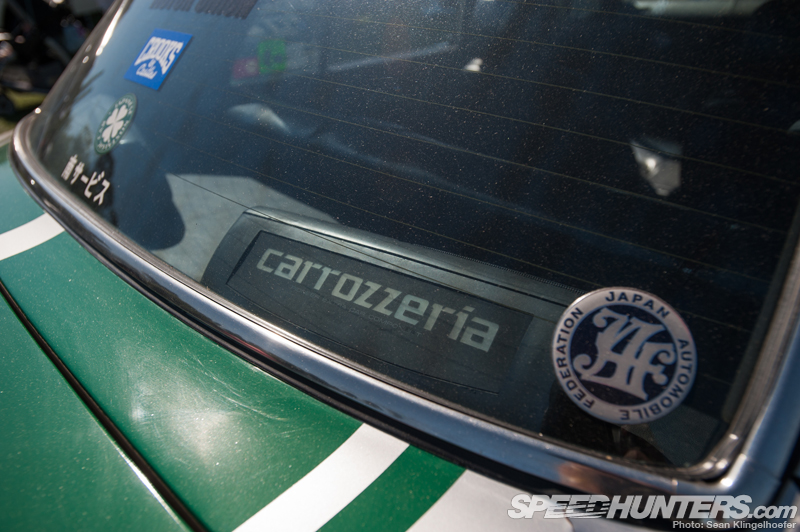 This particular sedan has a lot of interesting details which I suppose you'd expect to find on a car with this diehard of a fan base. The Pioneer Carrozzeria parcel shelf speakers are probably a little too modern for such a chassis, but I embrace this as an interesting interpretation of how these cars can be found modified in Japan. In fact I wouldn't be surprised to hear that it was imported with them already installed.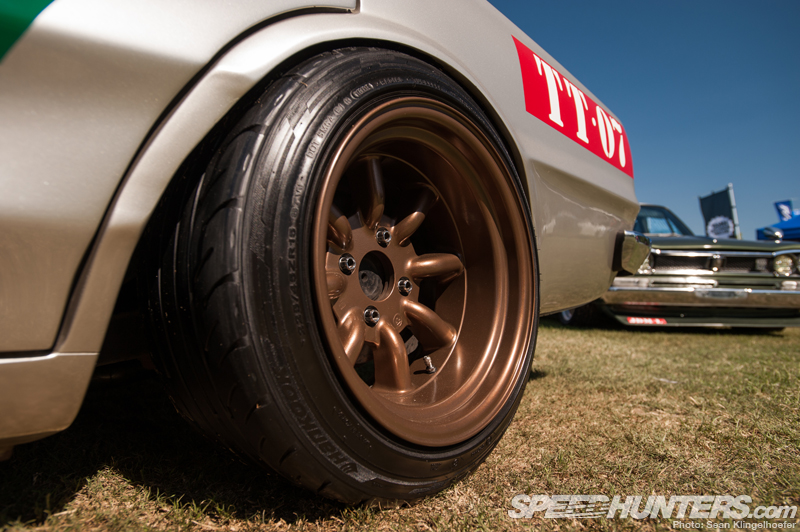 When it comes to owning a hakosuka, you have one major decision to make before all others – wheels. When it comes to rolling stock there are really only two options in my mind: Wats or everything else. The owner of this car clearly follows the same logic and I'm glad he decided to take the Watanabe route, even if it is the one most traveled.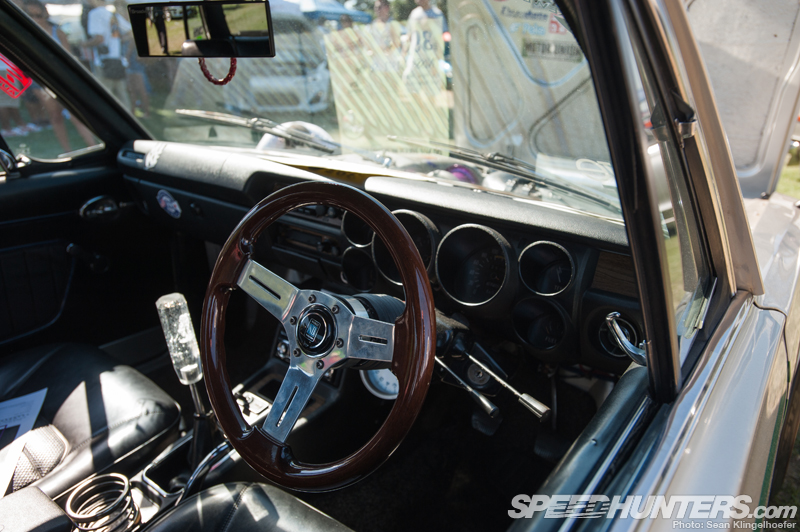 The interior on this car was mostly original which you can't really fault on a icon like this. Of course a Nardi wheel and sparkle dildo knob are welcome on any Nissan.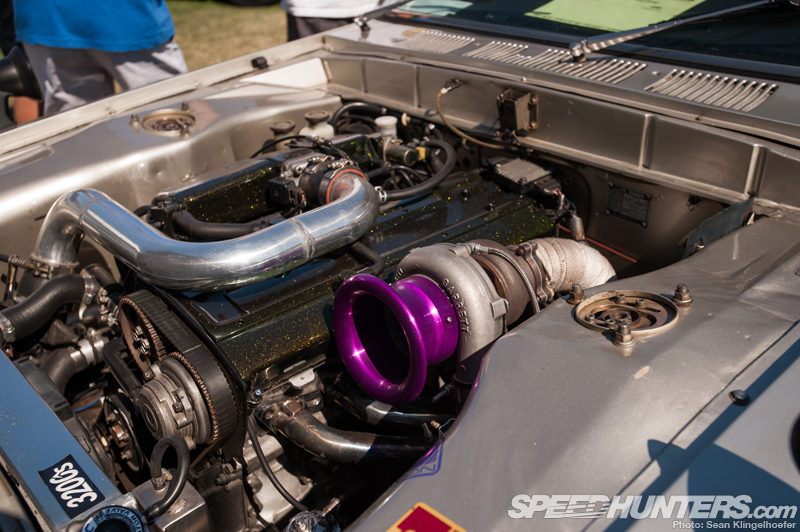 In the bay is a simple but effective RB25DET swap. While I'm not normally a fan of the standard intake design, the usually cumbersome plumbing setup on this one is quite nice. From the styling cues of the car I'd guess that the owner is far from finished with it and anticipate it will likely show up in the future with some even crazier modifications.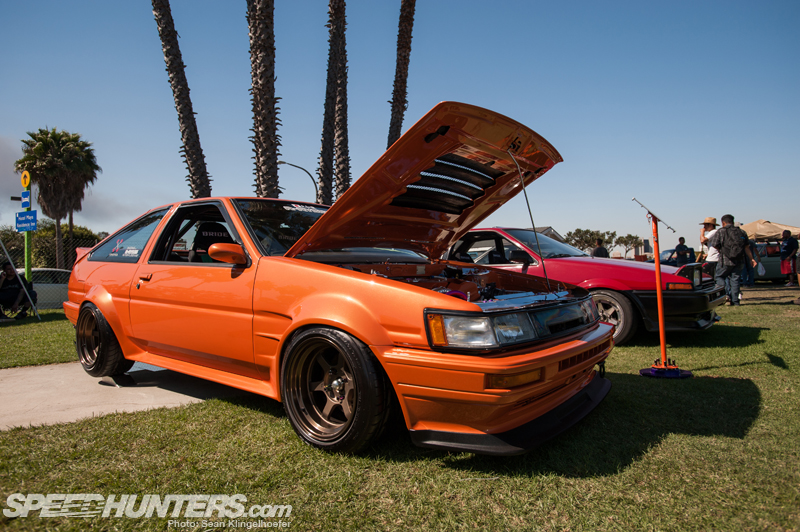 On the other end of the spectrum you have cars like this ridiculously clean hachiroku which embrace the old school but add more than a modest pinch of new age tech. I certainly don't consider myself a purist, but I typically sway more towards the rougher period correct builds. This car makes a strong argument for the modern approach.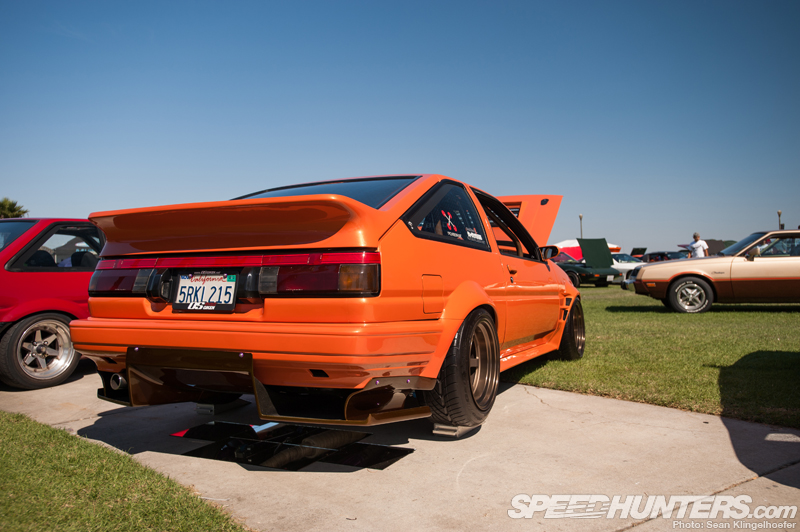 The AE86 is one of those iconic chassis that we see continuing to evolve all over the world, and as such many different approaches are taken to building these little cars. While the more popular chassis can become a little monotonous at times, there are certain builds that add a breath of fresh air to a stagnant scene. I'd have to say that a Corolla doesn't have to be metallic orange with a wheel-color-matched rear diffuser to be interesting, but it certainly doesn't hurt.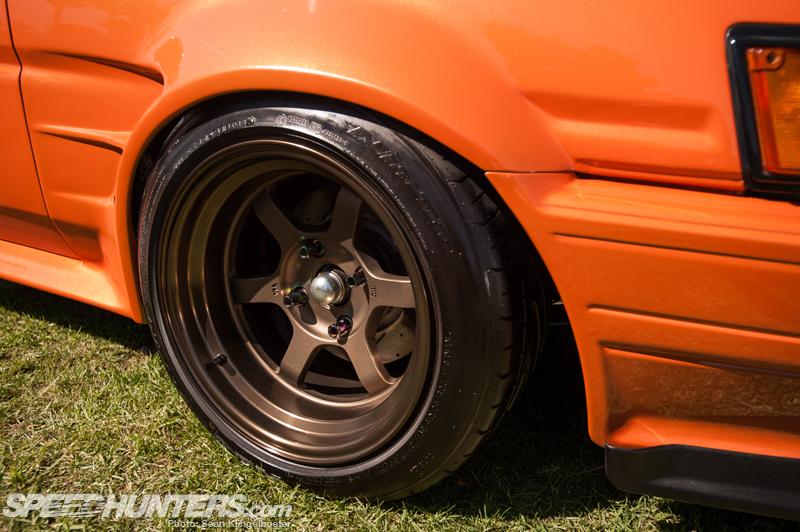 Volk TE37Vs are almost offensively appropriate on this car as they are almost a metaphor for the car itself. Current technology with vintage looks – the best of both worlds. Not to mention the well known Rays bronze looks impeccable next to the orange hue of the body.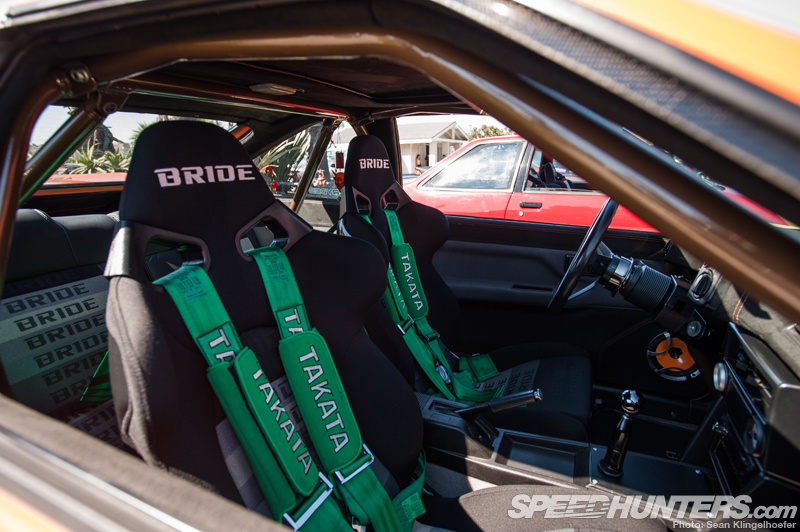 The interior is beyond tidy with lots of modern accents like the Bride Vorga seats with matching rear seat wraps. The rest of the interior including the pillars and dash have been wrapped in black suede with orange contrast stitching. The owner even went to the lengths of finding orange door speakers to complete the look.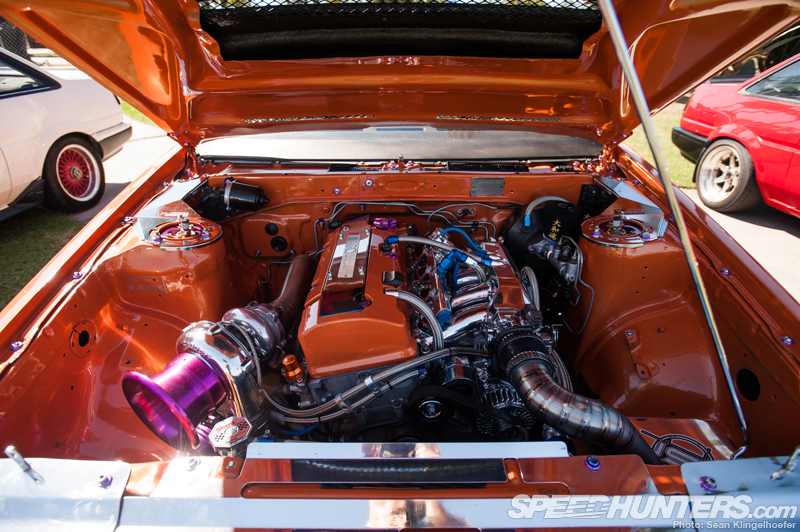 Ironically as impressive as the rest of the car is, I'd have to say that the engine bay takes the cake here. Those of you that have ever driven or seen videos of eight-sixes with S2000 engines know that the combination seems to be a match made in heaven. When you take the already rev-happy F20C and throw a turbo on it, you're in for some proper fun.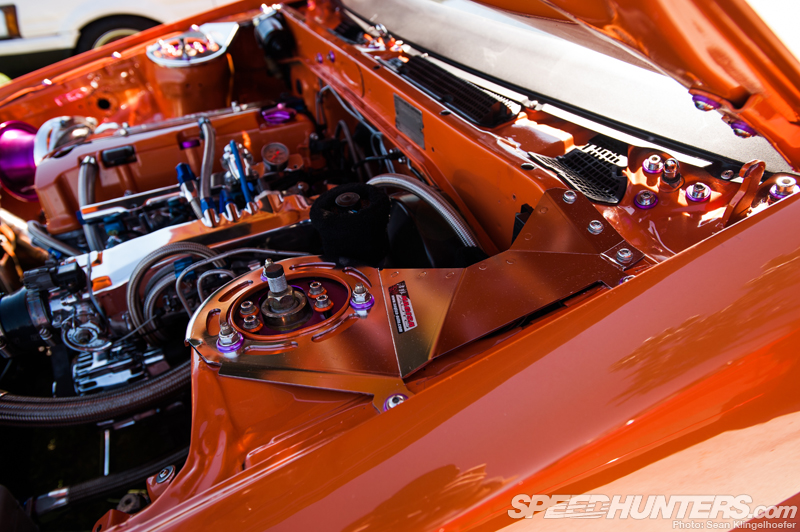 Aside from probably being downright scary fast, the engine bay is right up there with some of the best Japanese show cars I've ever seen in terms of cleanliness and attention to detail. Literally every last nut and bolt have been replaced and pretty much each component bolted to the engine has either been upgraded, tweaked or polished. The final touches are the miscellaneous trinkets like these cool NAMS fender braces.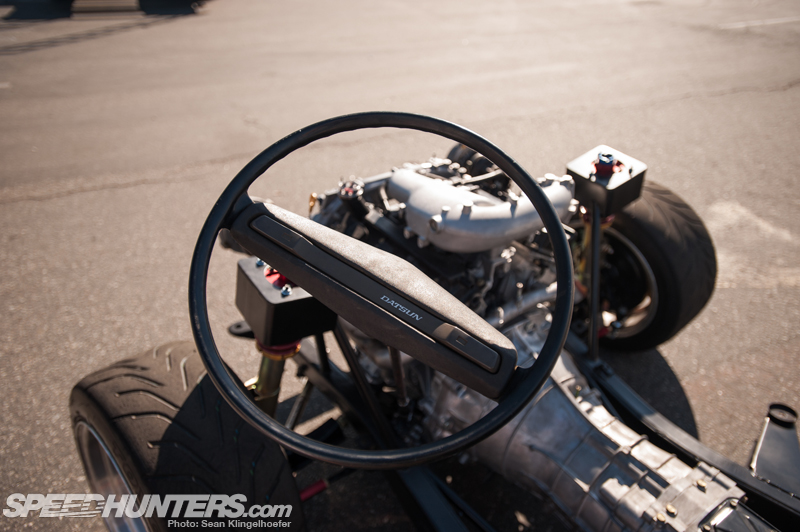 The next car I want to talk about belongs to my good friend Gary Narusawa, formerly of Project Car and it's technically not a car at all. And I don't mean in the sense that it isn't complete, but the fact that what little there is so far of this chassis is actually a Datsun 620 pickup. A lifelong Nissan lover and RB-swap pioneer, Gary has been infatuated with Datsun trucks for the last couple of years, with his previous build making a spotlight on Speedhunters after last year's show.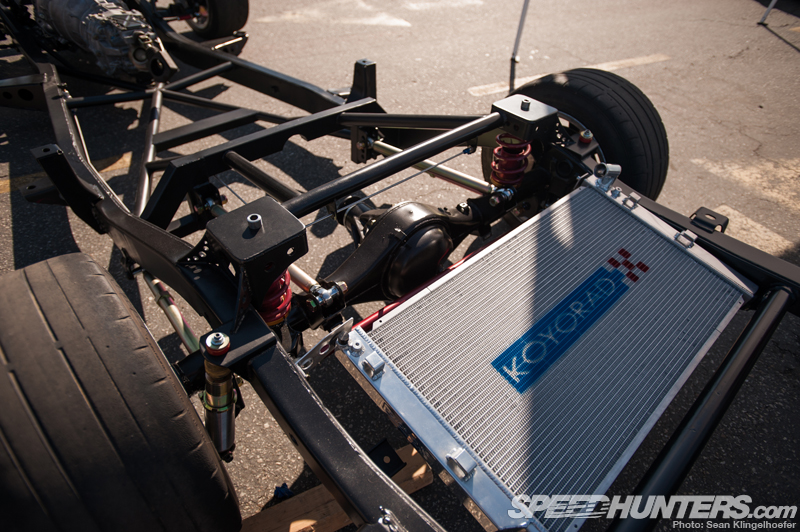 While his last SR-powered 620 was unquestionably rad, this truck is going to take everything to an entirely different level. He's started the build by doing extensive modification to the frame. In the rear he's adapted a rear end and four-link from a car which I cannot recall at the moment (he's made several revisions to the design and I'm not certain which axle he's decided on). He then added a custom separated shock-and-spring damping system and most recently a rear-mounted radiator.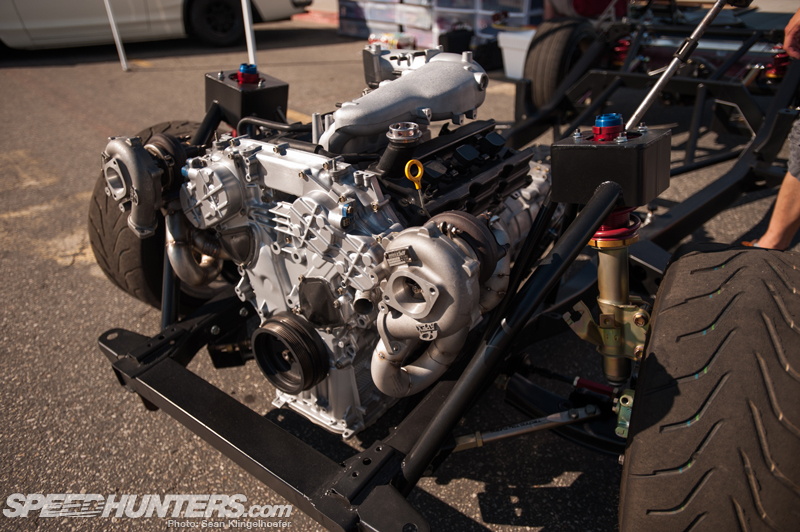 Up front he meticulously measured, cut, welded and finessed what is essentially an entire S13 front suspension setup onto the chassis. The shock towers and pickup points mimic those of the 240 which allow a whole slew of aftermarket pieces to be fitted. Between the towers he's somehow managed to shoehorn a VQ25DETT out of a JDM Stagea.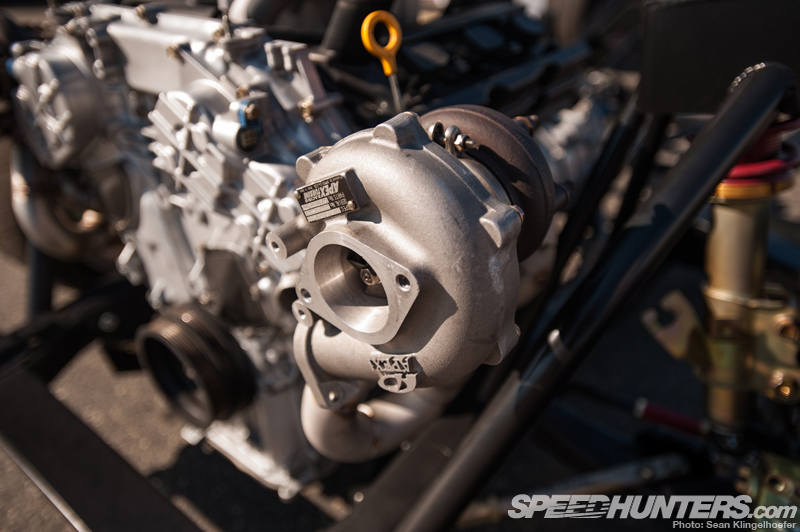 It miraculously fits, if just. Though still early in the build, the engine has already received a pair of upgraded A'PEXi turbos that I'm sure are only the first in a very long line of tuning parts.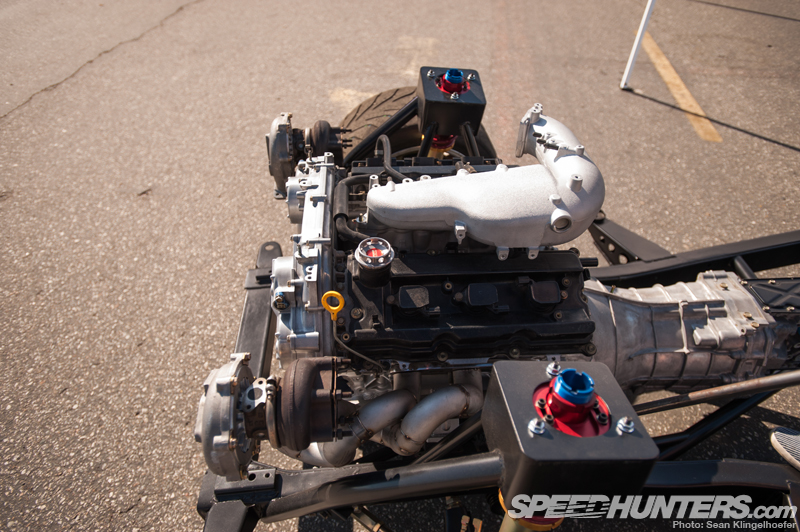 He had to make some modifications to the frame to allow the engine and trans to sit how he wanted but the finished positioning looks spot on. He's also taking on some new fab work with this build including the turbo manifold. I don't expect the truck to be finished in the near future, but I look forward to seeing where it goes from here. It certainly has a never ending supply of potential.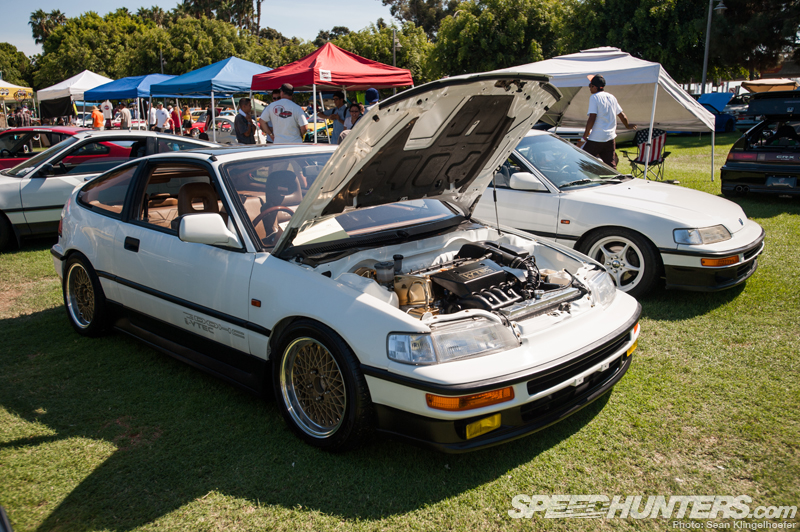 As I mentioned in my first story, the EF chassis is now allowed at JCCS which makes for the perfect excuse to discuss this CR-X I've seen out and about but never taken a good look at before. Much like the AE86 above, this car represents an interesting mixing of the new and old schools and does it in a way that can be appreciated by fans of either.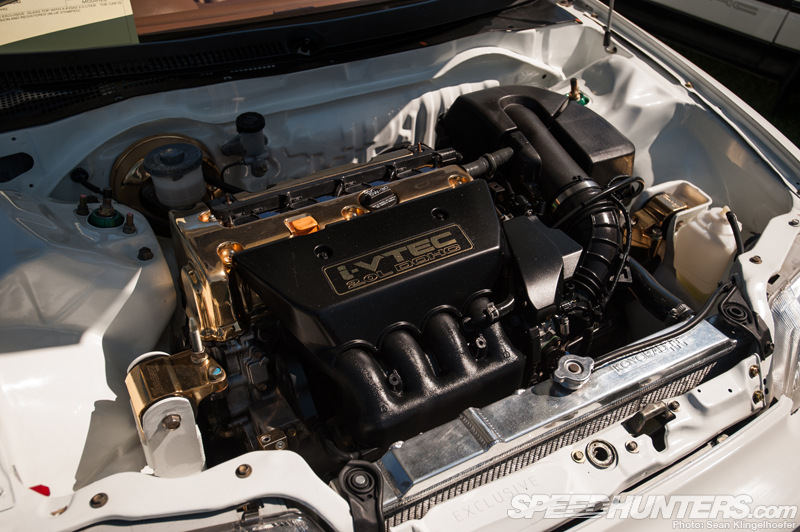 I'm sure I don't have to explain power-to-weight to this audience and, moreover, why the K20 has become such a popular engine swap for the Honda community in the last decade. However one complaint many people have, myself included, is that the K-series usually look quite strange nestled into an older bay, but not so much here. I think the factory airbox and blacked out manifold along with the gold accents help tie everything together in a clean way.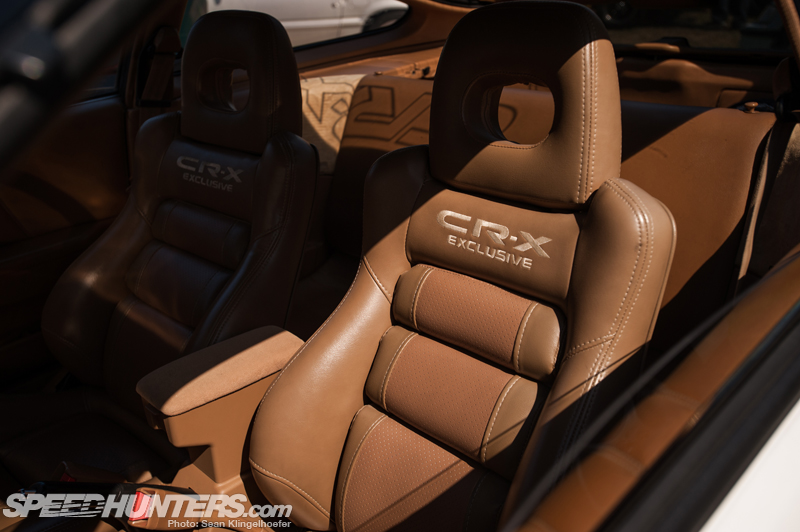 The interior of the car is spot-on in terms of styling. I'm not normally too keen on "peanut butter guts", but in this case I can make an exception. In fact I think if the interior were any other color it just wouldn't work.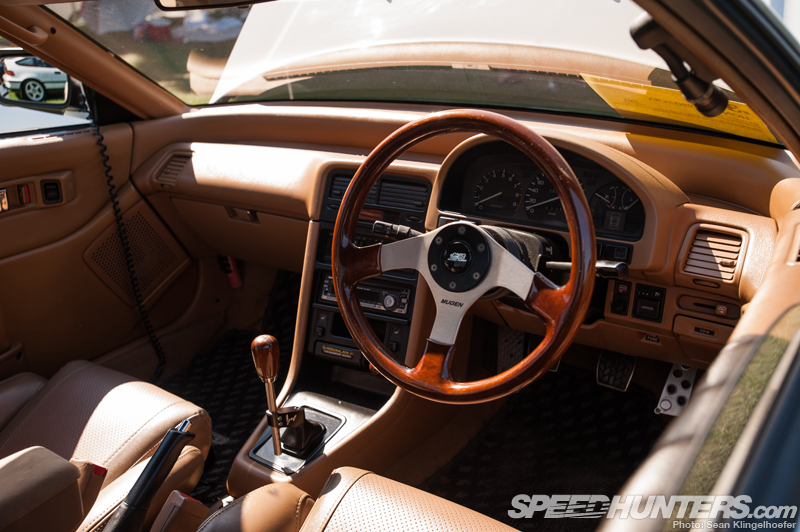 There aren't a lot of flashy modifications inside which again goes hand-in-hand with the way the car has been assembled. But don't be fooled, items like the Mugen woodgrain SW6 steering wheel are quite difficult to come by and very pricey when/if you do.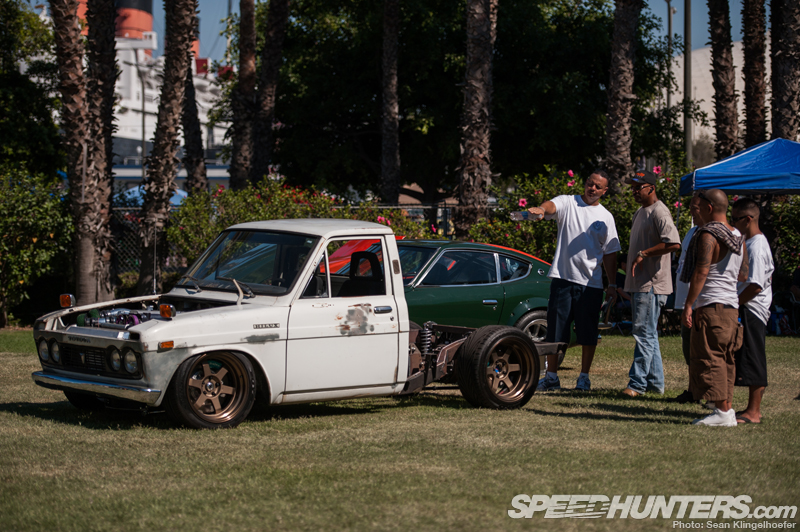 The last car of the day is again not a car, but another truck, this time from Toyota. The scene depicted above was pretty much the same one I encountered any time I looked at this Hilux all day – people standing around in awe. From a distance it looks like just another unfinished project, which it is, but when you get closer it's easy to see what all the fuss is about.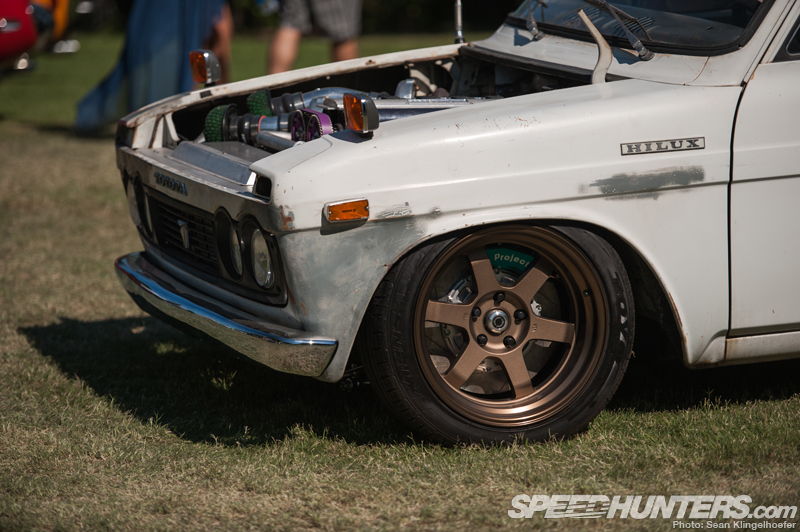 For the second time today we see a set of TE37V wheels, this time in a much larger size to accommodate a massive set of Project Mu stoppers. While I usually don't like to see wheel diameters quite so large on older cars, I can give this a pass seeing as how it's a necessity.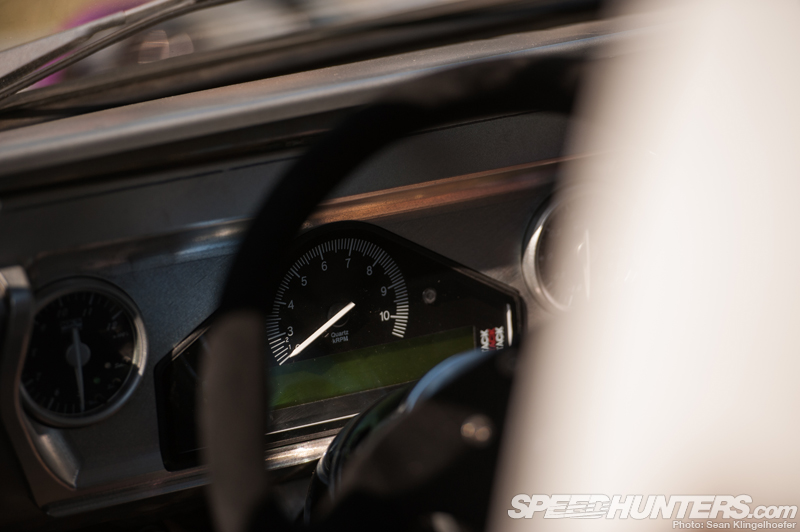 Inside the cab there wasn't much, literally, save for a steering wheel and a metal dashboard with an inlayed STACK display which counts to 11,000 RPM, no doubt hinting at something wicked under the hood…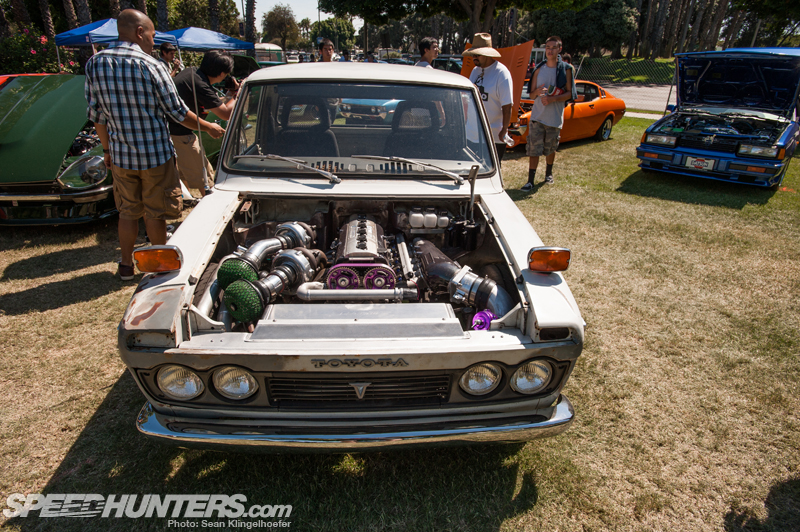 And wicked it was, none other than the venerable 2JZ; the engine which has been tuned all over the world to ungodly amounts of horsepower and also the only Japanese engine with the Gatebil stamp of approval. From the looks of this one and it's accompanying bolt-ons, once it's up and running it will probably impress many the Scandinavian.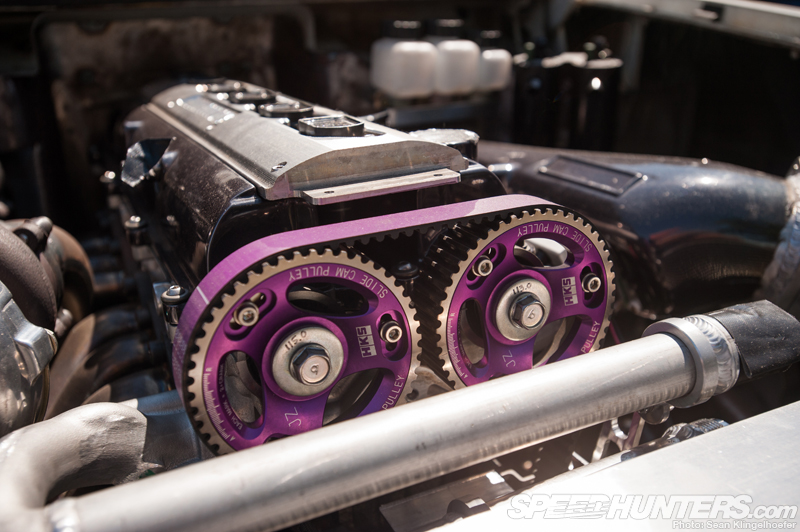 A gratuitous shot of everyone's favorite HKS cam gears, just because. Deal with it. When you're done, note the water pipe setup, it's super trick.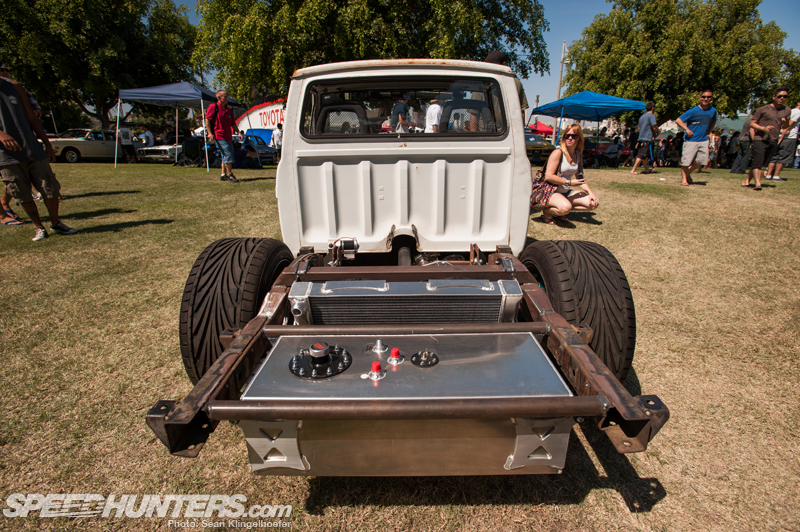 Much like Gary's truck above, there was a lot of crazy fab work done to the frame to make things work. Obviously this Hilux is a lot further down the line to completion but it's still cool getting to see a lot of the work and components that would otherwise be hidden.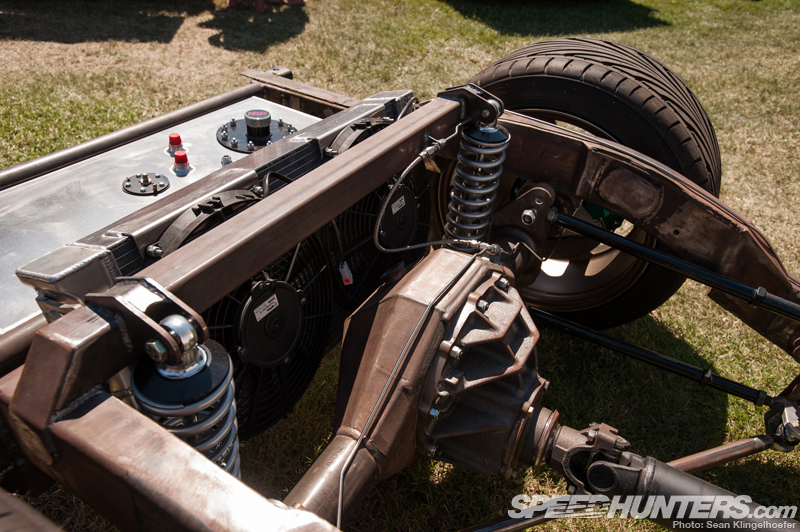 Pretty much anywhere you look in this picture there's something really fascinating to be seen. Whether it's the brake line plumbing, the massive differential case or the shock brackets, every inch of exposed hardware shows a lot of ingenuity and effort. With builds like these going on all over the world these days I can only help but wonder how crazy things will get in the coming years. It's an exciting time to be alive.
More car show coverage on Speedhunters
More stories by Sean Klingelhoefer on Speedhunters
-Sean