Opportunity knocks
It's no secret that working for Speedhunters has its perks: travelling the world to see the latest trends, meeting industry insiders and working with ridiculously talented photographers are a few. Then there's the rare occasion when Speedhunters decides to team up with Kei Miura to produce an exclusive new body kit, for a car that you just happen to own. The heat gun had barely cooled from removing the old vinyl wrap when I got an email asking if I would like to debut the new KM4SH kit on my daily driver Scion FR-S. In an instant I was on my next mission to transform the car once again.
First, since the only other one in existence was on a black GT86 in Japan, Mr. Miura would have to actually make the kit for my car before we could proceed. He pulled out all the stops though and had the kit shipped over to Arizona in record time, leaving me a scant three weeks to get the car together in time for the North American reveal at Formula Drift Long Beach.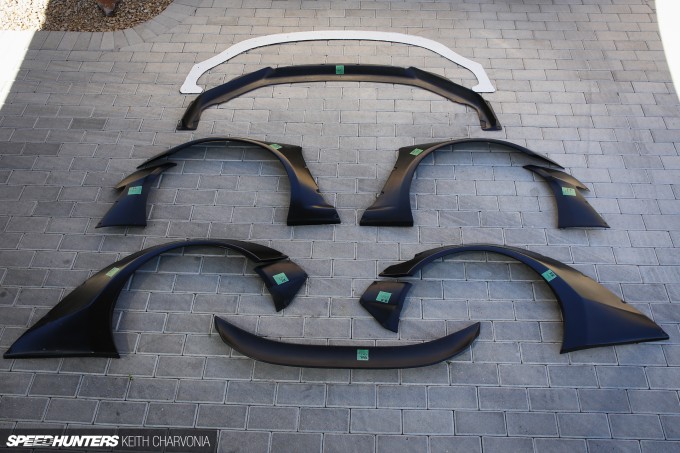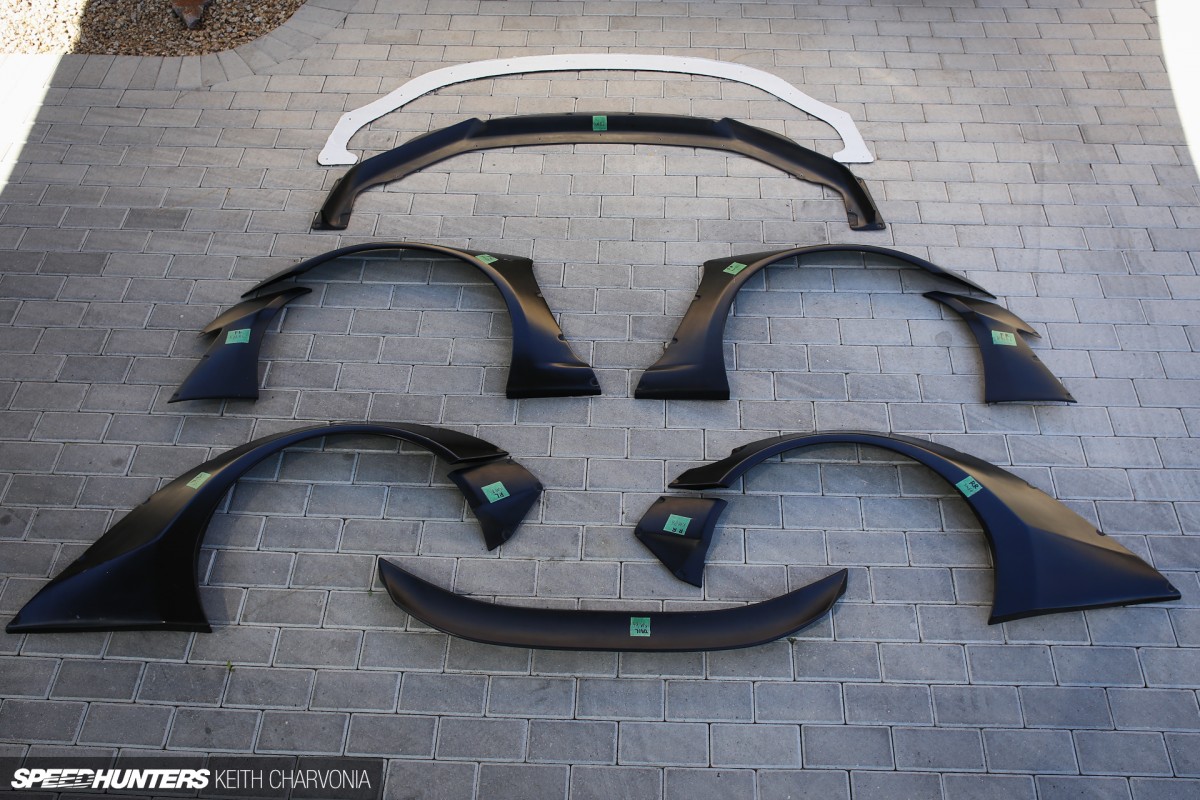 Larry's brilliant photos make it seem so simple. I mean the KM4SH kit looks so simple, especially in white, that it might be tempting to write this whole thing off as somehow easy. But to completely change the look of the car in three weeks? This was going to take some doing… With not a minute to waste, I started my weekend by laying all the parts out in my driveway. The off-gassing of resin was strong, and I felt like I had a little bit of Miura's shop right there in my own workspace.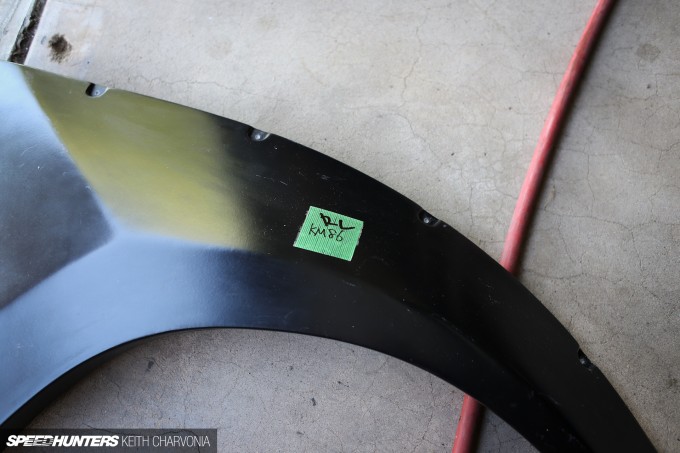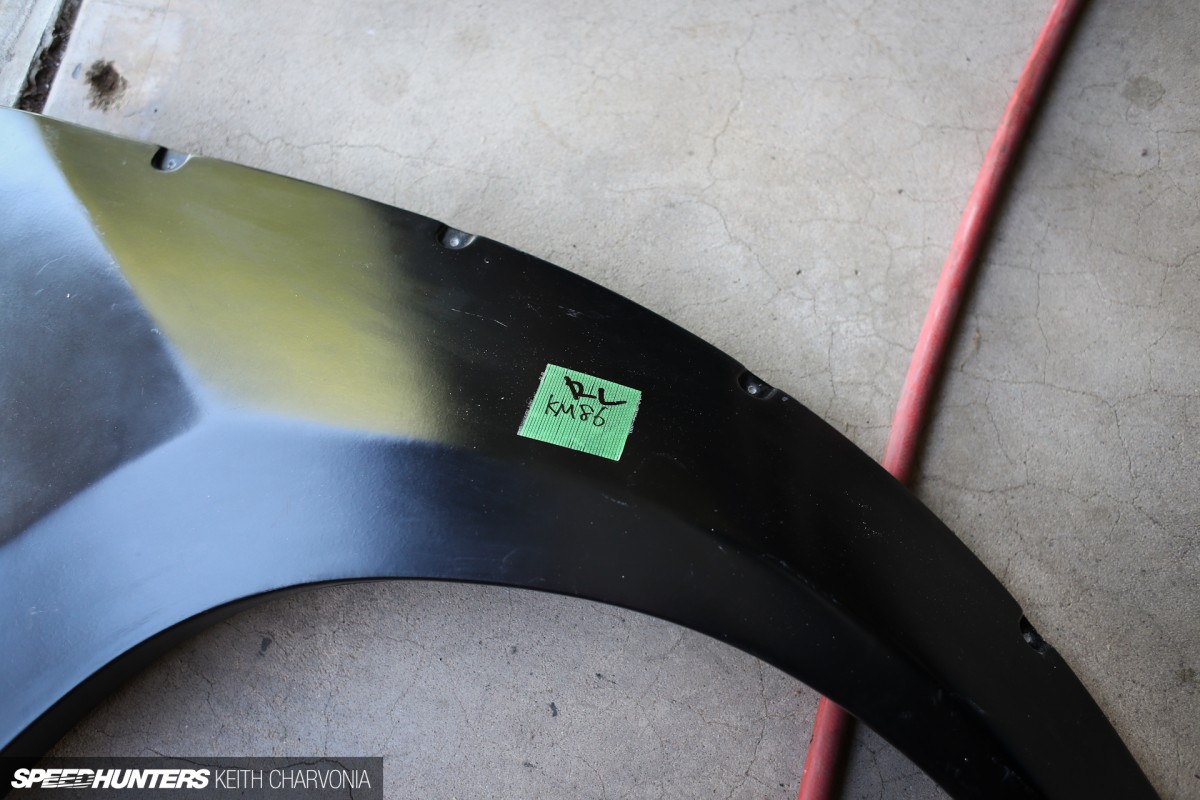 It was then that it dawned on me. I had been trusted with bringing Miura's creation to life here on the other side of the world. A bit of pressure? Yes, but I'd rather call it motivation.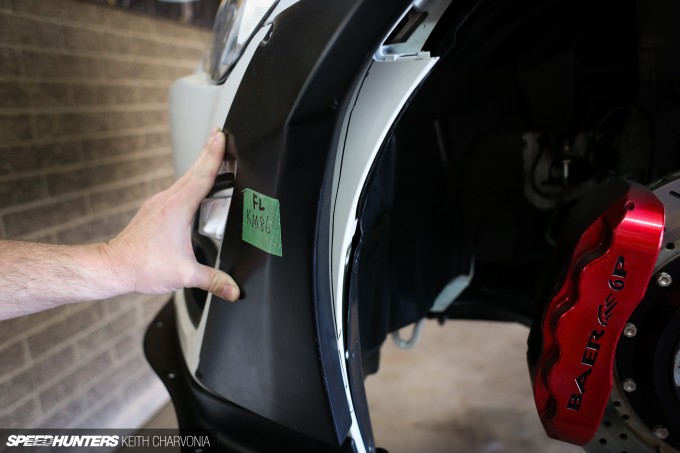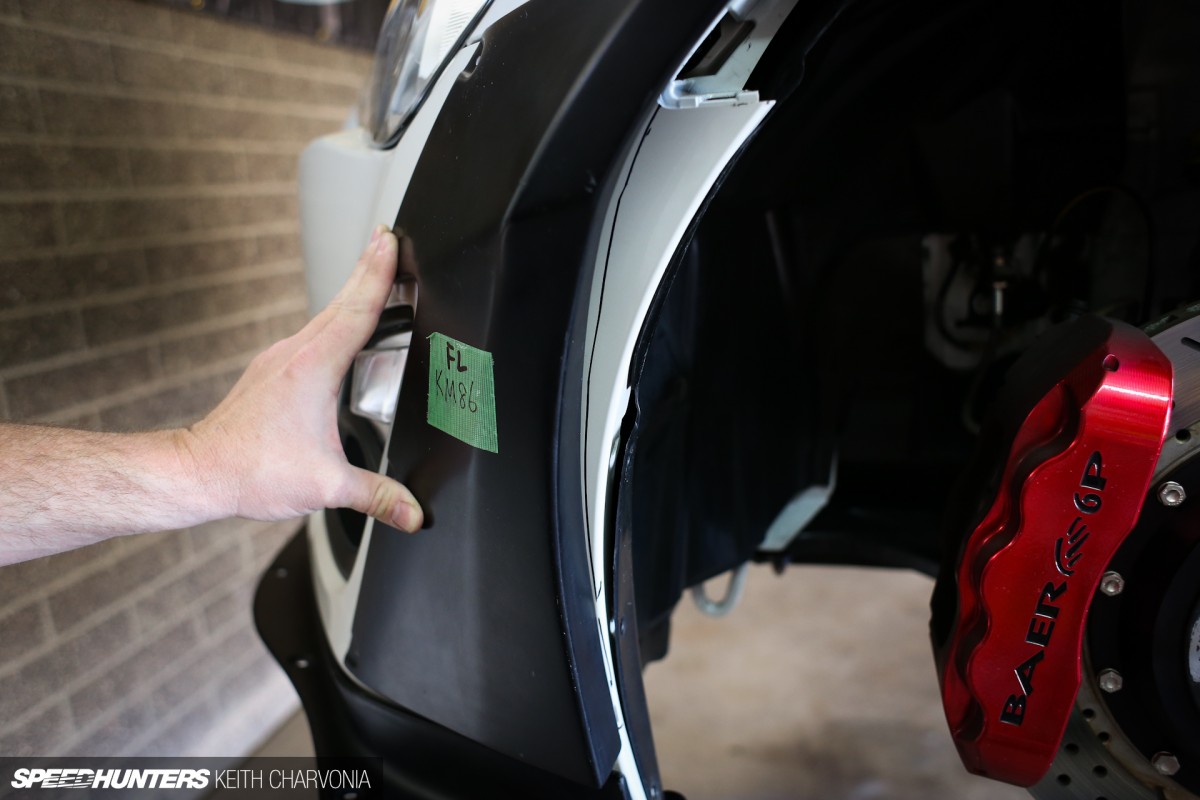 After taking inventory it was time to do the dirty work. I know it bothers some people to cut up their car to install a Rocket Bunny kit, but I thought about it for a second and decided that my car was already so modified, I might as well attack the body next. Besides, after cutting and welding on my kustom Kaiser this was going to be a relatively straightforward task.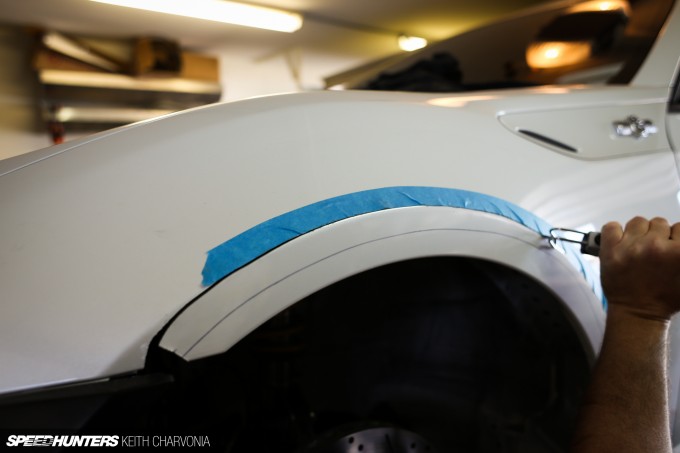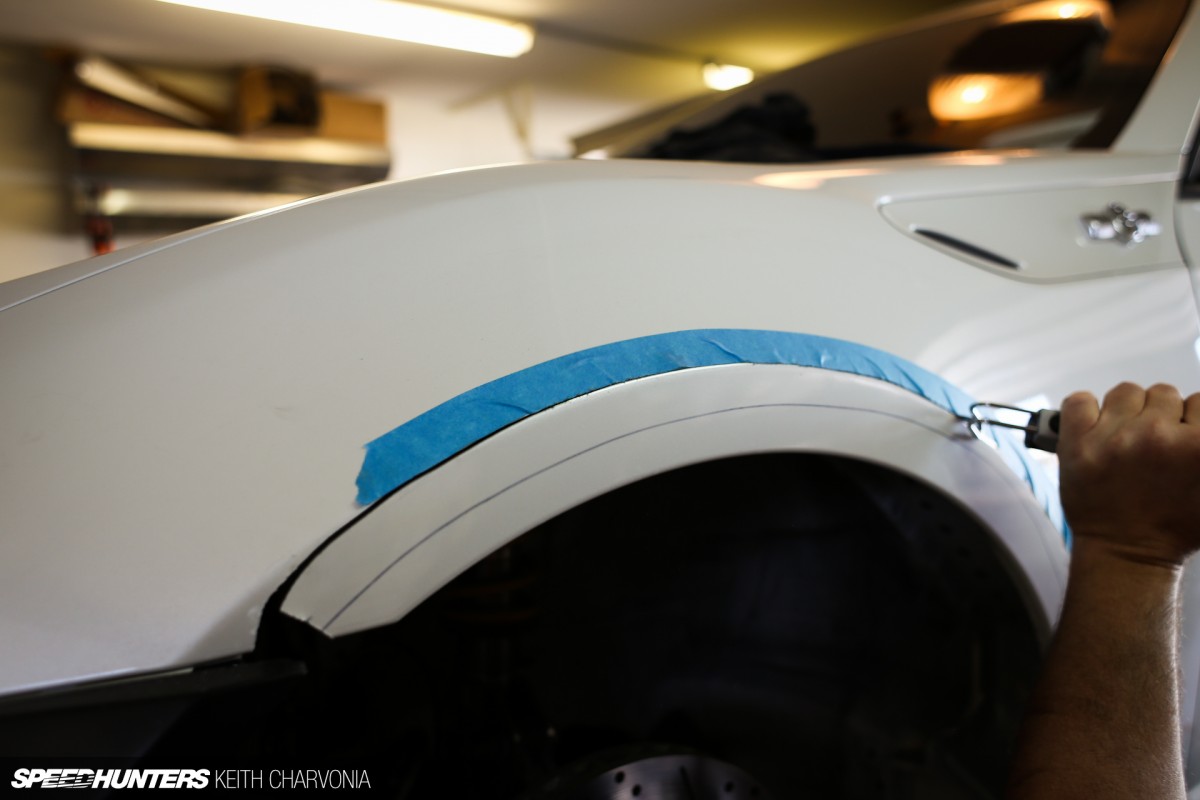 Resale value be damned, I wanted the look of my car to catch up to the supercharged engine, big brakes and tight suspension.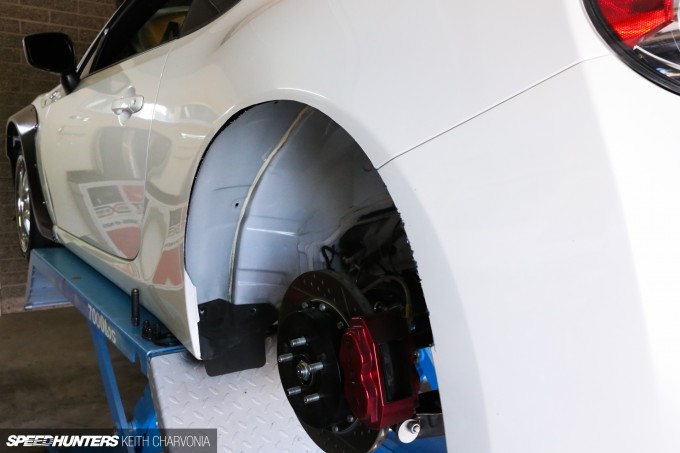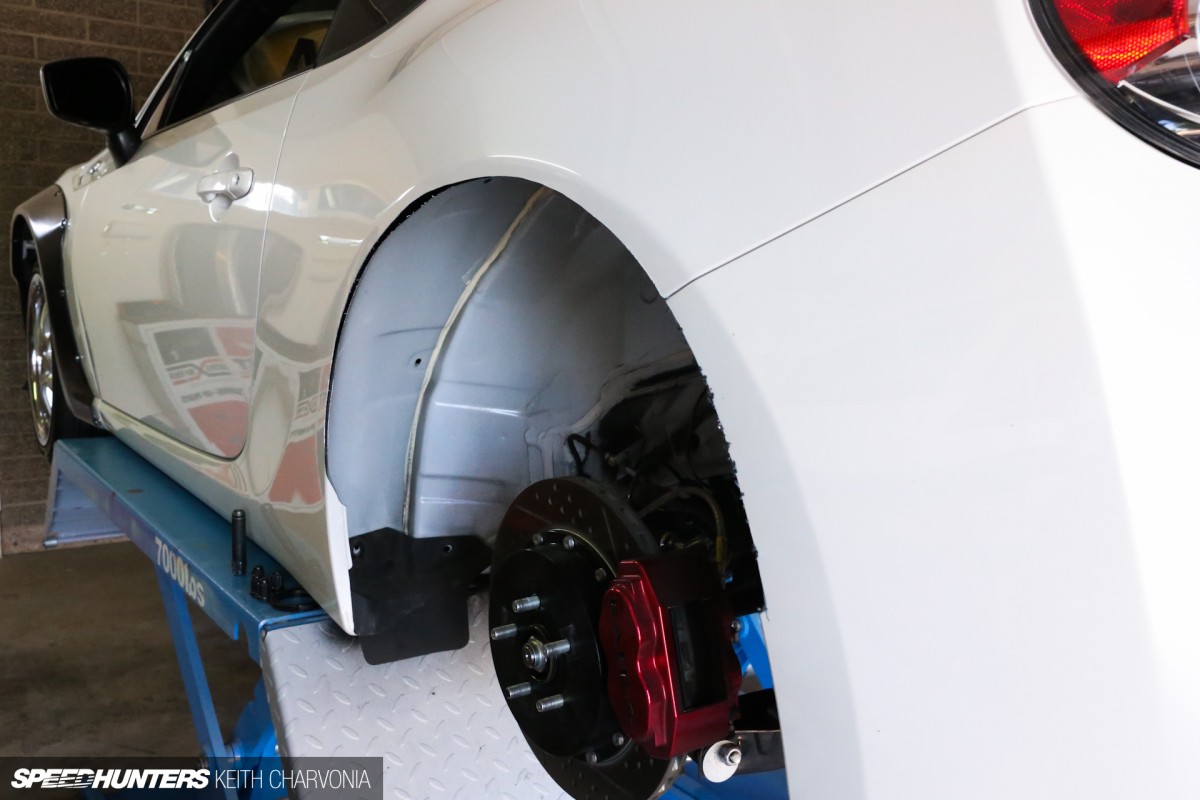 Am I going too fast for you? Don't worry, I'll be writing a complete article on the installation so we can talk through all the intricacies of the install. For now I just want to focus on taking the car from stock-bodied FR-S to KM4SH demo car, because there's more to it than just cutting the fenders.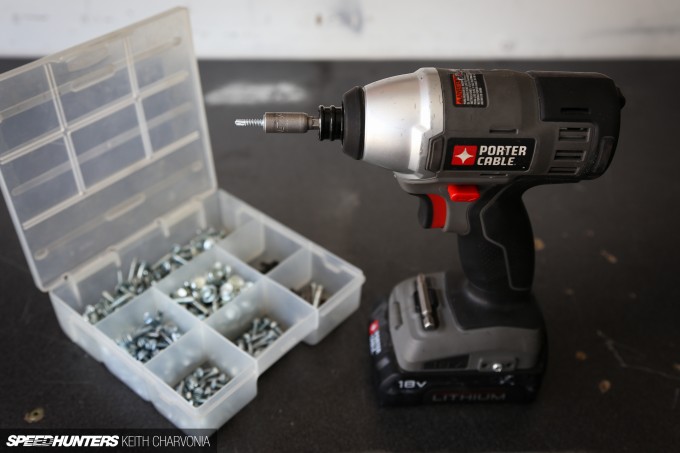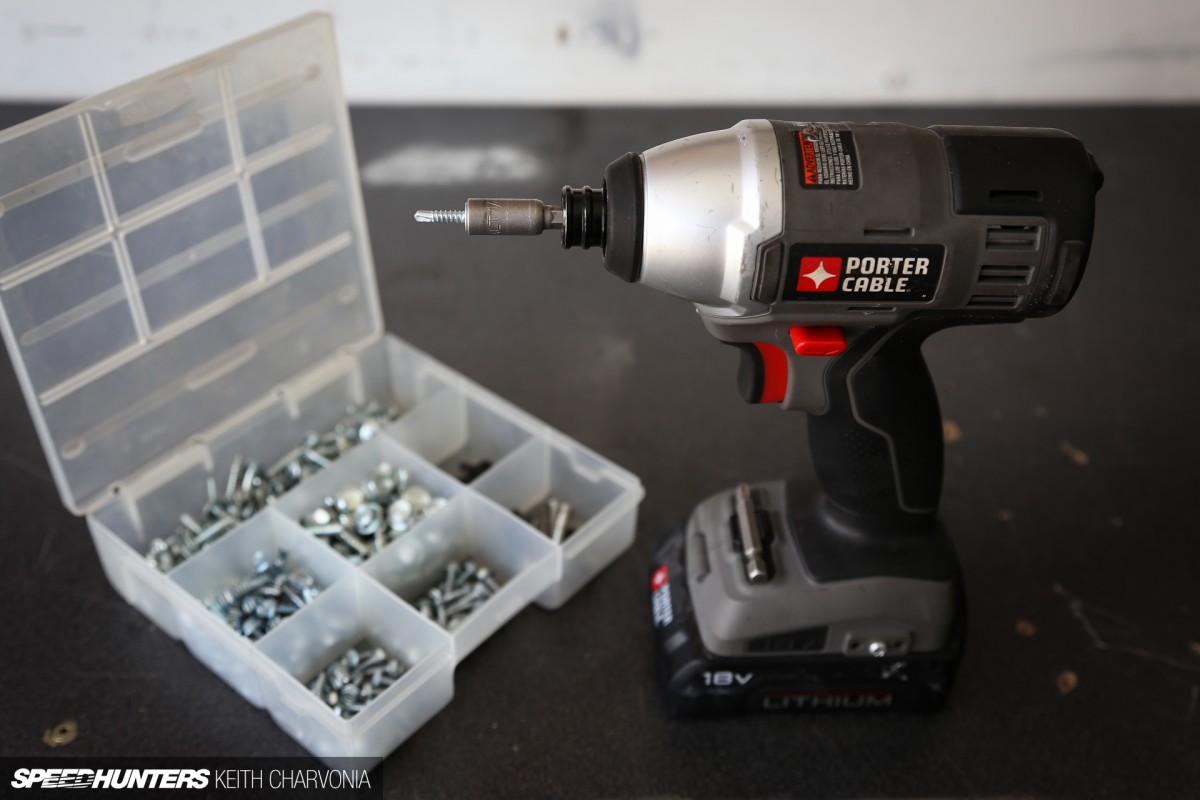 After cutting the body I dry-fitted the new parts using self-drilling sheetmetal screws. When installing aftermarket bodywork you always need to make sure the parts fit first, then take them off for bodywork and paint. We all know that Miura-san uses CAD to design his kits, and that's something I can appreciate since I use it all day at work too. All I can say is I was beyond impressed by the perfect fit of his parts! I've never installed a fiberglass part that didn't need at least a little tweaking to make it fit right, but here there were simply no adjustments required.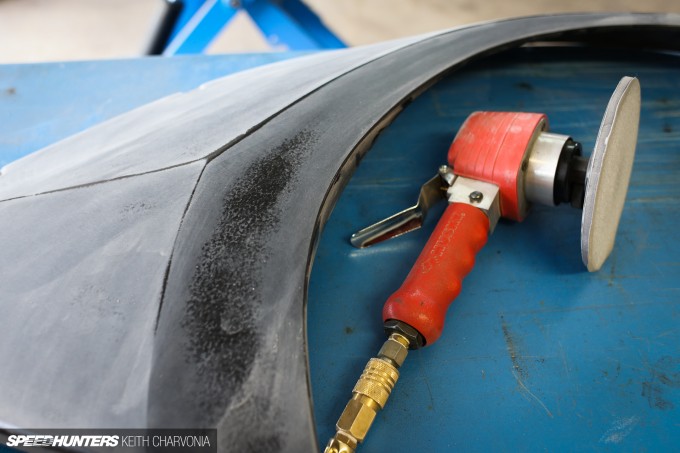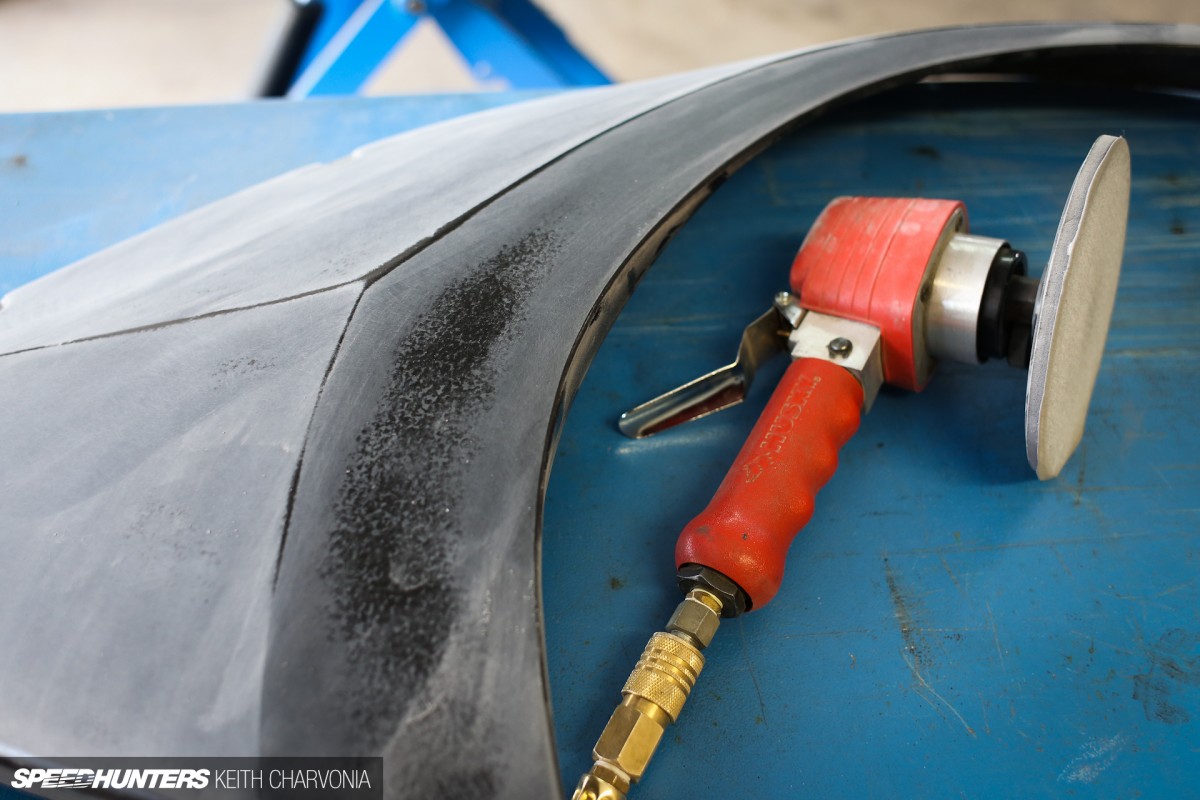 With the fenders cut and the parts screwed down to the car, I breathed a sigh of relief. I knew this wasn't going to be nearly as much work as it could have been. With that, I got out the DA and knocked down the gel coat using 220 grit.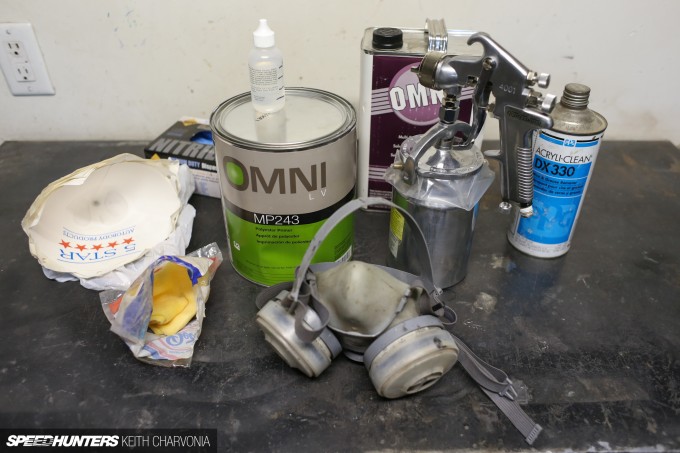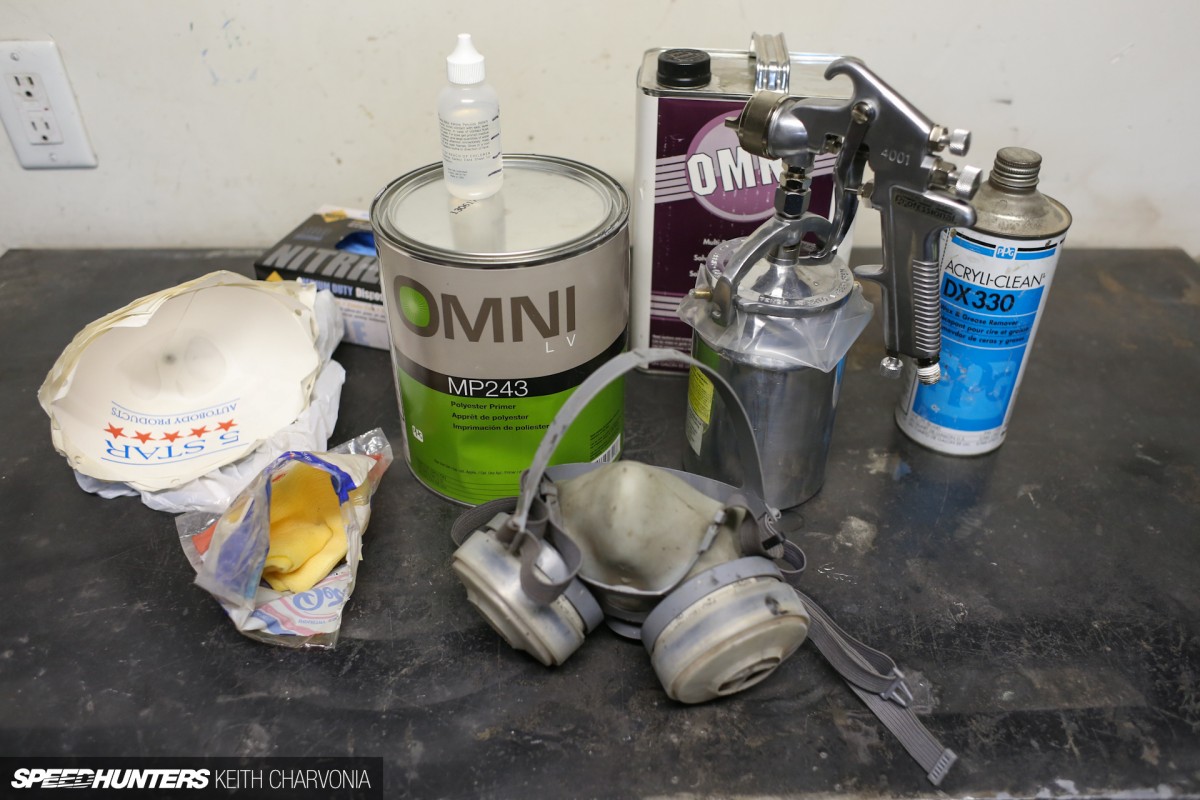 Aside from filling the occasional pin-hole with spot putty there was really no bodywork to do, so I loaded my primer gun one night after work and sprayed the parts with a nice thick coat.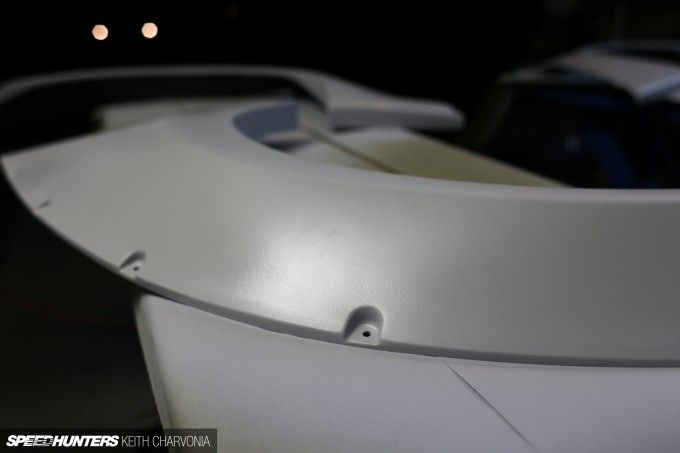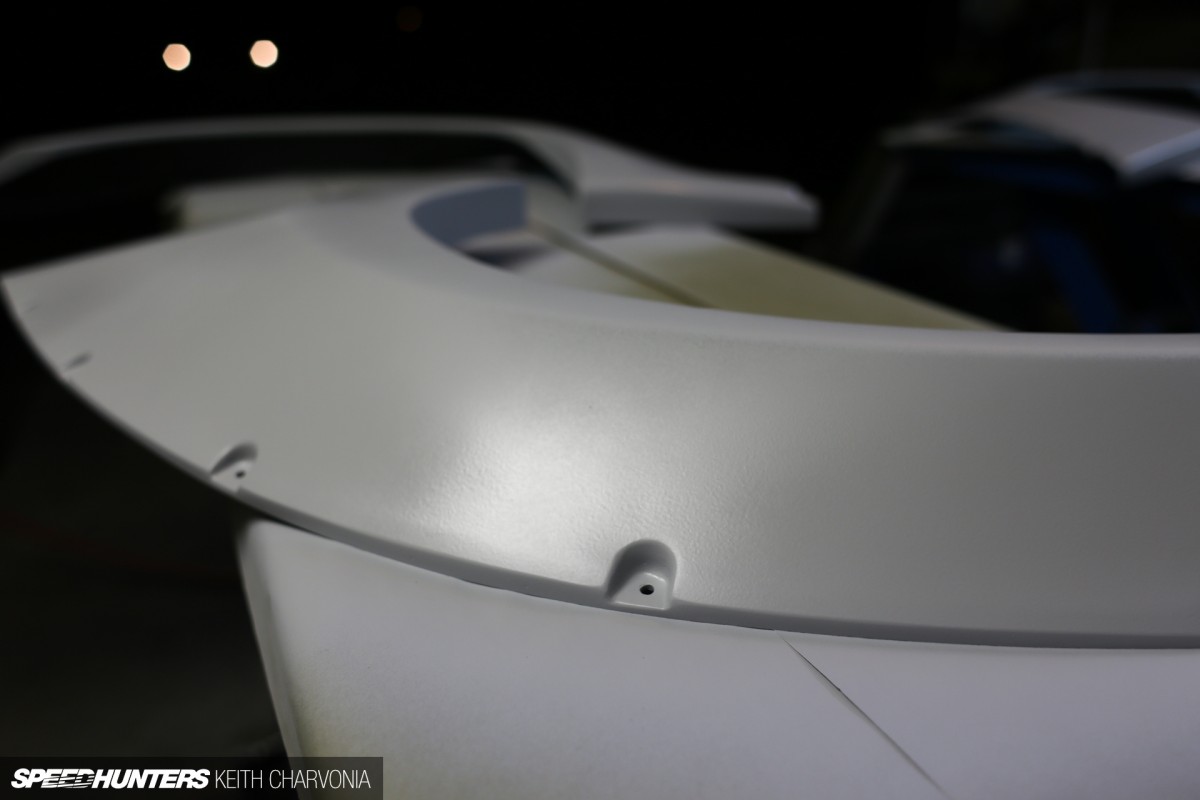 Since I wouldn't be using any filler, I wanted to make sure I got enough primer on the surface to be able to sand them in one shot.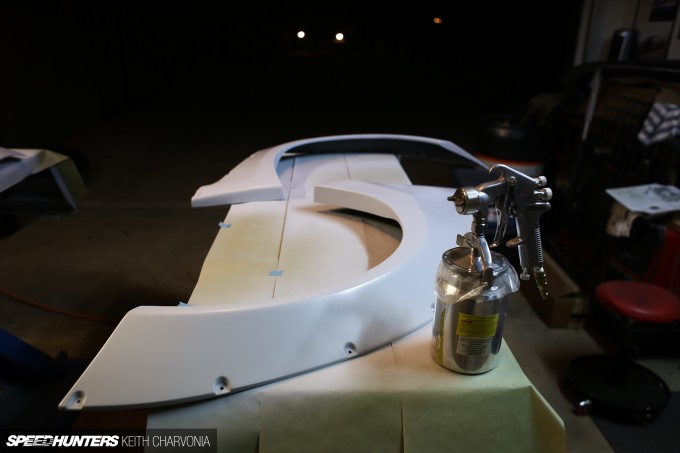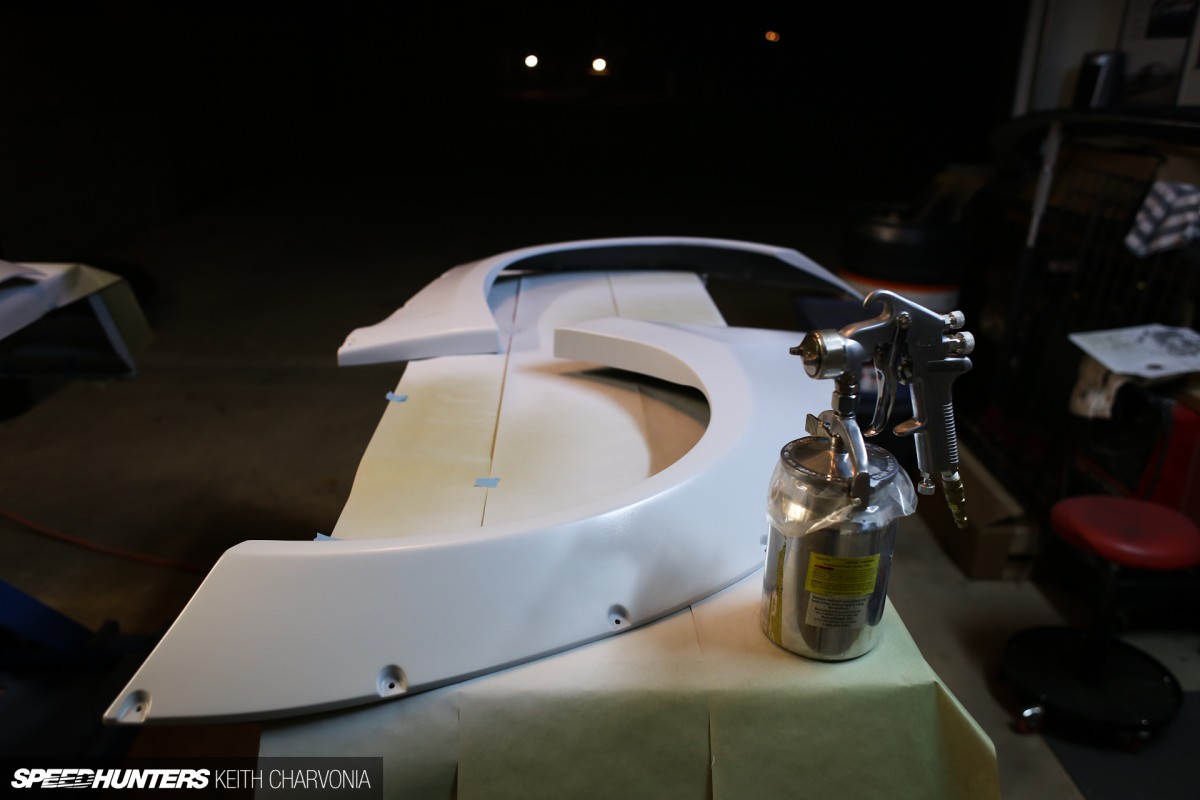 If the primer wasn't thick enough and I sanded through I would have to spray another coat, and that would cost me a day I couldn't spare.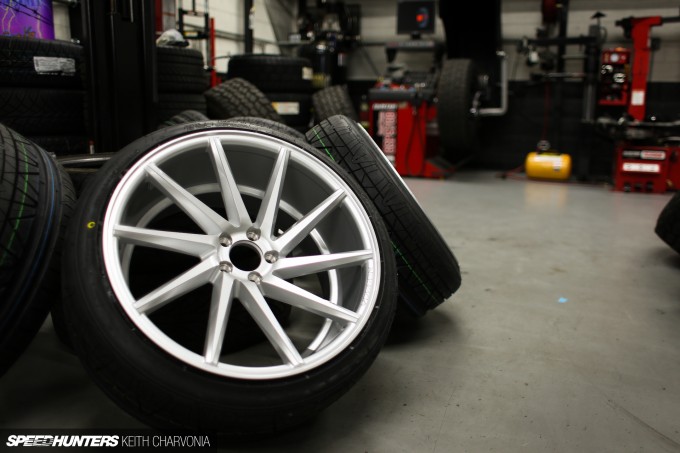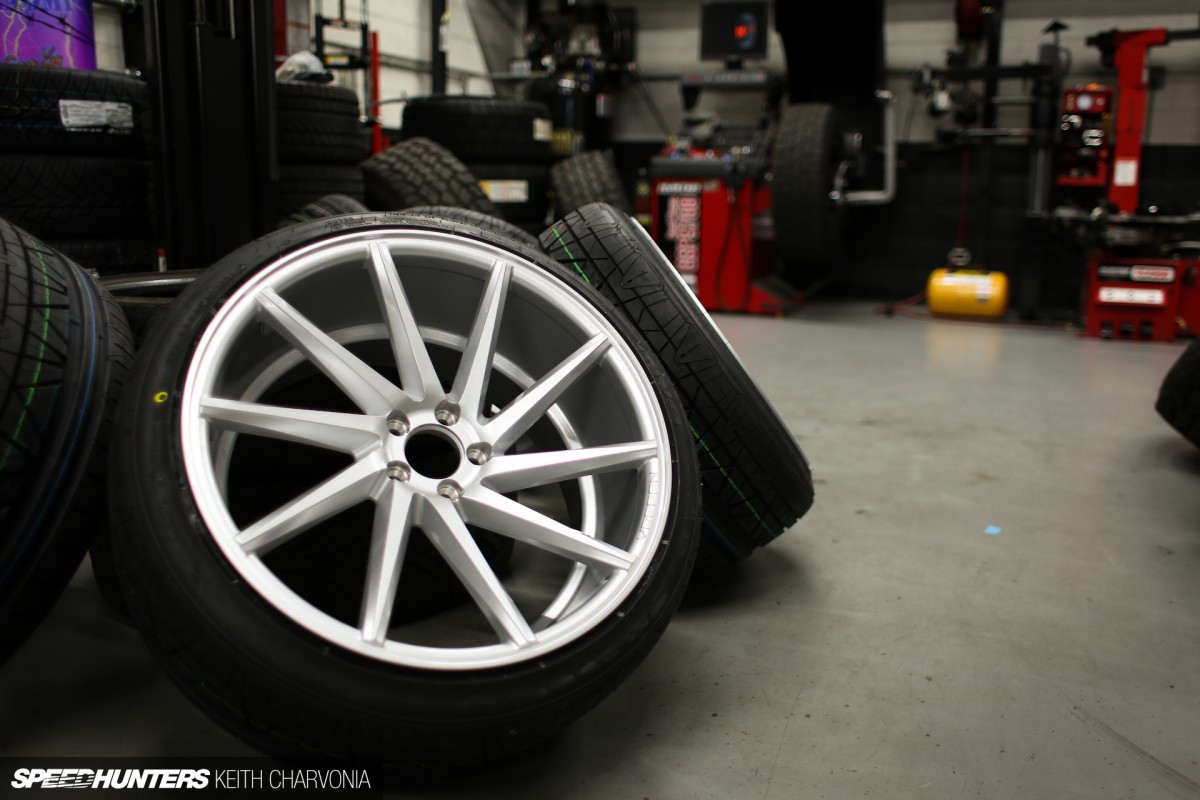 Part of putting a car together on deadline is calling in favors. Lucky for me, my friend Andy Gulick who owns Gulick Bros House of Sound mentioned that he had a Roadforce balancer in-house in case I ever needed tires mounted. A couple text messages later and he came through by mounting a set of Nitto Invos on my new Vossen CVTs late one night.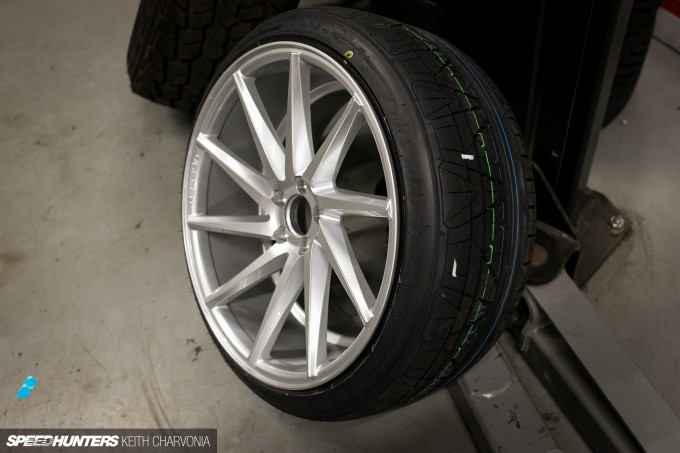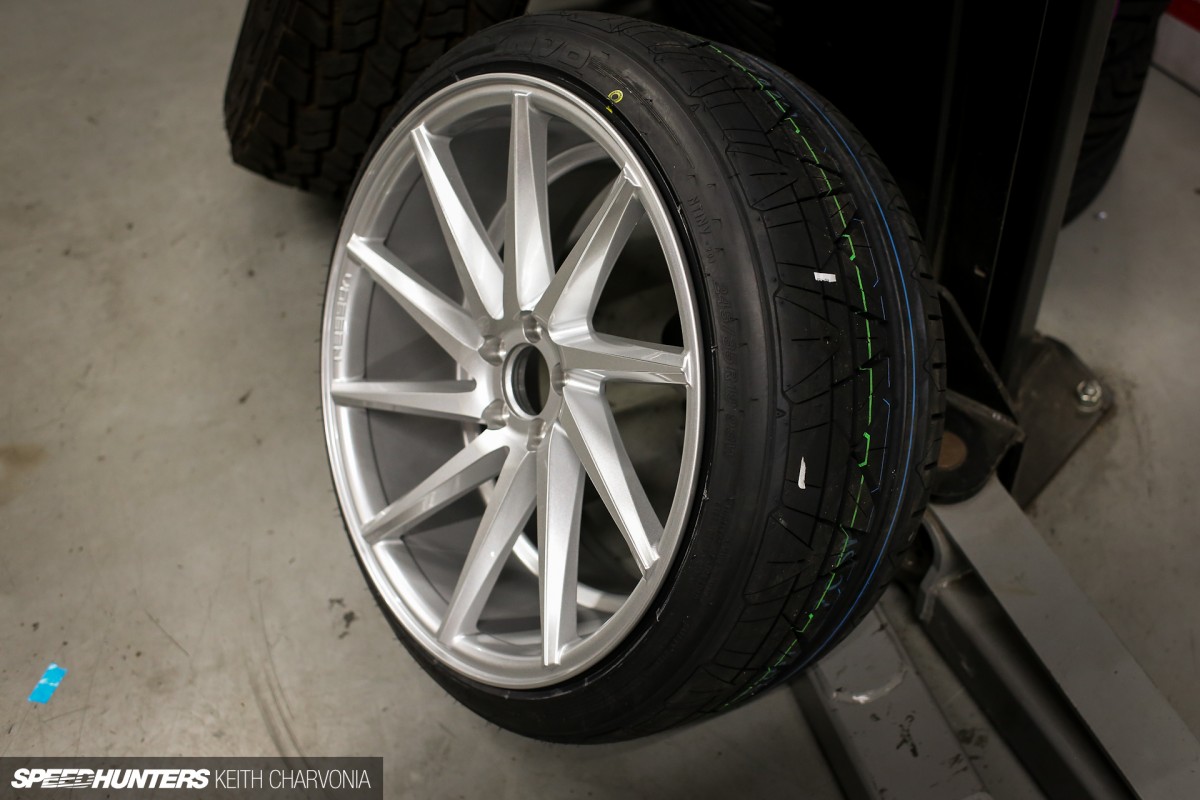 The decision to run CVTs was an easy one, because ever since this wheel came out the directional spokes with a true left and right have caught my eye. Fortunately, the timing was just right too, as Vossen had just released the new 5×100 pattern specifically for the FR-S. I like that level of dedication to the FR-S community, and was excited to be running one of Vossen's first sets of ZN6-specific wheels.
Coming together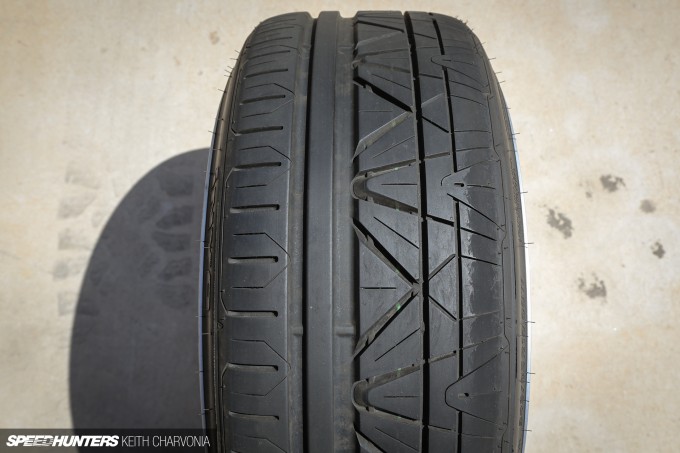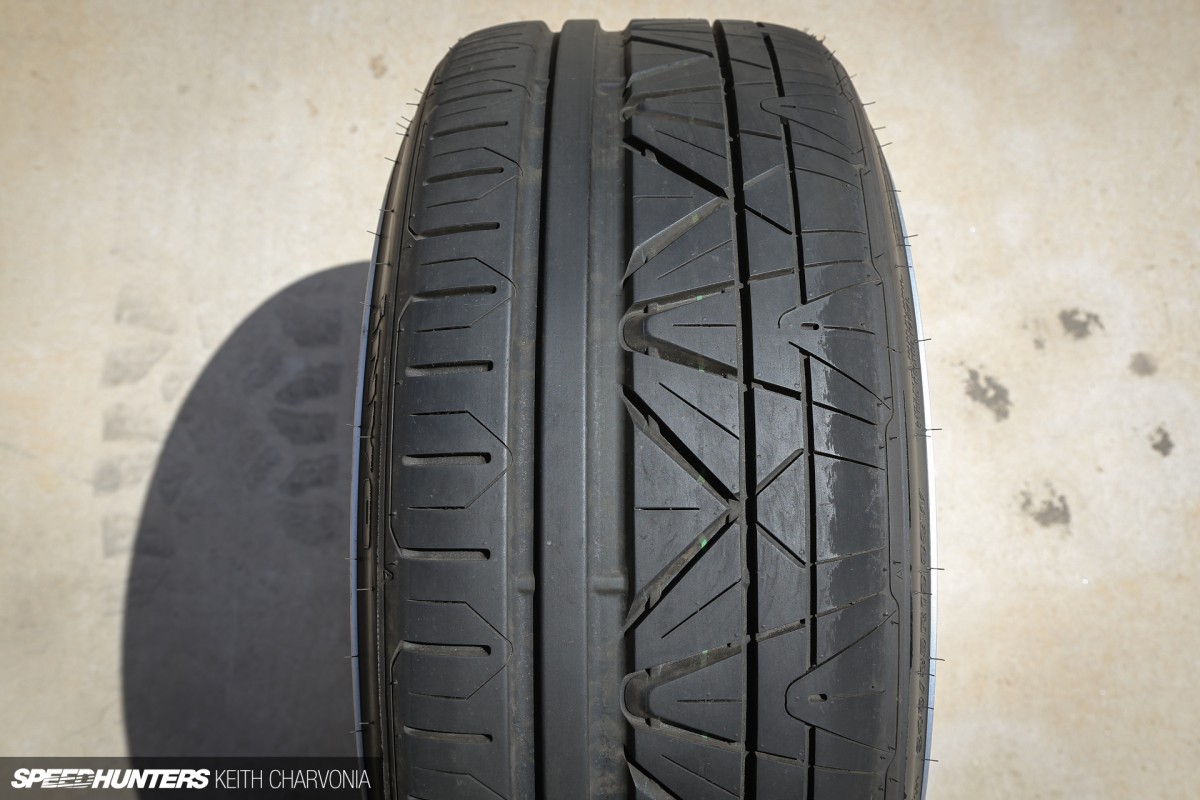 Along with the Vossens, I was going to need new tires and some suspension adjustments too.  I've never been one for stretching tires and hellaflush this or that, but I really felt that a little stretch was the right look for the car at this point. We put a set of Invos on the Double Down RTR and I was impressed not only by their performance, but also their road manners. After some head-scratching I went with a 245/35R19 Invo on the 10-inch wide Vossens to provide a light stretch without going overboard.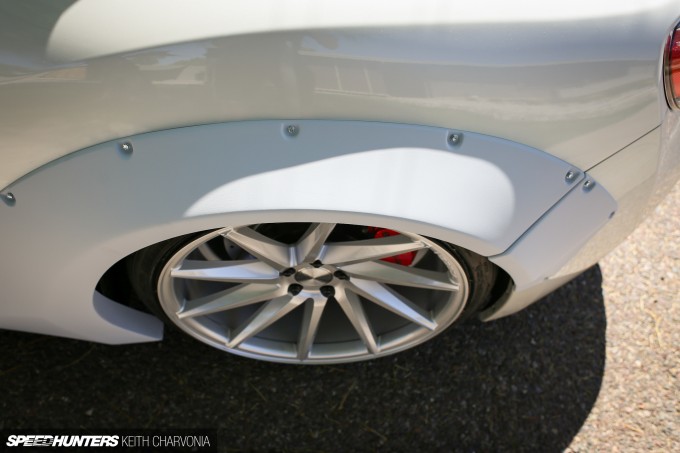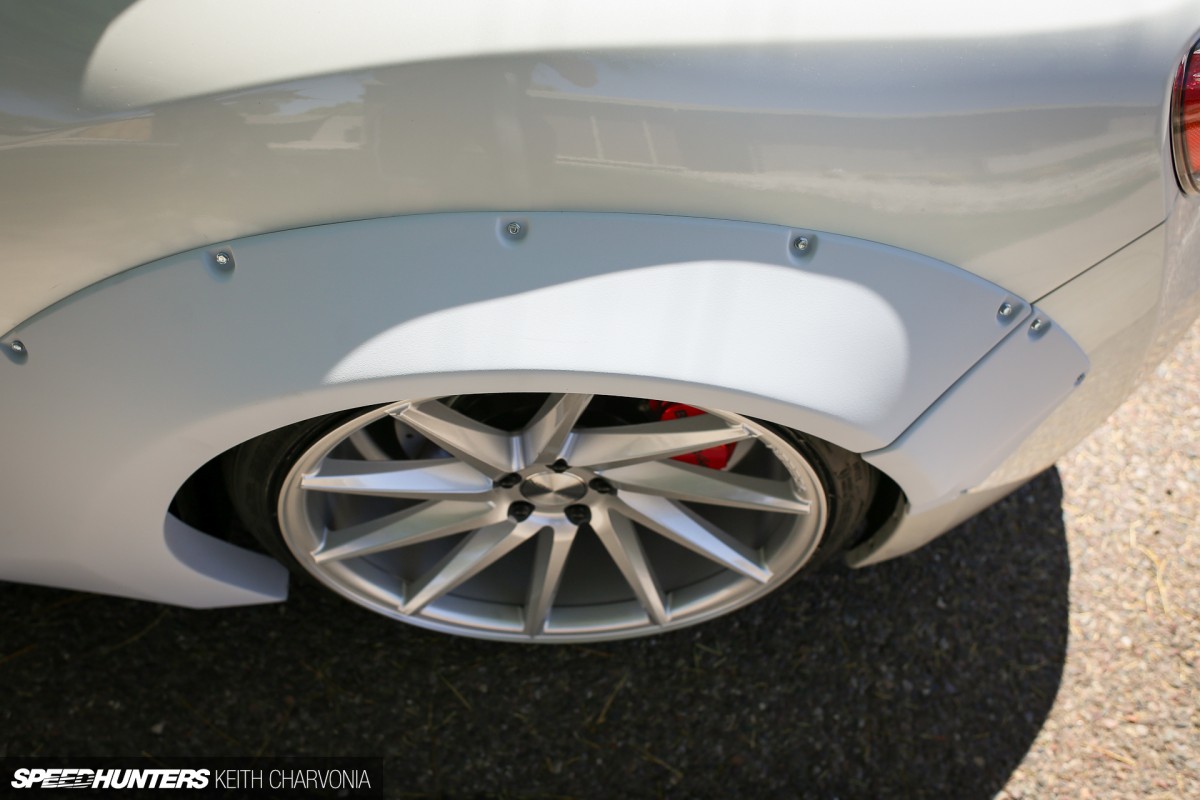 Obviously the CVTs are meant for a stock FR-S, but with only two weeks left there wasn't time to order a custom set of wheels. I would have to work around off-the-shelf parts, but this was definitely not the look I was going for!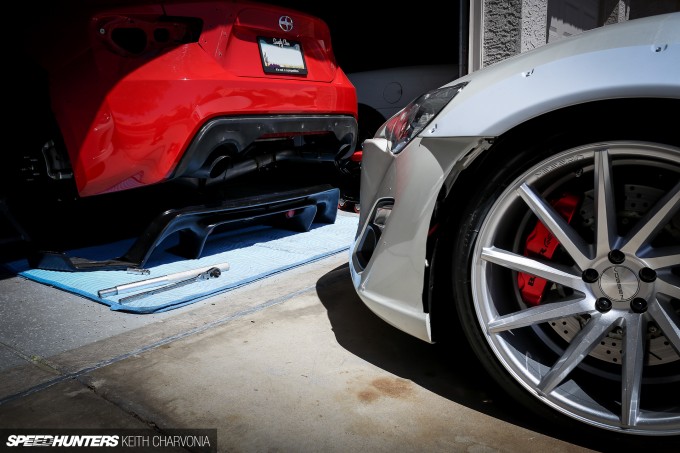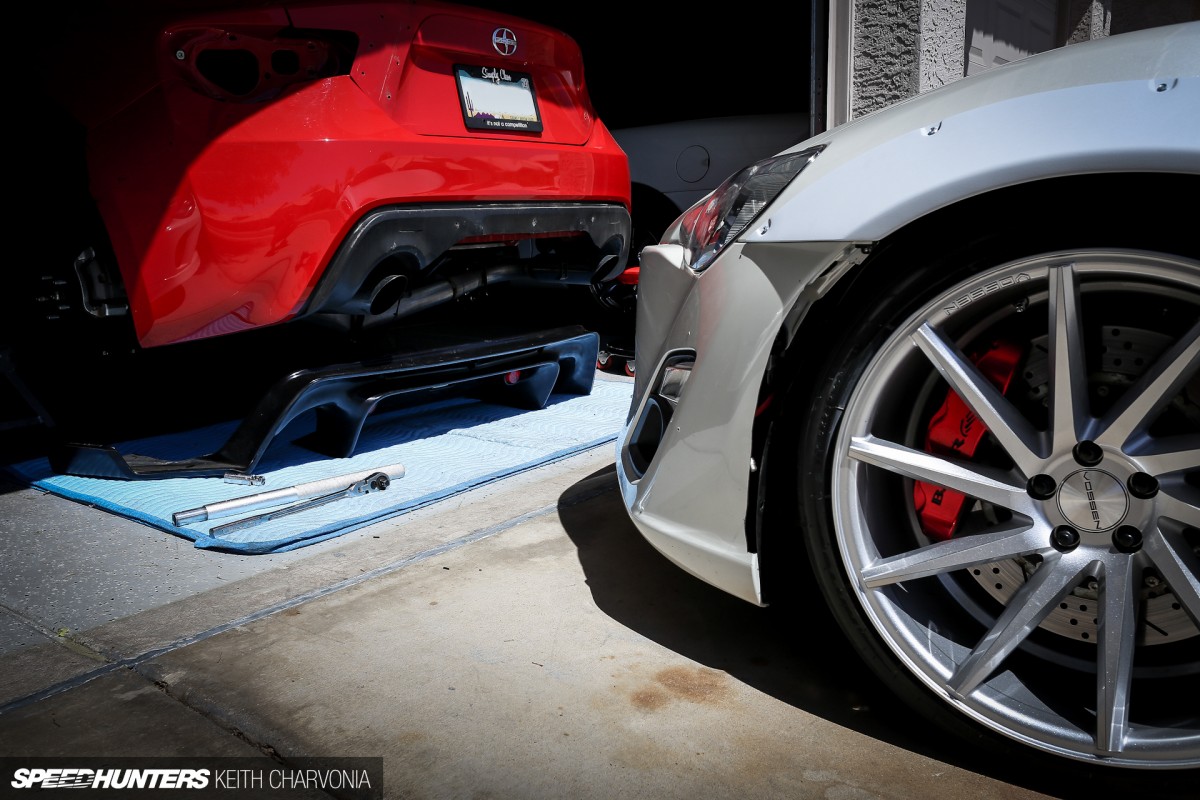 I know another local guy named James who was one of the first to run the V1 Rocket Bunny kit when it came out, and I had a feeling he might have some spacers laying around so I paid him a visit. Not only did I score the necessary parts, but I also got to check out the refresh he had going on with his car, plus get some reassuring feedback from another Bunny-kitted FR-S owner that my car was coming together nicely. Sometimes it's just a little comment here or there that can keep you going on a project.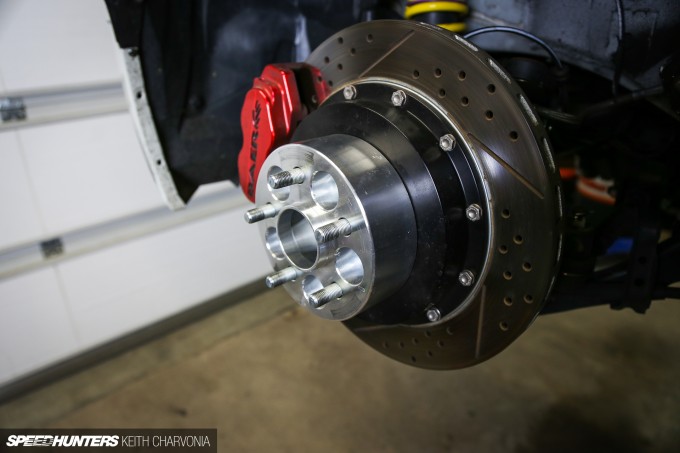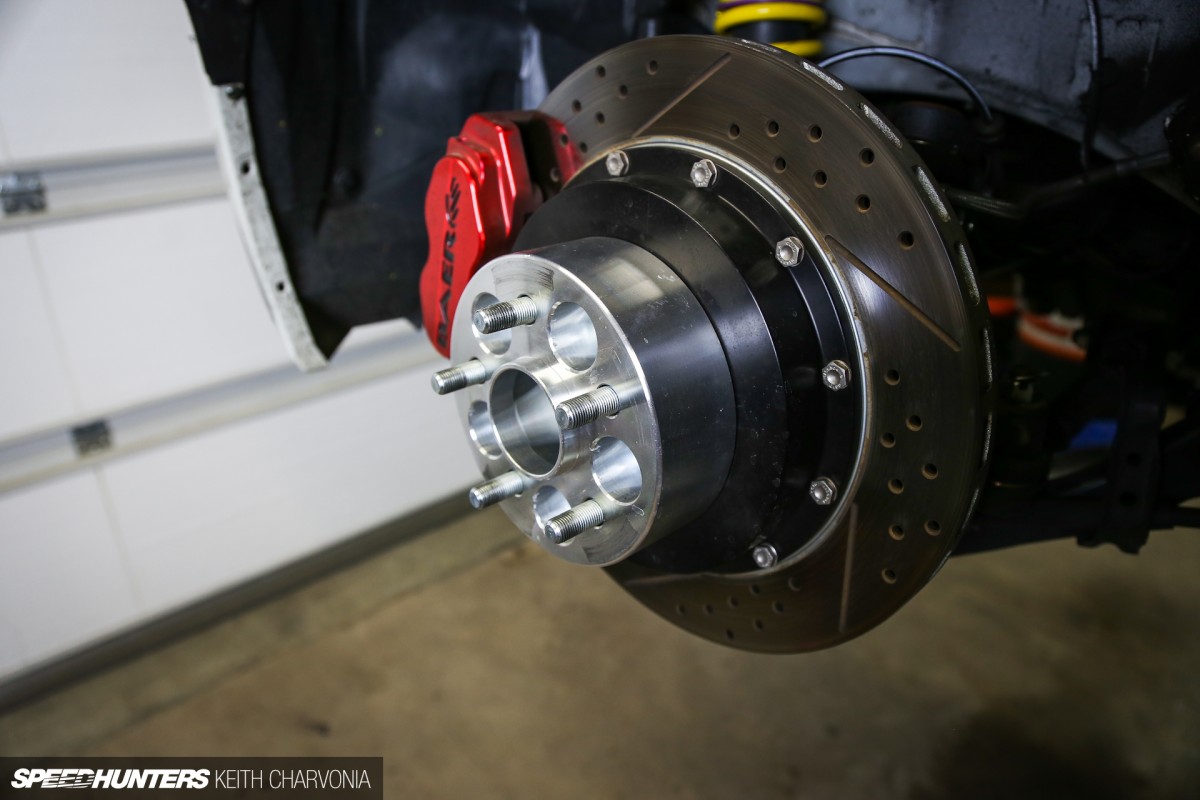 Back home I bolted up the wheel spacers to see how the wheels were going to sit, but I was still far from done.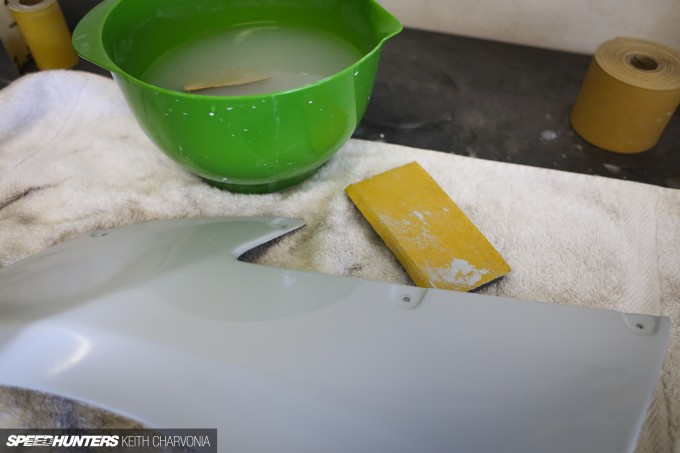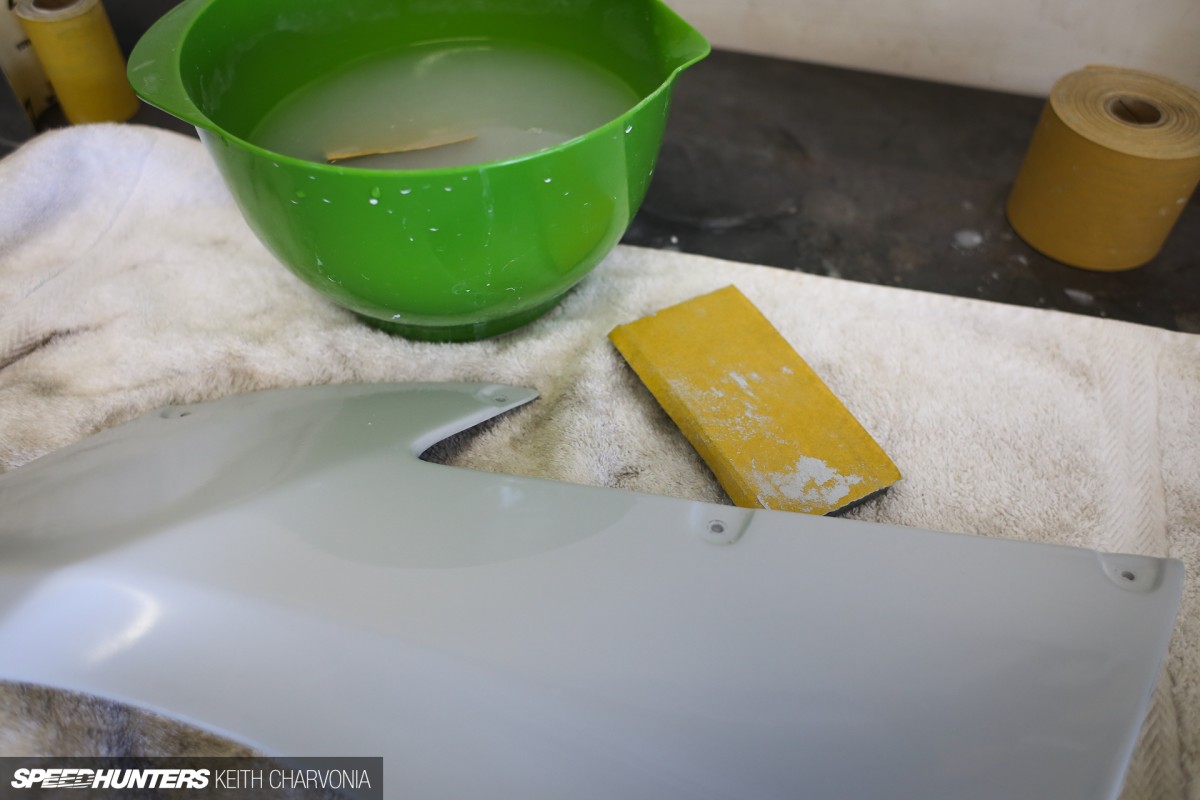 For one, I needed to wet-sand all the primed parts with 400 grit before delivering them to the paint shop.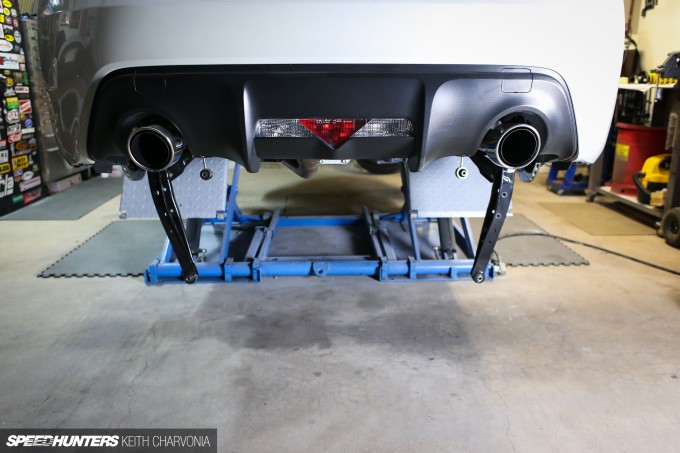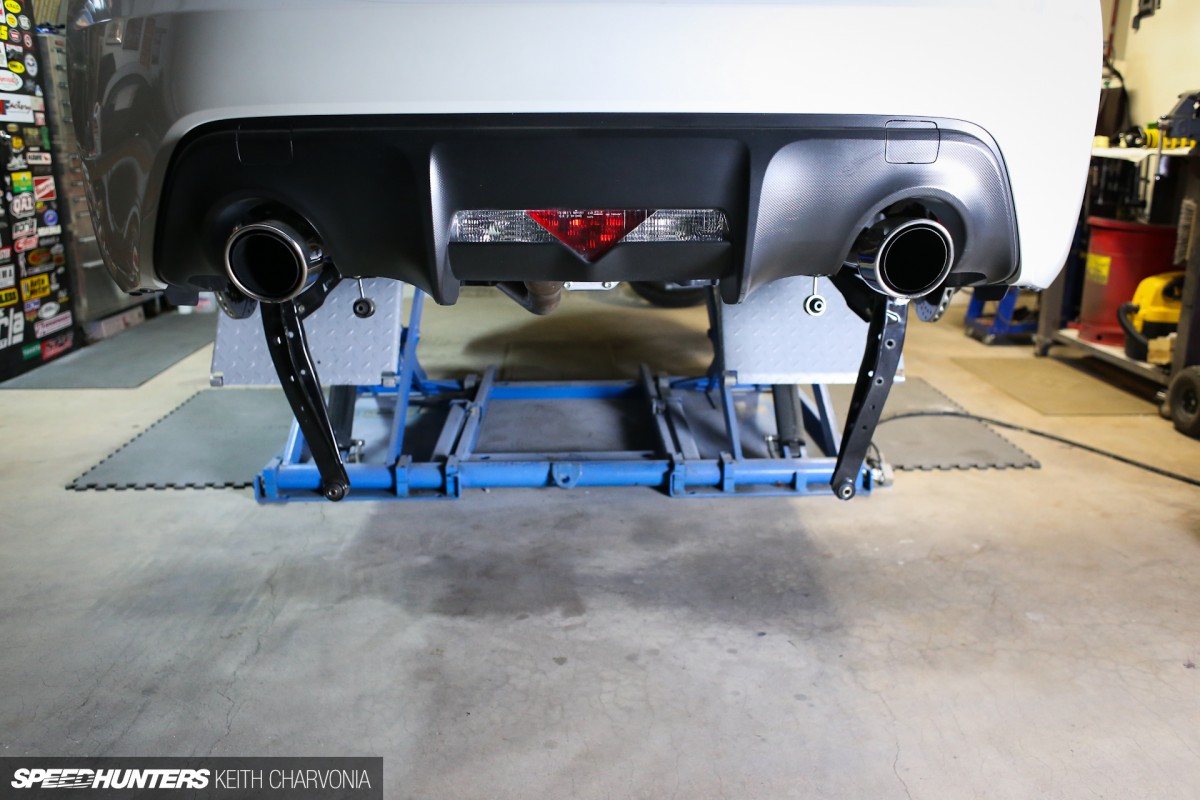 The suspension needed some attention too. I had the KW V3 coilovers set at a very reasonable ride height prior to this, but since the KM4SH kit opens up the fenders the car needed to come down from that cushy, mildly-dropped ride height.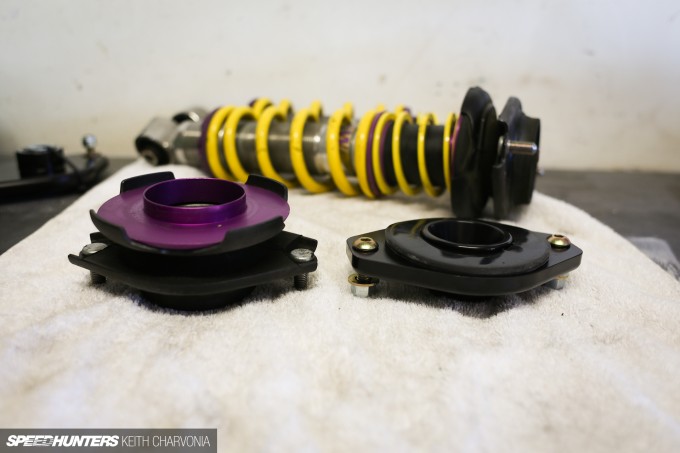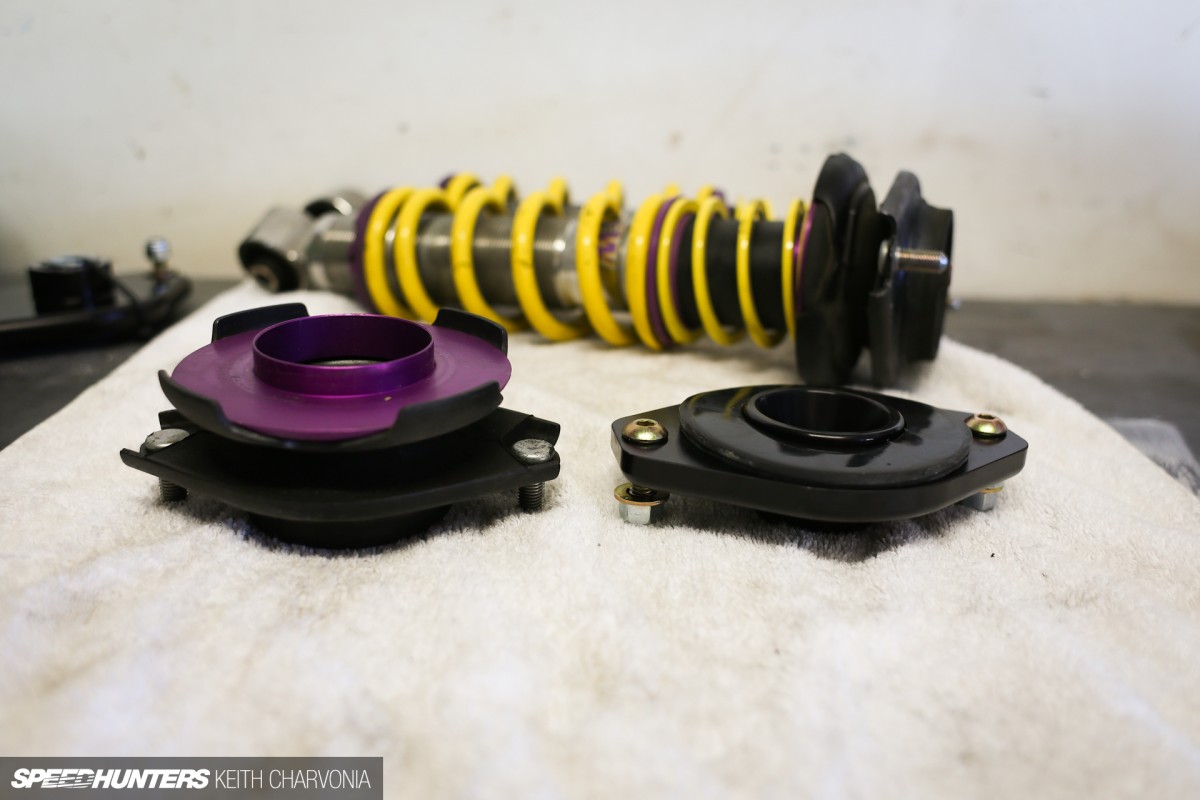 Ground Control sent me these rear top plates a couple years ago and I never saw the use for them, until I wanted to dump my car and needed more up-travel.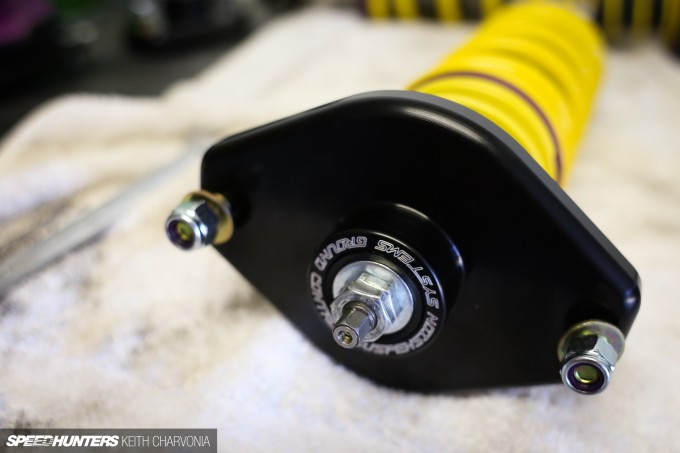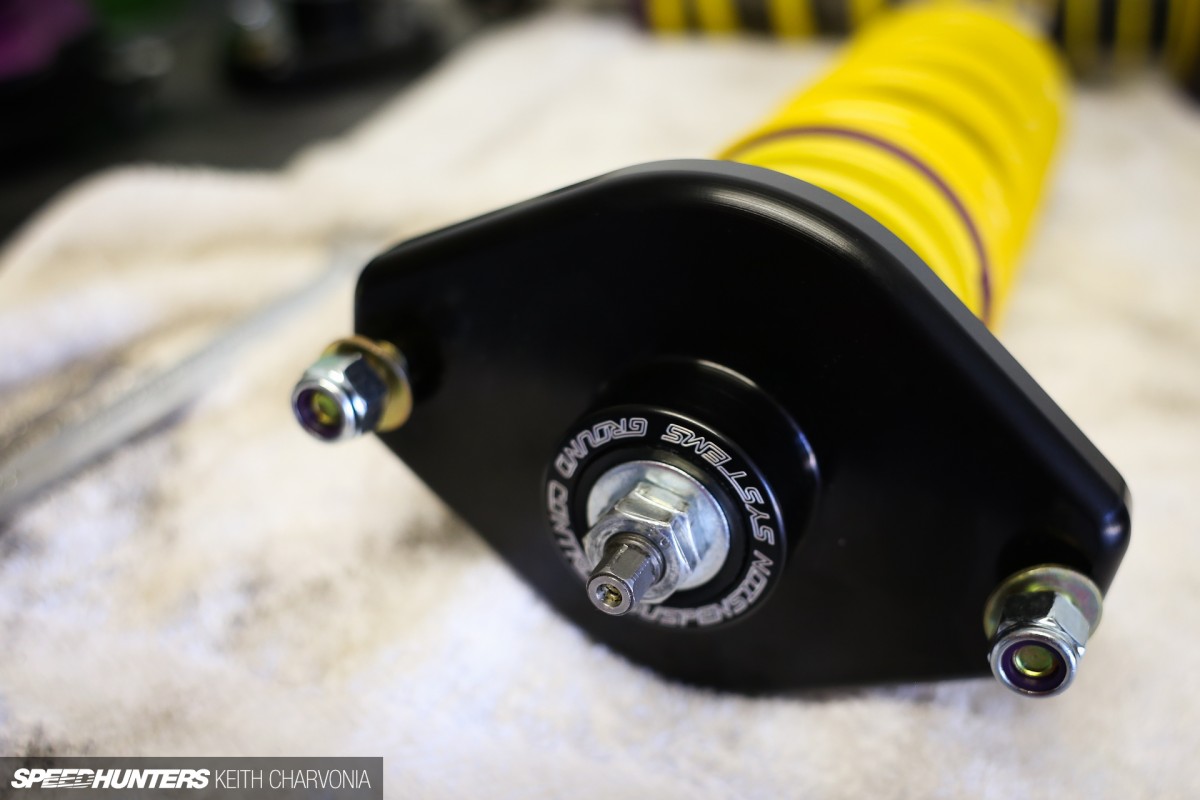 I dug them out of my parts stash and bolted them up. While I was at it I cleaned the threads on the shock bodies and applied a light coat of grease to keep the perches spinning freely. My plan was to drop the coilovers as low as possible once I got to Long Beach and I wanted to make sure I wasn't fighting gummed up coilover threads at the show.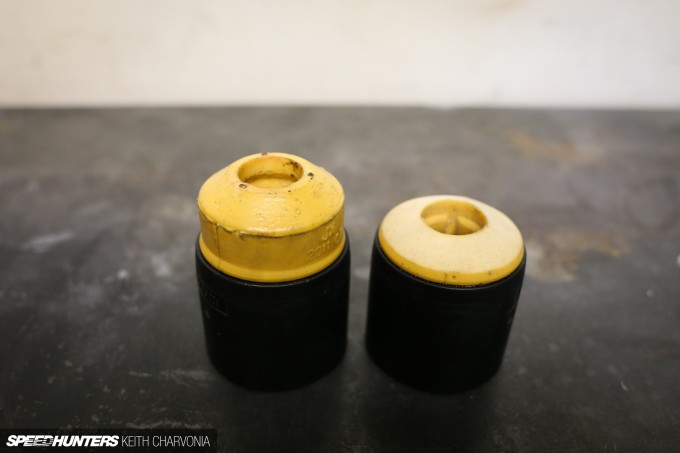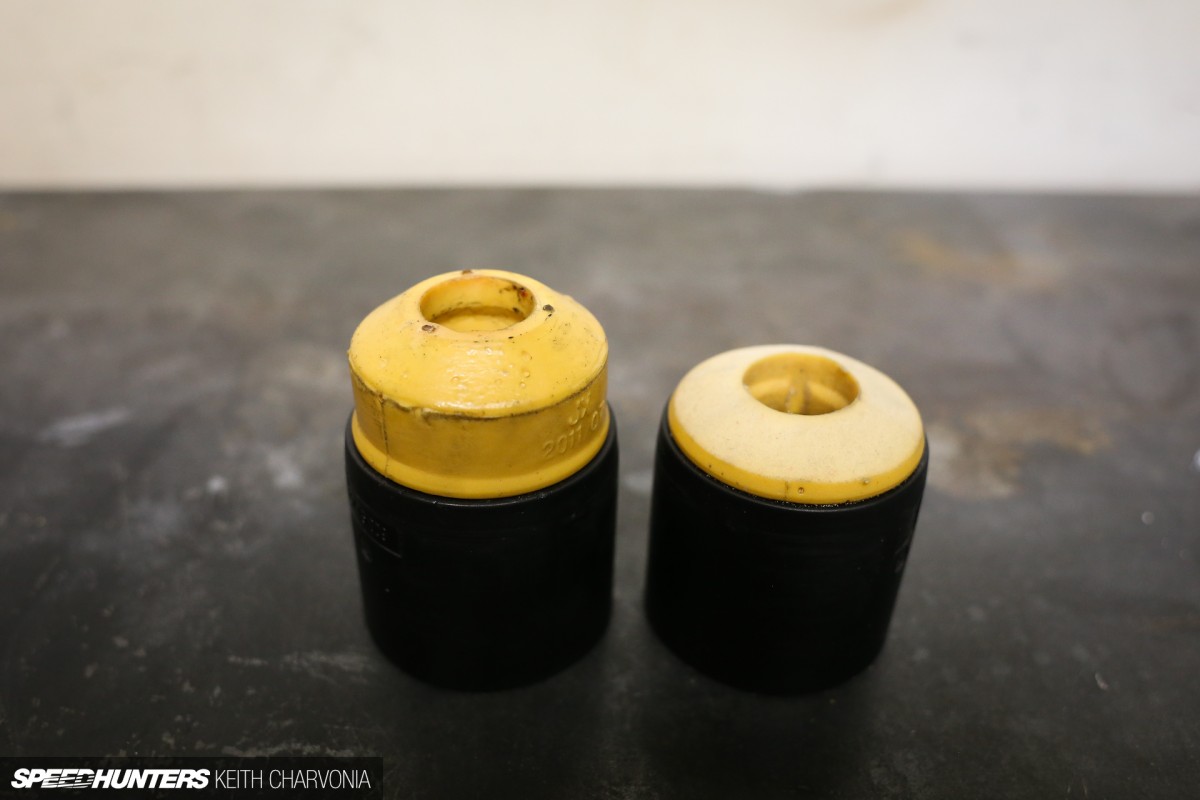 I already had the Ground Control camber plates installed in the front which provide an additional inch of upward travel, so I knew that to gain any more I would have to get a little more drastic. After consulting with KW I decided to trim down the front and rear bumpstops by using my bench sander and matching the original angle.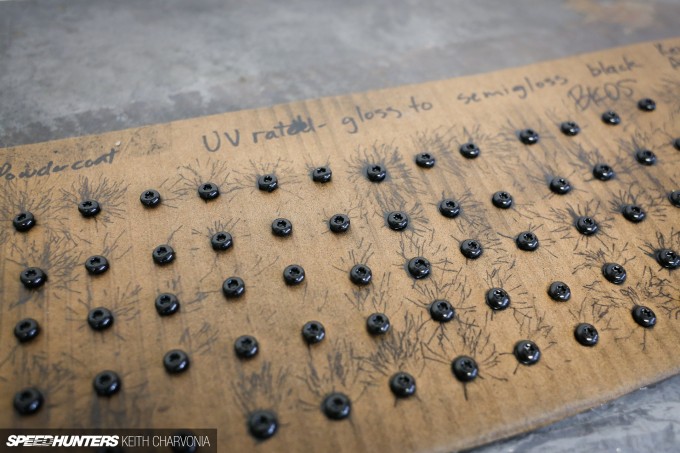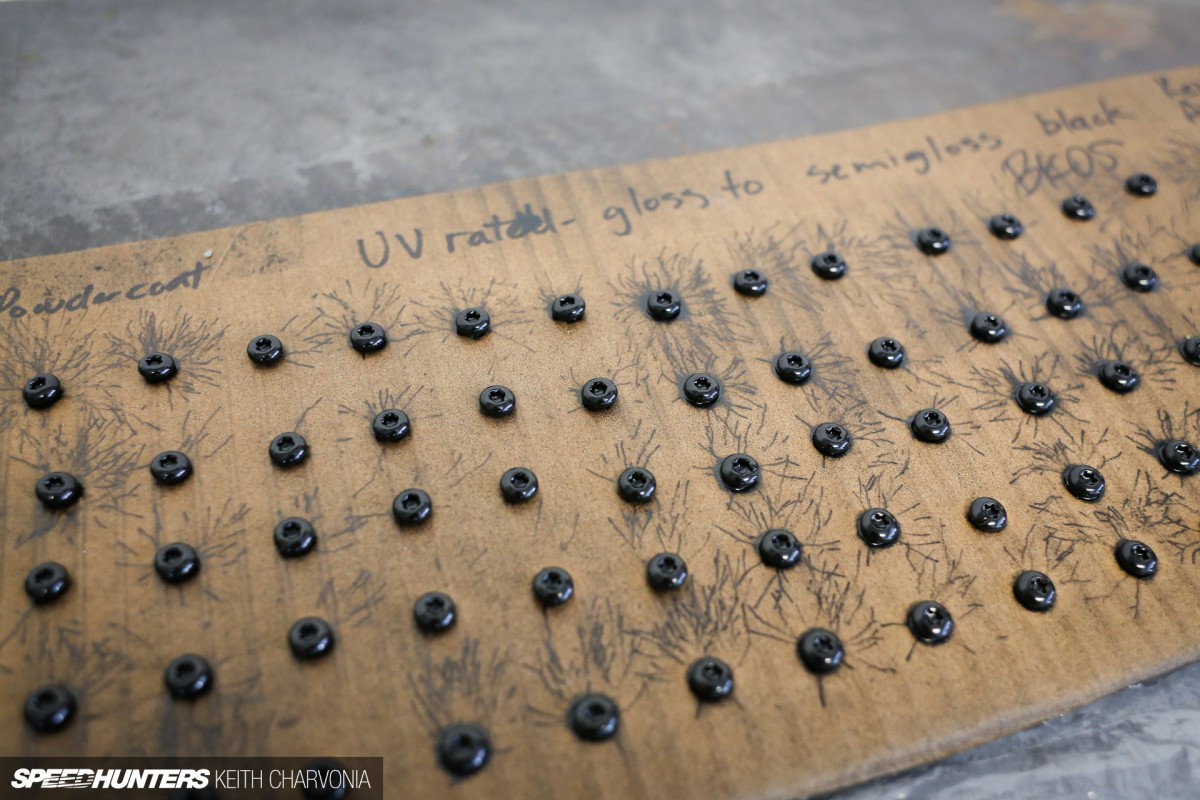 Admittedly, I have an obsession with hardware, and when it comes to building my cars it really comes out. After a couple days of searching for just the right screw and washer combo I decided to order a box of Torx sheetmetal screws (which of course only came with zinc plating) and send them out for black powdercoating. This is how you powdercoat 100 loose screws all in one shot – by simply pushing them into a sheet of cardboard. Notice in my notes to the powdercoater that I asked for UV-rated powder so they wouldn't fade over time from the sun.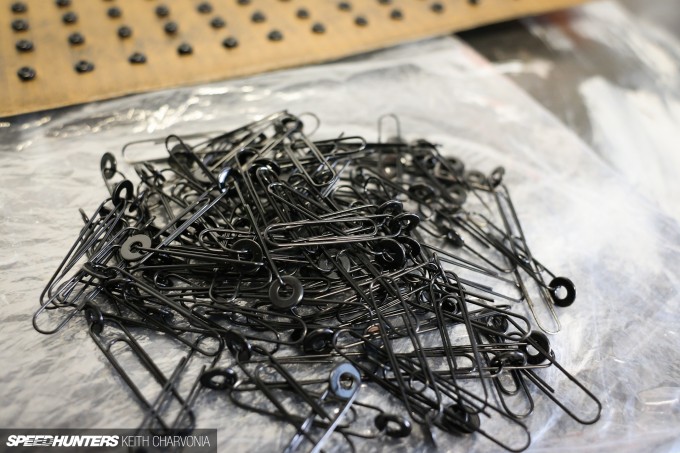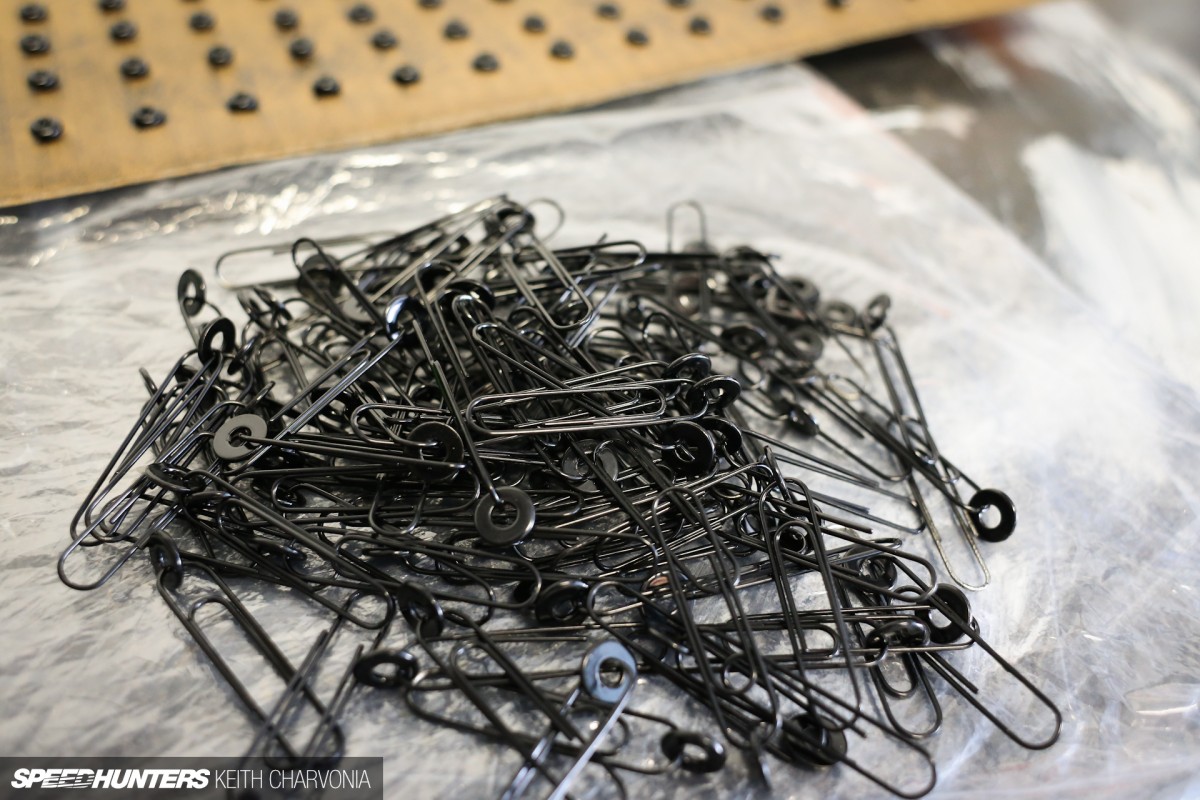 For 100 washers you turn on some music and put each washer on its own individual paperclip so the powdercoater can hang them on hooks. If you spend some time staring at a ZN6 you'll notice there are actually a lot of black accents on the car, and I wanted to continue that theme with the hardware for the flares. Besides, silver hardware would have gotten lost on the white paint, and one of Miura-san's signature design cues is that of a 'bolted on' overfender.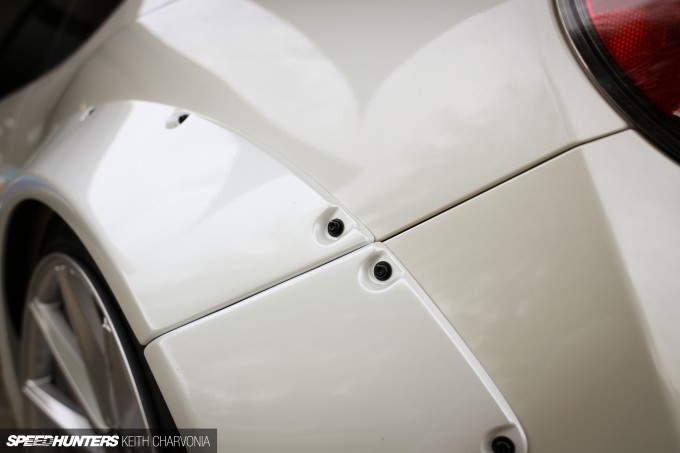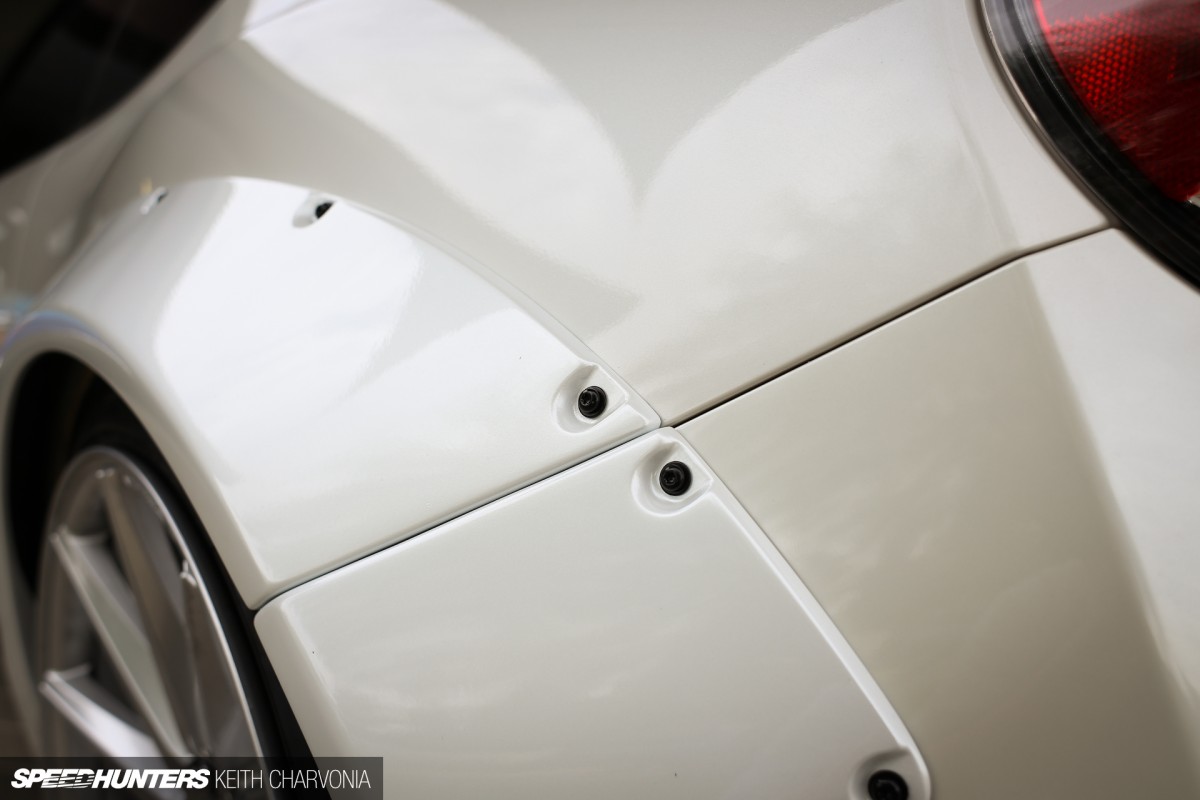 I was getting close to my Long Beach deadline, and at last my hard work started paying off. I had my custom hardware, and I finally got the flares back from the paint shop too – but there was a problem with the paint color. Apparently the factory Whiteout pearl is a three-stage paint job and notoriously difficult to match. On the week of my departure, it was back to a different paint shop that could blend a custom color from a mixing wall to get a perfect match.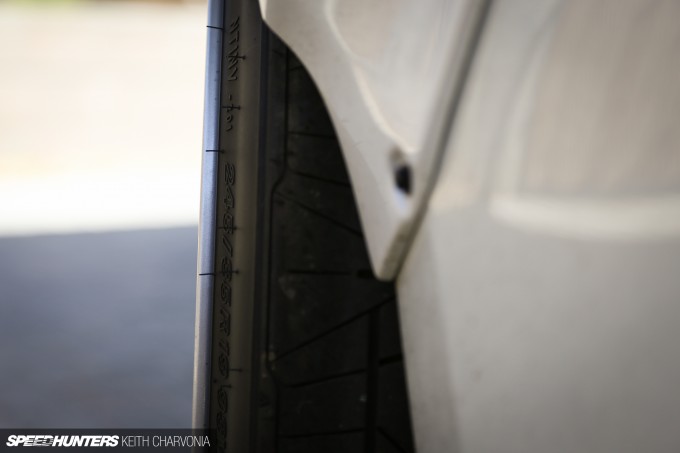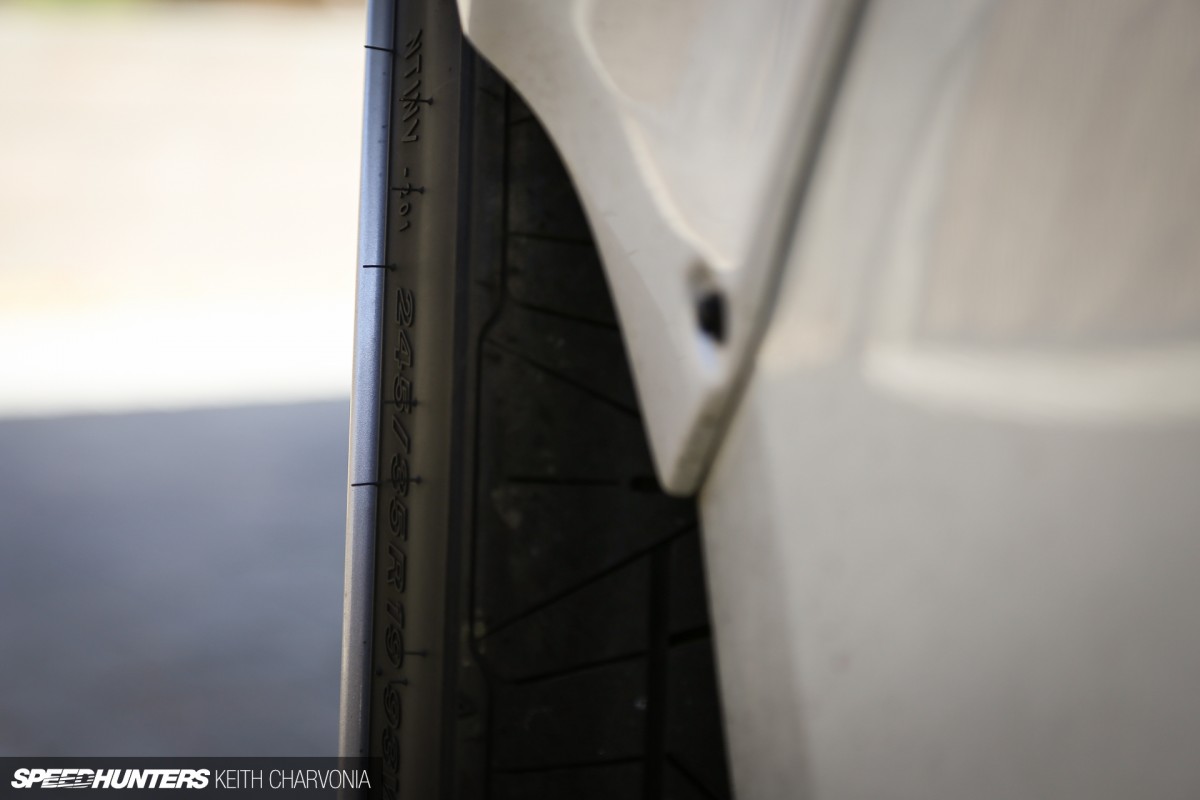 At least the tire was hanging out of the fender just like it should.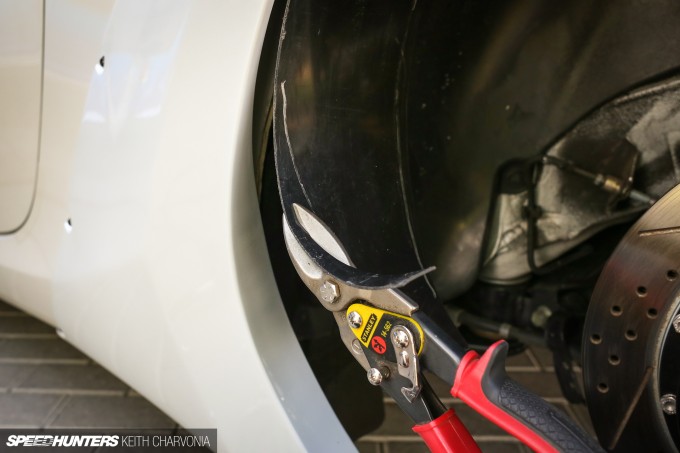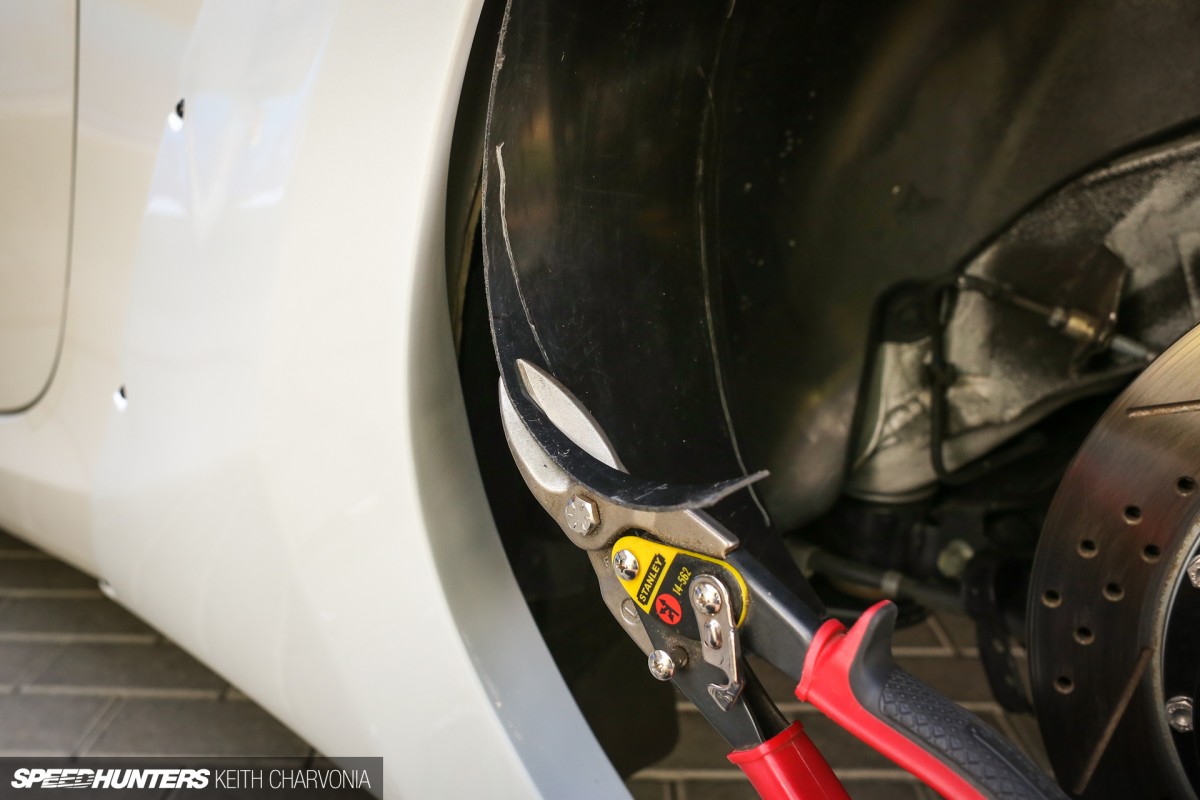 There were just a few days left before my departure, and I still had a list of things to do. I told a couple Rocket Bunny owners about my custom, extended fender liners I made and they couldn't believe I went to such trouble. Of course, it's easier to throw the factory liners in the trash and spray bomb everything black, but I like my stuff finished like it came from the factory.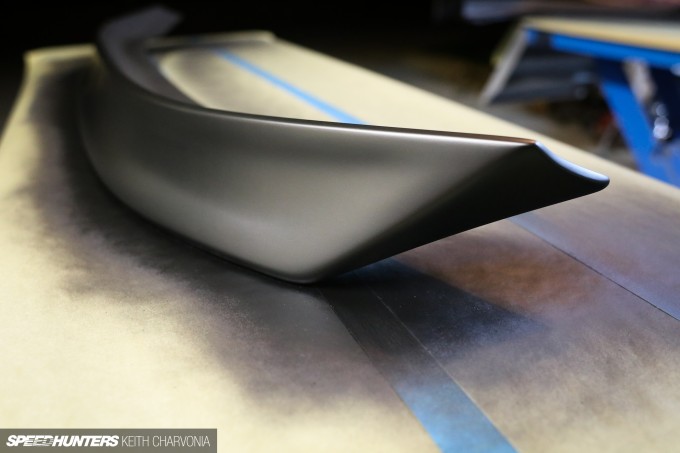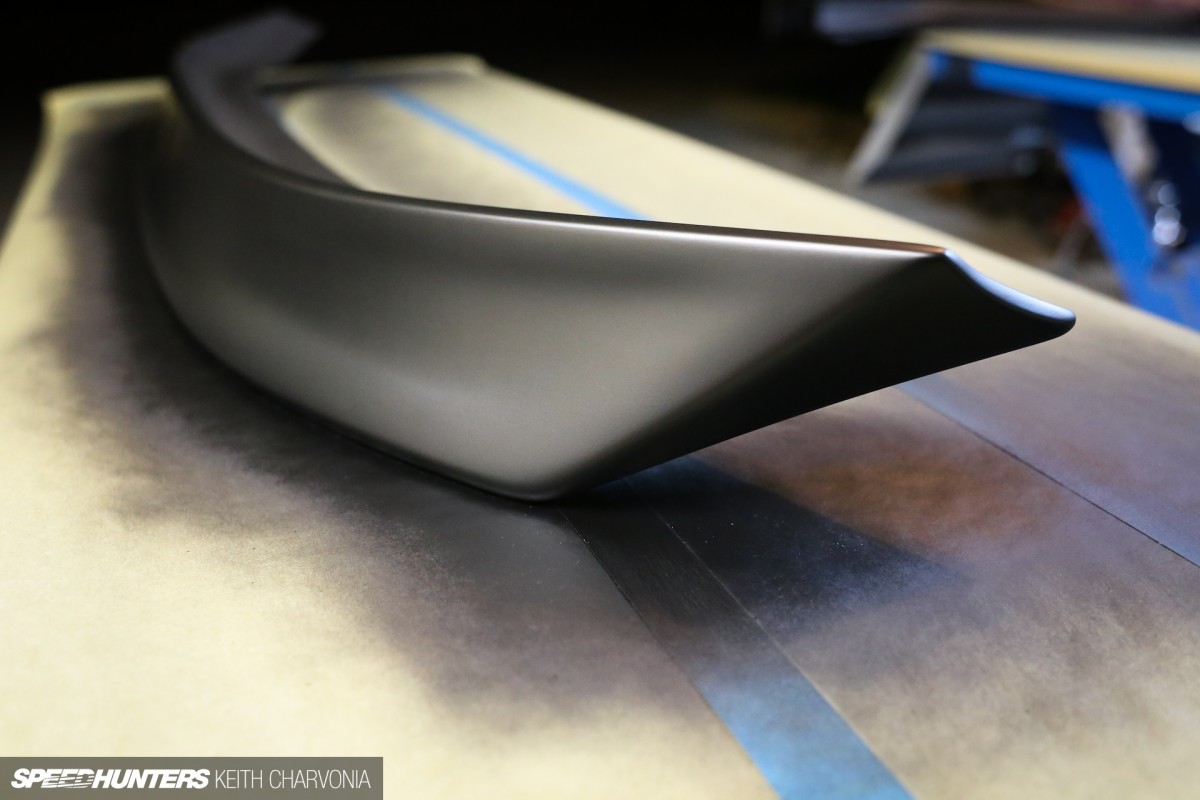 While building my car the only pictures I could reference were of the KM4SH car in Japan, and I noticed that the spoiler and front splitter were both flat black. I couldn't decide if they should be body color or flat black on my car, so I consulted Mr. Miura himself to see what he intended. His answer? "The parts should be flat black on any color GT86!" Rather than pay the paint shop, I tackled this job at home in the garage.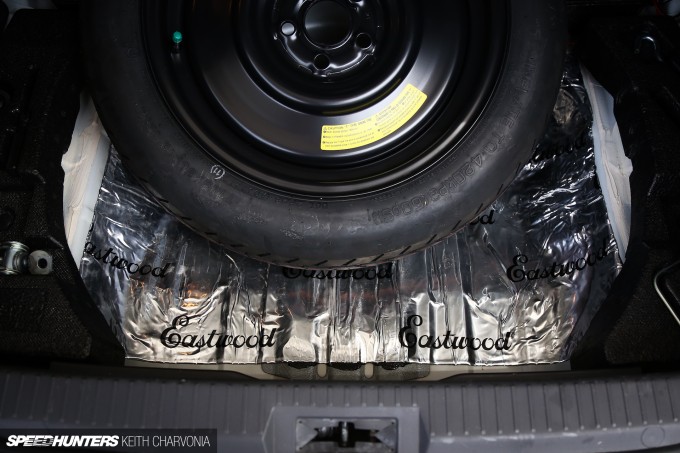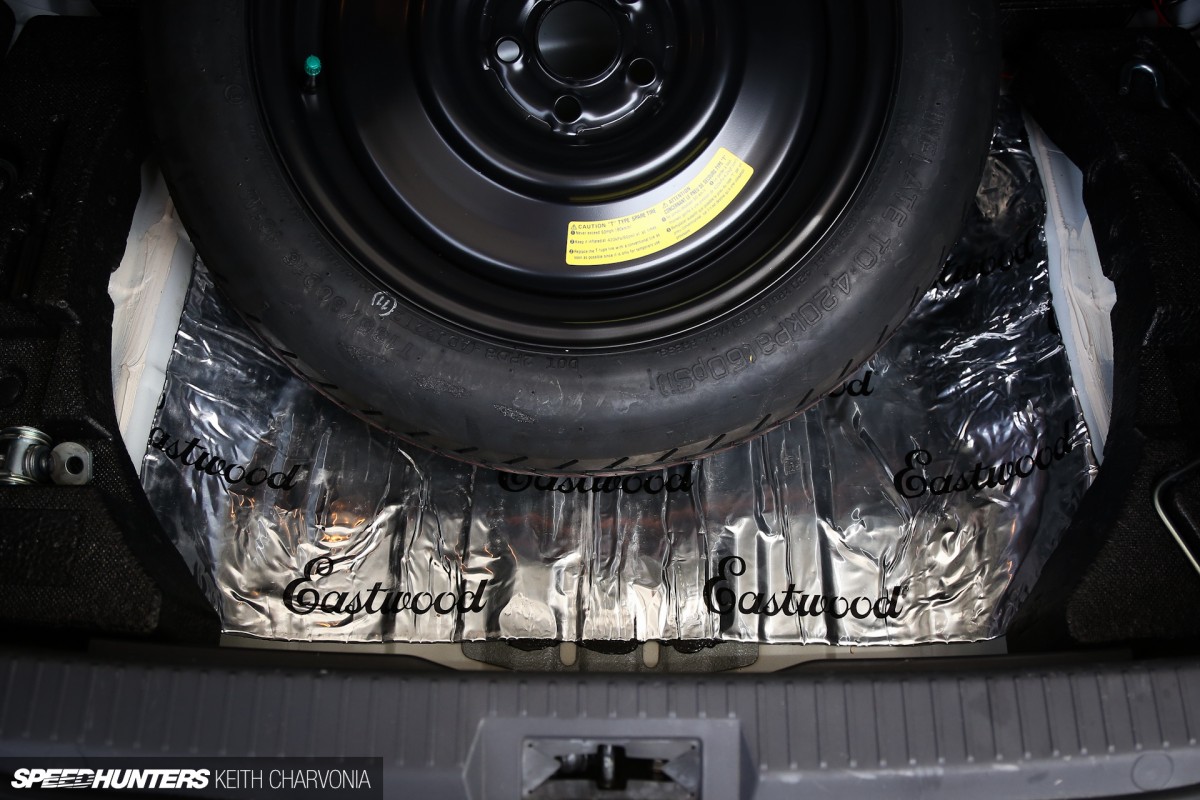 Right before I hit the road I threw a sheet of Eastwood Thermo-Coustic sound deadening in the trunk to dampen the cat-back exhaust's highway drone before my long drive to California.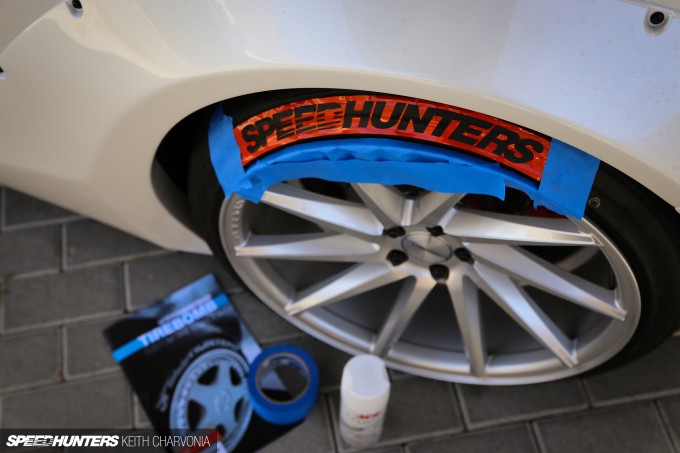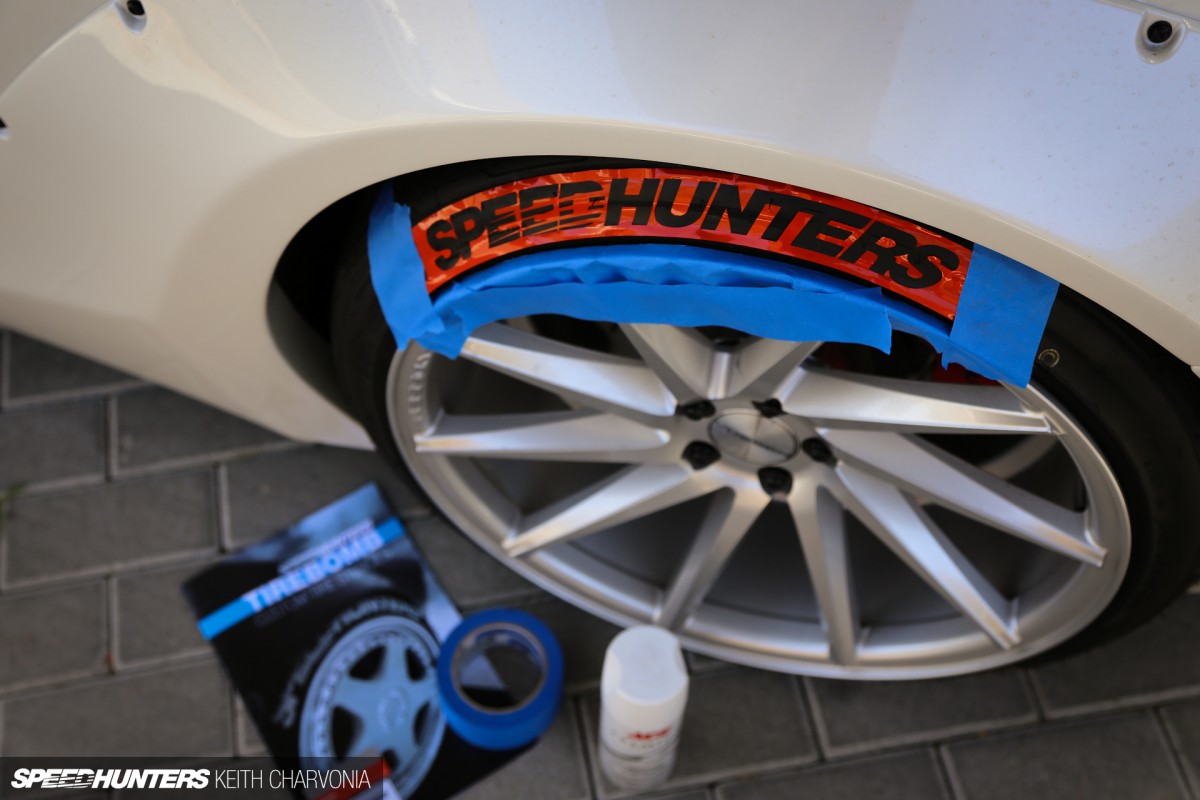 My last task (with Bryn on speakerphone in my driveway) was to paint the Speedhunters and Nitto logos on the tires. This wasn't part of my original plan, but after I stood back I was pleasantly surprised by the more aggressive look the tire bombs lent the car. The white lettering also helped fill out the wheel well and make the tires stand out next to the KM4SH flares. It was the icing on the cake for this build, and it was time to load my tool bag and suitcase and hit to road for Long Beach.
Not so fast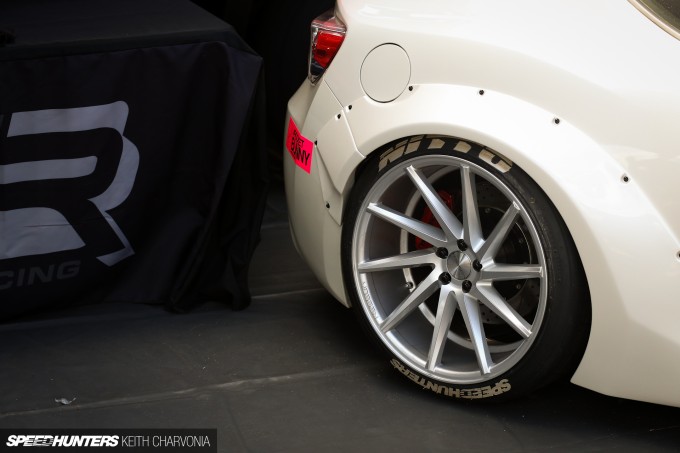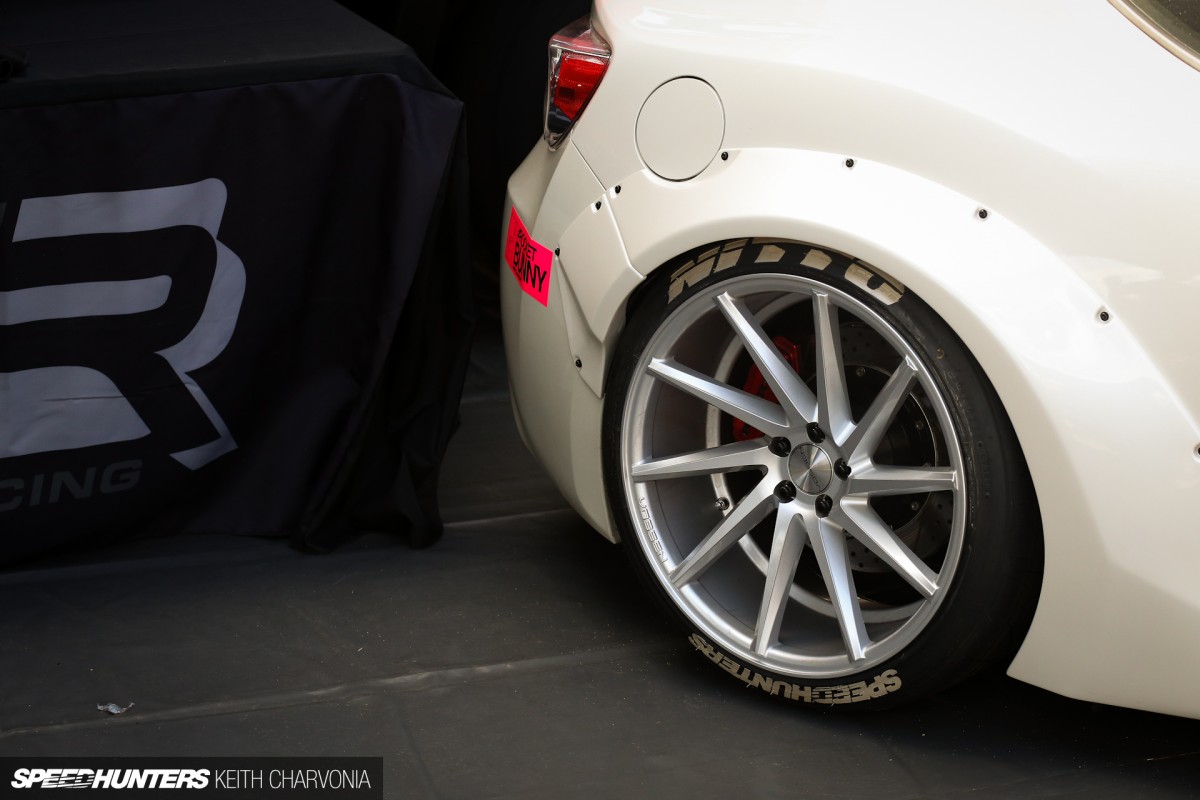 I made it to Long Beach and got some sleep before placing the car in the Scion Racing booth the next morning. I did have a little *ahem* incident while driving there the night before though…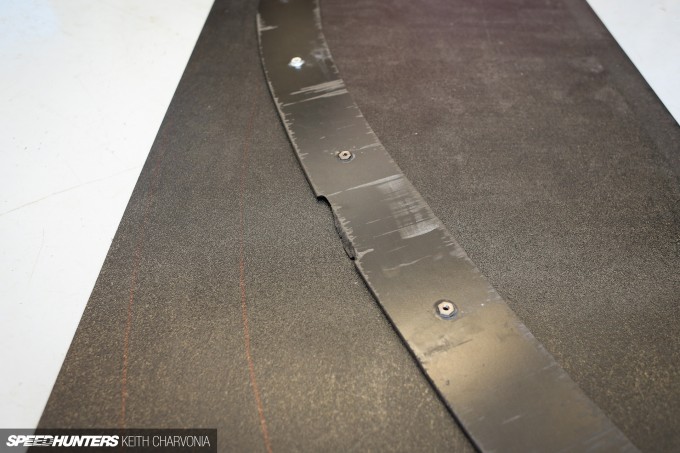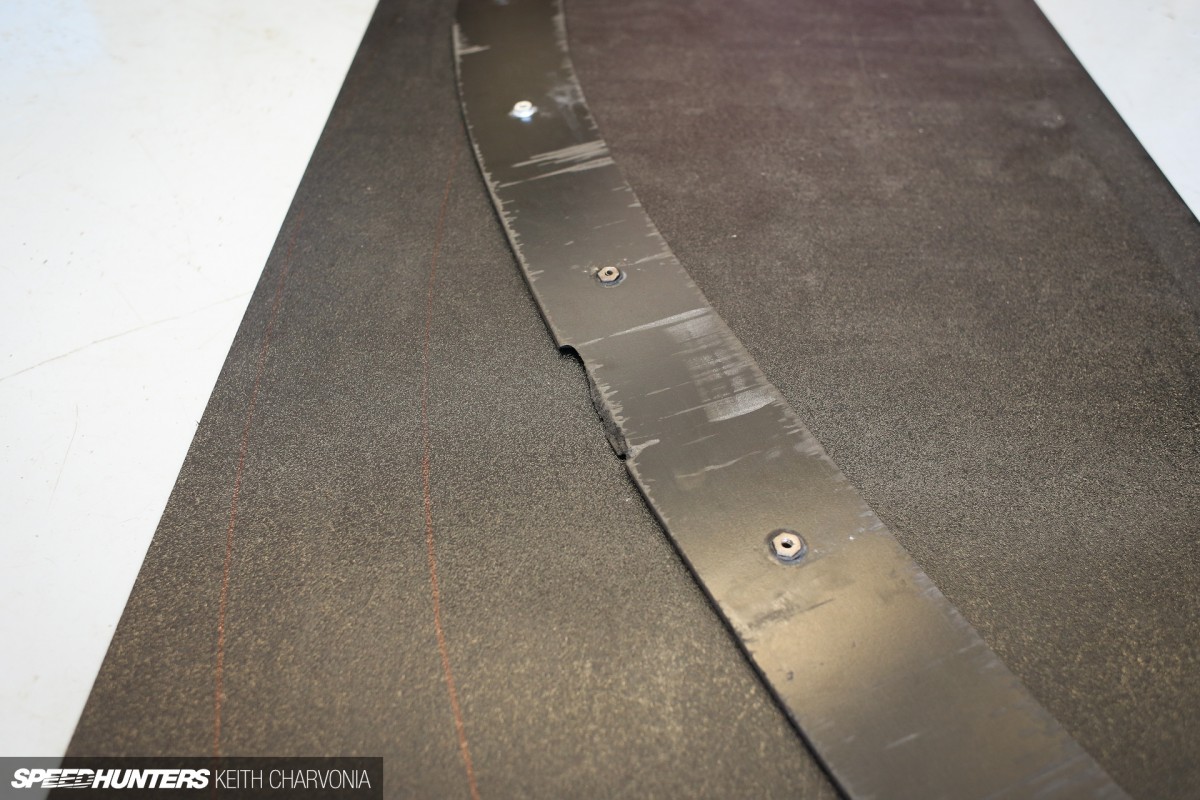 One way or another, the front splitter met the I-10 at 85 miles per hour and was now far from presentable. When Miura walked up to see the car for the first time he circled it and nodded with approval, then politely asked where the splitter was. I admitted that I was hiding it in the car until I had time to fix it, which would be just as soon as we were done talking!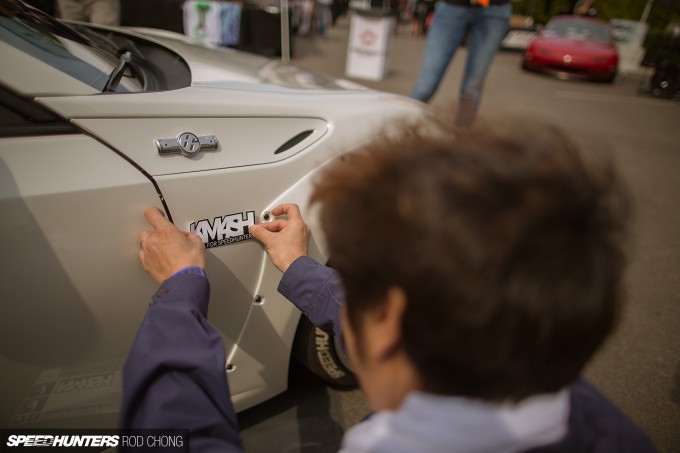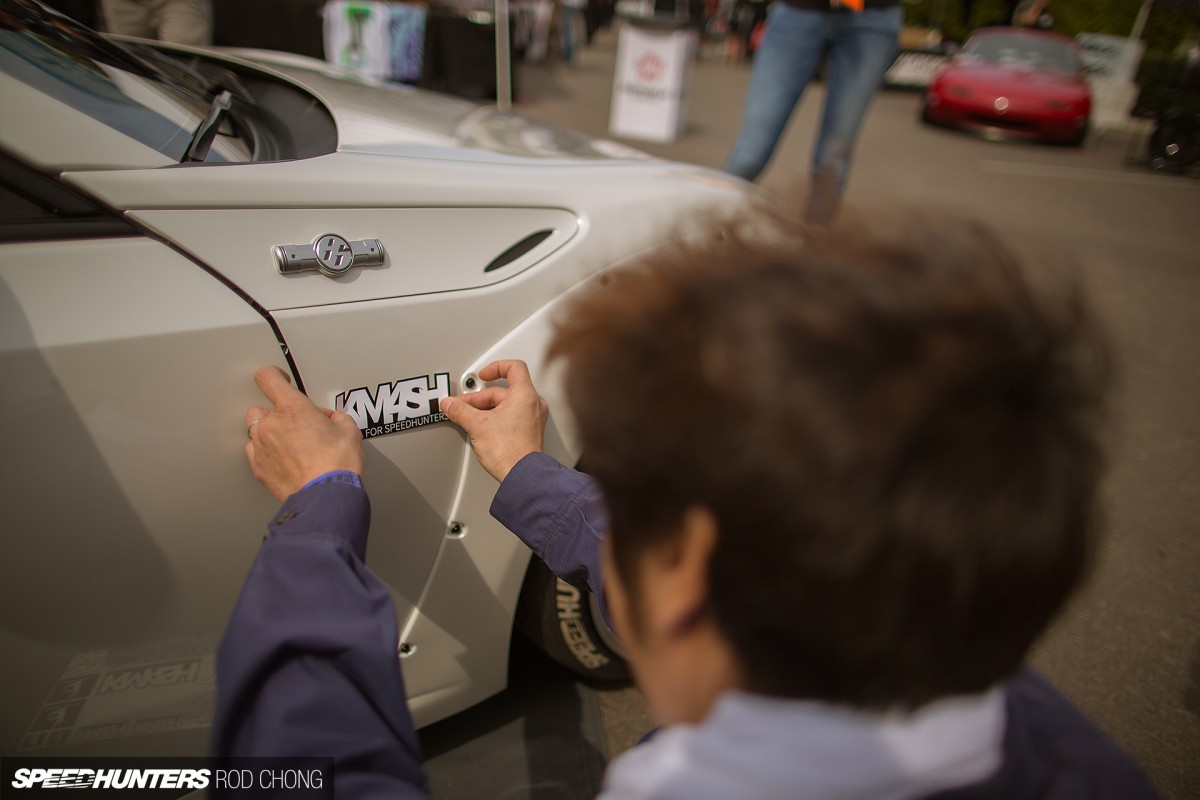 I didn't know how nuts we were going to get with decals since the black car is pretty stickered up, but to my surprise Mr. Miura only wanted to put a few stickers on my car. Rod mentioned that he thought the car looked really clean and didn't want to overdo it.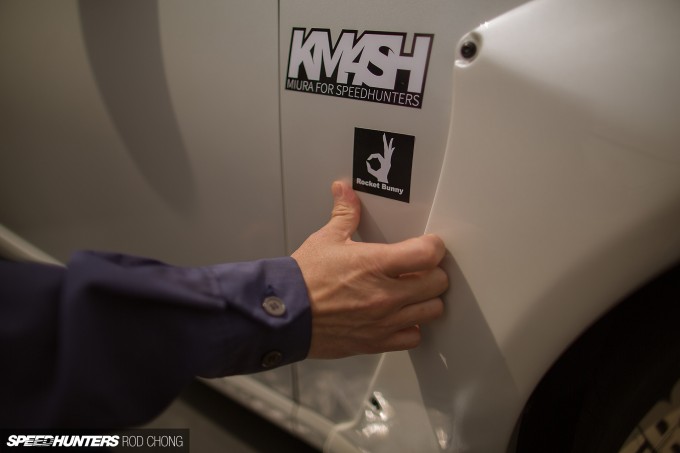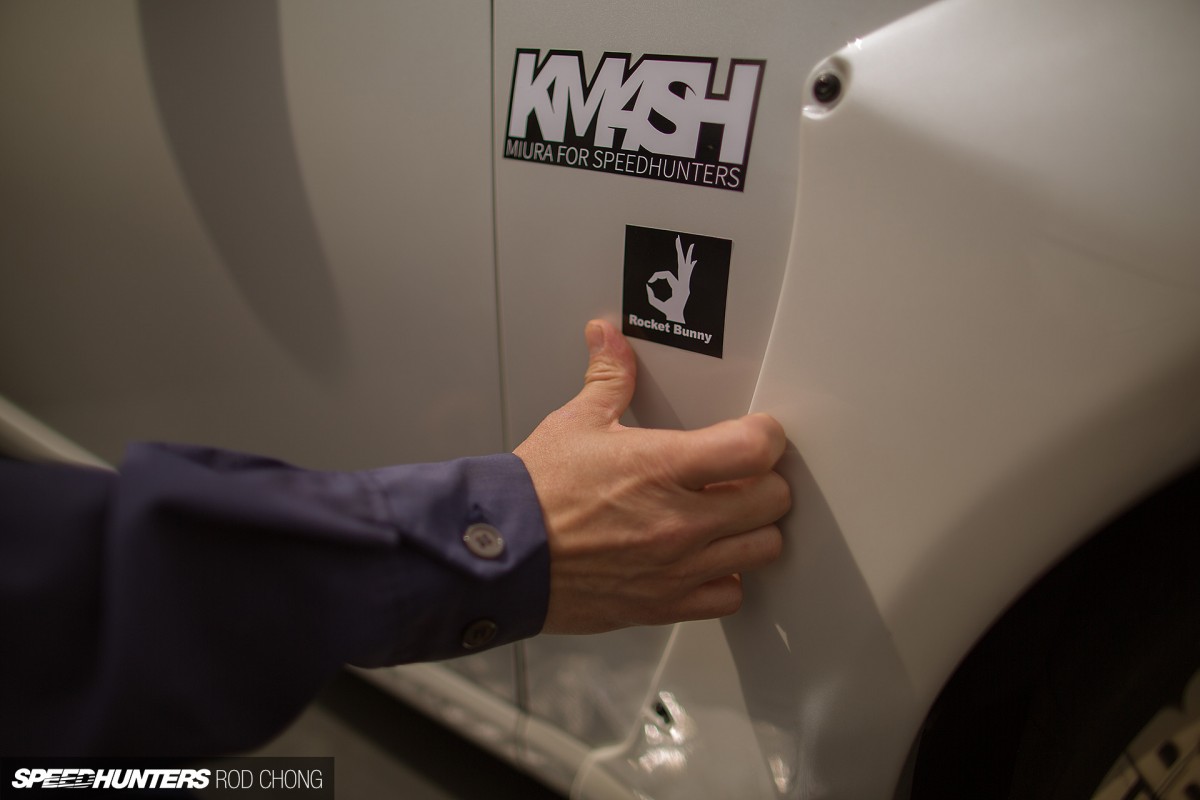 Either way, it was really a cool experience to meet Kei Miura and show him my efforts in person after we both worked overtime to pull the car together.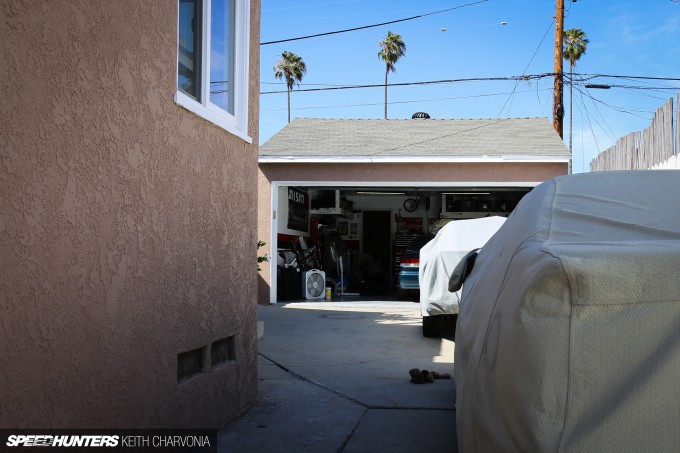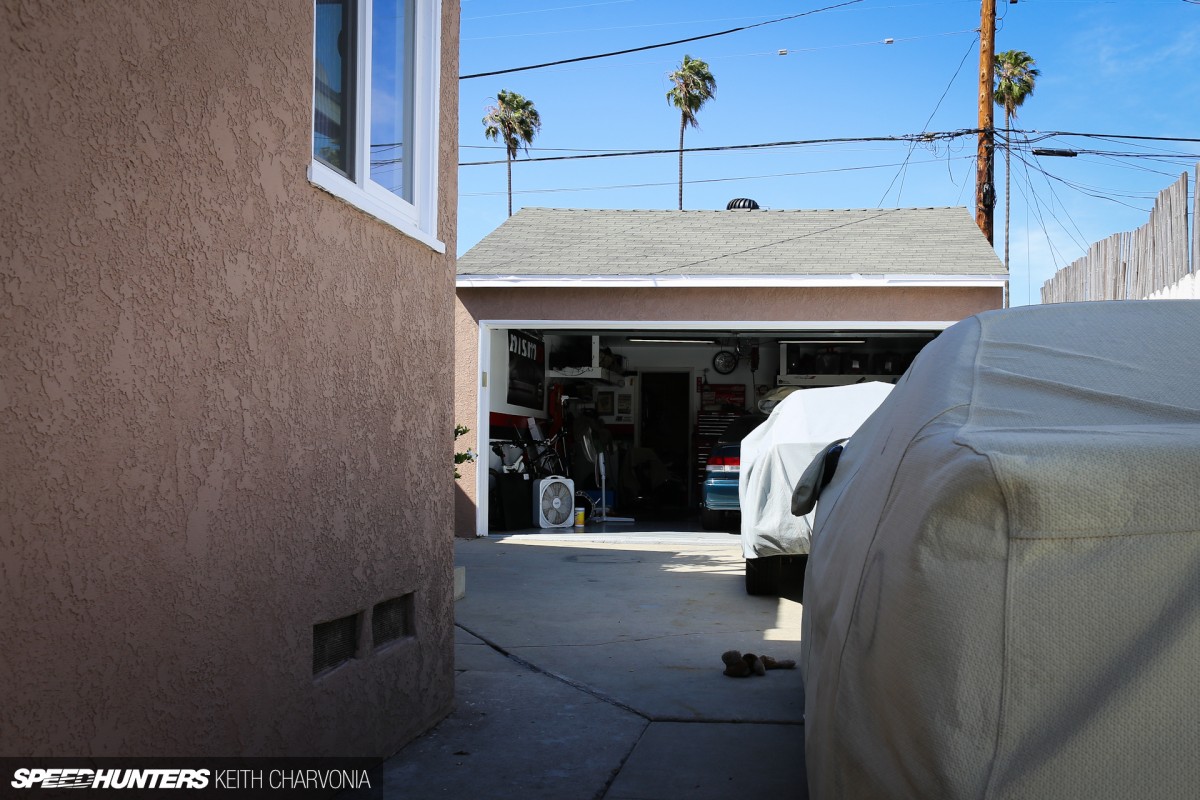 I was a long way from home, so once again I would have to call in a favor to get myself out of the splitter debacle. I knew my buddy Chuck Johnson lived nearby, and based on the S13 that he races at Bonneville and his engineering background, I was betting he could help me out. Not only did he track down a sheet of plastic so I could make a replacement splitter, but his wife Annie met me at their house and opened their garage so I had a place to work. She was great company too, hanging out and working on her own Civic project while I cut out the new part.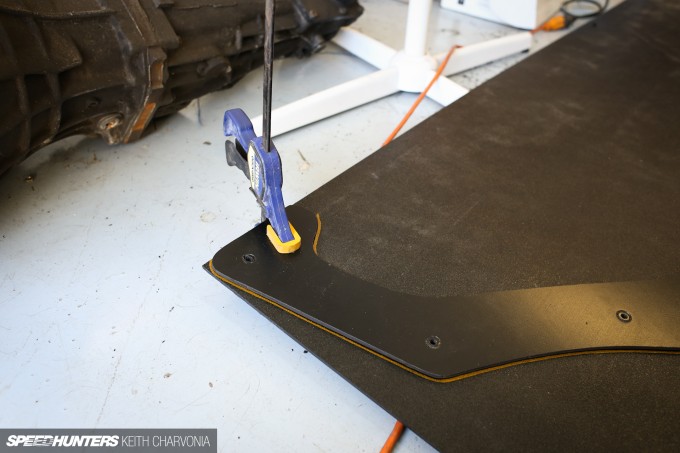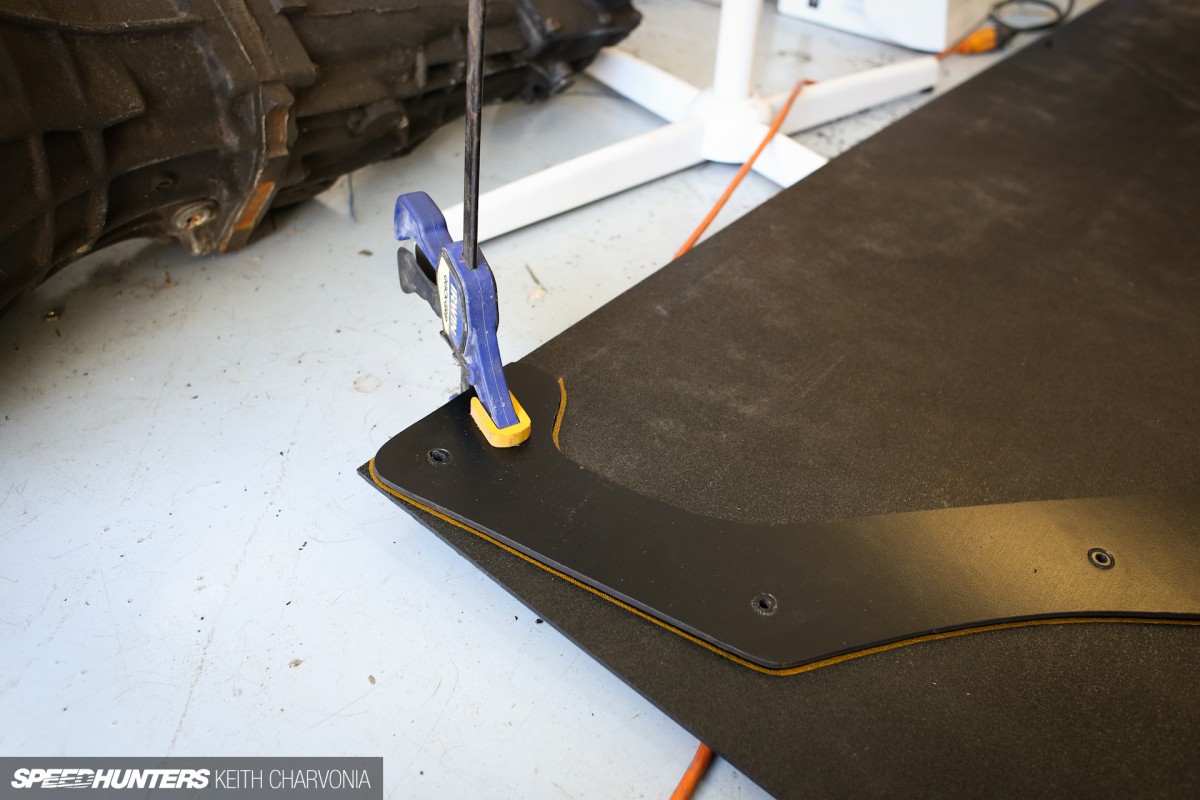 It's always hard to work in someone else's space. You have to ask where everything is and hope you don't do something dumb, but it was actually very comforting to be in a shop with good friends and all the tools I needed to fix the car.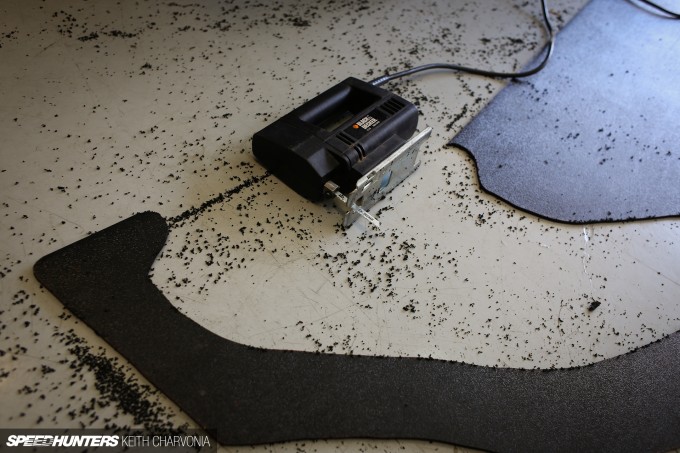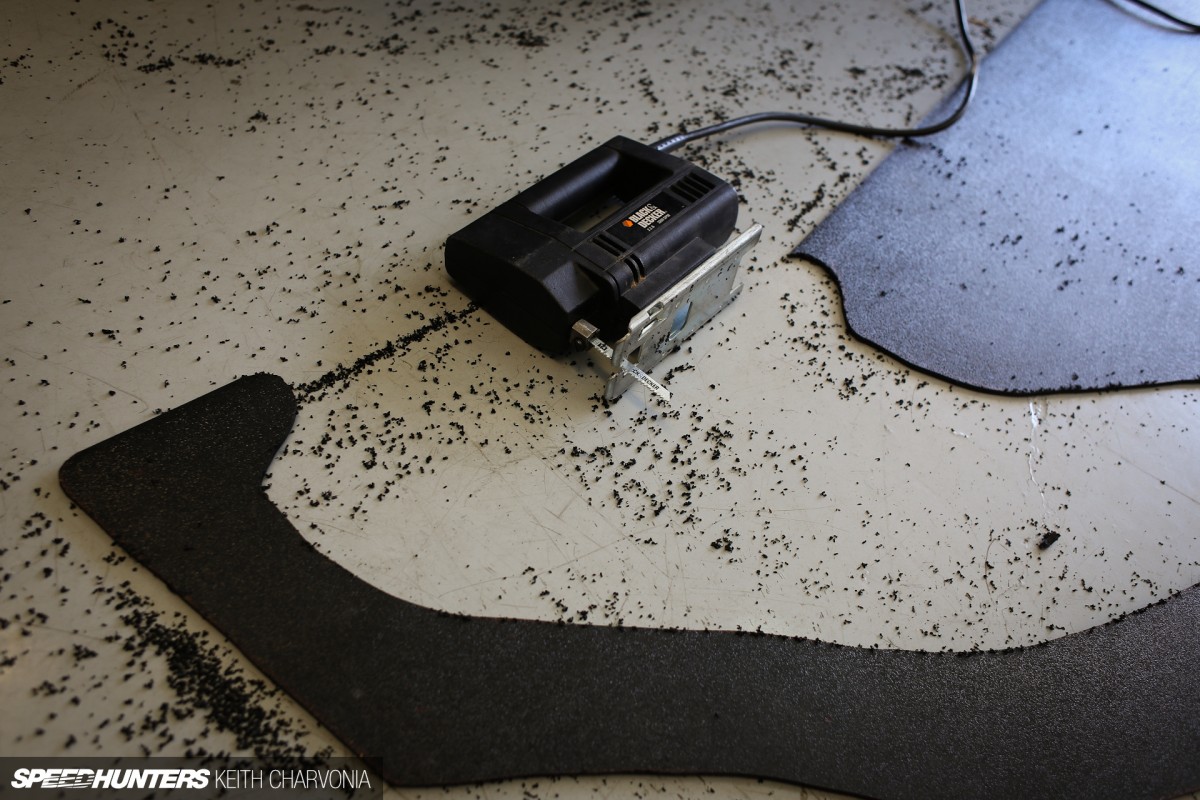 I didn't need much, just some clamps and a jigsaw to make a rough cut.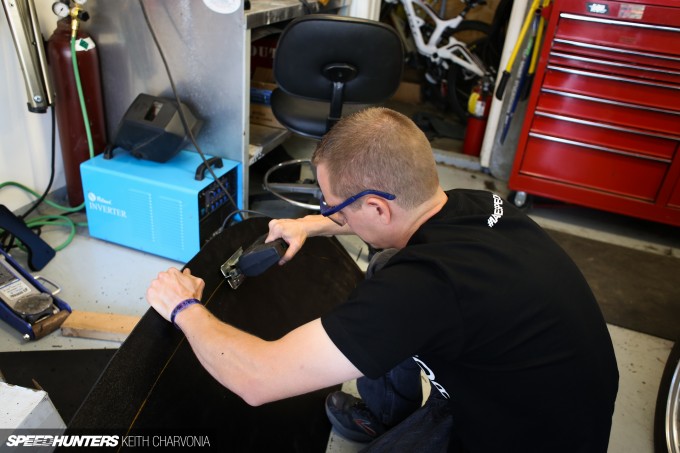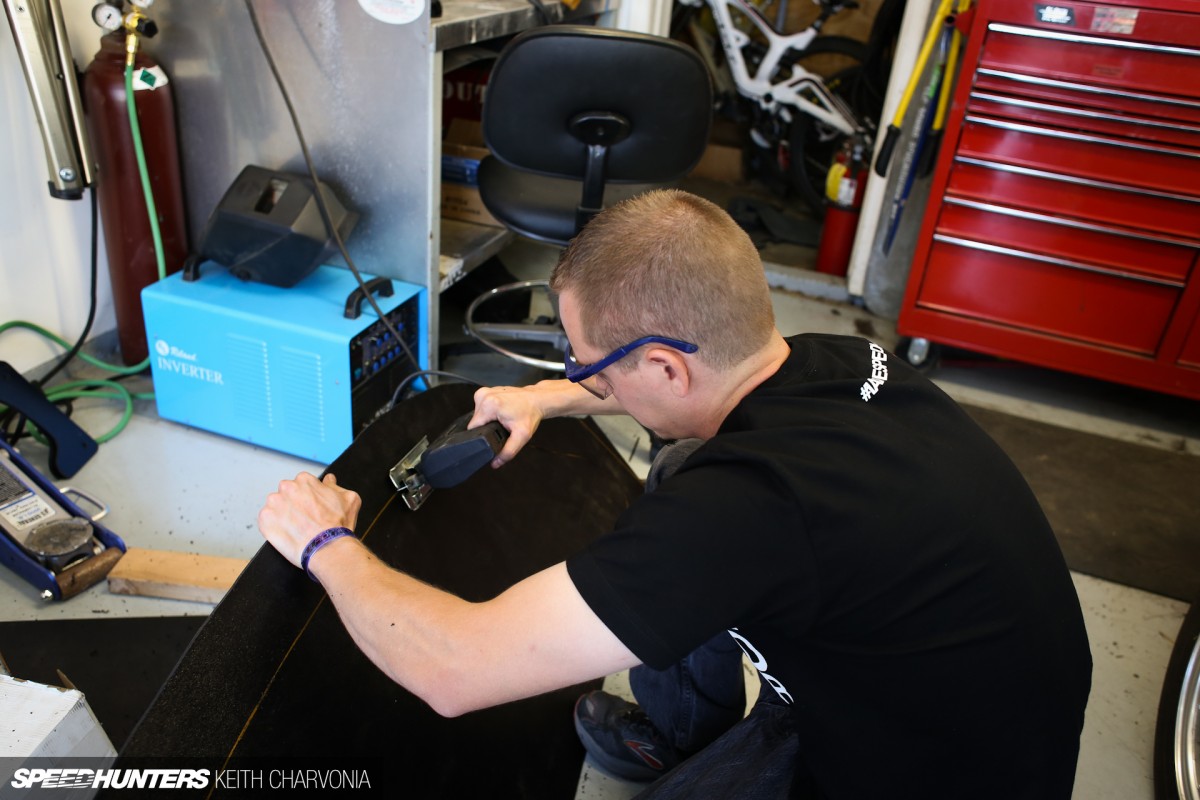 Chuck came home from work and we were still working out in the garage. He immediately grabbed my camera and snapped a few pictures of me cutting out the splitter. This guy knows what's up.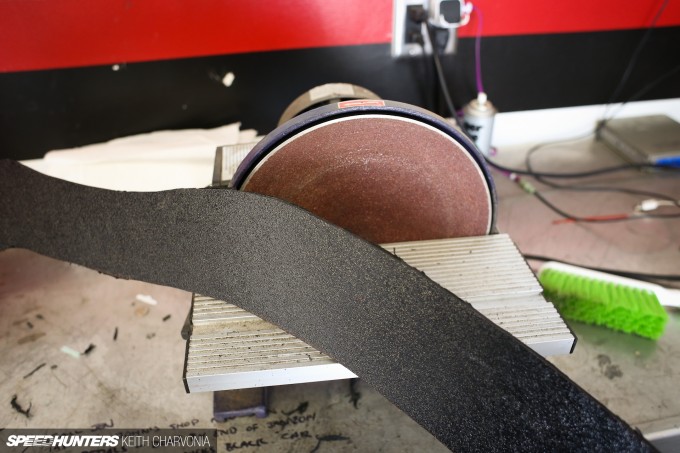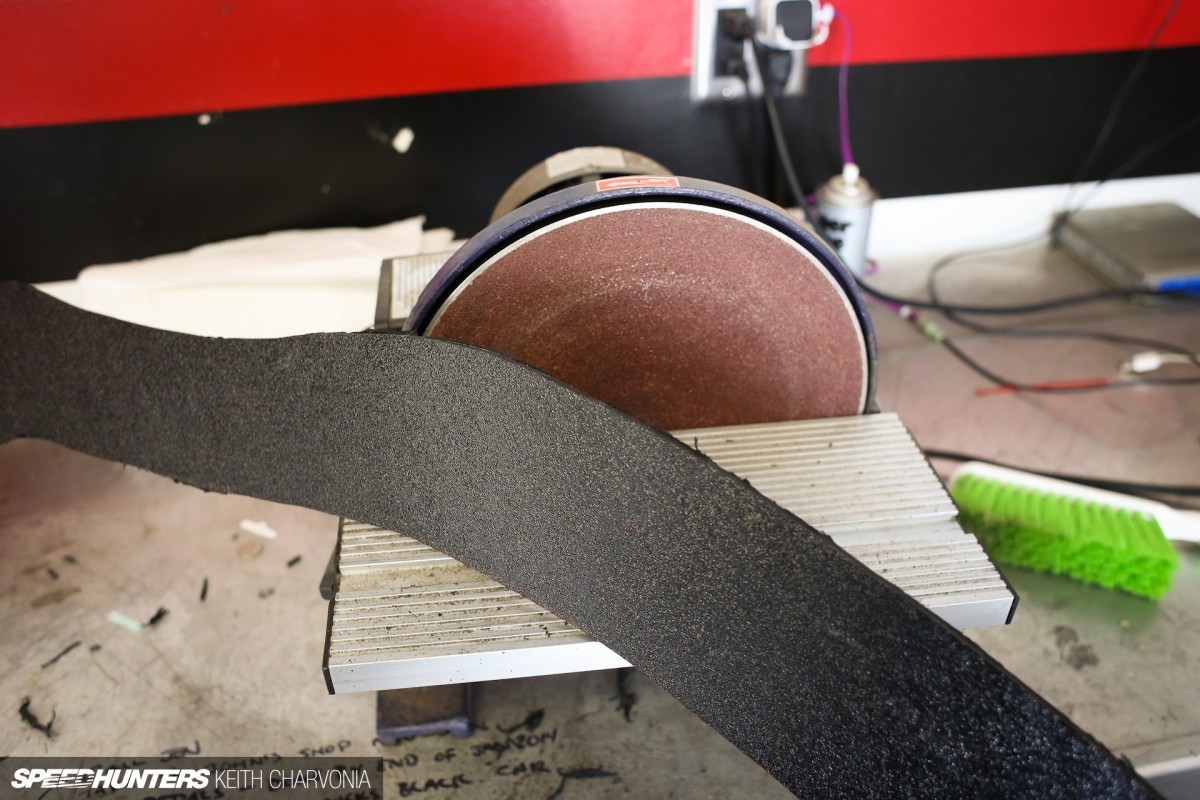 I looked around for the best way to smooth out the jigsaw cuts and found this bench sander to make quick work of it.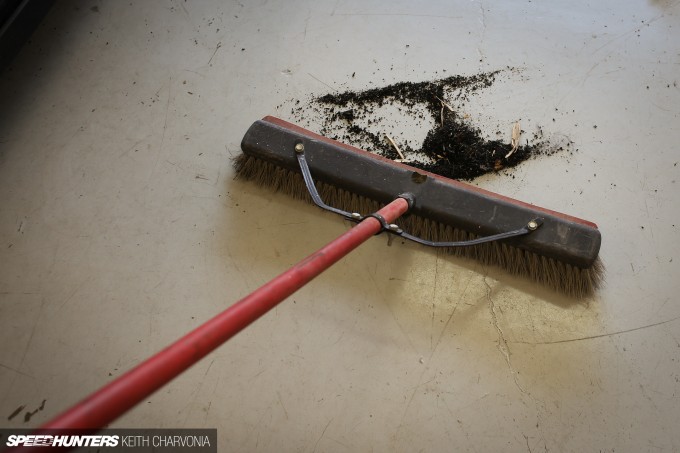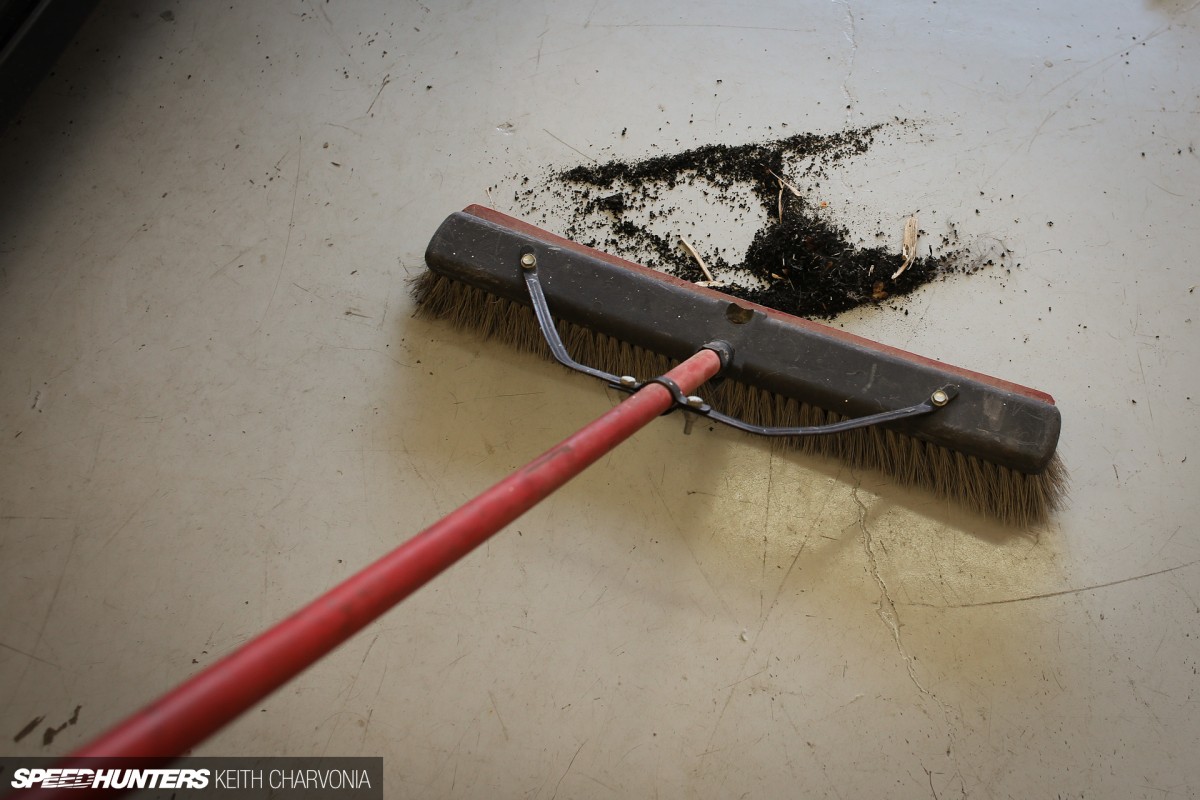 I didn't have time to buy Chuck a beer, but you can bet I made sure to clean up my mess.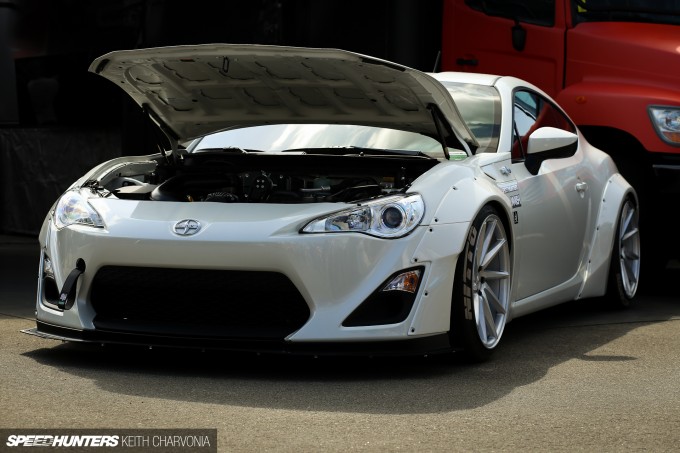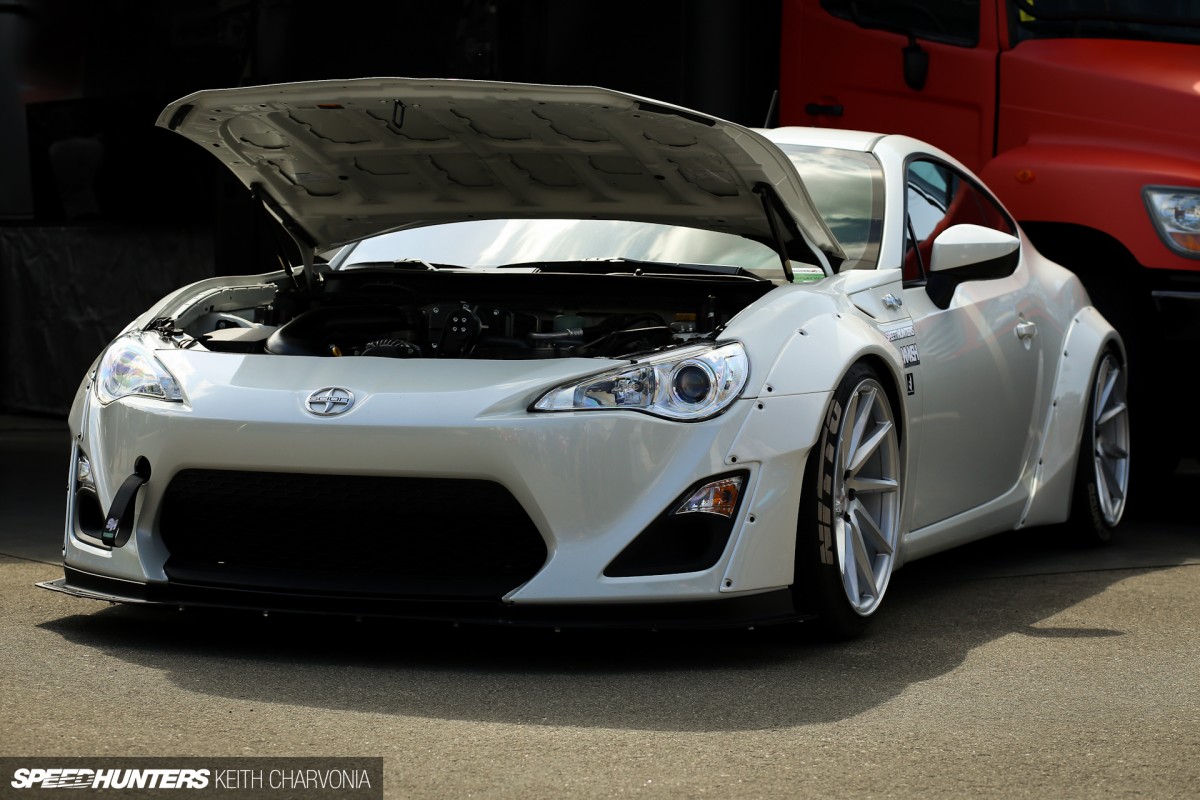 After three long weeks getting the car ready and one little hiccup at the end, I finally had the car complete and ready to debut the KM4SH kit!
Is it done?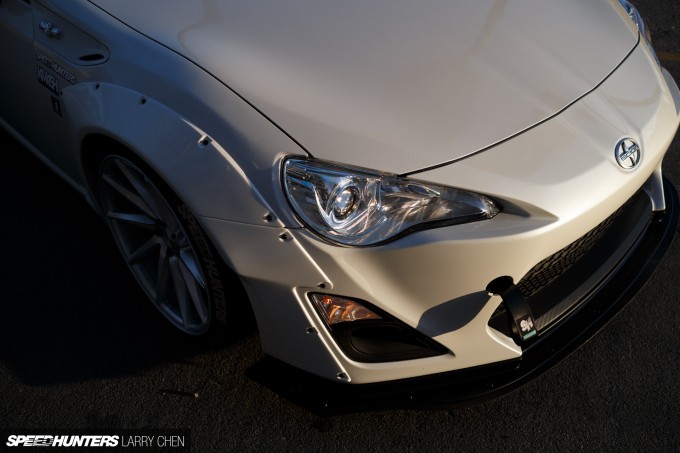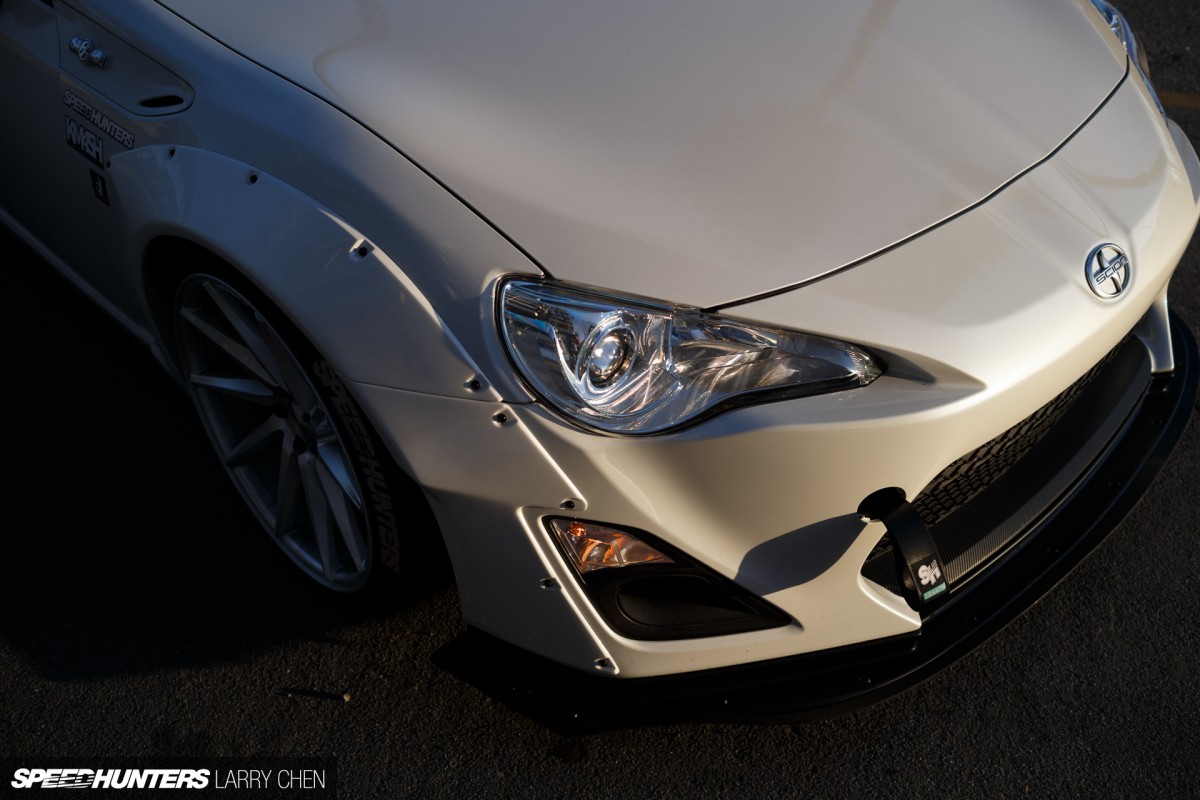 The final task for the KM4SH debut at Formula Drift was to get some proper photos, and fortunately we had Larry on hand for that. He's the king of  drift photography, but that also means that even the Speedhunters team barely sees him on an FD weekend. This was the first time we had even talked since my arrival two days earlier.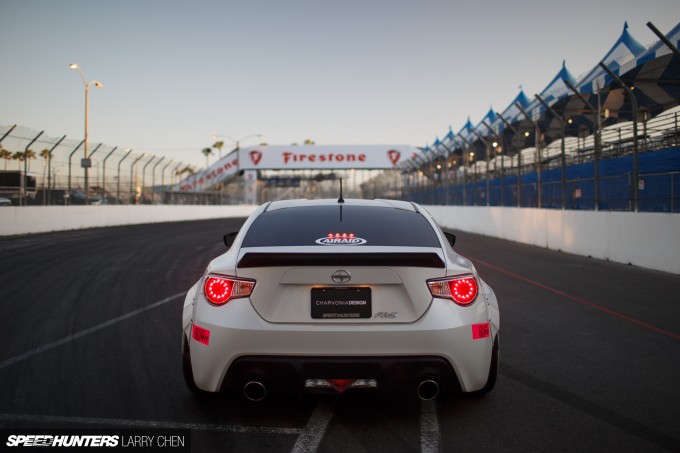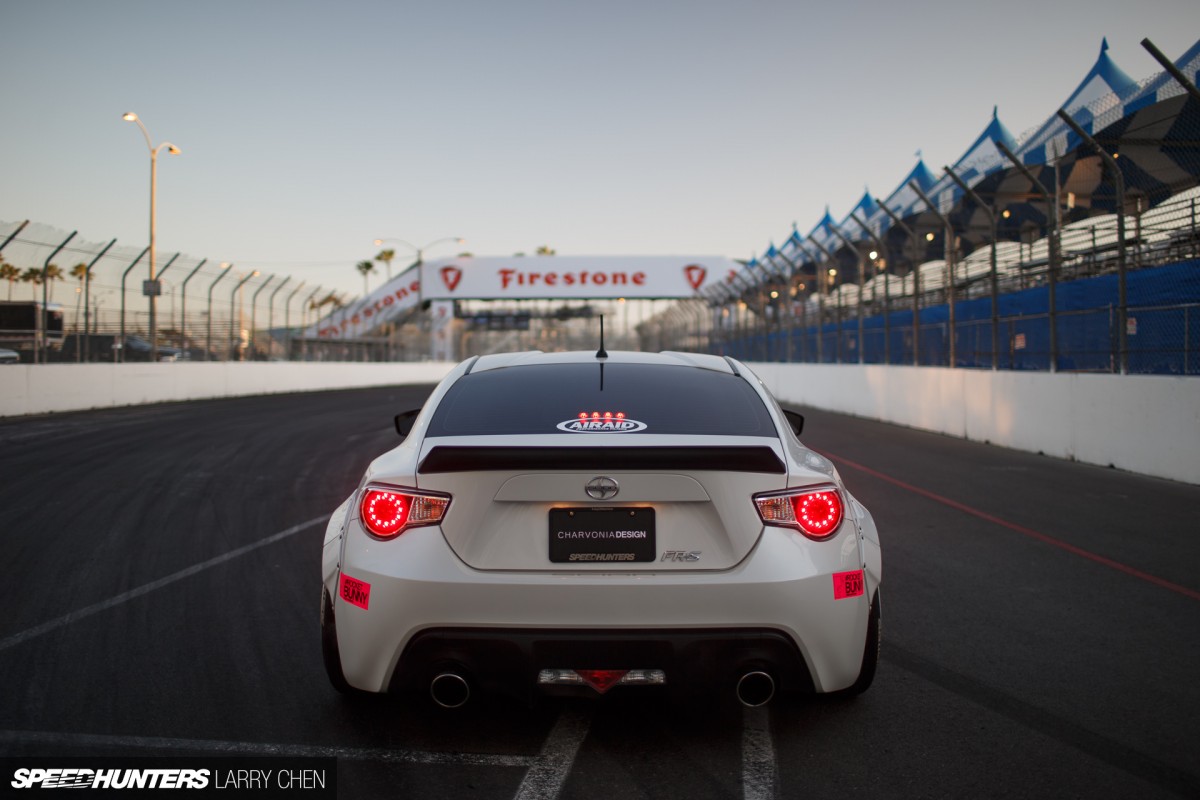 I was interested to hear his feedback, because I value his opinion as someone who knows much more than I about the import world I've found myself playing in. Larry's words? A simple, "I'm jealous."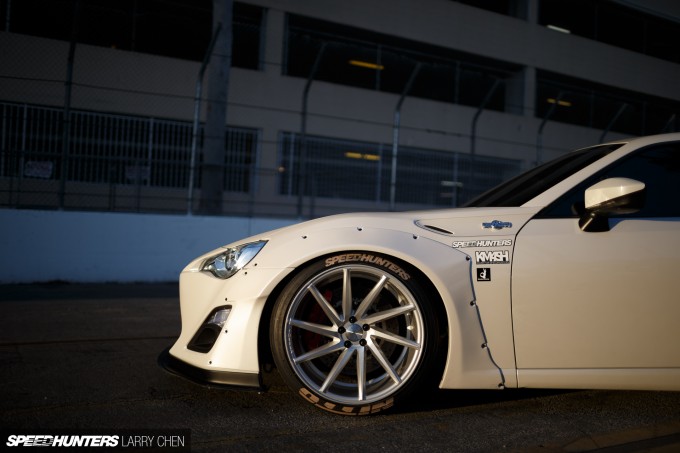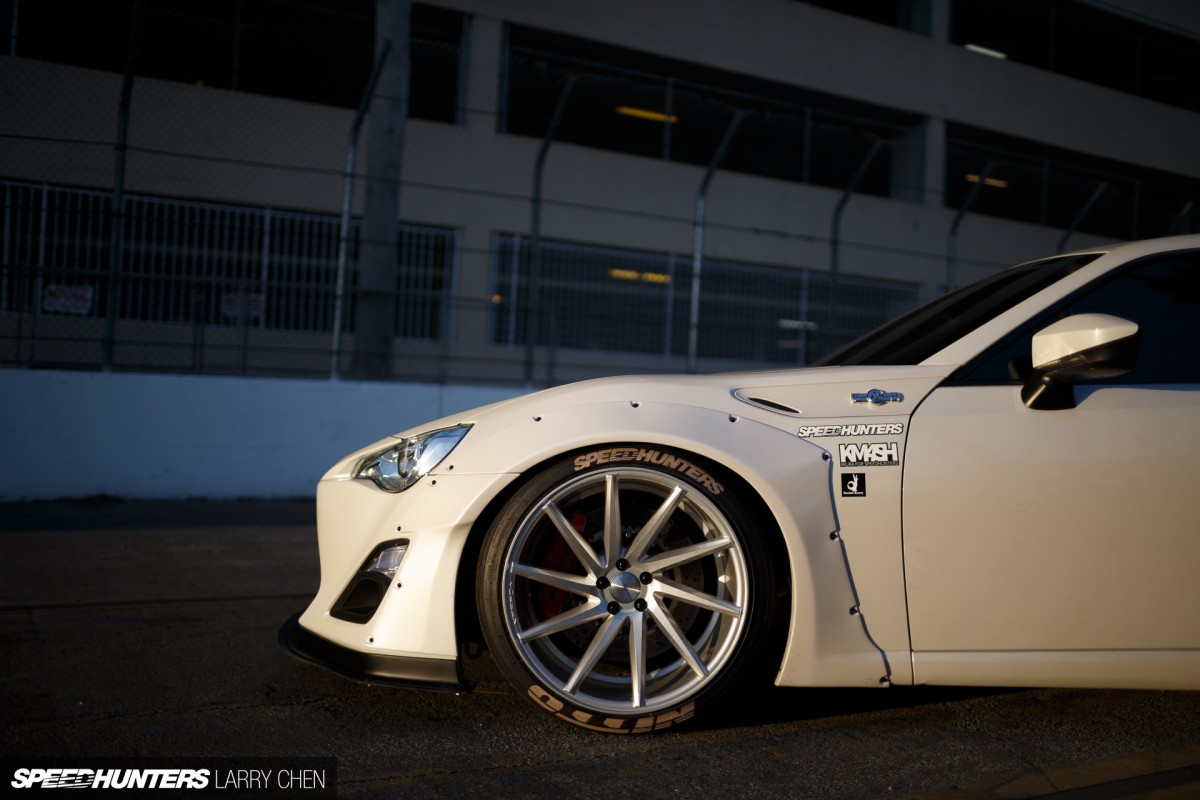 I suppose I should share my impressions too, because although I'm not much of an import guy I do love this car and what it has turned into, and I do have an intimate knowledge of the ZN6 chassis after modifying mine on all fronts. Personally, I think the KM4SH kit is perfect for someone like me who wants an aggressive car, but at the same time wants to stay under the radar.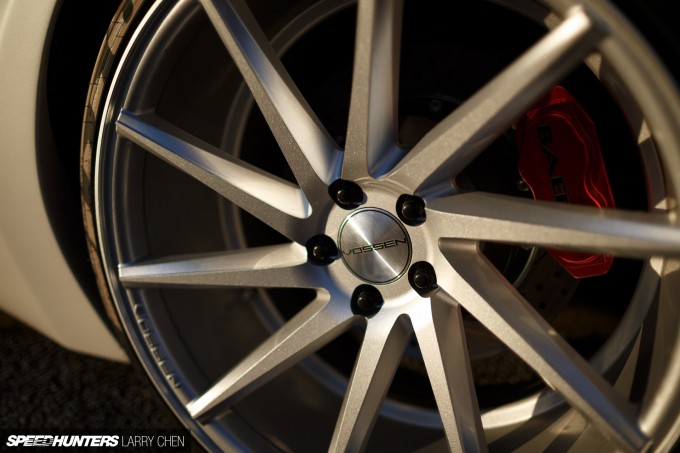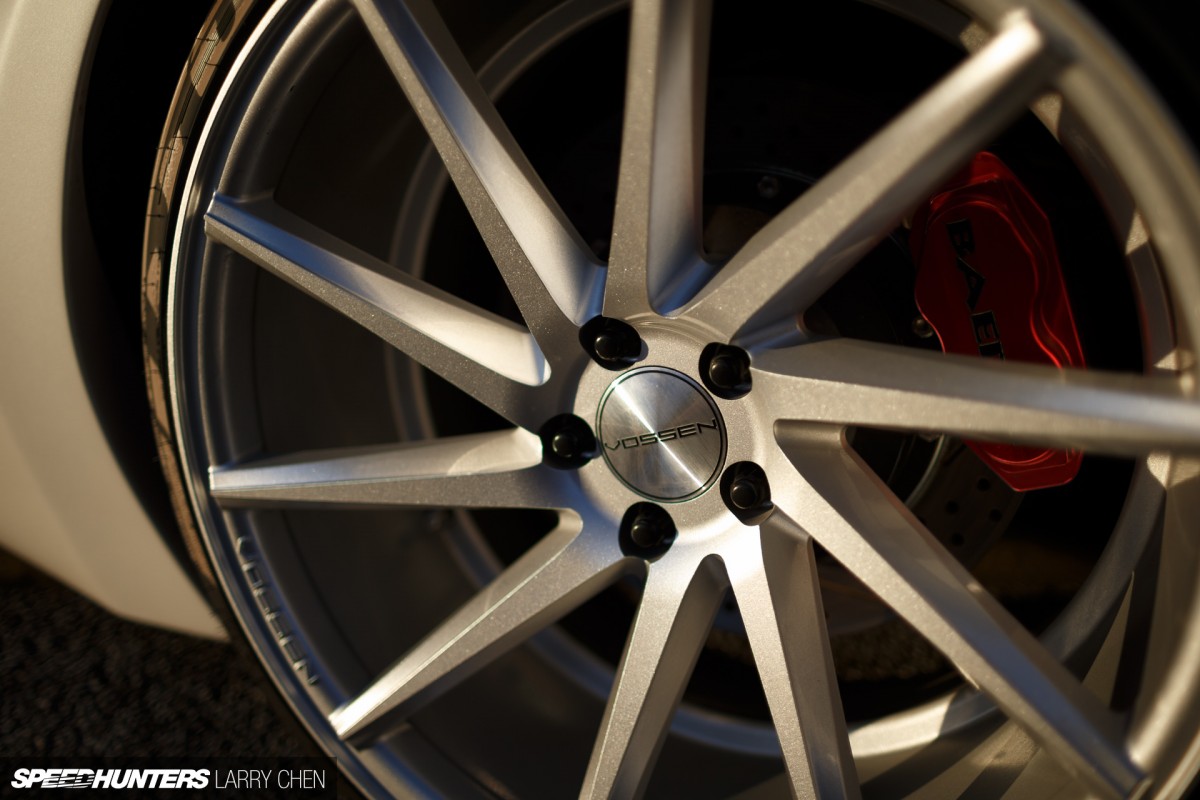 And the wheels? You're actually looking at a set of 19×10-inch rear wheels all around, selected for maximum visual effect. The front 19×8.5-inch CVTs have less dish, so I went for this massive square setup to get the most aggressive look using off the shelf parts. Miura recommended running 17-inch wheels which is definitely his personal style, but I feel the big 19s give the car more of a West Coast flavor. It's something a little different from the Rocket Bunny cars you'll find in Japan.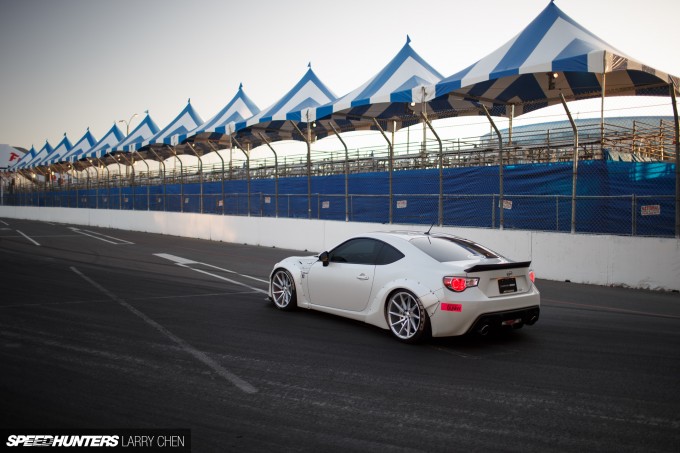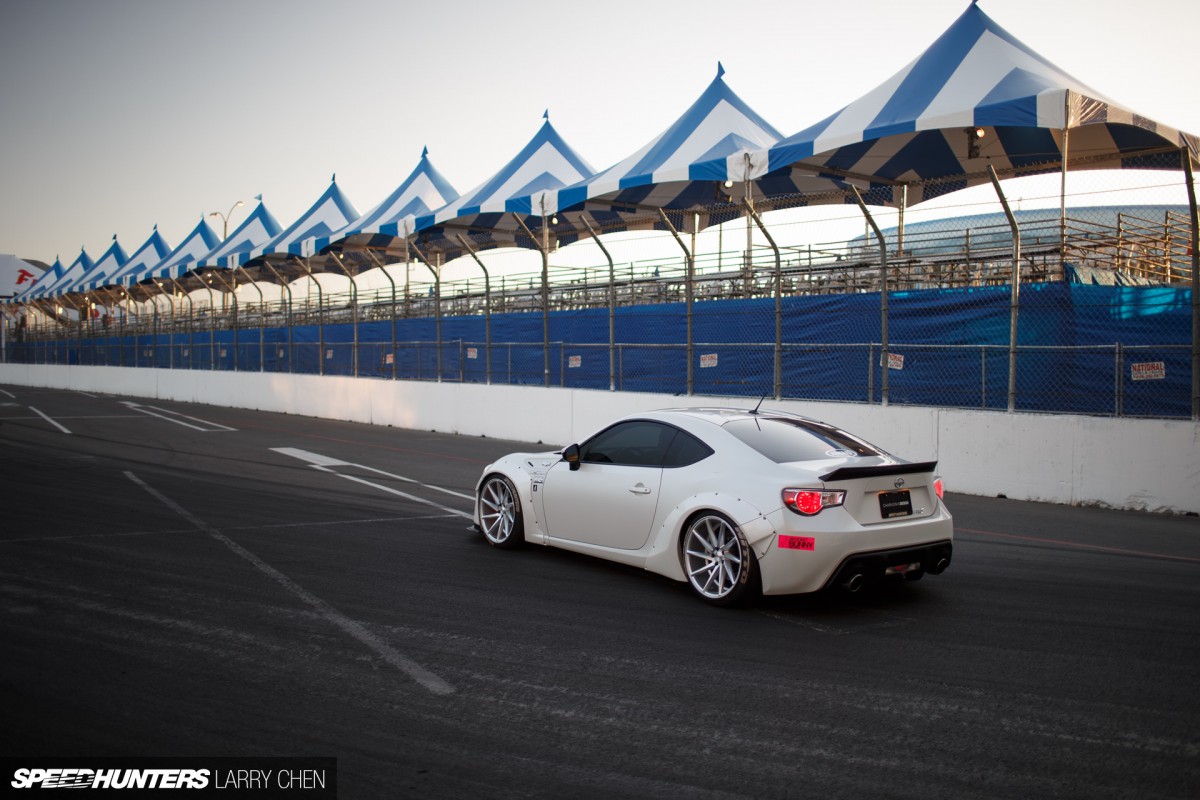 The concept of a toned-down Rocket Bunny is a brilliant one really. Anyone who is an enthusiast will notice it right away, yet you can drive to work without the giant GT wing and cutaway fenders that draw attention from the less-informed general public too. My taste in customizing has matured since I was a teen or 20-something, and for me – right now – the KM4SH kit is on the money.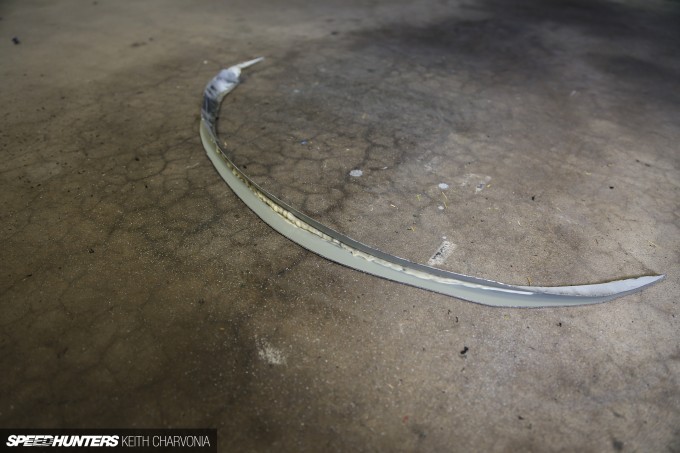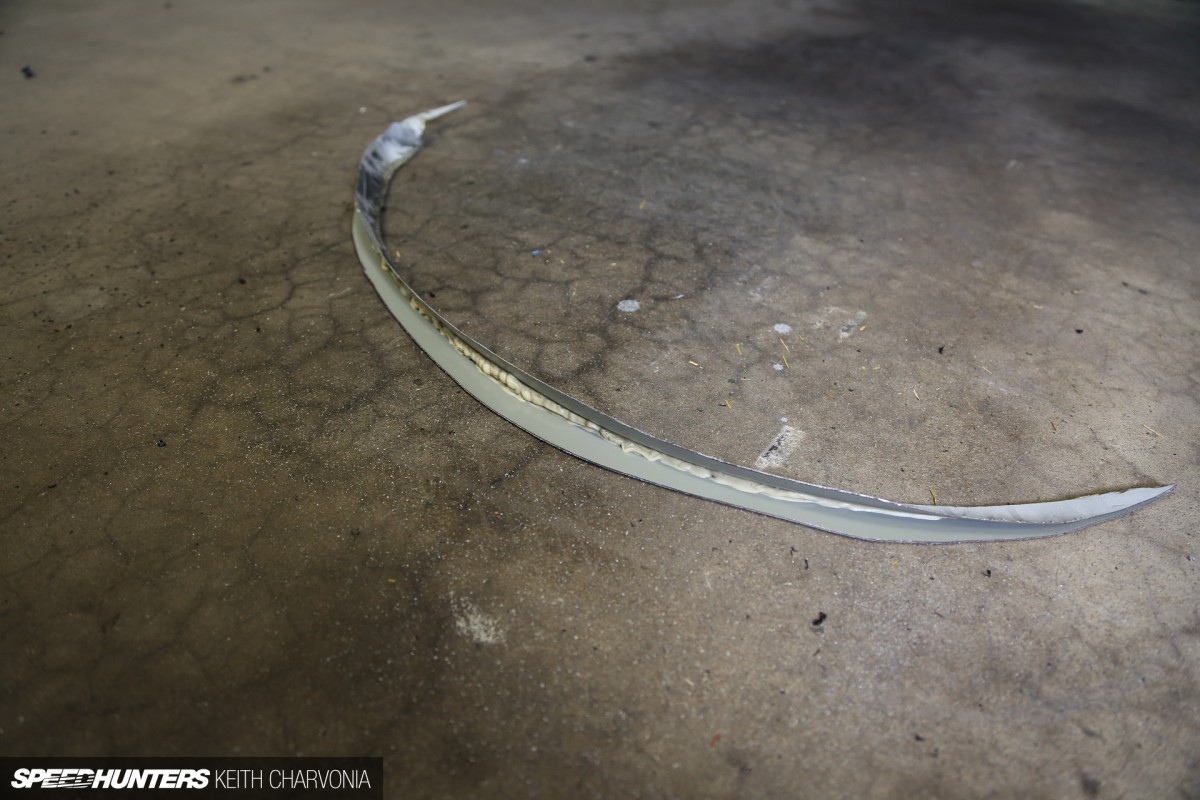 It has had one small side effect though. With the new, aggressive widebody look, I want the car to have a much more aggressive stance now too. I did what I could with wheel spacers and coilovers for the debut, but as soon as I got home I tore back into the car and trimmed more sheetmetal to go lower.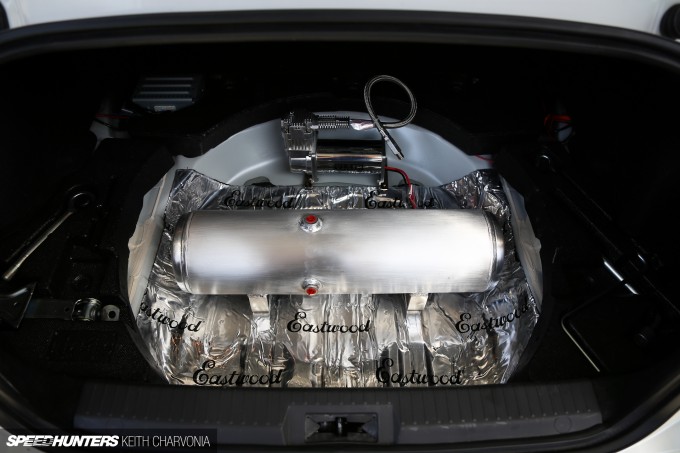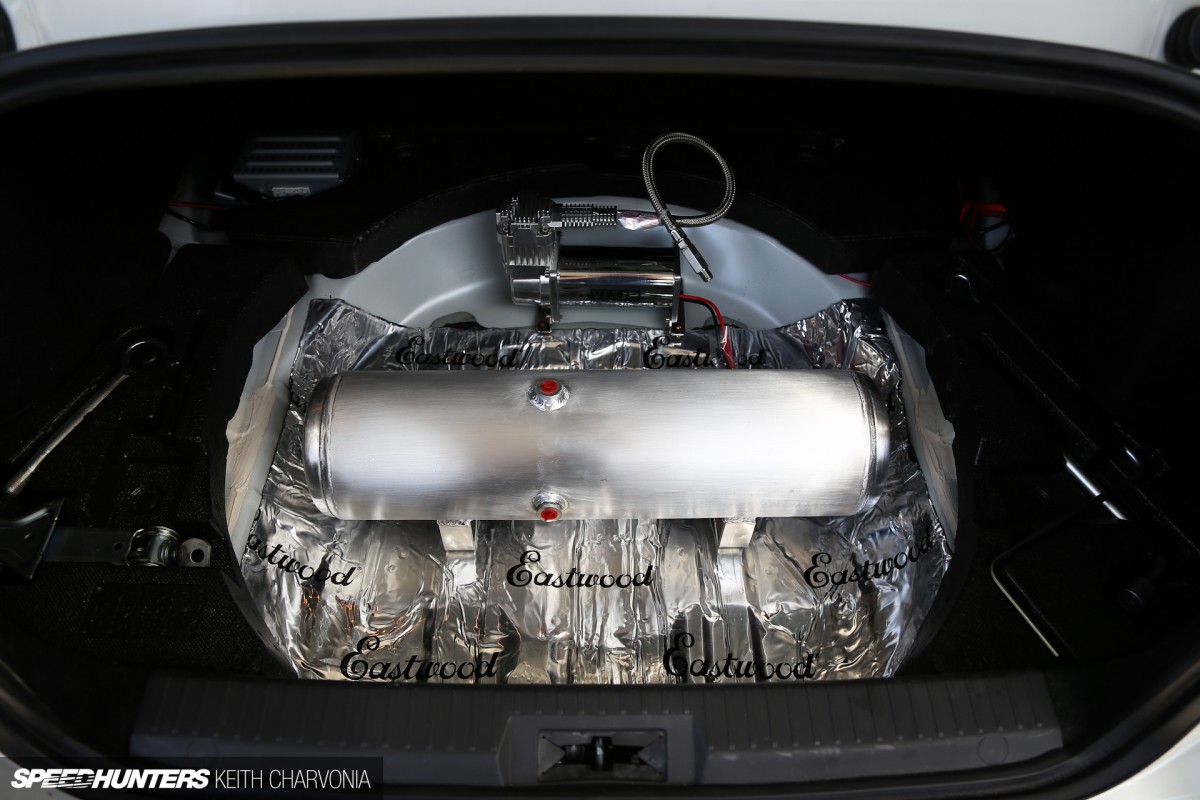 And there just might be a new suspension in the works to ensure the stance is on point…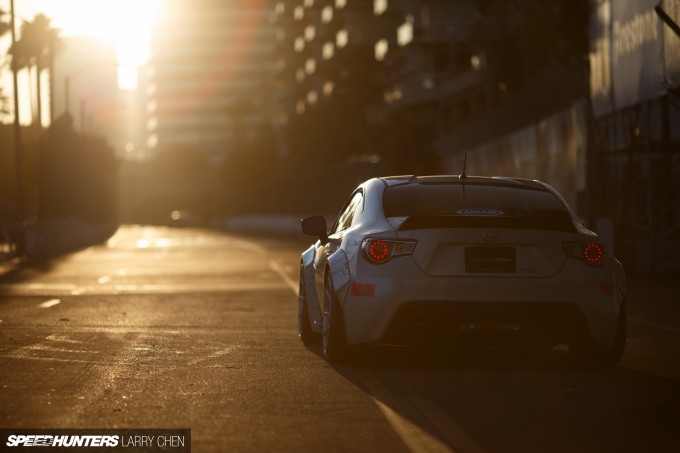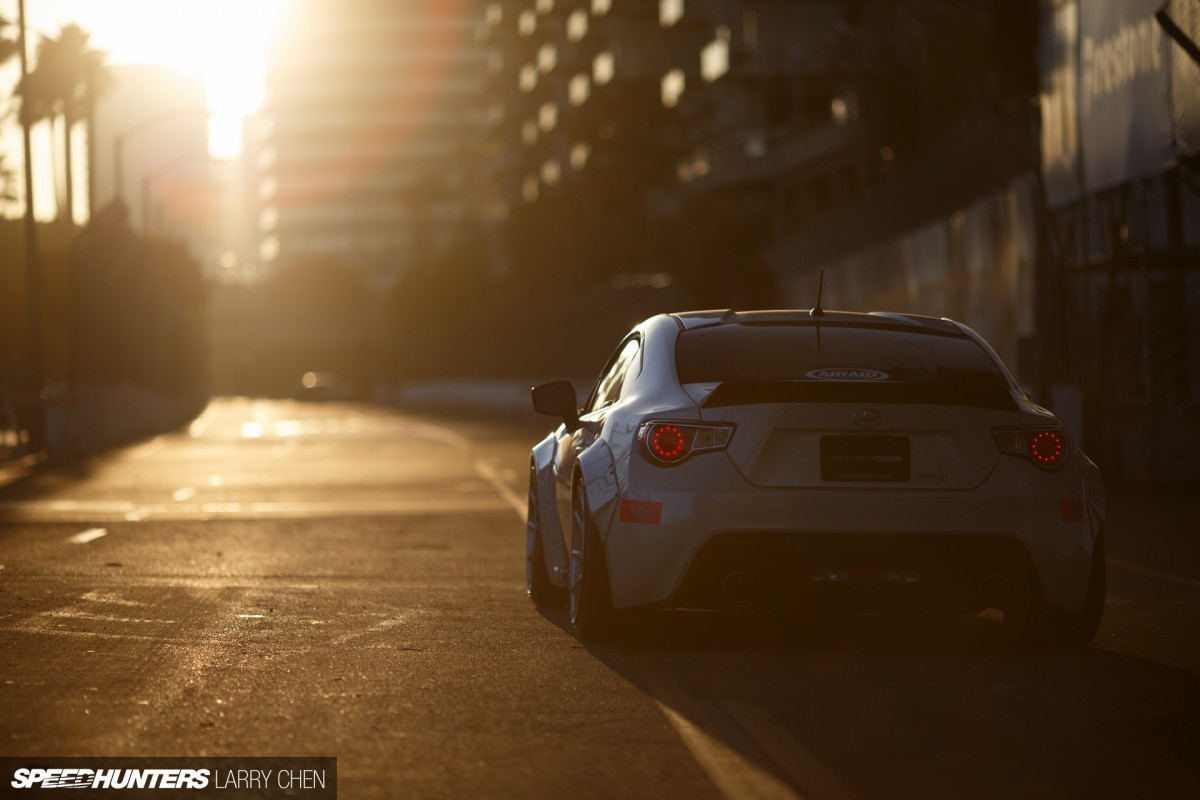 In my last story I said that despite the heavy amount of modification I've thrown at this car, it's still a joy to drive every day. Well even after this last transformation, it still holds true. People are starting to question my sanity for modifying my car to such an extent, and even asking if I'm going to buy a commuter and park the FR-S. I tell them all the same thing – that as long as I continue to use quality parts and install them in the best manner possible, there's no reason to think this car can't continue to be a fun and perfectly functional daily driver.
And on that note, we're wrapping up our short but sweet Speedhunters' Project Car theme for April. Stay tuned for more staff build updates over the coming weeks…
Keith Charvonia
Instagram: SpeedhuntersKeith
keith@speedhunters.com
Additional Photos by Larry Chen and Rod Chong