An offer I couldn't refuse
If this story seems rushed, that's because it is. Like a lot of other American car builders I've spent the past several weeks thrashing to get a car ready for the SEMA Show, and by the time this post hits the site I'll be driving it there. It's our industry's trade show and it's the biggest car show in the world. Last year I had two cars on display – my Kaiser and the FR-S I built for my employer, Airaid Filter Company. I didn't plan on bringing any cars to SEMA this year since I haven't even started my next build yet, but an email from Rod changed my plans (or lack thereof) in an instant.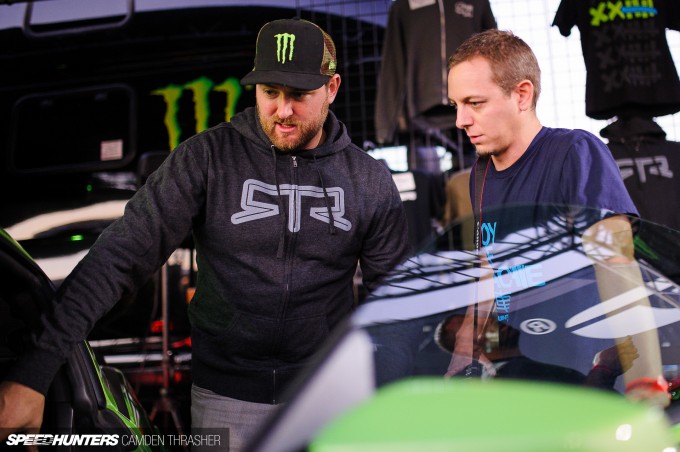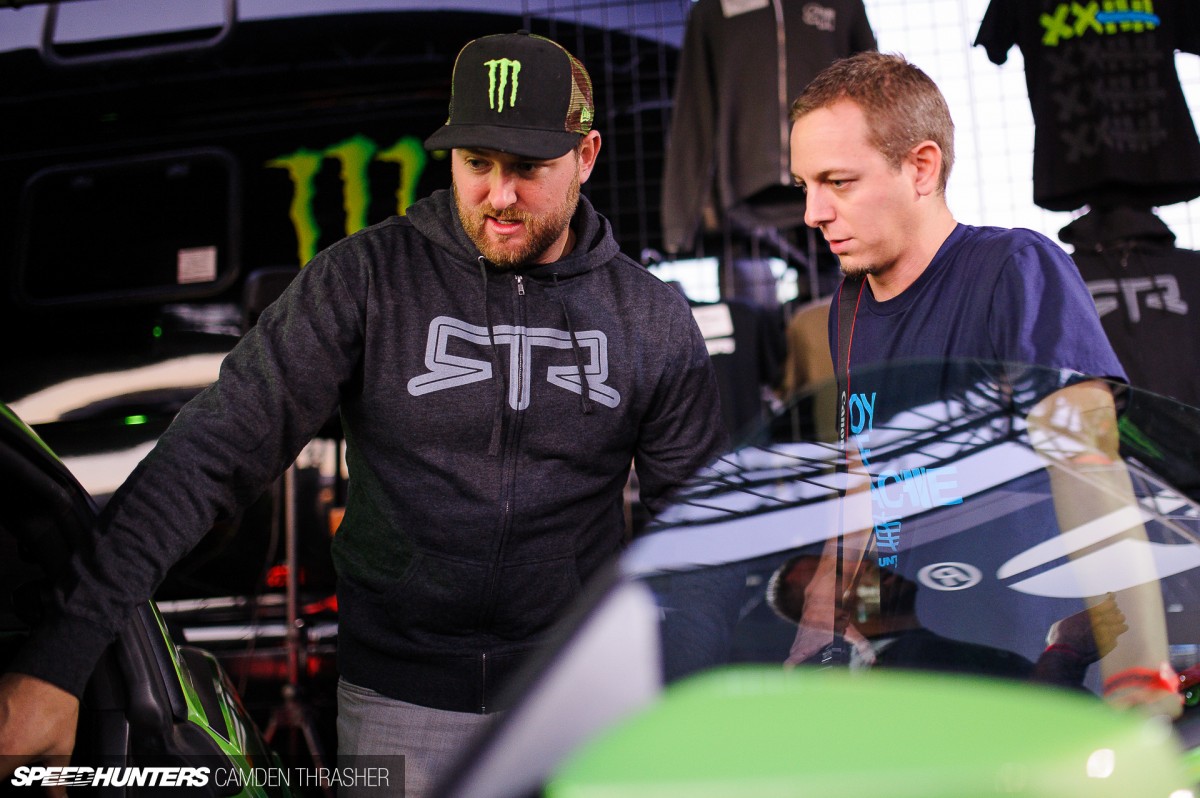 Rod asked me if I would like to take on a build for Speedhunters and the RTR brand; a build that would be over in just a few weeks but would land me back on the floor of SEMA 2013. Without hesitation I accepted, and the next thing I knew I was at Formula Drift Irwindale picking up a new toy and meeting my accomplice, Vaughn Gittin Jr. Vaughn introduced you to the build here, but to recap, the car I've literally just put the finishing touches on is a 2014 Mustang RTR that's now sporting a new set of overfenders, Air Lift suspension, 19-inch Rotiforms and some other goodies. You could consider this an experimental car for RTR in which to test out new technologies and components.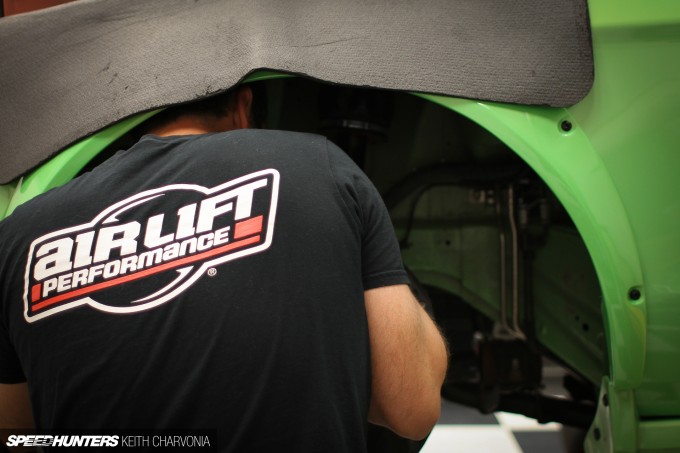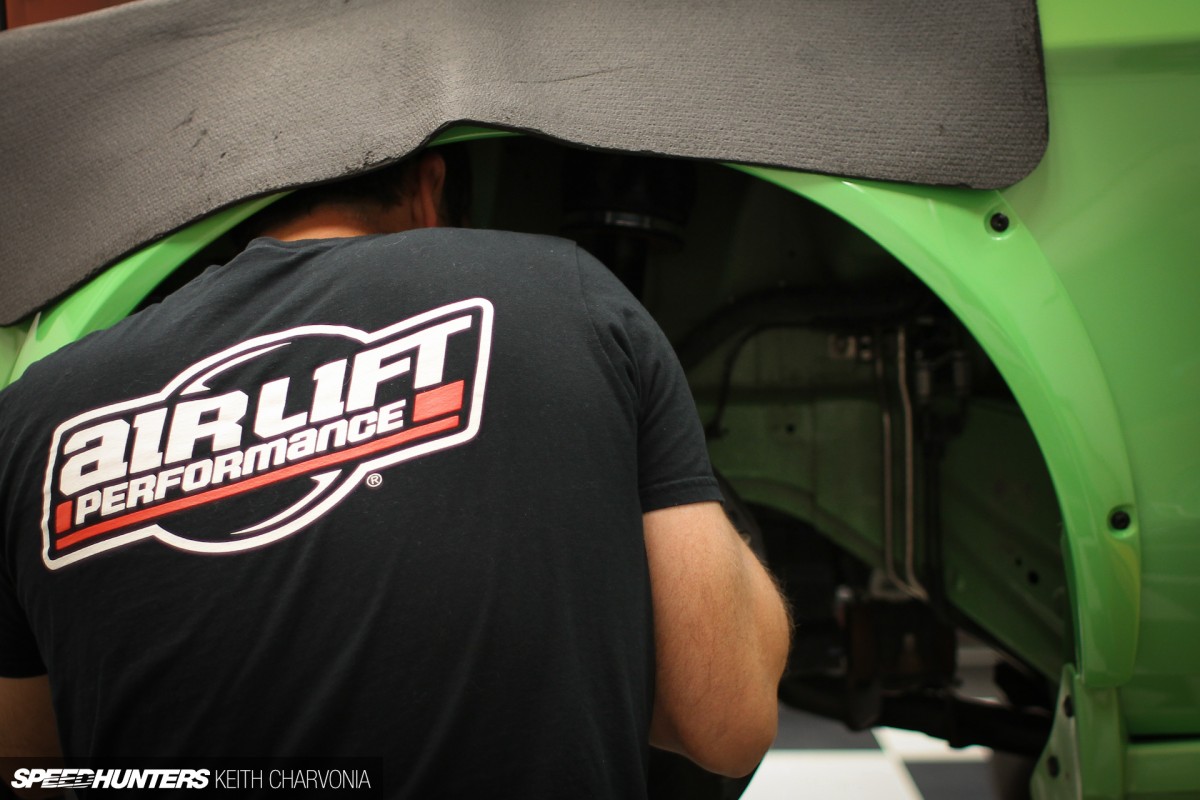 The weekend after I picked up the RTR Brian Vinson from Air Lift Performance flew out from Michigan to give me a hand installing the suspension. Of course the extra help was great, but what I was really excited about was the opportunity to learn from the top engineer at Air Lift. I've been installing air suspension for 15 years, but I knew I could still pick up some knowledge from an expert like Brian.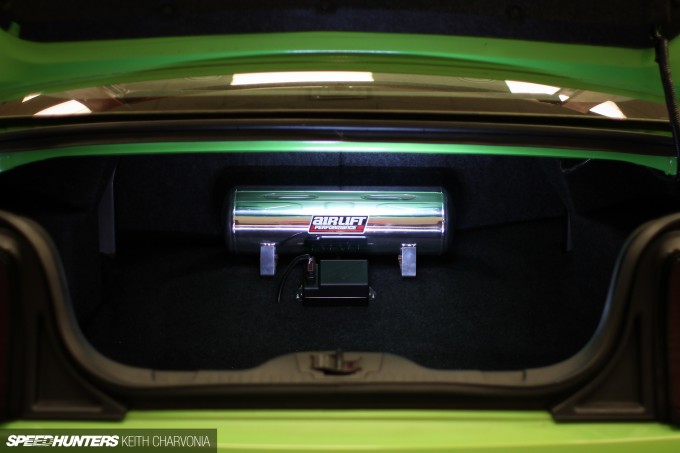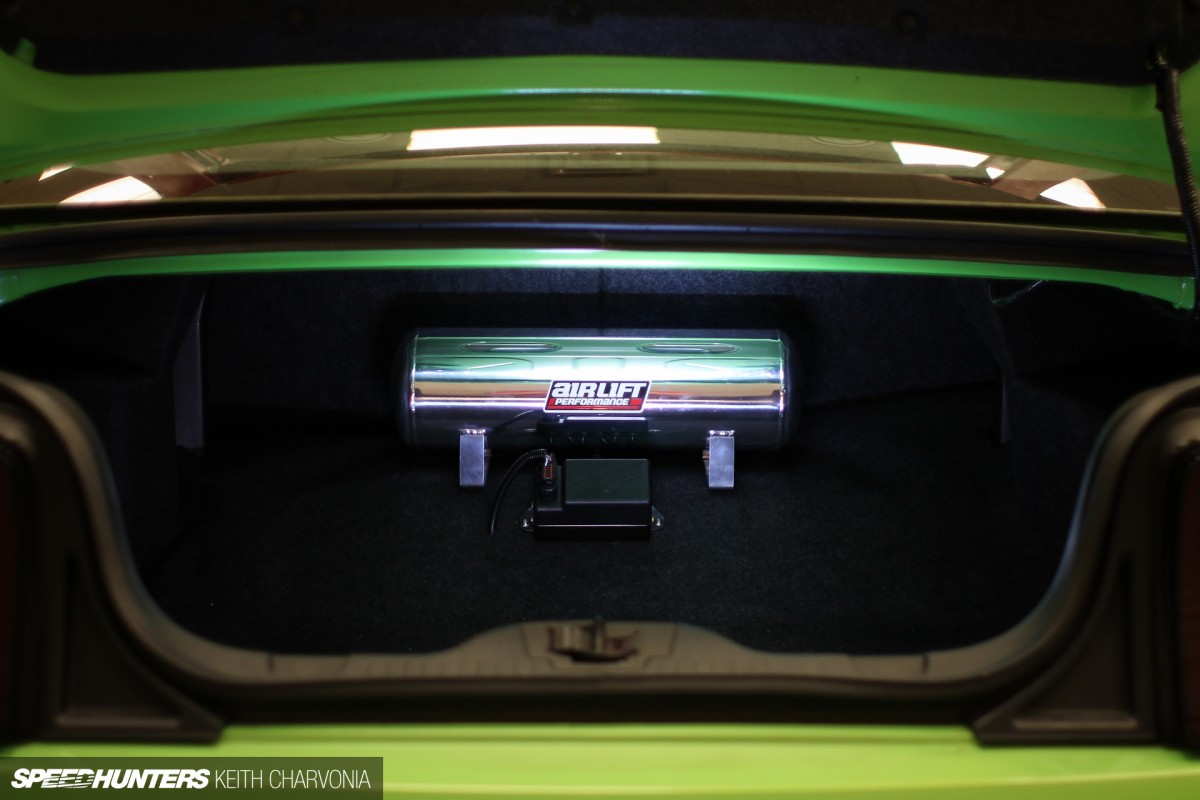 Brian and I made a great team and we finished up the installation that weekend. I'll be posting a complete story on the Air Lift Performance installation after SEMA, but as you're about to see I've had my hands full getting the car ready for the show.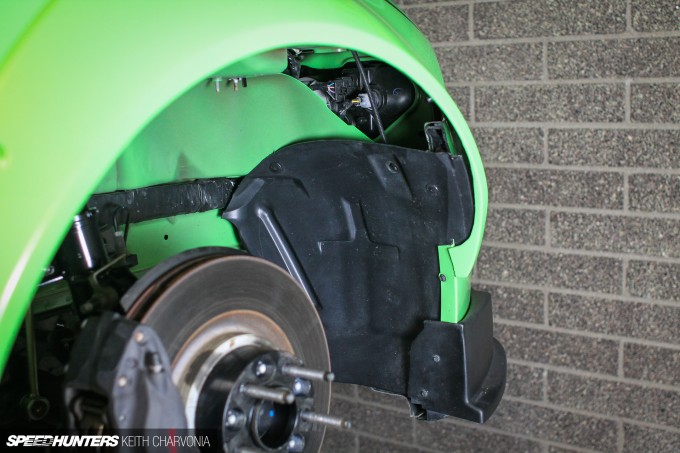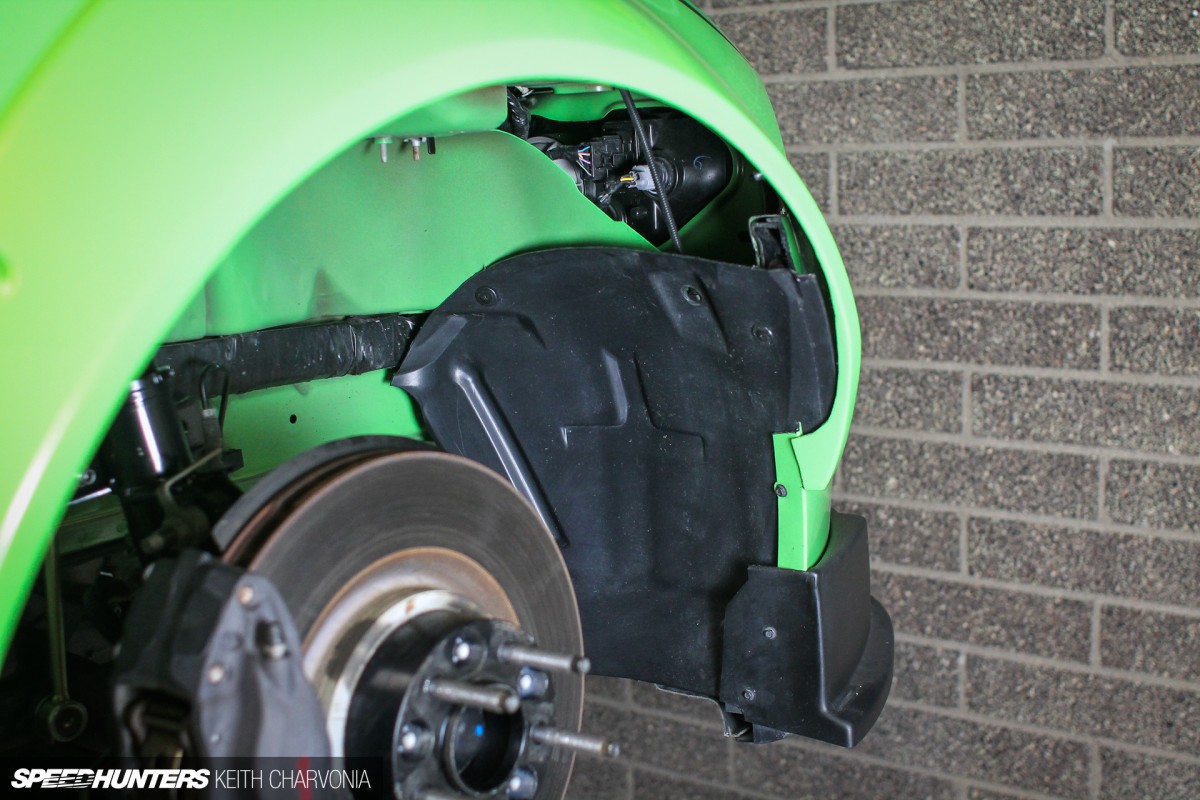 When Jr. originally built this car it was never intended to be a show car. A demo car, sure; but it was also nice enough to sit in his booth at events so people could check out a real RTR. SEMA is another level though, so I had some work to do to bring the car up to what Vaughn and I would consider SEMA Show standards. Things like the cut factory inner fenders weren't up to snuff for the floor of SEMA.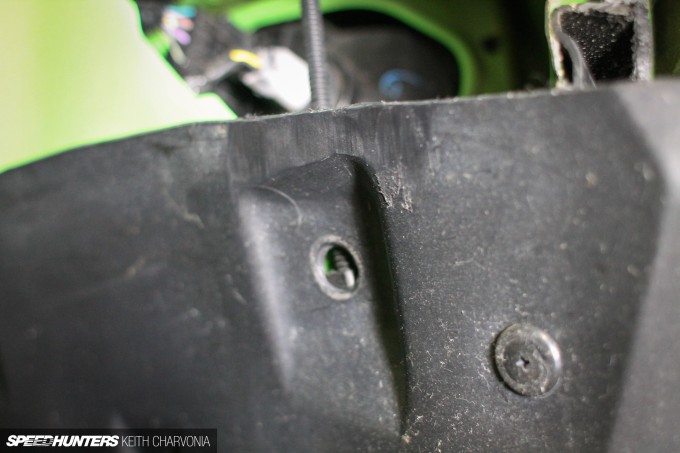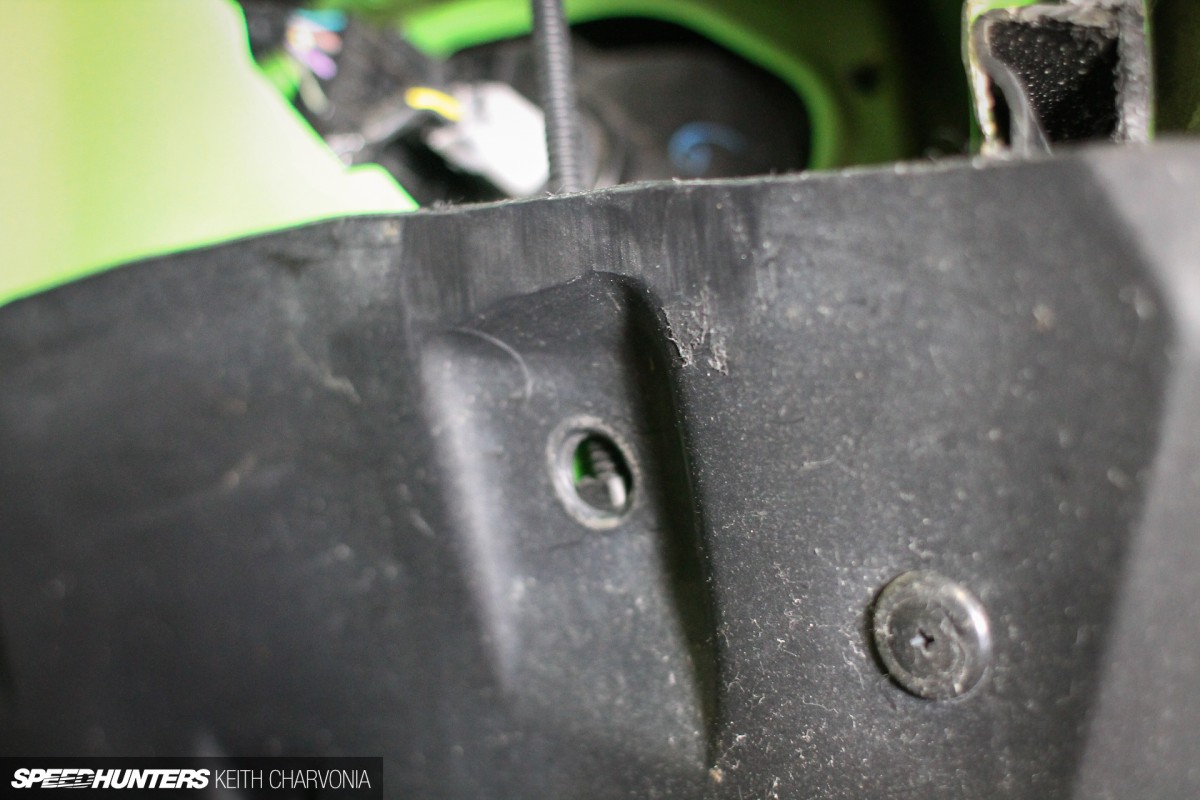 Plus the tire was buzzing the cut edge of the plastic since we bagged the car. I can't stand little noises like this in any of my cars.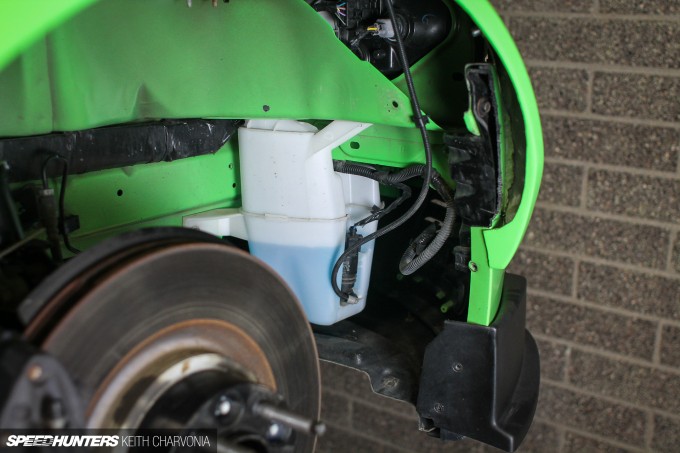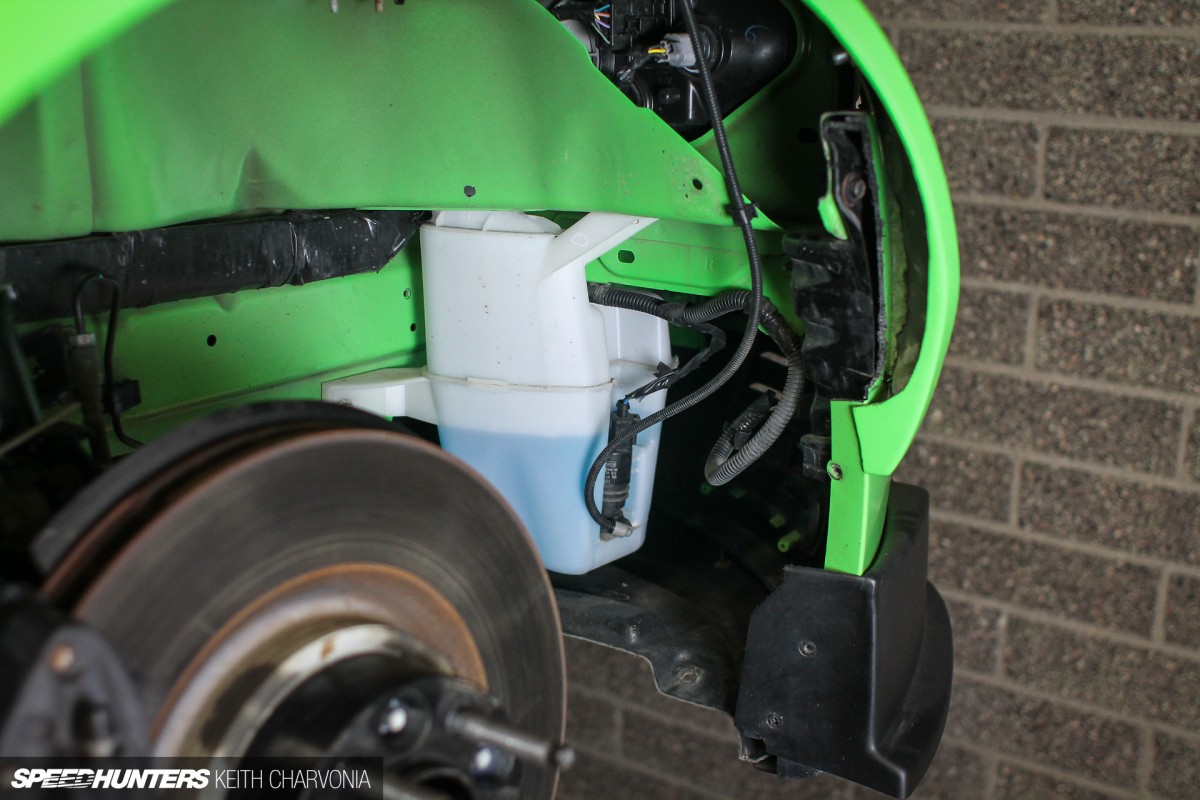 I pulled the trimmed factory part out and tossed it in the trash.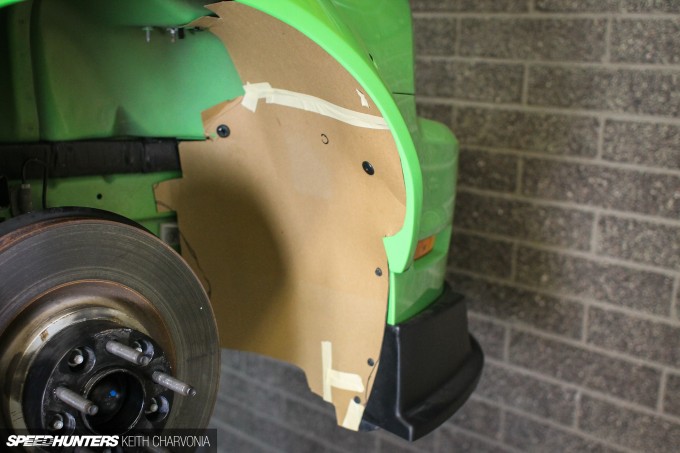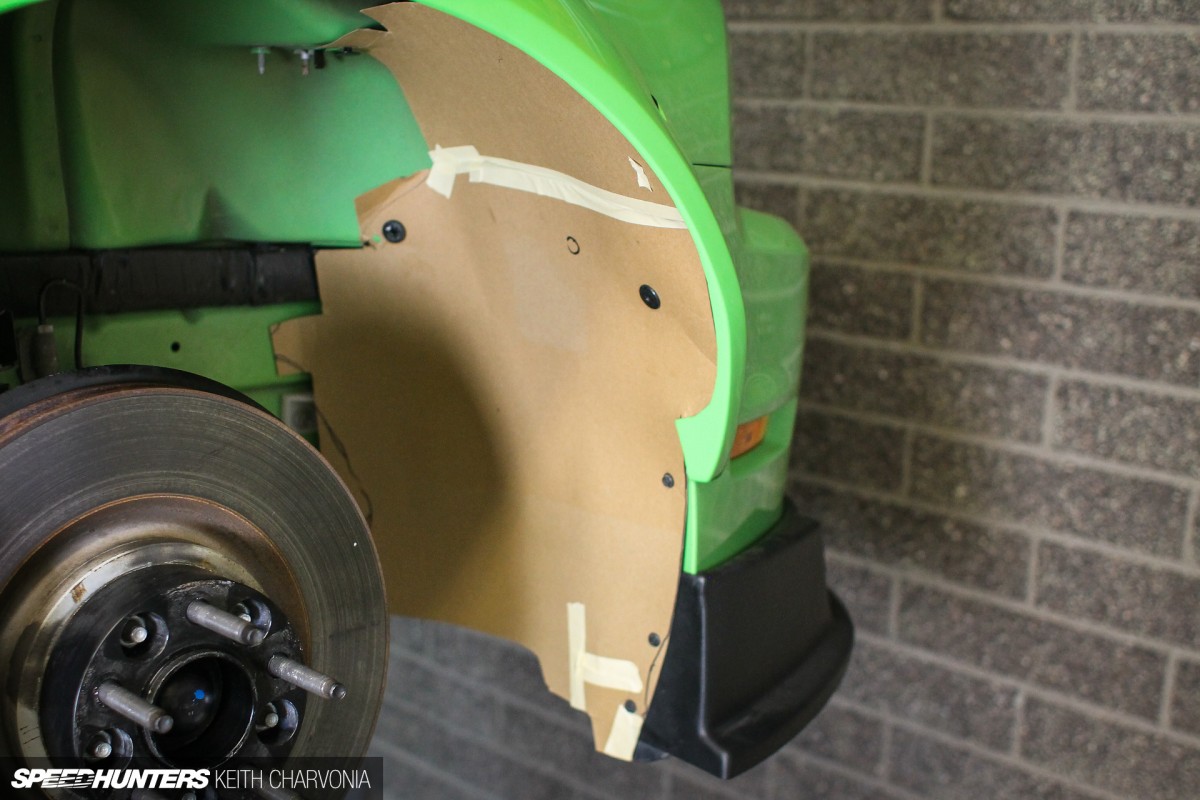 I keep a few sheets of chip board on hand to make templates like this. The templates always take the most time, but if you get everything worked out in this phase your final part will be much nicer. Fortunately I was able to use these templates on the other side with very little modification.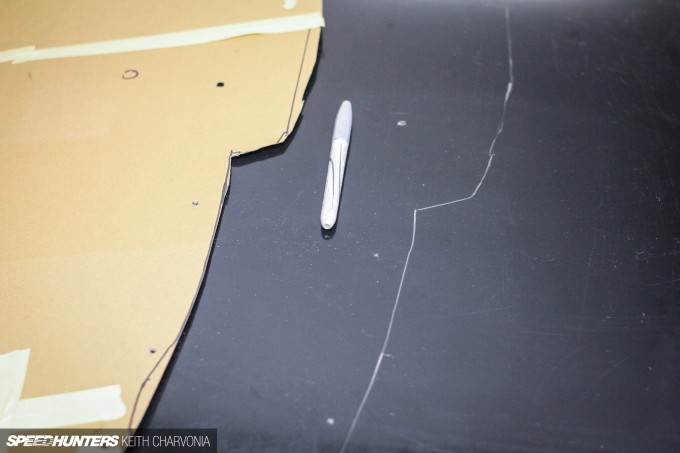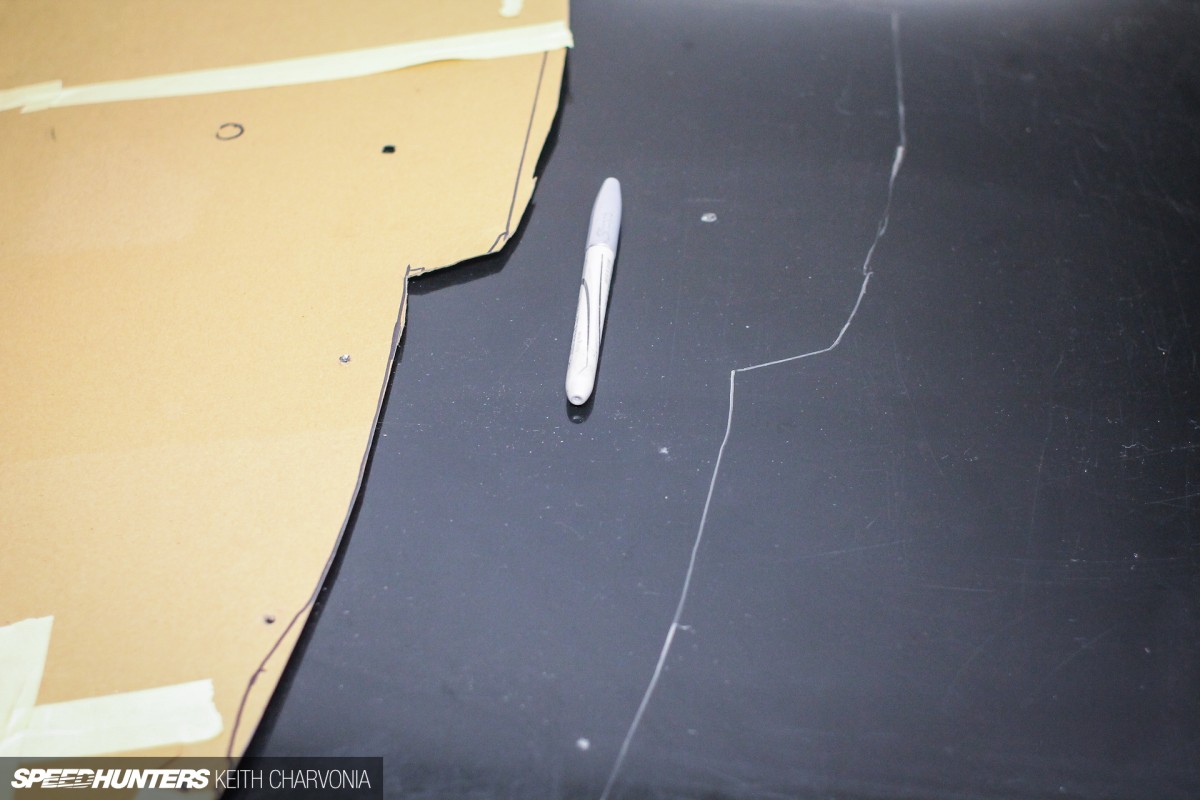 I transferred my chip board template to 1/8″ thick ABS plastic before cutting it out with sheetmetal shears.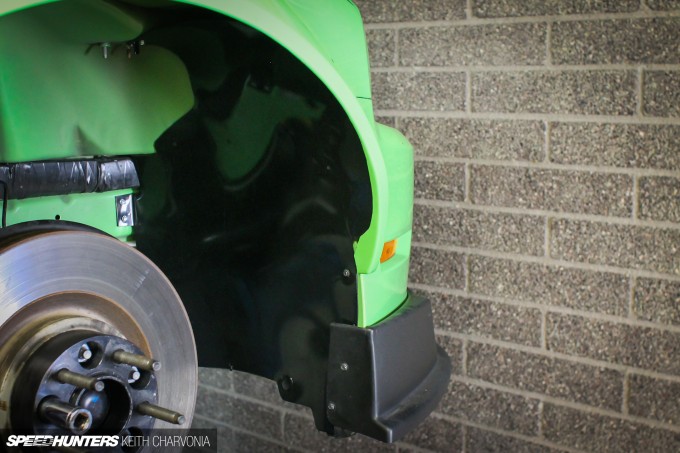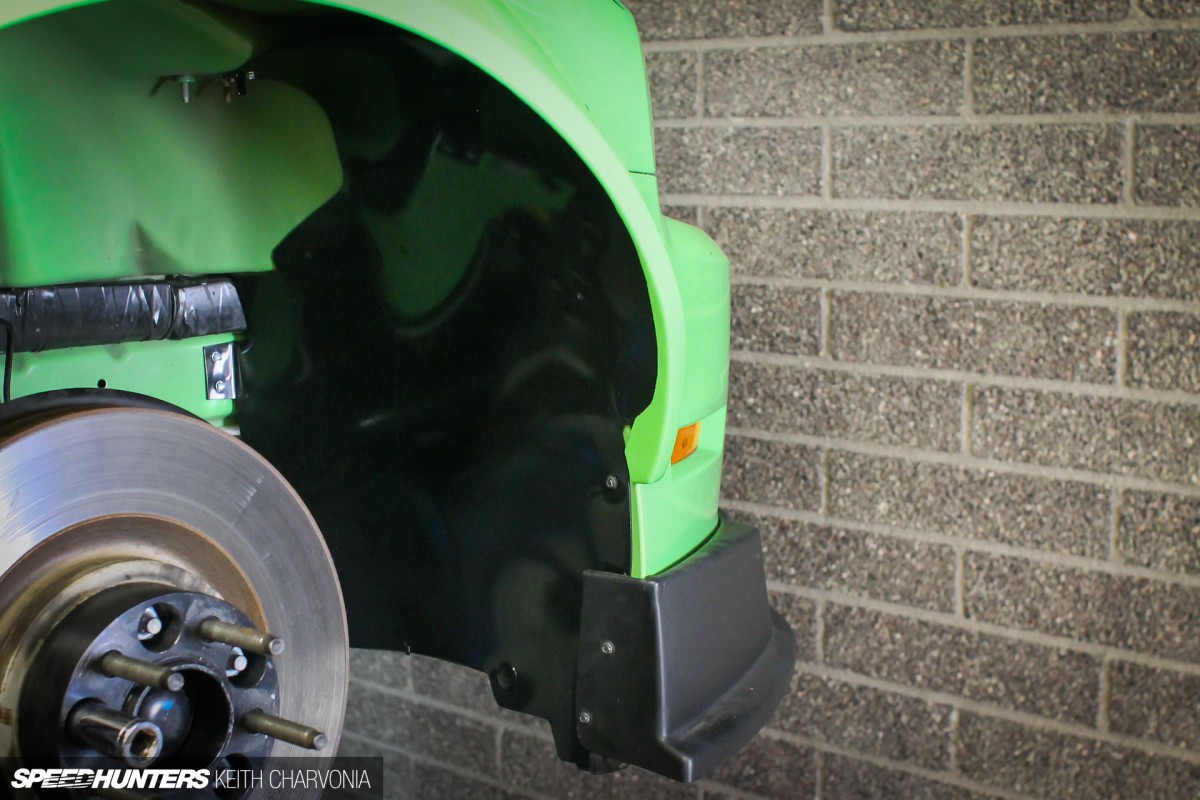 A few fasteners later and the new fender liners were installed. I later dusted them with matte black spray paint to cut down on the shine, although I doubt anyone will notice once the wheels are on.
Piece by piece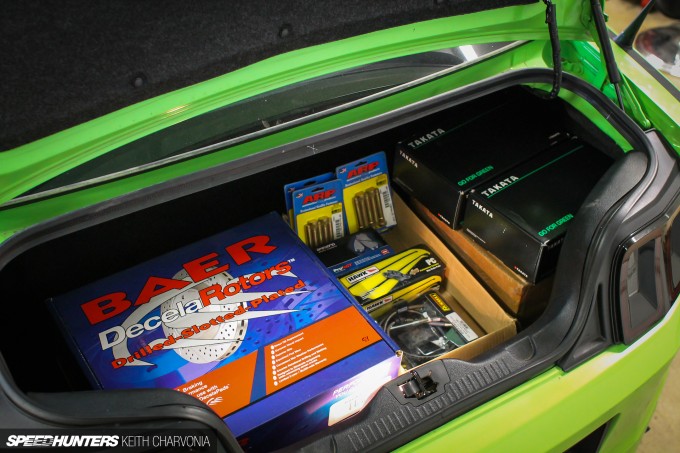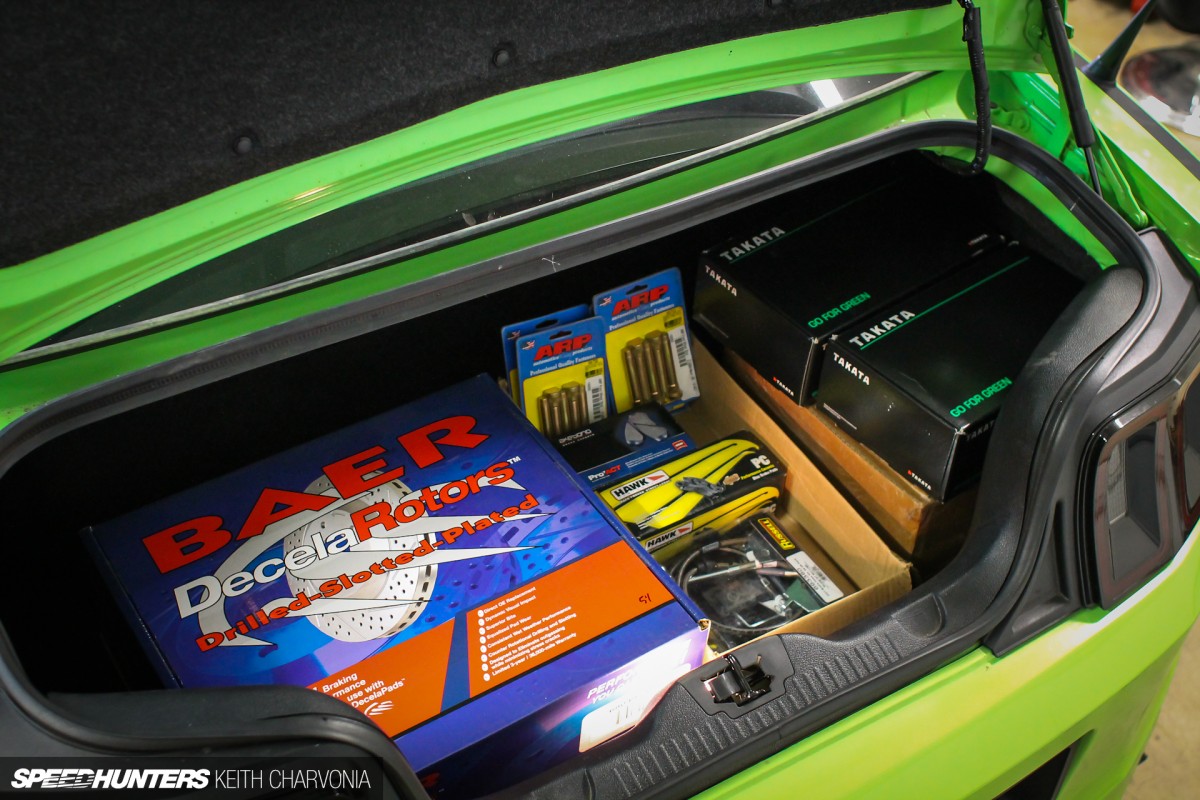 One of the fun things about building this car was the frequency of parts showing up in the mail. I had everything shipped to my work, so each day I drove home with a trunk full of new goodies to install that night.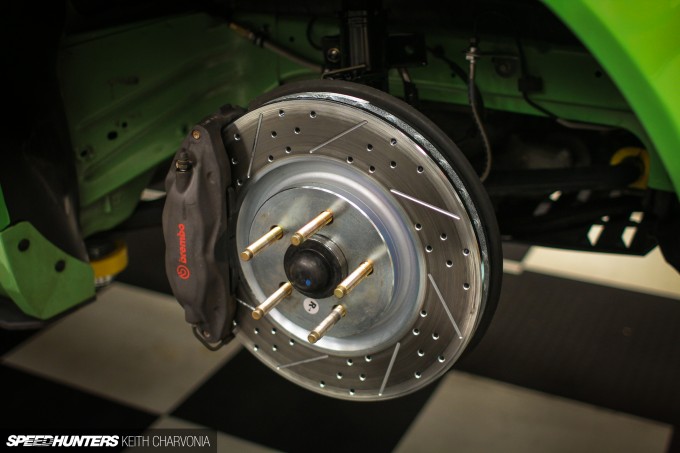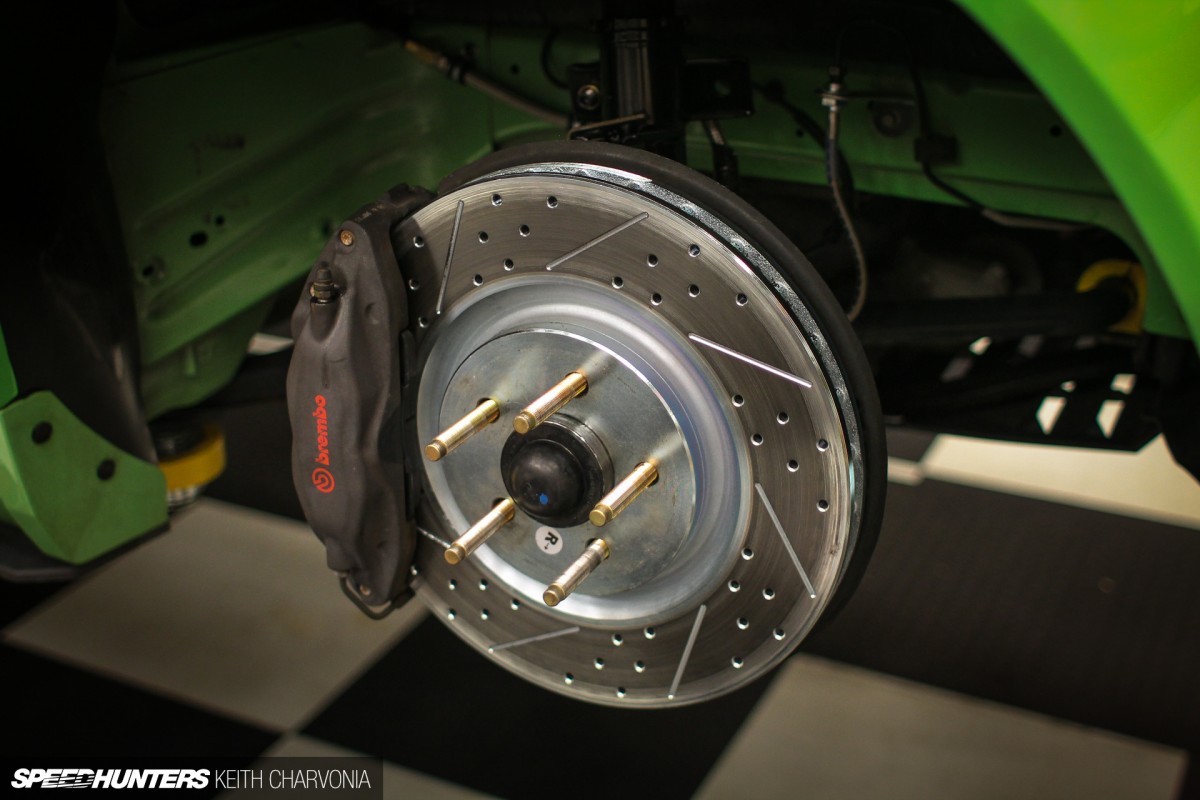 It was pretty clear that Jr. had driven the car hard on the track, as the factory Brembo rotors were scorched. In an effort to make the RTR not look like a used-up track car I had new rotors and pads installed while the car was at the alignment shop.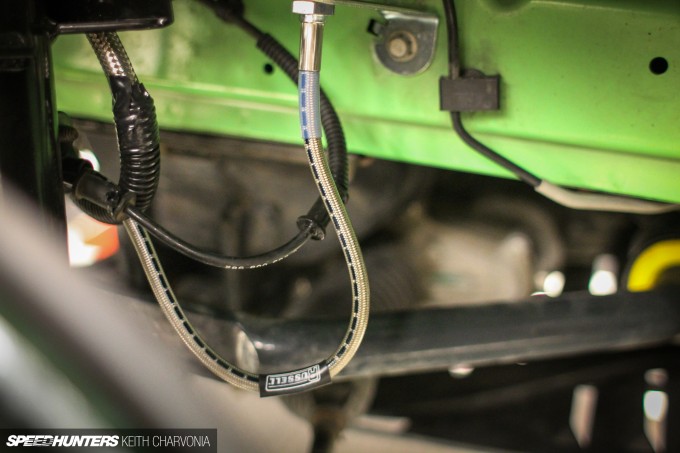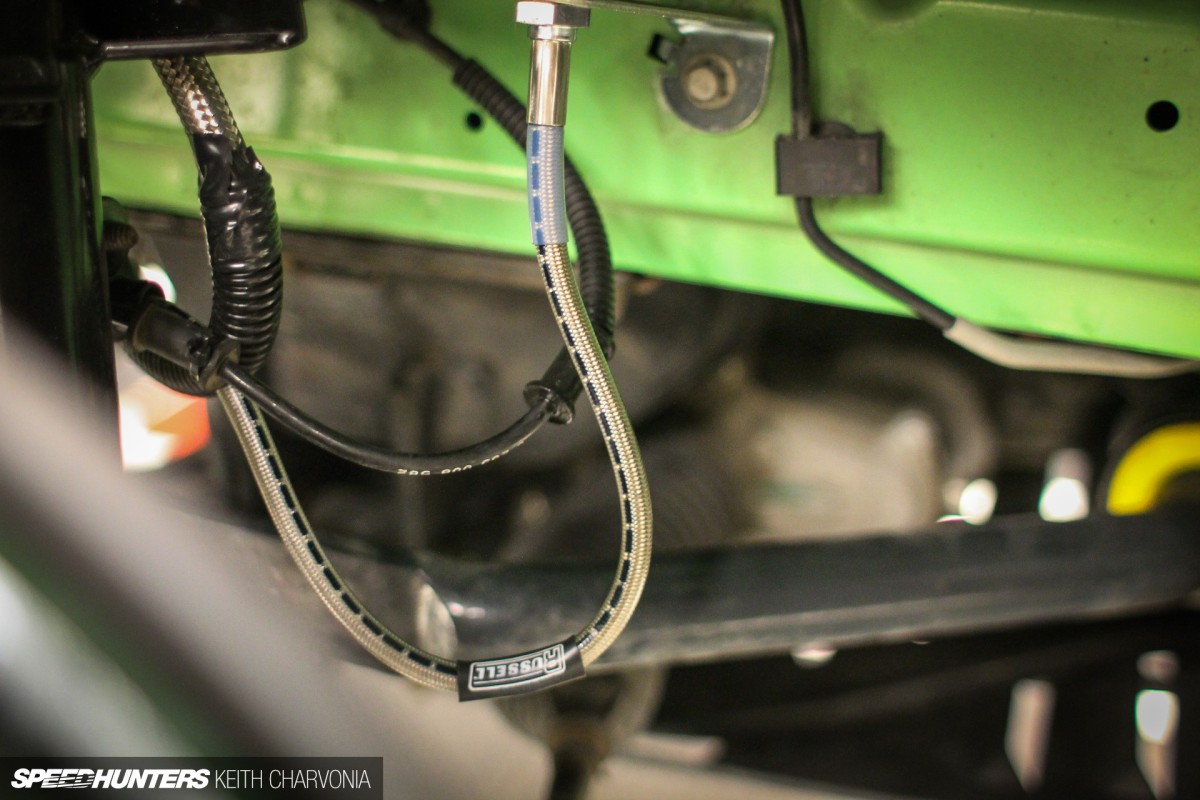 Fresh braided lines also went on…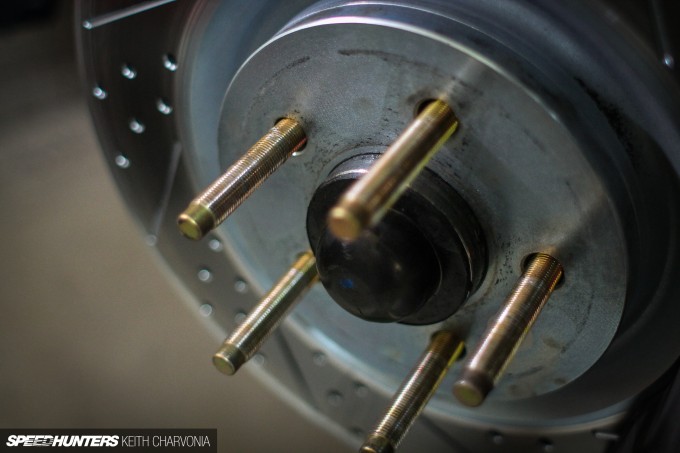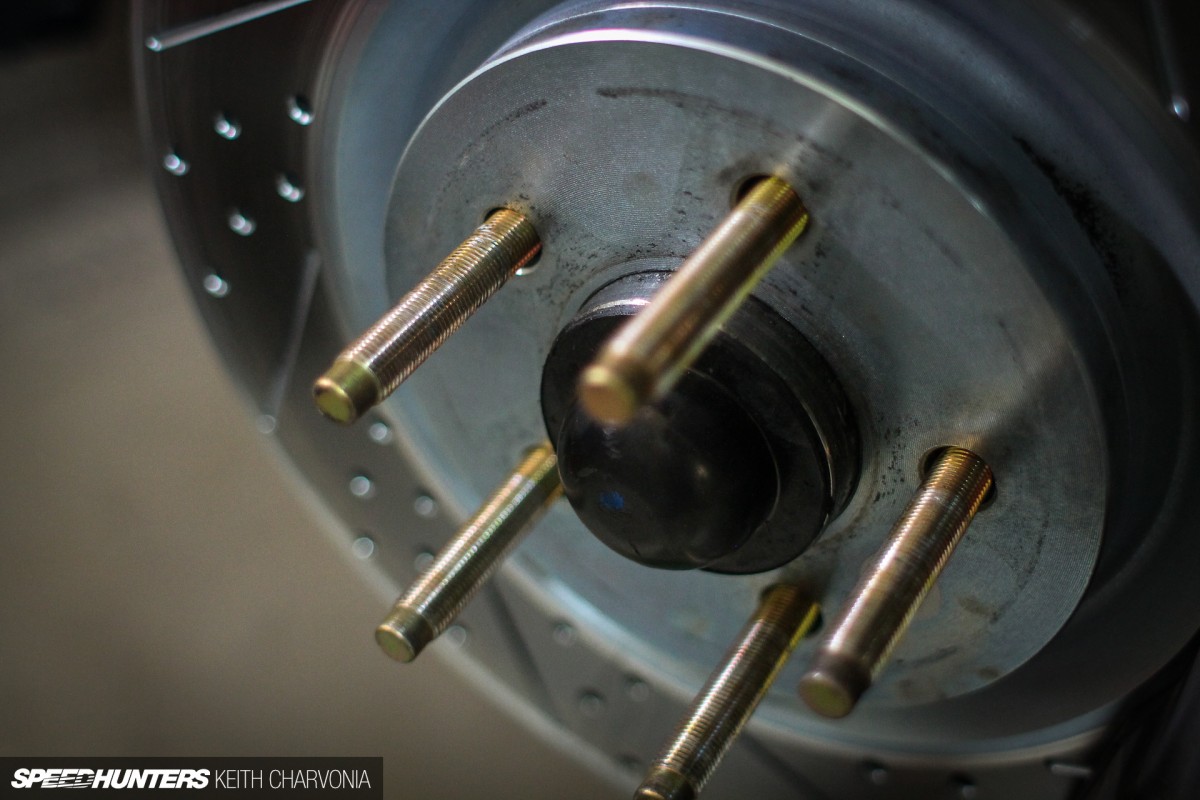 … along with extended wheel studs for a little bit of track-style.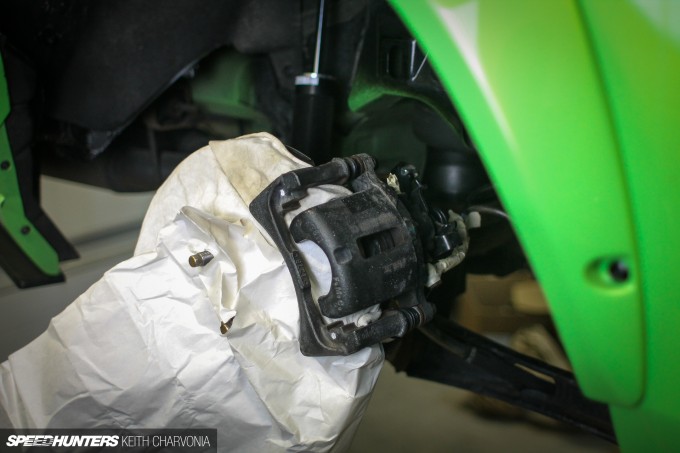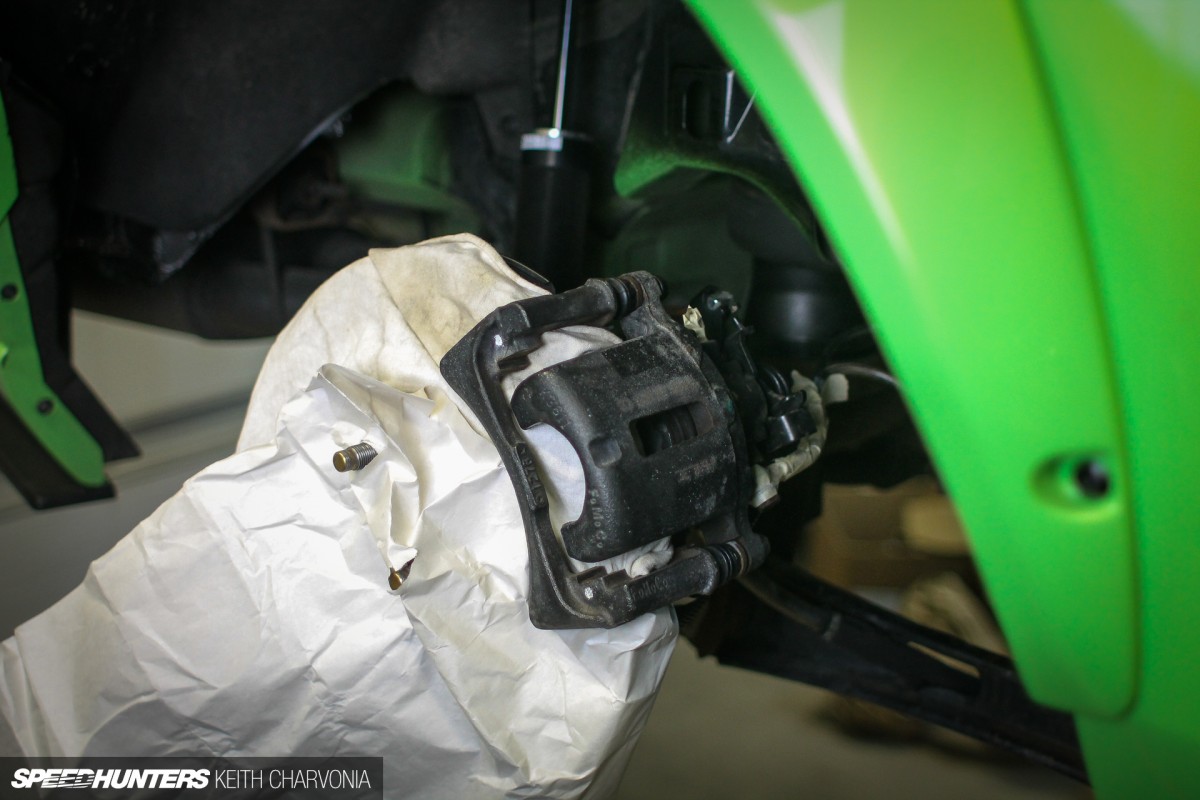 The new rotors only made the calipers look that much more second hand, so I masked everything off and gave them a quick coat of semi-gloss black paint.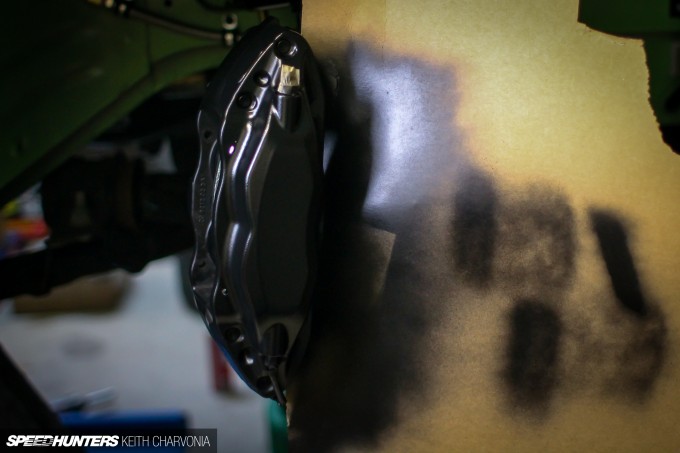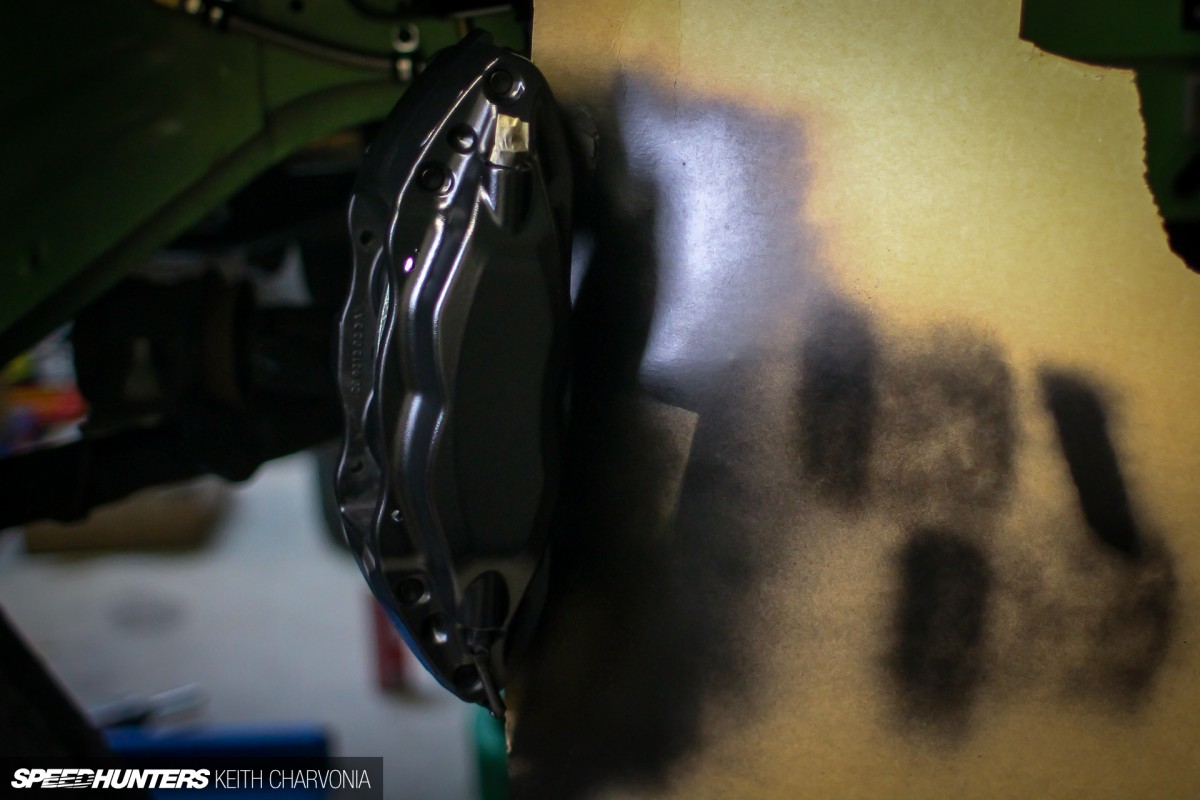 This will help them disappear behind the new wheels everyone will be staring at.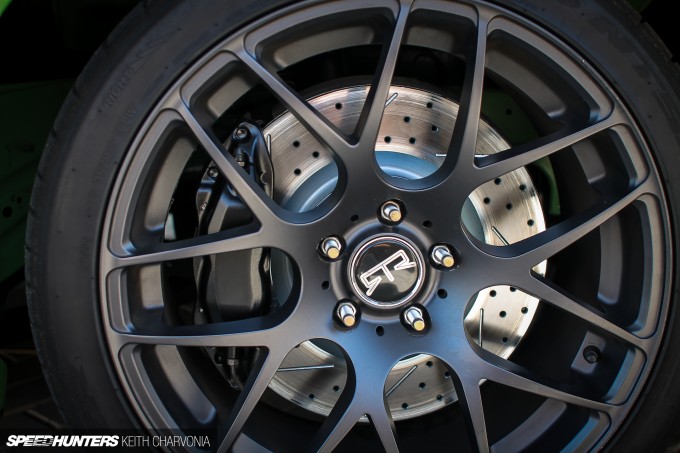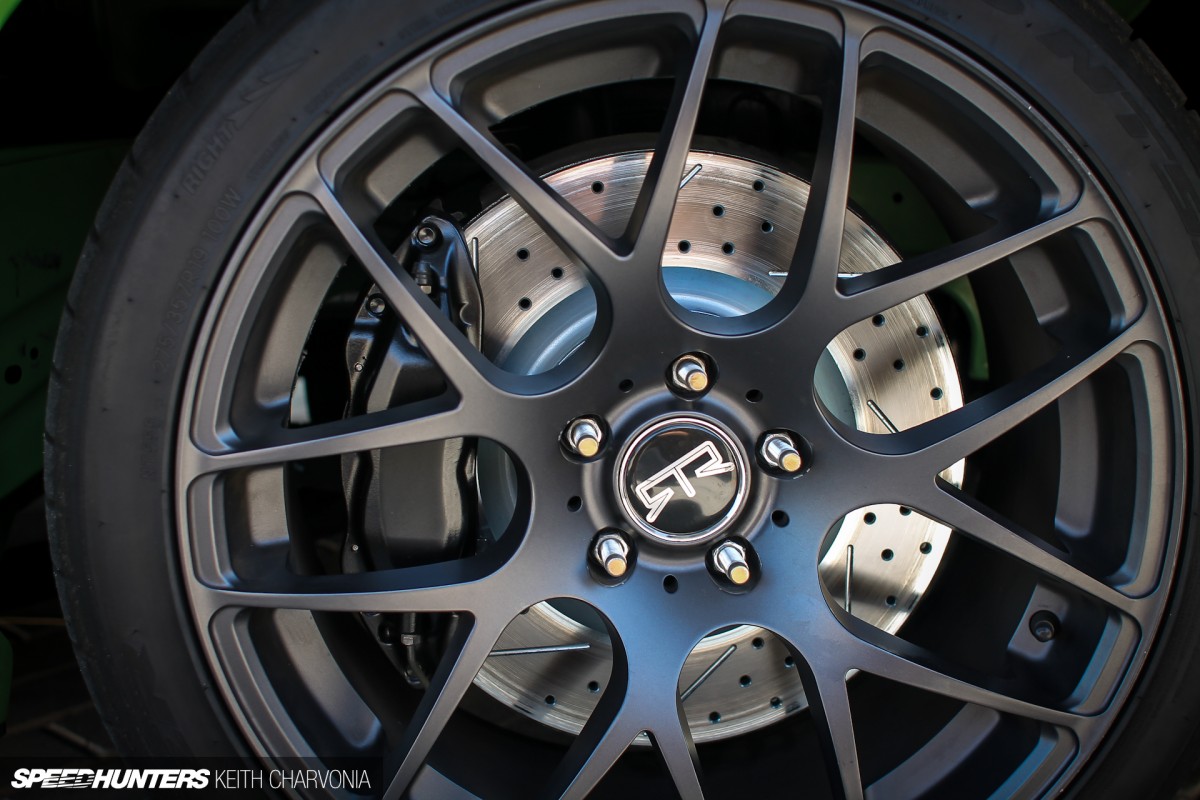 Much better!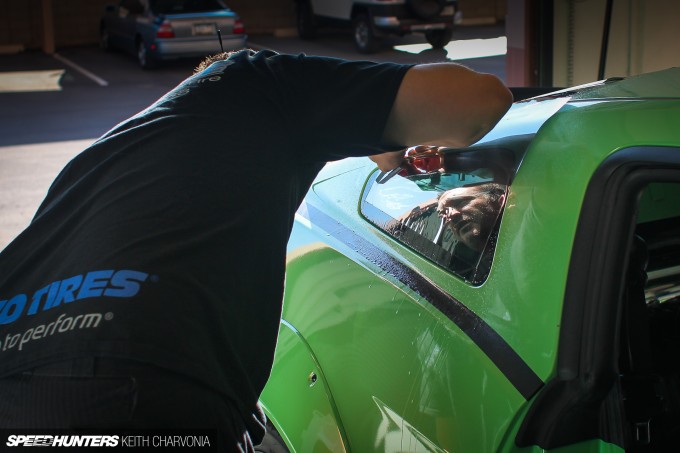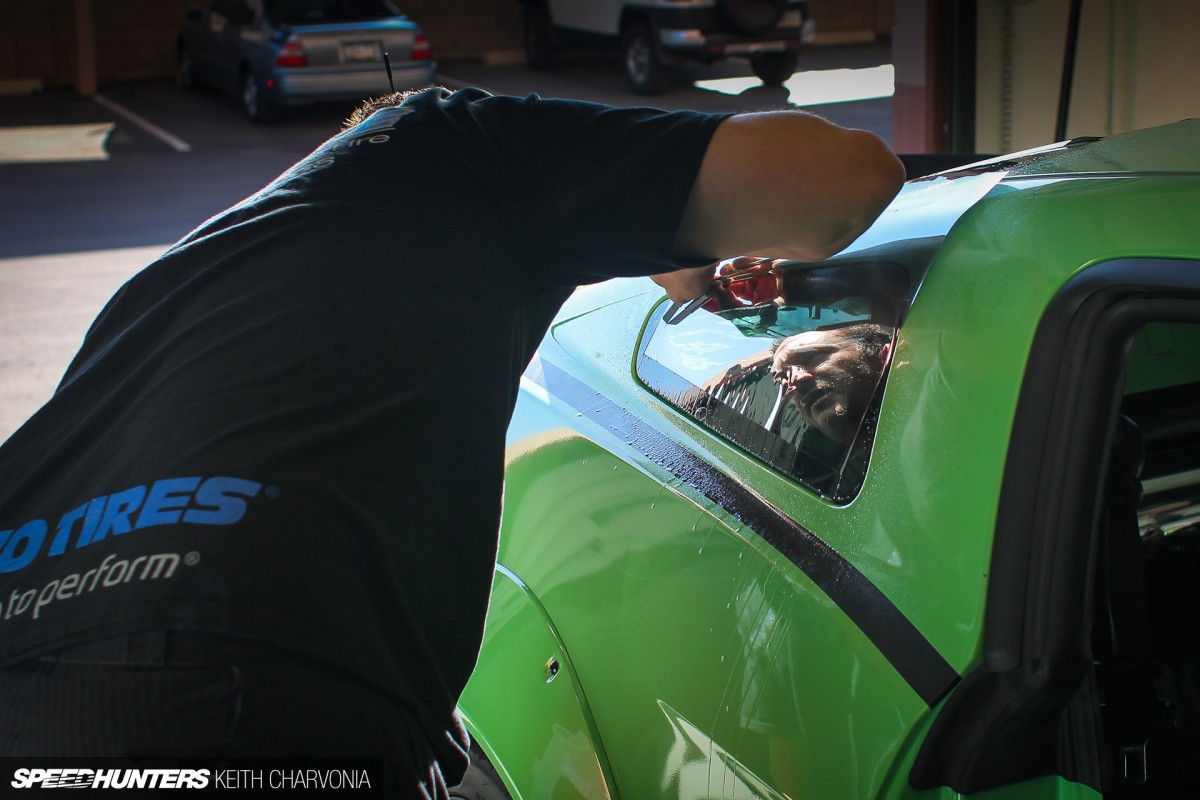 One day last week I had the mobile tint guy come to my office and tint the windows.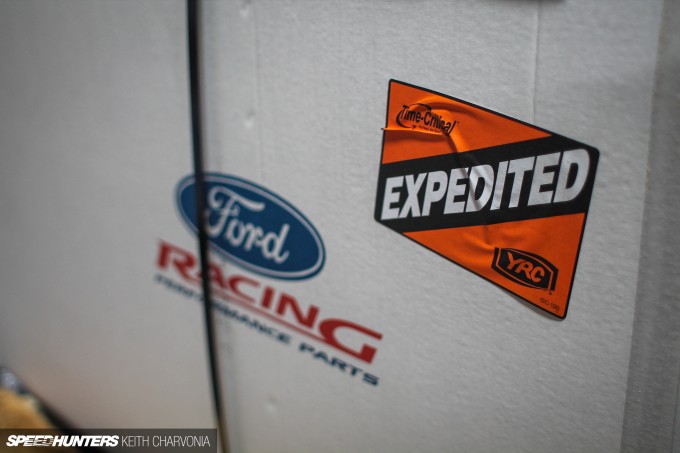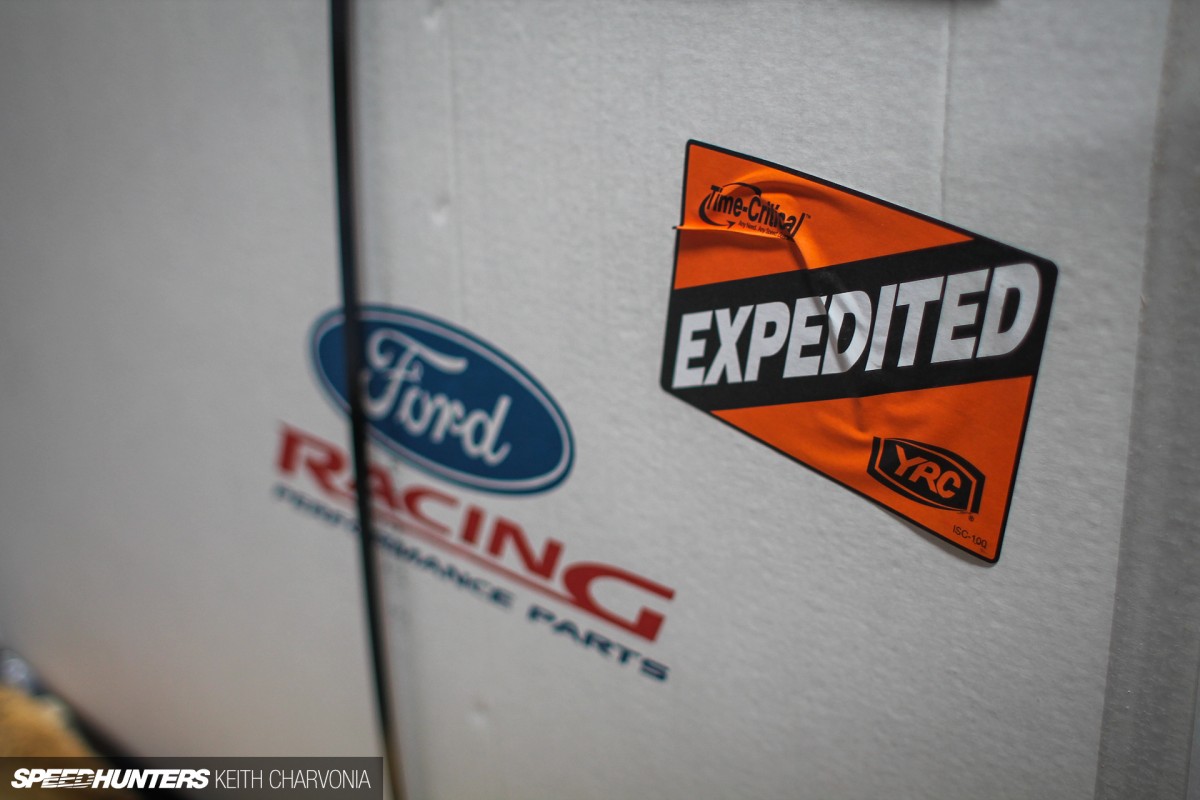 A nice big box showed up too.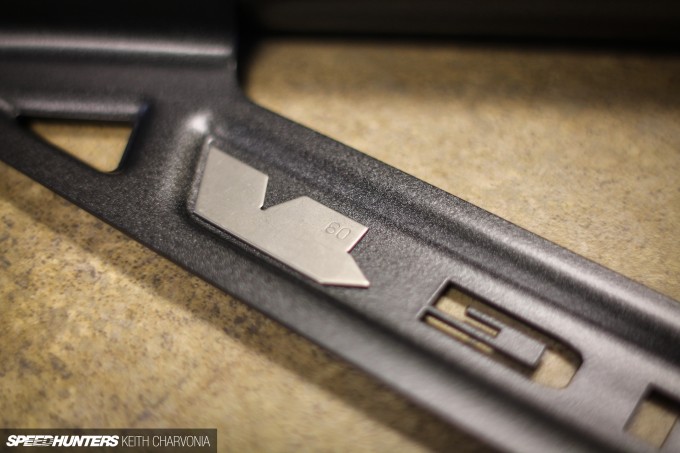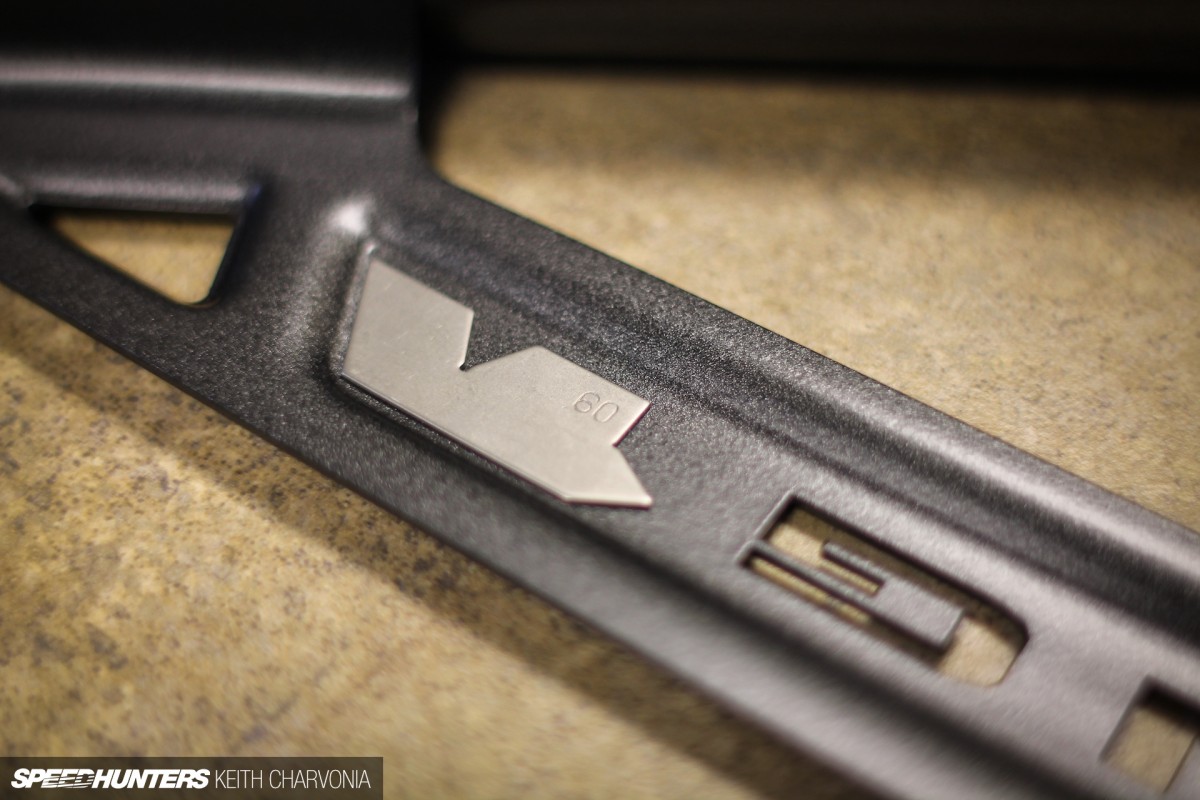 It was a Ford Racing rear seat delete. I opened it and started working on a custom touch right away.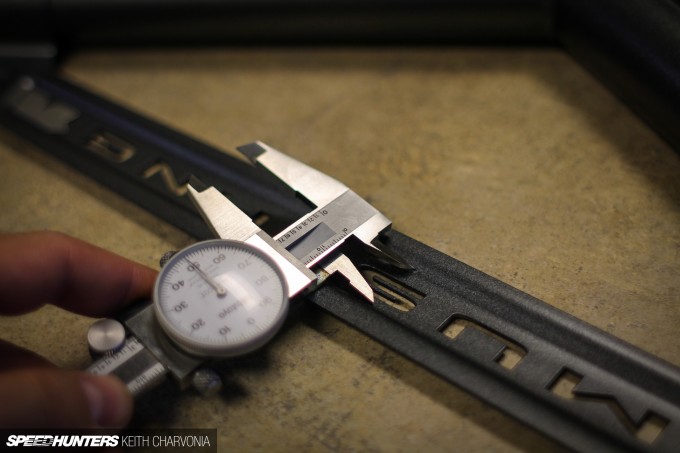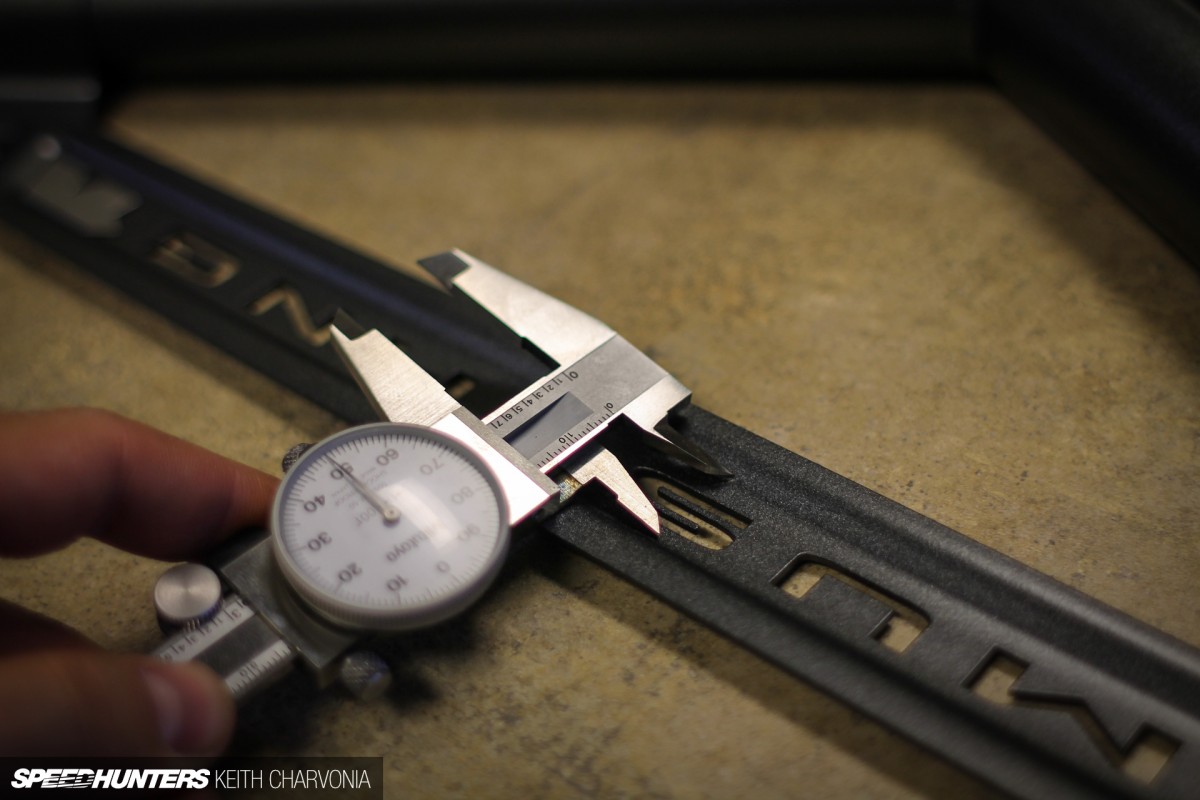 I measured up the relief in the welded cross brace so I could have a stainless filler piece made at the sheetmetal shop. I'll be picking that up on the way out of town tomorrow!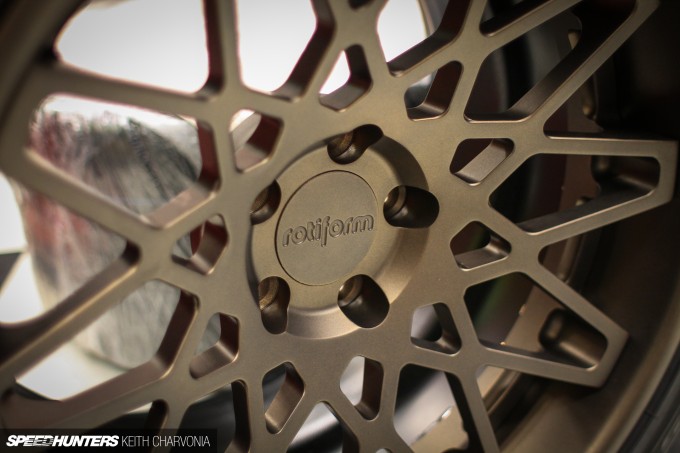 By far the most anticipated part of the build was the one-off Rotiform wheels.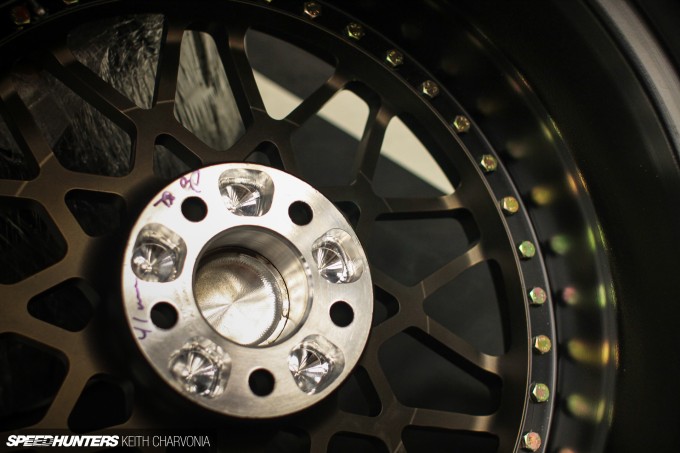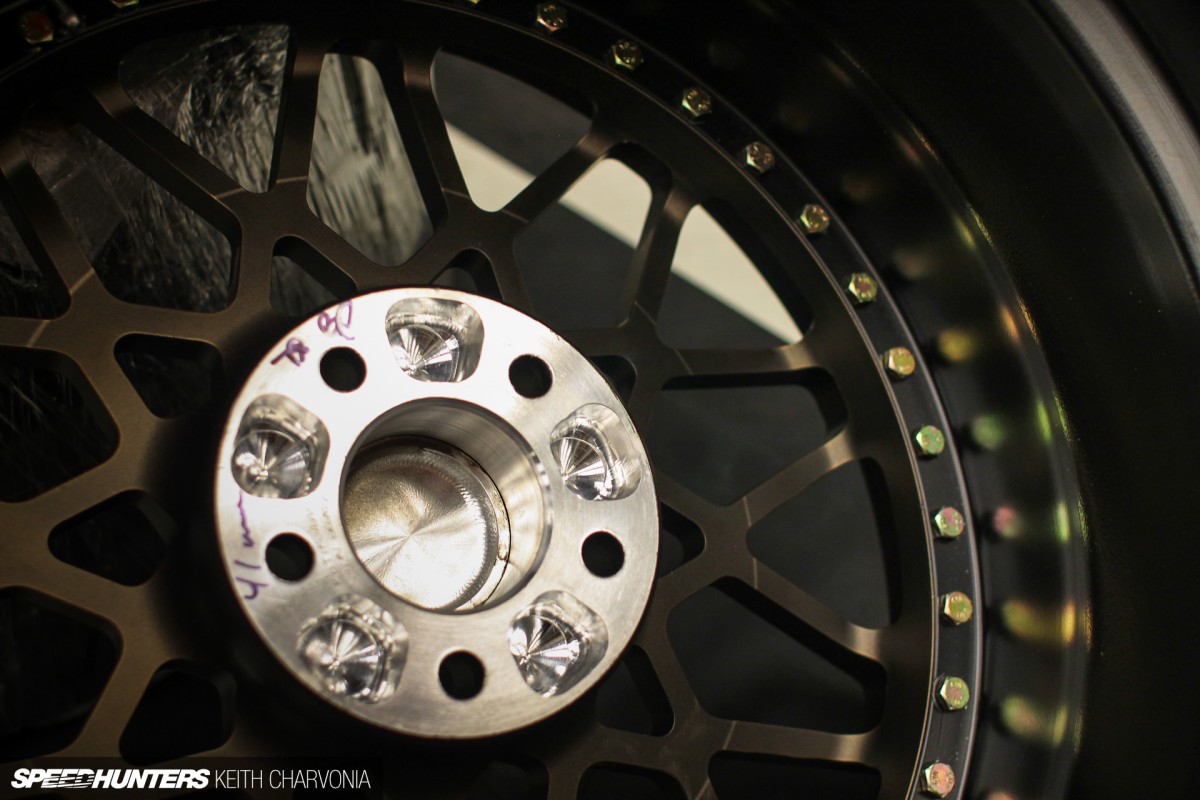 The back was as pretty as the front. You guys will have to wait until SEMA to see these on the car though.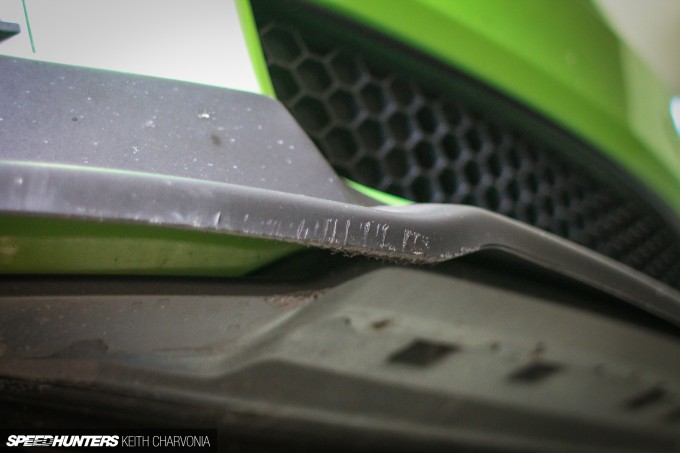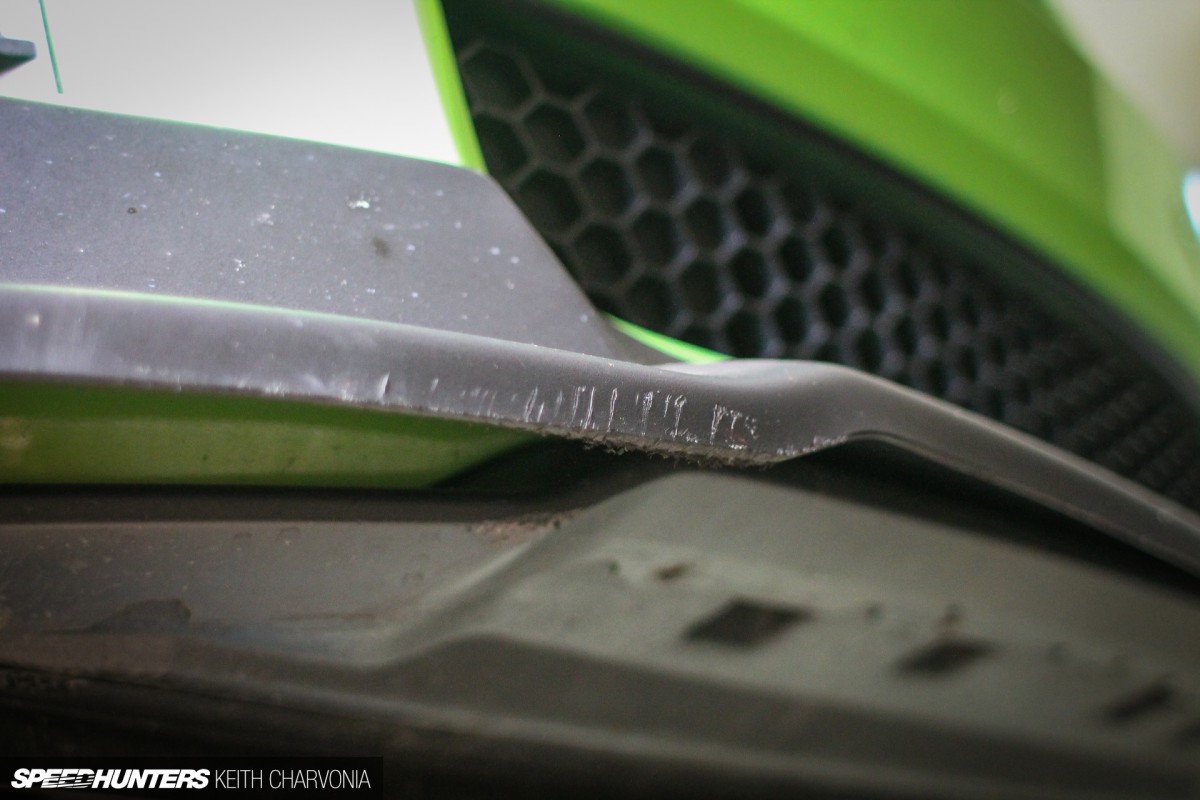 One thing I have to mention is how easy Vaughn was to work with. Even while he was in Spain working his tail off he was always available. I can only assume he was ordering parts from his phone and having them shipped overnight so I could get them on the RTR. One day while the car was in the air I noticed how beat up the front splitter was.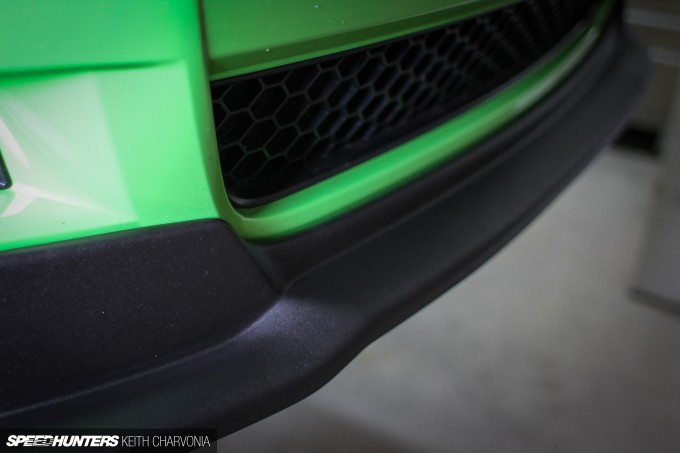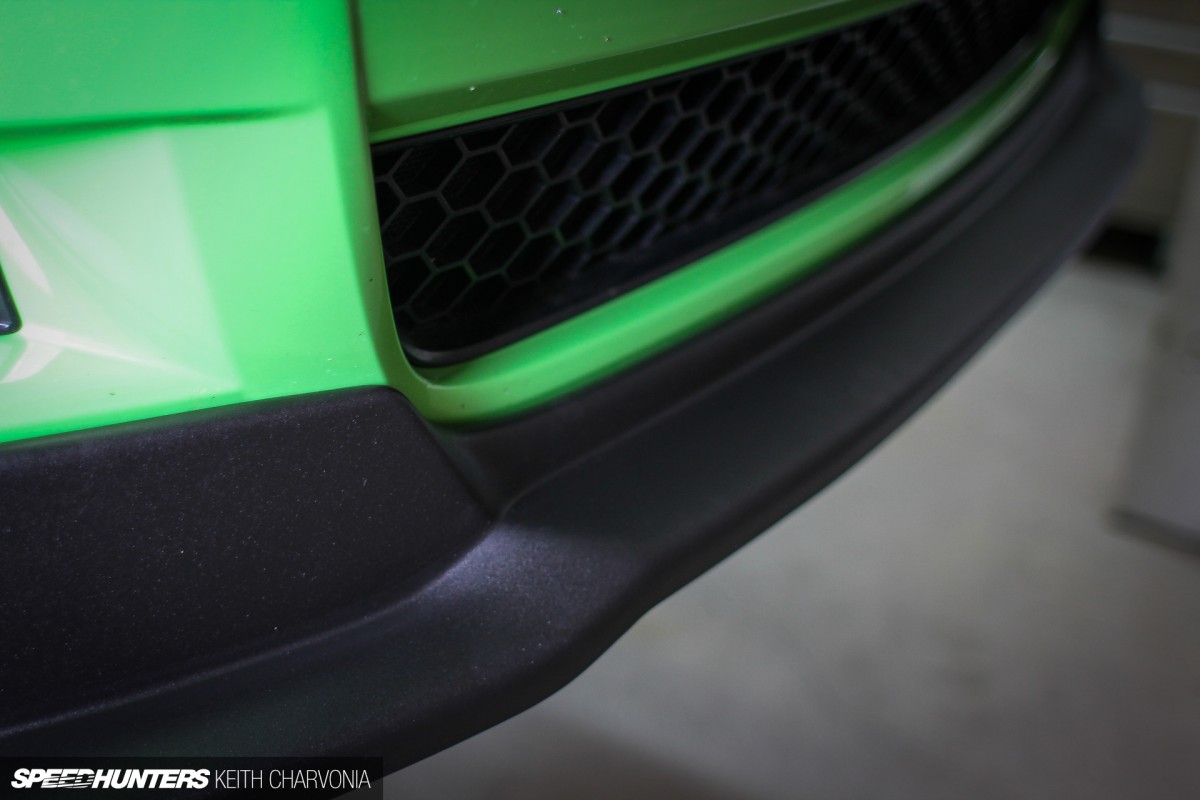 Within 24 hours I had a new piece to install.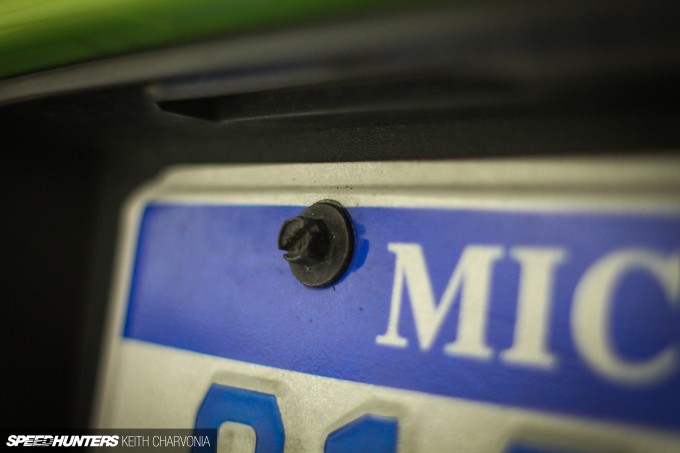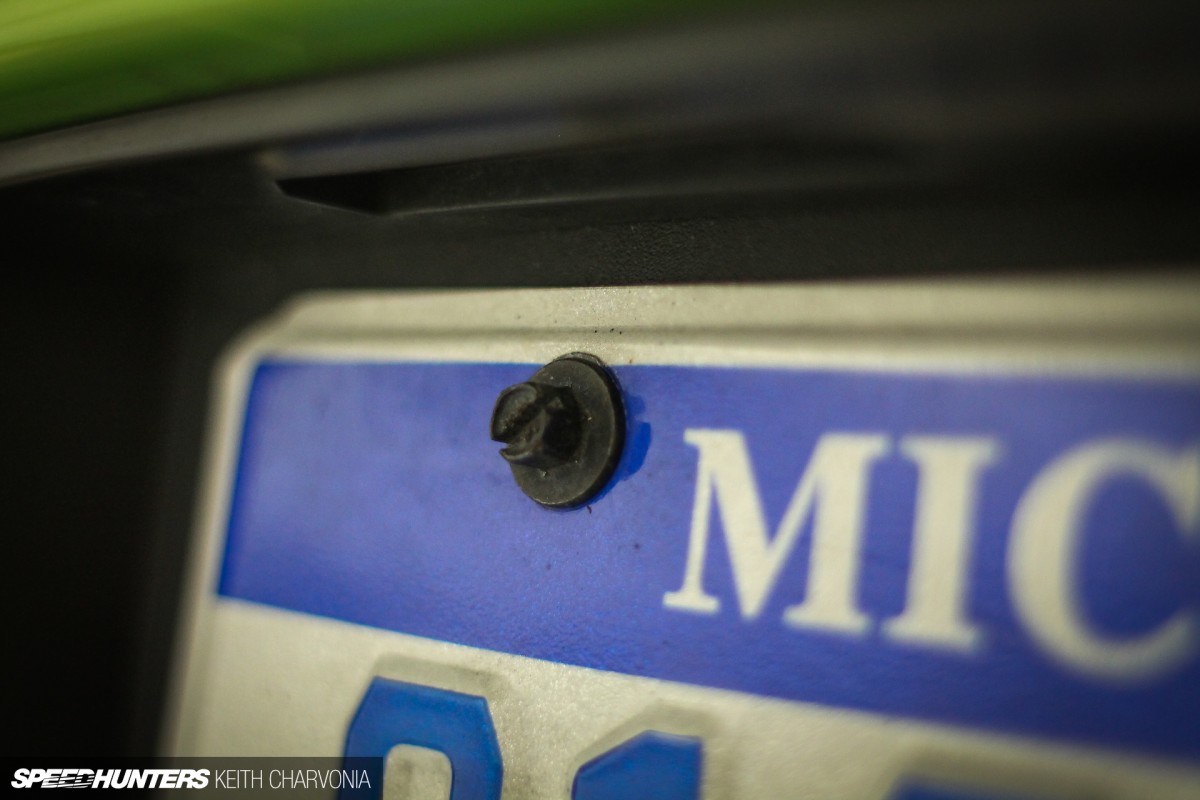 This might seem minor, but it's something I've always done on all of my builds. I can't stand the ugly license plate hardware that comes on cars.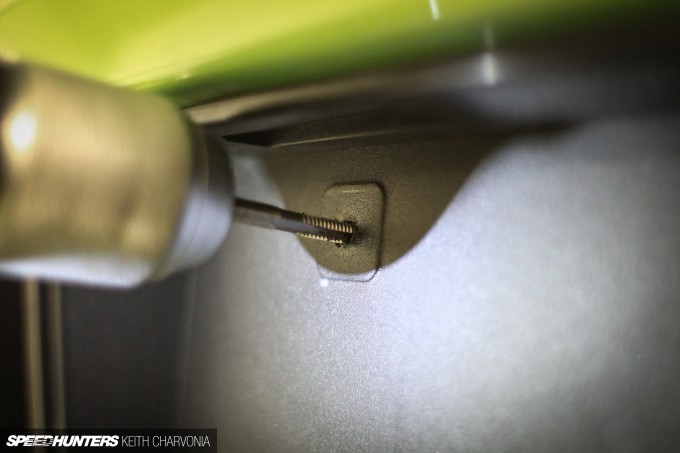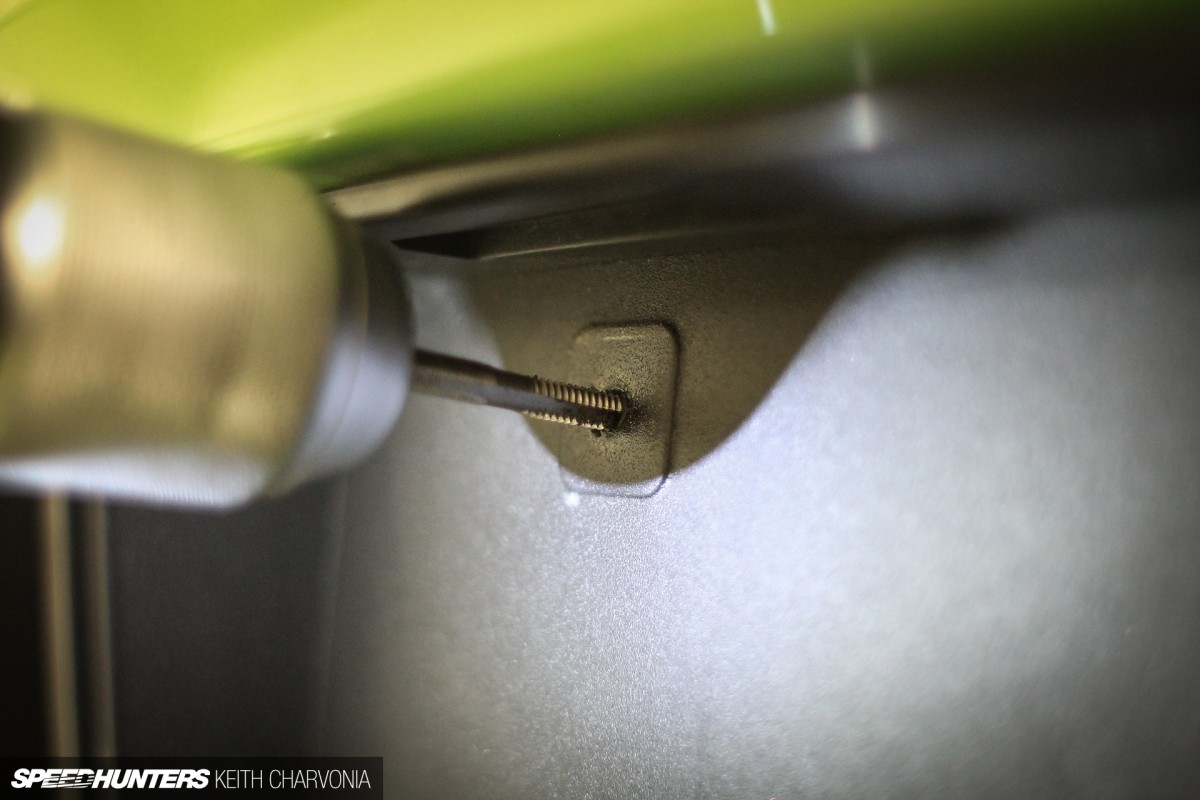 I always take a 1/4-20 tap in a drill and reform the threads…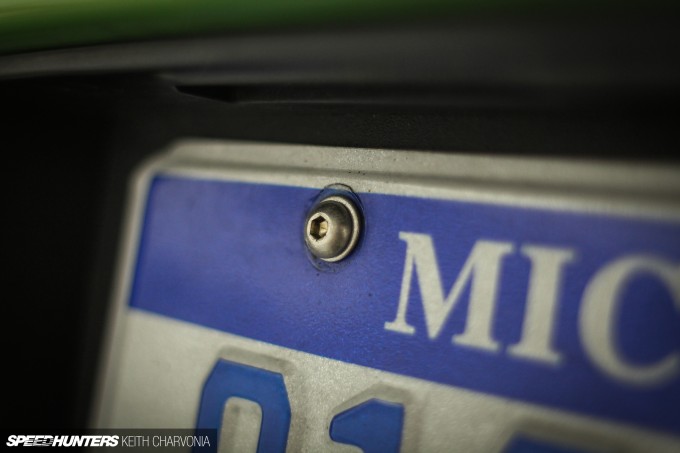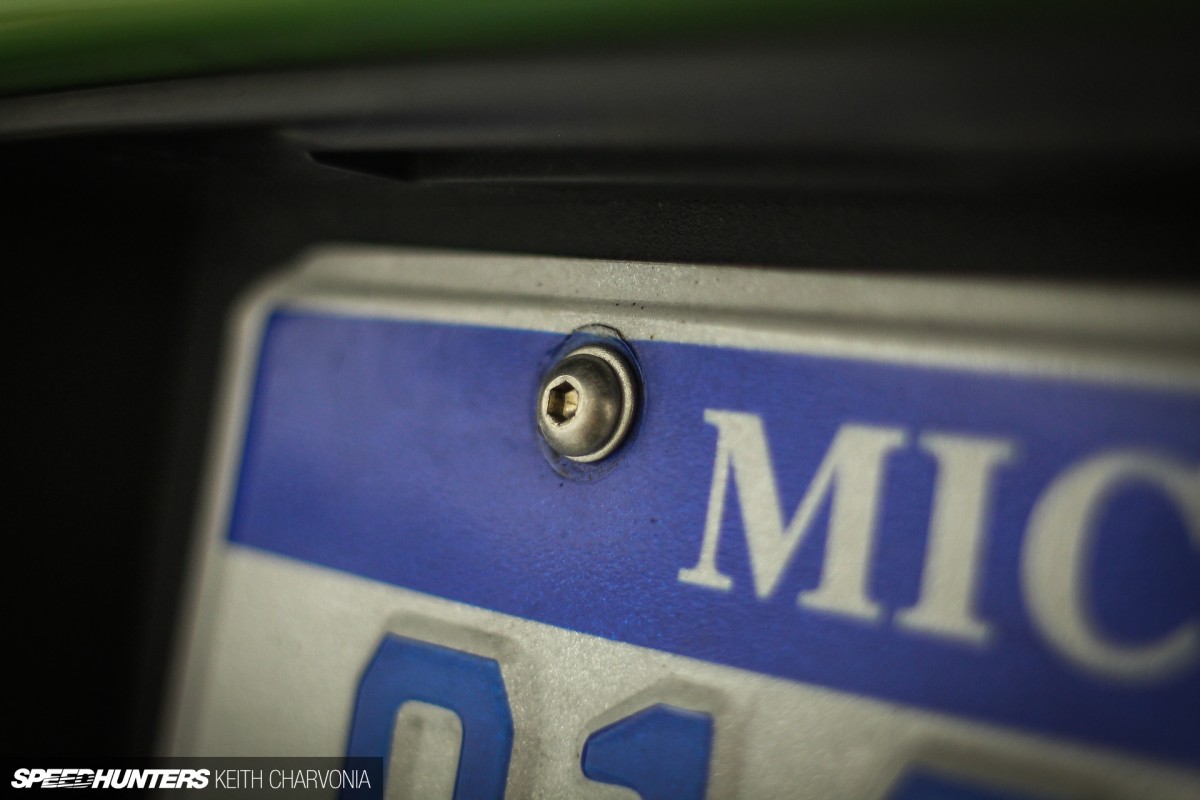 … so I can install stainless screws. Jr. will be bringing a nice RTR plate for the show and those ratty screws just wouldn't have looked right.
Down to the wire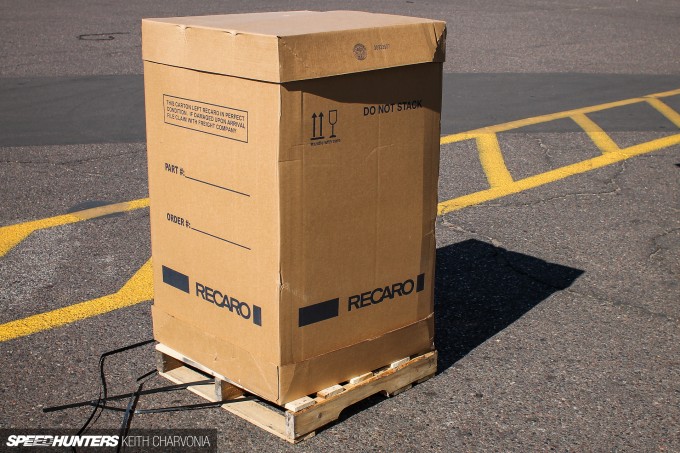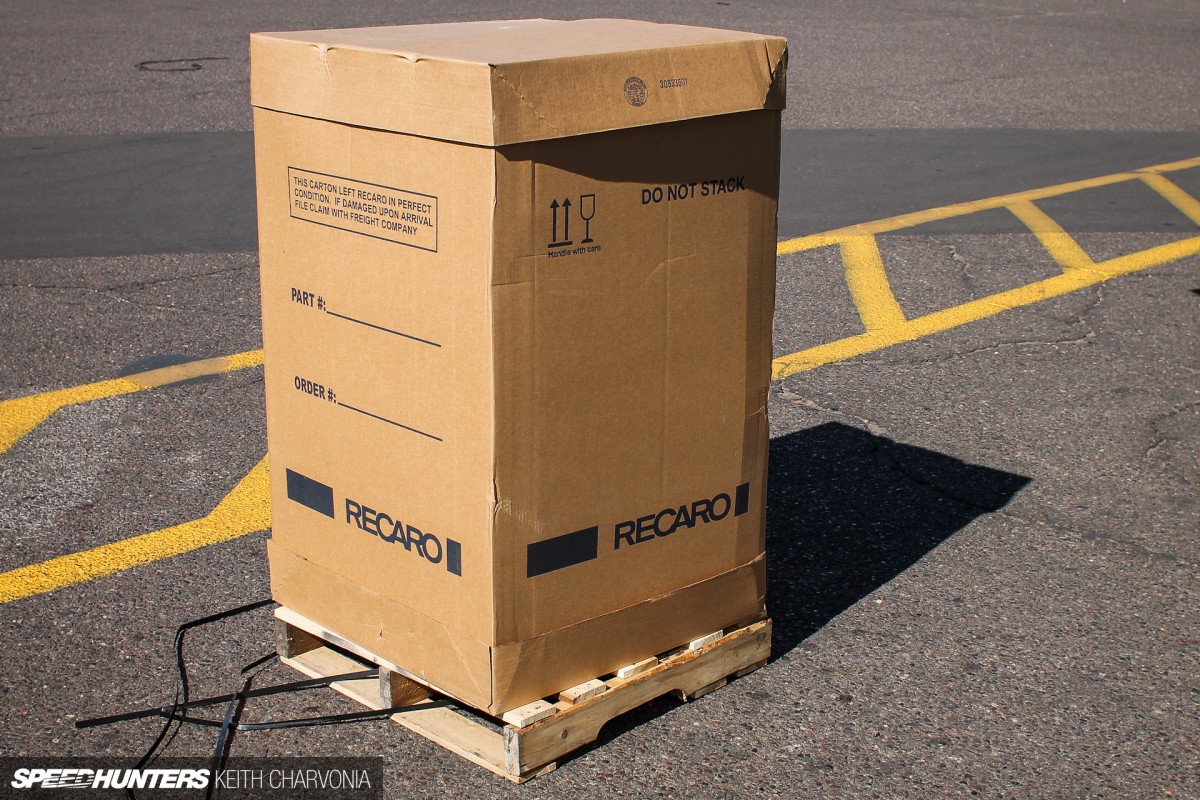 All week I have been tracking what I anticipated to be the final parts to arrive. The custom Recaro seats were coming all the way from Michigan to Arizona on pallets, and I knew this was going to take awhile. At one point we even upgraded the shipping to 'time critical' to ensure they would arrive in time, but they still didn't make it. After spending some time on the phone with my friendly freight company representative, I was directed to head down to the freight yard yesterday morning to pick them up as soon as they were unloaded from the truck.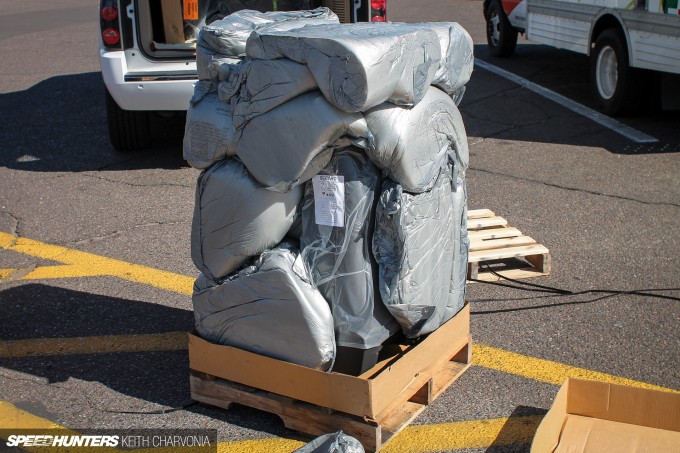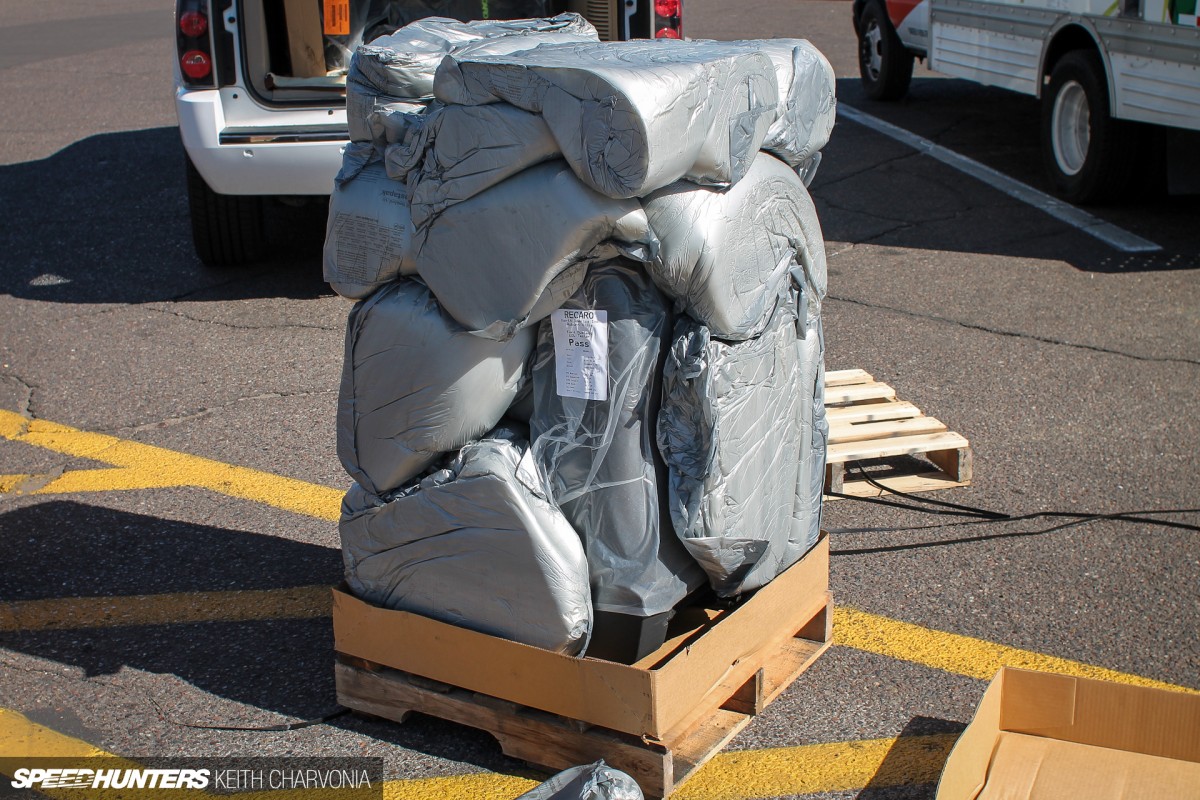 Of course, they wouldn't fit in my full-size SUV as they were, so I had to unpack them in the parking lot. Nothing was going to stop me though – it was the day before SEMA!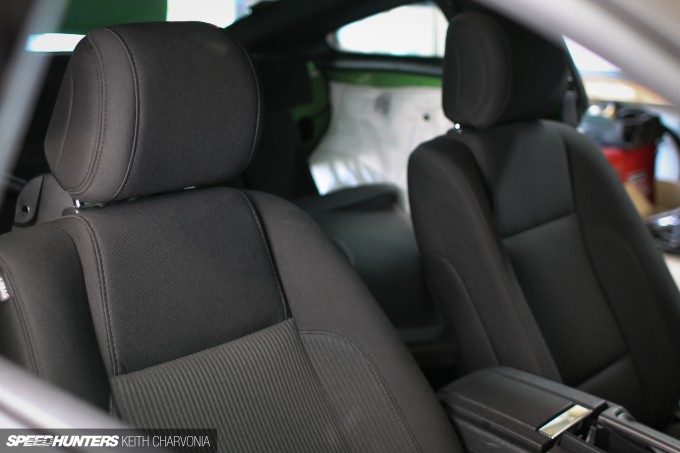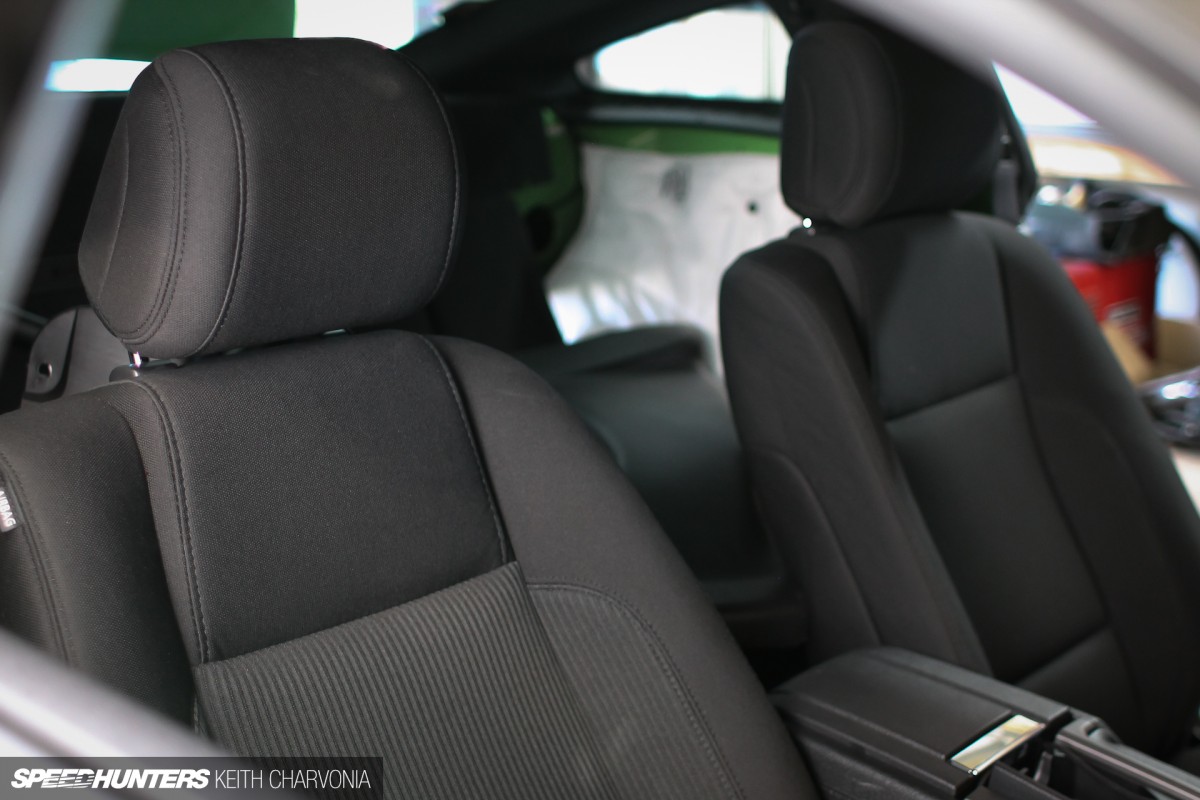 The RTR had a pretty plain cloth interior and needed something more exciting for SEMA.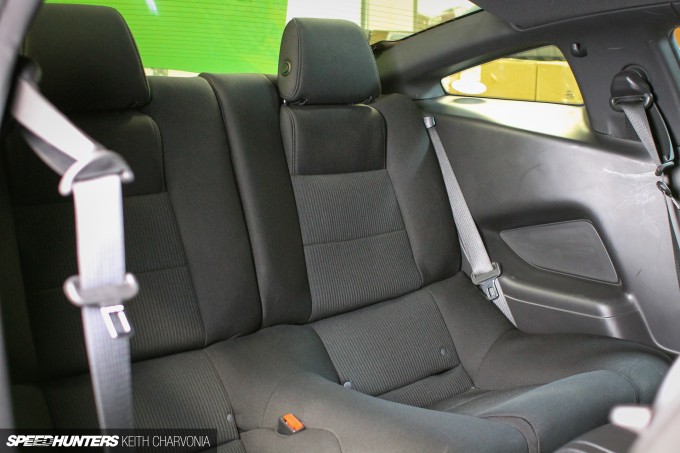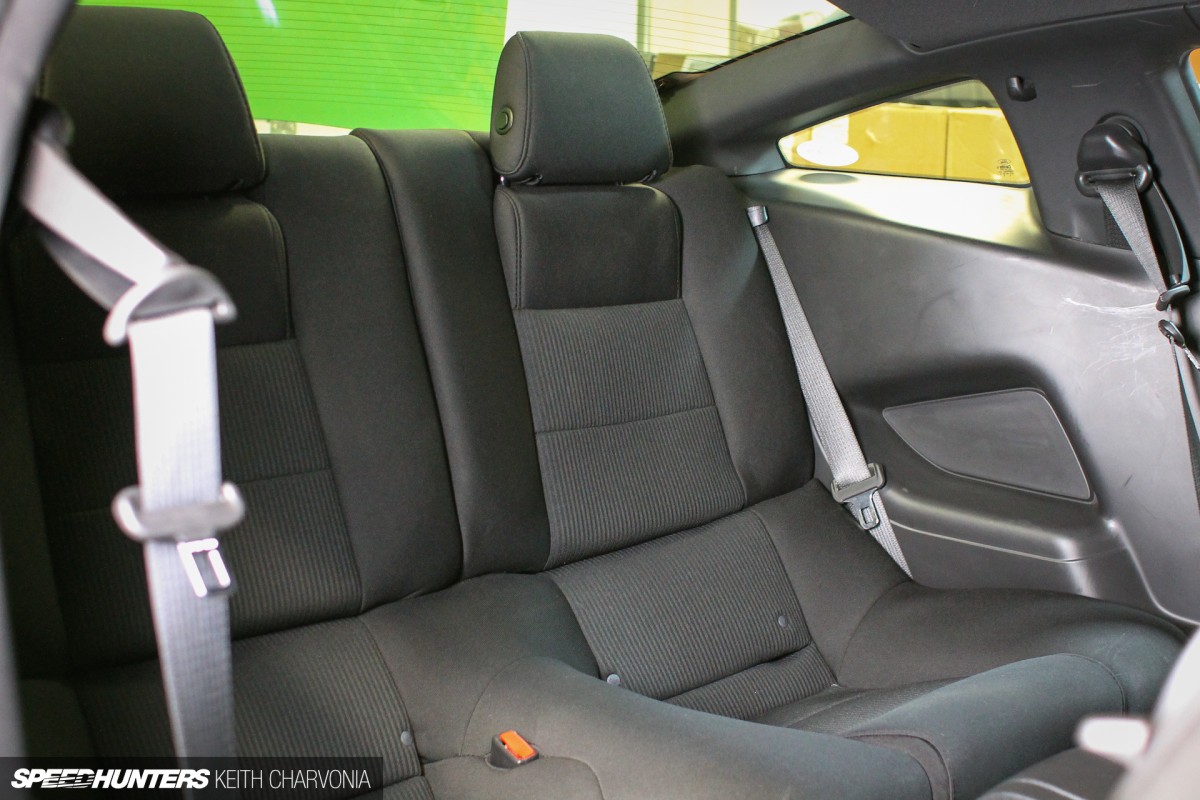 I could finally install the rear seat delete kit too.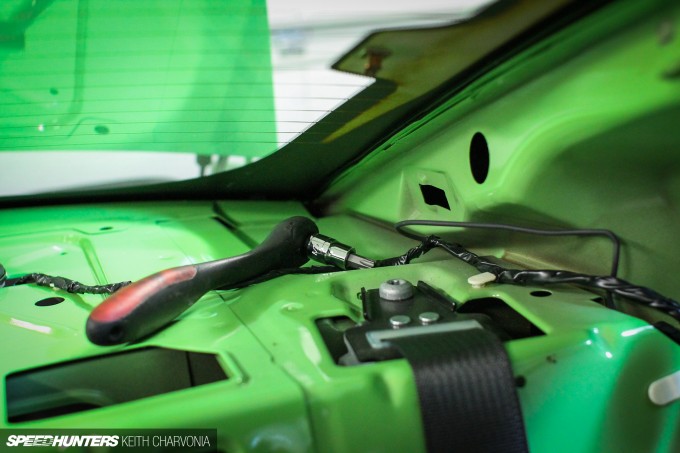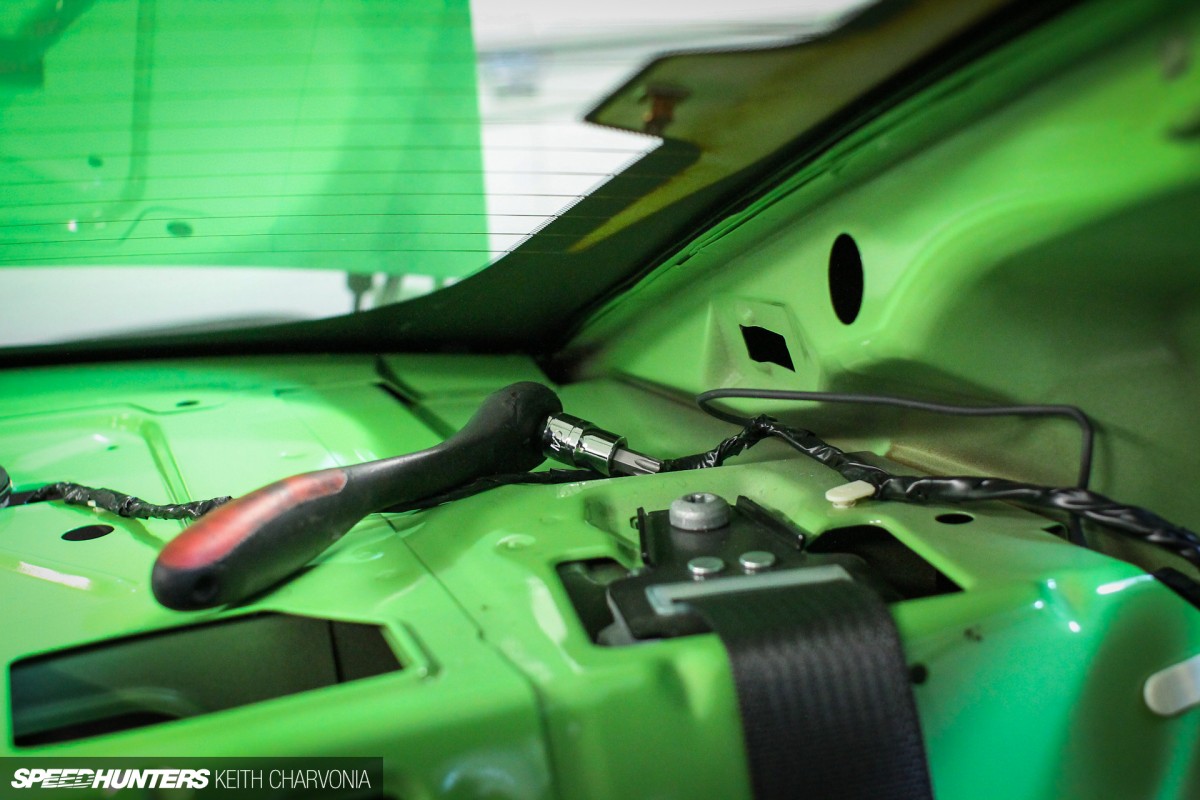 I got started around noon, since I spent the morning picking up the seats.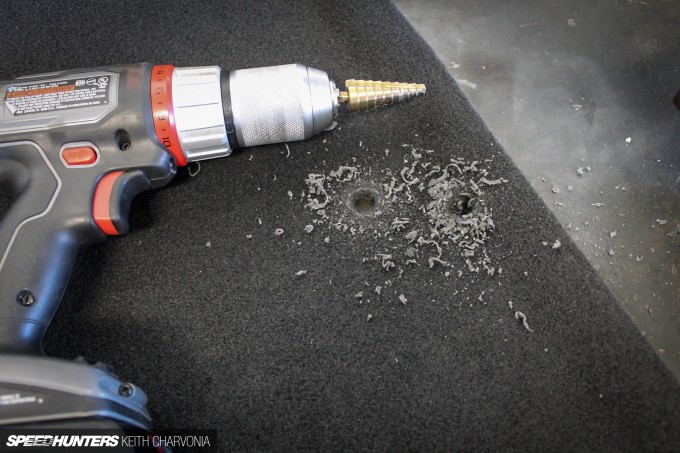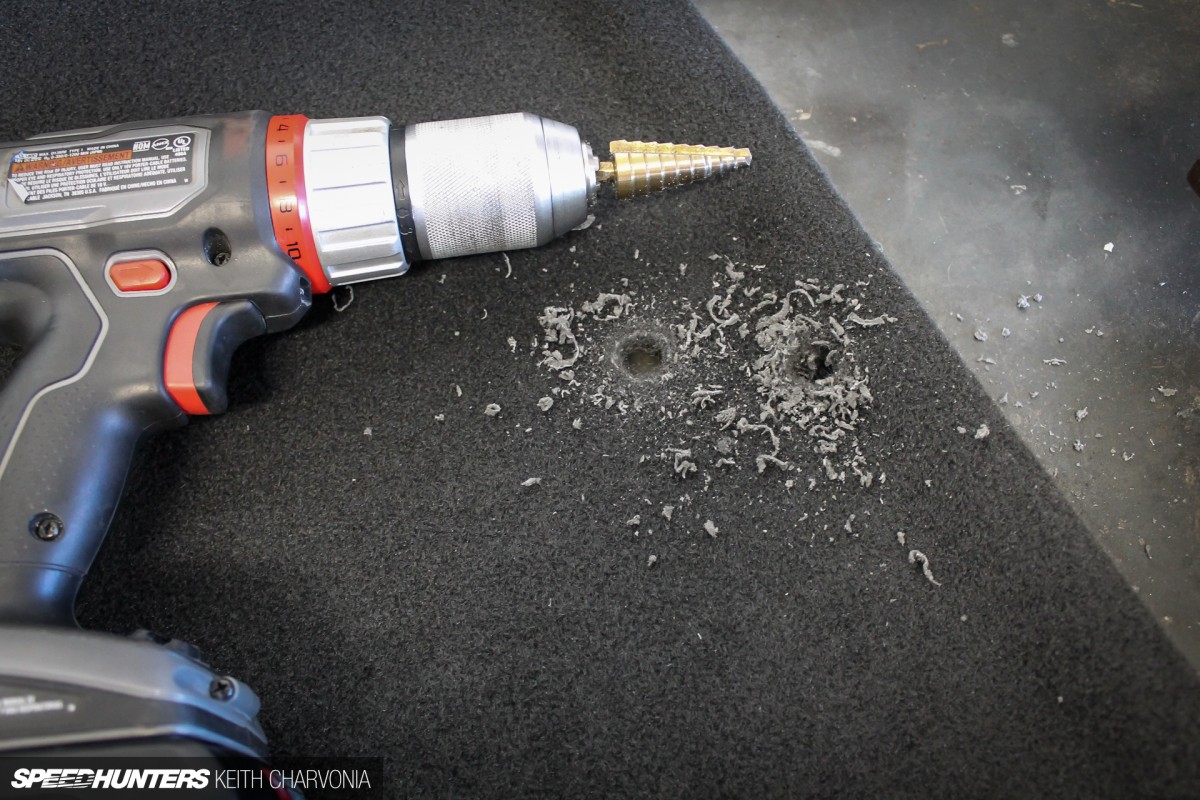 I needed the seats so I could see where the custom Takata harnesses were going to pass through the seat delete panel.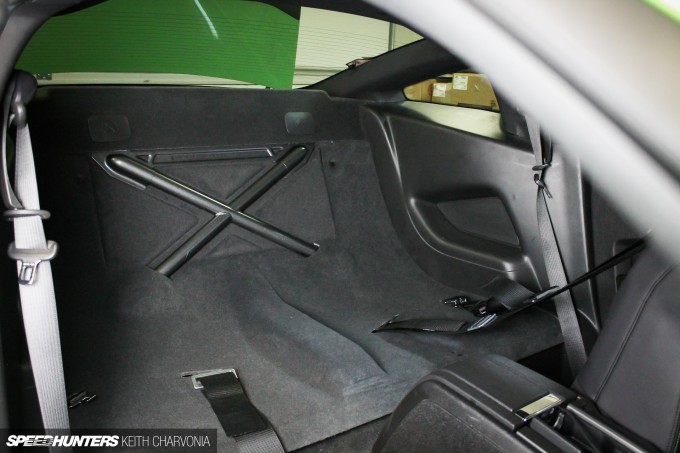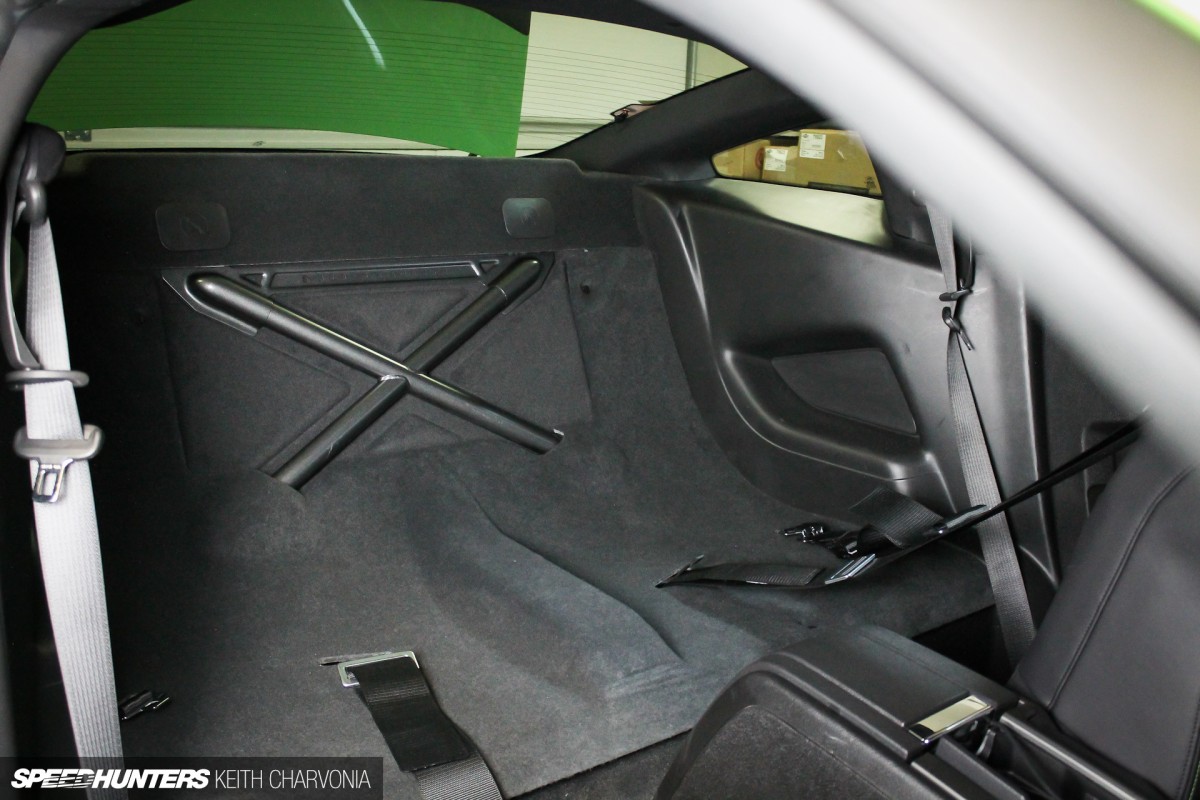 At last I had the holes cut and the seat delete kit installed.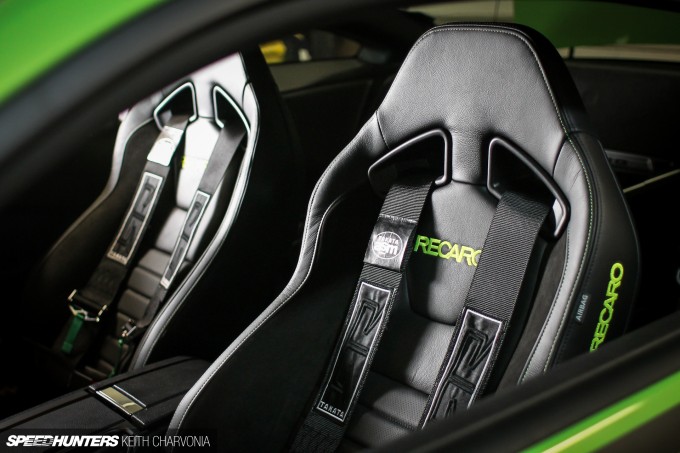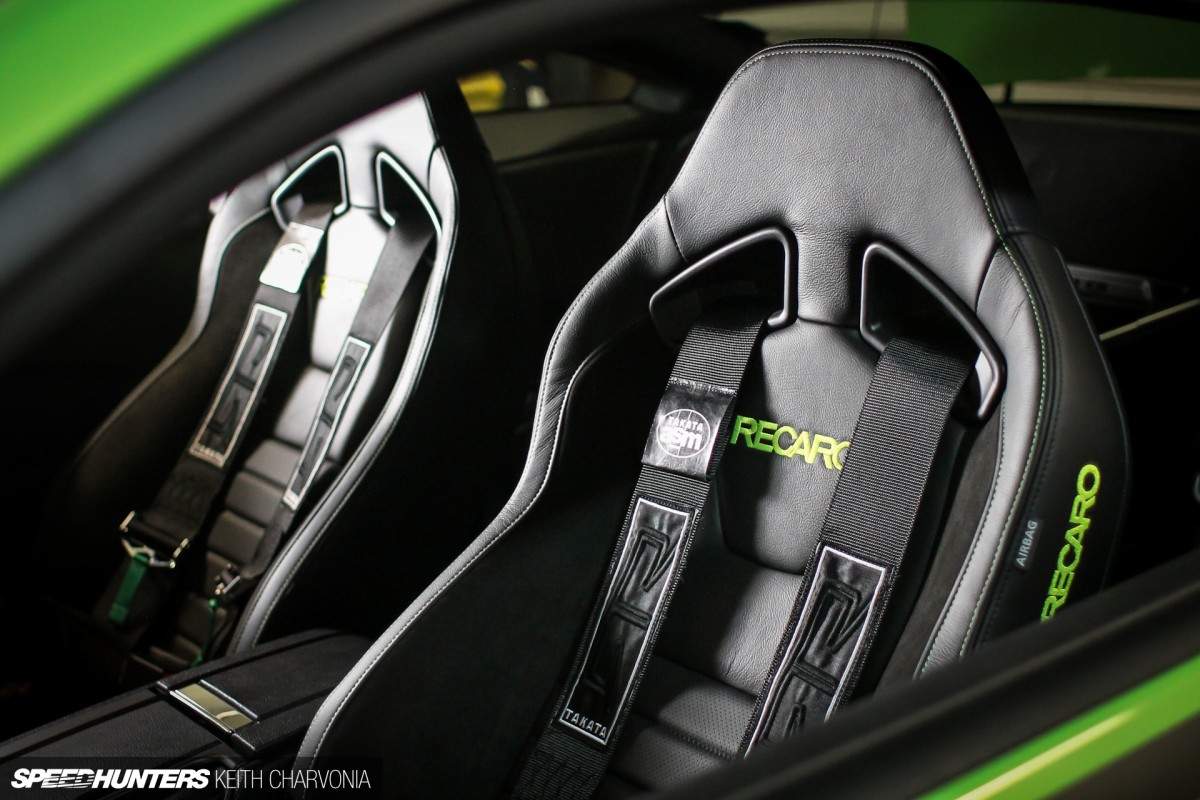 The Recaro seats were a simple bolt in and didn't take long at all. Check out the RTR embroidery on the Takata belts and the custom green stitching and logos on the seats. I love stuff that's customized just enough that it can only belong in your car.
Well Speedhunters fans, that's all I've got. We have a long week ahead of us, but it will be a great one full of exciting meetings, photoshoots, catching up with friends and of course some of the greatest builds in the world. I'm just glad I get to bring another car back this year. If you're headed to SEMA come see the Double Down RTR in the Exedy Clutches booth. If not, keep an eye on the site and our social media feeds for more coverage.