The Speedhunting life
As you would have seen through our stories last week, the weekend before last was the big Formula Drift season opener on the streets of Long Beach and we had a sizable contingent of the Speedhunters crew on hand for the festivities.
Of course, the Formula D experience was just one part of an extremely busy and exciting weekend in the Los Angeles area, so we thought it would be fitting to take you guys on a little behind the scenes look at what it was like for us. From late night drag racing to Sunday morning canyon carving, there's a lot to go through – so let's get started…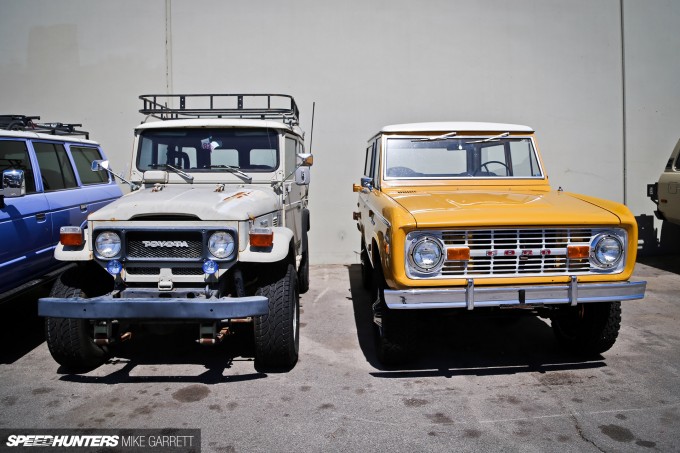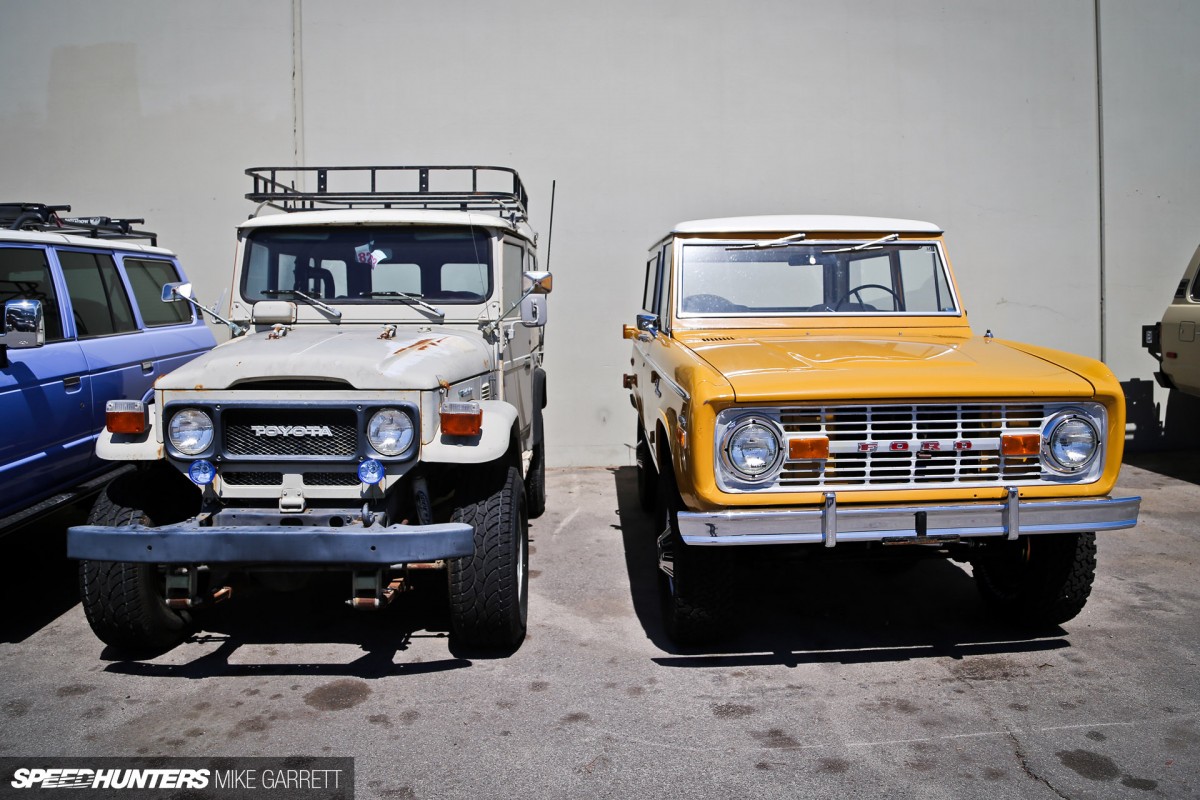 Mike: My own adventure began on Thursday afternoon when I drove down to LA and made a stop at a place I'd been meaning to visit for a long time – ICON 4×4 in Chatsworth.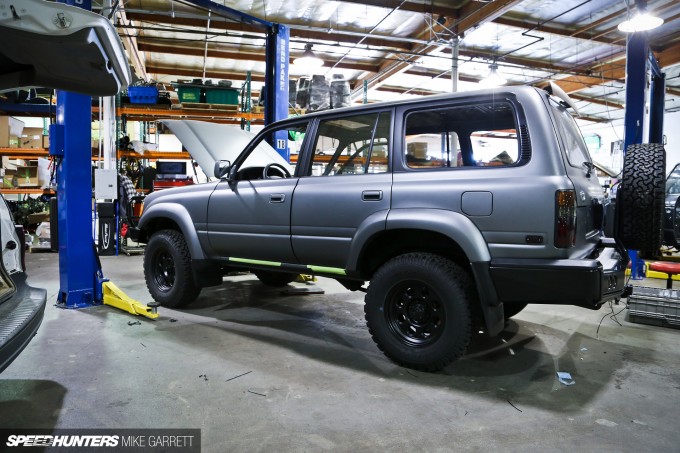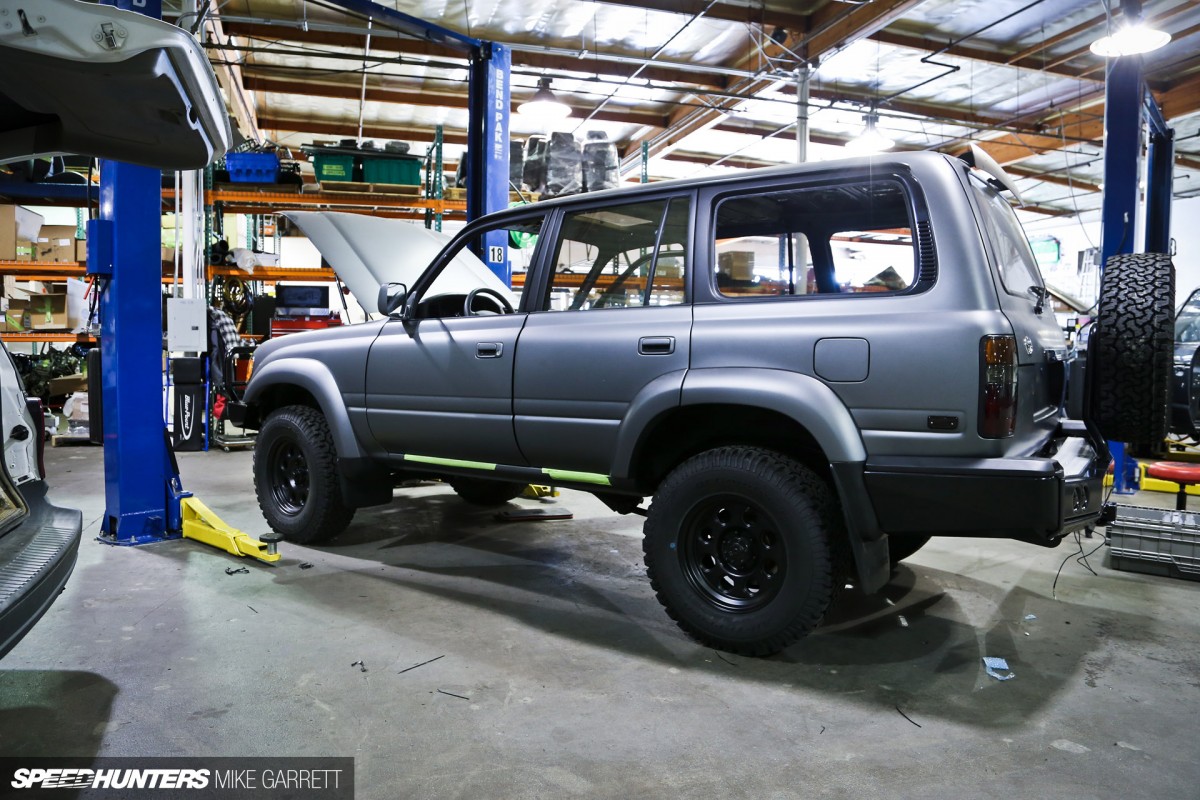 Mike: Having seen ICON's vehicles at various events over the last few years, I knew I'd being seeing some cool stuff here – but I ended up coming away totally amazed.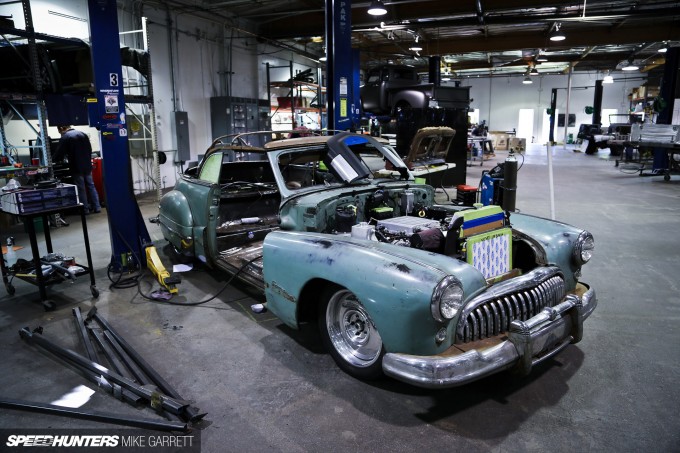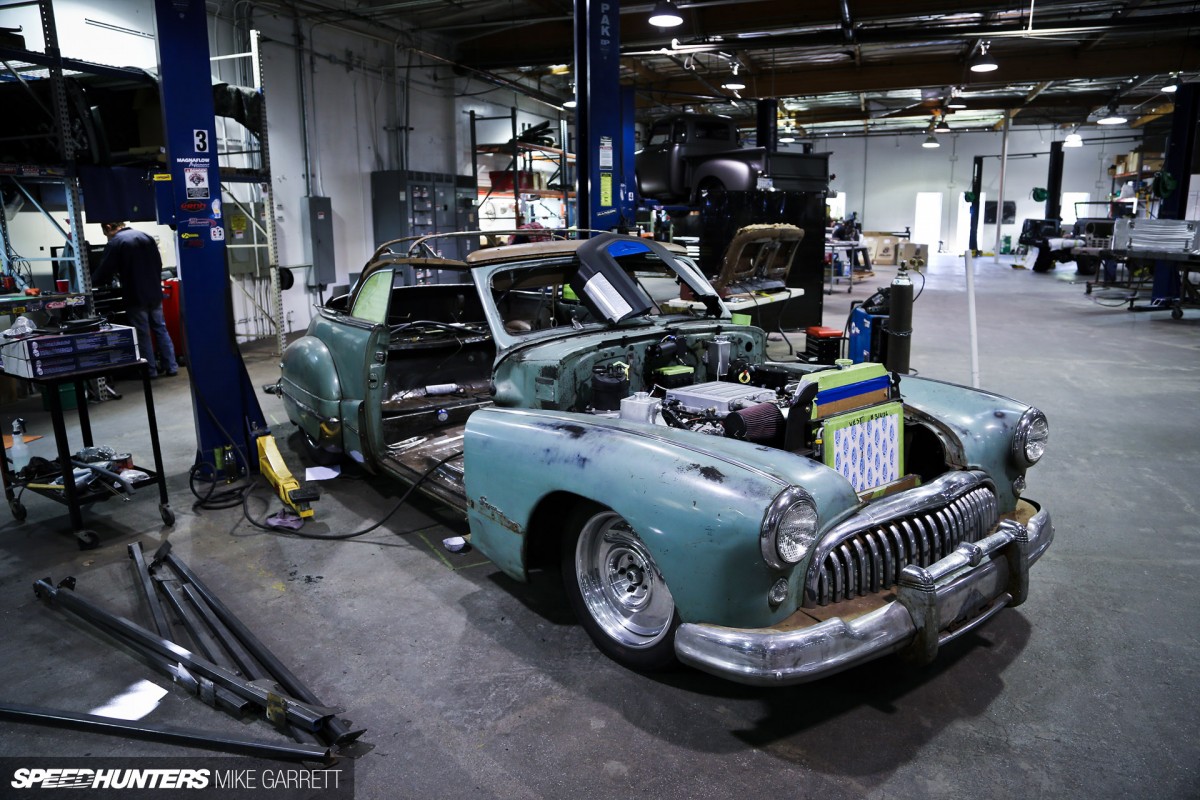 Mike: From incredible bespoke 4×4 projects to their now famous Derelict line, visiting ICON was an eye-opening experience and I can't wait to share more with you guys soon.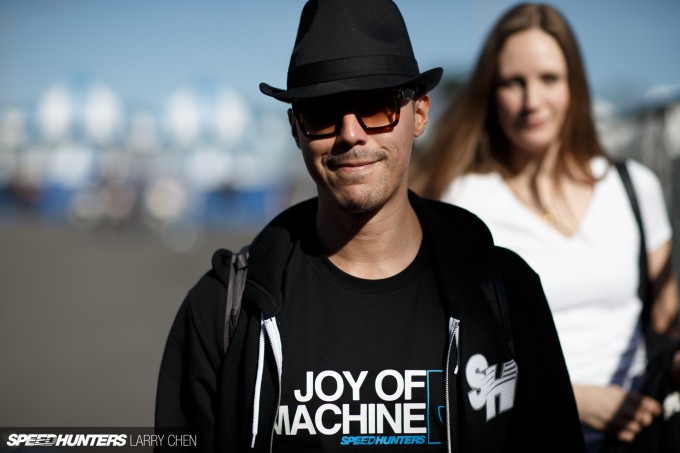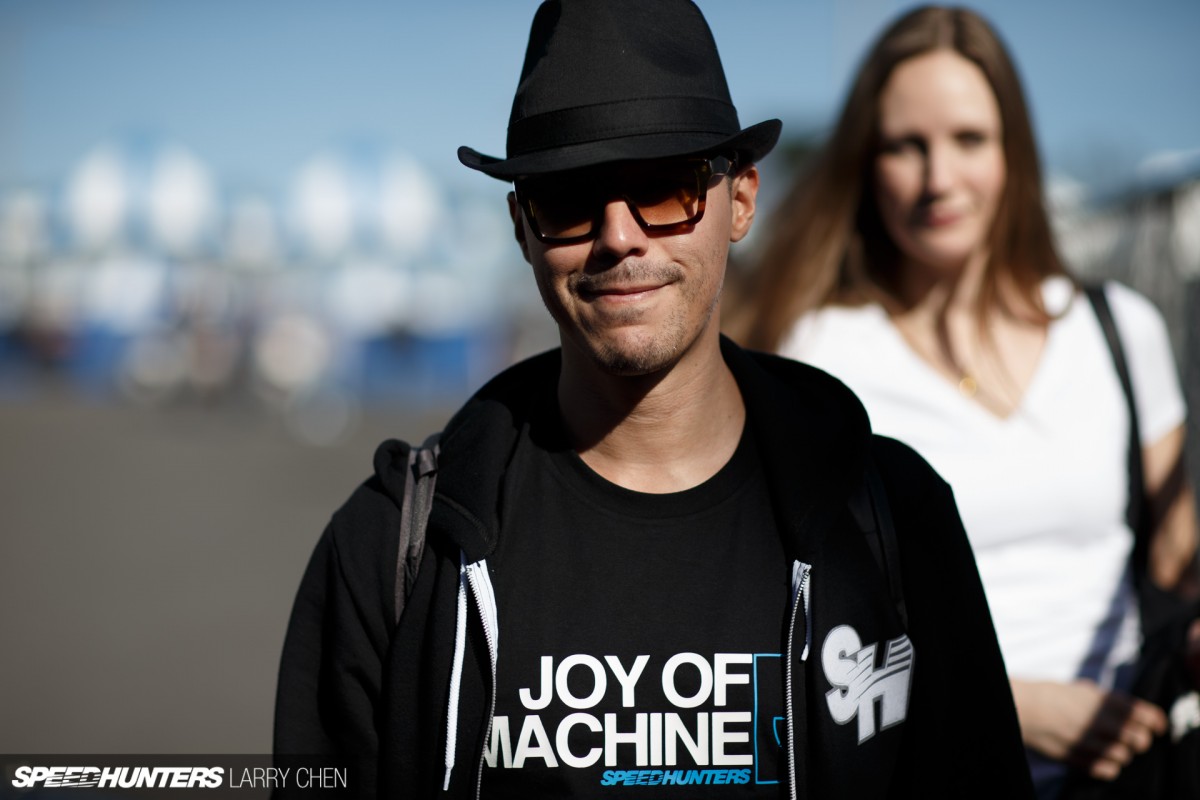 Rod: And while Mike was busy trying to keep his jaw off the floor at ICON, I had just flown in from Europe and proceeded directly to Long Beach to meet with Larry, Fredric Aasbø and Charles Ng.
Larry: How is it possible for a robot to crack a smile? So amazing!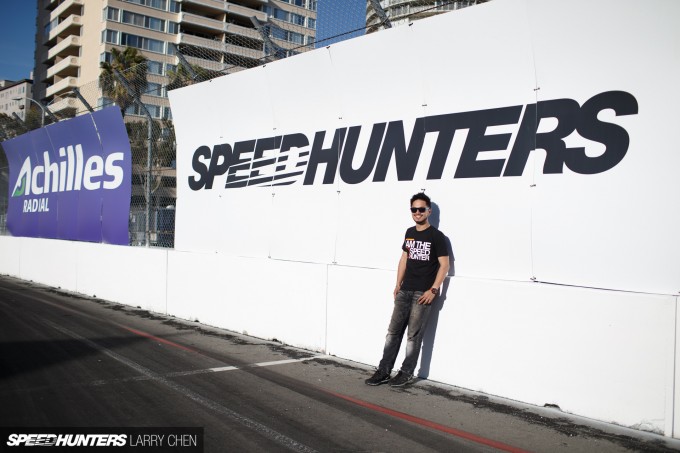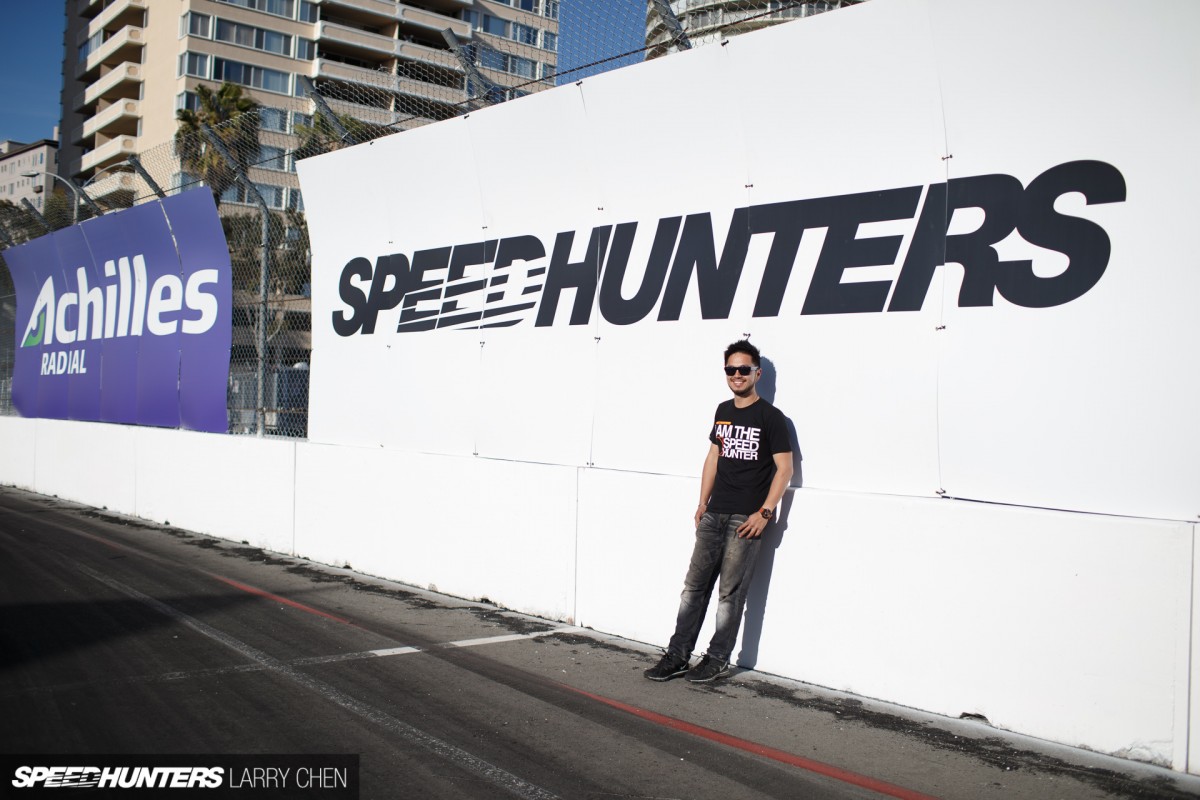 Rod: The reason for this long distance travel? We had some fashion shoots to do for a bunch of new t-shirt designs which we're planning to debut over the next few months.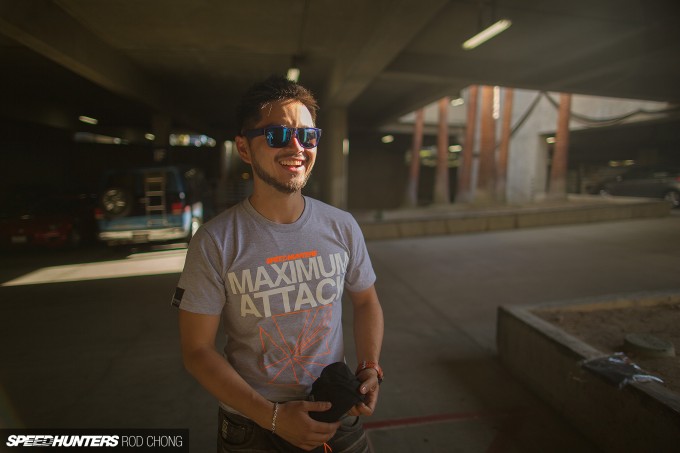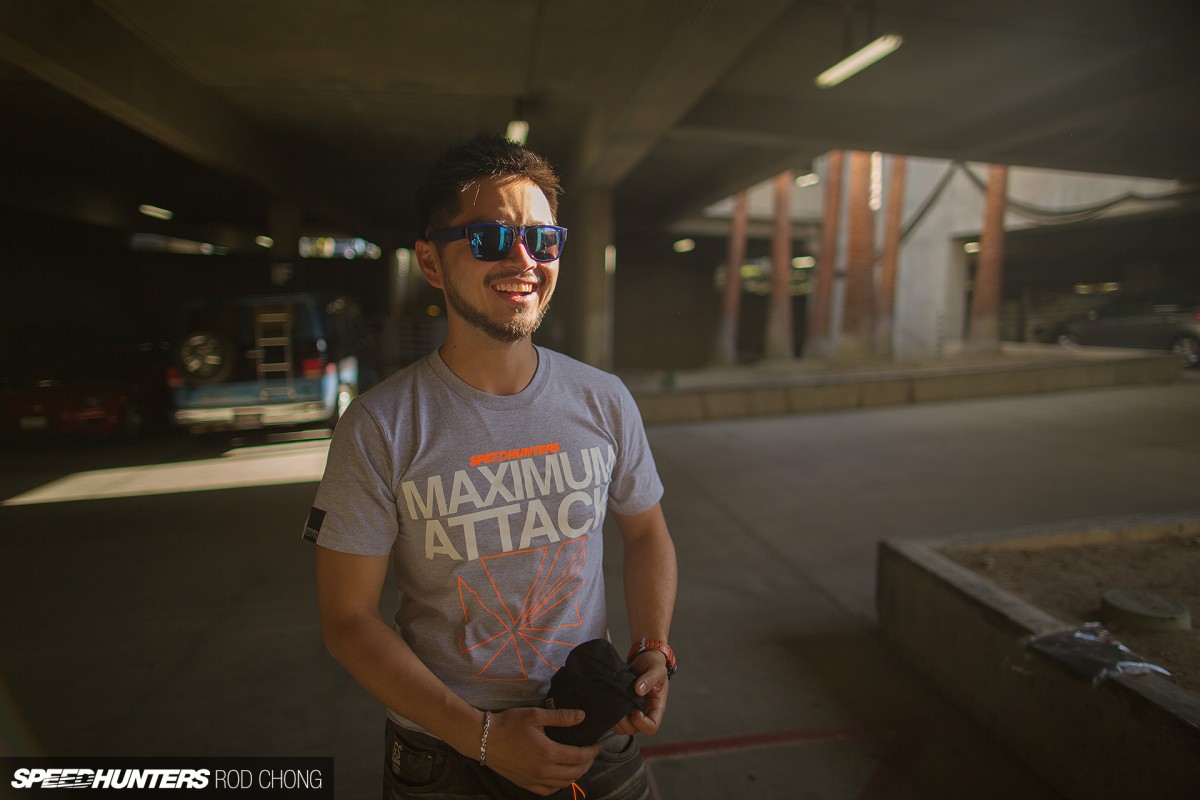 Rod: I'm not sure if Charles was aware of how much time he's going to be spending in front of our cameras when he joined the crew.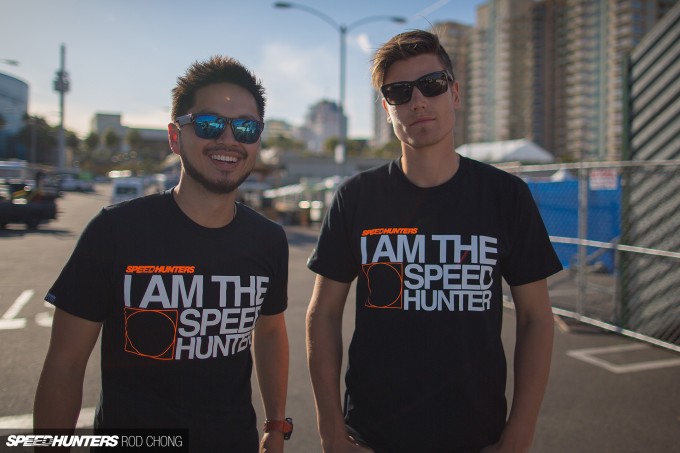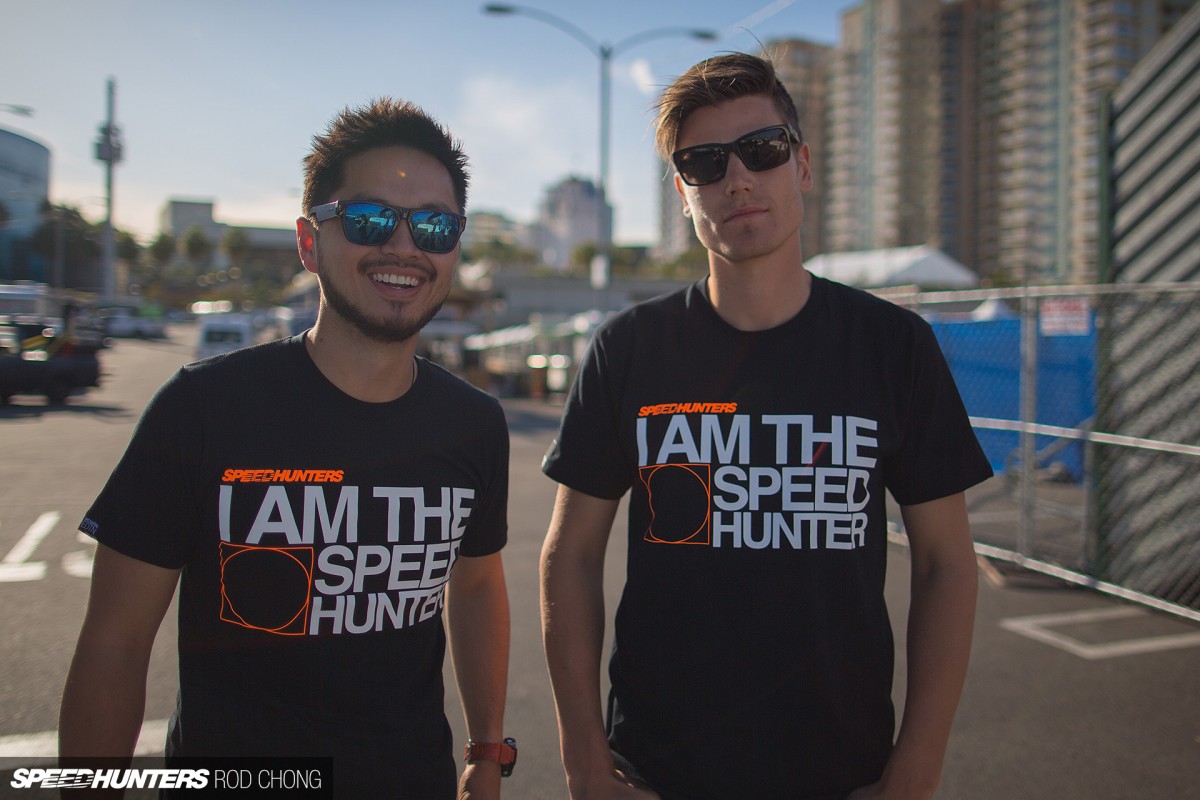 Rod: This was Charles' first modeling job, but fortunately the veteran cover boy Fredric was on hand to give him some tips on how to shine for the camera. Look ma, no hashtags!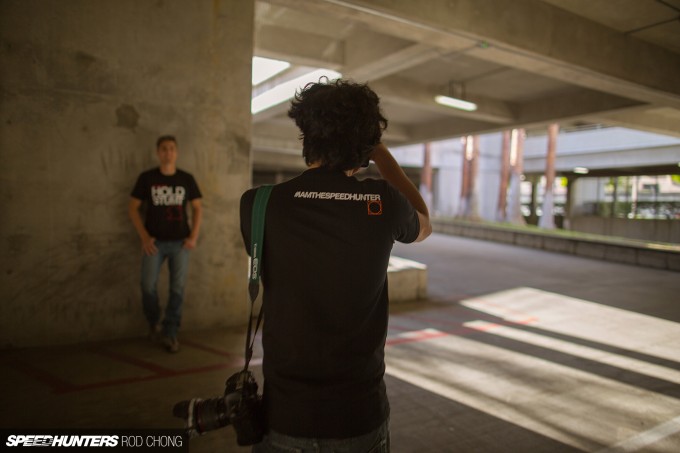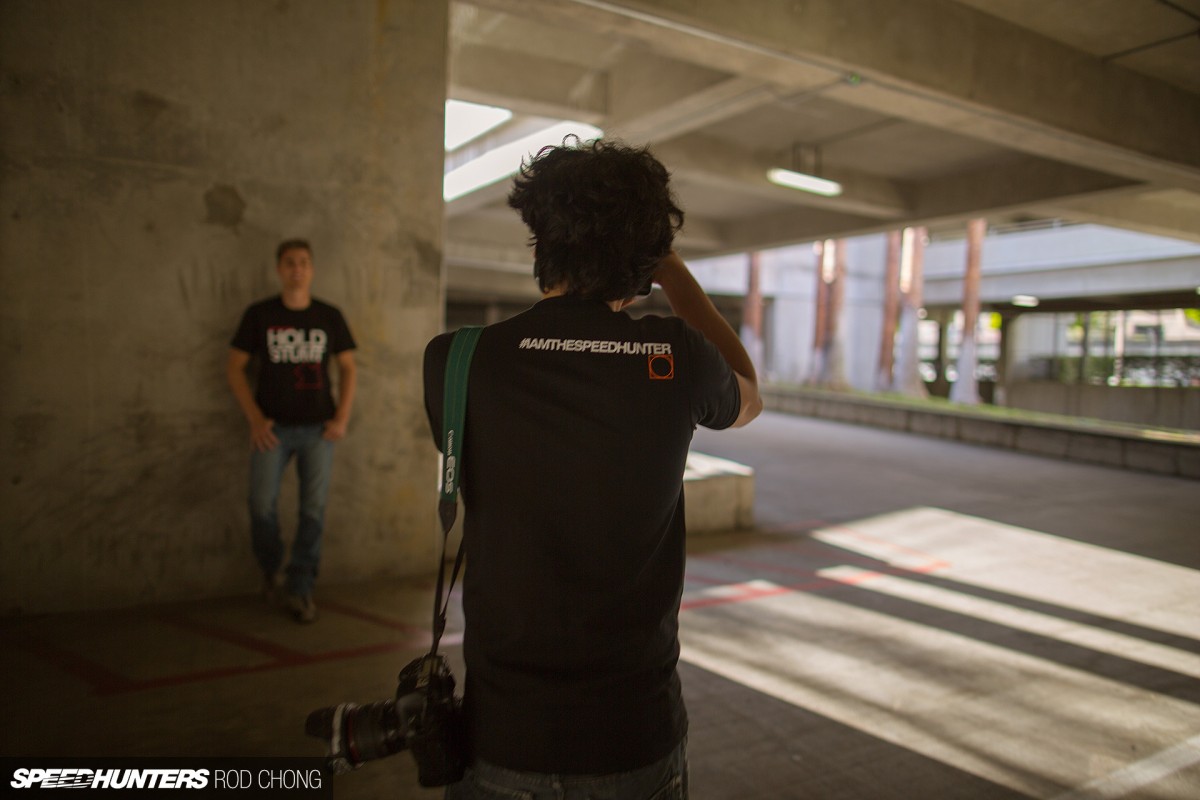 Rod: There was no time for a sentimental reunion though – there were new t-shirts that needed to be shot. As Larry took charge, I decided to photograph the photography.
Larry: Look! I even got my hair done for the occasion.
Rod: It's a known fact that all Larry's power is stored in his hair.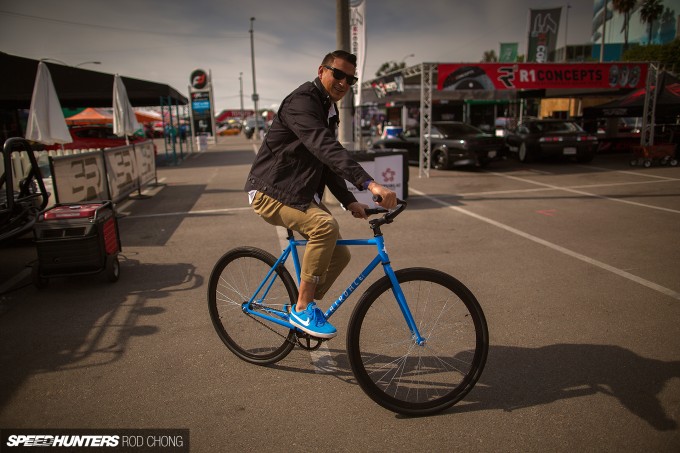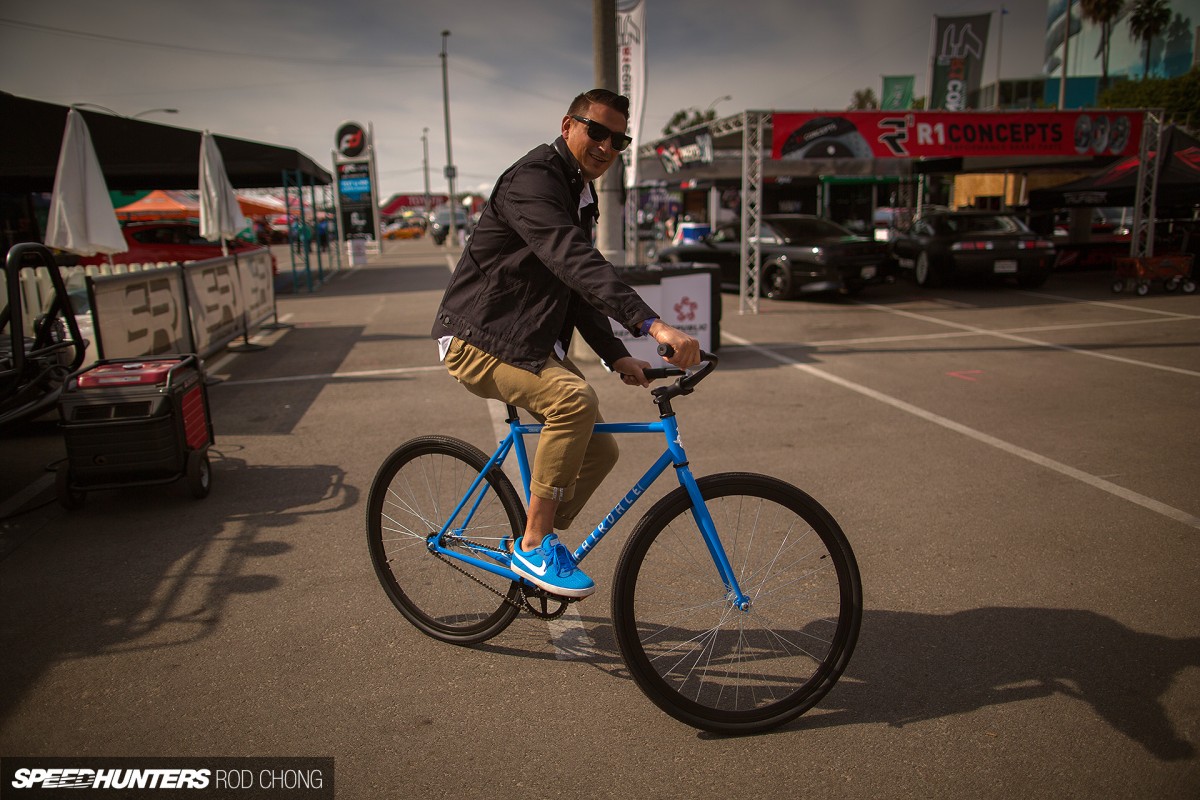 Rod: Hitting up a Formula D event always feels like a bit of a homecoming of sorts for me. Although I am no longer part of the travelling circus, there are still many familiar faces to greet and hands to shake. This is an old buddy – Vaughn Gittin Jr's manager, Jacob Agajanian. He's doing his best hipster impersonation complete with undercut hairstyle and matching trainers and bicycle frame. Such style!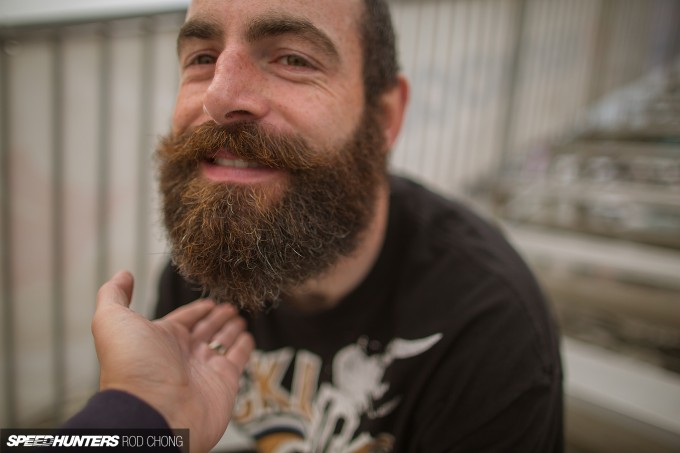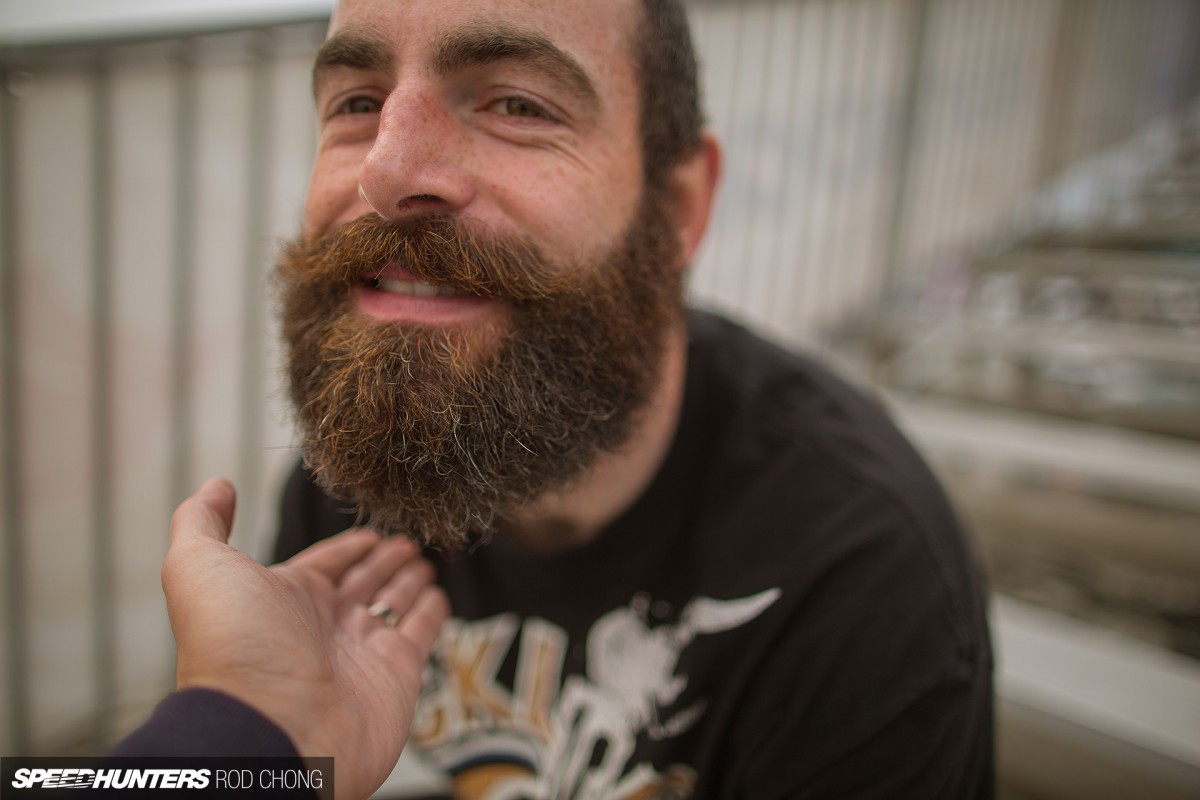 Rod: The beard trend has been going strong in the Formula D paddock for a few years now, but it was London-based sports manager Ian Bergin who shocked me the most with his visual transformation.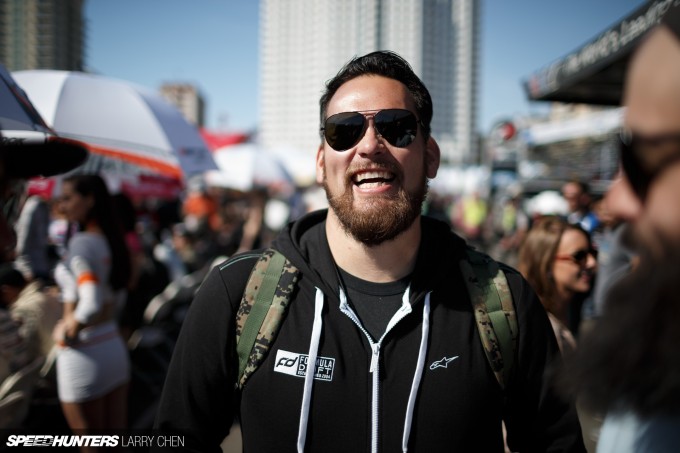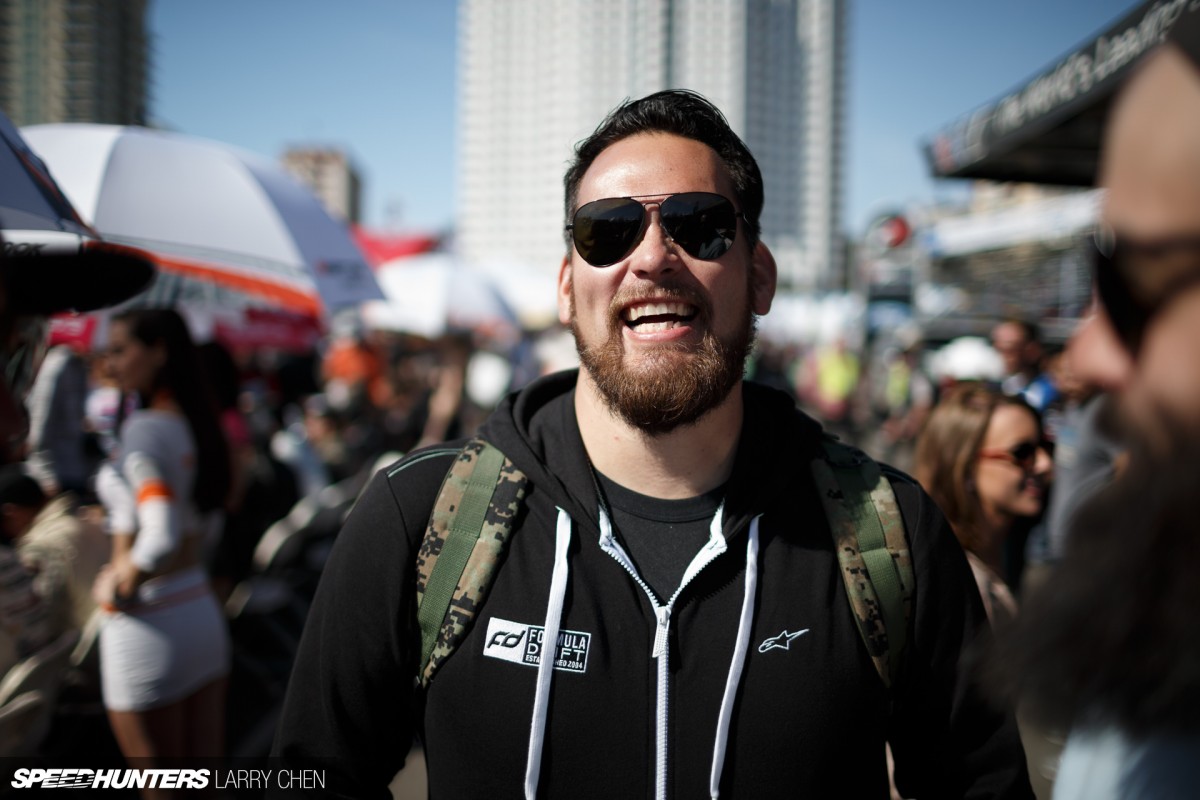 Rod: The bearded revolution is here! Anyway, I digress…
Larry: Aren't you jealous of these beards Rod? I wish I could grow more than ten hairs on my chin.
Rod: I am a little jealous, yes. I only can muster up a scraggly goatee.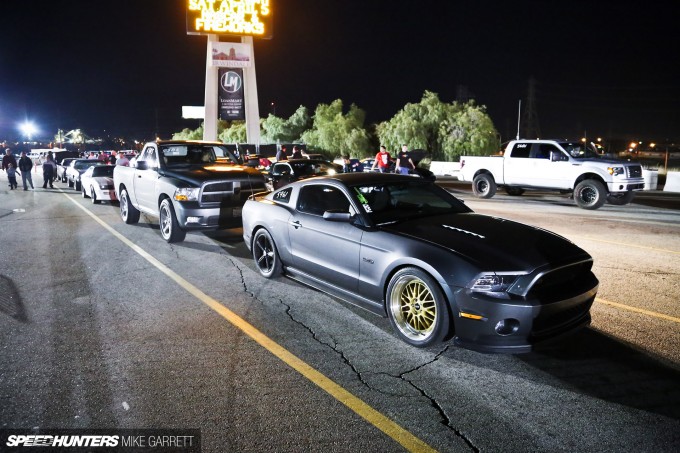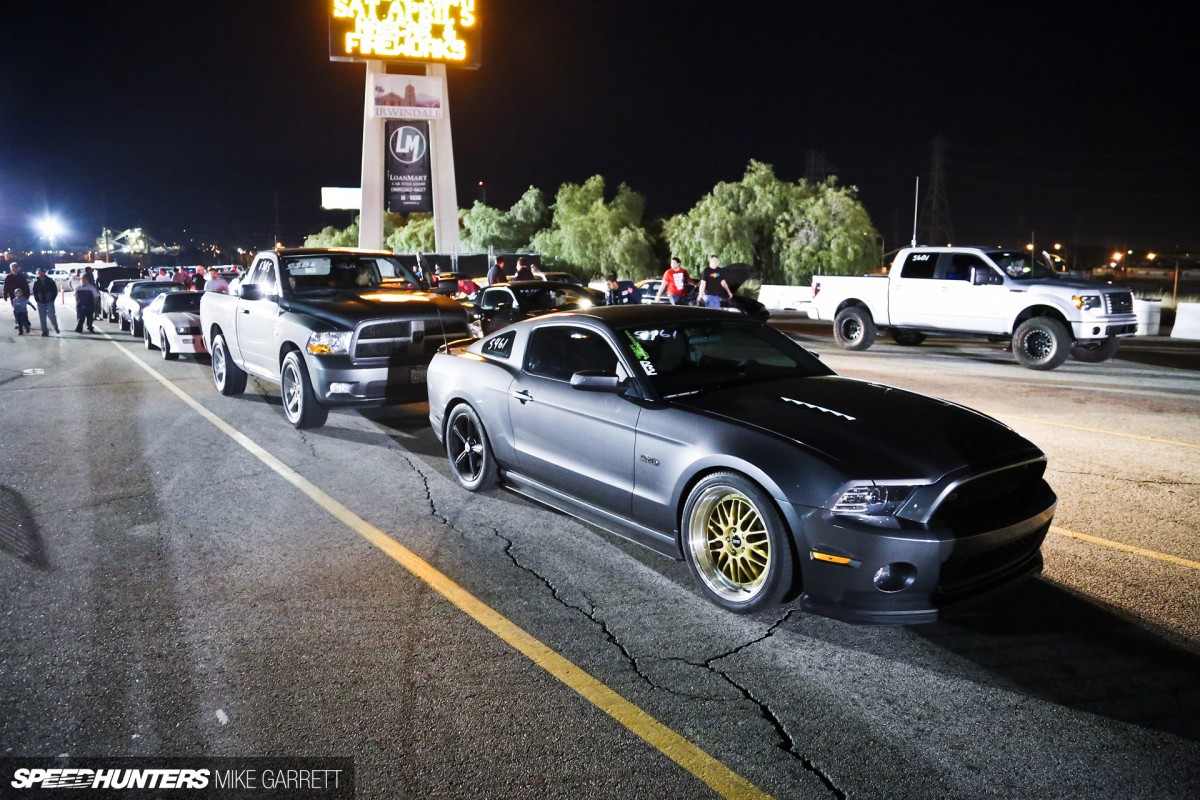 Mike: Since it was Thursday evening, we figured the trip wouldn't be complete without a visit to the weekly drags on the 1/8th mile strip at Irwindale, so that's where we headed next.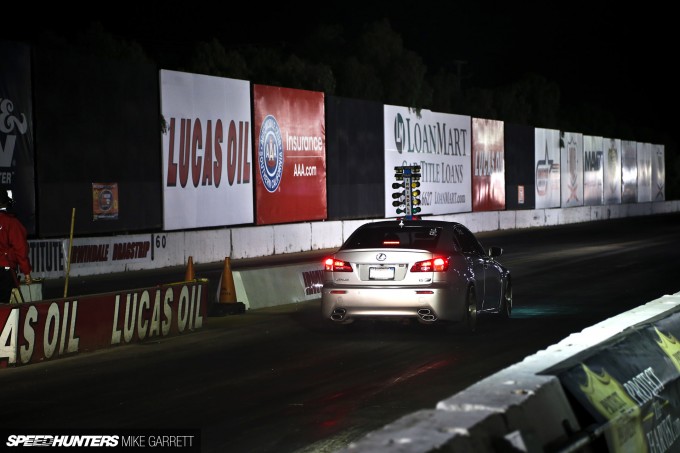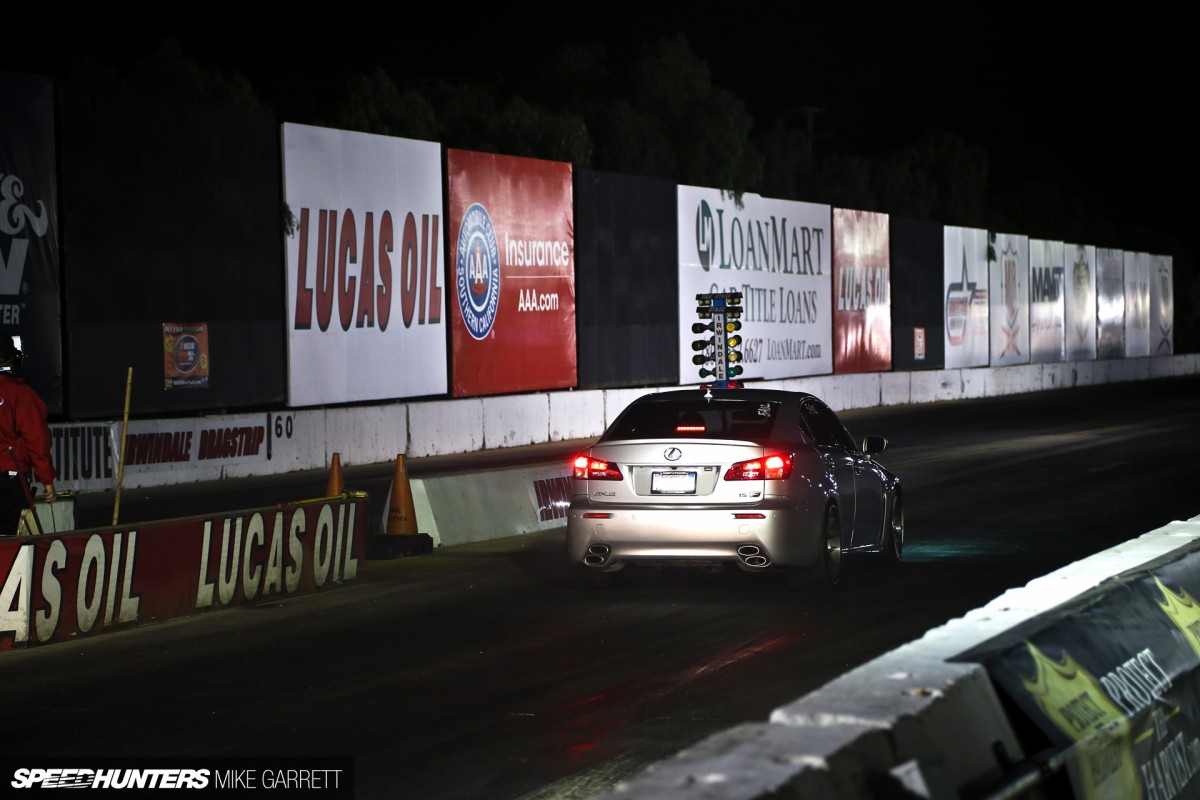 Mike: There's something great about the run-what-you-brung atmosphere of these events, as everything from high-end luxury cars to diesel pickup trucks and aircooled VWs make their way down the strip. This is LA car culture at its best.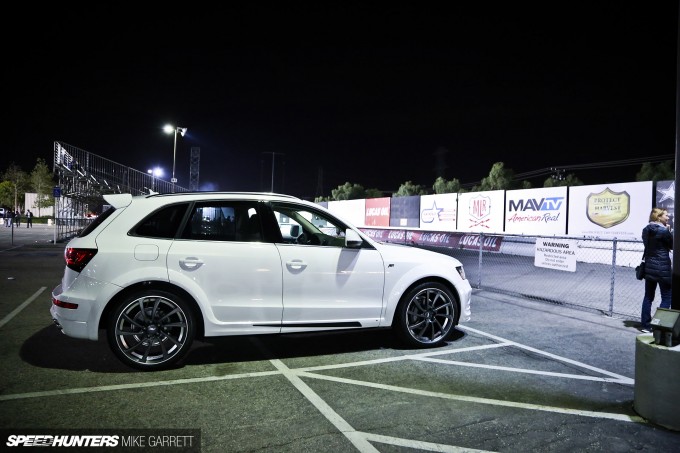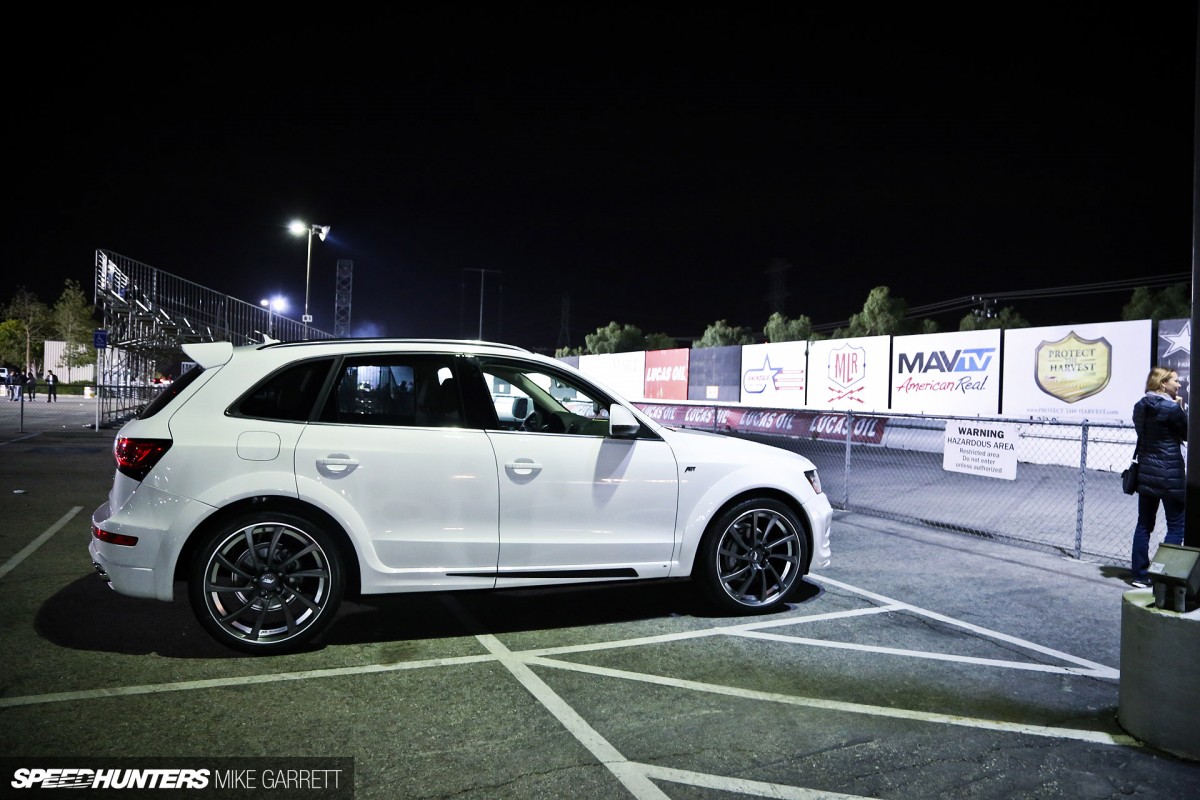 Mike: It was here at Irwindale that I first met up with Rod and the rest of Speedhunters crew. I knew they would be driving some sort of interesting machine, and I wasn't dissapointed when they showed up with this Audi QS5. Not just a showroom-stock example either, but one that had been breathed on by the folks at ABT Sportsline.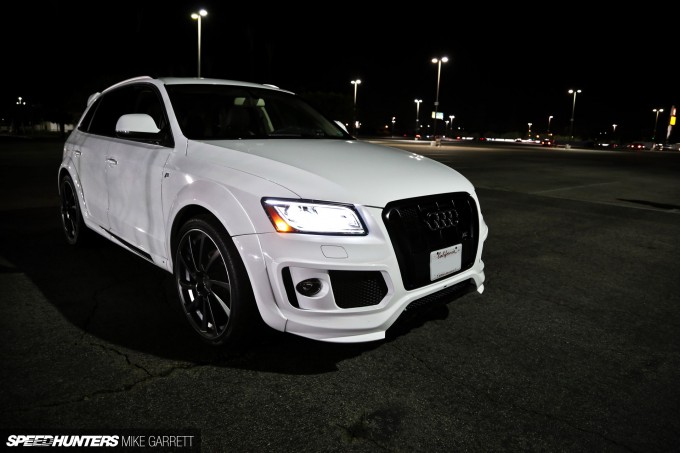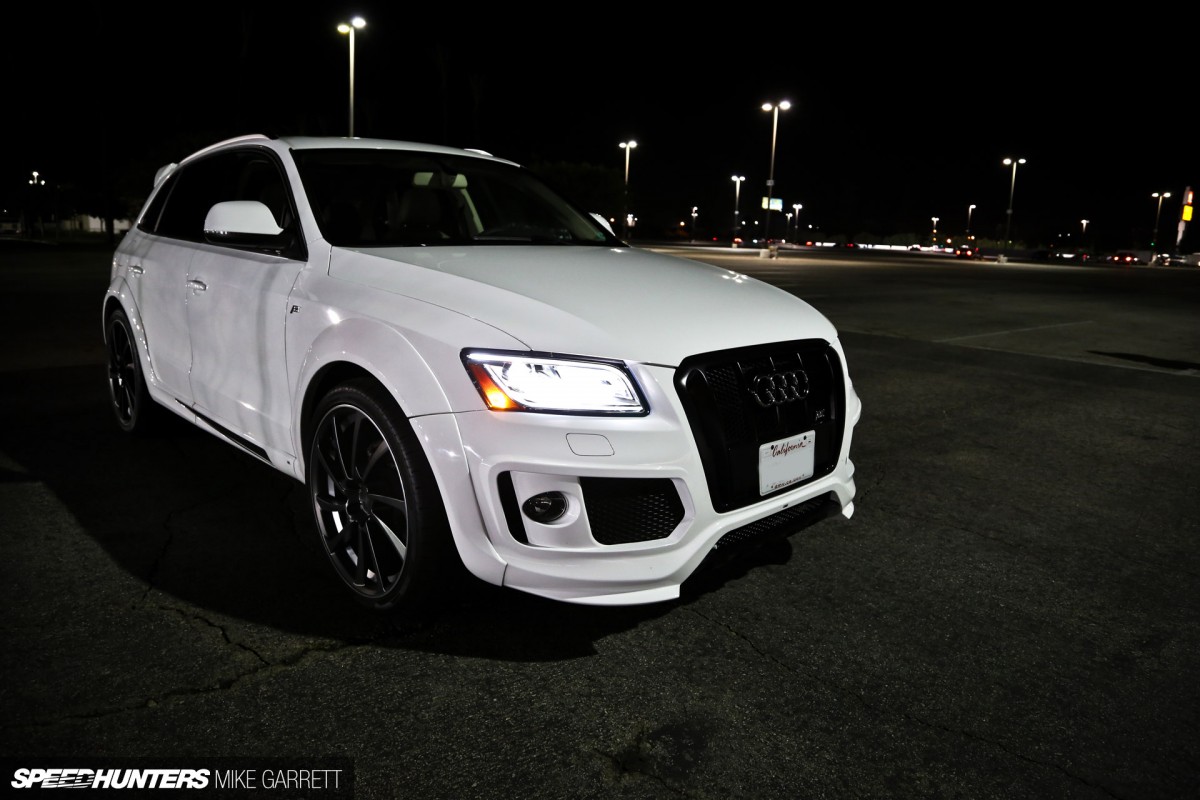 Mike: With its unique wheels, body parts and exhaust system the lux' SUV managed to stand out even on the flashy streets of LA. It also made me feel quite insignificant when I headed back to the hotel in my bargain basement rental car.
Rod: The car looked the part, but boy was it thirsty. A couple of hard launches and you could see the fuel meter falling toward empty. Still, it looks pretty good for a SUV.
Mike: Maybe you should borrow a Prius next time?
Rod: Err, no.
Gotta get down on Friday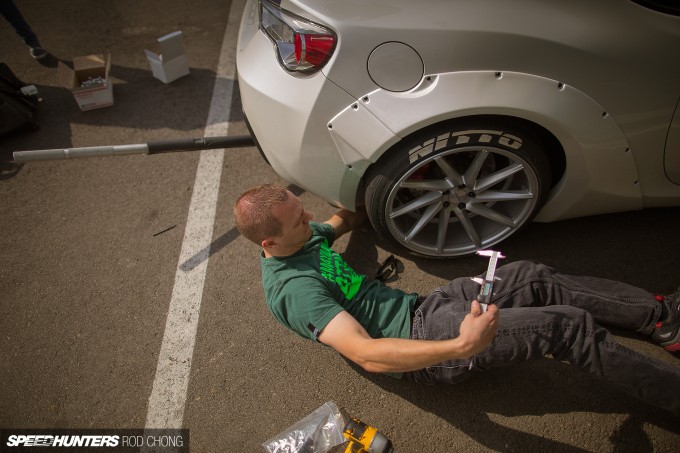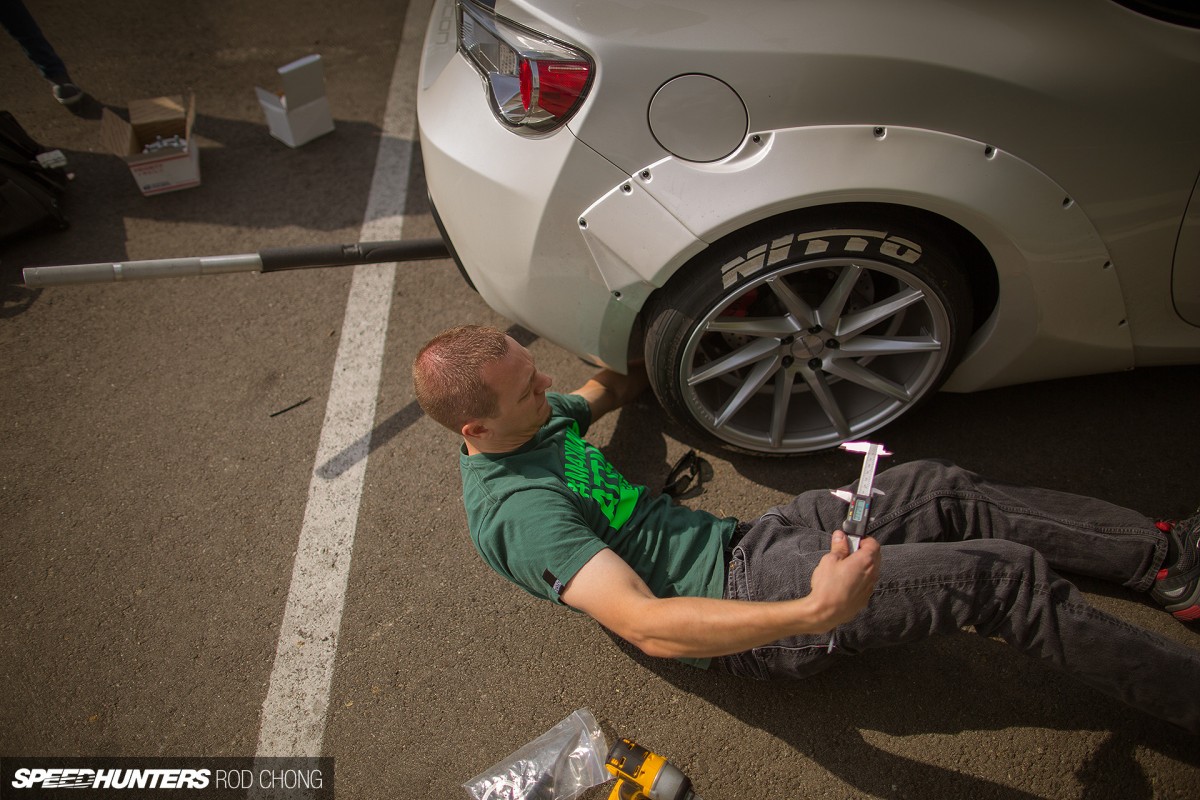 Mike: The action continued on Friday morning when we headed to the first day of the Formula D event and found Keith Charvonia who had just driven in from Arizona in the Speedhunters KM4SH-equipped Scion FR-S.
Rod: He had a bit of work to do, including spacing out the wheels and dropping the ride height down to acceptable show standard stance.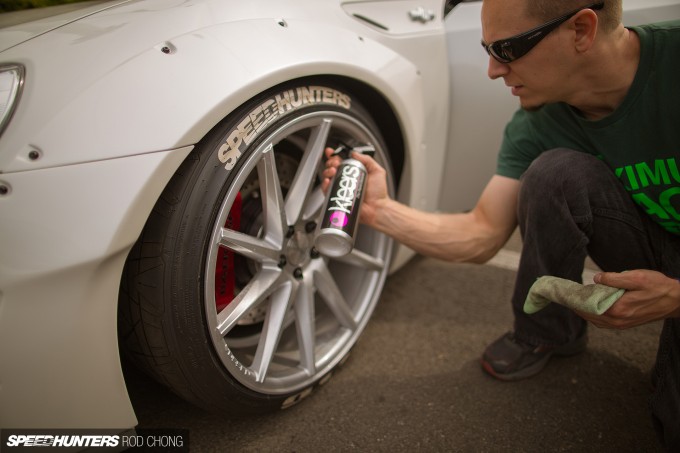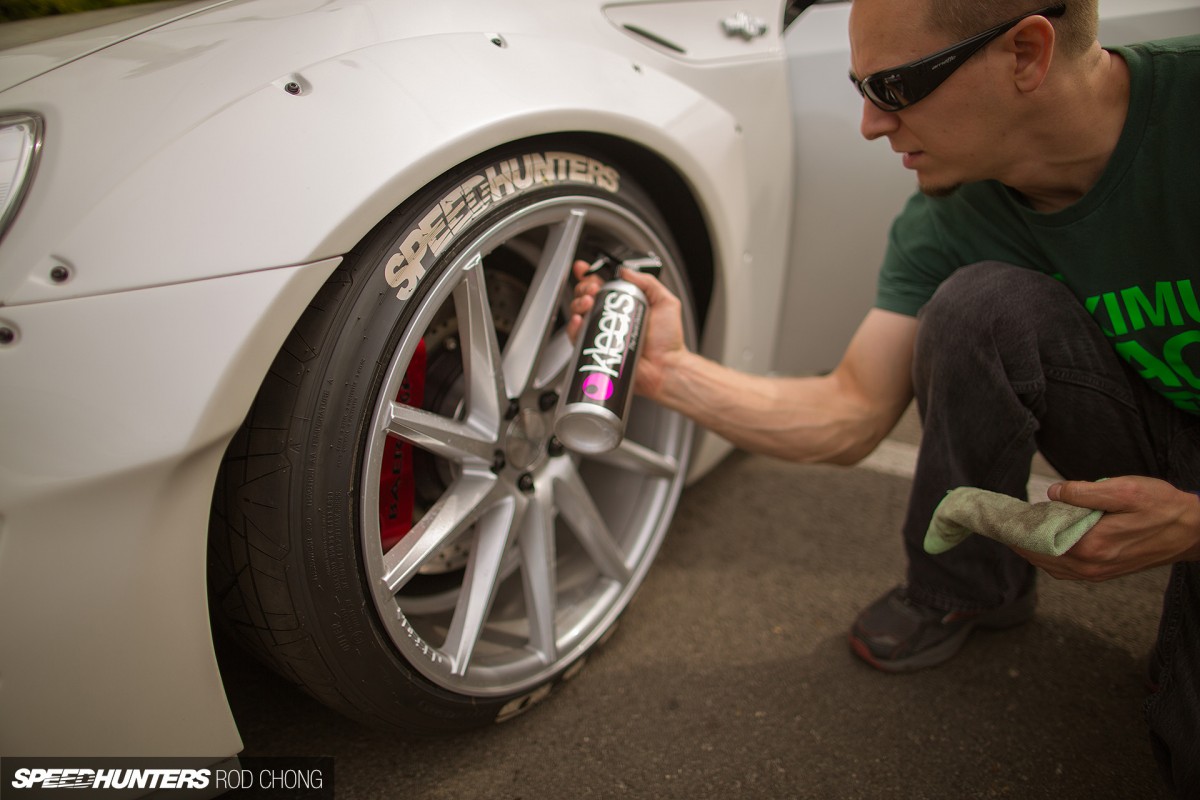 Rod: I think Keith is flexing his muscles for the camera here.
Mike: Be careful Keith, don't crush the bottle with those guns!
Larry: Keith looked so cool with those sunglasses on.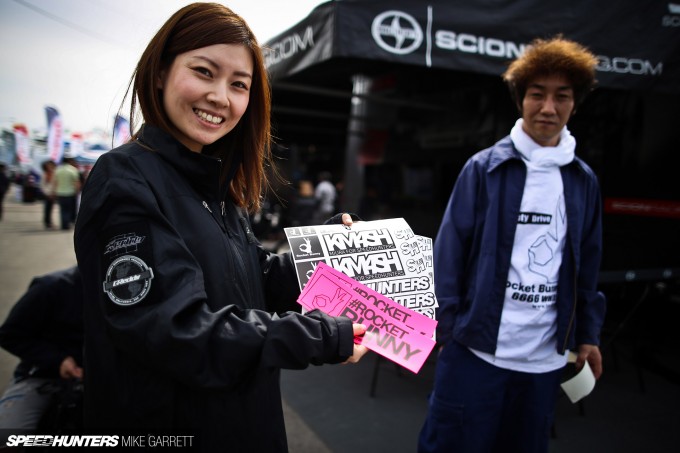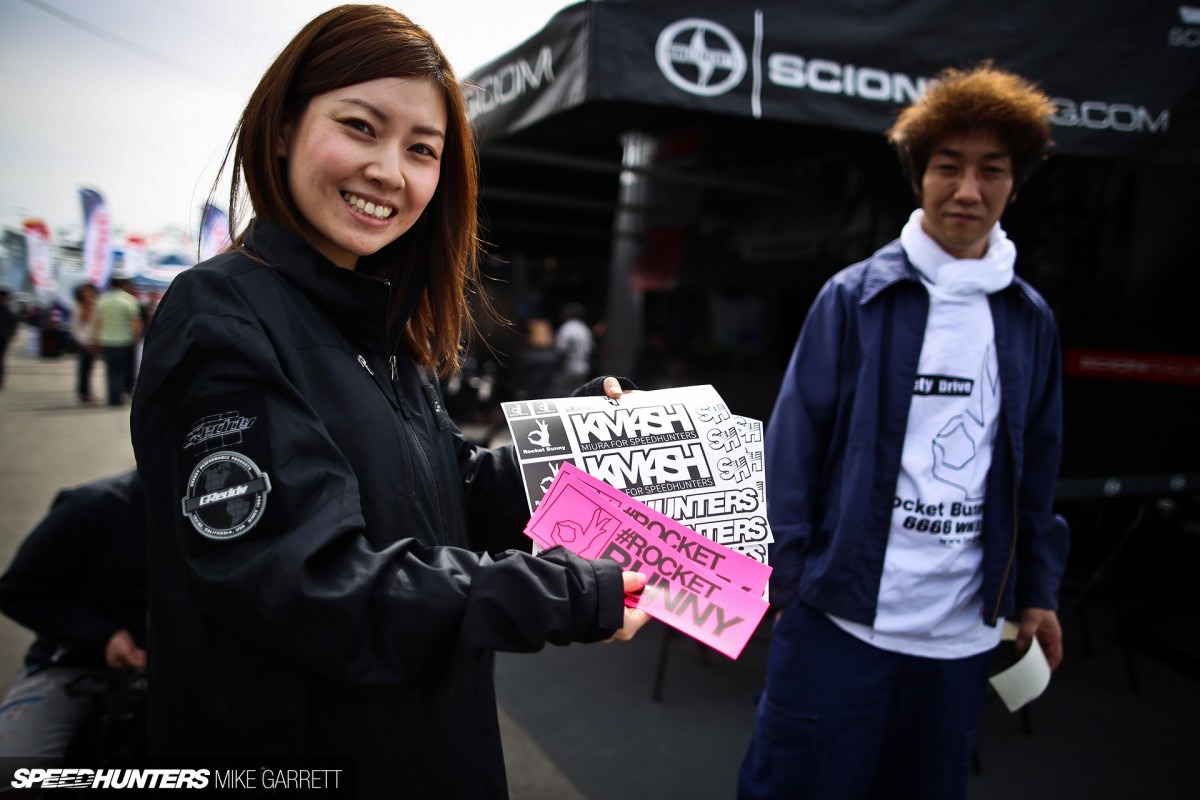 Mike: Just as Keith had finished up detailing the FR-S, we were greeted by none other than Mr. Rocket Bunny himself – Kei Miura, along with Bunny AKA Mario.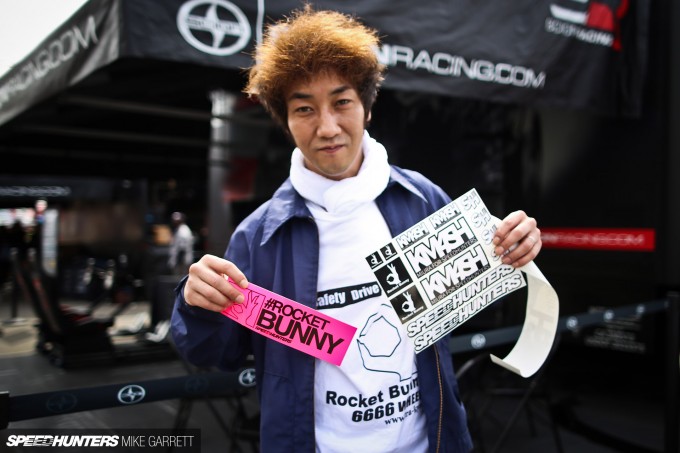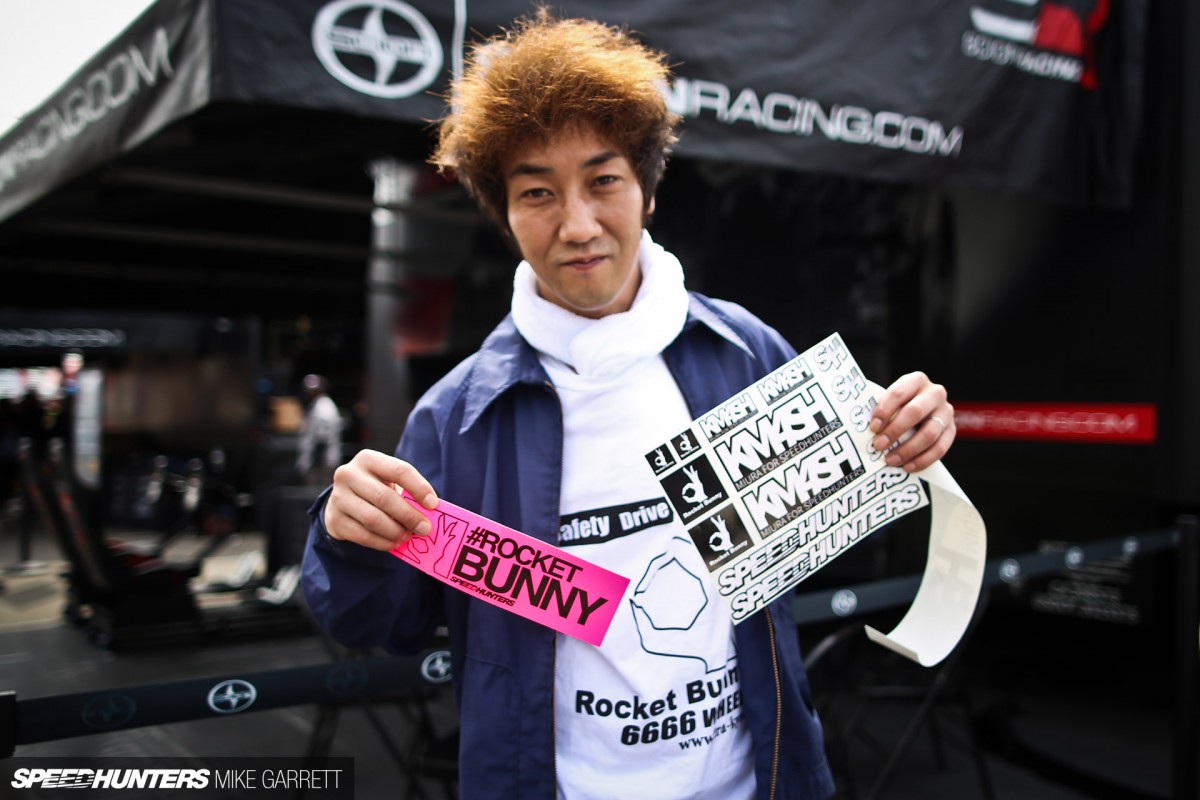 Mike: One of the first we things we did was hand Miura-san a stack of some new Rocket Bunny/KM4SH Speedhunters stickers we've just designed.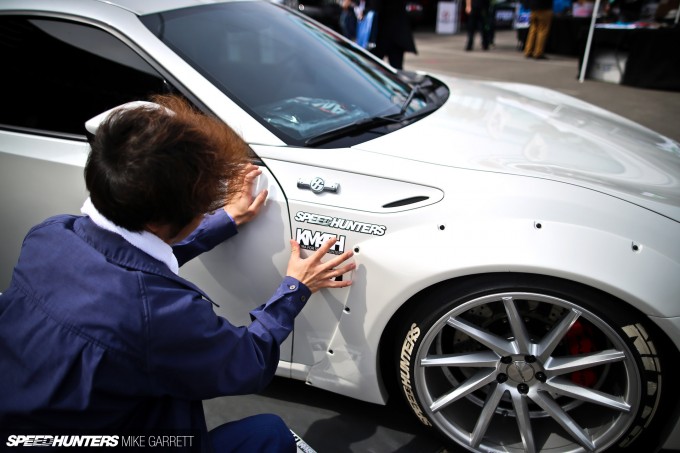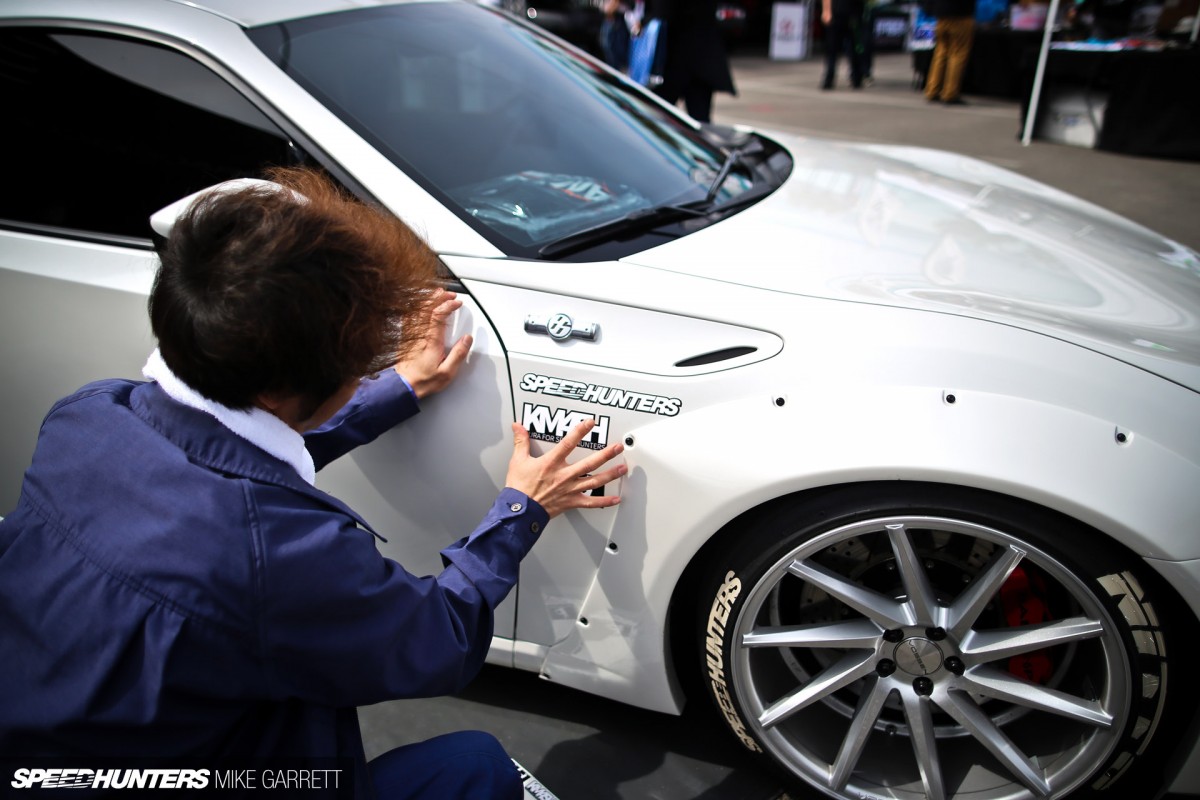 Mike: Miura-san then proceeded to affix the stickers to the KM4SH FR-S – like a pro of course.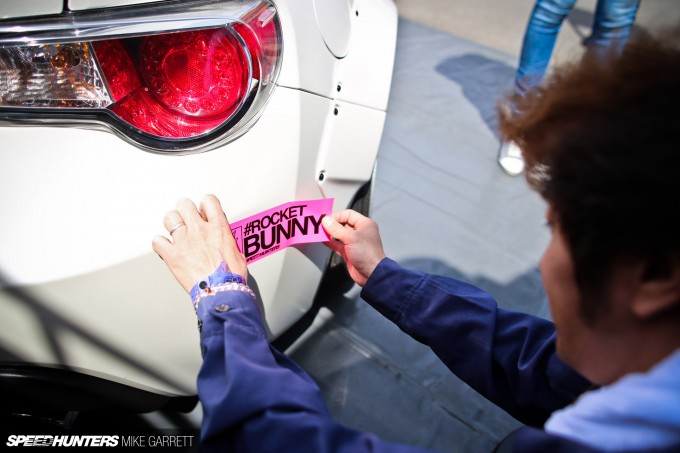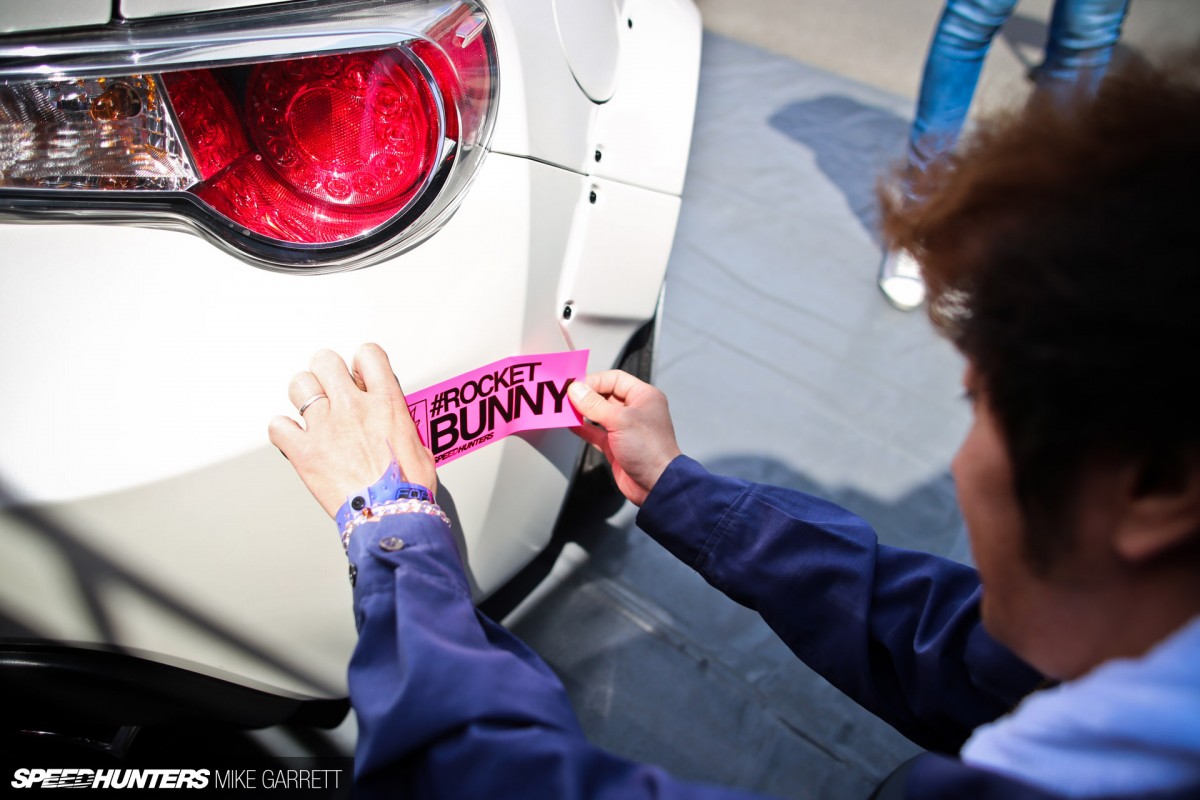 Mike: Naturally, we wanted to know what Miura-san thought of the new designs, and he responded quickly with 'kakkoii'. If you don't know, I'll let you go ahead and Google the translation for that one.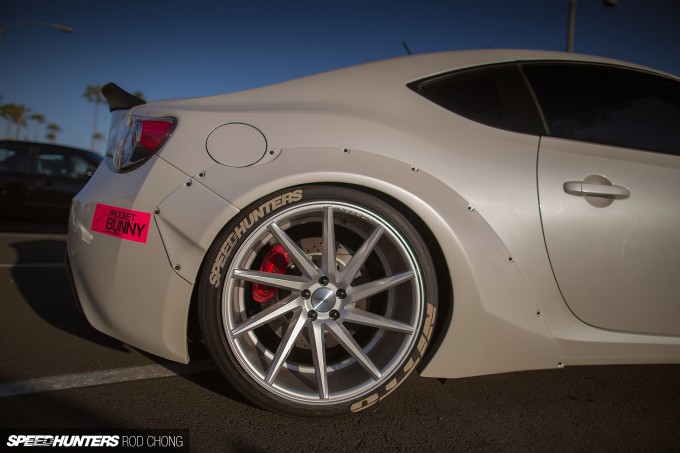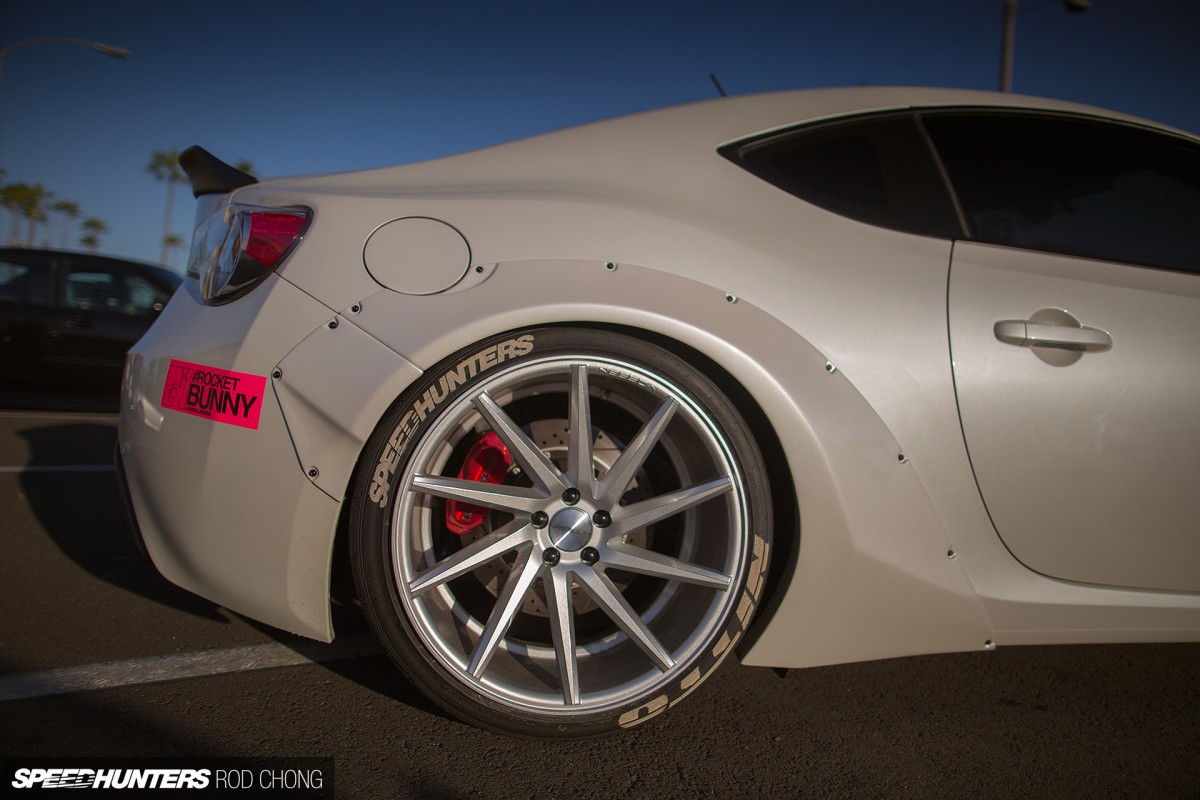 Mike: More importantly, Long Beach marked the American debut of the KM4SH body kit after Keith worked tirelessly to have the car ready for the event. Hats off to him.
Rod: This was my first time seeing the KM4SH kit in the flesh. I quite like its subtle flavour and it's far less obstrusive than the Rocket Bunny variations.
Mike: I saw the black version in Japan, but I have to say the pearl white certainly does a nice job of showing off the kit's lines.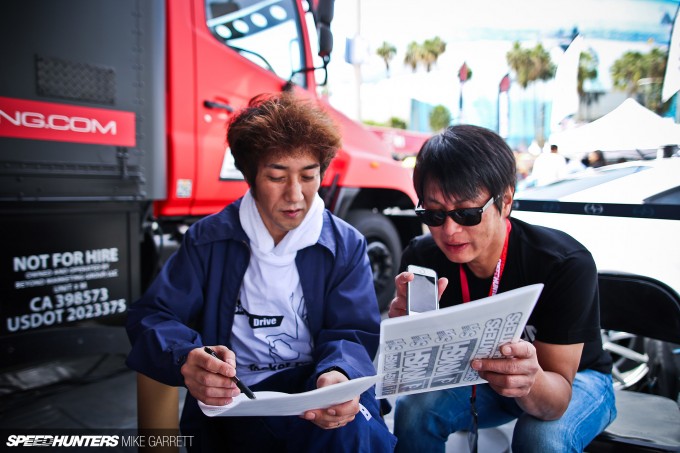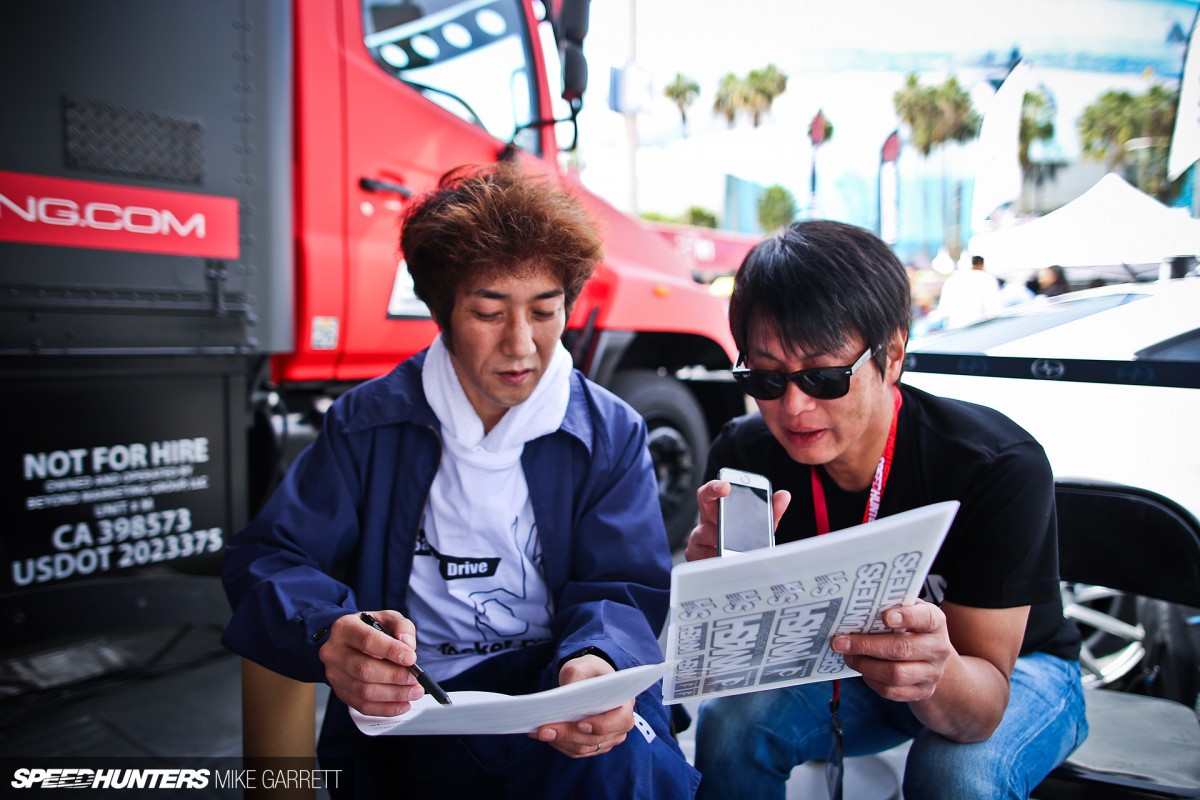 Mike: We still had more business to take care of with Miura-san, like sitting down do an interview using the questions that you guys provided.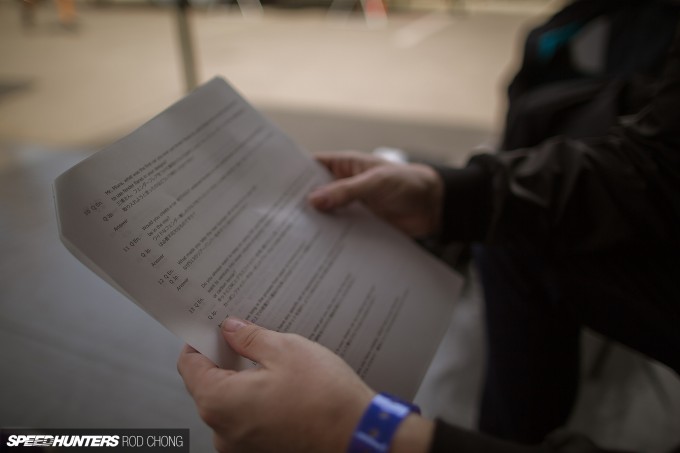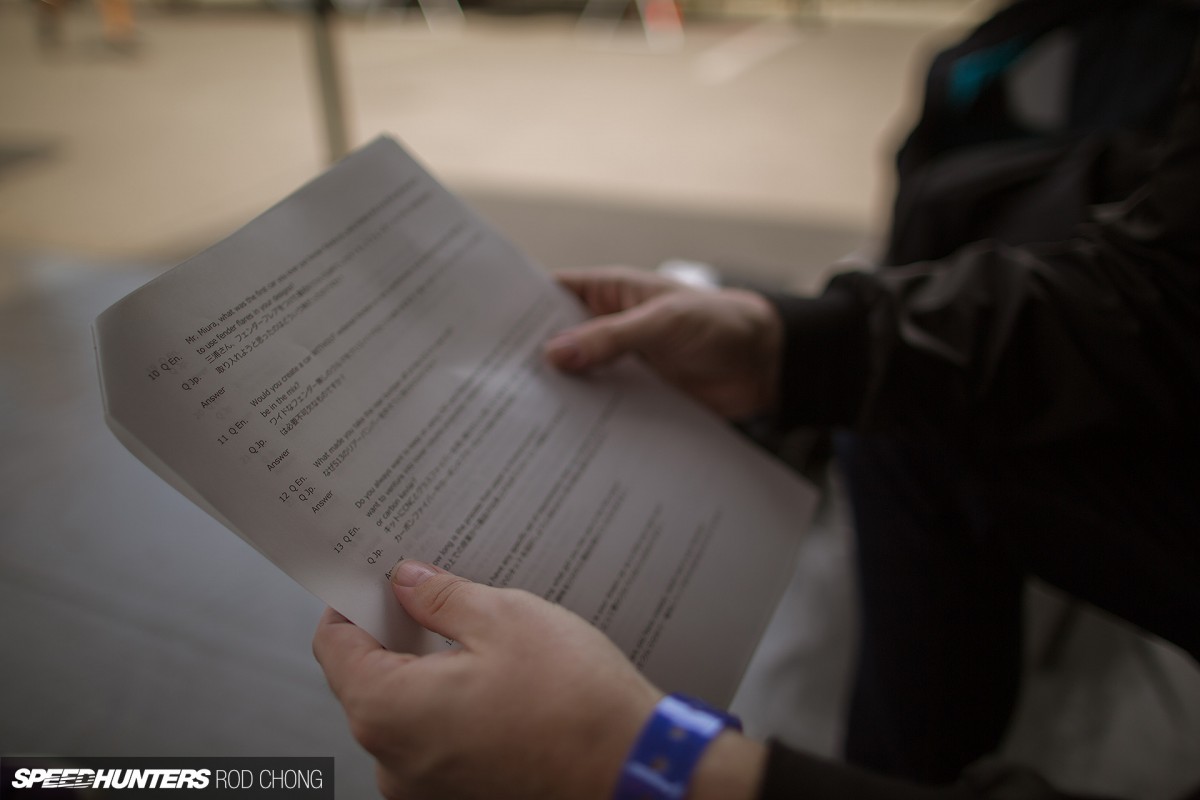 Mike: We also have to extend a big thanks to Aki Hashimoto from Speedhunters Japan, who gave us a hand with translating the questions and the answers.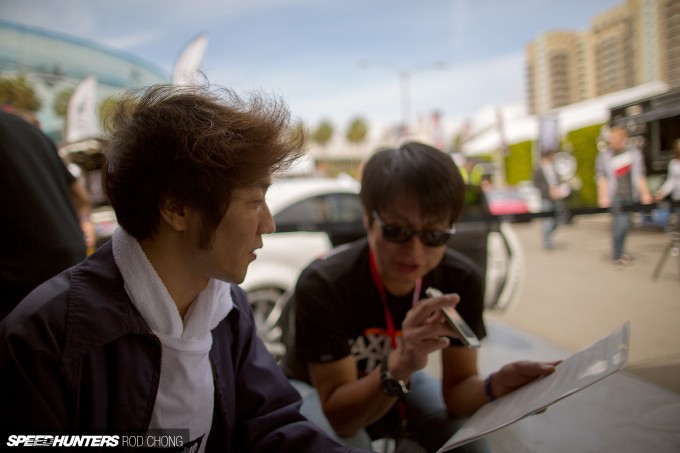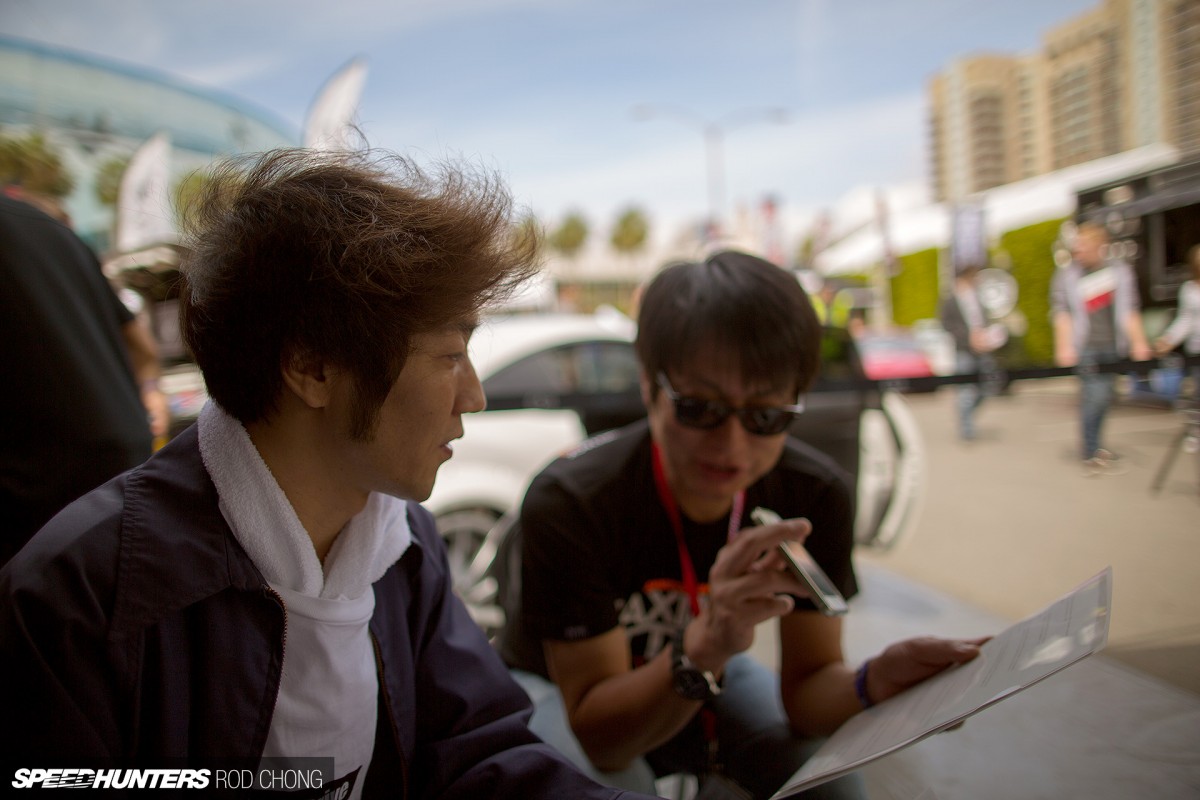 Mike: Needless to say, we learned a lot about both the Rocket Bunny brand and Miura-san himself and are very much looking forward to transcribing everything and posting it here soon.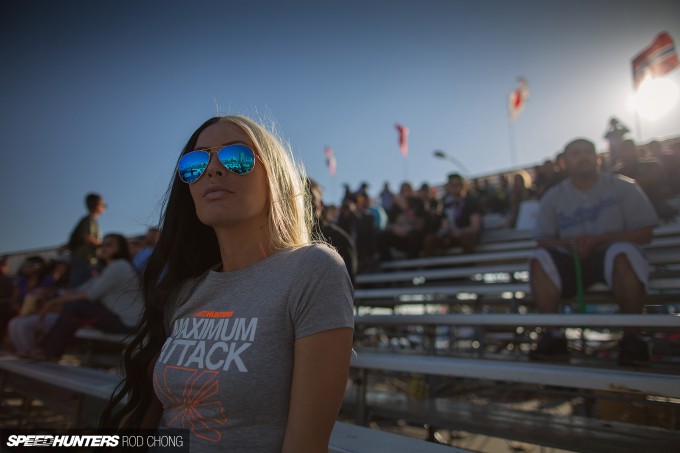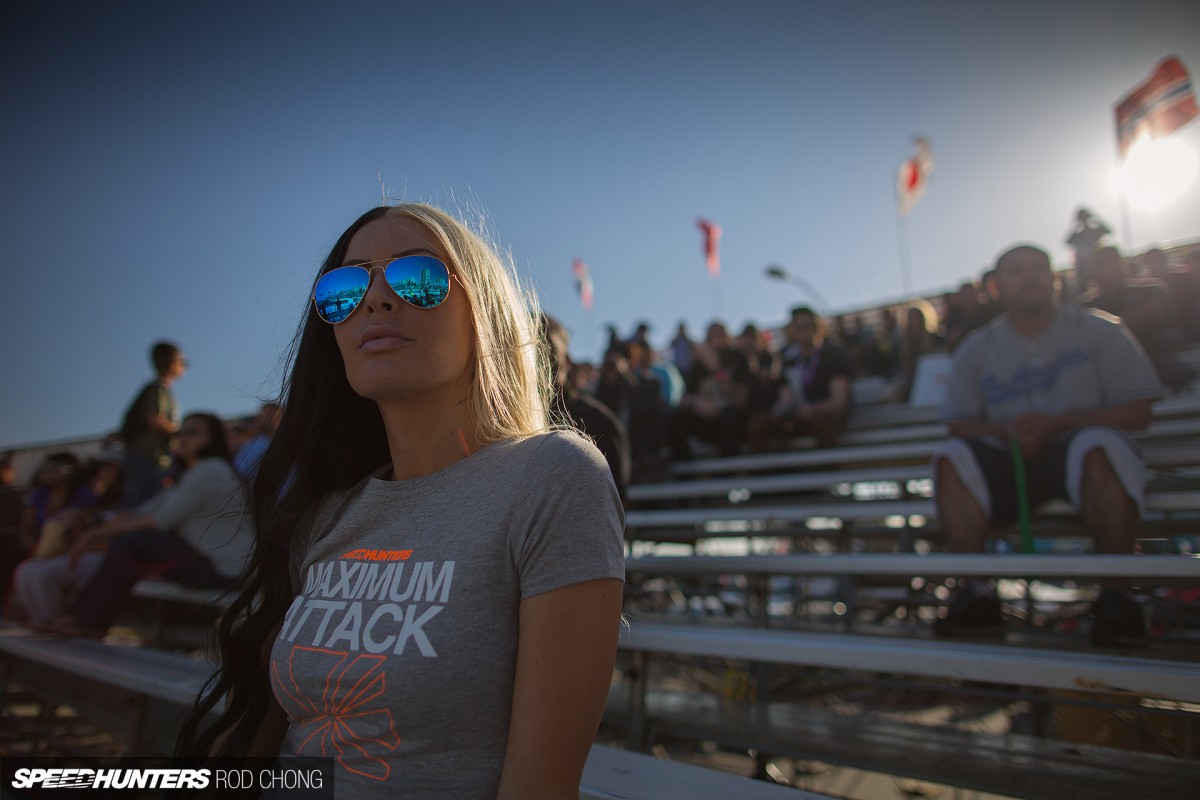 Rod: This is what I spent my Friday afternoon doing – shooting more lifestyle shots of our new t-shirt designs. I hardly ever shoot cars any more, but seem to be developing as a photographer in this direction. Maybe.
Mike: My camera stops working whenever I point it at something that's not an automobile.
Larry: You guys use cameras to take pictures?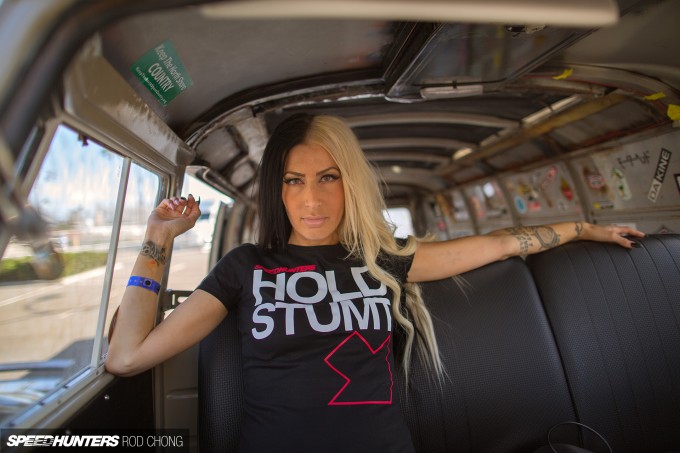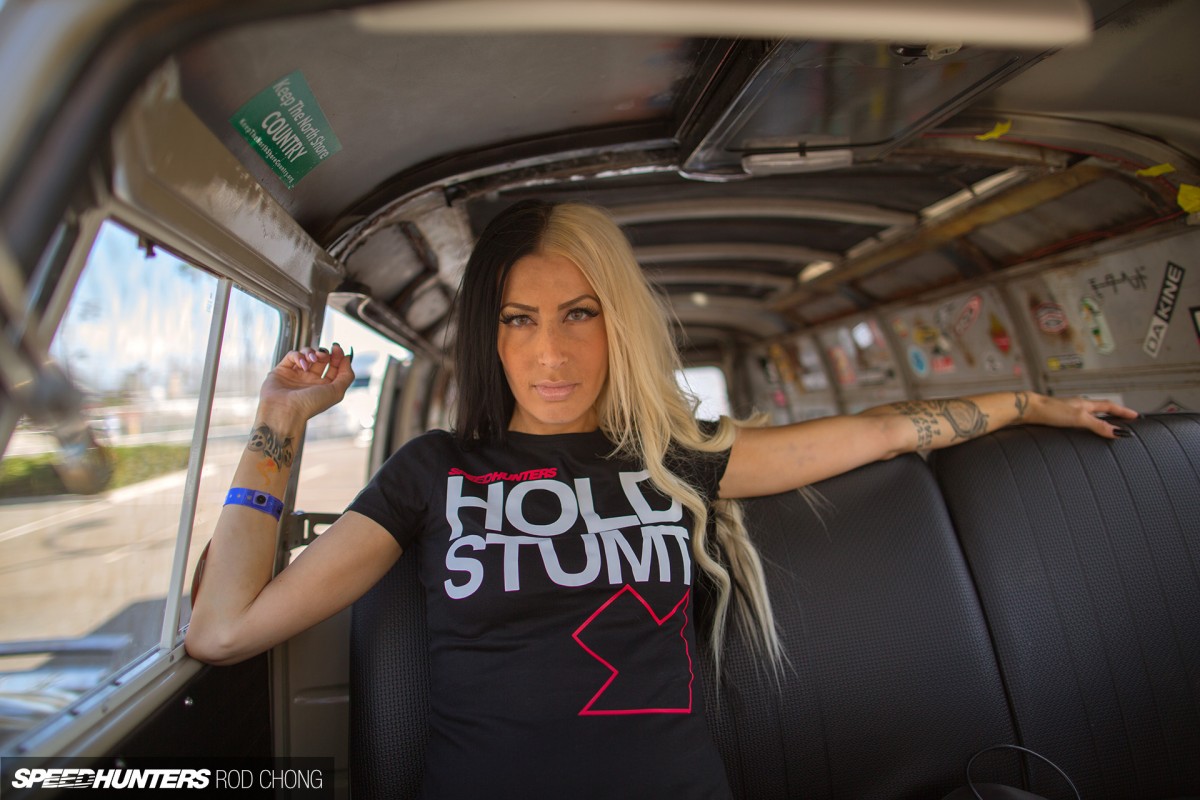 Rod: Those of you who remember the Team Need for Speed project from a few years back may remember Vanessa Graw, who was one of our models at the time. We teamed up with Vanessa again so she could model some of our new designs, including this Hold Stumt graphic which has been integrated into Fredric Aasbo's new Scion tC livery and his just-revealed, new-look Toyota GT86.
The main event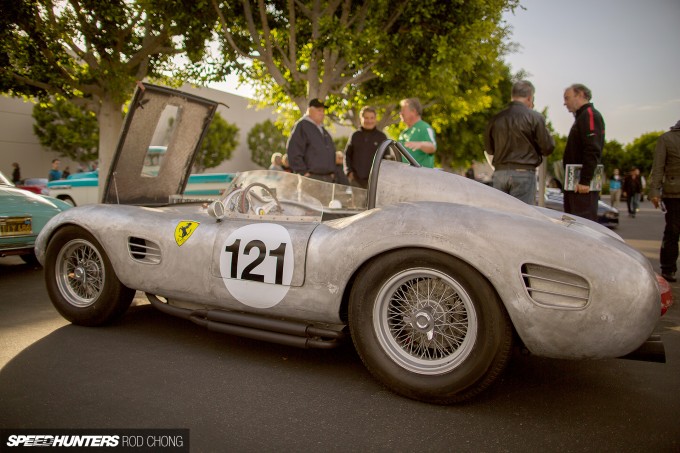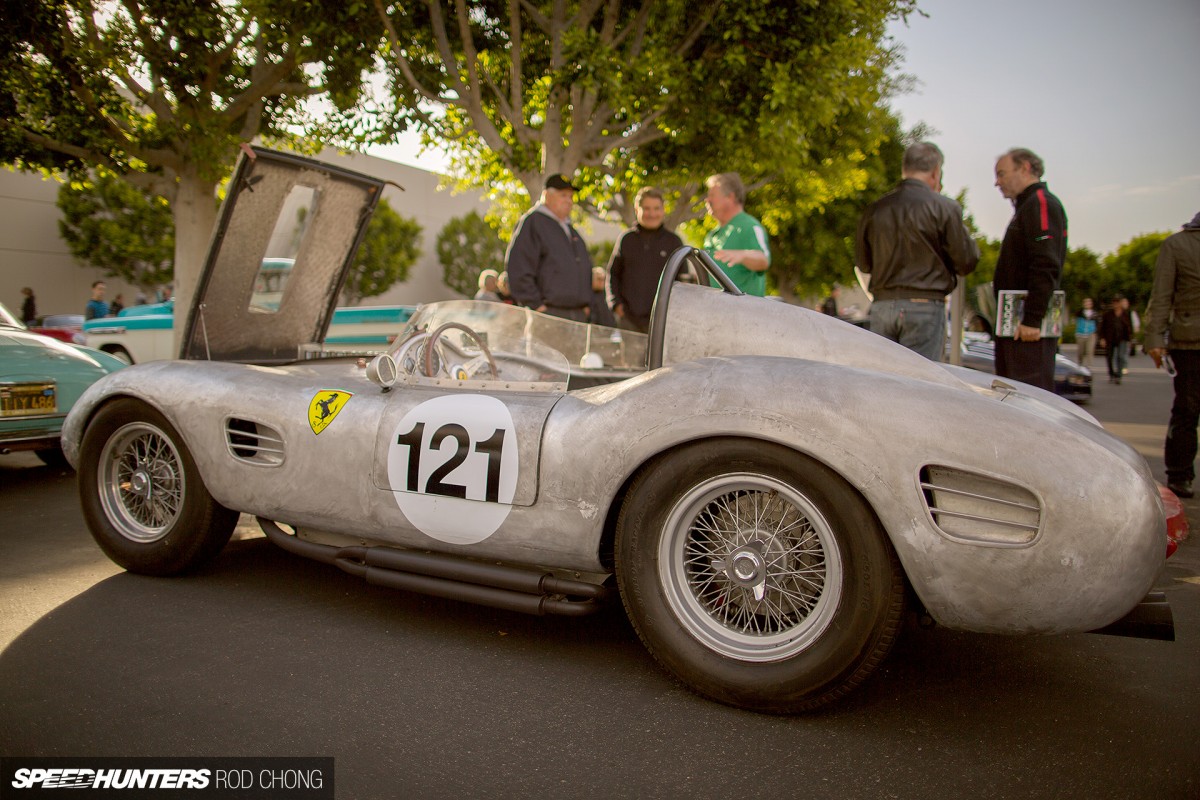 Rod: Saturday morning in SoCal means Cars & Coffee, so I decided to wake up early and take some the Speedhunters team down to Irvine to take a look at this world-famous weekly meet.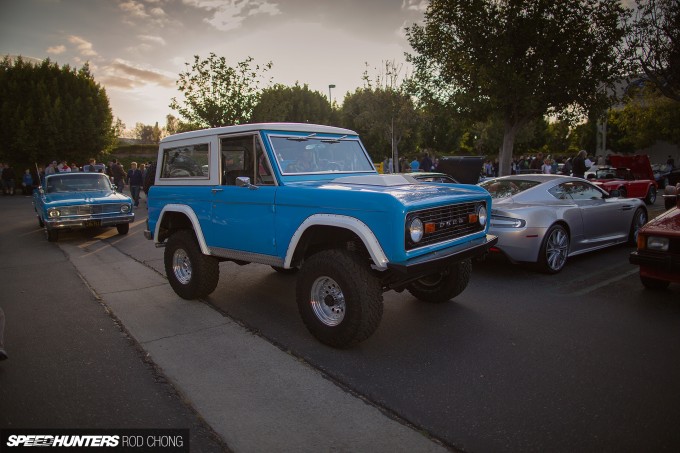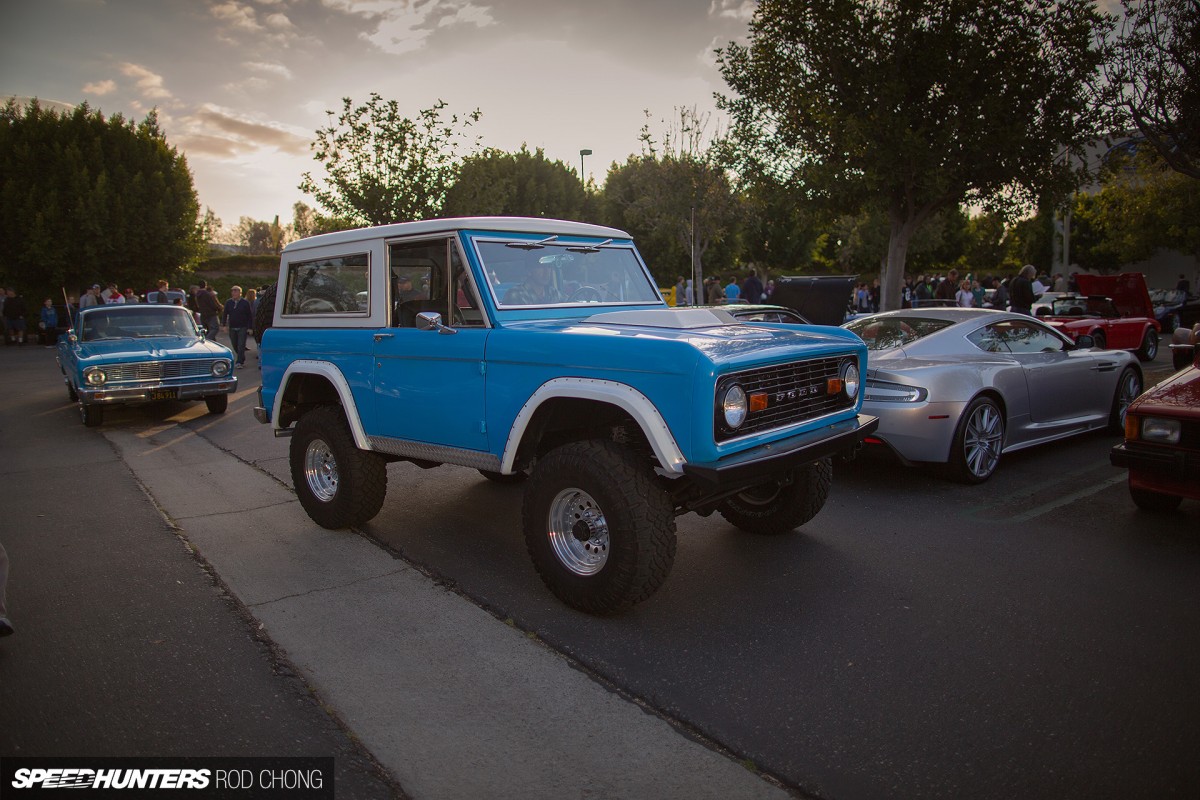 Rod: This was going to be my first time attending Cars & Coffee… in person that is. While the show of street cars was what I expected, what surprised me was just how many spectators were on hand.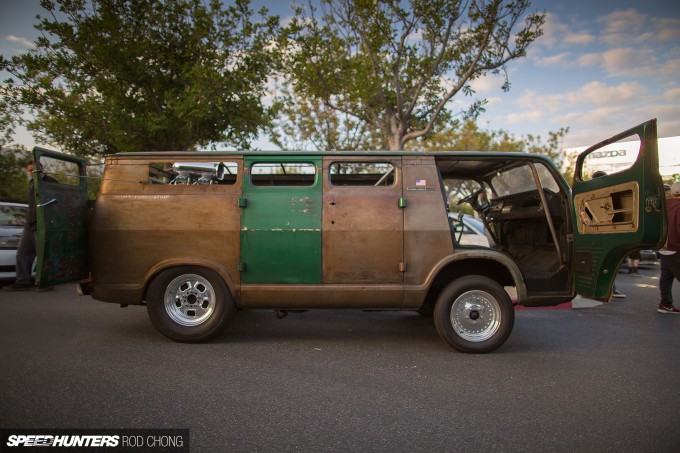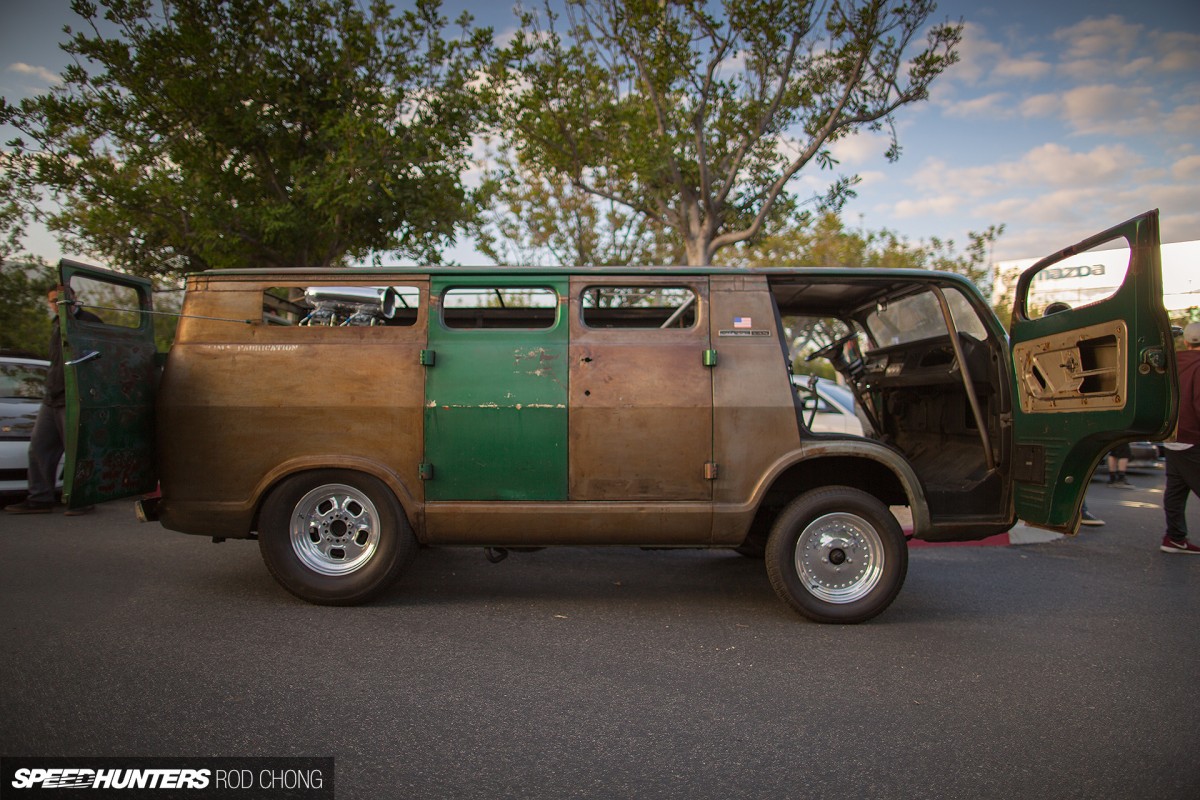 Rod: One of the crazier vehicles encountered on this particular morning was a radical Chevy van wheelstander.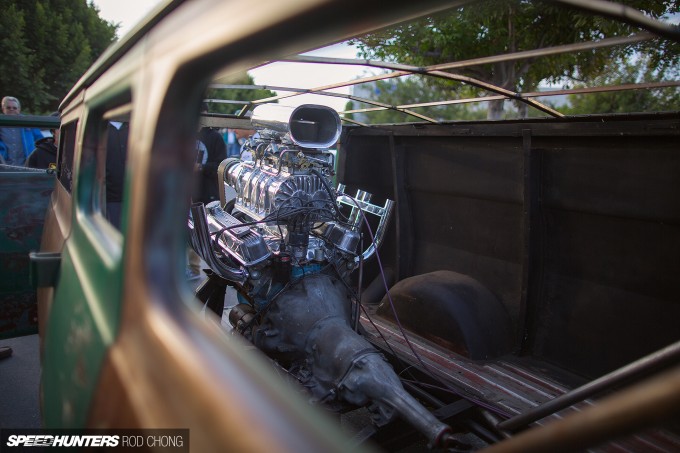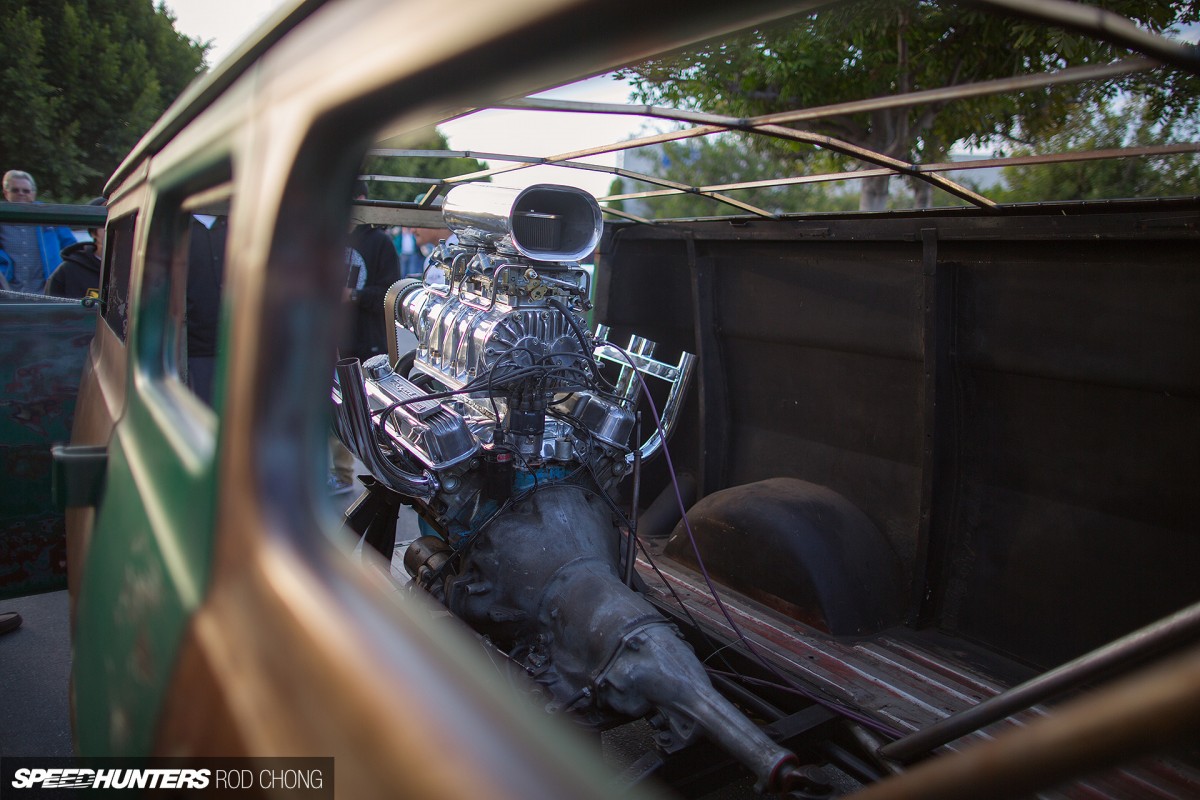 Rod: Wheelstander you say? Yep, that's why it's got a blown V8 sitting in the rear cargo area.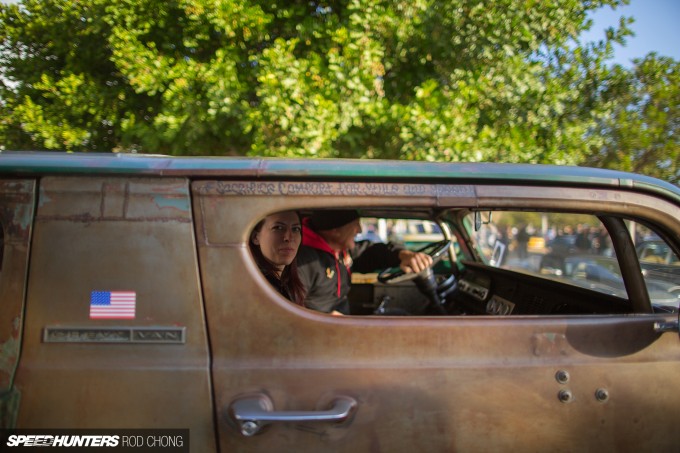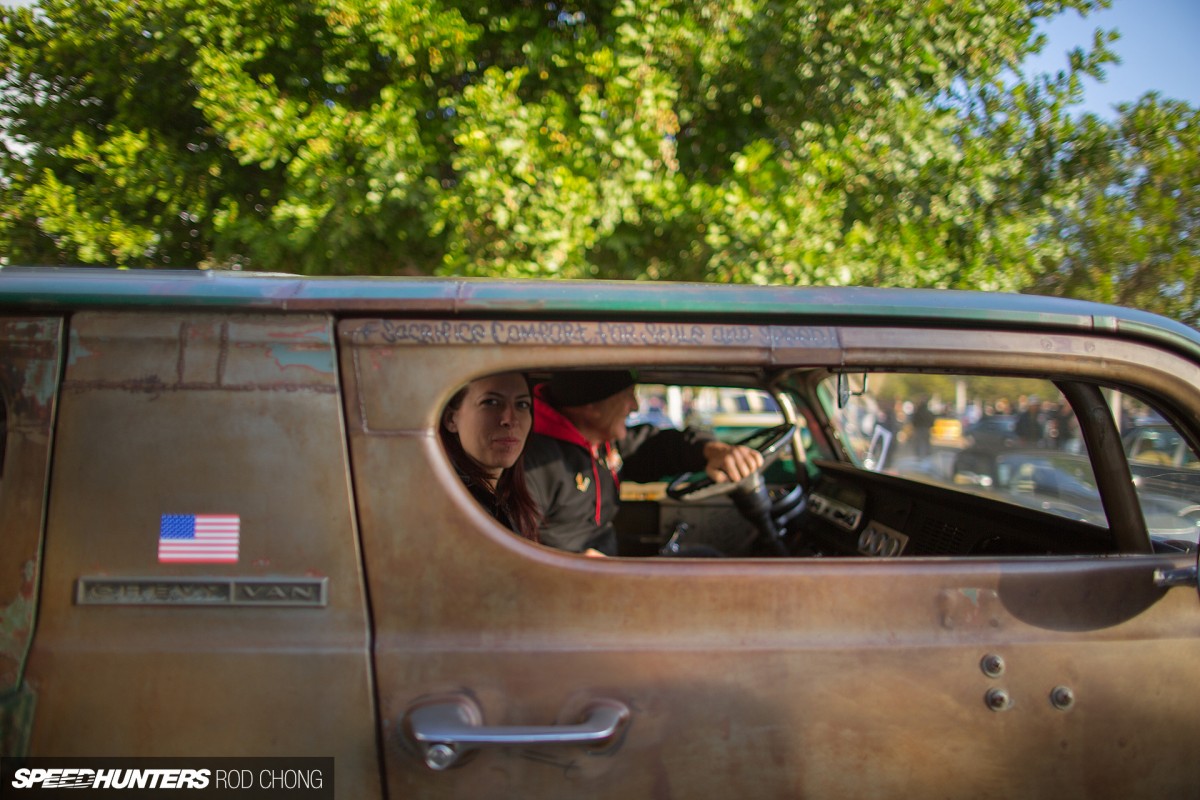 Rod: Not only was the owner nice enough to give us a tour of the crazy van, he also took our Partnership Manager, Elizabeth White, for a little ride in the beast.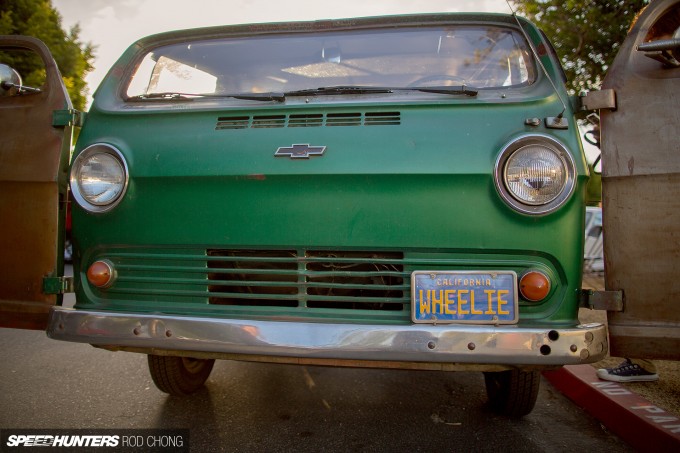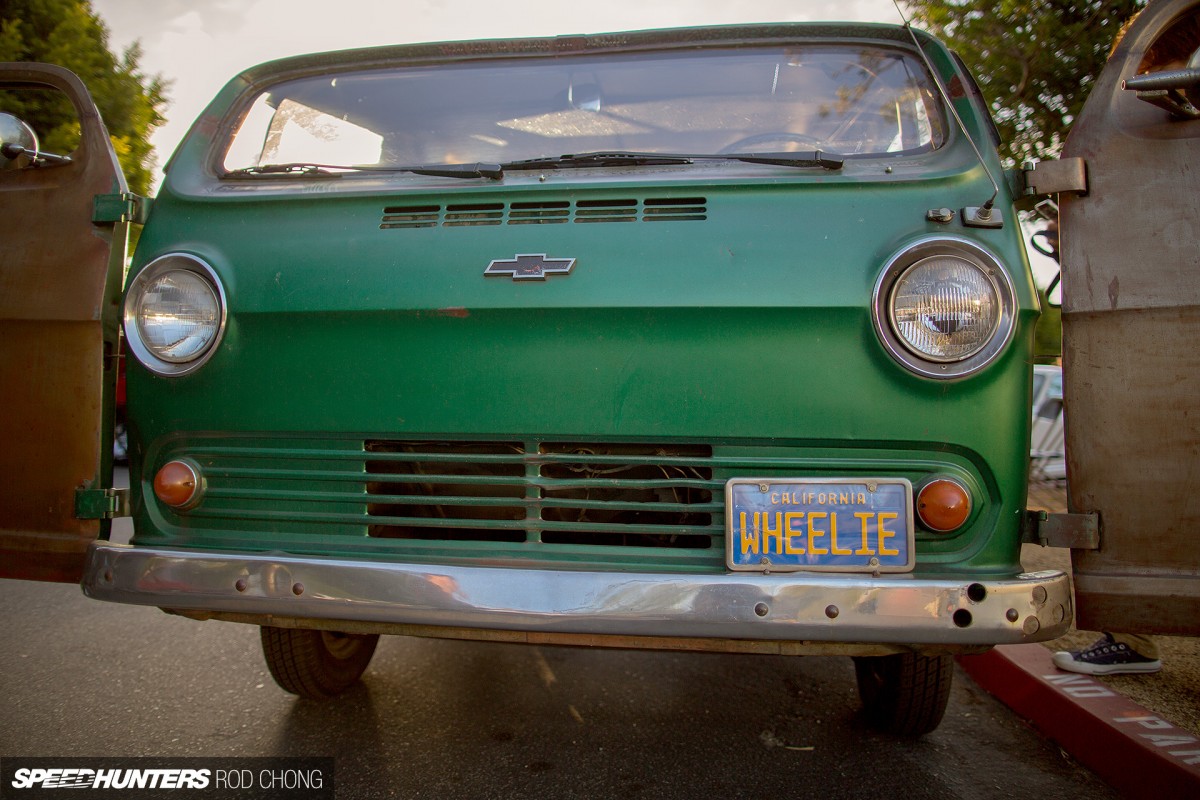 Rod: We are currently working on a full feature of this thing so we can share it in all of its wheelie-popping detail.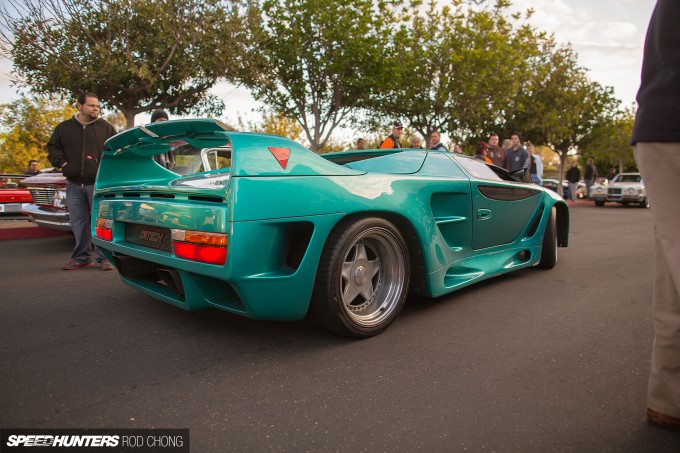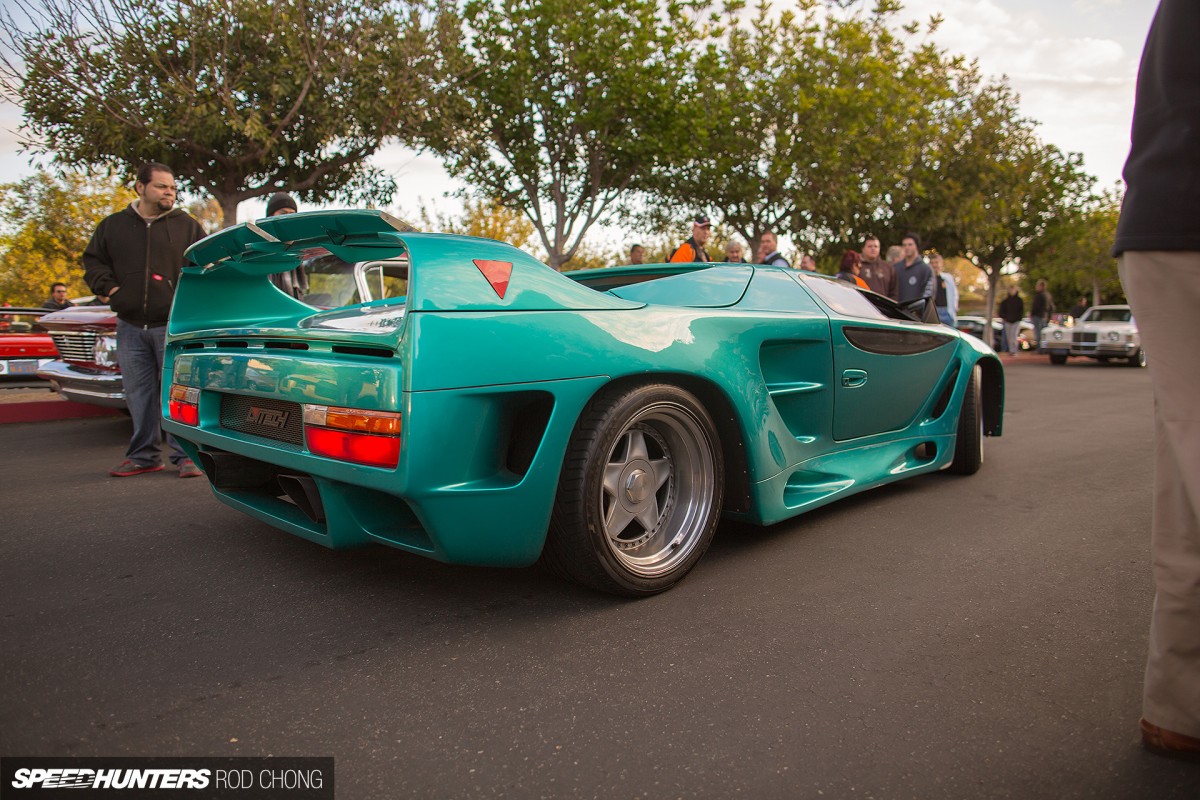 Rod: We had less than an hour to look around Cars & Coffee before it was time to head back up to Long Beach to prepare for the main event.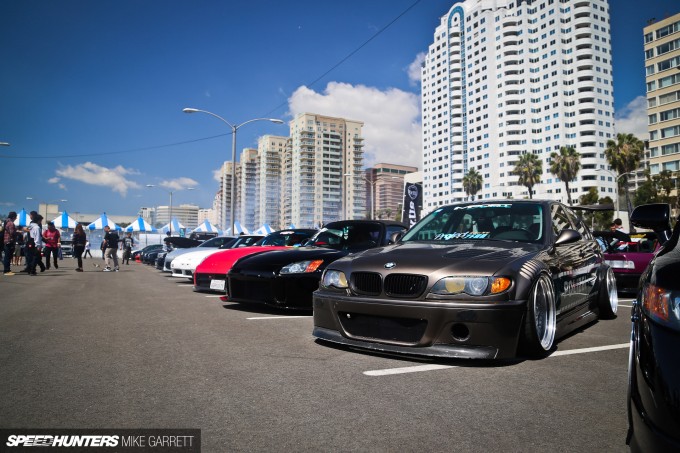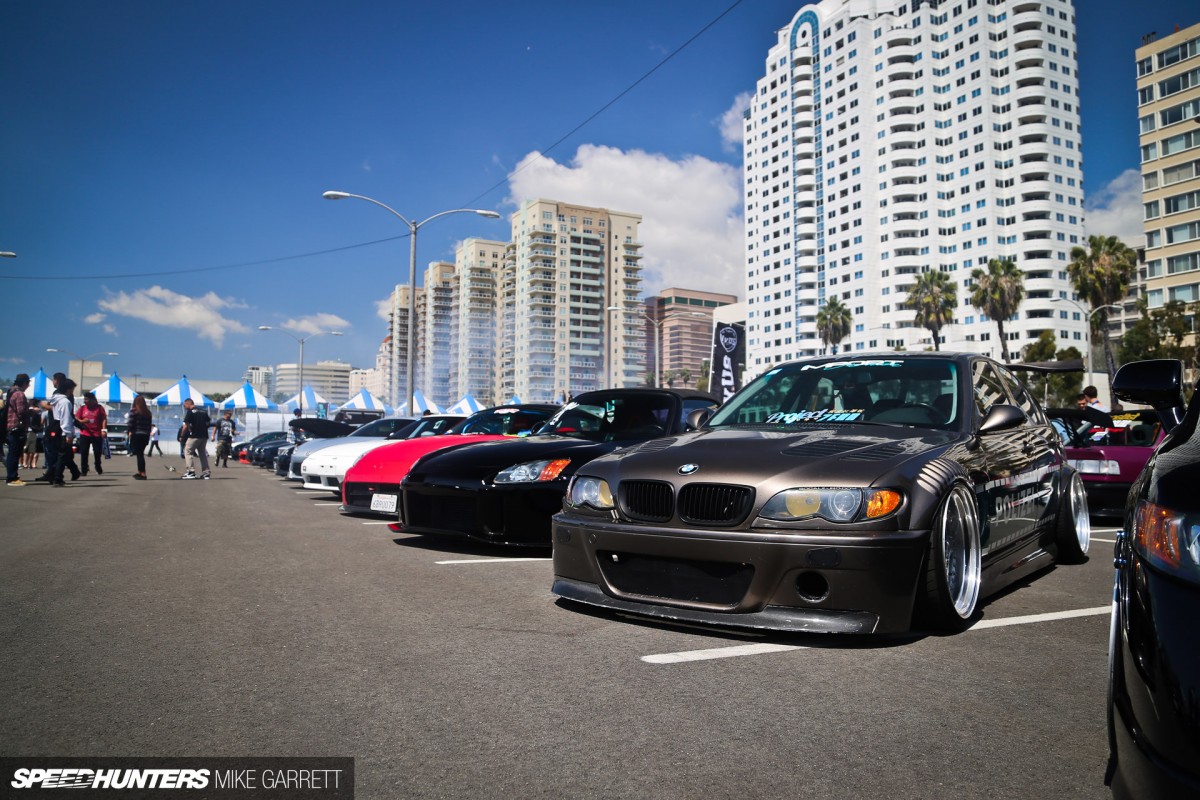 Mike: For me, the day was just beginning as Saturday would be the main day of competition at Formula D, as well as the Offset Kings car show which would be happening simultaneously.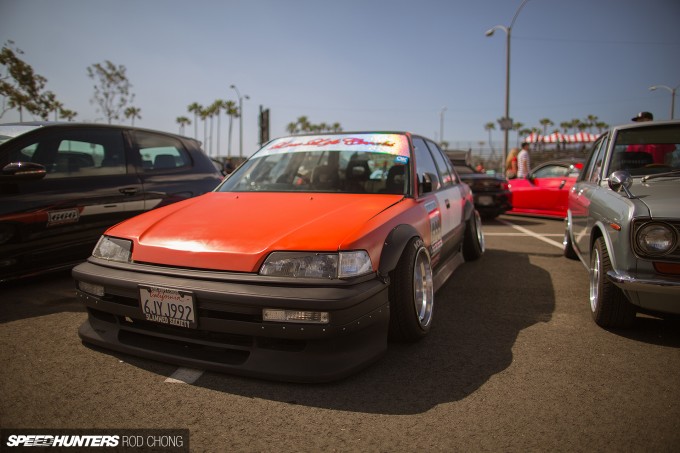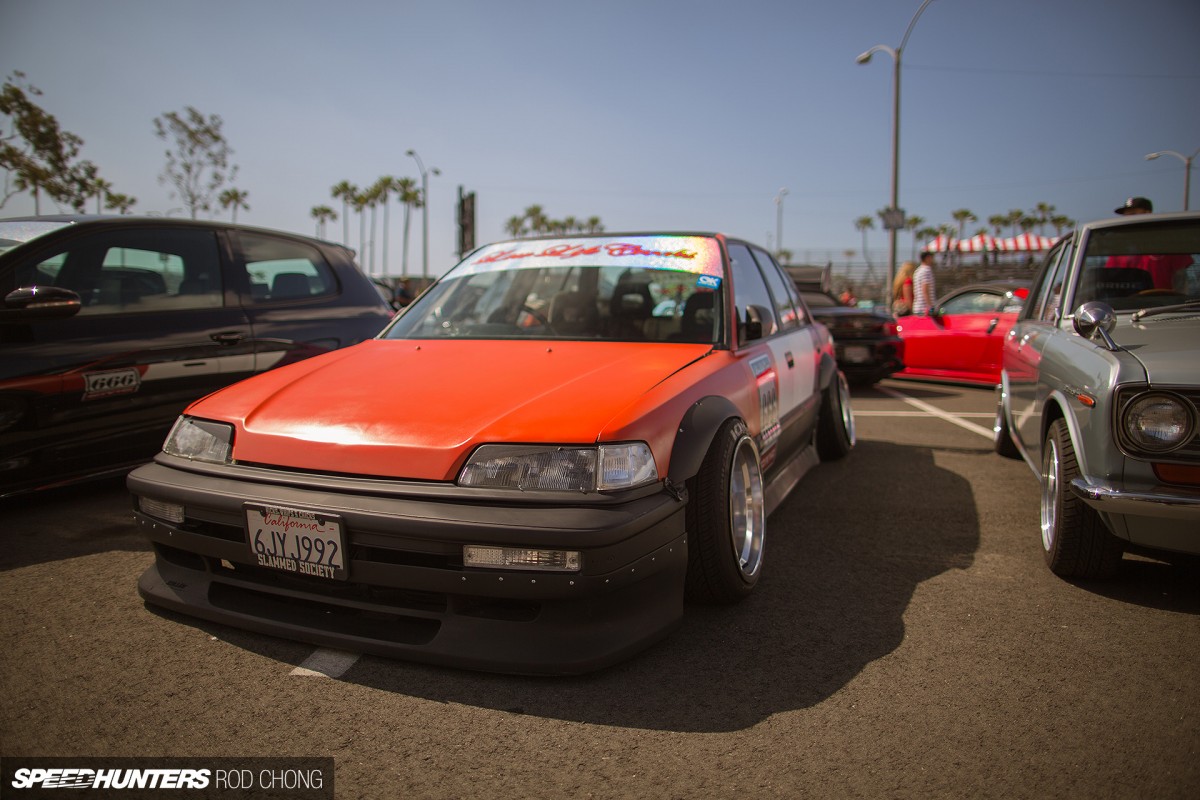 Mike: Just in case you missed it, you can check out the detailed show coverage that we posted last week. Much stance was had.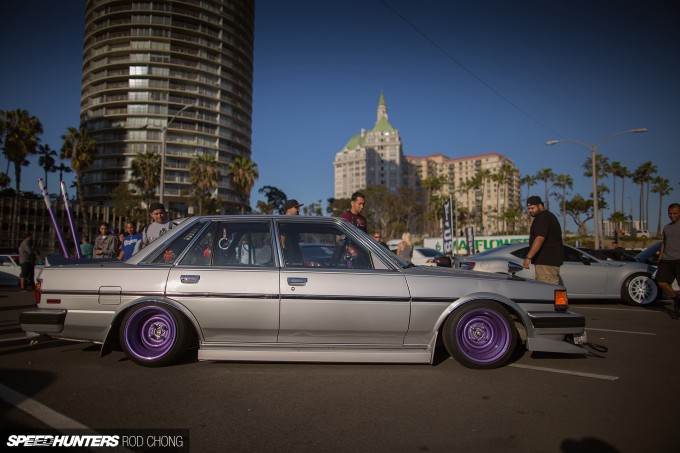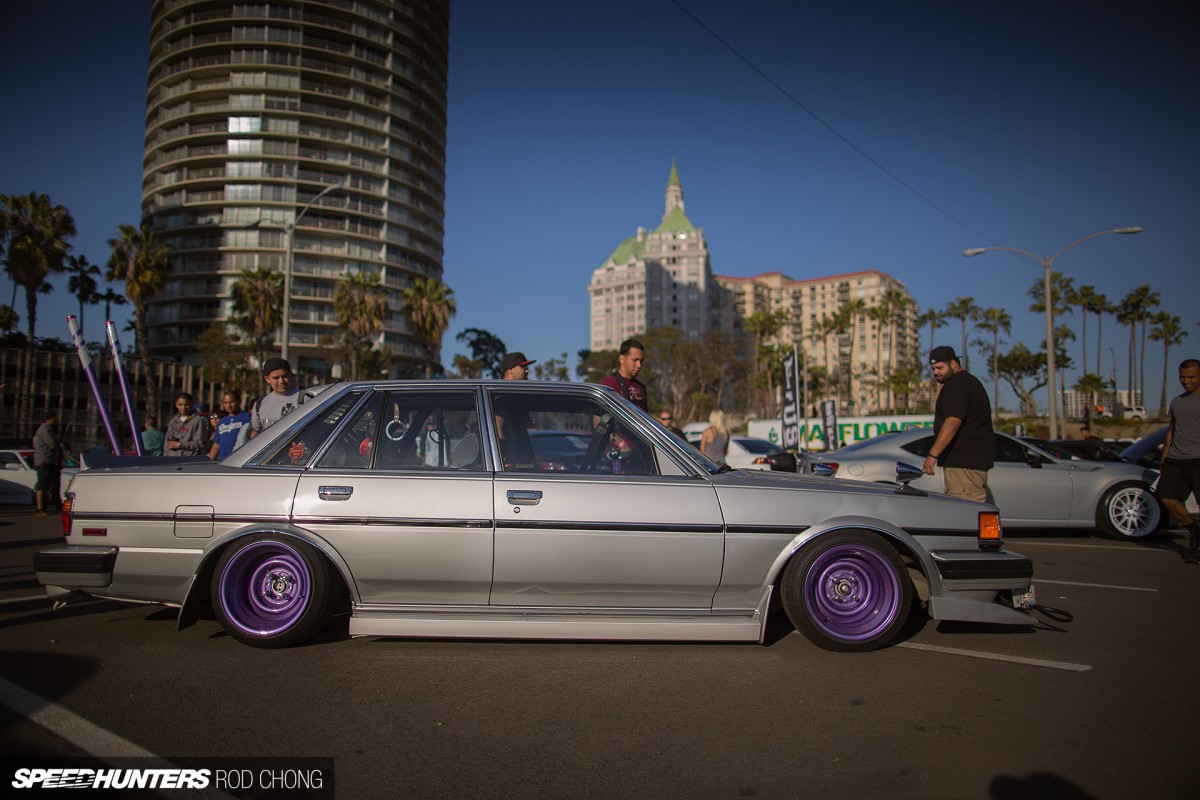 Rod: I was completely obsessed with this bosozoku-style Cressida. It was hands down my favourite car of the show. A feature shoot must happen! You hear me Mr Garrett?
Mike: Steps are being taken to make sure that happens…
Larry: I love the two antennas in the back.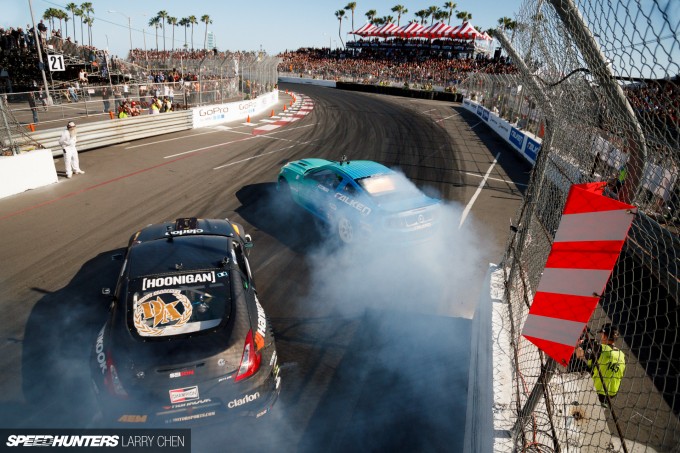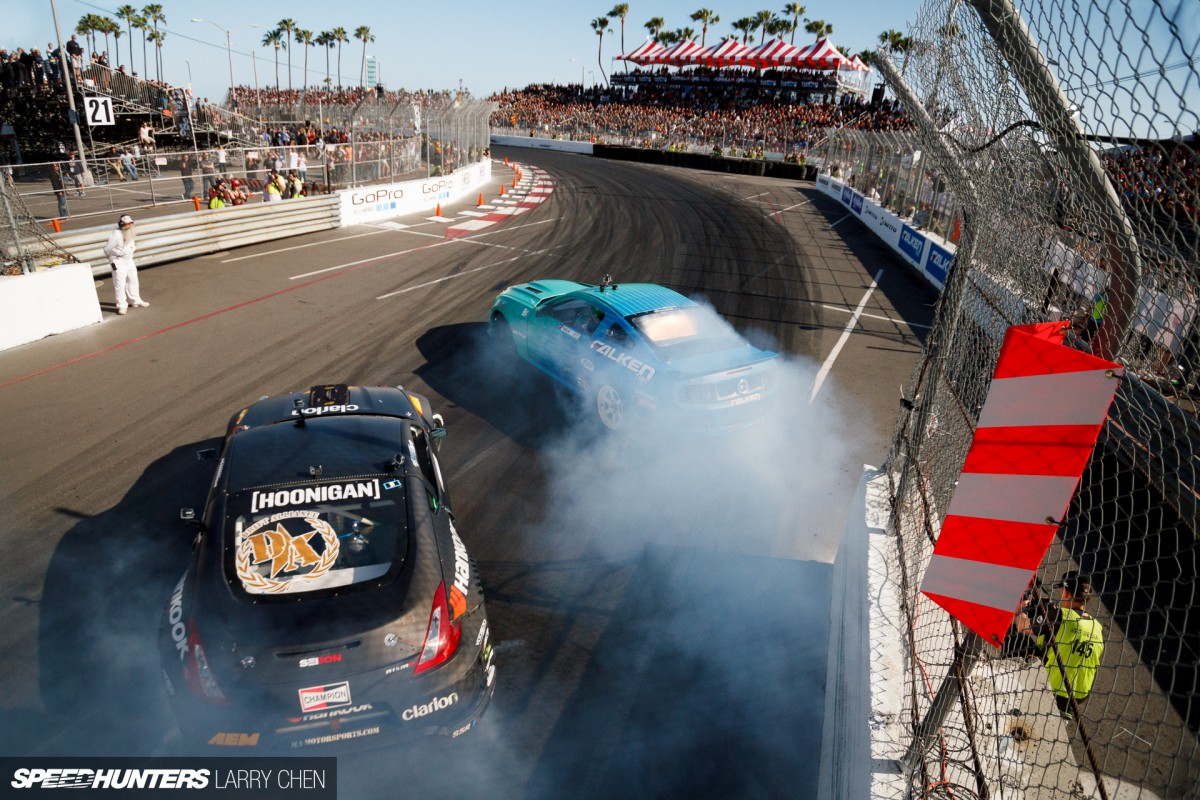 Mike: Larry was on hand of course, but he was so busy running around like a madman with his camera that I only saw him for a total of about two minutes during the entire event. You can check out some of his insight on the actual drifting competition here.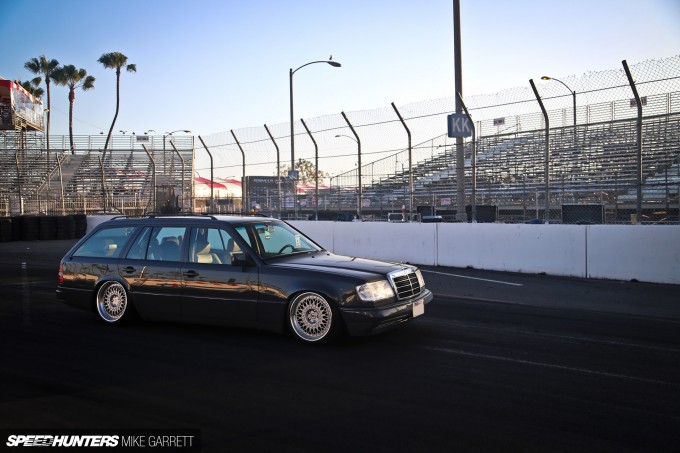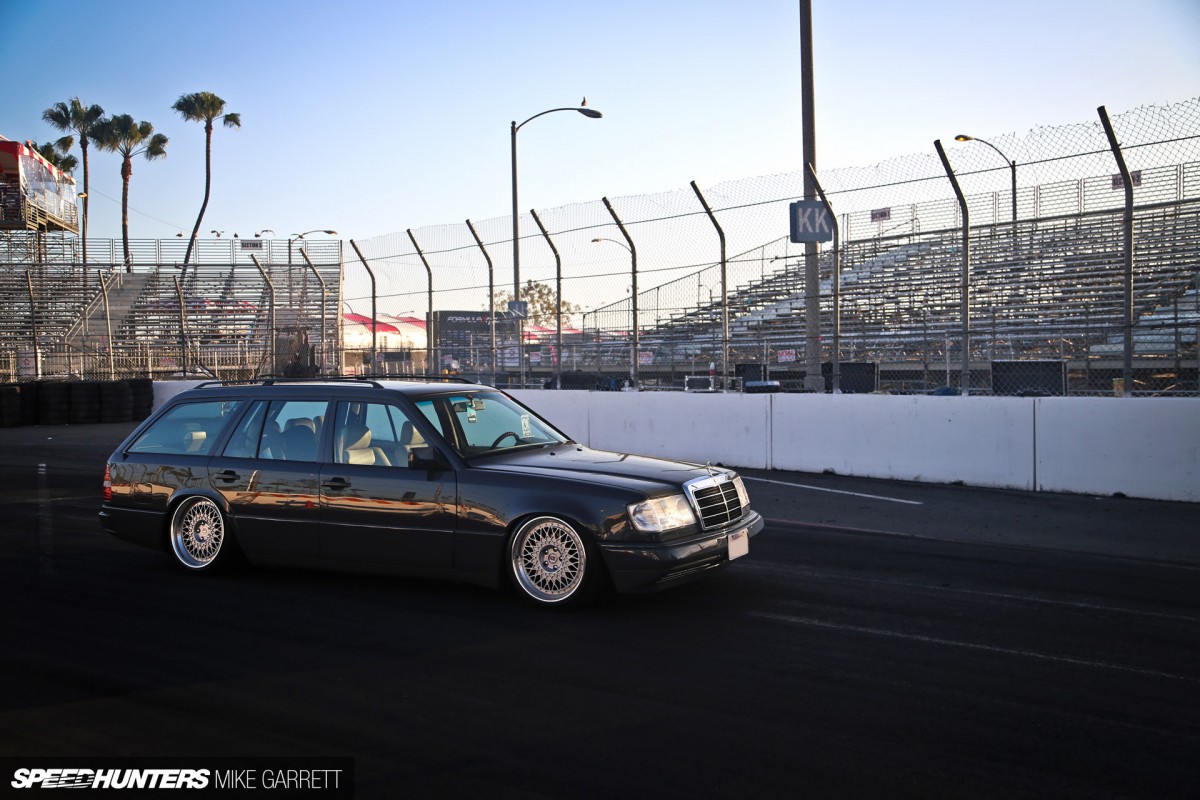 Mike: Once the smoke had cleared and the crowds had packed up and headed home, we had one last order of business to take care of in Long Beach – the photoshoot of the #FeatureThis-winning Mercedes wagon from the Offset Kings show. Another story to look forward to in the next week or so.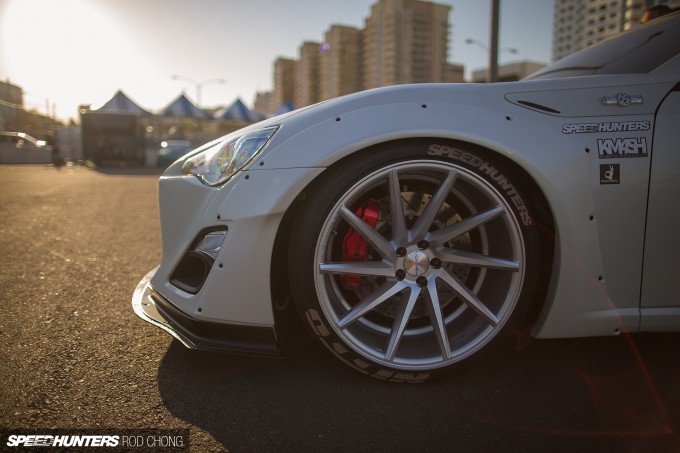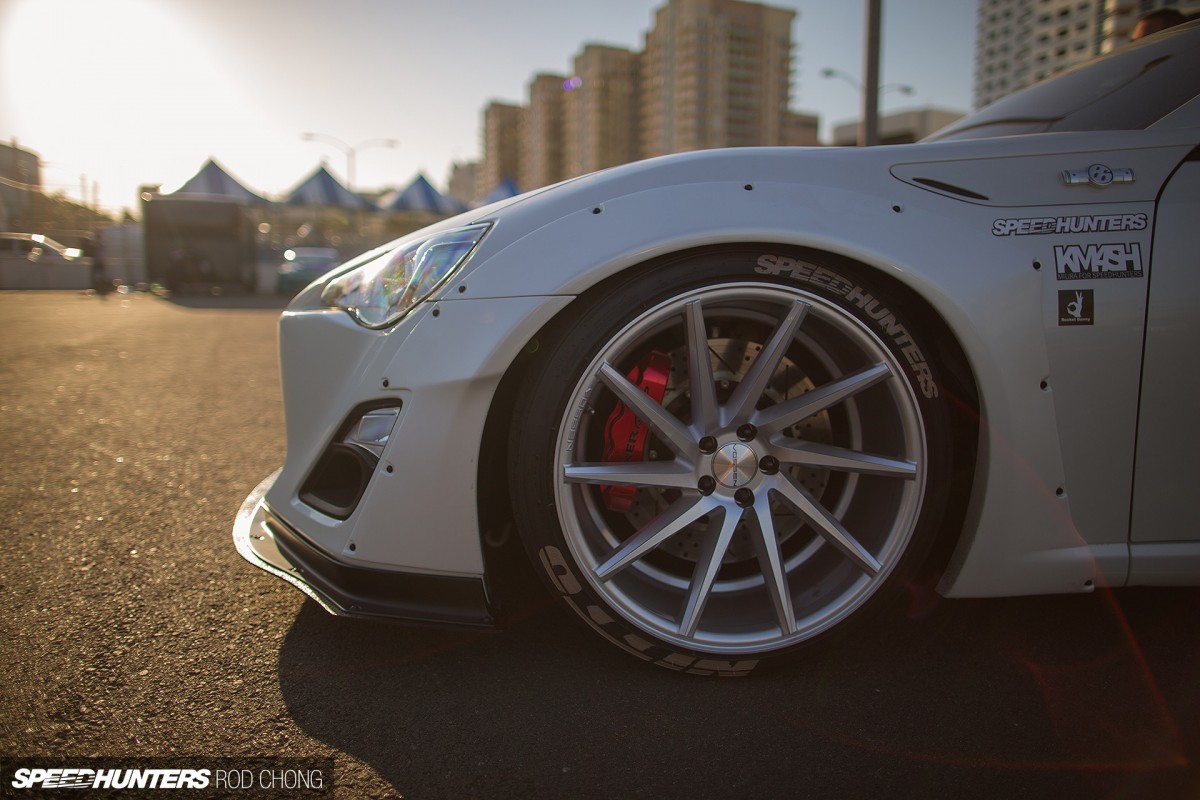 Rod: I also thought it would be rather pertinent to get some shot of the Keith's KM4SH demo car.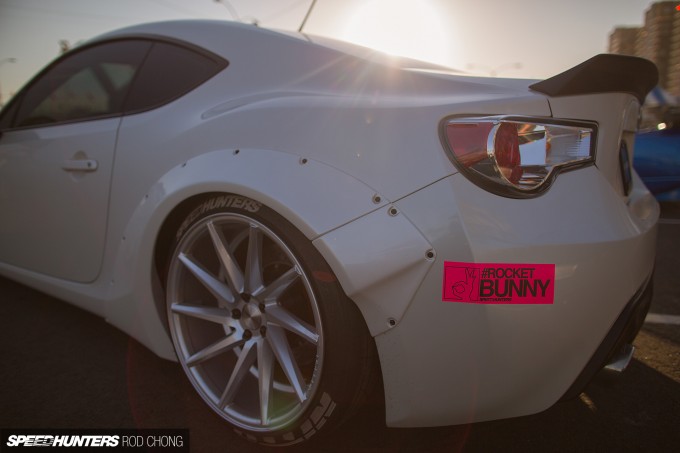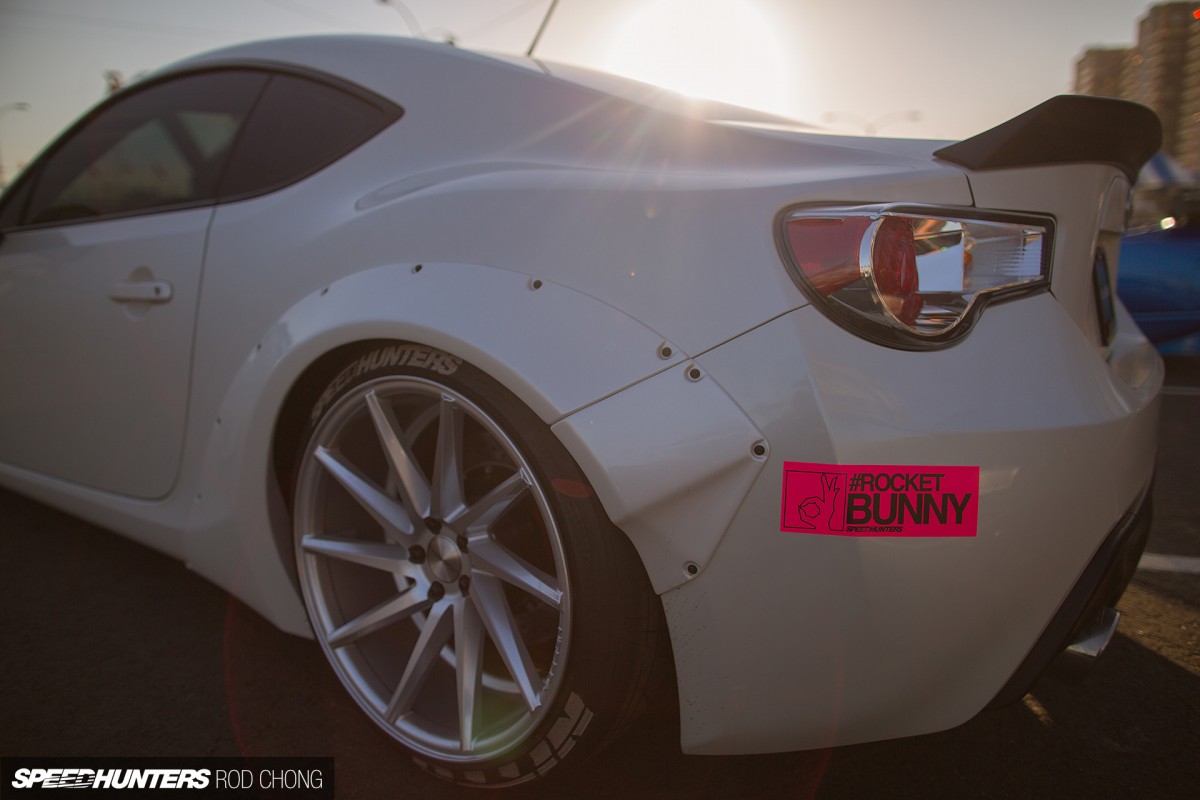 Rod: We are still figuring out a release plan for the kit, but for the time being we thought that it wouldn't hurt to have a bank of photos to use.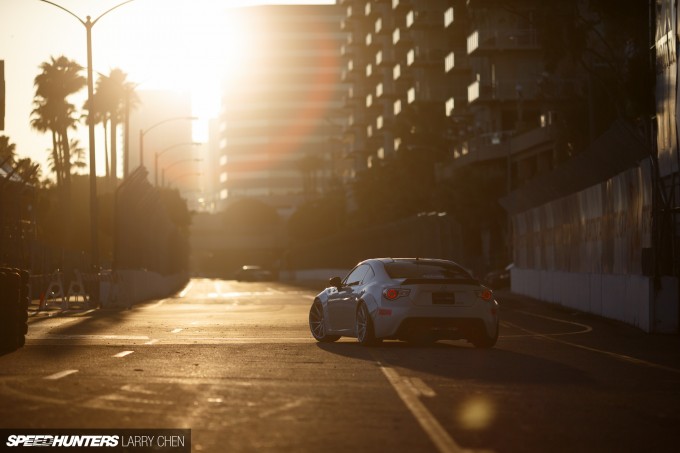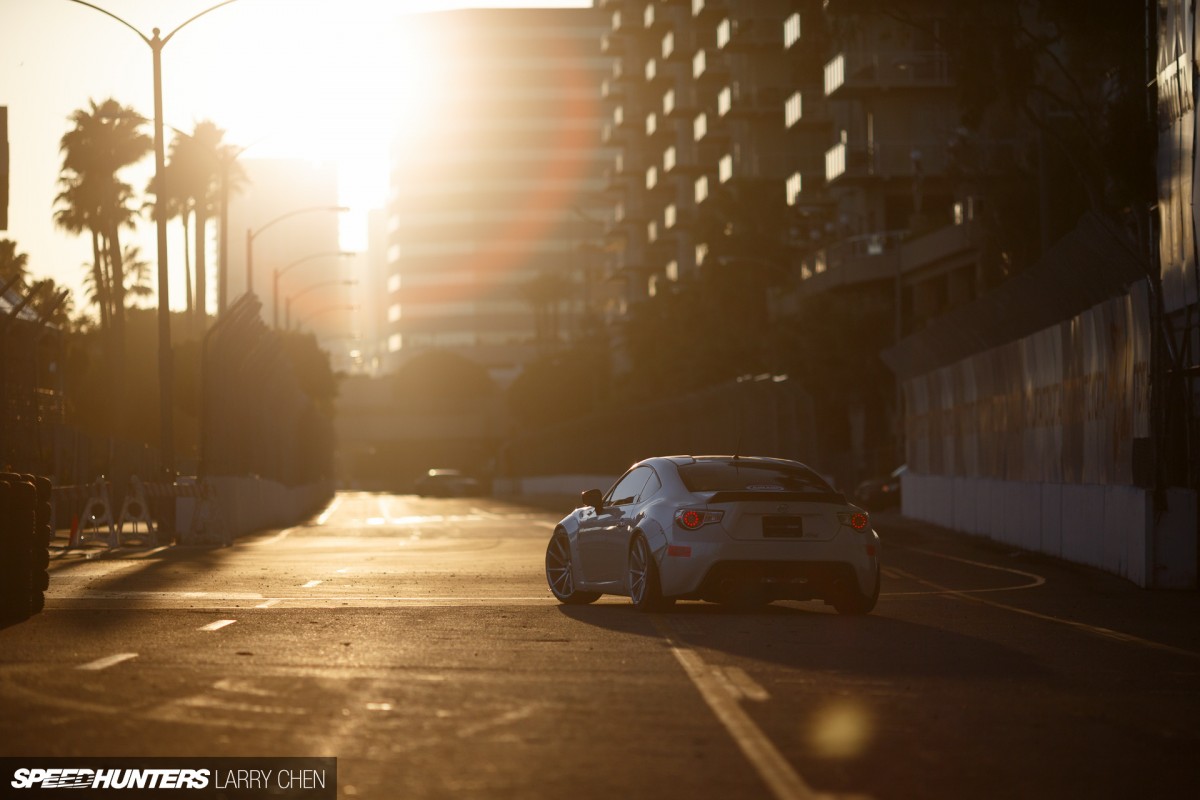 Larry: Sir, please. Go back to your fashion shoots. Let me take care of this.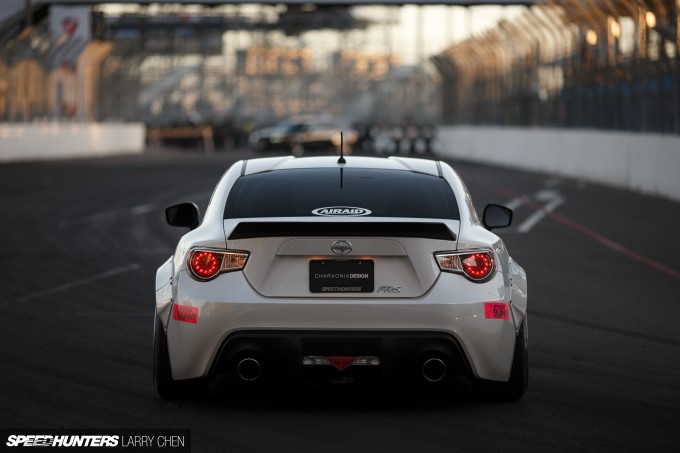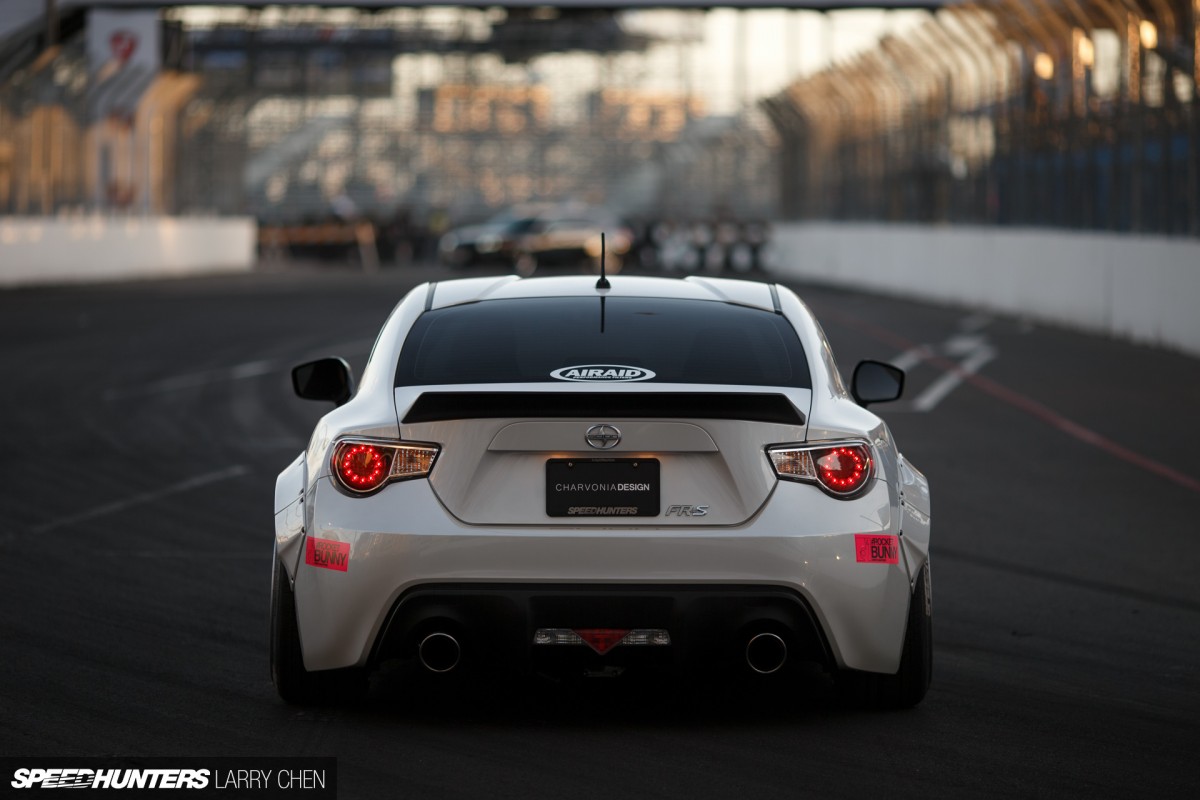 Larry: I think this is the perfect cruiser. This is how the Scion FR-S should have come from the factory.
Rod: Argh! The stickers don't line up!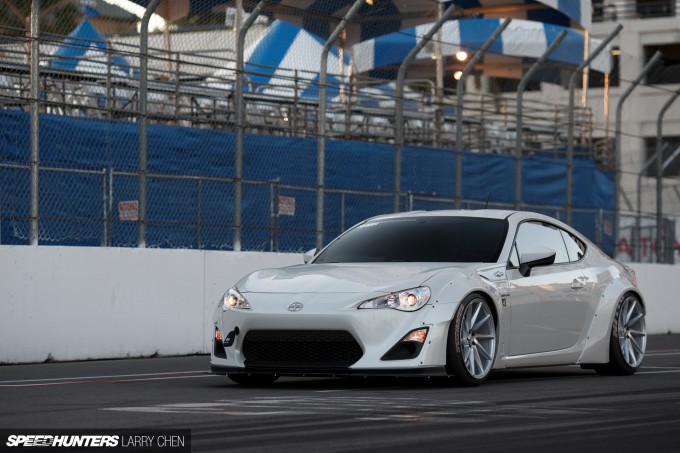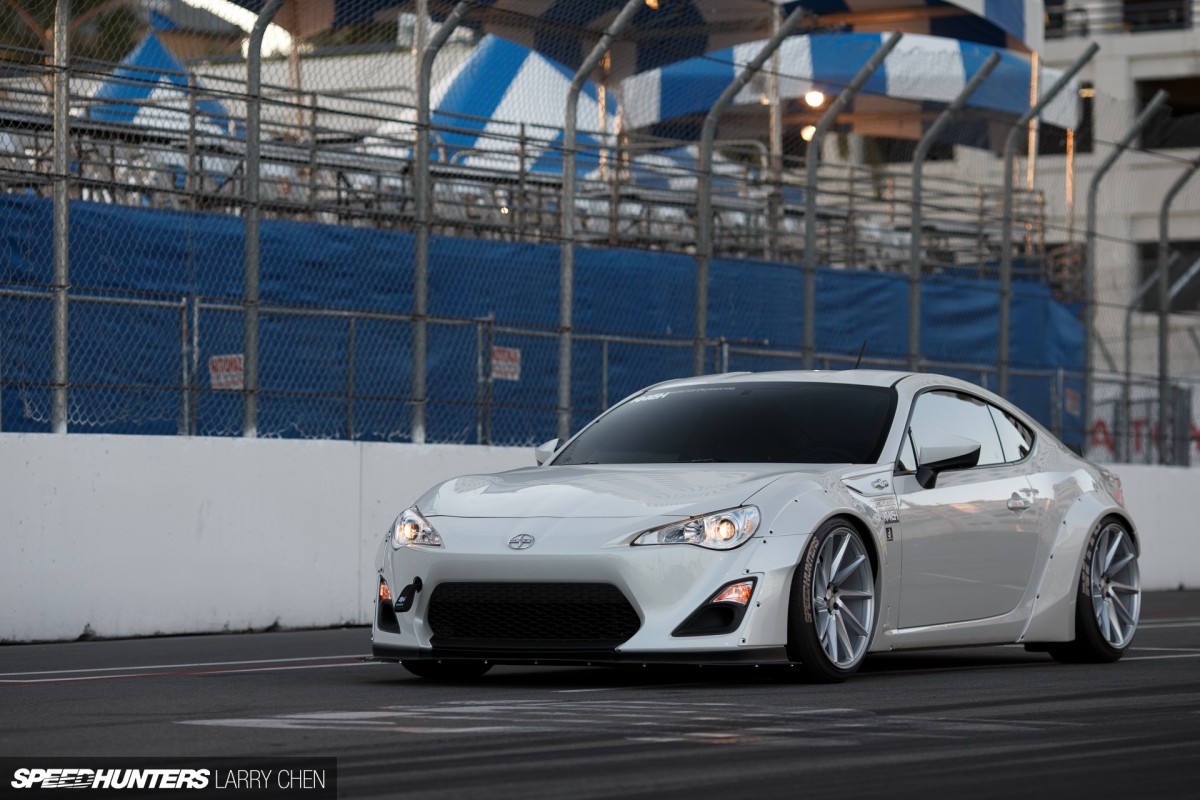 Larry: The fact that this has a supercharger kit on it makes it all that more awesome. This would be so fun to zip around town in. I am so jealous that Keith has built the first US-based KM4SH FR-S.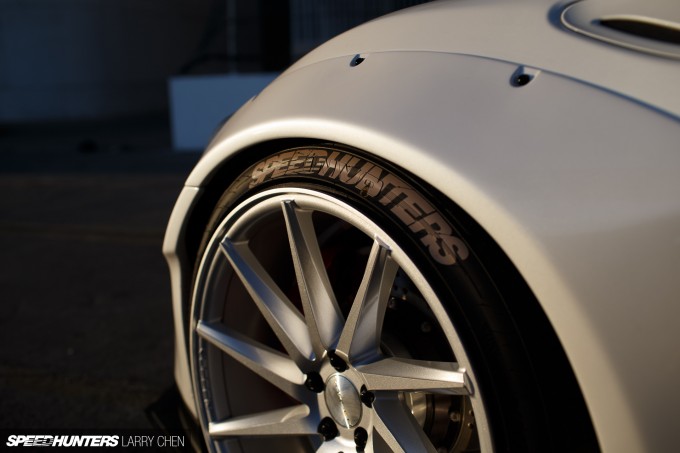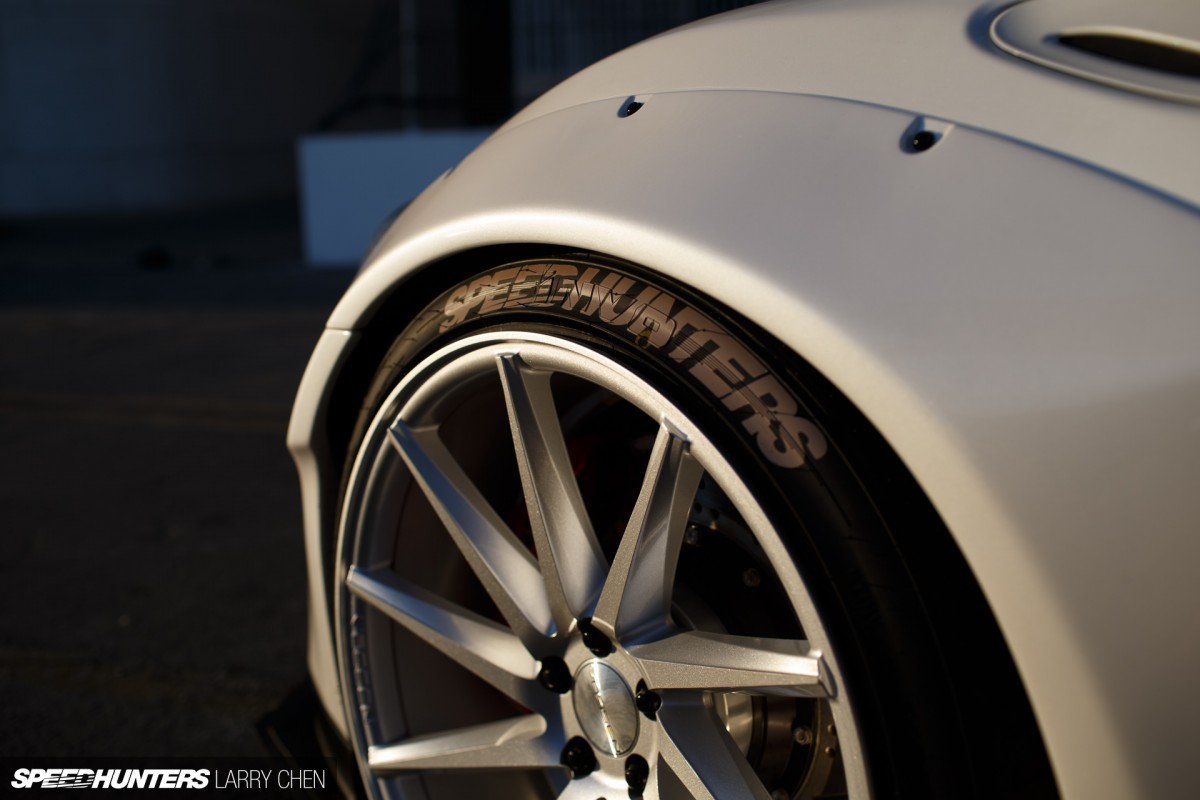 Larry: It wouldn't be a Speedhunters car without tire stencils.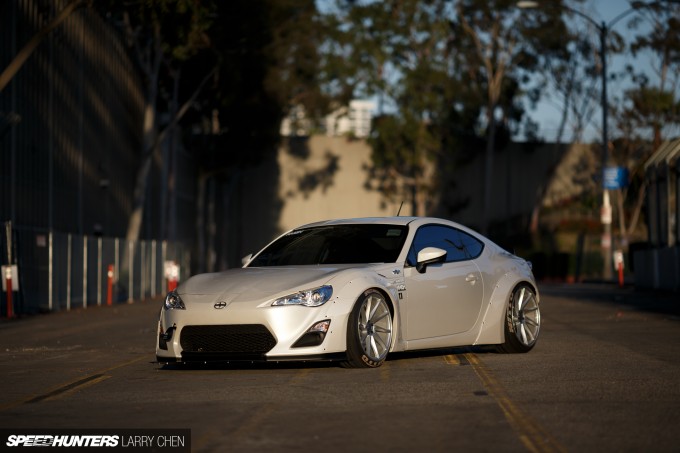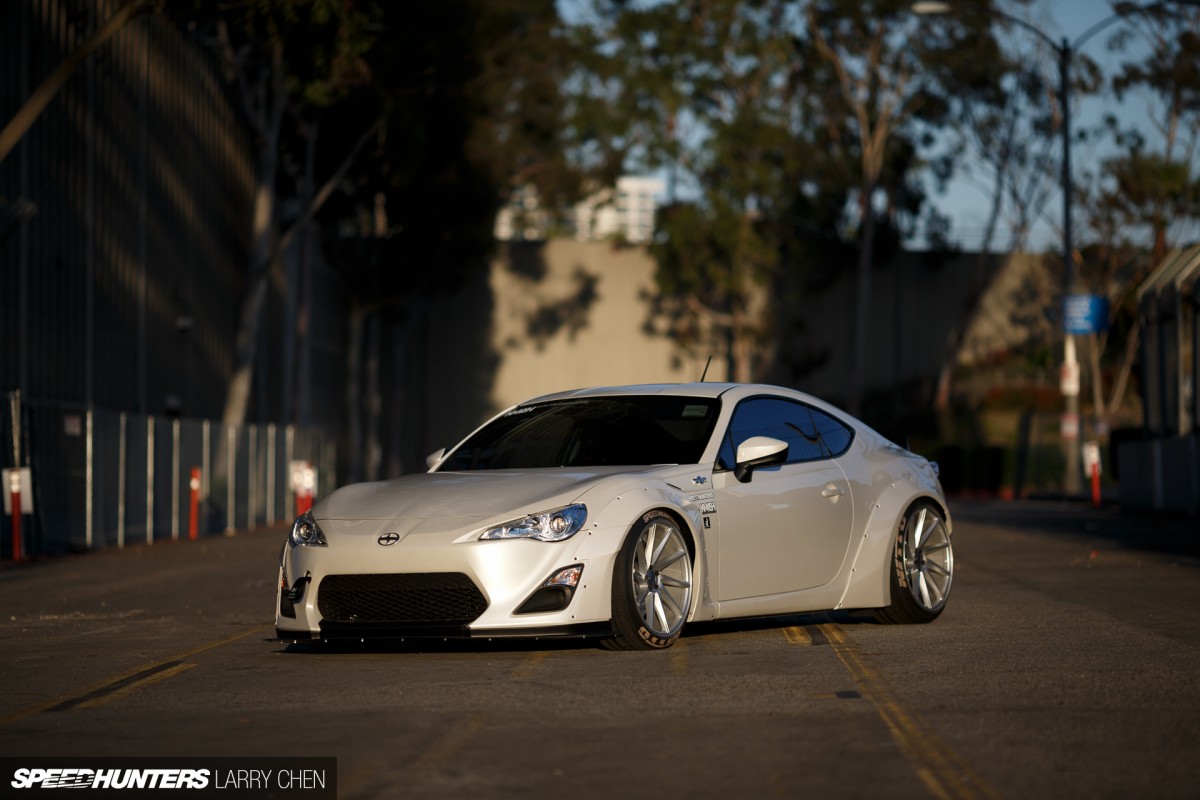 Larry: The light was amazing, but I had to end the shoot early since I had to wake up at the crack of morning to meet up with the rest of the crew…
Easy like Sunday morning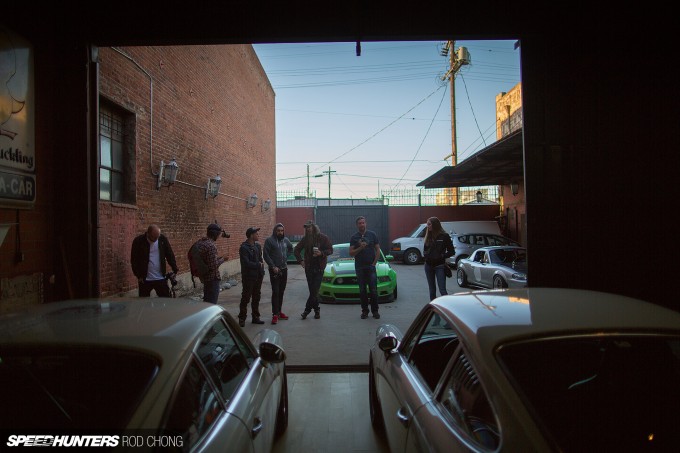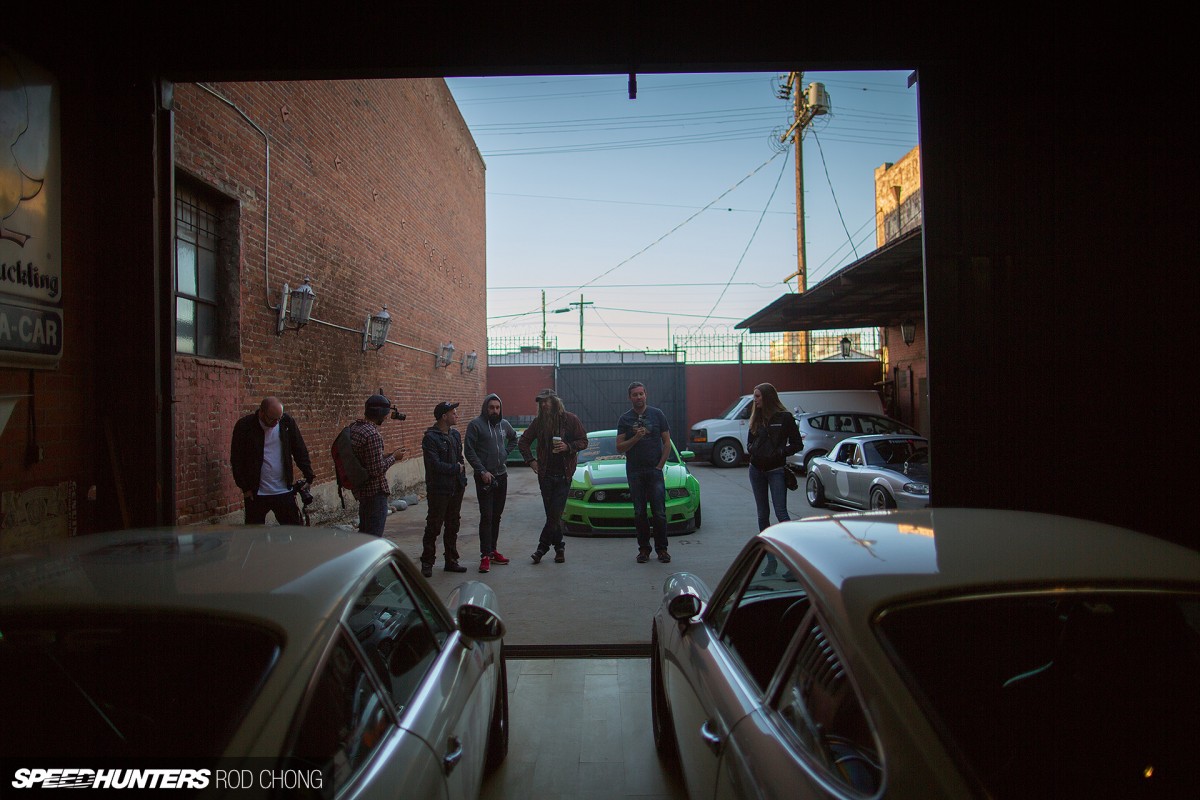 Mike: The madness of Long Beach might have wrapped up, but our adventures were not quite over yet. Sunday morning's plan called for a 7:00am rendezvous at Magnus Walker's garage in downtown Los Angeles.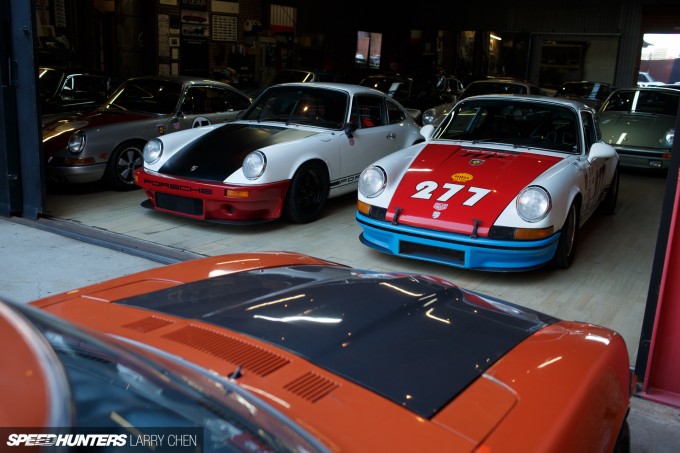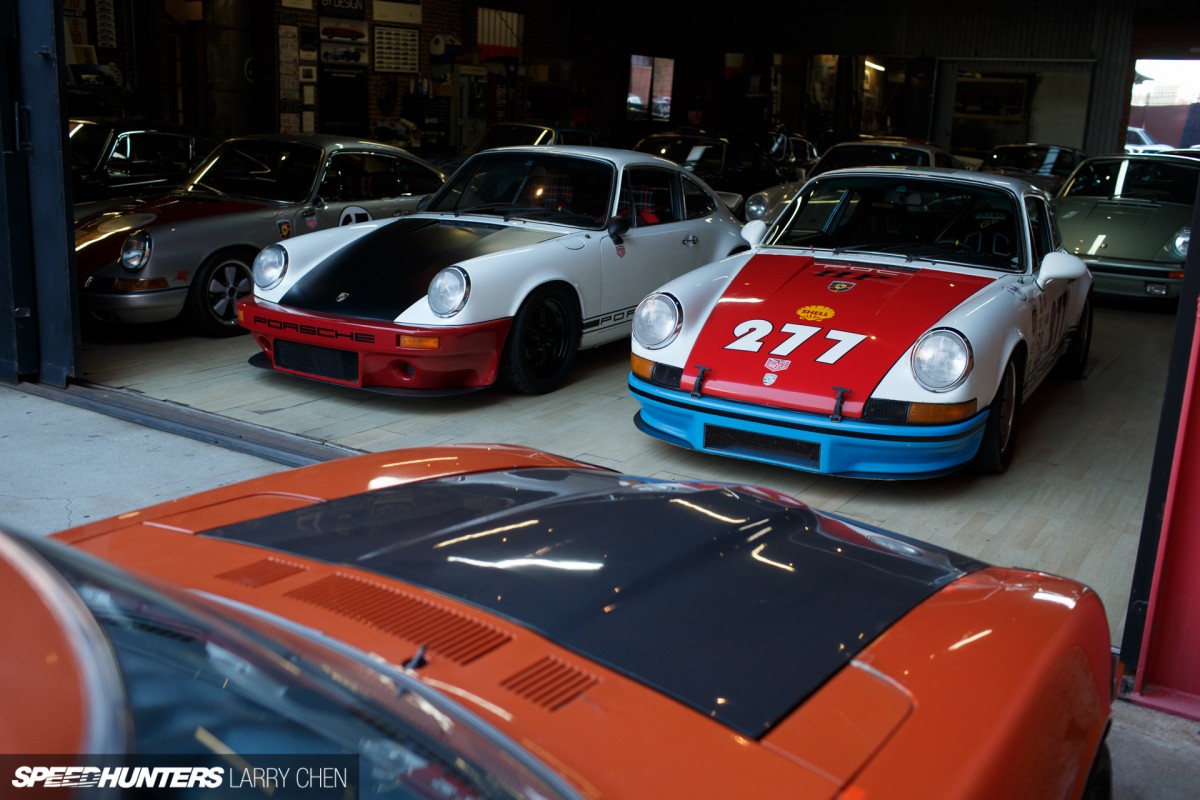 Mike: This was my first time to meet the Urban Outlaw and see his incredible Porsche collection, and I can say that it's even more amazing than it appears in photos and videos.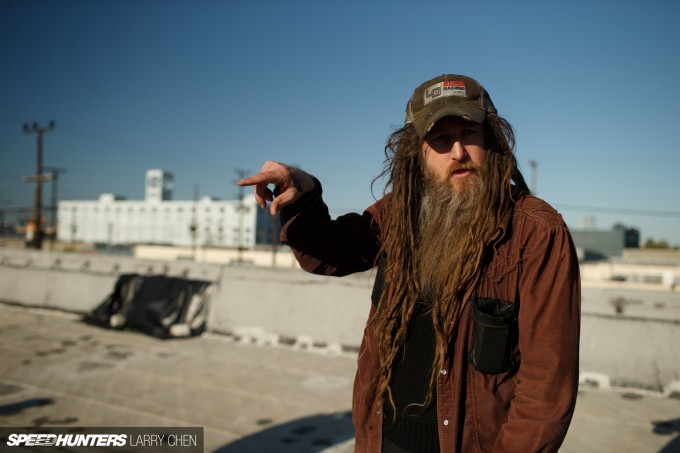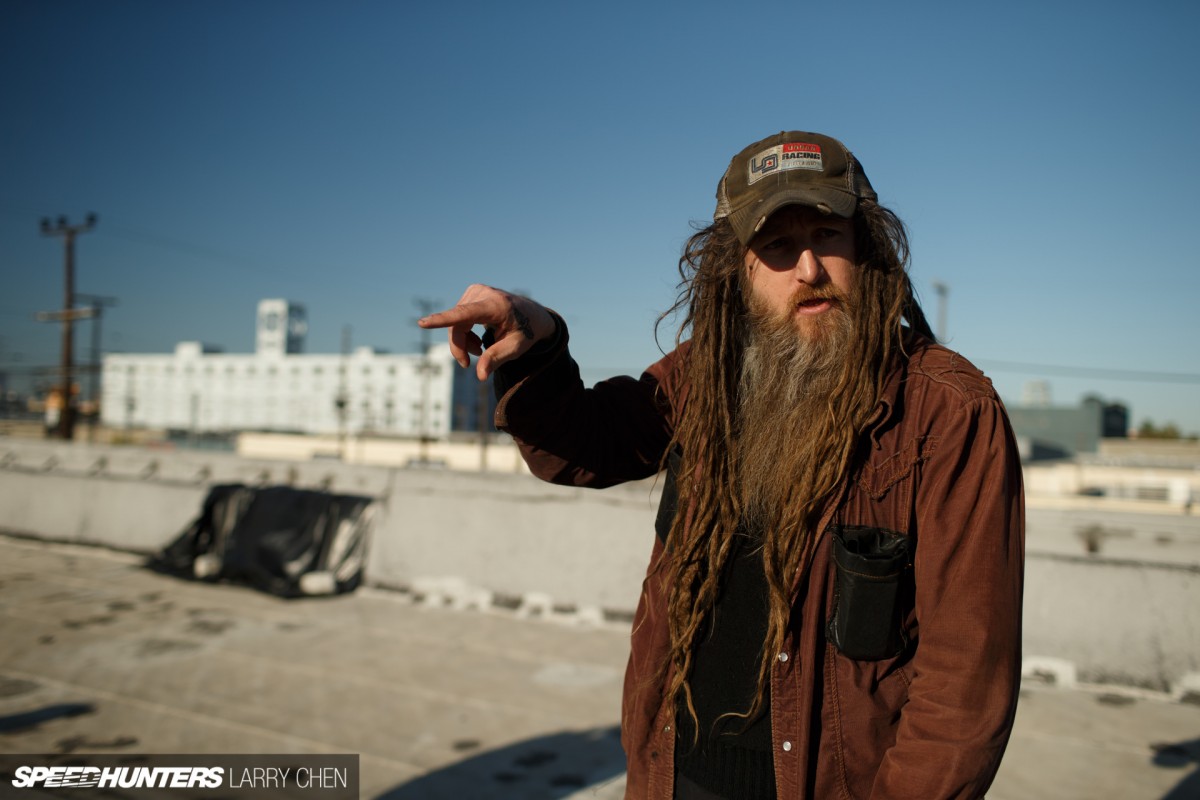 Rod: Magnus is certainly a larger than life character. He's a great bloke, very amiable and generous, but also a fantastic story teller.
Mike: Agreed, and if you just spoke with him on the phone you would be blown away to see what he actually looks like.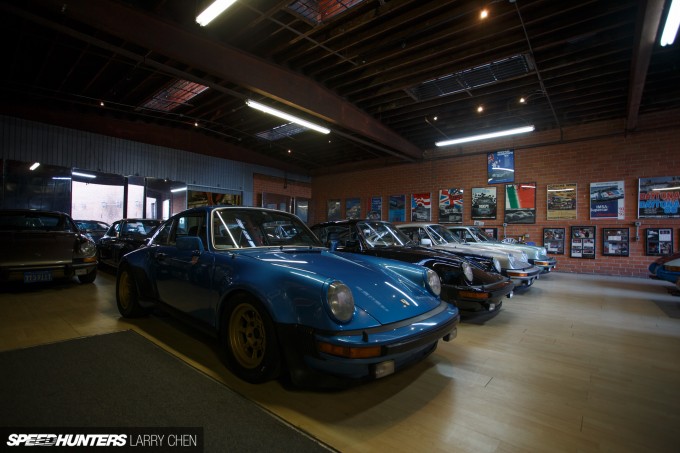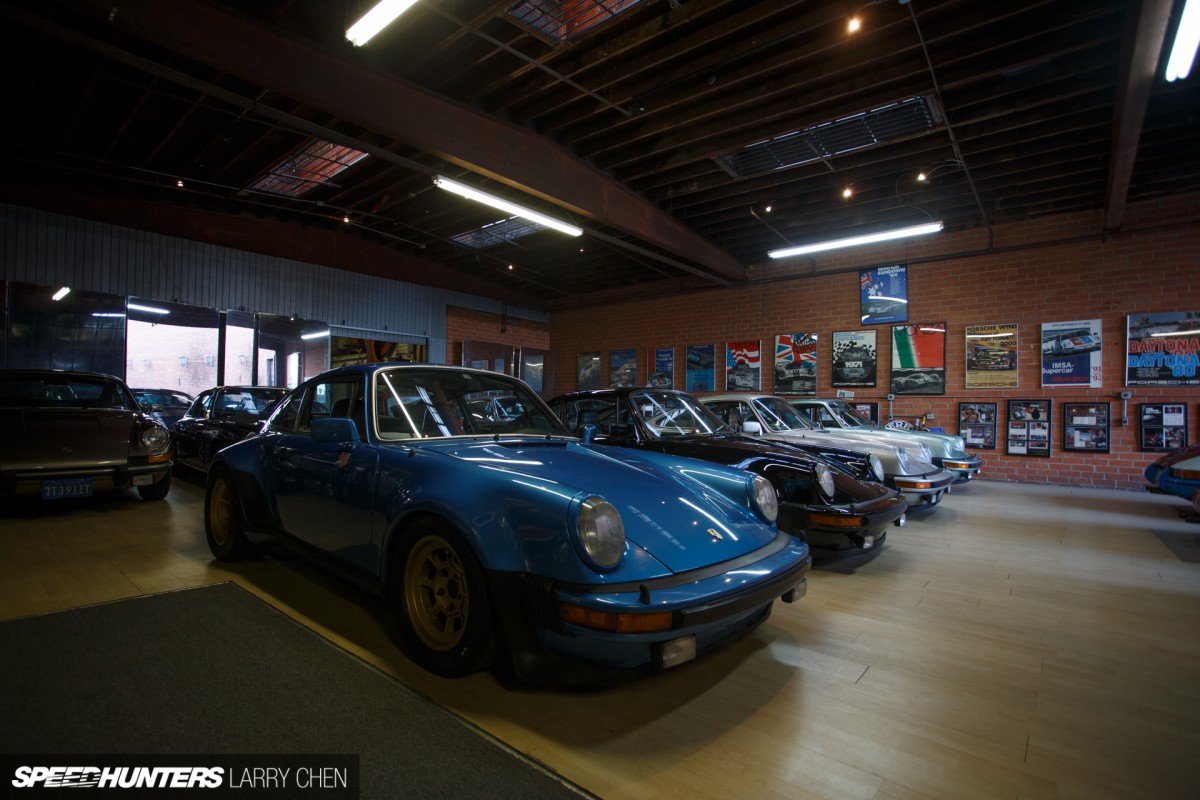 Rod: I can certainly see why and how he's become as successful as he has. He knows who he is, and where he's going.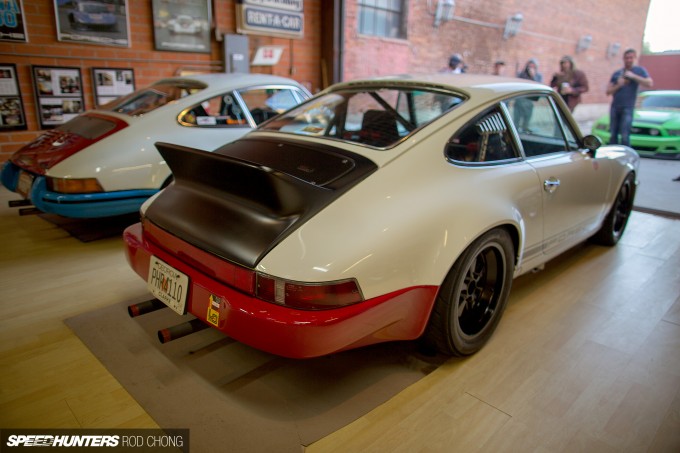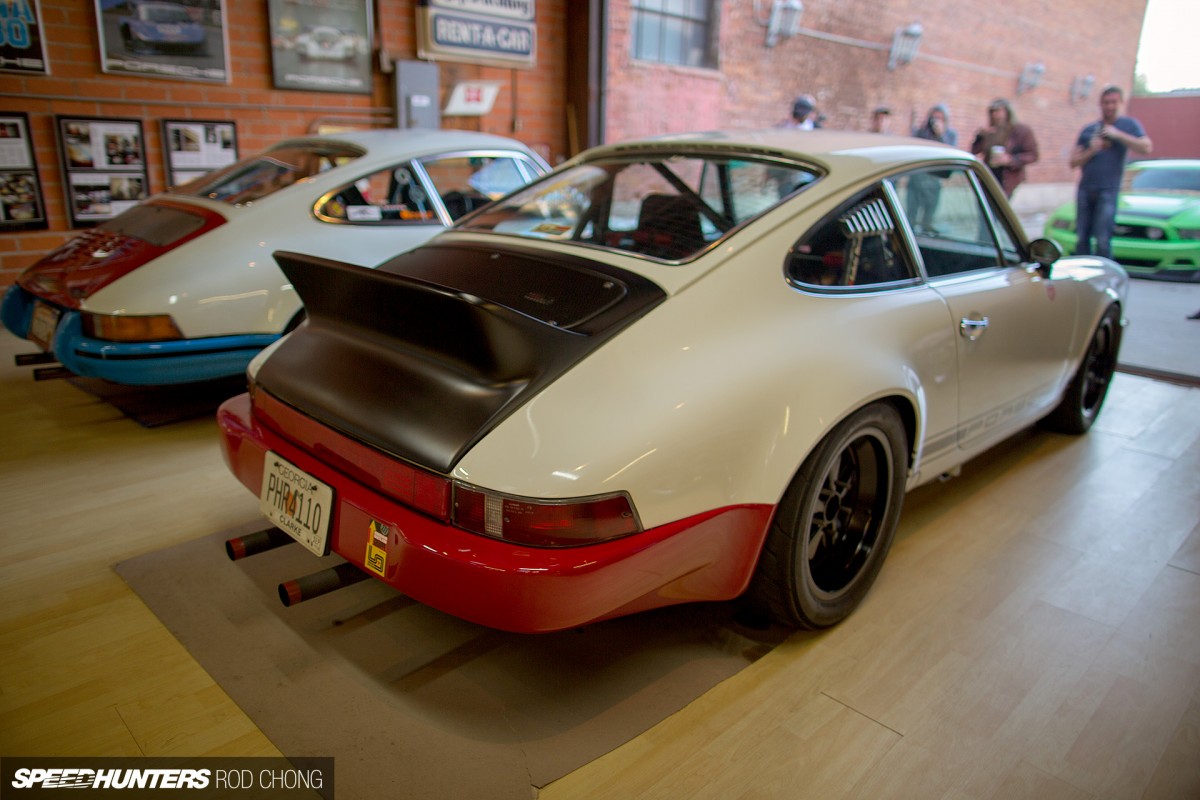 Rod: This 911SC is the latest project to come out of Magnus's workshop. It's been conceived as a budget build which mixes early '70s styling queues on a late '70s chassis. Larry is putting together a feature shoot in the coming weeks.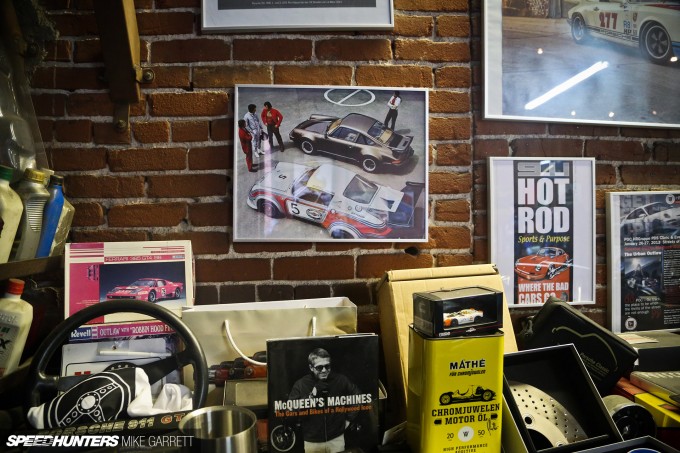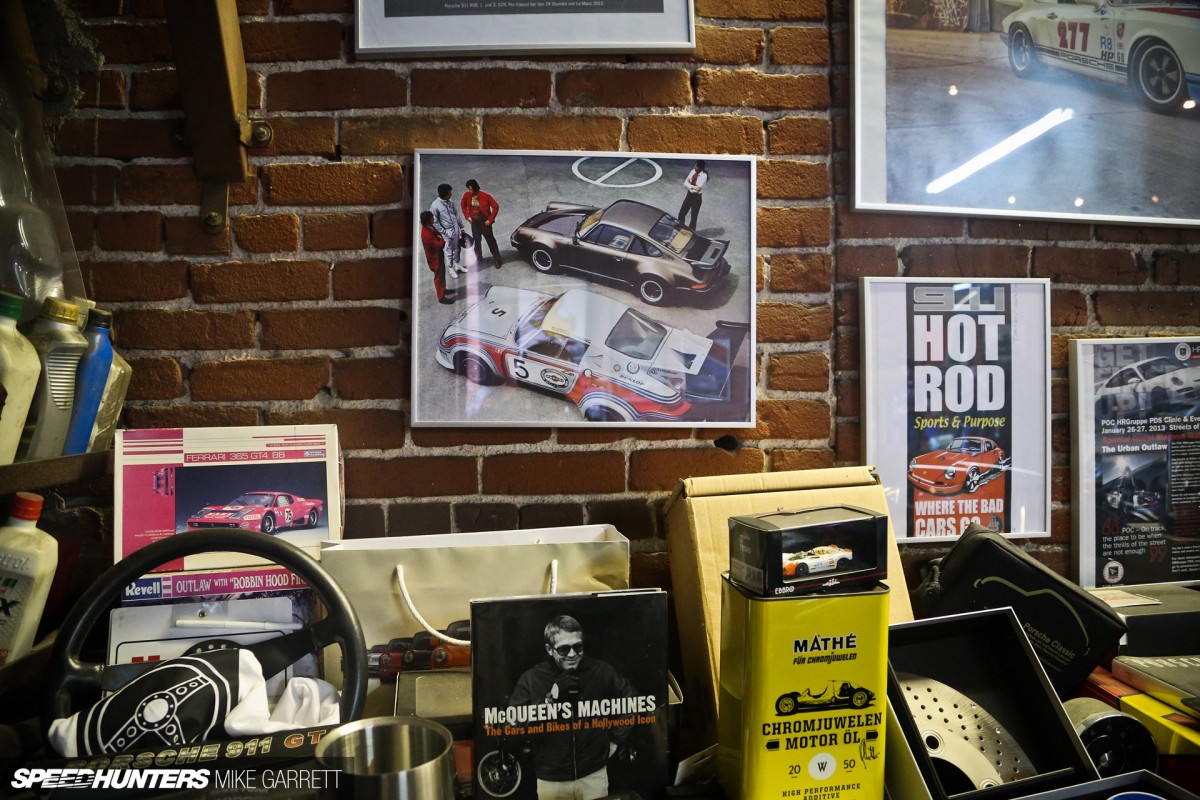 Mike: It's not just the cars either, but an incredible collection of Porsche-related memorabilia and collectables.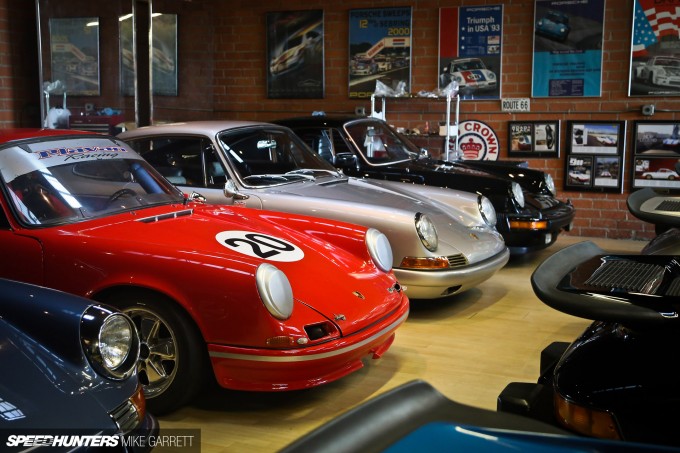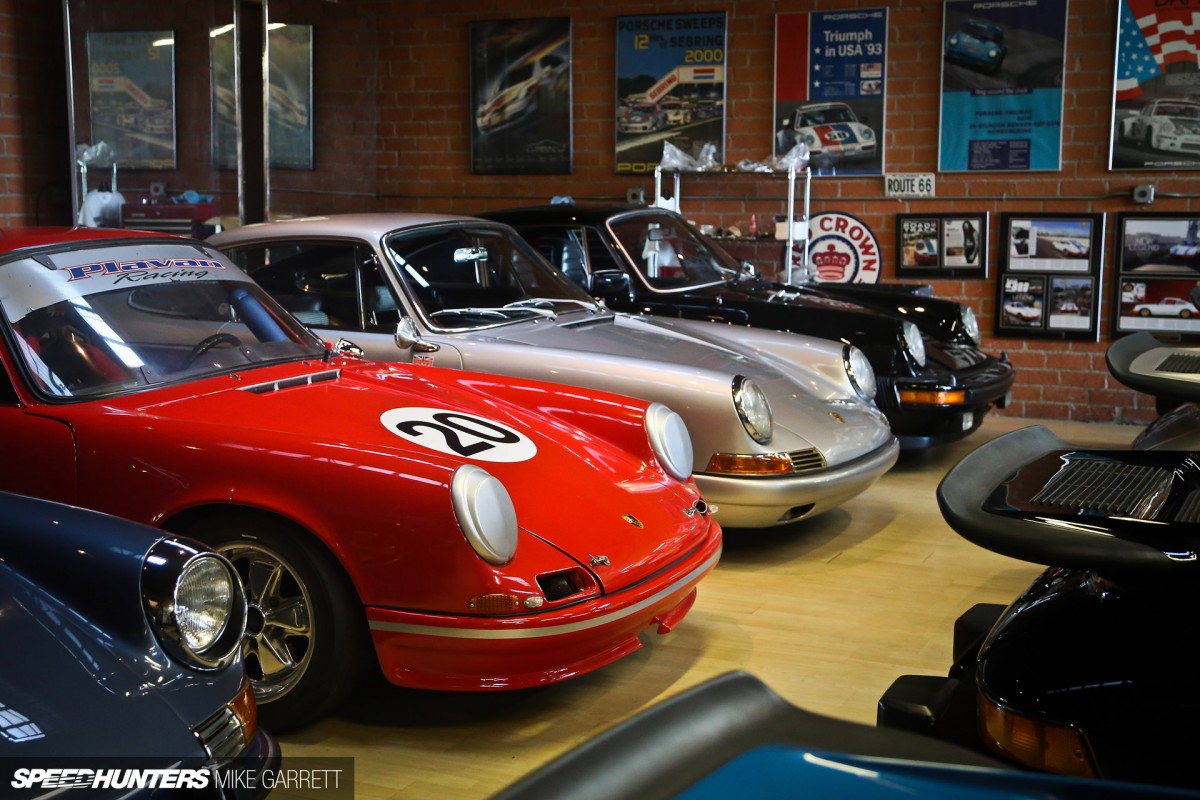 Mike: I'm not sure I've ever met anyone with a stronger passion for one type of car, and if you can leave Magnus's place without lusting after an original 911 you might want to have your head checked.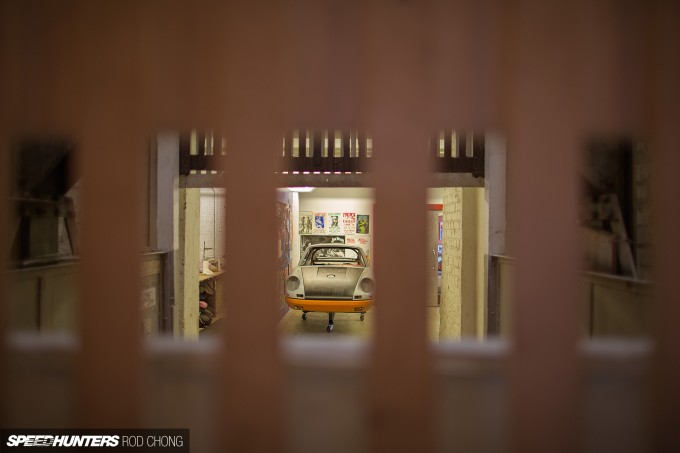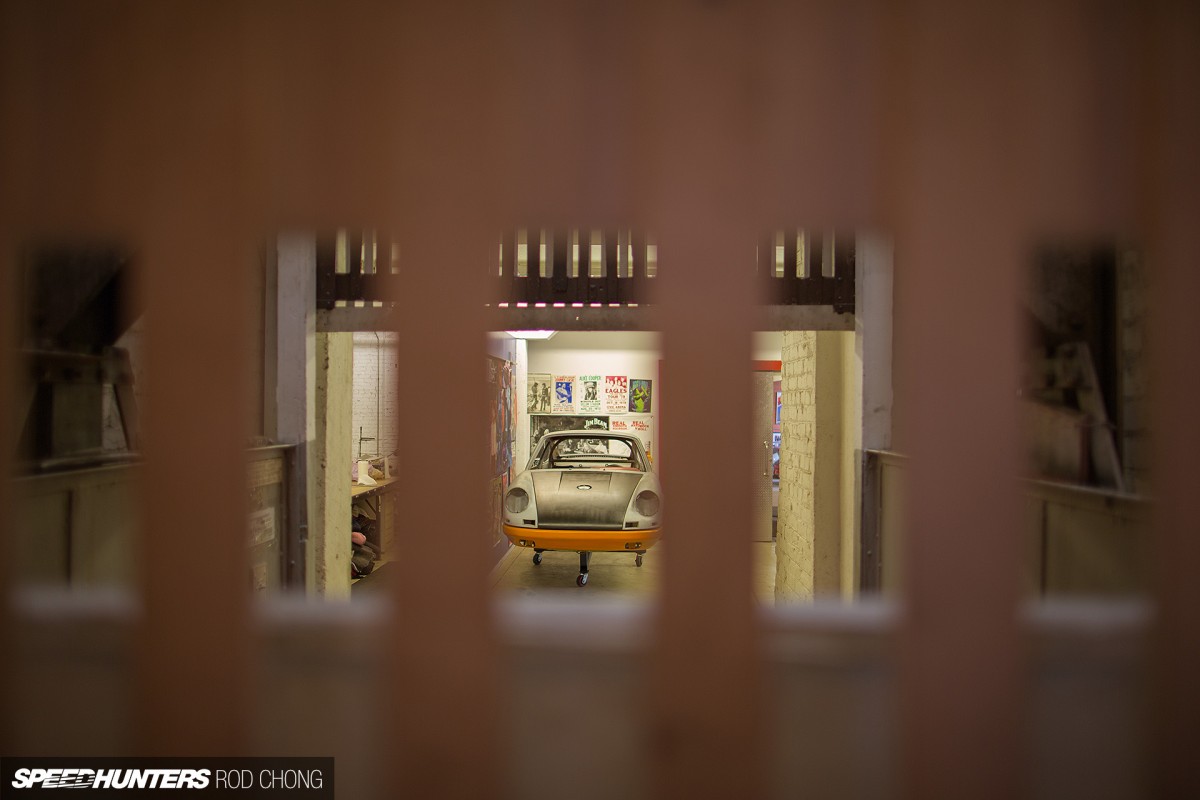 Mike: And beyond the collection of Porsche cars and memorabilia, the facility itself is simply amazing.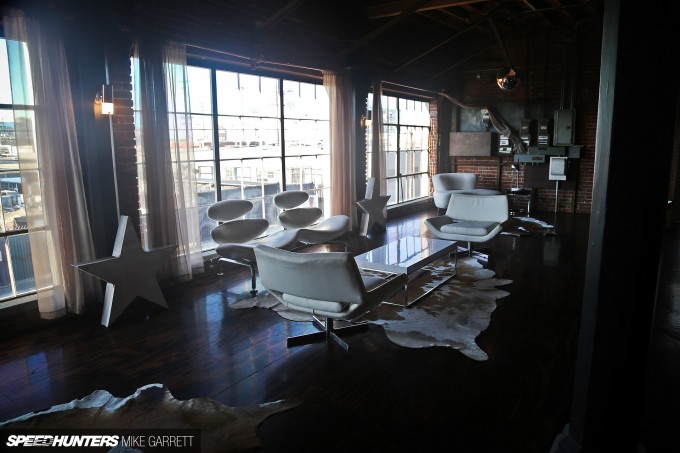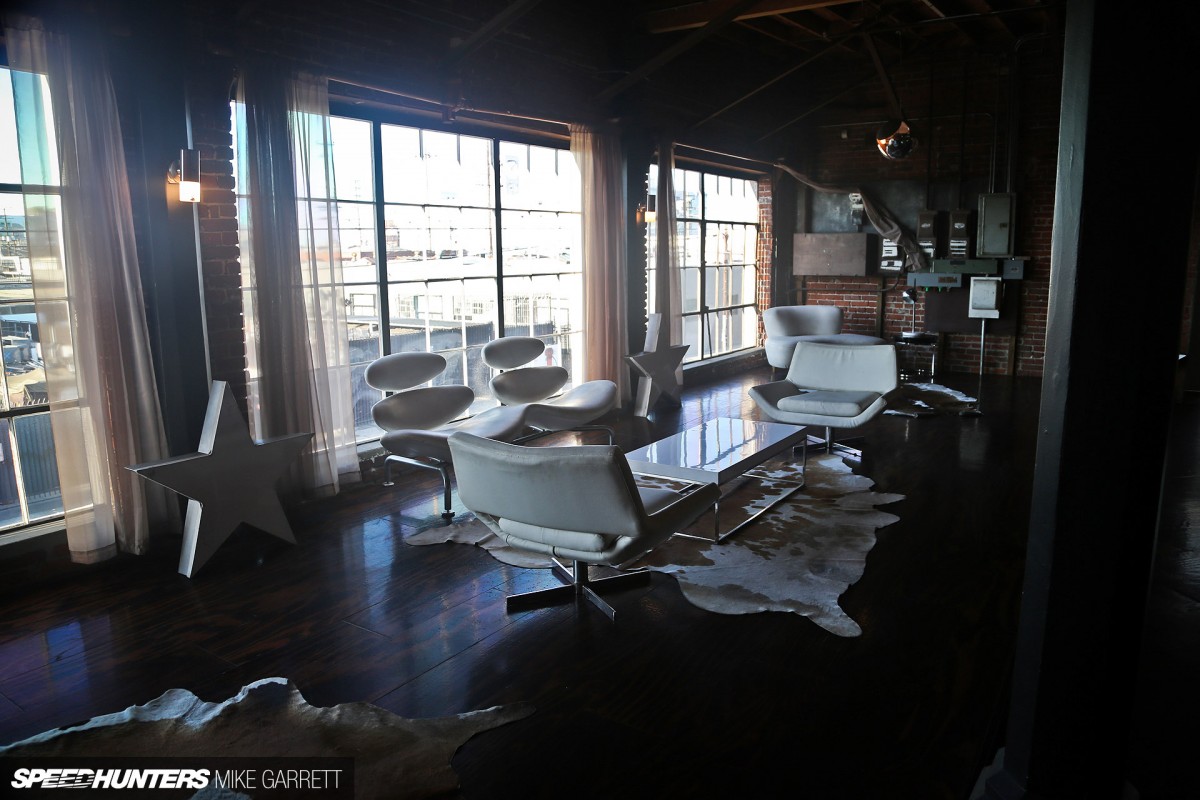 Mike: It's not just the garage and 'showroom' either, but a huge loft filled with all sorts of vintage furniture and other cool stuff. It's not hard to see why it's served as a filming location for all kinds of Hollywood productions.
Larry: All that mid-century furniture had me drooling. I have to save up three months wages just to get one measly modernist chair.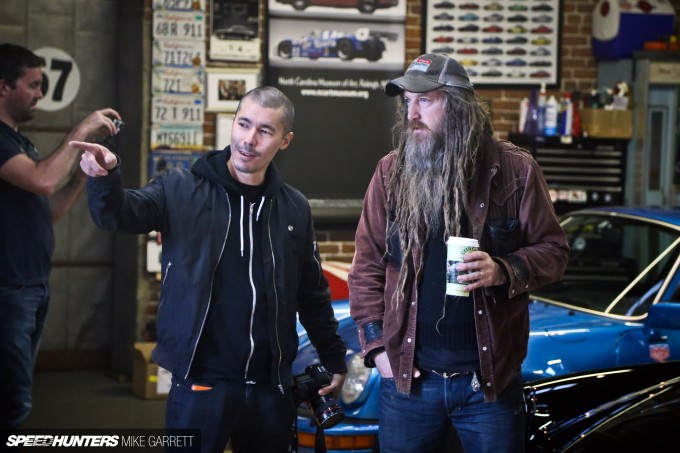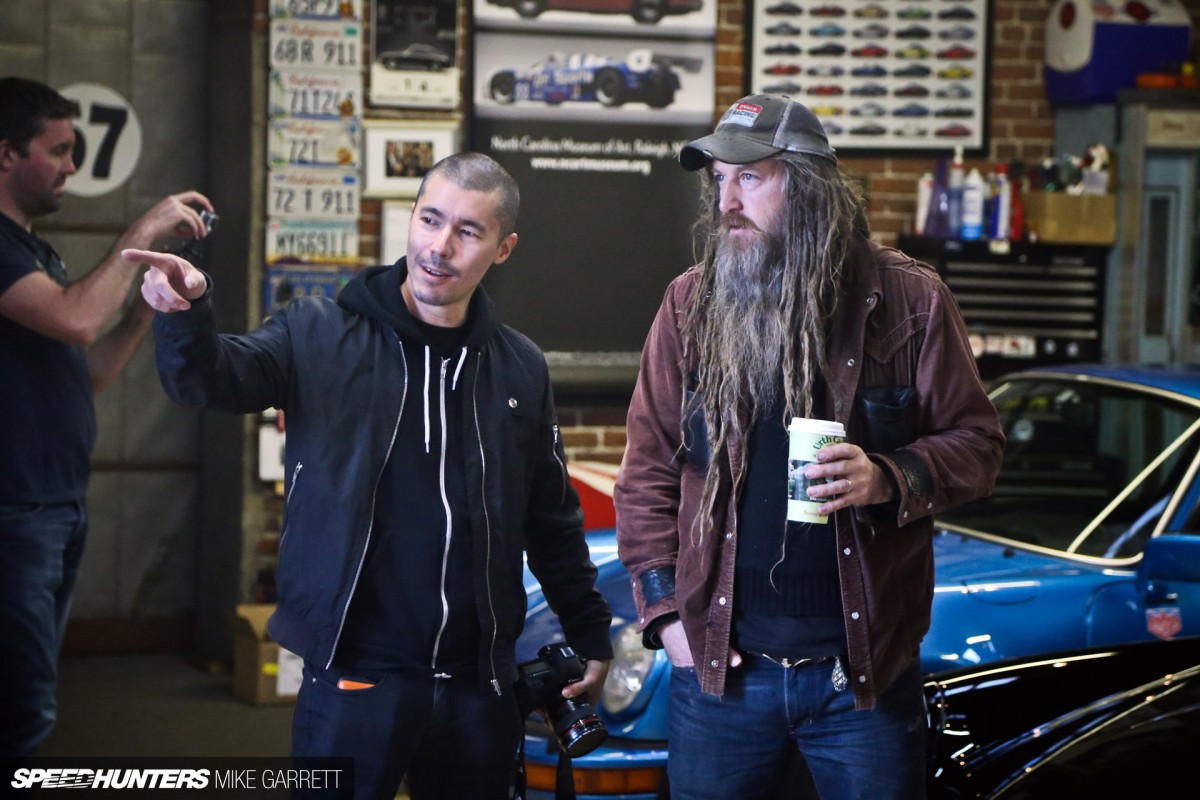 Mike: We could have spent all day poking around, but the real reason we came was to get out and drive. Magnus had agreed to take us out on some of his favorite driving roads and we certainly weren't going to pass up the opportunity.
Larry: It looks like Rod is challenging Magnus to a race.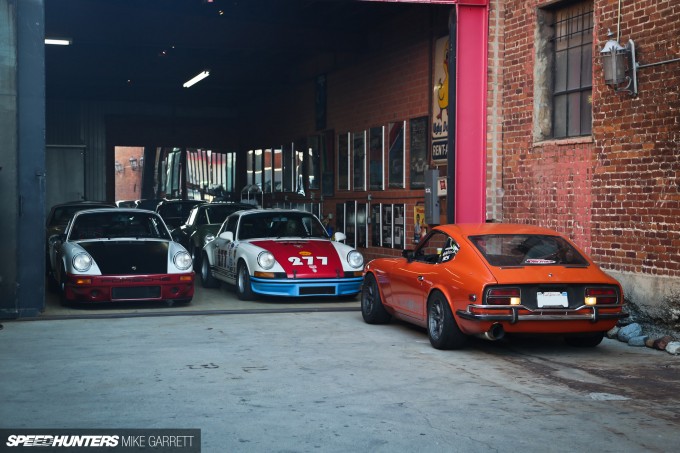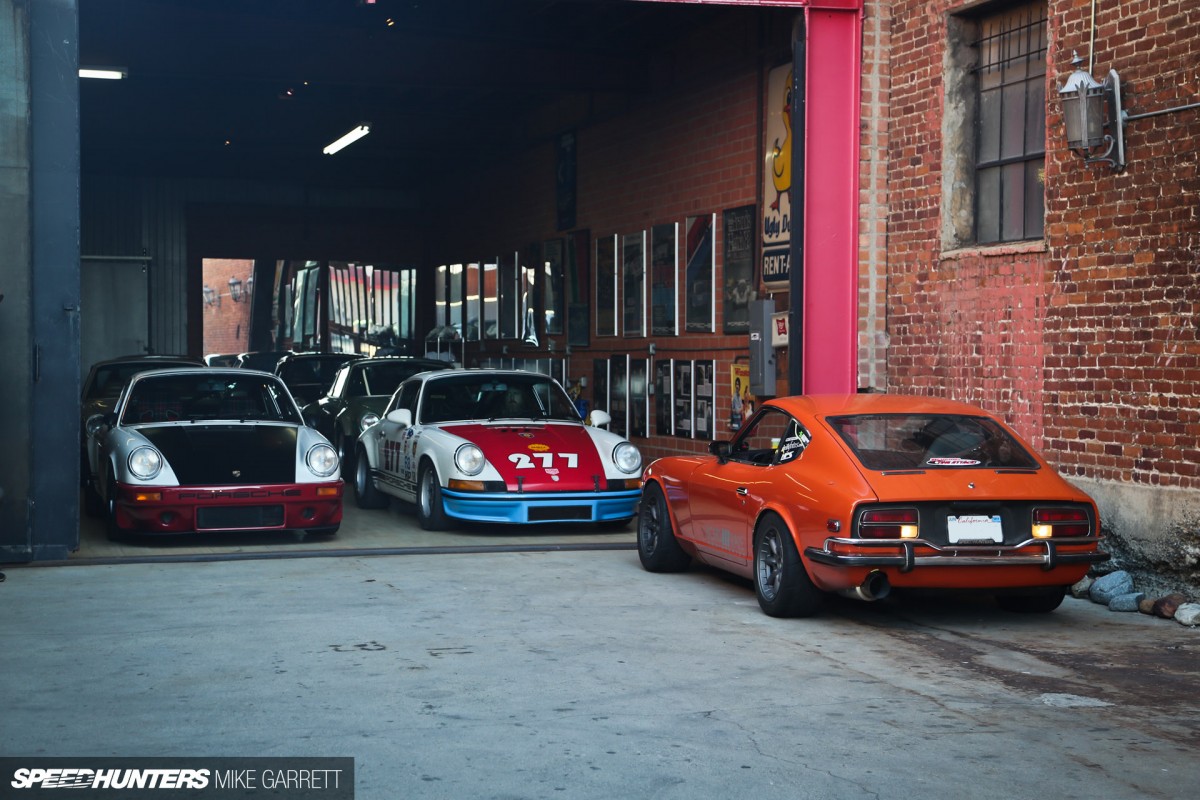 Mike: In addition to Mr. Walker who'd be piloting his famous Urban Outlaw 911, we'd assembled quite a cool little group of cars for this SoCal canyon drive. Despite being exhausted from a full weekend of shooting, Larry showed up ready to go in his SR-powered 240Z.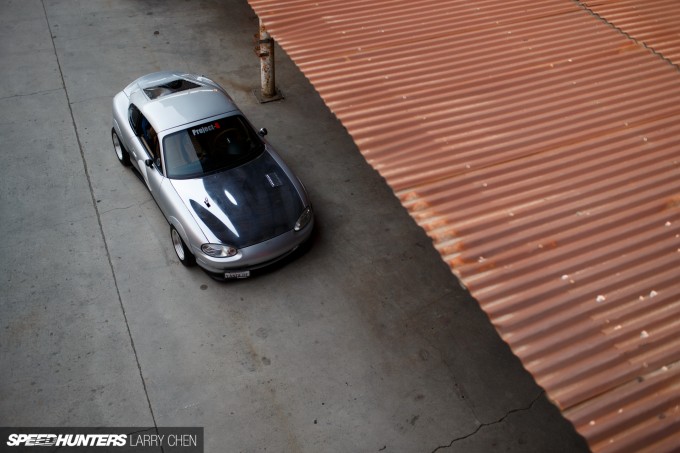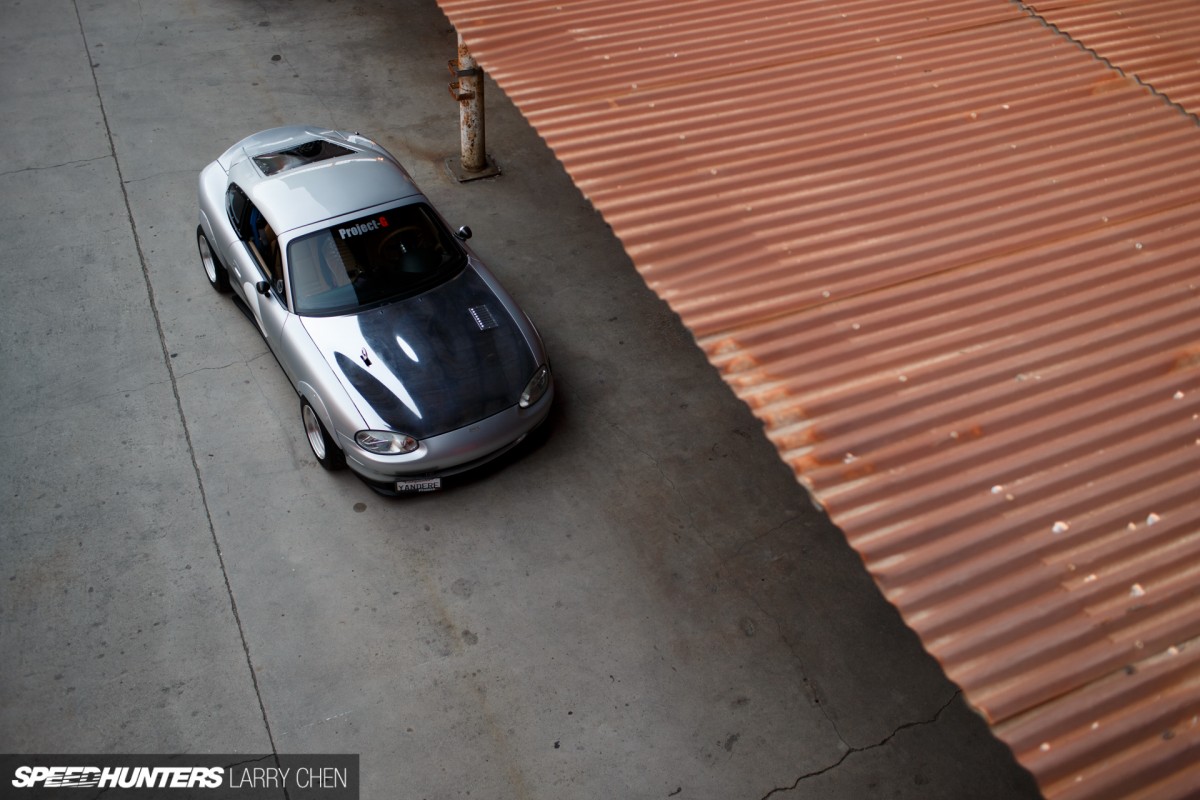 Mike: We were also joined by a rather awesome little NB Miata that you can expect a full feature on soon.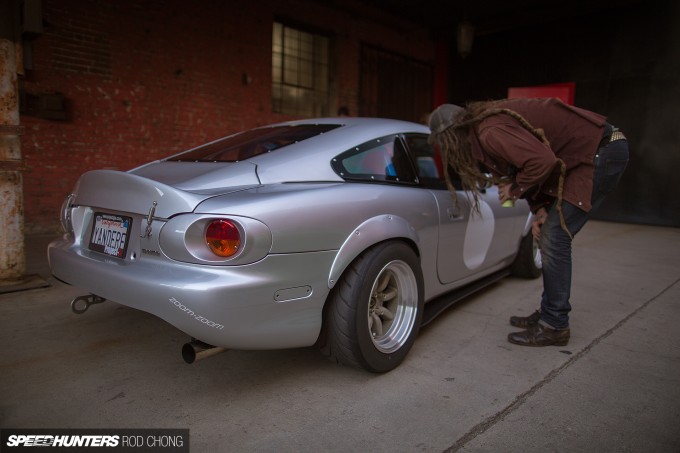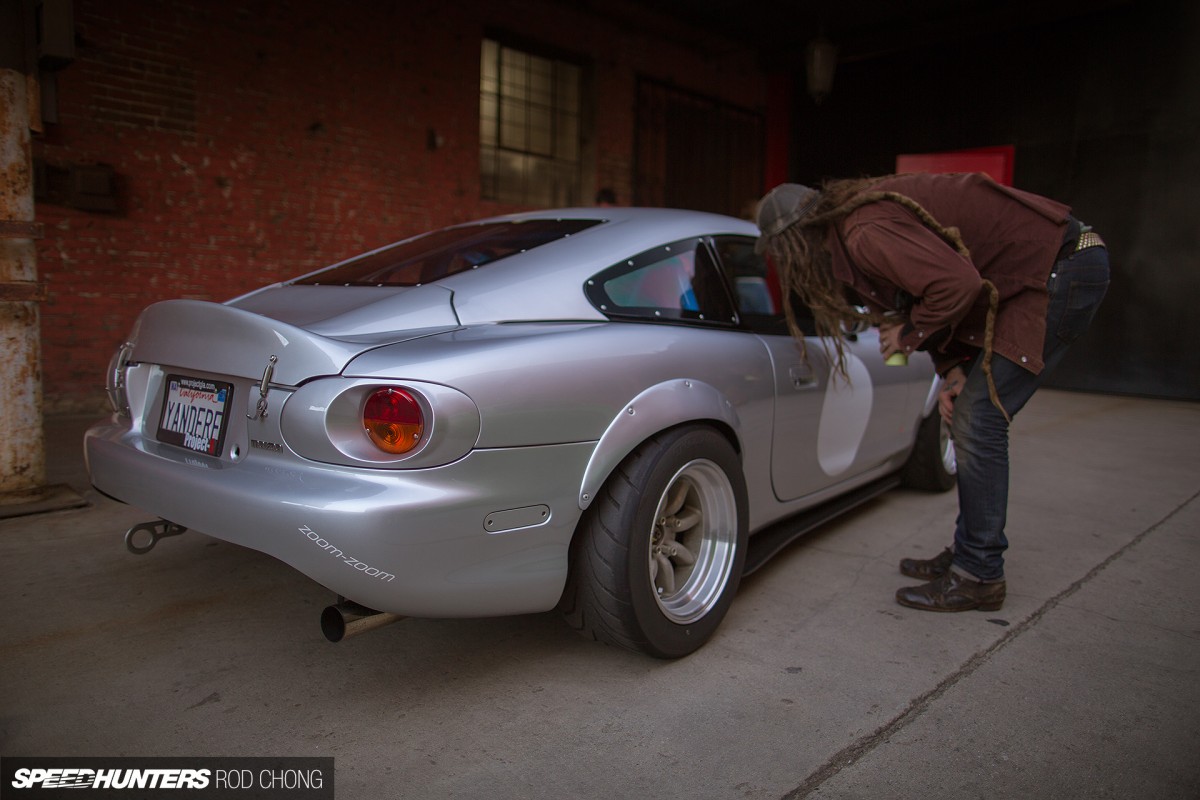 Mike: As you can see, it gets the Magnus Walker seal of approval.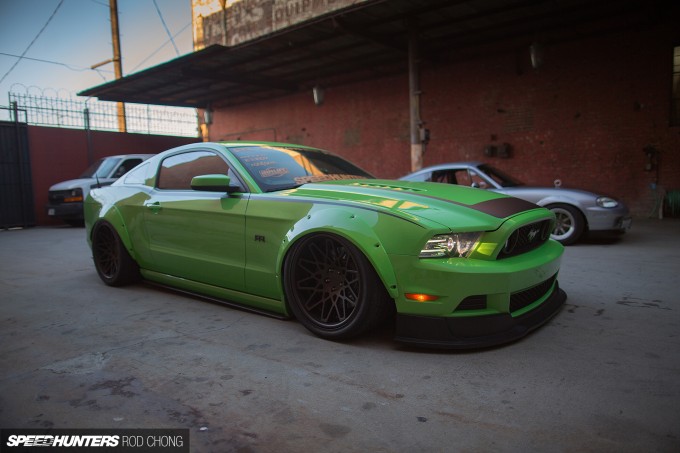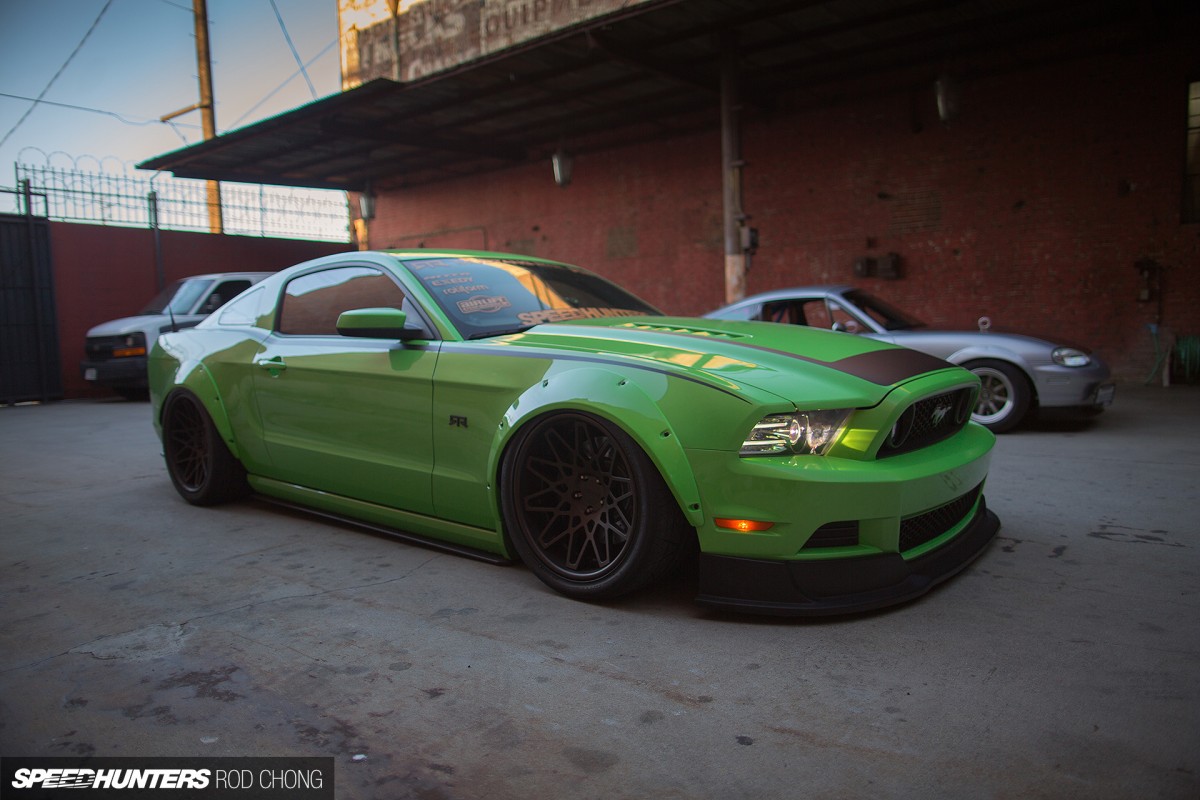 Mike: Last but not least was the familiar Double Down RTR Mustang, which only brought further attention to our little group with its bright green paint and radical stance. We'd also have a chance to see how its Air Lift suspension performed in the twisting canyons.
Rod: This beast was my ride for the day.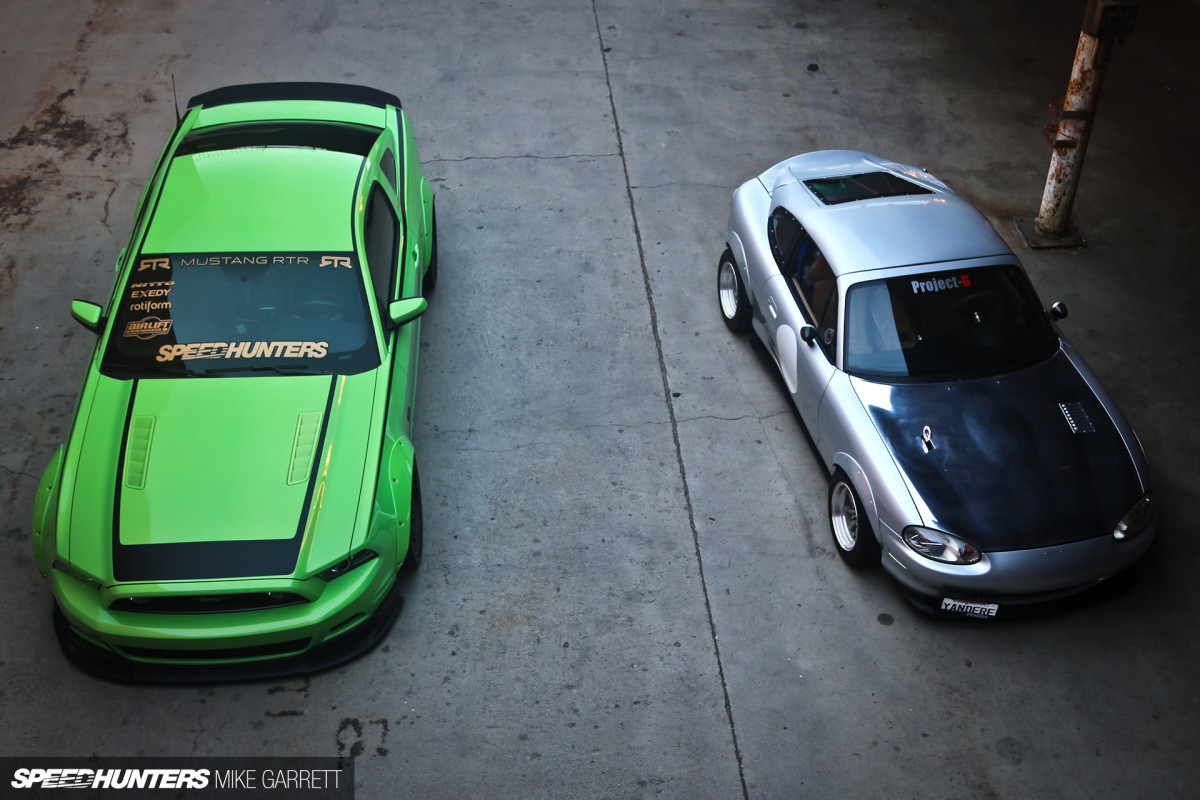 Mike: Mustang, Miata, 240Z, 911 – all regions and eras were represented well in this group. This is what Speedhunting is all about.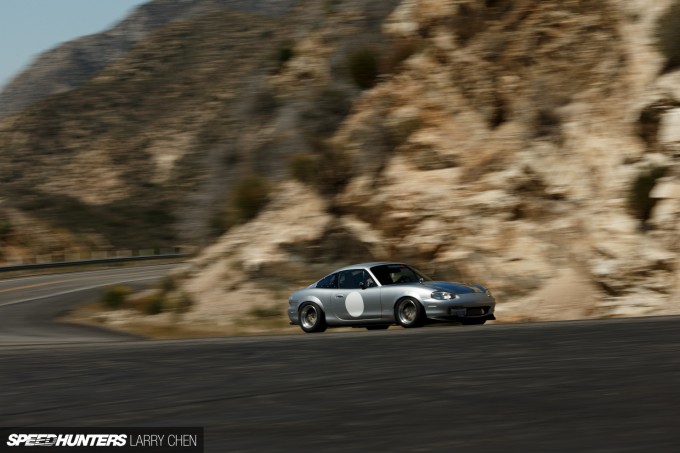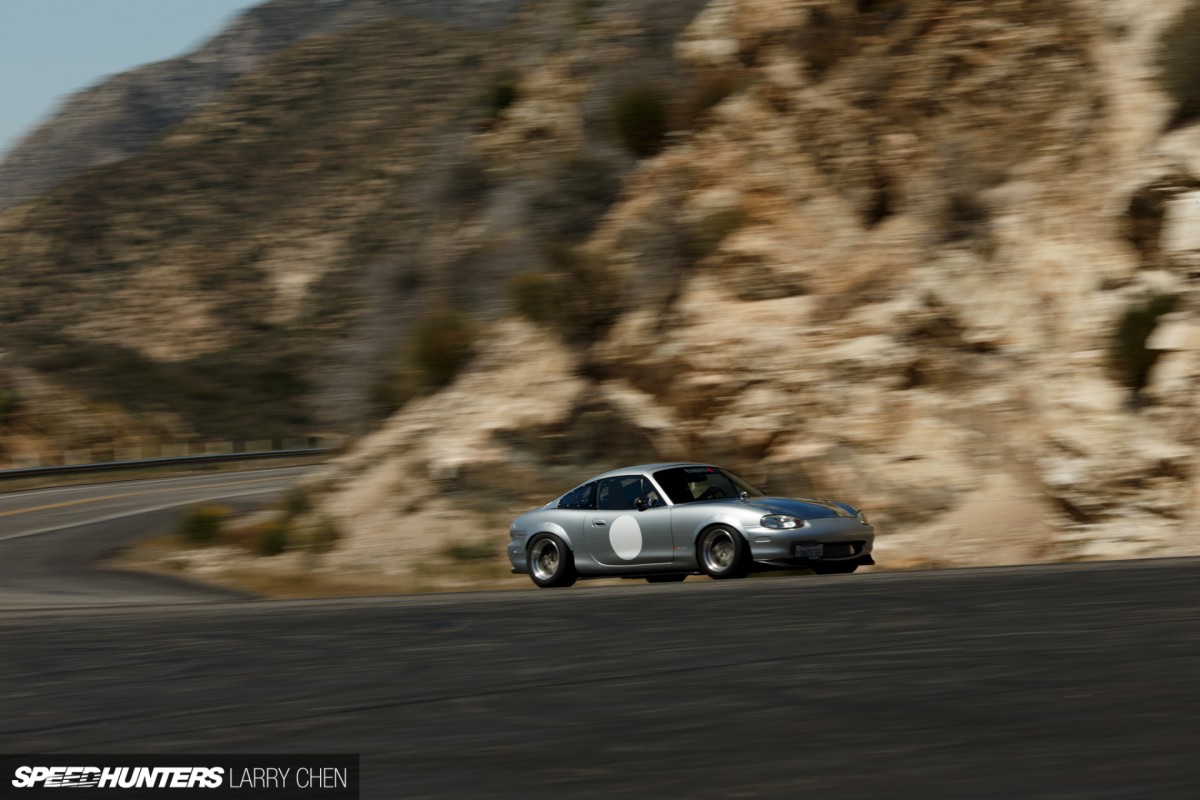 Mike: With Magnus leading the way we headed out of the LA Basin and up famous Angeles Crest Highway.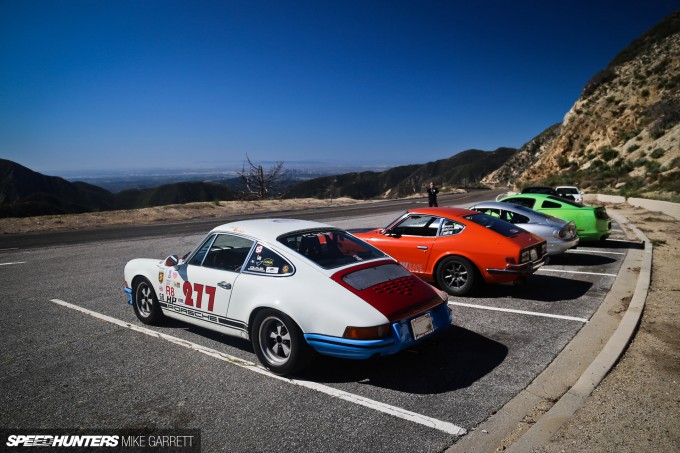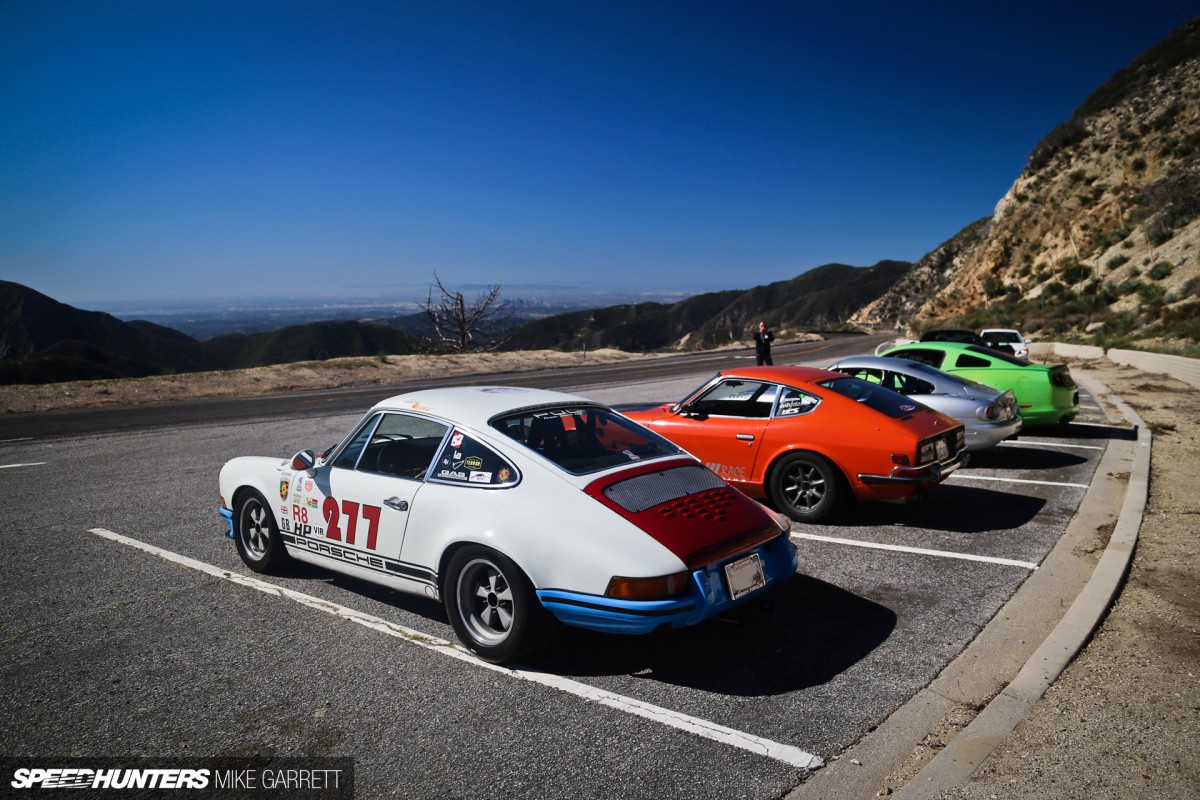 Mike: After some spirited driving we reached a lookout point where we lined up the cars and had a chance to reflect on everything before heading our own separate ways.
Larry: All we were missing was a boba milk tea stand near by to make it an official Southern California parking lot meet.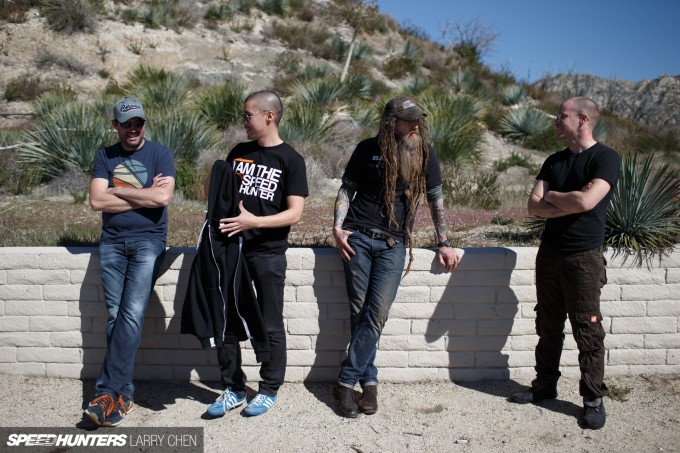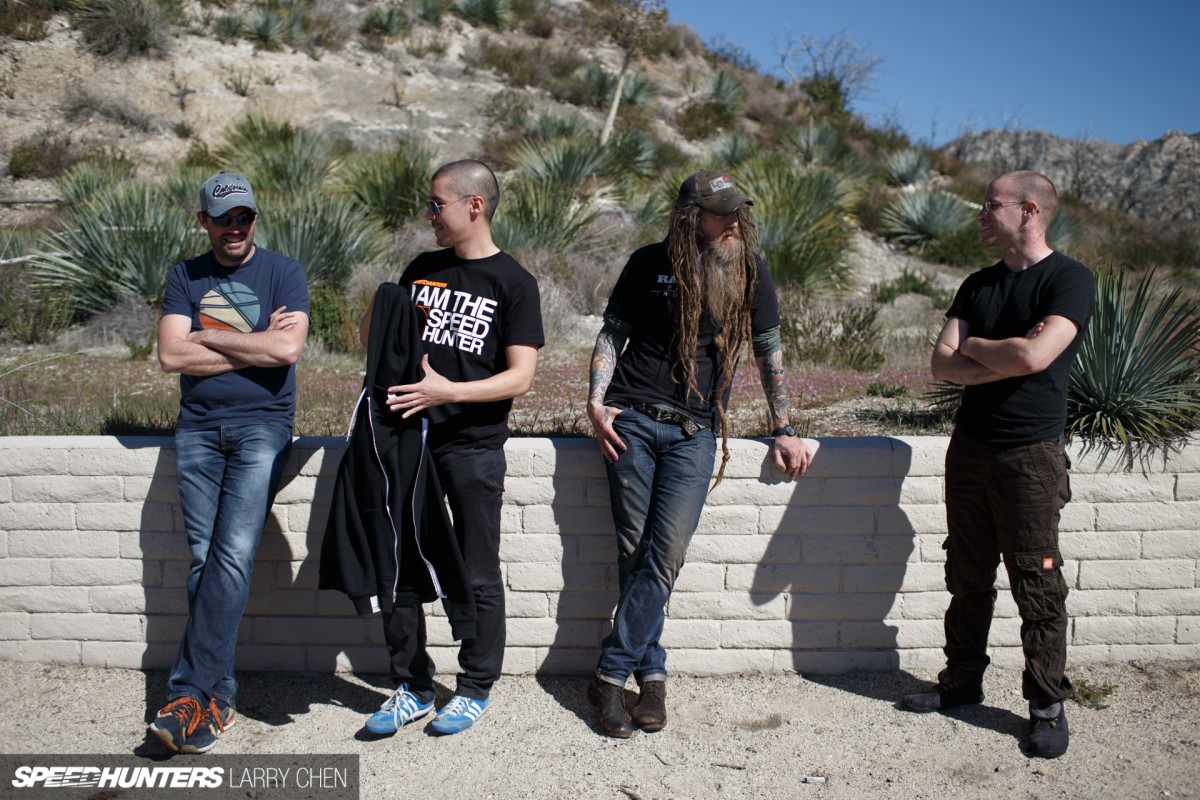 Rod: Much #JoyOfMachine there was. By the way, that's Jamie Keen, the producer of Need for Speed Rivals on the left who was along for the day's canyon-running experience.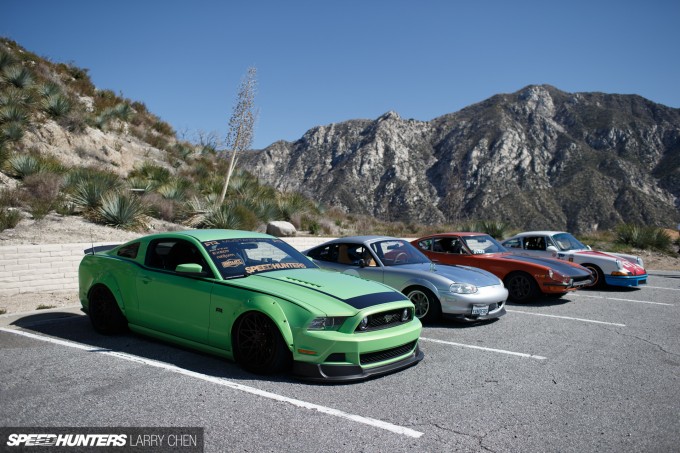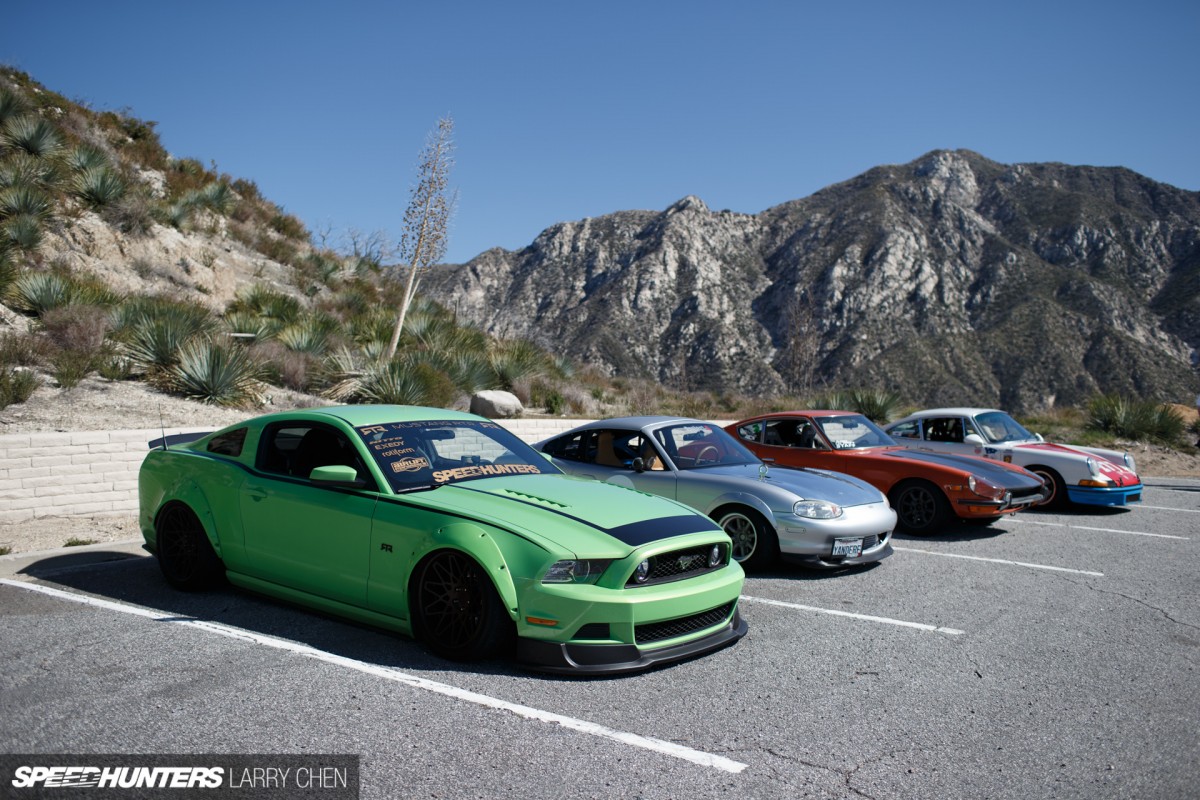 Rod: I'm spending a huge amount of my time working on video games again and with every month it seems like I am increasingly stuck behind computer screens. So the chance to get out and flog the Double Down RTR on a mountain road was a moment to cherish. It's now a week and a half later and I'm still smiling about this.
Mike:  Yes, that morning definitely inspired me to get out and drive more.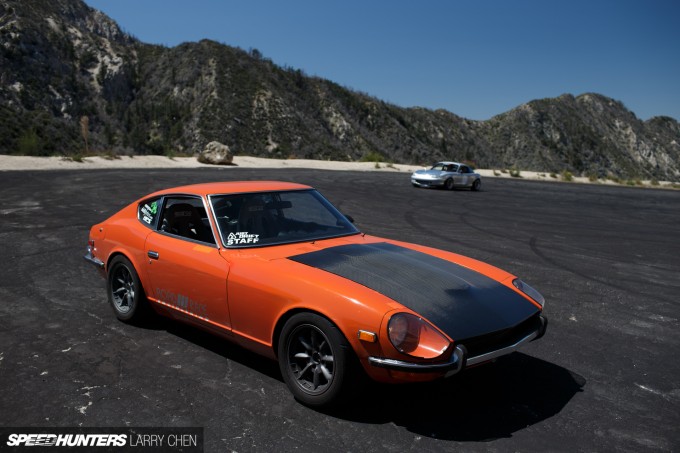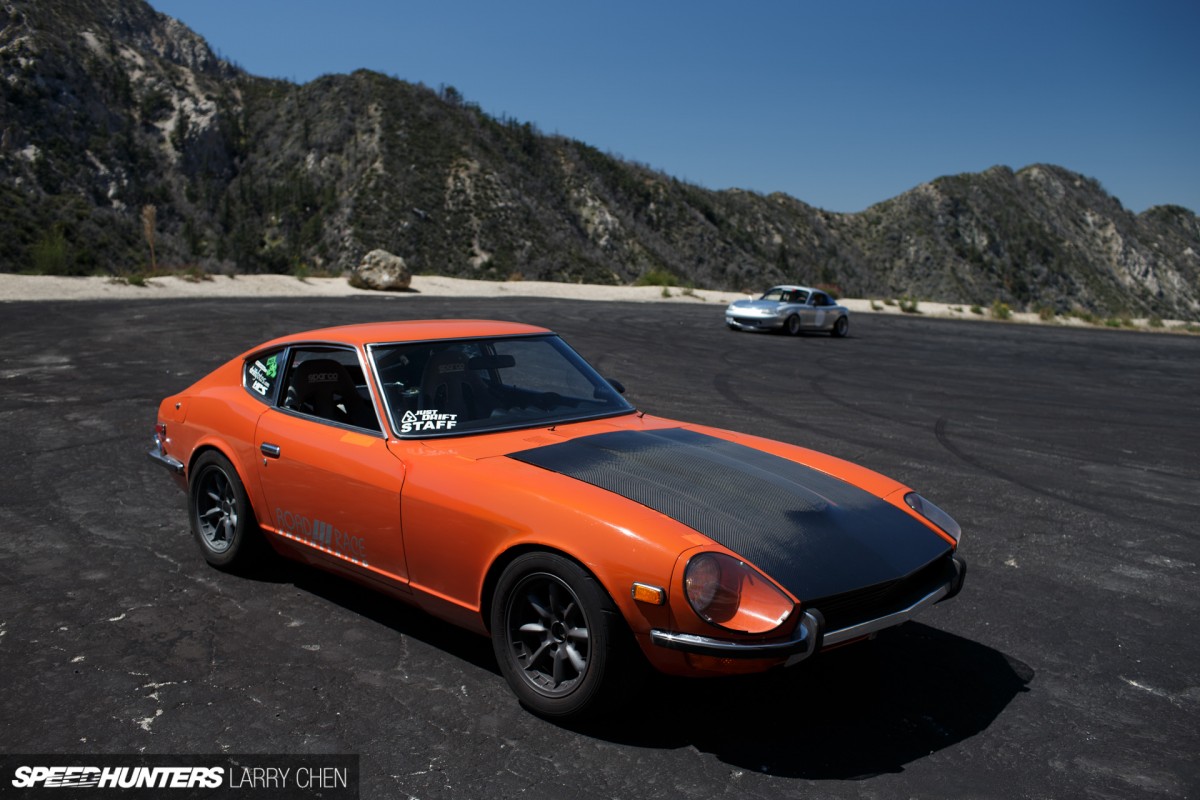 Larry: Everyone had to leave early to fly back across the pond, so I continued up Angeles Crest with the beautifully built, supercharged NB Miata. What a fun drive up the mountain.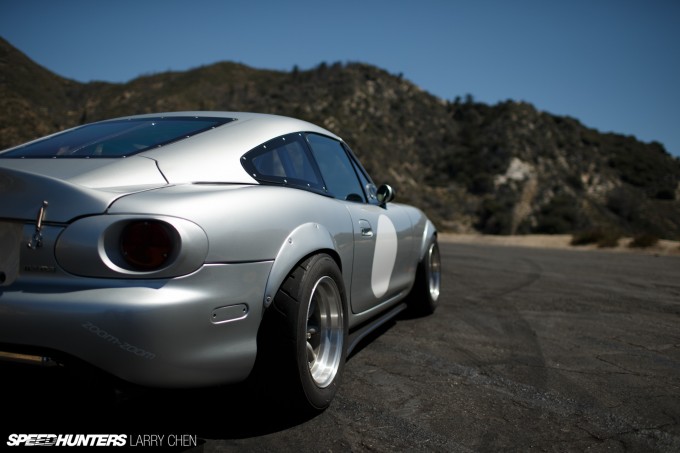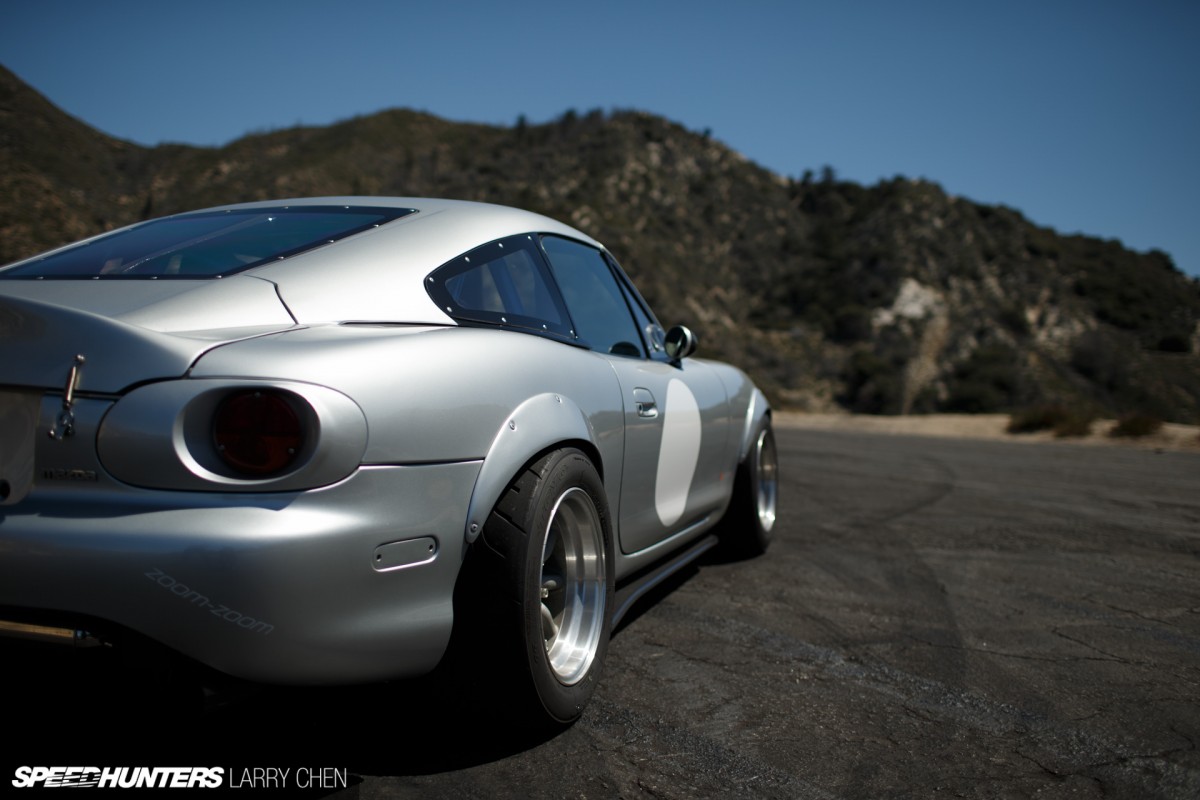 Larry: This is form and function at its best and I can't wait to show you guys more of this car. On top of that, I will be putting together a little drive story that will go into more detail about my drive with all of those cool and crazy cars.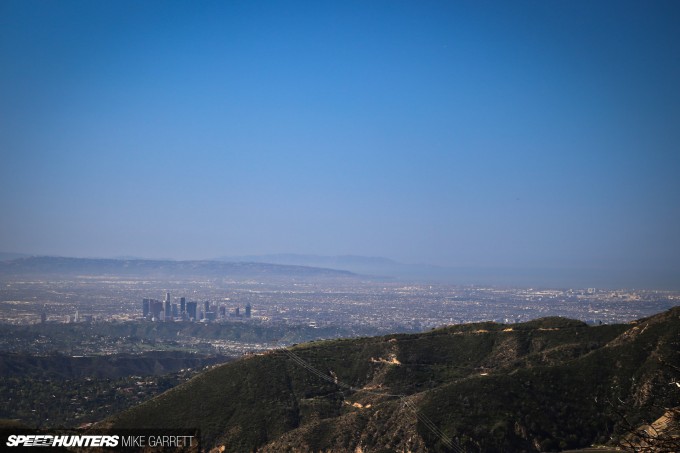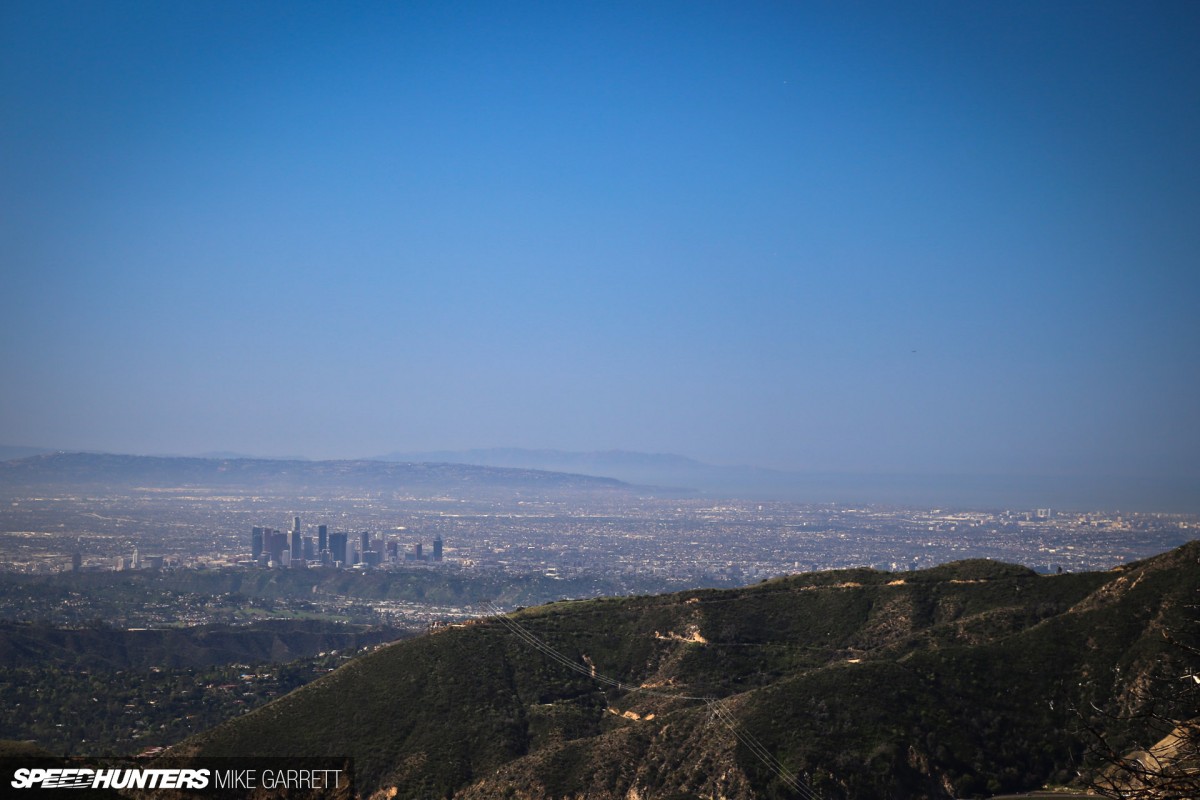 Mike: In just a few days we'd all managed to see familiar faces, meet some great new people, discuss some very cool collaborations – and of course come back with lots of great Speedhunters content. What more could you want from a weekend? In the famous words of Mr. Randy Newman, we love LA.
Mike Garrett
Instagram: speedhunters_mike
mike@speedhunters.com
Rod Chong
Instagram: speedhunters_rod
rod@speedhunters.com
Larry Chen
Instagram: larry_chen_foto
larry@speedhunters.com