Looks to thrill
For the most part, Speedhunters feature car shoots are mapped out weeks, if not months in advance. Every now and then, an on-the-spot opportunity presents itself, as was the case when I dropped by Queensland-based tuner 101 Motorsport to meet its savage 1300whp BNR32 Skyline GT-R on my last trip to Australia.
It wasn't another ultra high horsepower Japanese street dragger that caught my eye though, but a crazy-eyed K11 Micra.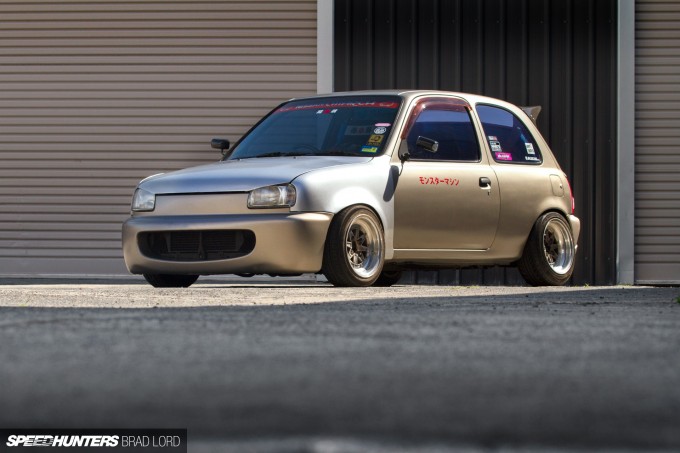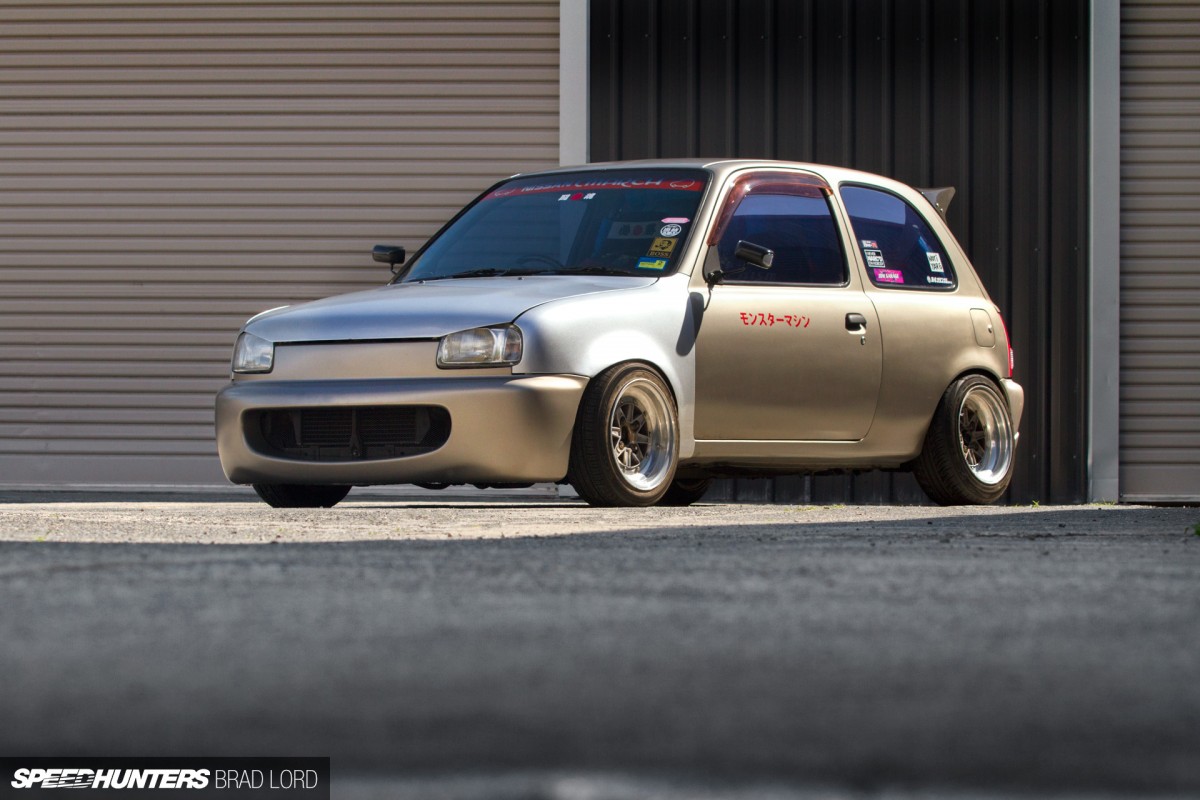 When it comes to modified cars, personality counts for a lot, and even though I knew nothing about the pint-sized Nissan sitting in front me apart from the fact that it definitely wasn't stock, something made me call over 101's owner Varun Sharma to find out a little more about it. Maybe it was the way it looked? I mean, how could I not take an interest with a face like this one staring back at me!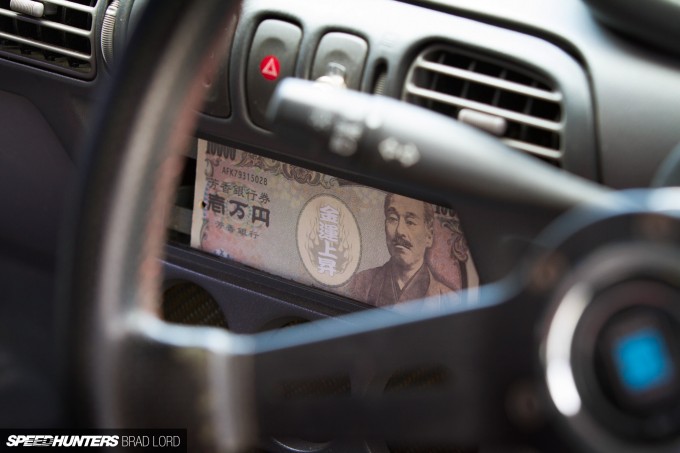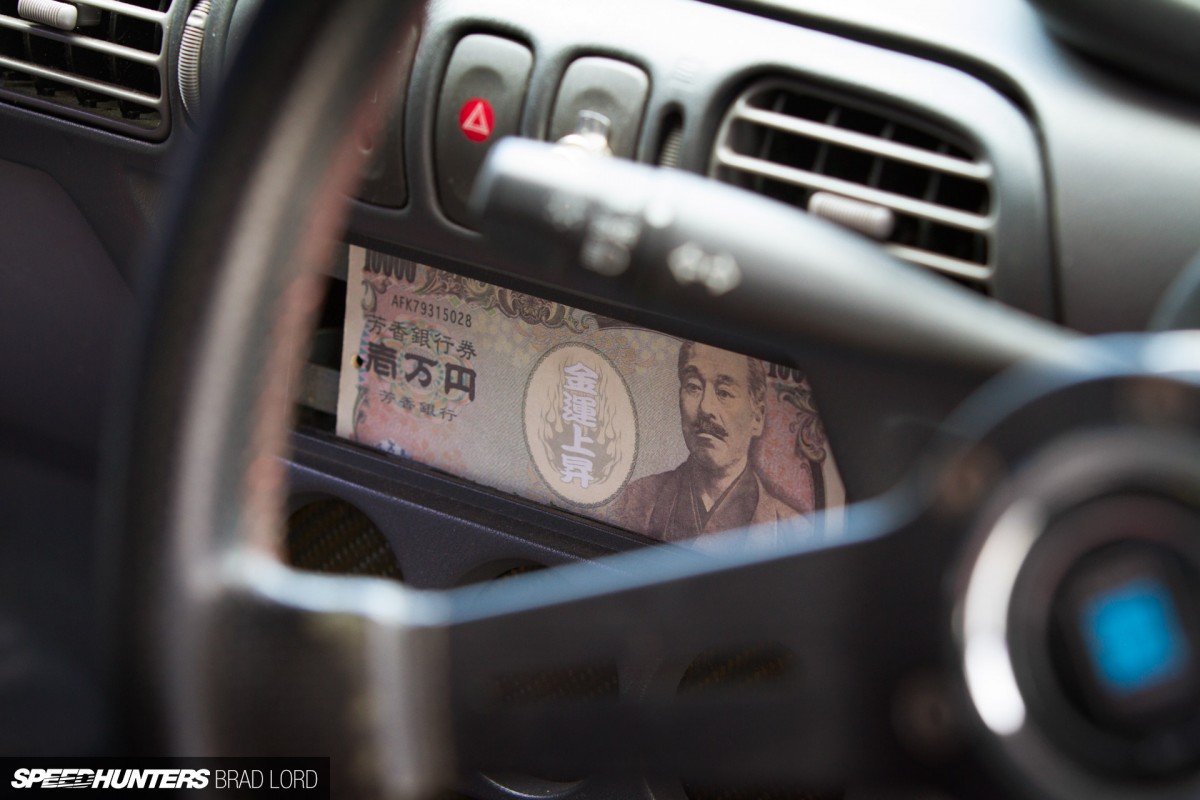 I'm glad I did too, because despite the popularity of the Micra (aka March) as a tuning base, this little car – owned and built by Brisbane local Jason Cheung from a stock-as-a-rock base – has a huge amount of personality, plus a few tricks up its sleeve.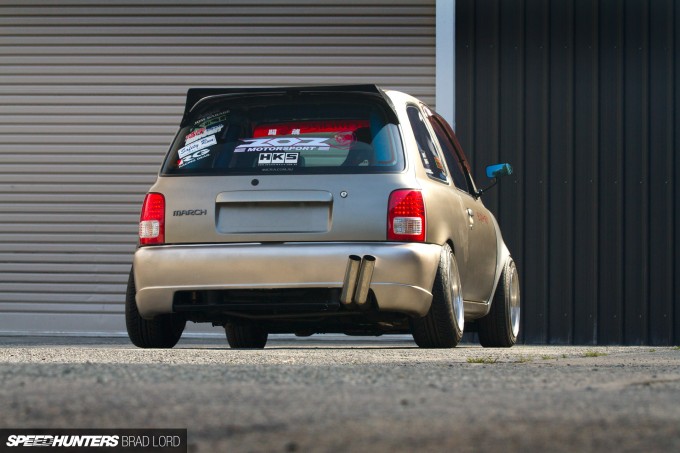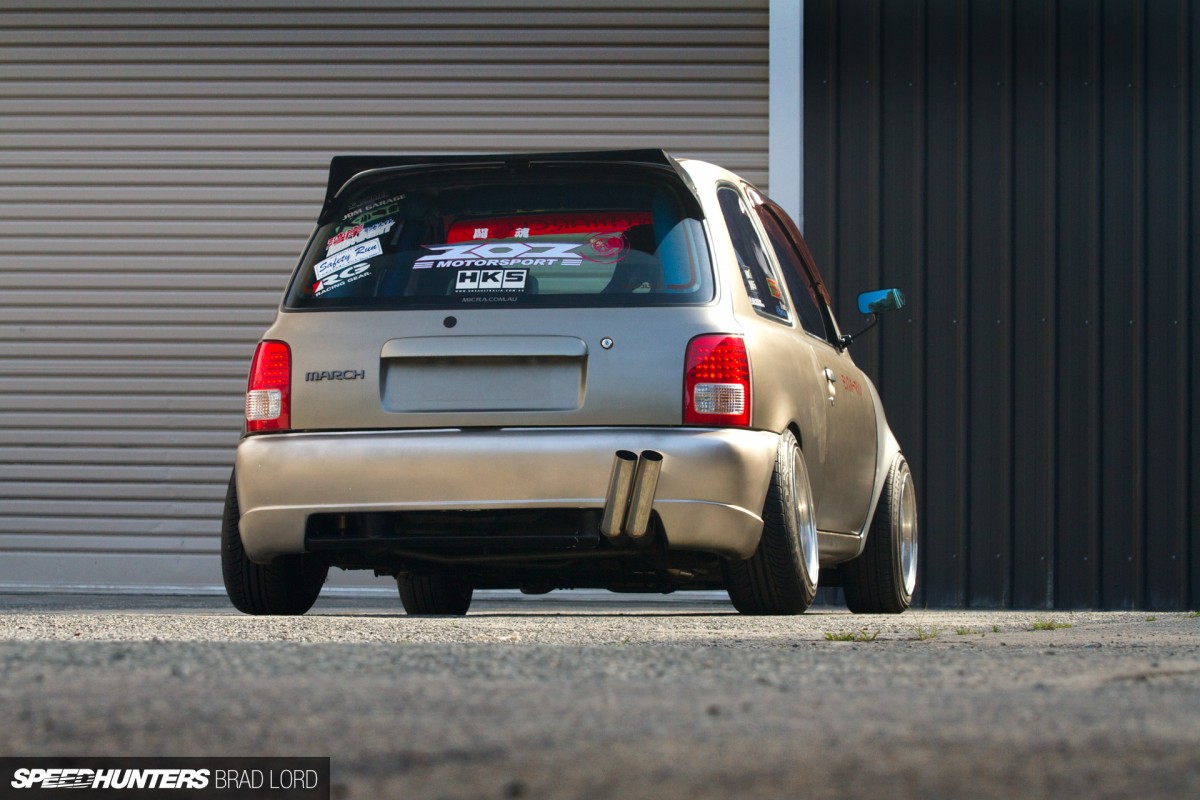 Inspiration comes in many shapes and forms, but for Jason it was the countless pictures of modified K11s in Japan that he found on the internet and subsequent adventures to Nissan's motherland to check out March tuning culture first-hand, that became the catalyst for the five-year (so far) build.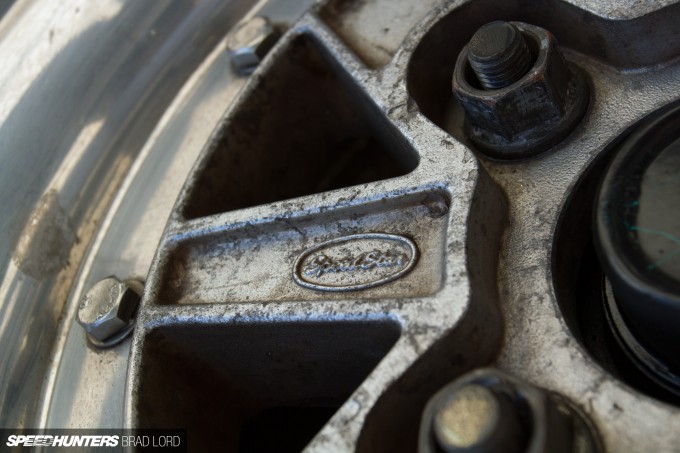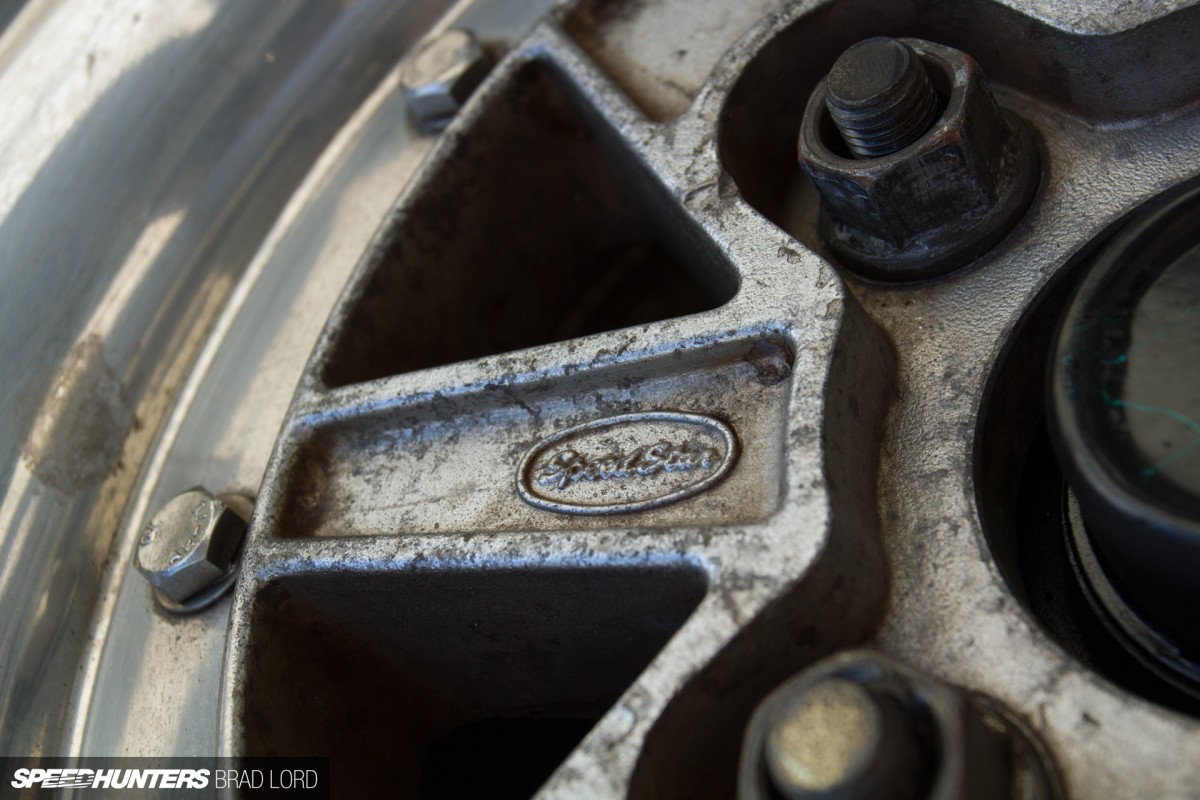 Taking cues from his favourites K11s, Jason has also done a nice job of marrying vintage JDM parts with more modern ones. There's no doubt that a sparkling new set of old school wheels would look very cool at all four corners of the K11, but there's just something about pre-loved equivalents complete with age and wear-inflicted patina.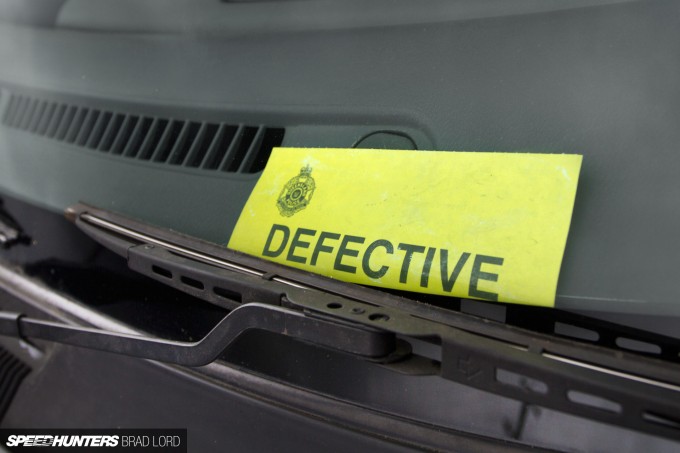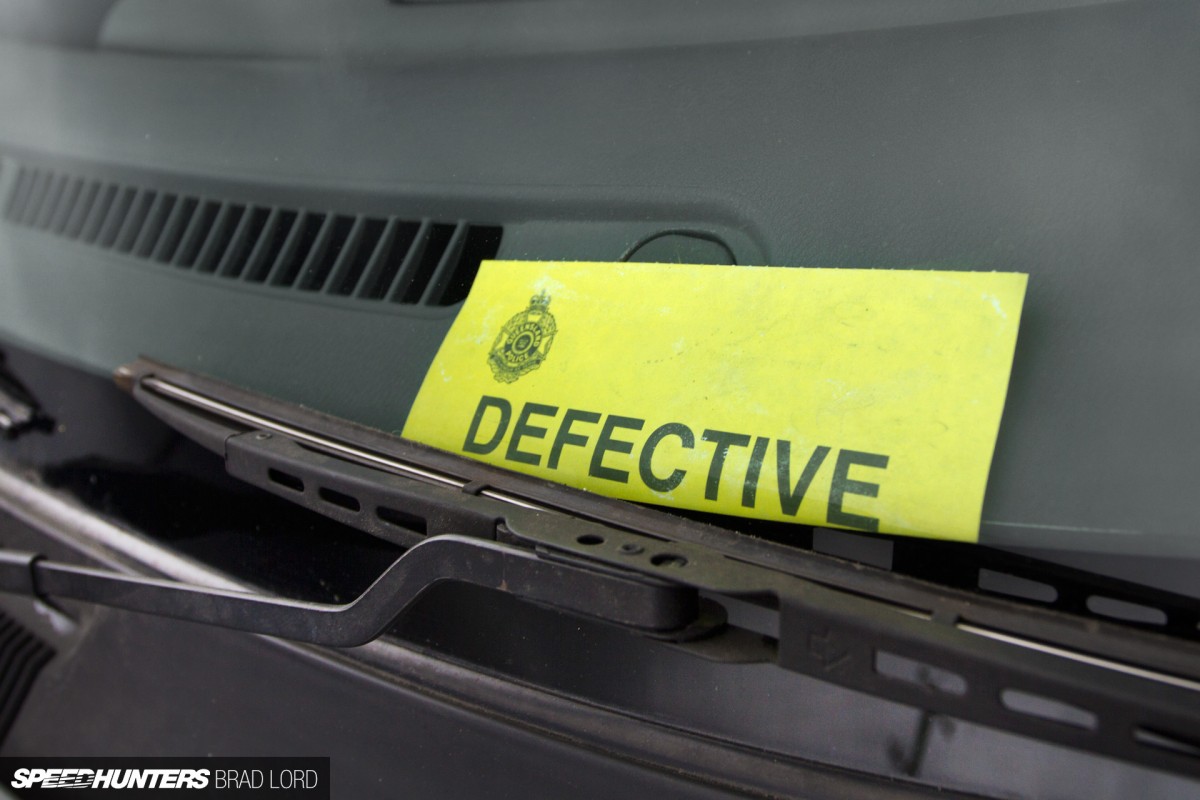 To find the look he wanted, pushing the boundaries of what's legal and what's not was always going to come with the territory. As it turns out, Jason's K11 wasn't hanging around at 101 Motorsport to have more modifications bestowed upon it (for the time being anyway), but to have some small road legality issues rectified. Wheels protruding the guard line through excessive negative camber, exhaust pipes protruding the rear bar… that sort of stuff.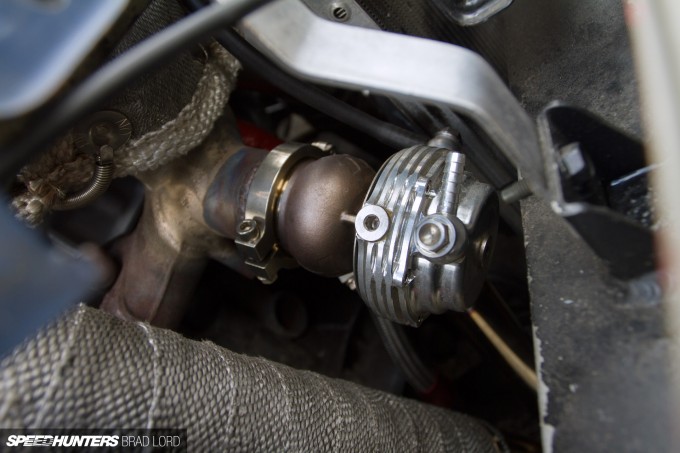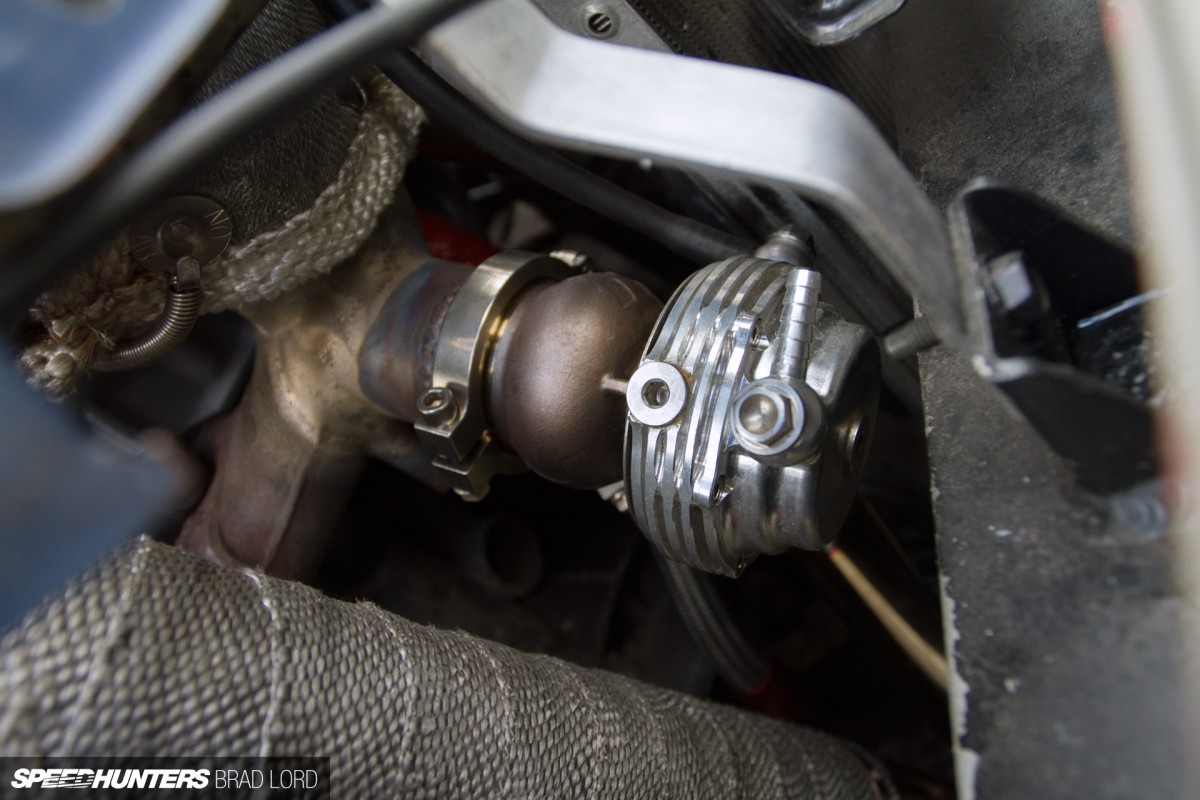 Oh yeah, and a wastegate screamer pipe and blow-off valve both venting to atmosphere when they should have been plumbed in. Yes, Jason's K11 is much more than just looks…
Small hauler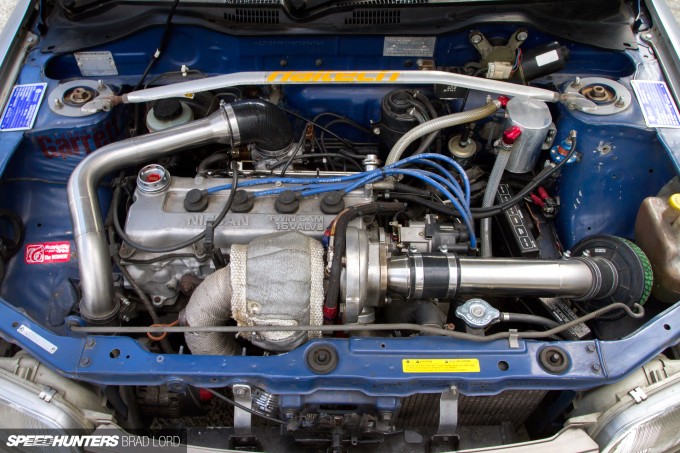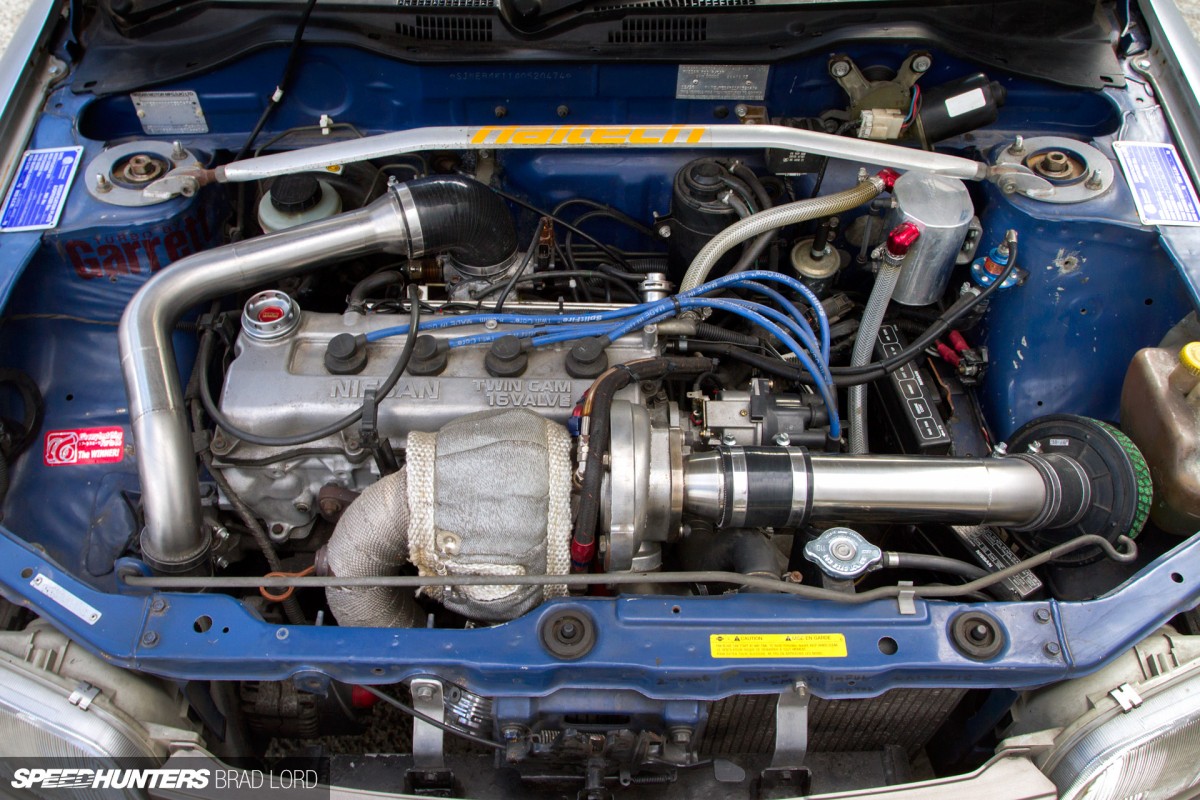 I was pretty surprised when Varun told me that the Micra's factory-fitted CG13DE motor had been turbocharged too, but even more so when the bonnet was lifted and the extent of the upgrade was revealed. Sitting on uprated Nismo mounts, the 1.3L four-cylinder engine remains largely stock on the inside, save for a pair of 256-degree/8.35mm lift Tomei Poncam camshafts with Mulholland adjustable gears, and an Ajusa metal head gasket to slightly lower the compression ratio for the boost injection.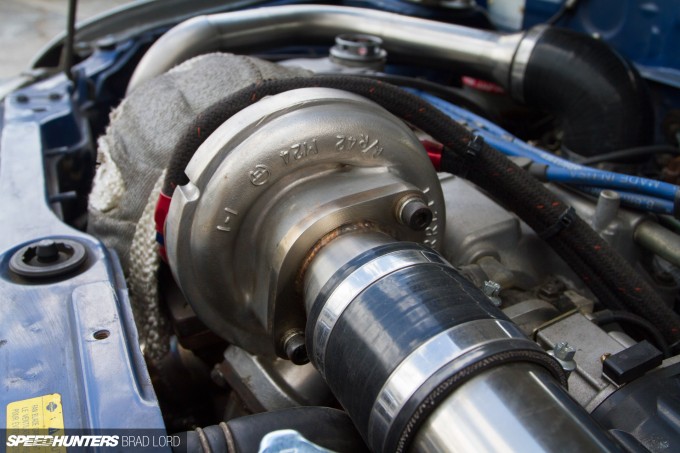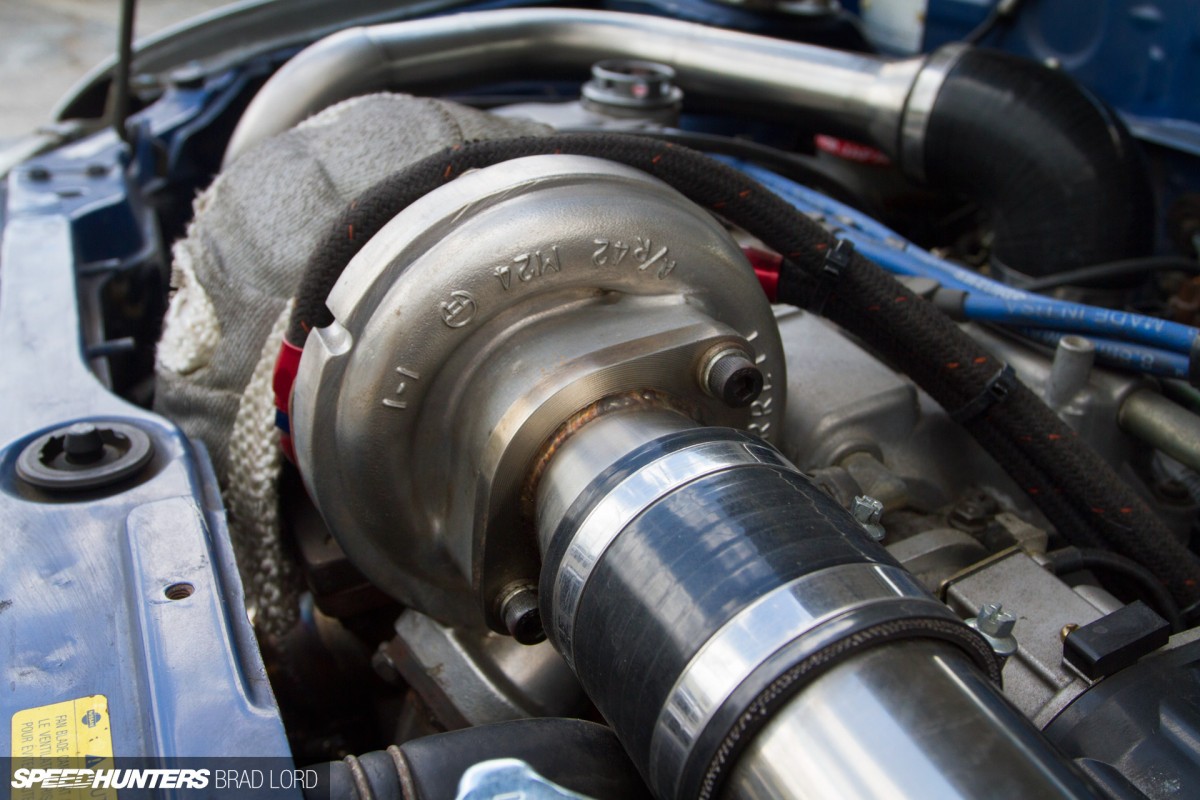 Pieced together by 101, there's a T28 turbo from a BCNR33 Skyline GT-R at the heart of the forced induction upgrade. It looks proportionally large in the Micra's small bay, but given that it's feeding an engine exactly half the size of RB26 – and a pair of them were used in that application – the Garrett unit is a good match for the 1300cc power plant. Not only that, but since Jason had tracked down T2-flanged HKS cast manifold from a very rare bolt-on turbo kit for the JDM Z10 Nissan Cube, which used the same engine, fitting it was a relatively straightforward proposition too. The set-up also includes a TiAL 38mm wastegate, 101 Motorsports downpipe, a Mitsubishi Lancer Evo III intercooler, custom 101 intercooler piping and a Blitz blow-off valve.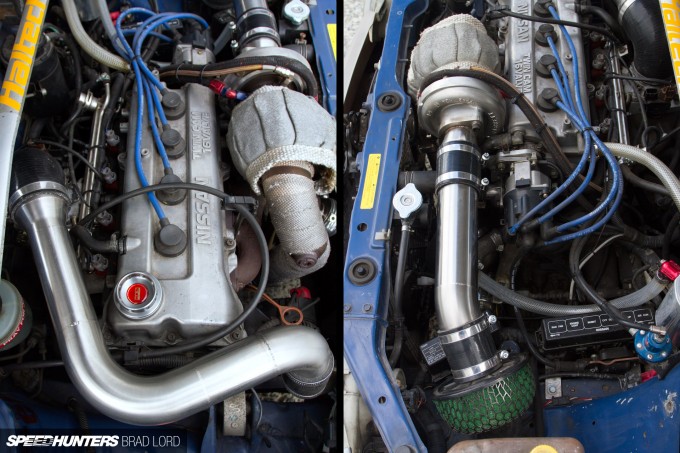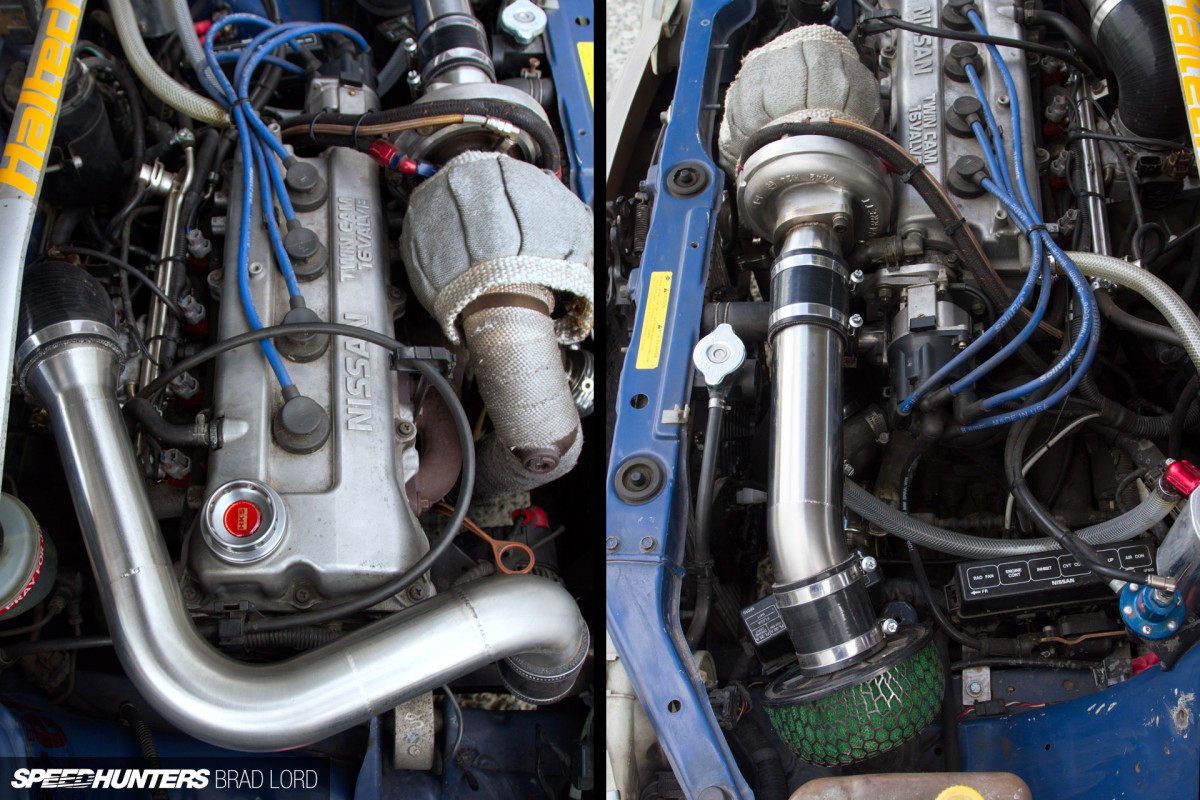 To satisfy the extra fuel requirement, a Walbro high-flow in-tank pump and 220cc injectors from a Nissan Pulsar QC18 are used. There's an SR20DE throttle body in the mix too, as well as a custom 101 Motorsport exhaust system and a Koyo radiator. With a Haltech Platinum Sprint 500 engine management system giving the firing orders, power has shot from 80hp off the production line, to a dyno proven 222hp. That's hardly a crazy number in the bigger scheme of of things, but when you consider that the K11 only tips scales at a measly 700kg, all of a sudden the resulting power-to-weight ratio becomes rather impressive. This little Micra has the wick to embarrass cars of much larger and much more powerful status.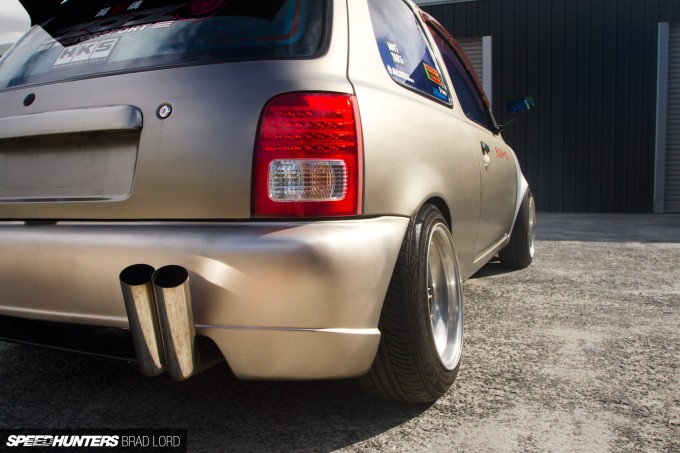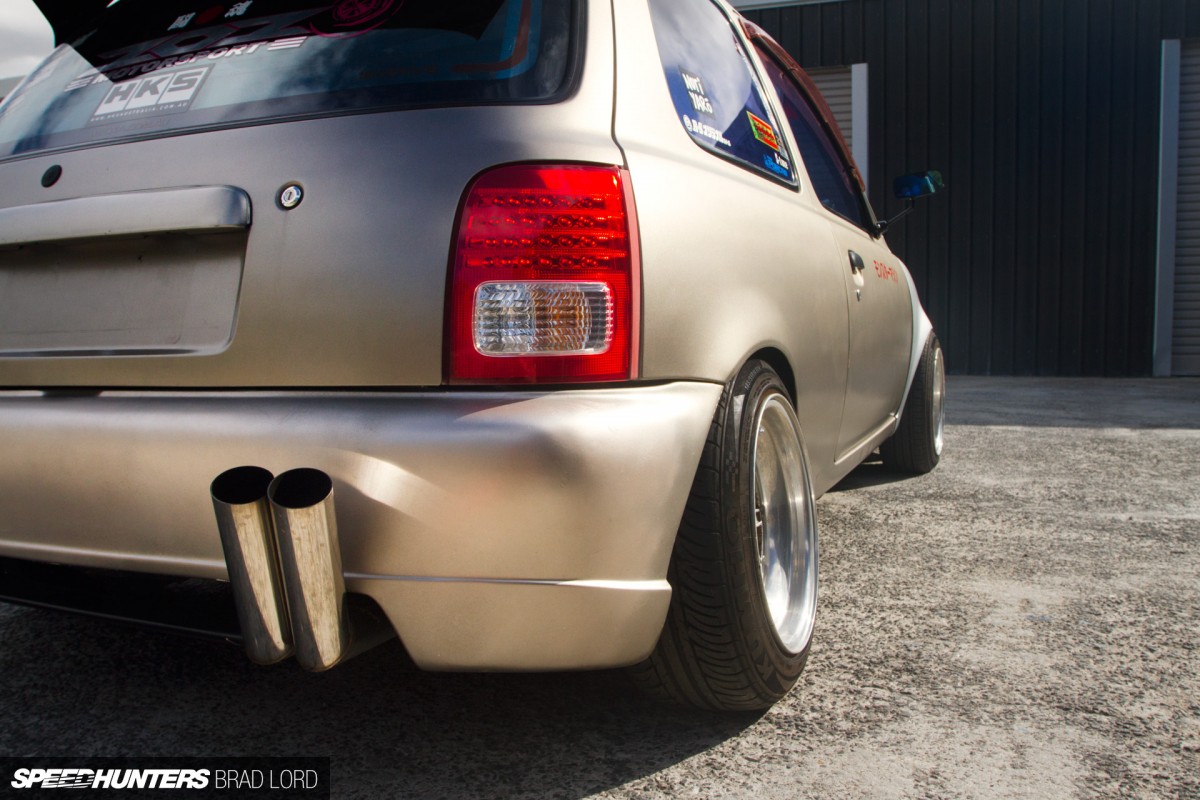 Despite possessing almost four times the power it left the Nissan factory with, the K11 still runs its factory five-speed gearbox – and so far without drama. There's an uprated Exedy clutch in the mix though, and a JUN 4.3kg flywheel too. All of the engine and driveline modifications would, of course, be fruitless without performance upgrades to the suspension and braking systems – but those are stones that haven't been left unturned either. For improved handling, Racing Gear (RG) JTC N1 coilovers feature at all four corners and run alongside a host of Whiteline gear including front and rear sway bars, adjustable panhard rod, an anti-lift kit and adjustable trailing arms. For extra stopping there are Pulsar N15 calipers grabbing slotted DBA performance rotors on the front end and a K11 Super S-spec set-up at the rear.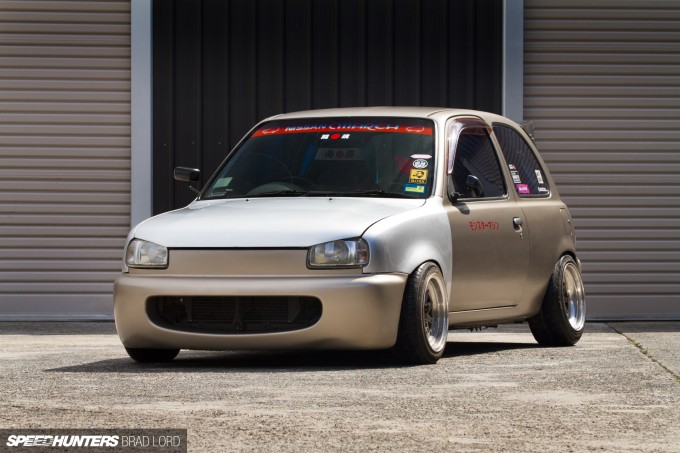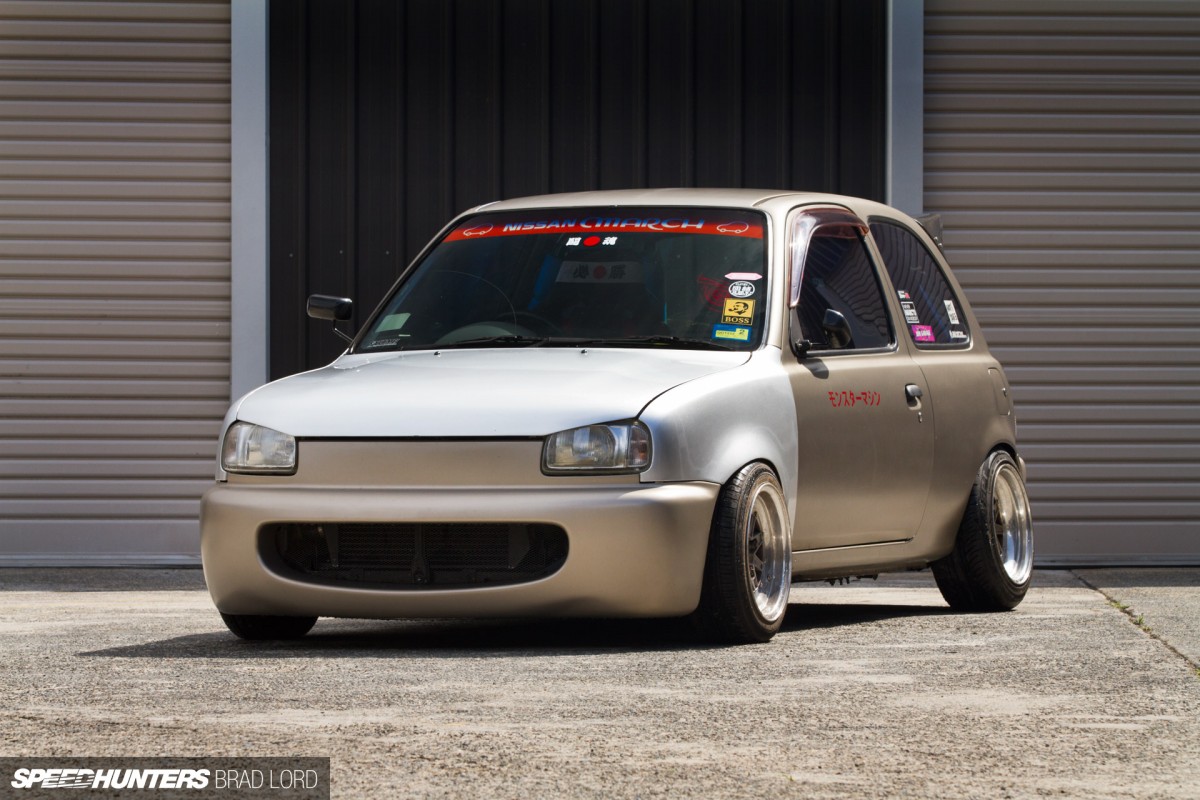 It's safe to say that the crazy rear camber angle is hardly conducive to the K11's handling prowess, but for the time it lasted (remember that defect notice), it succeeded in pulling together the look that Jason set out to achieve. The genuine Green Pepper bumper is a cool addition too, as is the 'bad boy' bonnet that's given the front end fascia some new attitude. The Micra looks happy, but a little bit angry at the same time don't you think?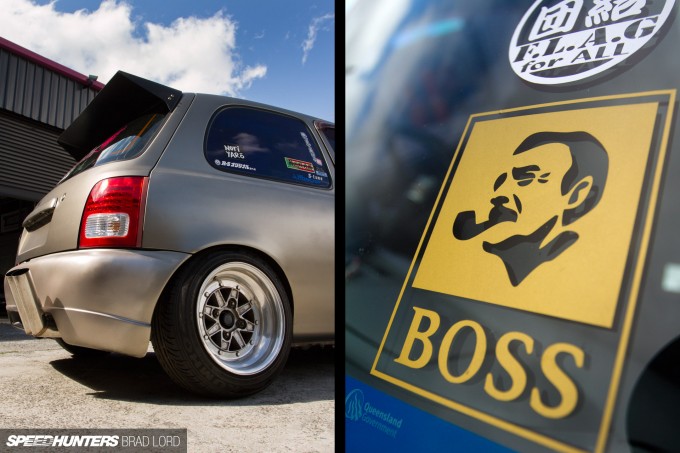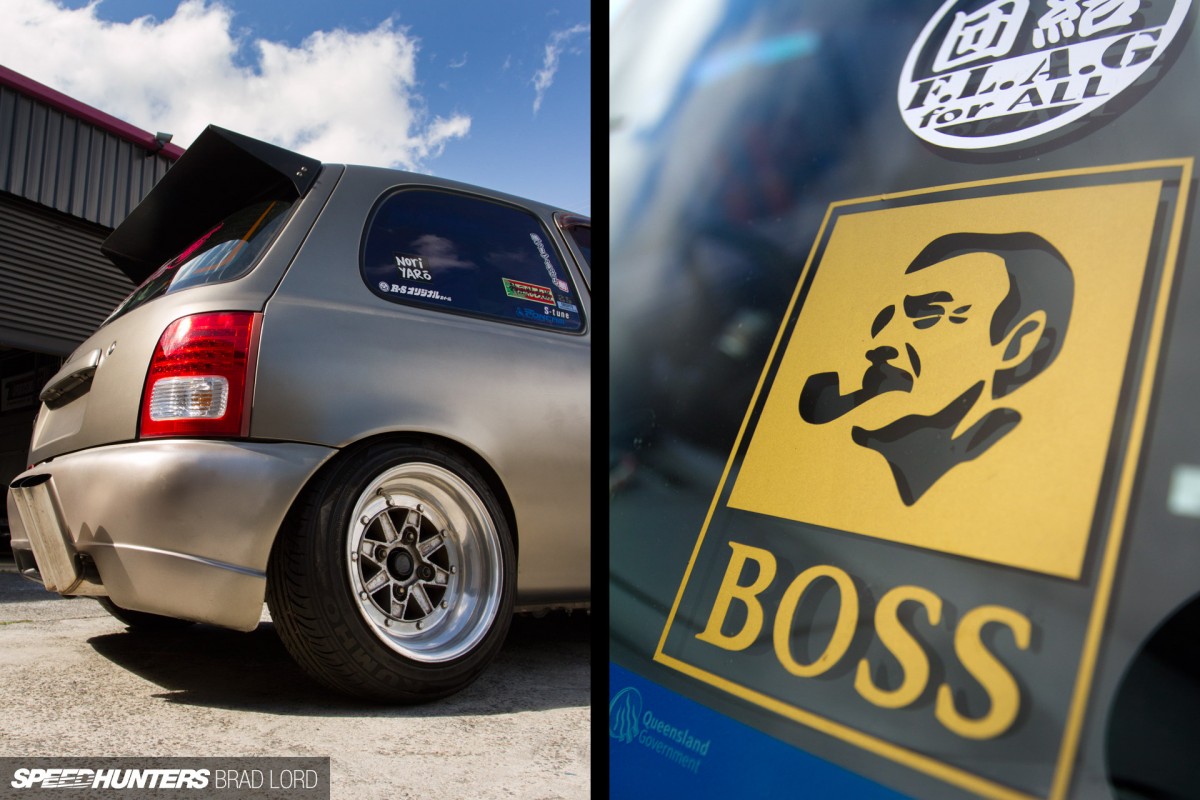 At the rear you'll find an East Bear bumper and diffuser, and a carbon fibre duck tail wing from Auto Shop Aspect. Yes, the JDM force is definitely strong in this one, and that's something that was always going to extend to wheel choice. A 114.3 hub swap was required to allow the fitment of proper vintage Japanese alloys, and in my mind the Speed Star Racing Mk3s – measuring up at 14×7-inch and 14×8.5-inch front and rear respectively – are the perfect accompaniment.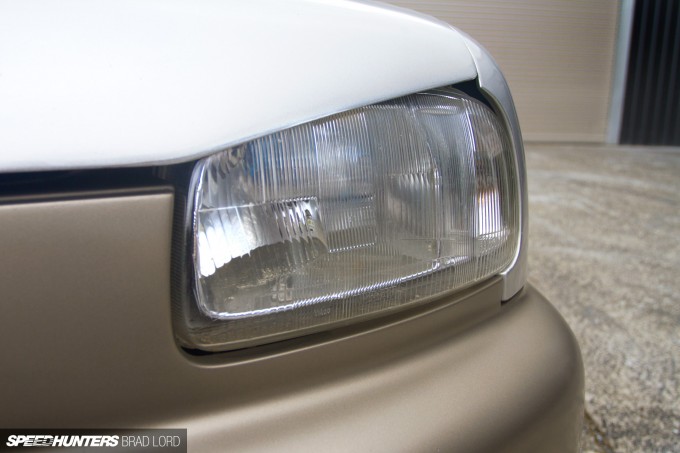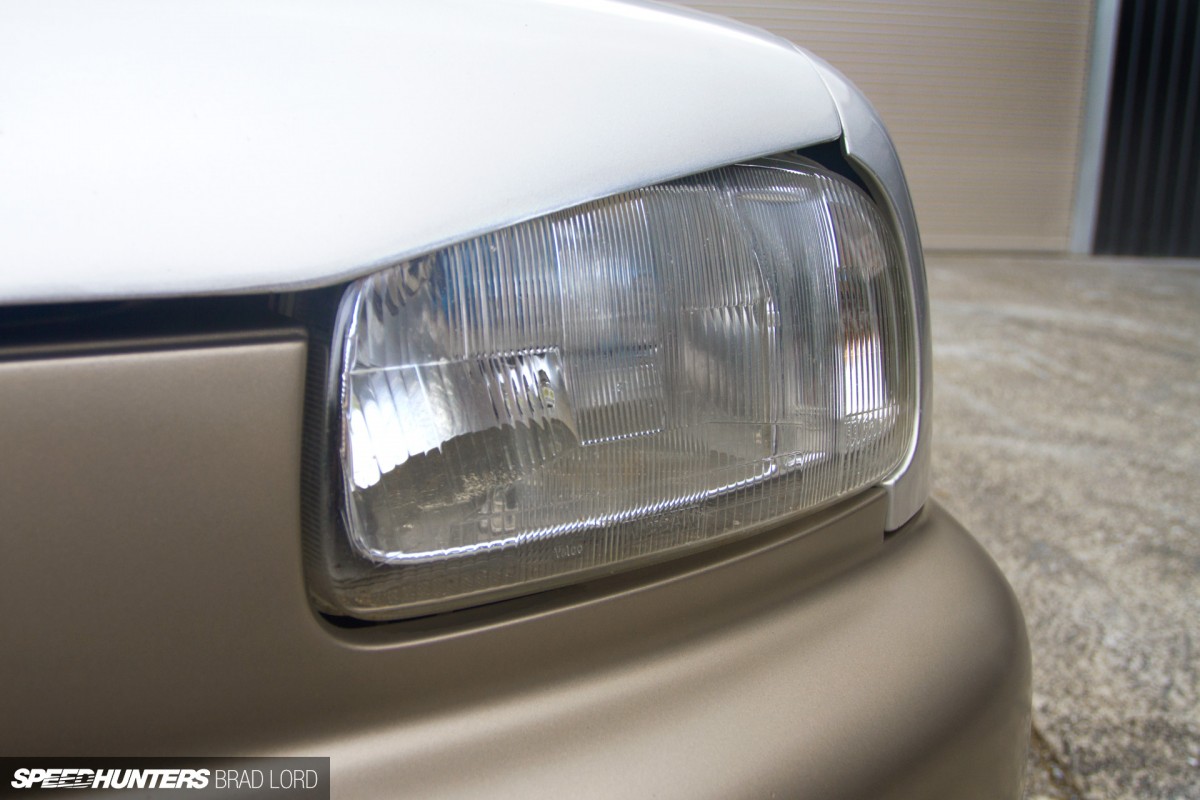 Here's a closer look at the bonnet modification. It's amazing how such a small alteration – in this case an addition of extra metal to form a straight edge across a radius that originally followed the line of the headlight – can have such a big impact.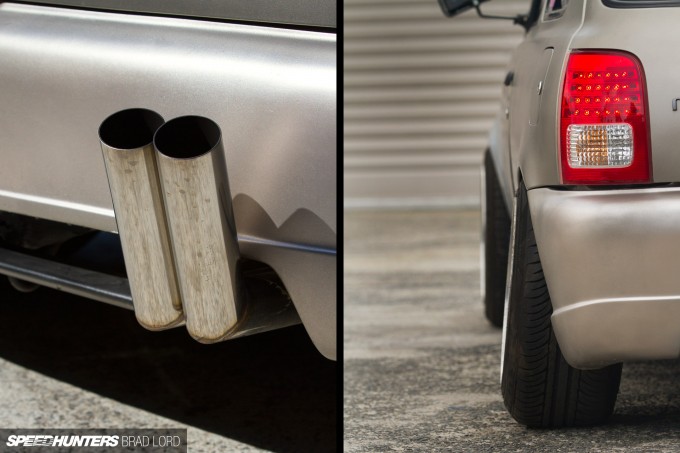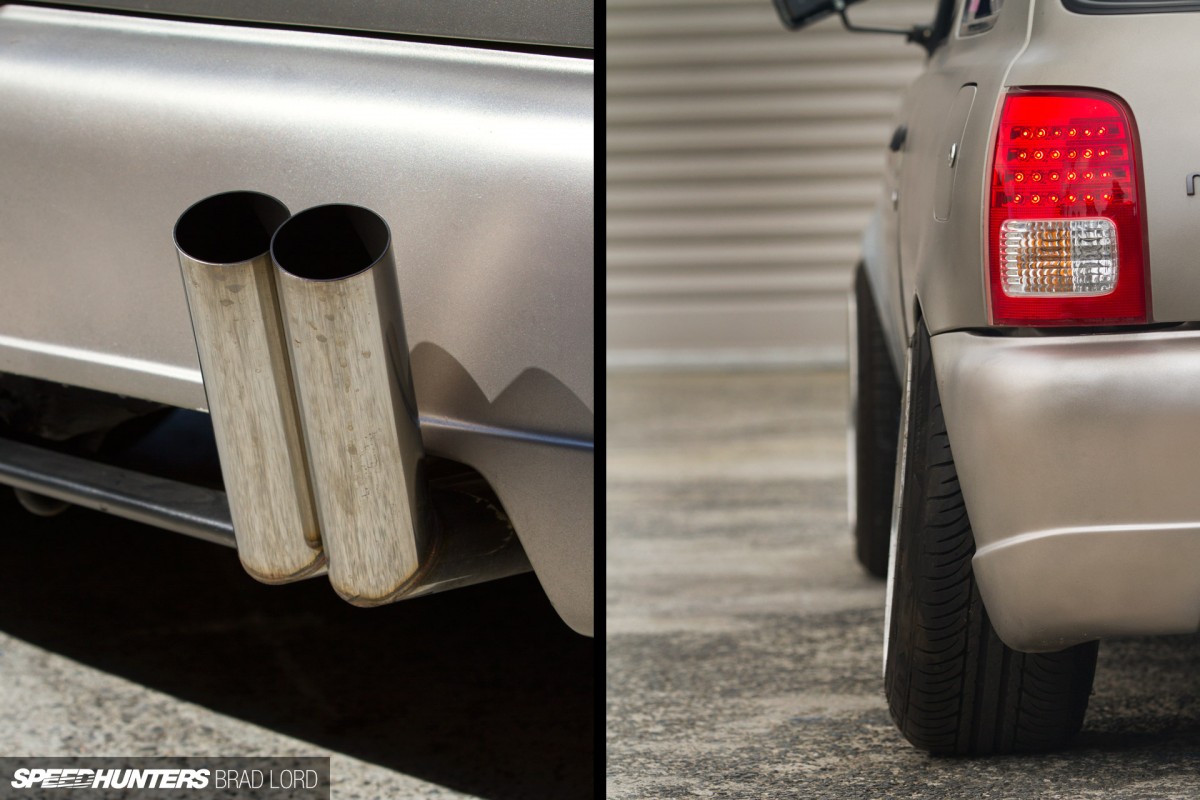 What the bad boy bonnet does for the front, dual upswept tail pipes and LED tail lights from a later-model Super March do for the rear. Unfortunately for Jason, the bosozuko-inspired exhaust detail is – as far as state police are concerned – another modification that needed to be undone before the car could be put back on the road legally. Building a car like this was never going to be straightforward though…
Small details, big impact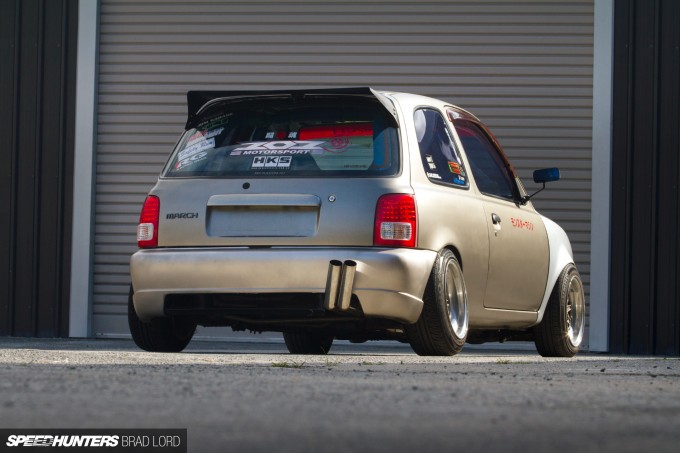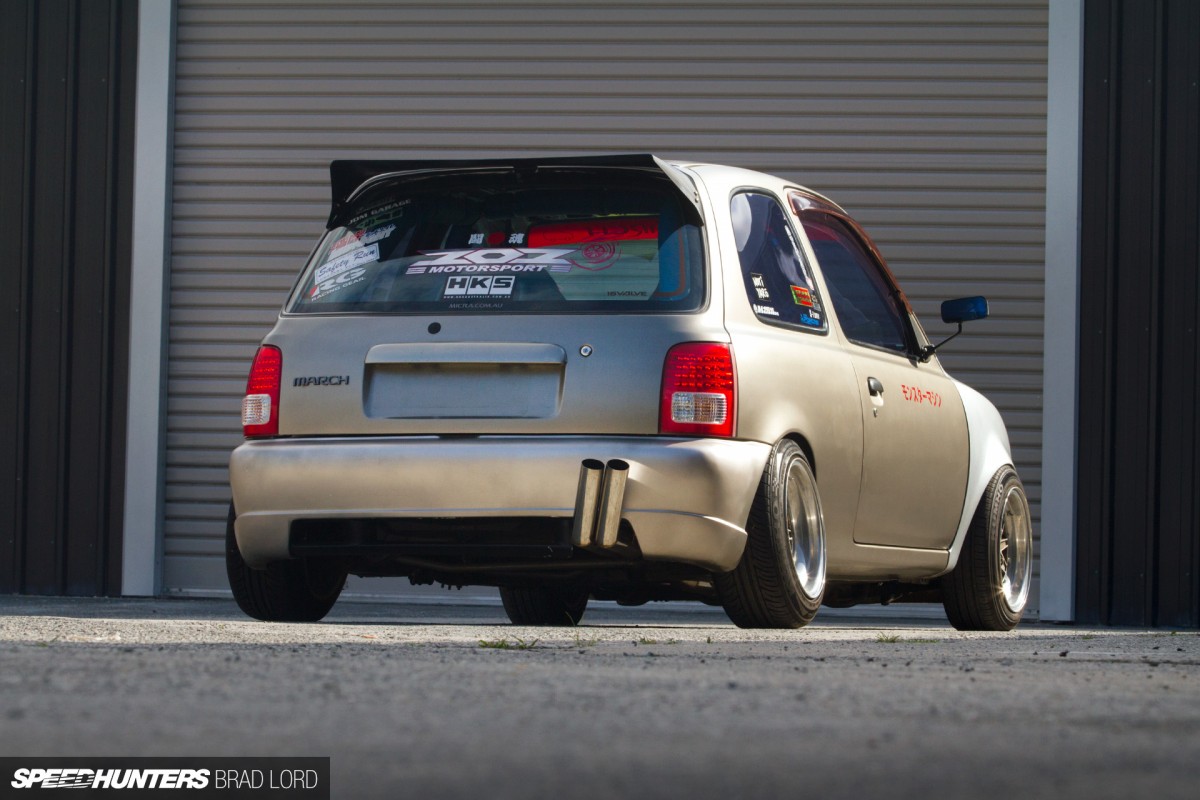 After talking with Jason, I get the distinct feeling that this is one of those cars that will continue to evolve rather than ever be truly finished. At the time of the shoot, the bonnet and front guards were yet to be resprayed in the same colour as the rest of the body work, but I quite like the silver/muted gold two-tone look.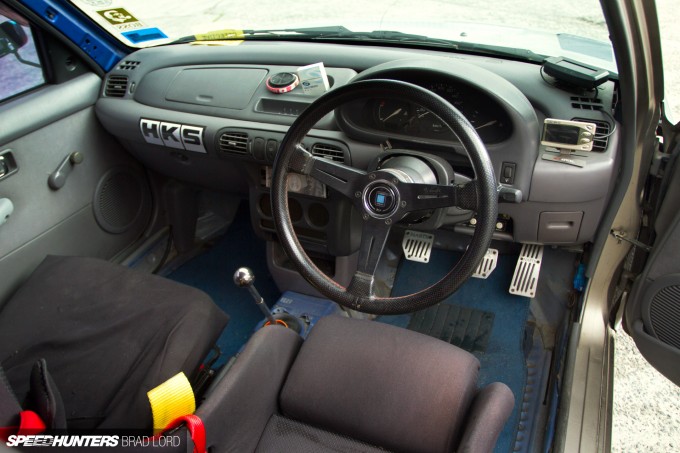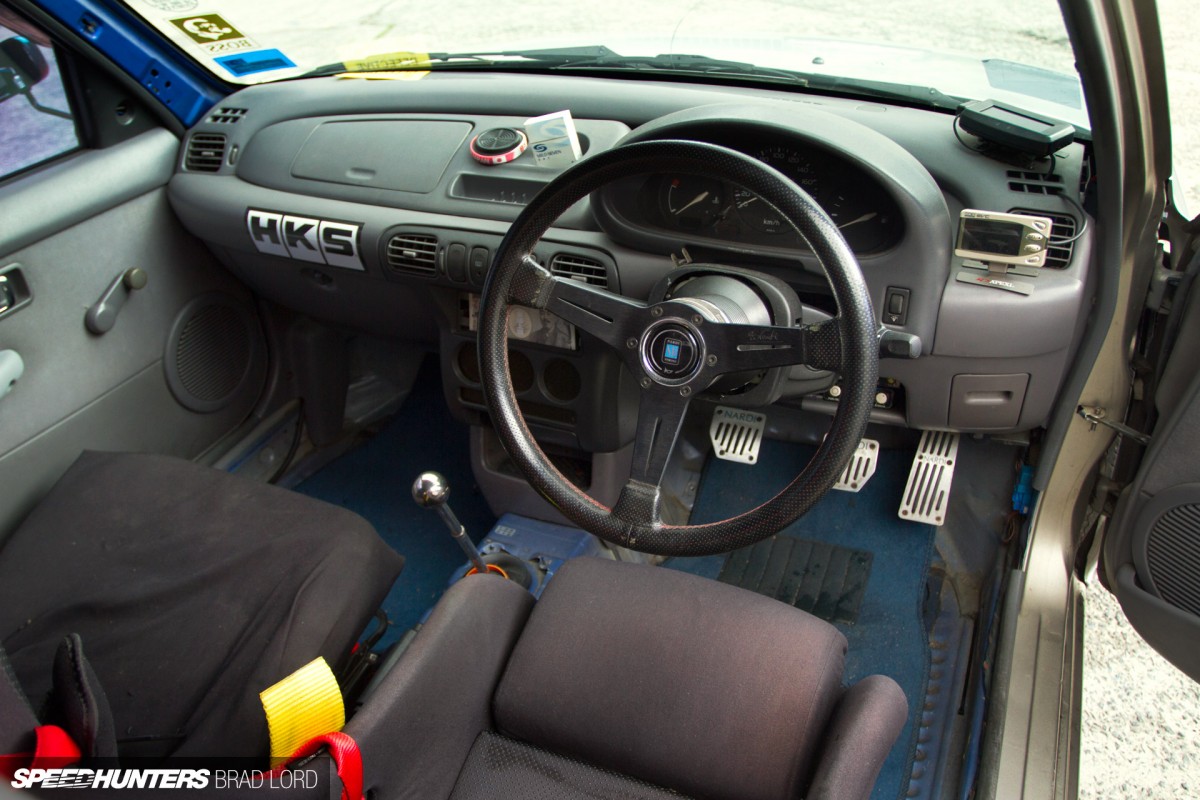 Inside there are as many details as the K11's exterior and underpinnings. The Nardi steering wheel was a prerequisite, as was a bolt-in Safety21 half cage and fixed back race seat for Jason to park himself in, but there's also a Nardi pedal set, billet short shifter and an HKS EVC V and Defi VSD heads-up display mounted on the dashboard.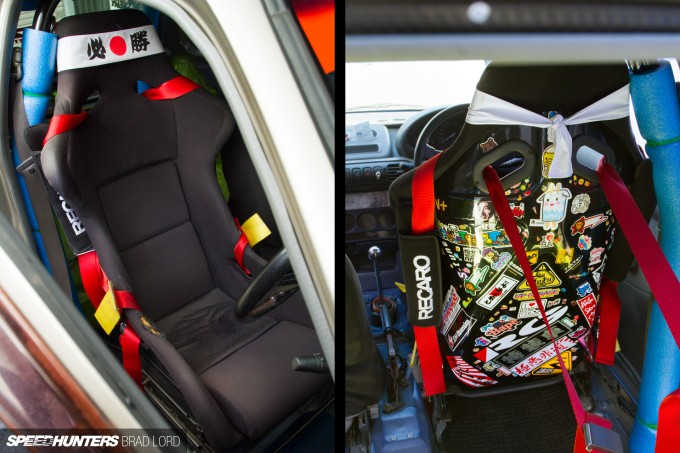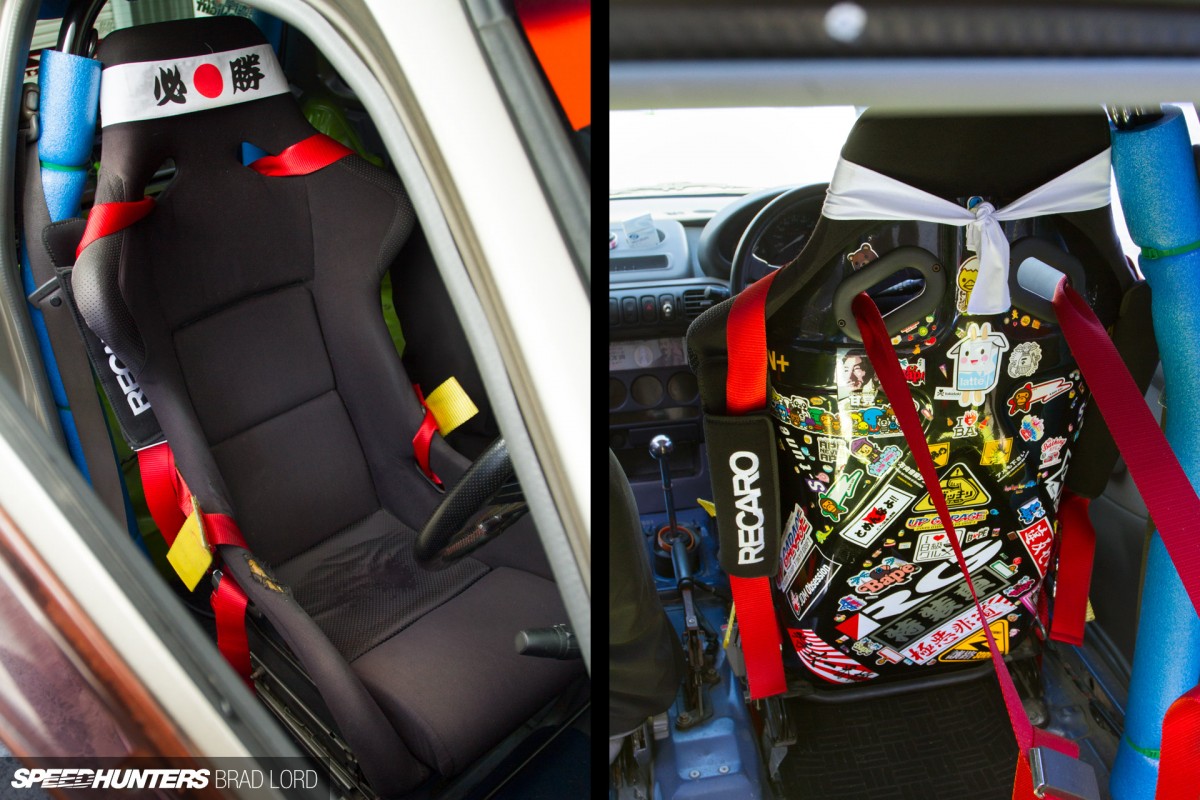 Fixed on a custom rail, the Recaro SPG driver's seat has been treated to a few custom details including a Japanese hachimaki that I believe reads hissho ('determination to win'). Sticking with the theme, a Sabelt four-point bolted to a custom harness bar got the nod too.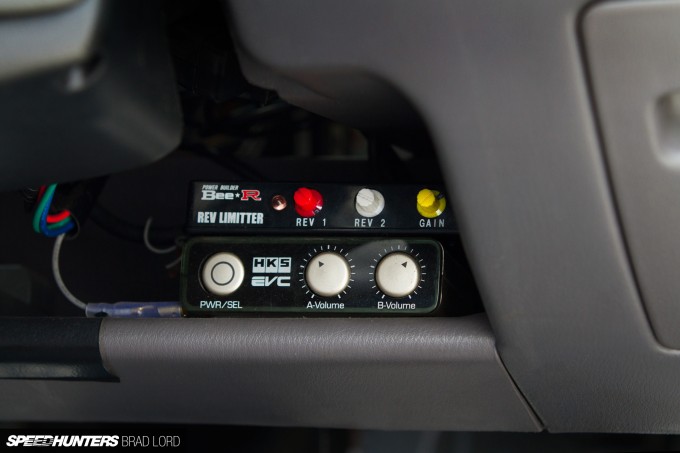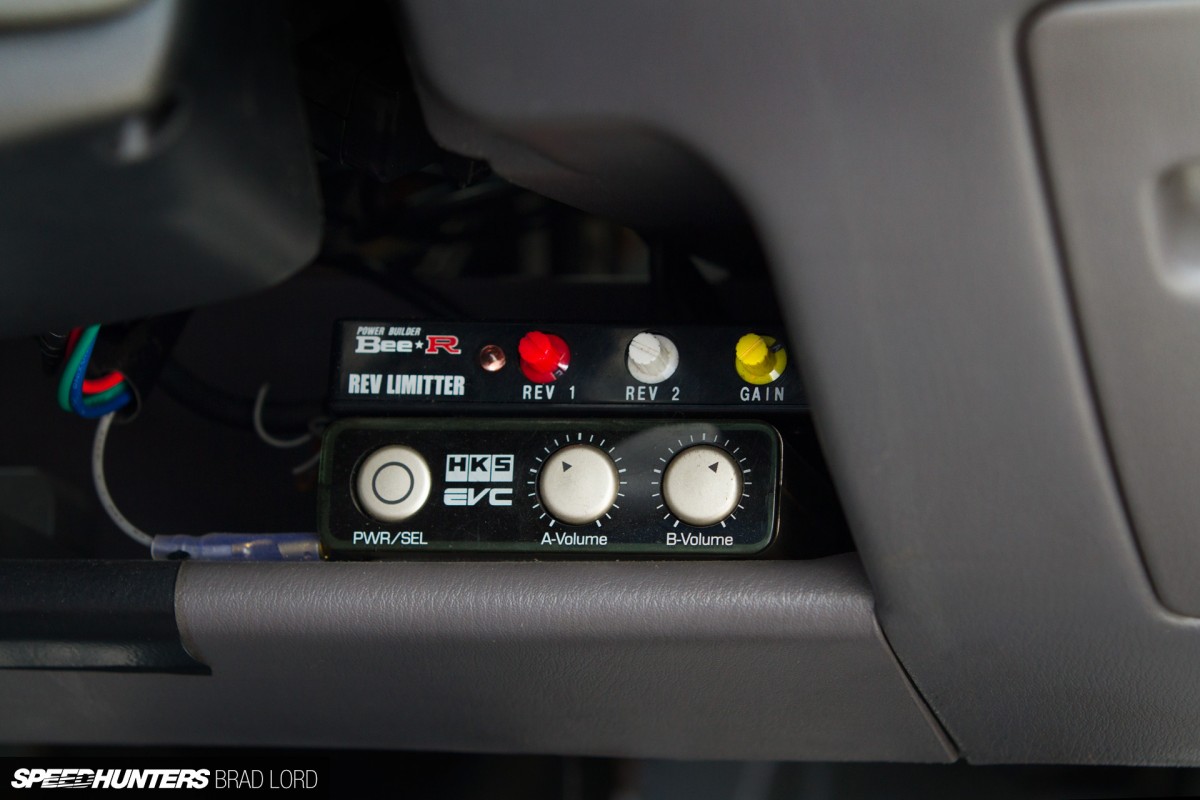 Under the dash I spied the EVC control unit and Bee*R's iconic two-stage, ignition-cutting rev limiter – which also happens to induce backfires and flames from the exhaust. Not that this Micra really needs to attract any more attention…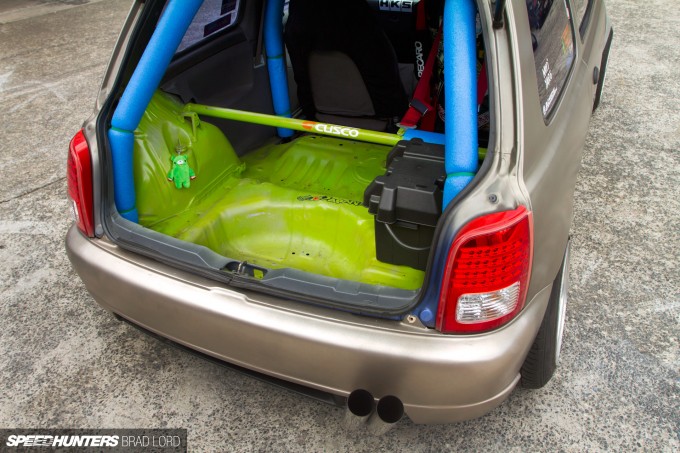 For a little car there's a lot going on here, but regardless of the clash of colours and styles to a certain extent, the sum of all its parts and that 'personality' I talked about at the beginning of this story, absolutely works.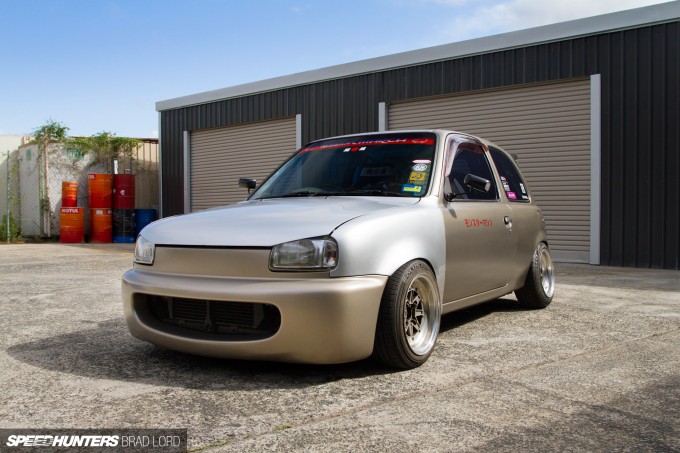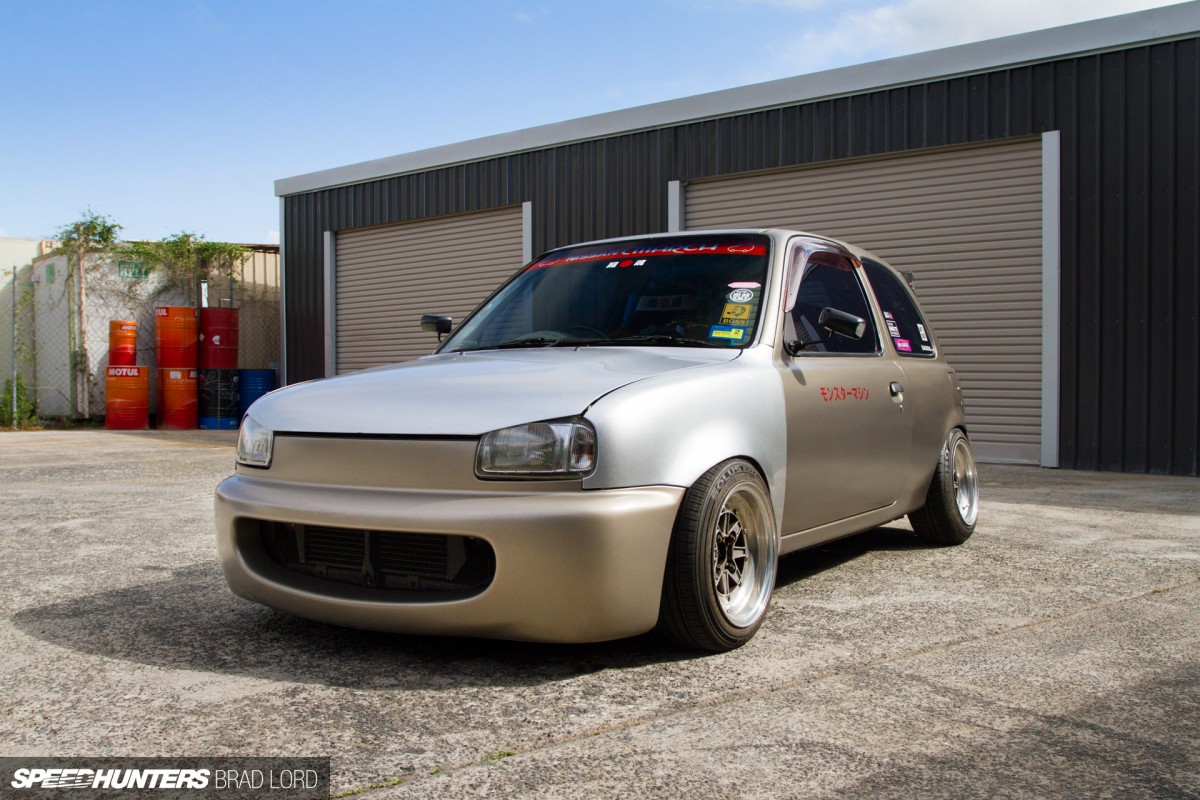 With that much power and that little weight, I didn't need to jump behind the wheel to imagine how much fun it must be to drive either – being in its presence alone is enough to make you smile. That said, I'm sure there would be a lot of pleasure to be had hassling Silvias on winding back roads, and when this Micra's legal line-walking modifications are reversed, I'm pretty sure that where you'll find Jason and his one-of-a-kind K11.
Brad Lord
brad@speedhunters.com