A personal history
What are your earliest memories? I'm not talking about your literal first memories here, but rather something that stayed with you throughout your life. Can you think of one?
I can. I don't know what age I was, but I remember sitting in front of the TV, watching a VHS of '80s rallying whilst playing with my small Matchbox cars. There was one car in particular that I treasured over all the others though: a 1986 Ford RS200.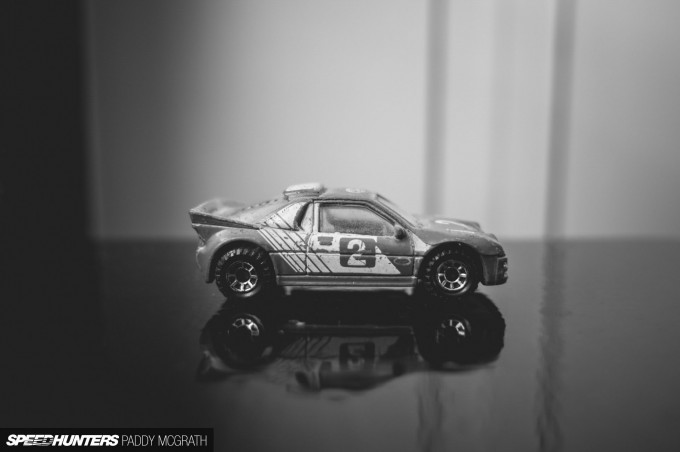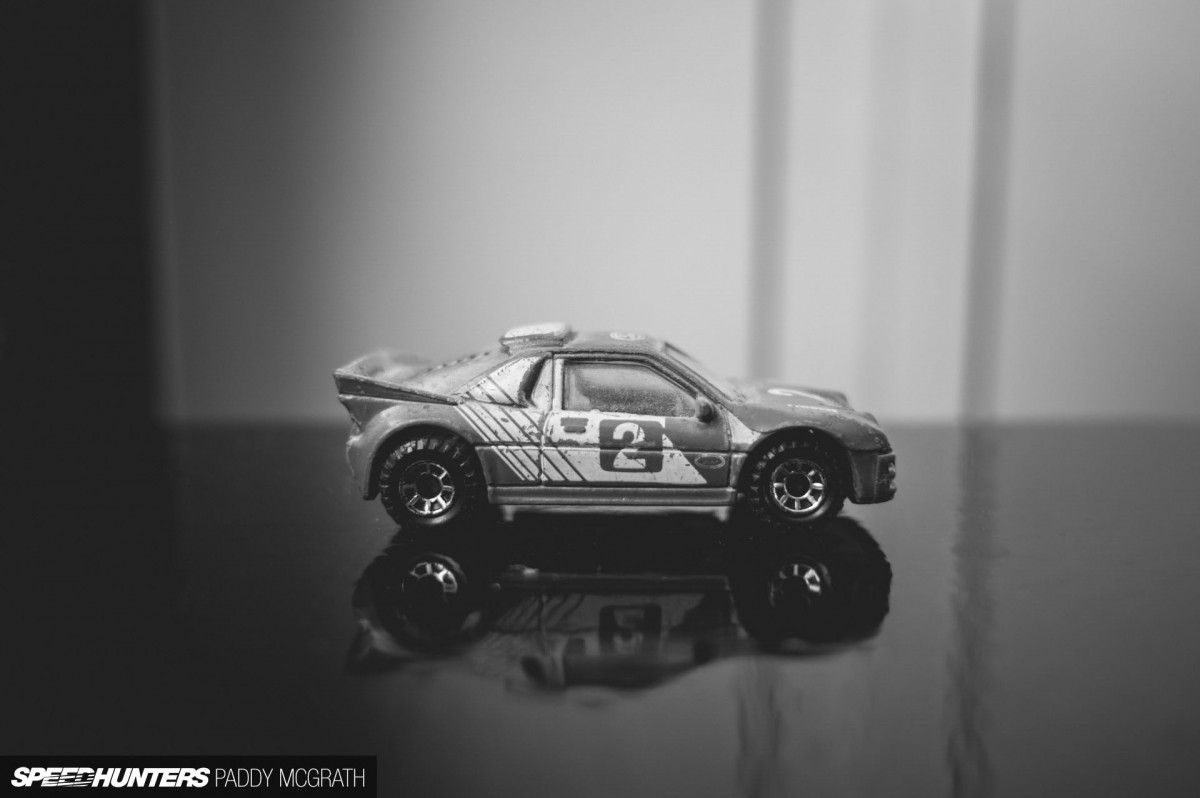 Over twenty years later, that very same car sits on my desk. A reminder, if ever one was needed, why I love doing what I do. This 'dinky' though formed a special bond between a younger and more impressionable version of myself and Ford's Group B supercar. It's a bond that has lasted my whole life, and created a special sub-conscious relationship with the car.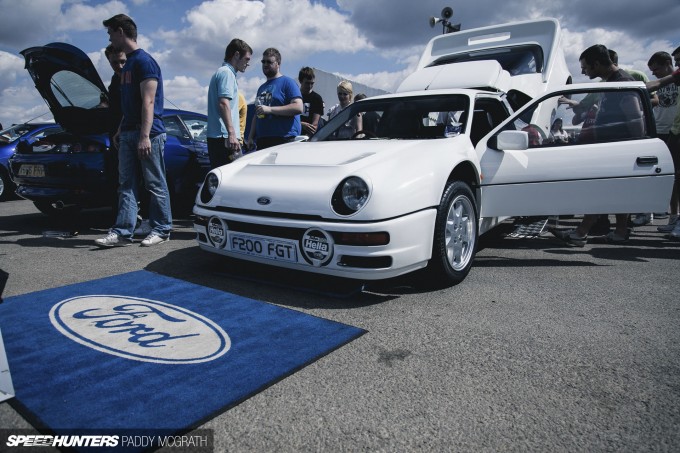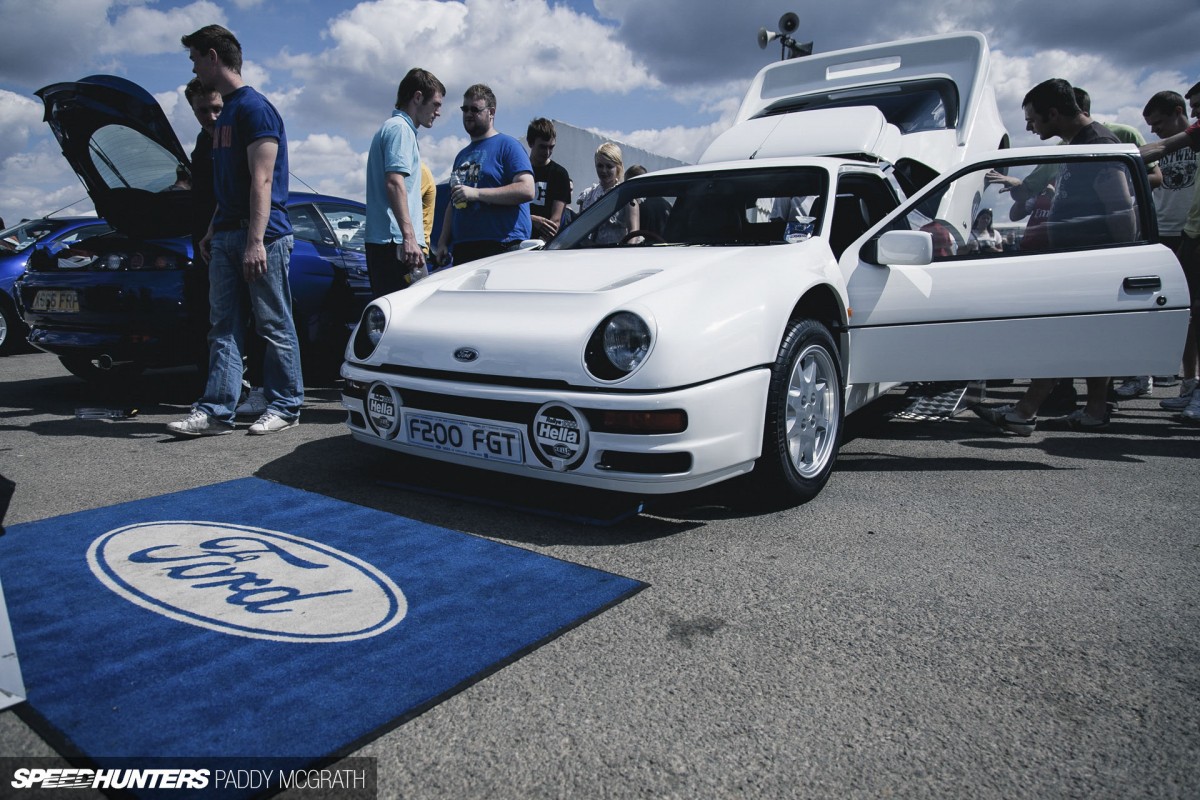 I've been fortunate enough to come across some of the most pristine examples of the RS200 on my travels.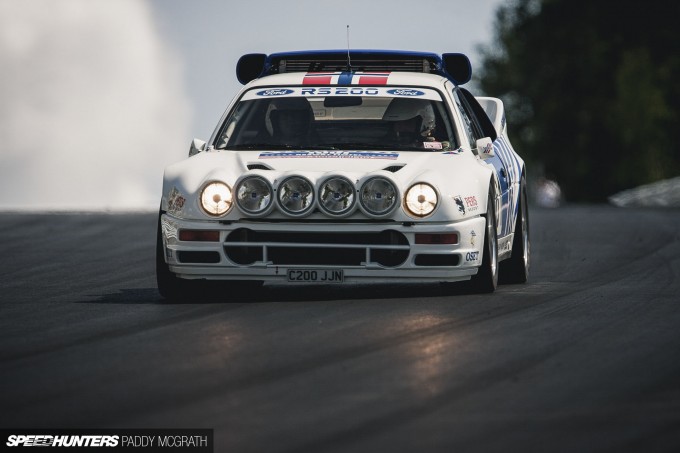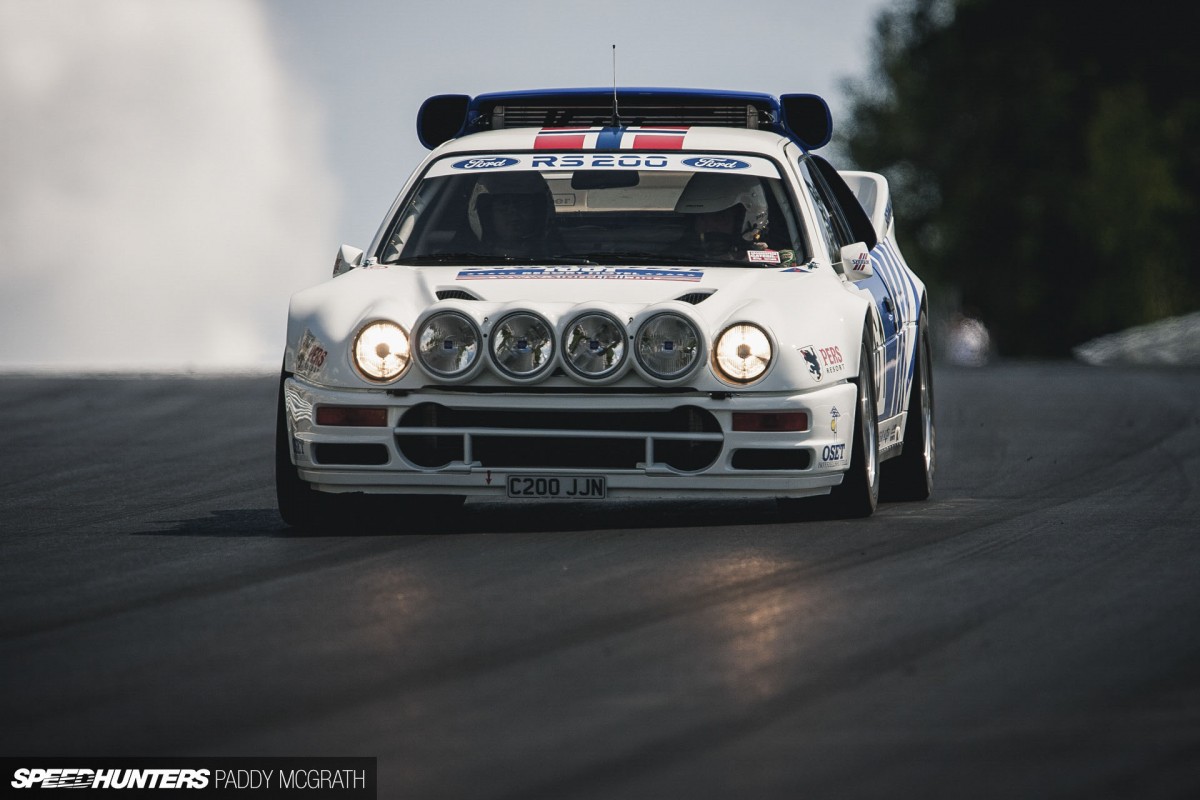 From immaculate production cars to this particular and more modernised car that Larry and Mike featured last year at Gatebil.
Now I'm sure you're asking – I know Rod raised an eyebrow – why are we featuring another RS200 if Larry has just featured one? Aren't they all the same? Of course not. Whilst the RS200 is extraordinarily rare, they all have their own stories to tell. Whilst I can appreciate C200 JJN (above), its more modern touches leave me a little cold. It's an absolutely fantastic car, and I would do anything to have it in my garage, but it's not the car I fell in love with as a young boy.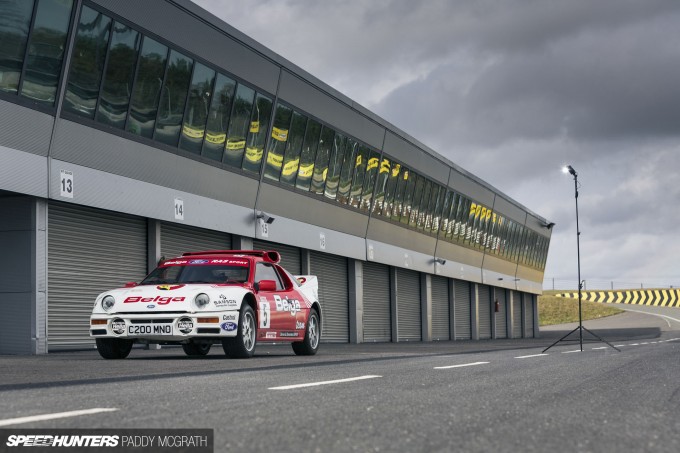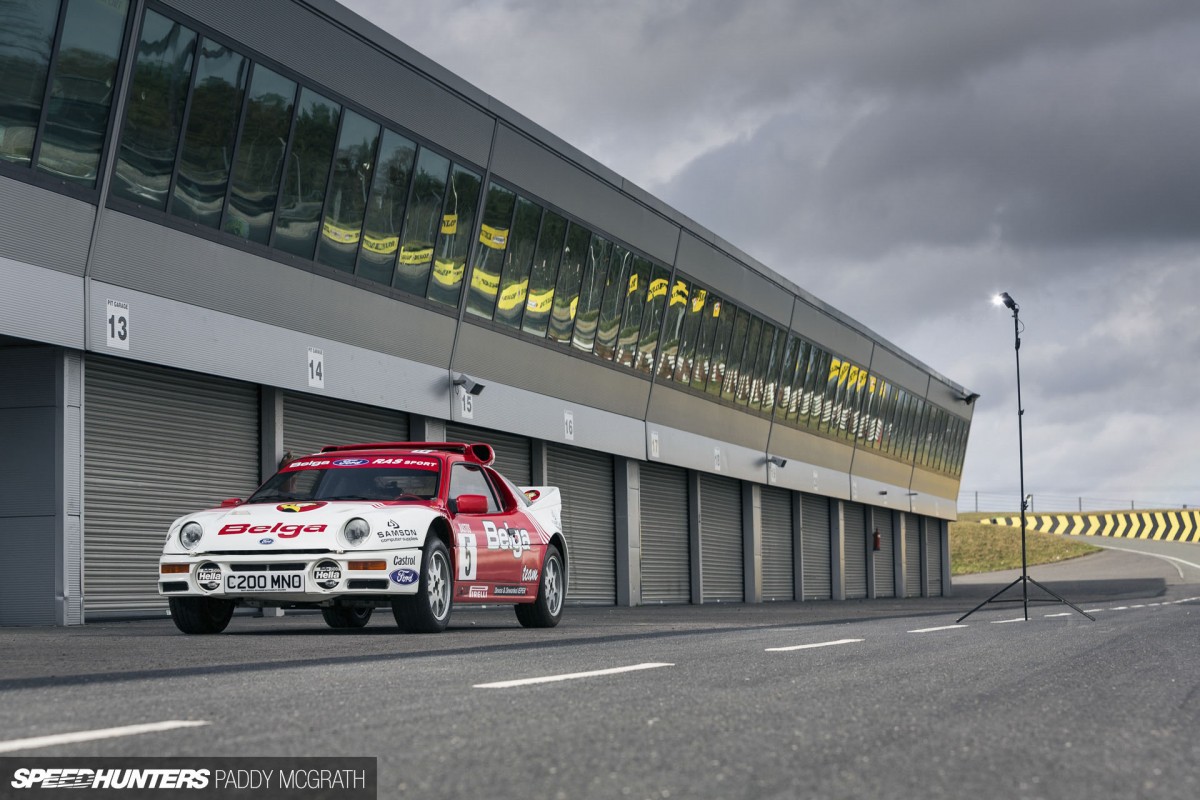 C200 MNO on the other hand, is the car I fell in love with…
The history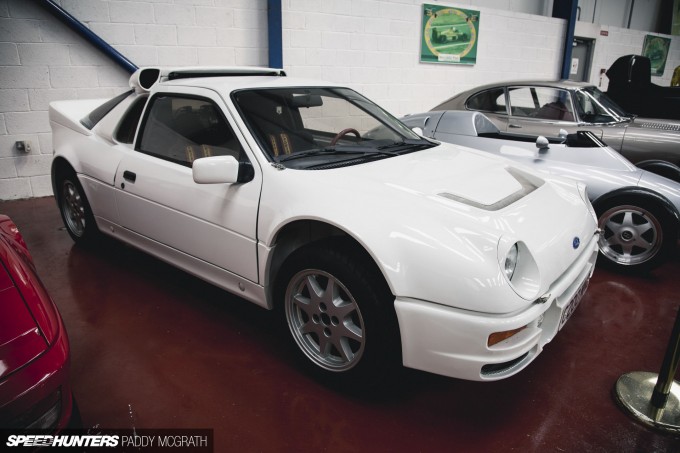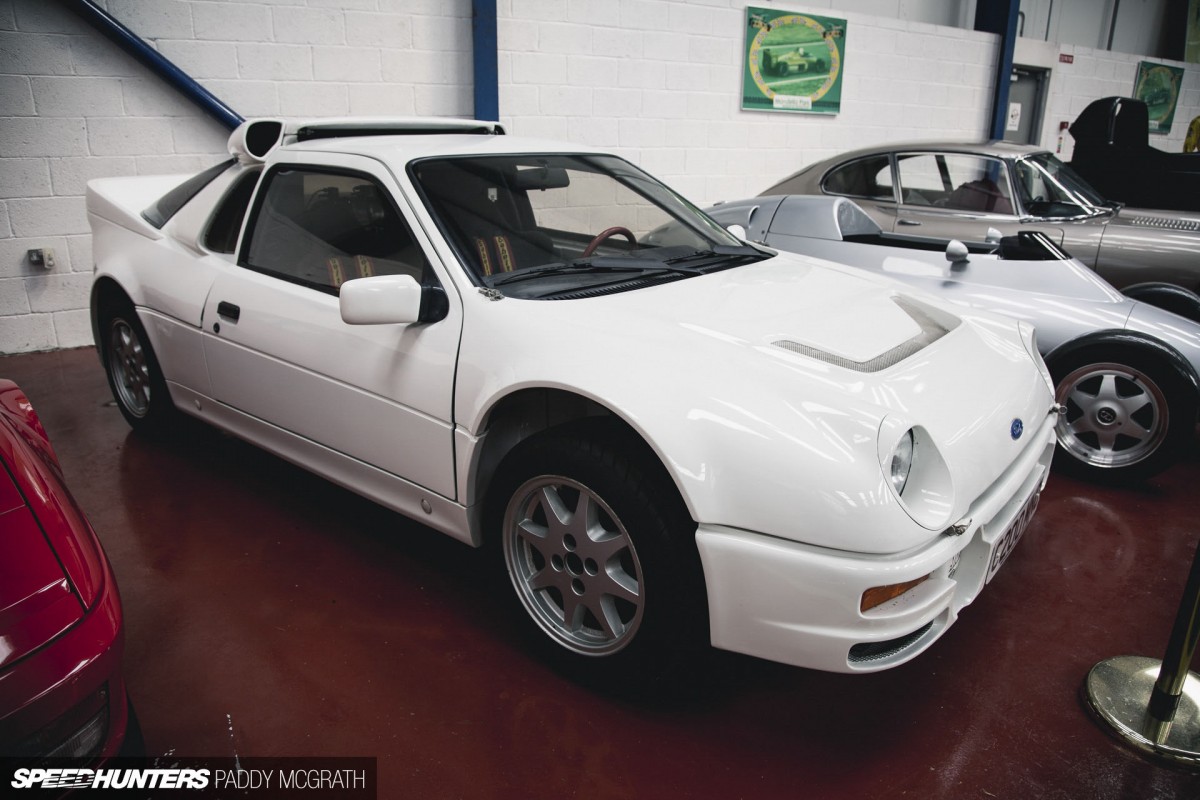 Funnily enough, this was one of those cars that was right under my nose for many years. As part of the Mondello Park Collection, I can't even recall how many times I was in its presence whilst shooting other cars. It was late last year, one Friday night when I was going through my catalogs when I stumbled upon this picture. As you do, when you see an RS200, you stop and admire.
I've looked at this photo quite a lot but this time something caught my eye which I never noticed before. There were no door cards. I started googling for RS200 interiors and quickly started noticing other little details. The seats and harnesses were different too.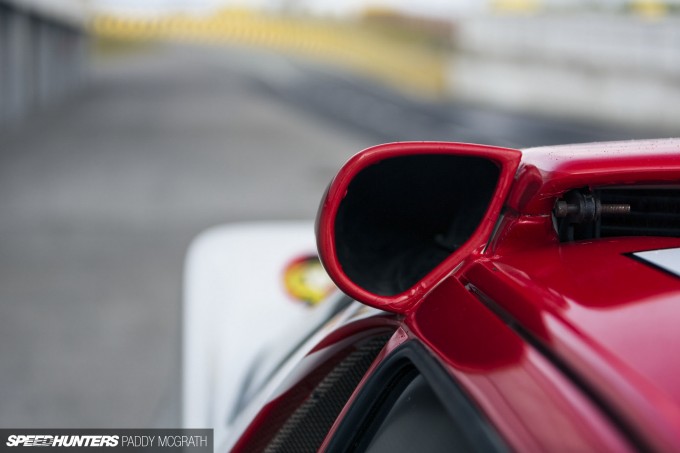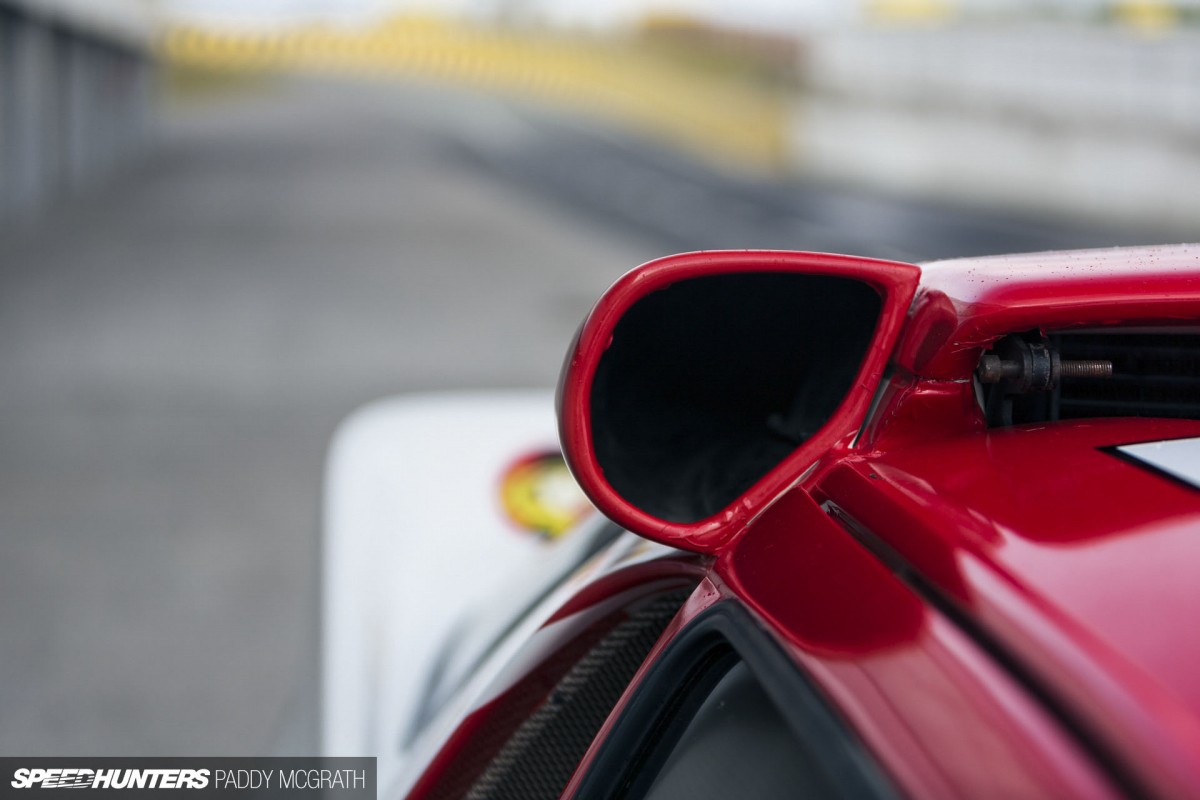 Then the more obvious things began to stand out, like the side scoops on the roof and the exposed hinges with a quick release on the front clam. A quick google of the registration and subsequently uncovering of its chassis number, and all of a sudden, my eyes were wide open.
As it quickly revealed, this wasn't just any RS200. This was a bonafide ex-works Group B car which enjoyed quite a lot of success in the hands of famous Belgian driver, Robert Droogmans. In fact, in 1986, the car won six out of the eight events it entered, including the Ypres 24 Hours rally, then a round of the European Rally Championship. With Droogmans behind the wheel, the RS200 took down its competitors with apparent ease, including the Lancia S4, Peugeot 205 T16 and Metro 6R4.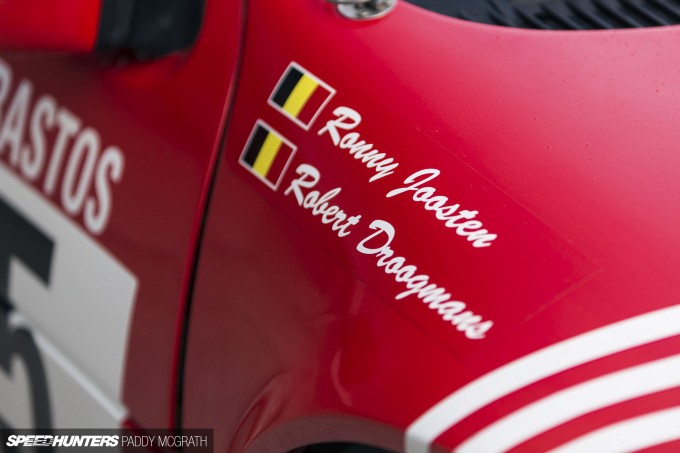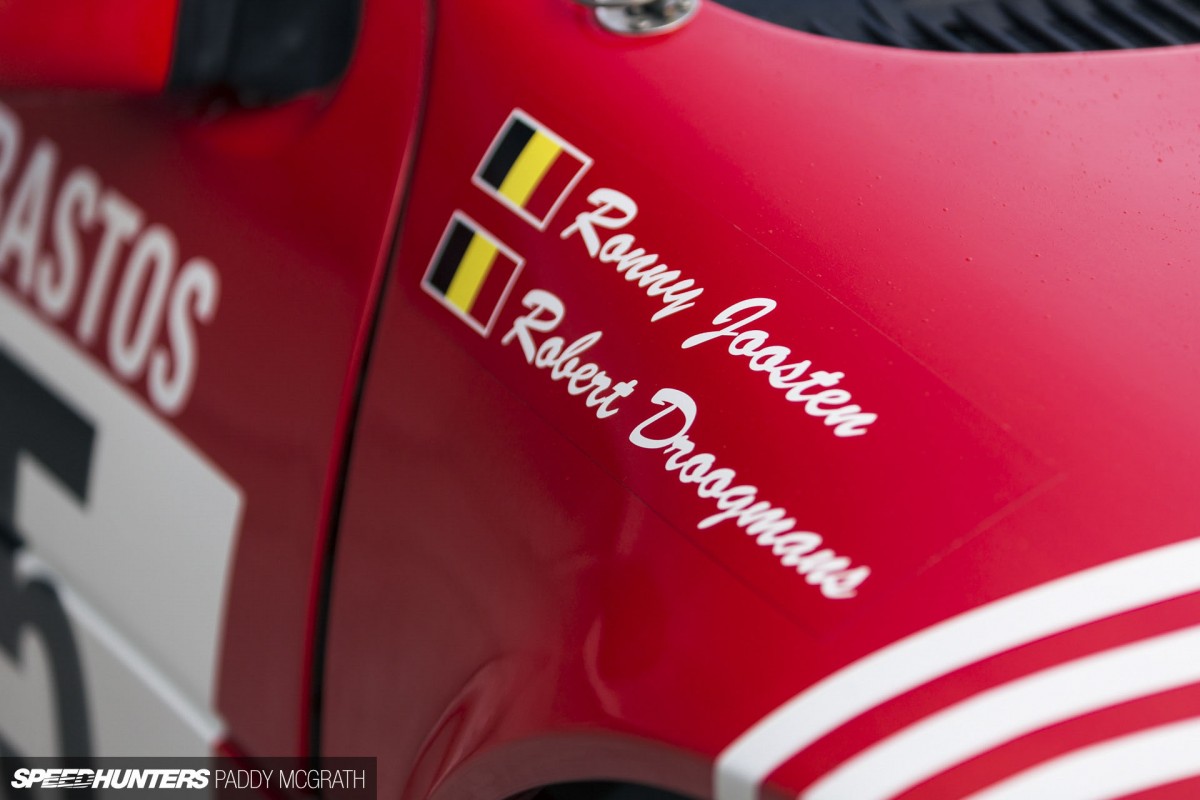 In 1986, Droogmans only competed in four rounds of the FIA's ERC. He won them all. Whilst the RS200 struggled to deliver on the world stage, it was at least making its own mark on home turf.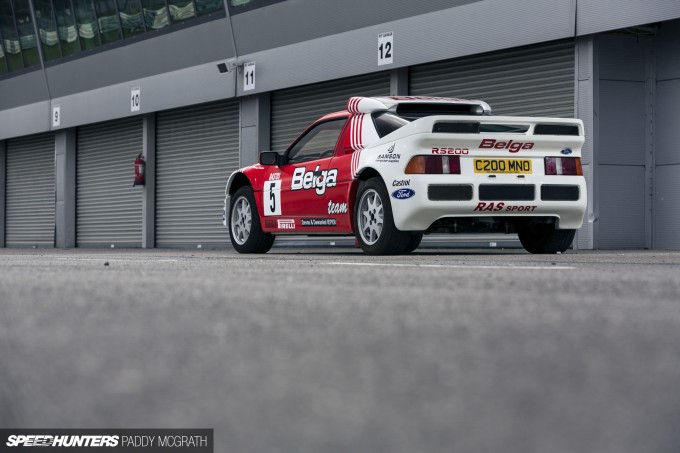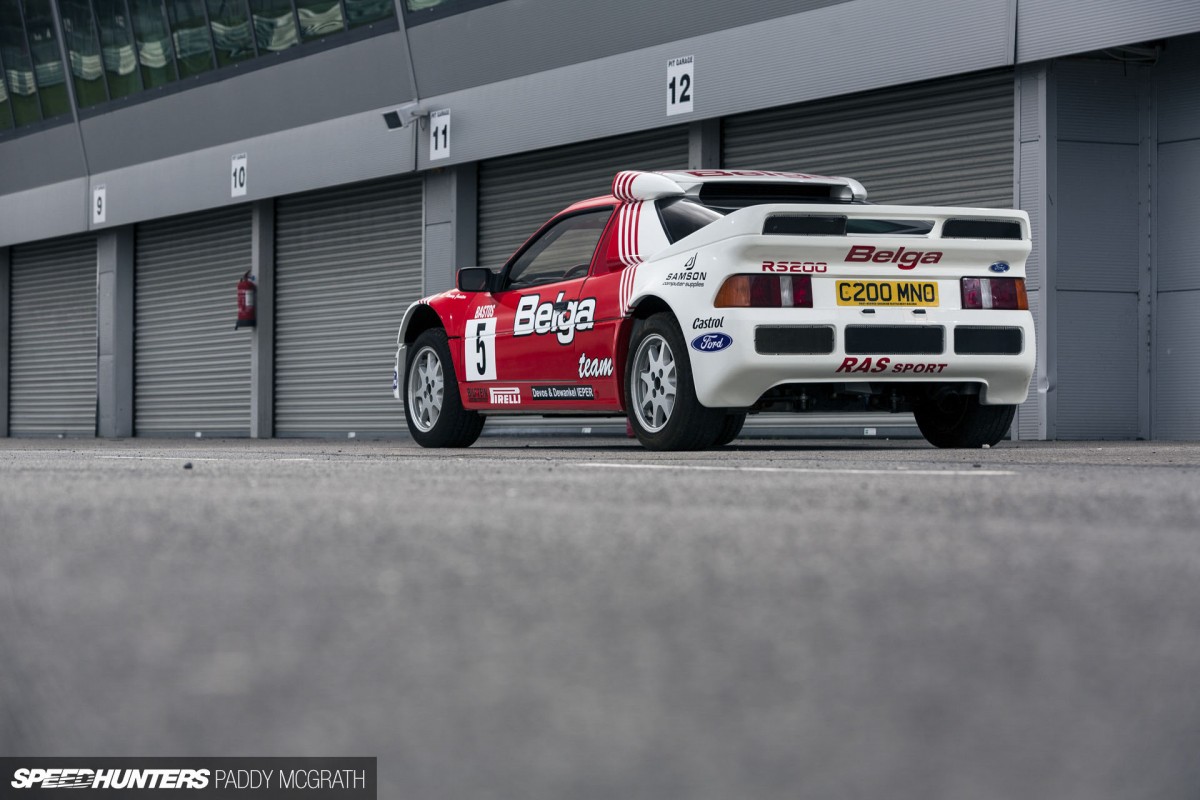 Fortunately, someone at Mondello Park realised this too and they set about having the car re-liveried in its iconic Belga colours. It has taken me all of my life to reach this point, but finally, here I stood before my hero.
A genuine and all-but-untouched-since, Group B Ford RS200.
Step inside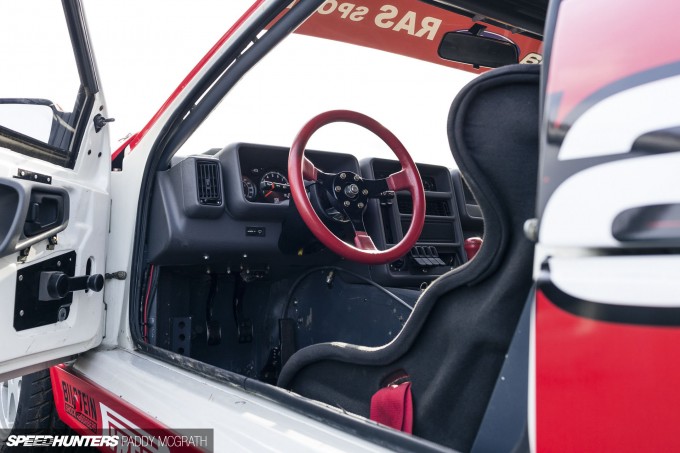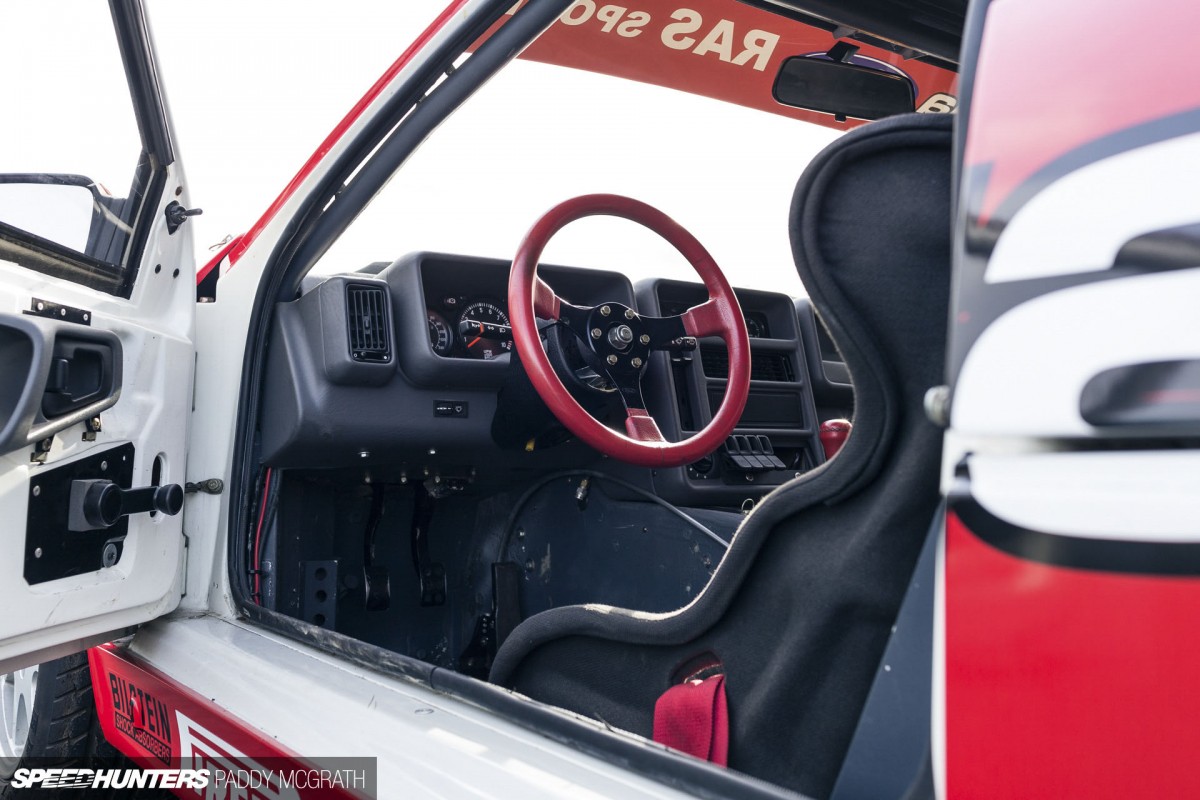 You can read the spec list of a rally specification RS200 anywhere online, but it doesn't really mean anything until you open the door to one and sit inside.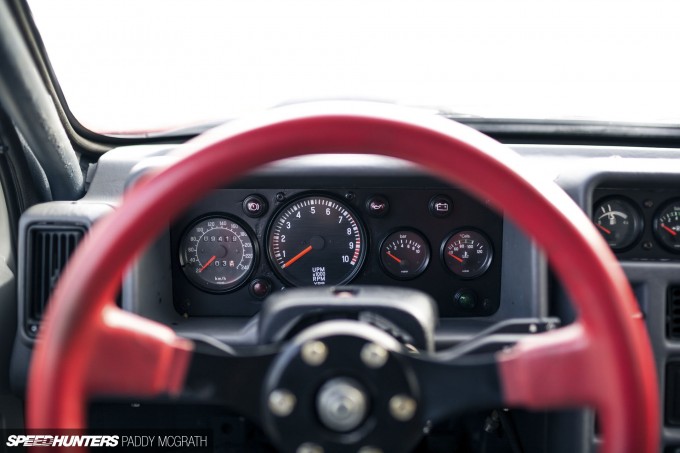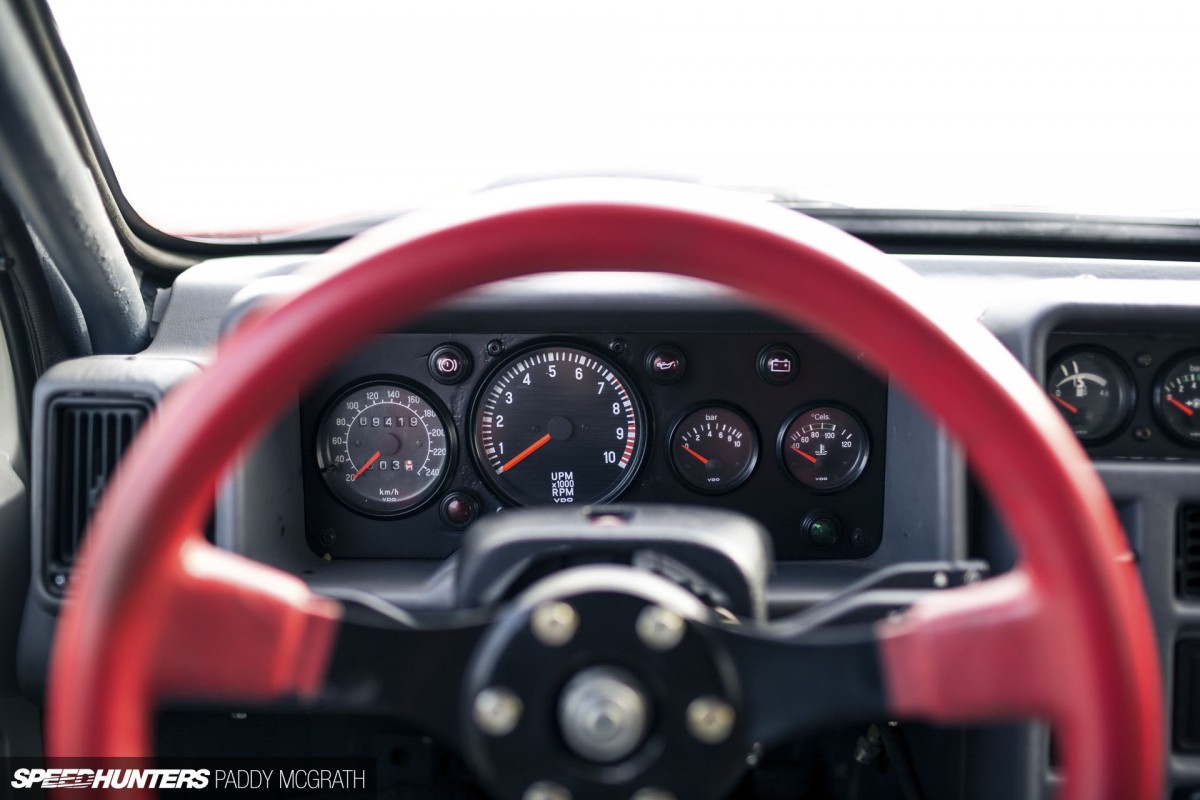 Once you plant your rear in the driver's seat, you're immediately aware that this is a product of an era where health and safety was a bit of a loose concept. The cabin is cramped. The firewall over your shoulder only emphasises this fact.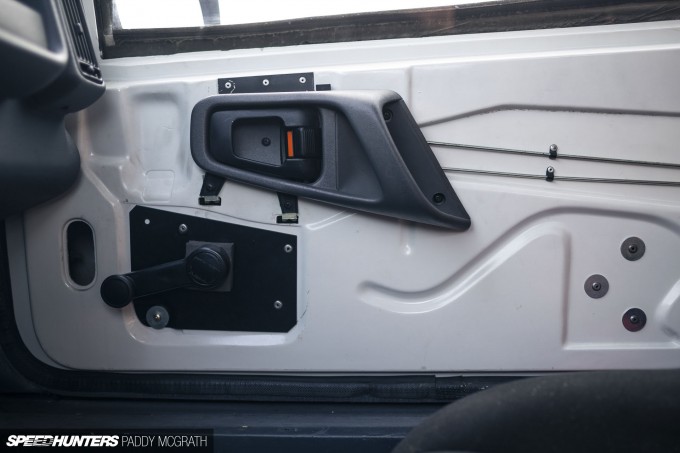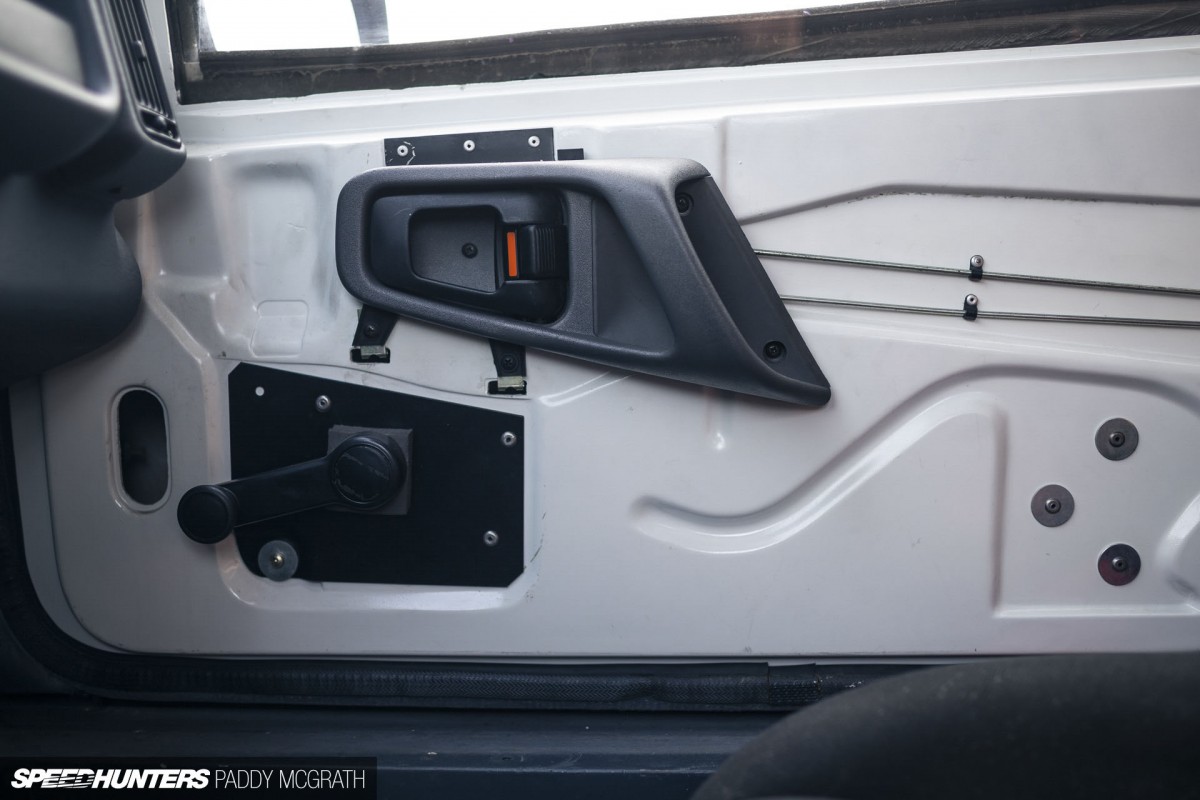 With the carpets and door cards removed, it's surprisingly quite civilised inside.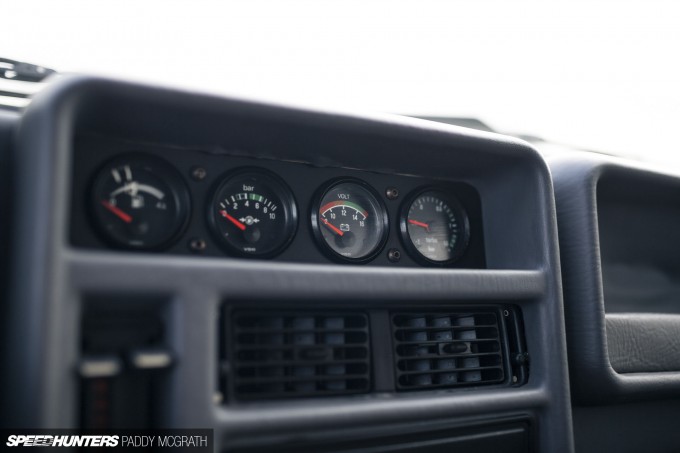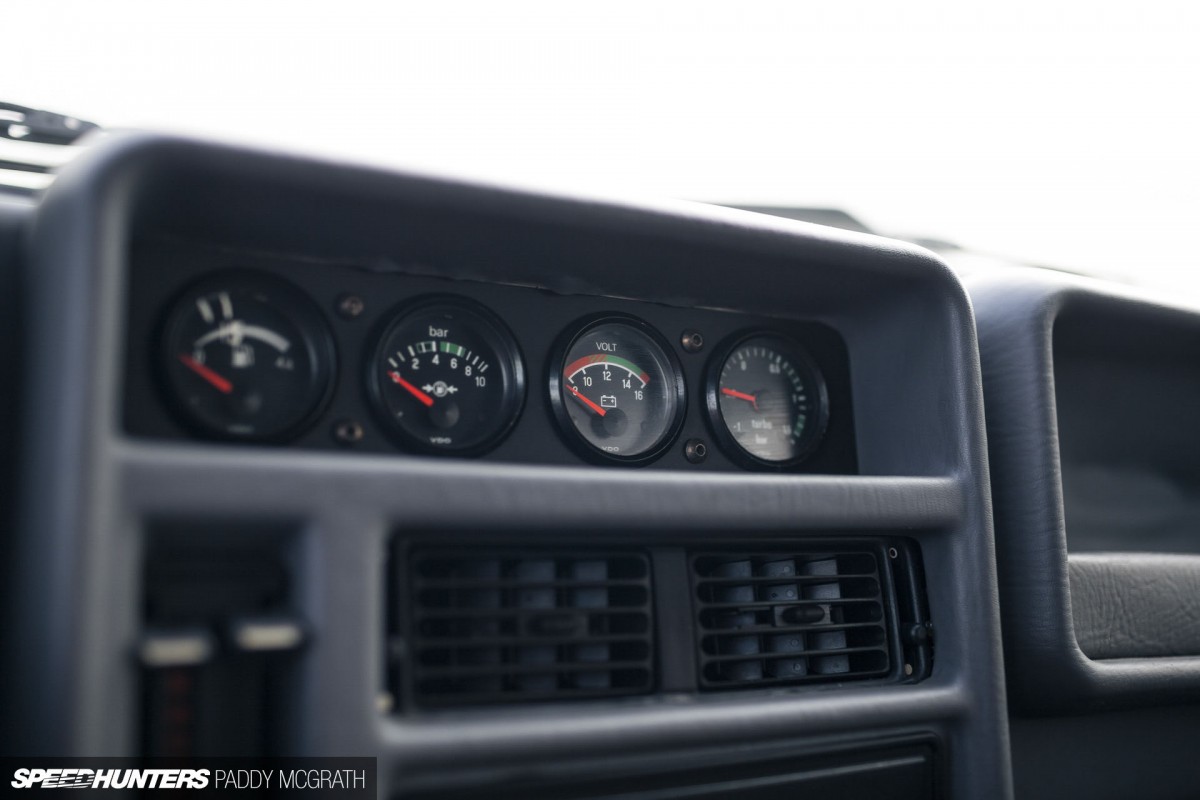 In fact, the dials and gauges are almost identical to what was offered in the homologated production car.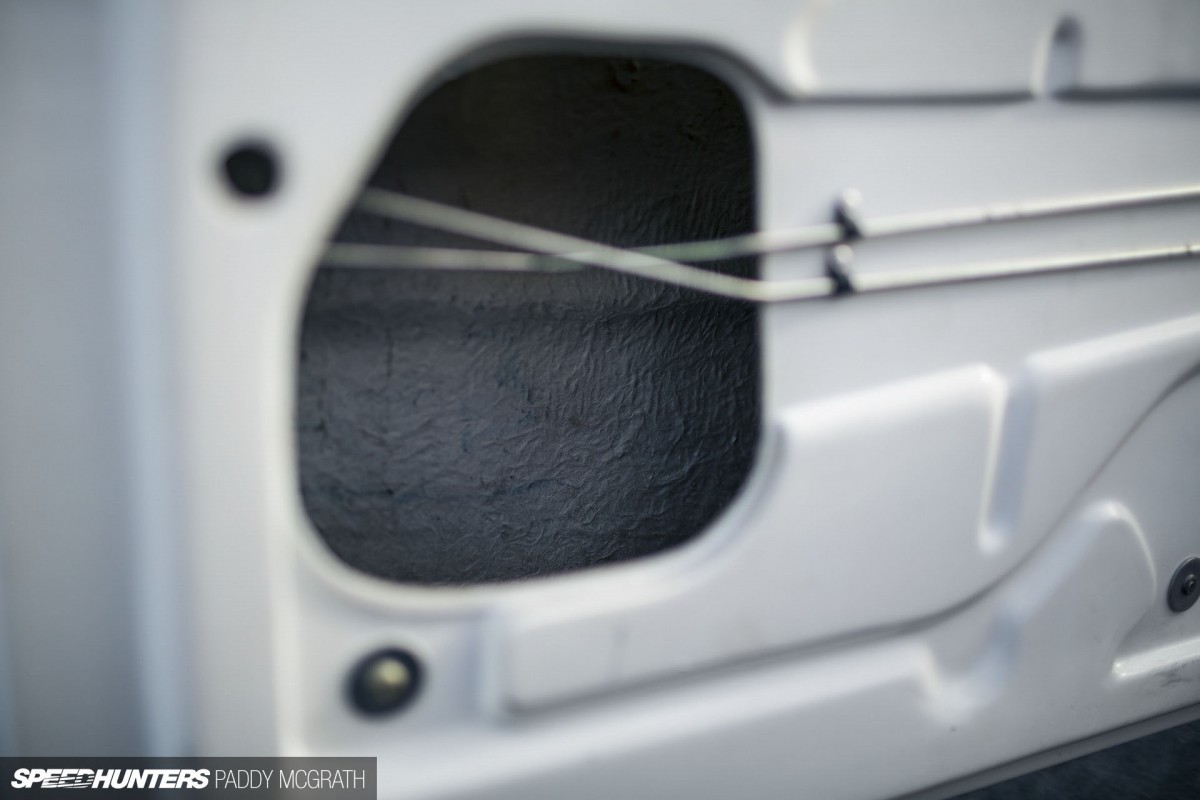 One of the things – if I'm honest – that terrified me the most, was the fact there was zero side impact protection. There's no door bars or even reinforcement within the doors themselves.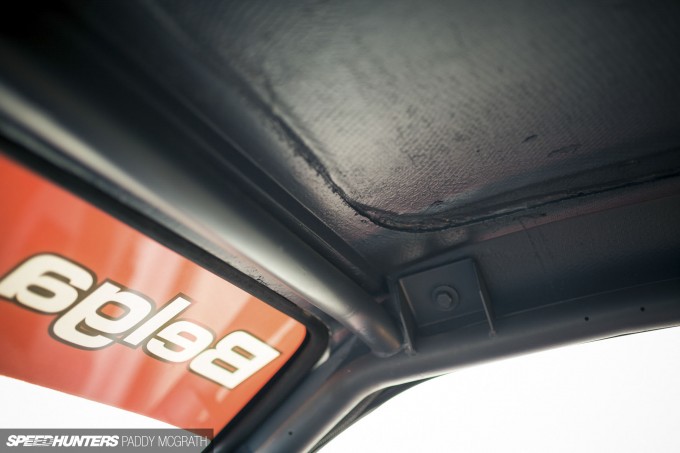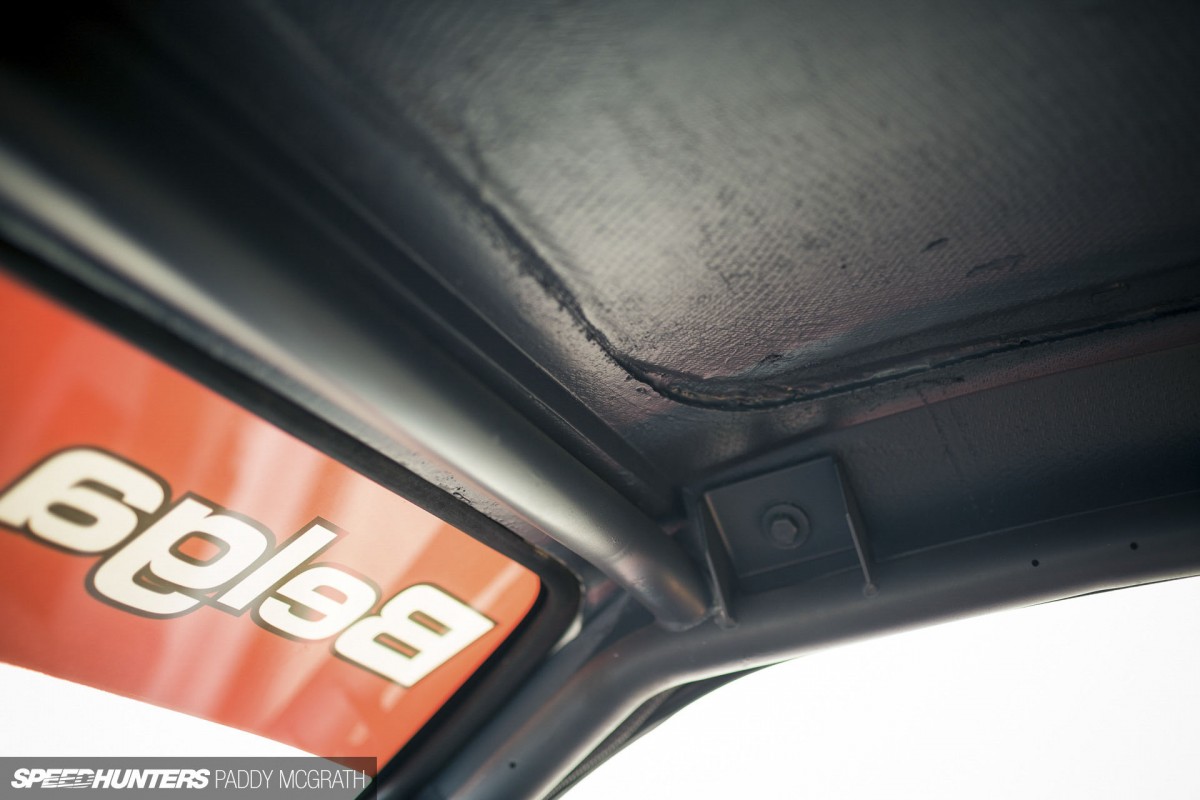 The roll cage itself doesn't exactly inspire confidence either. Once you realise that these bars are all that you have to protect the passenger compartment in case of a roll, you begin to have a better appreciation of just how brave the drivers in the Group B era were. Sure, it was the done thing at the time but it doesn't change the fact how little protection the driver and co-pilot were offered.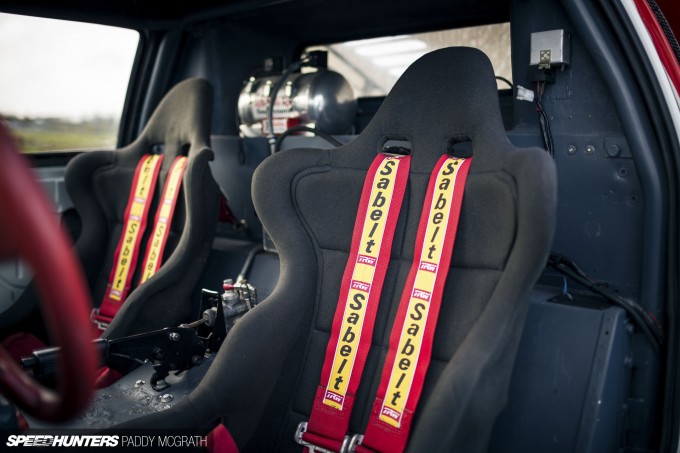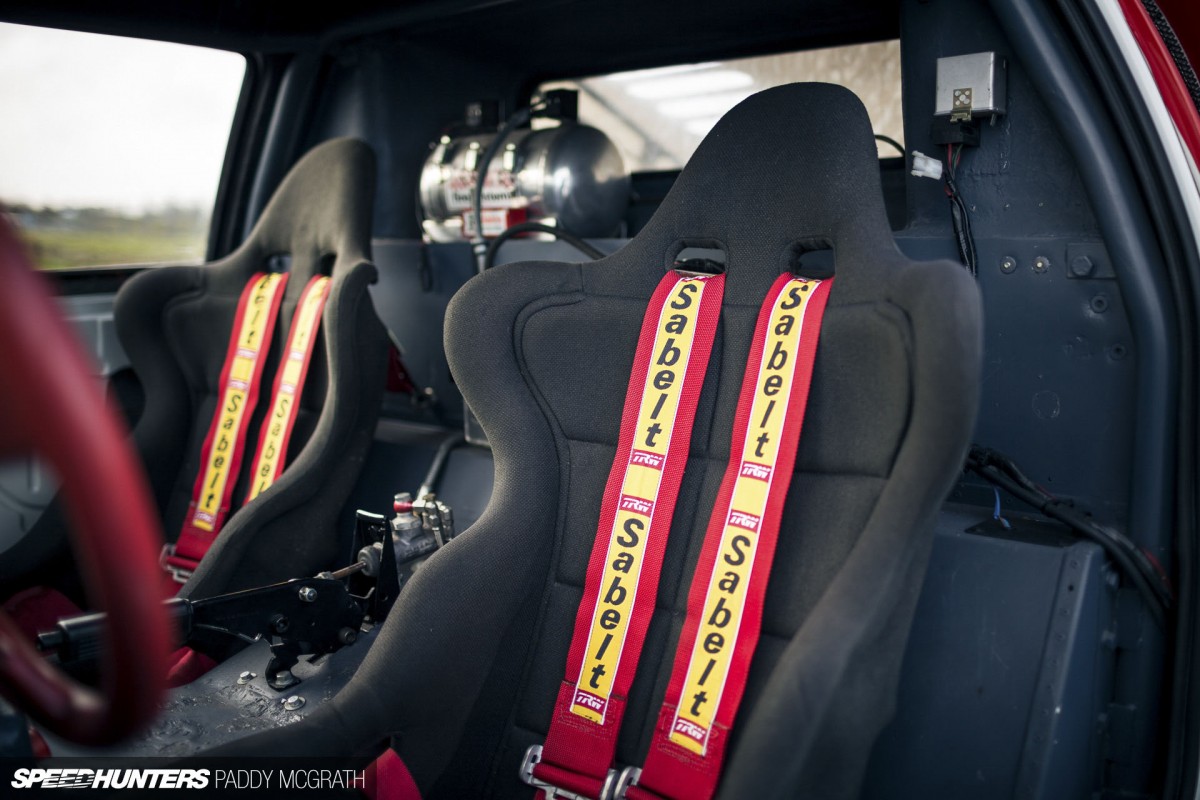 There were some safety devices installed. Five point Sabelt harnesses would be of some comfort.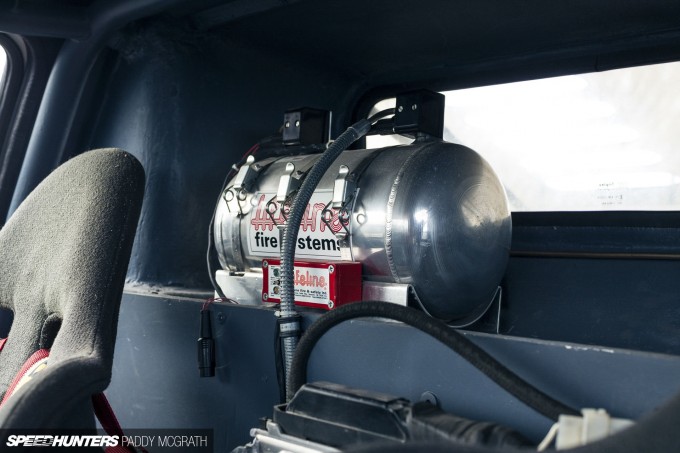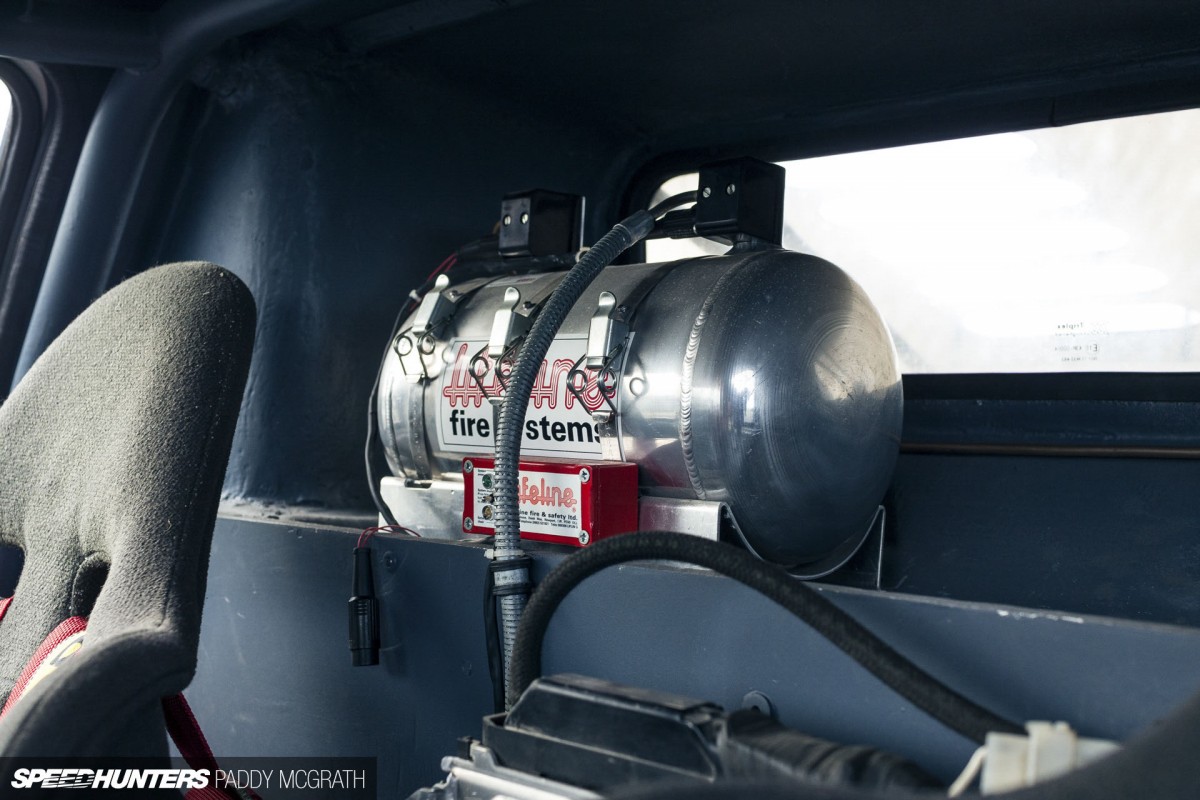 A plumbed in fire extinguisher system was also present, which sat just behind the navigator's head and could be activated from inside the car.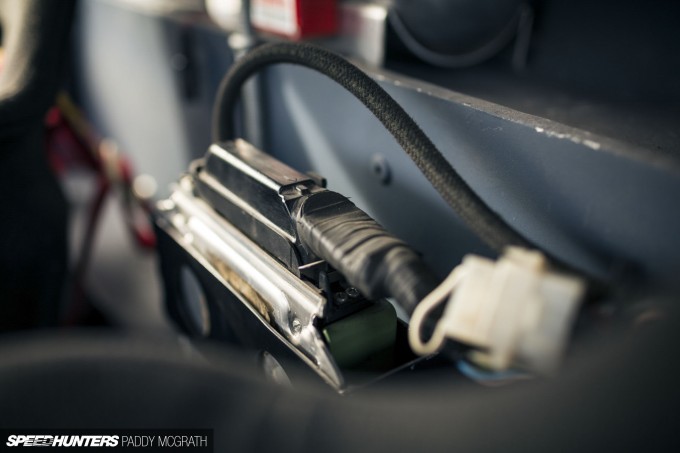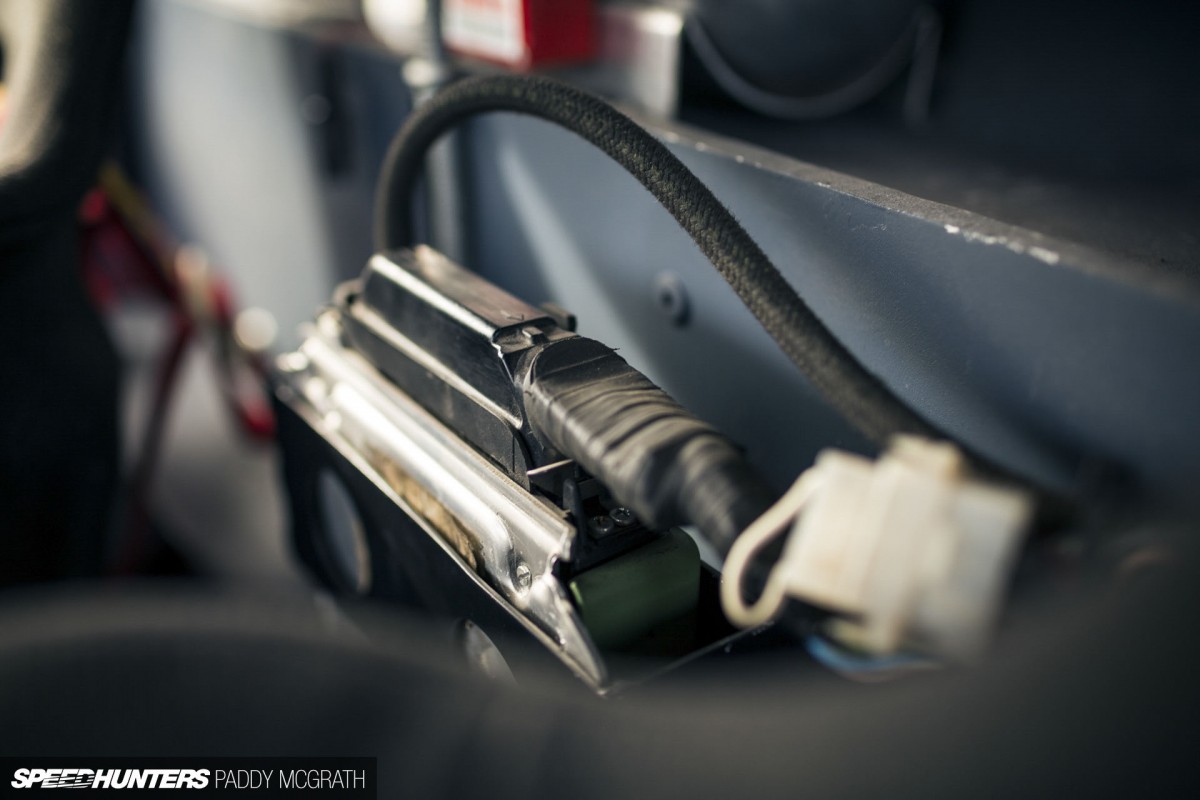 Not far from the extinguisher was the car's ECU which was bolted directly to the bulkhead.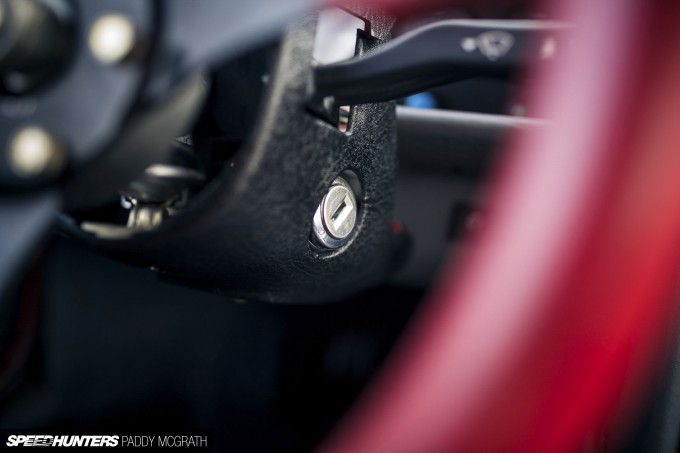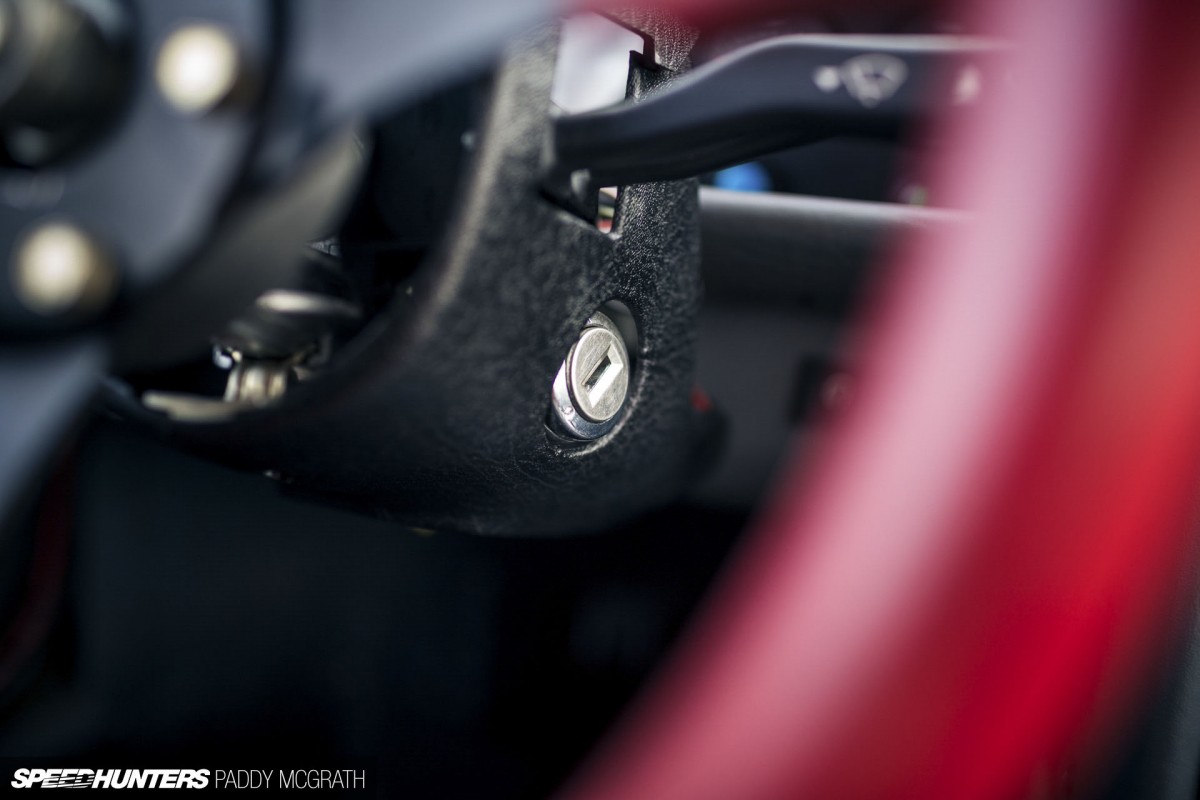 What really impressed me though was the fact that this was still a car, and not just a tool for motorsport. It needs a key to be started. Can you imagine Séb Ogier frantically running around the service park trying to find the keys to his Polo WRC?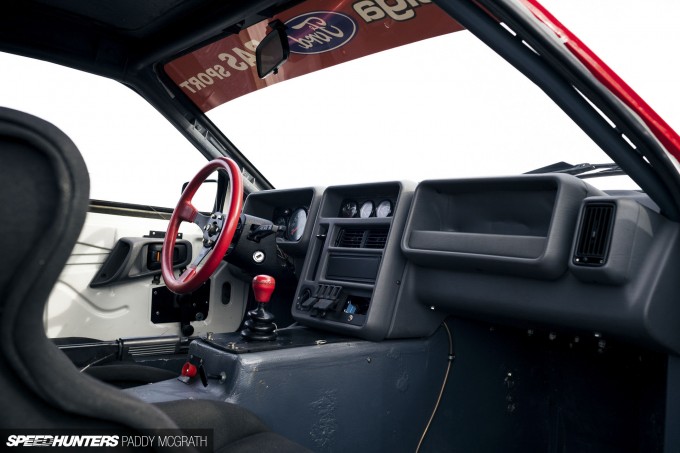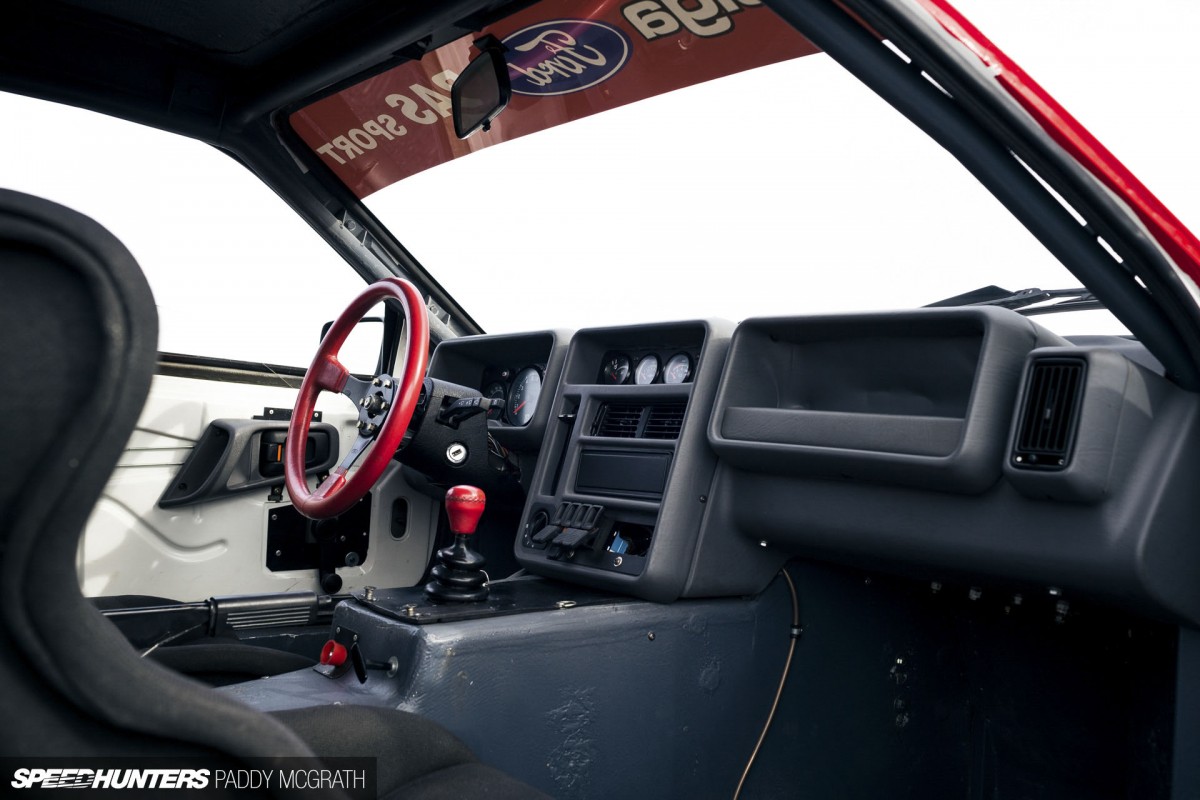 This being the '80s and Ford being Ford, there was a raid on the parts bin to re-use items from other Fords of the same era. For example, the windscreen and door glass are the same as those used in the Sierra, only the latter has been modified to fit the smaller RS200 door.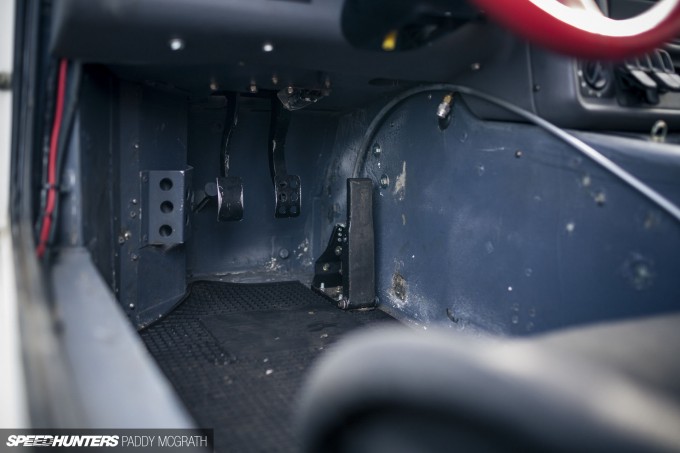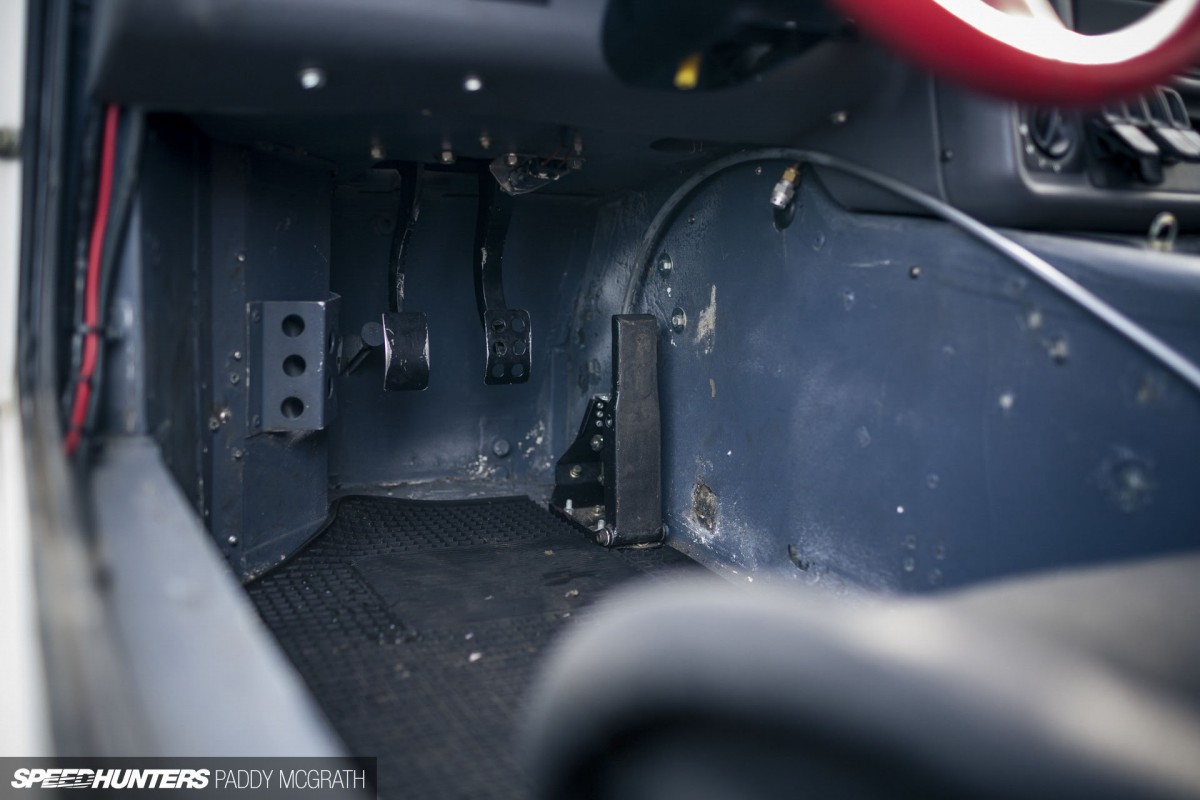 When we think of Group B, we always think of the era as the pinnacle of rallying. It's quite strange to see just how civilised these cars were – almost as if they were trying to disguise the fact that they were absolute monsters on the stages. For what the interior may have been trying to conceal, once you get into the oily bits, it becomes all too apparent what this car's true purpose in life was…
Beneath the skin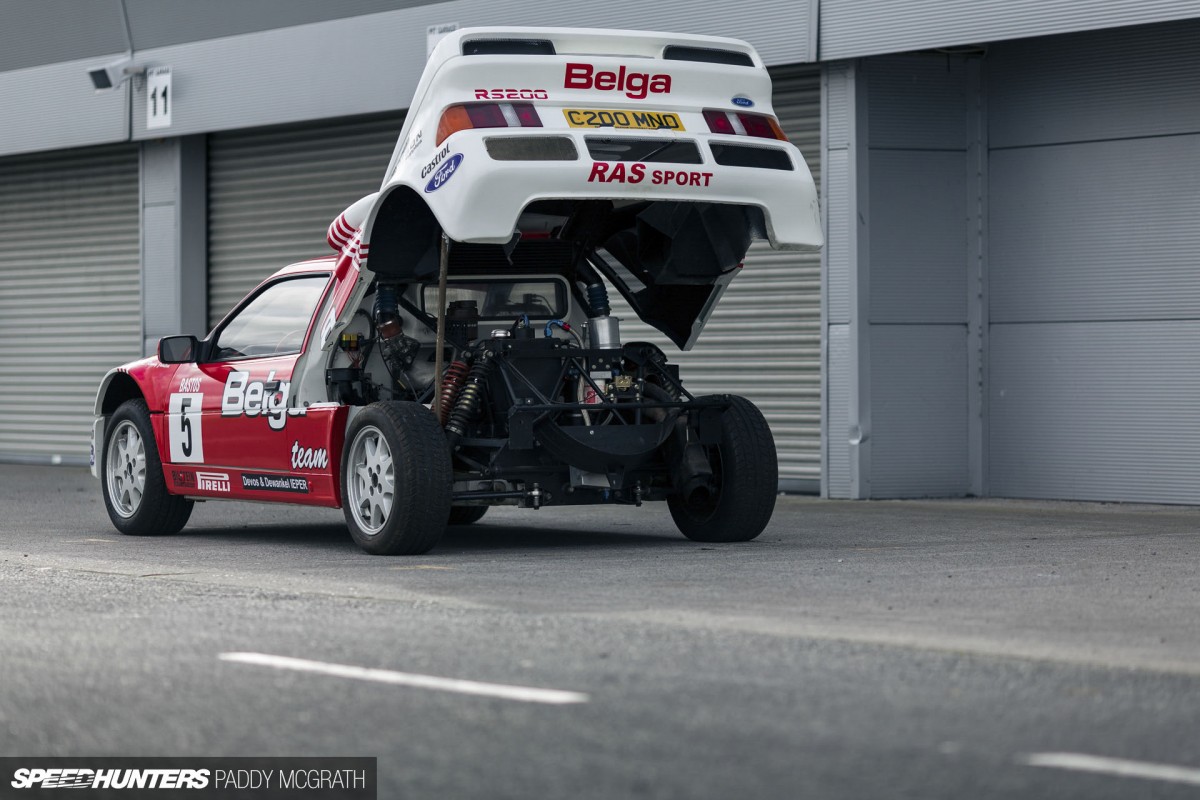 There remain a lot of misconceptions about the Group B cars. As the years have gone on since the class was banned, the cars appear to have gained more horsepower and become faster year after year. It's fair enough that we like to look back at the era with a certain amount of fondness, but it does make it difficult to uncover the facts.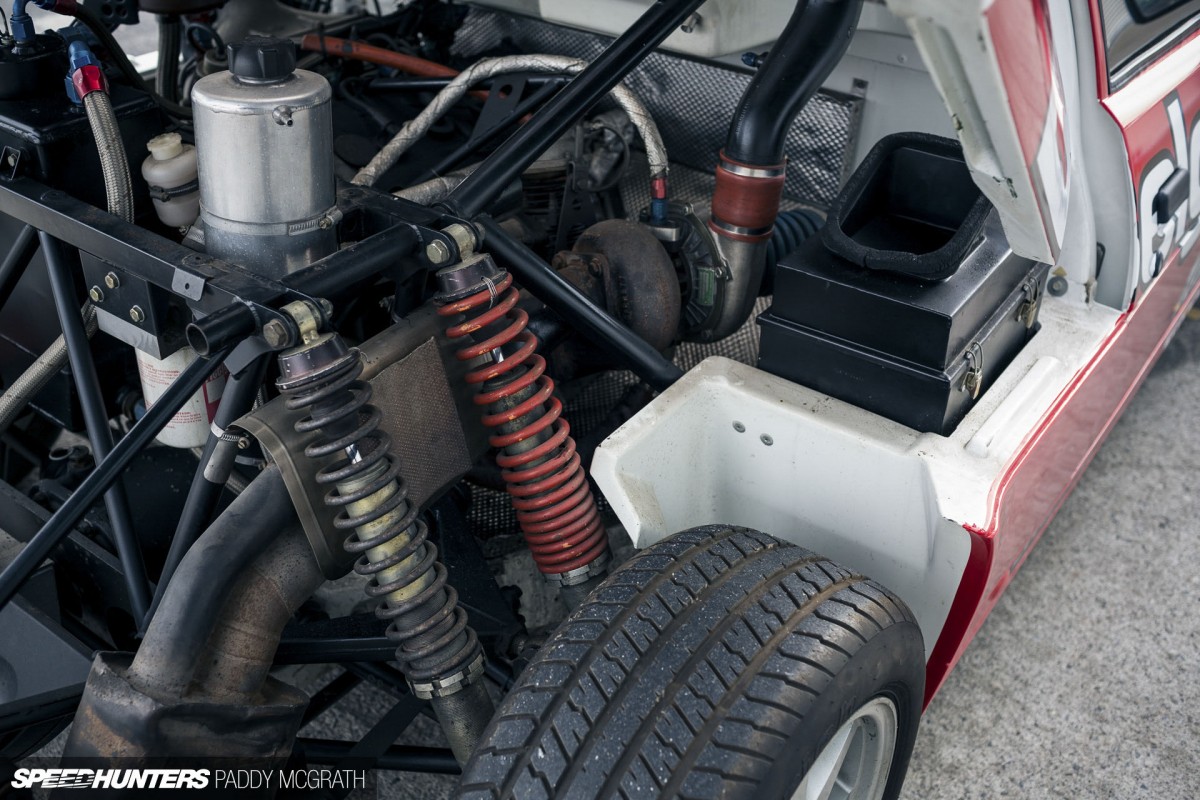 The beauty of this particular example is that it has been left unmolested since the 1980s. As the car is stored away, the battery has been removed but other than that, it's exactly as it should be. Warts and all.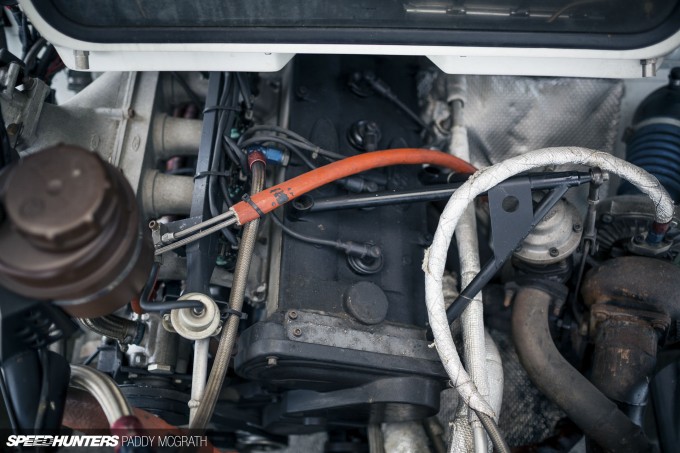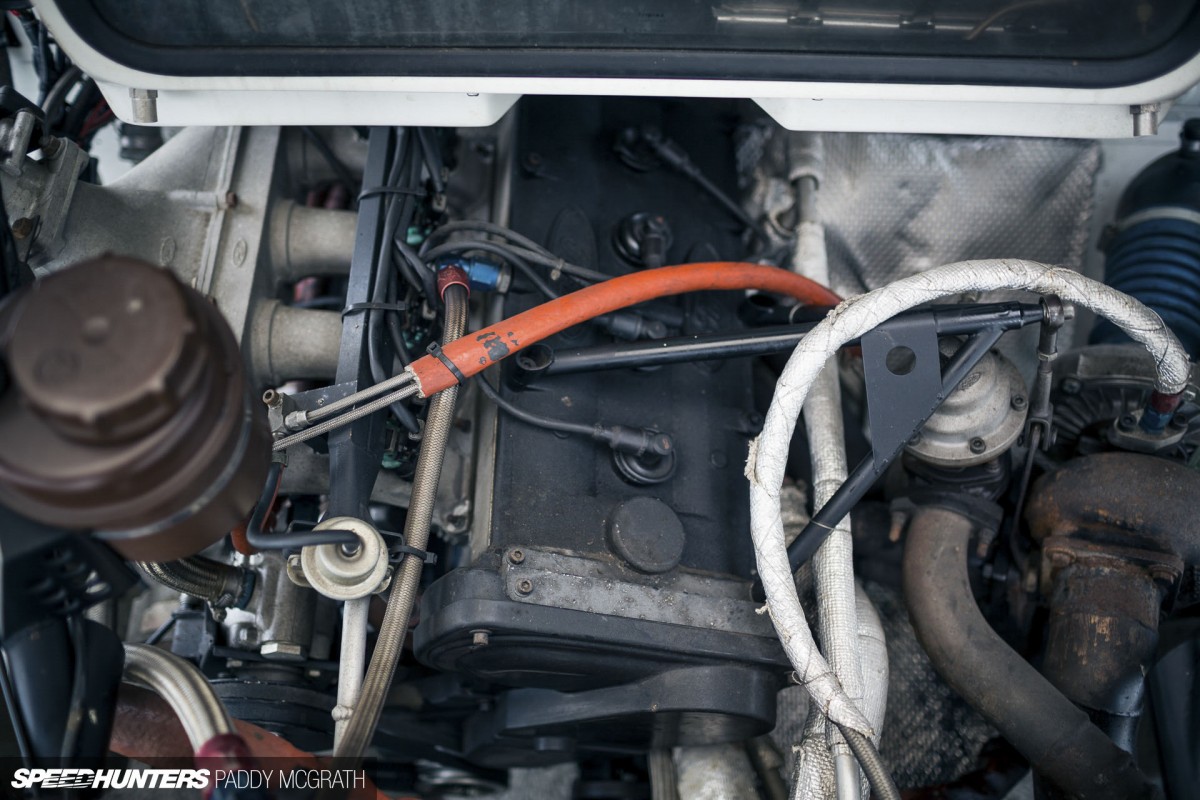 This particular car, like its other Group B RS200 brethren, runs an 1803cc turbocharged four cylinder engine, known as a BDT. The BDT was based on the design of Ford's famous BDA, an engine which preceded the BDT and featured in the world-dominating works Escorts.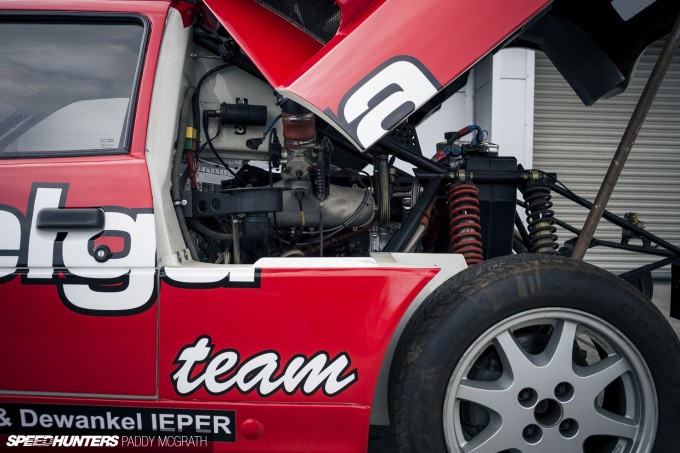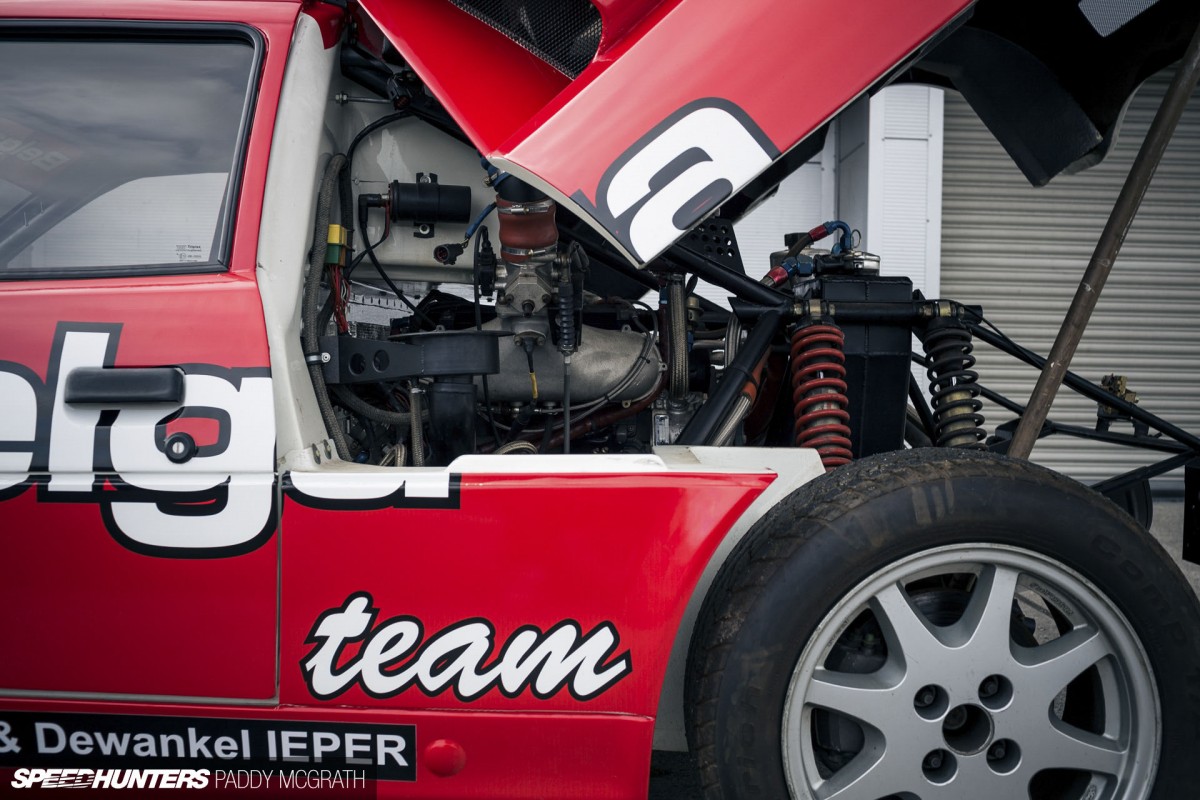 Ford had originally planned to build an RS1700T Escort to compete in Group B, but it proved to be too far behind the competition in development. They scrapped that car but were left with 200 BDT engines which had been commissioned for the RS1700T project. So, the RS200 was designed and built around utilising this engine. It shows too, when you see how compact the complete package is and the fact that all significant weight is well within the front and rear axles (the gearbox was mounted in the front for 50:50 weight distribution).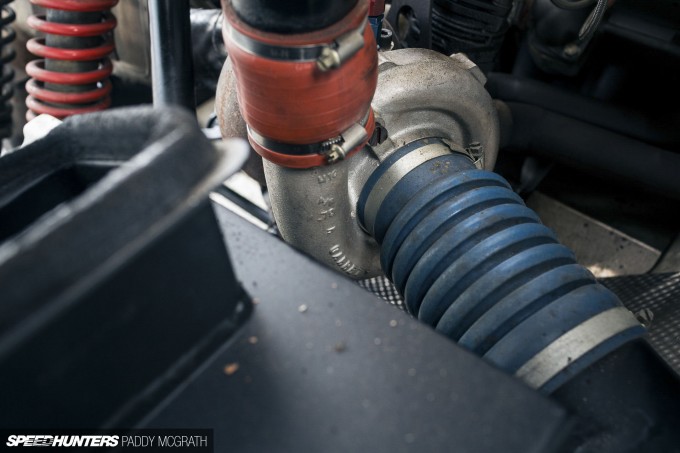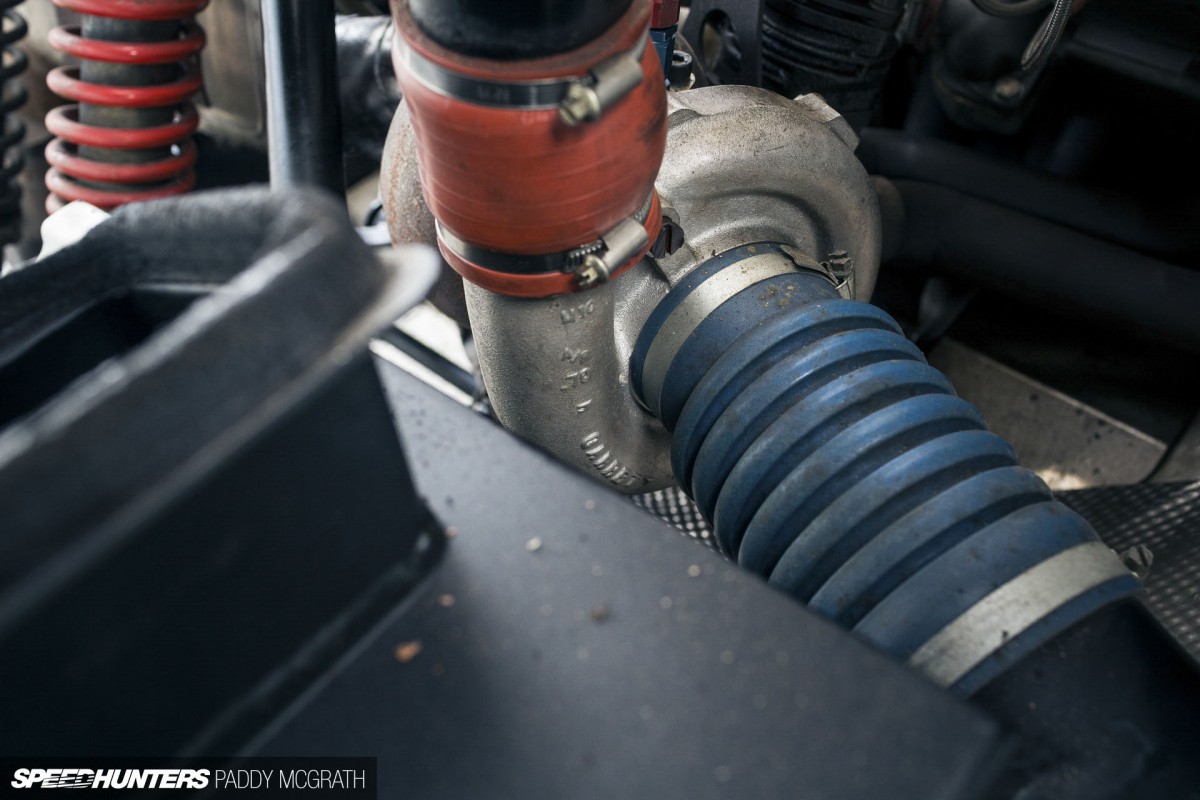 In road specification, the RS200 production cars made around 250hp at 0.8 bar, fed through a Garret T04E. The same turbocharger in works rally application was first used to produce around 350hp at 1.2 bar and later 450hp at 1.5 bar when coupled with different and higher lift camshafts (after a relaxation in the regulations surrounding the homologated camshafts). It was only after Group B had been banned, that the 2.1 Evolution engines made their appearance, capable of 950hp.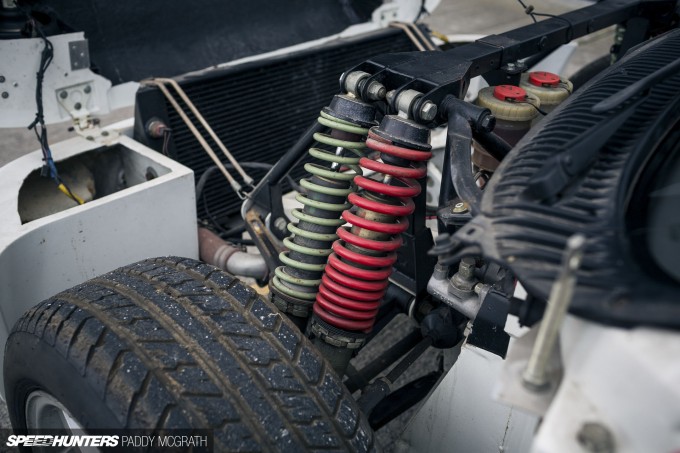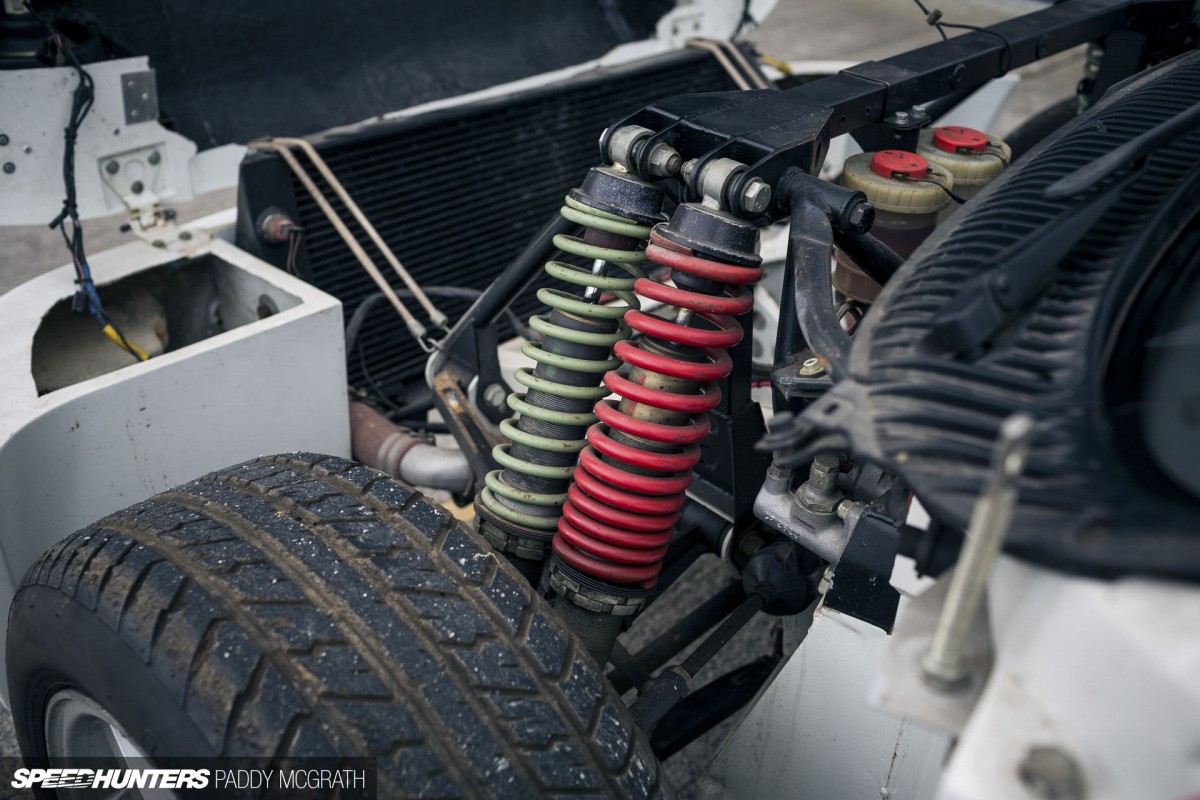 The suspension is similar front and rear, double wishbones with twin concentric coilovers with adjustable ride height. The use of twin coilovers allowed mixed units to be installed to allow for an increased rate and damper settings depending on application.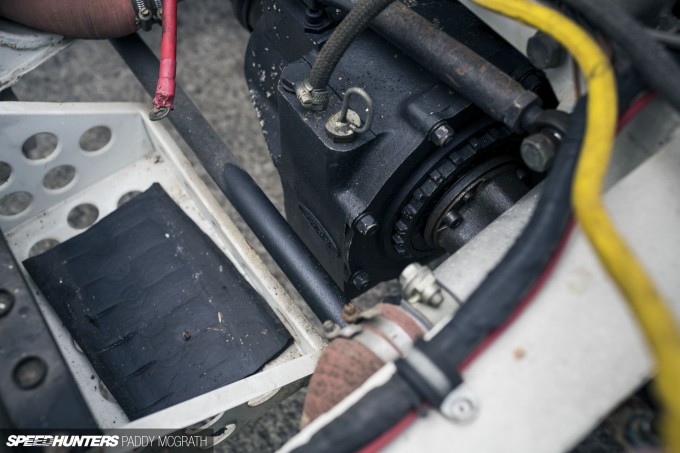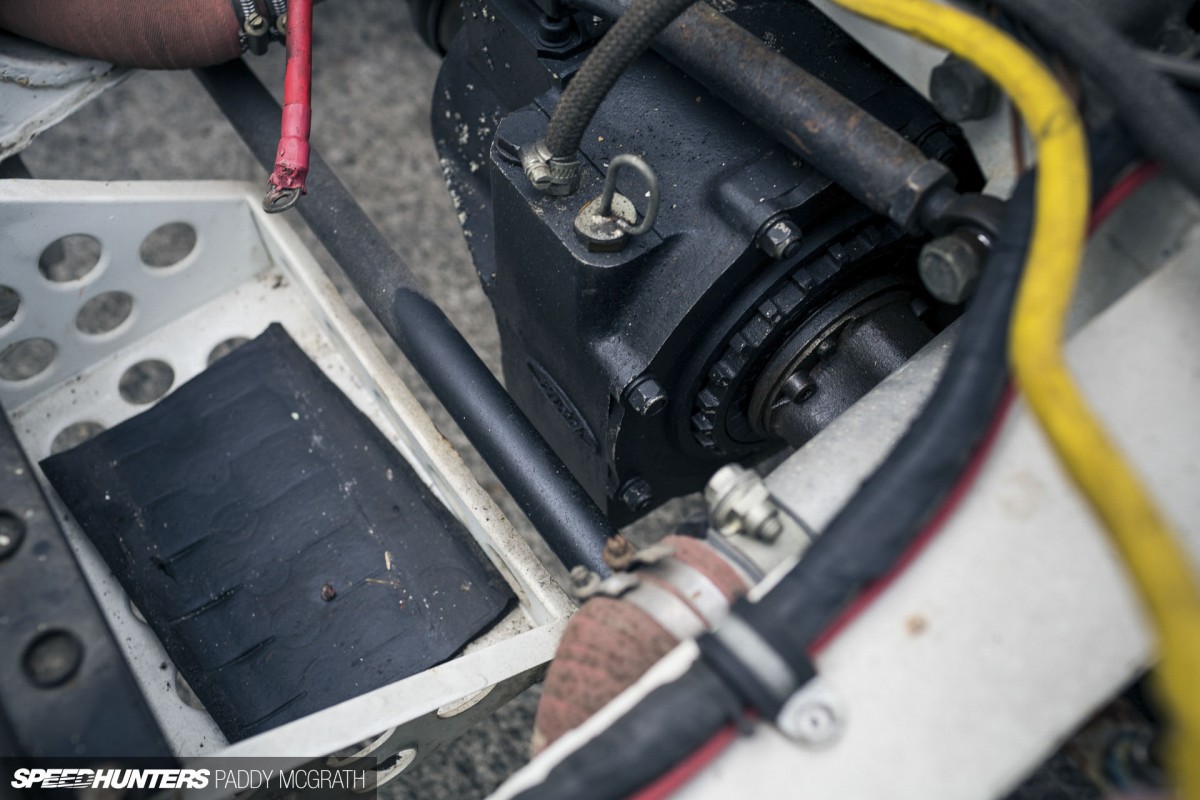 With the battery removed, it gives us a better look at the front limited slip differential set-up. You'll often read reviews saying how the gearshift in an RS200 was quite agricultural. It all makes sense when you discover that it was Harry Ferguson's (better known as the father of the modern tractor) company that was responsible for the three LSDs.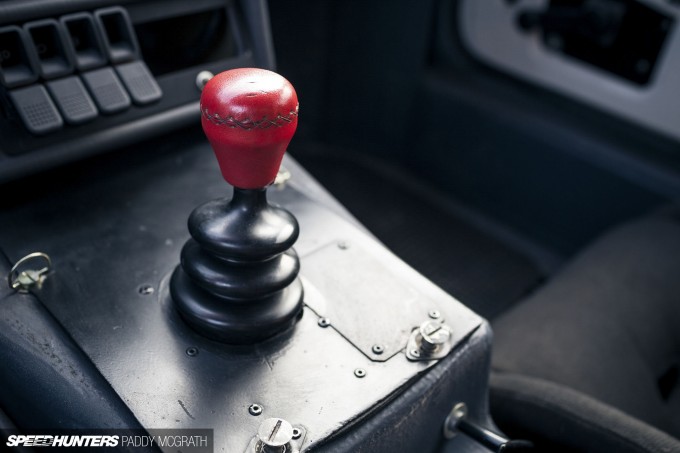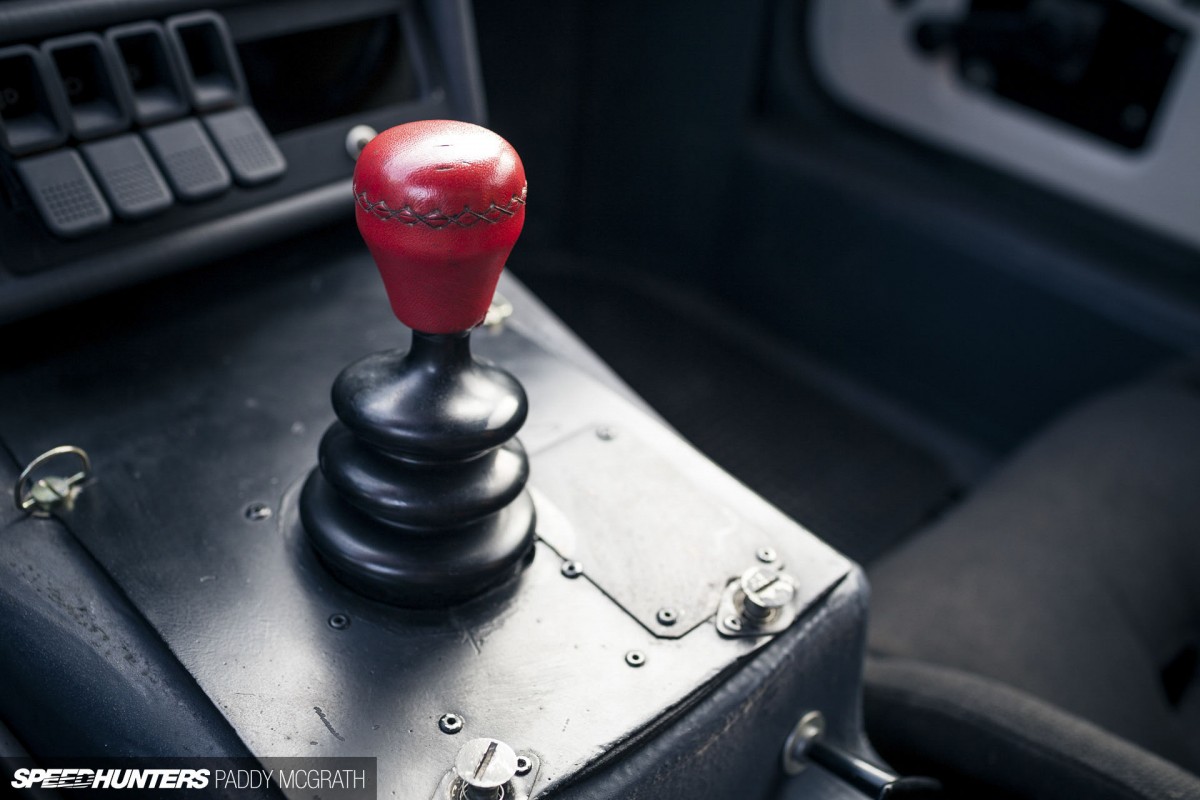 Whilst not present on this particular car, there's usually a second lever which connects directly to a simple dog clutch selector at the front of the gearbox. This selector would allow the driver the choice of a 37/63, 50/50 or 0/100 front/rear torque split.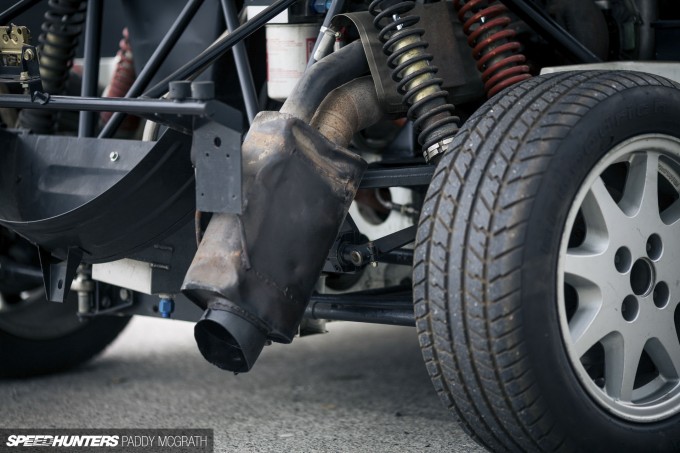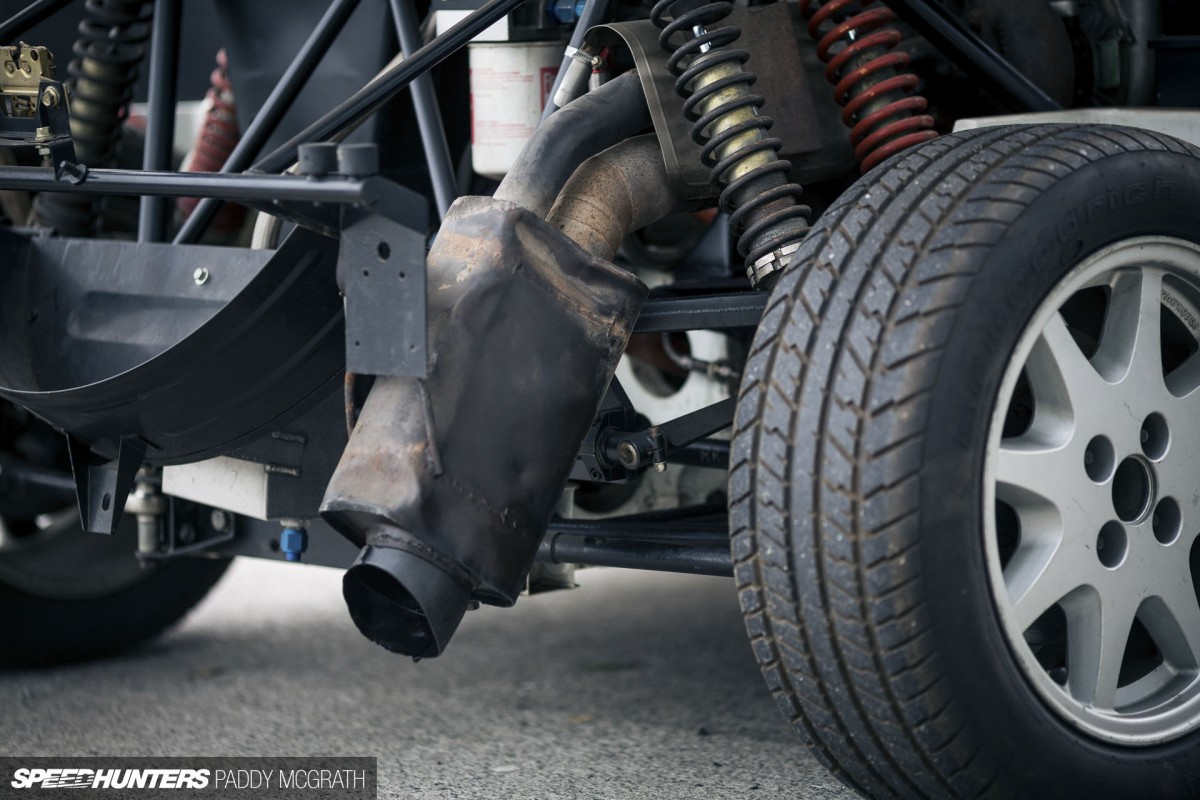 Ease of servicing was one the biggest priorities when it came to designing the engine and transmission package. In fact, for its apparent complex-looking nature, a gearbox could be changed in as little as ten minutes.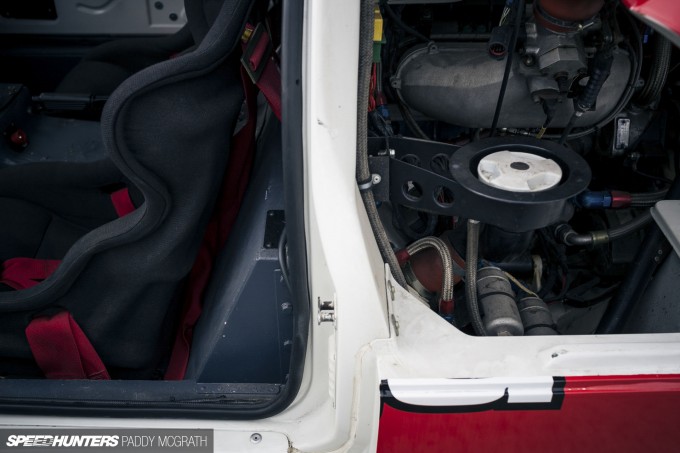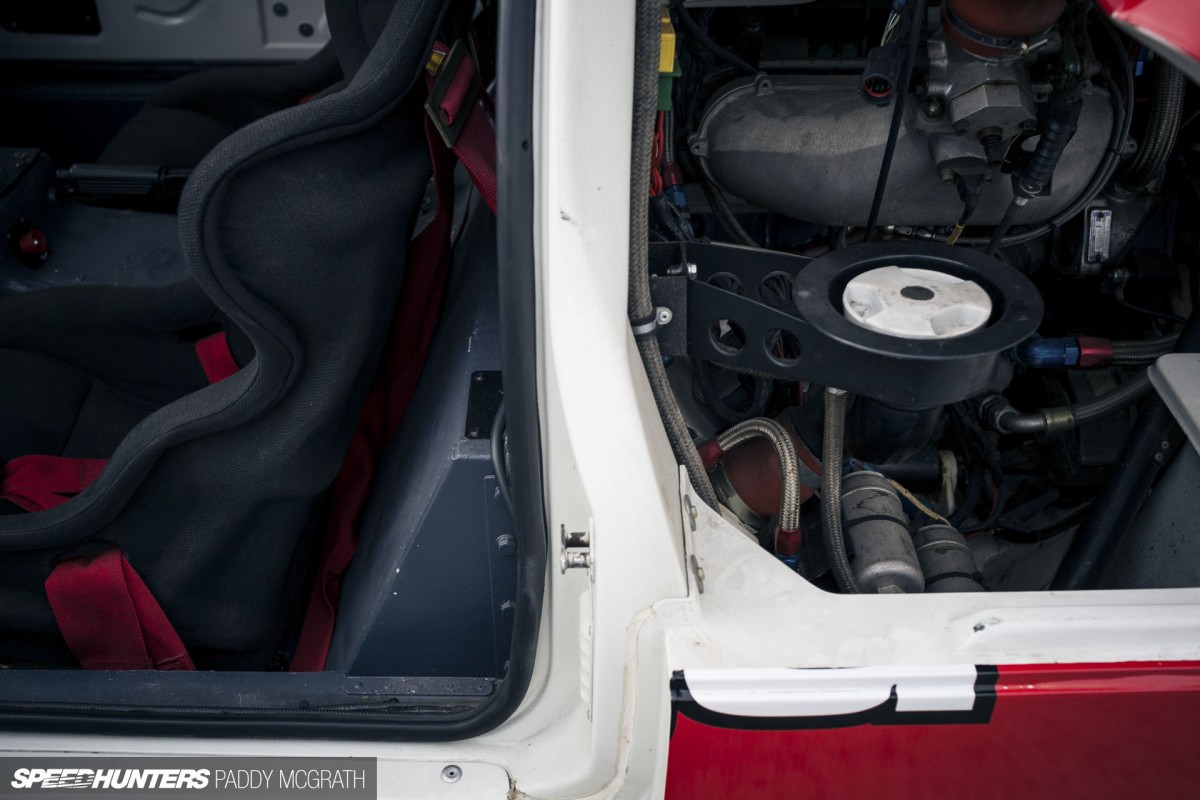 Other things of note include the position of the fuel tank. That is, right behind the driver's seat.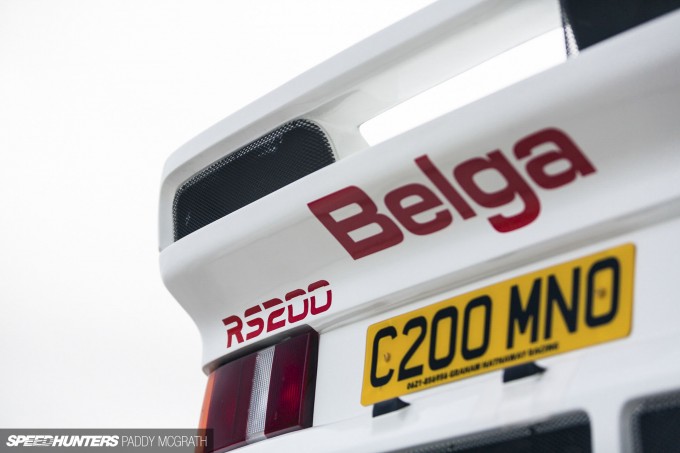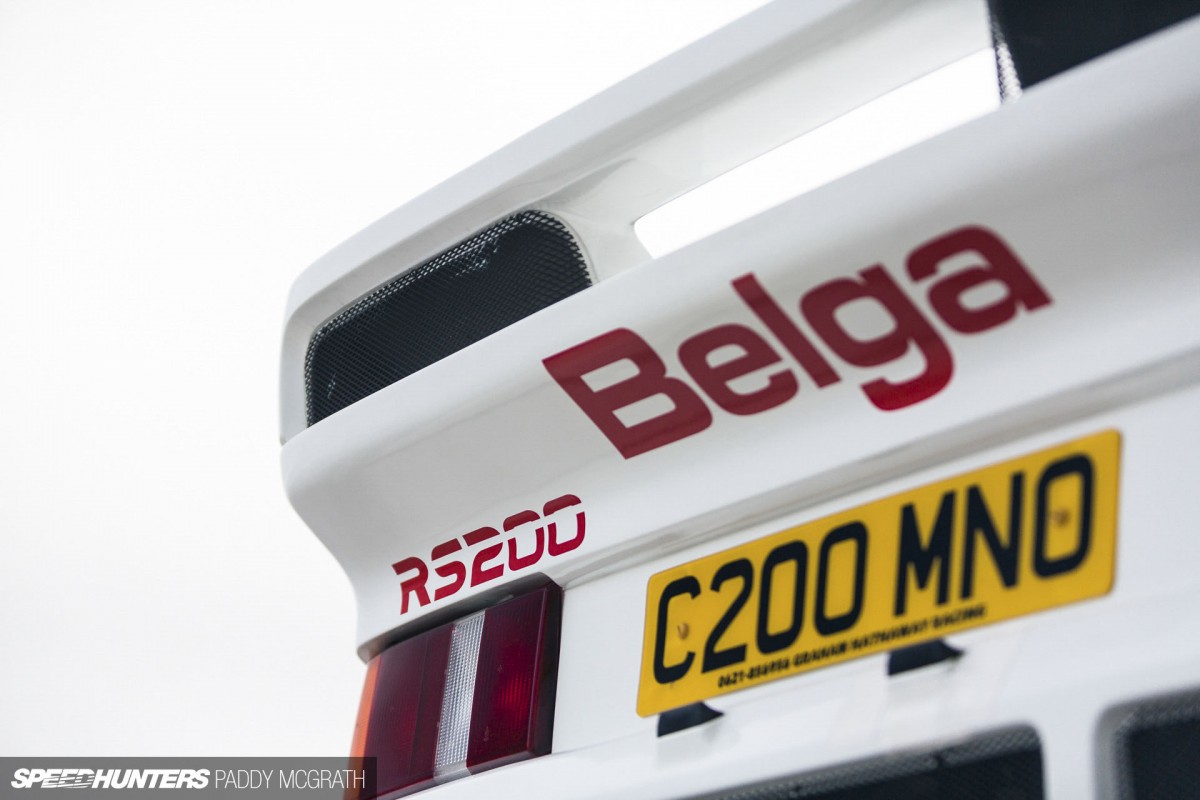 Whilst the chassis is primarily aluminium and stainless steel, the outer body is a mix of aramid, carbon and glass fibre composites. The result was a package that weighed in at just over 1,000kgs (2,315lbs).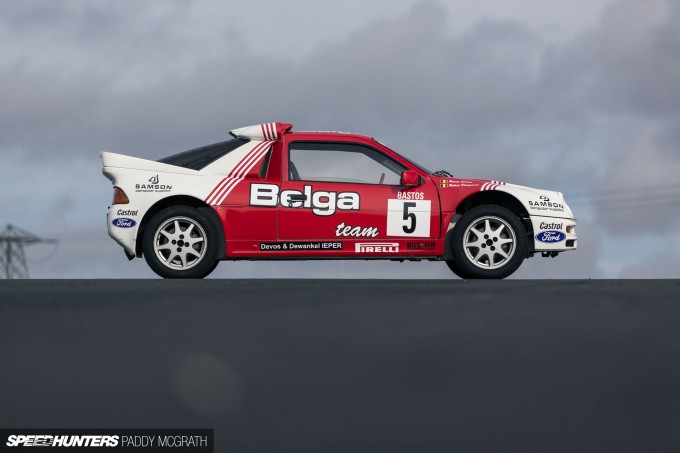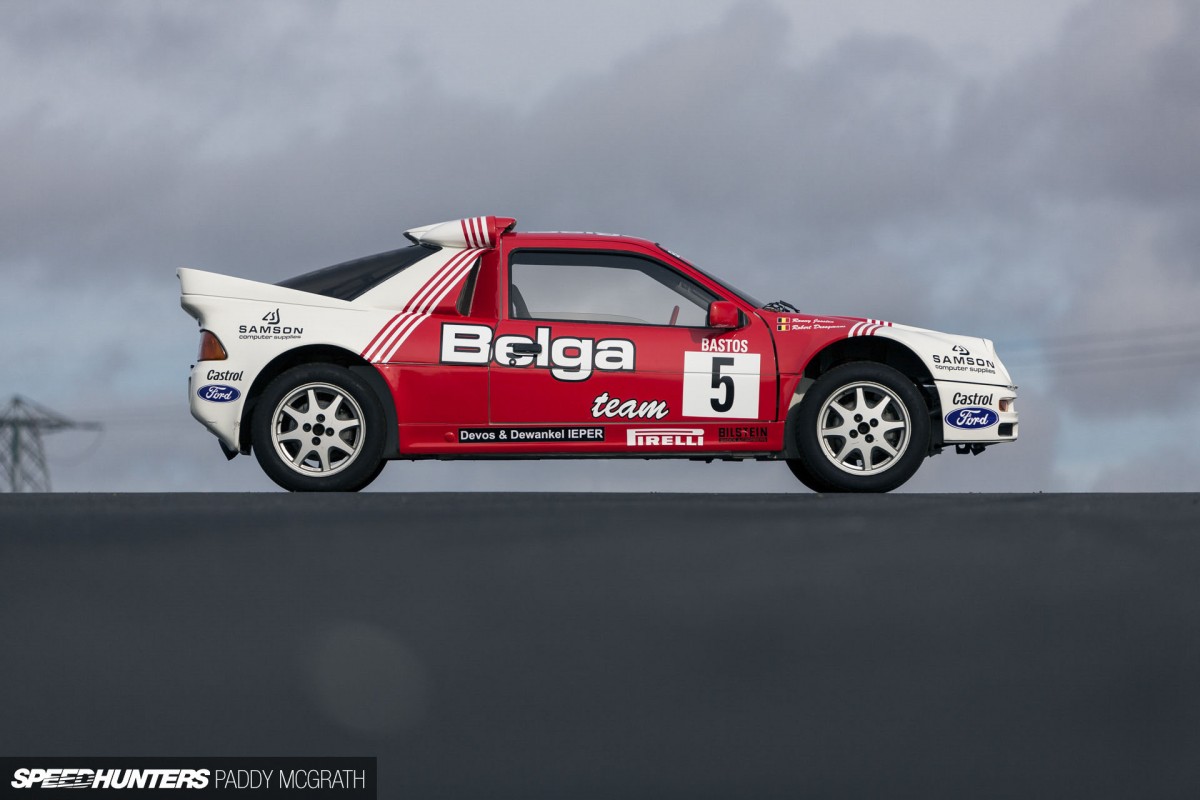 When you're dealing with a car with history as illustrious as this, it's always a challenge not to start rambling. When the car in question just happens to be one of the few to survive arguably the greatest era in motorsport, I have to force myself to stop. There's so much to talk about with this car. For instance, and in a wild case of coincidence, C200 JJN (the car Larry shot) once needed to borrow the bonnet from this car to continue in an event. There's even a picture of it. See, I'm off again…
If there's one thing you take away from this story, aside from how brave and heroic the drivers and co-drivers of Group B were, it's this: find your heroes and shake their hand.
You won't regret it.
Paddy McGrath
Twitter: @PaddyMcGrathSH
Instagram: speedhunters_paddy
paddy@speedhunters.com