The Warrior within
The world we live in today is a very different place than the one we lived in exactly 20 years ago. Back then, Group A homologation ensured that some of the most iconic performance models of our era were in constant supply on showroom floors, and low prices at the pump meant they were actually affordable to run. Unless you had a state-of-the-art Nokia 2110 on your hip, and therefore possessed the magical power to send an SMS, organising a meet with your friends still required picking up the phone though, and you'd have to wait a month, maybe two, to see coverage from an event in your favourite car magazine.
How things have changed now, huh? Day or night, the world is never far from our fingertips, and finding out about that crazy build on the other side of the planet that you had never heard about until it turned up in one of your news feeds, is only ever going to be one click away. Considering the amazing lead shot above and the unquestionably-cool subject matter framed within it, that could be the very reason why you're reading this now…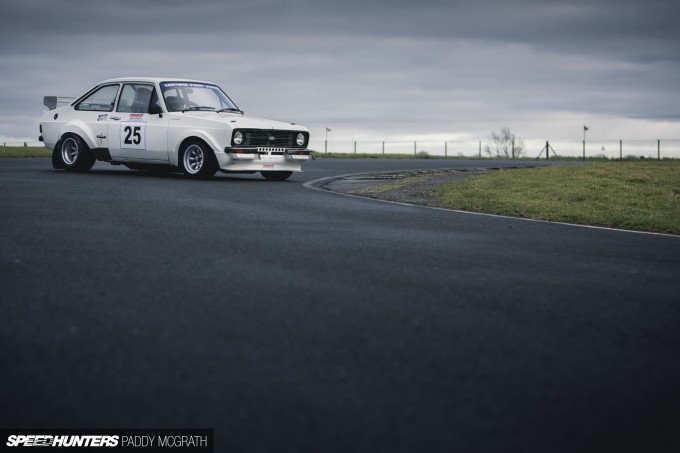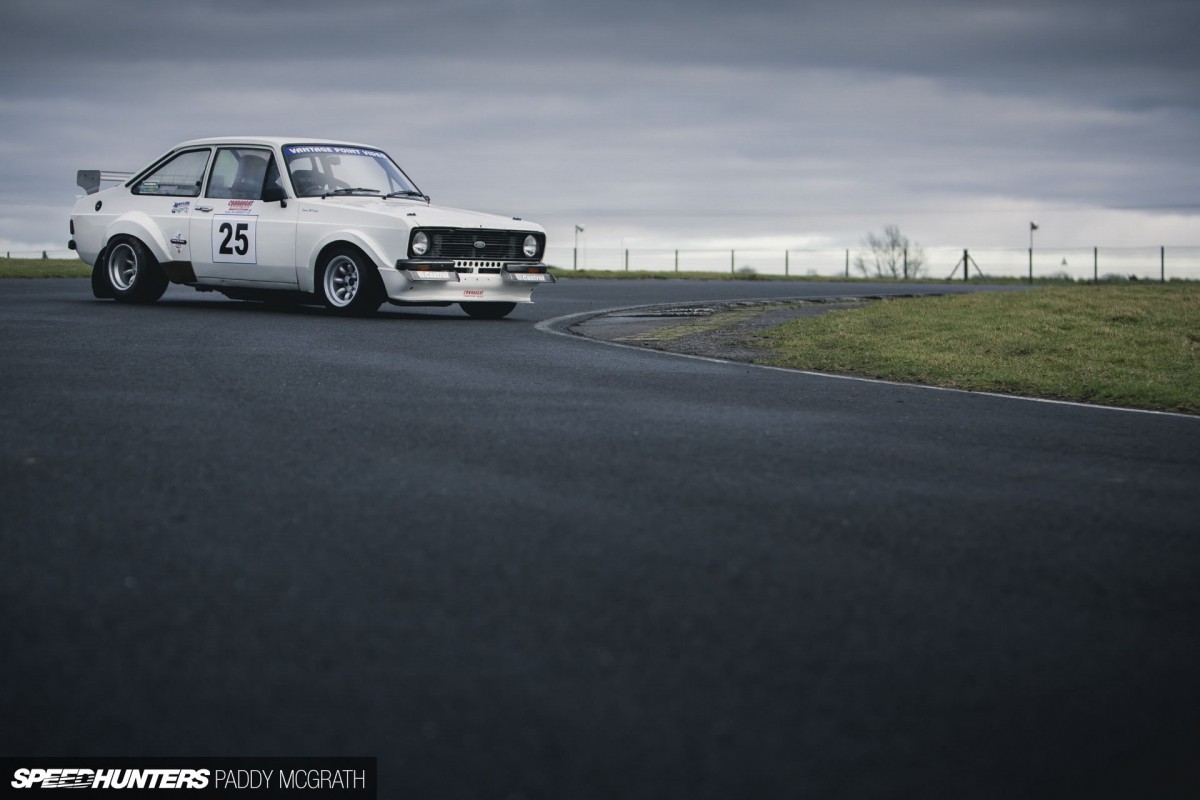 On the flip side, there's also a very good chance that you already know exactly what and who you're looking at before specs are revealed and names are mentioned, because as far as internet-famous Ford Escorts go, this one is right up there with the cream of the crop…
For reasons that don't require explanation from me! Just your attention for five minutes and 59 seconds while you take in this video.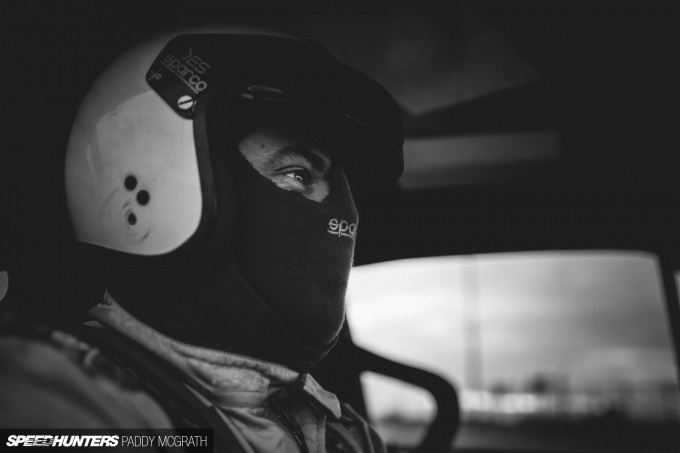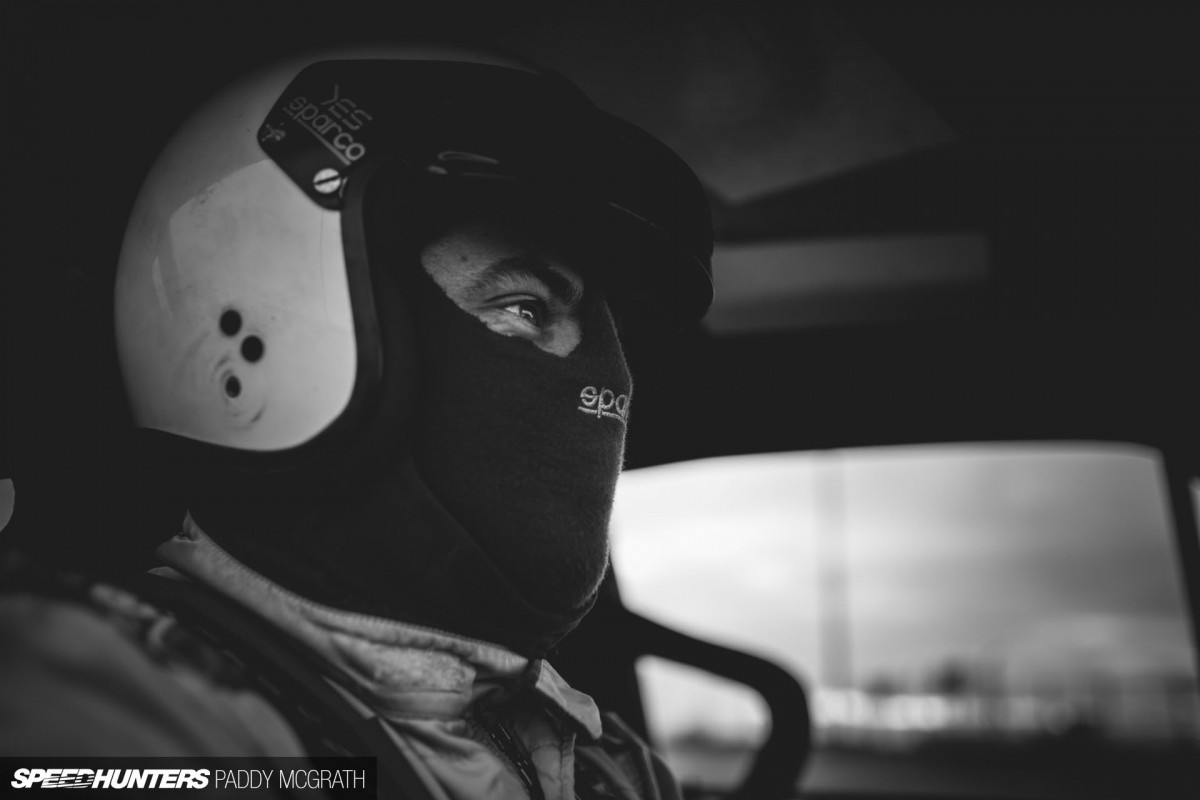 In Irish tarmac rally and hillclimb circles, the name Simon McKinley certainly needs no introduction – something that's easily understood if you followed my cue and watched the video above. But not only has Simon been competing and winning at national-level for a long time, he's done so in the very same car – a 1980 Mk2 Ford Escort he began building in in the front yard with his father Peter, at the age of just 13.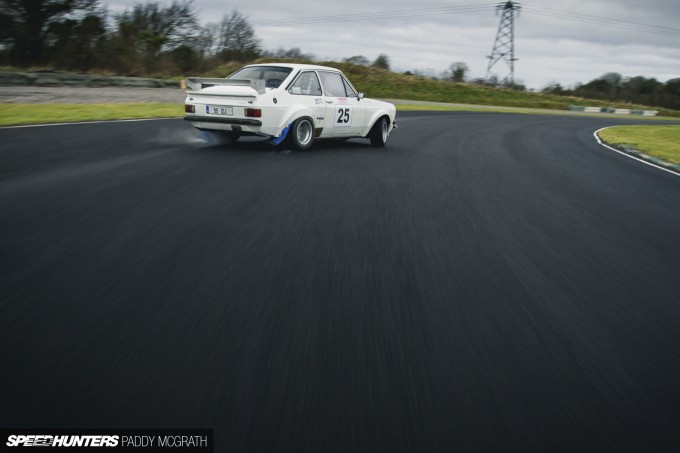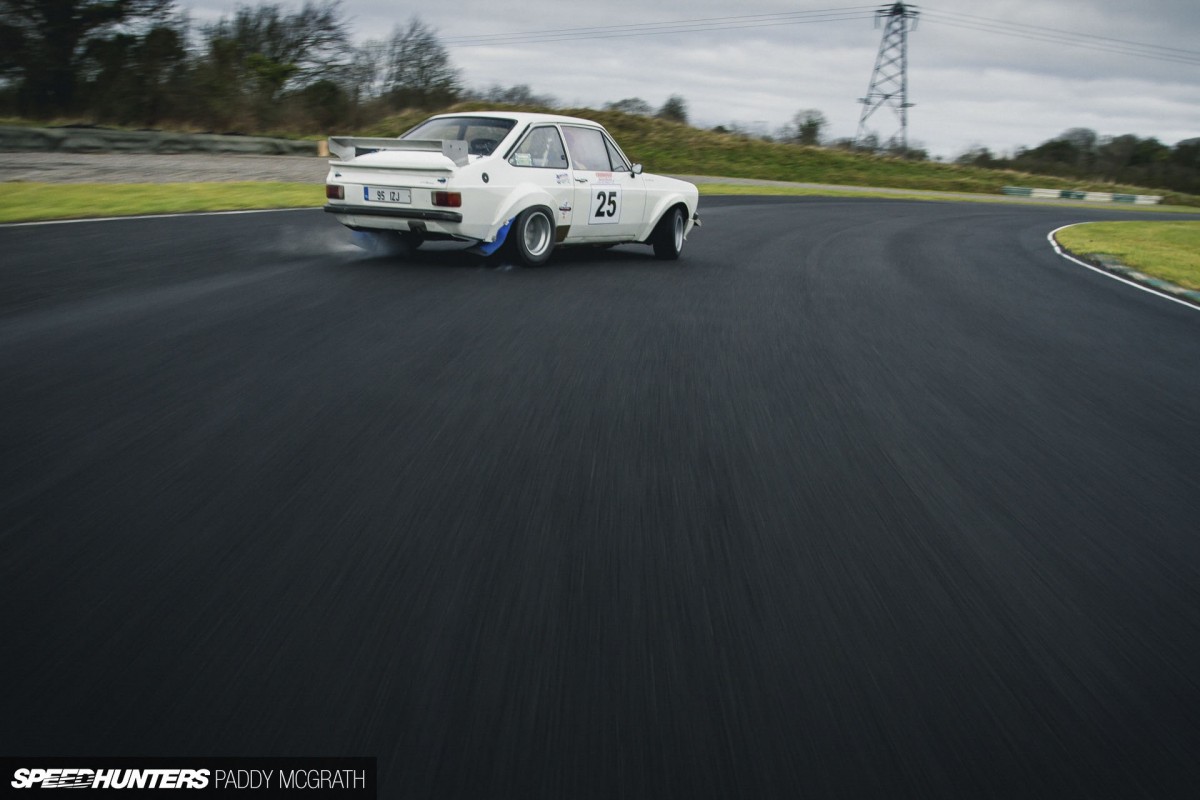 According to Simon, school homework took a back seat to the build while the pair transformed the GL-grade 1.3L grocery-getter into a formidable tarmac rally toy; and when it emerged out the other side in 1994, there was 200hp worth of tuned-up Pinto motor between the front struts and a driveline built to take every bit of abuse the motorsport-mad family could throw at it.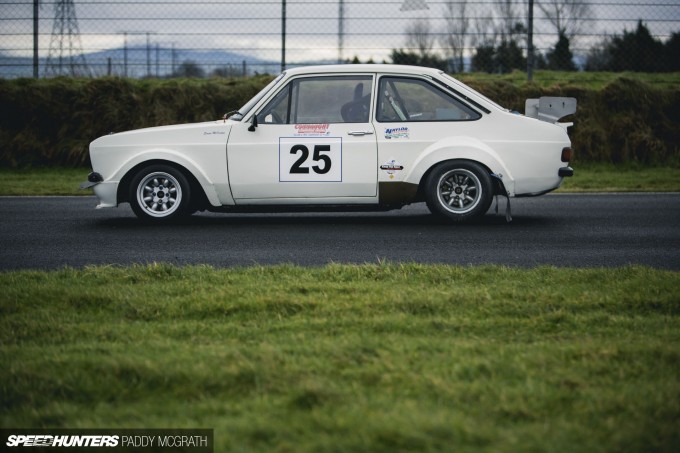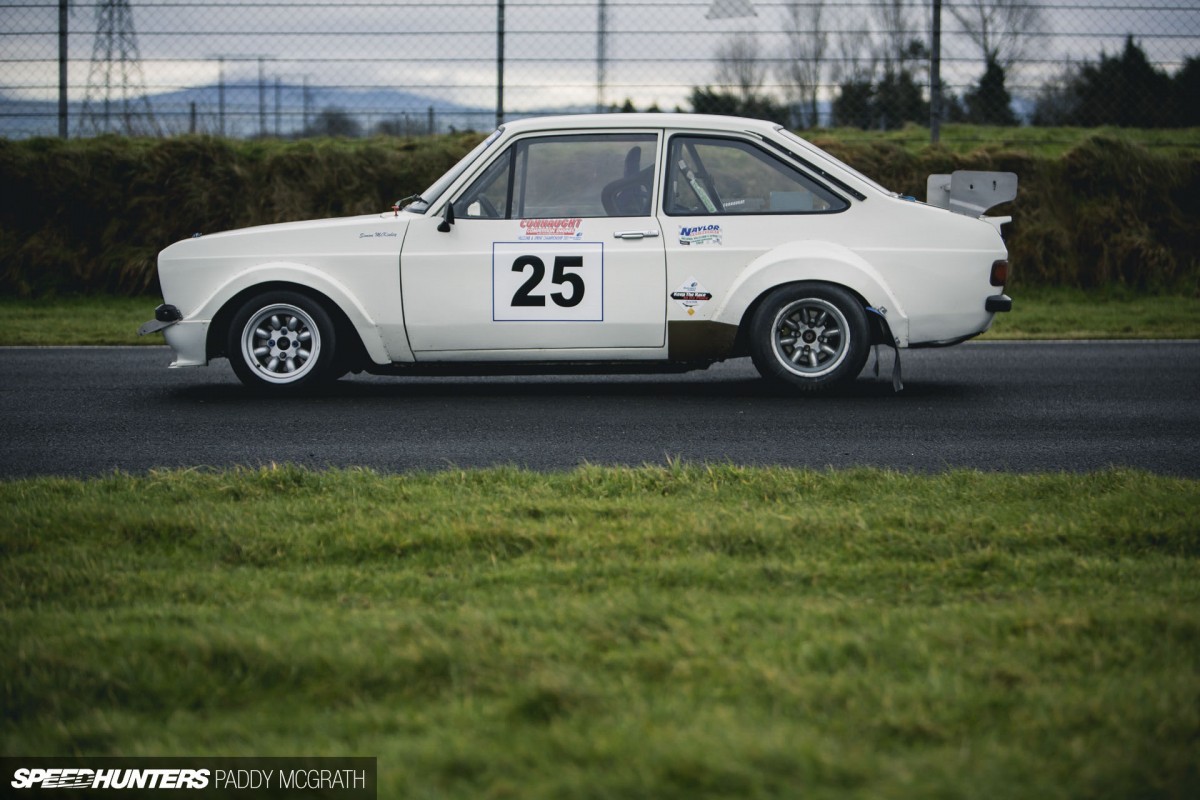 It's been a work in progress for the last 20 years, with Simon resigning himself to making at least one improvement, be it major change or a minor alteration, before every event he competes in. It's thinking like that that's led him to create one of the coolest old school Escort rally cars anywhere in the world. So cool in fact, that I just can't help but draw parallels between Simon's car and the way he drives it on tarmac, with the iconic MCD Black Escort RS1800, as campaigned by Finnish rally god Ari Vatanen during the 1982 British rally season. That's a big call I know, but given the success this little car has had, and the company it often keeps honest on race day (think purpose-built single seaters and WRC machines), I'm pretty sure it's totally substantiated.
Time then for a closer look at what makes the McKinley Motorsport Escort tick…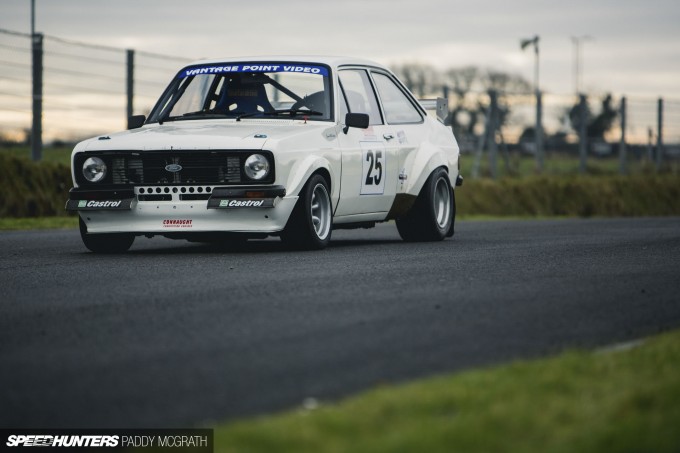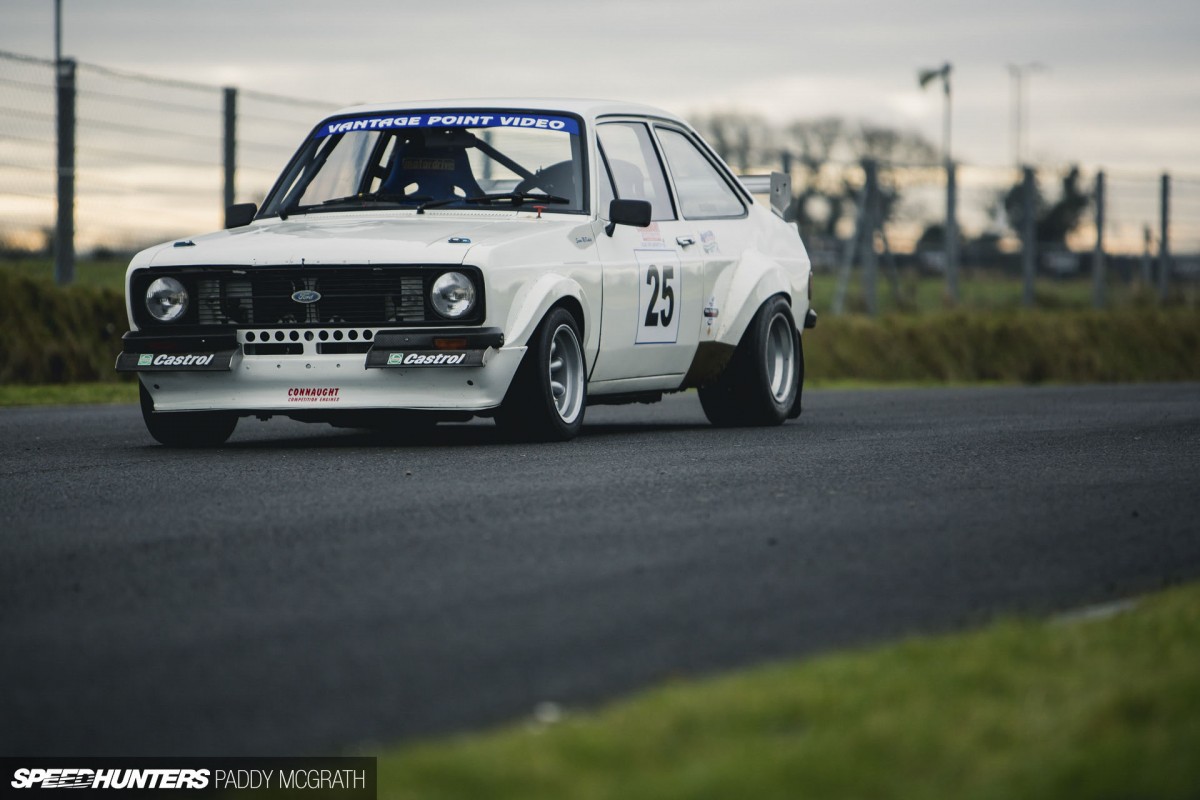 Built to Ford's works rally specification of the late '70s/early '80s era, the Mk2 body shell has as much going on where you can't see, as it does where you can. But there's a host of other metal modifications too, including extensive gusseting for strength and some major reforming of the floorpan around the transmission and rear axle tunnels.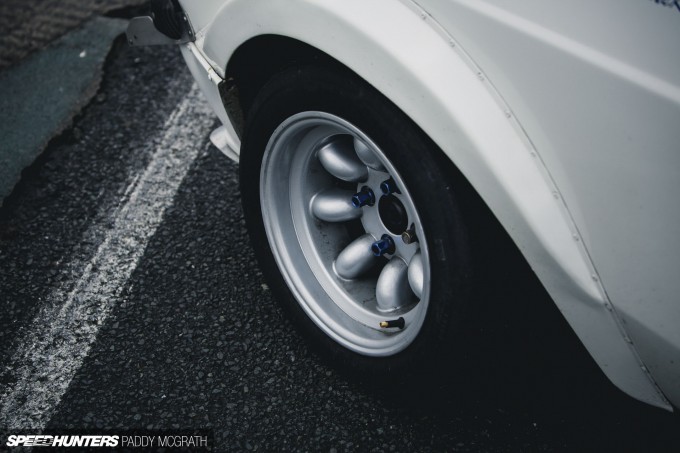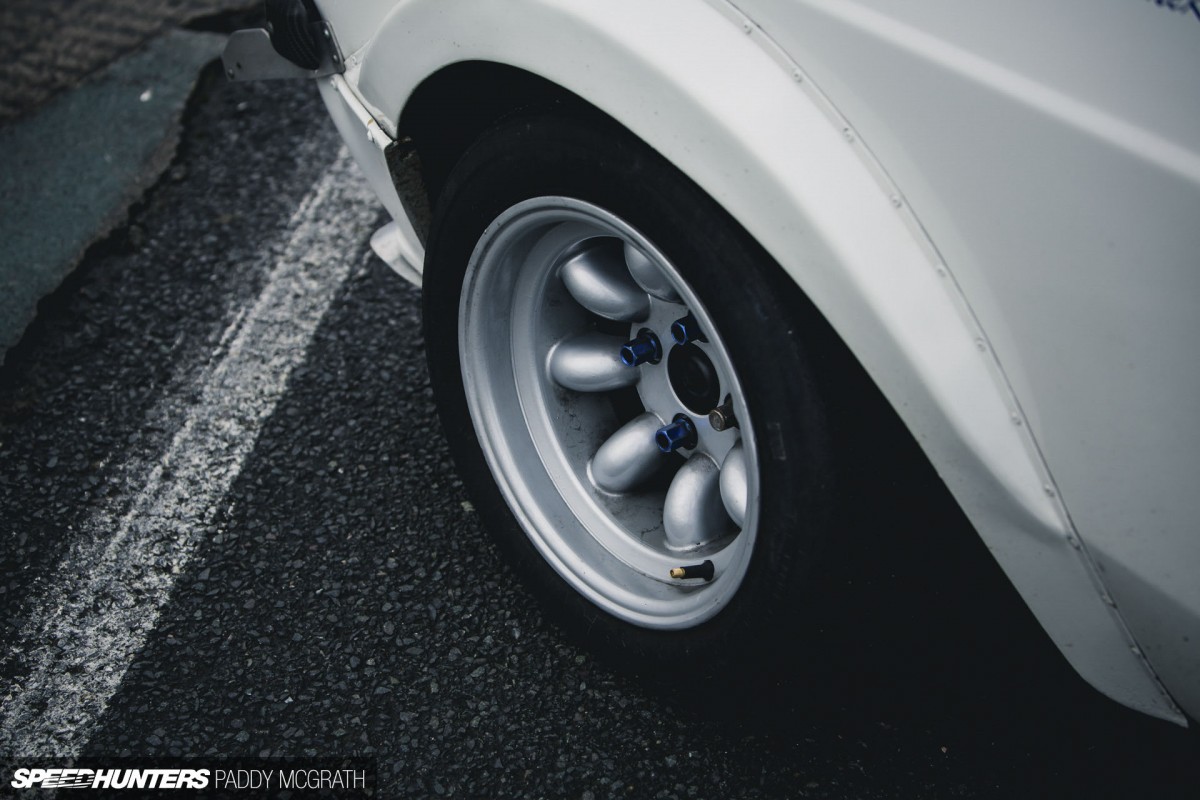 It absolutely looks the part too, thanks to exterior mods designed to enhance performance without compromising the Escort's original identity – something Simon tells me he's always been very particular about. Then there's the quality aspect as well; the extended arches for example were hand-formed from alloy rather than moulded in fibreglass.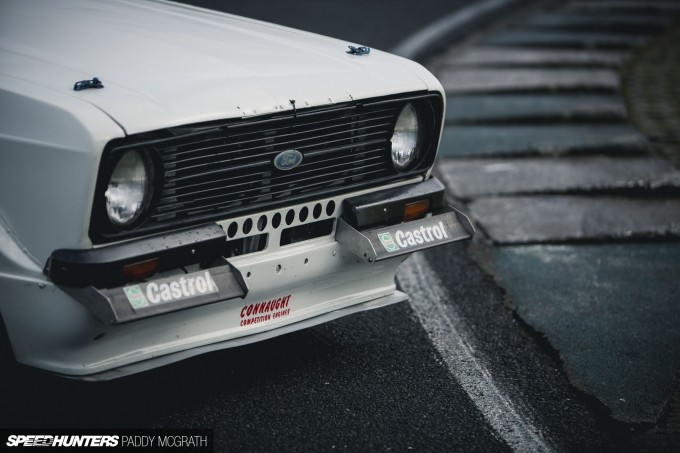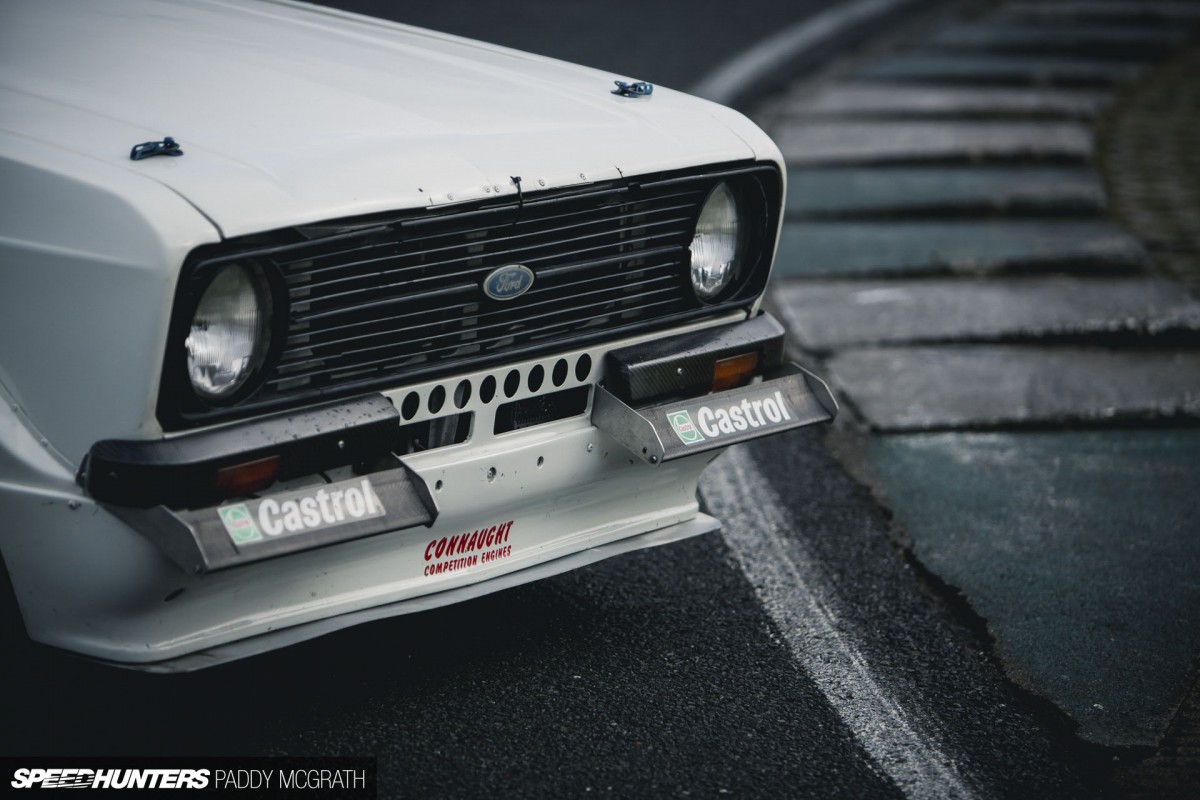 A Mexico spoiler with a custom added splitter has found its way onto the front end of the car, along with factory-type corner bumpers and their brackets which have been reimagined in carbon fibre. In an ingenious backyard wind tunnel-type test that involved thin strips of tissue paper, an industrial fan and a camera with its shutter set slow, Simon was able to see exactly where air was getting caught up around the Escort's flat front face, and then help remedy the problem with a pair of cut-down aero winglets from a Williams F1 car.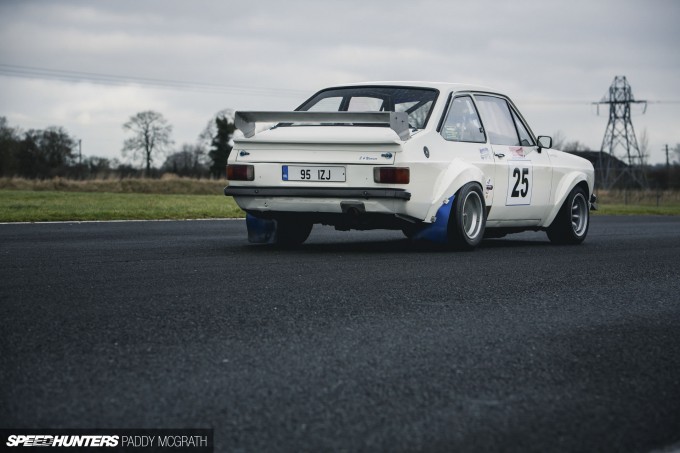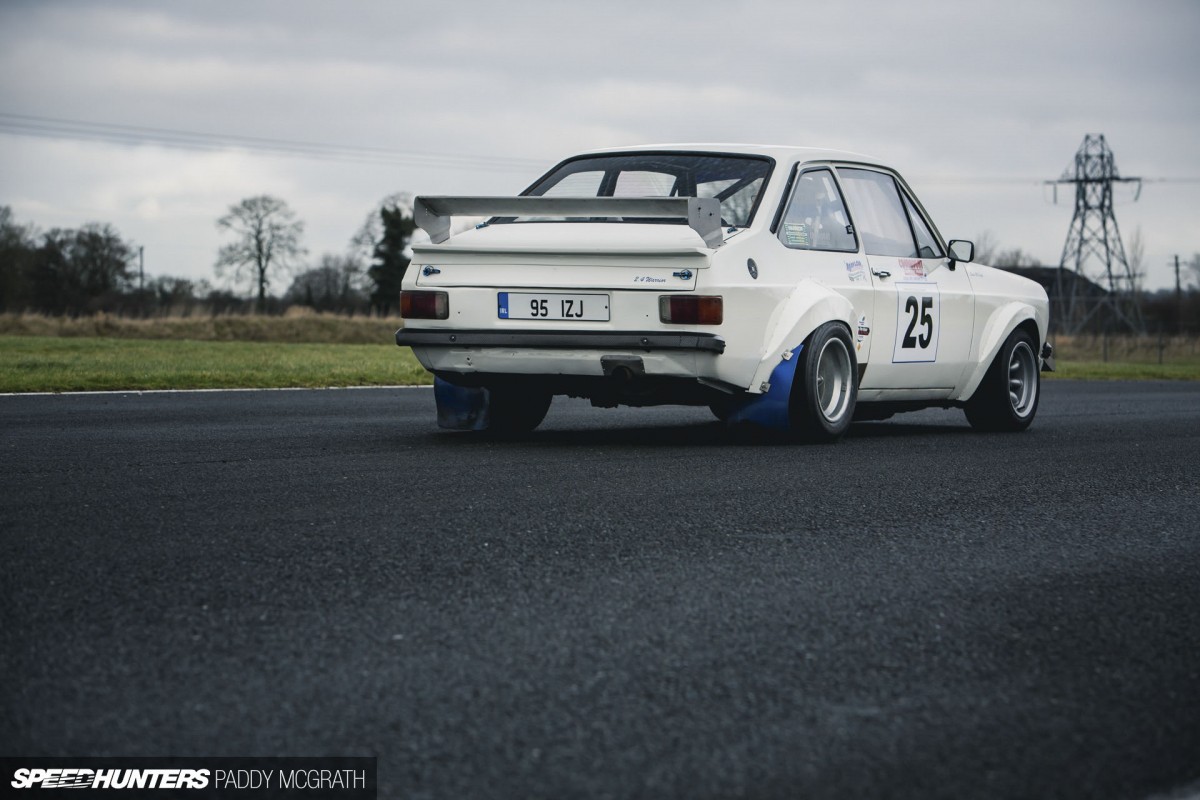 Apparently the custom rear wing doesn't have quite as much effect on the way the car handles as the F1 add-ons do, but according to Simon, it's still a noticeable enough difference to warrant its addition. To keep weight in check, the rear bumper is in carbon, the boot lid – like the bonnet – has been constructed from Kevlar and the factory steel doors have been heavily gutted and their glass replaced with with polycarbonate – the latter extending to the rear three-quarter windows as well. The paint was not only applied thinly to begin with either, but only three layers of Ford Diamond White have been laid on ever since.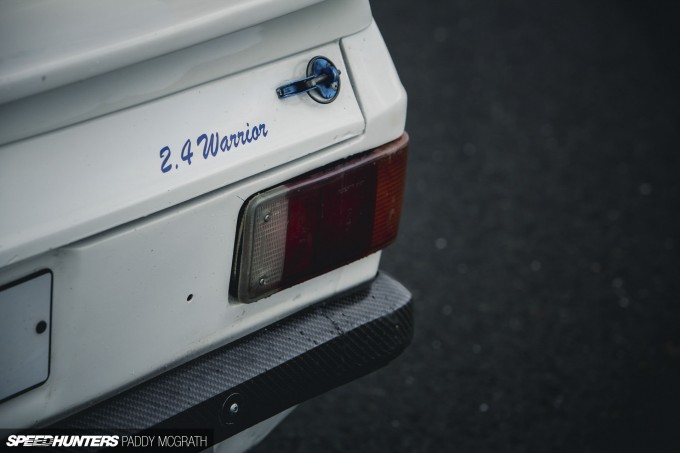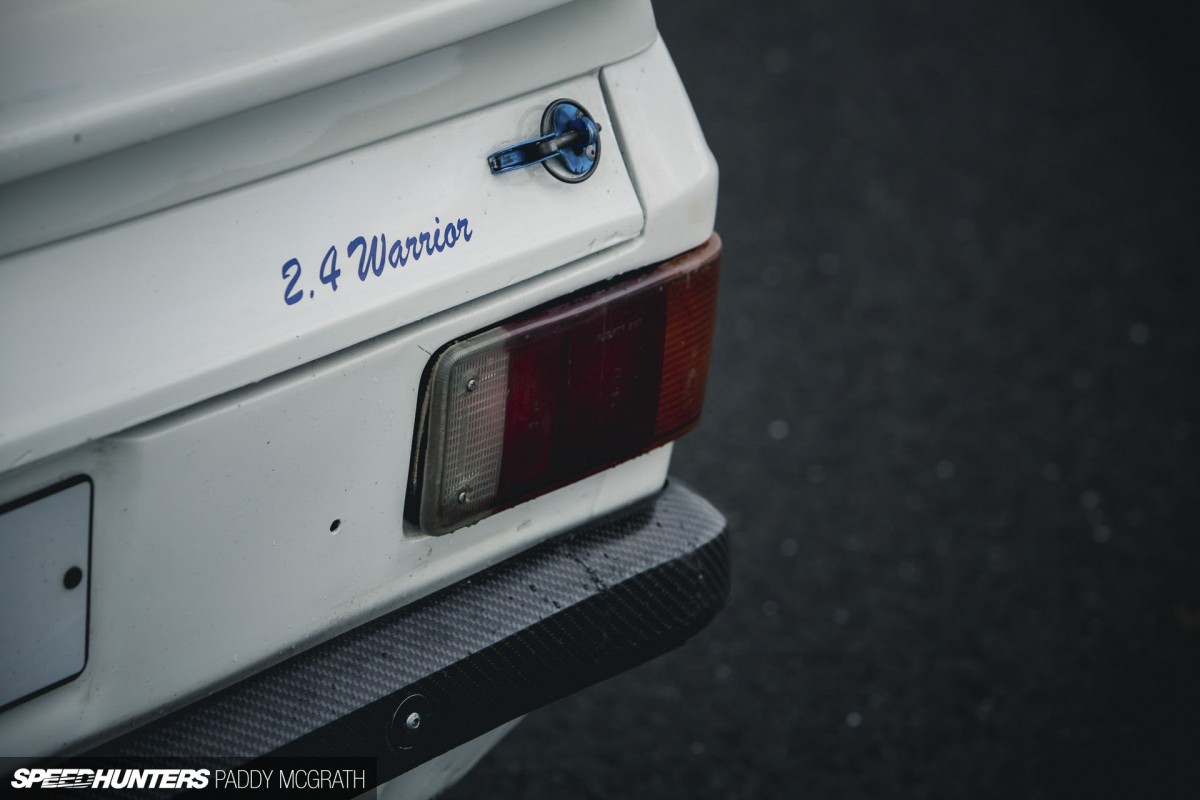 As much as I love the way Simon's Mk2 looks, it's the rarely-seen powerplant lurking beneath the bodywork that I really wanted to learn more about…
Natural aspirations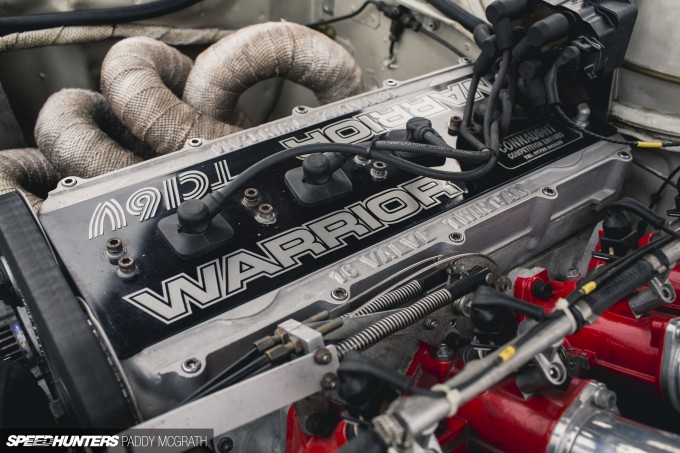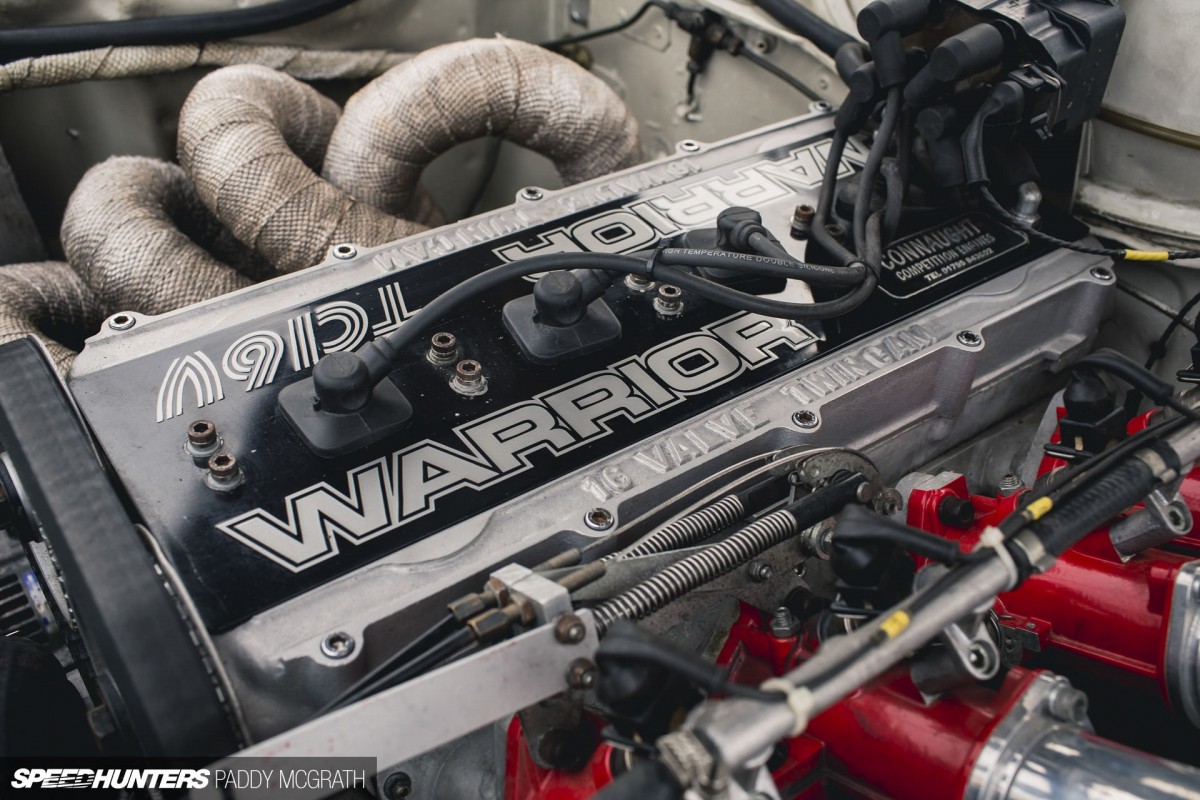 The Warrior name has been associated with fast Escorts for a long time, and using the famed DOHC 16-valve cylinder head on top of a Pinto four-cylinder bottom is a guaranteed way to make power and all the right noises. So when Simon decided he needed to piece together the mother of all naturally aspirated four-pot motors, he didn't need to look much further than Connaught Competition Engines (CCE) – one of the UK's leading competition engine builders and now owner of the Warrior brand.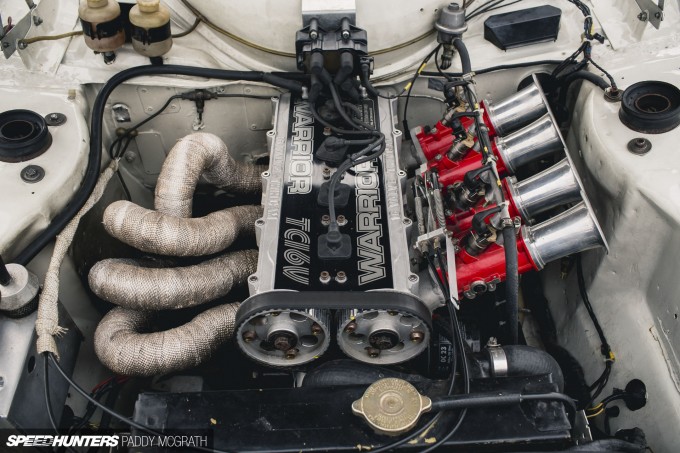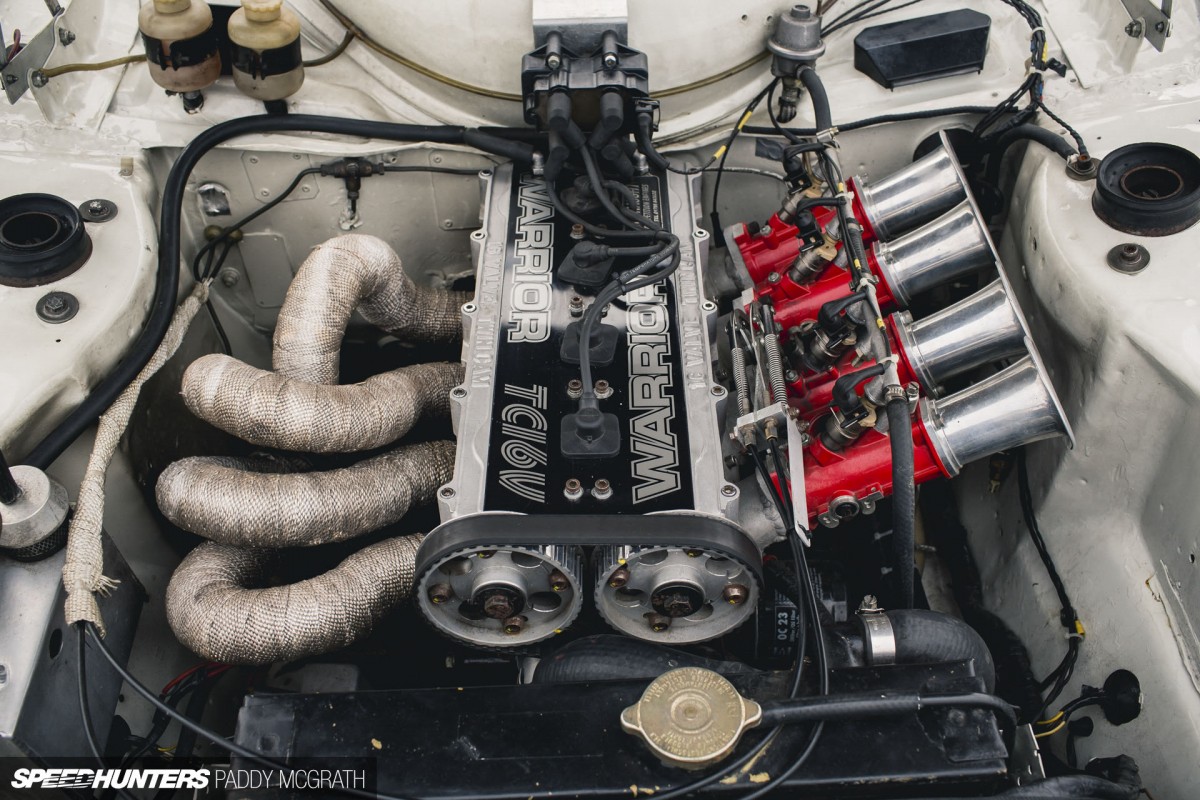 At the heart of the CCE/Warrior build you'll find a Pinto 205 block; bored to 93mm and fitted out with Warrior-spec JE forged pistons, and rods and a narrow pin crankshaft from Arrow Precision. Apart from adding strength to cope with high rpm loads, the increased bore and stroke lifts capacity from 2.0L to 2.4L.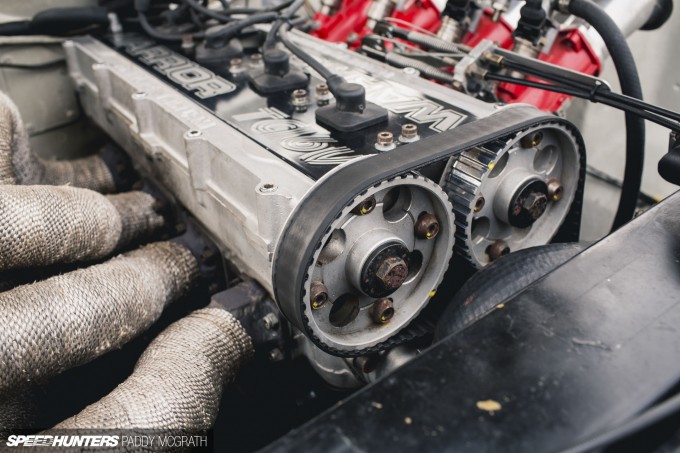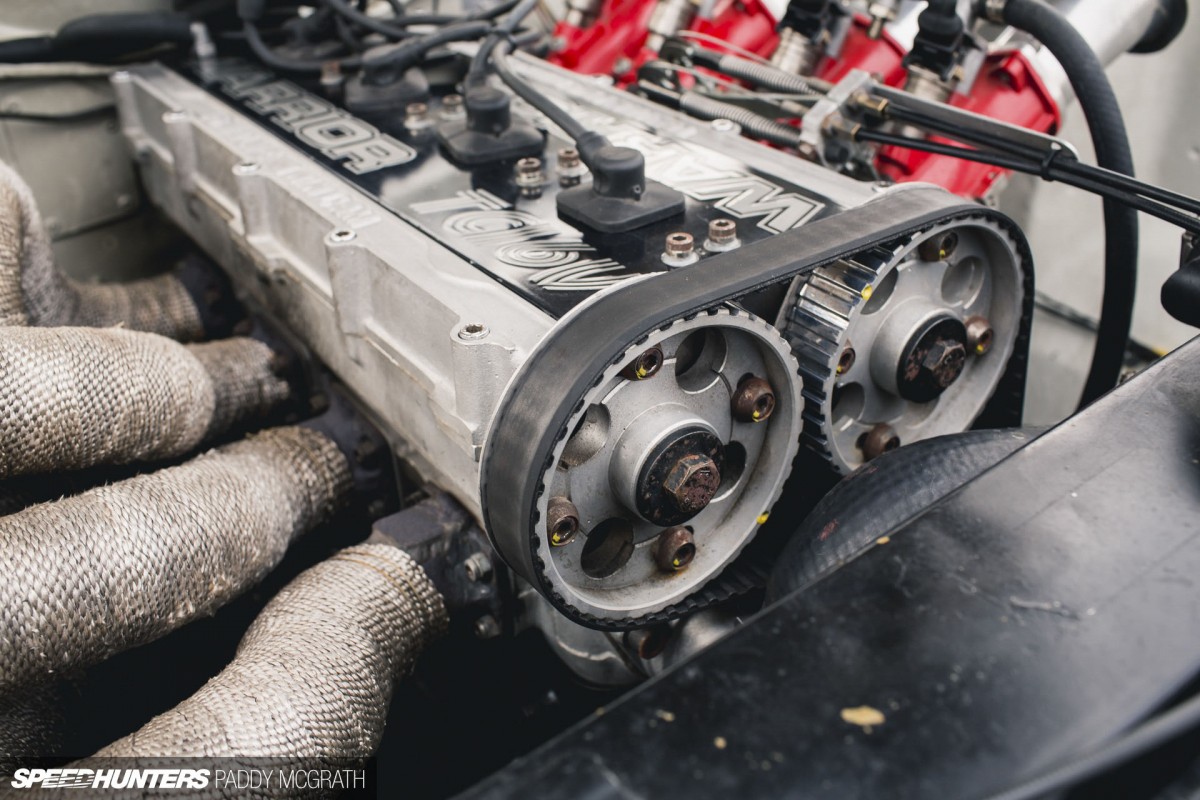 The cylinder head is where the power is made and for Simon's engine, CCE went over and above the catalogue specification, flowing the twin cam casting to its utmost limit and decking it out with big valves, big cams and anything else deemed necessary to achieve the desired output of 300hp.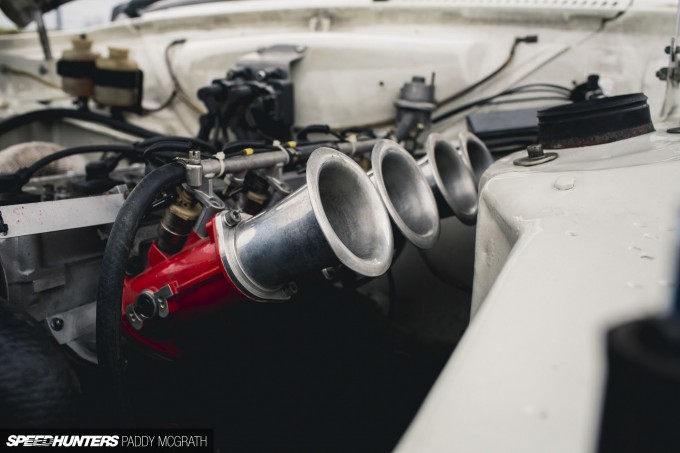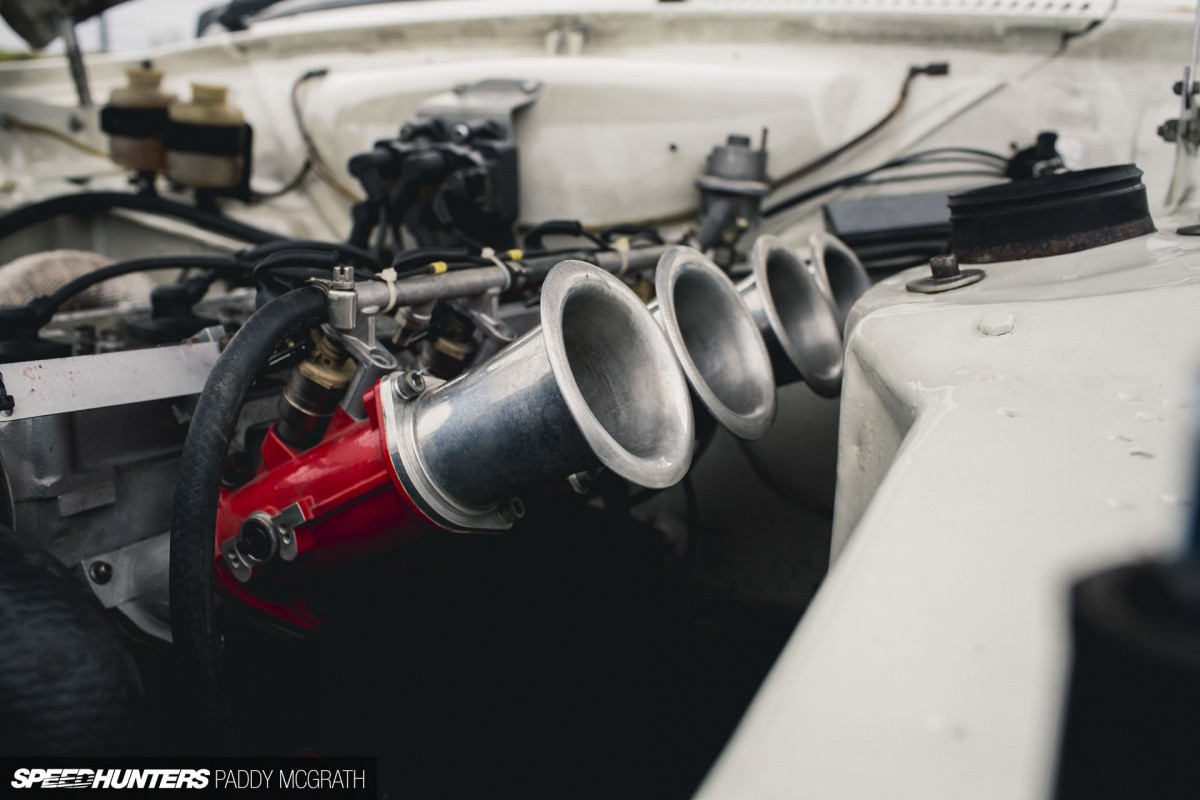 That included 11.7:1 compression and a quartet of Jenvey 48mm IDF throttle bodies fitted with tuned-length velocity stacks on a special Warrior intake manifold. Fuel is supplied via a CCE/Warrior rail and MM 058 high-flow injectors.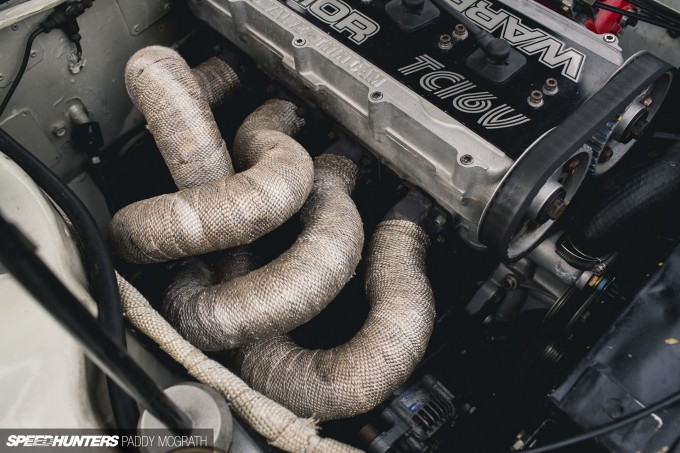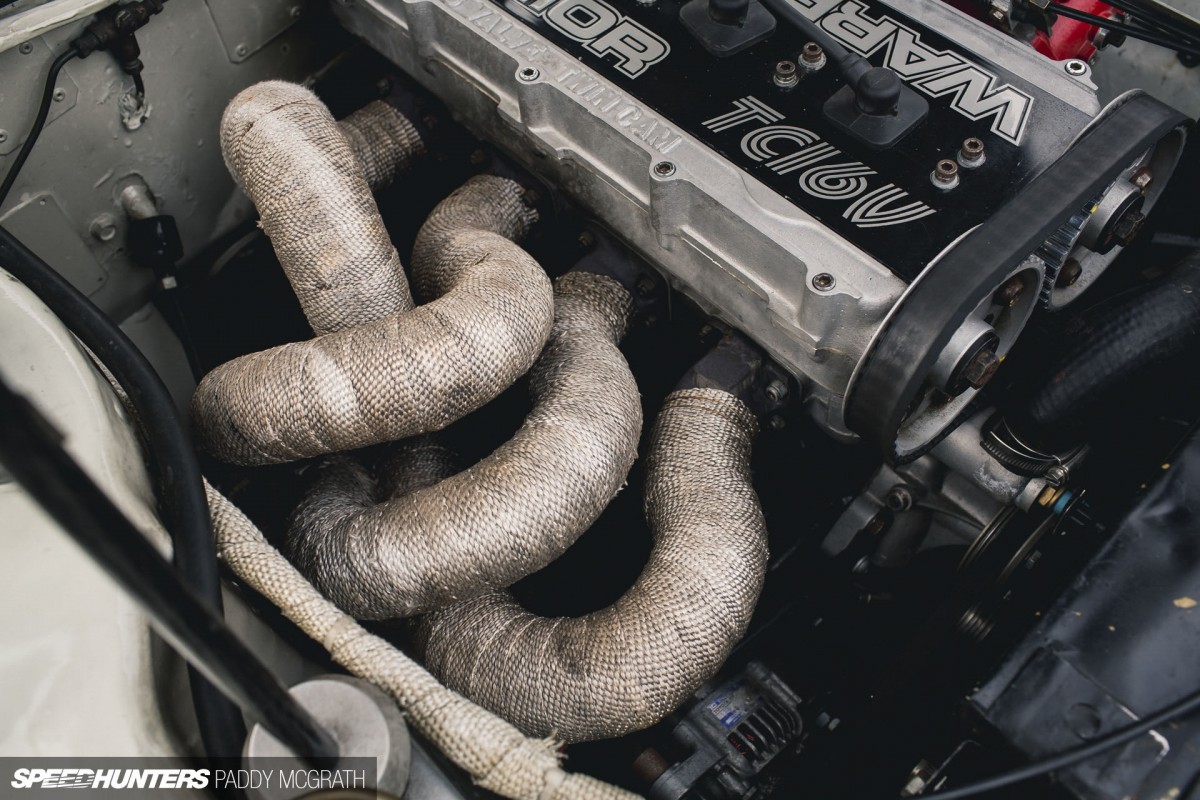 From the 4-1 tubular headers to the tail pipe, the Escort's exhaust system – like many facets of this car – was entirely homemade, with ping pong balls used to ensure that each one of the manifold's four, full-bore primary branches were perfectly equal in length. Neat trick, huh!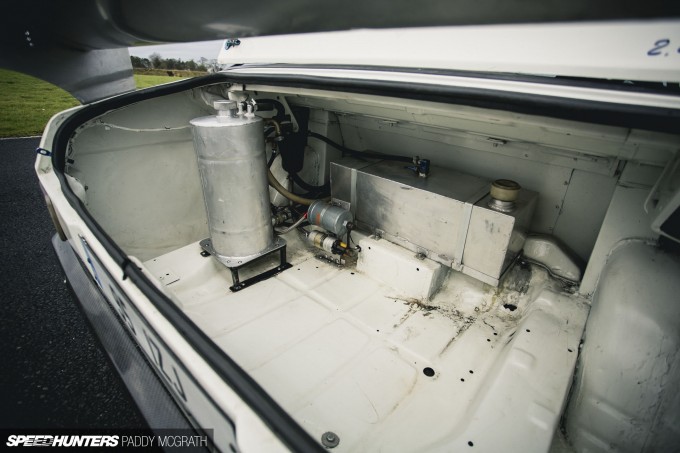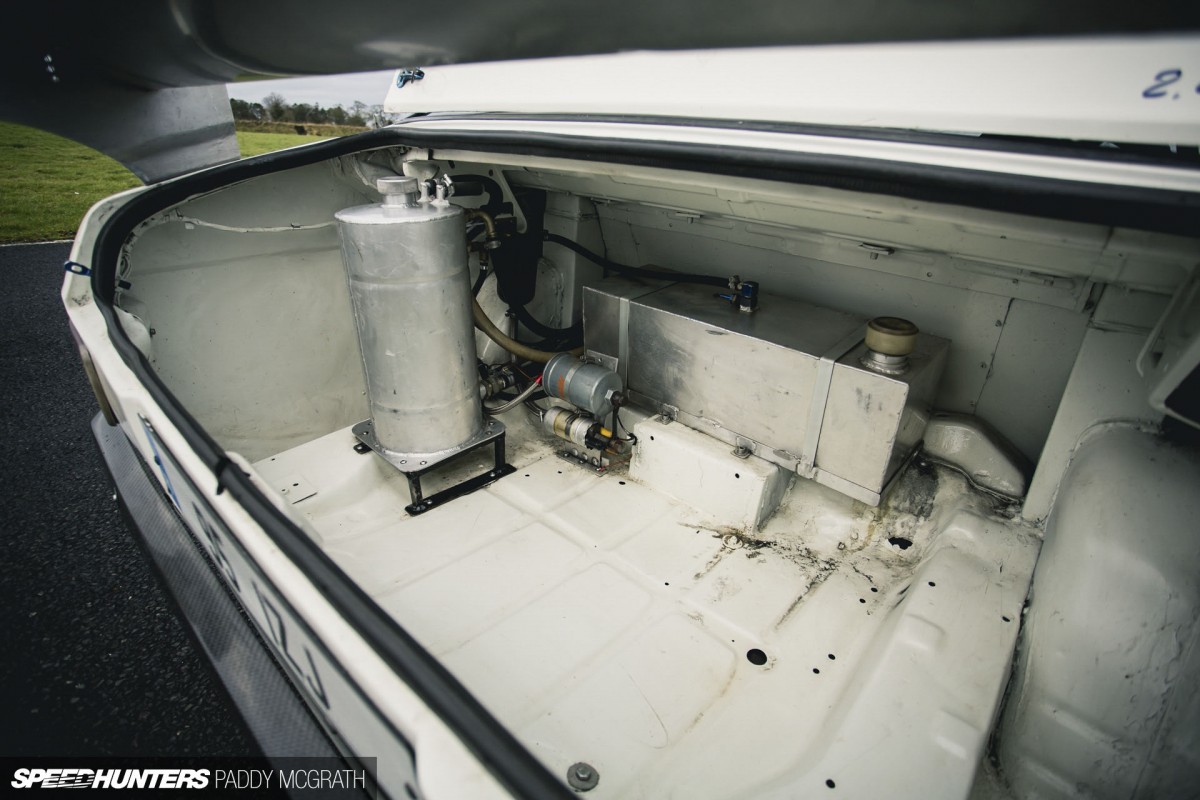 Pulling the pins and lifting off the boot lid reveals a Sierra Cosworth fuel pump feeding from a custom cell behind the rear bulkhead, plus the reservoir for the Titan dry sump system that's employed to alleviate oil starvation issues – a critical component in a car that gets flung round as much as this one does.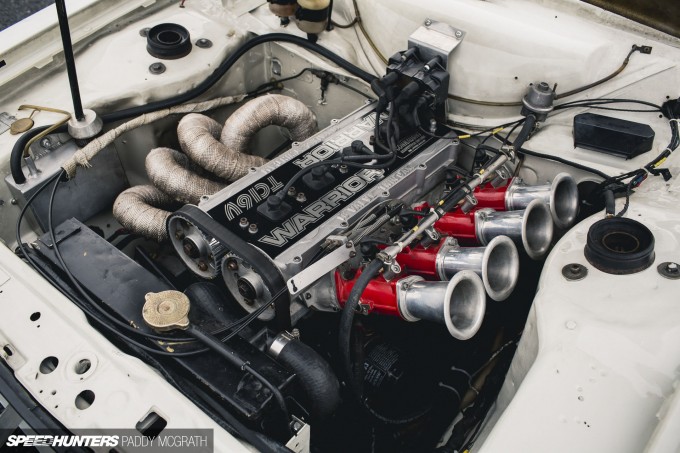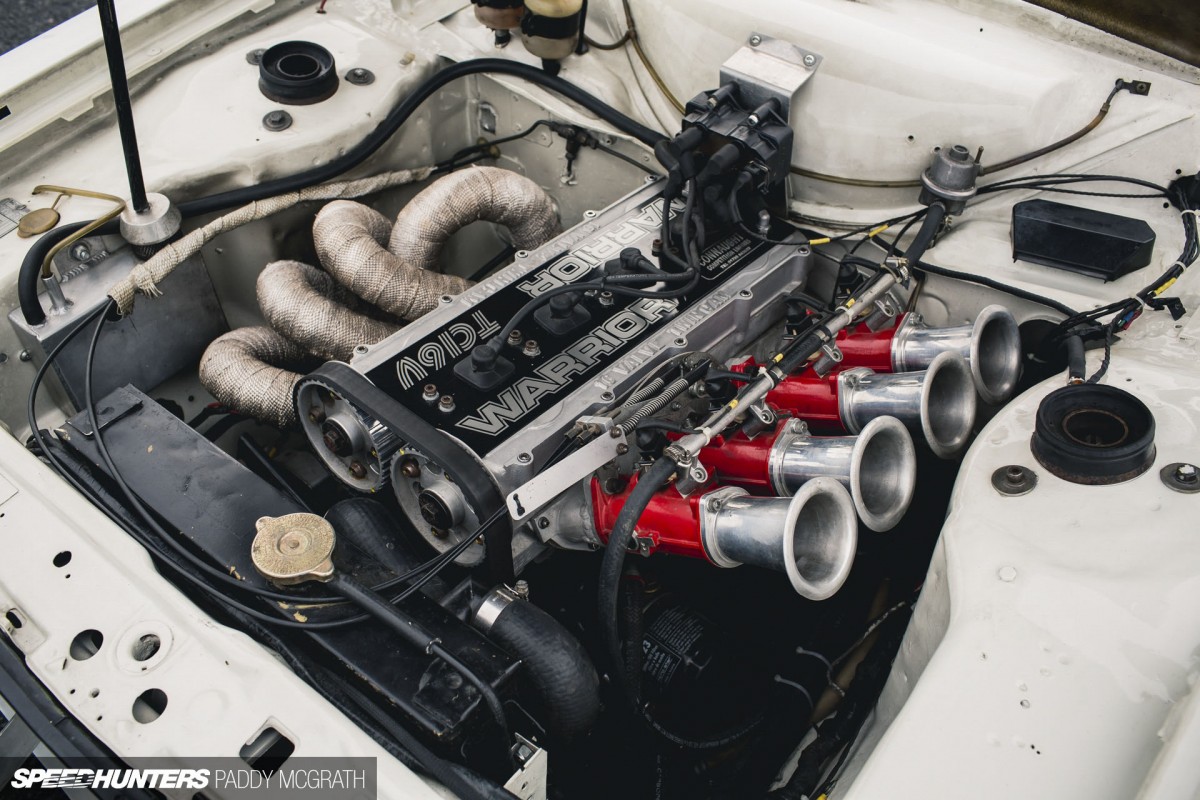 On the engine management front, a DTAfast E48 EXP system is used; final tuning revealing a crazy 316hp and 235ft/lb to boot. That's a fair whack of grunt from a naturally aspirated 2.4L four-pot engine, and a perfect accompaniment for a well-sorted chassis that tips the scales at just 810kg.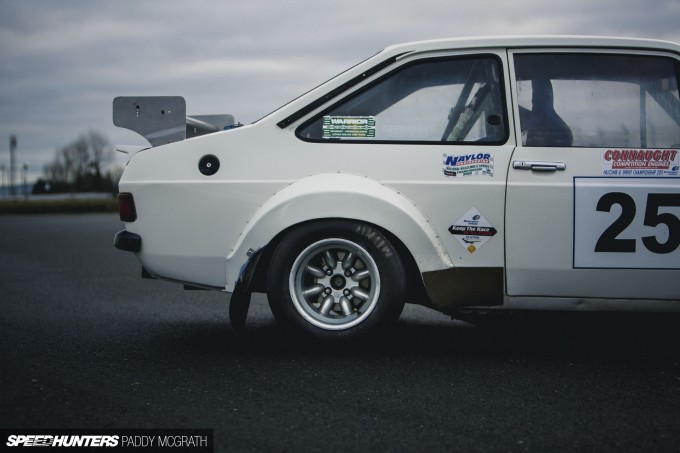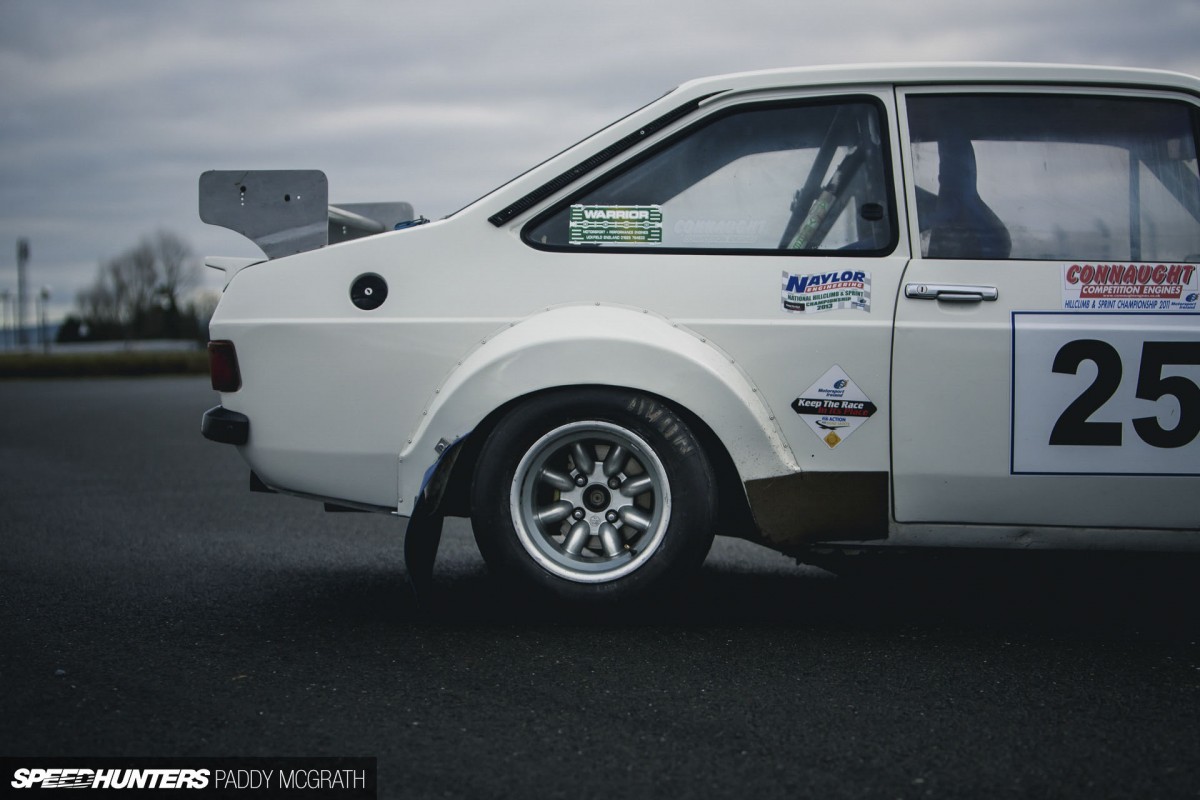 Considering the regular punishment the car is dished out, I wasn't surprised to learn how much work has been put into the Mk2's rear end in an effort to get the power to the ground both as efficiently and reliably as possible. There's a Quaife five-speed H-pattern dog box running an AP Racing twin plate clutch and Warrior flywheel for starters, followed by one-piece driveshaft leading into an Atlas/Ford Motorsport rear end with Quaife Group 1 two-piece half shafts.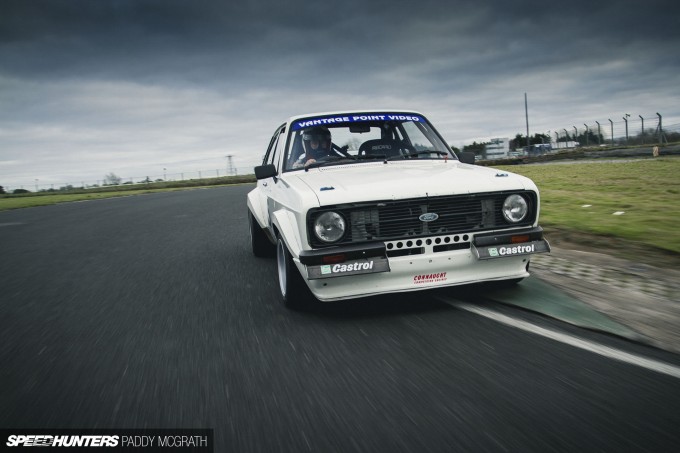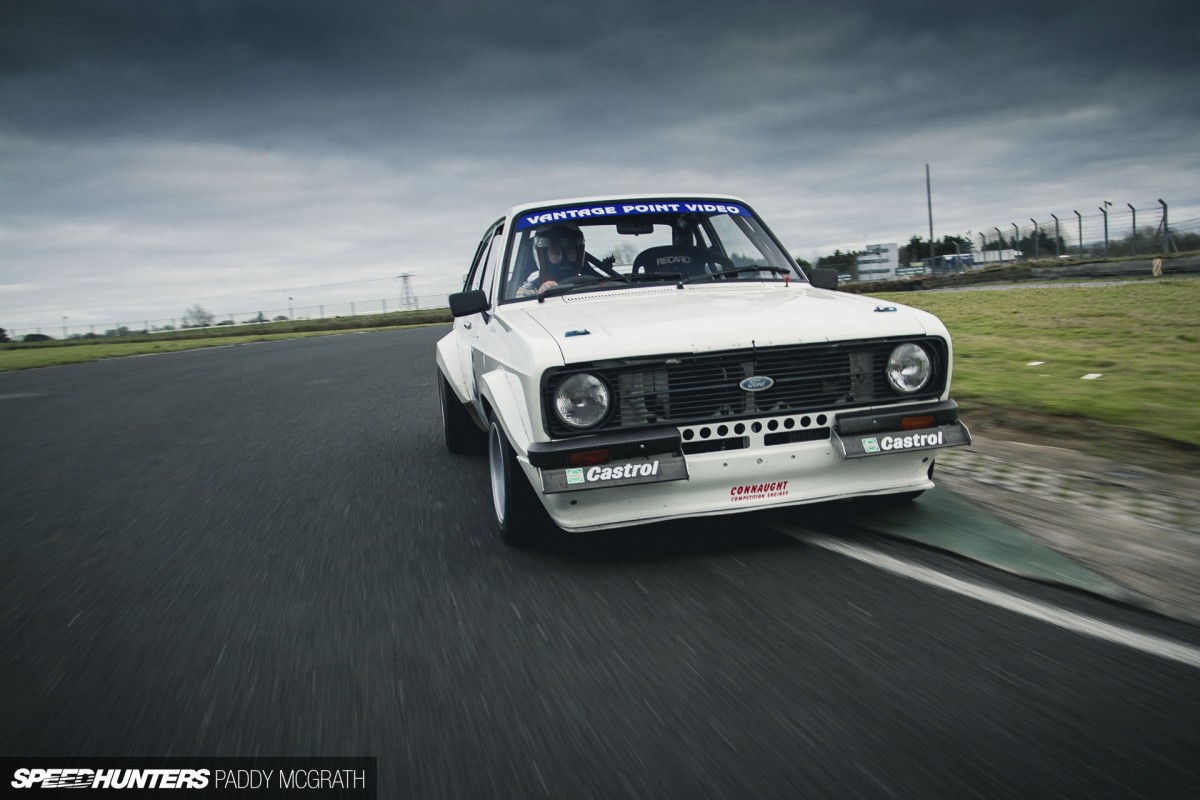 The gearing is perfectly matched to the engine's characteristics and a 2.04:1 first gear ratio allows the Escort to reach 63mph (101km/h) at its 8850rpm limit before needing to make a shift. It's dependent on the day and set-up of course, but the sprint from standstill is generally achieved in the low 3-second range, which should given you some idea of just how quick this little car is when Simon drops the hammer.
20 years of tuning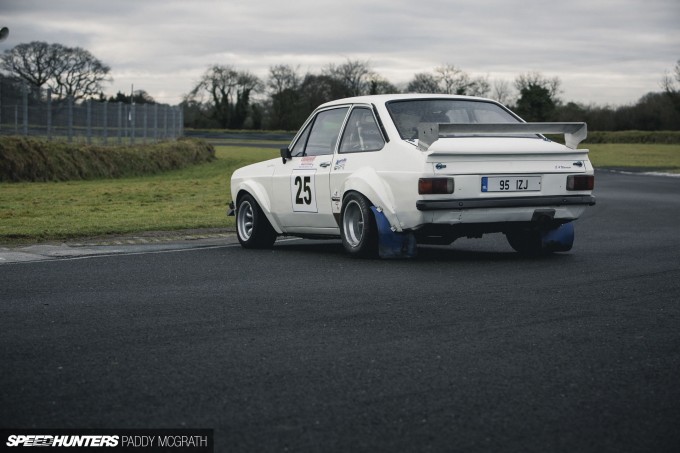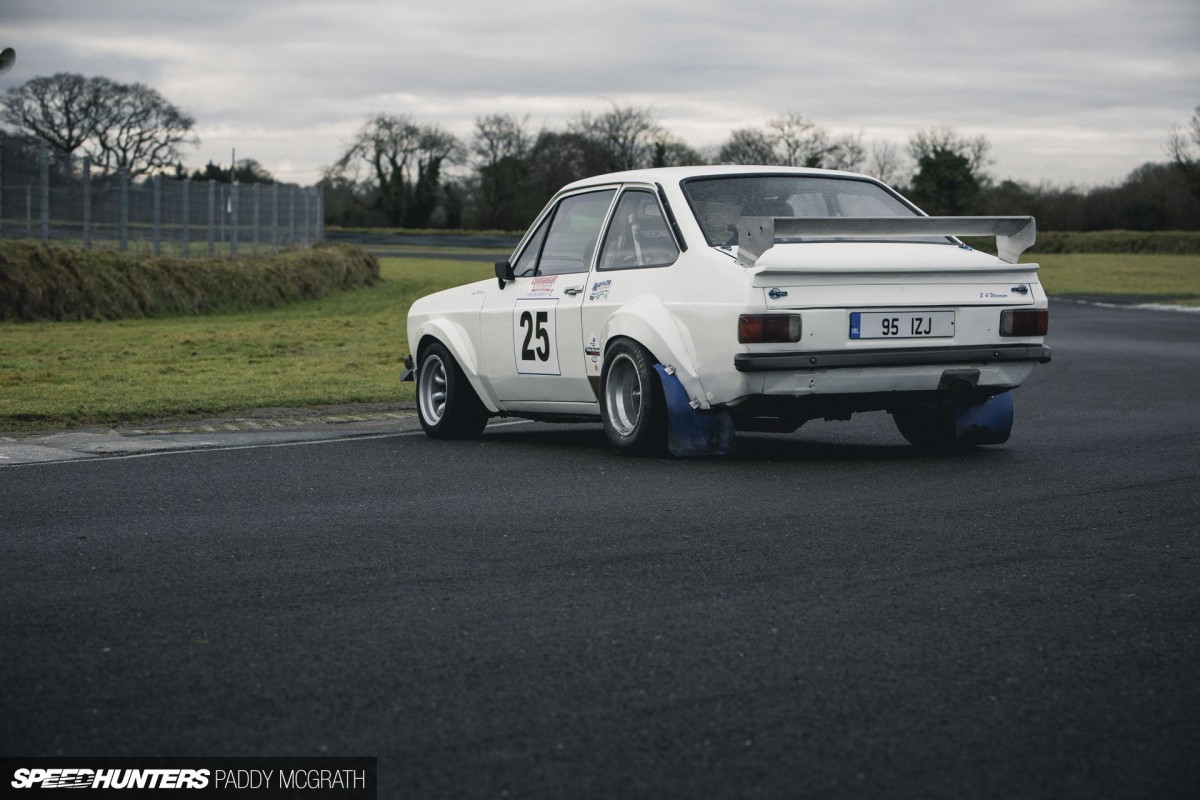 Engine and driveline aside, the suspension system has been perfectly tuned to make the most of every last drop of power that finds its way to the Escort's rear wheels. There's a heavy duty six-link arrangement in the rear and Bilstein coilover struts at all four corners, plus adjustable control arms, a Watts link, and modified Ford Fiesta XR2 Mk2 front sway bar with rose-jointed links. In the steering department, a quick rack offers 2.2 turns to lock and faster inputs, which is handy for hill climb work.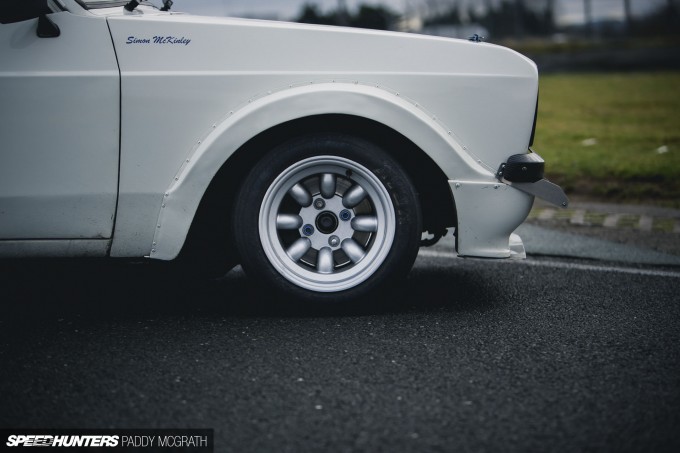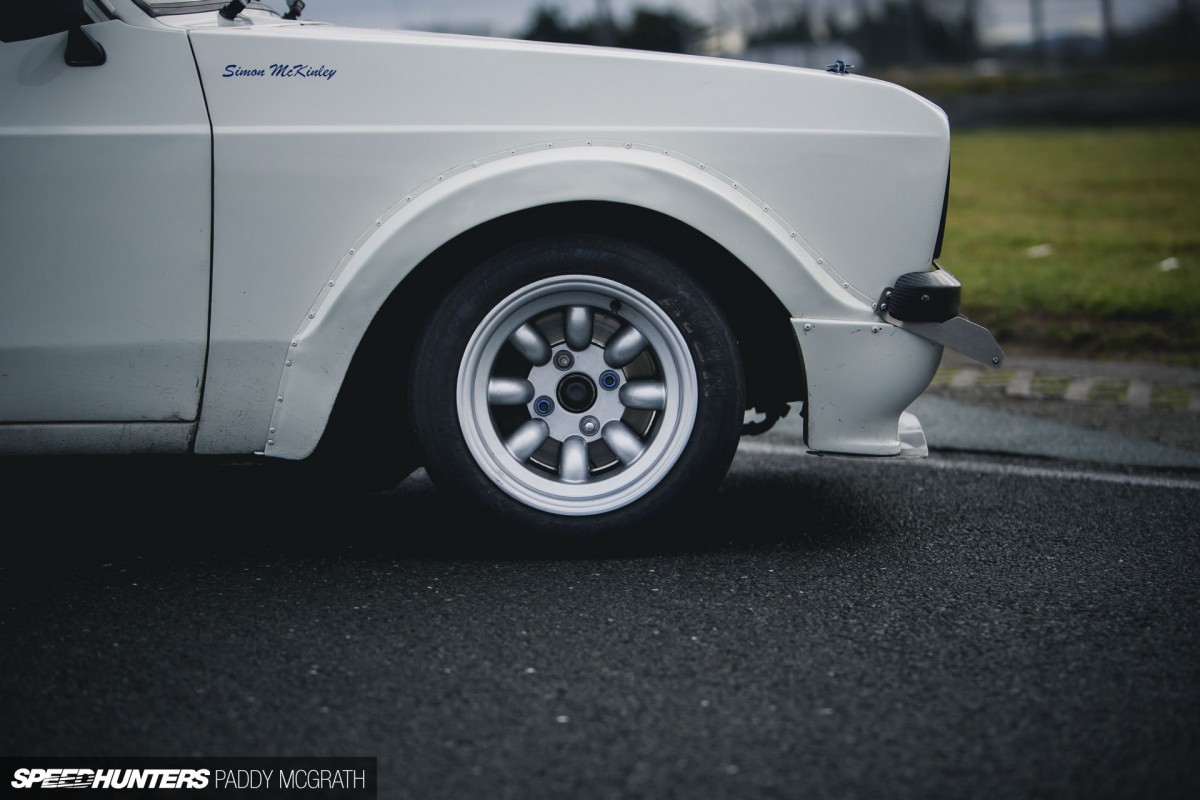 The brakes too have seen considerable modification, and although they're hard to see behind the spokes of the 13×8-inch Alleycat alloy wheels up front, there's an AP Racing Group 4 brake package consisting of four-pot 'Monte Carlo' calipers and 260mm rotors. At the twitchy end you'll find Escort XR3i discs, and wider 13×10-inch Compomotive ML wheels wrapped in 10.0/22.0-13 Avon A15 soft-compound slicks for every condition. Wets are simply not needed as far as Simon is concerned…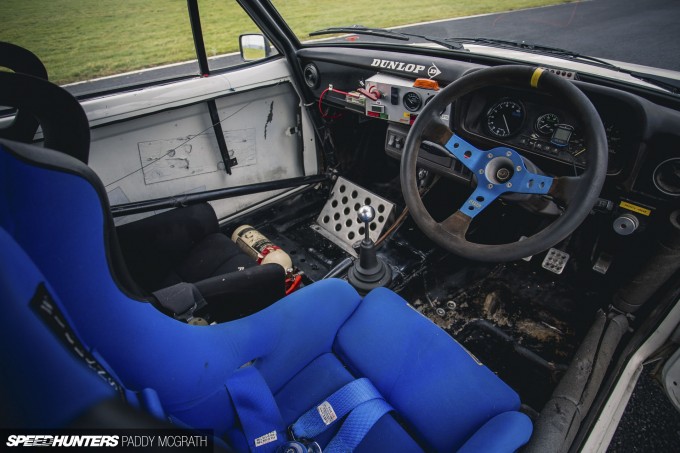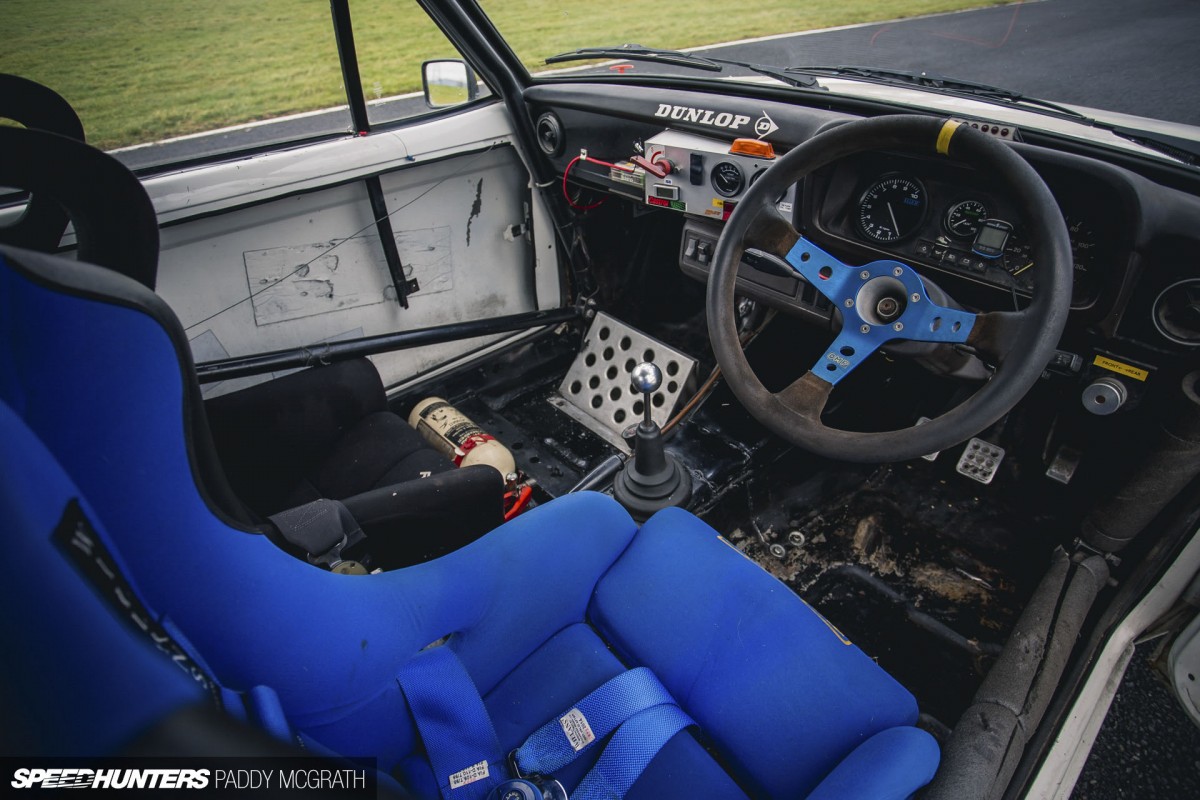 On a damp track at least, you'd think that's the reason why the Escort appears to be driven in an oversteer state almost as often as it's going straight. But as it turns out, when Simon's behind the wheel and on the limit, he prefers the car to be unsettled to lessen the chances of it biting back. Essentially, slightly sideways is the quickest way to drive the car.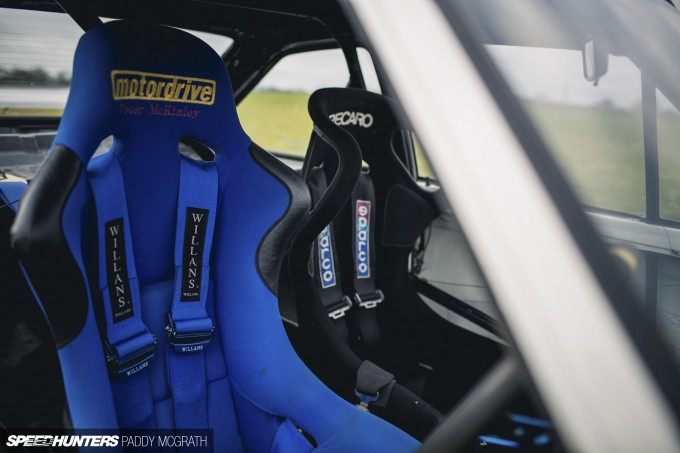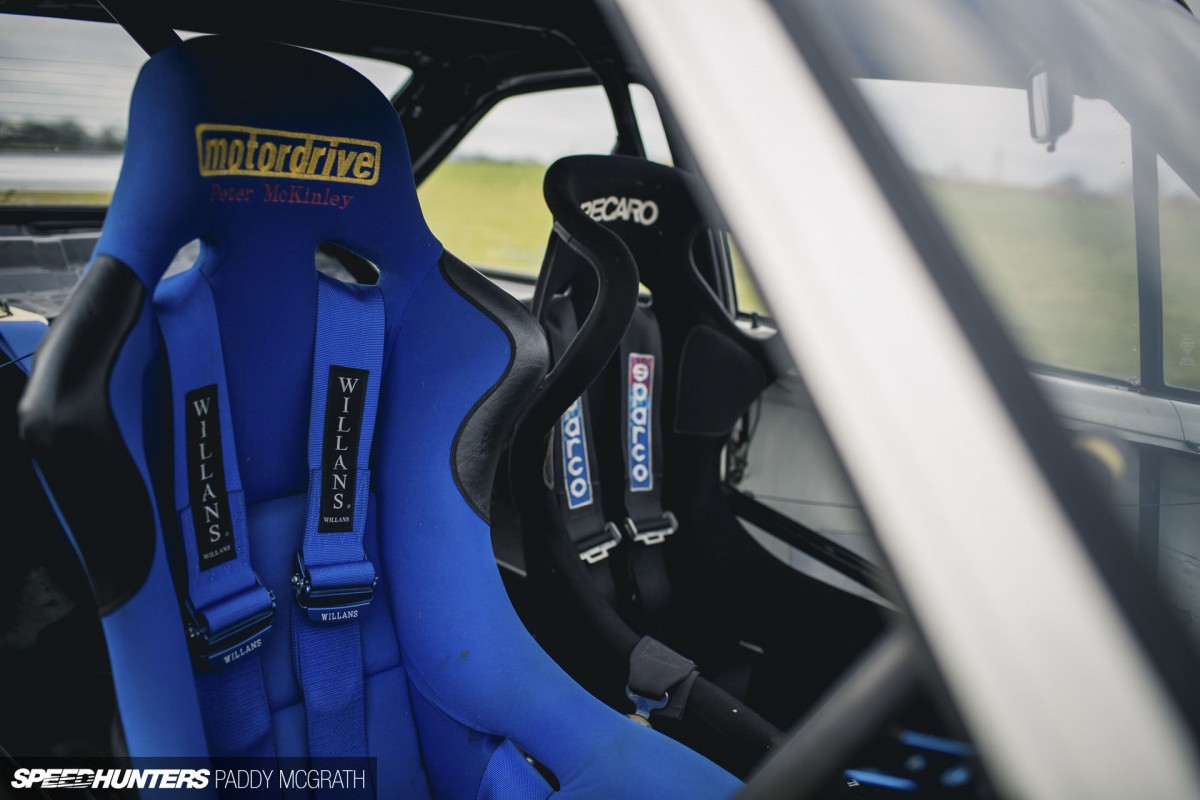 Like the rest of the Escort, the interior space has been designed with pure function in mind. There's a Safety Devices six-point roll cage in the mix, plus a custom Motordrive seat and a Willans harness for Simon.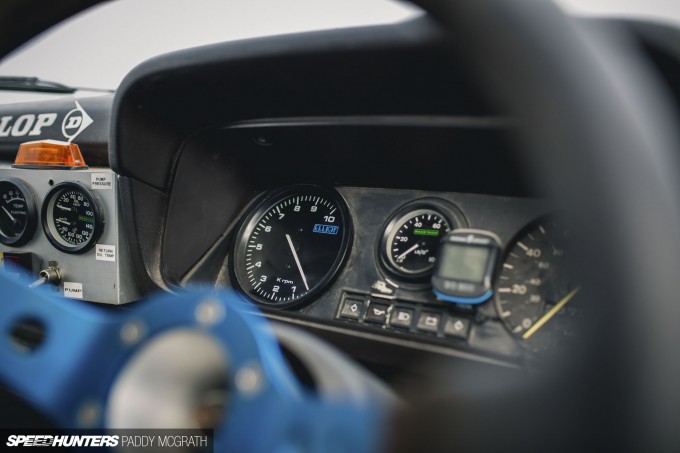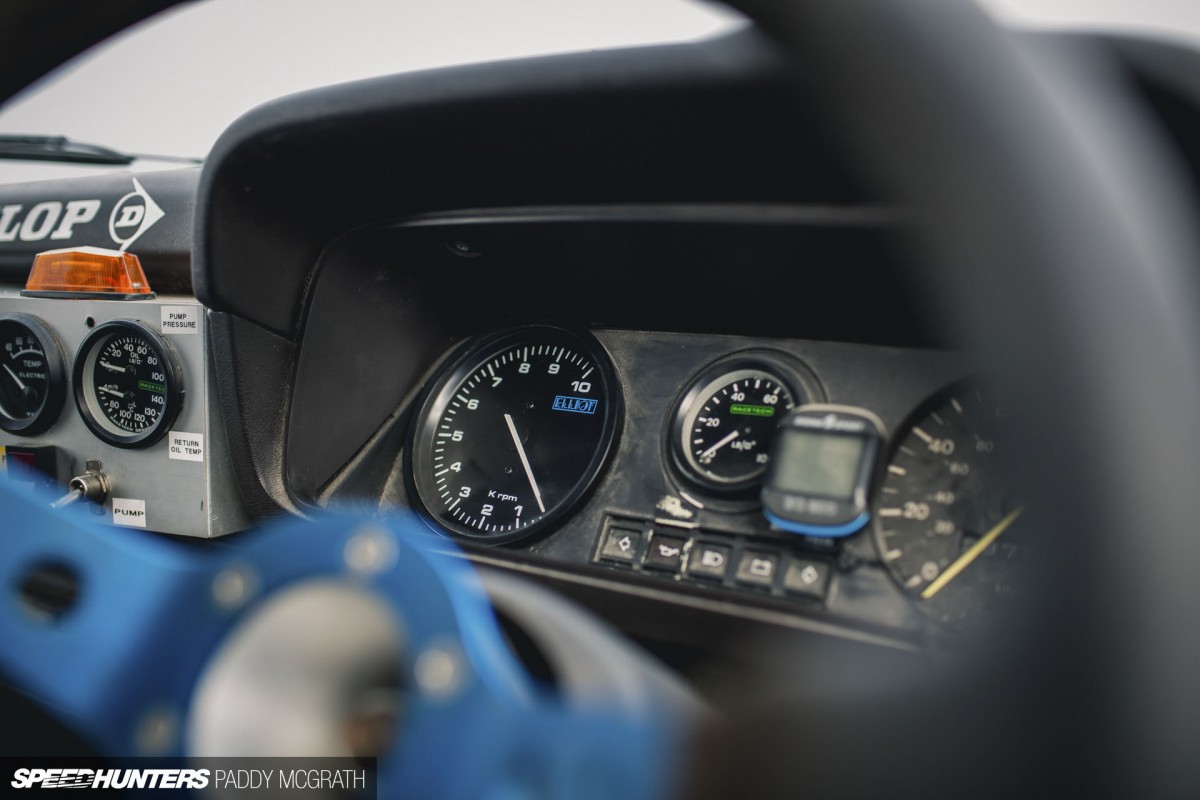 A 10,000rpm Elliot tachometer keeps an eye on the revs and a digital bicycle speedometer is used to accurately track speed and distance, but it's the homemade LED sequential shift light – just out of shot above the cluster – that Simon mostly relies on when #MaximumAttack mode is engaged.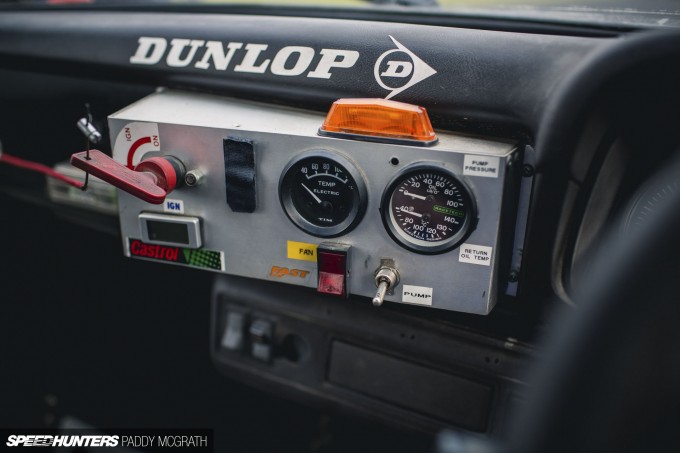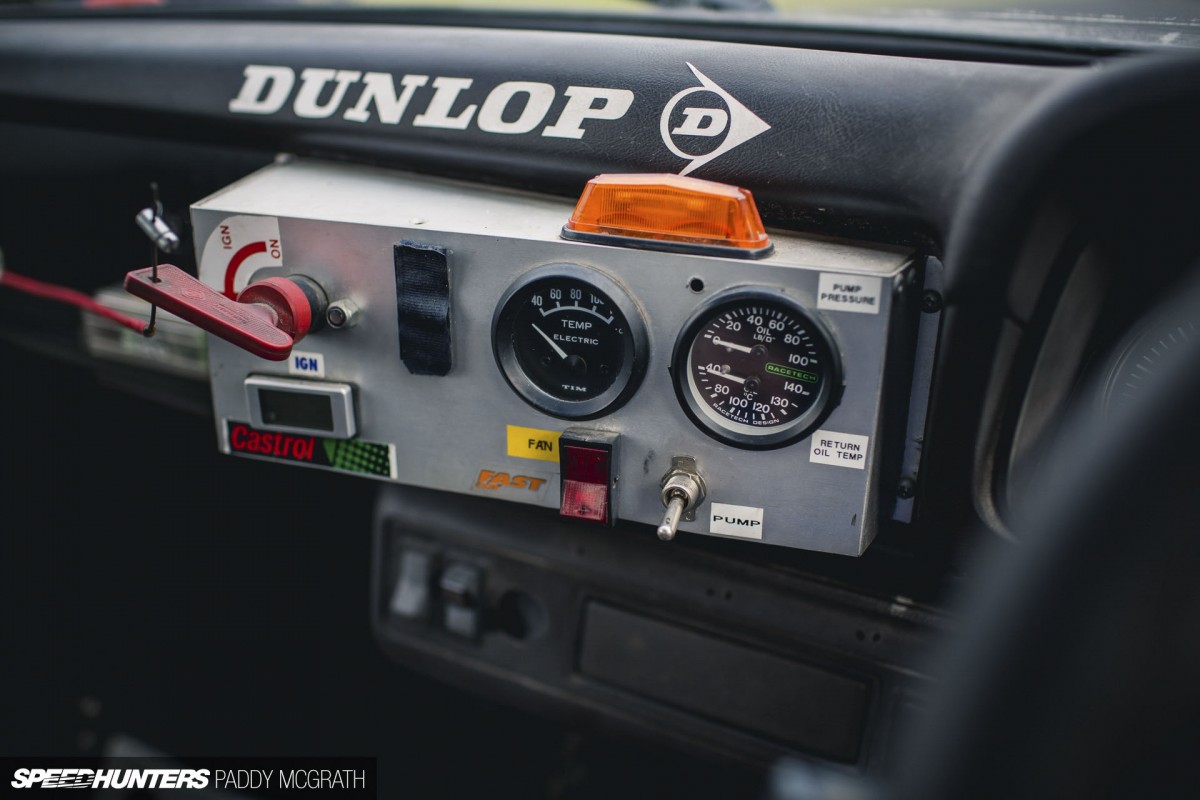 Offset to the left there's a custom panel sunk into the centre of the dash used to house additional gauges, switch gear and the battery cut-off, plus a warning light for low oil pressure.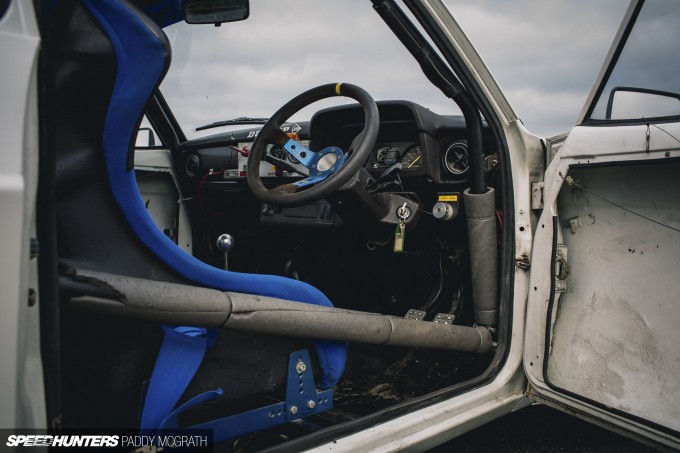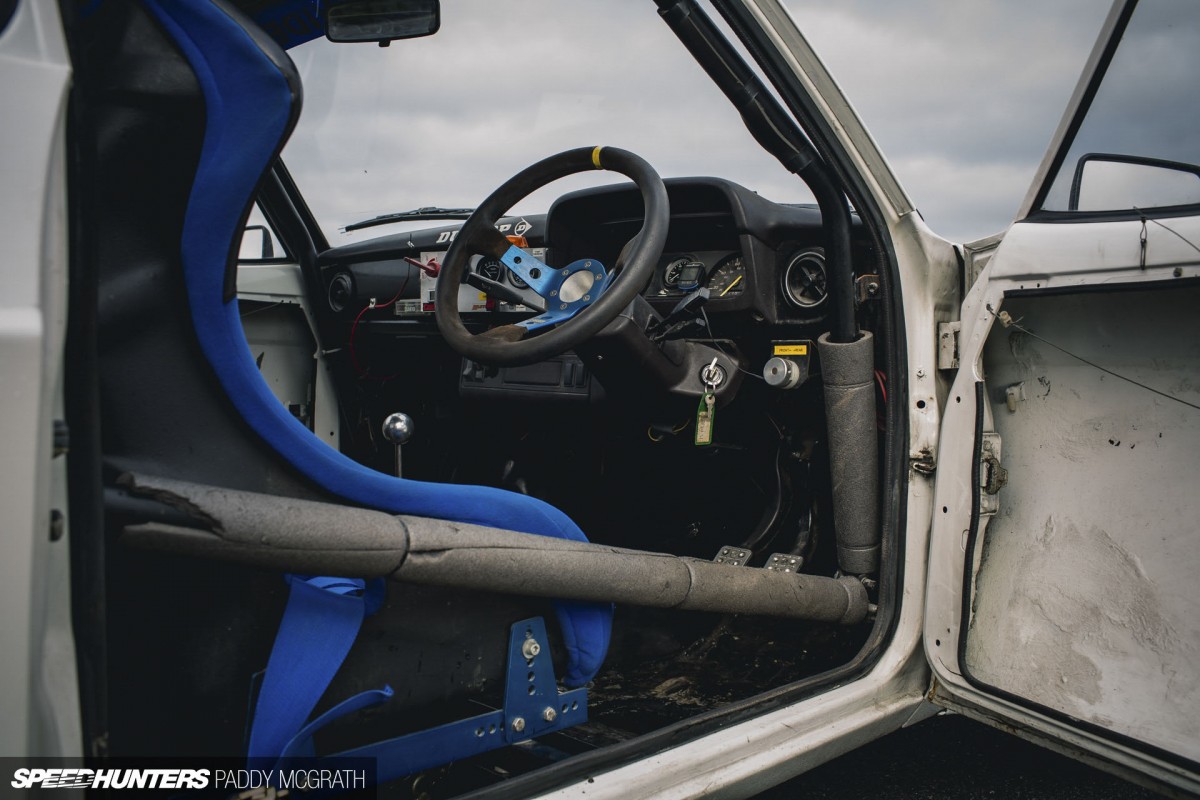 There are many aspects I love about Simon's creation: the aggressive stance, that Warrior engine, and a chassis that's been honed over 20 years to deliver Escort performance on an unprecedented scale. But the real appeal – for me at least – is the car's homegrown underpinnings.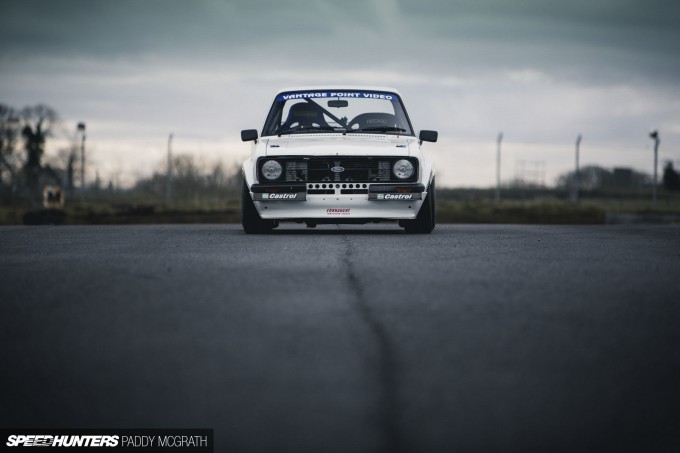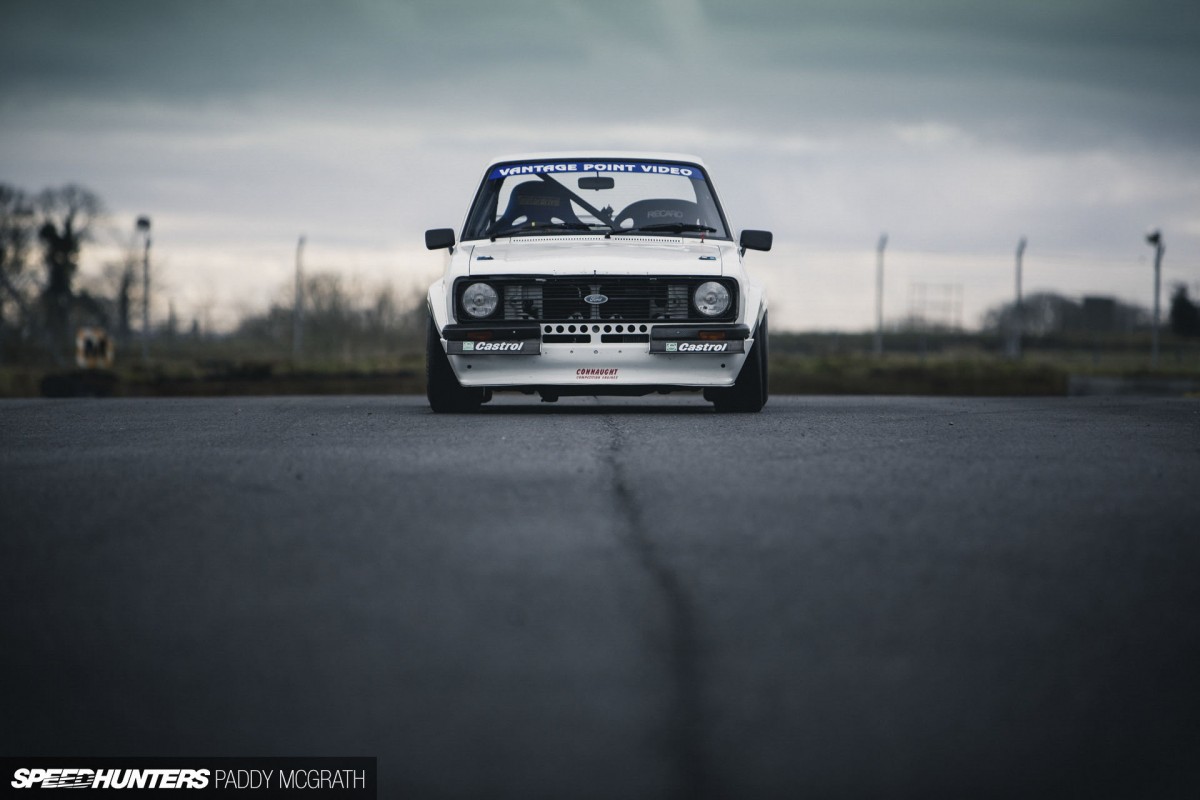 Sure, there are some pretty desirable and expensive parts in the mix, but they're just a by-product of a 20-year project – there's never been a big budget to play with. Simon told me that on more than one occasion, he's even had to slap black paint on his slicks to breathe just enough 'visual' life back into them to get through scrutineering on the second day of a weekend-long event.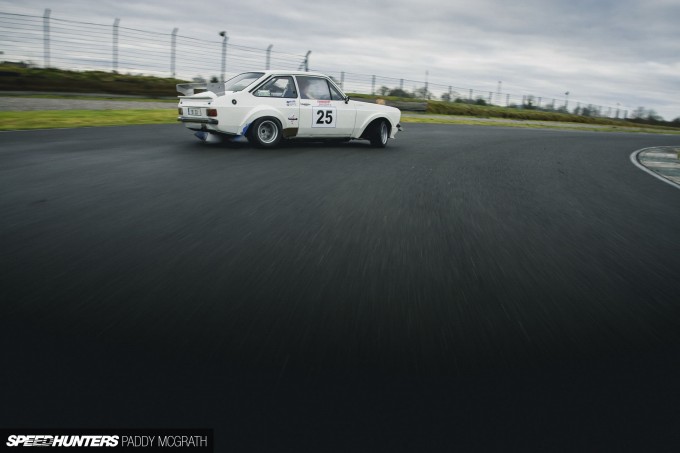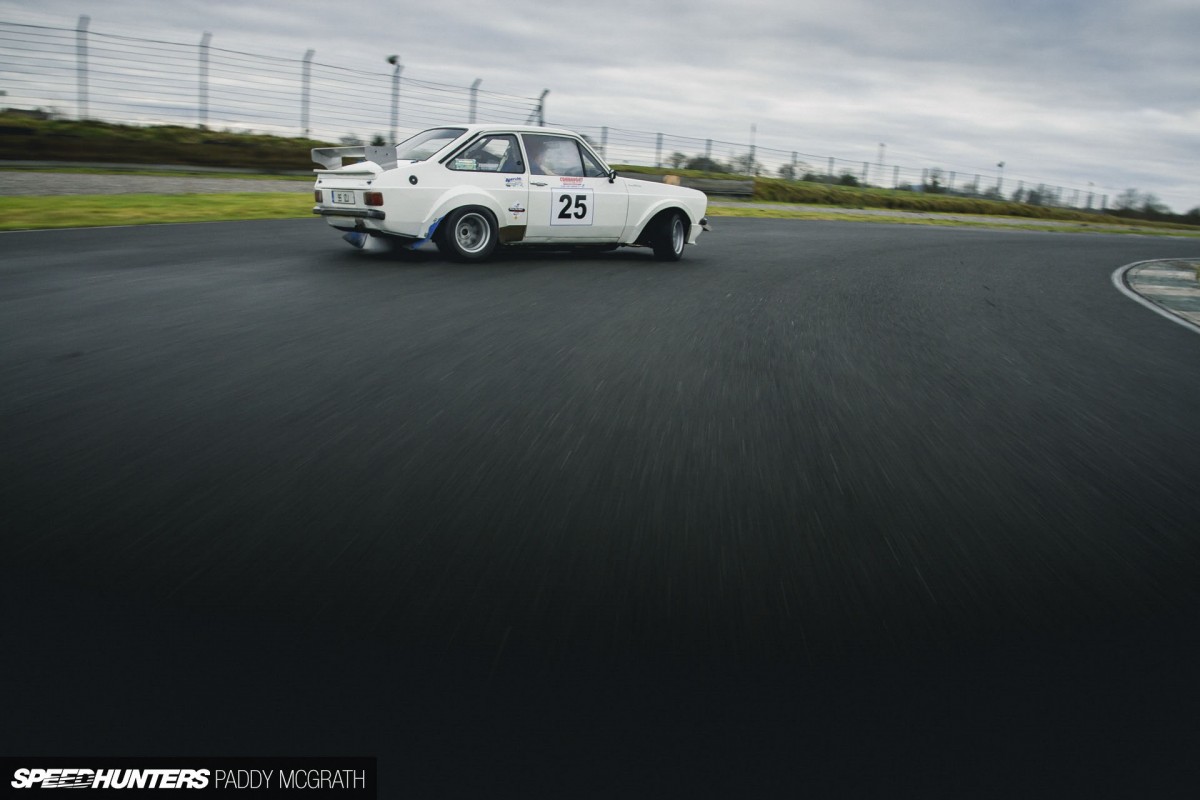 That said, finding a sponsor before the start of the 2014 Naylor Engineeing Irish Hillclimb and Sprint Championship which kicks off in April is now high on Simon's priority list; as is getting to the 2014 FIA Hillclimb Masters event in Luxembourg, in October. For the time being though, he'll continue to evolve the Escort the same way he and his family have been doing for the 20 years, and I'm sure – the next 20 too…
Brad Lord
brad@speedhunters.com
Photos by Paddy McGrath
Twitter: @PaddyMcGrathSH
Instagram: speedhunters_paddy
paddy@speedhunters.com
Simon McKinley's 1980 Ford Escort Mk2
Numbers
Max Power: 316hp, max torque: 235ft/lbs, weight: 810kg
Chassis
Bodyshell prepped to Ford rally spec, fully braised, Safety Devices six-point roll cage modified with gussets and tags to shell, custom transmission tunnel, custom diff tunnel
Engine
Ford/Warrior 2.4L inline-four, Ford Pinto 205 block, bored to 93mm, Warrior-spec JE forged pistons, Arrows rods, SPS rod bolts, Arrows 8mm small pin crankshaft, Warrior DOHC 16-valve cylinder head, flowed by CCE/Warrior, Warrior FA2 camshafts, Warrior-spec Piper cam gears, 1.402″ inlet valves, 1.250″ exhaust valves, Warrior valve springs, modified Cometic MLS head gasket, Warrior-spec cam belt, 11.7:1 compression ratio, Jenvey 48mm throttle bodies x4, Warrior inlet manifold, custom 4-1 mandrel bent and equal length headers, custom made exhaust system, custom fuel cell, Sierra Cosworth fuel pump, Weber adjustable fuel pressure regulator, CCE/Warrior fuel rail, MM 058 high-flow injectors, Magnecor/Warrior ignition leads, Titan dry sump pump and pan, Mocal 12-row oil cooler, AOK radiator, DTA E48 engine management system
Driveline
Quaife five-speed H-pattern dog box, AP Racing 7.25″ twin-plate clutch, Warrior flywheel, one-piece driveshaft, Atlas/Ford Motorsport differential, Atlas axles, Quaife GP1 2-piece half shafts
Suspension/Brakes
Bilstein coilovers with alloy hubs, 320lb springs (front), Bilstein coilovers, 185lb springs, roller bearing top mounts, custom adjustable track control arms, heavy-duty 6-link rear end, Watts linkage, modified Ford Fiesta XR2 Mk2 front sway bar with rose-jointed links, race ratio steering rack 2.2 turns to lock, AP Racing Monte Carlo Tarmac-spec rotors/calipers (front), Ford Escort XR3i rotors/calipers (rear), Ferodo DS3000 pads, copper/braided stainless steel brake lines, modified factory pedal box, twin master cylinders with bias bar
Wheels/Tyres
Alleycat 13×8″ alloys, Avon A15 8.2/20-13 slicks (front), Compomotive ML 13×10″ alloys, Avon A15 10/22-13 slicks (rear)
Exterior
Ford Escort Mexico front spoiler with custom splitter, cut/modified Williams F1 winglets, carbon fibre front/rear bumpers with custom alloy brackets, custom rear spoiler, lightened factory Escort doors, alloy-widened arches front/rear, Kevlar bonnet, Kevlar boot lid, polycarbonate side windows, Ford Diamond White paint
Interior
Motordrive seat, Motordrive rails, Willans six-point harness seat belt, OMP three-spoke dished steering wheel, modified steering wheel hub, Ford Puma gear knob, Racetech gauges in custom alloy console, Elliot tachometer, motorcycle speedometer, custom shift light
Simon Thanks
Peter McKinley (father), Margaret Bell (mother), Richard Bell (step father), Deirdre McKinley (wife), Connaught Competition Engines and many others for their help and support over the years
More hill climb related stories on Speedhunters
McKinley Motorsport