Breaking the rules
Traditional hot rodders subscribe to a pretty rigid set of rules, and I want to challenge that notion right now.
I can understand the mantra of 'doing it like they used to', but personally I find it to be contradicting to hot rodding at its very core. 'The way they used to do it' hinged on creativity and making the most of what was right there in front of you, not ordering some obscure, high dollar part that hasn't been made in sixty years.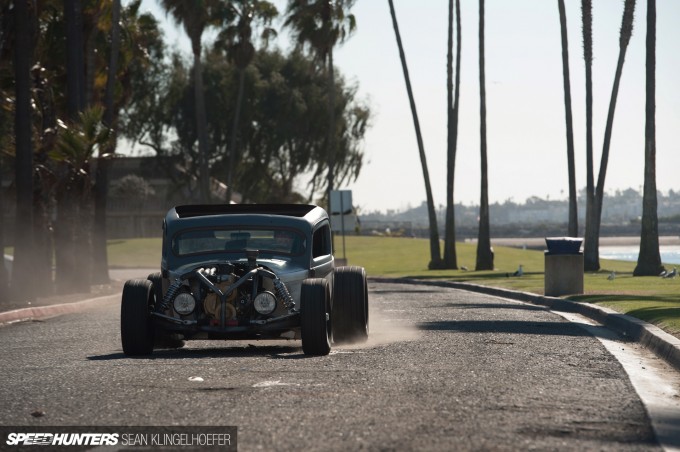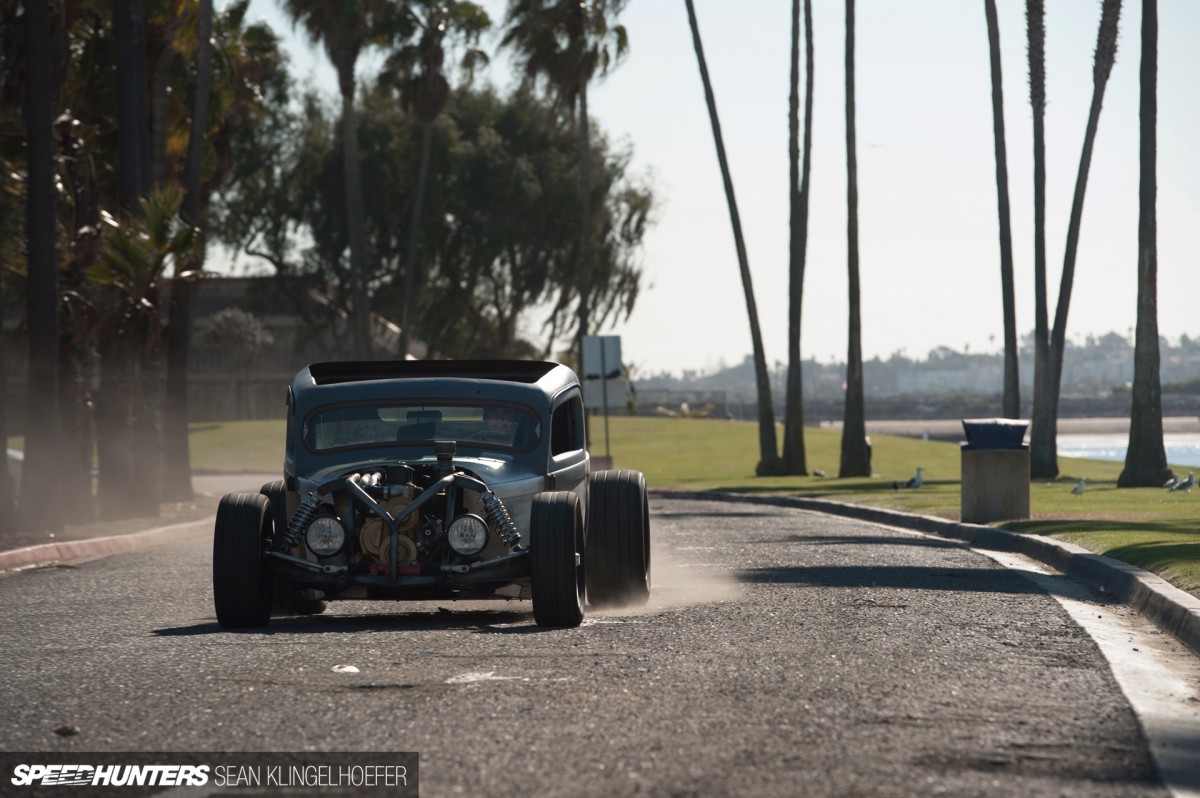 I've never been the kind of guy who knows every turn signal by year or which cylinder heads are most desirable. I'm a hot rodder because I like it when things look right, and ordering parts from a catalog will never guarantee that your car will turn out looking good.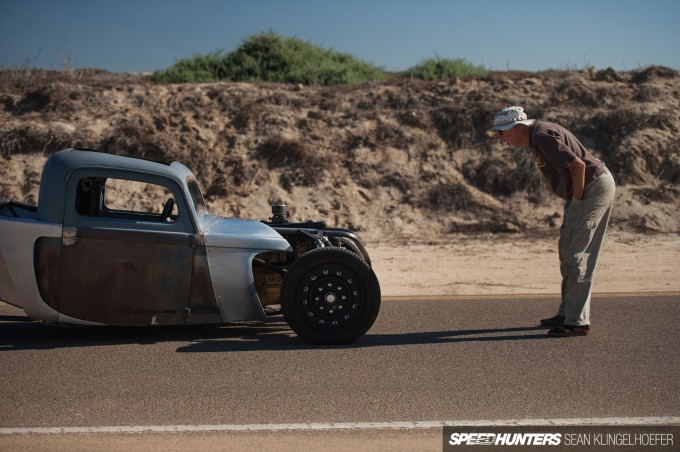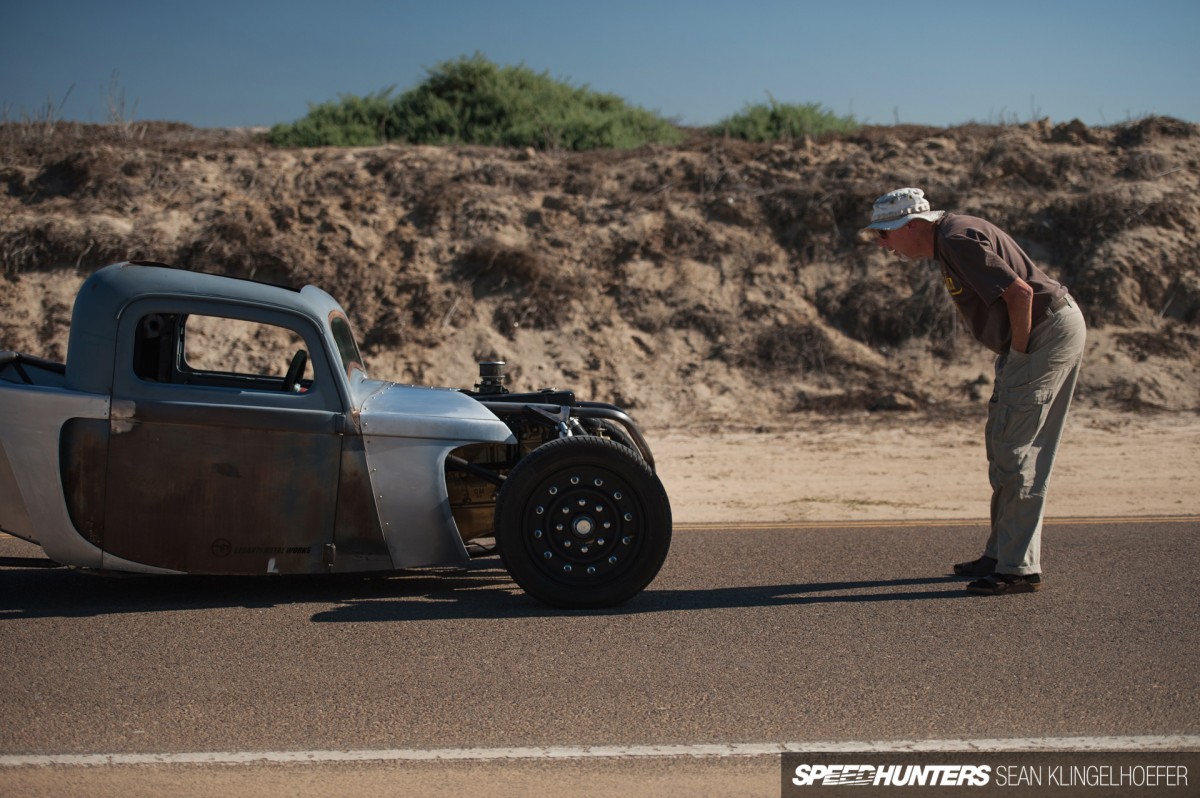 In short, I like hot rods that can do this – because to me a real hot rod is just an old car with an attitude, and that's something that anyone – car enthusiast or not – will recognize.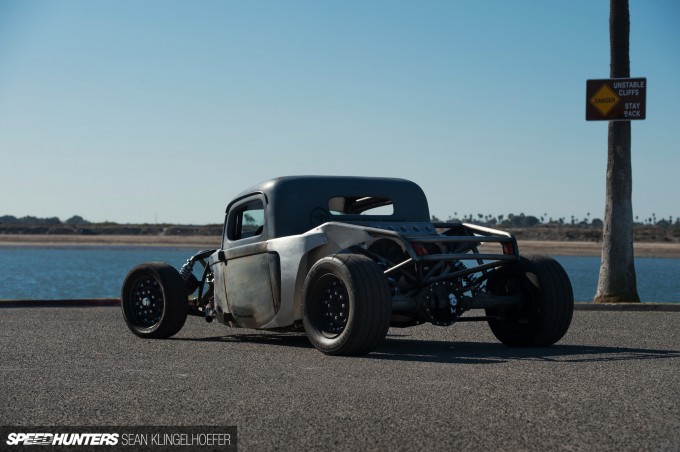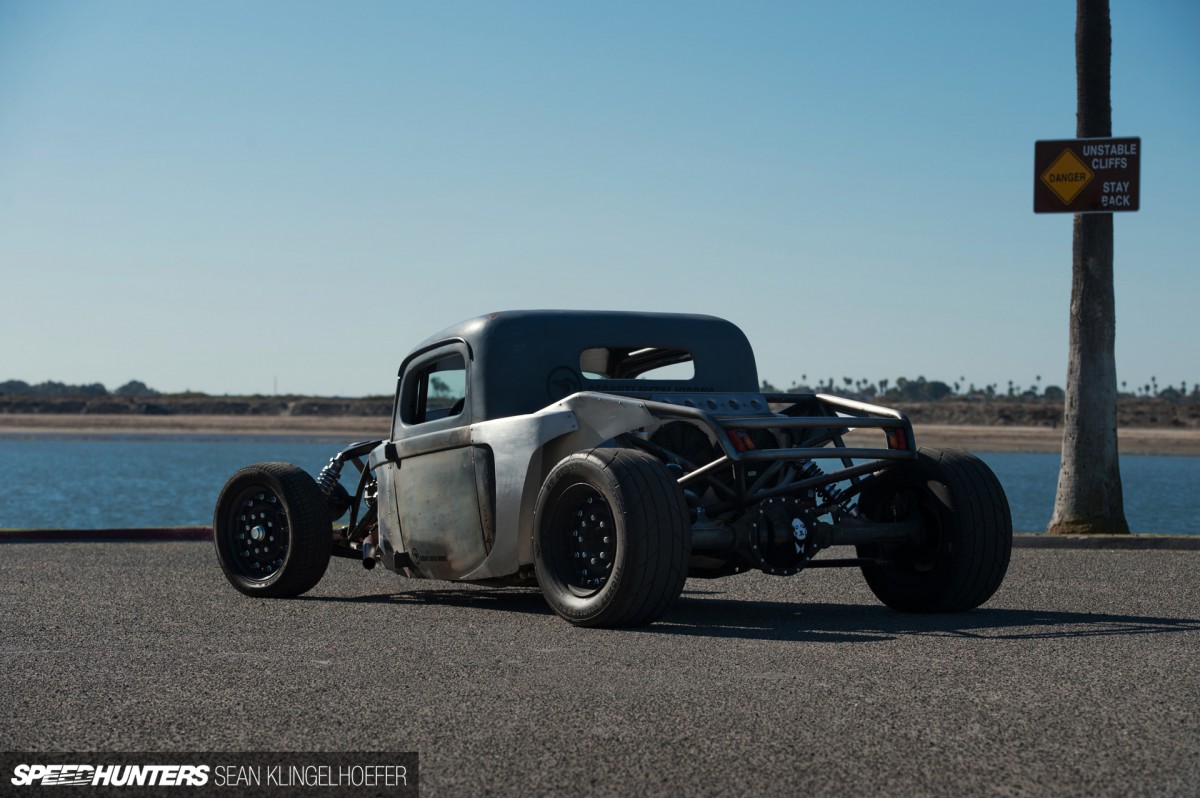 Jared Seganti's '37 Dodge pickup did exactly that when I caught my first glimpse on Instagram. It was one of those double take, then squint and study moments. Fortunately it was easy to contact Jared from there, and since he's a Speedhunters fan, he was thrilled to have Sean Klingelhoefer drive down to shoot a feature of his creation.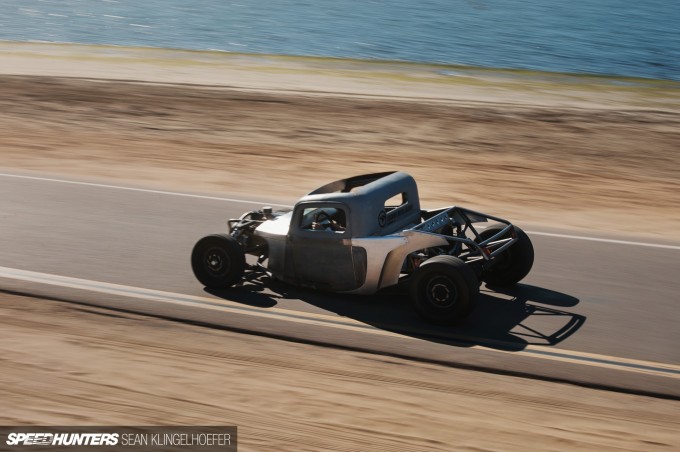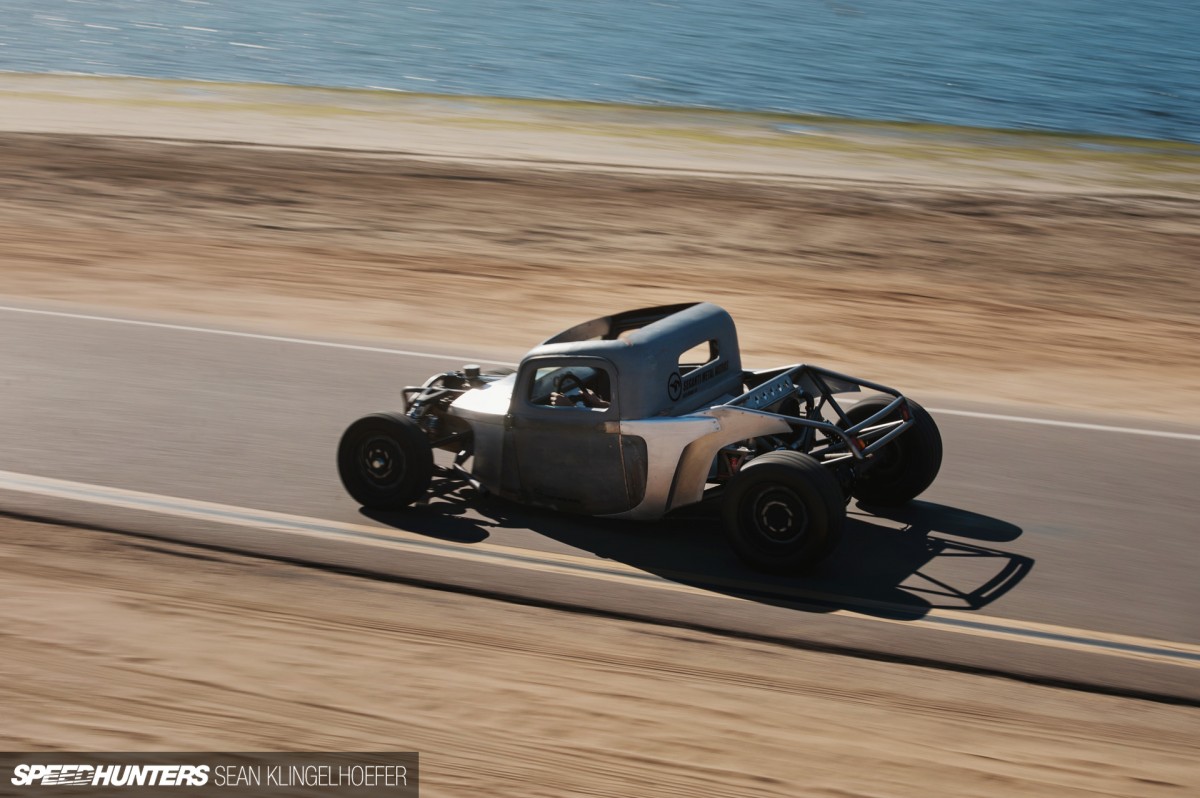 I suppose I should let you digest what you're looking at, because this is just that kind of build. It all starts with a '37 Dodge truck cab – that would be the hot rod part – wrapped in sheetmetal suited for a sandrail, a mechanical mix from various race cars, all sitting on a chassis built like a trophy truck. It's a serious mashup of styles that are worlds apart, yet it all works.
This, my friends, is what I call hot rodding.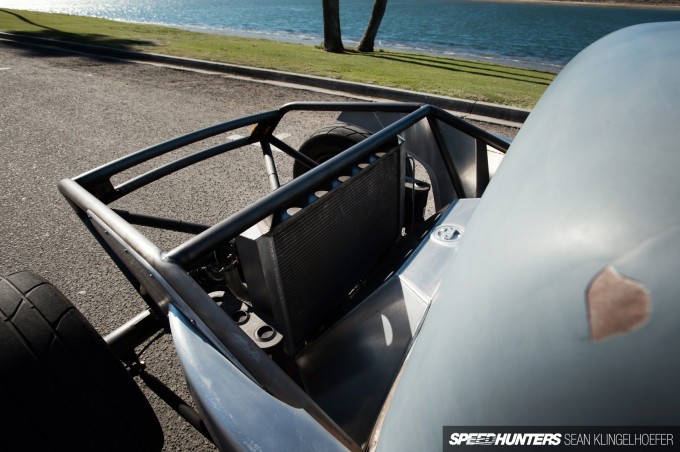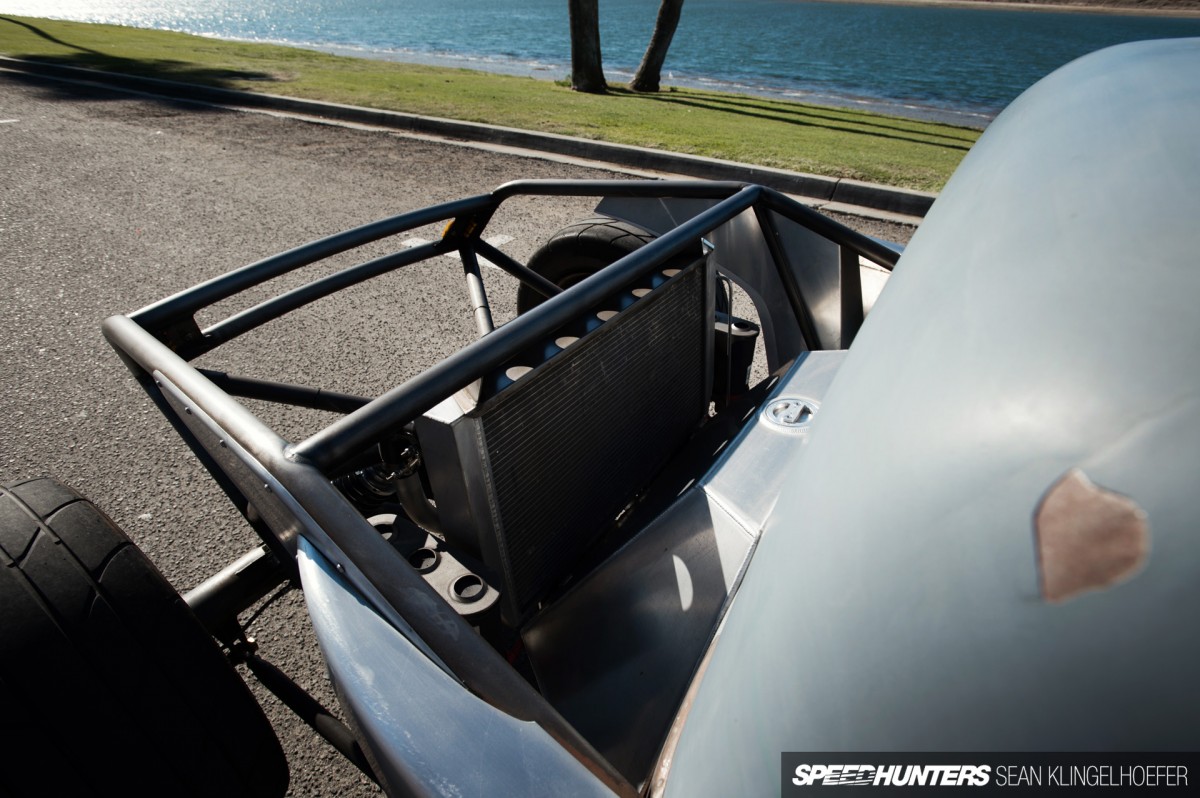 You see, Jared first cut his teeth at the age of seventeen sweeping floors in a fab shop. From that moment he was hooked, and he never looked back. Since then he's worked for Predator Sand Cars, Alumicraft Racing, Racer Engineering and even had a short stint at West Coast Choppers. Obviously he's bent plenty of metal into the silhouette of a sandrail or trophy truck, so when he set out to build a hot rod, well, this is what happened.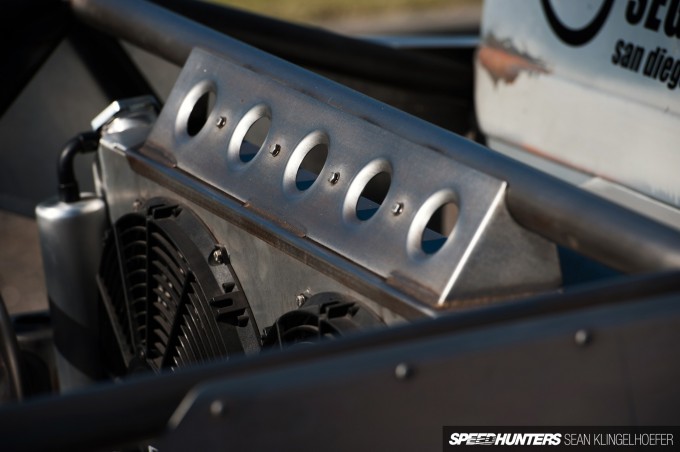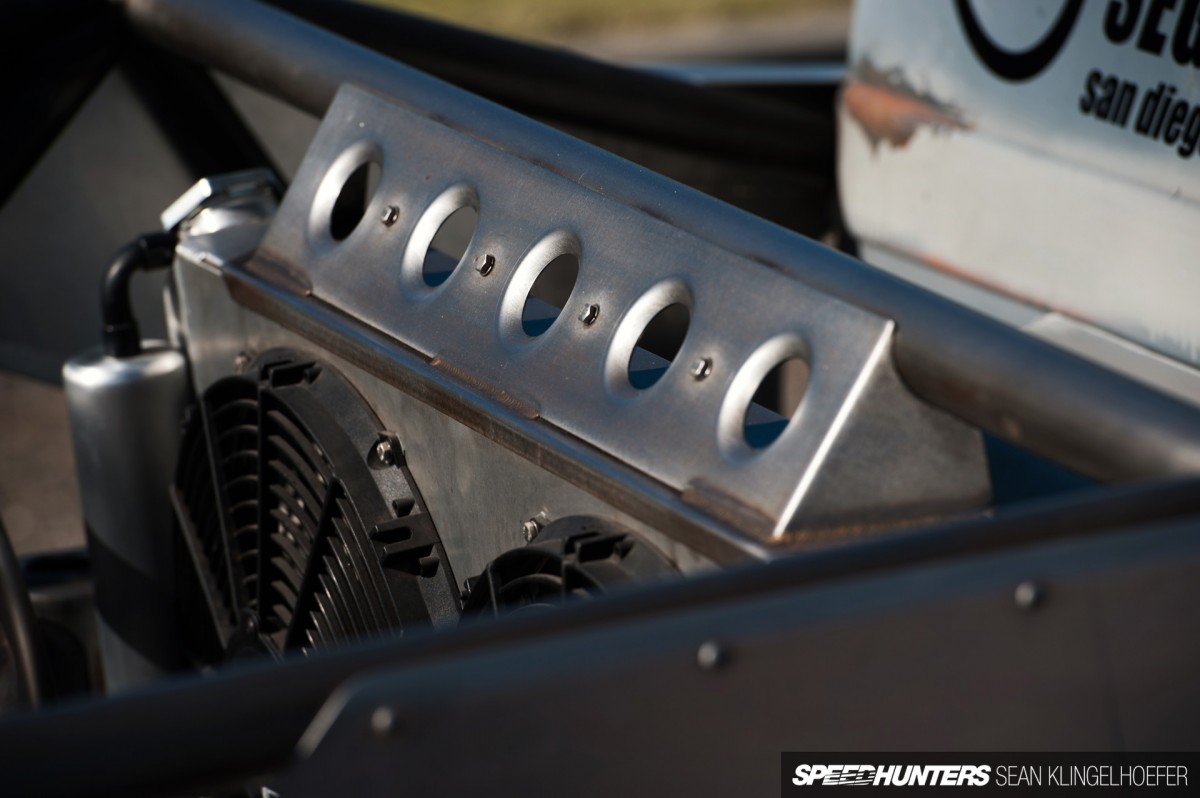 Things like the rear mounted radiator with dimple-died brackets come straight from the off-road world, where you want to place the cooling system out of harm's way. For Jared's pickup it was more of a packaging exercise though.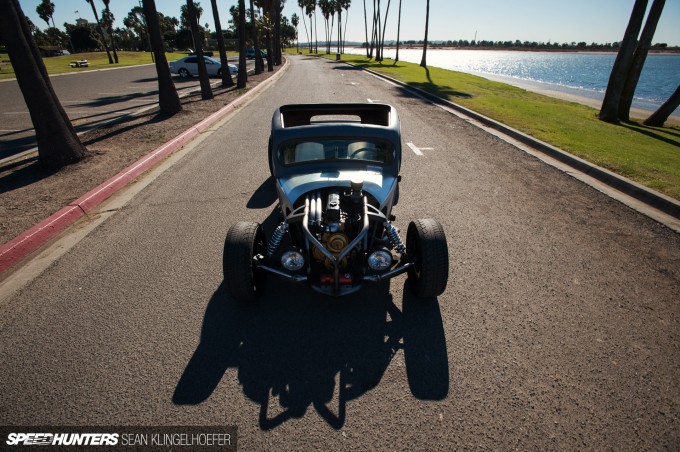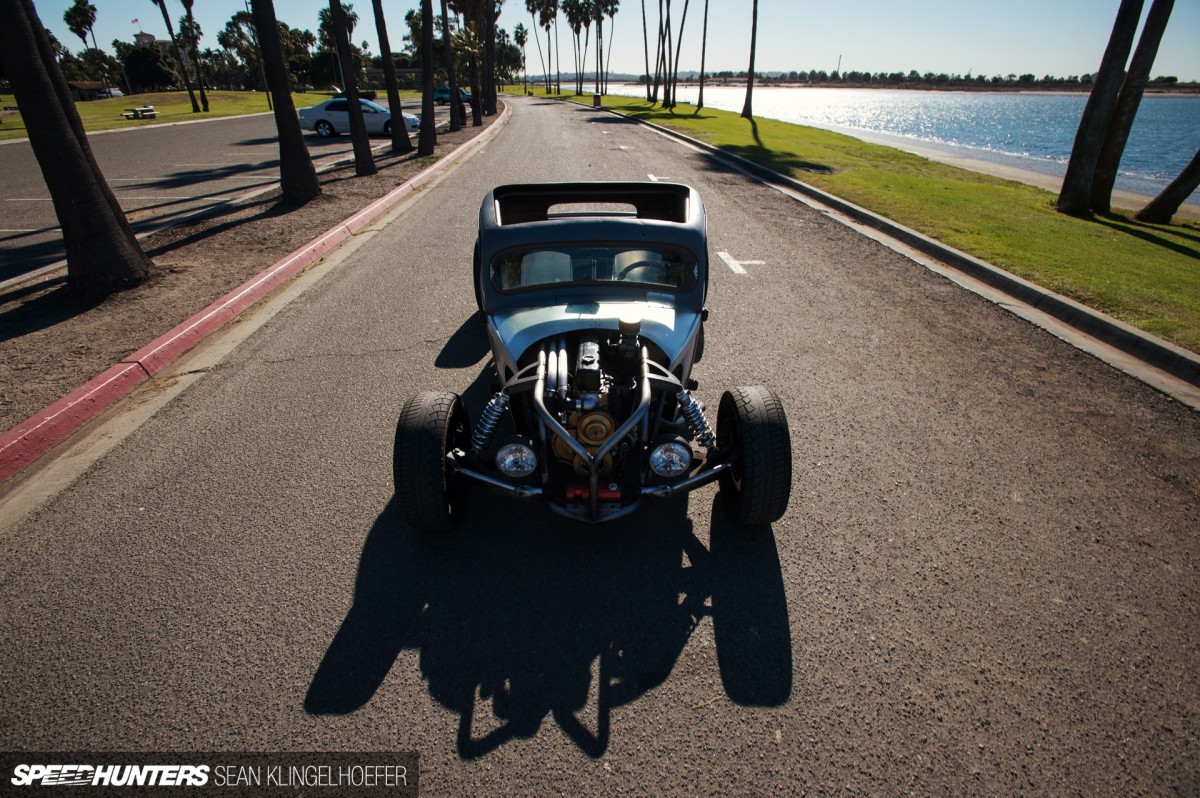 The benefit being a clean face for his hot rod, free of any bodywork at all. Instead the front is pure mechanism; tube structure, suspension and engine all combining to create a form that only function could design.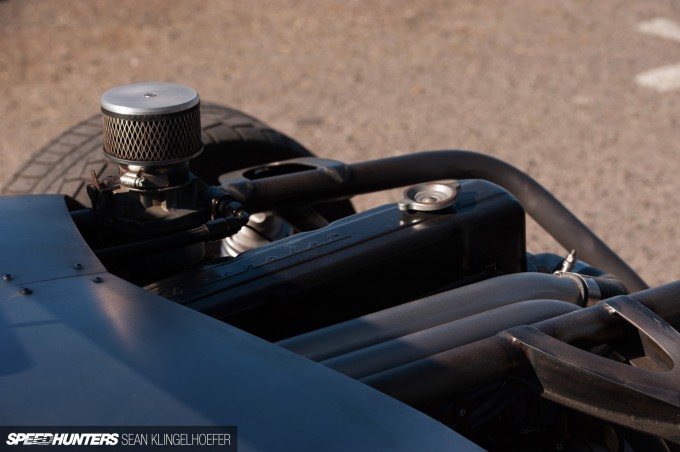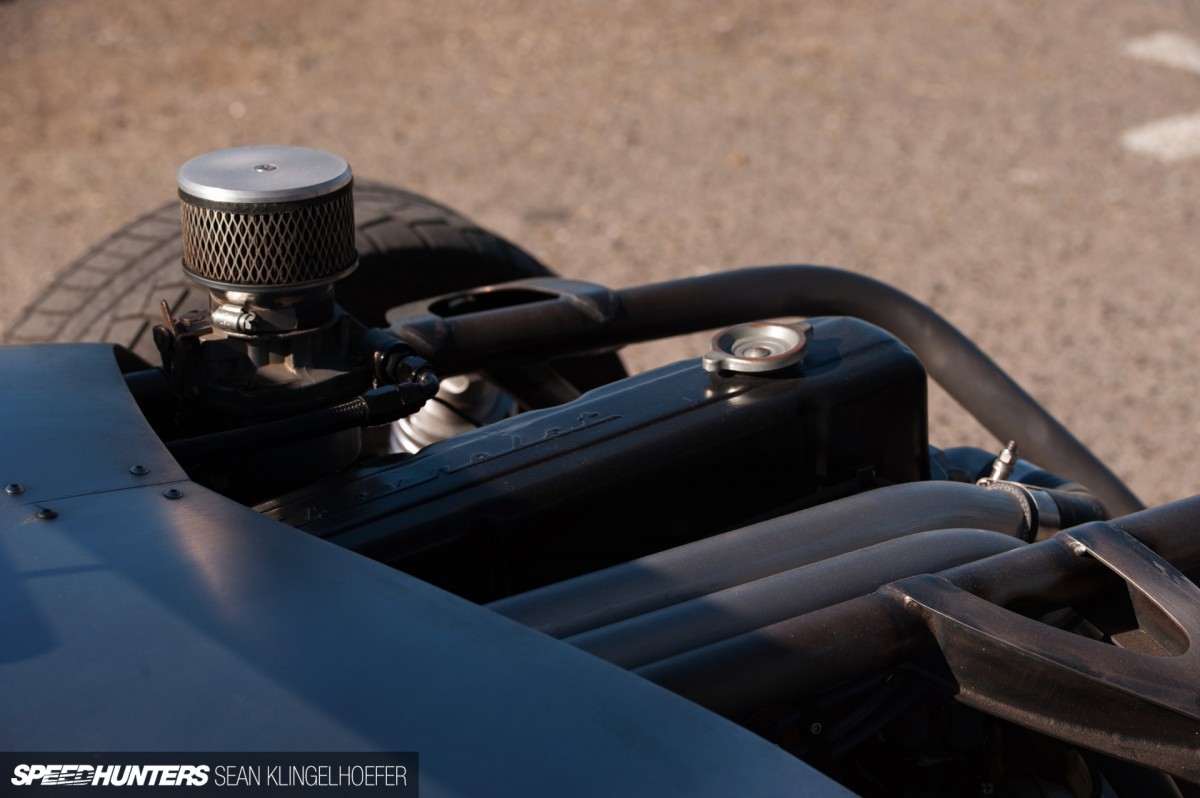 The old Chevy straight-six is really the only other traditional part on the truck apart from the cab, sitting in its home parallel to the twin chromoly tubes. Notice the cooling pipes that also follow suit.
Skinned for style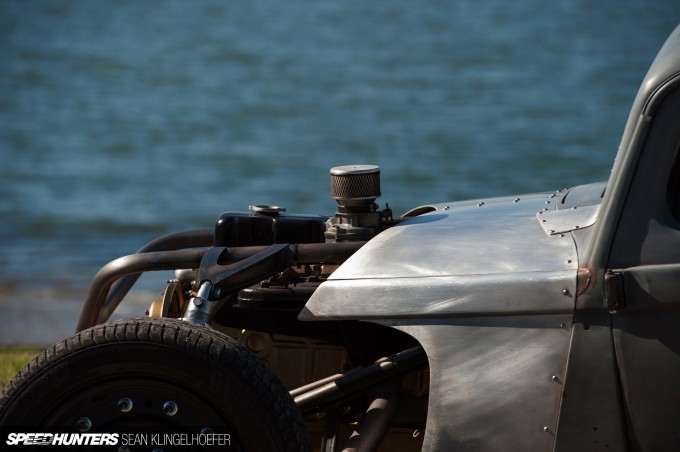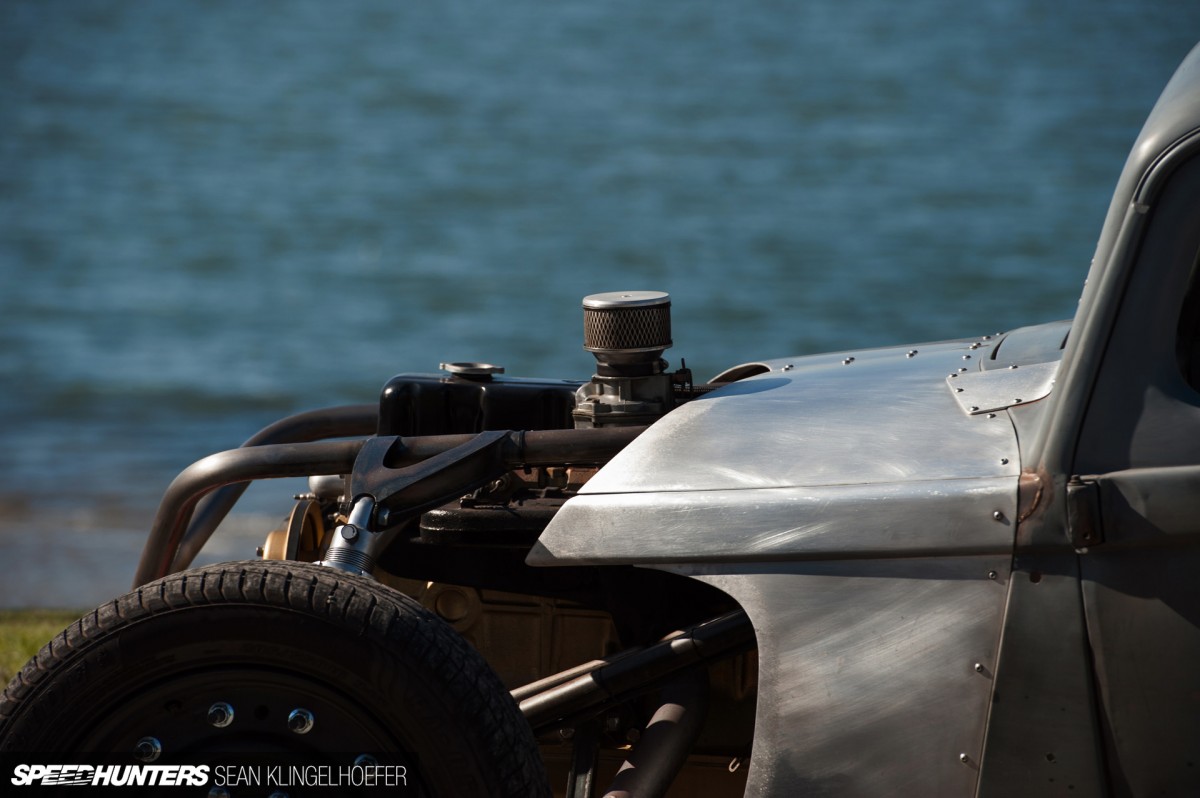 The first thing that drew me to Jared's '37 Dodge was the bodywork he added to supplement the original sheetmetal. The styling and quality was such that I could tell he had an off-road fabrication background right away.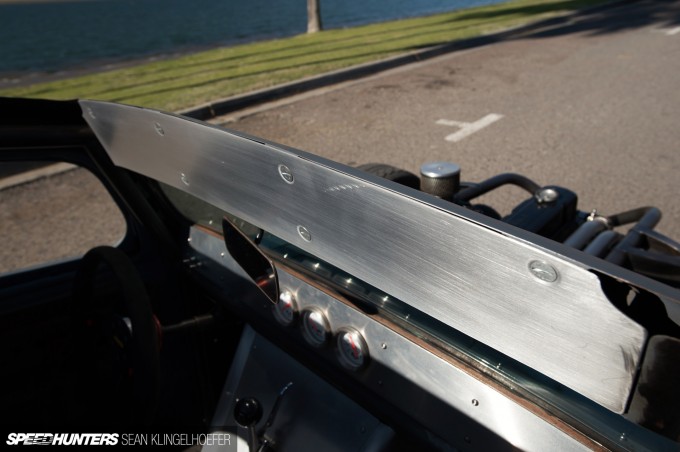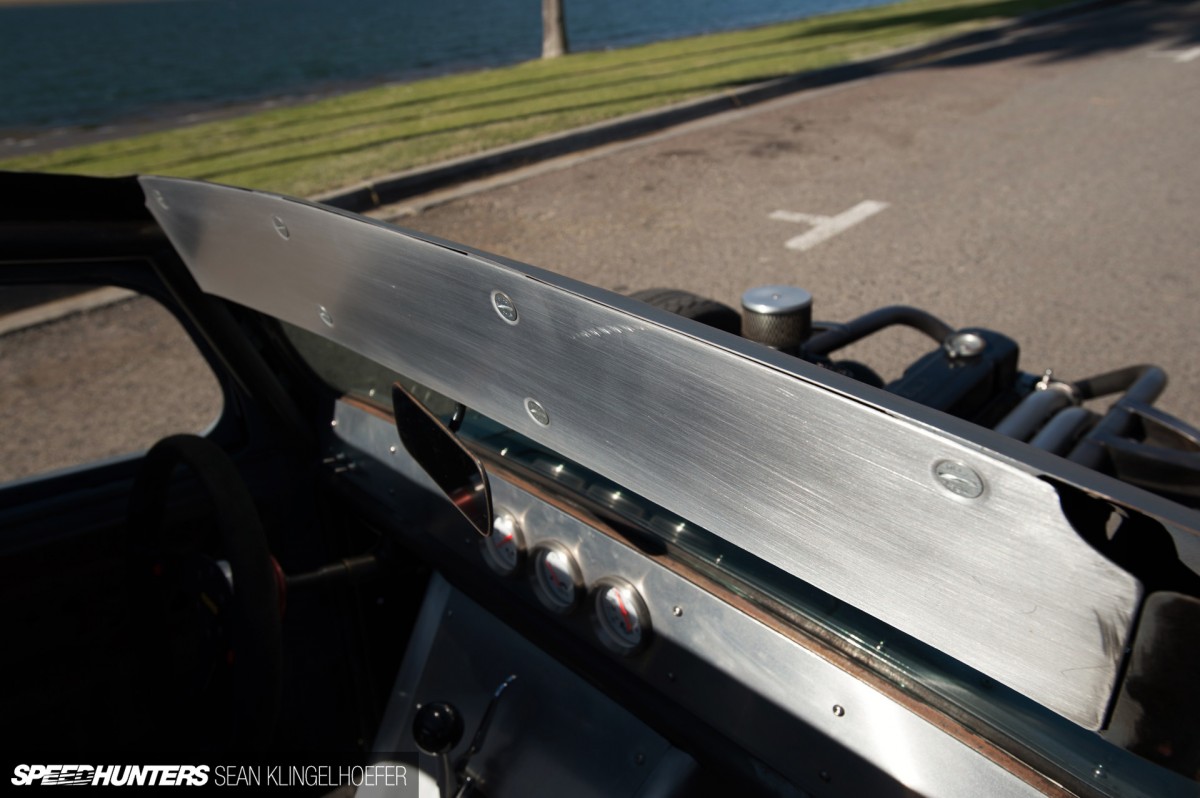 If you've ever spent time around sandrails or pre-runners, you'll recognize the influence immediately too. Tight-fitting aluminum panels, Dzus fasteners, dimple dies – it's all there.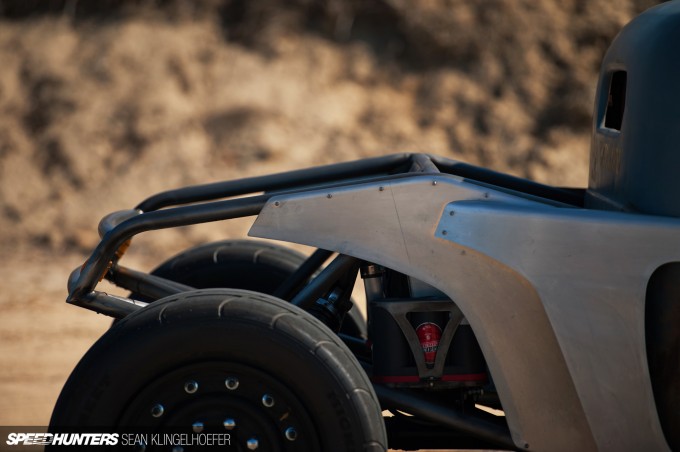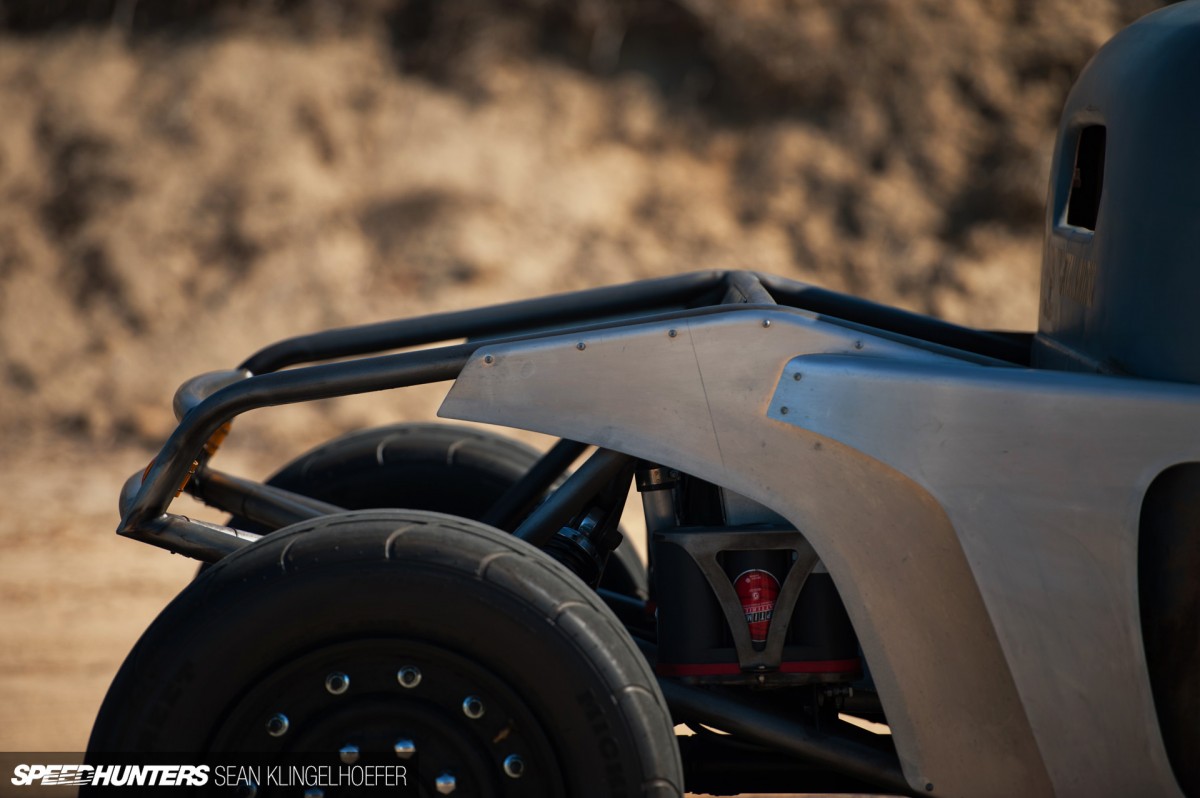 Like the half-shrouded front clip, a chromoly structure is only partially covered at the rear.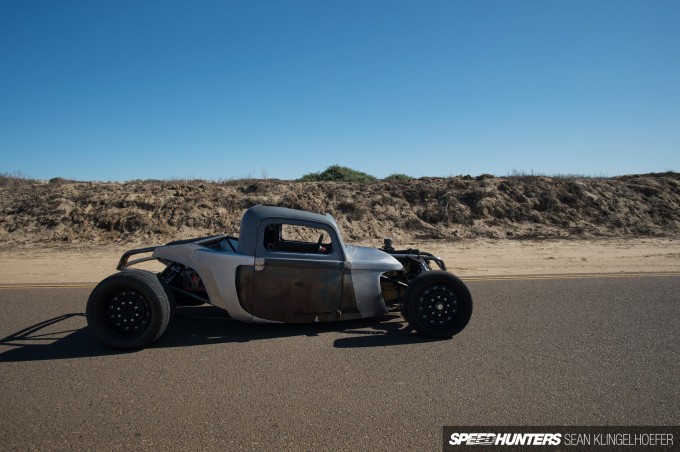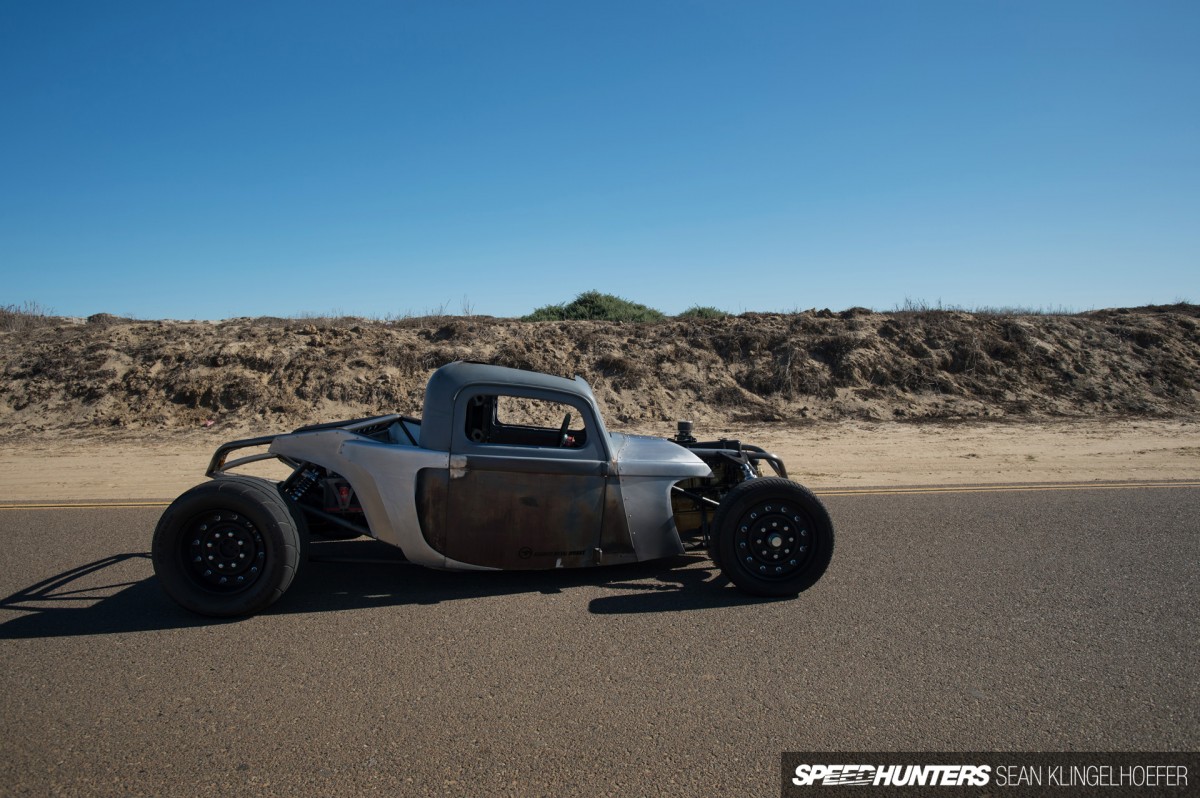 Beyond the fact the Jared built a running vehicle from scratch, which we'll get to soon, the styling is really an amazing accomplishment – like something a car designer might doodle while daydreaming. The most brilliant part is the way the new aluminum panels pick up the factory Dodge lines in the cab, but then quickly transform into an aggressive, angular, multi-layer shape. In transportation design, they use the term 'attack angle' and this thing has tons of it.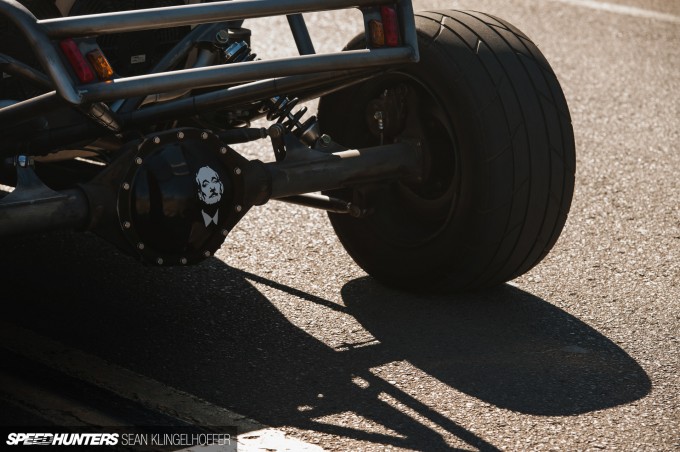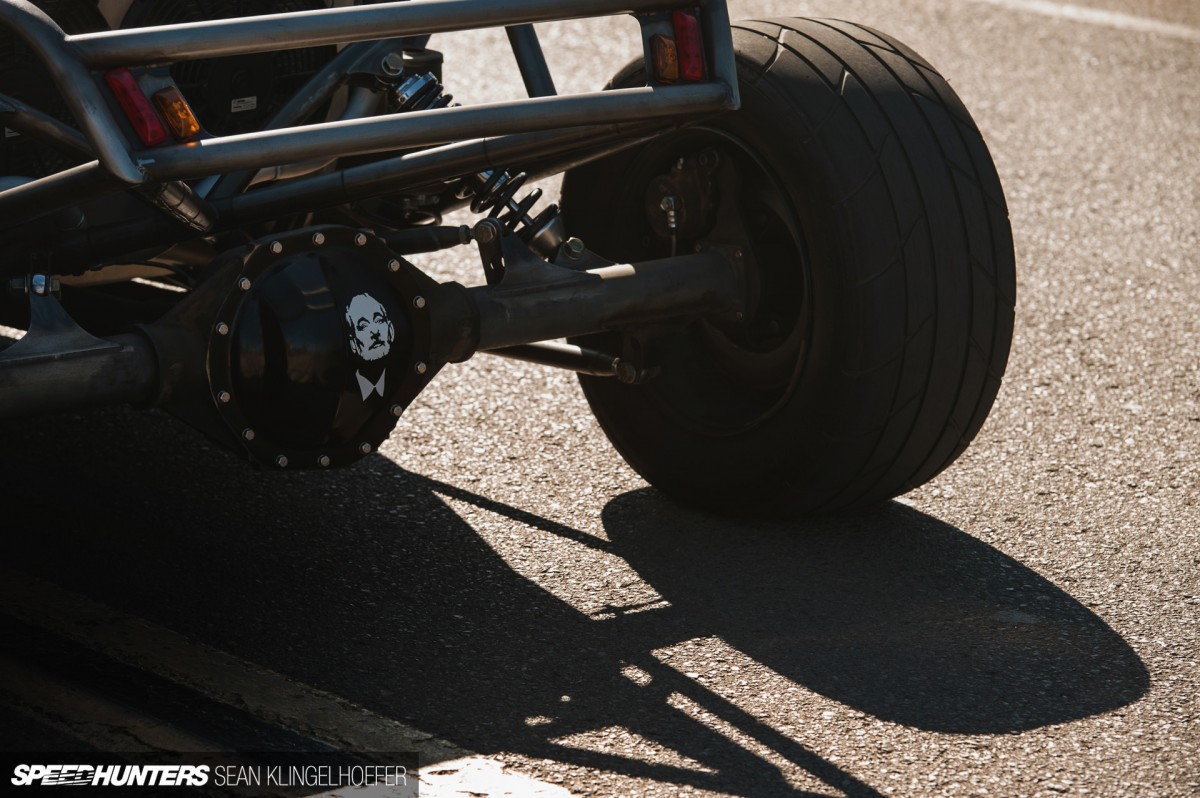 The placement of the wheels helps here too, with each tire pushed outward into a stretched track and wheelbase.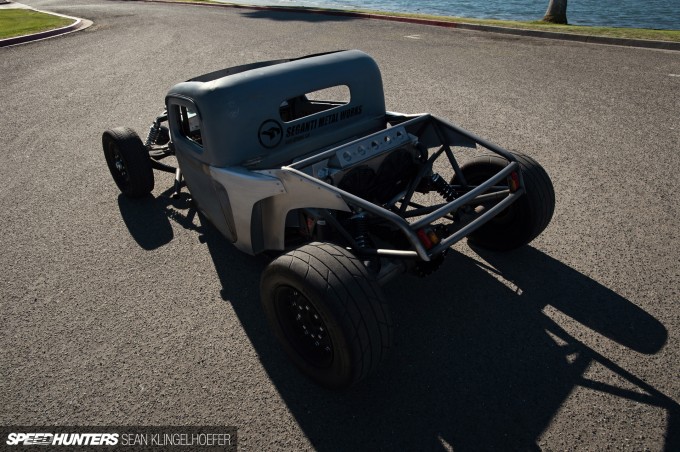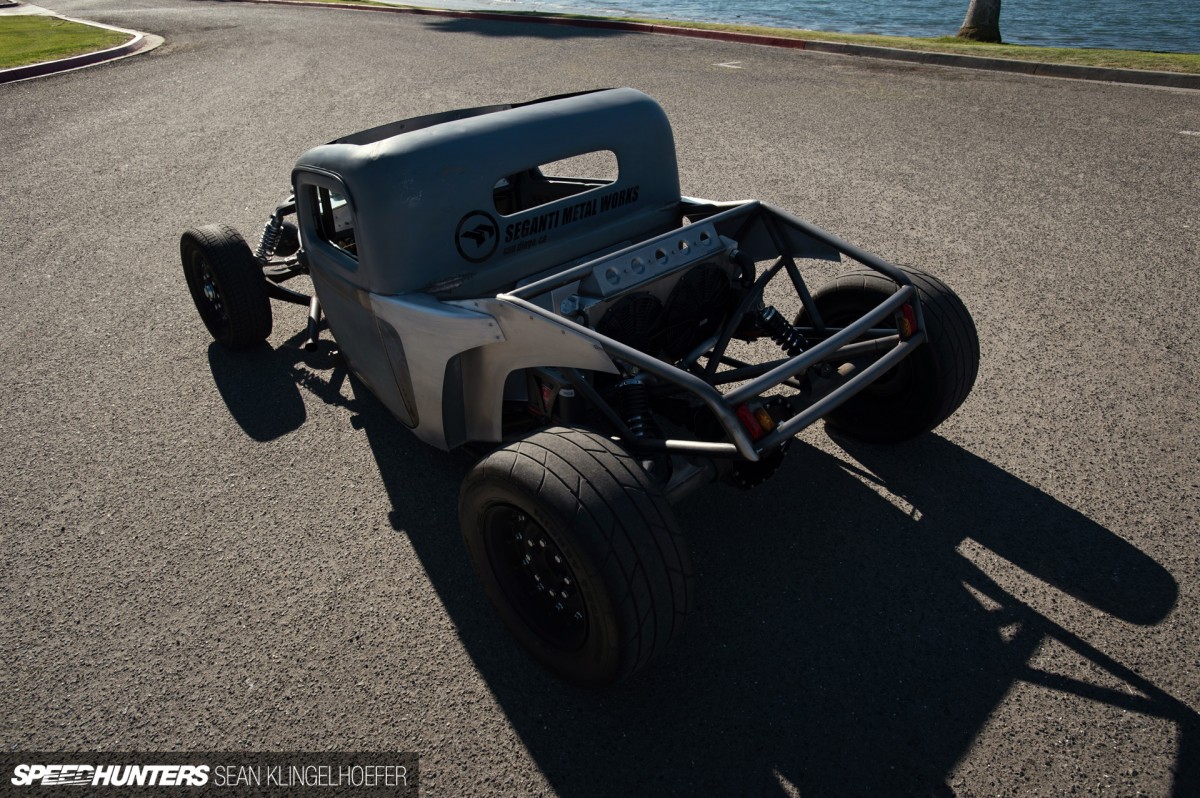 As you move around the vehicle, you start to see those layers come into play. I've never seen a hot rod that had so much depth and dimension in the rear quarter panel, if you can call it that.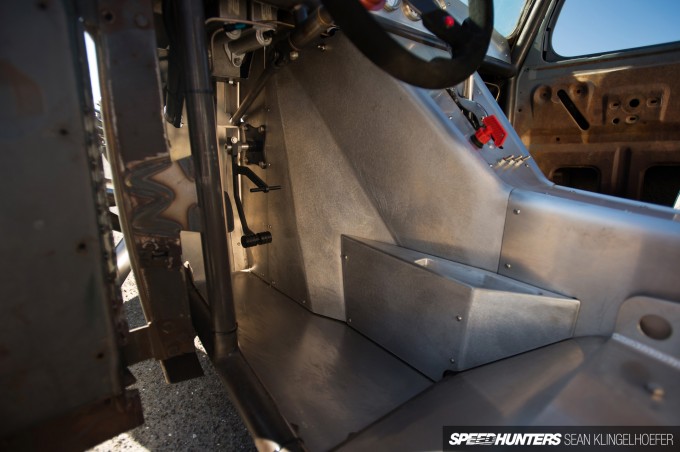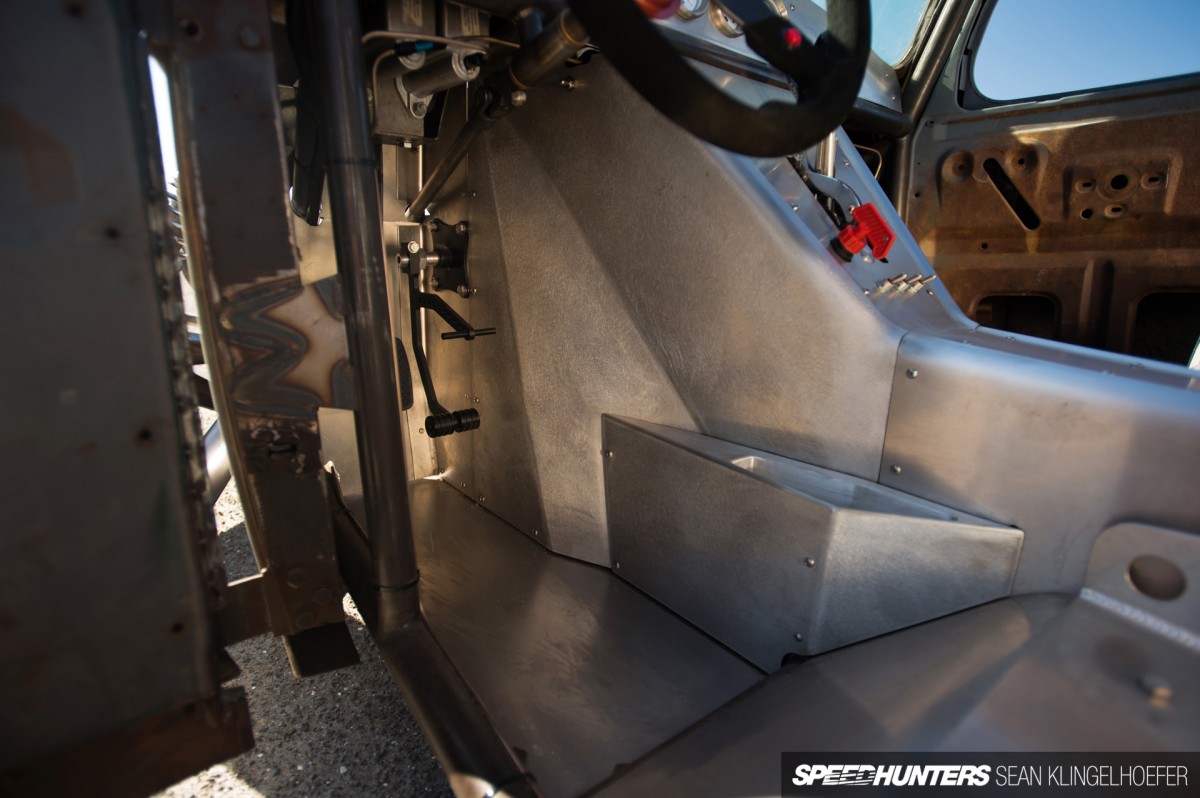 The tin work continues inside, where Jared hand-formed nearly every panel. Check out the gas pedal taken from some sort of sprint car or a late model. This was simply a case of using a cool part that he had laying around. The origins almost don't matter, because it has a new home now.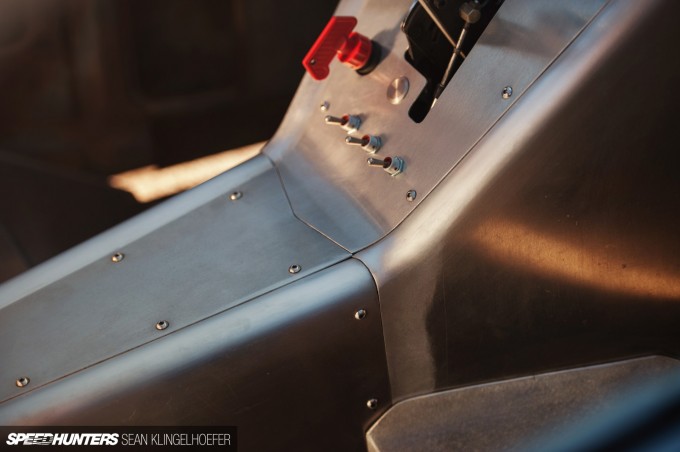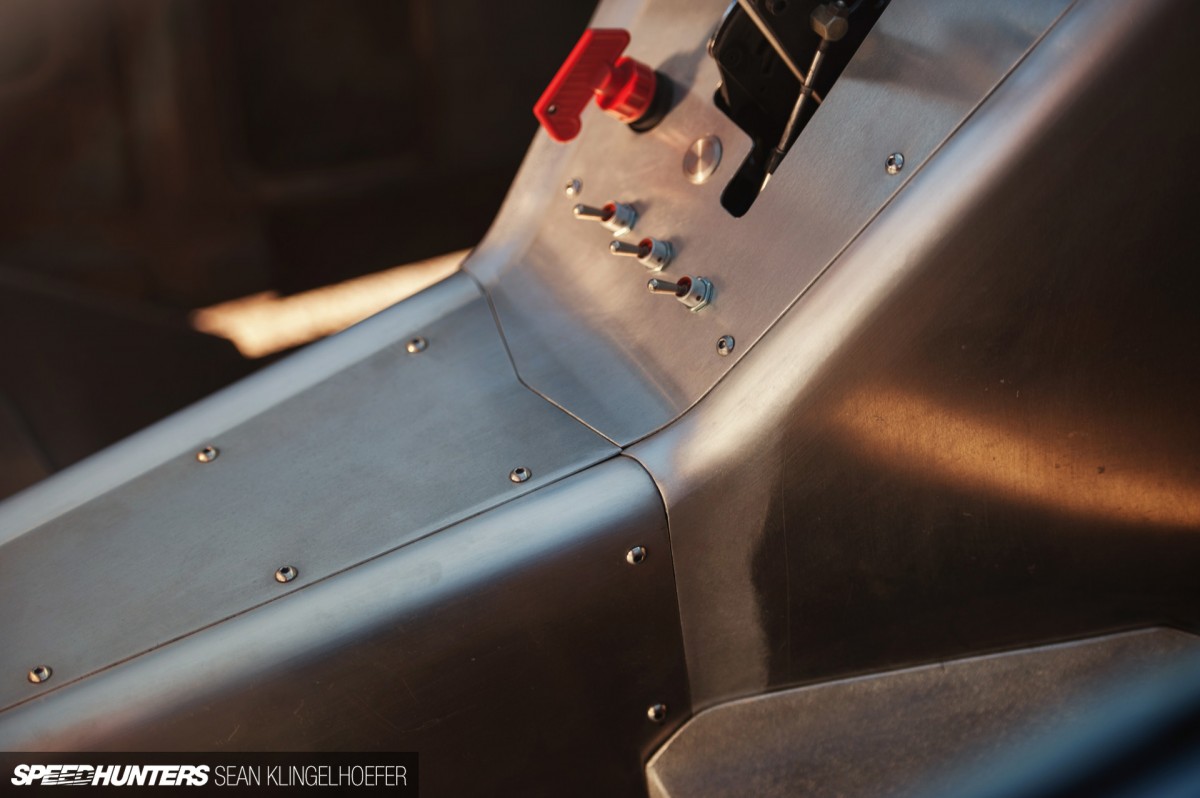 It seems Jared knows all the tricks to take his sheetmetal to a pro level: soft radiused compound bends, small breaks at the edges of panels, hardware and switches perfectly spaced.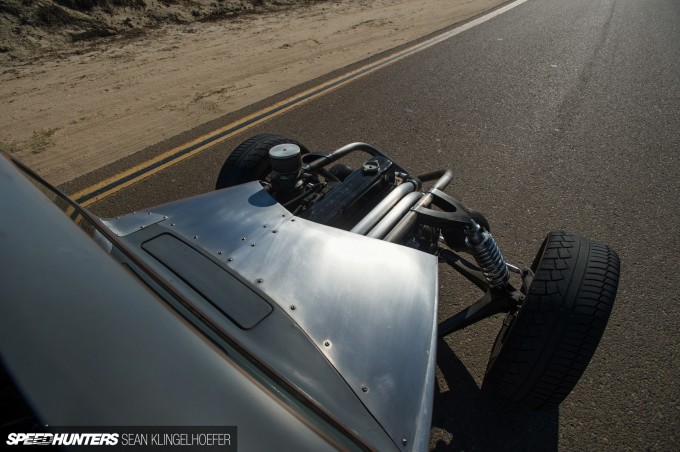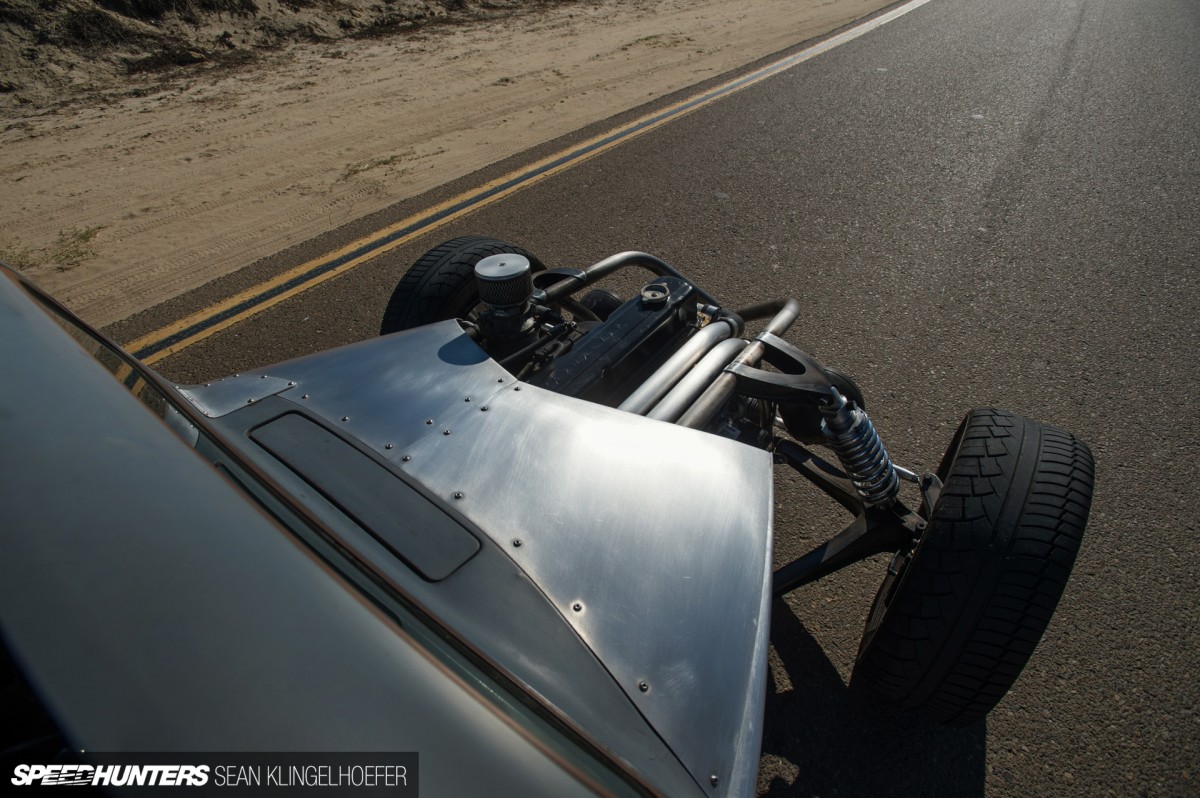 Not only did he use quality stainless fasteners throughout, but he patterned them in a way that's both aesthetically pleasing and structurally sound. This is experience working to Jared's advantage; he knew that spacing those screws about four inches apart would be enough. Further apart and it would rattle in the wind, closer together and it would look too crowded.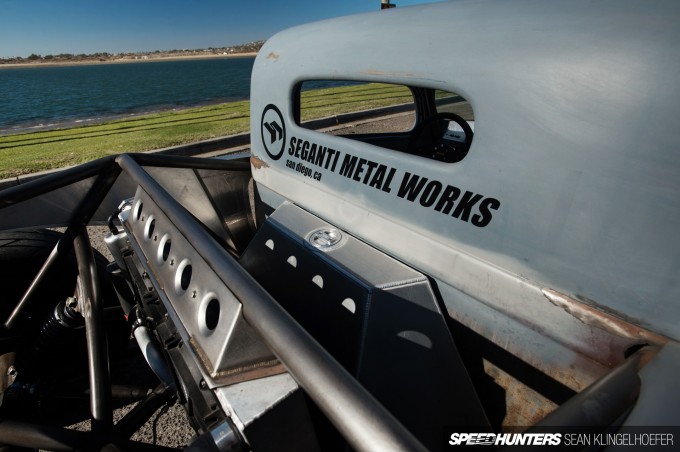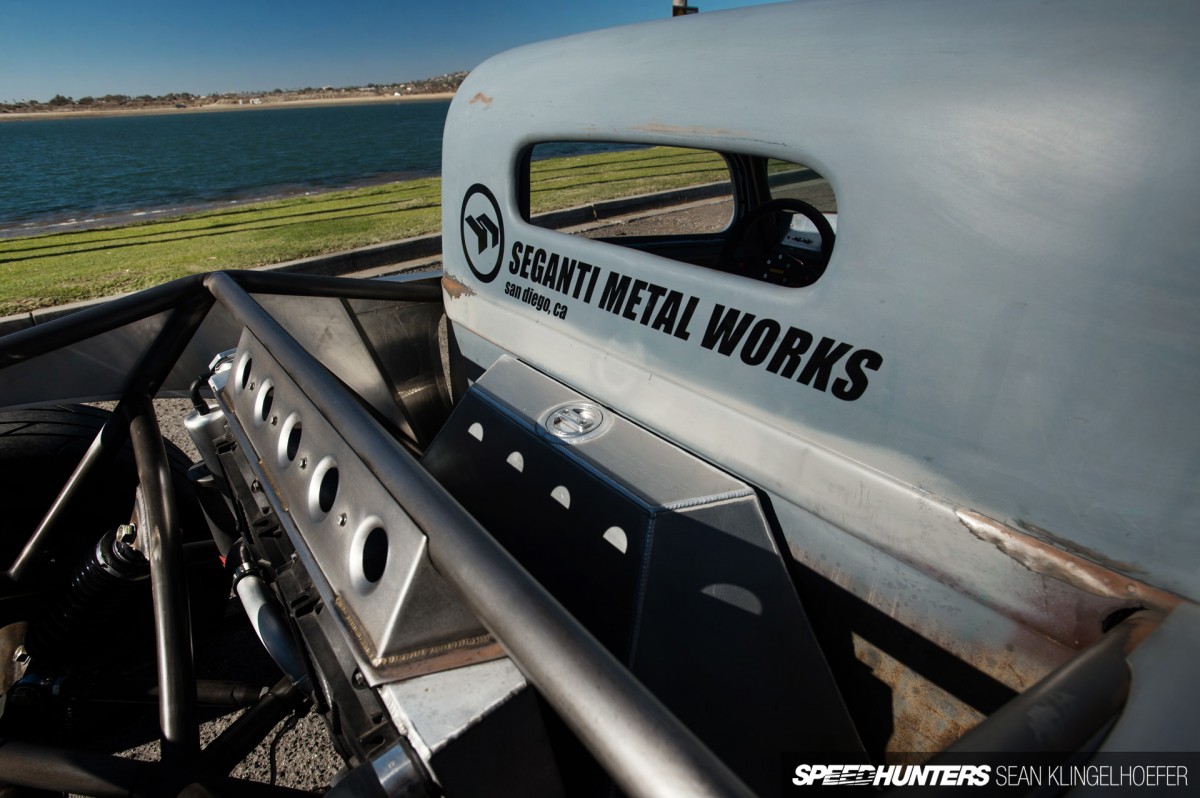 Obviously you're a talented builder if you can integrate an old truck cab with a completely hand-crafted chassis and not only make it flow visually, but end up with a mechanically-sound, running vehicle.
Built to drive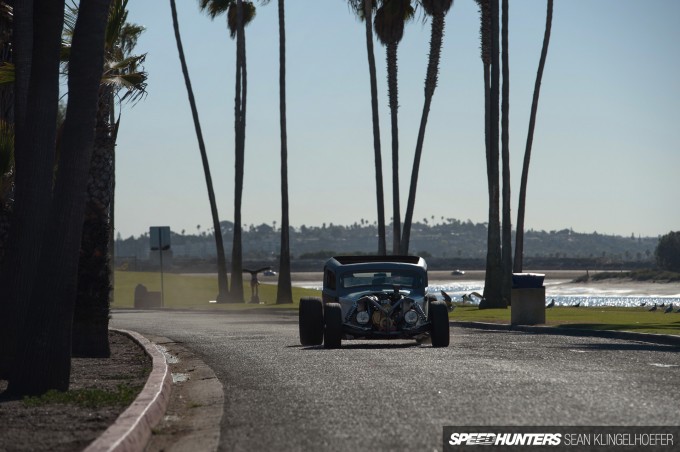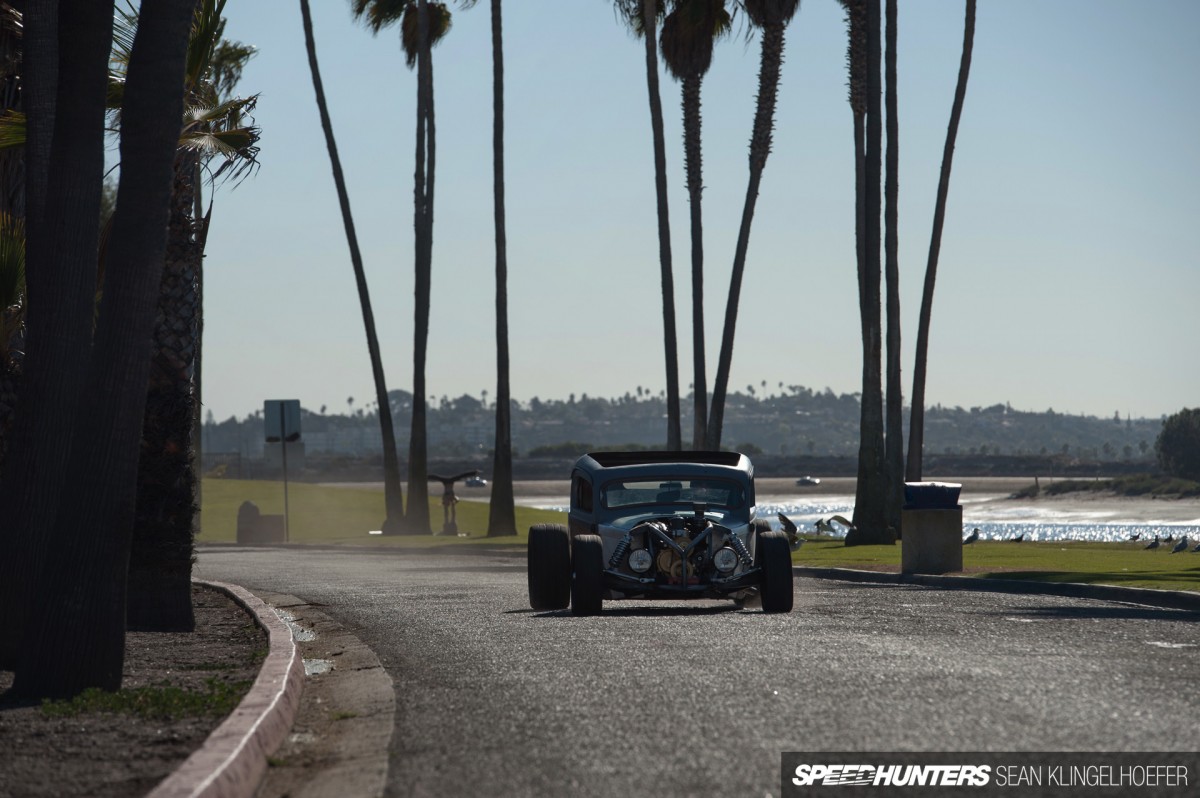 So many of these grand visions turn out to just be pipe dreams – projects trapped in someone's garage never to be completed. That's why it makes me grin to see Jared Seganti's little truck kicking up dust under its own power.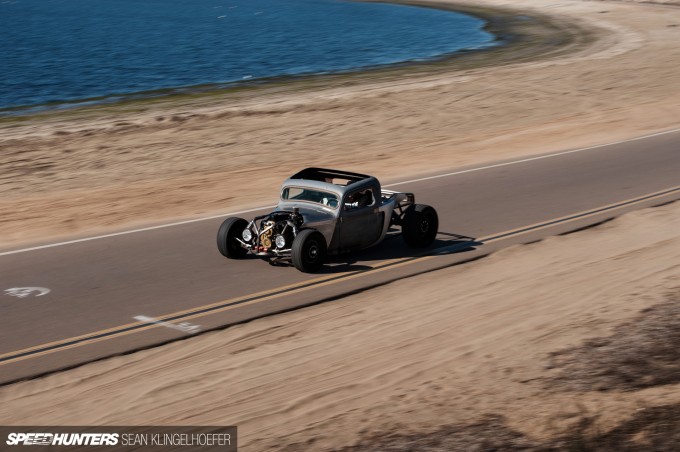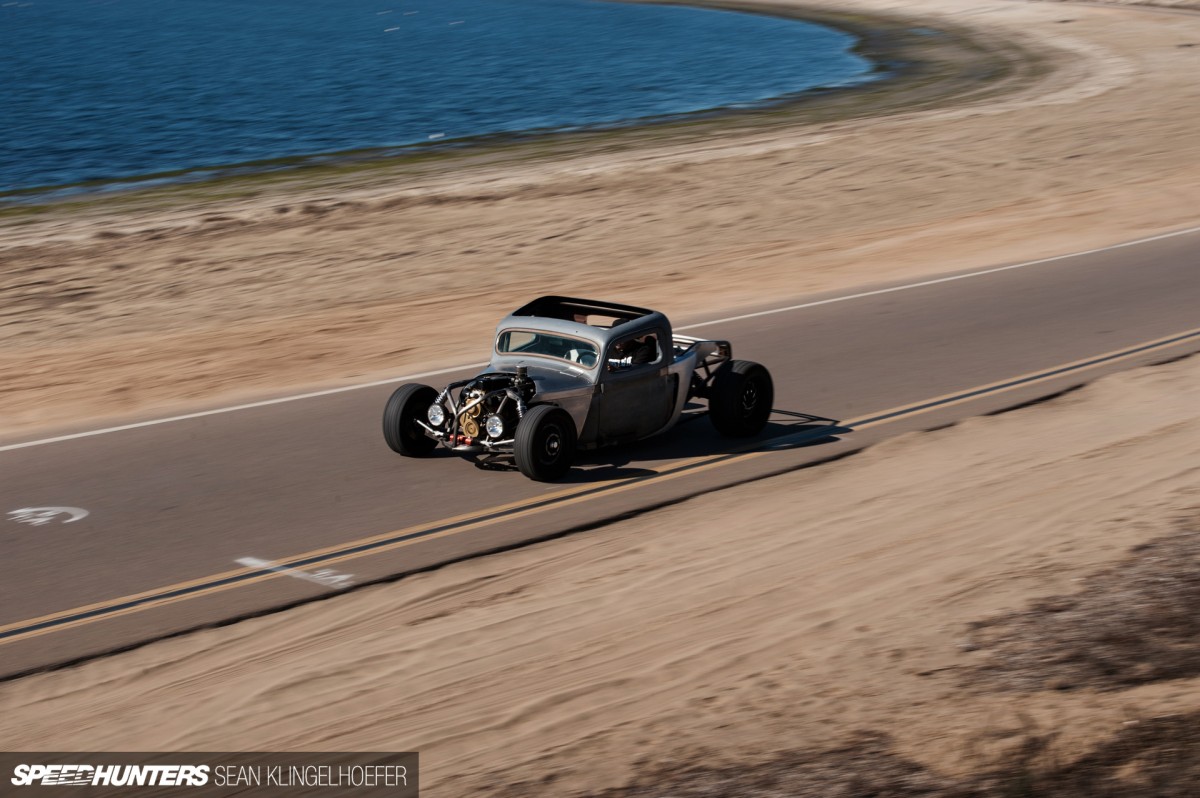 Everyone has their reasons for not finishing that dream project: maybe it's lack of discretionary funds or just not enough time or motivation. I suspect the one intangible skill Jared learned working in those off-road fab shops was the ability to see a project through, and now you're looking at the payoff. We'd be grossly oversimplifying things to think we understand what it takes simply by viewing the following images, but at least we can look at the major pieces and how they work together.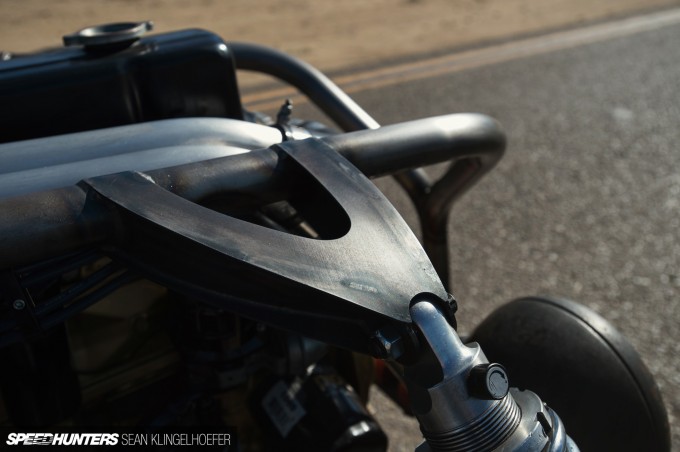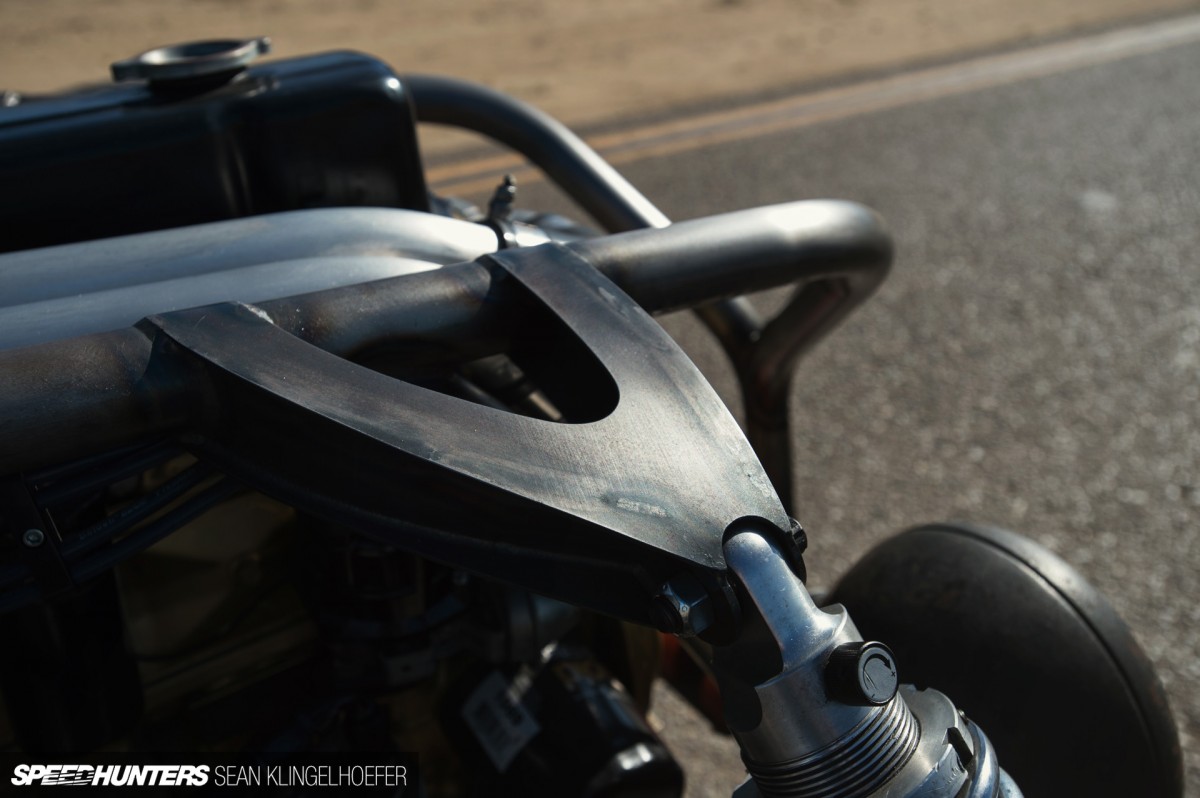 Of course Jared picked up plenty of tangible skills working in those shops too, like TIG welding and bending tube which he used to build his chromoly chassis. The plate work here is another trait from the off-road fab world.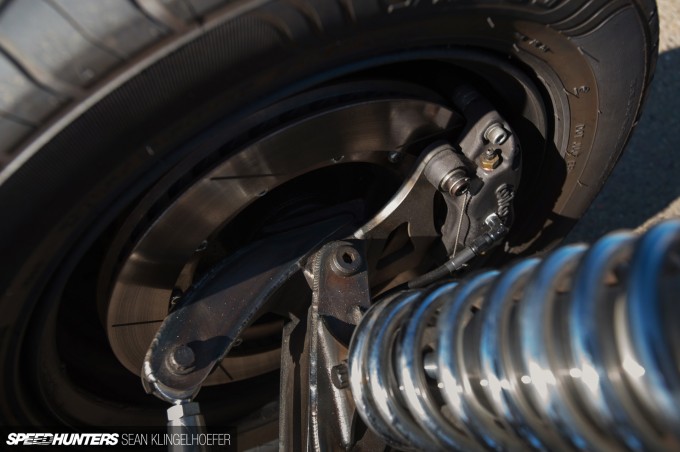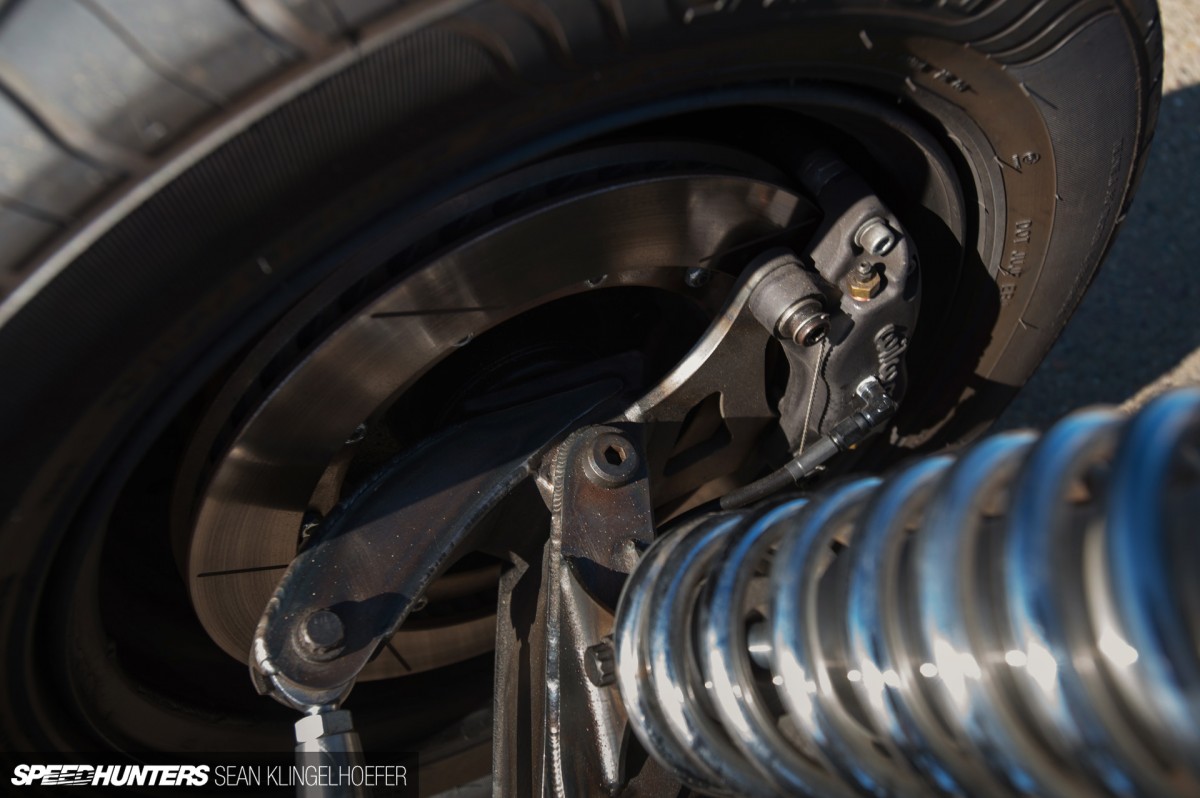 Jared built the A-arm and coilover front suspension from scratch, which is impressive, but the part that got me was that he built all the geometry at fixed lengths and angles – with zero adjustment. The only thing that can be changed is the toe angle. Instead of threaded heim joints, his suspension pivots on brass bushings, demonstrating that he has the experience and ability to design a suspension that's dead nuts.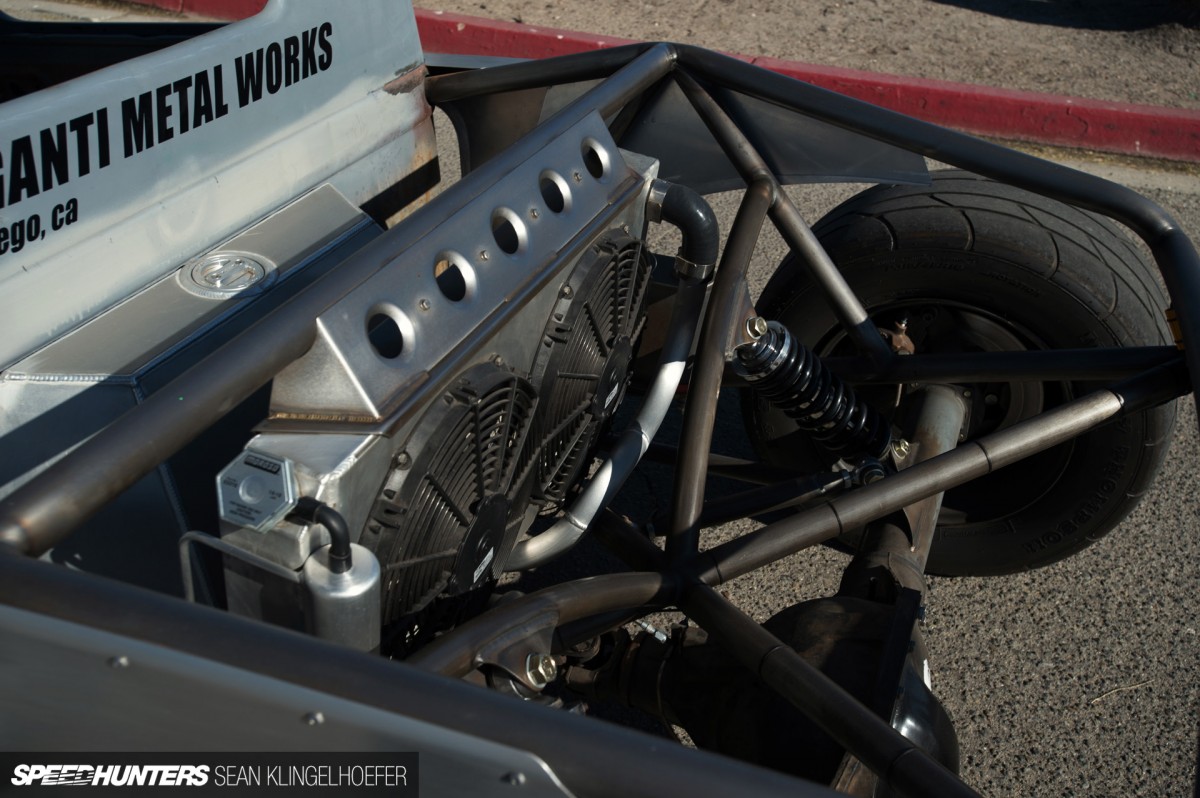 For the rear suspension, he used another set of coilovers and a triangulated four link to locate the axle. The key here is the way everything works in tandem, like the crossmember that ties the sides of the chassis together, but also holds the radiator, which leaves just enough room for the upper coilover mounts to pass by.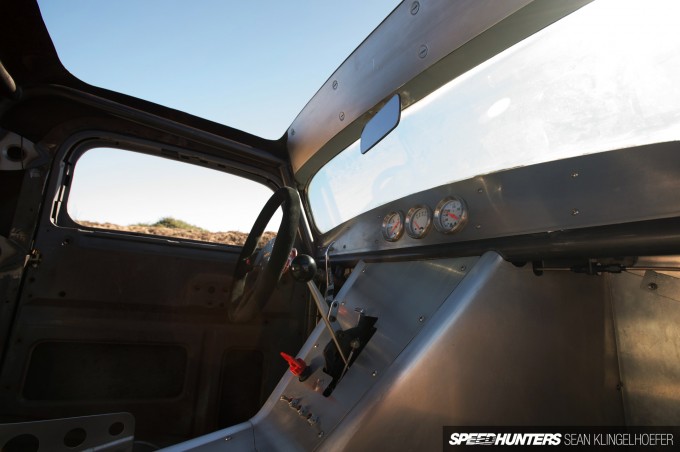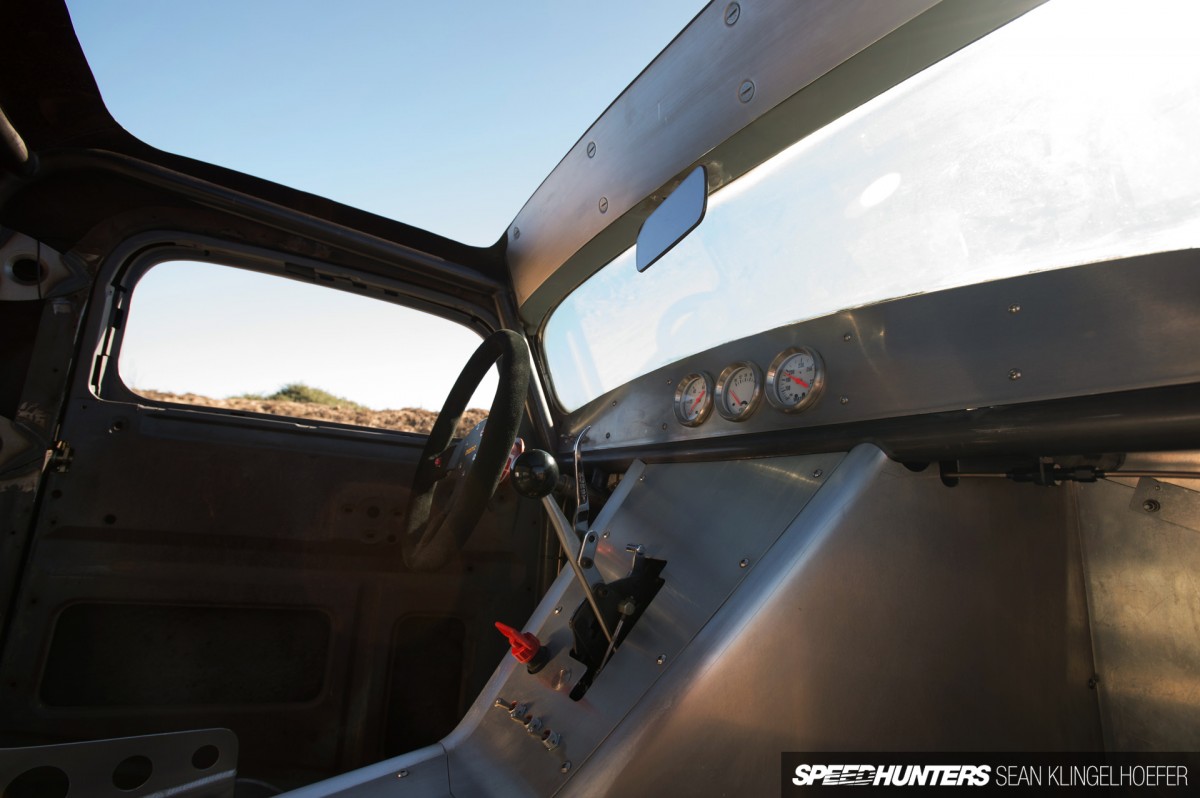 We see it again inside, where the roll cage integrates with the old truck's sheetmetal, but also nicely borders the bottom of the dash panel.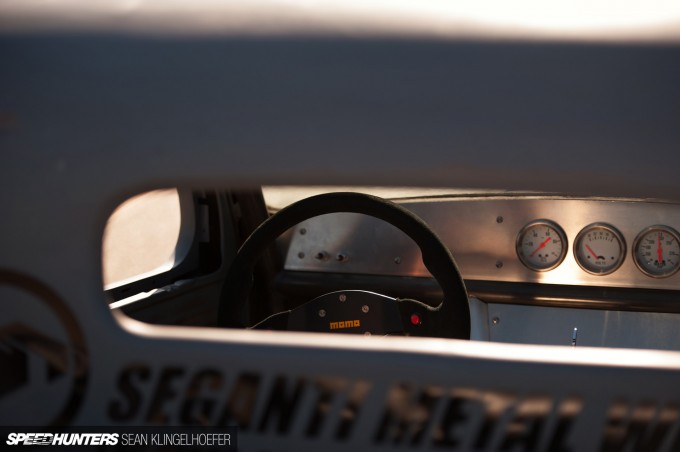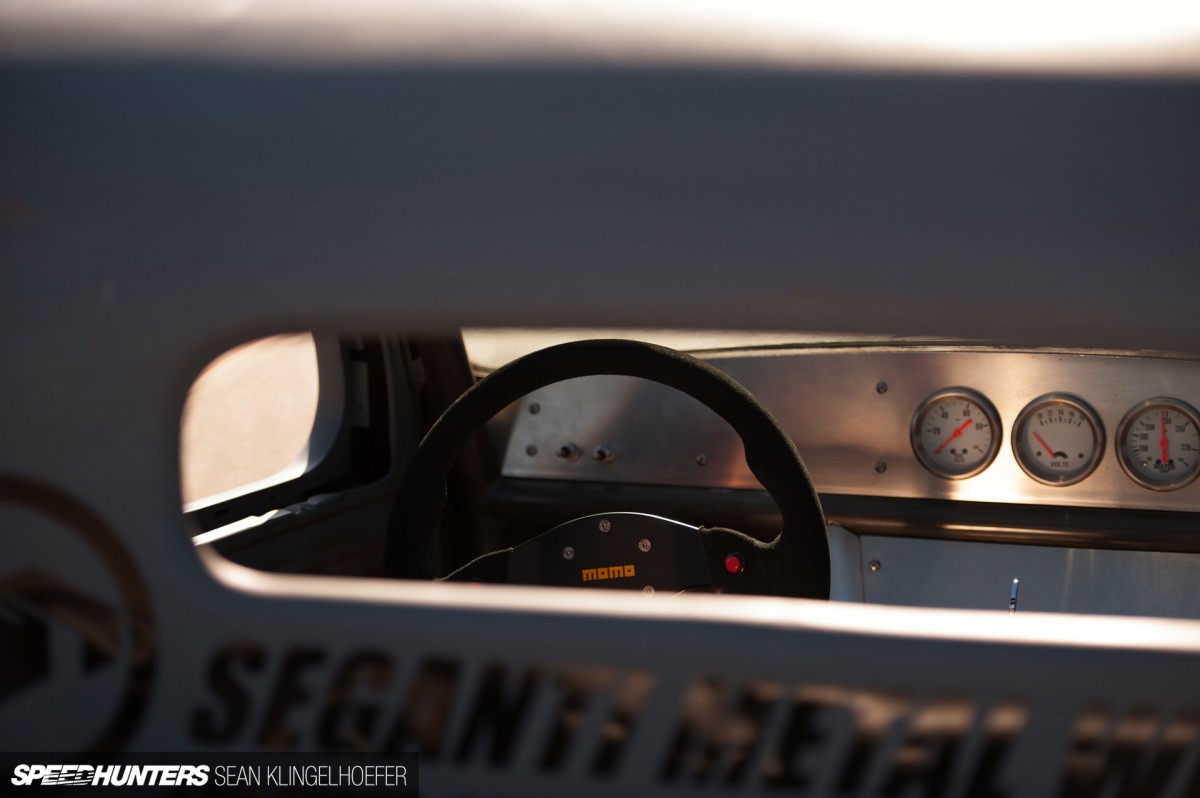 I've barely mentioned the chopped top, which is usually such an important part of a hot rod, but with everything else going on, it's easy to miss. Peeking through the shortened rear window opening, you an see another re-purposed race part that would normally never be found in a hot rod: a suede Momo steering wheel.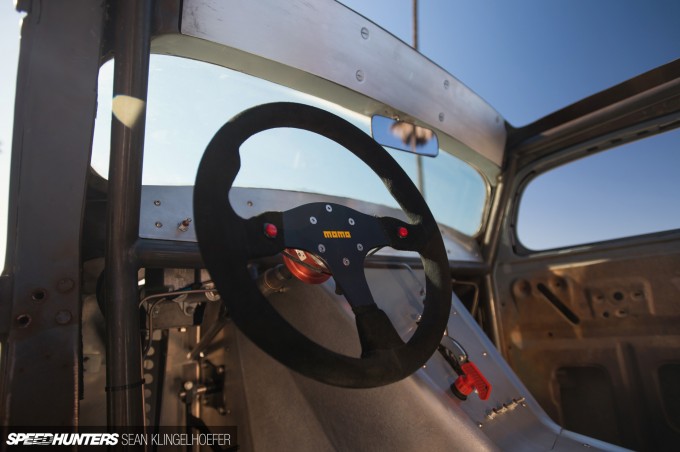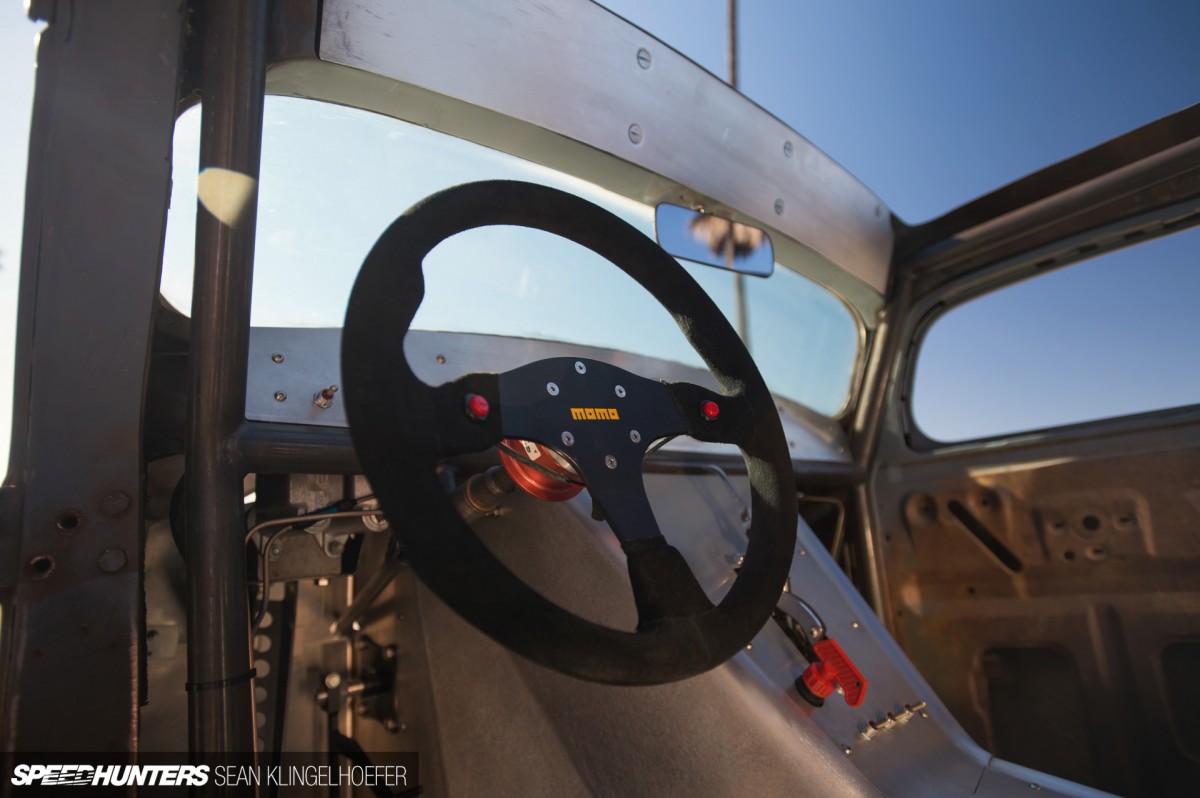 This is the mashup of styles I mentioned at the start of the story. It just works, doesn't it?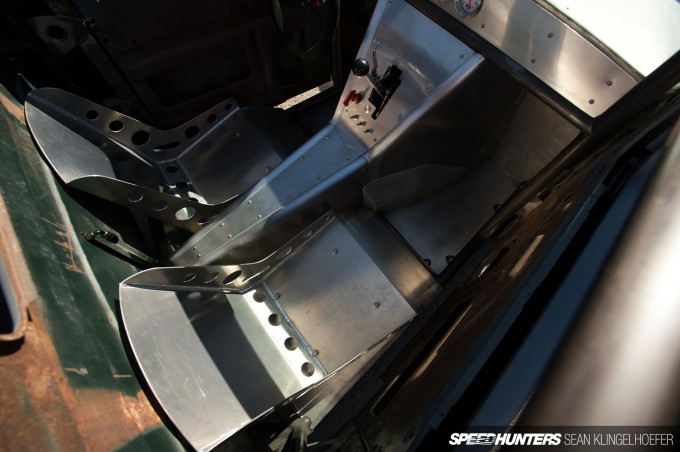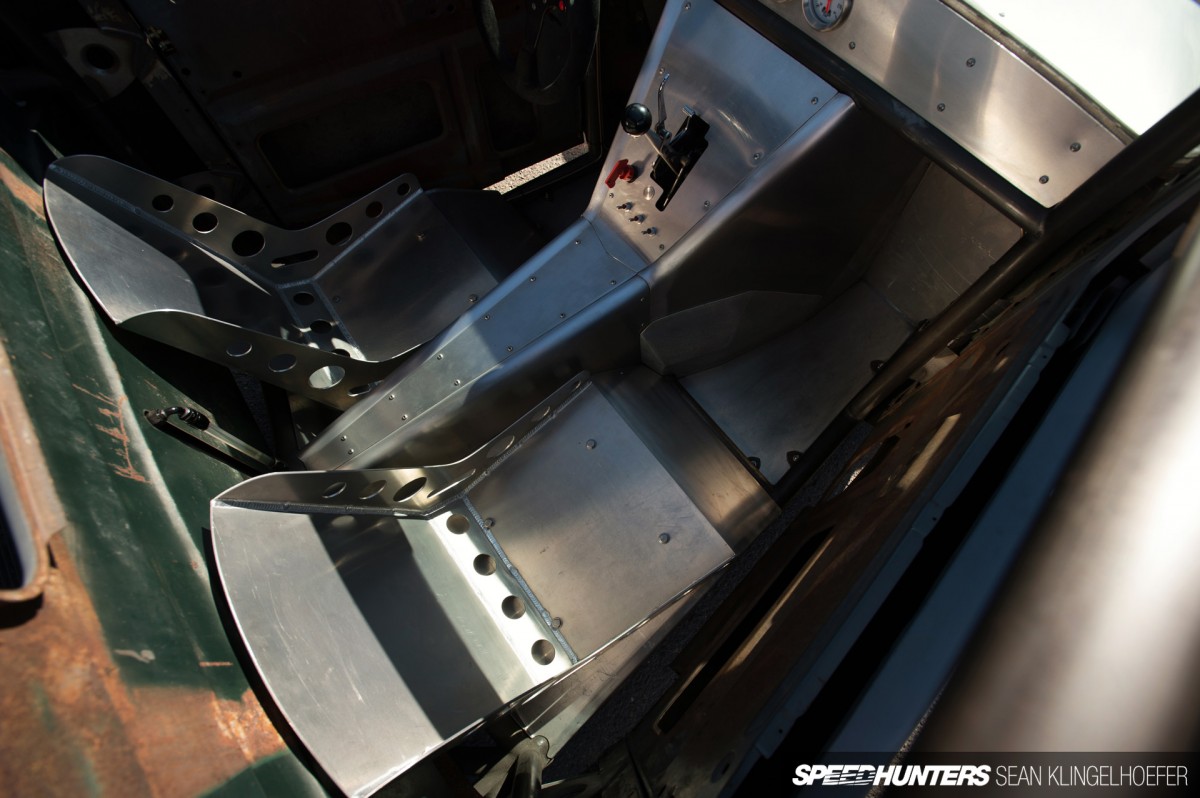 Since he built everything else out of aluminum and TIG rod, Jared went ahead and made some seats to fit too.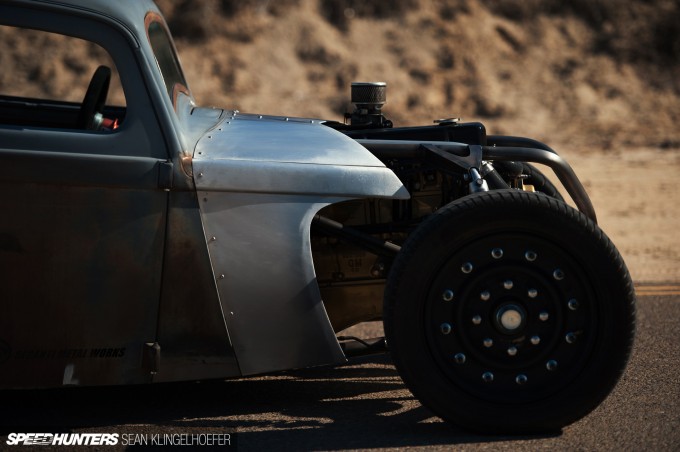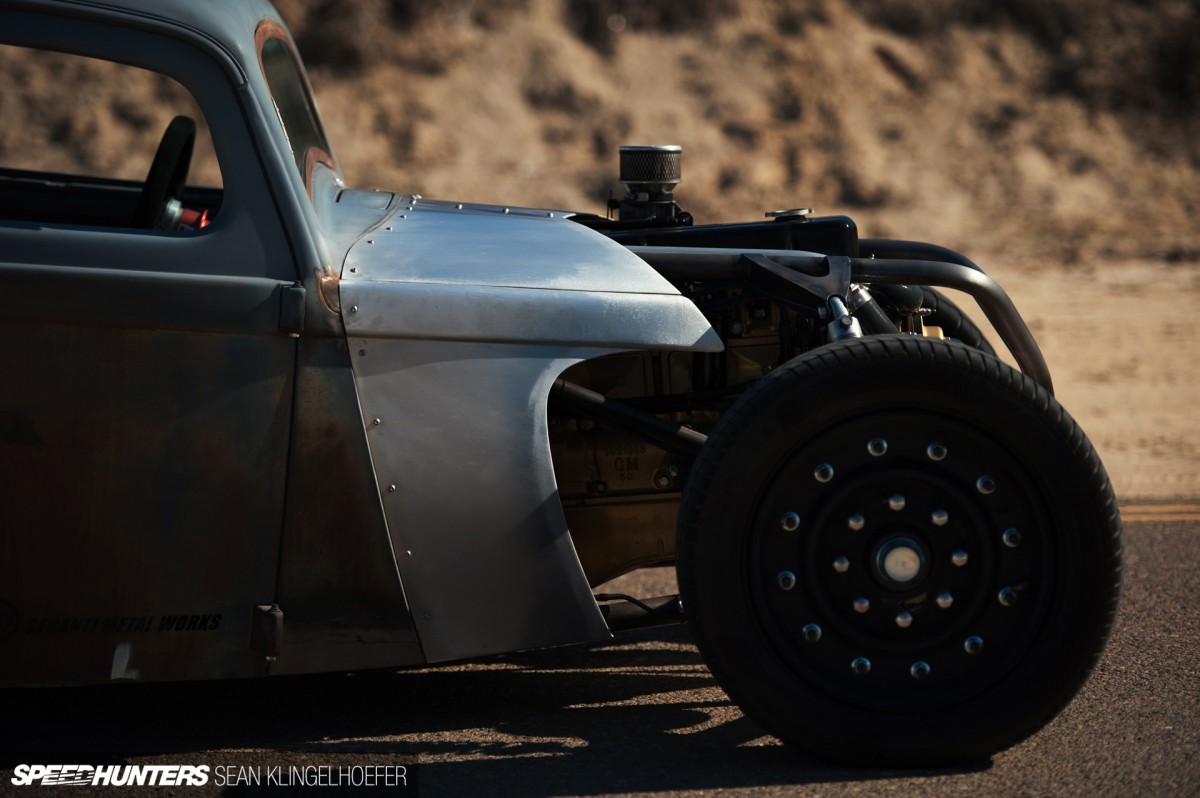 With all the wild fab work, I could have skipped this and I bet nobody would have noticed. Sure, those are eight lug, three piece Humvee wheels with little street tires mounted to them. But did you know that Hummer wheels came in 16.5″ diameter, and you could never find a street tire to fit? That's where Jared shrugged his shoulders and got to work, cutting apart each wheel half, removing a couple inches from the circumference, then welding them back together to turn them into 16s. Of course a session of wheel truing ensued, using a torch, hammer, and whatever else he could think of to make the eight wheel halves round again. While he was at it, he narrowed the nine inch wide wheels to seven inches in the front and added two inches to the rears too.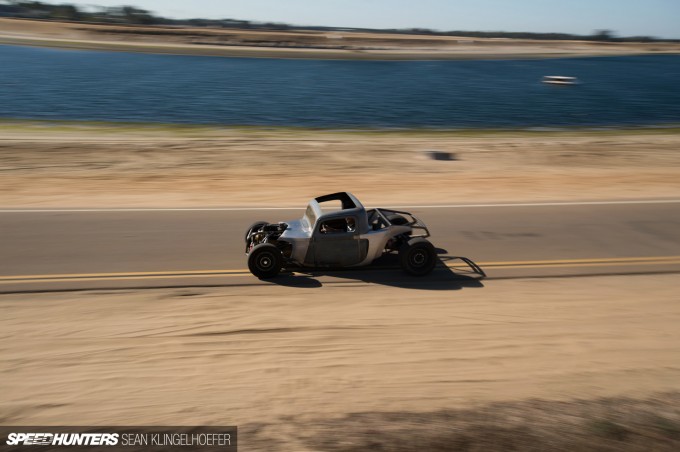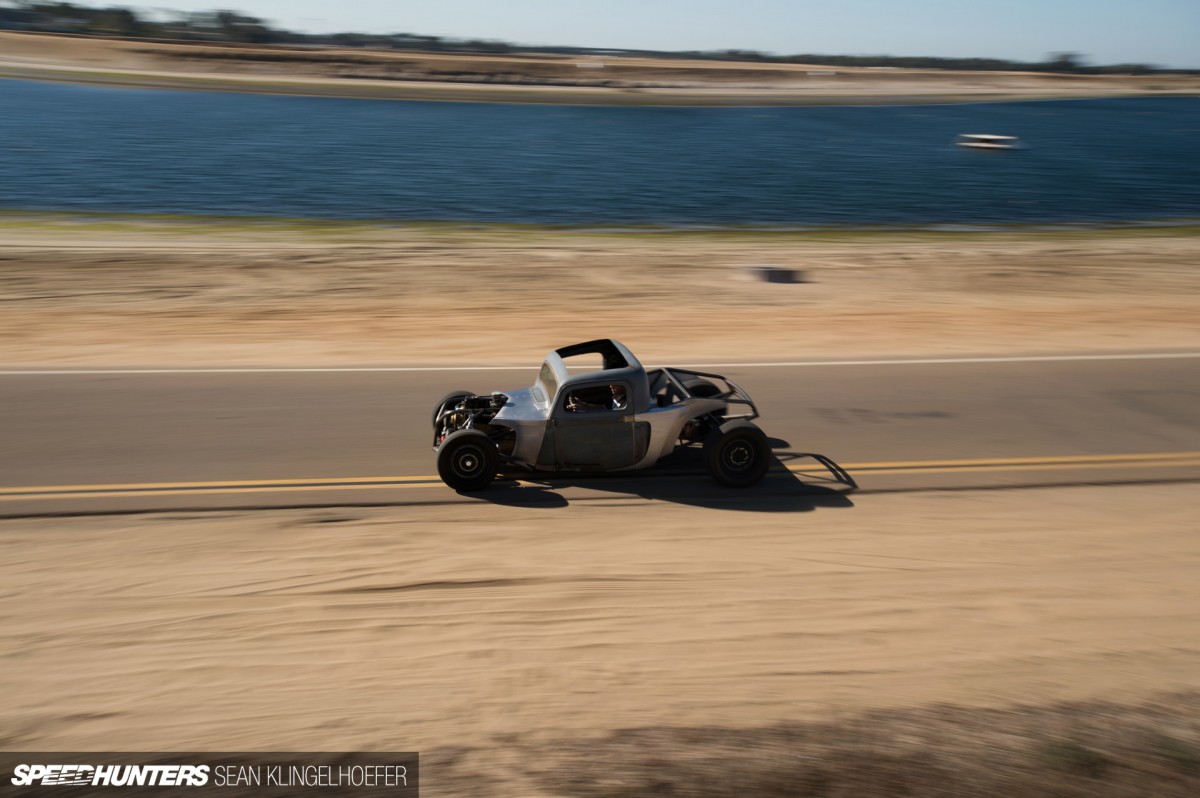 That's the kind of confidence that started hot rodding in the first place. The fearlessness to look at a hunk of metal, envision something better, and let nothing stand in the way of making it so. From talking to Jared, I think he's a bit humbled that we wanted to shoot his car at all. He sees all the things he could have done better in his own mind, but meanwhile I'm standing here slackjawed.
As I told Jared how cool it was to see the thing rolling, it suddenly occurred to me to ask if it was finished. It turns out this little hot rod pickup is only half done, because he plans to completely blow it apart to powdercoat and paint it.  For now he's enjoying driving it and getting a kick out of letting everyone see his work in bare metal. I'm sure it will be a showstopper with paint, but I'm glad we got to immortalize it while it's still in bare metal and patina too.
Keith Charvonia
Instagram: SpeedhuntersKeith
keith@speedhunters.com
Photos by Sean Klingelhoefer
Instagram: seanklingelhoefer
sean@speedhunters.com
Jared Seganti's 1937 Dodge Pickup
Engine
1968 Chevrolet inline six cylinder, 250ci, fabricated engine mounts, custom black braided fuel hoses, custom fabricated exhaust system, two Optima six volt batteries wired in series, two Spal 14″ radiator fans, remote mounted radiator, inline Meziere thermostat housing, scratch built wiring harness, small forklift alternator, marine grade battery kill switch
Driveline
Chevrolet TH350 transmission, 14 bolt eight lug rear differential from a motorhome, 4:10 gearing, custom driveshaft from Driveline Service of San Diego, B&M Quarter Stick shifter
Chassis
Full tube chassis built by Jared Seganti using 1 1/2″, 1 5/8″ and 1 3/4″ chromoly tubing
Suspension/Brakes
All front suspension links except toe are non-adjustable, front suspension bushings are brass, rear chromoly four link with 5/8″ heim joints, adjustable aluminum shocks, BRT sprint car steering box, four piston Wilwood front calipers with 13″ GT-48 slotted rotors, two piston rear calipers, CNC master cylinder, custom routed 3/16″ copper nickle brake lines, custom pedal box, scratch built black brake hoses
Wheels/Tires
Hummer H1 wheels, changed from 16.5″ to 16″ diameter, front wheels narrowed from 9″ to 7″, rear wheels widened from 9″ to 11″, cheap 205/55/16 front tires, Mickey Thompson 315/45/16 rear tires
Exterior
1937 Dodge truck cab, hand formed aluminum body panels by Jared Seganti, 4 1/2″ chop, shaved door handles, LED tail lights
Interior
Hand formed aluminum interior panels by Jared Seganti, aluminum seats, chromoly roll cage integrated into chassis, Momo steering wheel with Sweet Manufacturing quick release, sprint car gas pedal, Mil-spec Honeywell switches
Rolling Bones: The Poteet '34 Coupe
More hot rod stories on Speedhunters