Parking lot hunting
Like every event or show in Japan, we all know where some of the most interesting cars lie. Sure they may not be the latest, the quickest or the coolest, but there's just something so special about taking that mandatory look through the parking lots of race tracks, event venues or in this case the massive Makuhari Messe car park.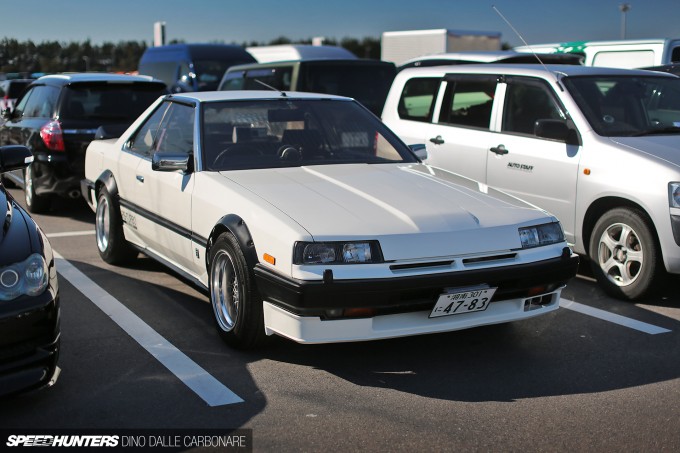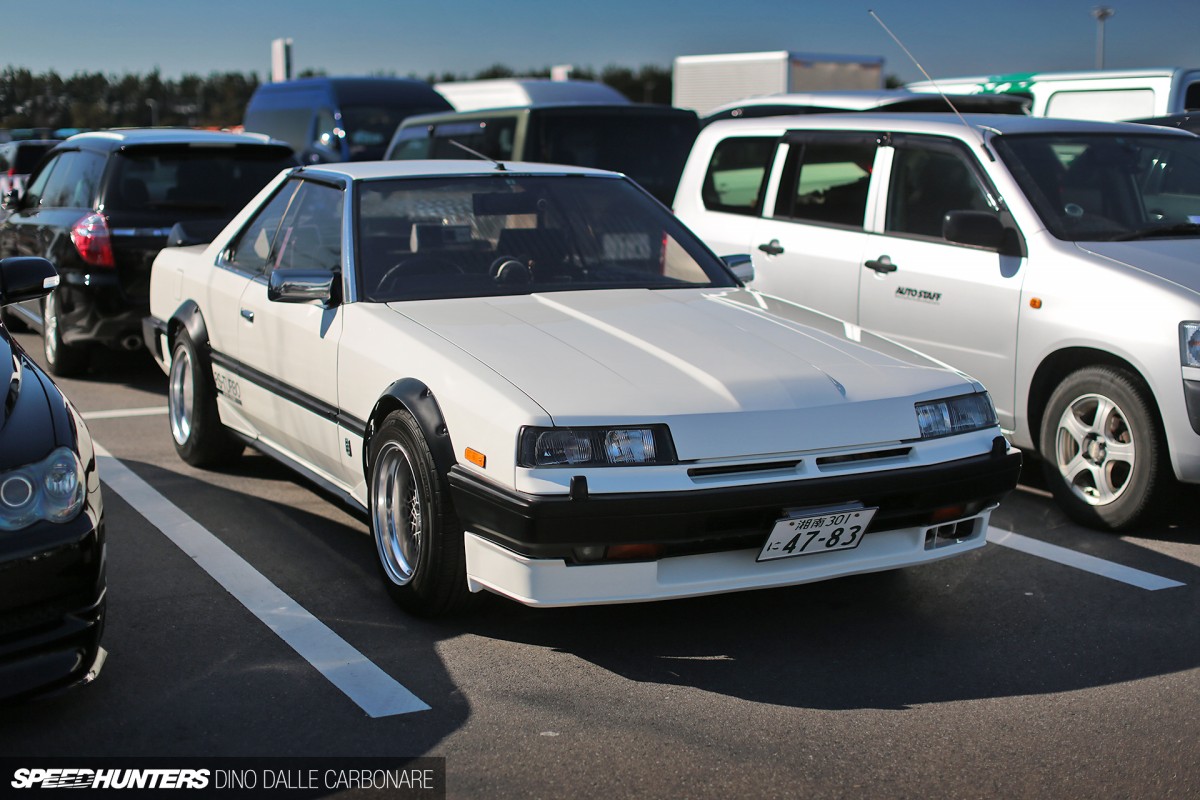 I thought this would be a good way to conclude my TAS 2014 coverage and to start things off it's this R30 Skyline which I spotted just as I was coming down the stairs from the footbridge that leads into the exhibition center. After having recently featured the Garagespec R30, I've somehow been taking more notice of these when I come across them. There's something just so appealing about those eighties lines and looks, especially when spiced up with some nice touches like Hakosuka-style overfenders and SSR rims.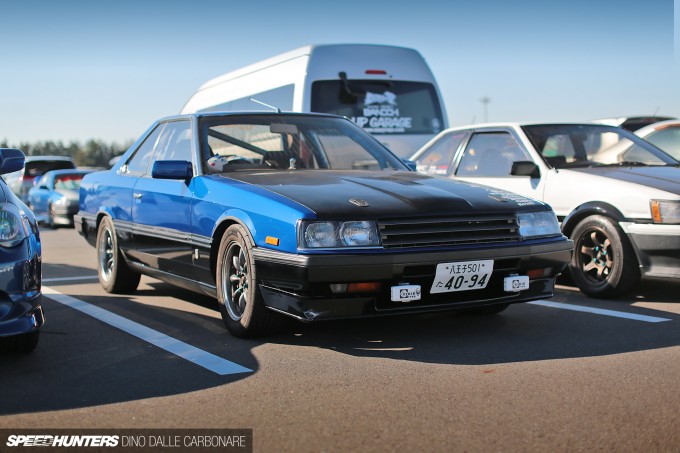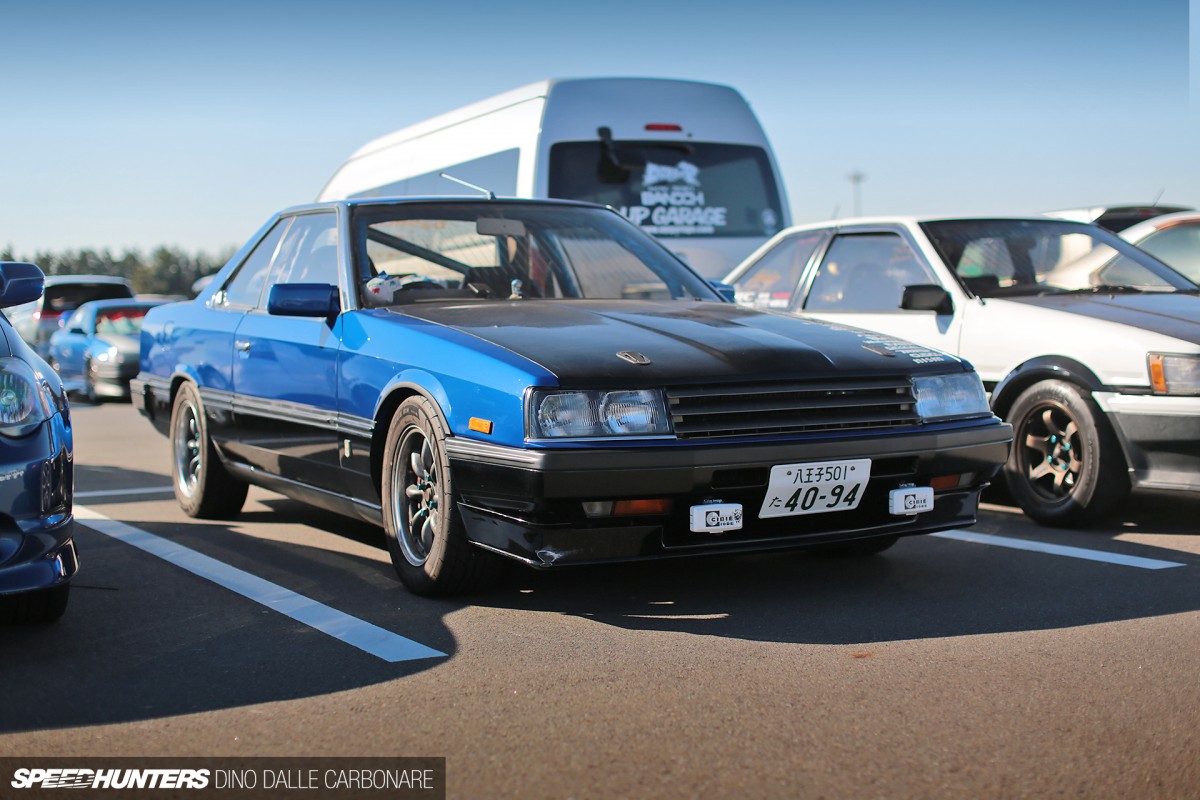 Don't like overfenders? Well as this other san-maru Skyline shows, you don't need to pump your guards to get your car to handle and perform better, not to mention look more appealing. Judging by the well-used Neovas and stripped and caged interior, this is a car that often gets put through its paces.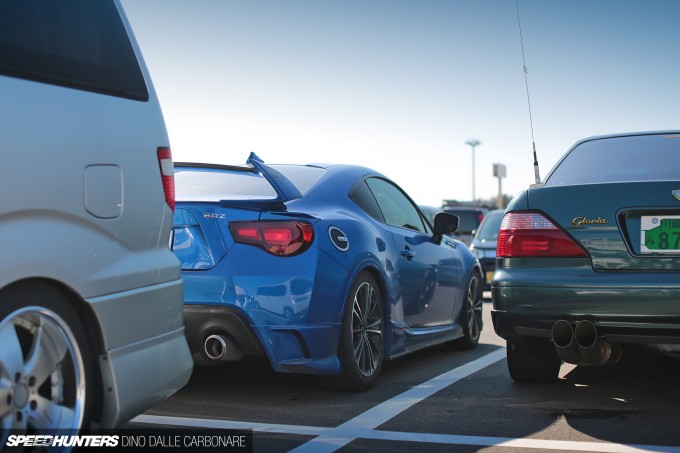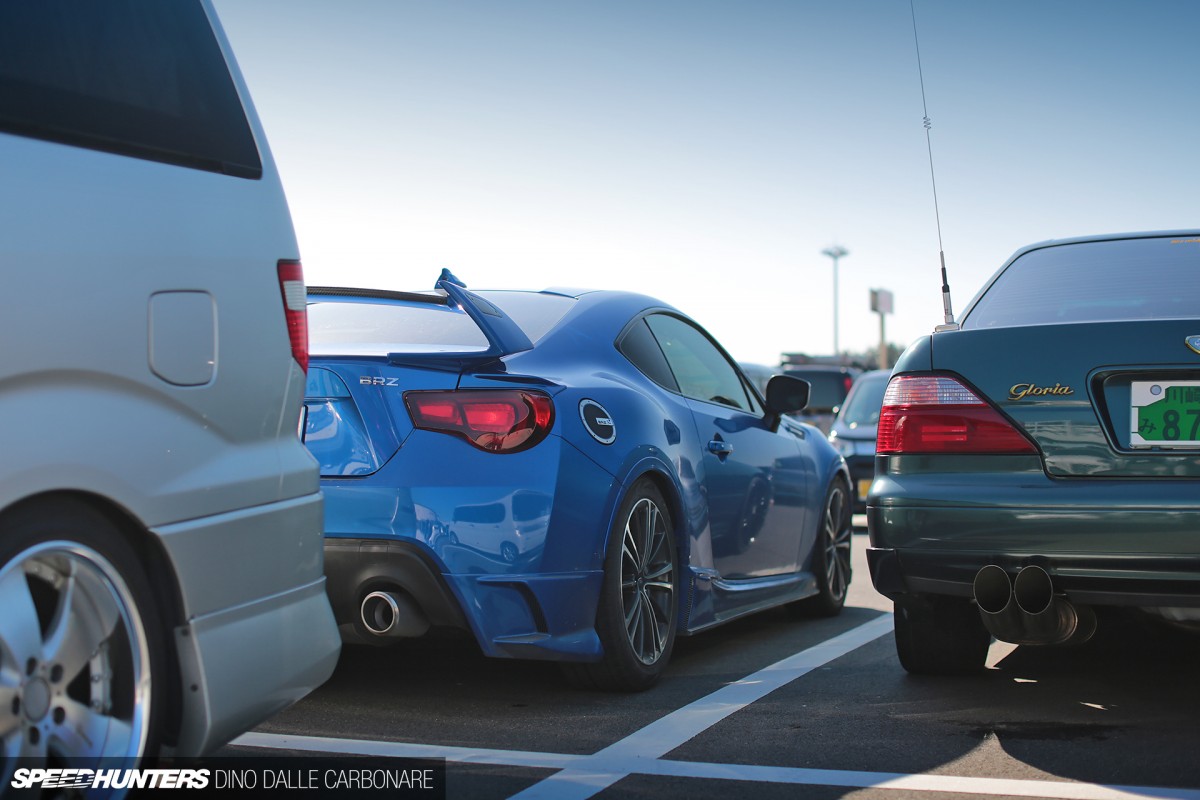 When I tackle massive lots like these I always wonder how funny it would be to do a timelapse of the path I take though the endless lines of cars. I'd imagine I'd look like a crazy bumblebee or something as I continuously spot stuff, getting side tracked from the general direction I thought I would follow, only to then somehow end up in the same place after ten minutes of shooting.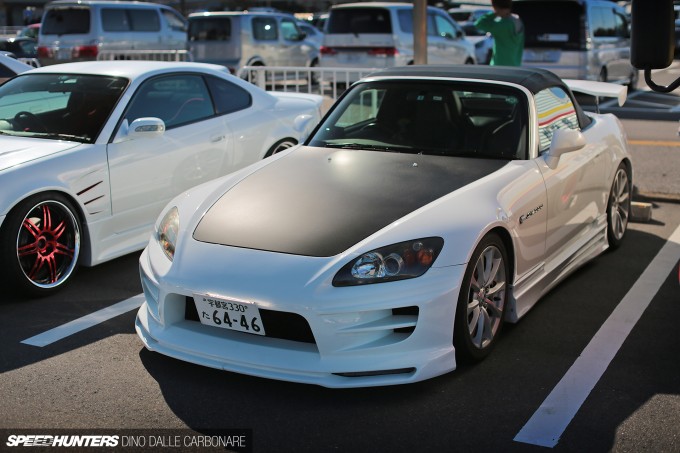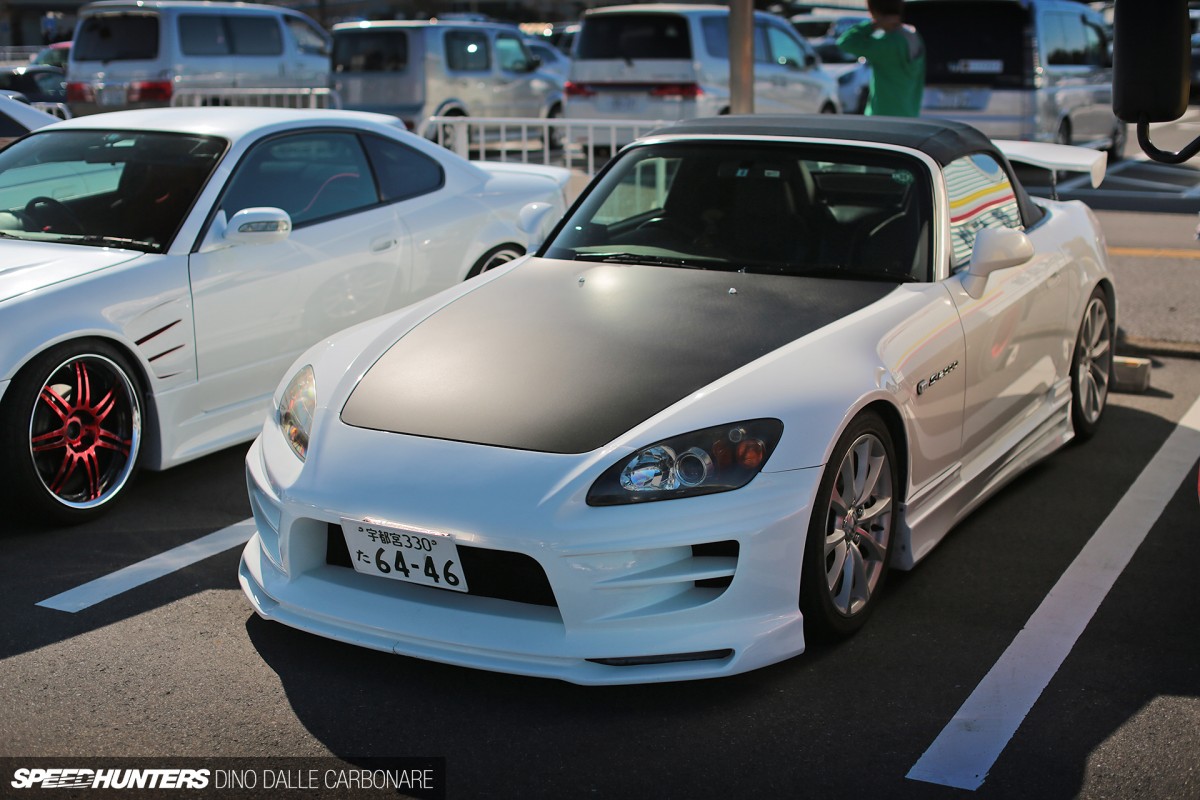 That's of course not surprising as your eyes are on a constant scan of what's around, and once you lock onto your target, it's a quick walk across some rows before getting shutter-happy. This S2000 could have done with a more aggressive offset but that's precisely the cool thing about parking lots: you see what people are doing with their cars and the steps they have taken, this guy obviously preferring to go with aero and suspension before he figures out what wheels to go for.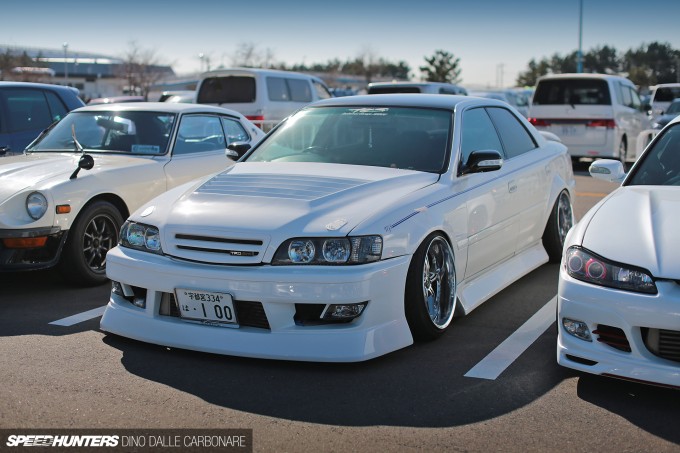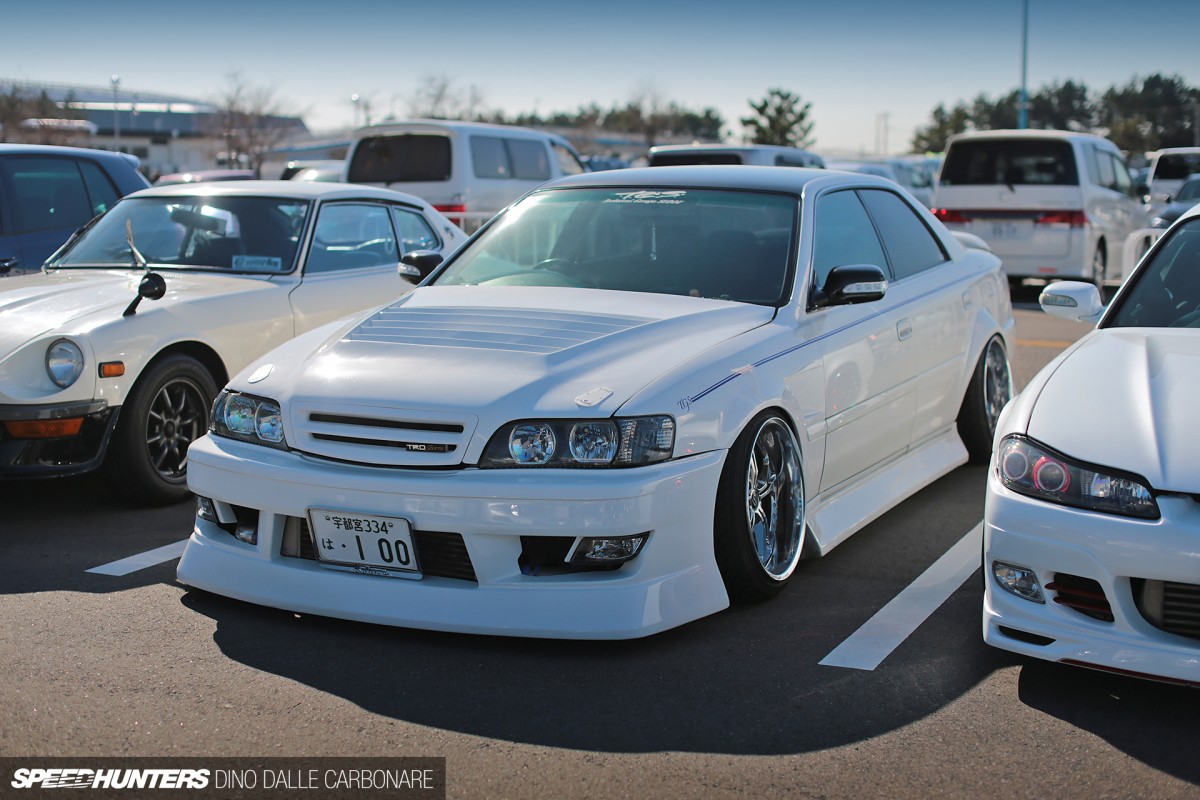 The JZX100 a couple of cars along was as complete as it gets: beautifully executed with that mean and functional street drifter look. Take a look at those rear fenders.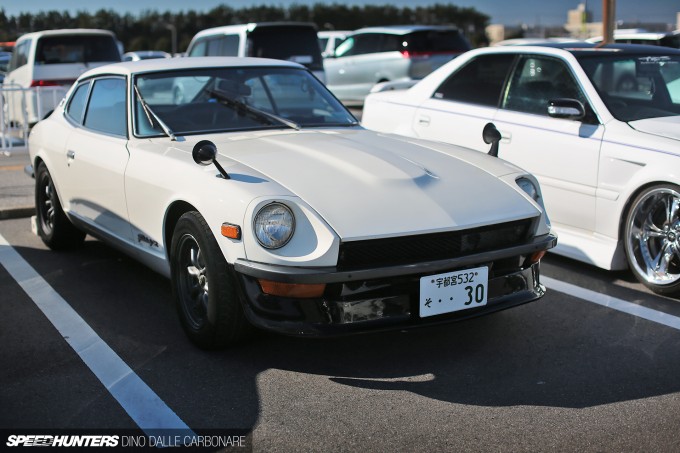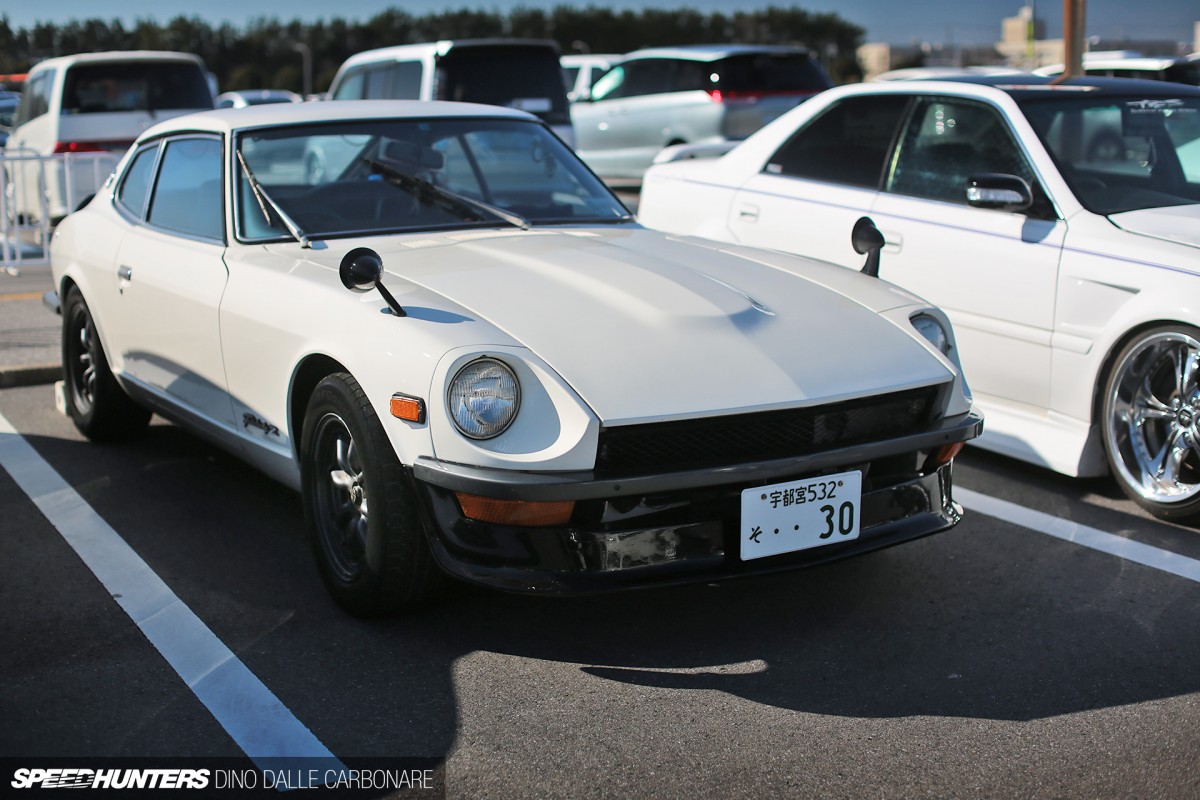 And yes, don't worry I didn't miss the S30 next to it. One for the lovers of classics Zs.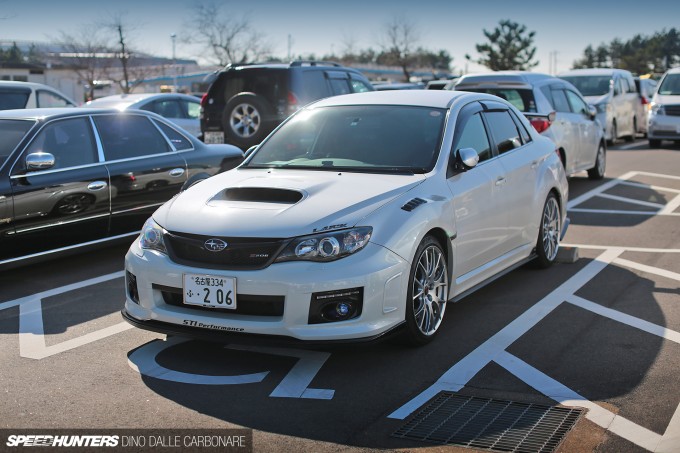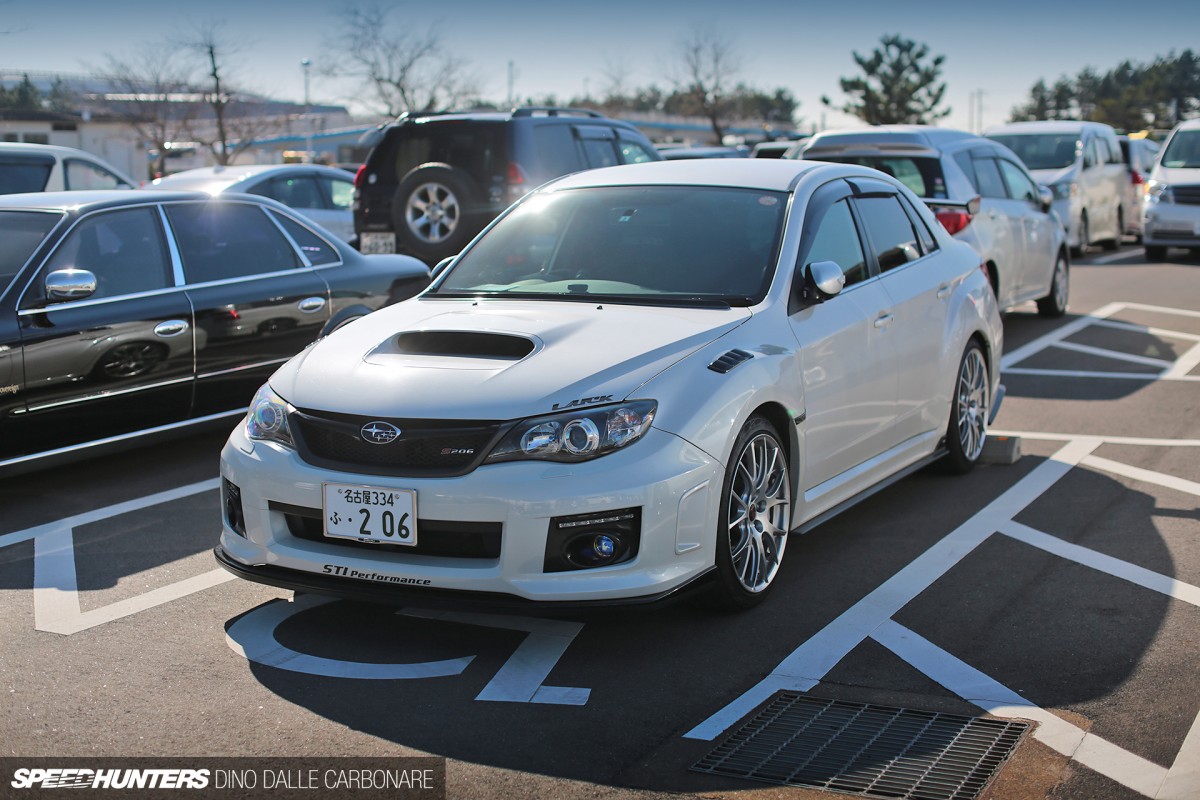 If you're out to see rare limited edition cars, then TAS is definitely the right time to do so and this Japan-only STI S206 is one rare machine, being one of only 300 cars that were actually made. Aside from wind deflectors and aftermarket HID fog lights the car seemed to be stock, which is not a problem as this was and still is a brute out through the twisties.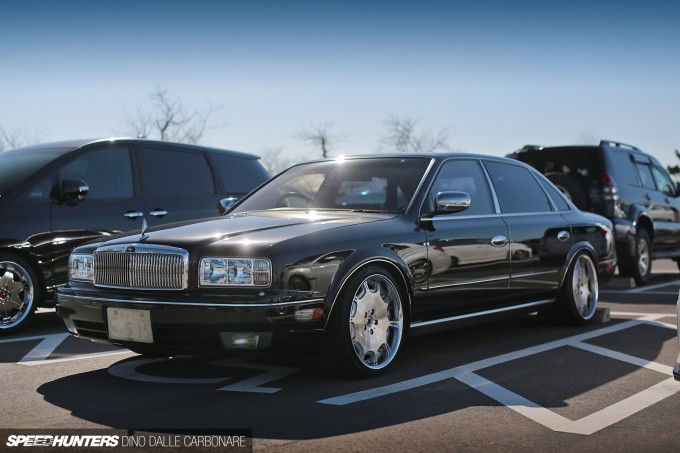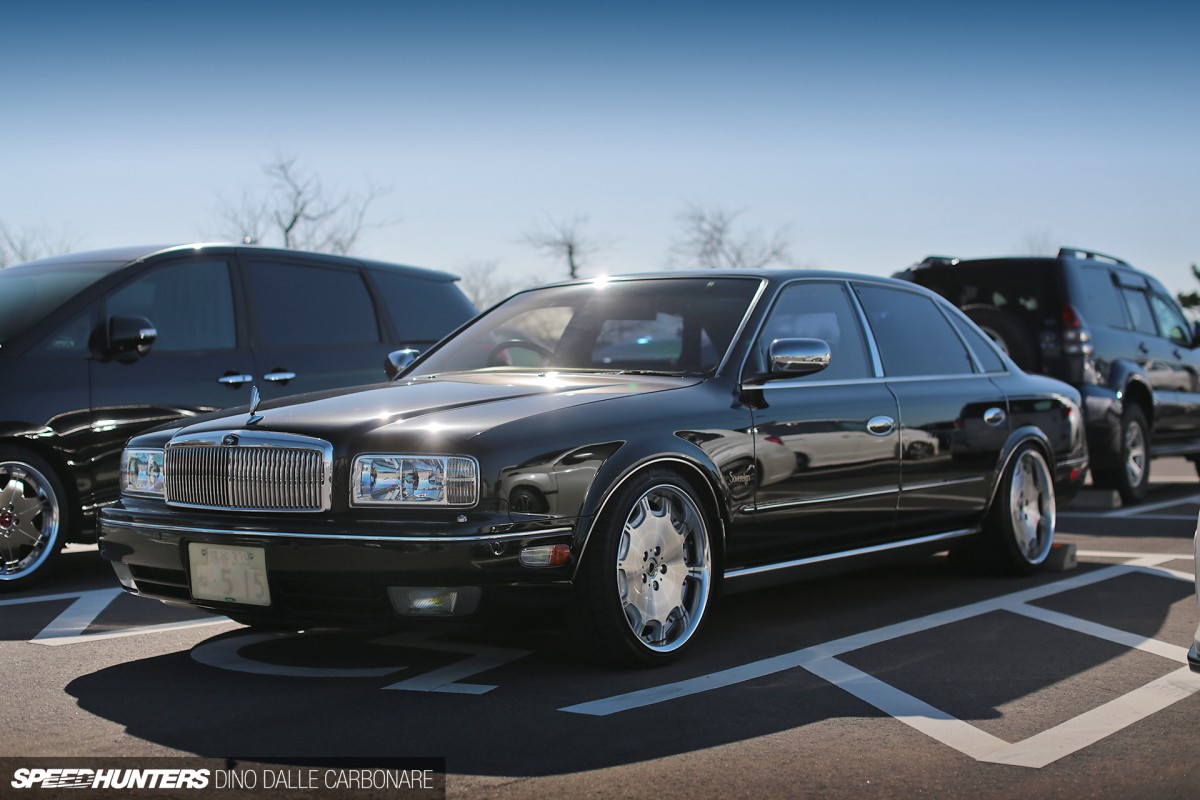 What could possibly be more different than an AWD modern-day beast? How about a proper, old school VIP ride! In contrast to what we saw in the VIP-oriented post from the other day, this Nissan President had the authentic bippu approach: clean black exterior, low ride height, dished wheels and tinted windows. Simplicity often works best.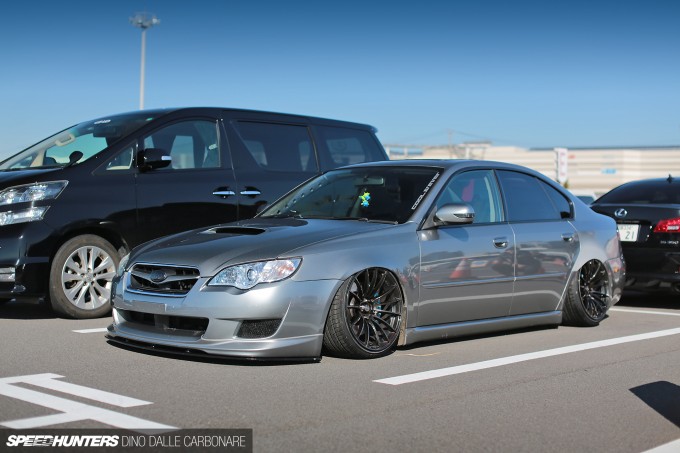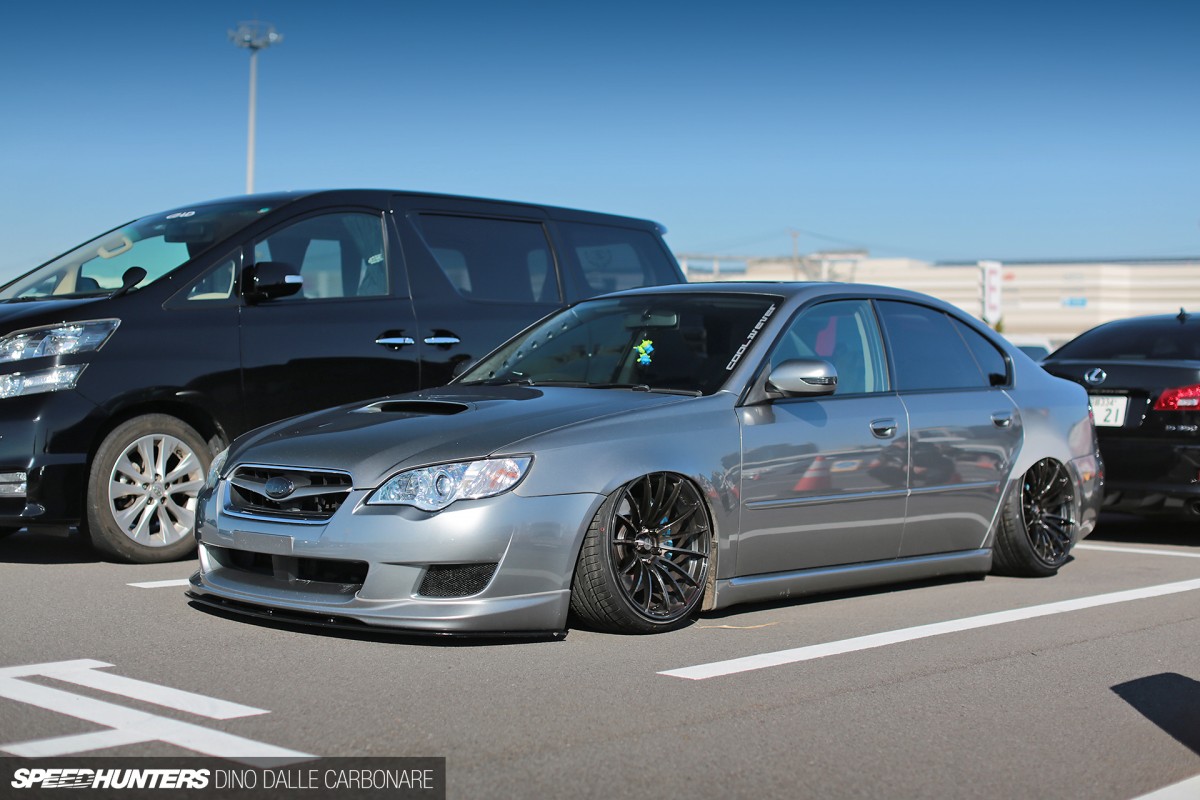 I've been running into this bagged Legacy all over the place lately! The owner obviously doesn't like to miss any shows or meets which is a good thing for us as we get to admire his ride some more. This BP5 really makes me want to do something with my flat-six wagon which is looking neglected these days and far too ordinary.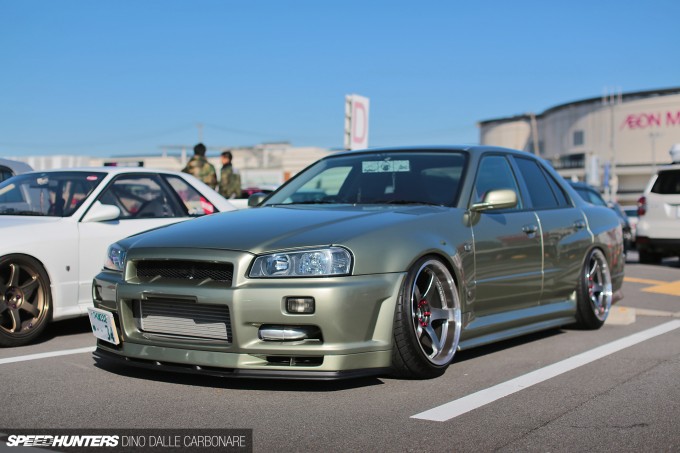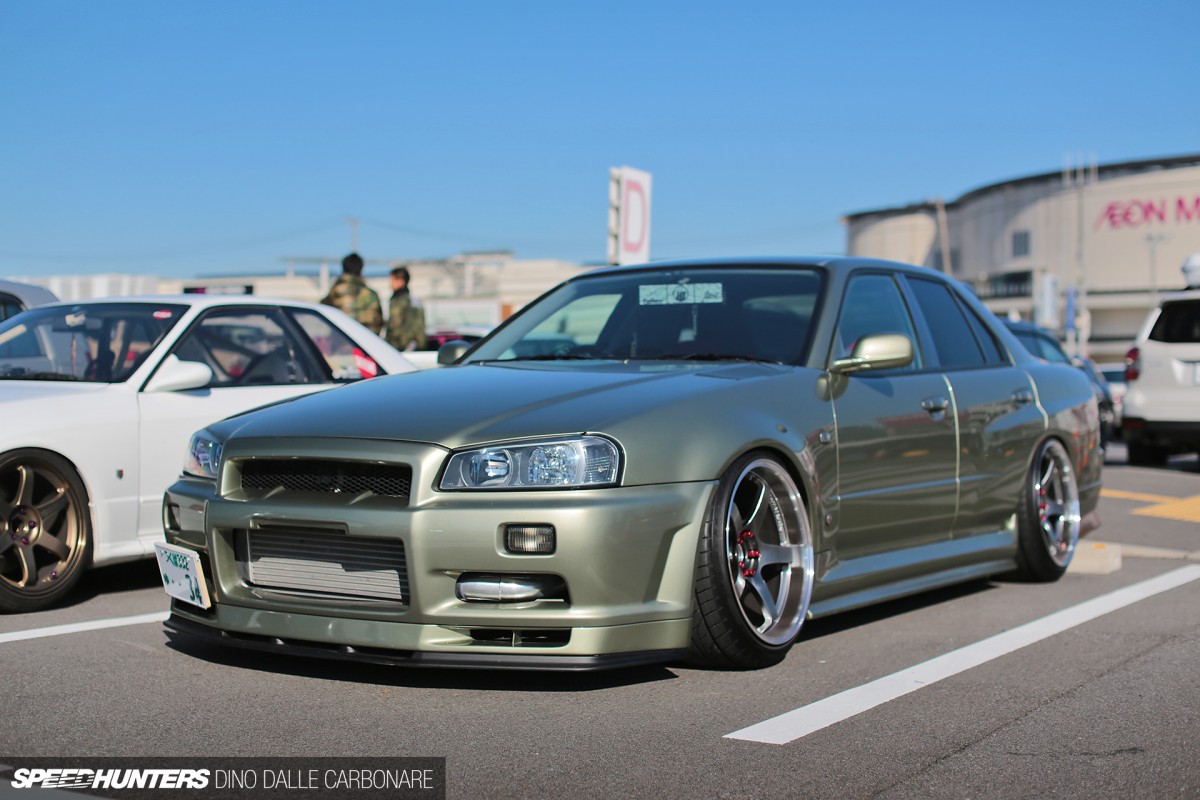 This ER34 sedan rocks a superbly executed GT-R front end conversion as well as a BNR34-only shade of Millennium Jade which was only offered on the 1000 V-specII Nür and M-spec Nür. You may recall having seen this car before – it's another I often bump into at Daikoku and other PAs around the Tokyo/Yokohama Bay.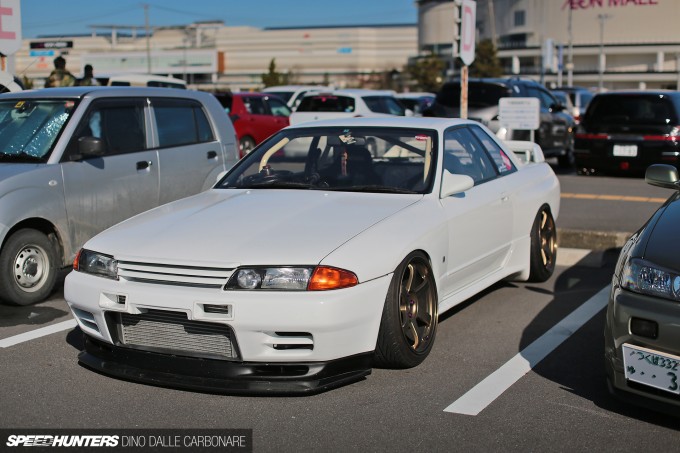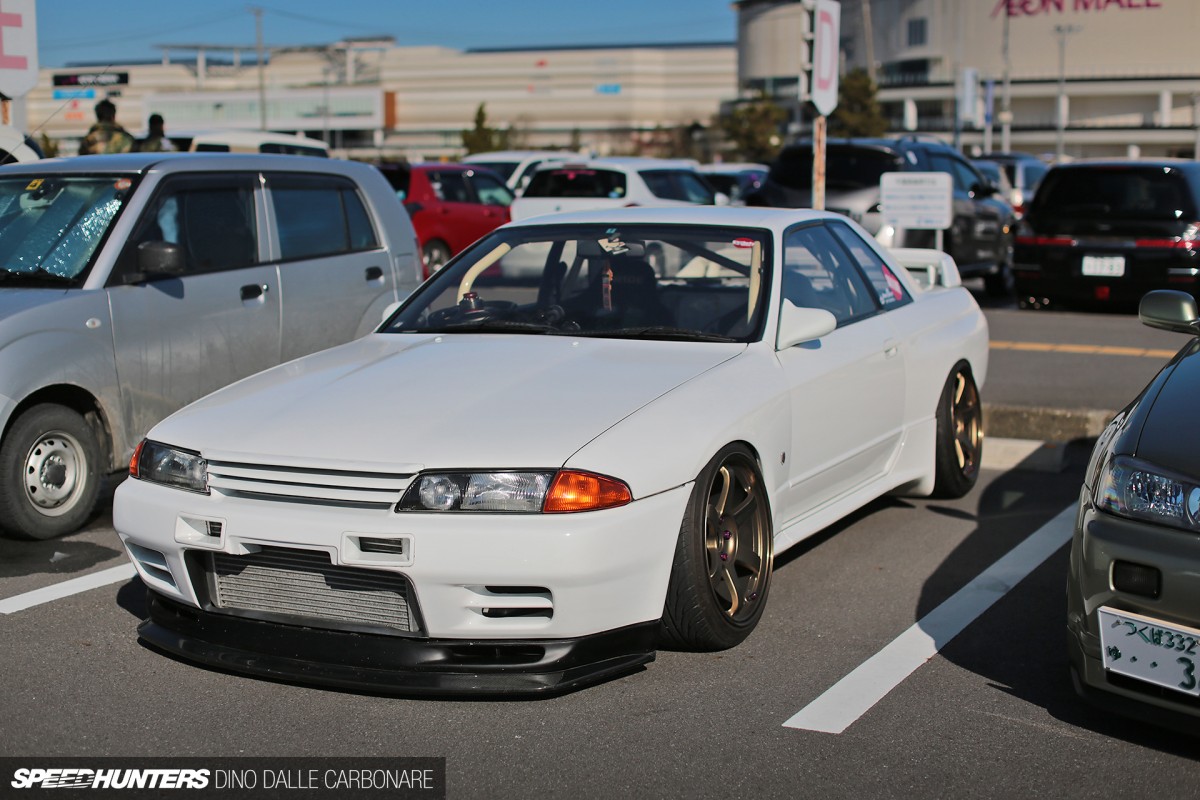 Damn the R32. Why must it always look so damn good! I just love it when these cars are executed with minimal touches, because at the end of the day what a san-ni only really needs is a set of TE37s and a nice suspension set-up to look and function at its best. 600hp under the hood always goes down well too of course.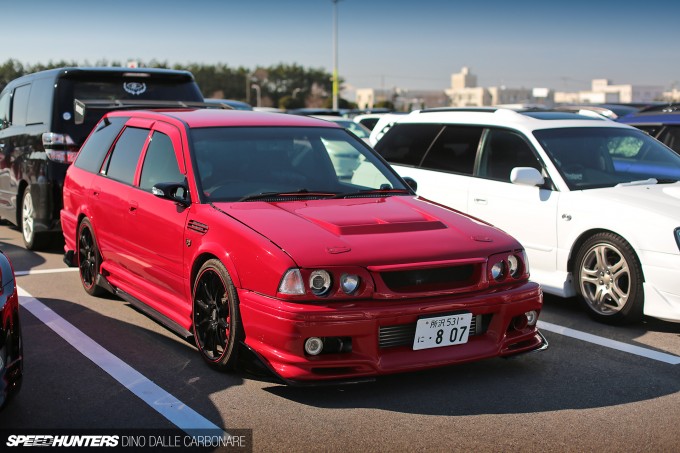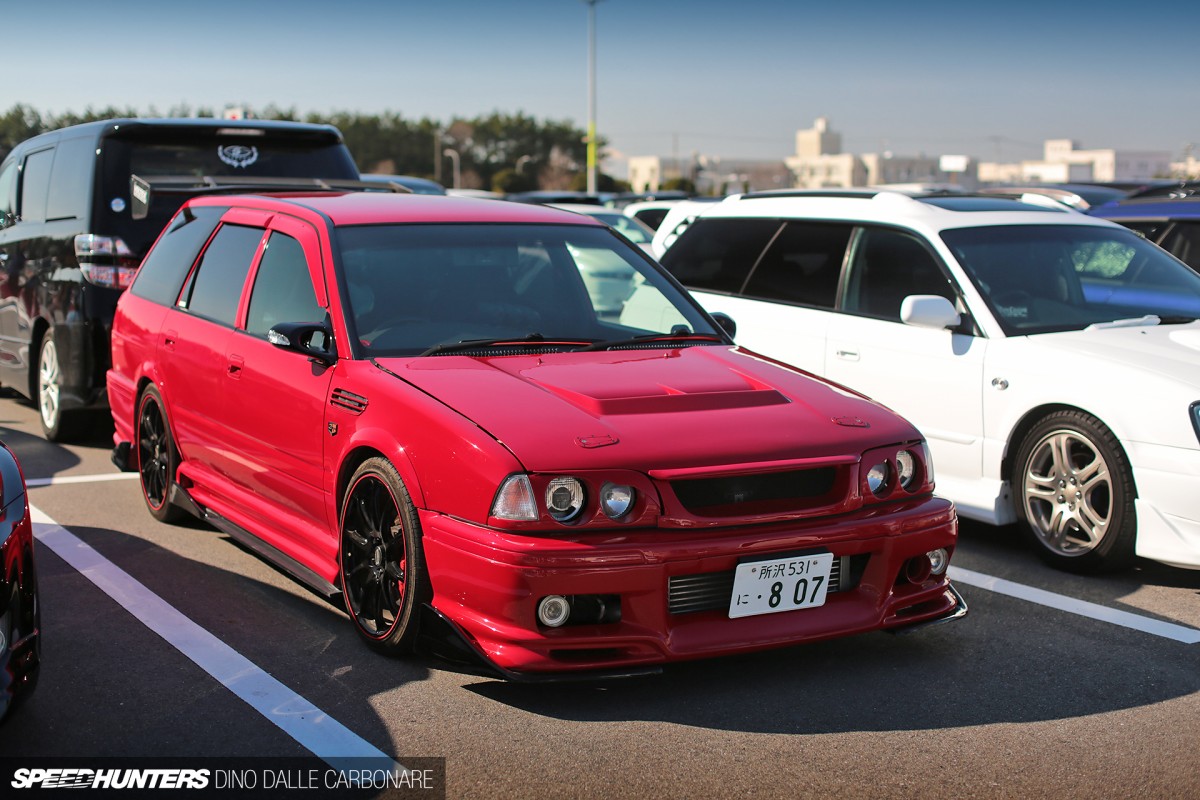 I love how in Japan every type of sports car has its own following, with its own magazine targeted to it, clubs and regular meets organized. However I don't think I've ever seen a Nissan Avenir tuned in such fashion!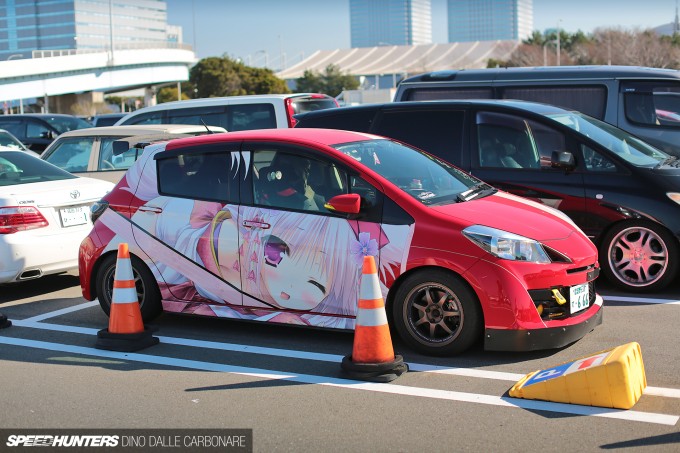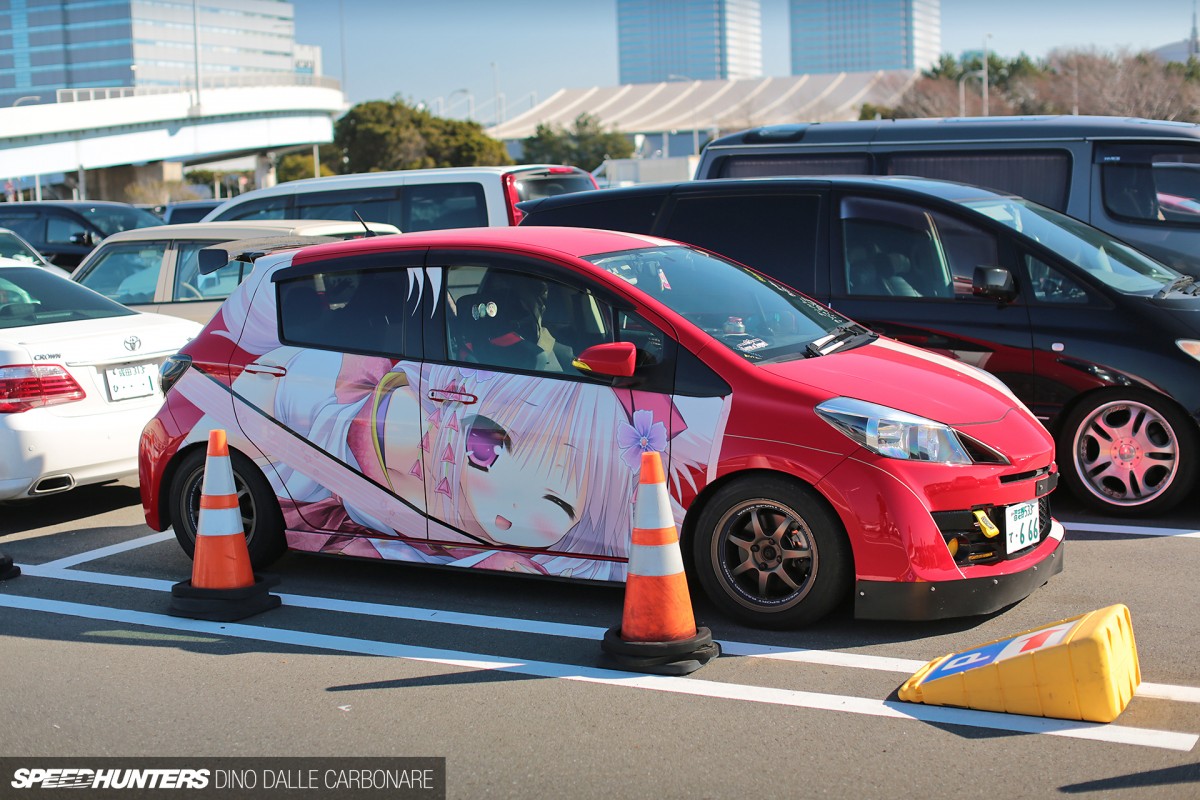 The itasha seems to be a dying trend – a good or bad thing I'm not quite sure, but there are definitely less cars around than in previous years, be it at meets or around city streets. Mind you, you really have to go to Akihabara on a weekend to see them in their natural habitat.
Just slam it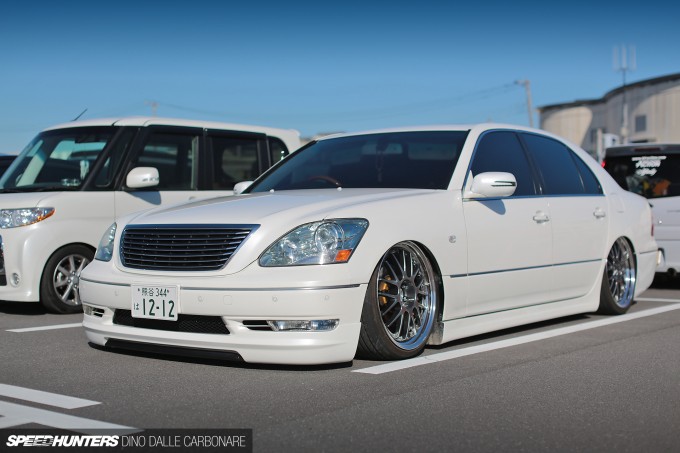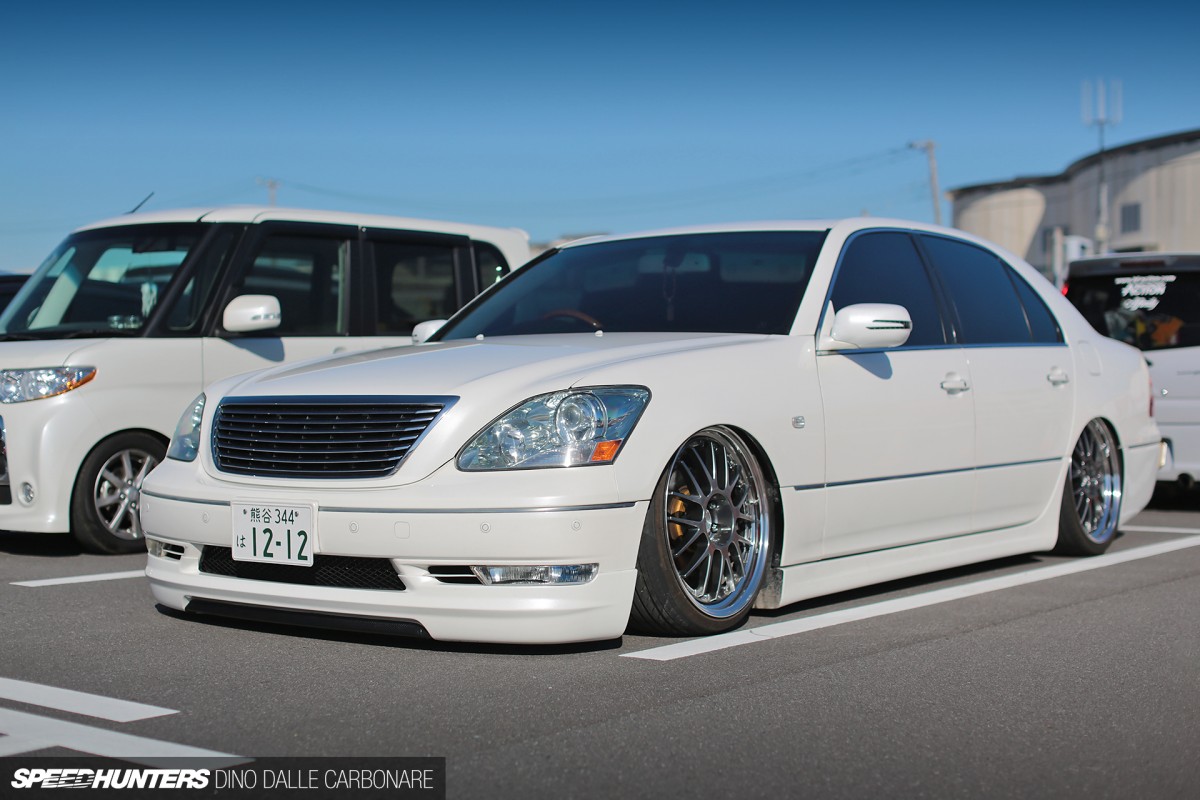 Walk around enough and you would get a pretty good idea of the various ways you can achieve that slammed look. This Celsior was definitely one that stood out but it's almost too conservative in its approach.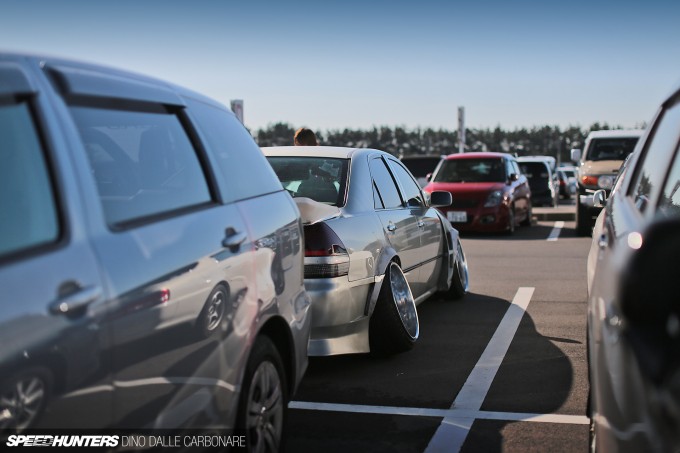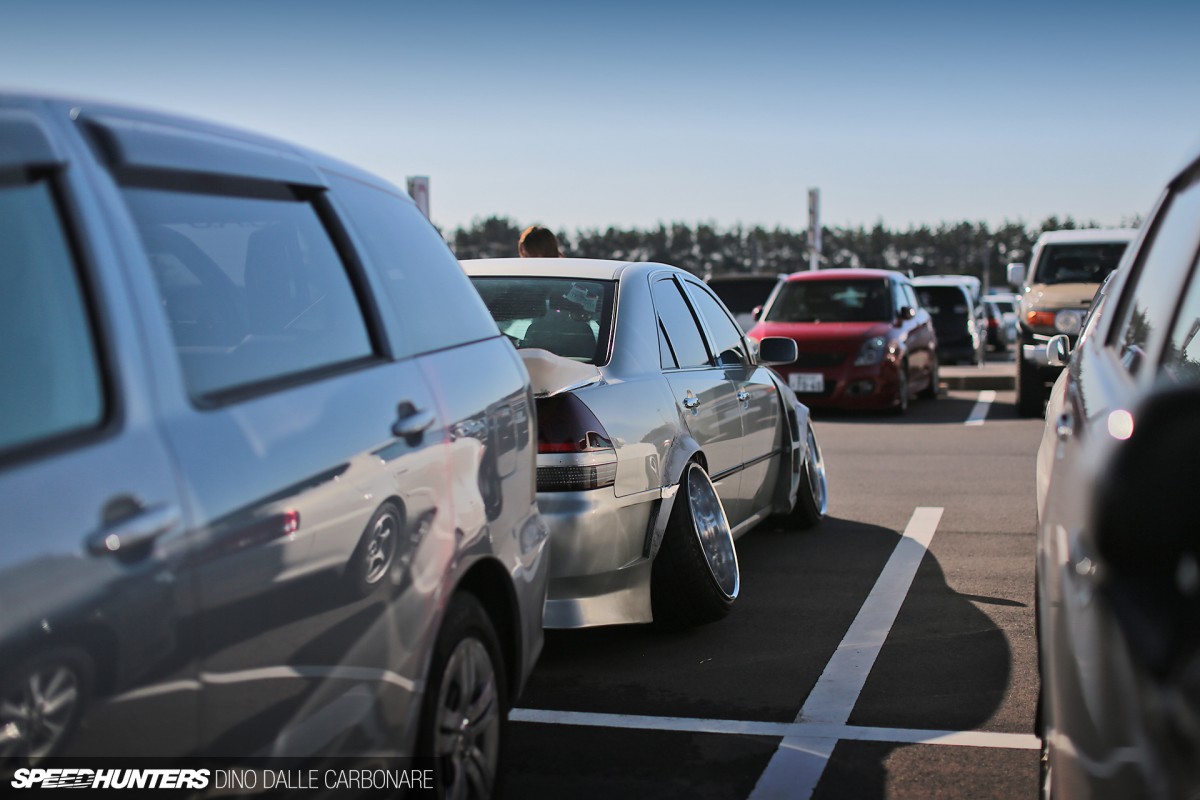 Especially if you compare it to this thing right here. I swear I saw the wheels poking out of the car parked behind it before I actually saw the car itself.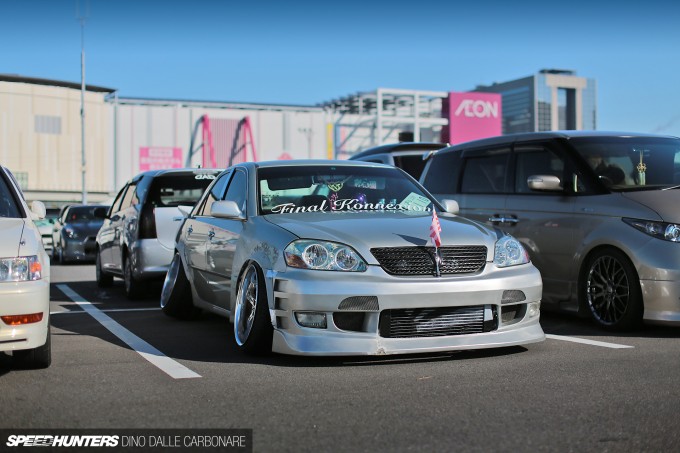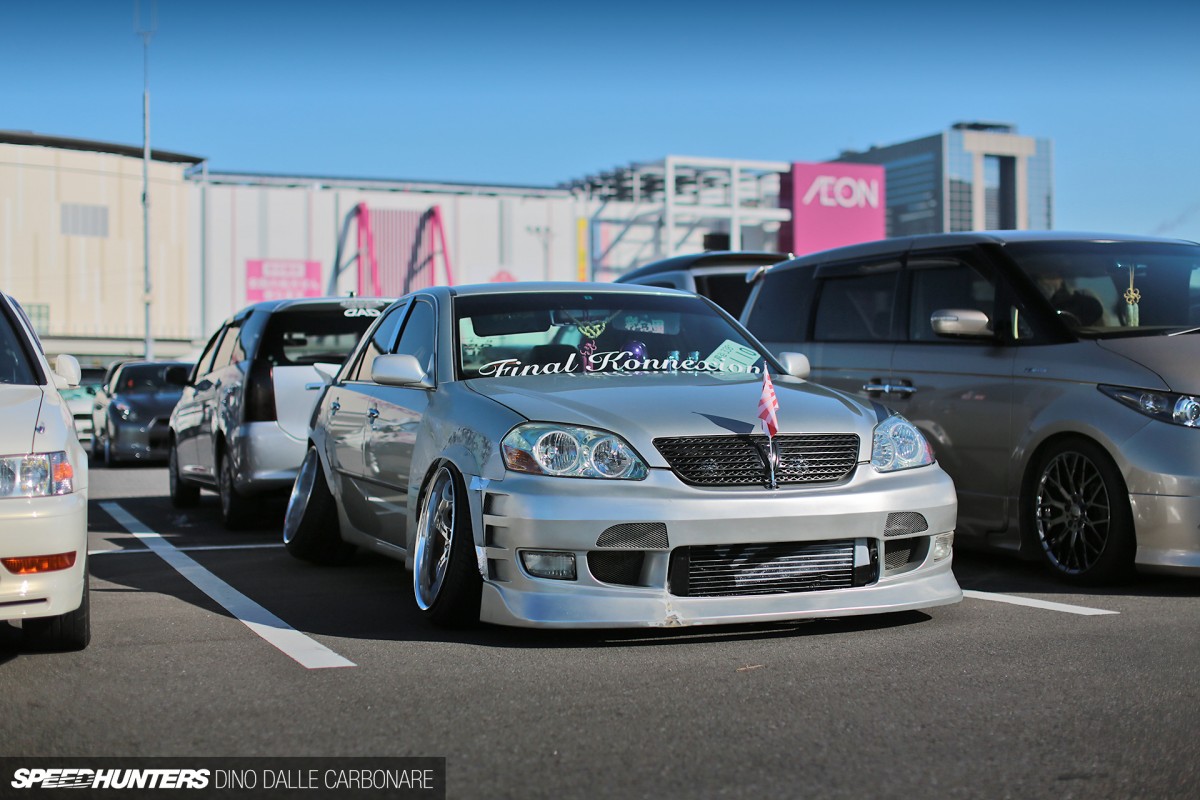 It's been a while since I've seen this amount of onikyan on a non-show car or a car that wasn't actually on display at an event. This JZX110 Mark II, part of the Final Konnexion crew, exhibited a great mix of VIP and drift, and judging from the battered-up exterior it also gets properly used too. So there you go: a car with 15-degrees of negative camber actually does have a use.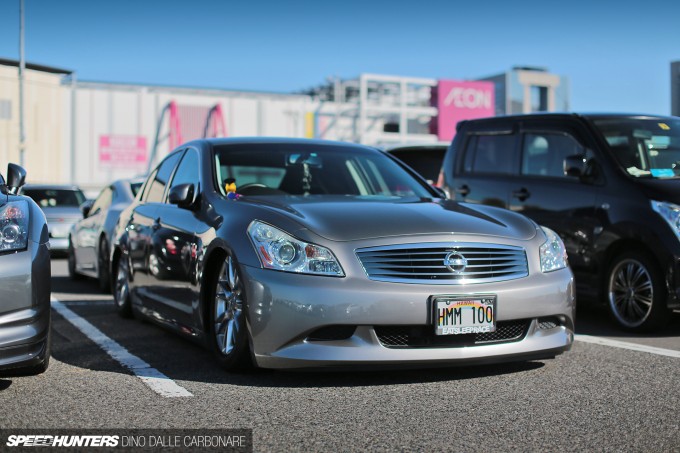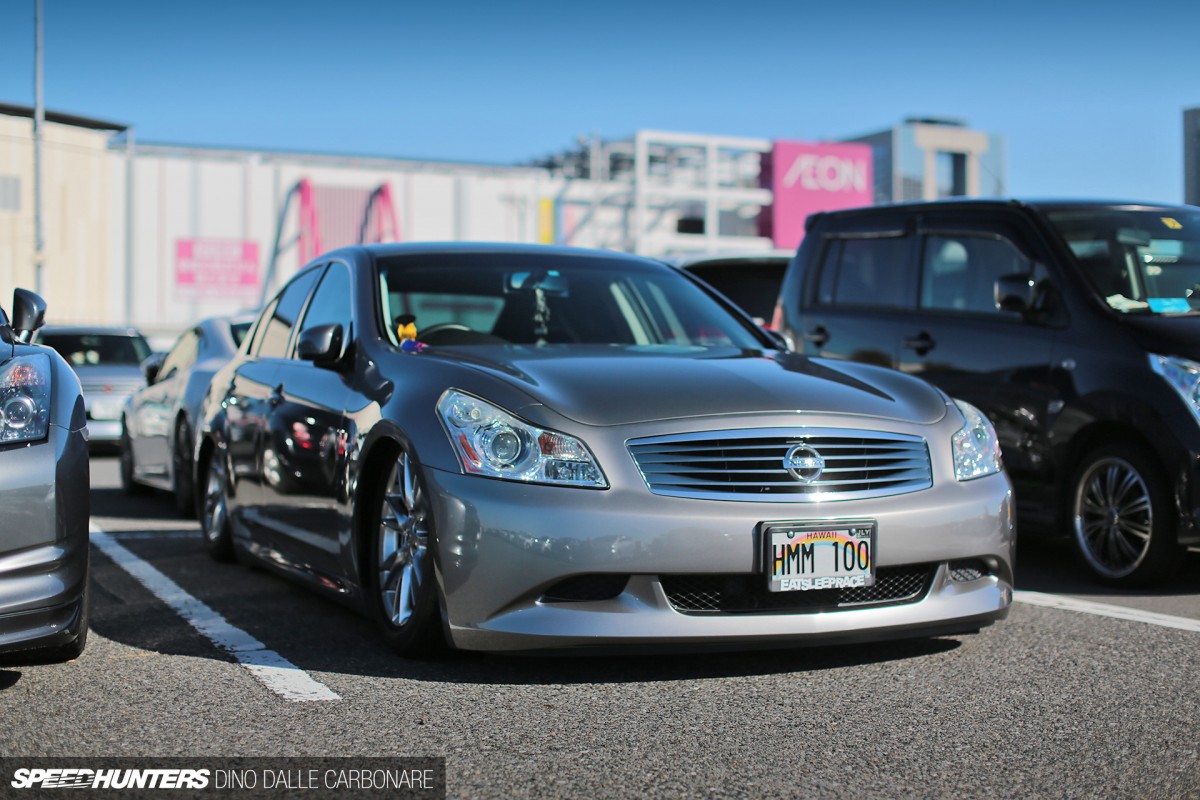 It was very much a case of air-suspension first, rims later with the 'Hawaiian' owner of this Skyline sedan. Would be cool to see what wheels he does end up going for.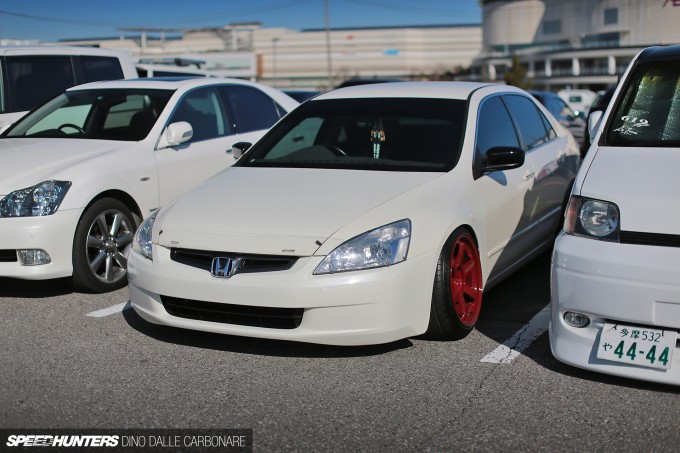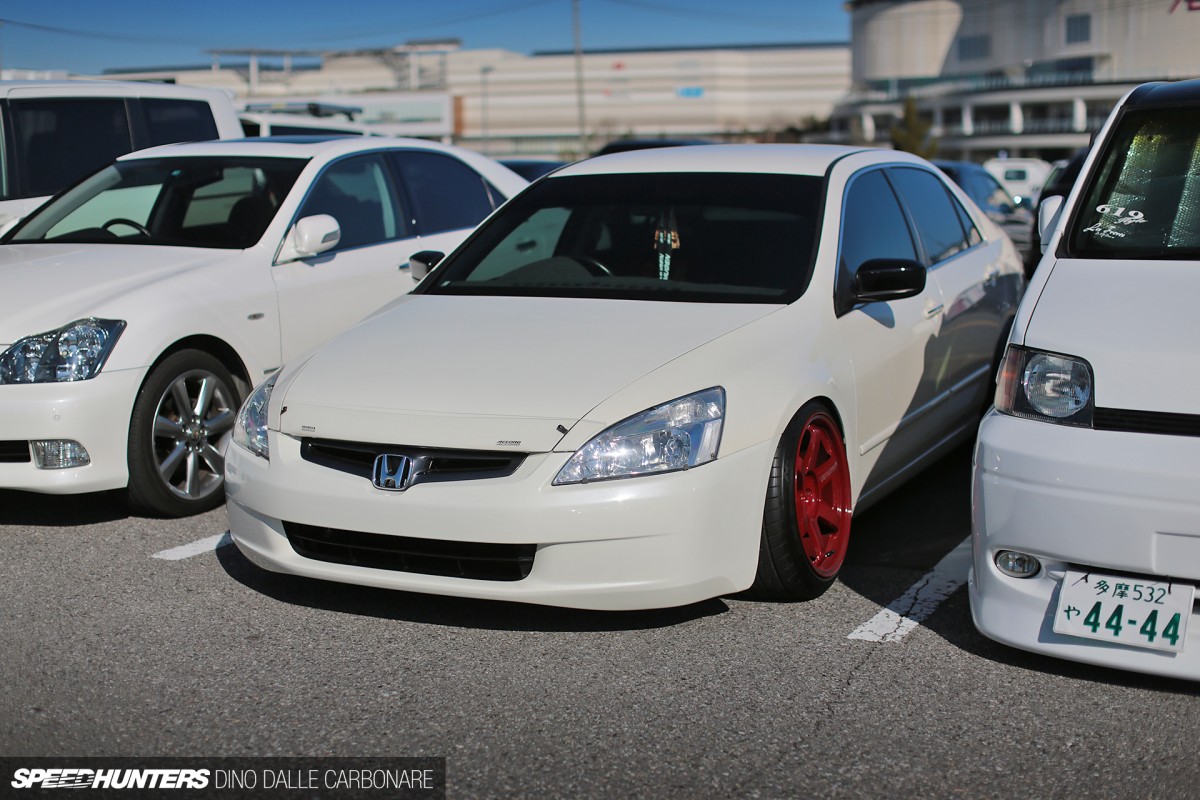 Seeing RAYS TE37RTs on an Inspire might be a first for me, but that's one look that really suits this particular Honda quite well.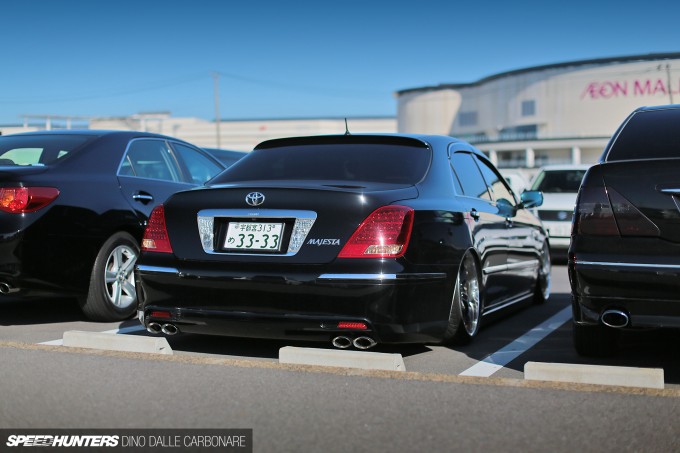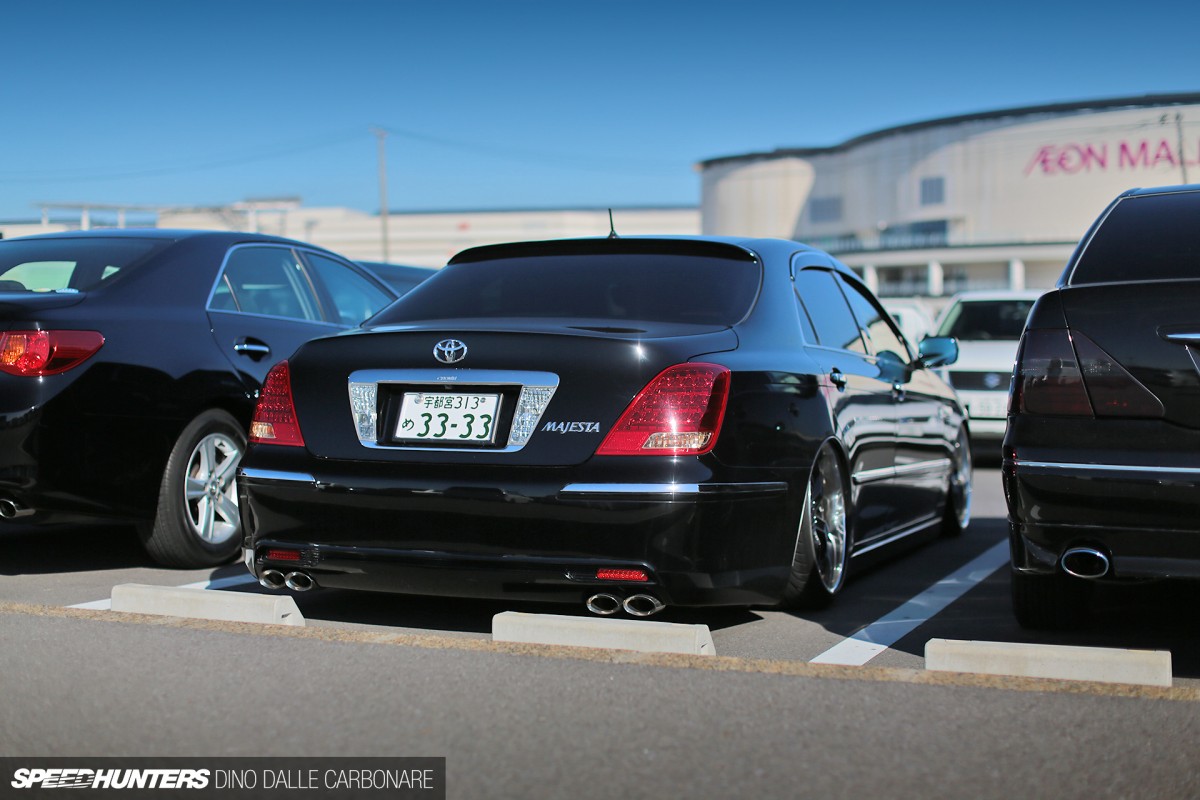 The majestic Majesta is one Crown that I've always liked over all the rest, especially this particular generation of the car. This particular owner has preferred to go for a bit of tuck in the stance department.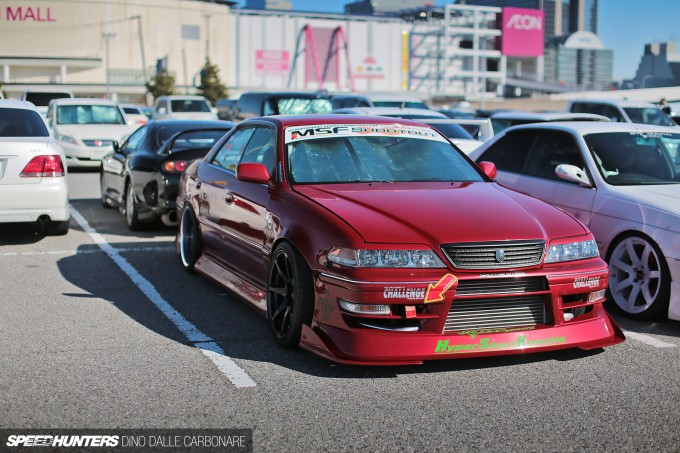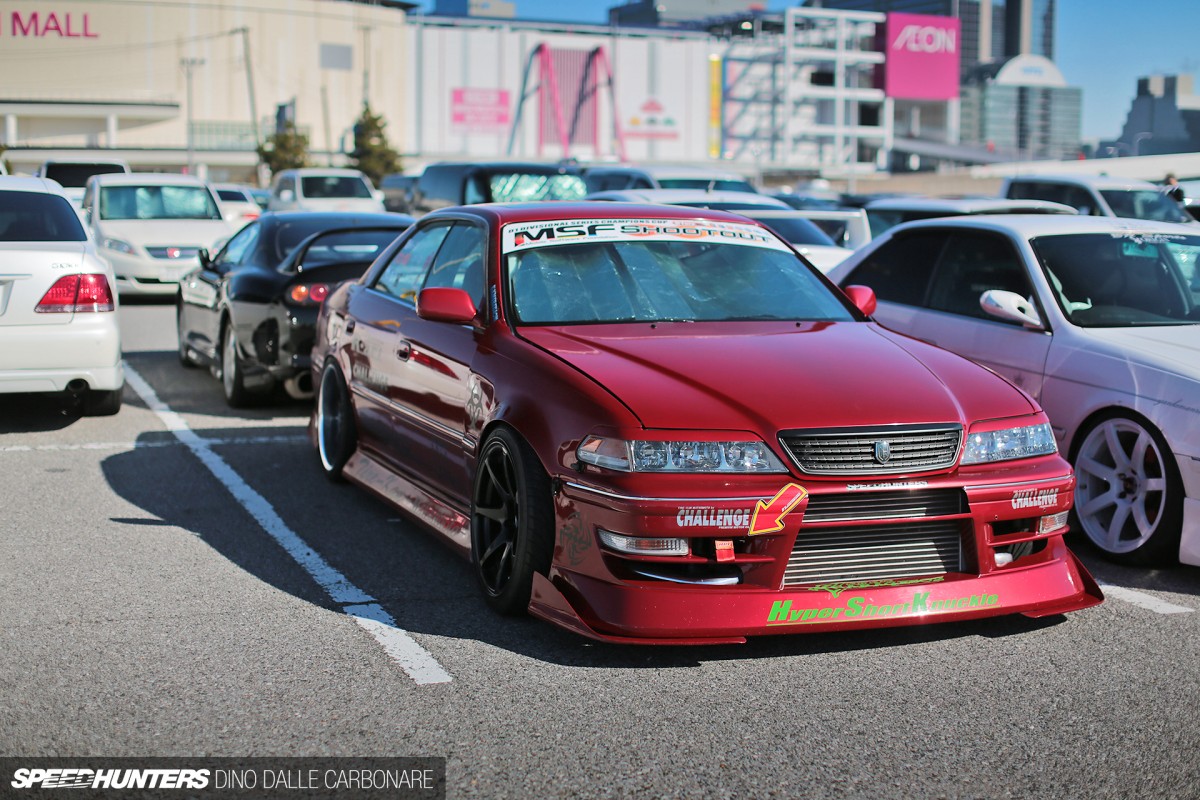 I thought the cut-out section on the bumper of this JZX100 was shaped like the new Lexus spindle grille. I'm probably imagining it as this dorisha couldn't be more different from an IS or a GS.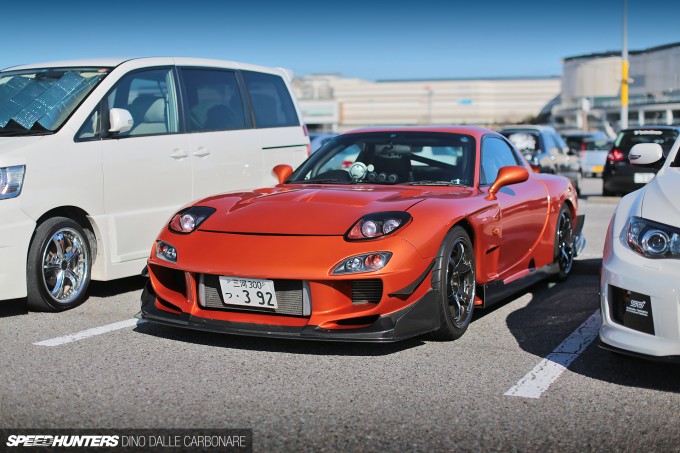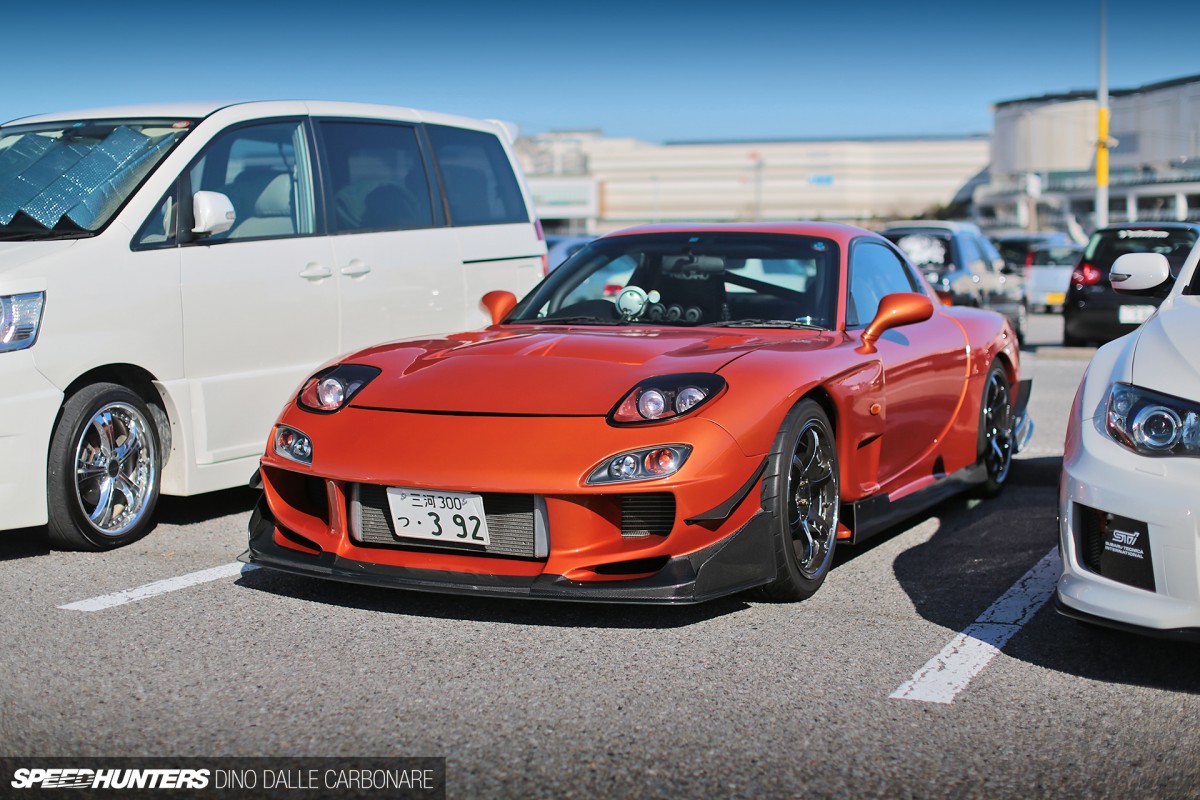 No parking lot in Japan would ever be complete without at least one RX-7! This striking FD was the first I came across, and surprisingly just as orange as the next one that caught my eye.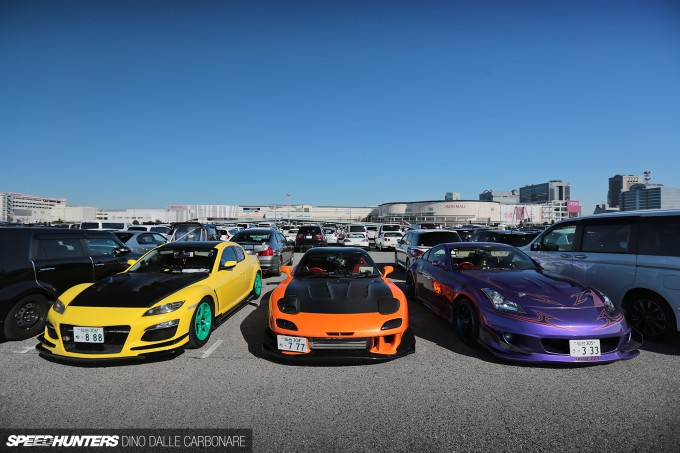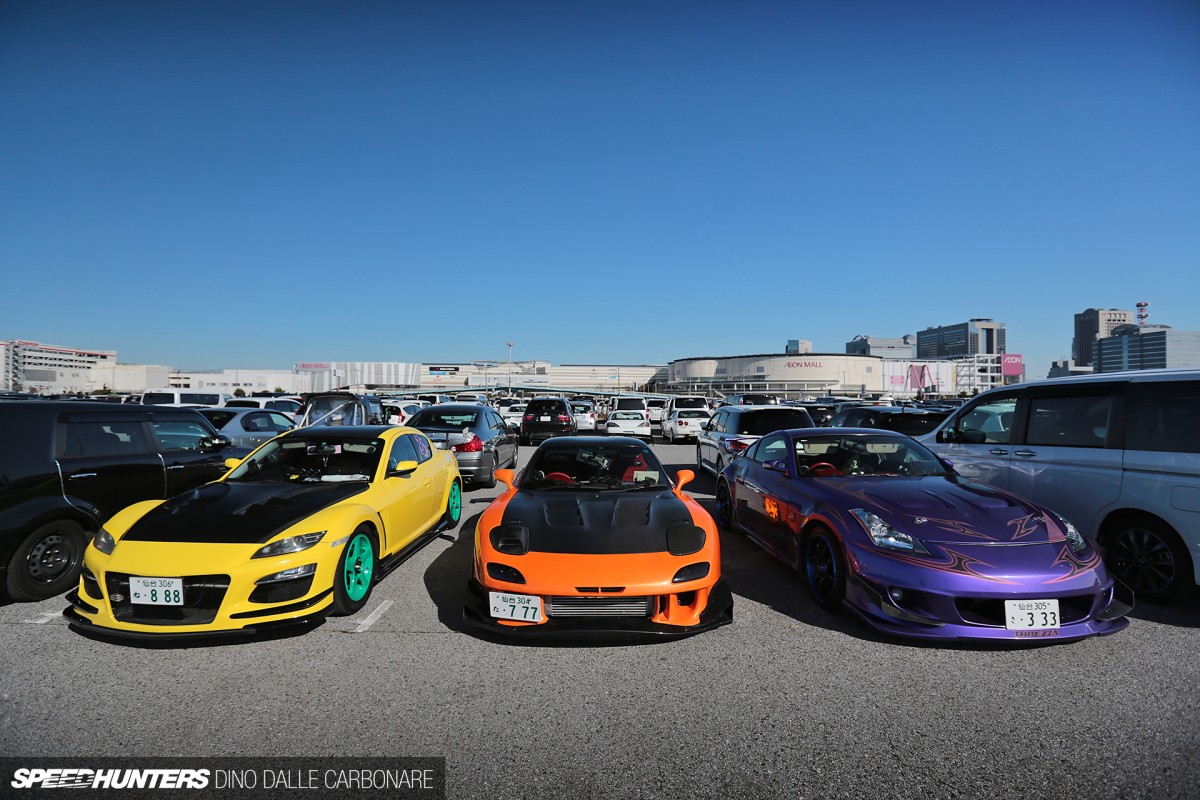 See what I mean? Along with the RX8 and Z33 next to it, this little group drove all the way down from Sendai to come and attend the show, in the process creating probably the most colorful selection in the vast car park.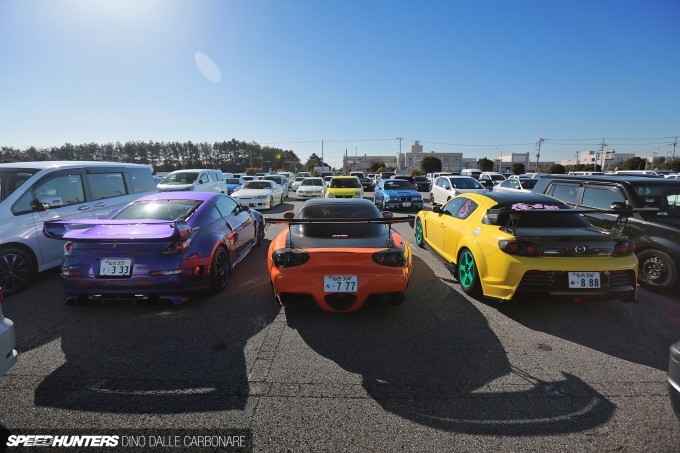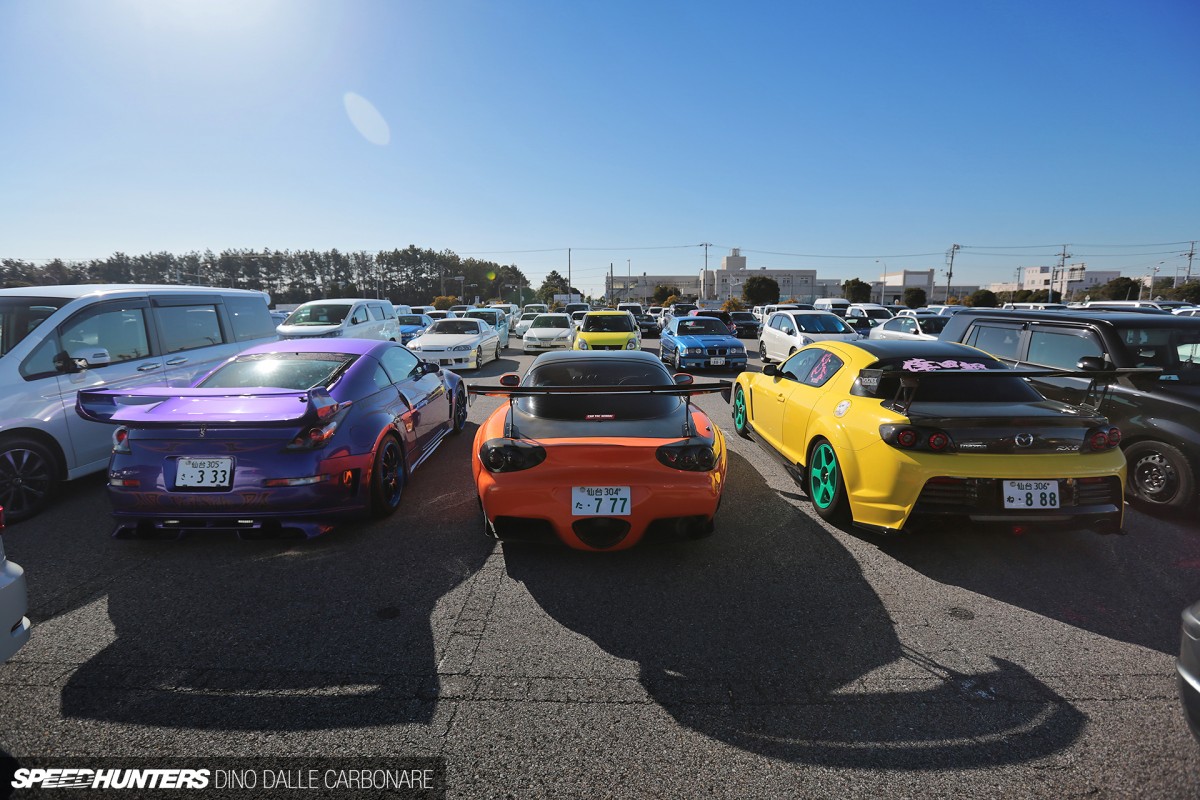 The FD was wearing one of RE-Amemiya's most complex rear bumper and tail light conversions, which sadly reminded me just how uninspiring their display was this year round. Amemiya-san announced he won't be undertaking any more of his usual custom car creations, probably at least until Mazda comes out with something more sporty than the current crop of diesel-powered mobiles. Hopefully the upcoming Roadster/Miata will captivate his mind – despite it not being powered by a rotary.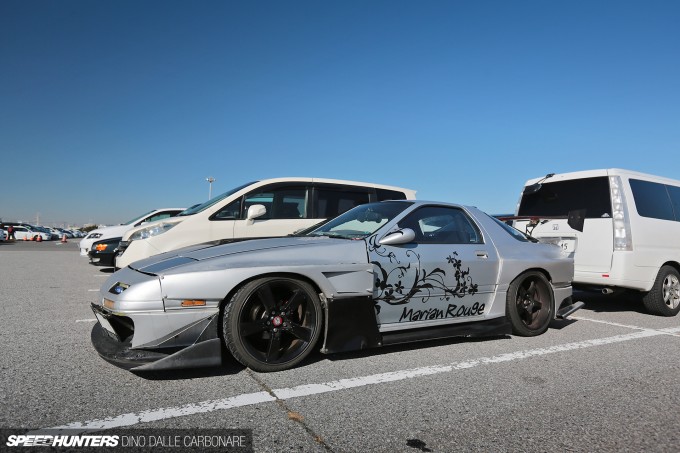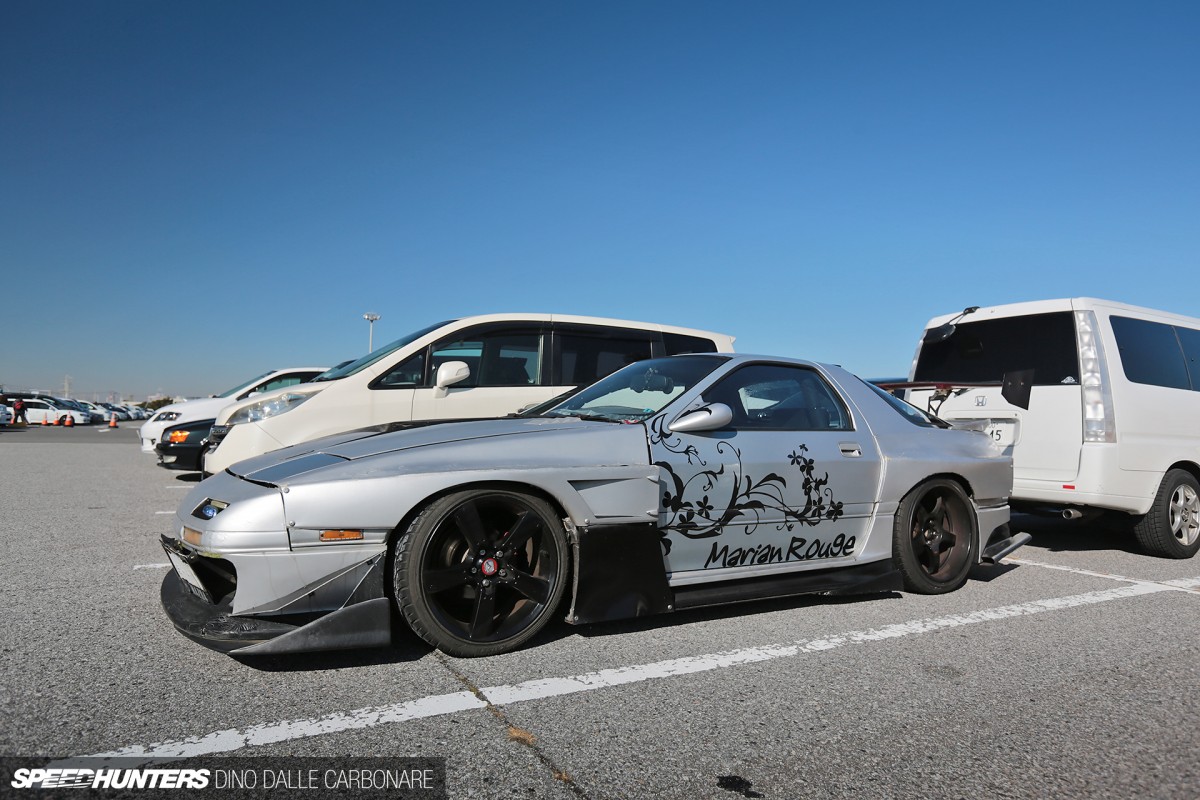 Plus is it just me but shouldn't more tuners be going back to the FC and doing more with it?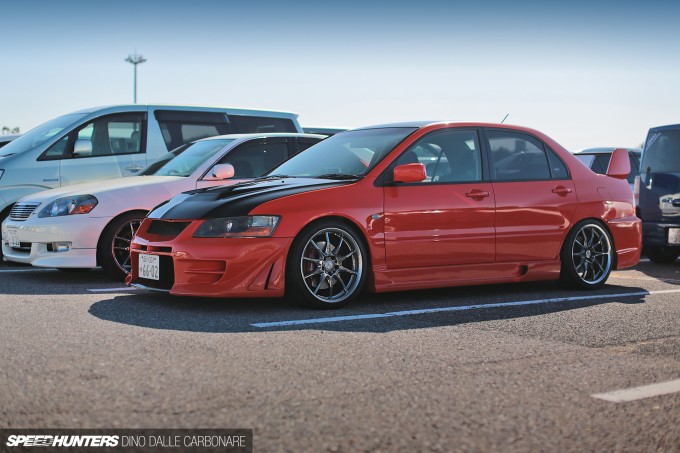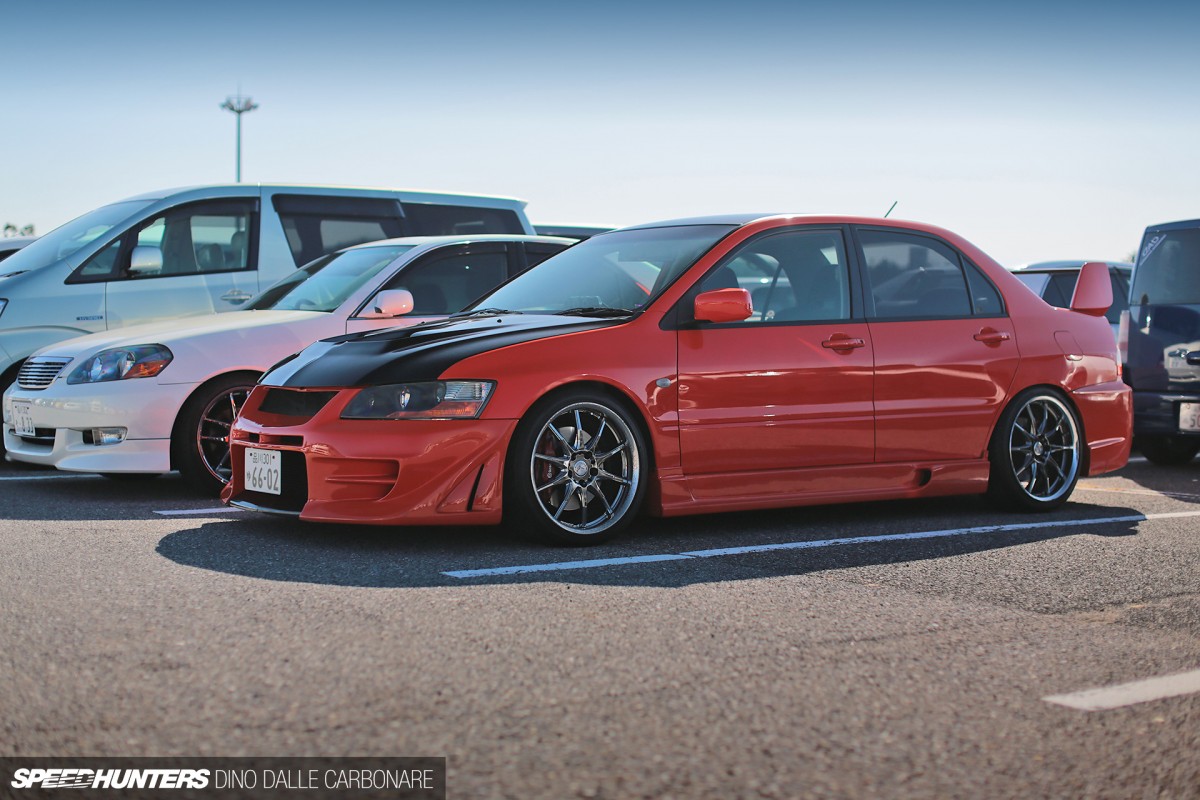 Ok, this orange thing is getting silly now!
Drift or grip?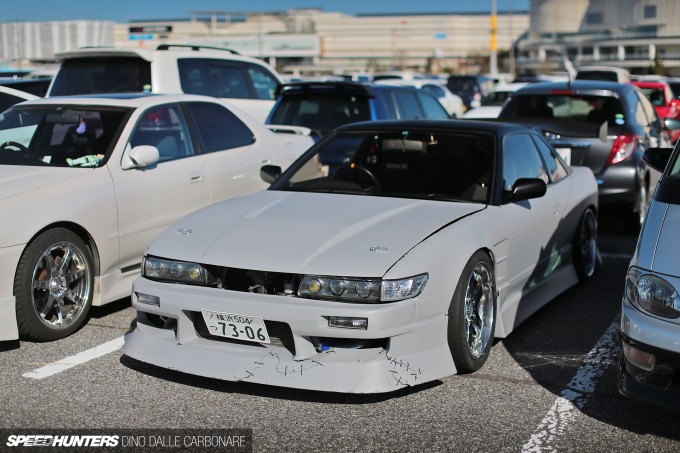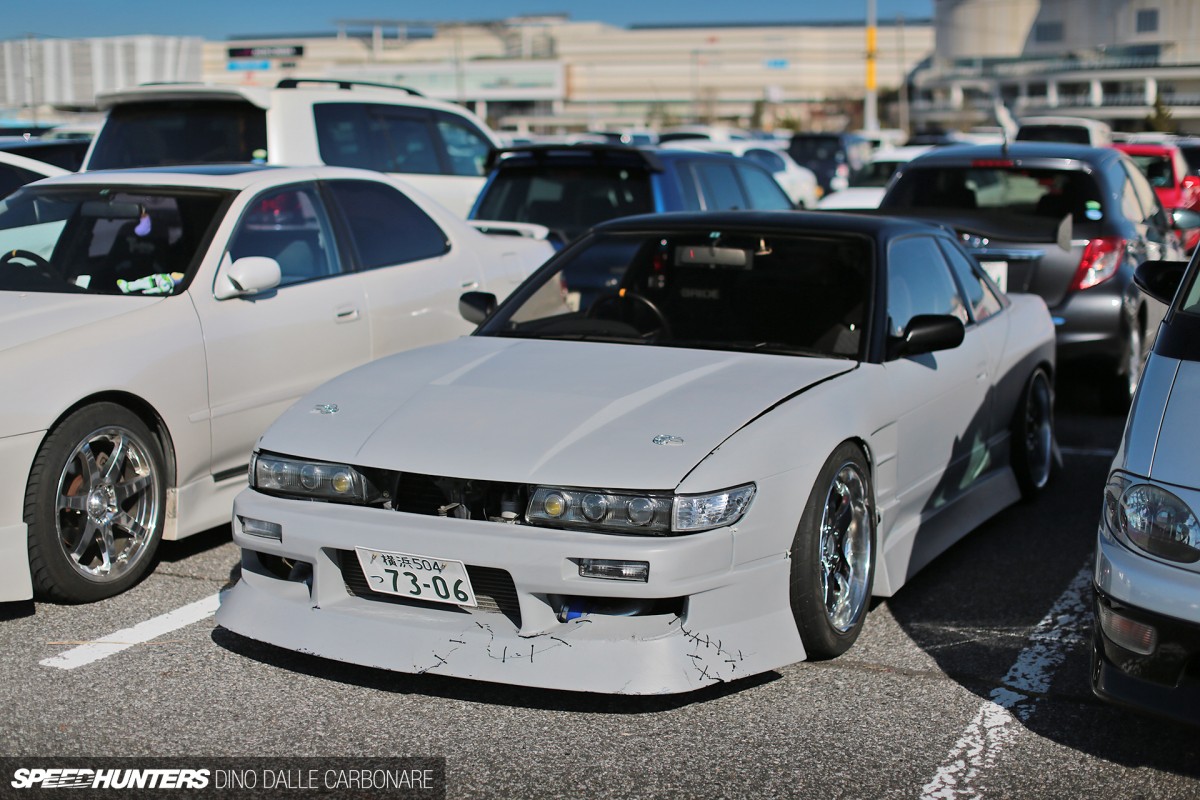 This S13 can only be described as an exceptionally well-used car, and it's always cool to see how drifters piece their cars together after the unavoidable impacts that happen here and there.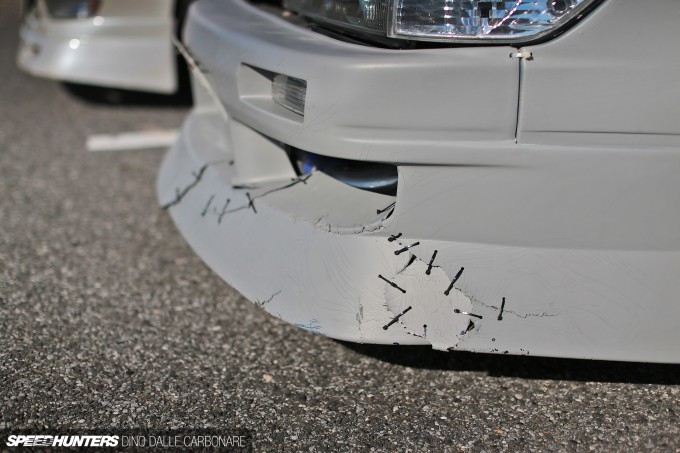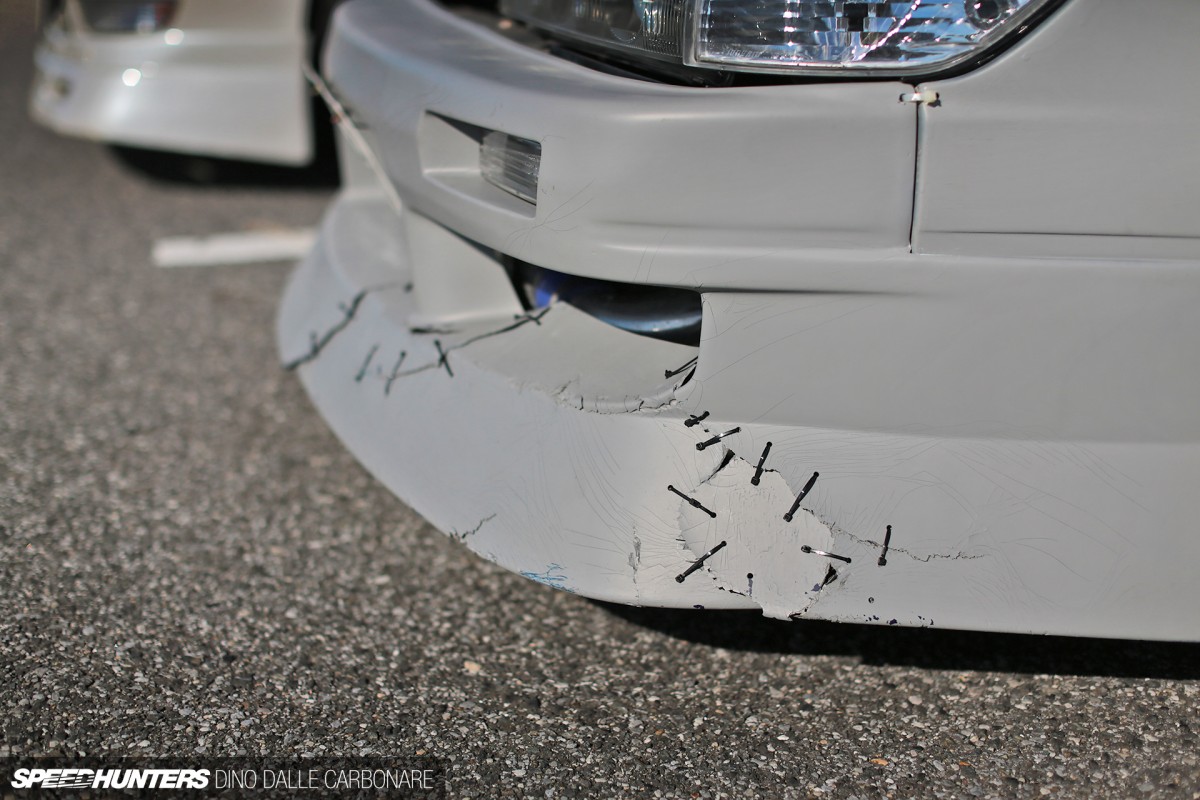 God bless the zip tie!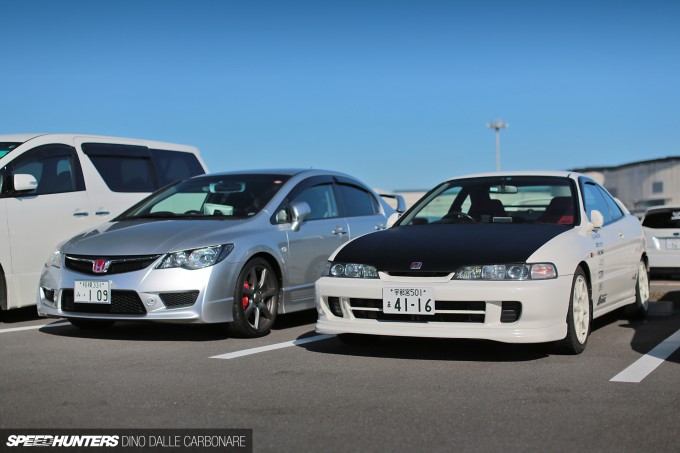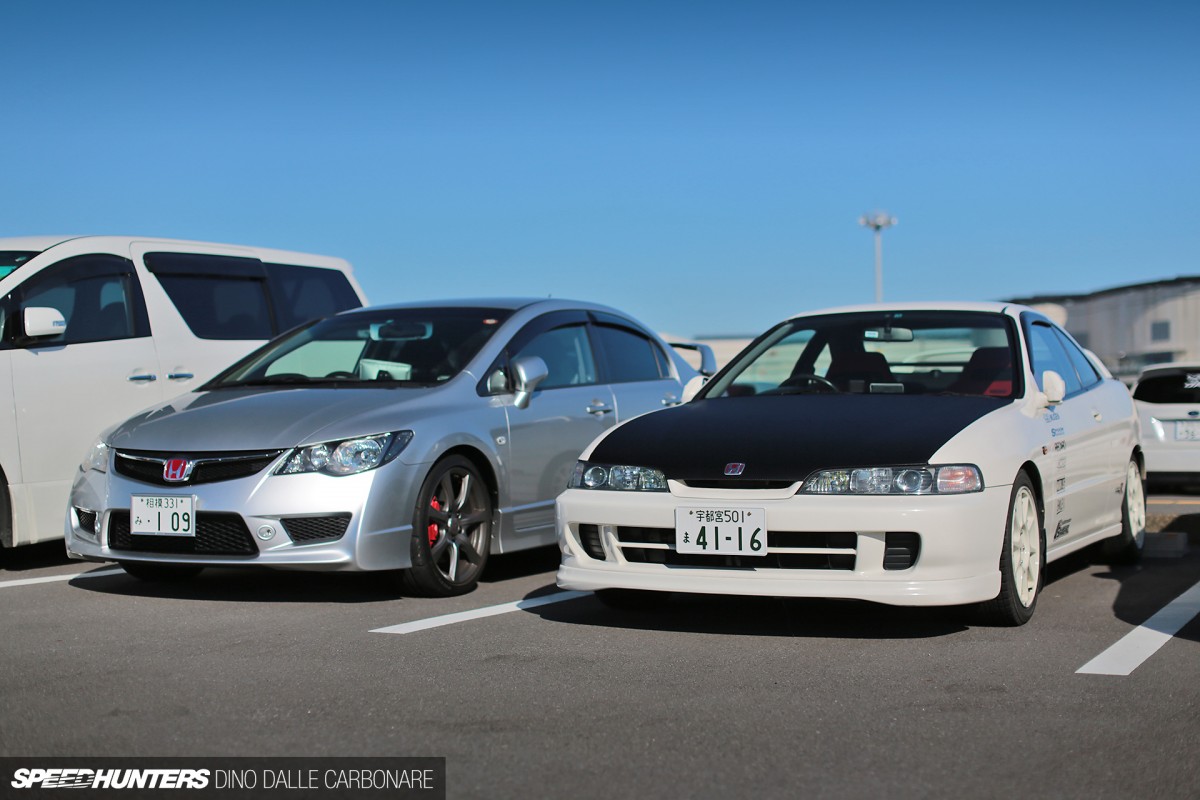 Ok tough question here: which one of these legends would you choose? They're both discontinued and both as JDM as they get but which one would float your boat more – the legendary DC2 or the more modern interpretation of the Type R, the FD2? It's a tough one that's for sure!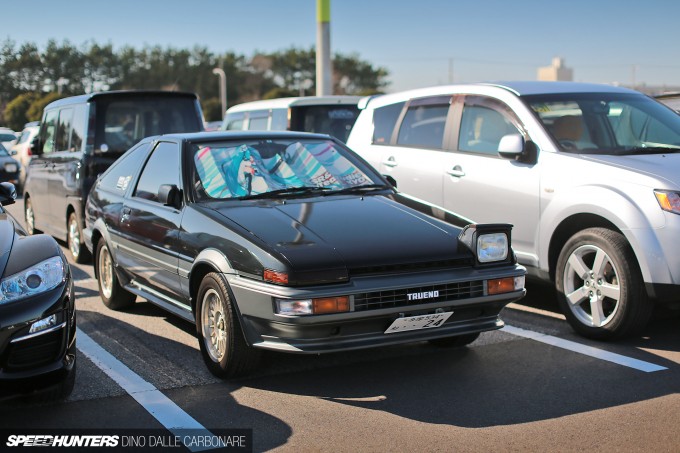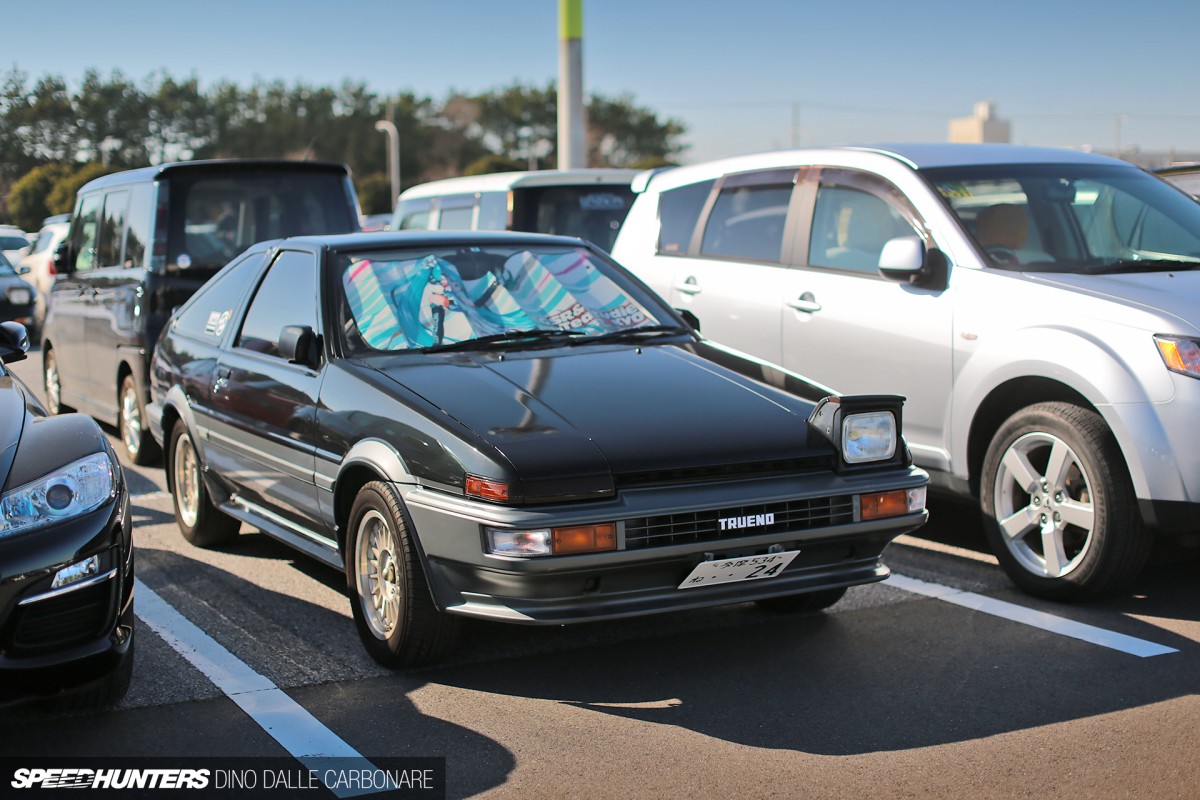 It's not often you see a close to stock AE86 like this beautifully kept example. The 'wink' set-up in the pop-up lights is always something that makes me chuckle.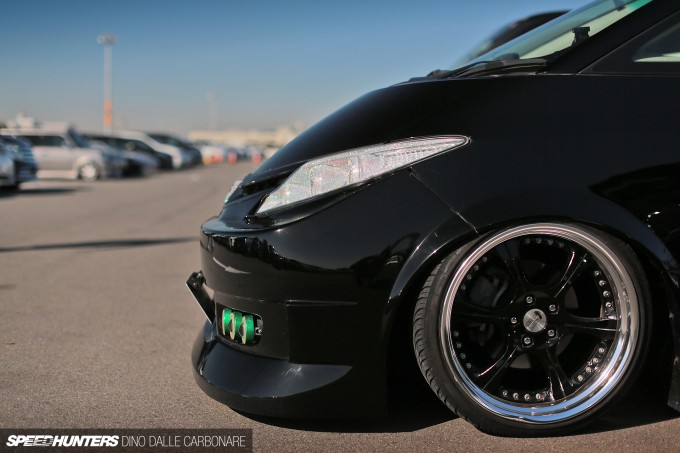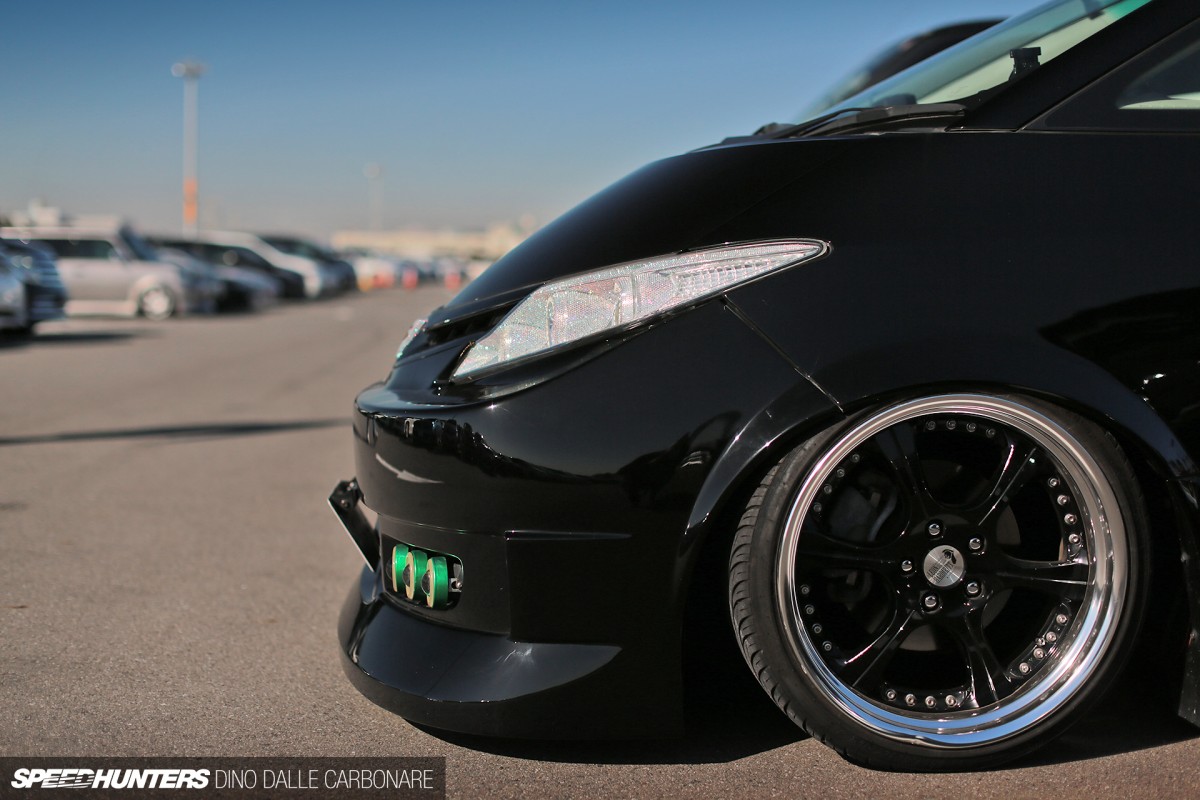 The variety of cars out there was definitely as widespread as what I'd seen over the three days of TAS, and the more I dug, the more coolness I found.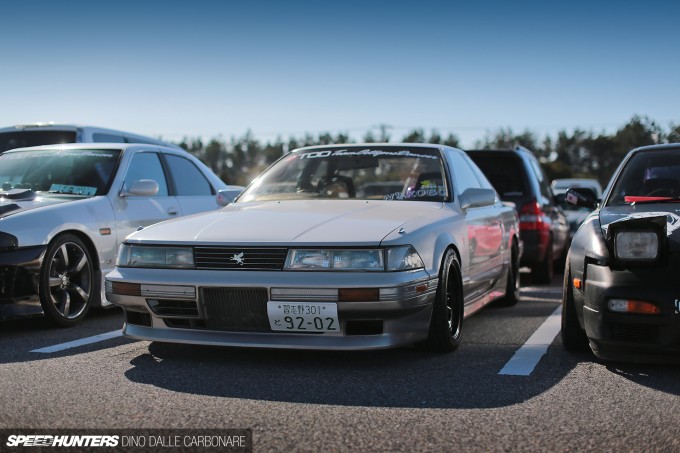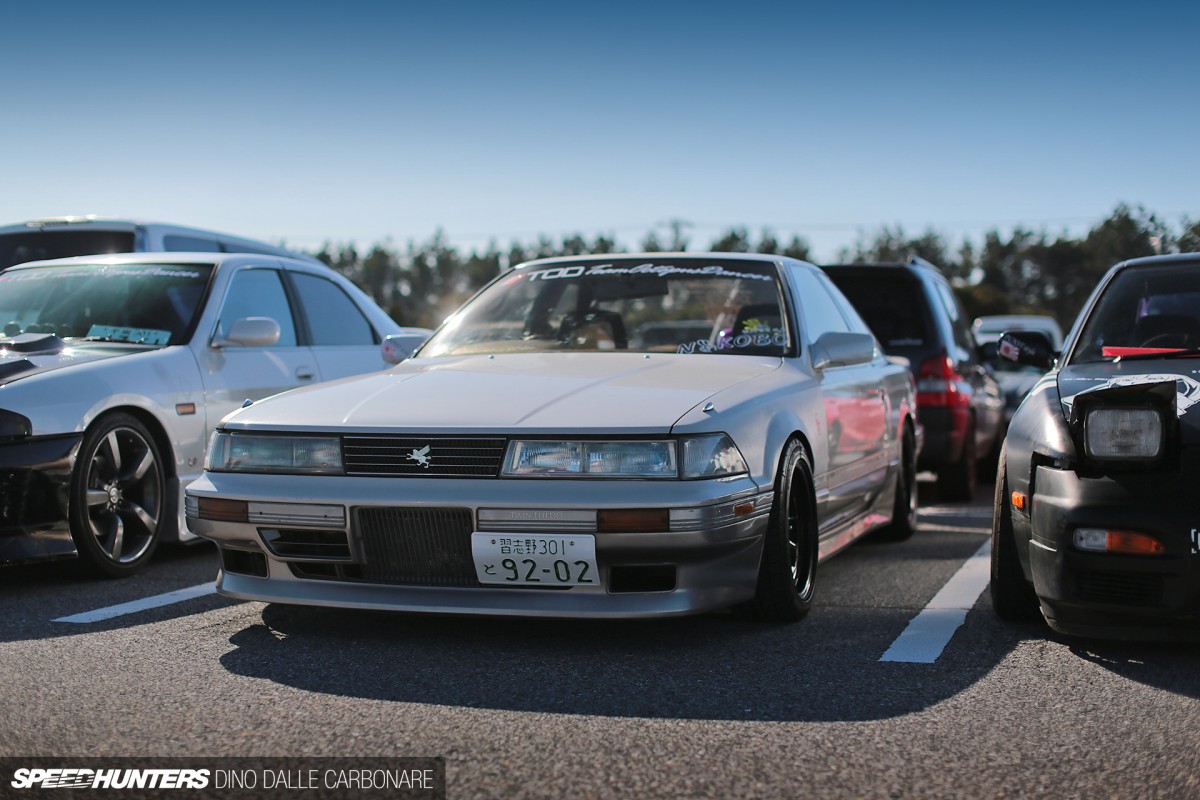 The police ended up cracking down on the kaido racer and bosozoku invasion that usually happens over the weekend of TAS. For weeks before the show, Chiba Police had been announcing on their website that they would not tolerate any loud and illegally altered cars and bikes, as it disturbs those living along the roads that lead to the Makuhari Messe. So while there weren't any wild DIY-tuned, Silhouette-formula inspired cars to be seen, there was still the odd old school ride like this Z20 Soarer to make up for it.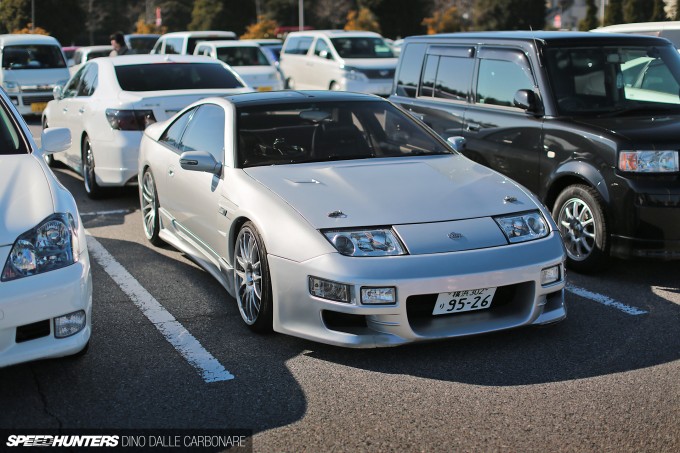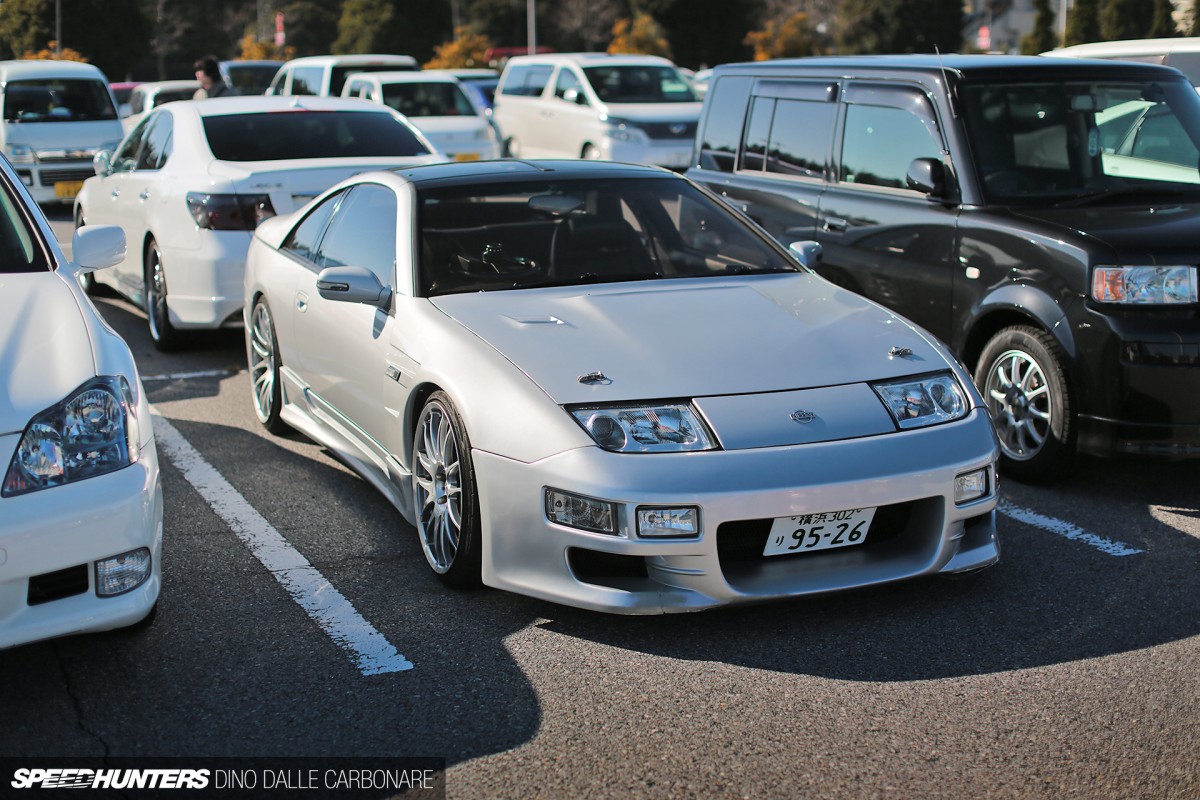 The Z32 is a car I've always had a soft spot for. It's one of those rare cars that has managed to fight the test of time both inside and out. While I do prefer the more simple take on aero on these cars, this car was one I just had to grab a shot of.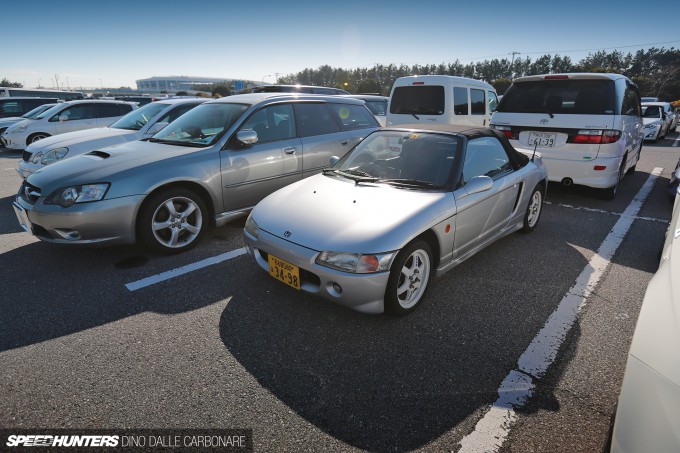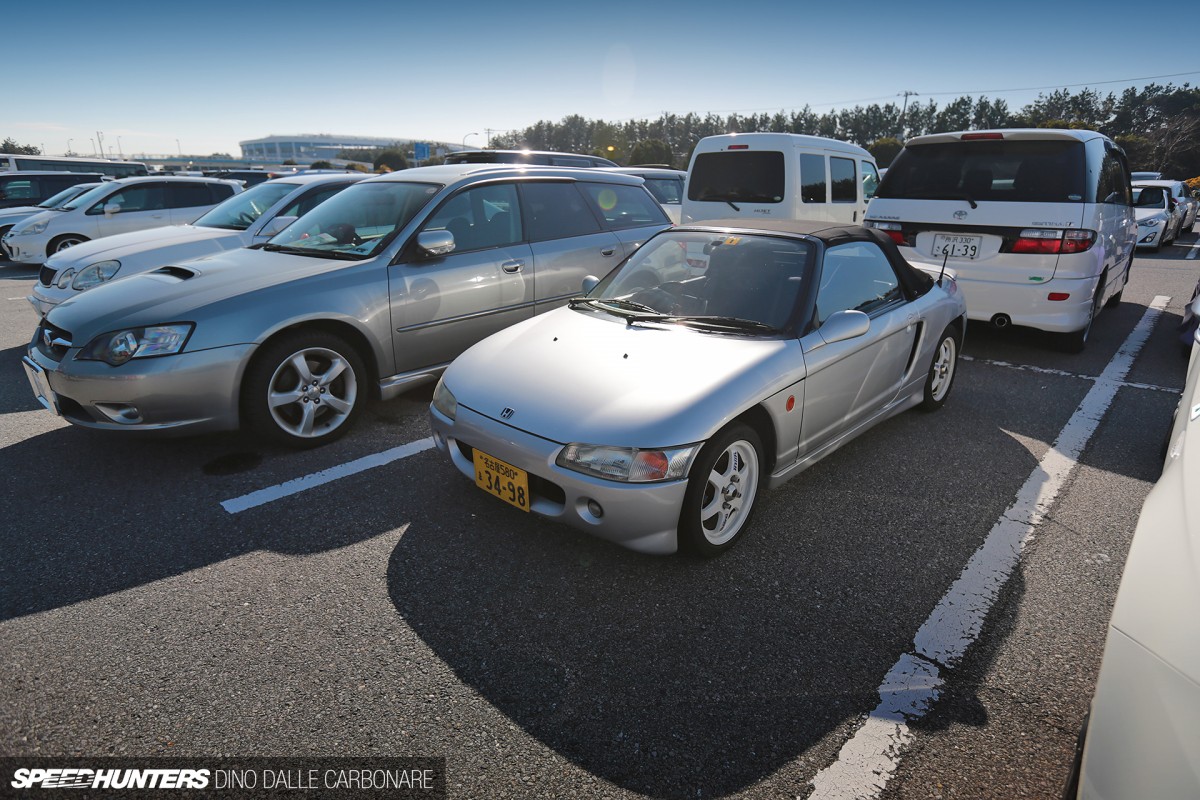 Thankfully it seems like Honda will be once again making the Beat. The S660 that they showed at the Tokyo Motor Show last year was also on display at TAS and I can't wait to see it out on Japanese streets in a few years. Tiny TE37s will definitely be a must on that too!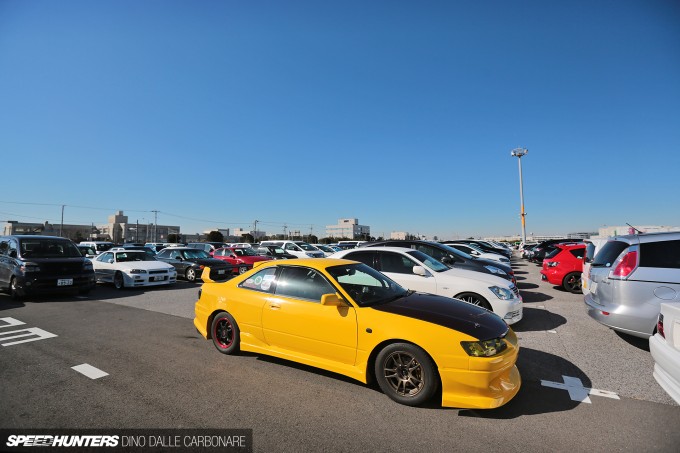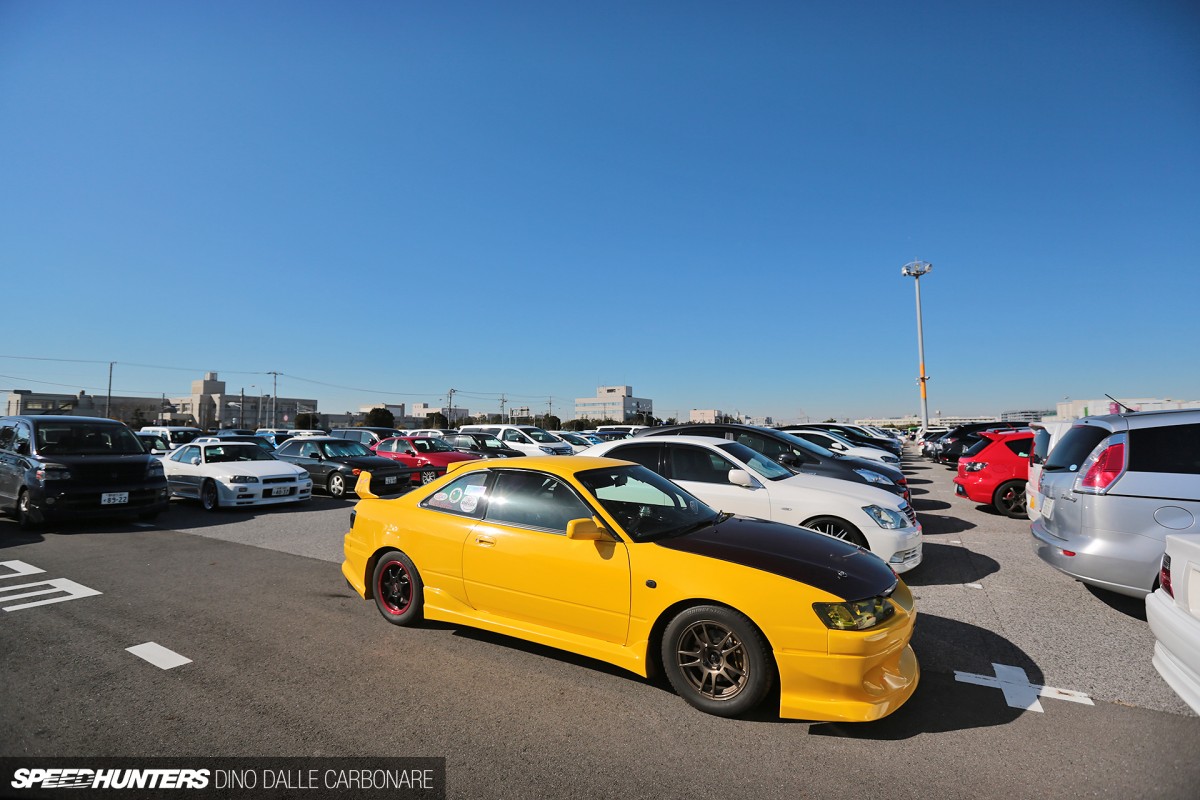 As I continued to make my way up towards where I'd parked my car early that morning, I saw a familiar bright yellow shape. It may be an FF but the AE111 was always a car I liked while growing up in Japan. And to you AE86 owners out there, this guy is not selling his 20-valve!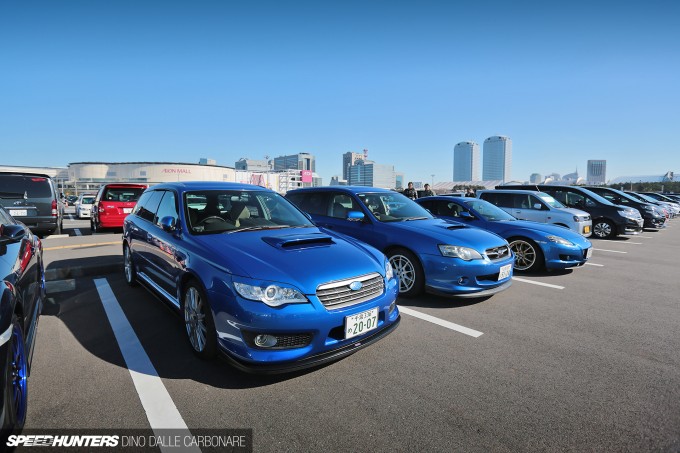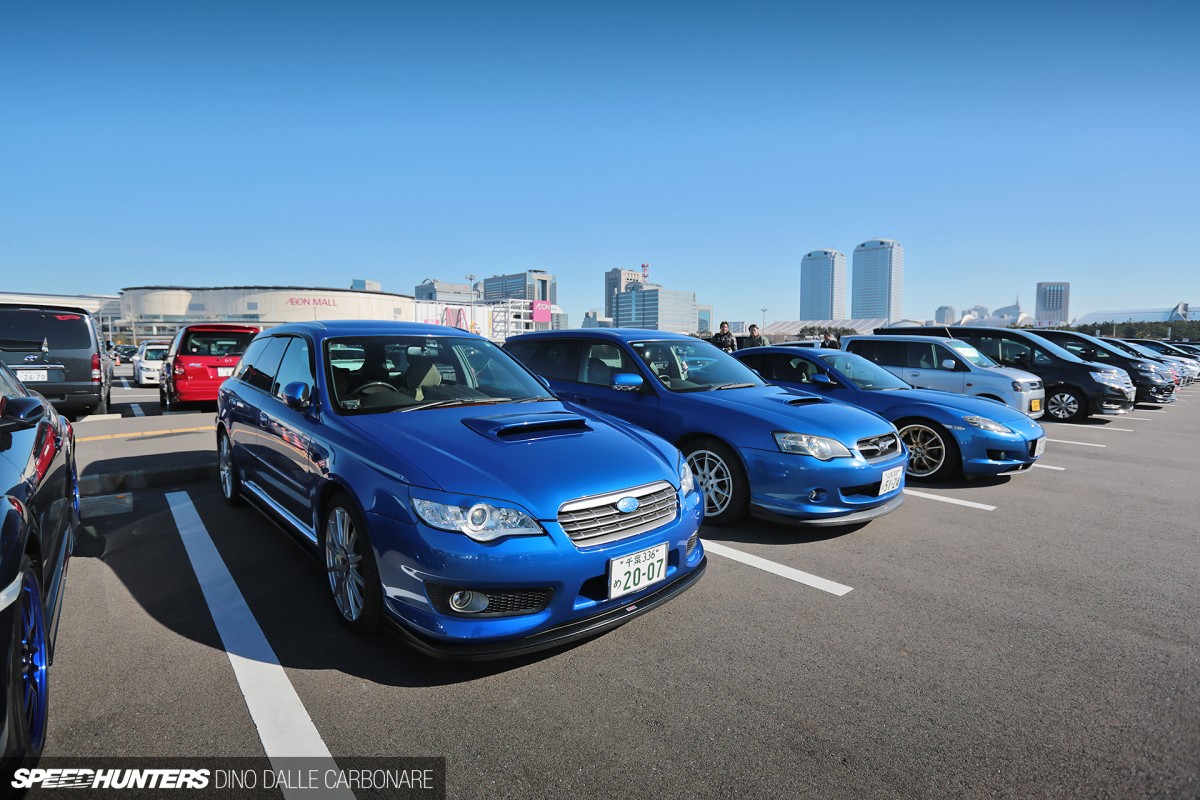 Subaru is one manufacturer that's always confused me. At times it comes out with the most incredible cars, then it just seems to want to shoot itself in the foot and brings to production the ugliest possible designs. One car they got right is this generation of Legacy. I'm not biased because I own one, it's just common sense that a nicely-styled and well-proportioned car will sell well and have a good following. Its replacement has not had the same success and let's not even get into the CVT-equipped Levorg which I couldn't even bring myself to take pictures of at TMS and TAS. I guess these BP5s are going hold onto their value for a little longer.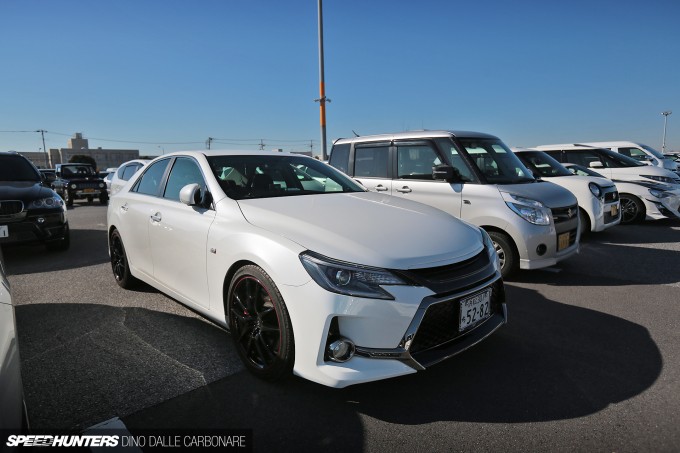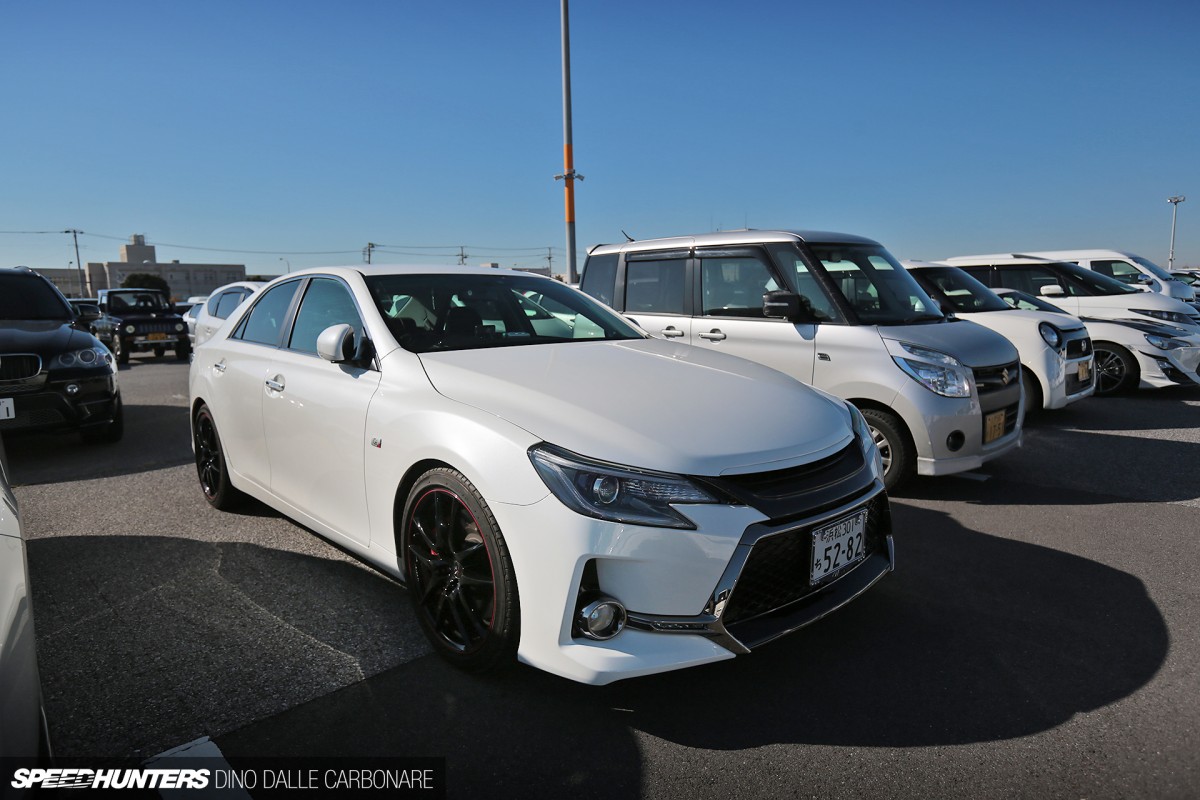 Seeing a G's MarkX always puts a smile on my face; I recall shooting the prototype years back at Fuji and for them to have turned it into reality is just great to see. Toyota is doing a lot of things right these days. Maybe they should force Subaru to rethink some of its strategy – they own most of it after all.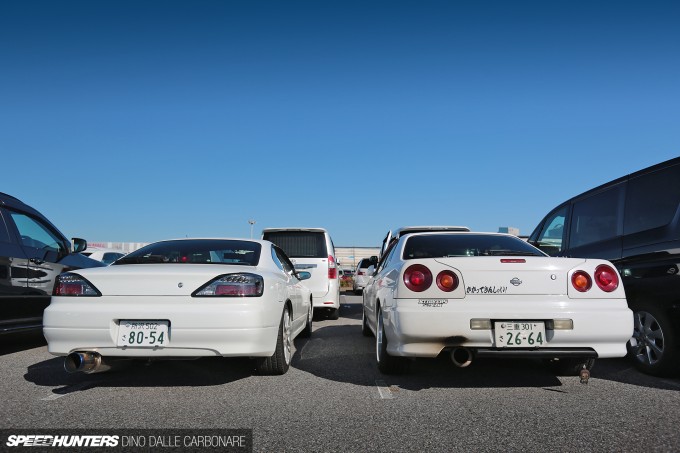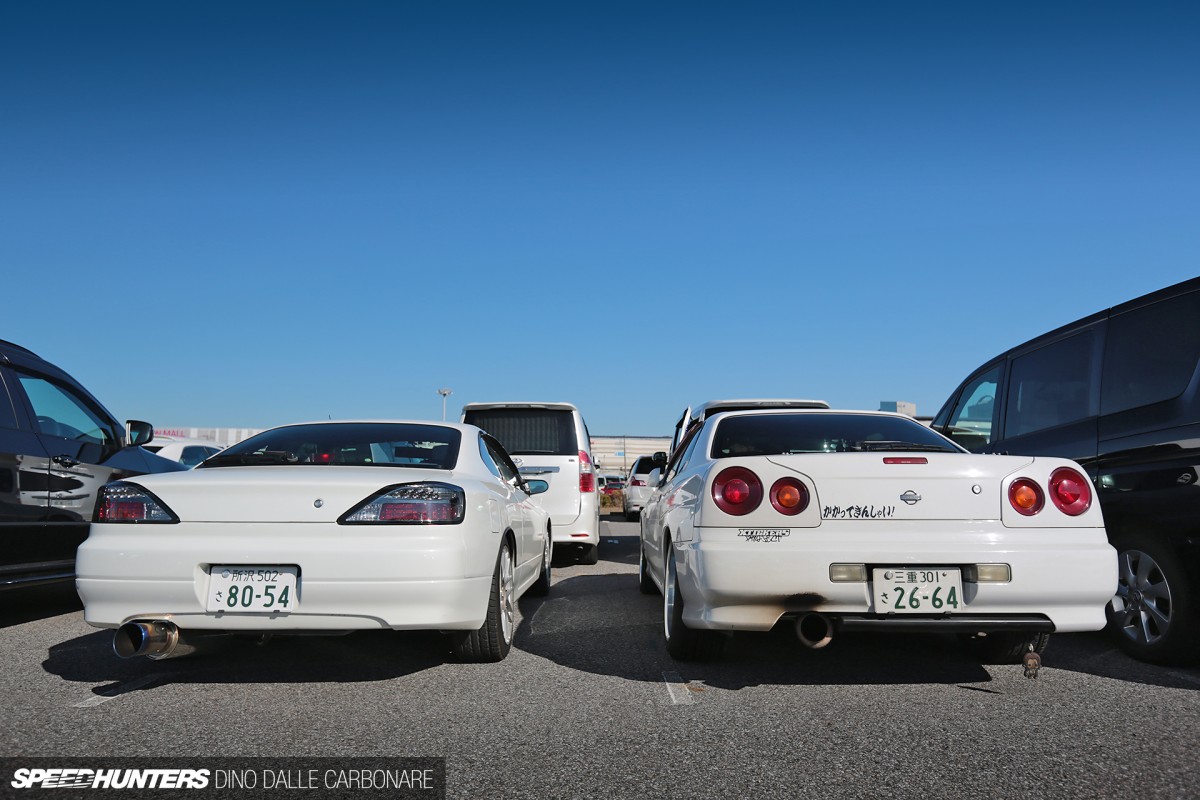 A nice pair of rear ends, courtesy of Nissan. Not much needed to be said here, except maybe that ER34 is running a tad rich.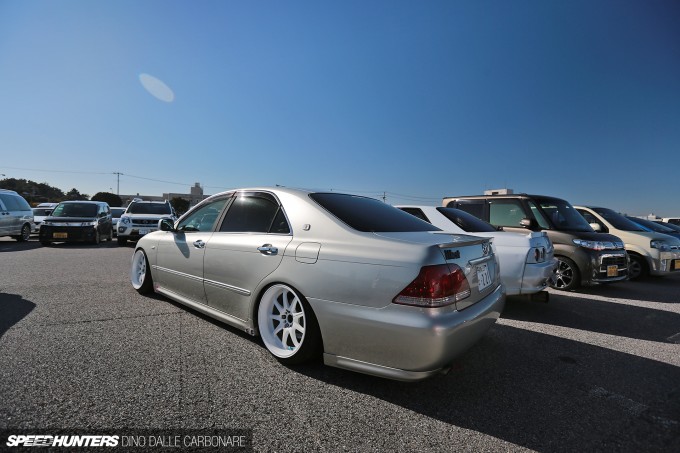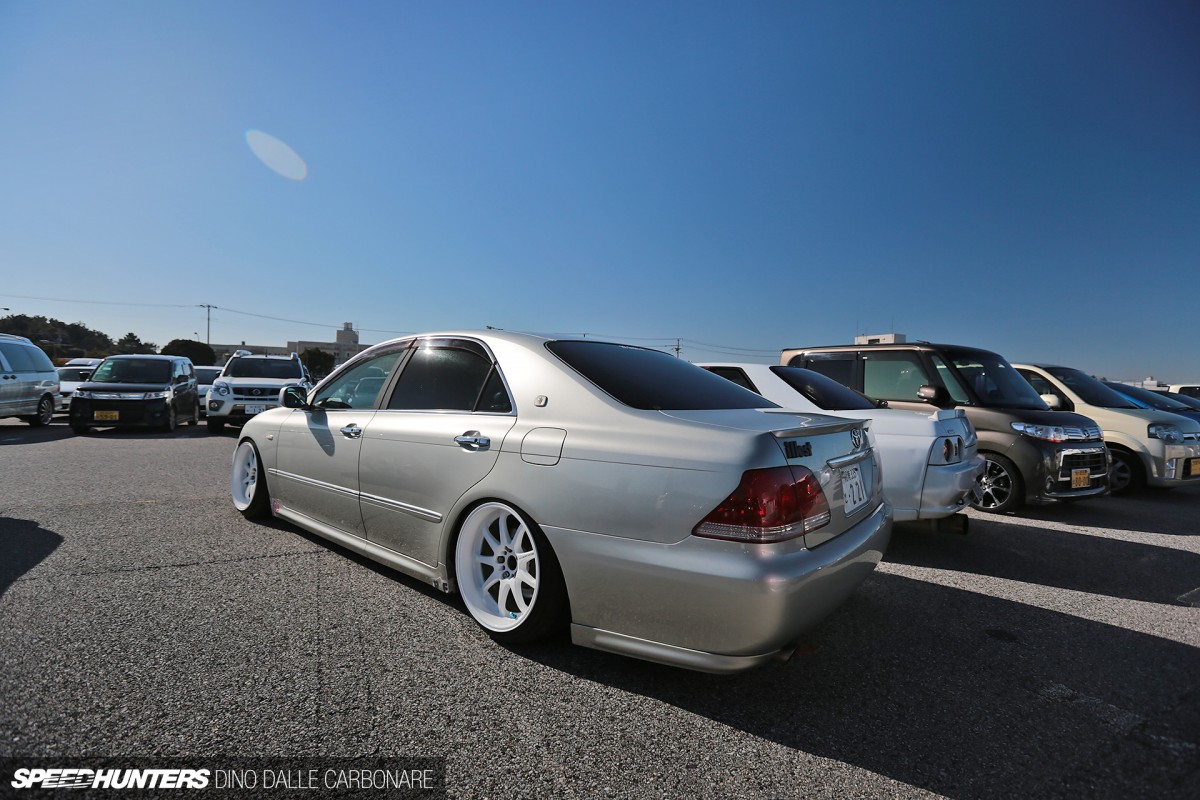 When VIP meets a sports car look, it's almost always an automatic win for me.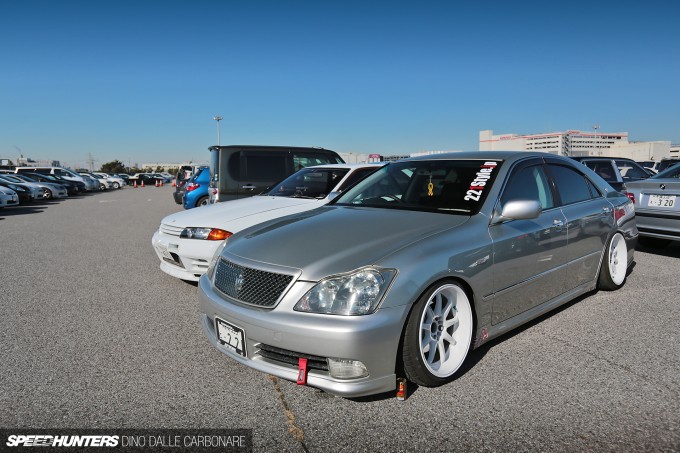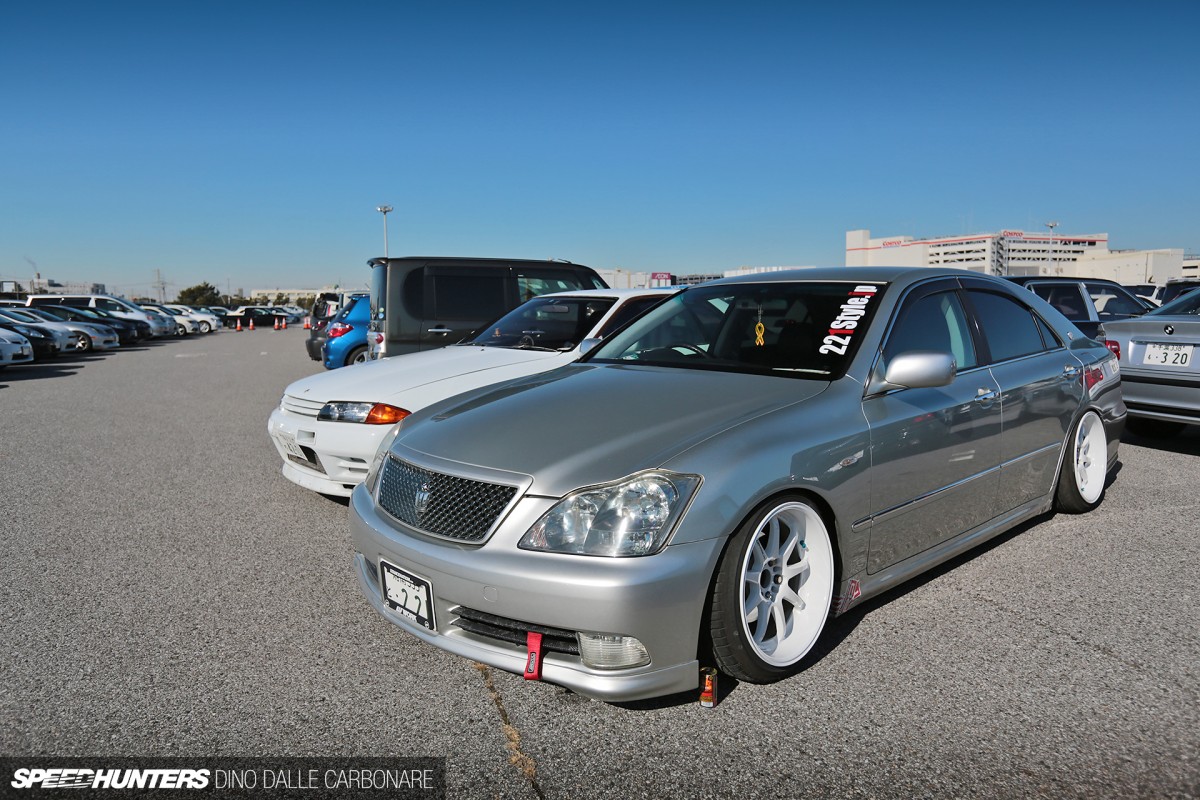 This Athlete on Emotion XD9s was a real looker although I think the owner should have fitted a Takata x Speedhunters tow strap!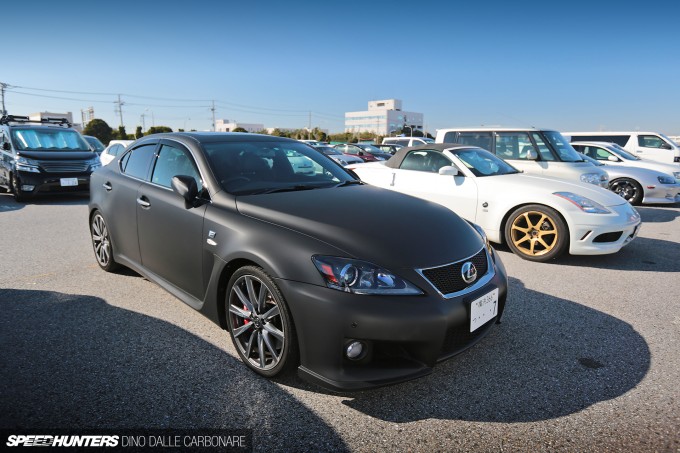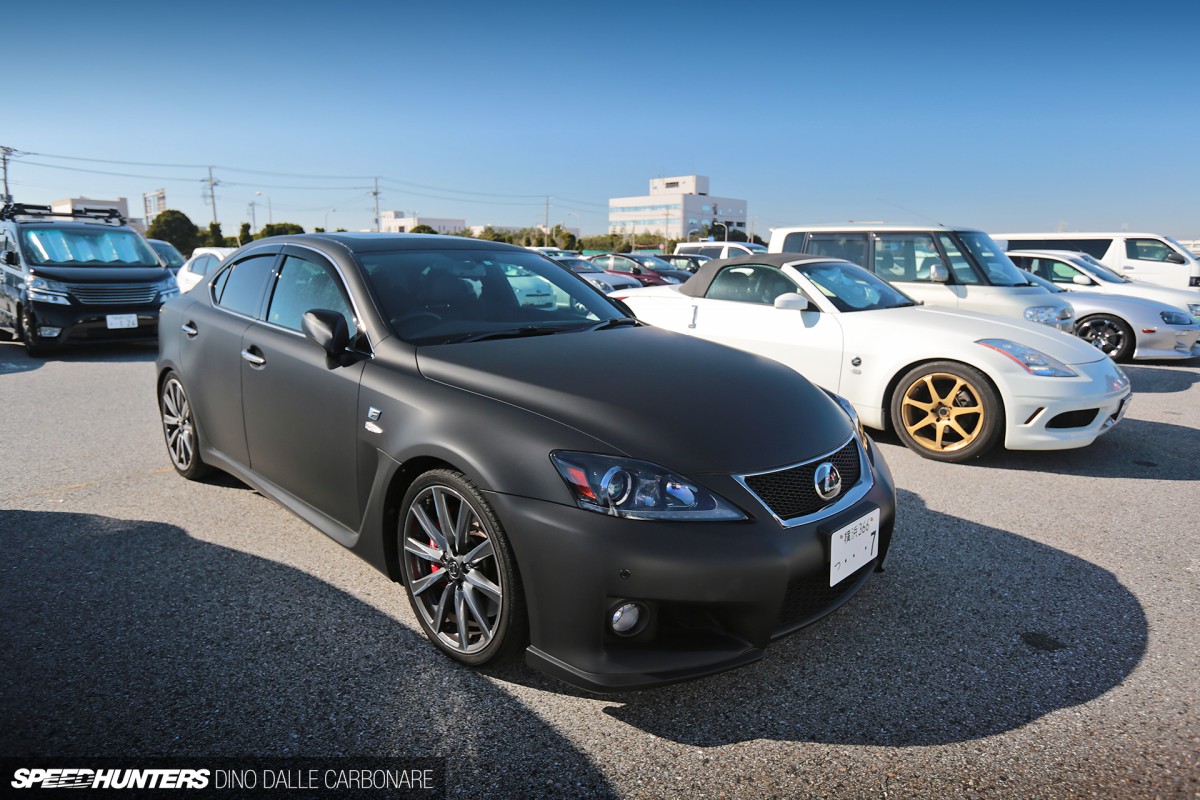 I was actually driving behind this flat-black-wrapped IS-F in the morning on the expressway, so it was cool that I found it later that afternoon. The car is all stock, yet it drew me to it, proving that it's still very much an awesome-looking car after close to eight years on the market. The new RCF though… well I can't wait to get a chance to drive that, maybe against an M4!
The LF-A, ah wait…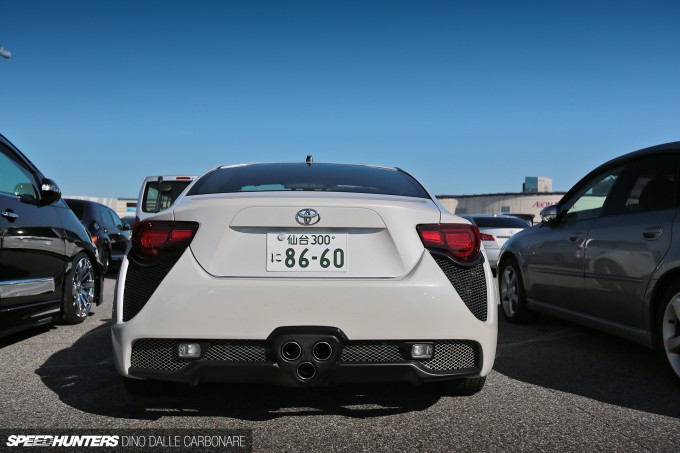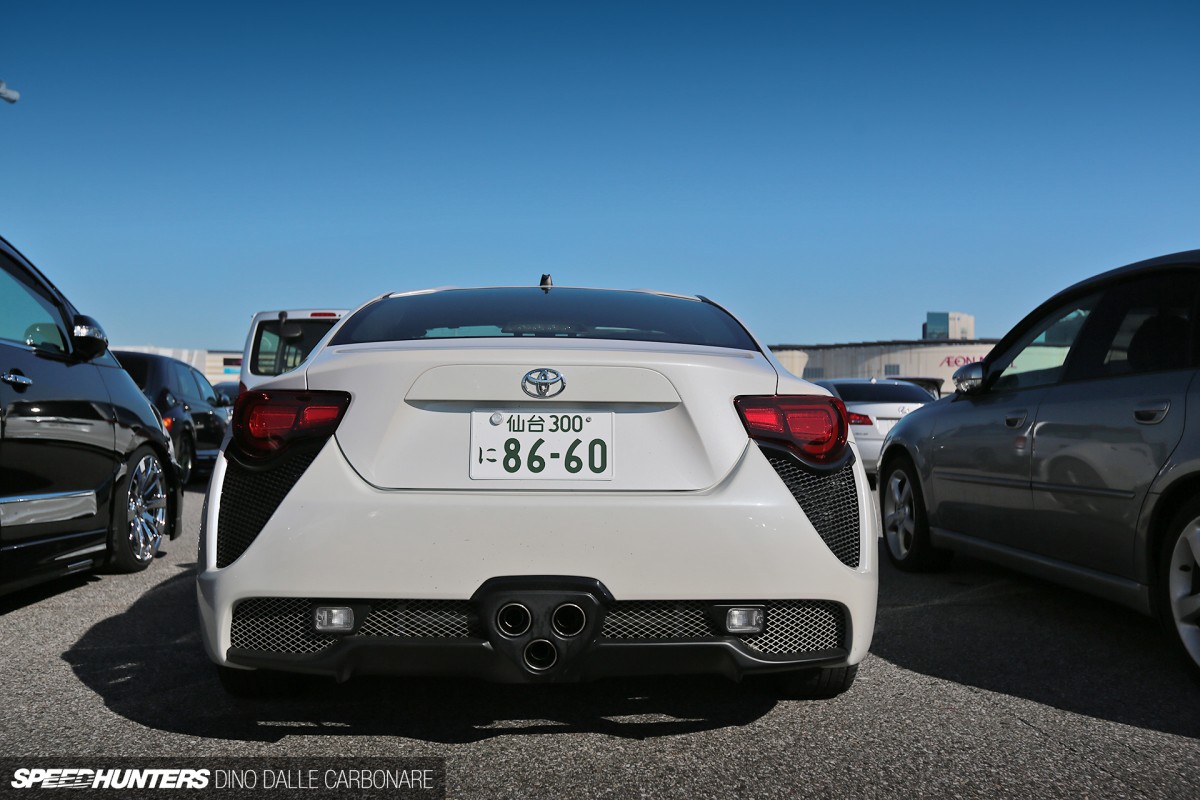 I thought I had seen an LFA for a second, but it turns out it was a DAMD-kitted 86. It's quite impressive the amount of LFA details that have been added to this rather well-executed kit, like the grilles under the tail lights and the three exhaust outlets at the center.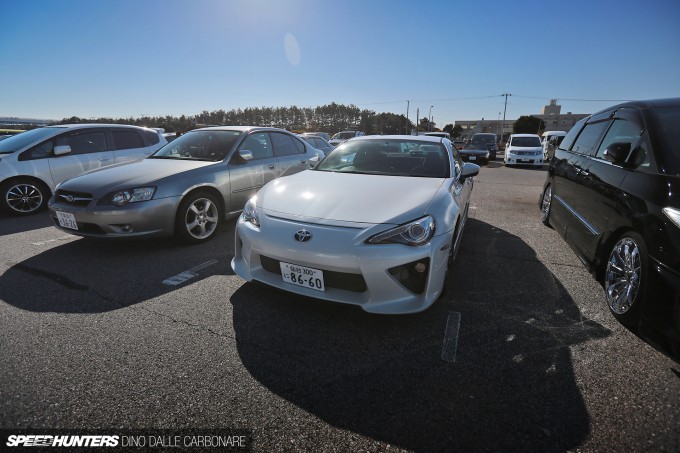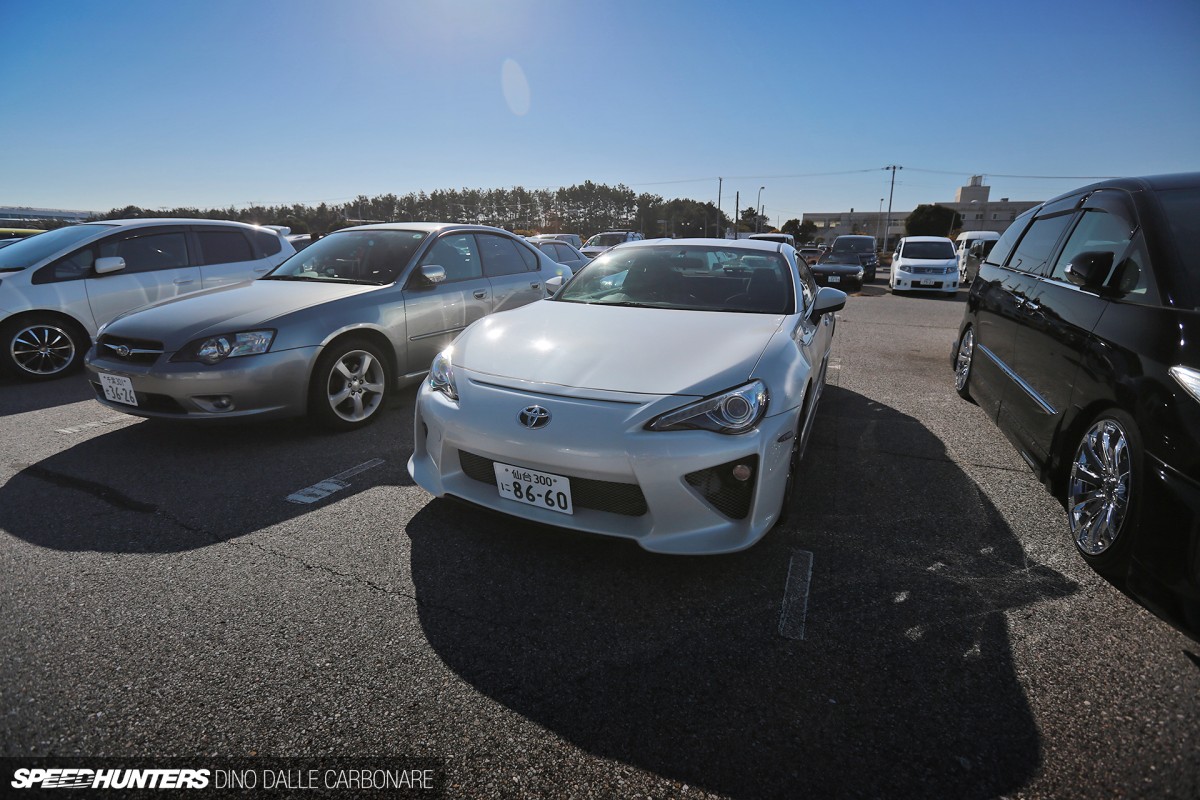 The front bumper continues the look with those triangular intakes. I wonder if an LFA V10 would fit into a ZN6 chassis? Toyota should sell a crate version of the engine!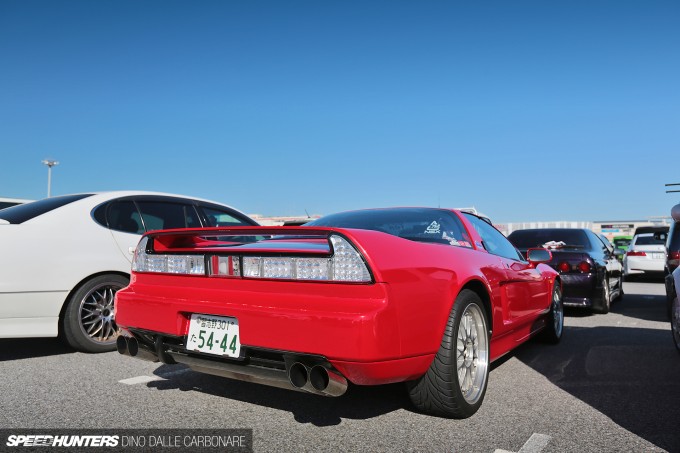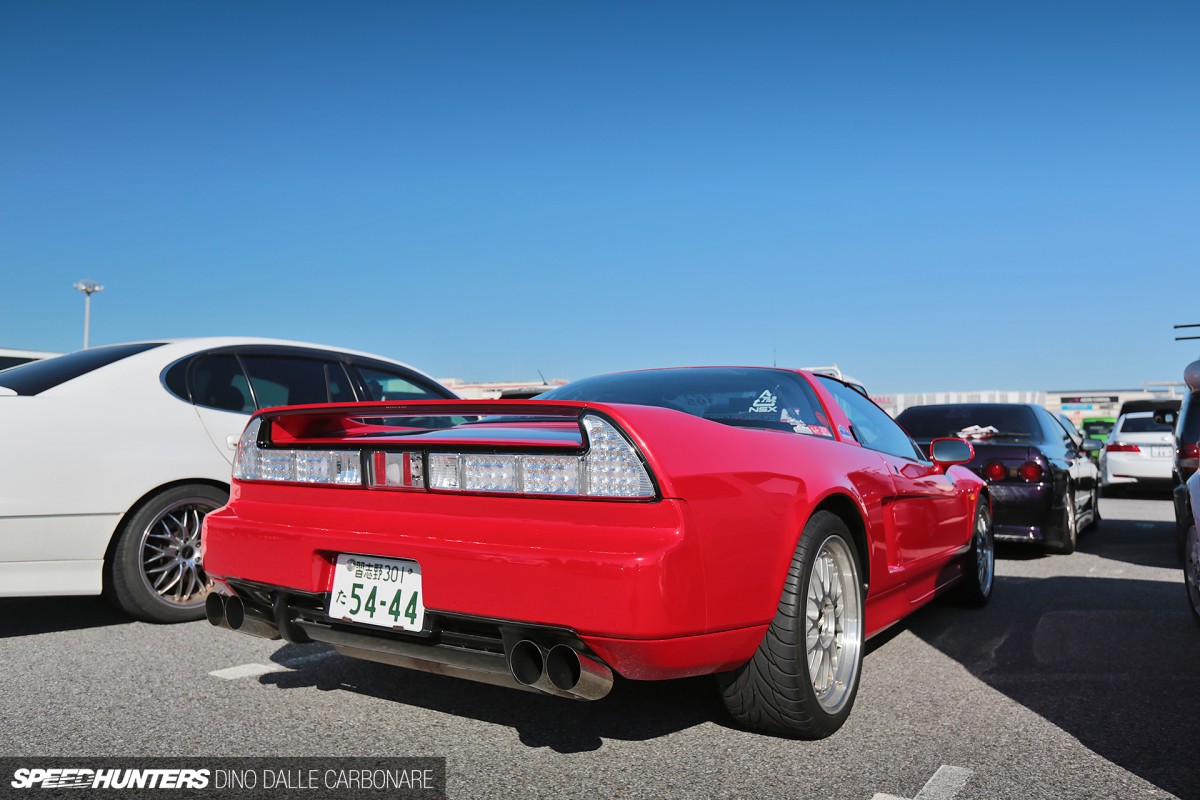 Clear tail lights aside, this still remains an NSX after all and the only one I saw during the whole time I spent in the car park.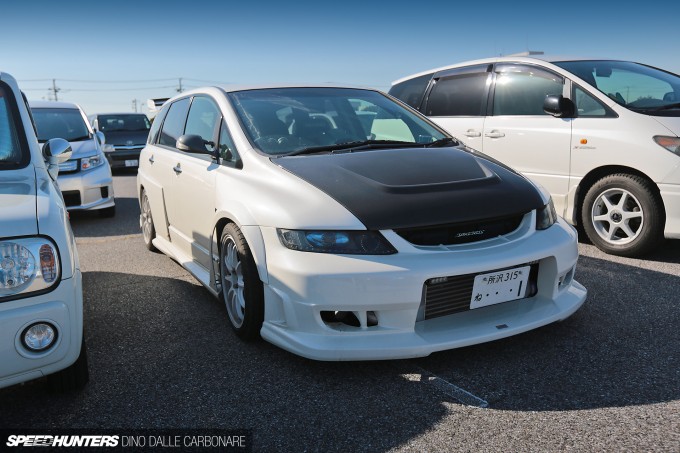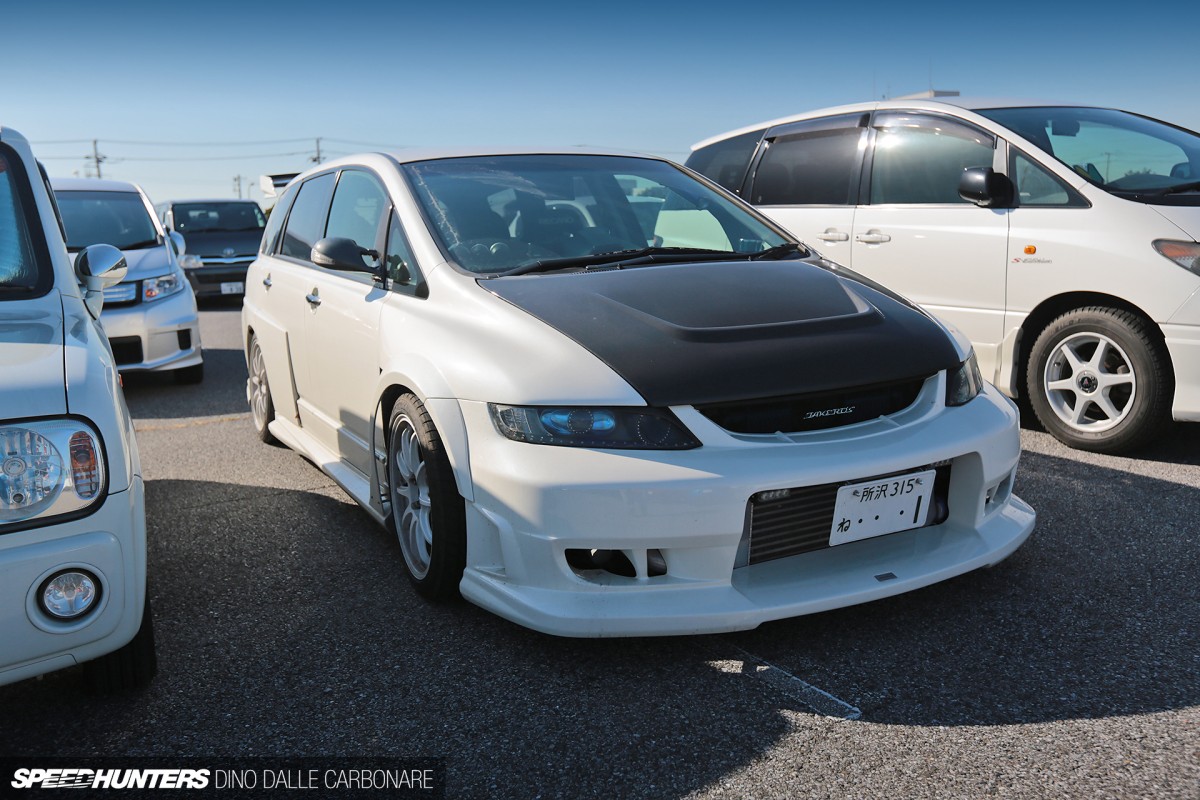 I once went to check out the Takeros shop out in Hachioji and I was blown away by the work they did on Odysseys and other family wagons that customers happen to bring in. If you recall, they were actually racing a time attack Odyssey a few years back at events like Super Battle. Crazy stuff!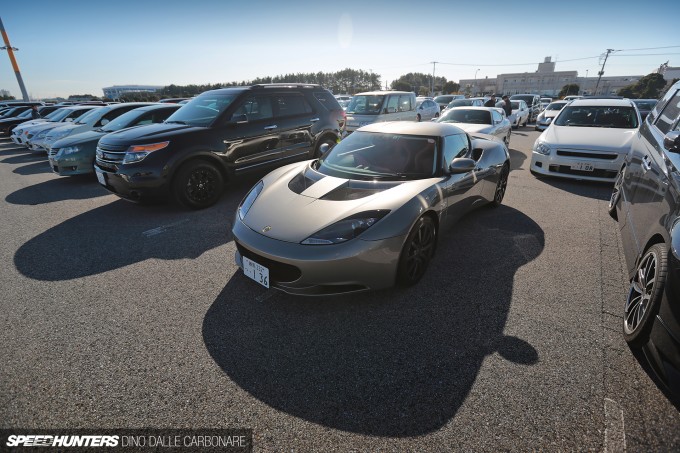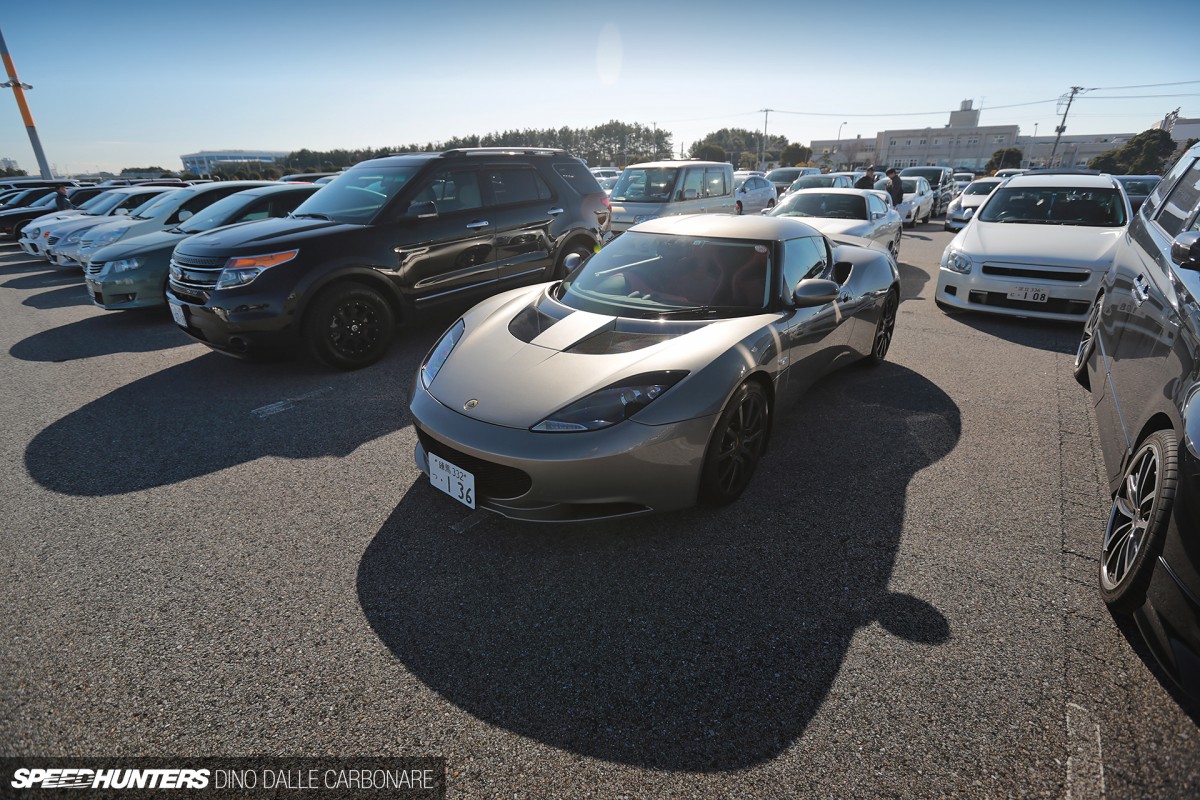 The Evora is one car I've always wanted to get behind the wheel of. In theory it makes so much sense: a more grown-up Elise, a bigger engine and a few creature comforts but then again that's never been what a Lotus has always been about. Still, would love a steer.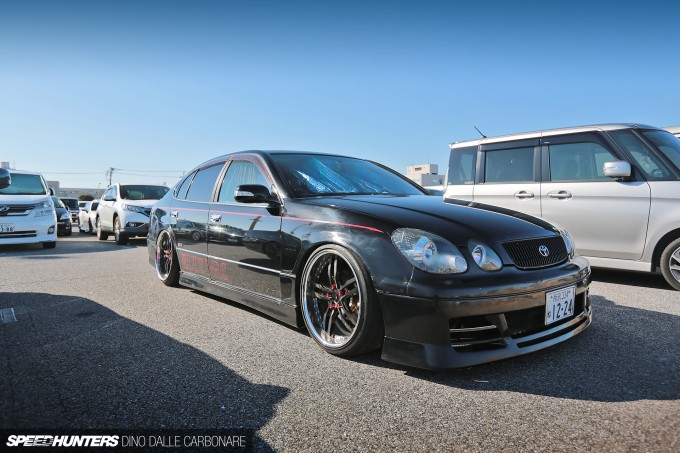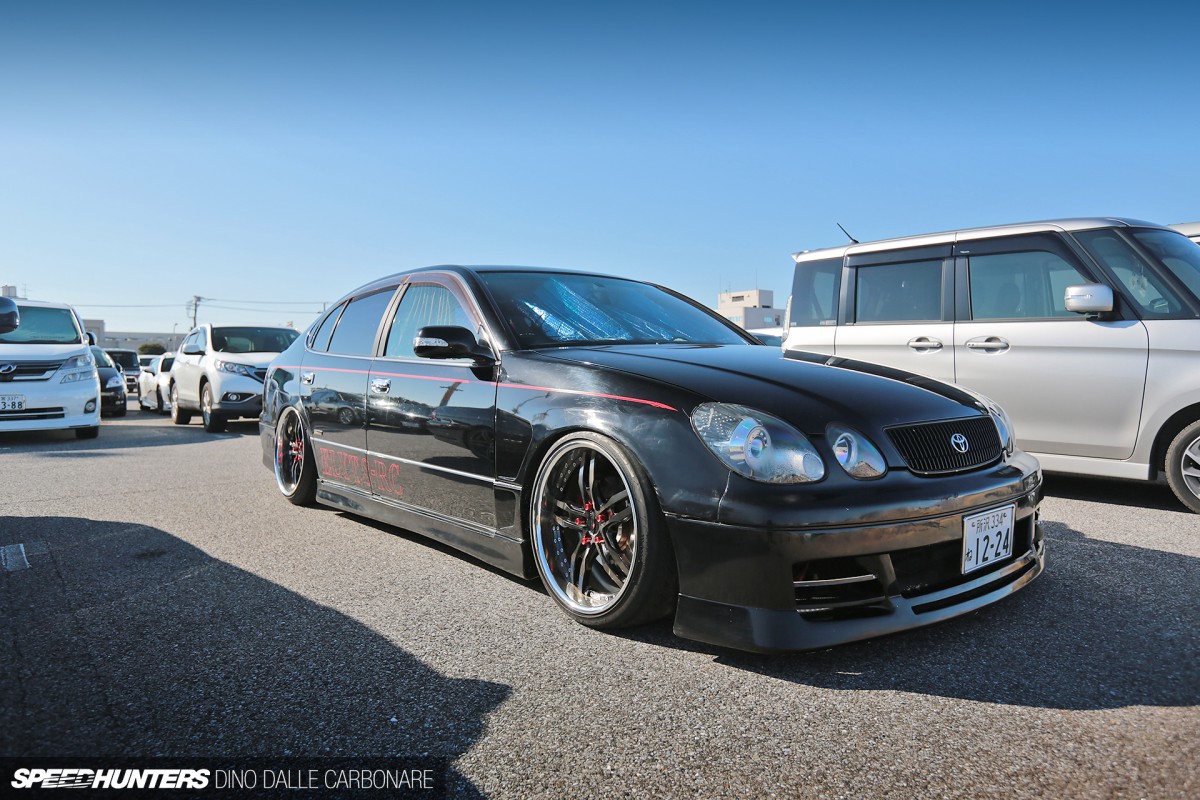 How old is the Aristo again? I remember when the first gen of the car came out while I was still in high school and a Japanese magazine took the limiter off the Vertex V300 version and managed to record 300 km/h. Since that moment, I've always thought it was the coolest JDM sedan on the street, and then they updated it with this twin-headlight model which was even prettier.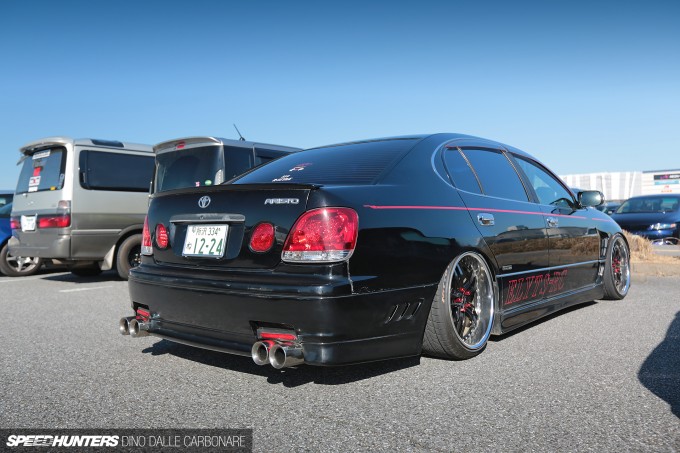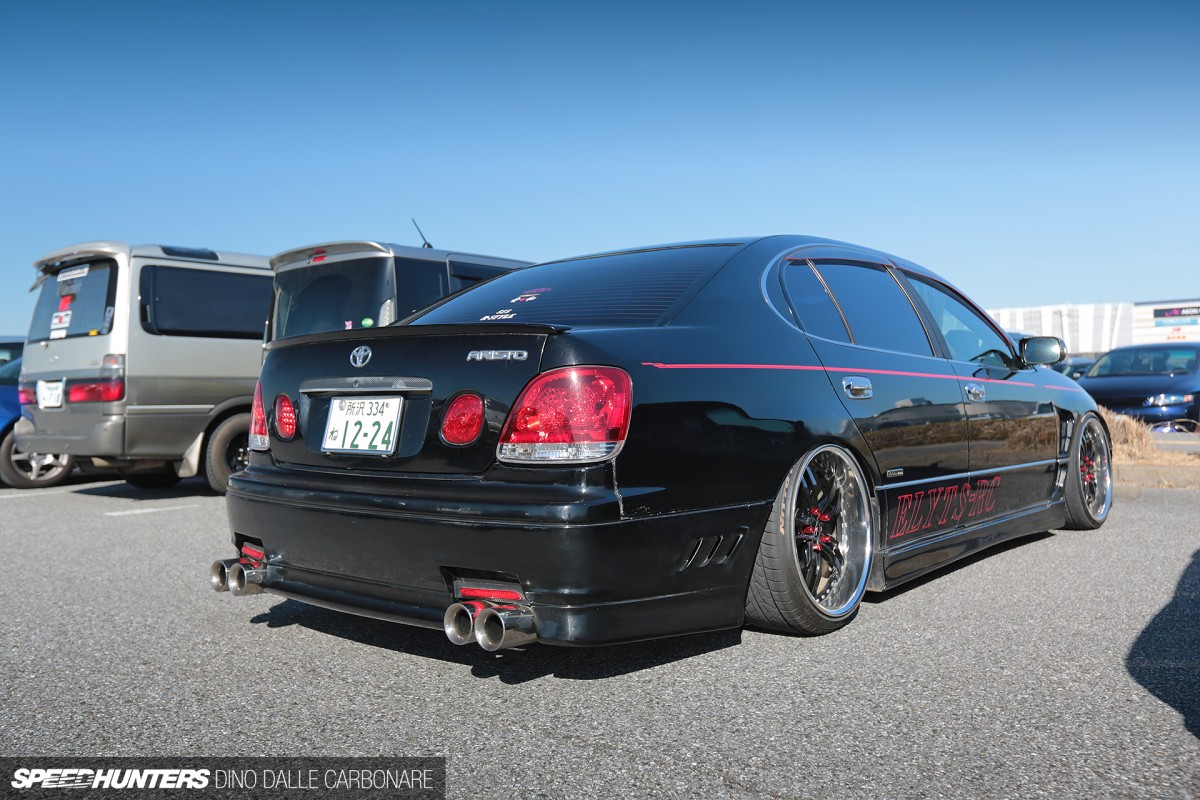 It does well in so many guises. VIP probably suits it best but then again, with a 2JZ up front for the V300 model, there's a lot more that can be done with the performance side of things too.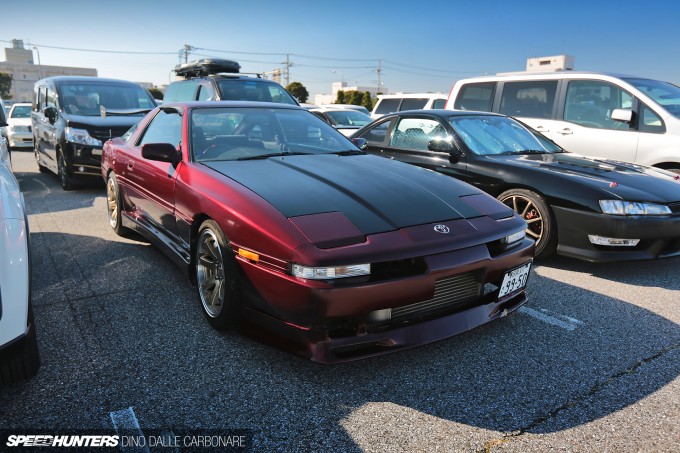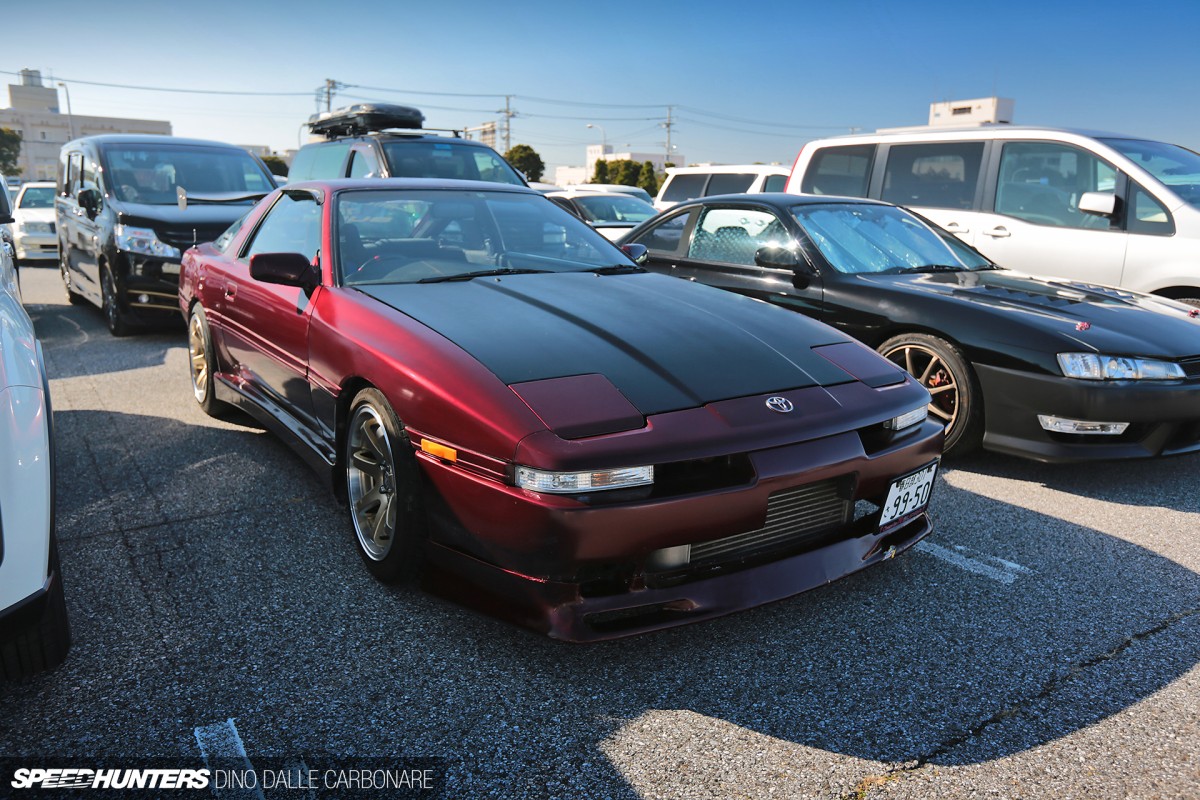 I thought I'd show some old school Supra love with this JZA70, the last car I snapped before packing my camera away and heading back to Tokyo for the day to start my writing.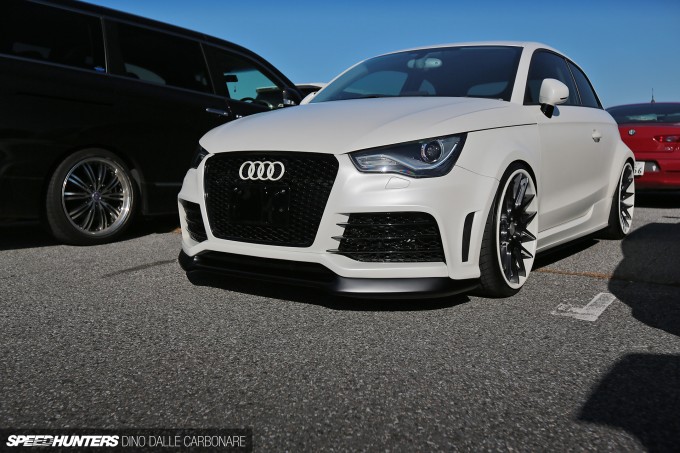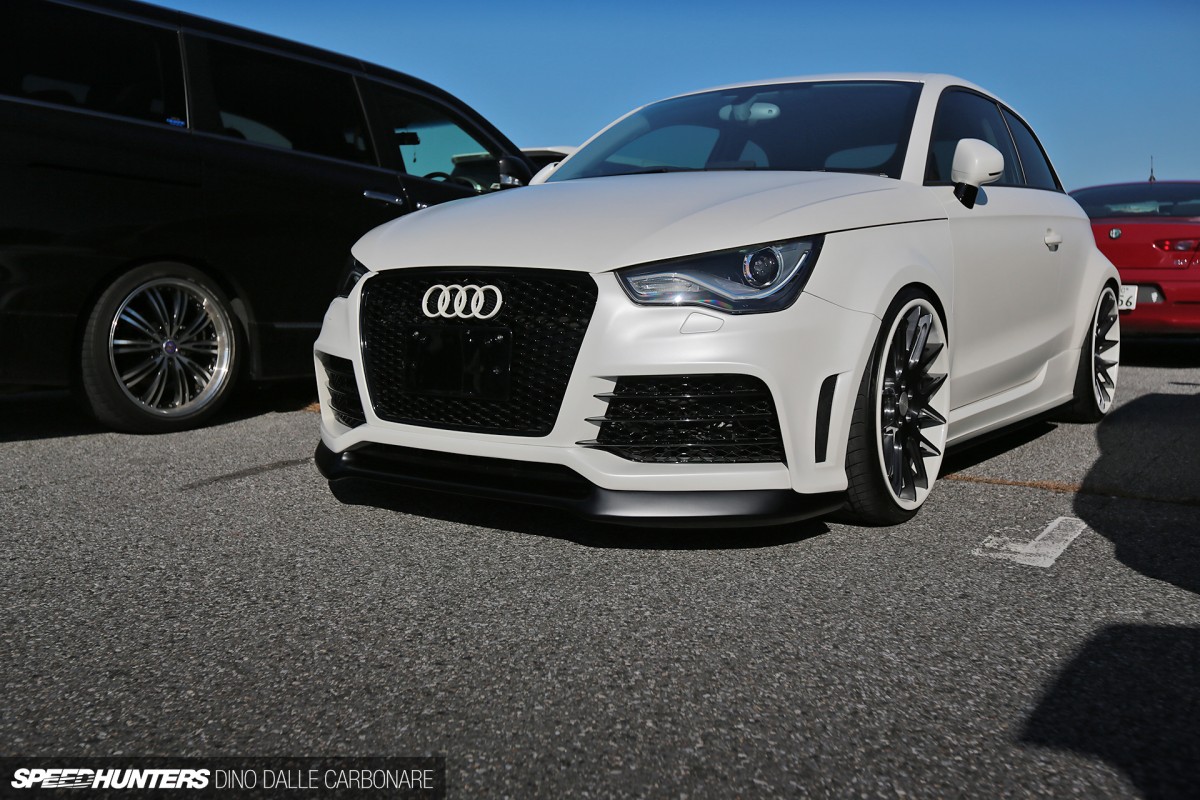 But then, as I was driving out, I spotted this Audi A1 and just had to pull over and stop, grab my camera again and take some shots.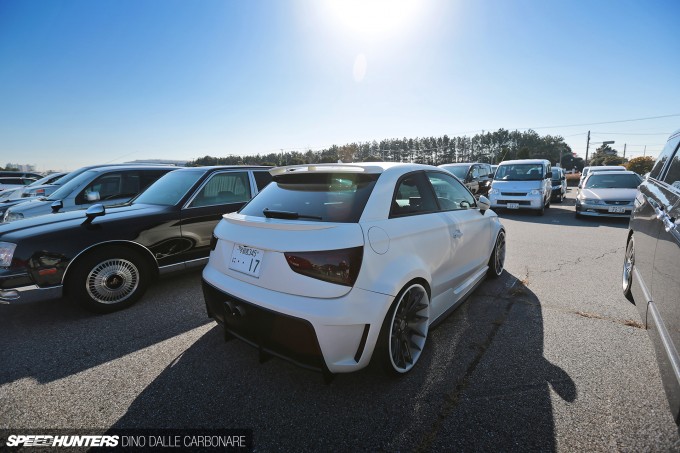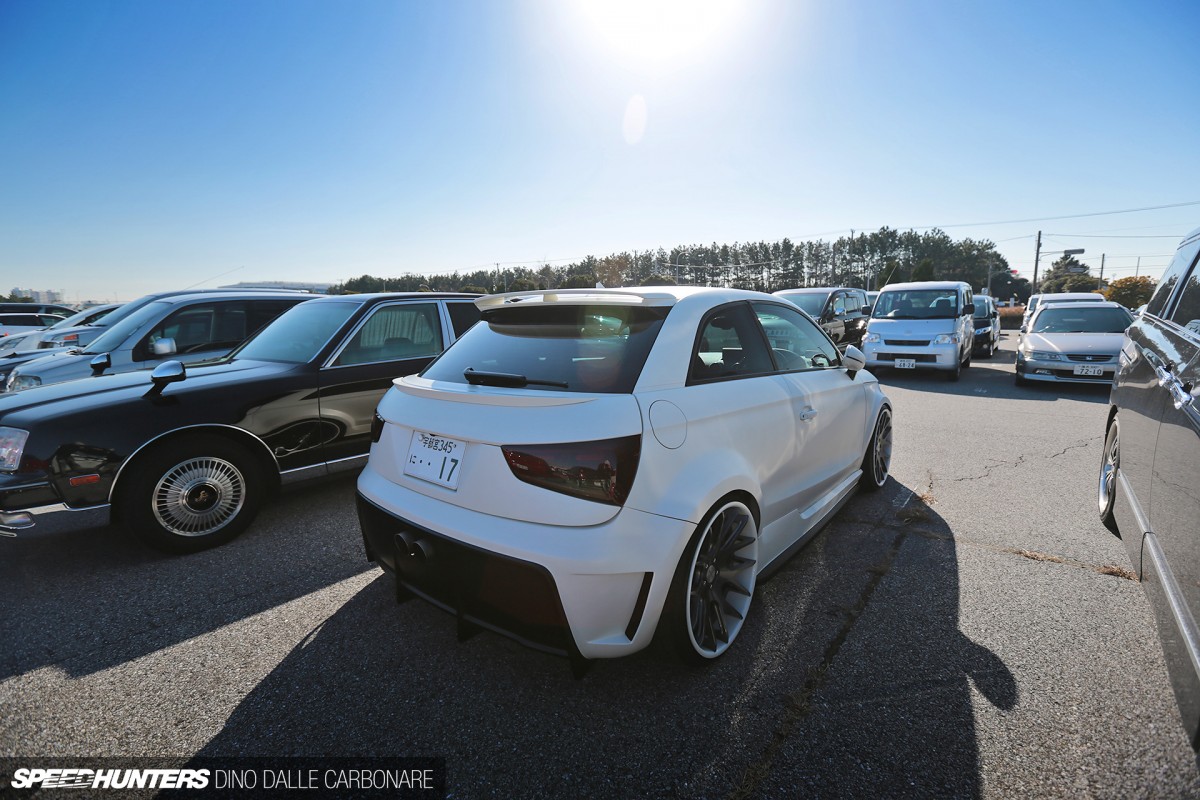 This thing was wild. It looked more like some concept car of a potential RS1 version than a regular street car. A great way to end this look at the TAS parking lot.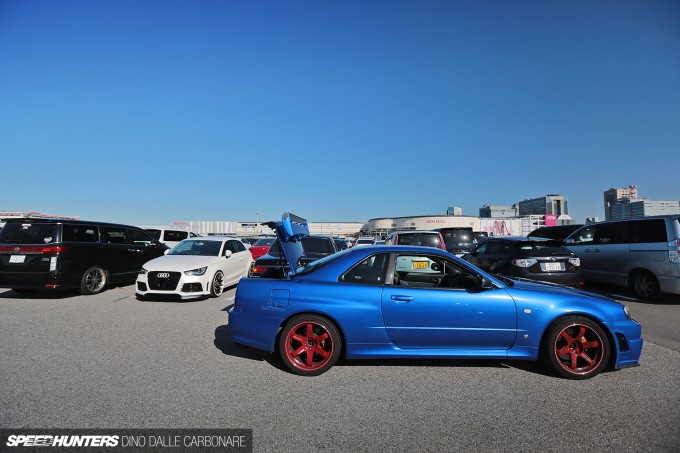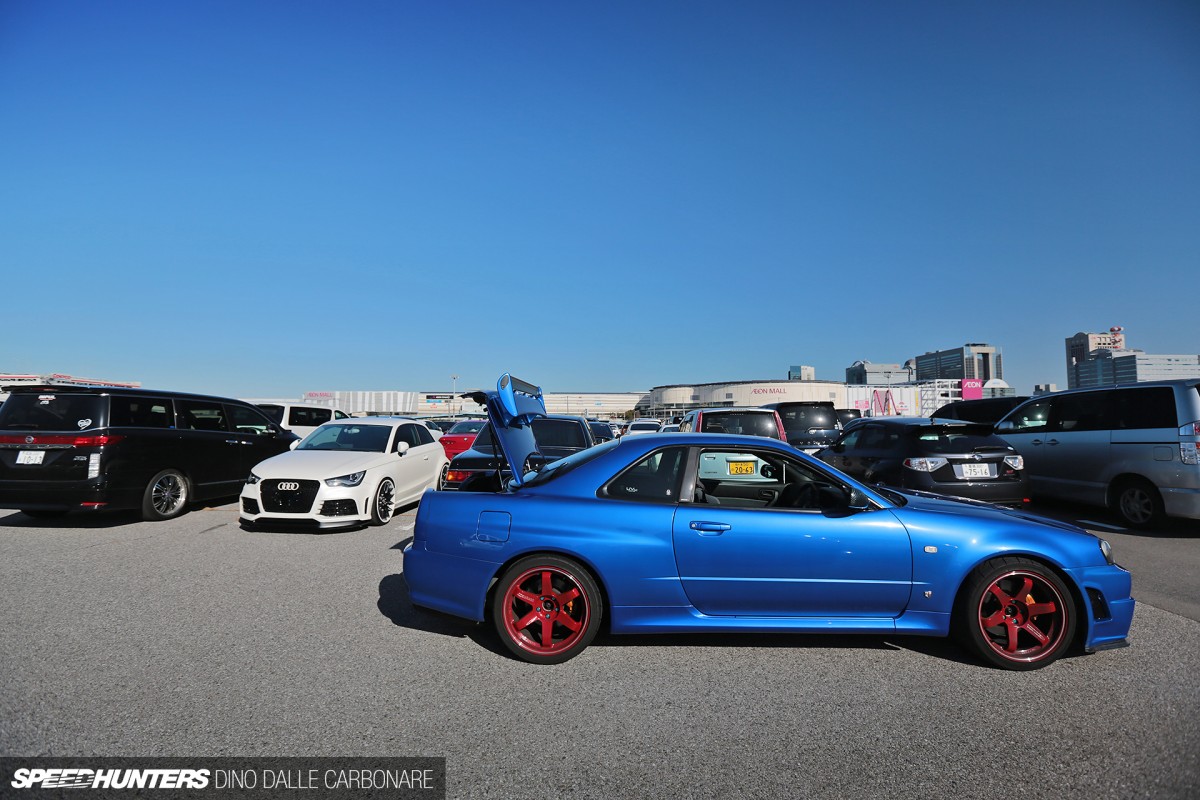 And that's also about it for the 2014 Tokyo Auto Salon. It's definitely been as wild as ever, and after posting a total of 260 images over seven separate posts, I hope you have enjoyed it as much as I have. Now it's time to hunt down some showcars for some features!