Choices, choices
If you had a chance to move to Japan for a while, what car would you pick up?  The choice would be quite difficult: there are so many JDM-only cars out here and a lot of them are surprisingly affordable. If you're like Rich from Garagespec, then you would probably be looking at getting yourself a nice Skyline GT-R: an iconic domestic that has pretty much reached legendary status. Rich enjoyed every moment of the GT-R experience but when he realized his time in Japan would be coming to an end, he had to make some decisions. From this year the 25-year rule will allow import of 1989 cars legally into the US. As we all know, due to some draconian regulations people have failed miserably when attempting to bring their Rs into the good old US of A, with cars not properly certified getting impounded and even crushed. Meaningless rules aside however, this will no doubt lead to quite a lot of R32s making their way over, but not Rich's car. His was a 1993 so that was just not going to cut it. Knowing that he needed to find new wheels, he quickly put the car up for sale and at the same time realised he fancied a bit of a change.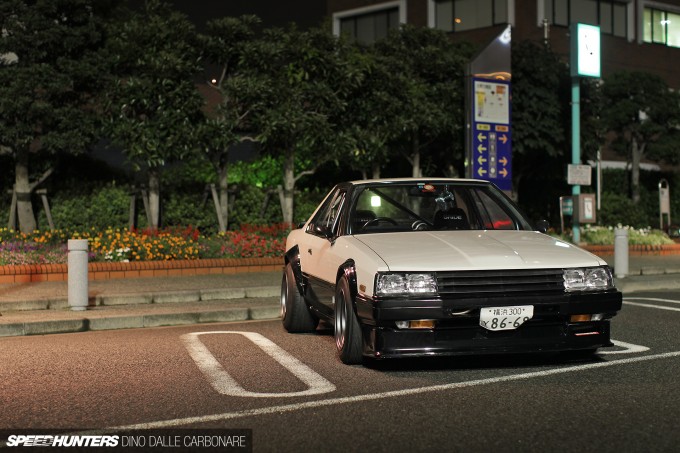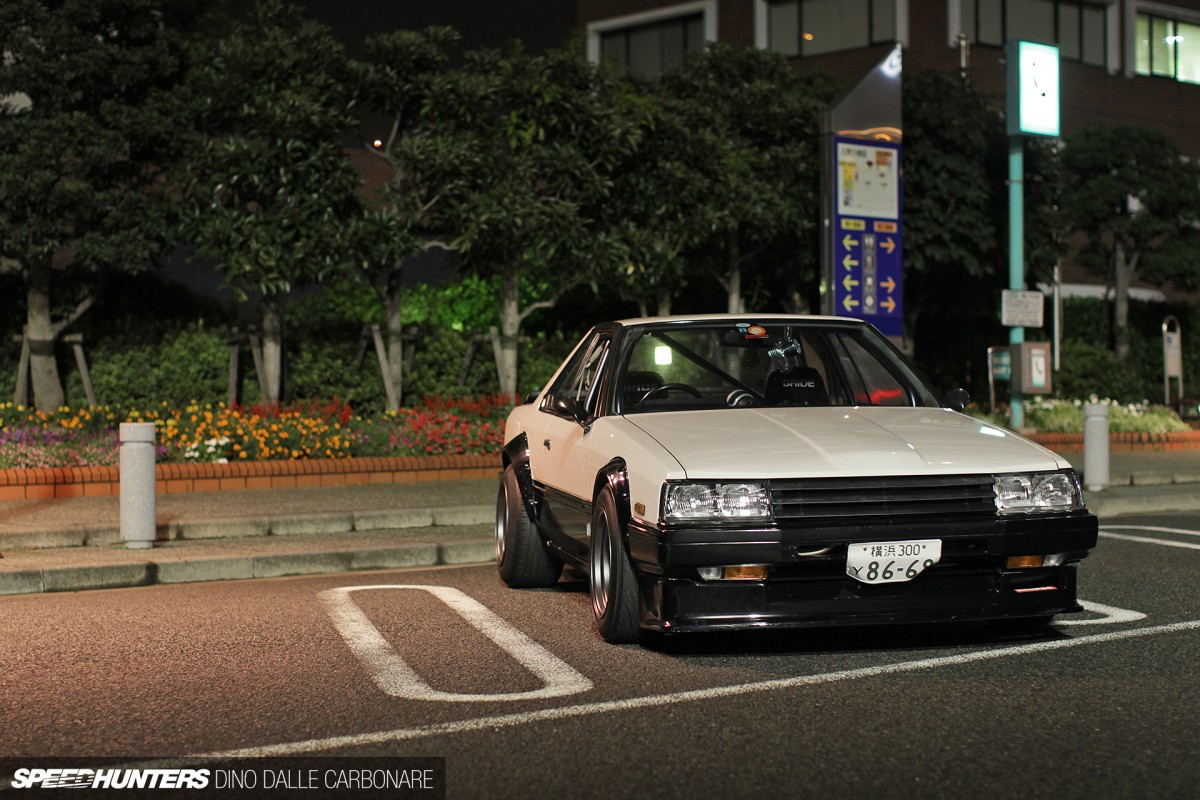 He did still want a Skyline, but something a little older, something a little more unique. The search ended up taking a good six months but then, one day he stumbled upon something that just looked right. What ticked all the boxes was a car ten years older than his BNR32: an HR30 – or san-maru as it's referred to in Japan – Skyline GT that had already been previously modified. Rich liked the almost Hakosuka-like bolted on fender flares, the Watanabe wheels it was sitting on and the lure of the '80s boxy lines just proved to be irresistible. The car was far from perfect however: it seemed like every upgrade that was done to it was executed pretty poorly and there were lots of details that had to be fixed up, but it was just what Rich was looking for.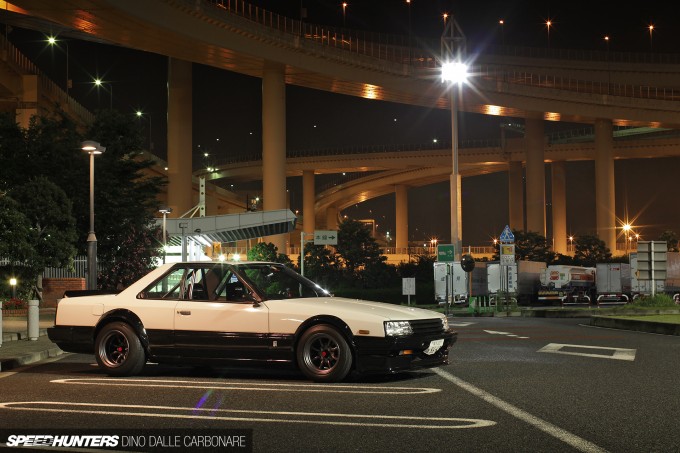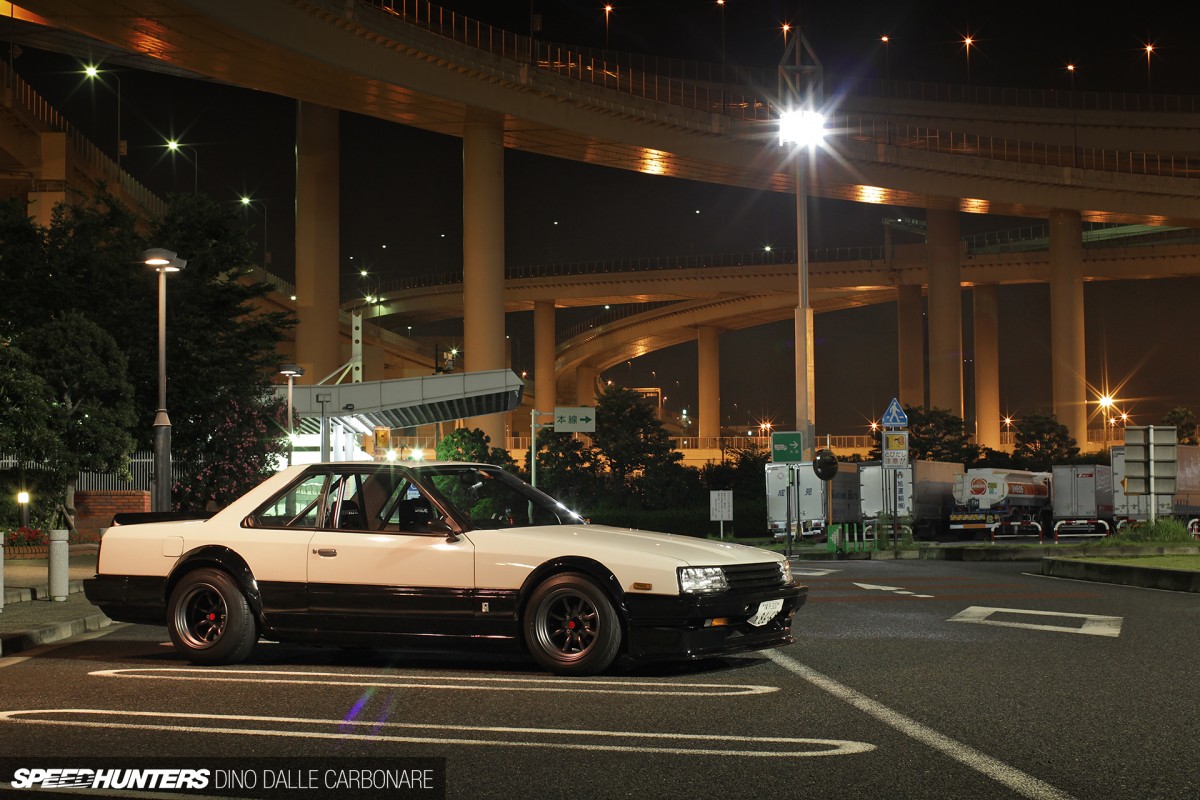 He spent the next months working on the car, fixing it up, making sure everything worked as it should. Now, as you read this, the R30 is on its way over to the US where it will be legally registered and driven on Washington roads. It could well automatically become the most unique Skyline on American shores?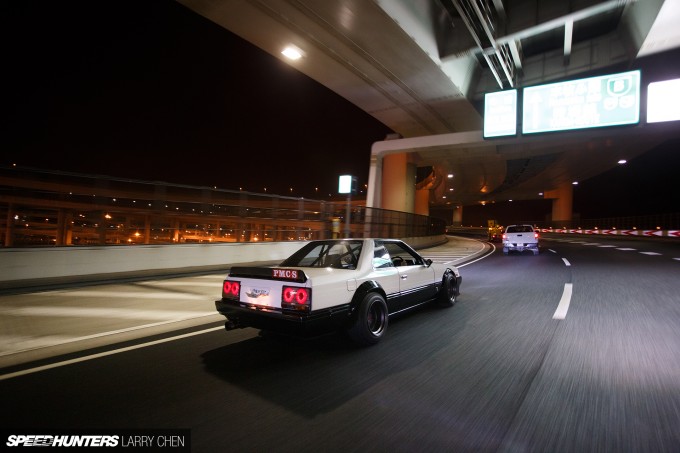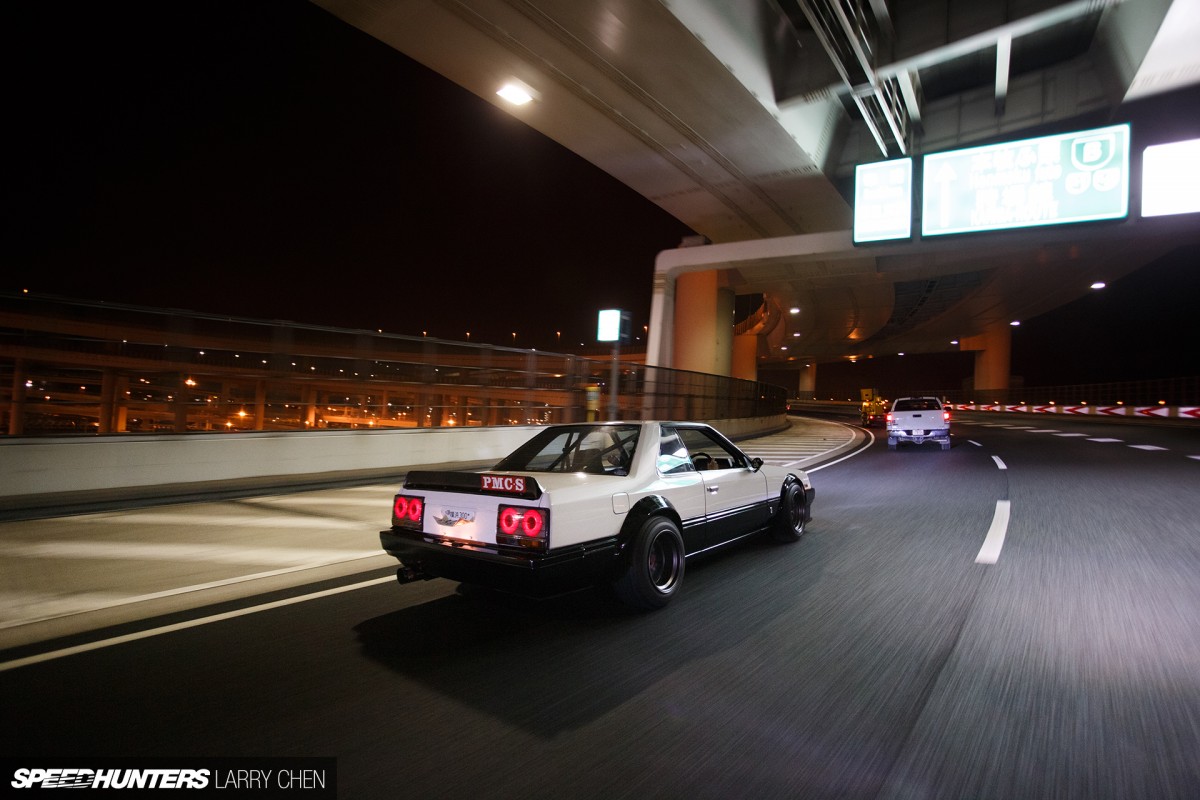 Back when Larry was over in Japan, we met Rich at Daikoku, where I had originally first seen the car months prior. Daikoku at night always serves up some nice modern industrial backdrops; a great place to check out the R30 in detail now that Rich is happy with how it looks.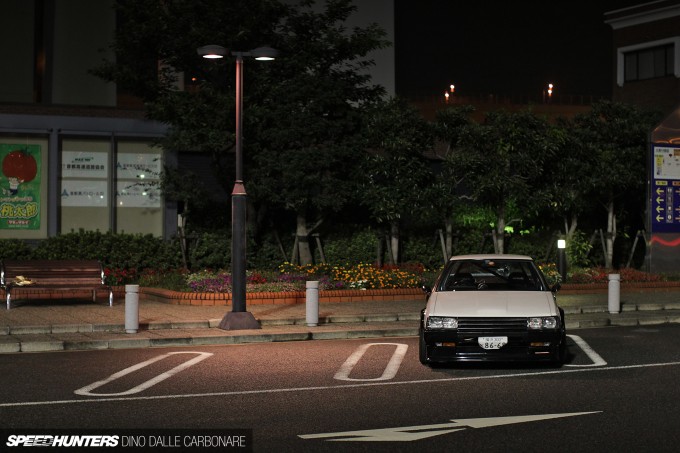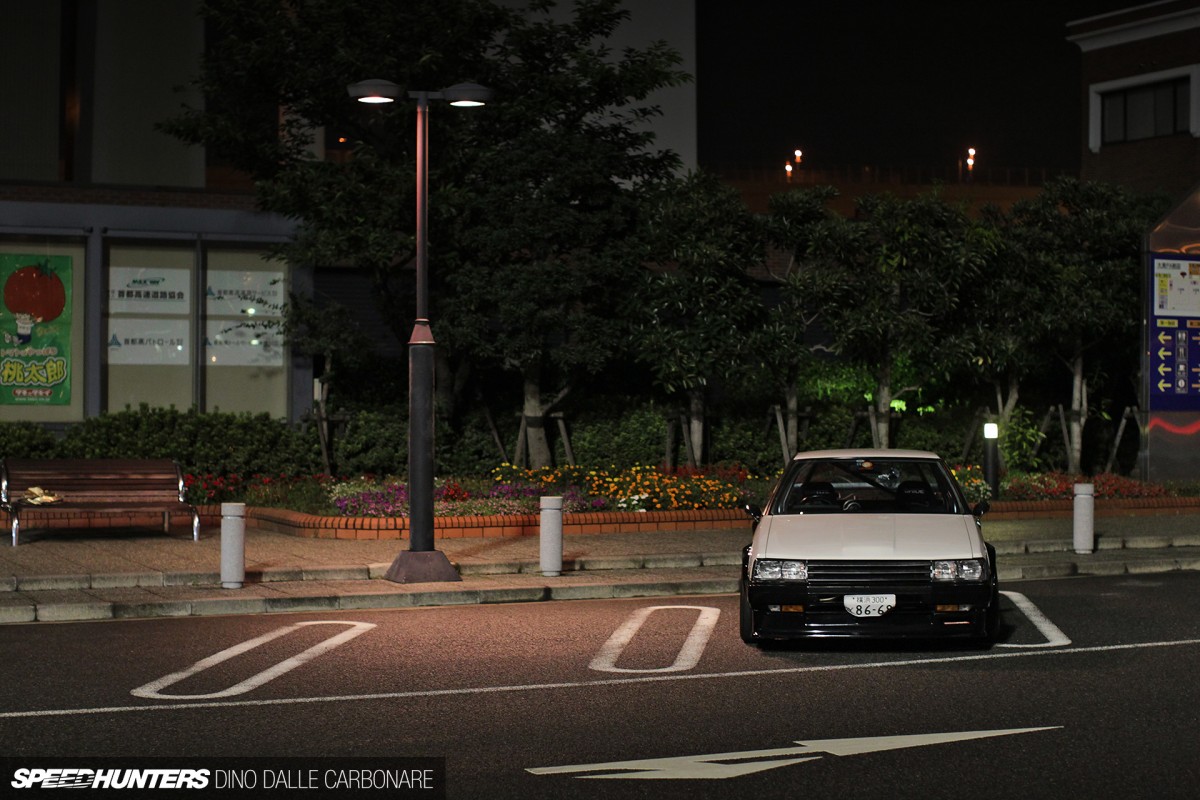 So when we rolled in, there it was, sitting all by its lonesome self under a dimly lit corner of the Parking Area.
Fix up, look sharp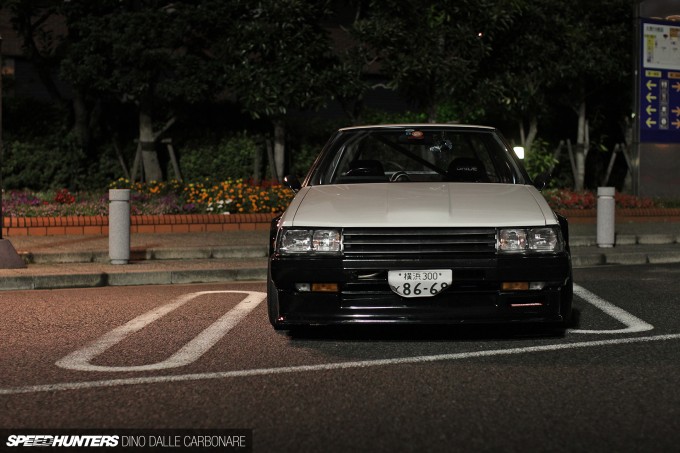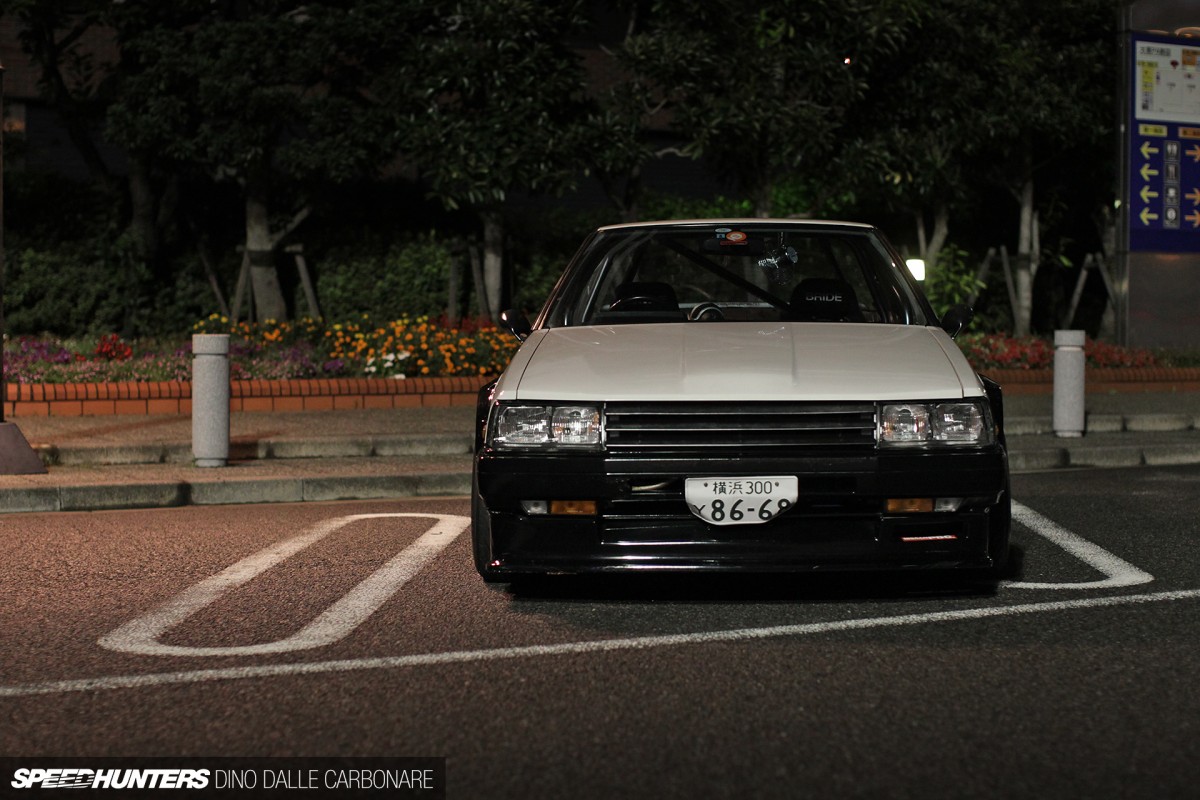 Much like Rich, I'm one that has always liked the '80s JDM look, and even more so in the last few years as these cars continue to become more and more popular. Rich did tell me that getting into a kyusha, after a somewhat modern car, takes a lot of dedication and it really tests your love for cars. There are lots of rattles, lots of things that can and will potentially go wrong, so you've got to be ready for when they do. The car is pretty loud and a bit scary to drive on the limit, but then again, that's the lure of these older cars, right?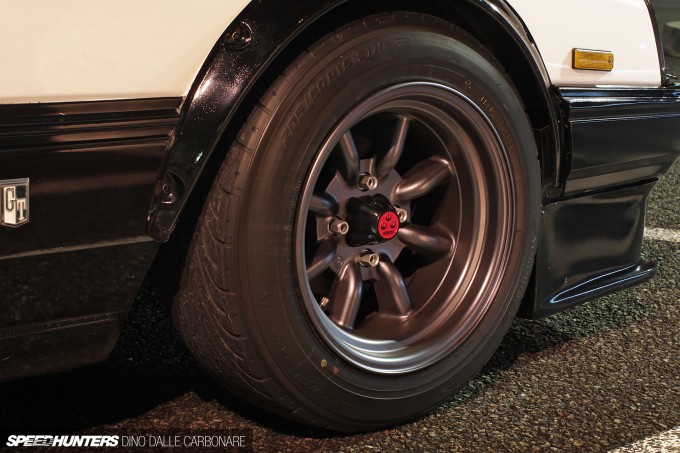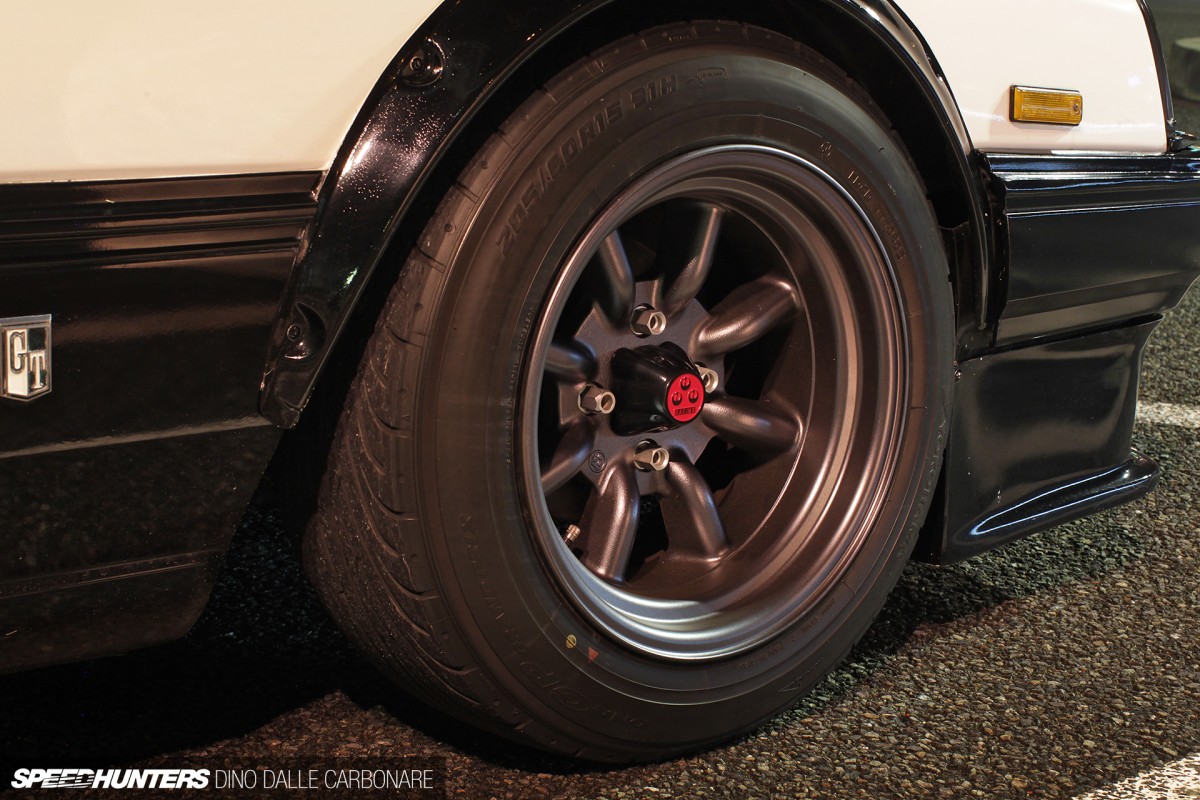 The 15-inch Watanabes the car came with were in a pretty sorry state, so one of the first things that was done was to get them off the car, clean them up and have them freshly repainted. Rich threw in a set of new center caps which he picked up at the Nostalgic 2 Days show in Yokohama last year. Now they look like brand new wheels. The 8.5-inch fronts are wrapped in 205/60R15 Yokohama DNA GP rubber, while the 11.5-inch rears run 225/60R15 Continentals. 25mm bolt-on spacers significantly bump the offset of the wheels to get them to sit nice and flush with the flared fenders.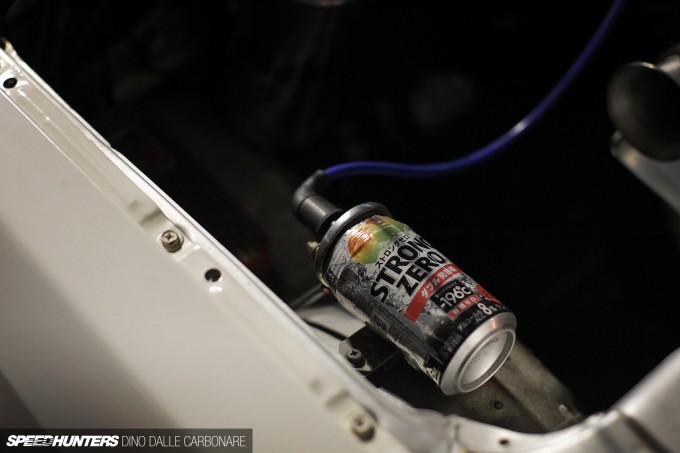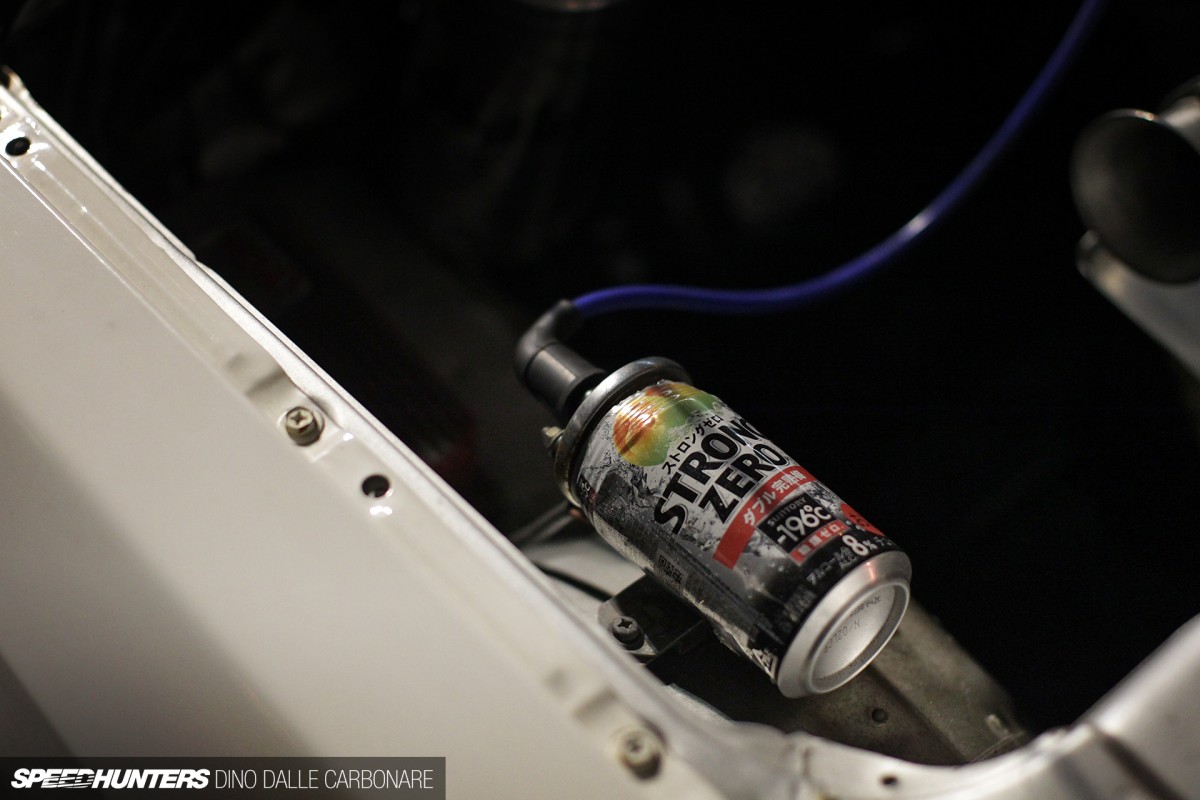 A ton of work had to be put into the car to make it shine again. The previous owner had really not looked after it at all well and after some serious compounding, polishing and general detailing, the paint was brought back to its original shine. People that had known the car before thought Rich had repainted it, such was the state it had been left to degrade into. After that was done, it was the time of the engine bay and Rich really had to put some elbow grease in there. Along with a lot of cleaning and degreasing, components were removed, replaced or repainted to color-match things up a bit and give a sense of coherence to it all. A unique ride was made even more unique with some cool touches like the cans of beer and chuhai – a Japanese fizzy shochu based drink – that double up as the distributor cover, radiator overflow, clutch breather and even wiper motor covers.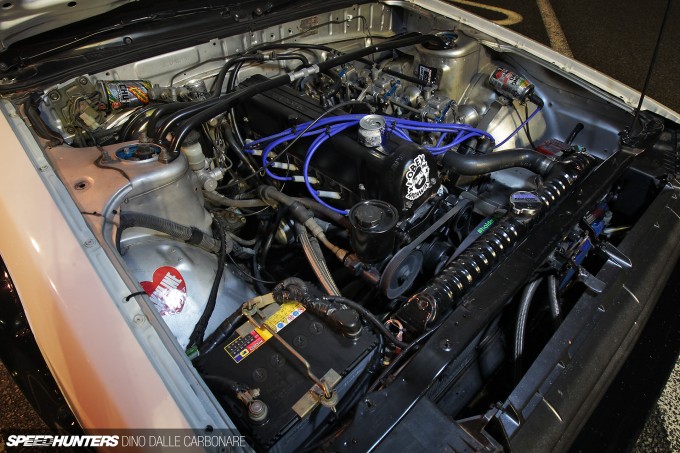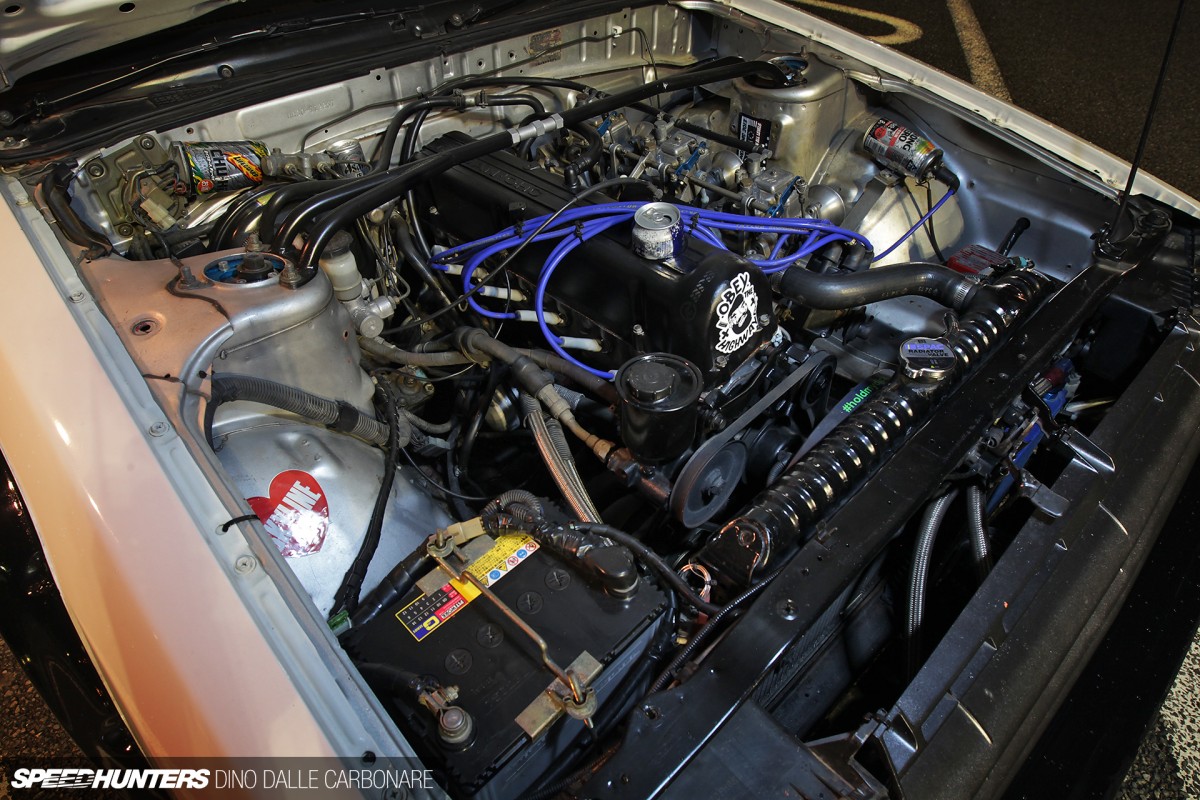 One of the main reasons Rich was so set in getting his hands on this fixer-upper was that it was running just the sort of engine swap he was really after. The stock turbocharged L20 had been replaced with an NA L28 out of a 280Z, along with the transmission. Plus he knew it was running a recently overhauled P90A head, with all the work having been done by a respectable shop – a great guarantee for future reliability.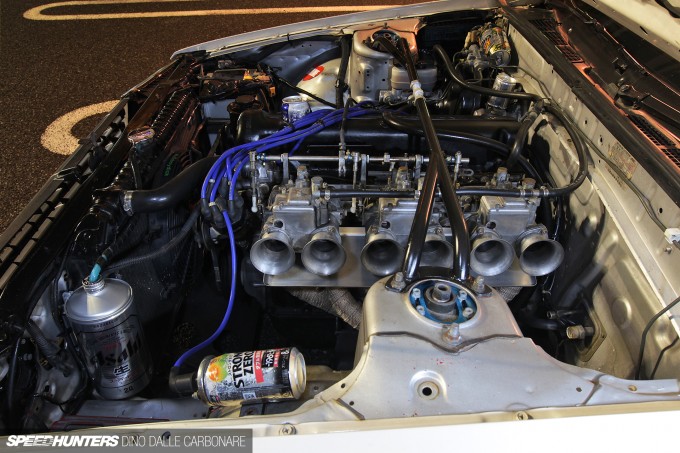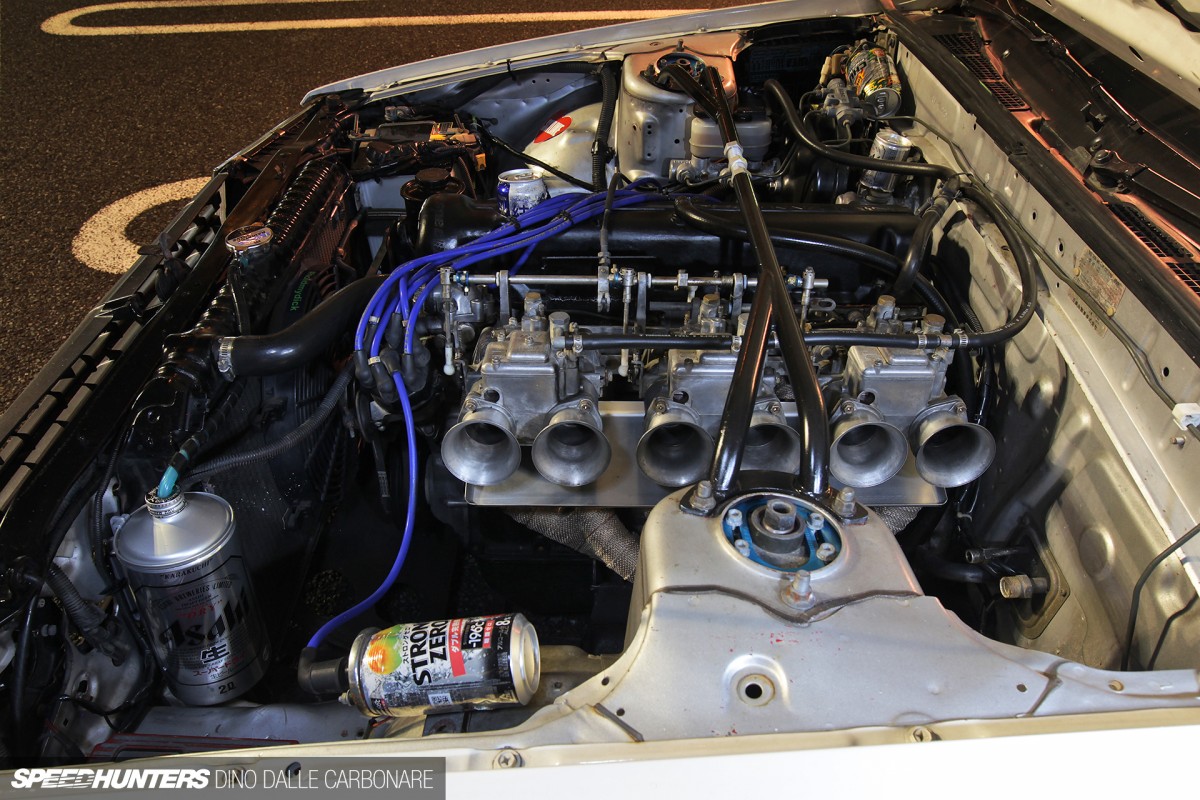 On top of that, the motor is actually boasting upgraded internals consisting of an LD28 crank, 240Z connecting rods and KA24E pistons all good for a 200cc boost in capacity.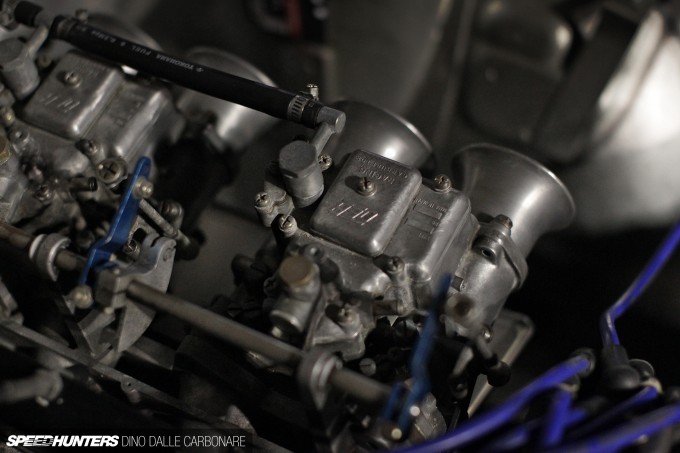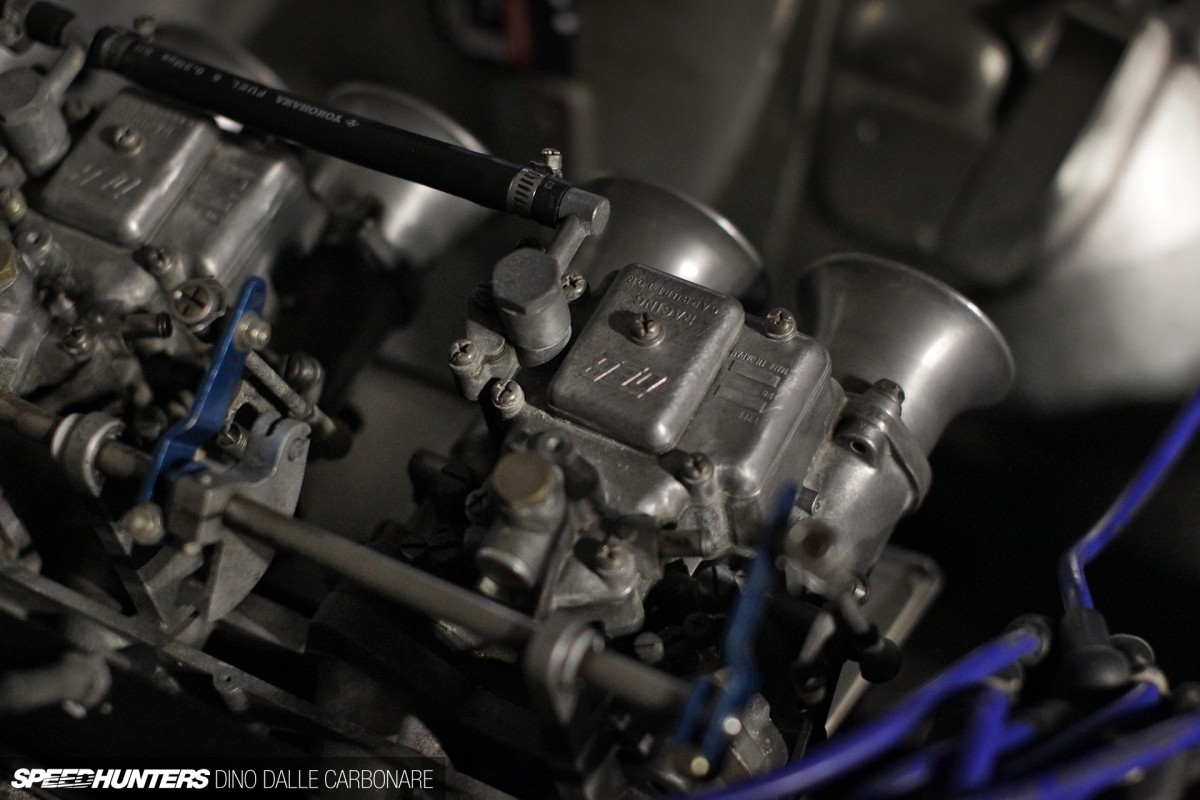 The raspy traditional straight-six kyusha induction sound bellows out of the 47mm OER carburetors which give an electrifyingly quick bark at the mere press of the throttle while the Kakimoto exhaust system does a hell of a good job of amplifying jut the right sort of frequencies! An aluminium baffle protects the velocity stacks from the heat that the wrapped headers underneath them generate, making sure that at speed, there's always a cooler charge of air being directed towards them. Under the head cover that Rich had repainted sits a Tomei Powered 300-deg cam and adjustable cam pulley which is there to make the most out of the 3 liters of capacity and the OER carbs.  The 280Z transmission is joined to an OS Giken single plate clutch which is apparently pretty easy to live with and very well weighted for everyday driving.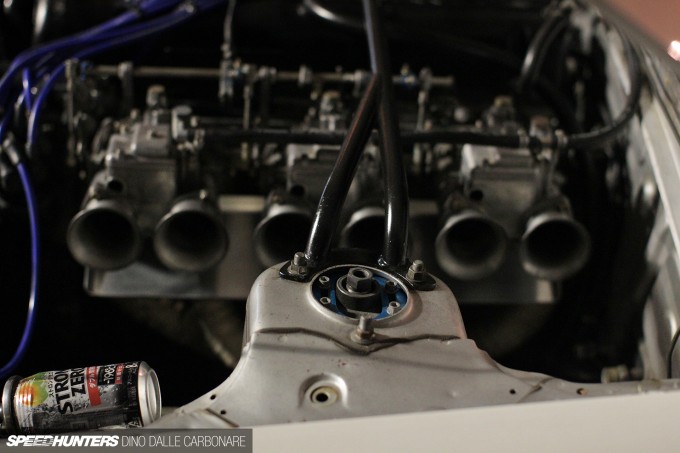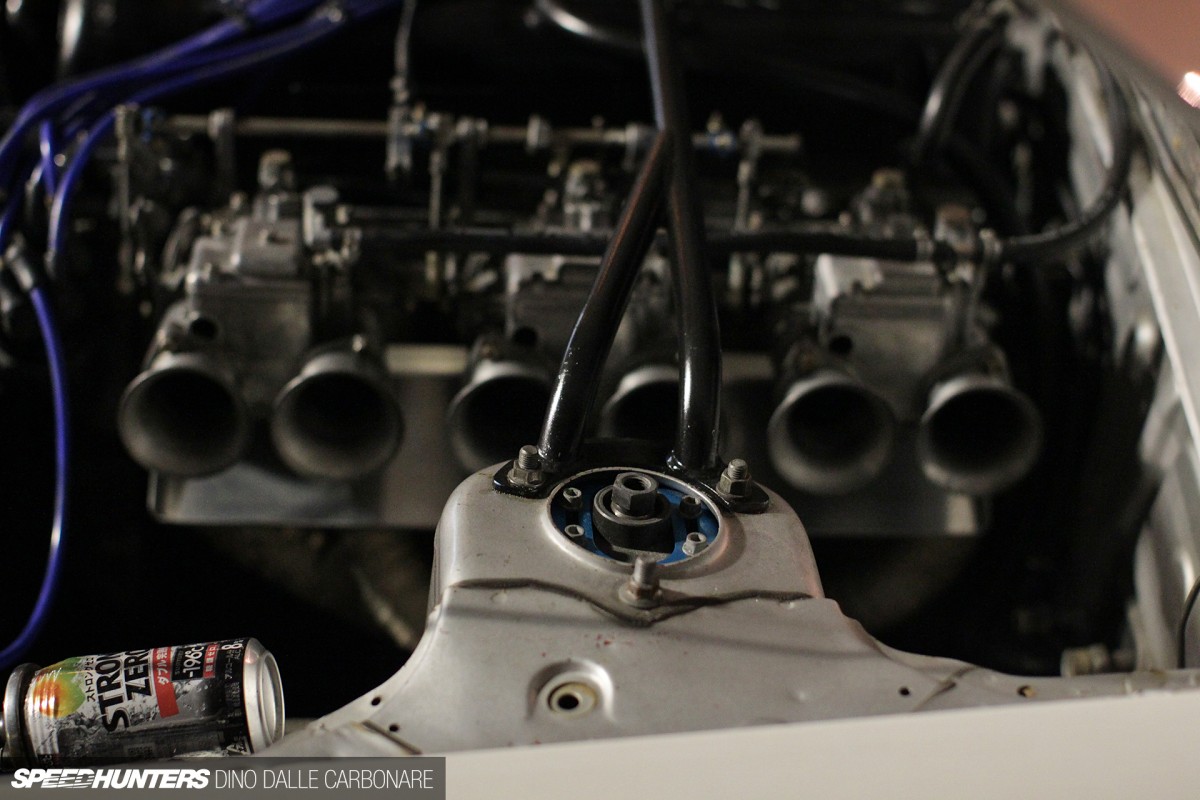 The car now sits on R31House Zeal coilovers, the third set-up that Rich has tried so far on the car. He's very happy with how they perform; a better solution to the custom built ones the R30 was running at the time of the shoot. Part of the extensive engine bay clean-up included the painting of the Cusco strut tower bar, new ignition leads, a complete rewire of pretty much everything and of course the aforementioned use of JDM cans which will no doubt  continue to remind Rich of his time in Japan every time he looks at them.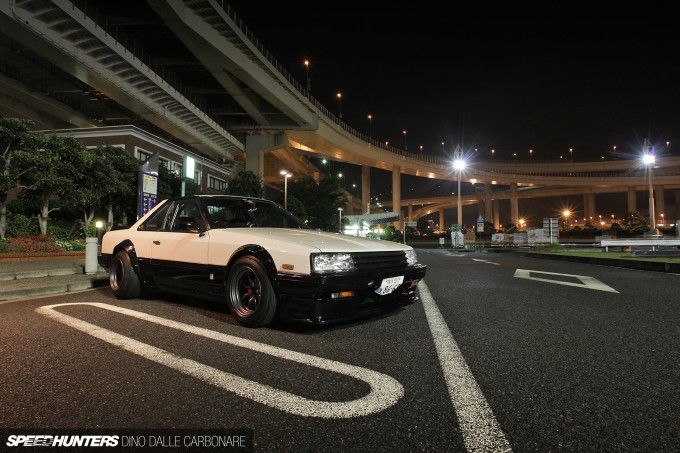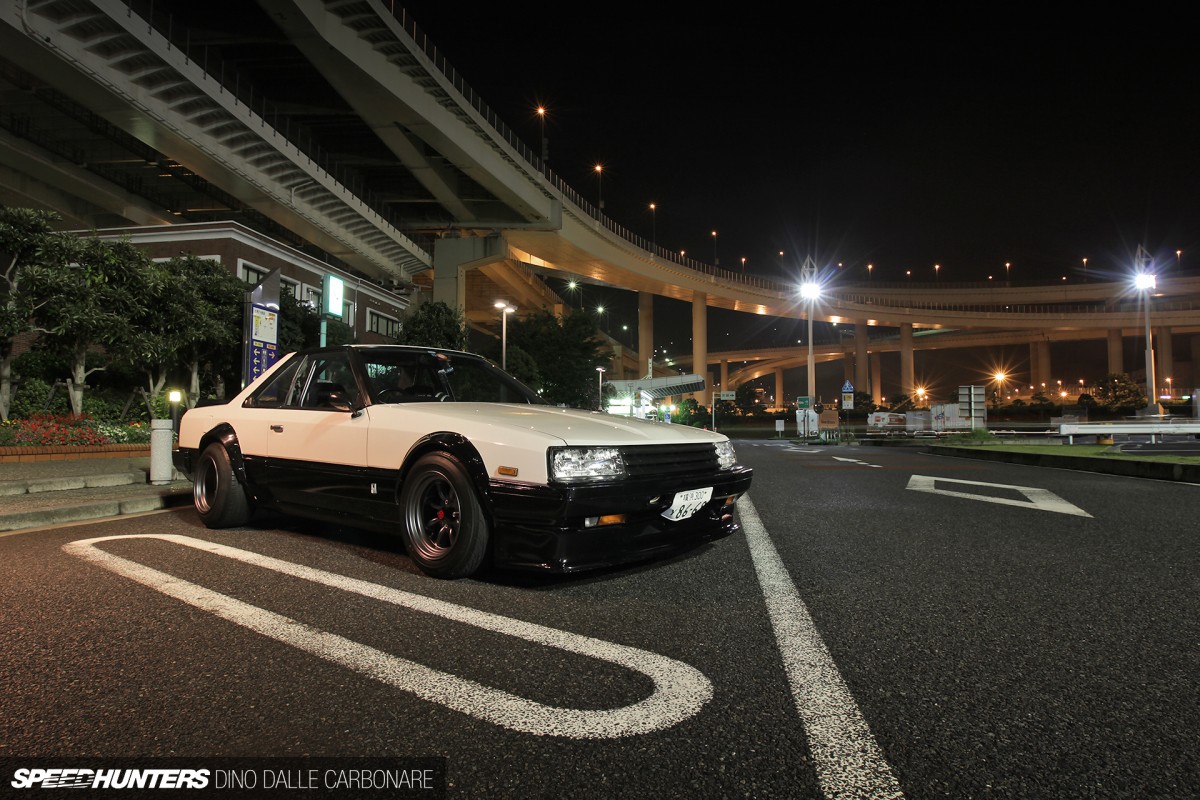 The two-tone 'panda look' makes the car look almost like an AE86 Levin from far away but it doesn't take much to realize this is no little lightweight Toyota once you get closer. The exterior of the R30 has been finished off with a very well-selected series of additions, starting off up front with a Tekkaman front bumper and Jenesis front lip.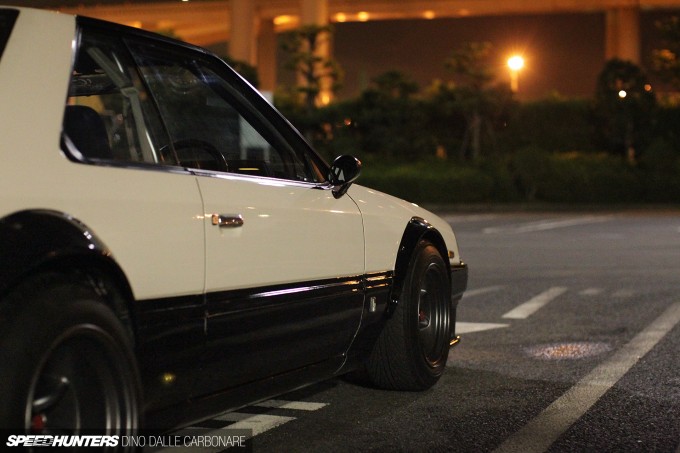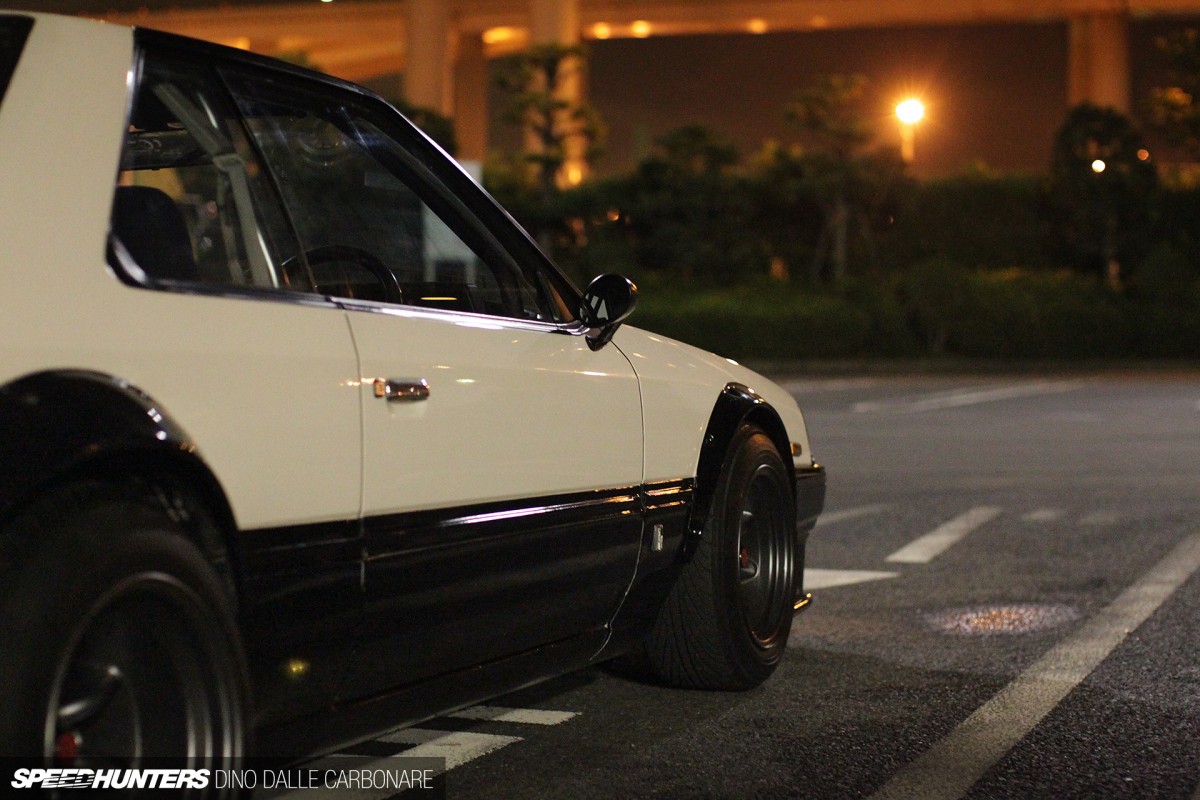 This really sets the tone for the rest of the details that spice up the exterior like the black Vitaloni mirrors, introducing probably the only curved surface on the whole angular, '80s boxy design.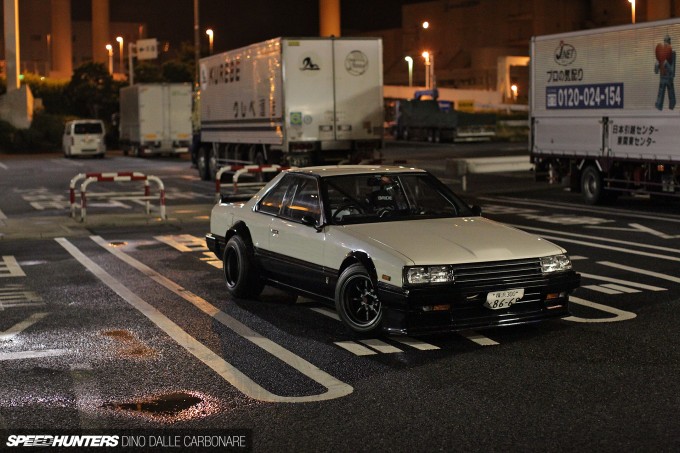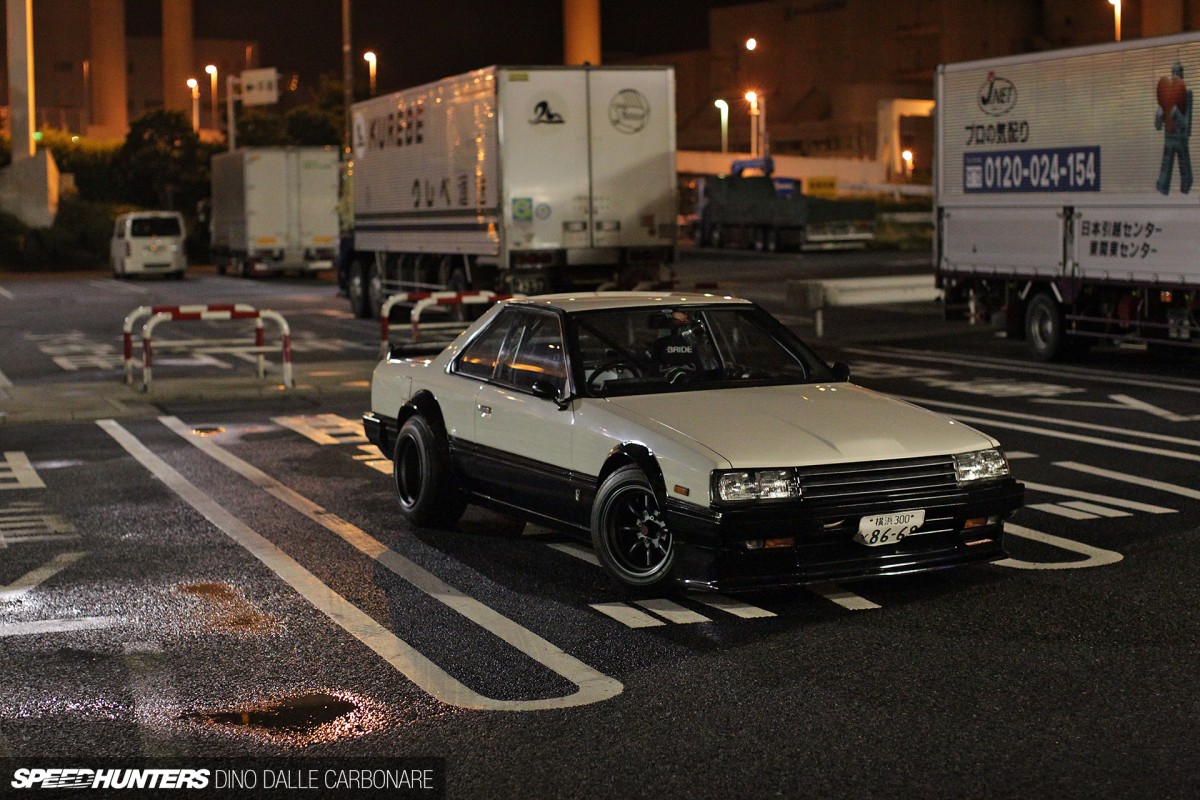 It all combines to give a lot of presence to the san-maru; the additions so well-integrated that you really have to look long and hard to figure out what has been done.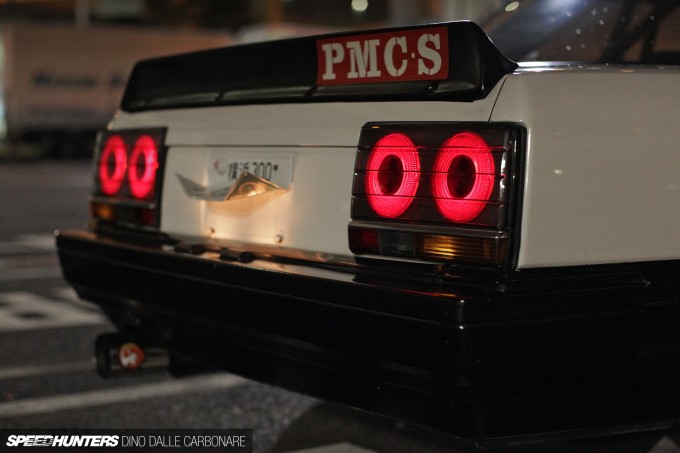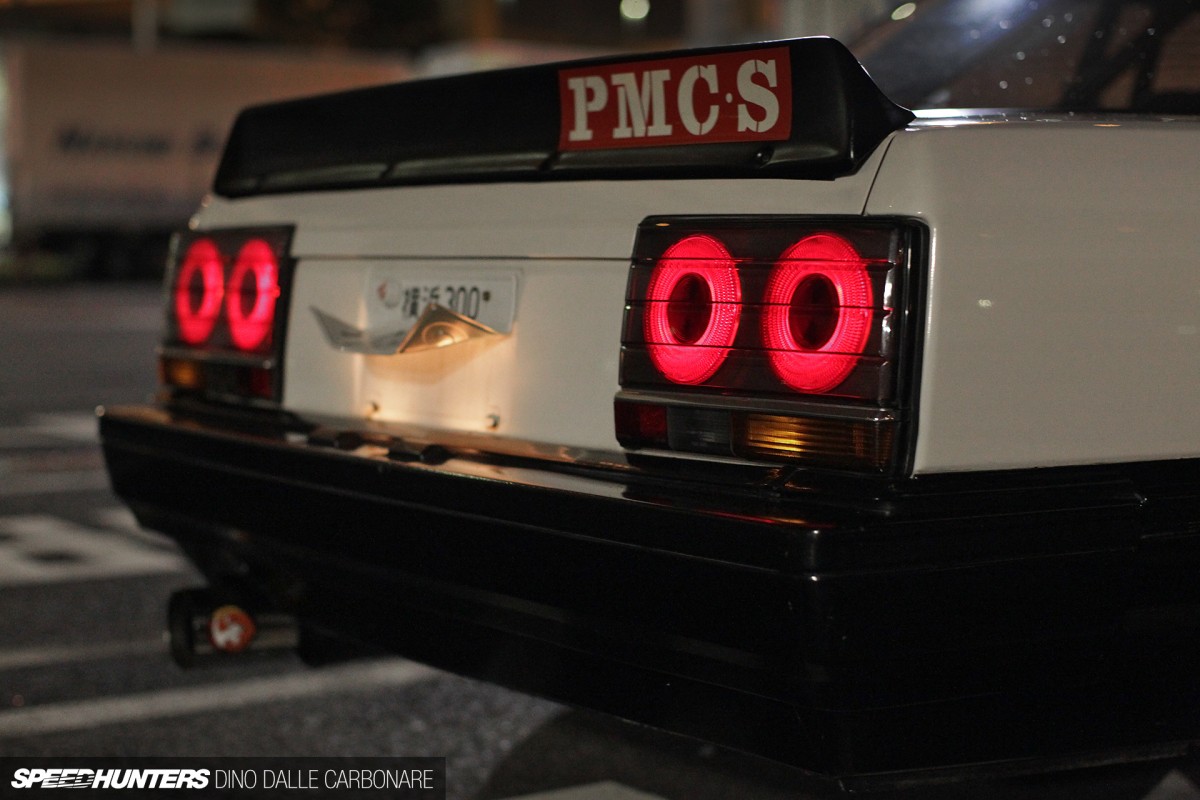 The rear couldn't possibly scream Skyline any more than it already does thanks to those huge kouki 'hotplate' tail lights, as Rich calls them, and the Kenmeri trunk spoiler with the Prince Motorist Club Sapporo sticker on the side. After years of coming to car meets at Daikoku PA, Rich found his inner bosozoku and applied that newfound state of mind in making sure his number plates are as hard to read as possible. That's some serious folding going on there!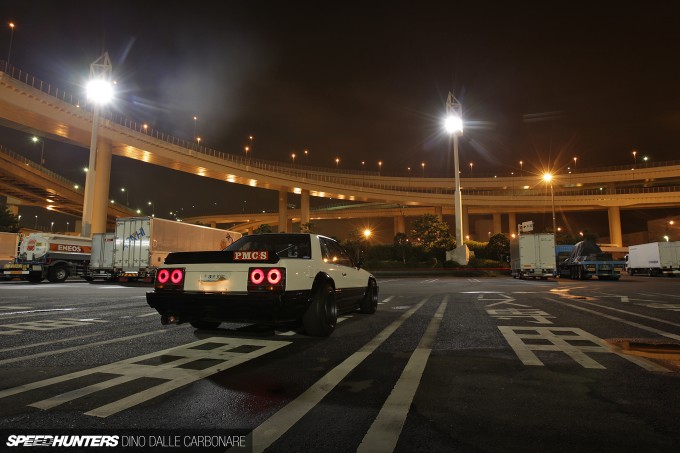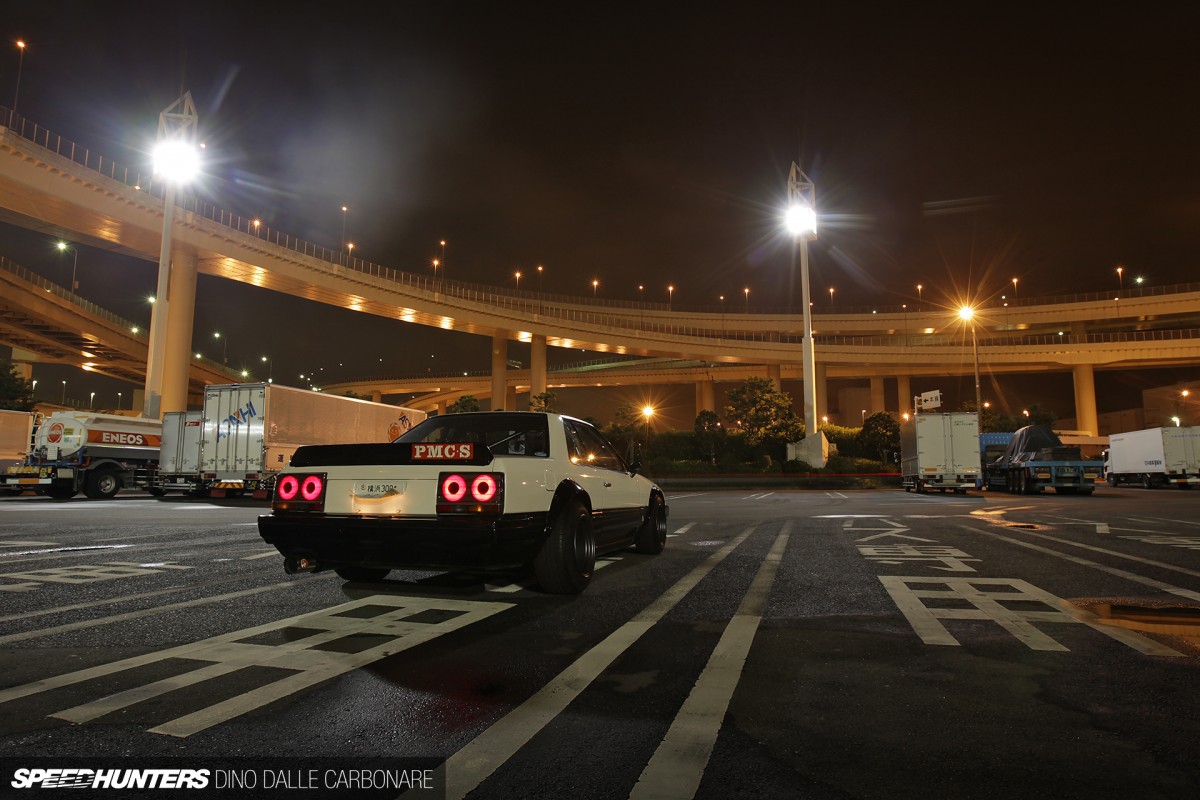 It doesn't get more JDM than this: an old school Skyline sitting at Daikoku PA, engine idling, lights on and ready to hit the highway for some fun.
Old school from the inside out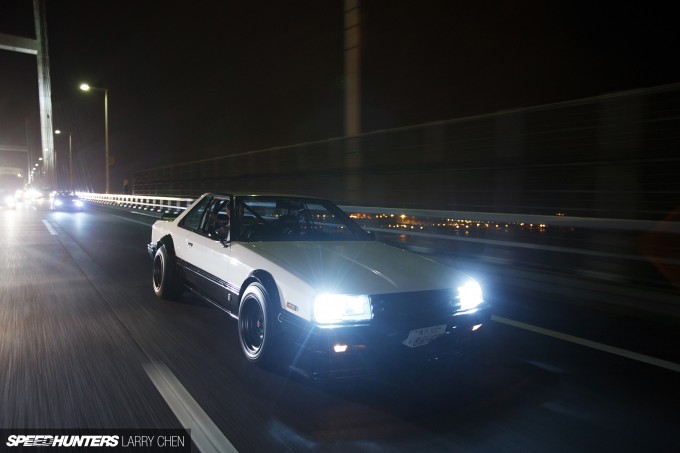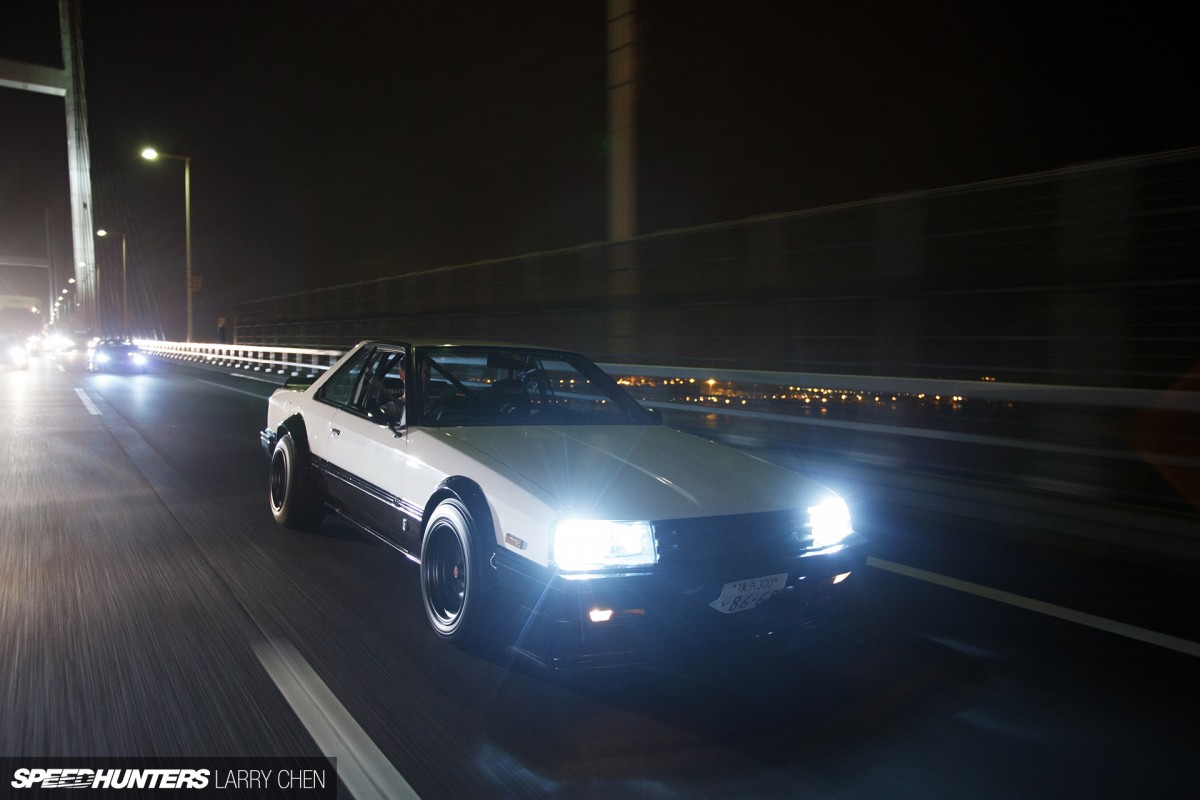 But before we jumped on the Wangan, there was something else Larry and I wanted to see.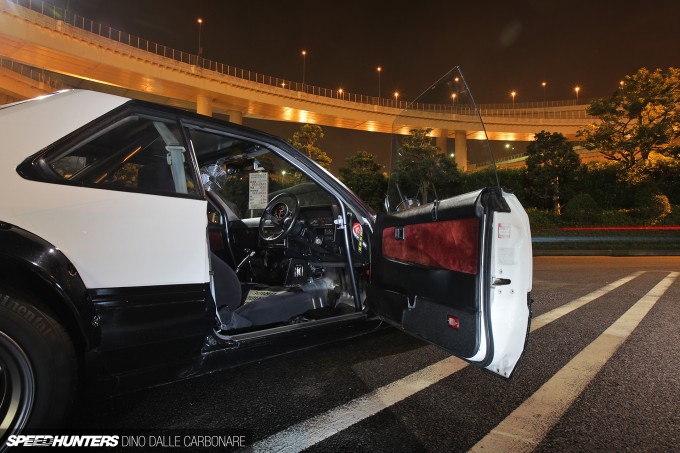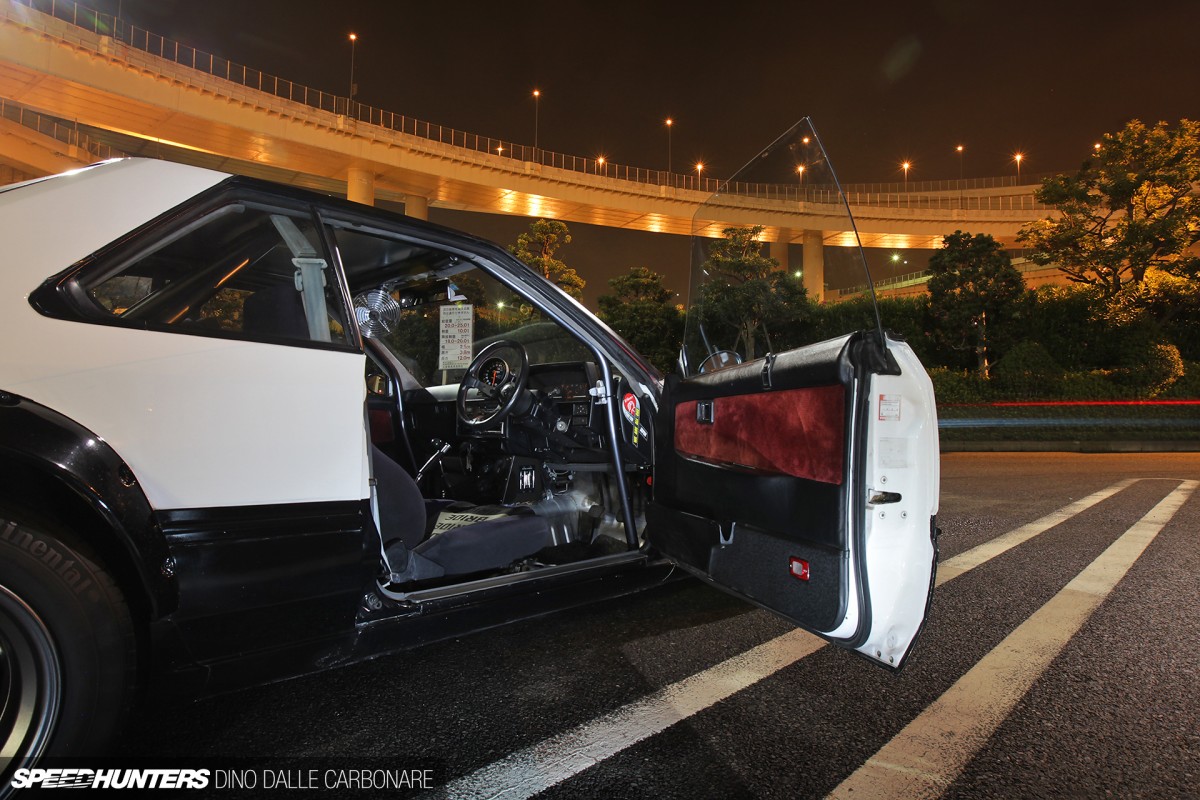 Yep, the interior. Swinging the driver's side door open, the thick maroon carpet-like upholstery on the door card was the appetizer to quite the epic 1983 ambience the HR30 has to offer.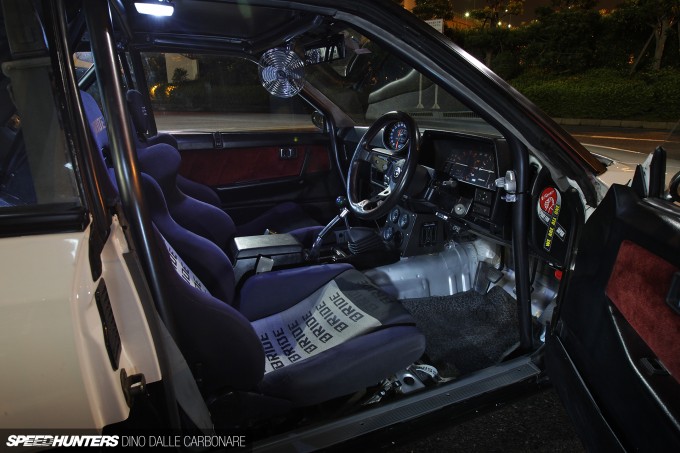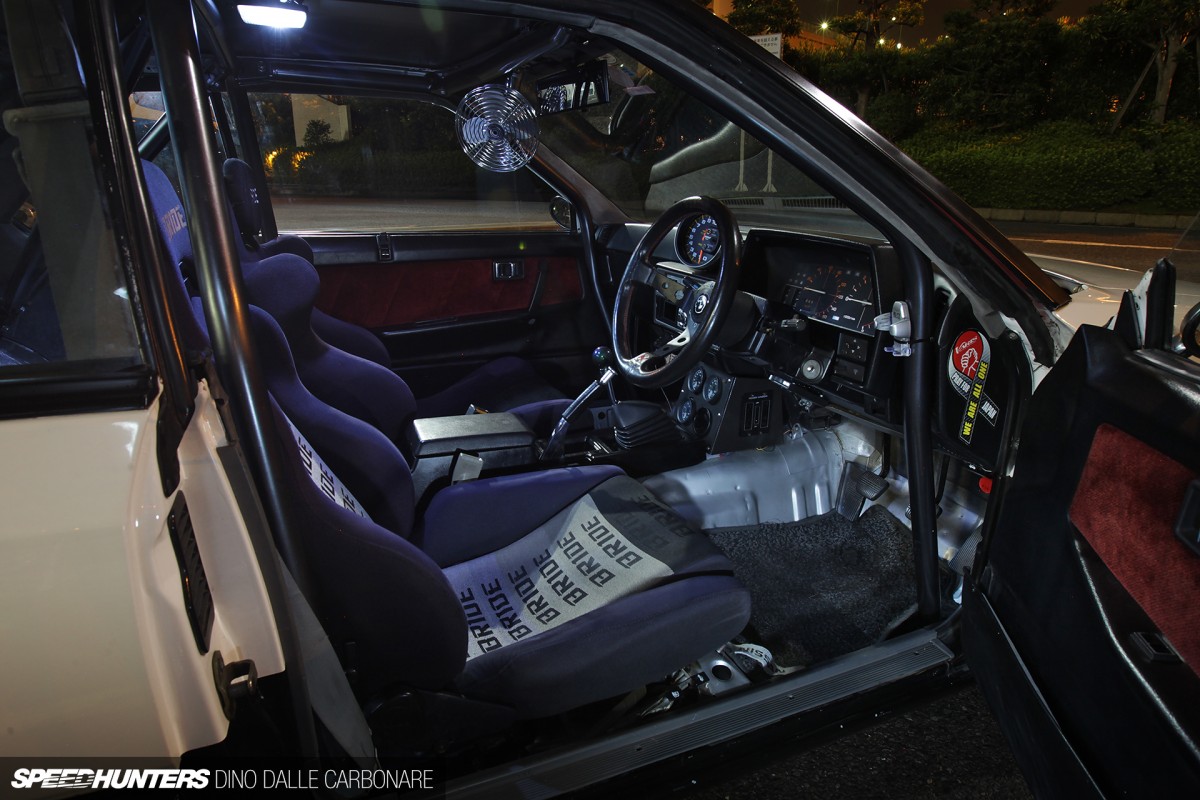 The impossibly square plastic dash and stacked consoles have been mated to contrasting touches of modernity, starting first off with the pair of Bride Brix reclinable seats that replace the soft stock chairs.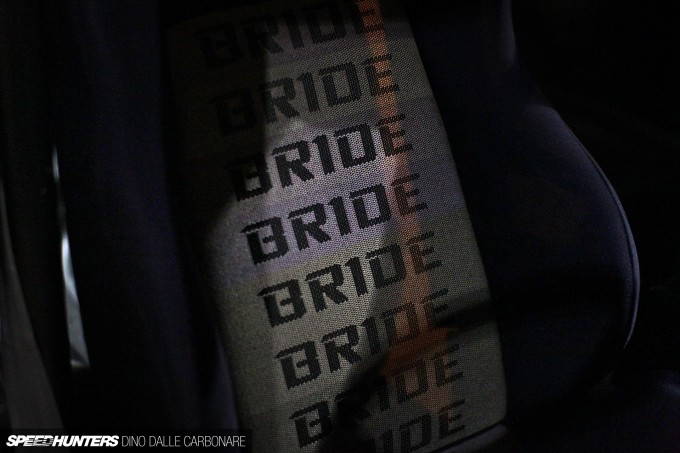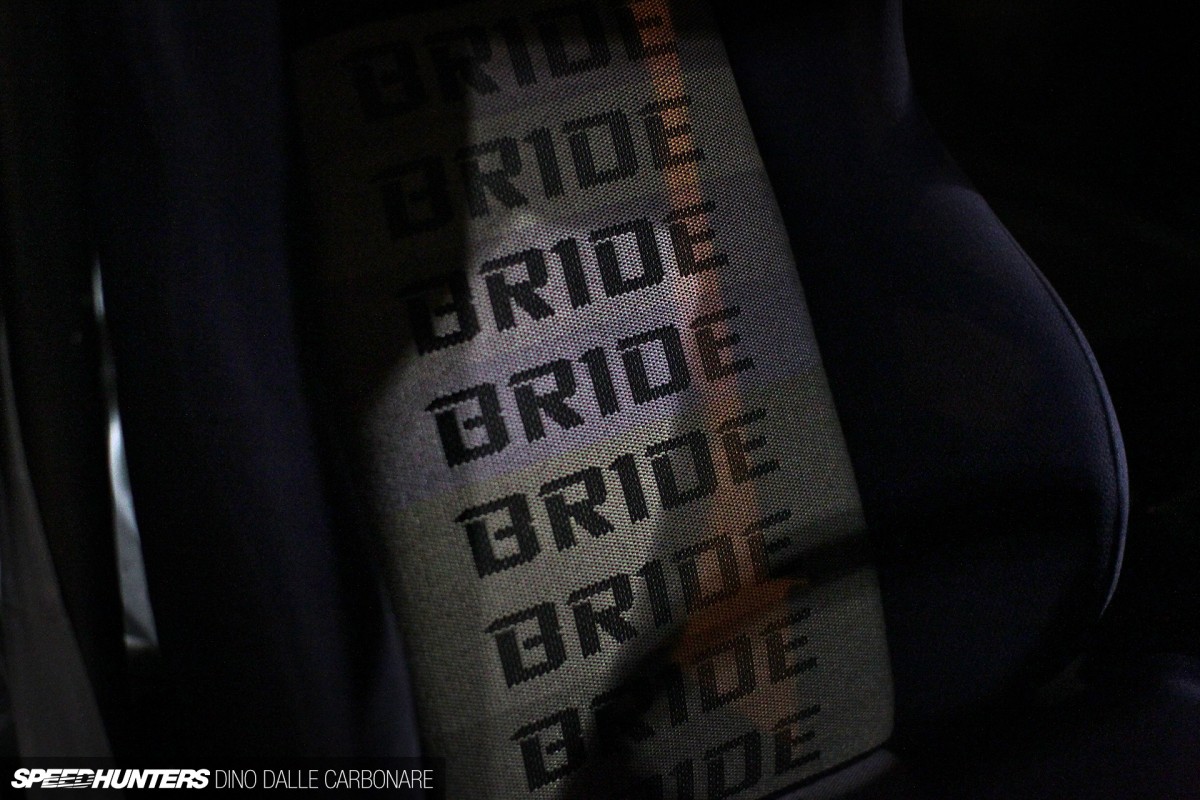 Bu-ri-ddo is the right way to pronounce it of course, as the seats aren't looking for a groom to get married to if you know what I mean!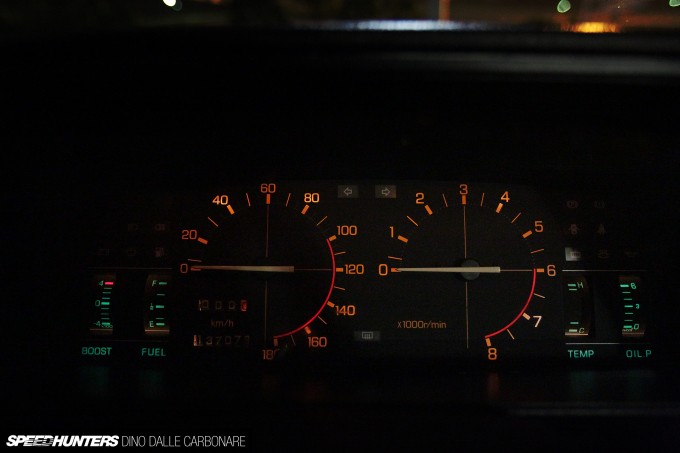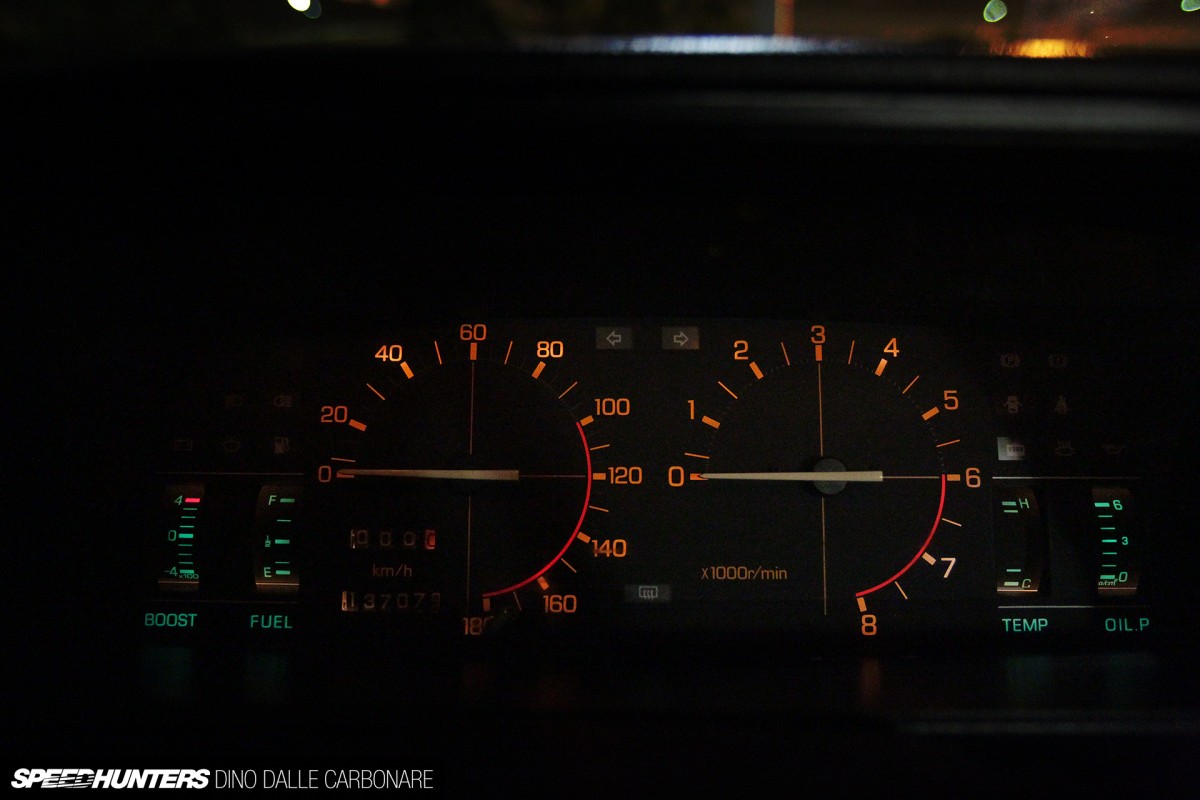 The simple instrument cluster is nothing short of retro-goodness: two 3/4 dials for the speedometer and tacho, with the rest of the read-outs being graphically represented on four roller-type dials.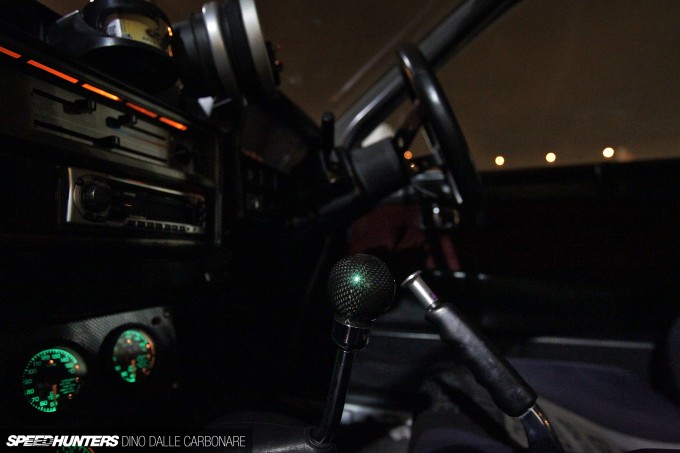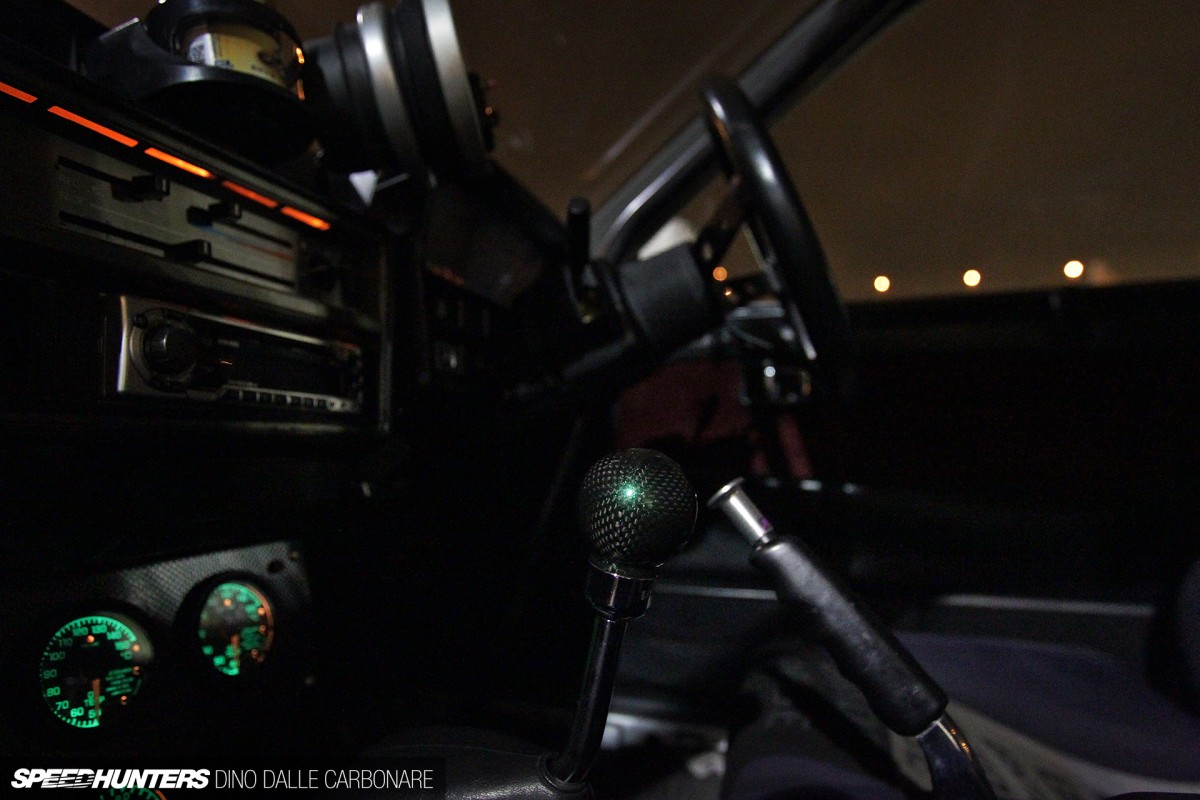 The points of contact between Rich and his R30 have been spiced up too, the T&E Vertex steering wheel joining a beautiful Varis carbon fiber shift knob.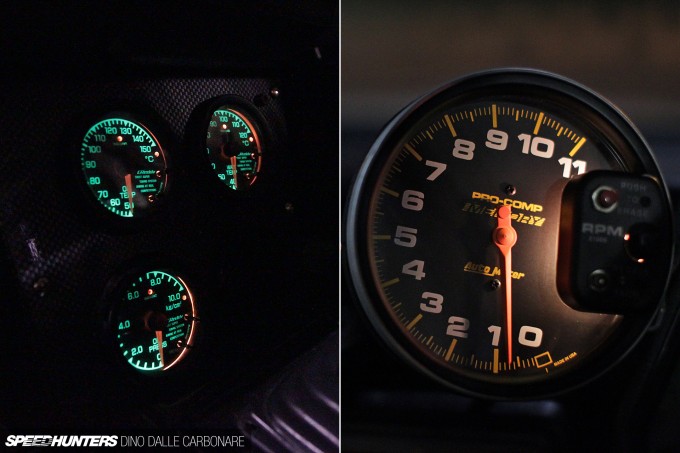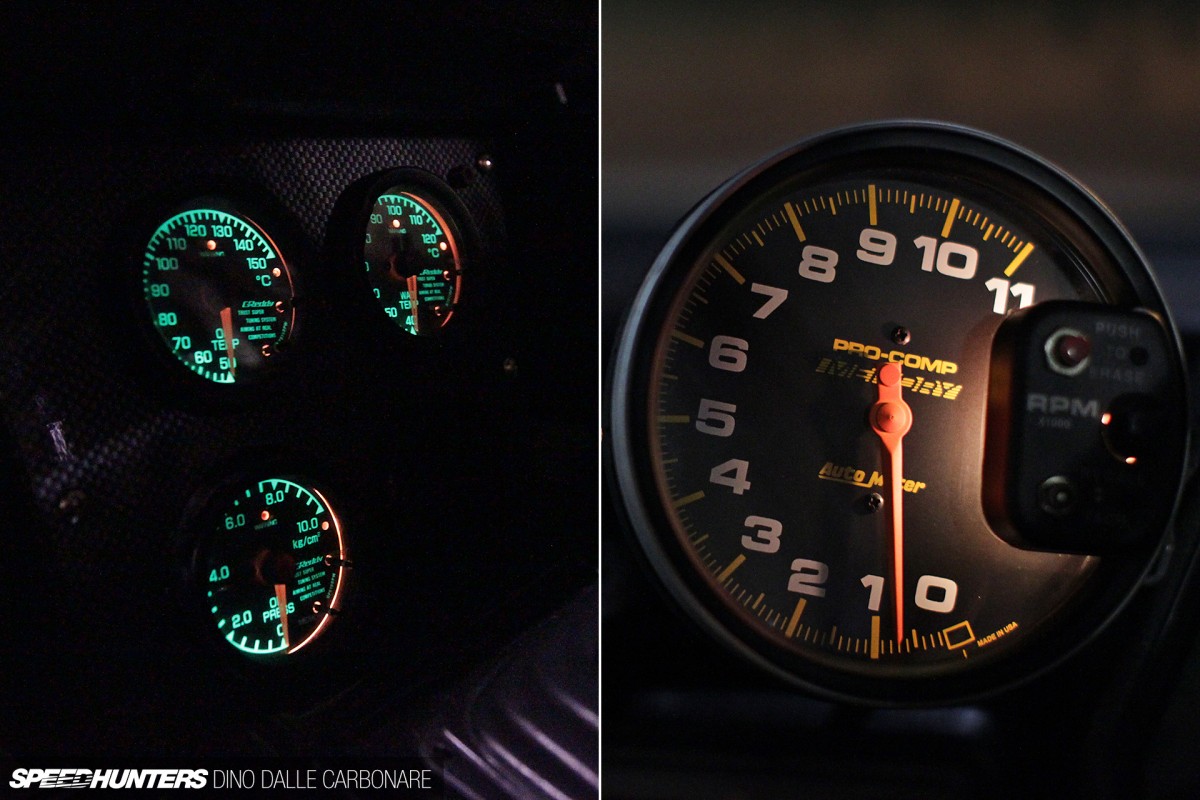 While the '80s dials might be cool too look at, they aren't exactly that accurate by today's standards which is why a few more precise gauges have been added: a triplet of GReddy items and a large Autometer rpm meter.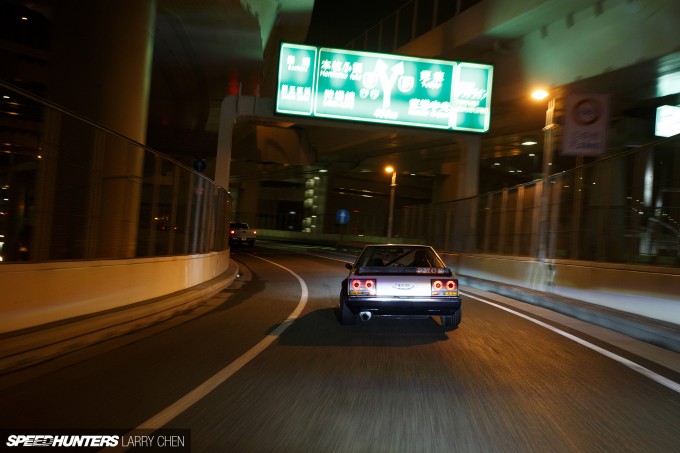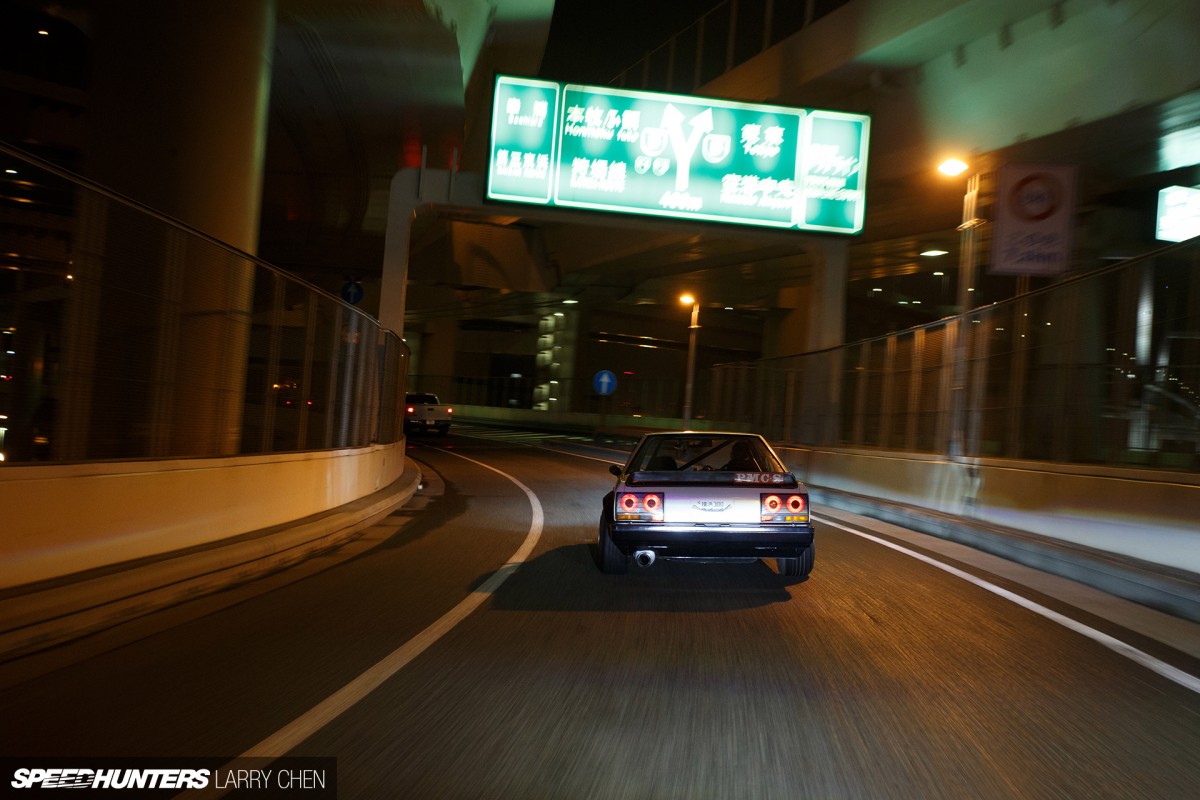 It might not be a GT-R, but what it lacks in looks, power and potential performance, it sure as hell makes up for in sheer personality. As someone in a well known pop-culture movie once said, "Personality goes a long way" and that is precisely why Rich will continue to enjoy his car for years to come.