Cross-mixing styles
We've seen the more performance-oriented cars that stood out the most at this year's Tokyo Auto Salon, but now we will have to plunge into what's been taking Japan and its car culture by storm: style. Most of the cars you see here share one thing in common: stance – the popular term coined when referring to how a car sits, and the relationship between its fenders and the wheels it's fitted with. Most of the cars here are of the VIP variety, an impossibly Japanese style that has been copied the world over, interpreted in different ways, and then sent back to the Japanese who have re-embraced it with their usual colorful take. Scroll down and you will see the various cars and forms it takes, a selection spiced up with the odd vintage ride – of which there were very, very few this year.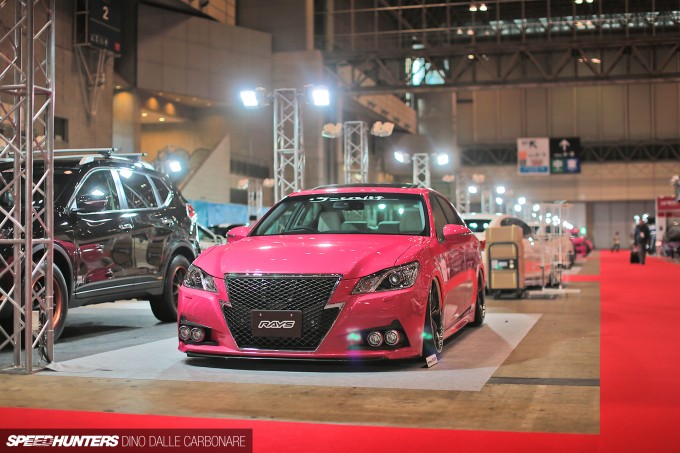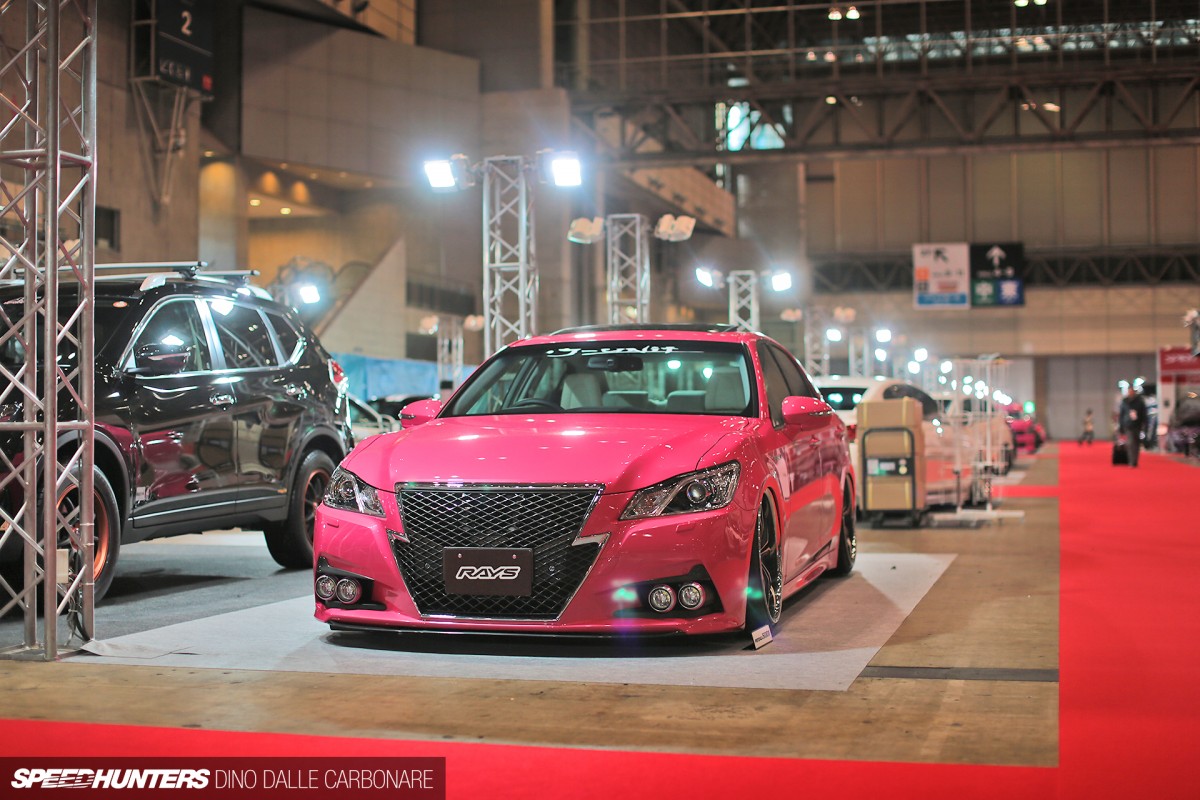 It's come to the point where a lot of people in Japan are asking themselves, 'What is VIP anyway these days?' For me at least, the Junction Produce look is one that I will forever hold in my mind as the basic, unmolested style. While they too have embraced newer cars and at times even imports, their simple black menacing domestic sedans on deep-dished polished rims have always led the way in the scene. Except that scenes and tastes change, things evolve and it's probably why in 2014 it's considered ok to have a pink bippu ride like this J-Unit new-gen Crown at the RAYS booth.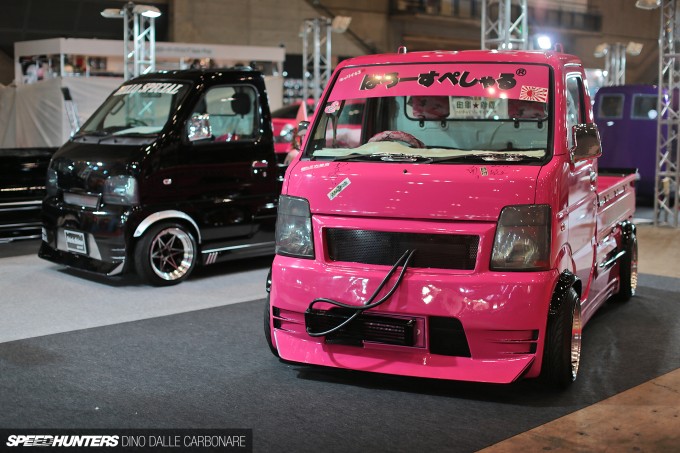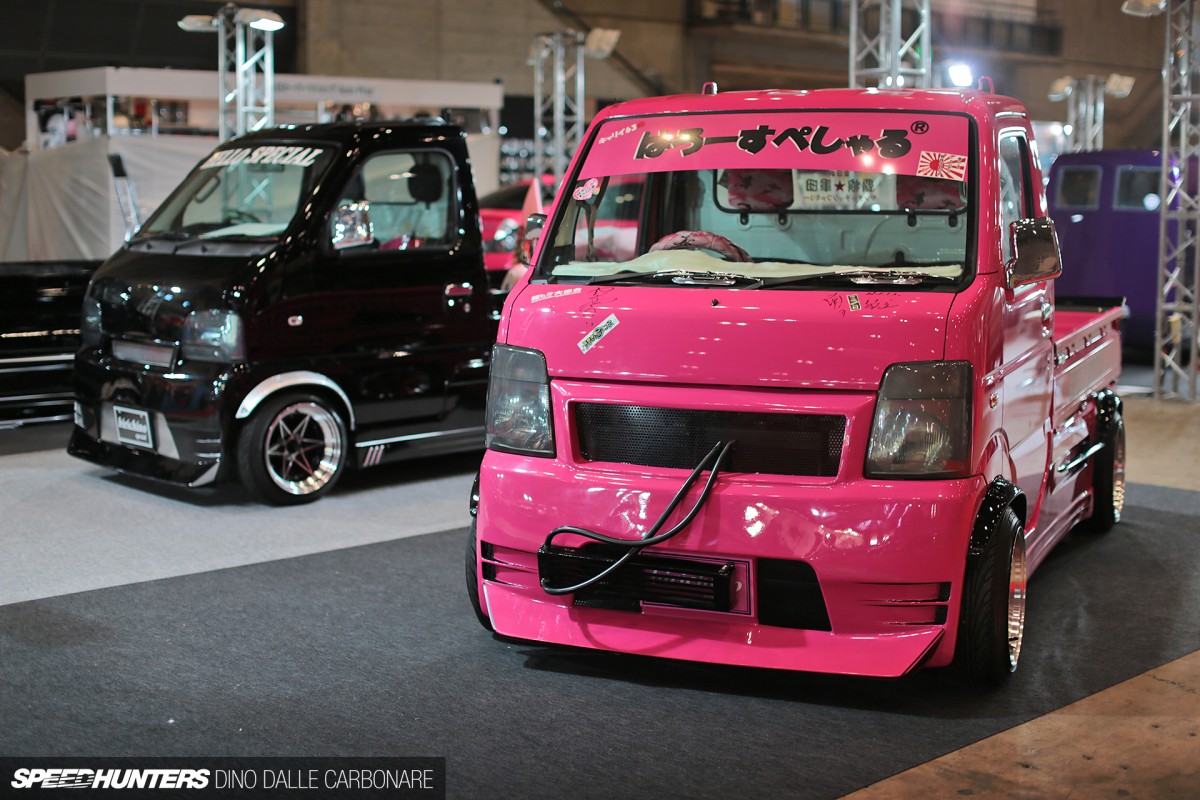 It also probably explains why Junction Produce weren't at the show this year: in a time when shocking colors and over-accessorized eye-catching interiors are all the rage, there probably isn't space for the more subtle, authentic approach any more. It's sad, but unfortunately it's also true. Imagination is key and standing out has taken precedence over anything else. It's precisely why this post contains some interesting additions, like these Hello Special Kei trucks sporting the 'Works' look with overfenders draped over old school Work rims, a bumper-mounted oil cooler and bucktooth front lip spoiler.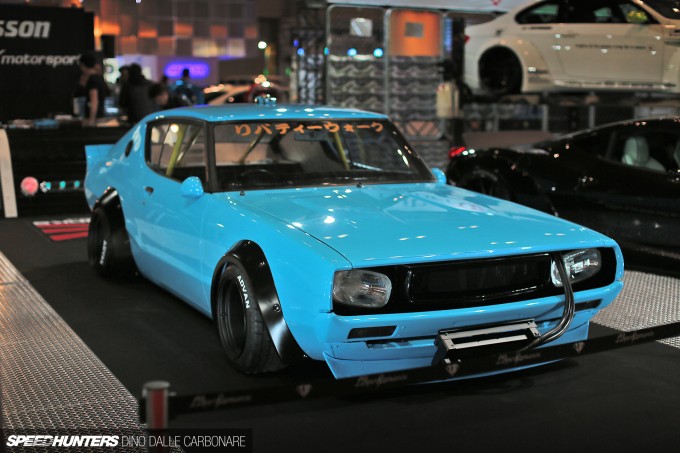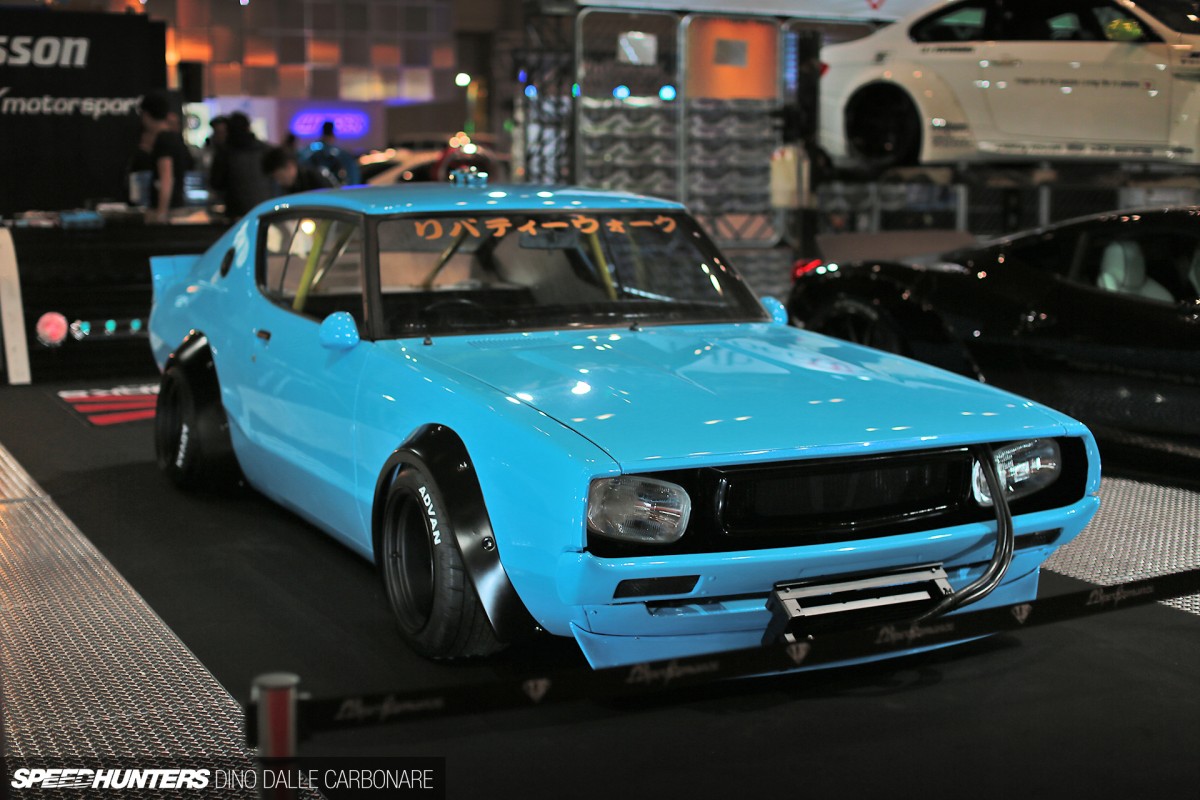 For a second you would think they're trying to emulate the baby blue Liberty Walk Kenmeri. Oh, wait! That's precisely what they're doing and it's a good example of the cross-mixing that exists in so many of these style-oriented movements in Japan. This is Kato's personal car and a great addition to his already ridiculously cool garage filled to the brim with Works-style vintage road racers and bosozoku bikes. More on this Ken & Mary Skyline later on this month!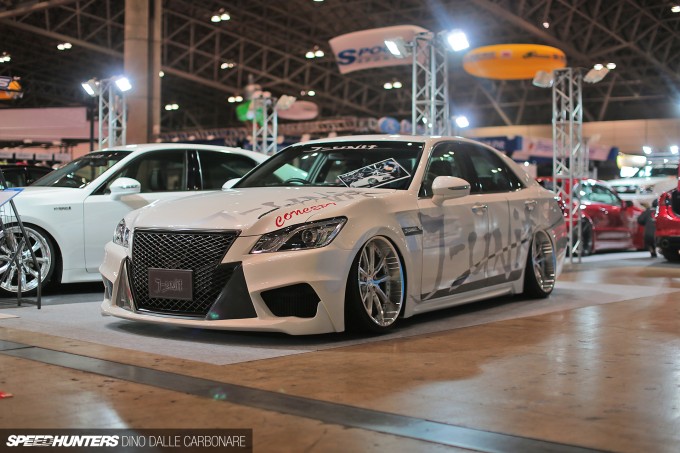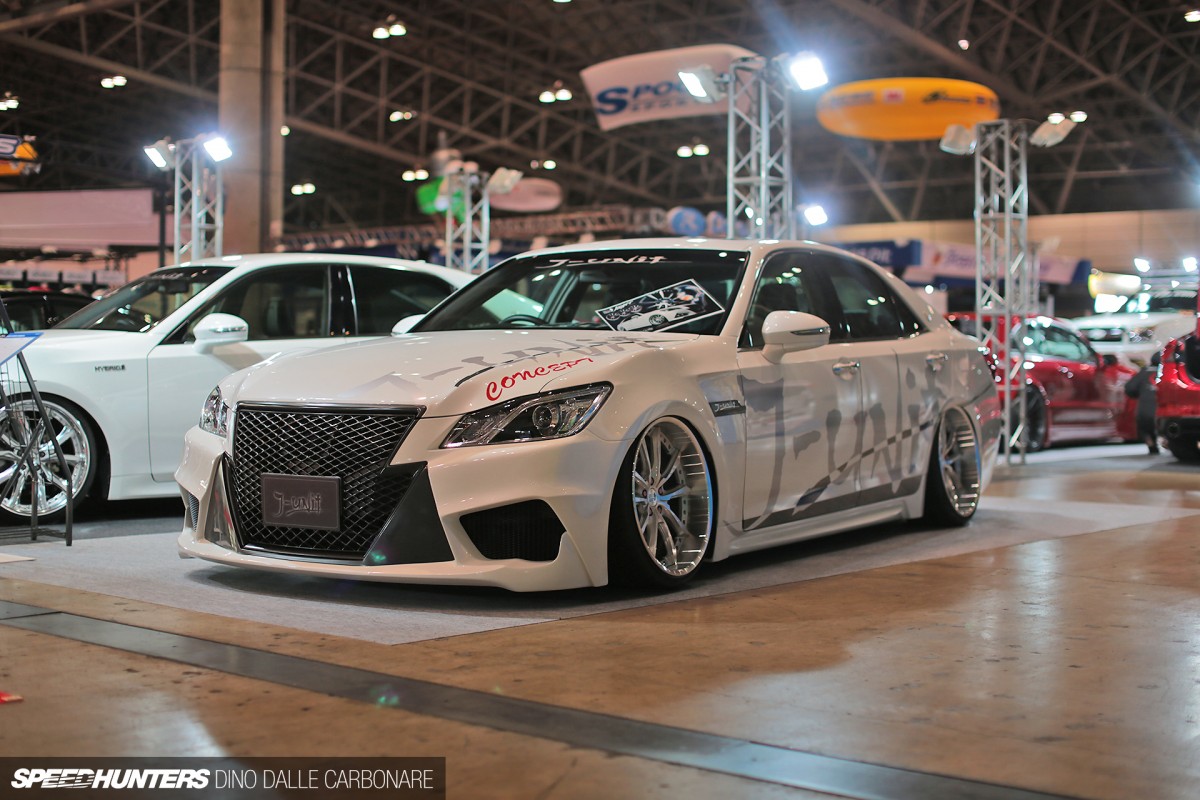 With how VIP has evolved, its core application remains the sedan. Every year at TAS, I'm always impressed by the J-Unit cars and this year was no different. So many shops out there have already done so much with the new Crown and that strange new grille Toyota has slapped on its face, and this widebody kit is one that really seems to work best next to those angular lines.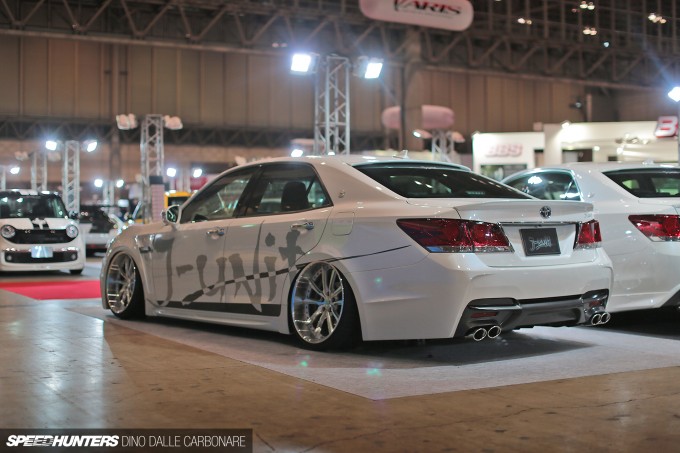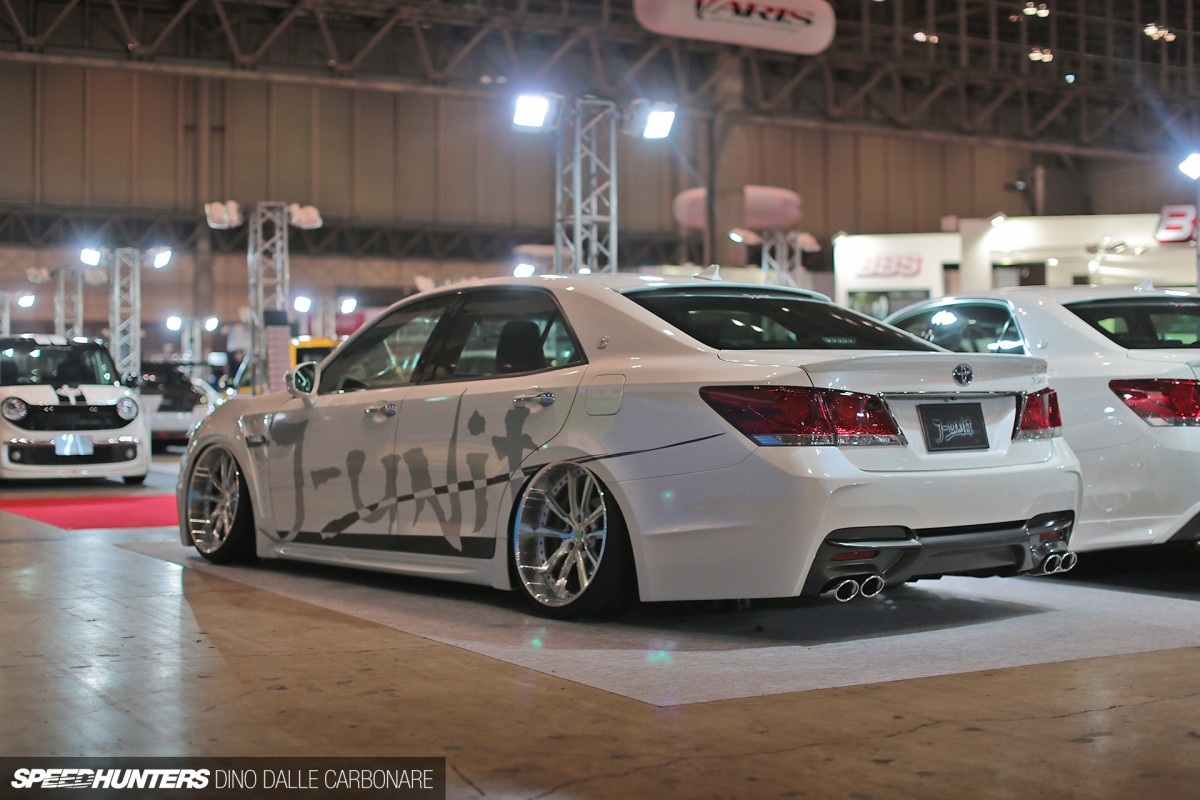 No matter what angle you chose to view it from, this is one mean machine and a good example of how to go about doing something really aggressive with what is in essence a Japanese grandad's car!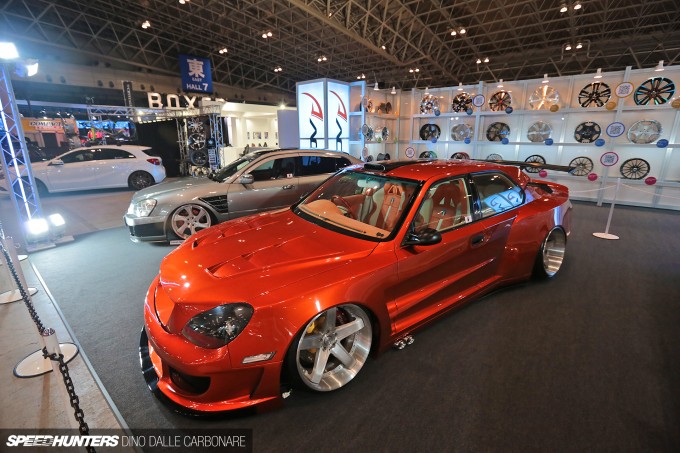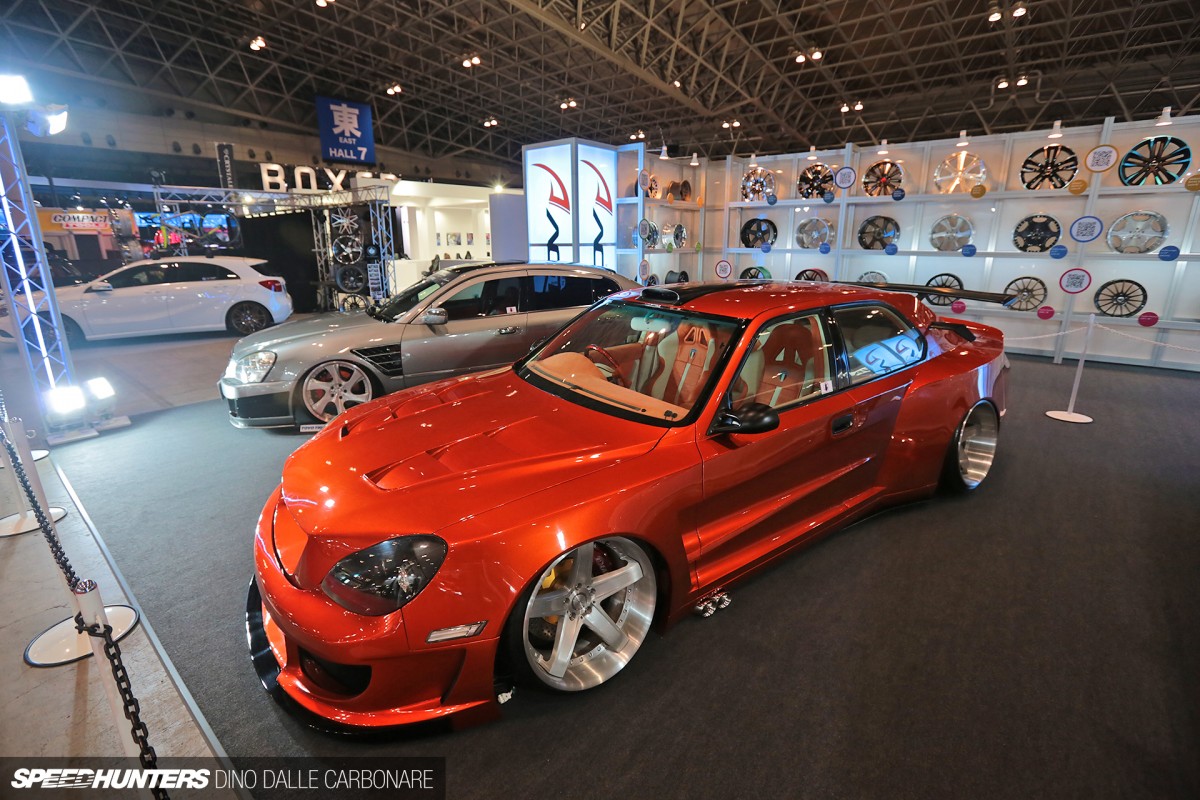 Ok so there are even wilder takes on this and a lot would argue this is not really VIP! It might be a bit too much but I at least liked the side exit exhaust on this particular Celsior.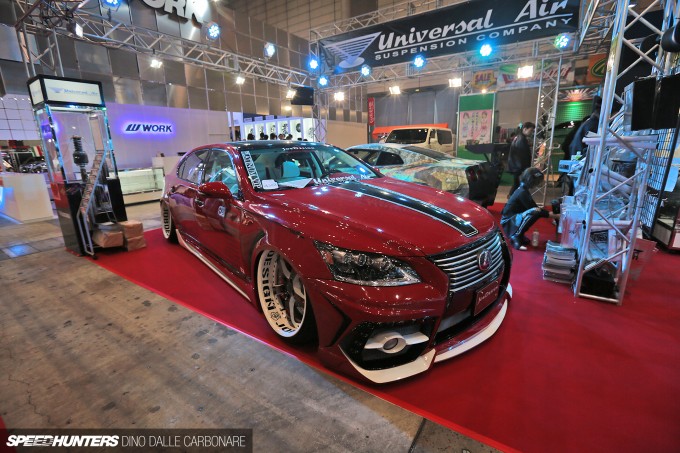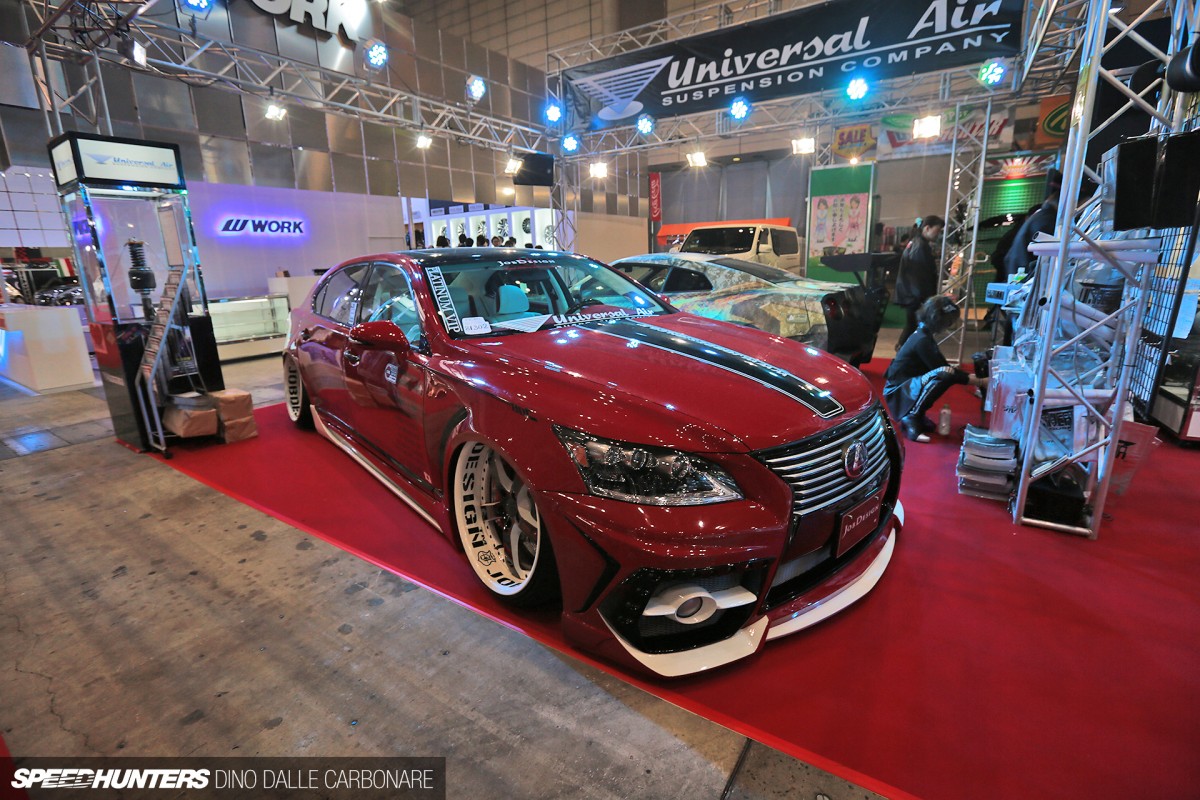 I'm trying to get a point across here, and cars like this LS at the Universal Air booth are perfect to show one extreme of it all. VIP purists will tell you that their cars need to still be able to be driven; despite scraping the ground and not being particularly comfortable, they should still have some sort of function. Show cars don't do any of these things.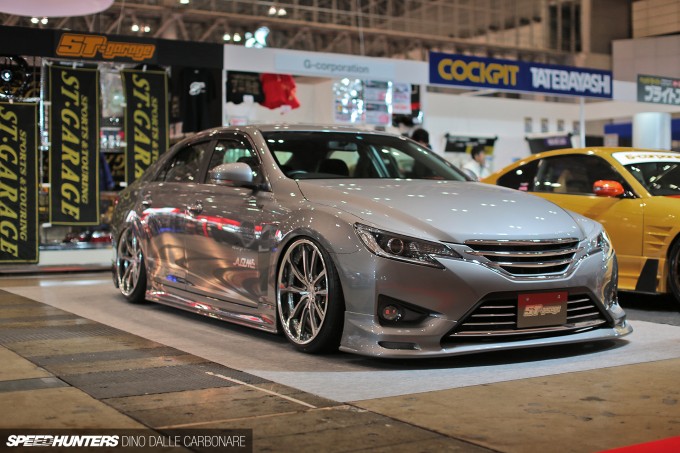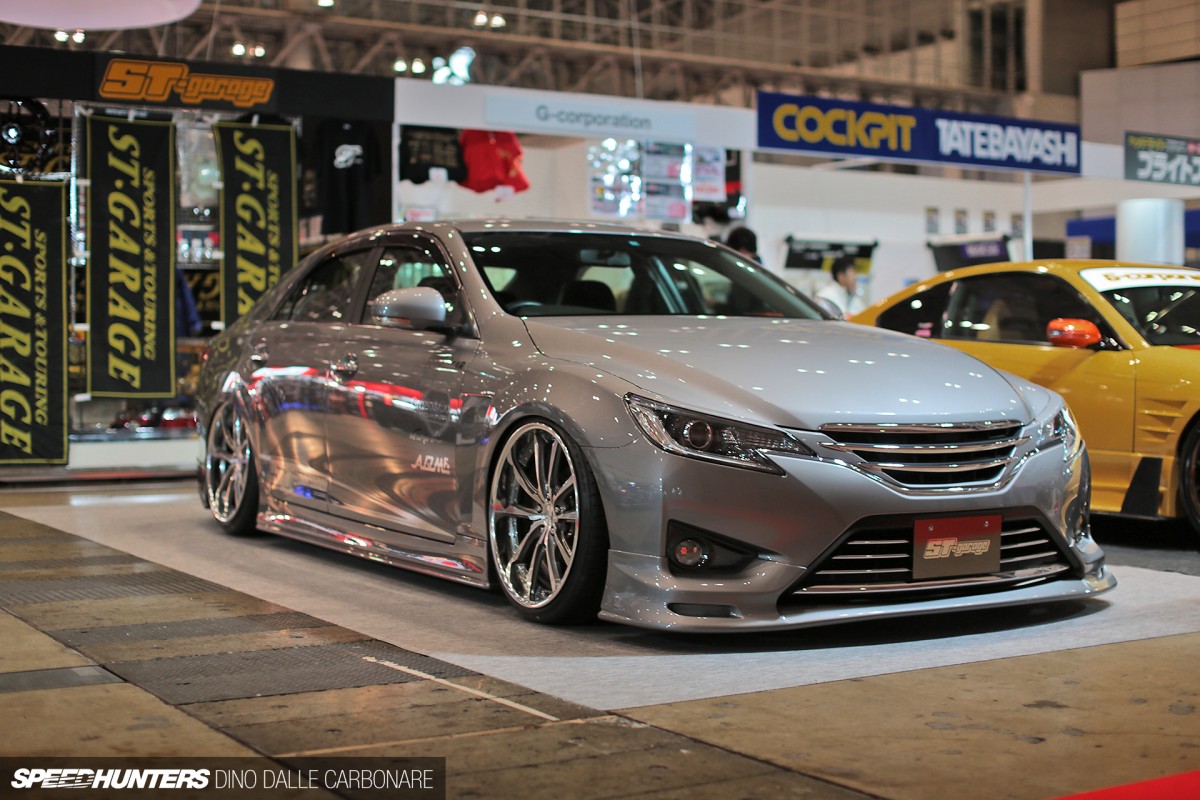 So let's get back on track here and focus on the cars that are somewhere in between what we've seen so far: rides like the ST Garage MarkX which manage to achieve such a nice look with a few choice parts.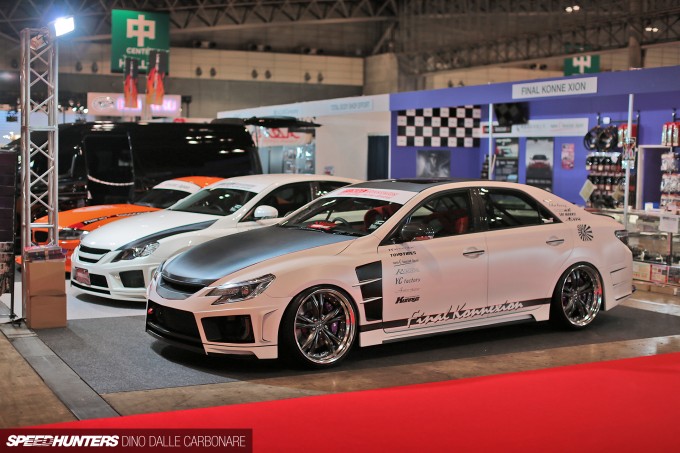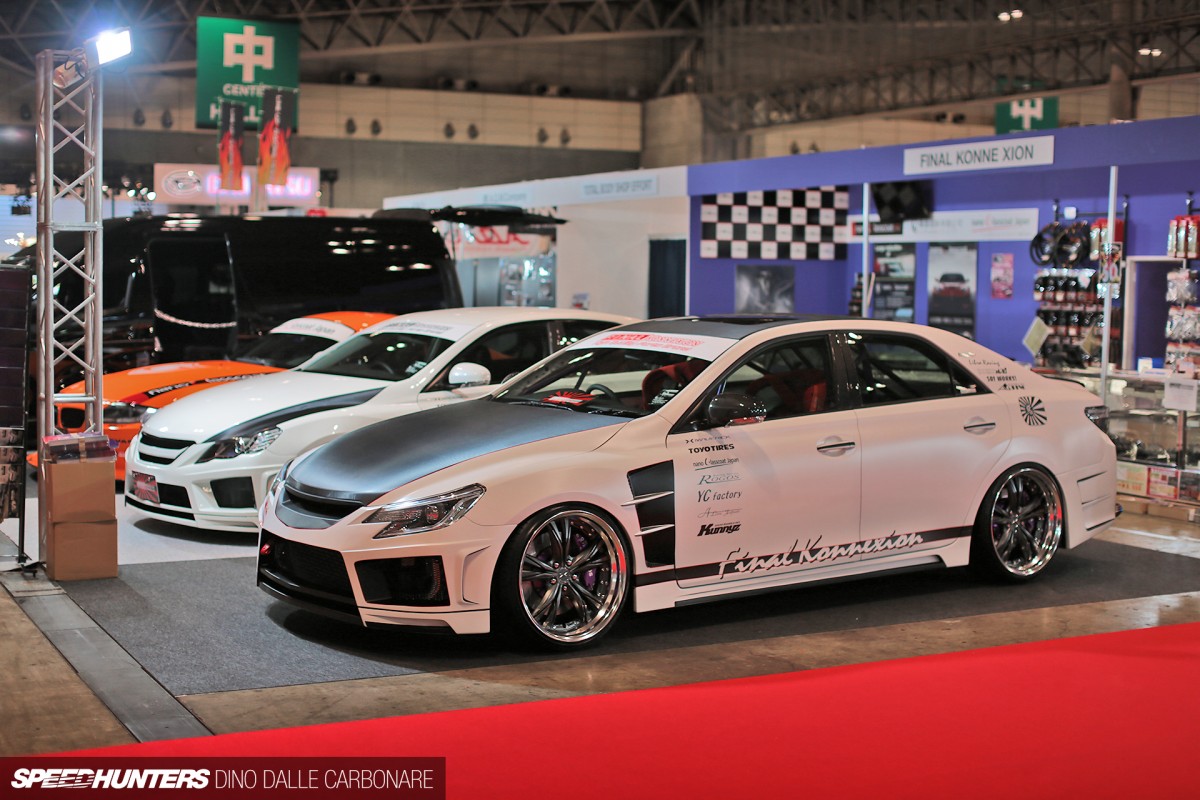 Final Konnexion had a totally contrasting approach to their MarkX., going for a more extreme take with copious venting around the bumper and front fender area. Look closely and you can see that the car is stripped out, and has a roll cage and only two seats. Perhaps a new D1 car?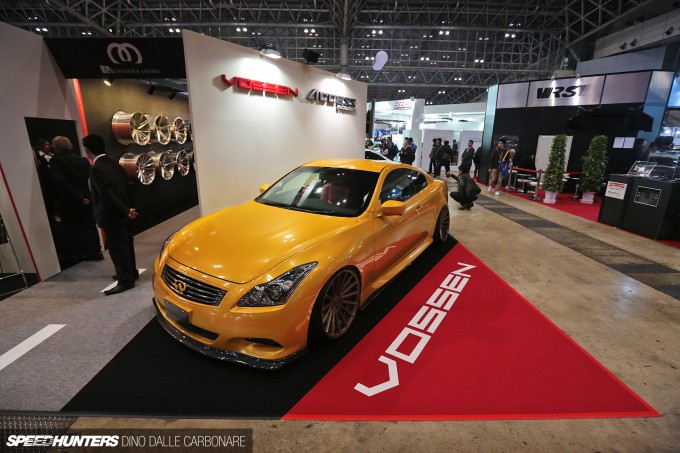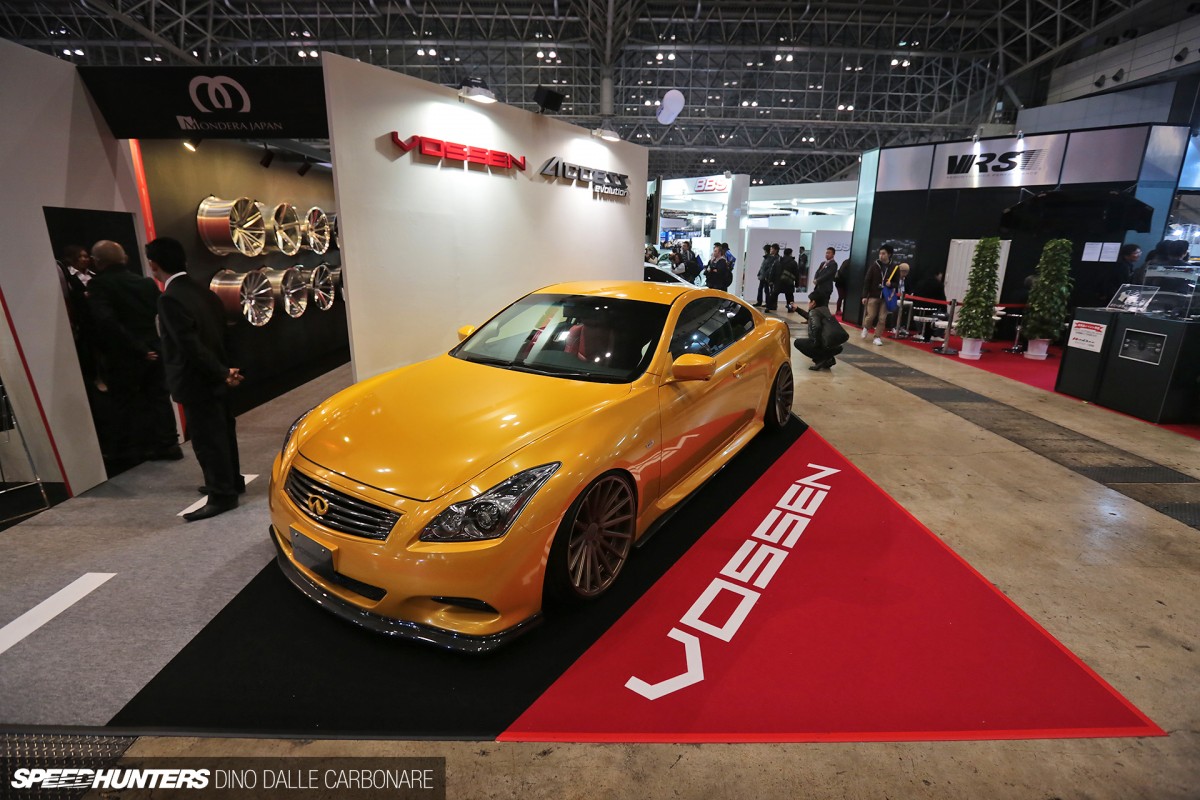 Vossen wheels brought this custom painted Skyline 370GT sitting on their new VVSCVT.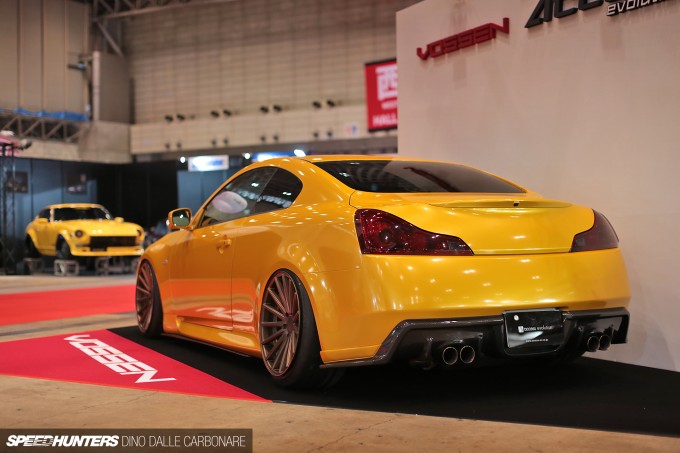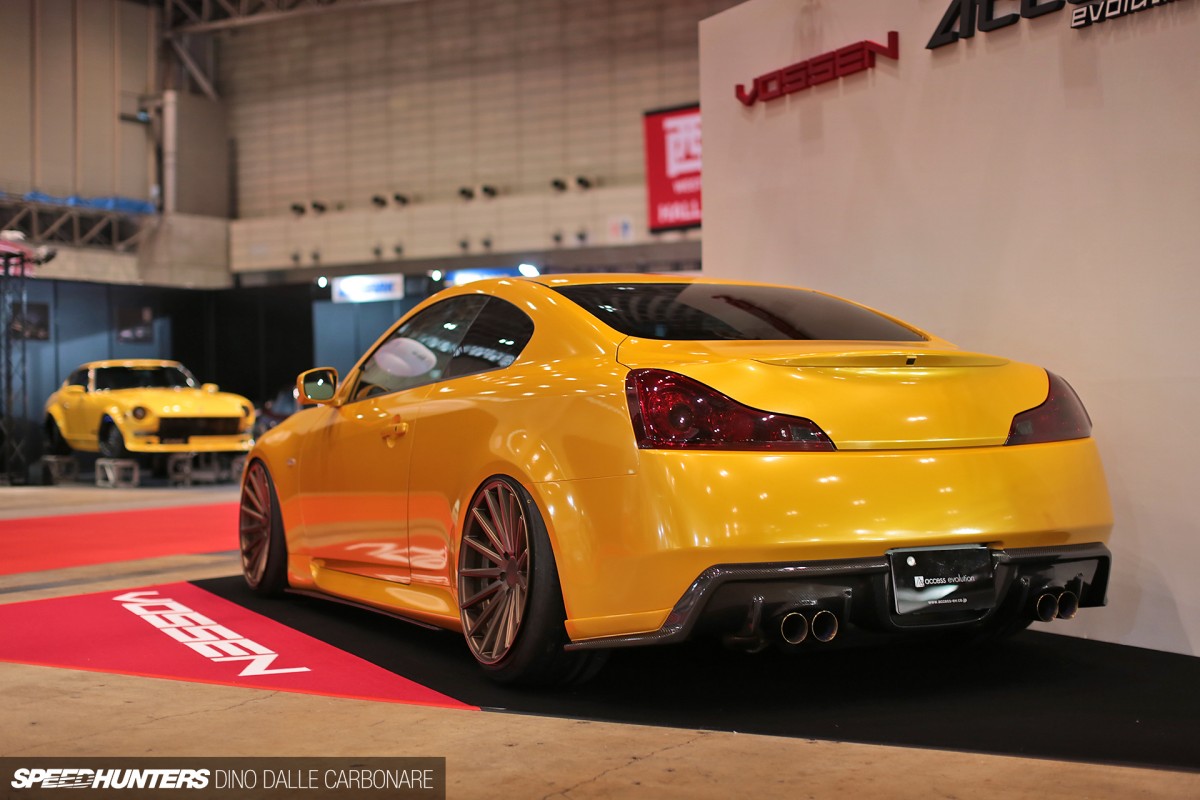 With Vossen getting more well known in Japan lately, I'm sure we will be seeing more cars running their wheels in the next year. Curiously enough, the VVSCVTs on the Skyline are asymmetric, with two models available, having the spokes twisting either clockwise or counterclockwise depending on which side of the car they will be fitted to.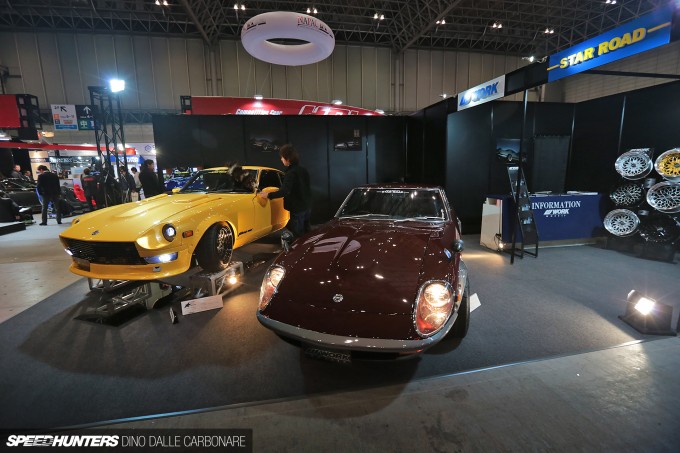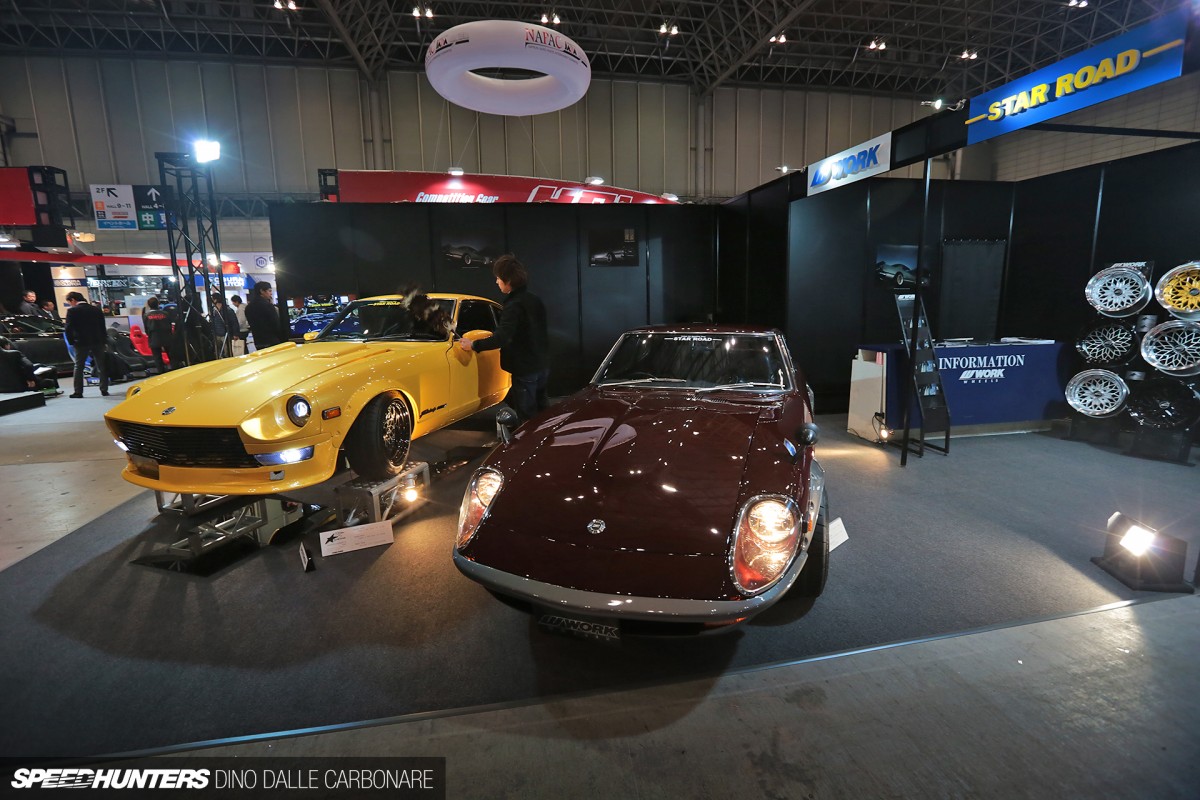 Star Road, the Fairlady and Skyline specialists, were at the show with a couple of their demo cars both fitted with Glow Stars, their original brand of mesh wheels made by Work.
VIP and its different faces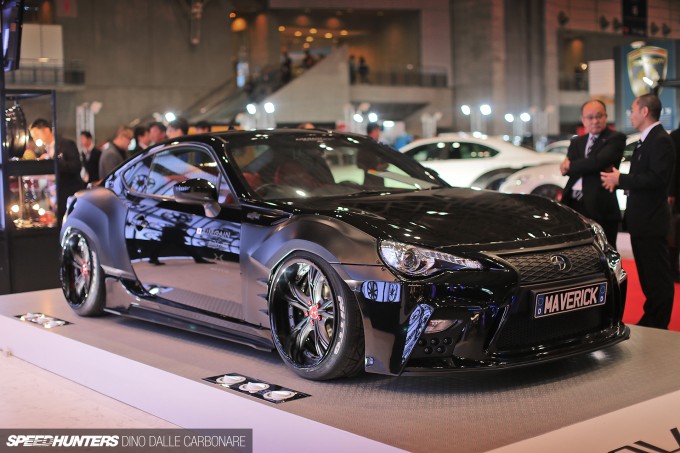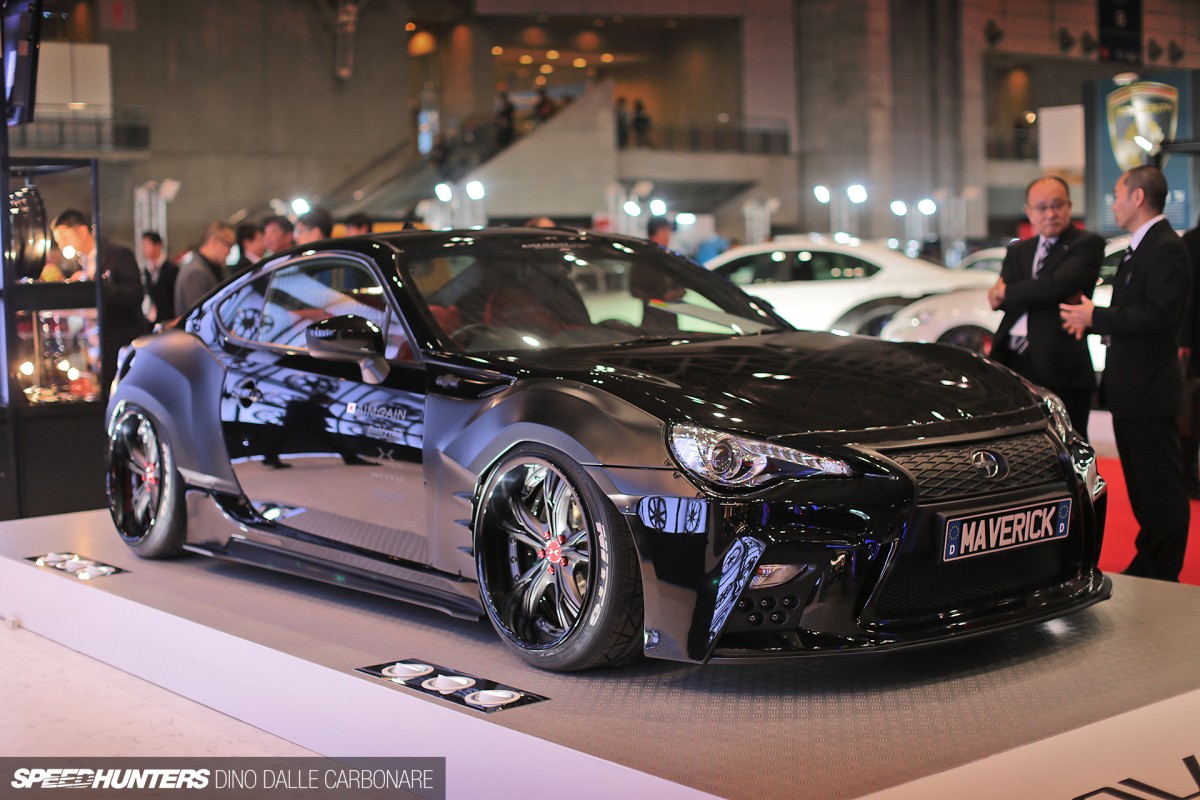 This FR-S at Aimgain may possibly combine three styles, starting off with the euro look, where JDM cars are given a European feel – the German numberplate is a must and you can pick it up at shops like Autobacs. The angular Rocket Bunny-style fenders sort of give it a menacing sports car feel – a time-attack look perhaps – and then of course the VIP style flavor with the black paint, Weds wheels and custom interior. Yes, it confused me quite a bit!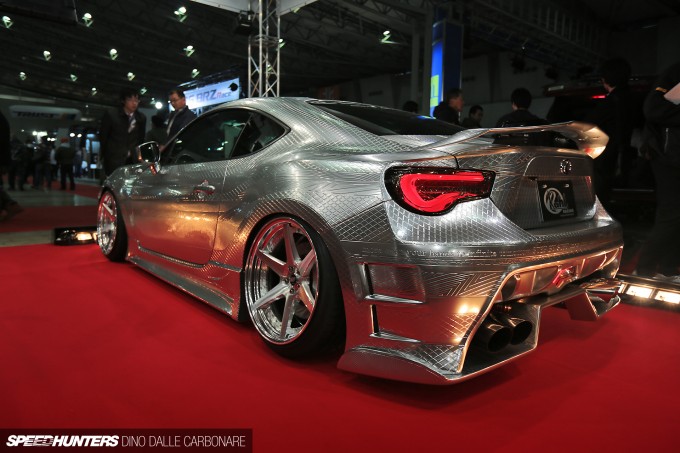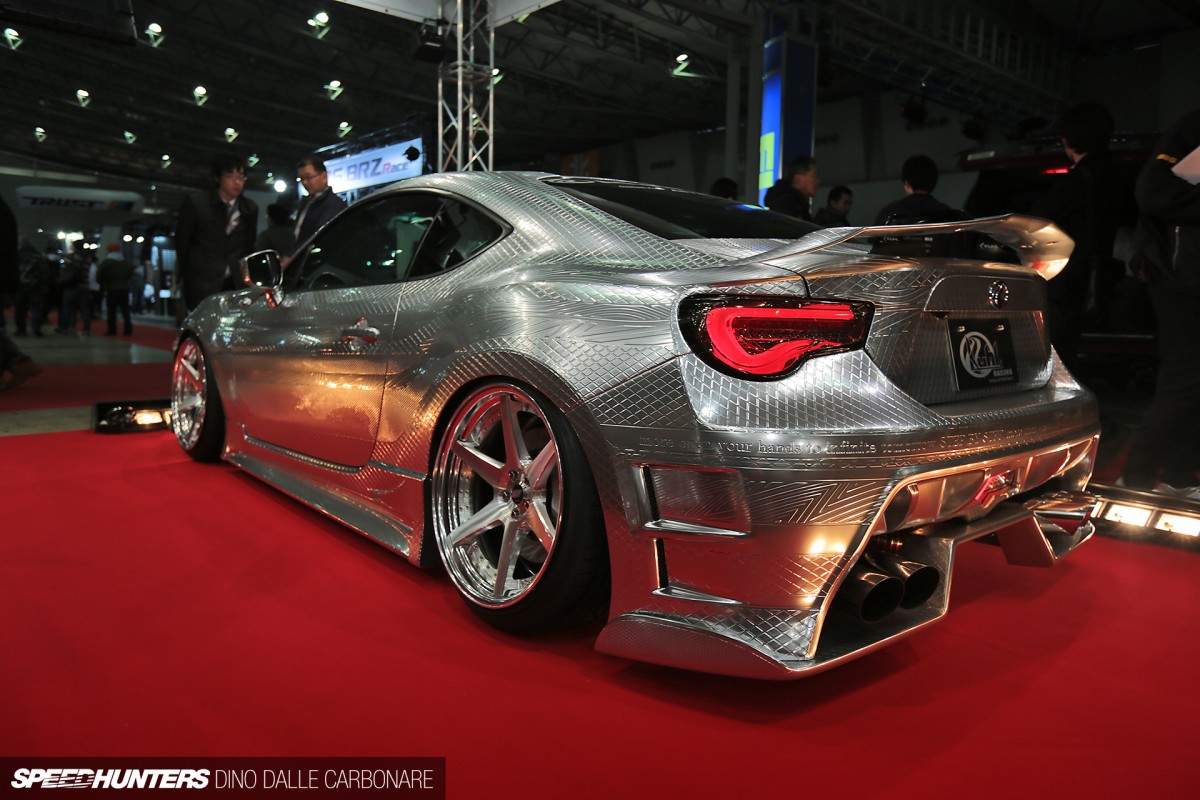 I showed you guys a pic of this Kuhl ZN6 in the preview post but I had to share another image as the intricate paint – yes it is paint and not a wrap – is nothing short of mind-blowingly complicated and time-consuming, but the result is truly art.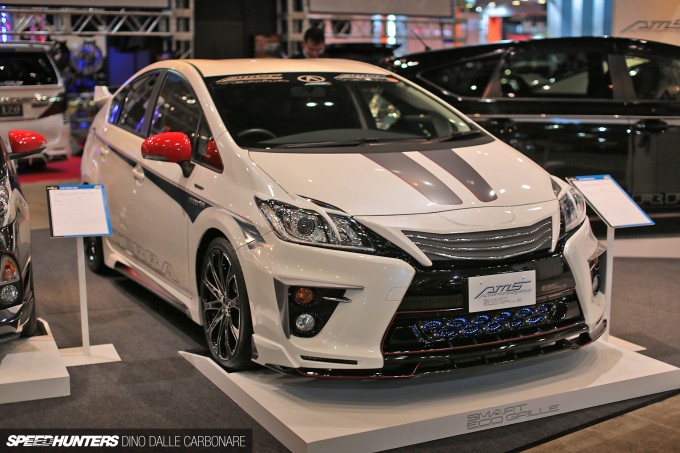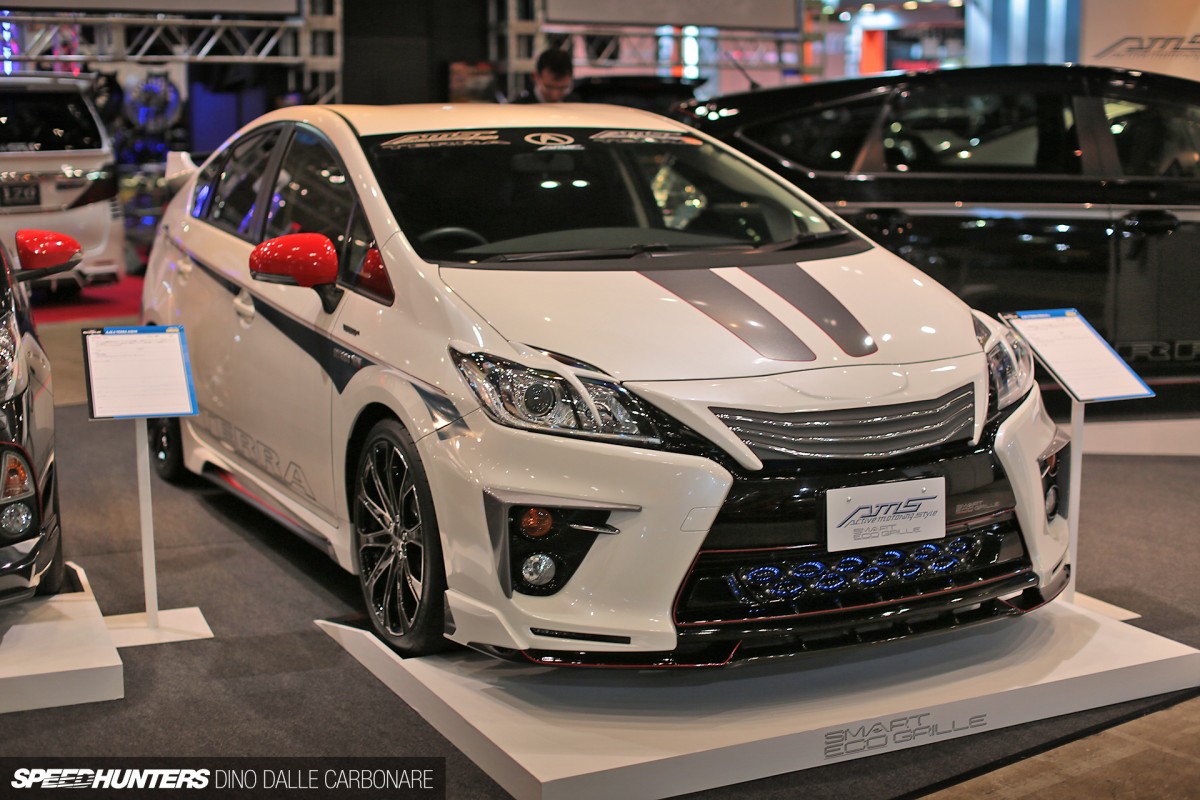 This may sound like something I've just made up, but the Prius along with other hybrids are some of the most tuned cars on Japanese streets. People do a lot of aesthetic work to them and it's getting strangely widespread. This particular car at the AMS booth was showing off a Smart Eco Grille which is back-lit and can alter colors. A must have for the eco-crew I suppose.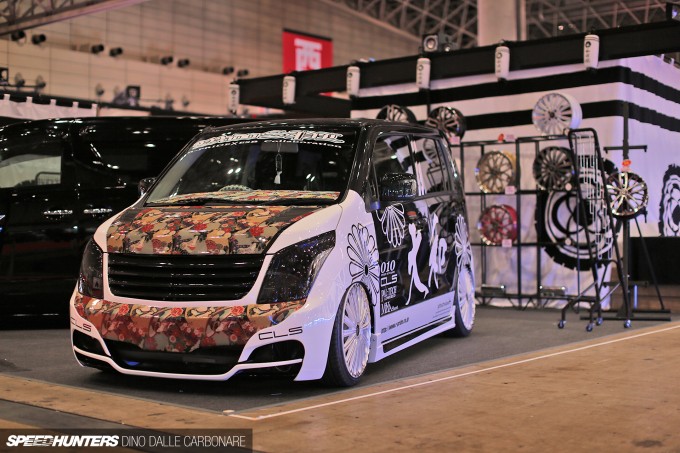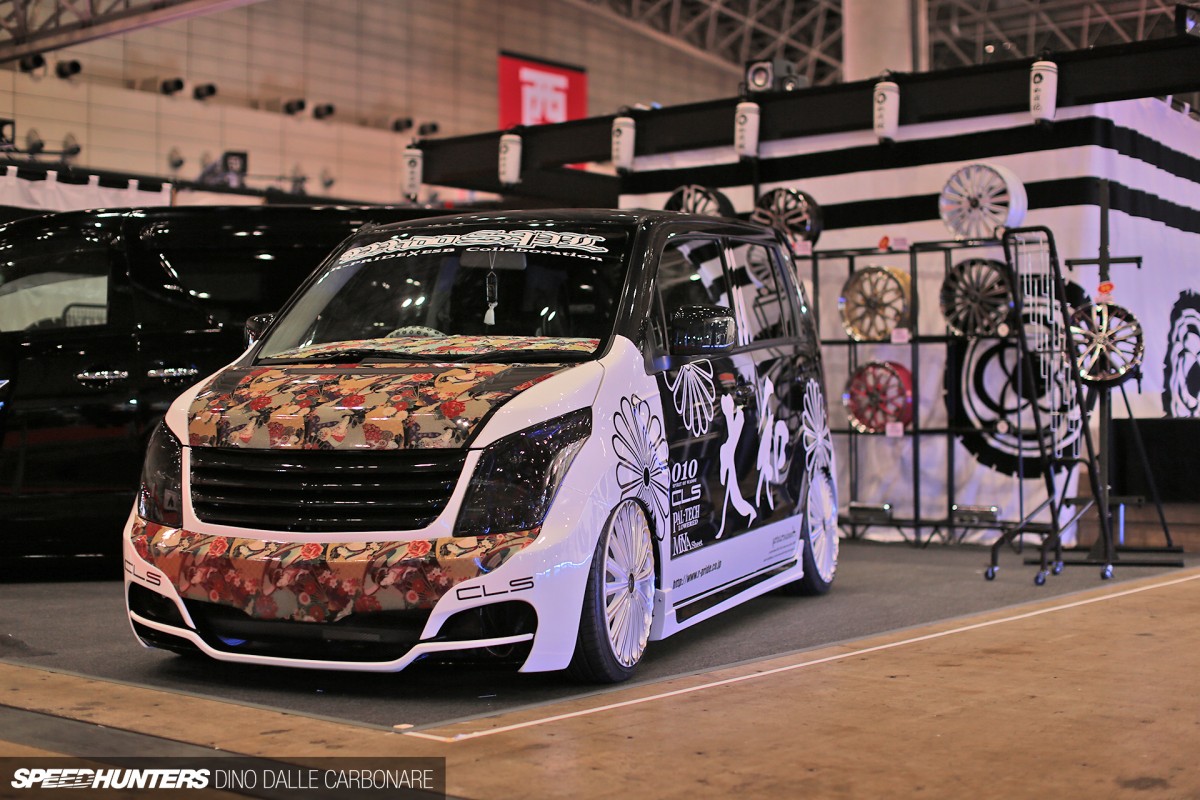 Kei vans: a strange Japan-only phenomenon which has, ever since their inception back in the nineties, been extremely popular. They are affordable, cheap to run, don't require a parking permit – a biggie in cramped Japan – and come in all shapes as long as you like the mini-toaster on wheels look. They populate both countryside roads as much as city ones so it's not surprising they fall prey to those with a case of the customizing bug.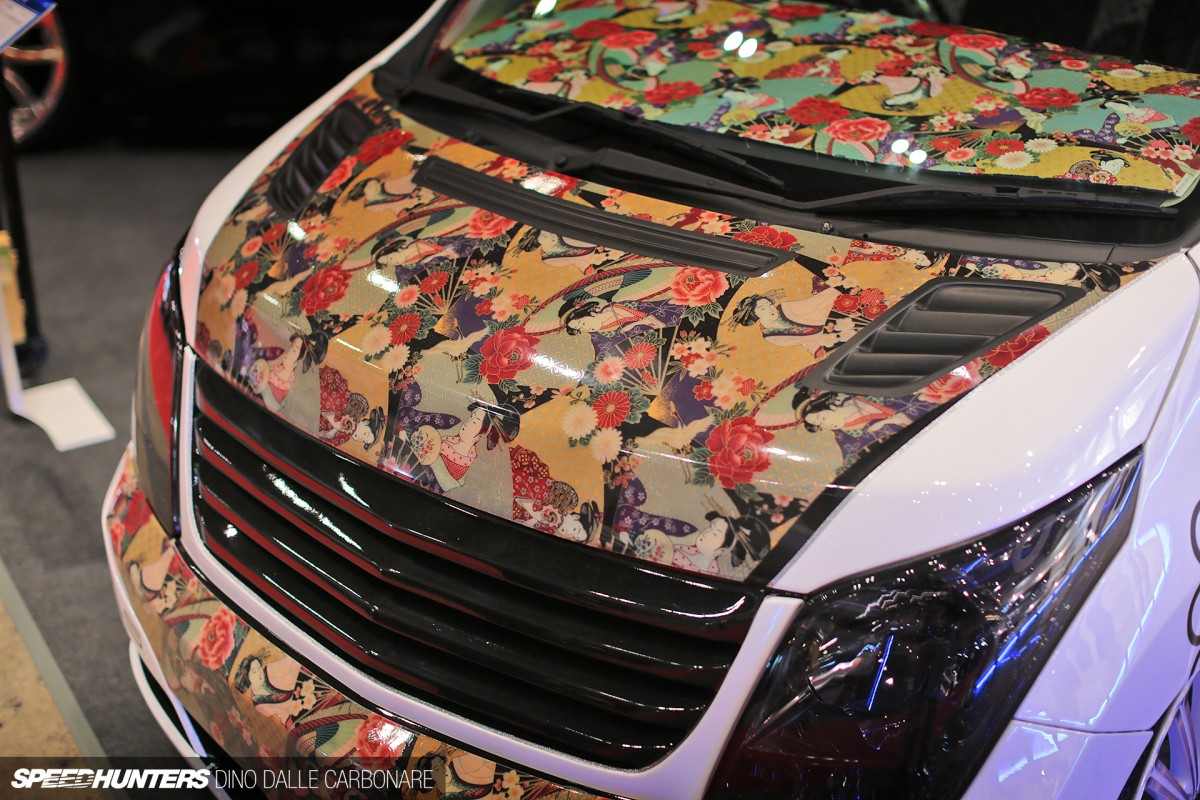 R-pride had this slammed Wagon R featuring some kimono-fabric-style vinyl wrap on the hood and front bumper, proudly hinting at the whole uniqueness of this little sub-genre.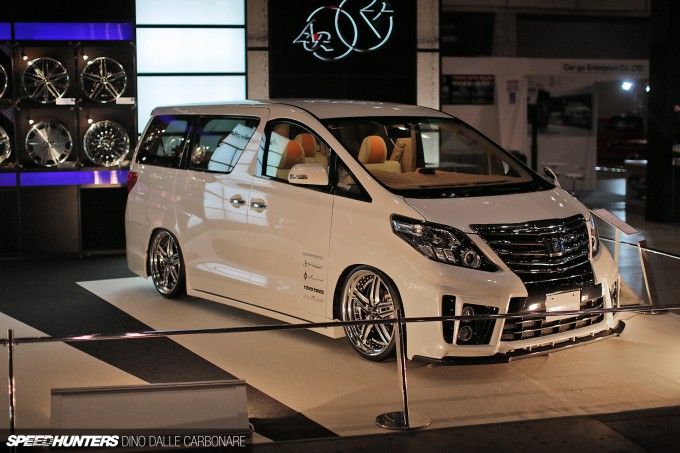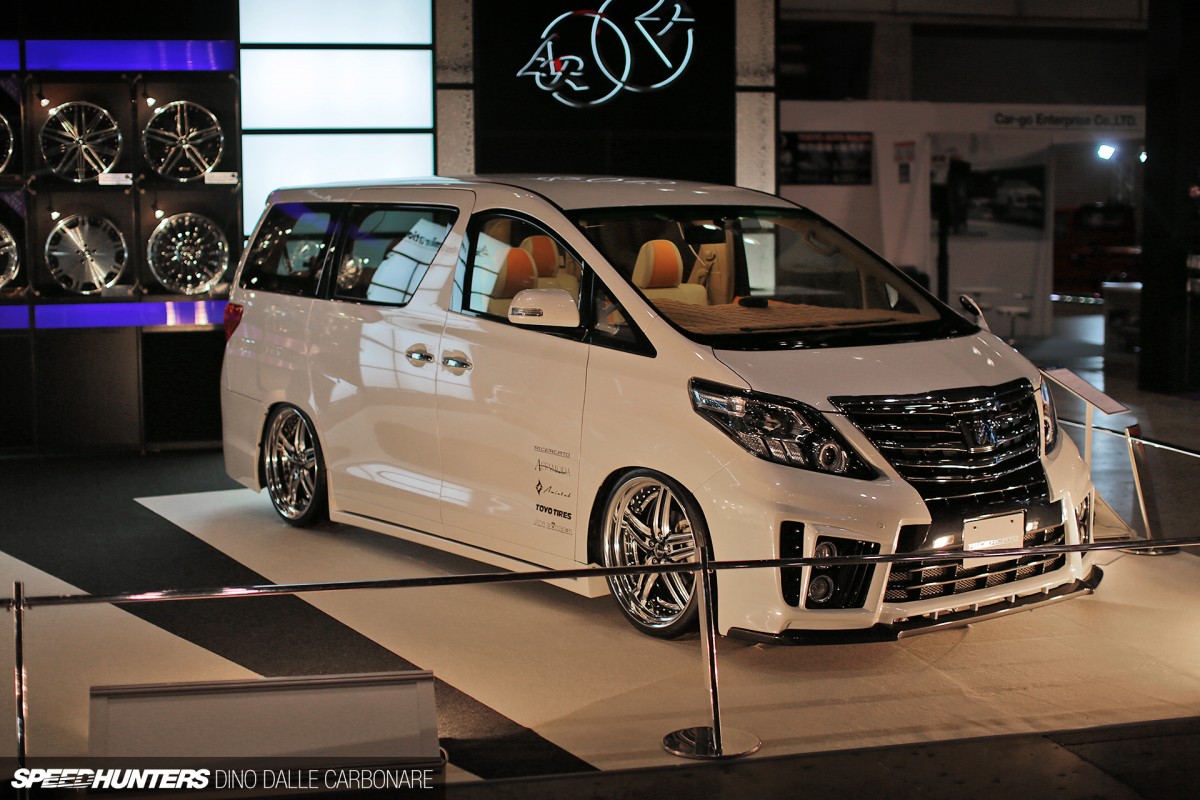 Of course vans come in regular sizes too. I love the use of of Italian in some of the names VIP tuners and part makers use. Apparently the kit on this Amistad Alphard is called Ricercato which means 'wanted', as an escaped criminal would be wanted. All part of the Japanese charm!`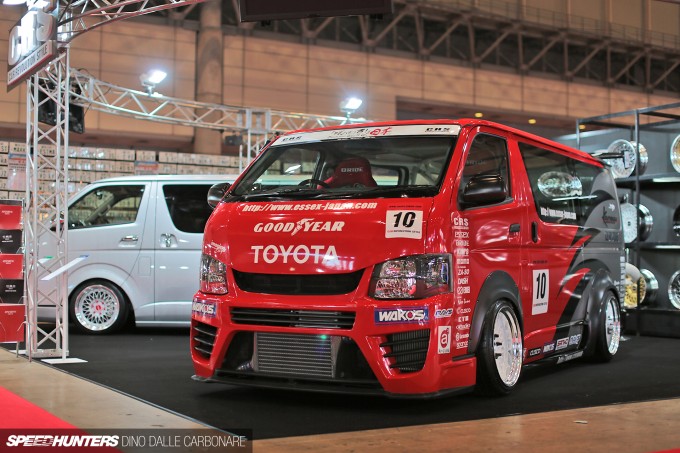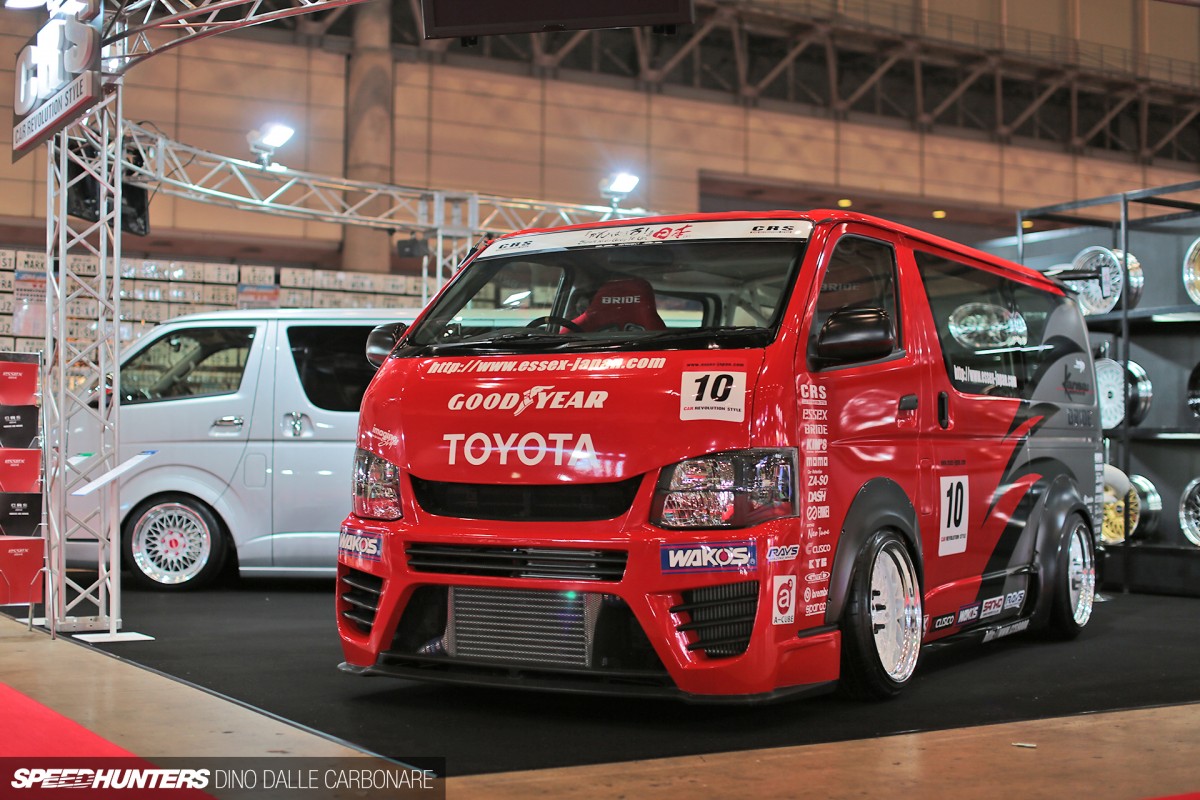 One side of vanning that we have liked here at Speedhunters for years, is what the Japanese do with the Toyota Hi-Ace. It may be nothing more than a delivery van to most people. but for those with a bit of imagination, well, some pretty crazy things are possible. This Essex Japan Hi-Ace was my favorite van at the show this year. It was stripped out, had a roll cage and a pair of Bride buckets not to mention a wild race car inspired stance. Check out that big intercooler up front too!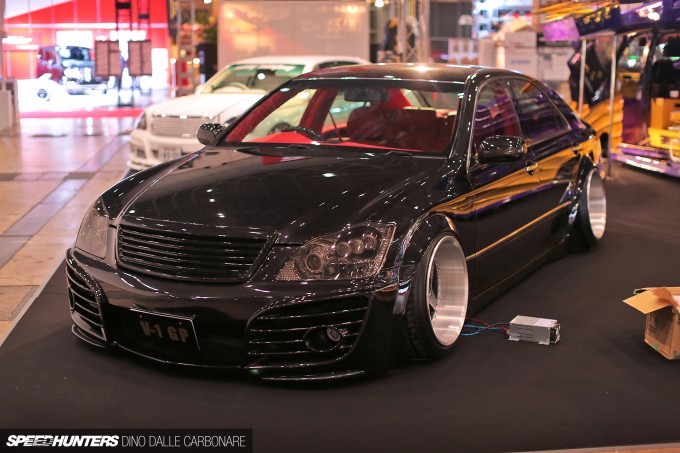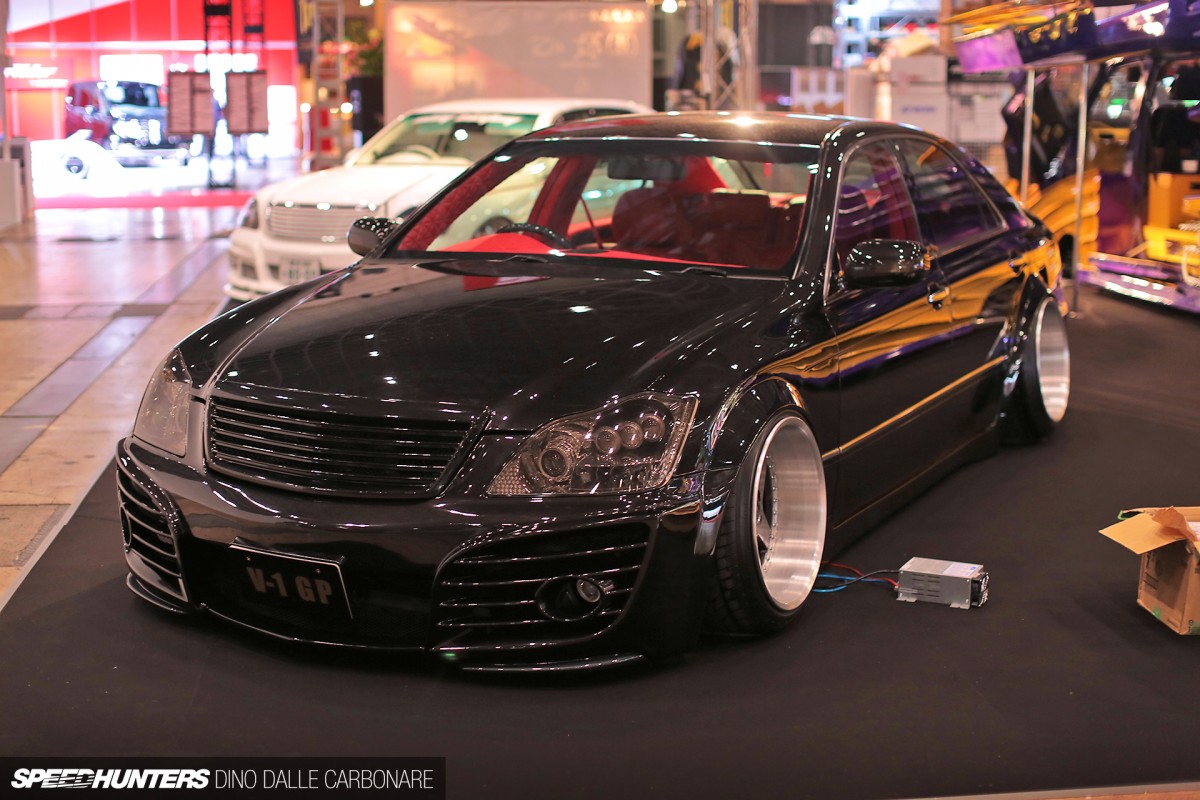 For most of the first day I thought that Bee-Dragon didn't have anything at the show other than their old Q45, but boy was I wrong. Next time I have a chance to drop by their shop in Gifu, I need to take a closer look at this elegantly-styled Crown Athlete. Can you say dish?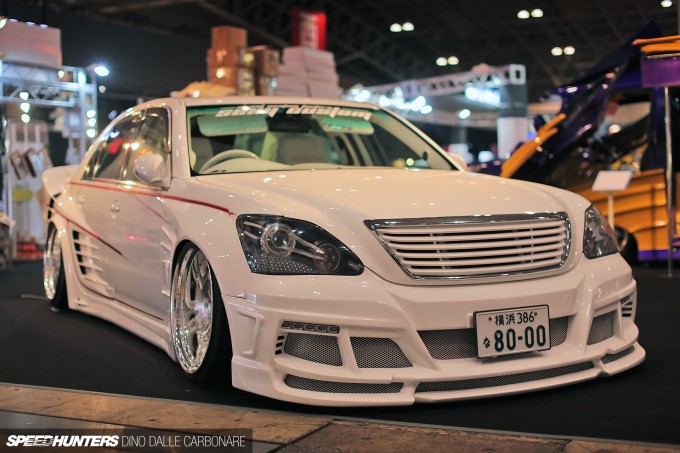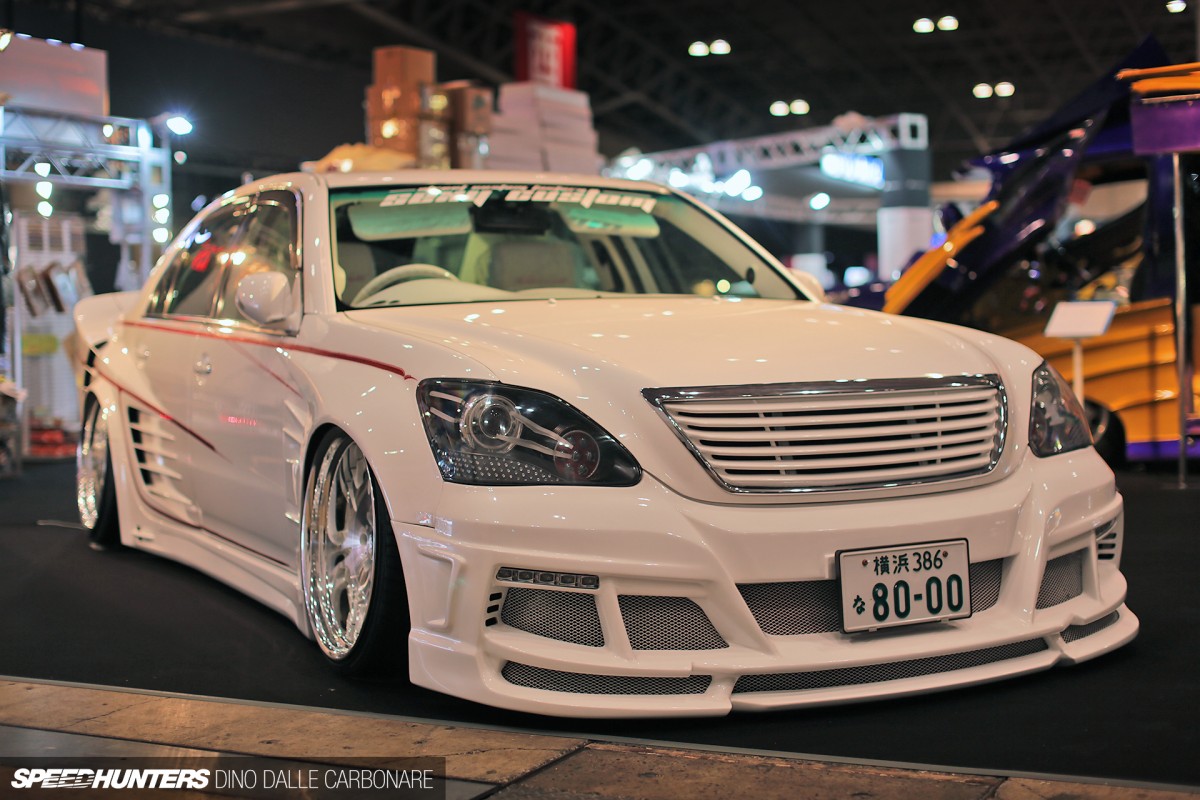 The Athlete was parked up next to this Absolute King Celsior, which I thought was a superb, and very well-executed interpretation of the more extreme looks you often see on kaido racers.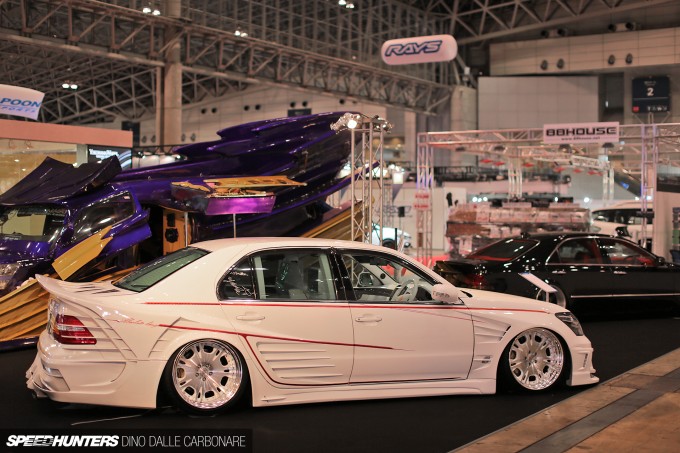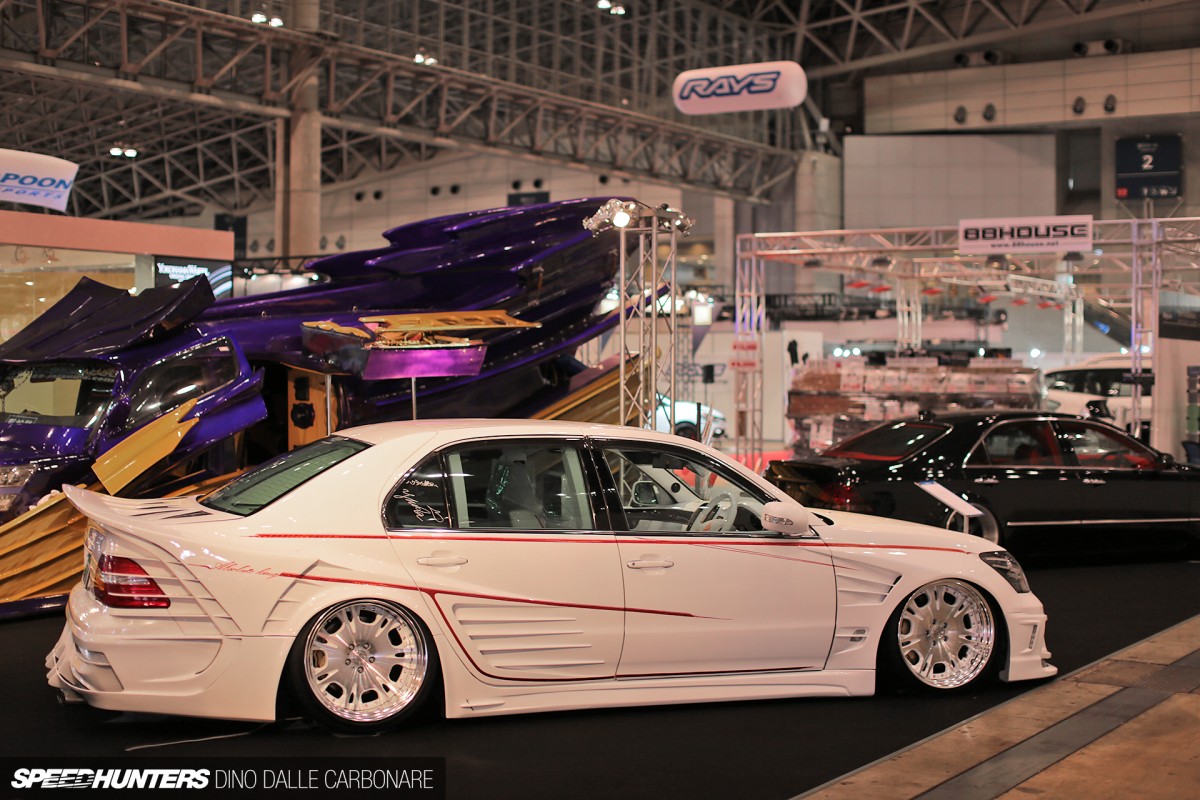 If you look at the profile, you'll probably understand what I'm trying to say! It's raw and wide, with so much venting and louvering happening, but yet it's so flowing. The trunk spoiler is a great touch too.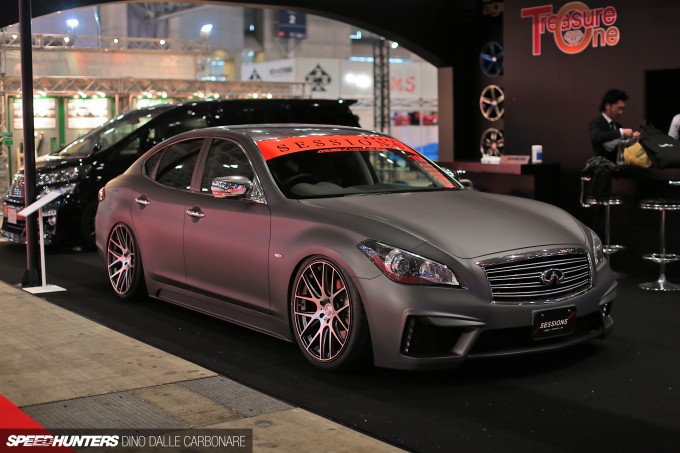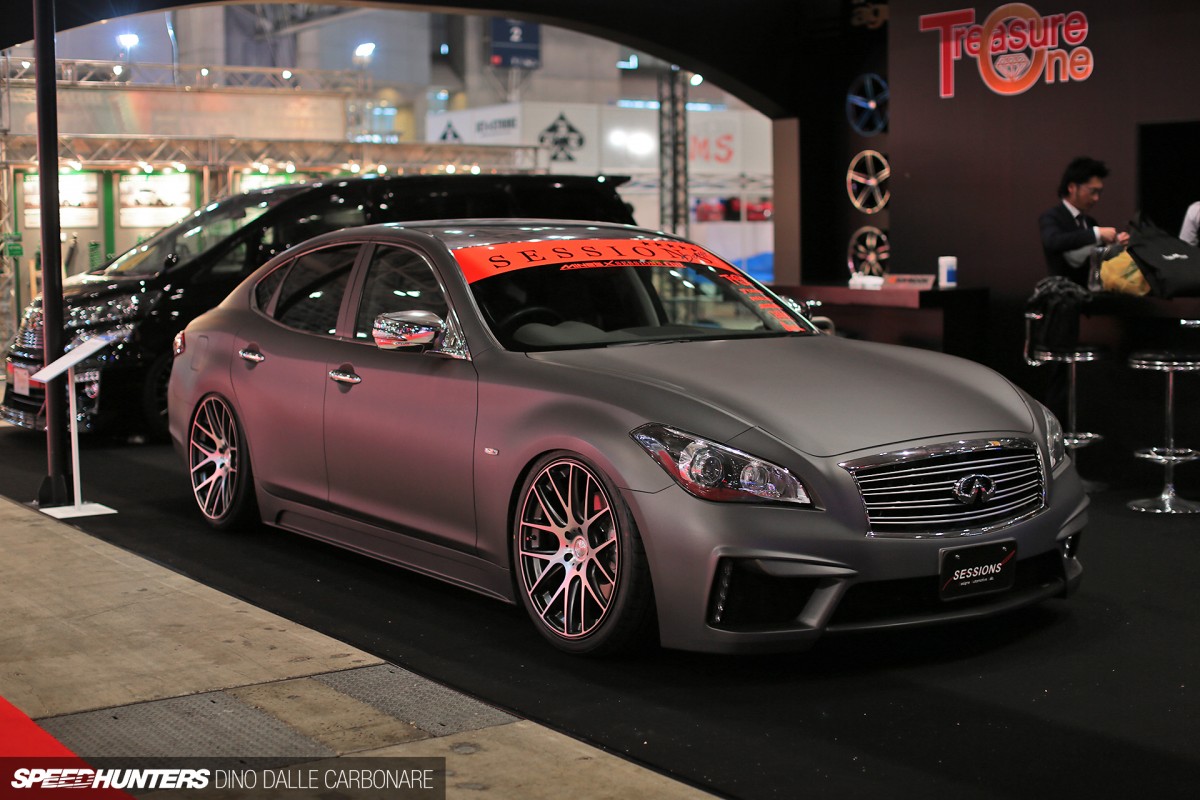 Session, a Kanto VIP shop located in Yokohama, often plays around with all sort of styles. This Nissan Fuga however was a great example of how simple you can go about your body mods.
Is pink the new black?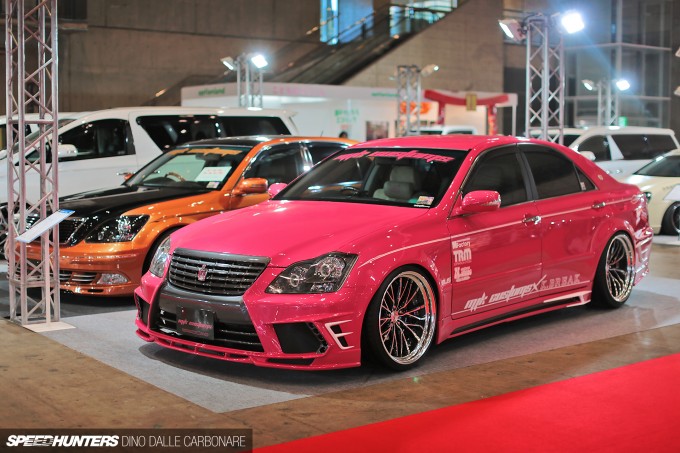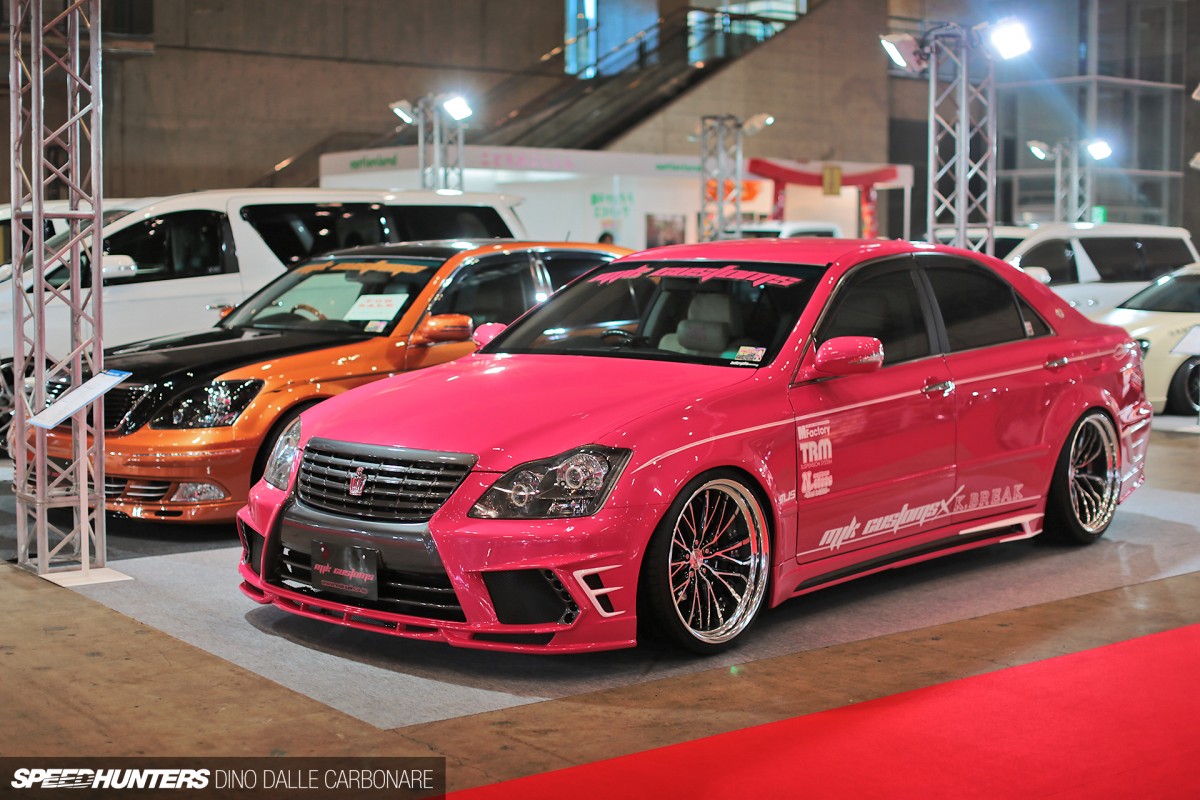 MJK Customs decided to embrace the strange 'pink thing' that is happening with the new Crown – yes you can get it pink directly from Toyota – and applied it on their Athlete. Might not be for everyone but I did overhear a horde of young Japanese girls screaming "Kawaii" as they walked by it – which means they thought it was cute. Job done for MJK!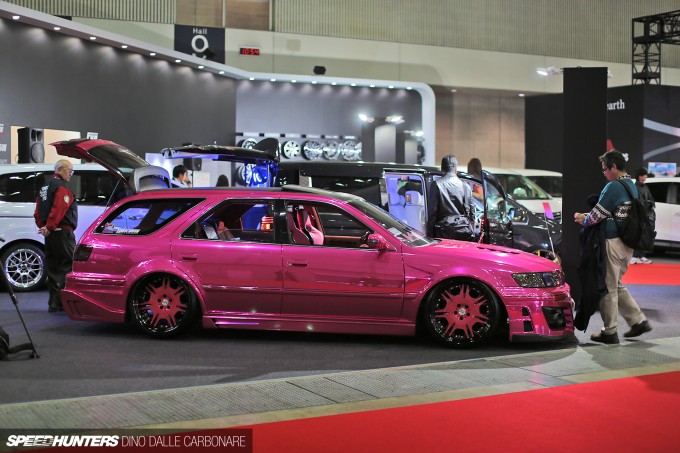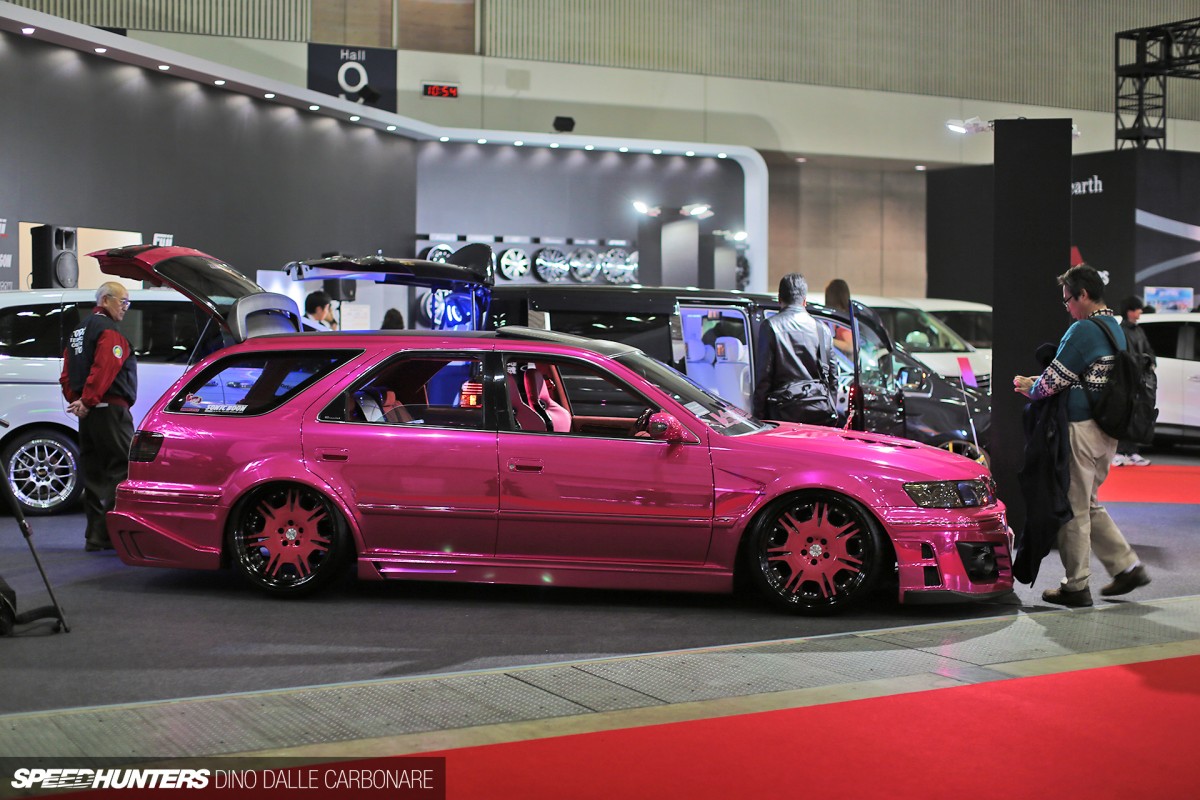 And how about a pink wagon? On top of the bespoke exterior, V-Vision really went to town on this MarkII, extending the pink effect all the way to the wheels and even the interior.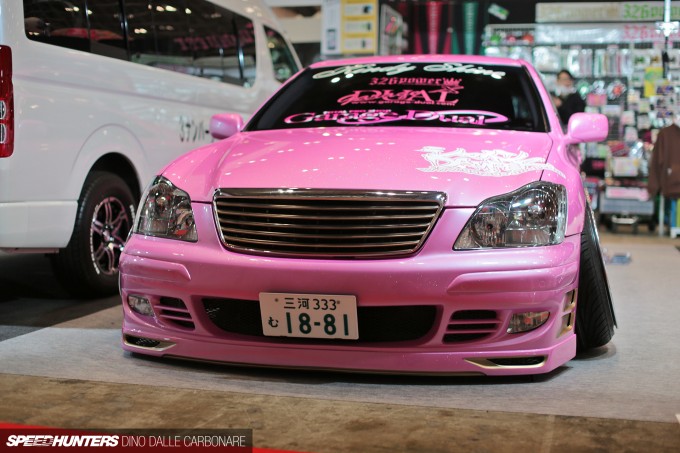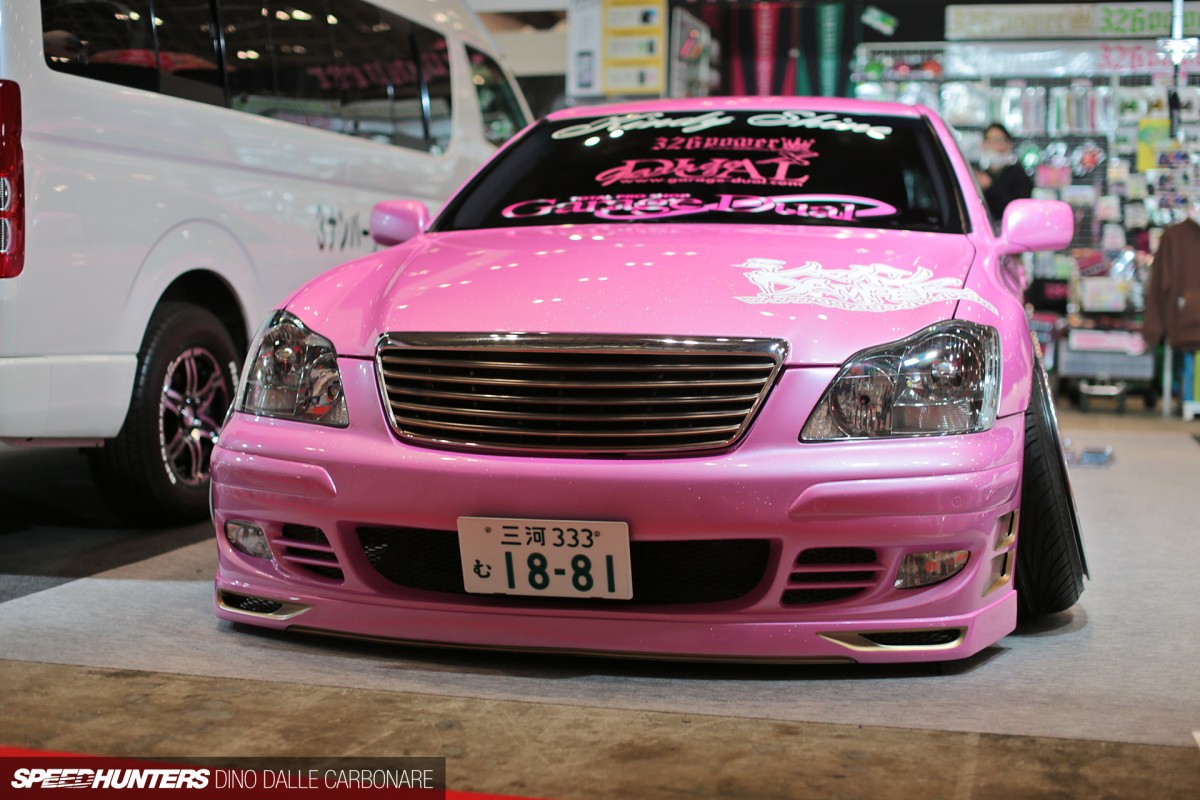 Ok, I promise this is the last one. This time from the 326 Power crew and with plenty of onikyan to equally satisfy and piss off many people out there.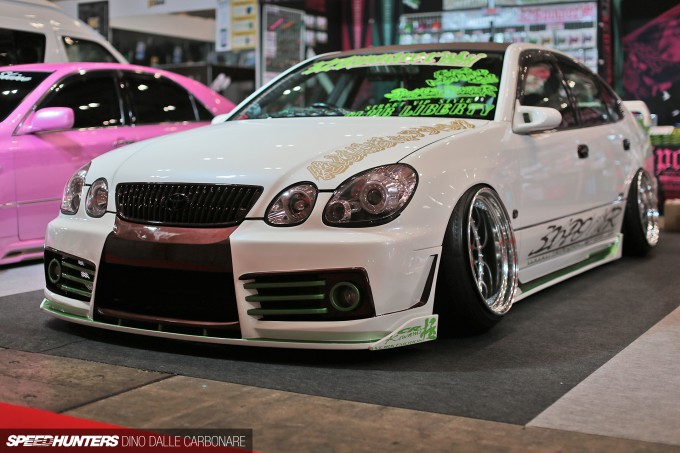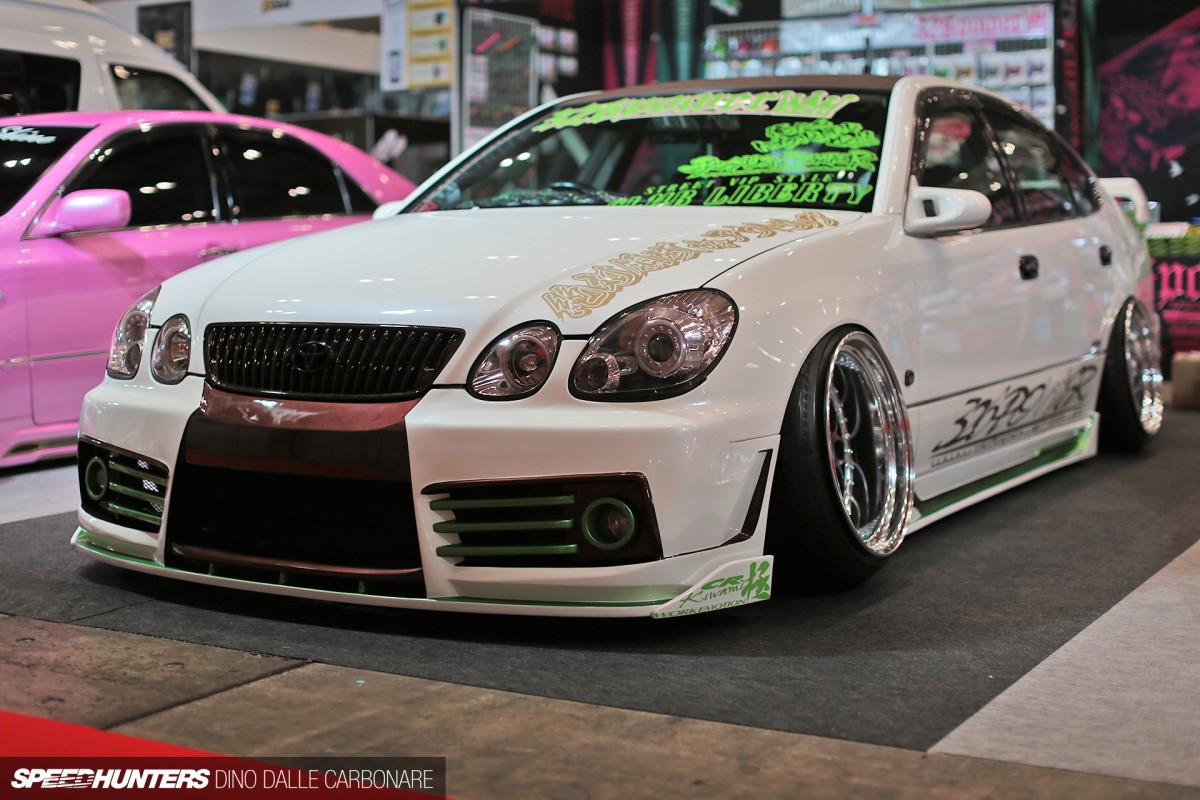 Their Aristo however – that is at the cutting edge of what custom style with a little hint of VIP is all about right now. We shall call it Hiroshima style.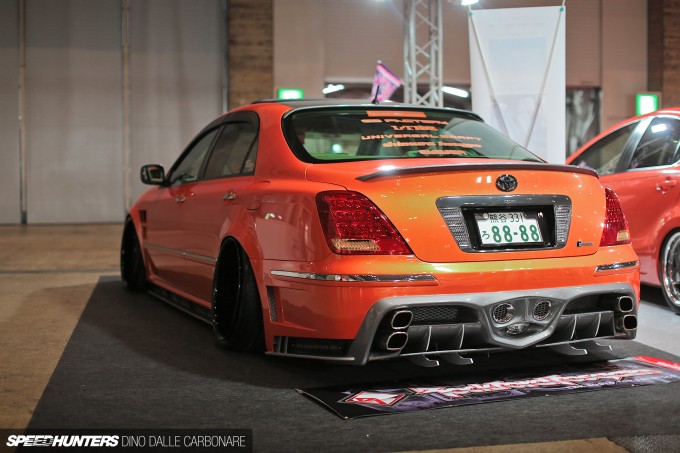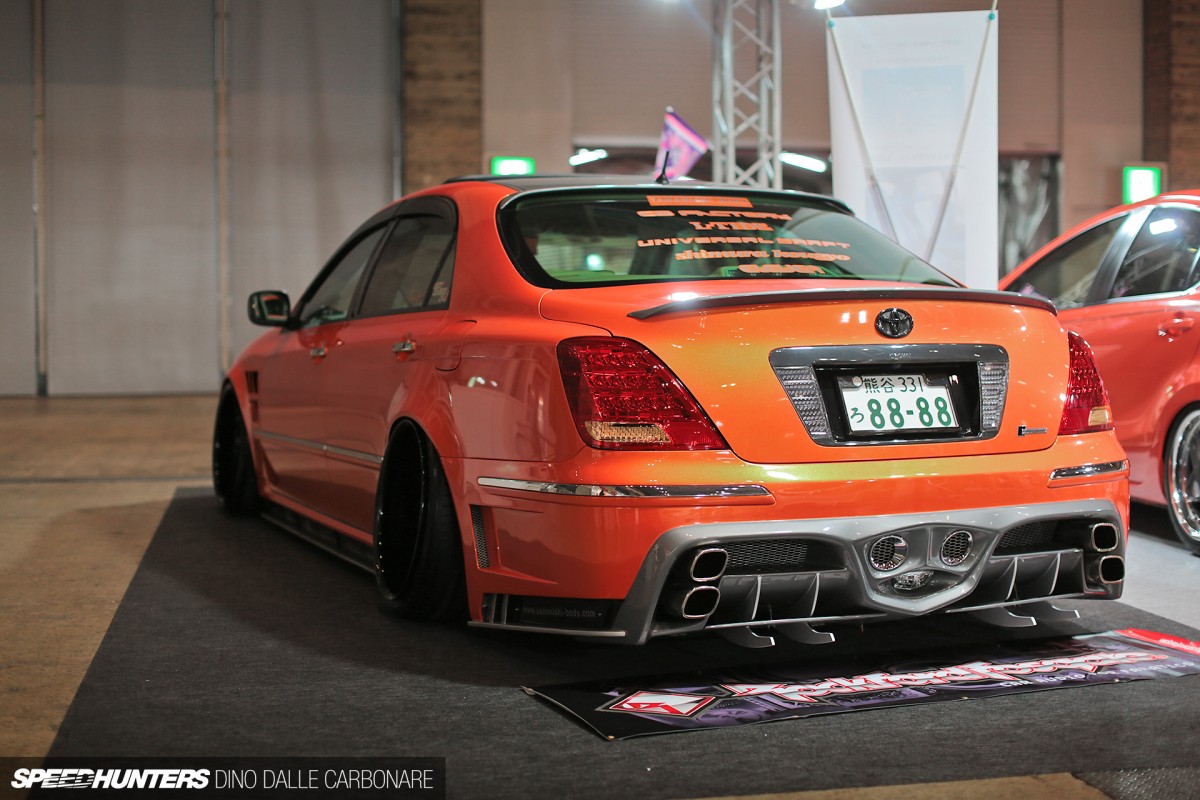 The best way to categorize the VIP movement would be to say that it all falls into two main categories: you have those that are satisfied with aftermarket, off the shelf body additions with only a little custom work thrown in to get the car to sit just right, while you have those guys that are on a constant drive to impress with full bespoke conversions. This Crown Athlete from Yamanishi Body and KBC falls firmly into the latter category. I mean just look at that rear bumper diffuser section with stacked exhausts.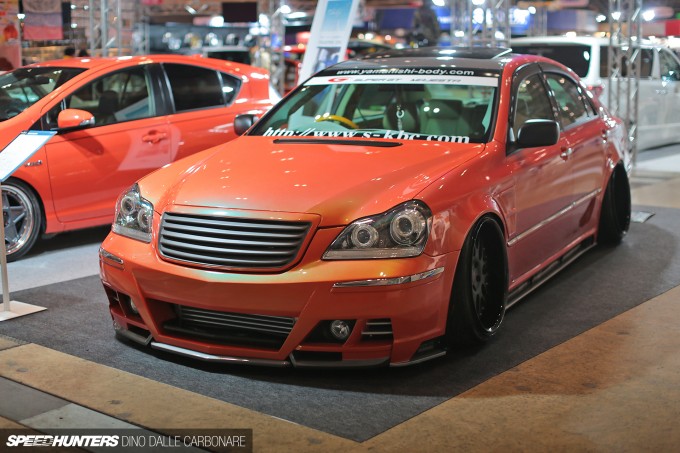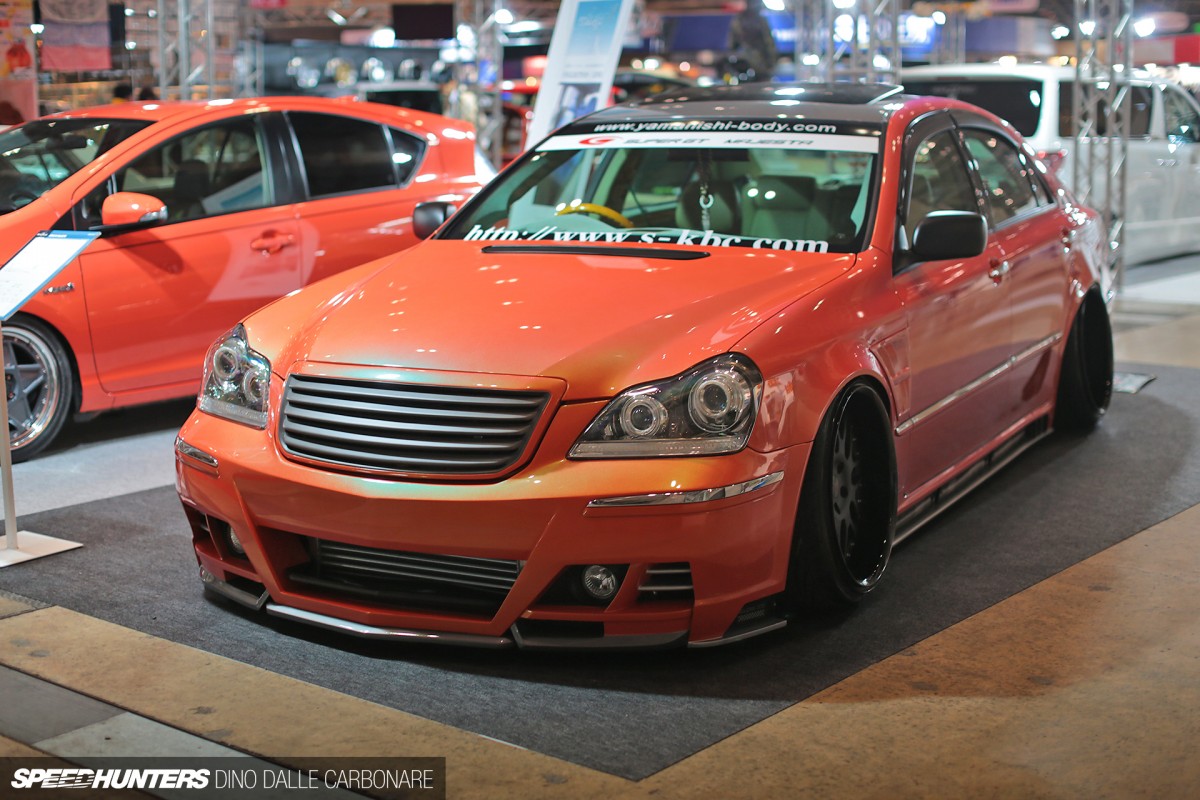 Lots of metalwork has gone into pumping out the car's track and getting the tires to tuck cleanly into the fenders.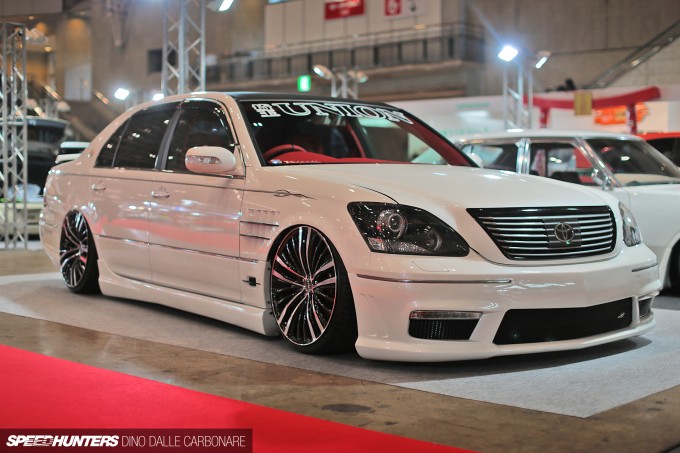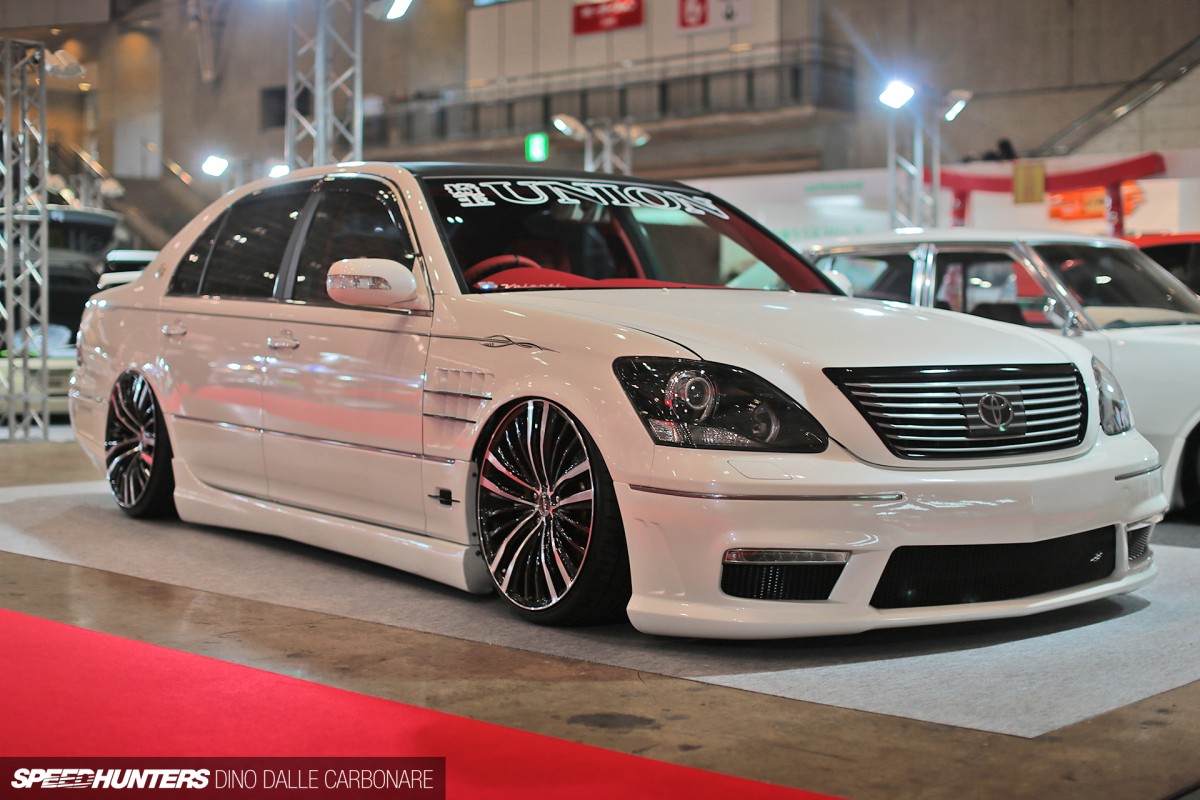 I'm pretty sure this Union Celsior's fender flares were inspired from a Lorinser S-class aero package, serving as yet another example of how owners strive to stand out.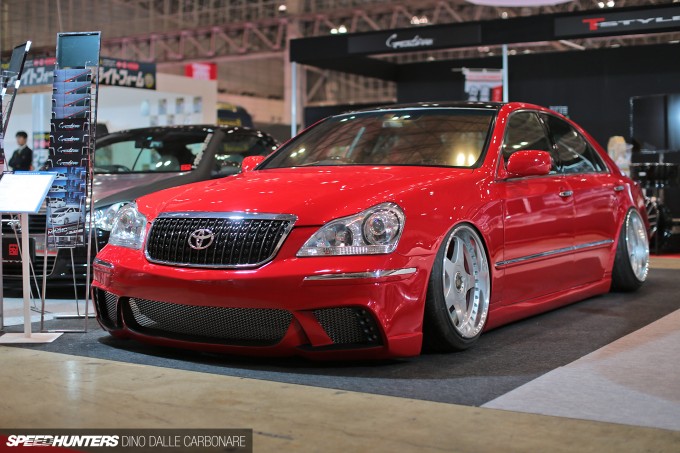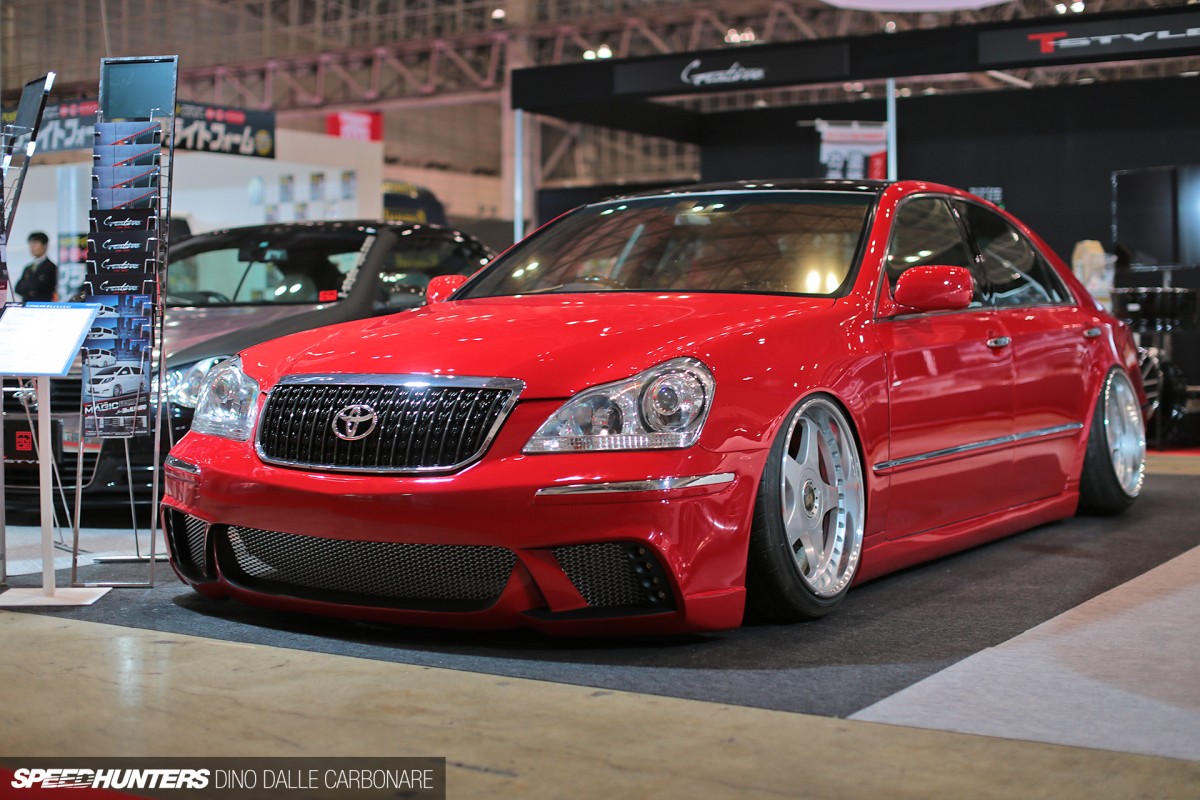 T-Style had one of the coolest VIP rides of TAS, boasting what I can only refer to as the 'sporty look'. Ok, there may be nothing functional about what you see on this Athlete, but you can't deny it just looks damn good on those old school SX five-spokes!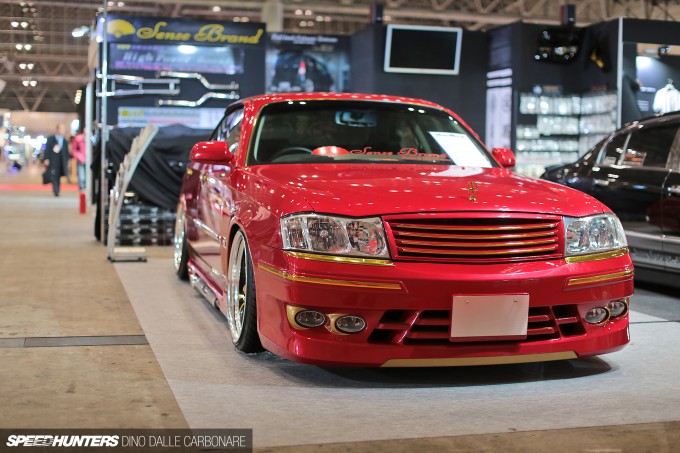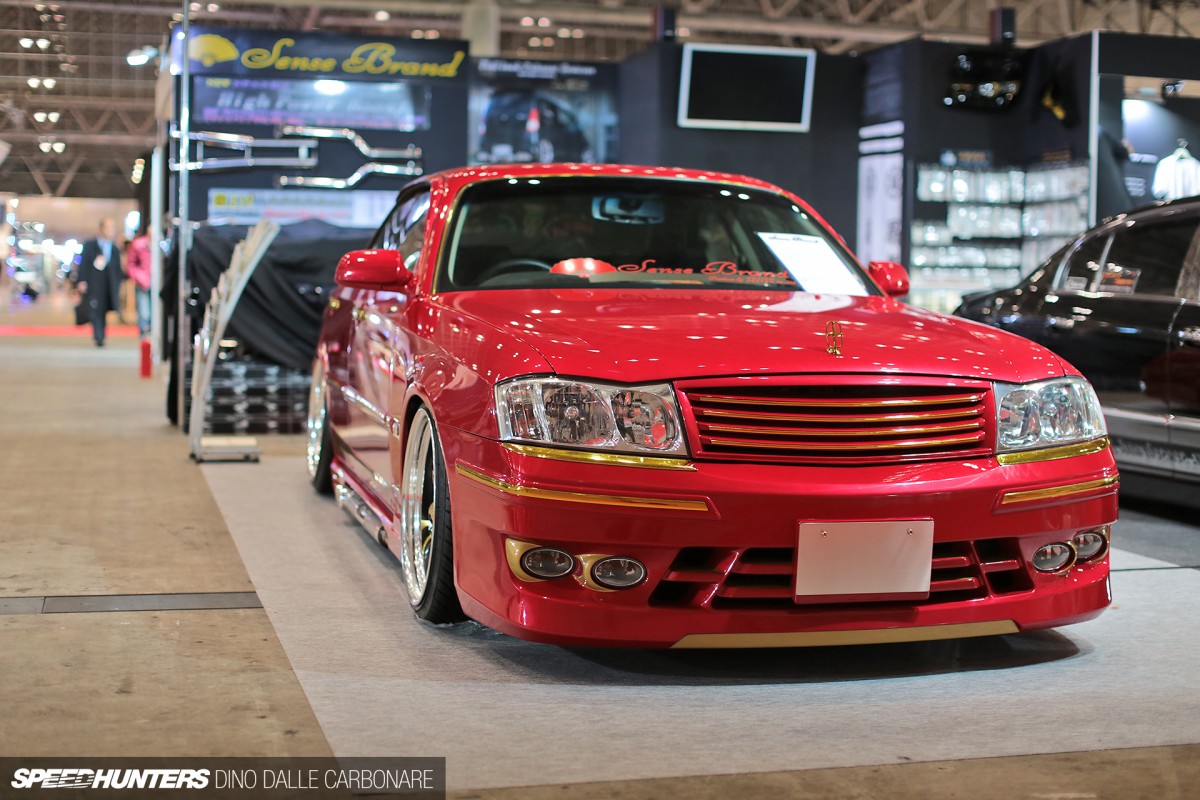 There have been way too many Toyotas so far, so how about this gold-themed Gloria from Sense Brand? It may not be one of the most popular models out there, but it has its charm.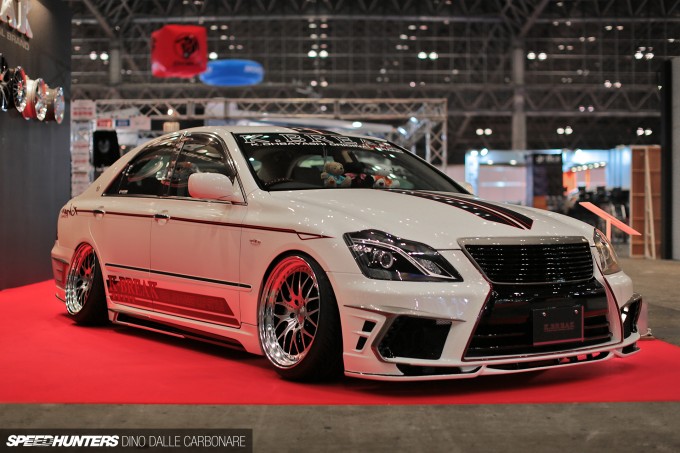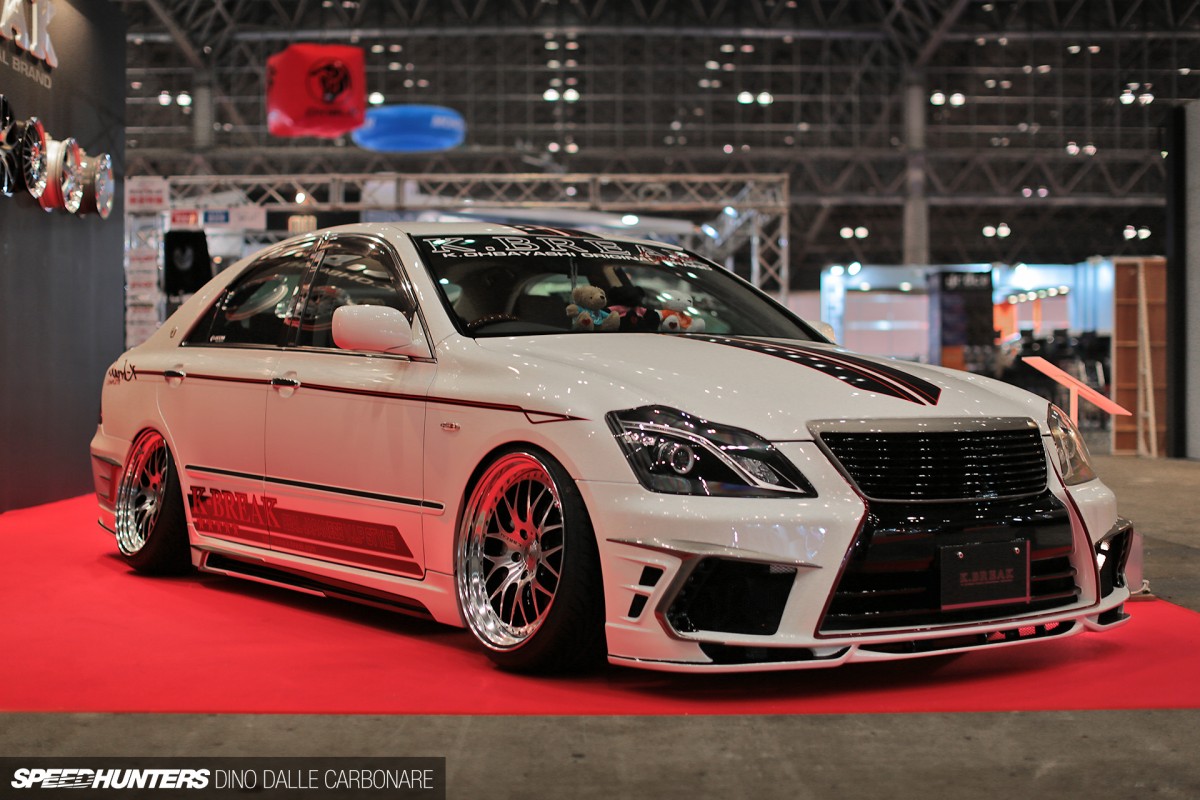 K-Break from Osaka are among the leaders in 'forward-thinking VIP style'. Wow, there's the proper term I've been looking for! Seeing their cars on show reminded me that I must try to get back out to Osaka for their big King of Sedan event this summer. When it comes to VIP, that's one meet you must see at least once.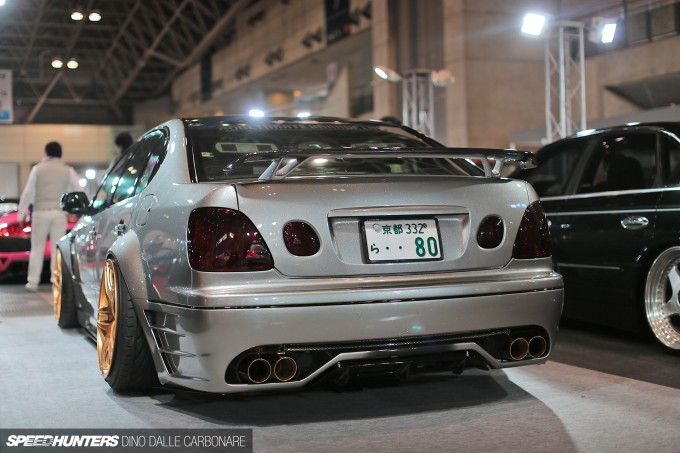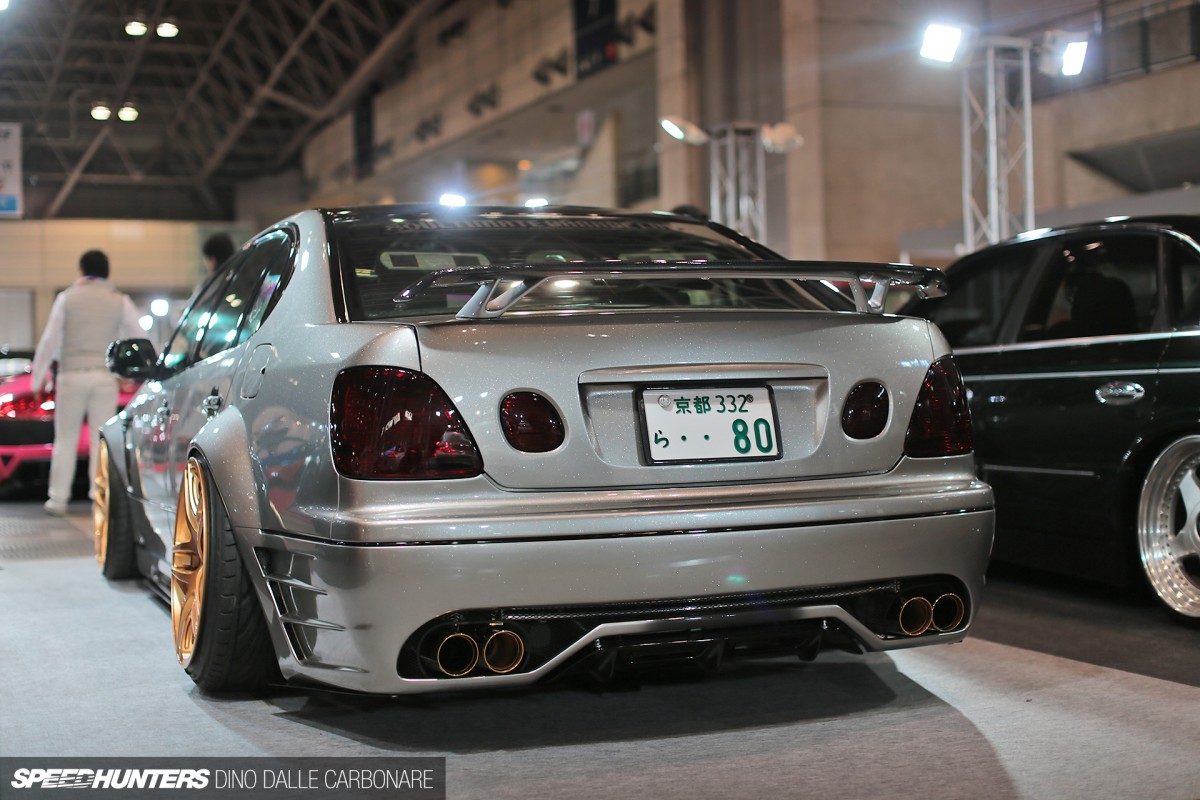 This Aristo was on display right behind the pink Liberty Walk Murcielago, and believe me it got just as many looks as this thing was sick with those flared fenders.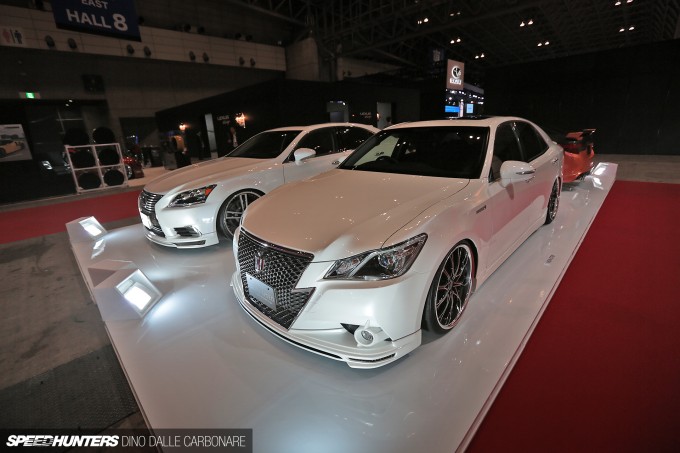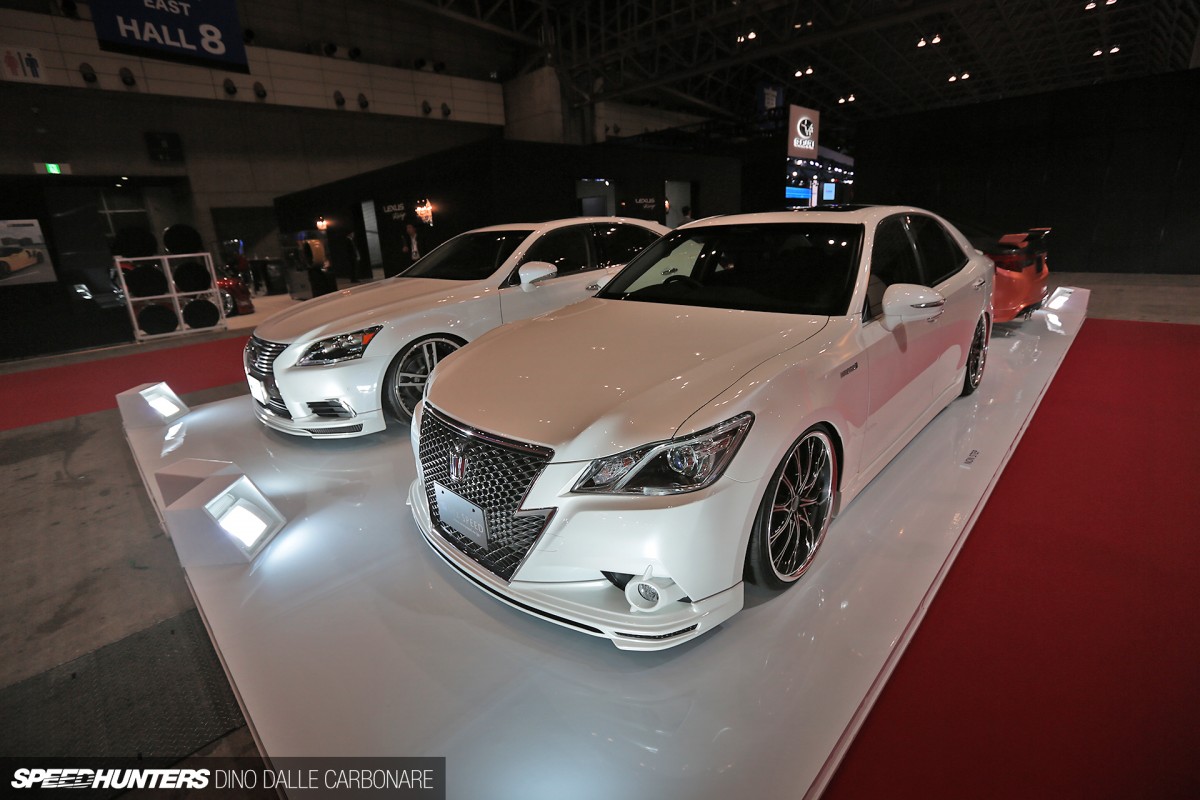 The new-gen Crown assault on TAS continued as I made my way to the very last hall where I came across the hybrid version of the car, tuned by M'z Speed sitting right next to their Lexus LS.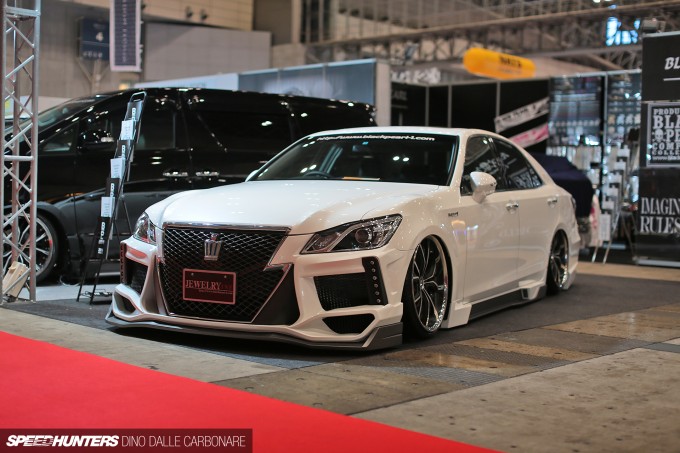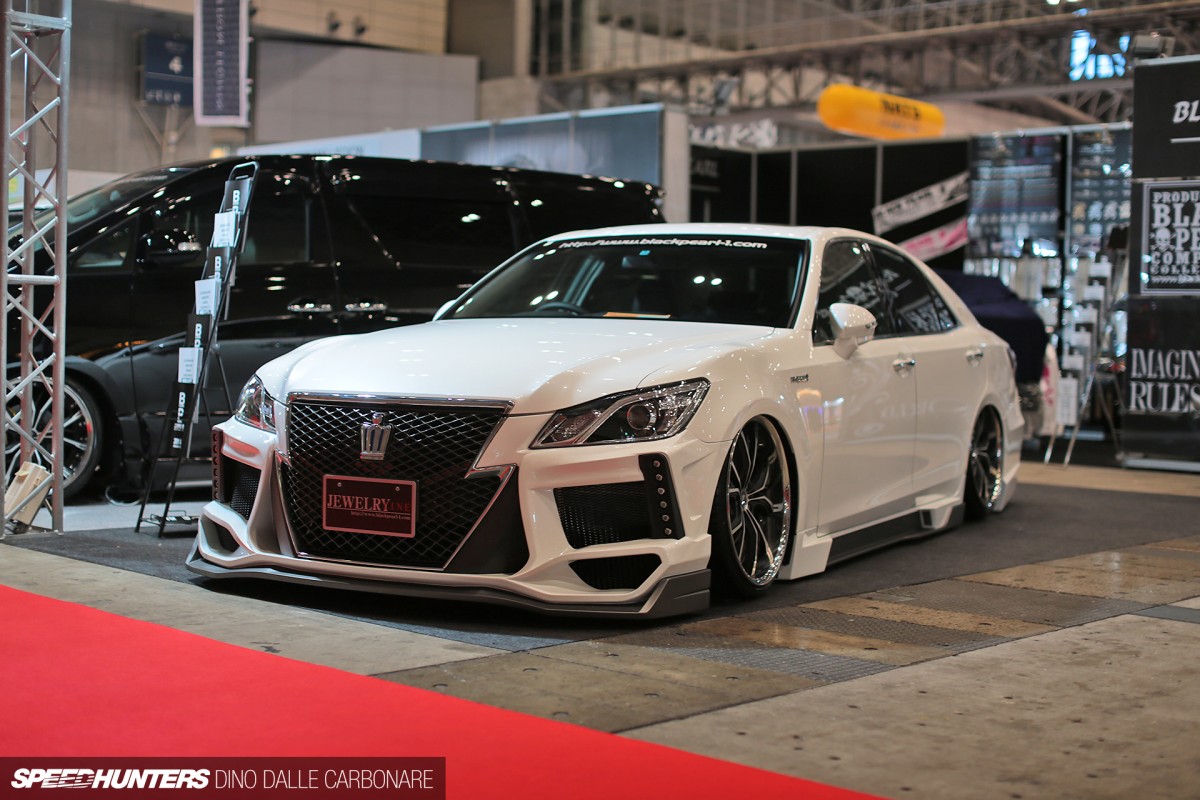 It wasn't the only hybrid at the show either, as earlier in the day I got stopped in my tracks by the Black Pearl demo car which – how can I put this – prefers to take the more complex and angular route on the aero side of things.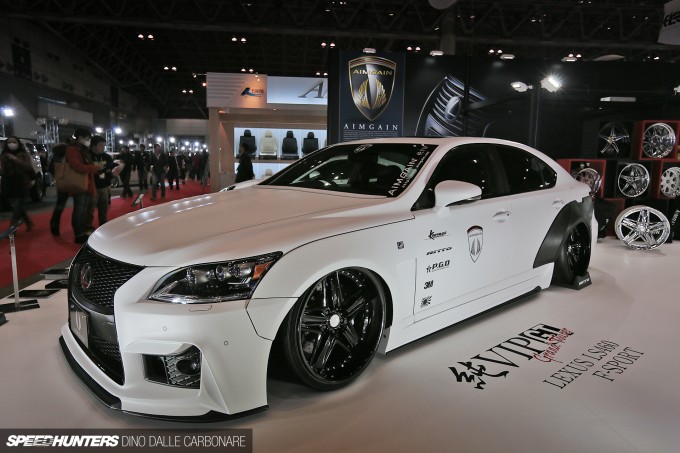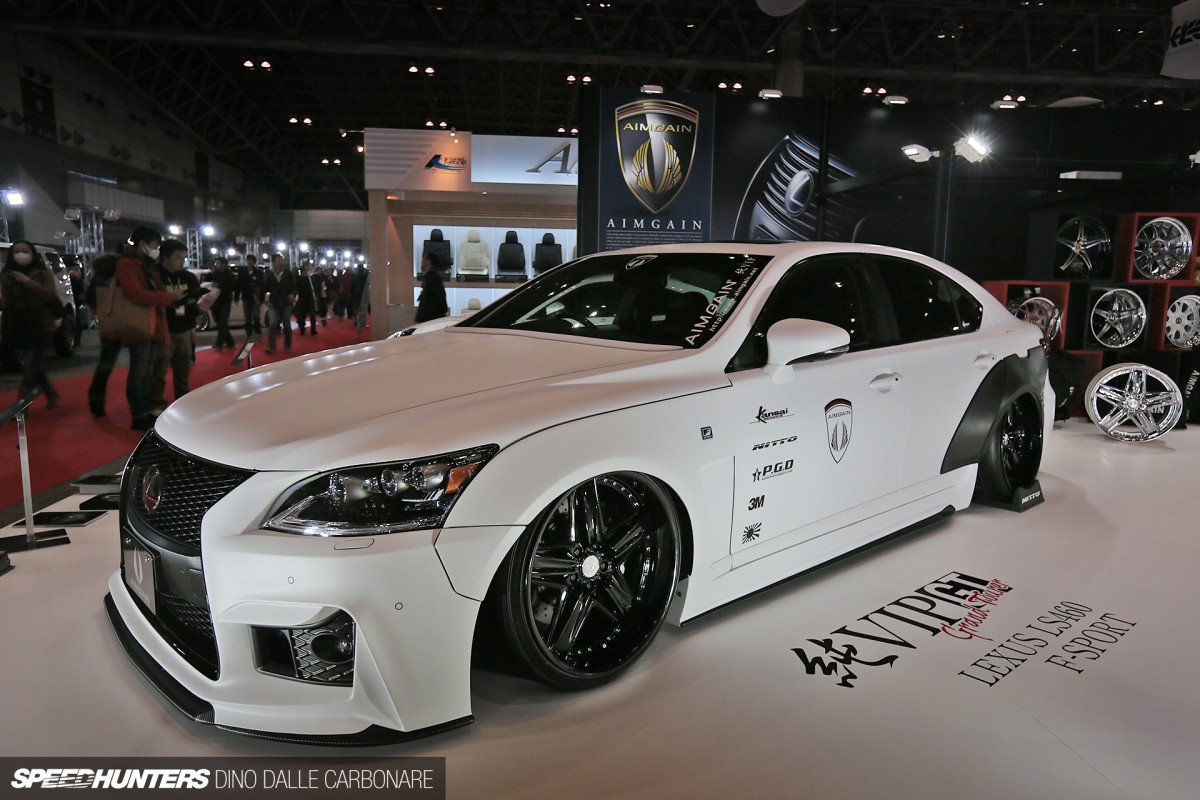 Aimgain as ever had quite the display area. This LS460 F-Sport was finished off with a set of front and rear overfenders. Along with some of the other cars we have seen in this post, I though this car in particular was probably a good representation of things to come as the Rocket Bunny look gets carried over into uncharted territory. Let the haters start the hating!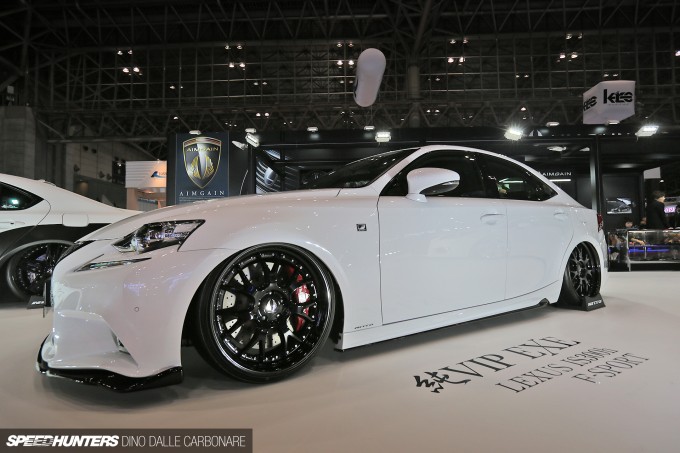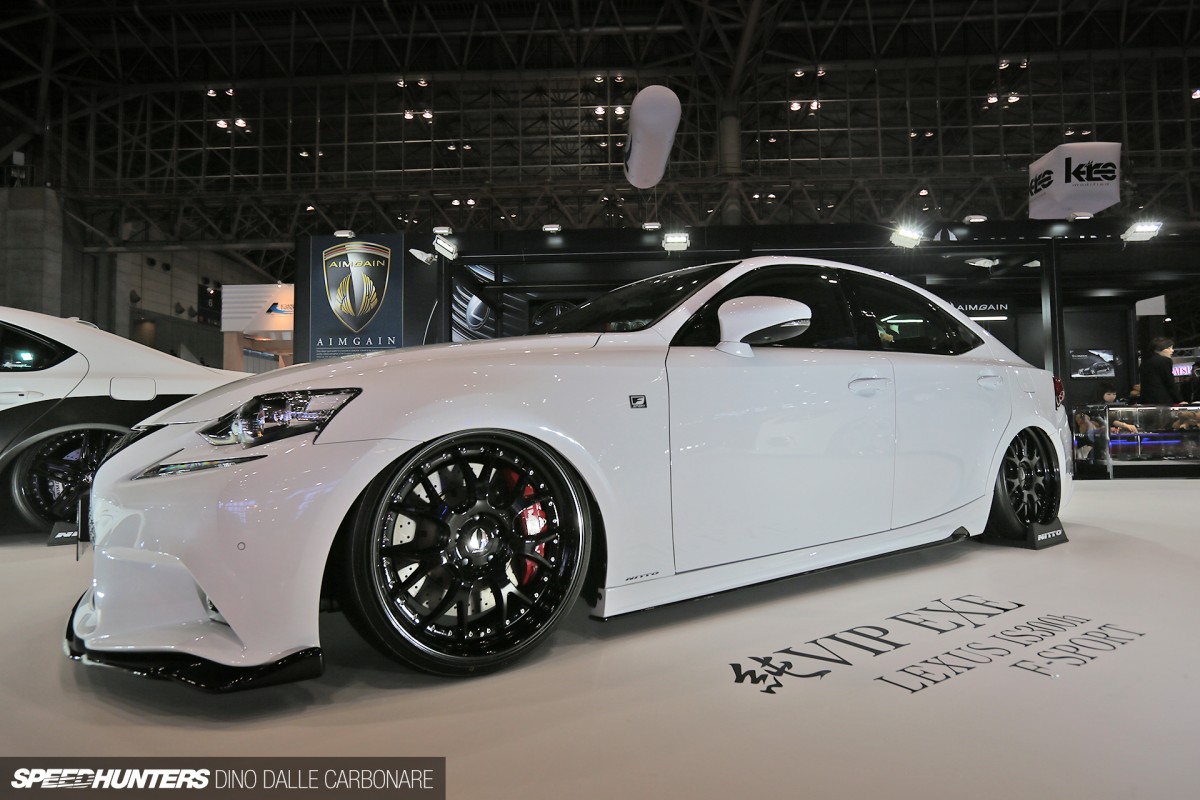 The Aimgain IS hybrid had a simpler execution, some lower body aesthetic additions, big wheels and a considerable drop thanks to some air suspension. Simplicity never fails, does it?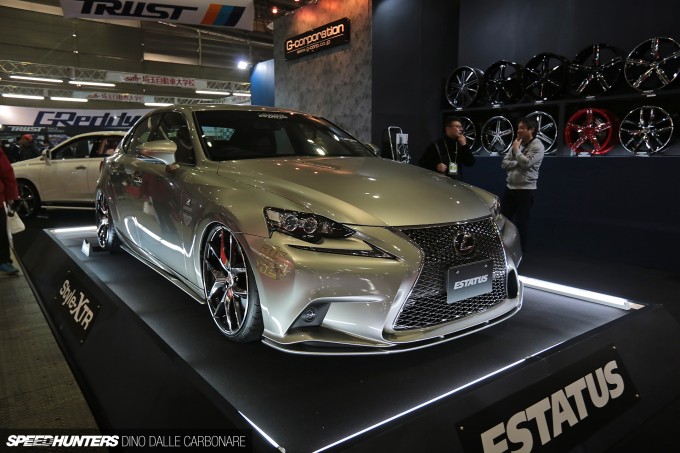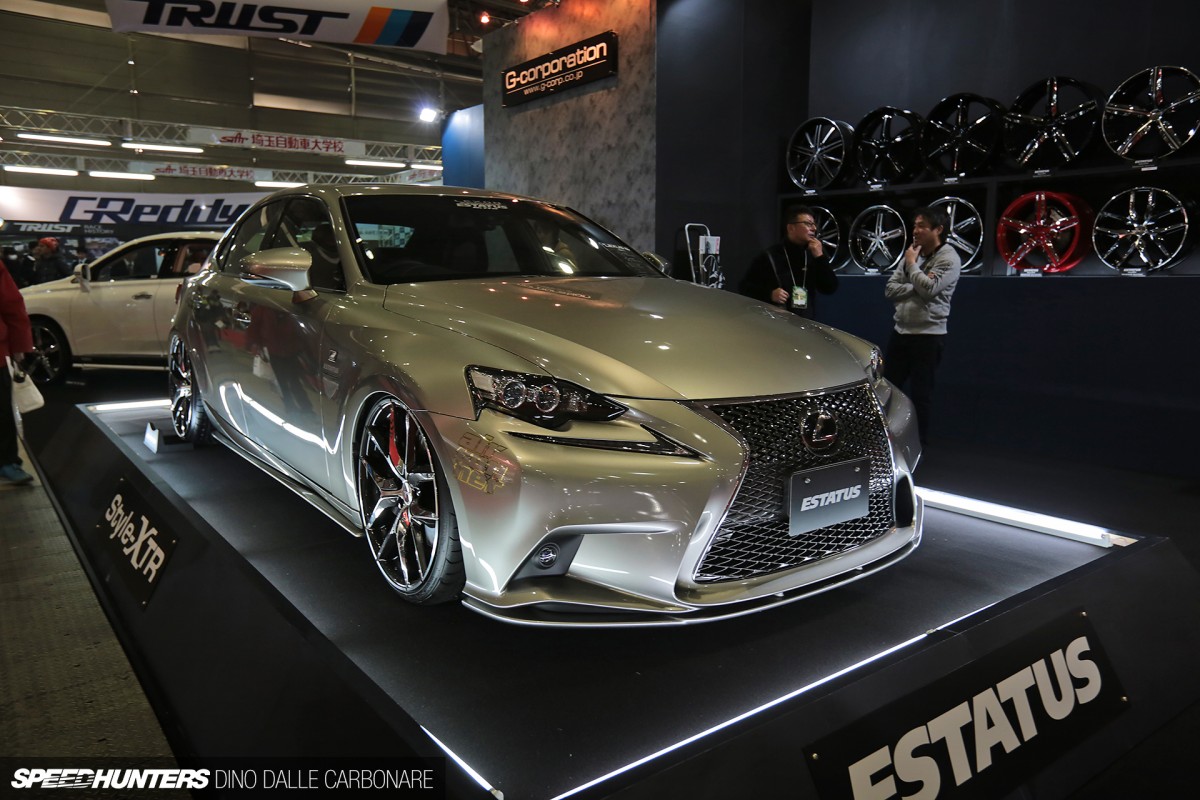 2014 is shaping up to be a big year on the VIP and custom car side of things, and as the Japanese economy continues to pick up, there's no doubt we will be seeing some new awesome cars being built in time for the new show season.
Shall we look at some European rides next?