Pinch me
Recently I've been having more and more 'pinch me, am I dreaming?' moments – partly due to jet lag – but one of which was when I stood behind the RS-R ZN6 as it was about to launch into drift oblivion. I took a moment for myself; I snapped a photo, then I waited. The sound from the cup car V8 beat on my eardrums even through the thick foam of my ear plugs. The smell of tire smoke from Fredric Aasbø's burnout filled the air and the orange sky was glowing from the sunset. I was in heaven.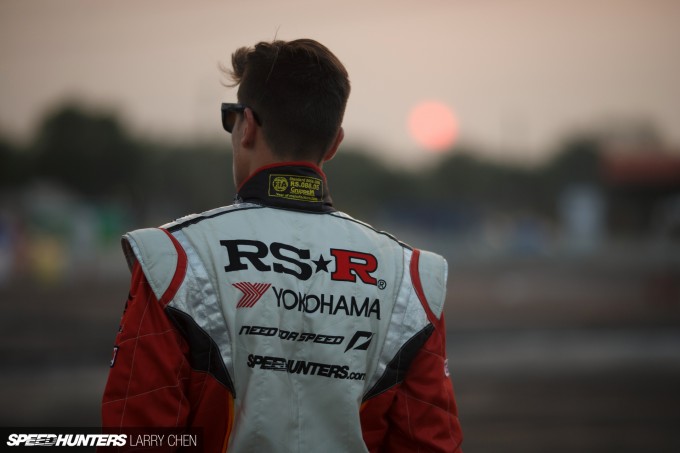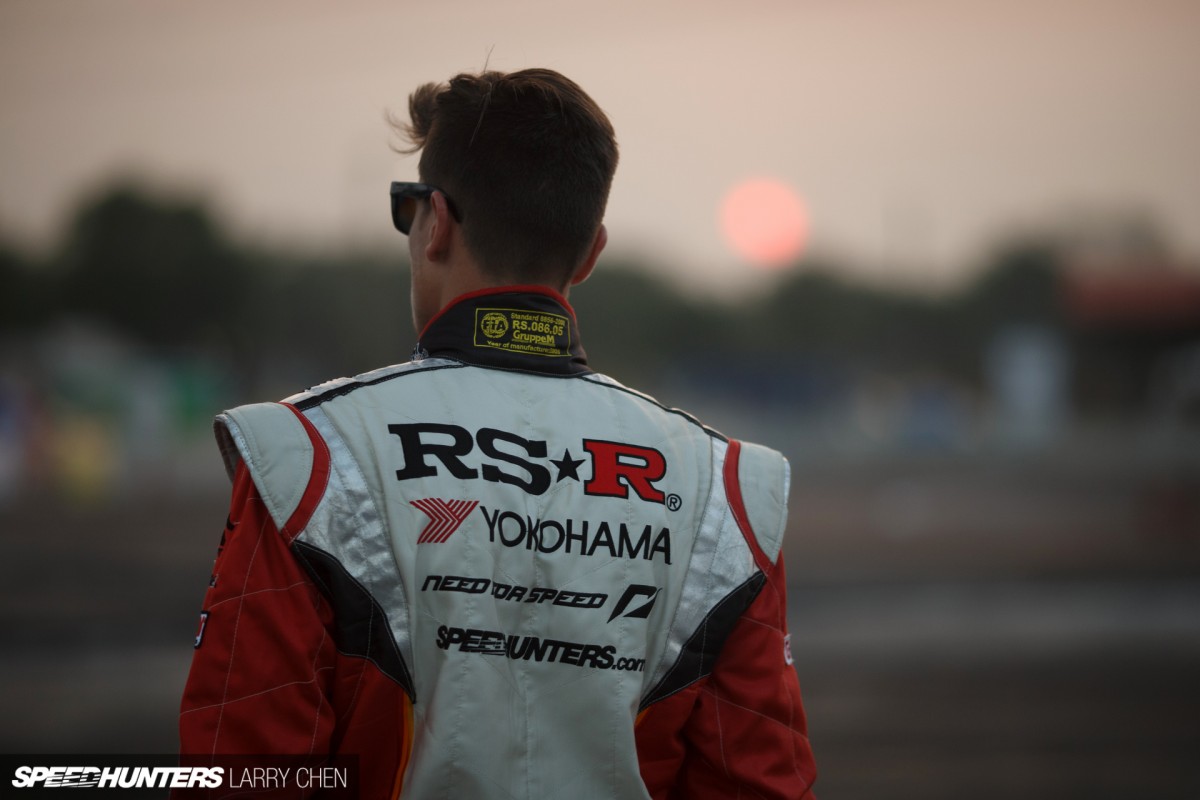 It's funny because I was just looking in from the outside. I can only imagine what it was like in that car, and what was going through that thick Norwegian skull of his.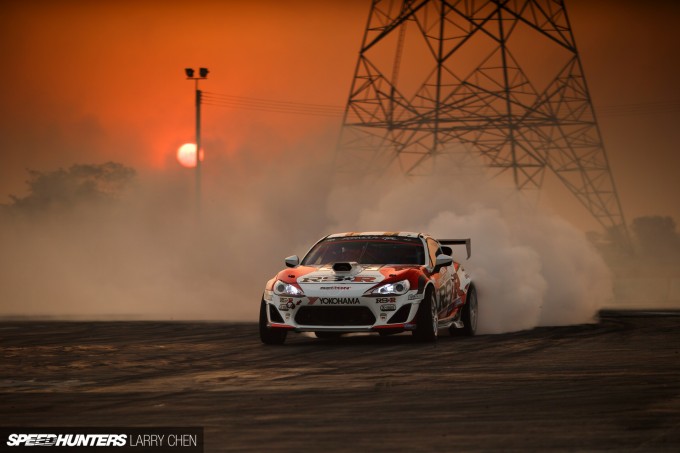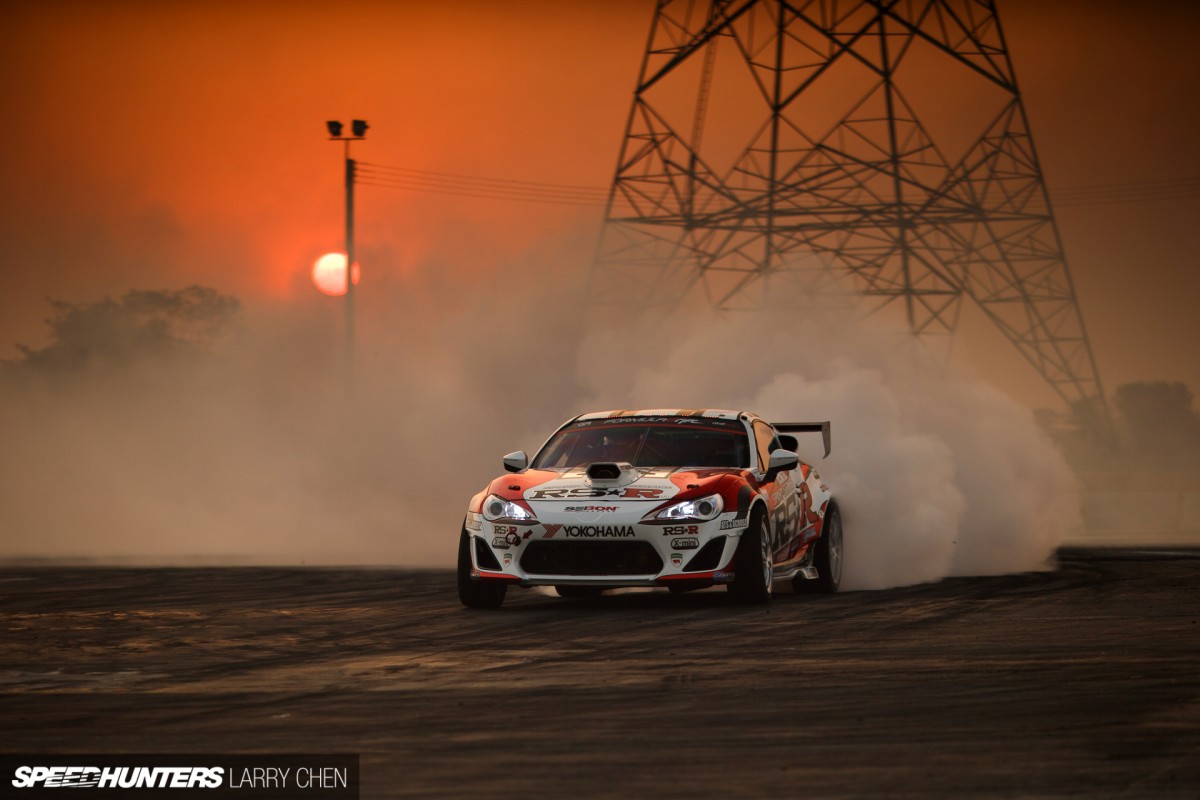 I think Fredric and I both made the best of our time and when we saw each other outside of the track, we kept on asking ourselves, 'Are we really drifting in Thailand?'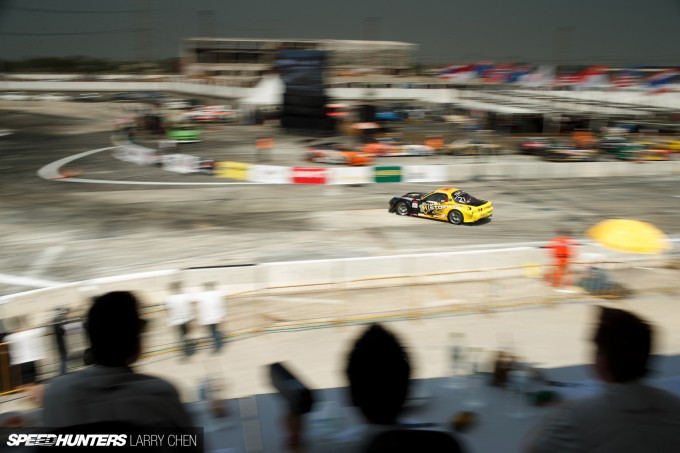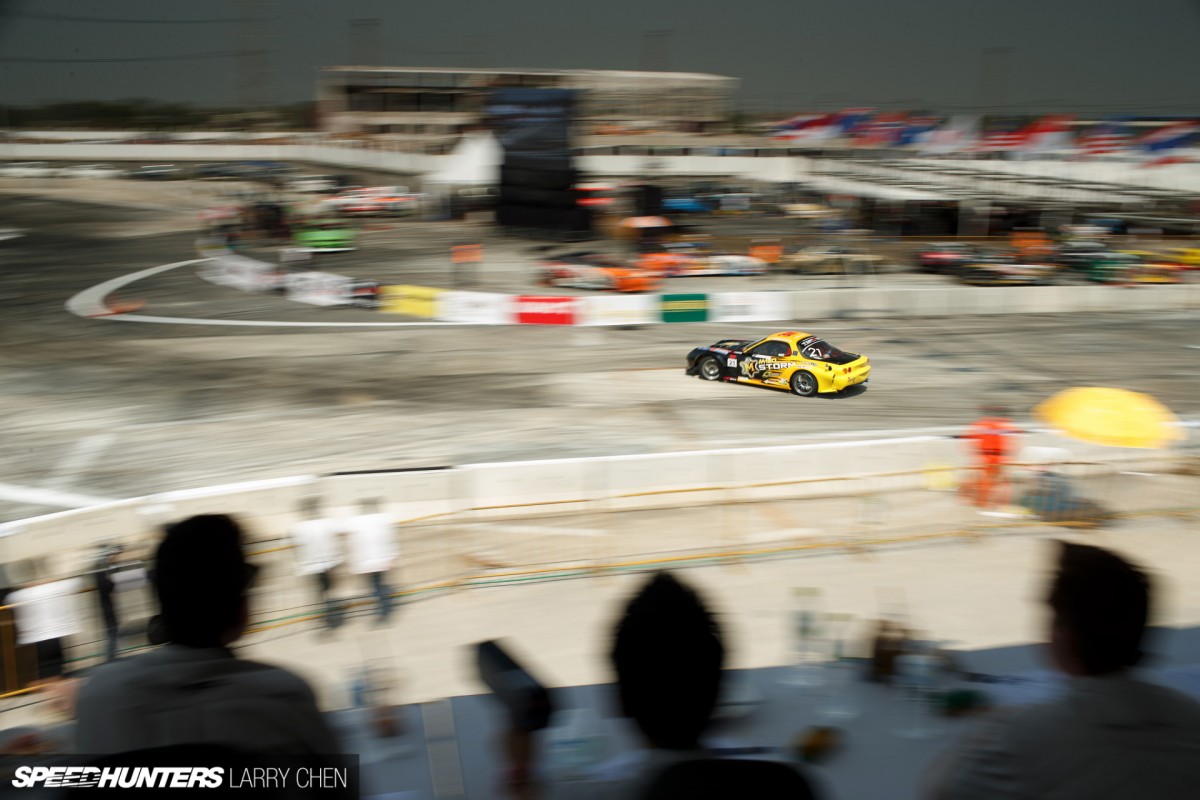 This was the last stop of the 2013 Formula Drift Asia season, and the points also counted toward the 2014 season. It was a double-header and Thailand's best drivers came out to play with some of the most elite drifters in the world.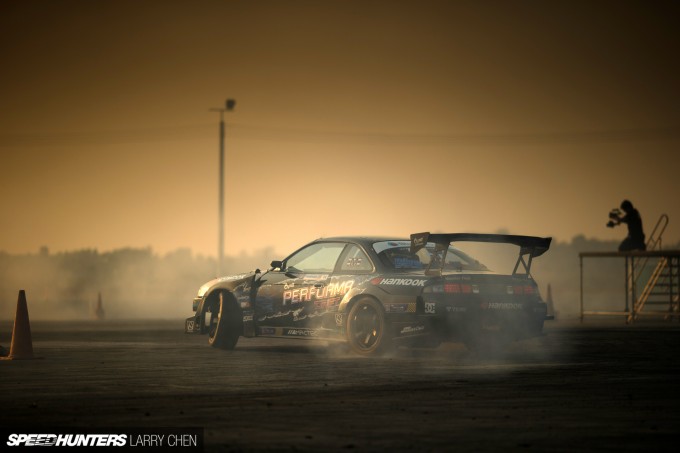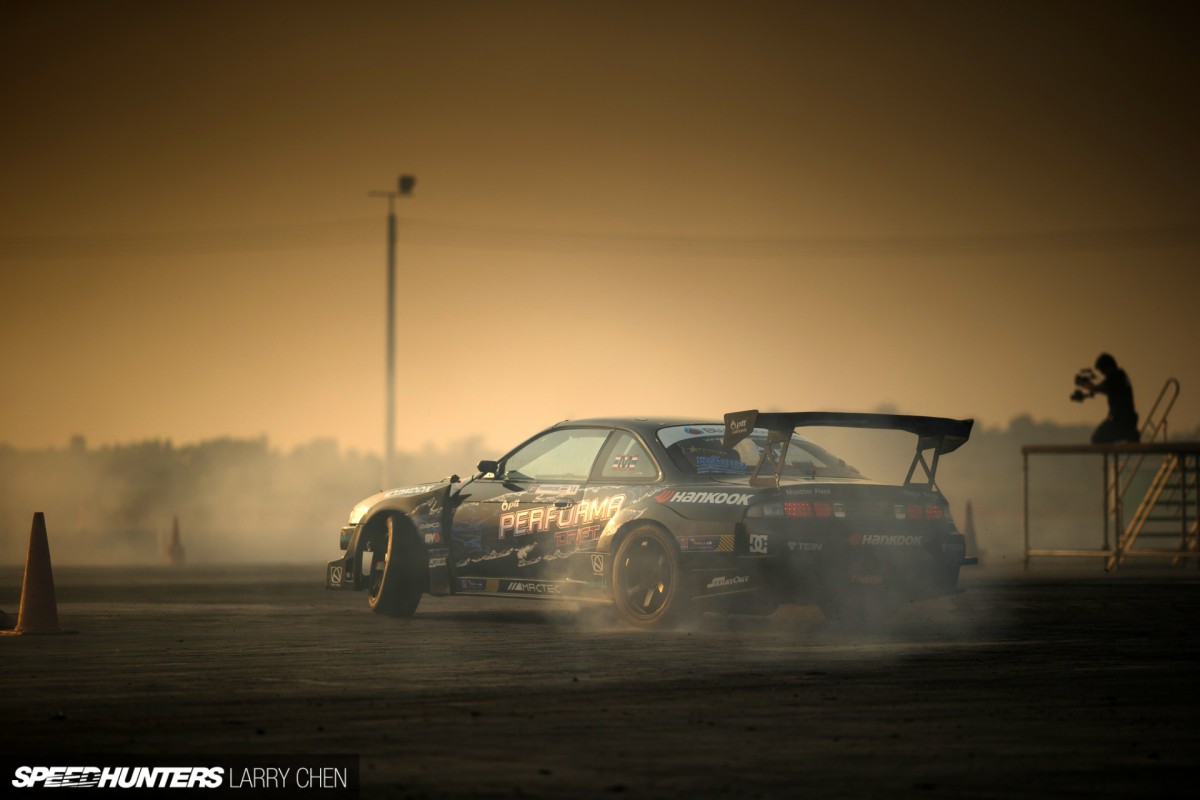 It's great to see how serious the local drivers were about professional drifting. They brought their A-game for sure.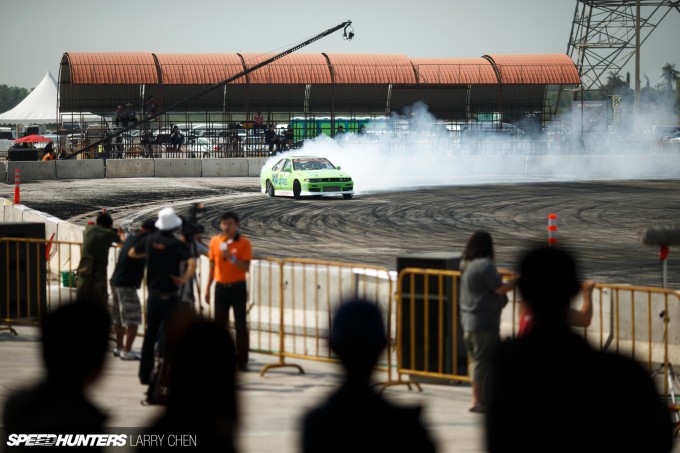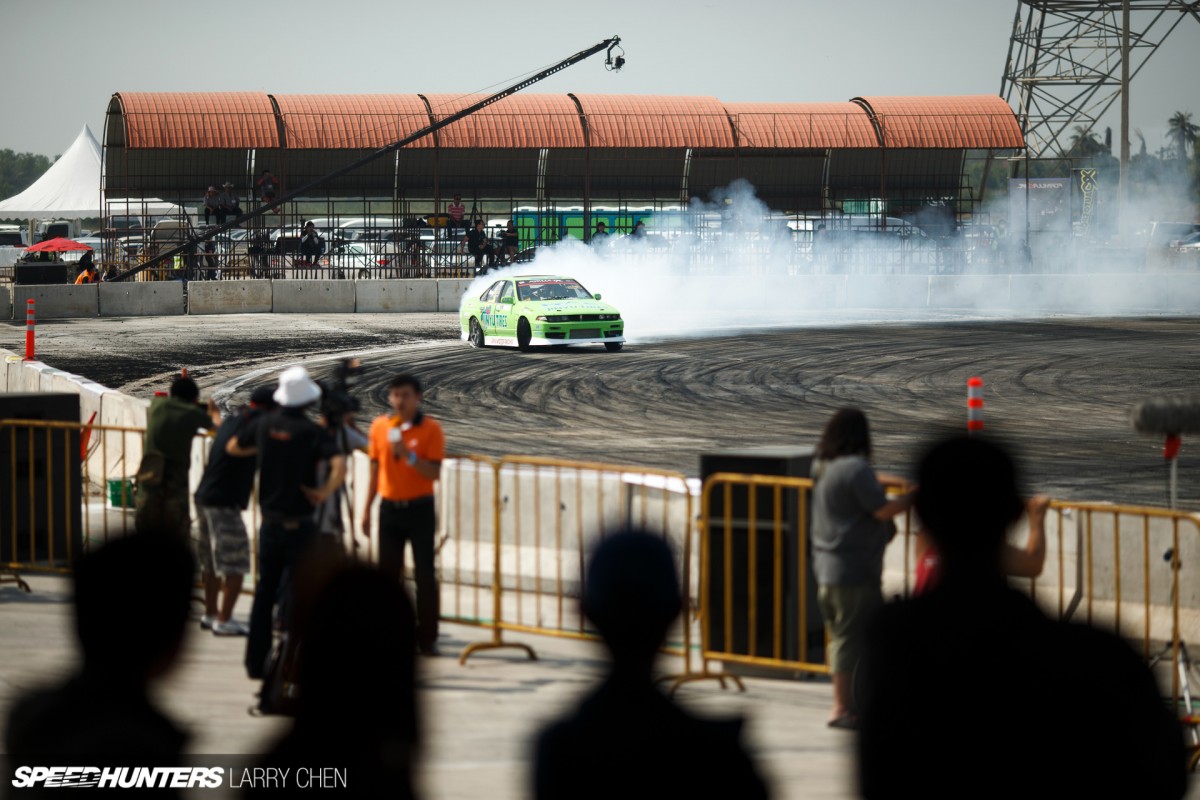 The venue, Pathumtani Speedway, is actually a permanent drift track, and it's owned by one of the local drift teams. They even have plans to expand it and to add more tracks.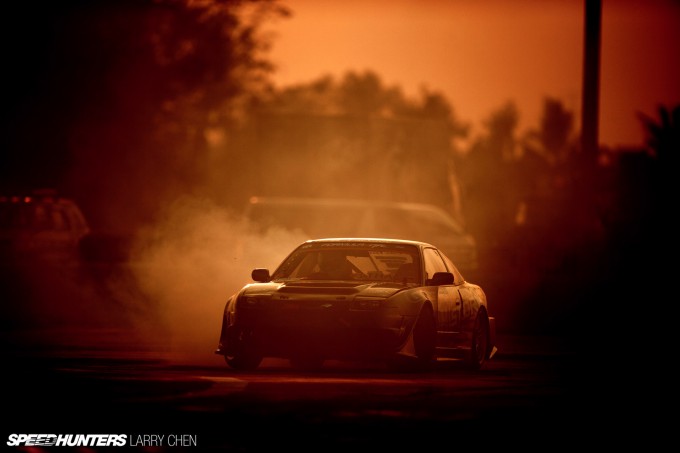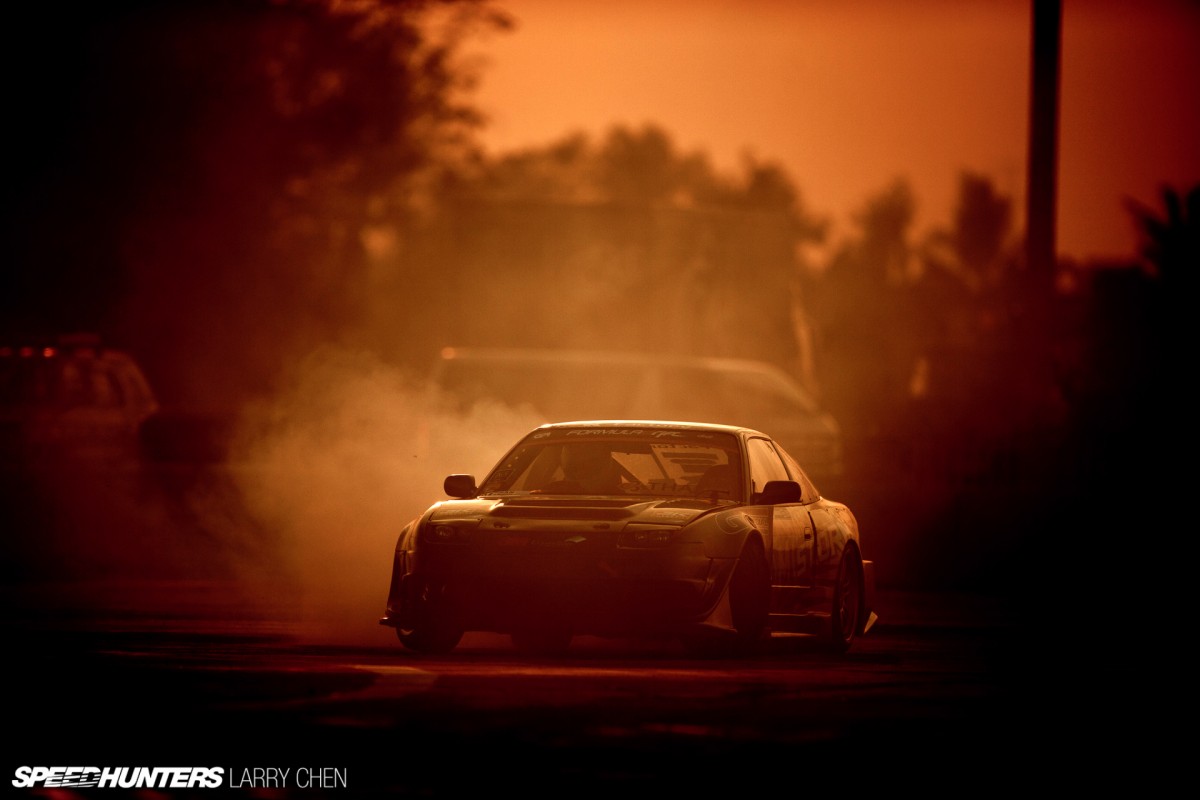 Formula Drift Asia was my second stop on my Japan > Thailand > Norway Speedhunting tour. So I was just getting started.
Paddock shenanigans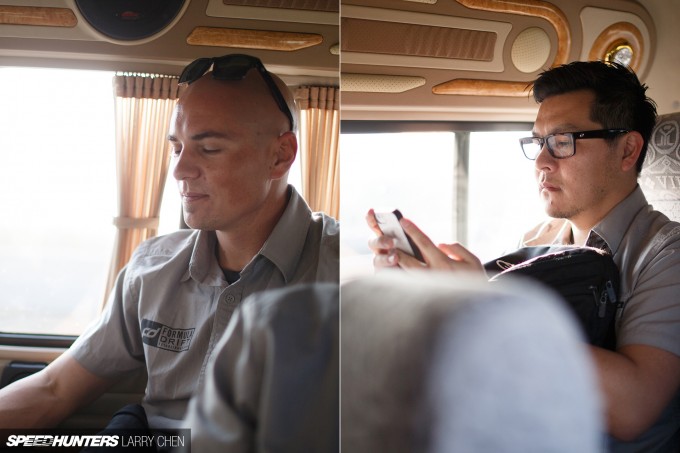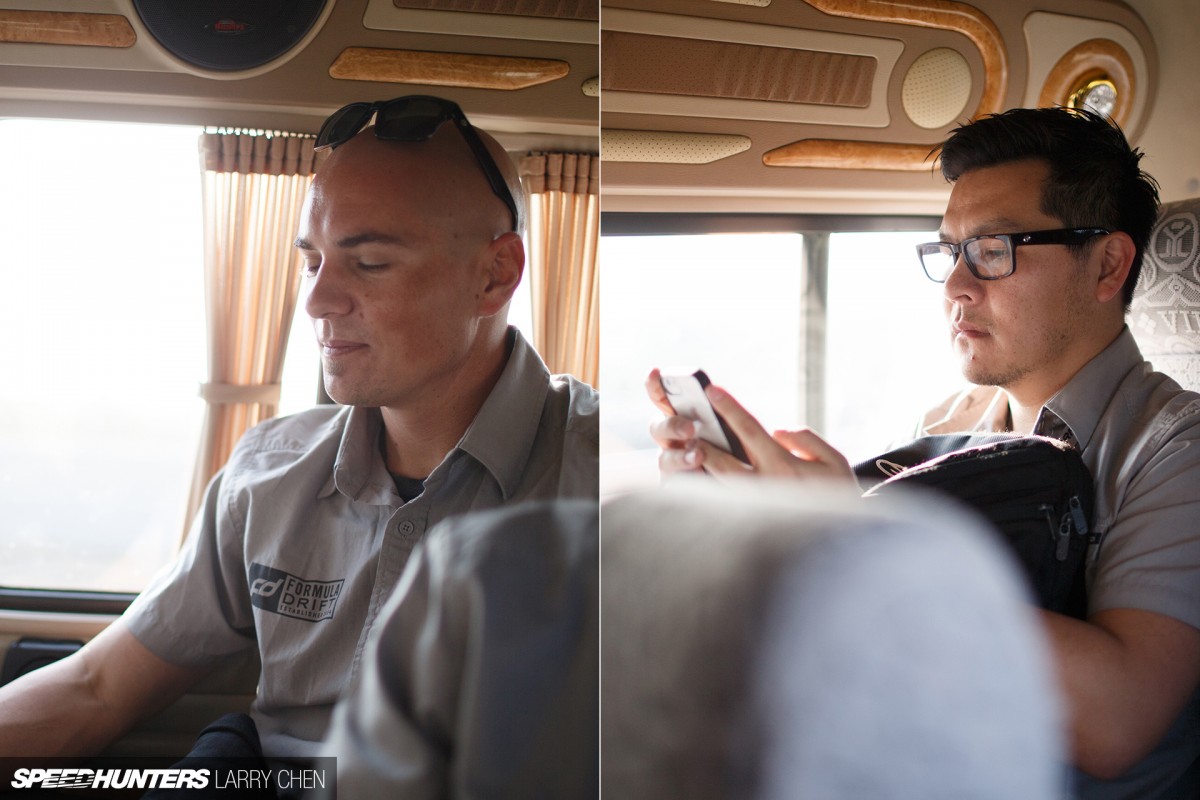 Mornings with the FD crew are never dull. It was always a van full of jokesters, and Formula Drift Co founder, Ryan Sage, was always at full charge with his jokes. His partner in crime, Jim Liaw, was buried in his phone like always.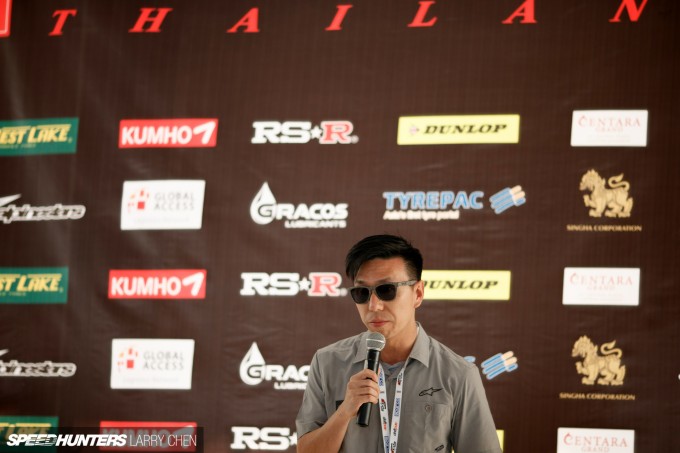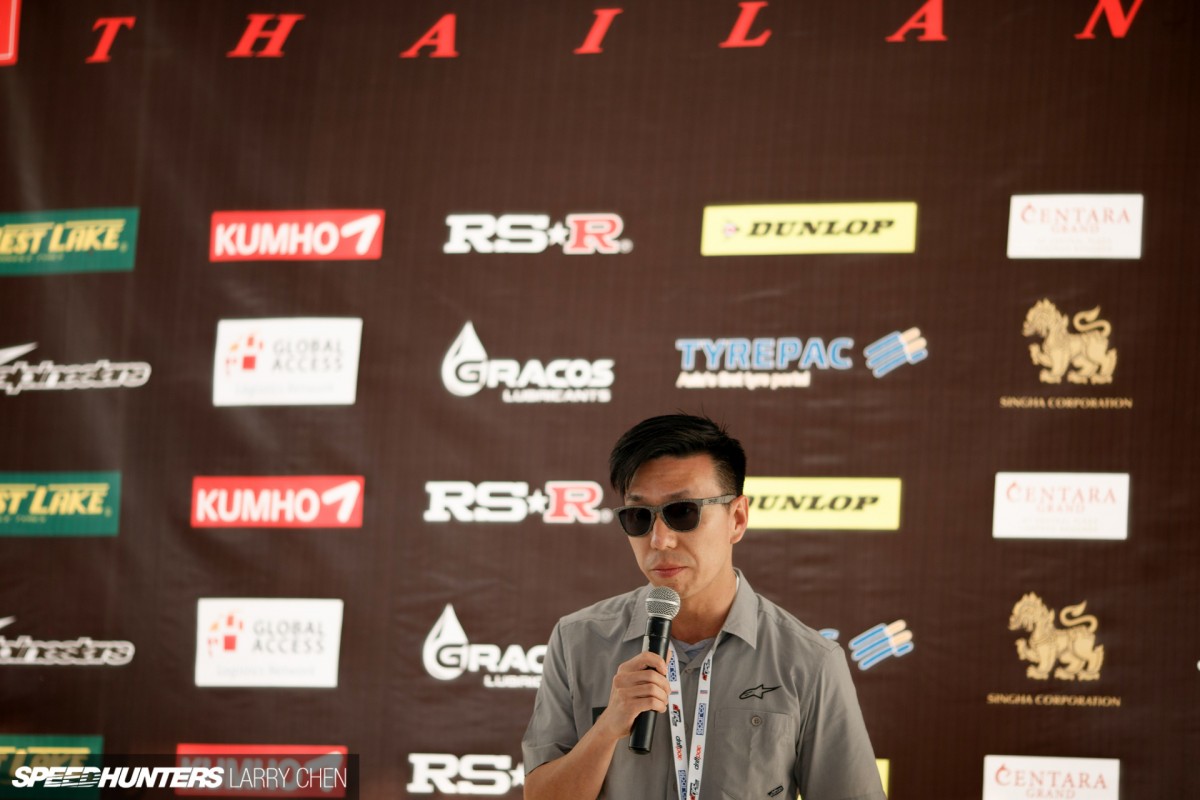 FD Asia Founder Marcus Lim, was also on site helping out, but his days of conducting the circus that is FD Asia has come to an end. This was his last event on the operational side of things. It was like the changing of the guards, as Formula Drift in North America will now take charge of the day-to-day operations as well as event coordination.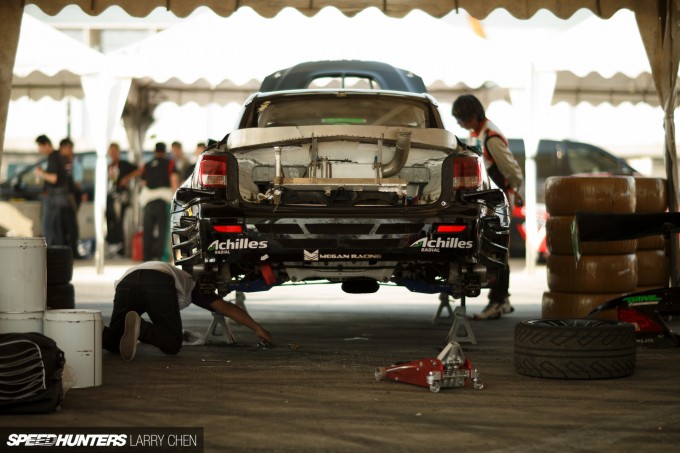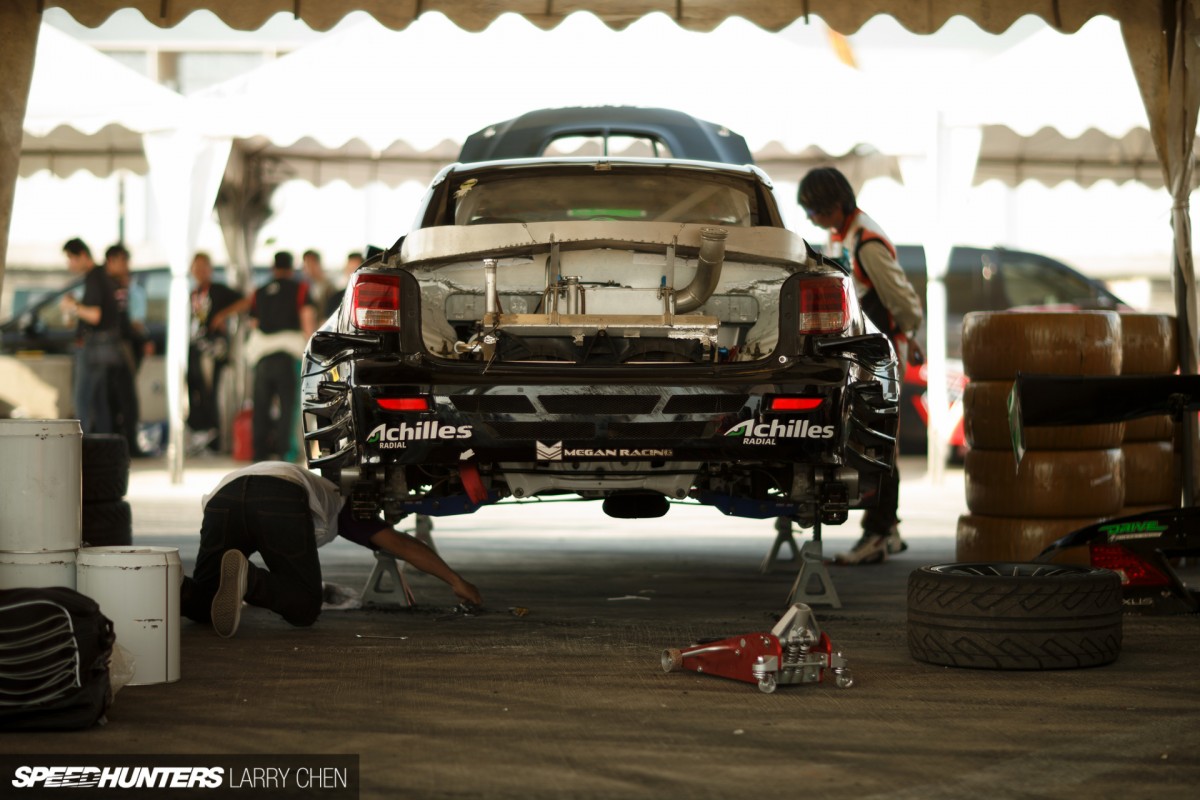 The paddock was, surprisingly, more quiet than normal. There were just a few mechanics and drivers out and about.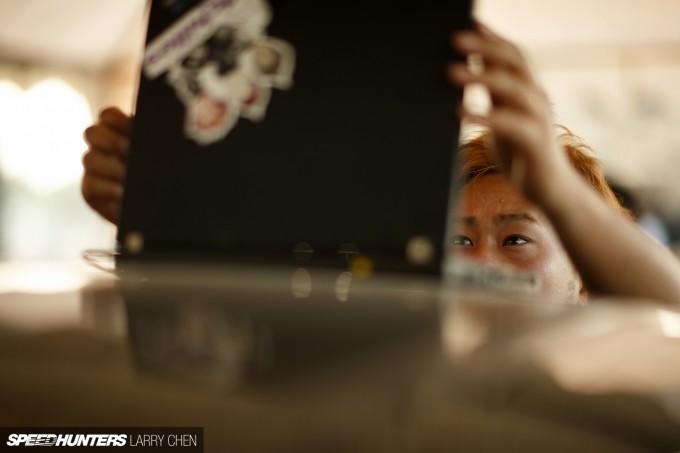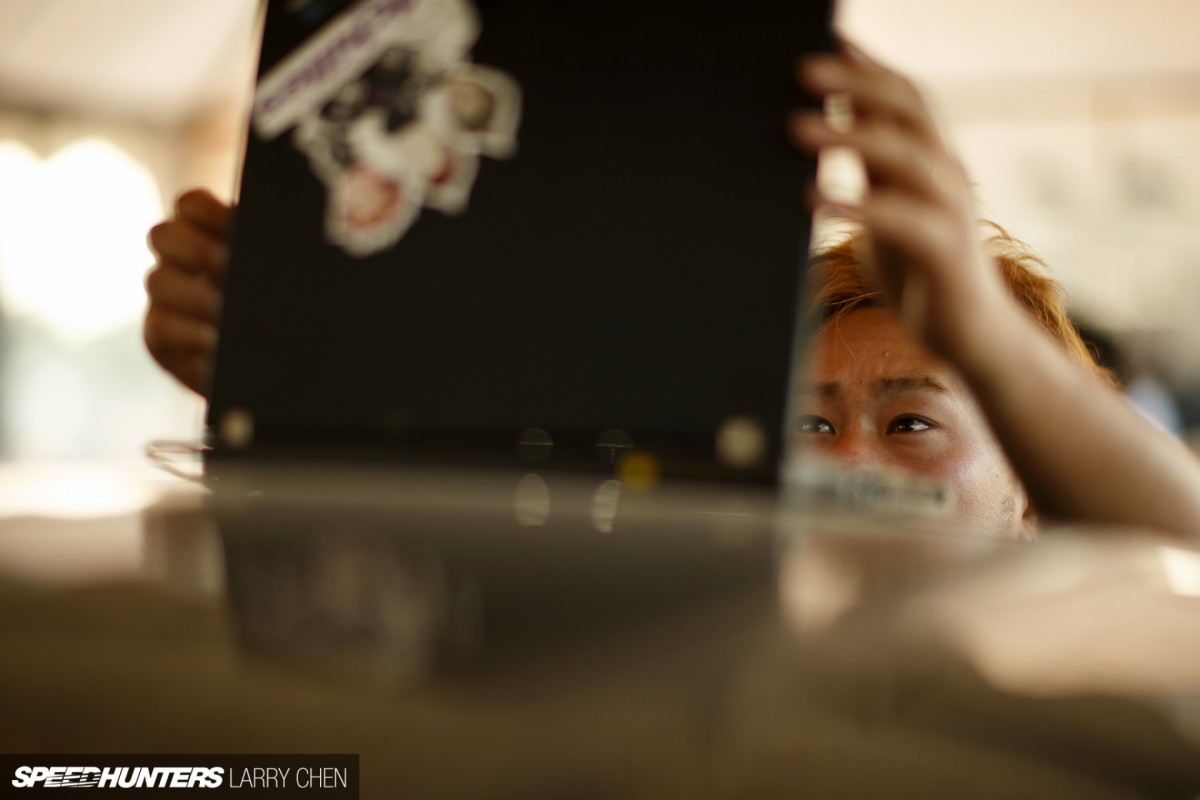 Daigo Saito was tinkering with his ECU, as it seems he's now really taken charge of what goes into the tune and how the car drives, since this past year he had many problems with his ECU, costing him the championship in the FD Pro Series.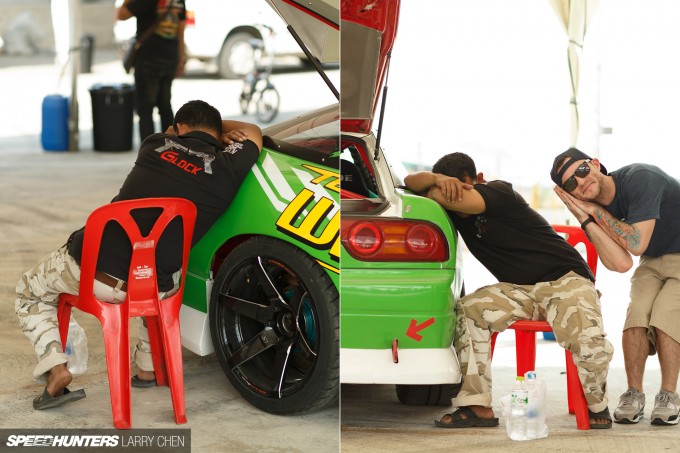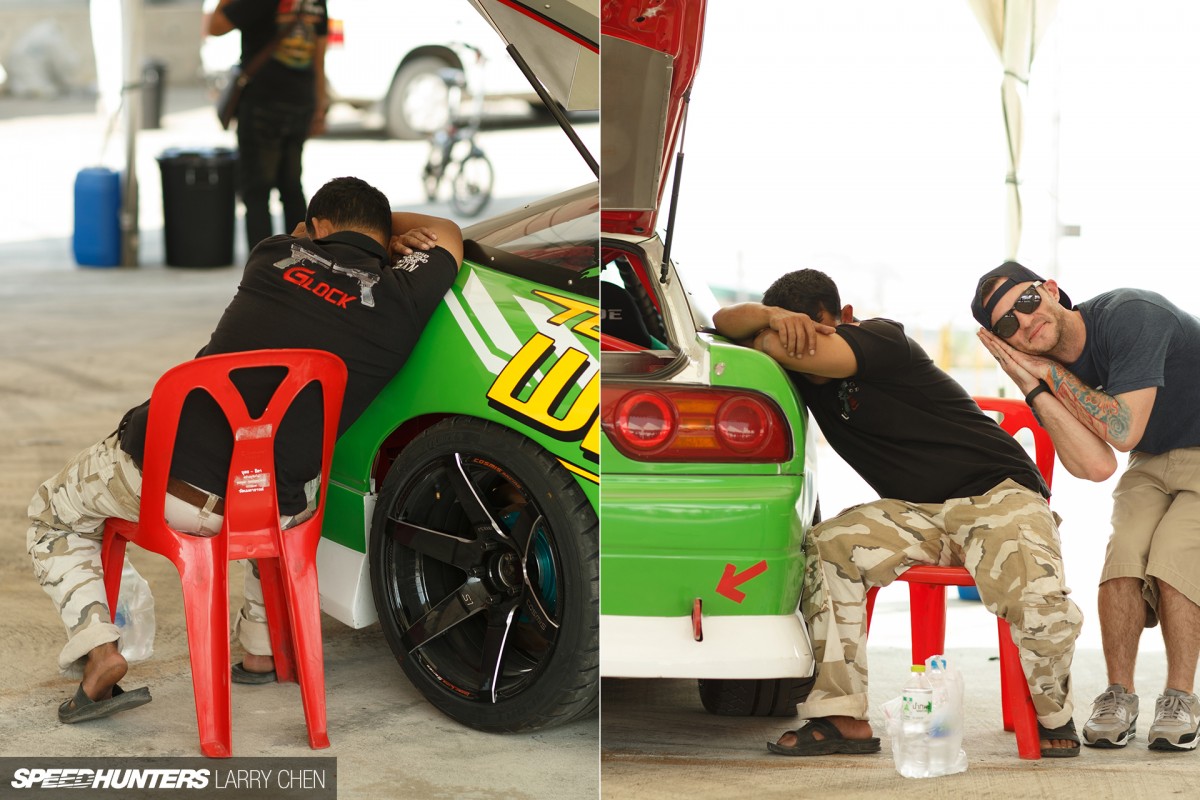 Evidence of a long night showed all around the paddock. There's nothing like sleeping on the quarter panel of a 180SX.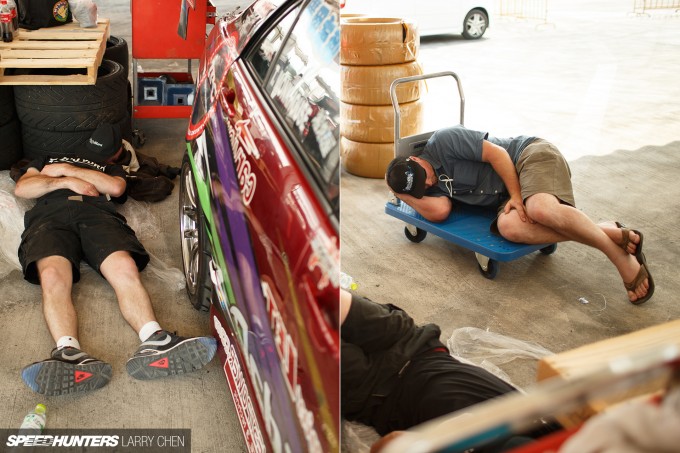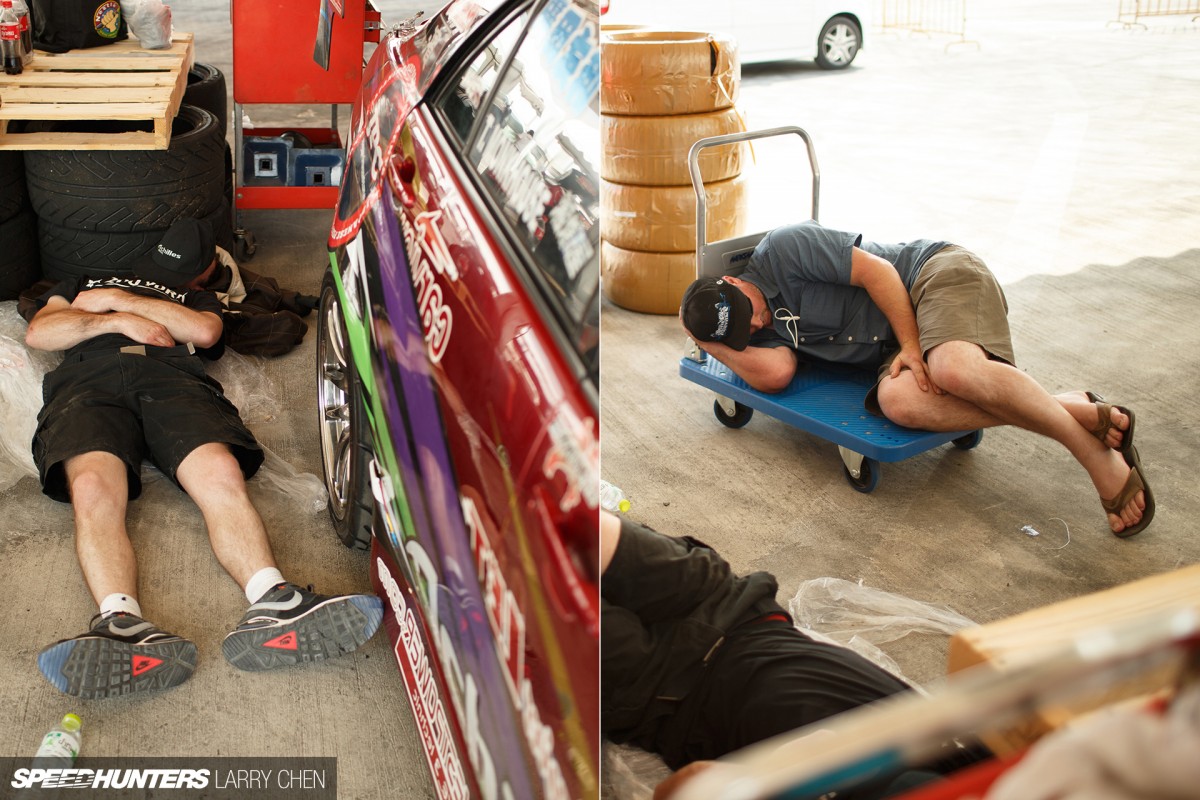 For some it was not so much the hard partying as it was jet lag. Luckily for me, I was only on Tokyo time, which was not as bad as coming directly from Los Angeles.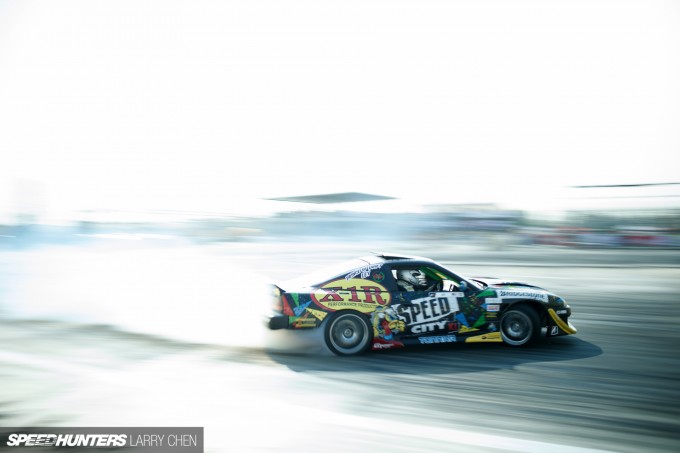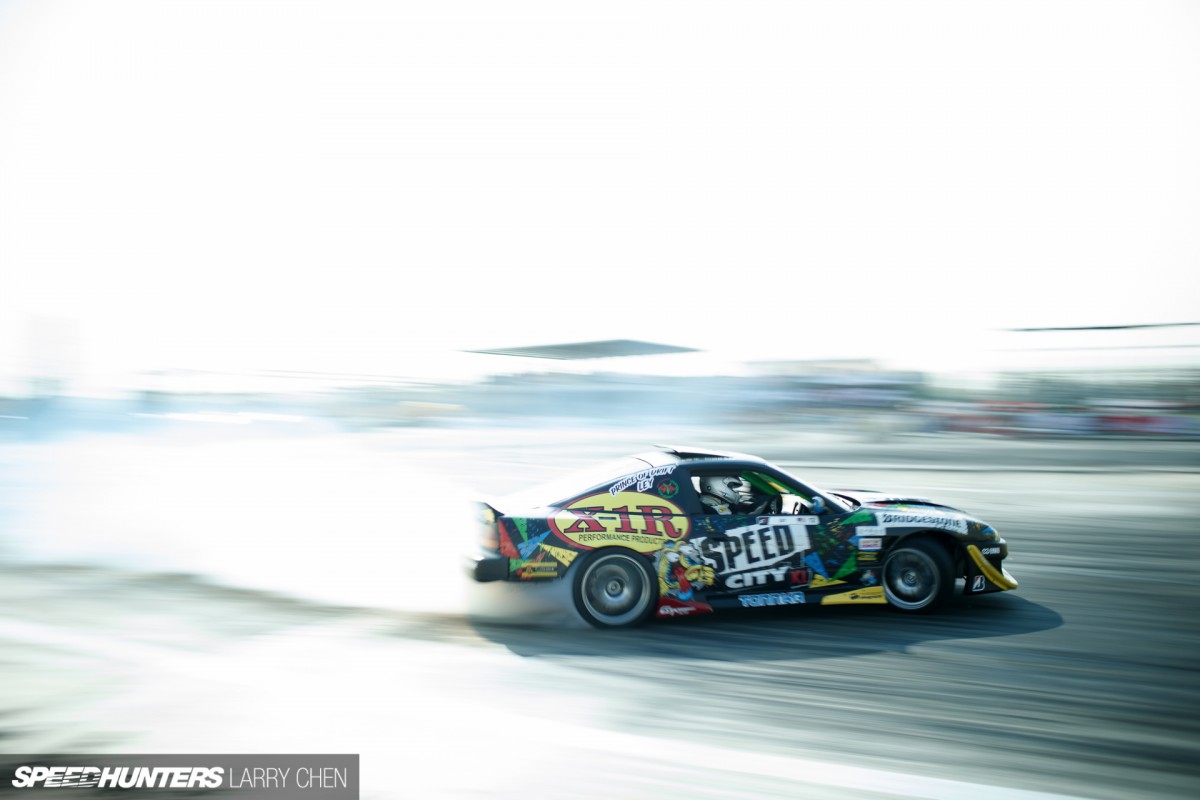 The FD staff were not the only ones going through some major changes. Formula Drift Asia Champion, Tengku Djan Ley was also changing things up.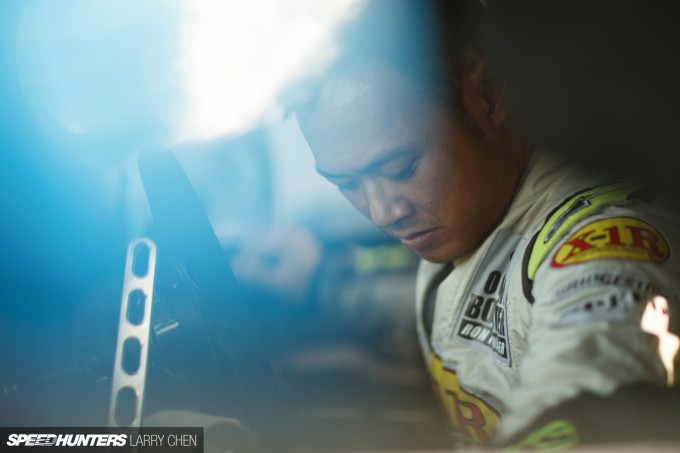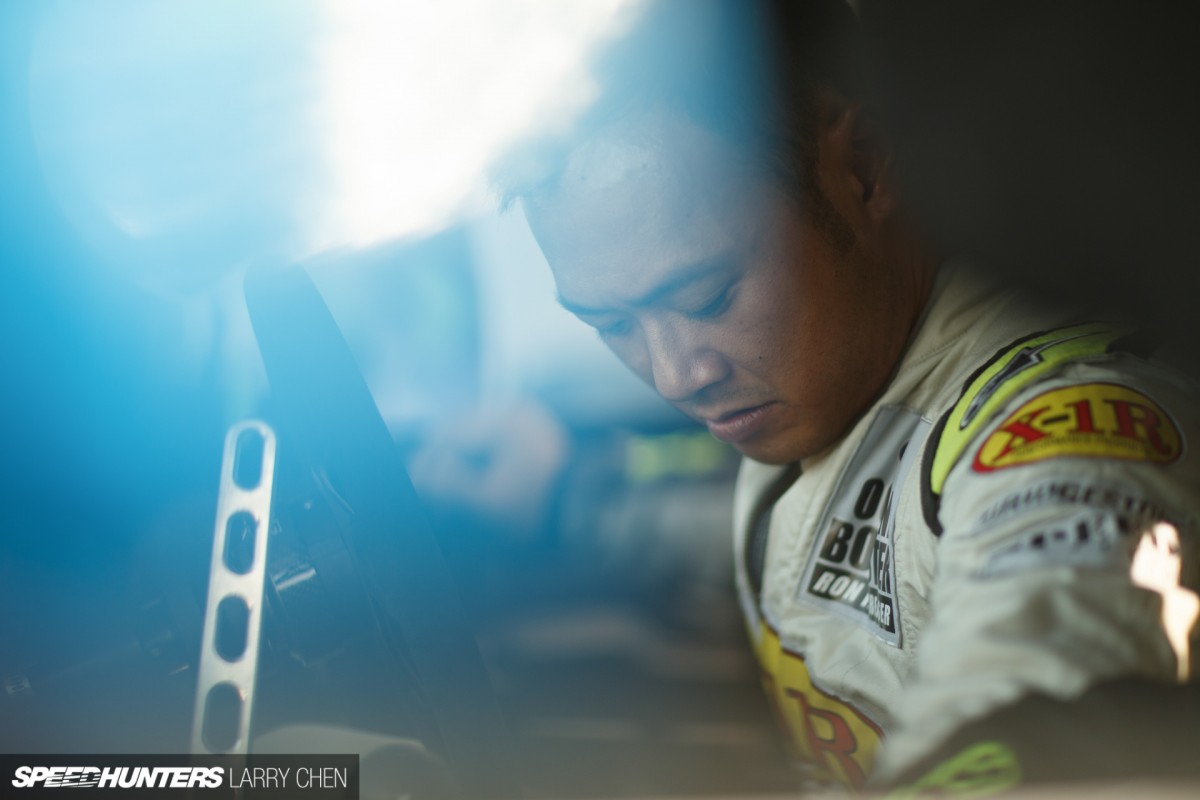 As I mentioned in my spotlight article, the Prince of Drift wants to focus more on rally and touring car racing. It all depends on his sponsors of course. If he can secure some more companies to support him this year then it's still possible for him to continue in professional drifting.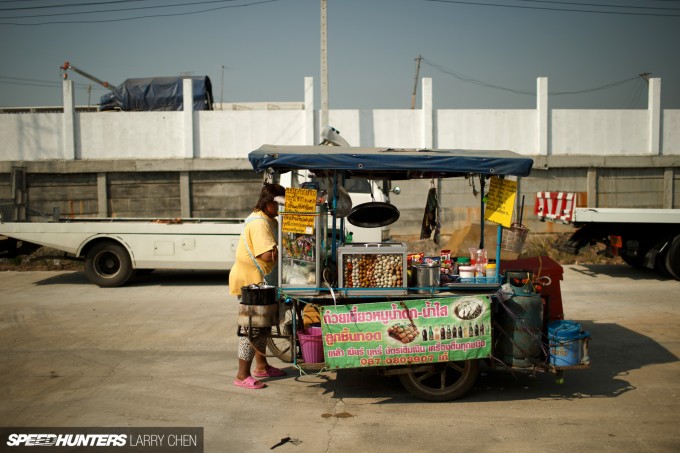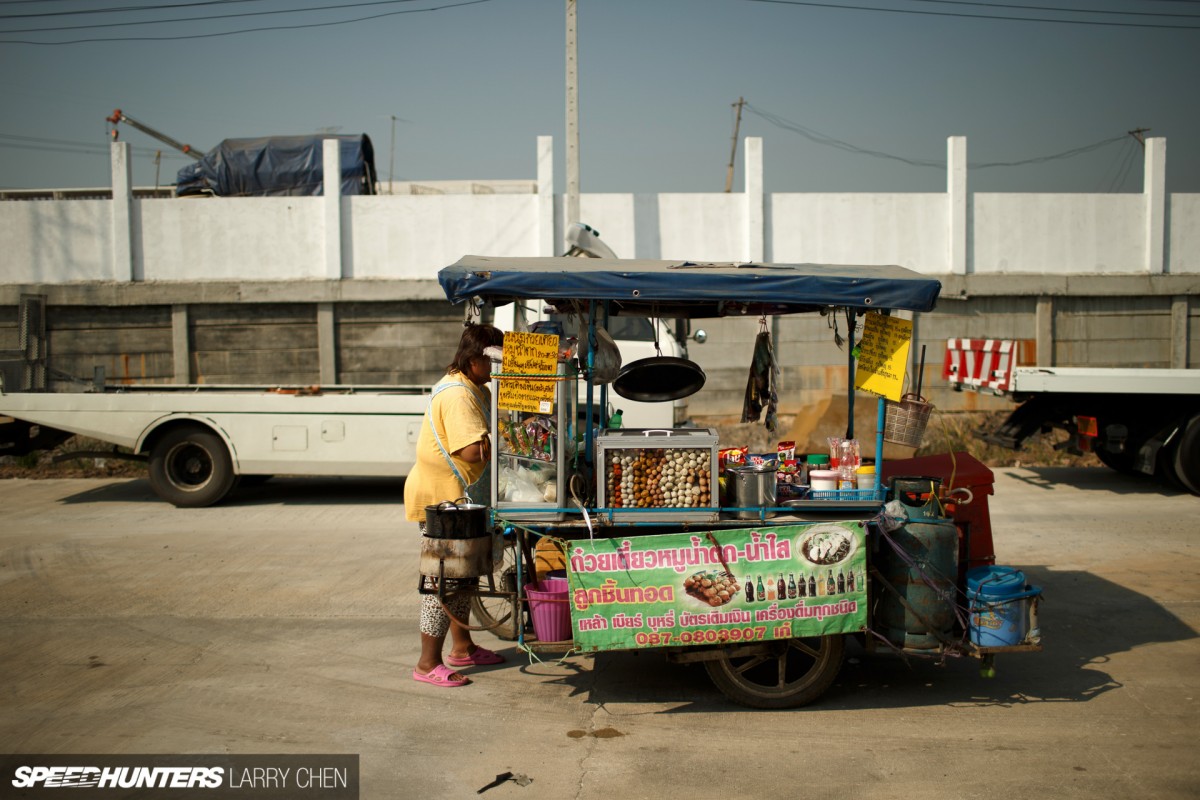 As always, I try my best to sample the local cuisine, but often we have to settle for what the track can offer us. I'll be sad that we won't have a meatball cart at any of the other Formula Drift rounds this year.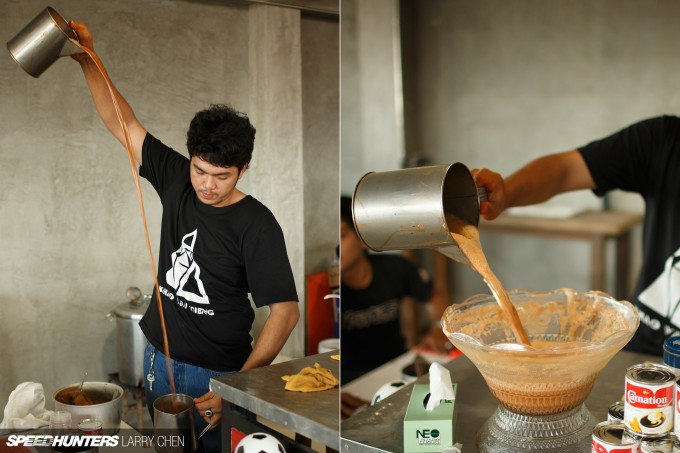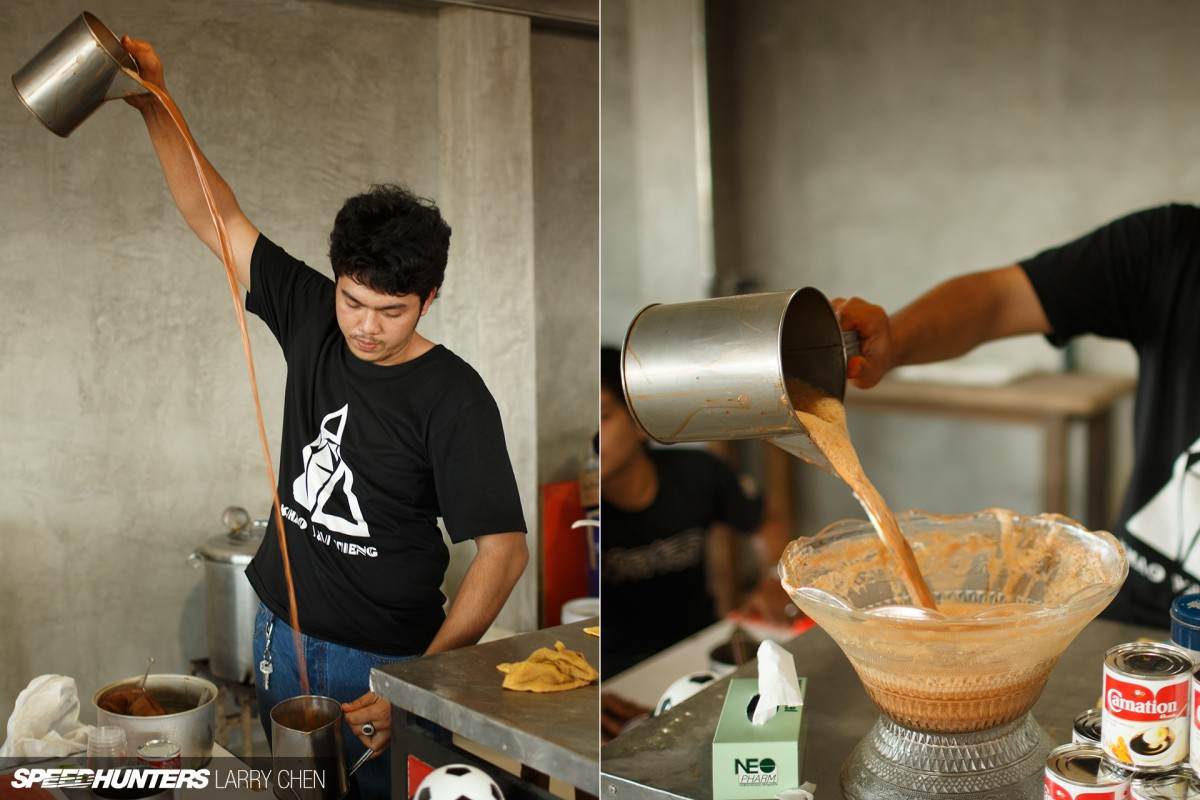 I quit drinking energy drinks, but I still drink coffee and tea to keep me going through the day. I was very happy to see freshly-made Thai iced tea on site.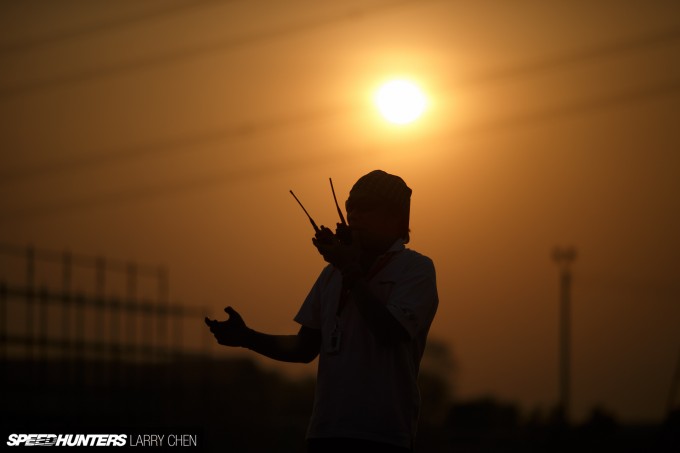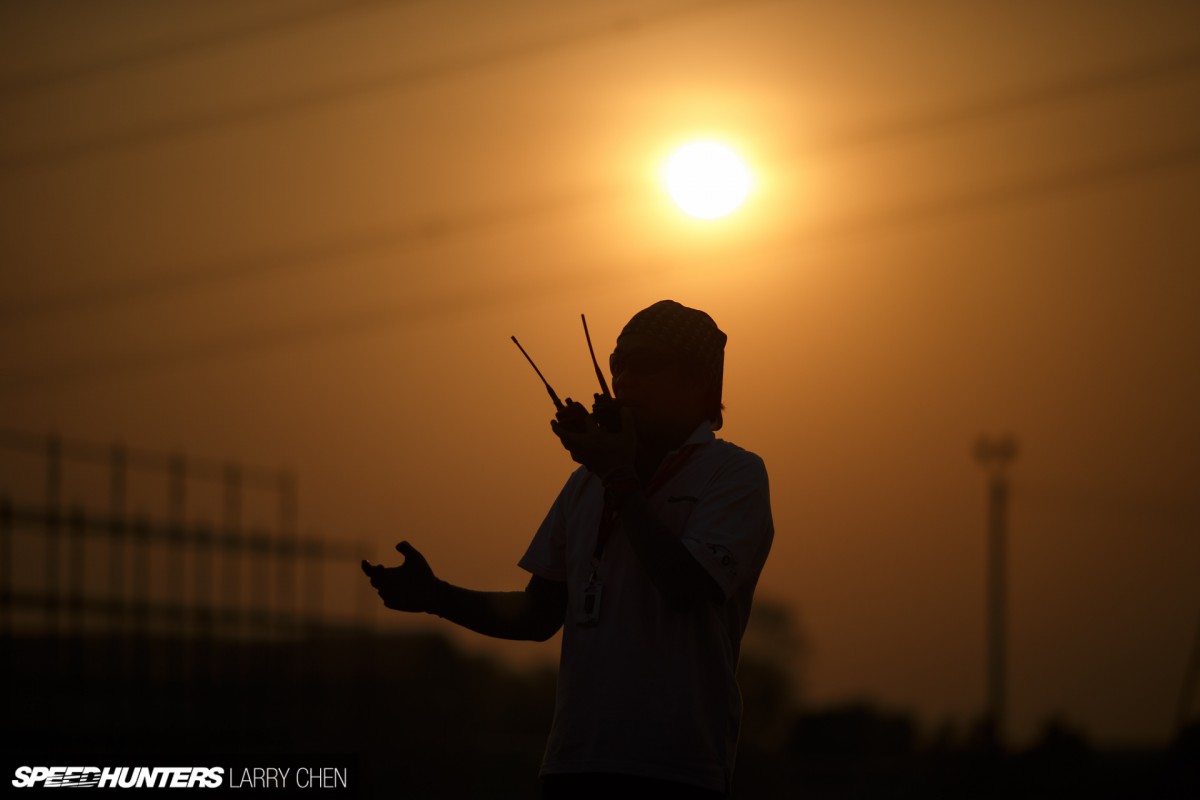 The sun was super intense, even though it was shining through a thick layer of smog. Golden hour lasted for what seemed like forever, as the sun just hung in the sky, and you could look directly into it.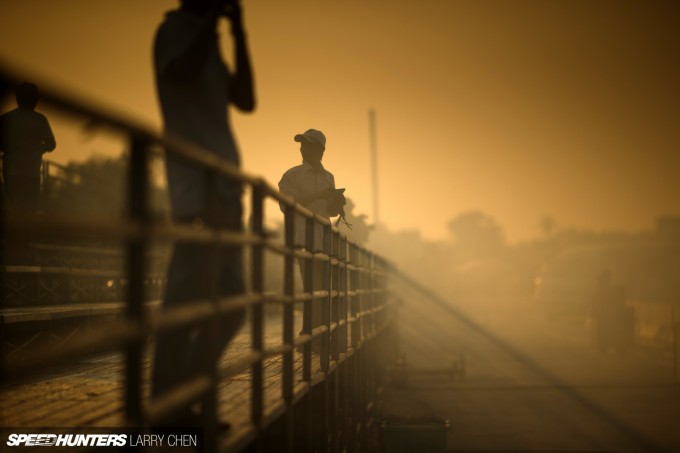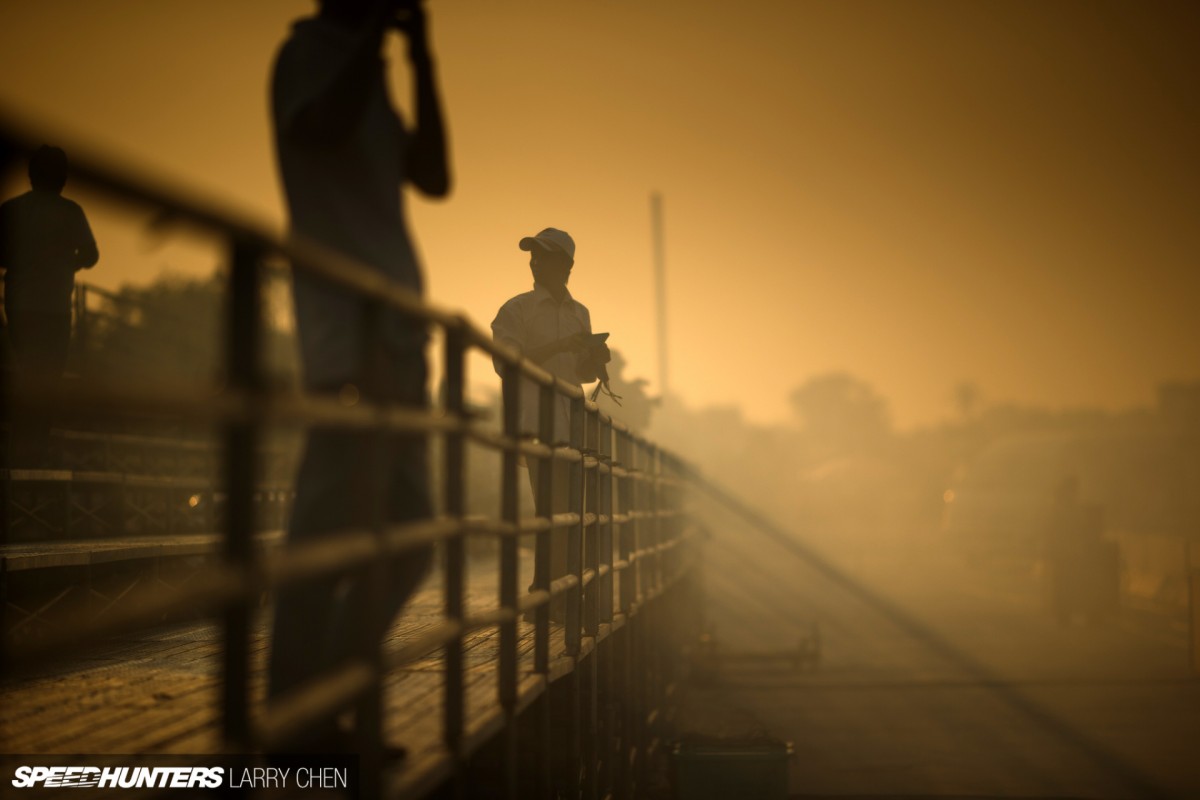 Having just spent the last week wading through snow that's a meter deep in Norway, these pics made me miss Thailand greatly.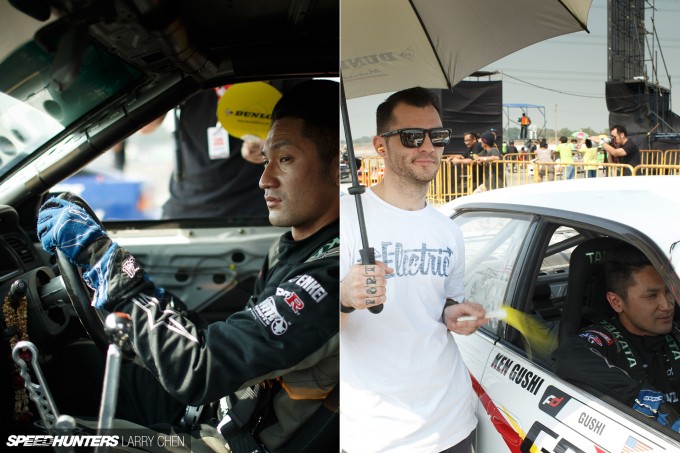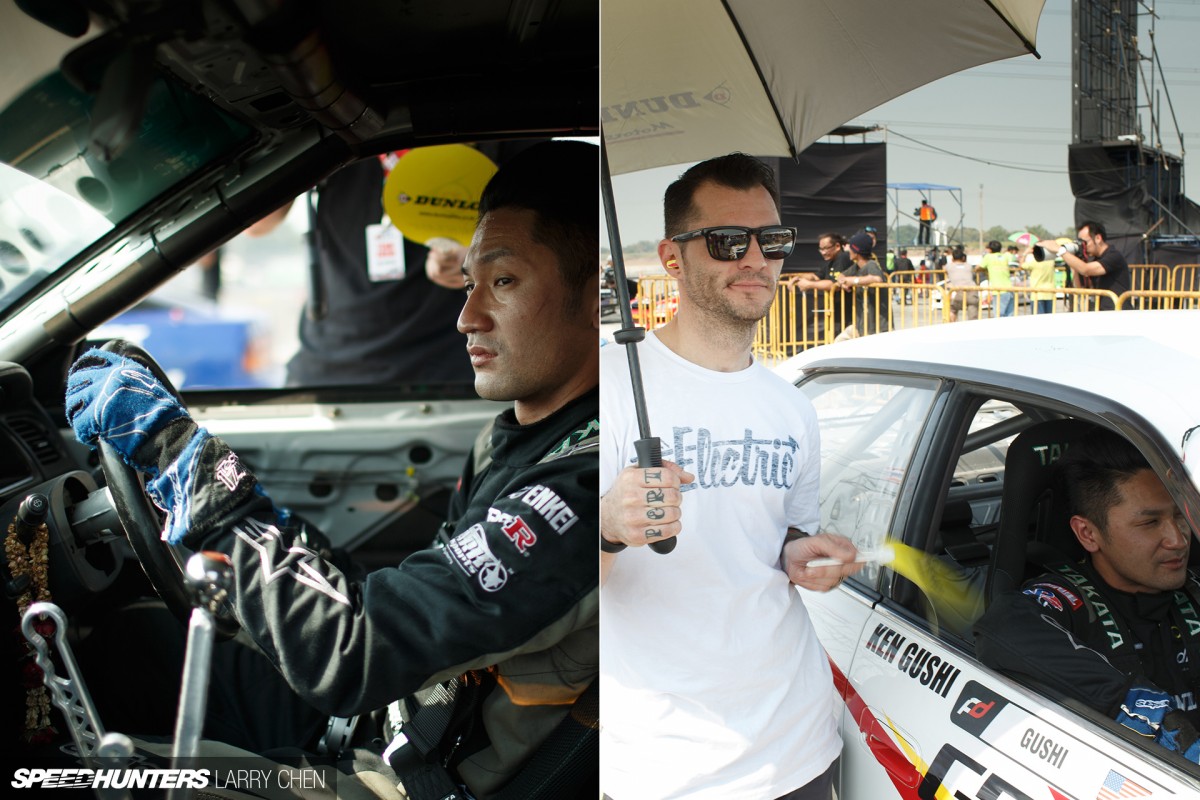 Many drivers had cool suits to help them from dehydration, but some of them had personal fanners. Ryan Davis, the official videographer for Formula Drift, put down his camera for a couple of minutes to keep Ken Gushi cool while he was waiting on the hot grid.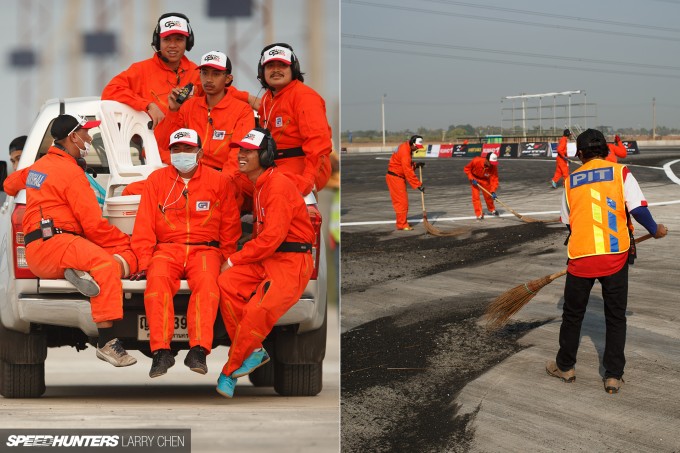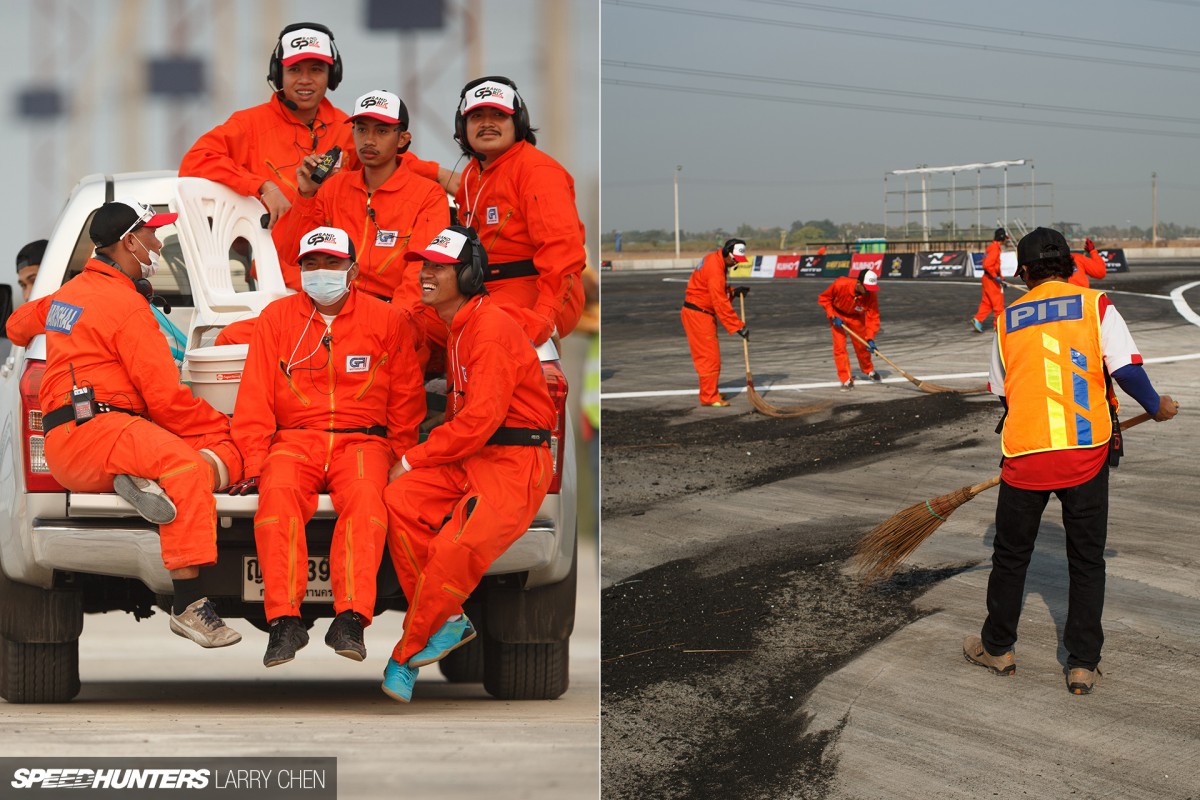 The track crew worked very hard. They didn't have any fancy sweeping machines to clear all the marbles from the track; they did it all by hand.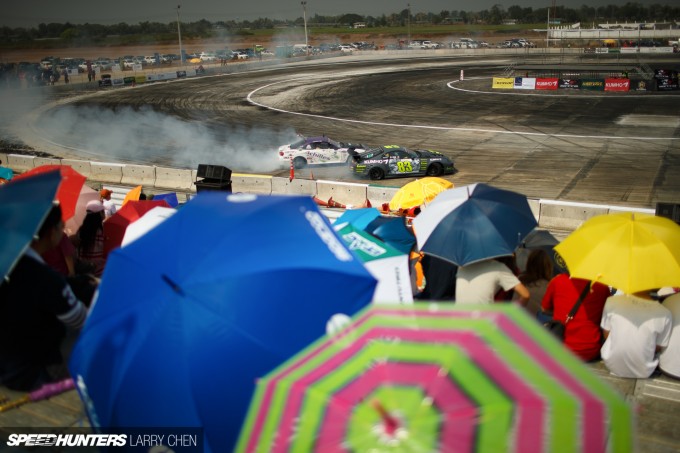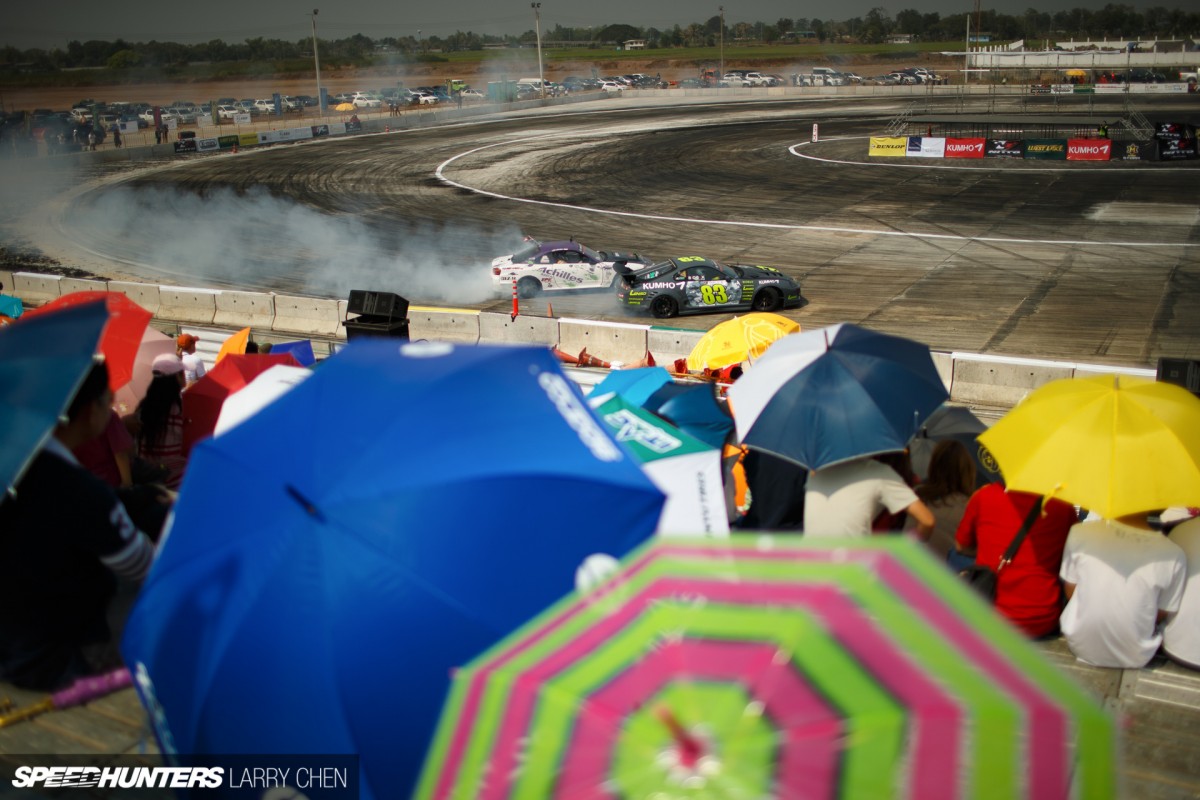 Umbrellas were aplenty in the grandstands. I usually think that trackside access is always the best seat in the house, but this time the grandstands really were the place to be; there was a clear view of the entire course.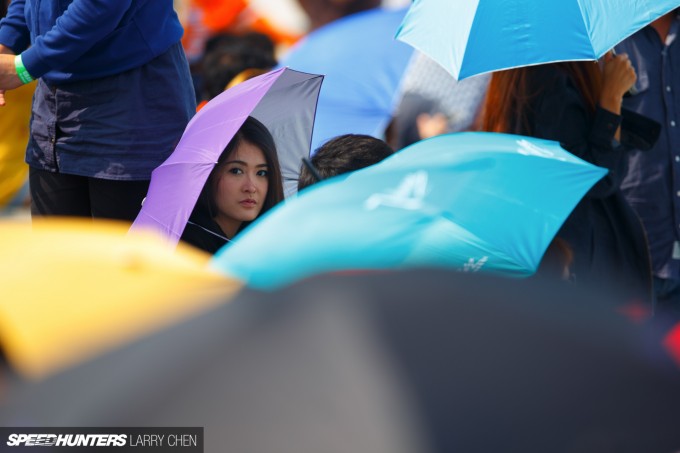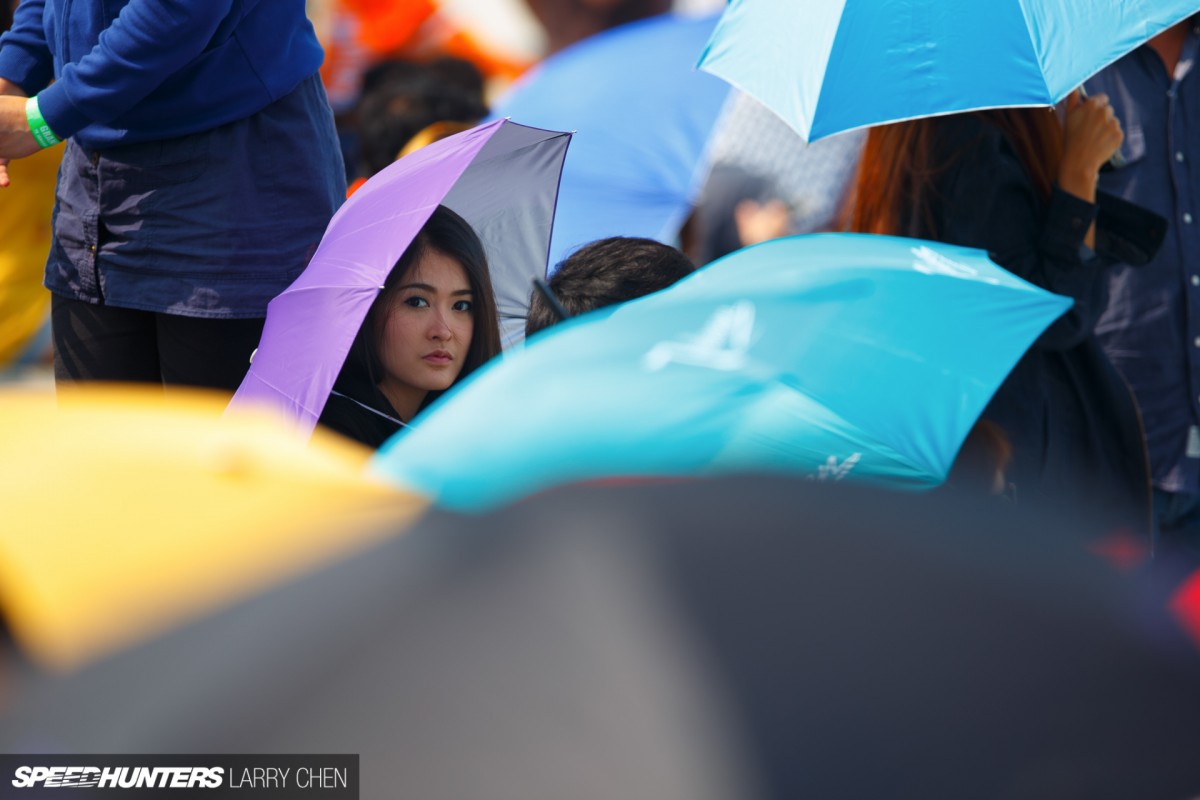 I was very surprised at how many people came along to check out the event considering the political situation in Bangkok.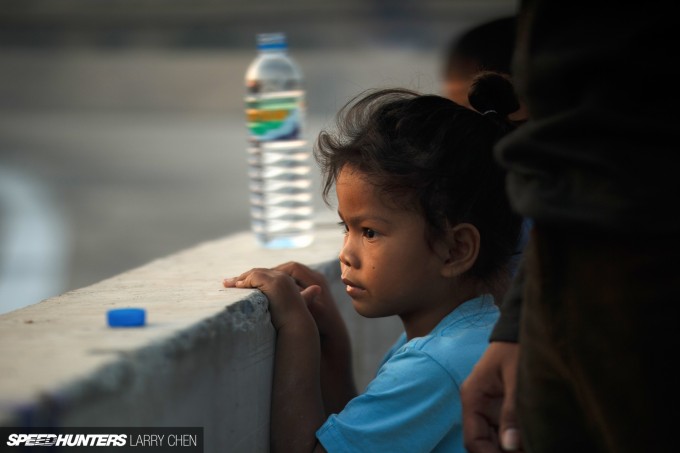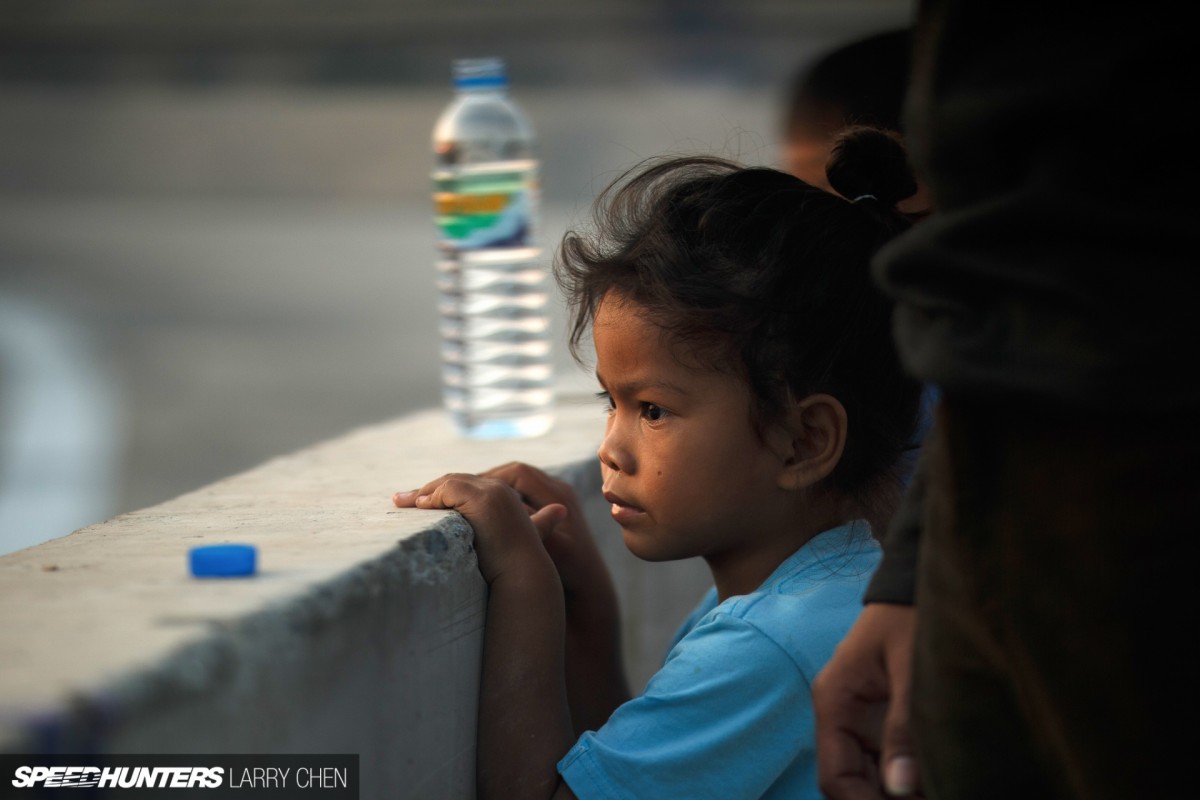 Fans from all walks of life made the journey to come and watch the event. Even this little future drifter.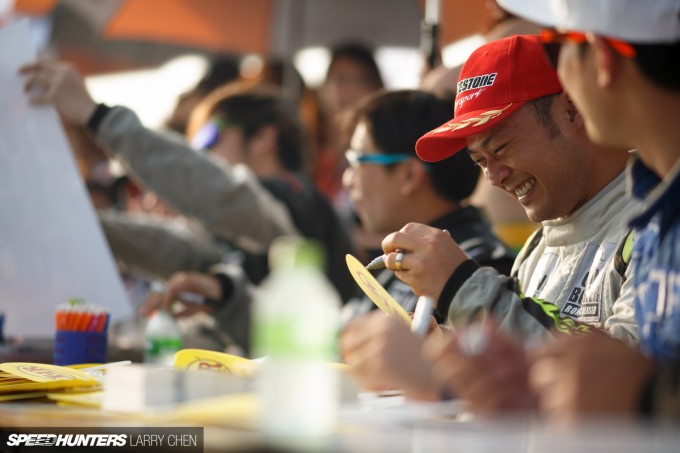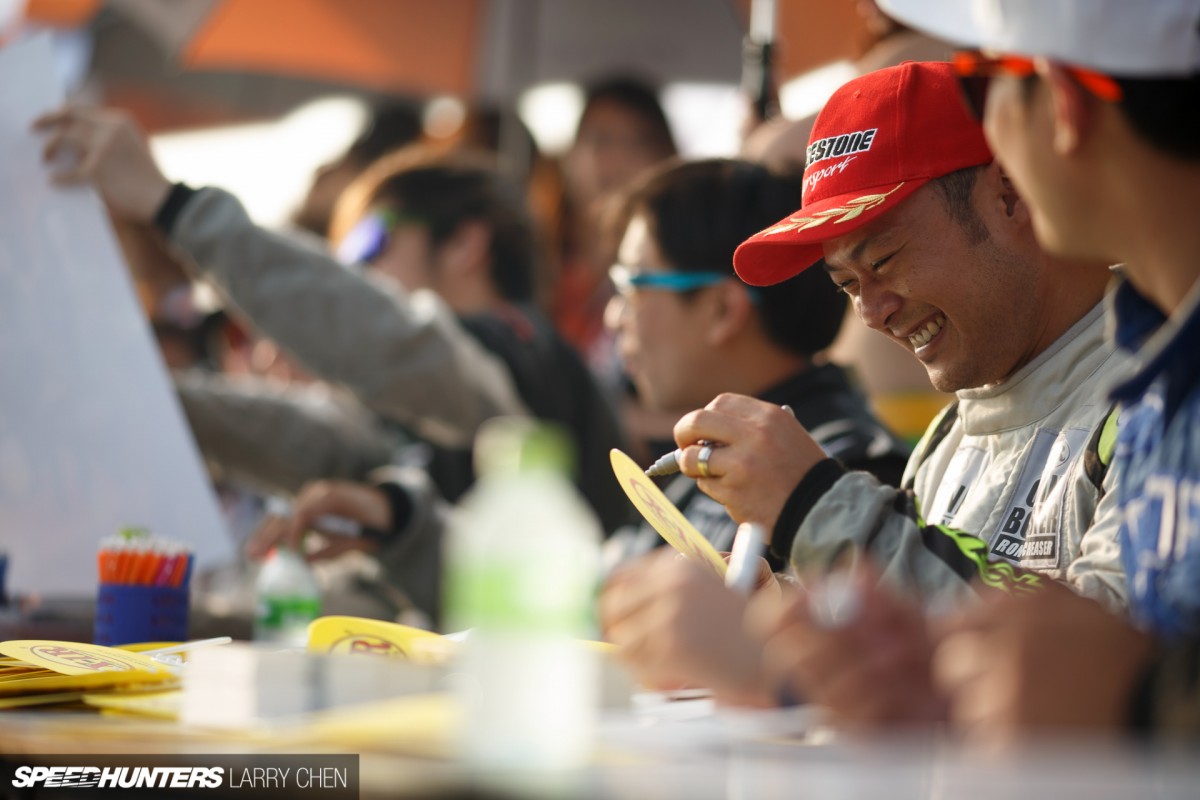 As always, the autograph session was super crowded, with the queue seemingly going on forever.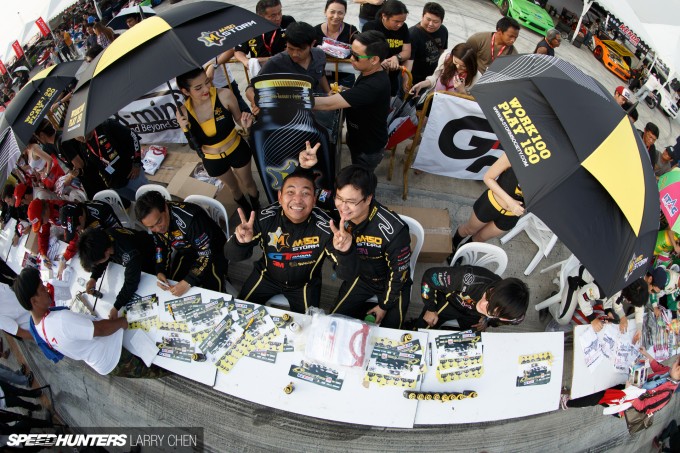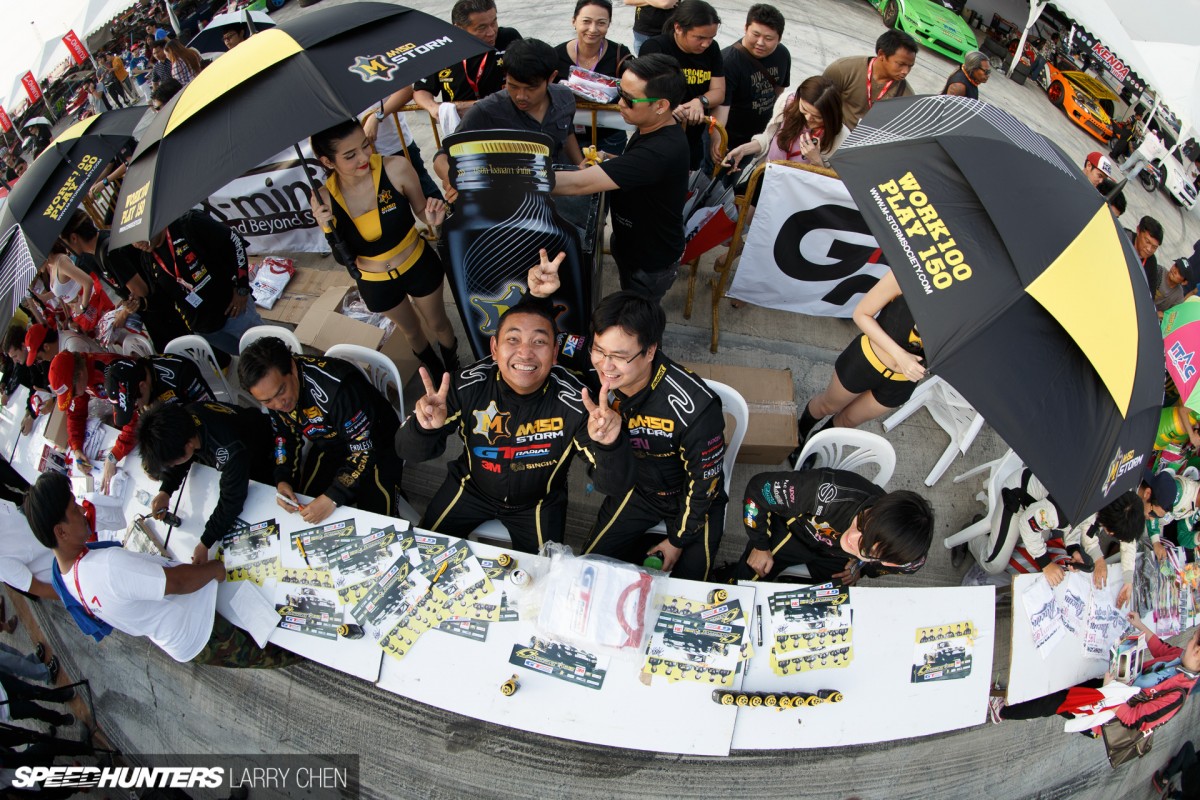 It's one of the few times the drivers can relax during such a tense weekend. Double the points were at stake here and it was the deciding factor in the 2013 and 2014 championships.
Knock out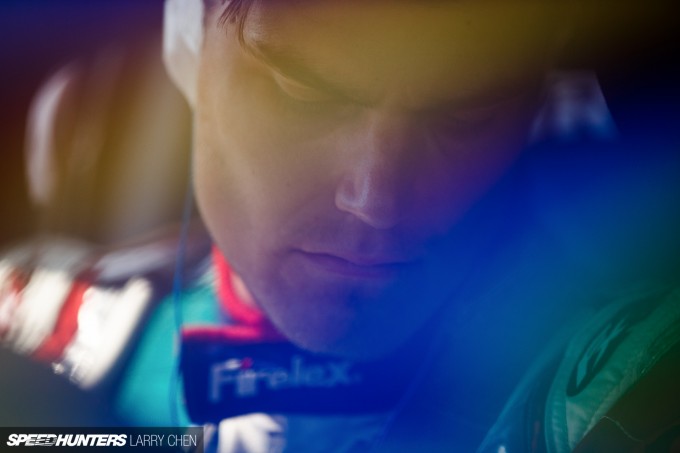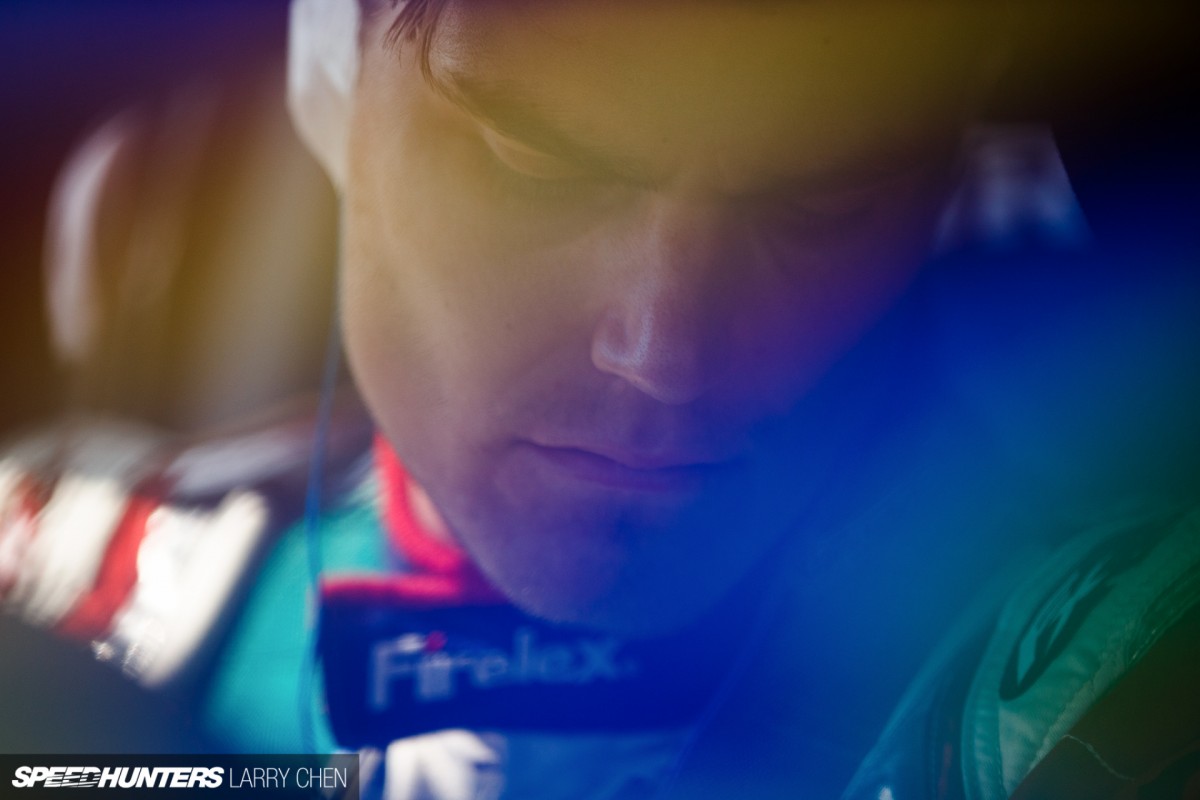 Fredric knew that he had to do well in order to really impress the RS-R team. This was his fifth event with the Japanese tuners and only his third event with the NASCAR-powered ZN6. You can read more about his antics in his post here.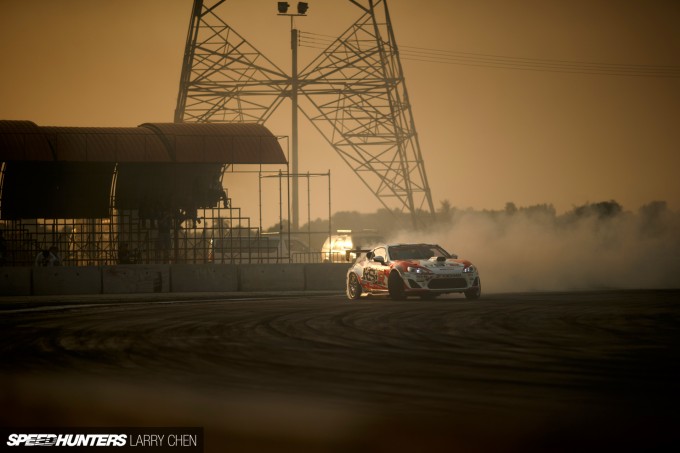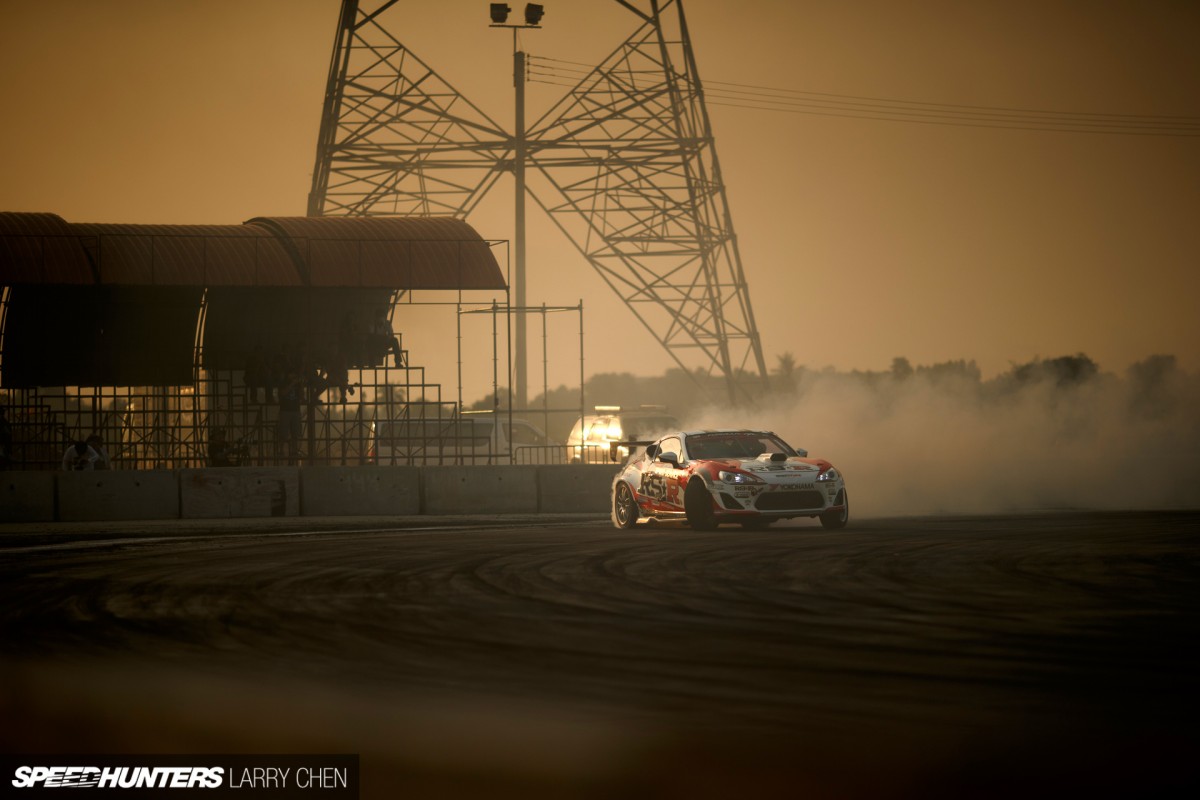 With Formula Drift knock-out qualifying in effect, he really had to knock his first qualifying run out of the park. He scored 82 out of 100, which tied him up with three other drivers, but since he had the highest speed of 76km/h, he took the top spot.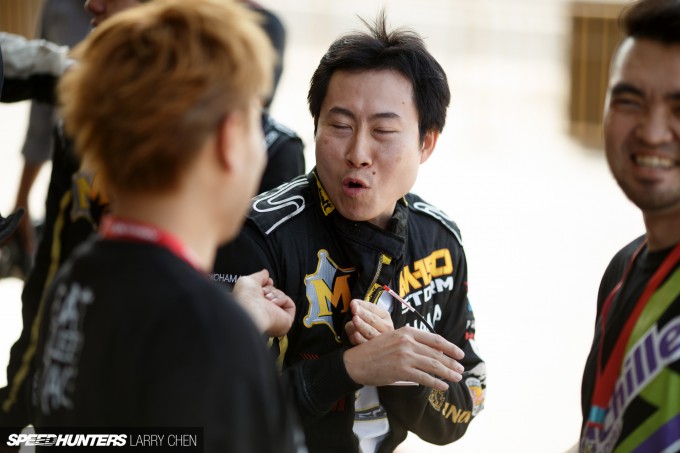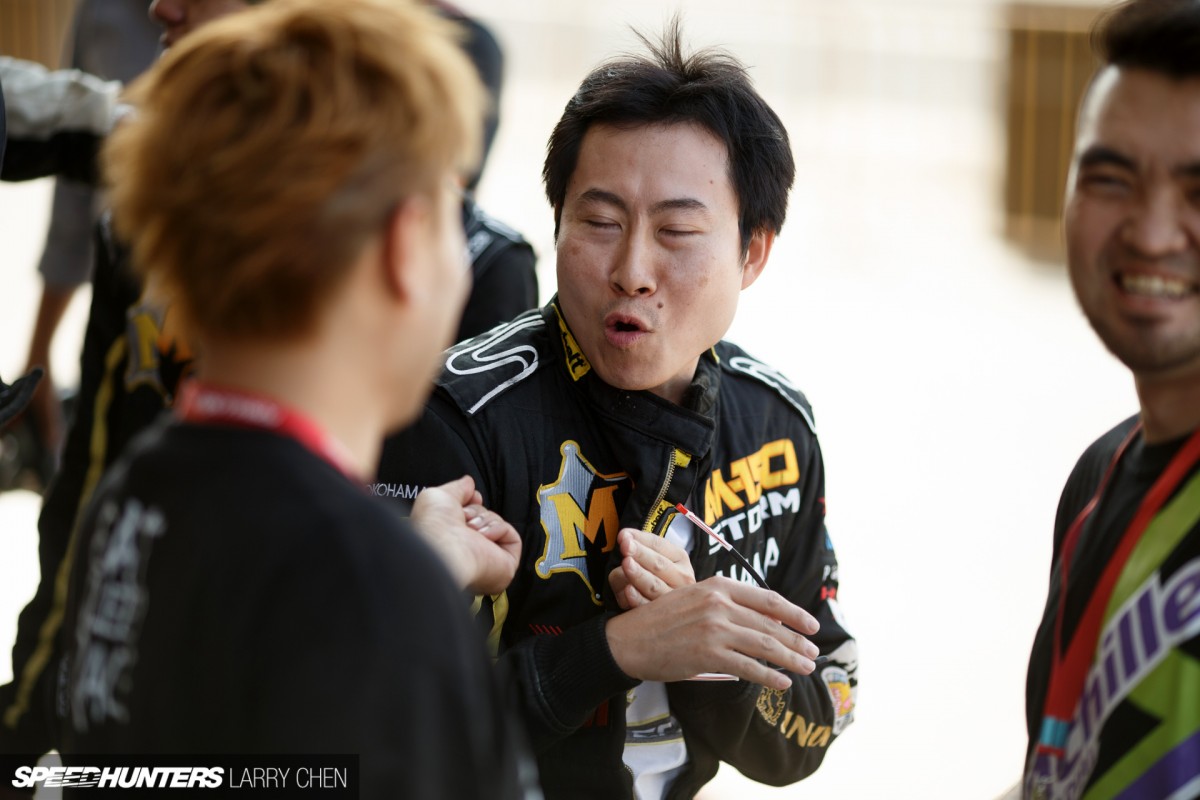 Saranon Non Pornpatanarak was poking fun at Daigo a bit, since he beat him just a few months ago at MSC in Hong Kong.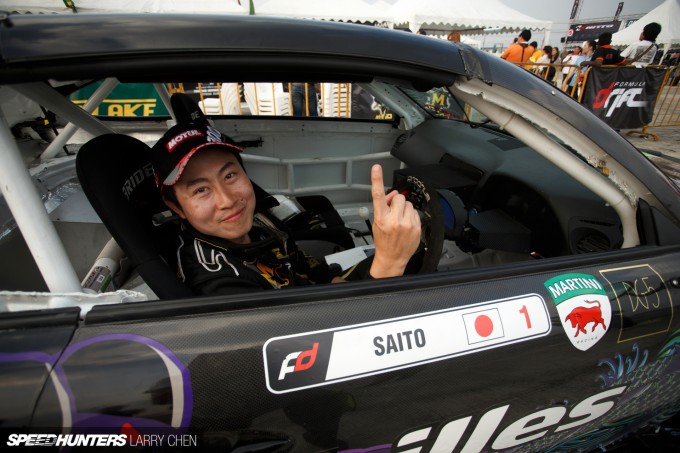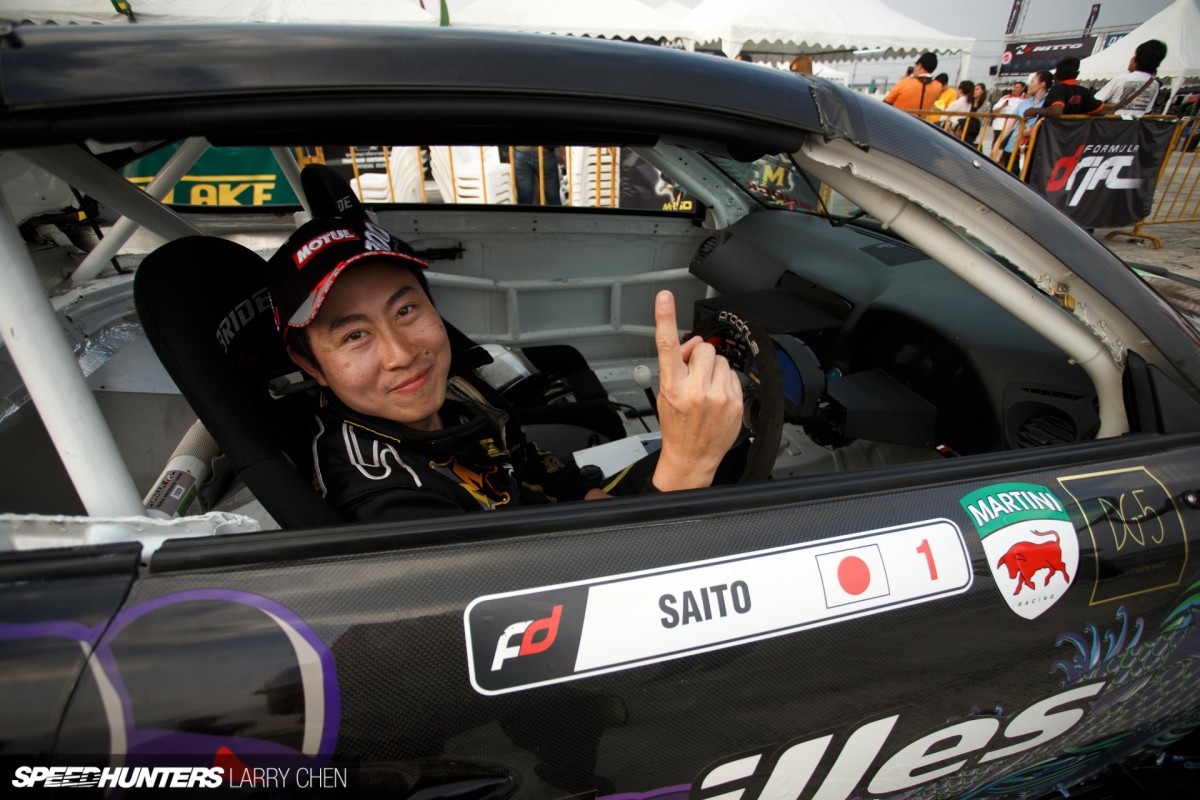 Later on, Non told me that he had the advantage anyway since Daigo was borrowing someone else's car. Although, judging by how happy he was here, I don't think he wanted to drive his own car either.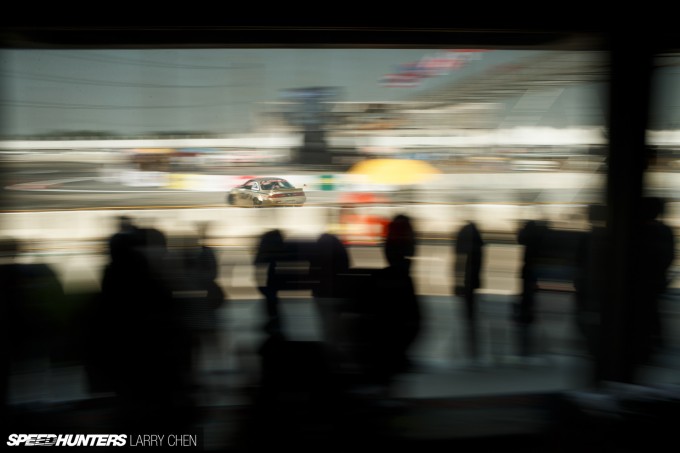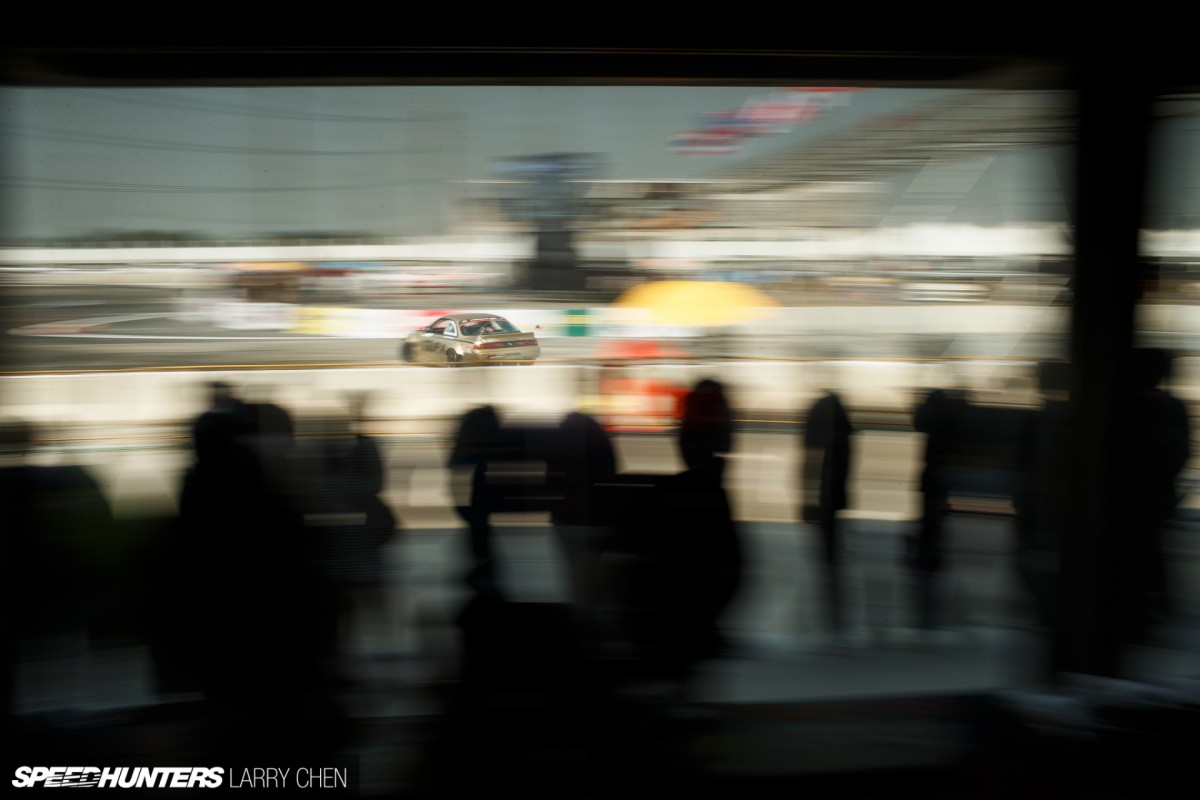 Qualifying was super intense as many of the drivers were putting down perfect runs all weekend during practice, only to botch things terribly when they attempted their first qualifying run.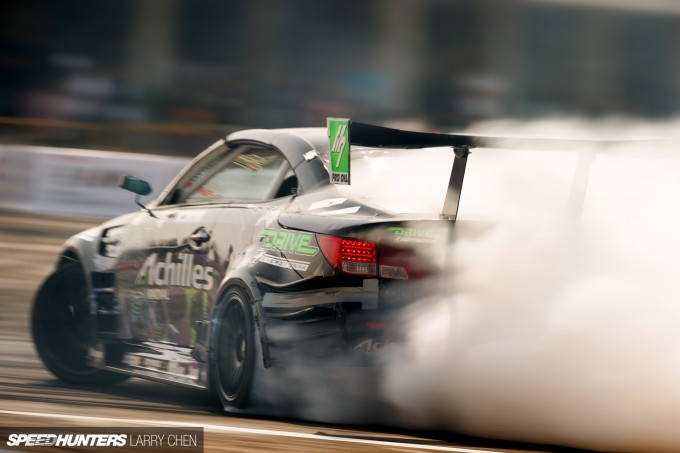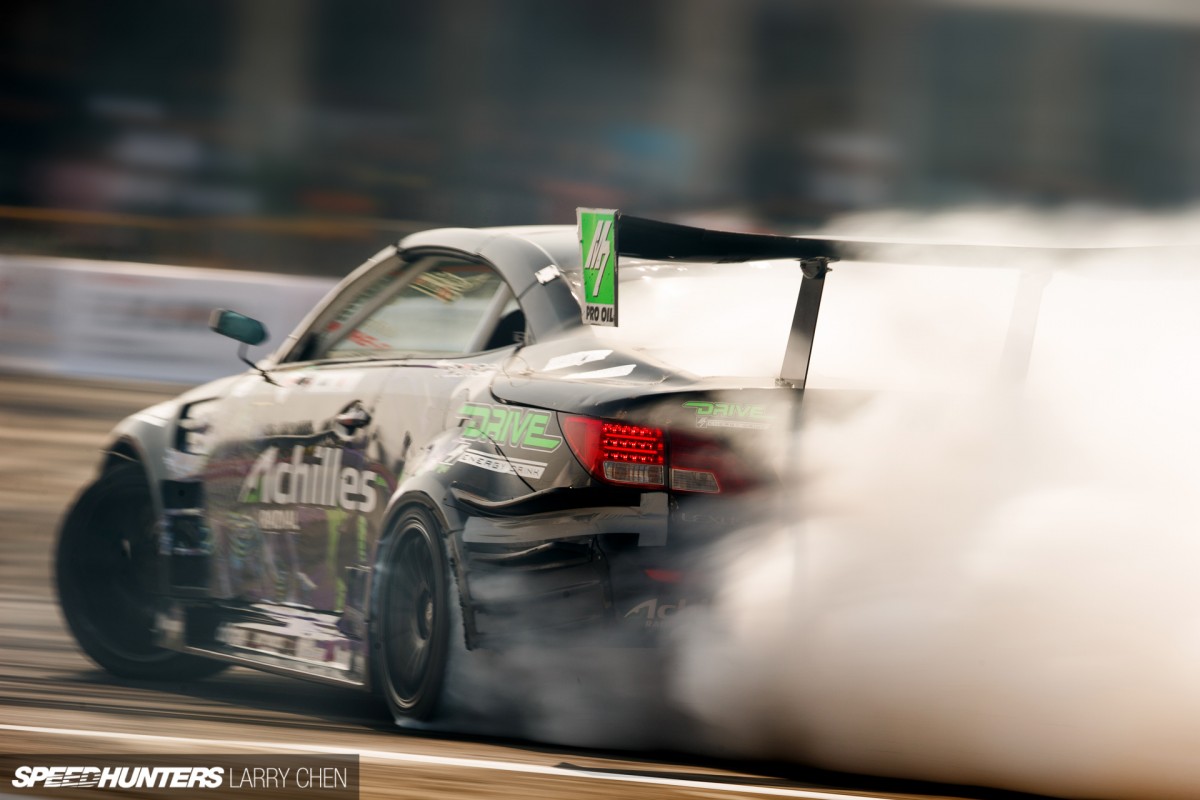 Knowing that he had the championship on the line, Daigo put down a super clean, but conservative run. It put him in the fourth qualifying spot.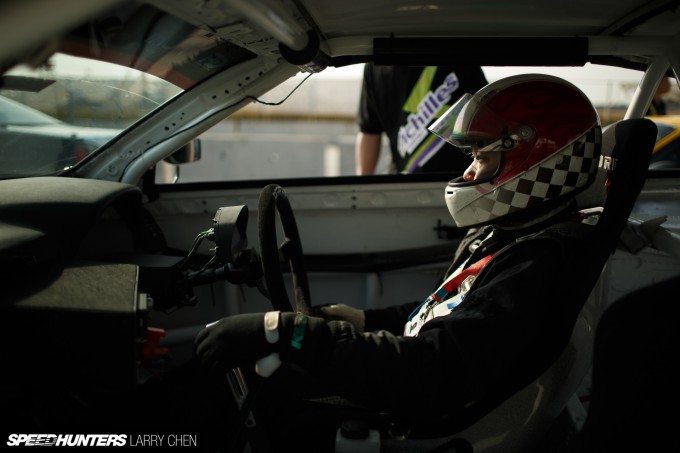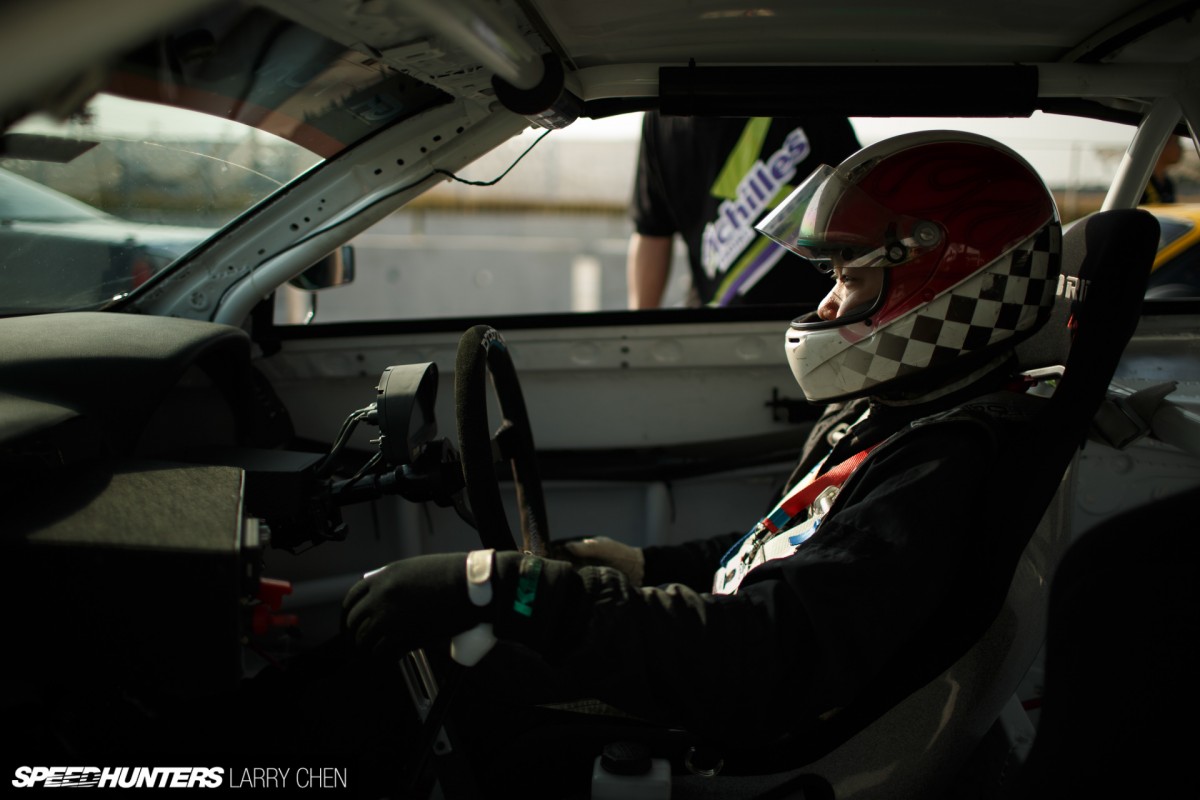 It was not going to be easy for him to nab another championship as he had the flu, and was running a very high fever all weekend. He didn't even come out for the top 16 introductions because he was feeling under the weather.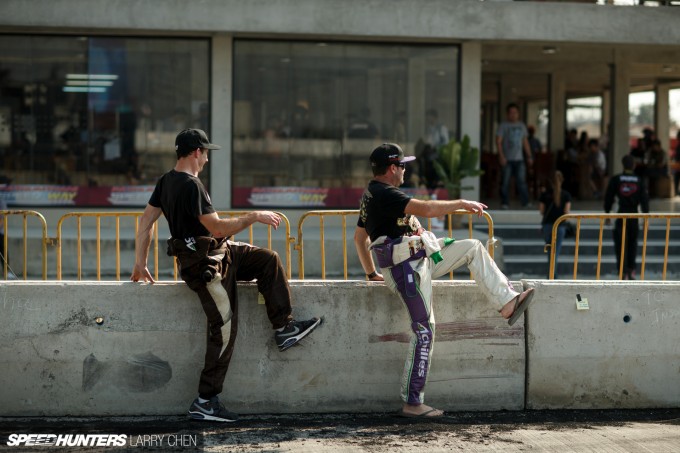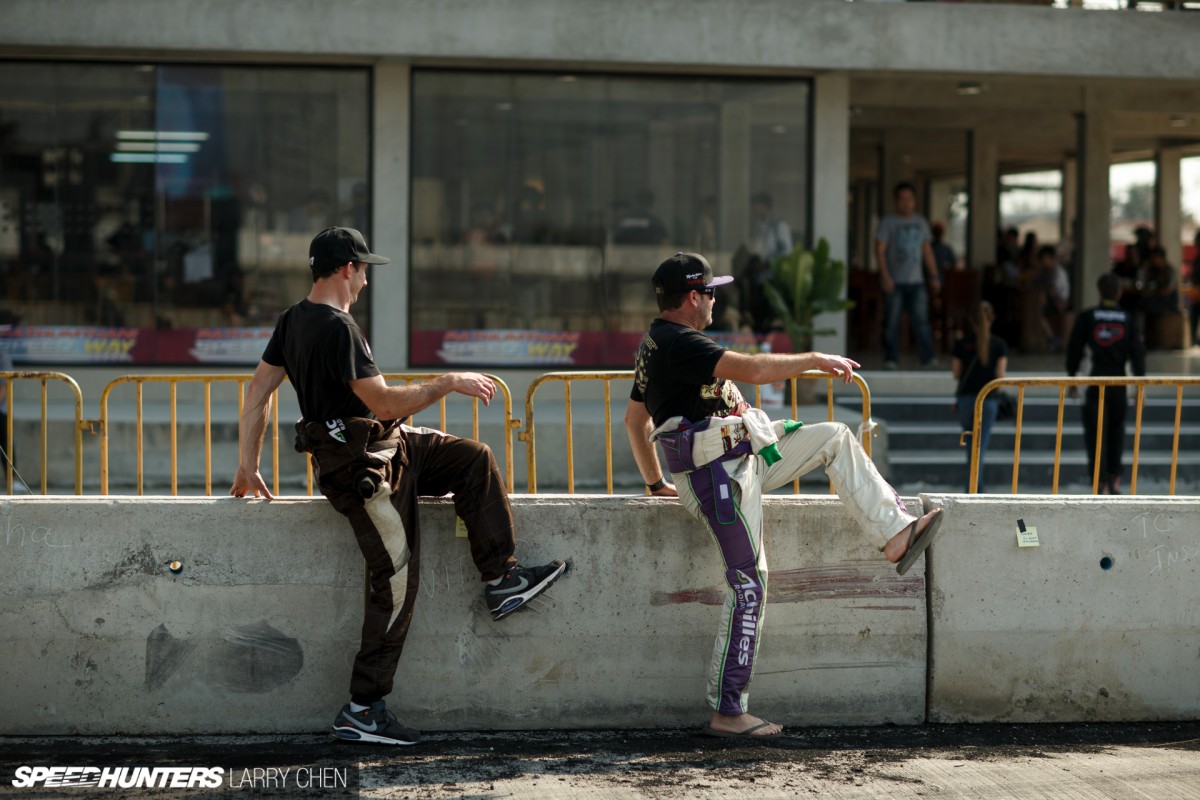 The boys from down under were feeling the pressure too. Daynom Templeman's FD RX-7 did not show up till the night before qualifying and there was still lots of work that needed to be done to it as well.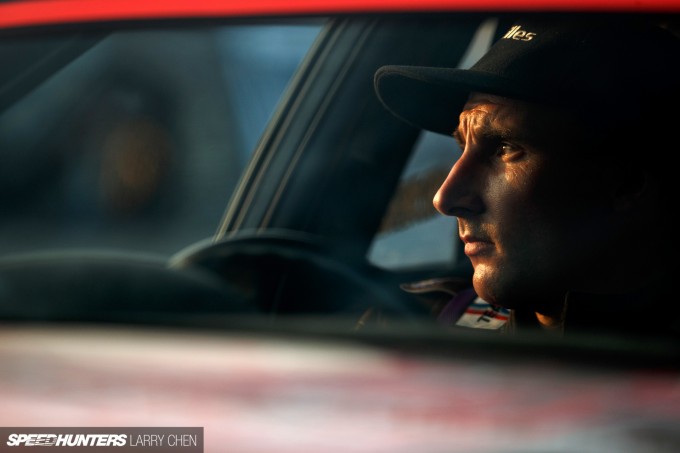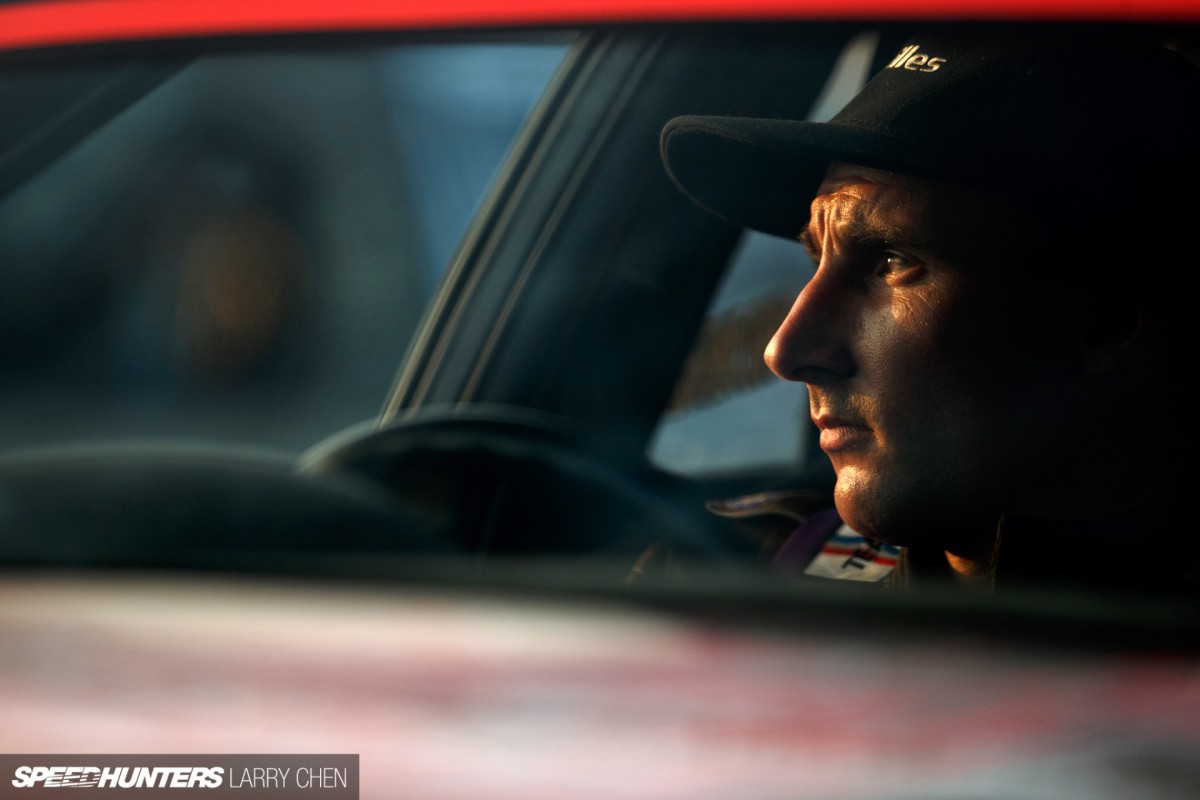 Tom Monkhouse had a dream season – competing in borrowed cars, he showed the world that he can keep up with the best.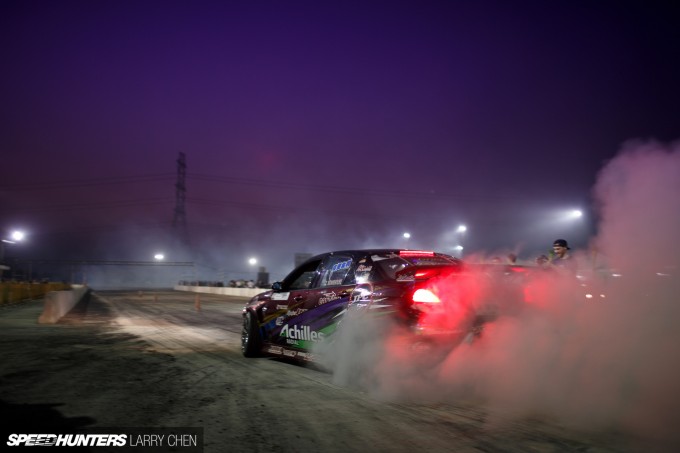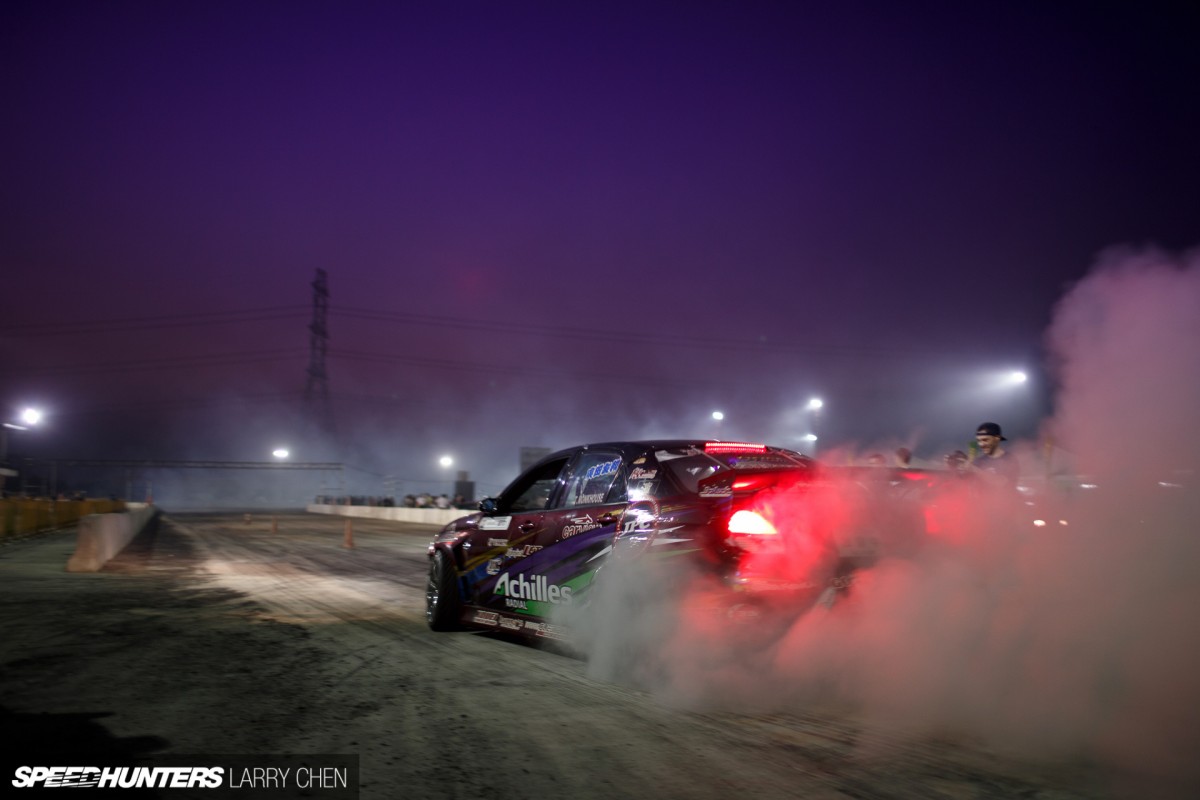 He just needed to get through the round to earn his very first FD Championship.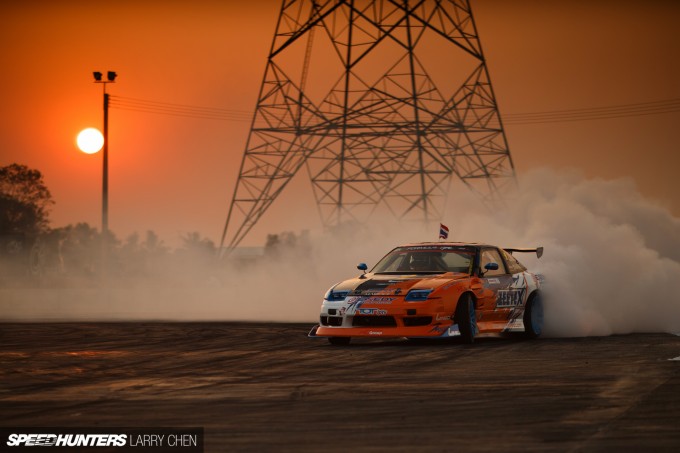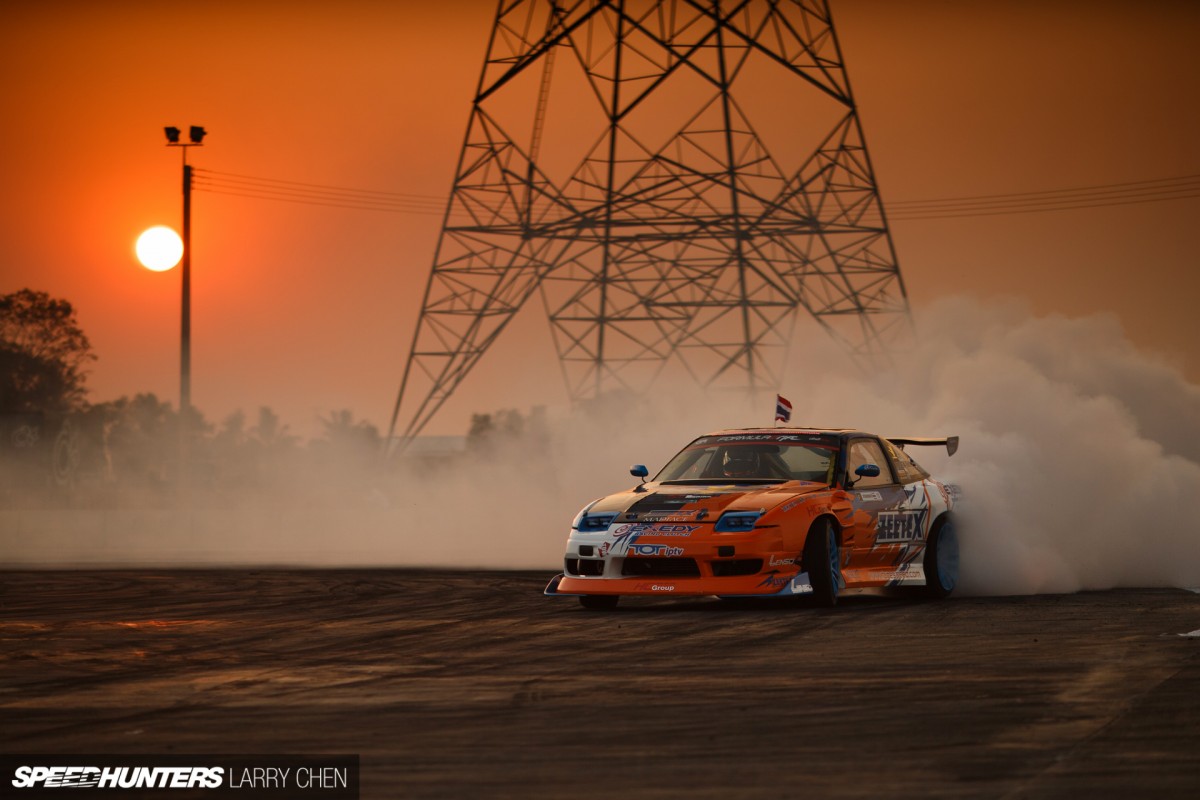 Qualifying took quite a while, as there were more drivers in this round of competition than I've ever seen at FD Asia; mostly due to the fact that there were so many local drivers, many of them qualifying super high.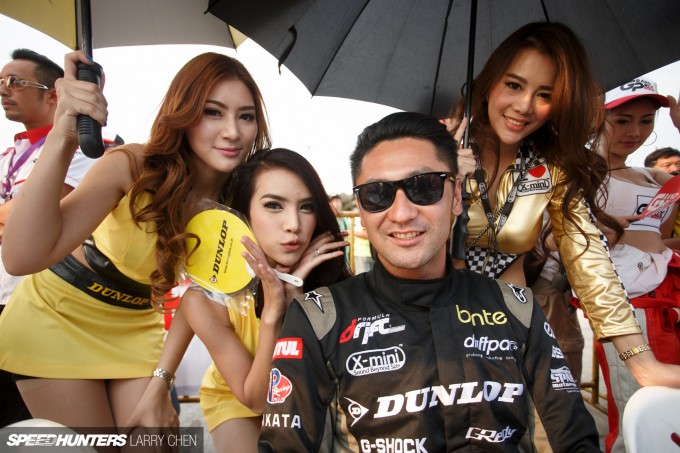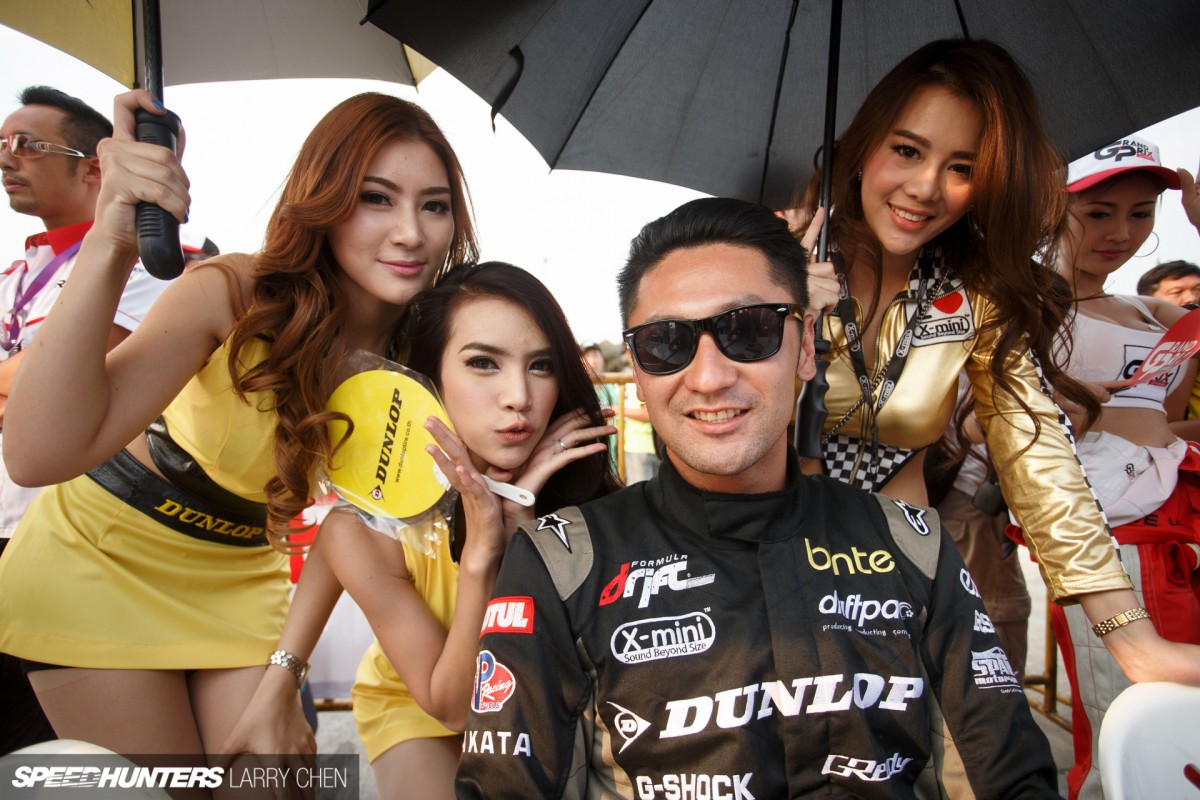 Ken Gushi was back in the saddle in the Toyota Chaser, coming from a podium finish in FD Malaysia. He was ready for battle and ready to fight off the fan girls with a stick.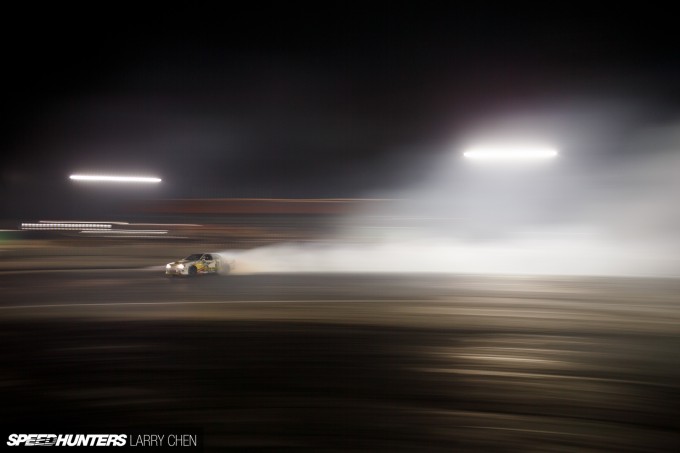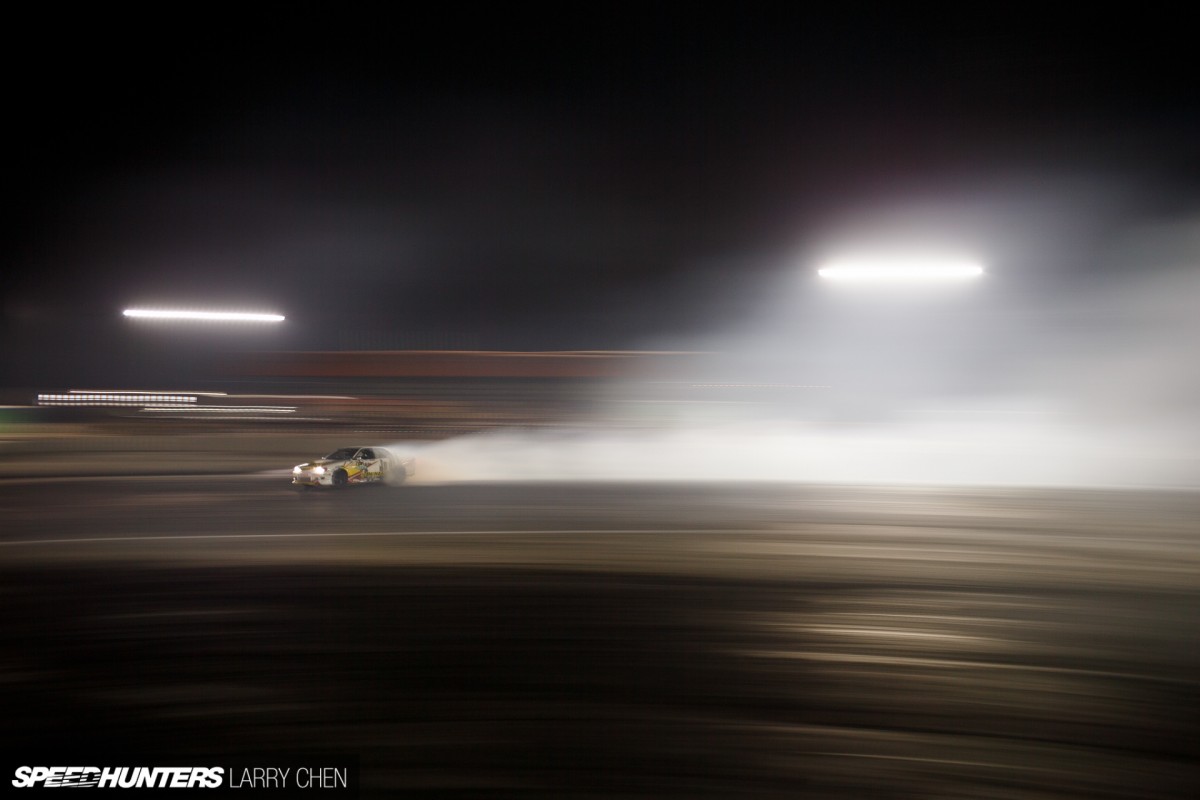 He qualified mid-pack in 12th place. It was going to be an interesting battle for him as he was potentially going up against Tengku Djan Ley, who was going to go out with a bang.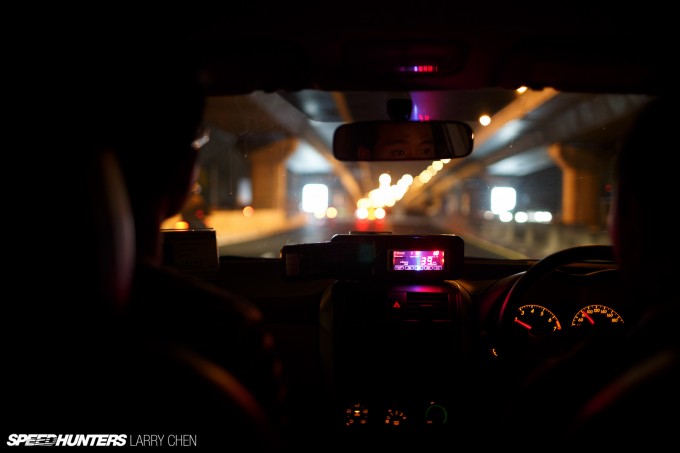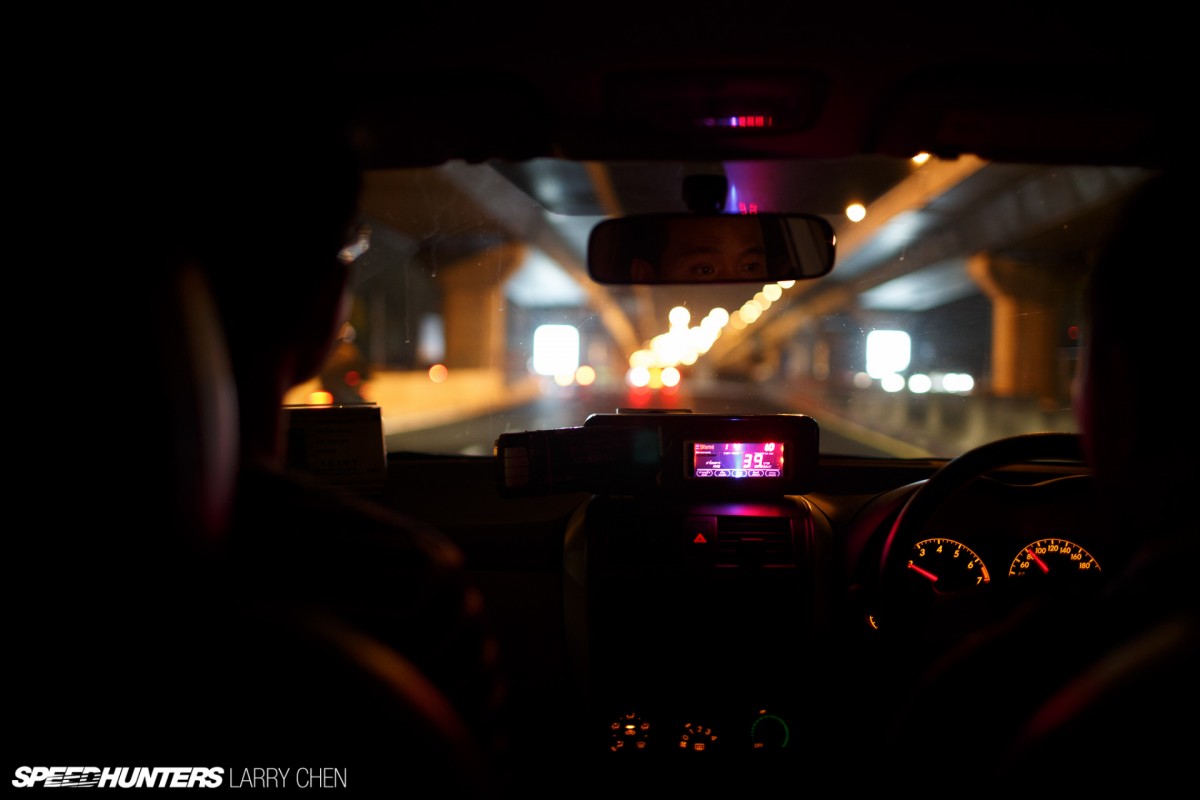 After things had wrapped up for the day, it was time for some exploring. Although we tried our best to avoid the protesters, as there was news of some clashes with the opposition downtown.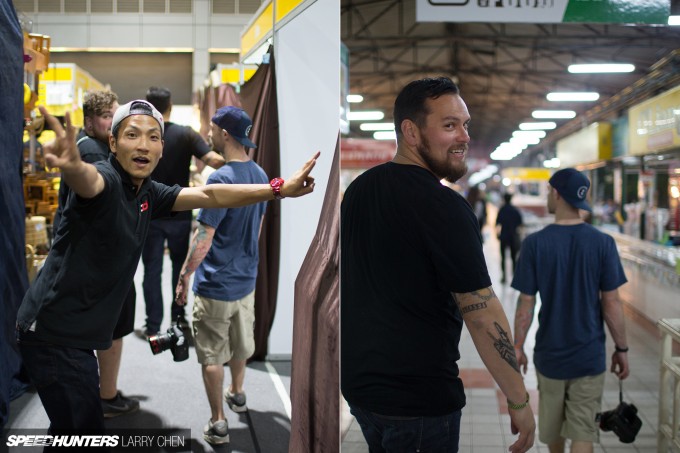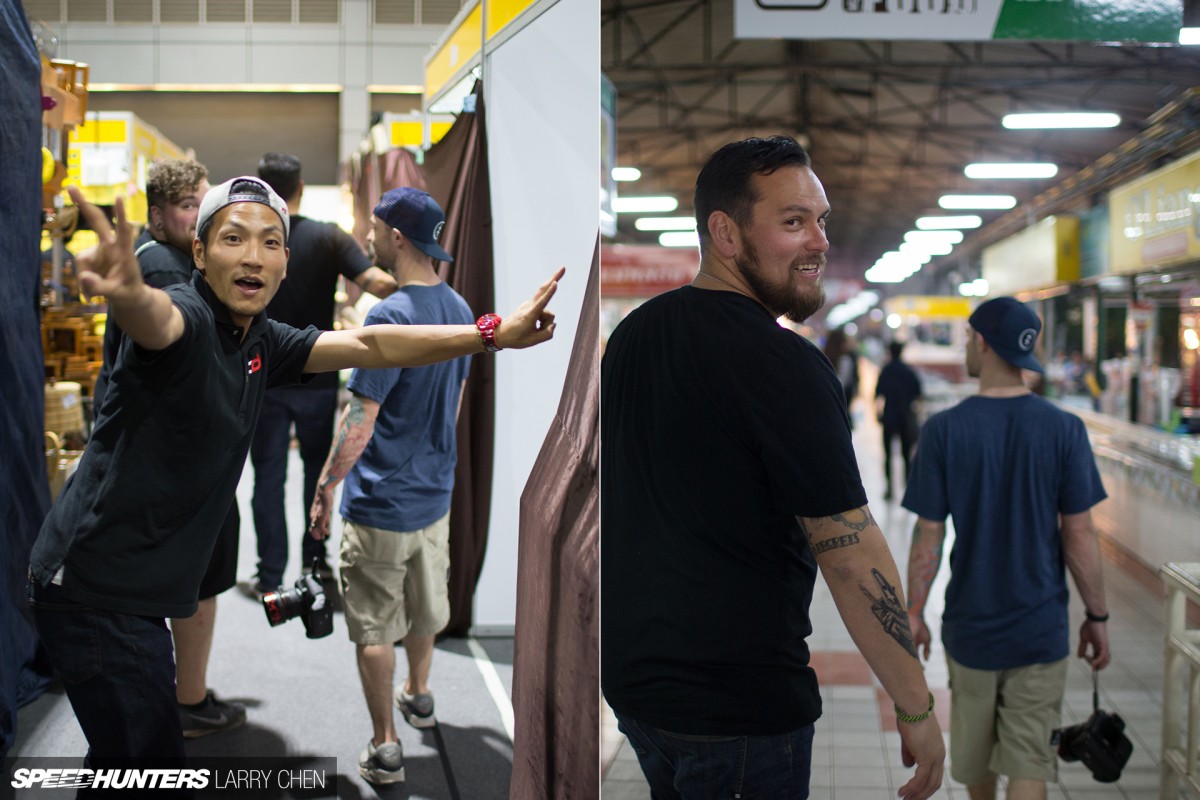 Daijiro Yoshihara hangs up his suit for the Asian events as he's been judging them for a couple of years now. He joined us, as well as the voice of Formula Drift, Jarod DeAnda.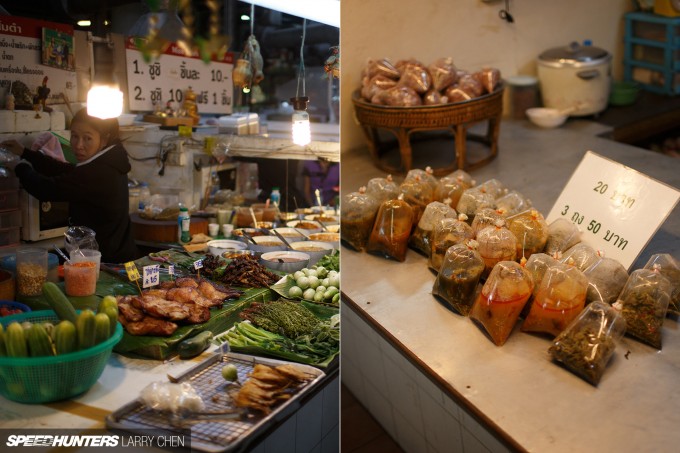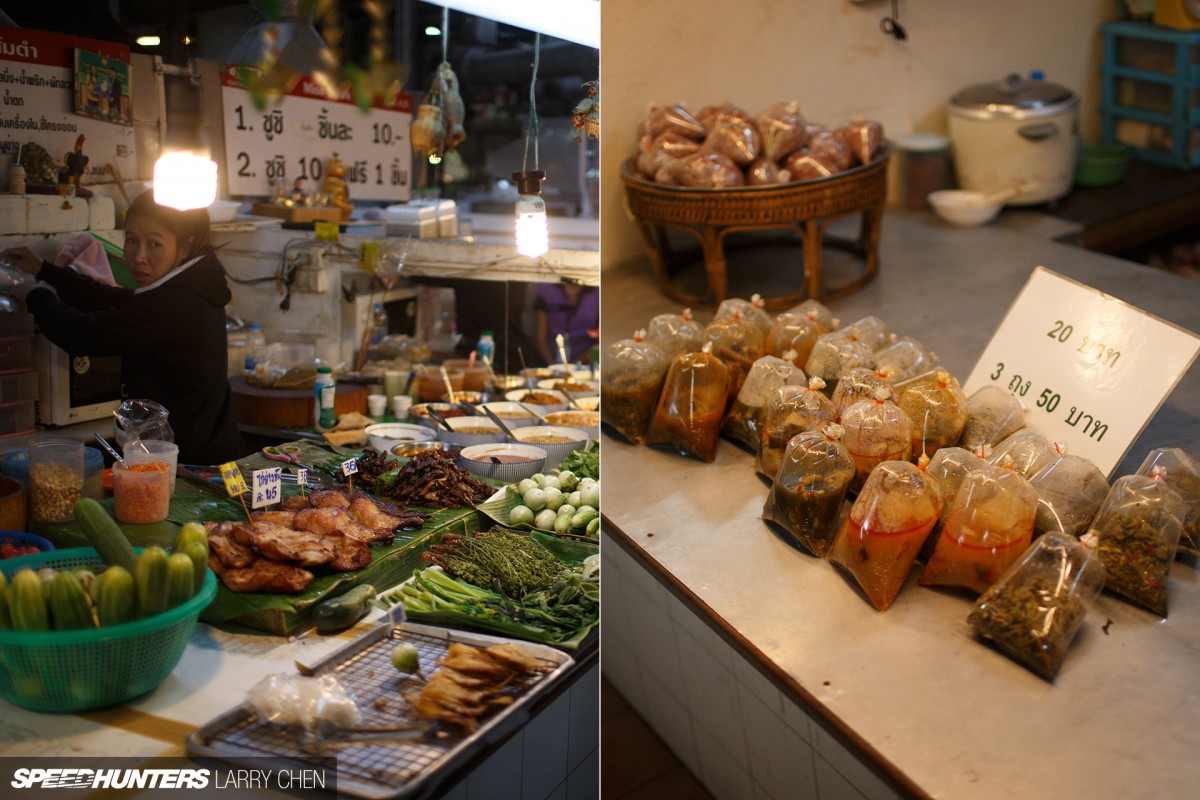 We were in search of some local fare; although we preferred not to eat anything out of a bag. So we kept looking…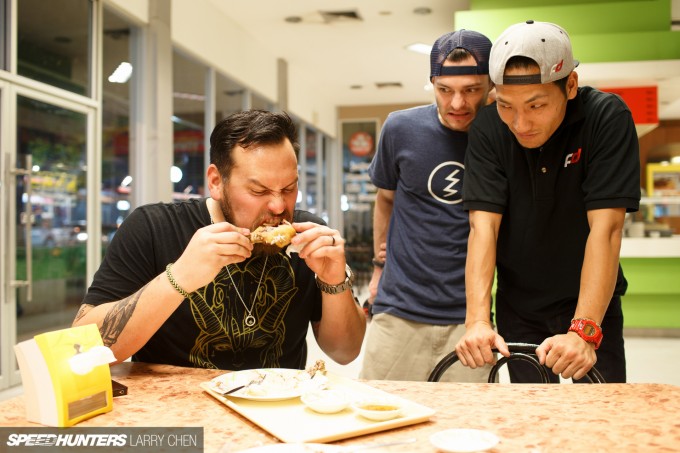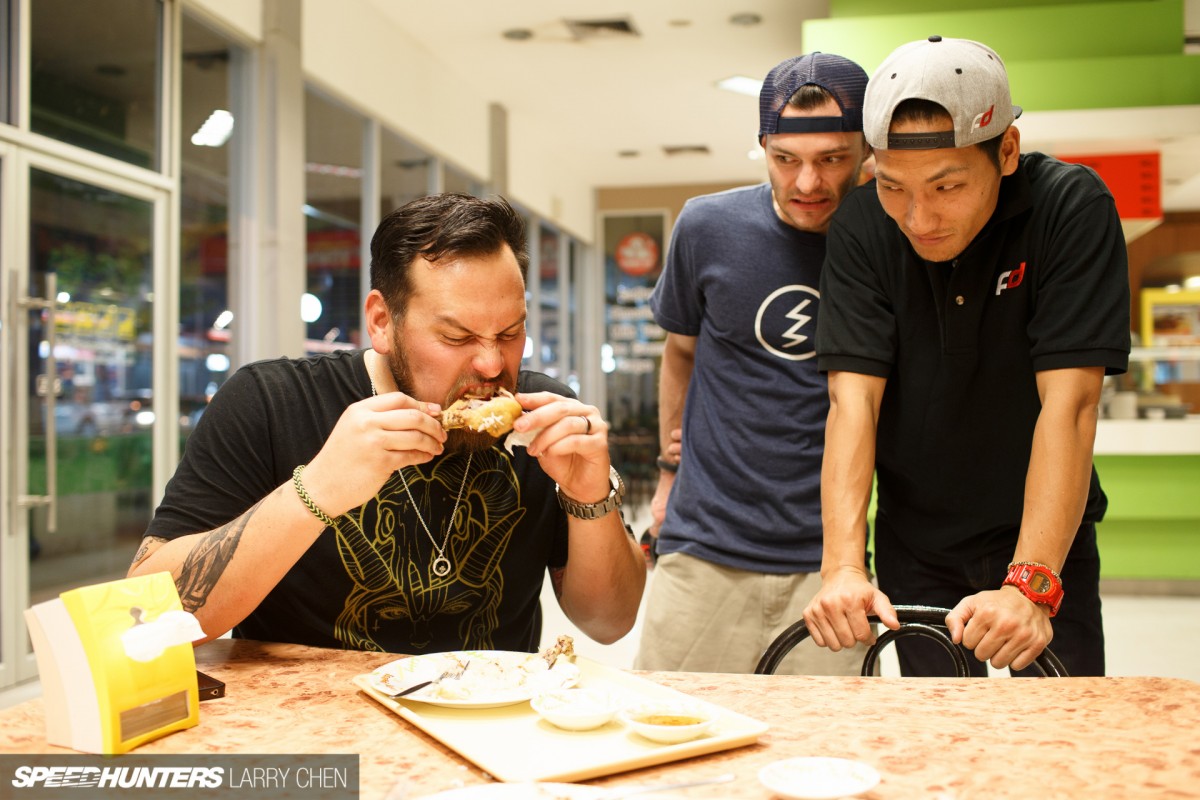 It was super late by this time, so the only place open was a chicken and rice stand. Although they only had enough left for one serving, so we all just watched Jarod bite into some questionable chicken and rice.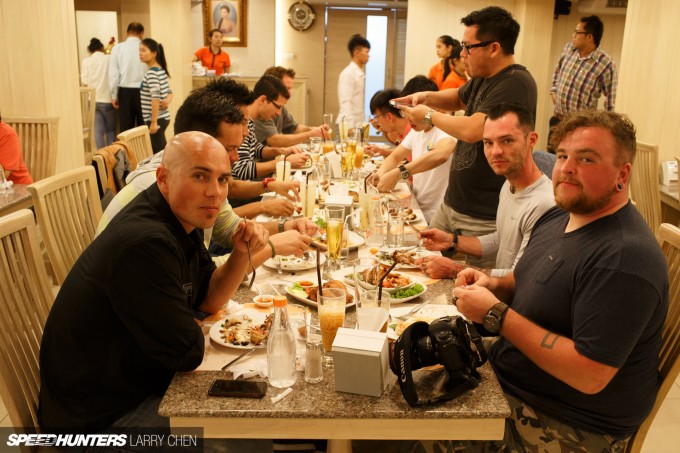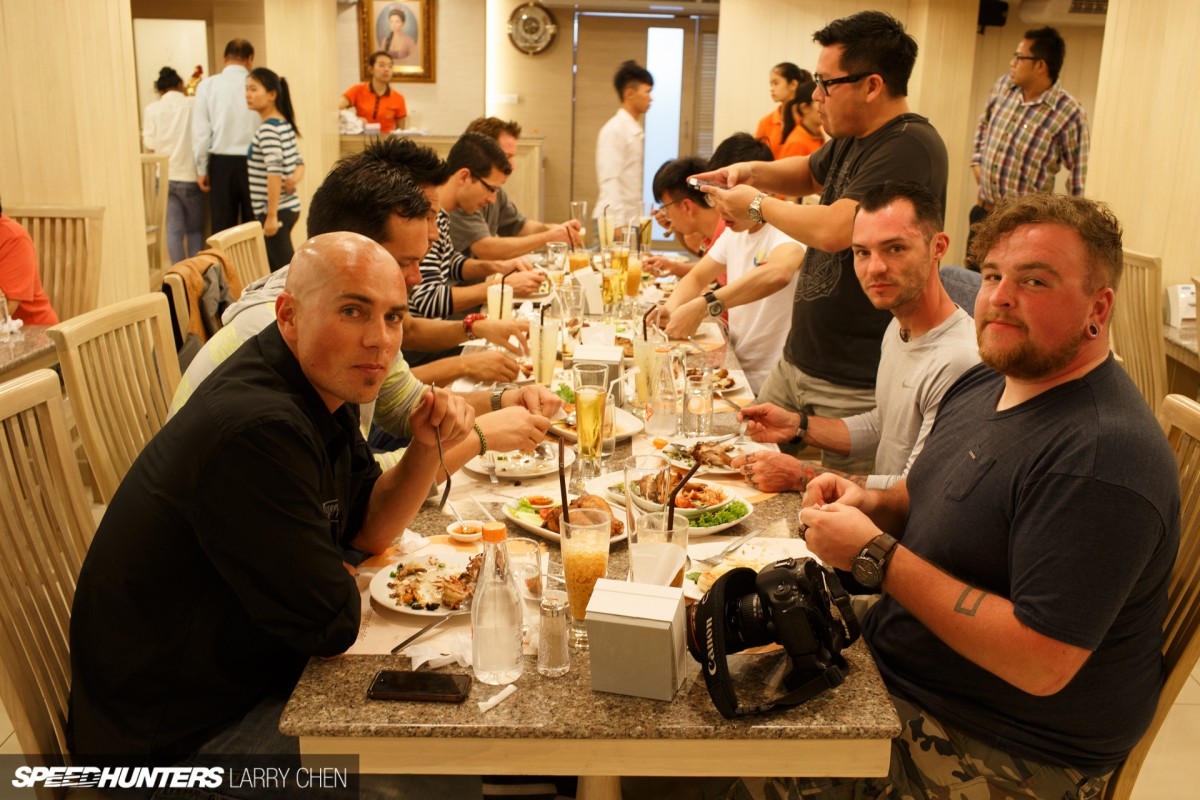 We redeemed ourselves the next day, as FD Asia founder Marcus Lim took us out for some real local cuisine.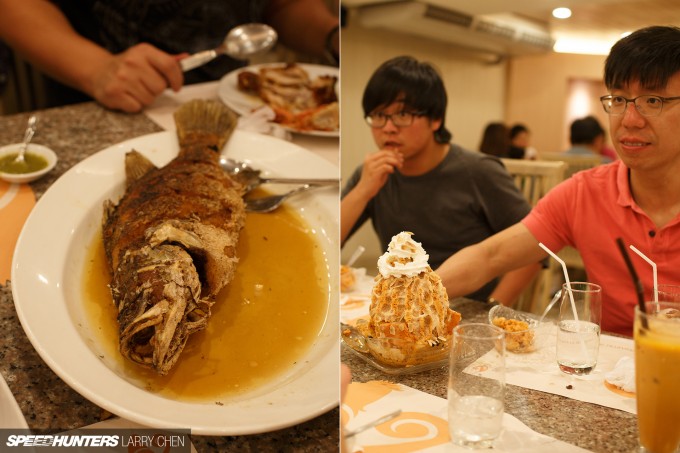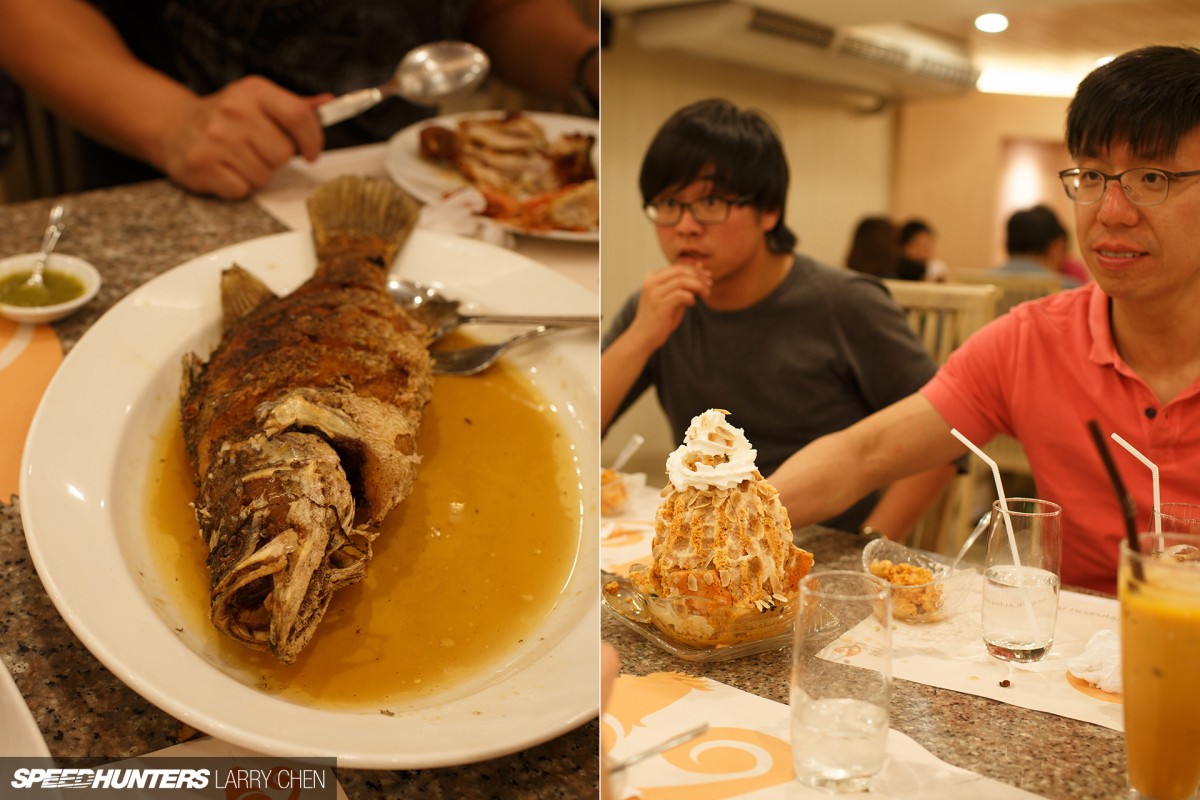 There was enough fish head and shaved ice to last me all year.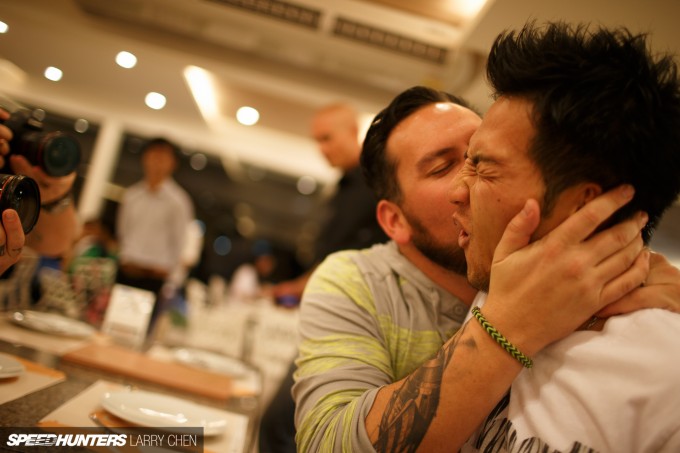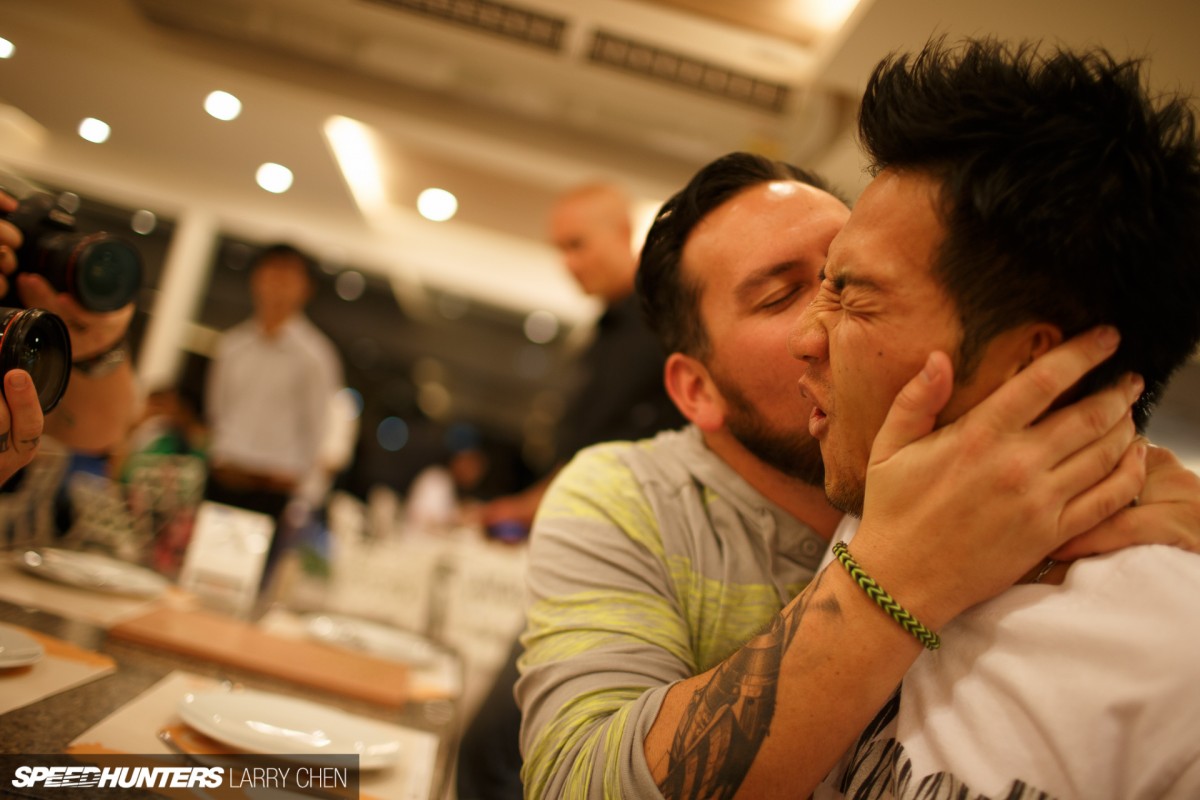 Jarod was so happy he kissed the first person he saw, which happened to be Daijiro Yoshihara. Nice one Jarod.
Ichiban man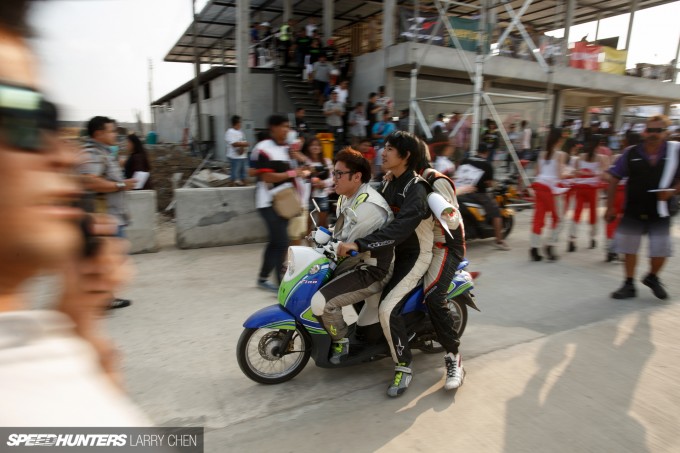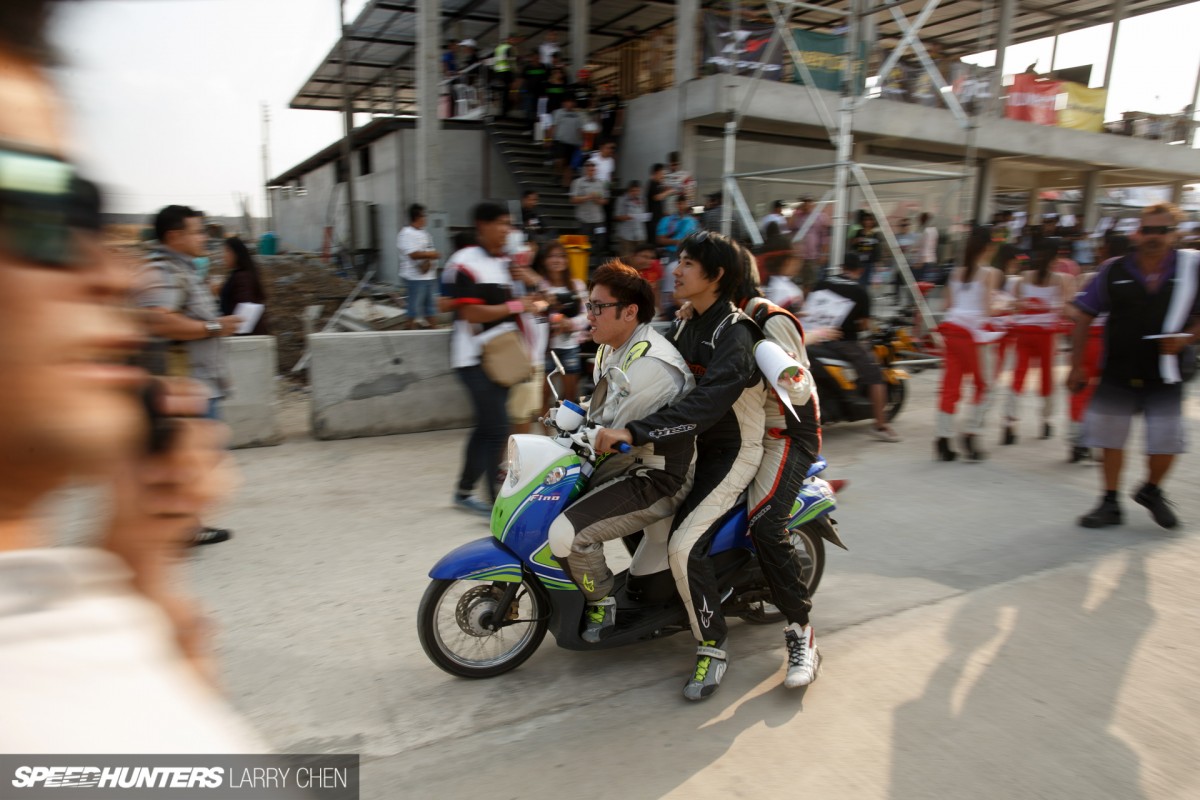 The venue was packed for main competition day. Drivers were forced to take alternative methods of transportation to drivers' briefings.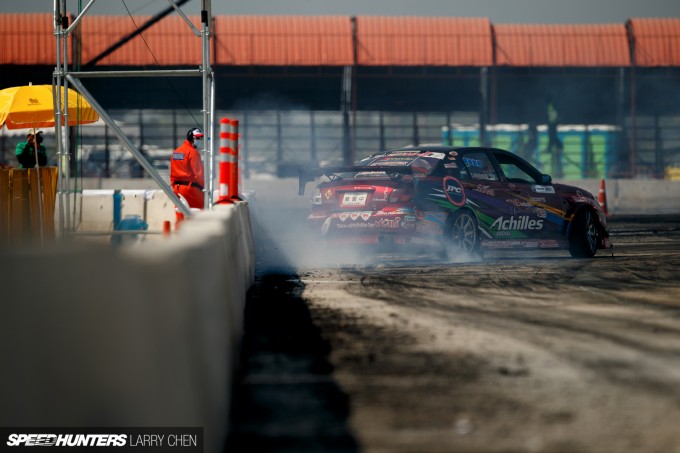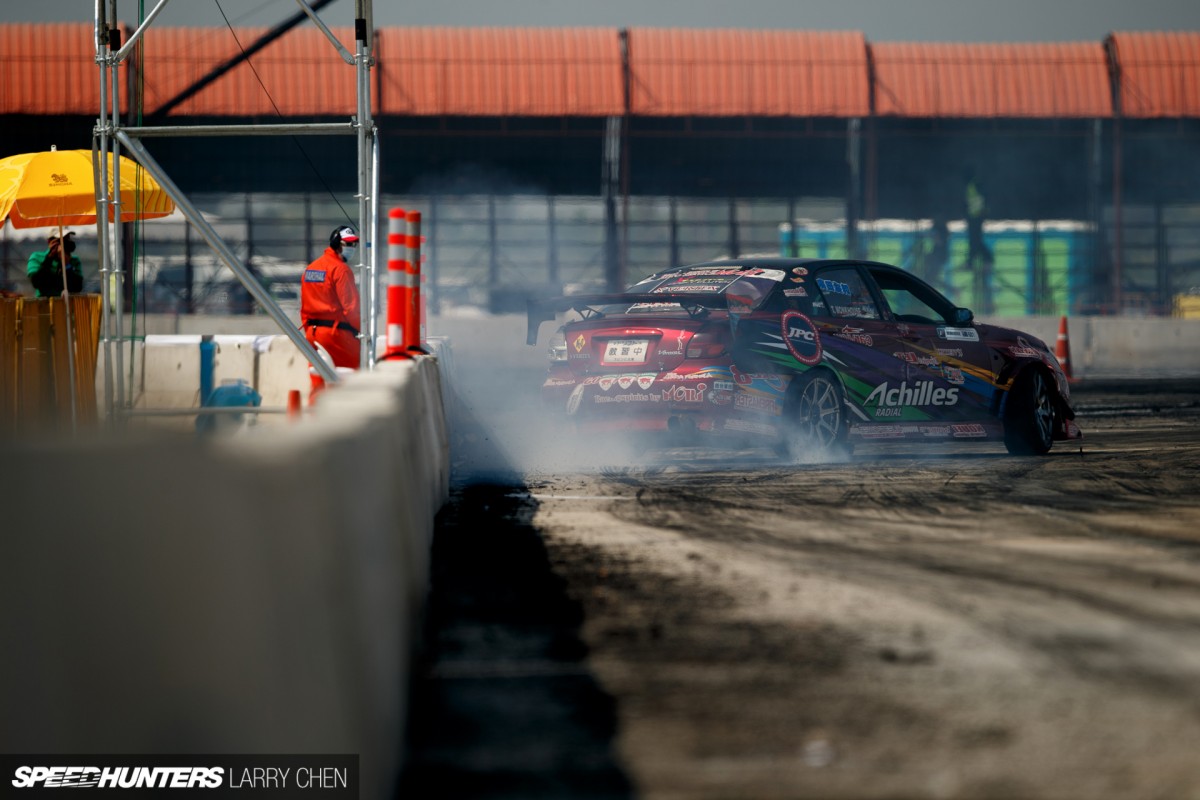 Drivers were going all out during morning practice, including Tom Monkhouse, who was leading in the championship race.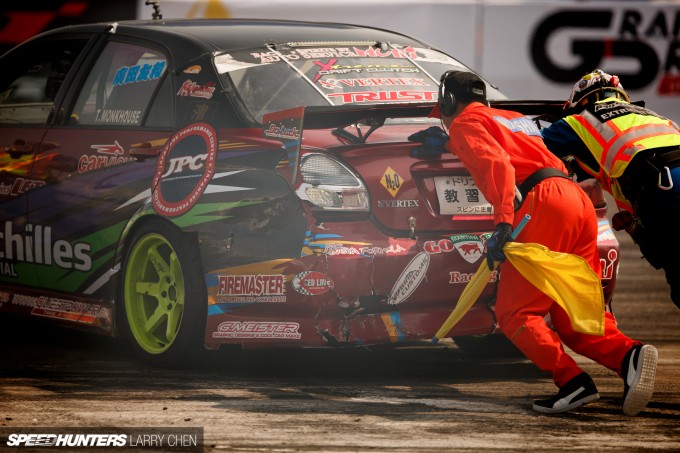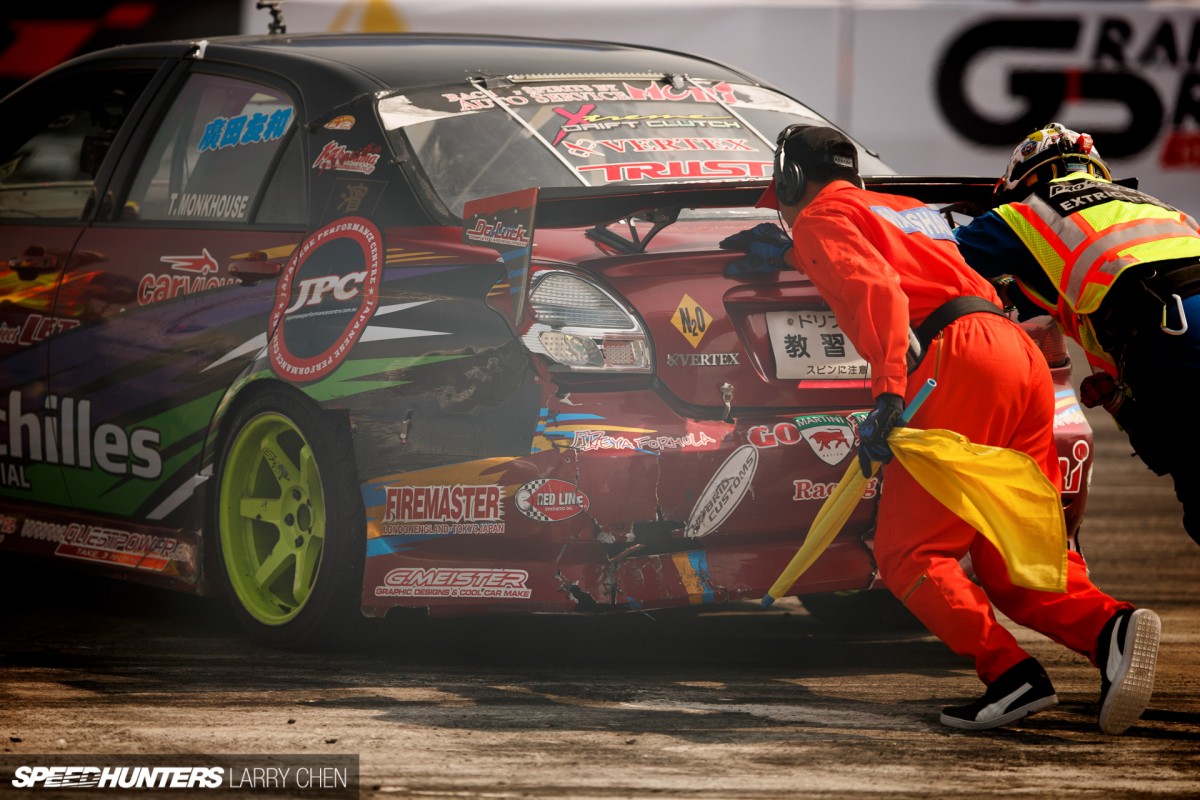 He went a little too hard as his transmission went out during practice, which ended his weekend as well as his hopes for a championship.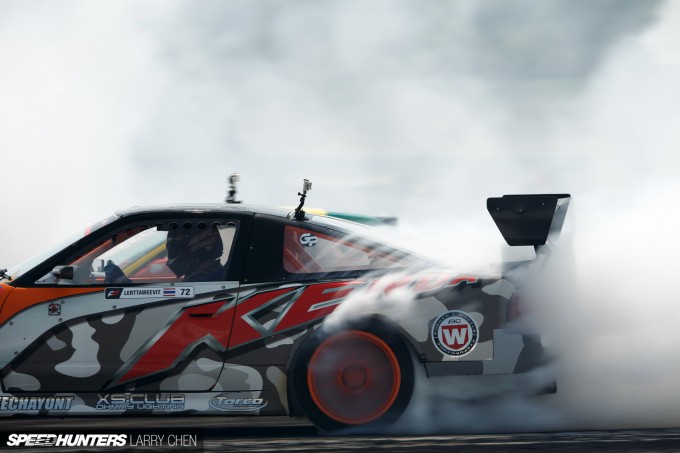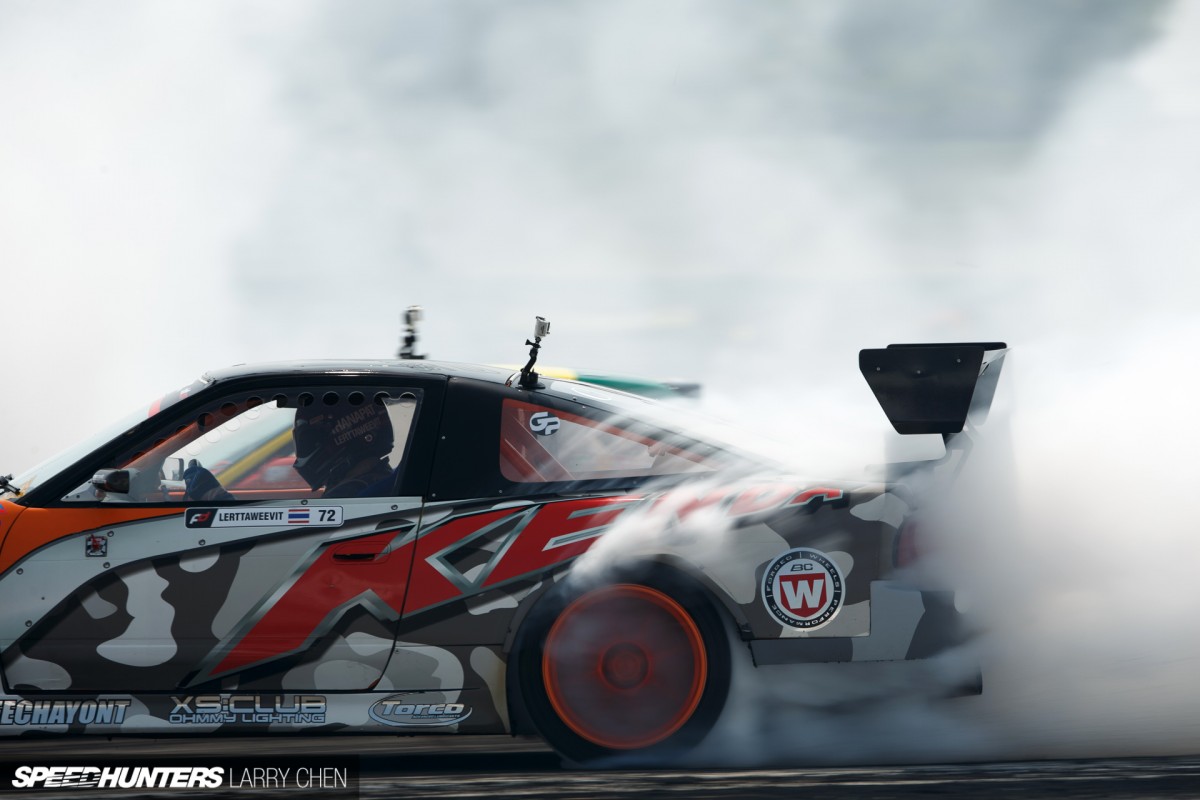 I couldn't believe it – I'd been cheering for Tom, since it was the perfect story of a privateer moving up in the ranks to earn his first championship against the big players. Which begs the question: how much practice is too much?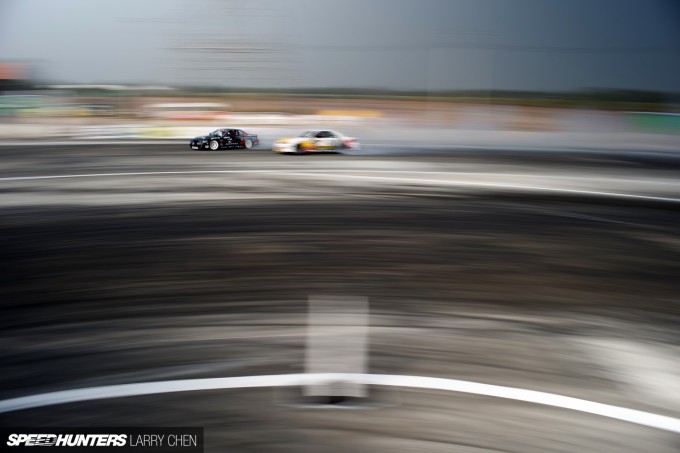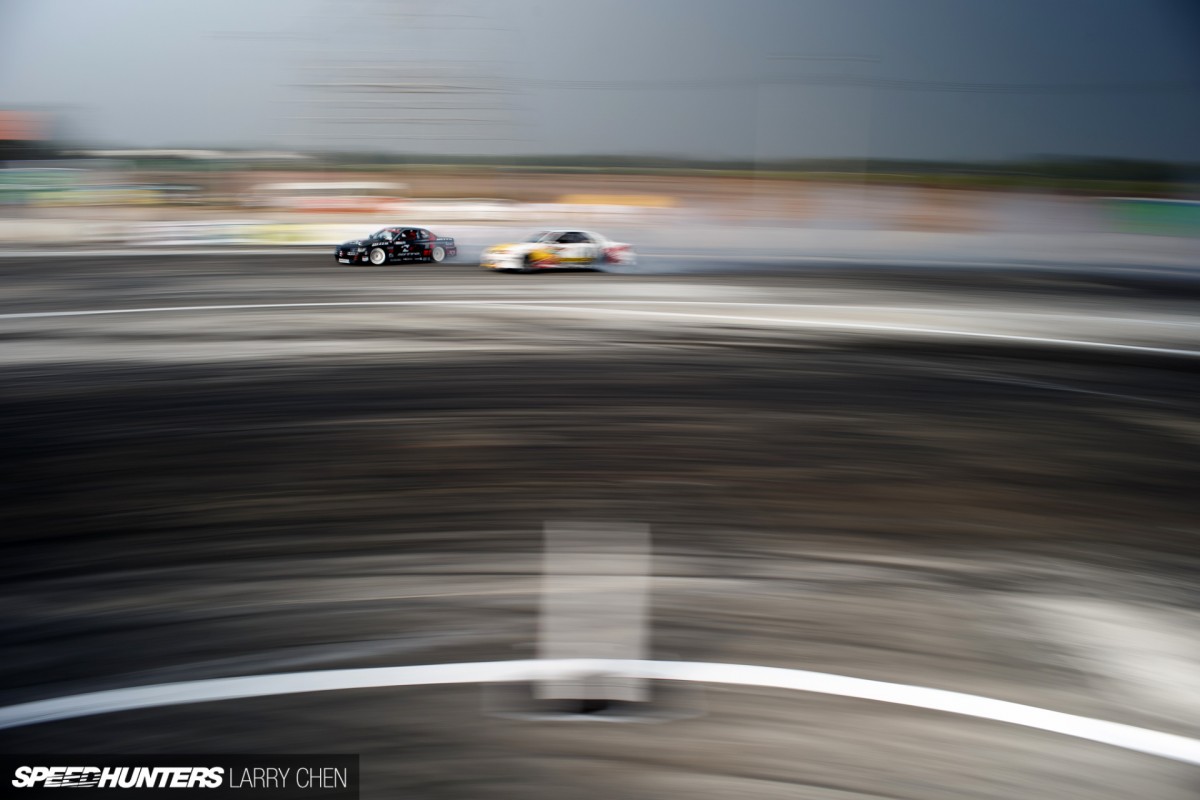 Is it better to save the car for competition? Or should you try to get as much practice as possible, in the hope that the car will hold together and you'll have enough spares to fix the car no matter what happens?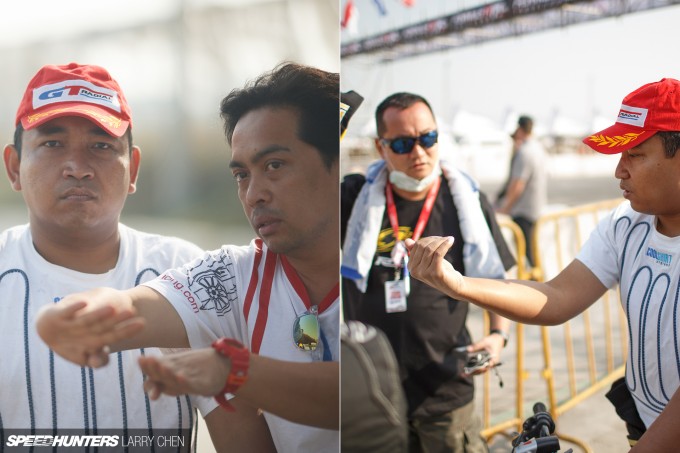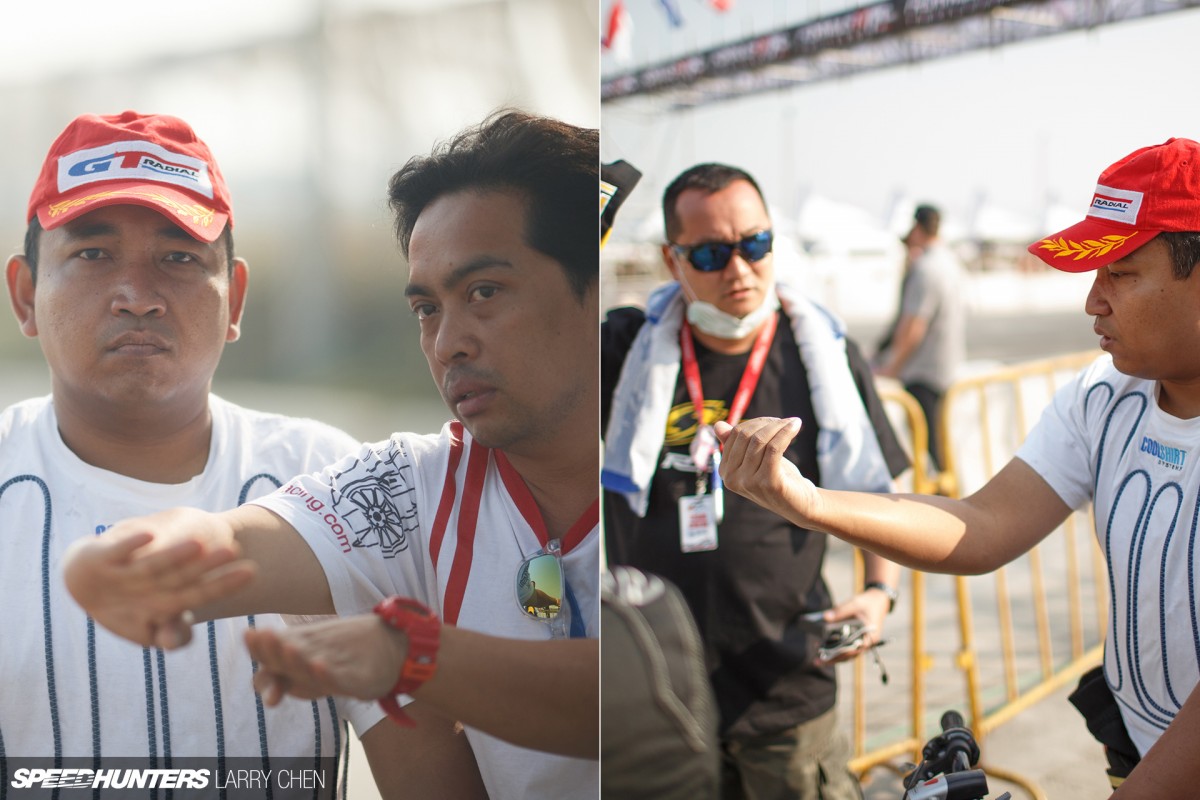 Oat Nattawoot Krerpradab and the rest of the M150 Storm team were going over strategies before the top 16.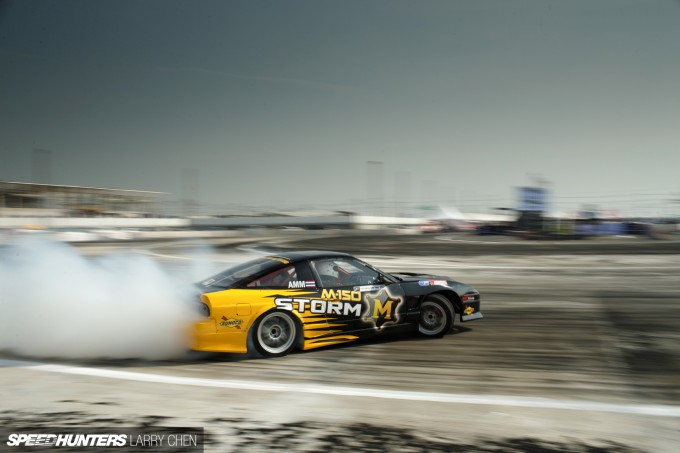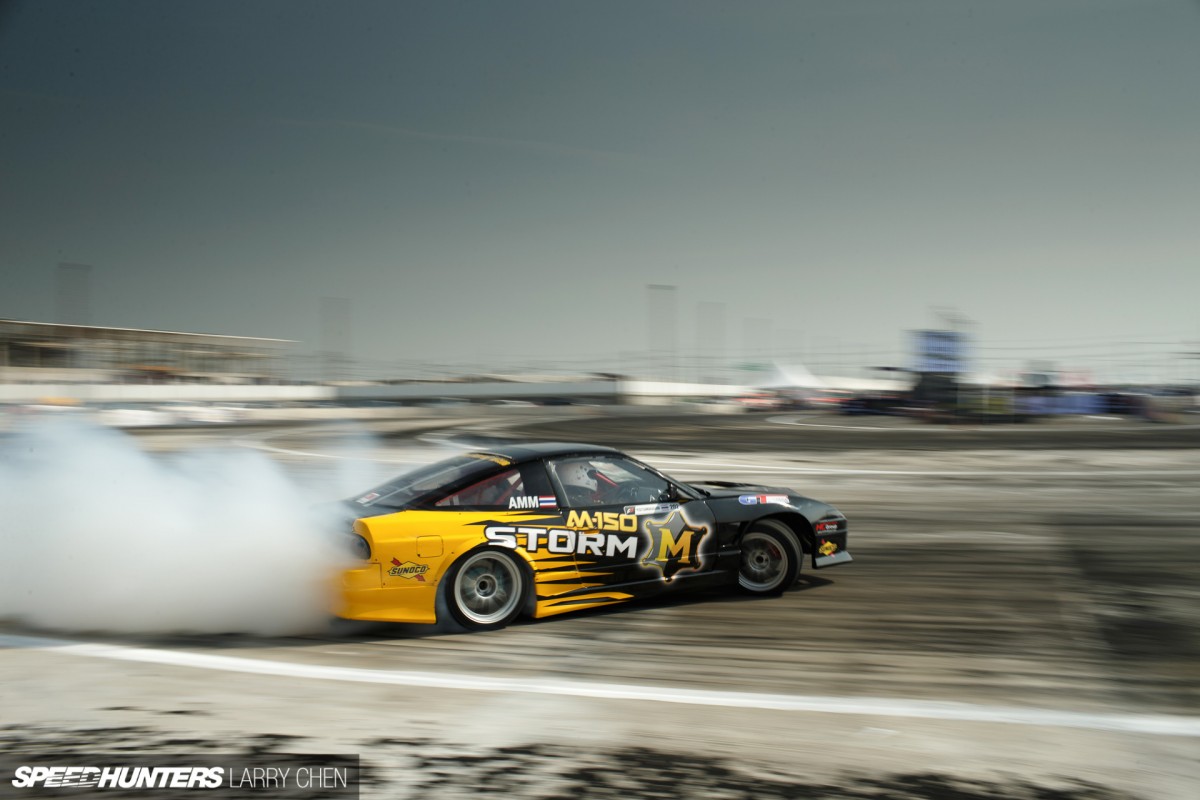 They have seven cars in their team, which makes them one of the biggest teams in professional drifting.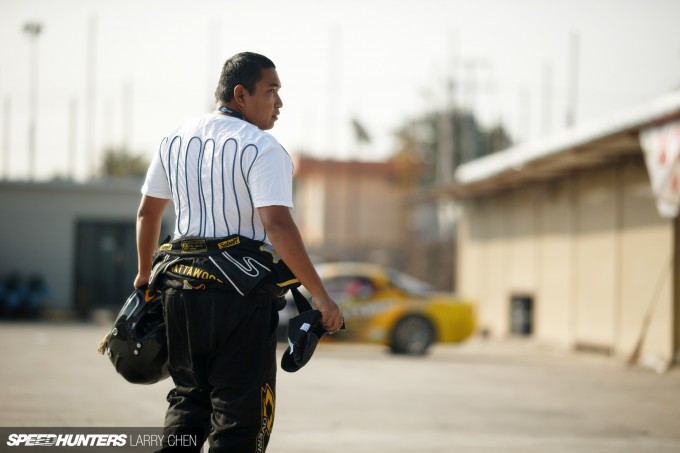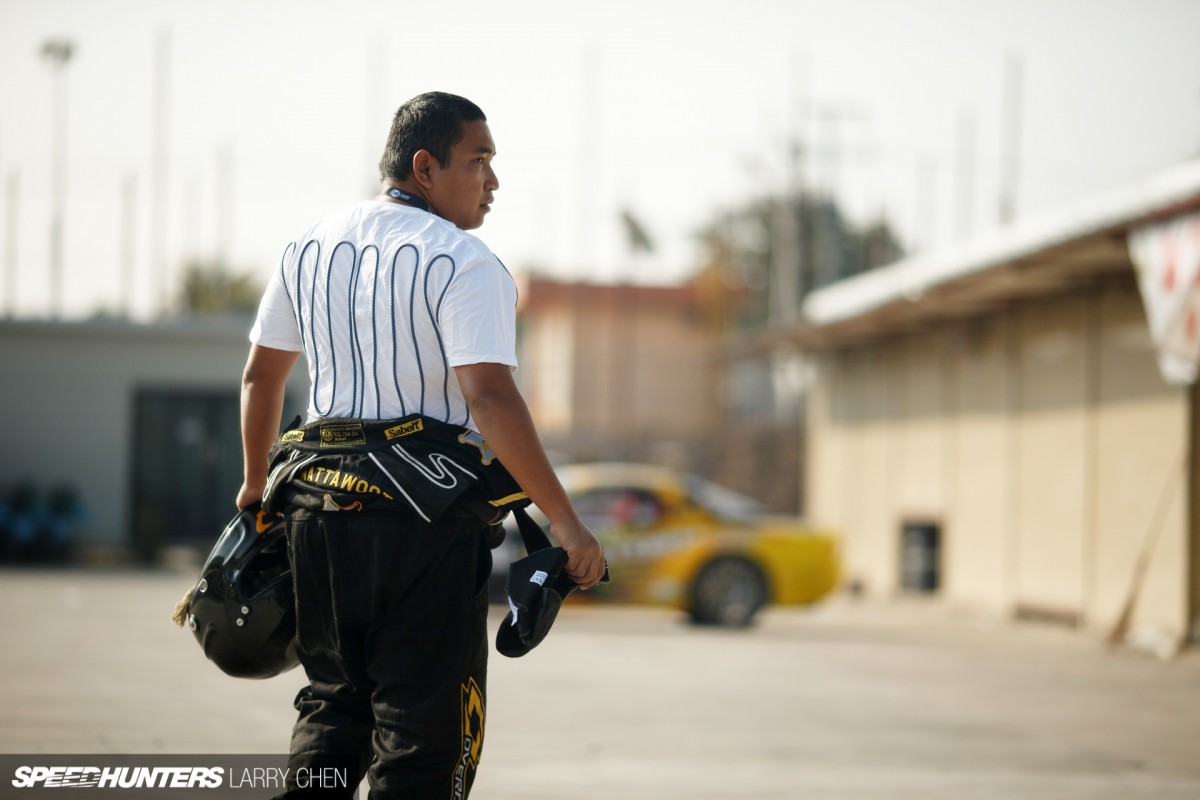 One by one, they put on their flight suits for battle and once again my imagination took over; I saw the drivers as fighter pilots, going into battle, walking to their jet planes in slow motion.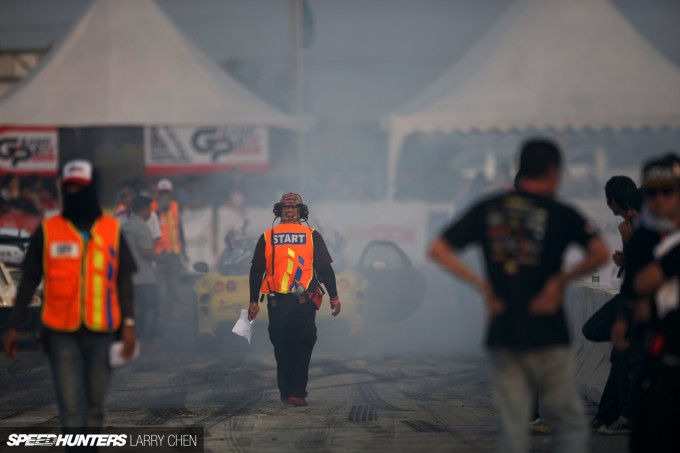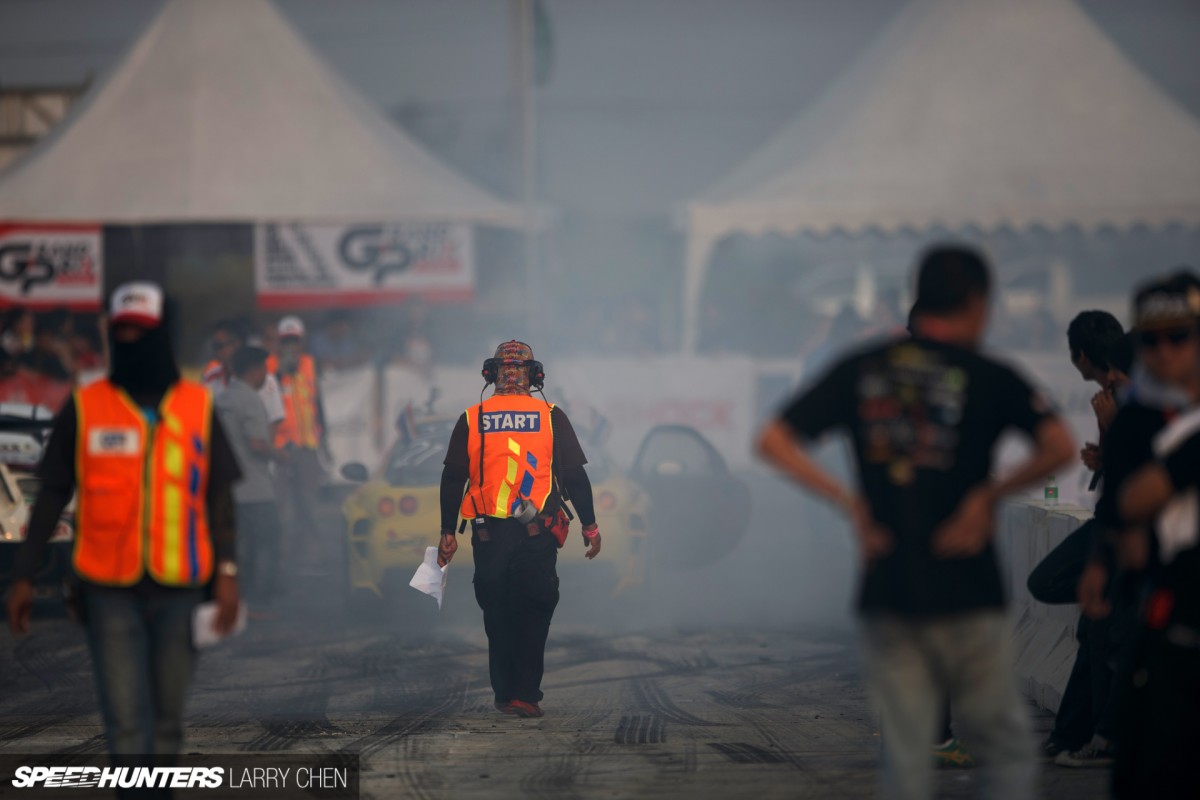 It was 1986 all over again and I was on the deck of an aircraft carrier. Highway To The Danger Zone was playing in my head.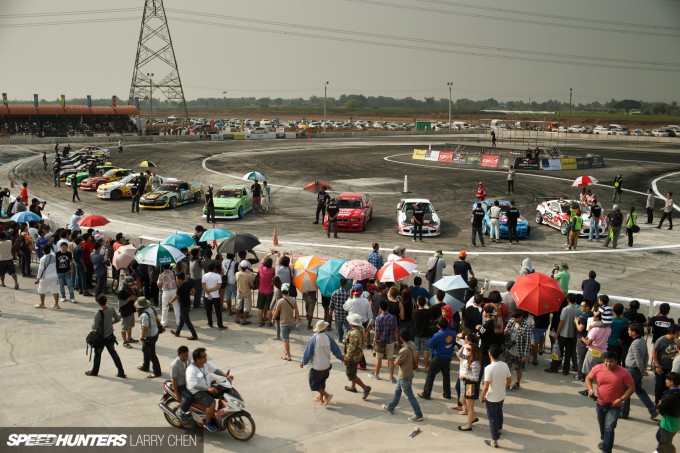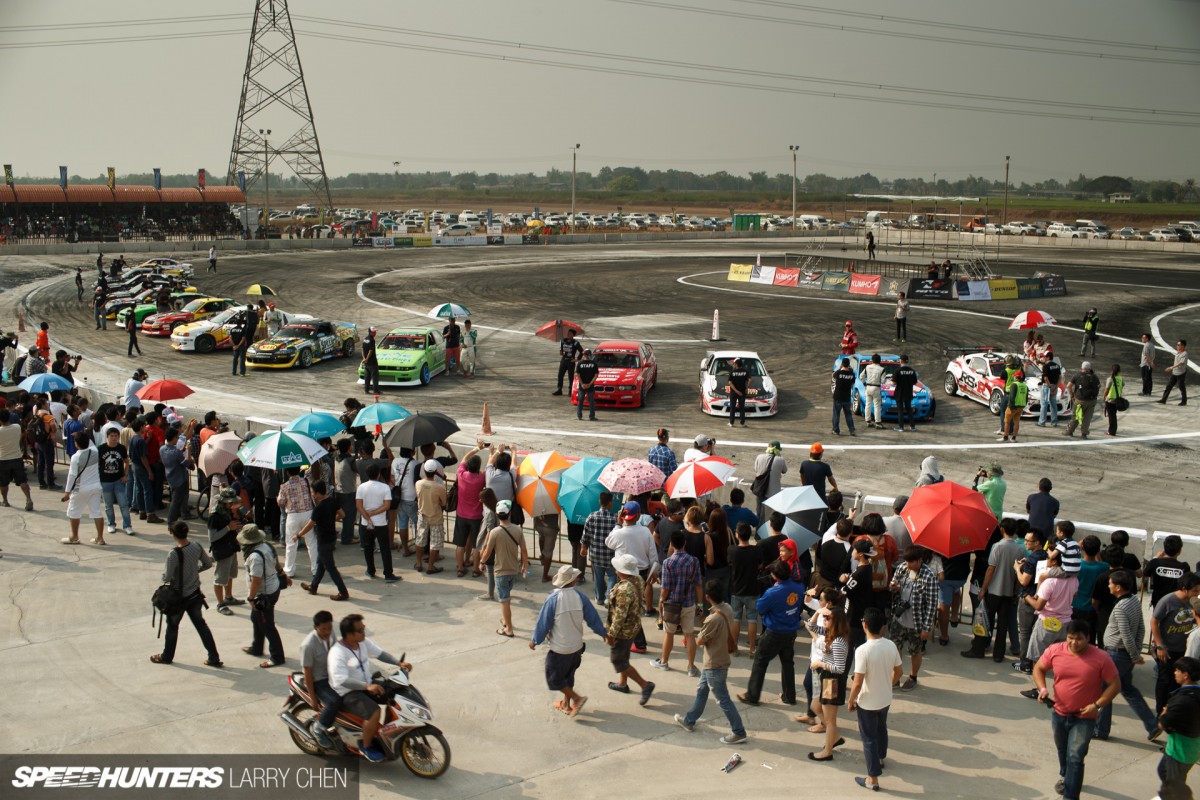 The crowd cheered as the cars rolled out for the top 16 introductions. The event was broadcast to millions of homes in Southeast Asia.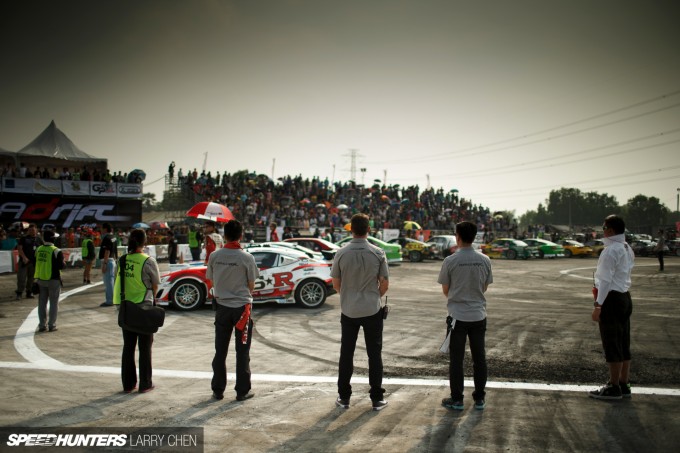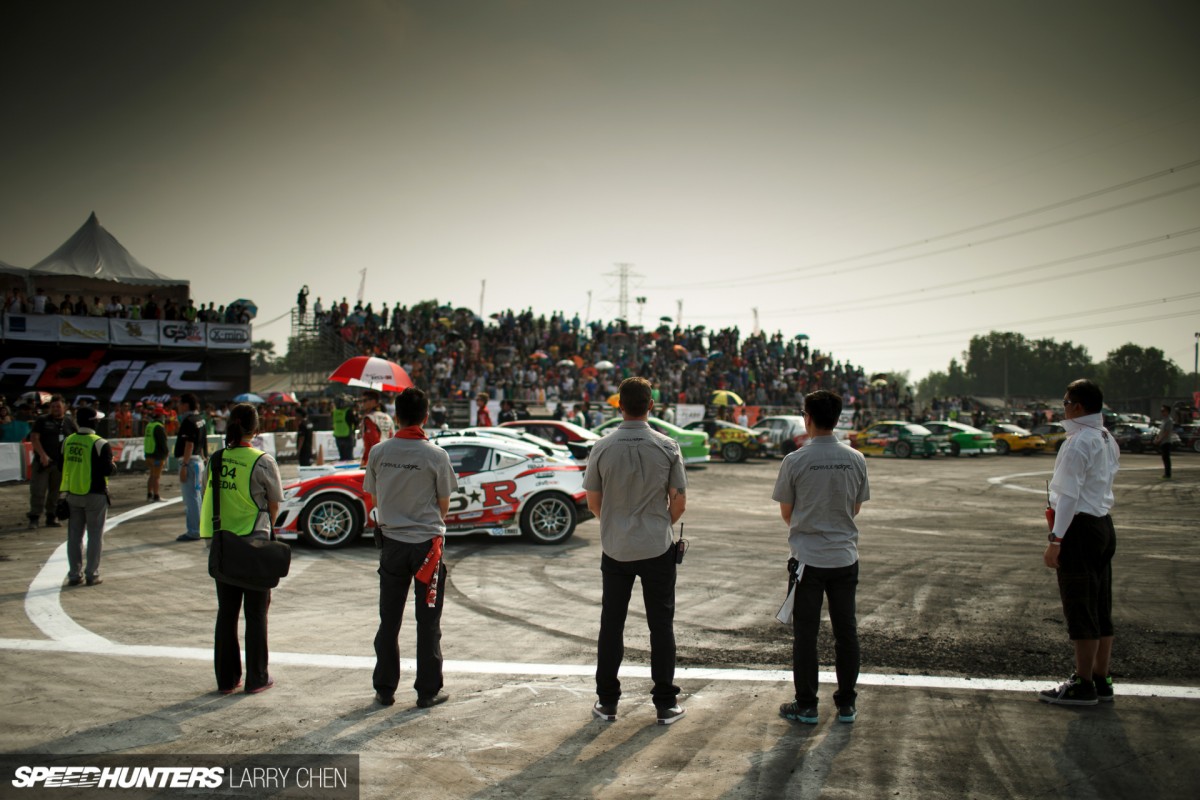 There was a somber mood within the FD Asia staff as they knew it was the last time they would be working behind the scenes.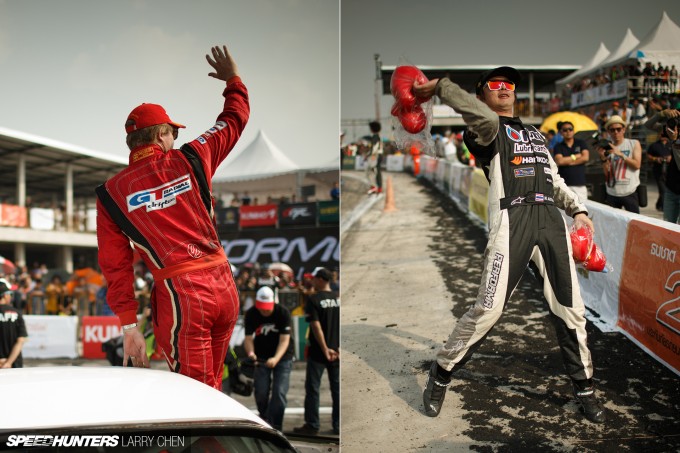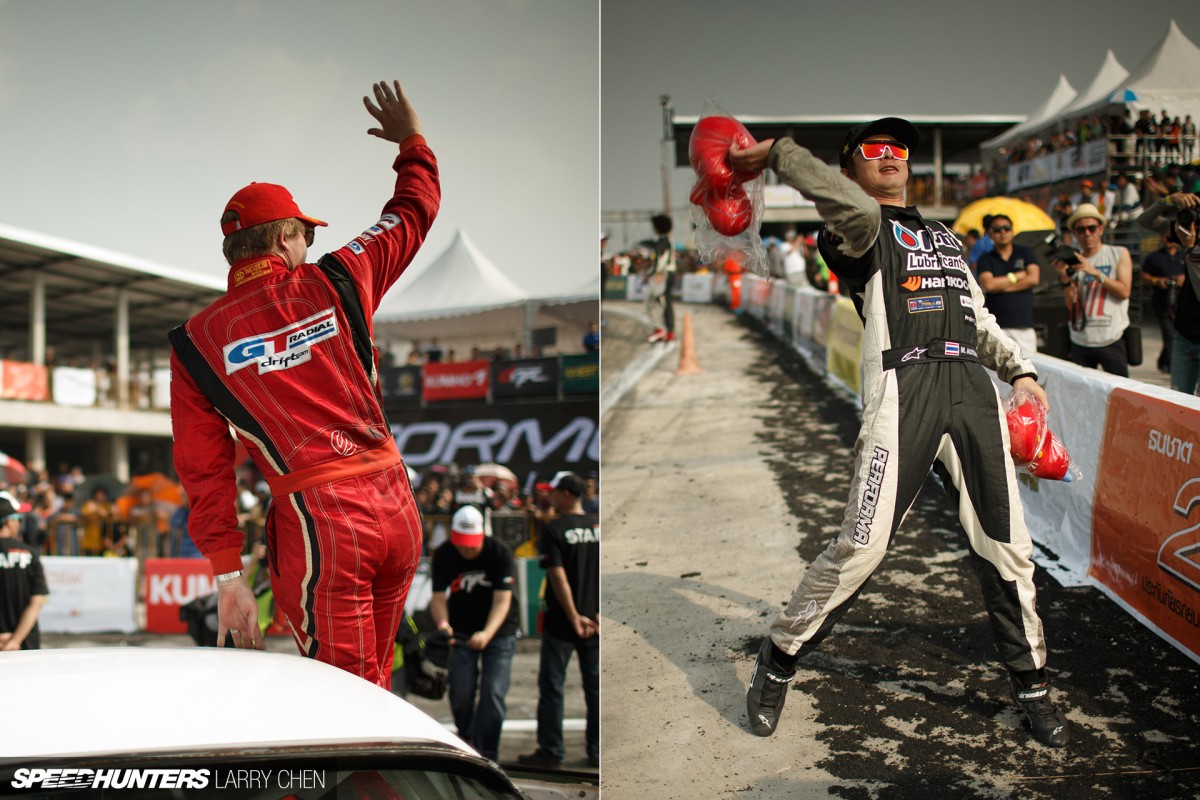 The drivers on the other hand were ecstatic. They had every right to be as they were the stars of the show.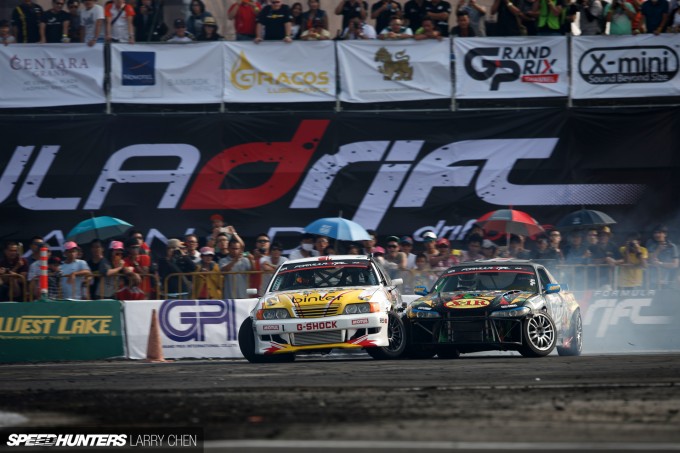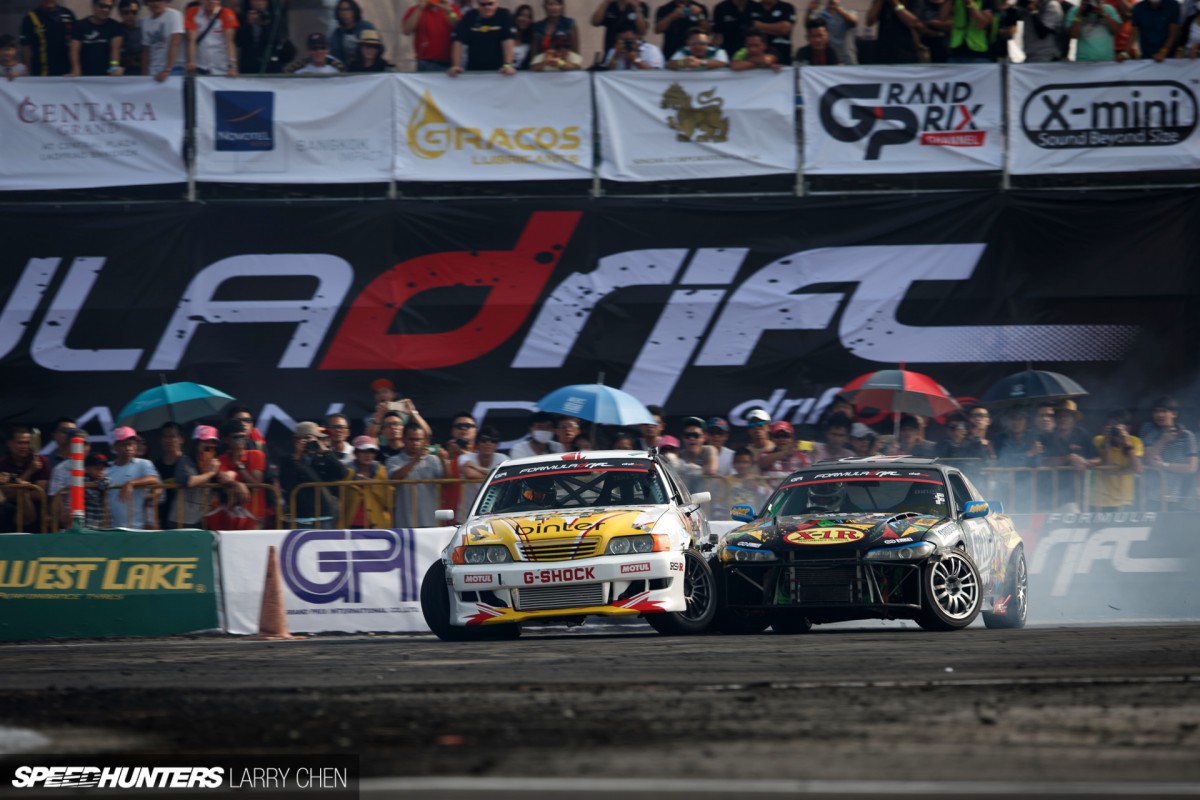 The battles were really intense right off the bat and I wanted to touch on a few key ones that really stood out to me. Djan gave Ken Gushi a few rubber stripes on the side of his door after he spun out on his lead run.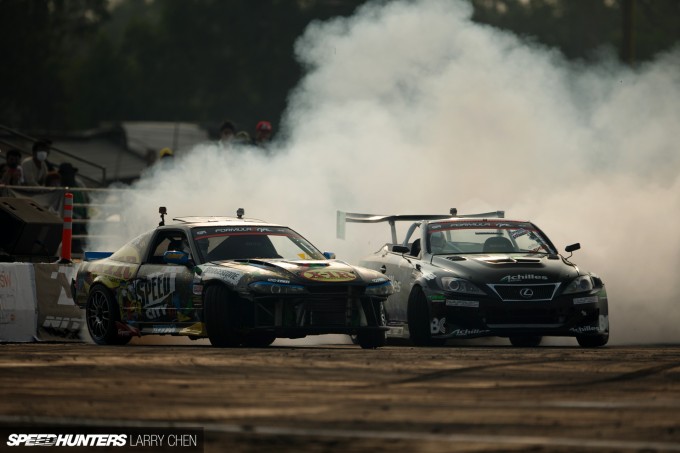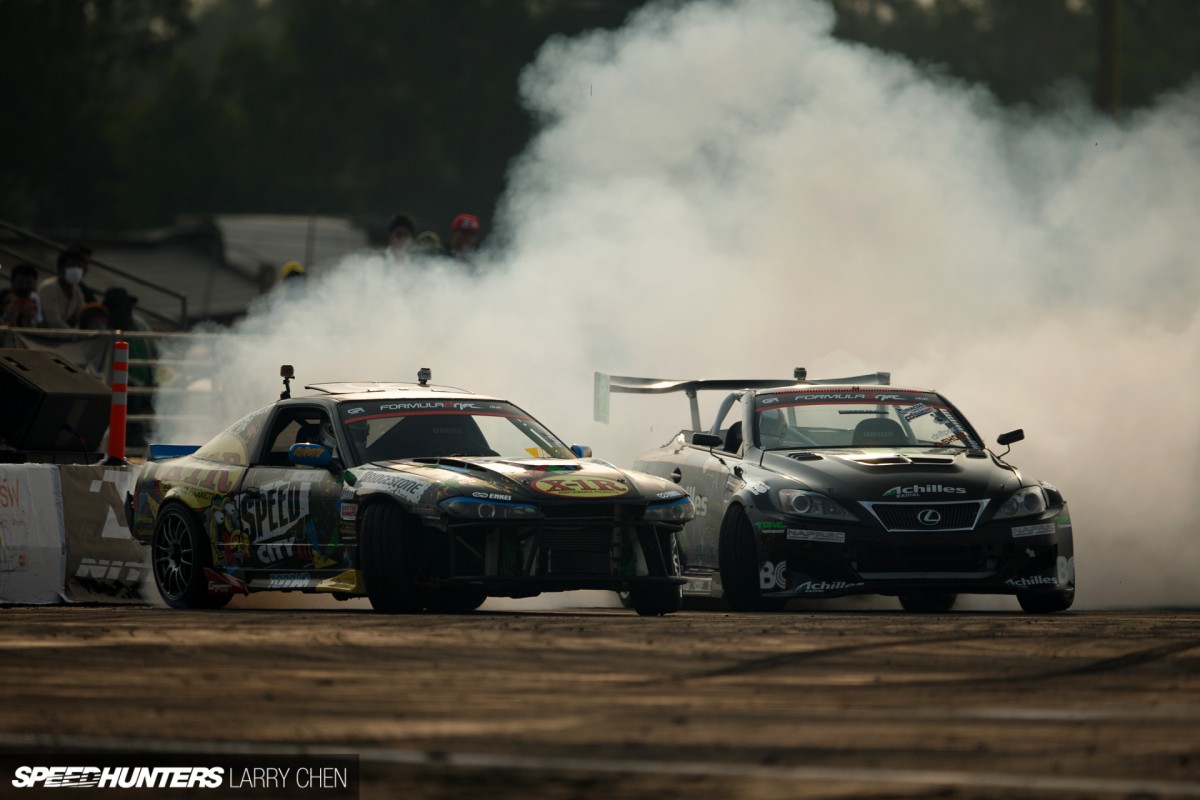 His aggressive style worked and he ended up moving on after a One More Time battle with Ken Gushi. Although he was promptly knocked out by none other than Daigo Saito.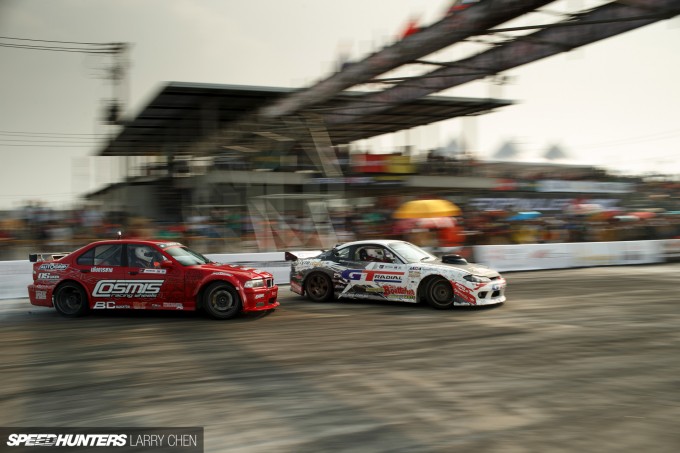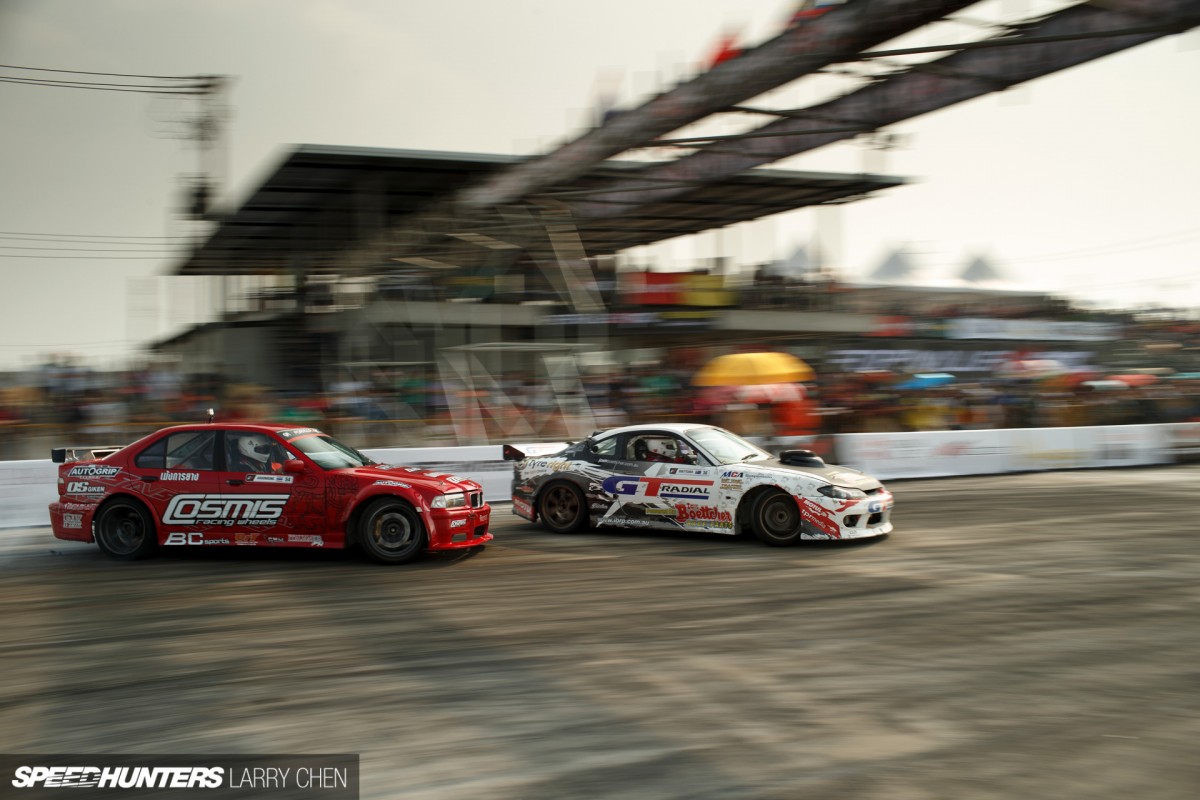 Going against Josh Boettcher was local Thai drifter, Ju Somchai, in his four door BMW E36. Of course the BMW was powered by a 2JZ putting down almost 700hp, which was no match for Josh in his S15.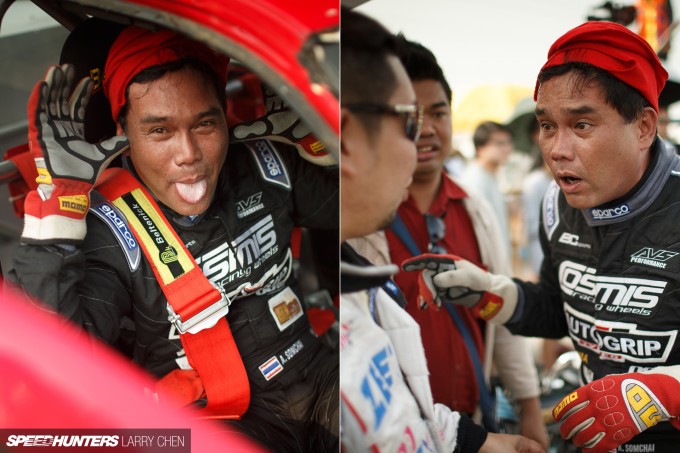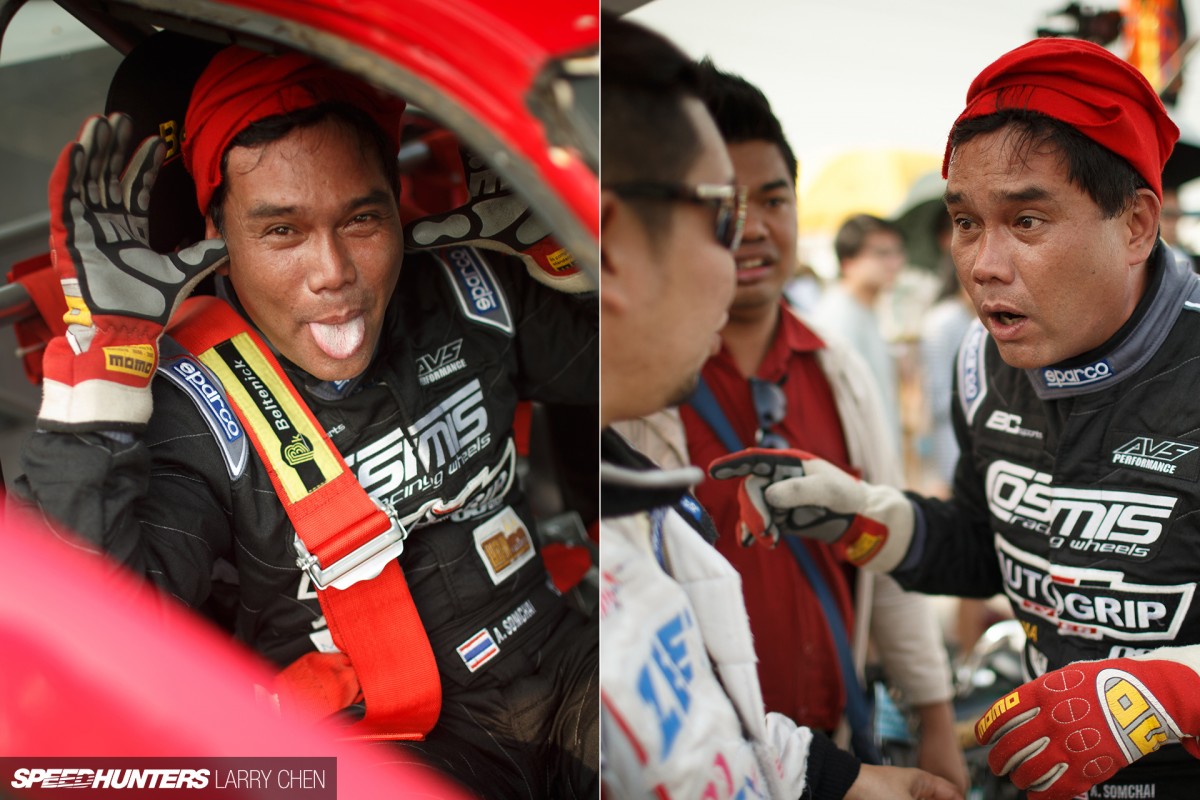 Ju was so happy to move on, as he's been a part of the Thai drift scene since day one. He's earned a few podiums over the years as well.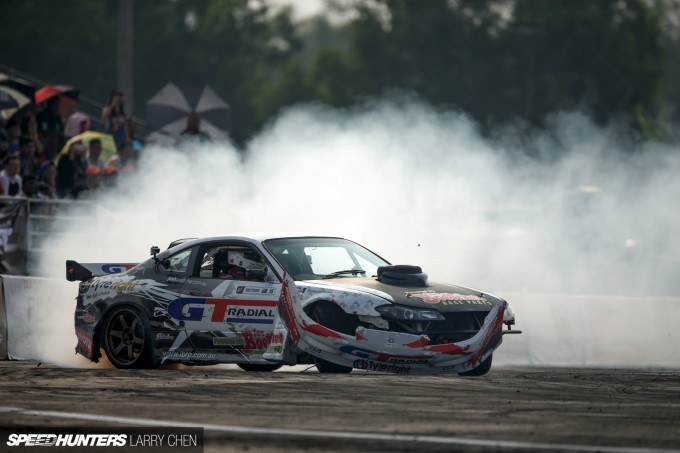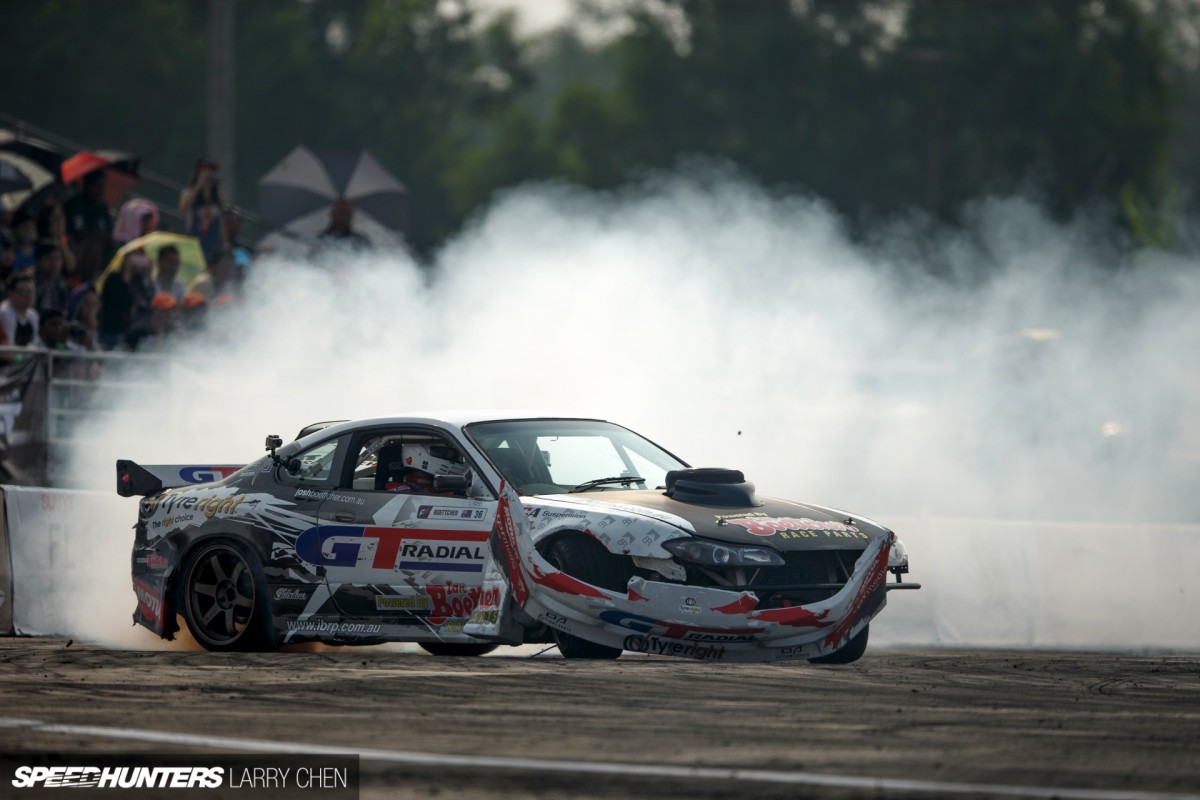 Josh has not had such good luck this season, but he still managed to get enough points to secure a third place finish in the overall standings for 2013.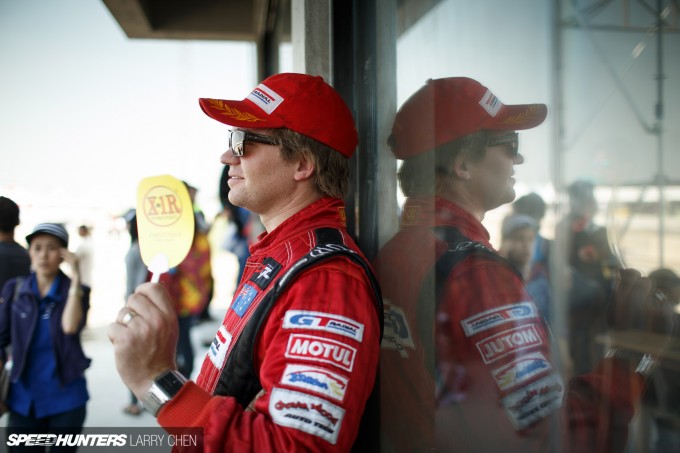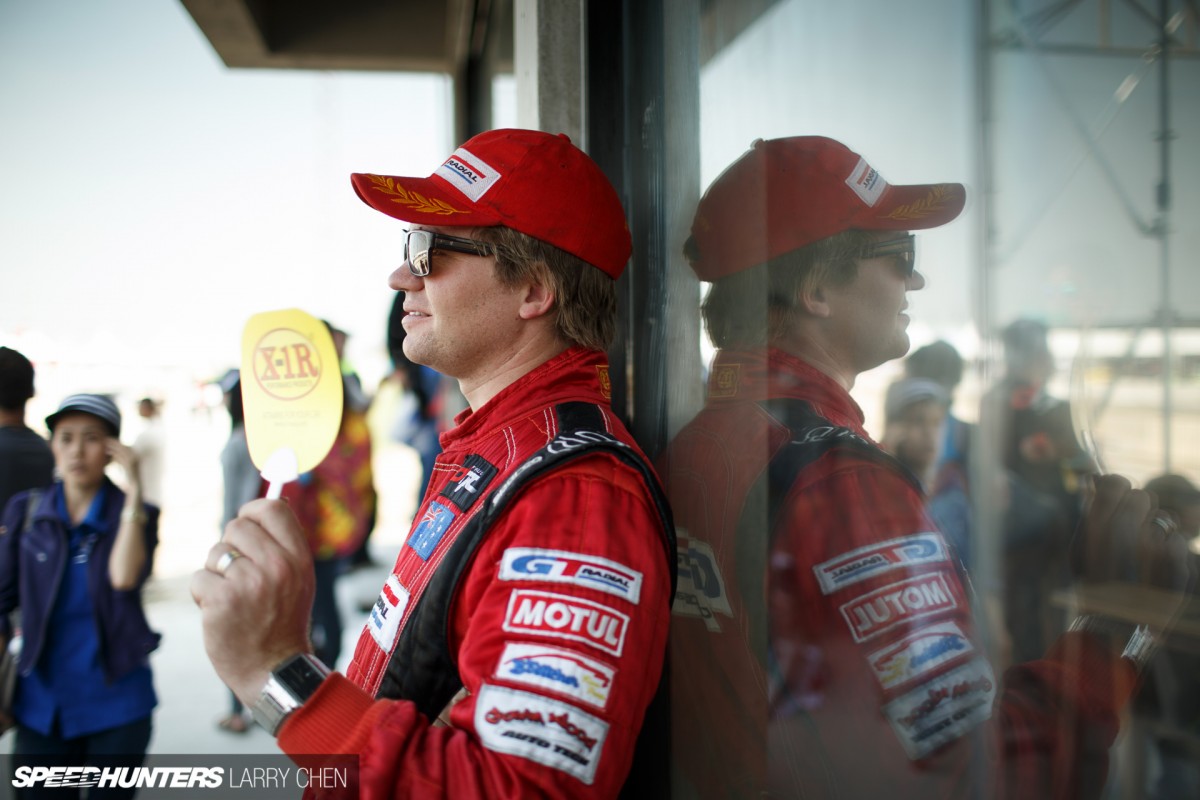 Hopefully he'll be back for the rest of the 2014 season, but it won't be easy as he finished in ninth position in Thailand.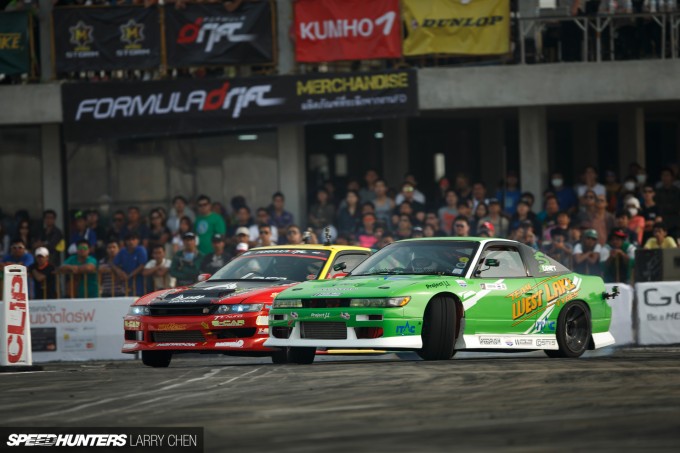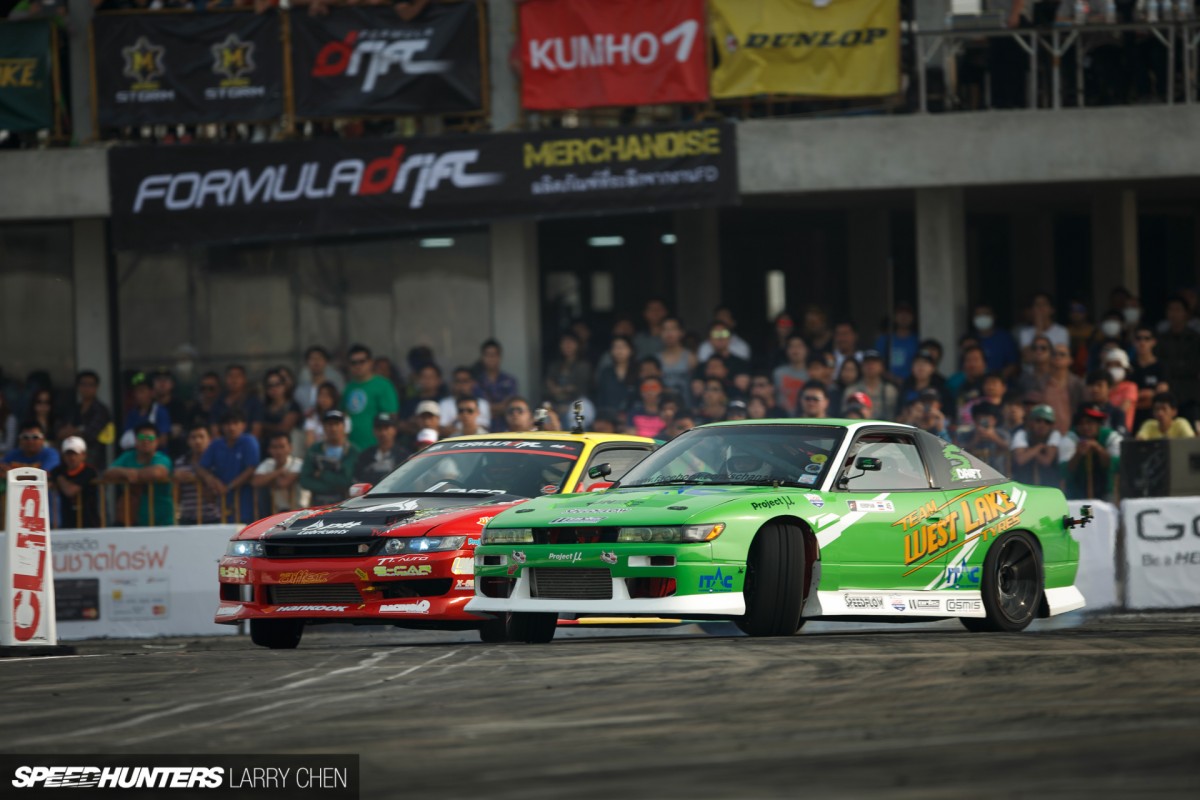 There were quite a few all-star Thai battles, including the one between Chanatpon Kerdpiam, also known as 'S' Westlake, and Davide Dorigo in the rasta-inspired car.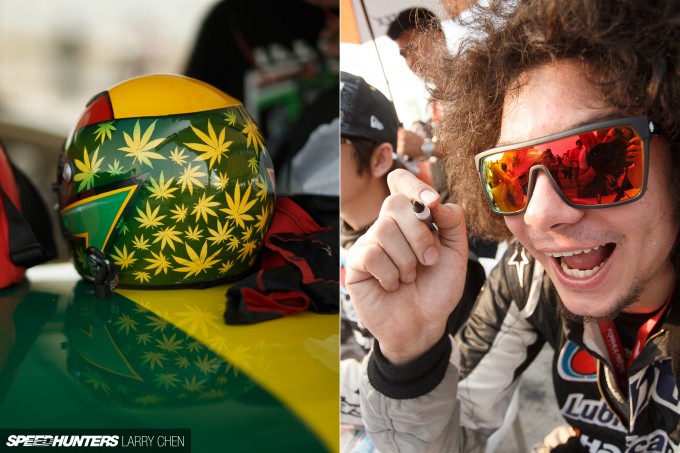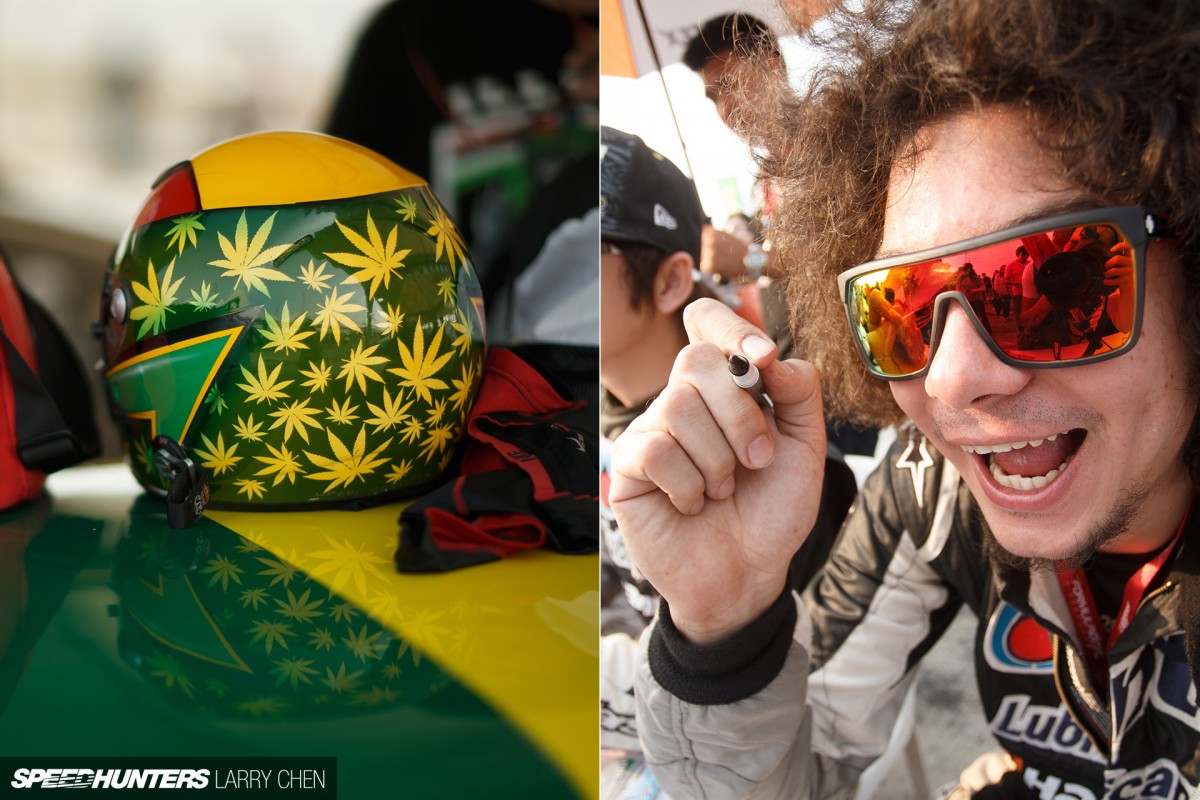 Davide has a certain personal style that really stood out, and his driving was absolutely amazing. He knocked out 'S' Westlake with ease.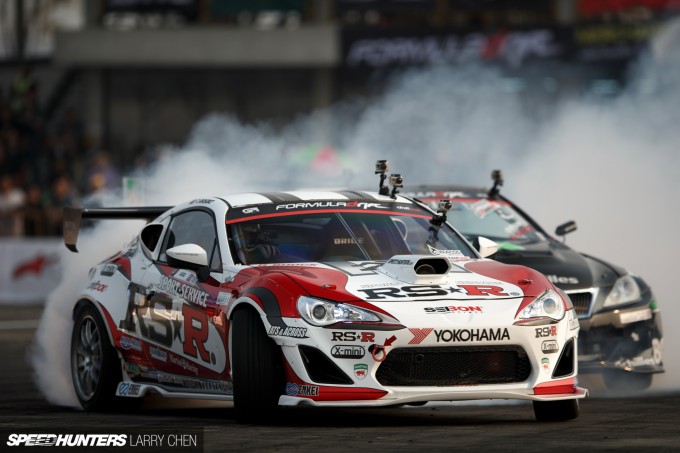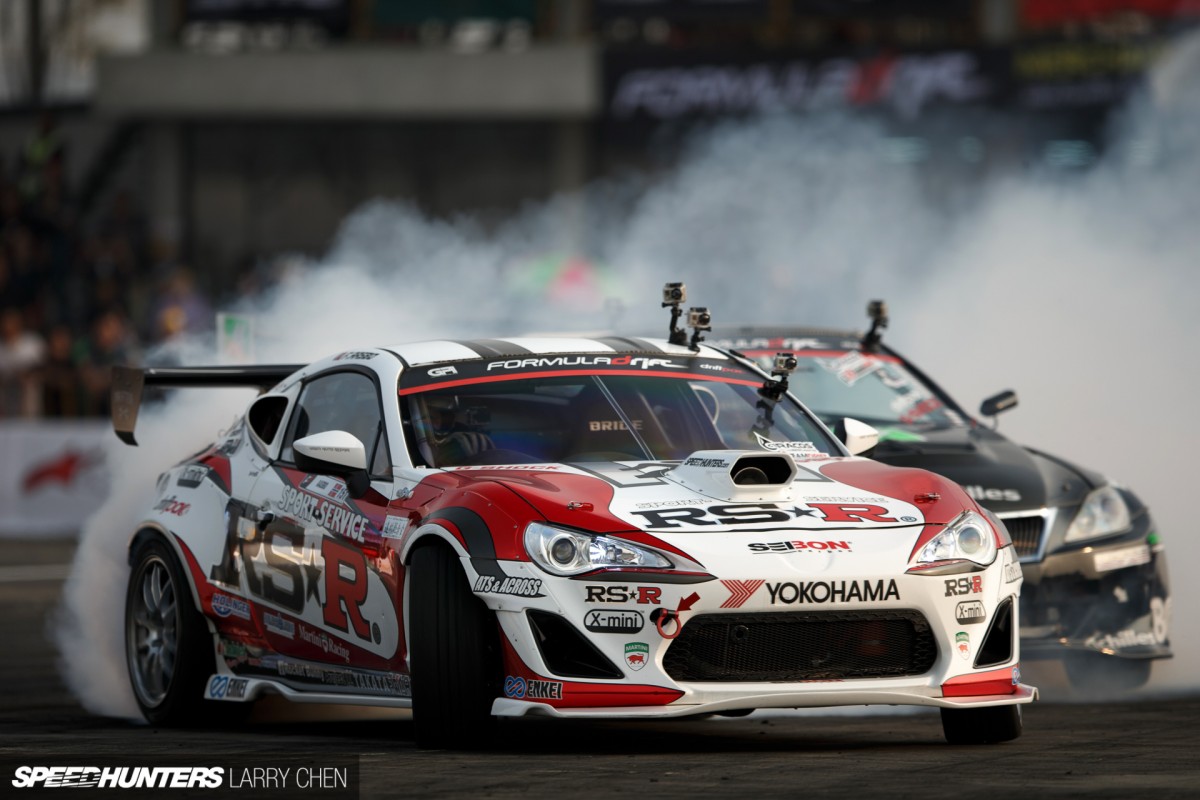 It's funny, because I always hear that Fredric Aasbø is Daigo Saito's kryptonite, and this time it seemed like it was definitely the case. Of course, these two buddies are always going back and forth.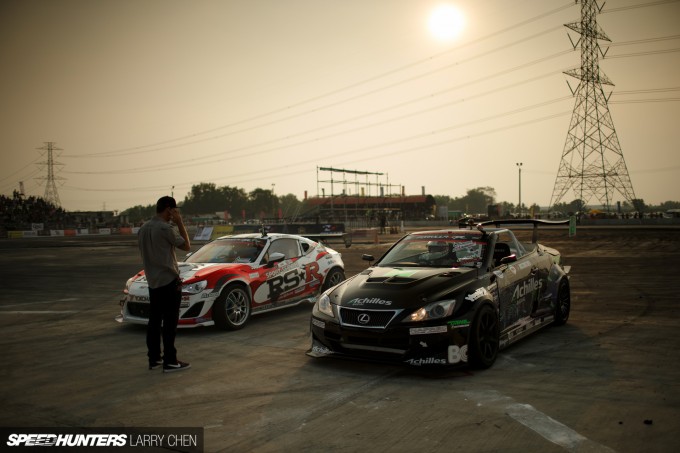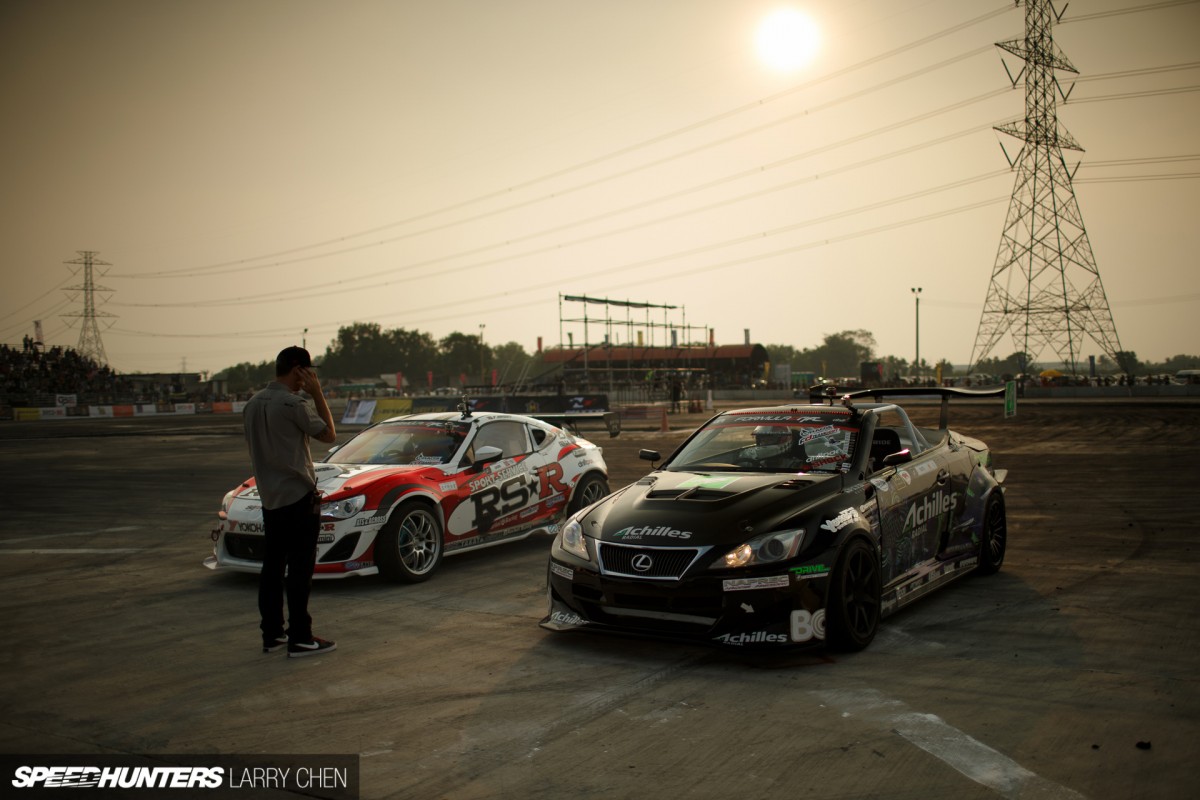 Fredric owed him one, but even though Daigo was a bit under the weather, he still battled hard. But of course, Fredric came out on top.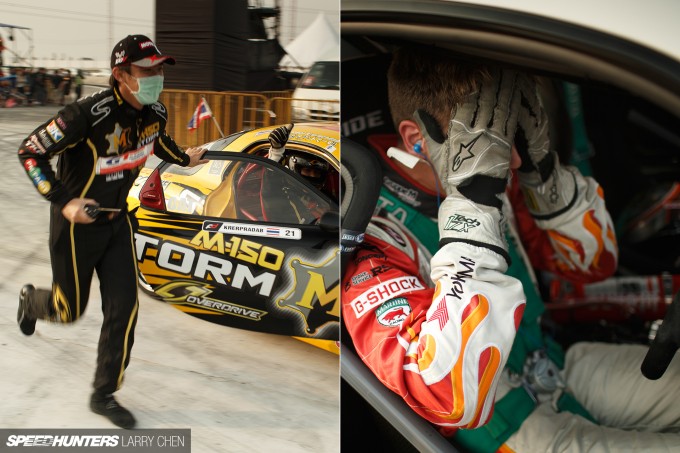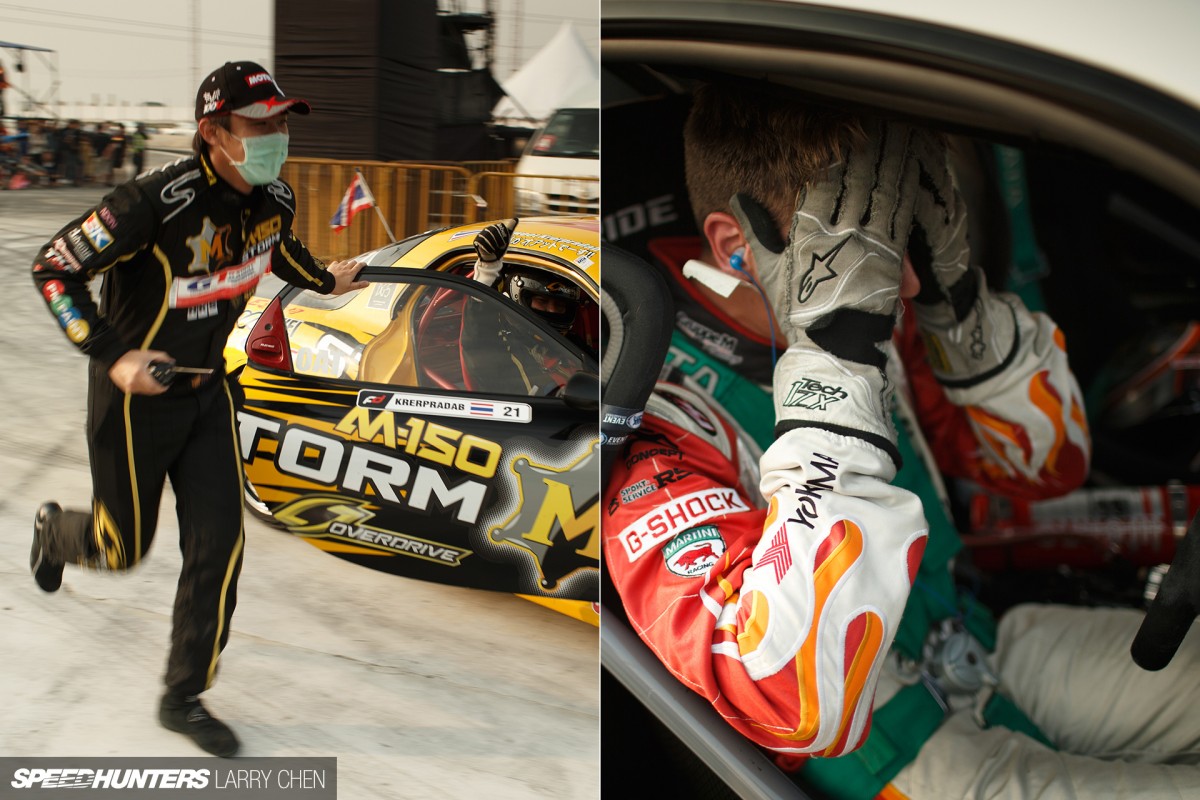 All at the same time, the other side of the bracket was still shaping up. Fredric had no idea who he was going to be up against.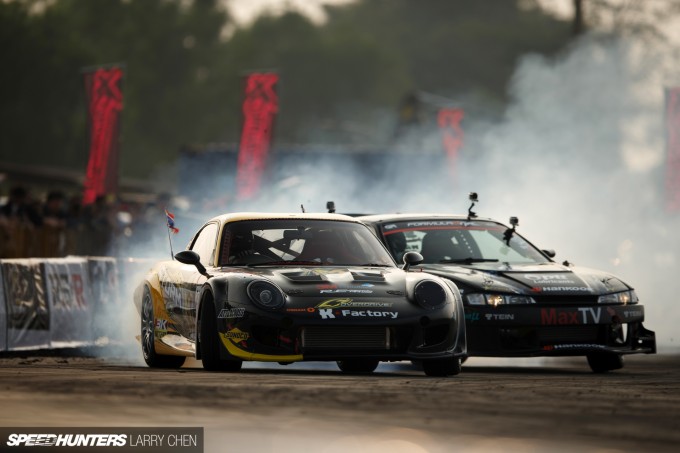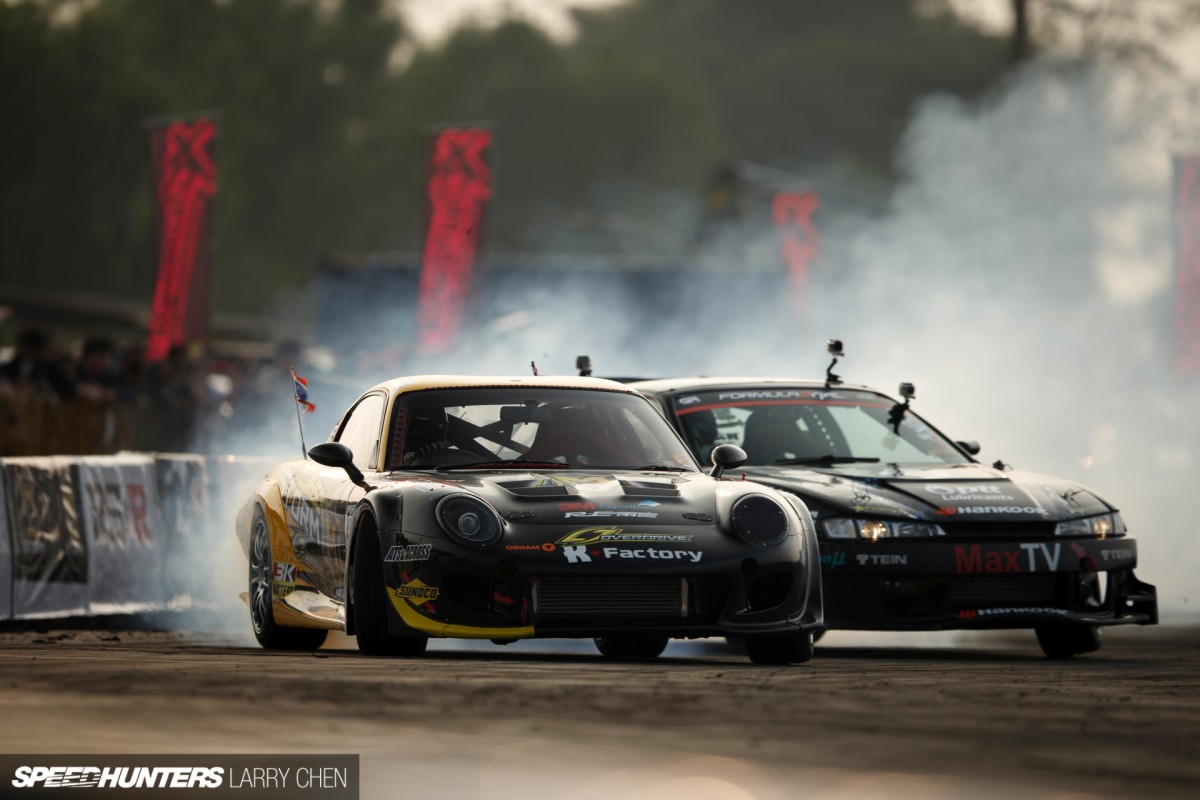 Oat, in his 20B-powered FD RX-7, was slowing clawing away at his opponents. He was getting one One More Time battle after another. He honestly had so much seat time from that.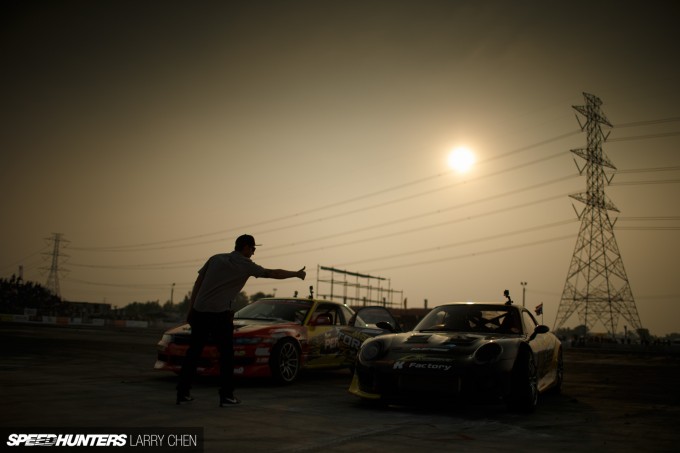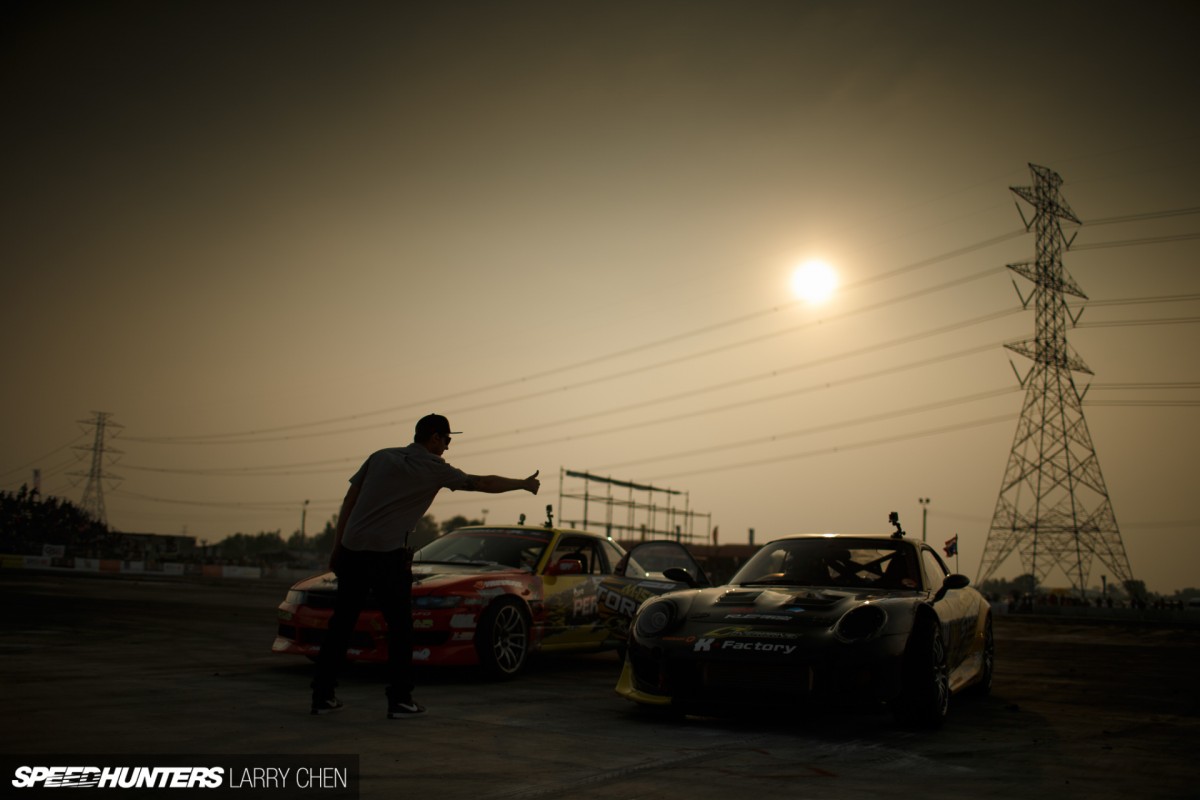 Oat beat out Davide for a spot in the finals with the Norwegian hammer in the top four.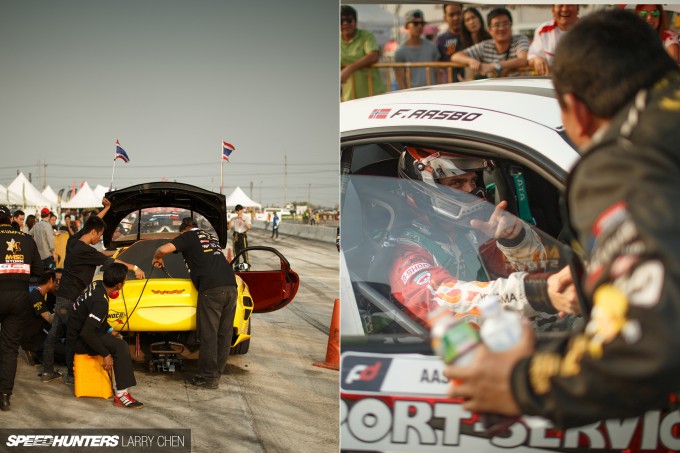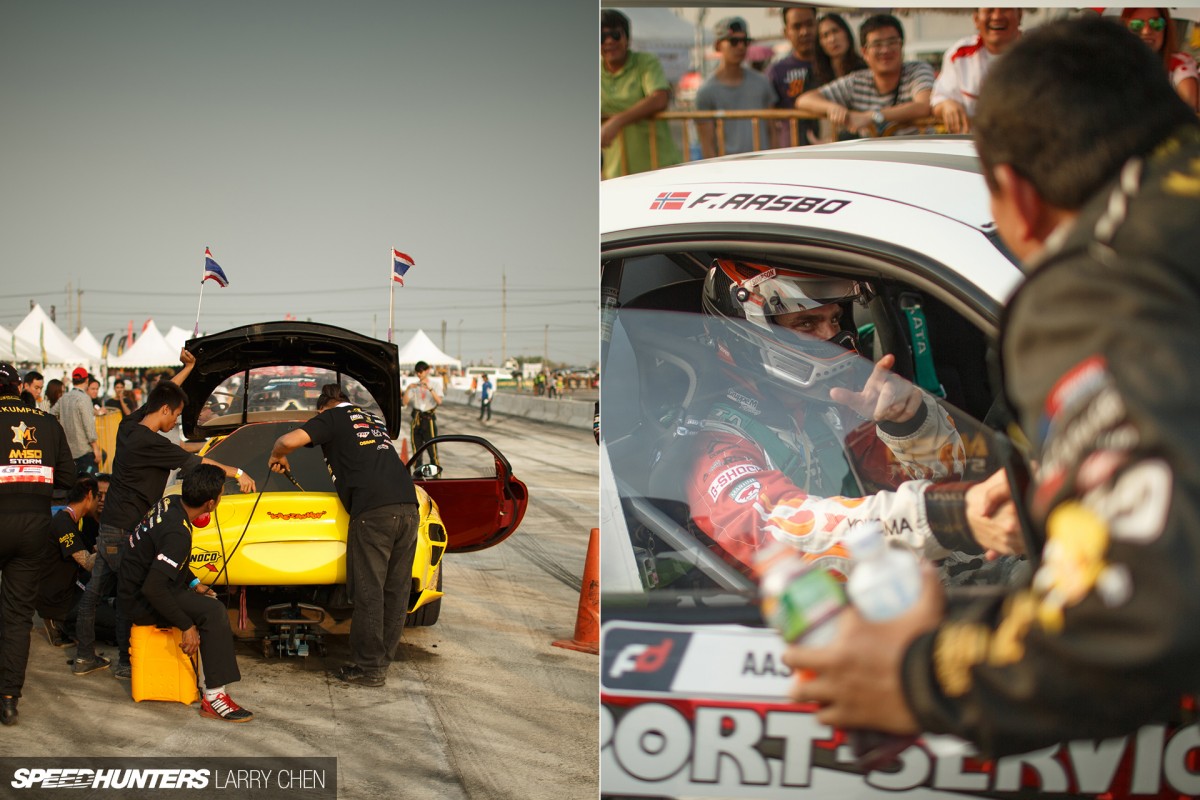 Because of all of those back to back battles, Oat's car was in dire need of attention. He quietly walked over to Fredric, and jokingly asked him to take it easy on him and to wait for him to catch up down the straightaway.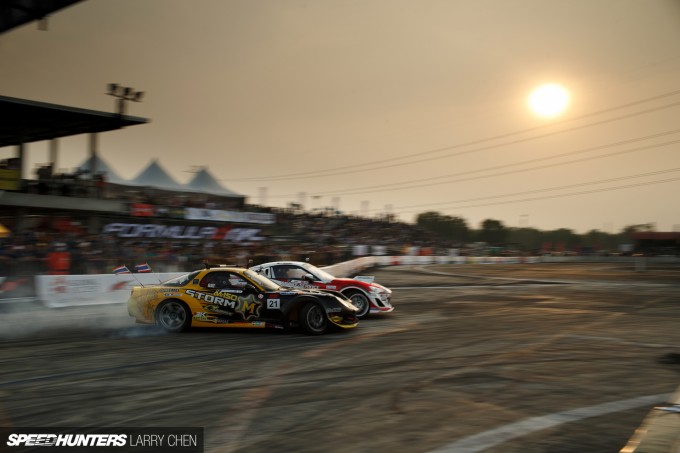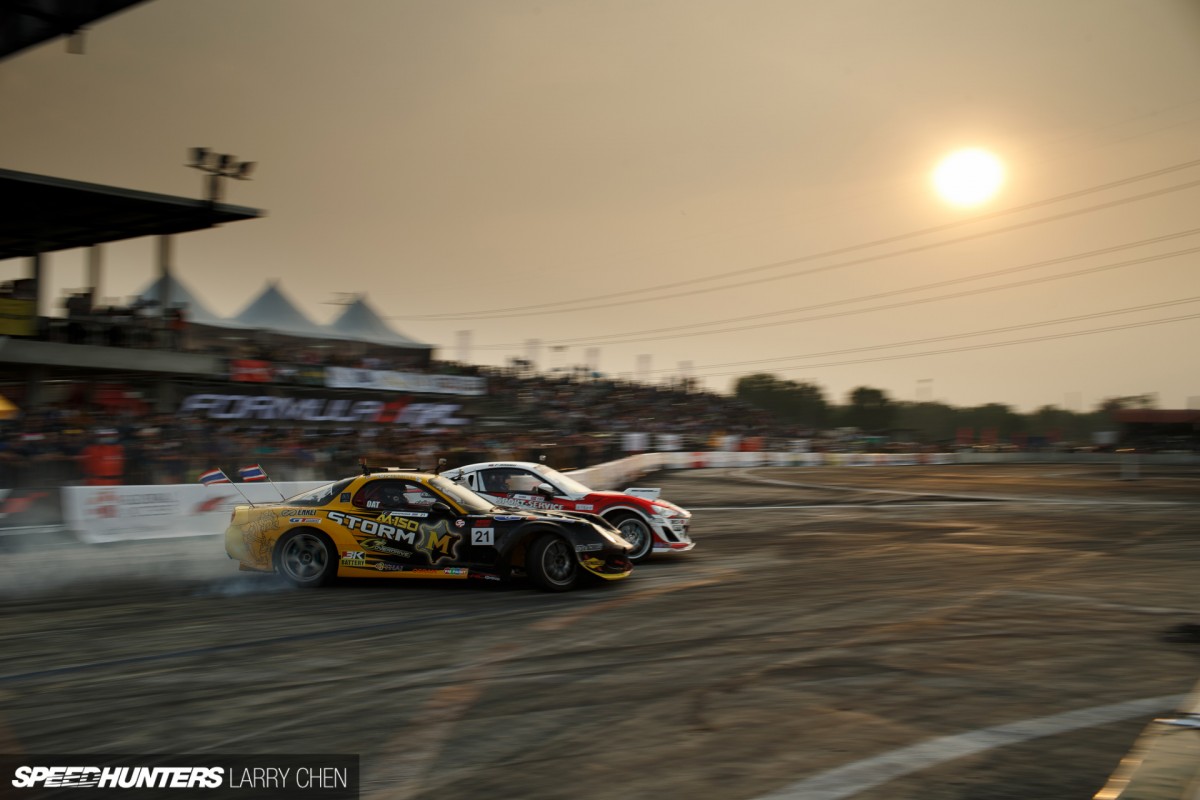 Just like that, it was the final battle. After hundreds of runs and thousands of man hours of work, it came down to one single battle. It was beautiful; both cars entered at the same time, and the sun just hung right over the two titans as they battled for drifting glory.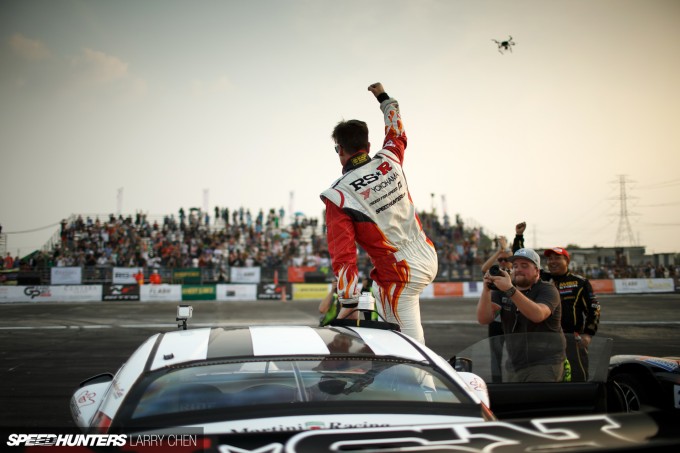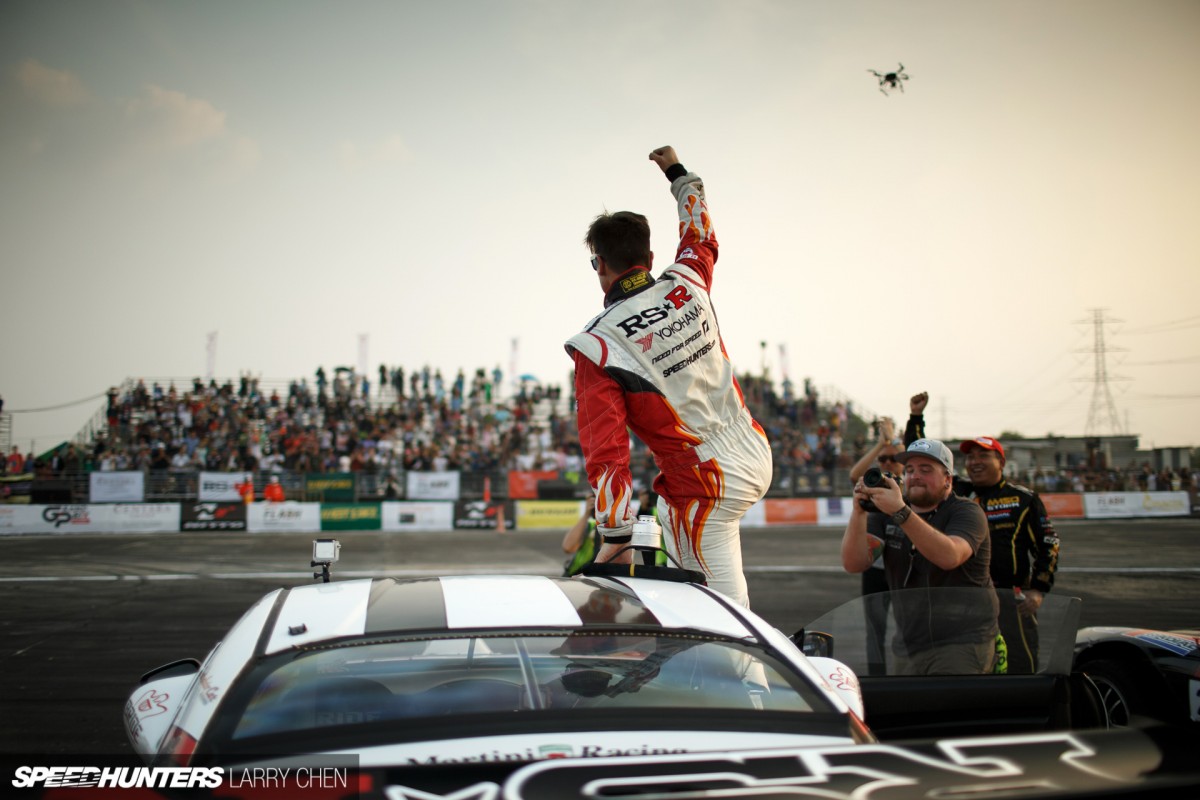 Fredric won his very first official championship event. A perfect score of 112 points. Something only a few drivers have done in Formula Drift history.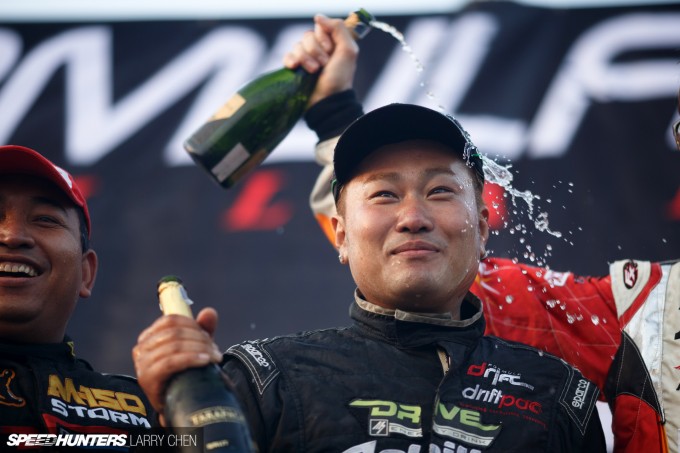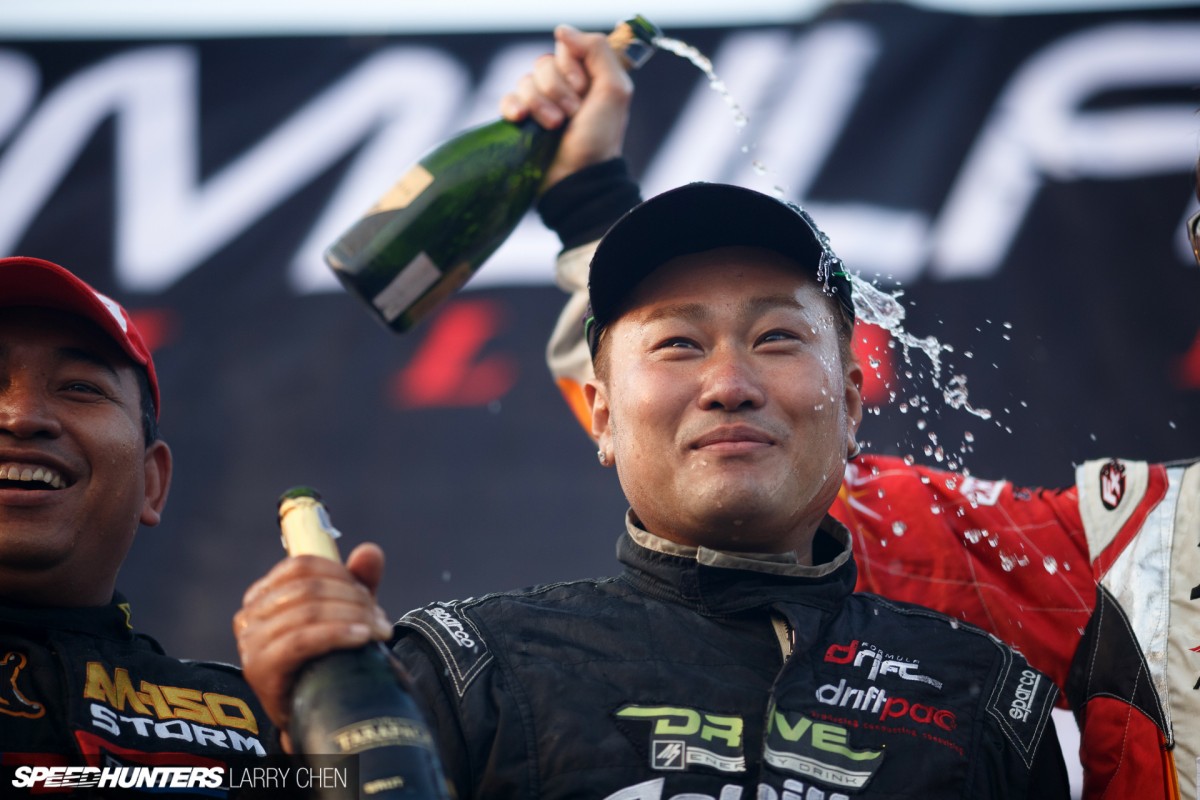 Of course the man of the hour was Daigo Saito, getting another championship under his belt, but he was not very happy with his performance that day. He wanted to win badly, but I guess that's just the nature of the beast that is Daigo Saito.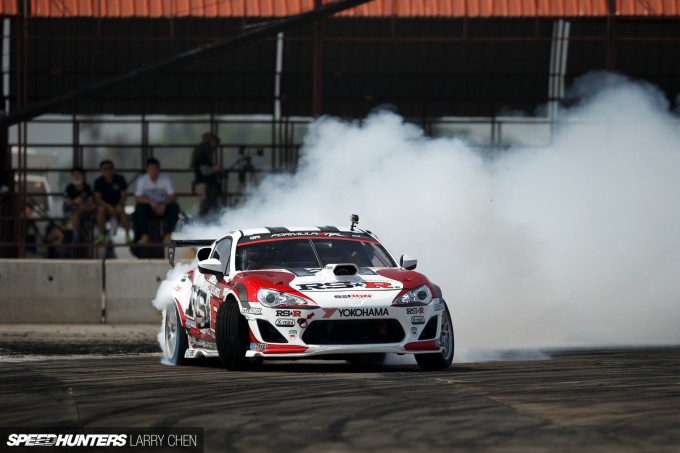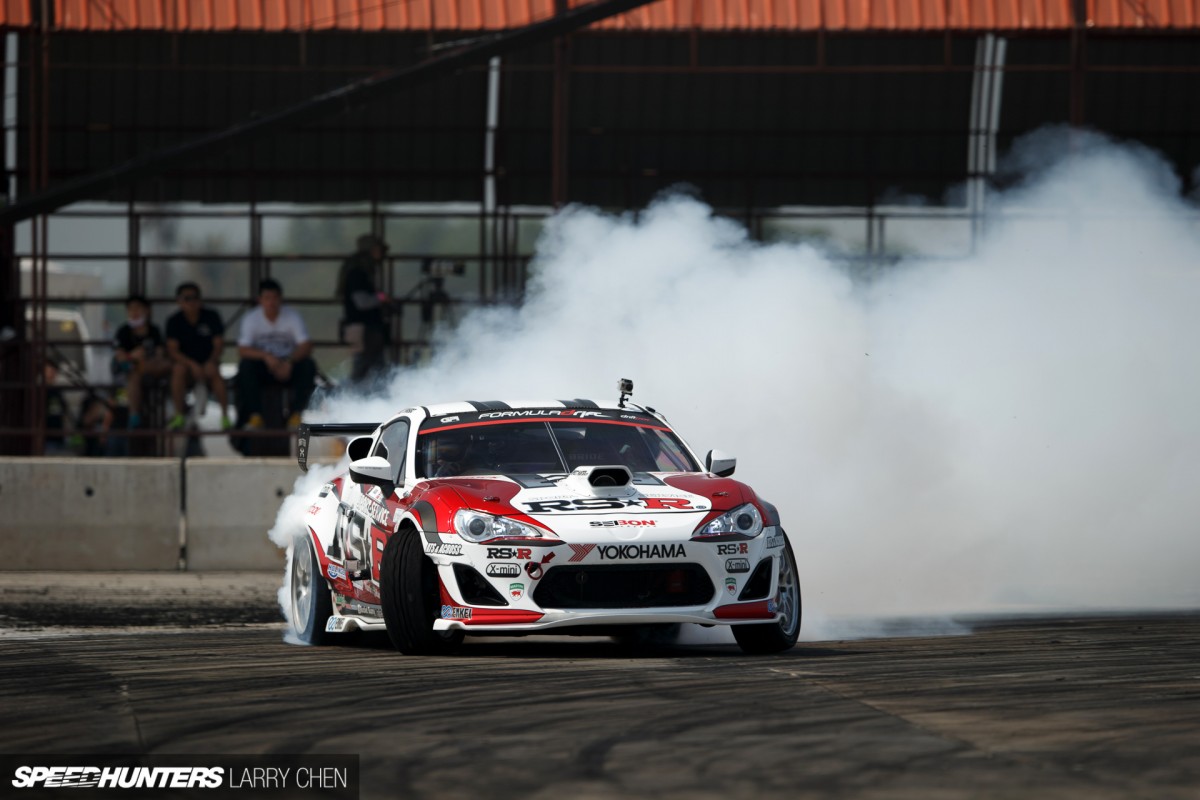 Fredric has a great head start to the 2014 season and who knows, he could very well earn two championships in one year if everything goes perfectly. You can bet that I'll be rooting for him the entire way…