The heavy hitters
Surprisingly, I've never done a spotlight-o-rama at a drift event, so I figured it would be a good idea to kick off the year right with a quick look at some of the cars competing in Formula Drift Asia.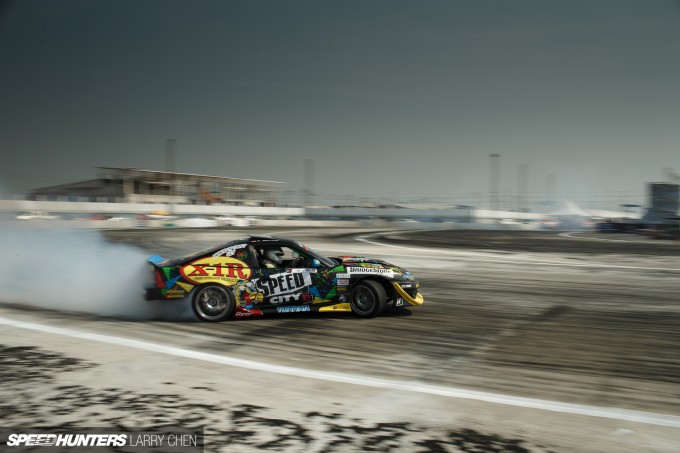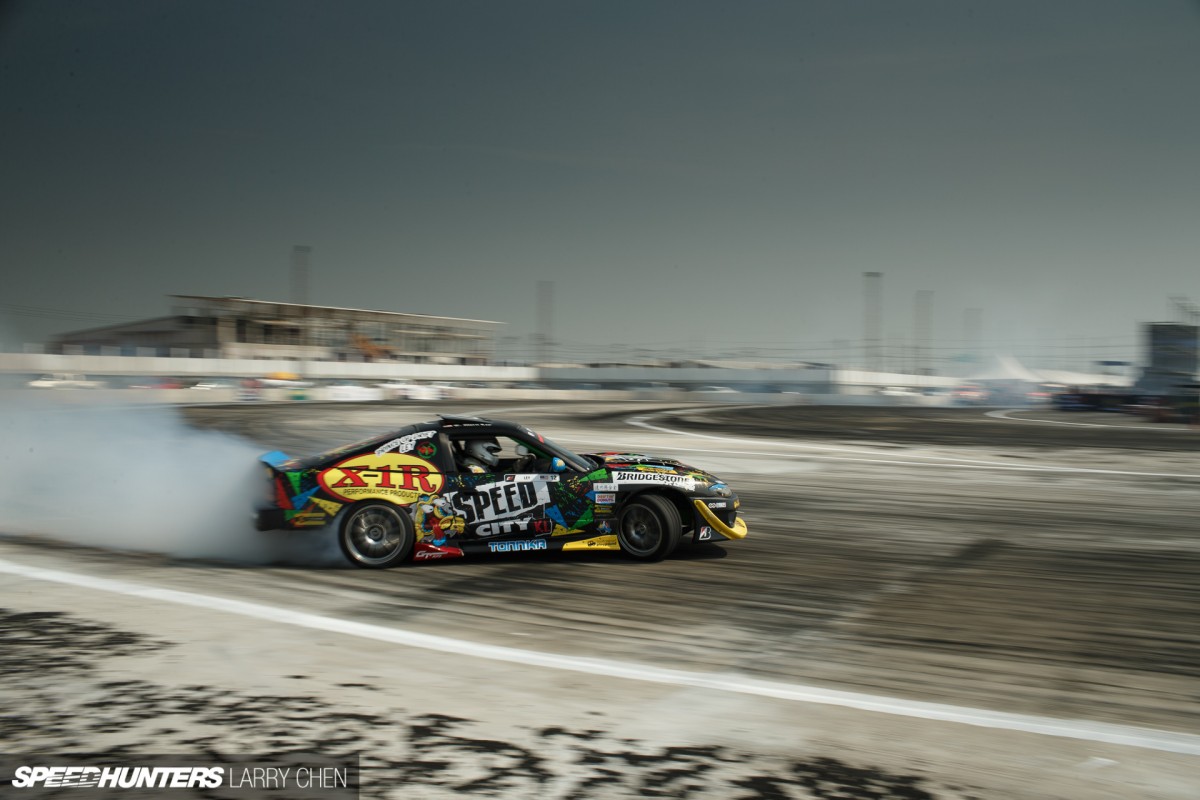 I wanted to start out with one of my favorite cars on the FD Asia grid driven by the 'Prince of Drift', Tengku Djan Ley.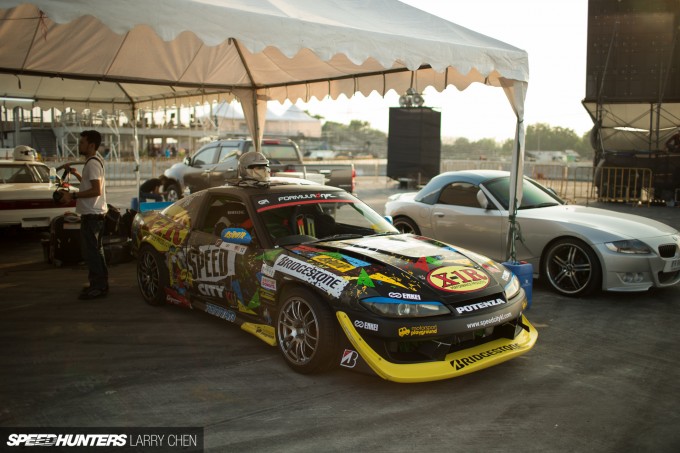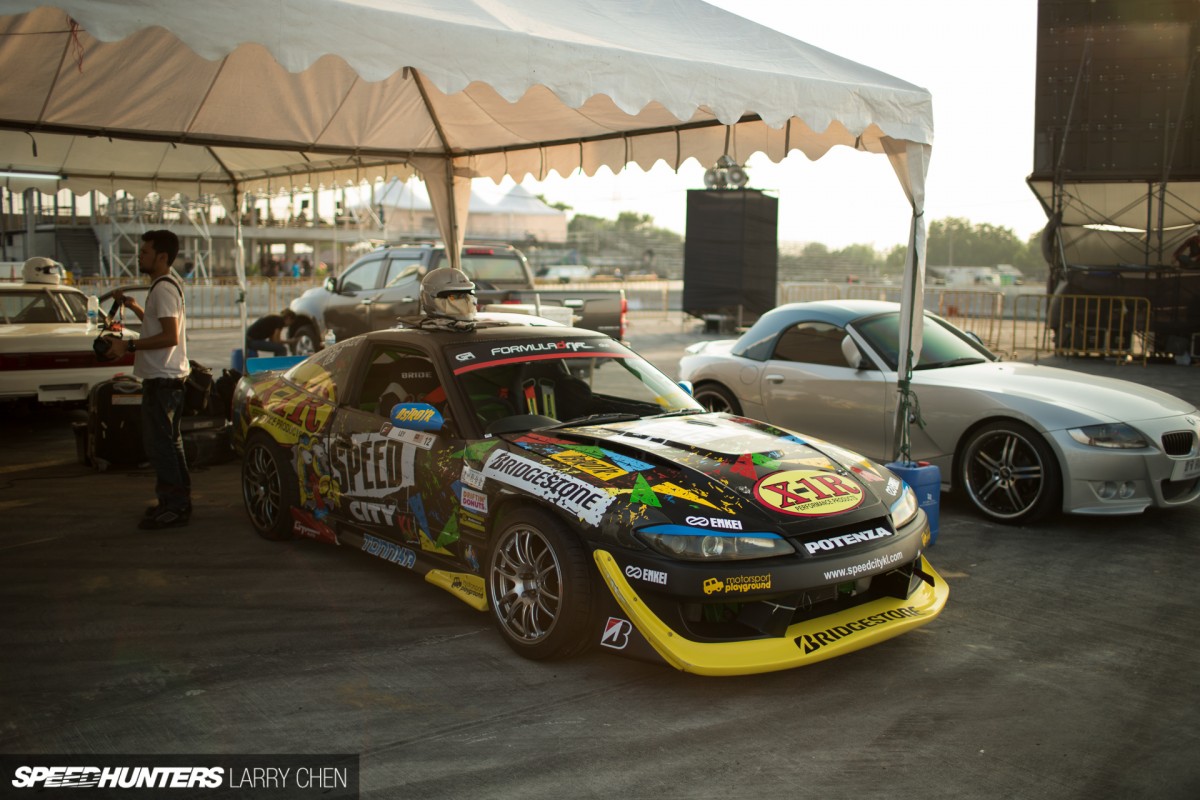 Djan actually started off drifting in an AE86, and he quickly maxed out the power potential of the 4AGE at 250hp. Knowing that he would have to move on to another chassis in order to be more competitive, he found an S13 to his liking.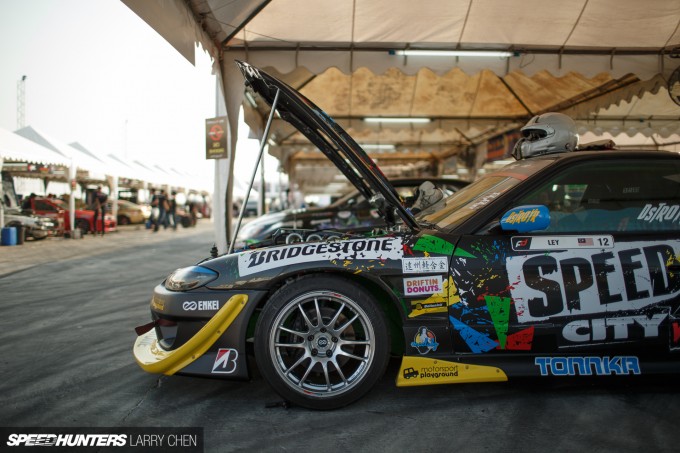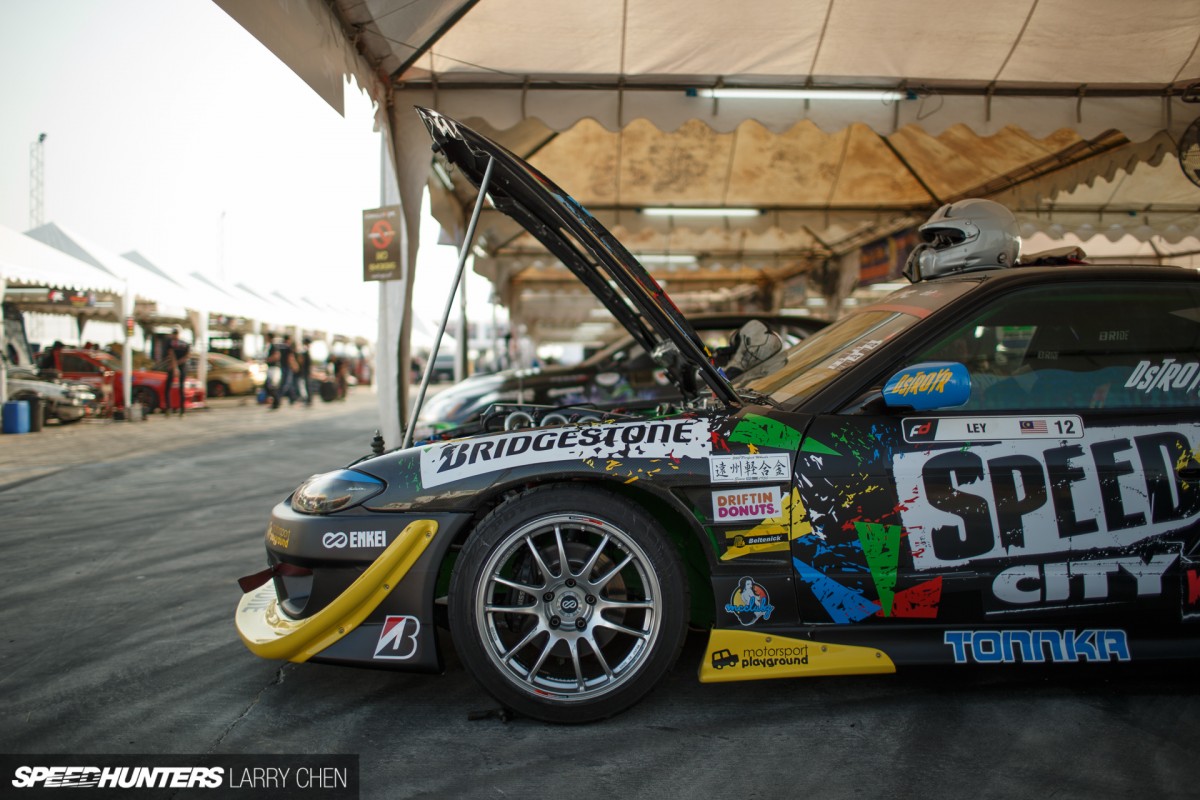 The problem with the S13 and a built SR22DET was the turbo lag; it was something that he had to get used to and he had to relearn how to drift in it.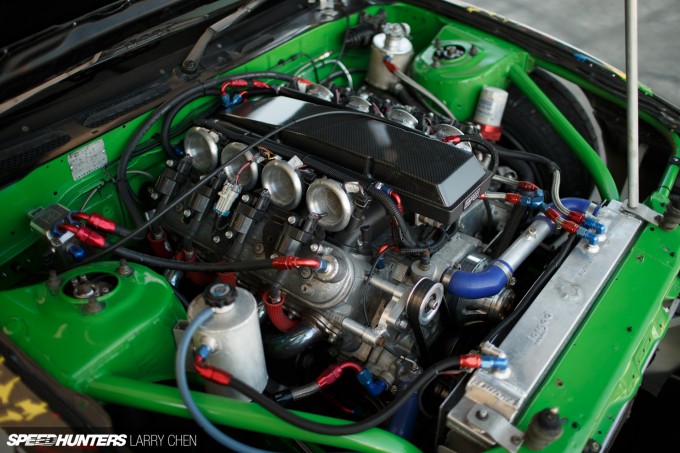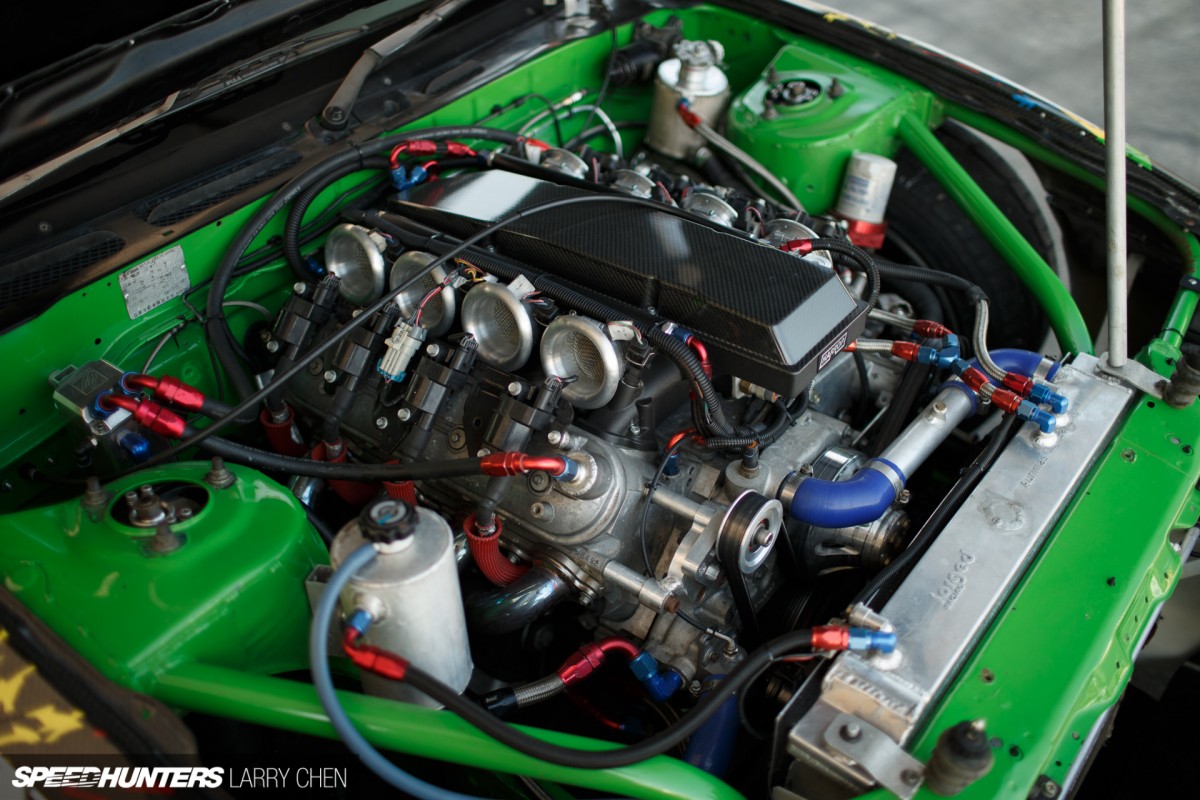 To get that naturally aspirated response back, he decided to hop on the V8 bandwagon, but it was not so easy for him being in Malaysia, where LS motors are few and far between.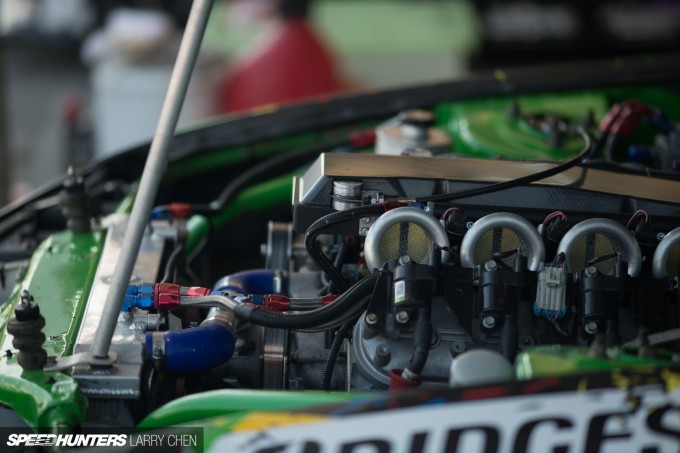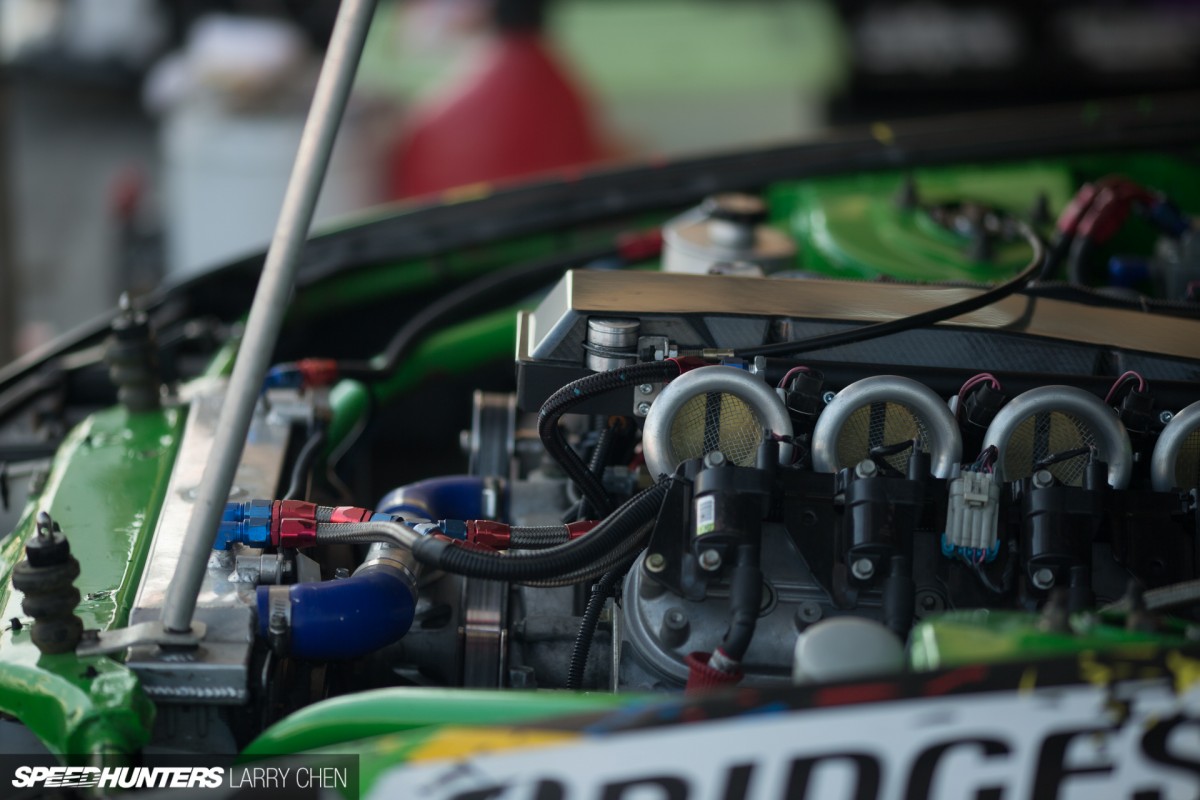 It almost took him a year to source an LS7 with forged pistons, cams and an Harrop intake kit producing just under 600whp mated to a Tremec TKO box.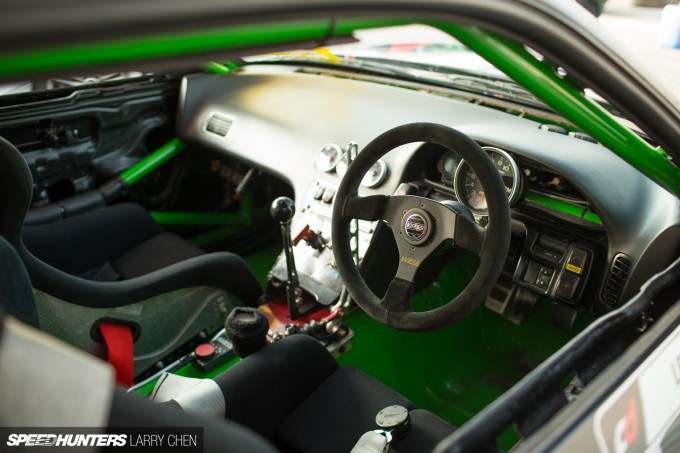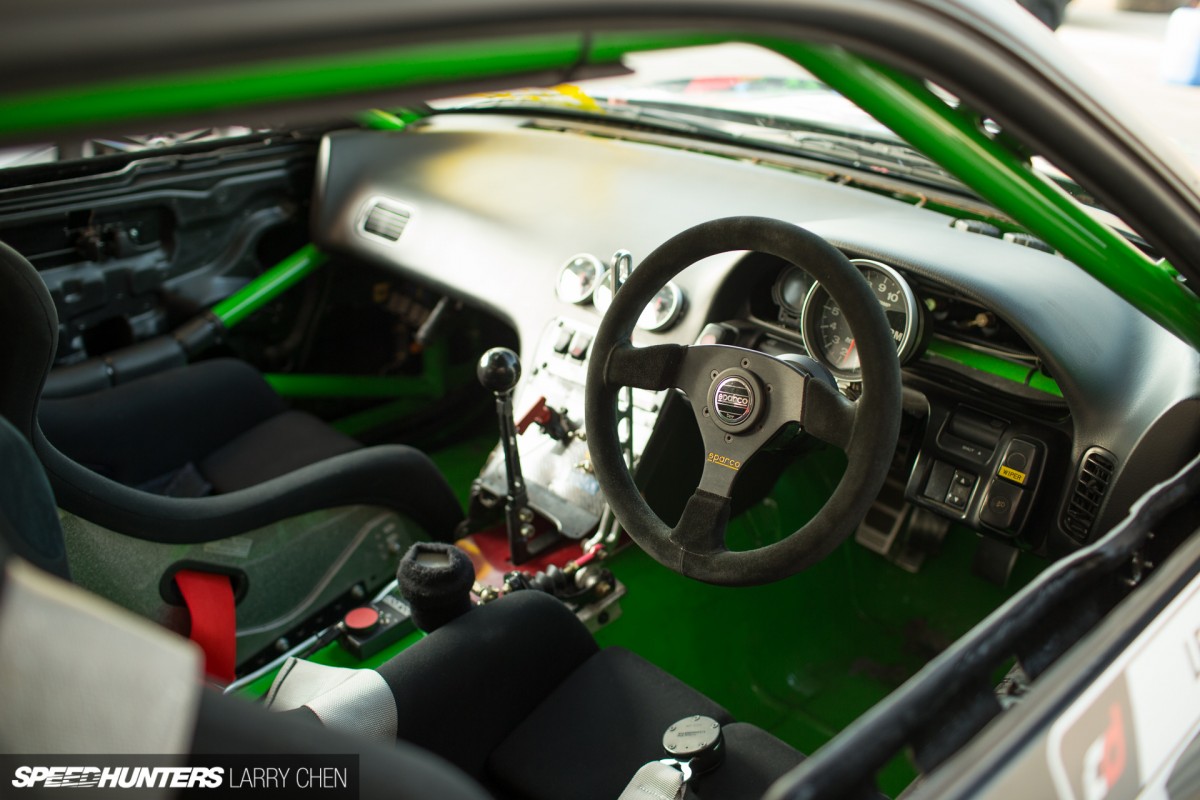 The rest of the driveline is stock and they swap between a 4.1, 3.7 & 3.1 Nissan final gear depending on track layout.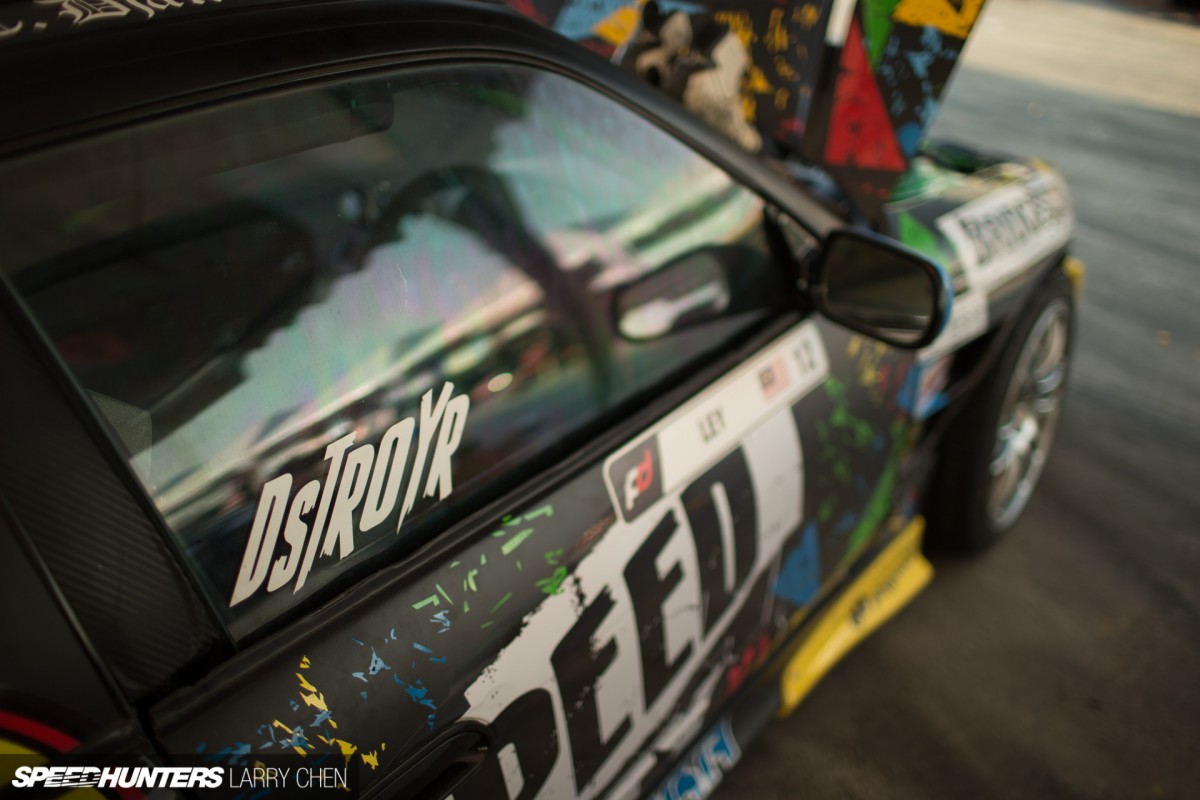 Djan is part of Drift Alliance and he's also sponsored by Dstroyr, which is a clothing company owned by one of my good friends. The Prince of Drift is not sure about competing in the rest of the 2014 FD Asia season, because he really wants to focus on touring car racing and rallying. But if he happens to acquire the right sponsors, then he'll put in a full effort to do the rest of the season.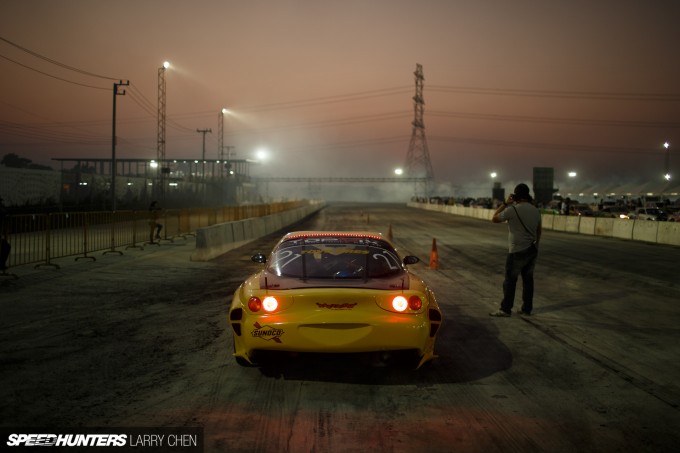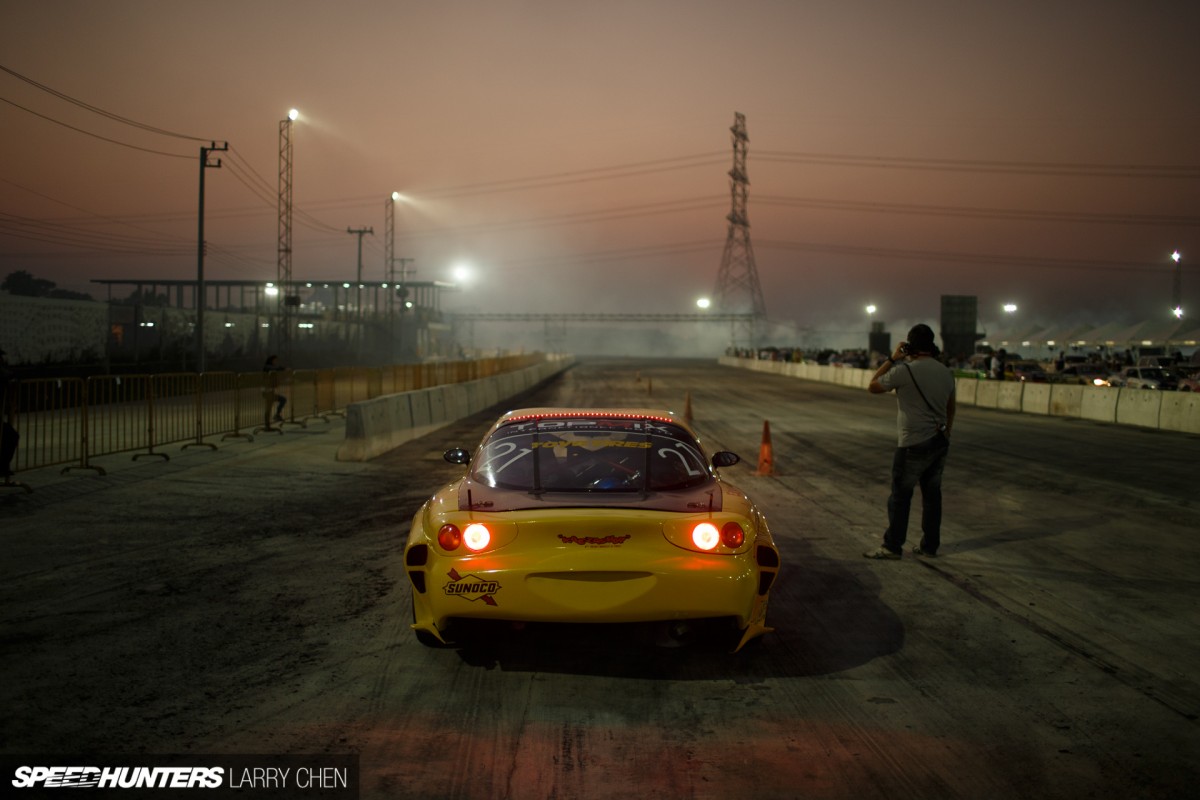 Next up we have Nattawoot 'Oat' Krerpradab and his out of this world Mazda FD RX-7.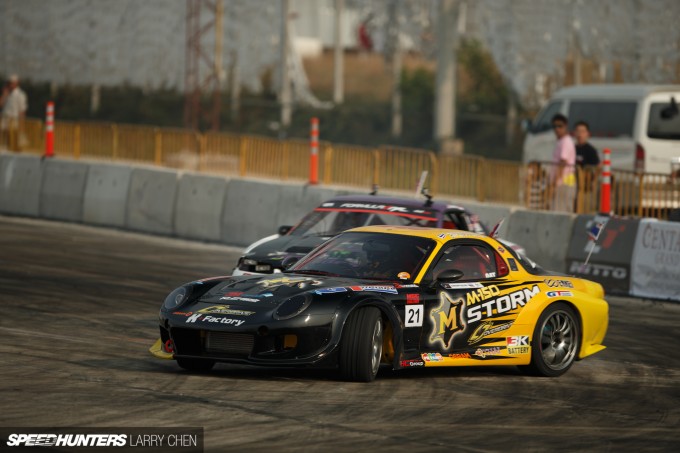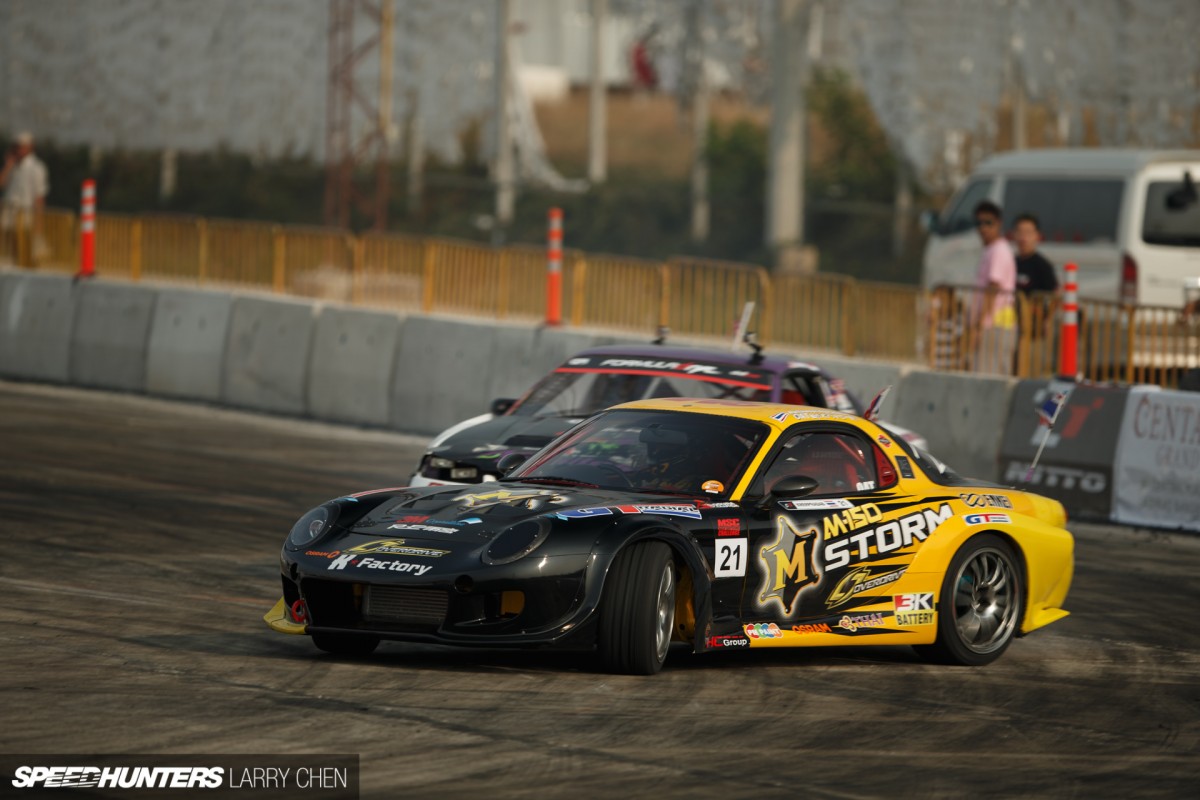 Oat is from Thailand and he actually gets to practice on the track that the event was held at, so was definitely a favorite to win.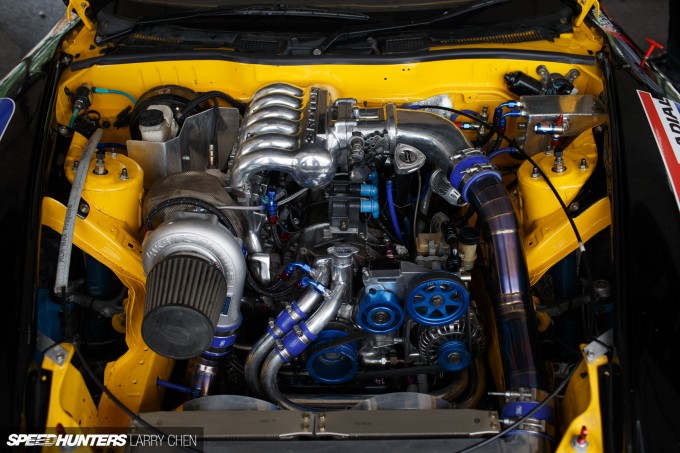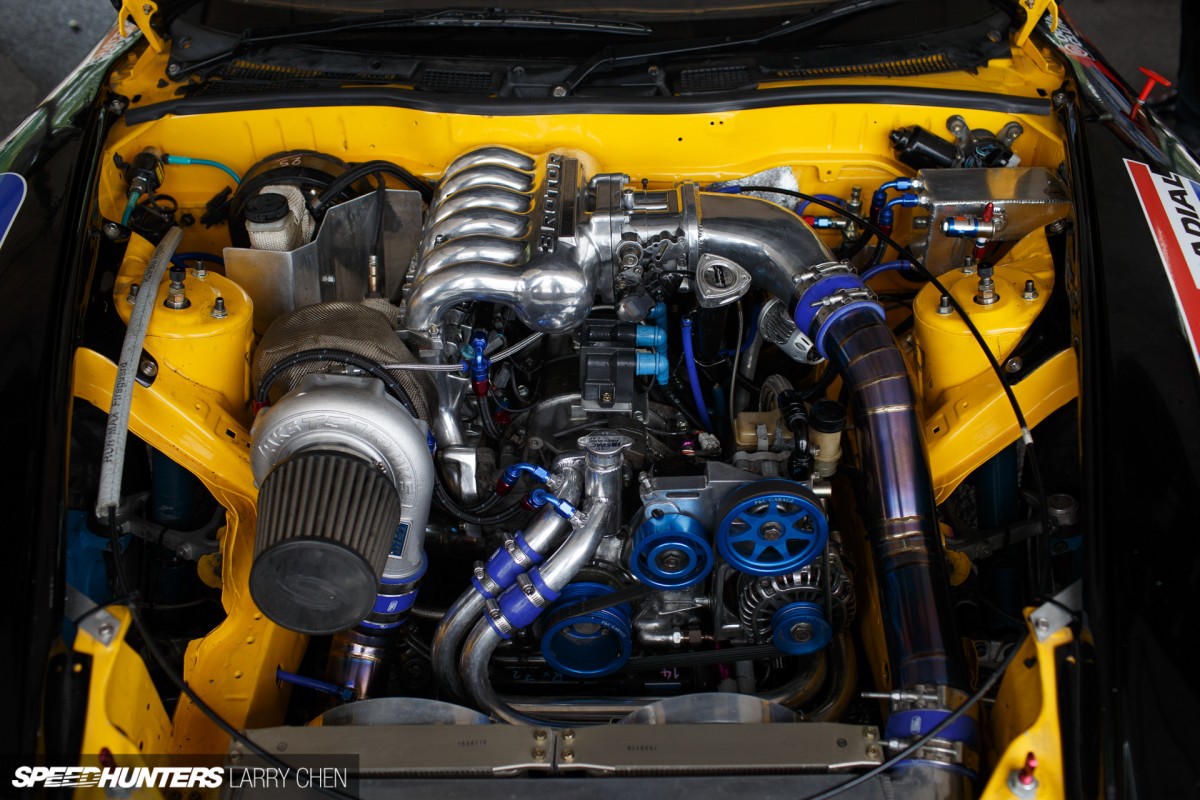 Earlier this year at FD Australia, he told me that he was building a car specifically to compete against Daigo Saito. What he came up with is this 20B-powered FD with almost 800whp – with the help of nitrous of course.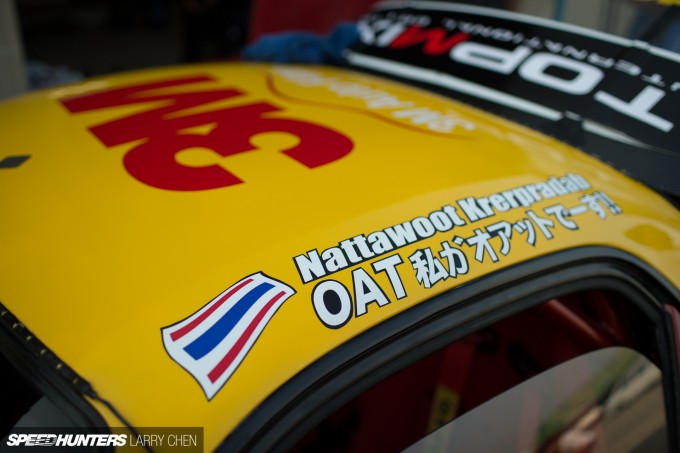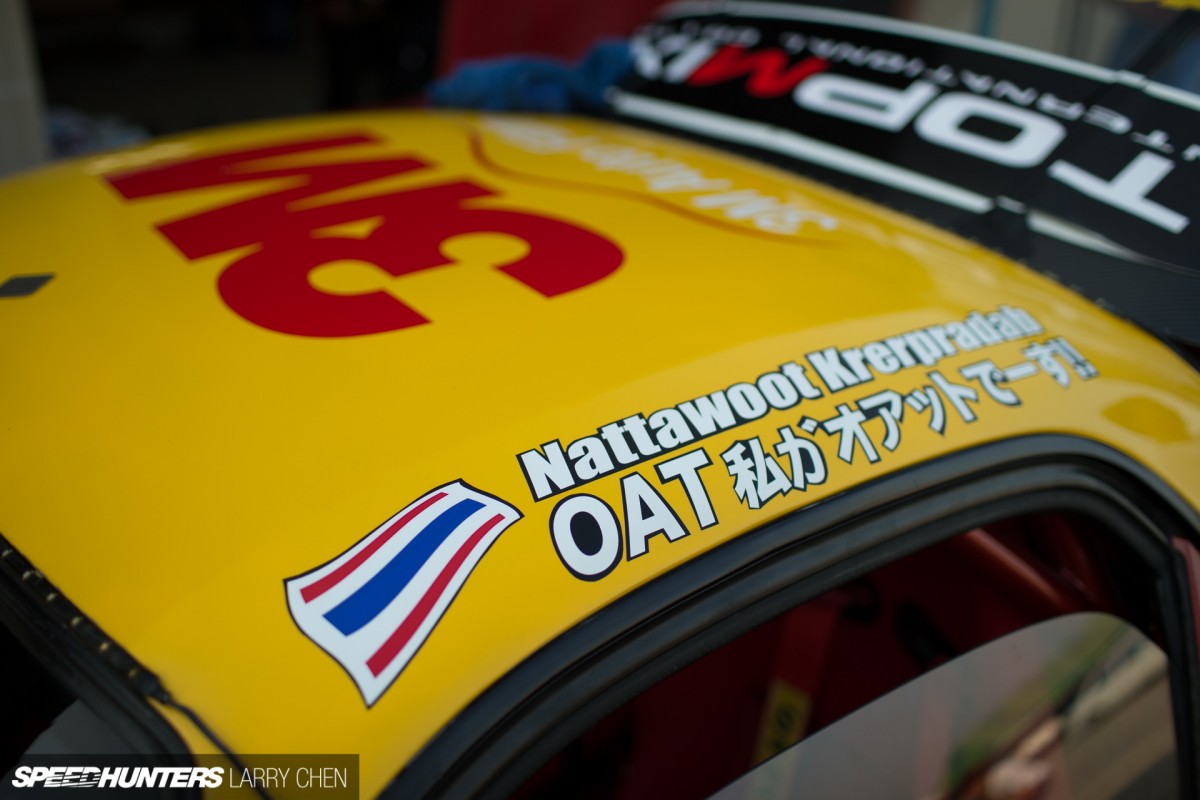 Oat actually ended up getting second place, after getting knocked out of the top spot by our very own Fredric Aasbø. As Formula Drift announcer, Jarod DeAnda put it, Oat was the highest finishing 'Thai Fighter.'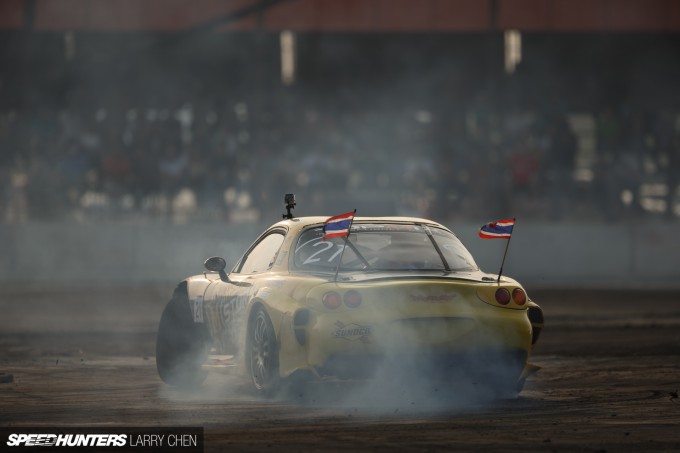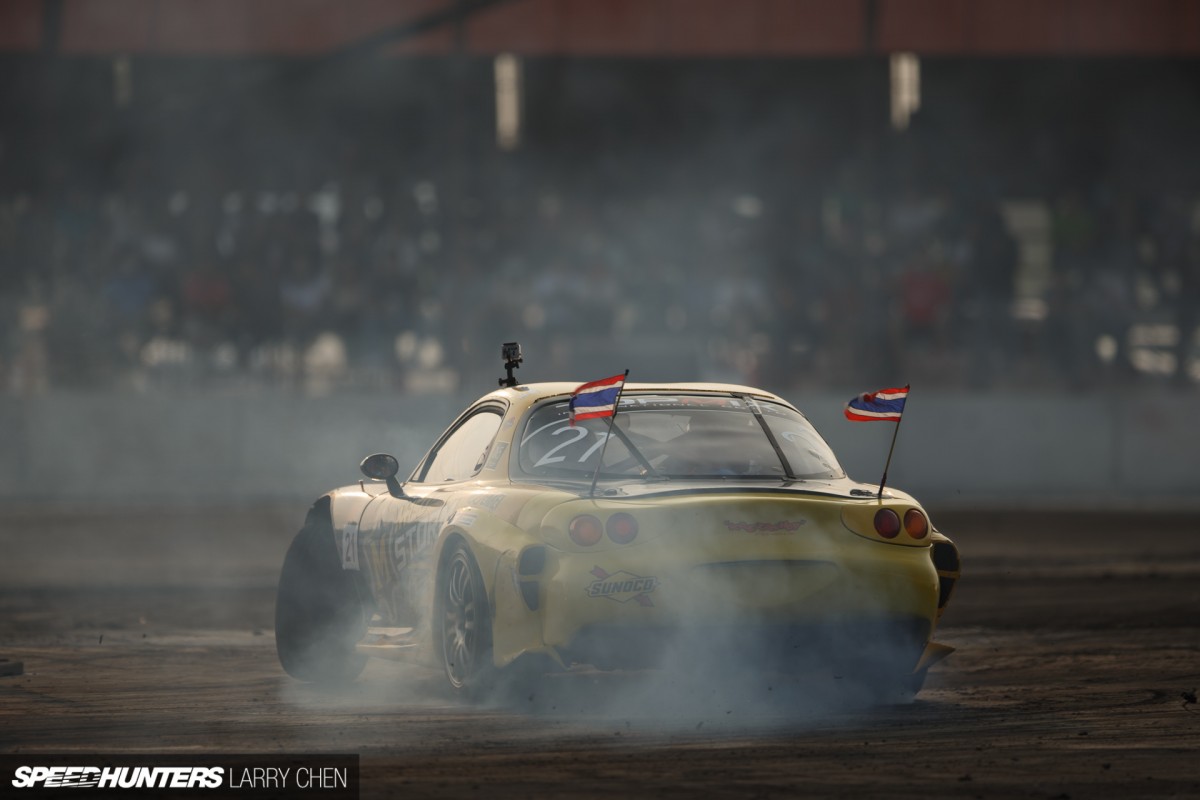 This was his second time getting second place at this track for Formula Drift Asia, so he's hoping to get his first win next time the circus comes to his home course.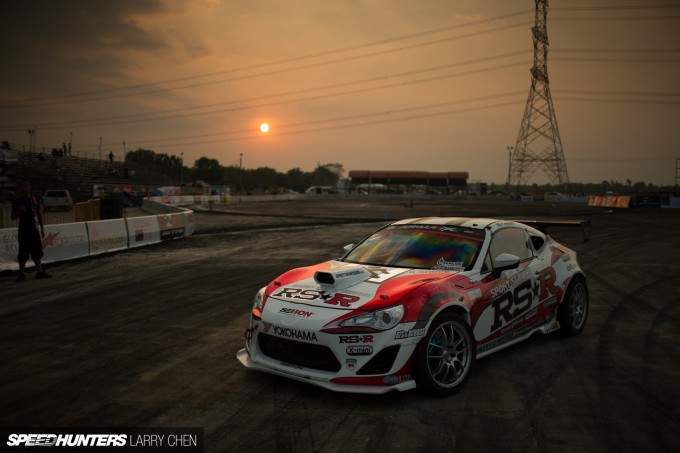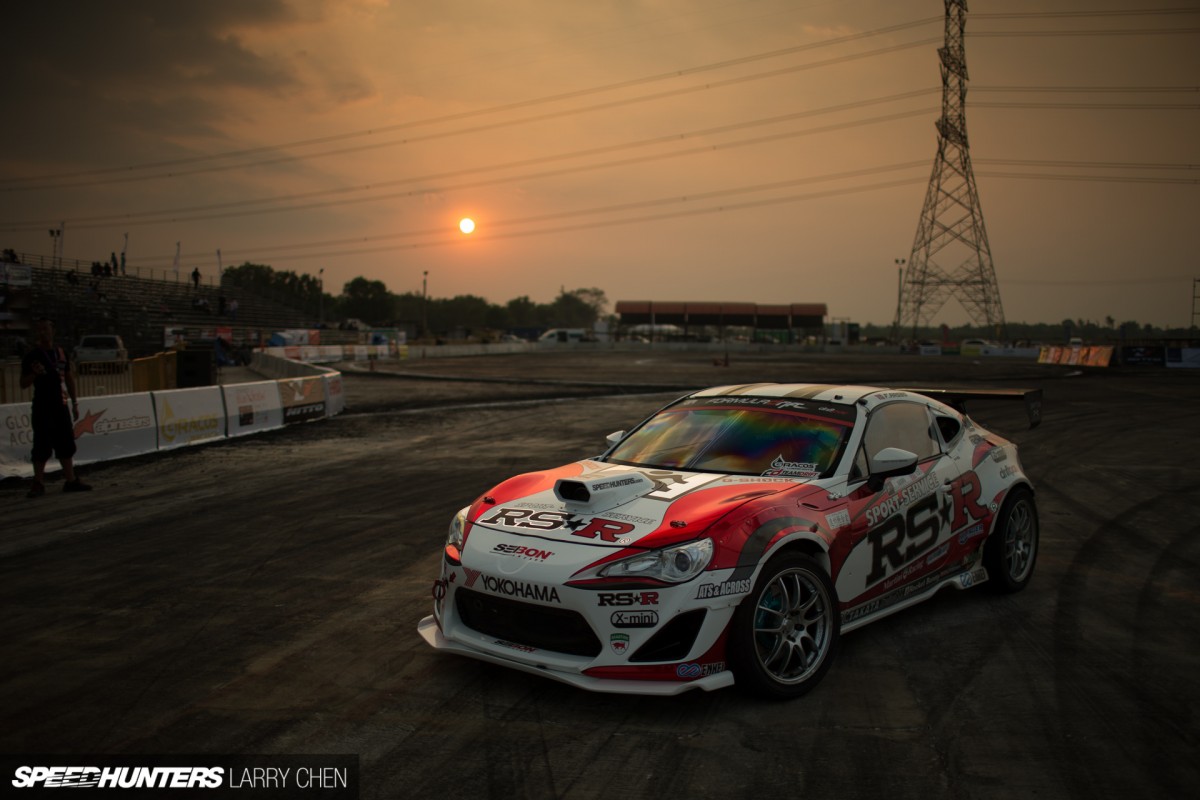 There was no way I could do an FD Asia spotlight without mentioning Fredric Aasbø's RSR Toyota ZN6 powered by a NASCAR motor.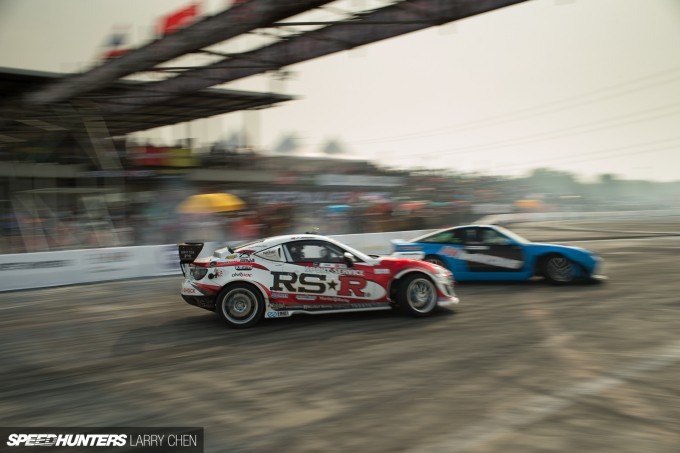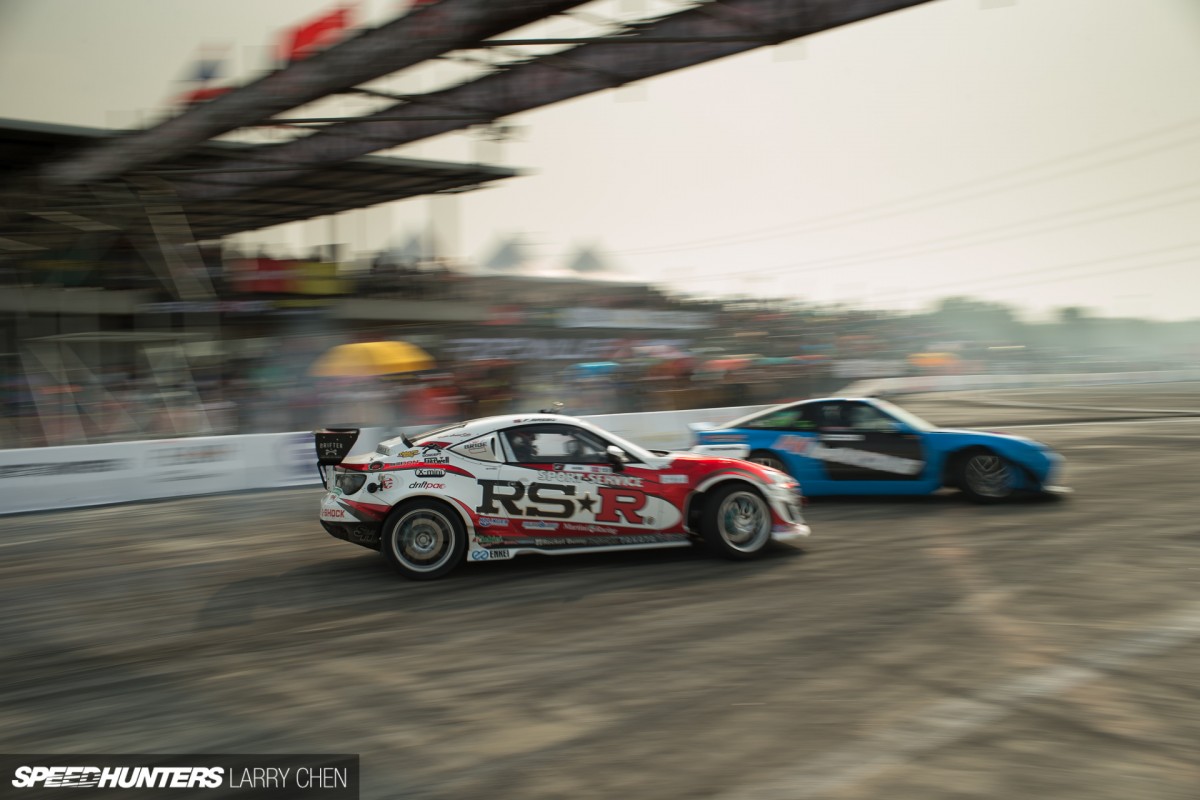 This was his third event with the car and he finally earned his first podium with it.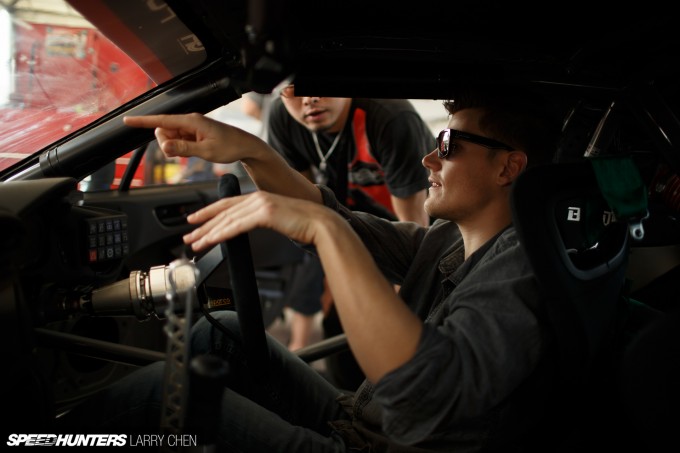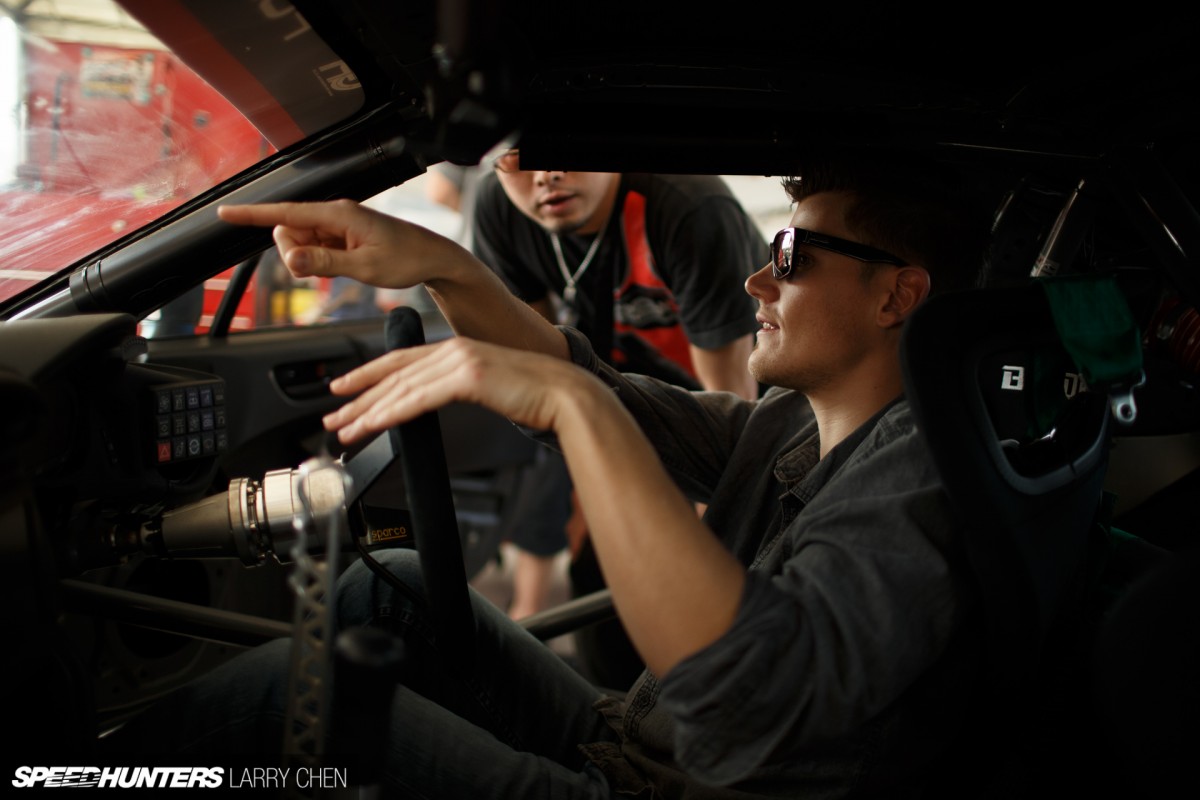 It just goes to show, even with the world's best drift teams, it still takes a while to adapt a car to a driver's preferences.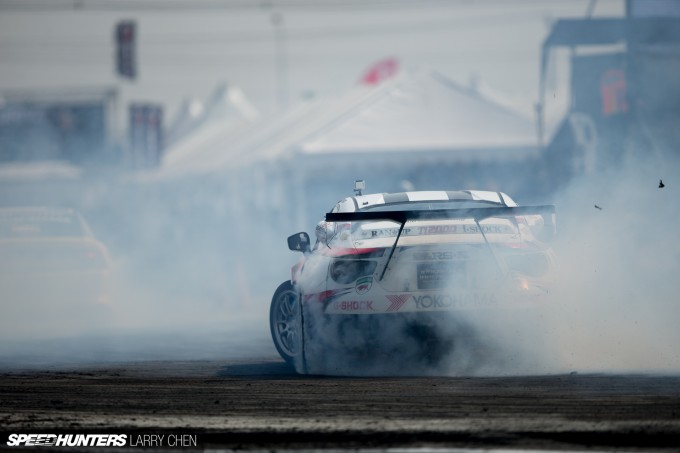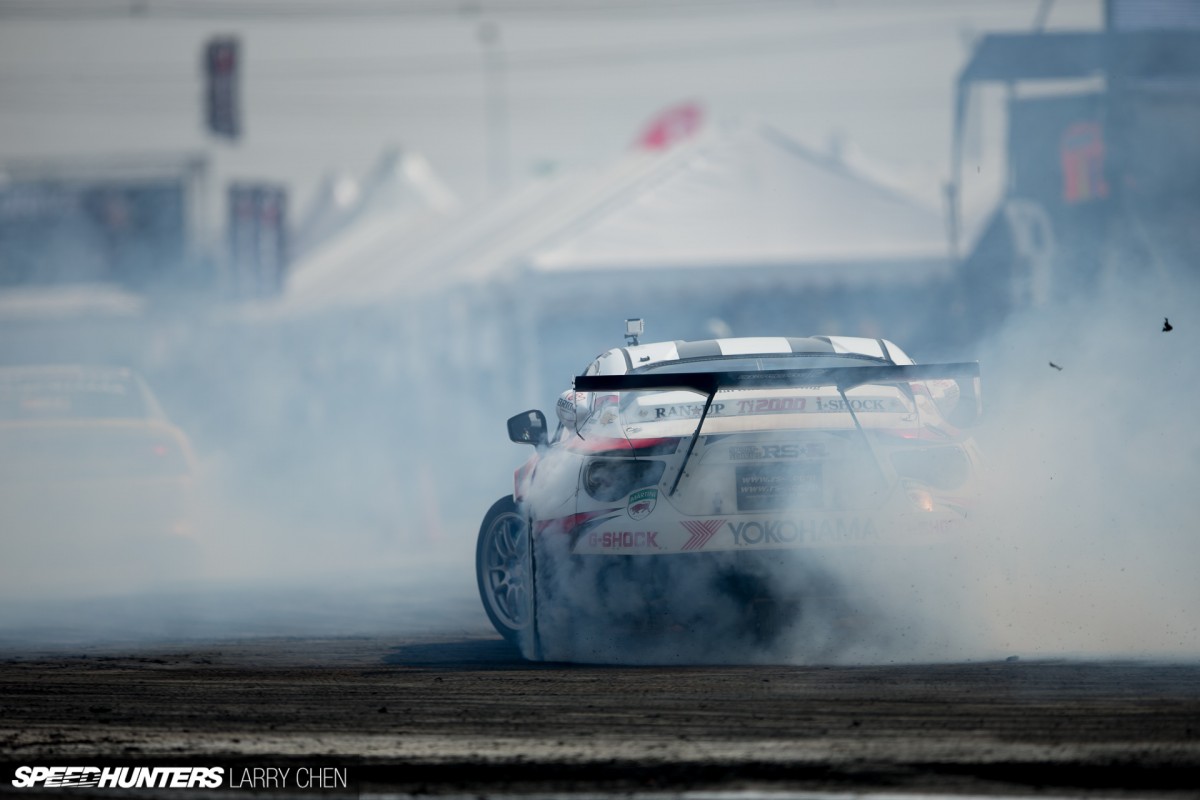 This car's definitely a lot heavier than what Fredric's used to. On top of the heavy motor, it has four radiators and is built super-beefy in every way.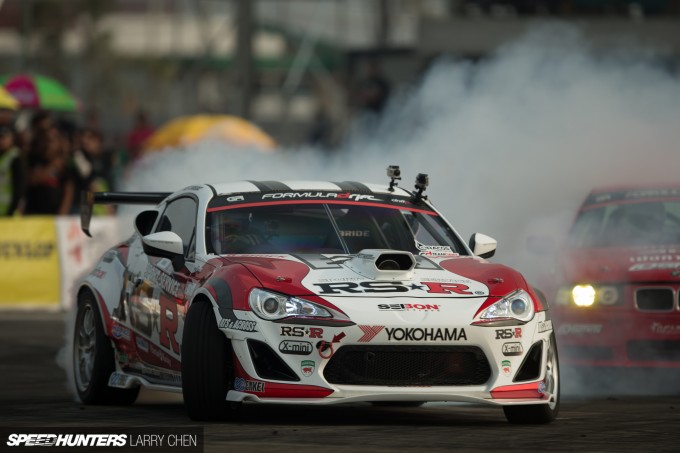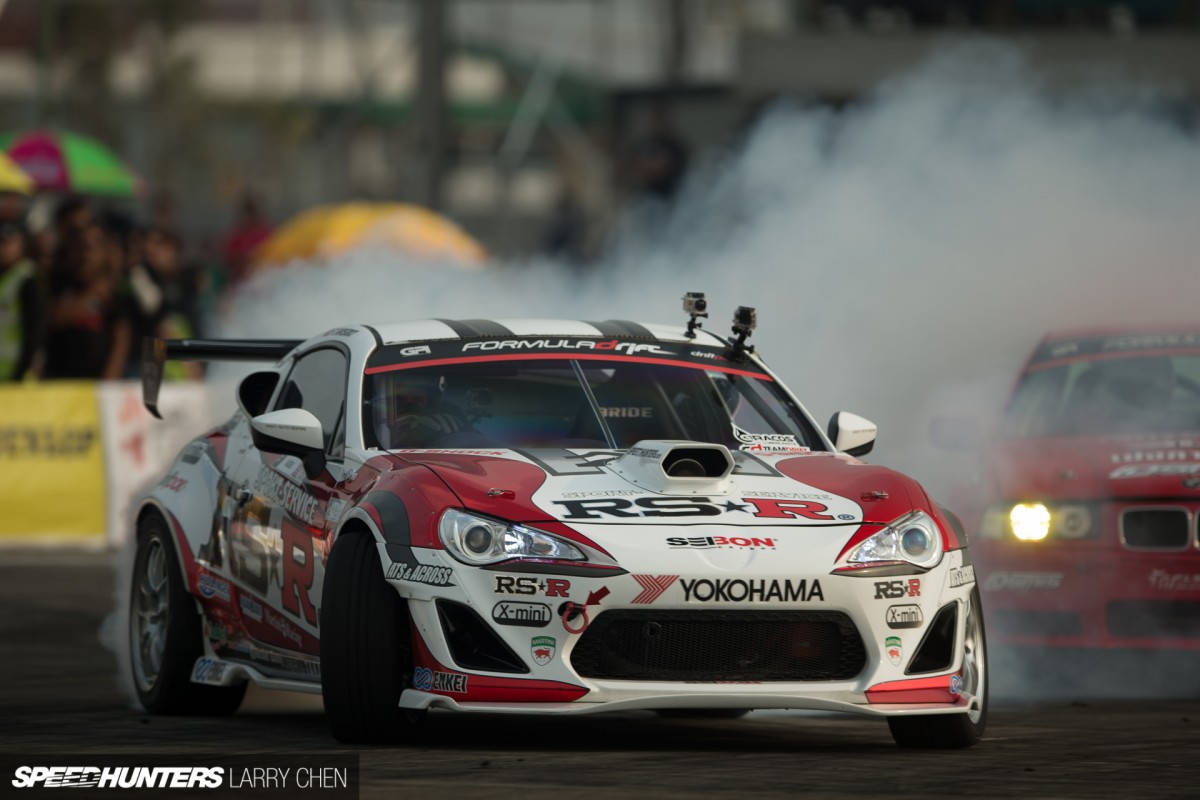 In terms of drivability versus his Scion tC, it's very easy to get this car to float, off throttle and off brakes, just letting it slide. It's also very neutral, but this comes at a cost, because it's much slower than what Fredric is used to with the tC.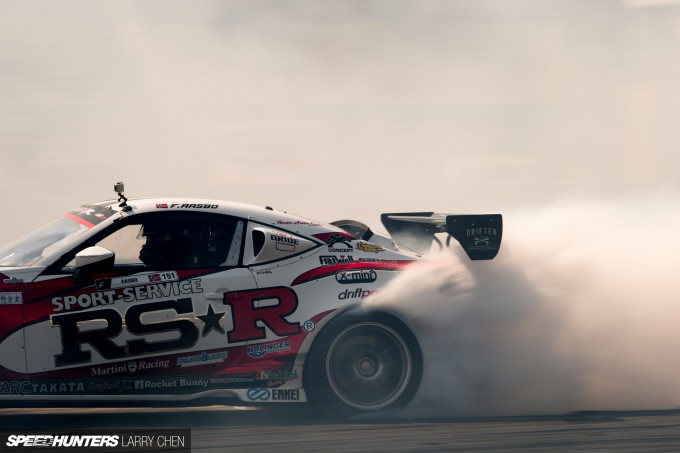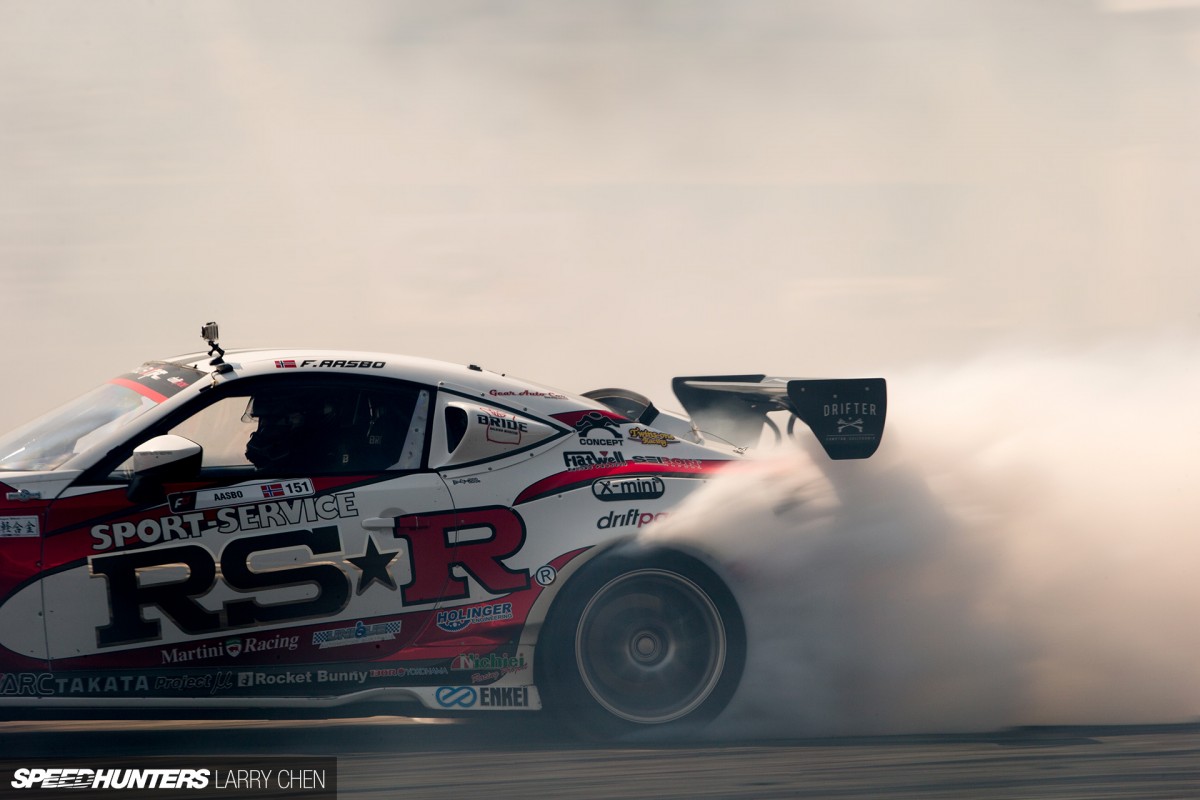 In terms of power, the cup car motor is very linear compared to the turbo 2.7 liter Toyota 2AR. The four-banger in the tC has a much more mechanical feeling, and quite a bit more top-end power.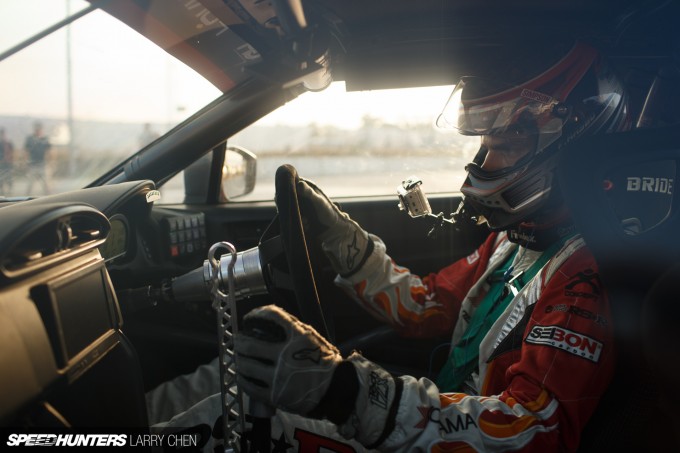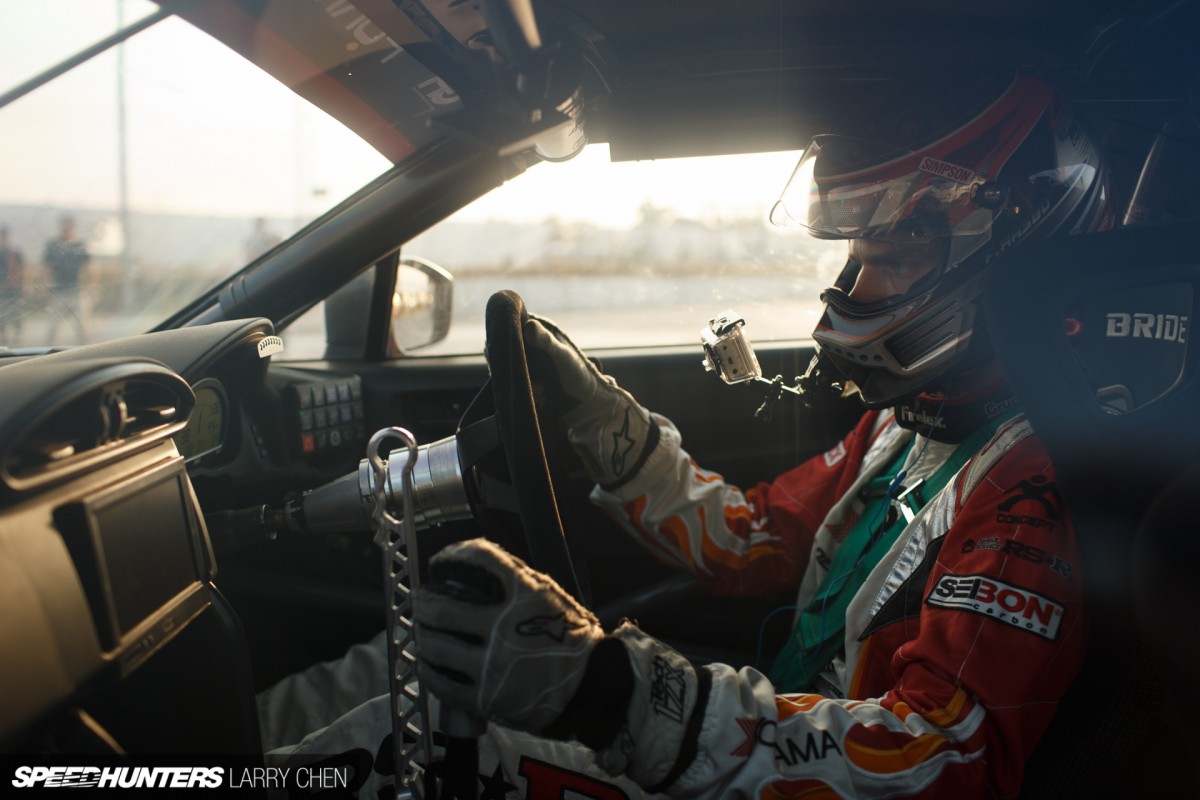 Although nothing beats the overall presence of the NASCAR-powered 86. The sound is unlike anything that I've ever heard. It's incredibly loud, and is ear-piercing even with earplugs in.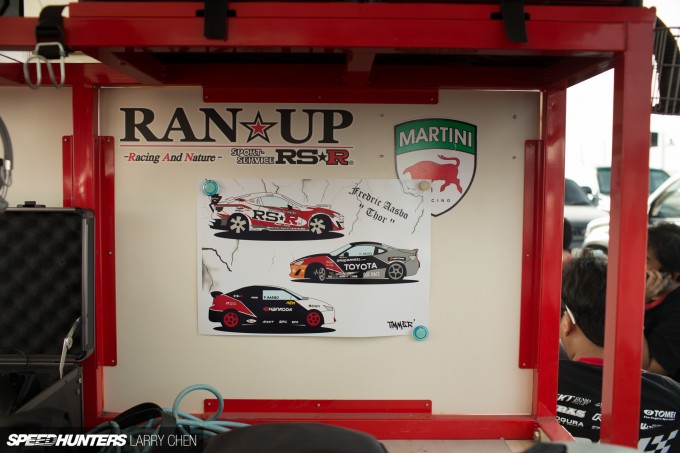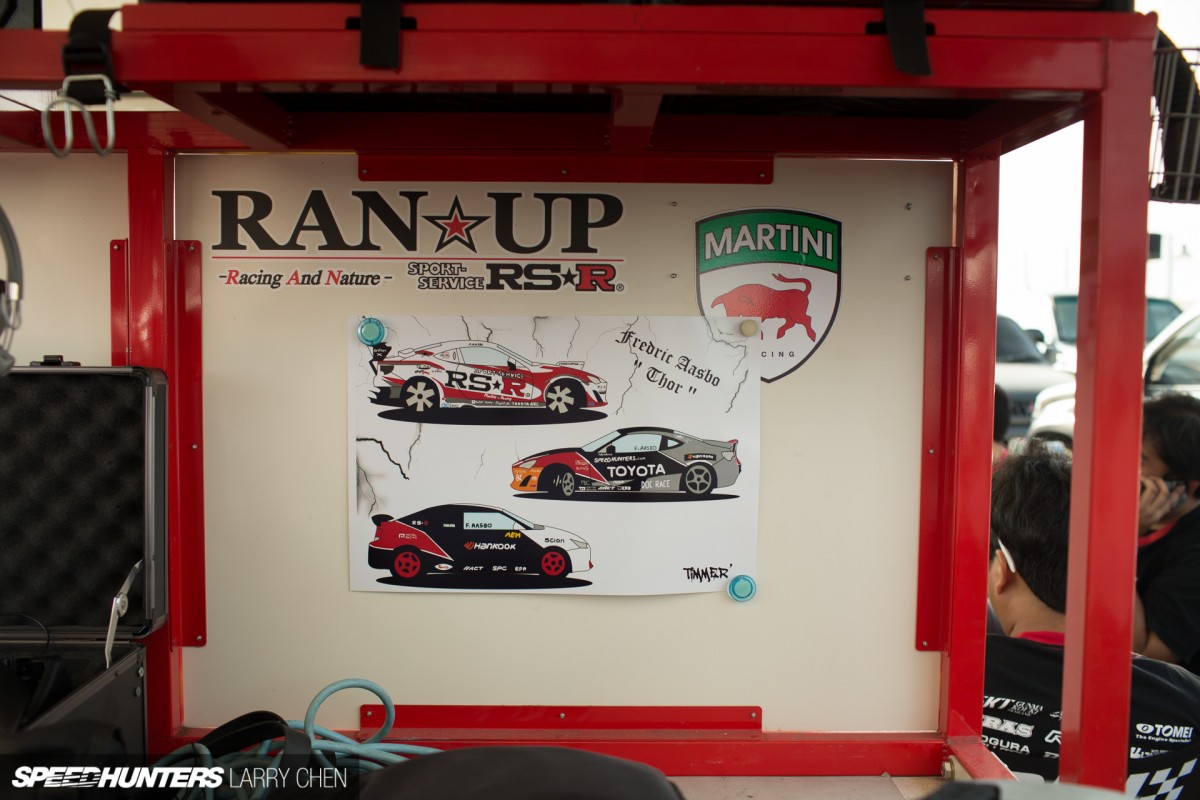 One crazed fan made a drawing of all three of Fredric's competition cars. He asked Fredric to sign one and he gave one to the team to keep.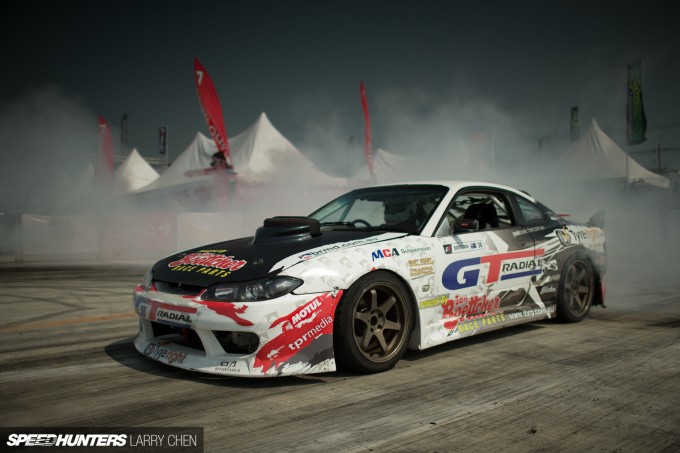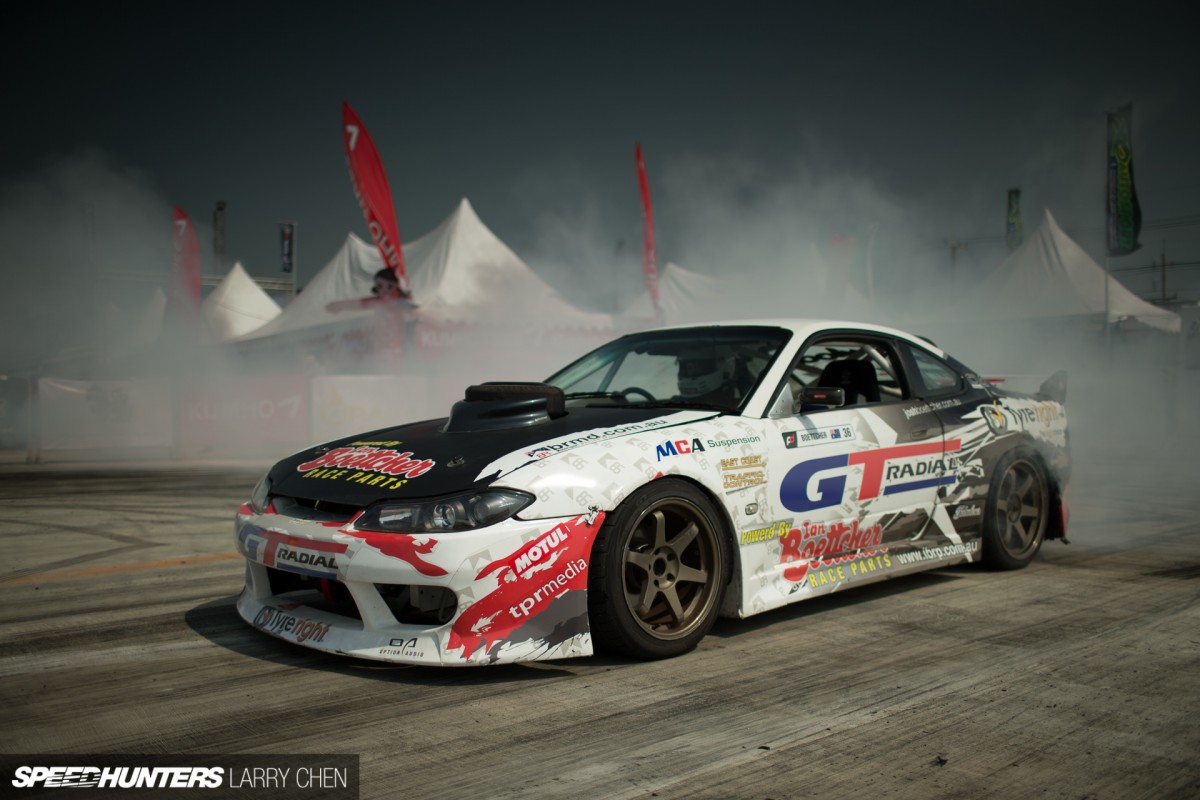 One of the most powerful cars on the grid is from Australia, driven by Josh Boettcher. It's a Nissan Silvia S15 with a small block Chevy V8 Brodix Race block and Dart Heads. It puts out 850hp and 980Nm of torque.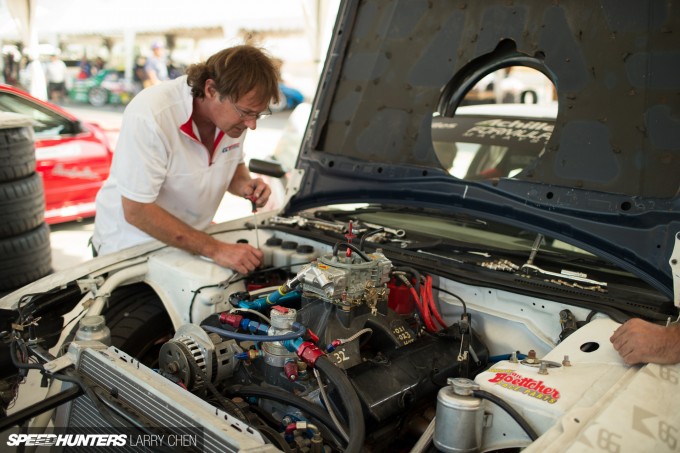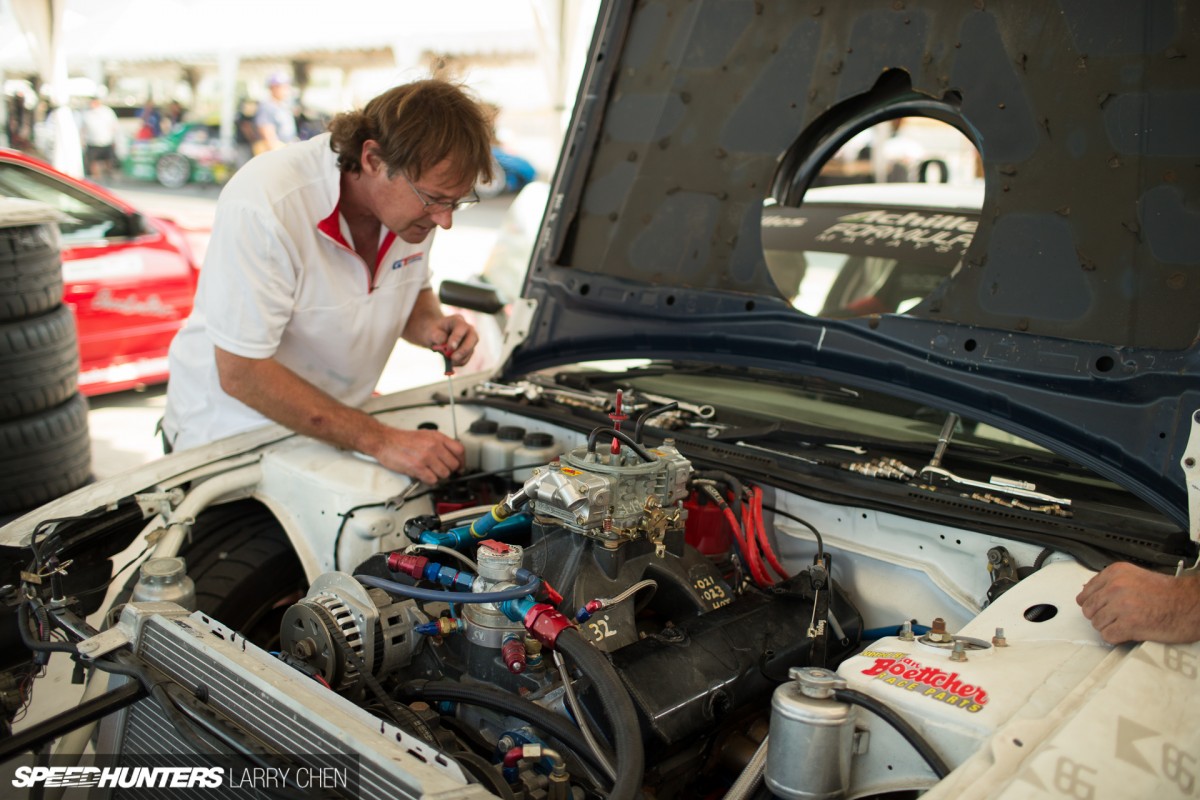 Unfortunately for Josh, the storage company that he trusted with the car left it out in the rain uncovered and water leaked into the intake, which rusted out one cylinder. It took quite an effort to get the car running again and it was down on power for the entire event.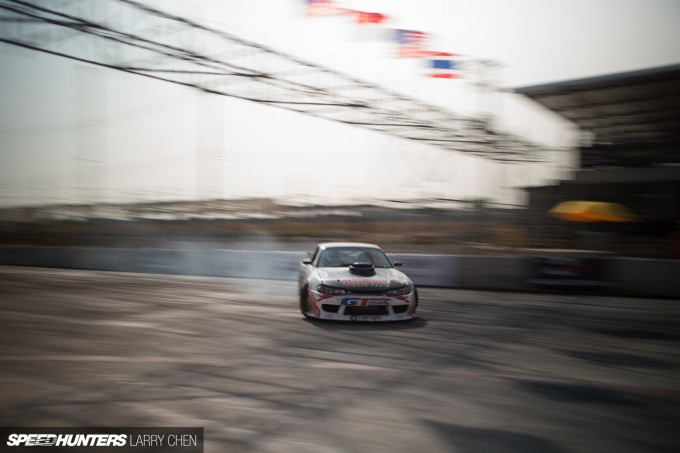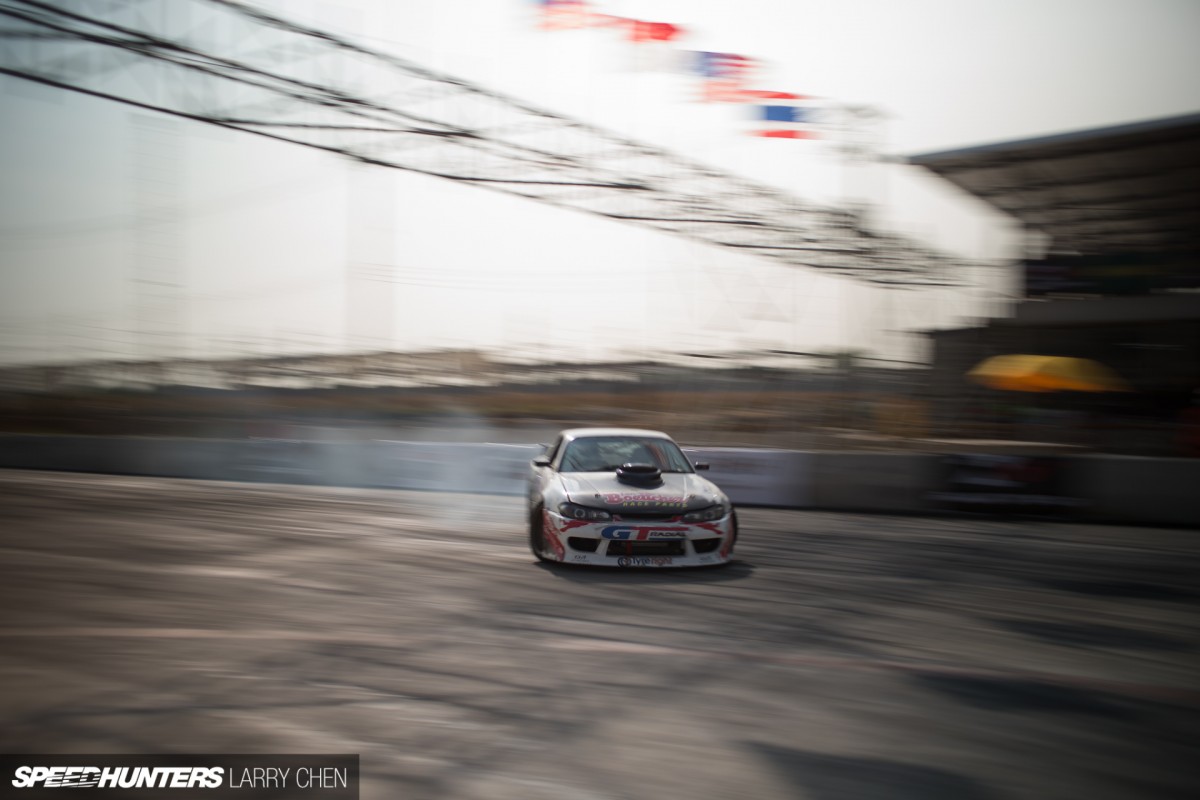 When it does run correctly, it's definitely one of the meanest-sounding cars on the grid with its unmistakable small block Chevy rumble.
Local fare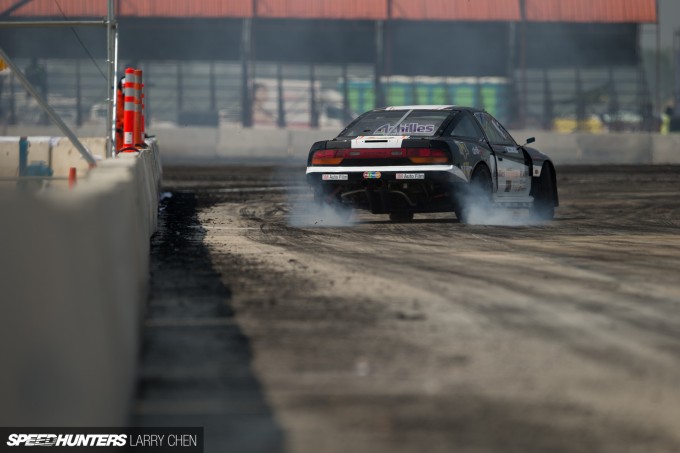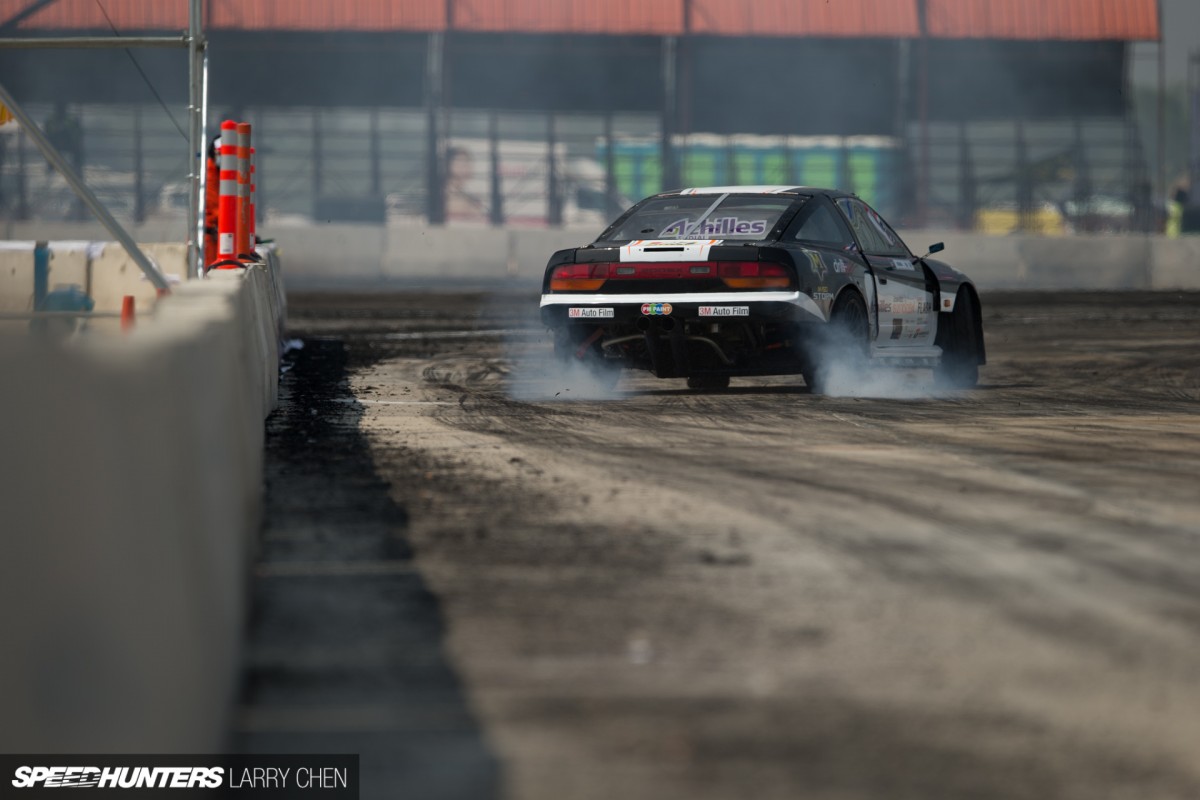 While I've shown you guys a variety of cars with different motors, it was evident that the Toyota inline-six engines dominated the grid.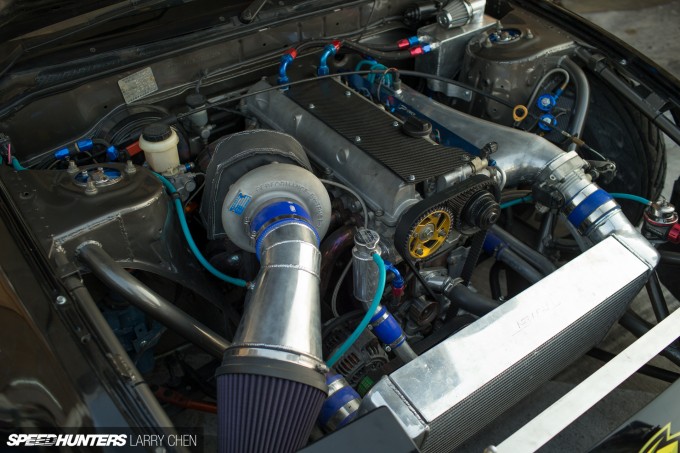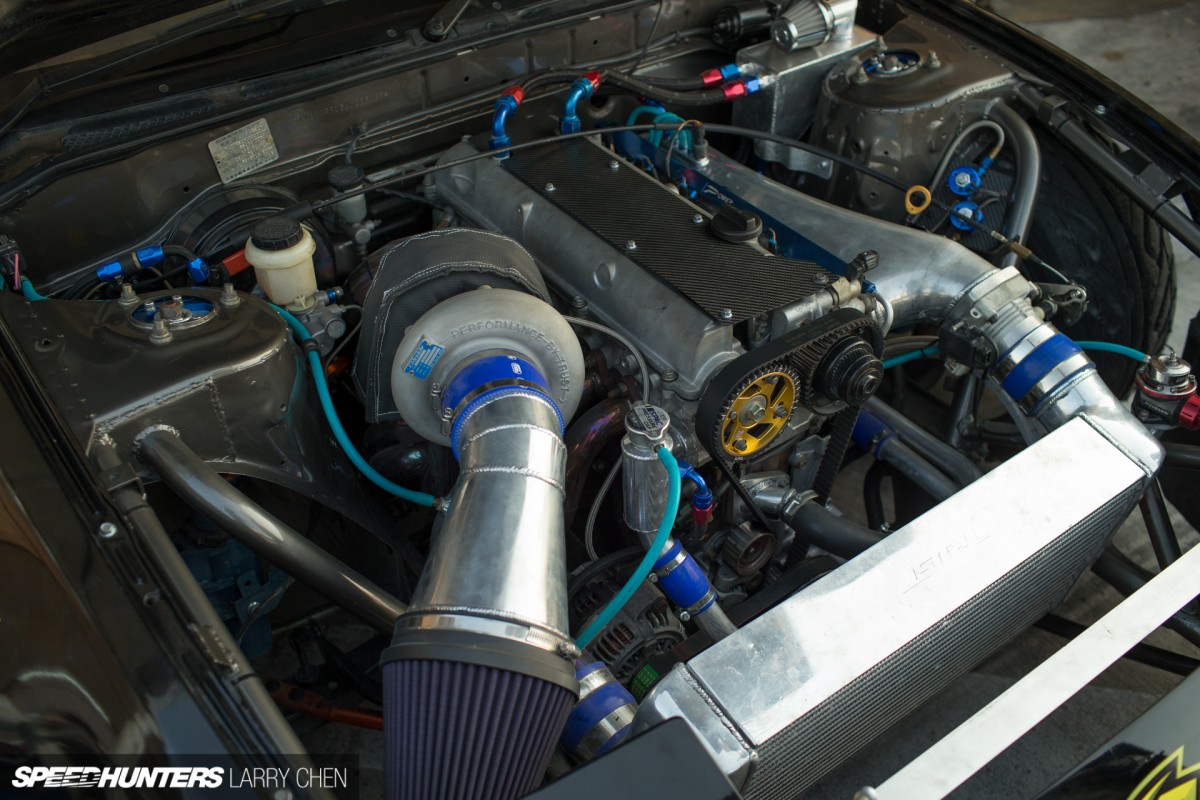 This Thai-built car was driven by Robbie Nishida, and he told me that this car may very well be built better than his Formula Drift Pro Championship car.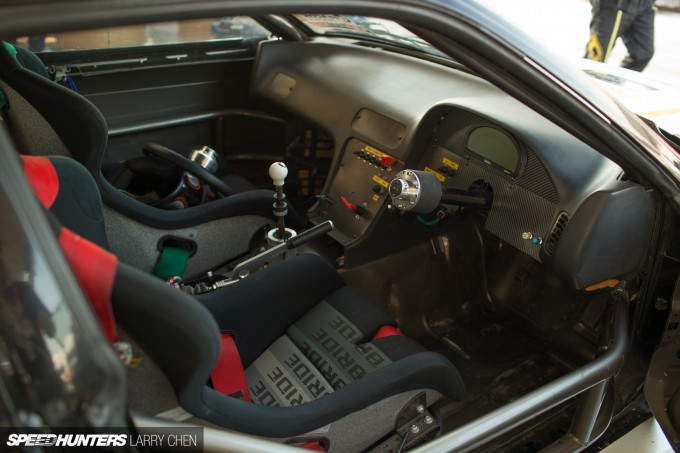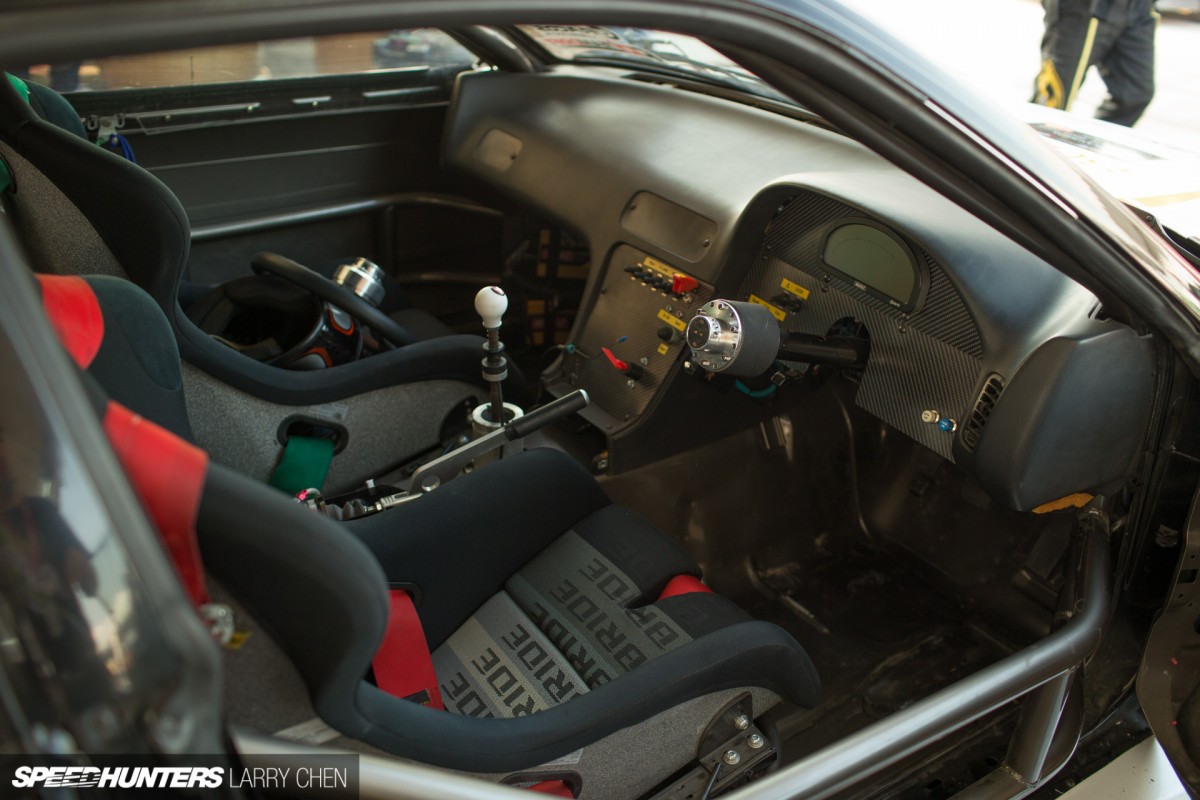 It's just super clean in every way and he had no problem 'borrowing' it for competition.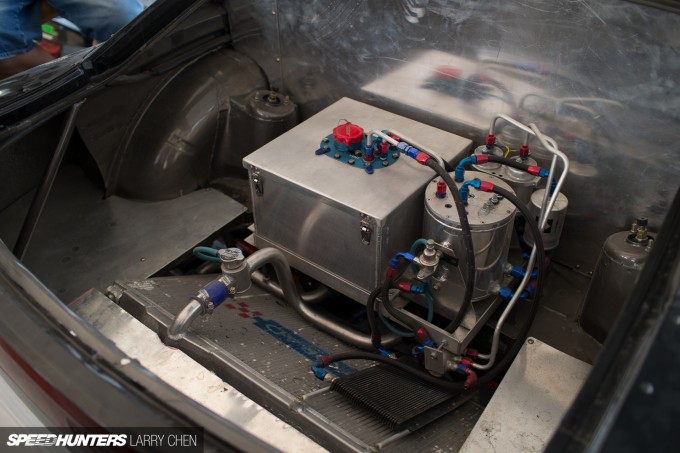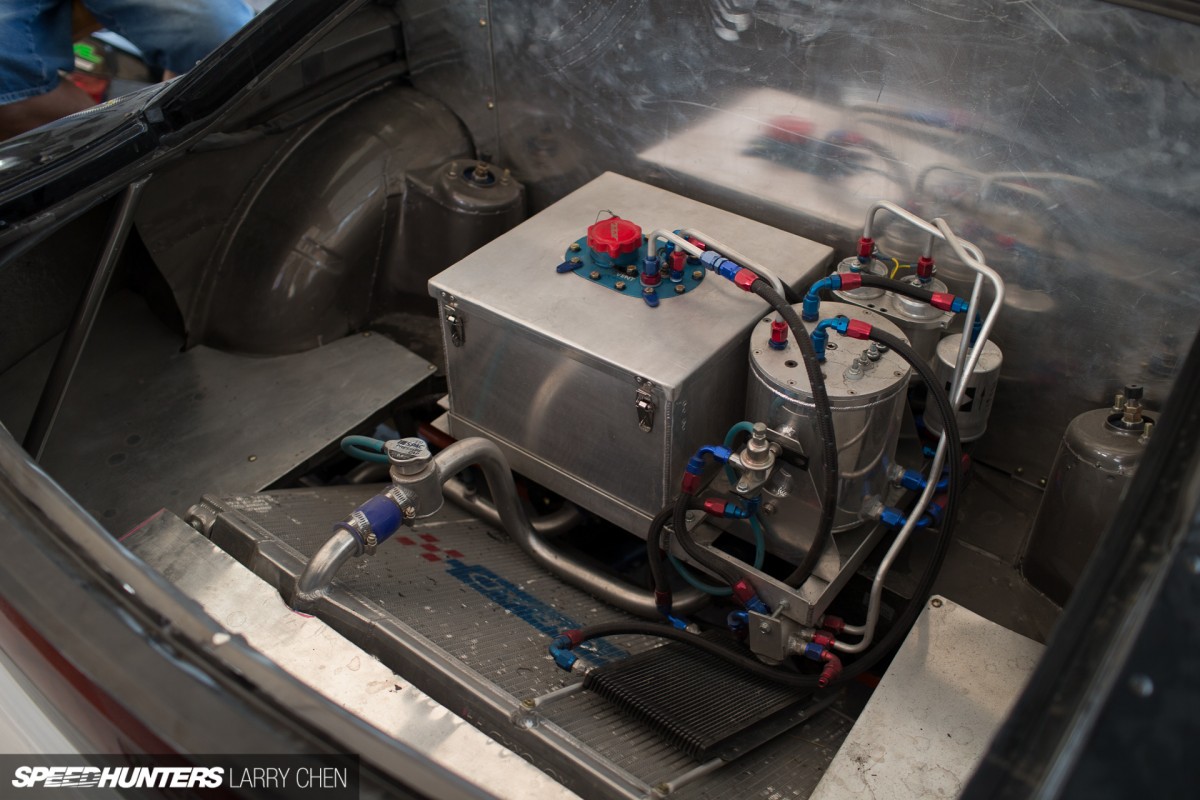 He told me also that the Thai builders are very skilled, learning from the Japanese tuners.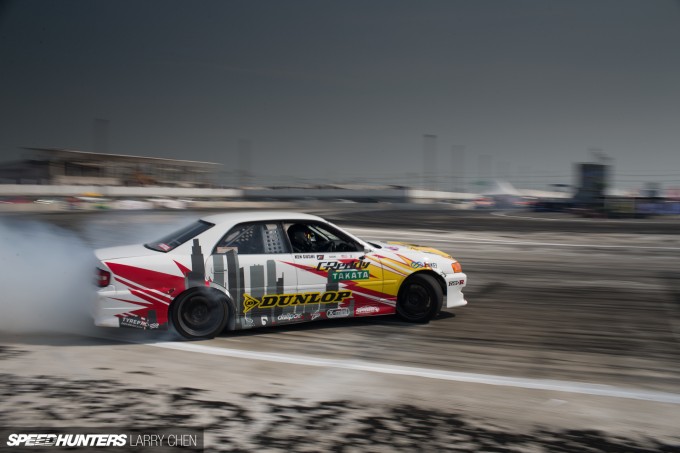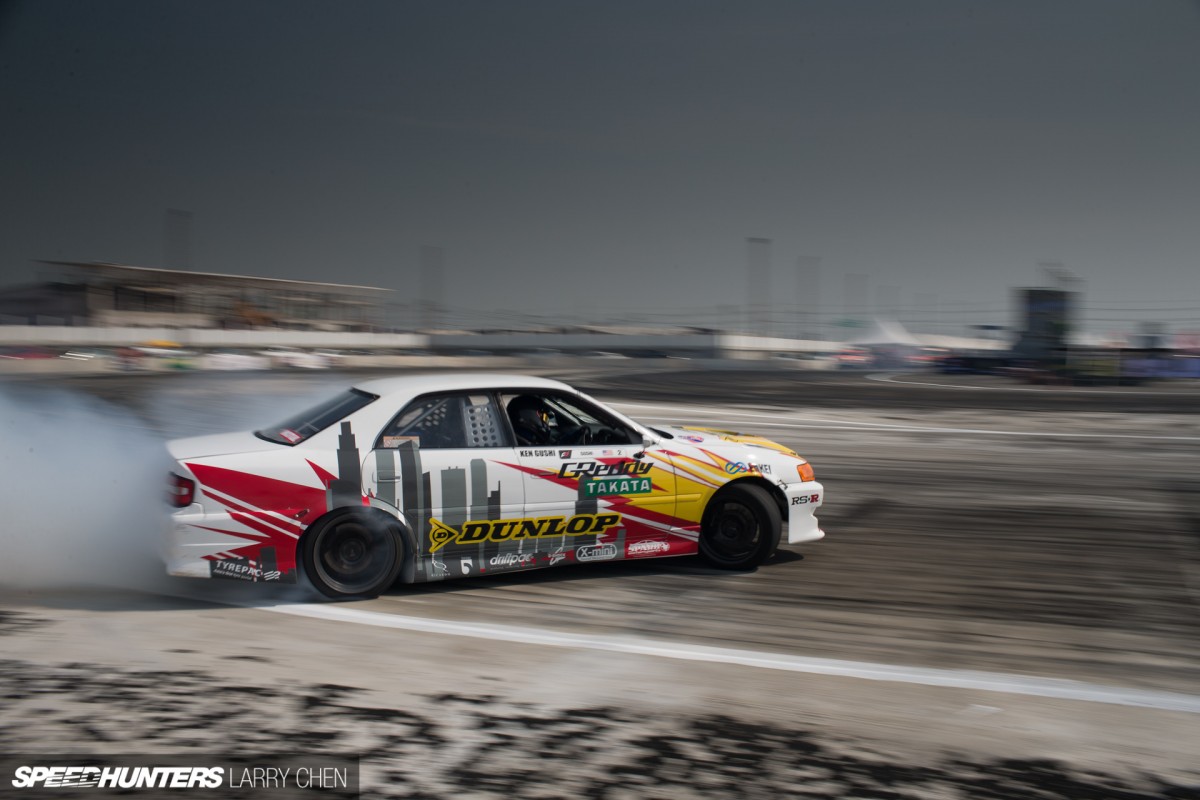 I rarely ever get to see Toyota Chasers in North America, so it's a real treat to get to watch them drift up close.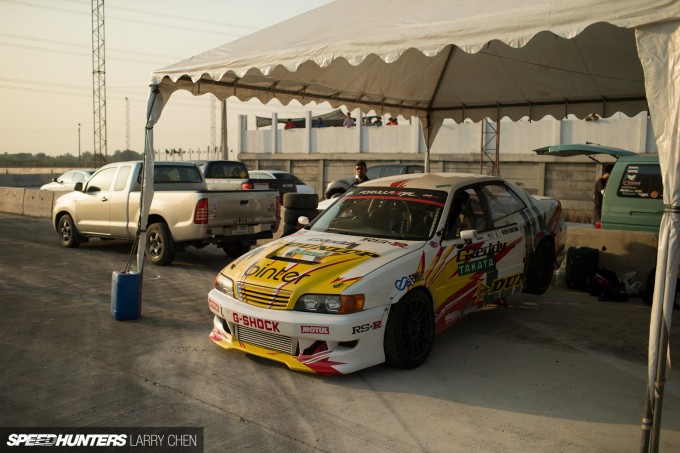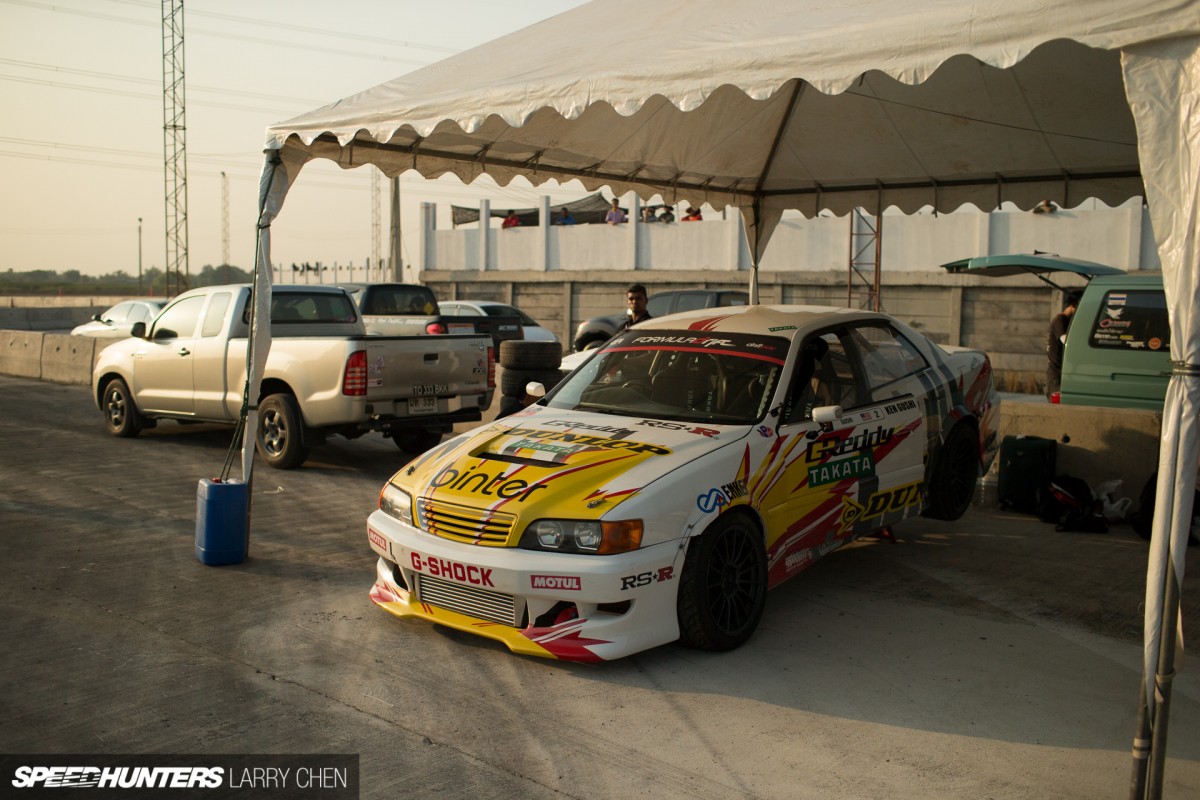 This is Ken Gushi's Formula Drift Asia ride, and he's been doing quite well in it. He earned a podium in the last round in Malayisa.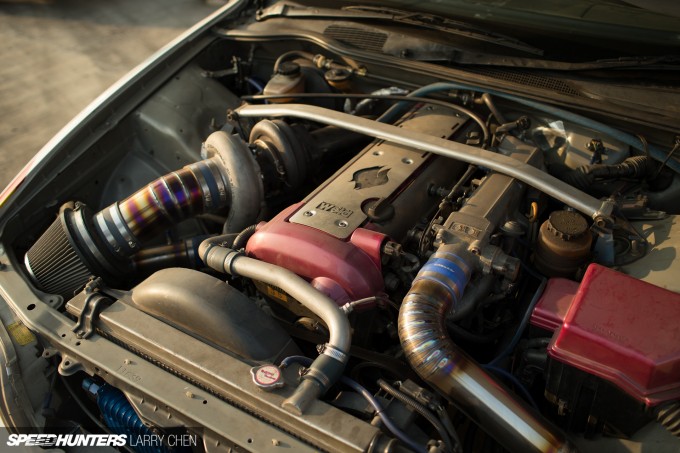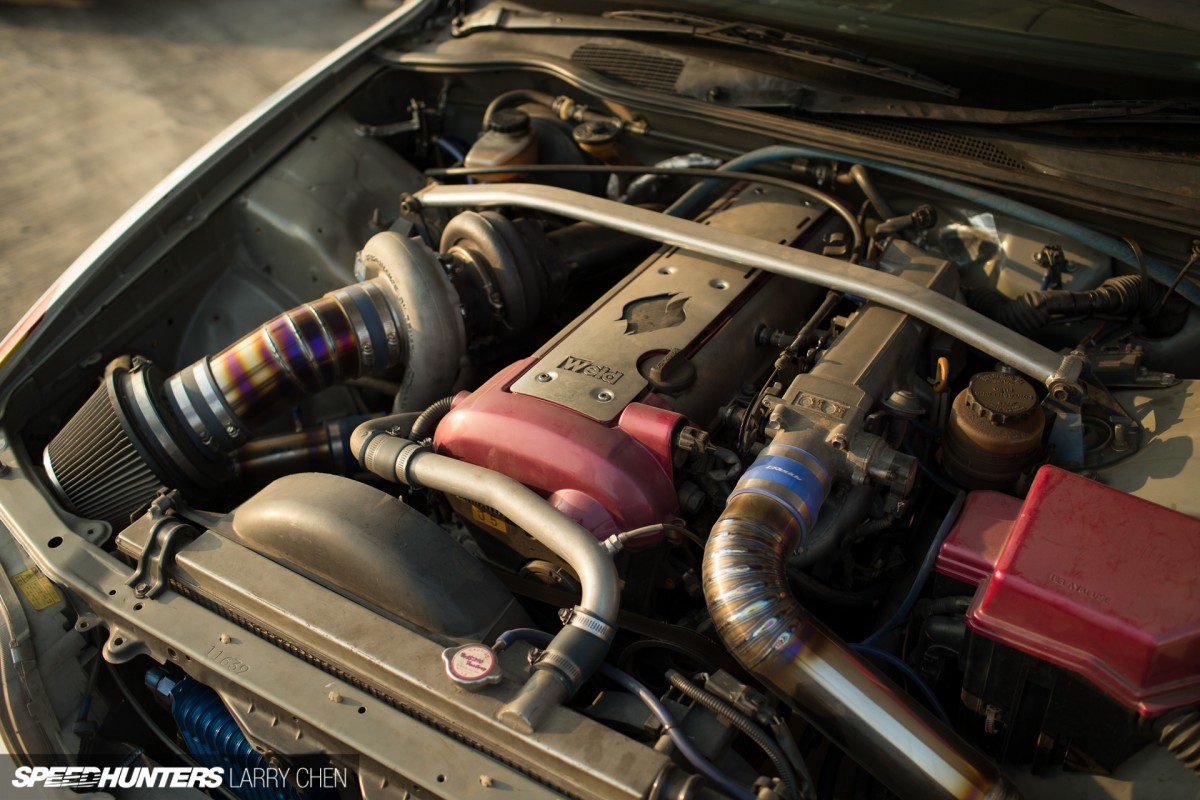 Compared to many of the cars in the field, he's actually down on power, almost by half.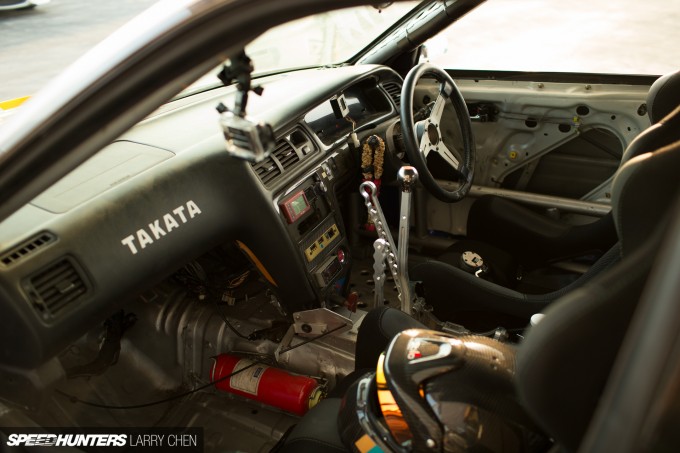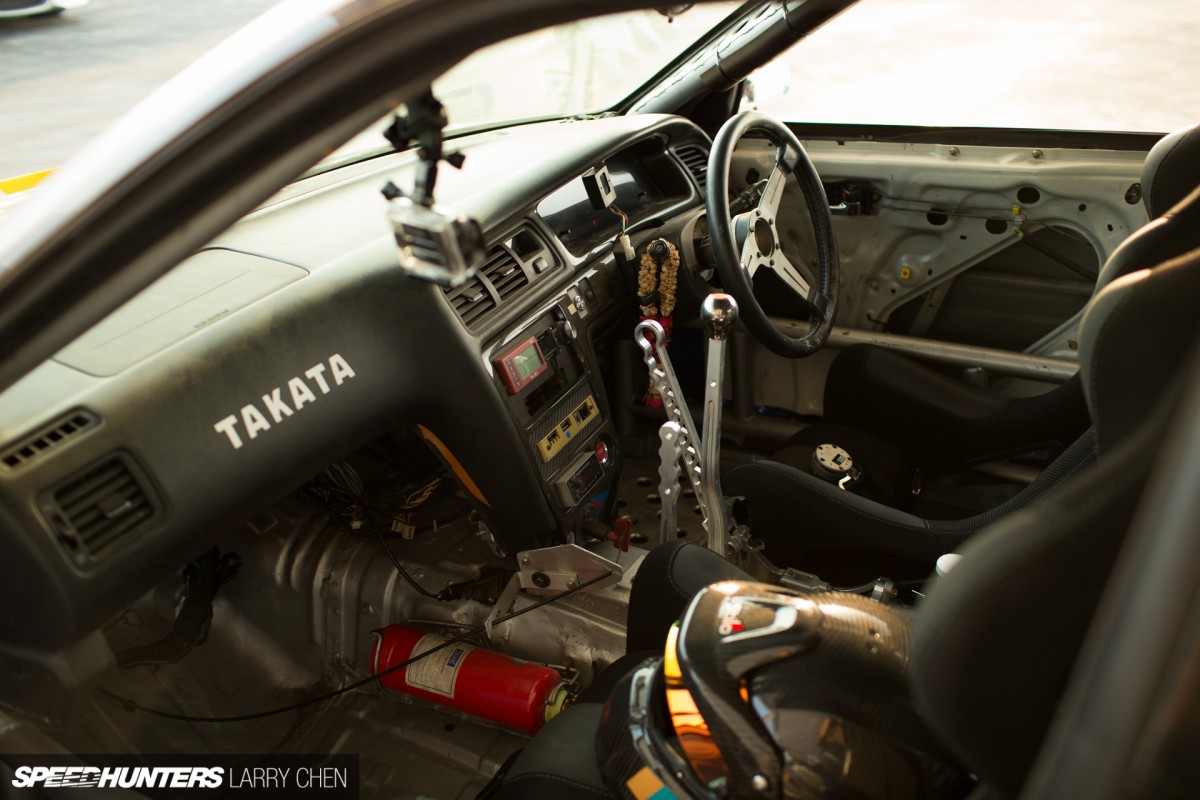 Ken was actually praying for rain, because that's one of the reasons why he could keep up with the rest of the field in Malaysia.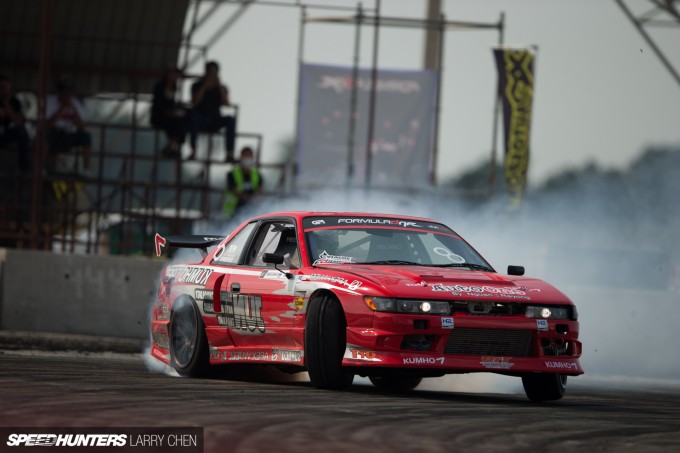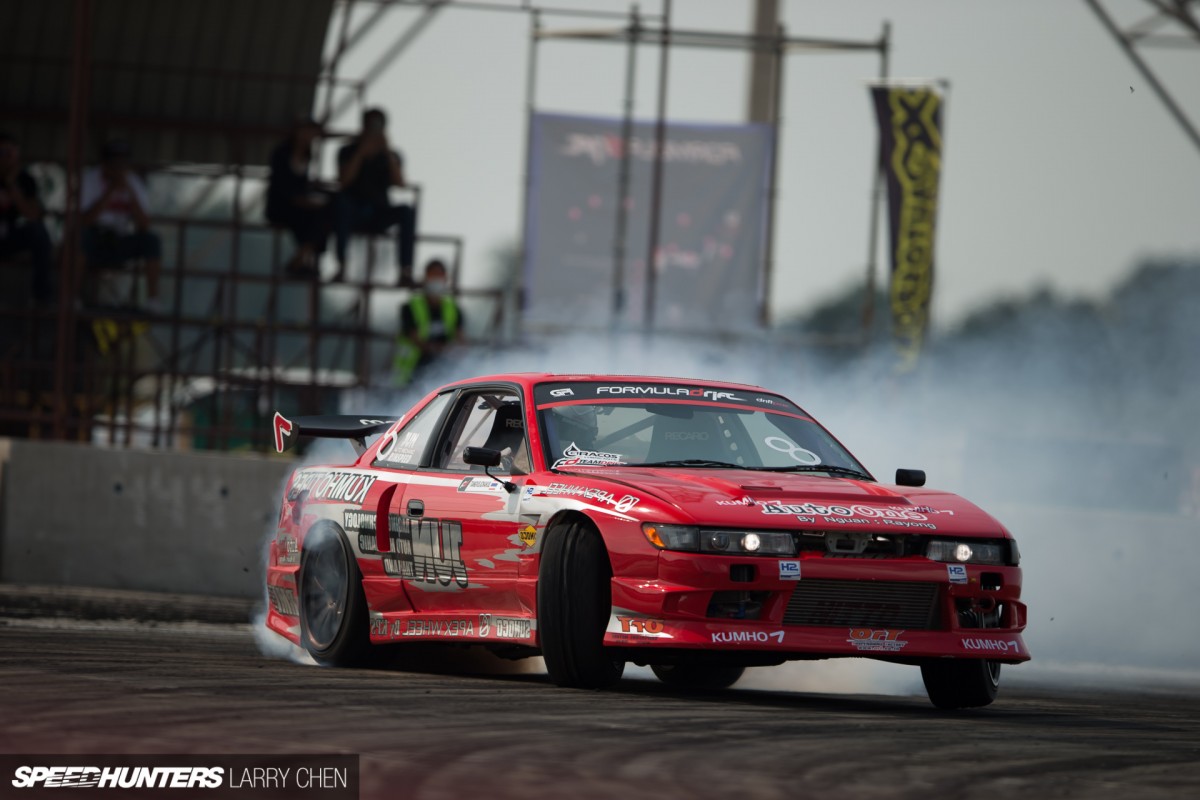 I think one of the best-looking cars on the grid was this S13 Silvia driven by local Thai driver Tangvejchakul.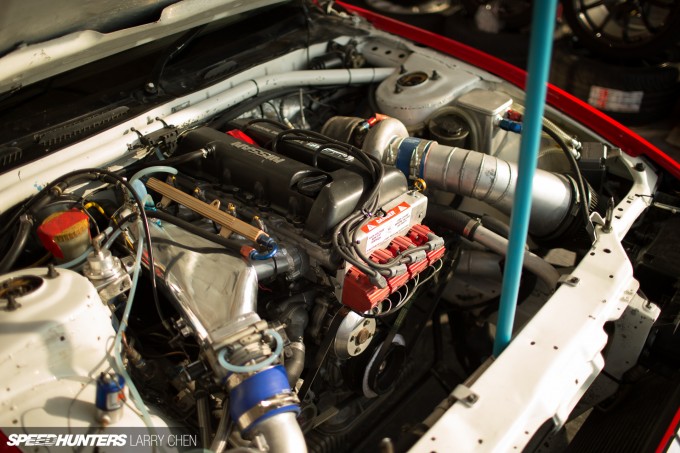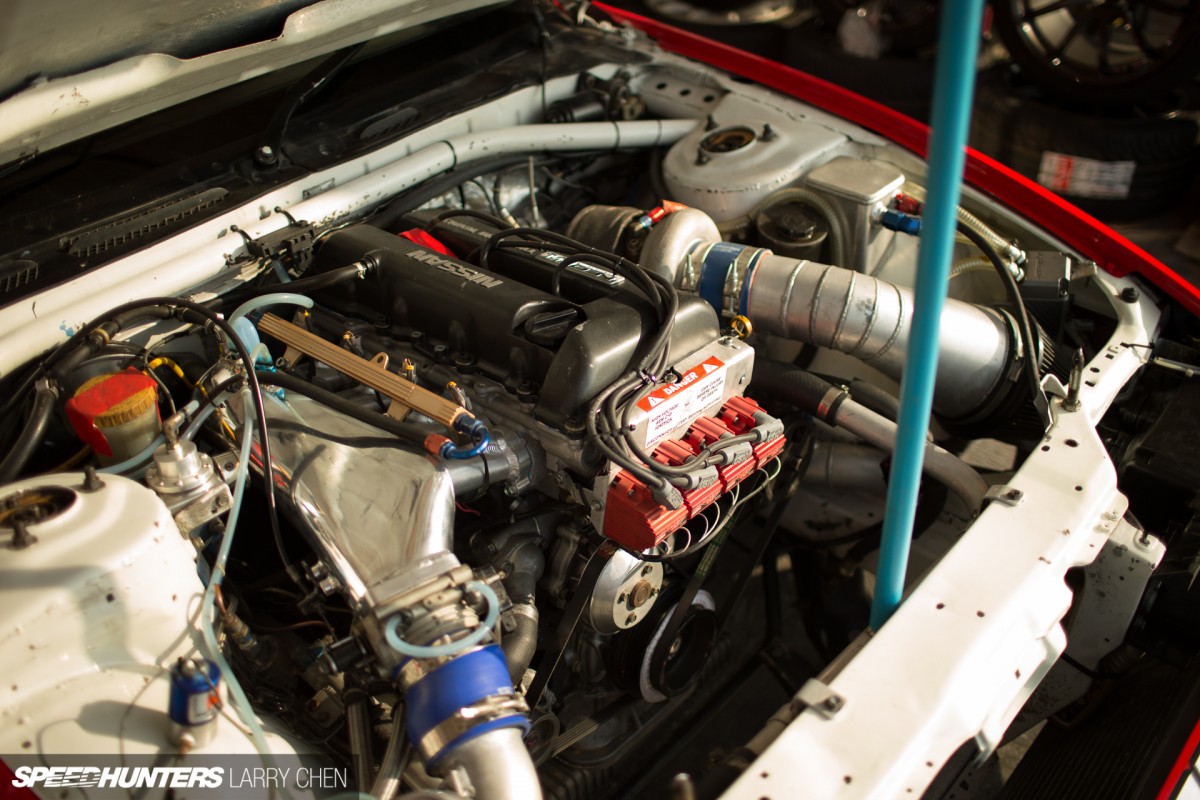 What was surprising was that this S-chassis still had an SR20DET powerplant. I could distinctly pick it apart from the other cars by the sound of the turbo four-banger.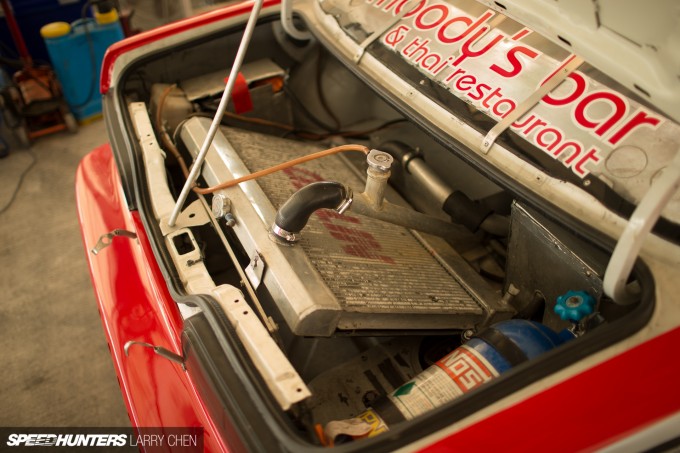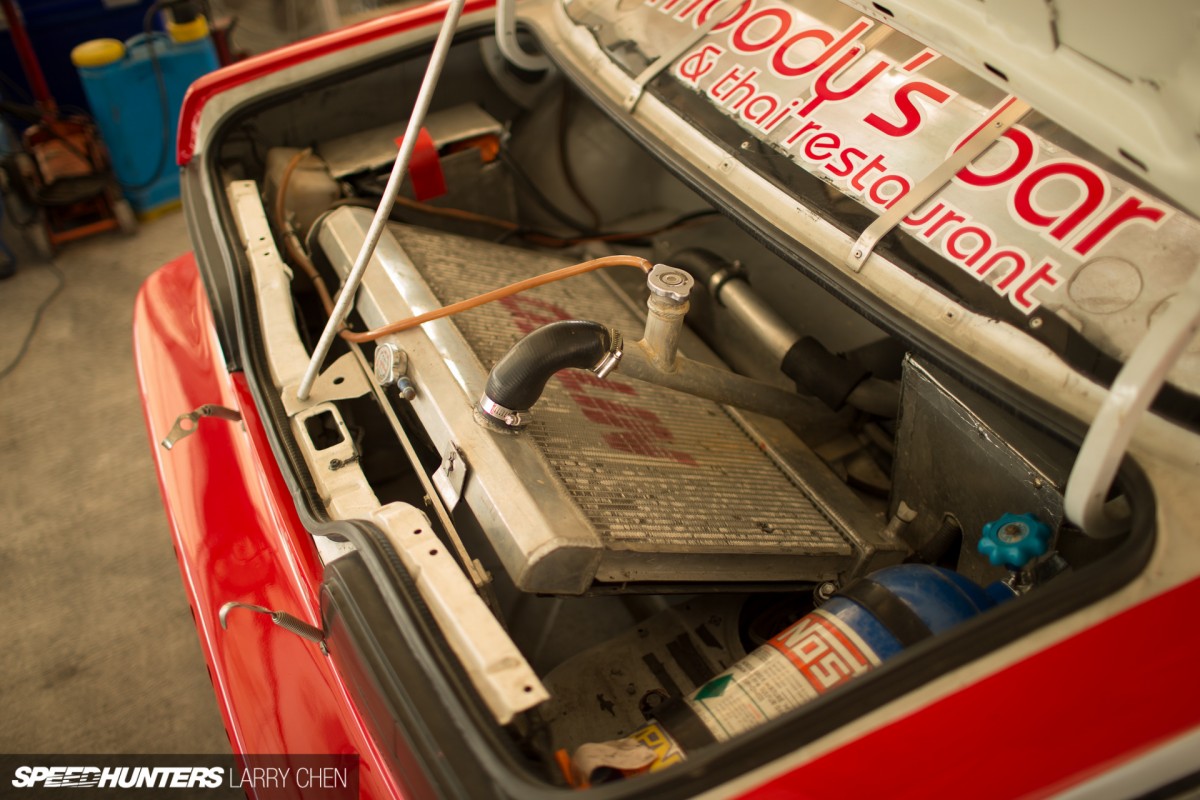 It had a simple rear radiator set-up and nitrous for when they needed it.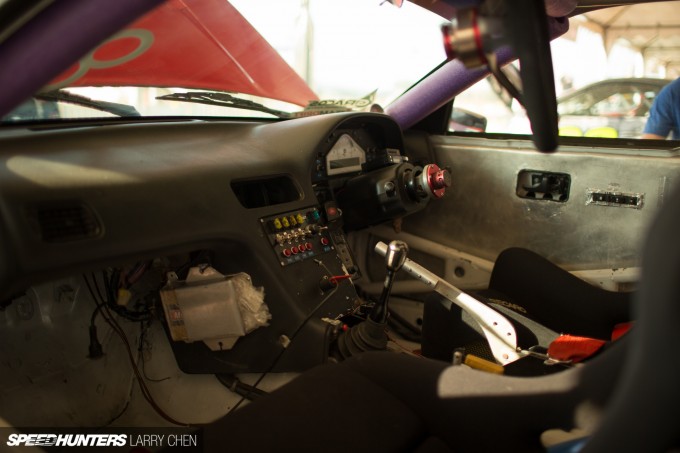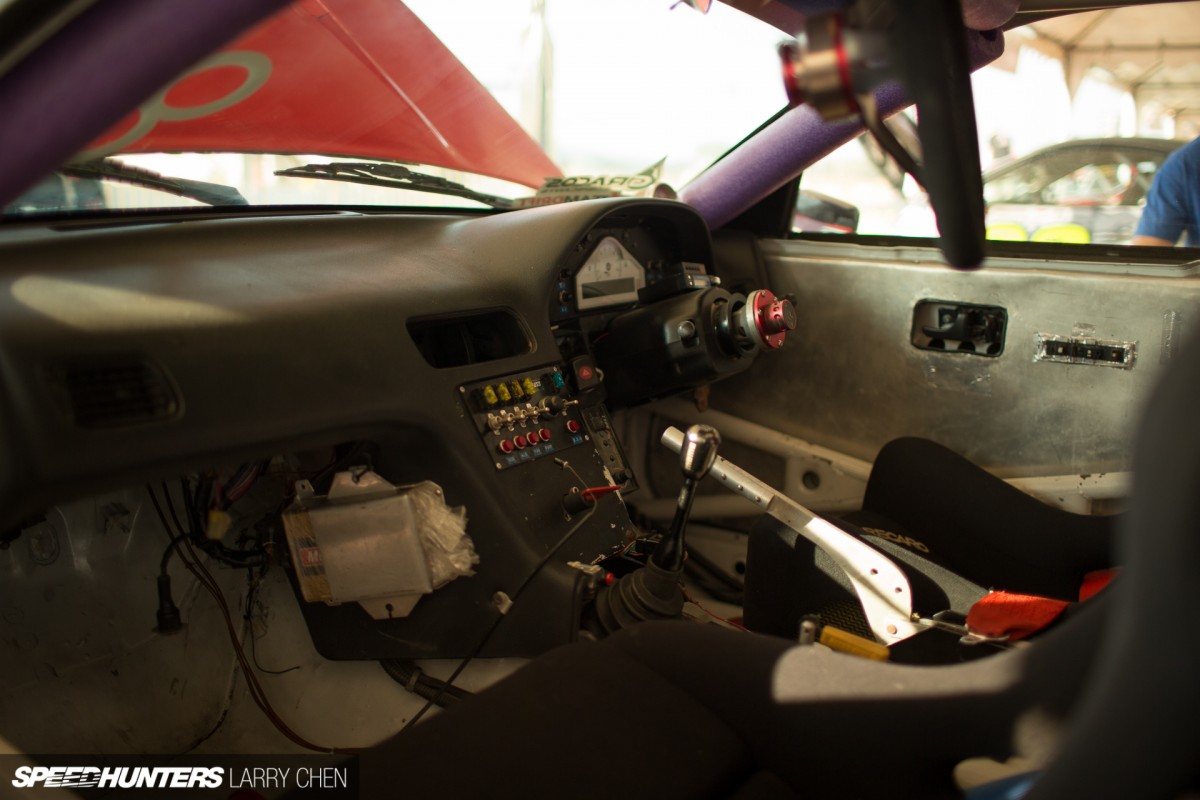 The interior was clean and simple; all function. The way it should be.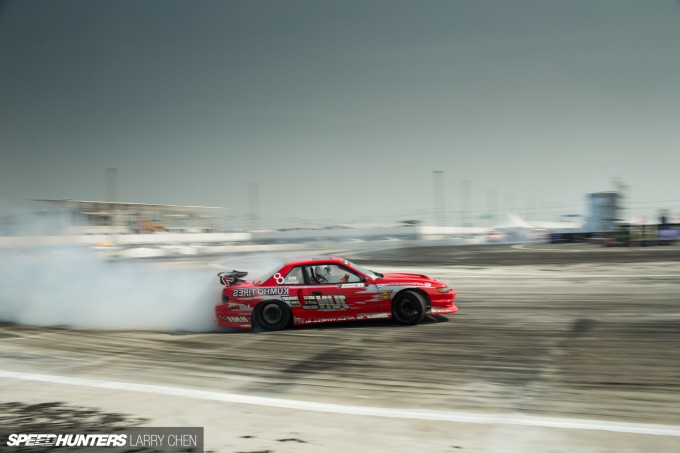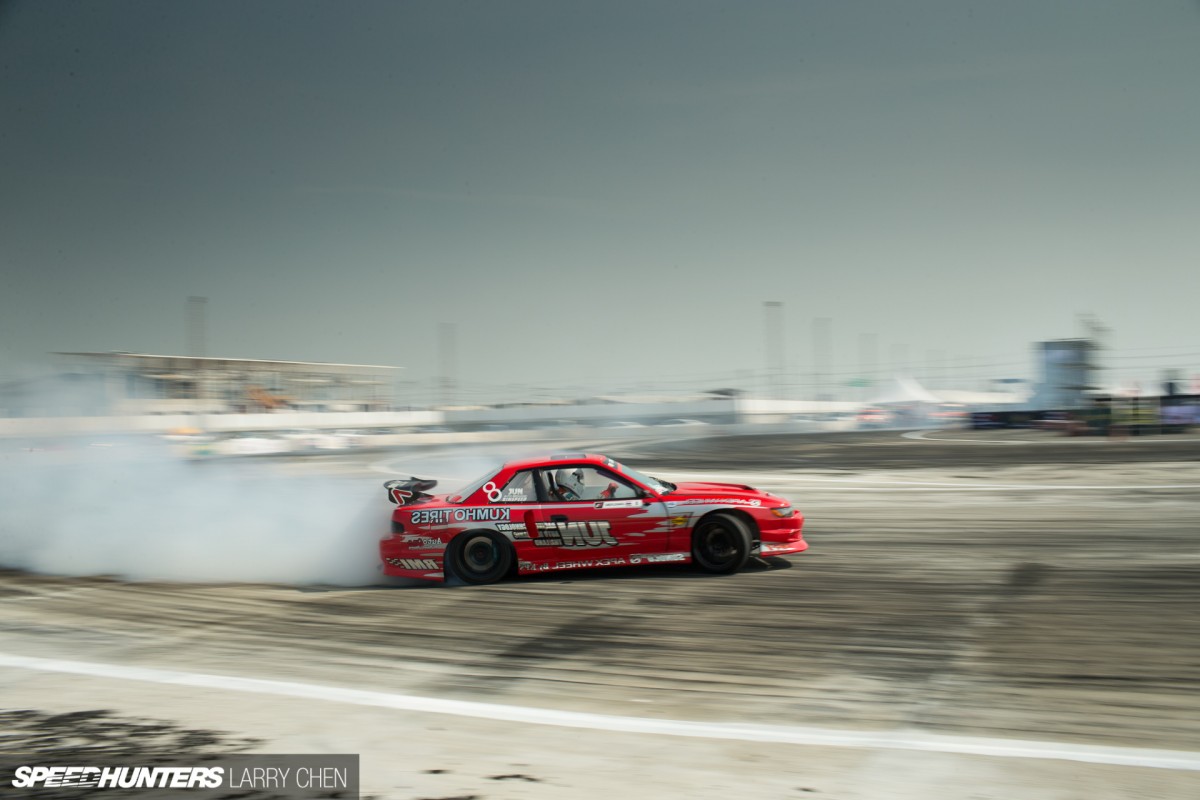 It's sad that there's only one SR20-powered Silvia in each of Formula Drift Asia and the FD Pro championship in the USA. David Briggs holds the fort down in North America with his SR24-powered S14.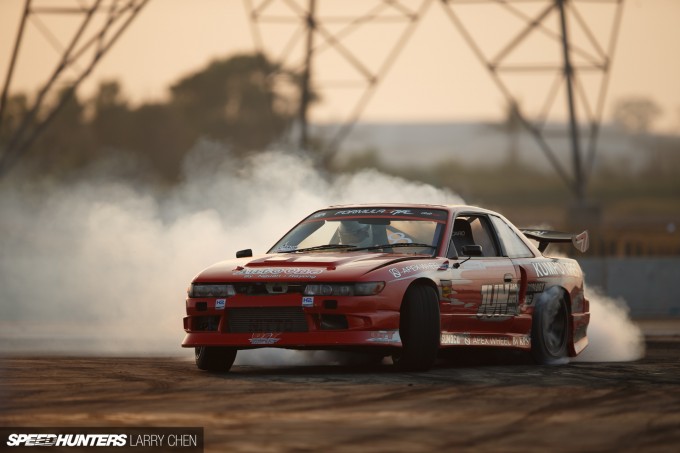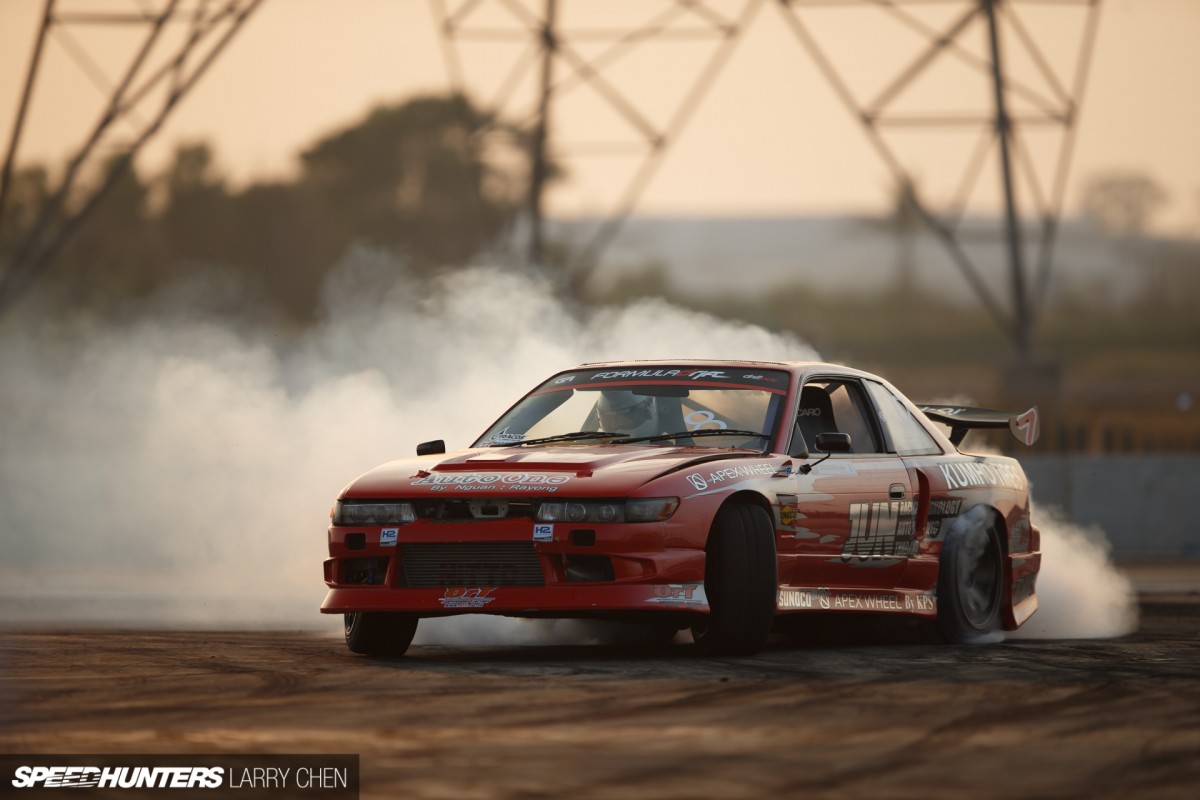 It really comes down to personal preference and Mr. Tangvejchakul holds it down just fine with the SR powerplant.
2JZ no shoot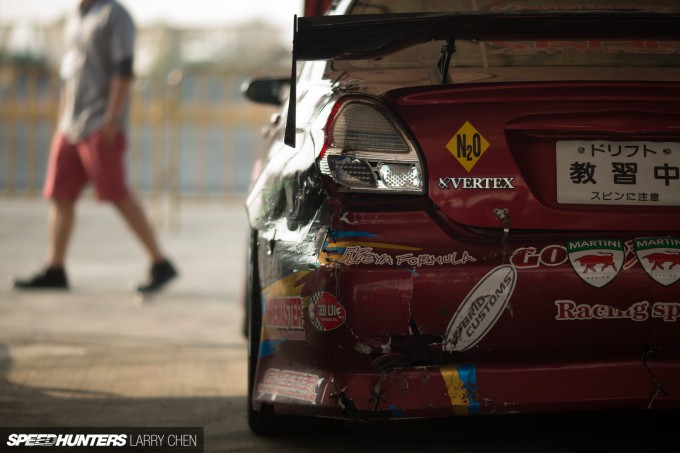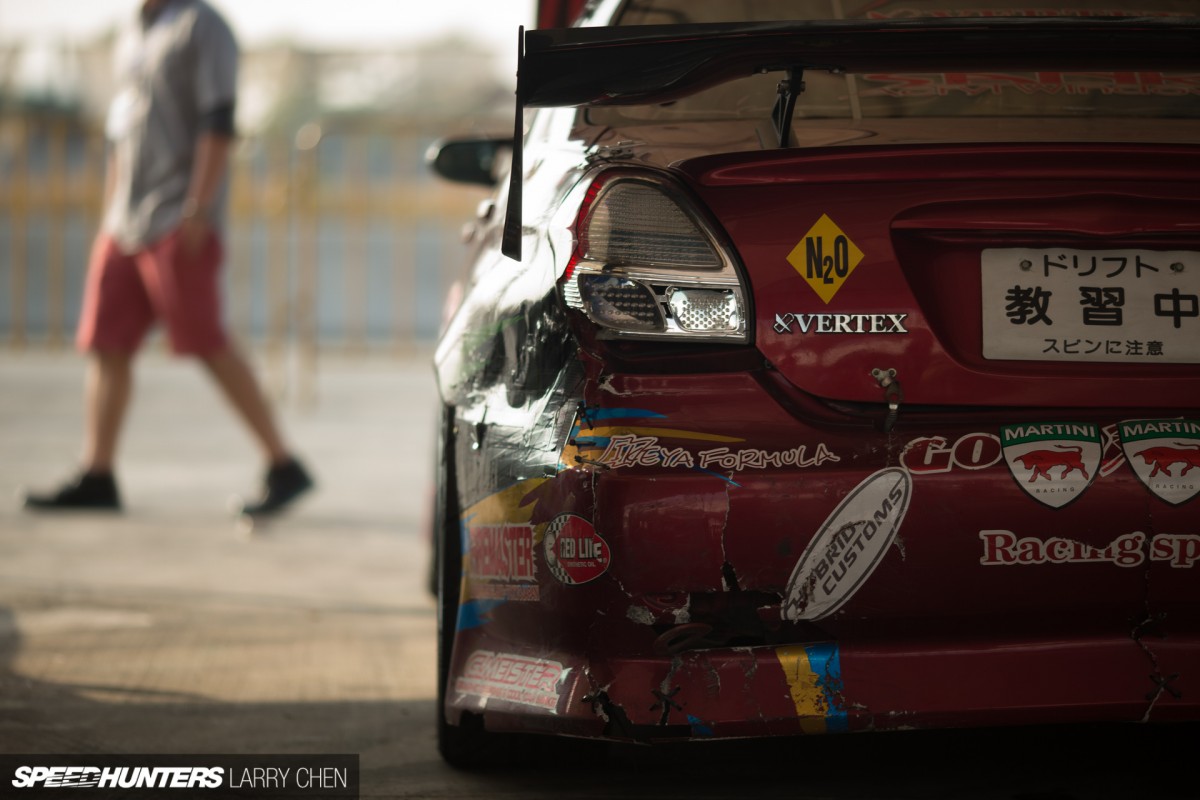 The heartbreaking story of the event was Tom Monkhouse losing the championship due to a transmission failure in his Toyota Verossa.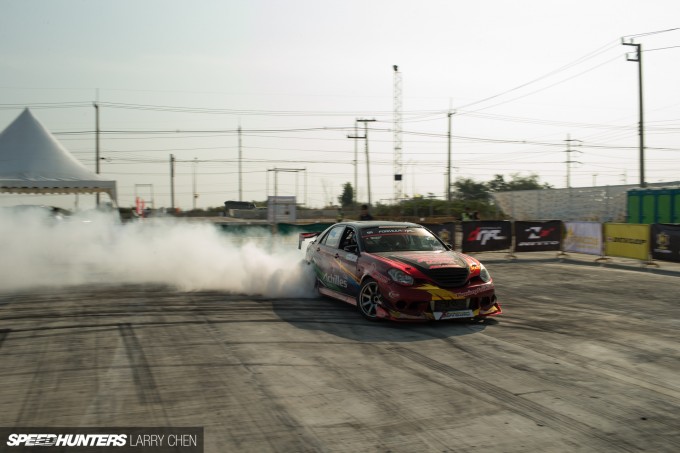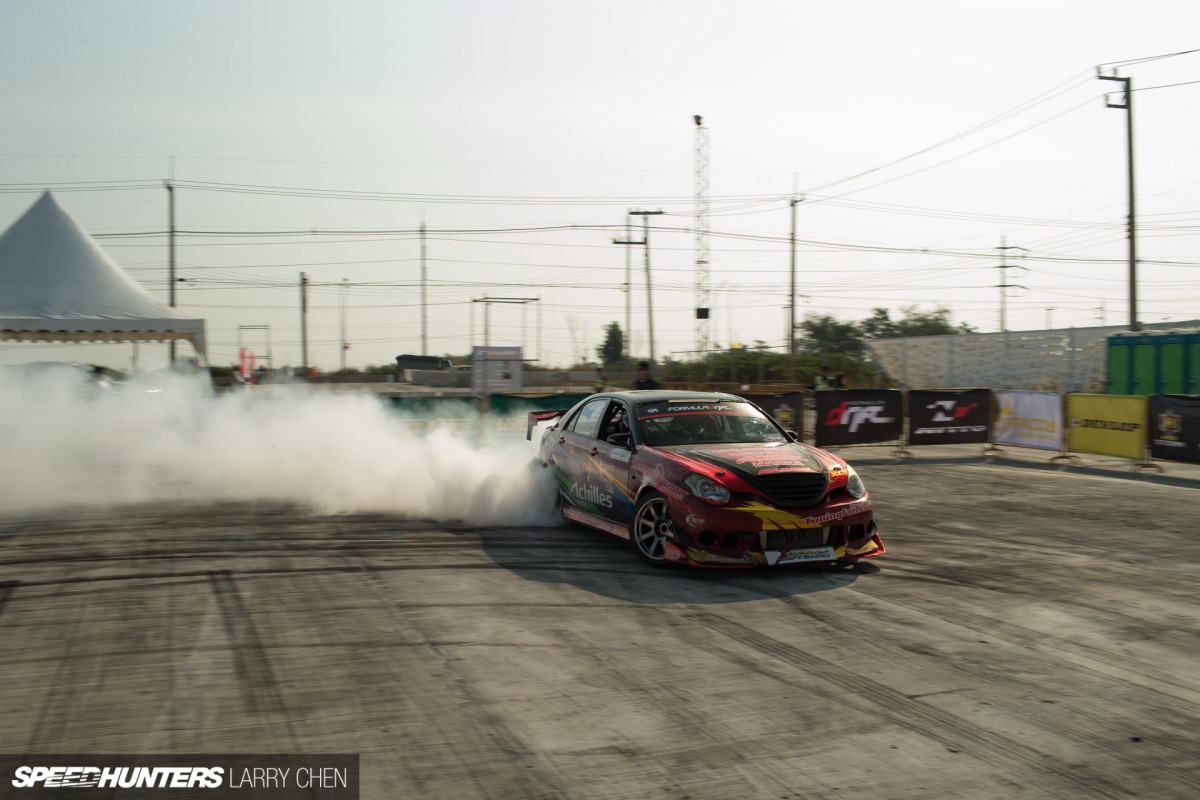 For such a large car, Tom drove it like nothing I've ever seen before. He could easily place it wherever he needed it to go, whipping it back and forth and changing directions like it was a much smaller platform.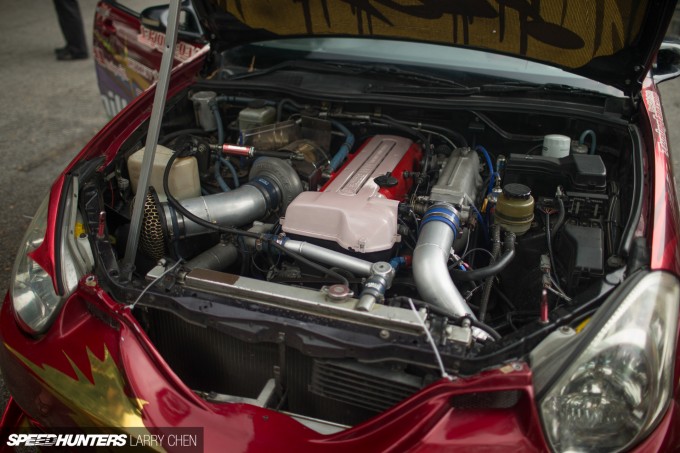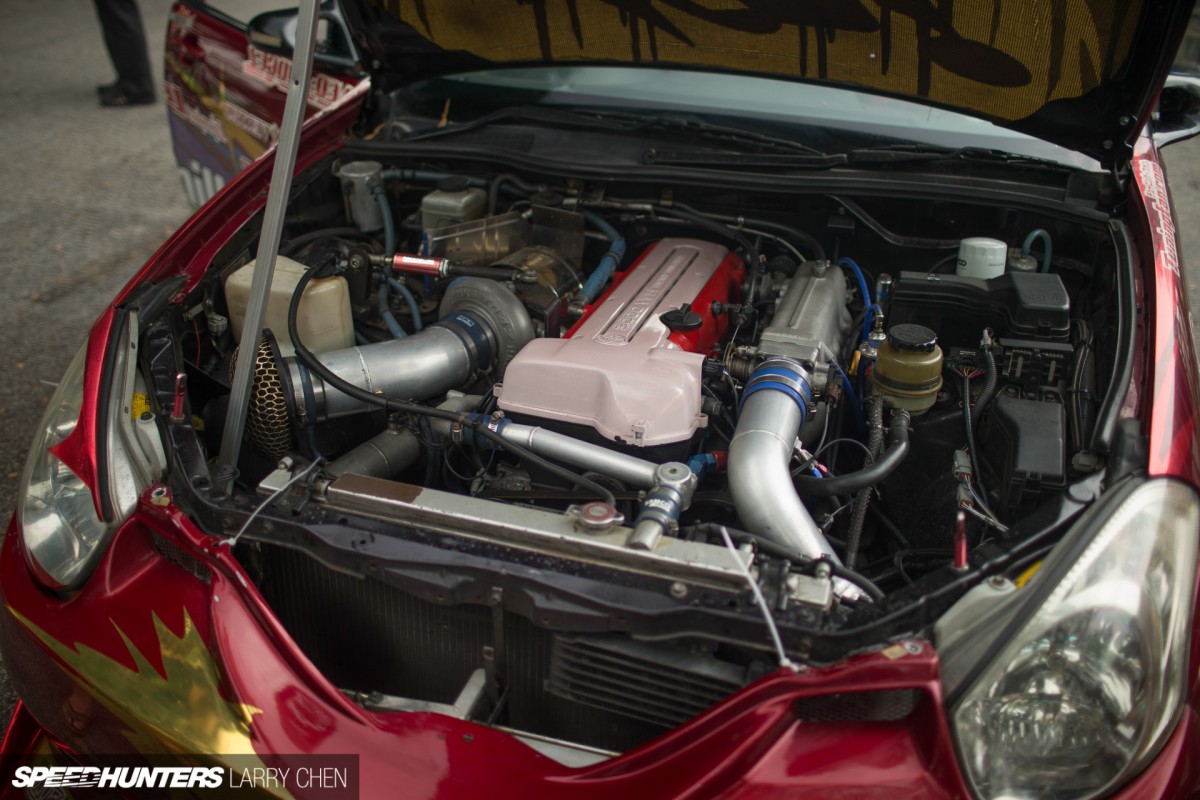 He actually debuted the car earlier in the year at Malaysia, where he had a podium finish. He was so incredibly close to nabbing the championship from Daigo Saito, but the drift gods thought otherwise.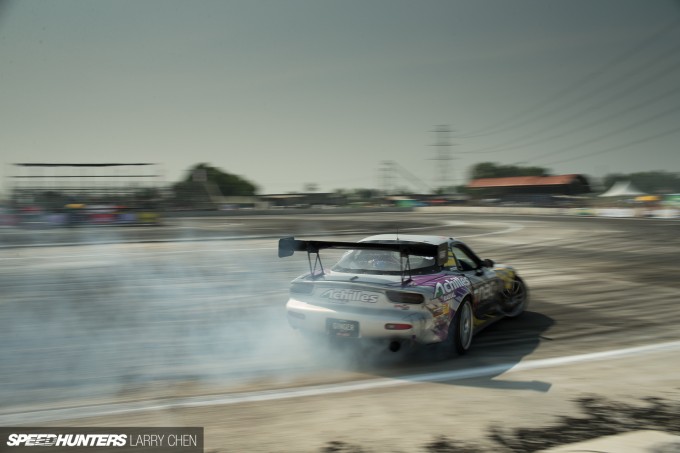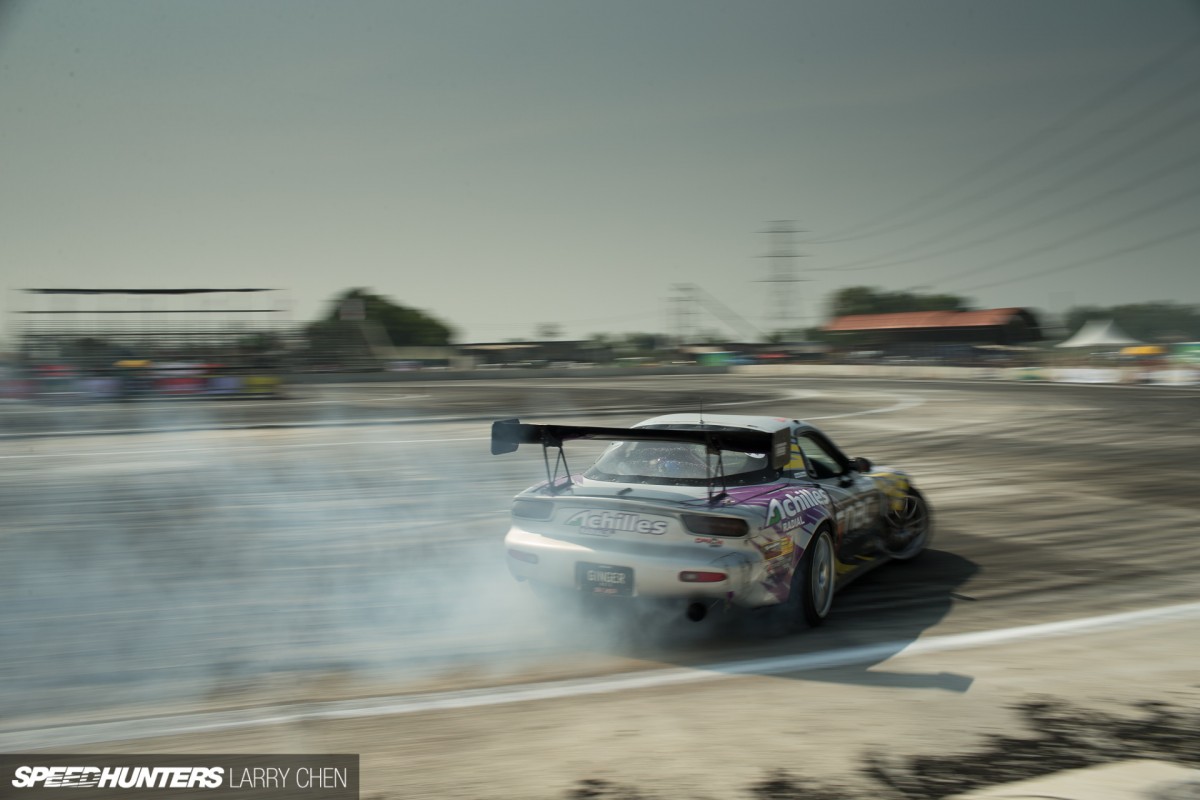 The FD RX-7 is quite popular in FD Asia; there are three in total and one of them is driven by New Zealand driver Daynom Templeman.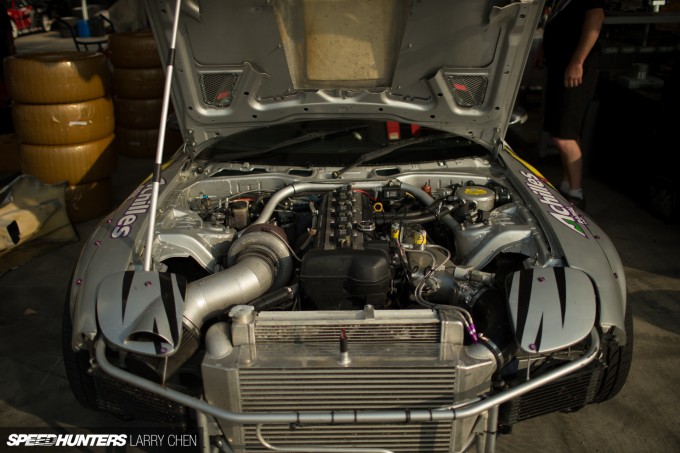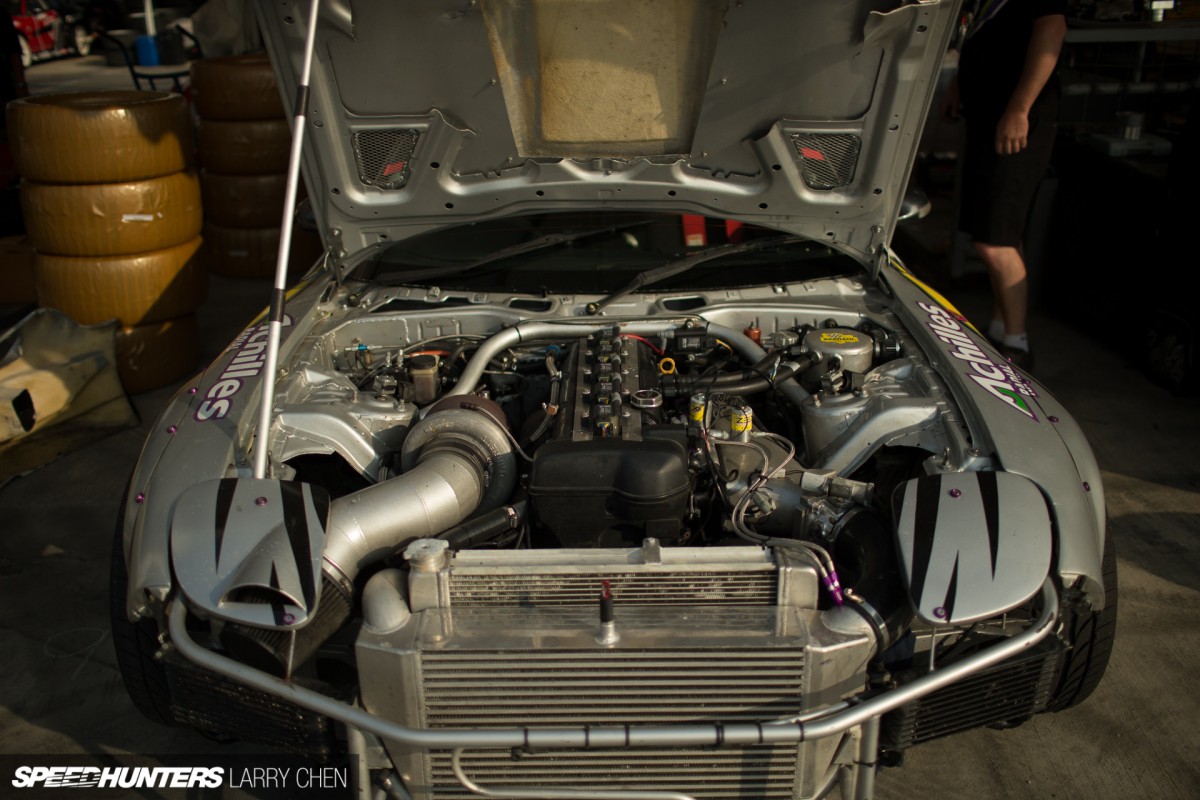 Of course, being an FD Asia car it needed to be powered by a Toyota 2JZ and of course, it puts out 870hp.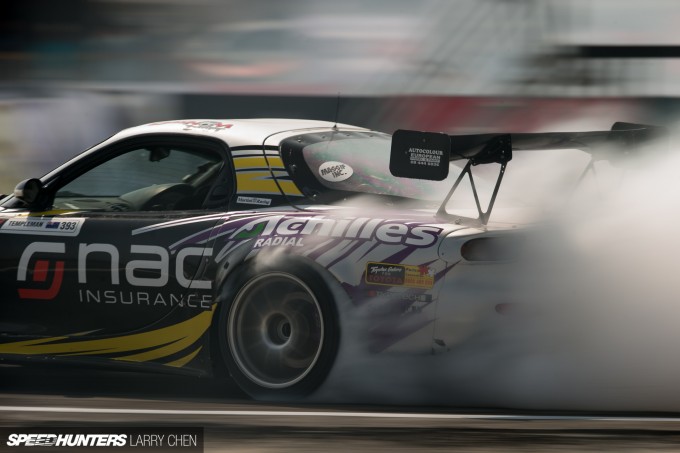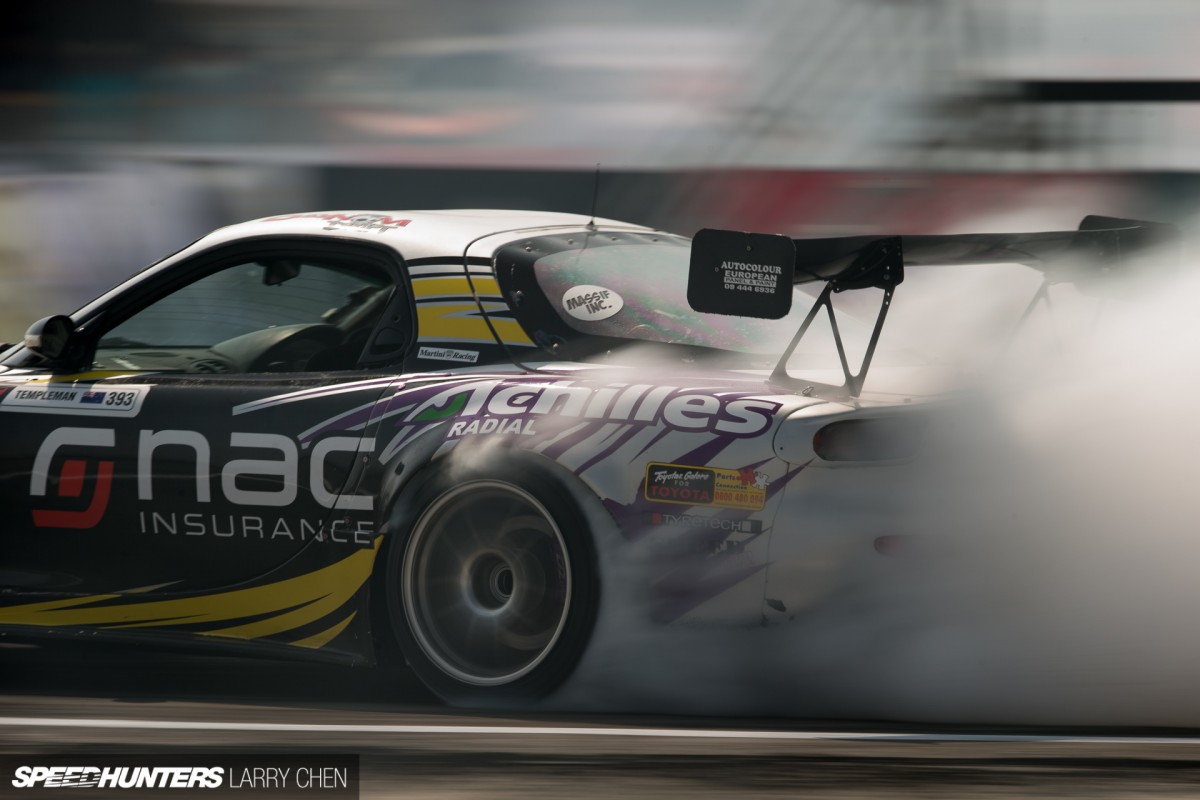 The amount of smoke this car makes is just nuts. It's a wonder how anyone can see where they're going when following Daynom. The New Zealand guys are always about style, so they even took the liberty of designing their own bodykit so they can compete in style.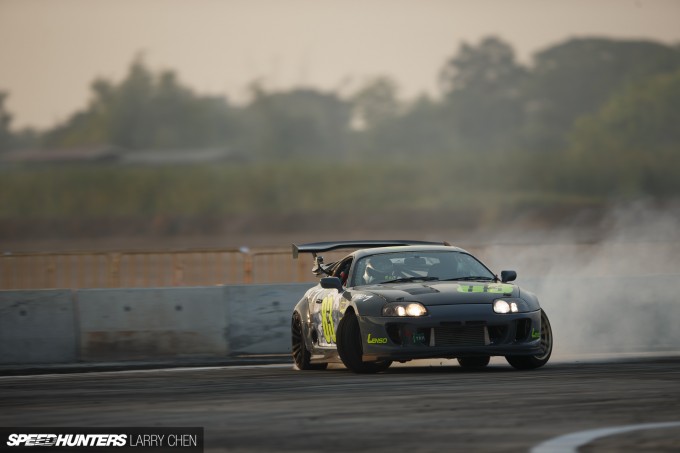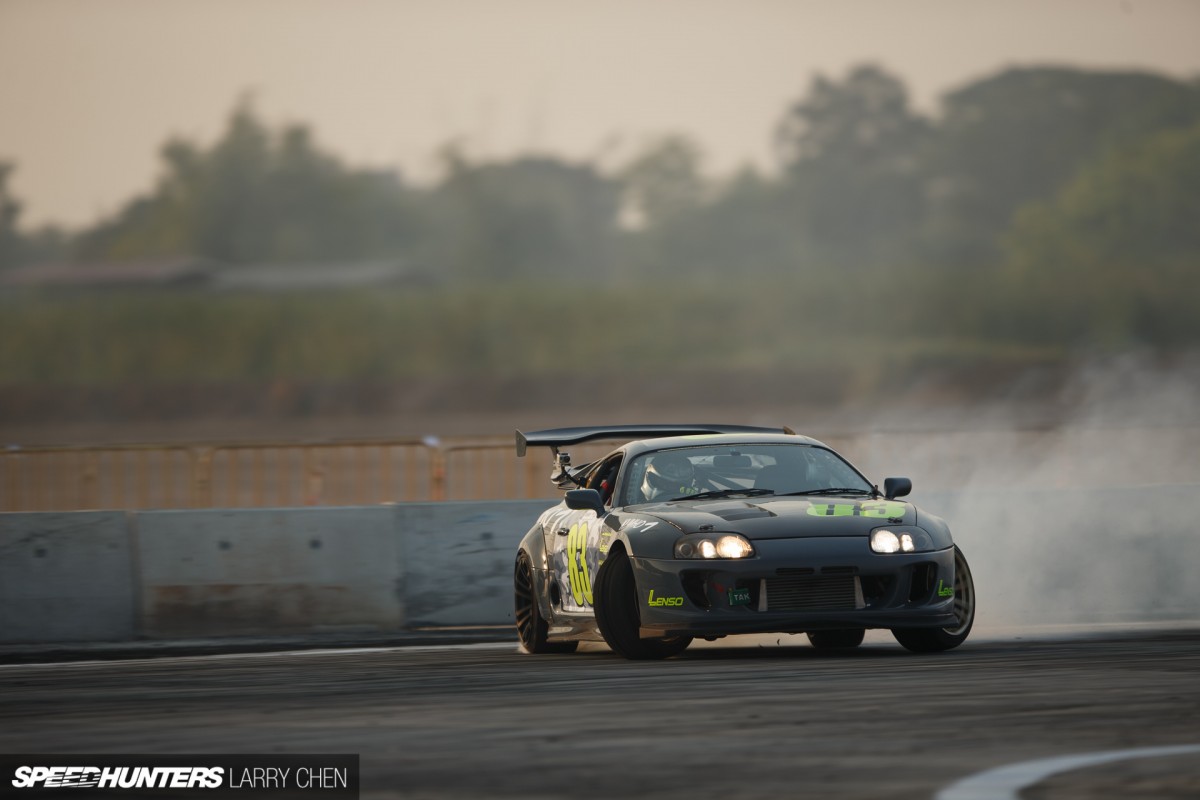 Interestingly, I spent a week in Japan just before going to Thailand, and I didn't see a single Toyota Supra. I must have gone to at least eight tuning shops. Then I realised that most of the Supras have been exported out of Japan and into Scandinavia. There are more Supras at Gatebil than any other car – aside from the BMW E30.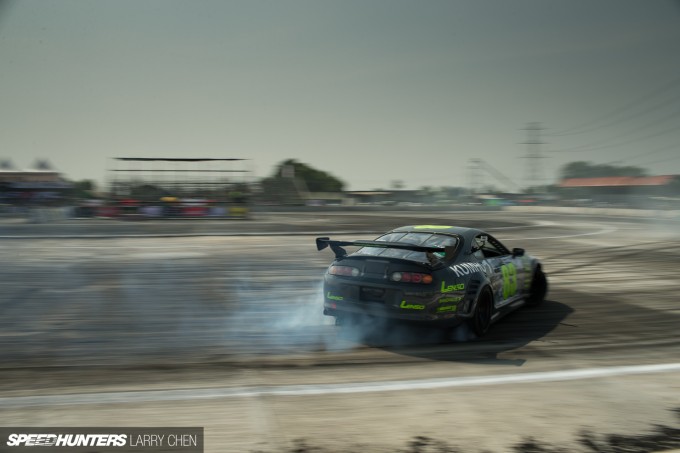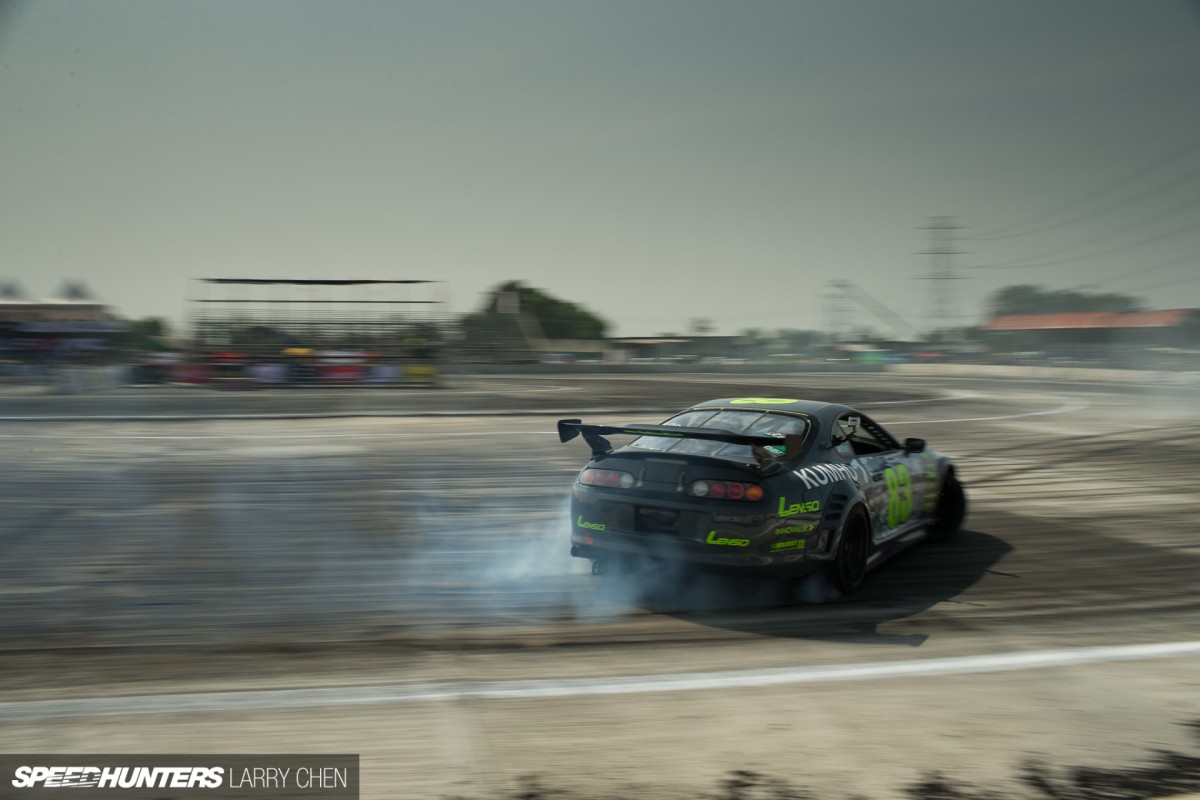 This one had one of the most unique liveries on the grid, with some NASCAR style numbers. You can't go wrong with neon yellow and gray.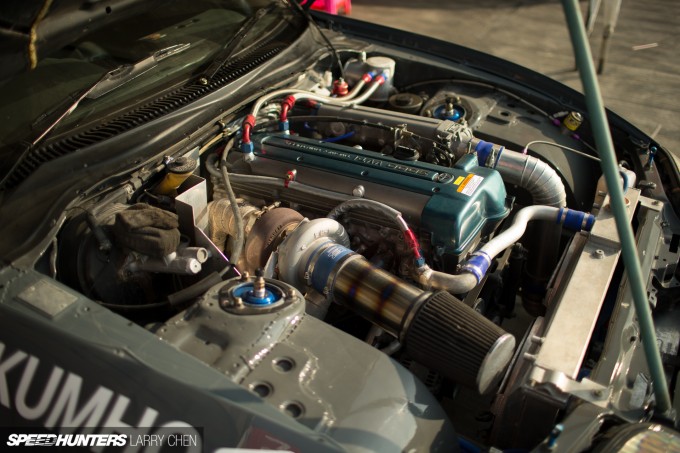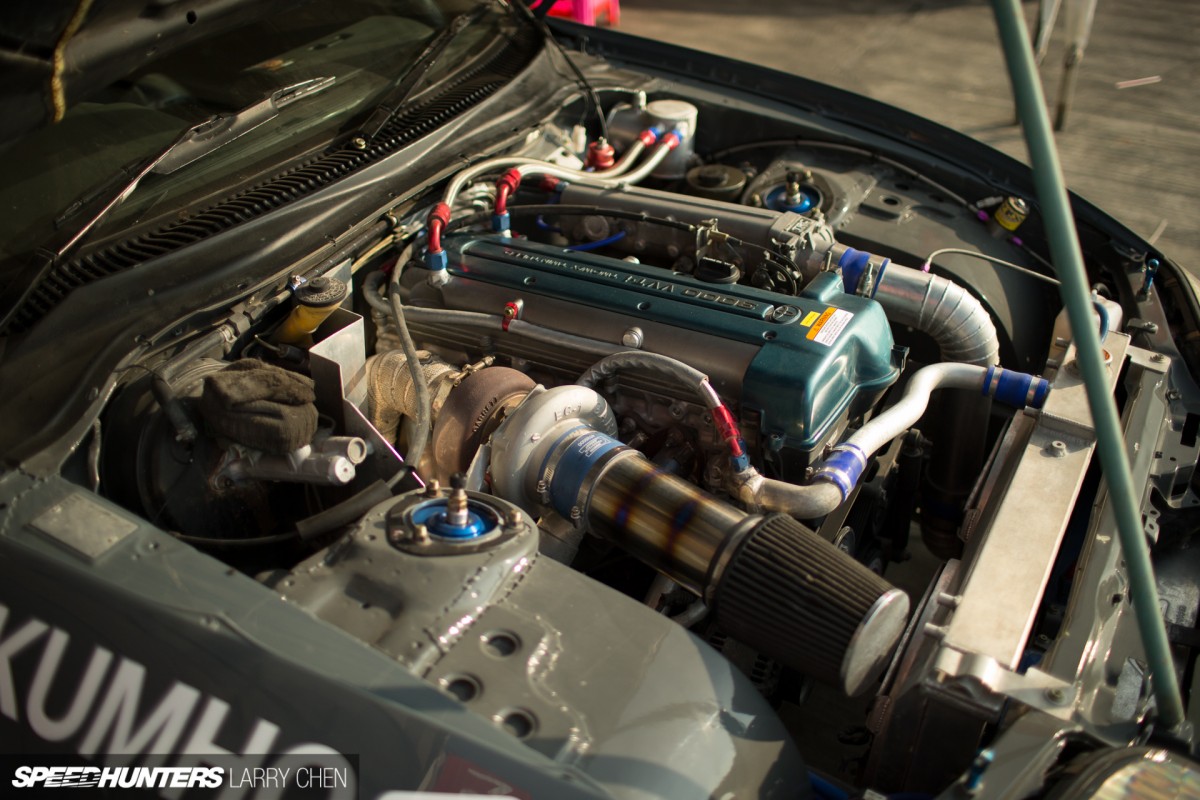 It's funny because most of the other Thai-built cars have a 2JZ under the hood and this Toyota Supra was no exception, although of course it was the only car that actually came with it stock.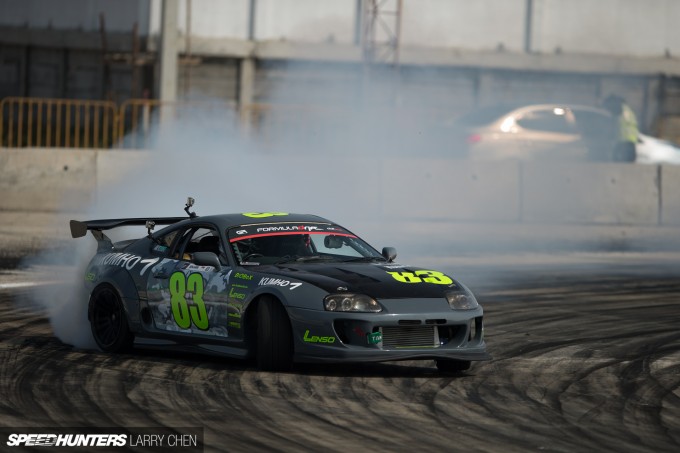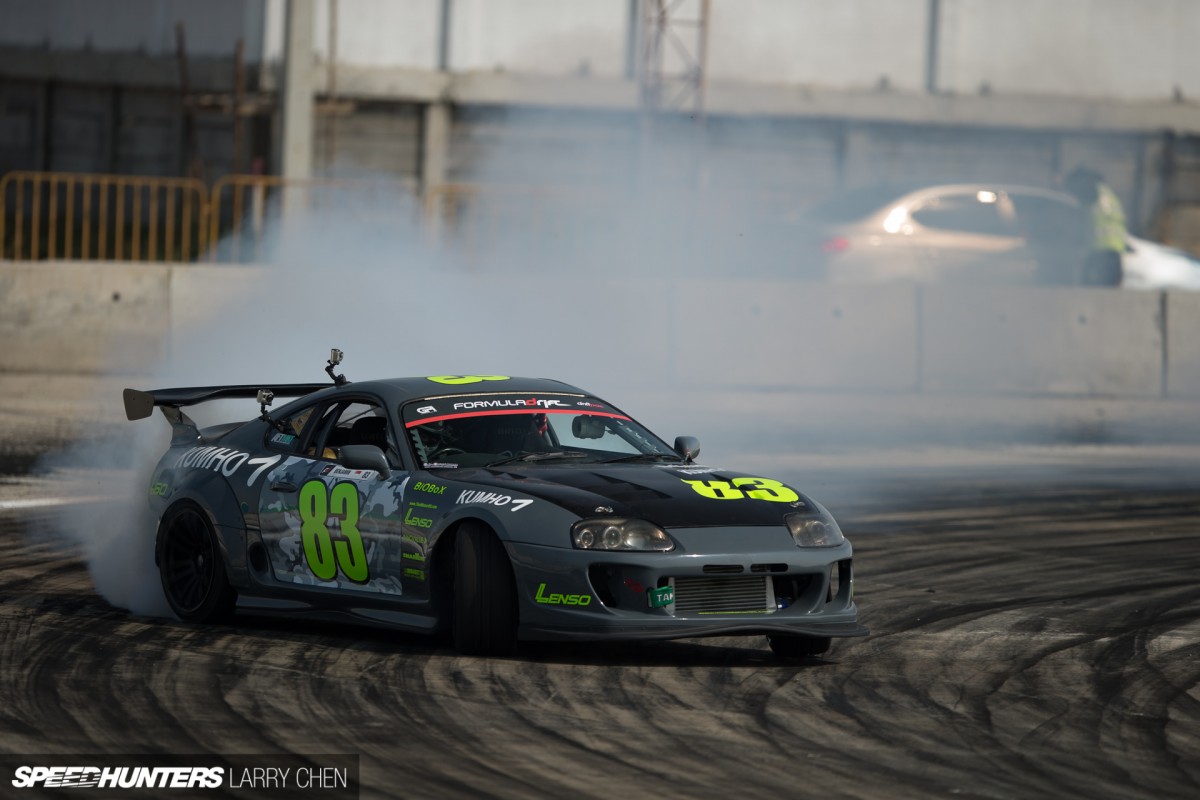 I don't understand why there aren't more of these drift cars stateside, because it just looks so good with the right kit and livery. Then again, because it was only available for two years, the Supra purists would get mad at anyone who chops one up for drifting.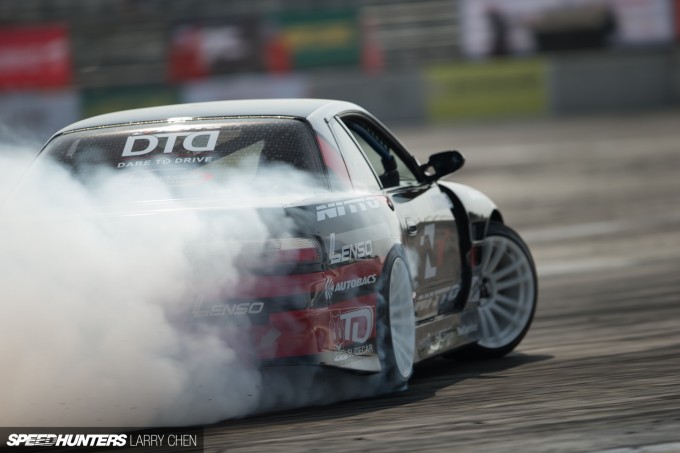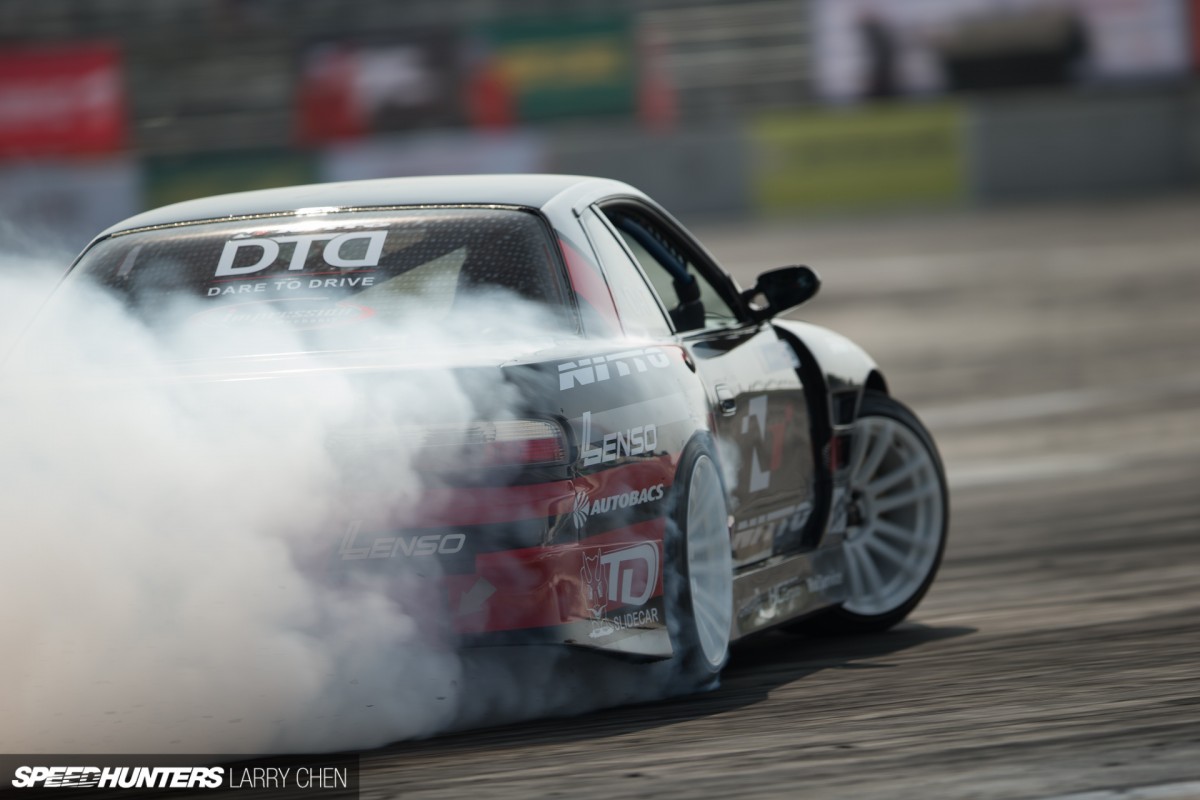 I'll always have a soft spot for the S13 chassis, as everyone in the drift community has a story about watching their first drift event, flooded with the 240SX in all its variations. So to see one as clean as this one driven by another Oat, a local Thai driver, really brought me back.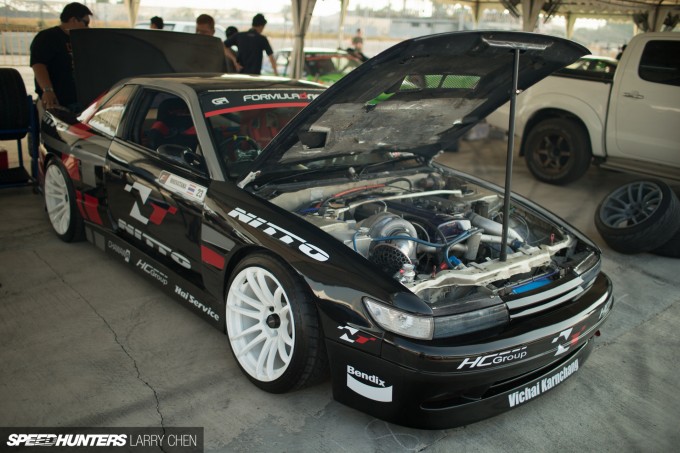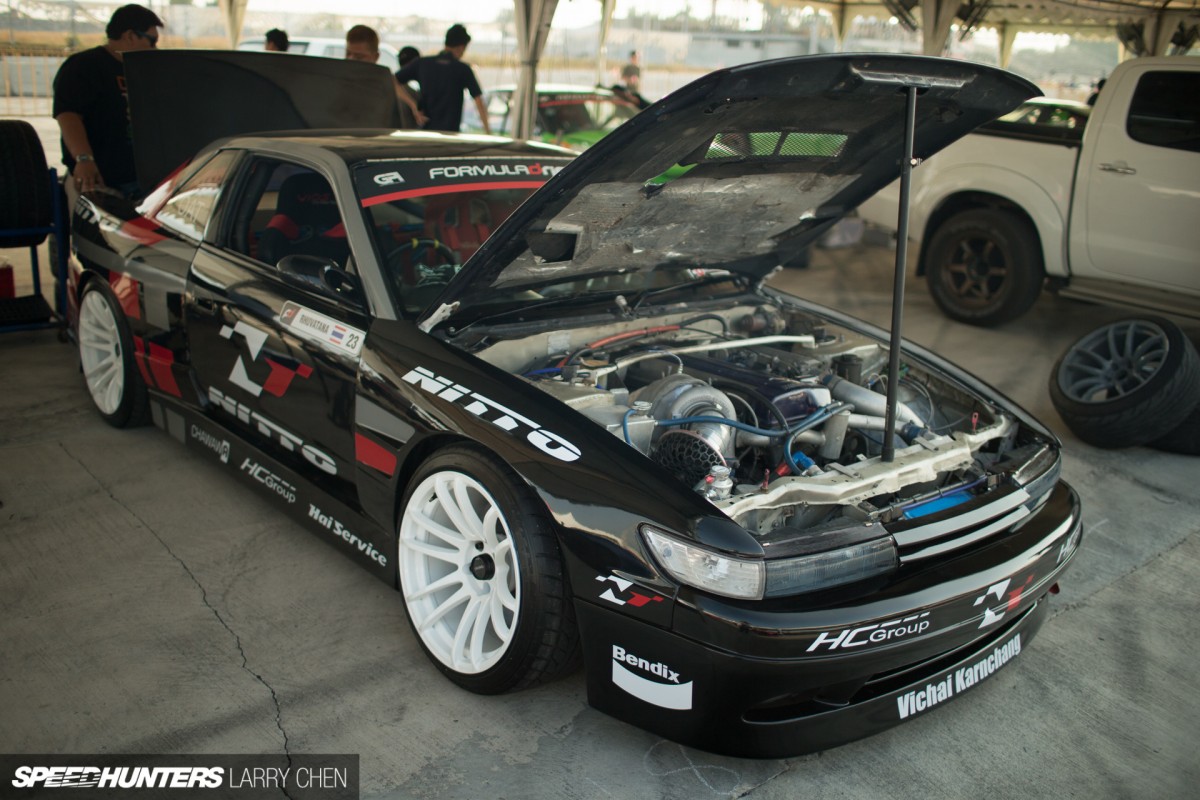 The power plant was of course, from a Toyota, but the look was super clean.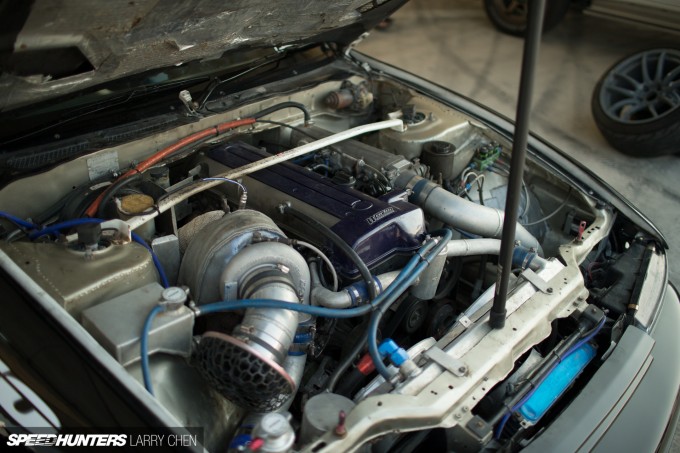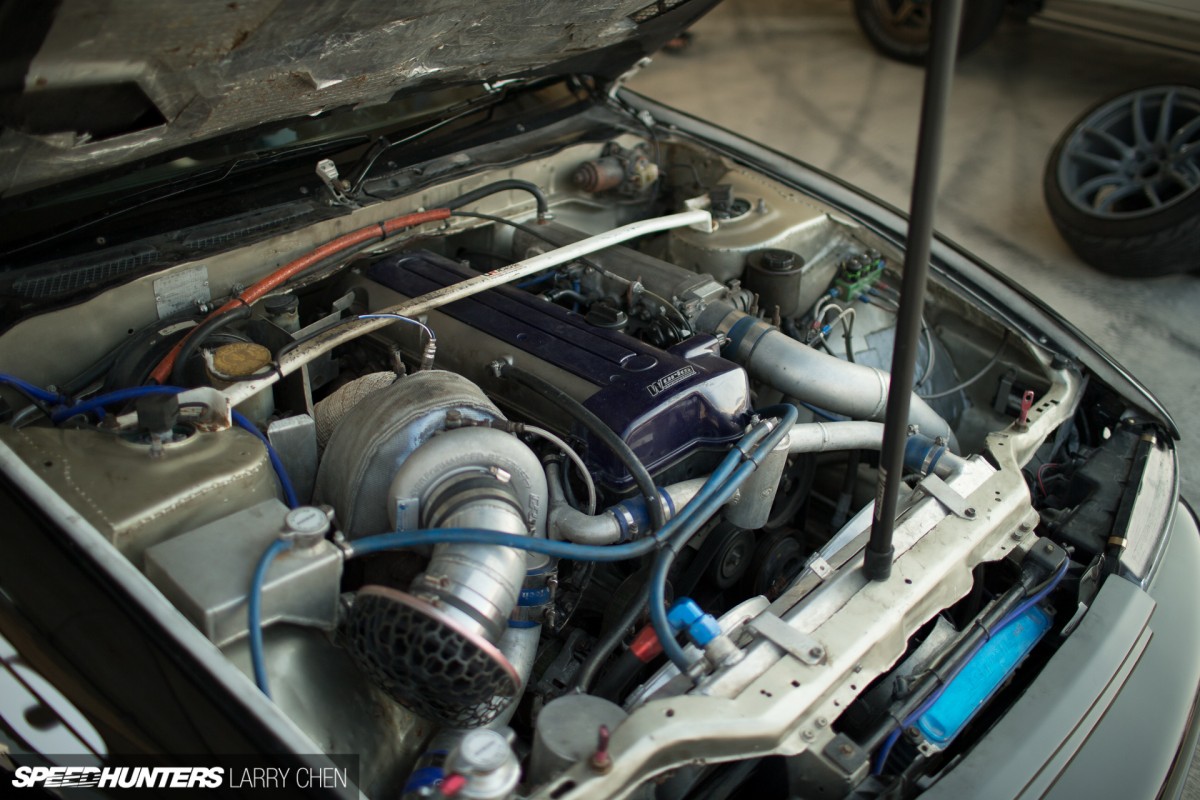 The tuners in South East Asia seem to have fallen in love with the 2JZ; it makes sense, because it's easy to make power, is super reliable and sounds amazing. What more do you want from a turbo motor?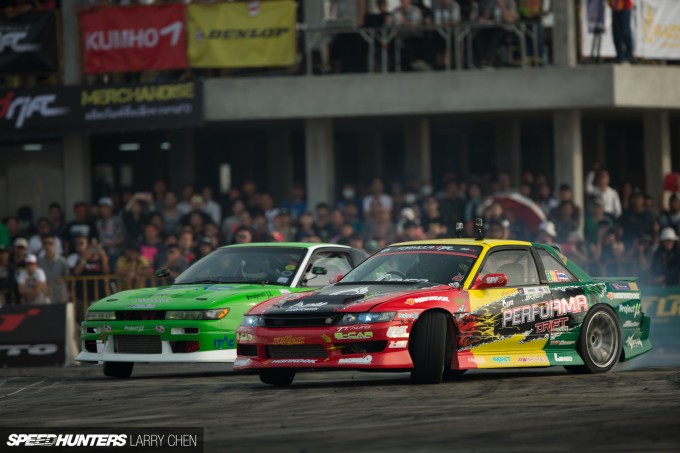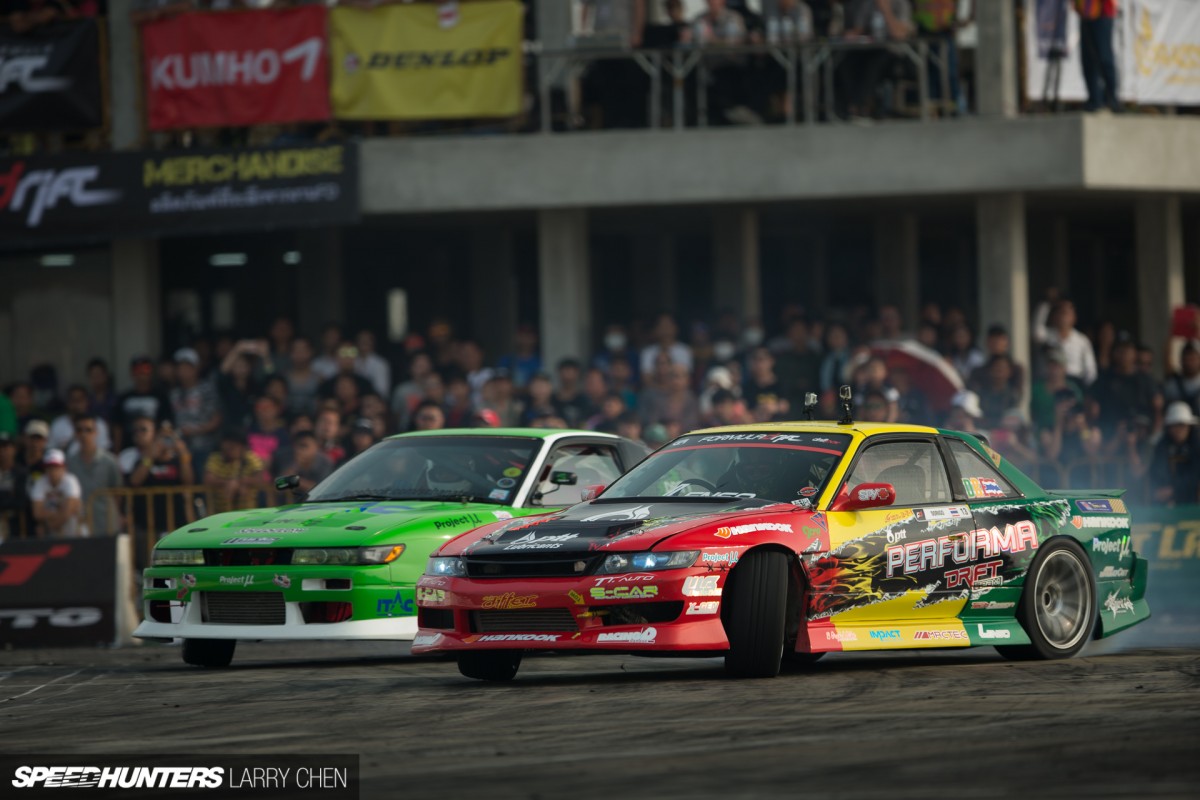 One of the more interesting cars on the grid was driven by Davide Dorigo. This S13 had some Japanese Honda Minivan headlights.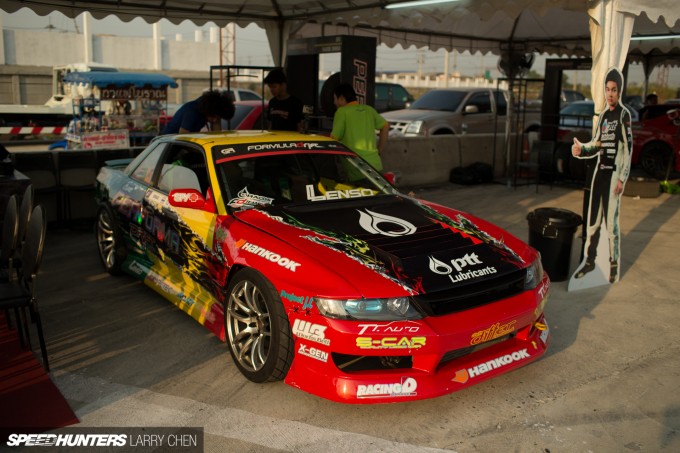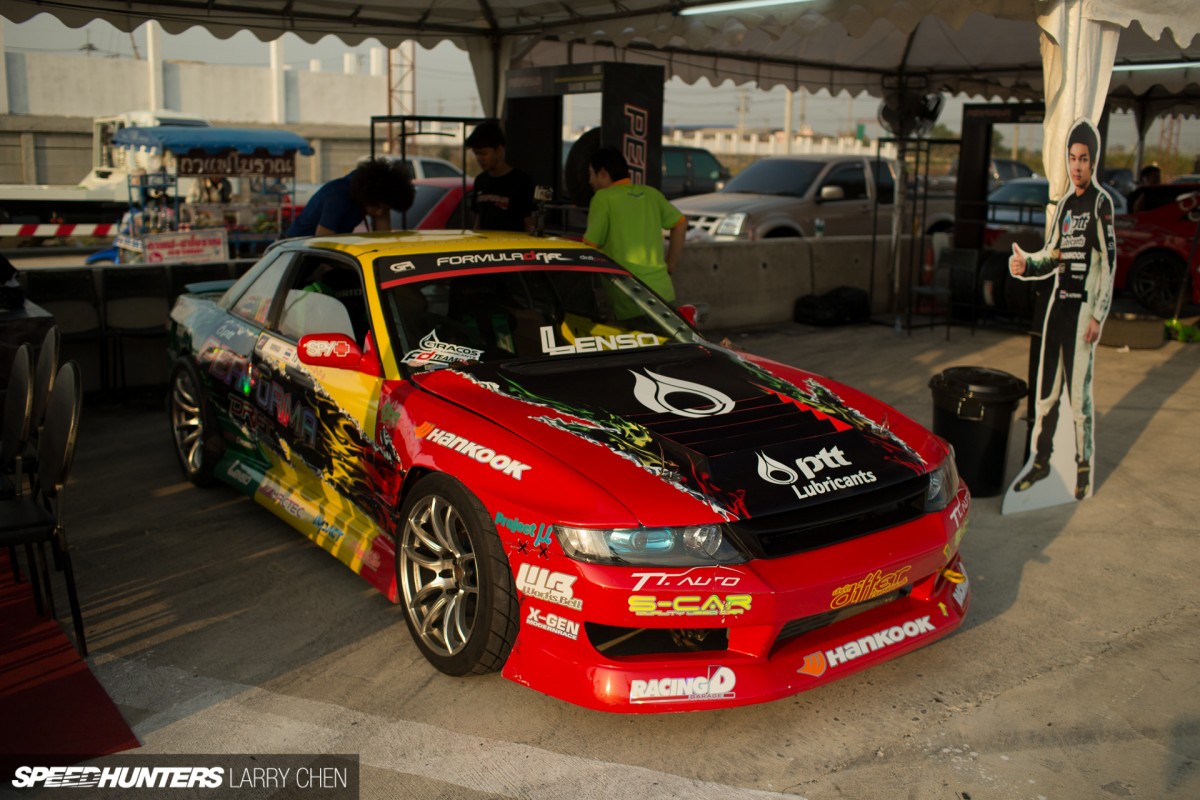 The livery was inspired by Bob Marley as Davide first decided to paint his car red, and when he realized that there were too many red cars, he decided to be unique and paint it in the rasta colors.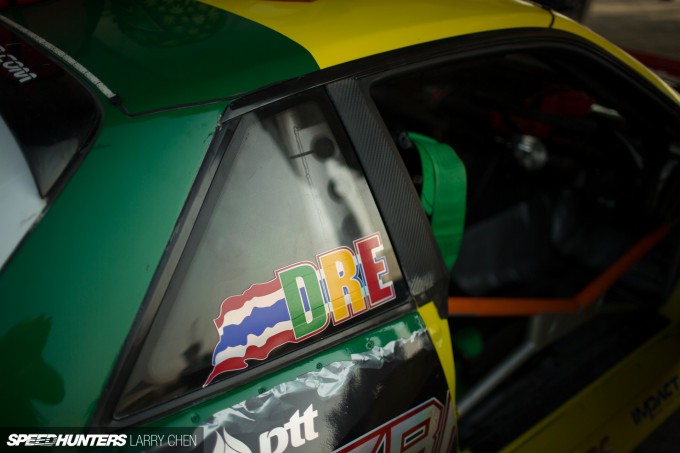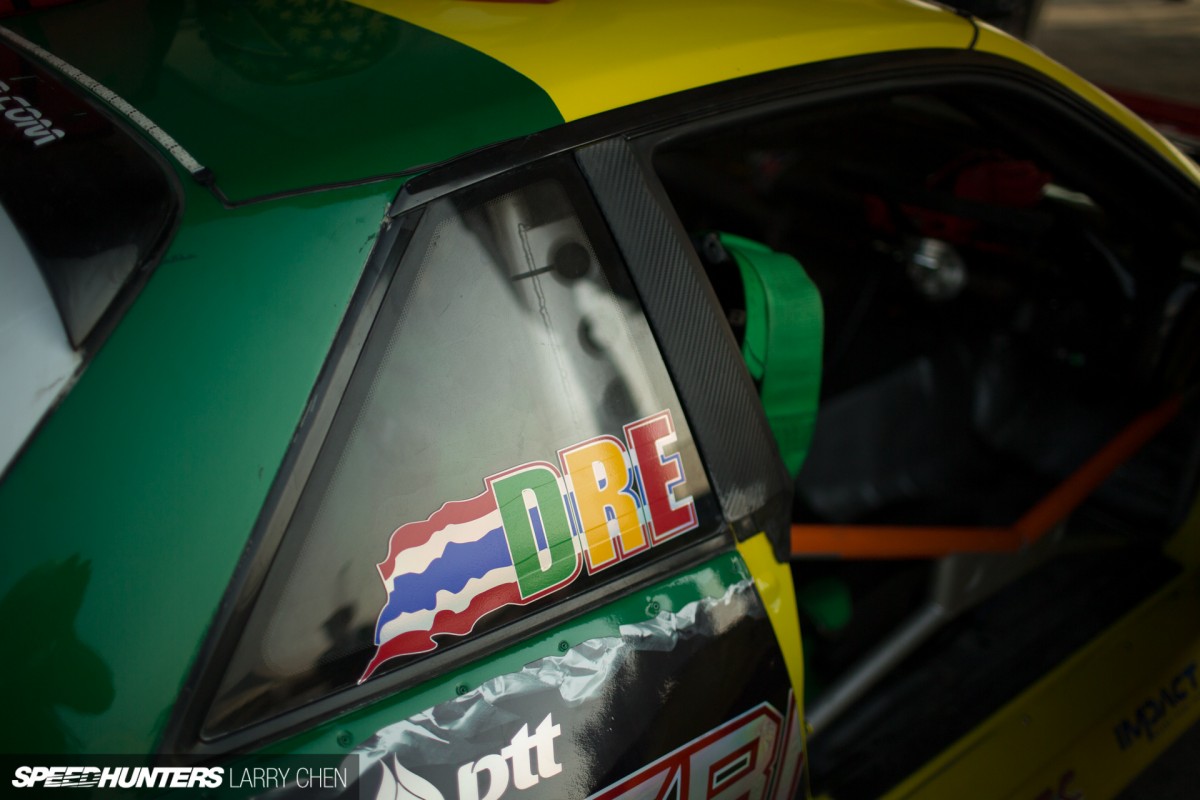 It actually reminds me a little bit of Ross Petty's S15.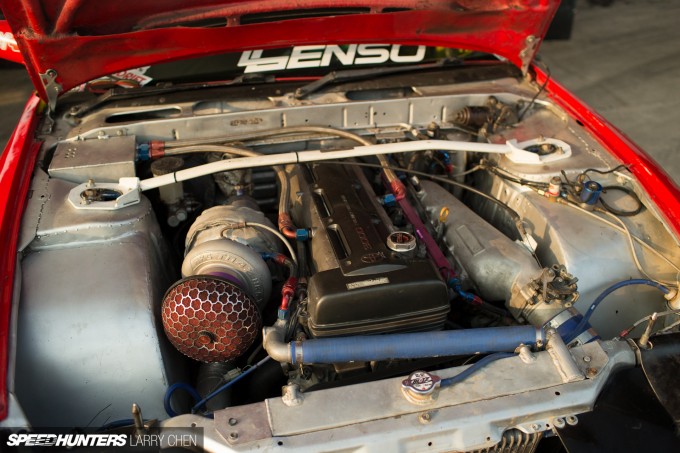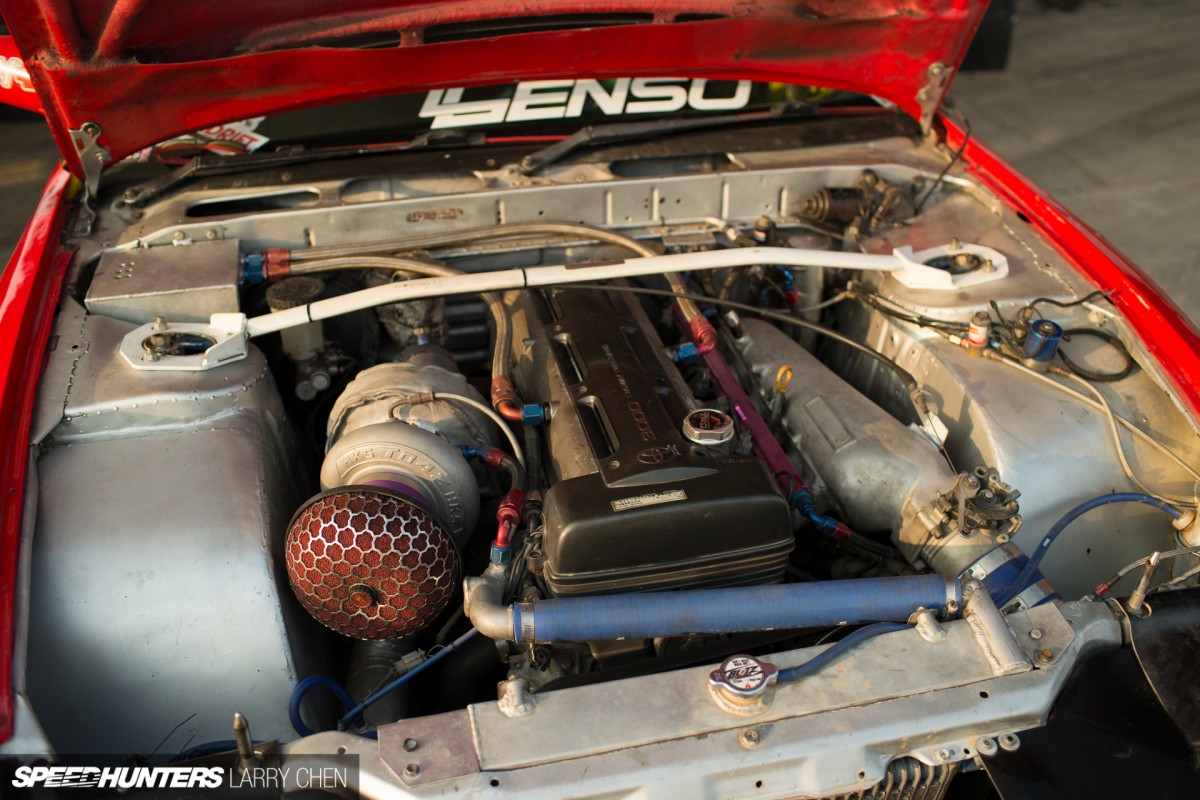 Again with the Toyota heart in a Nissan body. It actually looks quite at home in the tubbed engine bay.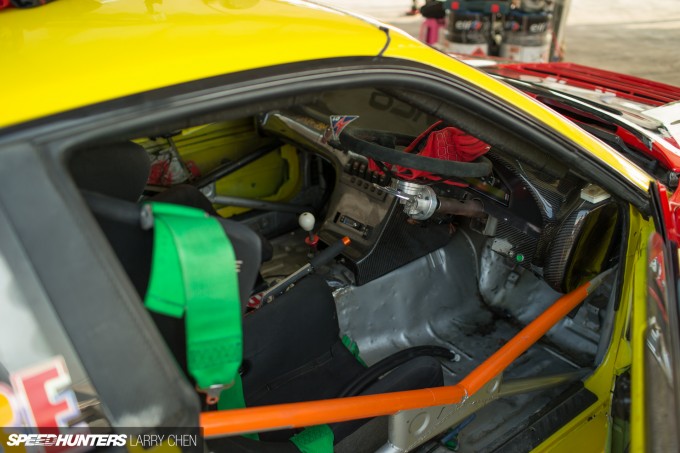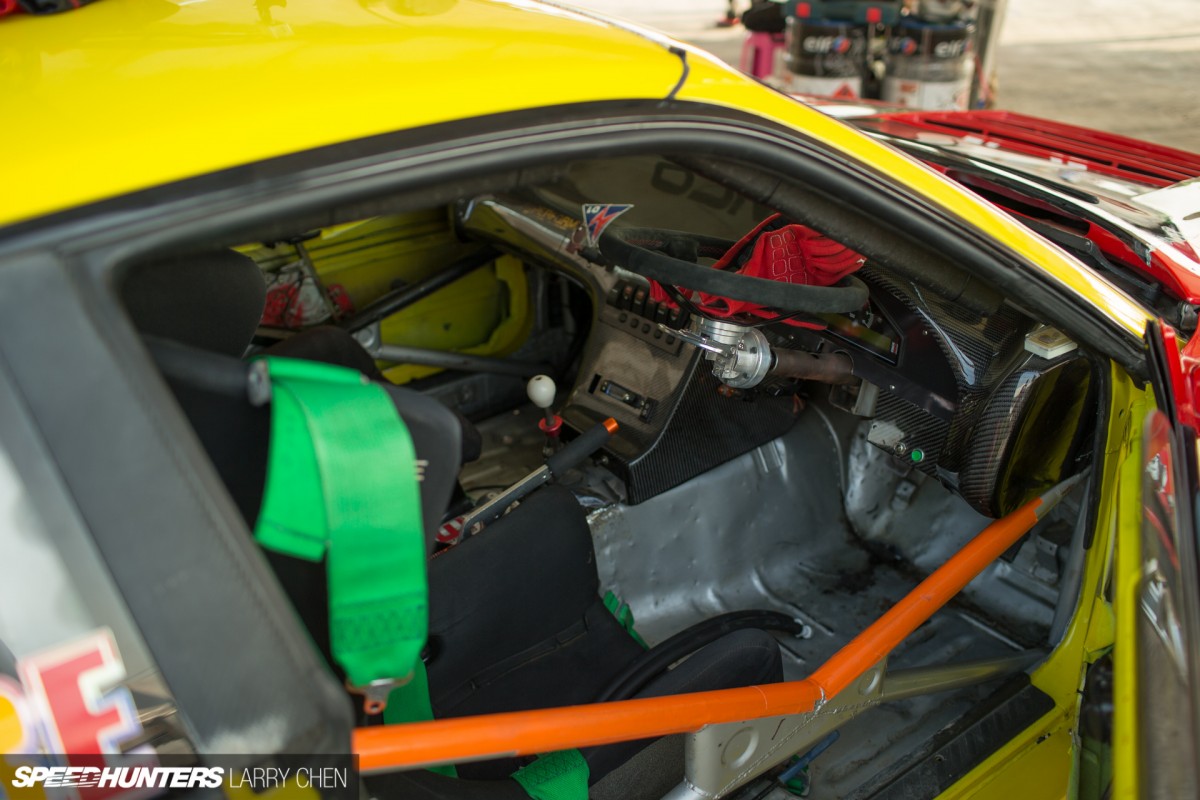 The interior was simple, with the necessary safety bits. Nothing super fancy apart from the tilt-up steering wheel.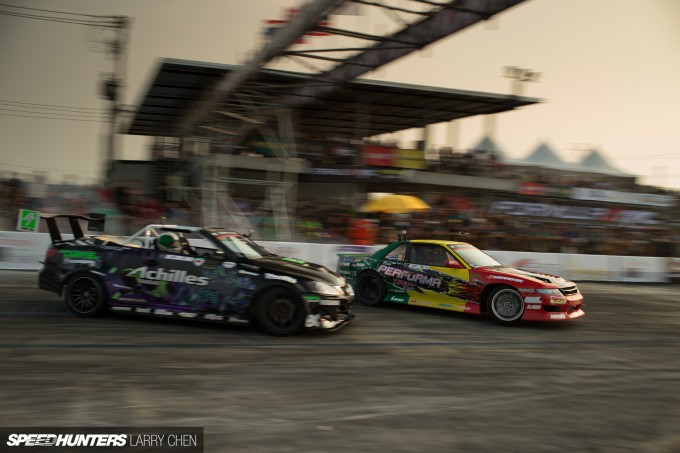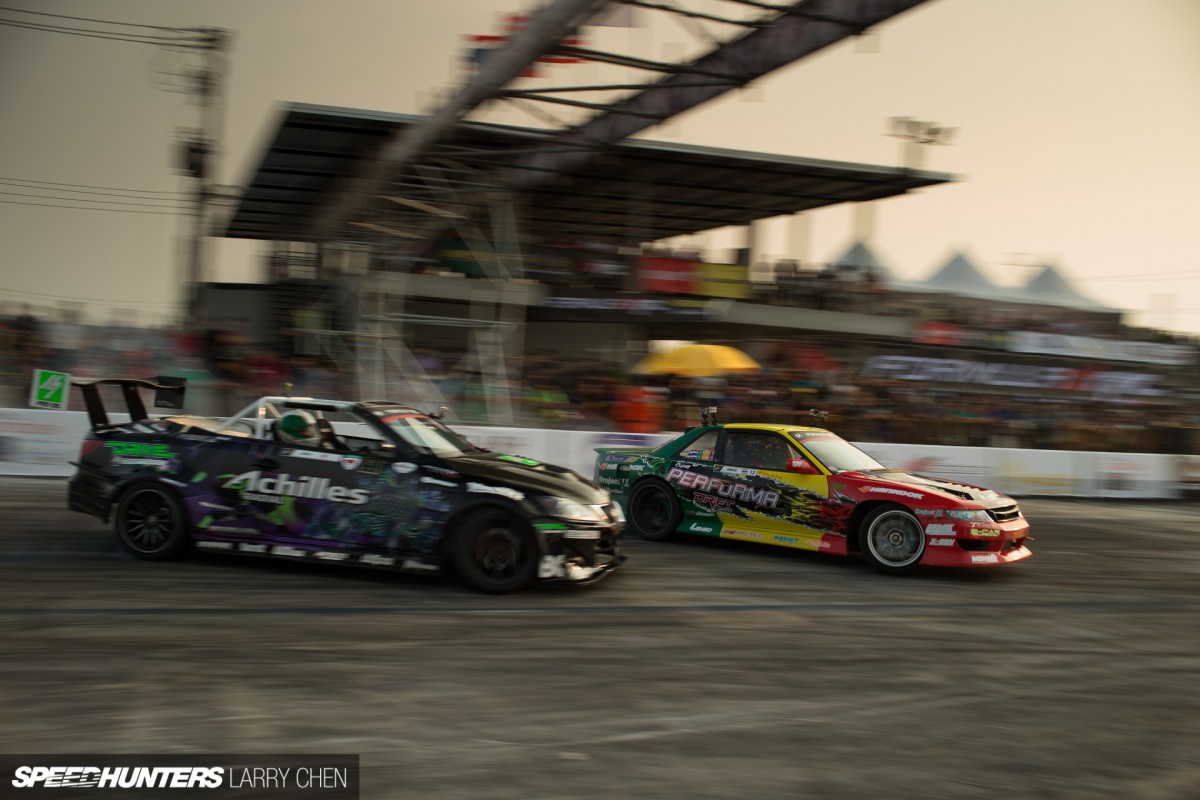 It was cool to see a local Thai driver like Davide fight hard for the podium. In fact, he knocked Diago out for the final spot on the podium.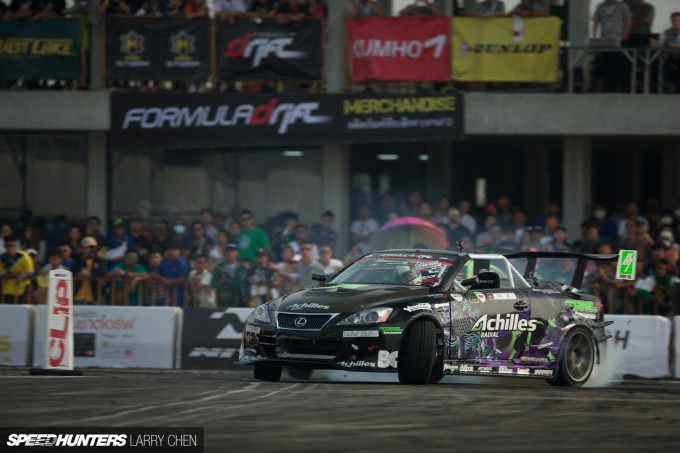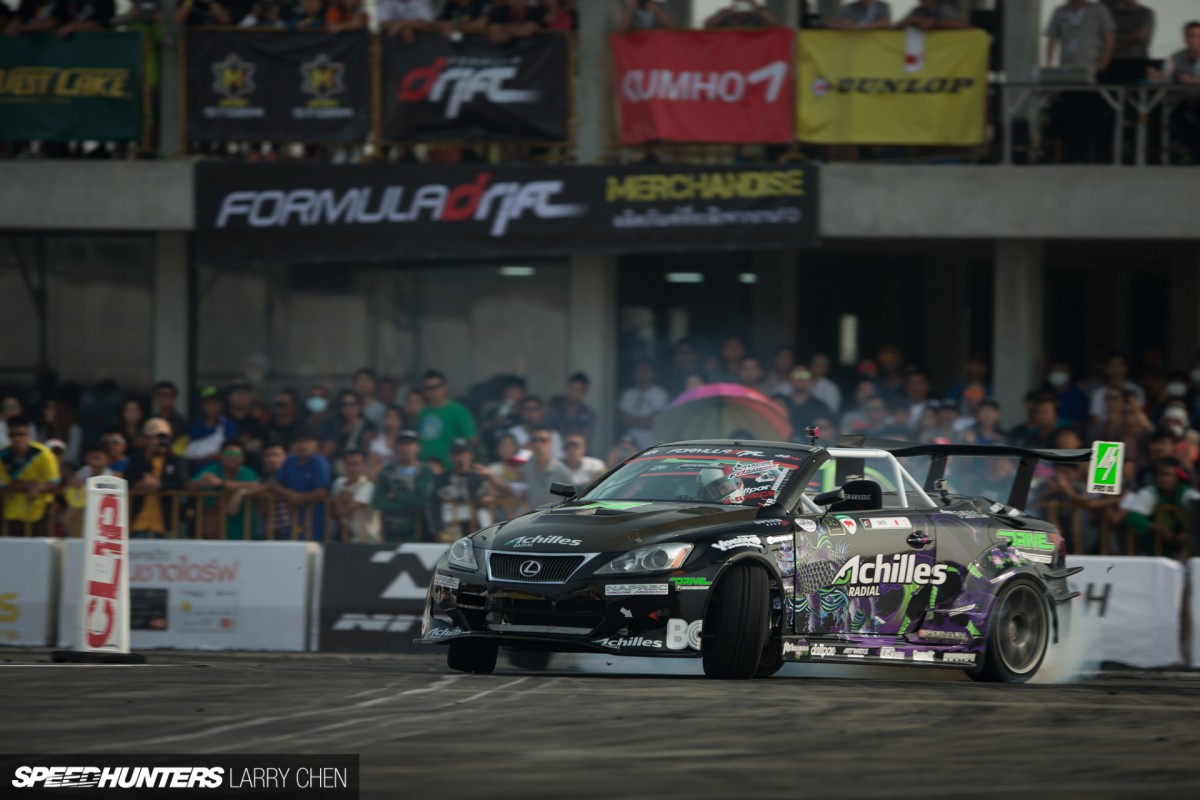 I've said it before and I'll say it again: it's a shame that Daigo doesn't run his Lexus IS convertible in the Formula Drift Pro Championship.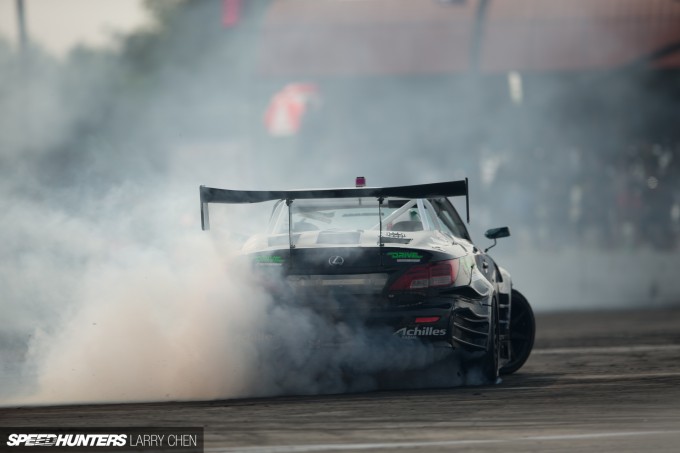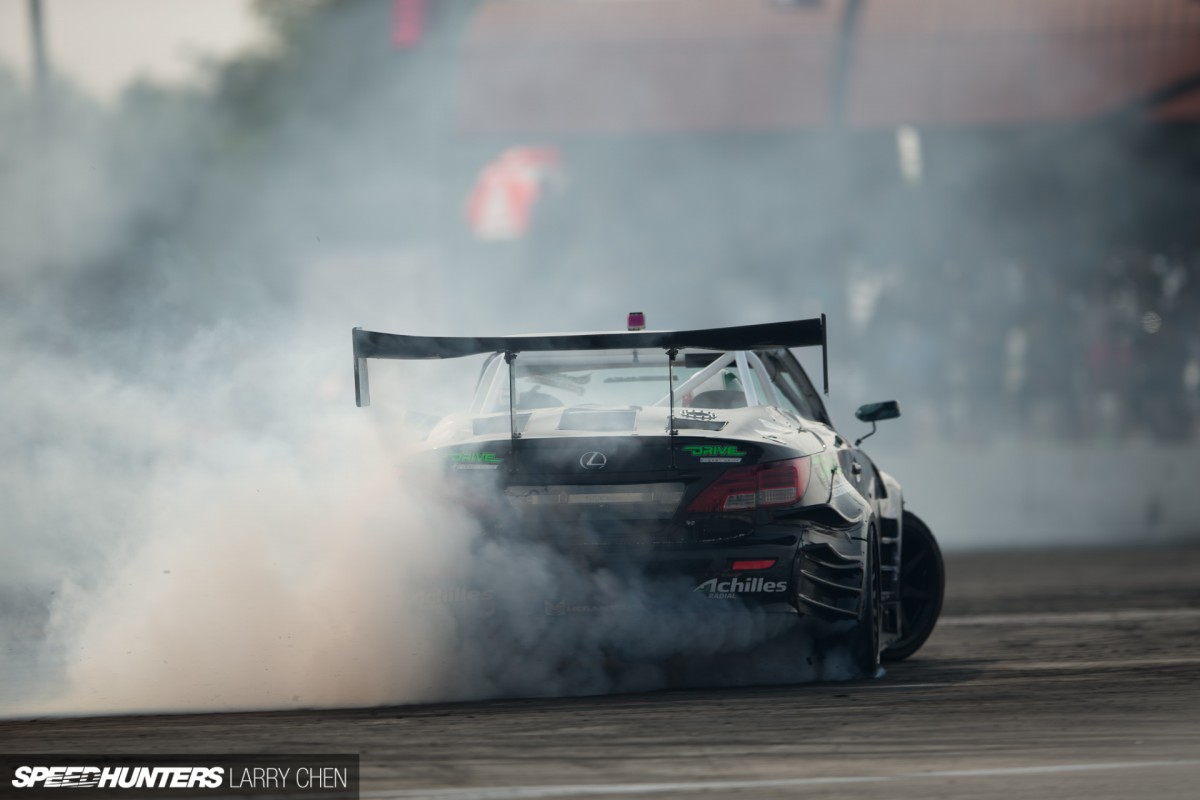 I think it's one of the best-looking drift cars in recent history.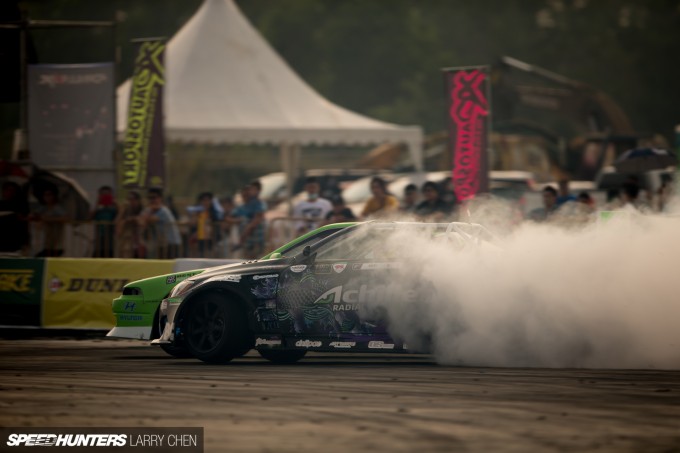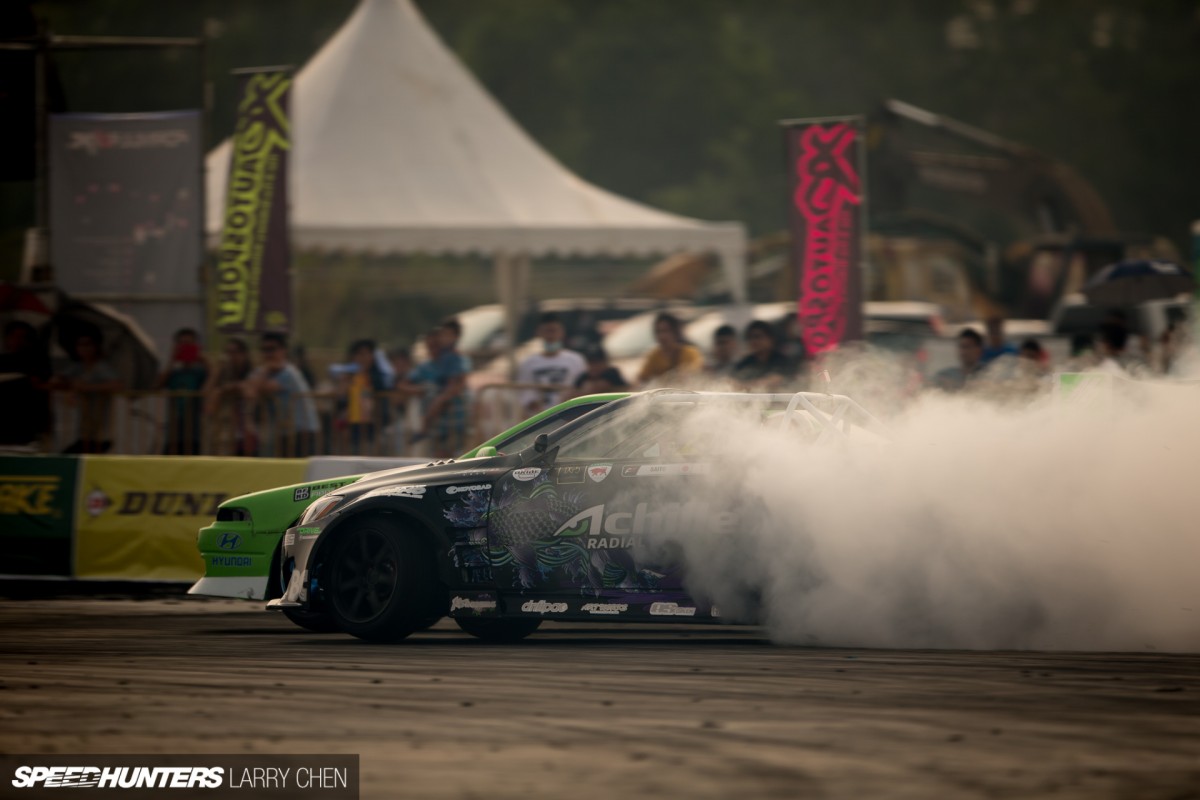 On top of that, I feel that it performs even better than his SC430 that he runs in North America. Both cars have really stirred up the drifting world.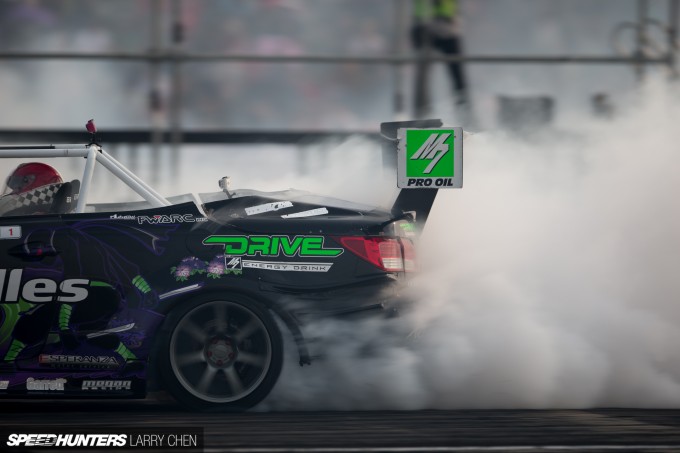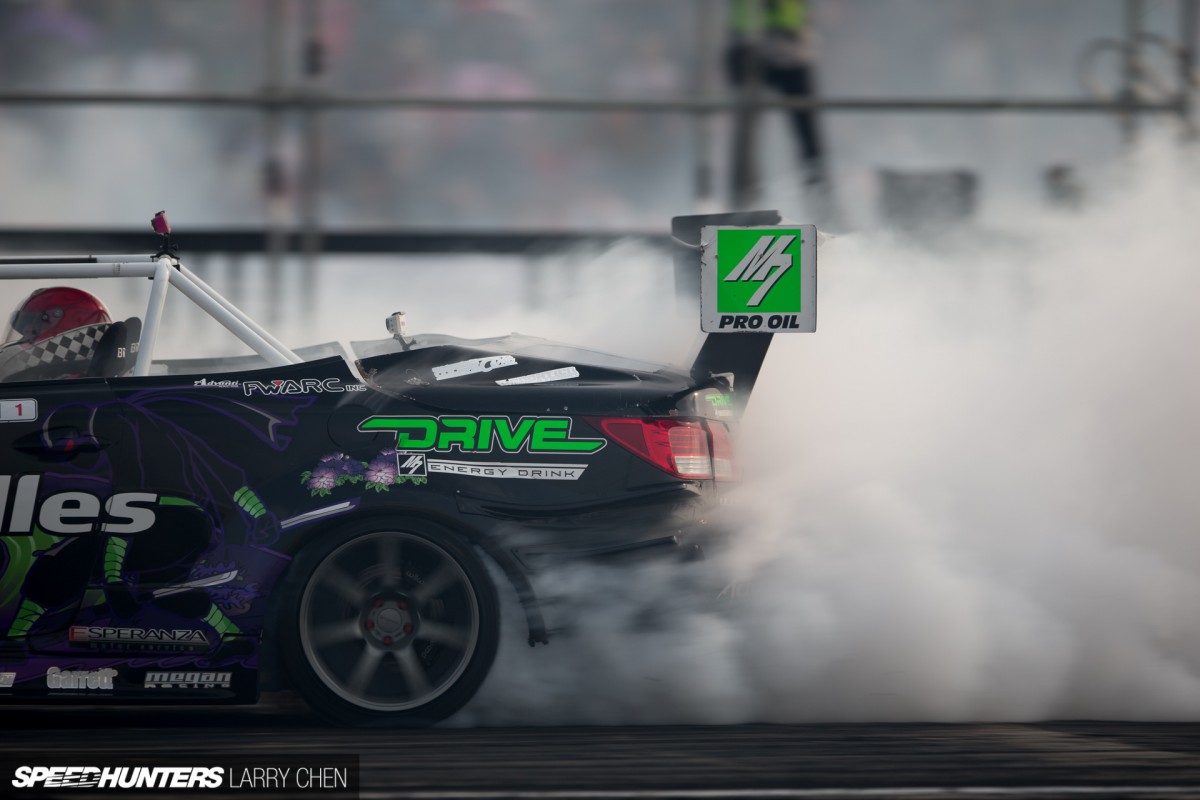 The amount of smoke this car makes is beyond comprehension. It's amazing that he can get even a single run from a set of tires with the clouds that he makes.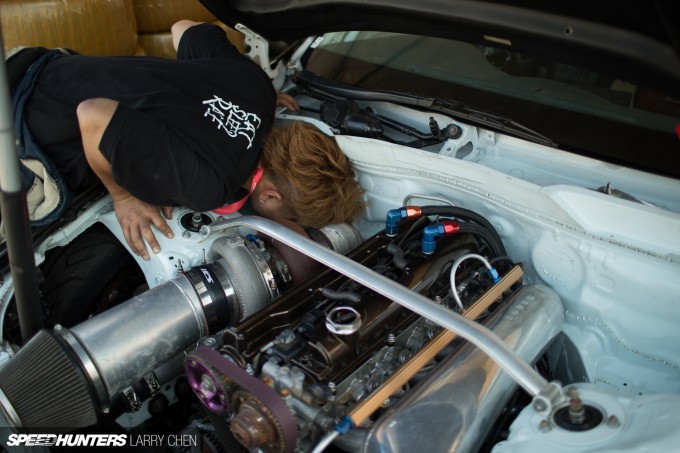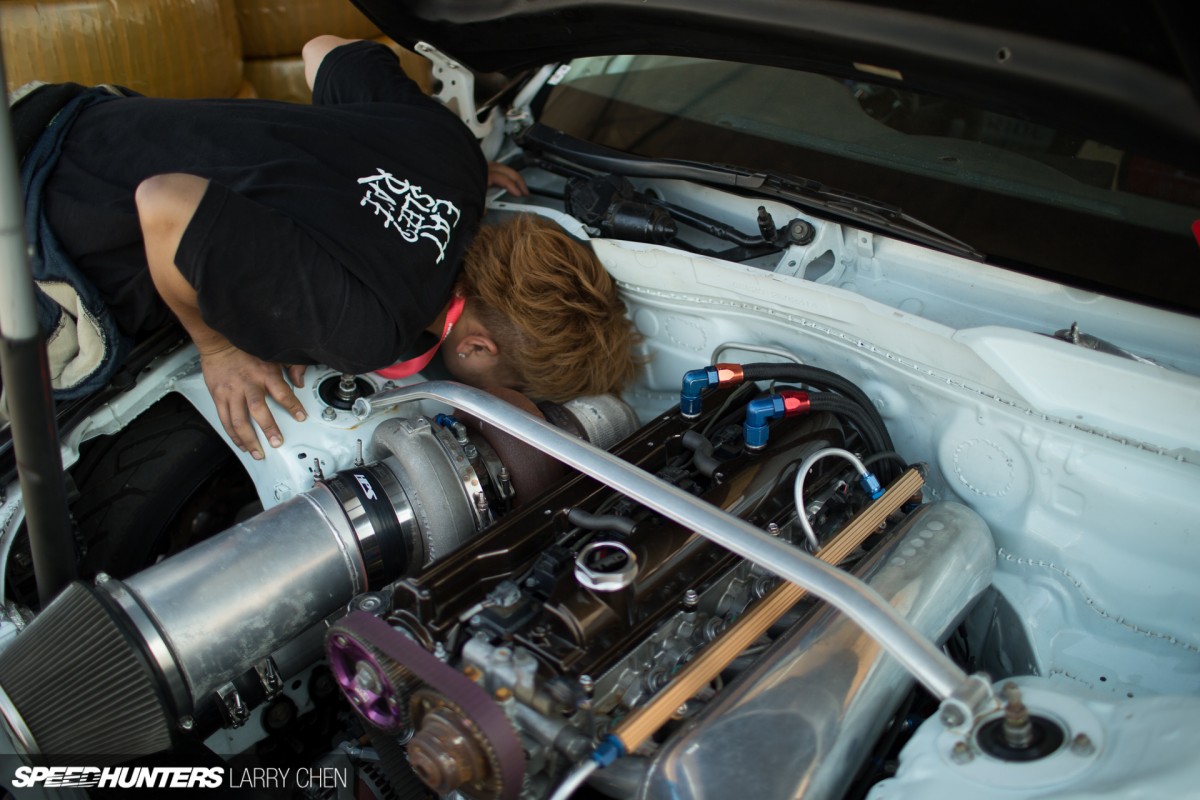 Daigo takes the time to lick his downpipe after every run to cool it down with his tongue.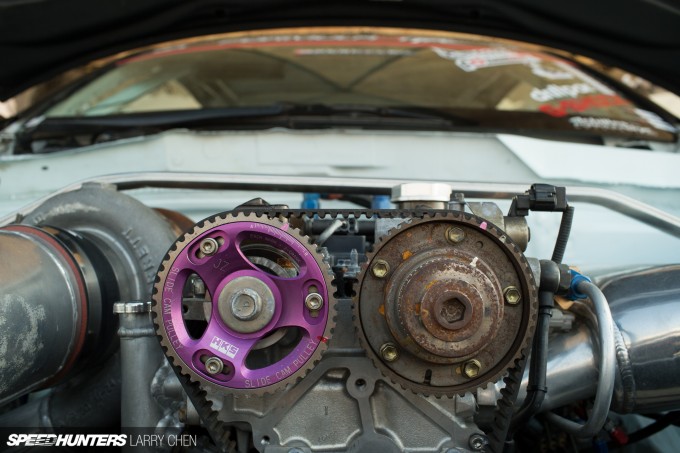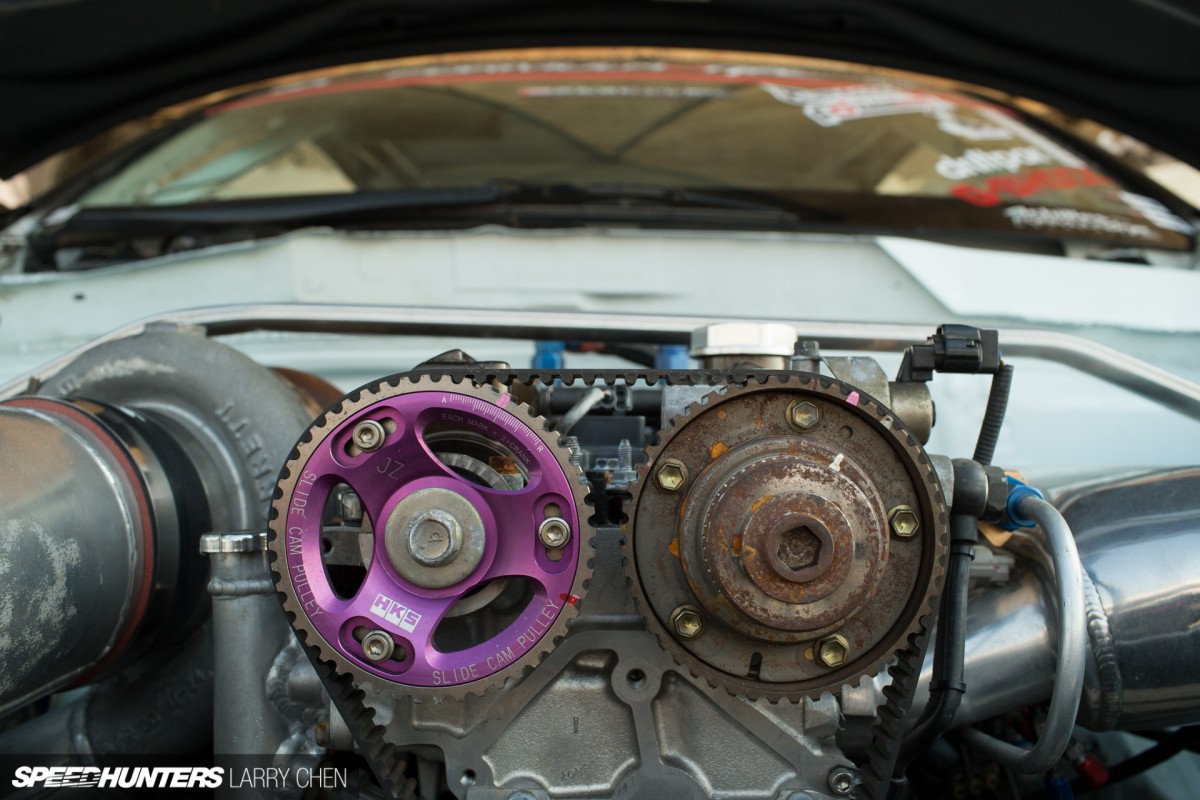 The car's in dire need of a rebuild, as it's run the entire season back to back without any breaks in between. The salt air and transporting it from country to country has taken its toll.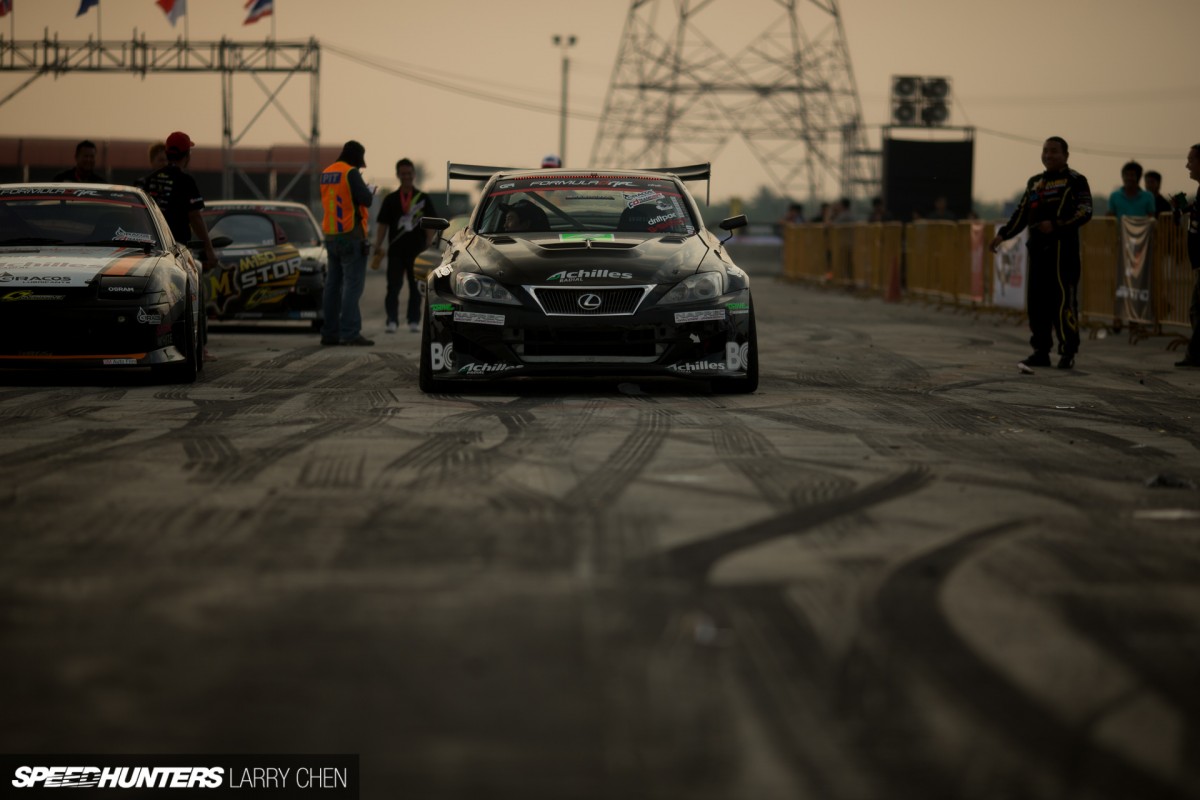 I'm curious to see what Daigo has in store for us this year, but I know that I'd love to see this Lexus IS chassis competing in North America.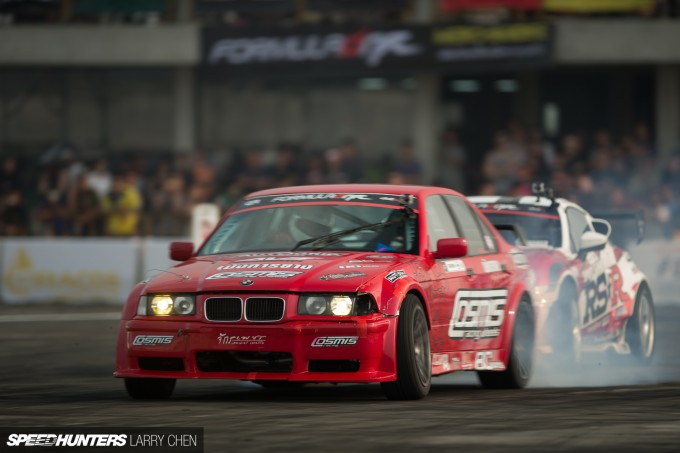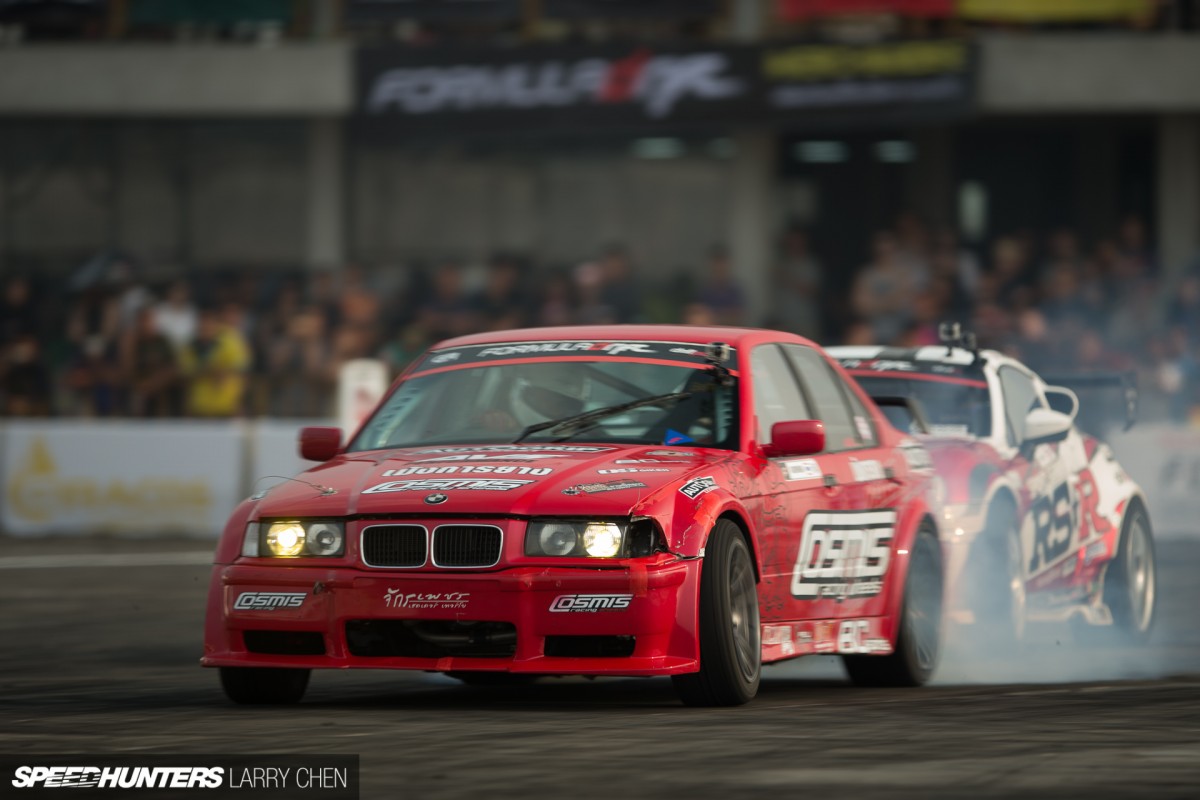 When it comes down to it, just looking at the wide variety of cars on offer makes me appreciate drifting just that much more. It's hard to keep cars competitive in the world of wheel-to-wheel racing if they're all different makes with all types of motors. Most of them have to run restrictors to keep things fair.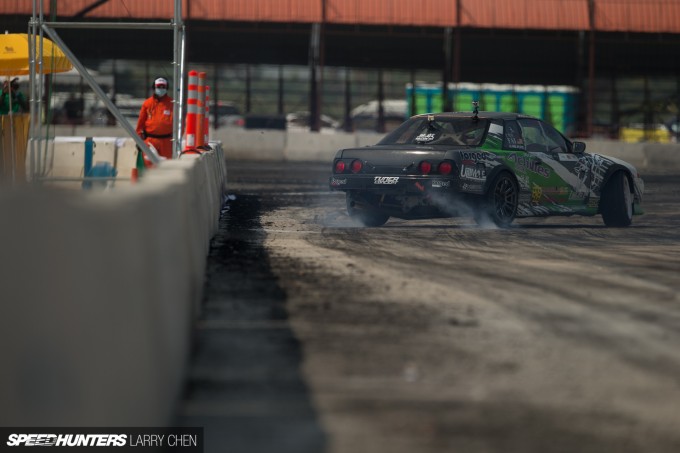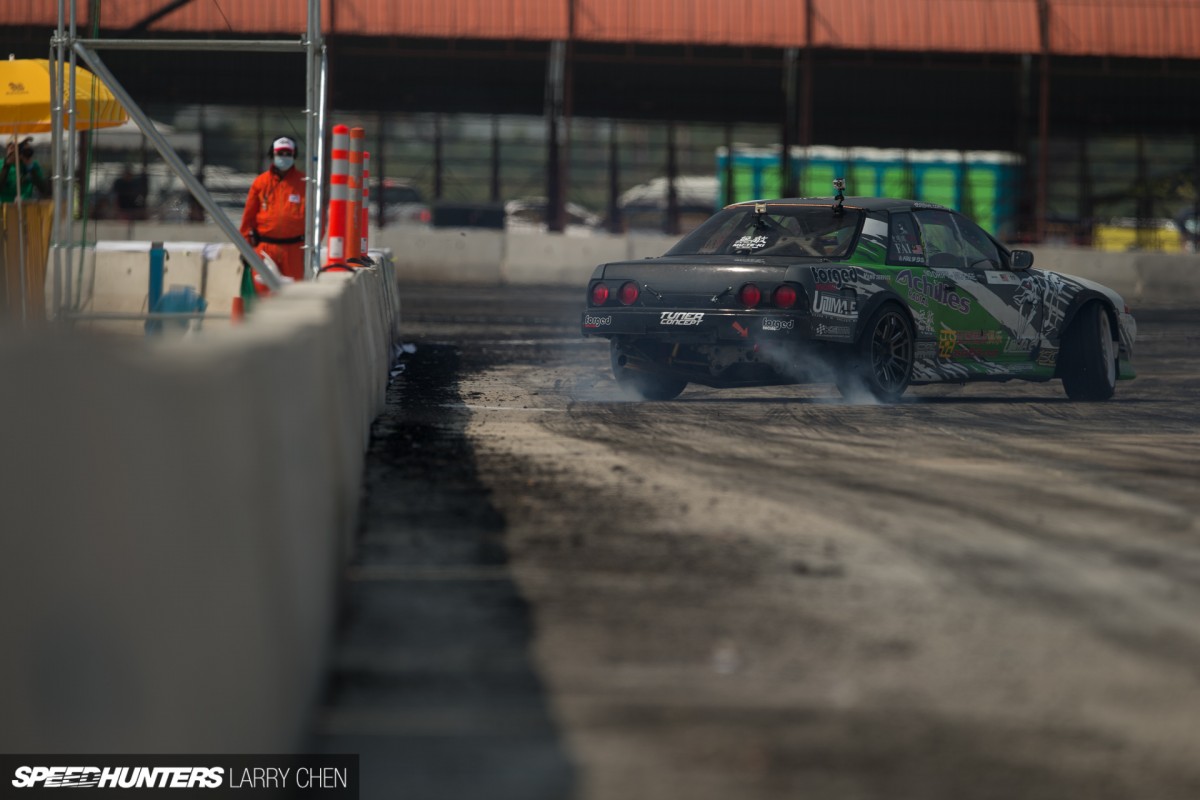 There's no such thing in the drift world. It's kind of like run-what-you've-brung. The only really stringent aspect of these cars is the safety. Builders just can't skimp on driver protection. Of course different series have different rules, because the FD Asia rules are a lot looser than its North American counterpart. There's no tire-to-weight rule, so cars can be as light as they need to be. It will be interesting to see how the rules change once Formula Drift rolls out a real world championship. I guess we'll just have to wait and see. Stay tuned for more from Formula Drift Thailand…