A lifelong passion ignites
I was fifteen years old when I acquired my first camera. My parents bought me a $400 Canon film camera so that I could take photography as an art subject in high school, and I've been captivated ever since. I've always enjoyed seeing a planned 'vision' come to life in the form of an image, but I love capturing candid moments just as much. My Speedhunting mission for 2013 has been to capture the essence of whatever automotive-related situation I just so happen to find myself in, whether it be in my own garage at home or on the other side of the world at a Norwegian drift festival, and to report back to you on my findings…
Riding shotgun with Fredrik Sørlie (above)
I've been for a couple of passenger rides with some of the professional drifters here in New Zealand, but this was my first experience tagging along for a ride in a non-competitive grassroots drift car. Fredrik handled the 2JZ-powered Cressida with such ease and precision, and it made me happy seeing him having so much fun behind the wheel. I like how this image captures the simple personalised details in the interior, like the 'Hold Stumt' decal and the Marge Simpson air freshener which was swinging around wildly with every corner. It made me laugh because we must have done at least 8-10 laps, and I don't think he stopped smiling underneath his helmet that whole time.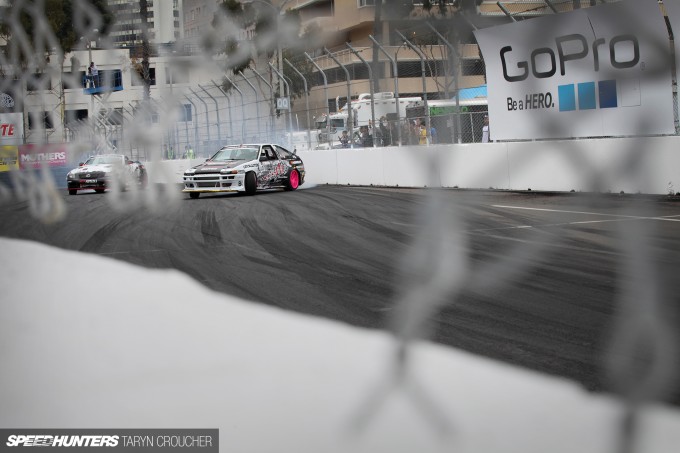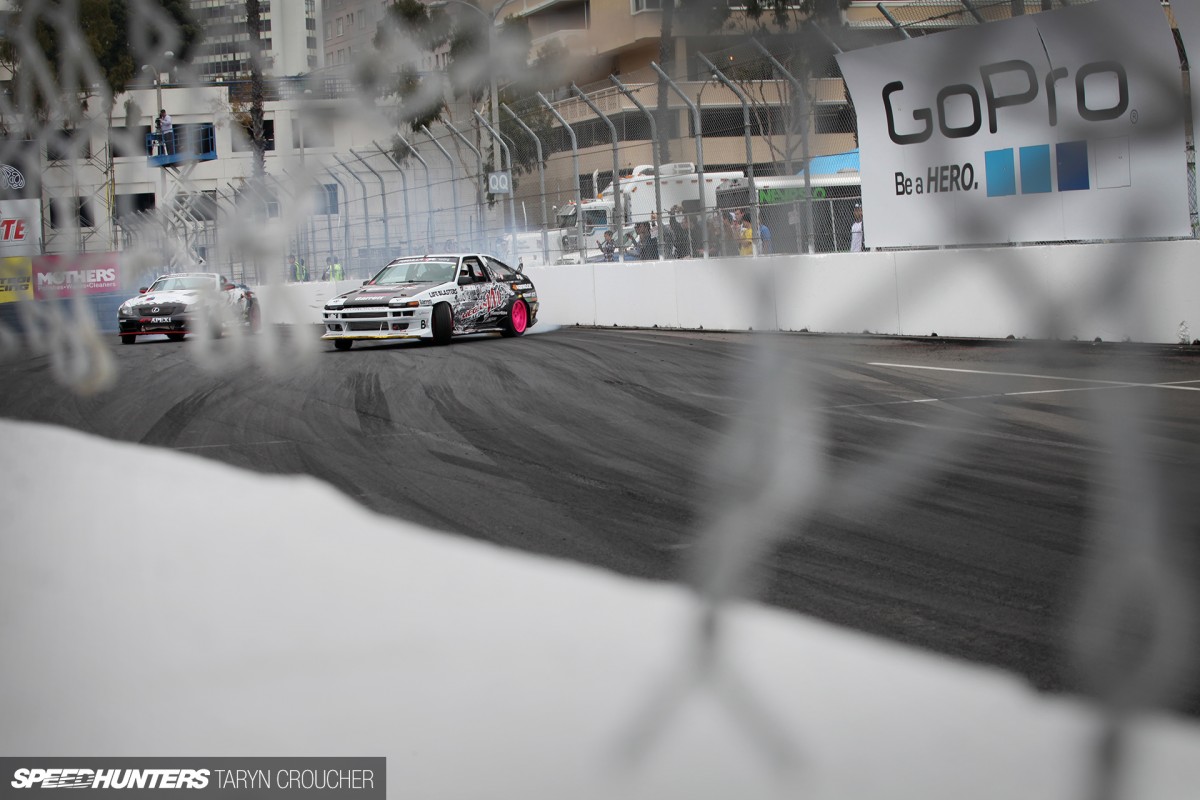 Taka Aono approaching fast, Formula D Long Beach
As this was my first time attending a Formula D event, our fearless leader Rod Chong insisted that I stand at the clipping point and shoot through the fence. "You'll love the rush," I think were his exact words. Although I did actually capture images without the wire in the shot, I love how at this exact moment (when I chickened out and stepped back slightly), the fence accidentally framed the car like this.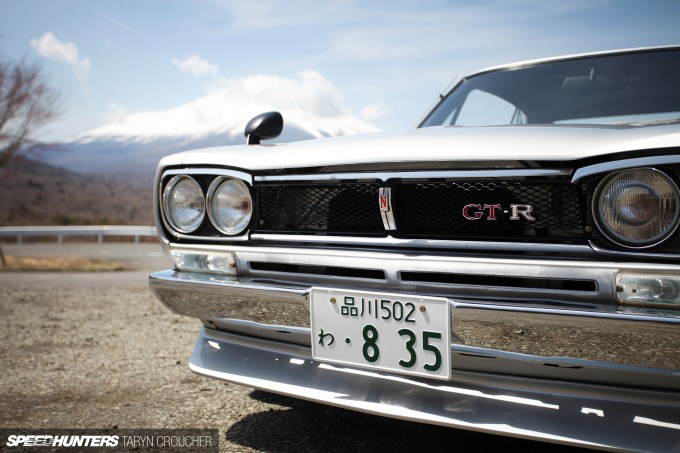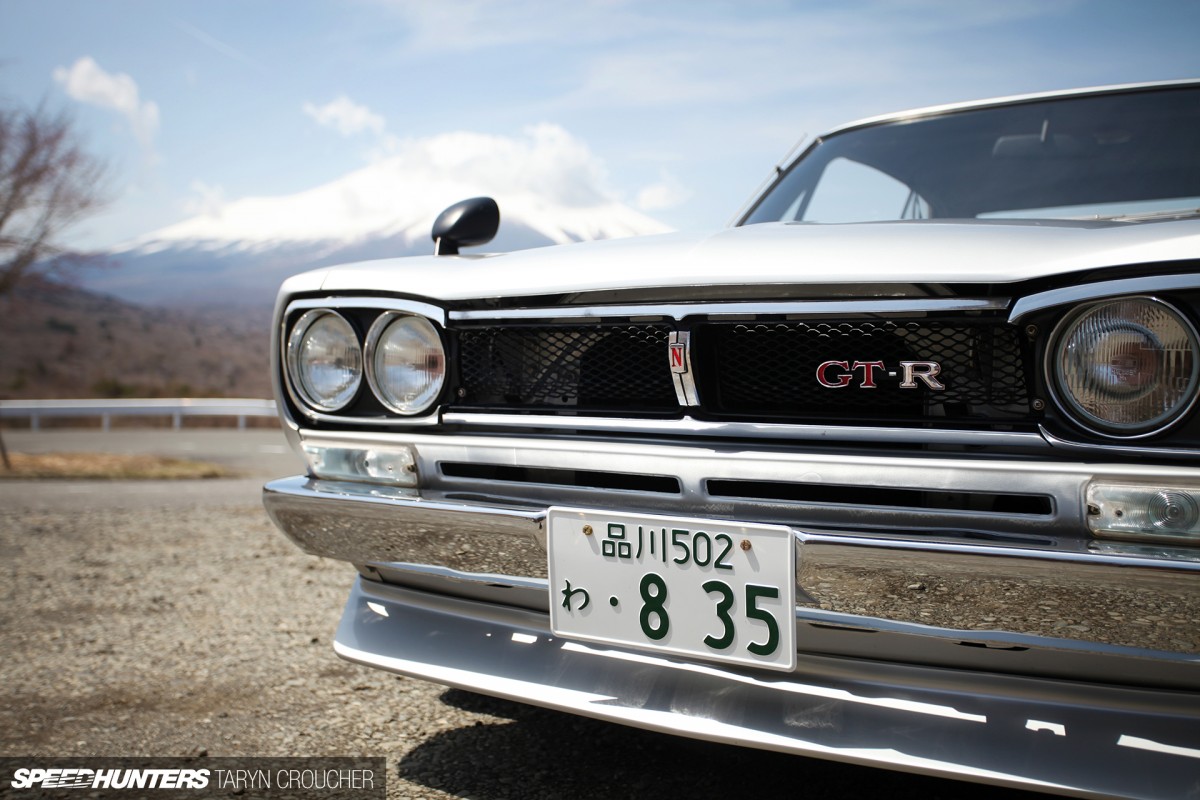 Hakosuka dream drive, Mt Fuji
Never in my wildest dreams could I have imagined that earlier this year I'd be standing in the middle of the rural countryside of Japan, shooting a Hakosuka Skyline in front of Mount Fuji. After months of emailing the owner back and forth and then finally getting to physically be there and drive this car was so unreal. Looking at this image makes me feel like anything is possible. If you can dream it, you can achieve it!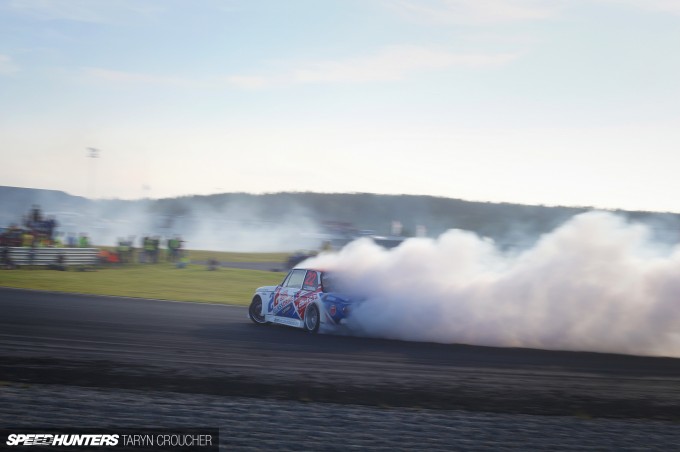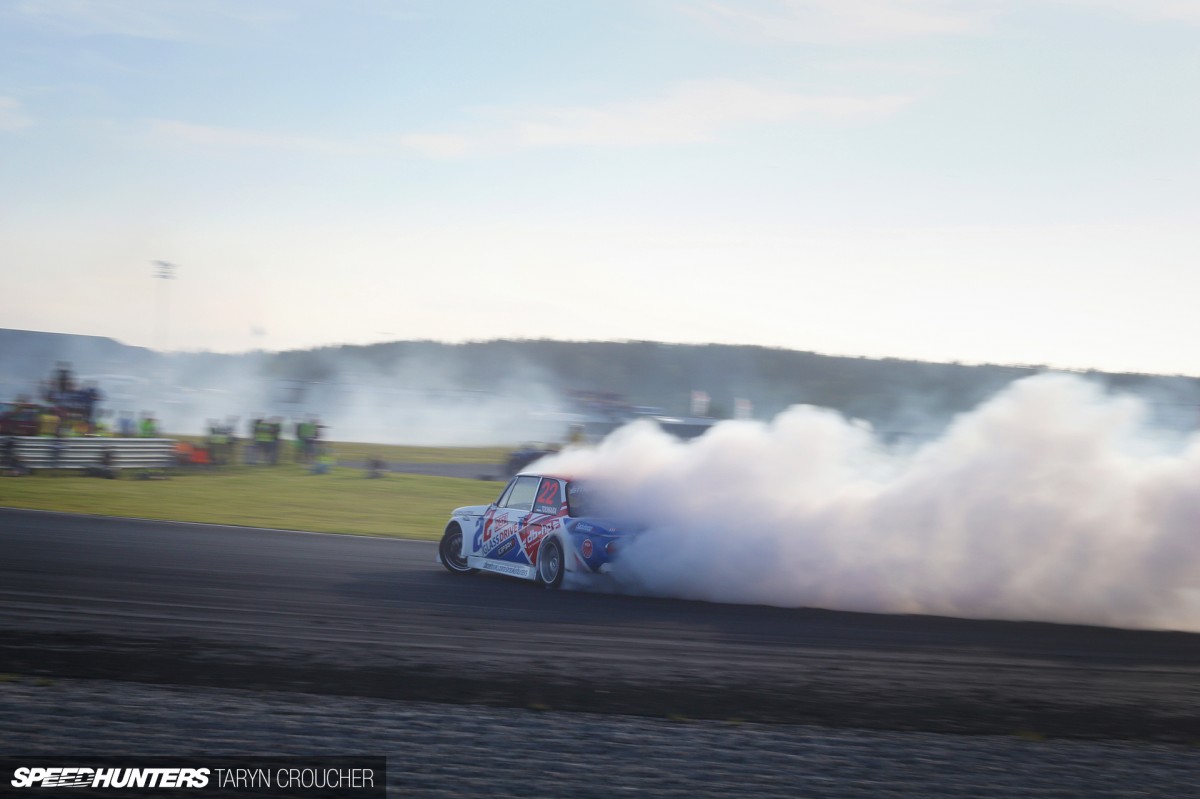 My first Breislaad experience, Gatebil Rudskogen
As I was walking back to the Speedhunters tent at Rudskogen, cars began to head out for practice runs for the powerslide or 'Breislaad' competition. I didn't have my 70-200mm lens on me at the time, so I took this photo as I was walking past just with my 50mm. As I was looking though my images later on that evening, something about the soft, dreamy light and fluffy white smoke clouds really captured that exact moment just the way I remember it. Like a distant, hazy daydream.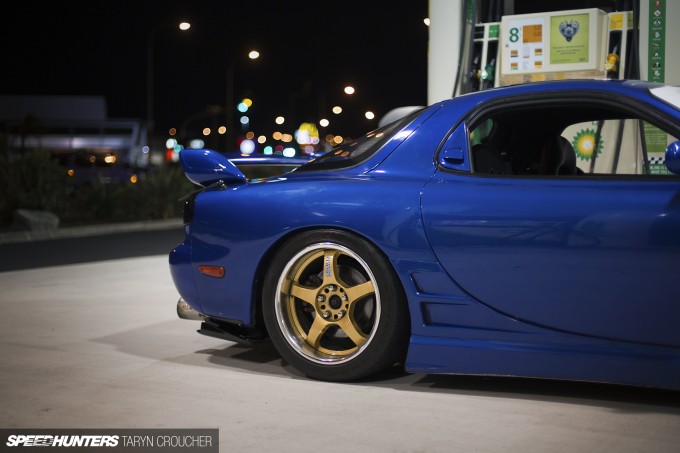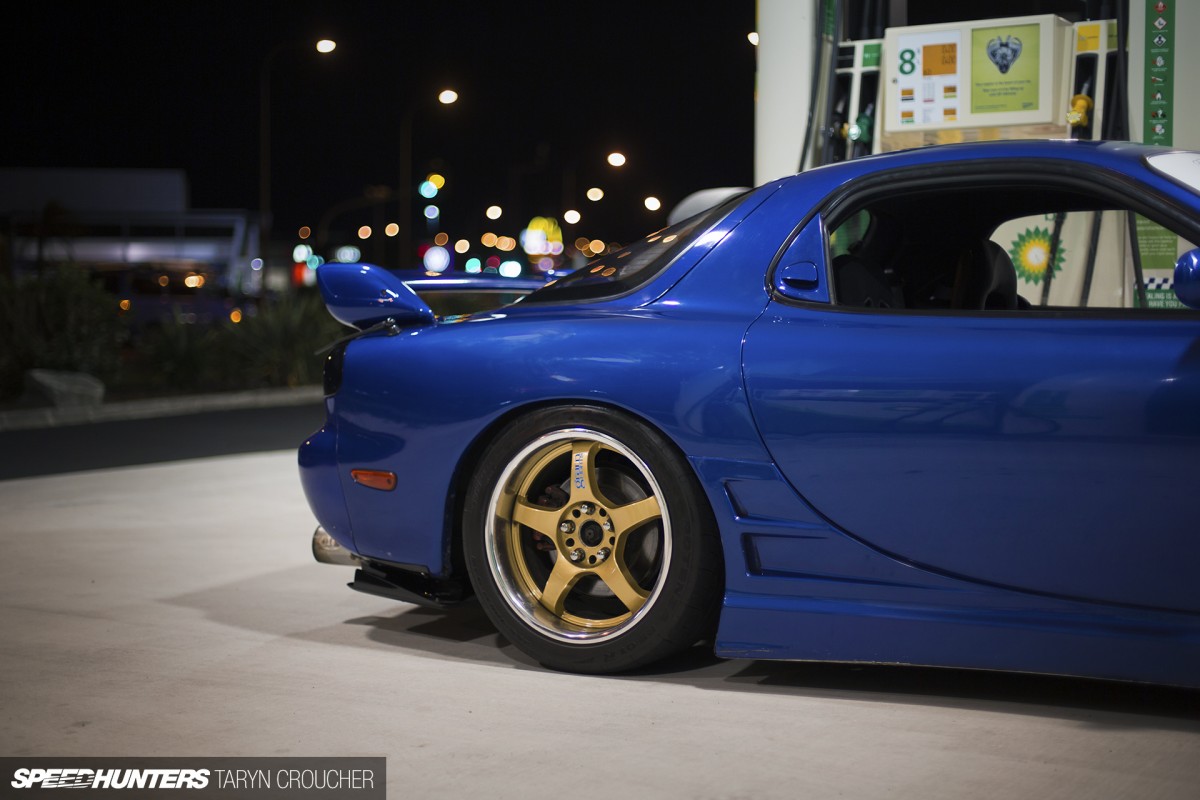 Dream driving an FD3S
One of the things I'm really looking forward to enjoying when my S30 is finished is being able to get out of the house and go for a simple, low-key cruise around the city at night. While I wait patiently for that day to come, thankfully I have friends like Jon Sowden, who recently handed me the keys to his modified FD3S RX-7 street car. This image is a result of me having a moment to step back, look at the car I'm driving and think, 'how the heck did I even get here?'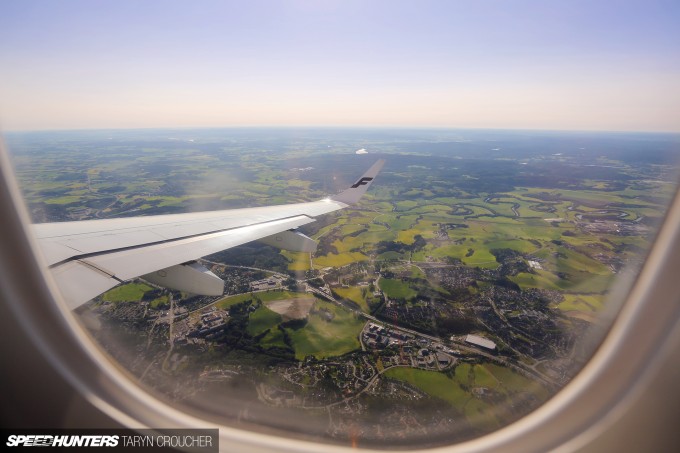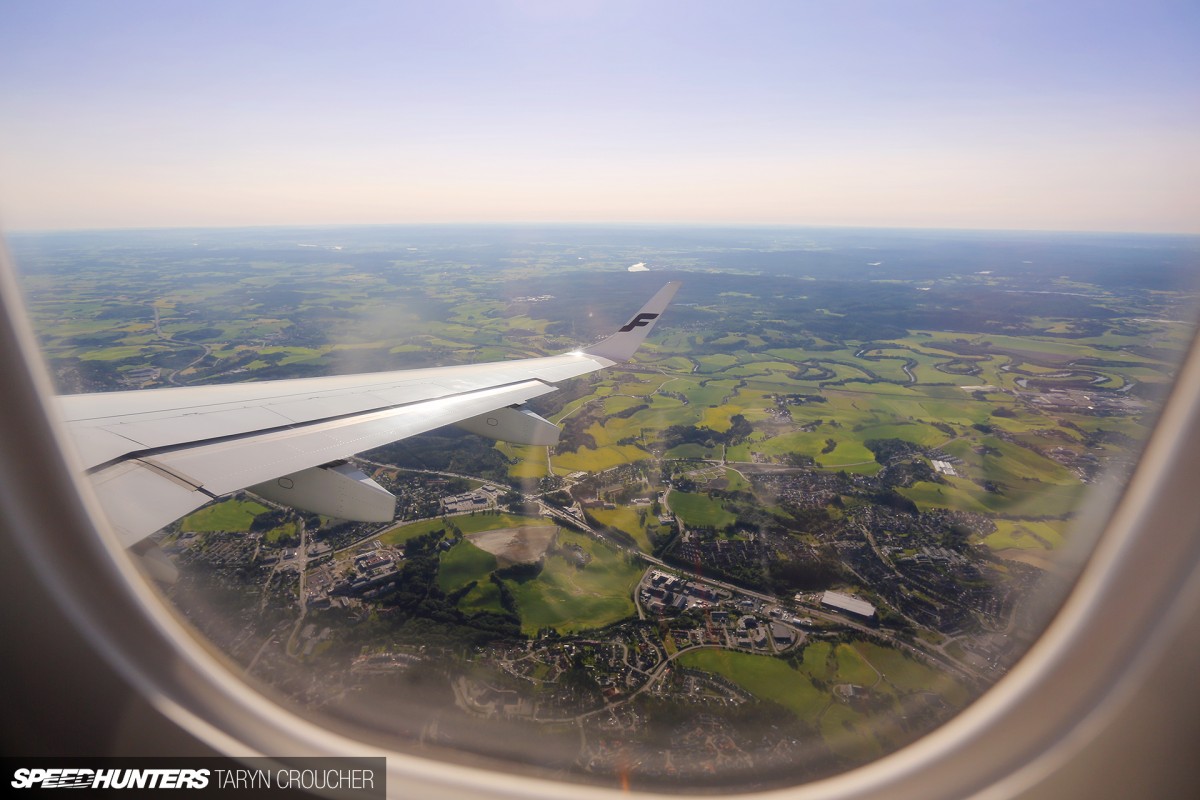 Descent into the unknown, Norway
I love travelling, and this image brings back that feeling of immense excitement as I first gazed upon a new unexplored foreign country and wondered what kind of crazy experiences were waiting down there for me.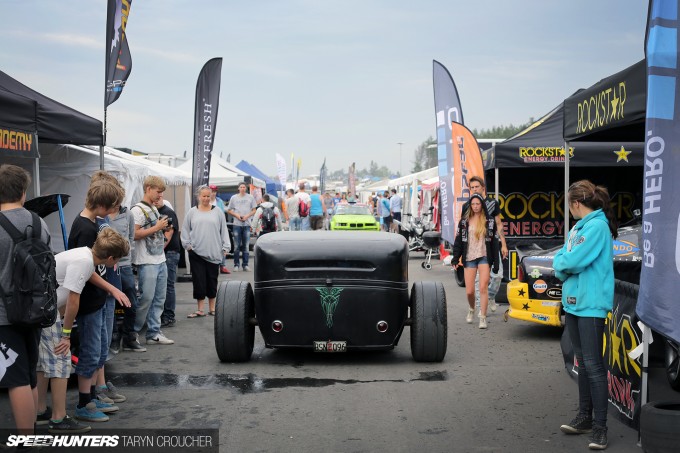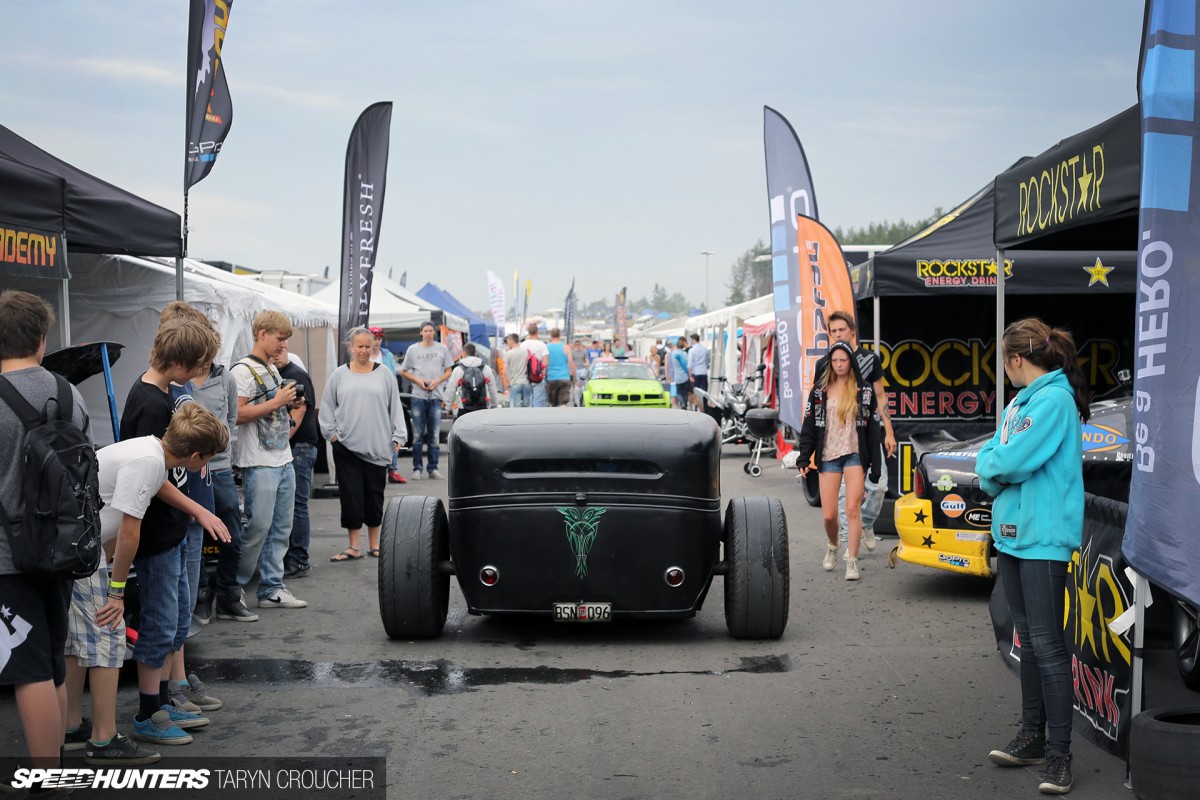 Emanuel Sandén and his creation leaving Gatebil Rudskogen
One of those experiences was getting to witness Emanuel Sandén's mind-boggling Dodge Cummins diesel-powered Chevy 'death-rod'. I just… I just don't even… it's one of the craziest things I've ever seen, that's for sure!
Some of my favourite photos this year involved a car being visible through my viewfinder, but not from the usual perspective…
A different perspective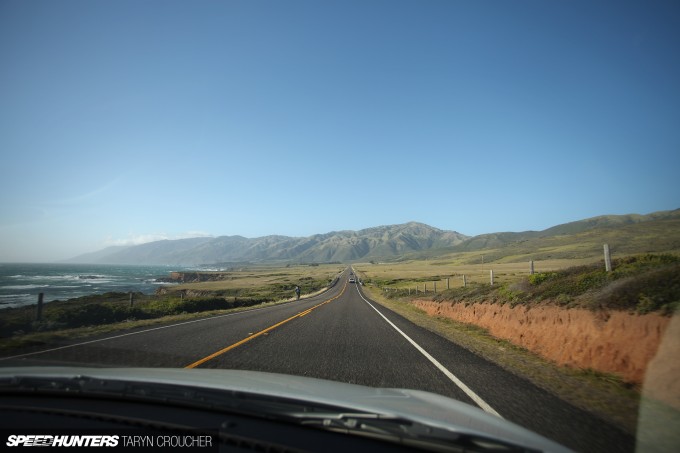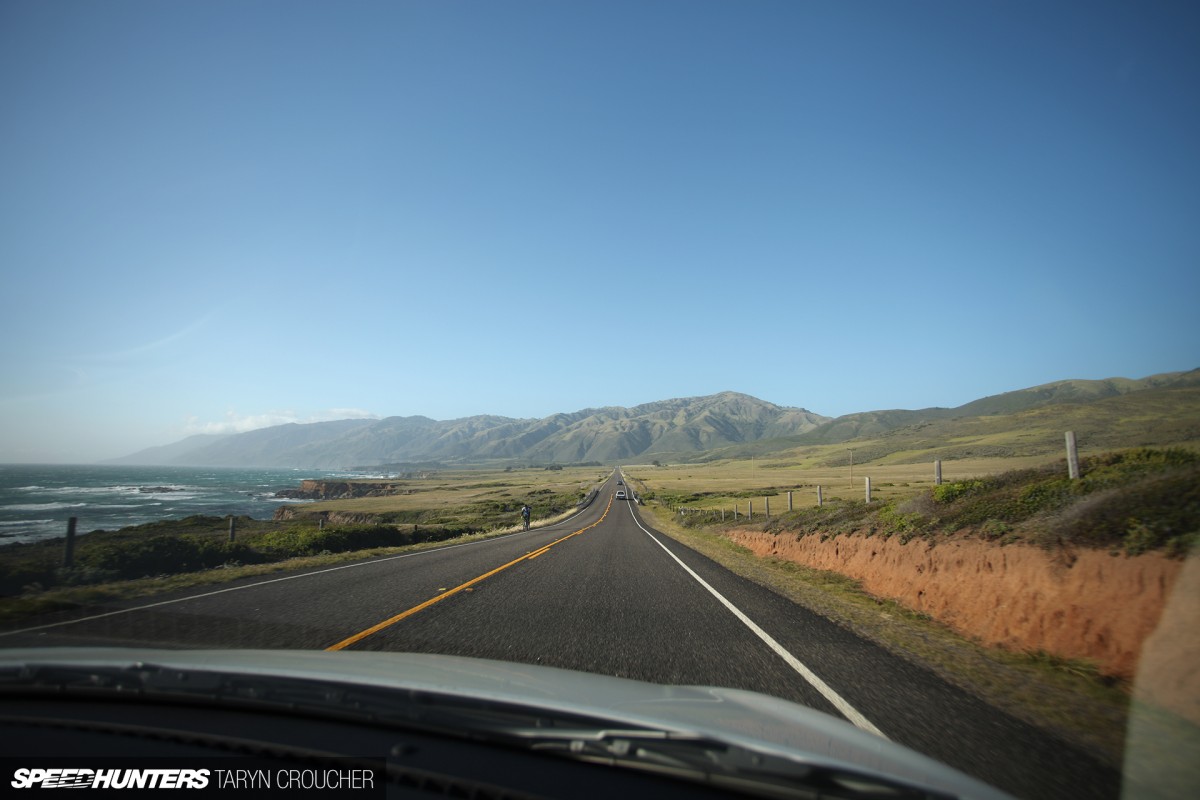 My first Pacific Coast Highway experience, California
I love capturing landscape images from the inside of the car I'm in, and road-tripping from Los Angeles to San Francisco via the Pacific Coast Highway earlier this year on a beautiful Monday afternoon provided some truly magical scenery. Next time, I vow to drive something more exciting than a Mazda 6 rental car!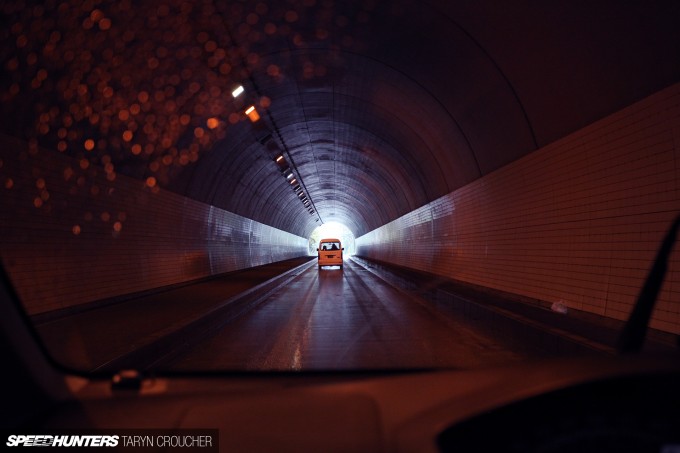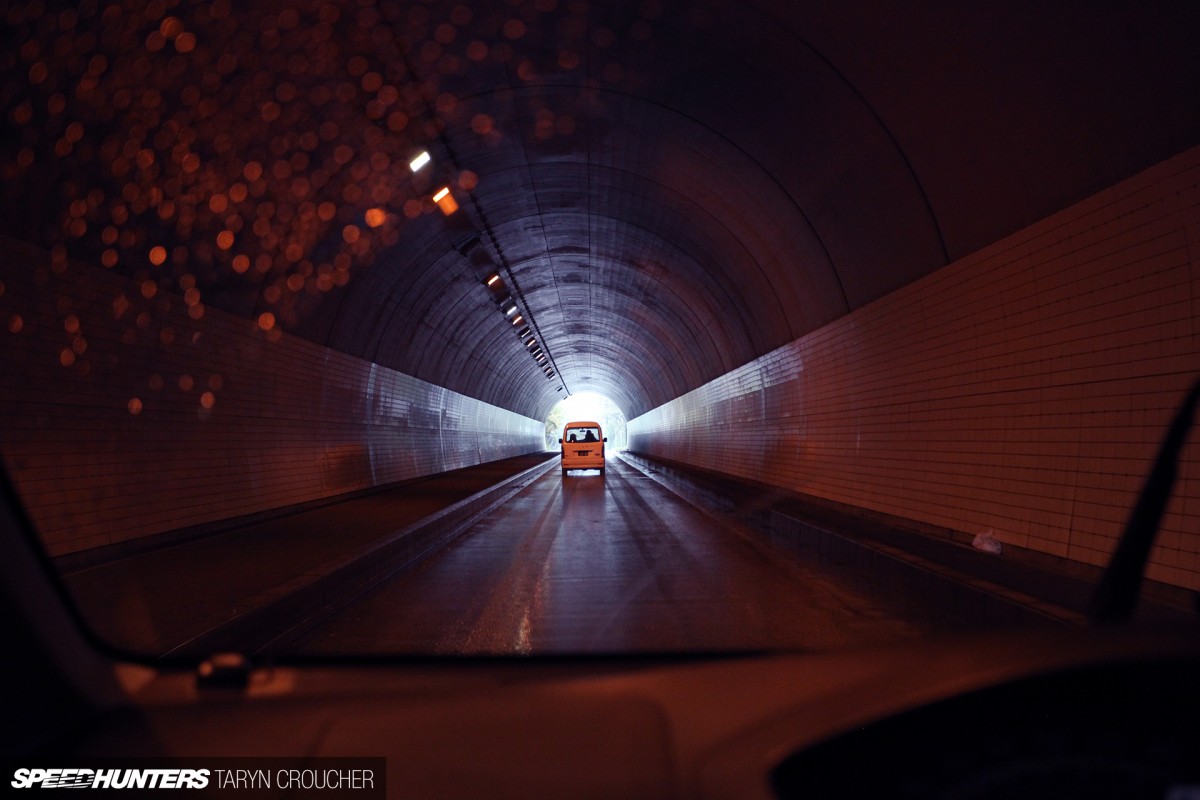 Moment of clarity, Kanagawa Prefecture
I'd really been looking forward to this particular road trip in Japan, but when it was finally time to set off from Yokohama to Kamakura, I was disappointed to wake up that morning to thunder and stormy skies. In this particular moment, a long tunnel provided escape from the pouring rain. As we finally reached the end I peered through my camera viewfinder to this scene, and suddenly realised that the rain was all part of the adventure. The moody sky and colourful umbrellas made for some beautiful images that day.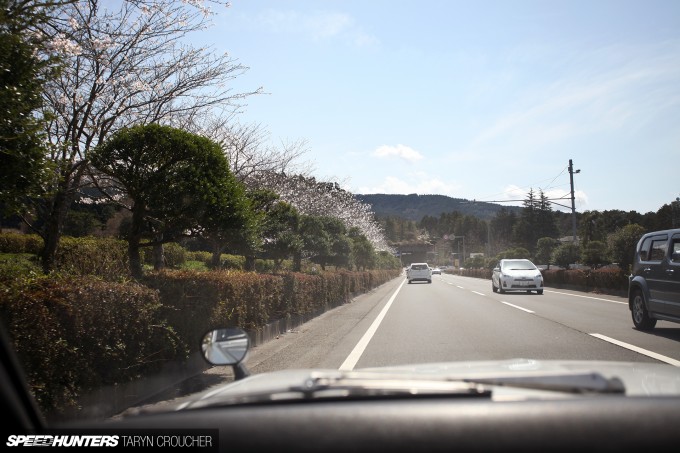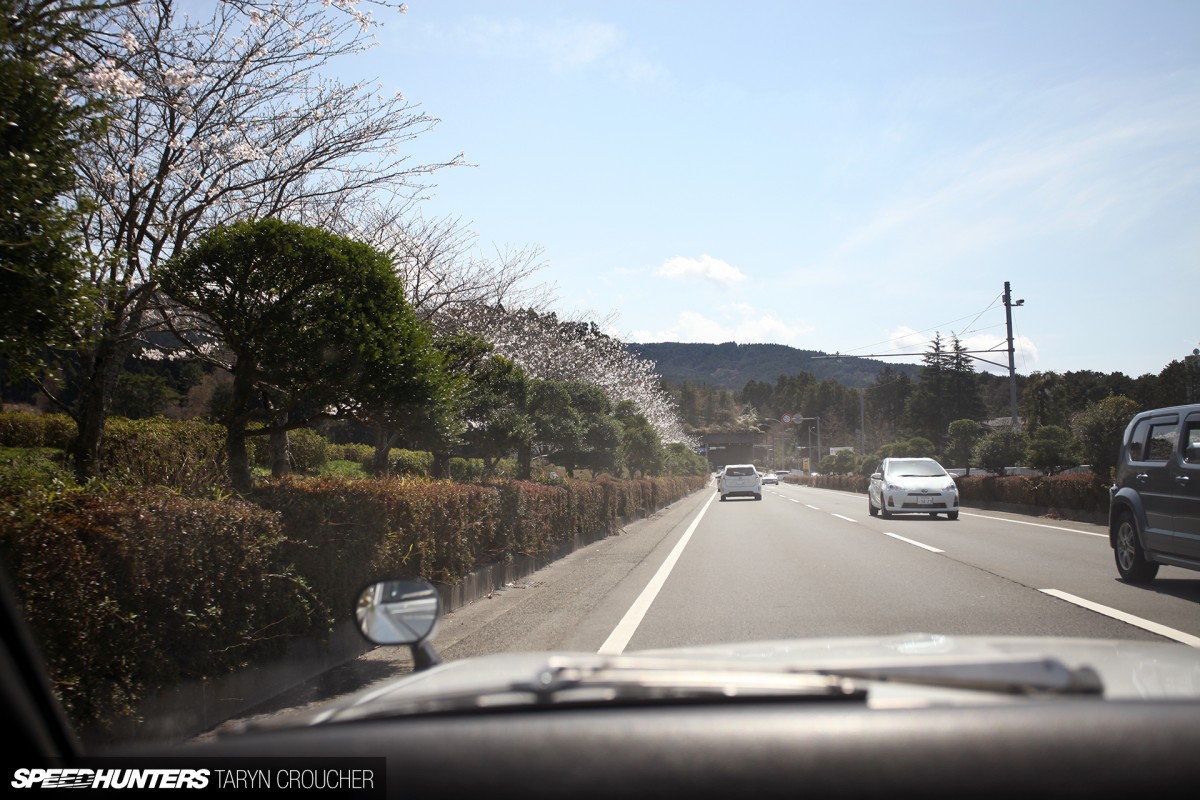 A dreamy moment driving a vintage Skyline through Gotenba, Shizouka
For a moment here I forgot where I was and what I was driving, but with the road lined with cherry blossoms and those unmistakable vintage fender mirrors protruding from the bonnet, it was only a matter of time before I remembered.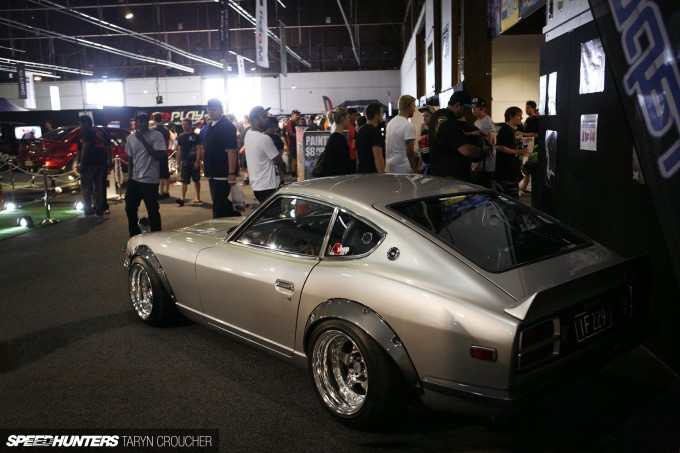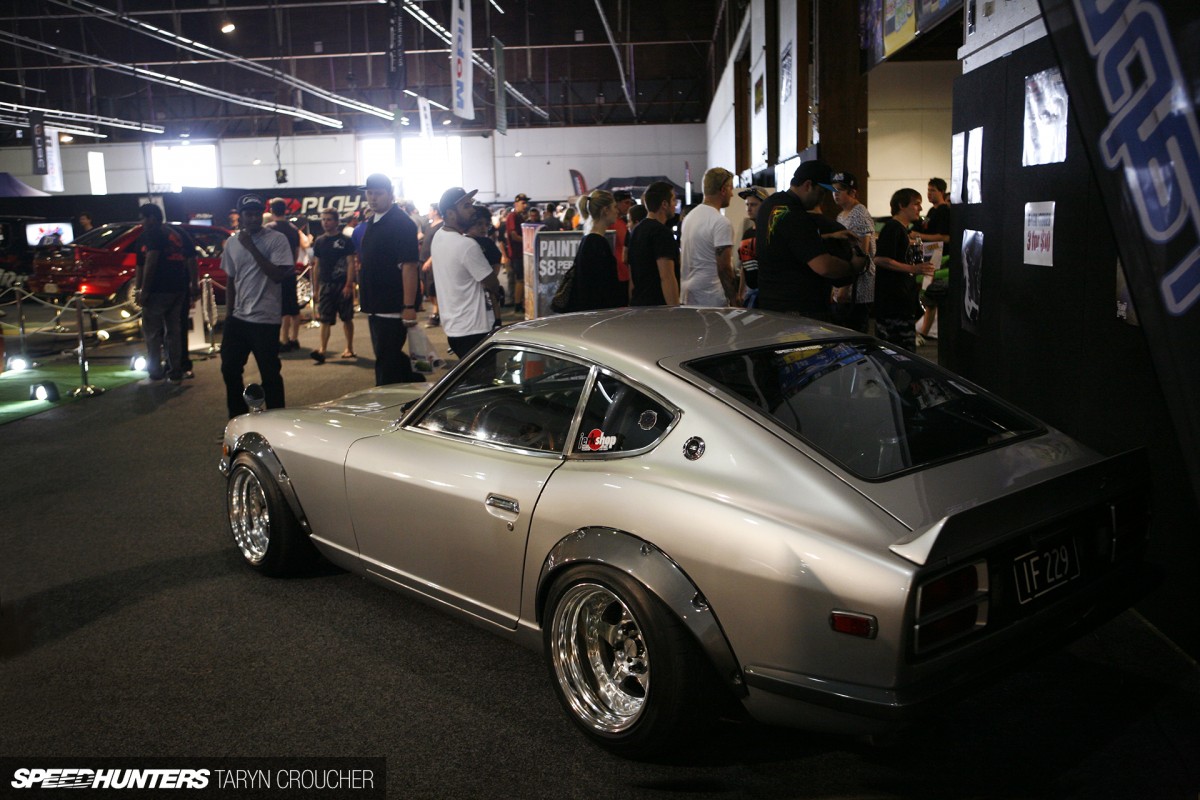 A vision turned reality: Project Z
As I mentioned earlier, I love making a creative vision come to life, and this applies to cars as well as images. Project Z is an extension of myself and everything I personally love about Japanese car culture, and this was a proud moment for me; getting to show it off to the crowd at the 4 & Rotary Nationals. This photo was taken before I knew that the engine was going to need a rebuild!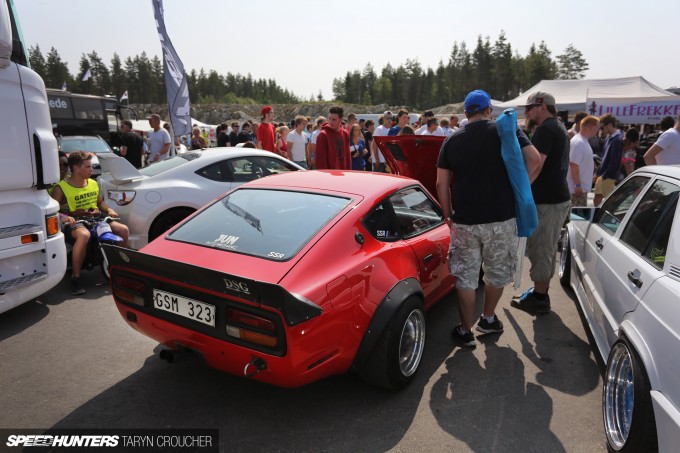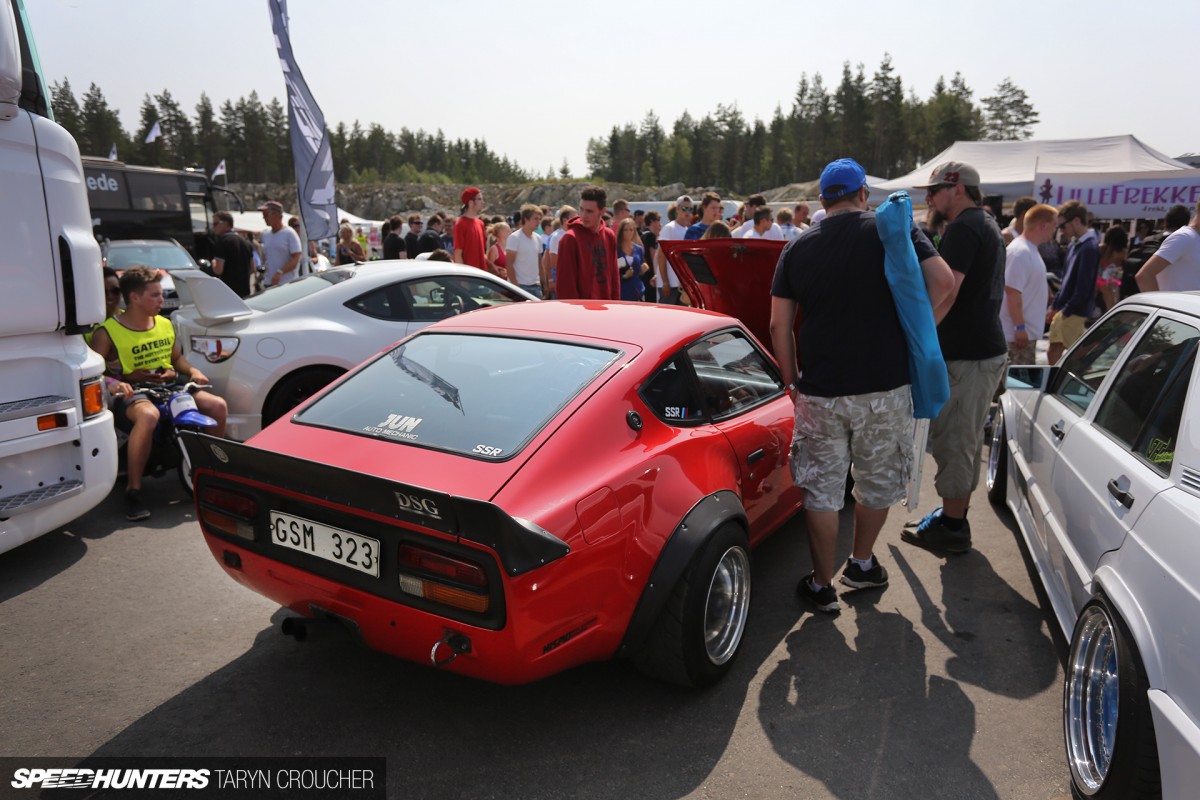 A Swedish Z in Norway, Gatebil Rudskogen
Inspiration for Project Z has come from all corners of the globe, and getting to experience Erik Jonasson's L28-powered 240Z in Norway was definitely one of my personal highlights of the year. His enthusiasm for his Z-car was infectious, and after hearing him revving the L28 motor (running 45mm triple Webber carbs), I felt extremely impatient to get back to New Zealand and make more progress on getting my own car ready for summer!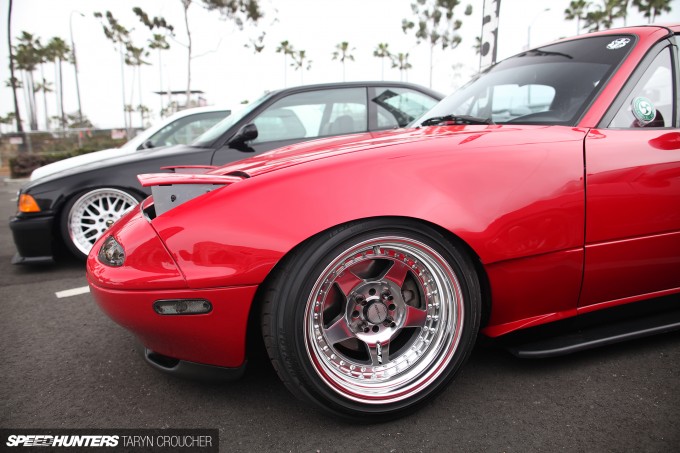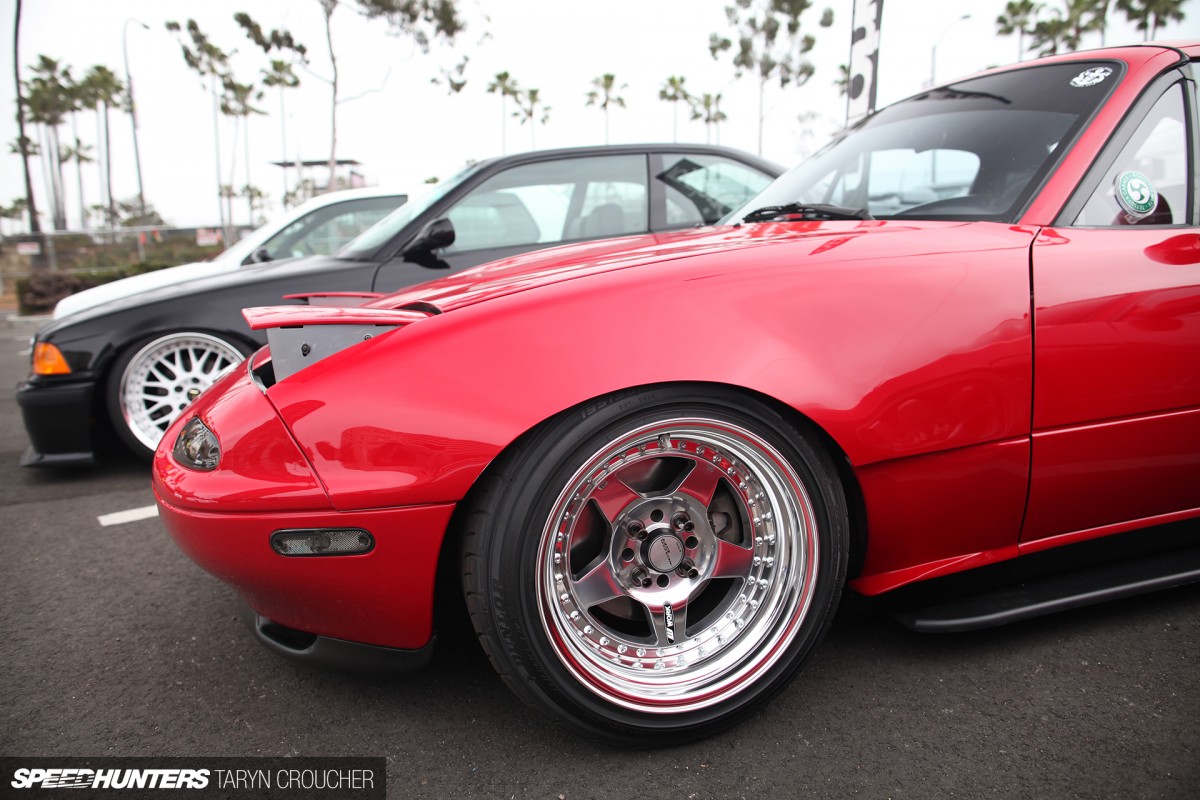 Miata appreciation at Slammed Society, Long Beach
No matter where I travel, I'll always see Roadsters and MX-5s and feel a strong connection to them. I met countless Miata enthusiasts in Los Angeles when I went there back in April, and this red NA on Work Meister CR01s was one of my favourite cars.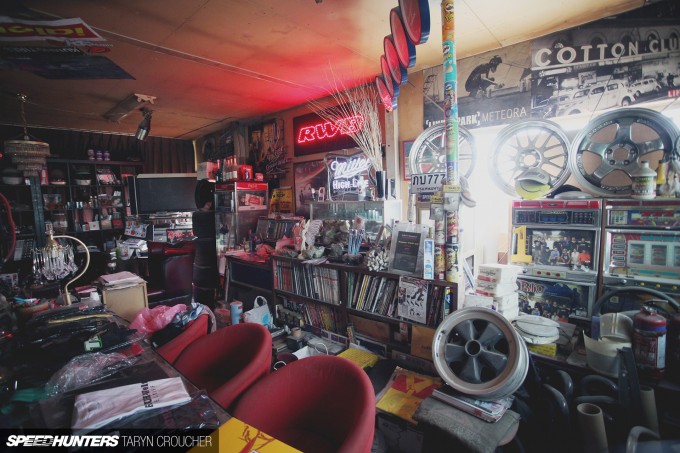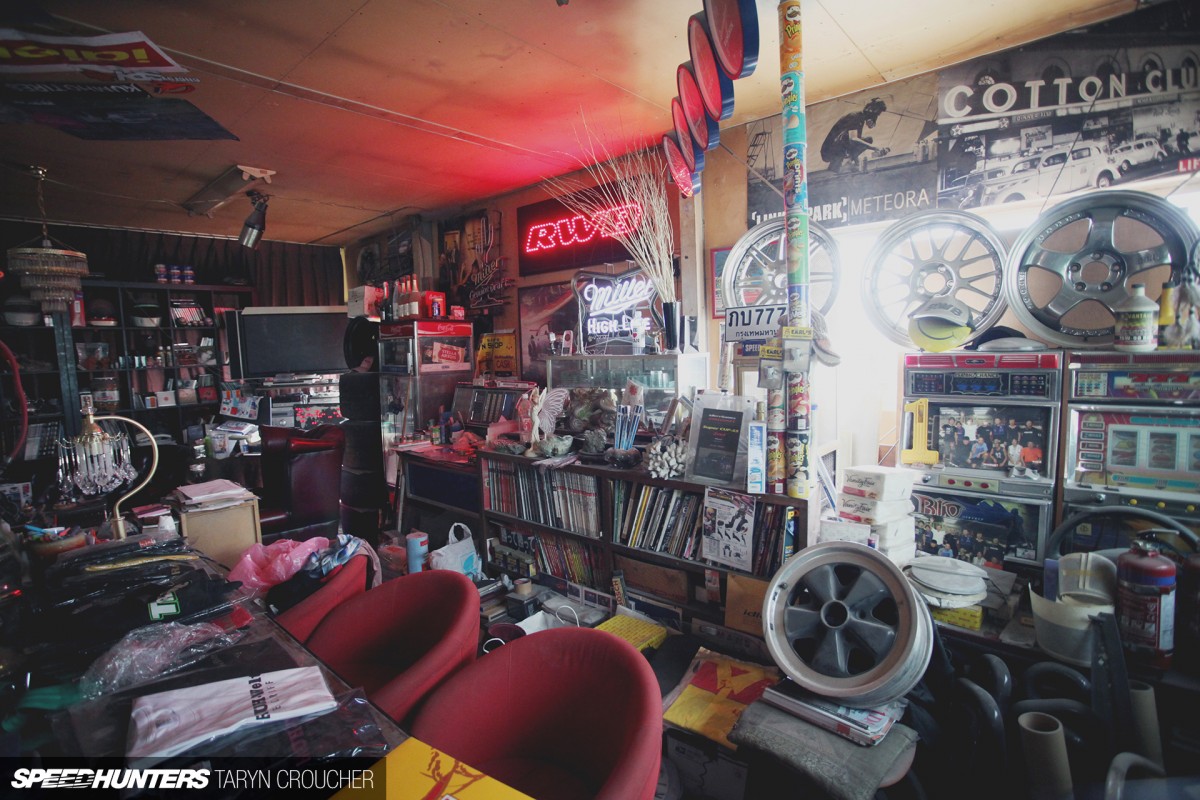 RAUH-Welt Begriff Workshop, Chiba Prefecture
This might sound weird, but I'm not really one of those people that pays money to go and lie down on a beach somewhere for two weeks and do nothing. Travelling to places that inspire me, and places that I can seek motivation from will always take priority. Nakai-san was away overseas when I visited his workshop earlier this year, and as I stood there I was able to enjoy a rare moment of peace amongst this visually hectic room, surrounded by the overwhelming collection of wheels, car parts and memorabilia. Many great visions and dreams have come to life in this very room, and even in the quiet, there is still an ever-present aura that lingers here.
Capturing light around the world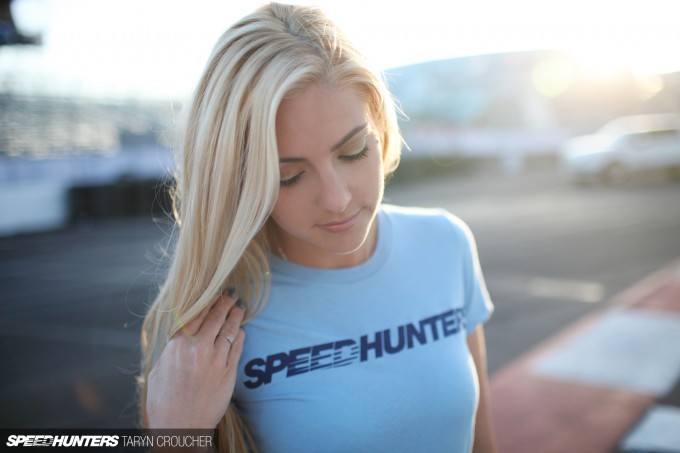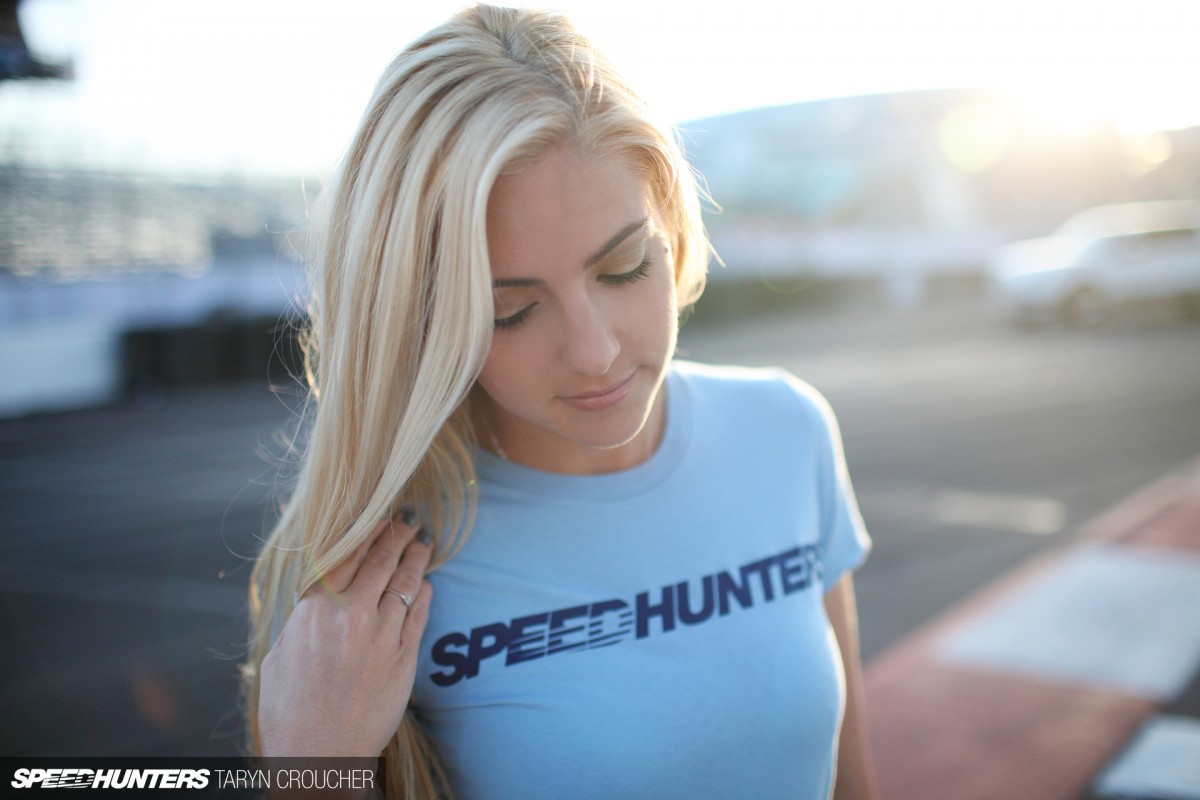 Courtney Day in golden hour, Long Beach
This year I had the opportunity to shoot some of our models in some of the incredible Californian sunsets, and I loved the way the golden light saturated everything it touched in a way I've never quite experienced before. Light capturing on different sides of the planet is always interesting.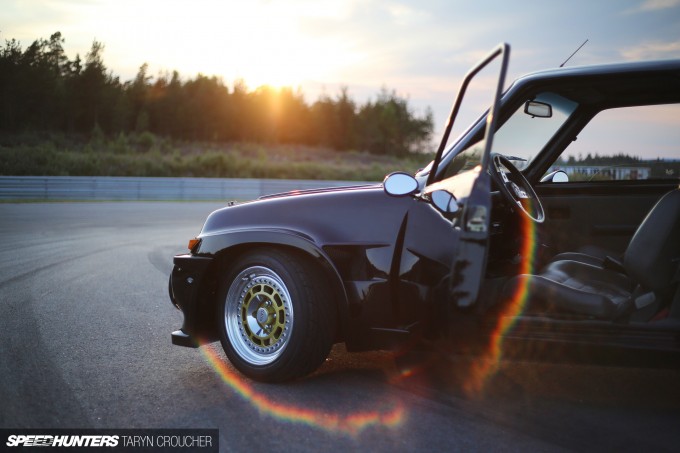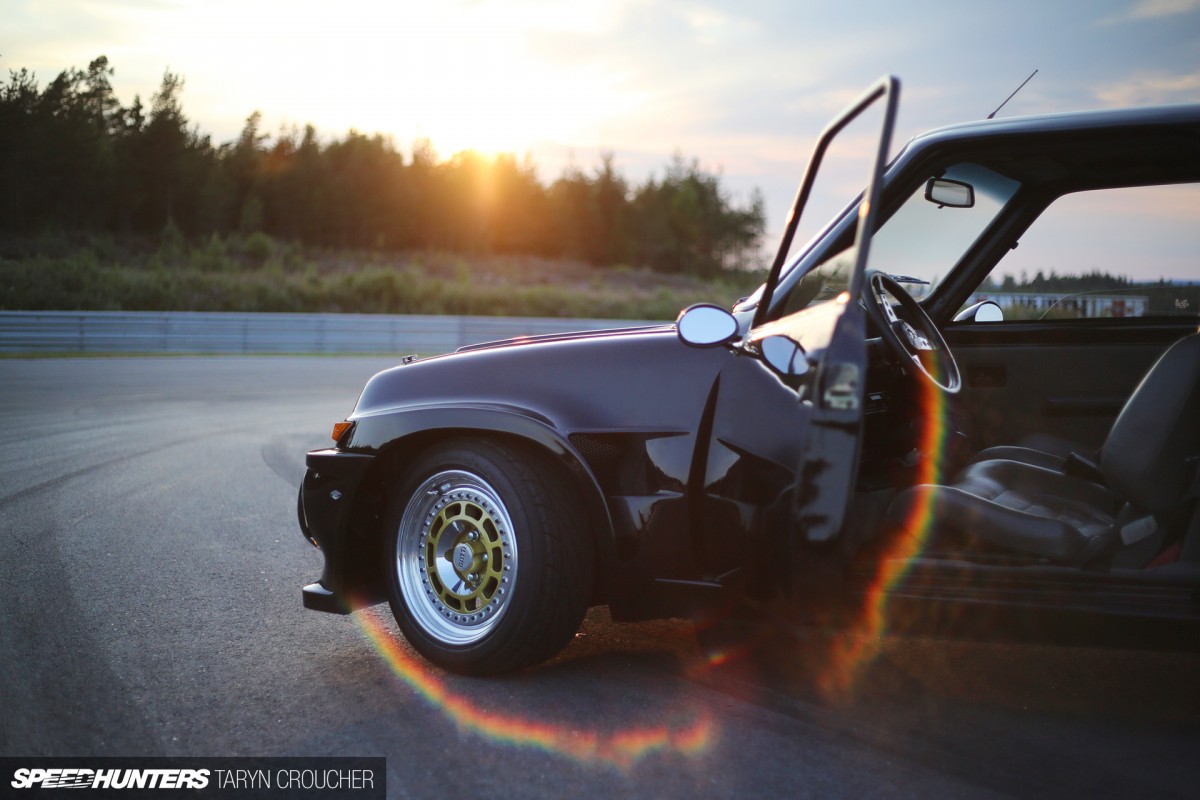 The ever lingering sunset, Gatebil Rudskogen
Speaking of interesting light, as I observed behind the scenes of Bryn's shoot of this incredibly rad Renault 5 Turbo 2, I truly struggled to get my head around the fact that it was 11pm (yes, PM!) and yet this strange orange orb was still staring at me through my lens like I was on a different planet. The light in Norway at this time of year is a photographer's dream come true!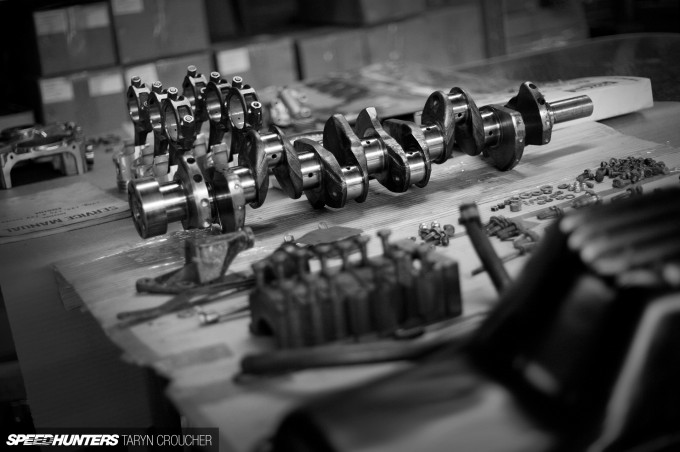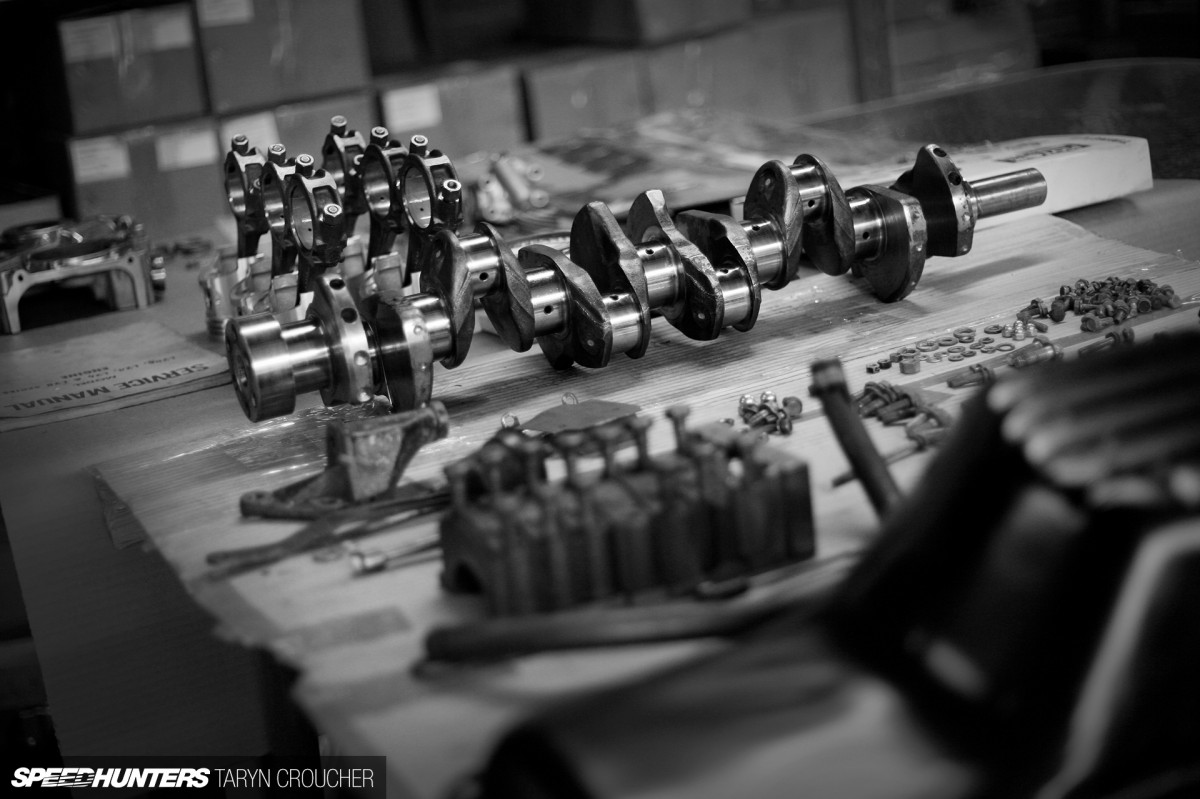 Project Z L28 reassembly, a garage somewhere in West Auckland
This image reminds me of the feeling of dread I experienced as I watched all of the old, worn, rusty (and sometimes bent!) parts coming out of Project Z, but then also the immense level of satisfaction I felt watching those parts slowly be replaced by shiny new or refurbished items as the engine rebuild has slowly been carried out. I've learnt so much throughout this process and although stressful and frustrating at times, I know that I'd do it all over again if I had to. I'm not usually a fan of changing colour images to black and white, but I like the industrial feel that it adds to this particular picture.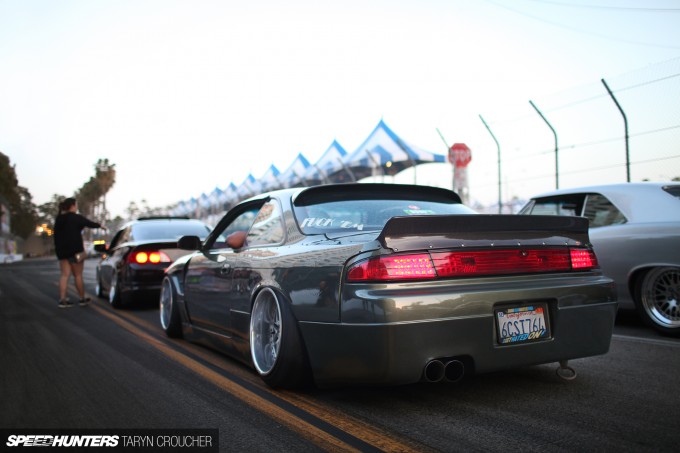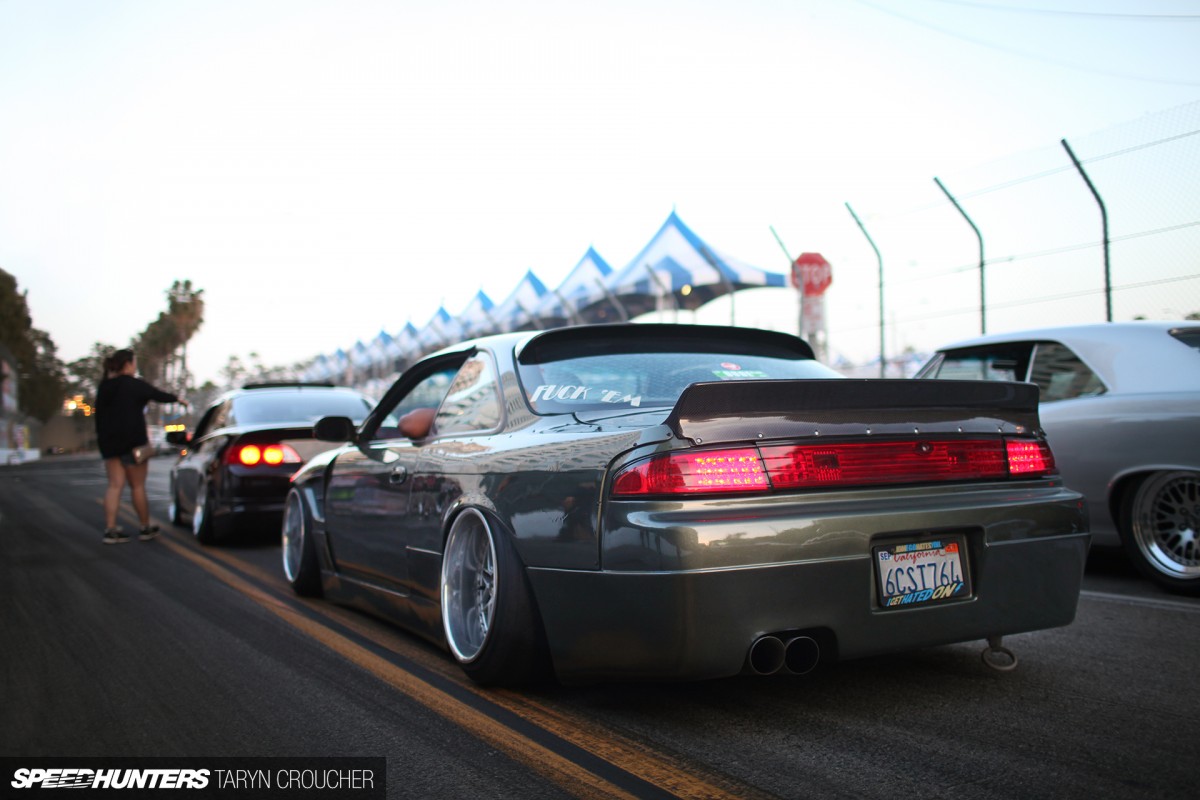 Cars arriving at the Slammed Society meet, Long Beach
After admiring this sort of event coverage from my computer screen at home, (okay, and sometimes the office), standing and watching all of the cars roll into the Slammed Society meet at Long Beach this year was a weirdly surreal moment for me to find myself in. This super low and flush S14 had the kind of styling that made me fall in love with the SoCal stance scene so many years ago, and I still can't get enough of it.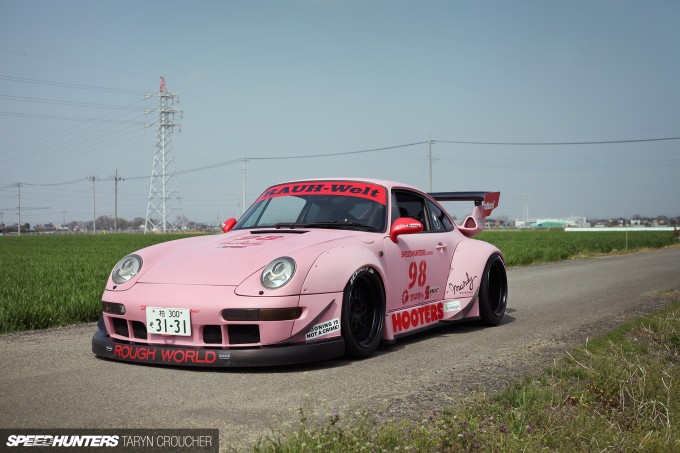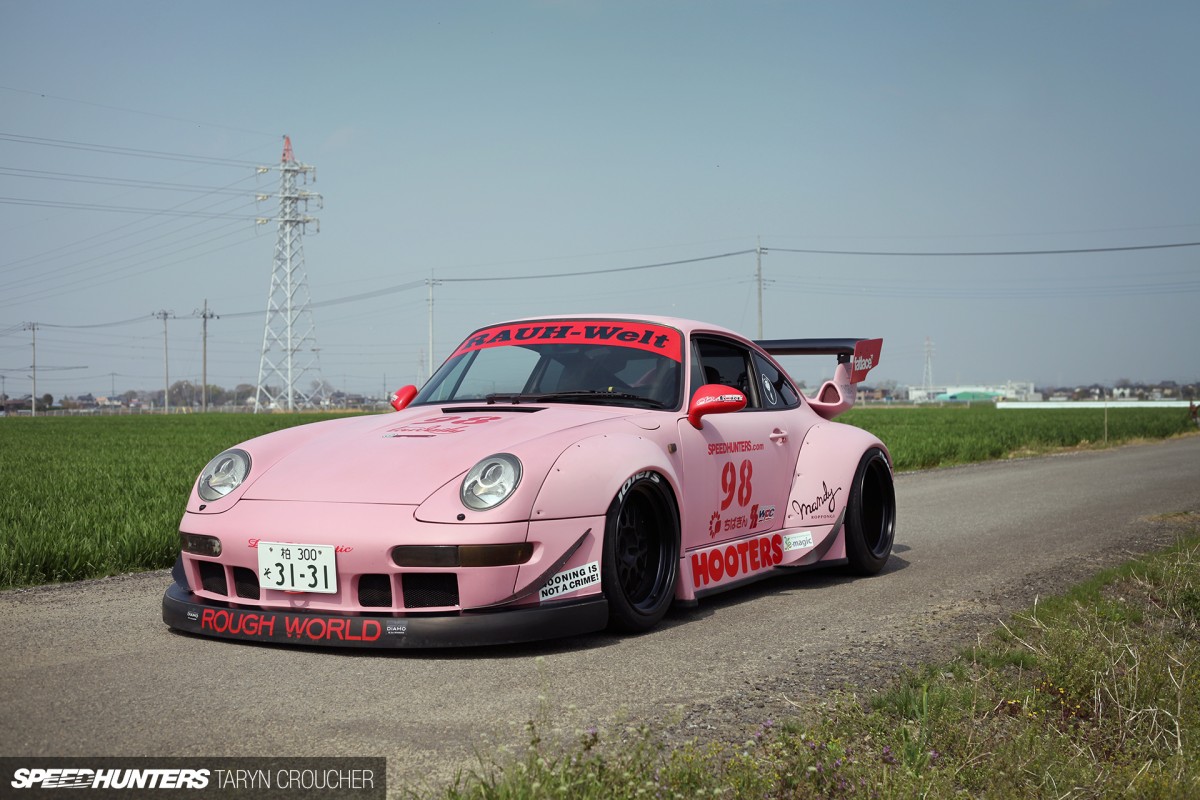 A ride in Hooters, Chiba
It's ridiculously wide, loud, controversial and matte baby pink, and I shamelessly love it. Going for a ride in an RWB Porsche that I had a major crush on was another thing I got to tick off my automotive bucket list this year. I loved photographing such a wild and outrageous-looking creature in such a peaceful, natural environment.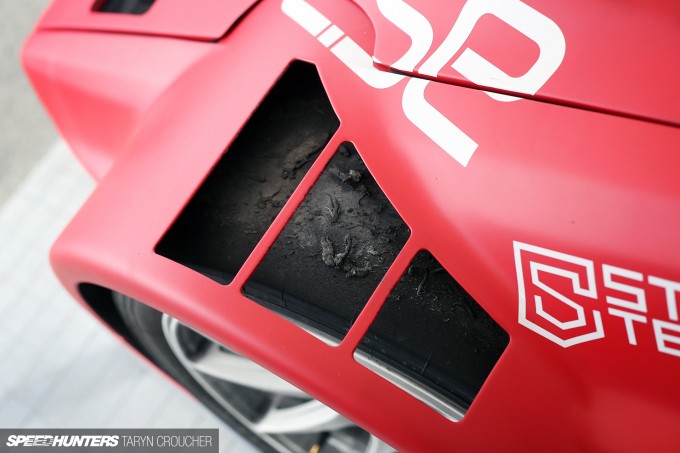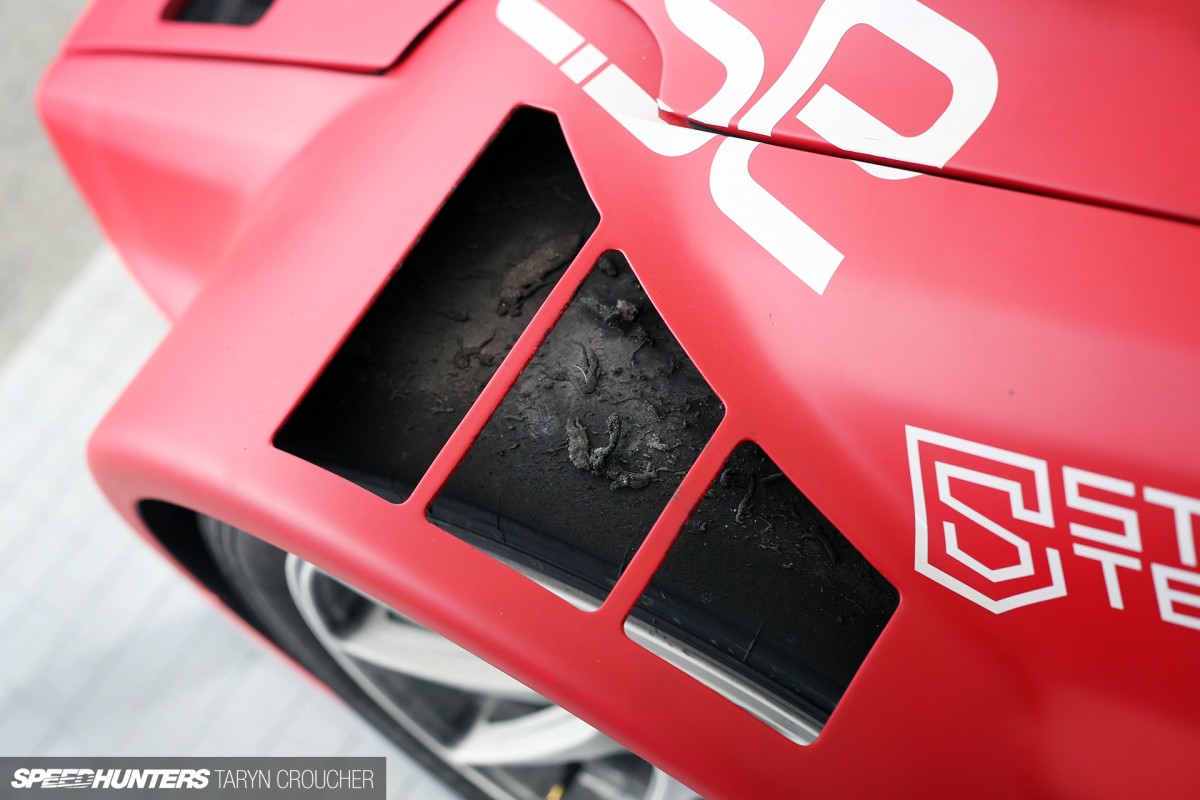 Close-up of the 'LaSupra', Gatebil Rudskogen
Simple yet brilliant details such as these custom front fenders are only the tip of the extremely epic iceberg that is the 'LaSupra' 2JZ-powered Lancia Delta Evo we discovered in Scandinavia this year. Although this image only provides a teaser, the melted rubber still hints at the level of seriousness of this incredible machine.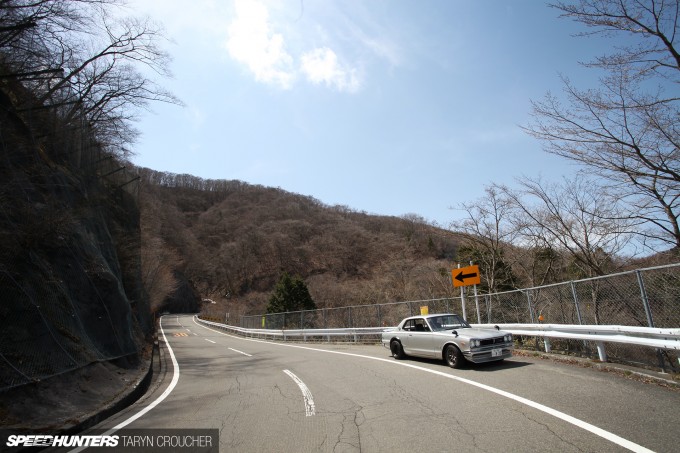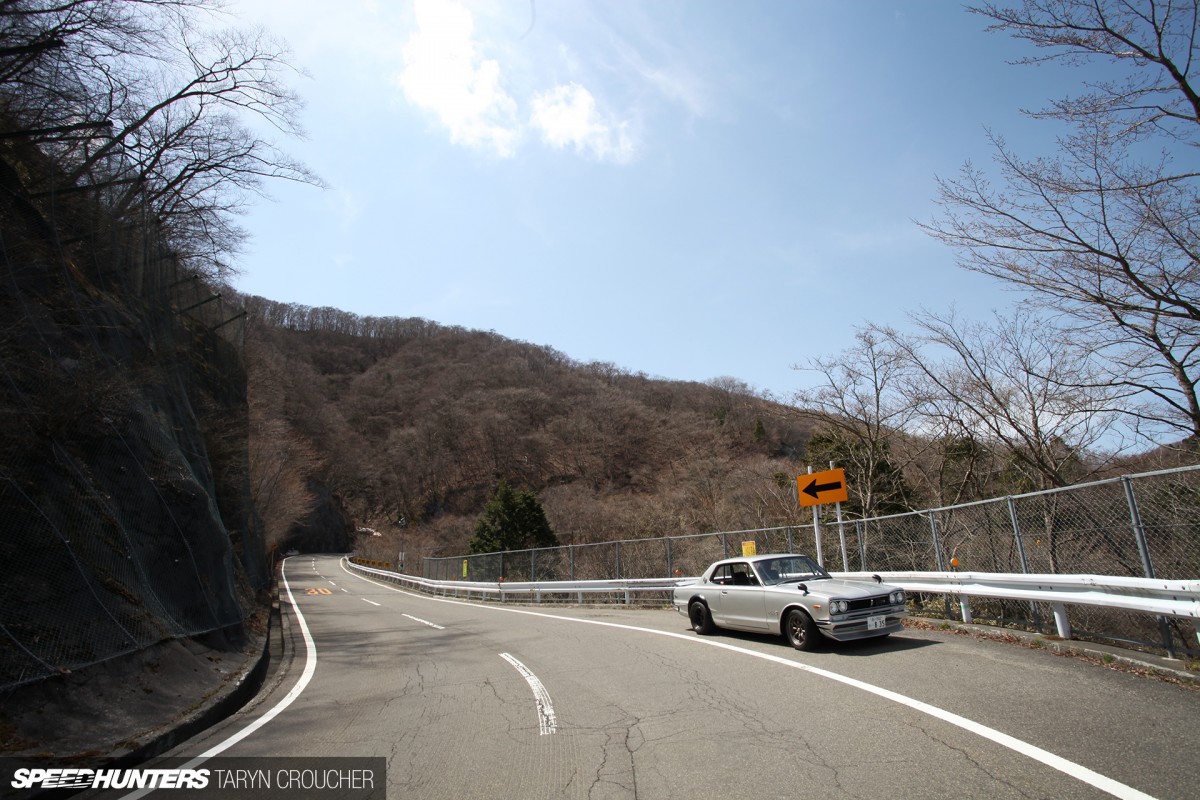 The touge roads dreams are made of
Being the Initial D otaku that I am, my mission when I travelled to Japan this year was to drive some of the actual touges referenced in the anime series. This photo takes me back to a day of very special moments – my first time seeing a Hakosuka Skyline in real life, my first time driving one and my first time wrestling one through some of the incredible downhill roads on the route from Lake Yamanaka to Fuji Speedway. Life goal, achieved.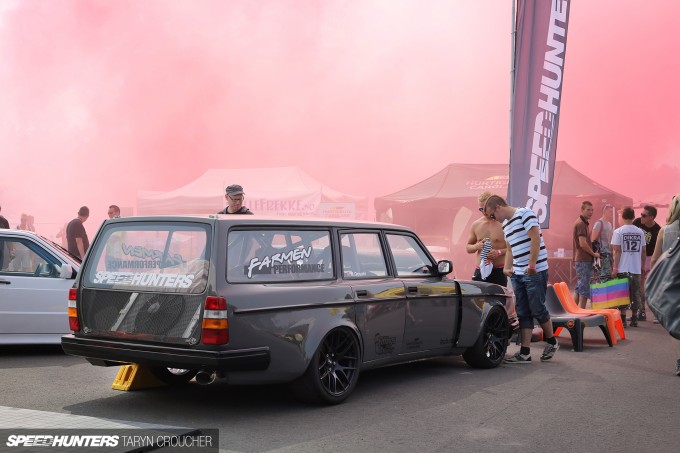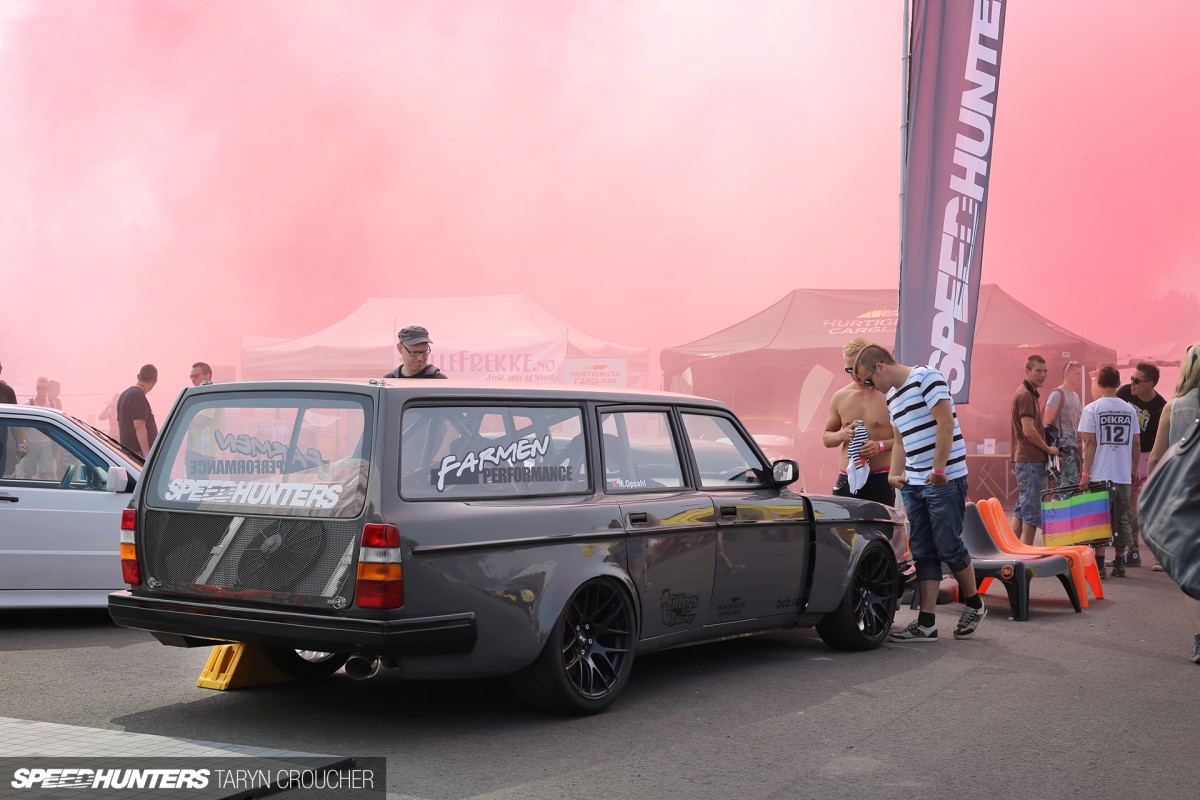 The Volvo that changed my opinion on Volvos, Gatebil Rudskogen
I had always loathed all Volvos – that was, until I went to Norway and saw some of the cool modified examples that Gatebil Rudskogen had on offer. The red tyre smoke combined with the fact that I was drooling over a Volvo wagon, (an LS1 V8-powered wagon, I might add) again gave me that feeling of being on another planet. In this case, Mars perhaps.
Each one of these Speedhunting memories is like a postcard from some strange dream that doesn't really quite feel like it happened, and as time moves forward I'm beginning to treasure each photo I've taken over the course of this year more and more. Something about permanently capturing what you can see with your very eyes will always fascinate me, and as long as I get to combine this fascination with anything car-related, I'll be happy.
I'd like to say a big thank you to the people who have been reading my stories and viewing my images this year; your words of support and encouragement throughout 2013 have truly meant a lot to me. Now, bring on the new year already!
Taryn Croucher
Instagram: taryncroucher
Twitter: @taryncroucher
[polldaddy poll=7634932]