Feeling patriotic
You're from New Zealand? New what? That's in Australia, right?
It's a weird feeling when you tell someone where you're from and they don't have a clue where that is. It's happened to me quite a few times this year, and I have to admit that it does make me feel a bit small and insignificant. Although I hate to resort to it, usually when I tell people that New Zealand is where the Lord Of The Rings movies were filmed, the response I get is "Oh New Zealand, yeah I've heard of that."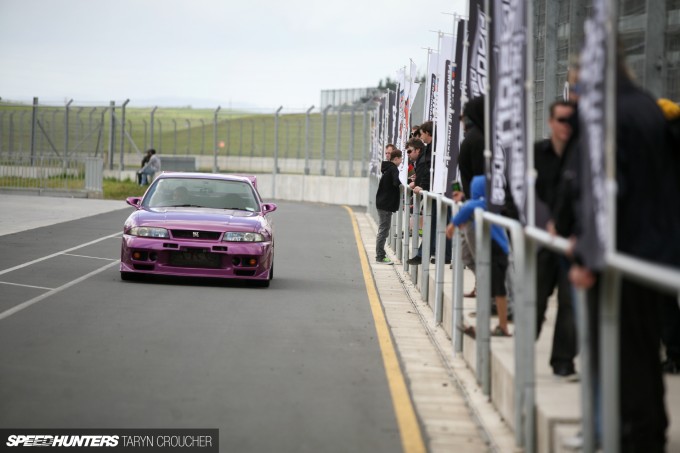 We might be a small dot on the map in comparison to the rest of the world but there's so much more to us than being just that country where hobbits come from. New Zealand has one of the most rich and diverse car scenes on the planet and not only should you definitely know about it, you should want to get amongst it – starting now!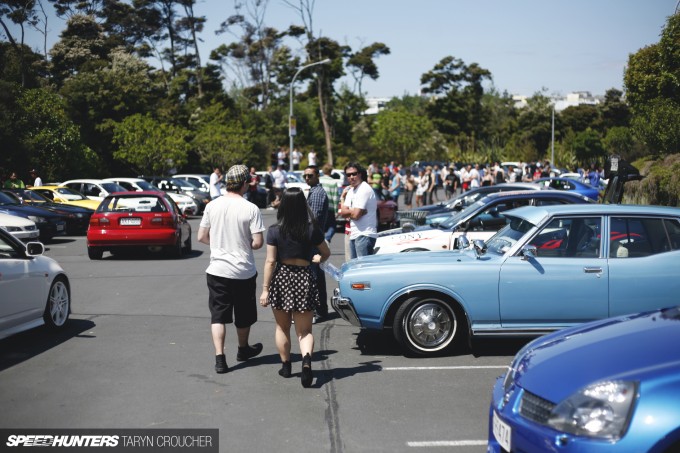 Like a lot of other places around the world, New Zealand is at its peak during our warmest season, with the majority of our automotive events taking place from November through to April, with January being the busiest. Our modified car scene is pretty incredible considering we only have a population of around 4.5 million people and it's one of the biggest per-capita in the world.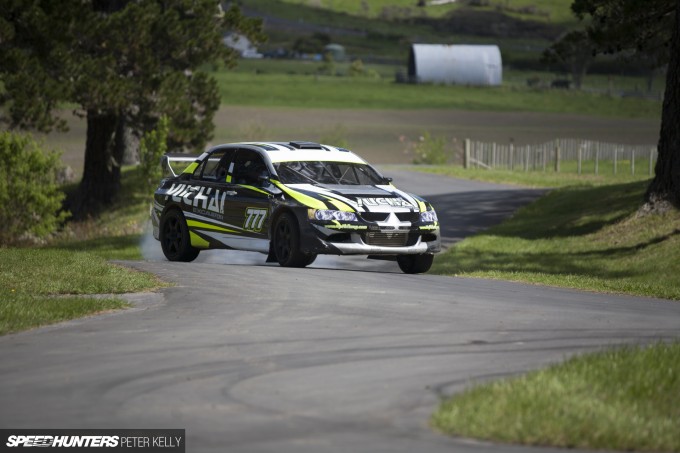 Every kind of car culture can be found here, whether you're into drifting or rally, classic cars or top fuel dragsters, slammed dubs or rowdy in-your-face rotaries. You name it, we have it. There's a little bit of something for everyone in this tiny yet vast automotive haven.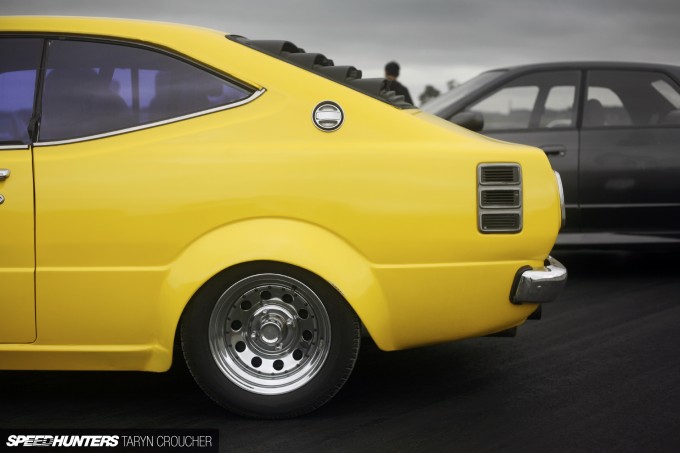 A very brief history lesson: since the early days, Japanese makes such as Datsun, Mazda and Toyota sold here alongside our more traditional American makes, Australian Fords and Holdens plus the occasional Euro and New Zealand new models, and many of these cars have been modified, raced and rallied since the '70s. On the odd occasion you'll see a senior citizen just on their way to the grocery store driving a bone-stock Datsun 120Y or KE35 Corolla, but nowadays most of these examples have probably been through half a dozen enthusiasts in their lifetime.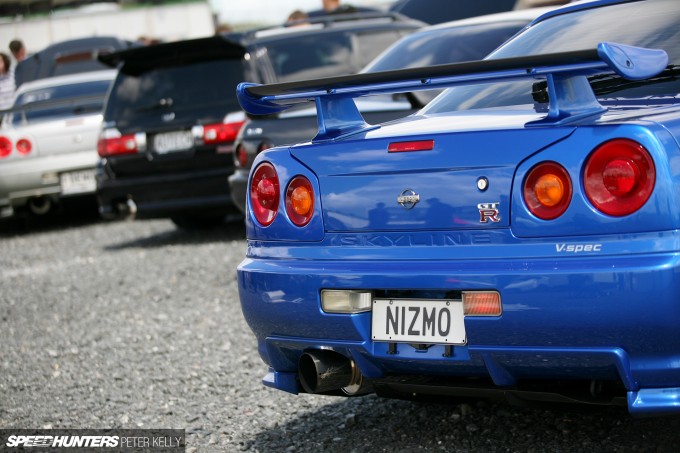 We also get a lot of cool JDM cars that the US has never had access to and you'd struggle not to see at least a dozen modified Skylines, Silvias and Hondas just on your way to work in the morning!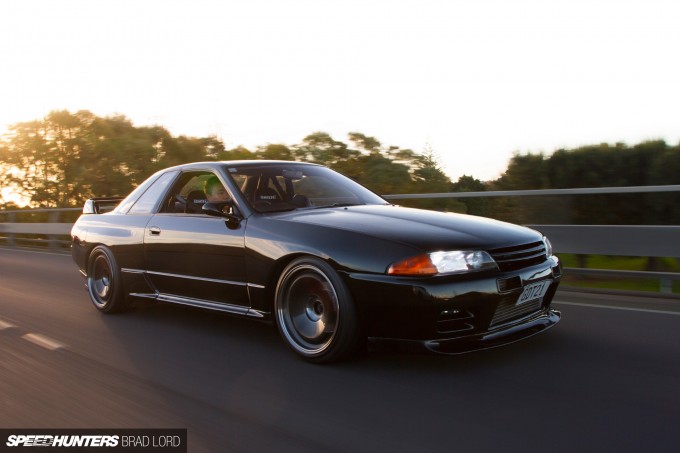 Back in the '90s, the restriction on second-hand Japanese imports was lifted, which opened up the floodgates allowing in the very best high performance vehicles that Japan had to offer – for very little money. Suddenly everyone had access to extremely fast, easily modded and reliable cars for cheap, and this basically caused an explosion of performance car culture overnight within the country. We can still import second-hand Japanese cars very easily and recently a 'second wave' of special interest vehicles – cars considered classic in nature and more than 20 years old, the R32 GT-R for example – have been steadily flowing onto our shores.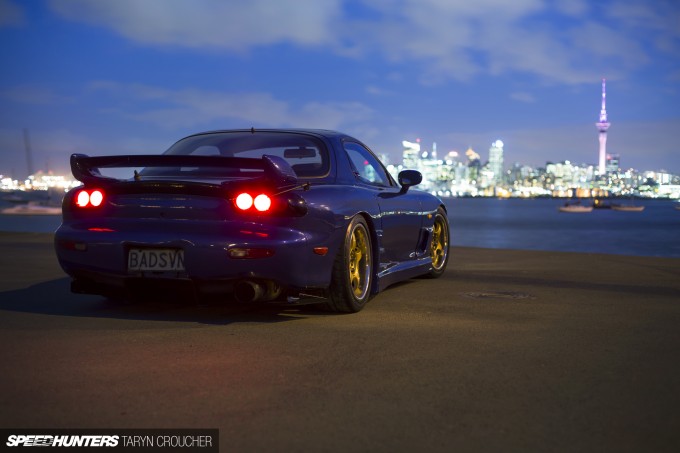 With the massive influx of fast cars, the early 2000s saw the emergence of a huge nation-wide underground street racing scene and the New Zealand government would eventually crack down on this, enforcing a new 'Unauthorised Street and Drag Racing' amendment law. Believe it or not, this actually allows the government to 'crush' your car if you break the law too many times within the space of four years. Only one person has been 'smart' enough to get their car confiscated and crushed so far though.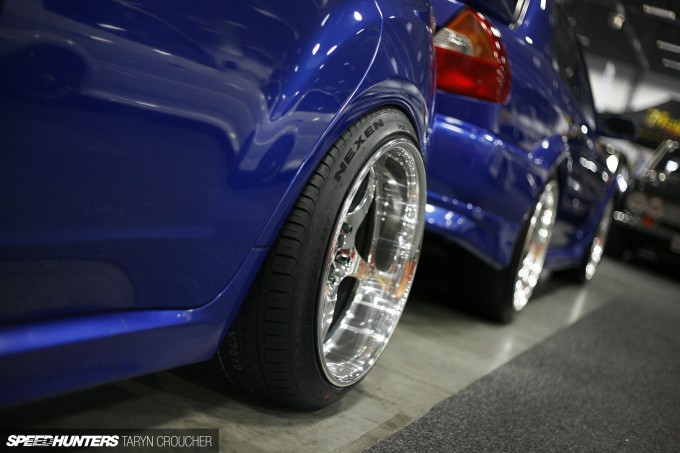 Another area where laws have recently been tightened is with tyre and wheel fitment. Basically, when any structural modification is carried out on your car – installing coilover suspension, aftermarket brakes, race seats or performing an engine swap for example, these all need to be inspected by an official Low Volume Vehicle or LVV Certifier to ensure they've been installed correctly and safely. This process also includes wheels and tyres, with the tyre tread having to sit inside the wheel arch and tyre size being limited to a certain width depending on your wheel size to combat the rise in extreme stretch. Once everything has been deemed legal, you then hand over a large bucket full of money in exchange for a small metal plaque. Most people from NZ will agree with me when I say that it's a huge headache. At least we don't have rules on emissions or the draconian blanket bans on pretty much everything like some Australian states though!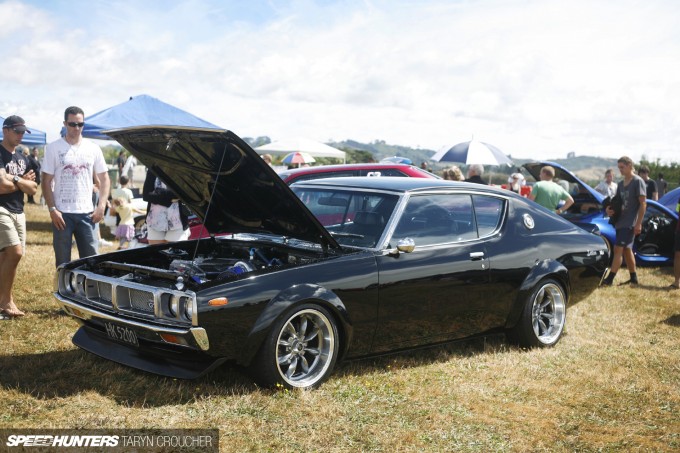 With massive penalties for offences such as 'sustained loss of traction' and 'excessive show of acceleration' (I'm not kidding, they're actually called that), and with the new restrictions on camber and tyre stretch now in place, I'm constantly hearing people complaining about how the road rules in New Zealand are too strict and how 'nothing's fun any more'. But as the street racing scene has slowly faded away, a new breed of enthusiast has emerged.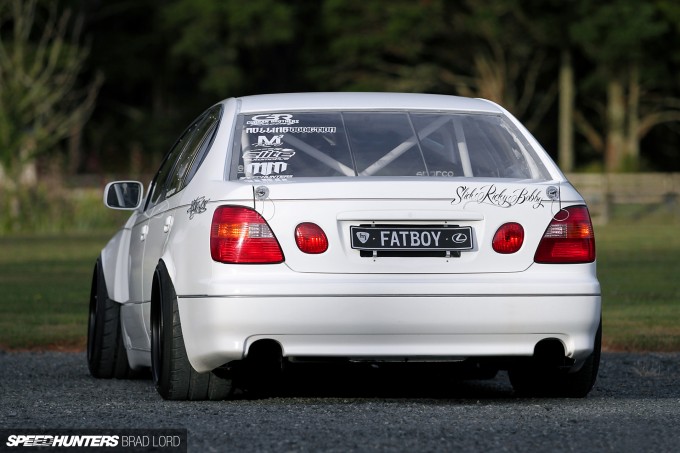 We've begun to evolve into a new generation of more refined, more mature car enthusiasts, who rather than just importing something and throwing an abundance of parts at it and not really knowing what's going on, choose to carefully plan and carry out a street car build with pride and precision, usually over a long period of time. Many people have also adapted to the mentality that if you want to build something crazy-awesome and drive it to its full potential, legally, you have to take it to the track. But if that's the only place you can really express yourself and drive the way you want, it makes sense to a lot of people to sacrifice road legality completely for a more competitive machine.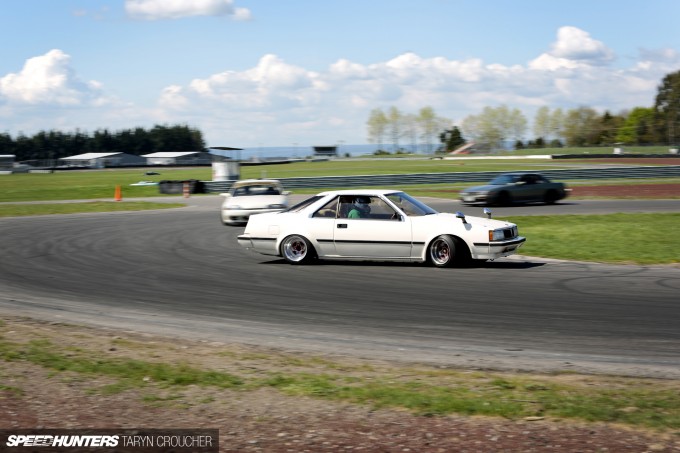 Inspired by drifting in Japan and no doubt by the general rise of the popularity of drifting as an international sport in recent years, it seems that most kiwis want to own a purpose-built drift car over anything else, whether it be to drive competitively or just to have a bit of fun on the weekends with friends. With the consequences of getting caught sideways on the street not being worth the risk any more, more and more people are getting involved in organised drift days between friends and car clubs. Most of our circuits are drift-friendly and some now have dedicated skid pans for hire at a reasonable rate too.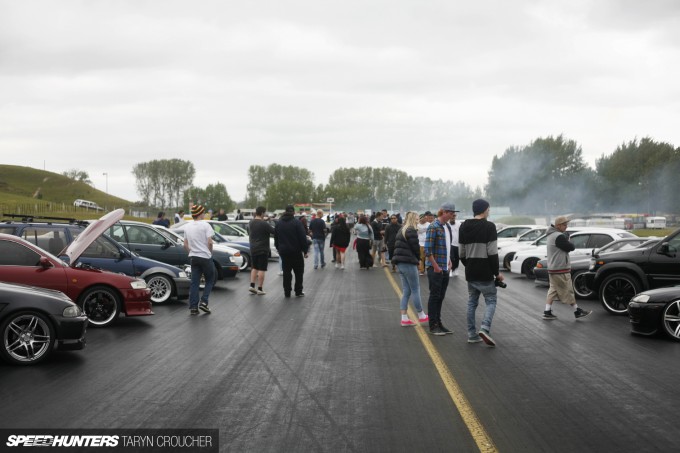 There are still those of us (like myself!) who choose to take New Zealand's certification standards as a challenge and commit to building a legal street car that they can enjoy out on the open road. In my opinion, as long as we choose to move forward and keep our automotive passion close to our hearts, we can adapt and rebuild our car culture into something even bigger and better. It's definitely a very interesting time in the New Zealand car scene.
Want to know how you can get involved yet?
What's on in NZ?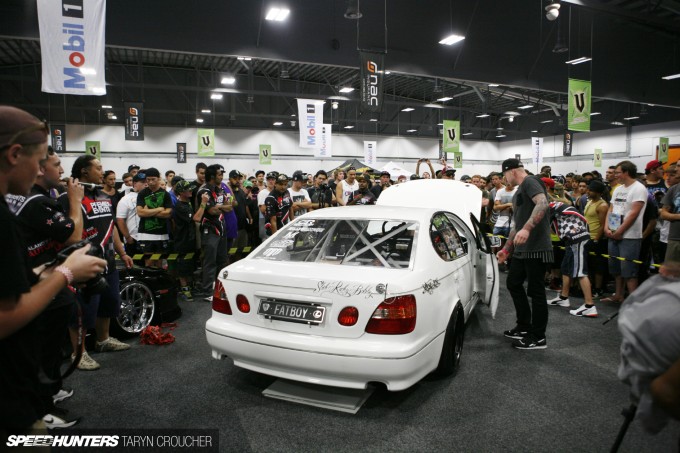 Held in Auckland at the end of January each year, the V 4 & Rotary Nationals is the largest car show in the country and has plenty on offer for modified import enthusiasts to drool over.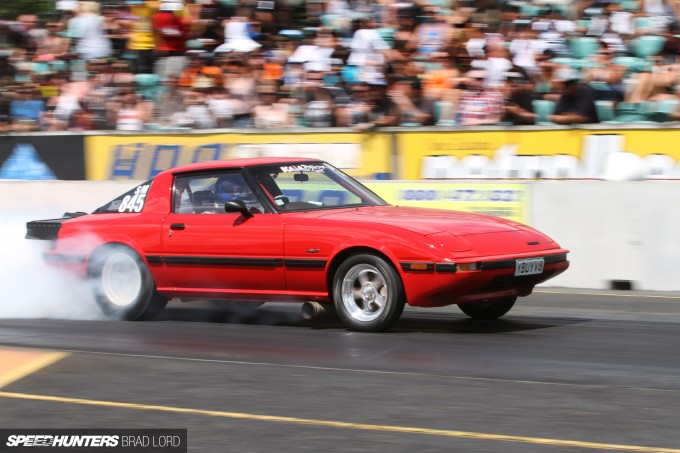 The event runs on both Saturday and Sunday, with the Show 'n' Shine event on the first day and the Drags at Fram Autolite Dragway the day following. If you're from out of town and want to get a taste for our performance car culture, then this event is well worth checking out!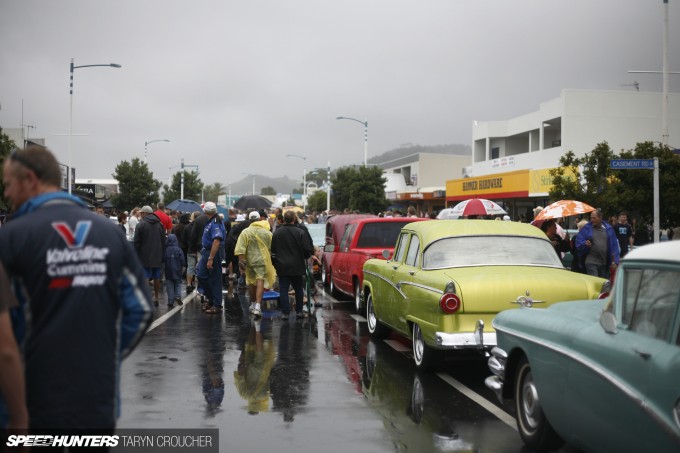 Beach Hop is New Zealand's biggest nostalgic festival, with a strong focus on American classics, hot rods and rockabilly culture. I was sad to miss out on Beach Hop this year but I've attended the last three years prior, and it's definitely my favourite event of the year. Literally thousands of beautiful old school cars overrun the small beach town and it almost feels as if you've gone back in time.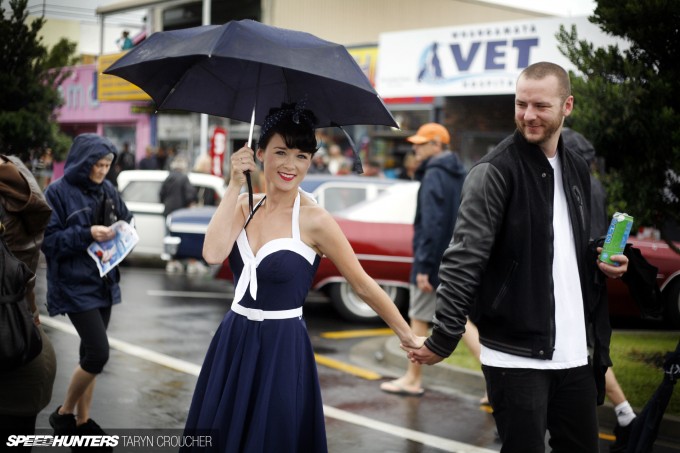 Especially because everyone is encouraged to dress in theme! Whangamata beach is also incredibly stunning and although it's raining in these photos I took back in 2011, wet weather is pretty unusual and it usually always looks like this. Honest! Beach Hop takes place over five days at the end of March, and accommodation MUST be booked in advance, so planning ahead for 'The Hop' is essential!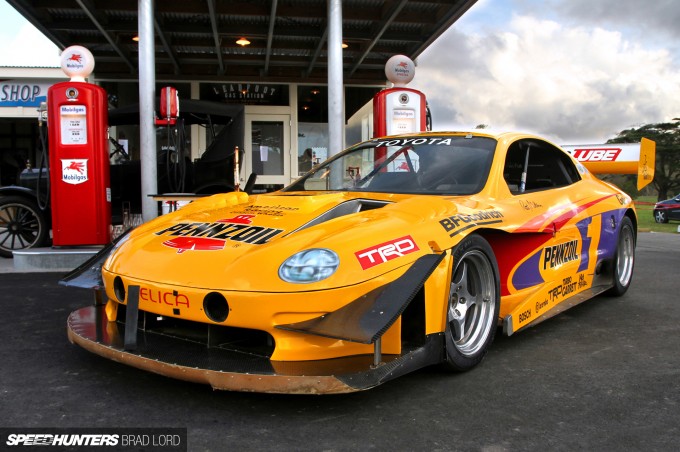 Although I haven't quite made it along to check out what all of the fuss is about yet, the Leadfoot Festival is quickly becoming one of the most talked about events on the New Zealand motorsport calendar. Thankfully, fellow kiwi Speedhunter Brad Lord has been able to make the trip down to the small beach town of Hahei to bring us full coverage from the last two events.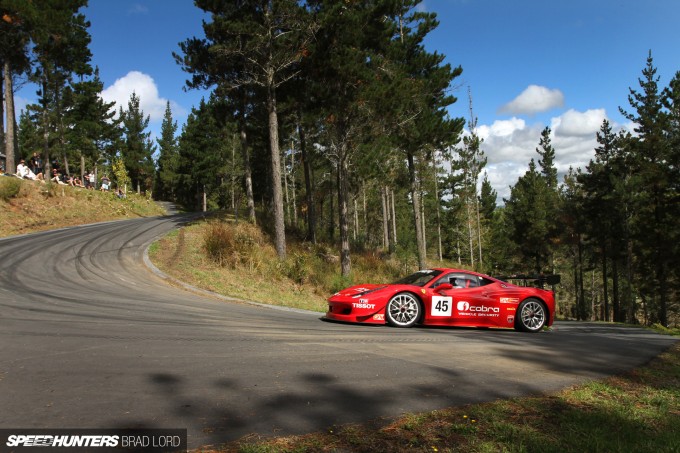 Although the next festival isn't set to go ahead until 2015, today Rod Millen announced that a series of mini events, Leadfoot Derelicts, will be taking place at the Leadfoot Ranch on each Saturday in January 2014, with free admission for everyone. How cool is that?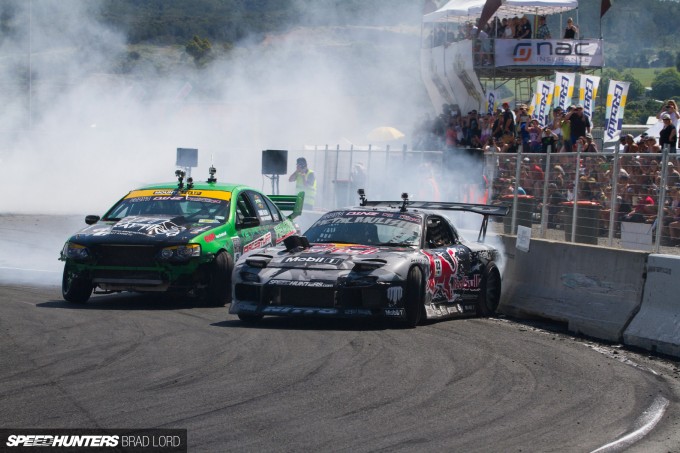 If watching cars driving in a straight line isn't quite exciting enough for you, New Zealand's largest drift series, D1NZ, is something you should definitely check out. The series runs from the end of the year until around April, on various tracks and street courses around the North Island.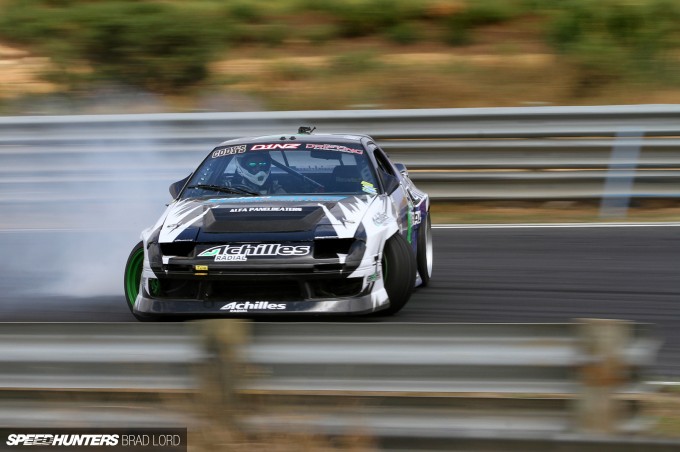 The next D1NZ round will be taking place in Tauranga on the 18th-19th of January and there's bound to be some carnage from the tight concrete barrier-lined course – and some sweet T-shirt tan lines too.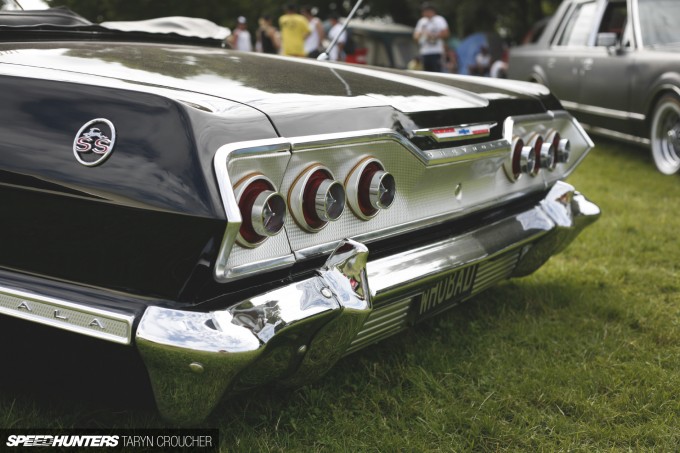 The Kumeu Classic Car and Hot Rod Festival is a favourite of mine, and another event that takes place in January each year. With numerous paddocks filled with campers, trade and food stalls and thousands of nostalgic cars, there's always something new and interesting to be found there. Comfy walking shoes and sunscreen are a must if you want to enjoy yourself.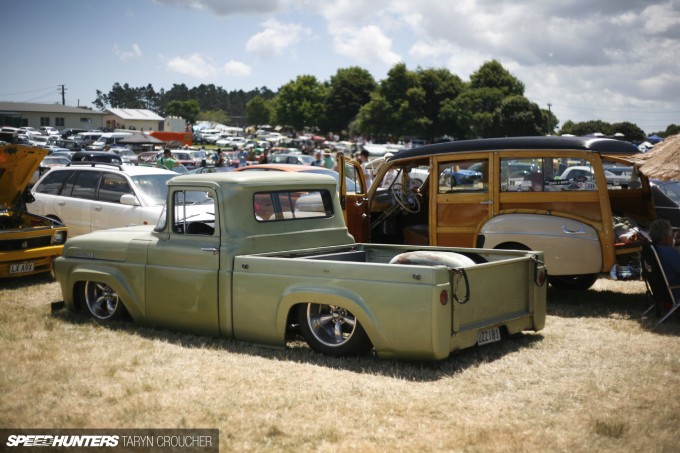 It's a fun, family friendly opportunity to embrace your inner 'bogan' or 'westie' as we call it, and I have many fond memories of walking around eating those tiny cinnamon donuts (what do they put in those to make them so damn good?), watching wood-chopping competitions, admiring classic cars and drinking cold beers in the sun.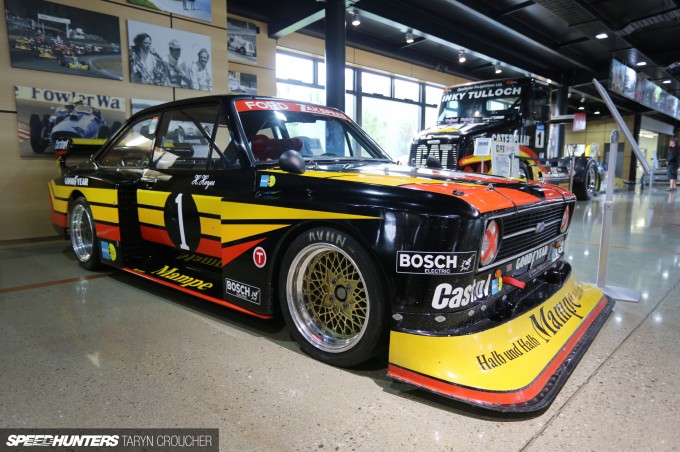 If you're visiting Queenstown or driving through the South Island, Highlands Motorsport Park in Cromwell is definitely worth a visit. Although track time is exclusive to members only, the brand new motorsport facility still has an incredible museum which showcases some pretty amazing cars, an awesome go-karting track and a great restaurant showcasing some delicious local wines. I visited Highlands recently and was really impressed by how well-presented and professional everything was. Many international motorsport events will be hosted there in future, so check out their website to see what's on!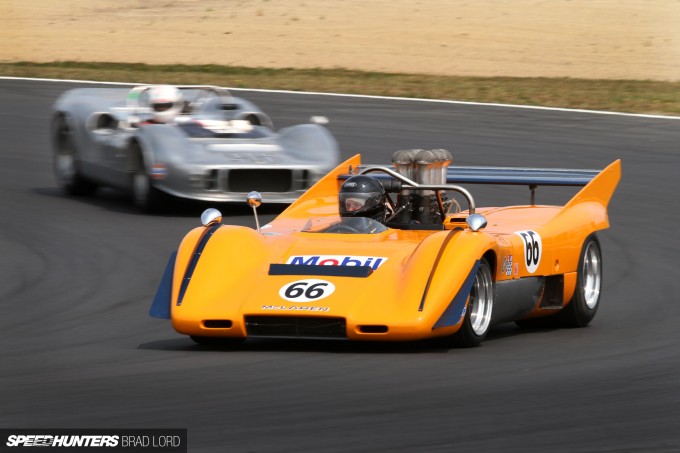 The New Zealand Festival of Motor Racing at Hampton Downs Motorsport Park showcases some iconic cars from both New Zealand and international motorsport backgrounds, and has a different theme each year. The festival in 2014 will be a celebration of all things Ferrari, and three Formula 1 cars from various racing eras will be attending. Sounds awesome!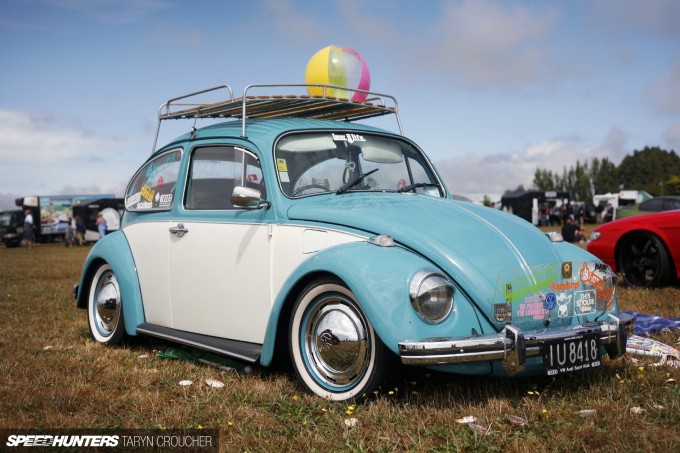 As well as these larger scale annual events, during the kiwi summer there's always at least one or two casual meet-ups or smaller-scale car shows on each weekend. 4 & Rotary Events and NZ Performance Car magazine organise many different events like this all around New Zealand and they're always a great opportunity to catch up with friends and meet new people.
The kiwi way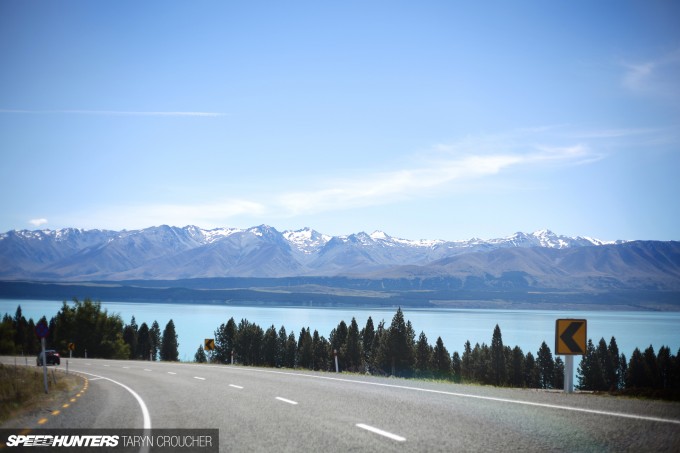 New Zealand has some of the coolest driving roads in the world and as it takes only around 27 hours to drive from the top to the bottom (and in some places only an hour to drive from one side of the coast to the other), you can experience all of them in no time at all. As it snows here in winter, again I'd recommend summer as the best time to do this as it's much safer and means you can take advantage of some of our beautiful beaches too.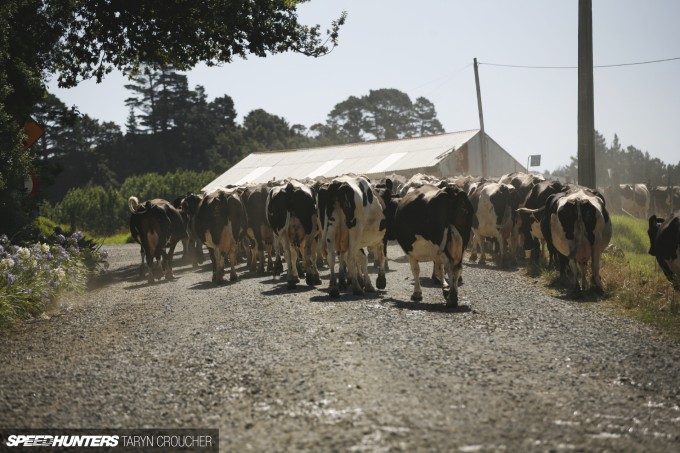 This is a very common sight in rural New Zealand, so get used to being patient on the road!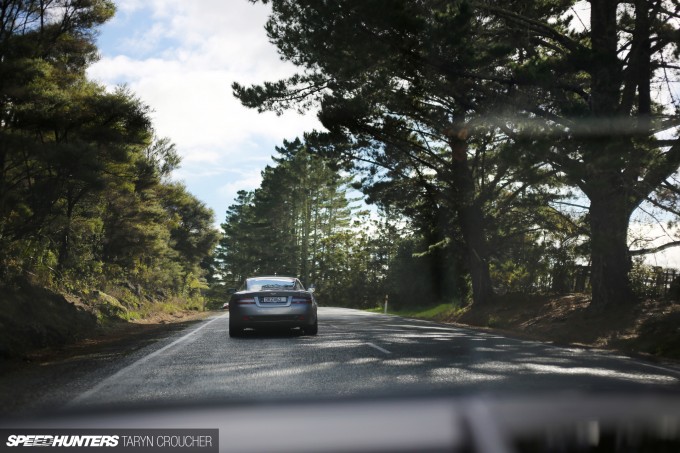 It's hard to even know where to start, but driving to Cape Reinga, Doubtless Bay, the Karikari Peninsula and Whangarei Heads at the top of the North Island, Omapere on the west coast, Piha Beach near Auckland, the Coromandel Peninsula, and the Desert Road are all incredible dream drives in the North Island. The South Island also has some unreal roads and landscapes, and the drive from Queenstown to Wanaka through the Crown Range is one of the most spectacular. Hiring a car or camper van is really easy too, but if that's not your thing, you can always buy a car, which is just as simple if you have the money for it and can speak English.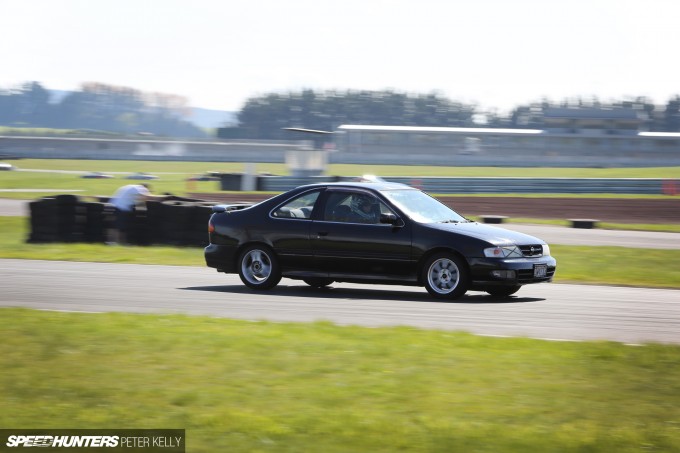 Most of our race tracks also have open days for circuit racing and drifting, and usually at a pretty reasonable rate too. New Zealand has eight permanent race circuits, so if that's something that interests you, I'm sure that with a bit of research you could definitely make it happen! A helmet and fireproof overalls is usually all you need to go out on the track (you don't even need a fast car, as evidenced by my daily driver here).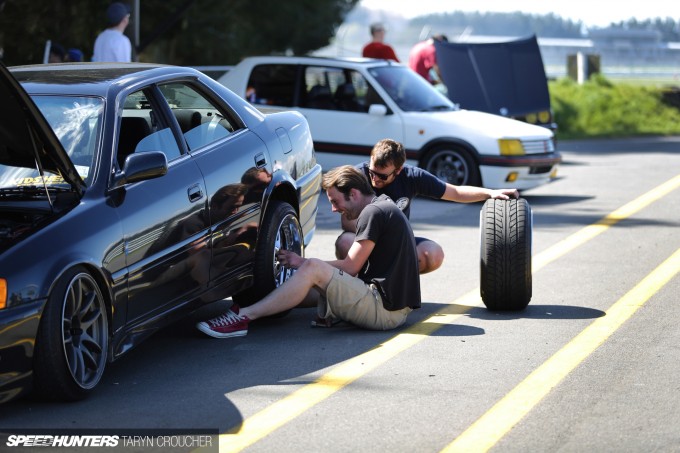 Being the small country that we are, we're lucky to have such a tight-knit car community, and the one of the things I've noticed in the time I've been heavily involved in the scene, is that people are so willing and genuinely happy to help you in the garage when you need a hand.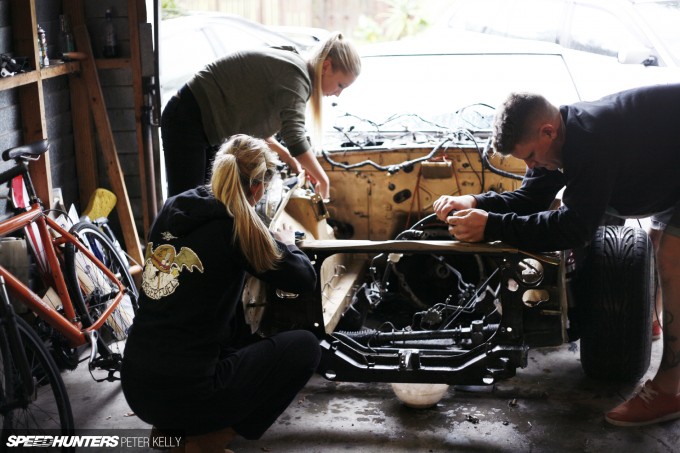 Just like many other car cultures around the world I'm sure, working on cars together is a bonding exercise, a ritual and a tradition. It's such a huge part of the everyday lives of so many New Zealand people and I love being one of them.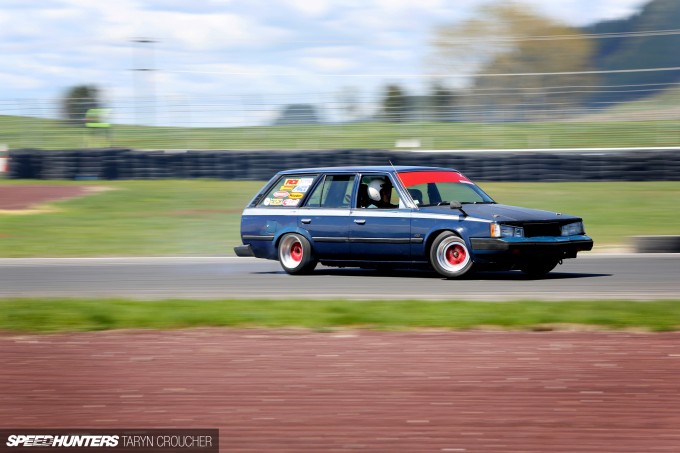 It's definitely pretty great having access to a huge variety of awesome cars, various nearby motorsport facilities and a plethora of successful annual automotive events and gatherings, and all in one beautiful, compact little country.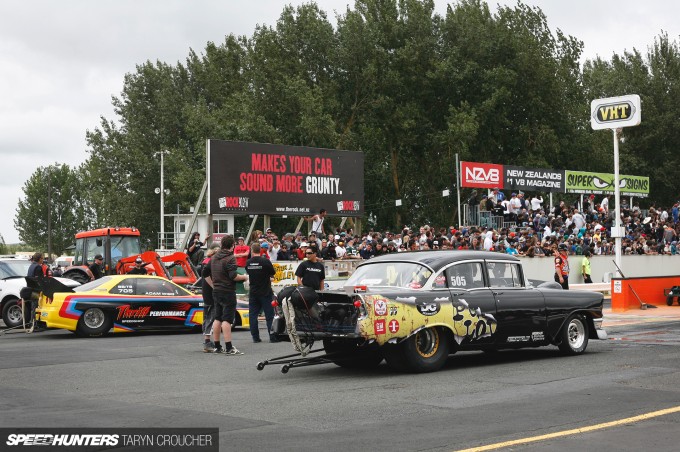 For those of you unfamiliar to New Zealand, I hope I've been able to give you a bit of insight into what our car culture is all about. If you're feeling adventurous and want to discover some of the rad automotive happenings going on down in this part of the Southern Hemisphere, why don't you come and check it out for yourself in 2014?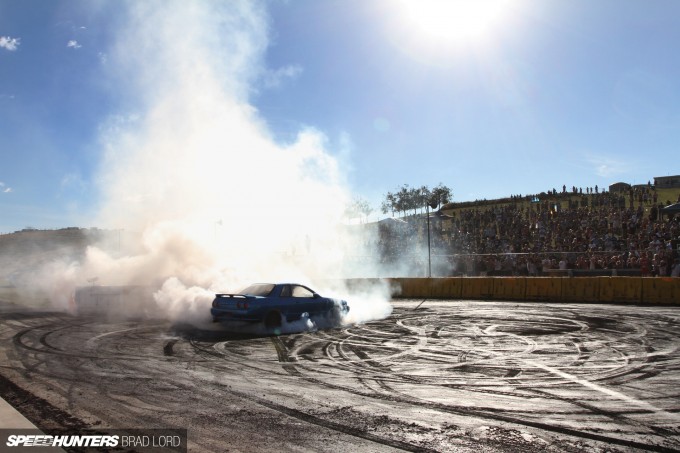 Reach out to a fellow kiwi friend and make it happen! The land of the long white (tyre smoke) cloud awaits you…