My double life
They say that if you choose a job doing something you love, you'll never have to work another day in your life.
My life pretty much revolves around this quote. To me it means you should be constantly trying your absolute hardest, constantly going the extra mile to perform to your absolute best, and constantly learning – and loving every second of it. The last four months have perhaps been the hardest I've ever 'worked', but I still can't help but feel as if I haven't really been working at all. From the moment I wake up each day I'm surrounded by #JoyOfMachine, but for the last few months I've been completely immersed in one very special vehicle brand in particular.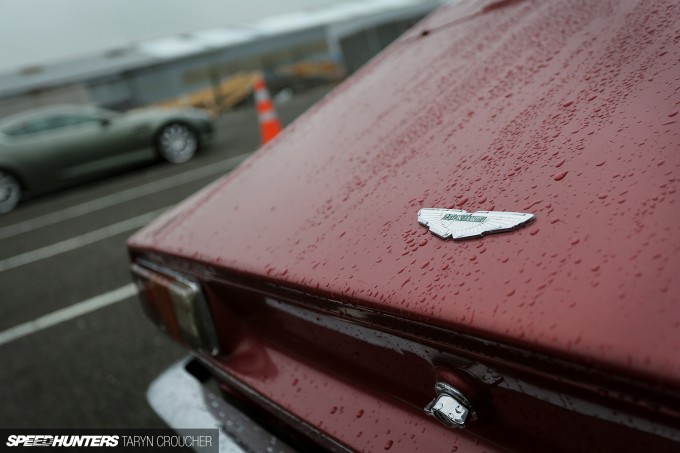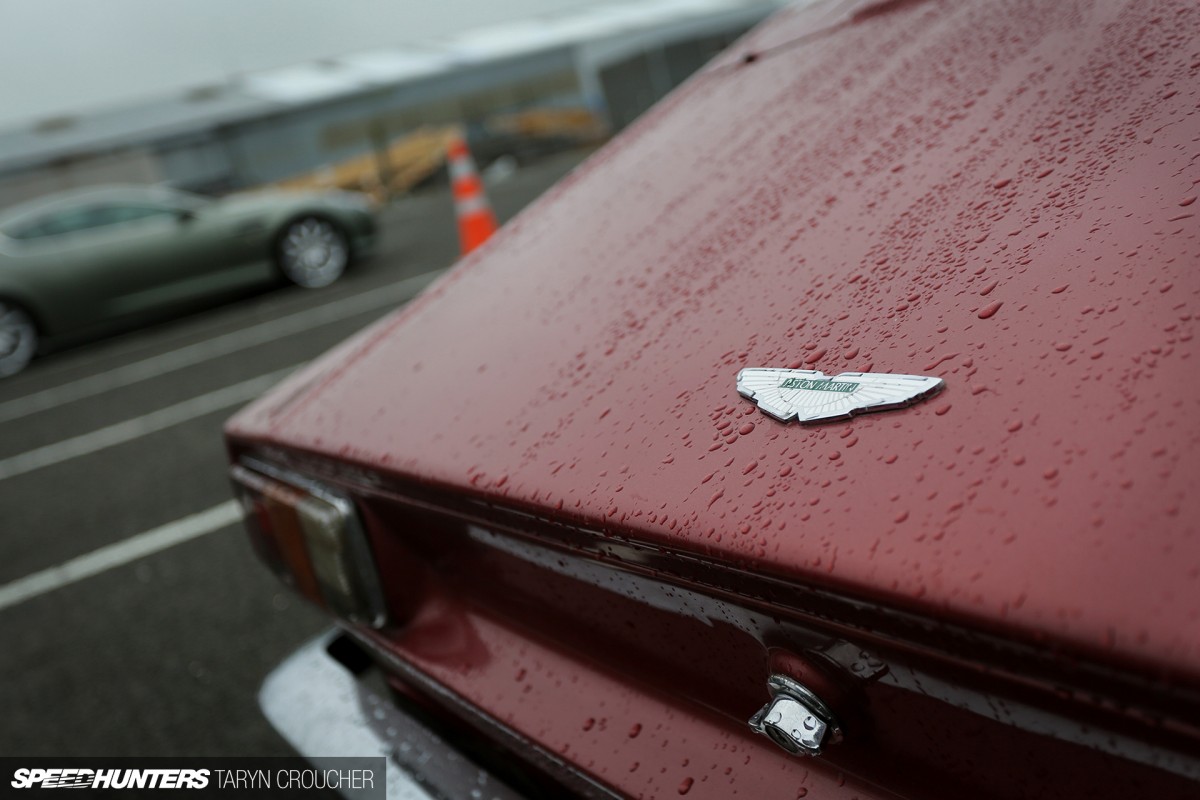 You might've guessed by now that this isn't your typical automotive event coverage story. Well, it's still a story based around my experience at the Aston Martin New Zealand Centenary Road Rally last weekend, but it's also a story that coincides with my double life as an Assistant Editor here at Speedhunters, and the Marketing and Events Coordinator for Aston Martin New Zealand.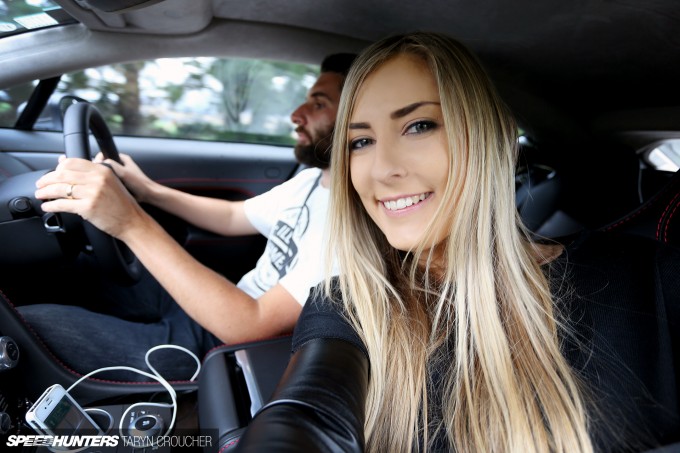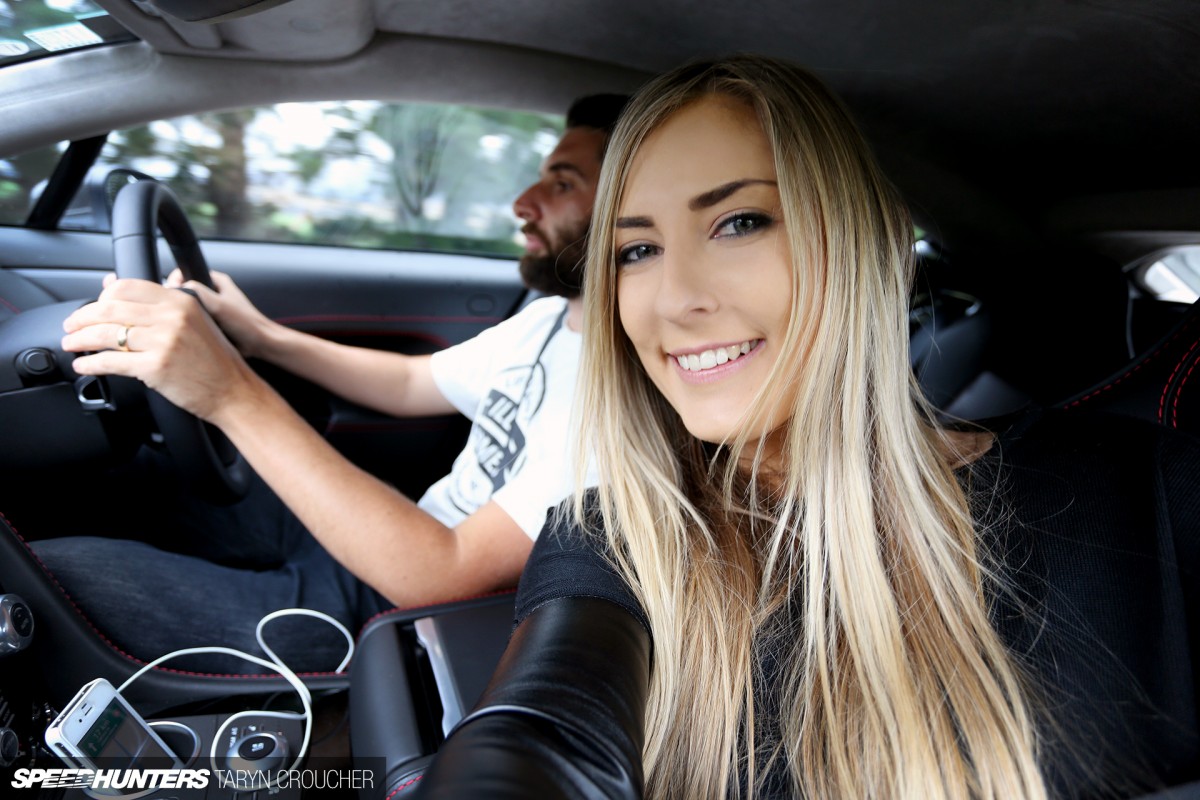 Just like anyone else, I've been through phases where I've worked a job that I absolutely hated, where I wasn't challenged or able to let my inner creative self roam free and satisfy my overwhelming need to plan, design and create things. After training as a photographer and then somehow getting stuck in a boring office job when I moved to Auckland four years ago, the urge to unleash my imagination upon some form of creative medium soon became too strong to ignore. I started to put a large majority of my focus and energy into a new personal creative project: a blog that combined my love of cars and photography…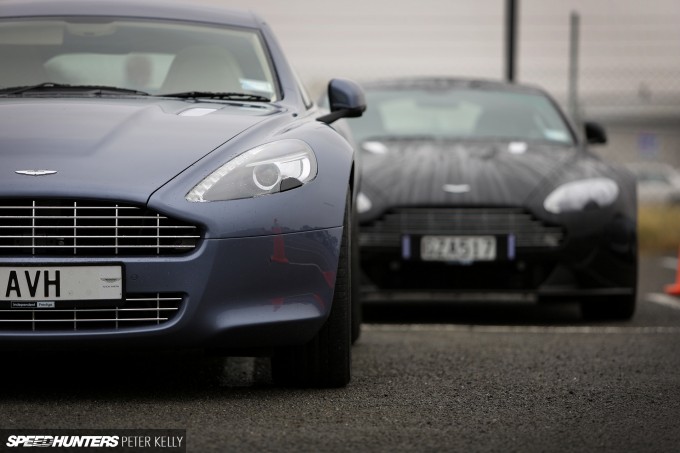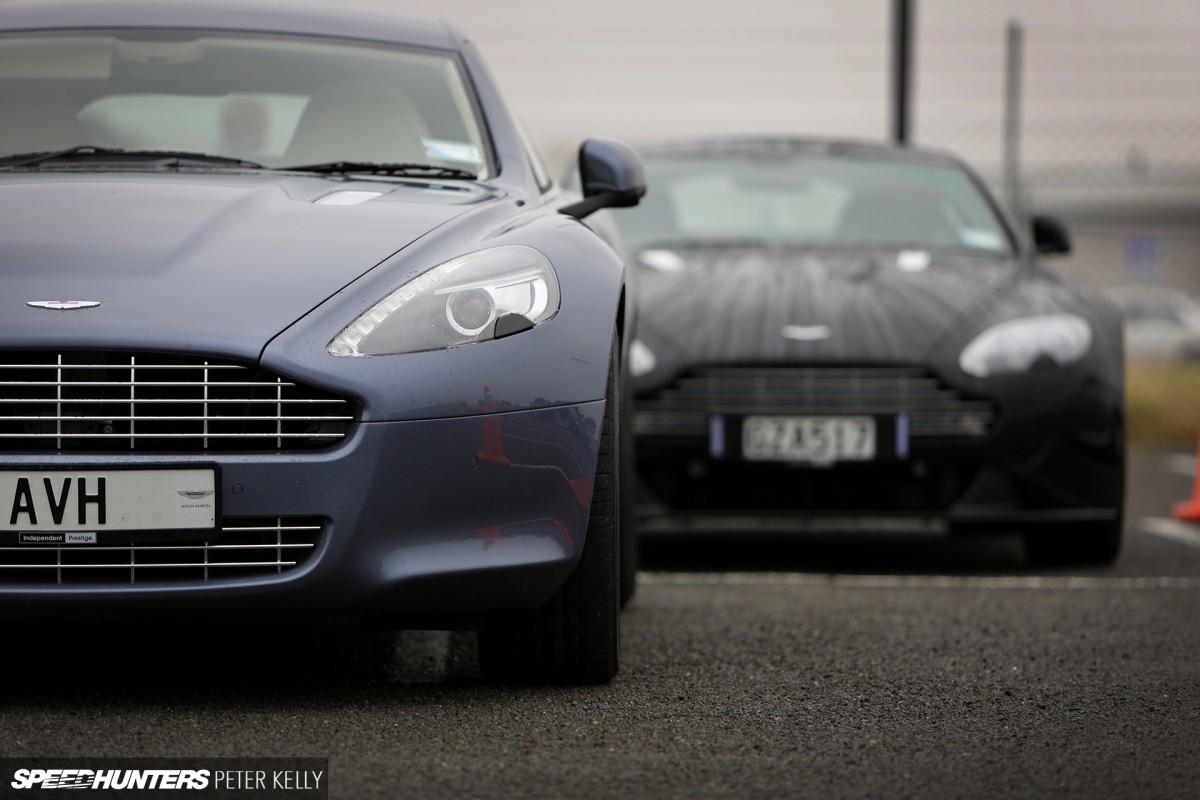 … and as they say, the rest is history. The company I now work for full-time is one of the many dealerships owned by the Giltrap Group, a family-owned company involved with pretty much anything motoring. If you love cars, this is the company you want to work for in New Zealand.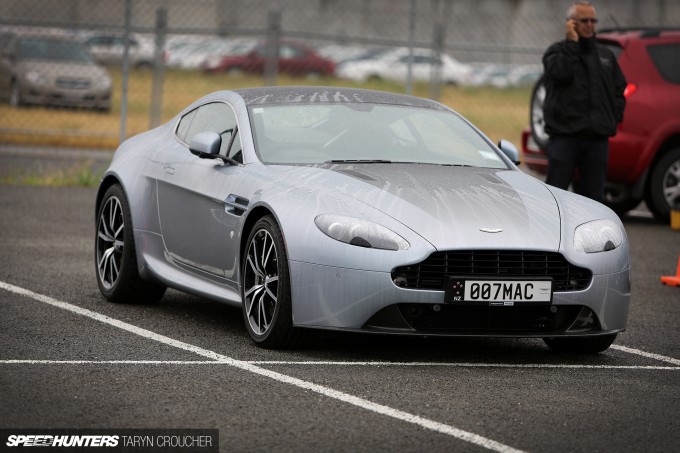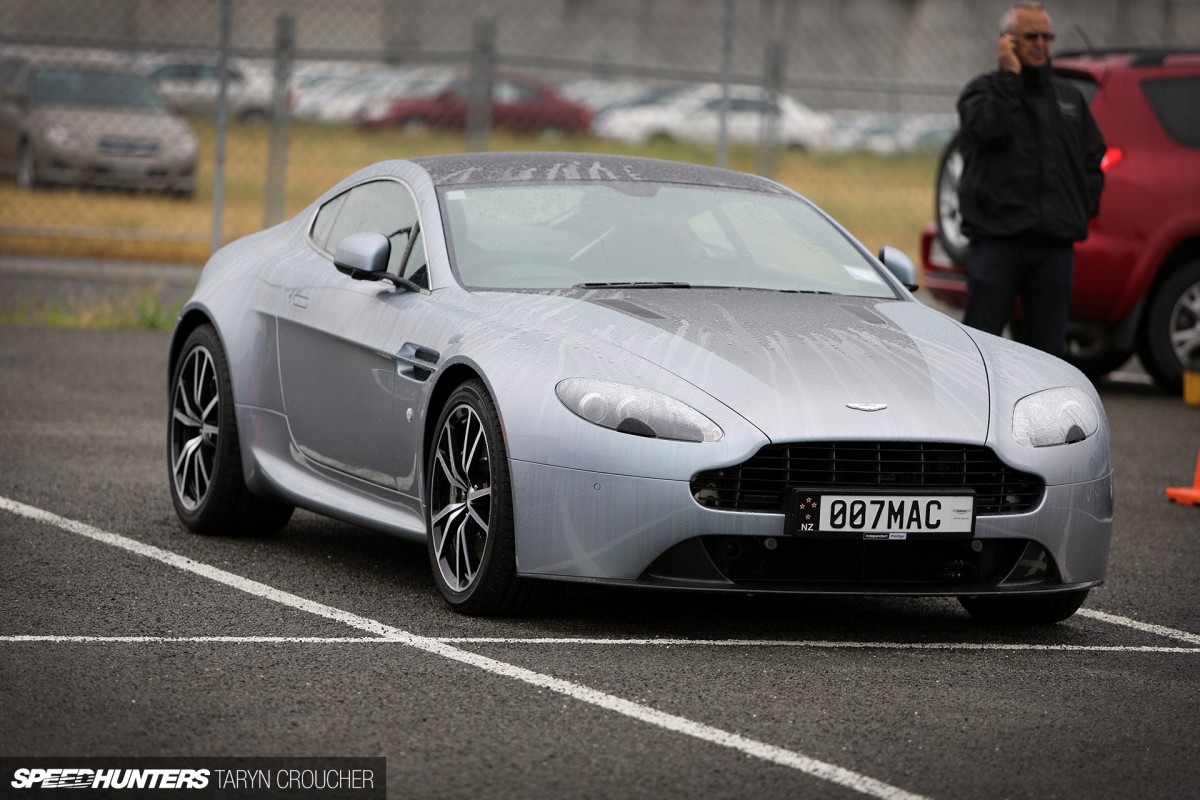 I recently moved up into a marketing-orientated role within the company, a position entailing event coordination as well as marketing and sales support for Aston Martin and Lamborghini. I'd only been in the role for a couple of months when I found out that we would be hosting a New Zealand centenary event for Aston Martin…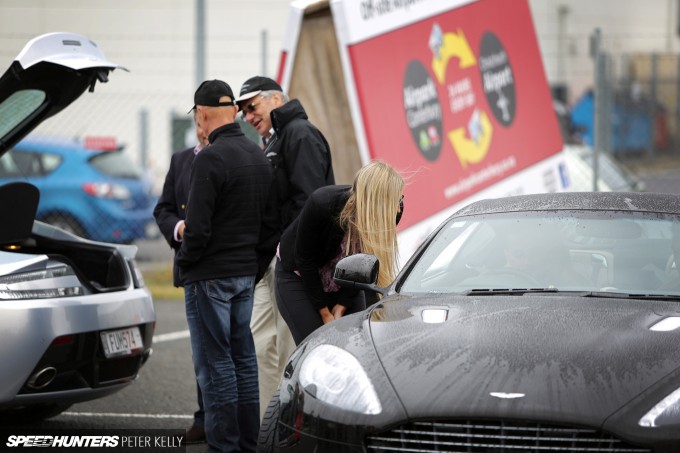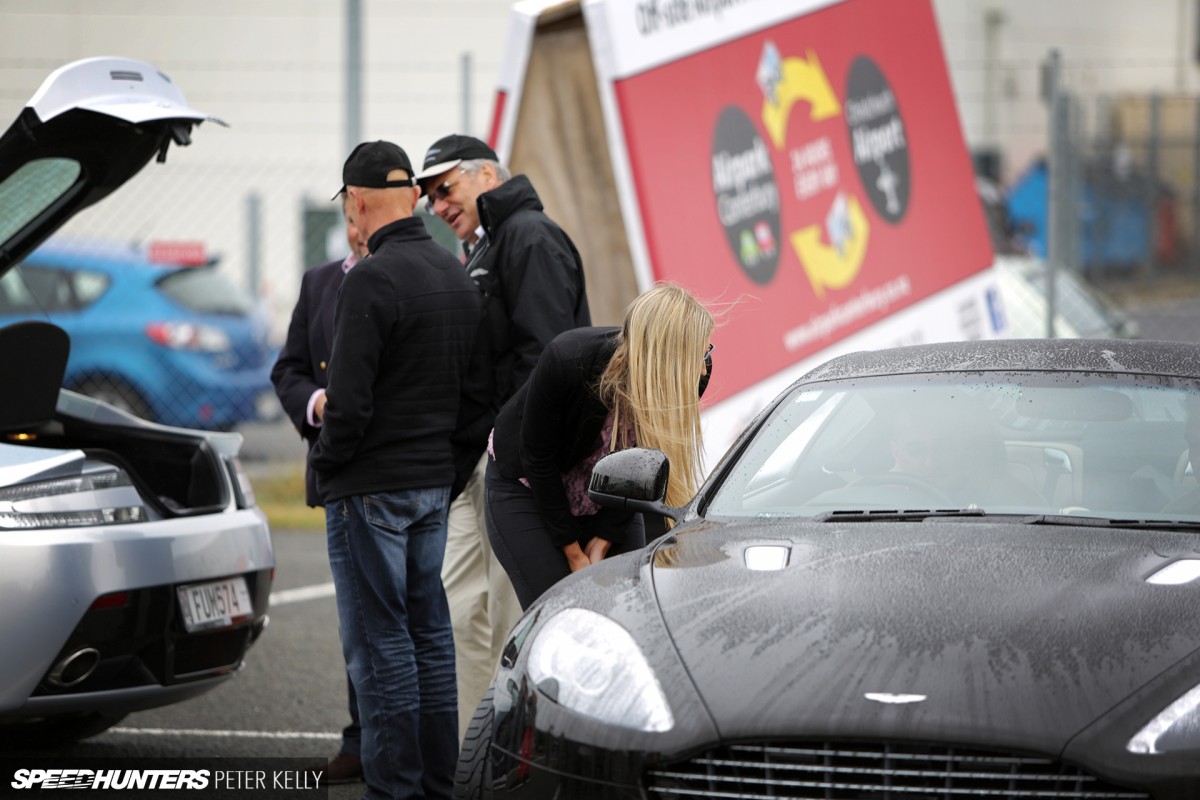 … and I would be organising the majority of it. Oh, and it would also be the biggest event that my work had ever put together; so like, no pressure or anything. Gulp.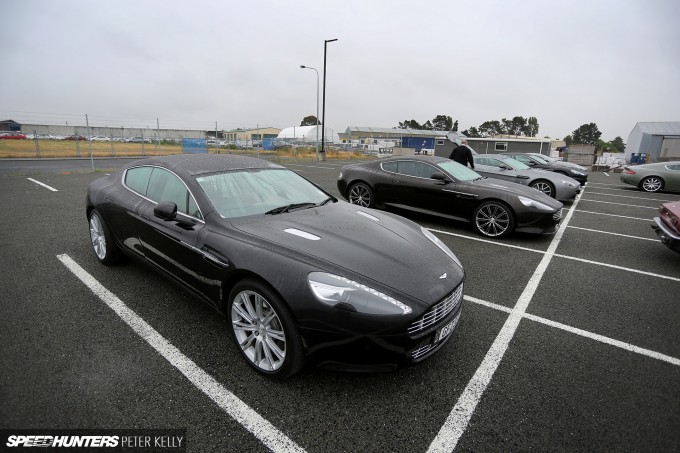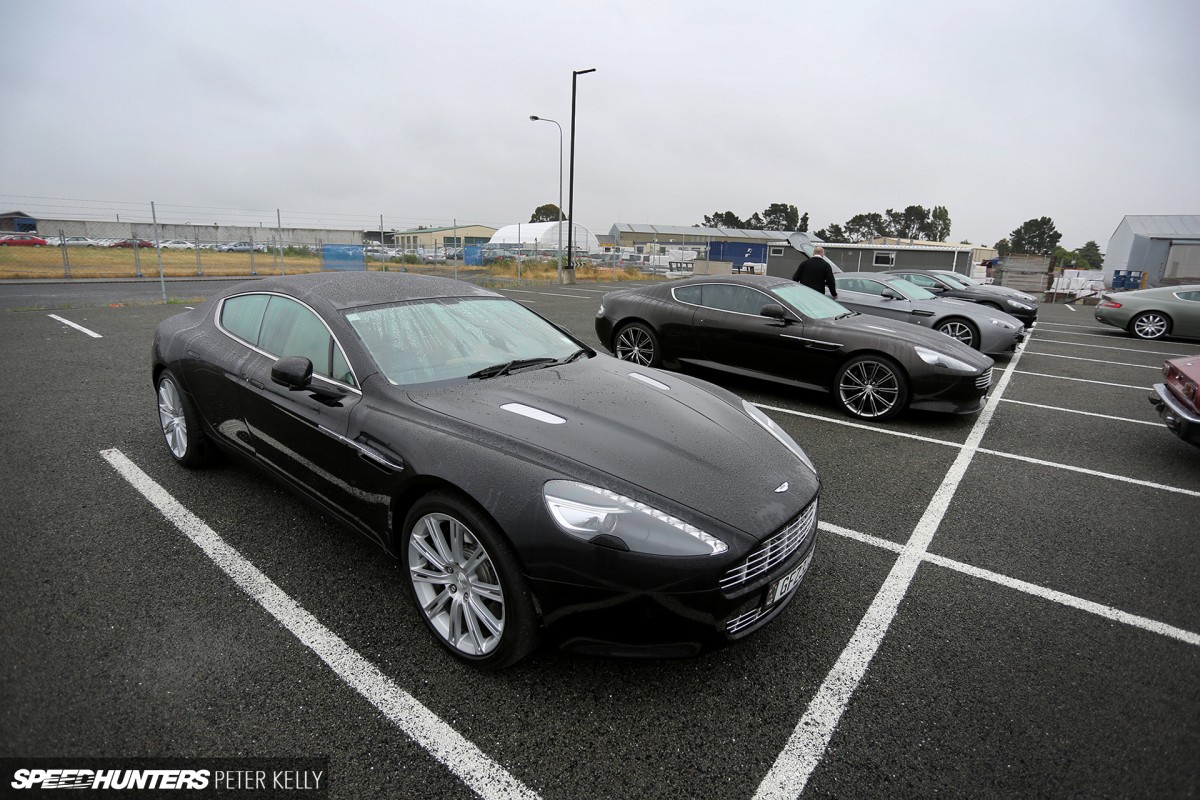 I'd been keeping up to date with Jonathan Moore's coverage here on Speedhunters on some of the other incredible Aston Martin centenary celebrations that had taken place on the other side of the world, so I had some understanding of what I was in for. I knew that our customers would have some pretty high expectations, and not only that, but the Regional Manager for Aston Martin would also be attending, so I couldn't let myself be responsible for anyone being disappointed. Sure, I might not be able to get a Vanquish air-lifted onto the Burj Al Arab or have Daniel Craig escort our guests around the Nürburgring, but I did have one advantage that the rest of the world didn't have.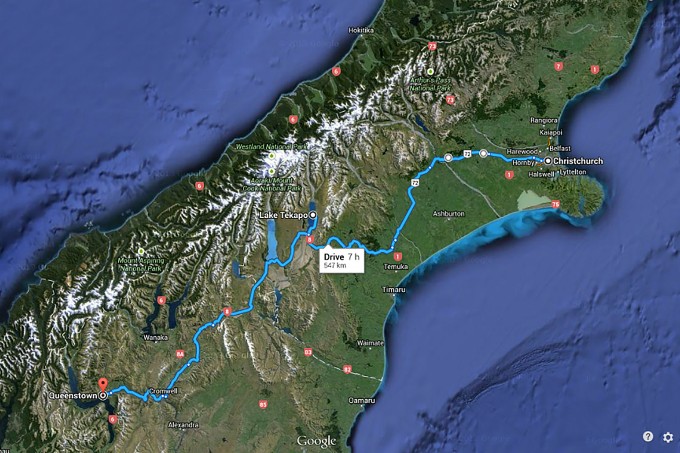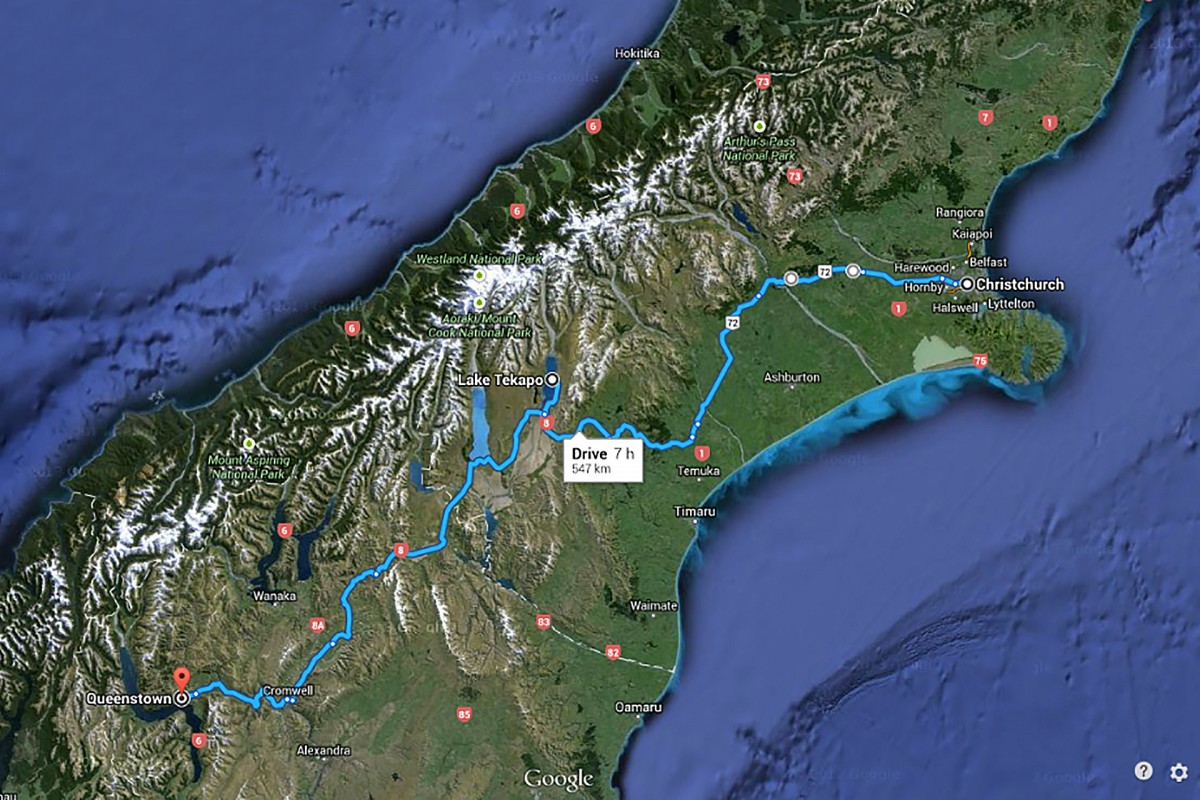 You see, here in New Zealand we have a secret weapon. We live in one of the most beautiful places in the world, and I knew that if we used our location to our advantage then we couldn't really go wrong. I sat down with my boss and we planned a route that would take our guests through some of the most stunning locations in New Zealand, ending up in the iconic tourist mecca – Queenstown. Once there, we would enjoy fine dining and some of the region's best local wines, incredible scenic vistas and even a bit of on-track action at the newly completed Highlands Motorsport Park complex.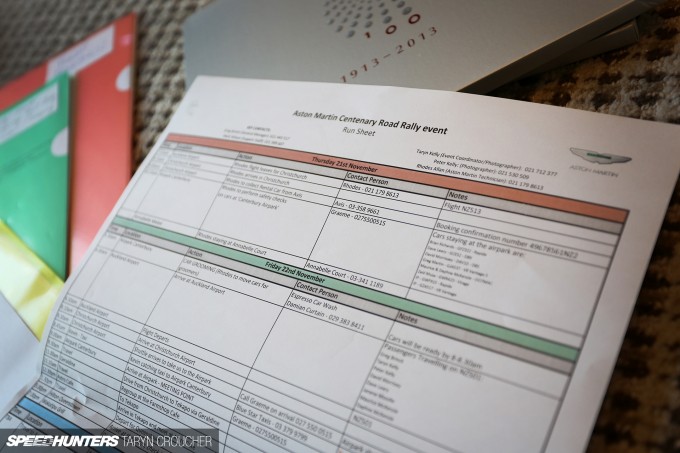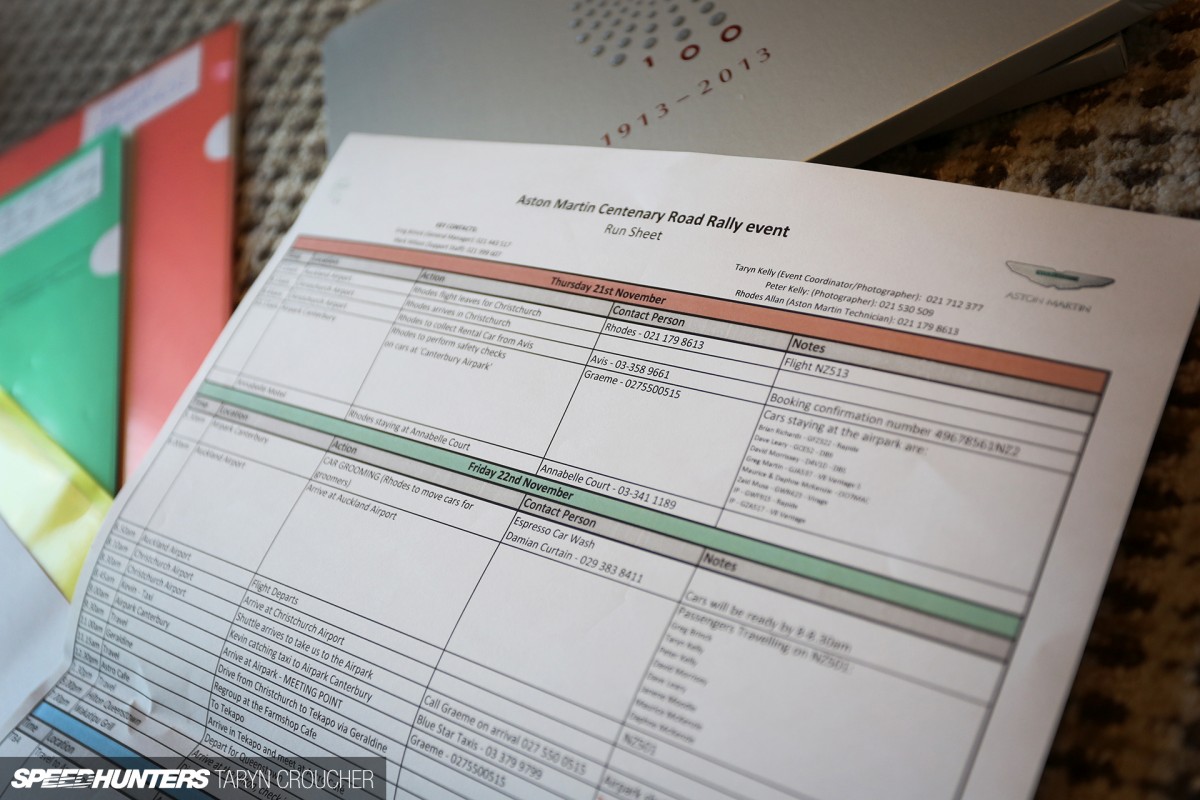 Aston Martin owners would be attending from all over the country, and I had to arrange for nine vehicles to be shipped from Auckland down to Christchurch where our 'Centenary Road Rally' adventure would begin.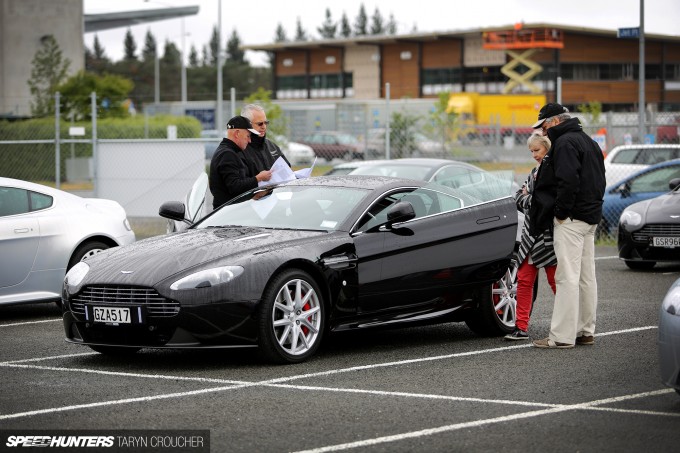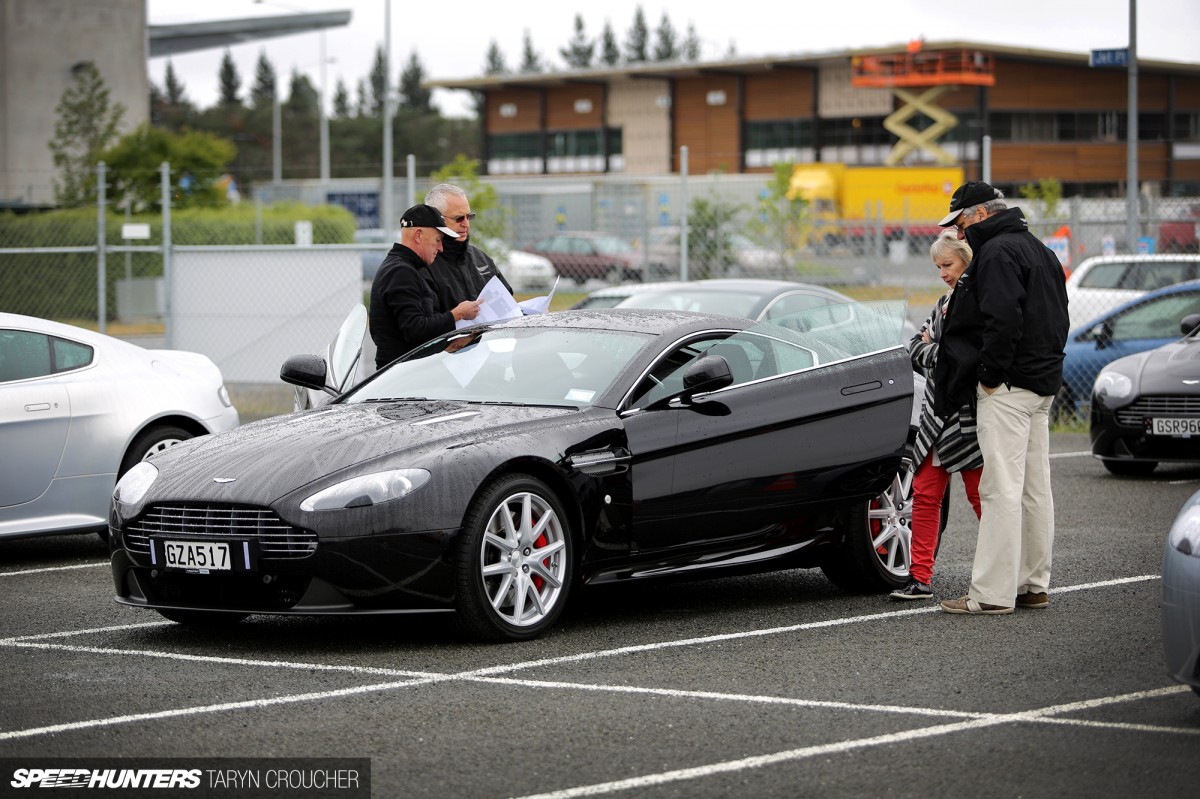 Unfortunately the weather in the South Island wasn't willing to cooperate at first, and we were faced with rain and grey, moody skies upon our arrival in Christchurch.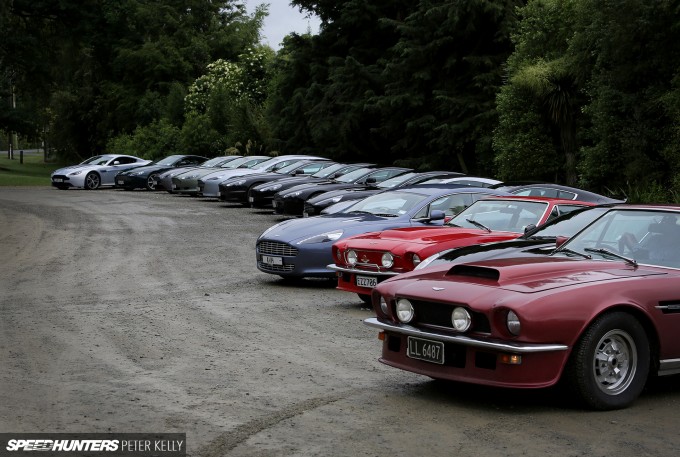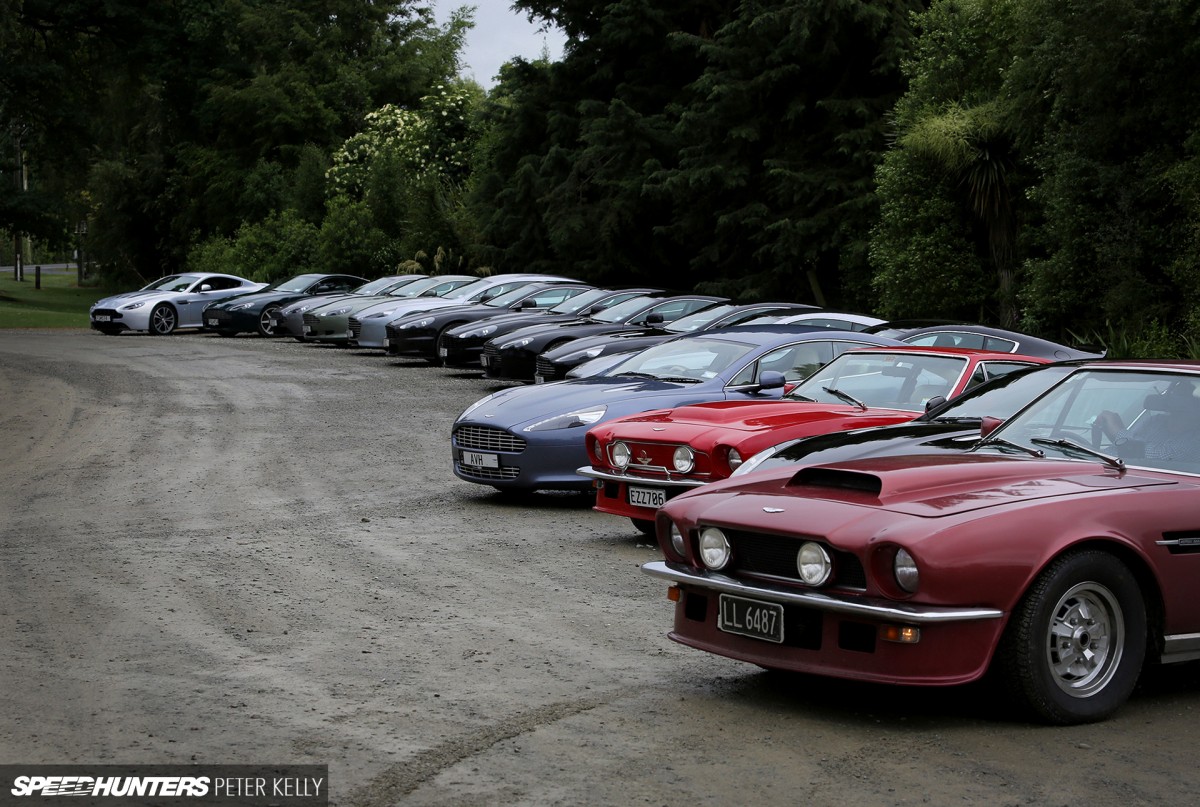 On the plus side however, we had 24 cars of various models and ages join us for the event, including several '70s V8s!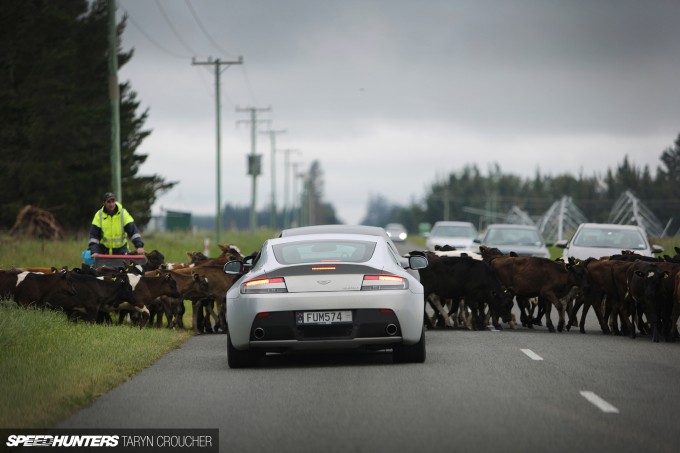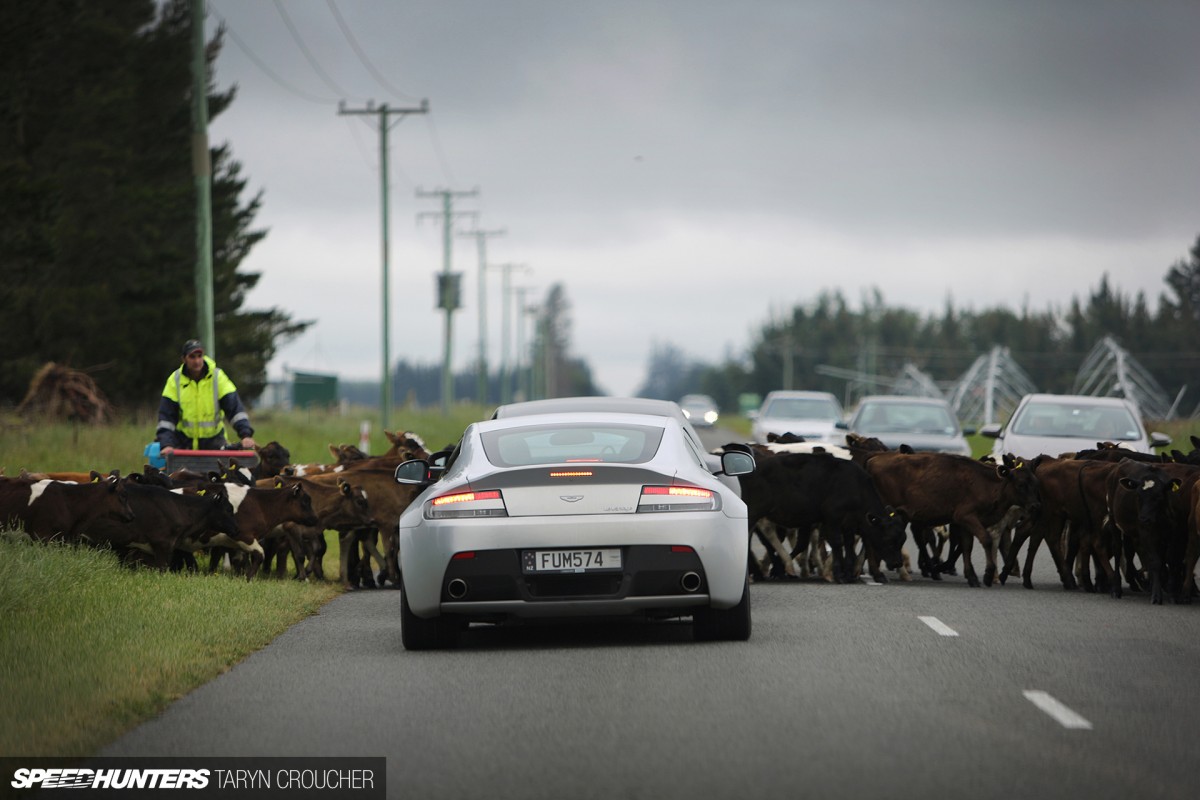 At one stage we even got held up by a heard of baby cattle crossing over the middle of the highway. I couldn't help but smile as I looked through my camera viewfinder at this very 'rural New Zealand' scenario! I could see the owners ahead laughing in their rear-view mirrors.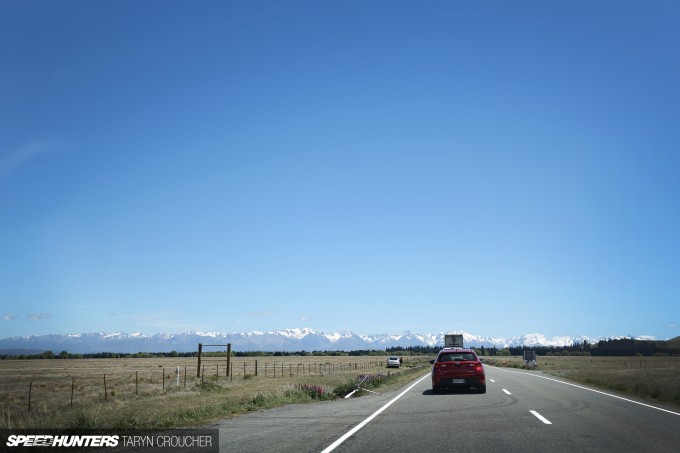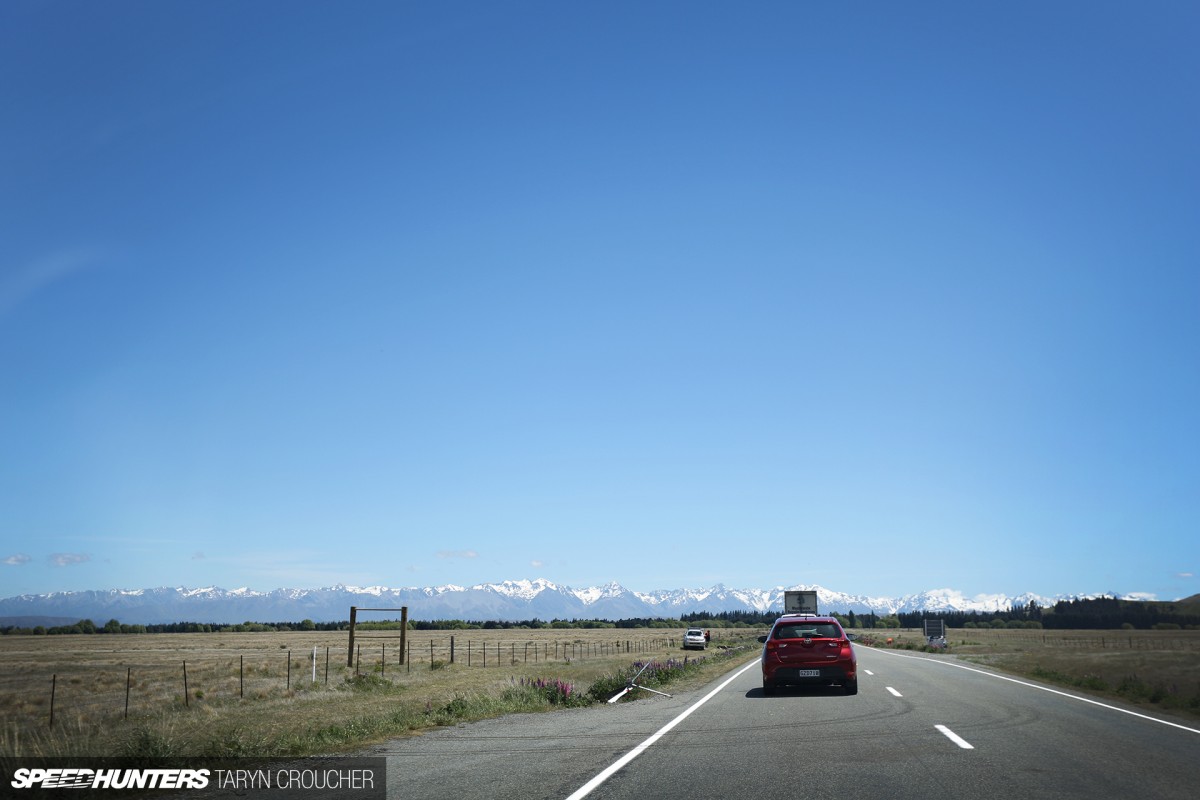 As we drove further south, the thick grey cloud began to lift and within minutes the rain had completely disappeared, revealing the snow-capped Southern Alps framing the horizon before us. This was a part of New Zealand I'd never seen before and I was in total awe of the postcard-perfect imagery.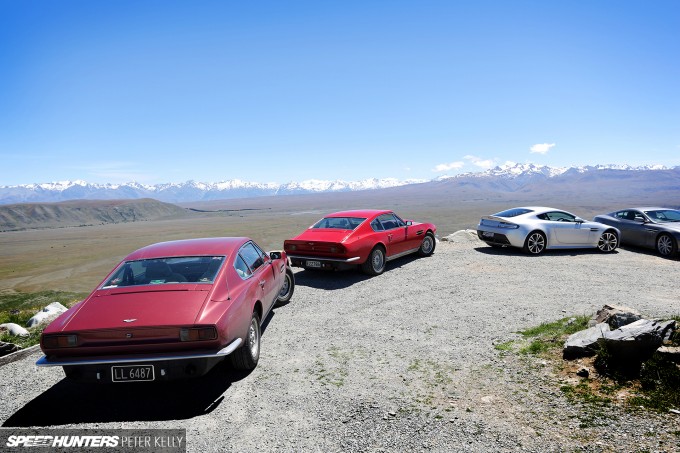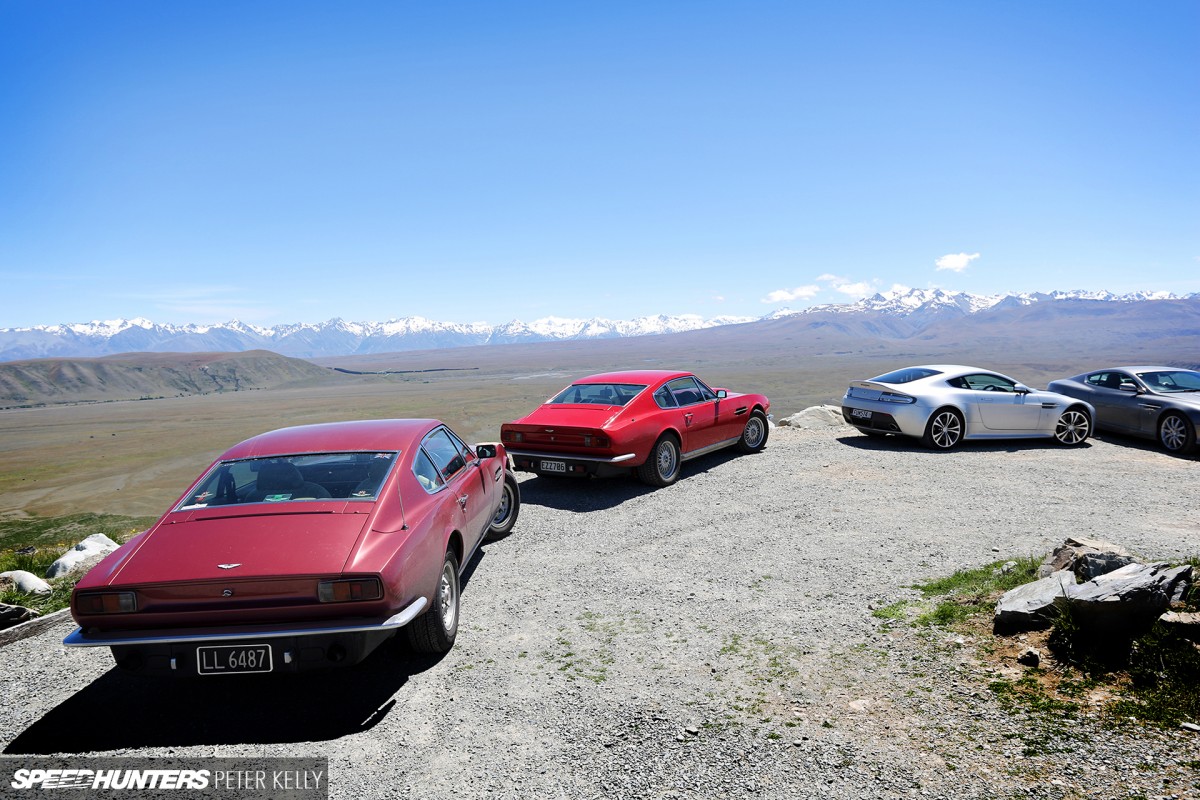 Our convoy parked up at the top of Mount John near Lake Tekapo and we were met by what would have to be some of the most stunning views our country could possibly offer, with clear blue skies as far as the eye could see.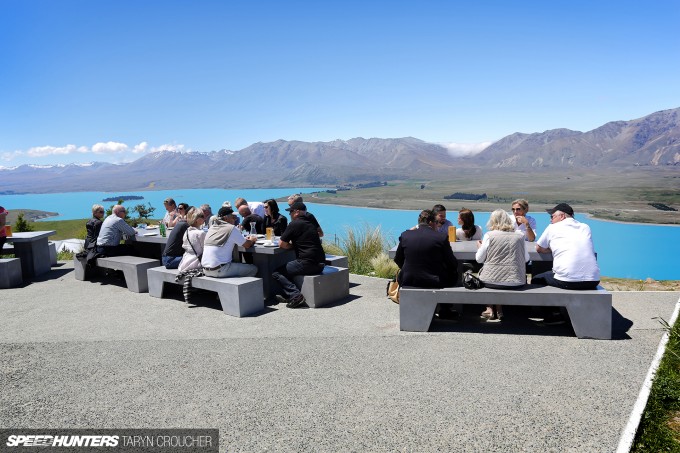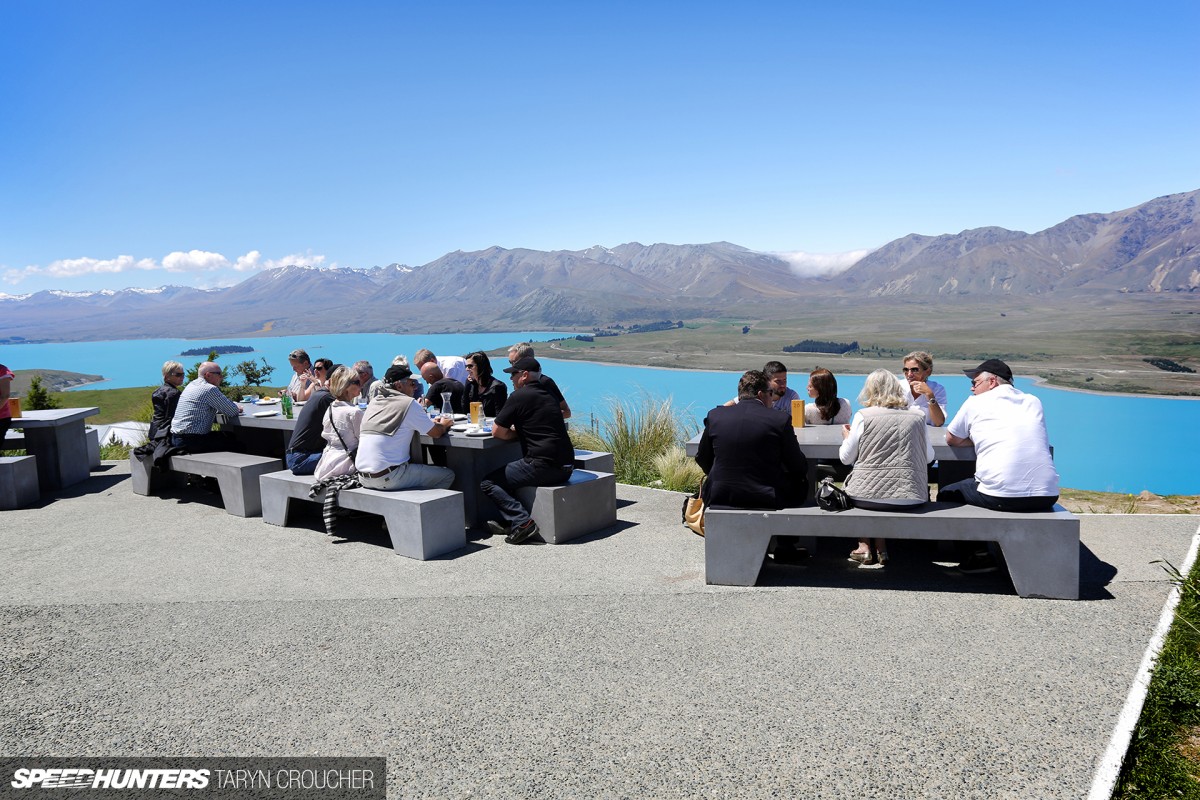 Astro Café should be on the top of your to-visit list if you ever manage to travel to New Zealand. The majestic vista will force you to take your sunglasses on and off a few times, rub your eyes and maybe even ask someone to slap you in the face; because yes, Lake Tekapo really is that shade of blue and no, you aren't imagining things!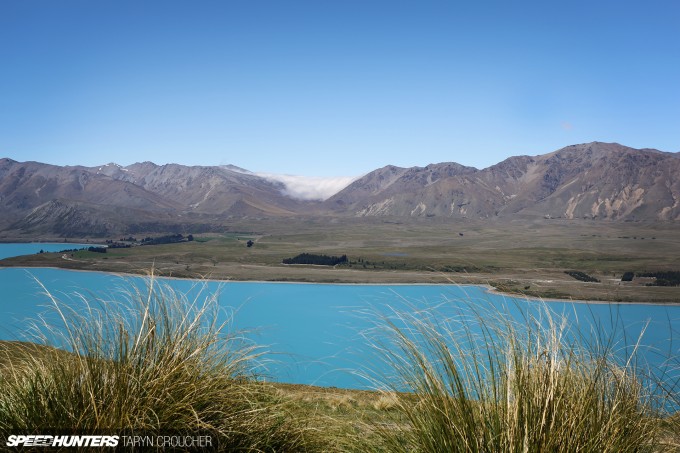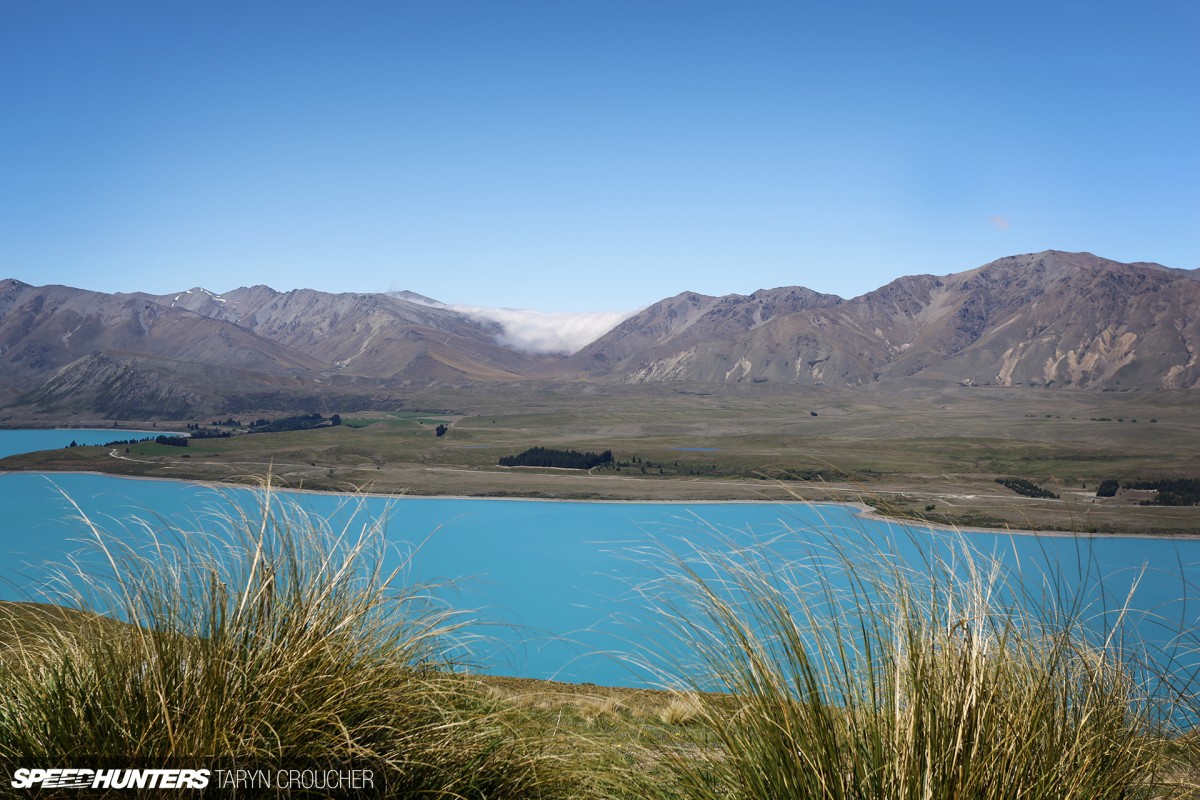 The incredible hue is caused by glaciers at the source of the lake water grinding rock into an extremely fine powder, and the suspended particles react with the sunlight to give the Lake its unique turquoise colour. It was such a spectacular sight that I never wanted to leave…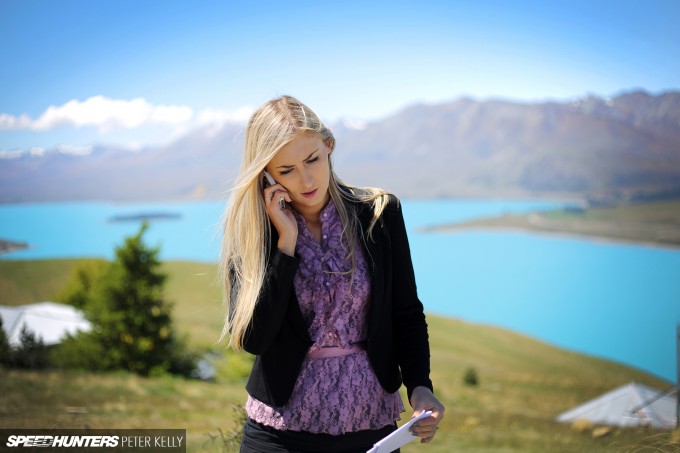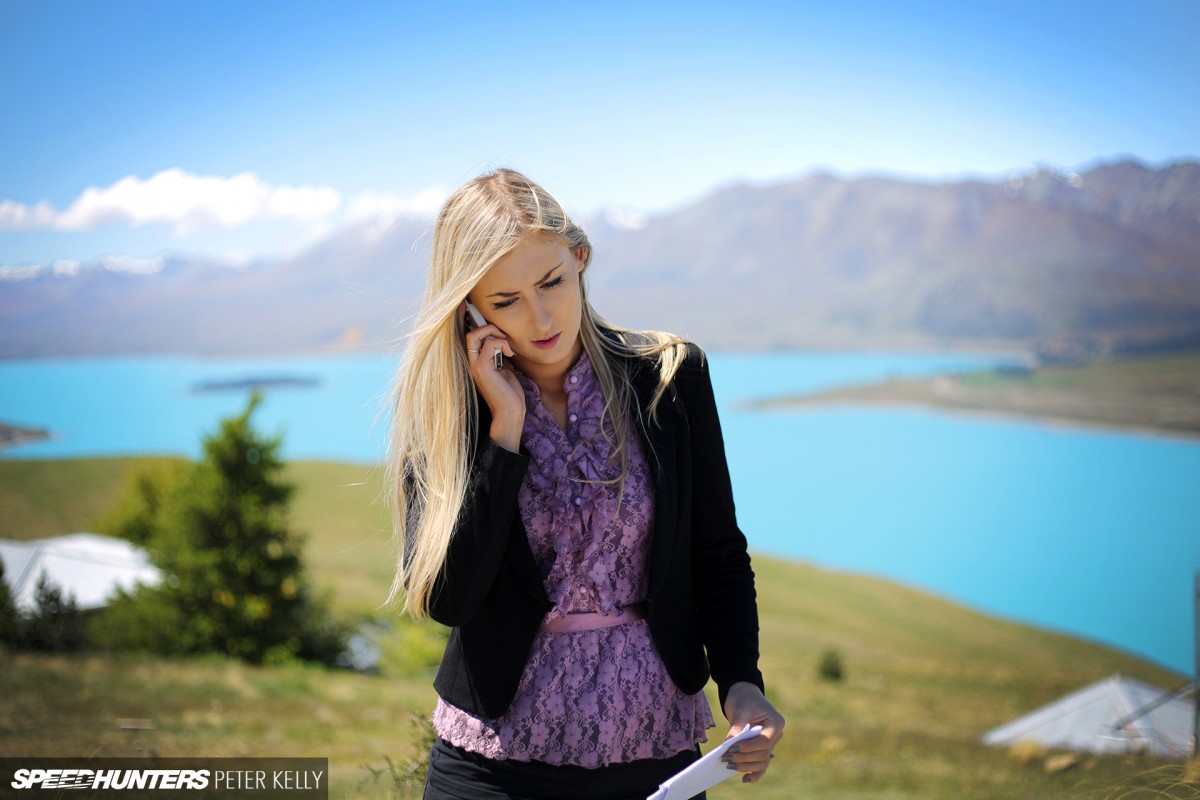 … but as it turned out, I actually couldn't leave because my boss had driven off without paying the bill for our lunch! I managed to sort things out though, but by the time I did the majority of our convoy had departed. Thankfully this was only the beginning of our South Island adventure, and Saturday would bring a new day packed with exciting activities.
Magnificent Queenstown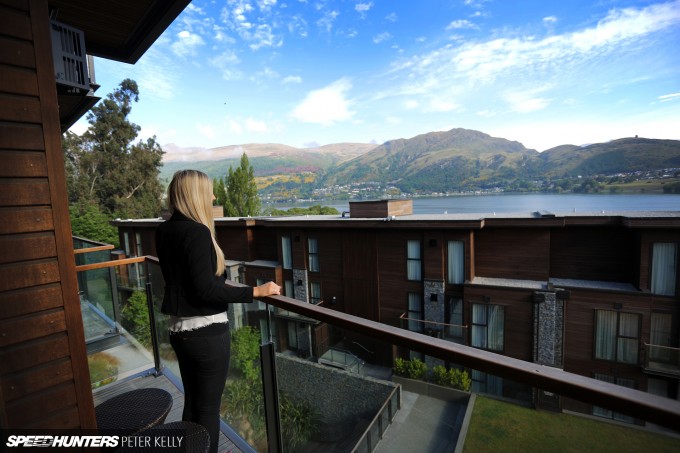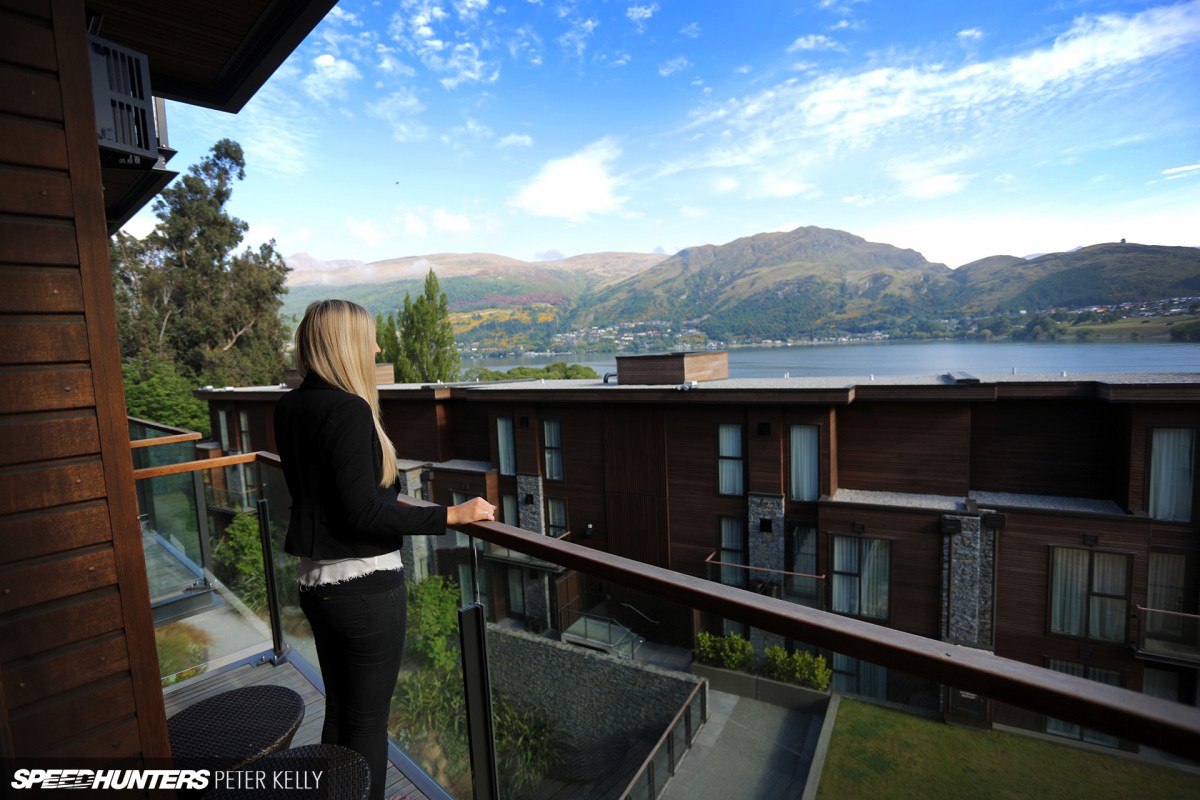 This was my first ever time visiting Queenstown, and I was totally overwhelmed by how beautiful it was. It really is the place you need to visit if you come to New Zealand. There was no time for sightseeing though…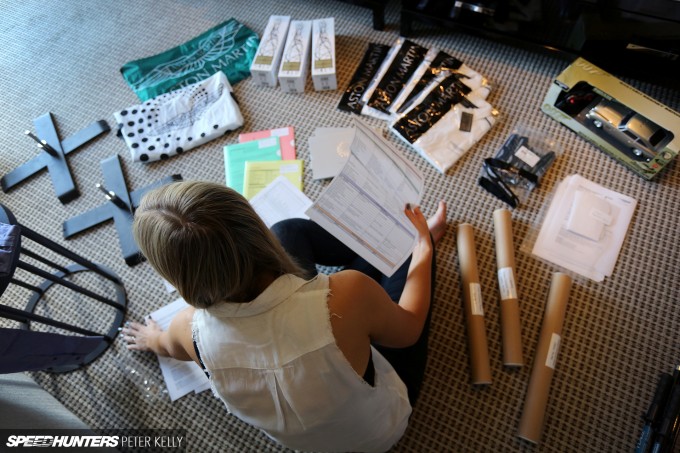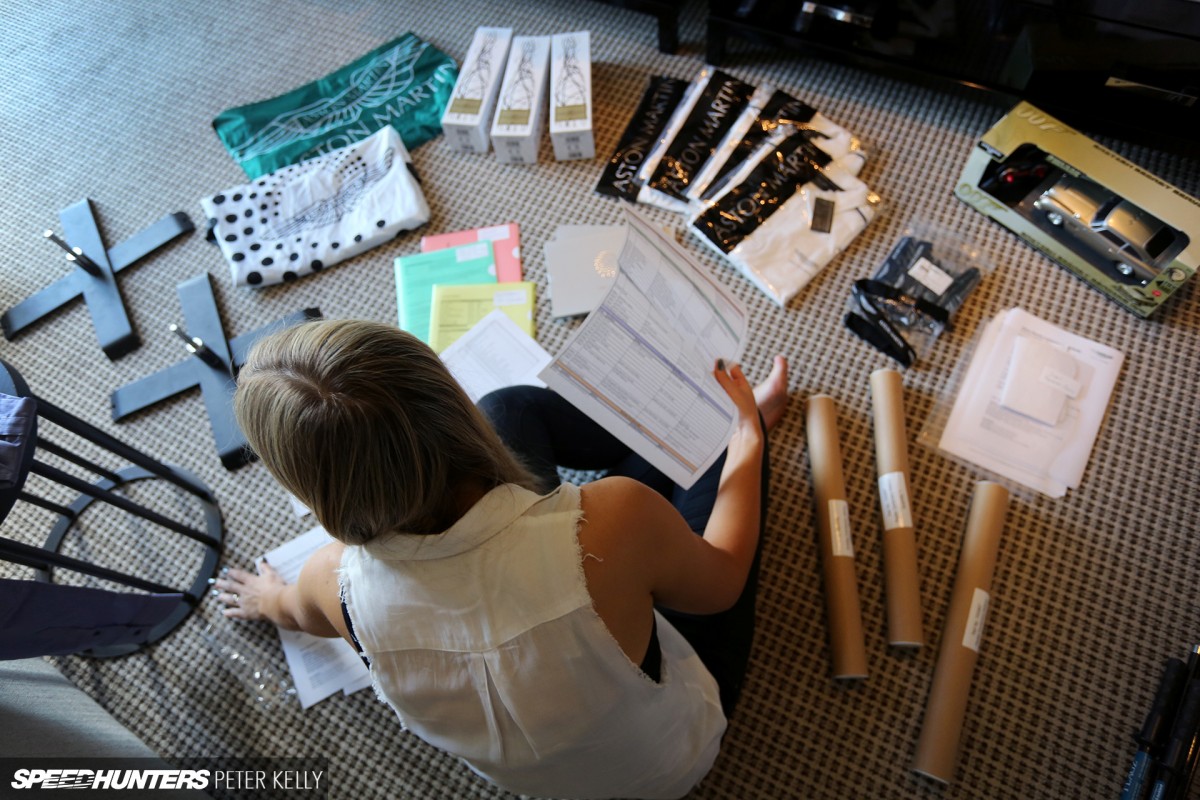 … as I had to assemble twenty-something gift bags with various Aston Martin merchandise, including custom printed polo-shirts, centenary lanyards and posters, and on top of that I had to double check that everything was all set for our next stop in our busy schedule…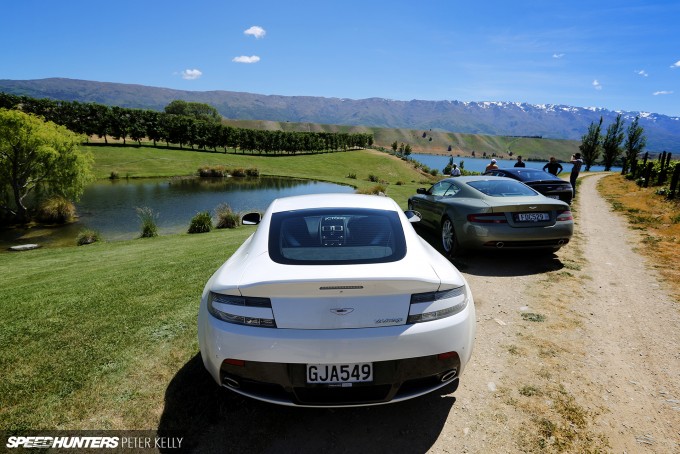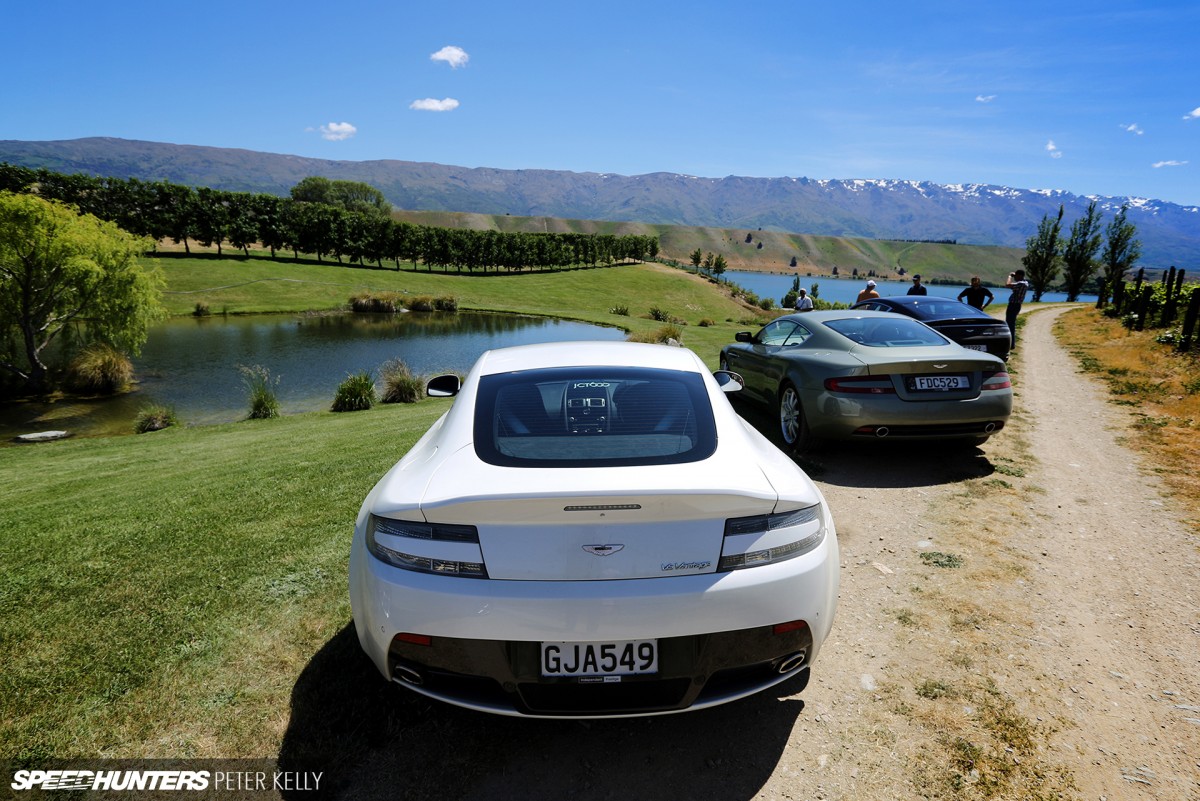 … the stunning Northburn Station Winery in Cromwell. Surrounded by beautiful flowing green paddocks dotted with fluffy white sheep, tranquil blue lakes and mountain ranges sprinkled with a light dusting of snow, there couldn't have been more of a majestic setting to compliment the range of vehicles we had in attendance.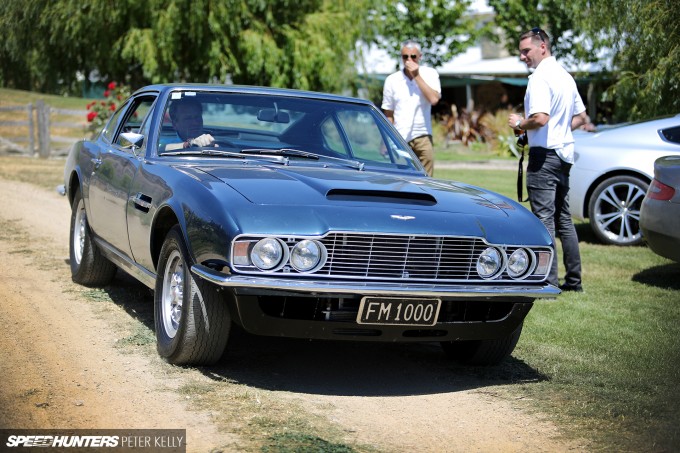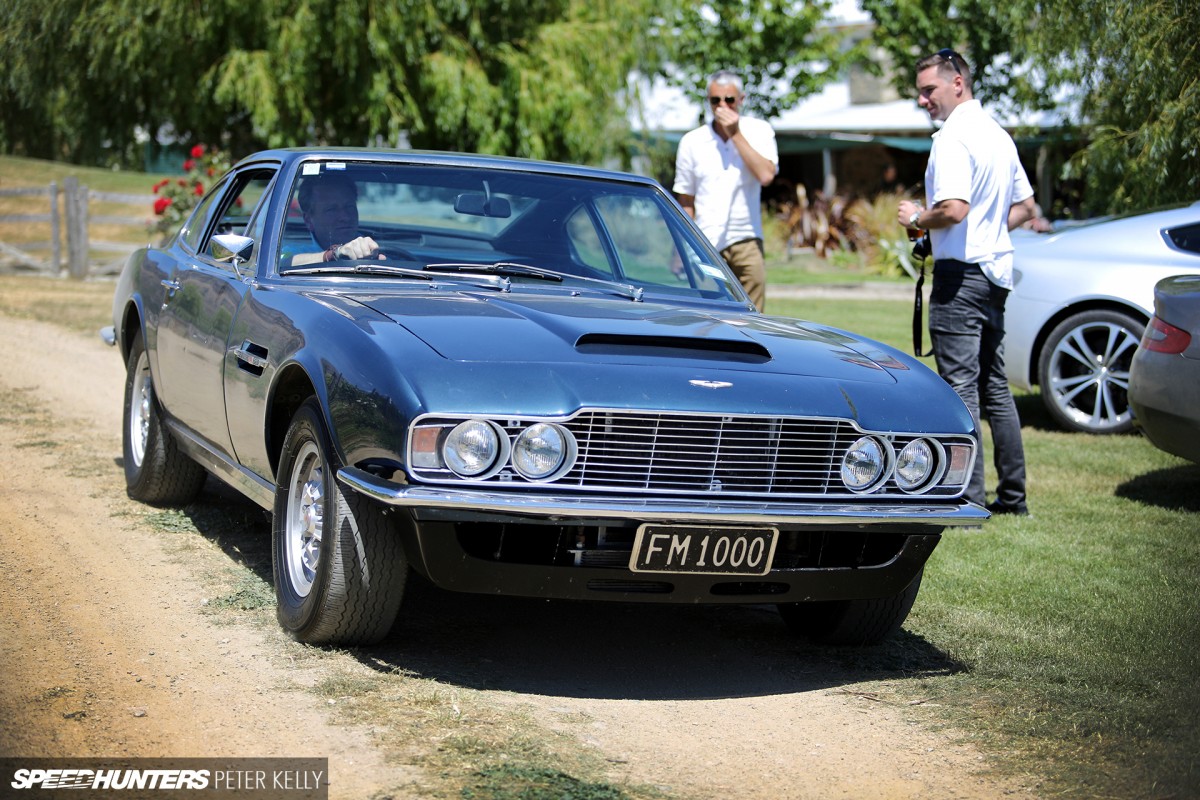 As some people were unable to join our convoy the previous day, there were a few cars that I would be seeing for the first time here, and this '71 DBS V8 was one of them. I don't often get the chance to admire older models like this, but as it pulled into the parking area I instantly recognised the unmistakeable front-grille shape. It's interesting to think that this was once one of the fastest production cars in the world.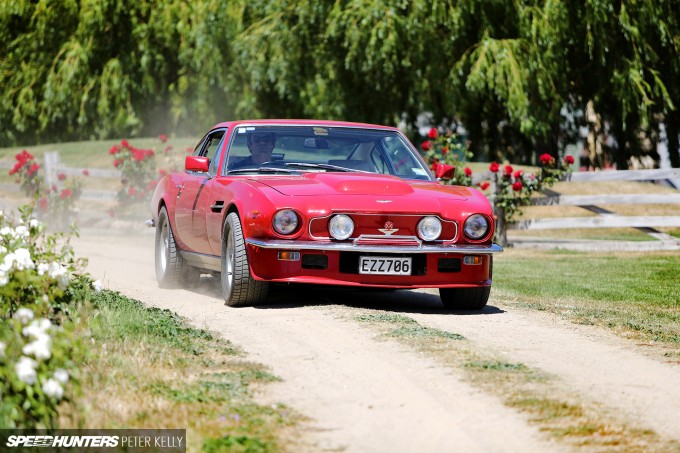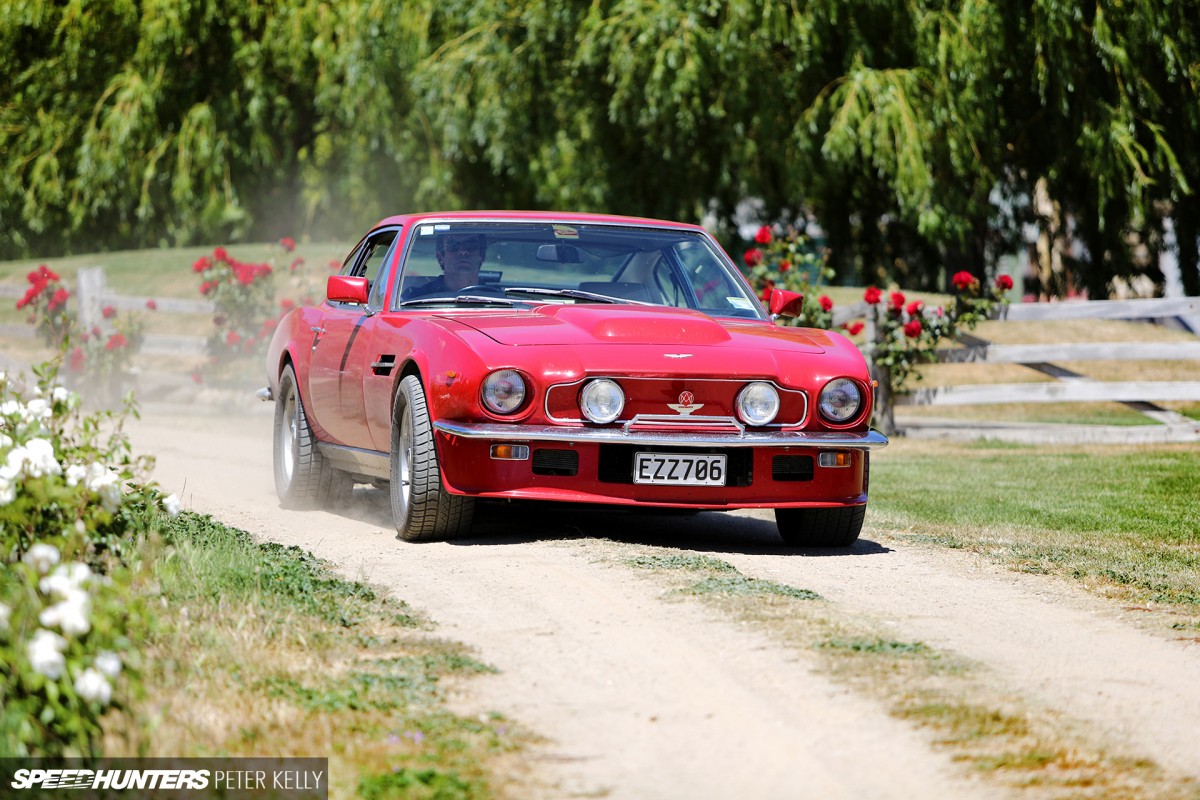 Another old school Aston that came along was this original V8 Vantage, a '78 example on big chunky tyres and classic BBS wheels. Although the American pony car-styling cues are evident, it still exuded a certain level of British elegance, especially as it drove through the English rose bushes lining the entrance.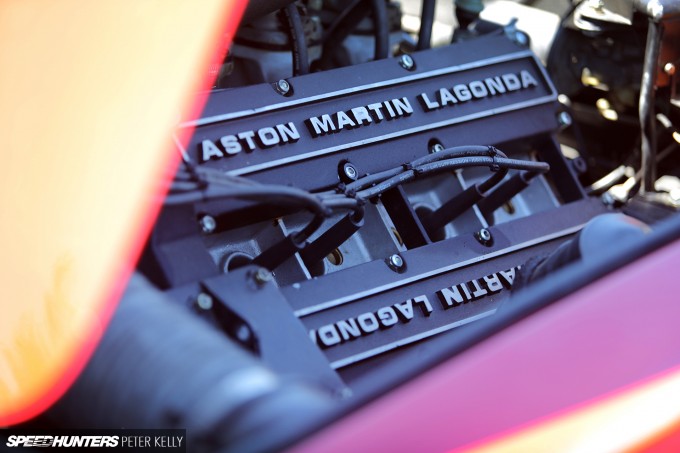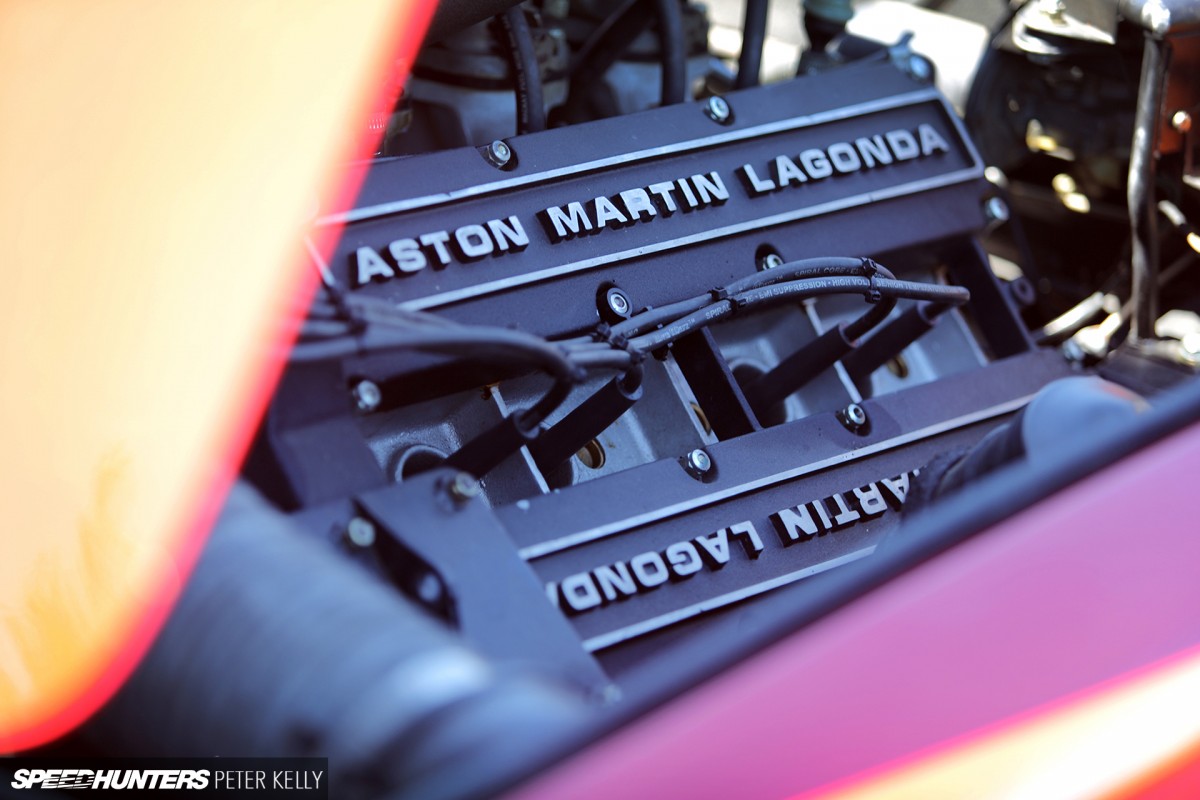 The 5.3 litre vintage V8 lump sounded surpringly badass, especially exiting through a rowdy exhaust system. The owner originally discovered the car in pieces over in Tasmania, where it then underwent a full restoration before he brought it into New Zealand.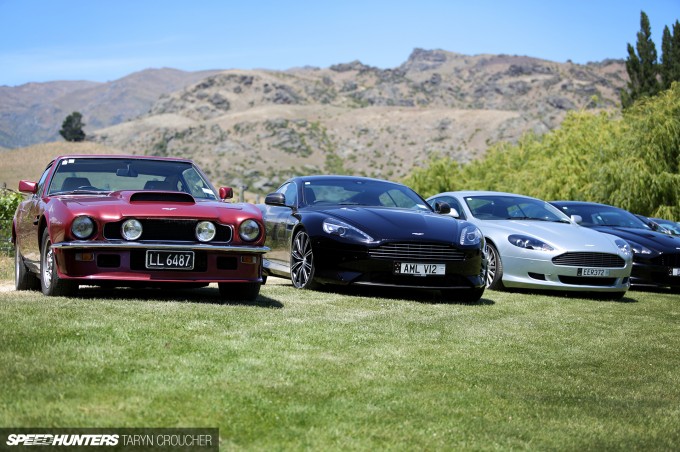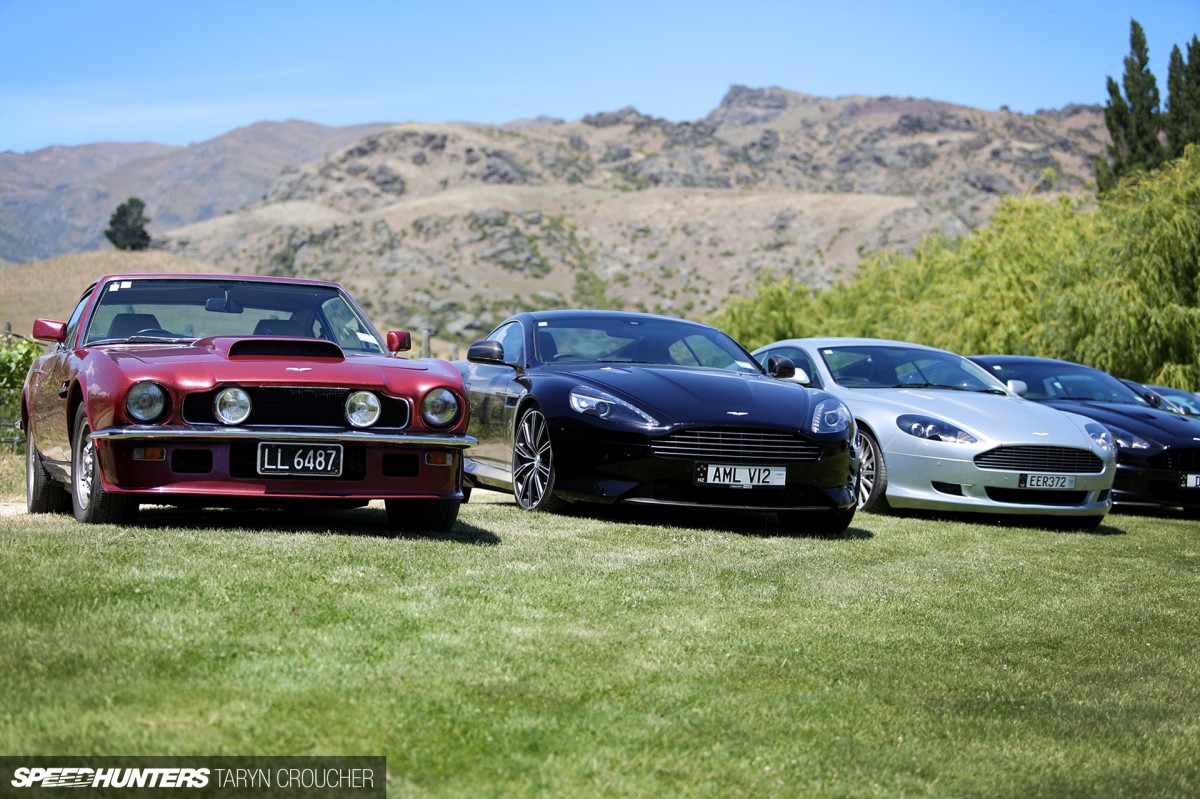 The last of the '70s Astons in attendance, this '76 AMV8 with its bulbous twin headlamps and massive bonnet scoop couldn't have provided more of a stark contrast next to the sleek lines of the two DB9s parked next to it, with their streamlined bonnets and elegant headlights.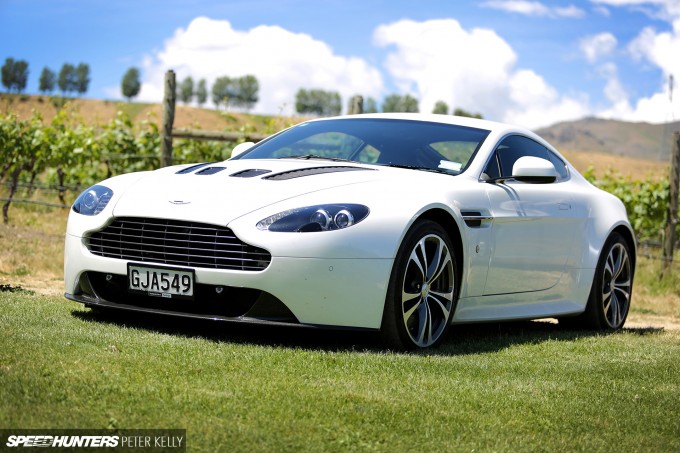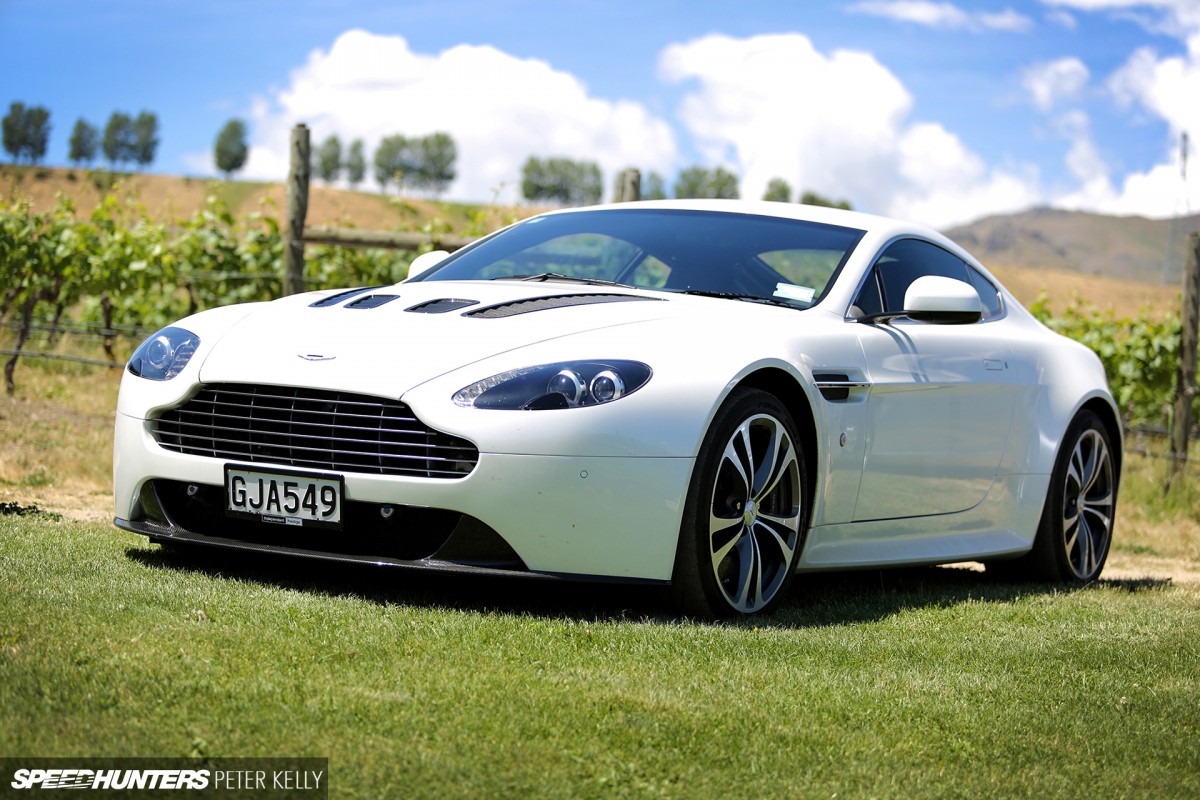 Everyone has their own preferences, but to me there's just something about a white Aston Martin that really hits the spot…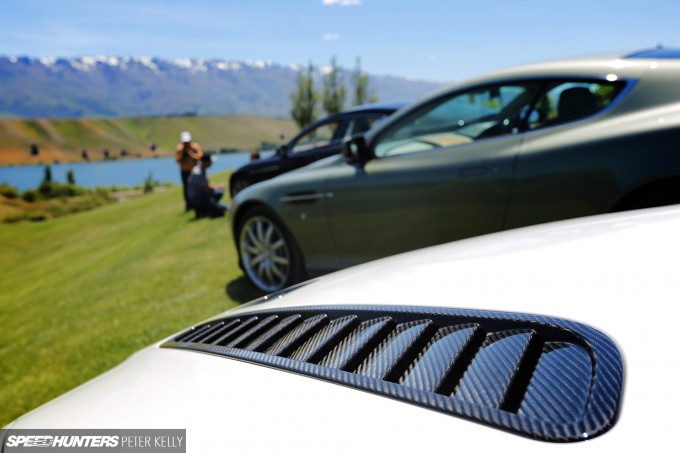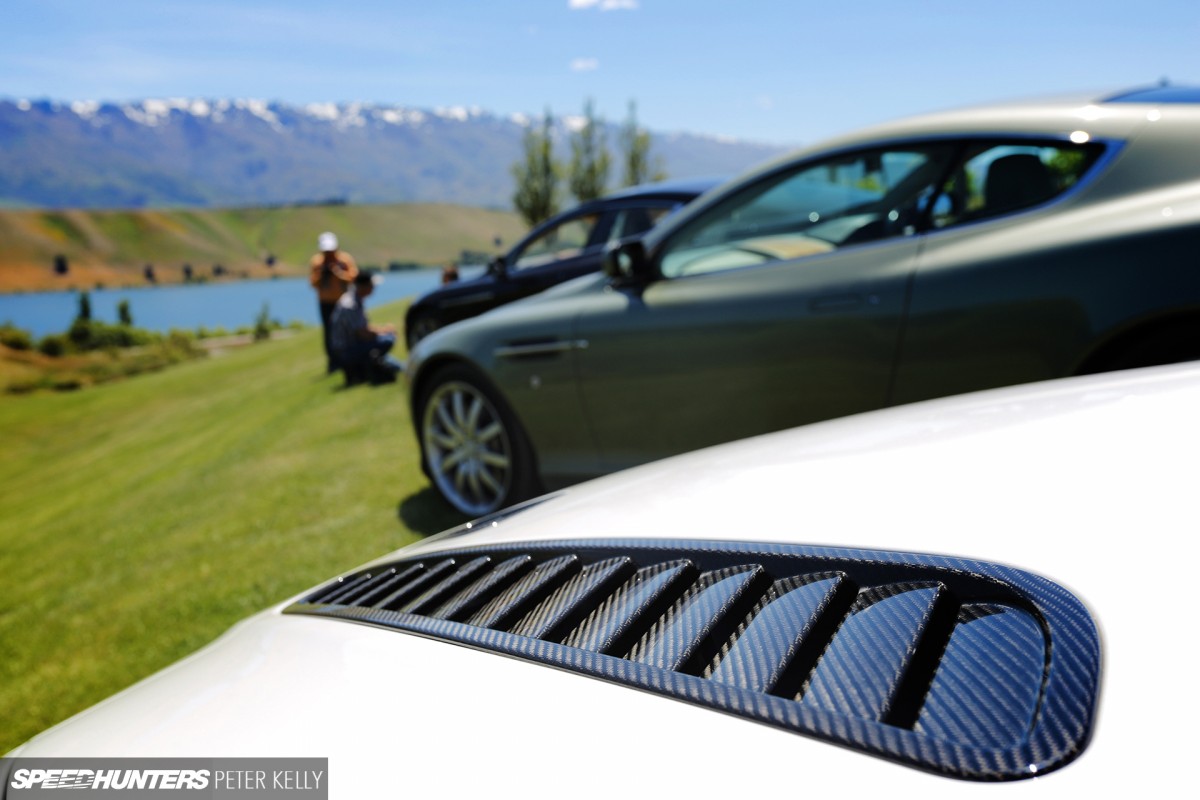 … especially when it features carbon fibre bonnet vents like this V12 Vantage.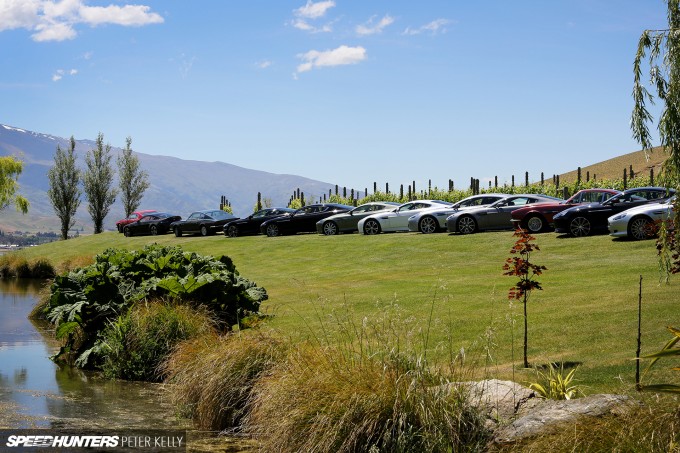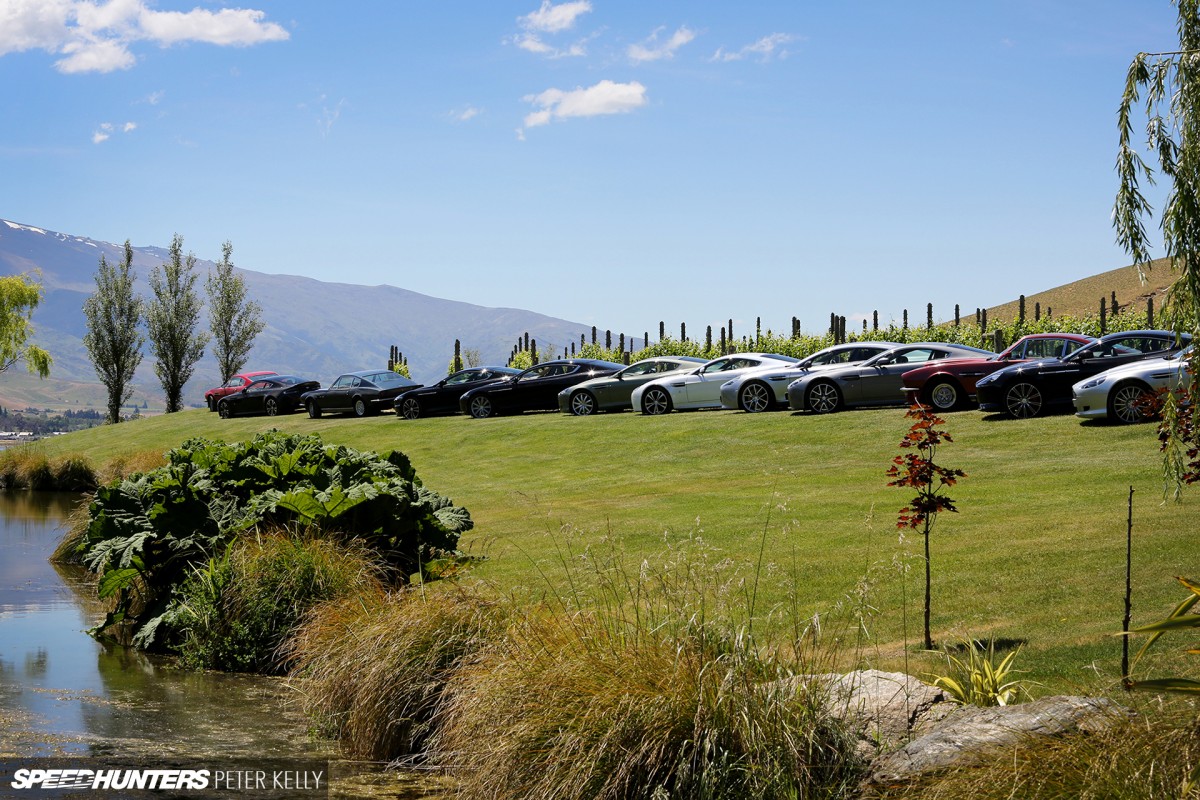 I arranged the vehicles to line up in front of the lake while I held my breath and prayed that nobody would forget to put their handbrake on…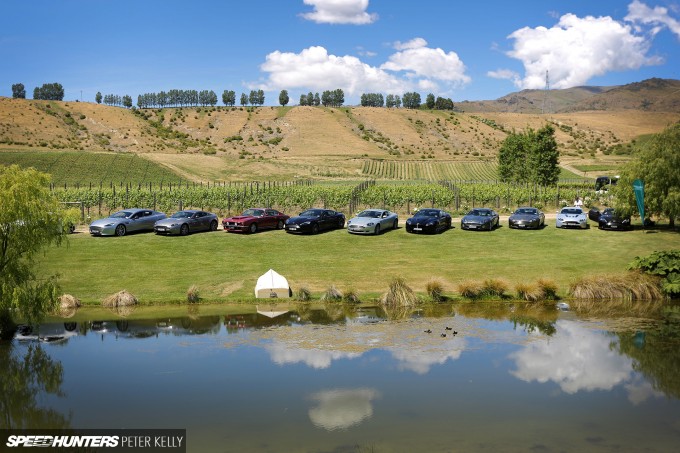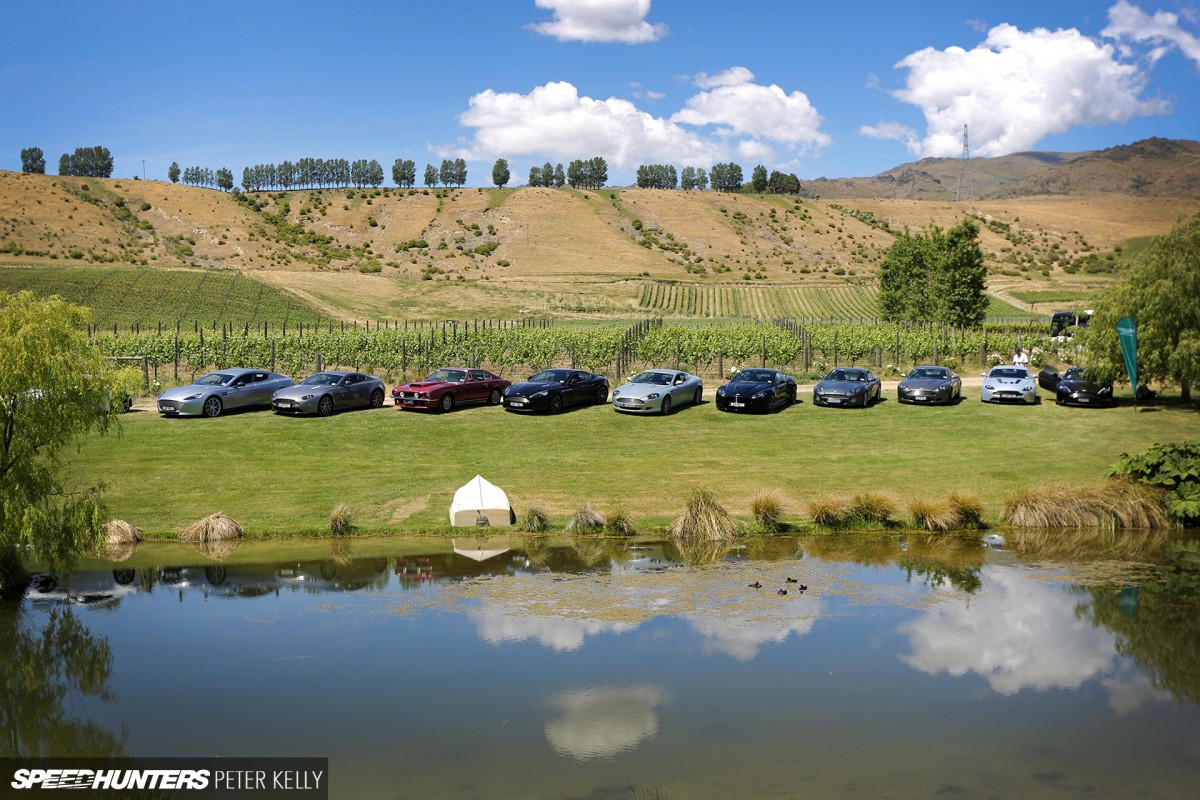 … but thankfully no vehicles went for a swim that day. For a brand synonymous with elegance and beauty, I think this landscape truly did it justice.
But enough with the 'hard parking', let's get to the good stuff…
On track at Highlands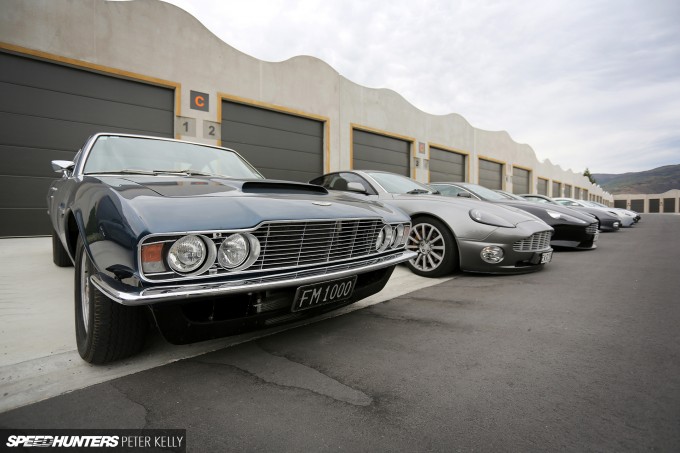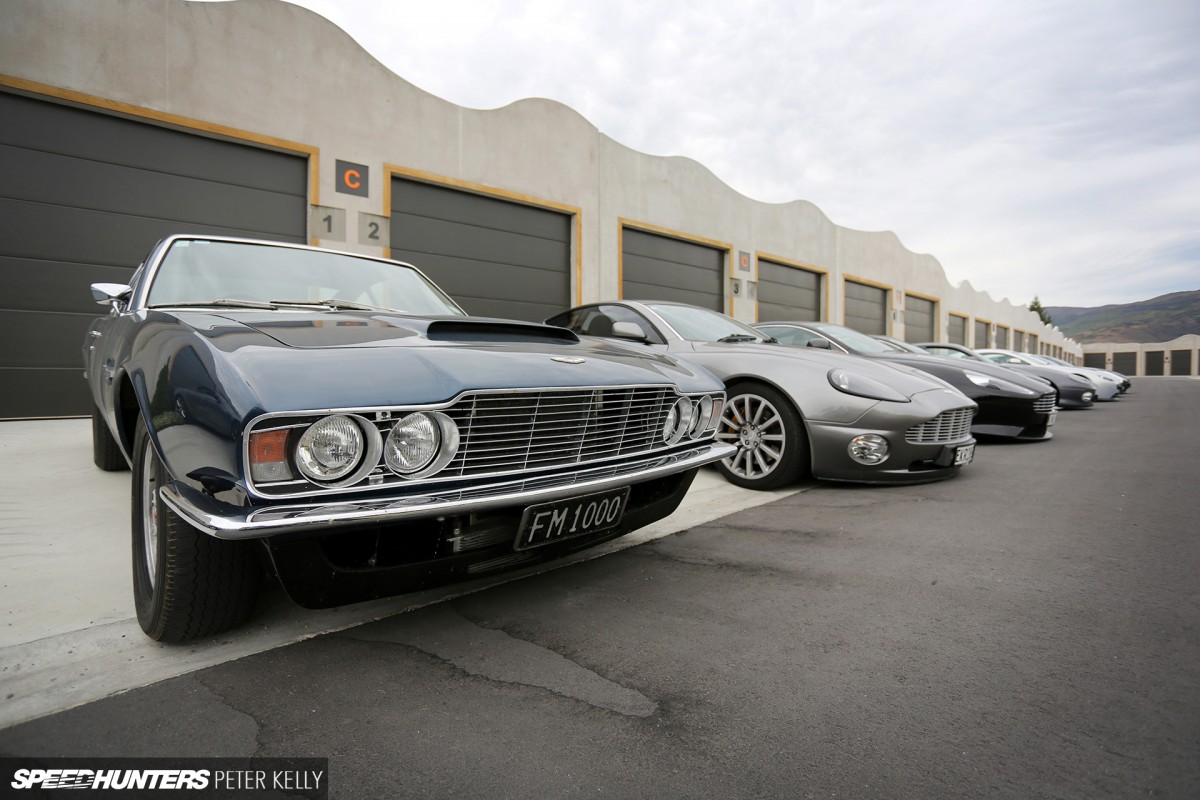 The following day we all met at Highlands Motorsport Park in Cromwell, New Zealand's newest Motorsport complex having been completed just over half a year ago.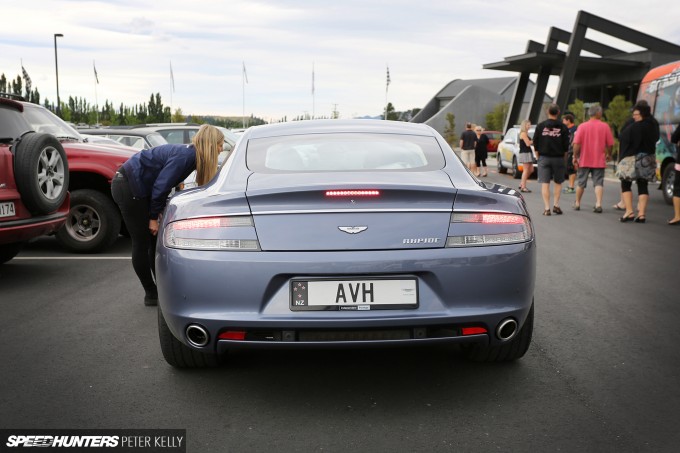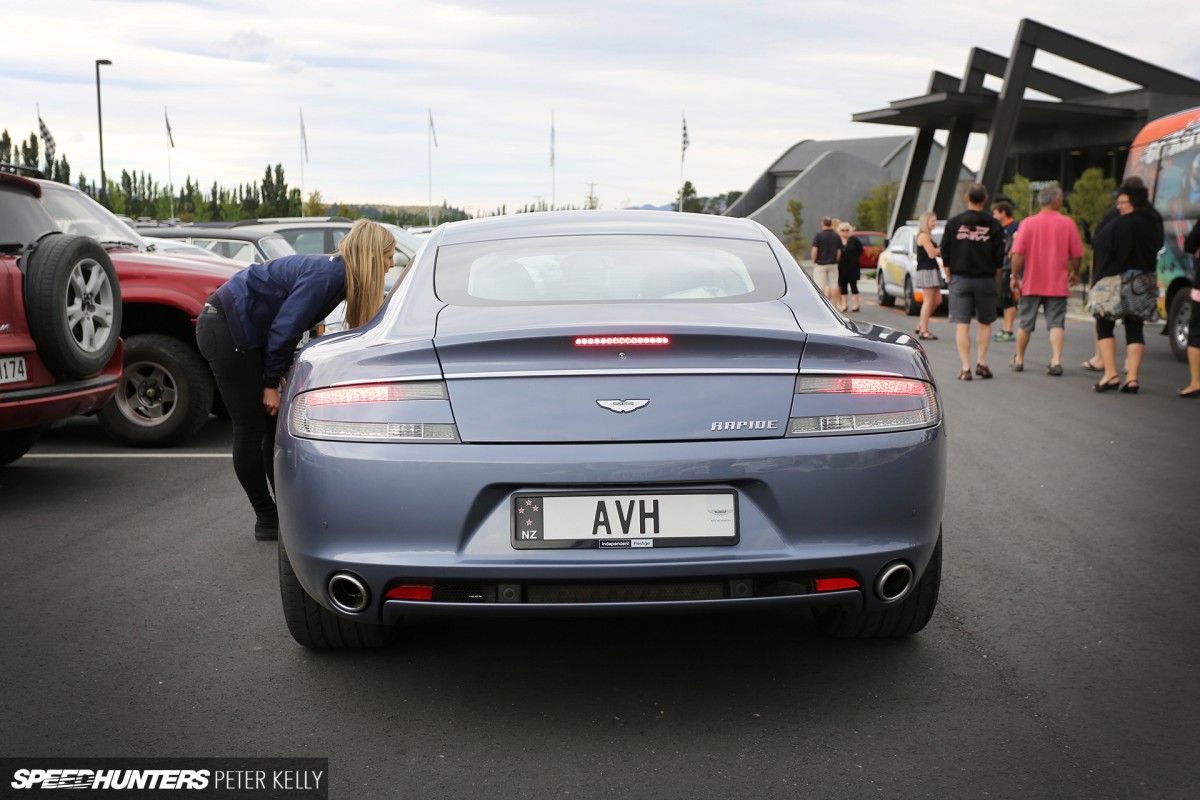 Considered as the best facility of its kind in all of Australasia, the exclusive race circuit would be ours for a limited time for each car to experience a few laps of the track…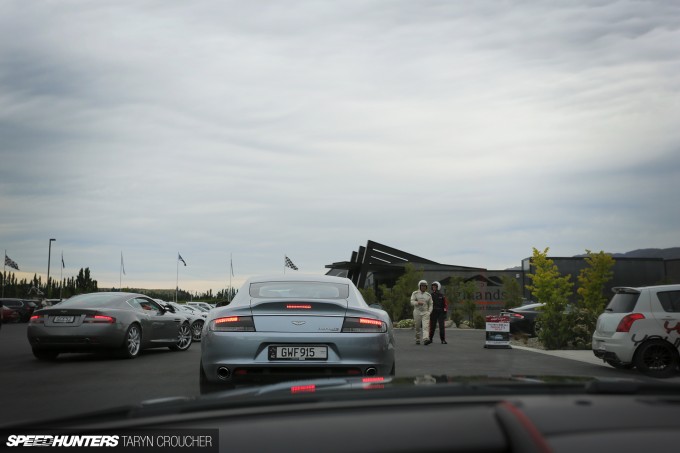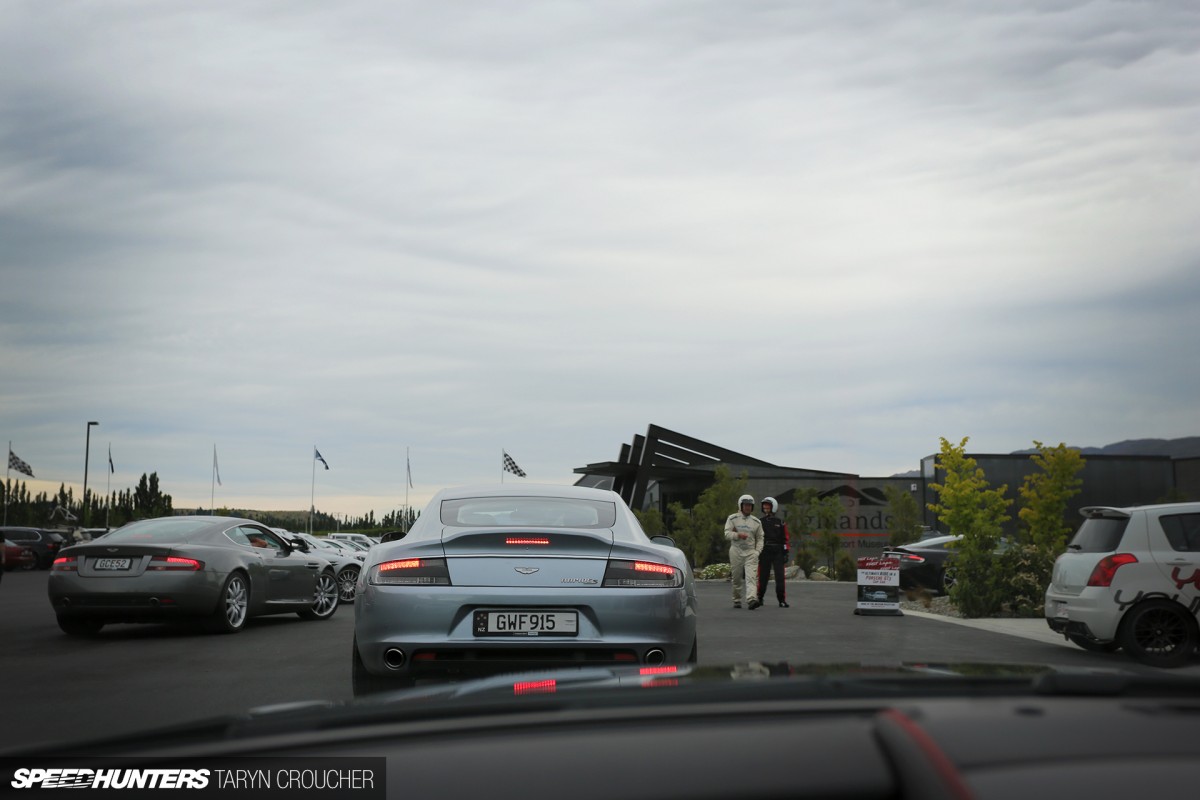 … and as the first session was about to head out, a door opened and I was ushered into the passenger seat of a customers' new DB9 coupe to experience the circuit for myself!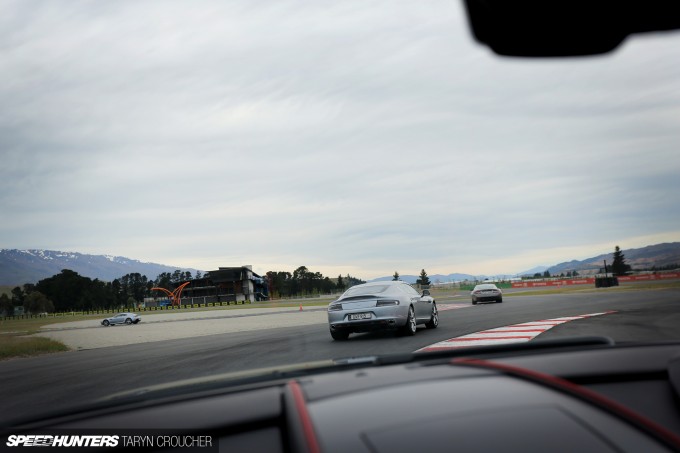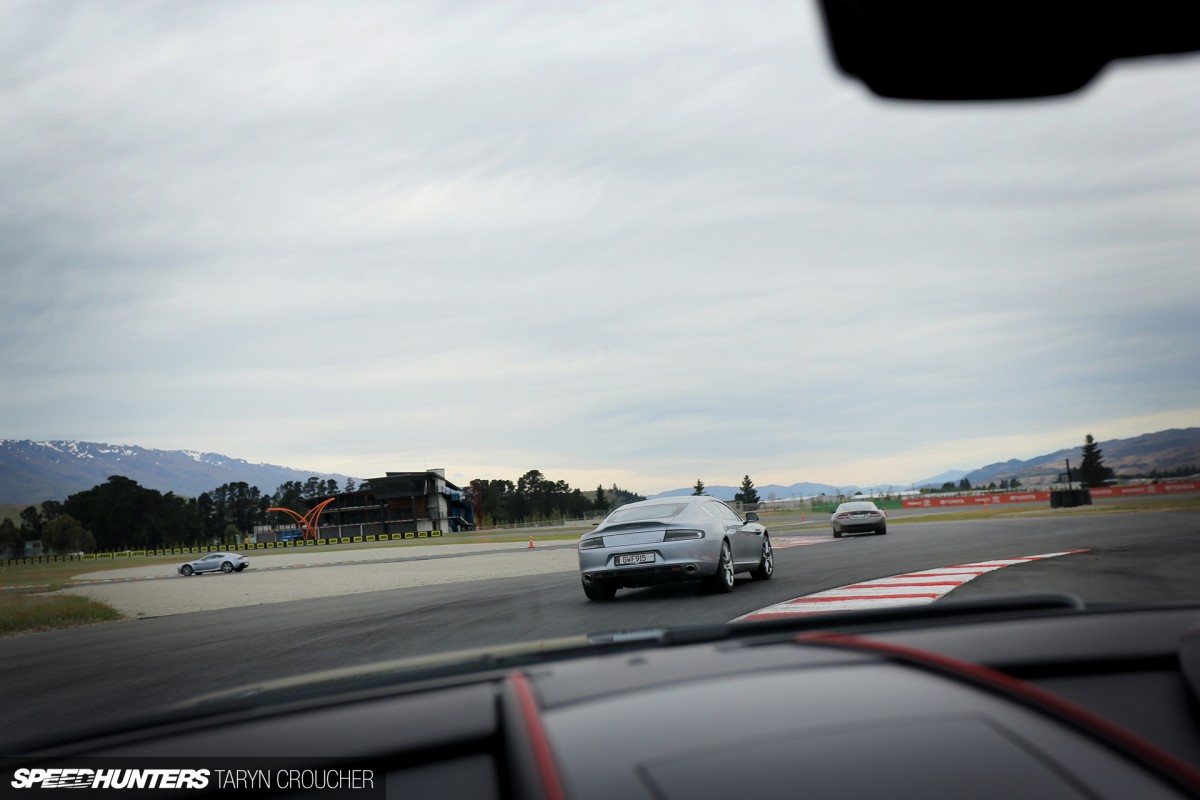 The full track configuration consists of a few medium-sized straights and a variety of tight and sweeping corners…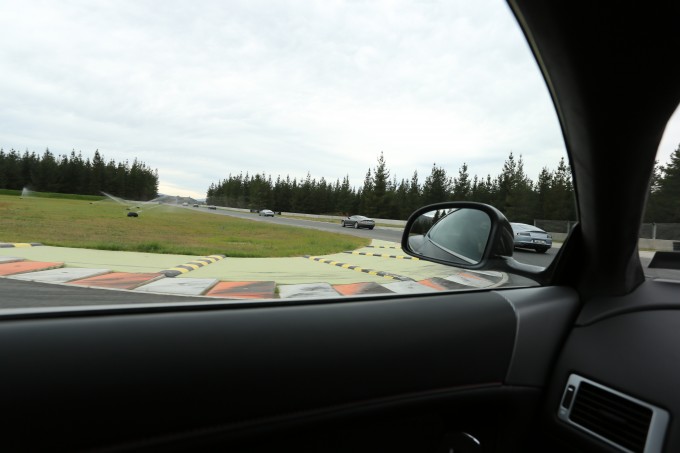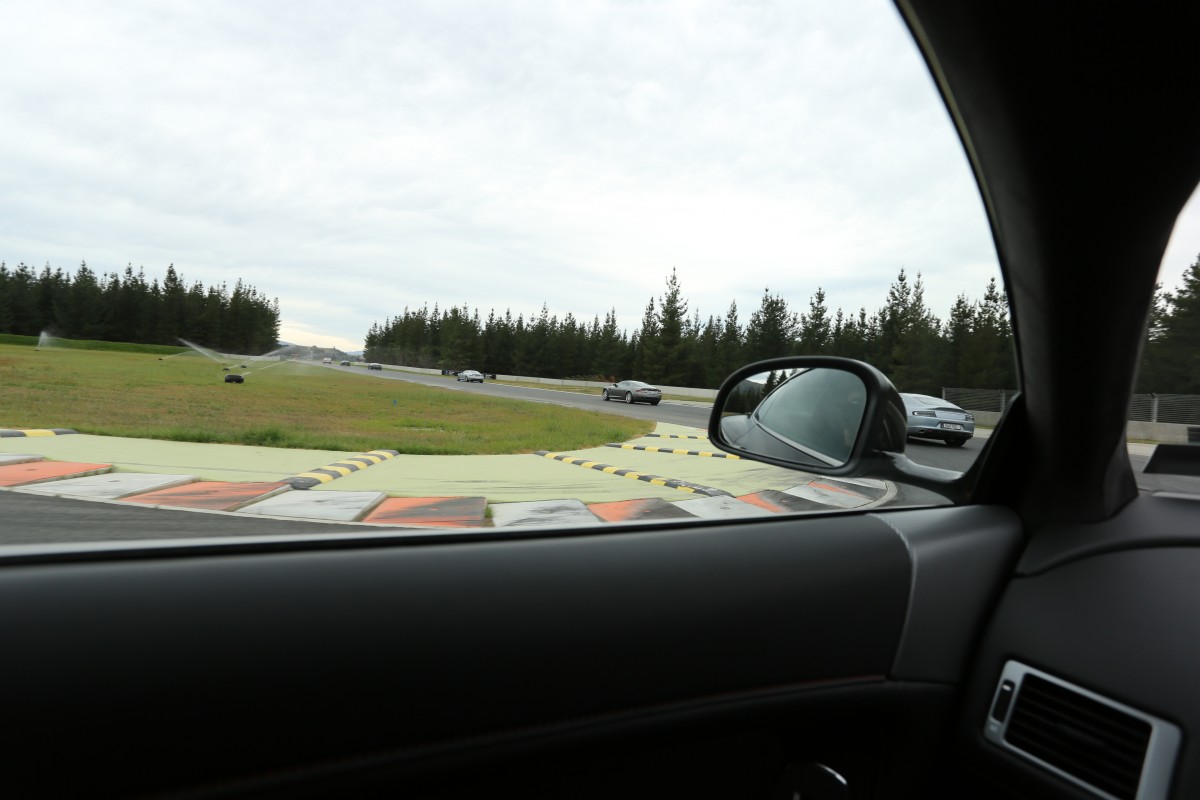 … surrounded by wide open spaces and magical views…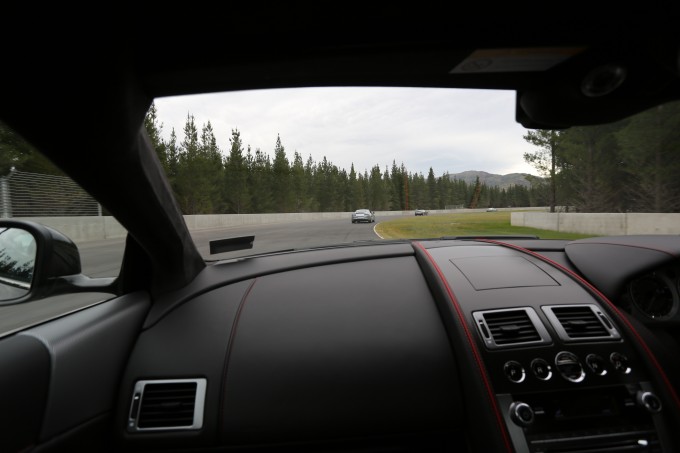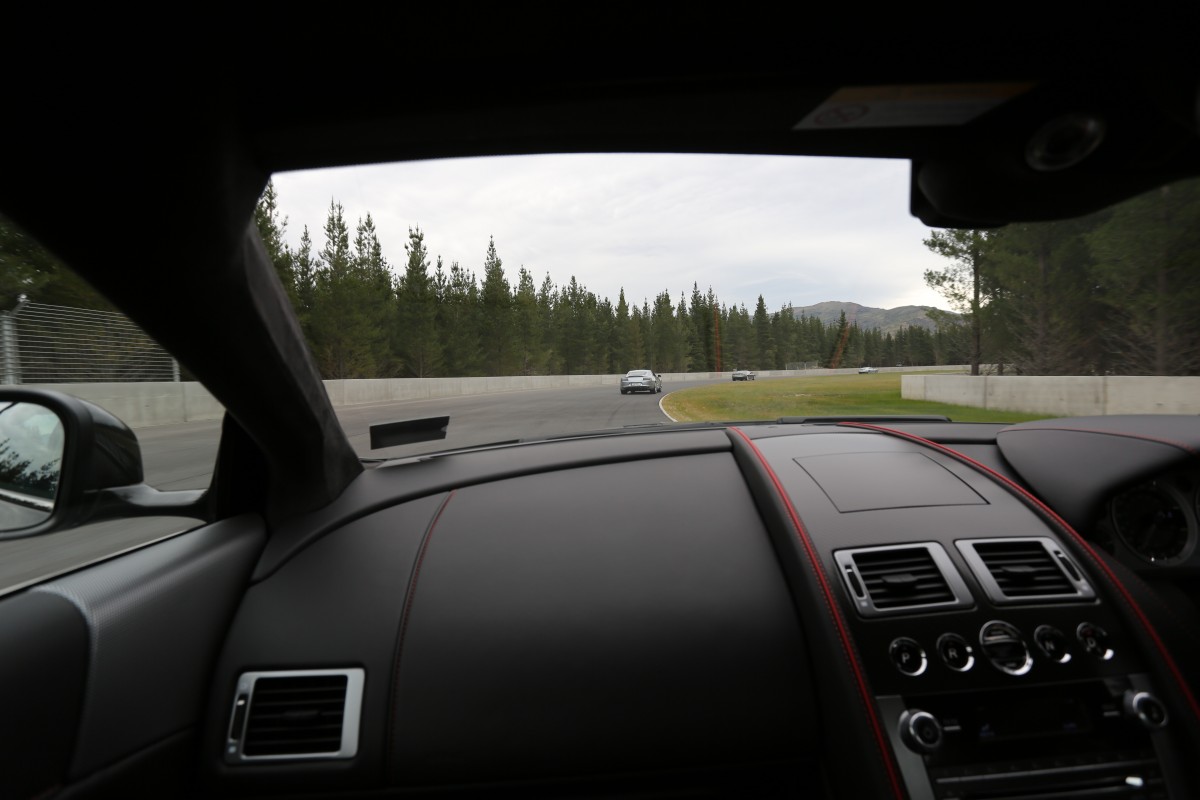 … including a forest, just in case you were getting sick of being surrounded by picturesque mountain landscapes and needed a change of scenery.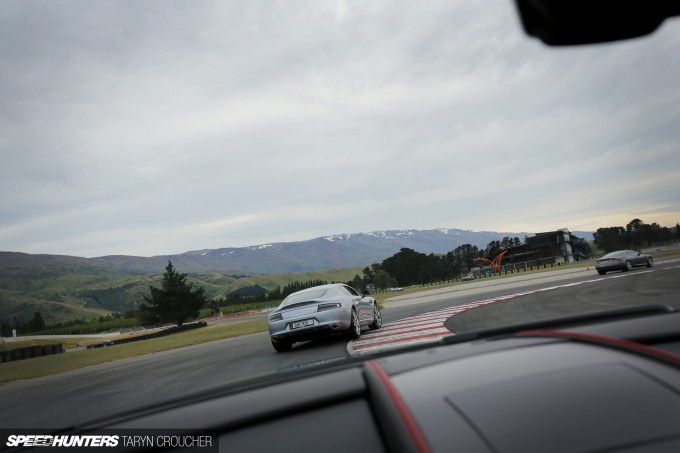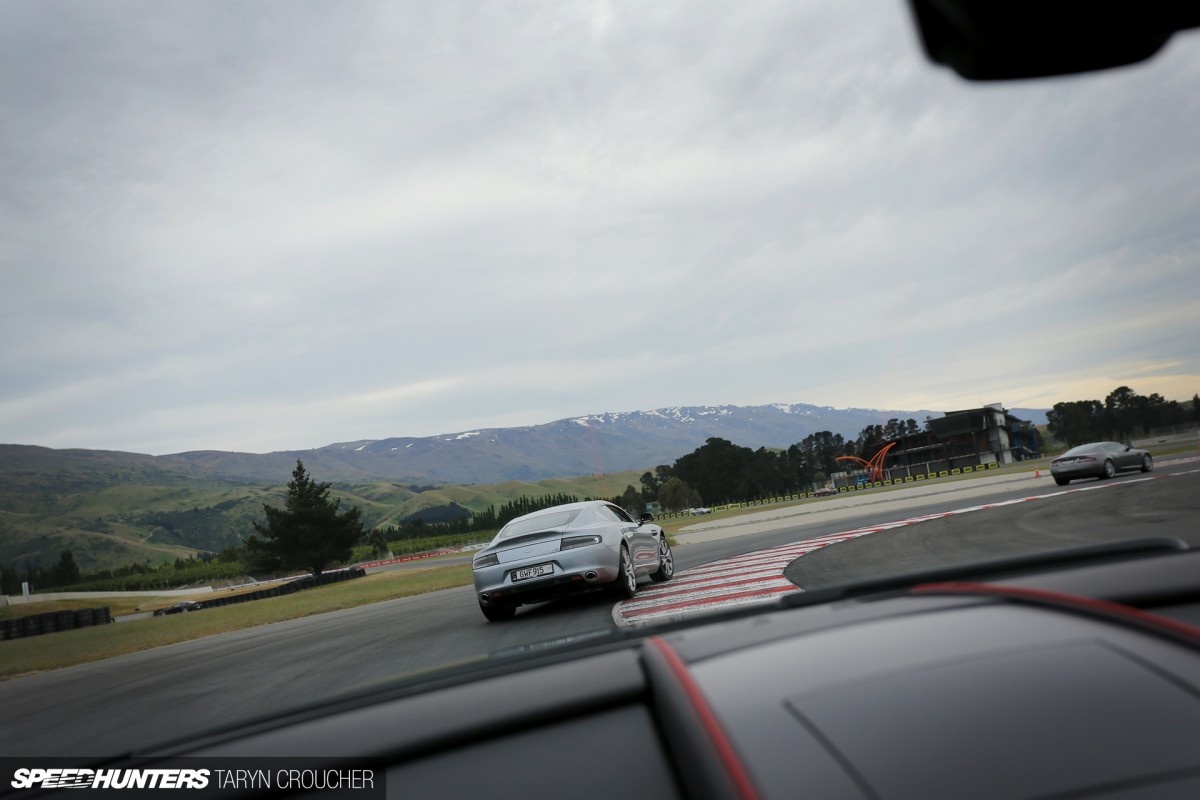 As the Rapide S in front of us and DBS behind us picked up the pace on the second lap, a beautiful symphony of V12 song came to life and echoed through the open valley, filling my ears with the exquisitely harmonic exhaust note which these vehicles are so well known for. All of a sudden, a pang of jealously washed over me as I had the urge for that to be me behind the wheel!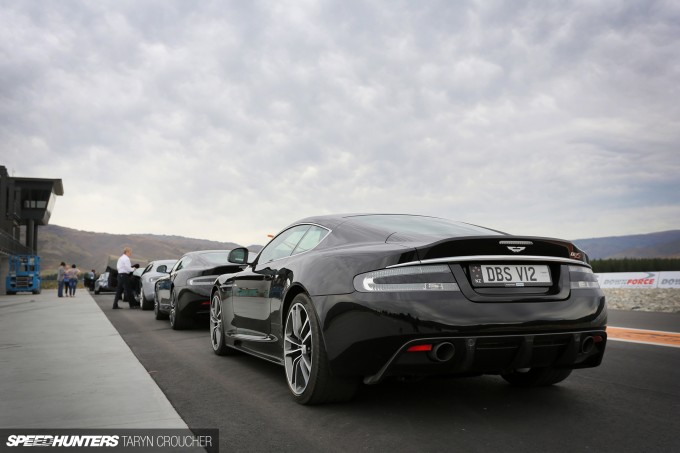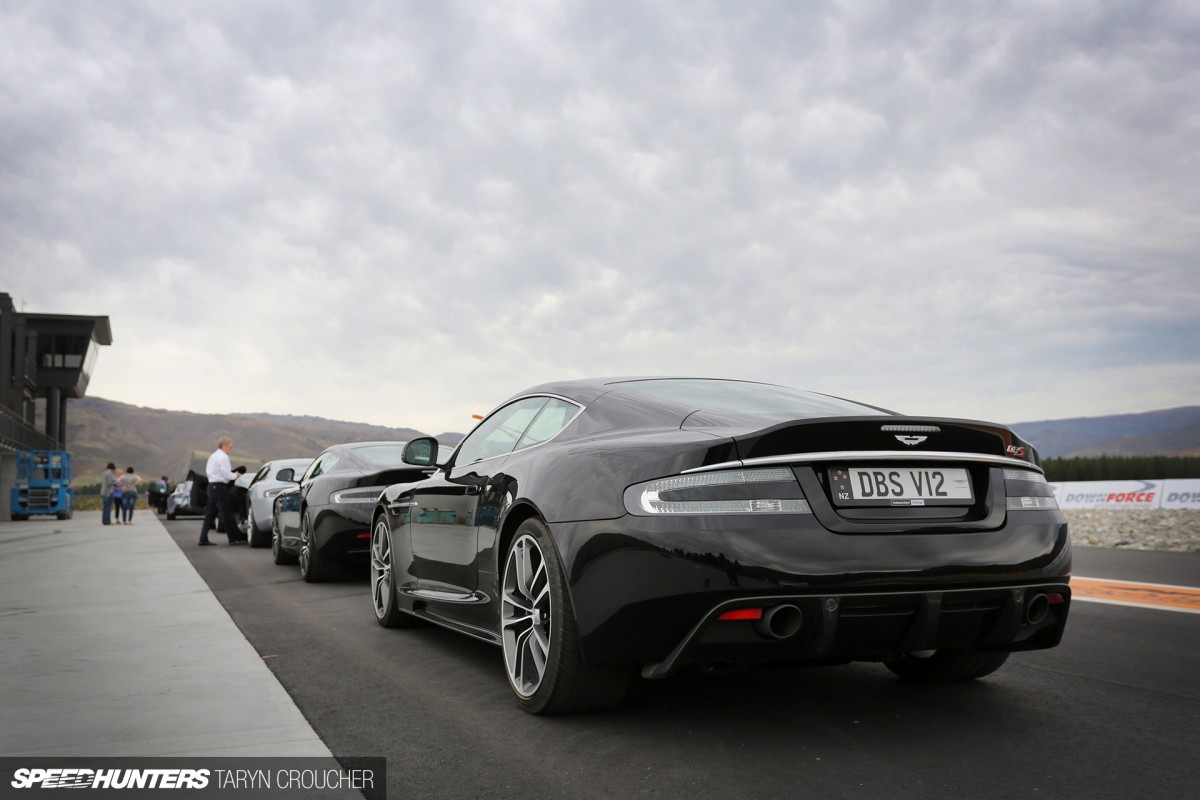 We pulled into the pits after the second lap to do a quick driver swap, and as I jumped out of the car to grab a few photos to distract myself from my moment of envy, I felt a tap on my shoulder. To my extreme delight, it was my boss handing me the small, shiny glass object of my desires…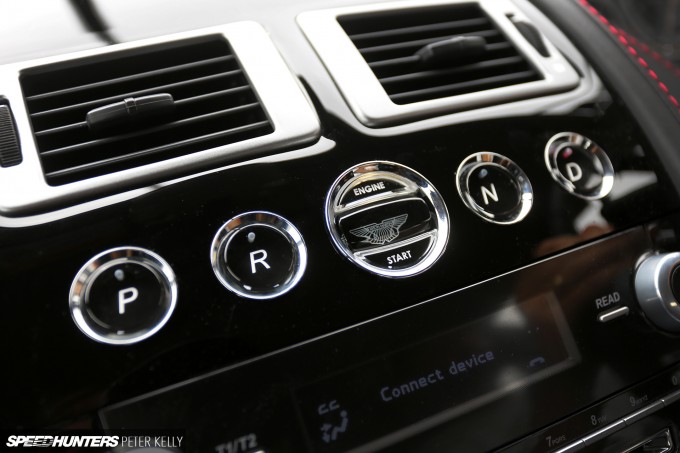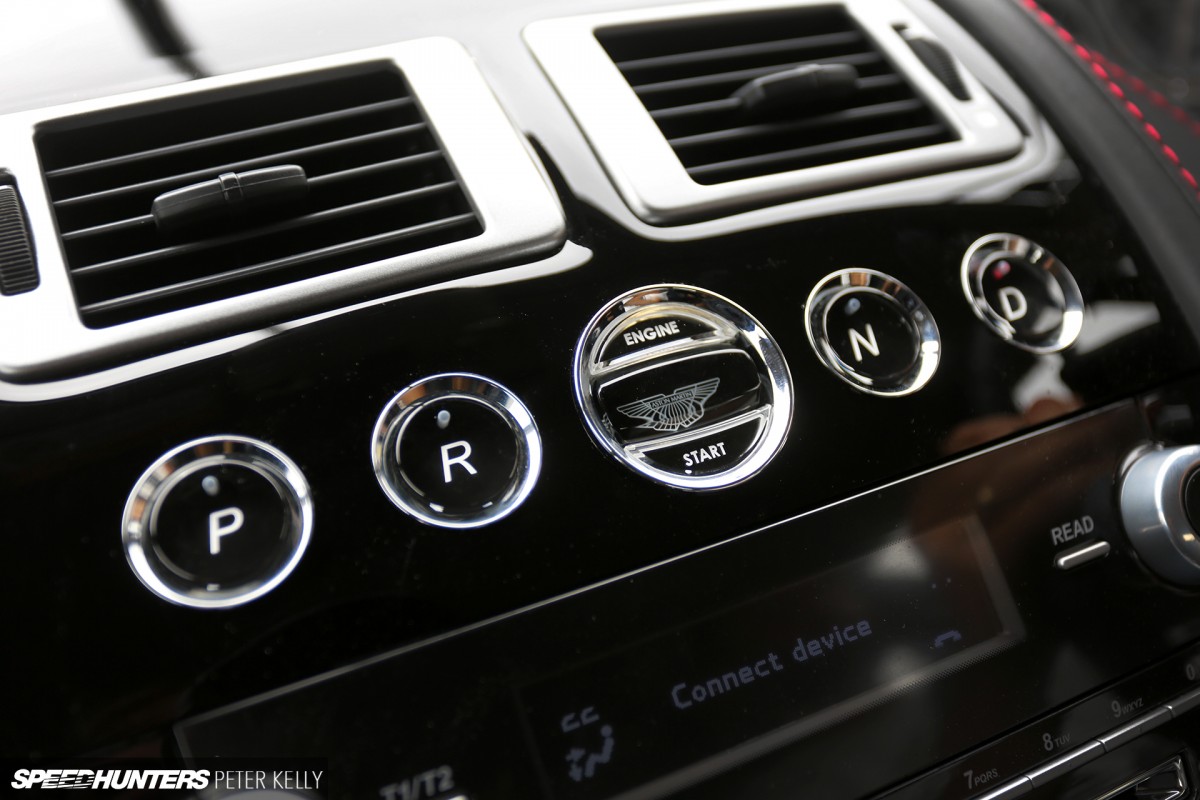 … the key to the Rapide S.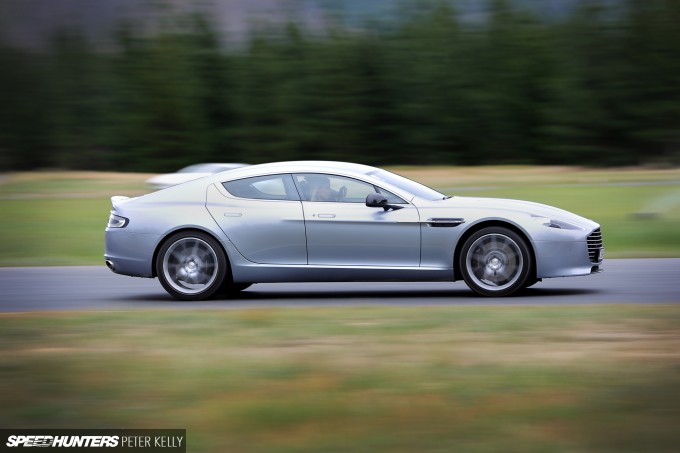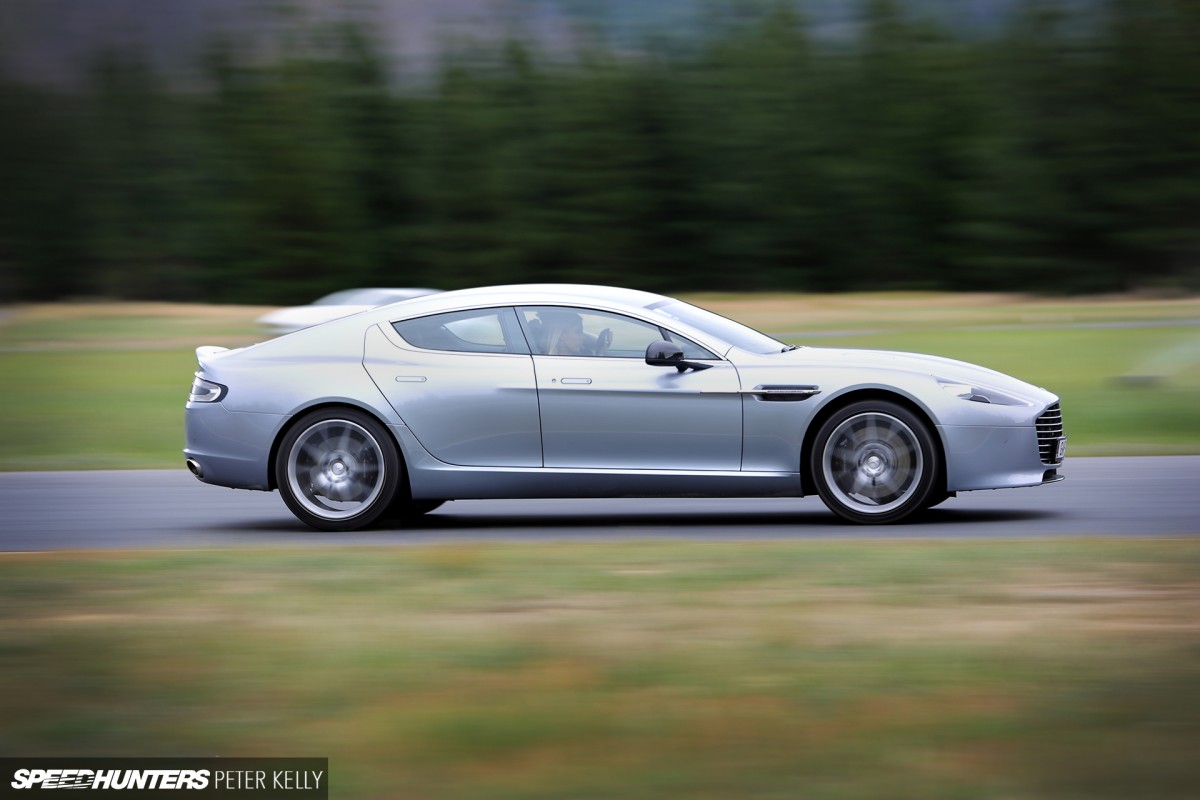 At 1990kg I would have expected the four-door chassis to at least feel a bit heavy, but it didn't feel that way in the slightest as it darted through each corner and performed exactly as I commanded, and I'd be lying if I said I wasn't taken aback by how responsive and surprisingly agile it felt. With each tap of the paddles, the sweet twelve cylinder harmony filled my ears and for those few minutes, all of my petty problems and worries disappeared as I went into a state of pure #JoyOfMachine bliss.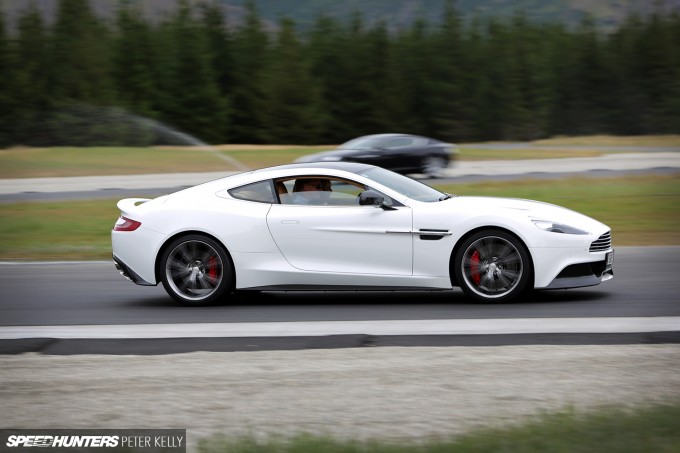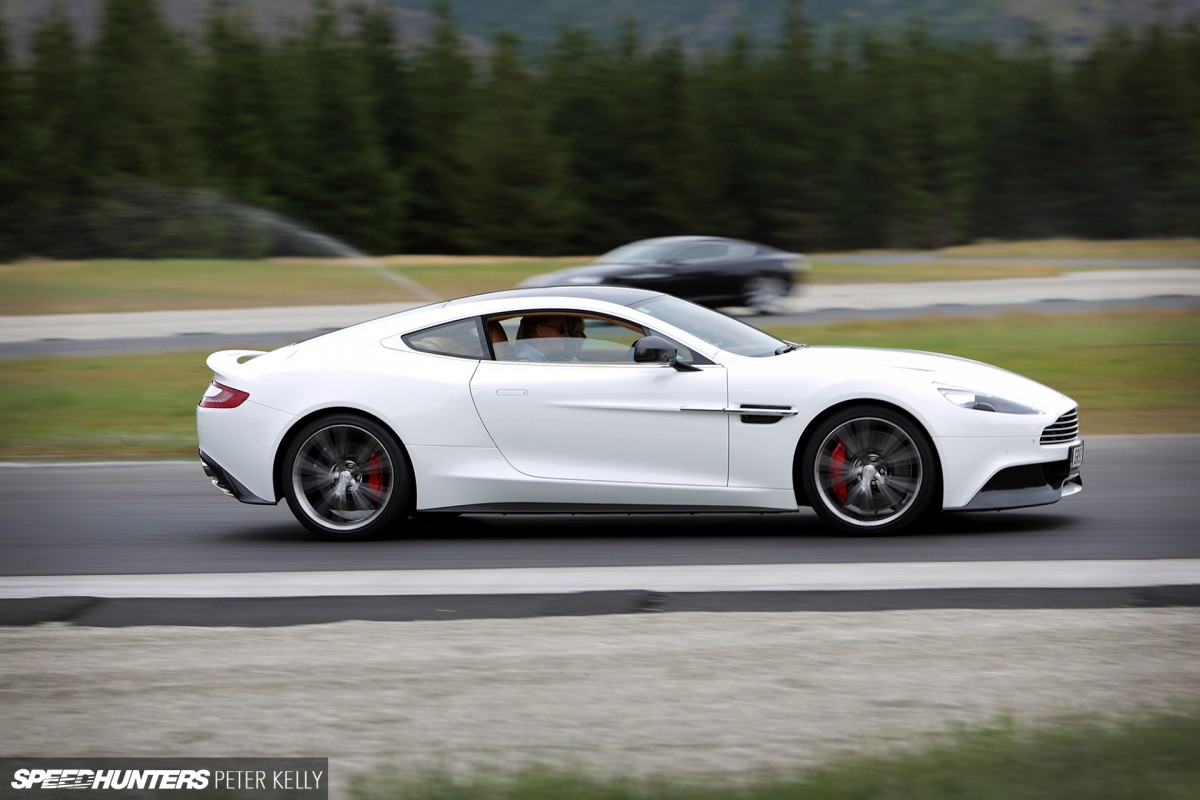 Luckily there's nothing like catching a glimpse of a new Vanquish coming up behind you in your wing mirror to snap you out of an Aston Martin-induced joy-coma!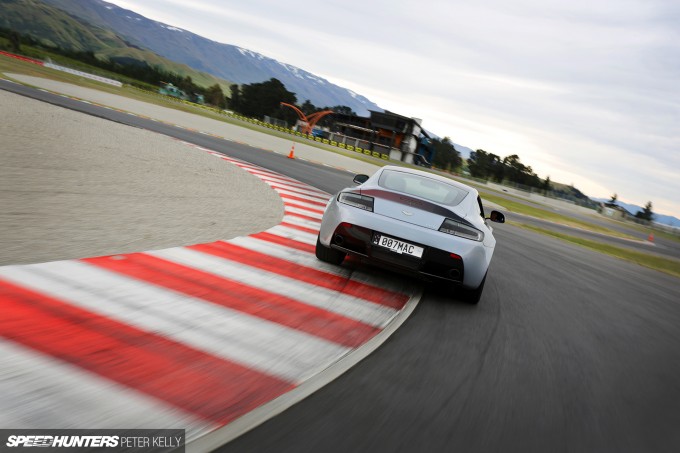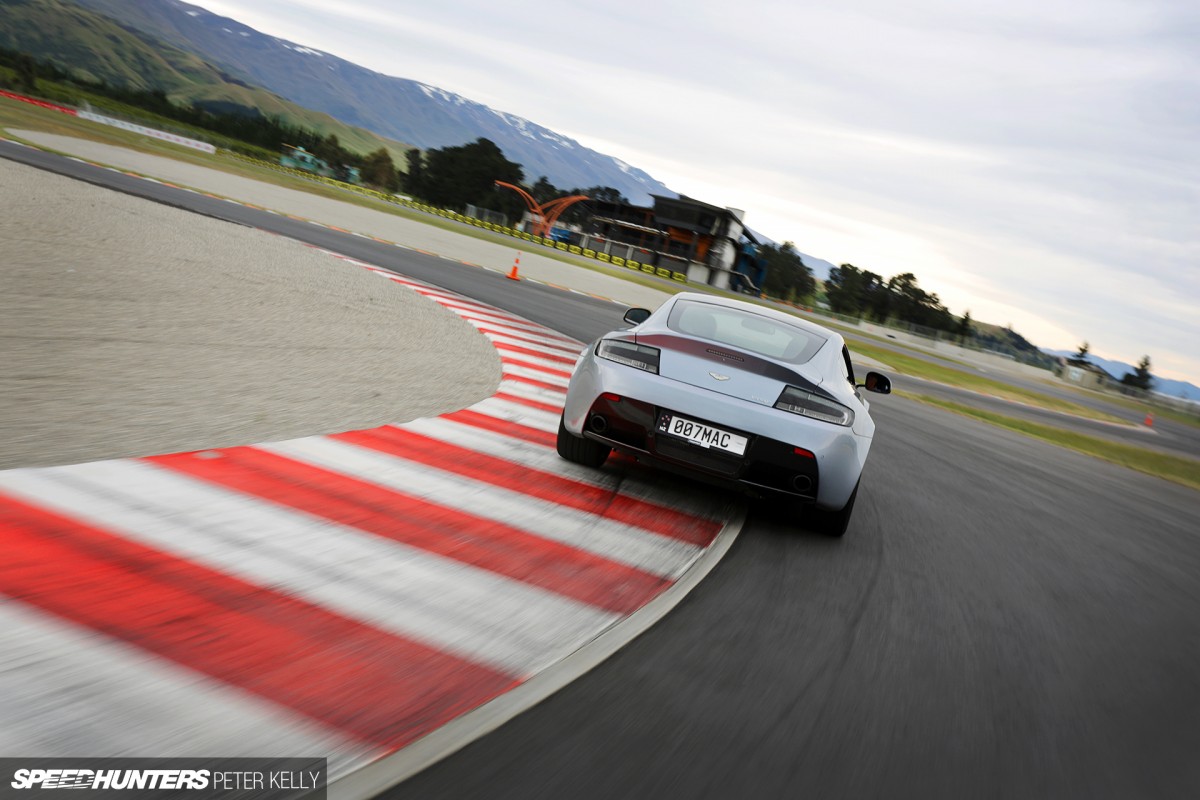 It was great to overhear some of the customers commenting on how they hadn't yet had the opportunity to really open up the throttle and stretch their vehicle's legs like this before, so no doubt they were impressed. The owner of this beautiful Centenary Edition V8 Vantage has only owned the car for a couple of months, and was having the time of his life discovering the car's true capabilities.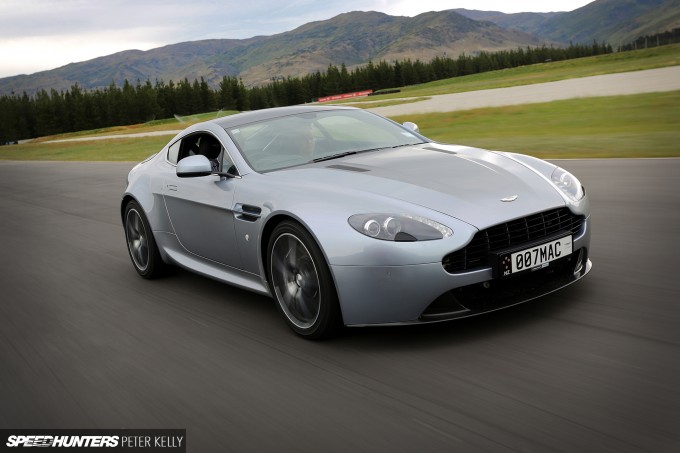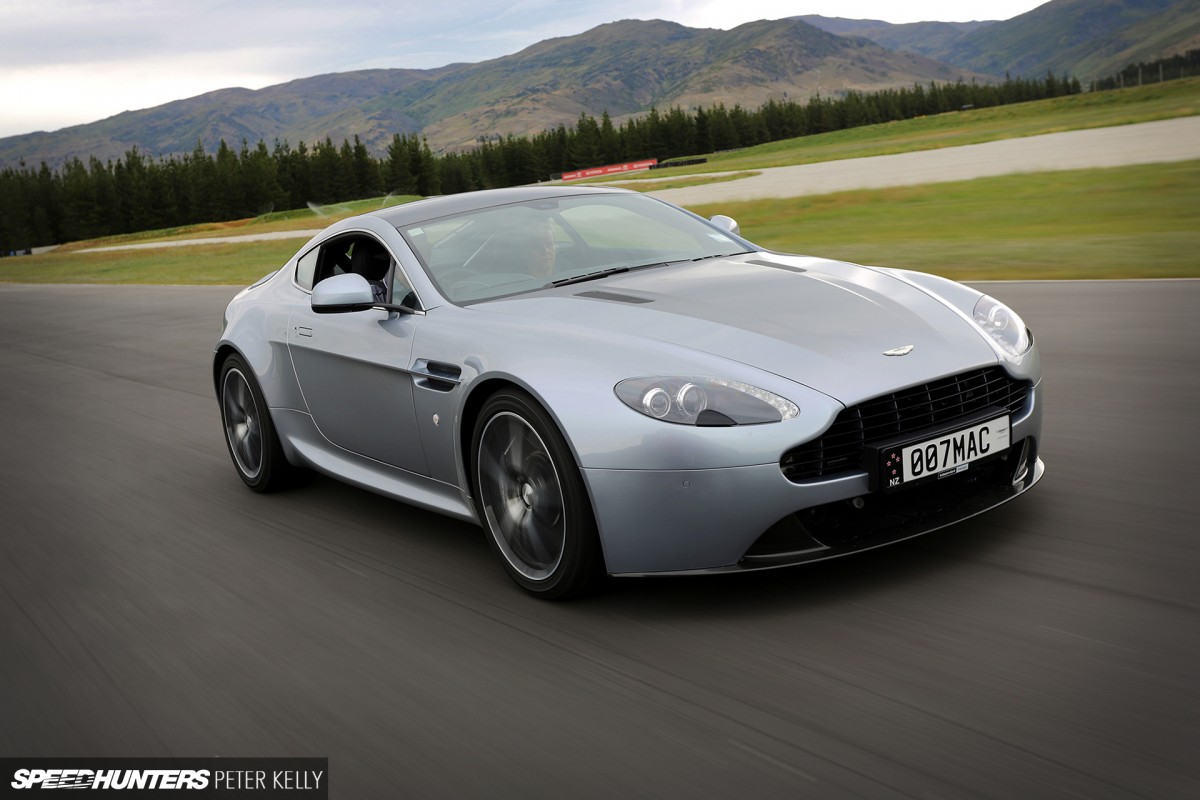 The gorgeous special edition centenary vehicle is 1 of 100 built, featuring specially created sterling silver and enamel badges, unique paintwork and an extra luxurious One-77-inspired leather interior.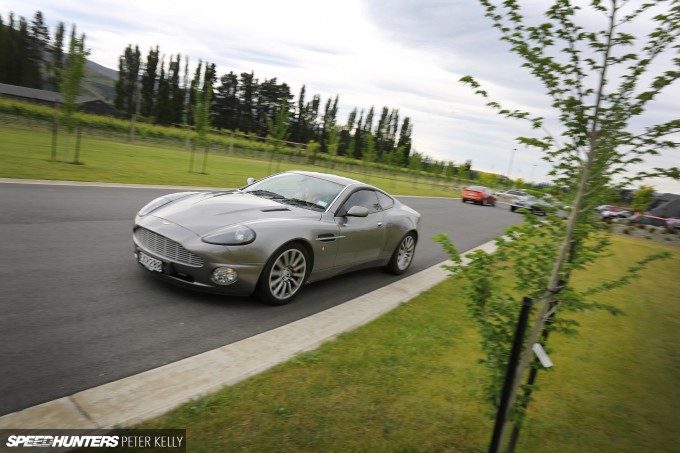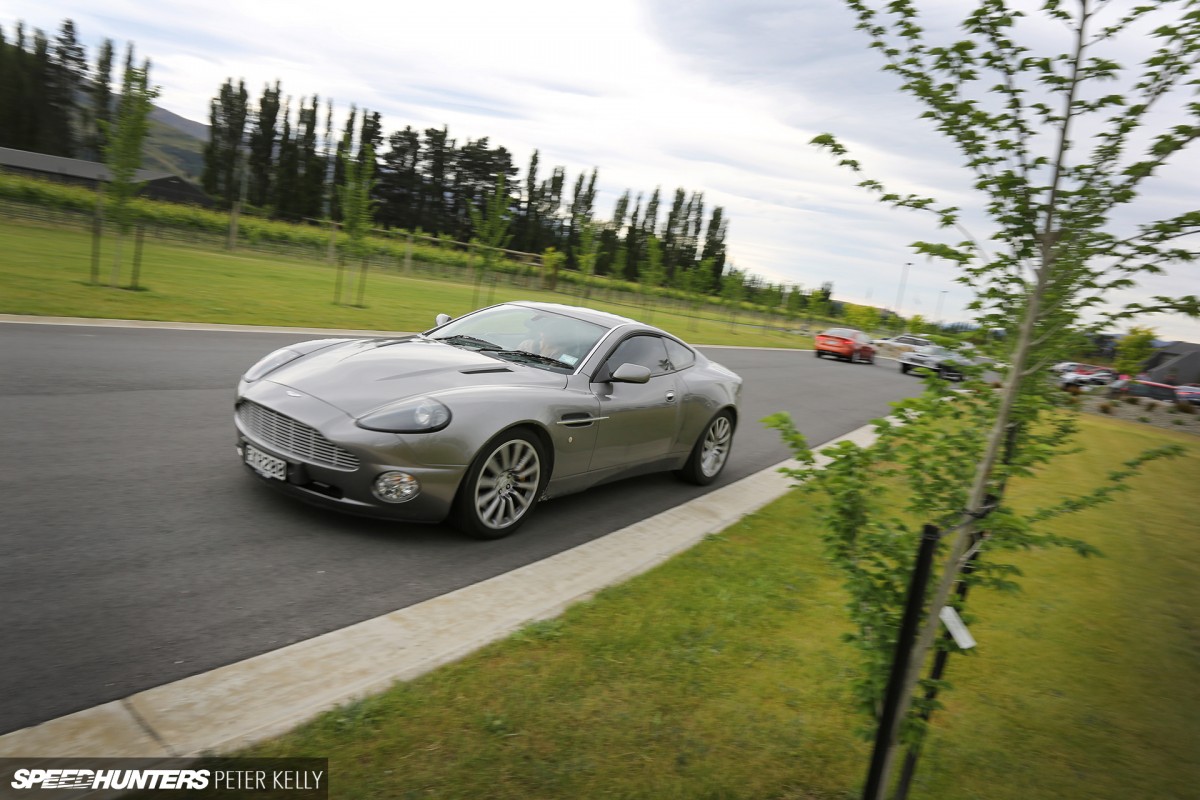 As we departed Cromwell I was left pining for more seat time, and our four-day weekend of Aston Martin celebrations was drawing to an end…
A road trip to remember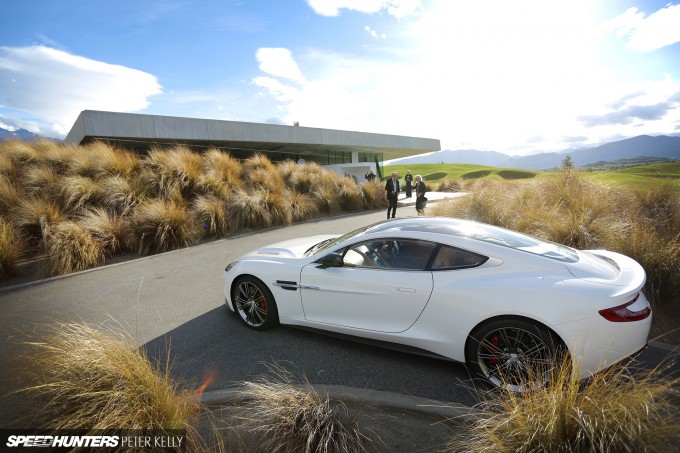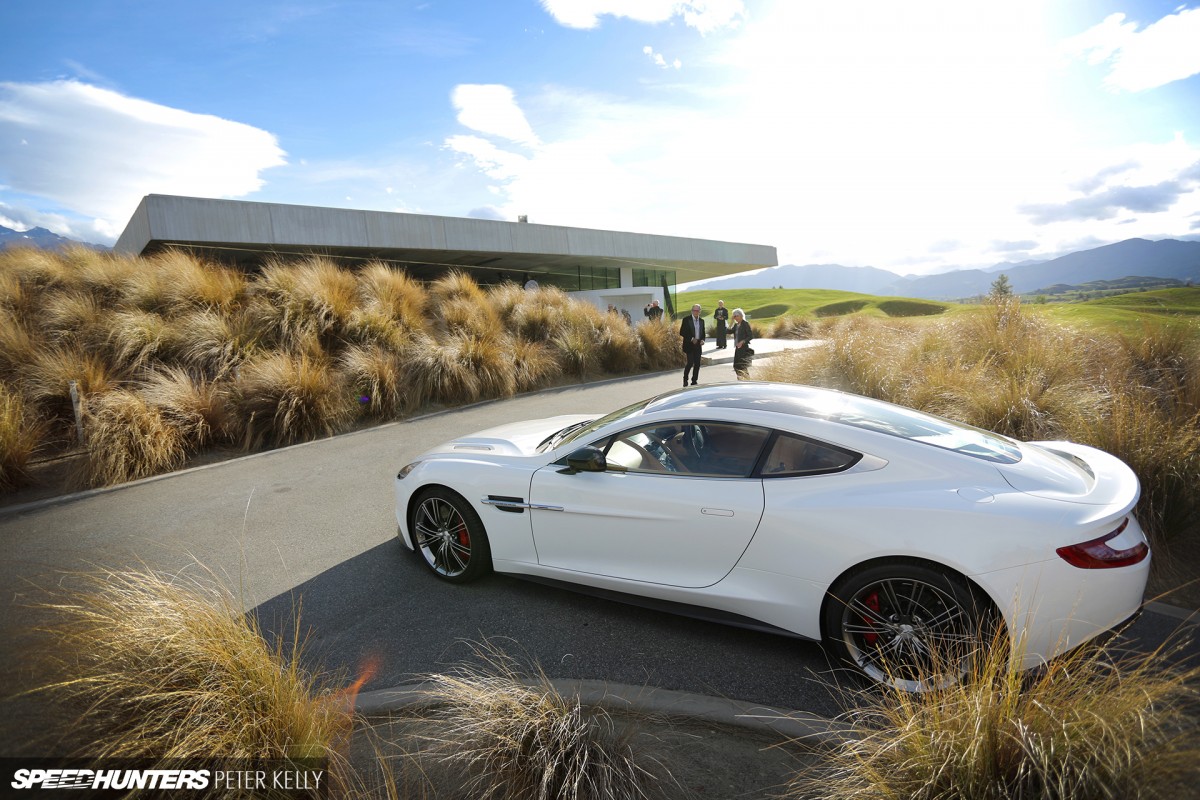 … and what better way to finish our festivities than with a Centenary Gala Dinner at one of the most beautiful venues in New Zealand…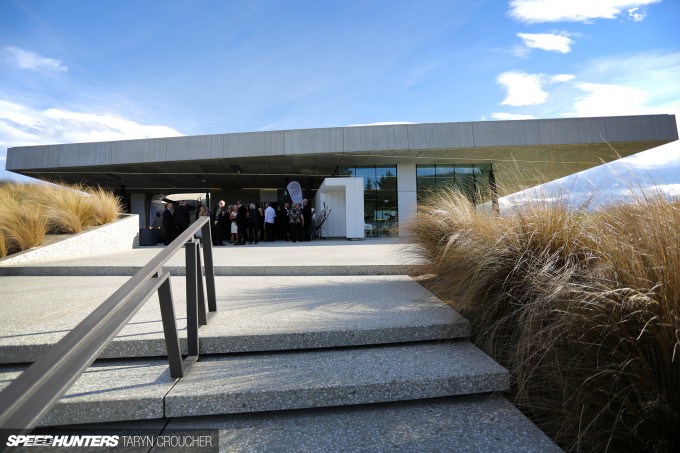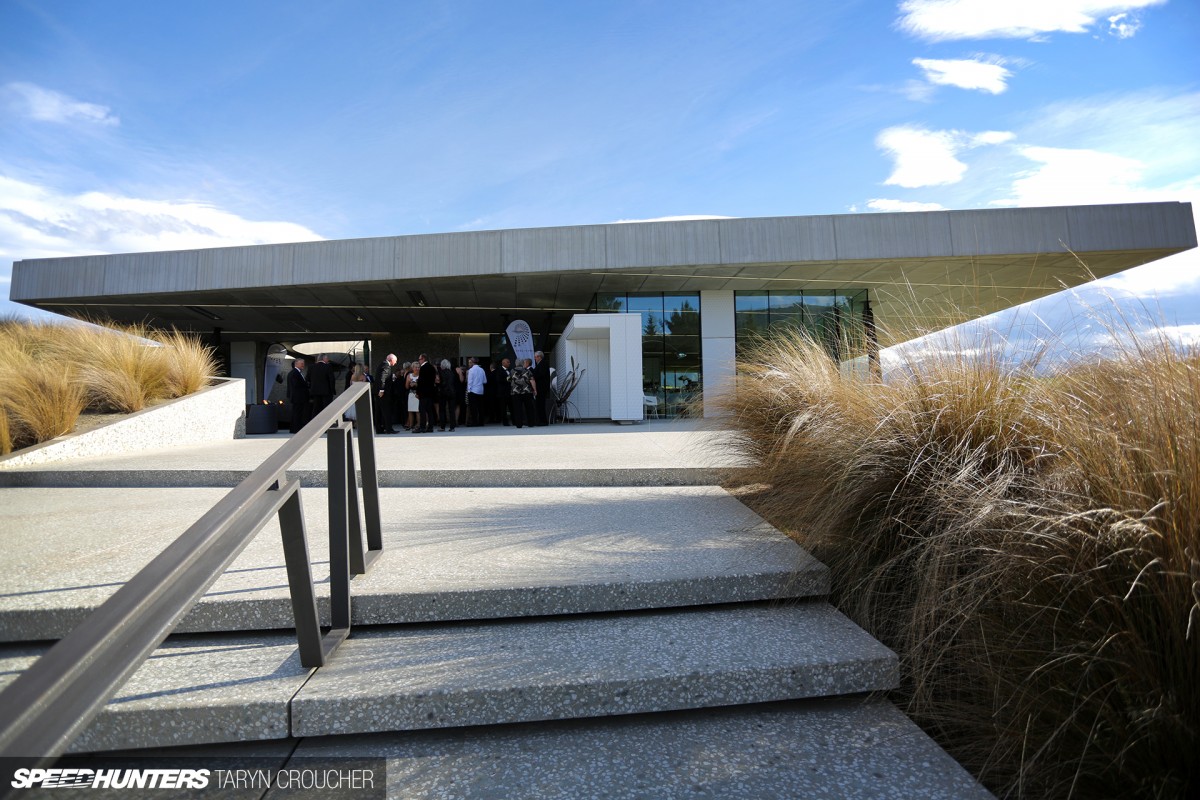 … The Hills Clubhouse in Arrowtown.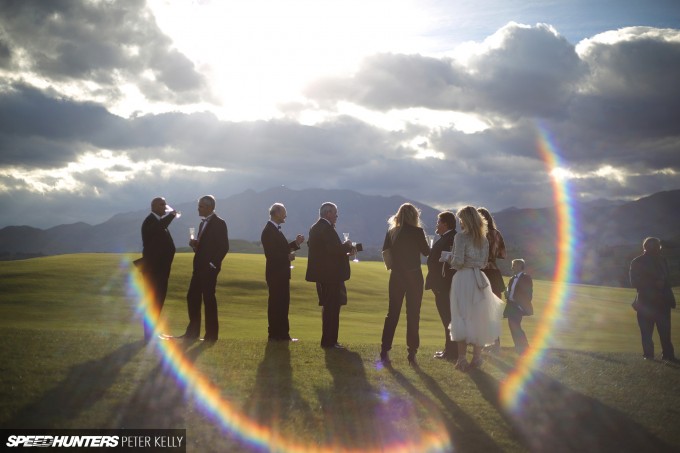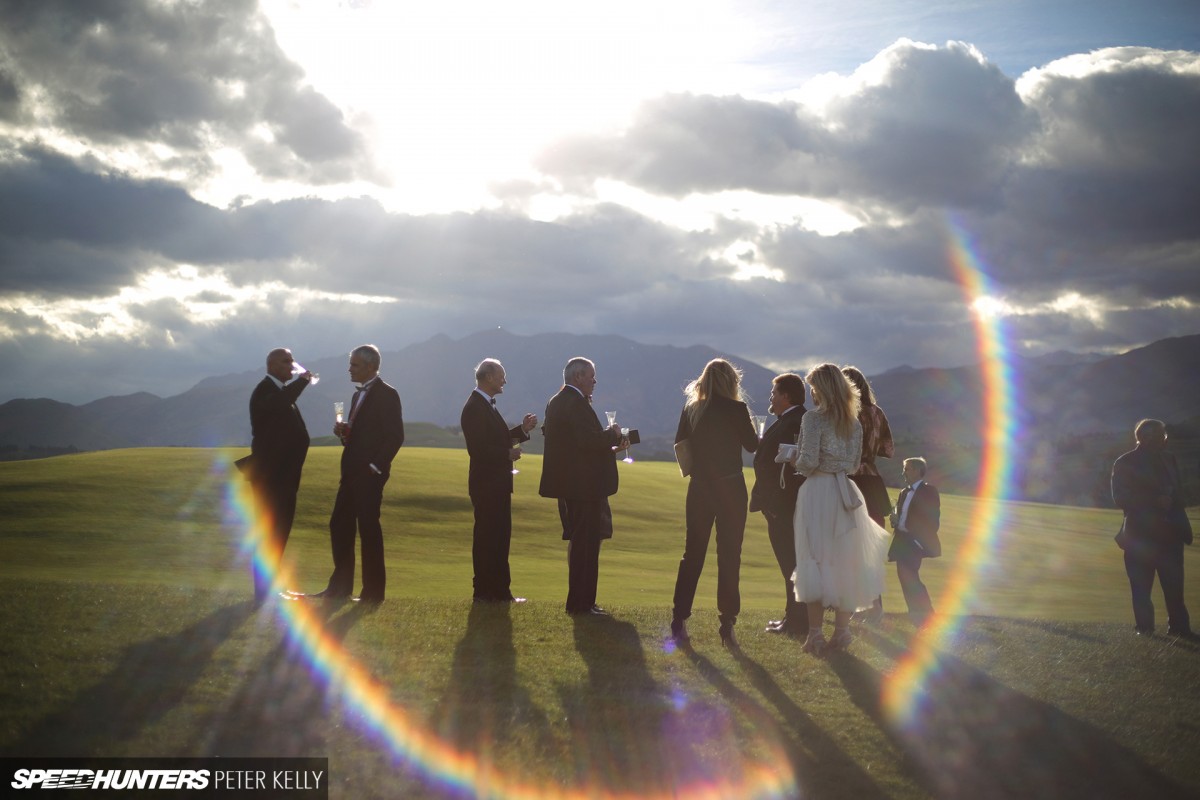 An Aston Martin enthusiast himself, Sir Michael Hill personally hosted our guests to an evening they could never forget. including a tour of some of the golf course's incredible sculptures…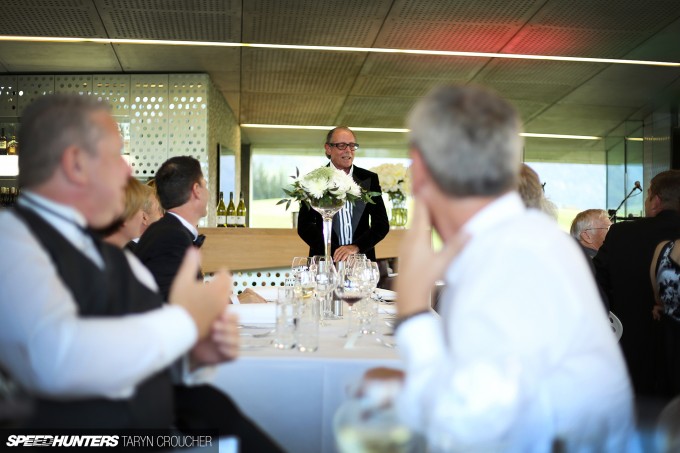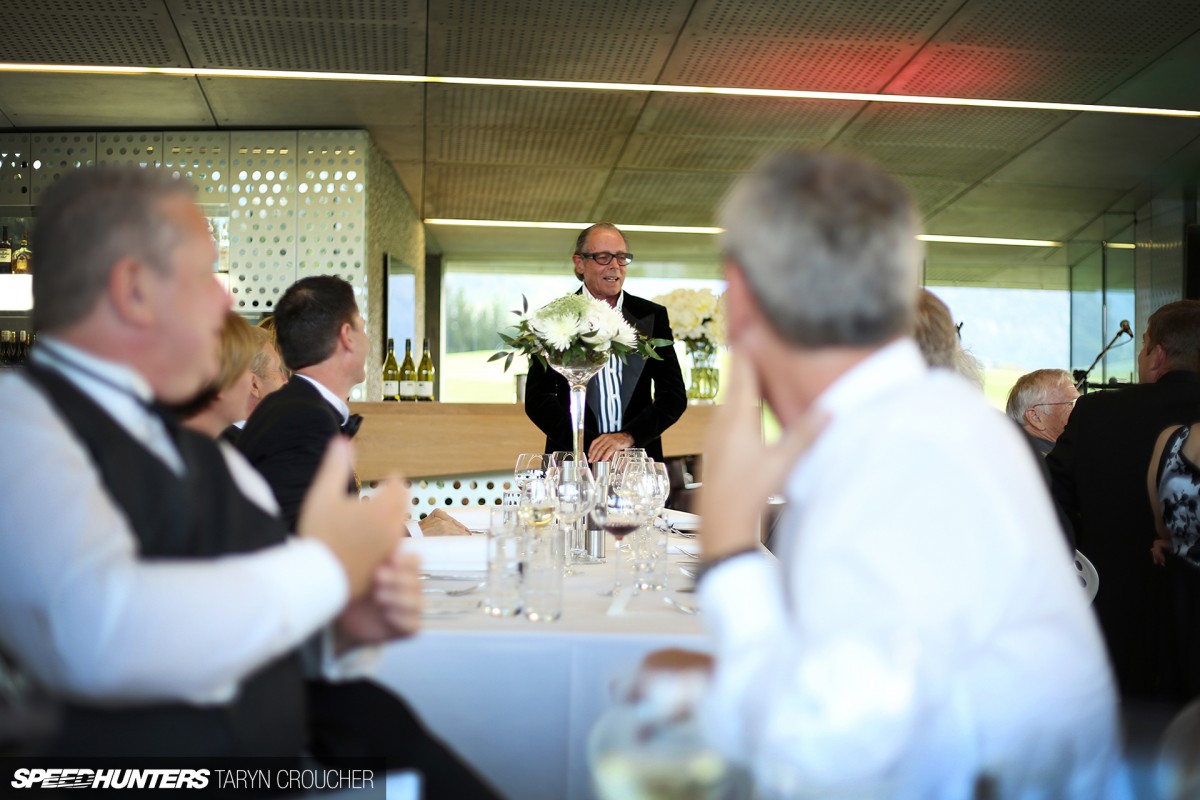 … and a hilarious speech which left everyone besides themselves with laughter. The Gala Dinner for me was probably the most challenging task to coordinate, so seeing everyone having such a great time felt extremely rewarding. I felt like I deserved a few glasses of Aston Martin's official centenary champagne by this point!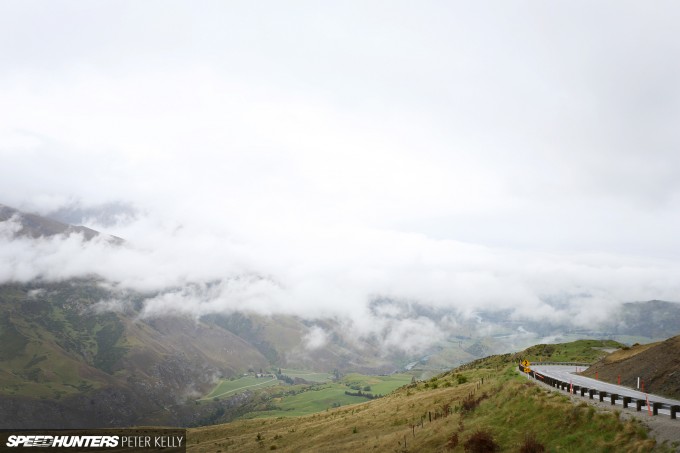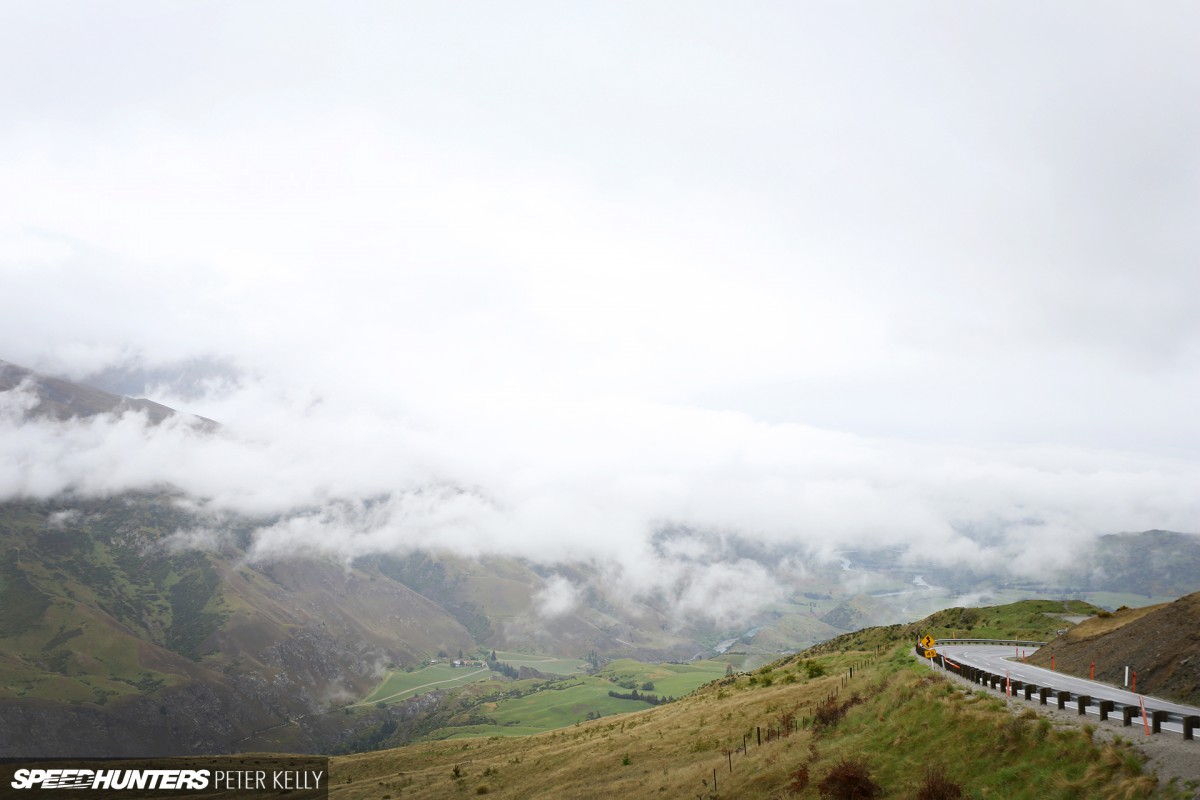 Keeping in mind that I still had to drive six hours back to Christchurch to get on a plane, I went easy on the champagne and I'm glad I did, as I'm not so sure my stomach would've been able to conquer the Crown Range the following day.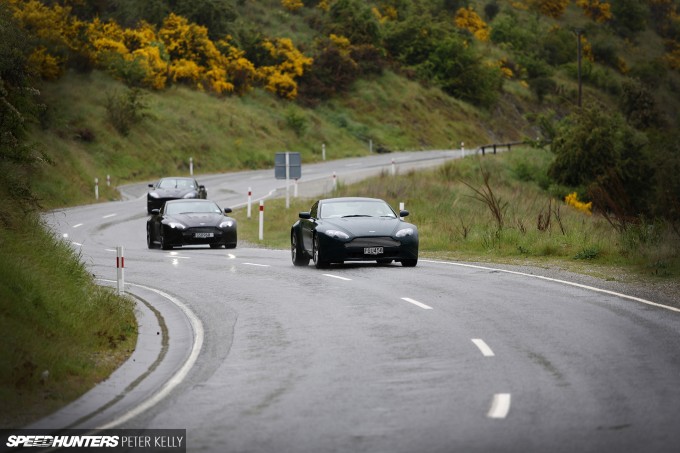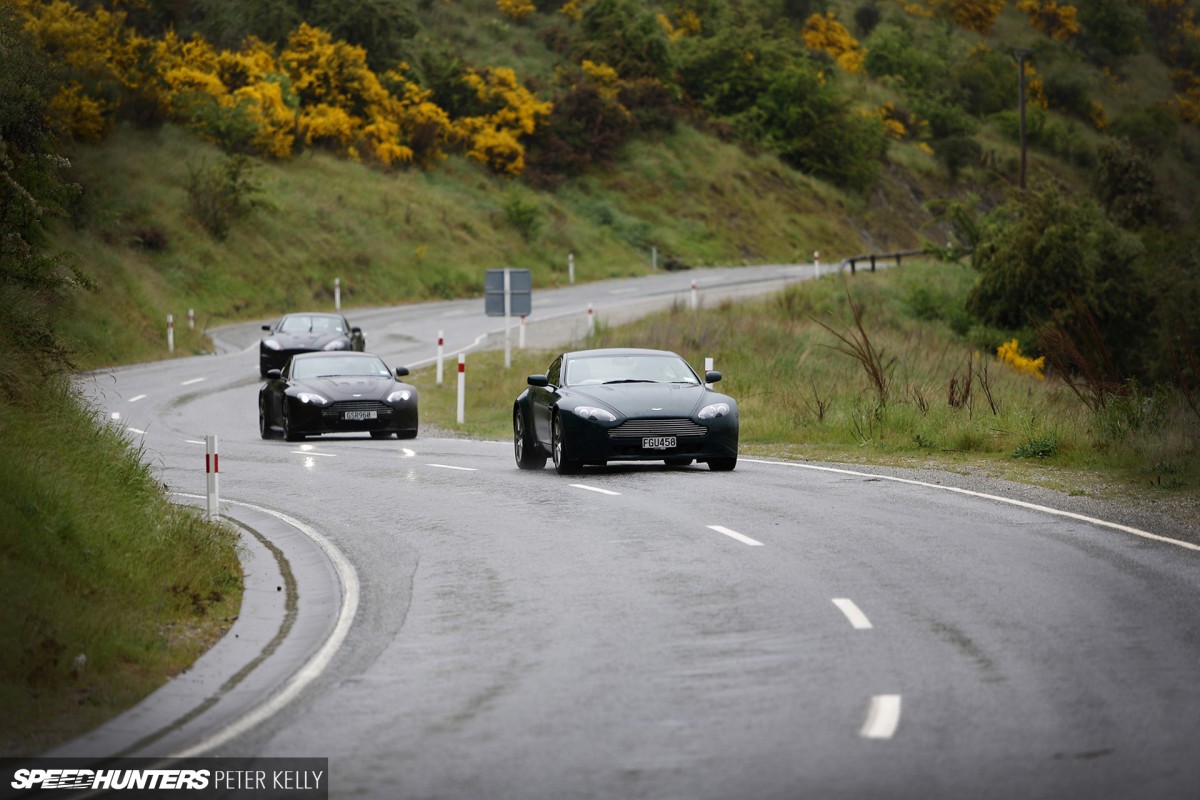 The scenery didn't look quite as stunning as it did in Mad Mike's Conquer The Crown video, but it was still an absolutely fantastic driving route…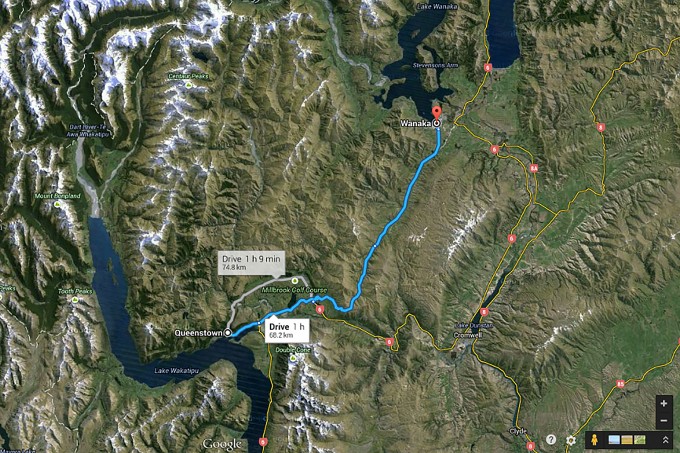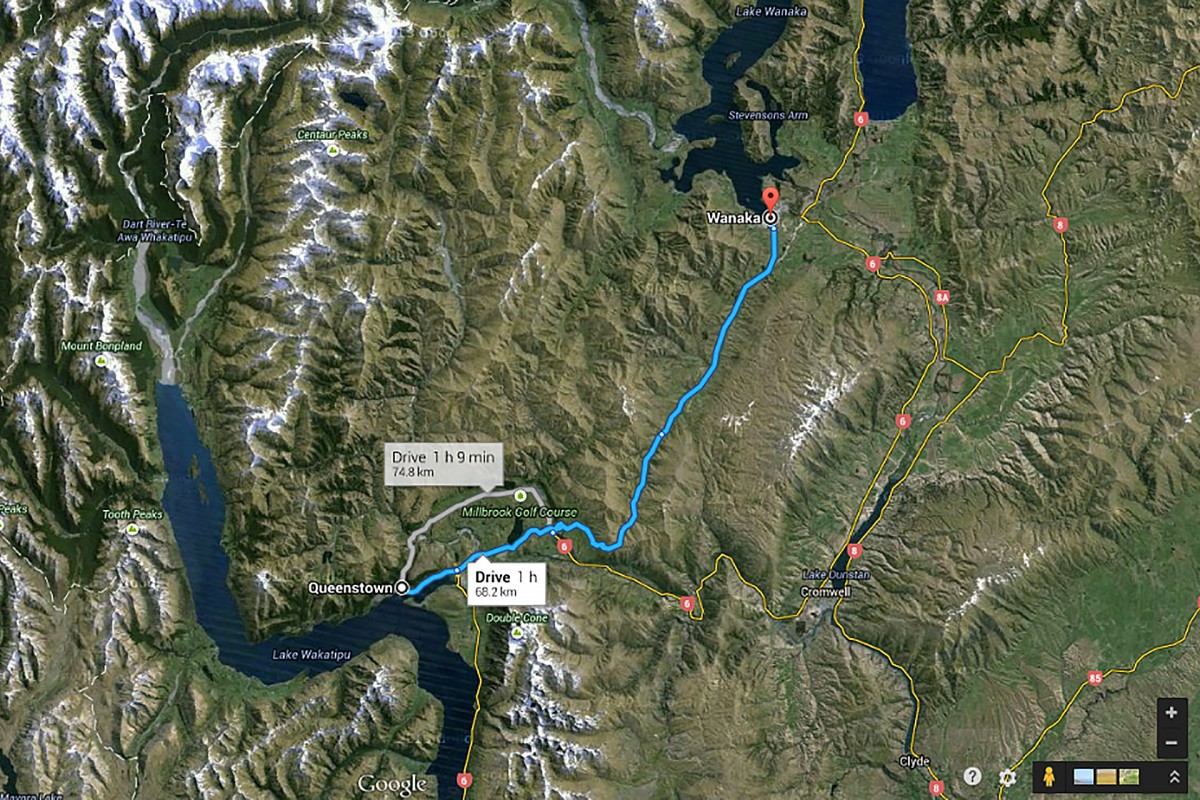 … which you should definitely try and experience for yourself if you're ever near Queenstown.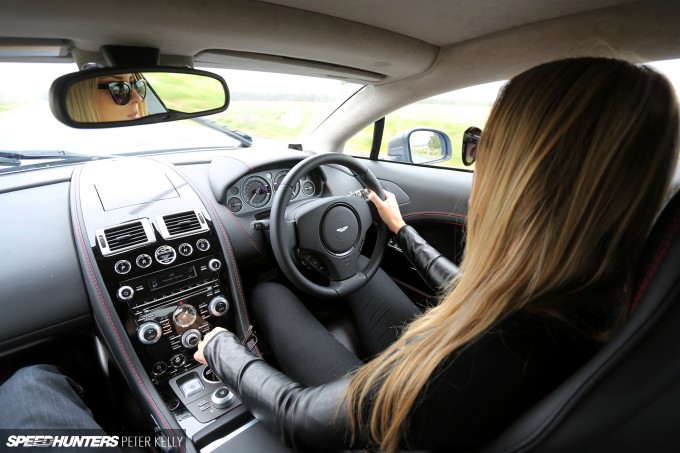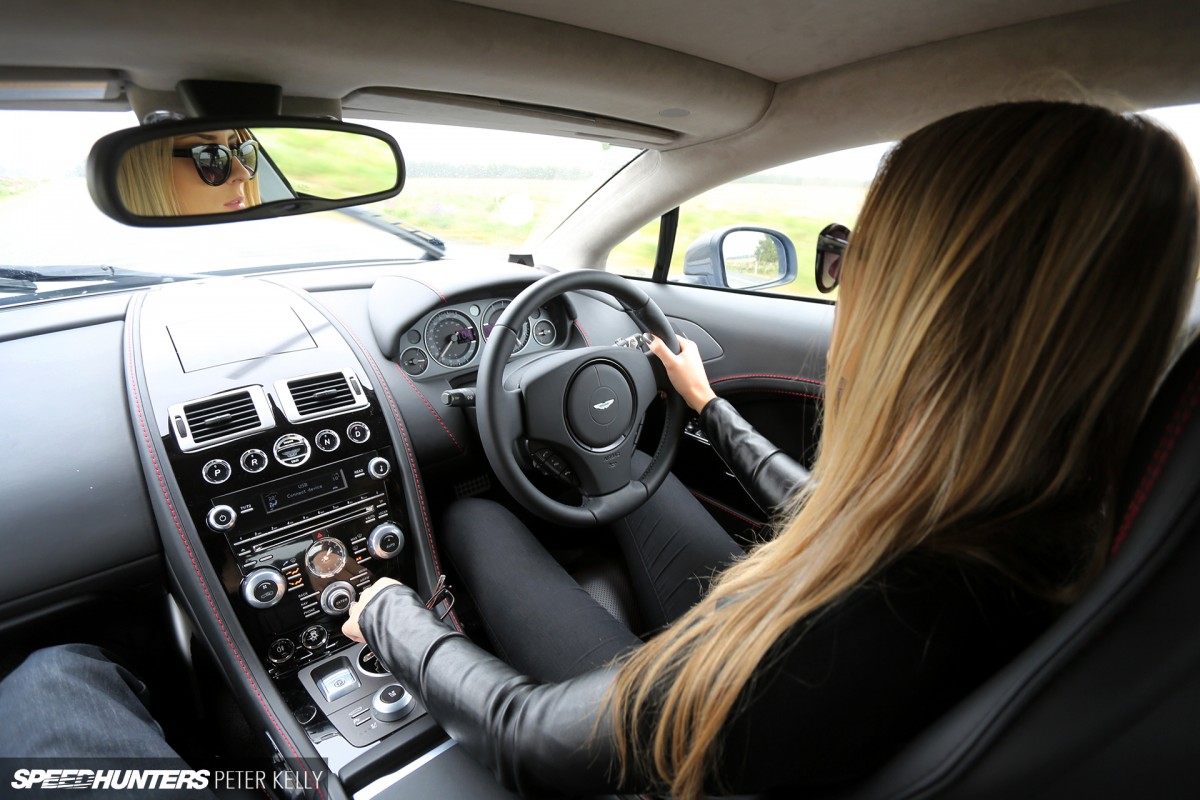 Of course, a 550hp Aston Martin is the ultimate way to experience it, and I was lucky enough to get handed the keys to the Rapide S for a second stint and have my wish for more seat time fulfilled!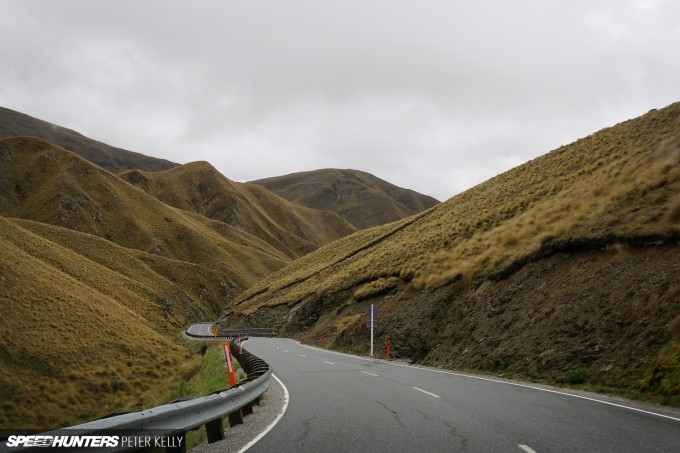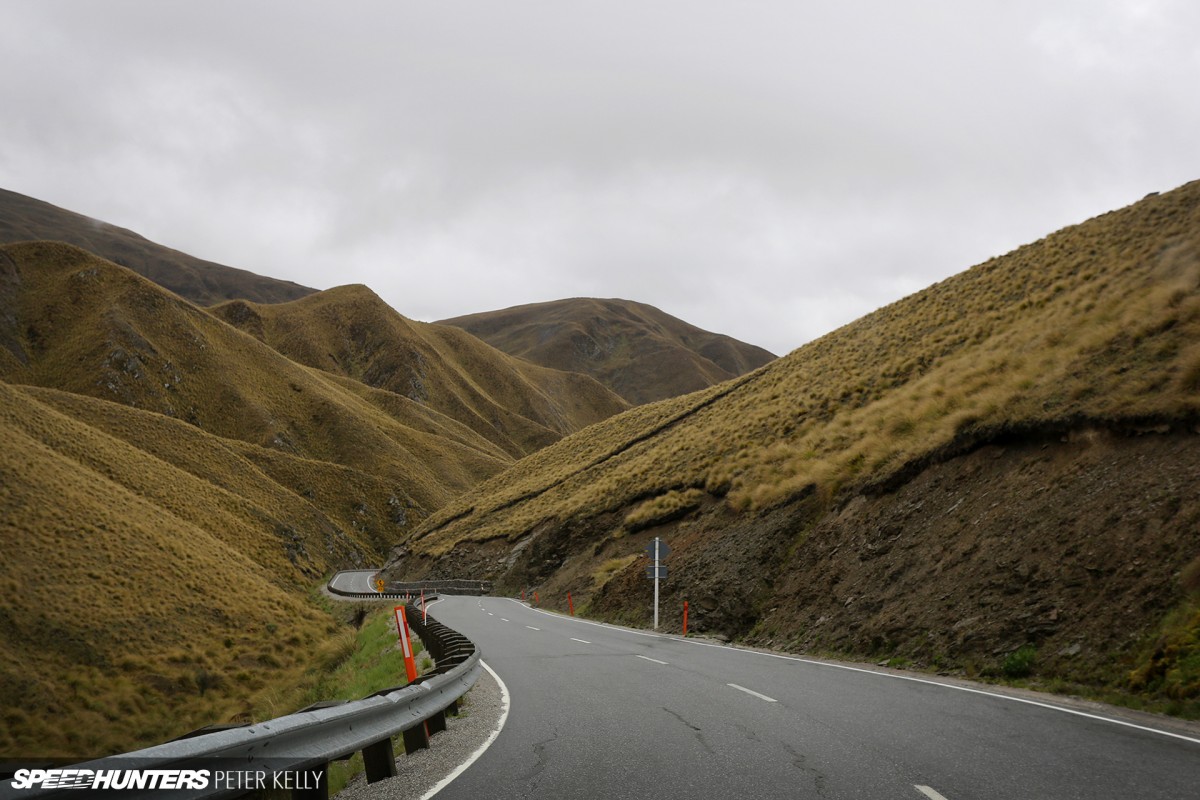 During winter this area is completely covered in snow…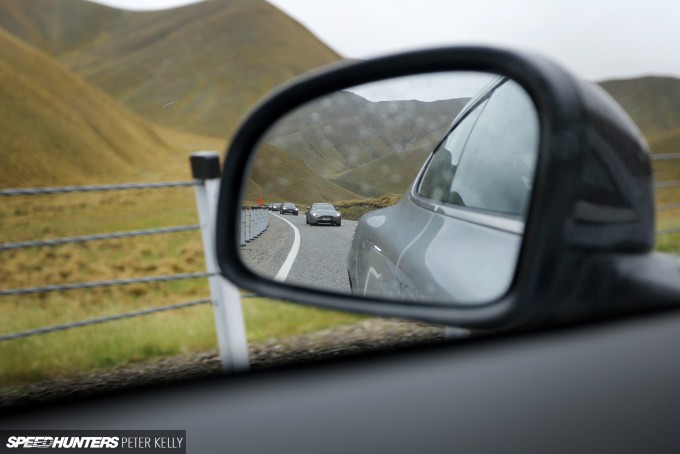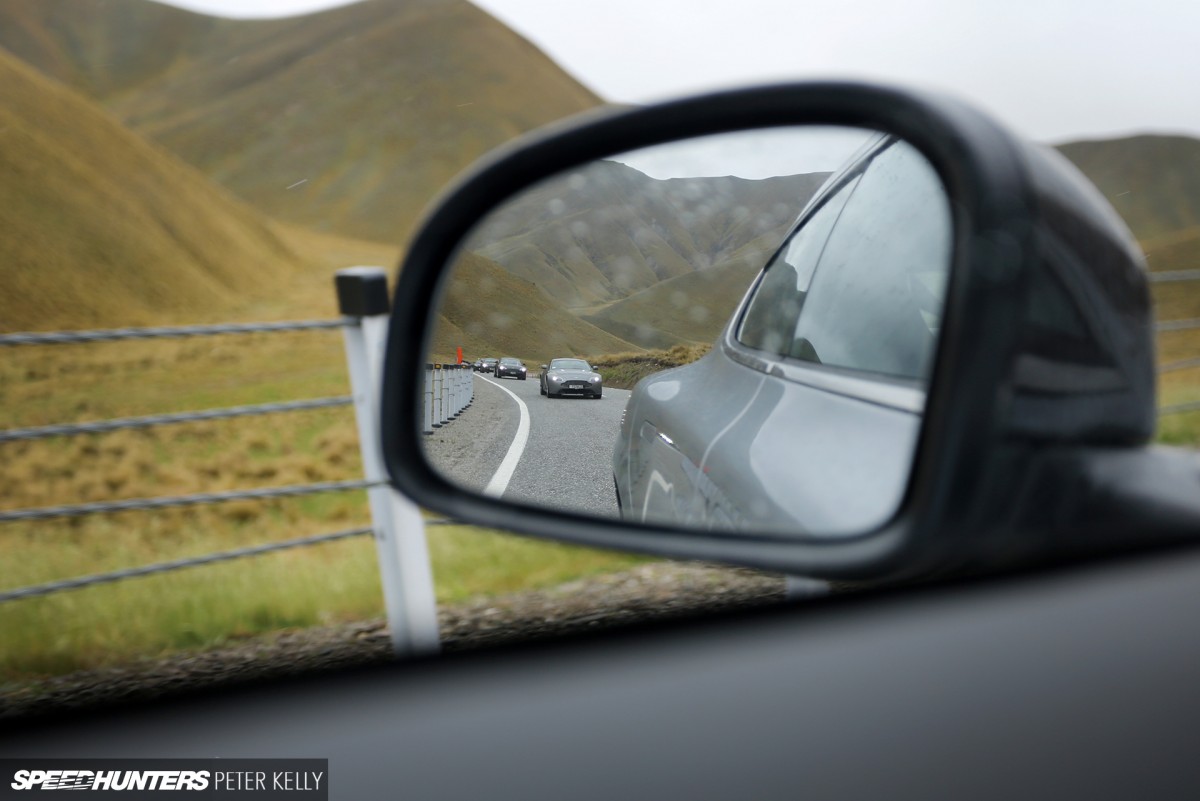 … but in the warmer weather the Crown Range mountains turn beautiful shades of green, amber and gold. The steep winding road carries on for just under an hour, and with its low centre of gravity and impeccable handling abilities, the wet driving conditions didn't seem to bother the Rapide in the slightest.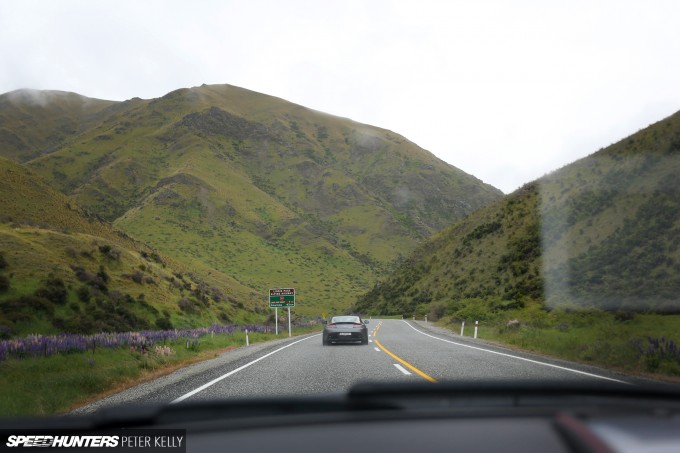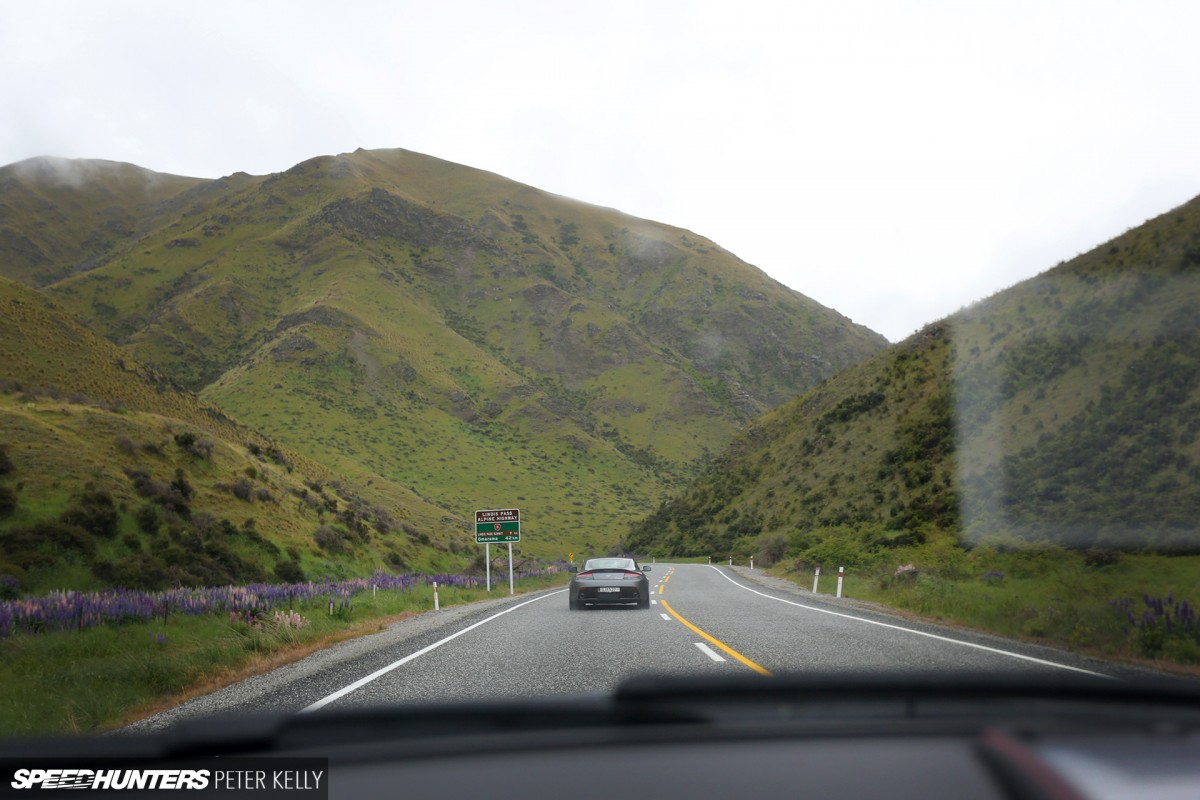 This whole experience has not only helped me gain a new appreciation for how beautiful my home country is, it's completely changed my perception on the luxury marque and has helped me gain a new insight into the life of the average Aston Martin owner.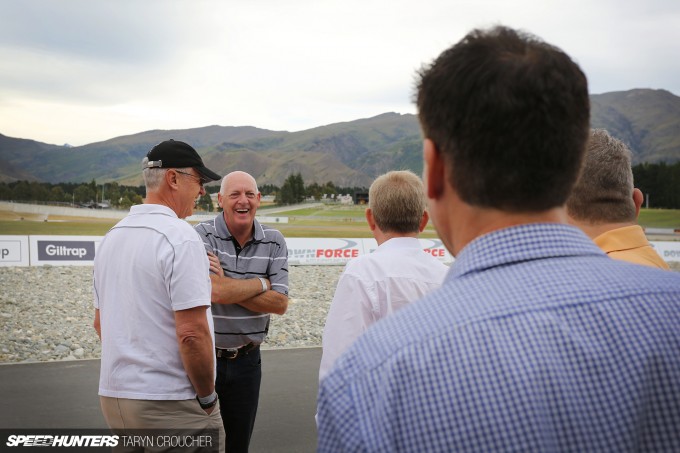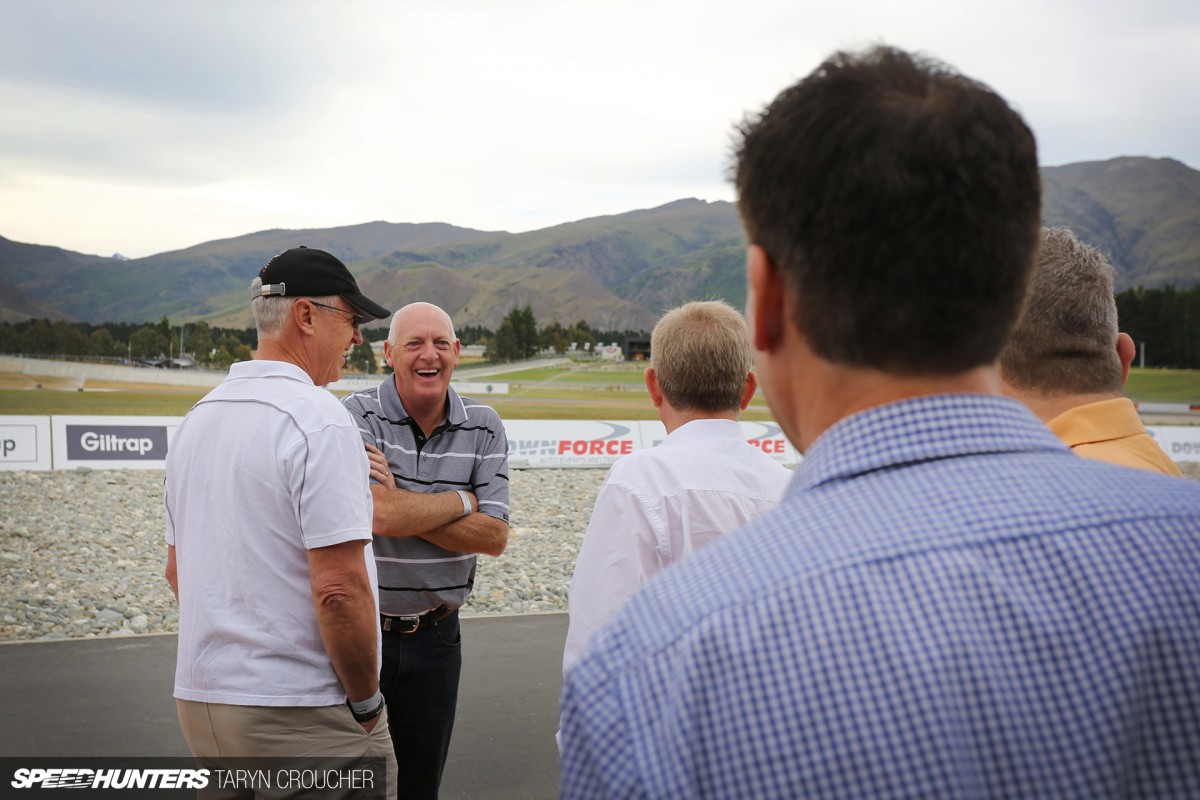 In all honesty, I've never met such a friendly, enthusiastic and positive group of car enthusiasts, and I have to say that the passion they share for Aston Martin as a brand is arguably unrivalled in comparison to any other group of automotive devotees.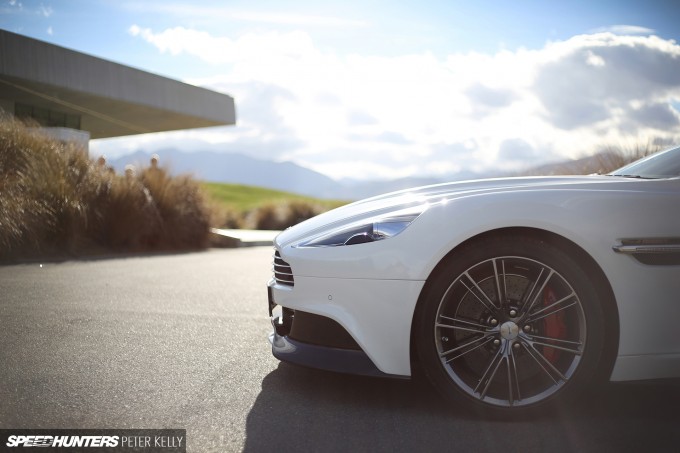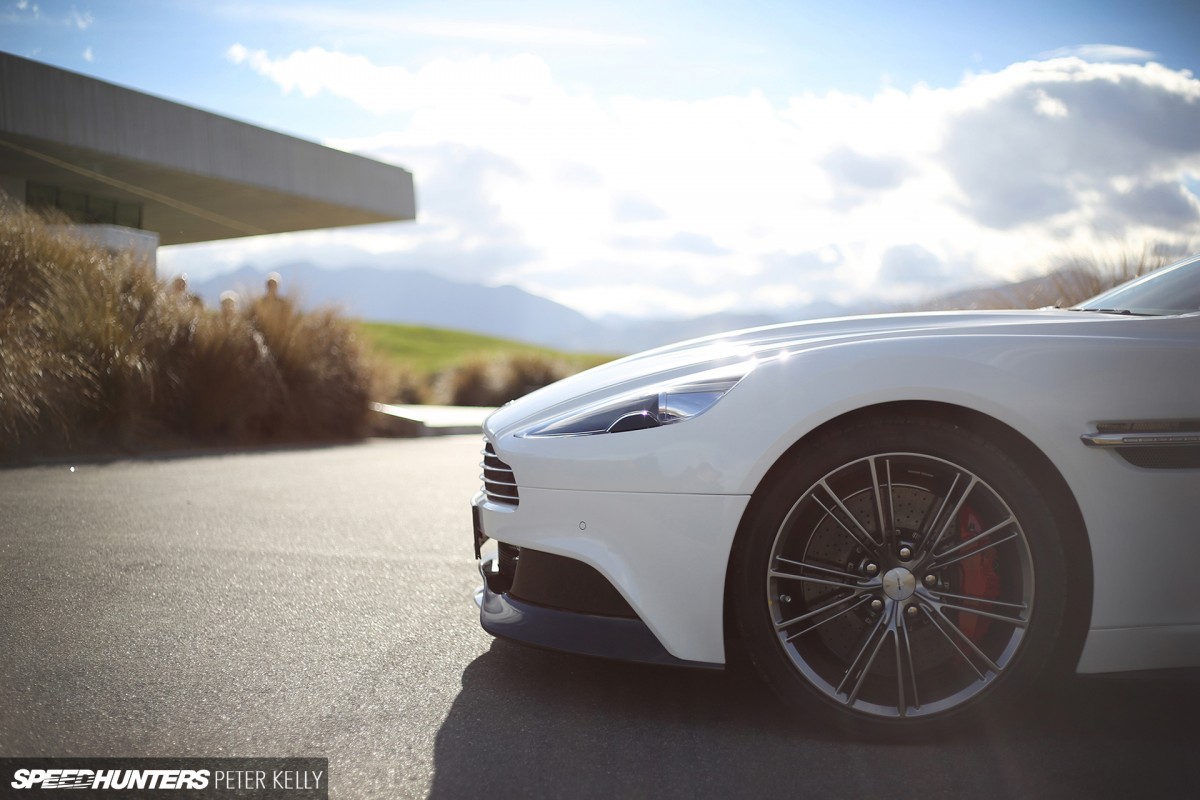 The true meaning of power, beauty and soul lies not only within these machines, it lies within the spirit of the people – the people who hand-make them, the people who drive them, and all the people throughout the world who share a love for them.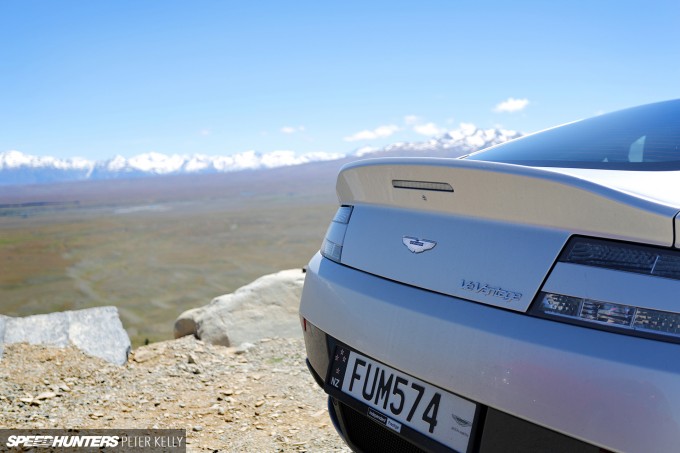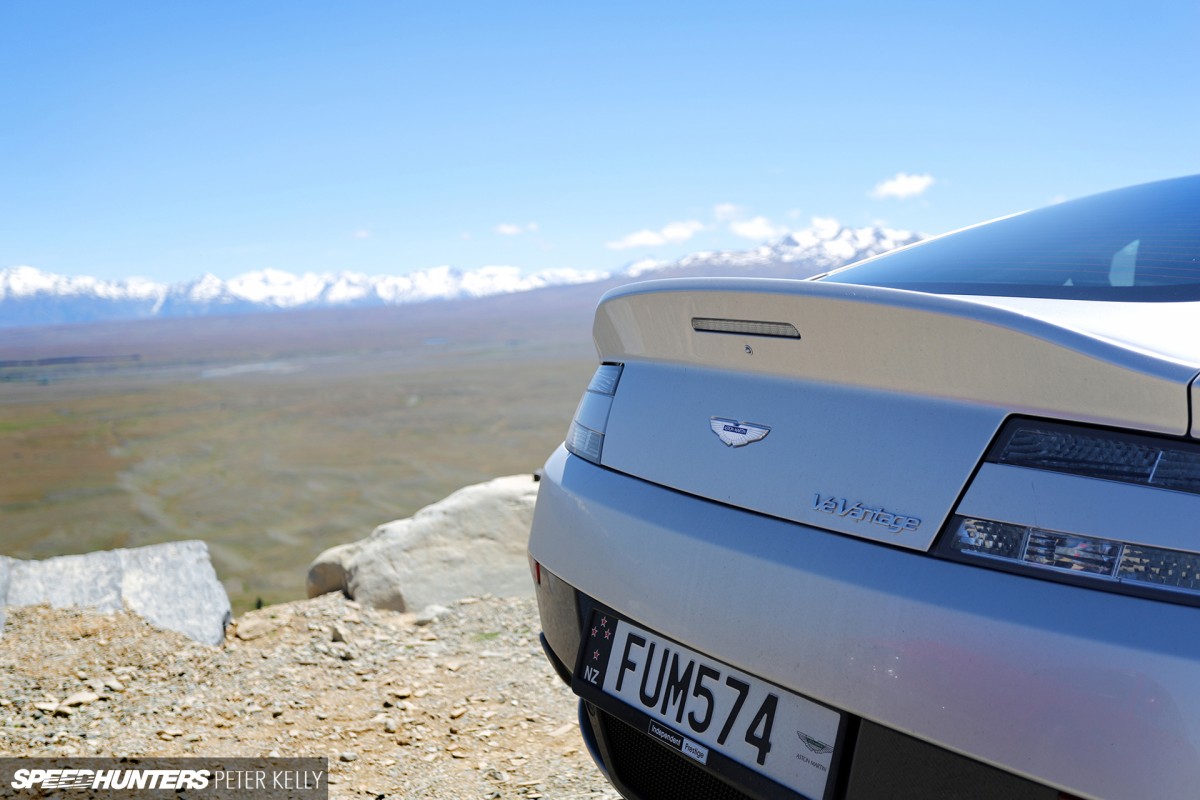 Although I haven't been around on this earth for nearly that long, being able to celebrate the 100th anniversary of a brand that I have become so passionate about and being able to play a key role in organising the celebration itself has been a journey of excitement, admiration and honour.
Throughout the last few months of my life, I've worked harder than I ever have before. But I still can't help but feel as if I haven't really been working at all…