The ultimate drift machine
When you've built one of the wildest drift cars on the planet and used it to claim an international championship title, going bigger and better with a new build is never going to be an easy proposition. But that definitely doesn't mean that it can't be achieved, and earlier in the year at one of our favourite events on the Speedhunting calendar, crazed Swedish drift champ Daniel Björk showed us how it's done. And he did it in a Ford Fiesta.
But not any old Ford Fiesta, of course. As I'm sure you've already worked out though, this bespoke creation is about as far removed from a grocery-getter as you could possibly get, yet in true Scandinavian fashion it still manages to throw up a few surprises. Despite what you might think, this isn't an ex-M-Sport WRC machine, nor a Global Rallycross cast-off…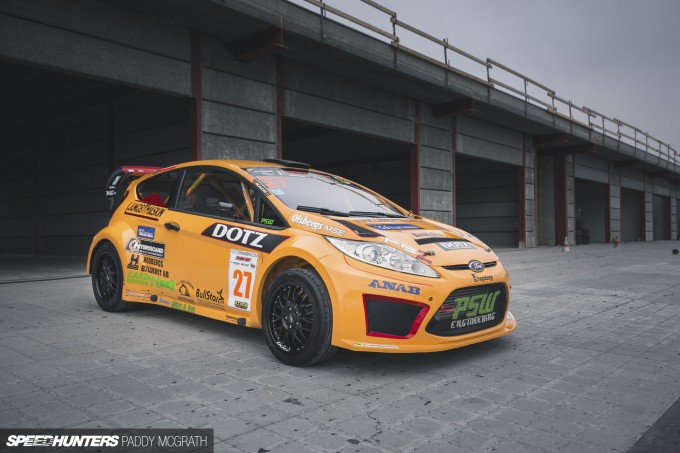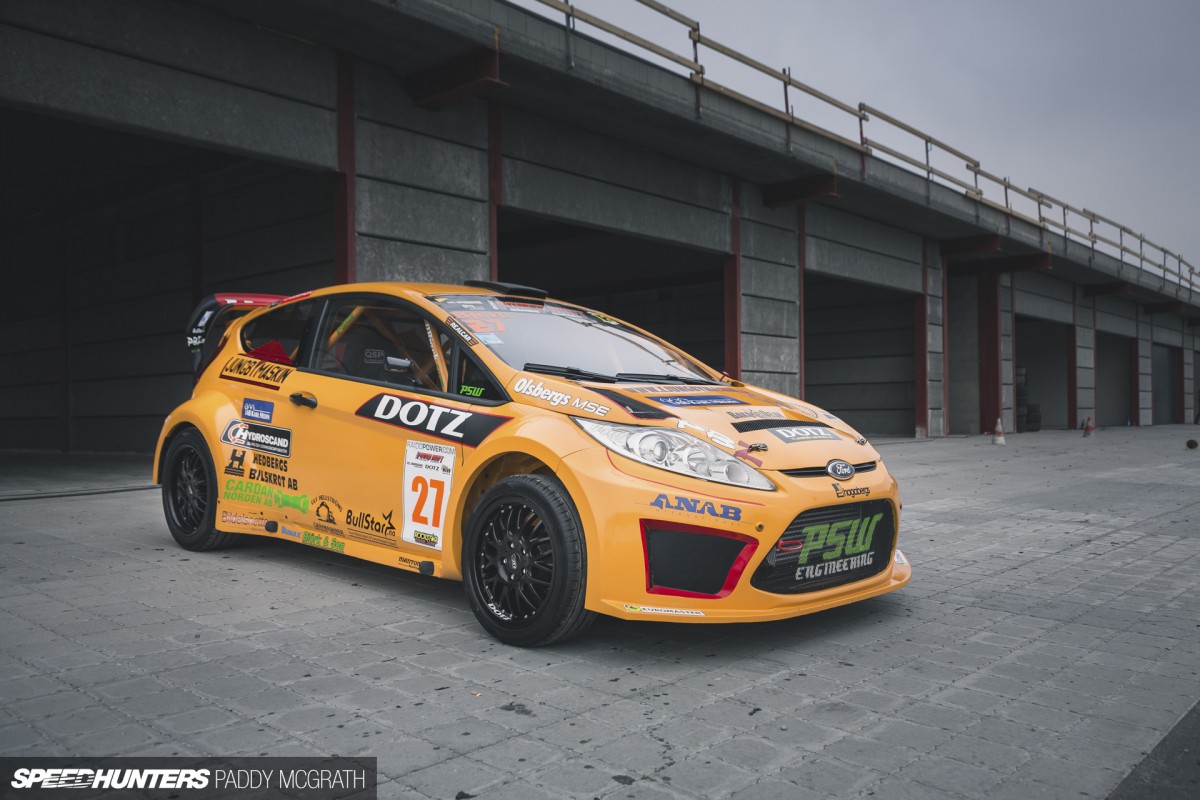 … but a 100 percent purpose-built tyre destroyer out of the depths of  Swedish performance fabrication workshop, PSW Engineering. And it's very cool.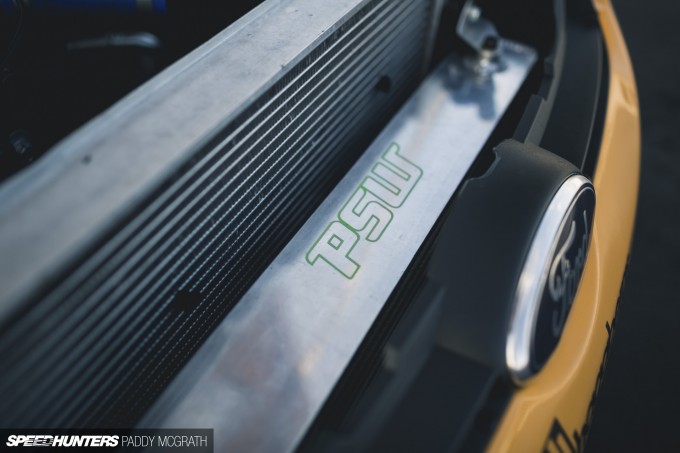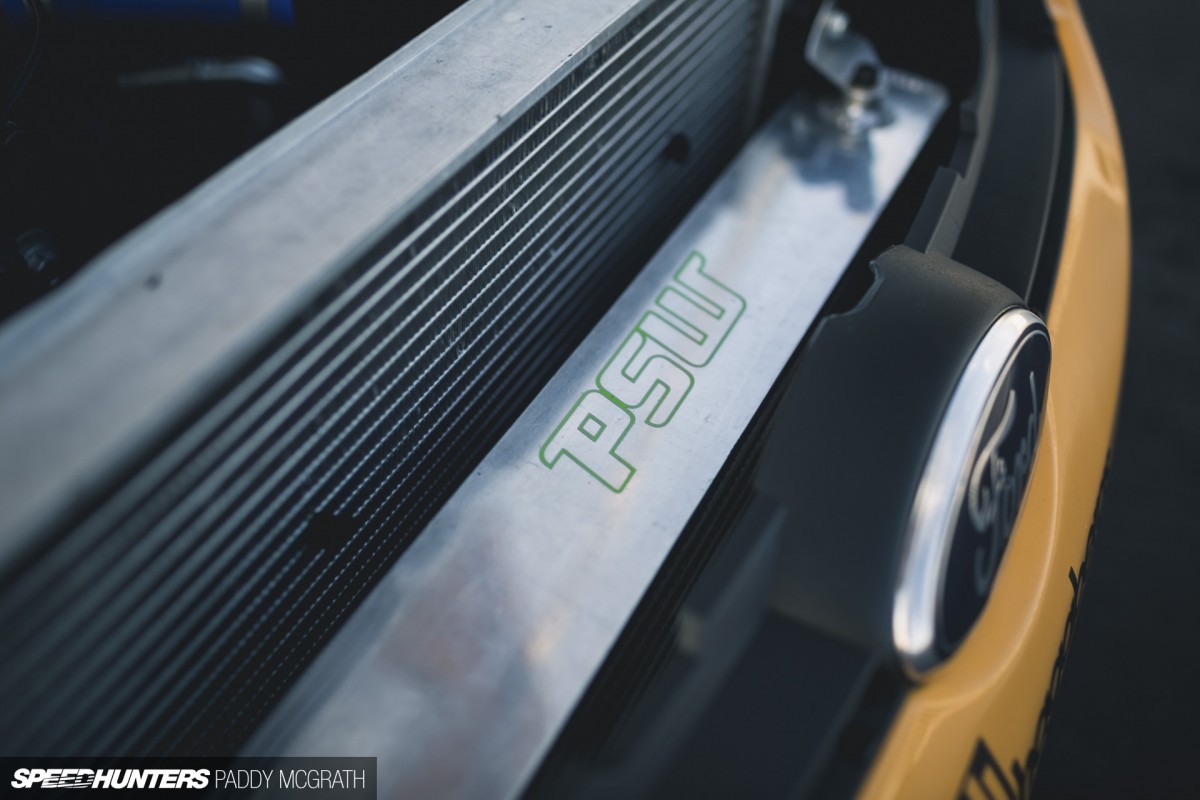 If you're a Speedhunters regular or a Scandinavian slide junkie, you're probably already familar with the last car that Daniel and PSW's Peter Steinwandt dreamt up together. 'PSW001′ as it was designated, married a Volkswagen Golf R32 hatchback with a hard-tuned, naturally aspirated Chevrolet LS1 engine, and together with Daniel in the driver's seat the duo took out the hotly-constested 2012 NEZ (North European Zone ) Drift Championship.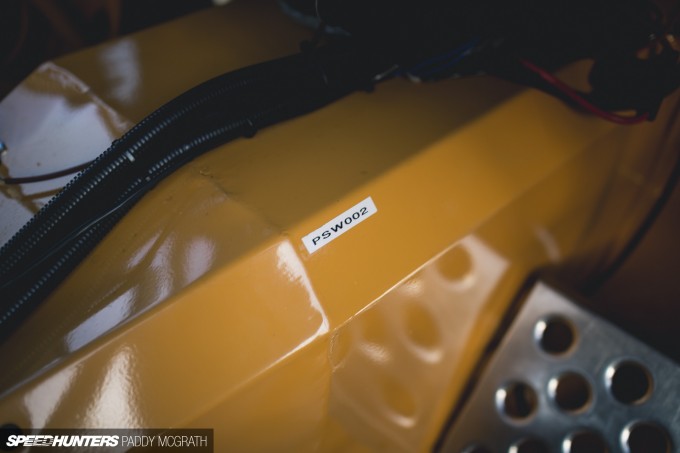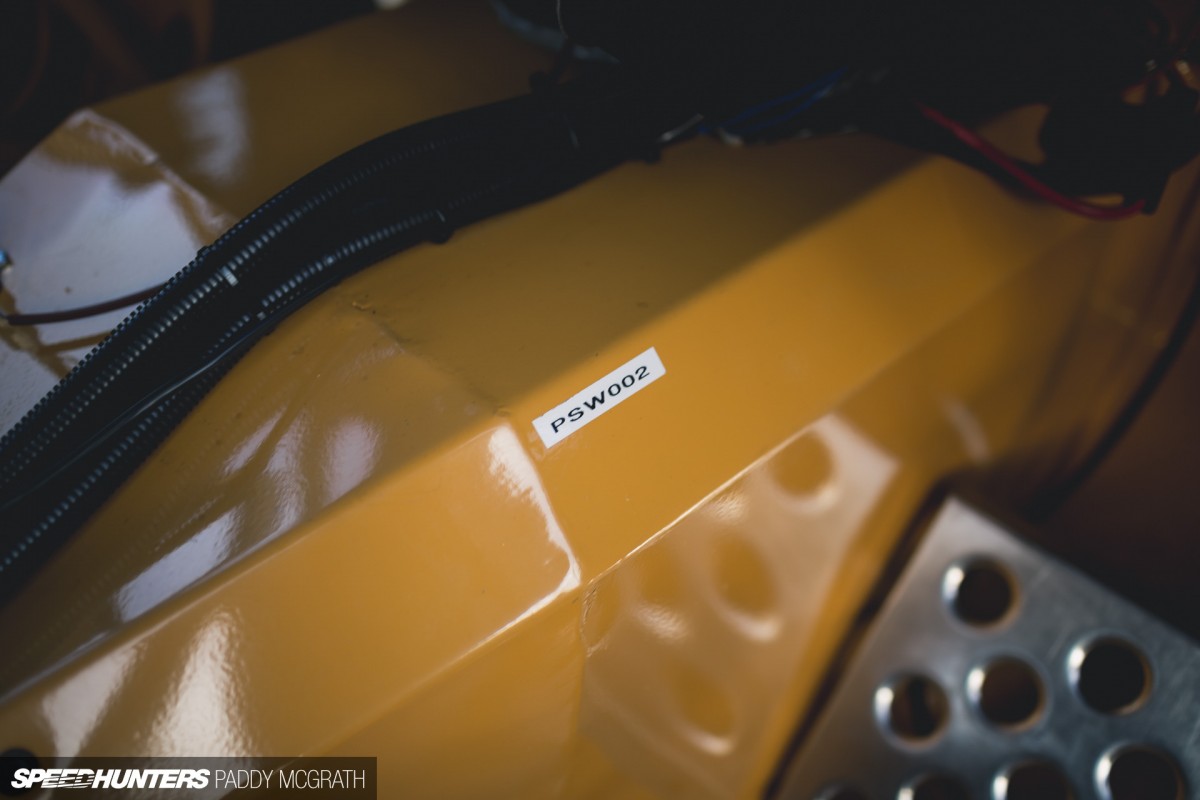 At the end of the season the Golf was put up for sale, and quickly snaffled by Björn Forsman Roos at Dala Performance who built on the proven package with two turbos and 1056hp. Meanwhile, back at PSW Engineering, work had already begun on its replacement: PSW002.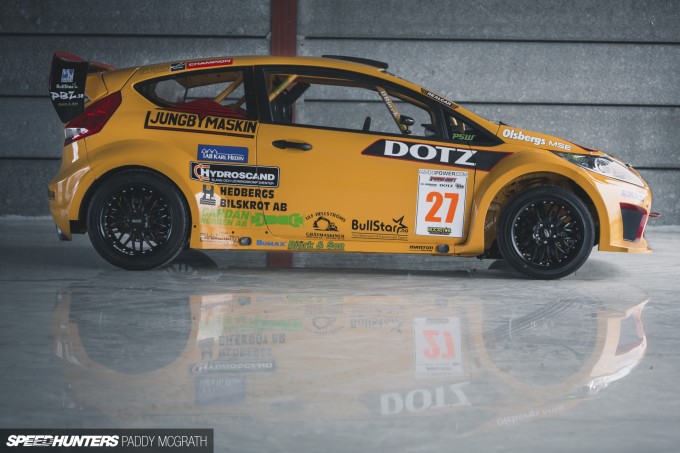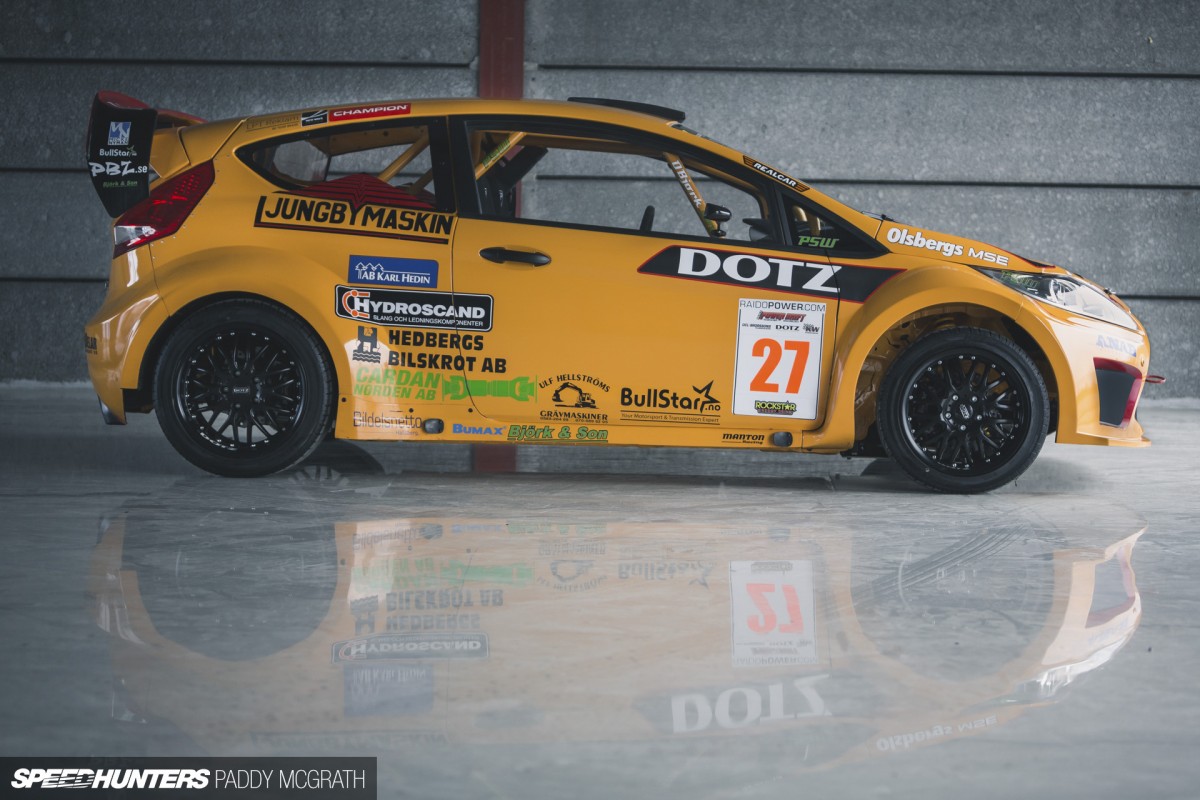 One of the defining aspects of the Fiesta is the fact that it hasn't been engineered around a production road car, but rather a pukka 2013 Ford Motorsport chassis that Daniel was able to source through his employer, Olsbergs MSE. Beginning with a brand new, bare steel shell certainly had its benefits, and straight away set the tone for the extensive build.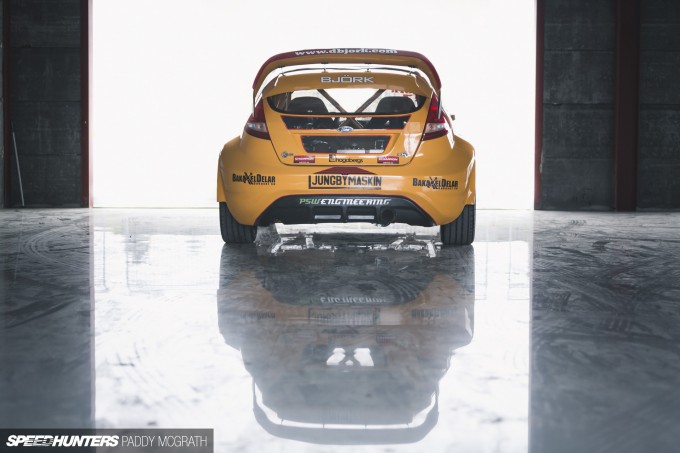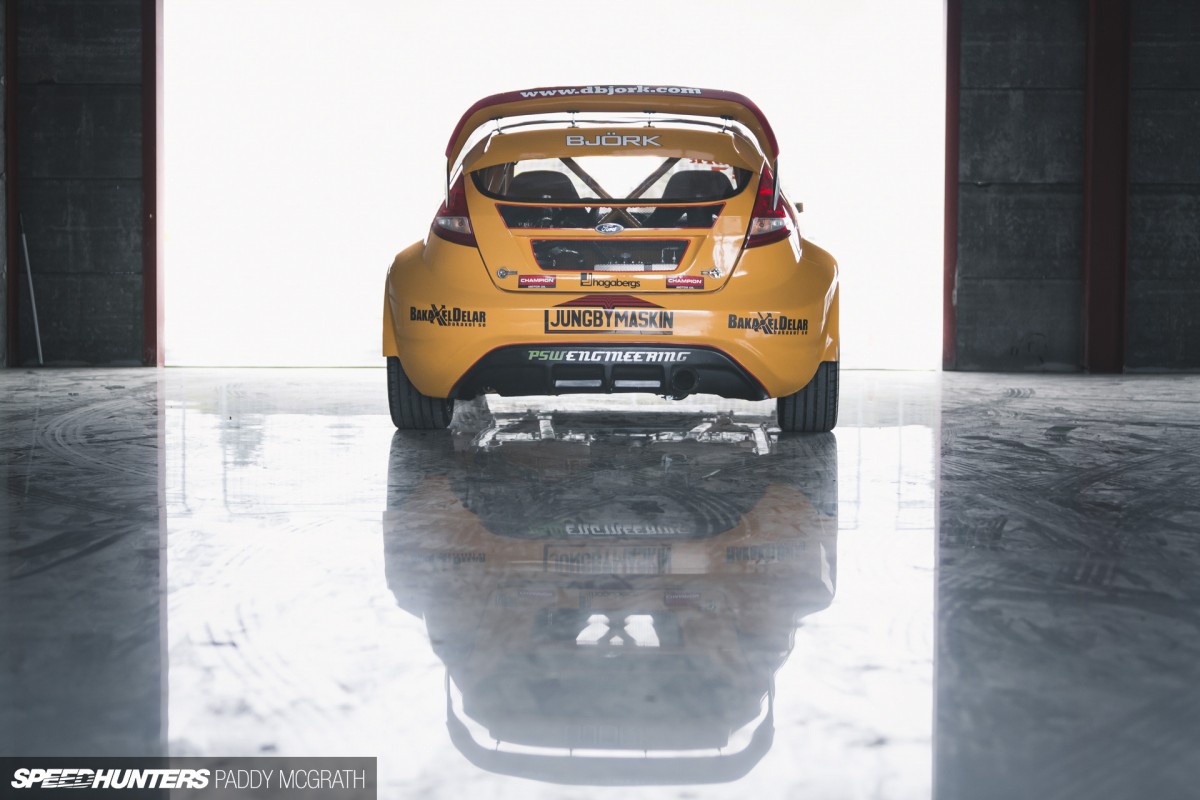 On the back of the Olsbergs connection, Daniel didn't need to look far when it came to giving the Ford its purposeful exterior appearance either. If you follow GRC you might already recognise the FRP styling; the Olsbergs kit adding wide bumpers and front guards, a vented bonnet, plus side skirts, full-arch pumped rear panels, and a vented rear hatch capped off by a huge WRC-spec rear wing.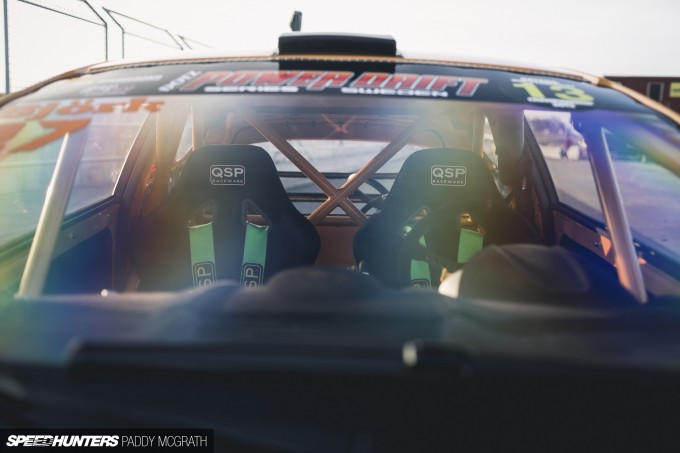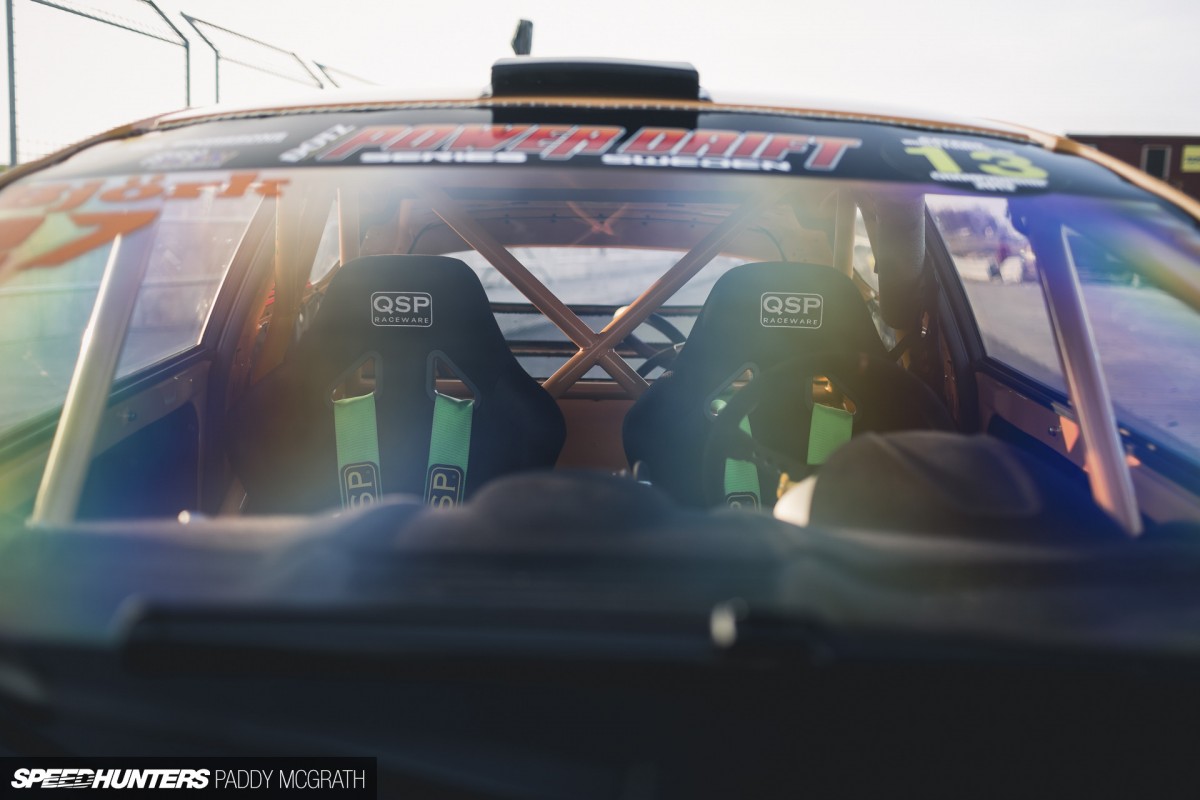 An aggressive outward appearance is one thing of course, but you don't need to look much further to understand just how amazing this car really is.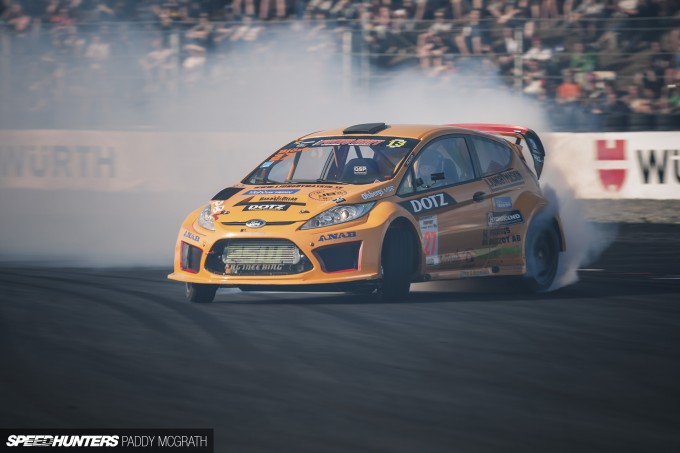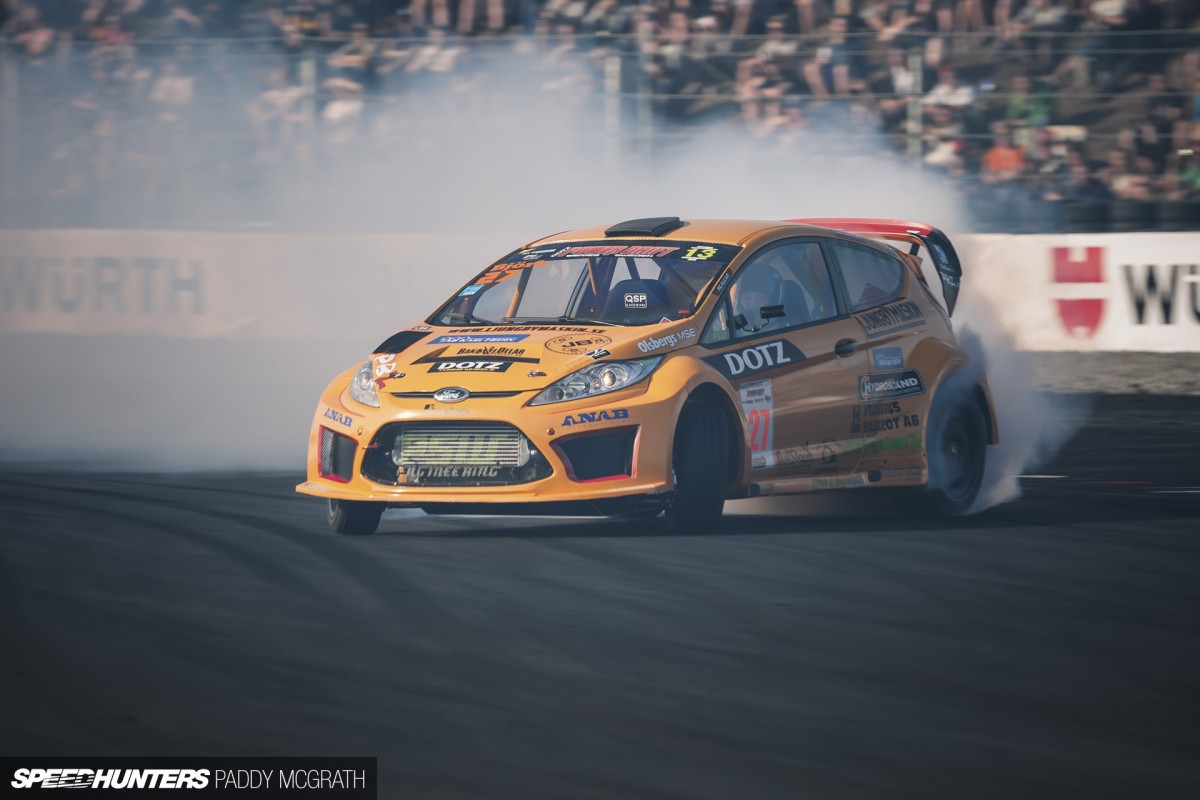 Using lessons learnt developing the Golf into the championship-winning machine it became, every mechanical facet of the Fiesta has been selected and integrated into the mix with the end purpose in mind – from the engine and driveline, through to the suspension and braking system.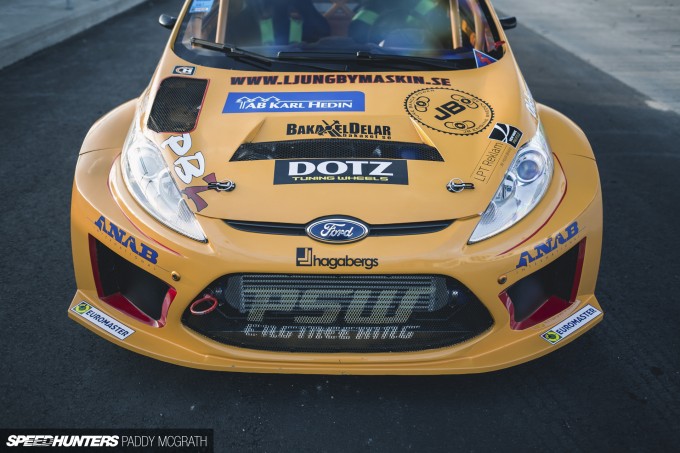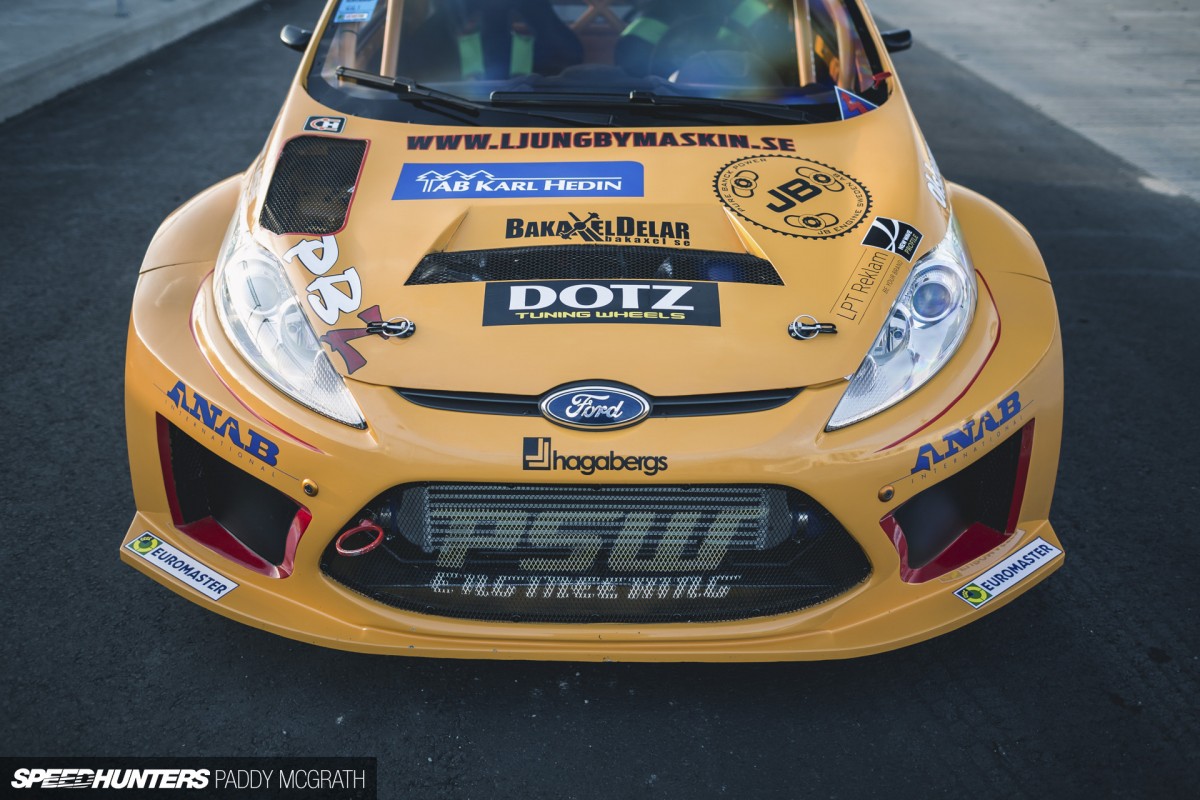 That said, not everything on the original build list ended up in the finished car – Ford V8 engine included…
Built to slide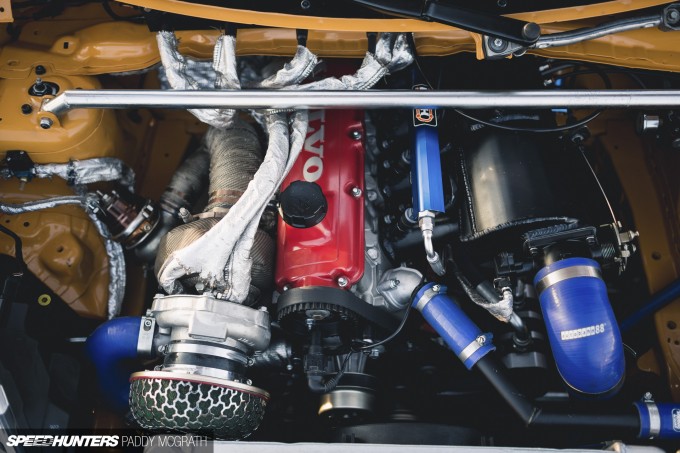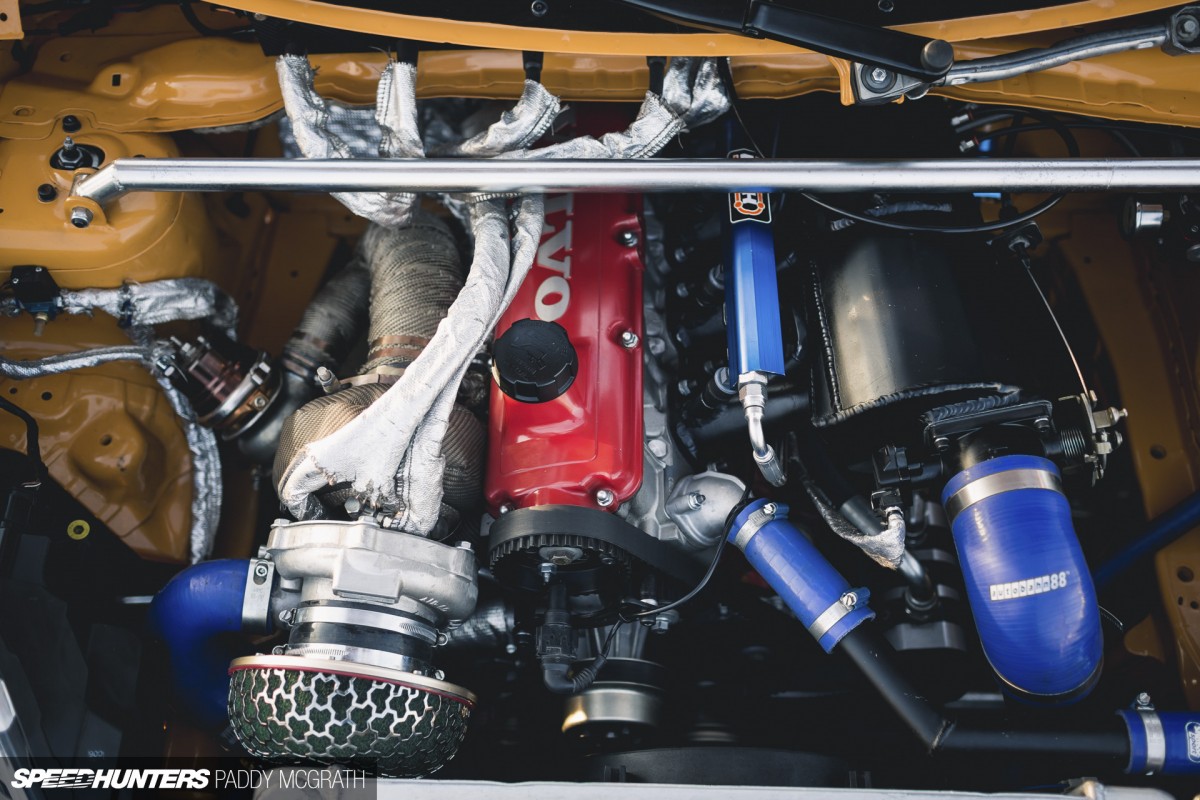 While the idea of a thumping, high-comp naturally aspirated 90-degree eight sounds rather nice, a timing and logistics issue ultimately quelled the idea early on, prompting Daniel and Peter to go with plan B and continue the build while bearing a Volvo B230 in mind. On the surface that might seem a little odd, but there's a very good reason why this particular 2.3-litre four-pot find its way into so many Swedish builds, and in this instance it's been given the full treatment courtesy of race motor specialist JB Engine.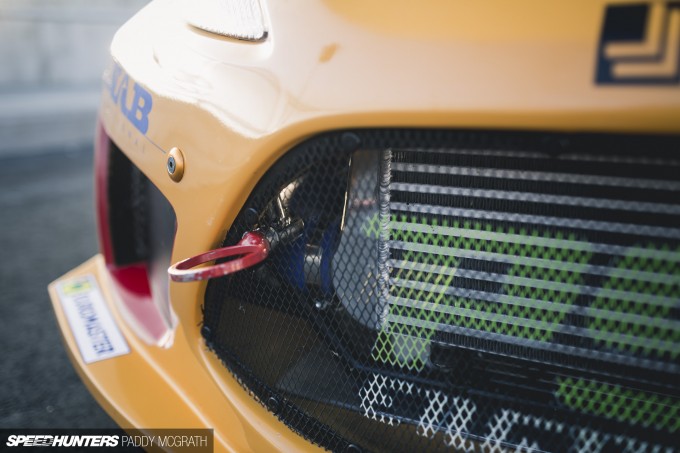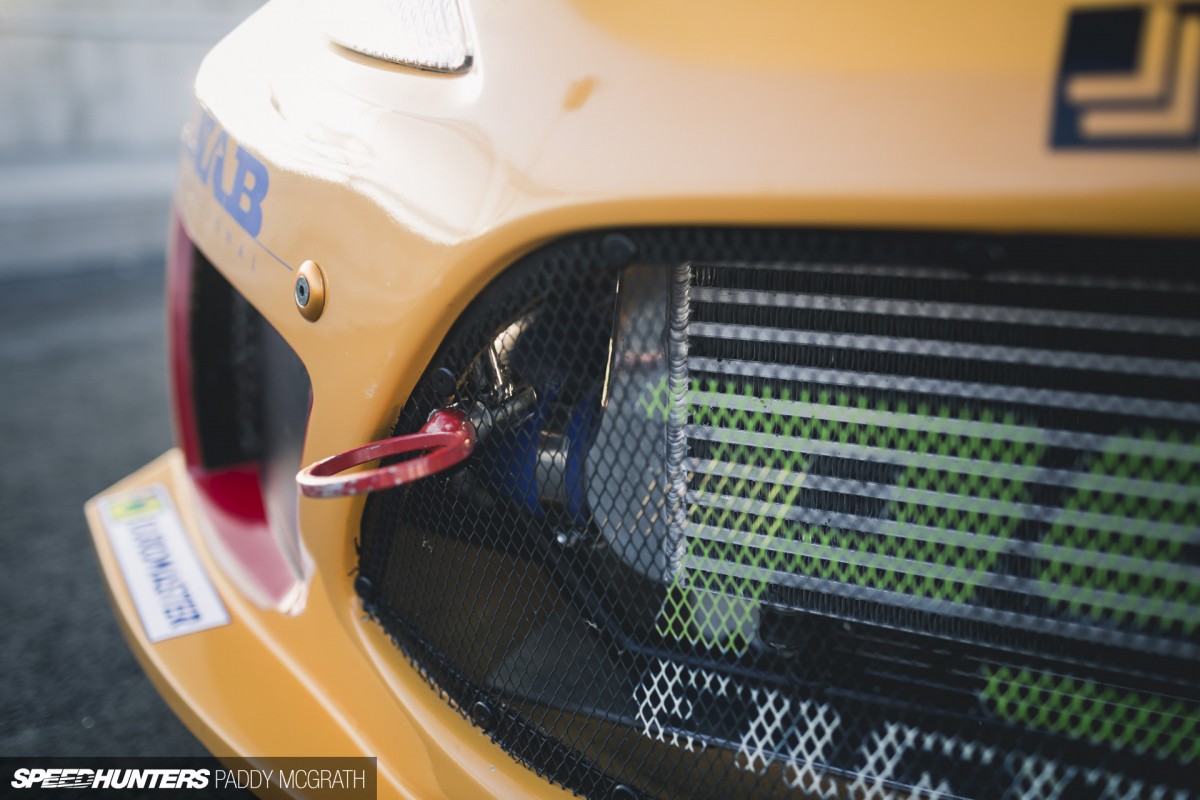 That includes forged internal organs and a flowed SOHC 8-valve cylinder head of course, but the real power-maker is the chilled air and fuel mixture that's force fed into the engine.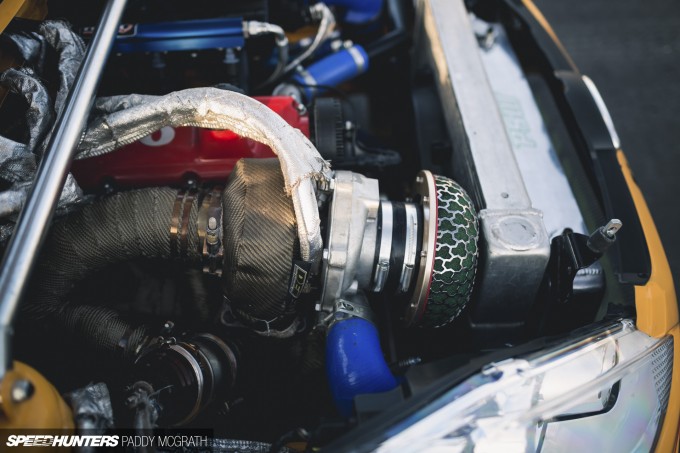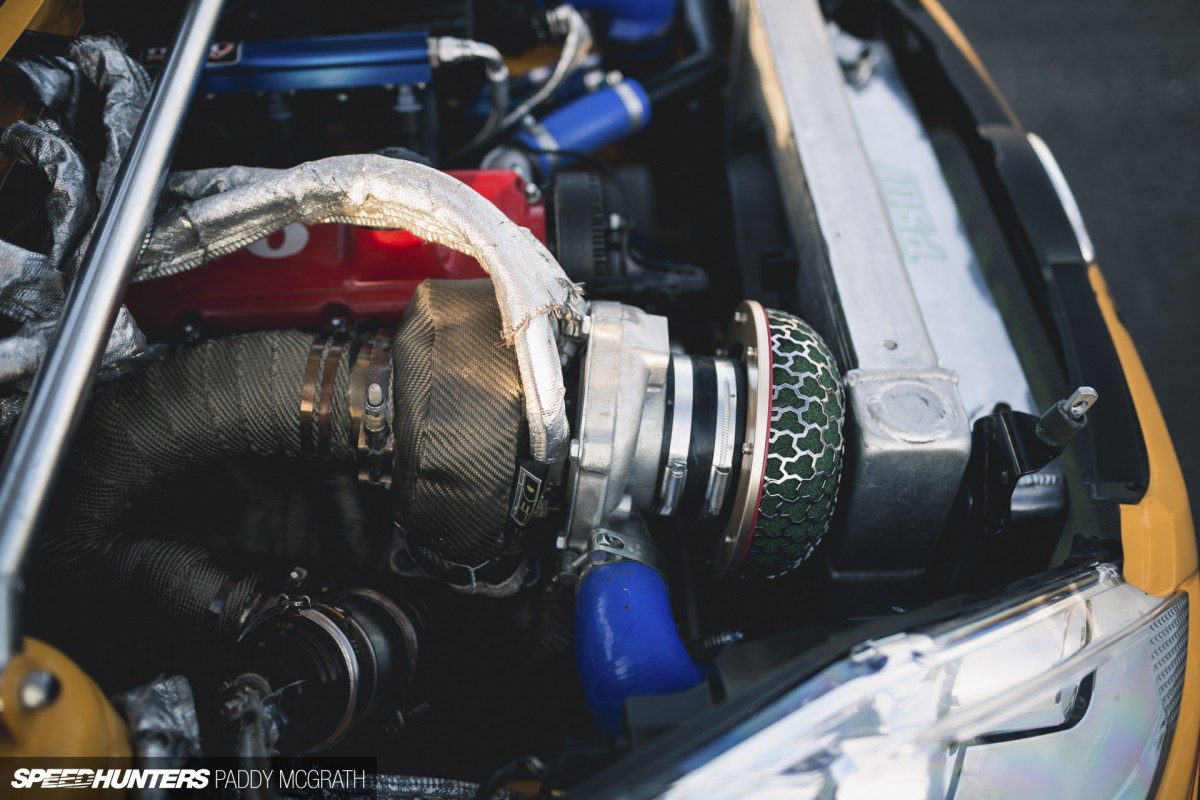 The turbo set-up uses a Garrett GTX3071R on a PSW Engineering tubular exhaust manifold, with a Dynotech 60mm wastegate employed for boost controller. Peter also fabricated the entire exhaust system from the turbine housing back, along with the aluminium pipes that plumb in the large, front-mounted Realcar intercooler.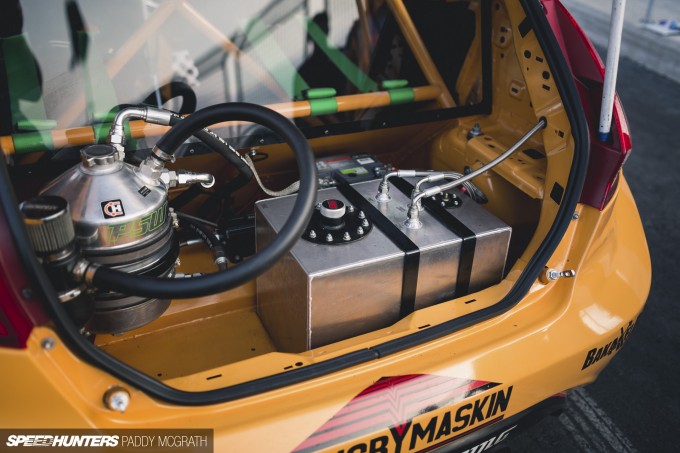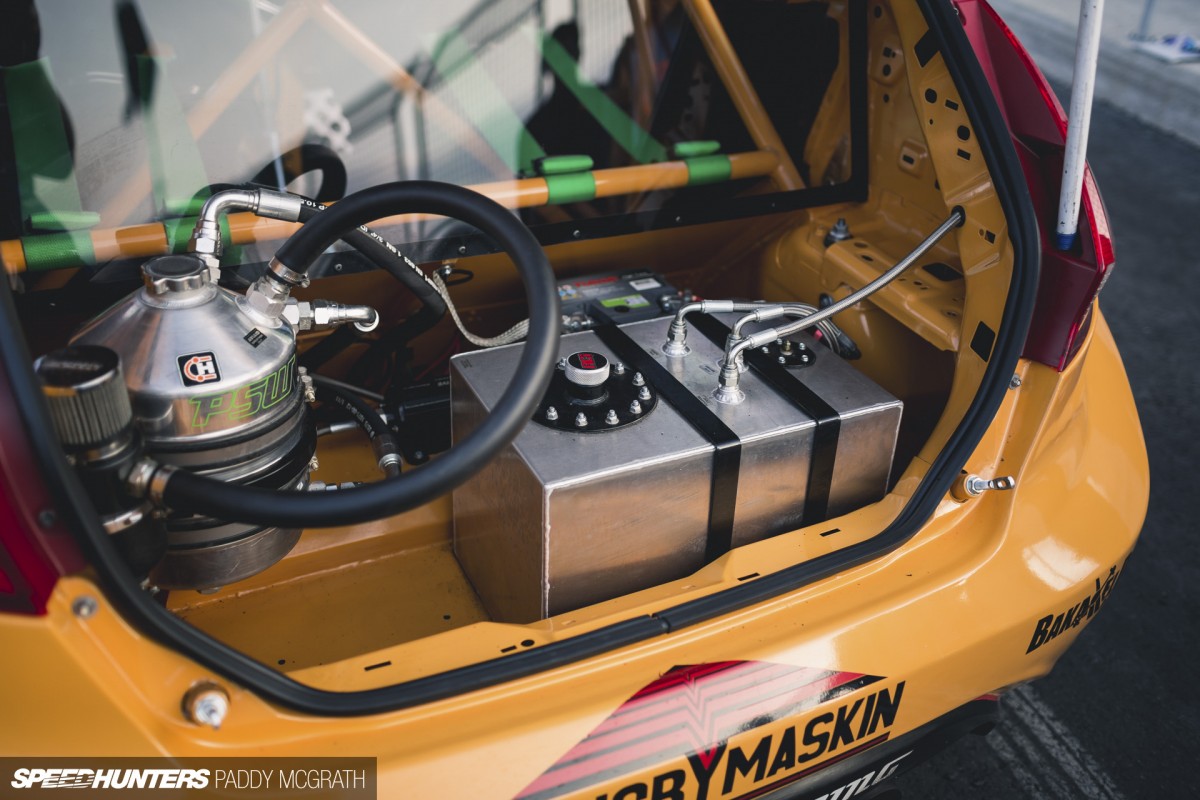 The boot fit-out follows a very similar recipe to that used in the Golf, with an RCi aluminium fuel cell and an Aviaid tank that forms part of the Motordesign dry sump system. As you can see from this angle, panelling (in this case Lexan) was required to seal off the install from the rest of the cabin.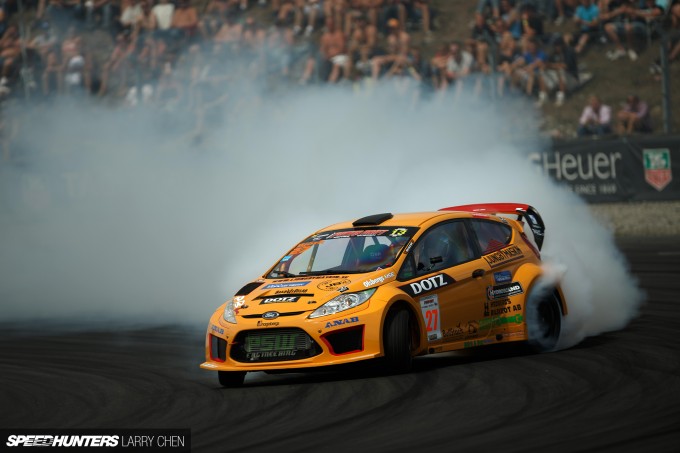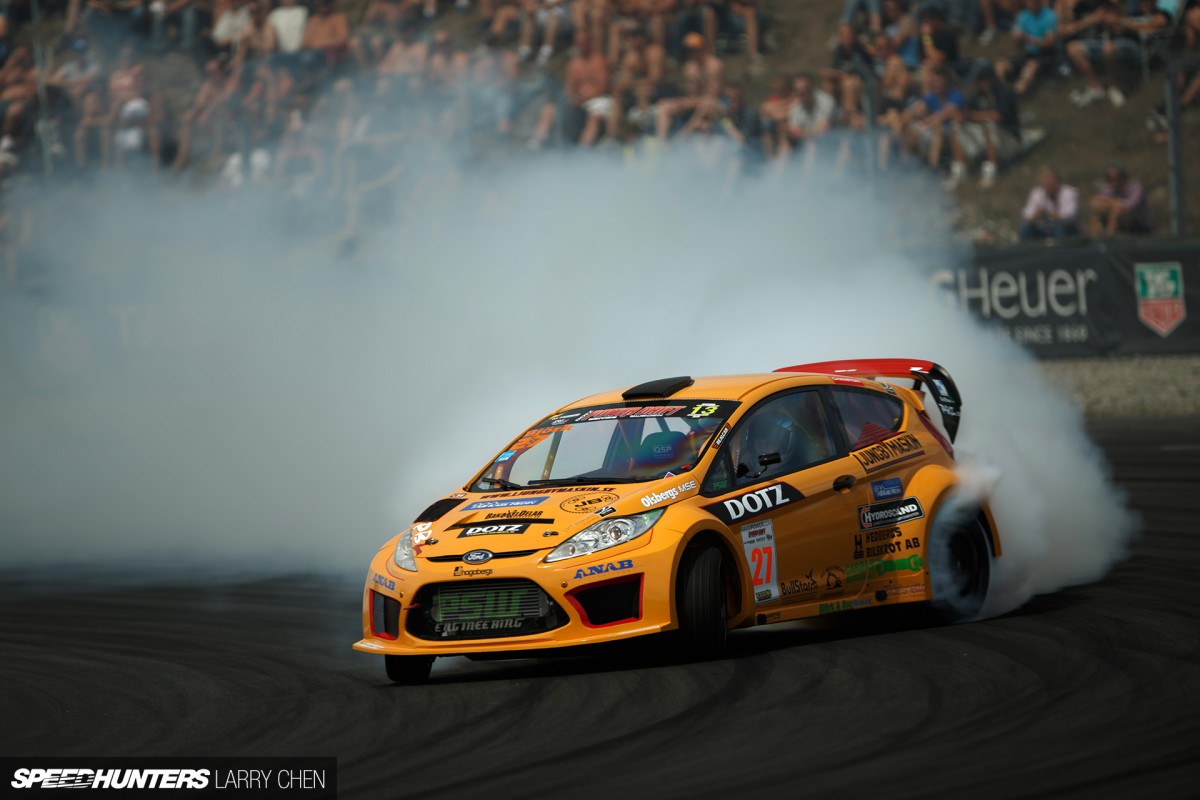 A Haltech Platinum Sport engine management system gives the firing orders, with mapping by Swedish tuner PBZ utilising its in-house Rototest chassis dyno. An even 500hp is the result – a modest number by Gatebil standards perhaps – but this set-up is all about drivability, and with 640Nm of torque available over a wide powerband and only 1150kg to contend with, the Fiesta isn't short on the sort of performance required to turn rubber into plumes of white smoke. It does it reliably too, thanks in part to a NASCAR-spec Mid Valley MVE NC 500 four-speed dogbox sourced out of the USA.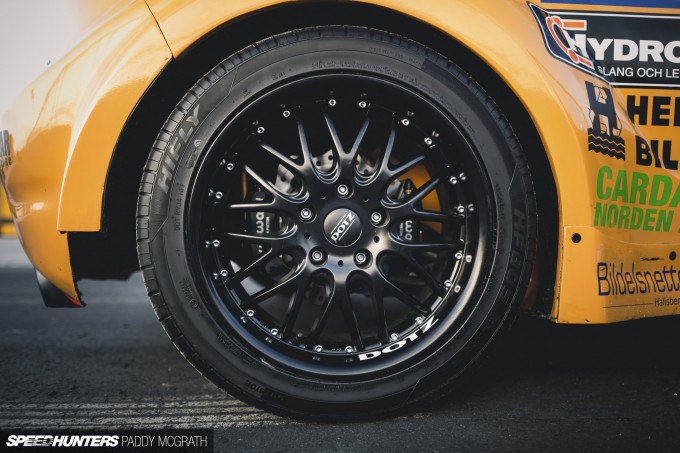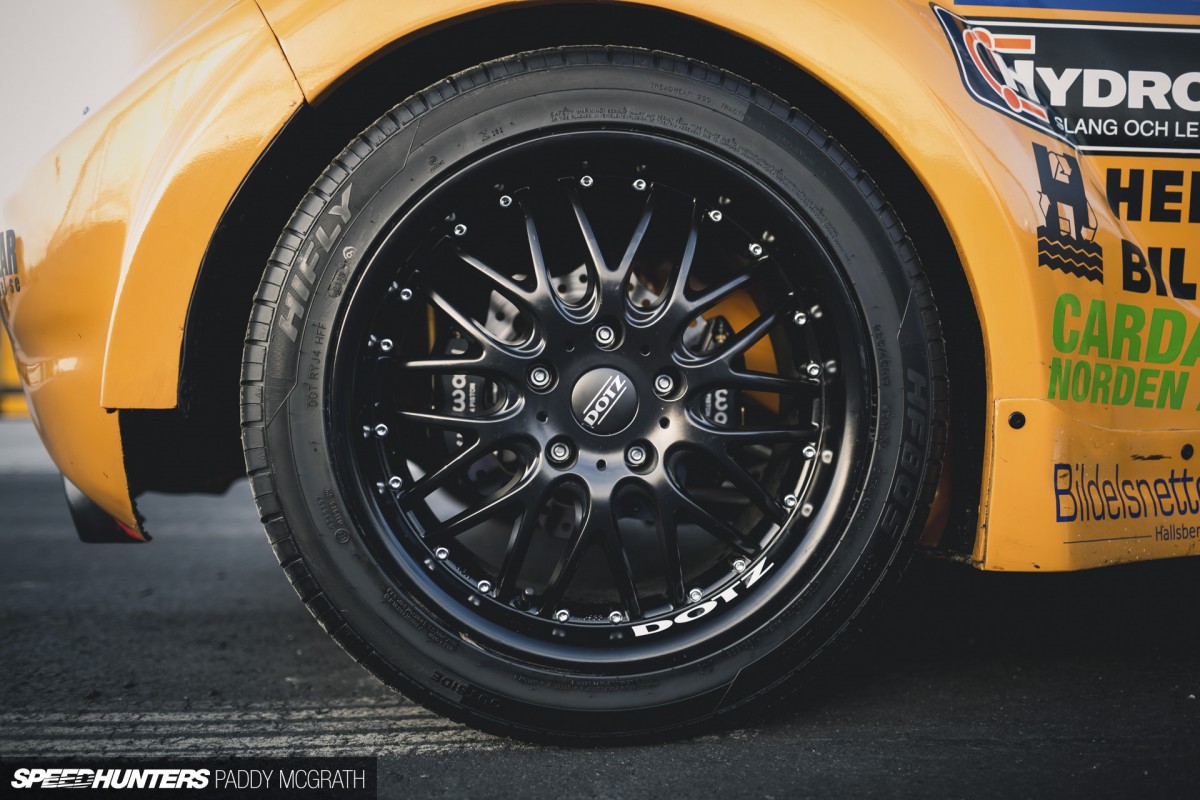 Considering the starting point, there were numerous routes Peter and Daniel could have taken with the rear end, although nothing was going to be a straight fit. Eventually, a solid axle from a Volvo 940 was selected and installed with reasonably straightforward modifications to the mounting points. It's been upgraded of course, with a Torsen diff limited slip differential running a 4.88 final drive, and Yukon 30-spline axles.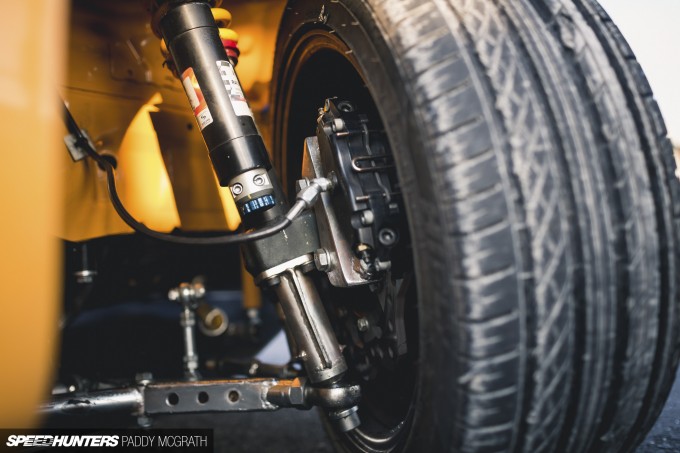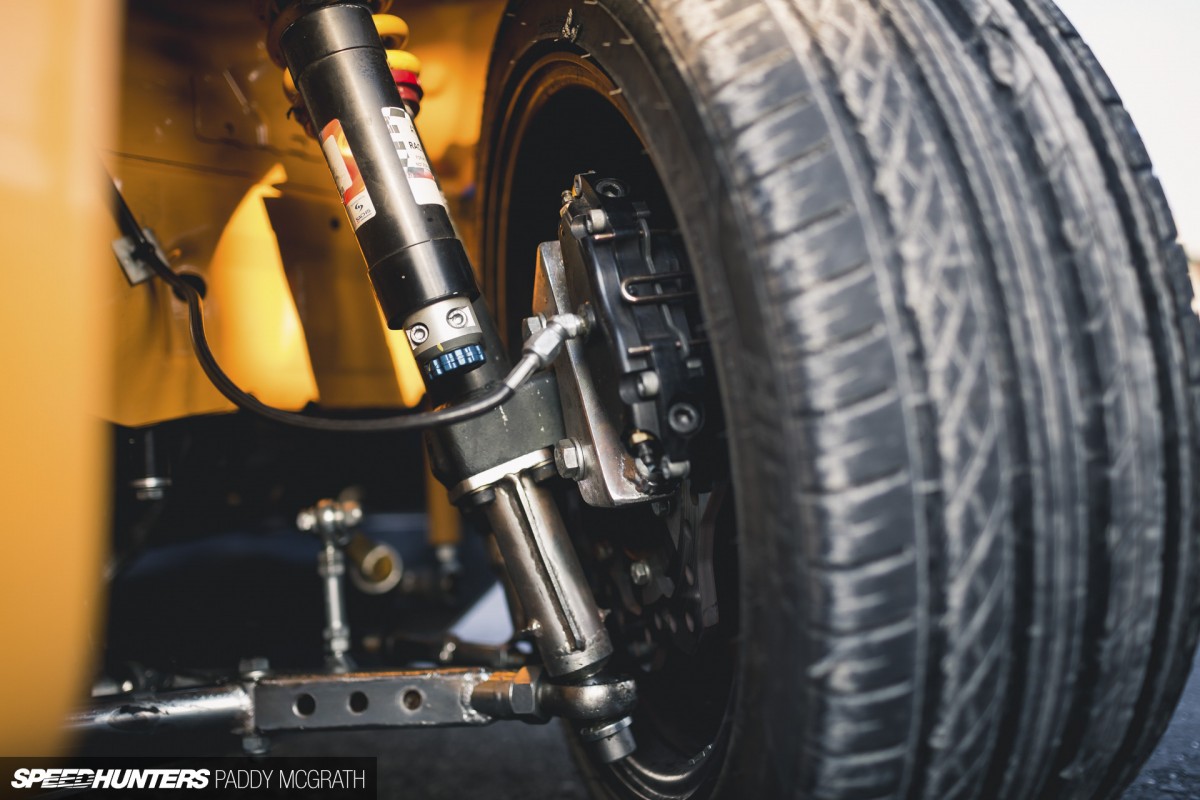 As one of the most critical areas to get right, a lot of time was spent designing, fabricating and setting up the front suspension. Sachs coilover shock absorbers with remote reservoirs and Öhlins springs feature here, and Peter fabricated chromoly arms and adjustable links to suit.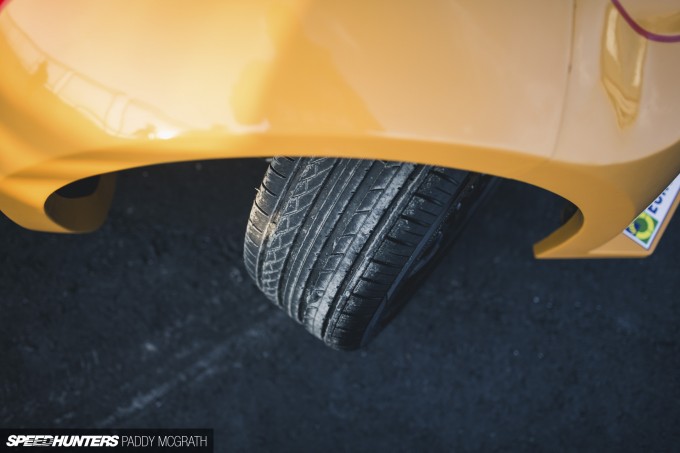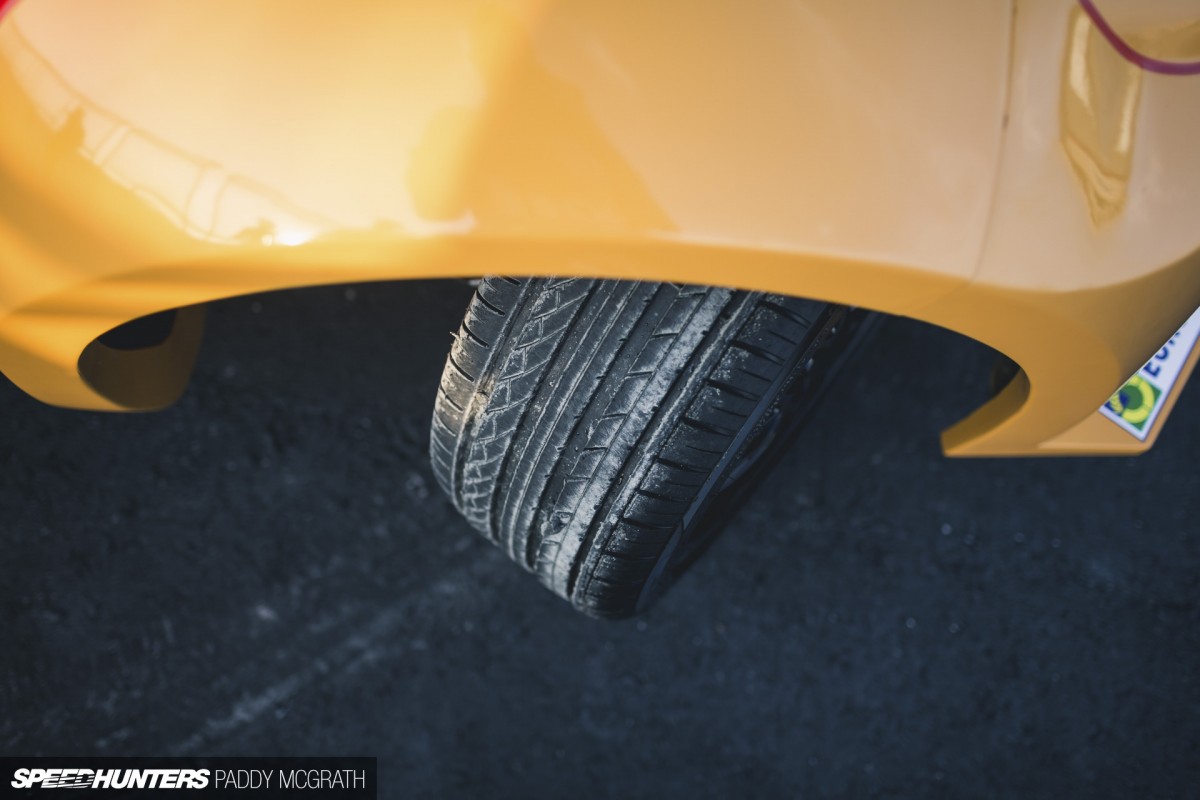 And then there's the steering. For #MaximumAttack, a Volvo 240 rack was fitted and modified to allow 60 degrees of angle at full lock.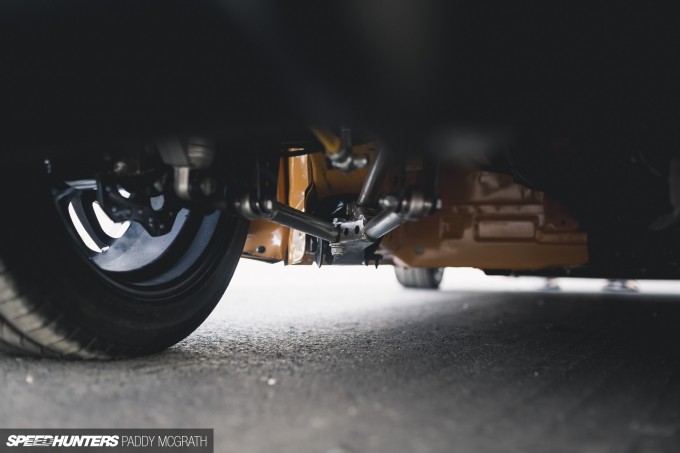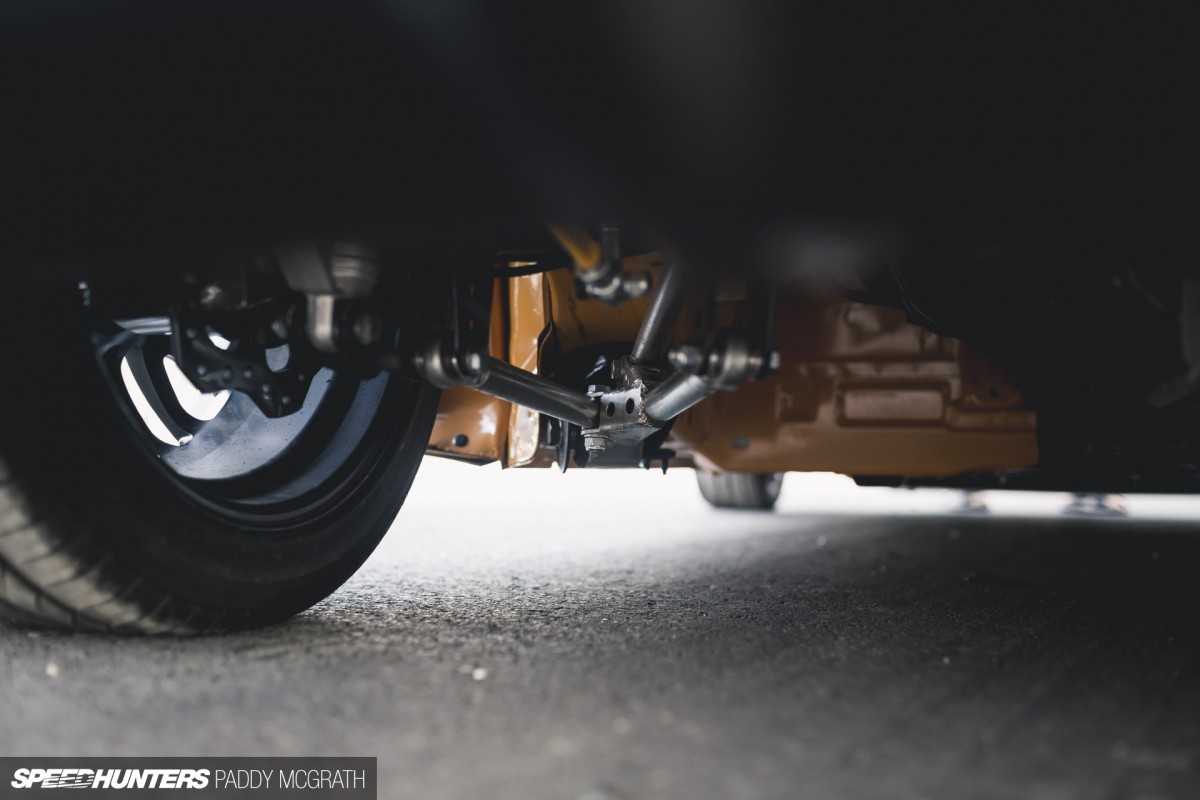 Öhlins coilovers hold up the rear end and looking beneath, there's lots more evidence of Peter's fabrication handiwork too. Sellholm Tuning knife-blade sway bars with end links from the same maker feature front and rear.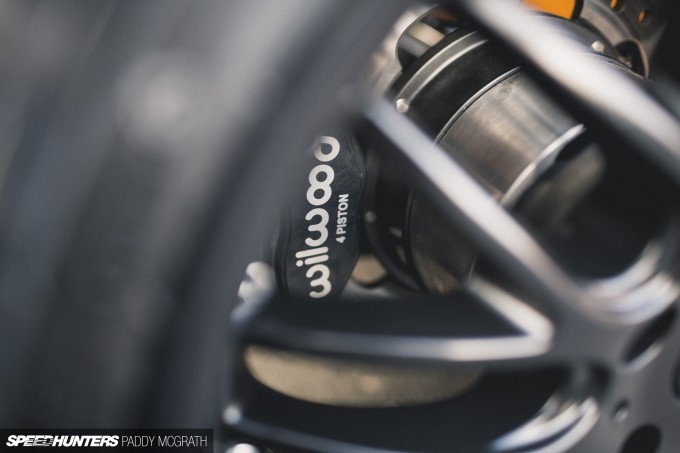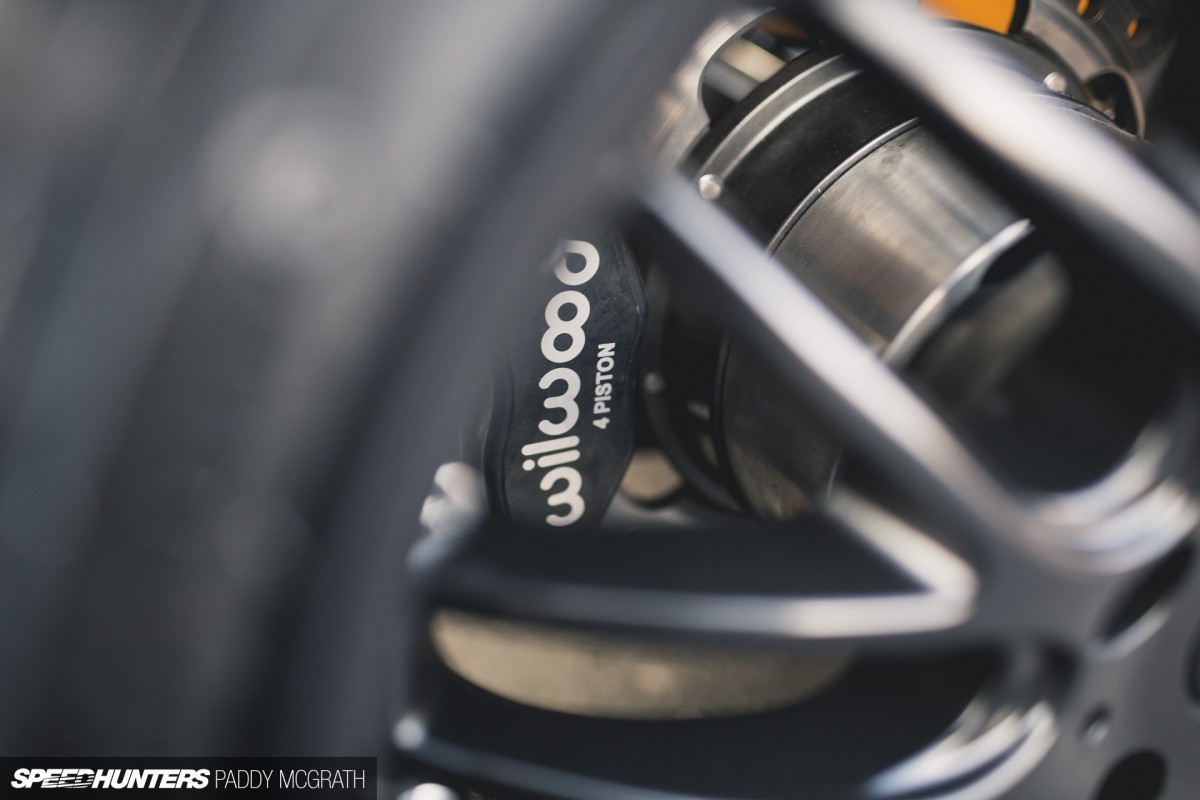 In the brake department, Wilwood components were specified throughout. Over 298mm steel drilled rotors, six Powerlite four-pot calipers with PolyMatrix A pads are used in total – two on the front end, and two each per side at the rear with one pair solely dedicated to the hydraulic e-brake lever. There's another trick too, but more on that in a moment…
Finishing touches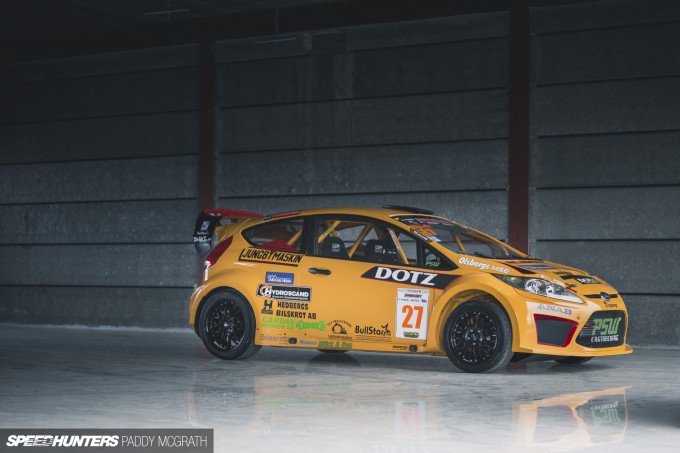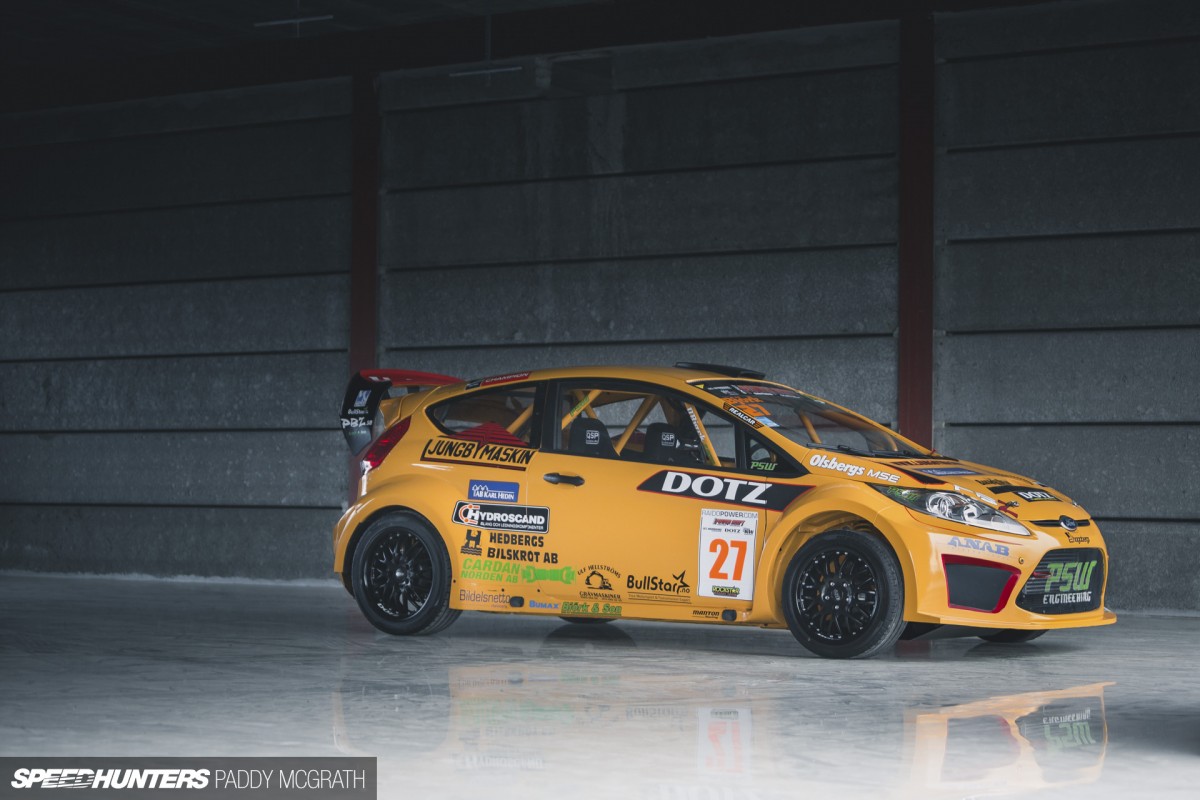 Considering they started with a completely bare shell, and essentially had to custom fit every mechanical component into it, I'm quite amazed the Fiesta came together as quickly as it did.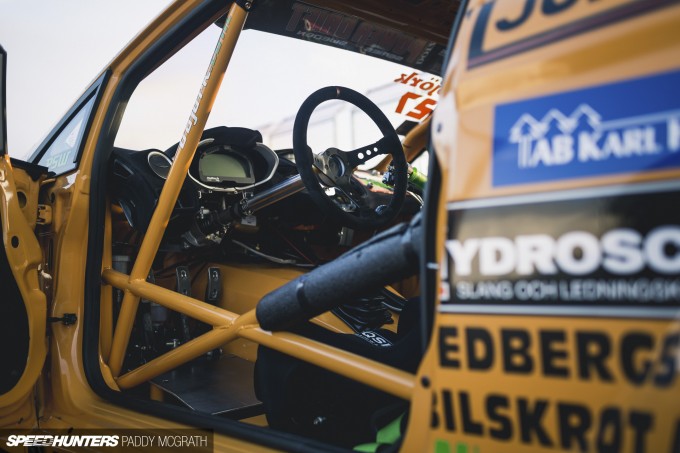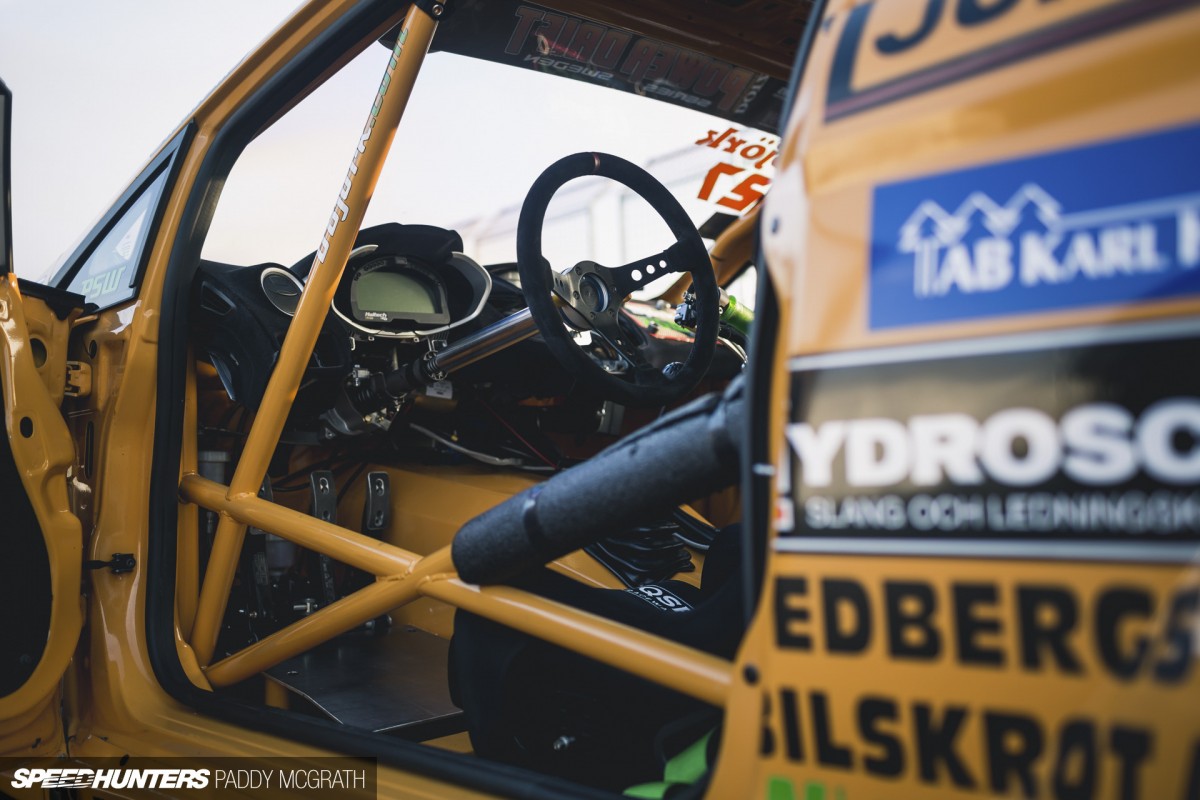 Like the rest of the car, the interior fit-out is clean and functional. From here you can get some sort of idea of the custom metalwork required in creating a tunnel for the longitudinally-mounted transmission.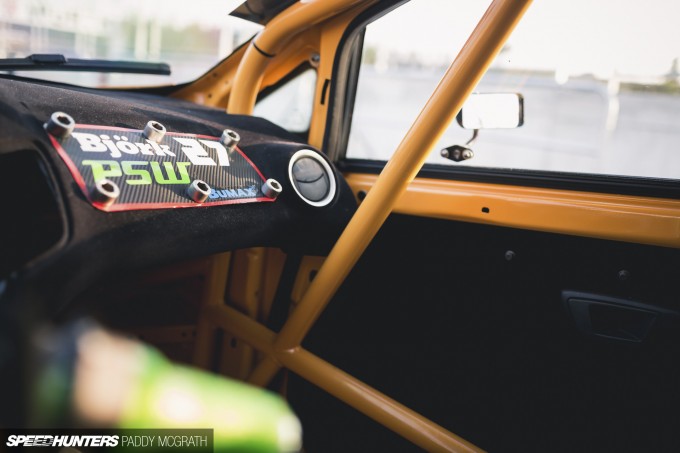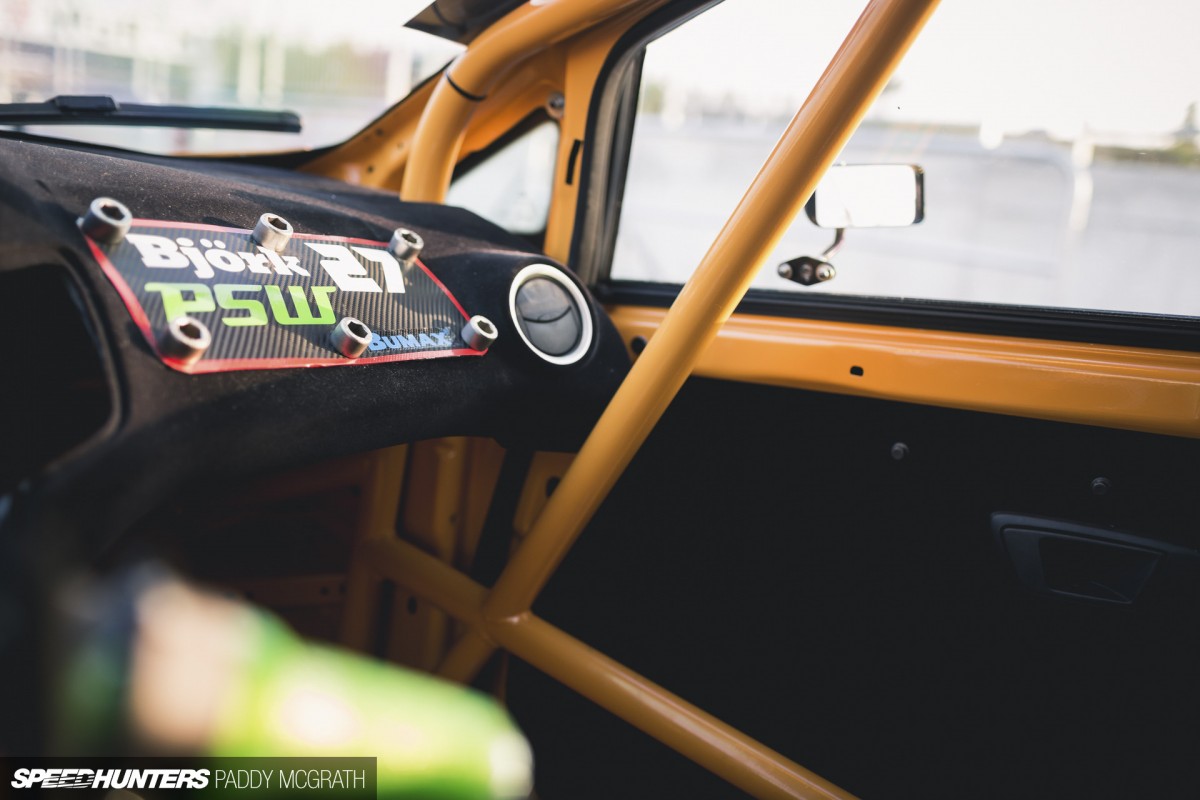 Along with every other fabrication requirement, Peter took care of the extensive multi-point roll cage in-house at PSW using a combination of 40mm and 45mm chromoly tube. In a similar fashion to Olsbergs MSE cars, a Fiesta dash was sourced, stripped and then flocked for reflection-free vision through the front windscreen. Speaking of vision, because of the rearward biased seating position, note the lightweight side mirror hung straight off the Lexan door window.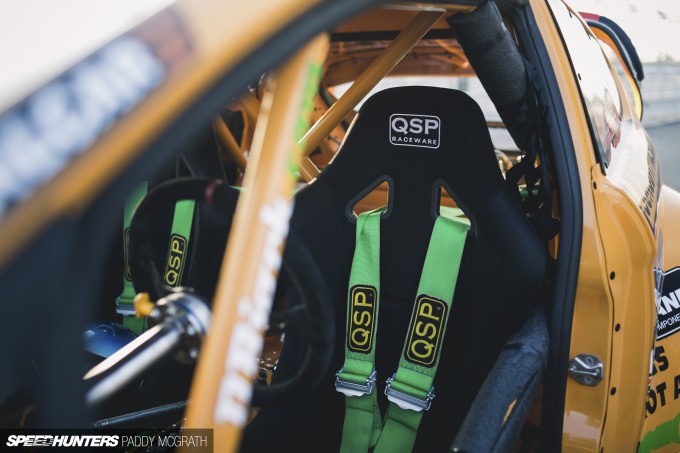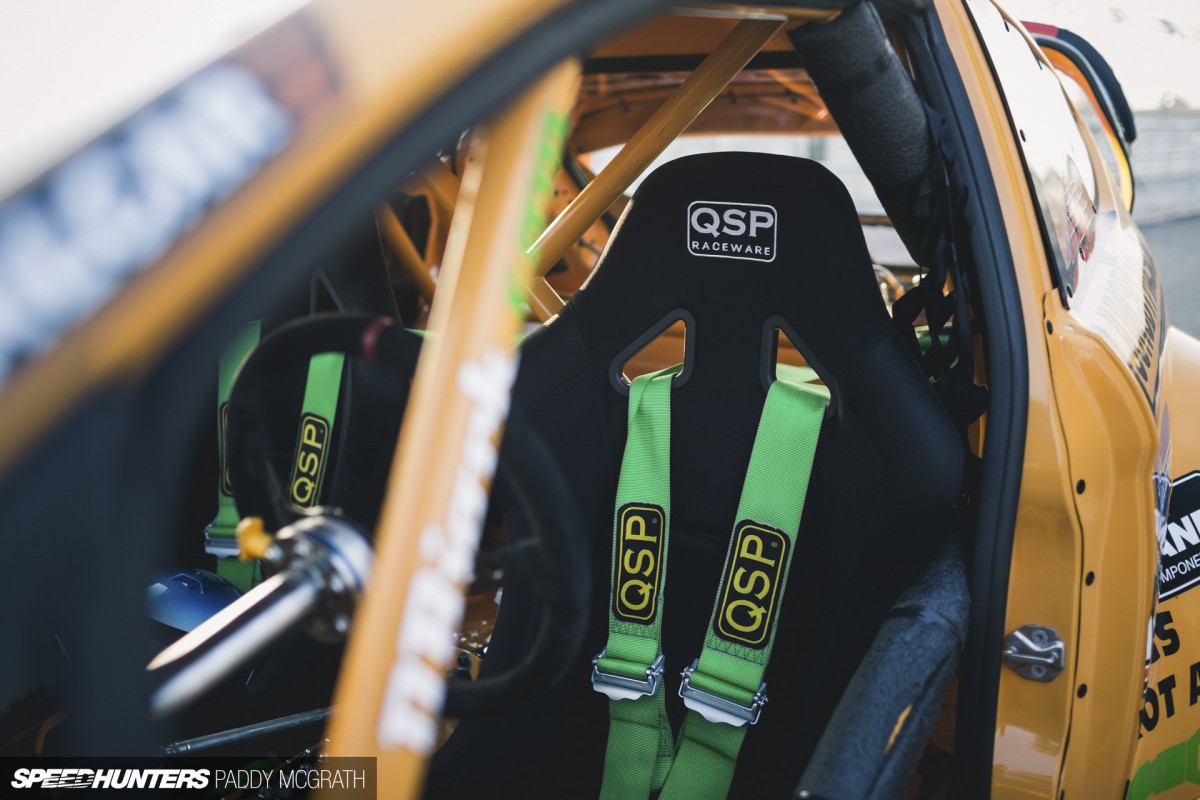 QSP Raceware Light FIA-approved race seats and matching six-point FIA harness belts keep Daniel and any would-be passengers secure during high speed, high-g oversteer. Who wouldn't want to buckle up in here?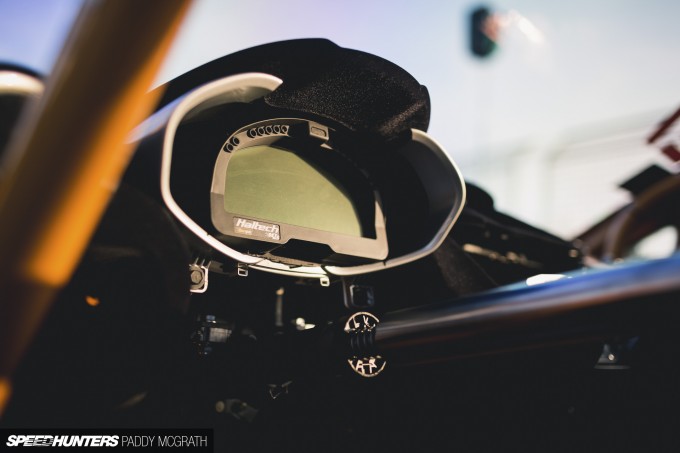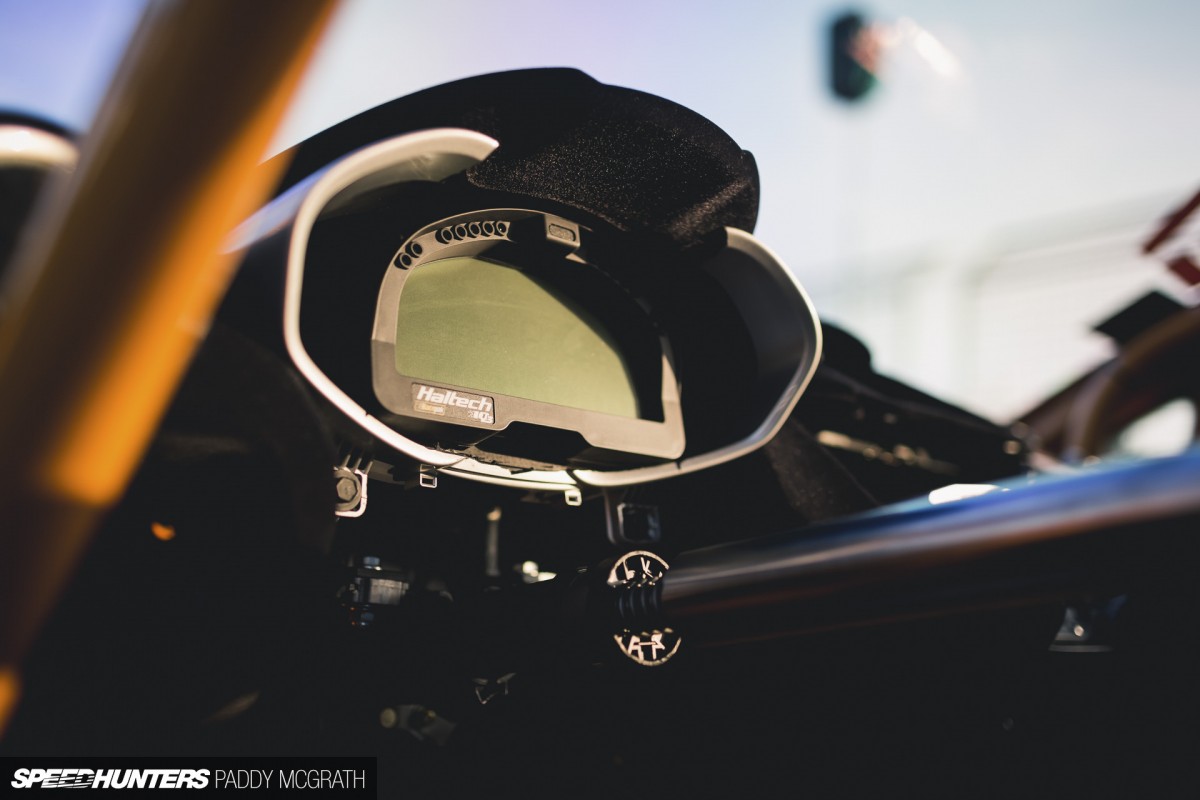 To make full use of the Haltech engine management system's capabilities, a Haltech Racepak IQ3 digital dash display attached via CAN connection, provides complete engine data feedback on the fly, and logging for post-run analysis.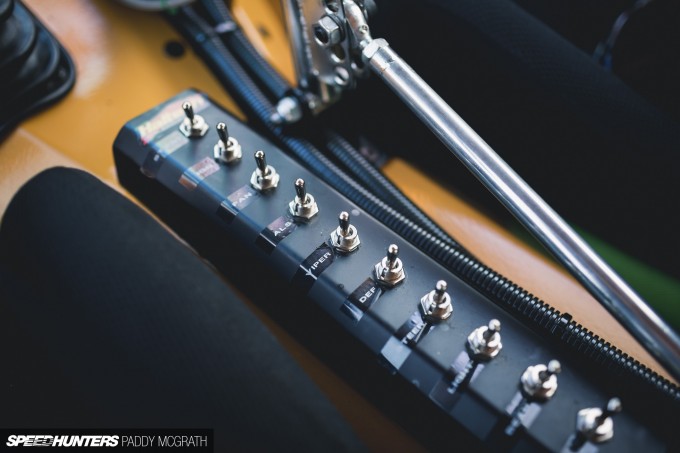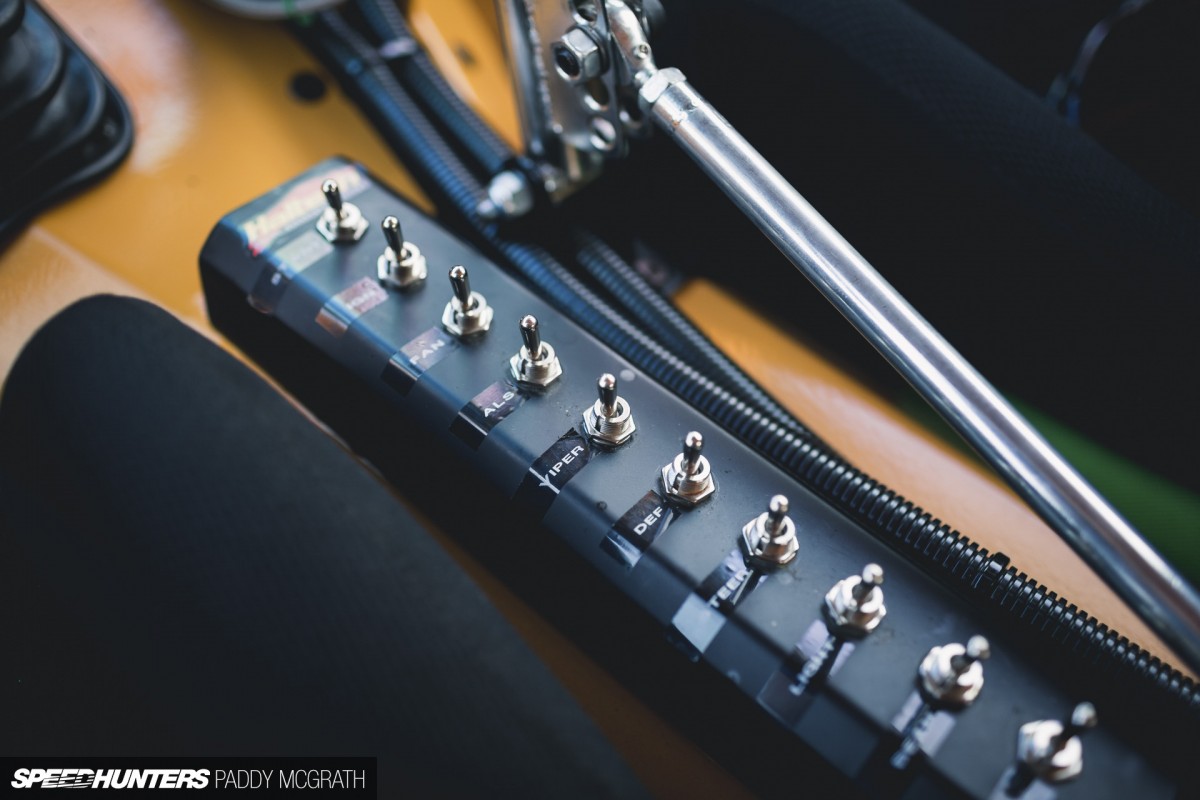 Because of the dashboard's distinct lack of factory equipment, the necessary switchgear for ancillary devices such as the headlights, wipers and windscreen demister have all been laid out in a custom console that runs alongside Daniel's seat. It's another neat solution.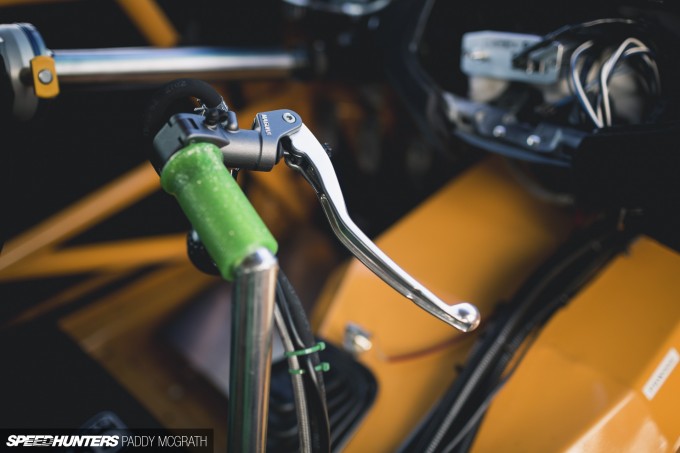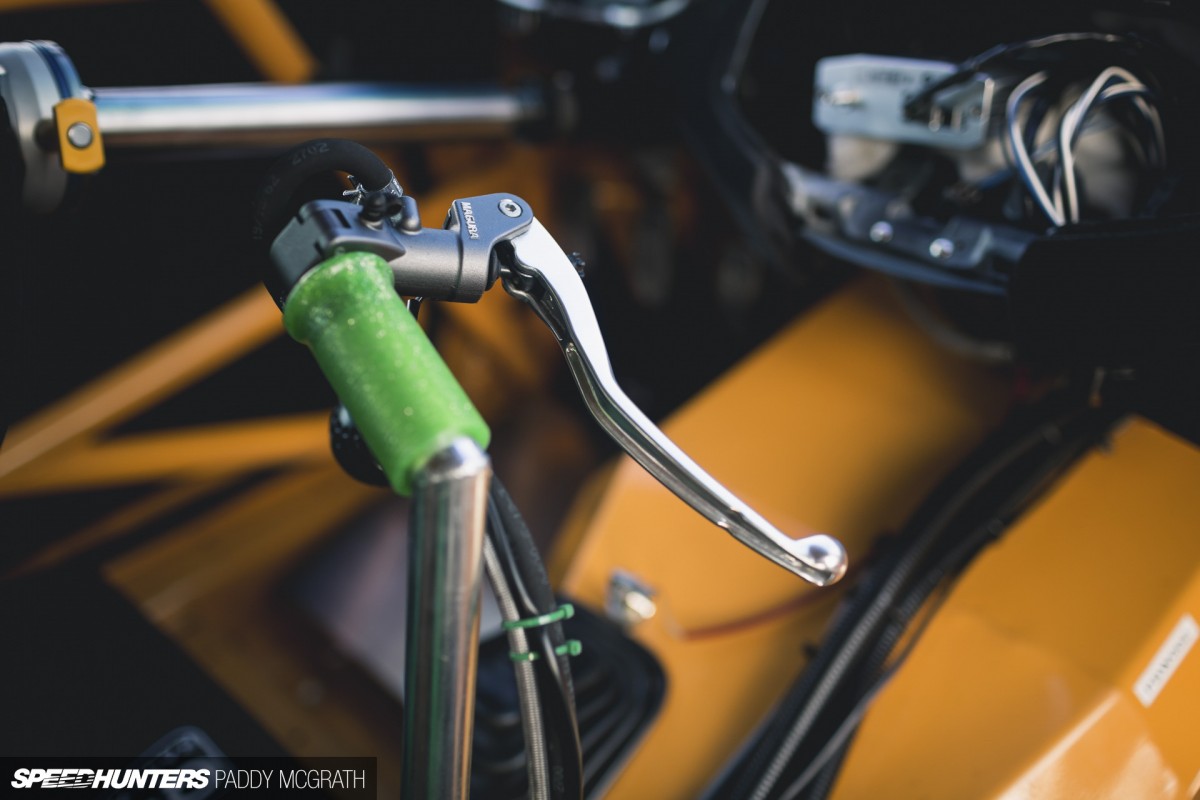 In the last chapter I alluded to a unique brake modification, and here it is. Daniel tells me that the bike-style lever attached on top of the main e-brake lever is exclusively connected to the front calipers, and when he squeezes on it during a battle scenario he's able to modulate the front brakes only. That ultimately means that Daniel can adjust his corner speed without altering the car's drift angle, or reducing the rear wheel speed. Tricky stuff!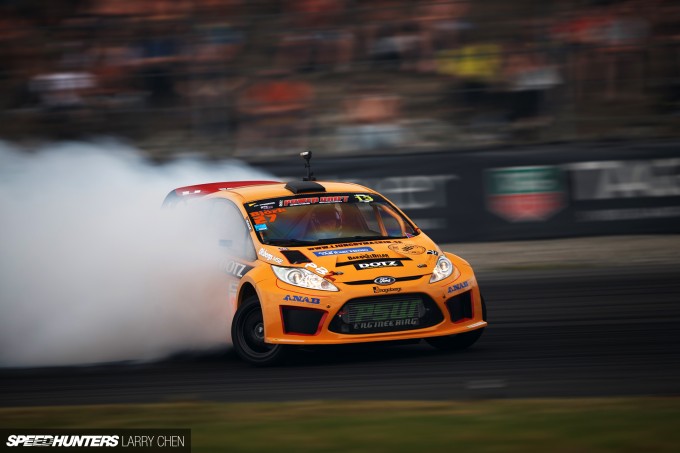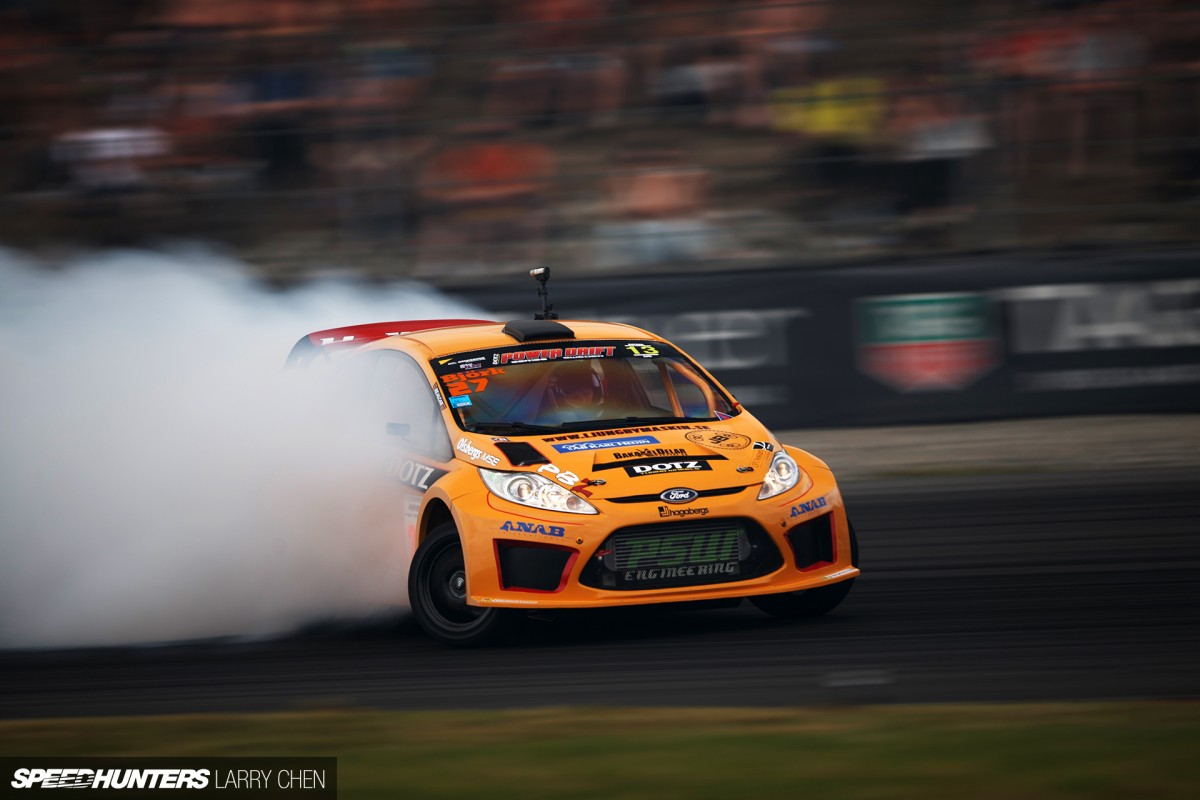 When he first got behind the wheel, Daniel was a bit concerned about how much harder it was to drive than the Golf. He shouldn't have been though, because with time and set-up refinements, it's actually become easier. And the more he pushes it, the more grip and speed he's rewarded with. So he pushes harder, and then this sort of thing happens.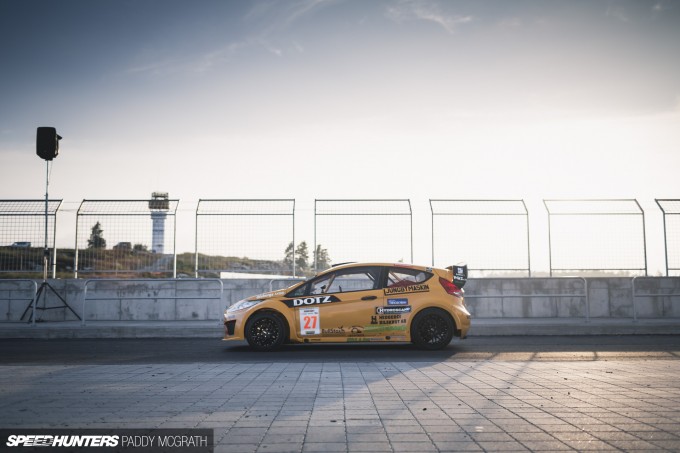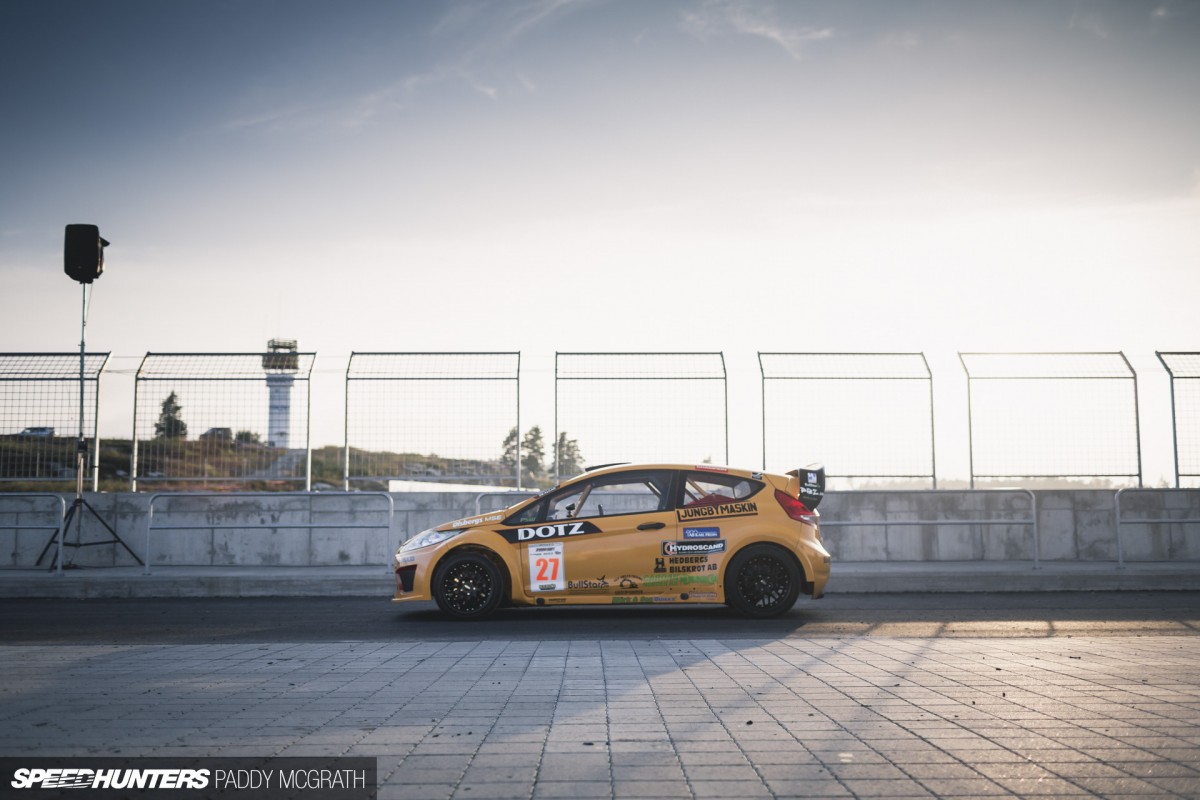 As it stands right now, Daniel says the Fiesta is easily the best drift car he's ever built – something that from where I'm standing is easy to see why. Of course, that doesn't mean that alterations and upgrades won't be made in the future. The naturally aspirated V8 is off the table now considering just how well the Volvo engine has proven to perform, but it would be wrong to discount a Ford V6 with two sizeable turbochargers strapped to its sides – just saying. This is a Gatebil car after all…