The anticipation
"Tomorrow. 7am. You meet me here, and we go upstairs into my office for a chat." When a man like Horacio Pagani utters instructions like these, you simply nod, politely thank him and make sure you get to his office well before the agreed upon time. I've been wanting to have a sit down with the man behind Pagani for a long time now, ever since we visited this little hypercar maker back in 2009. Finally I was to have my chance; only 30 min would have to do as he had meetings that morning and then had to fly off to the other side of the world.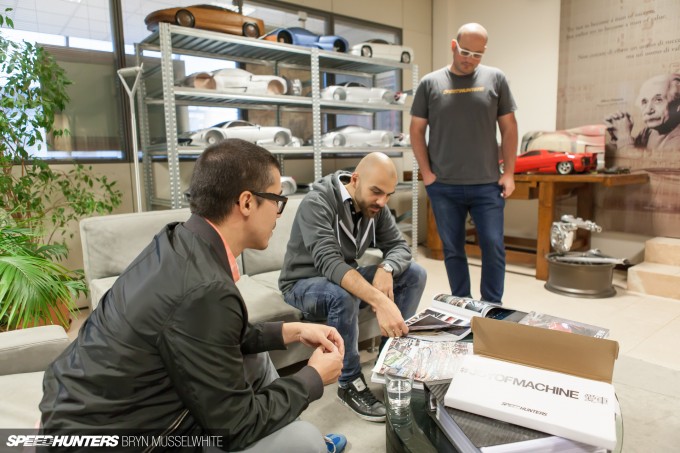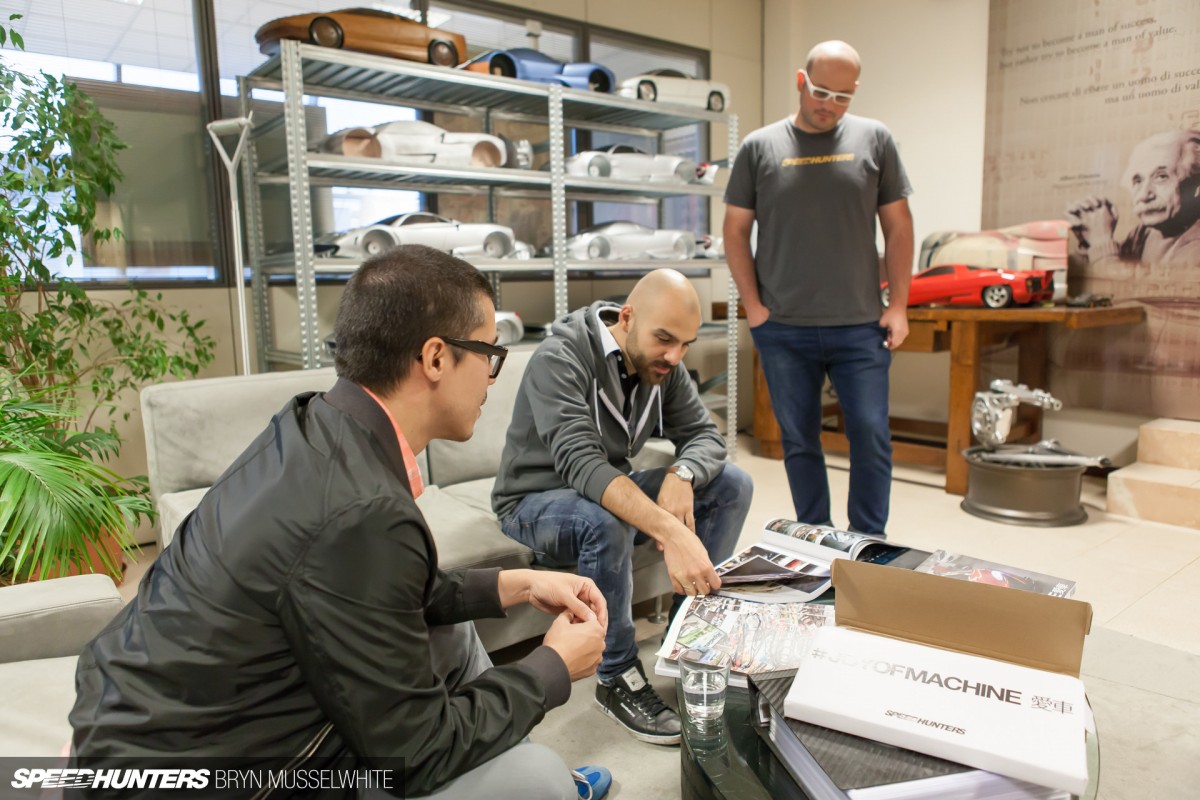 Before the sun had even pierced through the morning darkness, Rod, Bryn and myself had already checked out of our hotel in Modena and were on our way to San Cesario Sul Panaro where Pagani is located. There we were to meet Luca Venturi, our guide during our two days with Pagani and a man that just makes things happen without any glitch. While awaiting the arrival of the man himself, Rod took the opportunity to show Luca what was then the only printed copy of #JoyOfMachine, our latest photography book that will soon be released on our store (or at WTAC if you happen to be at Sydney Motorsports Park this week!)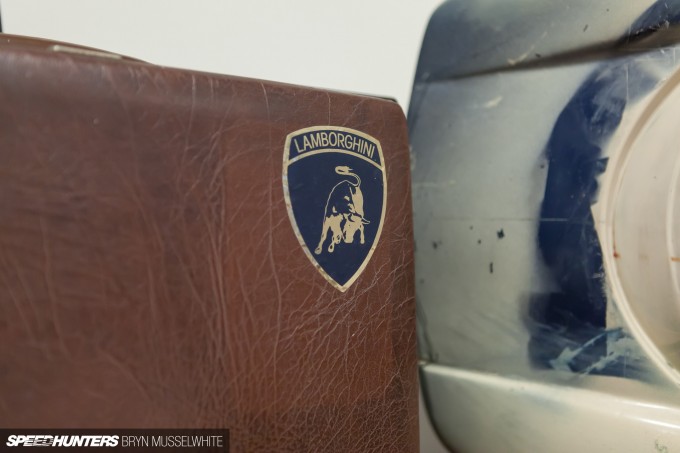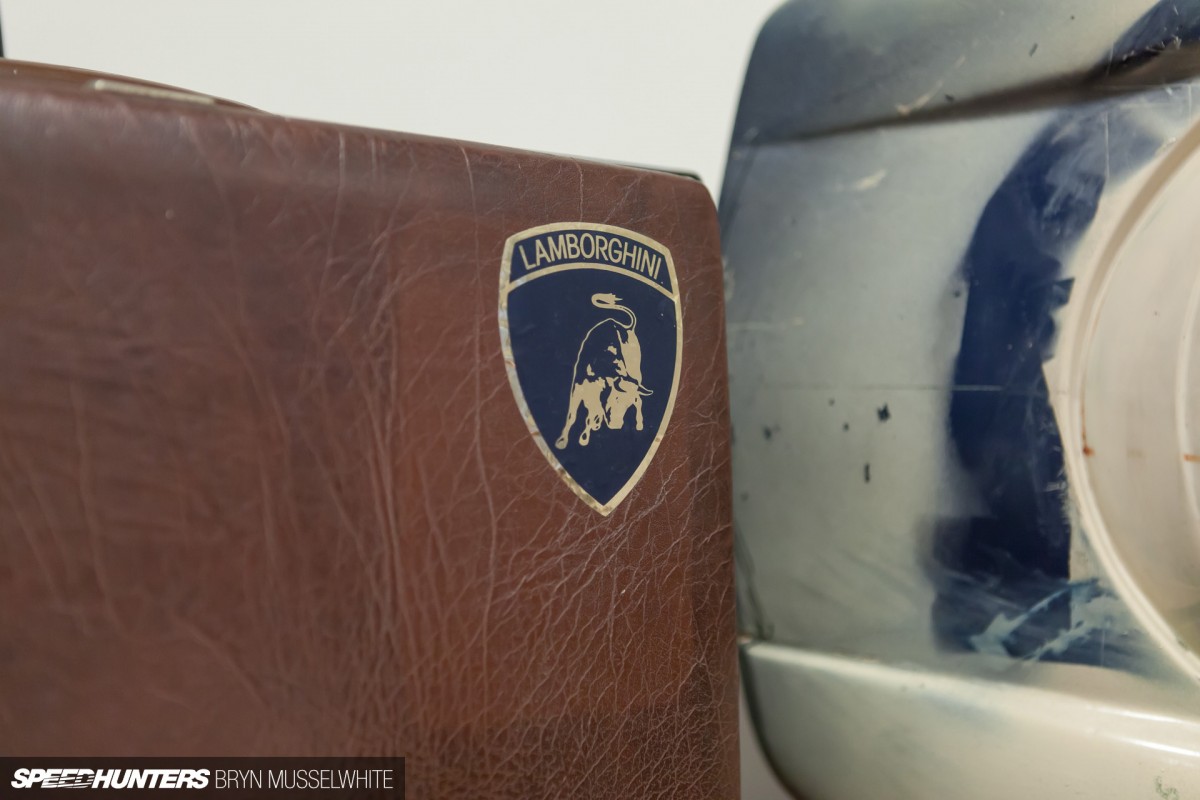 Right in front of the main design office there was much to see, little snippets that in their own way hinted at where Pagani has come from and where he has drawn a lot of his inspiration from…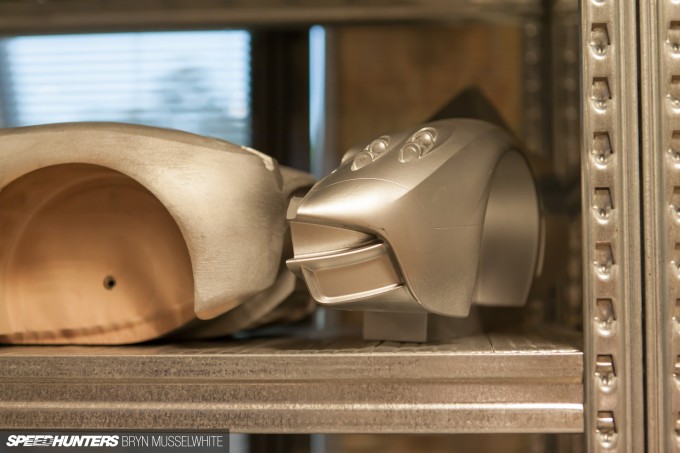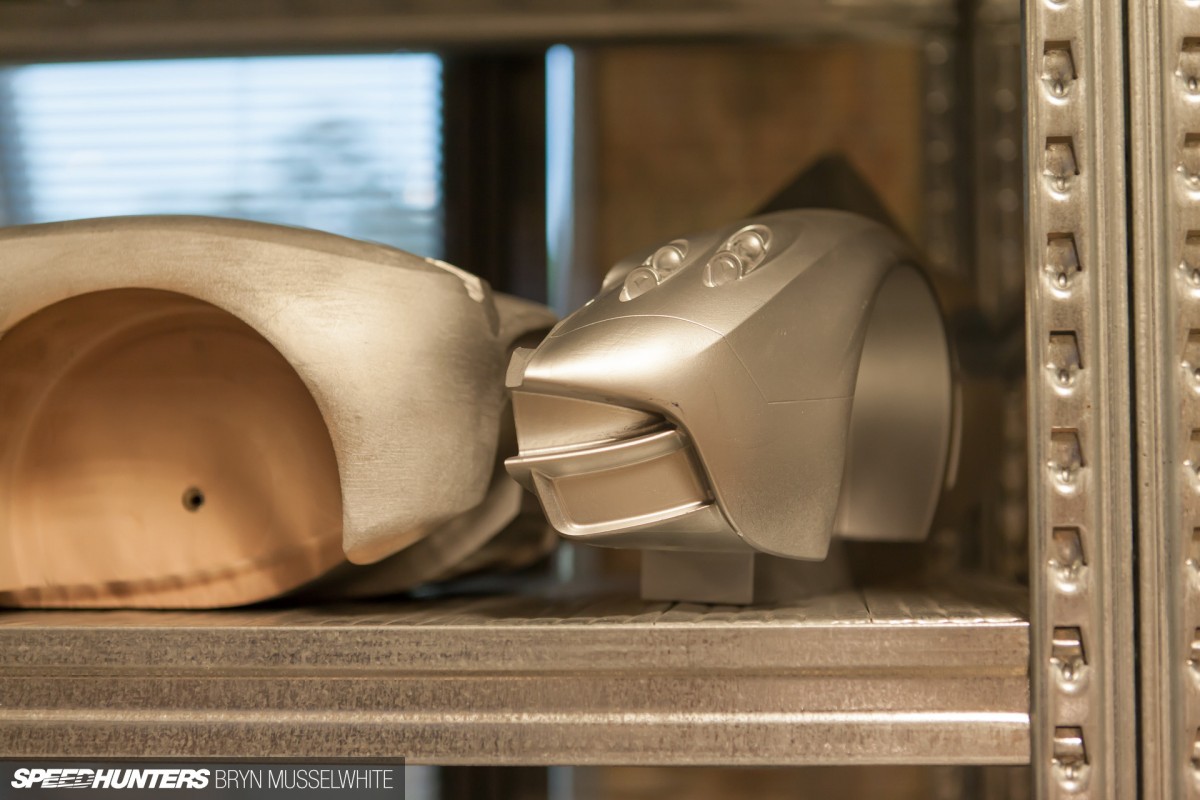 … as well as the scaled wood models of Pagani cars, from initial mockups of the Zonda, stylistic studies of various prototypes and of course their latest creation, the Huayra.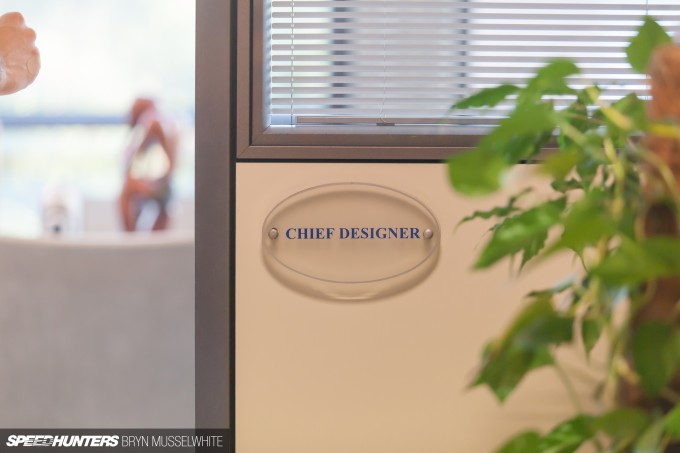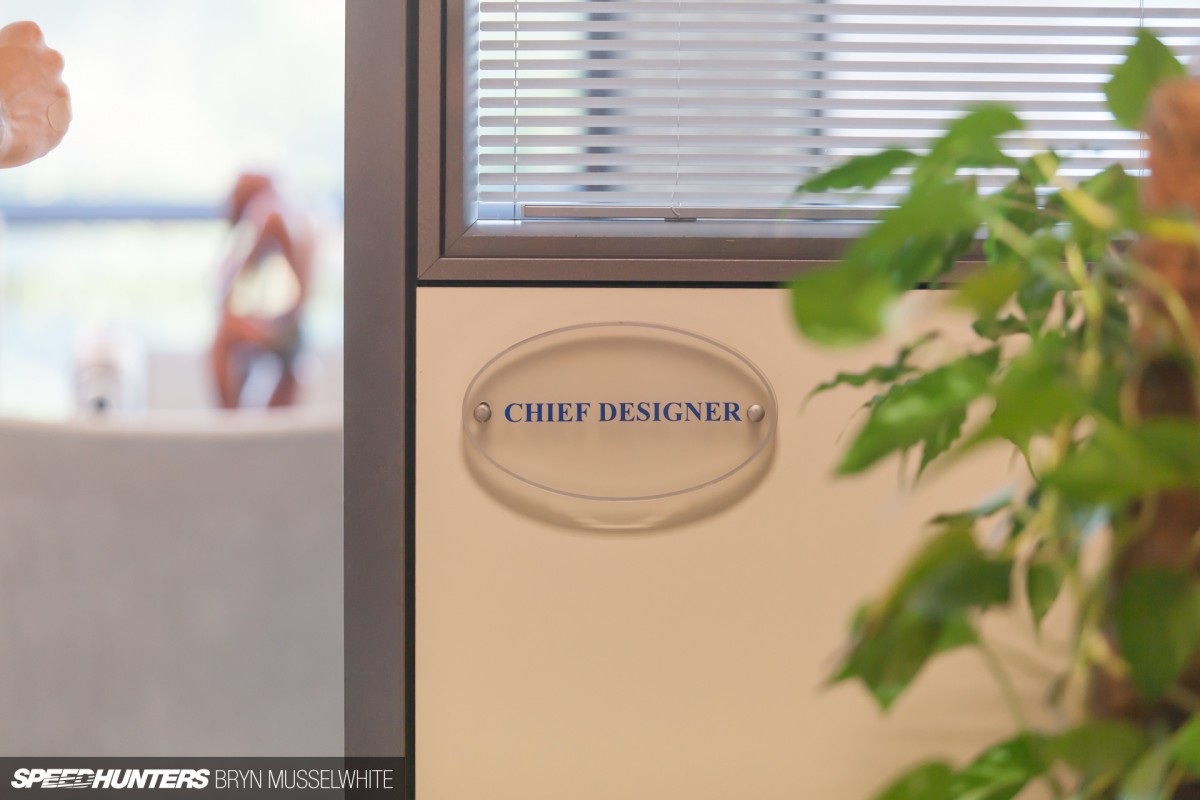 I moved into Pagani's office as his arrival was imminent…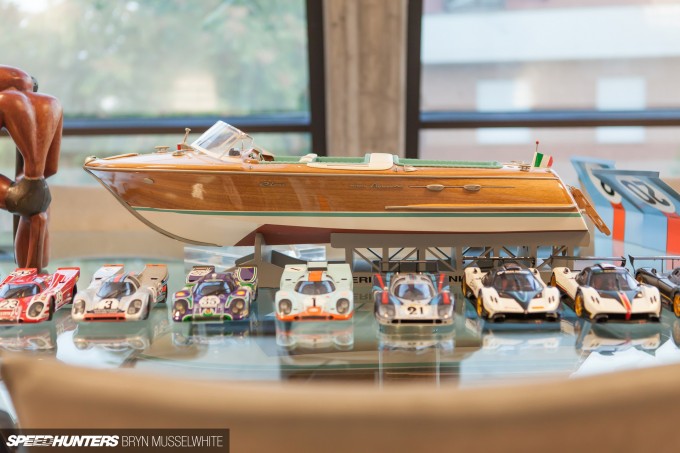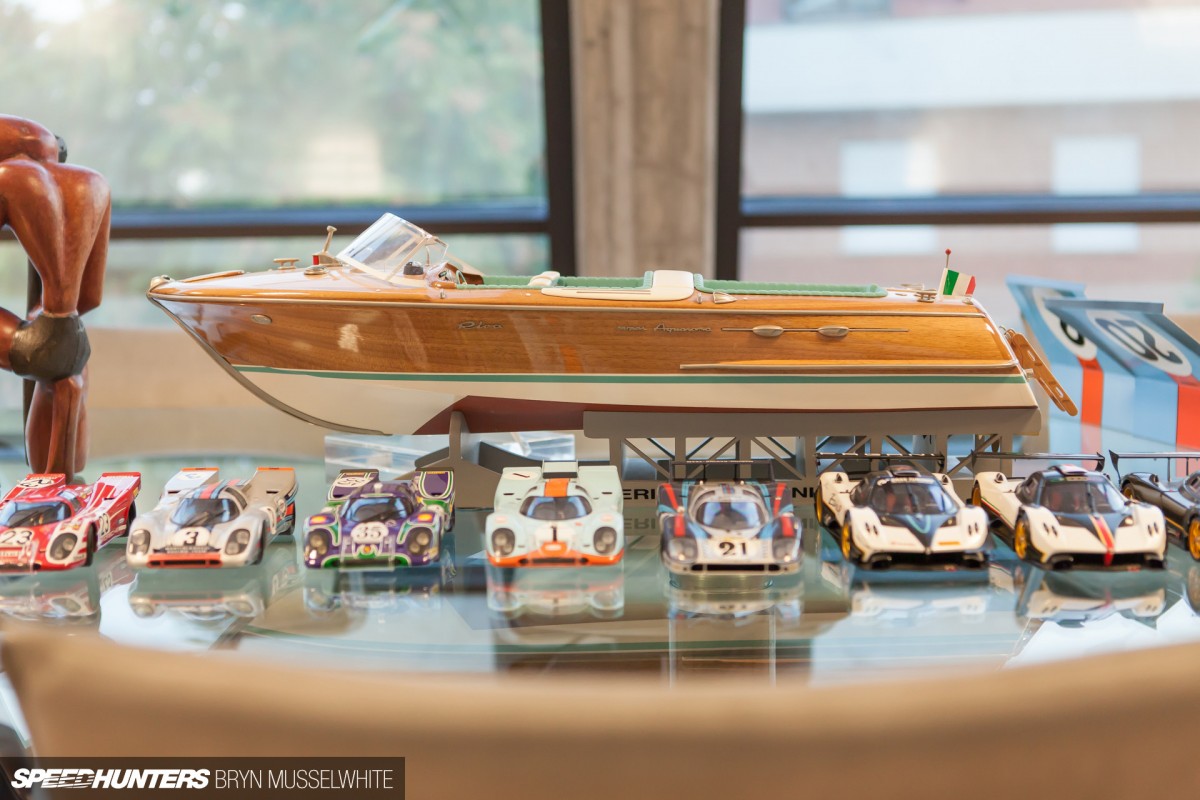 … taking obvious interest at the sort of objects that he keeps around himself as a sort of inspiration.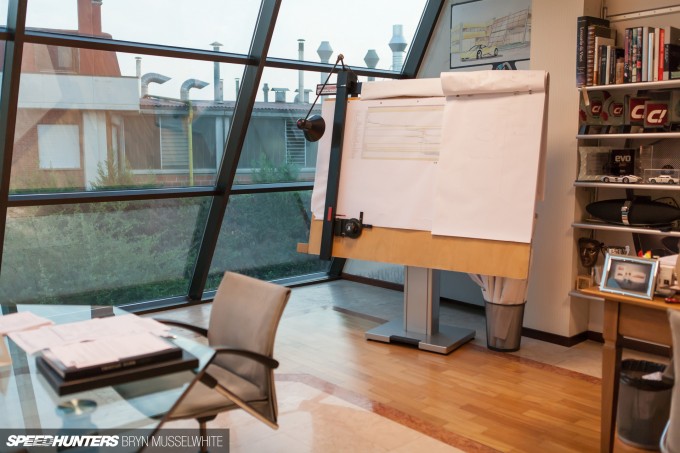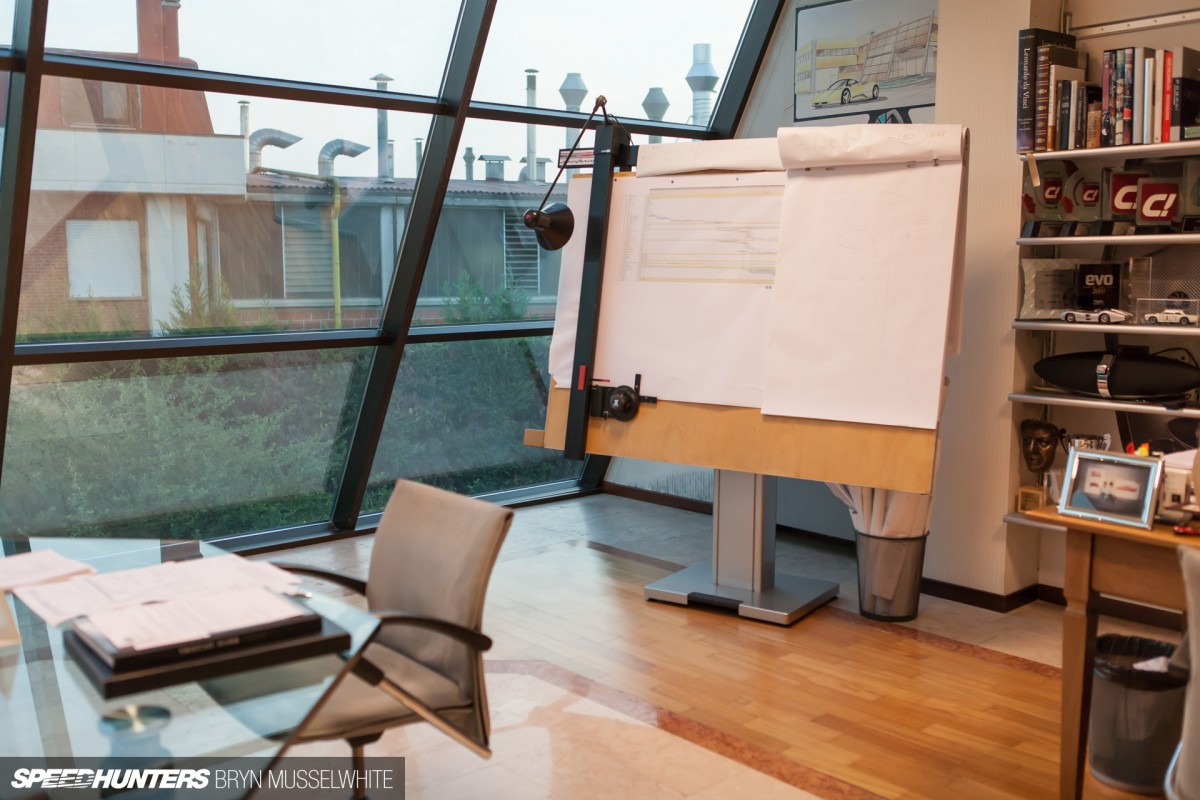 I found it really cool that he still keeps and obviously uses a drafting machine, a sort of adjustable vertical desk on which designers and engineers used to draft up technical drawings before computer aided design stepped and became the industry standard.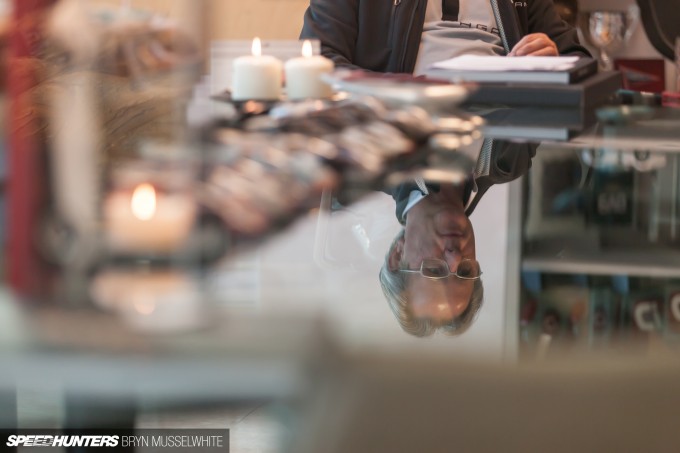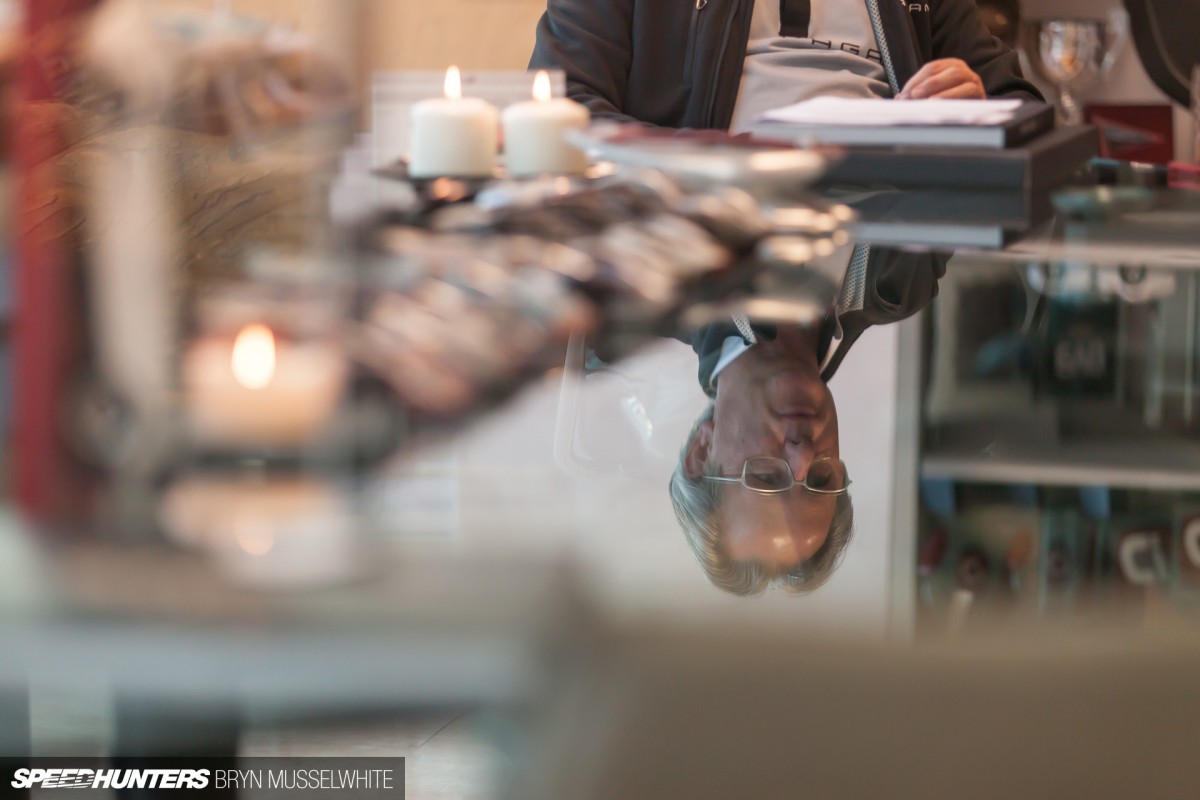 An informal good morning and a casual chit chat later, I was sitting at glass conference table with Horacio himself, ready to fire away my first question…
Defining the brand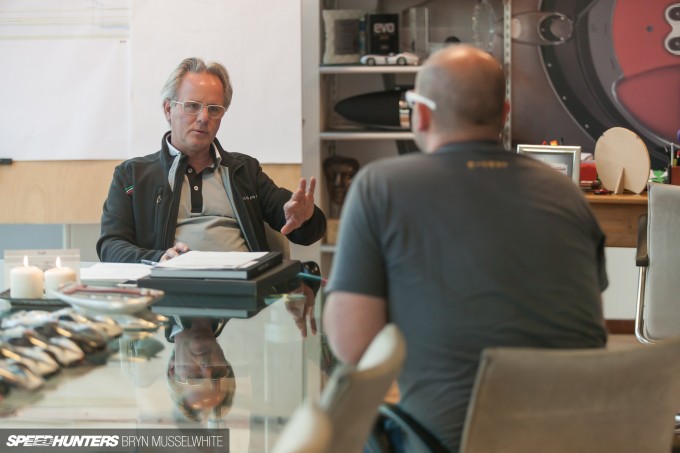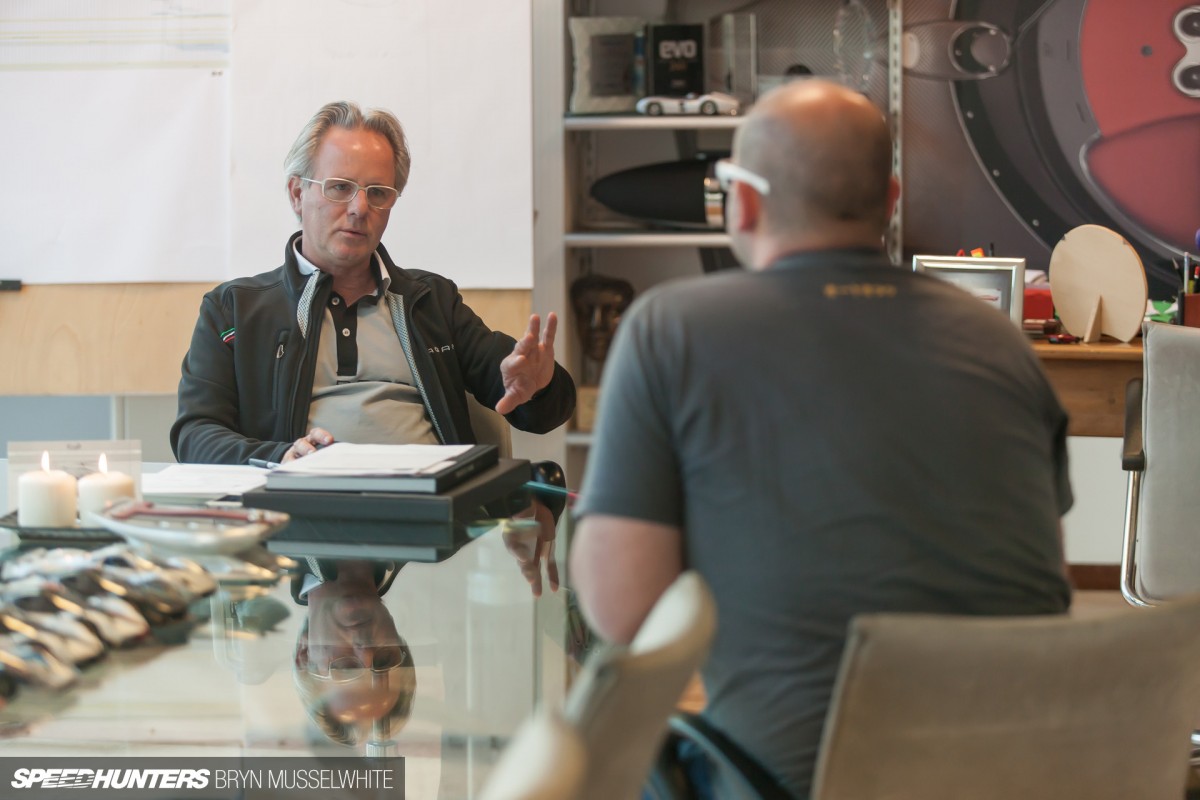 SH: Since we have limited time, I want to start off by asking what is it that defines Pagani as a car maker? What is the core of the design ethos that has so quickly stood out and made your cars so sought after and identifiable?
HP: To fully understand, I need to go all the way back to my childhood in Argentina. I was born in a small town in La Pampa region of Argentina where there was no real culture for design or automobiles. It was a place where people worked the land and it was a small town primarily founded by Italians who had emigrated there. My mother was a painter; very good, a simple woman, a woman with great taste who taught us to like the nice things in life and who was also a musician. My father, a musician, worked as a baker, and now at 85 he is still working as a baker, so a great demonstration for me of perseverance and of love of doing things the right way. They both worked hard, had great love for their family and dedicated themselves to their path. Since a child I always had a passion for drawing and a curiosity for the arts, and the sciences. This was always something that confused me as a kid. I slowly started noticing the cars on the streets at the time – we had a mix of American and European cars, cars of an affordable level, nothing exotic. So I grew up appreciating both type of cars, which were obviously quite different. At around 13-14 years old I started asking myself what I would have studied, to either dedicated myself to the arts or pursue a more technical or scientific education. And it was at this time that the most defining moment in my life occurred; while looking through a magazine that my father subscribed to, I discovered the life of Leonardo Da Vinci. A phrase that really hit me reading that article was a Da Vinci quote which said that "Art and science can work hand in hand." Reading this was like a door opened for me, a path towards something I could pursue. I could really use the gift I had of working with my hands in sculptures and materials, with my curiosity for science.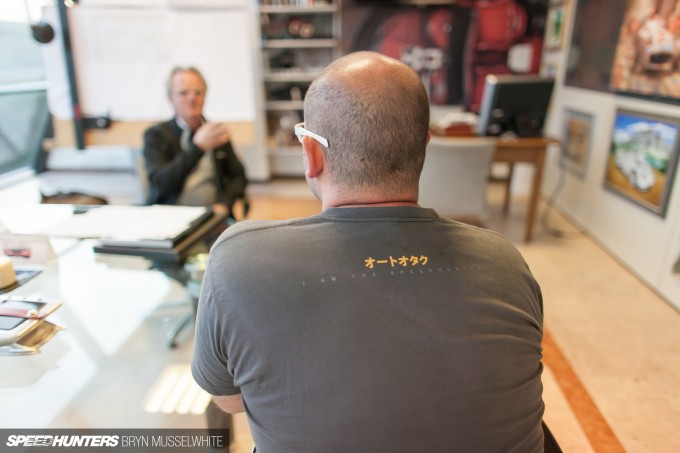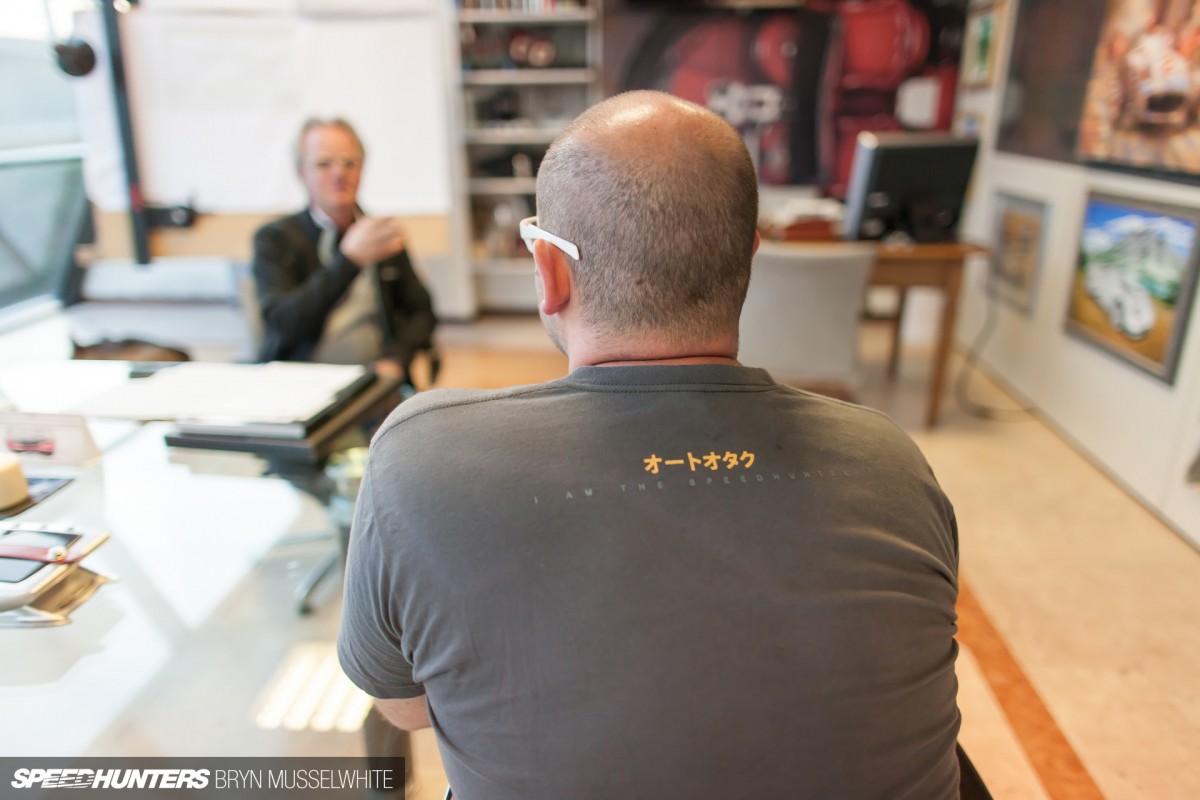 SH: So that is what you ended up pursuing in your studies?
HP: Yes, I moved to the city to follow my calling, but it was at the time of los desaparecidos, a pretty hard and testing time for Argentina. Every day I would see guerrilla dead bodies floating in the lake – it was a bad time but one that had helped make the man I am today. Terrorism became so strong that the universities were closed, so with much frustration I returned home. With help from my father I built my own studio, a place where I could design and create and express myself. I continued to go to university and study mechanical engineering, 50km away – a journey I would do by hitchhiking both ways – I never had anyone that paid my way, nobody ever financed me. There I took classes that interested me, not to get a degree but to further my learning and answer the questions I had about design. I always thought a designer's mission was to help life in some way, be useful to those that buy the things I make, also down to an emotional level. I so continued to study the life of Leonardo Da Vinci and the whole Renaissance period, and I still do so today. I travel the world and I see what is around me in unlocking the key of what made this period so special.
SH: Did you ever find an answer to this, or draw your own conclusions?
HP: Yes, about five or six years ago, I came to my own conclusion: I believe the key of the Renaissance was 'manual intellect'. In simple words what I mean is that the mind creates and expresses ideas while the hands create those ideas. There is however a passage through the heart where emotion enters the equation, a certain something that can't be scientifically proven or measured. It's what made Italy an open air museum, a long line of artists that in their own times and ways have added to it all. Like the people that come here at Pagani every day to work, they are all artists.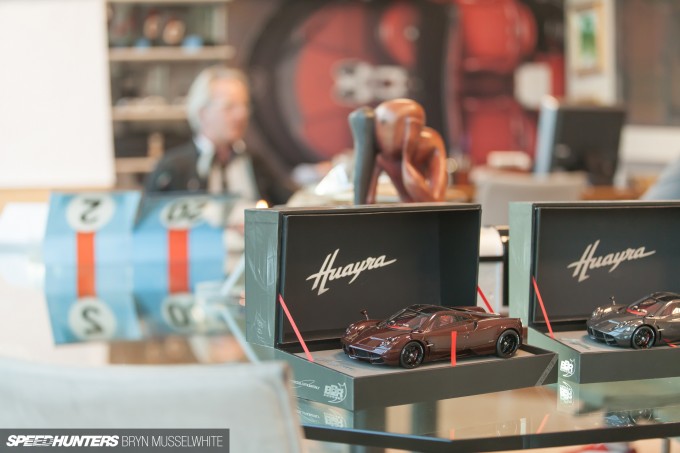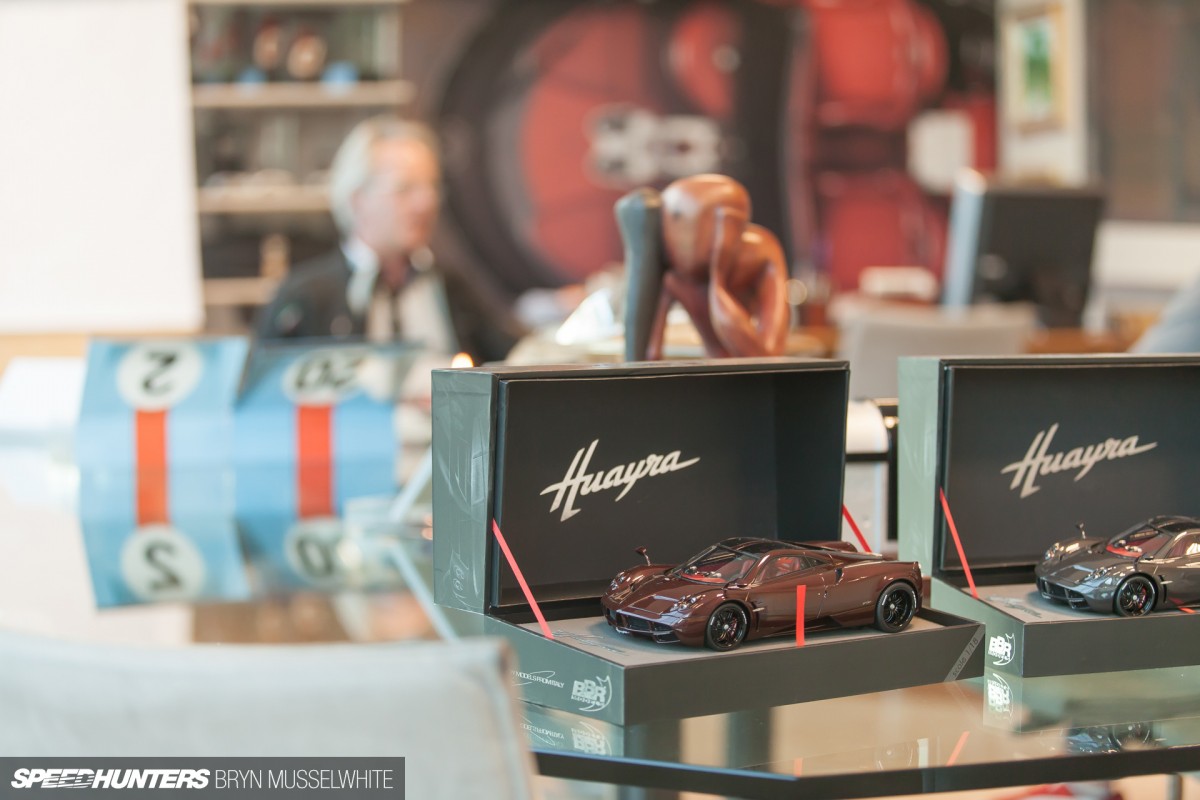 Without these people the cars we make wouldn't be able to have such an appeal, express so much emotion, that certain something that grabs people and makes them spend a substantial sum of money to be able to own a Pagani.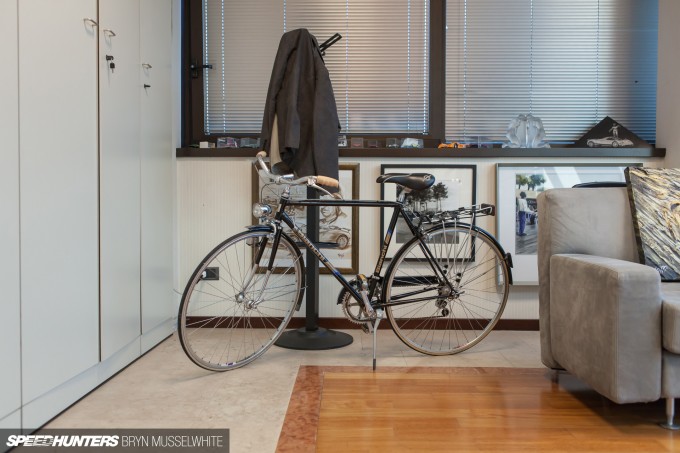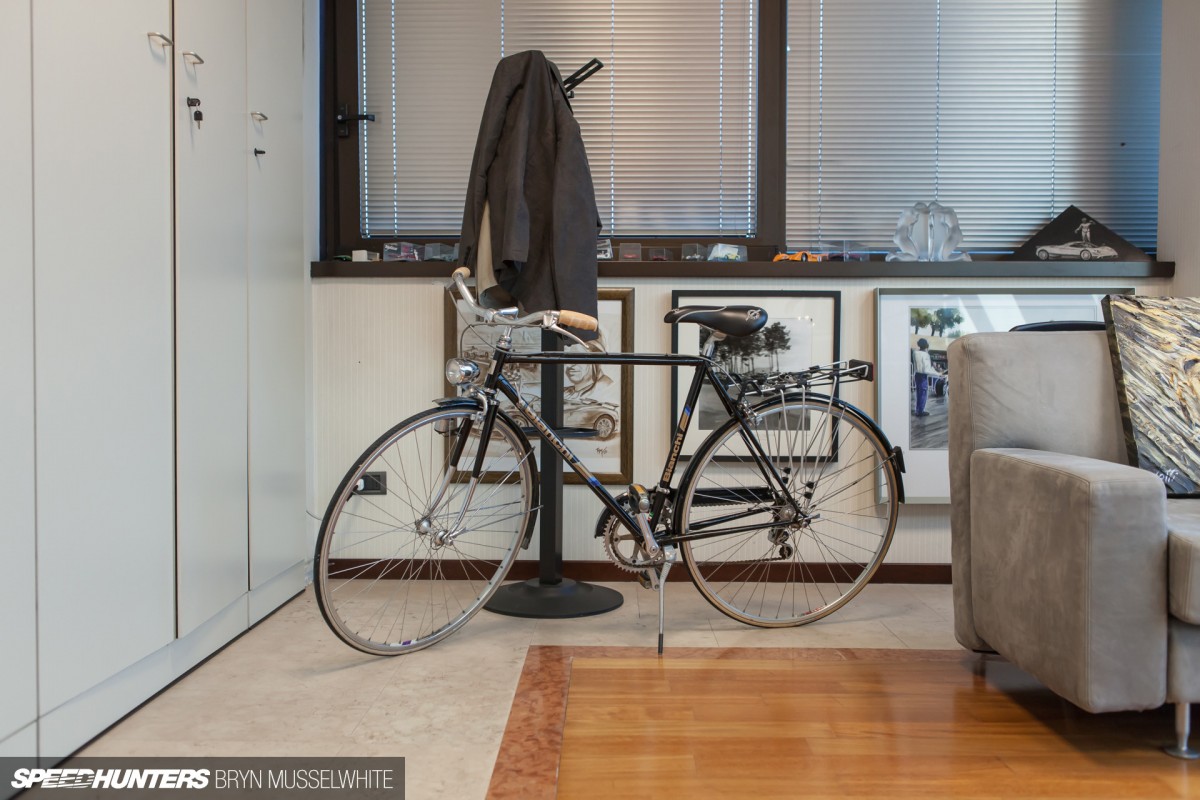 SH: So this is the focus point that sort of defines your cars?
HP: Yes, absolutely. I arrived in Italy and to Lamborghini with nothing, I had that bicycle you see in the corner there and a tent, and nothing else and I started working as a third level employee. I didn't invent anything special, I just pursued the ideologies of Leonardo…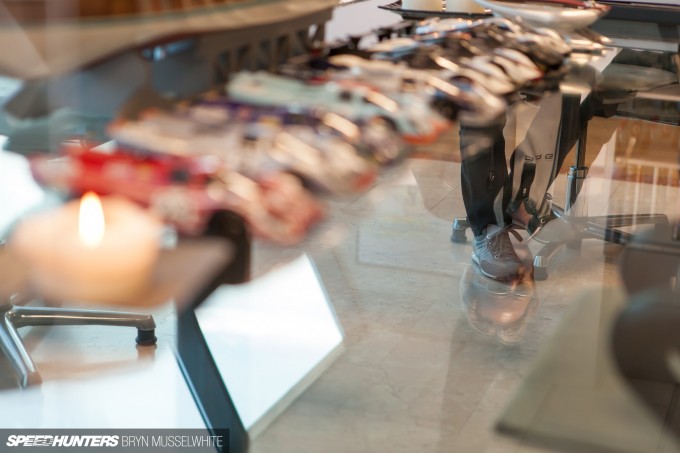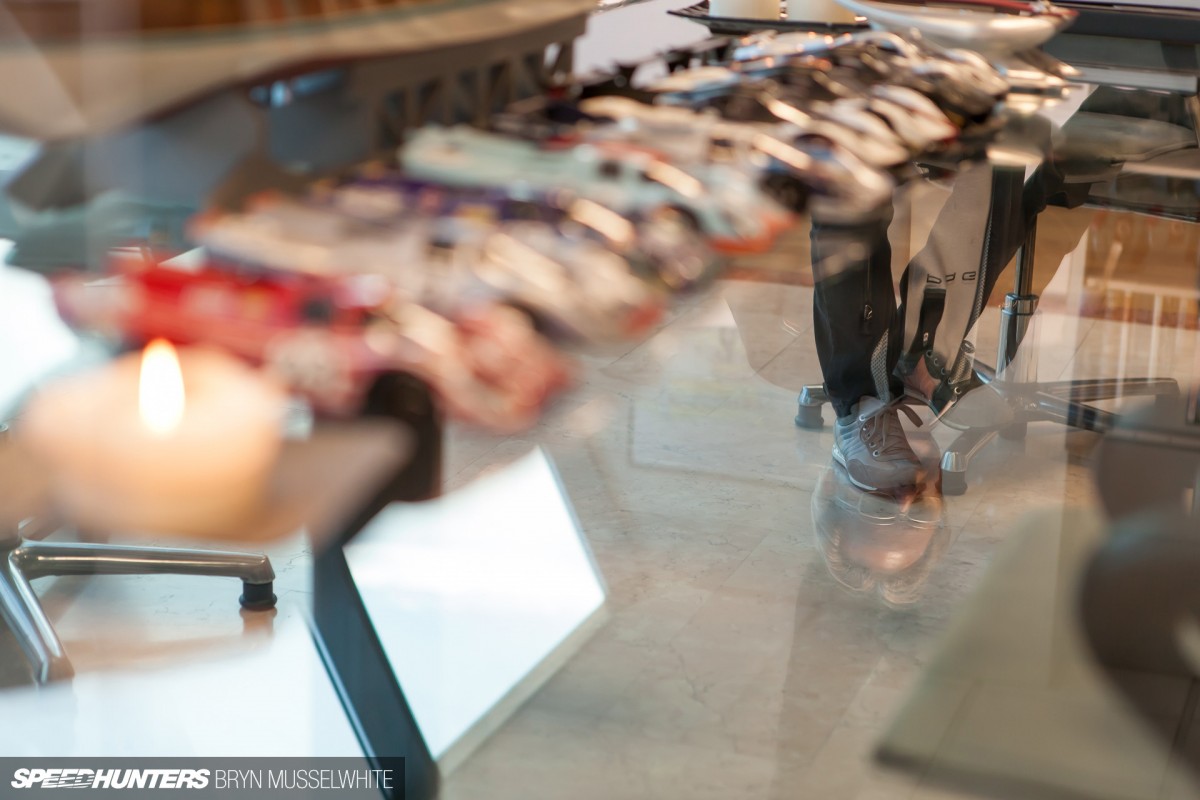 … fusing art and science. After setting up Pagani it was this that allowed the brand to grow and become prestigious in very few years; its value too – it's a brand that has now exceeded 300 million Euro. If you think that the Bugatti brand was paid 50 million Euro and Lamborghini 50 million in 1999…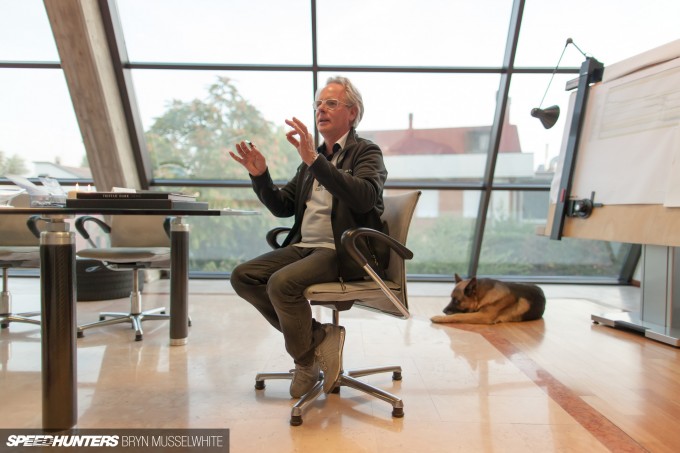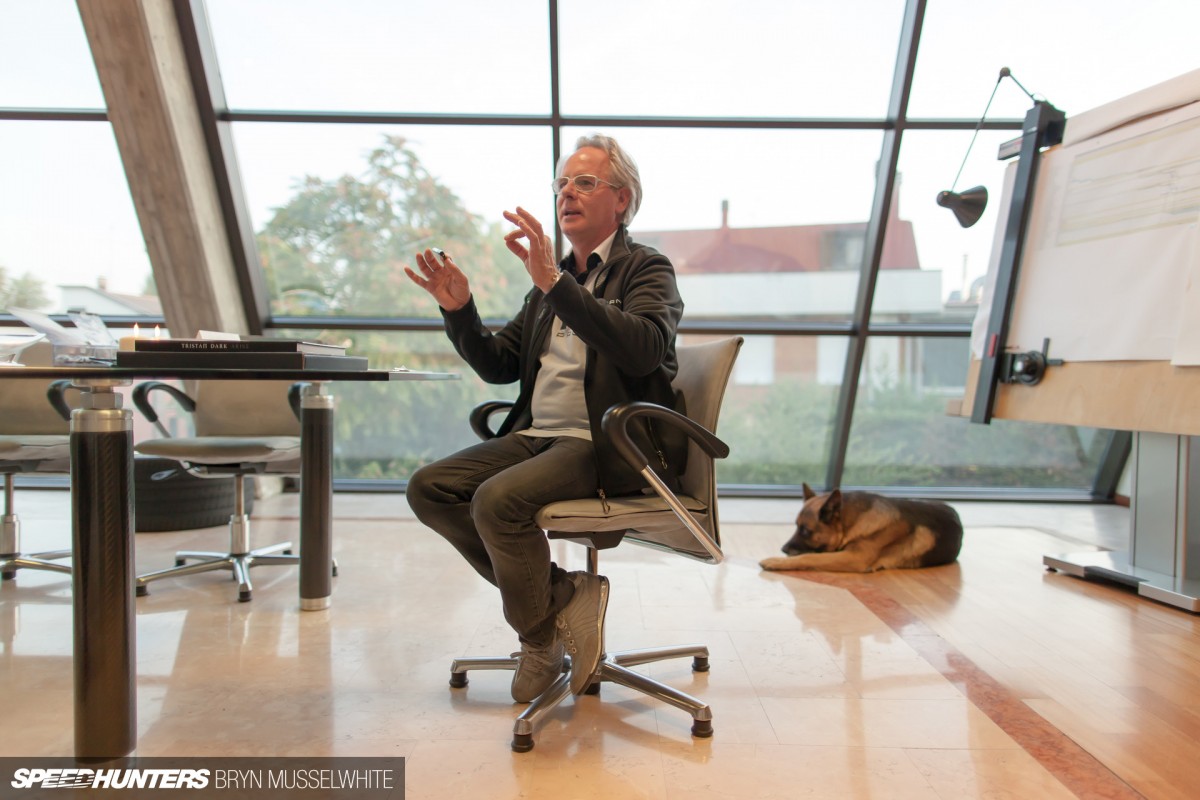 I'll tell you something very important: I have never worked for the money. I have only worked for passion and for the love of making what I love. The average age of people that work here is 30, all good people, low profile and a lot of our customers have similar stories, starting from zero and reaching their goals.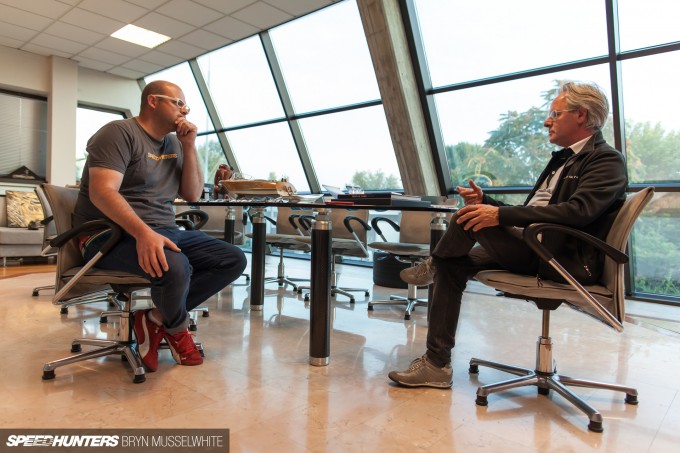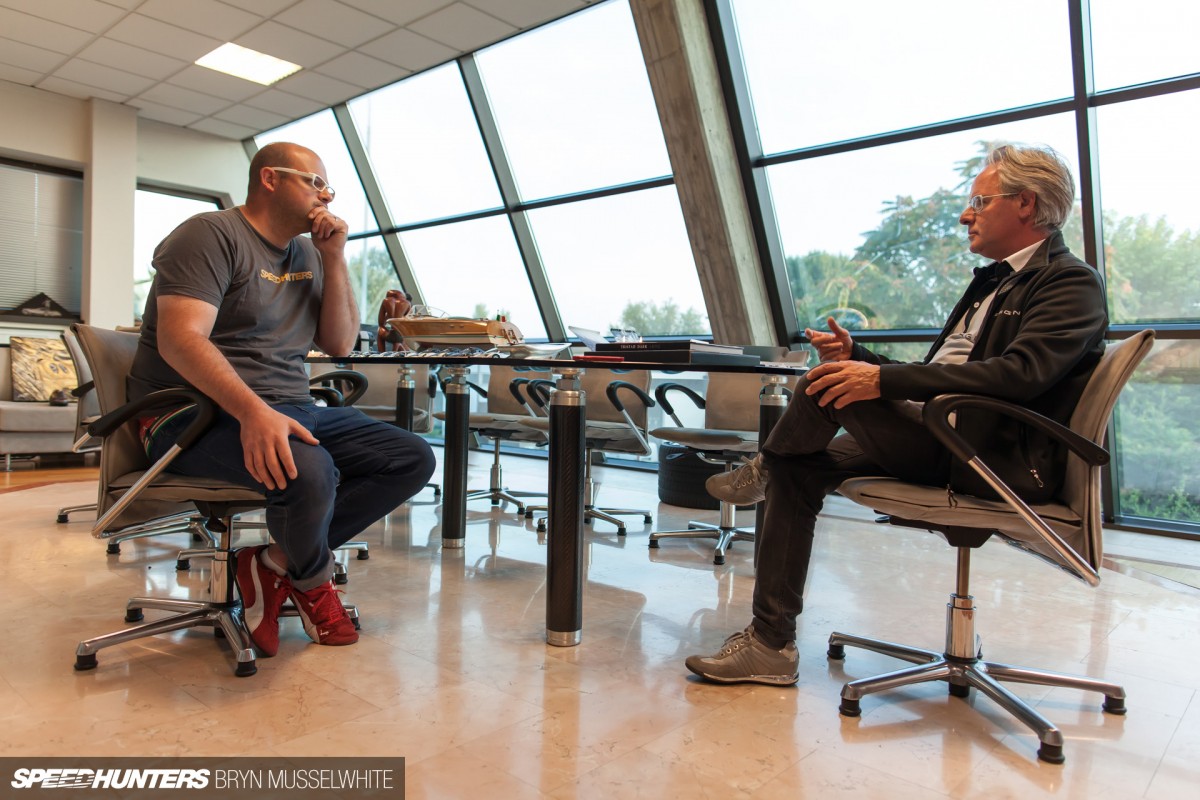 SH: So would you say you have a special relationship with your customers?
HP: Our customers appreciate our product; we have lots of them that buy multiple cars. They treat them as collector's objects, some want to have the best ones we make…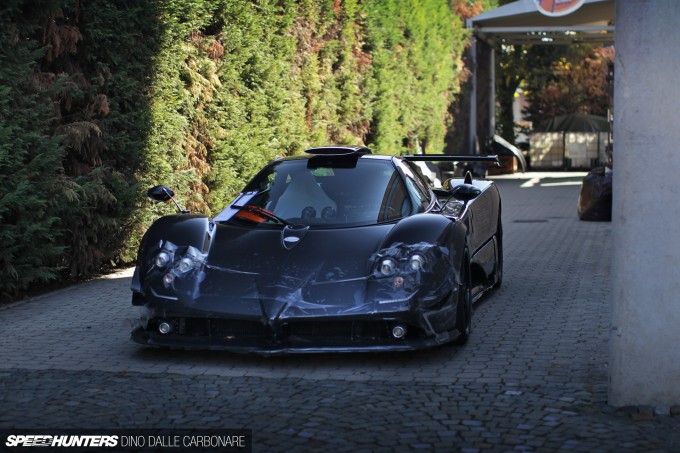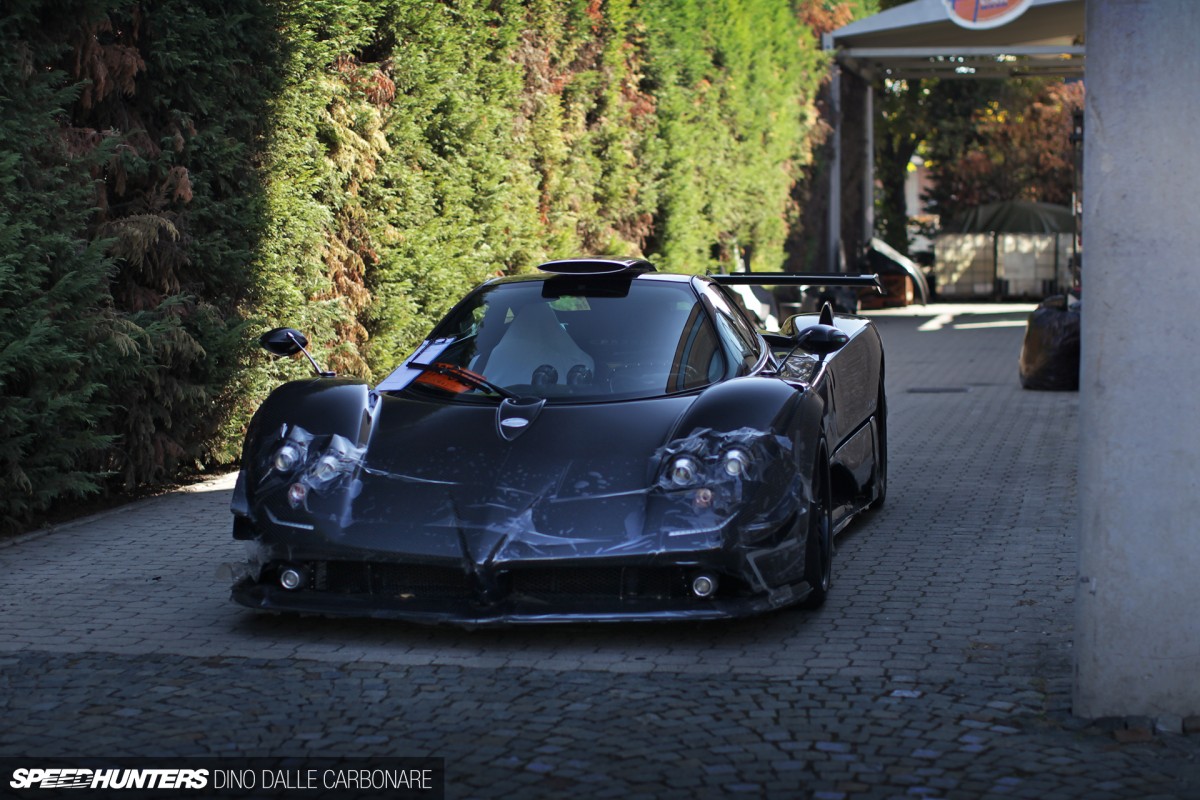 … like the Zonda 760RS outside now from Chile – the owner owns four. Our cars, on average, double in price – take a Zonda F that cost 500,000-600,000 Euro back in its day, similar price to the Enzo or the Carrera GT, now has more than doubled. I've recently bought a Carrera GT for my personal collection and I paid for it 285,000 Euro with Italian taxes. So even if it's economically a tough period, our customers believe it's a good investment.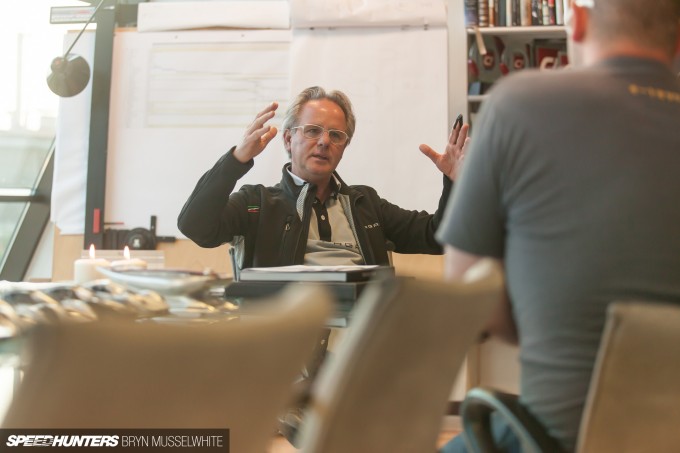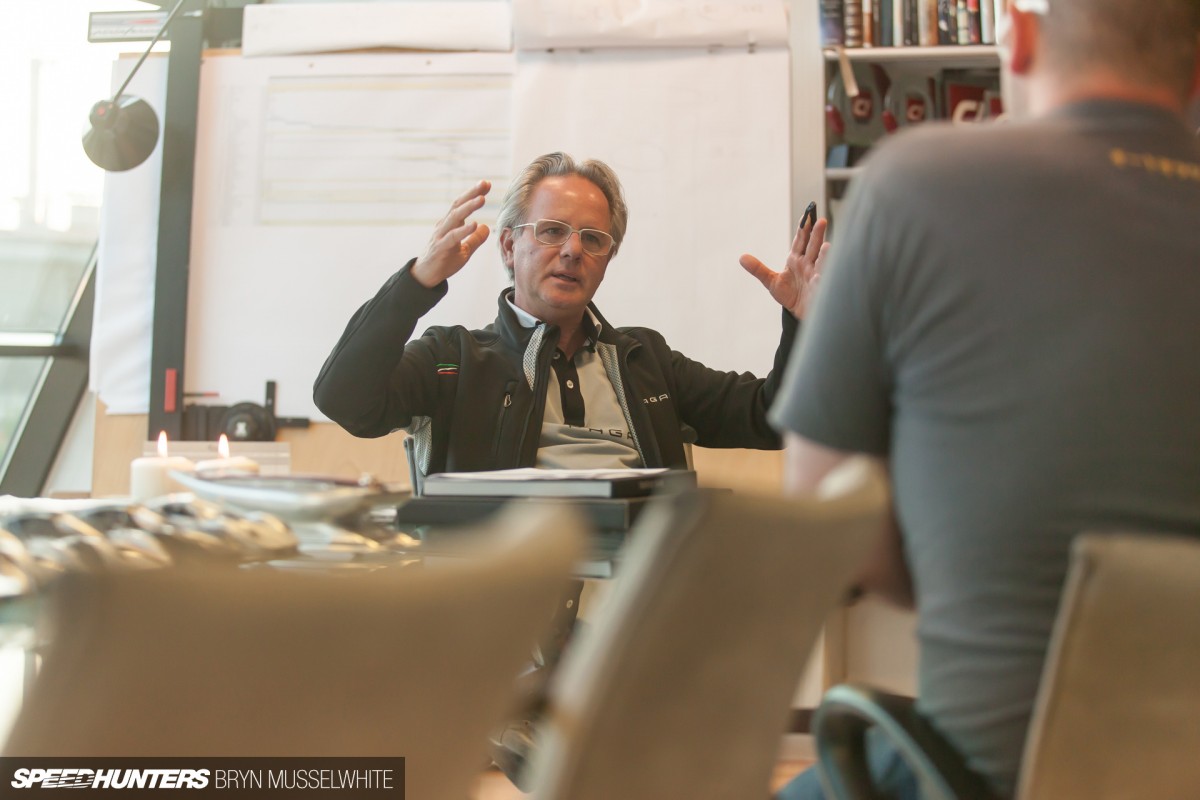 SH: And Japan, where we met a few months ago, that is a strong market for Pagani too obviously.
HP: Absolutely and I have a special relationship with Japan. I have a great respect for their culture – the Japanese have a deep passion for design and art, and for us to enter that market it will be a challenge. I think if we do well in Japan, we can do well anywhere and that's why we have waited this long to enter. We have had lots of enquiries from those wanting to represent us there, offering to sell our cars there but I didn't feel ready because it's not just about selling cars, it's about providing an experience. I know the Japanese are able to appreciate what is inside our cars – not only what you see outside, they understand what we put into each vehicle, how we push technology and concepts. Think about it this: today we have the last crash test to pass US homologation, a 56 km/h frontal impact against a stationary object. We are doing this with a chassis that's already been crashed 19 times.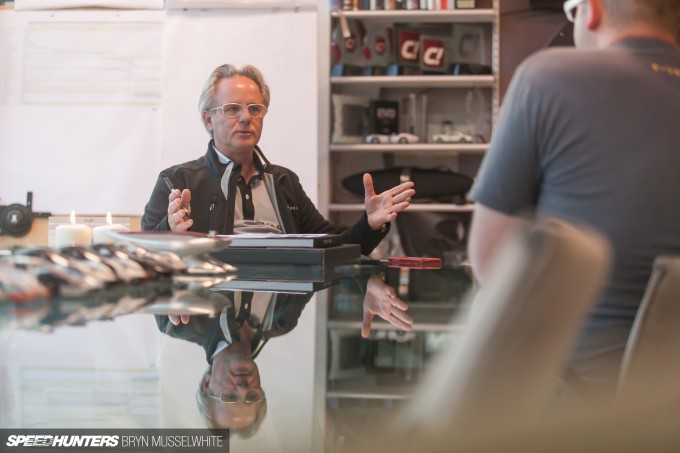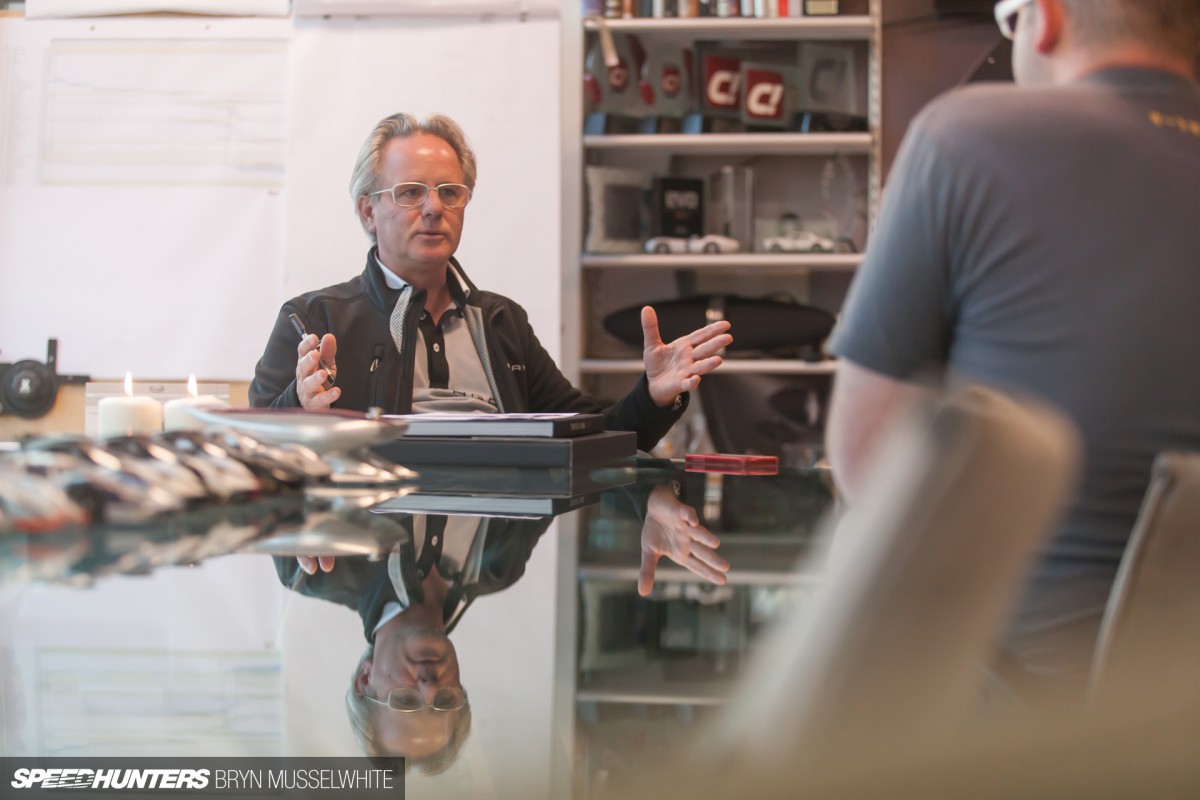 SH: Yes Luca mentioned it, and I was very surprised. The windshield never breaks right?
HP: Yes the glass doesn't break but also the chassis has absolutely no damage, only the front removable structure. Other cars built in the same way with a carbon chassis throw away the whole car at every test! We bring home the chassis every time!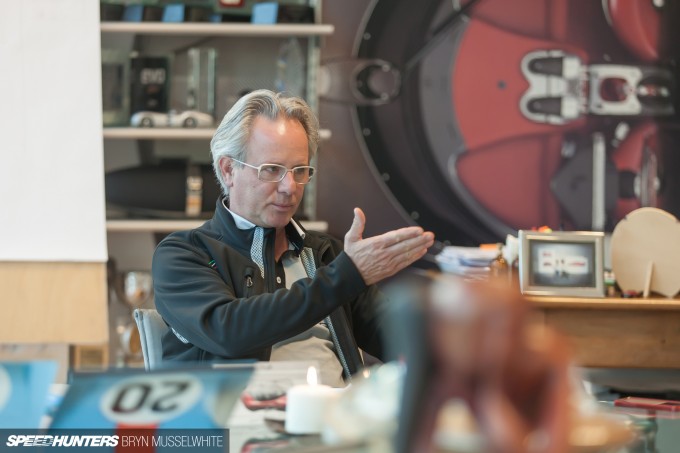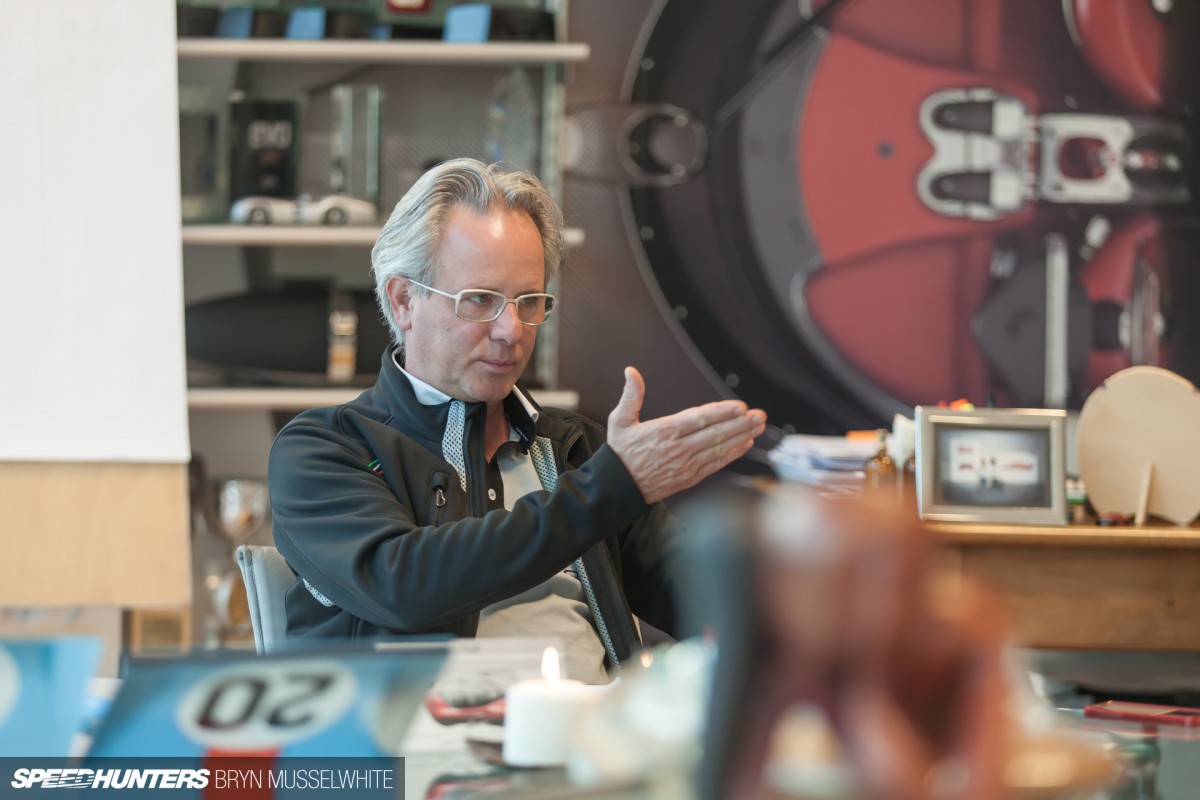 This is something some customers don't know. We sometime get customers that have accidents and are surprised we are able to fix their cars. So this is another thing that defines us: we intend to stay small, we are moving into a larger factory to boost production up to about 50 cars but we will remain a small operation. We used to have requests for up to 50 or 60 cars a year and we used to make 20, now we have a larger demand, about 120-130 a year, of which we will make maximum 50.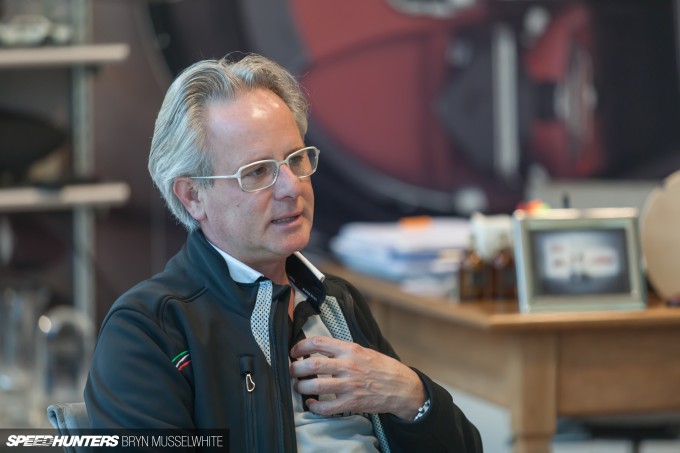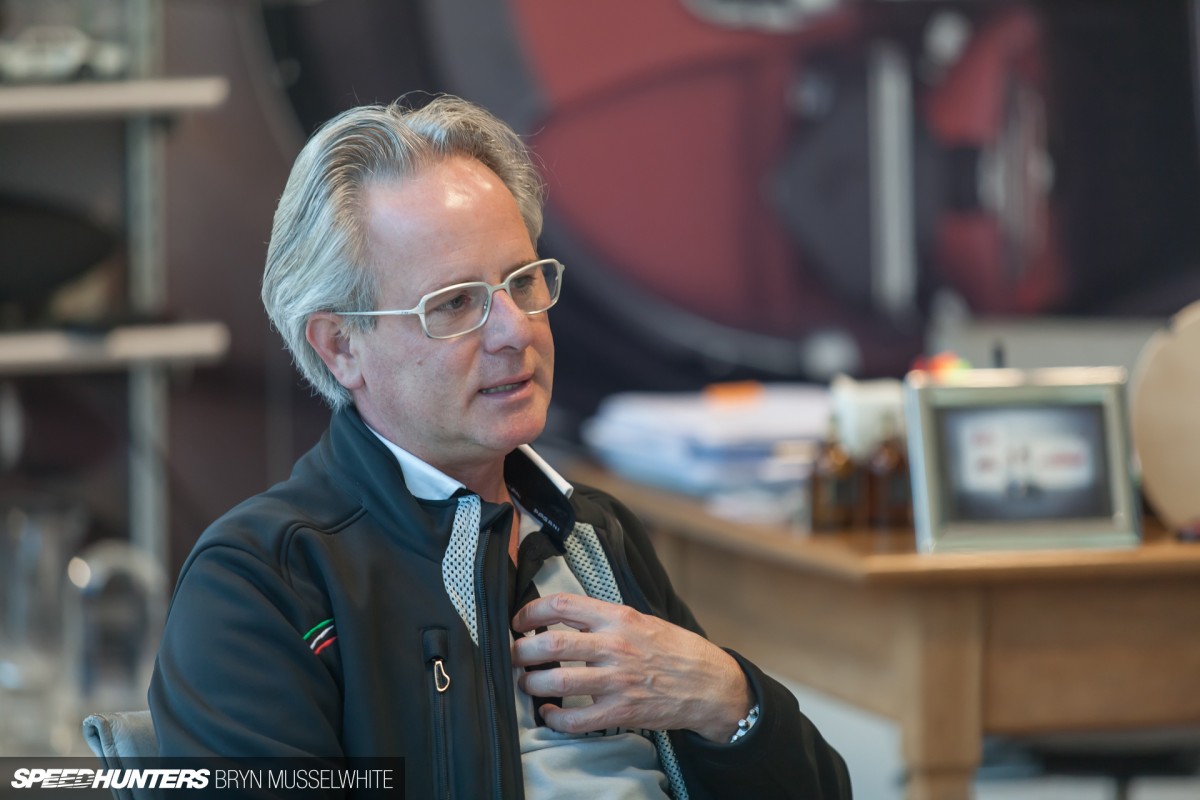 So it will make the exclusivity of the product even bigger than what it used to be. We have to distribute cars equally to different countries to keep [the Huayra] exclusive.
The future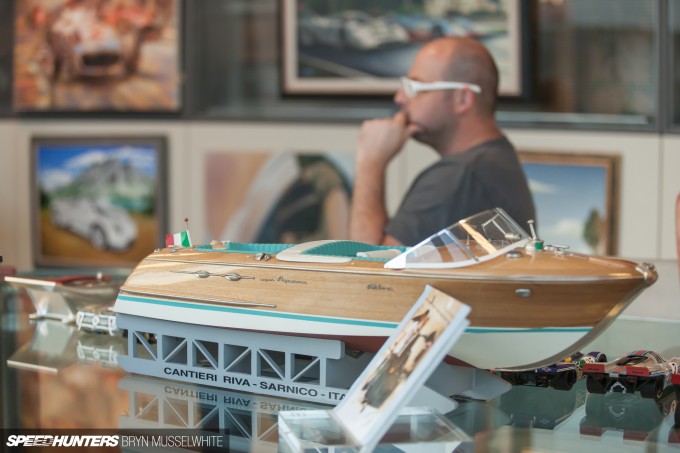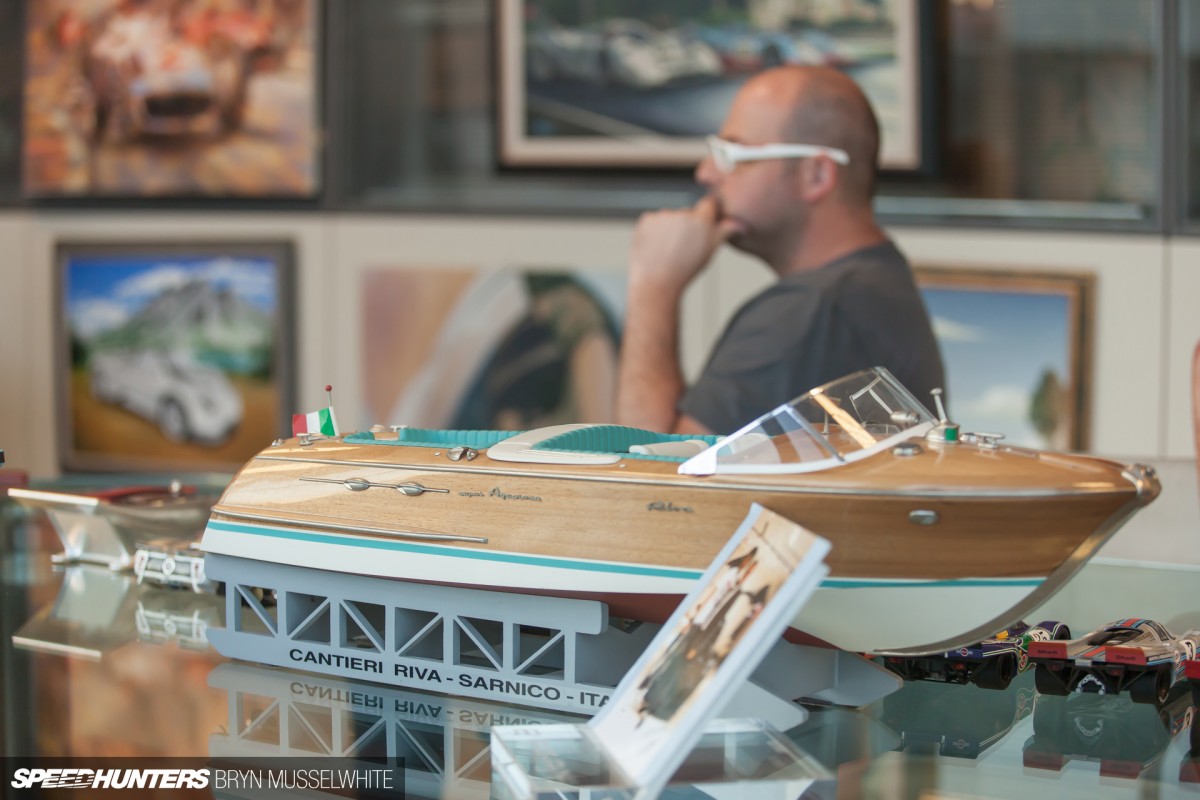 SH: I know you have to go but what is it that you will focus on in the future with Pagani?
HP: We make cars like a tailored dress or suit for each specific customer, like we always have. Other manufacturers, as they have become owned by bigger automotive groups, have lost this very important quality. Take Lamborghini now – they make great cars compared to what they used to make back when they didn't know if they could even pay wages to their workers. To have a backing from an industrial force like Audi has solidified the product and given them a safety, a back up to fall back on. Drive a Gallardo and it's a superb car, but it's the best that Audi can do, not Lamborghini; it lacks that latin quality that made it special before. Even Ferrari; when Enzo was alive they used to make 1000 cars, now in order to sustain momentum they make 7000 cars a year.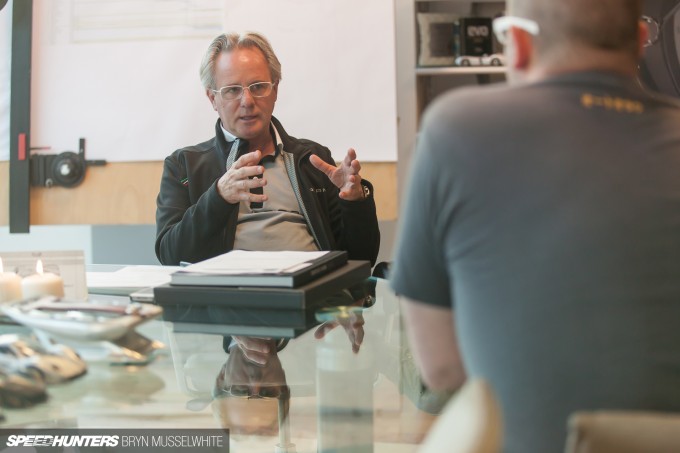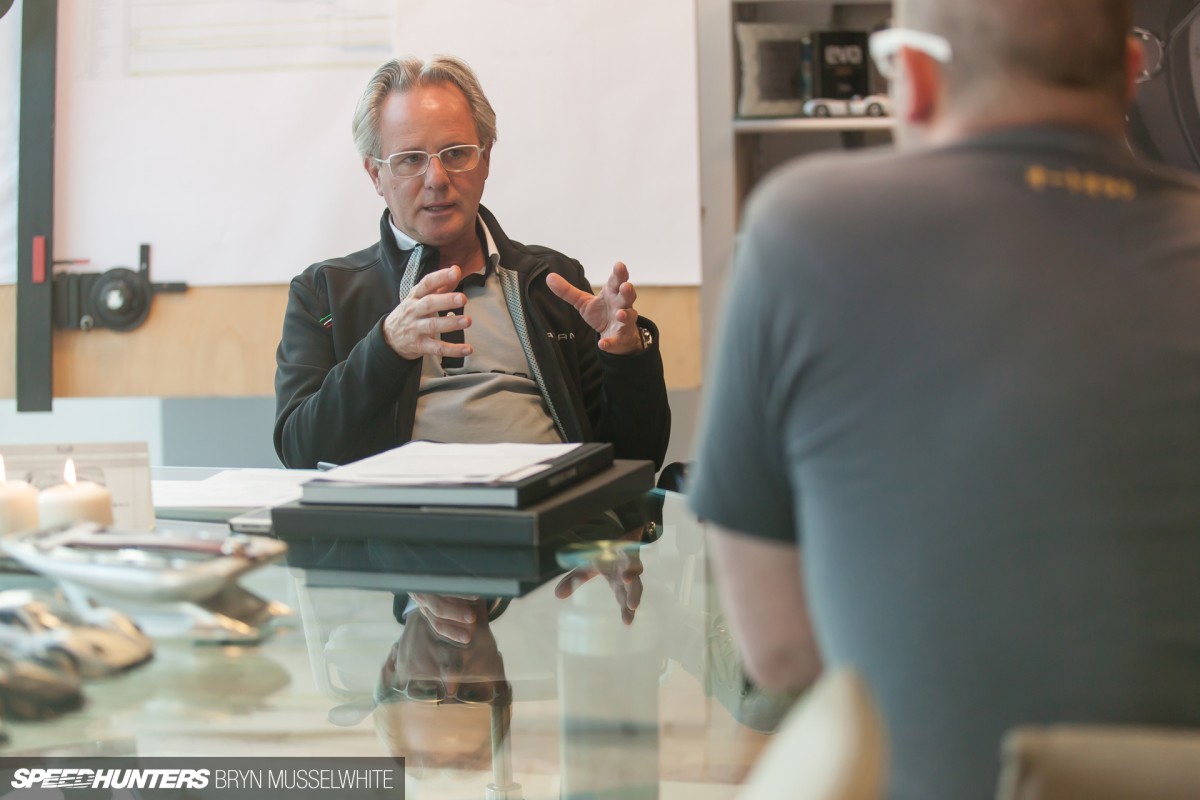 There isn't an exclusivity any more. When I was a kid I heard a phrase then now I use often: "It's better to be a mouse's head than a lion's tail" meaning that it's better to stay small and that will continue to stay our main philosophy. We've had offers from big companies that wanted us to really use the brand, make thousands of cars a year but this is a company that is 90% owned by myself and my family. I have an American partner, the co-inventor of the mouse, they follow the US market much like we do here, a family that made its wealth from zero. So while I welcome passionate people that want to work here, I'm not interested in big corporations that want to change the way we do things, make the company public… no thank you. I want to stay here, with my dog, my bicycle…  We are self-financed, we don't have debt, the 12-million Euro investment in the new factory is totally self-financed and we continue to be leaders in composites – materials used in the Airbus/the Boeing are all materials I developed in the nineties and we are just about to launch a carbon fiber that will be 40% stiffer than regular carbon, sort of like carbon-titanium. The R&D side of things we will continue to push, and it's also why we made such a big investment with the new factory, I could have built 50 cars with a much smaller establishment but wanted to have the right infrastructure to push research in our field.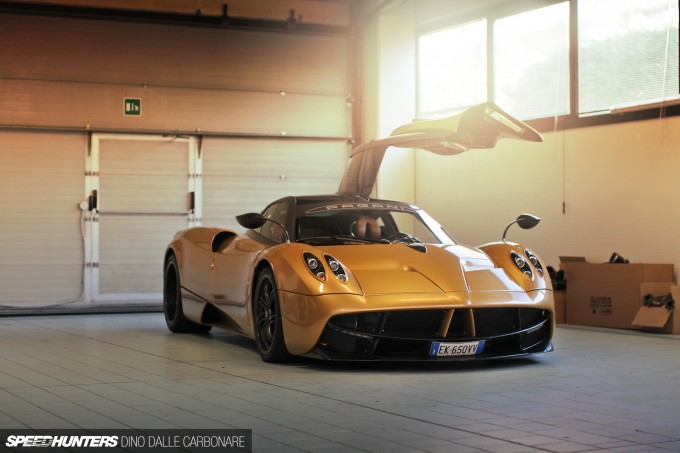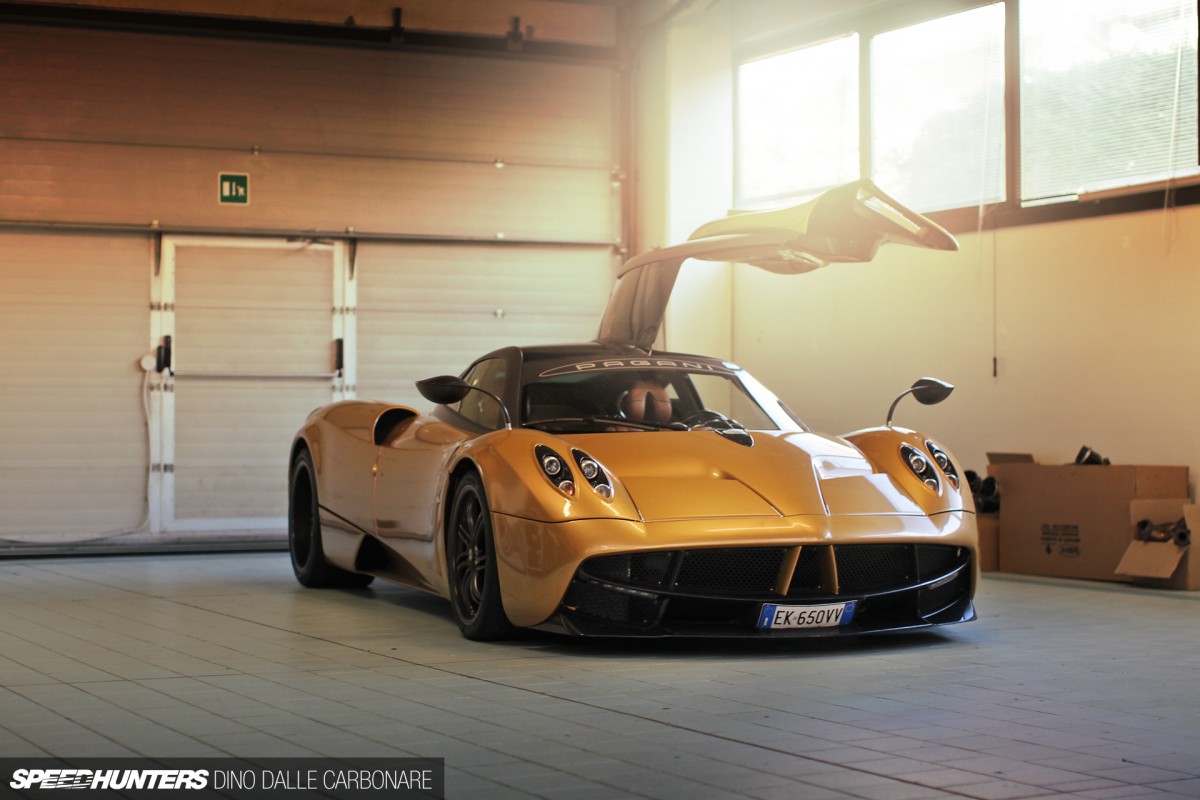 SH: We also saw some examples that Pagani is expanding in non-automotive circles. Can you tell us something about that?
HP: We have just set up Pagani Arte which will take on all non-car related projects and we have already had a great deal of requests to design and make hotels, boats… but as with everything my focus will always be Italy, here with my team of designers and all decisions will be taken here. We are now establishing various partnerships, like with the Four Seasons, to take the next step where our knowhow can be used in the creation of very exclusive things. But you won't find Pagani shops at airports – exclusivity will continue to define our brand.
Speedhunters would like to thanks Mr. Pagani for taking the time to talk to us and giving an insight onto where the brand has come from and where it will be going.
Words by Dino Dalle Carbonare
Instagram: speedhunters_dino
dino@speedhunters.com
Photos by Bryn Musselwhite
Instagram: Speedhunters_Bryn
bryn@speedhunters.com
Pagani new factory tour on Speedhunters