The before
The reason that a couple of weeks ago Rod, Bryn and I found ourselves stepping into the Pagani HQ just outside Modena…
… pushing through those glass doors, all started a few months prior in Japan of all places. The opening of the first Pagani dealership in the land of the rising sun led me to have a chat with the hypercar maker's PR manager, Luca Venturi. Turns out Luca is quite the petrolhead himself and a reader of Speedhunters, so when he mentioned that we should come over to see how they are expanding the factory for the Huayra's production, well let's just say that is one invitation you aren't going to turn down.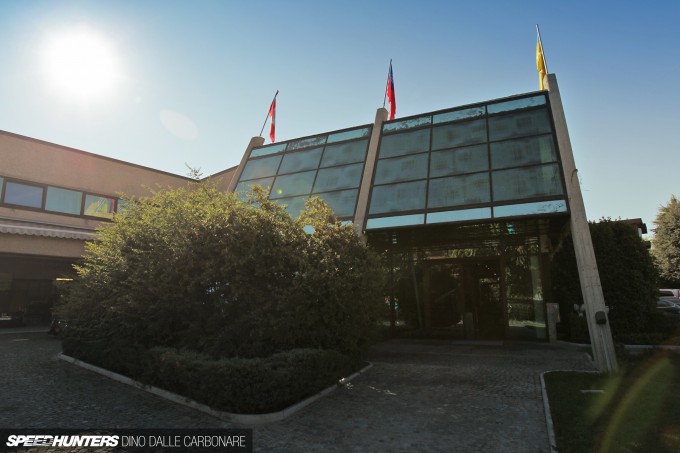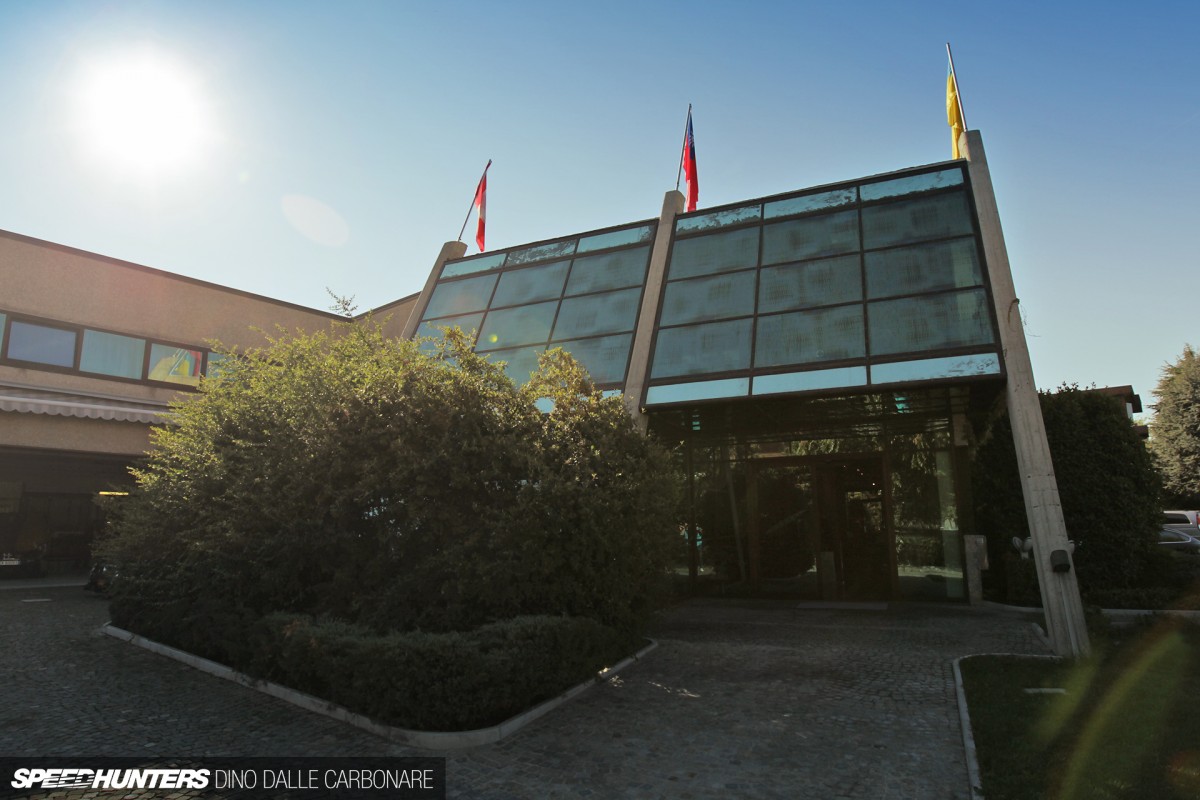 Throw in the mention of a possible drive of the car itself, and we couldn't wait for the time to arrive. But we'll get to that part of our Italian adventure at a later date, now it's time to get our nerd hats on and take a stroll through one of the most talked about manufacturers around. What Horacio Pagani has achieved in just little over a decade is simply beyond impressive. Driven by passion and an unstoppable determination to make his own supercar a reality, he put all he had into his vision and it very much paid off. His first baby, the Zonda, has become a legend and a collector's piece revered by those lucky enough to have the means to indulge themselves. Rod and I visited Pagani back in 2009 as a first look, but since then so much has evolved. They have launched the Zonda's replacement – the mighty Huayra – and in the process begun a set of steps that will eventually further establish the company with an even mightier footprint.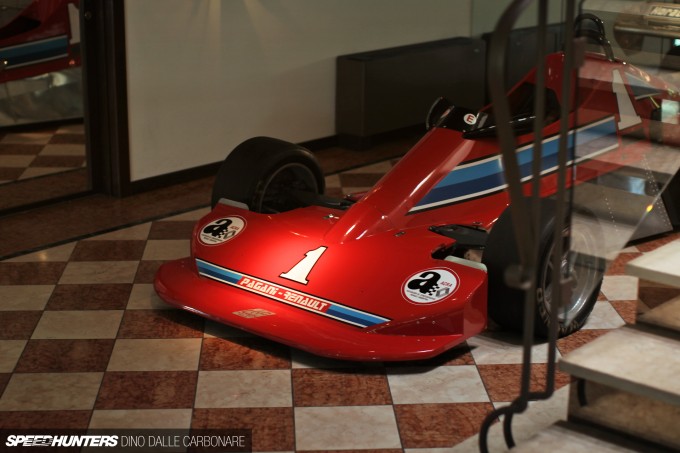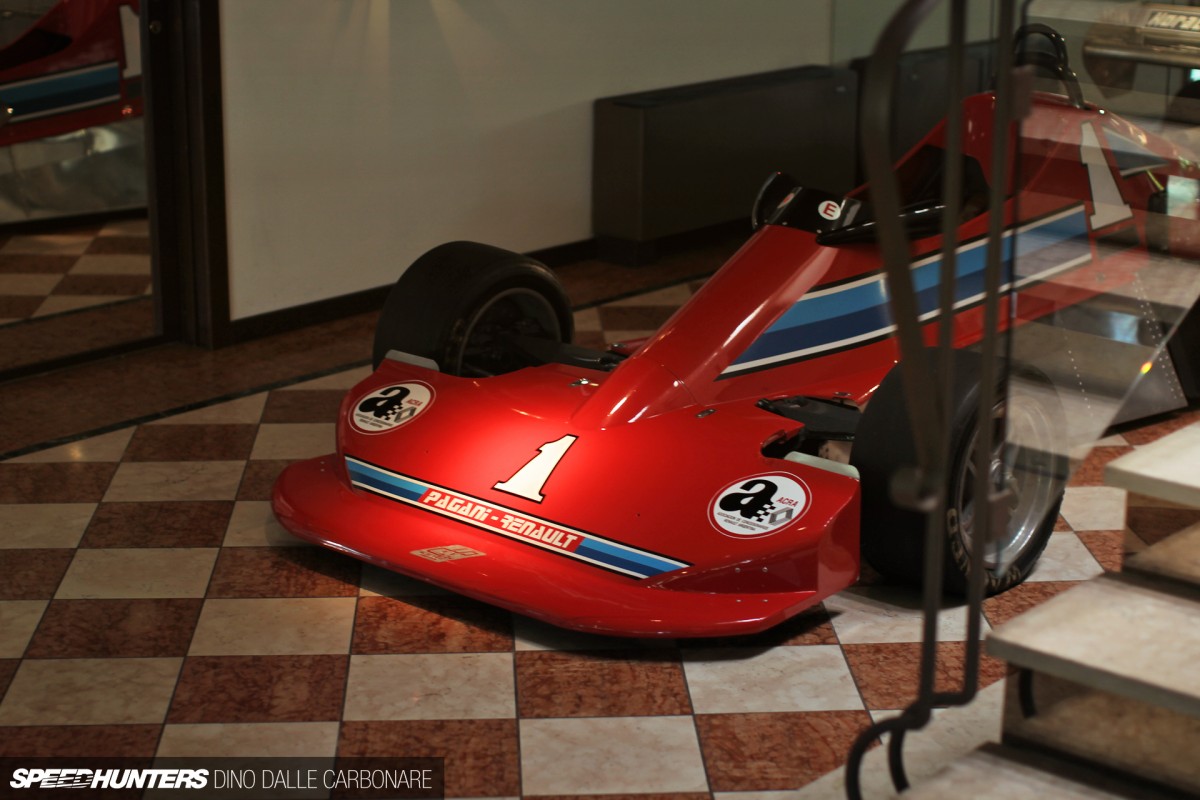 Our day began at the HQ, the old factory if you will, where Mr. Pagani and most of his staff still have their offices. For the time being these premises will continue to be run alongside the new recently opened production line, which is just a couple of minutes drive away. The reason we started off here is because…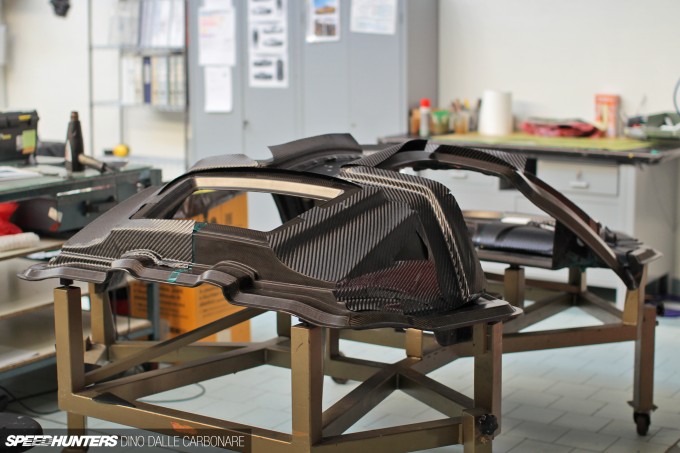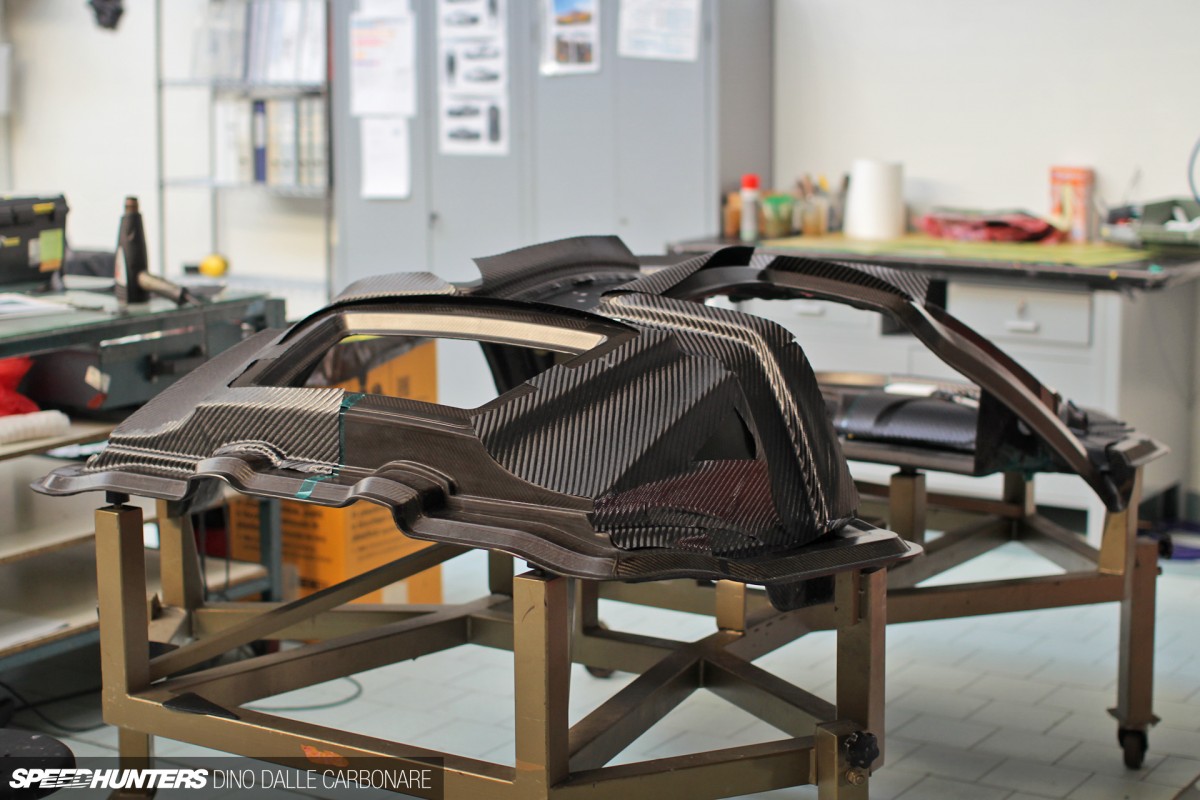 … behind that unsuspecting access door from the showroom into the back of the establishment takes you into what was once the main build room. Here, up to three Zondas were being built at the same time, however now this space has become an extension of the carbon fiber production studio.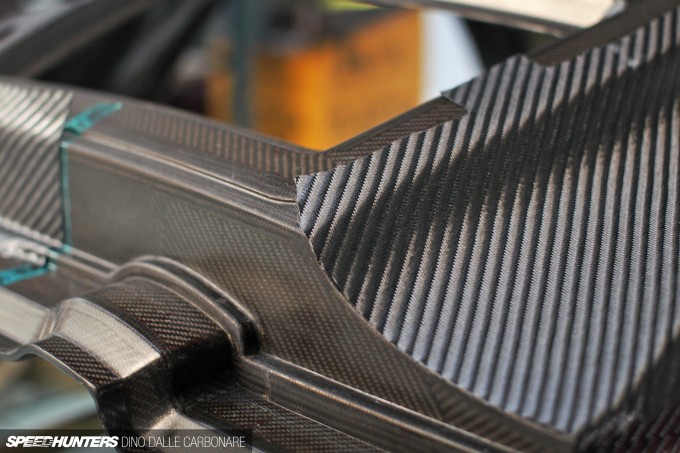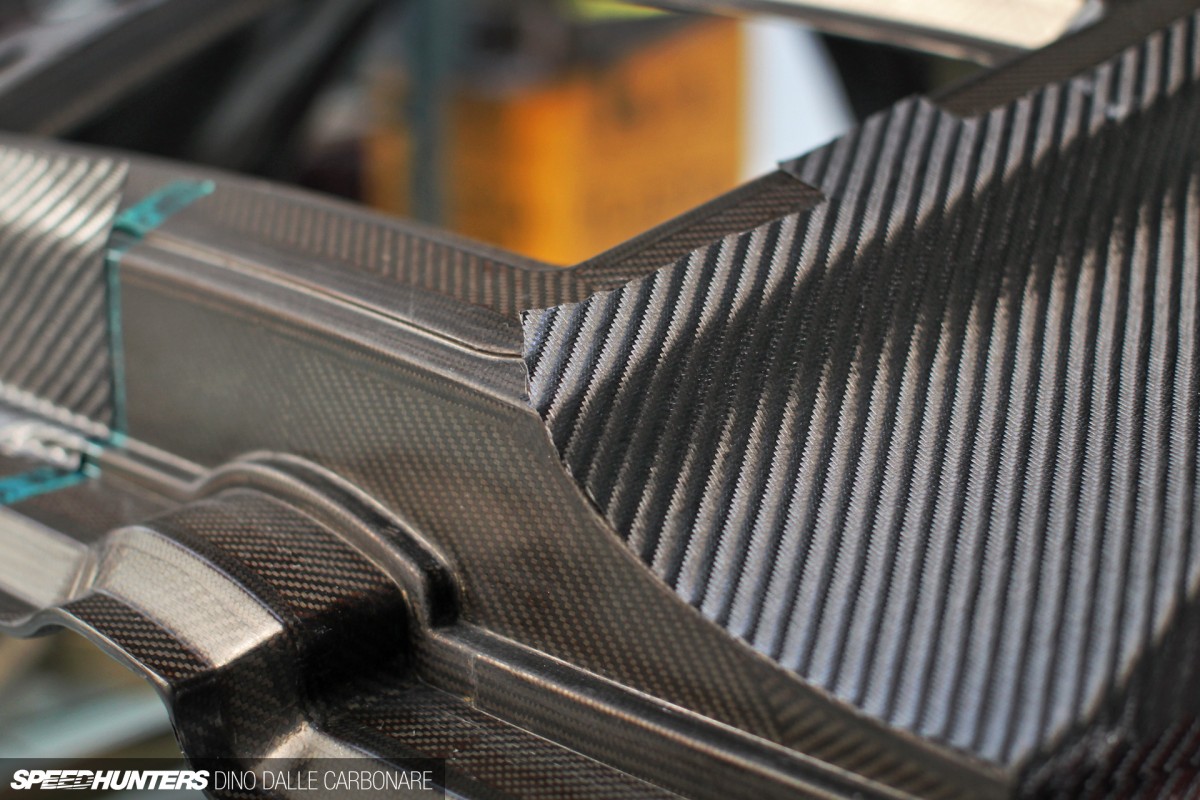 This is where carefully cut sheets of prepreg fiber are carefully laid down over the carbon fiber moulds, all set down at specific angles to each other, layered at times with slightly differing weaves to create specific types of carbon for different areas of the chassis or body. Pagani continues to invest a lot into composites R&D and on top of the carbon-titanium weave we originally saw back in '09 they have invented and patented a few others, all with their own specific uses and qualities. It instantly becomes obvious that this isn't a company that has rested on its laurels, building and refining their cars with the belief that nothing is ever perfect and that there is always room for improvement and evolution.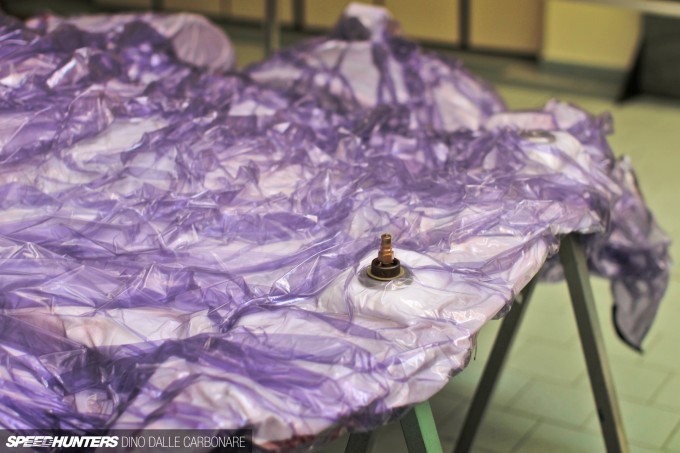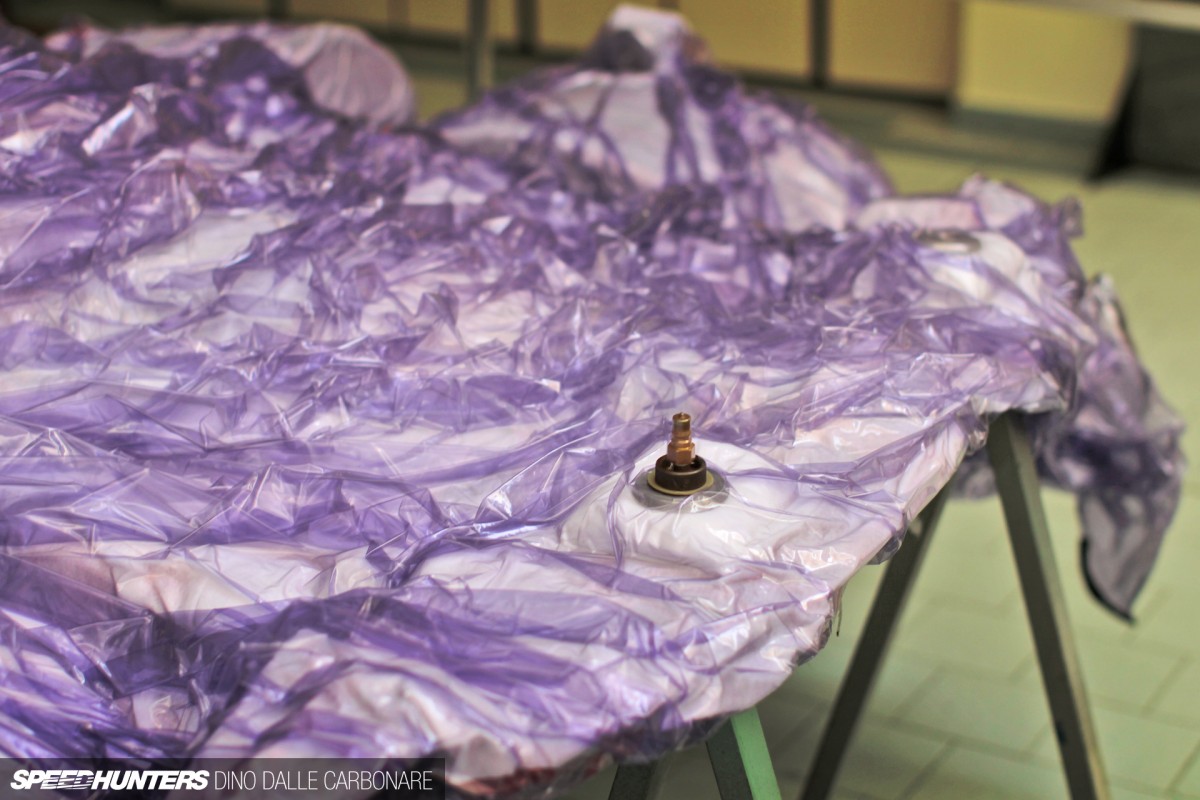 Once the carbon is laid down it is then vacuum-sealed inside these bags, wrapped around a special absorbent layer that soaks up the excess resin that will leak out during the 'cooking' procedure.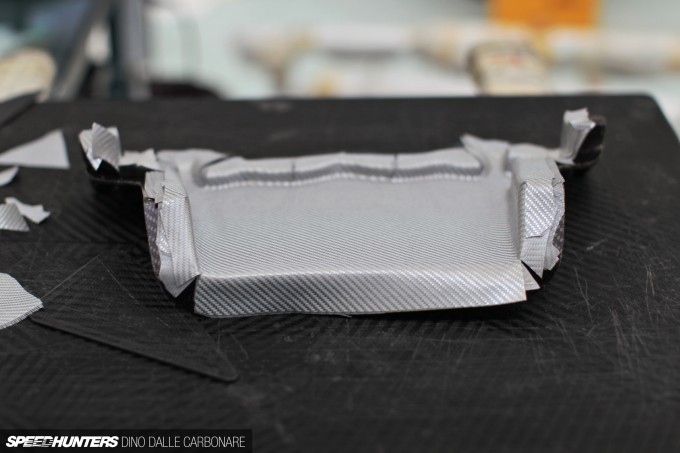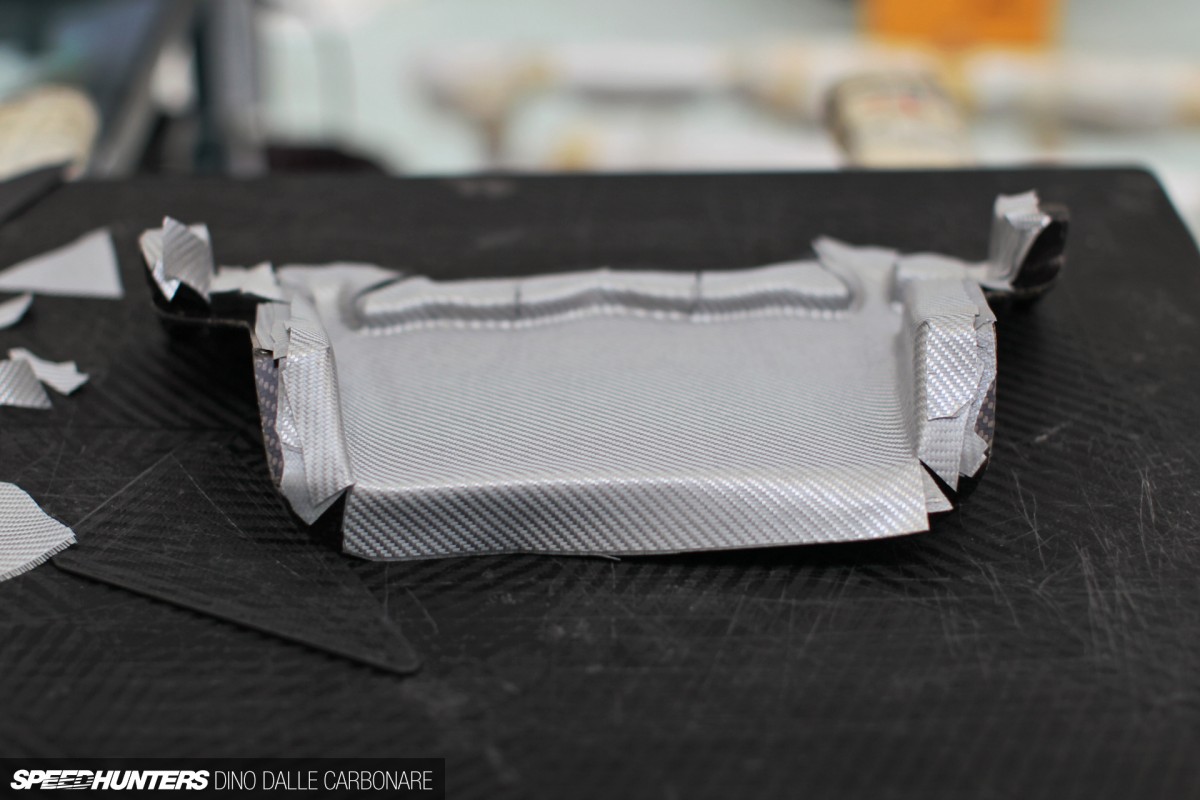 Silver carbon? This is also used around the exhaust outlets as it has a slightly higher tolerance to heat.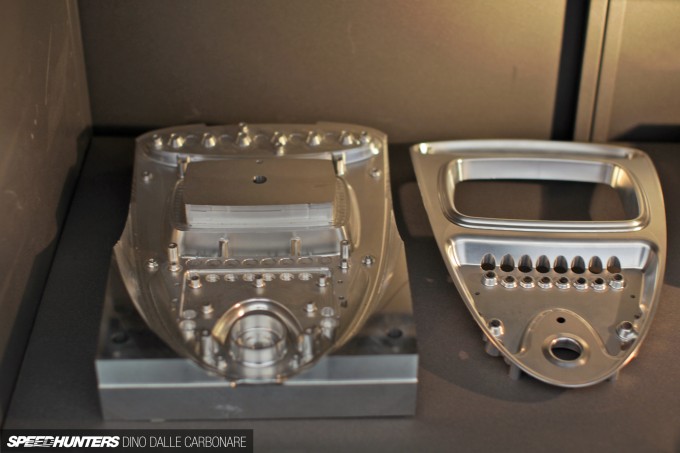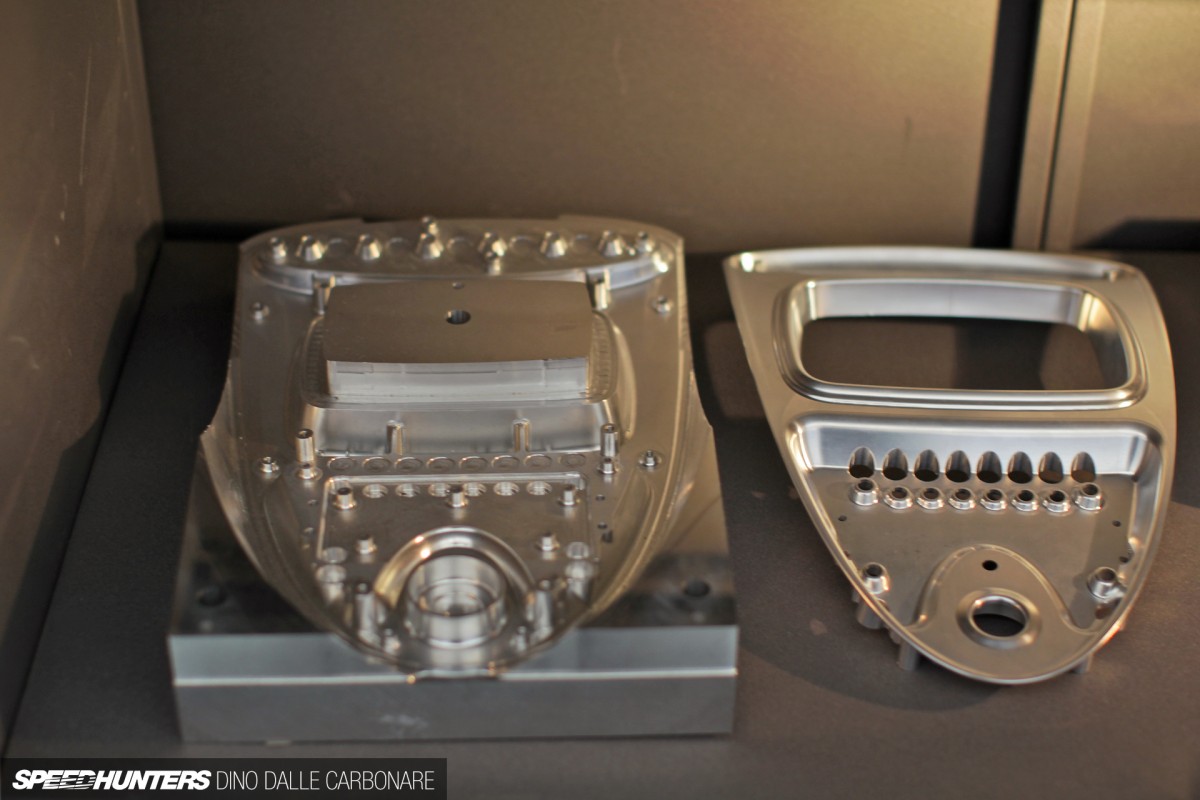 Meticulous attention to detail is what defines Pagani – one of the biggest aspects of that is the choice of materials and the way they're integrated into the final product. There are no trim pieces in a Huayra. If something has to be aluminum it will be milled out of a billet; it has to stand out for its quality, its interaction with the driver down to a tactile level. Above is a perfect example, the two halves of the Huayra's center console…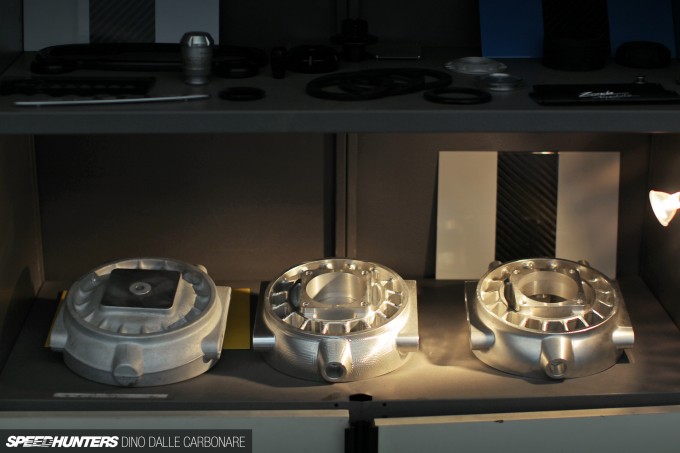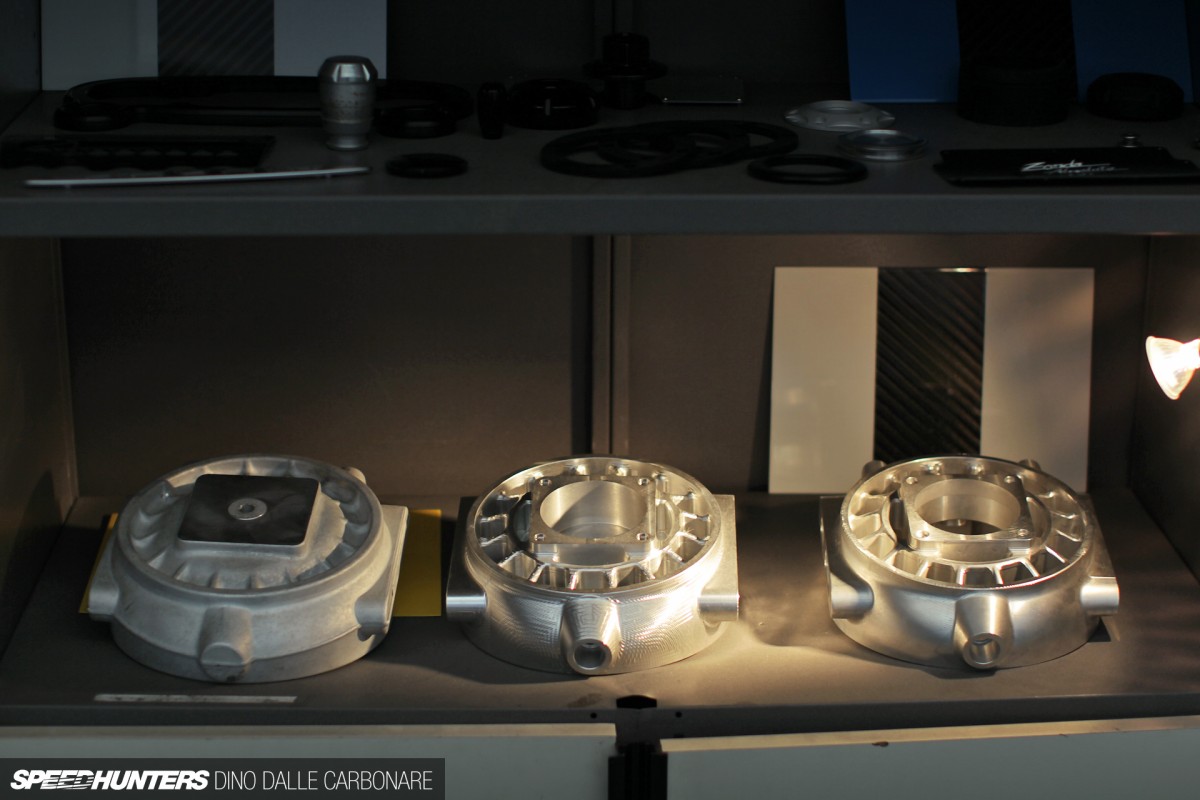 … or the hubs which despite not being a part you would see often…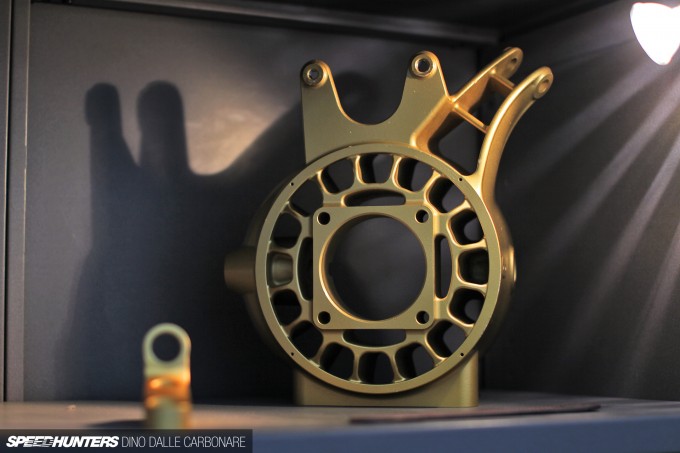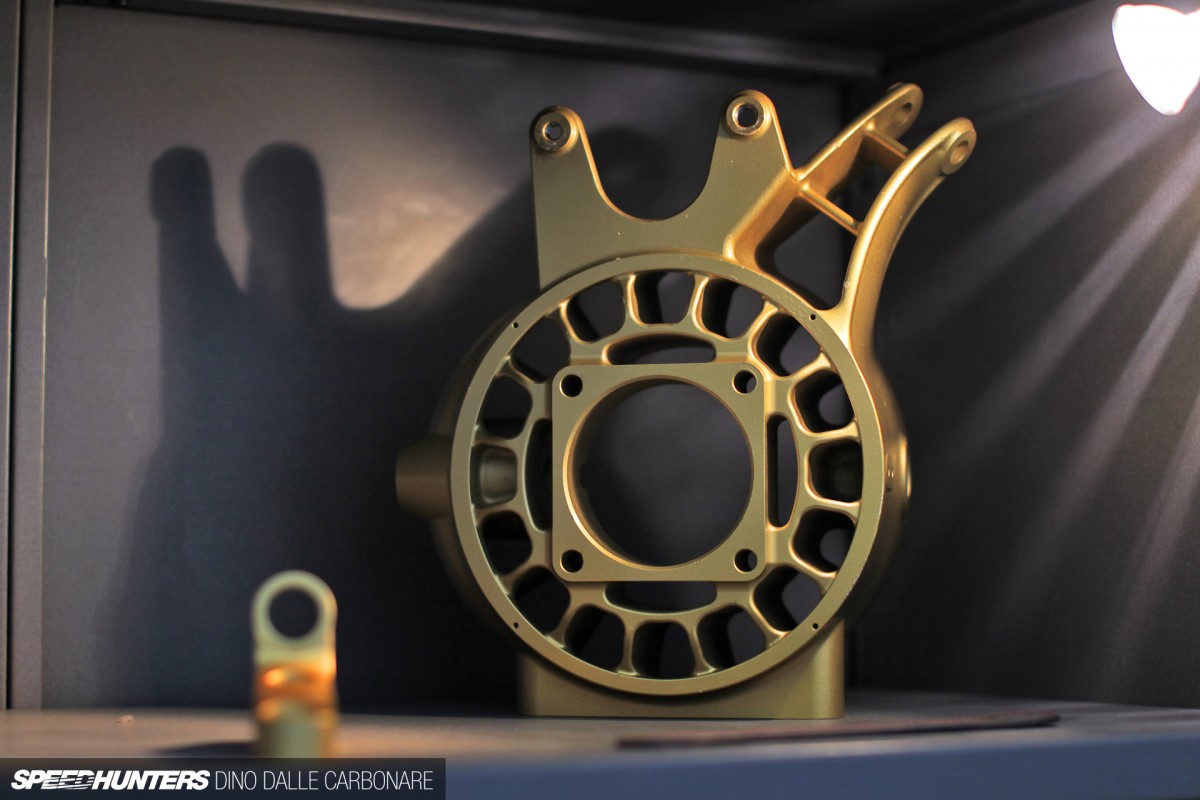 … are give the same attention to detail as bits and pieces that an owner would be in contact with every time he drove the car. It doesn't matter if you don't see this sort of quality, knowing it's there will make the whole experience of owning a Pagani that more special.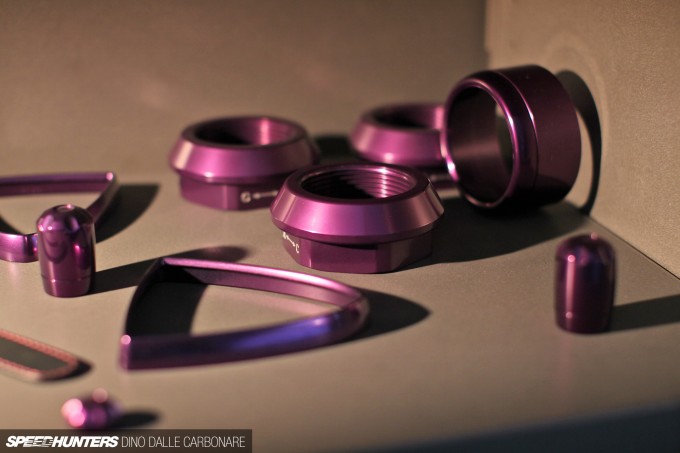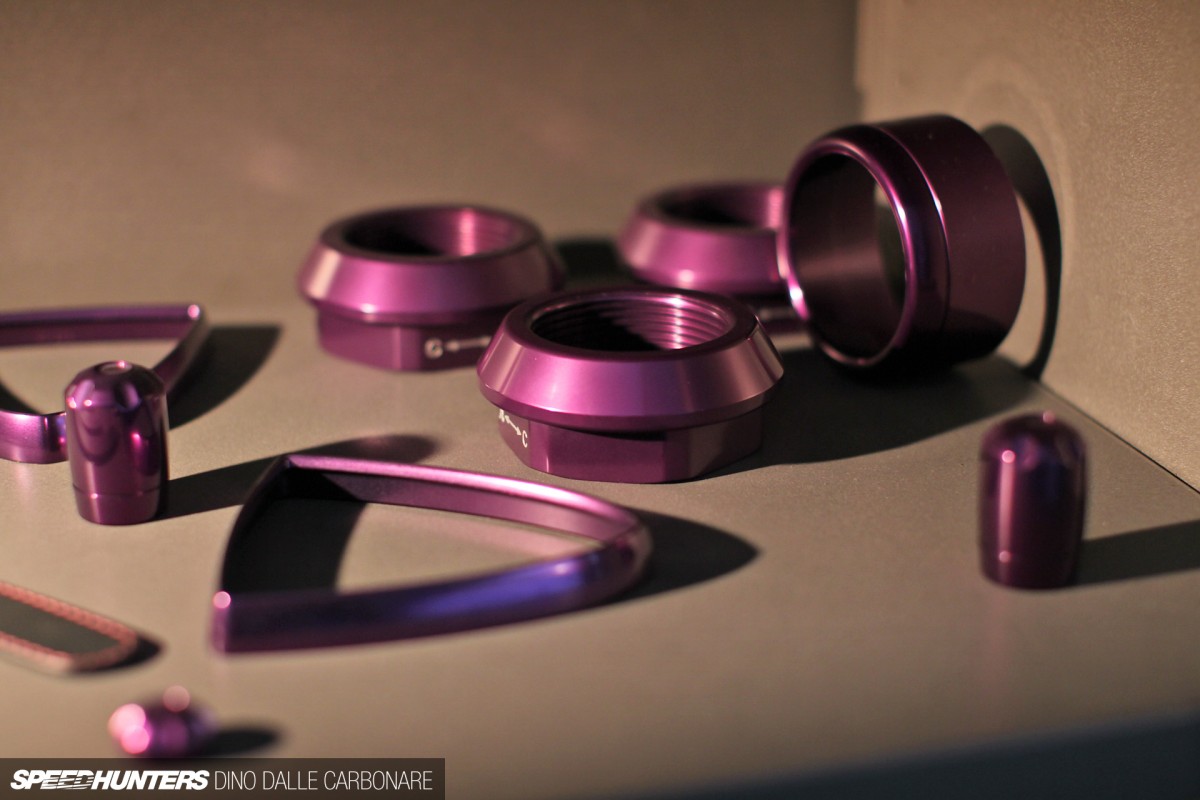 Of course for owners that want to stand out a little more you are be able to customize a variety of aspects of your car, much like this assortment of aluminum parts anodized in purple for the one of a kind Zonda 760LH, owned by a customer who goes by the name of Lewis Hamilton.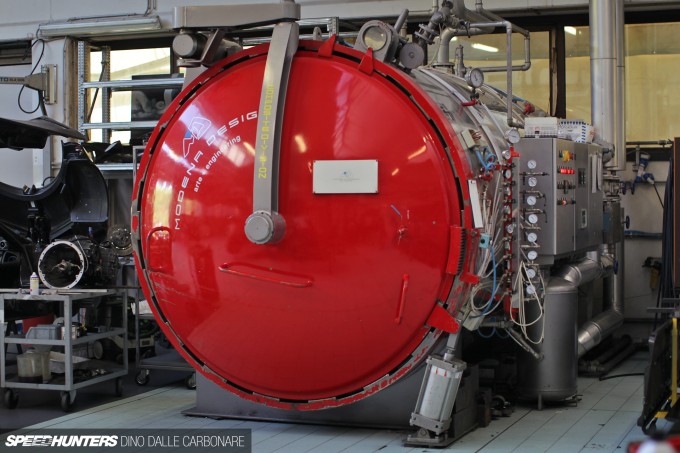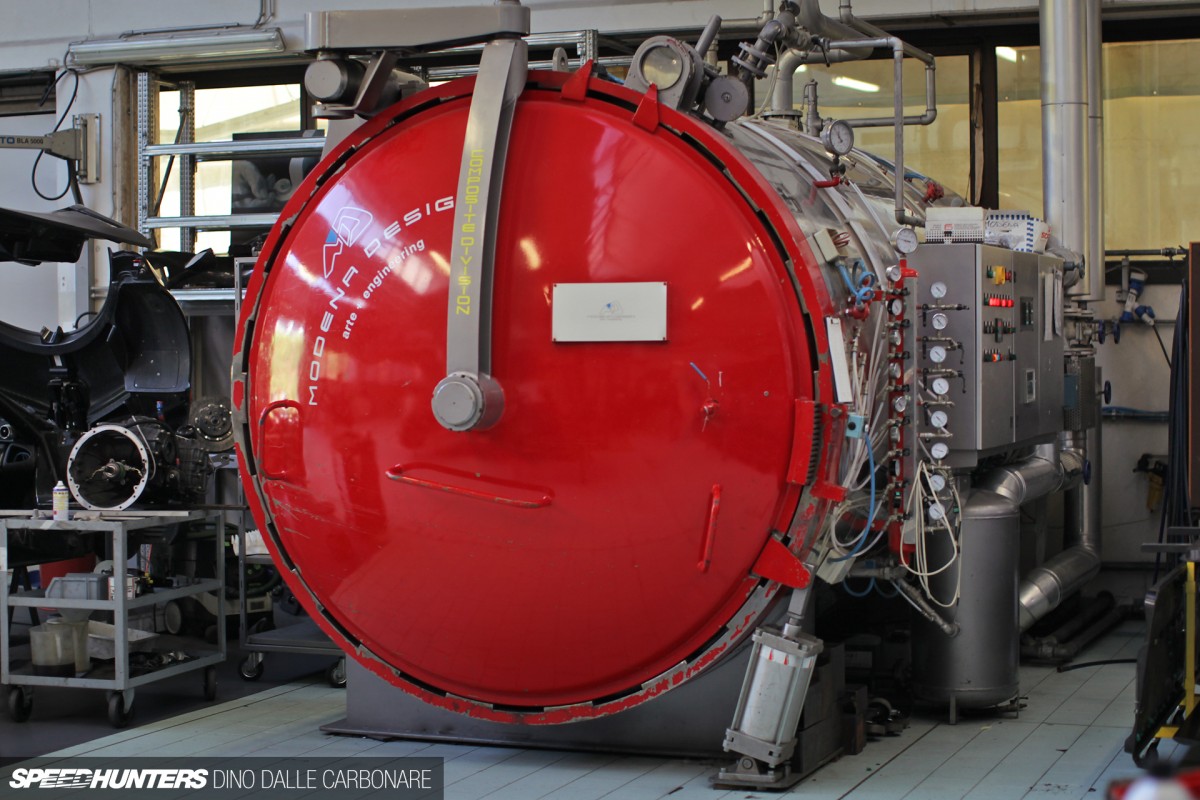 After salivating profusely at things like Pagani-engraved titanium nuts and bolts it was over into the next room where the autoclaves are located. This is where, day in and day out, the loaded carbon fiber moulds we saw before are cooked under heat and pressure to create…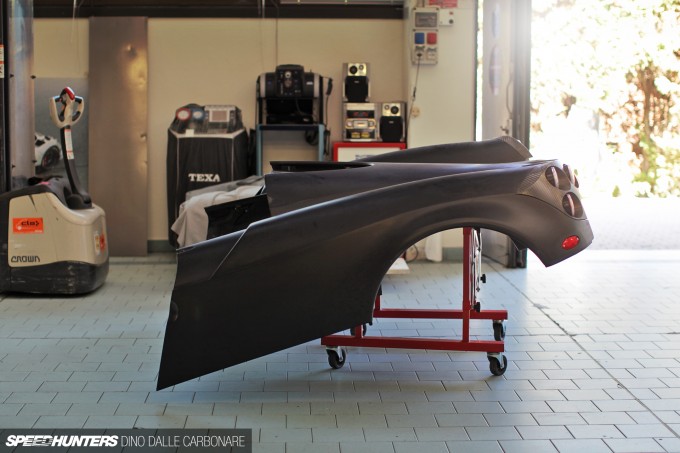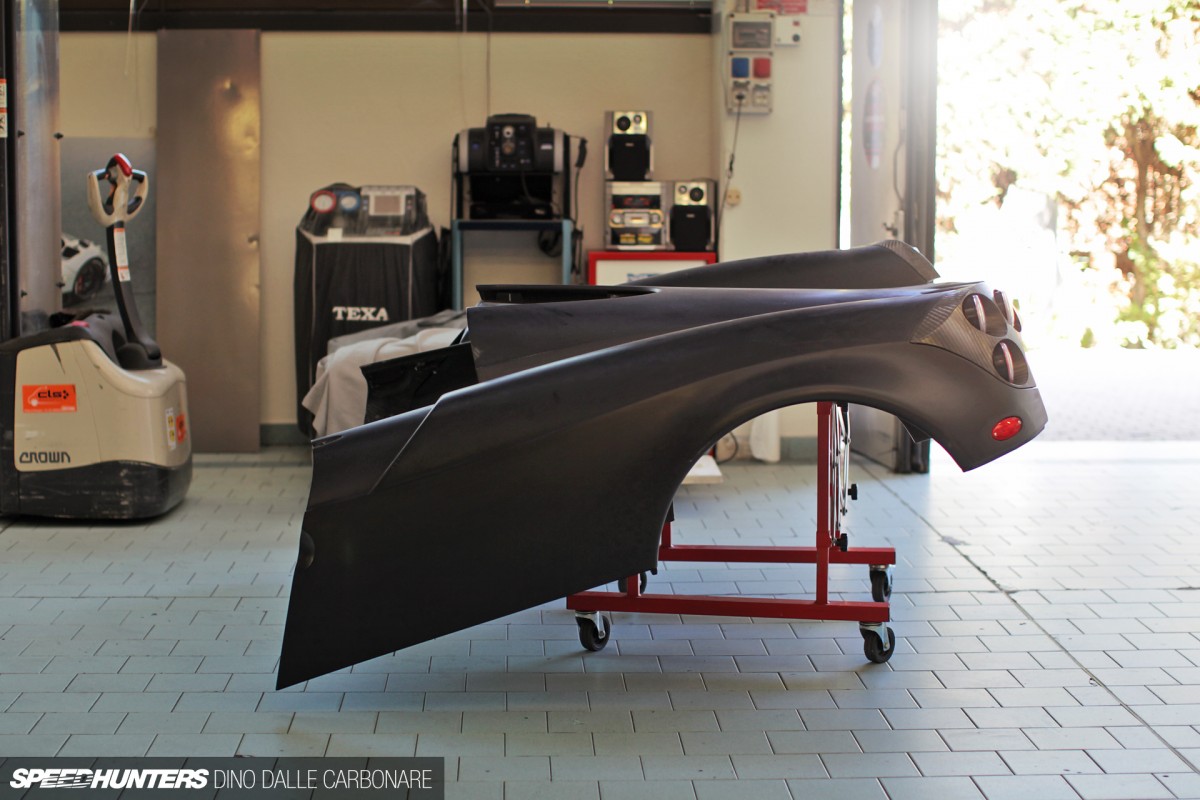 … the parts that will be sent over to the new production line.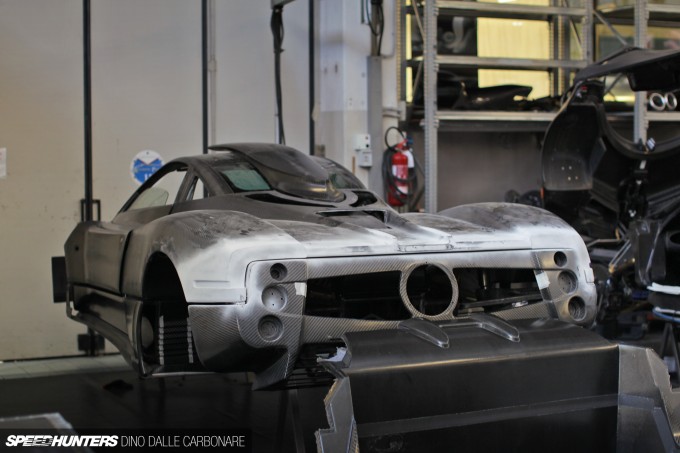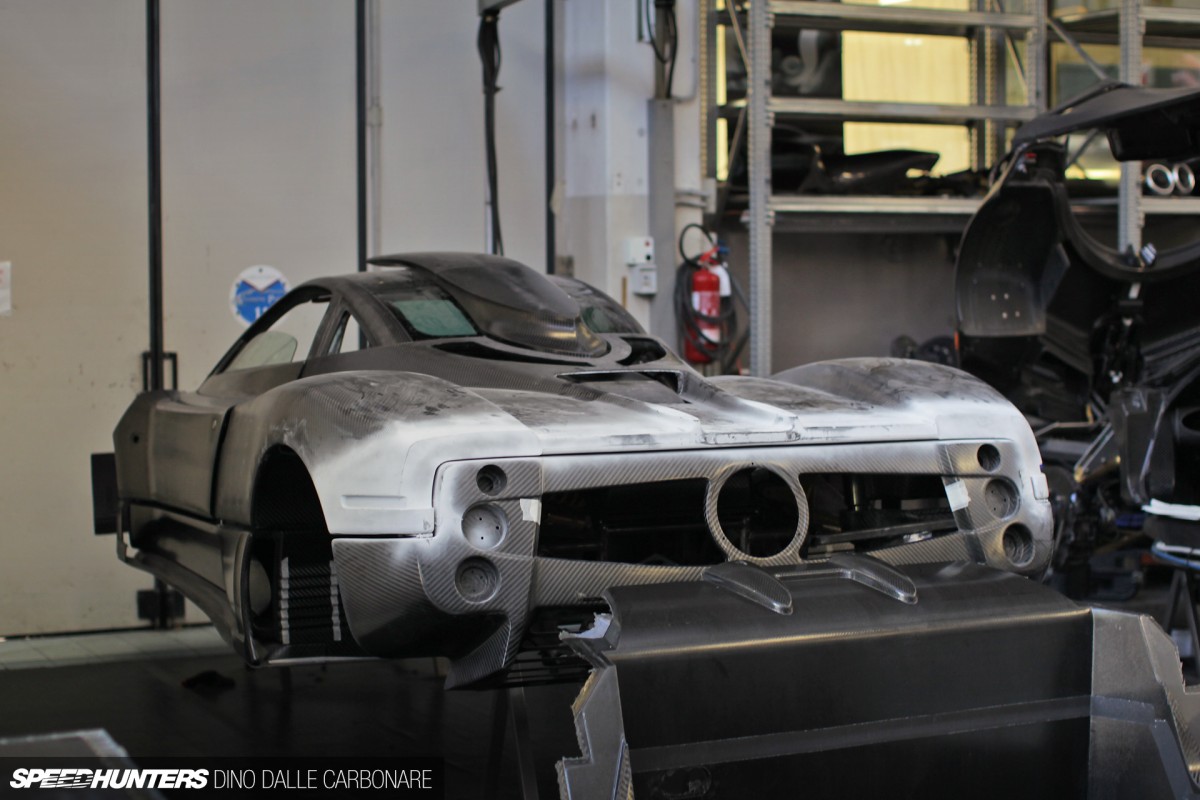 Customer cars are also looked after here, given anything from a quick check over or repaired and updated as needed. This Zonda had been completely stripped down and was in the process of being rebuilt and refreshed back to showroom perfection. From here Luca took us a few hundred meters away…
New horizons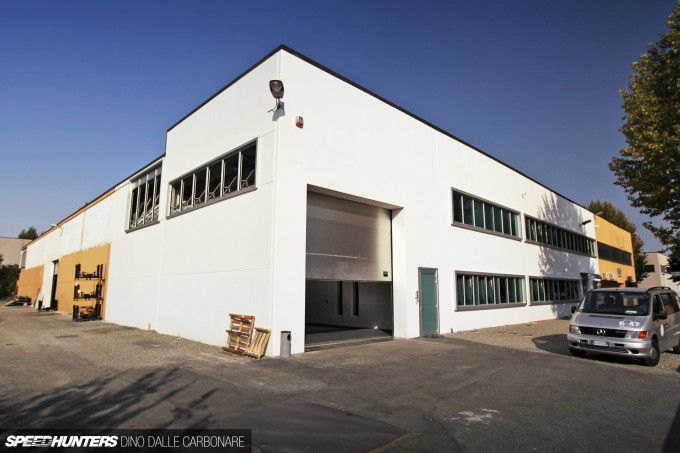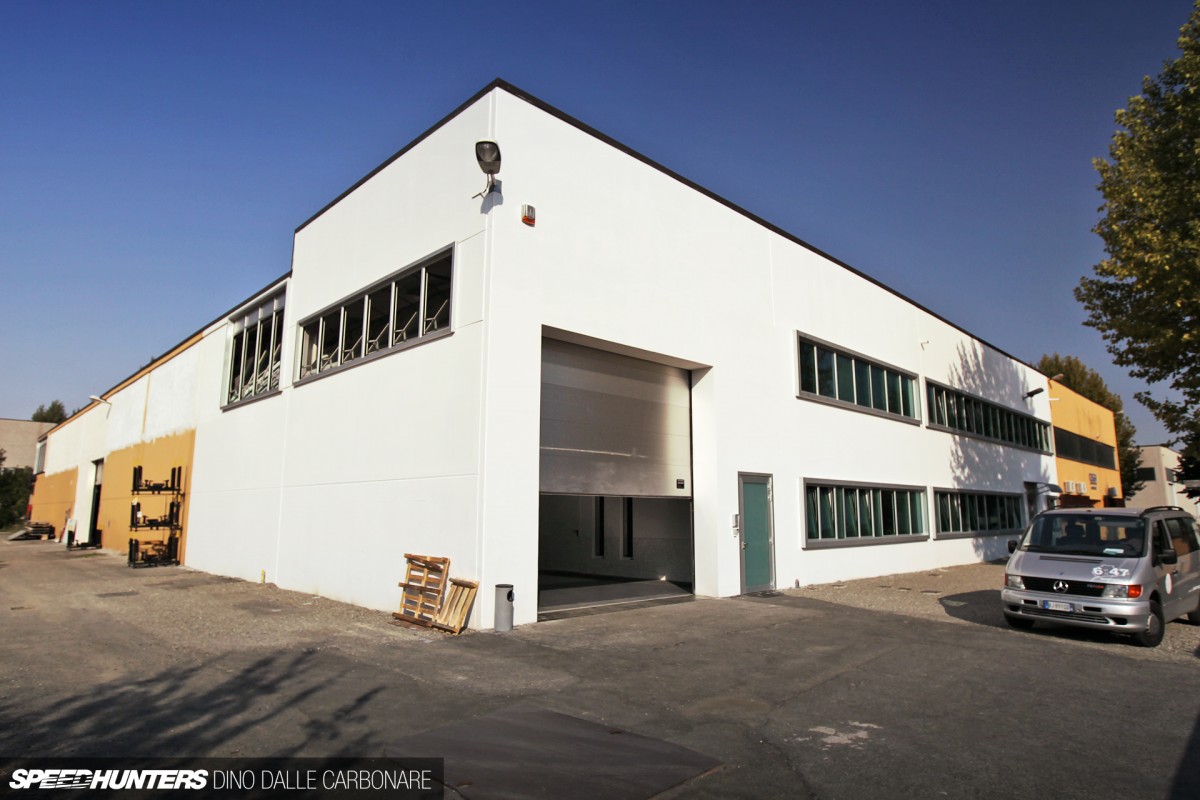 … to see the new establishment, or at least the first part of what will eventually become the main production line of the all-new Pagani factory. From the outside you could never guess the automotive jewels that are being created under its unsuspecting appearance, but like his cars, Horacio has rather big plans for his new factory. Given the rather impressive number of orders they have received for the Huayra – which stand at circa 120 the last I heard – the need to expand was a must. Part of a very big investment, this new factory will allow Pagani to boost its production to about 40 cars a year allowing them to cut waiting times as much as possible, keeping customers even happier.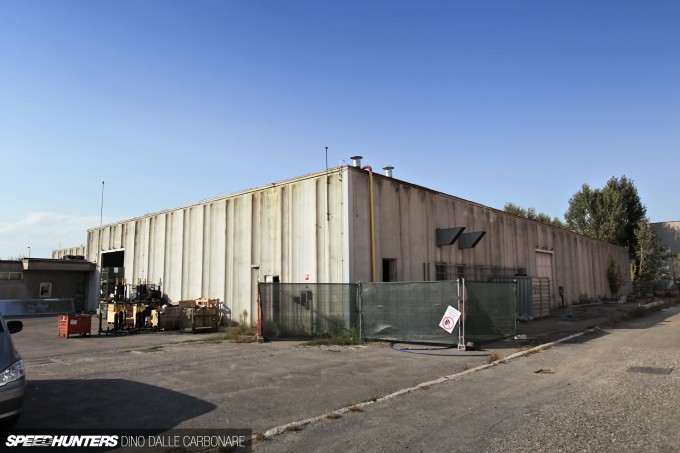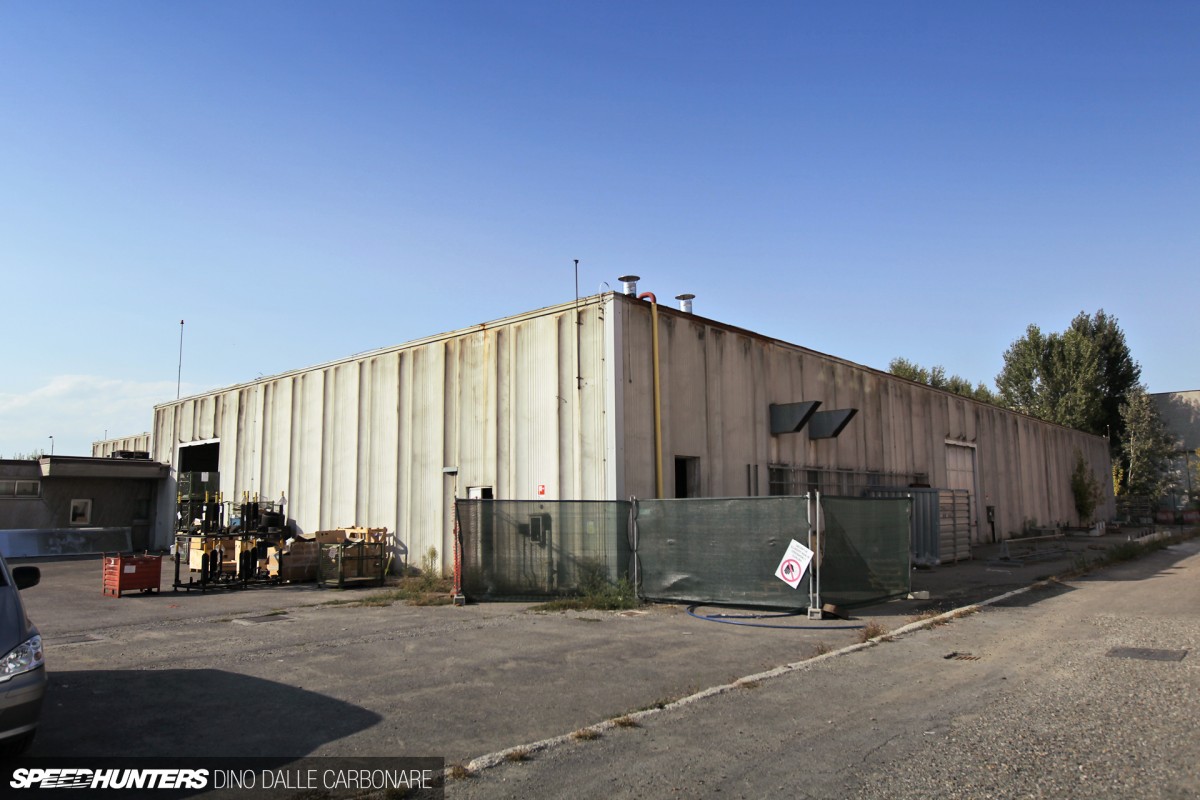 Next to the main factory building this old concrete warehouse will soon be demolished and in its place a modern face for the Pagani brand resurrected. It will double up as a showroom and display area as well as a place for the administrative office, design studio and some areas of the production line.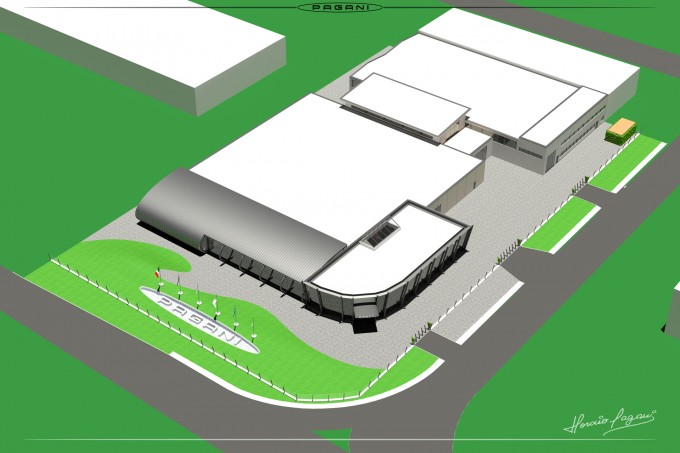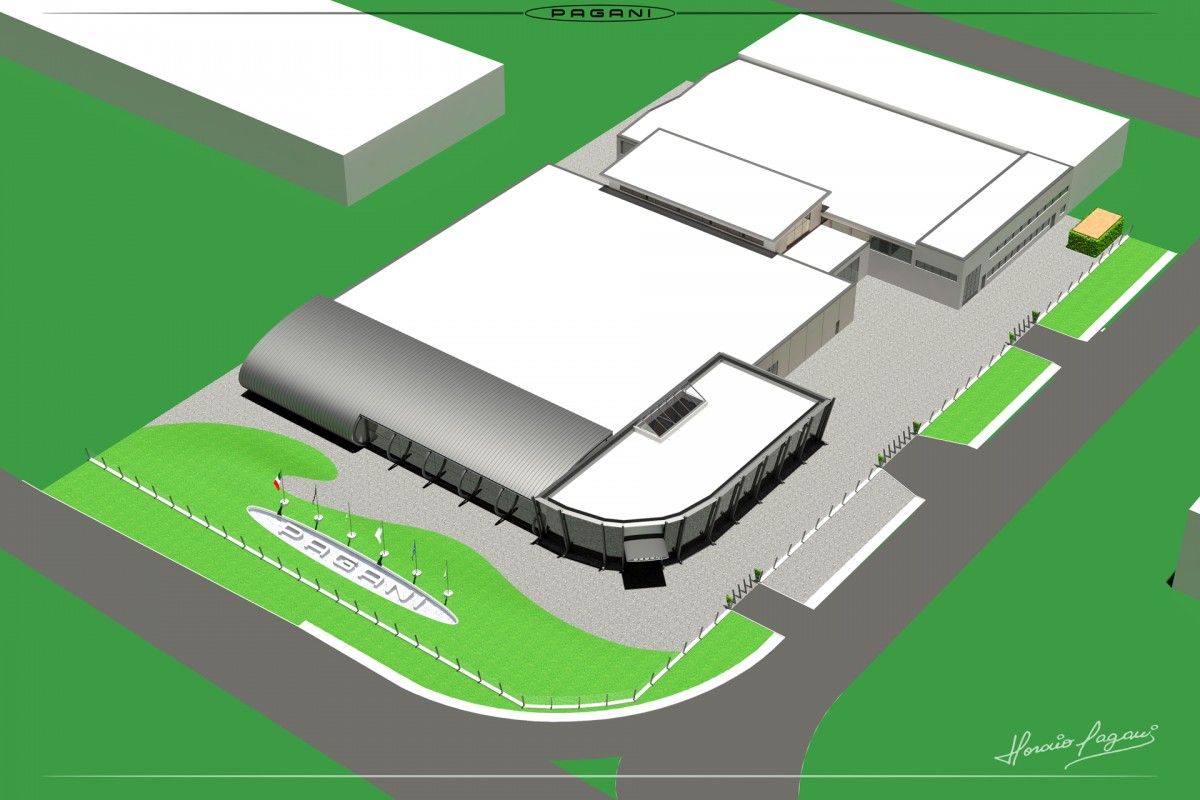 Once all completed this is what it will look like.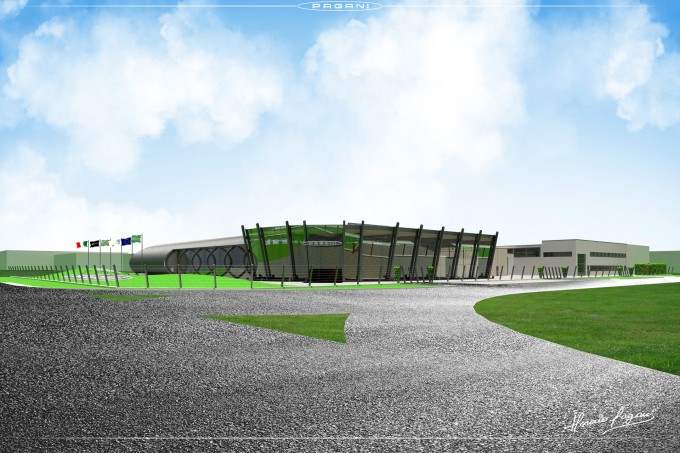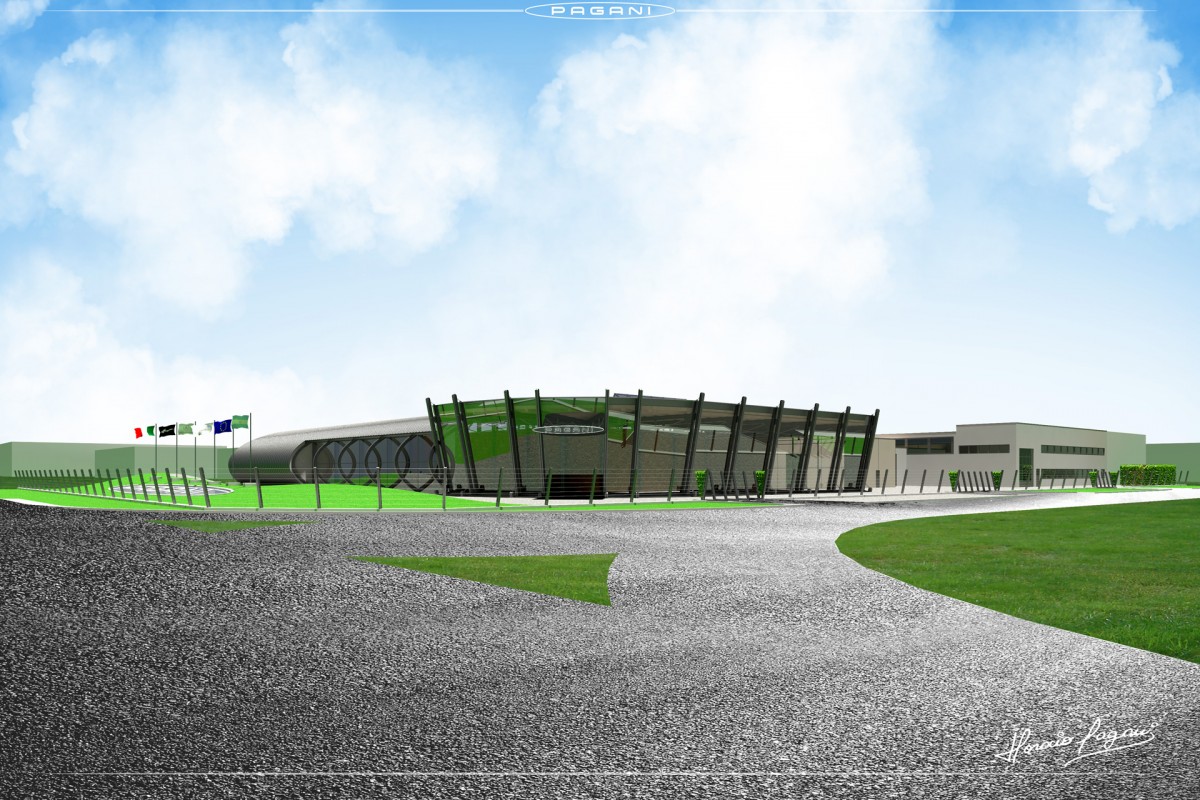 Here you can see what the showroom will look like from the outside…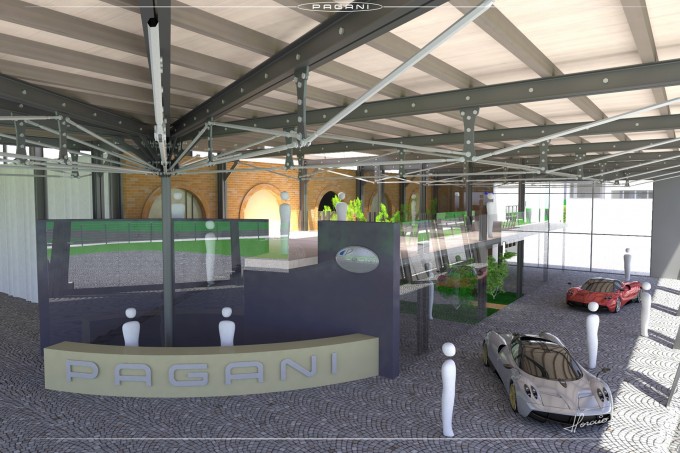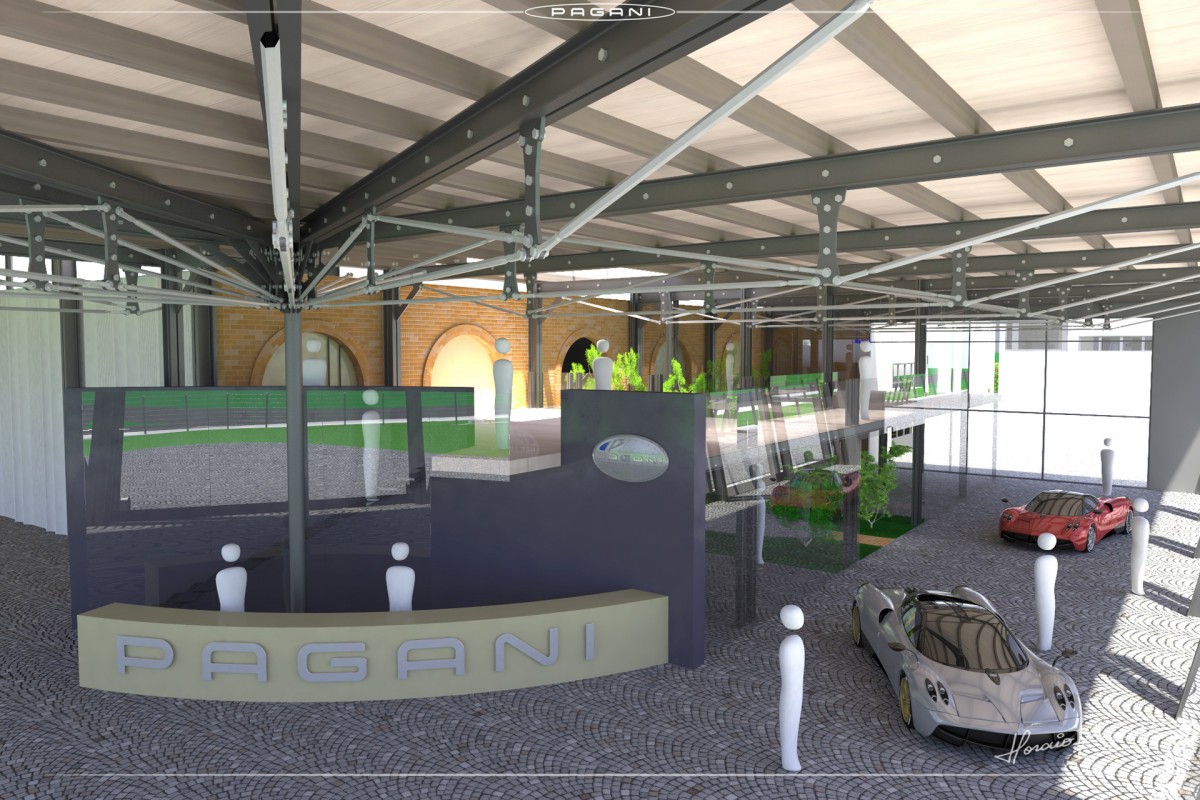 … and the inside. All the design has been done by Horacio Pagani himself. He wouldn't have had it any other way – Pagani and its cars have to be his vision down to the smallest of details. Let's have a look inside…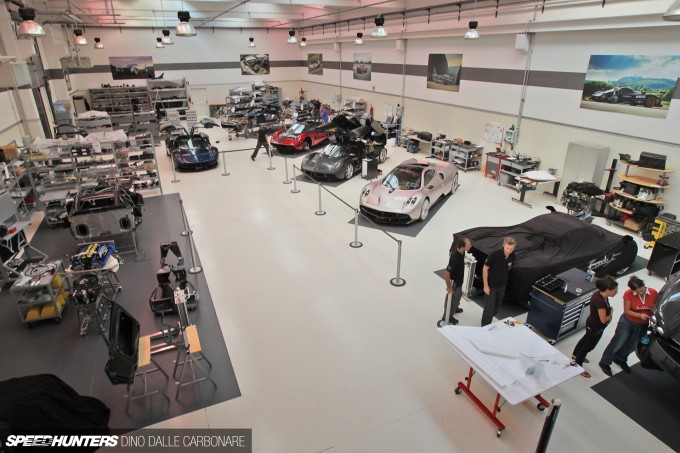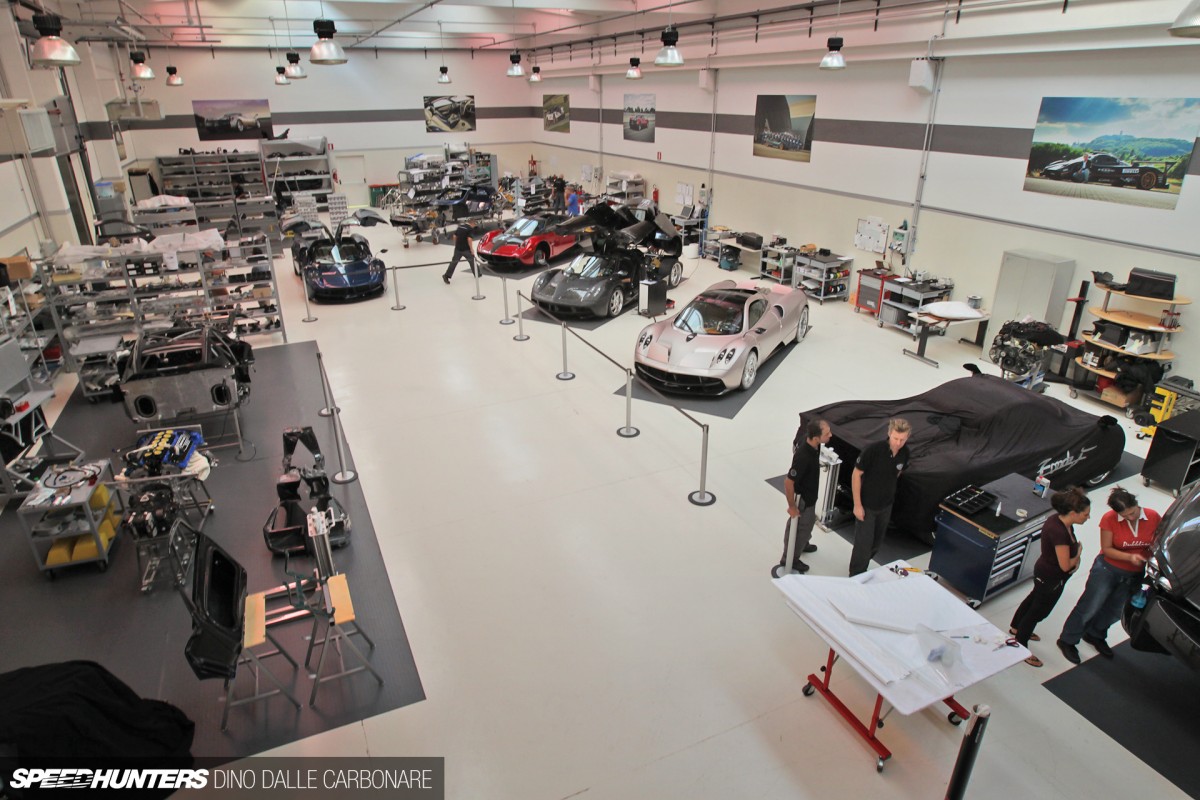 … and see how it's all growing. It's hard not to instantly be bewitched. All those details I mentioned before, all those parts that make up these special cars, they are all neatly stacked and being put together around you and then, then you step into the Huayra production line. I literally dropped my camera bag and just stared in awe…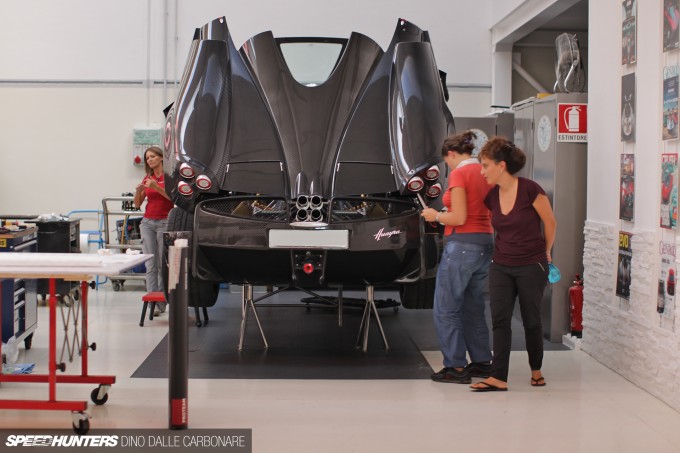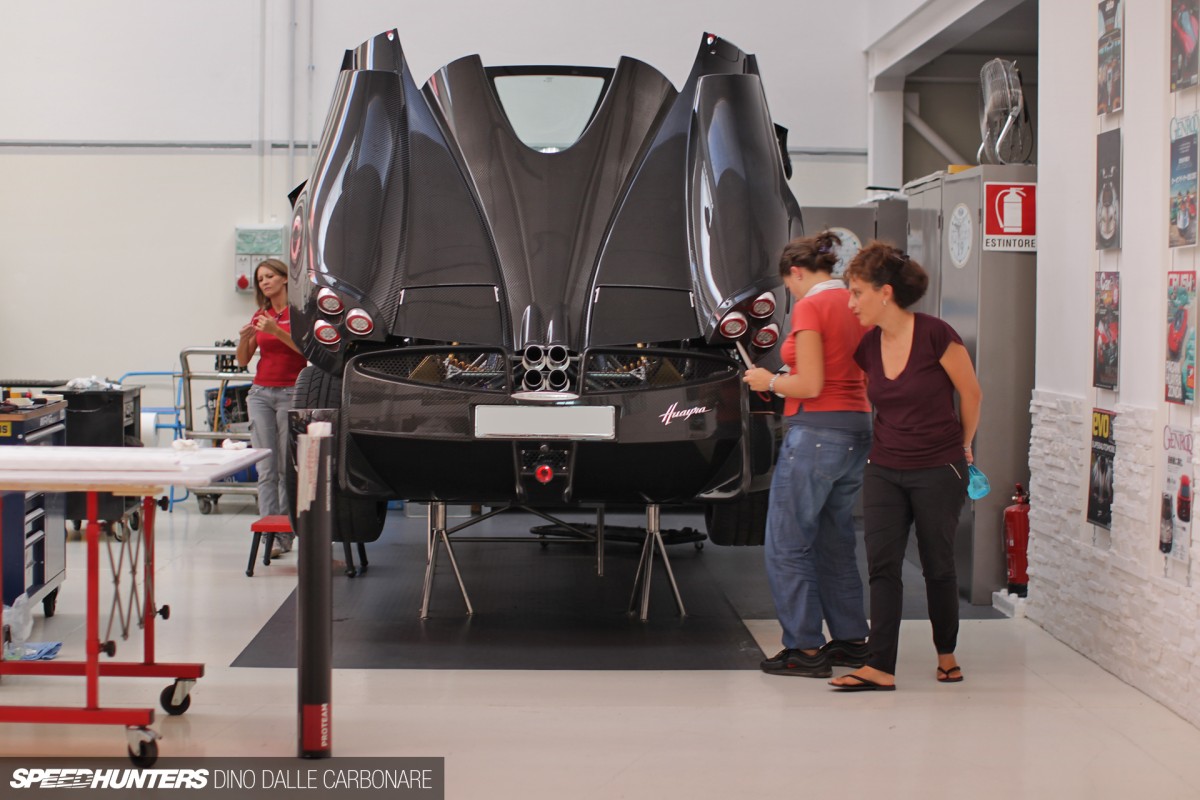 … slowly walking past every car. Mind blown!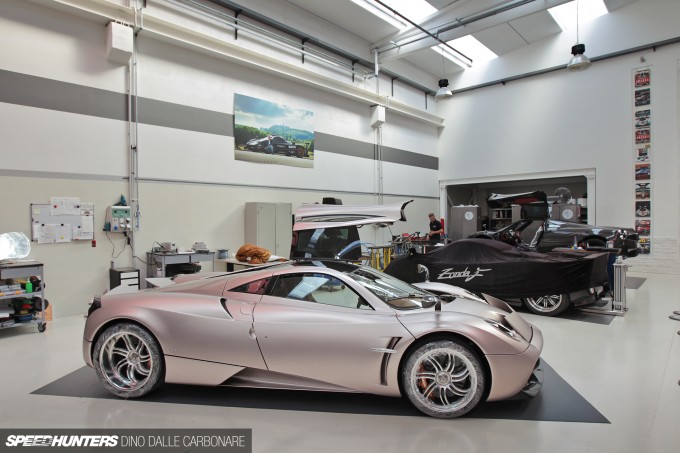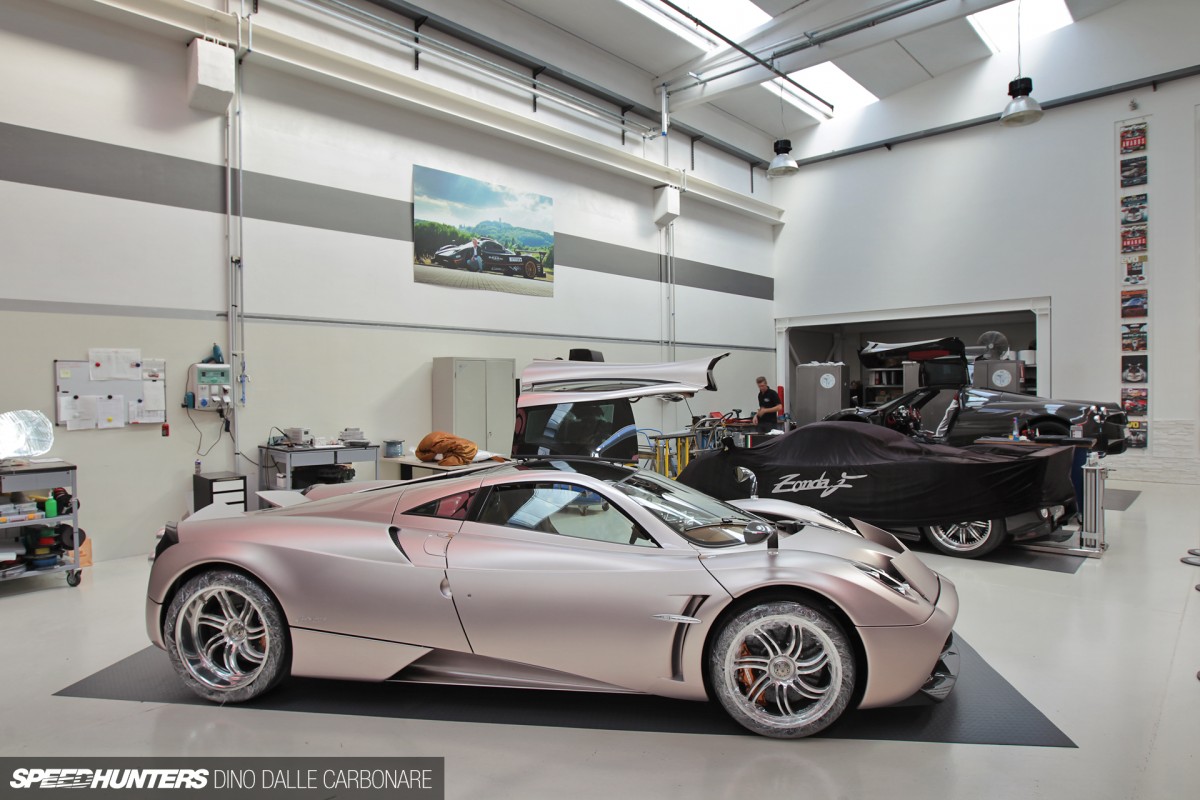 Seeing the Huayra being built and ready to roll off the production line, you quickly begin to understand why people out there are willing to drop 1.3 million Euros on one of these cars. They may all be the same model, but each is bespoke, tailored to each owner's requirements and they ooze presence unlike very few cars out there.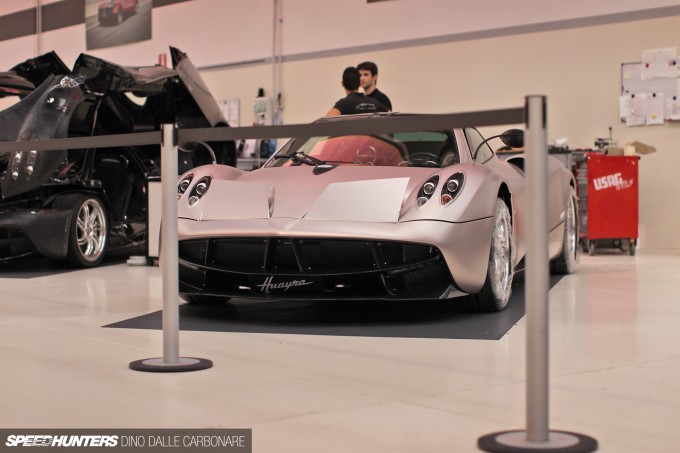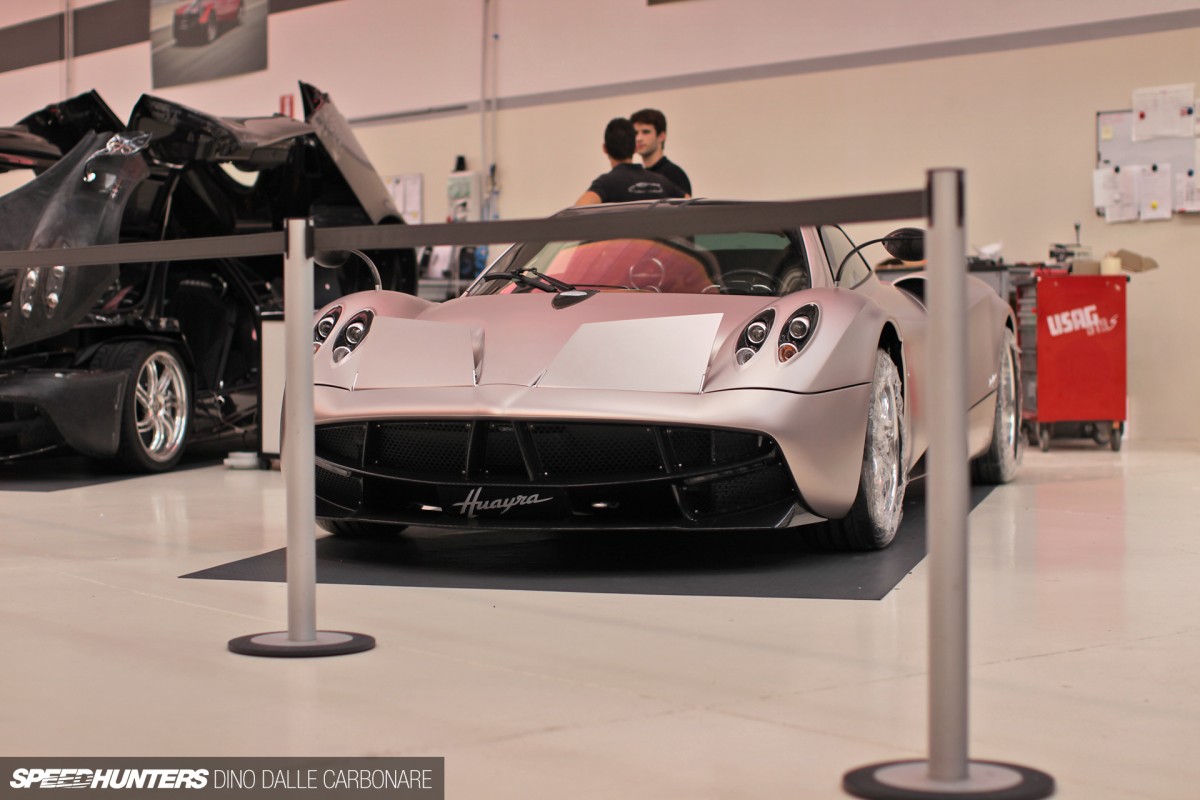 I really fell for this flat metallic silver example, sporting glossy contrasting carbon details (of course it's all carbon!)…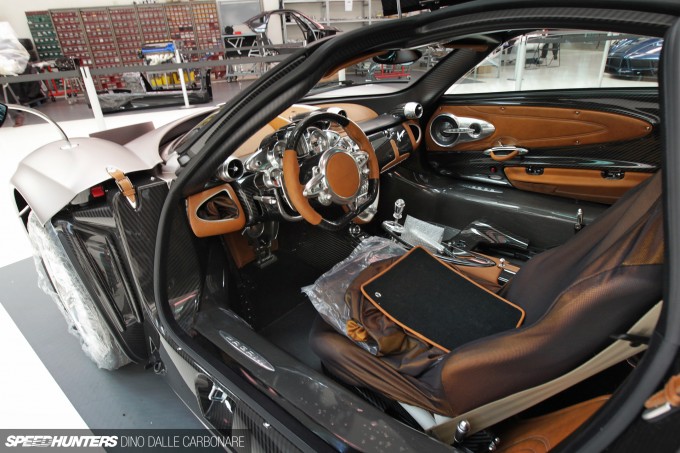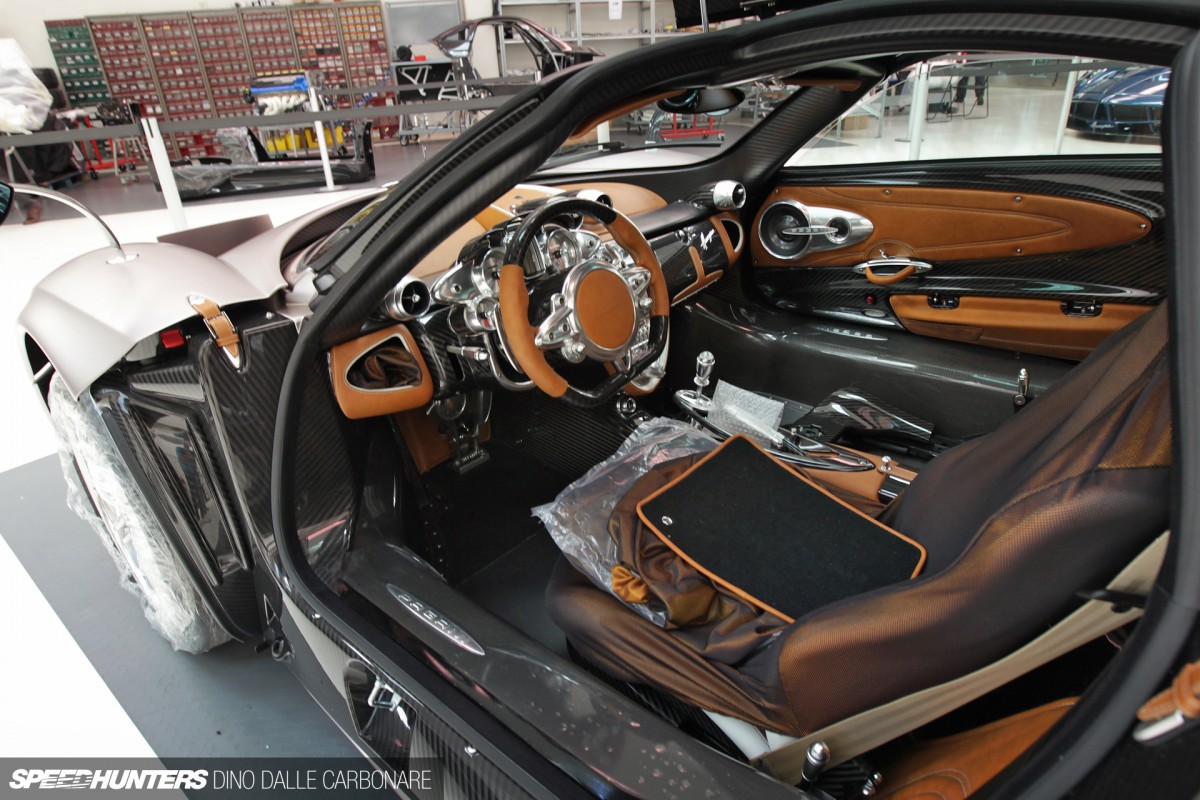 … and a beautifully appointed interior clad with the sweetest leather, emanating a scent of pure luxury. The coolest thing is, this car is heading straight to Japan, ready to be delivered to its customer. It would be very cool if in the future I will come across it!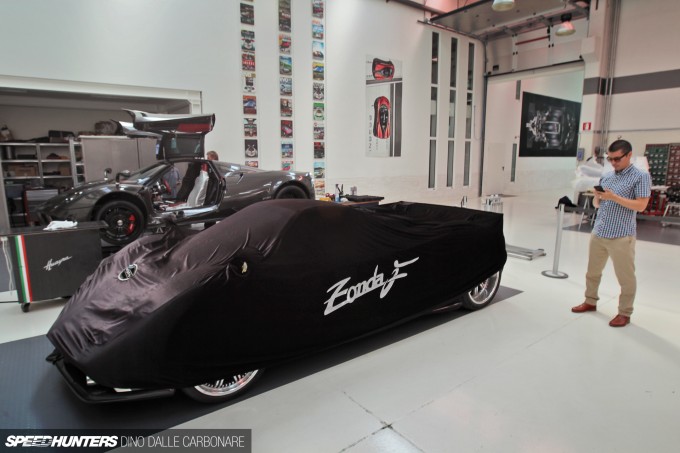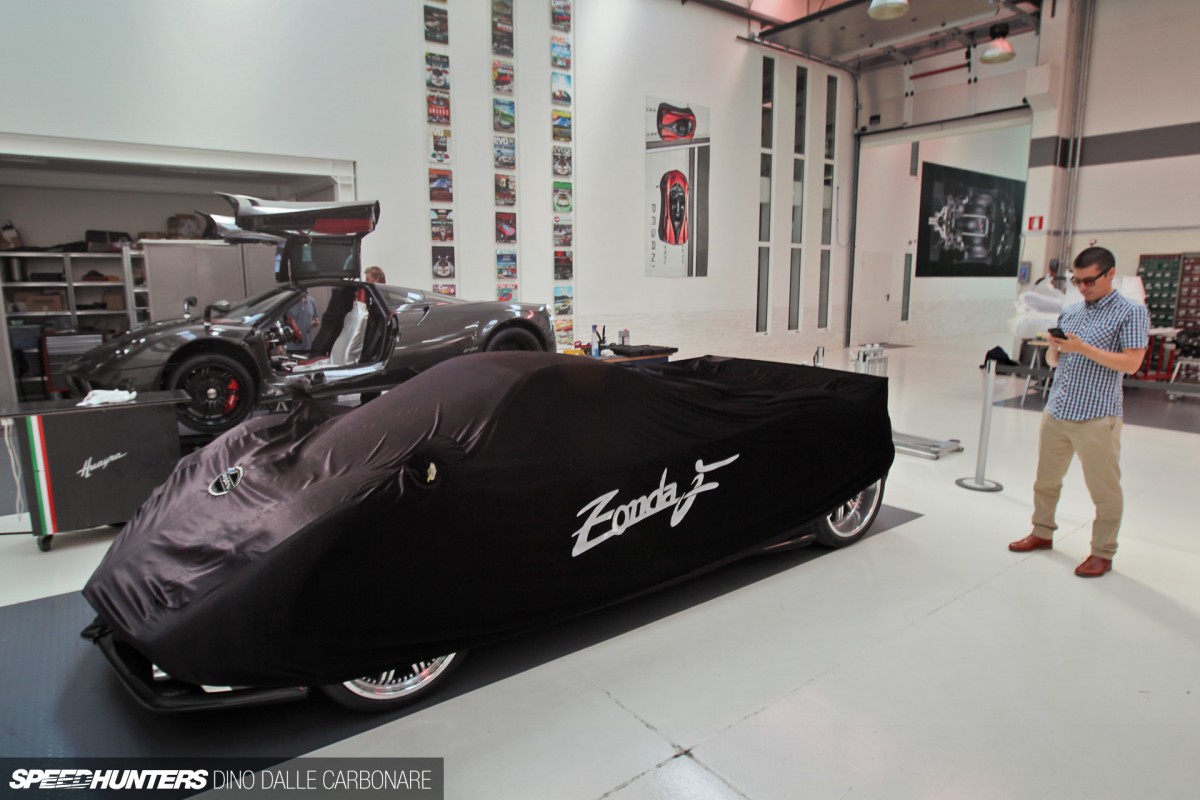 While I snapped away, our mighty leader Rod, was Instagramming away, sharing some of the #JoyOfMachine we were all experiencing that warm afternoon in Modena. I'm sure you guys also felt it if you were looking at our IG feed!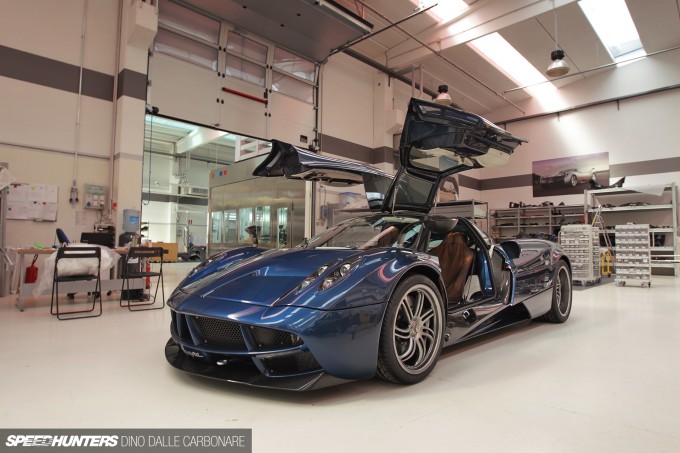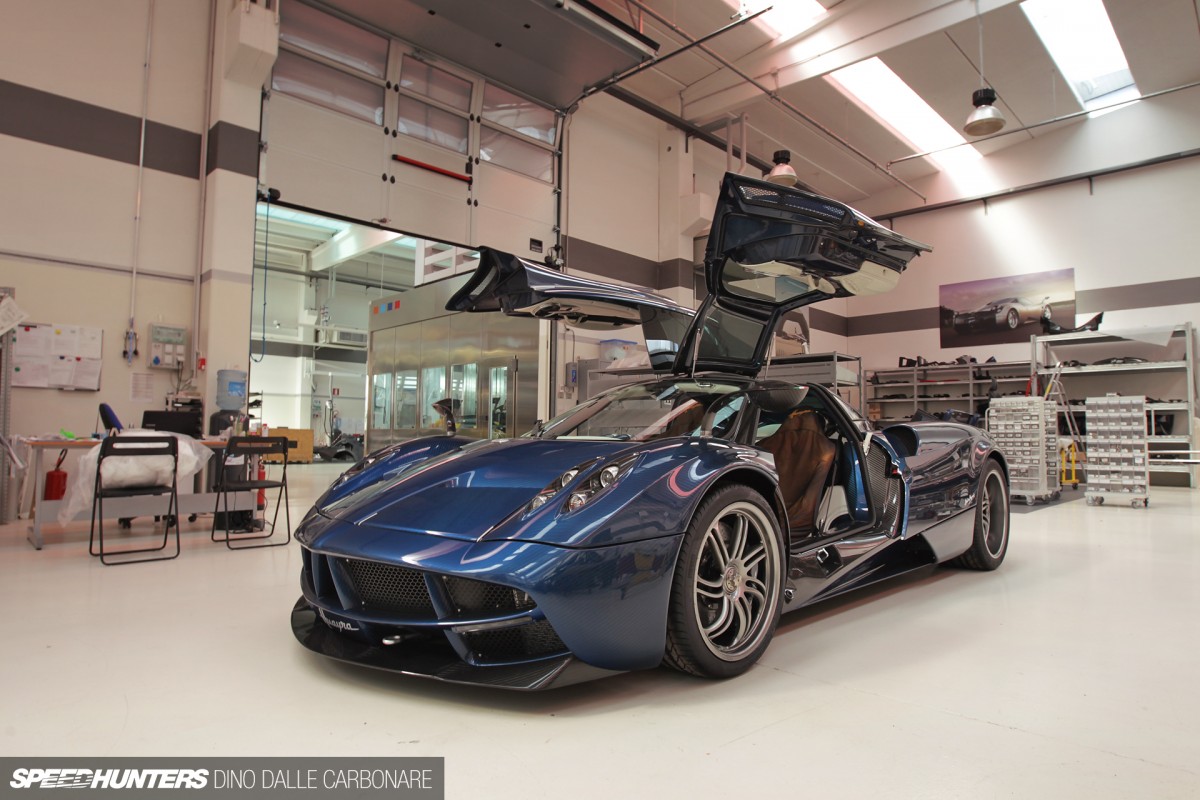 This car had just been completed that day, a stunning example finished off in a translucent blue that allowed the underlying carbon fibers to be visible. Funnily enough this was a new purchase from a gentleman who already owns a Huayra, one more to add to his collection if you will. By the end of this factory tour I hope that you too will understand why people buy more than one Pagani.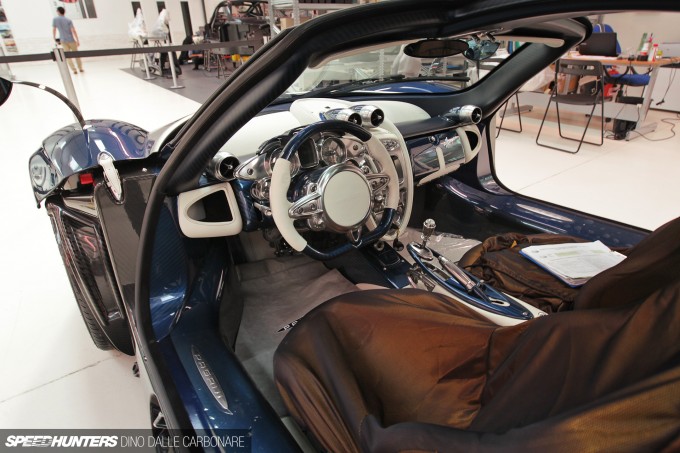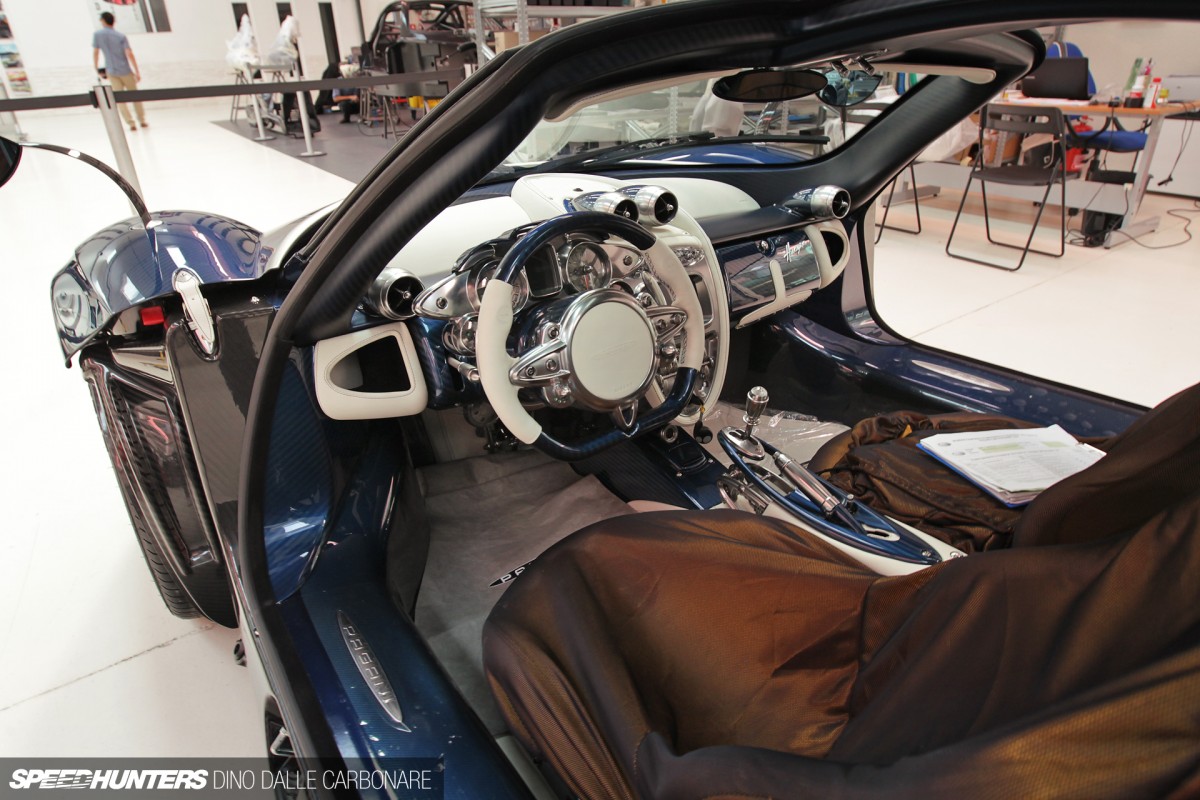 The same blue was also used in the interior along with white leather. Bellissima!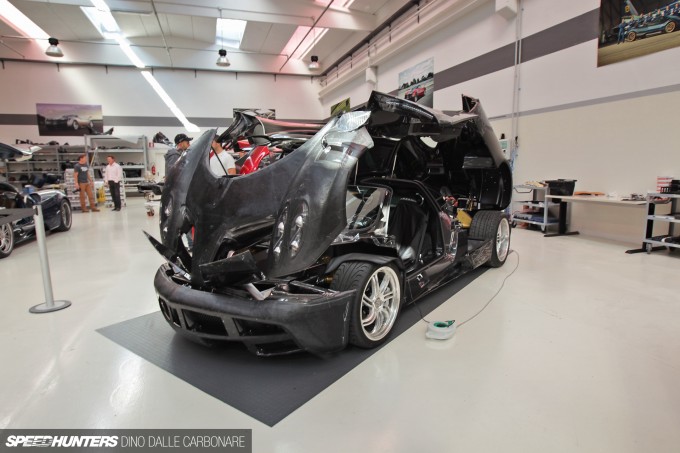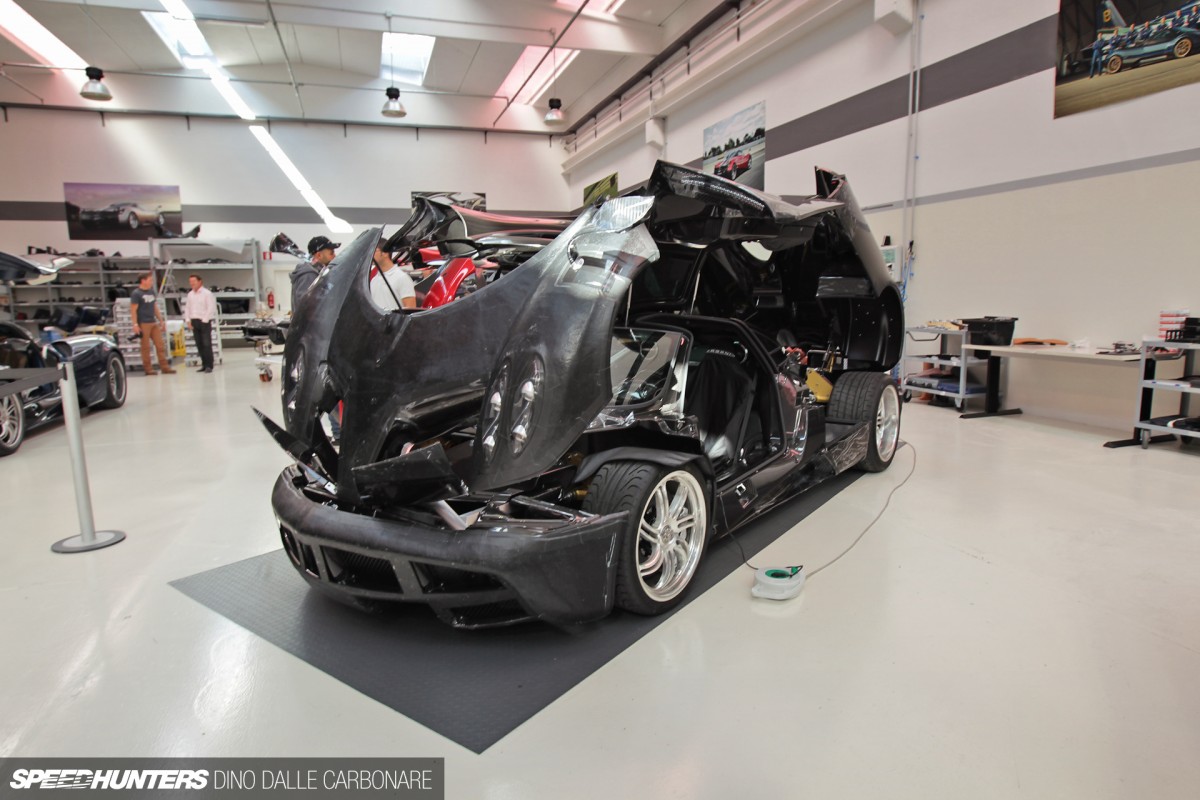 Moving up the production line I came across cars that were in varying stages of production; here you can see one that was almost there, still wearing the rubber protectors for each of the body panels.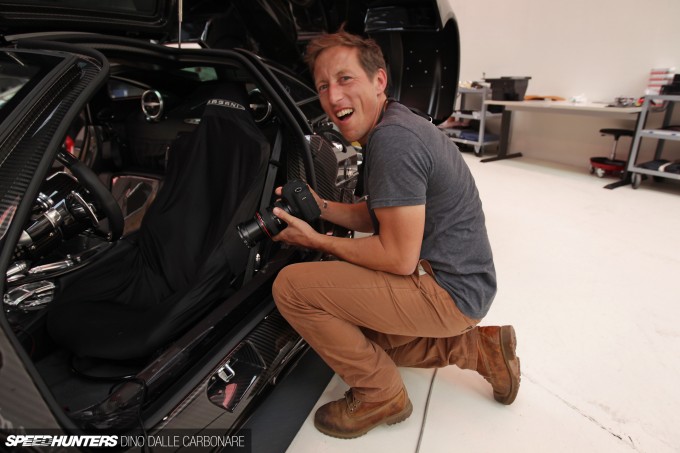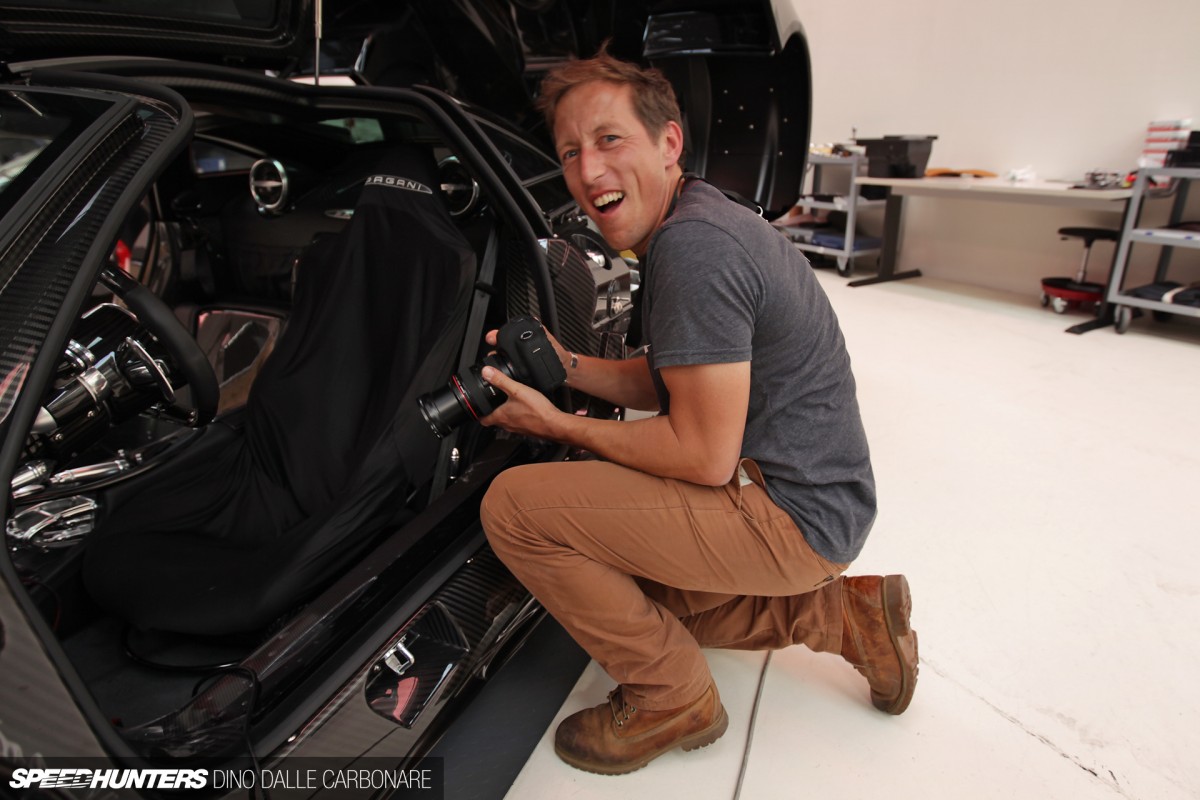 Its interior was completed however and Bryn, seemed to approve.
Step by step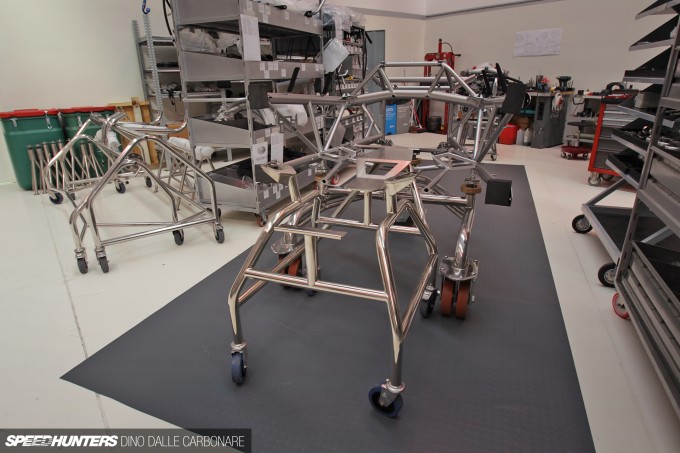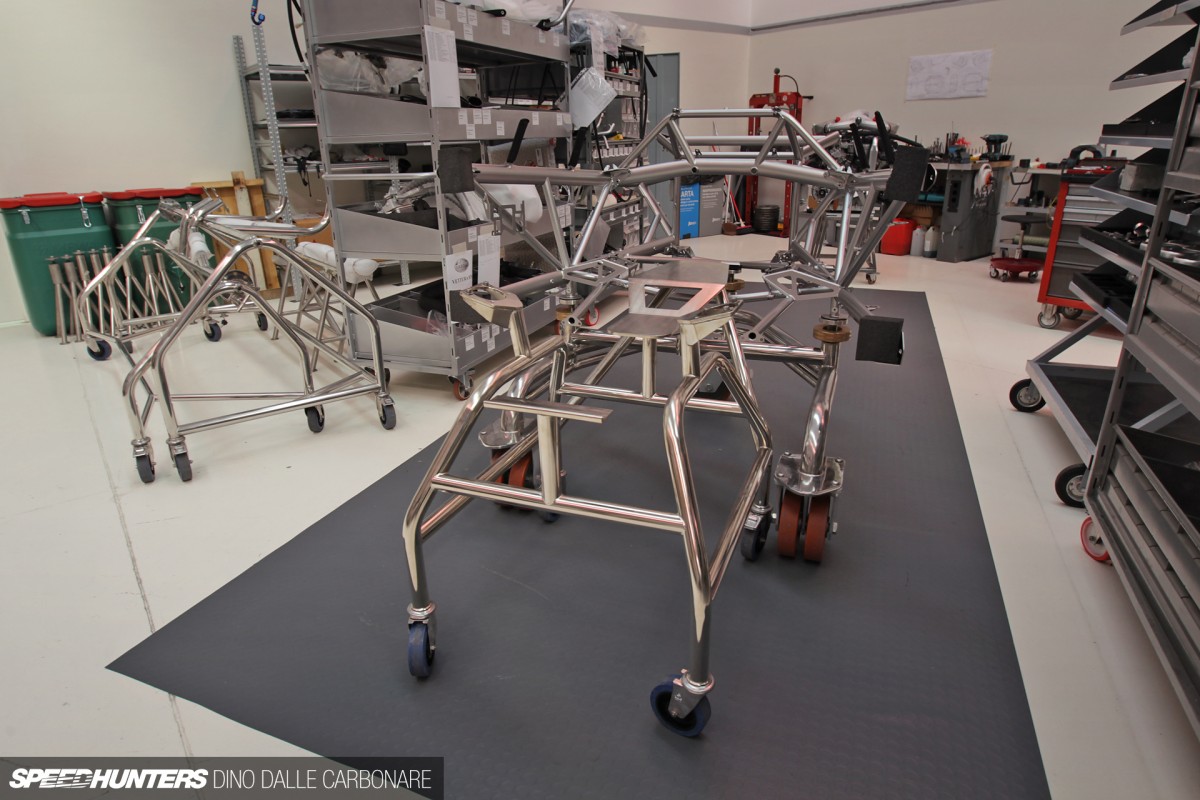 But let's trace this Huayra build process right to the start. It all kicks off with these rather nice trolleys…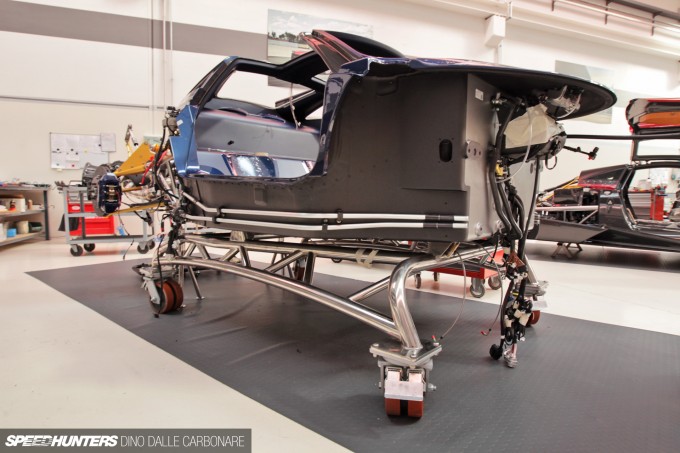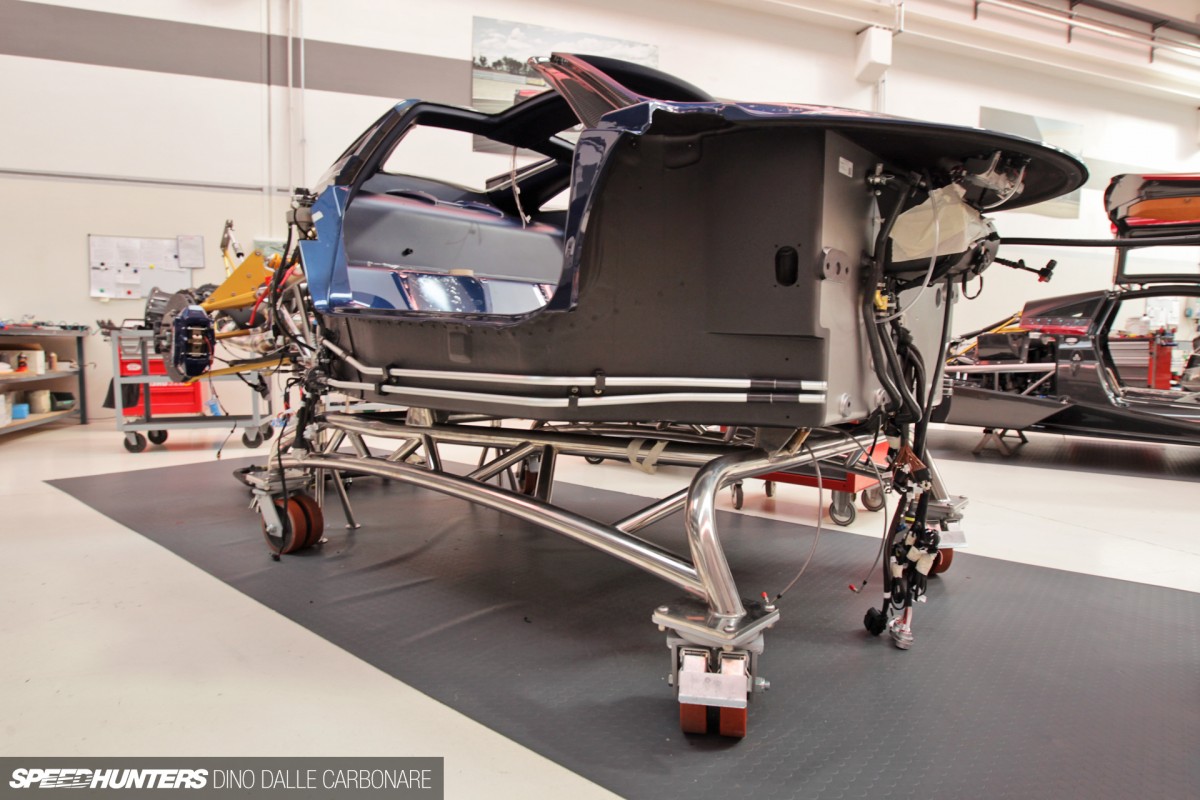 … onto which the main sections of the car are placed upon, like the main monocoque tub above. From here a variety of jobs are undertaken, from laying down the wiring loom and sensors, to the fitment of various components.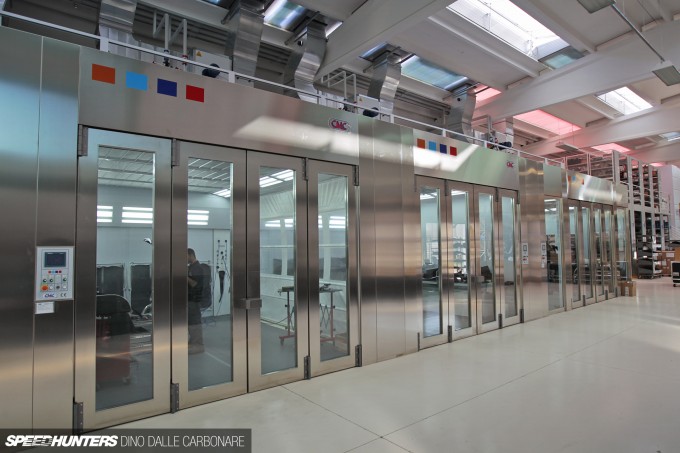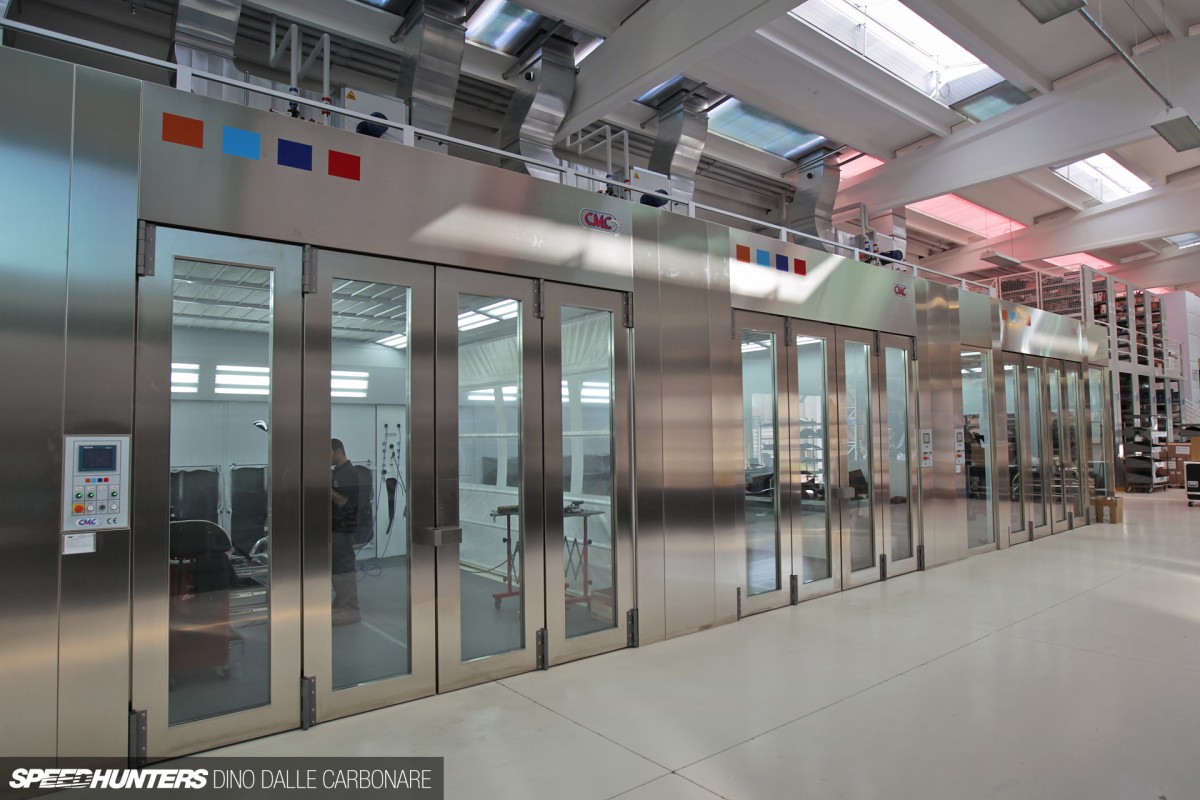 In another area of the factory, carbon fiber parts, once removed from their mould, are brought to these airtight ventilation rooms.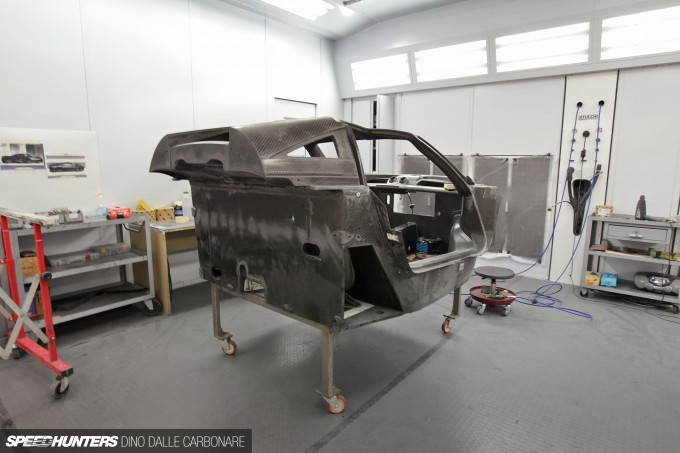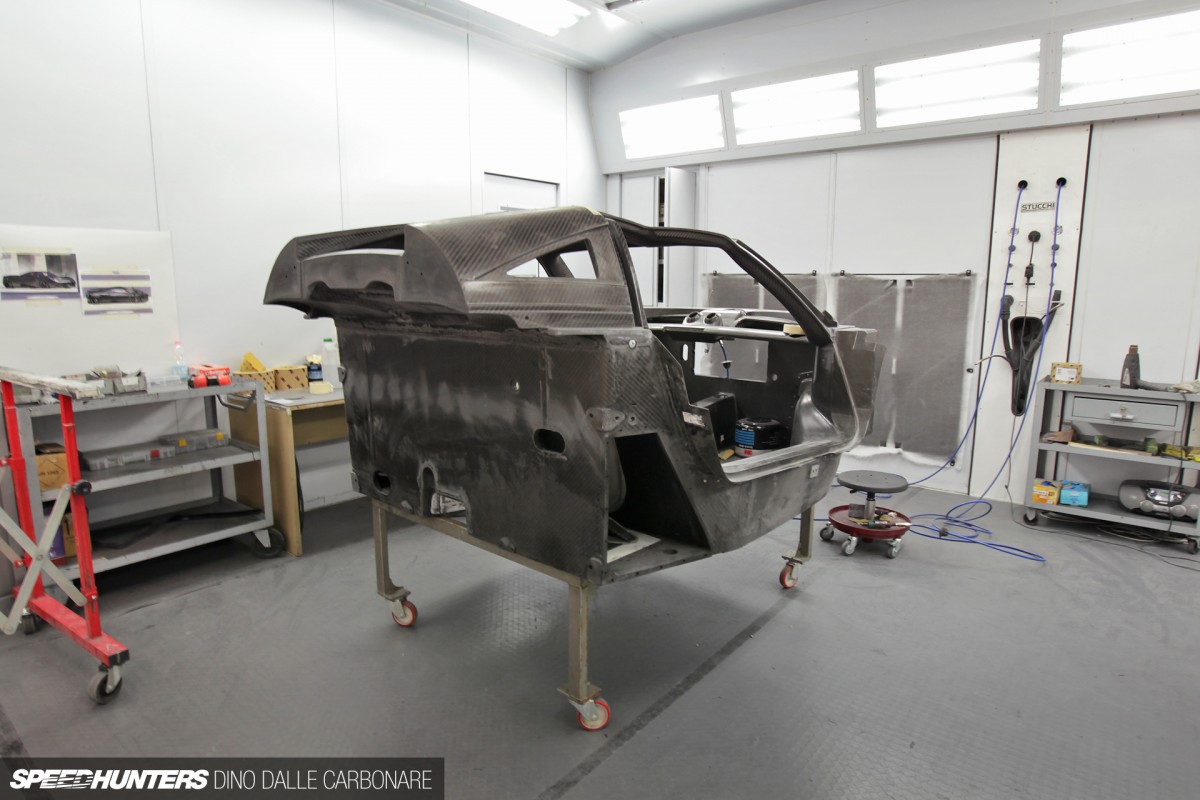 Here the carbon is checked over, sanded down, impurities removed and sent off to paint.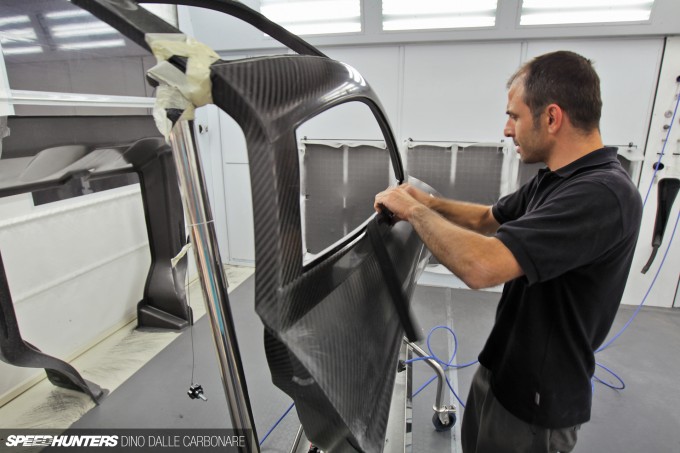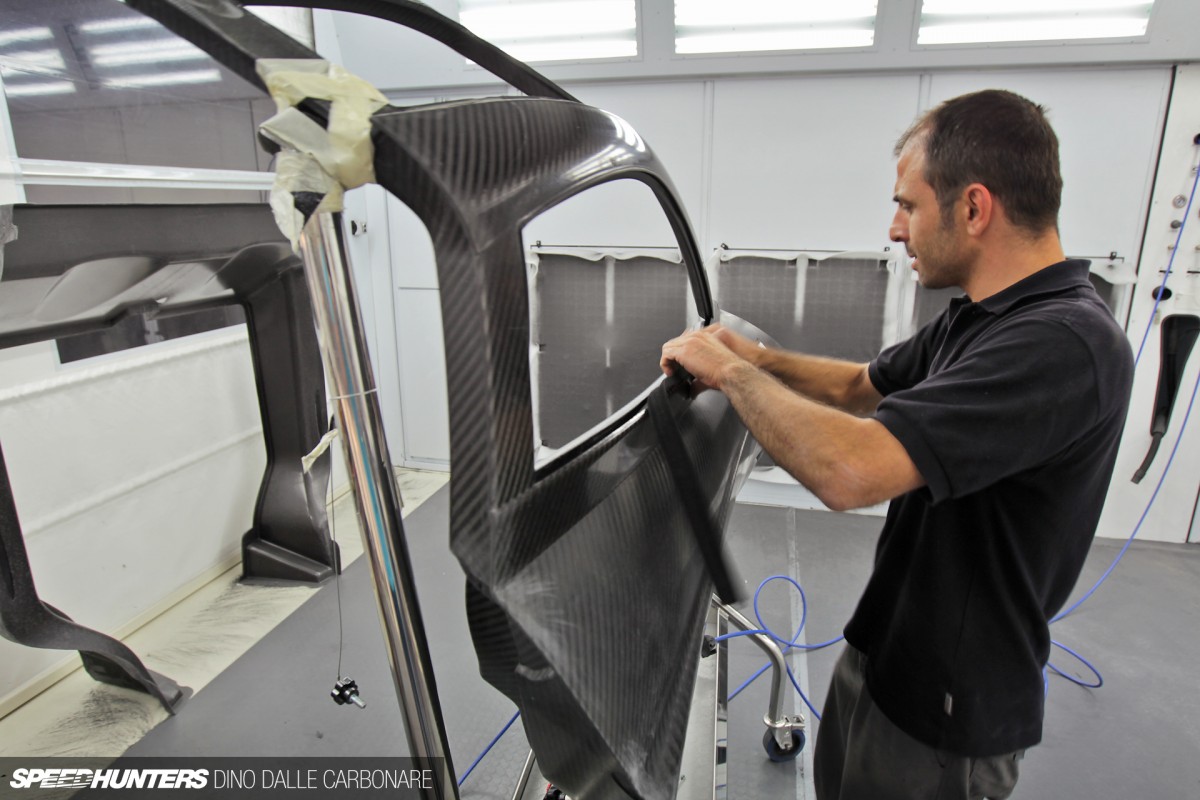 This door had just been completed, all ready to go, but not before the rubber seals were fitted around the glass opening.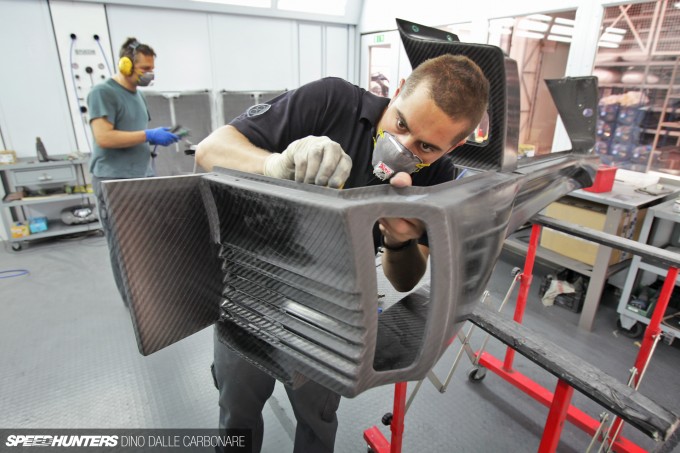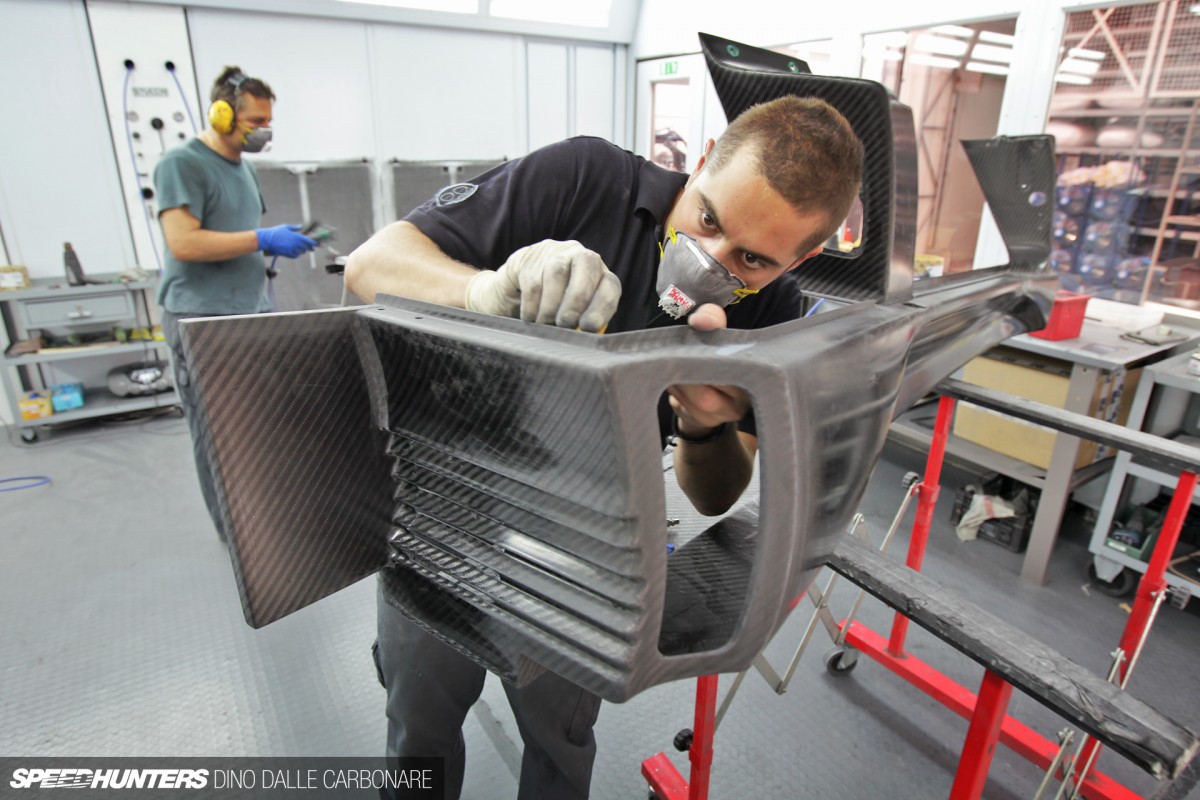 More buffing and machining of a rear bumper being done here. These guys are all well trained at spotting any potential imperfection that would result in an inconsistent finish. Quality control is crucial when trying to achieve what can only be described as perfection.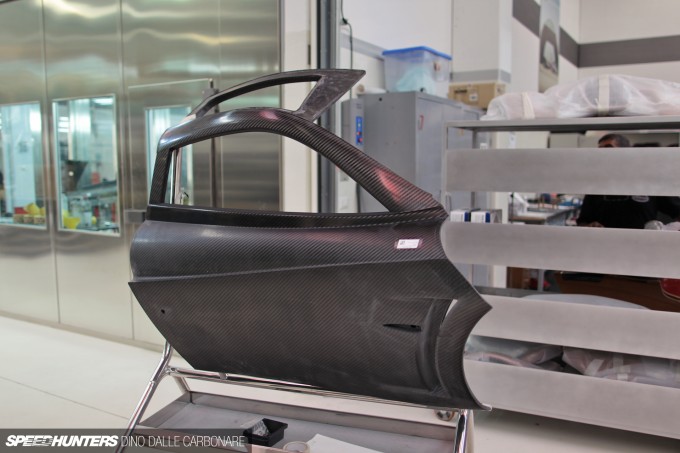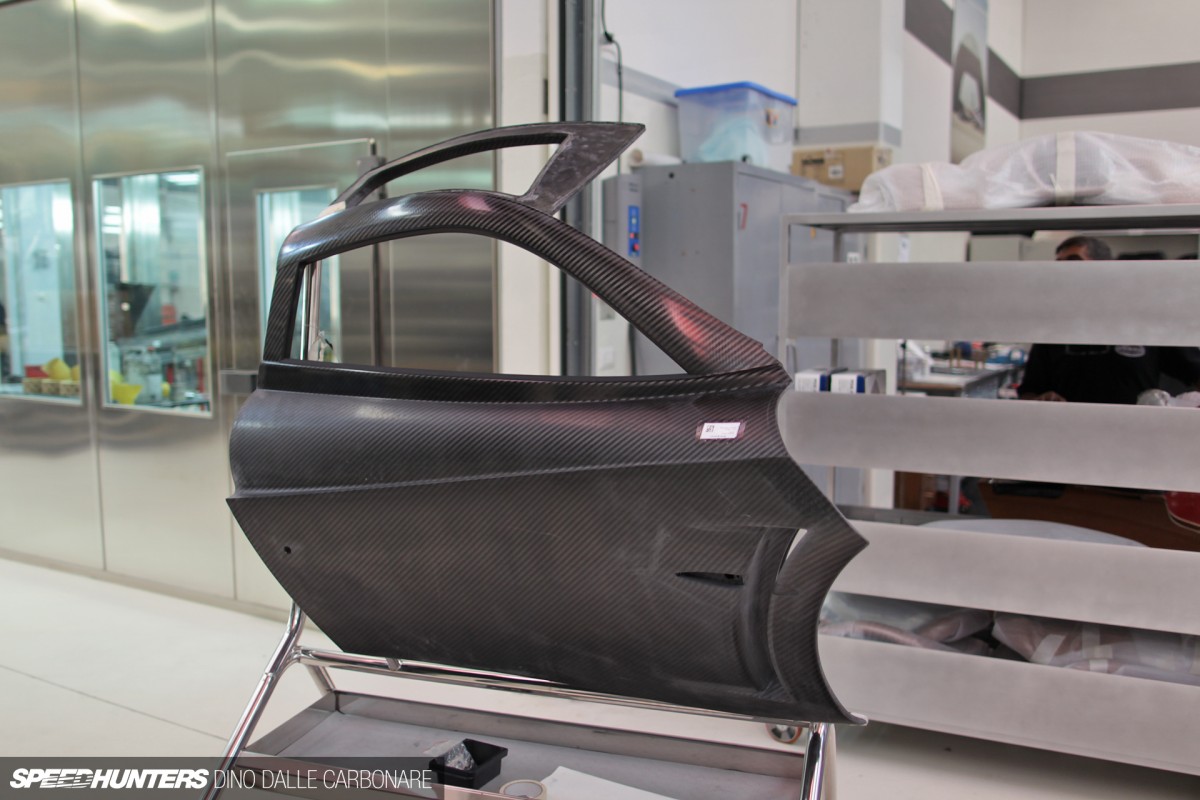 There's that door ready to be test fitted to a chassis before being sent off to the paint shop.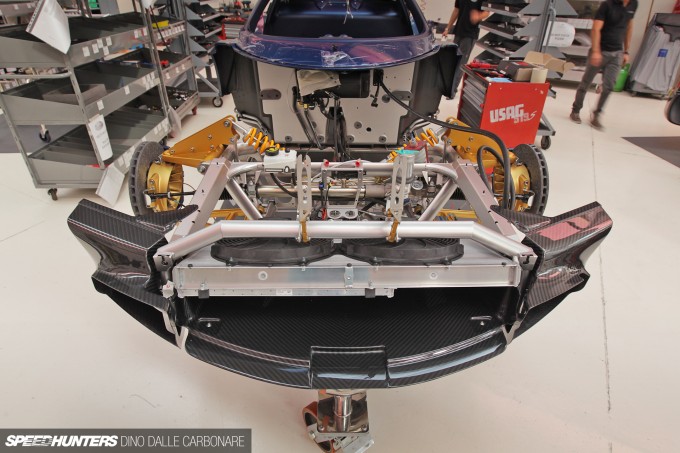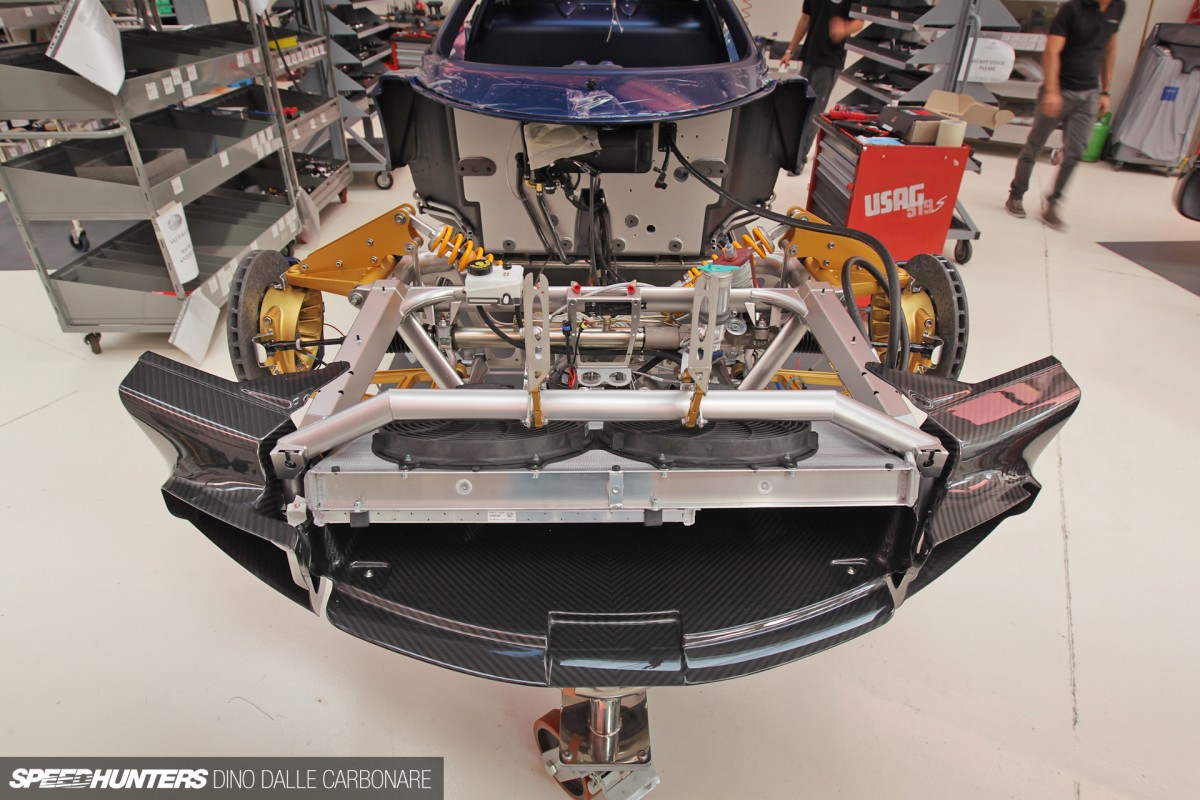 The whole front structure of the Huayra, impressively enough, is bolted onto the main tub with only four bolts. The hand-welded aluminum frame that holds each component in place is extremely strong and has been designed to take all of the severity of a frontal crash should the worst happen. But here is the thing that blew me away. In the twenty or so crash tests that Pagani have had to do to meet various homologation regulations around the world, they have only ever used one main tub. Even with the most stringent and brutal of tests it has only been the frontal structure that has taken the damage. The monocoque and its mounts took no damage and never has the front windscreen cracked. So it turns out the Huayra is not only one of the fastest cars in the world, it's also one of the safest!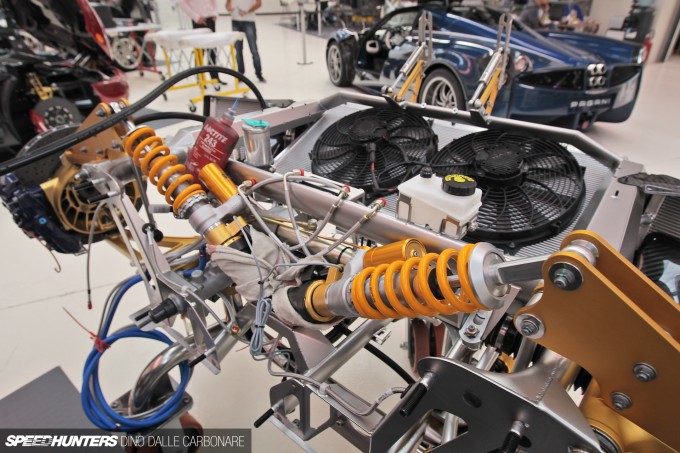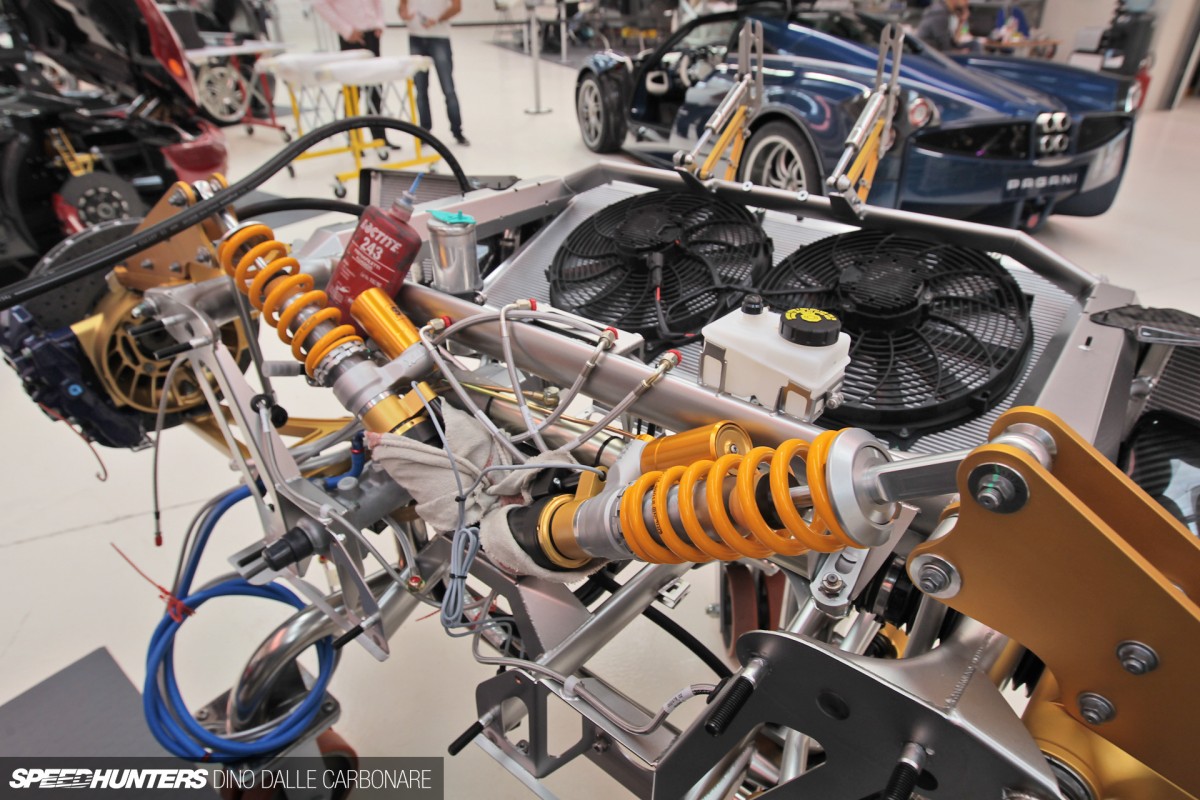 This is where we can really begin to nerd out. Check out the Öhlins dampers…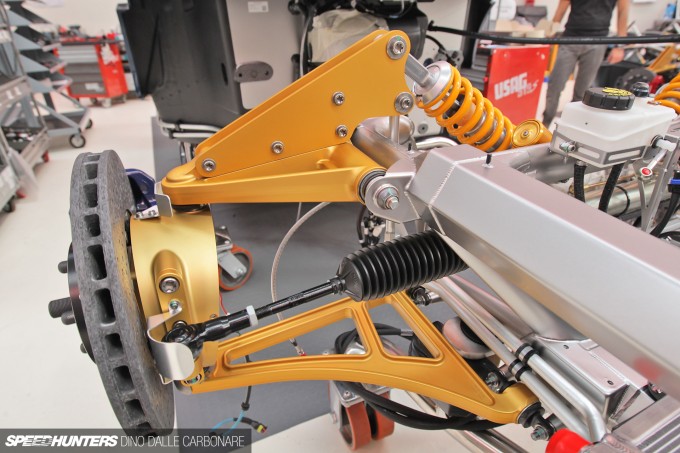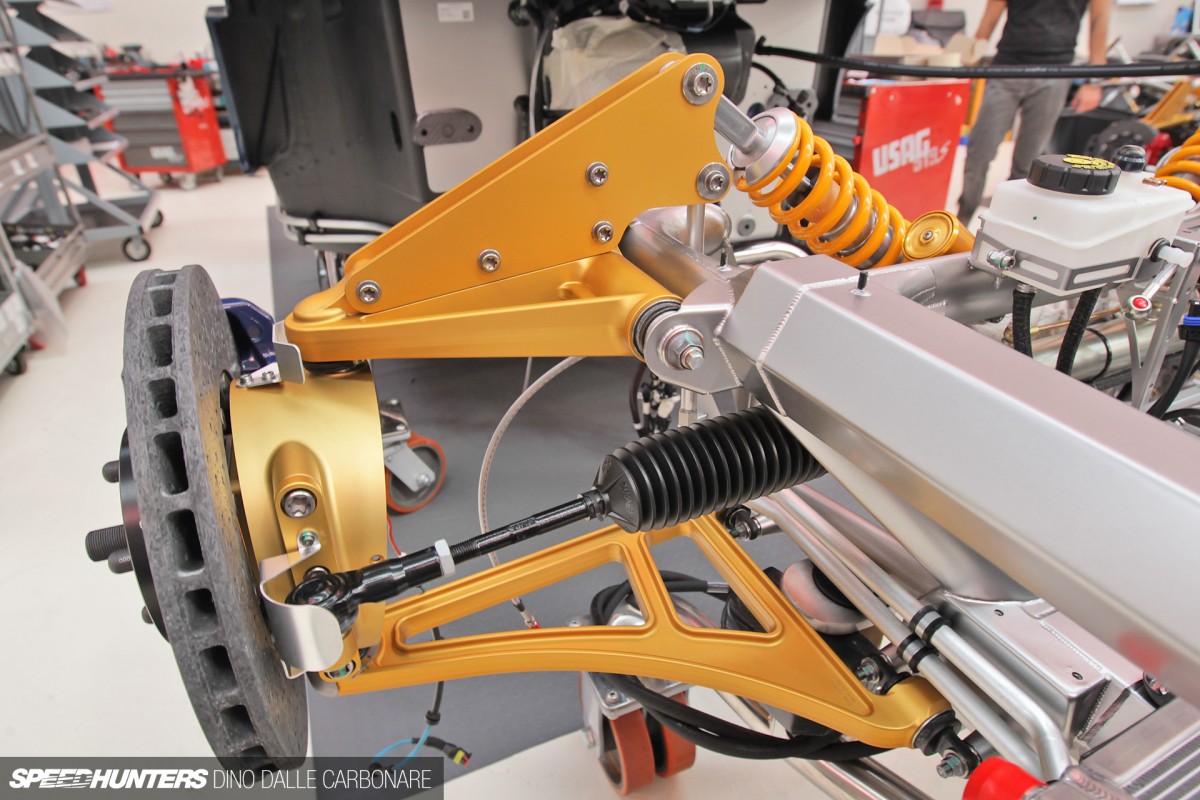 … and the forged aluminum alloy suspension arms that actuate them…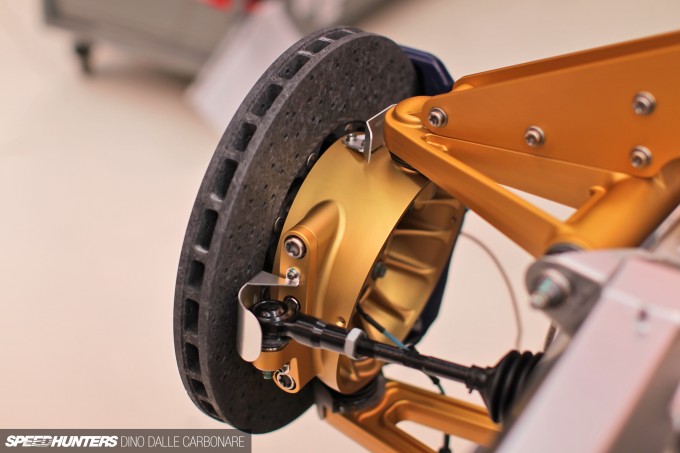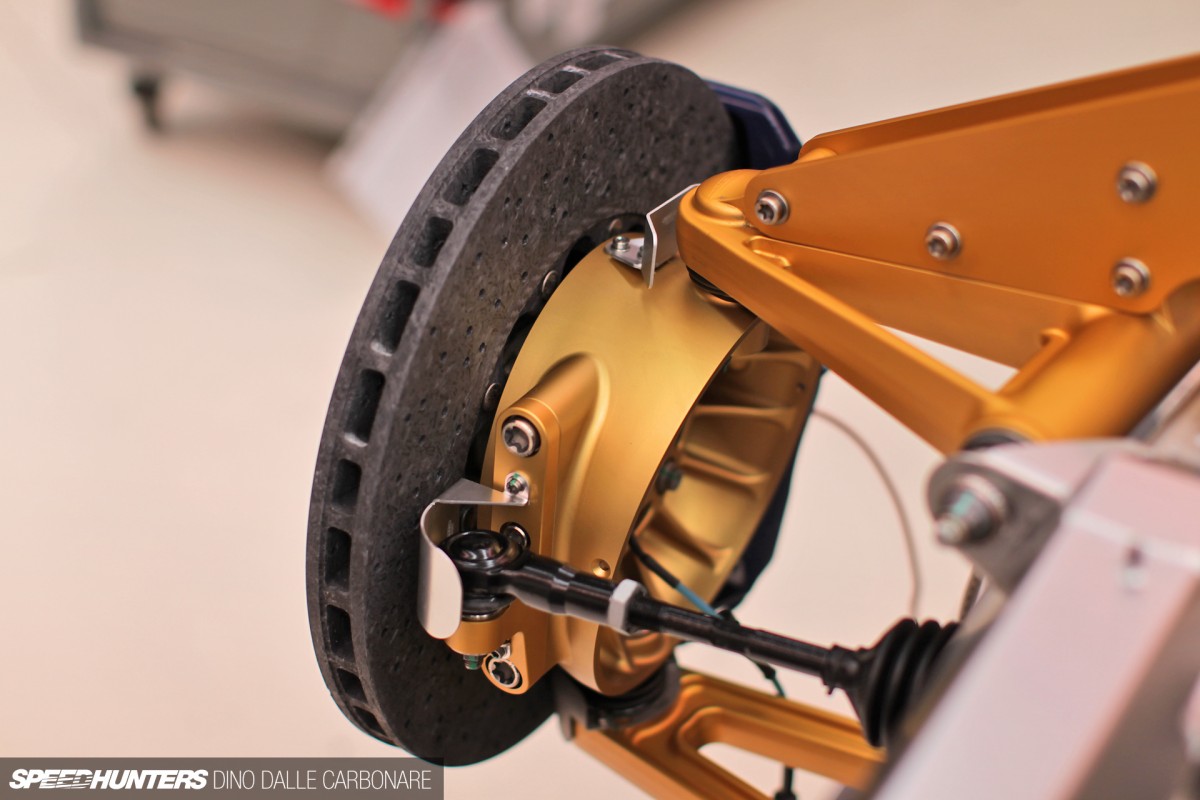 … all mounted up to those hubs that we saw earlier on.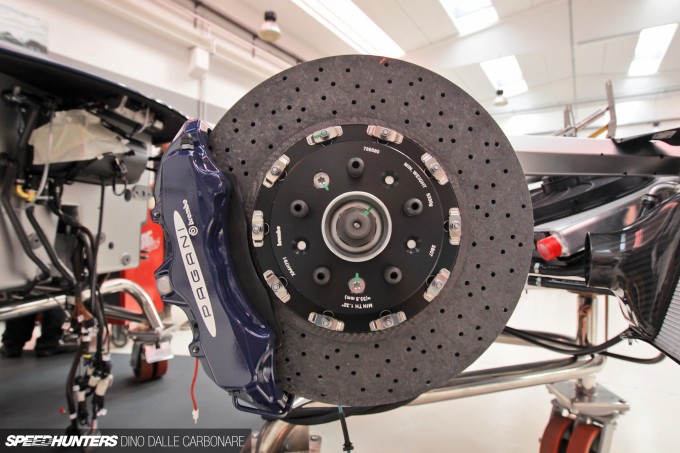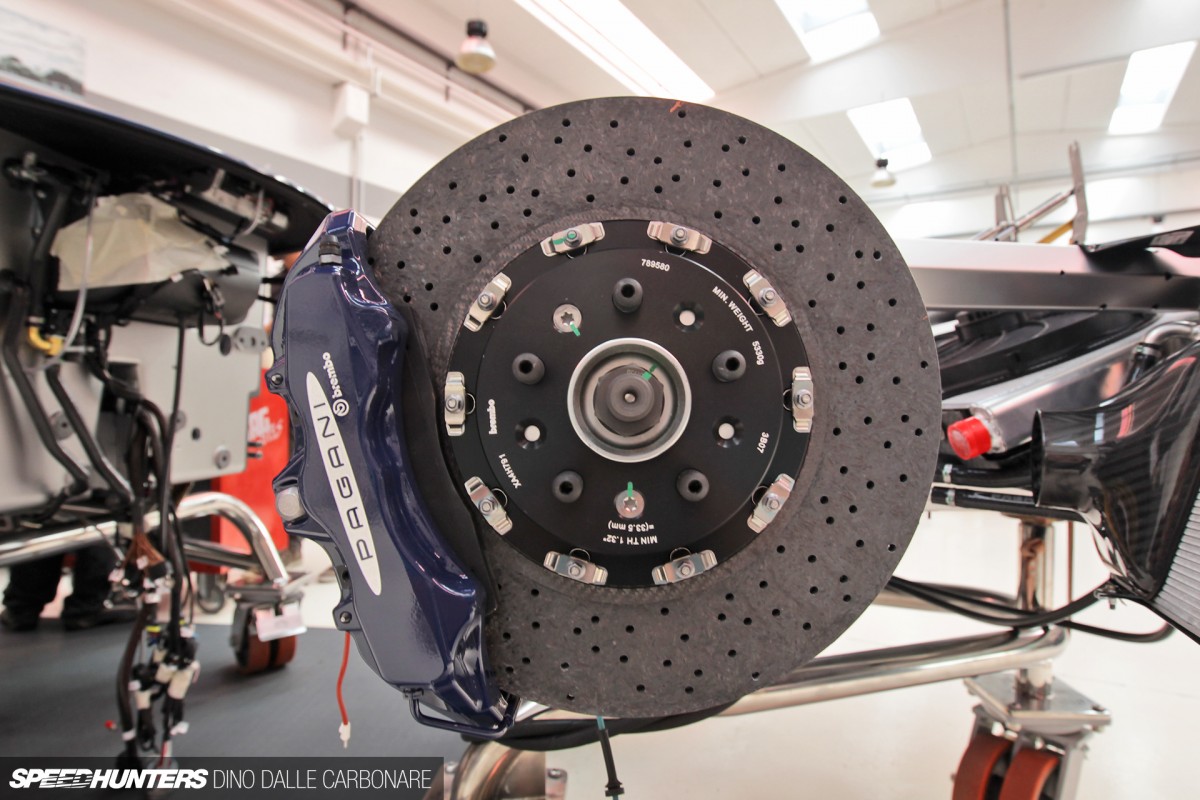 Pagani has teamed up with Brembo for the Huayra's stoppers, developing six-pot calipers and carbon ceramic floating discs to take all the abuse an owner would dare give his pride and joy.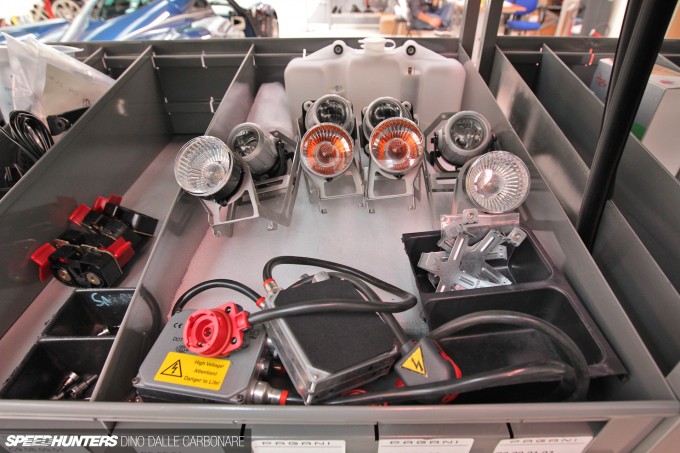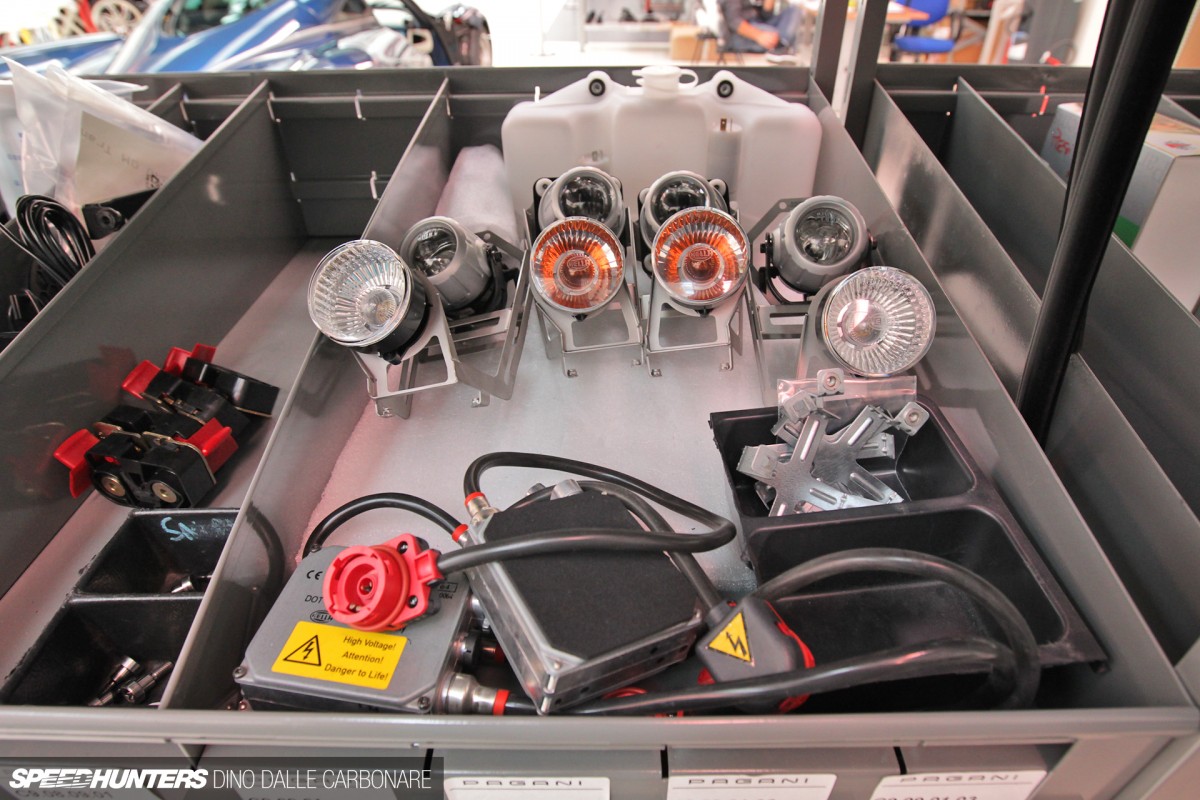 High quality Hella projectors are used on the Huayra's front light assembly, the main units the same bi-xenon items that a lot of LMP cars employ. In fact Singer uses the same projectors on those stunning 964-based 911s they build out in California.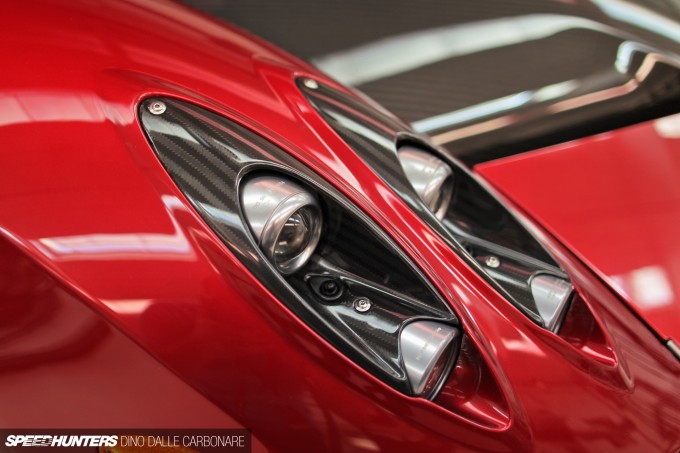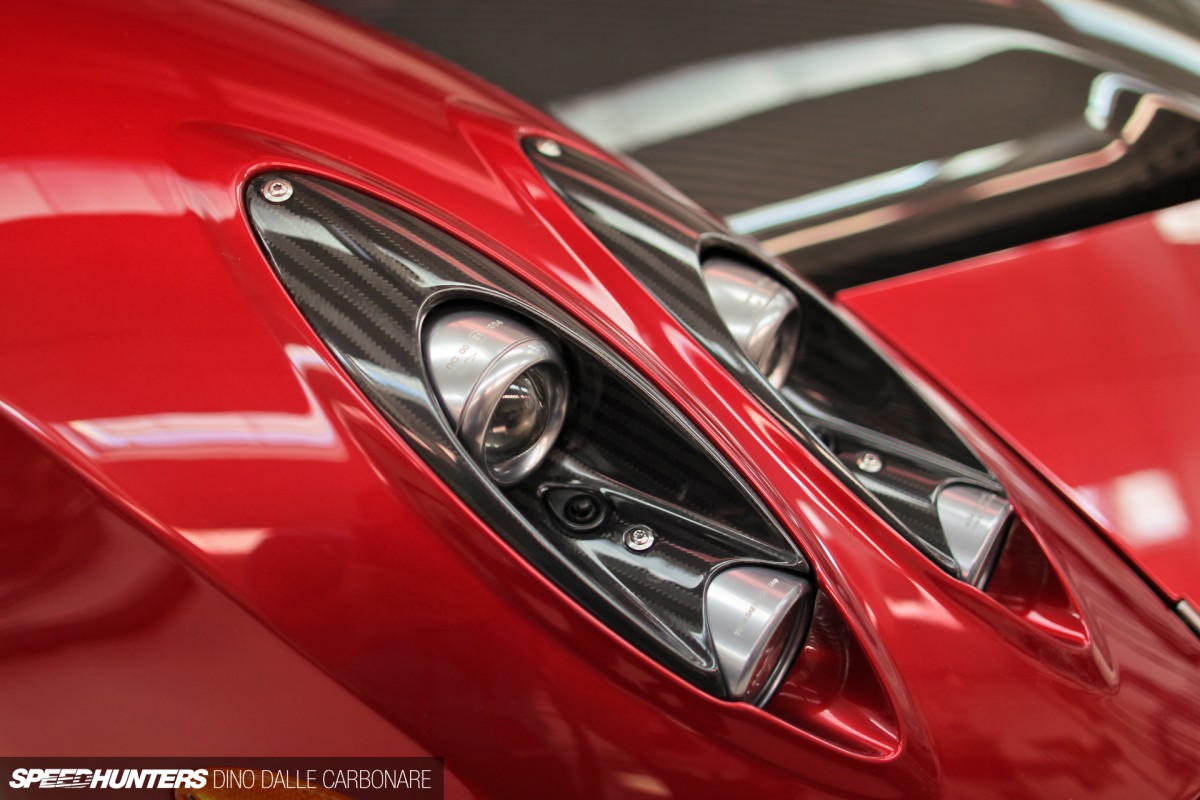 And here they are fitted into their aluminum and carbon enclosures.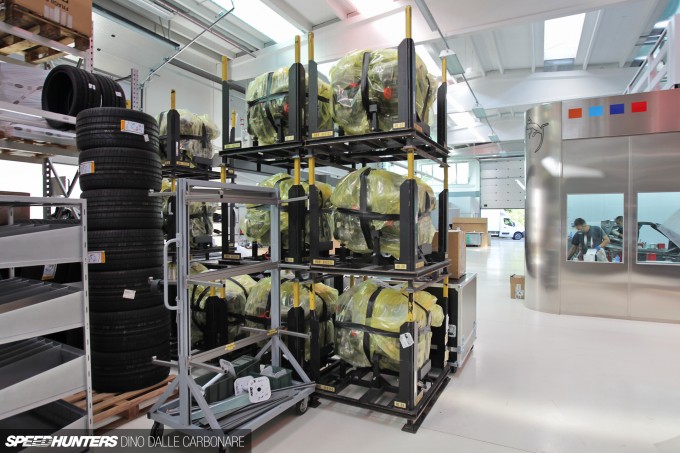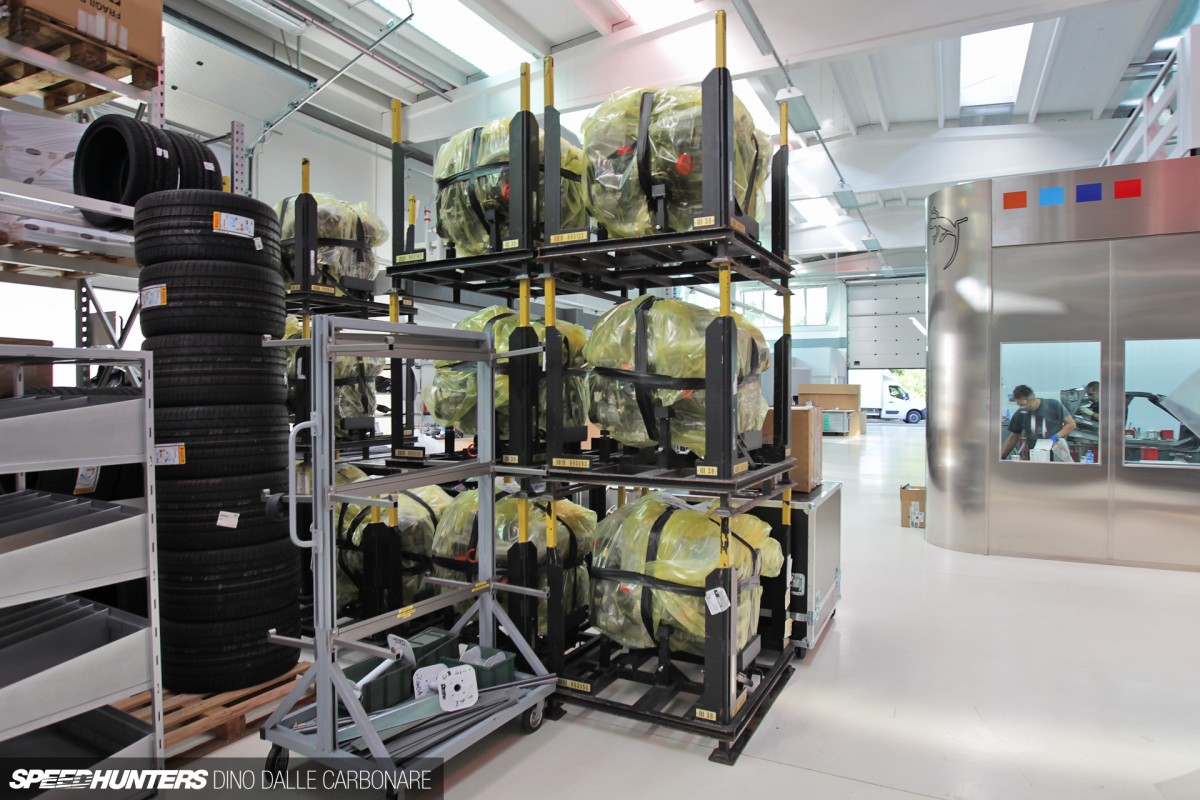 With the front of the car done, it's time to get started on the rear section and before anything is bolted in place, the engineers building the Huayra will need to go out to this area of the factory …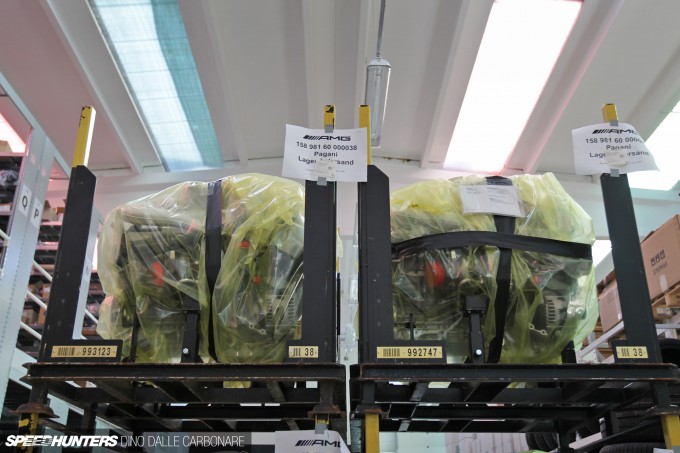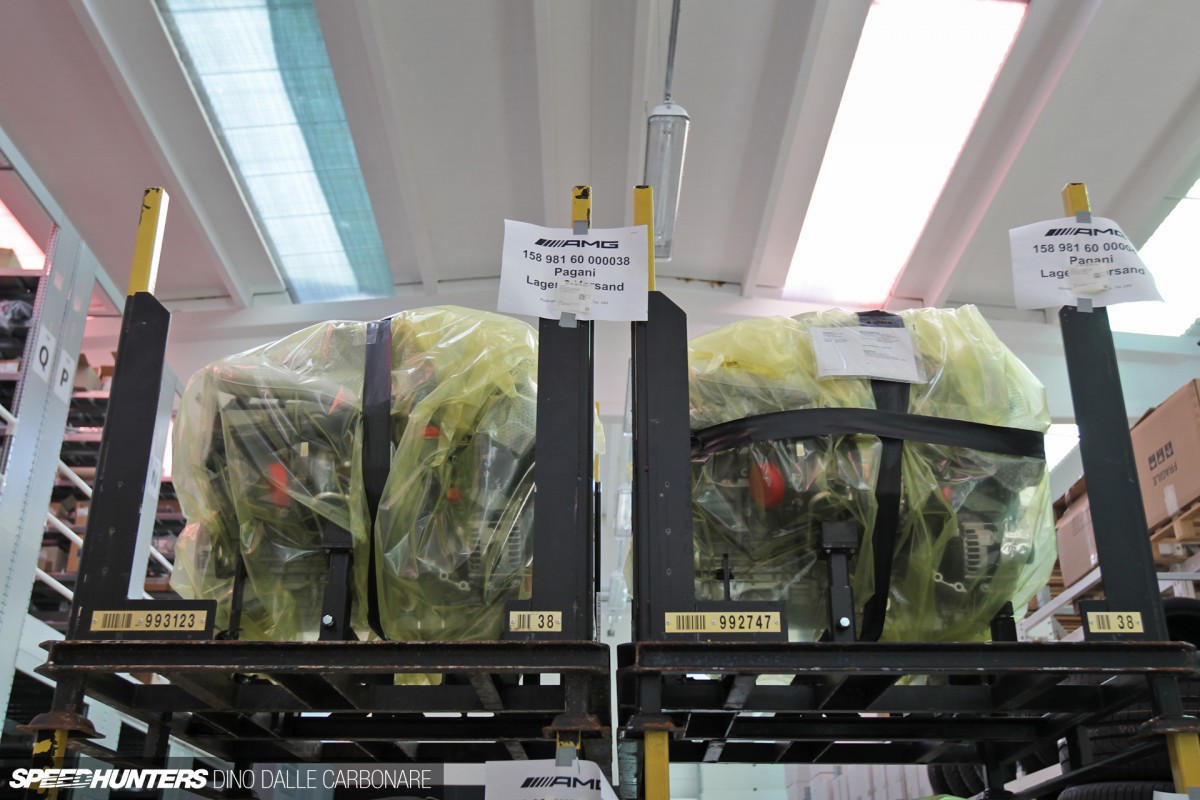 … and collect one of these units specially delivered from AMG in Germany.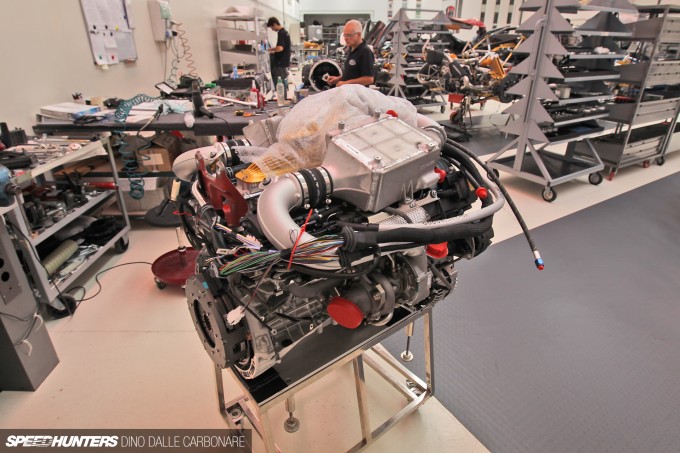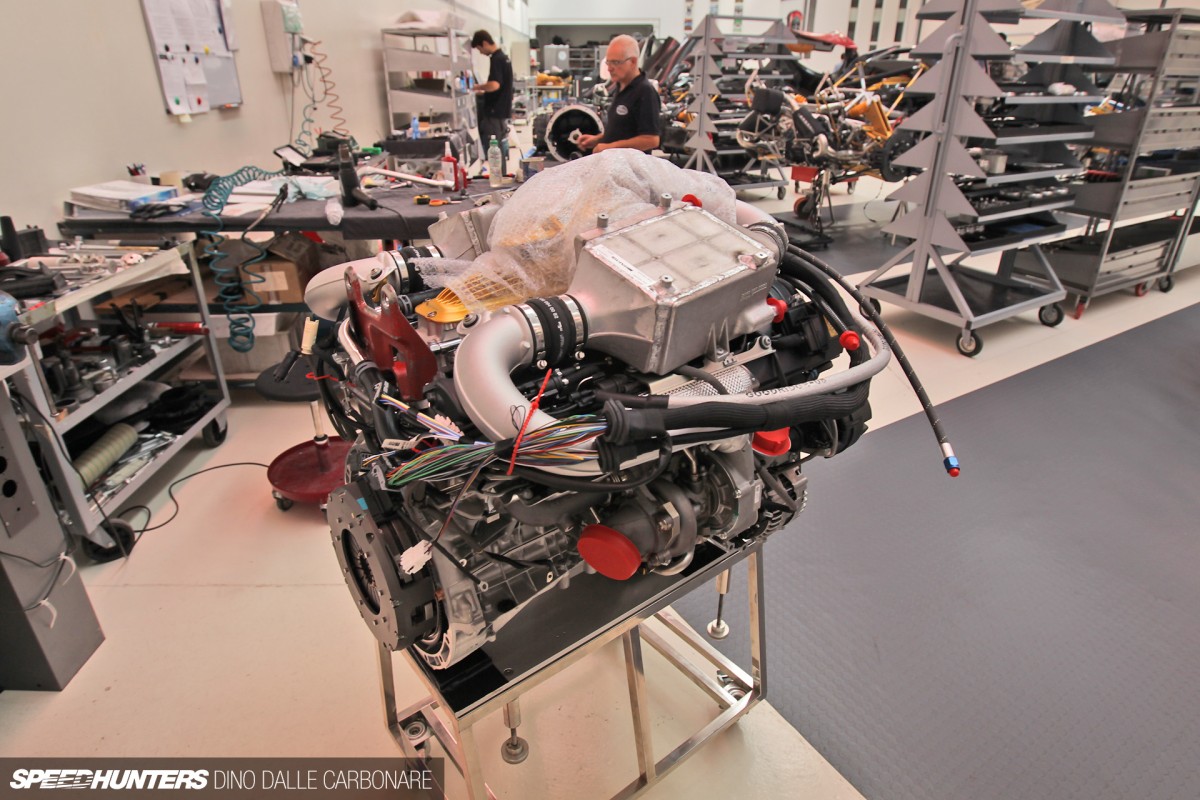 The 5980 cc M158 twin turbo V12 is a unique engine built especially for Pagani by the master craftsmen at AMG. This engine is a stressed member of the Huayra's chassis and is sent to Pagani ready to be installed, and already run in and power checked to guarantee that every single unit delivers the 730hp and 1000Nm (737 lb/ft)  that's claimed on the specs.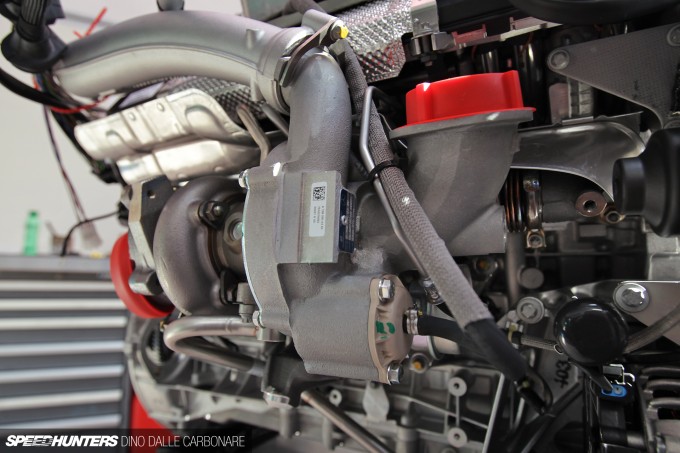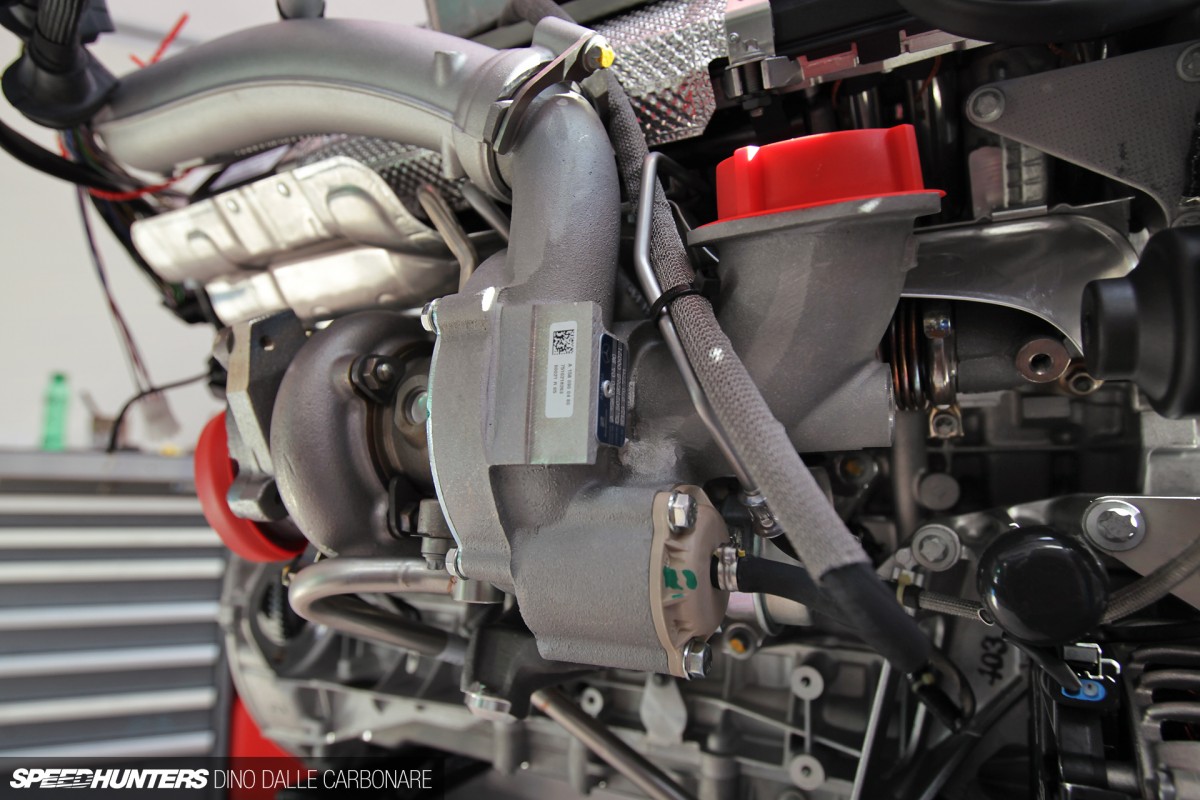 The engine runs Borg Warner EFR turbochargers, big enough to supply that explosive power and torque delivery but small enough to not create any perceivable turbo lag. With 3 liters and six cylinders per bank you can imagine these turbos have no problem spooling up and reaching peak boost shortly thereafter. You can see that they also have an integrated Compression Recirculation Valve (BOV to you and me) to stop compressor surge when you back off the throttle, further minimizing lag.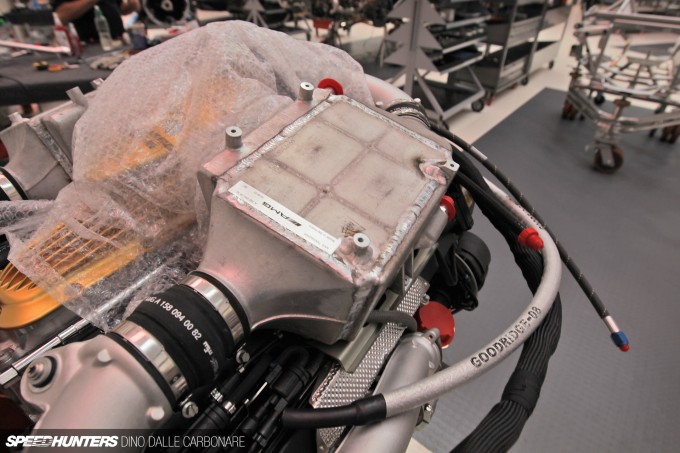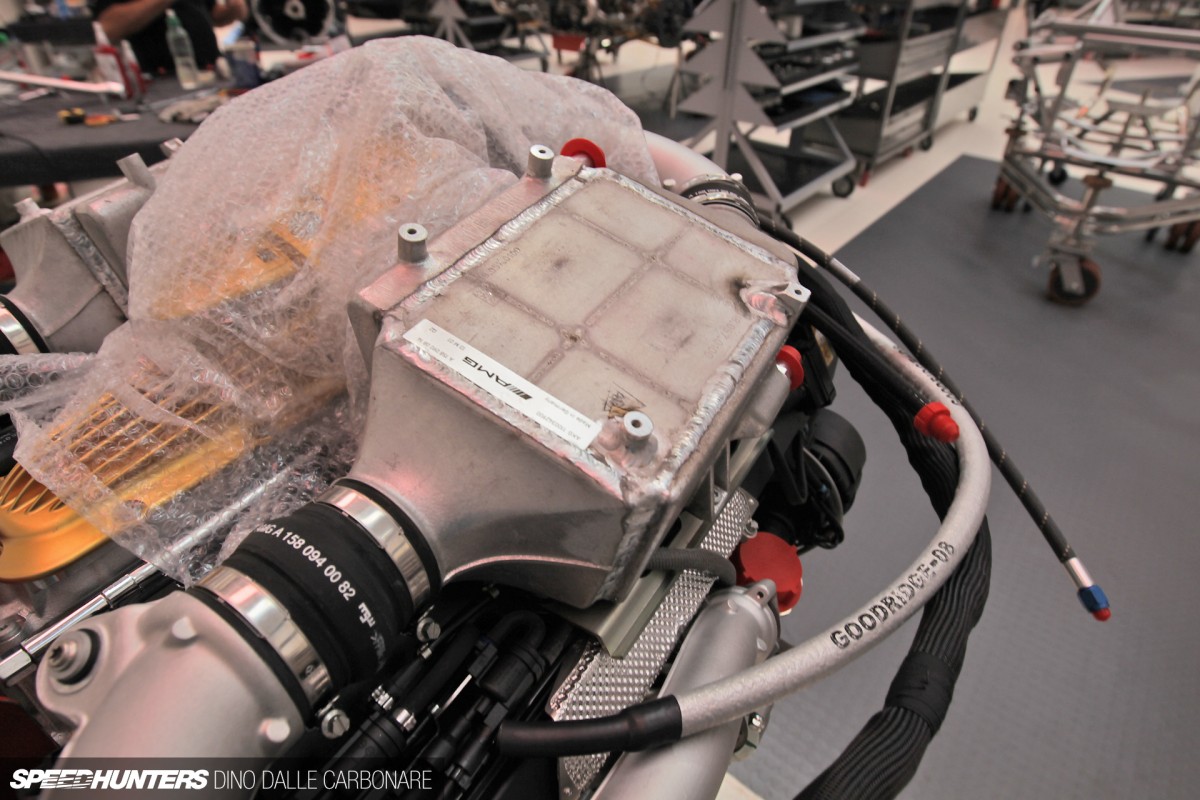 The M158 uses charge coolers to cool the intake charge, the simplest solution with an engine mounted centrally in a chassis. These are then fitted with gold anodized heat sink covers that match the engine cover beneath.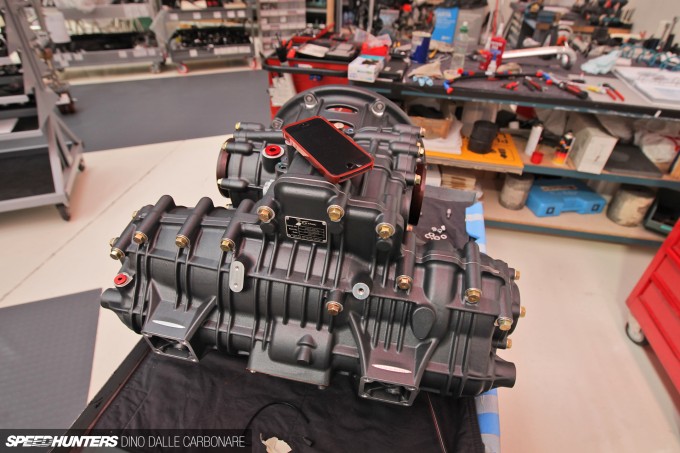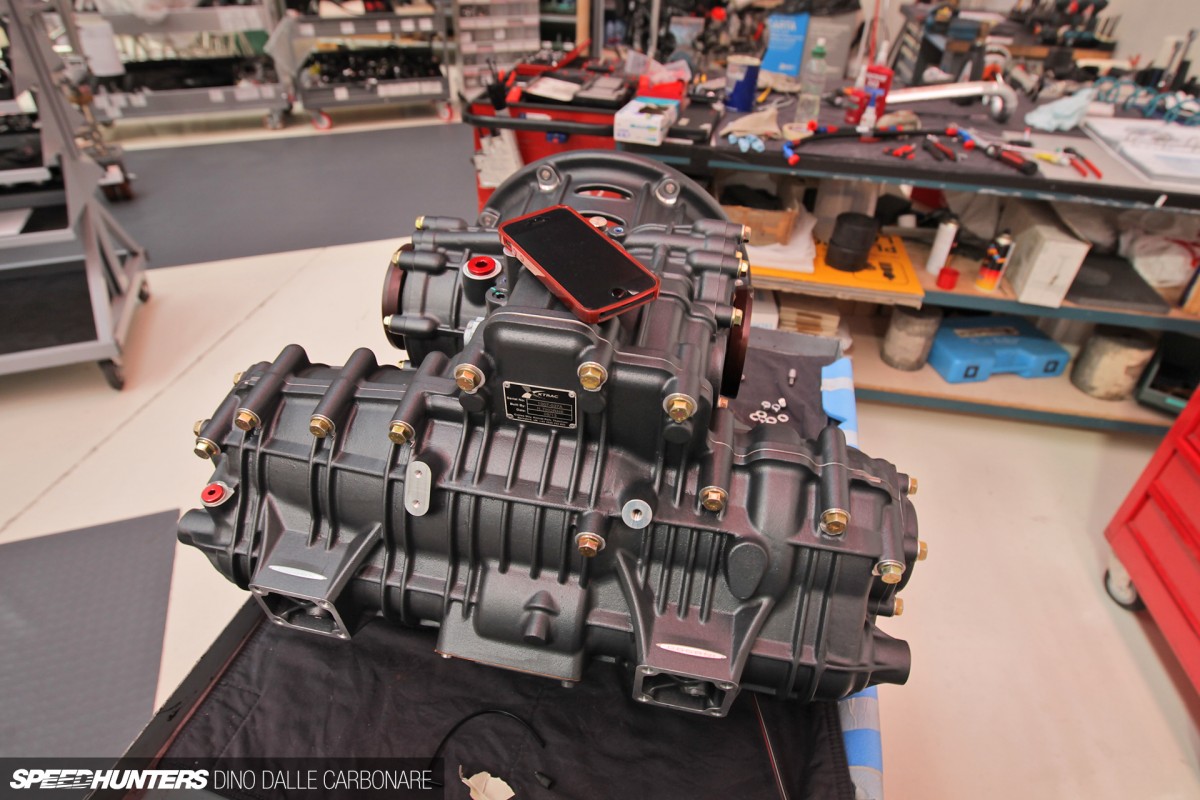 The engine is then bolted onto this work of art, the X-Trac seven-speed transaxle transmission.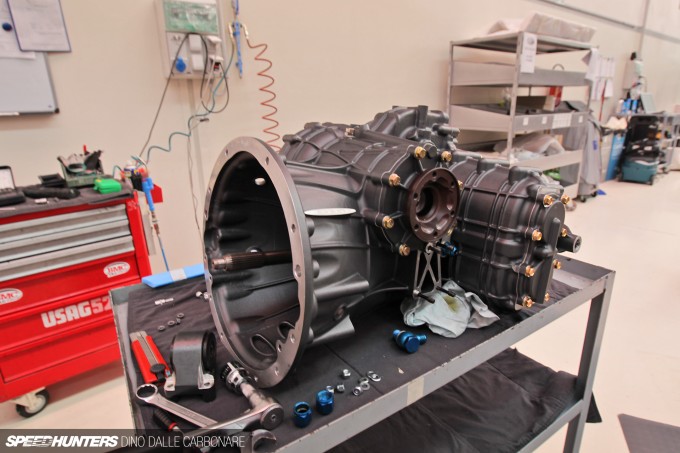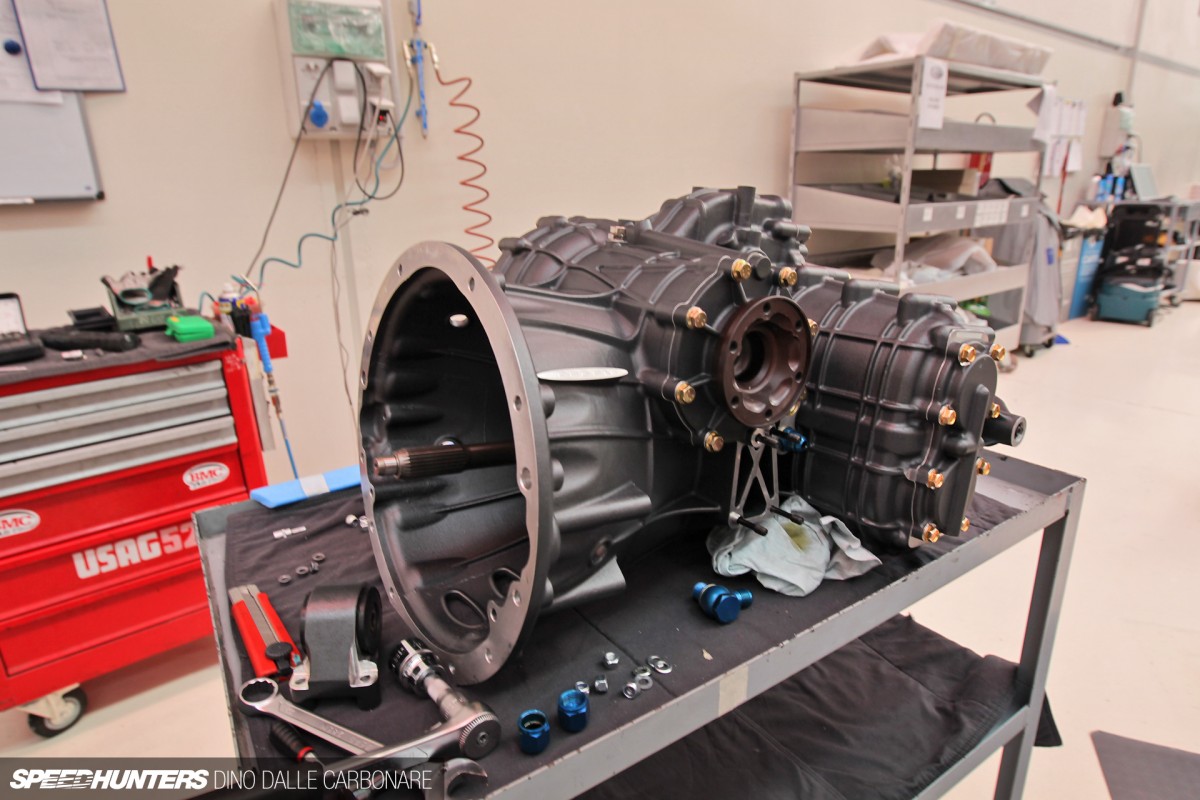 Pagani did test a dual clutch transmission during the Huayra's development but it turned out to be far too heavy at around 220 kg. That's the last place Horacio Pagani wanted to place that much weight so they approached X-Trac in the UK to come up with something that would work, yet at the same time meet strict weight limits. This whole seven-speed sequential unit hits the scales at a barely believable 90 kg and has a transverse layout to keep the weight as far inwards and towards the center of the car as possible.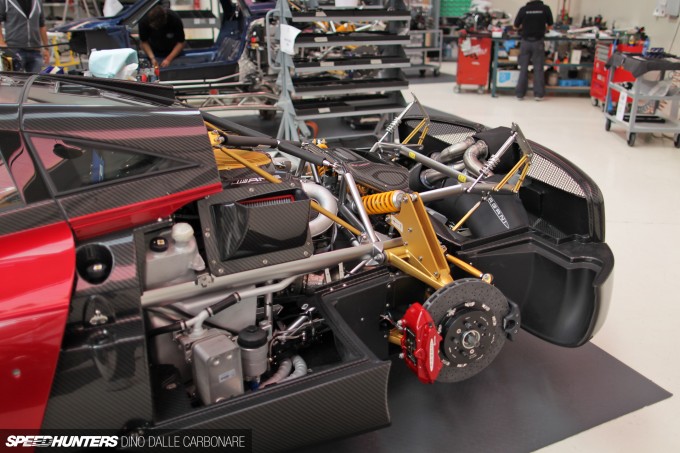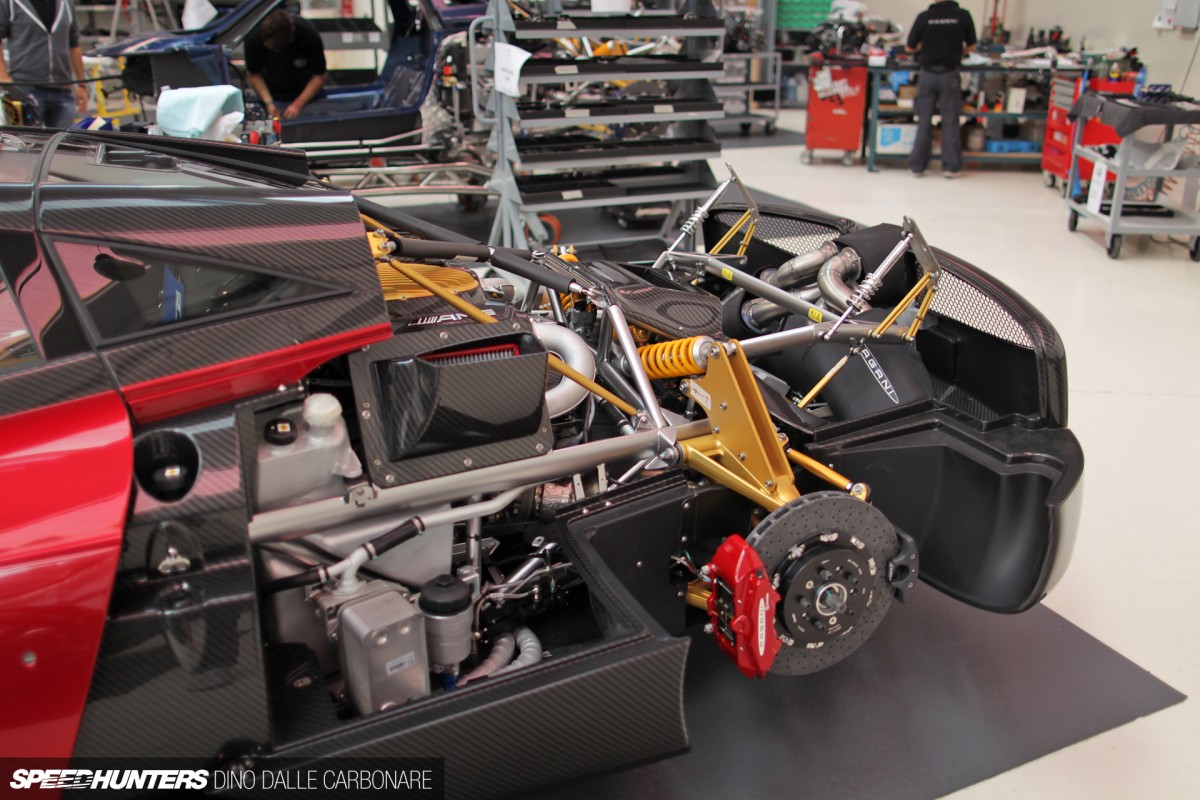 With the engine and transmission in place the Huayra's rear end begins to look more and more visibly tantalizing!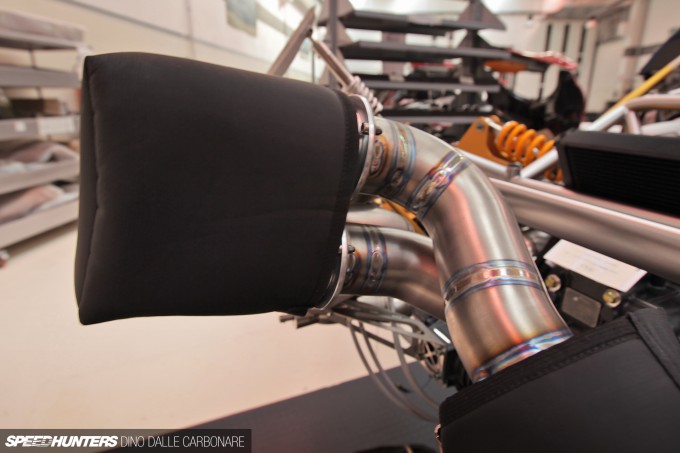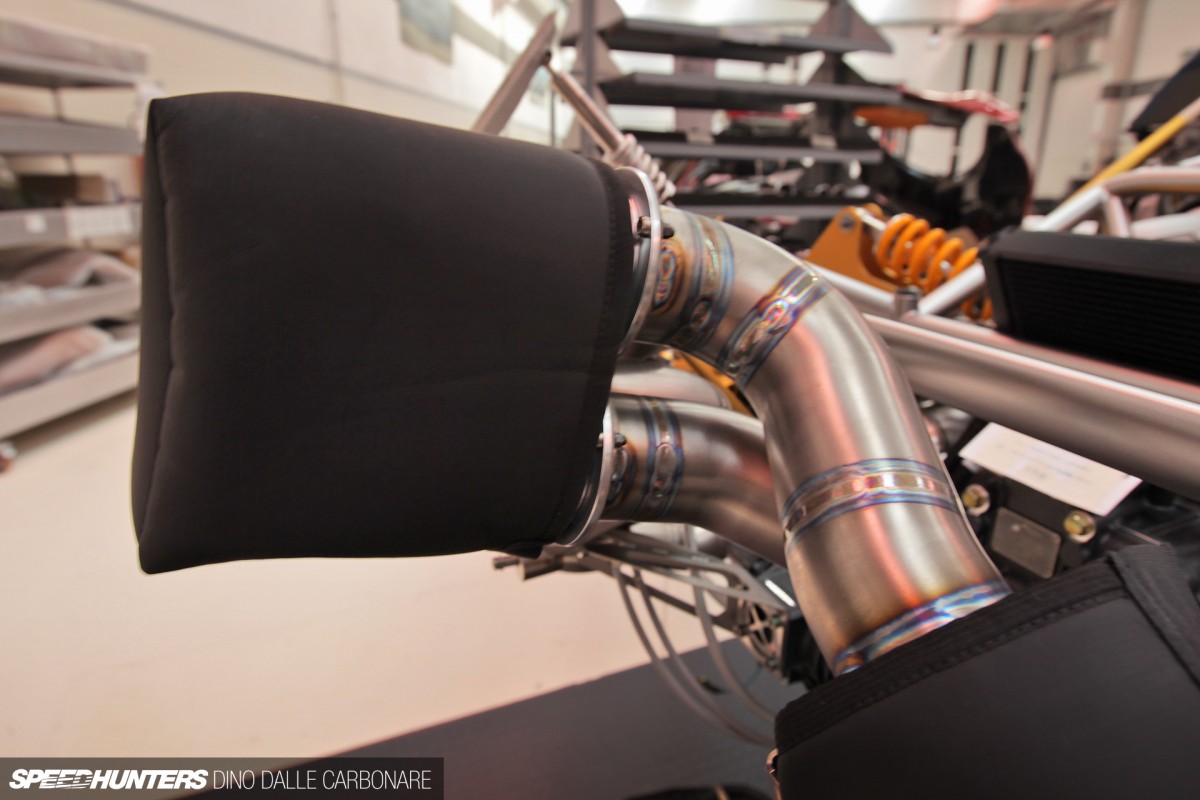 The hand welded inconel exhausts are fitted into place, each of the silencers and four tail pipes carefully protected by Pagani branded soft covers.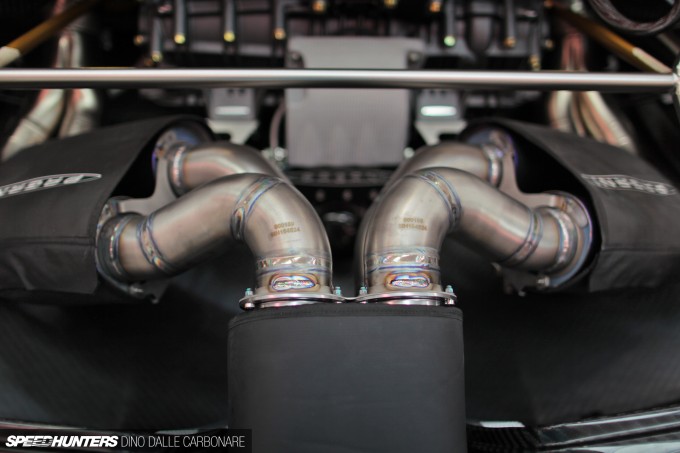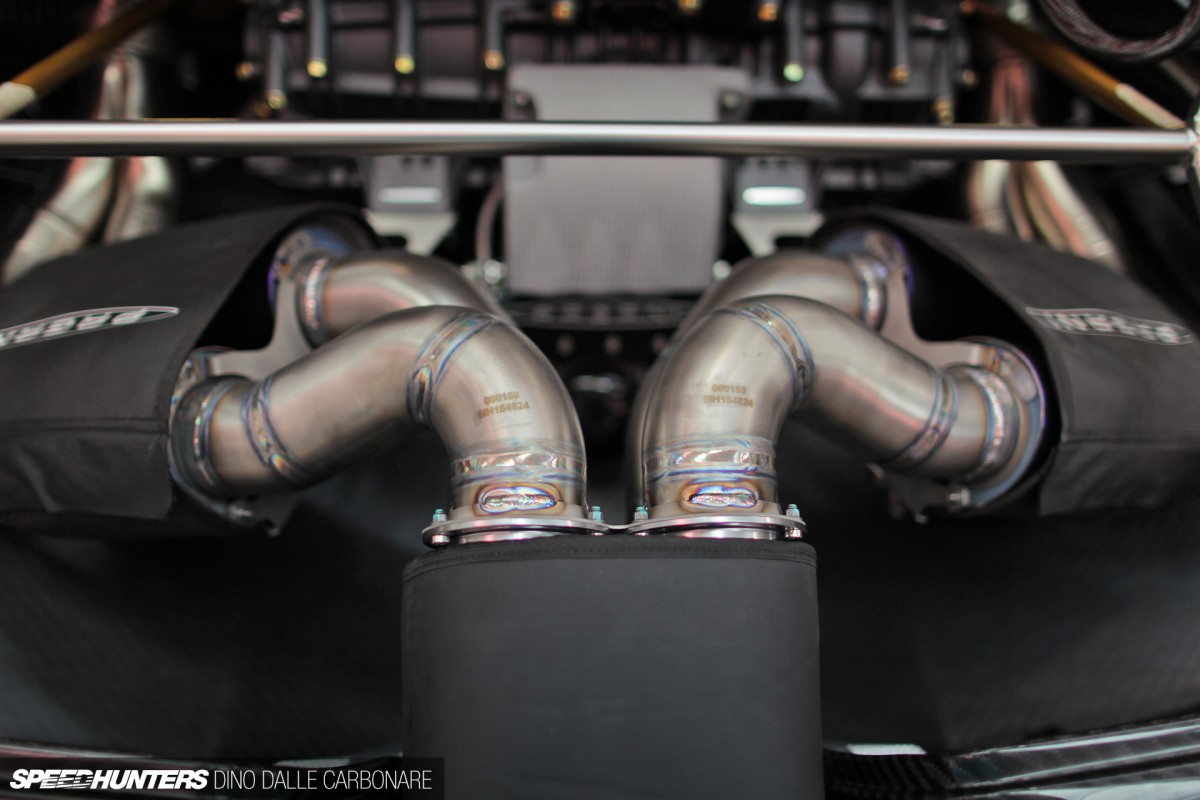 Like every other detail back there, it's a little work of art all by itself.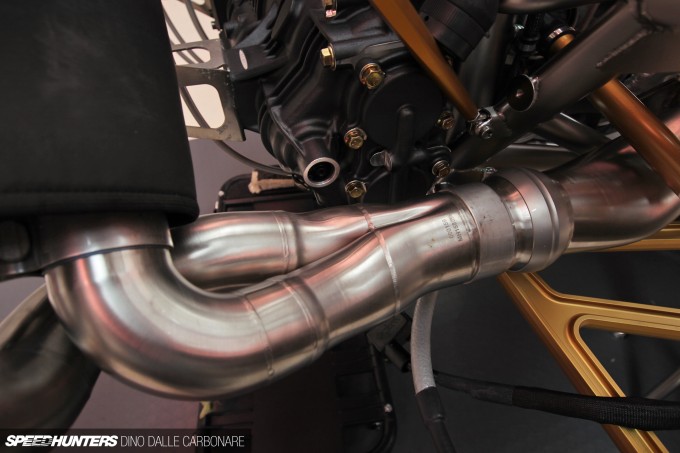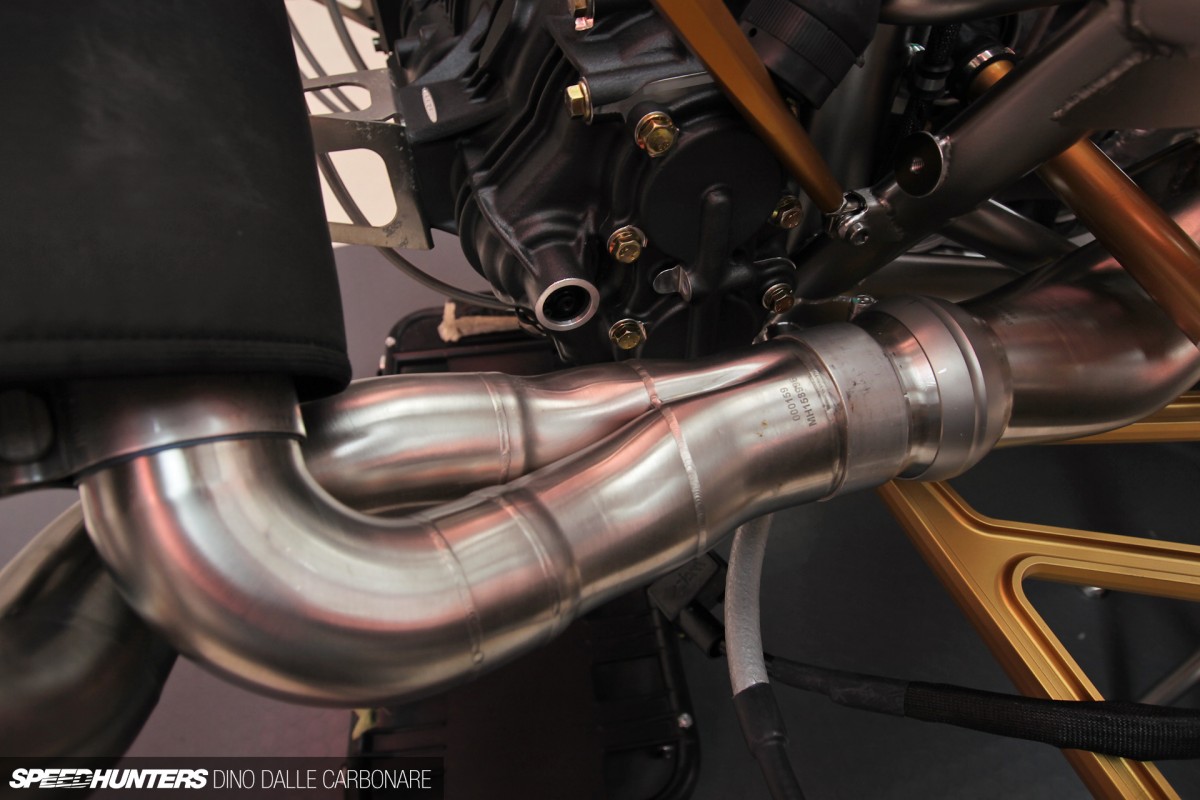 Only on F1 cars do you see this level of quality, not to mention the choice of metal!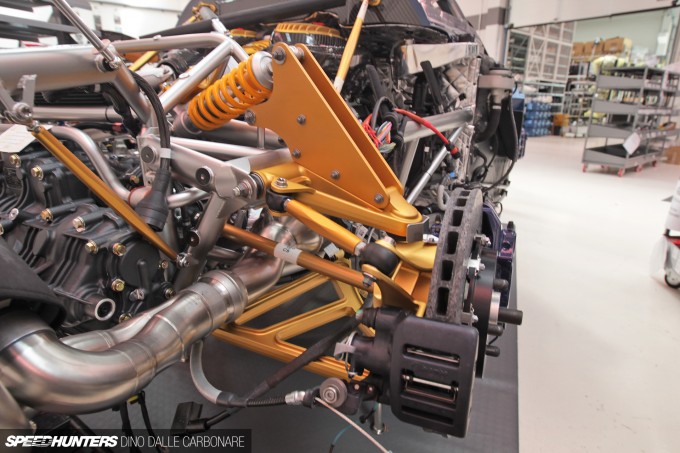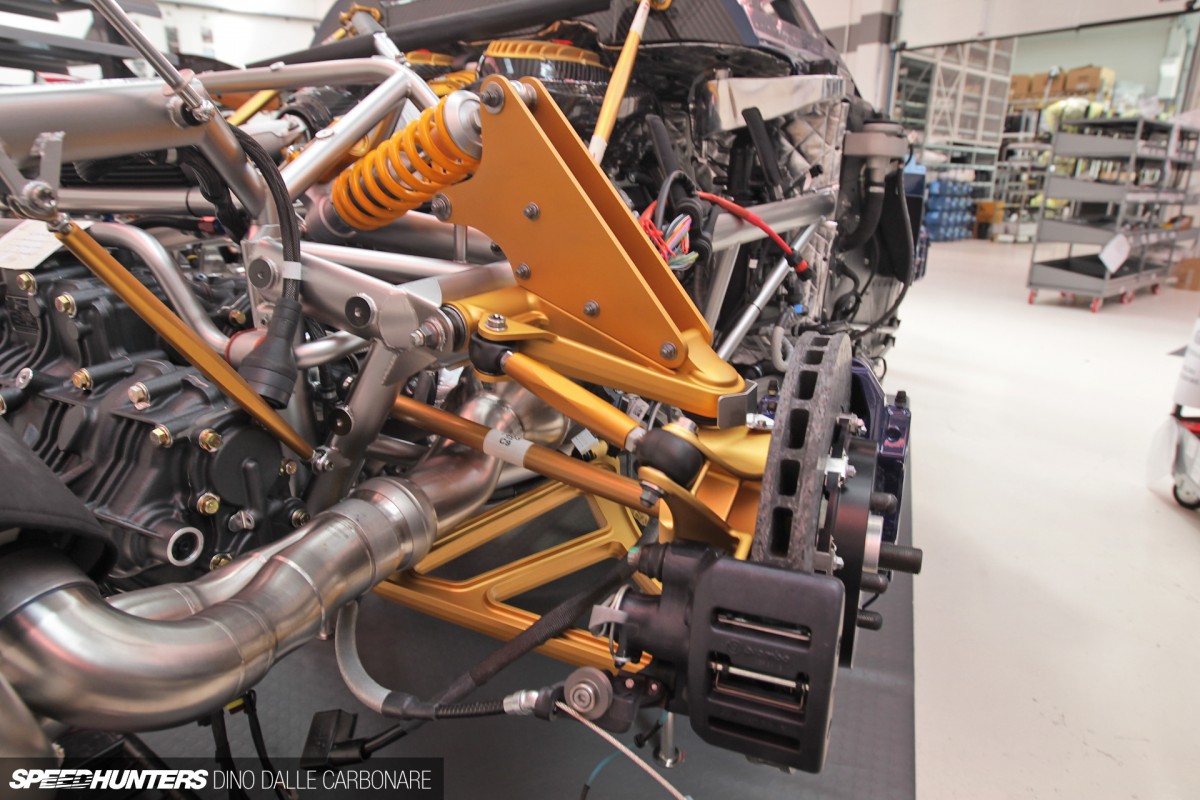 With everything in place, the suspension links and dampers are all bolted into place…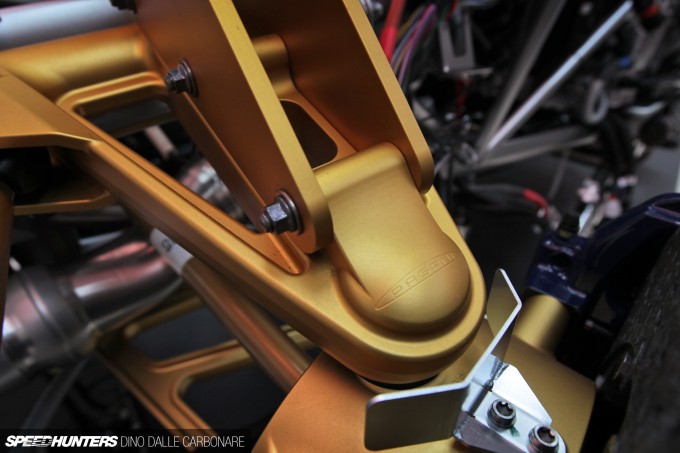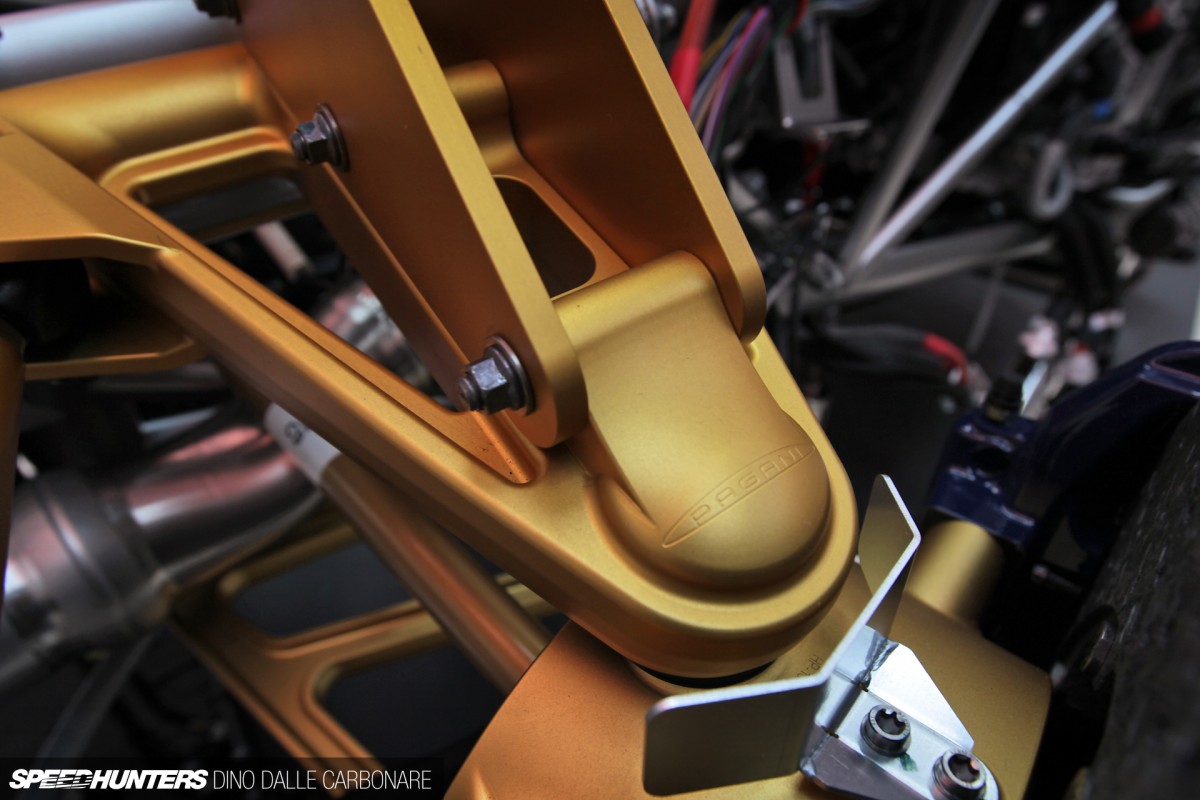 … each component standing out due to its gold anodized finish. It makes looking and admiring the car all that more pleasurable!
Using technology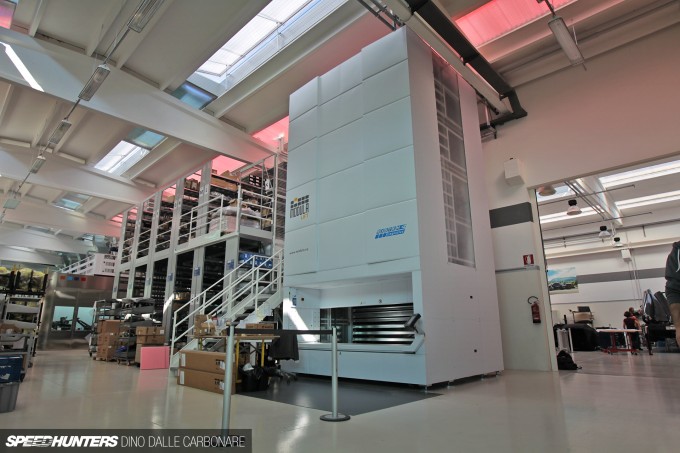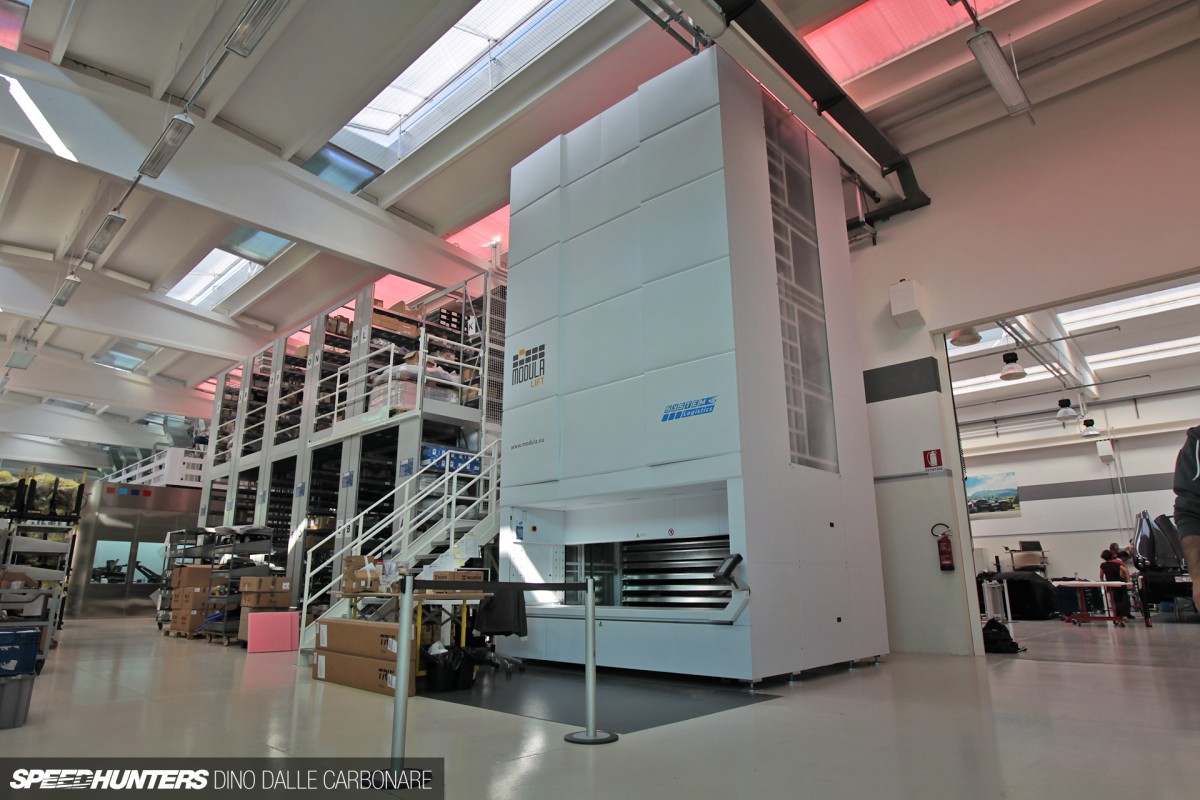 Behind the scenes, each step of the build is supplied with parts automatically laid out thanks to an automated shelving system.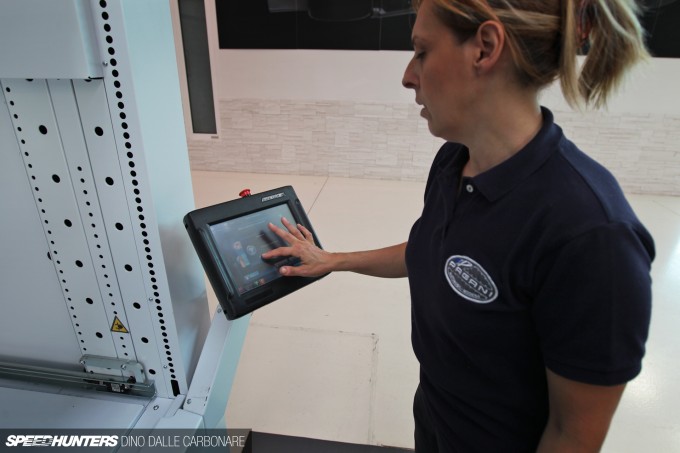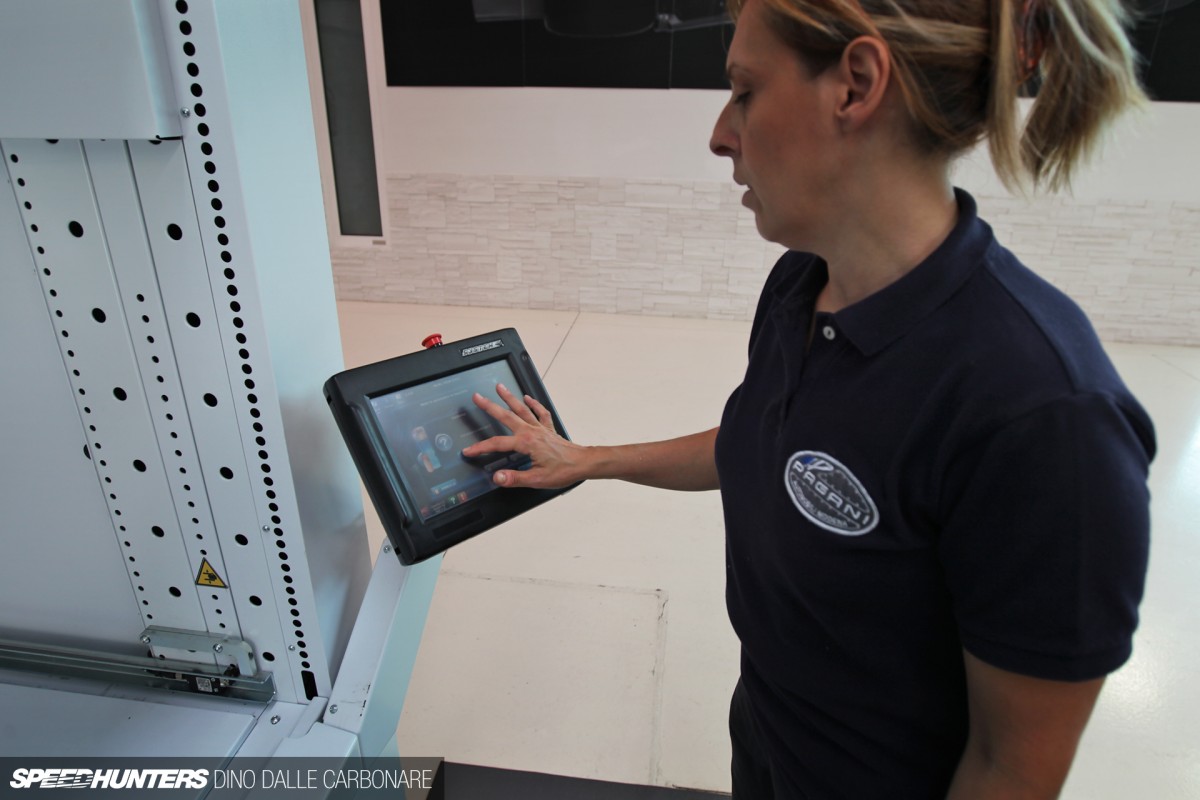 Depending on what step of the production each car may be in, it can all be quickly requested through the touch screen interface and in a matter of seconds…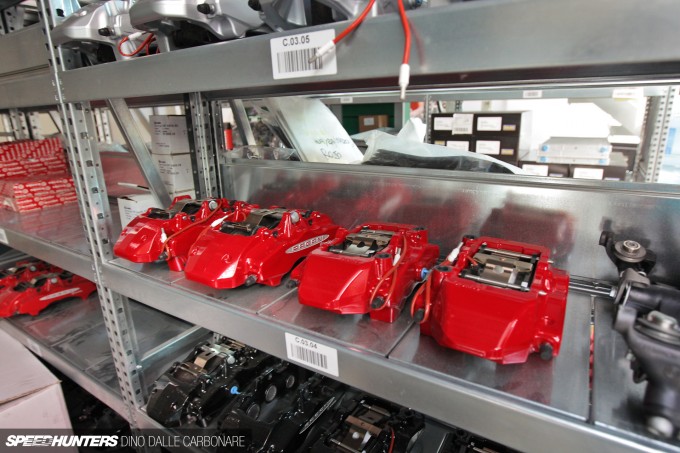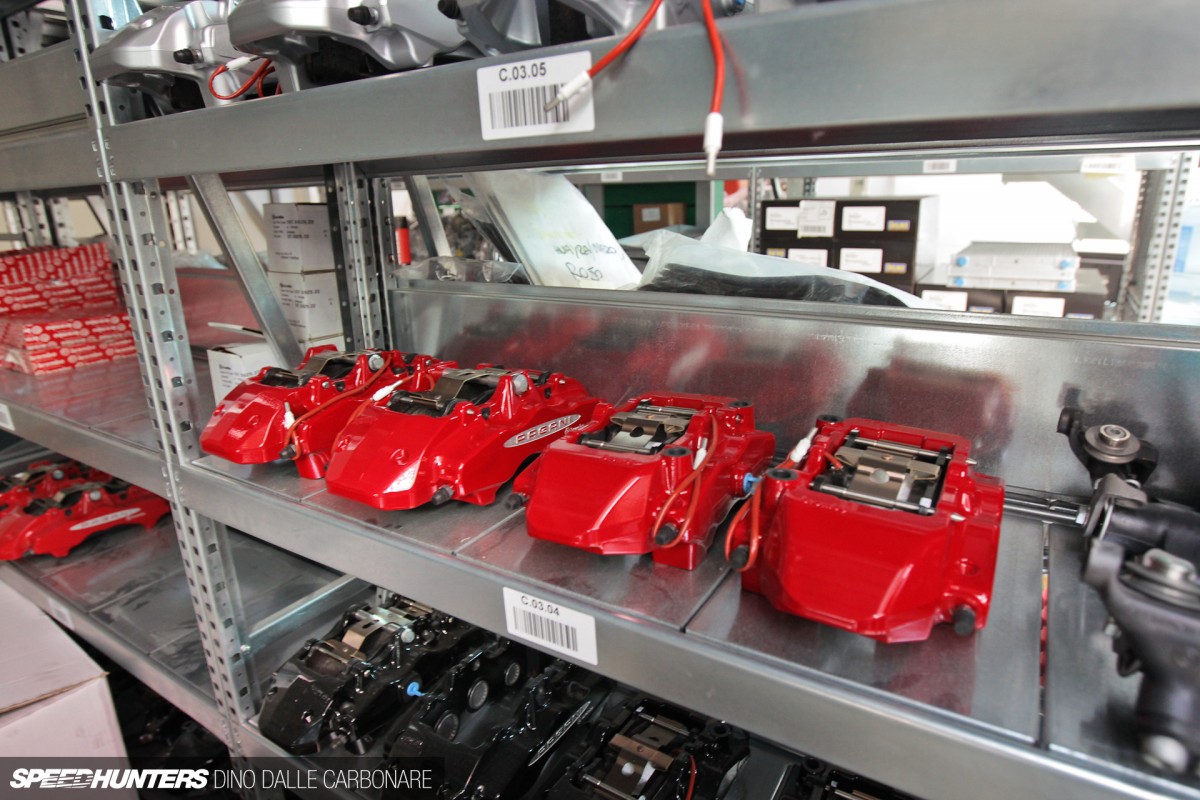 … picked up from the warehouse section…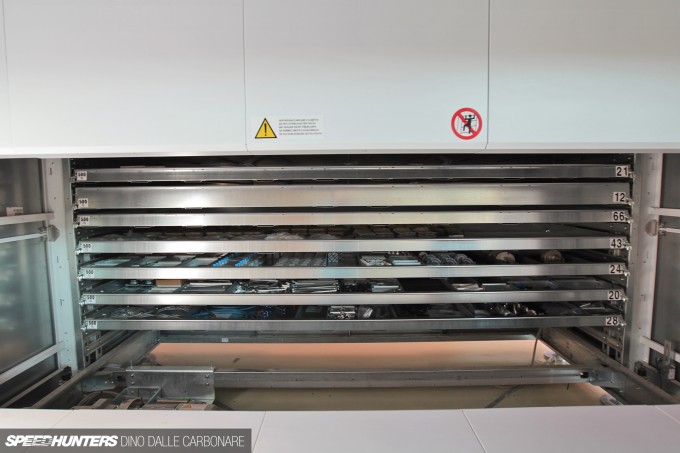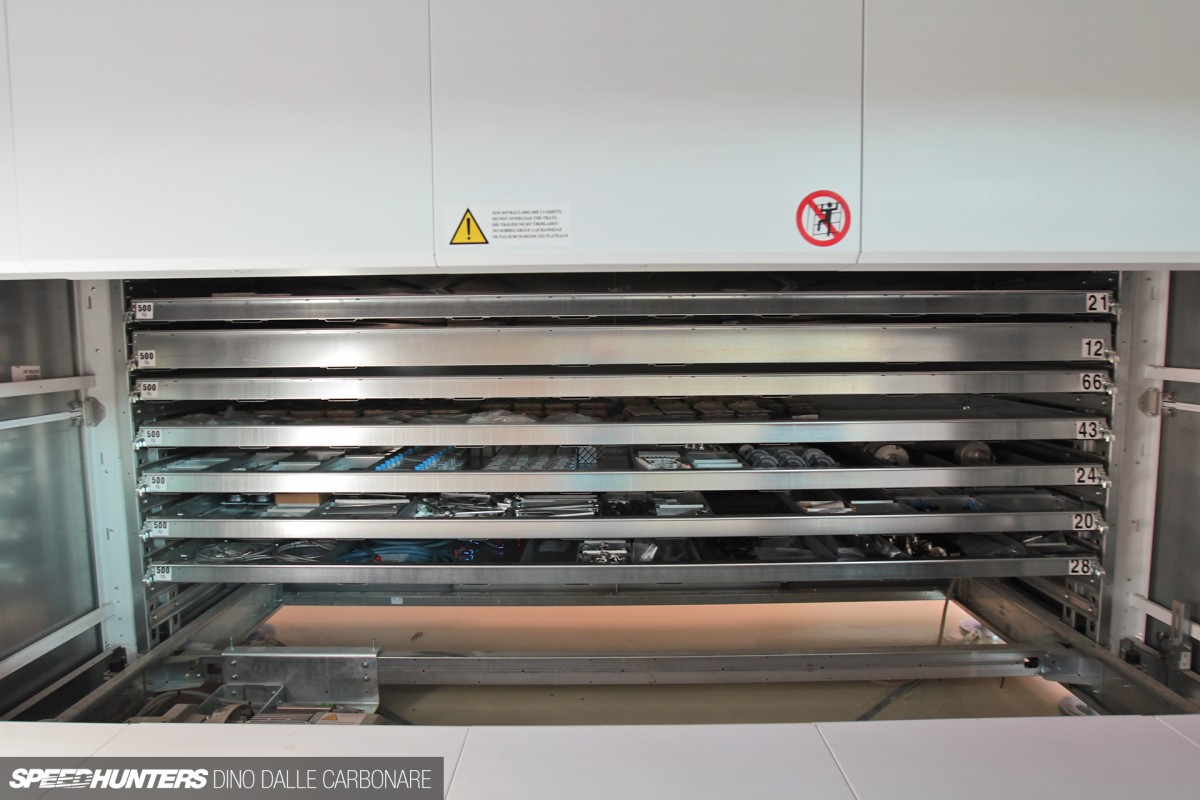 … and served up in neatly laid out trays that slide out.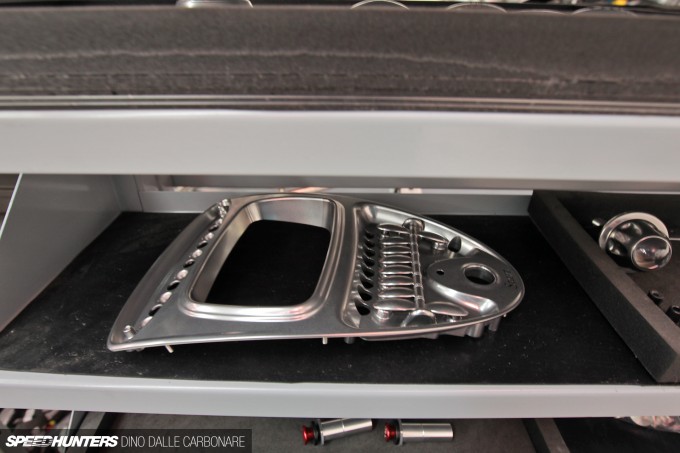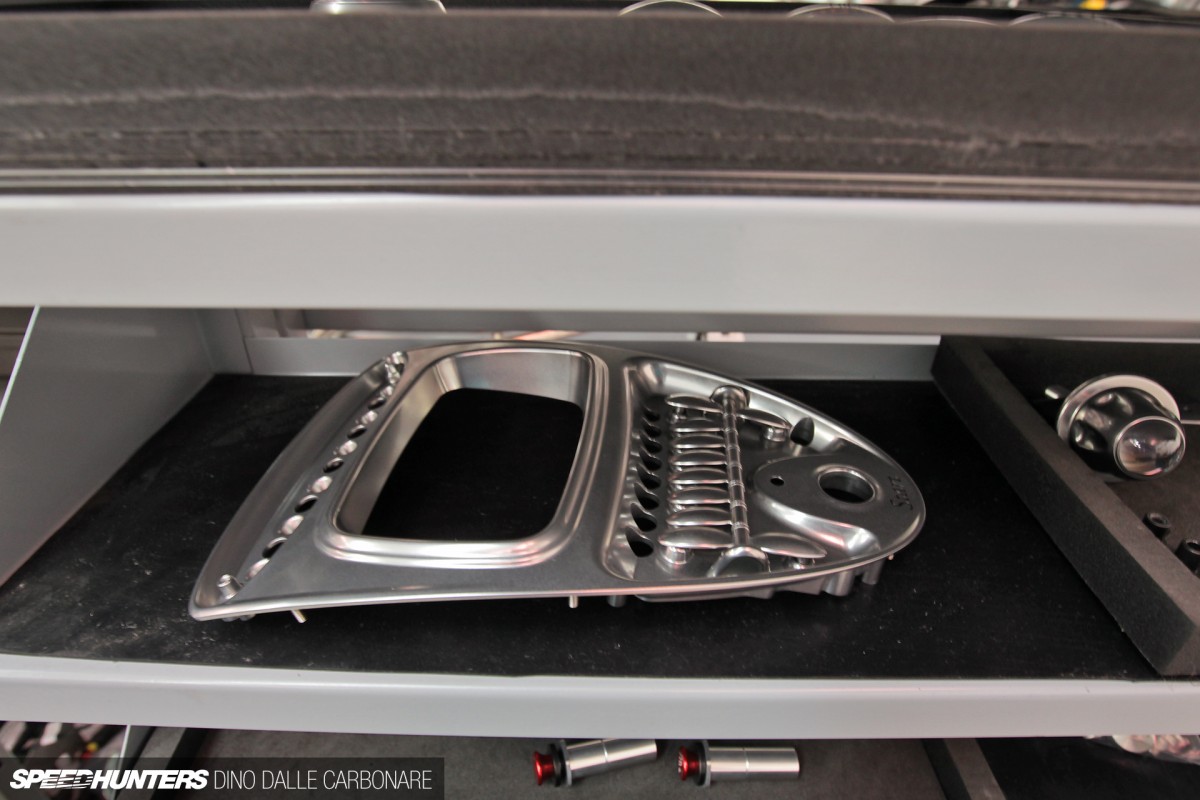 From here, components are placed on a trolley…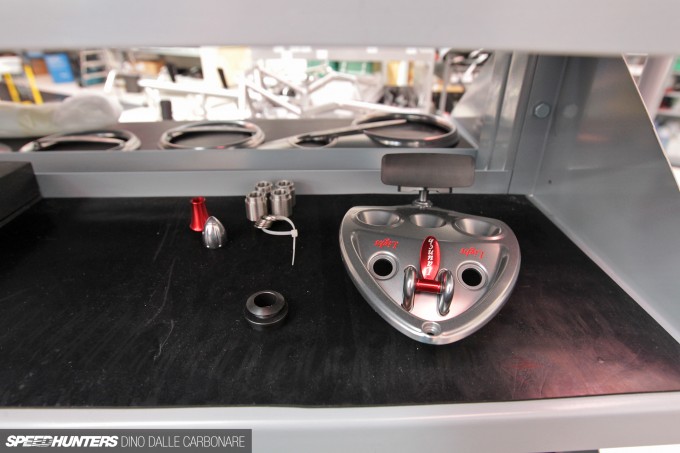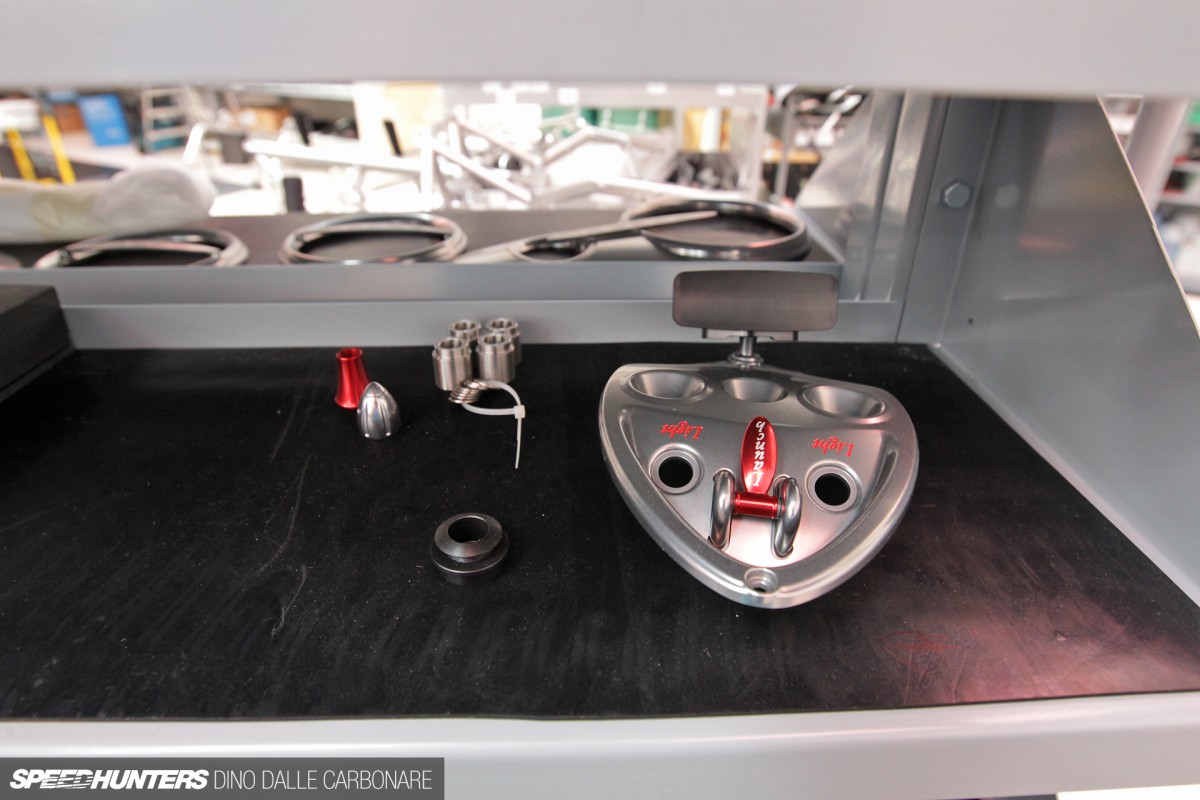 … each compartment holding the necessary part and other components to complete the step. It's a big investment but one that has allowed even more time to be shaved off the production of a car.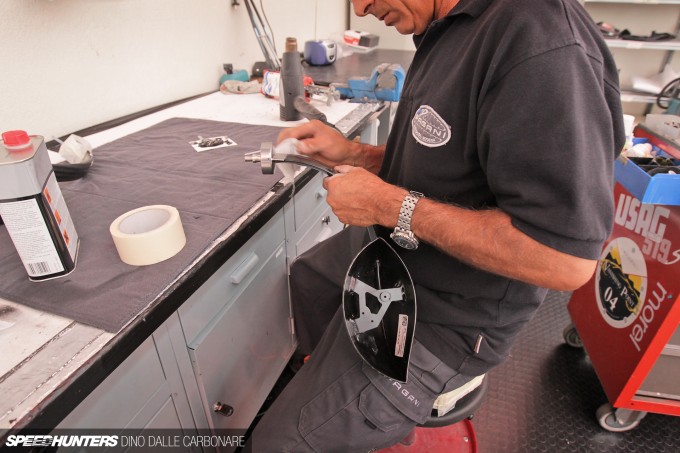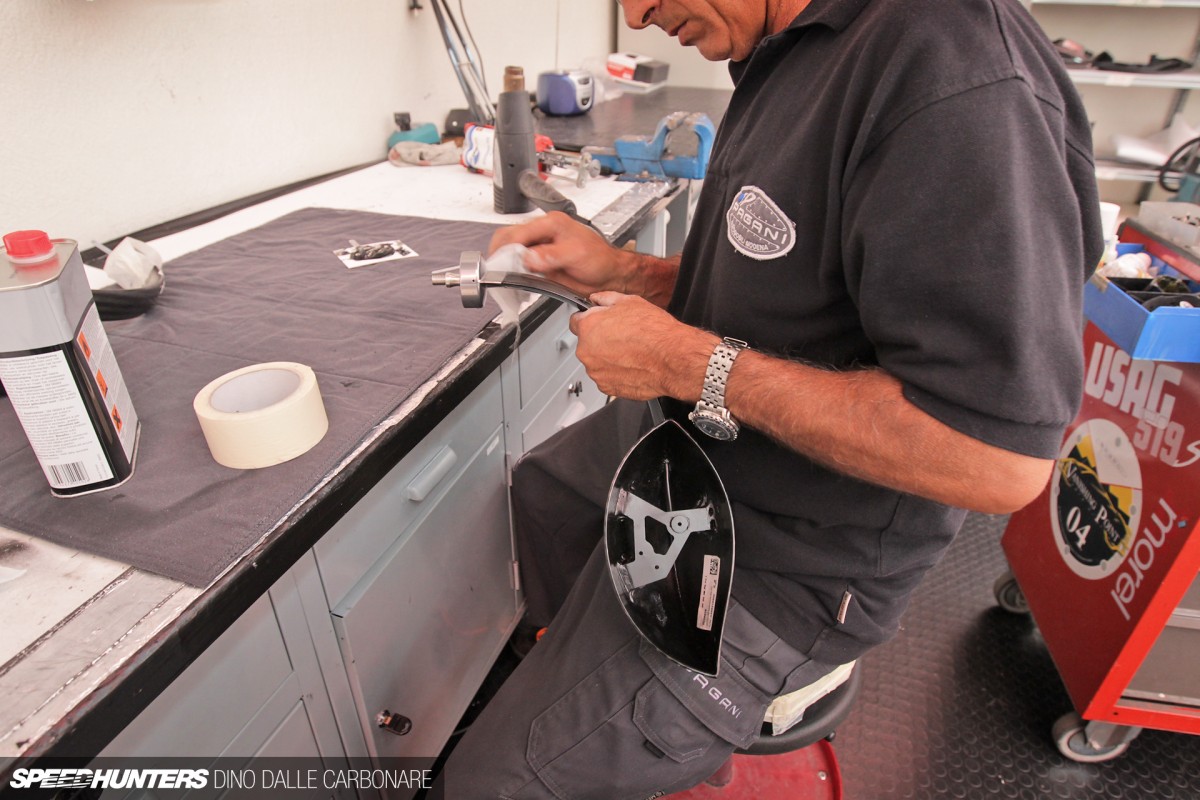 There are of course still a lot of steps that take their time; here a beautiful tear drop carbon mirror is being bonded onto its aluminum mount, and once finished will be laid out…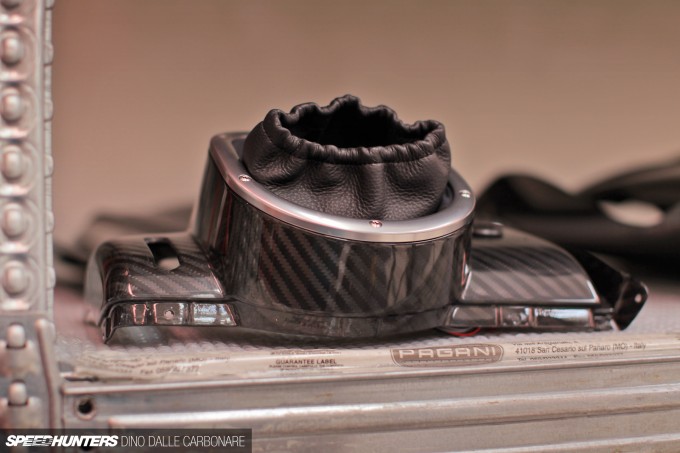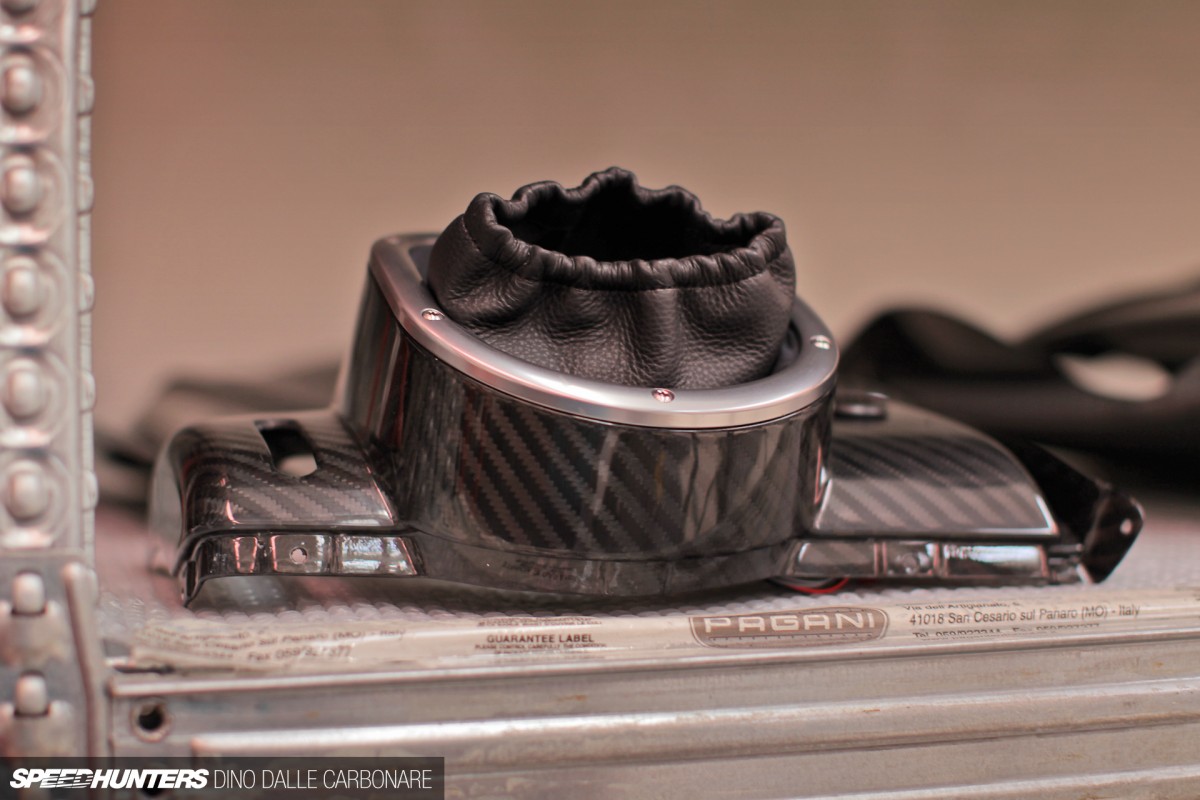 … to dry and cure along with other components that have been finished off by hand…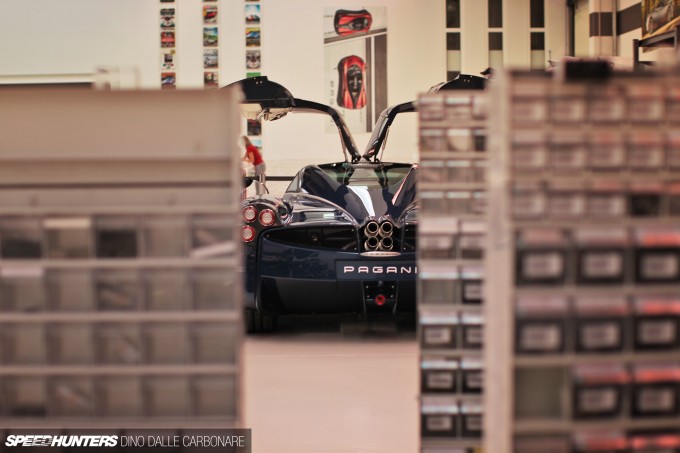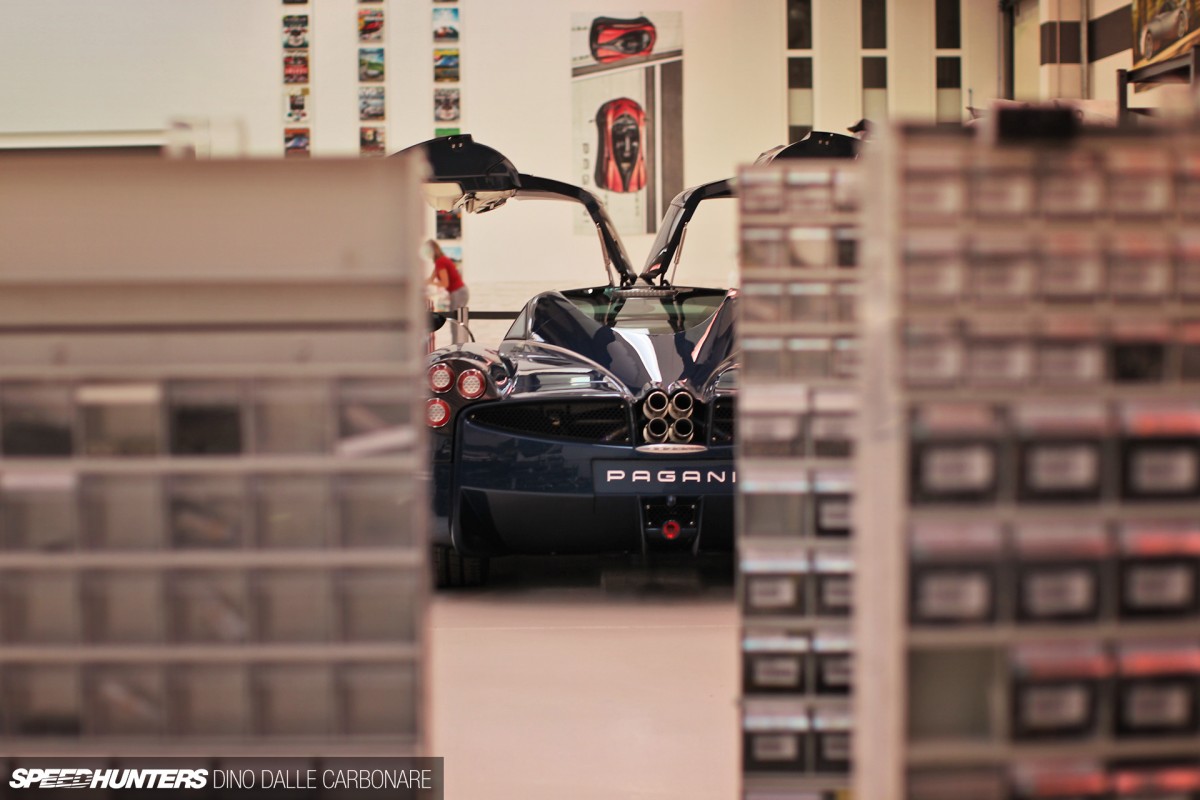 … before being picked up and fitted to one of the cars.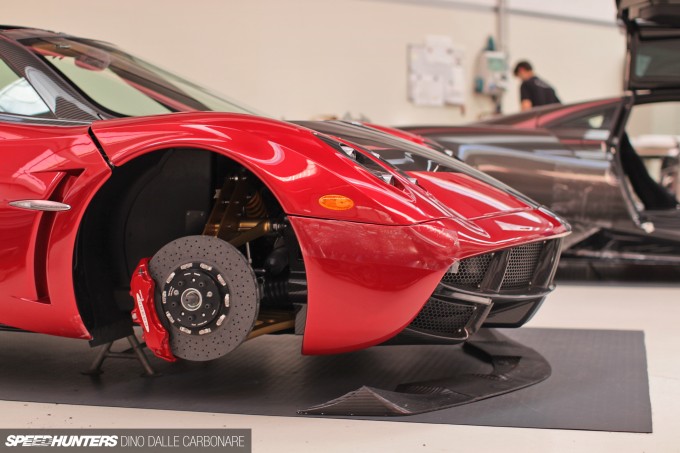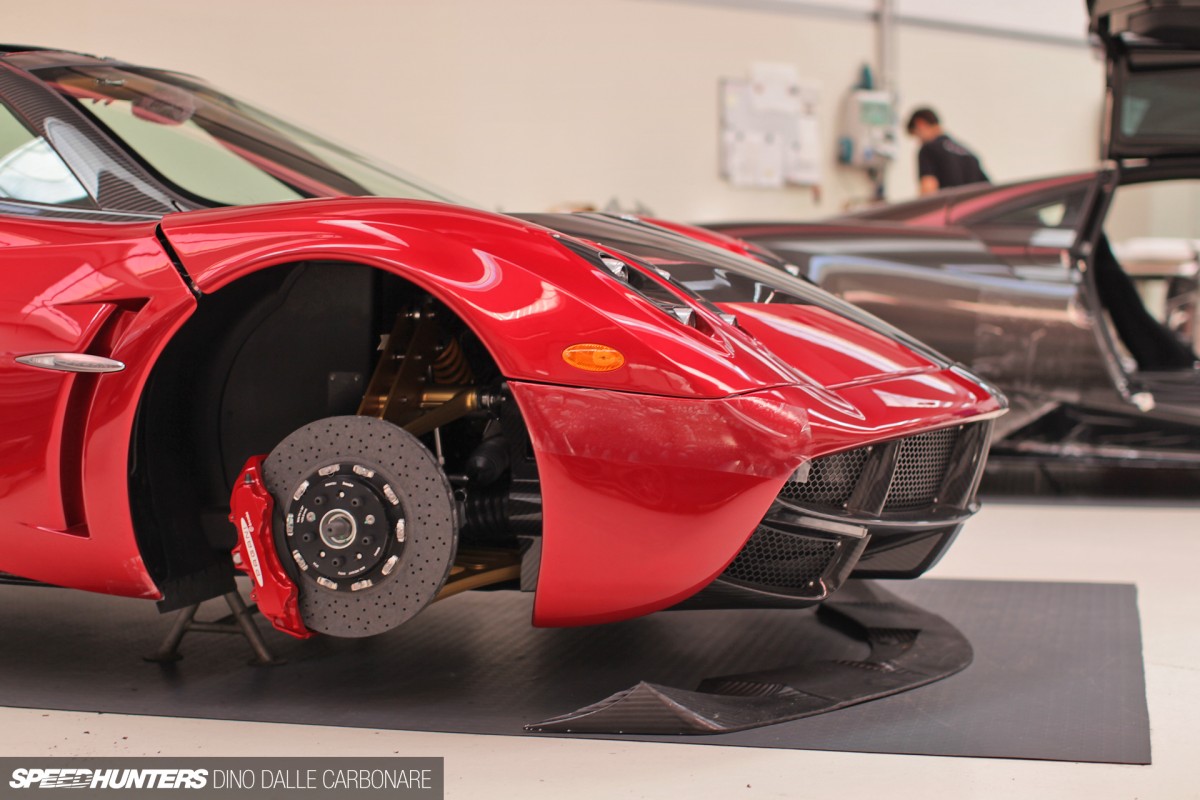 And so, over the course of a month the Huayra goes from a selection of beautifully built and constructed components…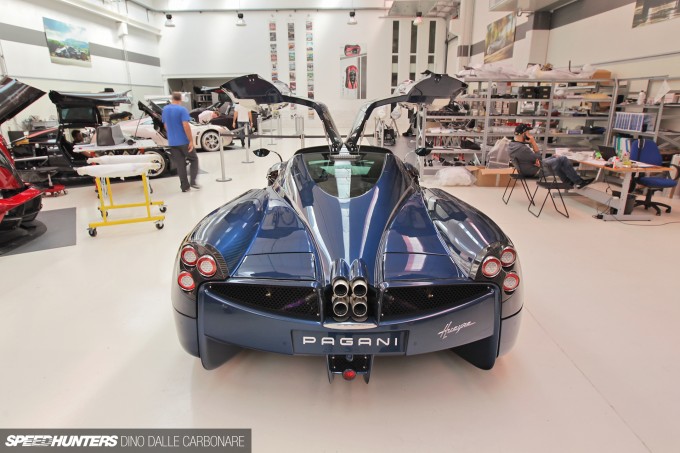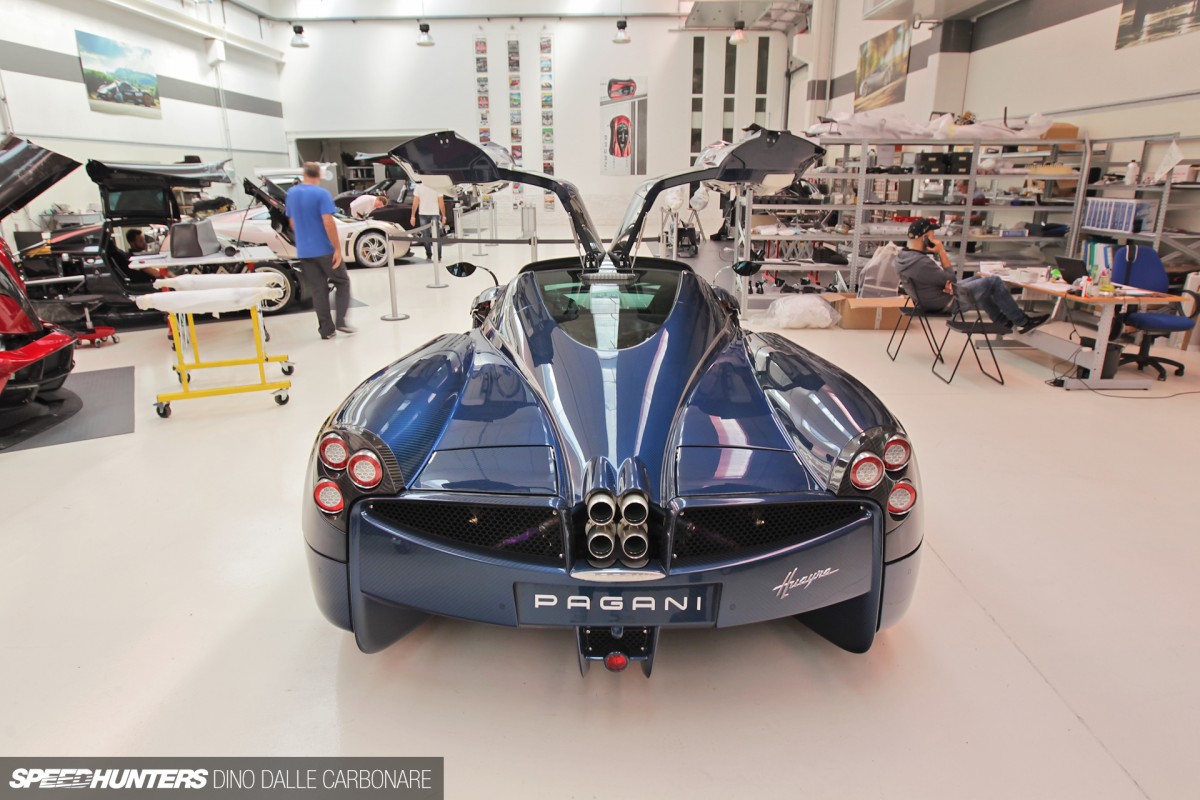 … to the finished, ready to be delivered, completed car.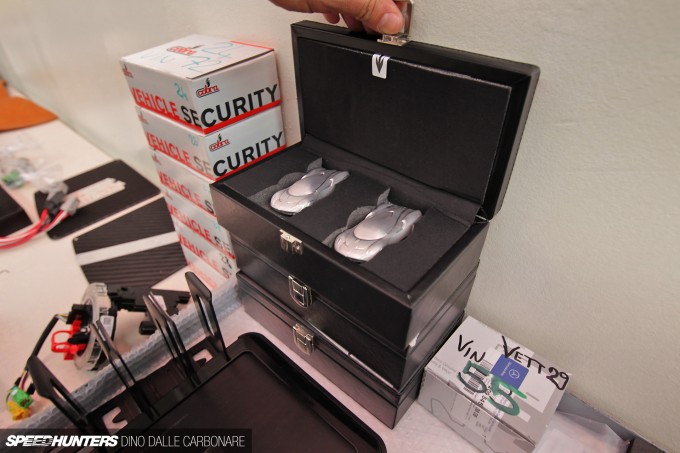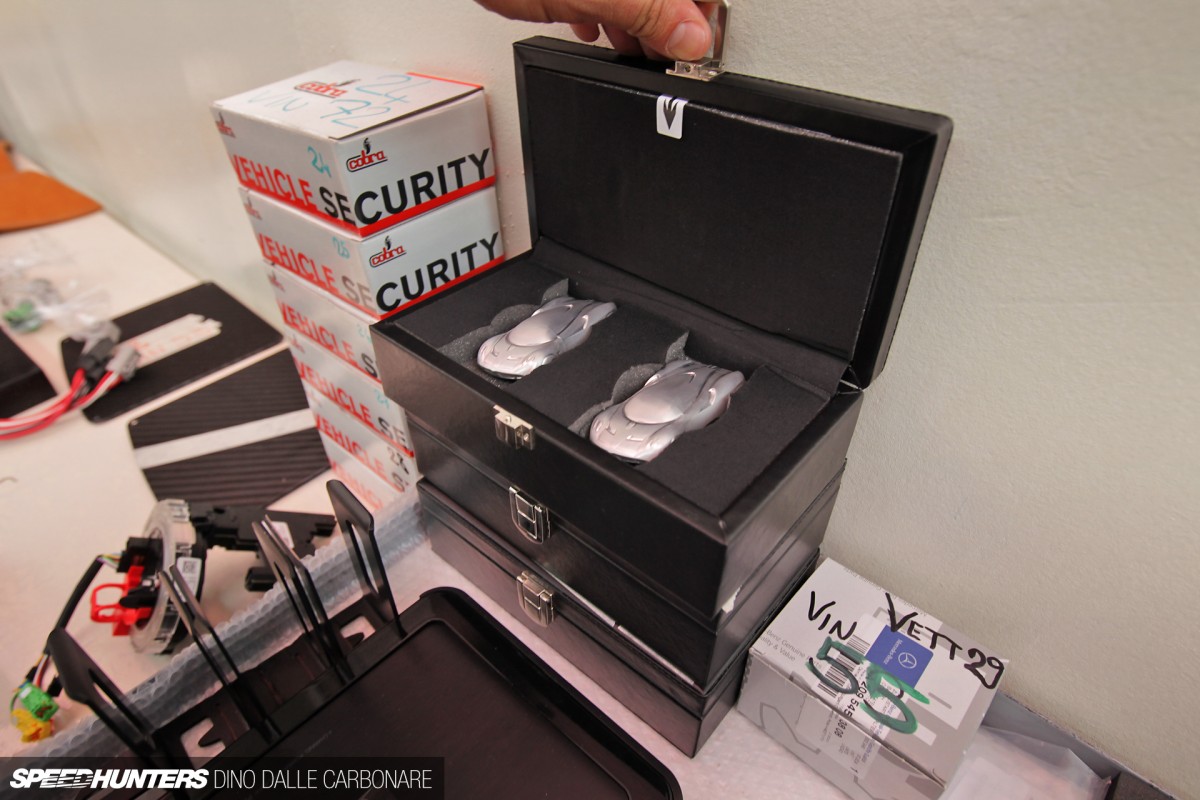 Oh and these are the keys to go along with that special purchase! Two per car, just in case you lose one!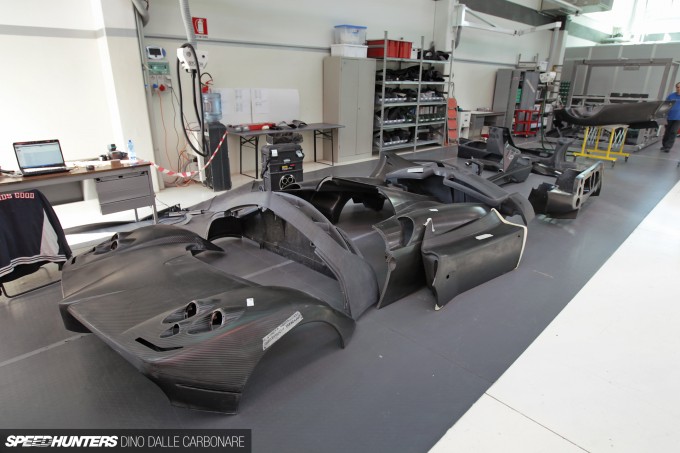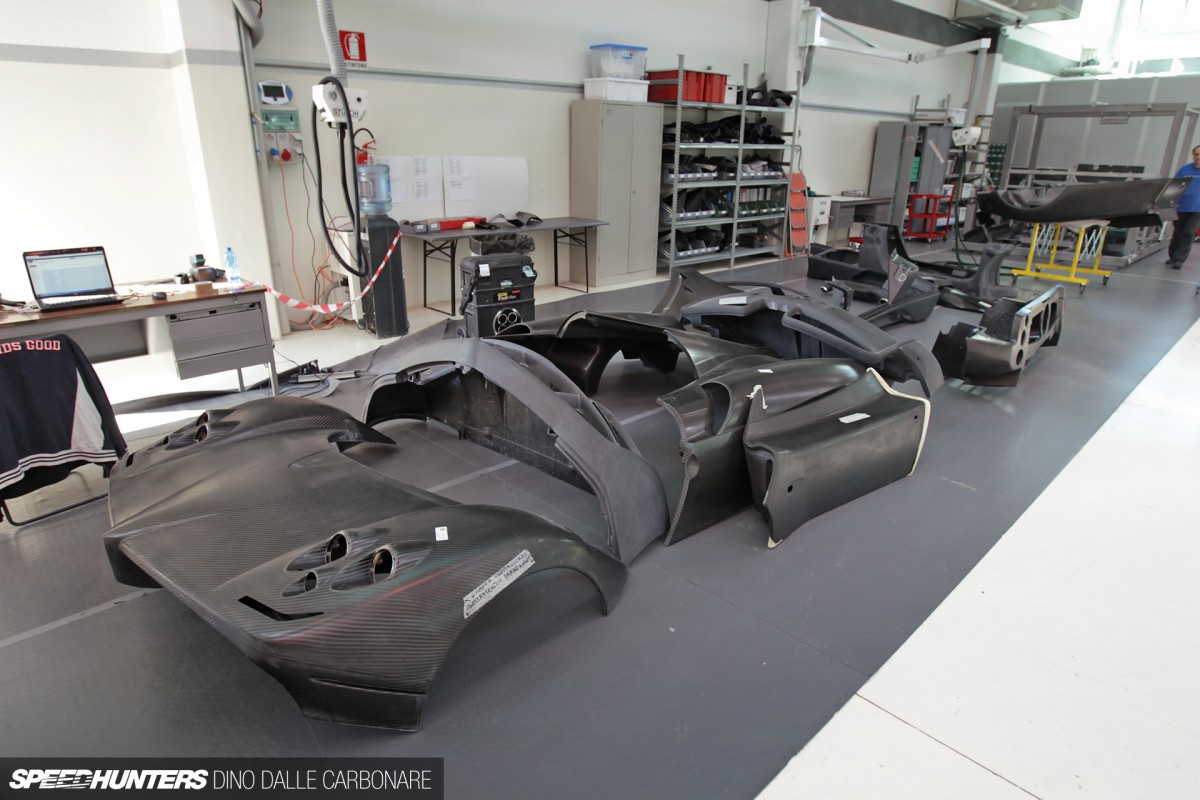 On an adjacent area of the production line I spotted some familiar looking body panels…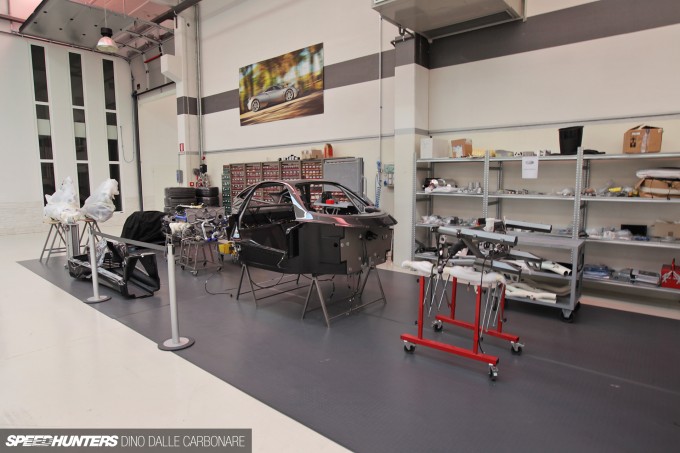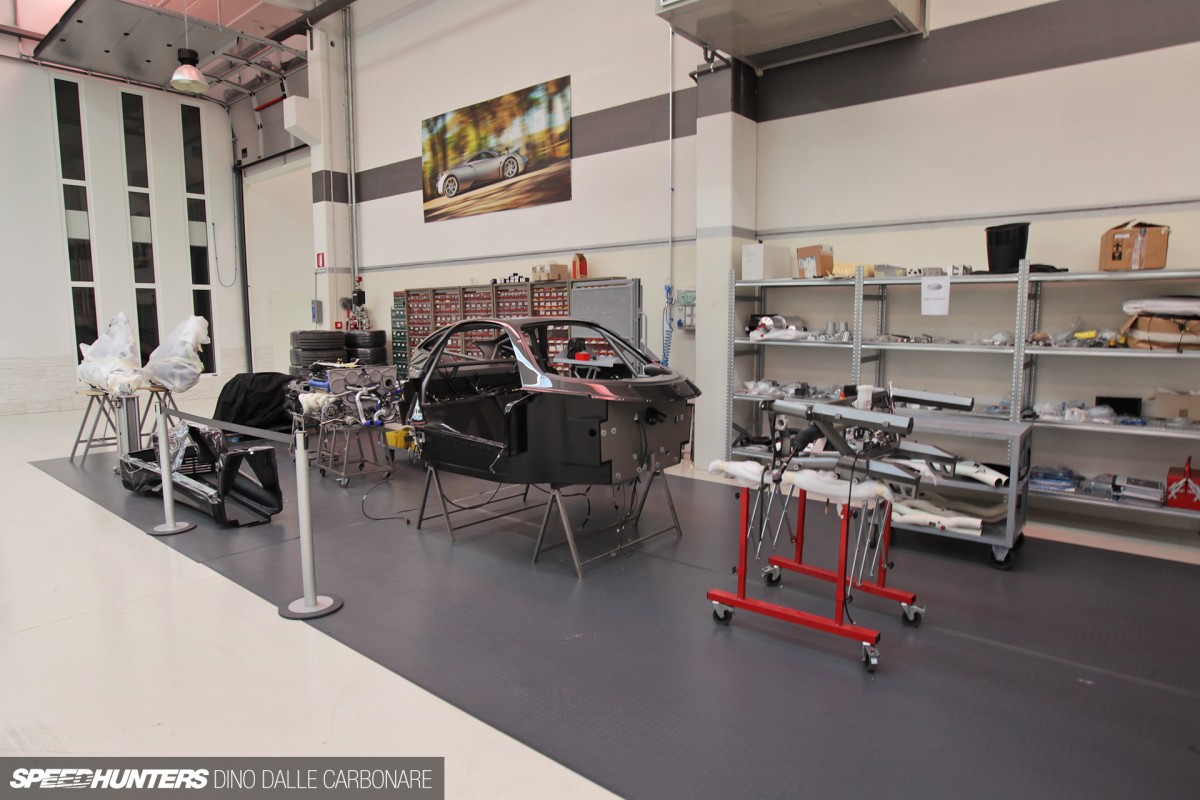 … and a little solitary production area where a Zonda is being built.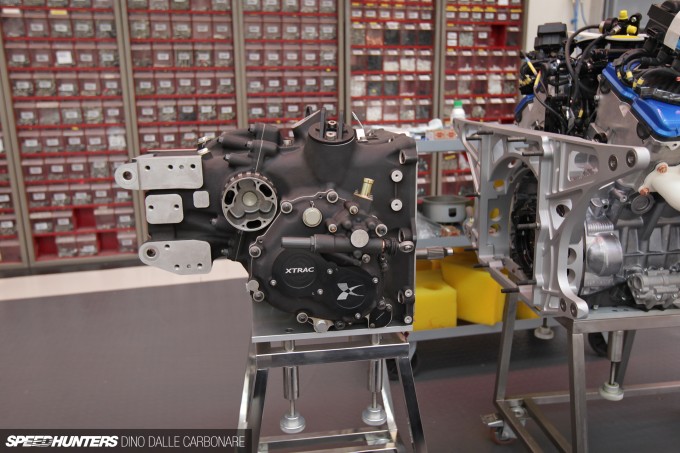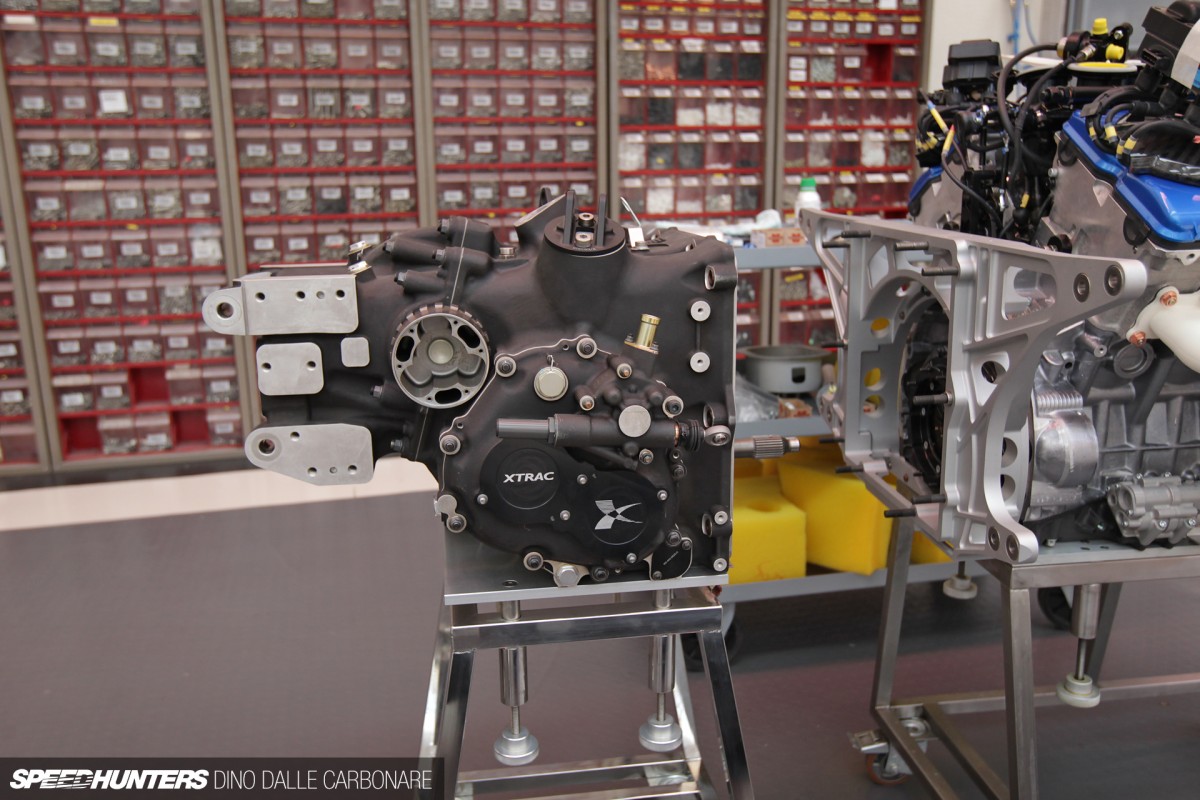 The X-Trac sequential transmission sort of gives it away… this is one of the final Revolución that are being built.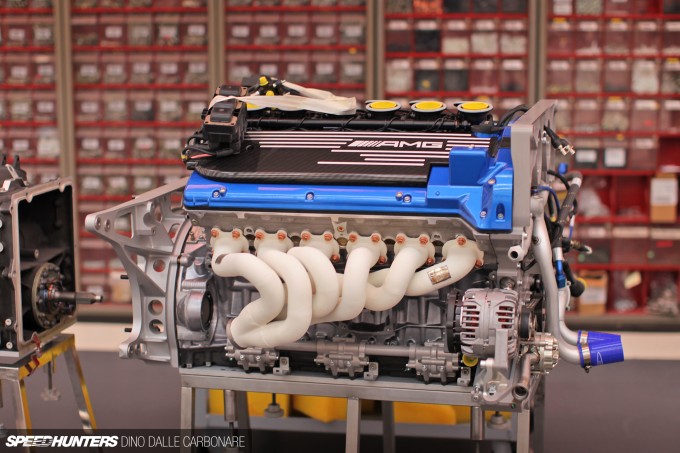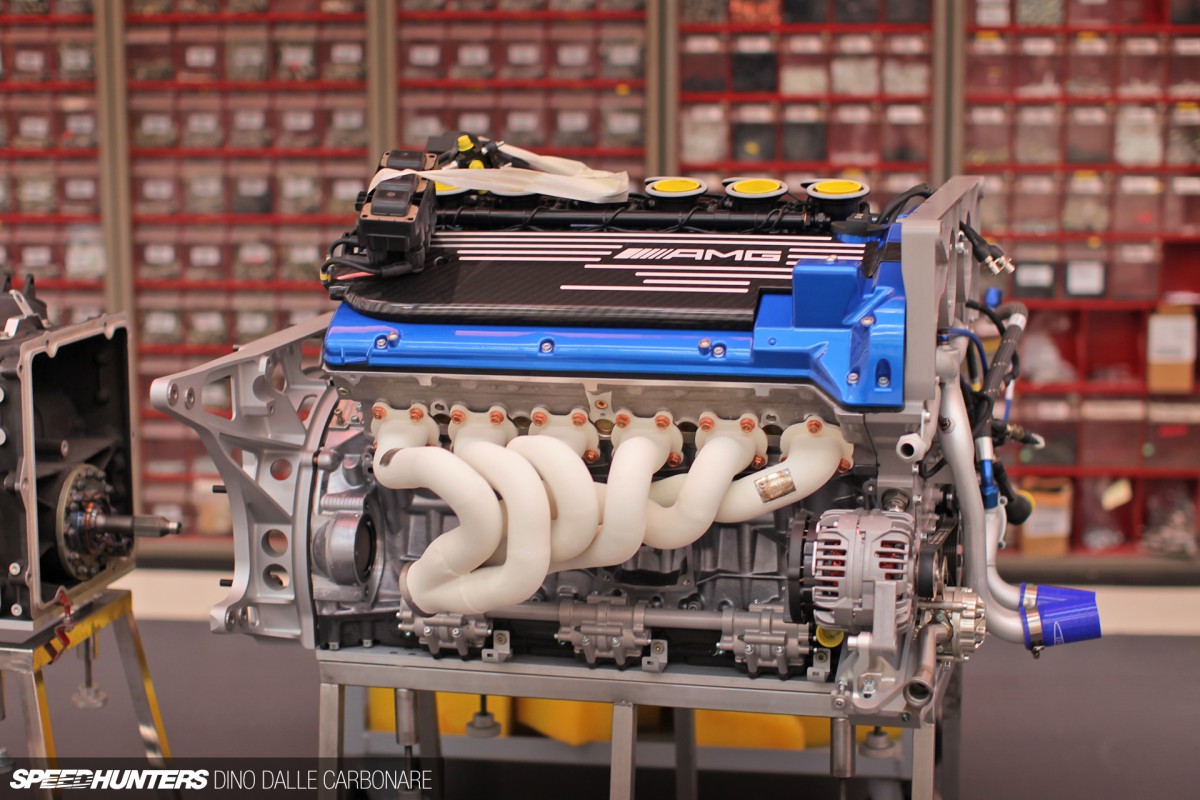 With its AMG M120 engine, six liters of naturally aspirated fury capable of delivering 800hp at 8,000 rpm. I could look at this all day long.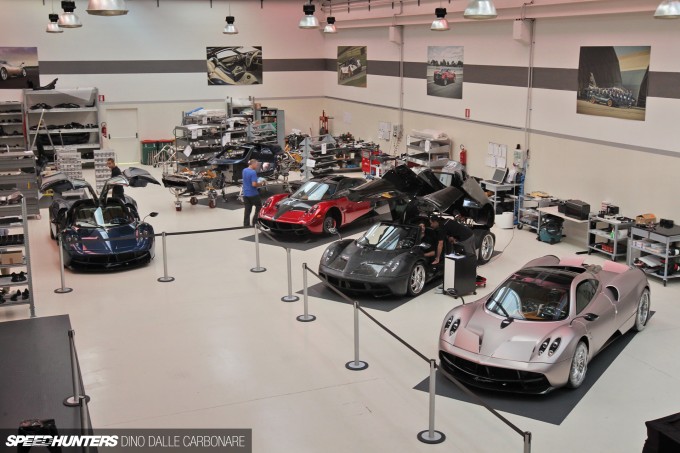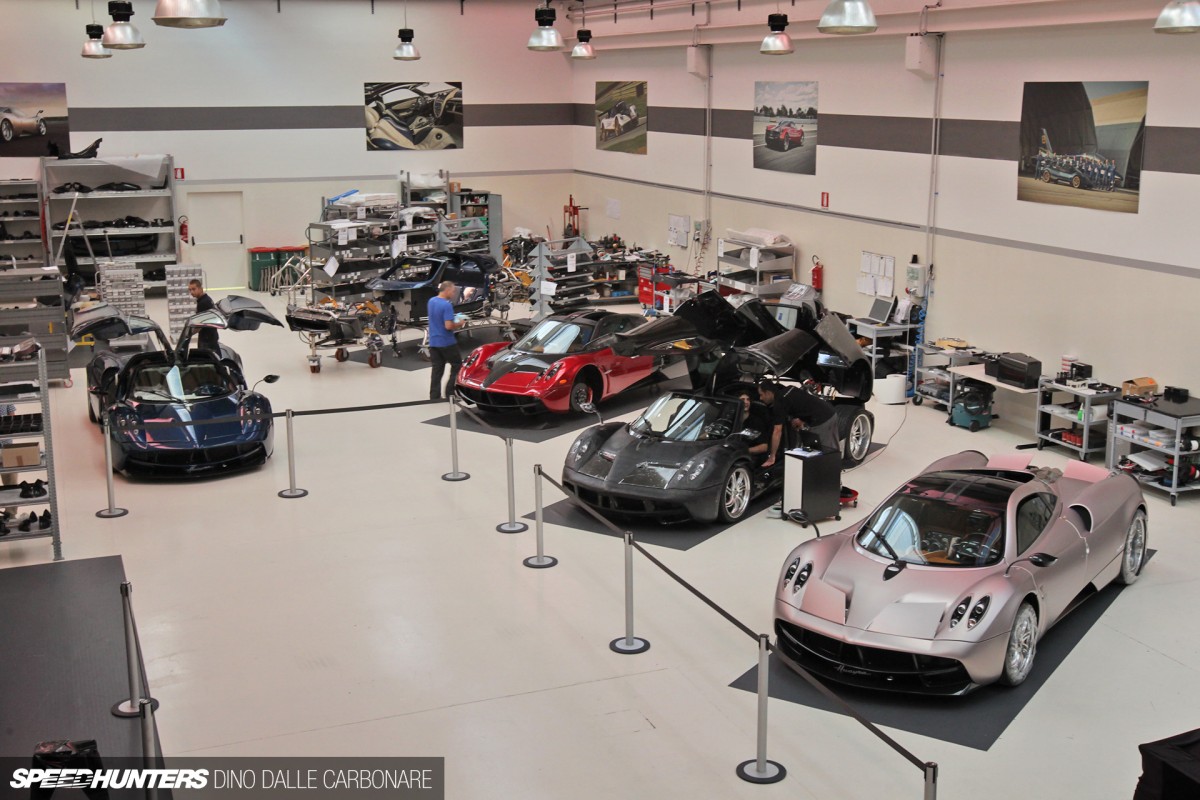 And so there you have it, the first step of Pagani's next big step. I guess when things are all set up and completed we will have another excuse to drop by and say hello. Hopefully by that time a few hotter versions of the Huayra will already have been released!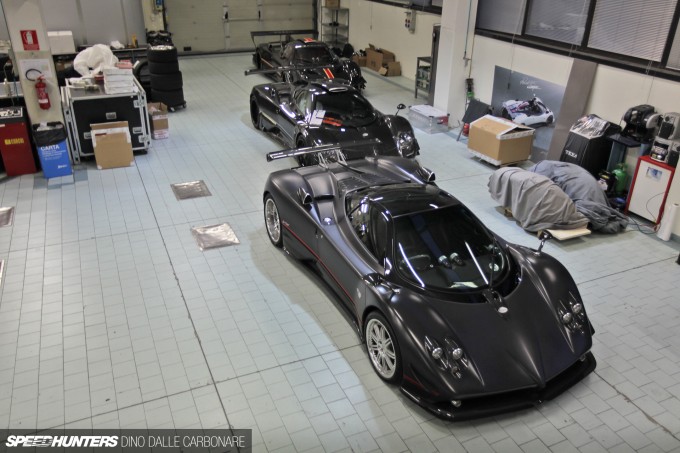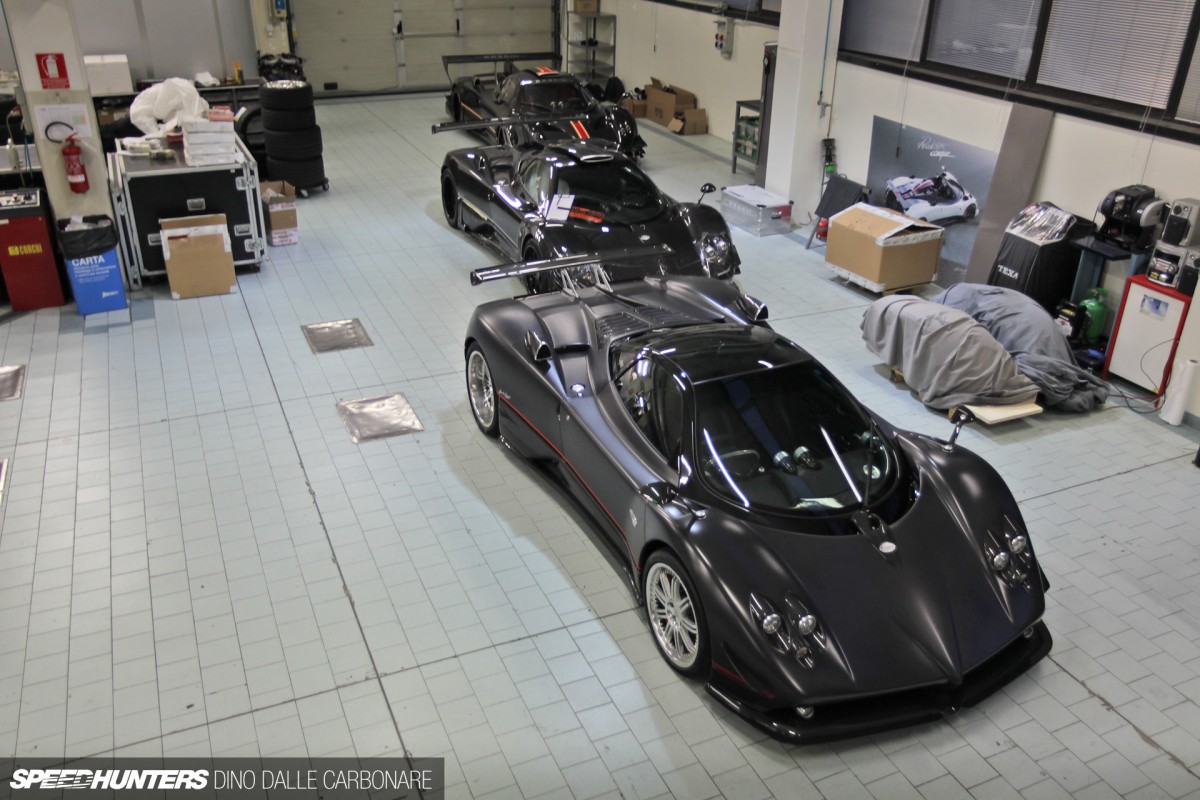 Later that night we returned back to the old premises to shoot the last car in this little special trio you see here…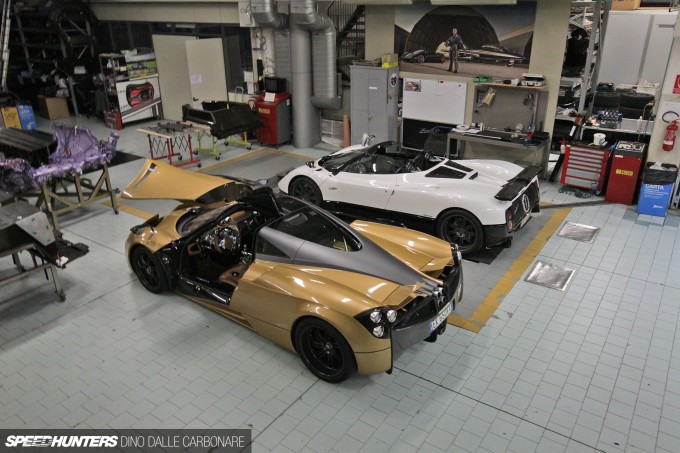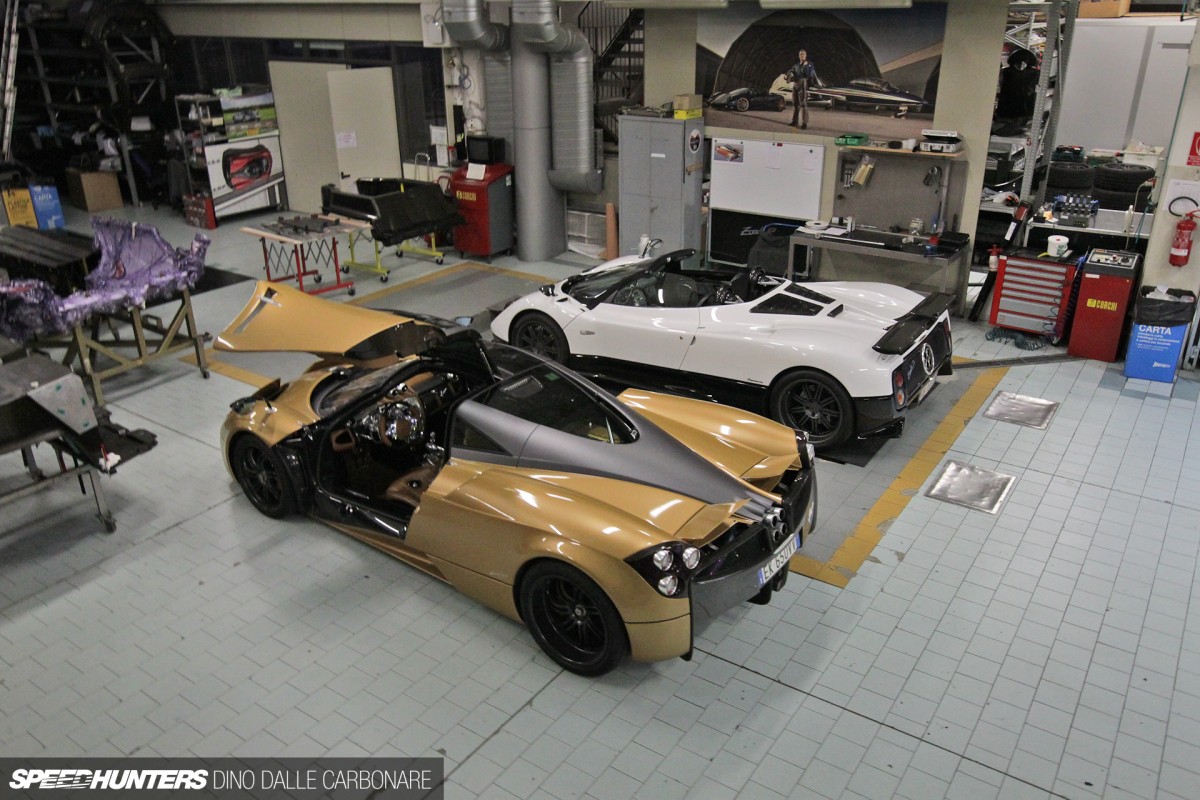 … and for me to get some alone time with "the gold car"…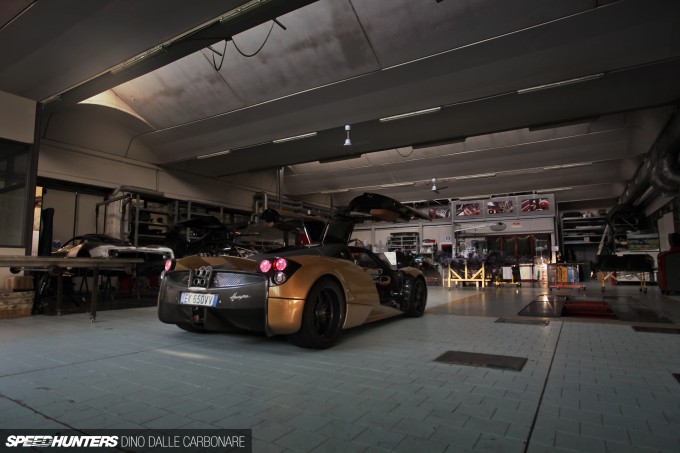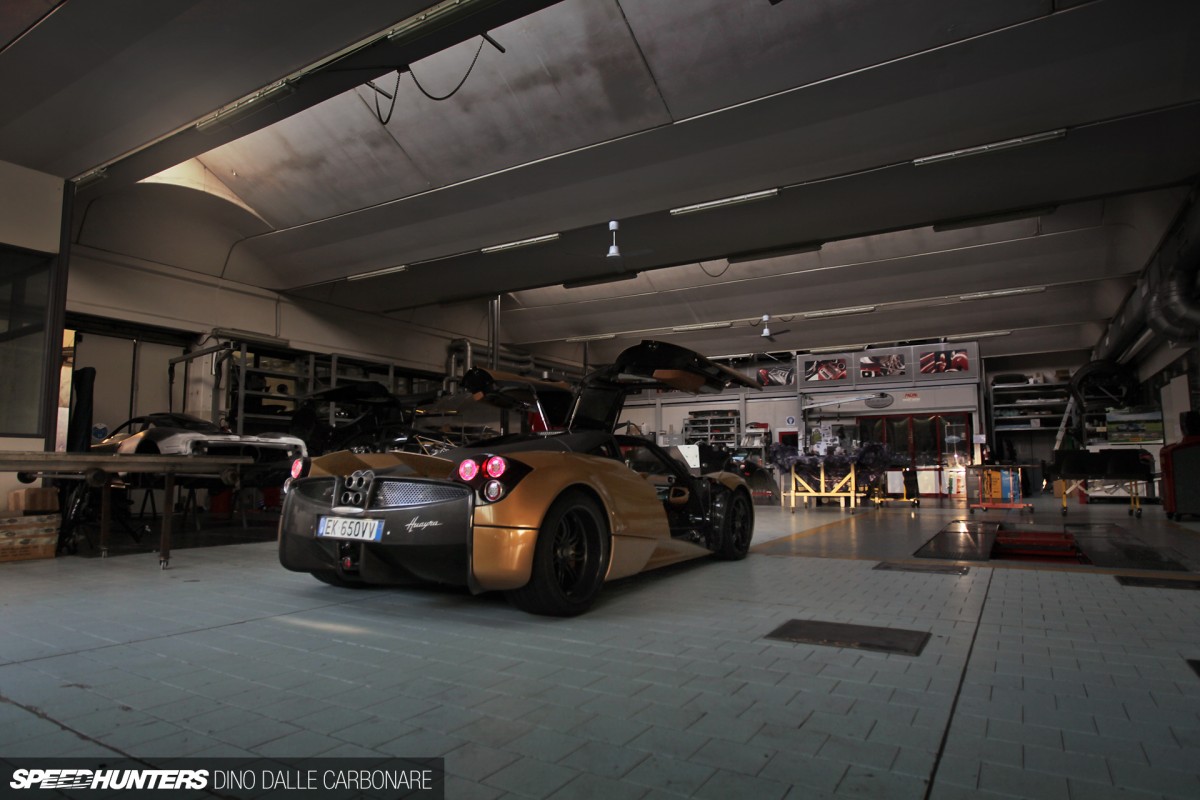 … I would get the chance to drive the following day.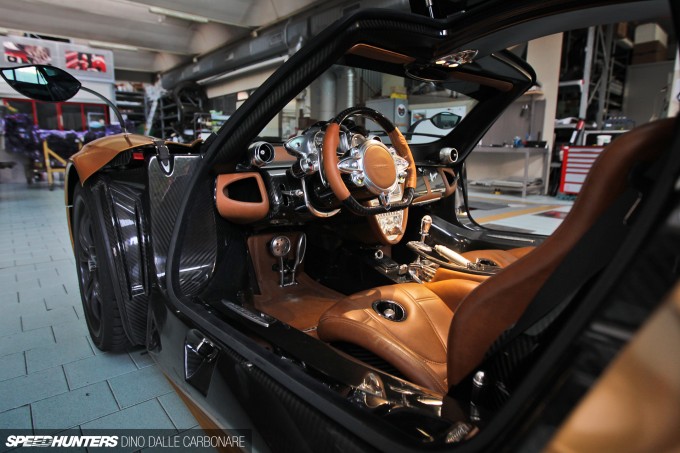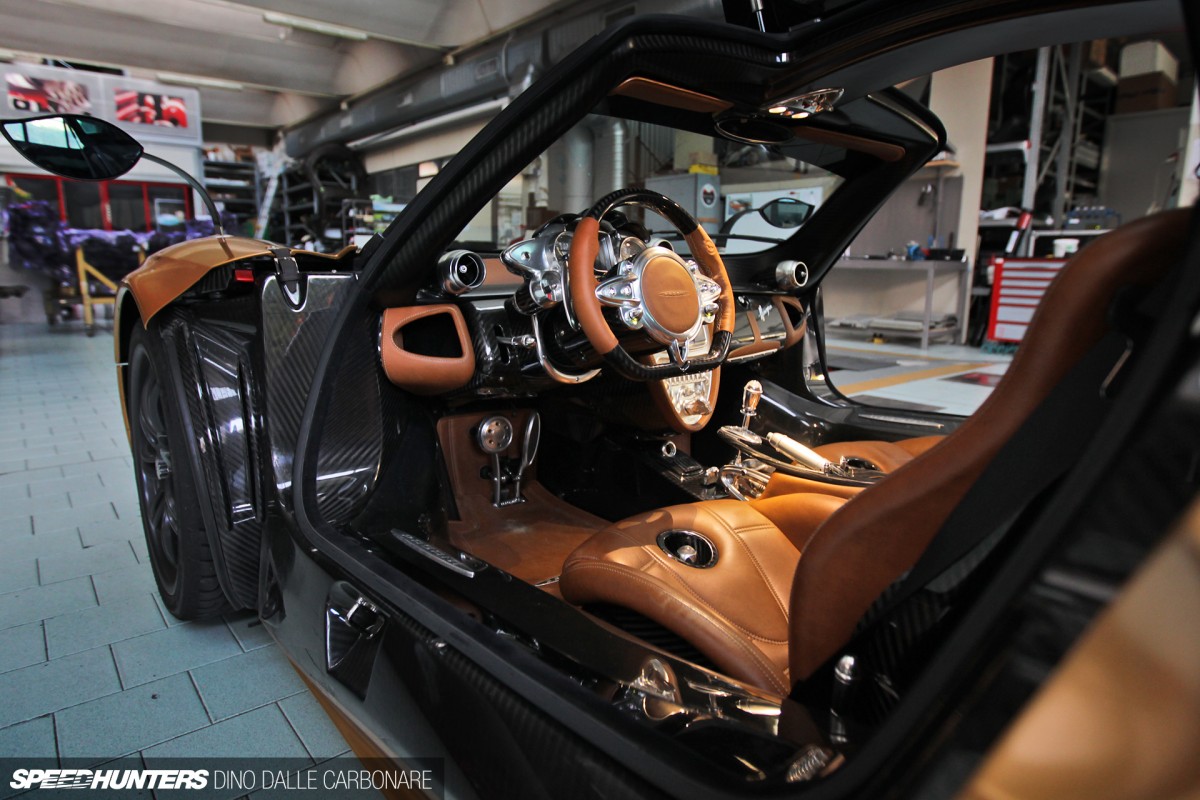 I have never been so nervous nor had so many thoughts go through my brain in preparation for a drive. Moments like these don't come around very often so I spent quite some time sitting quietly in that beautiful cockpit, playing with the switches and just looking around in anticipation…
Dino Dalle Carbonare
Instagram: speedhunters_dino
dino@speedhunters.com
More Pagani stories on Speedhunters