Is this real life?
I recently drove an Aston Martin V12 Vantage S, the car being dubbed by the brand as their most extreme to date. I'd love to attempt to tell you all about it, but I'm not entirely sure where to start. Ironically fitting that I have no idea where to start, considering I have no idea what I've done right in my life that has allowed me to do this. I travel the world, photograph and drive incredible cars and on top of that, I actually make a decent living by doing it. It doesn't make any sense. Speedhunting is bliss.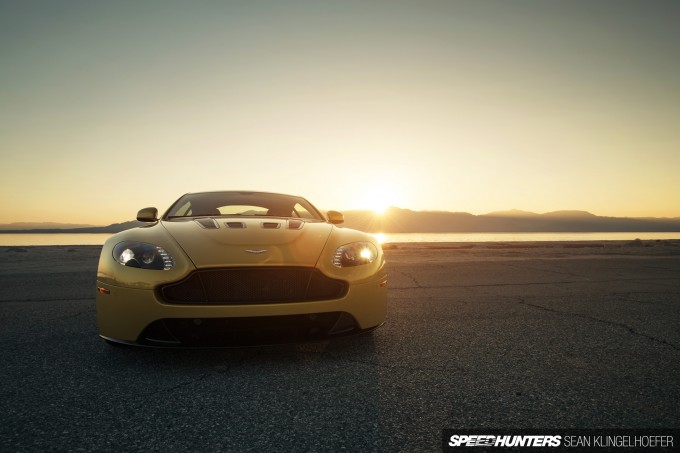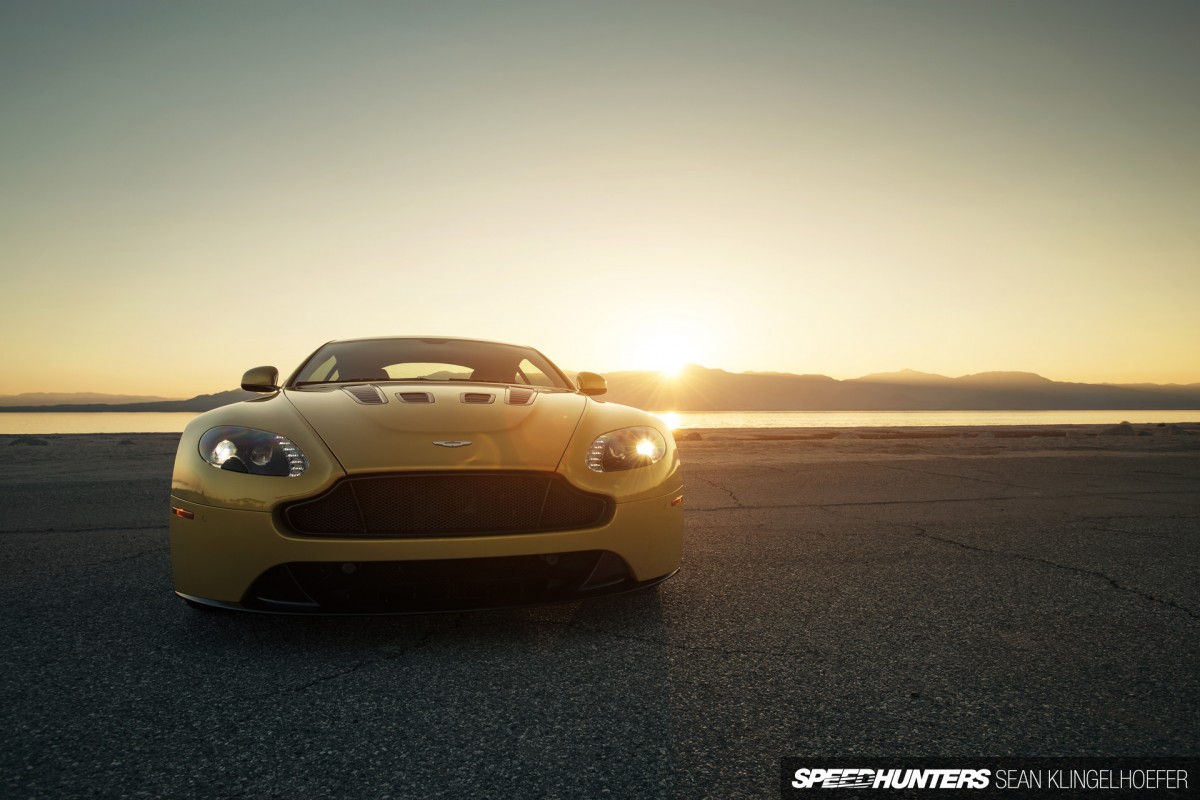 I won't bore you with the details of how my career inevitably chose me (I've already told that story. Twice actually.) But what I will tell you is that even though all jobs eventually cause a little jadedness, there isn't a single day that goes by where I don't feel incredibly fortunate to get to do this.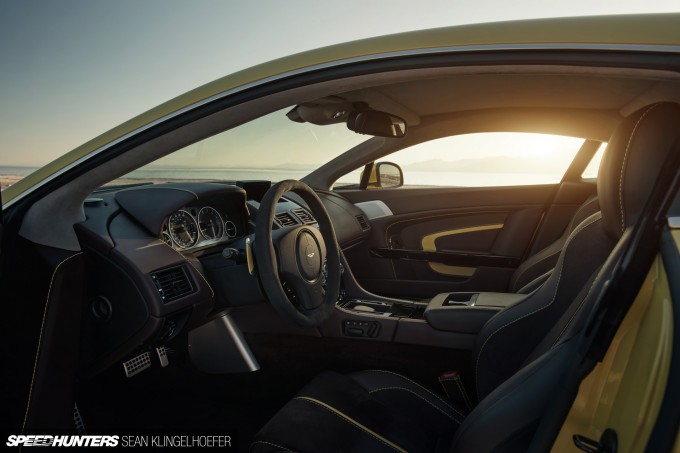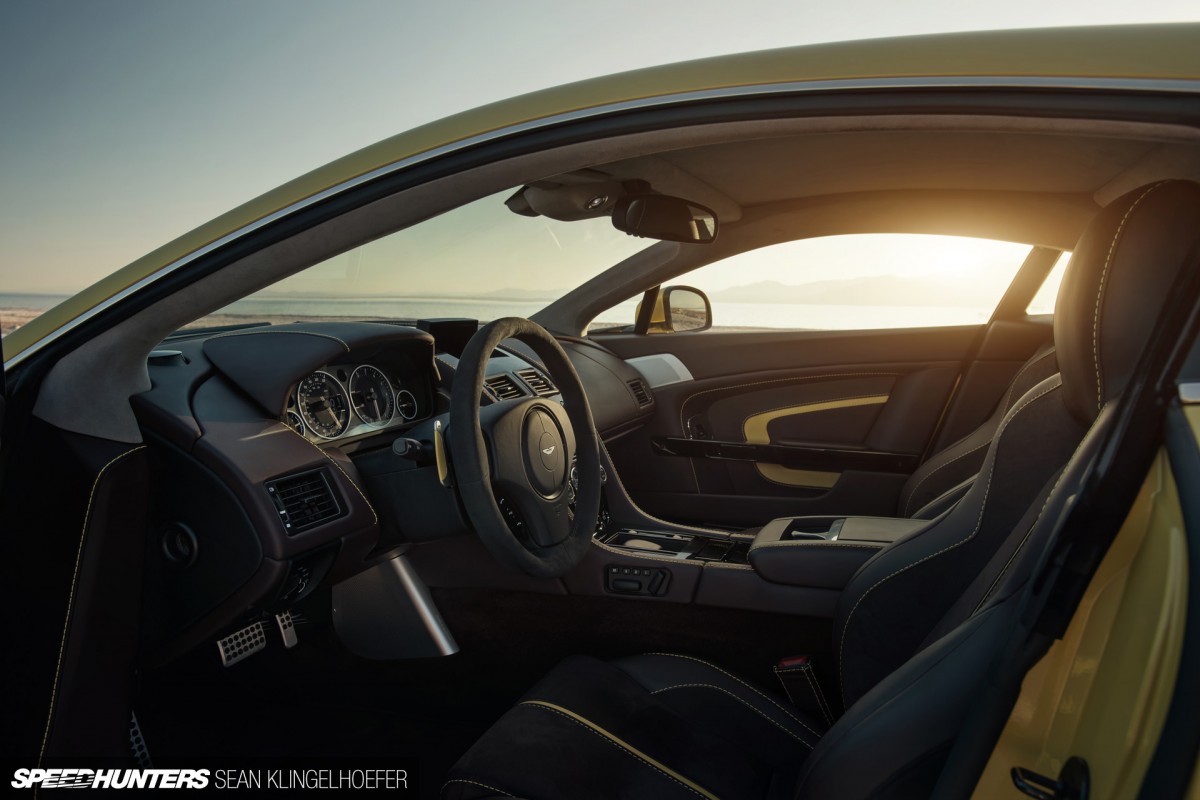 But even when your occupation is hunting speed, some days are a little better than others, particularly any day where your office view looks like this. Over time you do become a little numb to the prospect of driving an exotic car,  yet every so often, and with increasing scarcity I might add, you make a connection that breaks free of all that.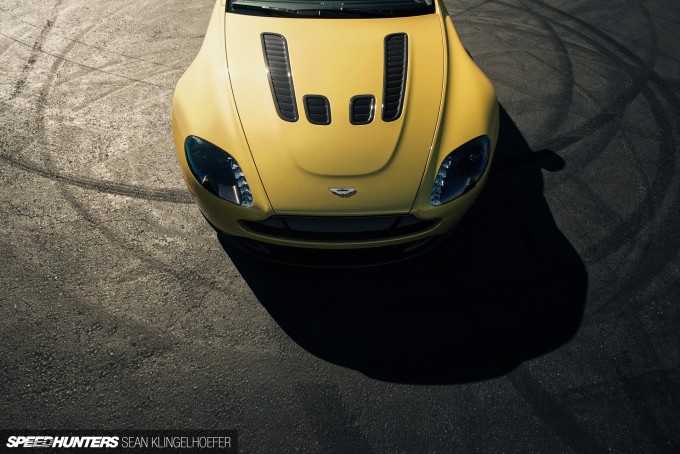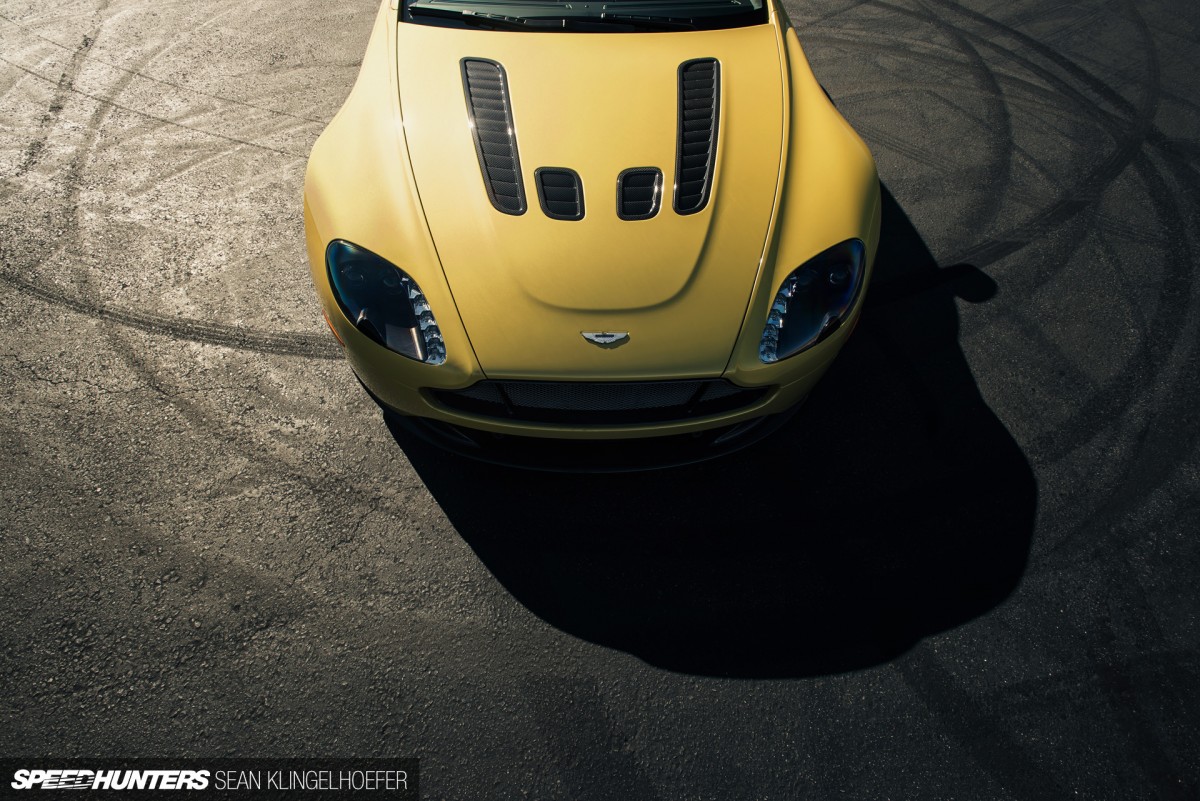 Indeed there are some cars out there that are just so good, or in terms of personal preference, so right that you can't help but fall in love with them. There's no magic formula and it has nothing to do with numbers and statistics, but there's something incredible when a car finds the perfect balance of all the things we value.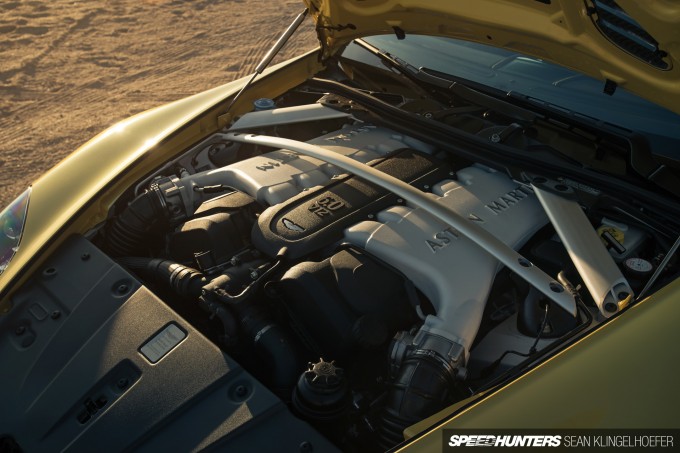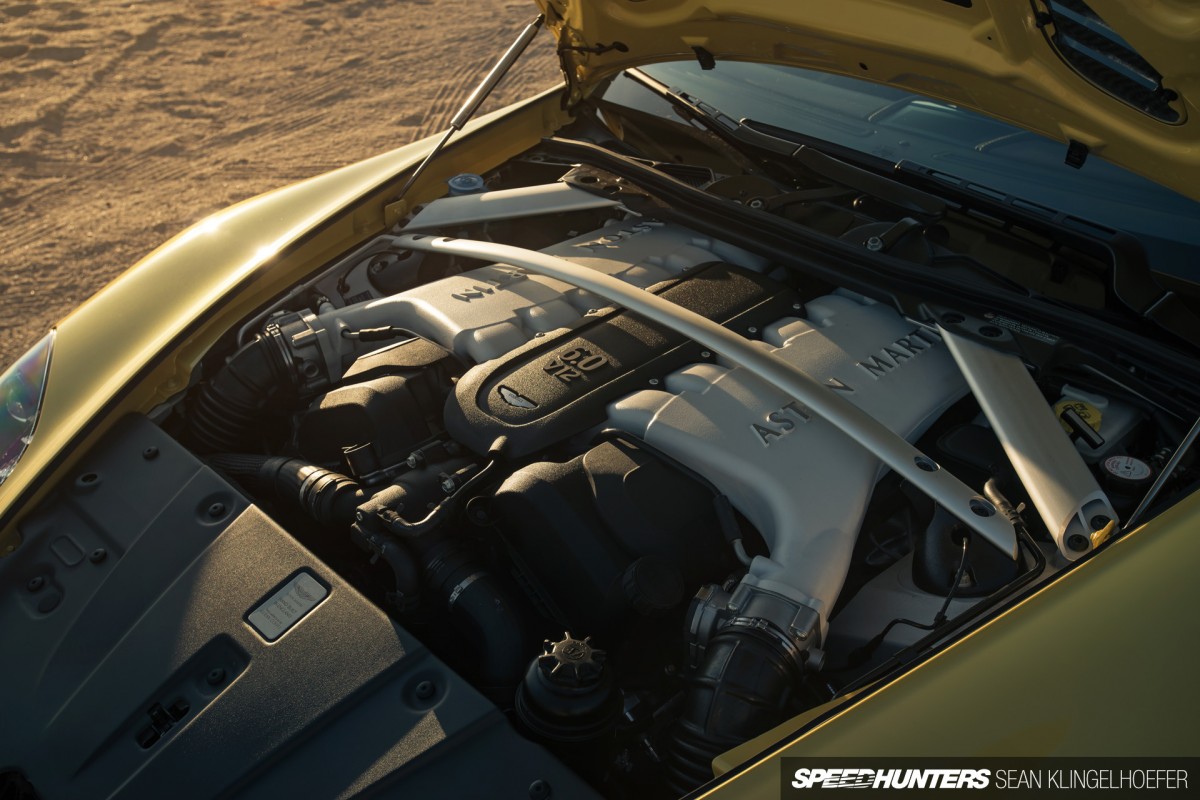 Prior to two weeks ago, I had never driven an Aston Martin. I had ridden in a Vantage in the UK this summer, shot dozens of race cars on track and admired their sleek silhouettes on the streets for years. In fact they've long been an aesthetic favorite of mine, with a tantalizing V12 note in the flagship models to boot.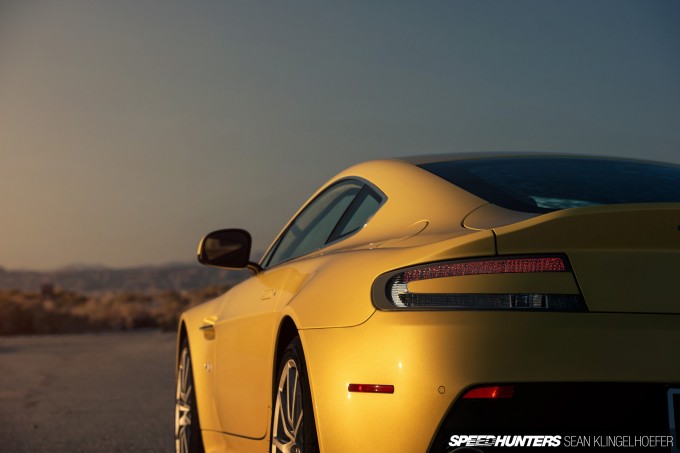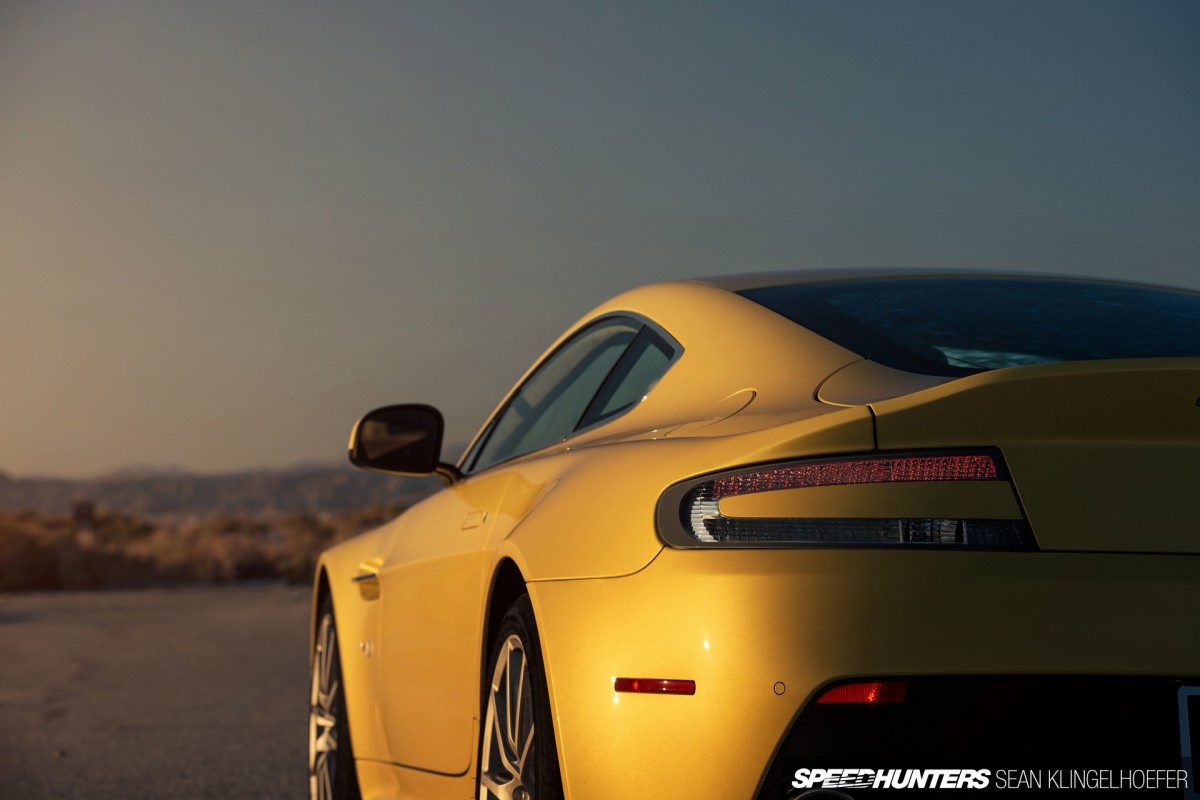 I don't think I'm alone when I say that I think they probably have the best looking family of cars in the world. It's a bold statement I know, but get a load of those curves! To an aesthetic-minded person I think the design alone more than justifies the price, but I was intrigued to see how it would actually drive.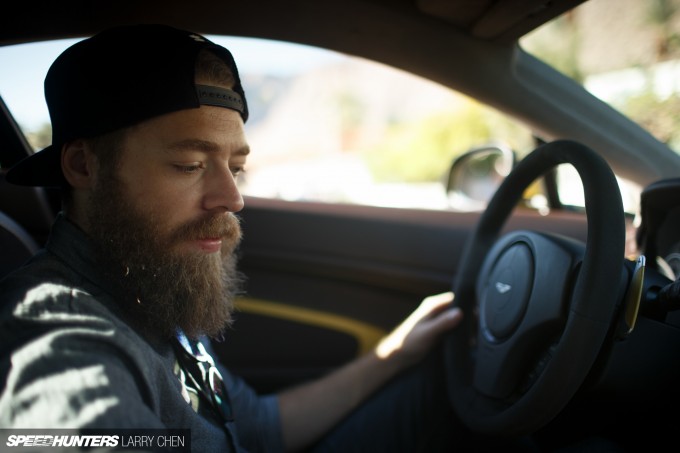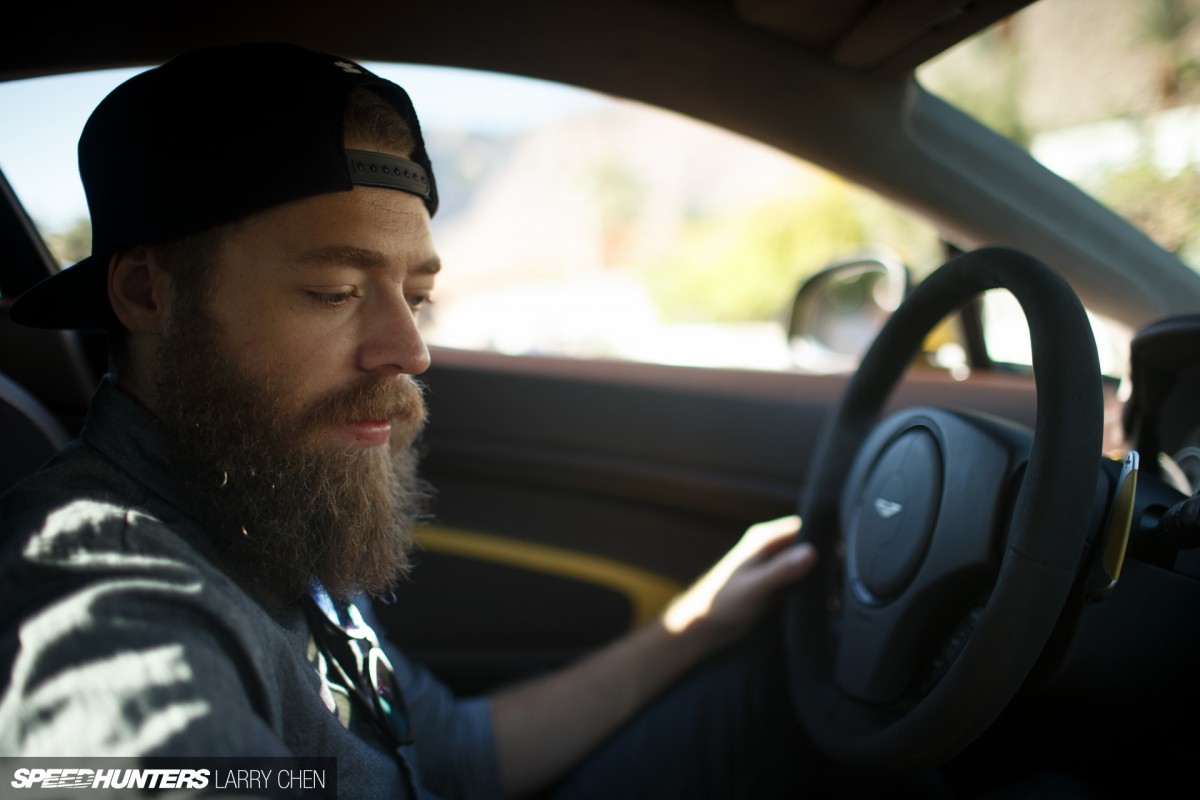 To find out, I was invited to a press launch in Palm Springs some two hours east of my home in Los Angles. At first glance, it's more or less similar to pretty much every car you've ever driven. It has a steering wheel, an instrument cluster and some pedals down below.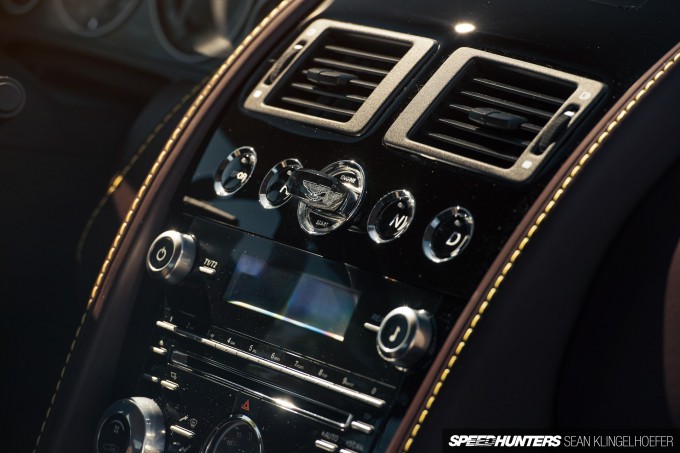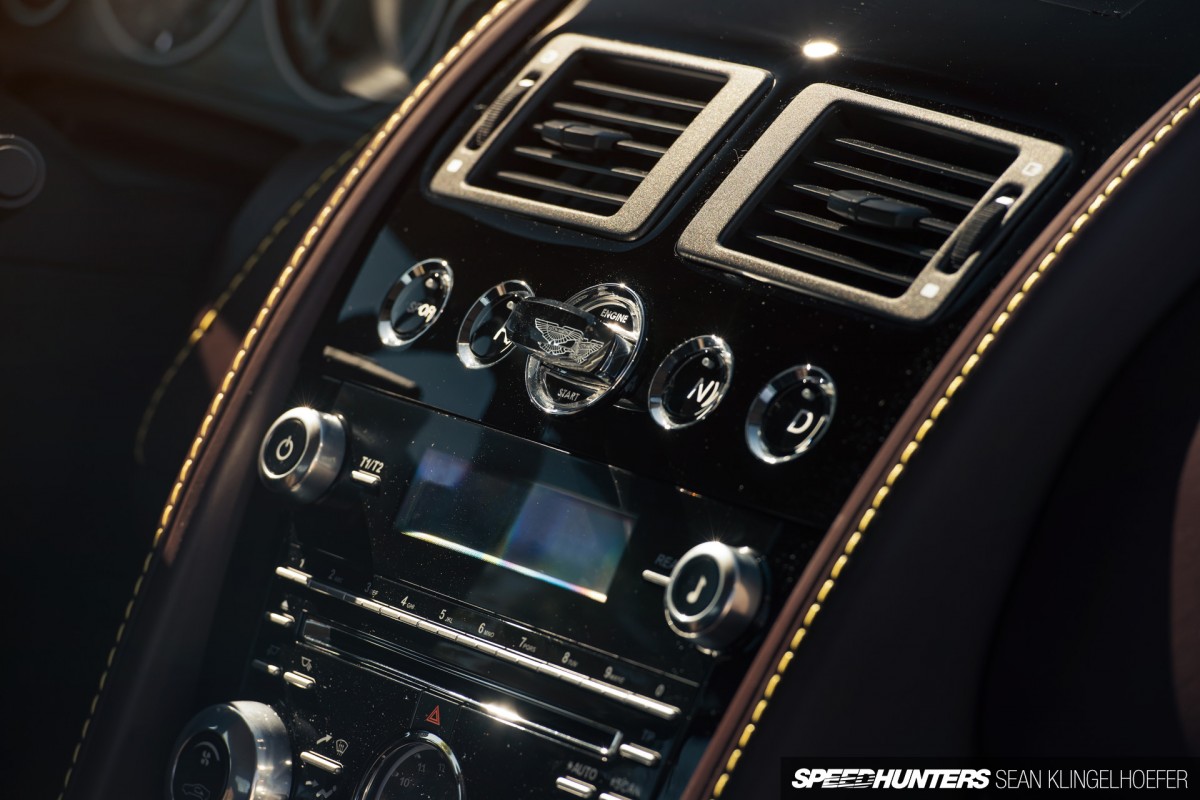 However that's about where the similarities end. There's enough suede lining the cabin to pay for a small home, but that's all part of the experience. As you'd expect from a car of this price point (just under $185k US) it also has a fairly remarkable starting procedure. One simply inserts the finely tooled glass and metal key into the slot in the dash and gives it a good push. Instantly it gives rise to all twelve cylinders, and with it, your pulse.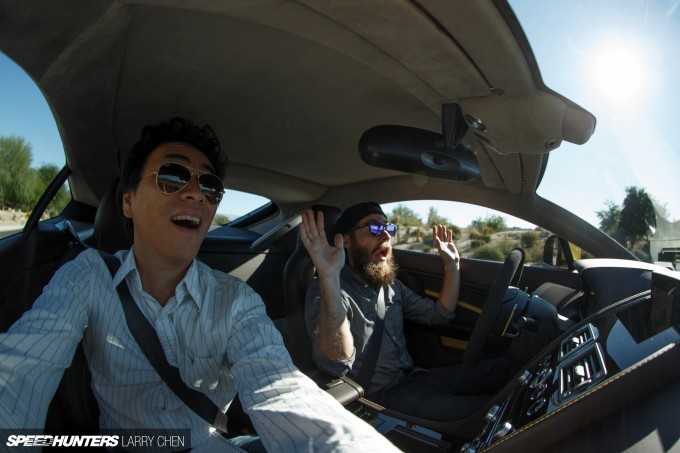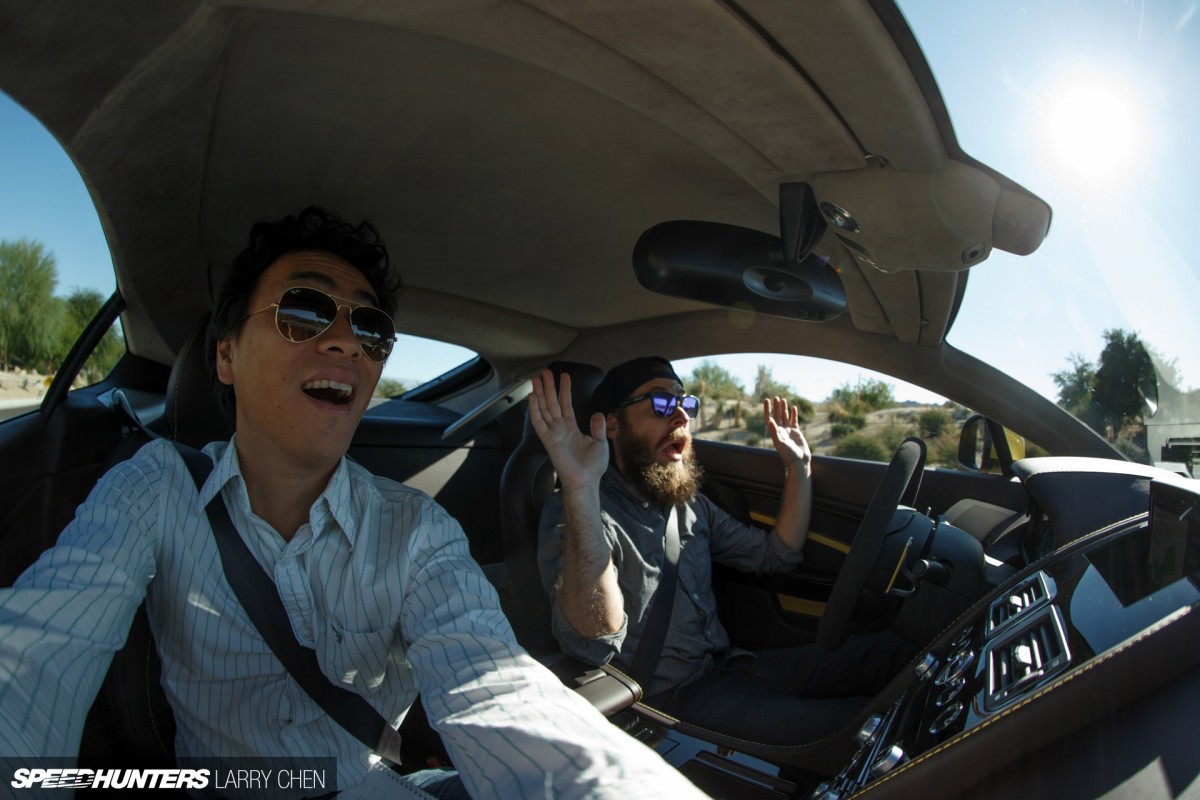 #JoyOfMachine indeed, even in #MinimumAttack mode. But of course to see how a car really drives, I would need to actually drive it…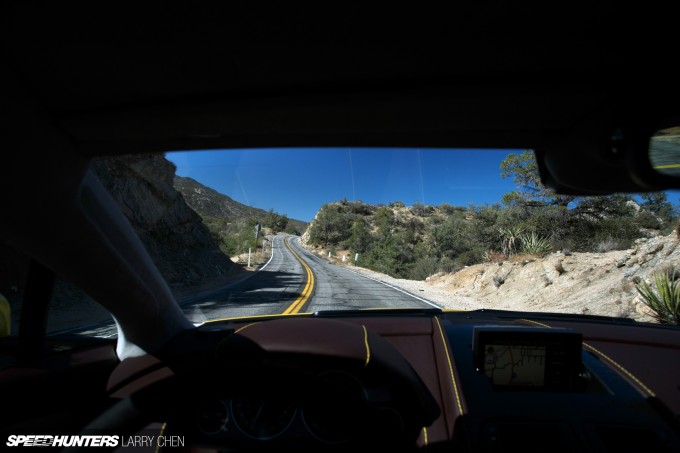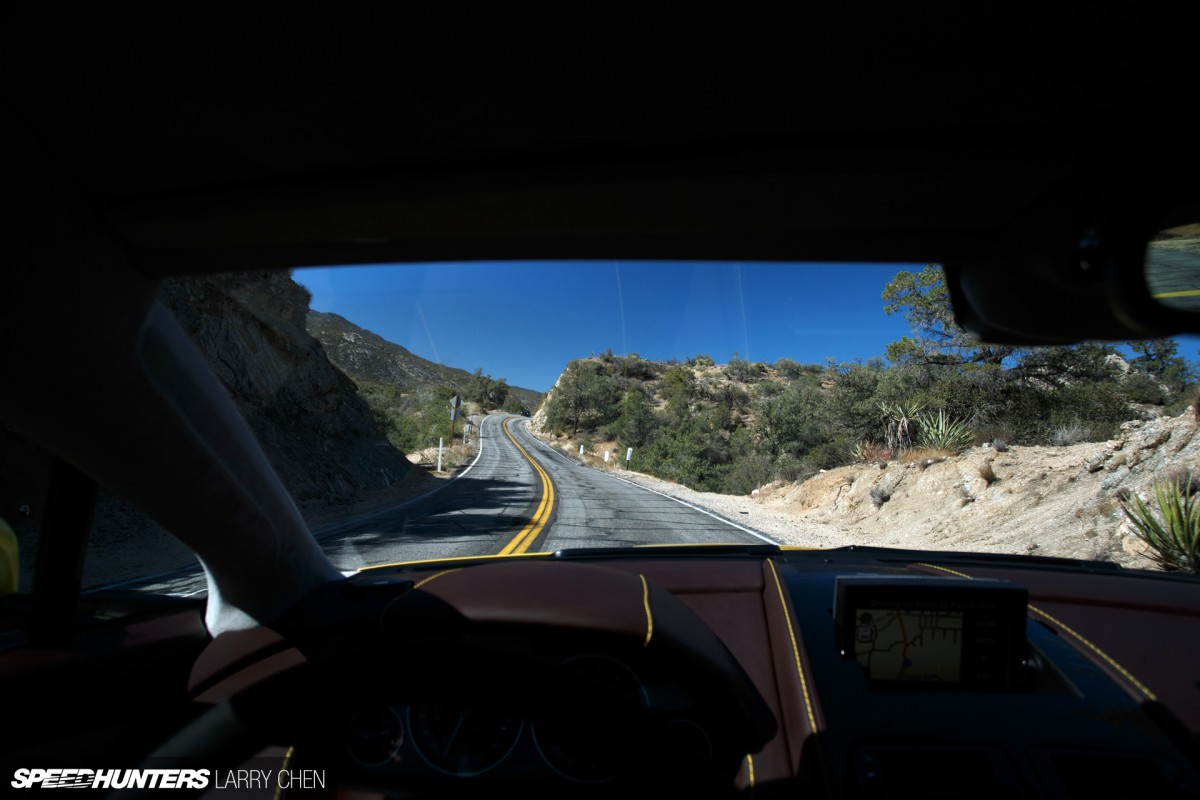 So we strapped in, I selected first gear and we roared away from our hotel in search of some good driving roads.
Let the games begin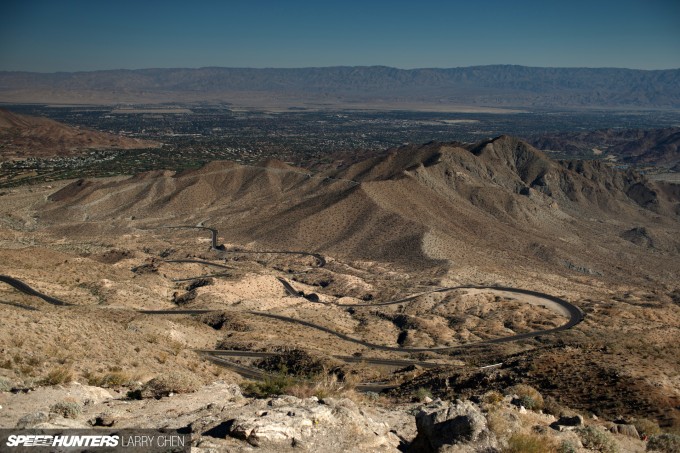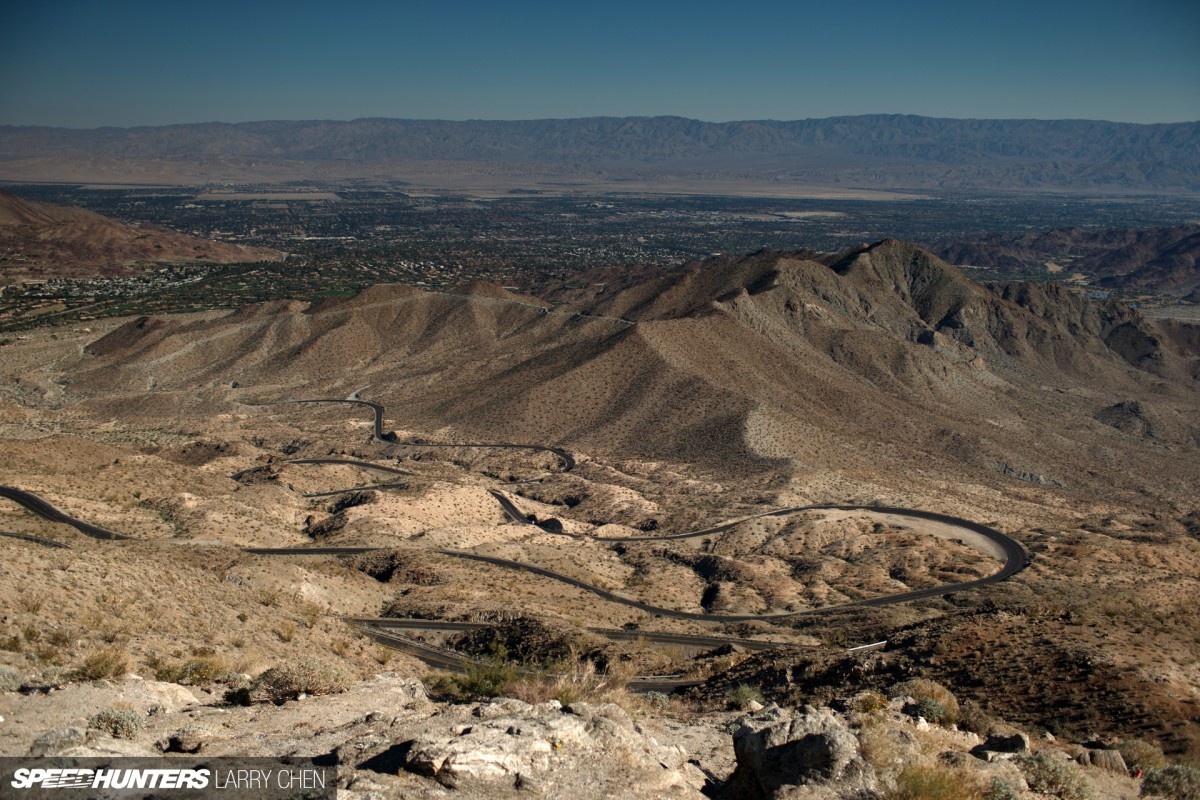 And this is what we found. It's a tasty stretch of smooth and twisty tarmac that starts in minus-sea-level-desert and quickly climbs up roughly ten thousand feet (over 3,000 meters) through Southern California's San Jacinto mountains, earning it the rightful moniker of "Palms to Pines Scenic Byway" or as it's more commonly known, California State Route 74. Keen readers may remember another stretch of the 74 called Ortega Highway which I drove last year in an E30 M3. The seventy-four is, from end-to-end, unquestionably one of the best driving roads in all of America.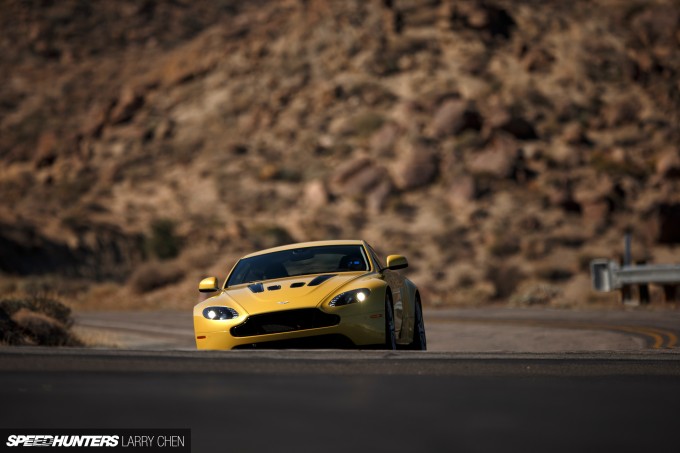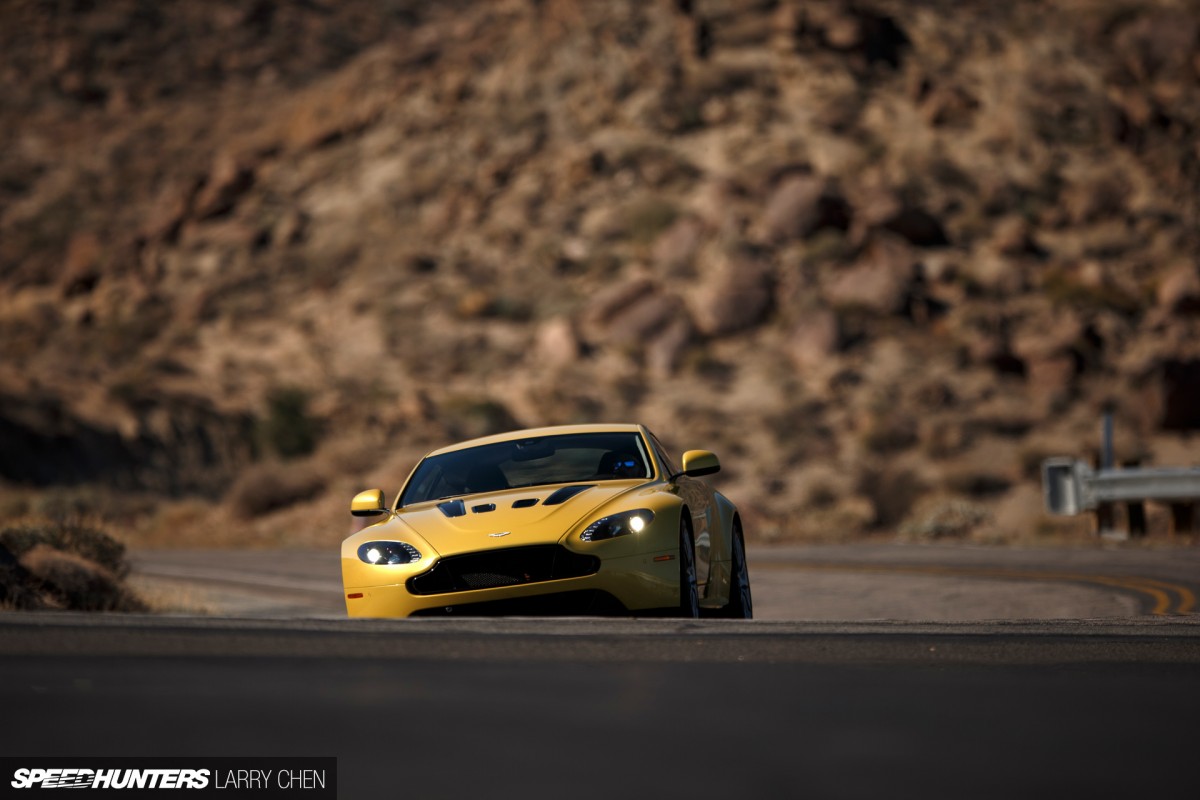 What was even better was that much of it had been recently resealed and was smoother, and grippier, than ever. So we had the car, we had the road and we had an afternoon to see how the two would mesh. It was time to get down to business and starting putting this V12 monster through its paces.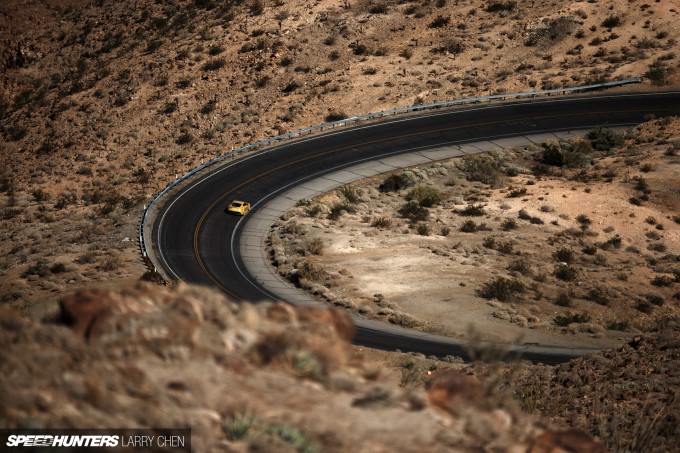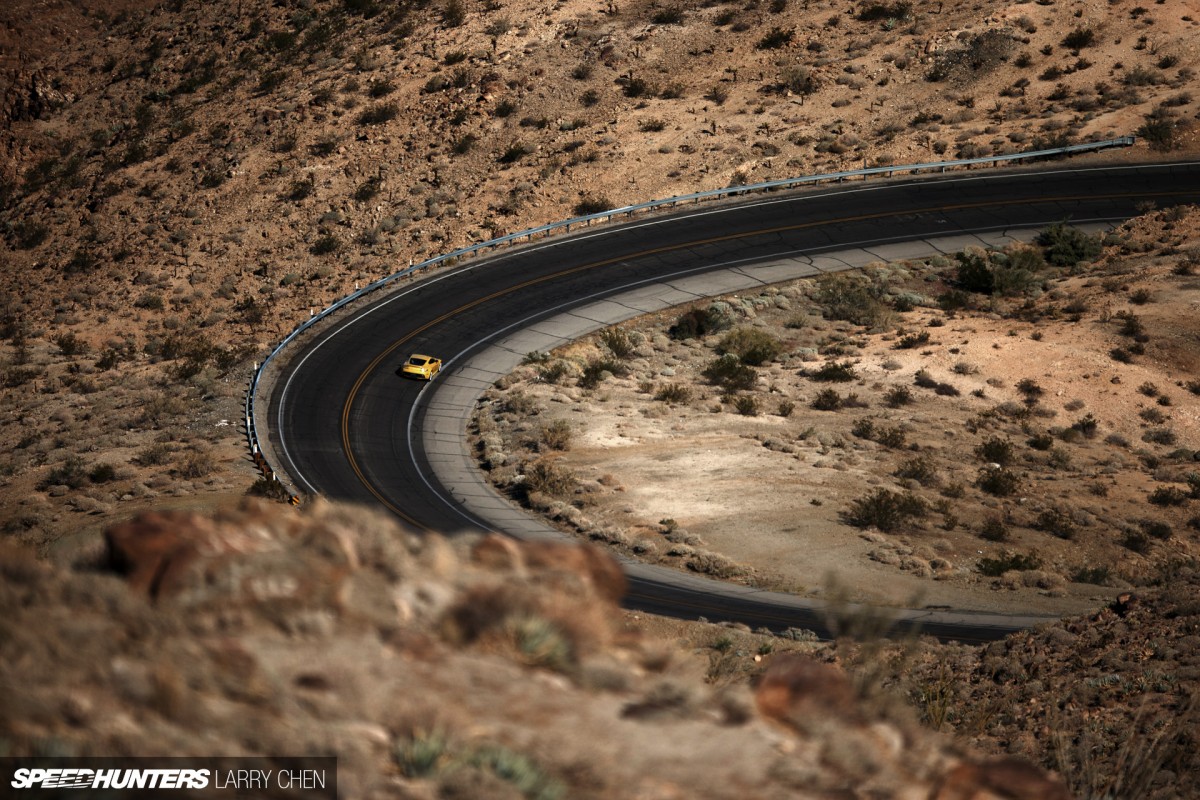 I'm not sure exactly what I expected from the Vantage, but I can't tell you enough that it definitely exceeded my wildest hopes by some margin. It's nothing like what my mind's eye was picturing. As soon as the road began to tighten and cut back over itself the characteristics of this machine were pronounced. Don't let the refined styling and gentlemen's pedigree fool you – this is a driver's car in every way.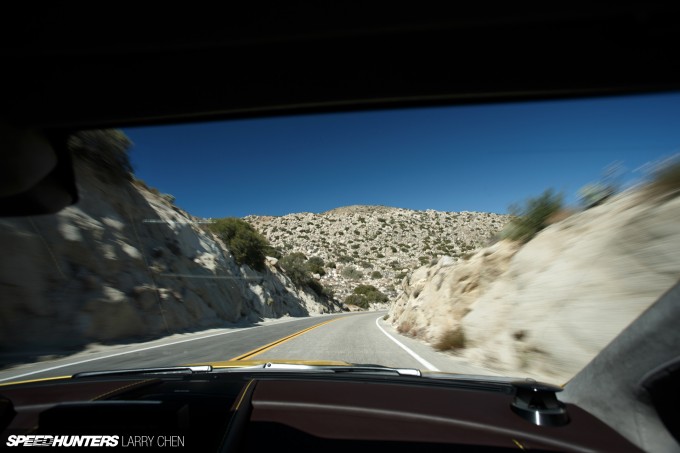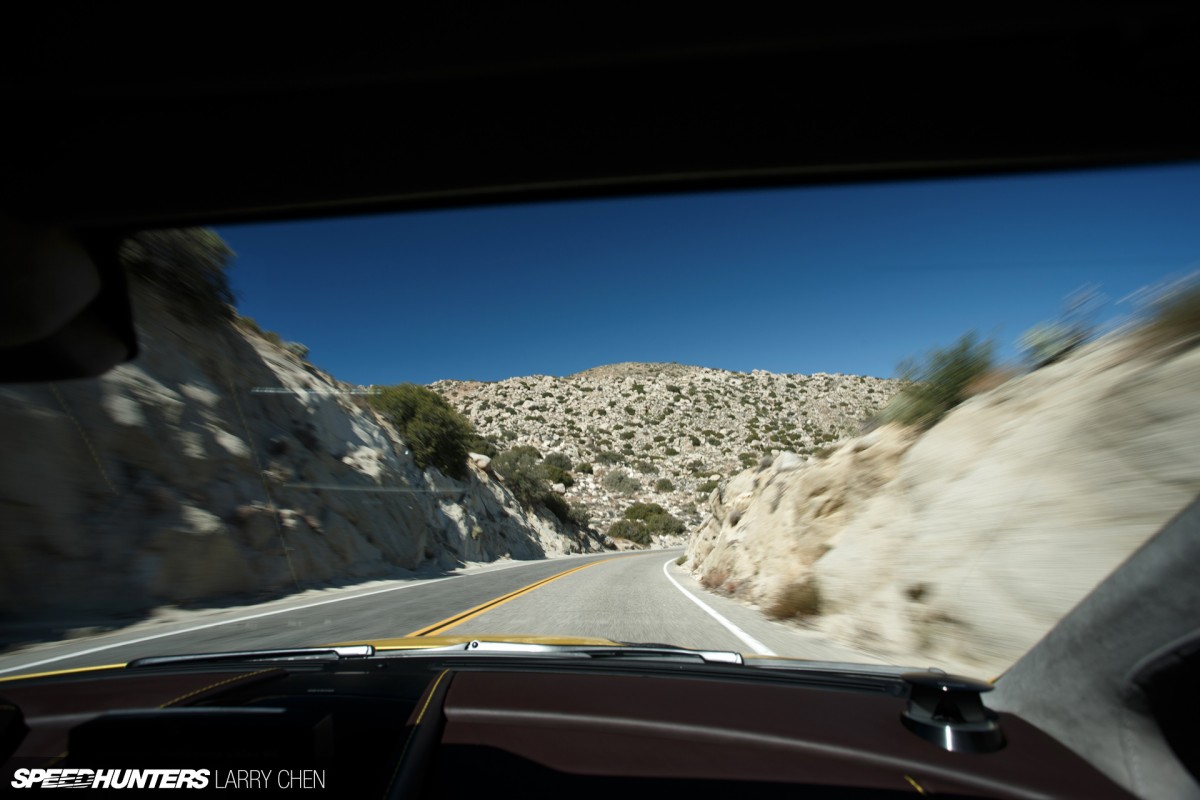 With over five-hundred-seventy horsepower on tap I knew the car was going to be quick, and it certainly didn't let us down in that regard. What I was shocked by was the impressive balance of the car. It rotates effortlessly without so much as a hint of safety-minded understeer, yet it isn't completely brutal if you don't want it to be. The chassis is quite rigid and I found the steering communication superb. How something this good looking could possibly be this good to drive is mind boggling. It's like a Pulitzer Prize-winning supermodel.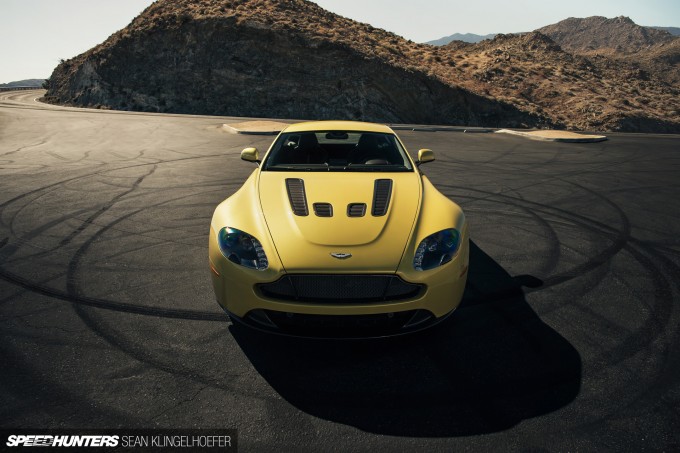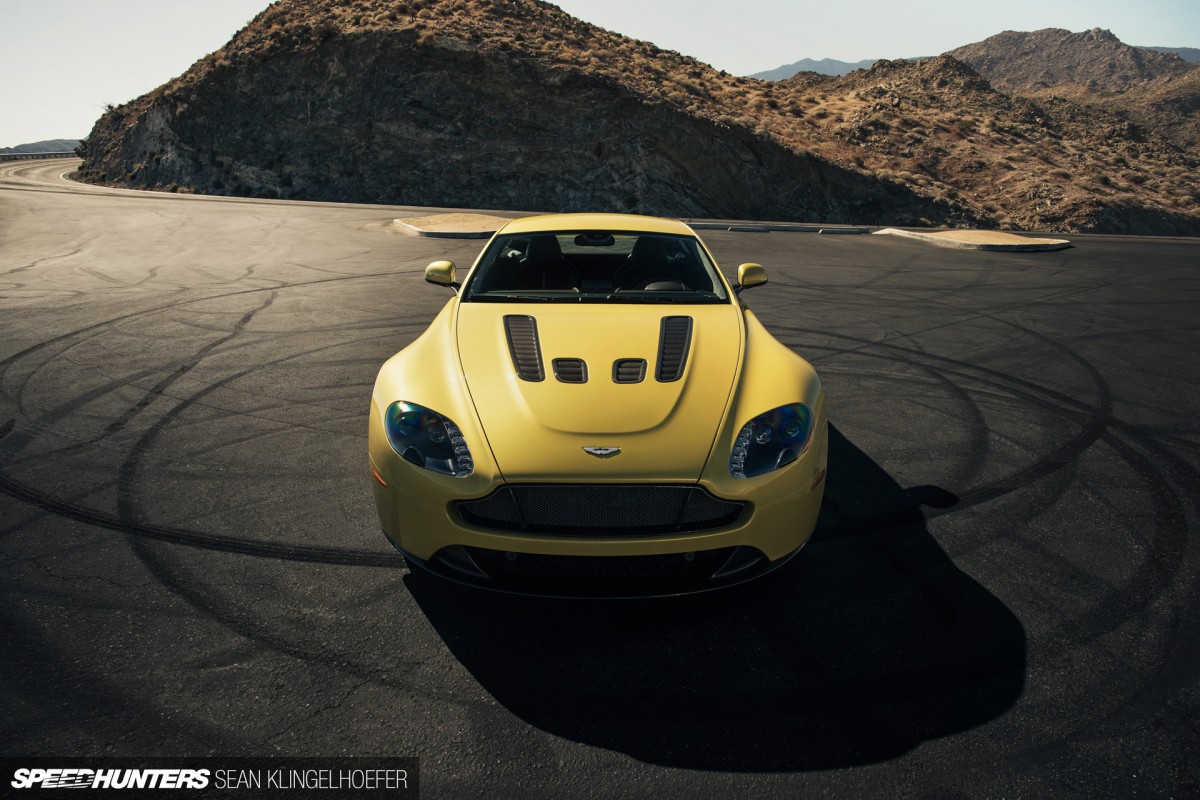 After a brief flogging I decided to pull into a cutout to take a breather and have a look at the beauty. I can only imagine how stupid I must have looked when I stepped out of the car, grinning from ear to ear. For the first time in nearly as long as I could remember, I was pleasantly and completely surprised by a car. It was brilliant.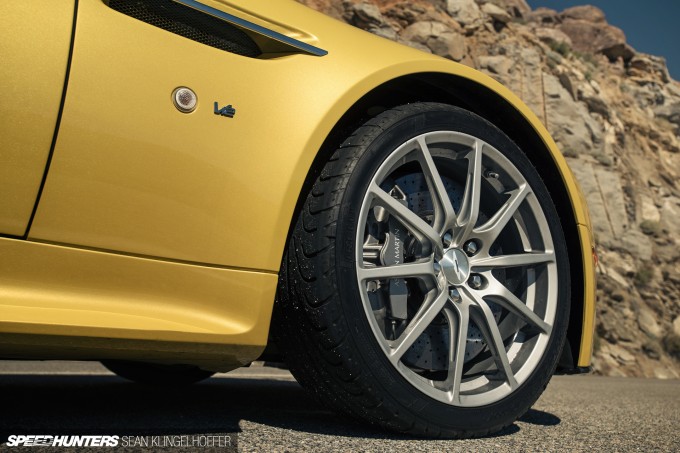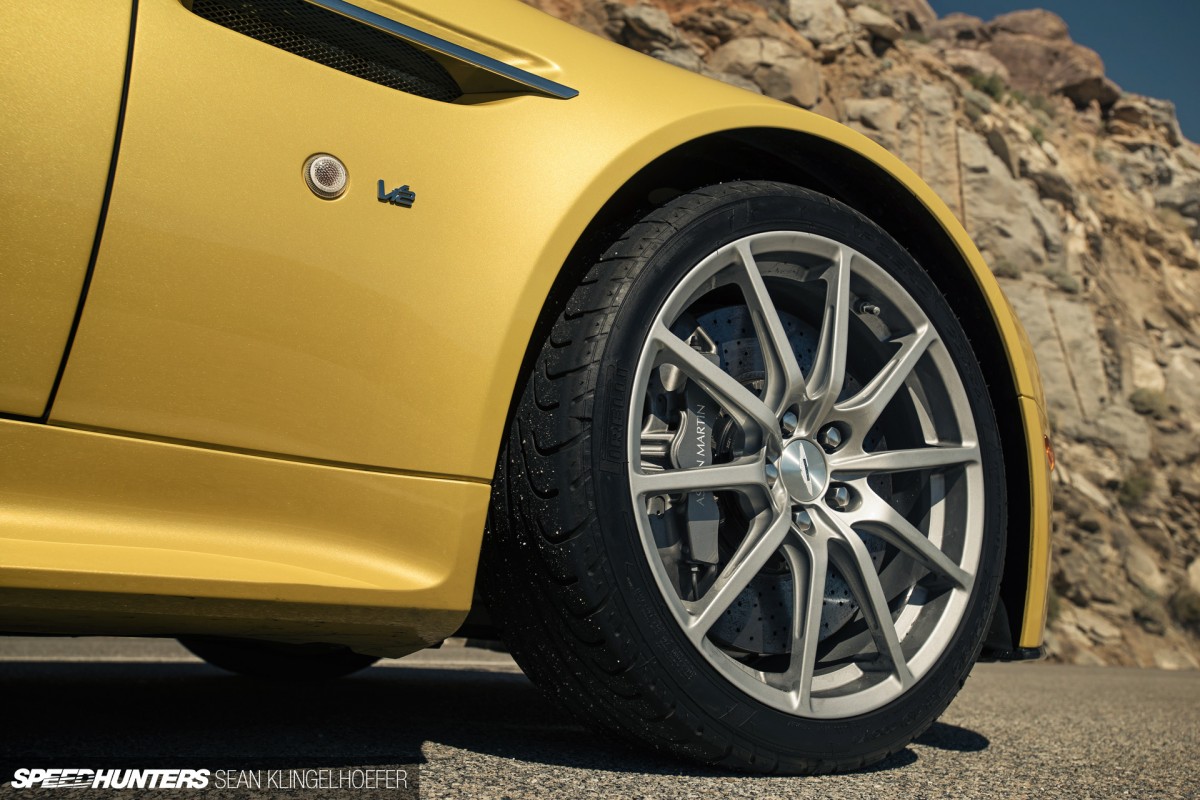 Having driven most of the recent crop of super cars, I had pretty much thought that manufacturers had given up on building sports cars like this. Yet from behind the wheel it felt like I was driving something revived from a lost era. Sure it has a modern feel and plenty of useful gadgets, but the driving experience is completely raw, even downright terrifying if you want it to be. It's everything that a V12 should be – it even squeals the tires and kicks out the rear with traction control on.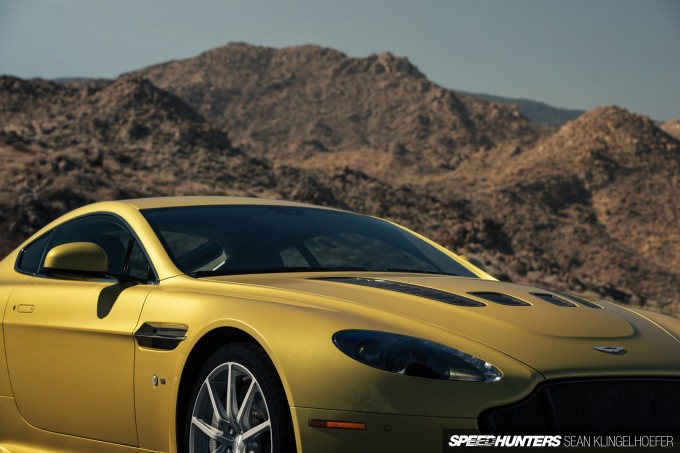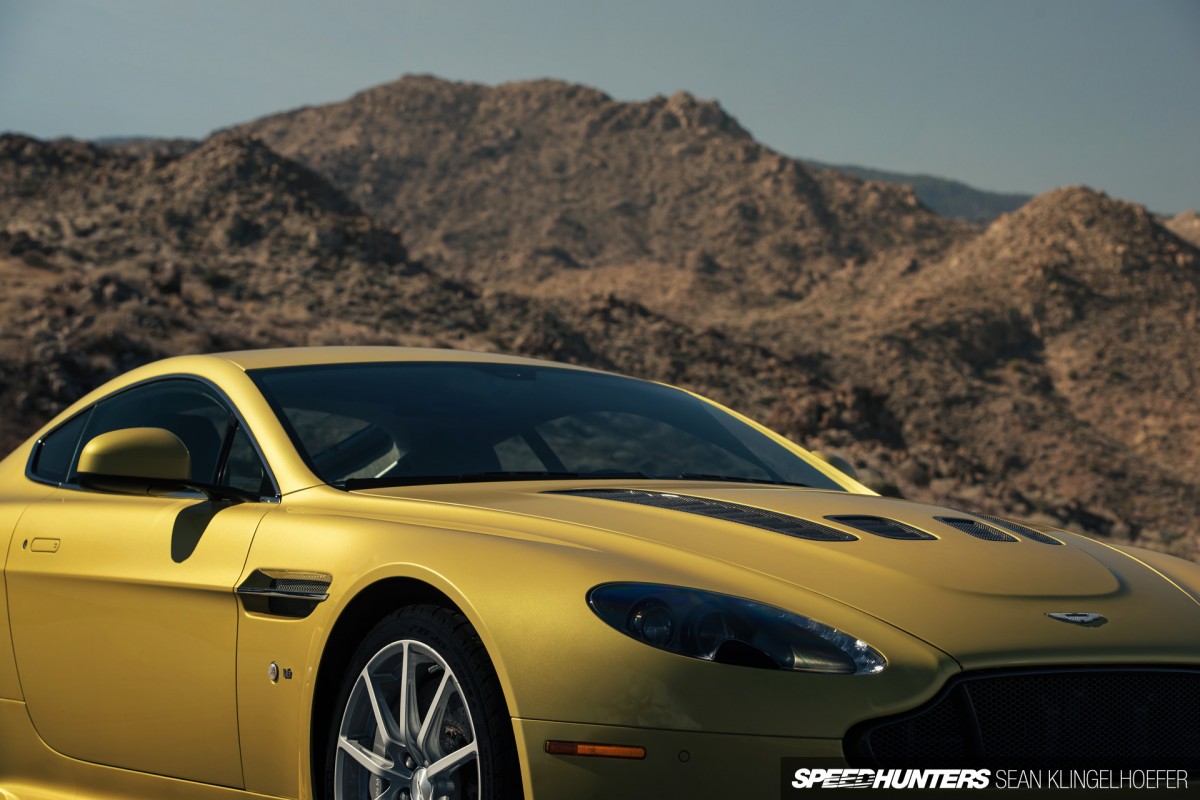 Yet perhaps the most dumbfounding thing about the Vantage S is that the car rewards you handsomely whether you're driving it or not. I can't remember the last time I enjoyed driving and/or looking at a car so much. After less than an hour in the presence of this machine it had already won me over, hook, line and sinker.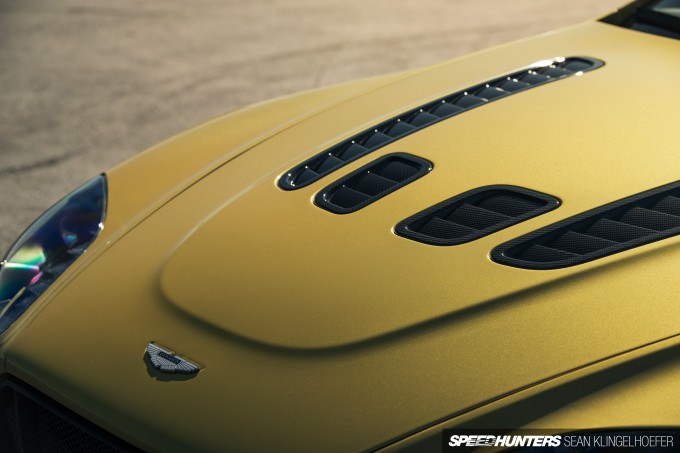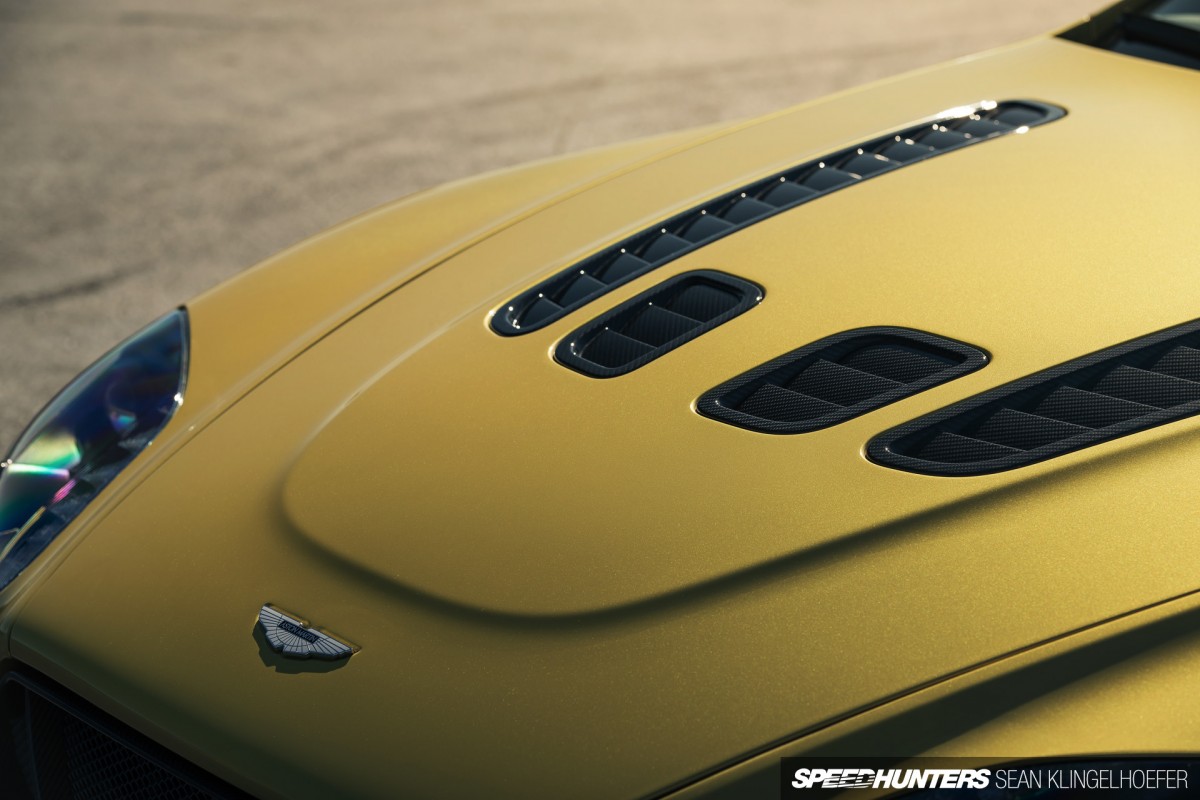 It was then that I realized something strange had happened, something I'd never really experienced in a press car. I could feel it in my stomach. I had fallen in love.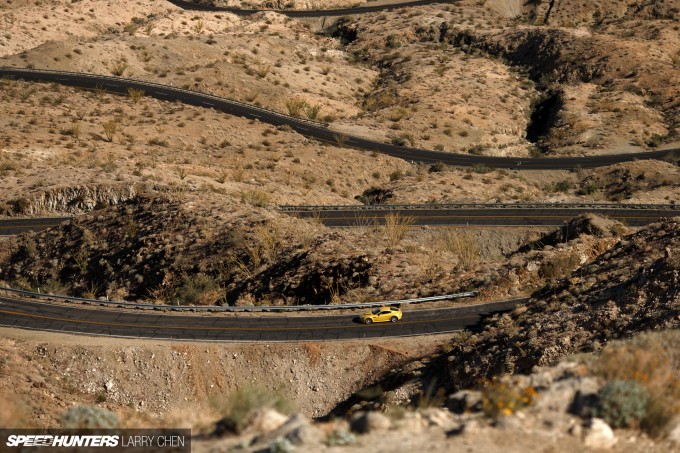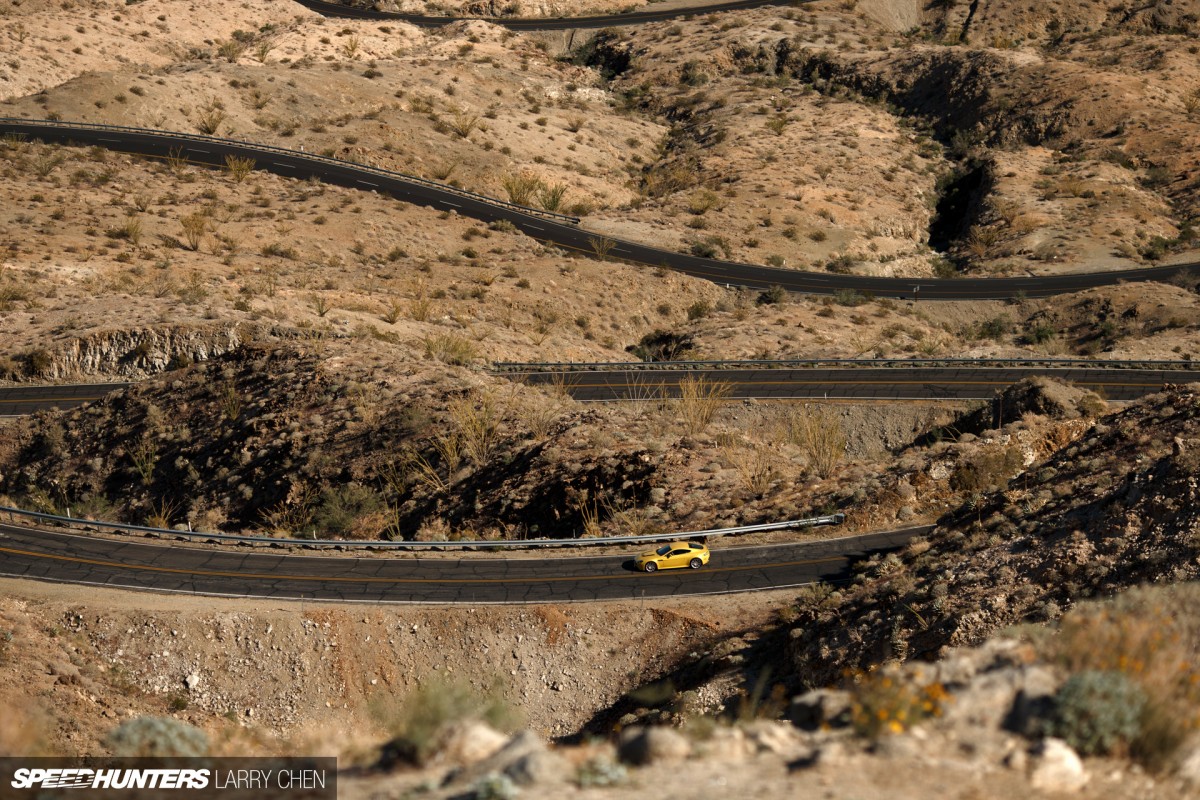 While I could have quite easily left him for dead in the hills, I decided it would only be fair to go back and pick up Larry to let him have a go behind the wheel. After all, I needed to let my palms dry out a bit before breakfast.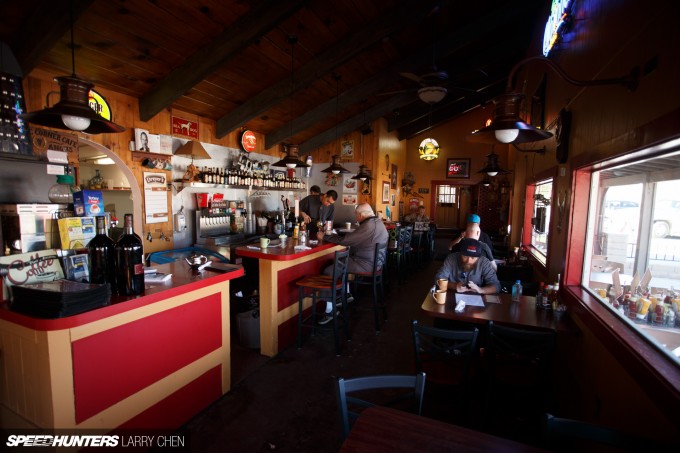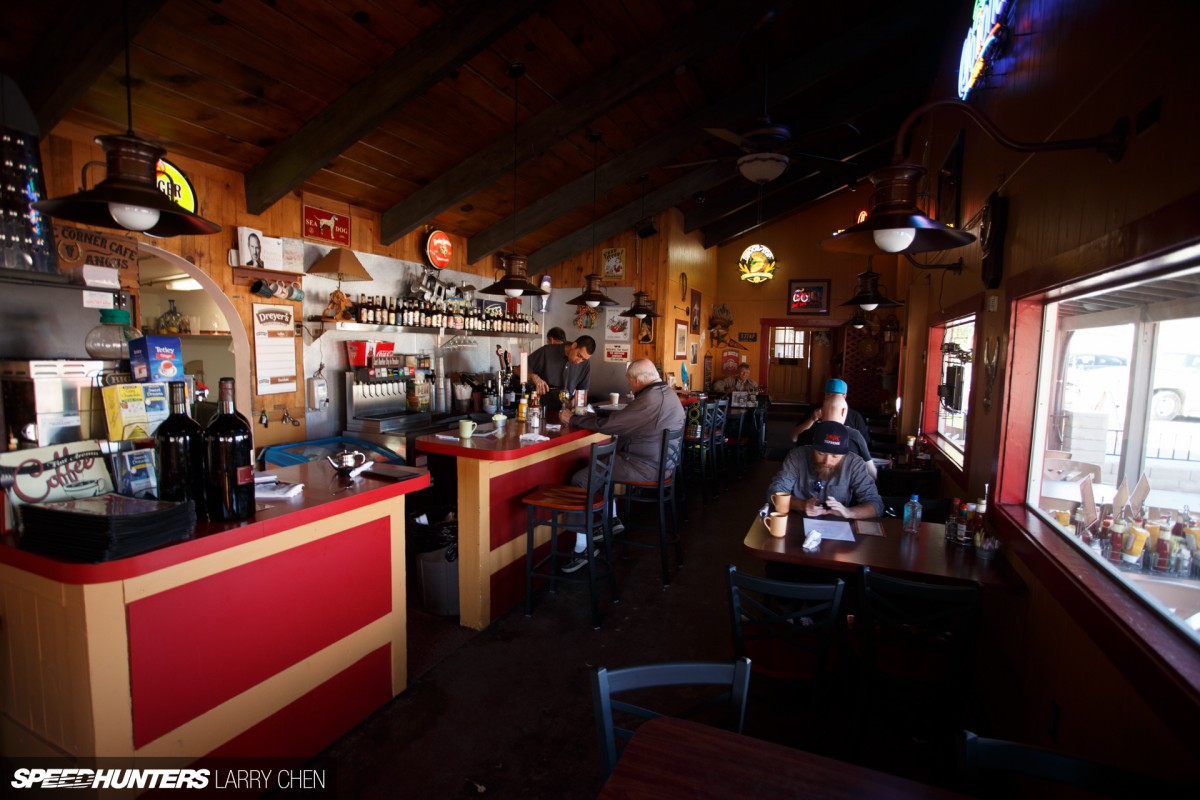 When we arrived at the diner my mind was still grappling with the task of wrapping itself around the insanity that was the car we pulled up in. I started to day dream about what it would be like to own a Vantage, and how many photo shoots I'd have to do to afford one. One day…
More of that, please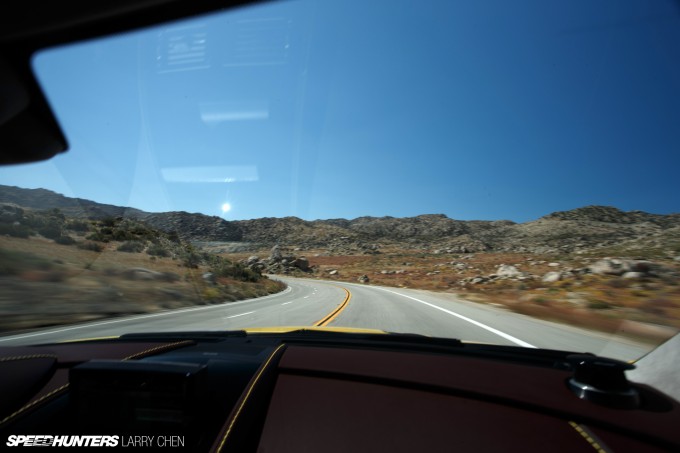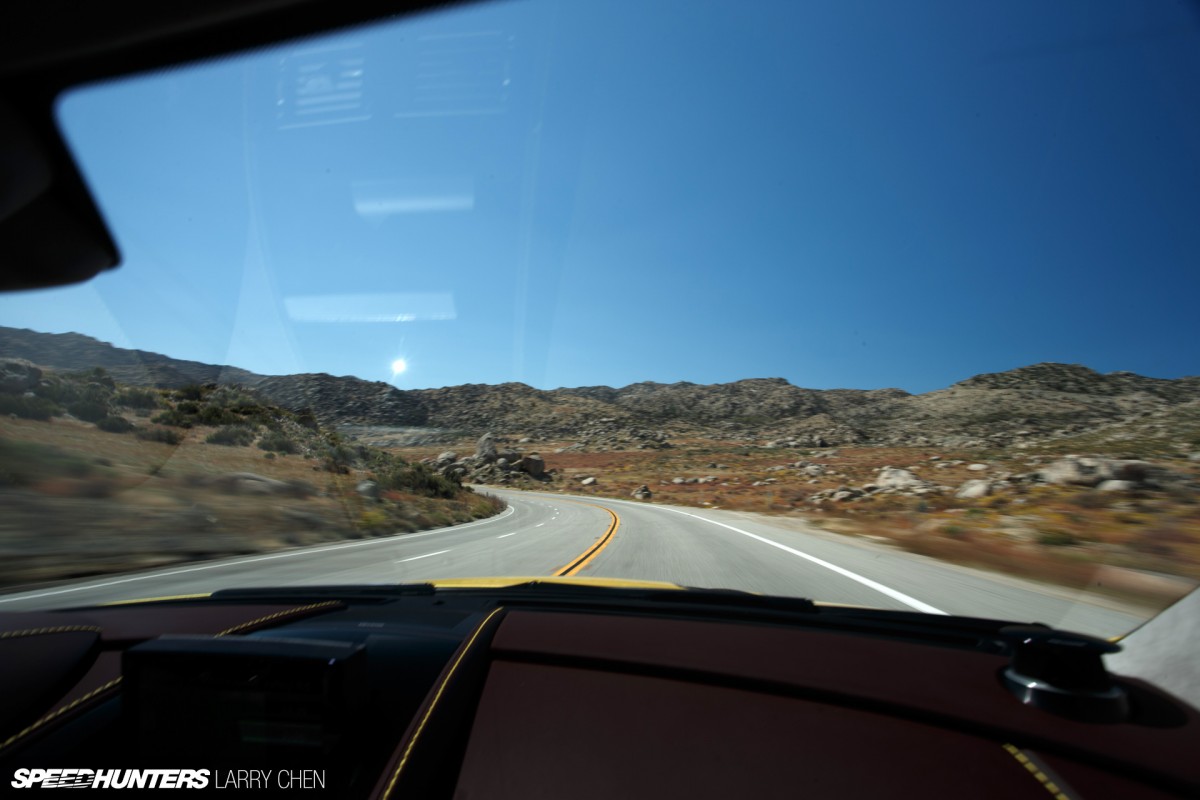 Our stomachs stuffed with the taste of French toast still lingering on our lips, we lumbered out of the cafe and somehow managed to squeeze back into our heavily bolstered office chairs. With my new found sustenance came a heavier right foot, and just in time as the road was beginning to open up nicely into the back country.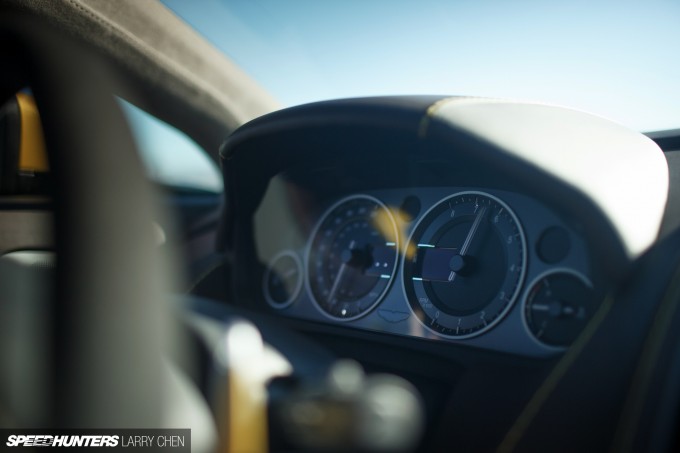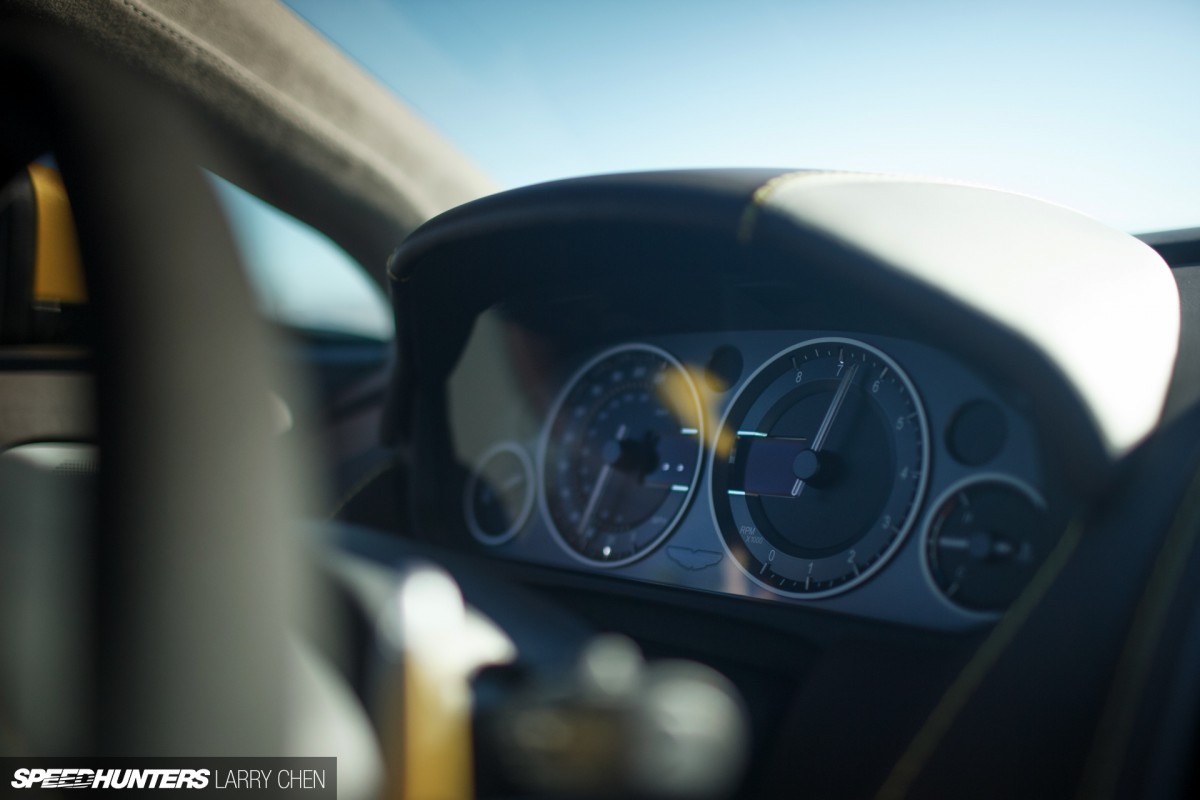 Freed of the relentless switchbacks, we could now open up the taps and explore all that the twelve cylinders had to offer.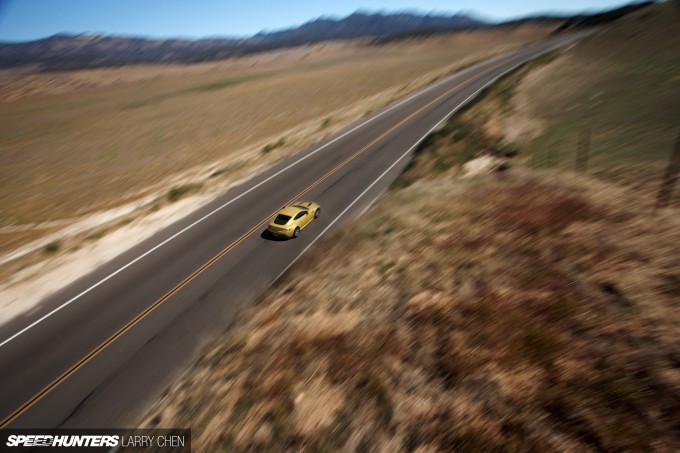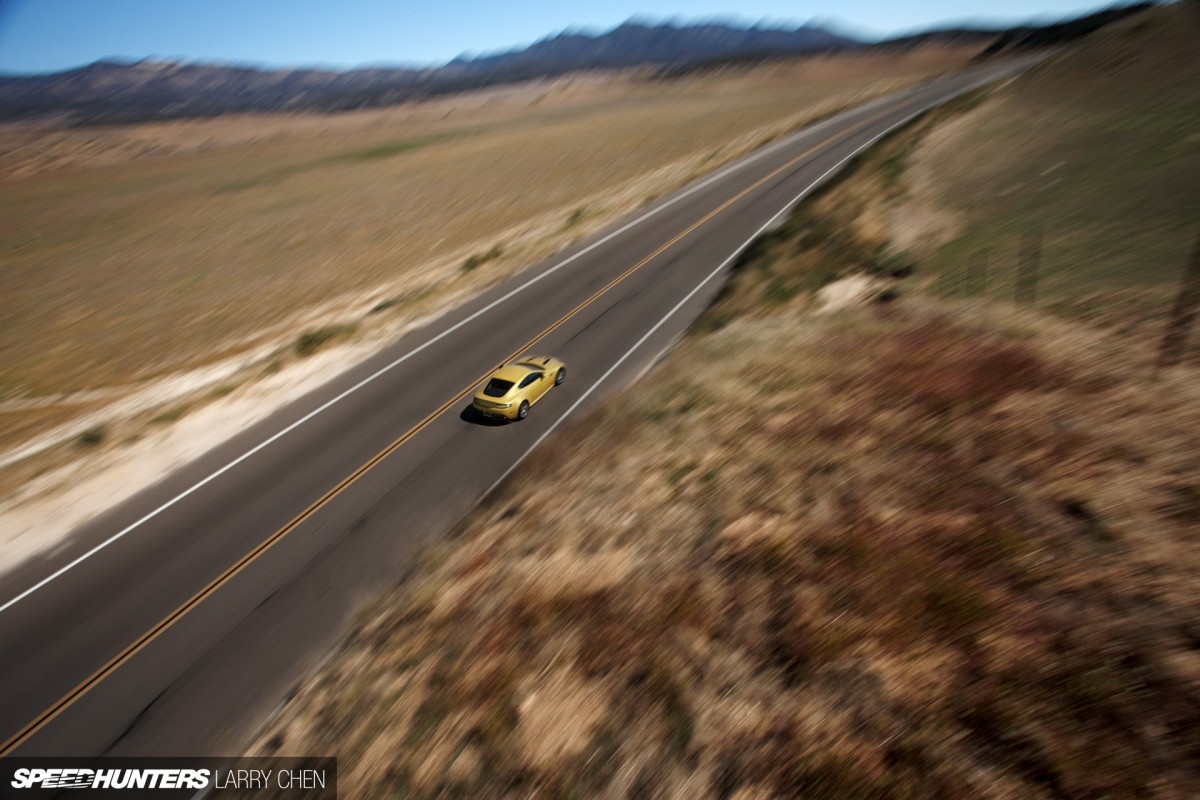 Not that it needed to, but it was on this open expanse of road that the yellow Aston earned even more brownie points. Usually I tire quickly of long open stretches of road, particularly in exotica where all the flaws are typically exposed – poor A/C, crap visibility and high levels of discomfort are the norm – but the Vantage didn't exhibit any, and proved to be extremely livable. In fact it was so docile in the cabin that my navigator starting snoring.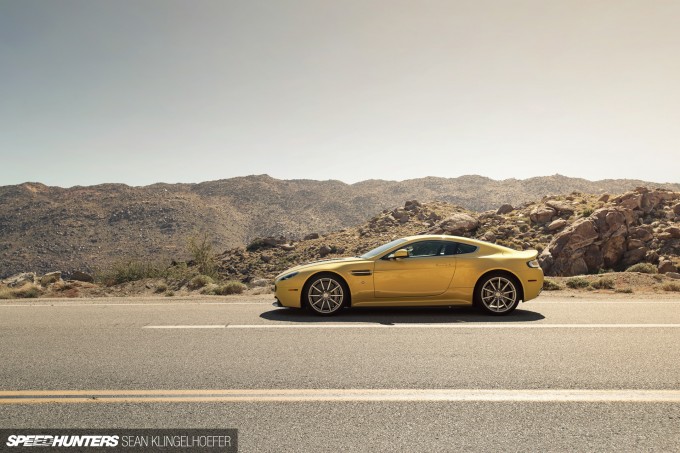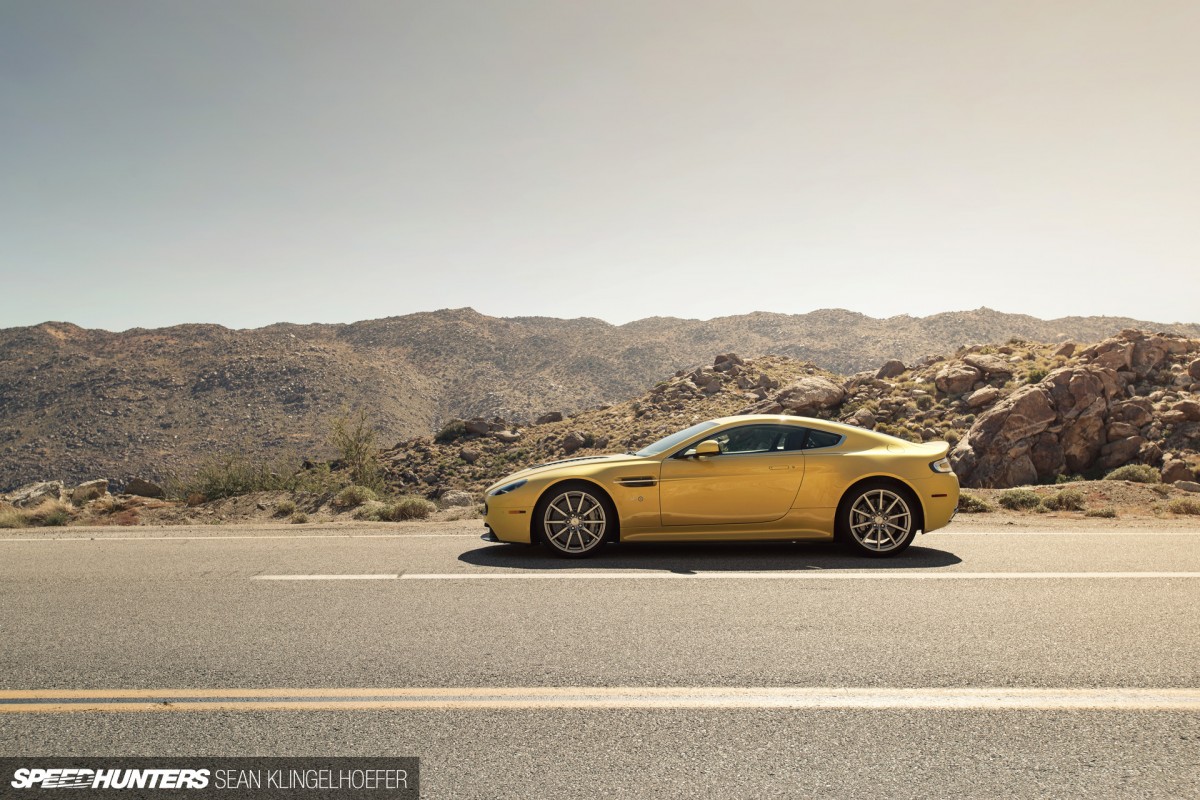 Eventually the road started getting lively again so I woke up a sleeping Larry with a quick stab of the brakes and pulled onto a shoulder to give him some more seat time, but not before snapping a few more photos of course.  It is our job, after all.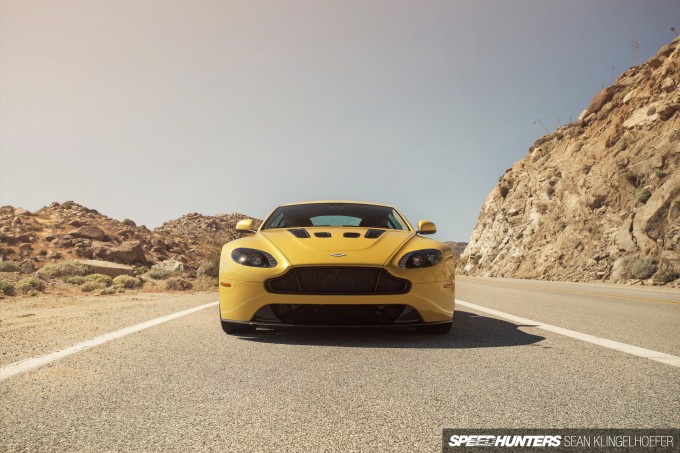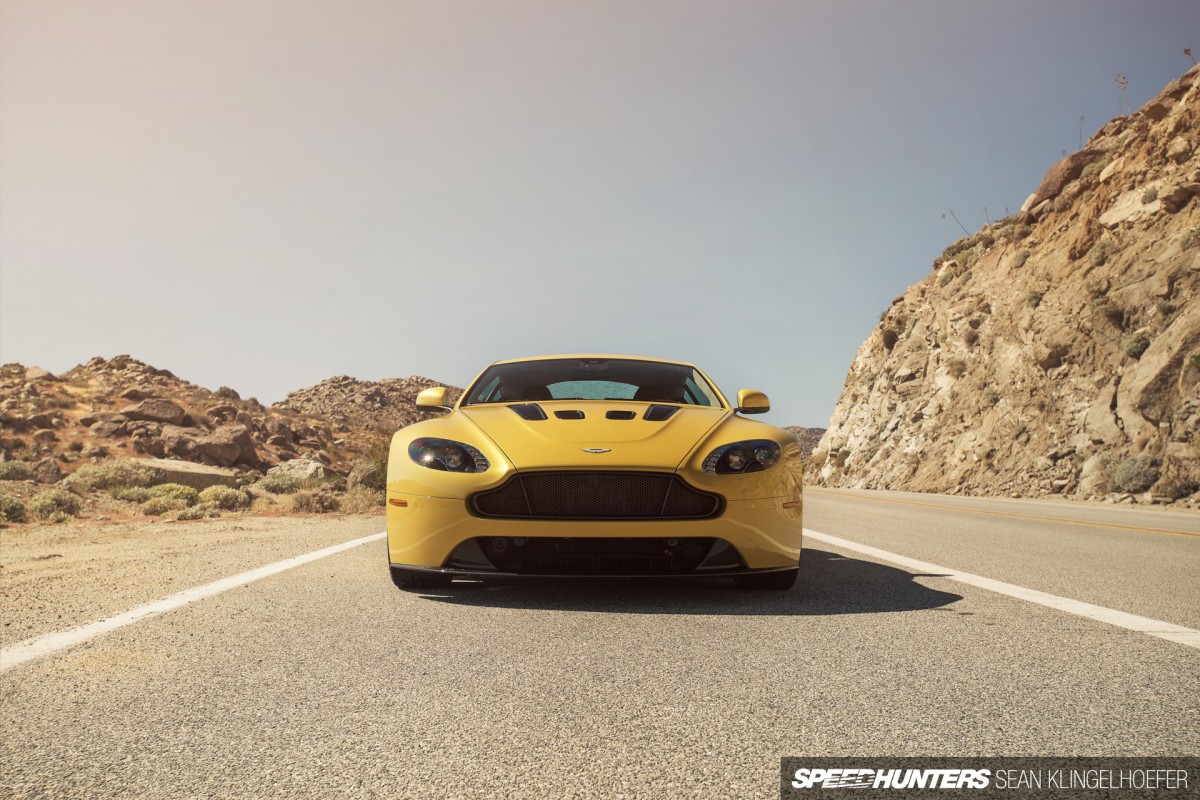 At this point I think you'd already have a hard time convincing me that I was looking at anything less than the best car ever made. Every time I stepped out it got a little more difficult to hand over the keys and I realized I was being transformed against my will into a petrol-headed parody of Gollum.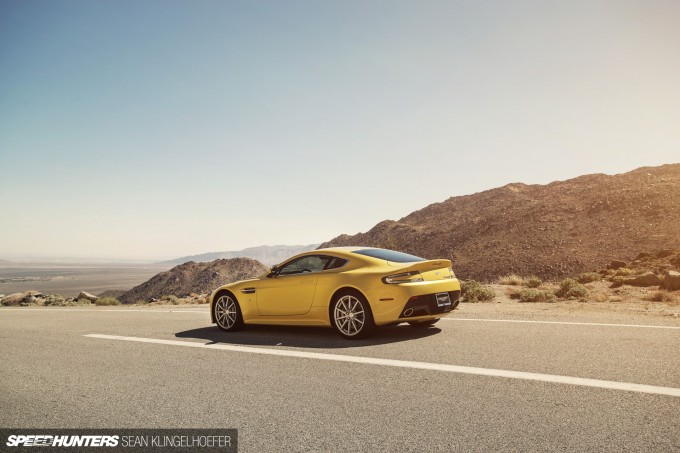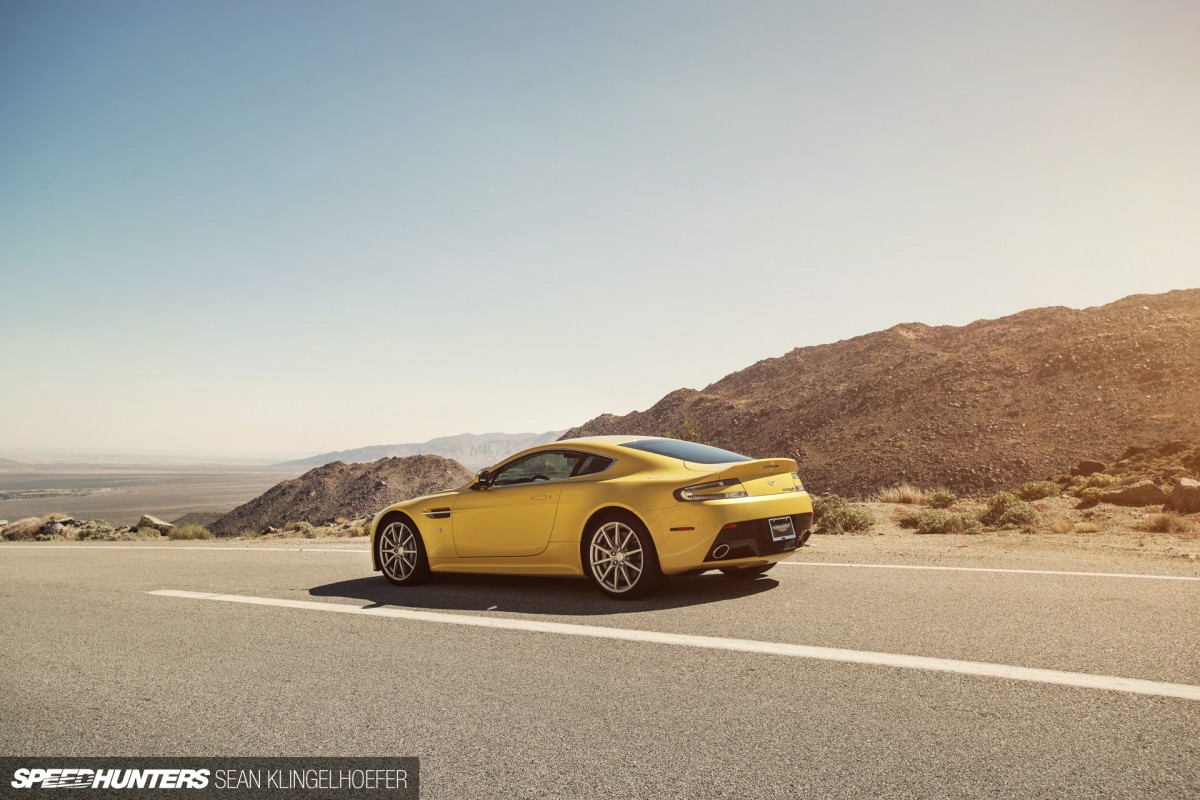 We wants it, we needs it. I could see that the car was having an effect on Larry too. Yes, he wants the precious.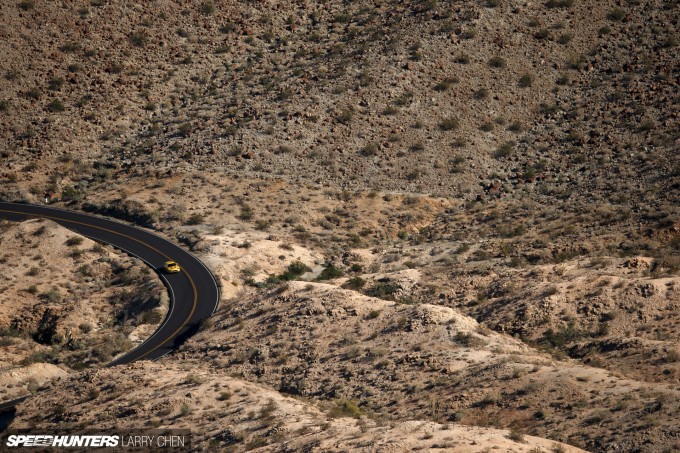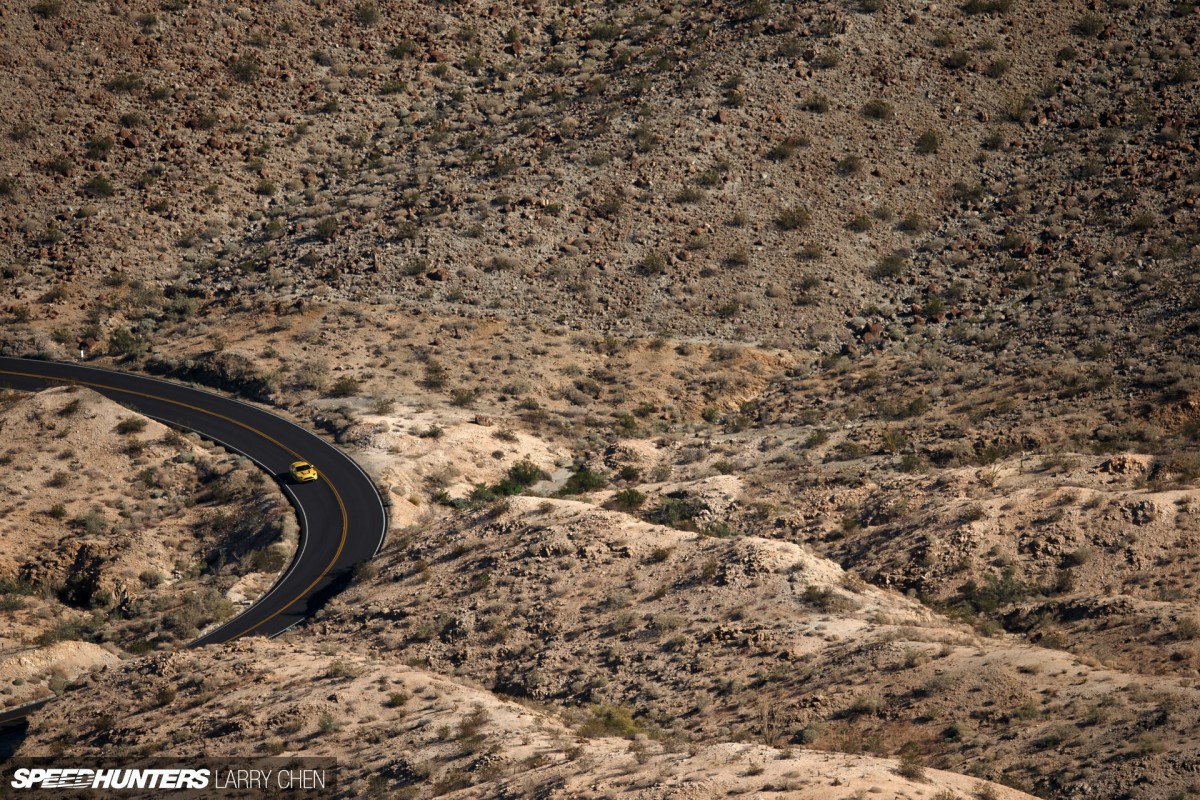 So as to be a good friend and not let the Aston Martin take over my mind completely, I decided to let mister Chen have another spin…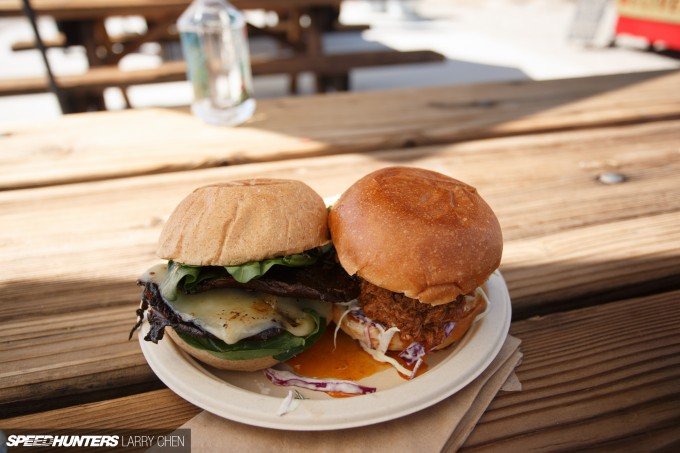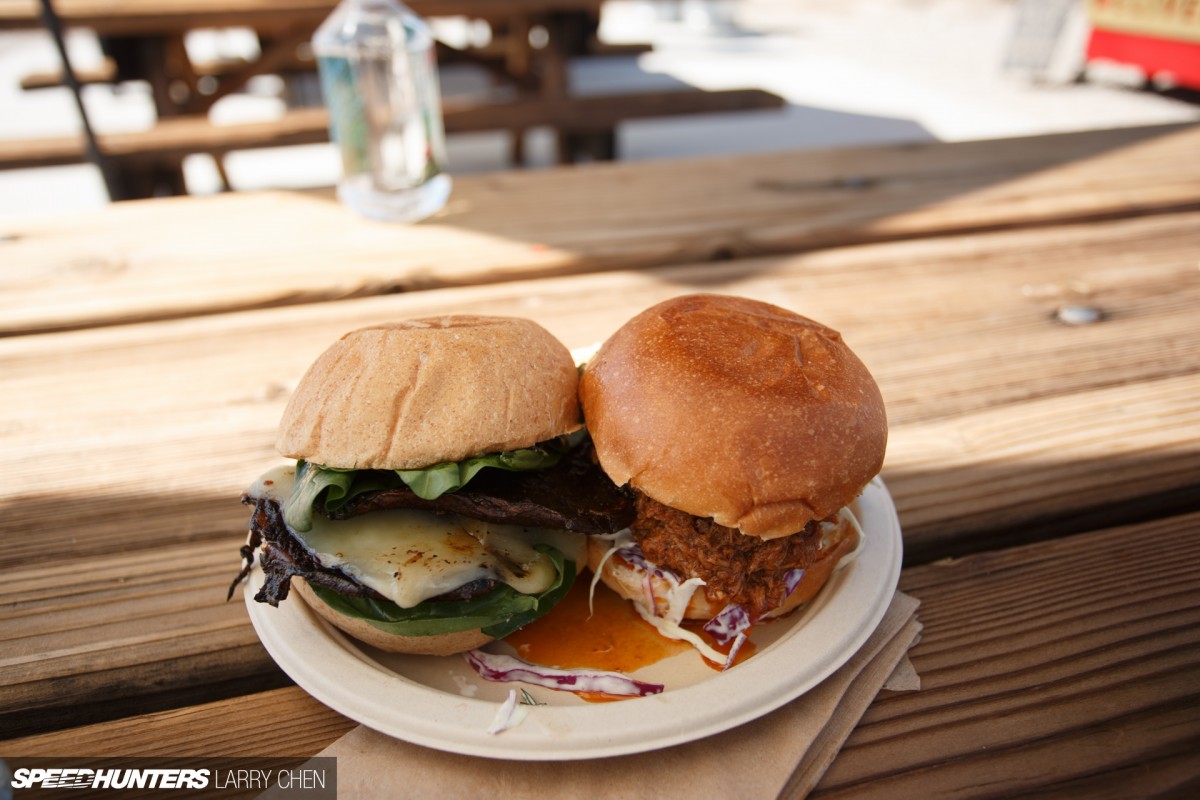 Followed, of course, by yet another meal. Working this hard requires lots and lots of fuel, for both man and machine. Over lunch we chatted about the day's remaining affairs, like whether it's wrong to exchange your soul for a Bond car, if we reckon it comes in other colors and planning the remainder of the route.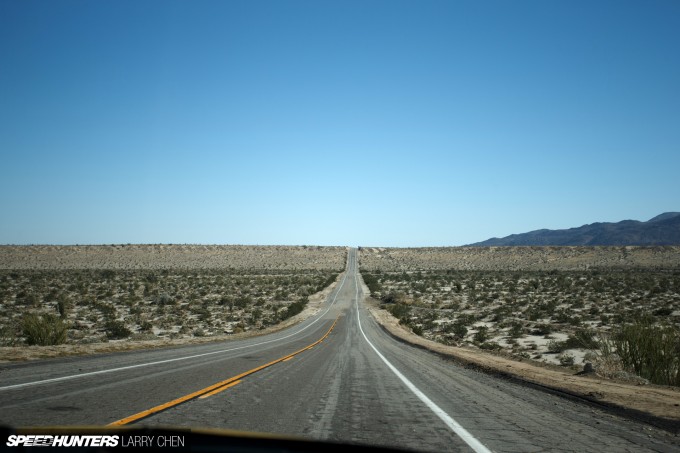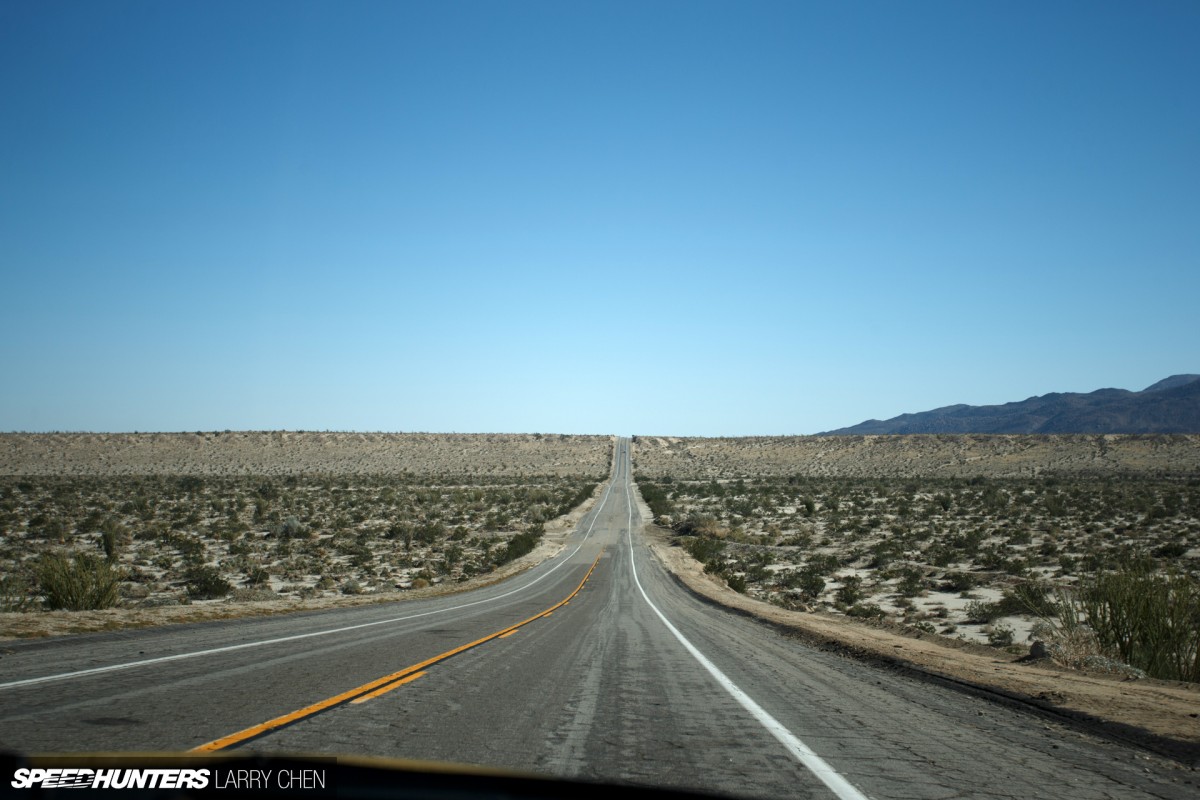 When I first heard I would be coming to Palm Springs to drive and photograph some Aston Martins, I knew I wanted to make a trip out to one of California's most bizarre landmarks; the Salton Sea. While the road from the hills to the Sea are nothing to write home about, I knew that the payoff at sunset would be worth the less exciting drive.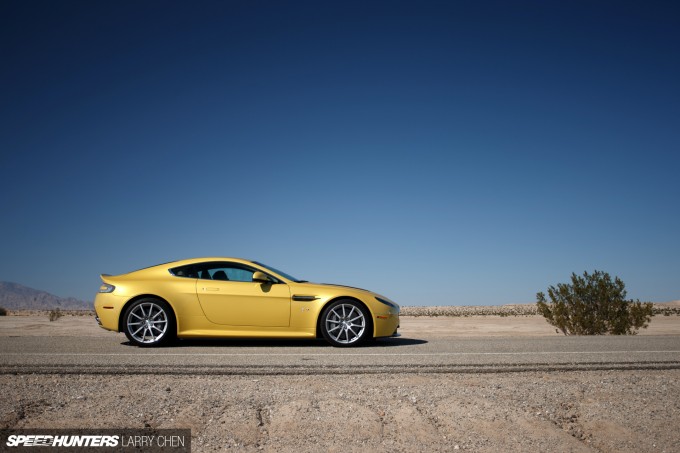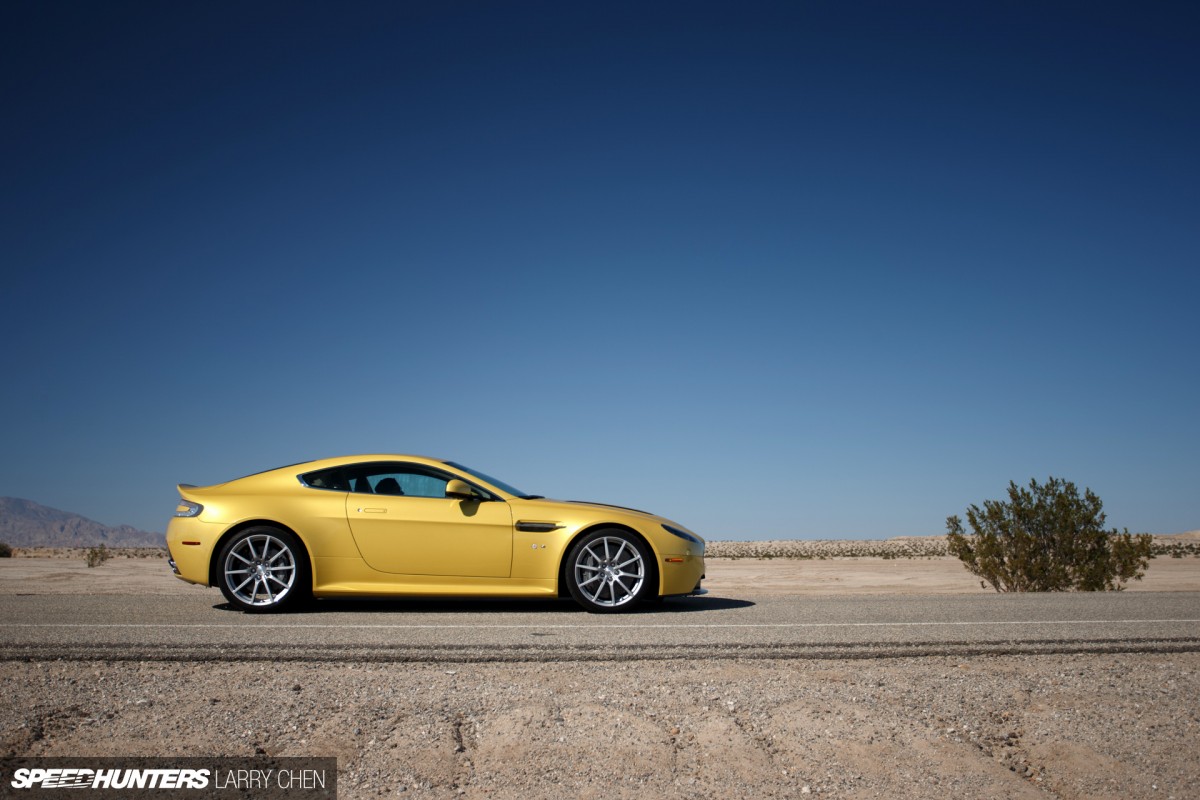 What I didn't know was that there would be roadworks laying down fresh tar on one of the two roads leading to the Salton Sea. Of course it was the one we decided to take.
The Salton Sea, an introspective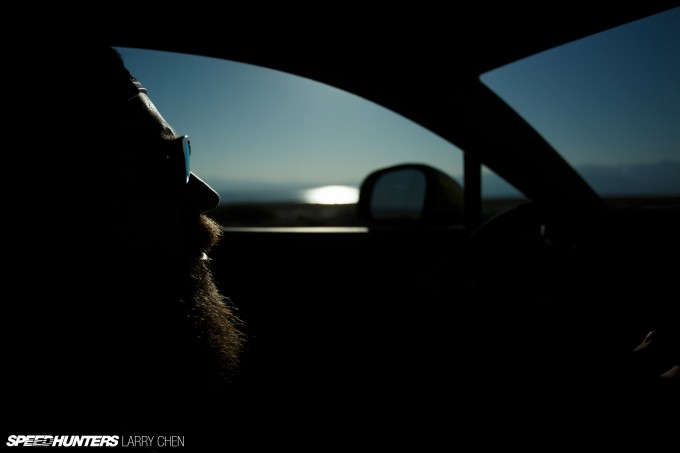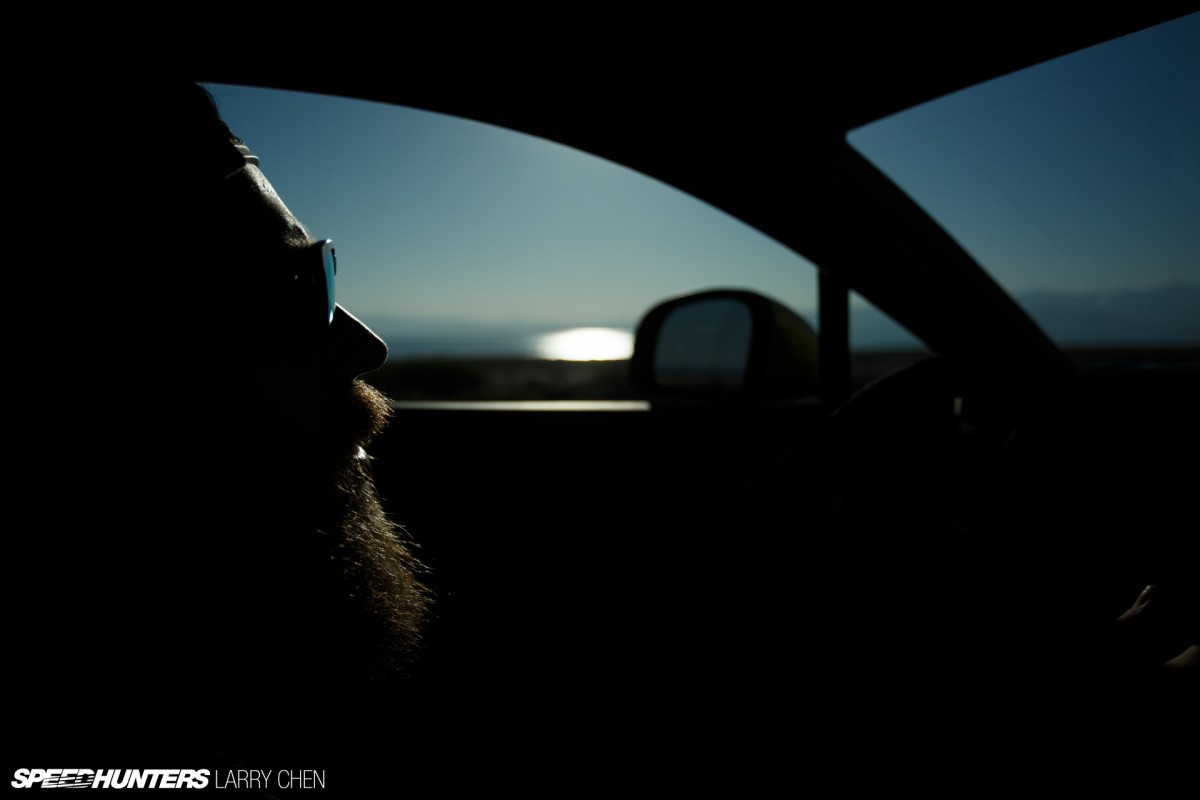 After what seemed like an eternity, but was in reality probably only fifteen minutes or so, we were under way again. With the sun still fairly high in the afternoon sky we stopped for a quick coffee and then headed out to find the perfect place to watch it disappear.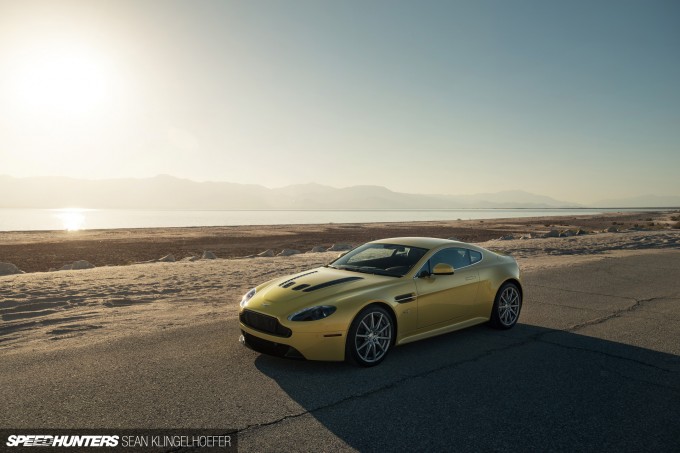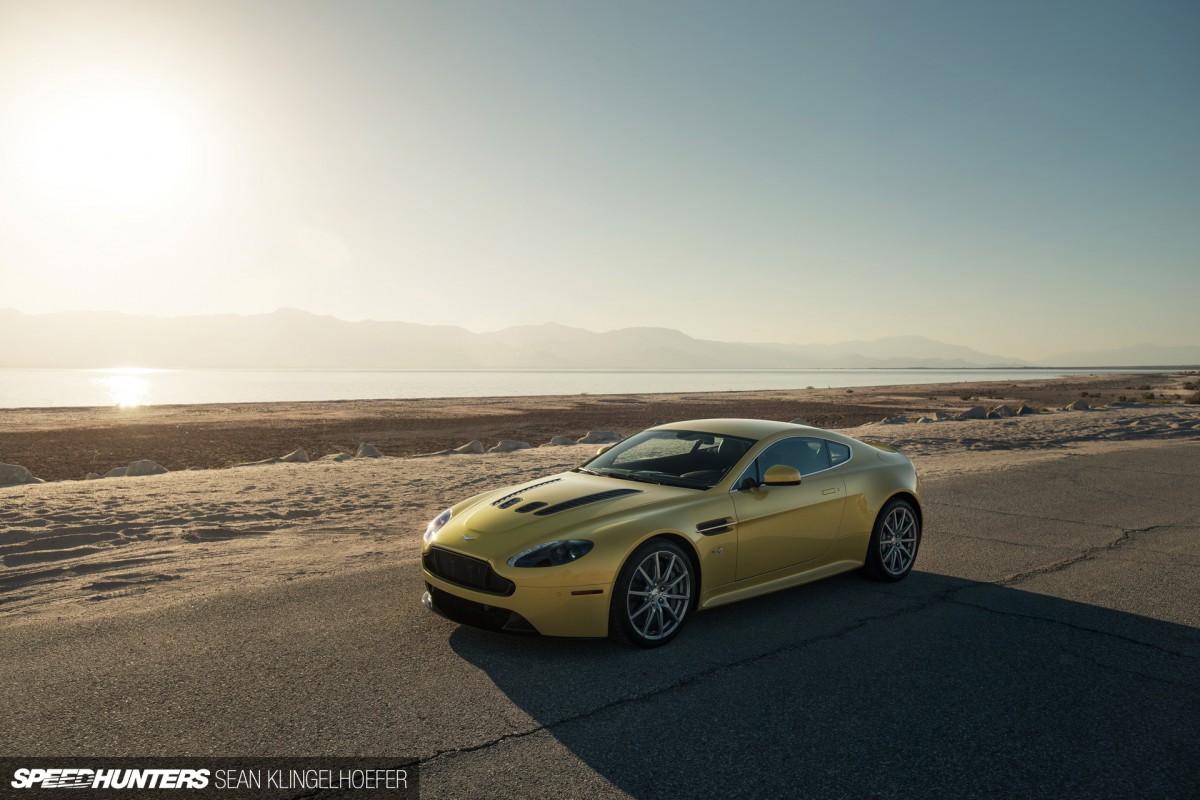 After another hour or so of driving we eventually found a location that suited our needs. The Salton Sea is a fascinating, if strange place and a lot of people, even those who live in SoCal, don't even know it exists. It's a massive lake that is roughly fifteen miles wide by thirty-five miles long and was somewhat unintentionally created around the turn of the 20th century when the Colorado river overflowed.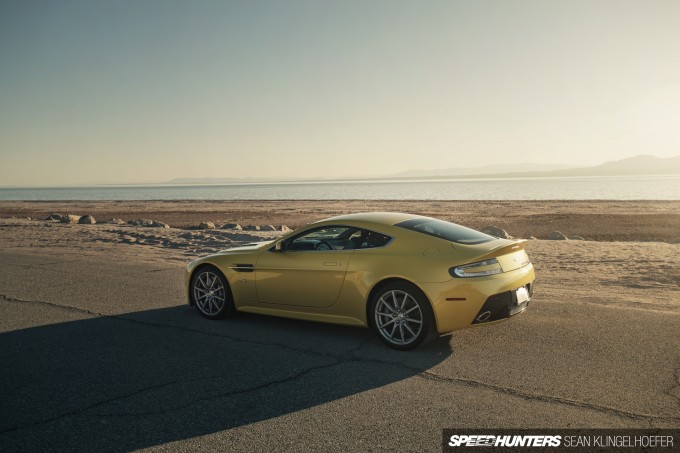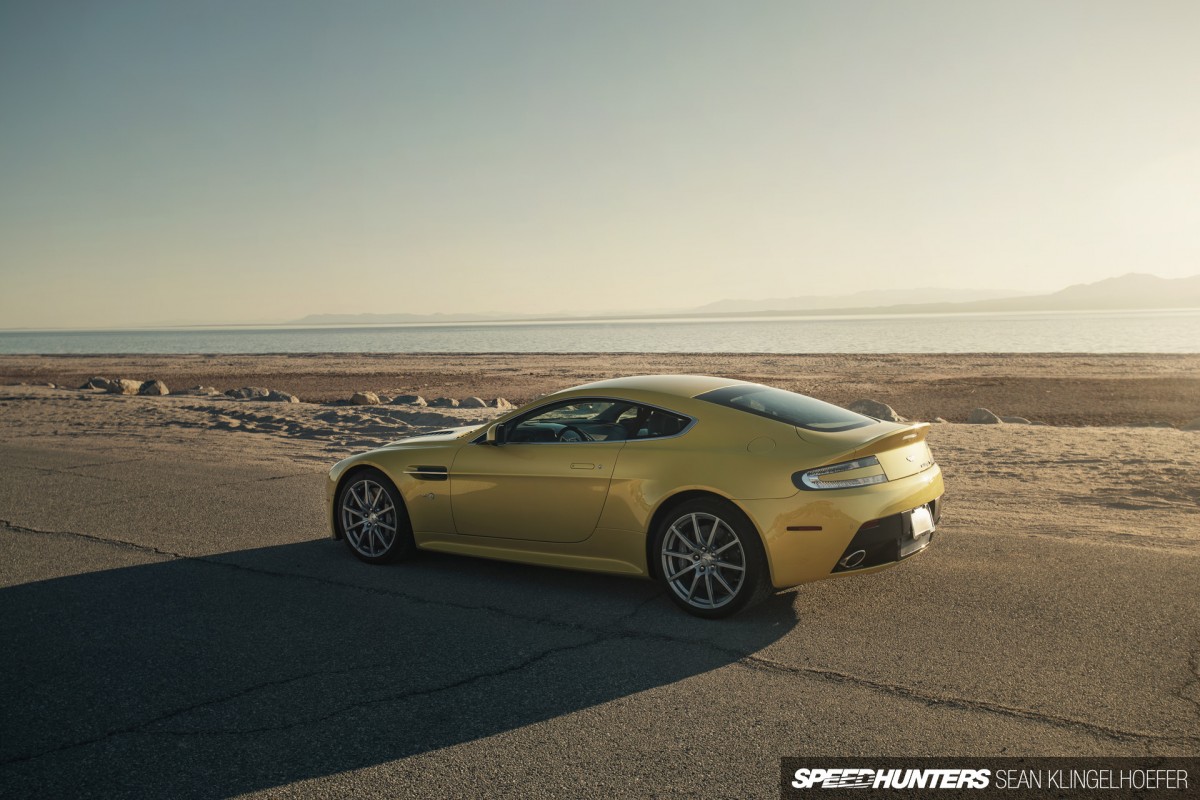 It's literally an oasis in the desert, a seemingly impossible expanse of water in the middle of nowhere. It's not convenient to get to in any way, and tens of thousands of people drive just past it every day on the I-10 freeway without ever realizing it's there.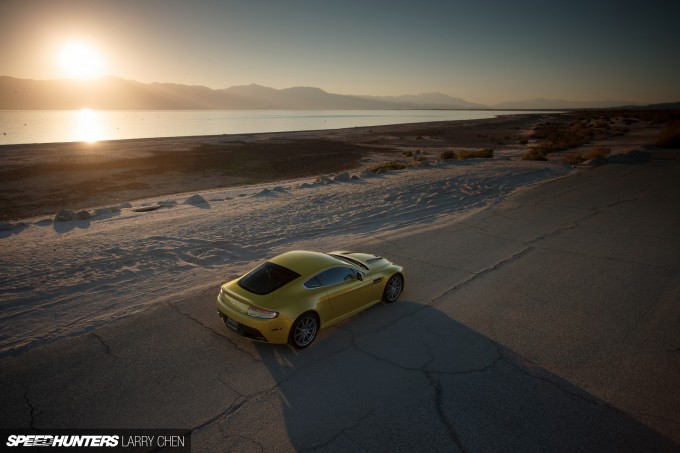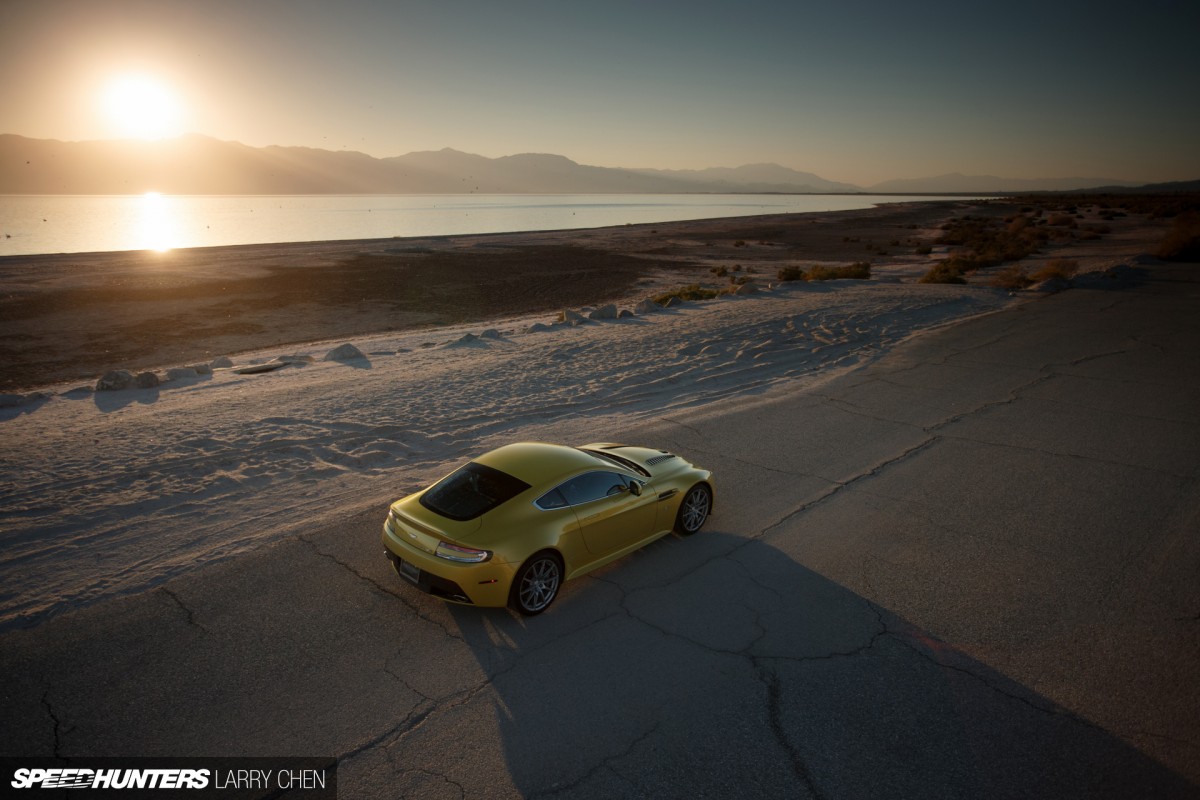 Although it might not do much to show off the car's handling prowess, I knew it would provide the ideal back drop to the end of an incredible day. After living in the desert for almost a decade, there's something I find calming about the desolation and endless horizon. It was warm hot, and quiet, and calm. It was perfect (give or take a few degrees).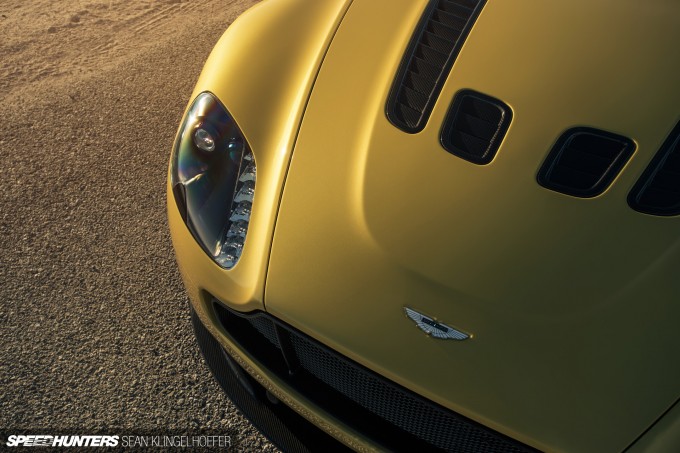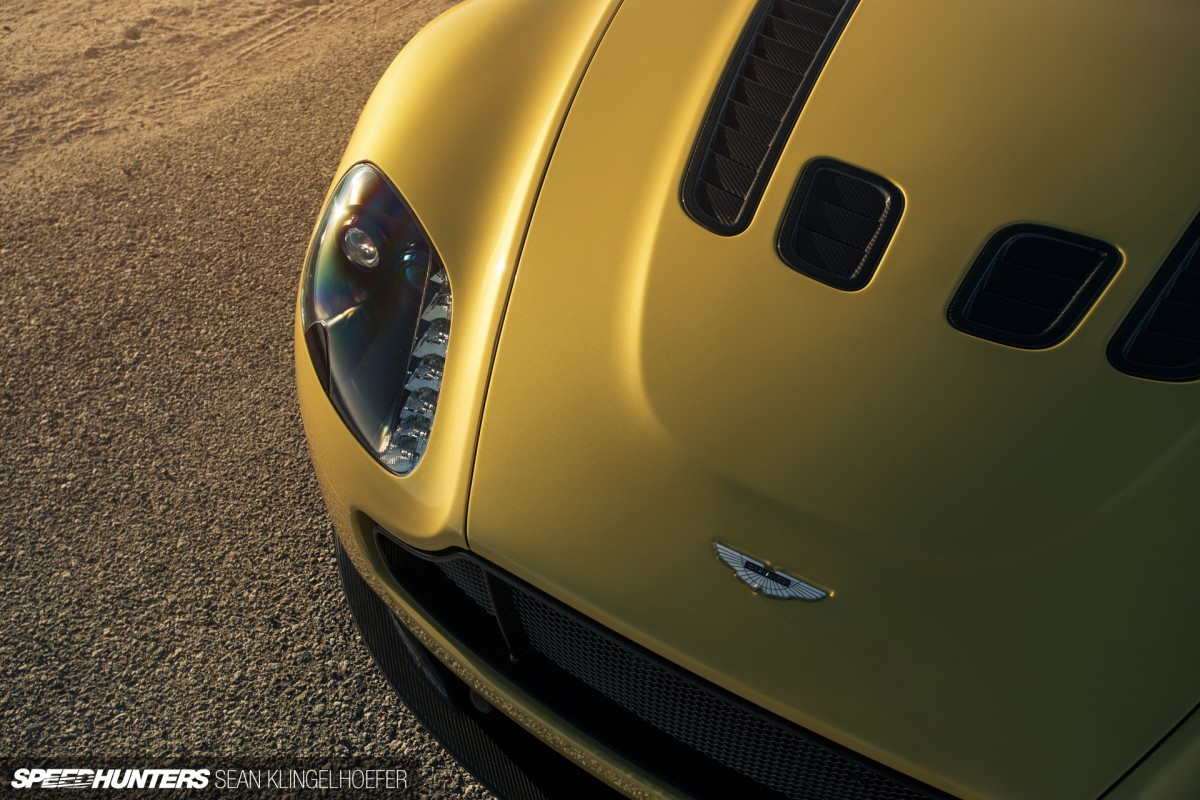 While we waited for the sun to set, Larry and I walked around the car training our lenses along the car's elegant curves. I was still completely flabbergasted by this machine, it just doesn't have a bad angle. What's more, with every passing minute the light got a little better.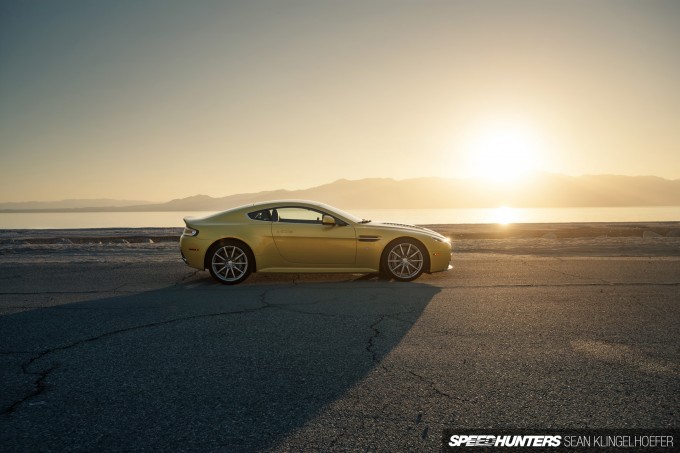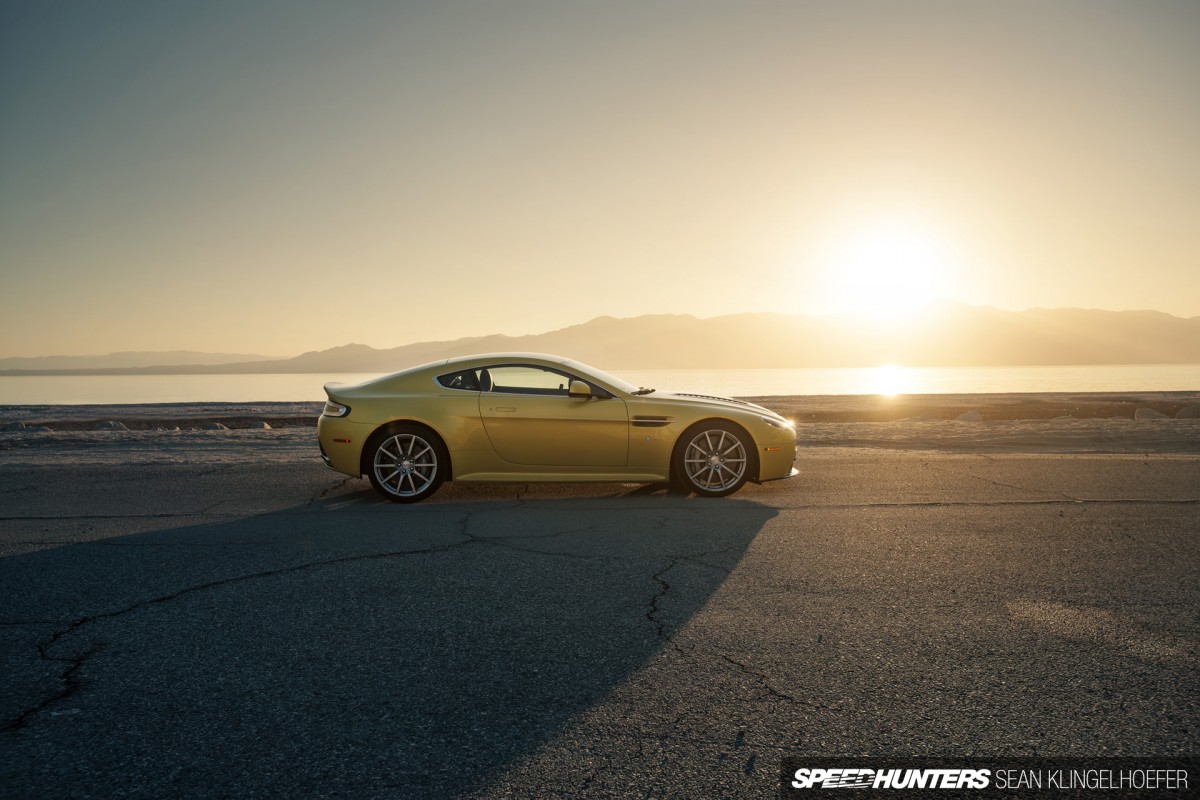 It was during these last few moments of sun that I realized why we do this, why we became Speedhunters. It isn't normal to skip dinner, drive hours out of your way and sweat your ass off while shooing away flies waiting for the sun to go down. But that's the reason our site is a little different from everything else: we are a little different.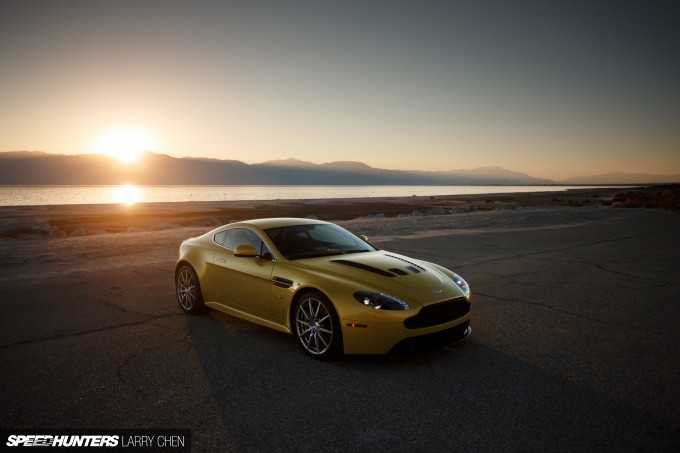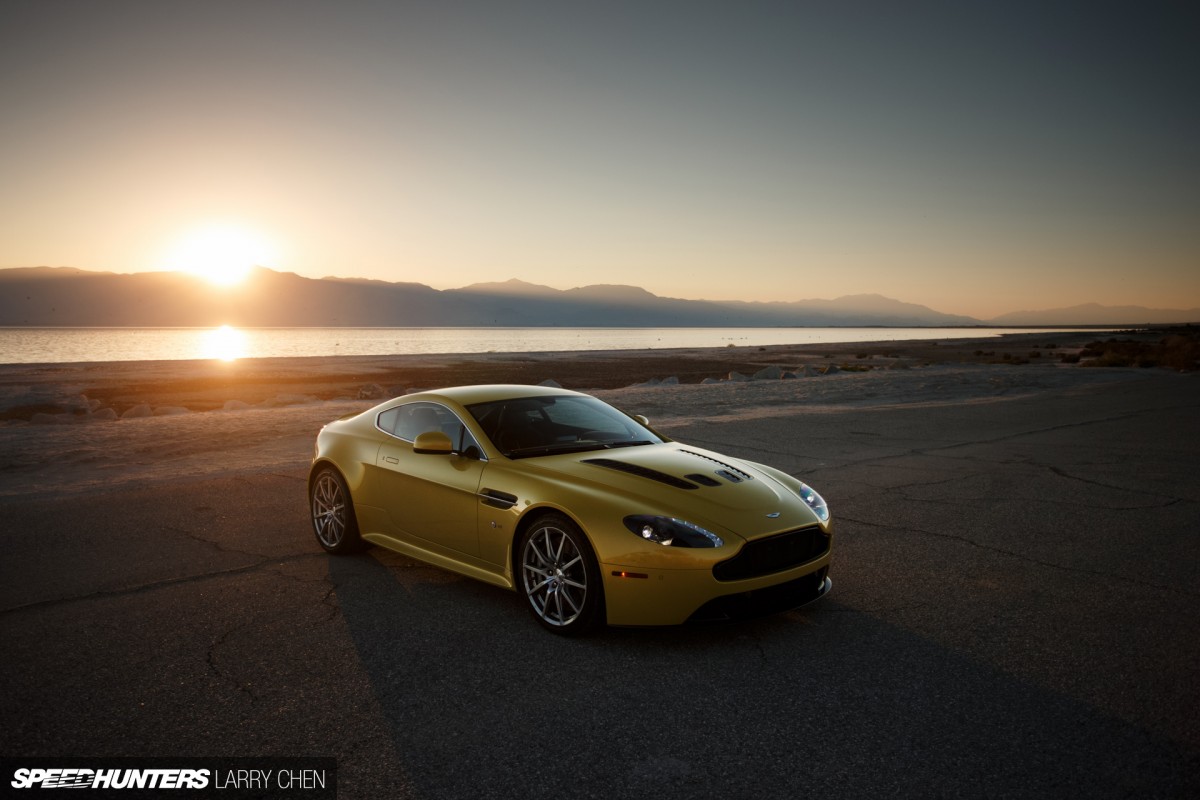 While most journalists are perfectly content driving exotic cars, jet-setting around the world and staying in five-star resorts, we aren't. It's not to say we don't appreciate that sort of thing, it's just that any day of the week we'll turn down food or sleep or sanity in favor of those first and last seconds of daylight. To put it simply, without cars and cameras, my life ceases to have much meaning.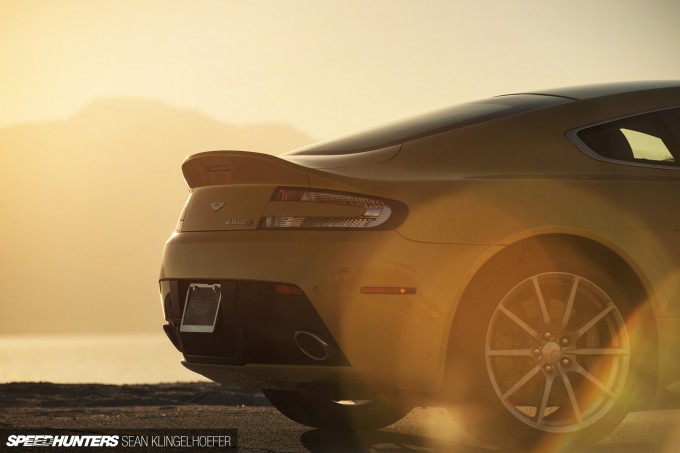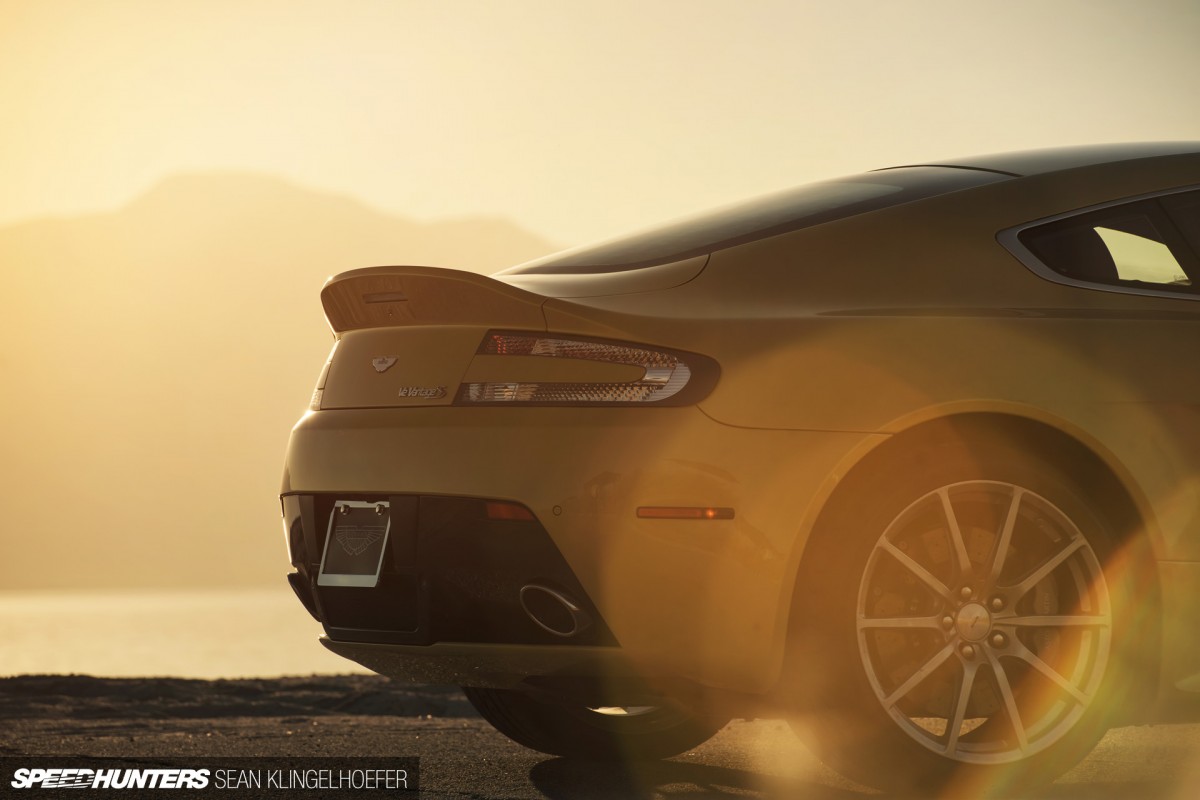 Of course the greatest motivator is doing this to feed an inner need, but we do it for you too. We aren't interested in simply telling you guys about the latest specs like how many milliseconds it takes to shift or by how many pounds this year's model differs from the last. Life is short, and those are just details. We're more interested in the big picture, both literally and figuratively of course.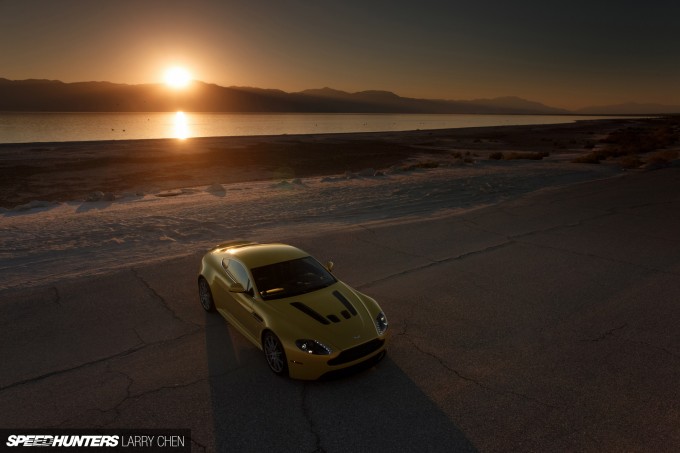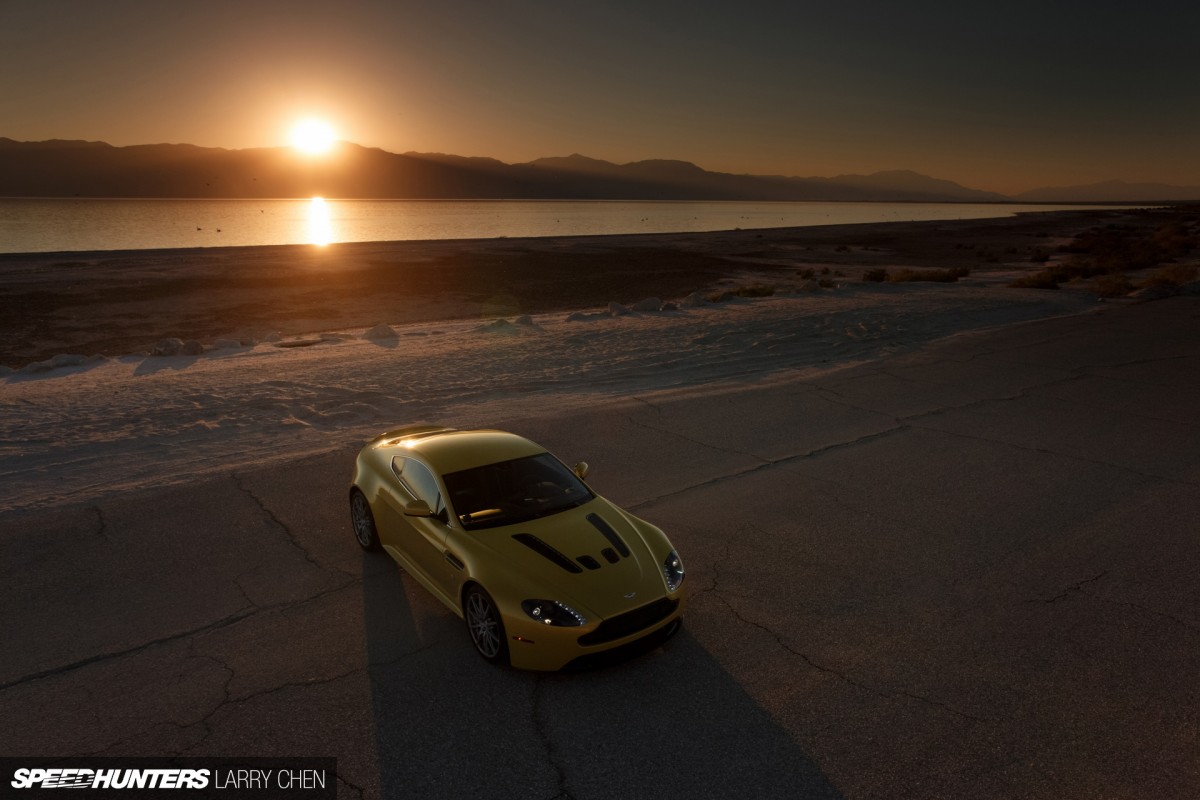 We don't just love our job, we live it. Day in and day out and we want to share that excitement with our readers. Going back to the car, I think the reason I like it so much is because I suspect from its manners that it was developed by people who share this passion. What those people have built is a car that is about as good looking and fun to drive as they come. It's fast and nimble like a super car, but can be subdued and classy like a GT should be.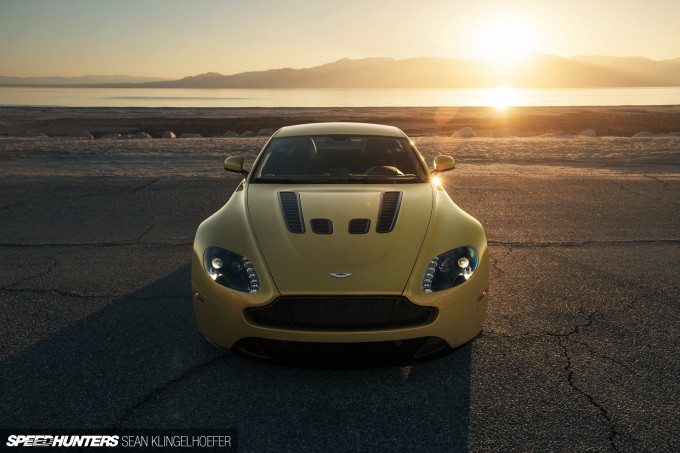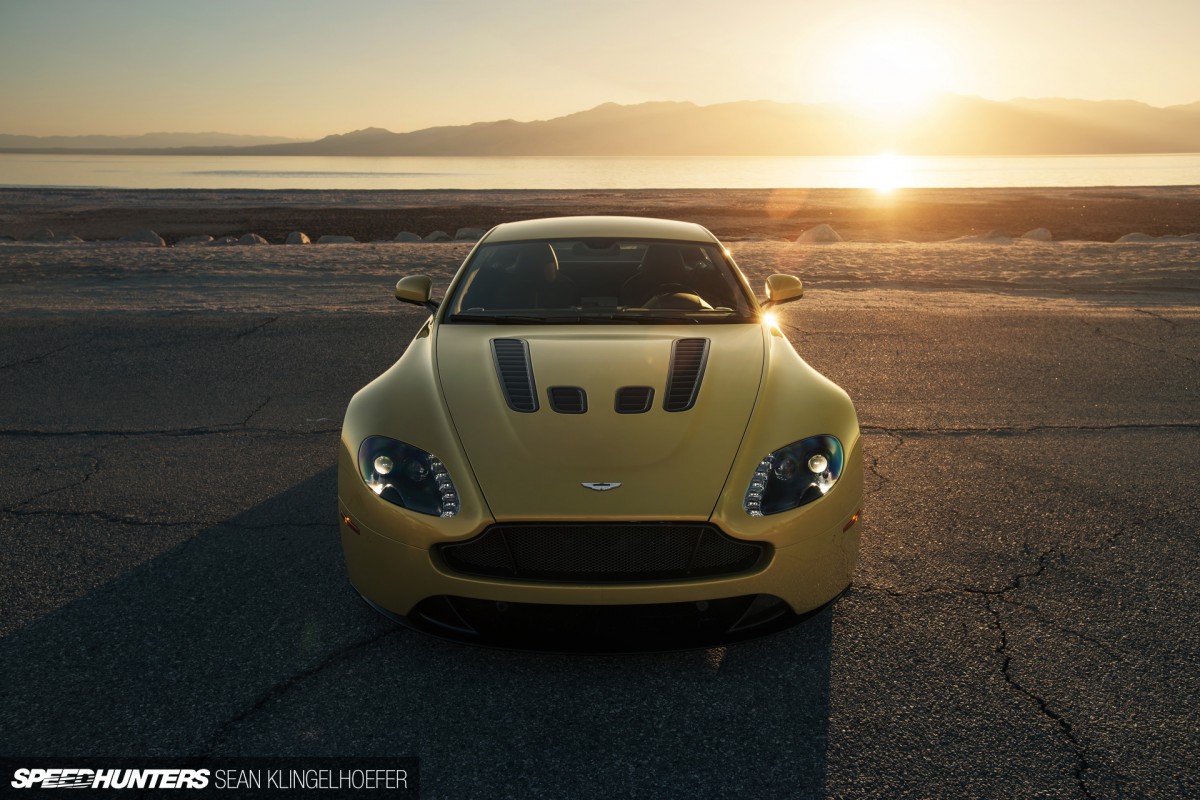 I think the hallmark of the car is that I can't think of a time where this car would be inappropriate, which is probably what made it so difficult to give it back. Normally when I'm driving a car with a performance index like this I feel a bit like an obnoxious douche bag. There's something about the loud manner of super cars that has always turned me off, yet the Aston has all the go and none of the show – it's sharp and civilized and you feel accomplished behind the wheel. It's passionate and incredible, but it's not shouting about it. It's simply waiting in the fray for those who live and breathe the same qualities to notice it. I don't really know how else to explain it. It's perfect. My precious.