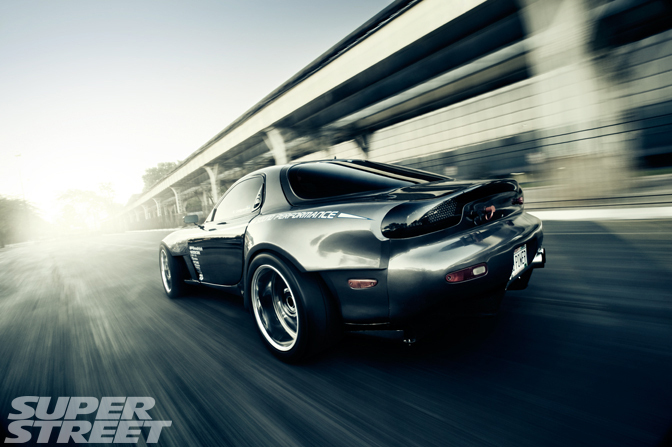 What's up Speedhunters!? I hope everyone has been enjoying photography month, I know I definitely have! It goes without saying that I am a fan of the Speedhunters site and I am honored to have been asked to be a guest blogger. I'm Sean Klingelhoefer, a 25-year-old photographer lucky enough to call Los Angeles my home. Some of you are probably already familiar with my work, be it through the internet, Super Street (http://www.superstreetonline.com) magazines or word of mouth, but for the rest of you I ask for several minutes of your time to make an introduction. Although this handful of images will hardly summarize what I do I'll try my best.
(Above) July 12th 2009 – Chicago IL
Sometimes when traveling to a city you don't know finding locations can be a headache. I did my best to find a suitable spot before the sun went down to capture this RB26DETT powered FD for the Cover of the April 2010 issue of Super Street.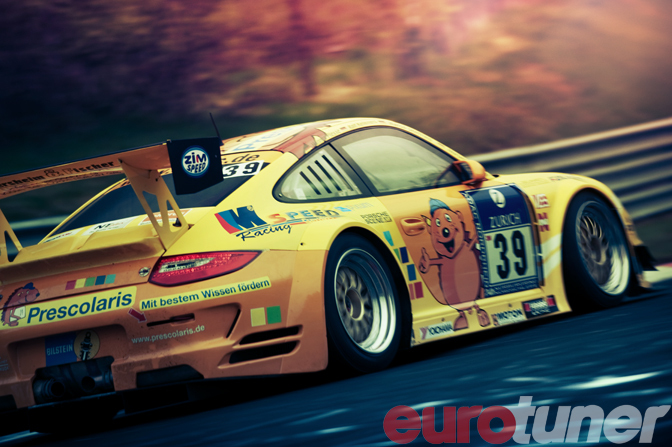 May 15th 2010 – Nürburgring Germany
This year's 24 hours of the ring was the first time I ever shot what I would consider "real" motorsports. I am now completely addicted. It's a stark contrast to my normal work which is very involved and contrived.
I'm currently working full-time as an Associate Editor of Super Street Magazine and I routinely contribute photography/post production to sister publications (Project Car, Eurotuner, Modified, Hotrod etc). I'm a very active member of Japanese car-culture and the automotive photography community as well. My work is really just a simple culmination of my passions and I have to admit I do love my job. I get to travel the world to see some of the finest modified cars on the planet all while surrounded by interesting people.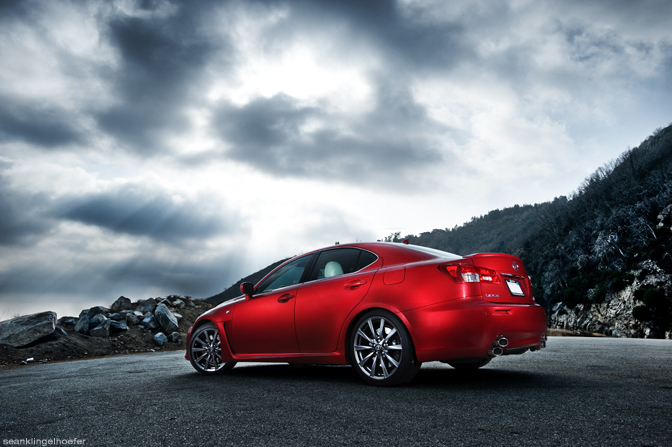 June 7th 2009 – San Bernardino CA
One of the perks of being a magazine editor is that from time to time we get loaner vehicles. I took the IS-F out for a day and created a set for my portfolio.
One question I receive quite often is how one goes about getting to work for magazines and my answer is always the same – do it because you love it and eventually others will take notice. There really isn't much money to be made in this business so if you're after cash, go to school and become a doctor or a lawyer – it's already hard enough for those of us who do love this industry to get by! This advice is of course based off my own experiences. Believe it or not I never made a conscientious decision to become a magazine editor. I never went out of my way to contact magazines. I never even went to art school for photography.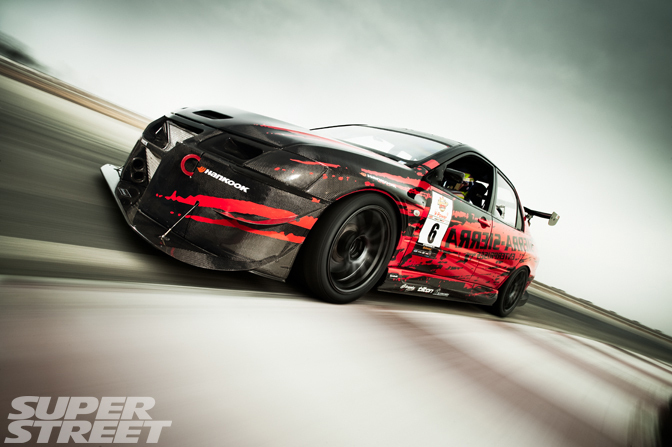 November 10th 2009 – Buttonwillow Raceway CA
At last year's Super Lap Battle finals I made some time to get a shot of one of the fastest time attack machines in the world – the Sierra Sierra Evo. This shot is a mixture of ambient and strobe lit frames both in motion and static and the driver was placed into the car after the main image was made.
I can't remember the first time I picked up a camera but I do remember being fascinated by them ever since I was a child. What I do remember is when I fell in love with photography – my Junior year in high school. I decided to take a photo class because it seemed like an interesting course – one with plenty of time to slack off and still get an easy A. What I didn't realize was how hard photography would actually be. When it was finally time for the class to go out and shoot/process our first roles of film and consequently make prints was when I realized I had a natural talent for photography. While other kids were making images that didn't even remotely resemble photographs mine came out according to plan – I just followed the rules.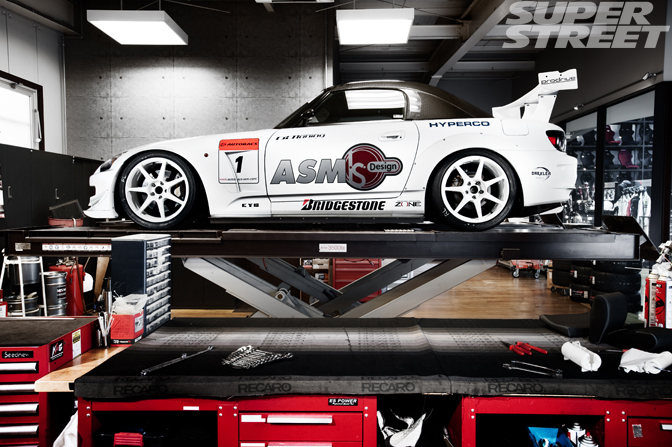 January 17th 2010 – Yokohama Japan
One of the most tedious places to shoot an automobile has to be Japan. With limited space and cars that can rarely be driven it's a constant struggle to find a good shot. I decided to get a bit creative and make my own room for the ASM S2000.
Photography, after all, isn't exactly rocket science. From a technical aspect it's just basic math. If you can multiply and divide by two and have an understanding of squares and inverse squares you're pretty much set. I recall making my first print and showing it to my teacher. He looked it over for a minute and offered to buy it from me, saying "some day you're going to be famous. One day I can sell this photo and fund my retirement plan." I don't know if he was being serious or just trying to give a kid inspiration to continue in photography. Regardless I thought he was insane and gladly took his dollar and purchased a candy bar before my next period. Truth be told the image was just an ill-composed snap shot of a stop sign, whether or not it will ever be of any value has yet to be determined.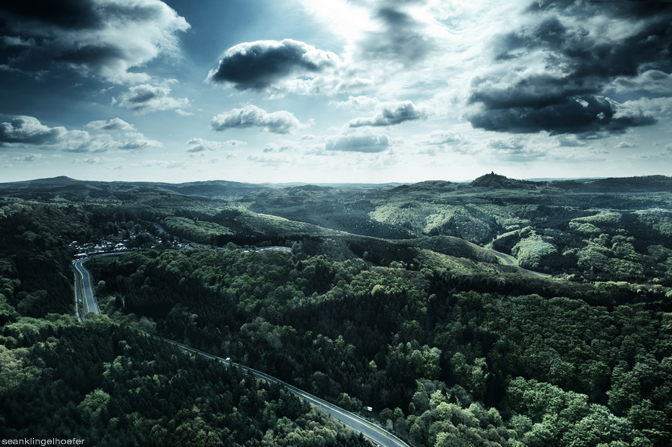 May 16th 2010 – Nürburgring Germany
This shot documents my first and last time ever riding in a helicopter and I couldn't have asked for a more beautiful scene to capture. The landscape surrounding the Nordschleife is truly breathtaking.
I'm not entirely sure what would have happened if that first image didn't come out. Maybe I'd be off somewhere designing tee shirts or something, who knows. But my success lack of failure led me to become even more curious with photography. I started reverse engineering my own images because I was almost more confused that I didn't mess up when everyone else was. Through the rest of my high school days I continued shooting primarily cars, much to my teacher's dismay. He once told me "Sean you've got talent but you're never going to get anywhere if all you ever shoot are cars!" – well who's laughing now?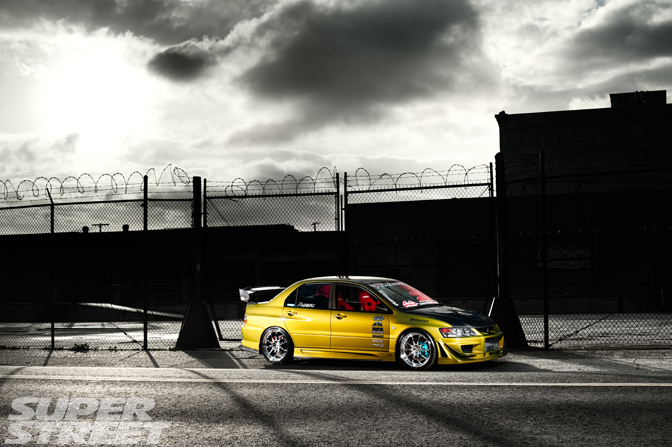 December 13th 2009 – Los Angeles CA
This shot almost didn't happen. Moments after setting up I was kicked out of the location as it was to be used in the filming of the commercial for the new MDX. This vehicle was featured on the cover of the March 2010 issue of Super Street.
The next few years I kept shooting but photography took a back seat to my obsession with cars. I spent almost all of my free time from ages 17-21 working on cars, starting as a tech at a Jiffy Lube and eventually becoming a full service mechanic. During that time the only photography that interested me was documenting the build of my Civics and my friend's cars and sharing them on the internet – little did I know that it would eventually lead me to my current role at SS. As time went on my work improved and before I knew it magazine editors started contacting me asking if I was available for freelance work.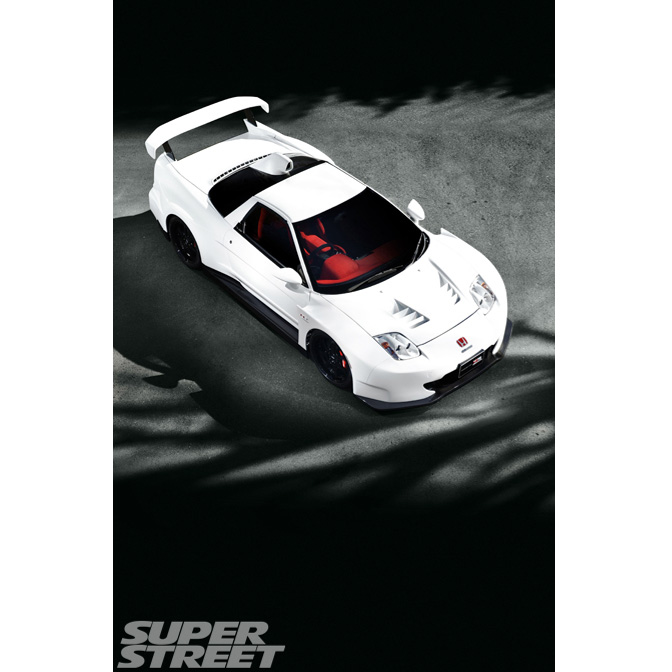 January 13th 2009 – Saitama Japan
By far one of the coolest cars I've ever shot, the Mugen NSX-RR speaks for itself. After this shoot I had one of the scariest moments of my career when the card I shot onto corrupted, fortunately I was able to recover the data once I got back home to LA and the car made one of the best looking covers Super Street has had.
I had no idea how much harder shooting for print was at the time as I had ZERO experience in this field. It's easy to make a photo look good in it's native color space in web res on a LED-backlit monitor, a 2-page spread on poor paper stock and CMYK is another story entirely. To be honest my first published images looked like absolute garbage. It was at this point that I decided I really wanted to get serious about photography and learning how to refine my methods for a more controlled result. I kept freelancing until my "big break" came – a request to shoot for my favorite car publication Super Street, the book I credit (along with Need for Speed and Gran Turismo) for getting me interested in cars in the first place. After submitting only one set of photos the staff at SS were impressed enough to offer me a job as a full-time editor.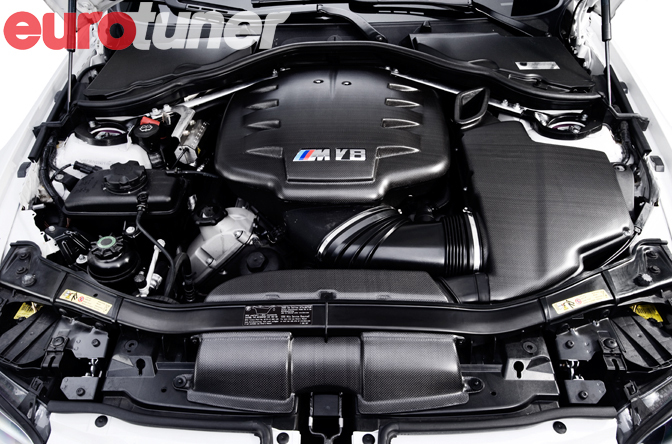 April 13th 2010 – El Segundo CA
One of the baddest E92's around and the only one I know of in the states with a full Ericsson kit. I originally shot the car for use in the Ultimate Parts Collection but it is being featured in an upcoming issue of Eurotuner.
The job offer seemed to come out of left field but it didn't take me very long to make my decision. I knew that if I wanted to make it in automotive photography I had to get to LA. So there I was, a relatively unknown kid from Arizona offered a job in LA at the leading import title, I had to pinch myself several times. Needless to say I happily accepted the job and moved to Los Angeles where I have been living and working for the last two years. But I'm still just as confused, enthusiastic and motivated as I've ever been. That's one of the paradoxes I find the most beautiful about photography, it seems like the more you know, the more you realize you don't. As your work improves so do your expectations and alas we are all doomed never to be satisfied with our work.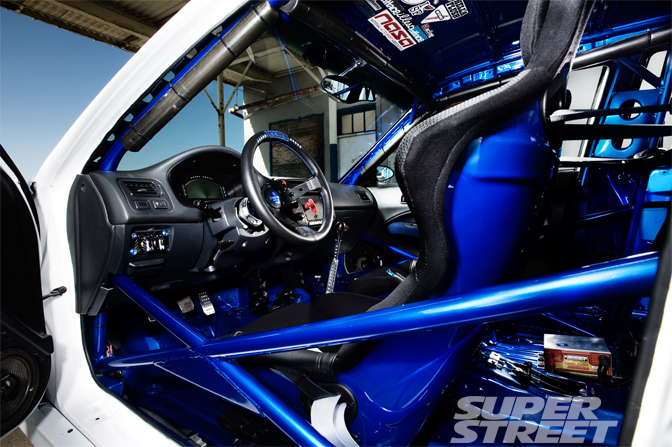 April 18th 2010 – San Francisco CA
Gnarly and hardcore are the first words that came to mind when I looked inside Ryan Der's EK. Trying to figure out how to light a cockpit so complex came next. This car shared the cover of Super Street's annual Honda Issue earlier this year.
Although I can't remember when I first picked up a camera I certainly can't see living another day without one. I plan on shooting until the day I die. I eat, sleep and sh*t photography – so much so that I now have very little interest in my own cars as I'm too preoccupied trying to discover new ways of capturing others. At this point I'm solely focused on my art and I fall more and more in love with it every day. In fact, photography is almost all that I do. Other photographers have often asked me "so what do you do for fun on the weekends?" and I reply "I shoot" and they always look dumbfounded. I shoot for work and for fun, I just can't get enough of it. And when I'm not shooting I'm looking at other people's images whether to analyze, critique or just get inspired. I have no idea what the future holds but I hope to eventually transition into commercial car photography. If everything goes according to plan maybe someday in the future distant future you might just see a billboard or a car advertisement in GQ shot by yours truly. But until then I will try my hardest to provide the best images of tuned cars I can.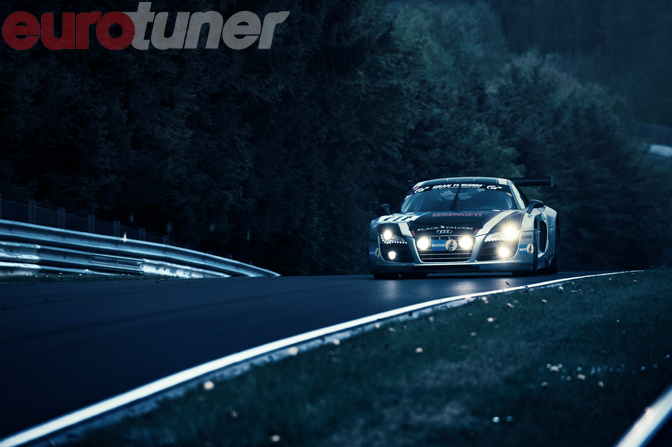 May 15th 2010 – Nürburgring Germany
As the cars come over the crest at Flugplatz they don't catch the same air they did in years past, none were as flat here as the Audis. Even still the atmosphere of this section is a photographer favorite and I spent many frames there.
If there is anything to be learned from my story it's to never give up. Don't ever let anybody tell you that you can't do something. Most of all, keep your ego to yourself and help out other photographers that aren't as far along as you are. Remember we all have to start somewhere and I certainly wouldn't be where I am today without guidance along the way. I want to encourage any aspiring photographers to keep shooting and I will try to help out as many people as I can. In fact on my personal blog I frequently share information from shooting to lighting to post production that many others are scared to. If you're looking to improve your skills I recommend checking it out, there's probably a thing or two you could benefit from reading on there. The only thing I ask is that you pay it forward.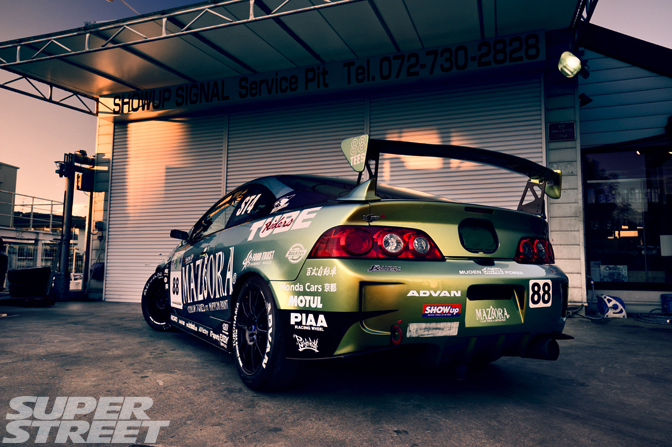 January 12th 2009 – Osaka Japan
While I normally light almost every car I shoot sometimes time constraints just can't afford me all the tools I'm used to. The Maziora DC5 was shot in under 30 minutes, just in time to catch the last bullet train to Tokyo.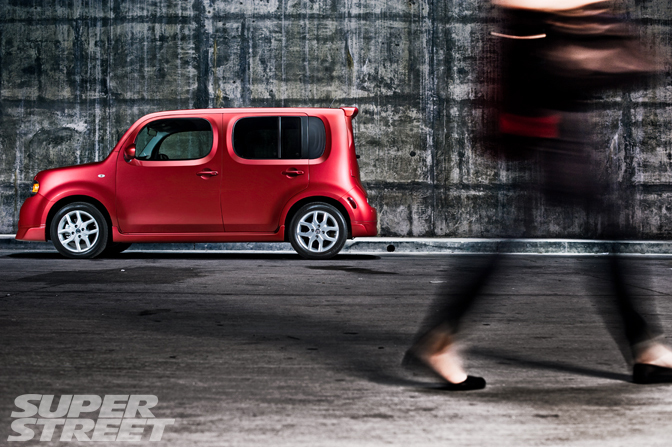 August 4th 2009 – Los Angeles CA
The Nissan Cube is a car you either love or hate. Regardless it's rather difficult to photograph. I spent a night shooting the car for a review article in Super Street and tried to throw together some advertising style elements. Looking back it's full of flaws but at the time I was pleased.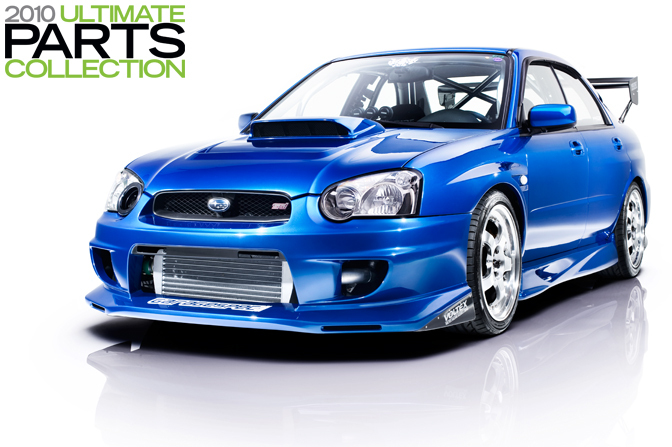 April 9th 2010 – El Segundo CA
Here's a look at one of the cars that made the first issue of Ultimate Parts Collection. I spent four days straight in the studio cranking out shots to make the deadline for the cleanest magazine in our segment. If you haven't already look for it on newsstands!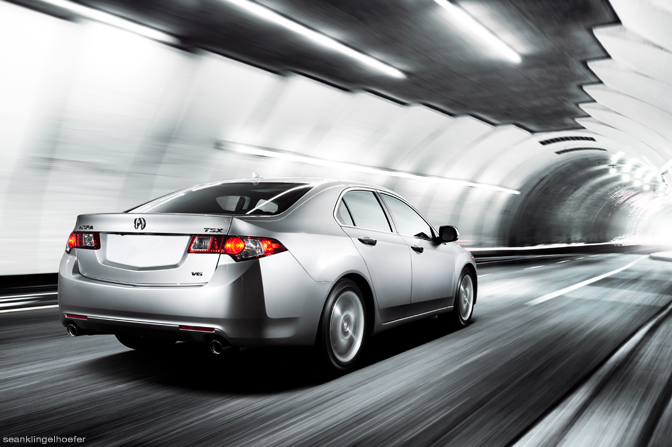 May 3rd 2010 – Los Angeles CA
This is one of my more recent portfolio pieces. Believe it or not the entire image has basically been created digitally. The car and background were shot separately, both static, then rendered in motion (using a software called VirtualRig Studio) and composited together. To see how I did it check out my blog.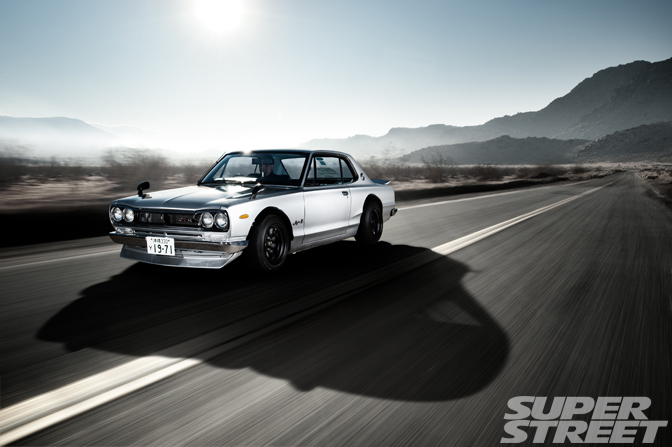 December 5th 2009 – Victorville CA
I met up with a man named Paul in the middle of the California desert to capture one of the best Hakosukas stateside. With an RB25 swap and the right JDM parts this is one sick box. This image marks the first time I put together a realistic "anit-rig" where the motion was captured separately and this is still one of my favorite sets to date.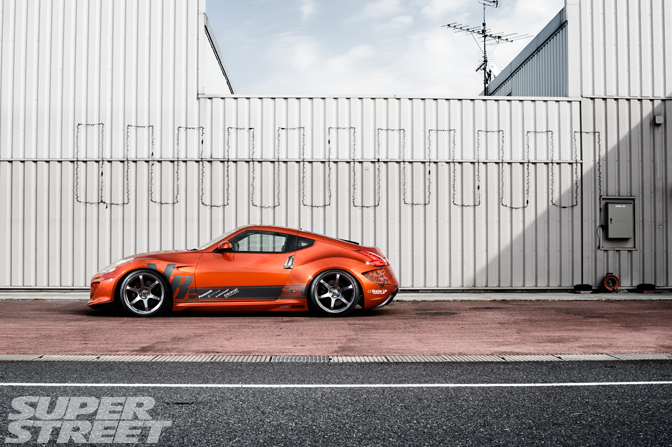 January 17th 2010 – Chiba Japan
Immediately after Tokyo Auto Salon the Tamon Design Z34 made its way to Carrest Makuhari. I did my best to shoot the car outside of a dealership and still try to make it interesting.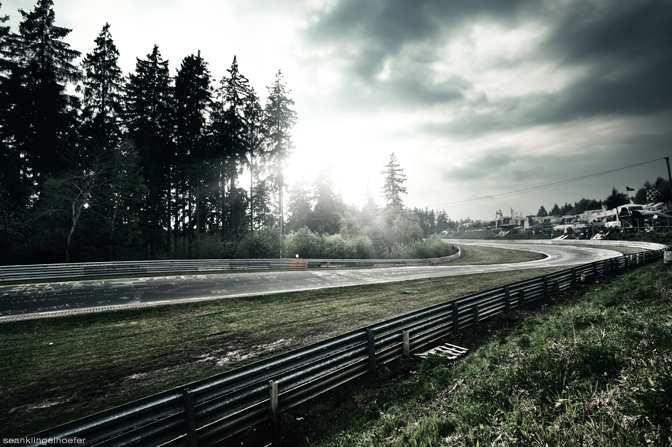 May 15th 2010 – Nürburgring Germany
The longer I stayed at the ring the more infatuated I became with the place. It simply defies words. I ended up being so inspired that I took a series of images at the track with no cars in frame. The series has since been entered into the IPA contest and I hope with a little luck they might place.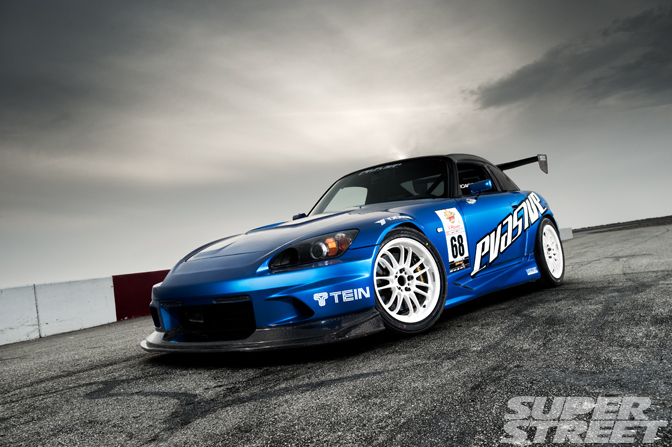 November 11th 2009 – Buttonwillow Raceway CA
Also on display at last year's SLB finals was Ken Chitwood's street FR record holding S2000, which wears the world's first Voltex aero kit for the chassis. I ended up shooting the car for an article I did in Super Street about properly setting up a car for time attack use.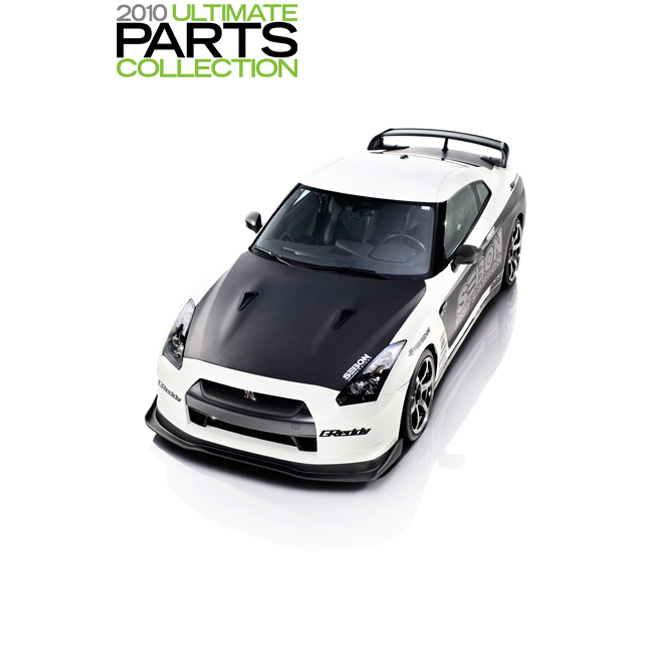 April 14th 2010 – El Segundo CA
There was more that went into making this shot than the end product reveals, namely climbing up 20 feet of sketchy scaffolding and hoping for the best. This shot was originally going to be used on the cover of the UPC but in the end we went with an alternate image I shot. This is a never-before-seen exclusive for you Speedhunters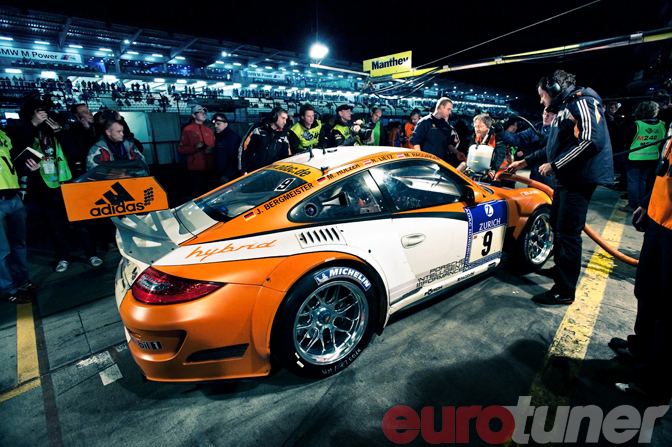 May 15th 2010 – Nürburgring Germany
There's nothing quite like the atmosphere surrounding the hot pits at night. The way the light falls off and the shadows cast I find amazing. It shocks me how many photographers ruin the feel of their pit images by using on camera flash, but thanks to my Nikon D3 and ISO4000 I had absolutely no problem capturing the shots I wanted without artificial lighting.
Anyway I have a habit of quickly turning a blog post into a novel, a trait of a photographer posing as a journalist, so I won't overstay my welcome. I encourage anyone who has questions to feel free to contact me or come up to me at a show or event. After all I'm just a car-nut with a camera, just like you. If you're interested in seeing more of my work be sure to checkout my flickr  and upcoming issues of Super Street. Hope you have enjoyed my work and maybe it will have inspired a few of you to pick up your cameras and start shooting. I can't wait to see what the rest of photography month has in store for us!
Alright I'm out
– Sean Klingelhoefer

Super Street
My Blog
My Flickr