The essence of Time Attack
This last week in Australia has been yet another unforgettable experience, further emphasizing the importance of time attack and all the technology that surrounds it. In the two years since I last made the trip down to the antipodes to cover the 2011 event it was hard not to be impressed by the sheer leaps that participants in this discipline have made.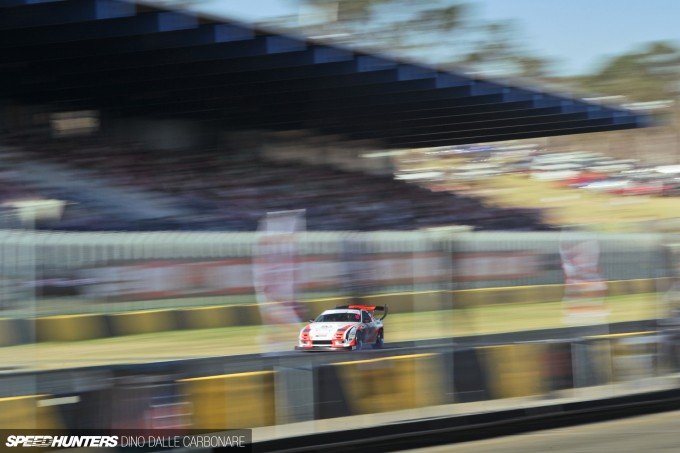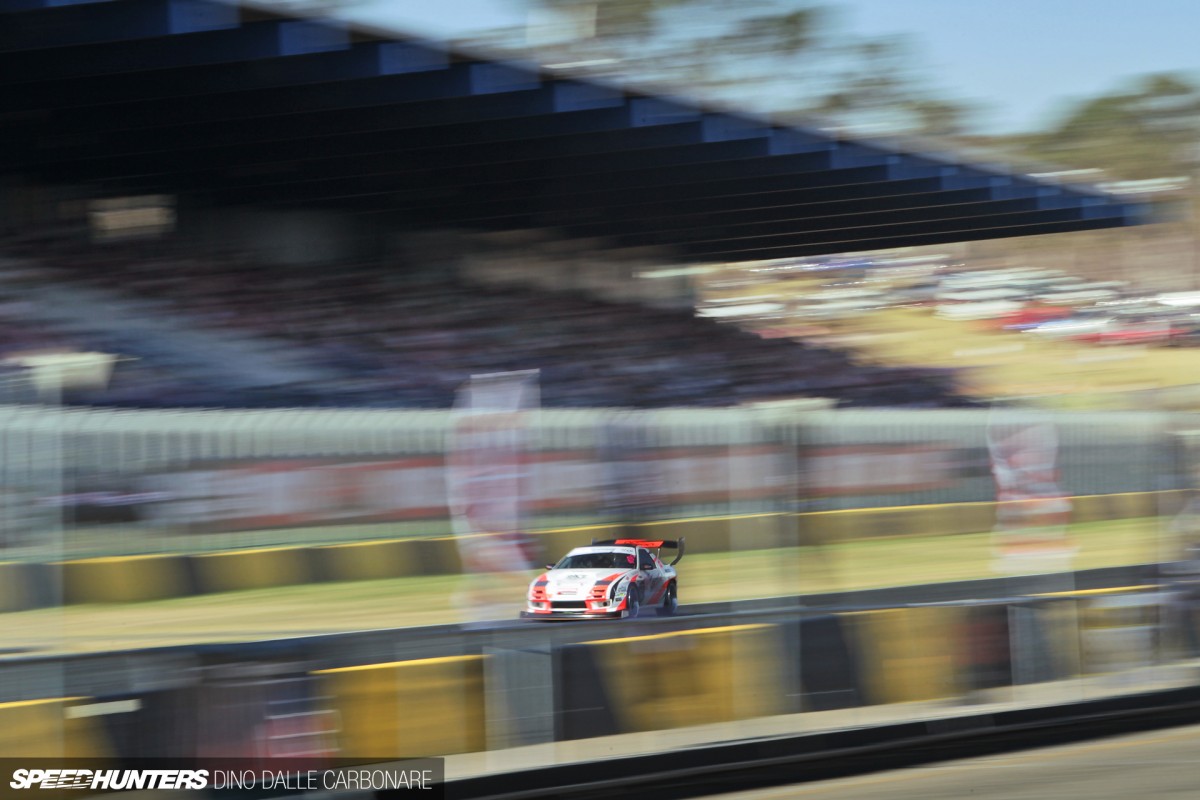 And I'm not talking about the big high-budget corporate-funded teams here, privateers too have shown how dedication can bring results. In fact I was so blown away by what I saw I'll be concentrating on the aero side of things on a separate post…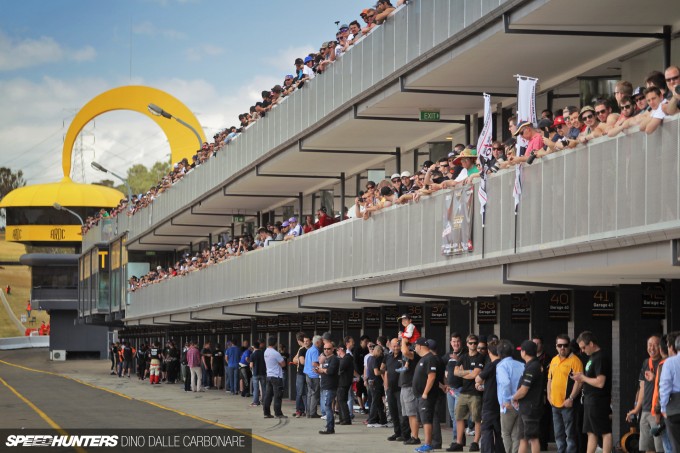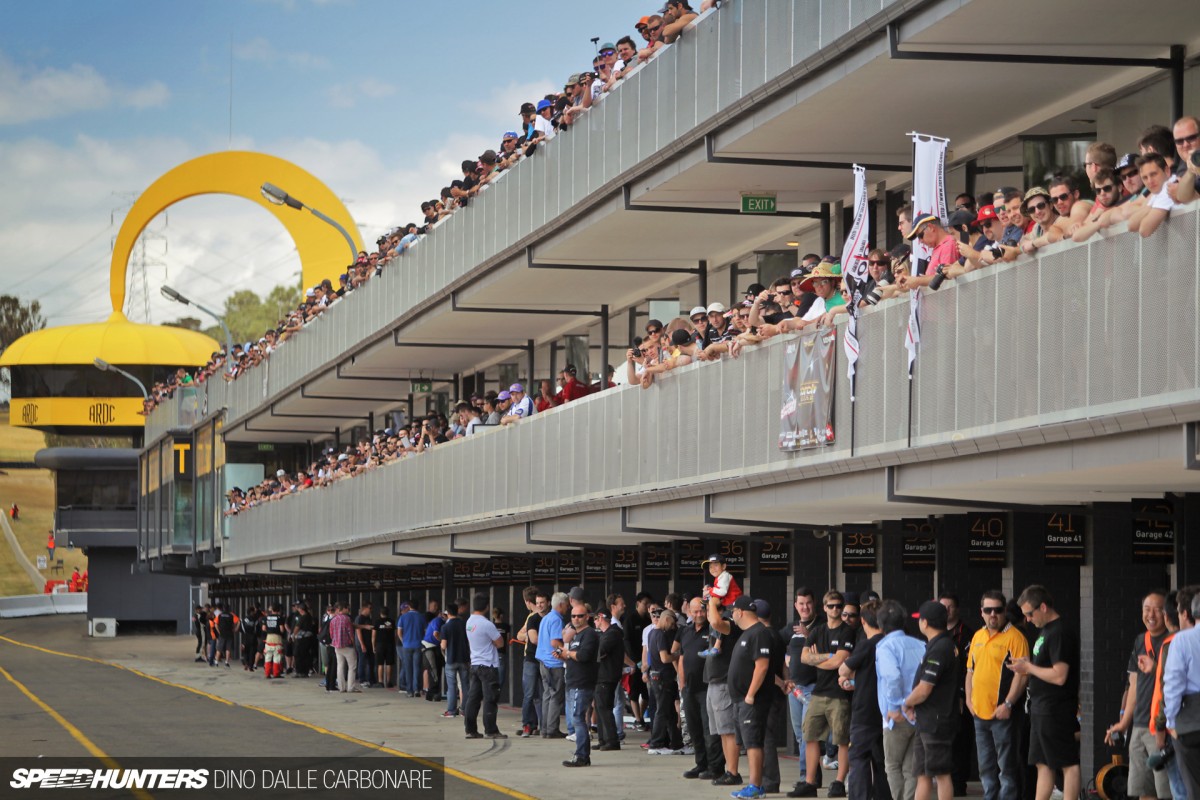 … while I touch on the atmosphere of it all right here. There is no doubting that Australians are among the most car-crazy individuals in the world; despite fighting an ever-growing resistance from the government and authorities that continue to target the aftermarket scene with a purely revenue-generating approach, they just don't give in. This to me is just as commendable as the effort tuners and parts makers over there put into their projects, so big props to all you Aussies! The love for performance, power and speed is what makes WTAC such a great event in the first place and there was evidence of this everywhere, with a ton of people coming out to check out the proceedings, even on the Friday practice.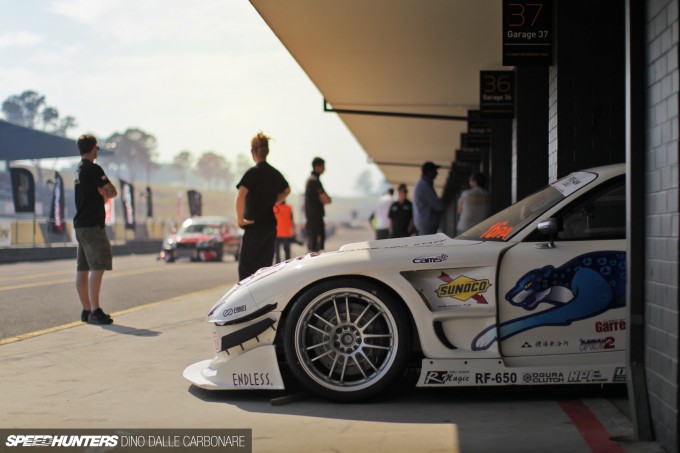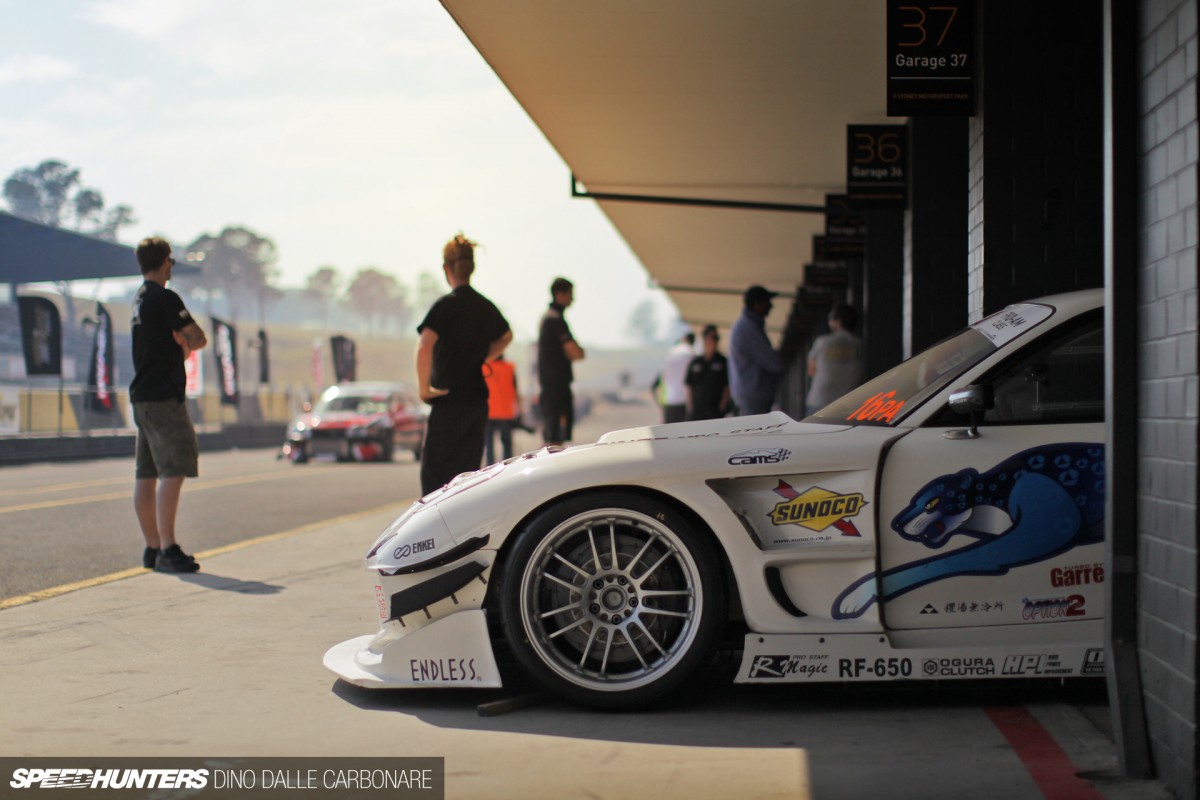 The international aspect continues to be one of the most evident attractions, the friendly competition between the Japanese teams that at the very beginning were at the top, to the new teams that signed up to join in this 2013 event. It was cool seeing the R-Magic/Endless team there with a car not entered in the highly competitive Pro class, but rather in the more easy to associate with Pro Am. This is one car I've seen develop in Japan and it was really cool to see it in action on the other side of the globe with Shimaya-san at the wheel. They finished in fifth position in their class (19th overall) with a 1:33.555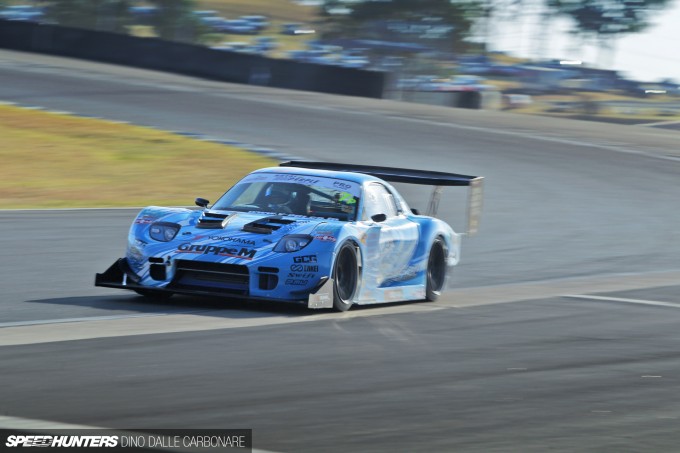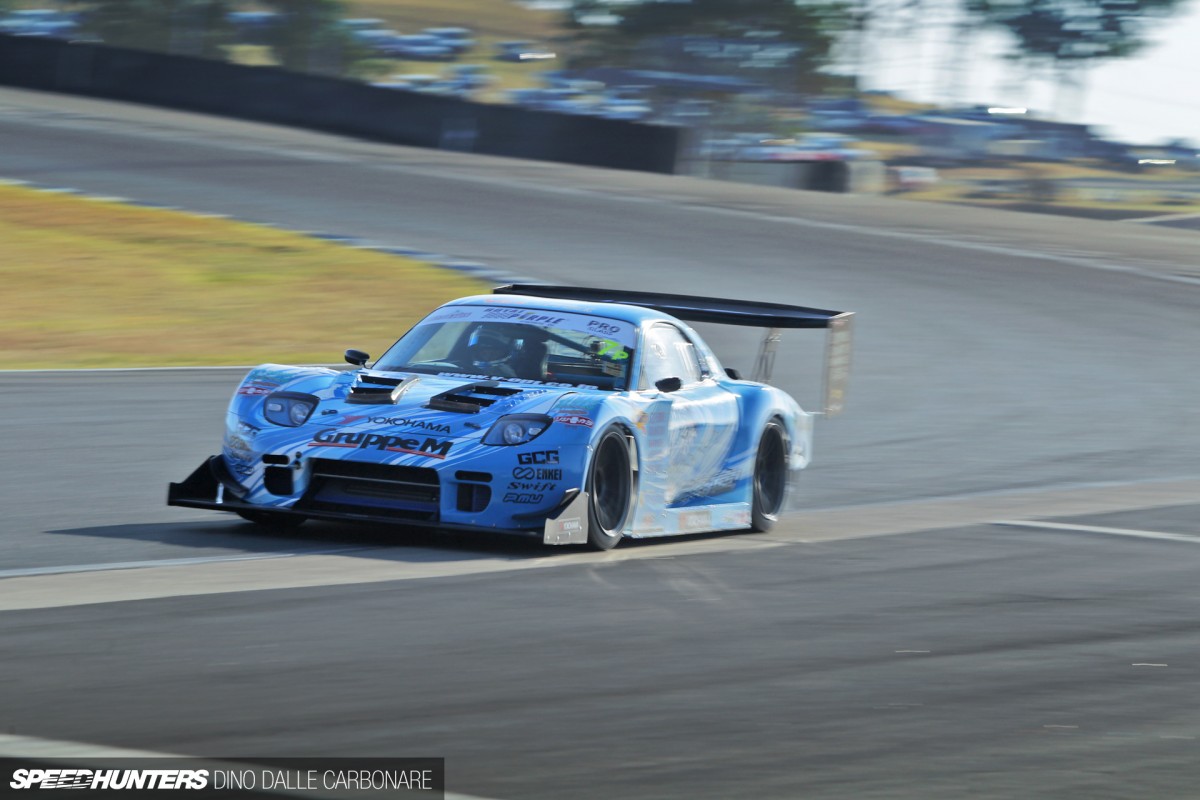 Another rotary from Japan was Team RE-Amemiya with all-round race car legend himself, Nobuteru Taniguchi, at the wheel. Like a lot of other teams this year they were plagued with issues from the very start of the event following an engine problem in Fuji Speedway days before the car was shipped off to Sydney. Still, they did the best they could and Nob extracted a 1:29.867 out of it, good enough for a sixth place finish. Plus I have to add that this is one of the most unique sounding rotaries I've heard – pretty wild to see it out in action.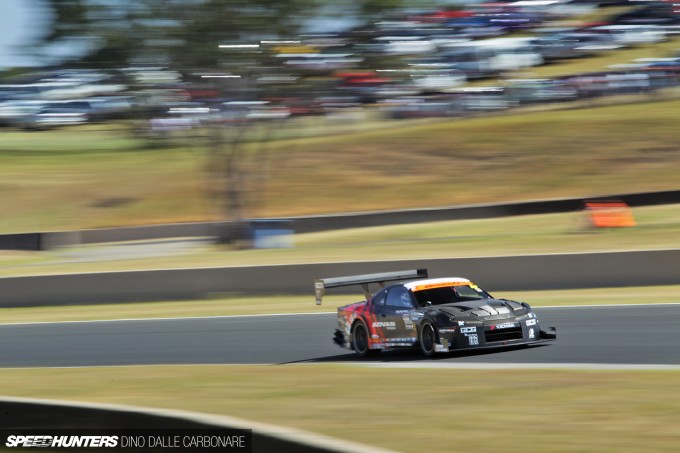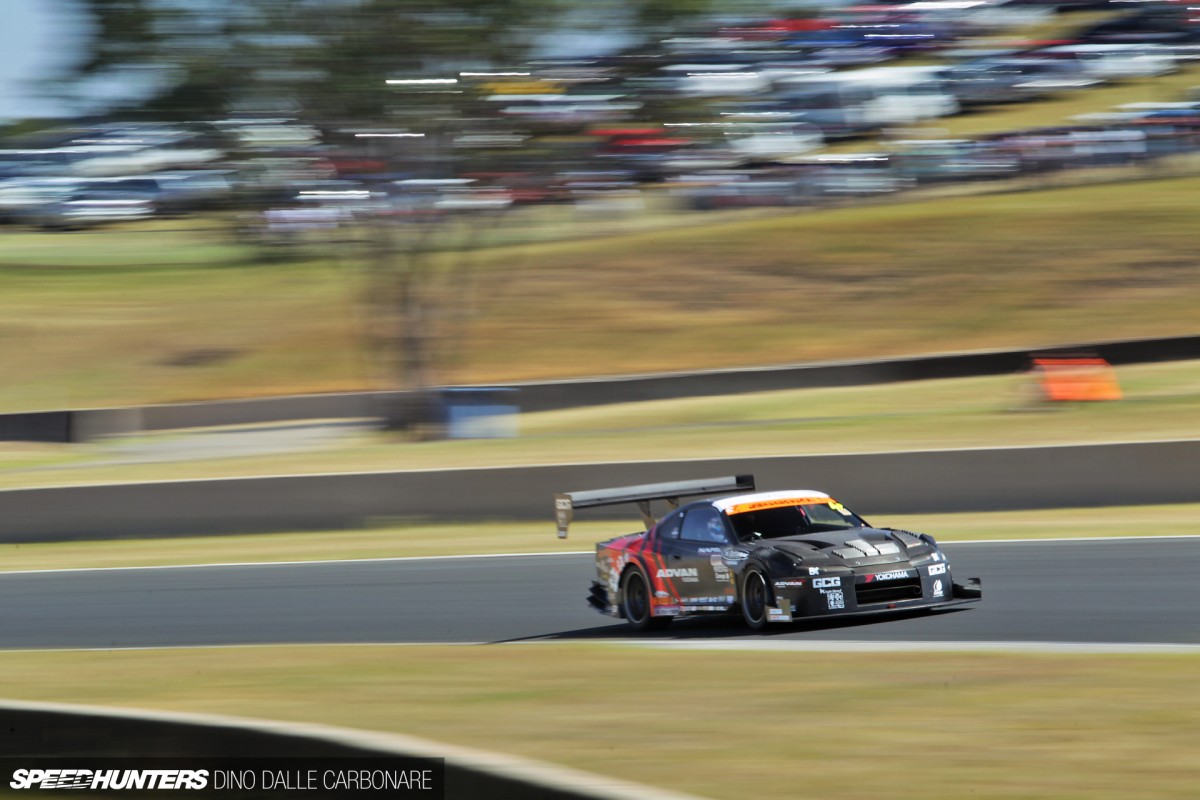 It would be hard to mention the other Japanese teams without touching on Suzuki-san and his S15. His 1:27.958 might have been three seconds from the top time set by the Tilton Interiors Evo, but he managed to improve on his 2012 time…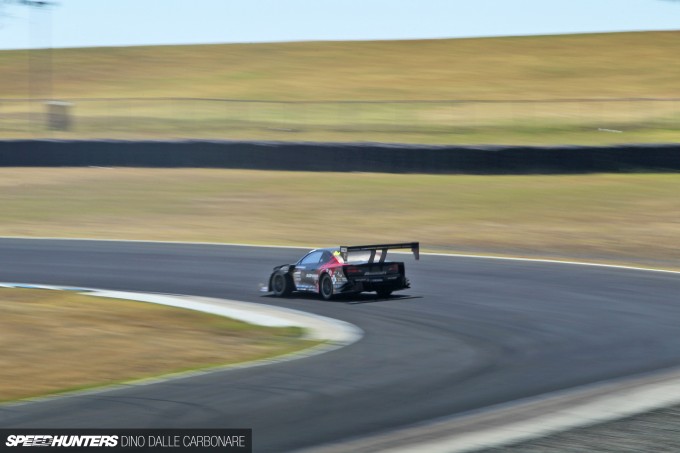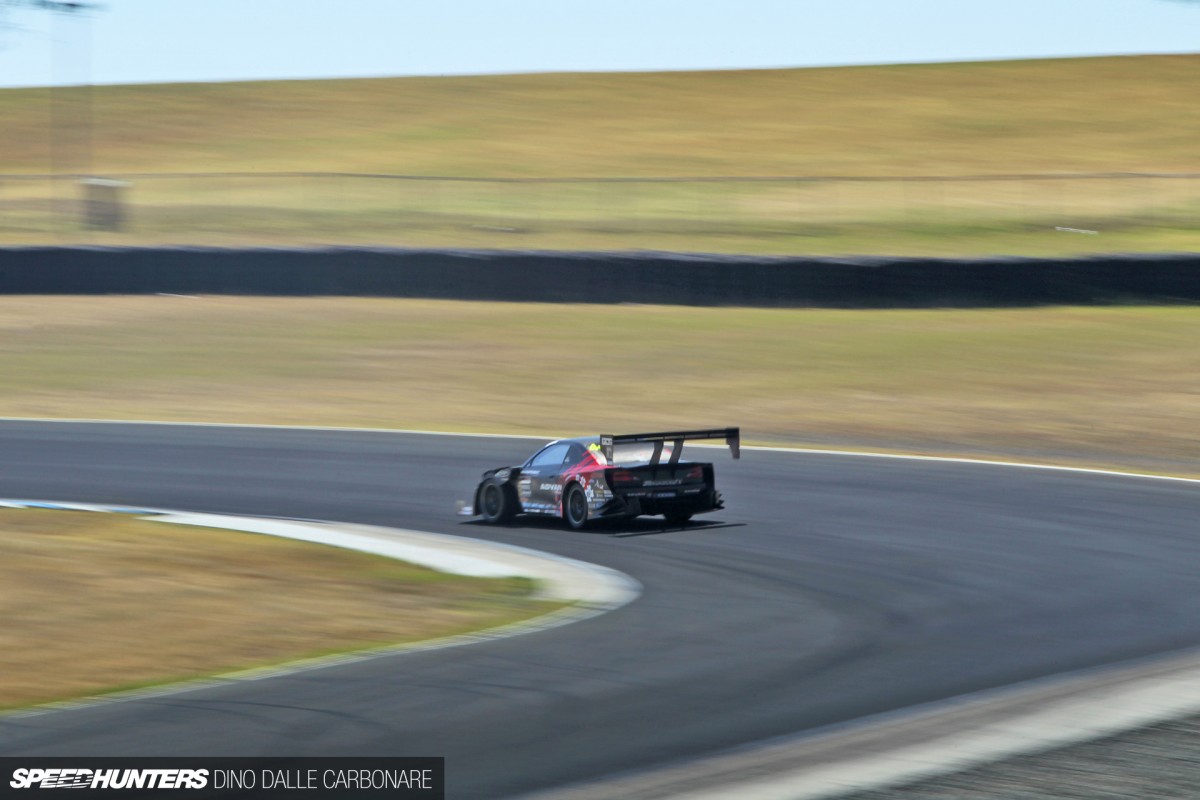 … so he was happy with his fourth place finish. He and the Scorch Racing guys were exhausted by the end of it all but they're now back in Japan with a smile on their faces ready to challenge the 2013-2014 Japanese time attack season. We will be seeing them all in December at the Rev Speed Super Battle.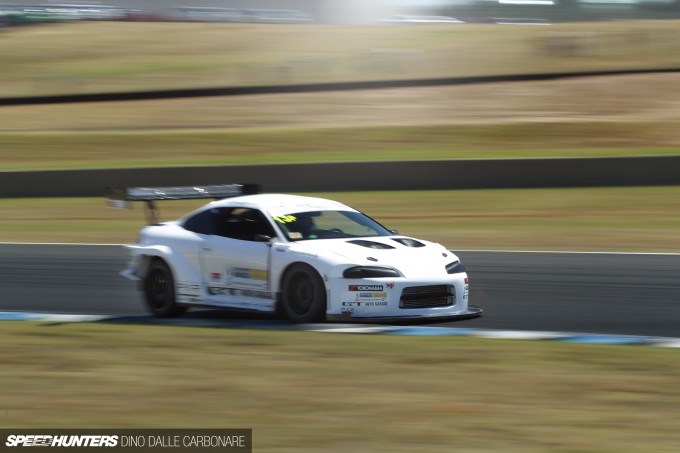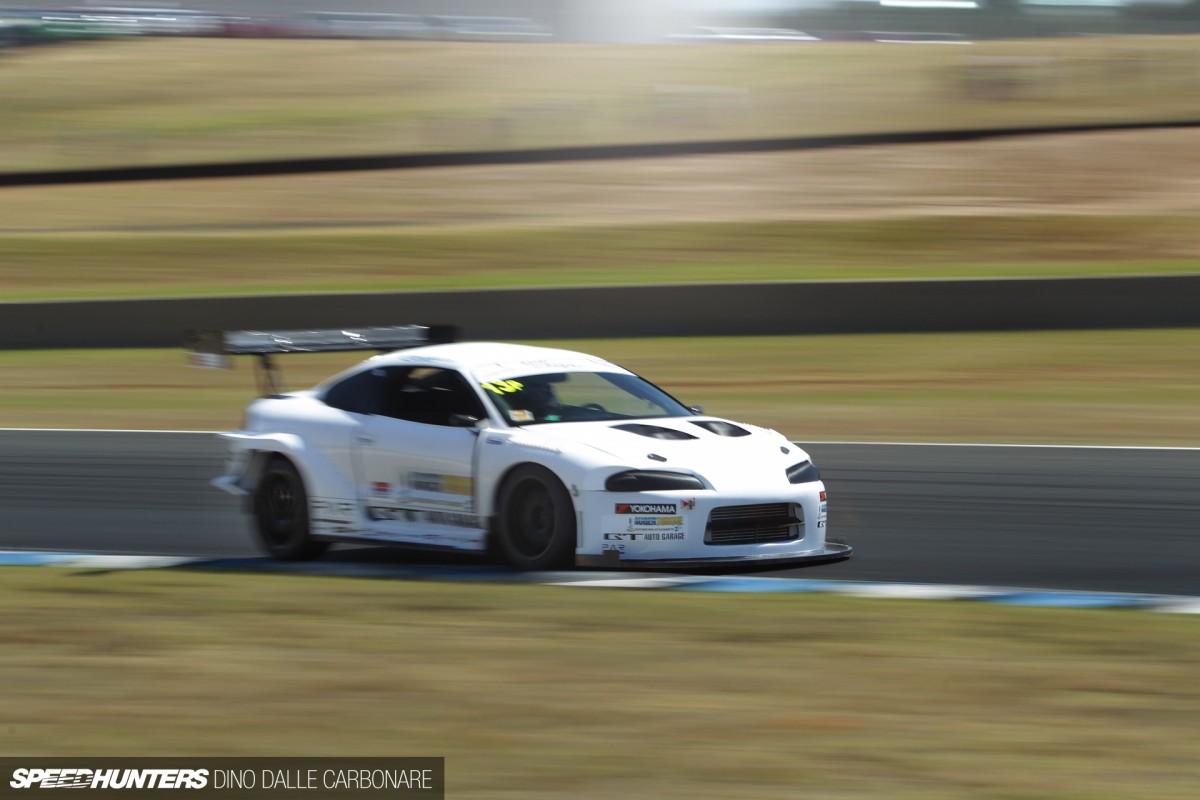 After having talked so many times with Andrew Brilliant about his Eclipse project over the years it was really cool to see the car up close. I even got to stand on the carbon front splitter along with another guy, just to get a demonstration of how much stress proper aero can sustain. Despite issues with dampers and driveline niggles, the GT Autogarage/AMB Aero Eclipse managed to head out for a few timed sessions but the team are set on continuing development on the car ready to hit next year's event.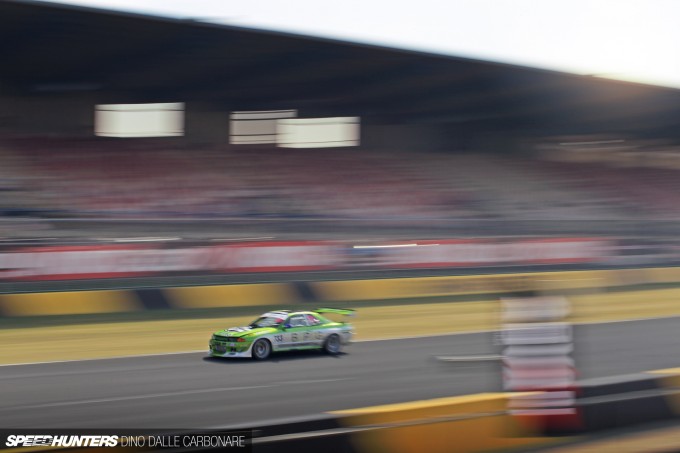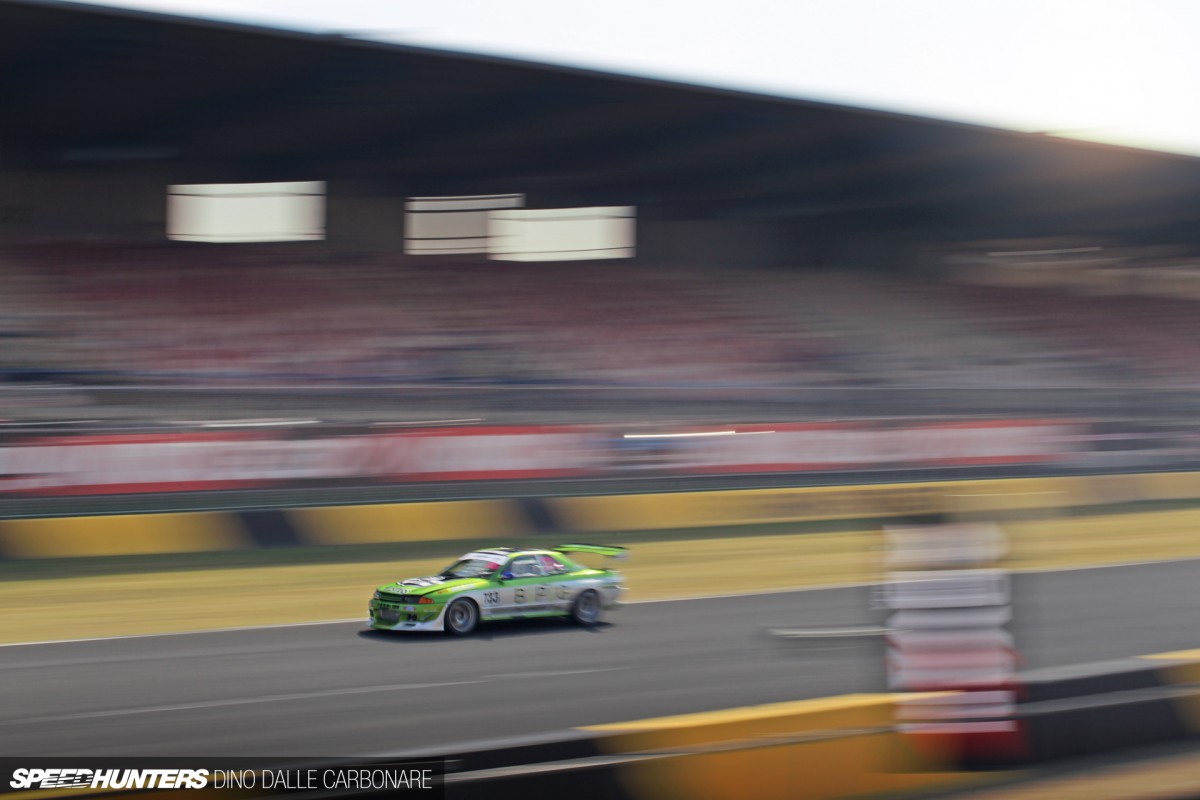 It was of course the Australian teams that really set the pace however.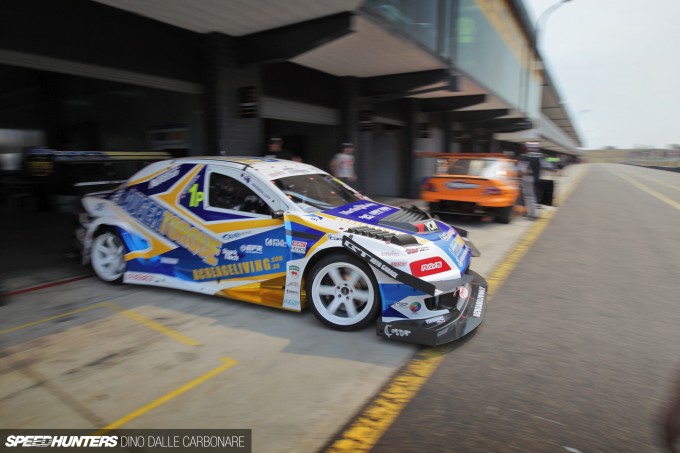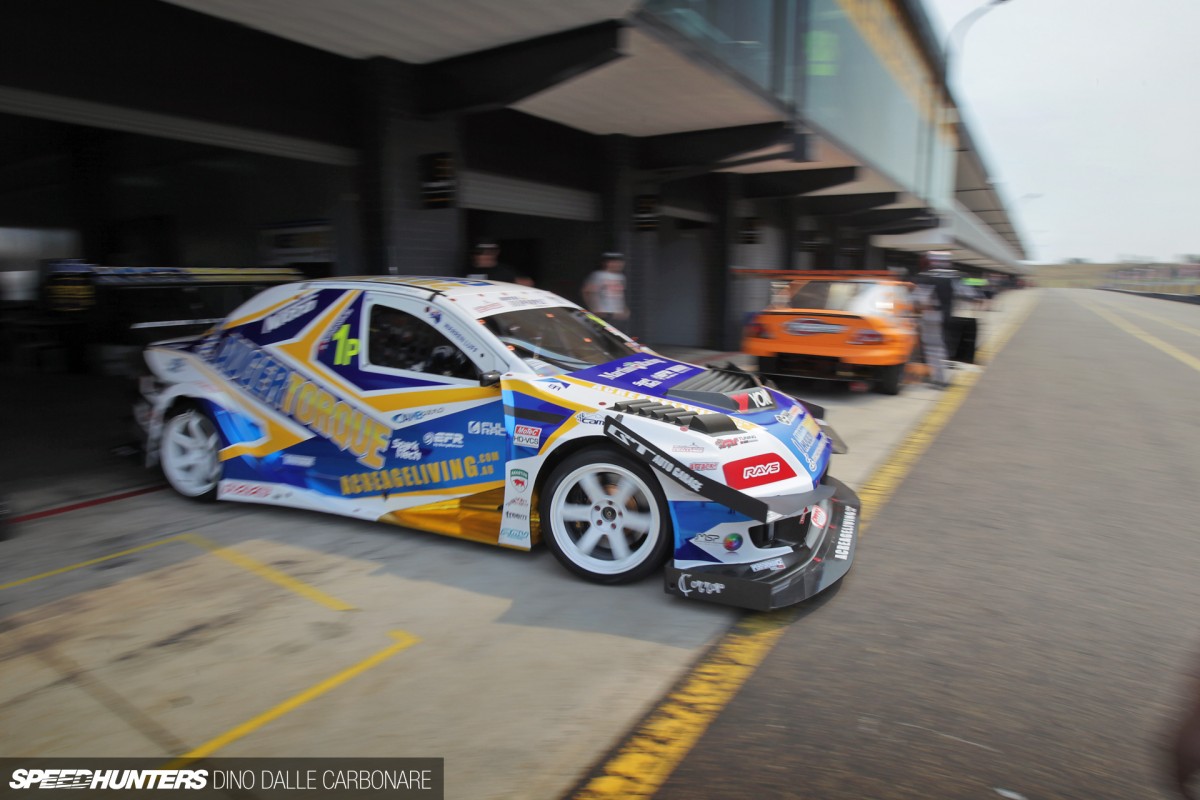 Everyone was ready to see Nemo prove itself but it was just not going to be. With recurring engine issues…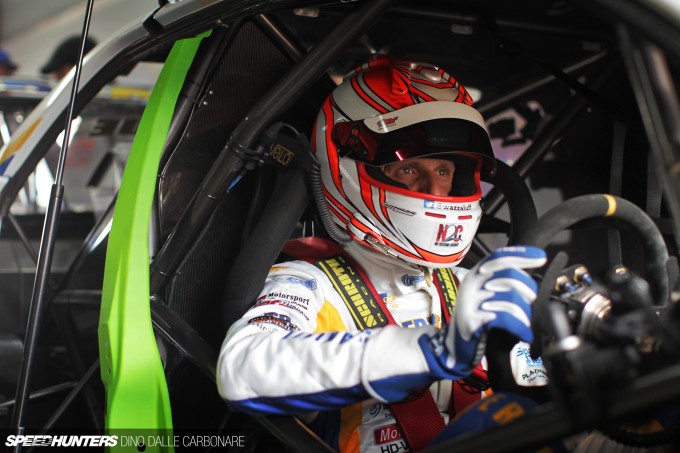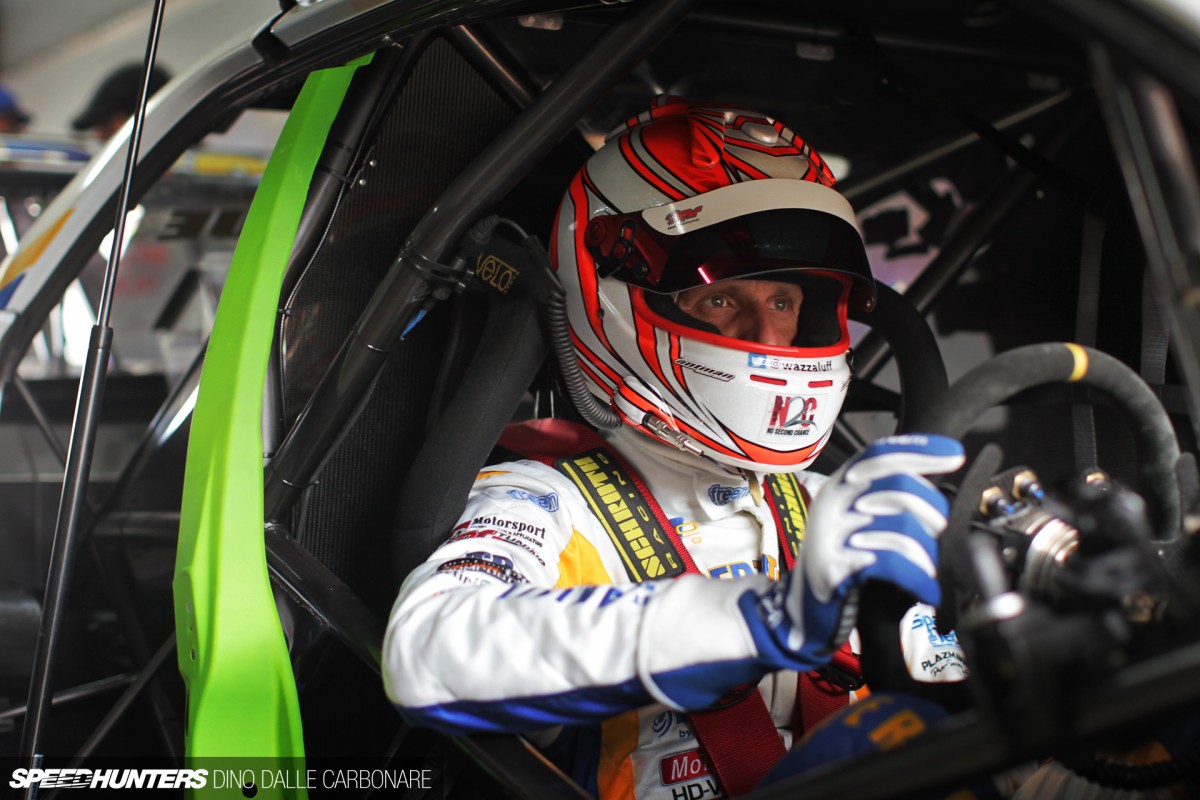 … Warren Luff and the team never had a chance to head out and show what that wild aero package and powerful engine combination is really capable of. Despite the fact that nobody really knows if we will ever see this car run again, we will be able to show you an in depth feature of it, so make sure you stay tuned for that. For 2013, a third place finish in the Pro class is what Nemo had to settle for.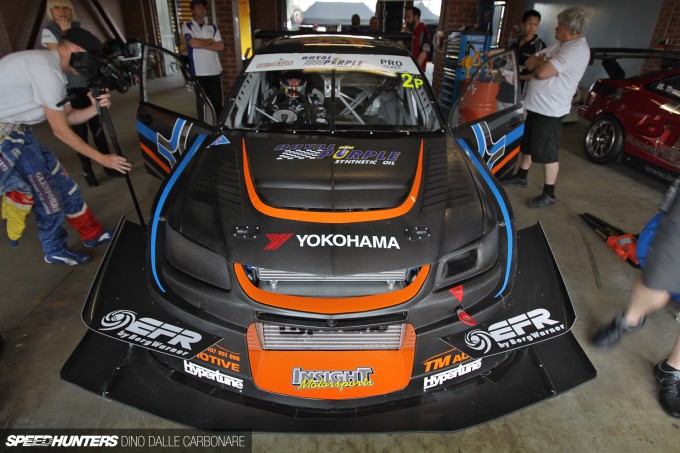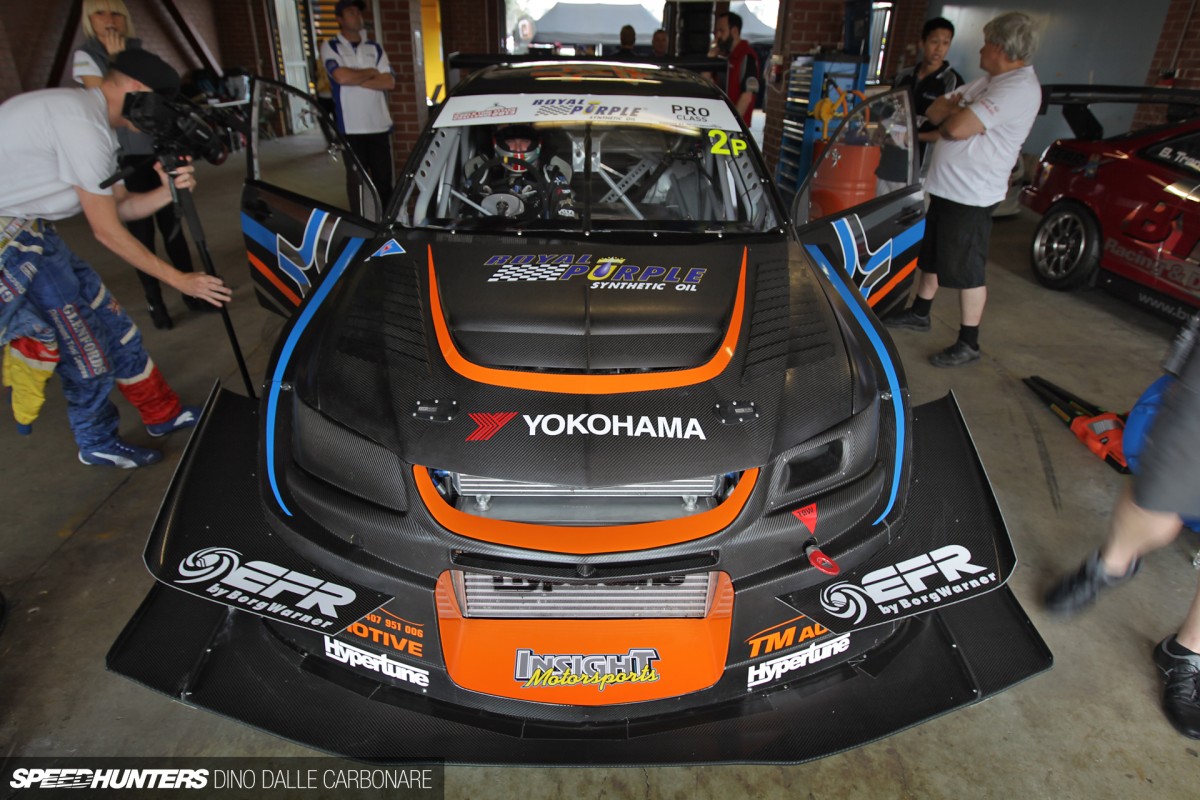 The Tilton Evo, with its new Voltex developed aero, was the car to beat at this year's event, its 1:24.855 pushing that envelope by a few tenths compared to the time set by Nemo last year.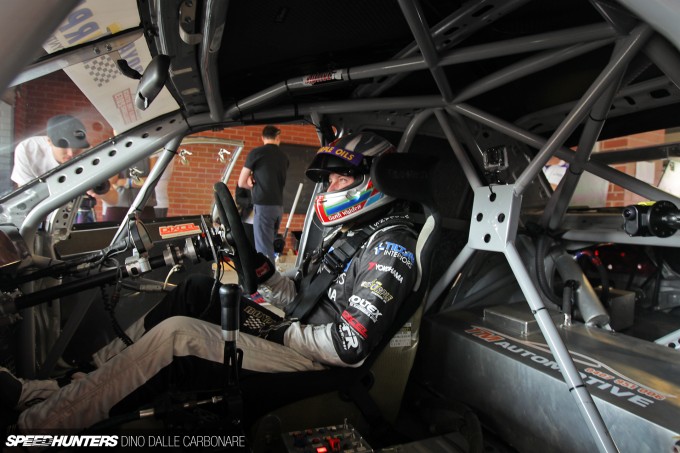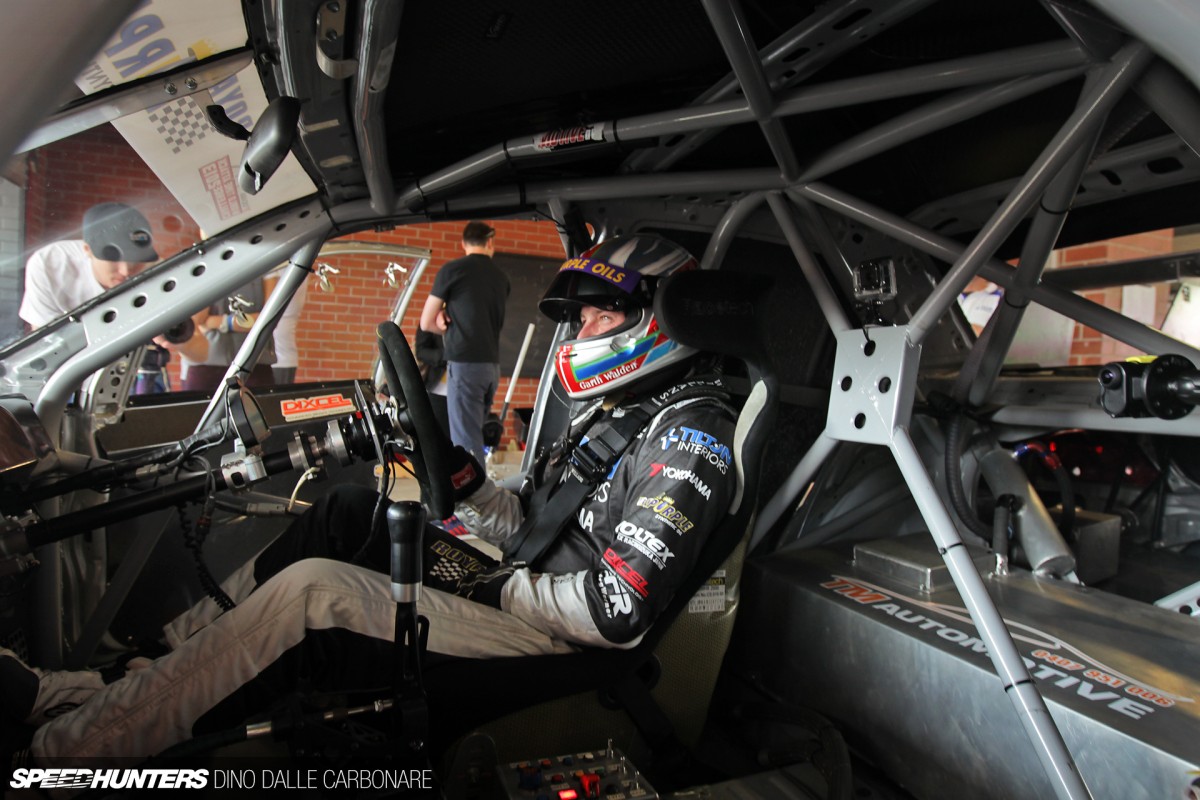 There are rumors that Gareth Walden and the team will be participating at the Rev Speed Super Battle in a few months at Tsukuba, challenging Suzuki's record time. One to check out for sure!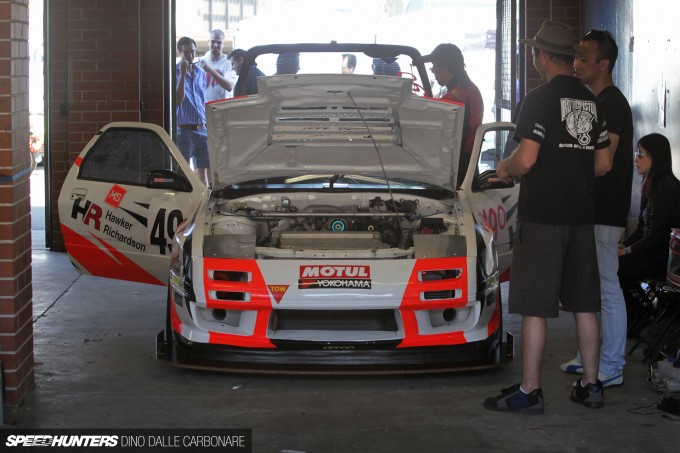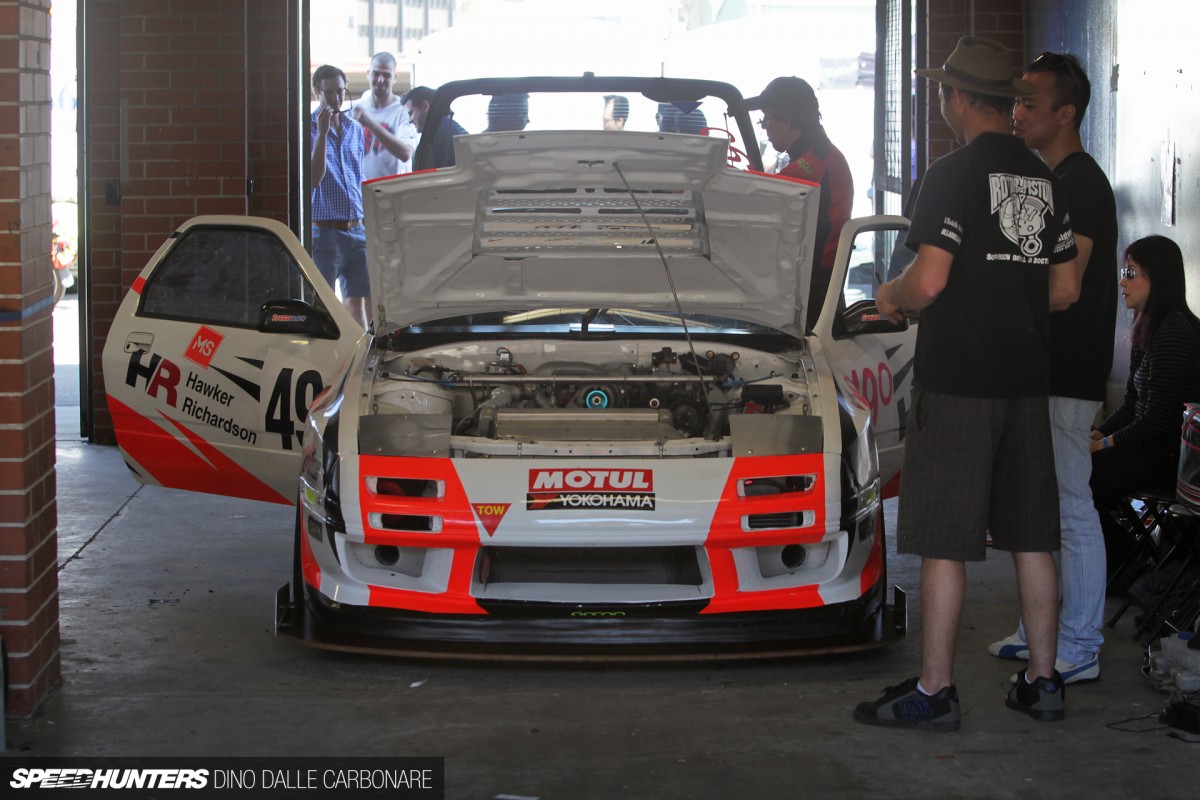 I spent a great deal of time in the pits taking a look at the fresh crop of cars…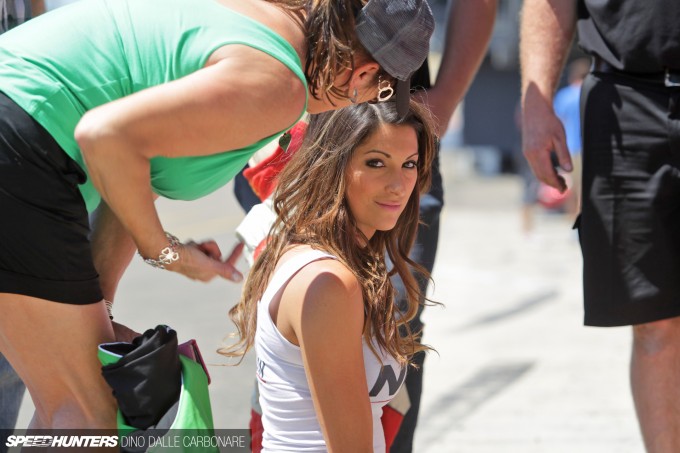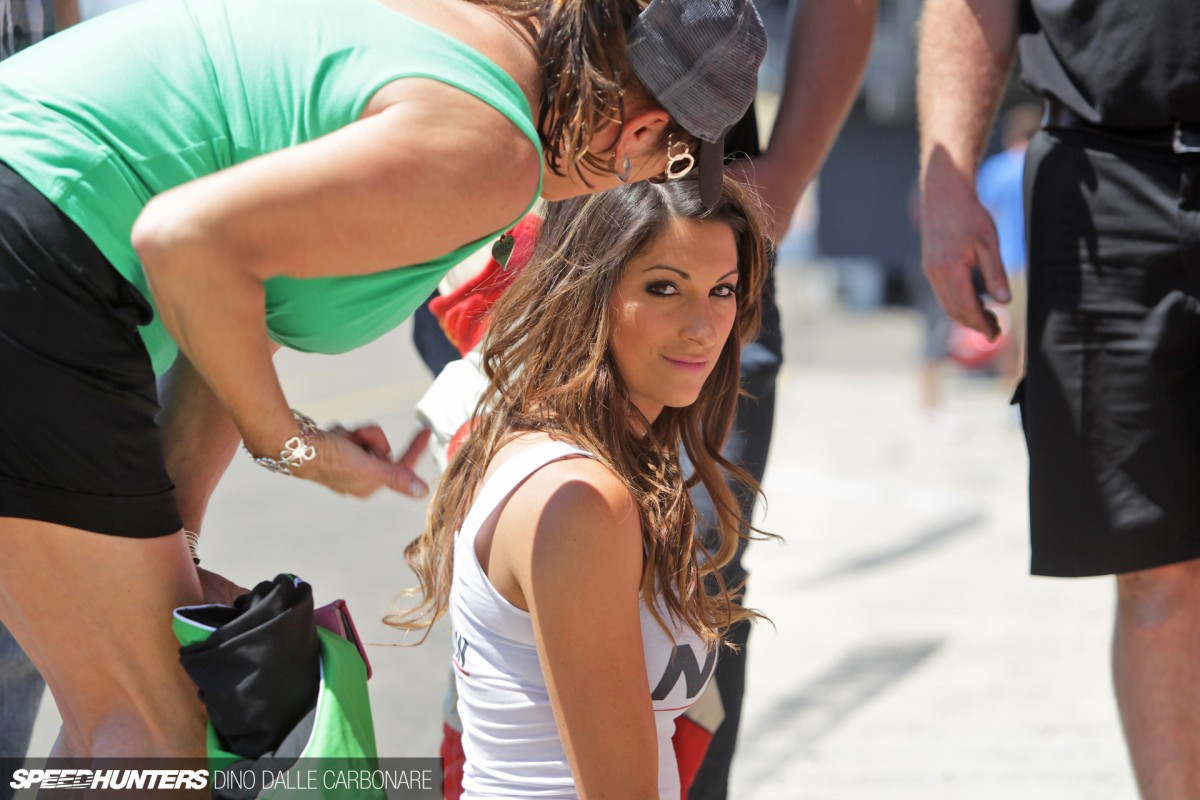 … and drivers, which this year included a couple of ladies like Hayley Swanson who piloted the BPG Racing FD3S posting a best time of 1:47.308 in the Open Class.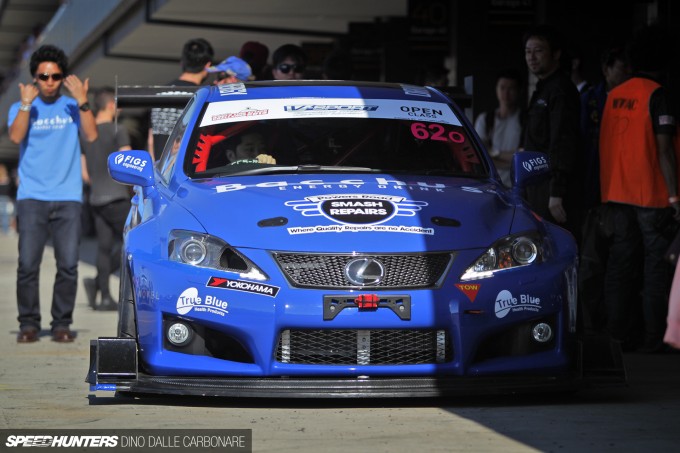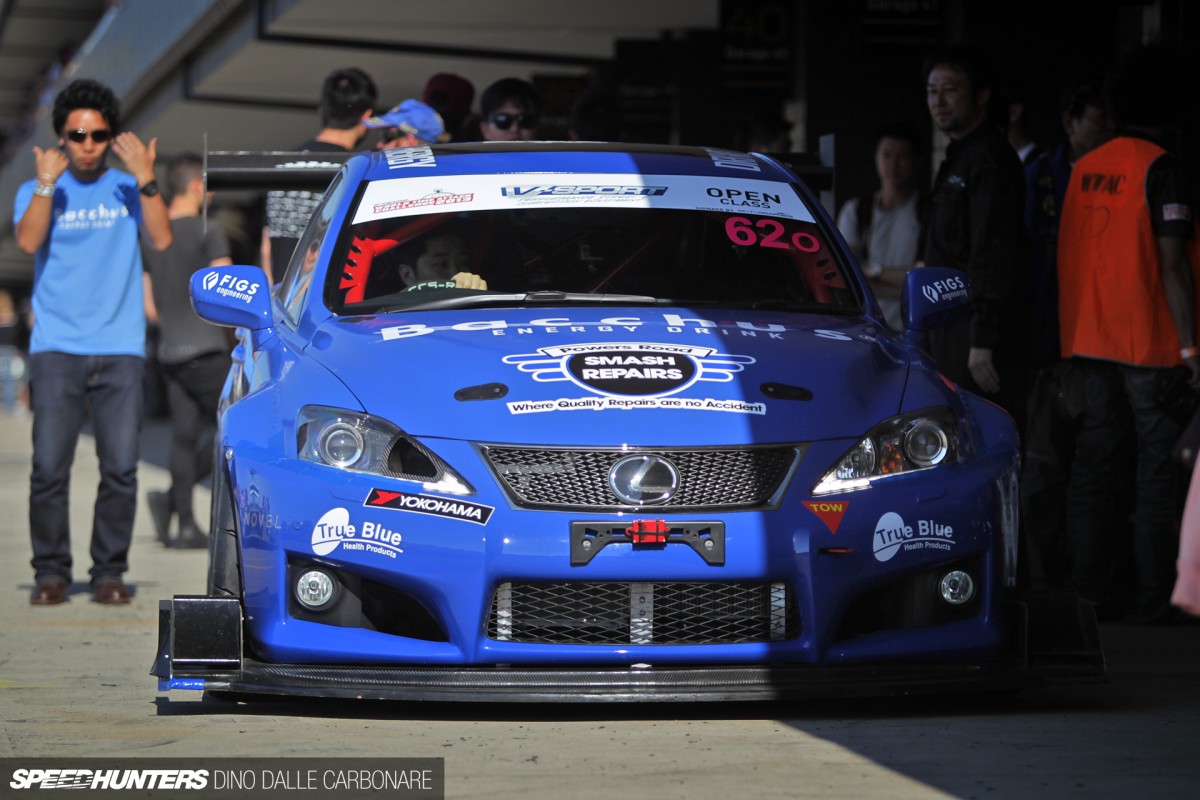 Nob Taniguchi was also in charge of driving the Bachuss Energy Drink ISF, a bad ass interpretation of the V8-powered Lexus and one that was built in collaboration with Japanese ISF specialist Novel. 1:38.056 was Nob's best time.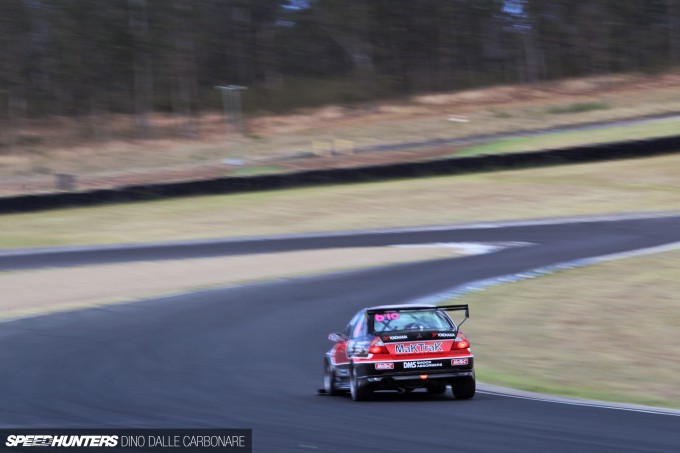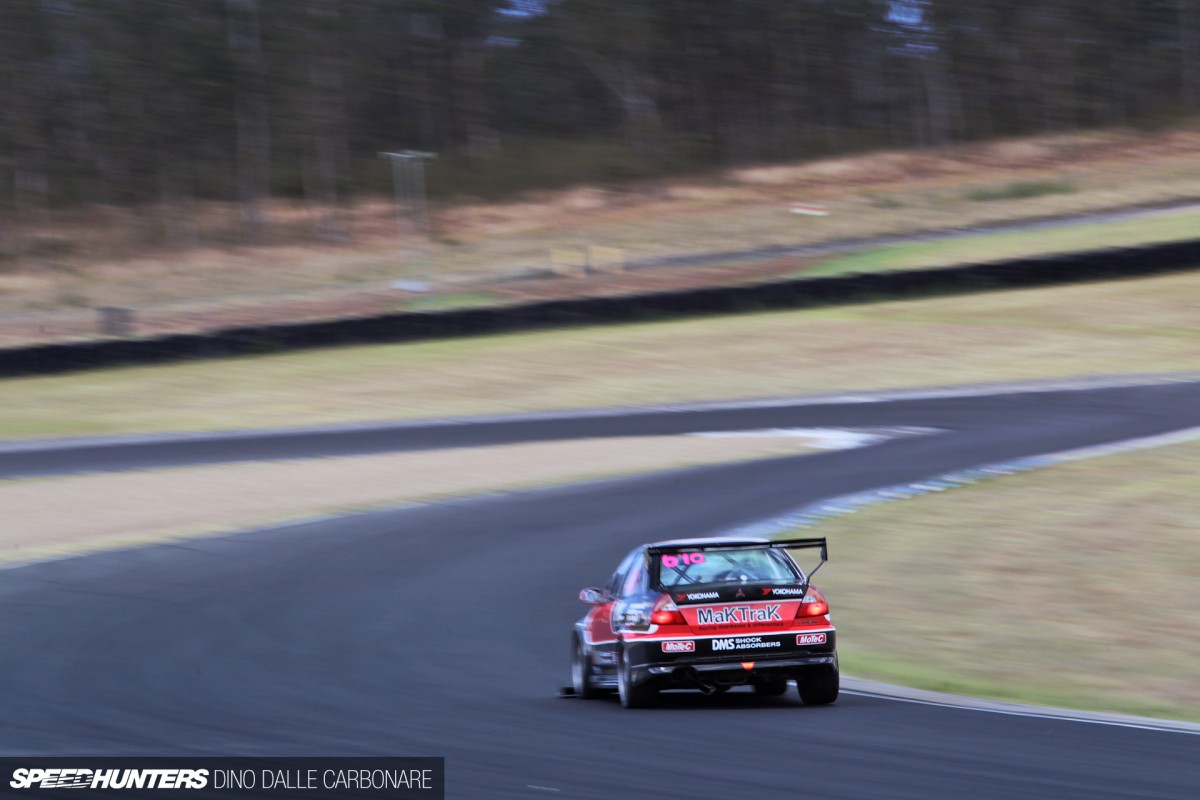 When chasing hot lap times, an all-wheel drive drivetrain…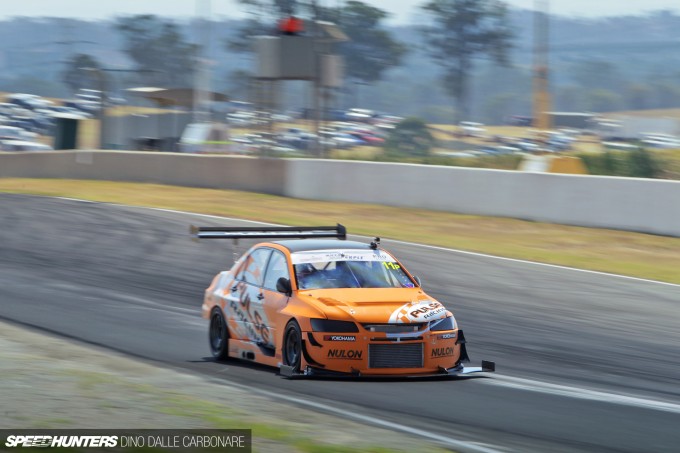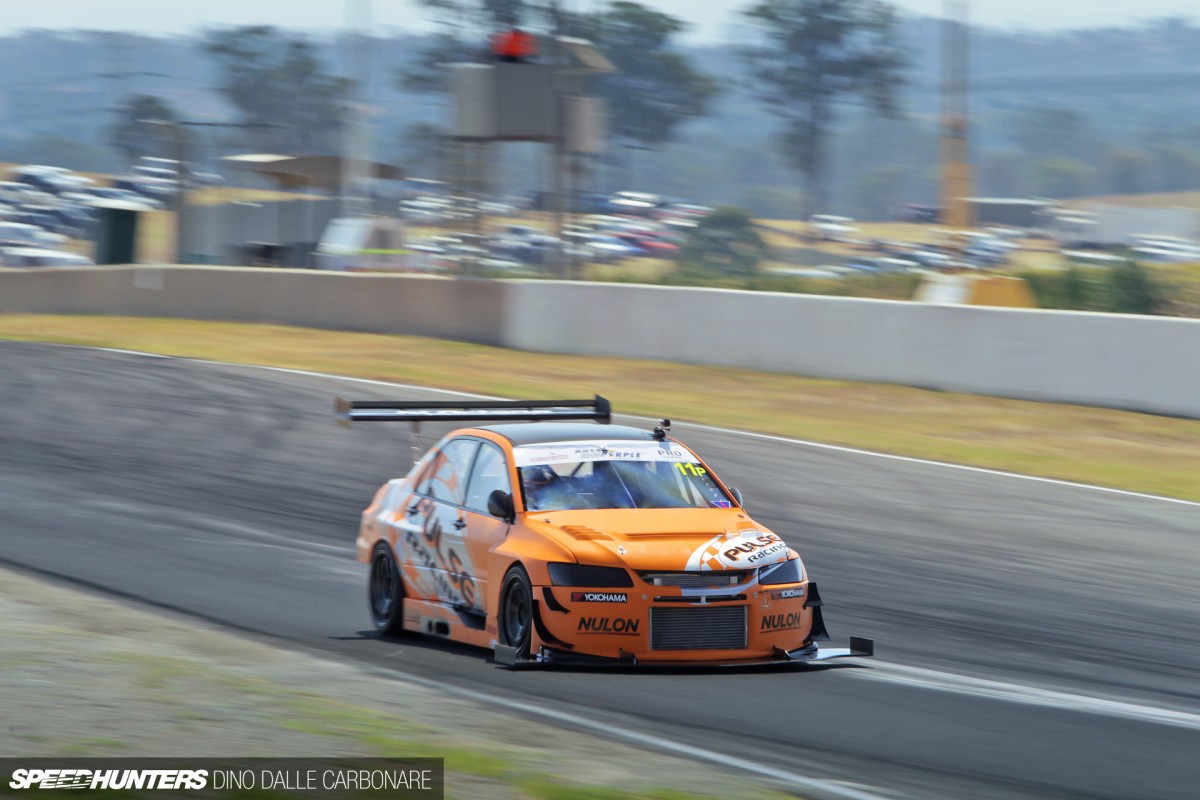 … big aero and plenty of power is an unstoppable combination, as is shown here by tenth place finisher, the Pulse Evo (1:30.875)…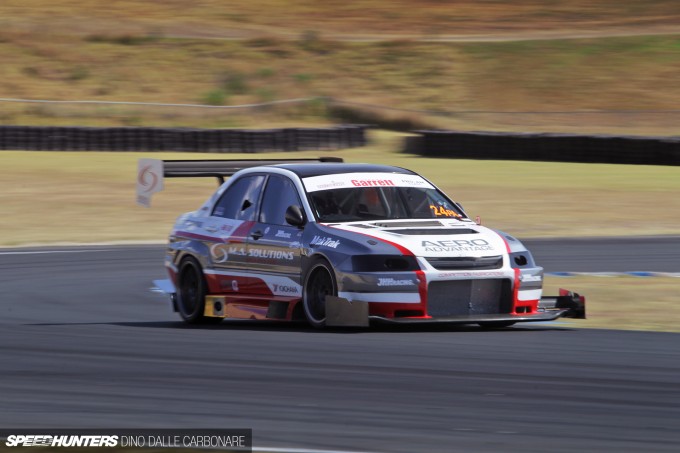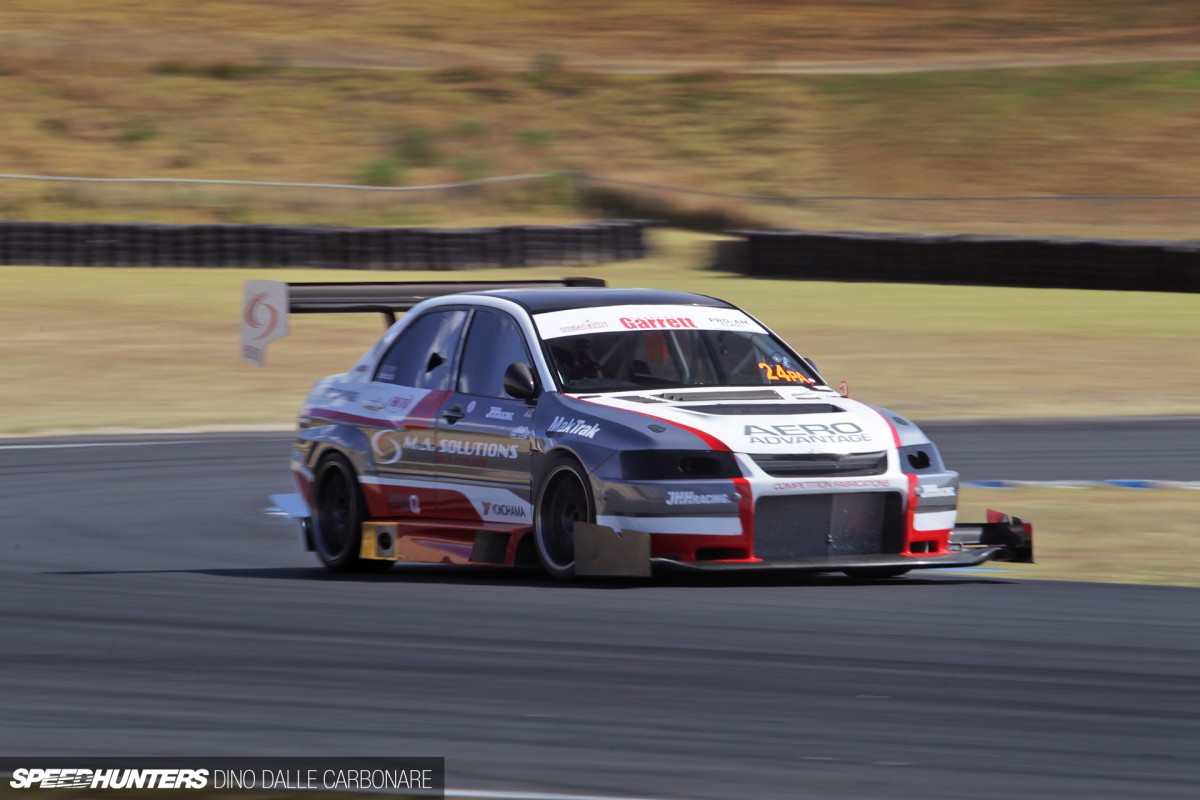 … and the Precision Maintenance Evo 8 which won the Pro Am class with a 1:30.957.
Think outside the box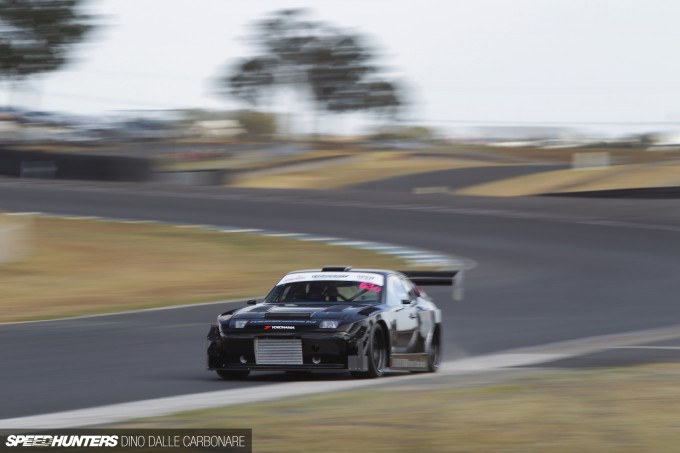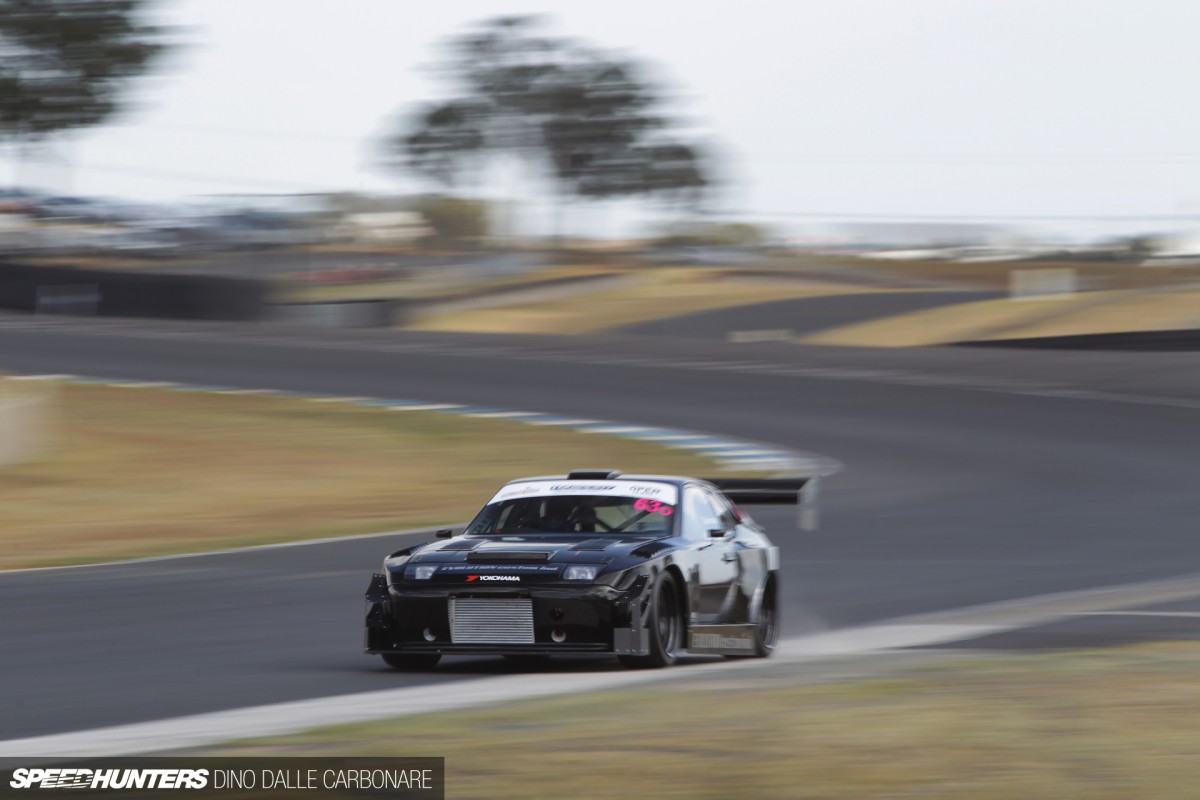 But by far the coolest aspect of this year's WTAC was the 'outside the box' approach that really put a smile on my face. One that stood out was this mean Porsche 944 from Evolution Industries…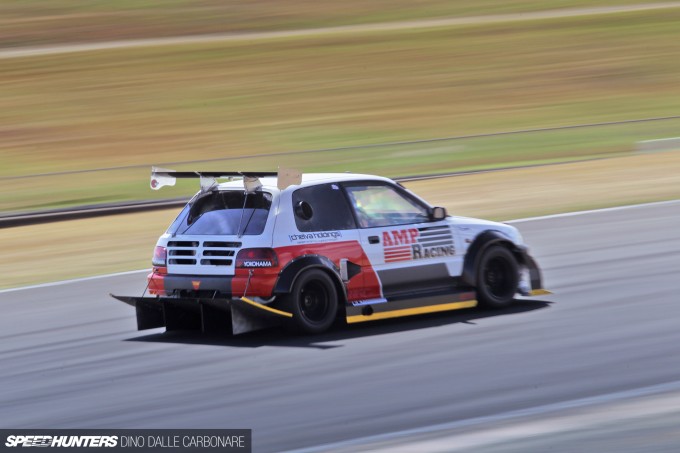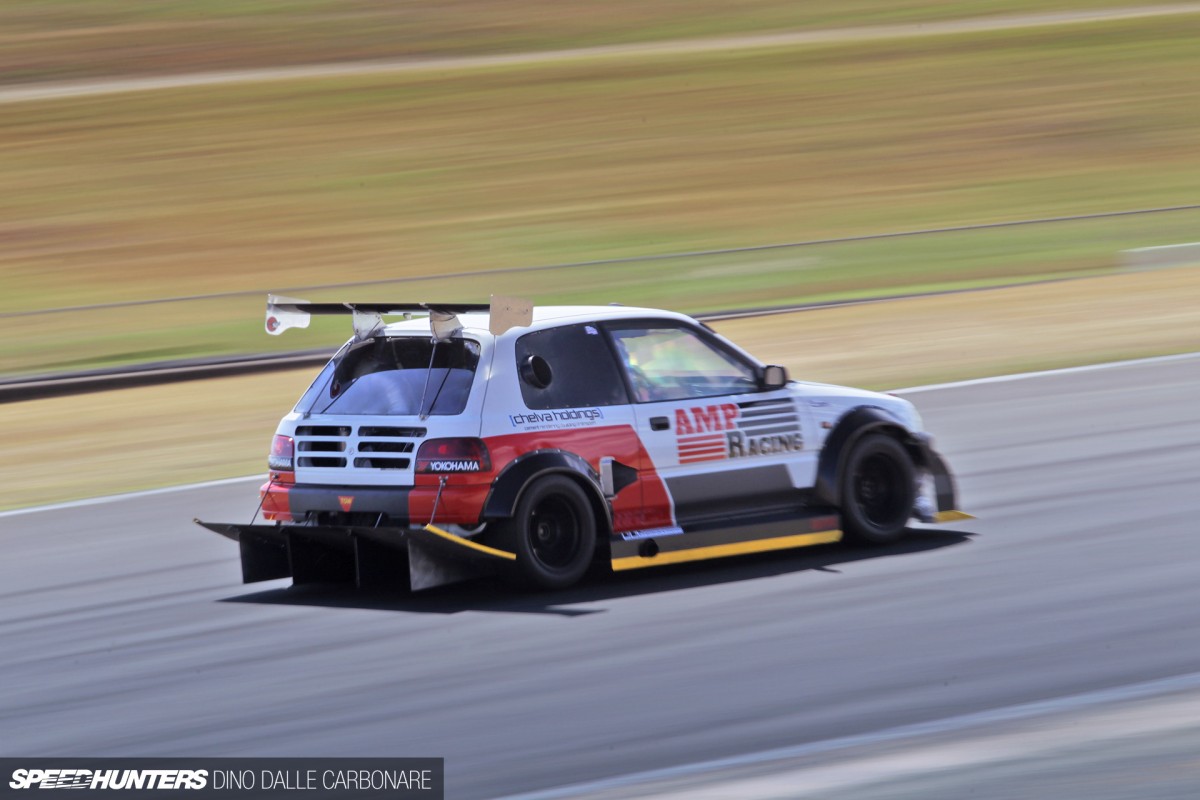 … and this little Daihatsu Charade. Brad and I shot both cars so I won't give away too much info on them quite yet – you will have to wait for their respective feature to find out more.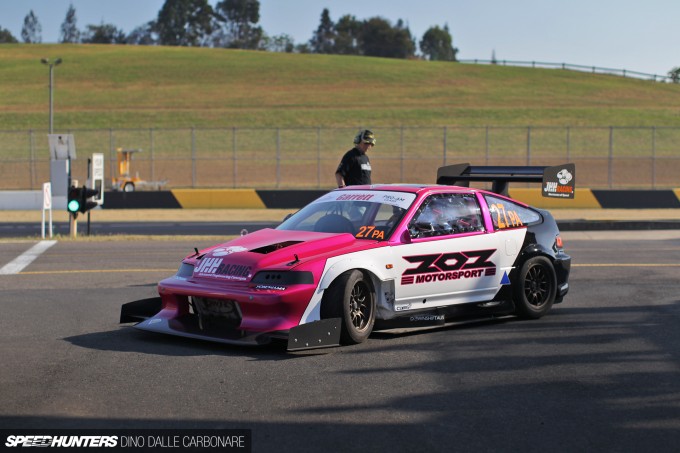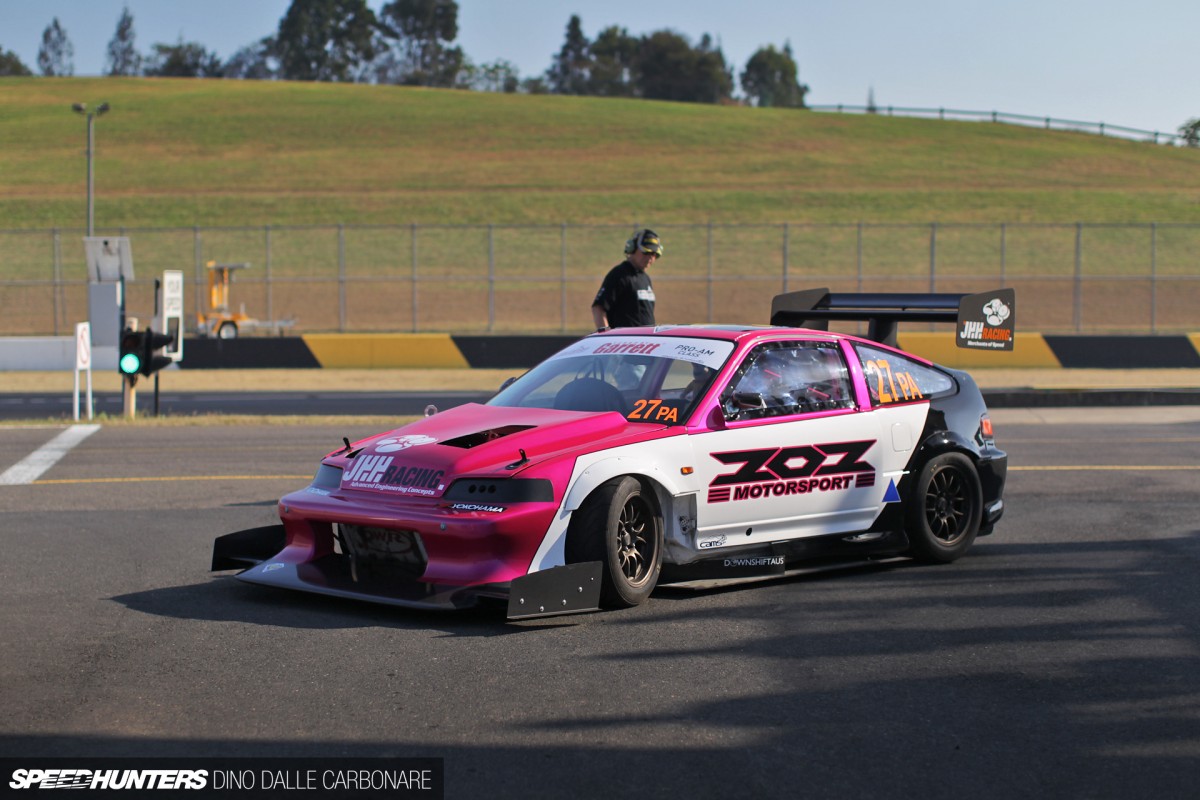 If you are an avid Speedhunters reader, then you will remember reading Brad's feature on the Mighty Mouse CR-X. It was cool seeing this blisteringly quick (1:34.165) little Honda in action and I'd really like to see it lap Tsukuba, maybe challenge Oii's FF record time that his set in the 5Zigen DC5.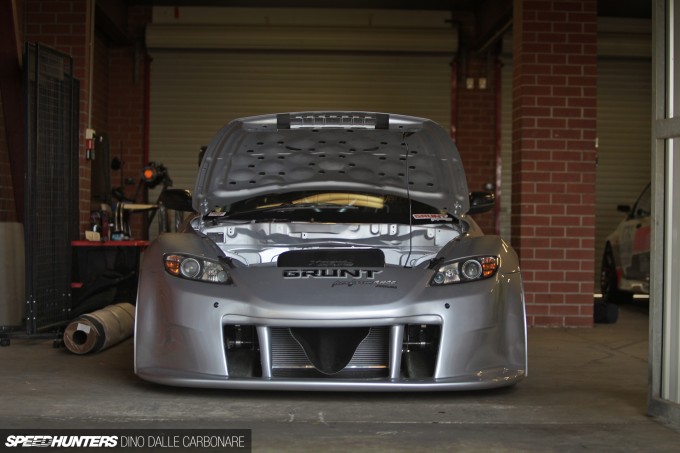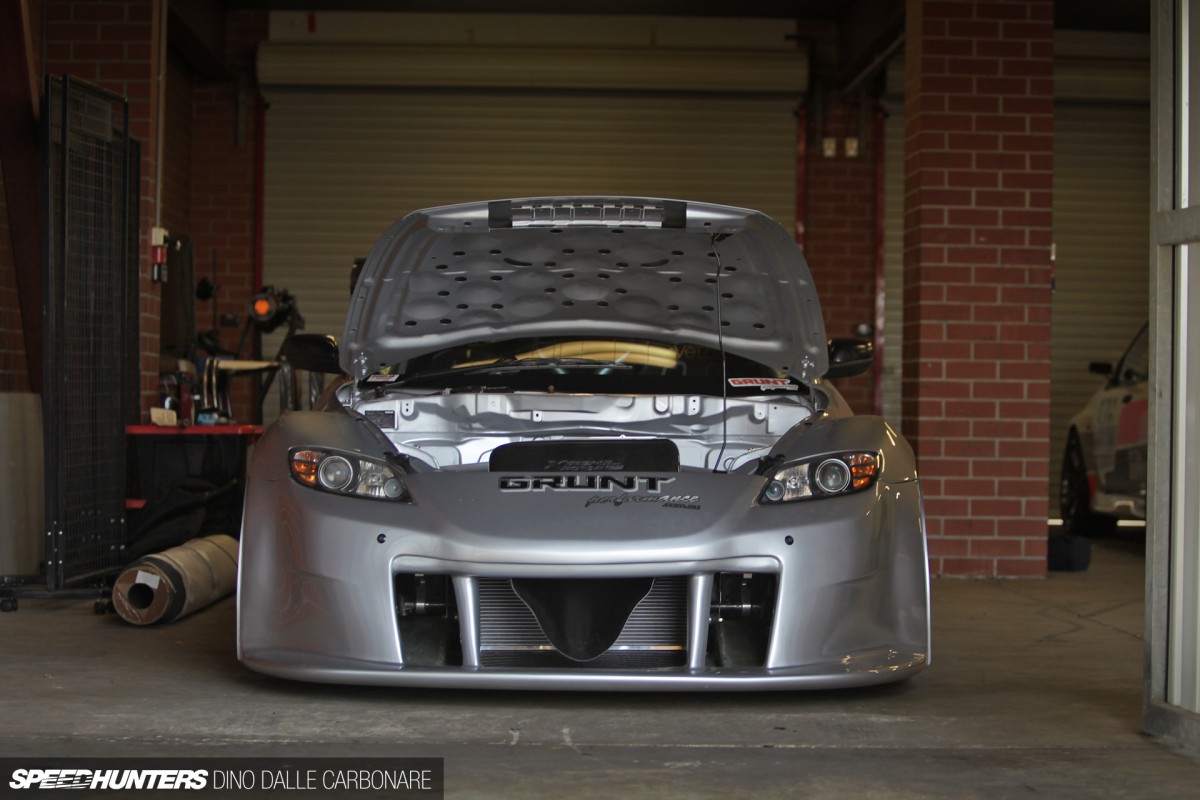 And as further emphasis on just how the Aussies never cease to impress was the recently completed Grunt Performance RX-8…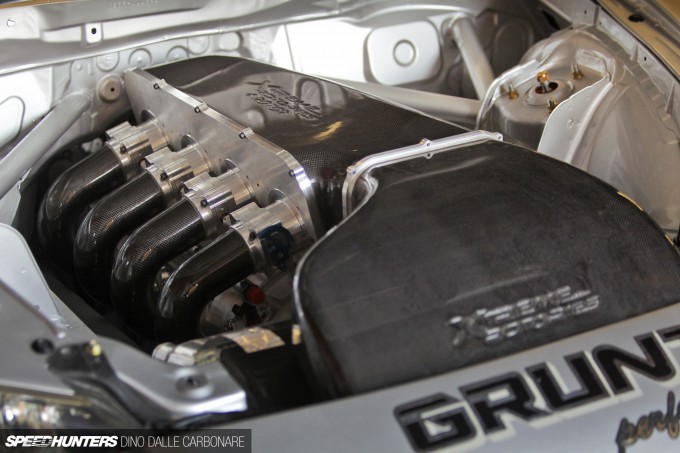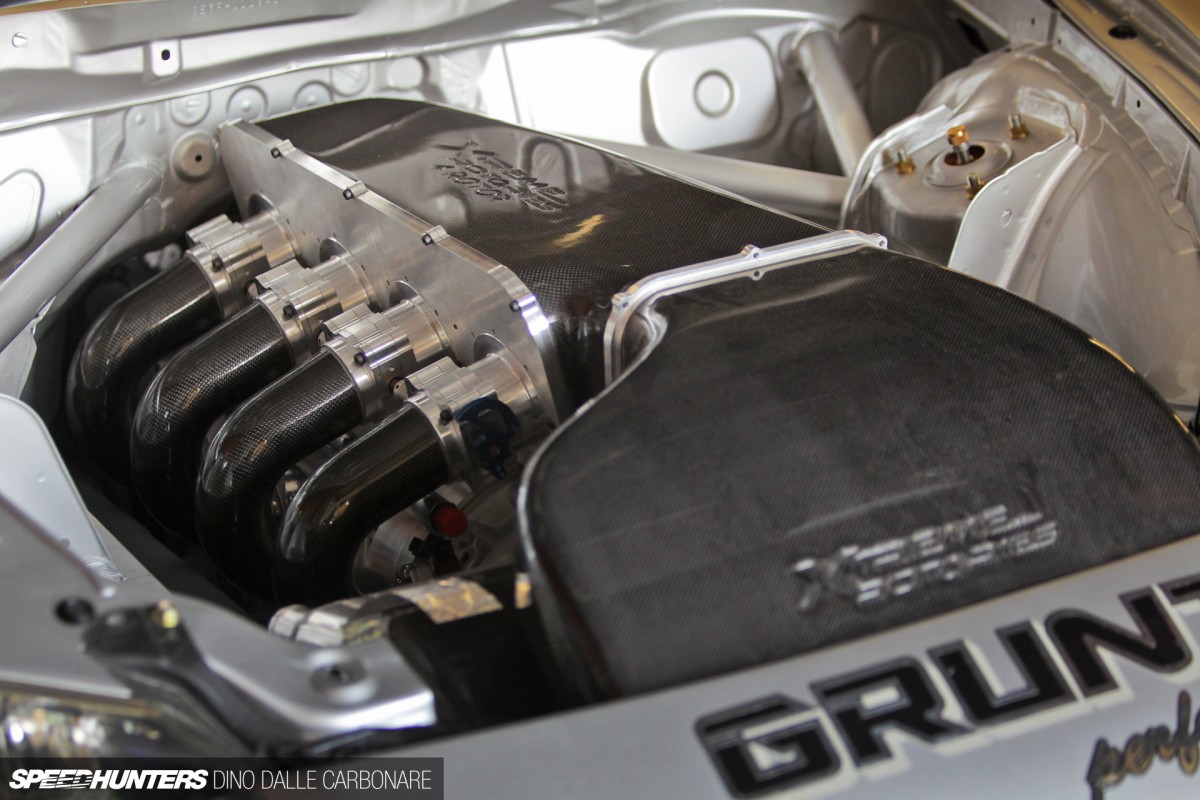 … a great example of an attention-to-detail sort of build packing a beautifully presented quad-rotor engine. Maybe next year we'll see it run!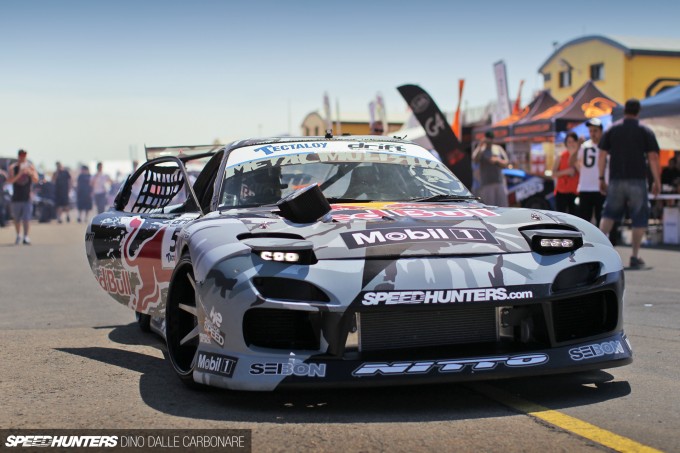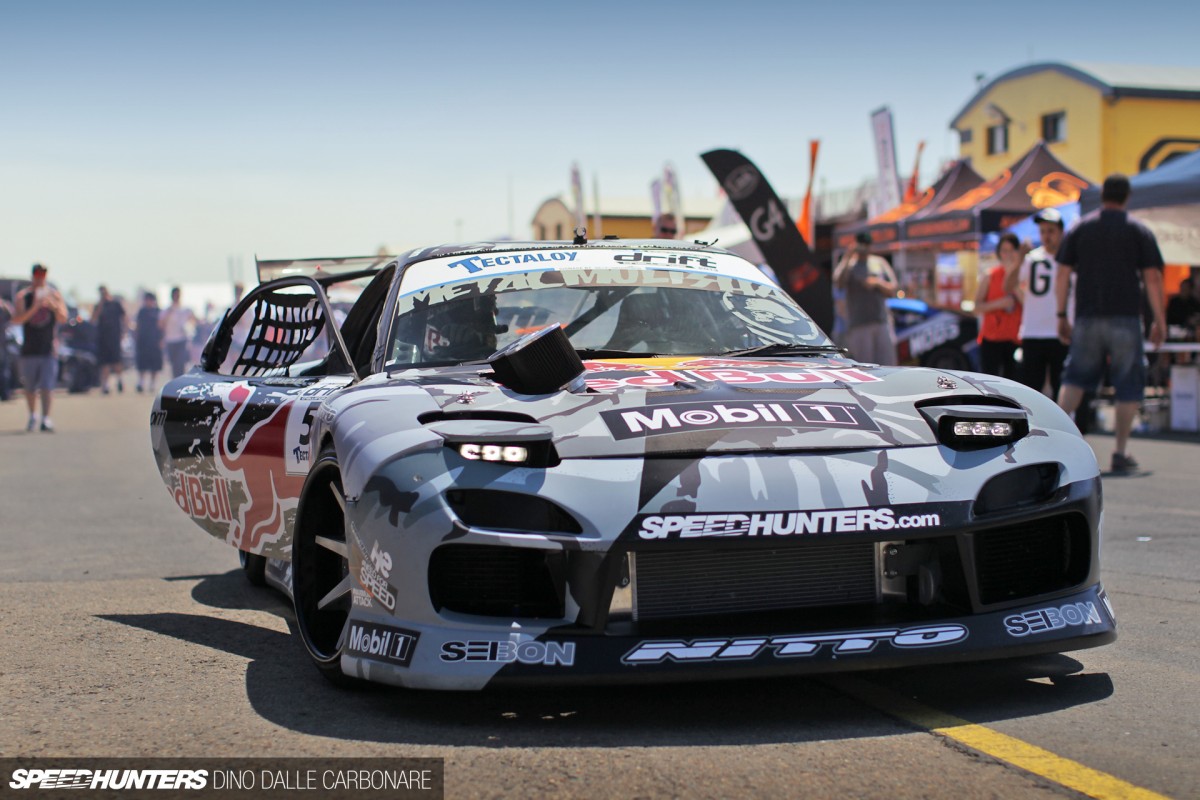 Ok I mentioned the magic quad-rotor word… how could I not possibly show you a few images of our very own Mad Mike…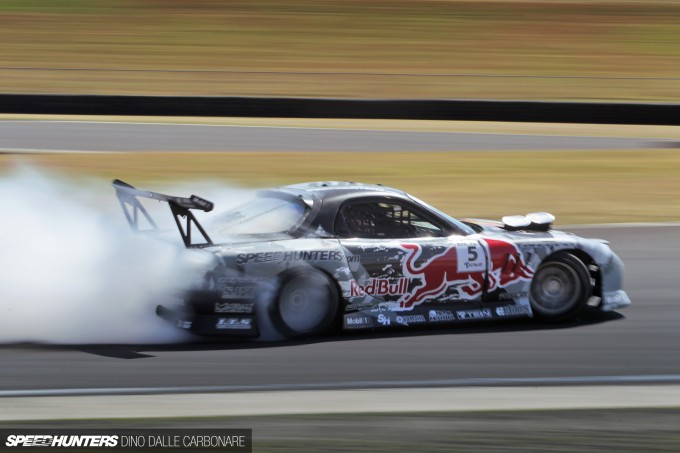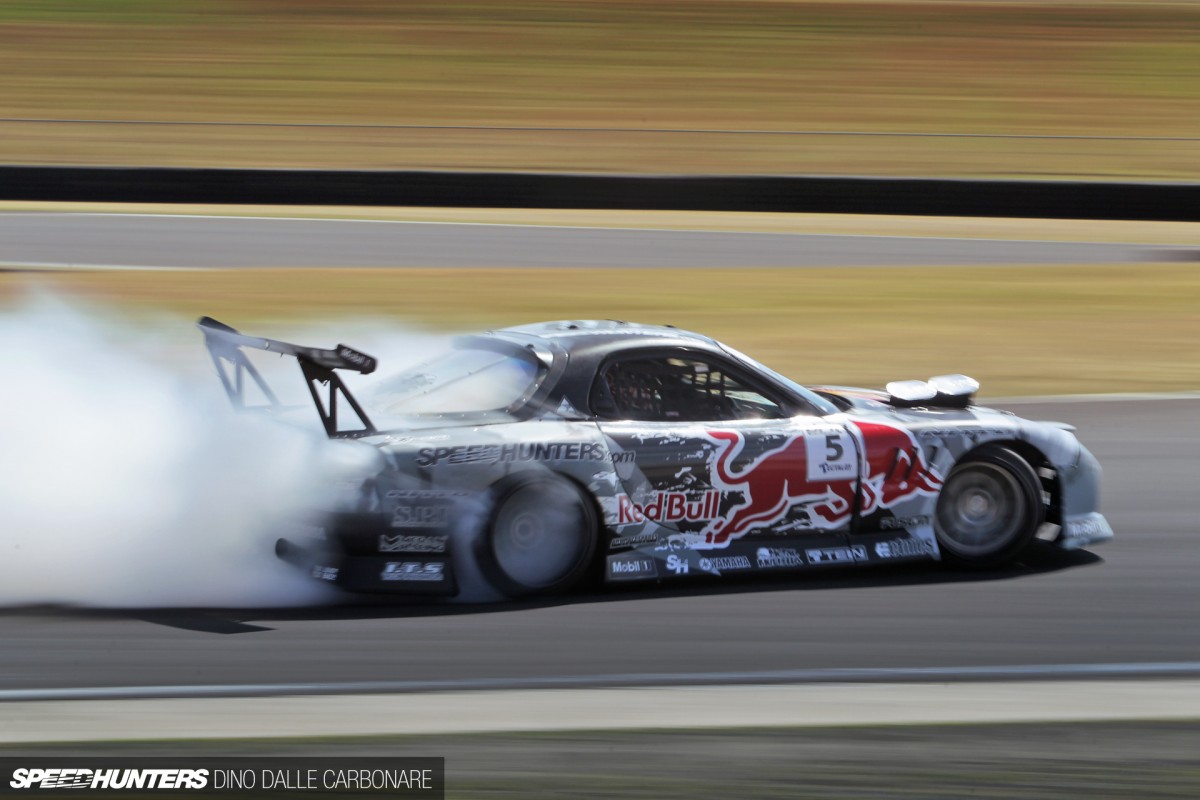 … doing his usual awesome job of demonstrating pure drifting awesomeness accompanied with the most unique soundtrack out there. I was a bit disappointed that drifters competing against him complained that the flames coming from his exhaust were distracting during the night competition, so he was asked by the organizers to turn them off. There I was all excited after shooting for 11 hours at WTAC, thinking I'd get some cool backfire action at night from the FD3S, only to see no fire whatsoever coming from his big tail pipe at the Tectaloy event. Seriously? Maybe next time he can turn the smoke off from his tires (wink wink)!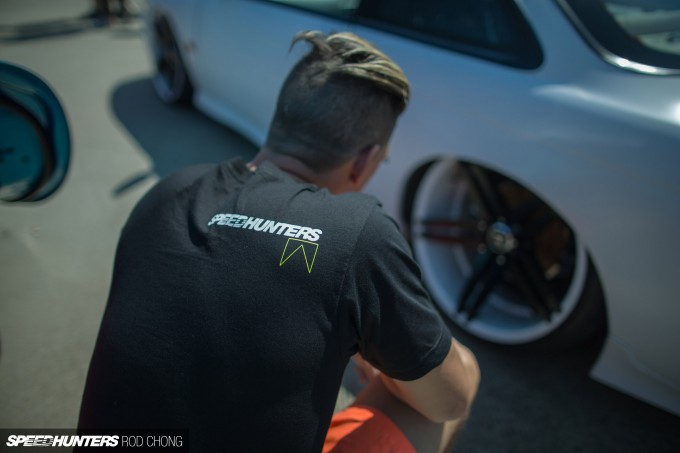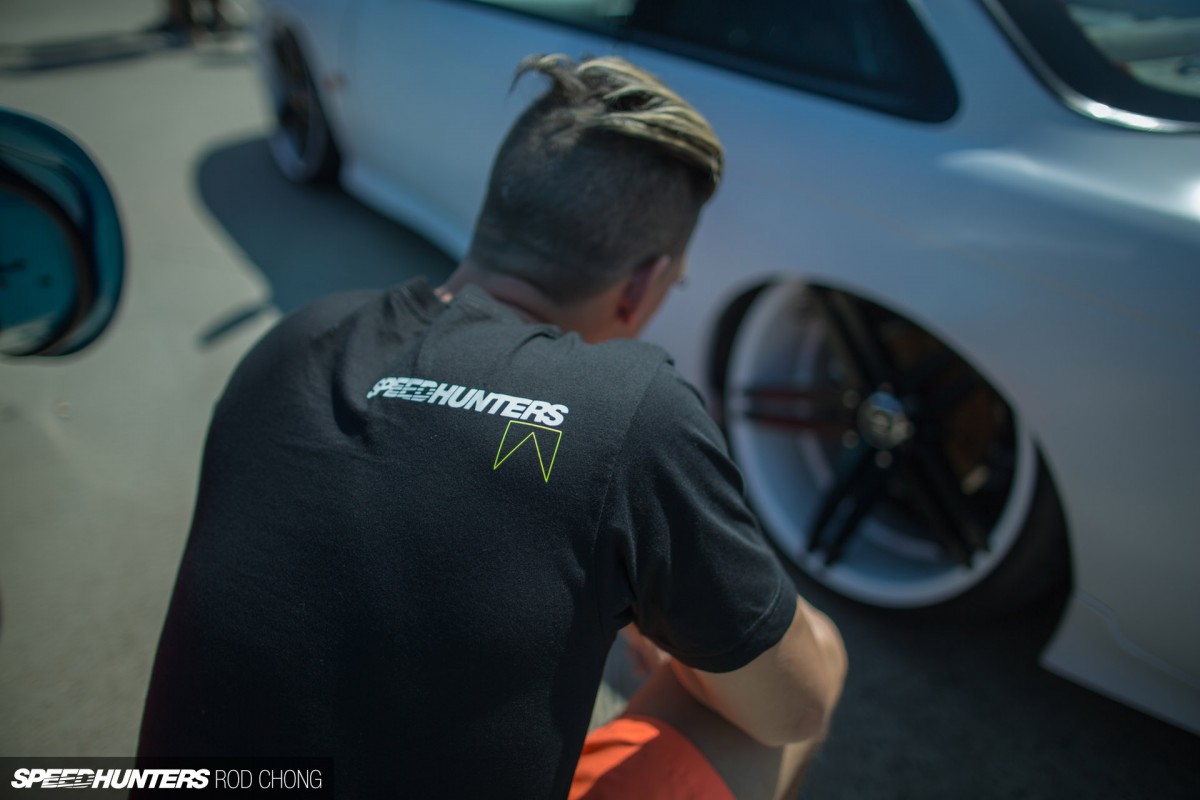 And when he wasn't out on the track drifting, he could be found wandering around the paddock , checking out the cars on show.
SH love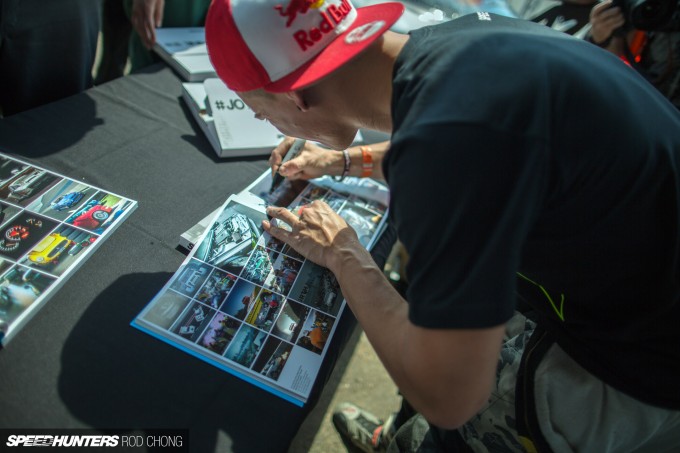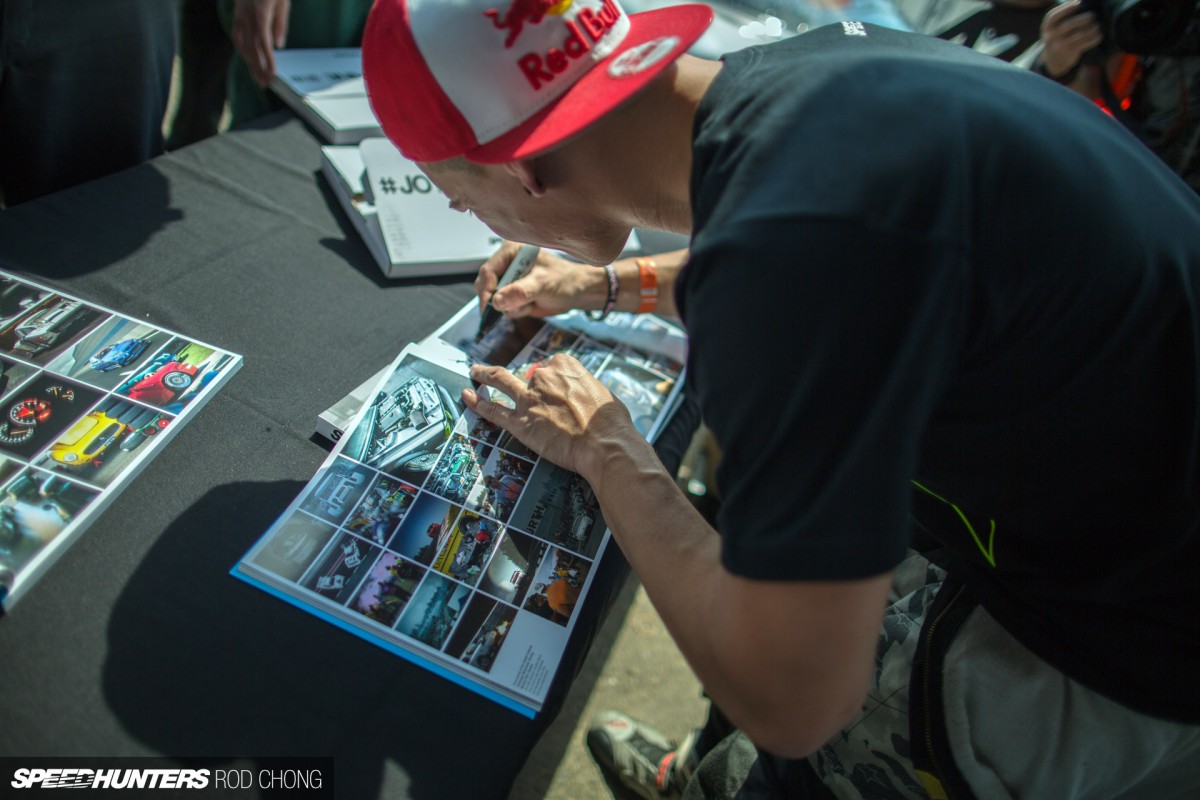 I'd like to touch on the support all you guys gave us at the event too. I found myself signing countless #Maximum Attack books as well as a big chunk of the 40 copies of #Joy Of Machine that were sold out in about an hour and that will be released officially in mid November.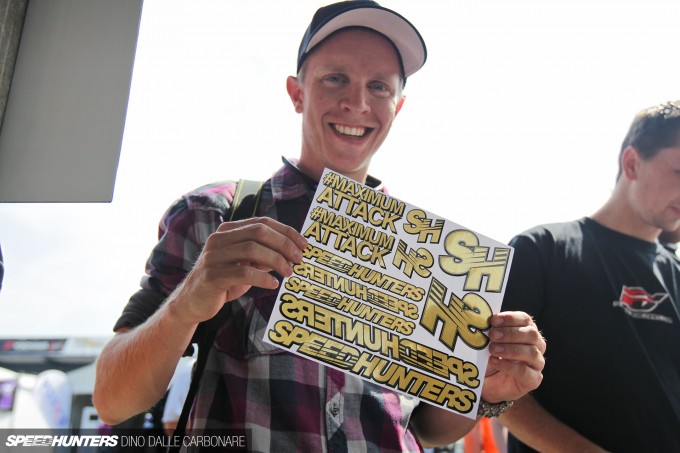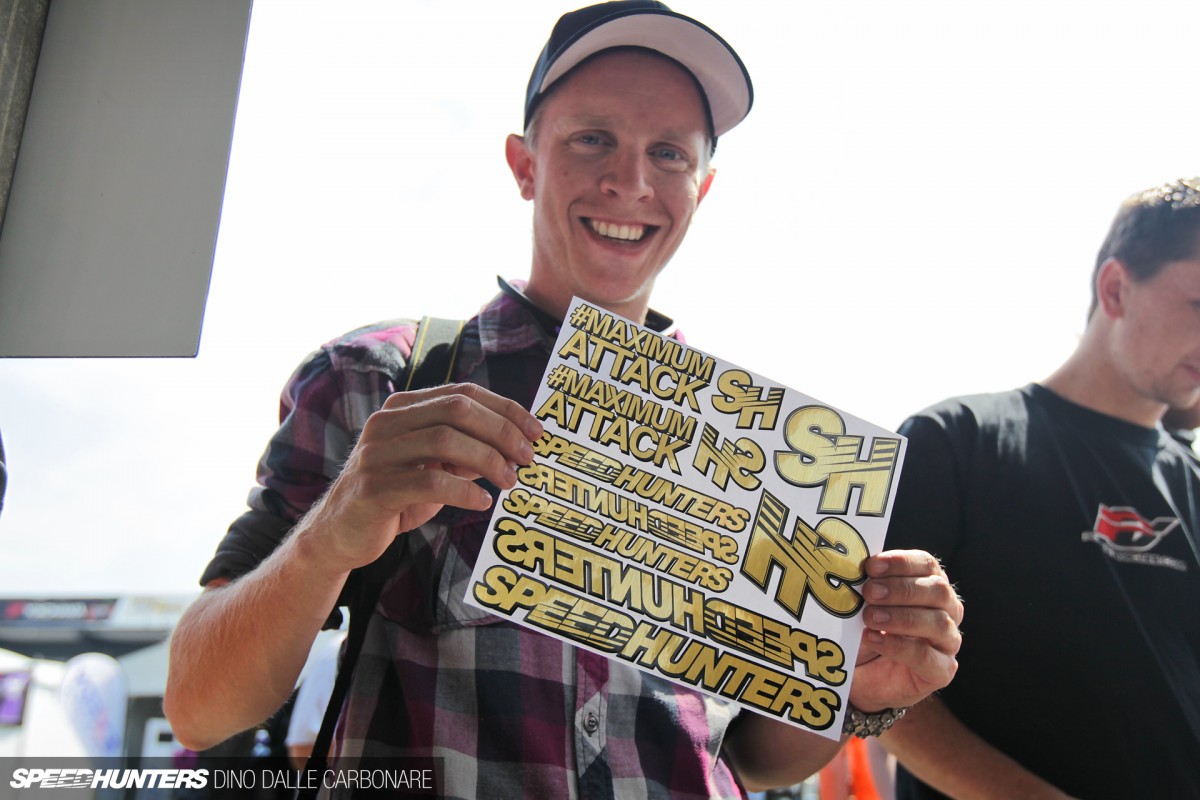 Those that lined up for the limited sale of our new book were treated to a few prototype sticker sheets courtesy of our friendly leader Rodbot…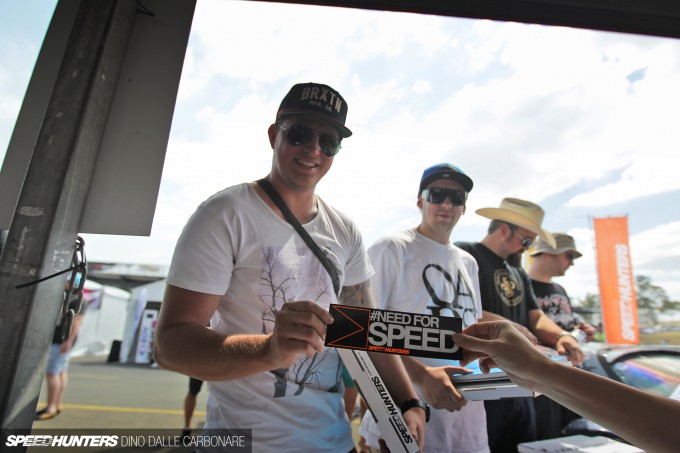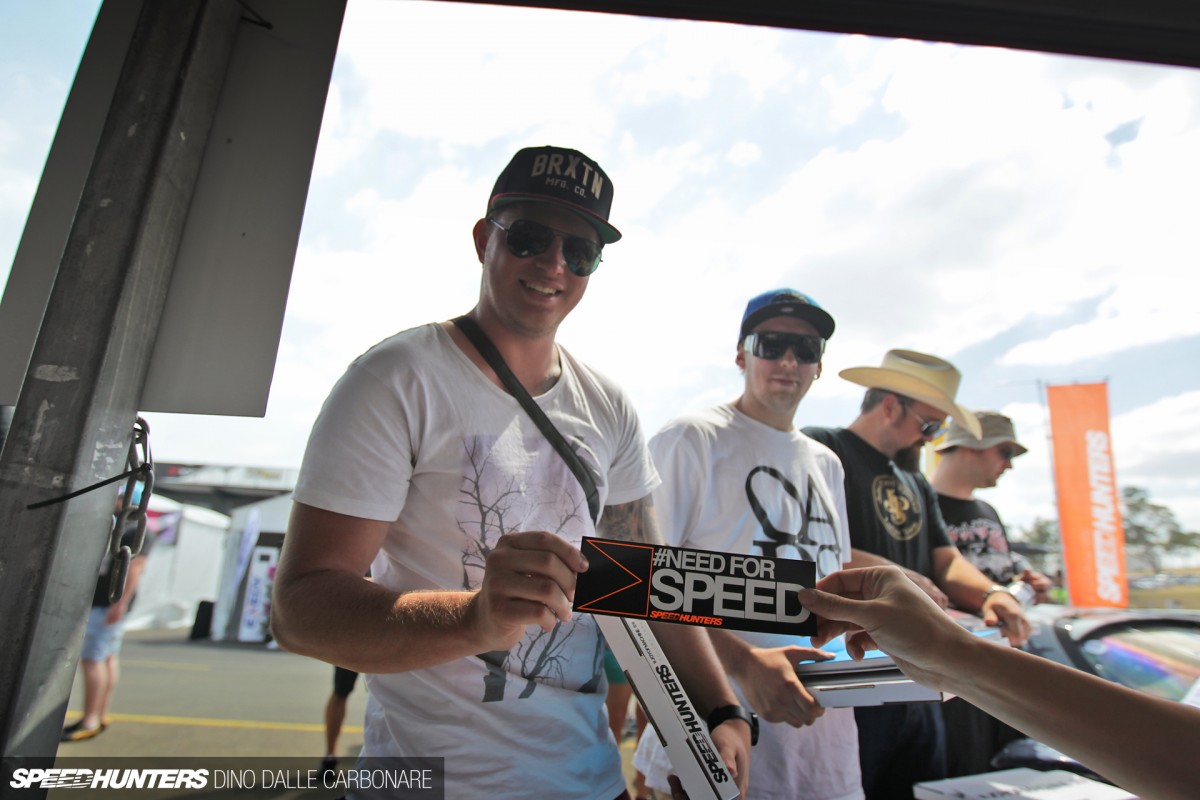 … as well as some of our #Collection 4 stickers.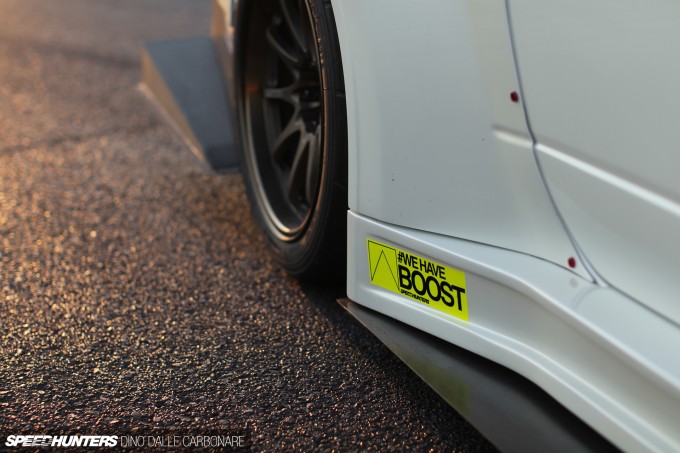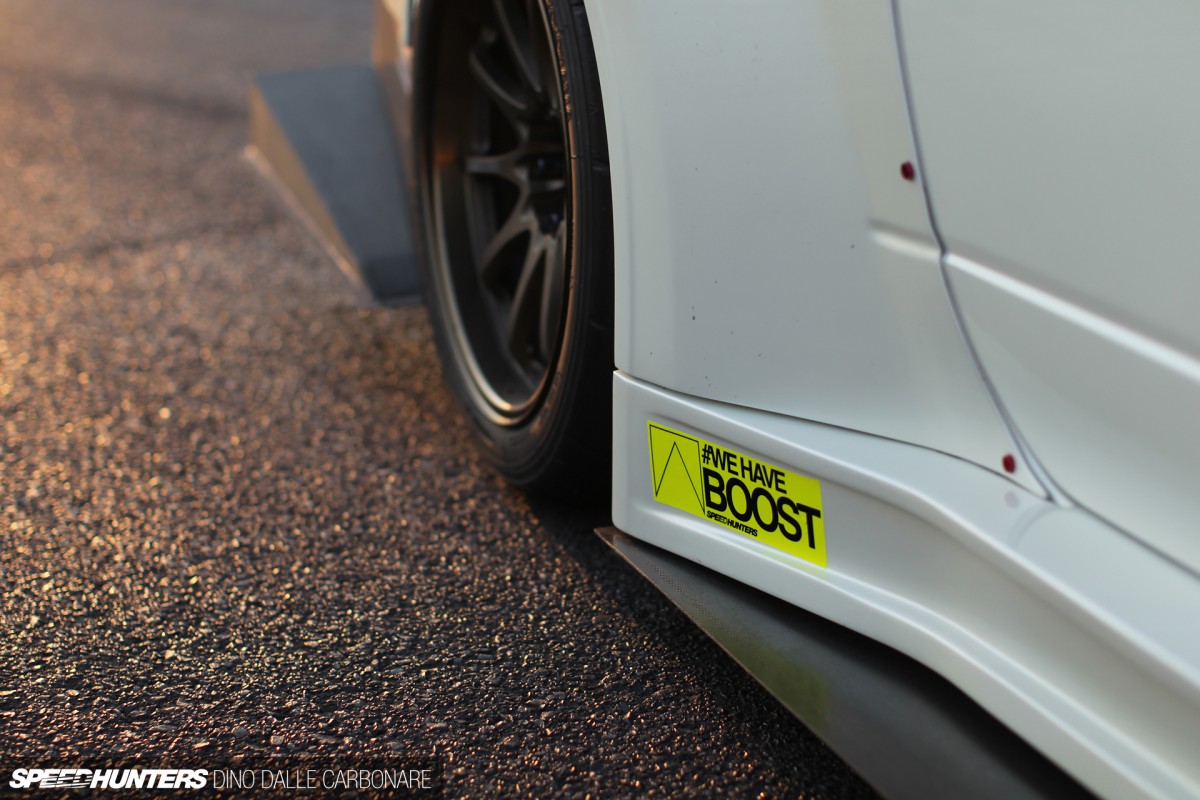 These will be released soon on our online Store.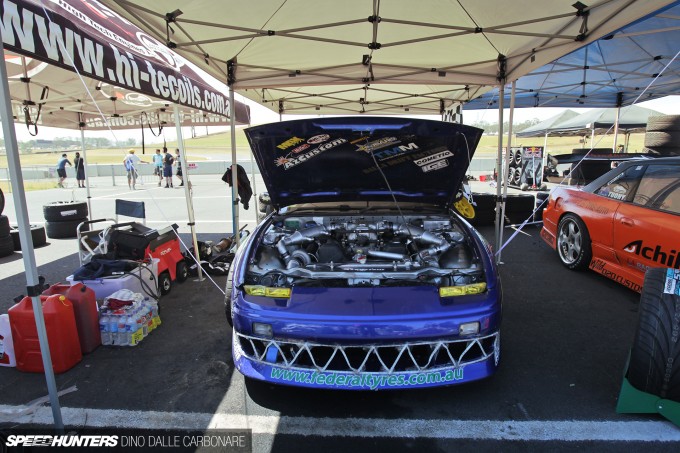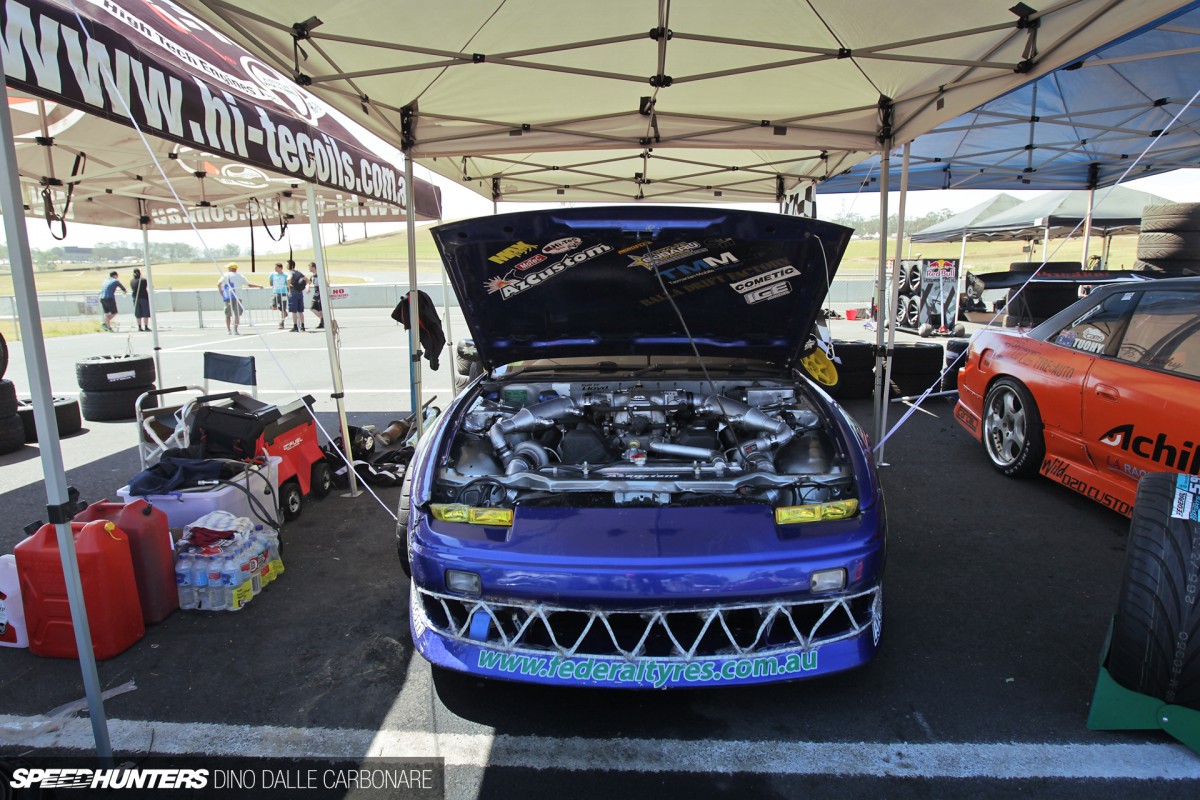 All the drifter guys were set up in front of the new South Course control tower and its respective paddock so a hike over to that side of the track was a must to check out what these guys were rocking this year.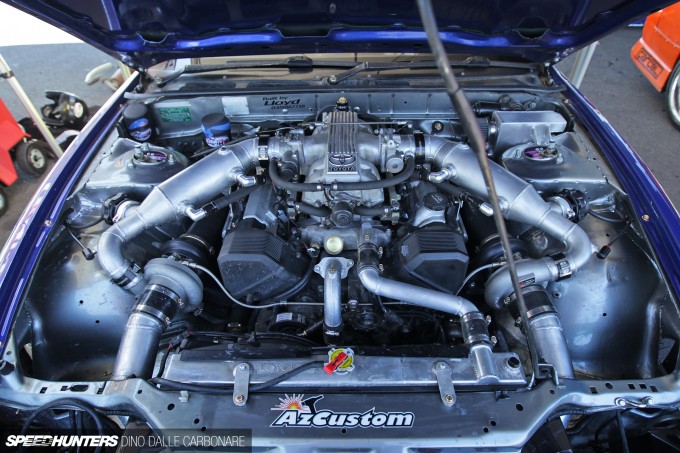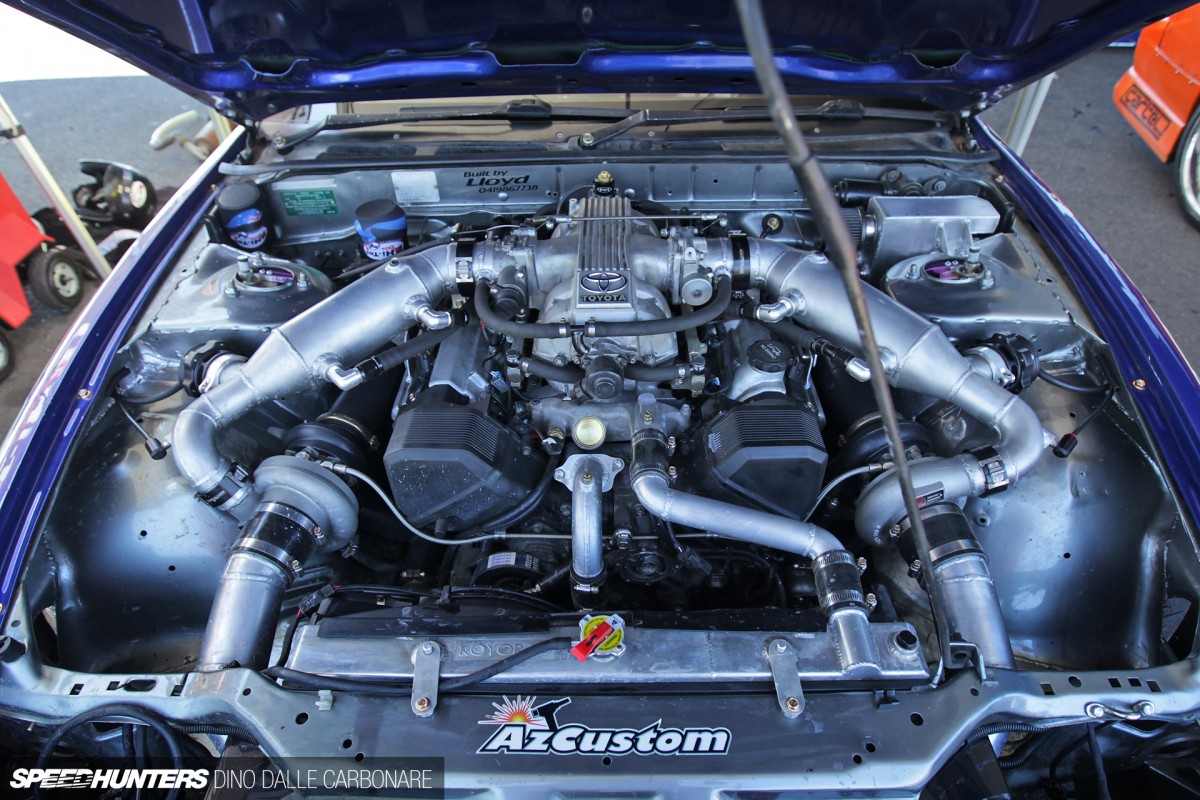 I was definitely not disappointed. These Aussies aren't afraid of a little fabrication that's for sure!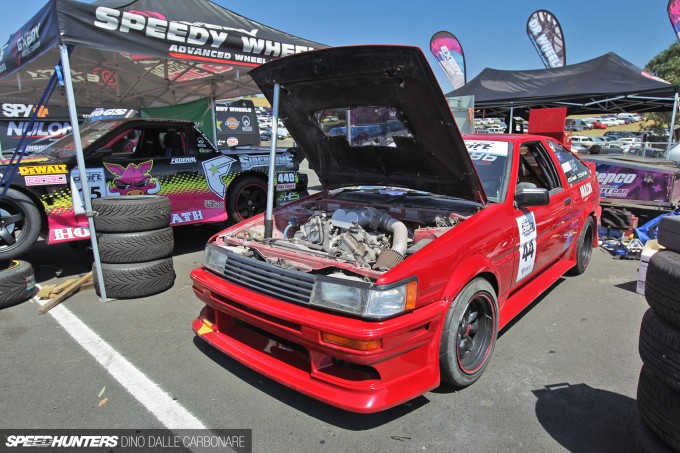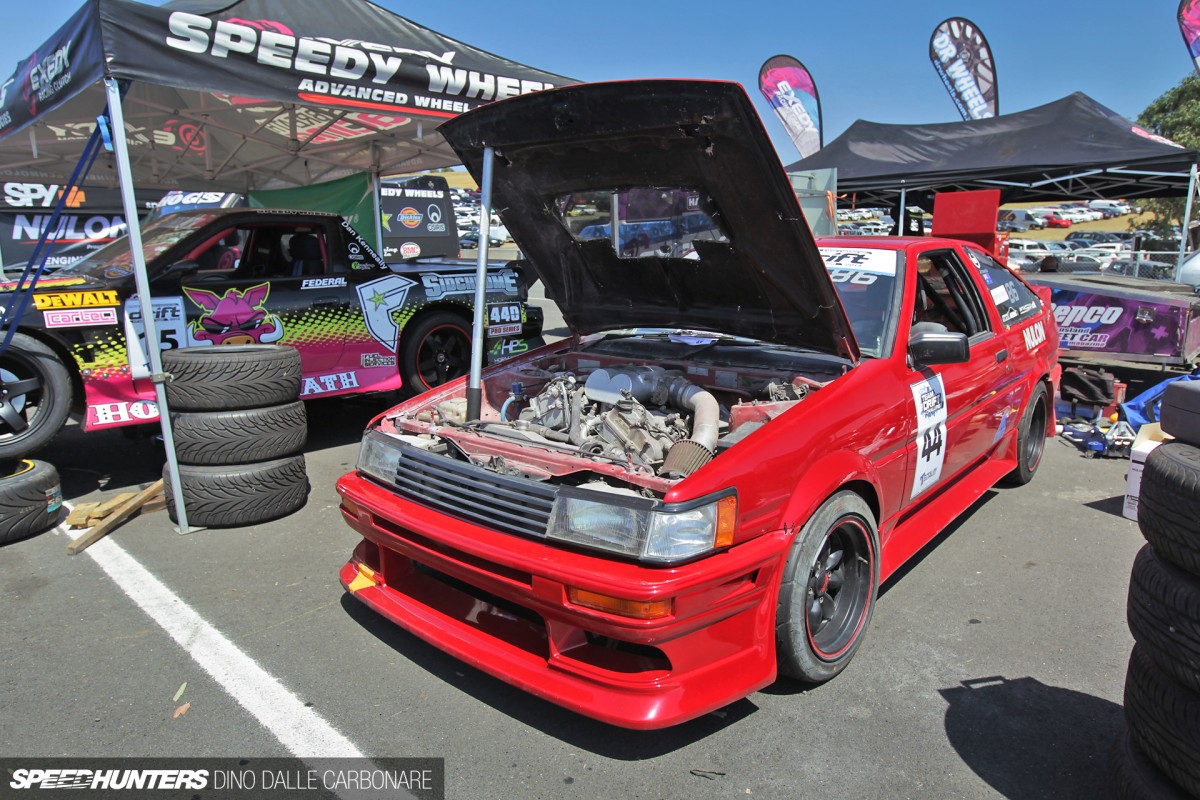 Aurion V6-swapped AE86 anyone?
It's not all about grip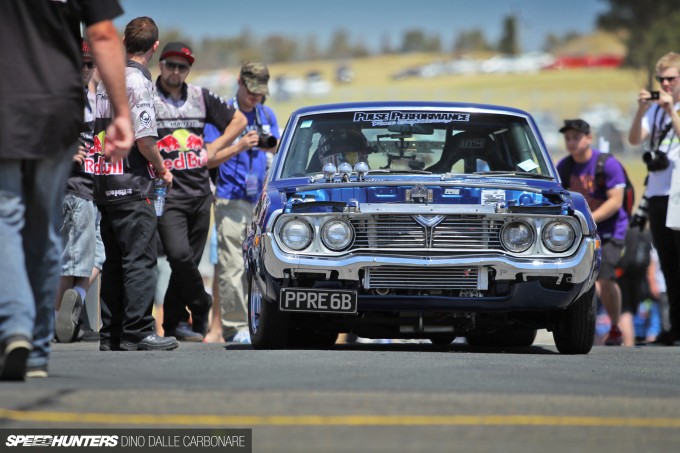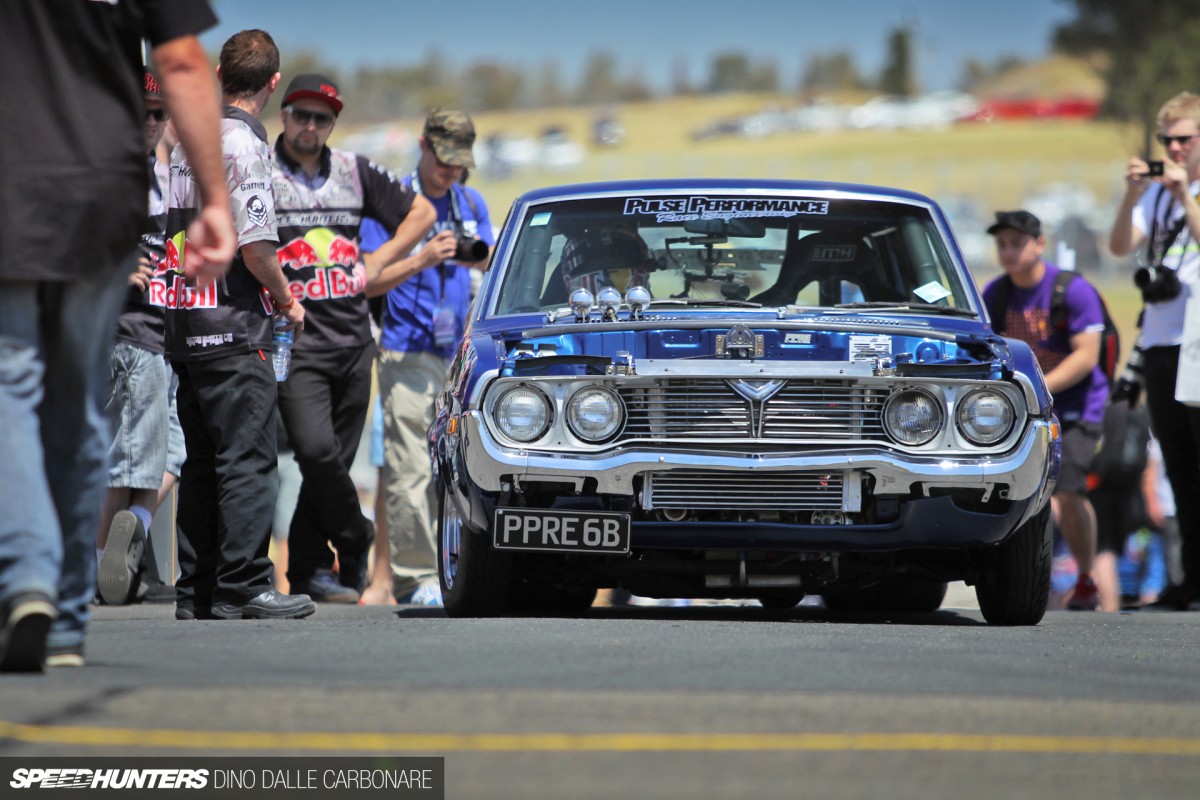 One of the coolest new additions at this 2013 event was the Turbosmart Flying 500: a 500-meter acceleration demo run on the main straight. We know how power reigns above everything down in the opposite side of the globe (at least opposite for me!), so seeing thousands of horses do their thing is always far better than seeing a stationary drag car on display at a show. Here is Mad Mike taking out the Pulse Performance 6-rotor RX-4…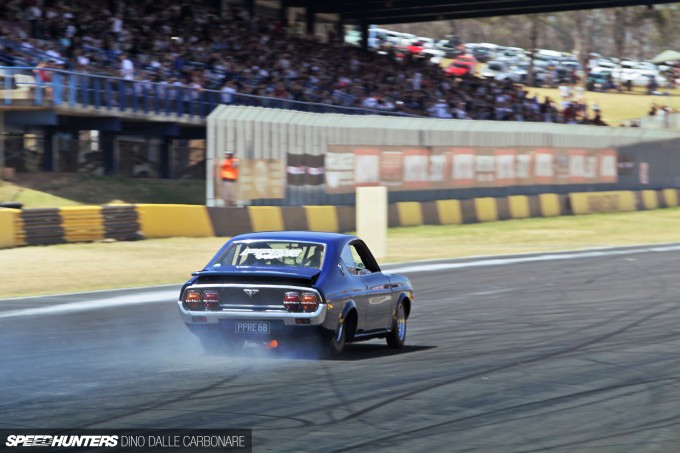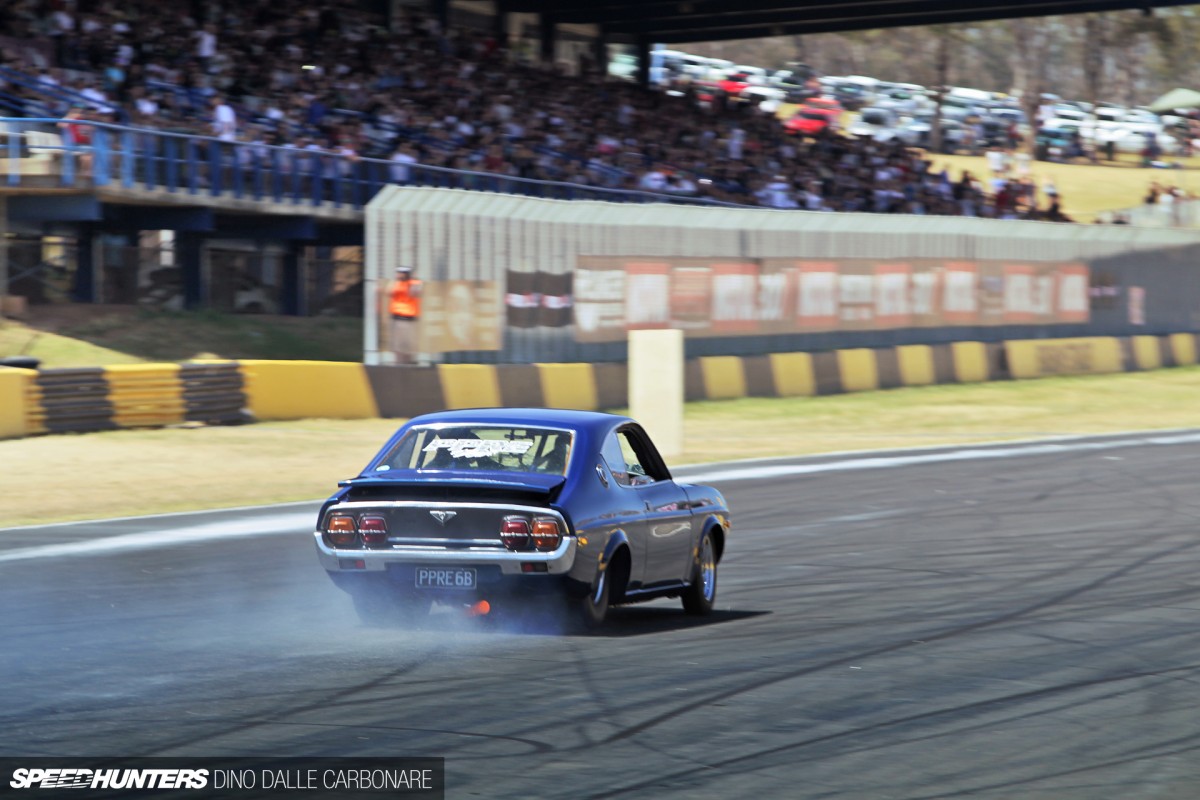 … demonstrating all the violence of the custom motor. This is one part of the event we'd really love to see expanded, both for its visuals but also for how everyone at the event seemed to gather around and check the action out!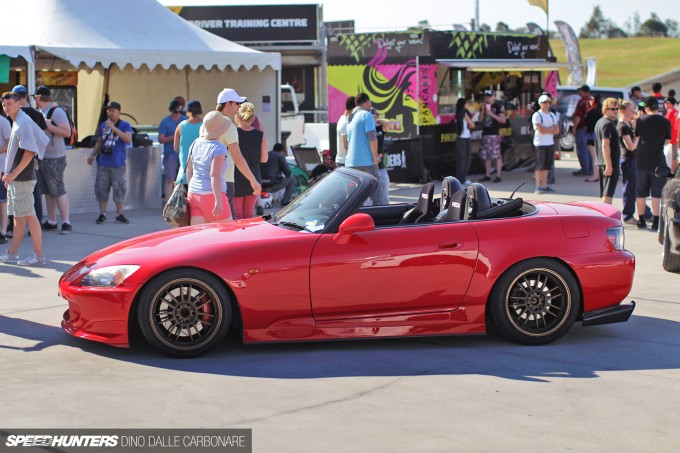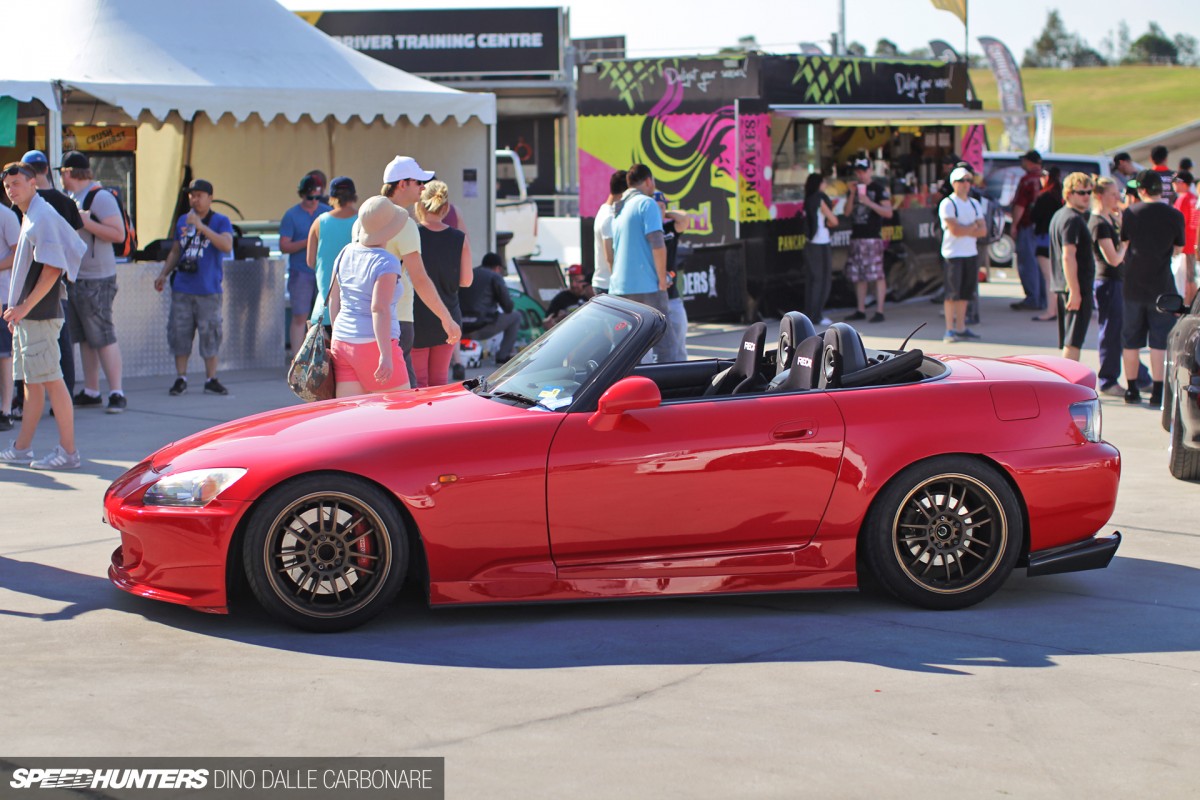 If all the grip and drift action wasn't enough, the big concrete paddock area behind the pits was home to the Show 'n' Shine display where we all got a nice representation of how the Australian street car scene is evolving. Just like in many countries around the world, stance has really been embraced and there were plenty of cool cars to check out.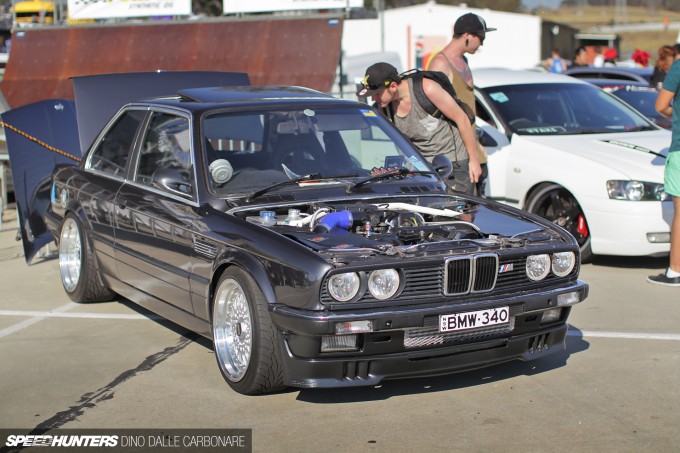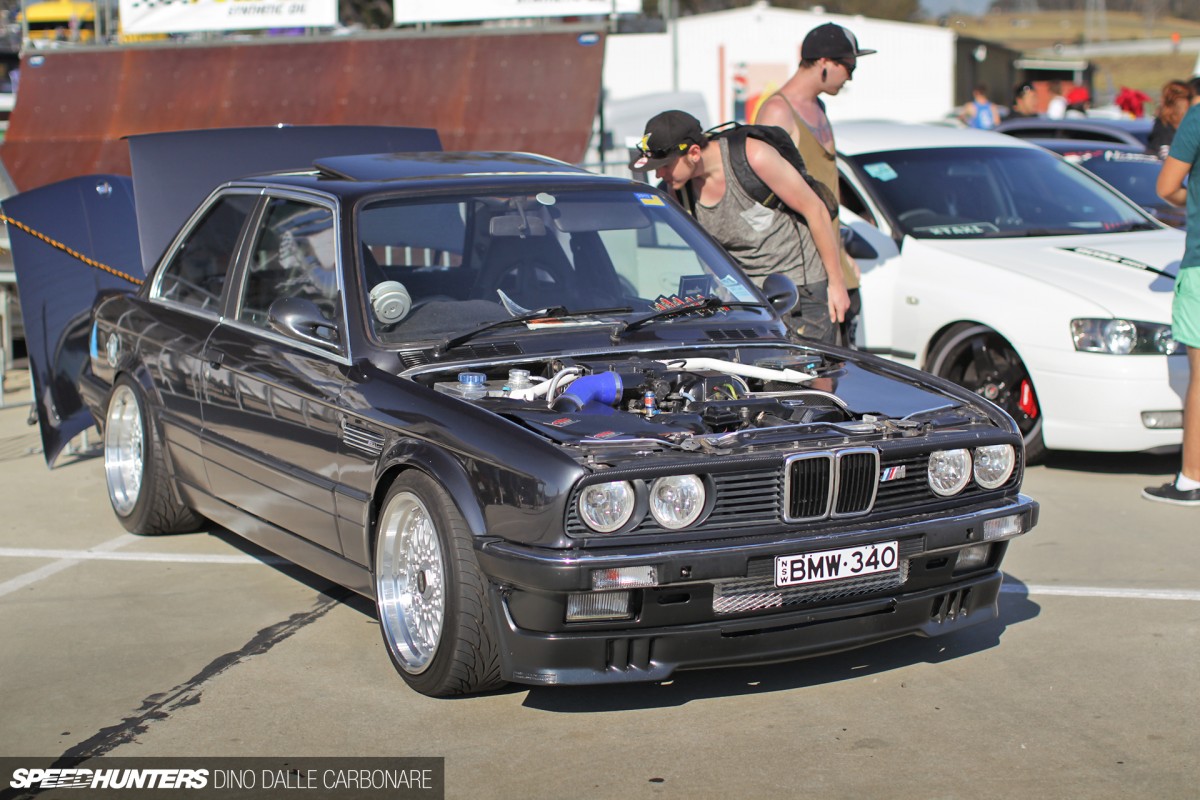 The one that I remember the most is definitely this E30…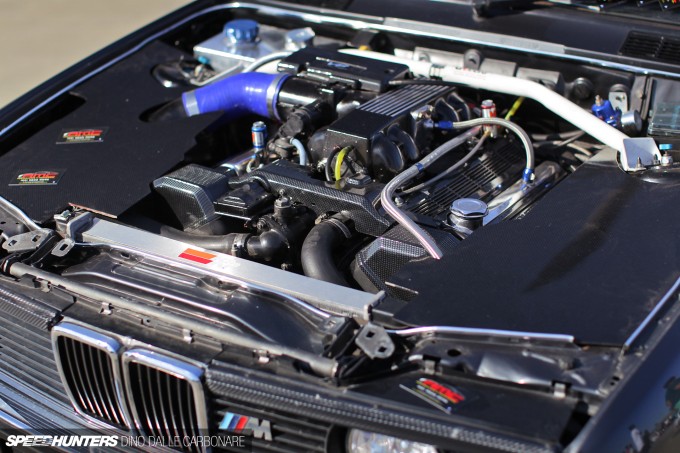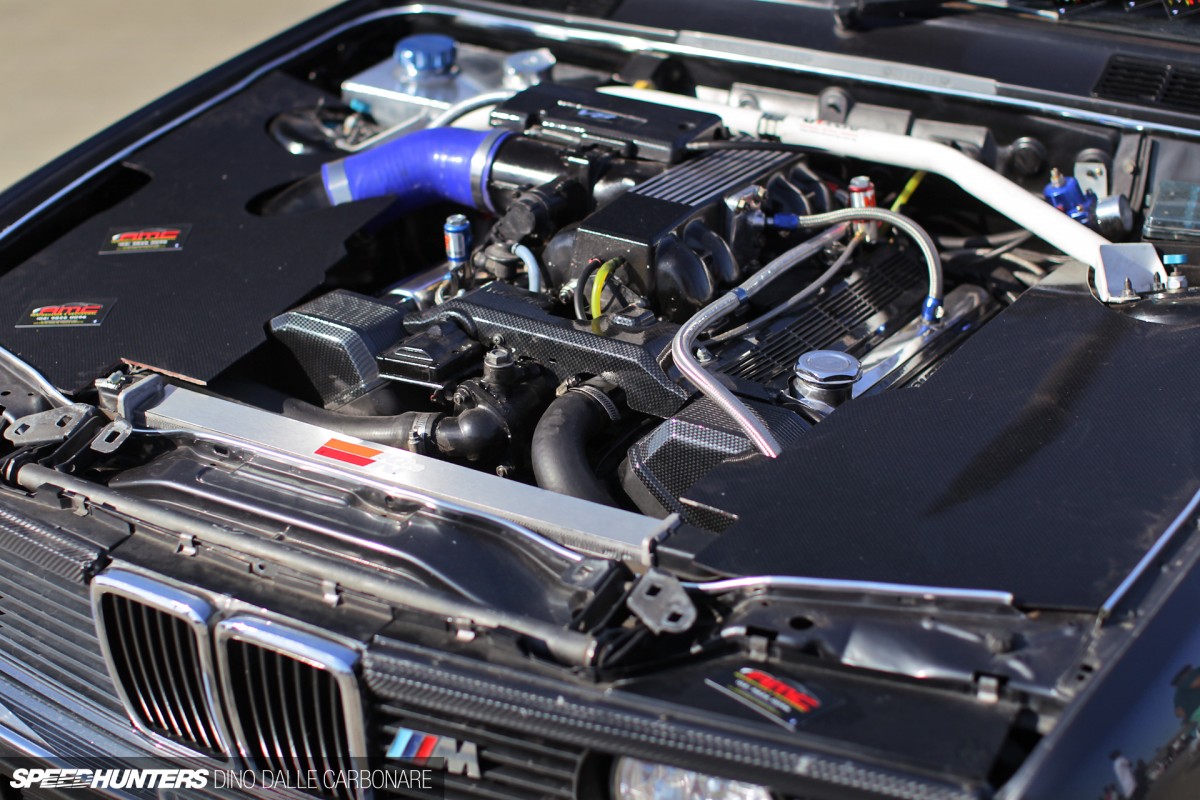 … sporting a Toyota 1U 4-liter V8 swap.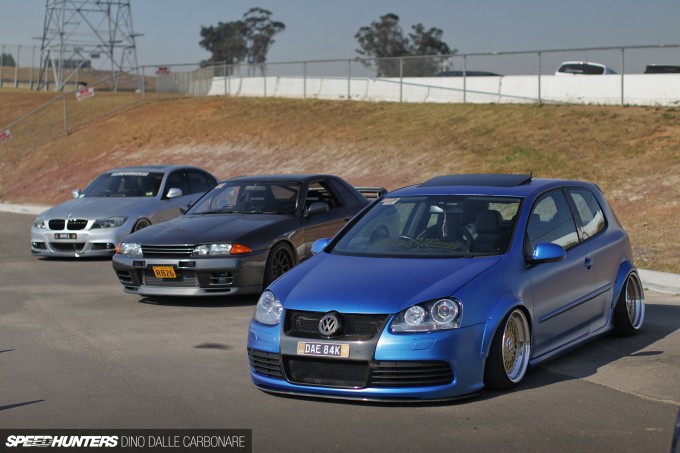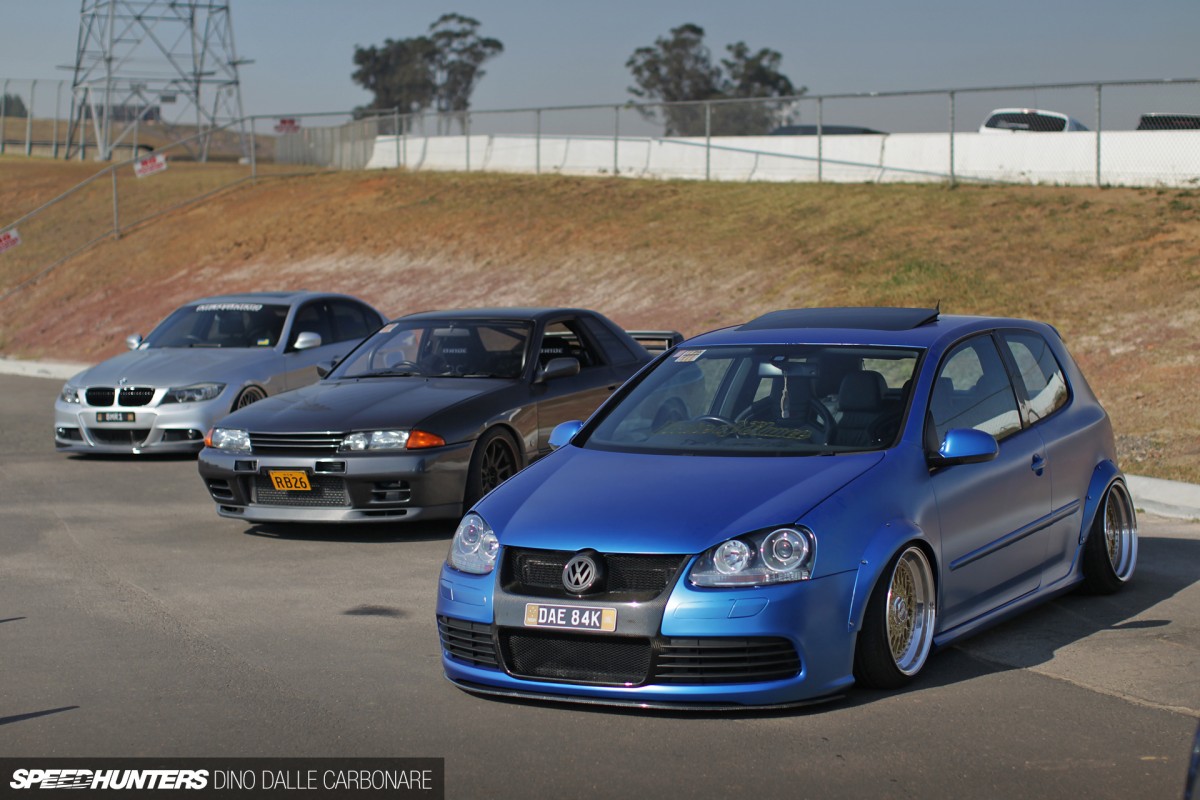 Over at the Zen Garage display there was much 'stanceness' to be seen, as well as a showing of what must be one of the cleanest BNR32s in Oz, a car that we featured some time back known simply as RB26.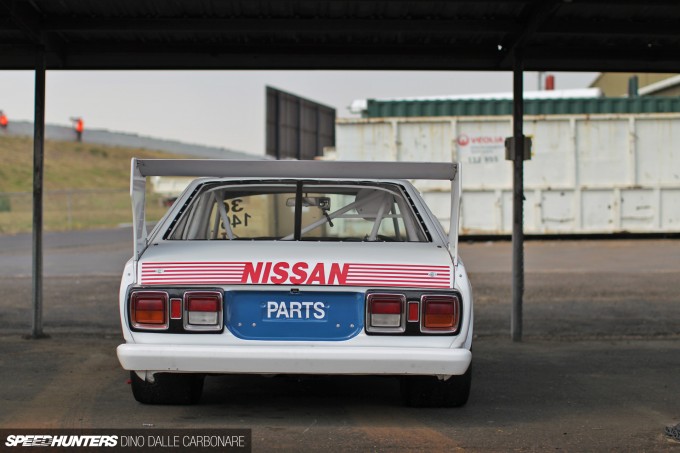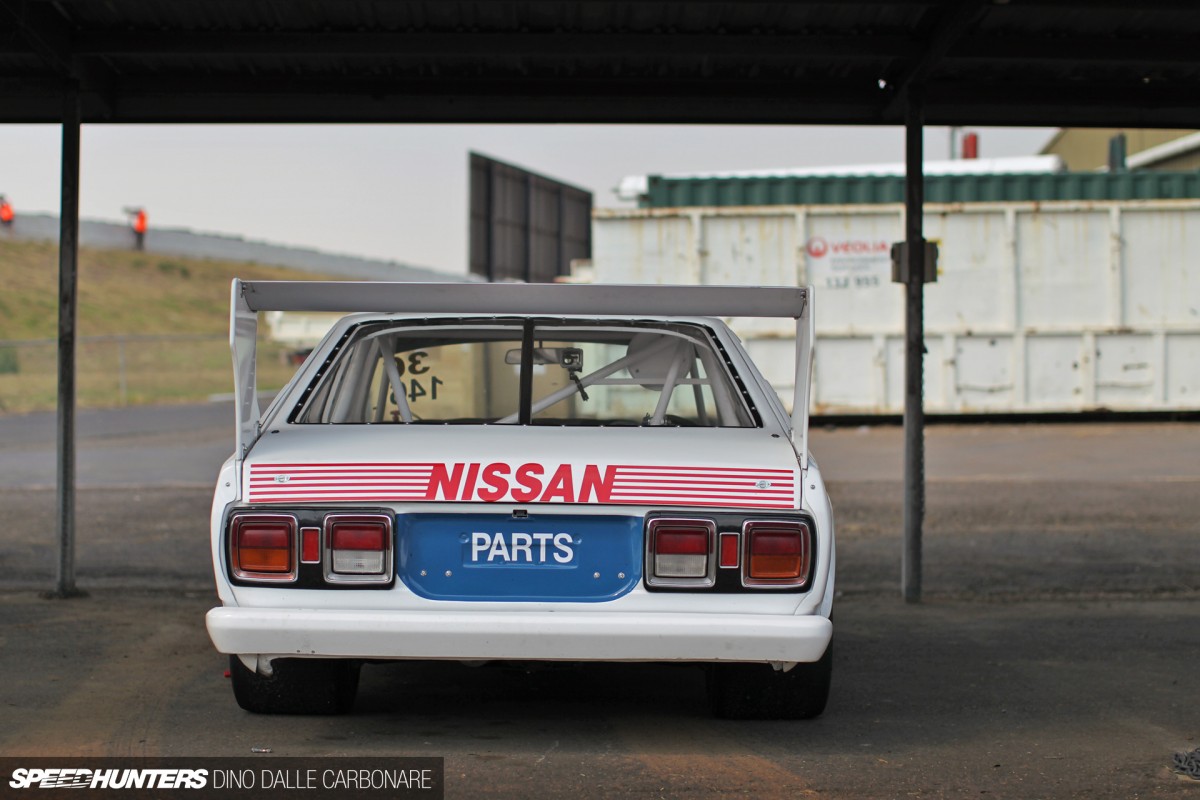 So there you have it. Simple, unadulterated, petrol-running-through-your-veins sort of fun. It's not surprising everyone that was part of WTAC 2013 in one way or another is already talking about next year's event!
Dino Dalle Carbonare
Instagram: speedhunters_dino
dino@speedhunters.com