If you ever needed proof that four-wheel-drive and boost isn't necessarily required to turn record-setting lap times in the heat of time attack competition, then this 1990 Honda CR-X built in Brisbane, Australia, is it. Anyone that attended this year's World Time Attack Challenge might have seen the car throwing down some lightning fast laps of the Sydney Motorsport Park circuit.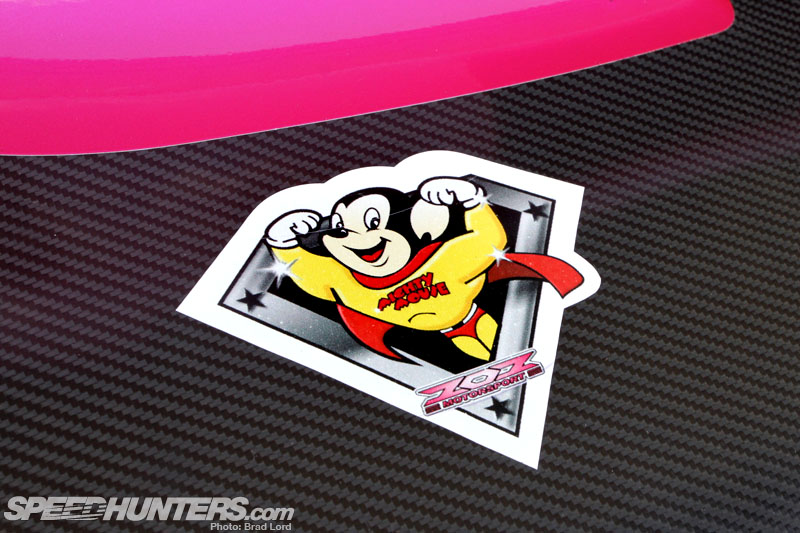 Then again it was it easy to miss, because the aptly-named 'MightyMouse' only managed two laps in one session during the final day of the two-day event. But that was all its owner and driver, Rob Nguyen, required to run a blindingly quick 1:35.1 lap and take outright honors as both the fastest front-wheel-drive and the fastest naturally aspirated machine in attendance.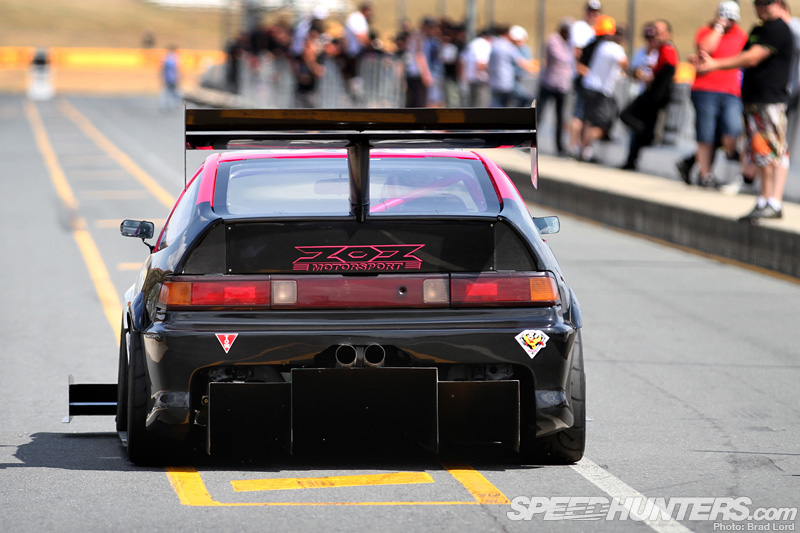 The magic lap was just reward for a tough couple of days right before the event. During a test session a day out from WTAC the CR-X's engine was starved of oil and consequently ran a big end bearing. But within the space of 30 hours a fresh motor was built, fitted and tuned, and the Honda readied for battle. Check out the in-car video clip at the end of the post to see MightyMouse in record-setting action.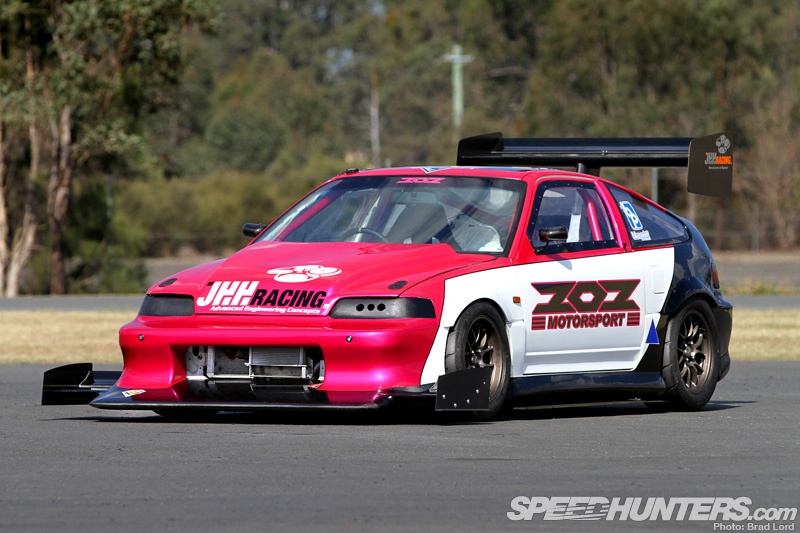 Australia's fast-growing time attack scene got its first taste of MightyMouse back in 2011 when Rob debuted the car at WTAC in its factory black guise. A 12-month development programme followed, and with input from some very talented people, this angry little creation is the result.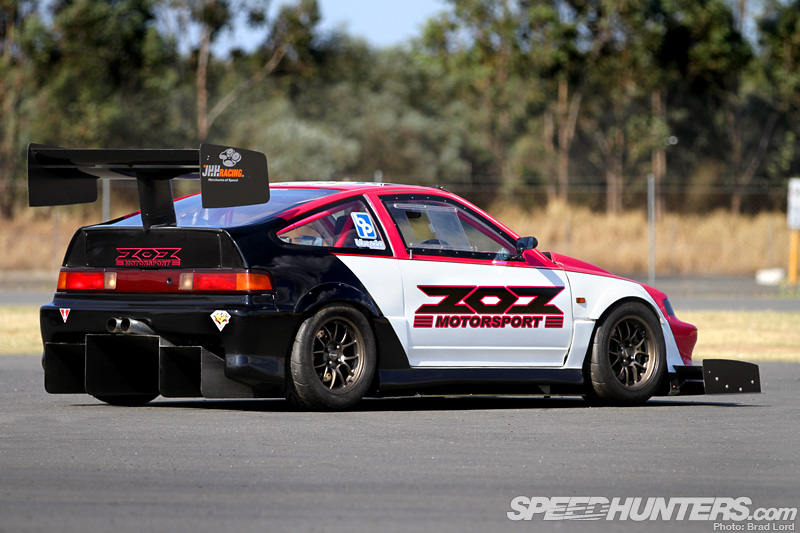 For a front-wheel-drive time attack project the CR-X was the obvious choice for Rob. Apart from the fact that it's the same (first) car he purchased back in '97, with its modern suspension layout and 930kg base weight, there was nothing else that measured up.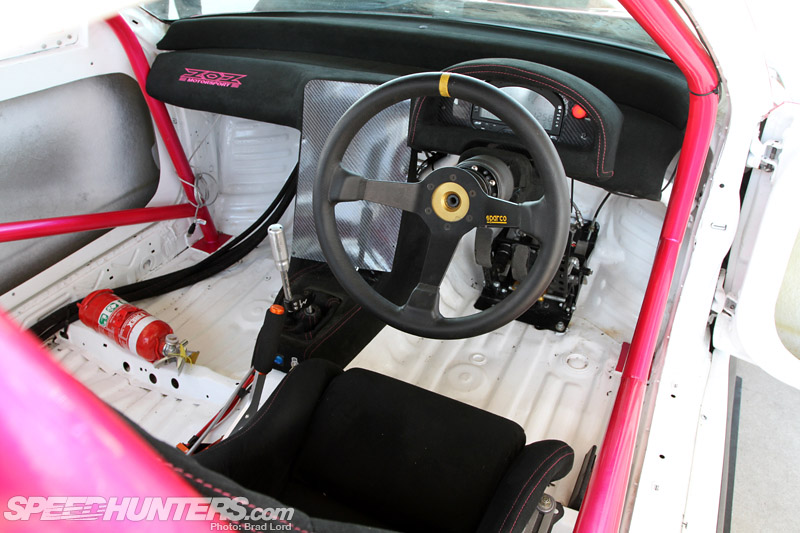 Taking a less-is-more approach there's certainly not a lot to the cabin. But it's a place where function still meets form.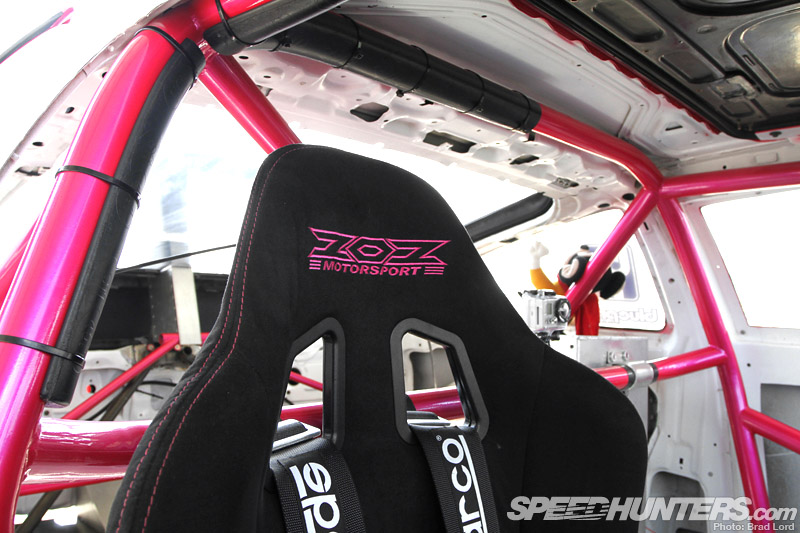 Like the exterior: the pink, white and black theme follows through to the Sparco equipments and Race Car Engineering chrome-moly rollcage.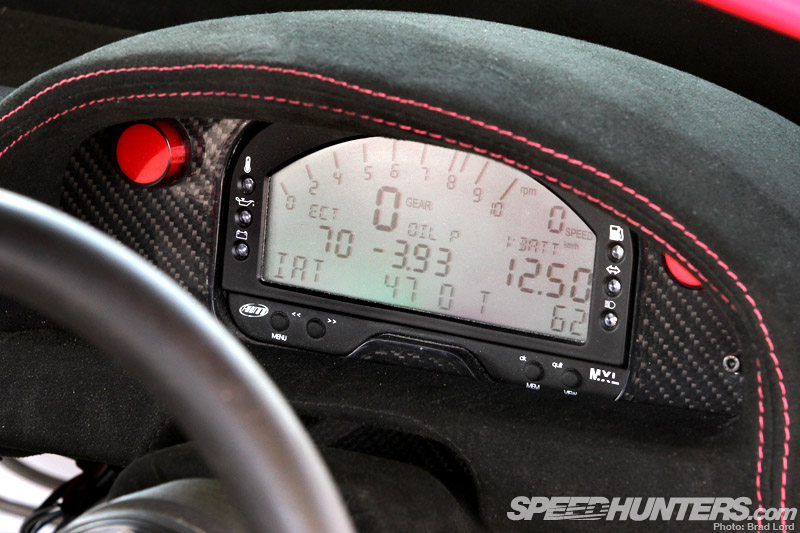 But this is still a place of business, with an AiM MXL Strada digital dash providing the essential engine numbers…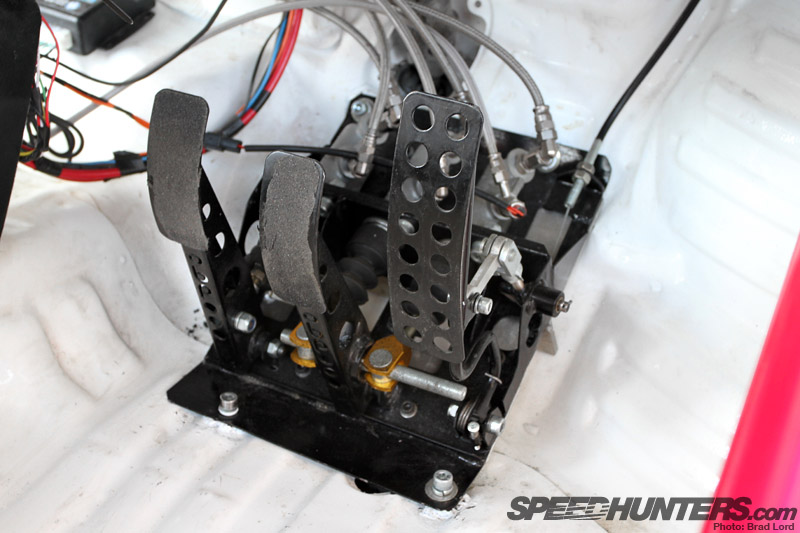 …And an adjustable OPB pedal box for foot work.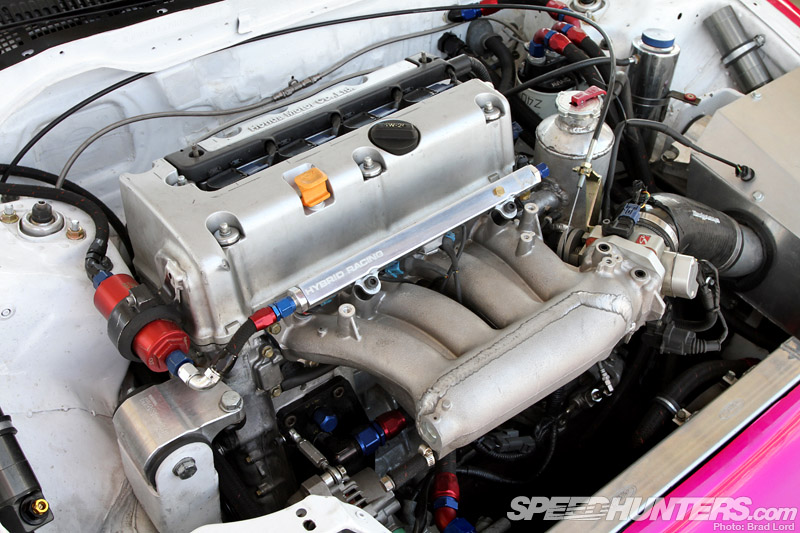 At the heart of MightyMouse is a K24A package designed by Brisbane-based JHH Racing (the same company behind Nemo Racing's 4G63 build), and seamlessly fitted into the CR-X chassis via a Hasport mount kit. A wide power-band and plenty of torque is the bi-product of a well-planned K-build, and it's been achieved here with quality parts. Stretched to 2.5L, the block fit-out features Wiseco forged pistons, Carrillo rods and a Brian Crower 4340 steel billet crank.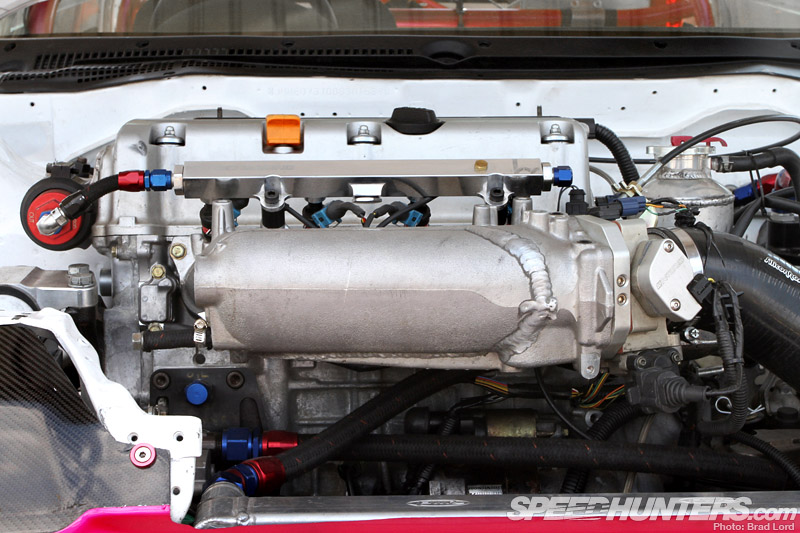 Being naturally aspirated much of the focus under the hood is about getting as much air/fuel mixture as possible into the combustion chambers. To that end the set up runs a Skunk2 Pro-Series billet throttle body and a BluePrint Racing intake manifold. The latter is a modified version of Honda's OEM K-series RBC plenum which BPR cut open, port for increased flow, and then weld back up. With 13.5:1 compression ethanol-based E85 bio-fuel is the motor's liquid refreshment of choice, and to satisfy the thirst there's a Bosch Motorsport 044 pump, Walbro lift pump, Sard regulator, and 1000cc RC Engineering injectors fed from a Hybrid Racing rail.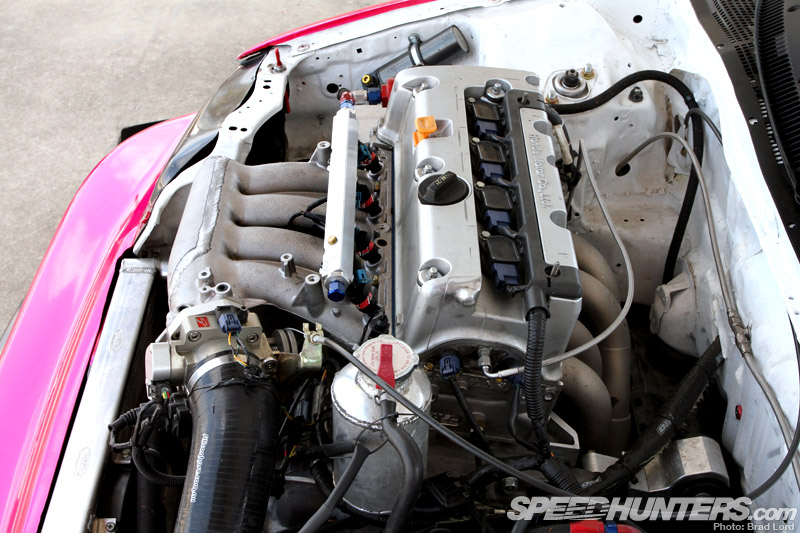 On the exhaust side of the engine, Six Sigma Racing headers run into a custom system using both steel and aluminum pipework. Minimum restriction equals lots of noise, but it makes all the right sounds revved out to its 9000rpm cut. Tuned through a Hondata K-Pro engine management system the K24 has pushed  280hp to the CR-X's front wheels on the dyno. And that, according to Rob, makes it the most powerful Honda K-motor in Australia.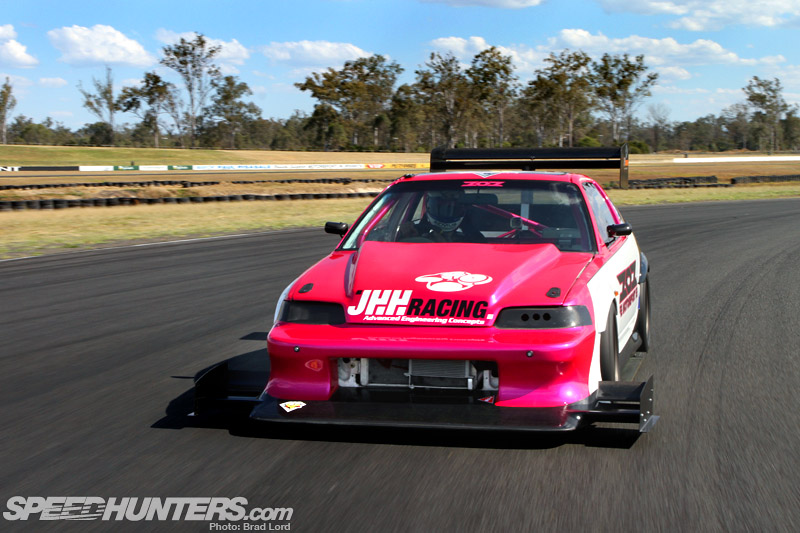 Helping the power find its way to the ground is a driveline built around a stock Honda six-speed gearbox, an Exedy single-plate clutch and flywheel combo, OS Giken limited slip differential and Driveshaft Shop Ver.2.9 driveshafts.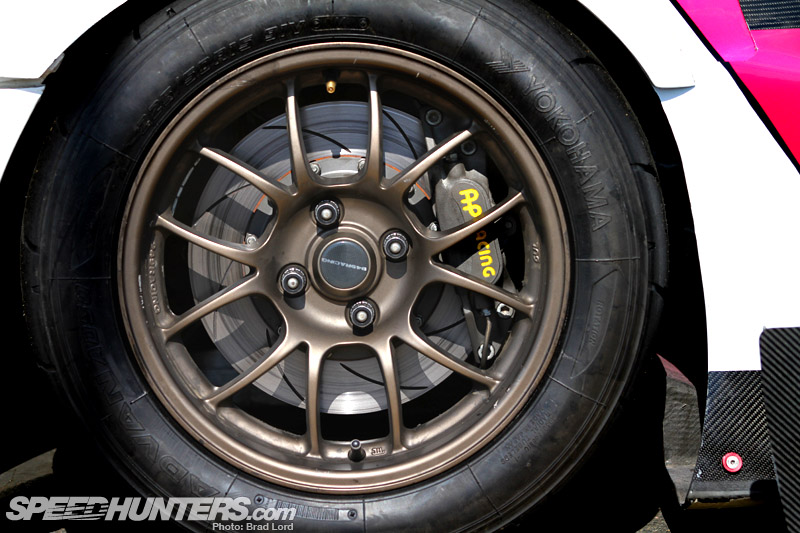 Custom built MCA adjustable coil-over dampers complete with remote reservoirs are employed all four corners of the car, with Progressive sway bars front and rear and solid/rose jointed bushes throughout. In the brake department AP Racing 4-pot calipers and 2-piece discs feature on front end with a Wilwood set up at the back, while the wheels are by 949 Racing and the 225/50R15 A050 tires by Yokohama ADVAN.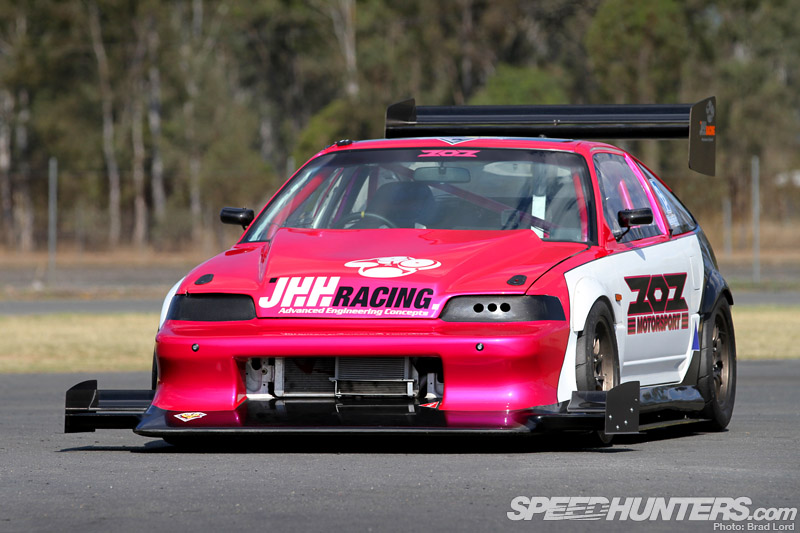 Perhaps the most defining aspect of the CR-X is it's aggressive aero package; most of which can be credited to Barry Lock, an Australian ex-McLaren F1 engineer with a penchant for making things stick.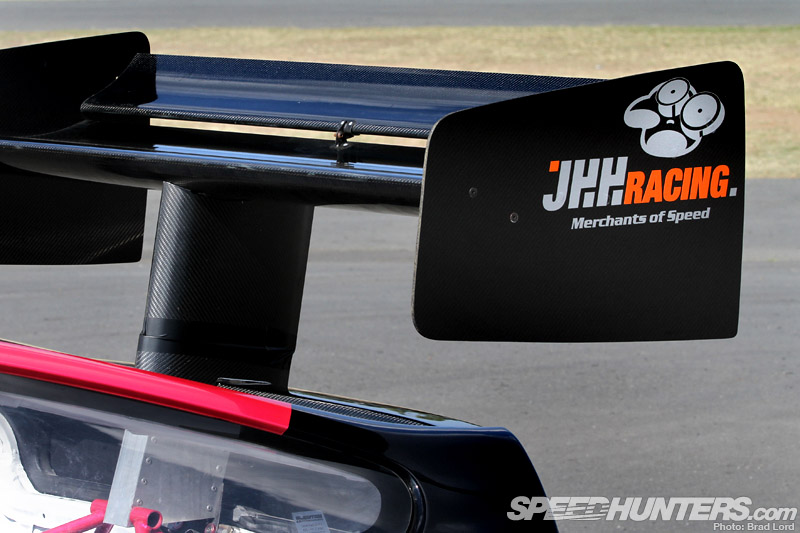 Every piece of the aerodynamic puzzle has been purpose-designed for the application. From the giant twin-blade carbon fiber rear wing mounted off the chassis…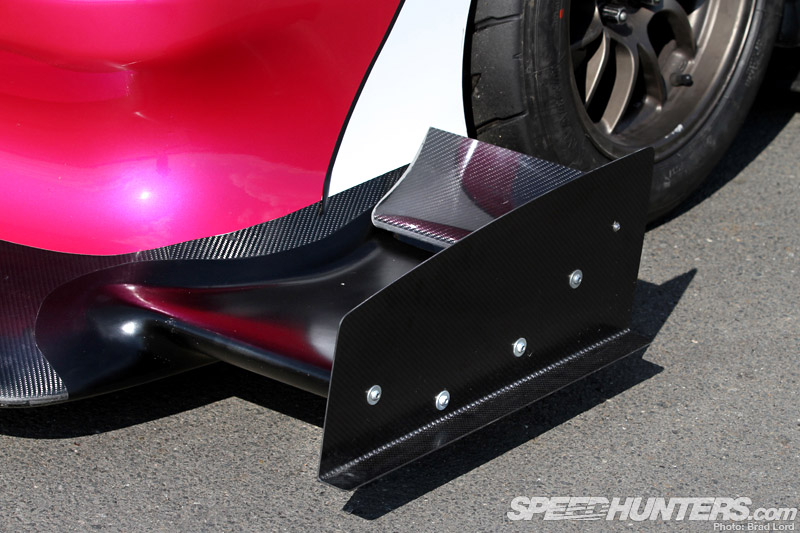 …To the beautiful front diffuser and wing combination. Coincidently, Barry is also the brains behind a similar package developed for MCA Suspension's crazy 'Hammerhead' Nissan Silvia S13.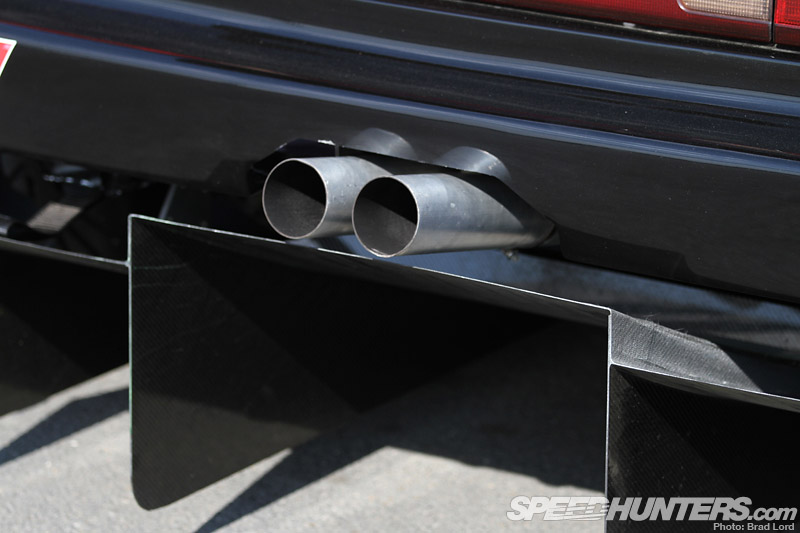 Out the back a carbon fiber rear diffuser channels air running off a flat under-tray created by Cawthorne Composites. It all adds up to an aerodynamics system that at 160kph (100mph) offers up 600kg (1320lb) of downforce. With so much power running through the front wheels and so little weight – think sub-800kg – it absolutely needs it too.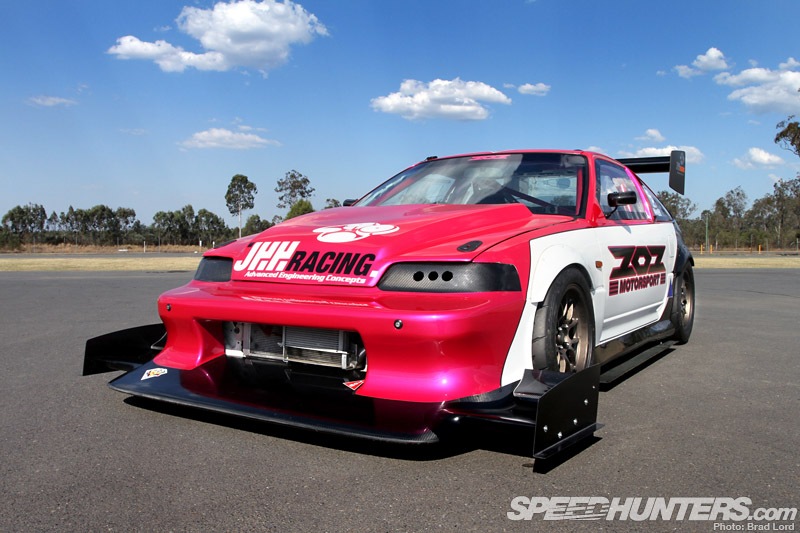 At face value it's pretty hard to miss the 101 Motorsport machine, but it's all part in parcel of a well thought out and executed package that – comparatively speaking – has been built on a modest budget. MightyMouse is a true giant killer in every sense.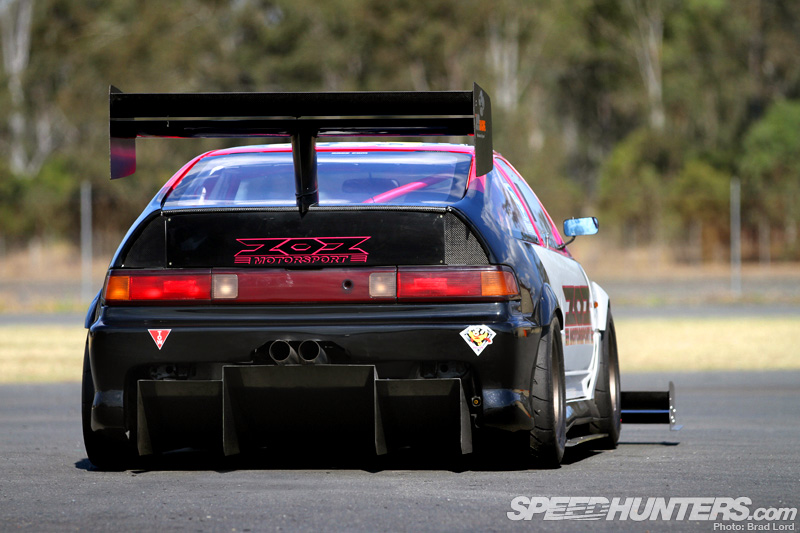 But that's not where this story ends. Since beating out all of the time attack competition (turbo four-wheel-drives included) at Queensland Racing's 2012 Jap Nationals in September, the CR-X has been in the workshop being re-prepared for the 2013 season. Several new intake manifold set ups are being tested as are different spring and damper rates in the suspension. The aero package is also being evolved with a focus on channeling air out of the front diffusers. For Rob the short-term goal is running a 1:33 lap back at Sydney Motorsport Park when WTAC rolls around again in August next year. Then, for 2014, a turbo engine package will be developed with the idea of getting the little Honda over to Japan to compete in Rev Speed magazine's annual time attack event at Tsukuba Circuit, and having a crack at the current 58.2-second front-wheel-drive record. Given what we've seen here, I highly rate MightyMouse's chances.
– Brad
MightyMouse on Facebook
101 Motorsport
SPEC
1990 Honda CR-X
ENGINE: Honda K24A inline-4 DOHC 16V; 2.5L, 13.5:1; Wiseco forged pistons; Carrillo connecting rods; Brian Crower 4340 billet steel crankshaft; BluePrint Racing Stage 2 camshafts; BluePrint Racing intake manifold; Skunk2 Pro-Series billet throttle body; Bosch Motorsport 044 fuel pump; Walbro lift pump; Sard Racing adjustable fuel pressure regulator; Hybrid Racing fuel rail, 4x RC Engineering 1000cc injectors (E85); 101 Motorsport fuel cell; Six Sigma Racing exhaust manifold; custom stainless/aluminum exhaust system; PWR radiator; oil cooler; Aviaid 3-stage dry sump system; 280whp
ENGINE MANAGEMENT / ELECTRONICS: Hondata K-Pro
DRIVELINE: Honda 6-speed gearbox; Exedy single-plate clutch; Exedy lightweight flywheel; OS Giken limited slip differential; Driveshaft Shop Ver.2.9 driveshafts
SUSPENSION / CHASSIS: Front/Rear – Custom built MCA adjustable coil over dampers/springs, Progressive sway bars, full solid/rose jointed bushes
BRAKES:  Front – AP Racing 4-pot calipers, floating discs; Rear – Wilwood 1-pot callipers; solid disc; OPB adjustable pedal box
WHEELS / TIRES: Front – 949 Racing 6UL 15×9″ alloys, Yokohama ADVAN A050 225/50R15 tires; Rear – 949 Racing 6UL 15×8″ alloys, Yokohama ADVAN A050 225/50R15 tires
CABIN: Race Car Engineering chrome-moly roll cage; AiM MXL Strada digital dash; Sparco steering wheel; custom trimmed dashboard; 101 Motorsport custom-trimmed race seat; Sparco harness seat belts
BODY: Custom-designed Barry Lock carbon fiber aero package ; full flat floor by Cawthorne Composites, custom Aero Image fiberglass hood; carbon fiber sunroof panel; Seibon carbon fiber rear hatch; Cyber side skirts; Cyber rear bumper; Barry Lock dual blade carbon fiber rear wing
THANKS: 101 Motorsport; JHH Racing : Robert Green; John Power; Barry Lock; Cawthorne Composites; George; Jason; Tereza
DESKTOPS