We can't always trust our initial assumptions, can we? My first thought when I saw Emanuel Sandén's 1946 Plymouth Deluxe was that a Swedish dude built himself a rat rod lowrider – a flat black one at that.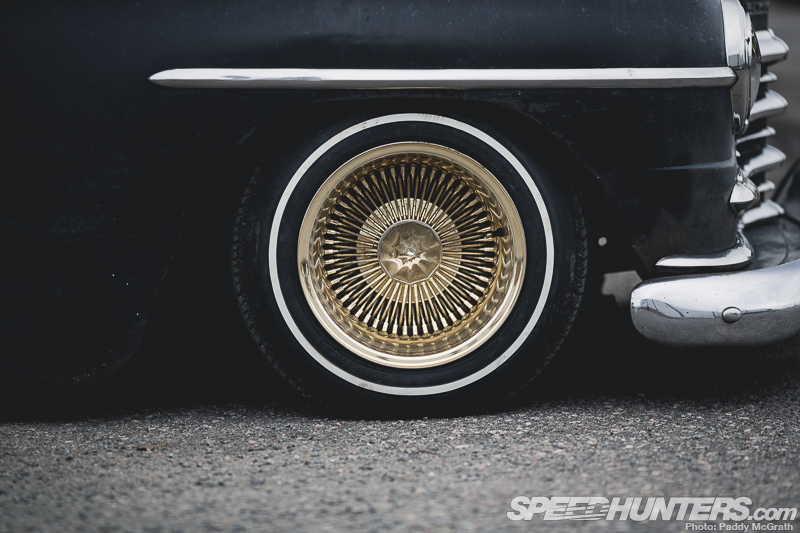 I chalked it up to a foreign caricature of American style, an assumption that's not too far fetched. But I also knew Emanuel was one of the guys behind the wicked Hemizon we featured a couple of months ago. There had to be more to this build than I was seeing at first glance.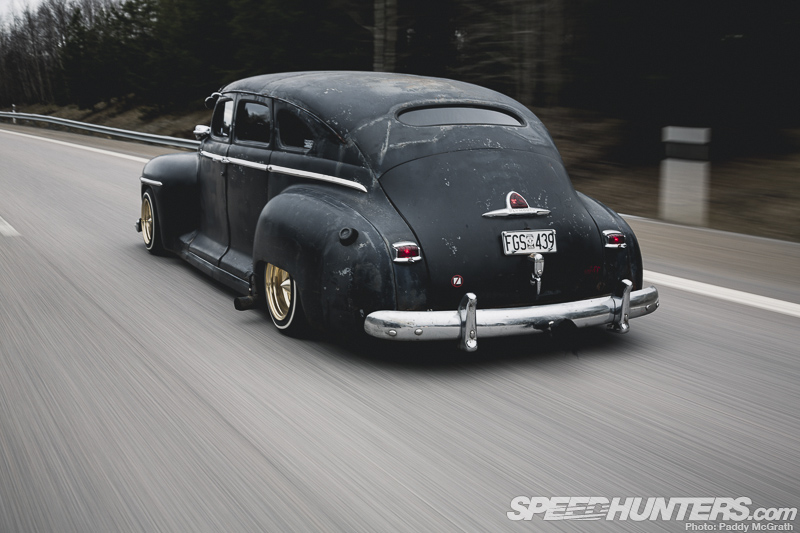 Maybe I'm jaded by so many people jumping on the rat rod bandwagon; take any bodystyle, paint it flat black, install some shock-value accessories and call it a build. So when I learned that El Plymo was chopped in the '60s and still wore its original paint and bodywork, I realized that I had perhaps been shortsighted.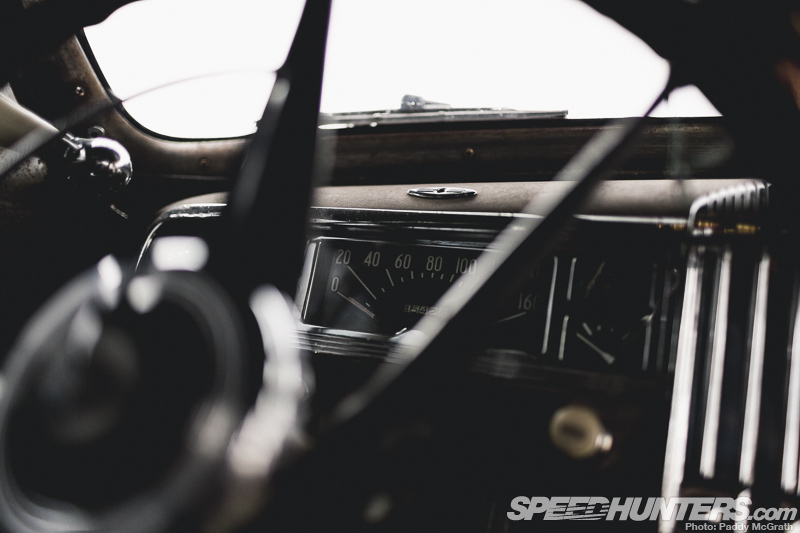 El Plymo isn't a caricature or a passing fad at all. It's a true survivor, and one that Emanuel has breathed new life and style into.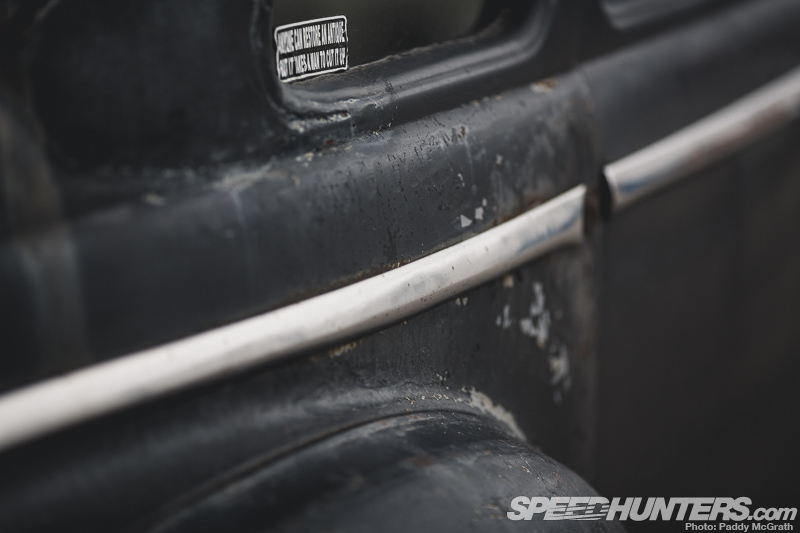 Looking at the rough bodywork, it's easy to judge. Just know that those welds are original and untouched, laid down with an oxyacetylene rig by a hotrodder in Sweden over 50 years ago. Most of us can't claim that kind of authenticity, can we?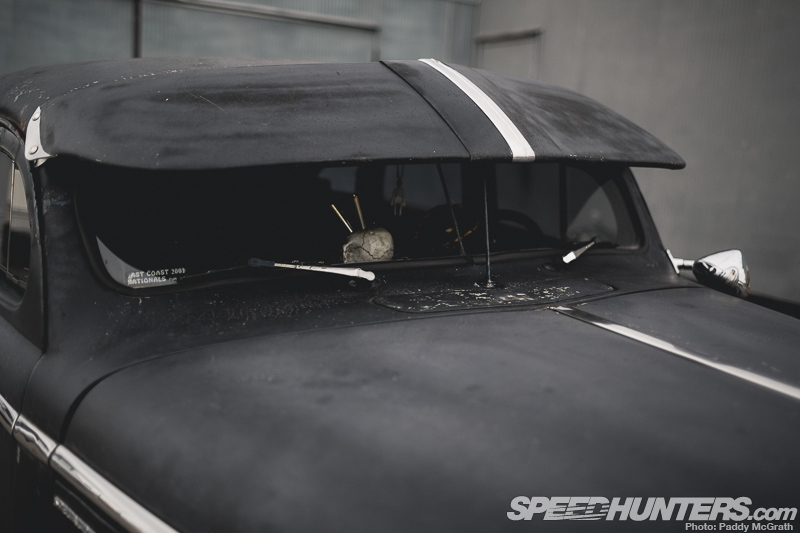 As I noticed the switchbox on the dash, my next thought was 'Please don't have airbags…'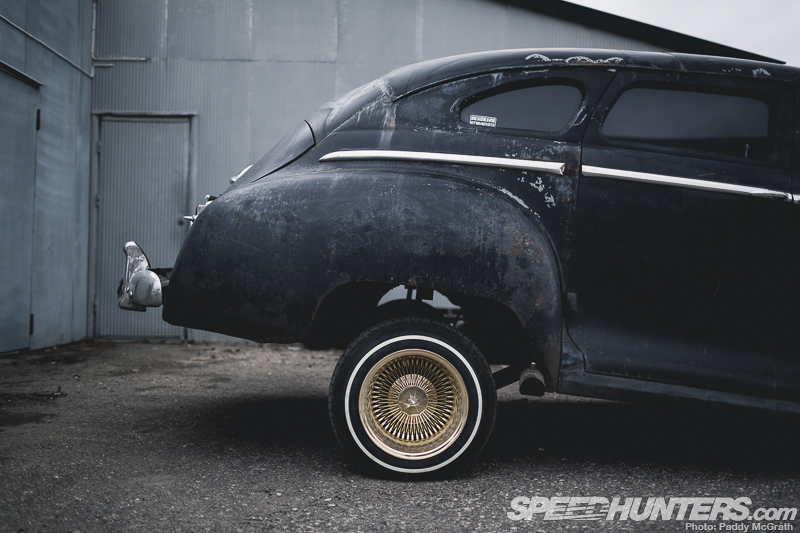 I breathed another sigh of relief when I saw the back lifted. Clearly this thing was juiced.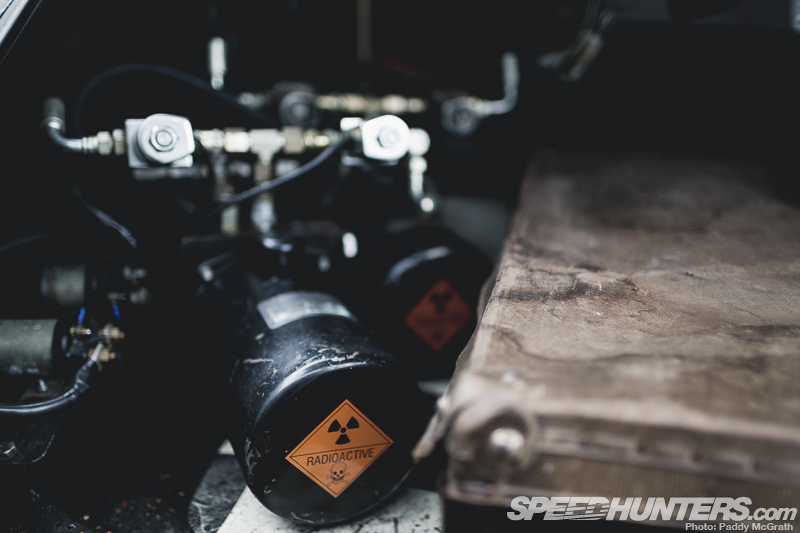 Emanuel took it a step further and installed legit parts – two old school Fenner Stone pumps with solenoids off a Swedish big rig.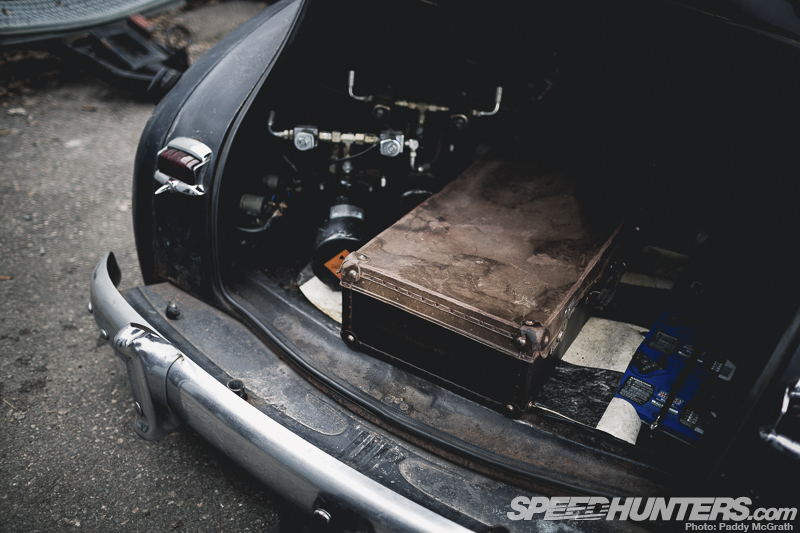 He's also running two electrical systems in the car, the normal 12v one plus a 24v system just for the hydros. The car can recharge the 24v system without needing to plug in each night – clever.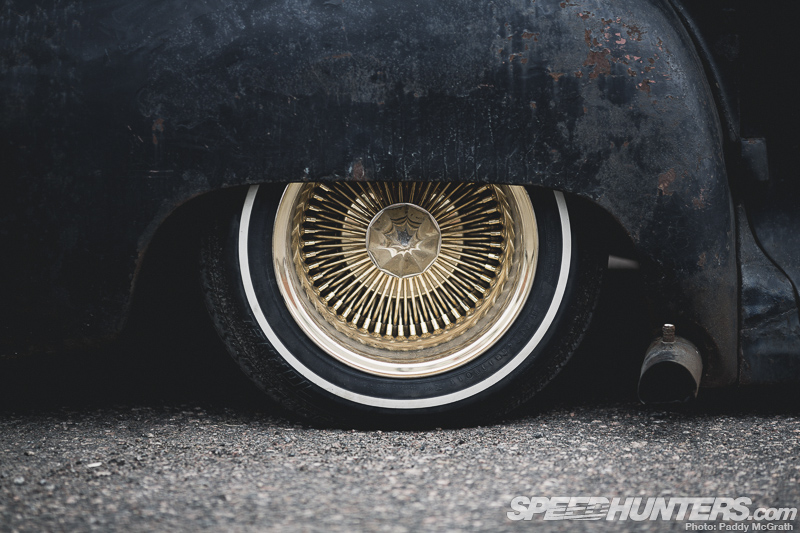 It didn't take much to push the chopped Plymouth into lowrider land – just some hydros and wires really. The wheels are 13-inch gold plated Daytons, because as Emanuel says, "An old school lowrider must have 13s!"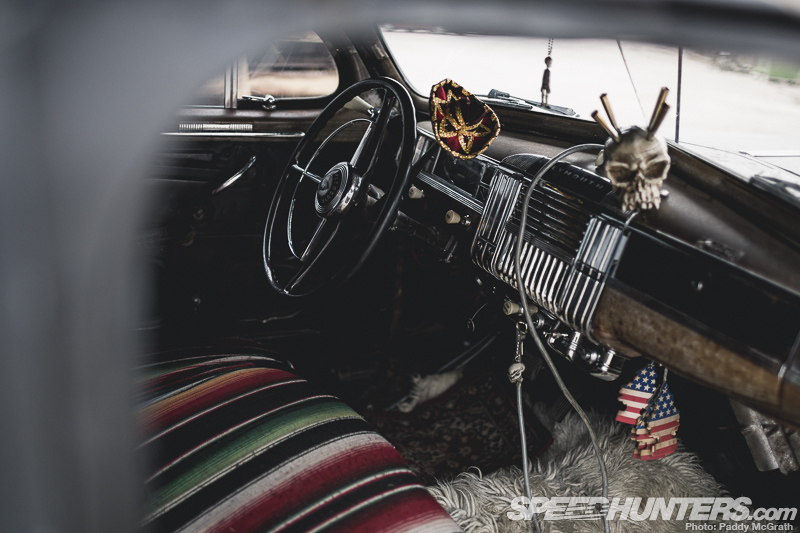 It's interesting to me that he went after the lowrider style with this build. With a barn-find like this I would have been tempted to build a period kustom. Even more interesting though is that he built the car some 10 or 11 years ago. Clearly Emanuel is (and has been) building cars in his own style and not by whatever the current trend happens to be.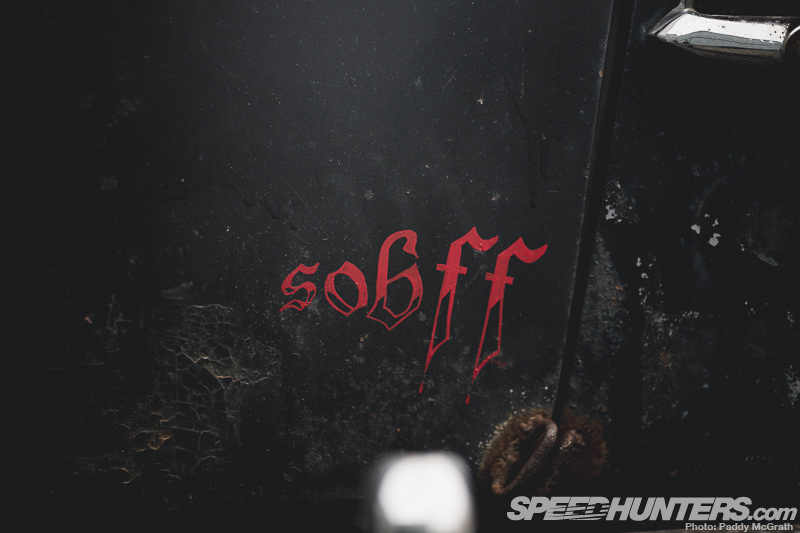 This hand-painted logo caught my eye and I had to ask about it. Loosely translated it means Swedish Original Destroying Association, Emanuel's answer to the 'problem' of old guys who only restore cars to original.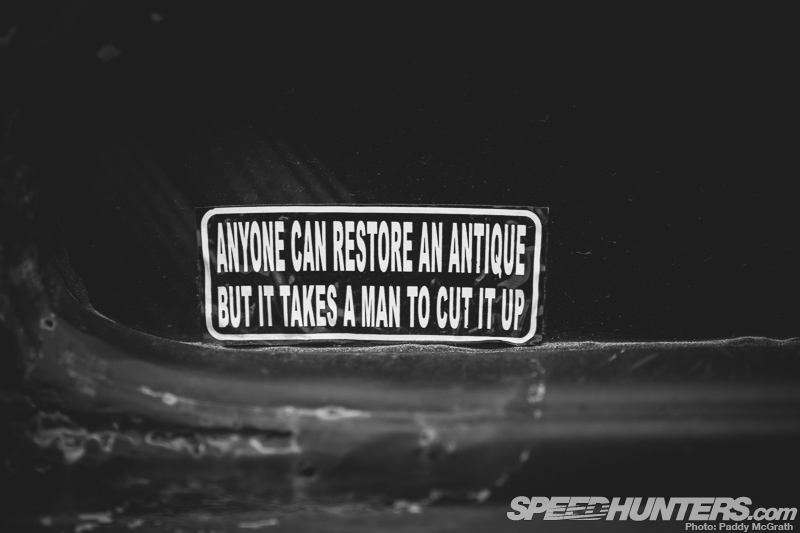 In case you're still not clear about his feelings on old cars, there's this decal on the window.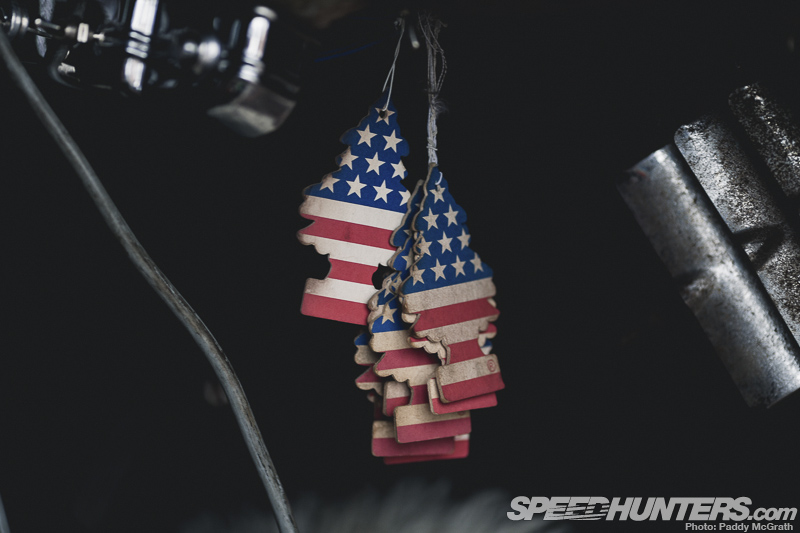 As an American who also loves historic custom cars, it's sometimes jarring to see such blatant Americana displayed in foreign builds. I guess I take for granted the culture and history we have at our disposal, but to see a guy go to such lengths to bring the style to his own country is an excellent reminder.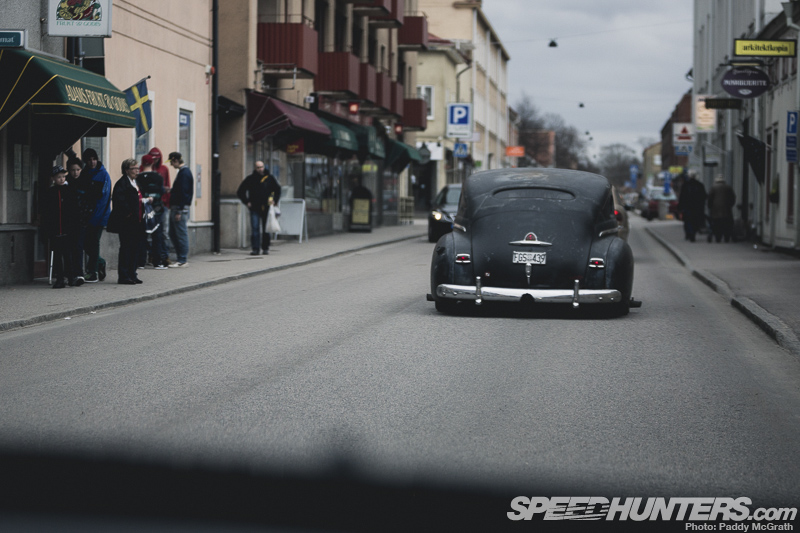 Emanuel wanted to make sure we knew that he drives his car too. Of course he cruises it locally; wouldn't we all?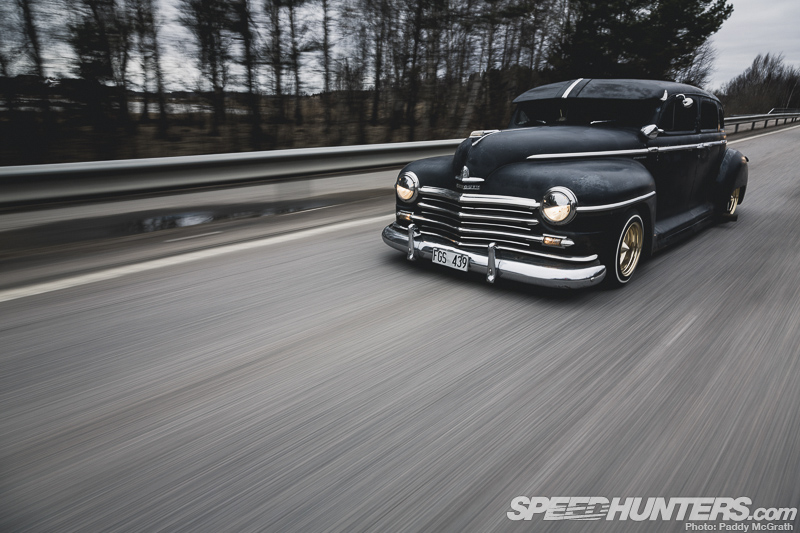 He's not afraid to hop in and road trip El Plymo either though. In fact he's taken it as far as Spain, crossing through a number of other countries on his way.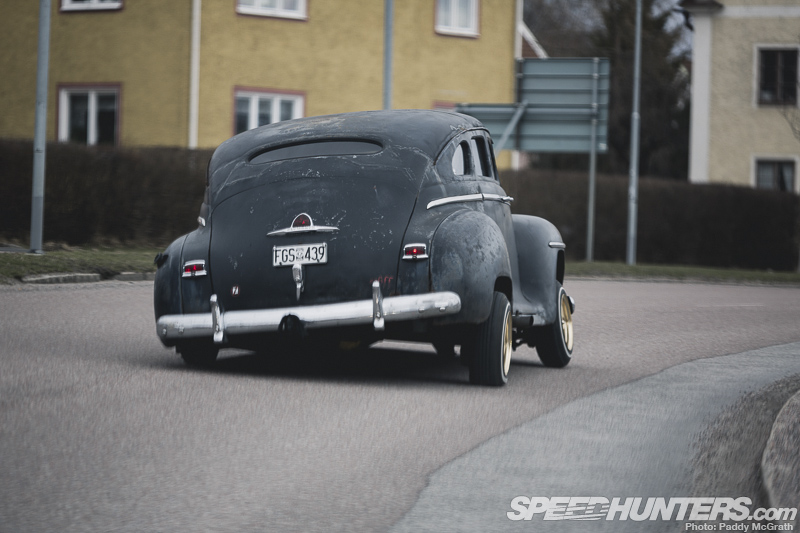 Now keep in mind this is in an old vehicle, one which he built from the ground up, plus it has adjustable suspension. Driving this car through multiple countries requires two things: passion and confidence in your own mechanical abilities.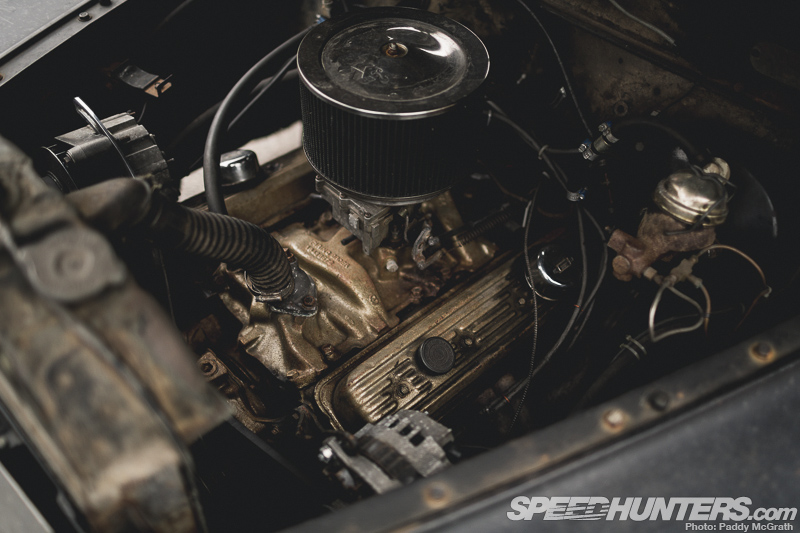 If you're going to take long road trips you'll probably want a tried and true SBC of course.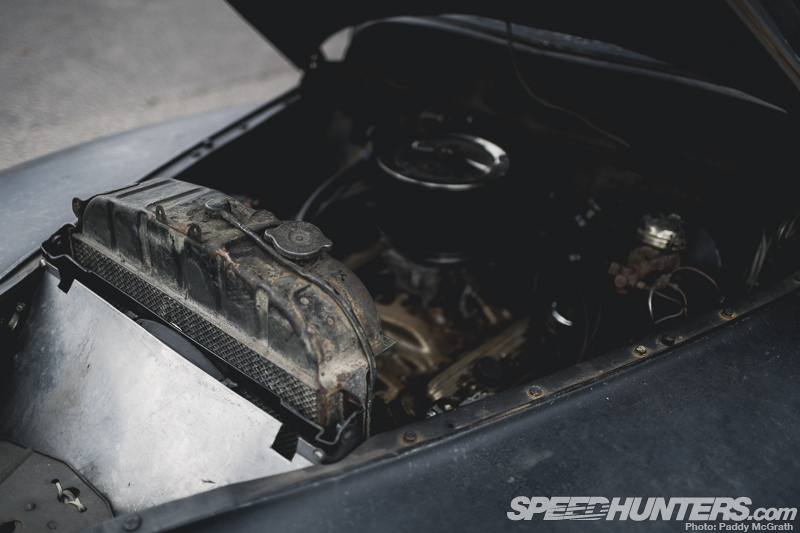 Emanuel didn't do much to the engine, but I do see an electric fan with a shroud to direct air through the radiator.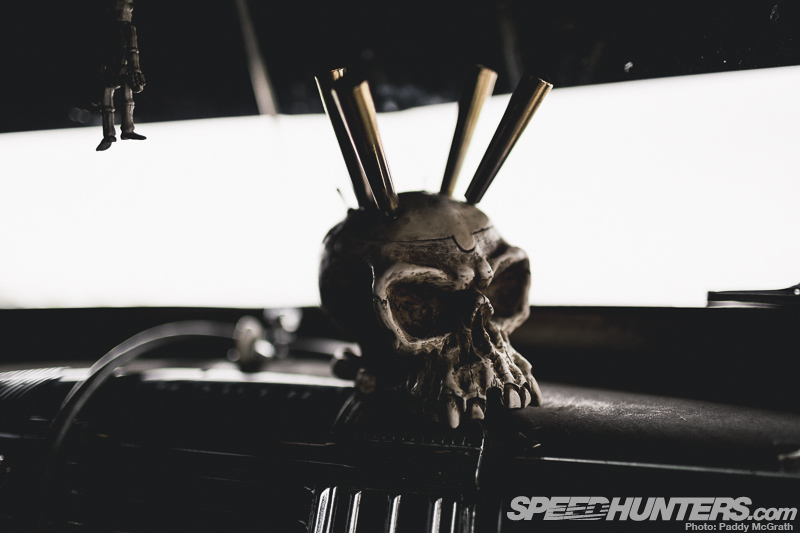 That switchbox we saw earlier was made from a sculpture Emanuel found somewhere.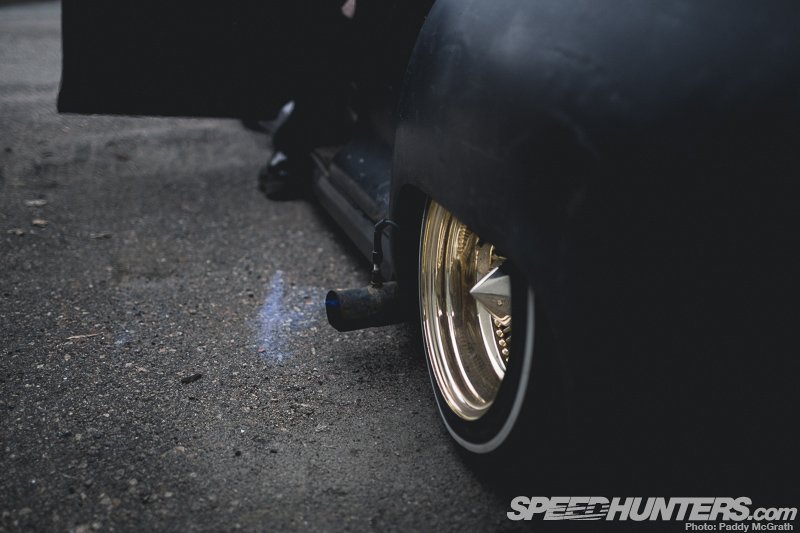 He's also added old school flame throwers to the exhaust by welding spark plugs into the pipes and fattening up the fuel mixture. Not so much a lowrider thing, but this car is a fusion of lowrider and kustom anyways.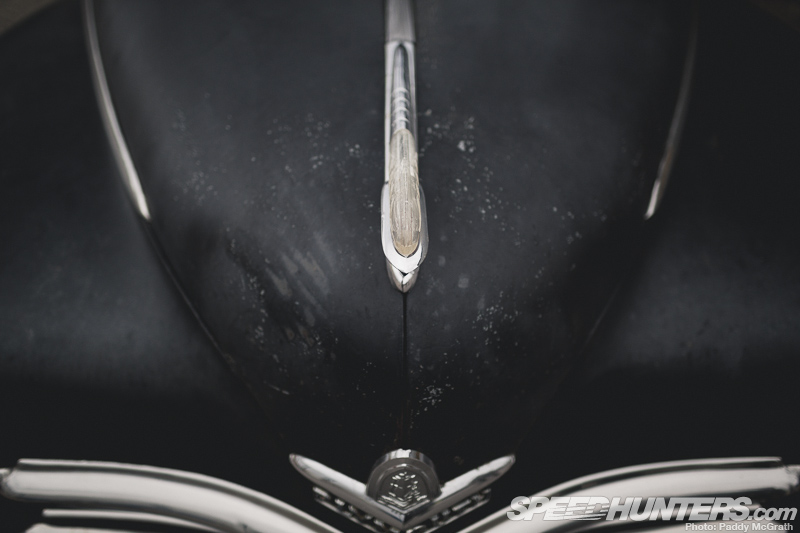 Since the body was a time capsule when Emanuel found it, he's left all the original brightwork in its place.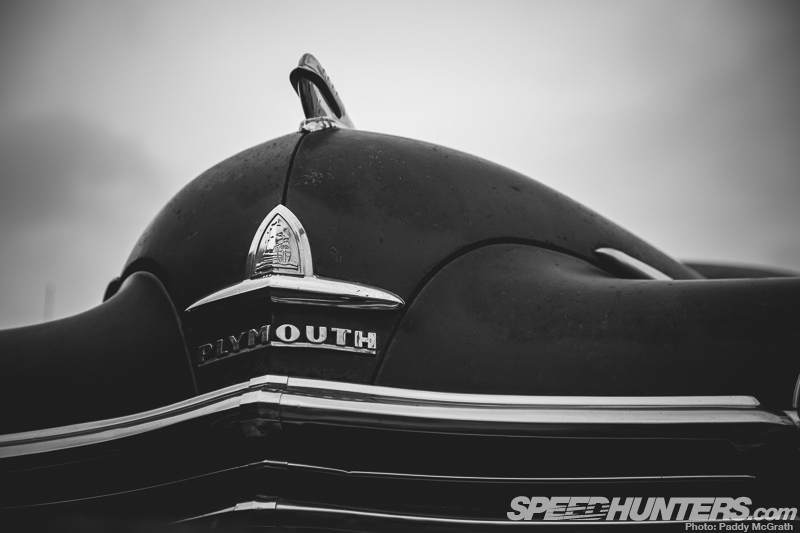 Shaving any badges or moldings would require a full repaint, ruining the character of the car – out of the question.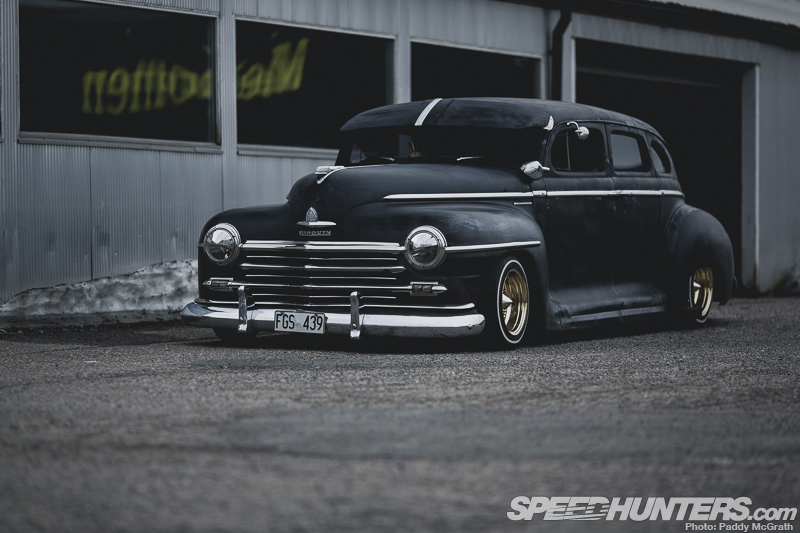 The chrome trim helps show the lines against the dull paint too.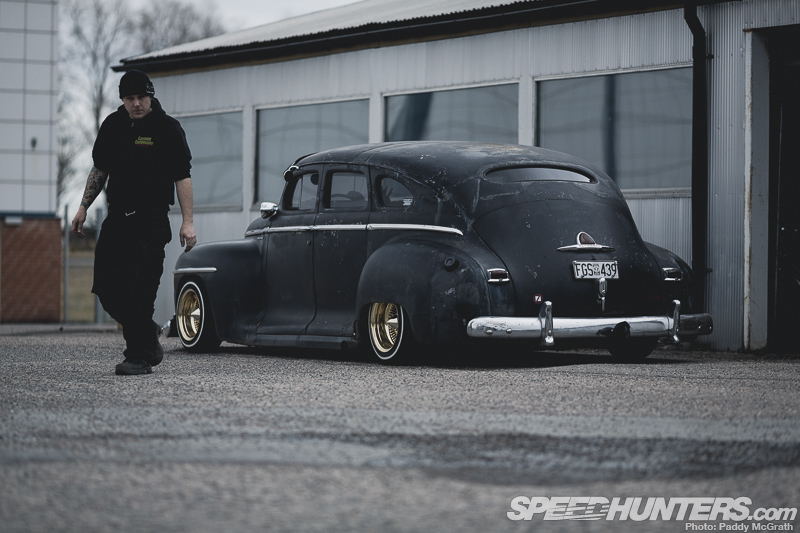 After spending some time to learn about El Plymo and chat with Emanuel I realized what a legit custom car this really is. Shame on me for thinking it was just another rat rod…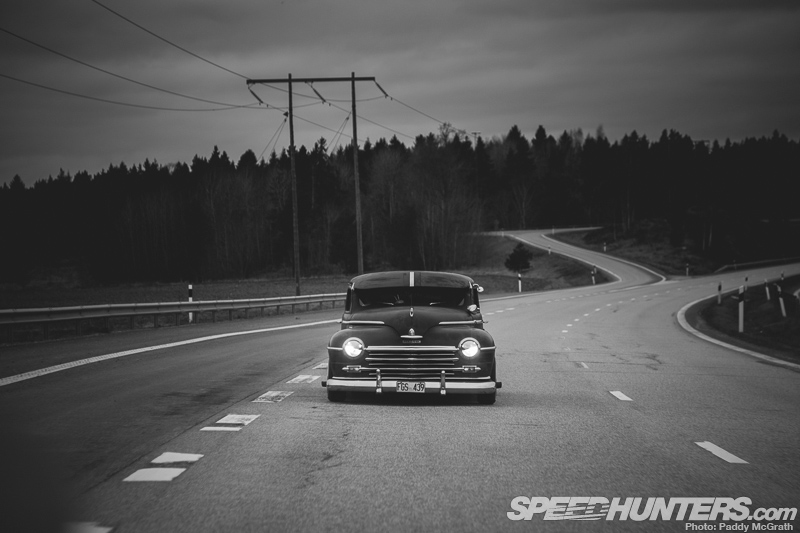 …and bravo to Emanuel Sandén for being a customizing visionary. I mean really, who scores an original, chopped barn-find and then puts a lowrider spin on it, in a country where a lowrider scene barely exists at all? I guess Emanuel does!
Words by Keith Charvonia
Instagram: SpeedhuntersKeith
keith@speedhunters.com
Photos by Paddy McGrath
Twitter: @PaddyMcGrathSH
Instagram: speedhunters_paddy
paddy@speedhunters.com
Emanuel's Diesel Powered Chevy Hot Rod
Emanuel Sandén's 1946 Plymouth Deluxe: 'El Plymo'
Engine
350ci Small Block Chevy
Driveline
TH700 four speed automatic, 10-bolt rear axle from 1968 Nova
Suspension/Brakes
Stock drum brakes, Opel and Corvette steering parts, Chevelle and Volvo suspension parts, two pump hydraulics with 12-inch hydraulic cylinders
Wheels/Tires
13-inch 100-spoke Daytons with 155/80/13 tires
Exterior
Original 4-inch chop, rear fenders widened 2 inches, lowered front bumper
Interior
Mostly original