One of the beautiful things about hunting speed, is that you never really know where your next adventure will take you. You wake up one morning, go to work and arrive back home later that night asking yourself,  "Did that really just happen?". Back in April, we visited Larsson Customizing based out of Nyköping in Sweden. We came to shoot the Hemizon, which you may or may not have read about already. You should check it out by the way.
Anyways, when we were finished shooting, one of the guys working at Larsson's asked us if we would like to come see his personal garage which wasn't too far away. Since this guy's daily driver was a '46 Plymouth Special DeLuxe low rider with an original roof chop from the same era, we decided that he was probably worth following.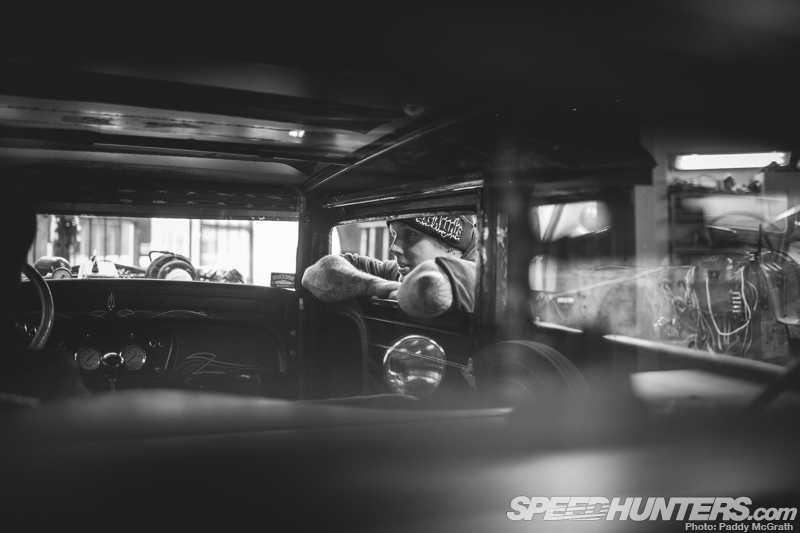 This guy's name by the way, is Emanuel Sandén. Emanuel is one of those characters you meet who is immediately likeable. With infectious enthusiasm and a permanent smile on his face, you can tell that he's the sort of guy who's enjoying life.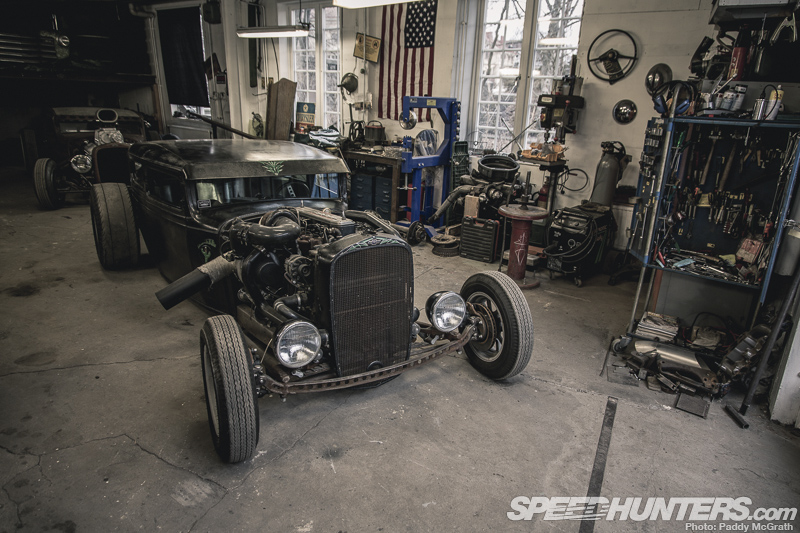 We followed Emanuel for a few minutes before he turned off the street and down into an alleyway. At the bottom of the dead end was a typical looking Swedish building on a corner, with glass doors stretching across the front of the property. Inside lived a whole different world of Americana, a far cry from the subtle Swedish exterior. A collection of completed builds with some work in progress cars and future projects scattered around the premises. We certainly weren't in Kansas.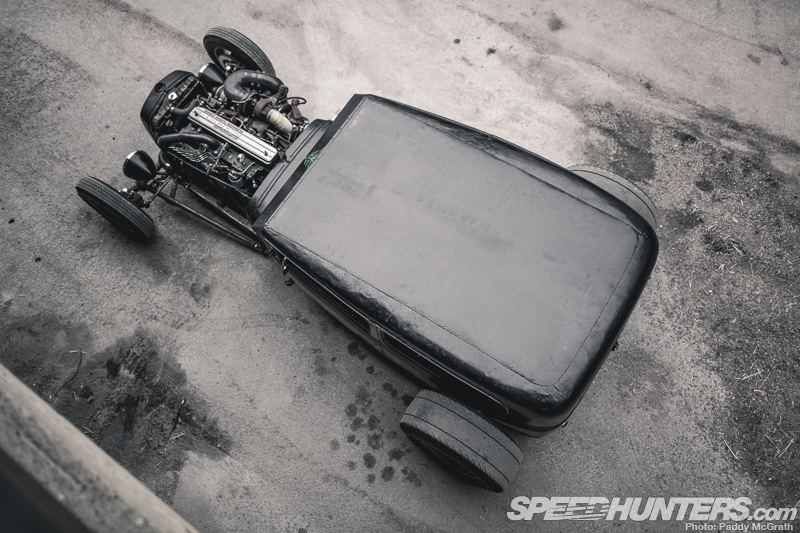 We'll talk about the rest in another post, because the main reason we followed Emanuel was to see this…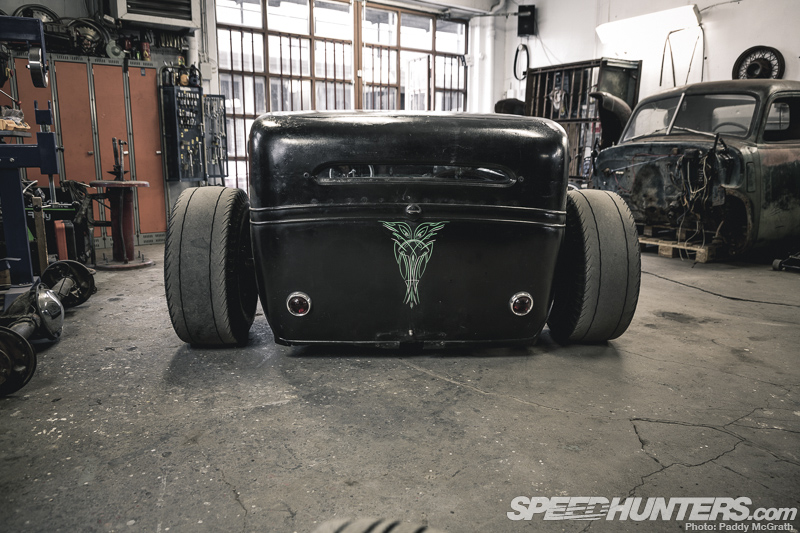 … his '31 Chevy powered by a compound charged Dodge Cummins diesel engine.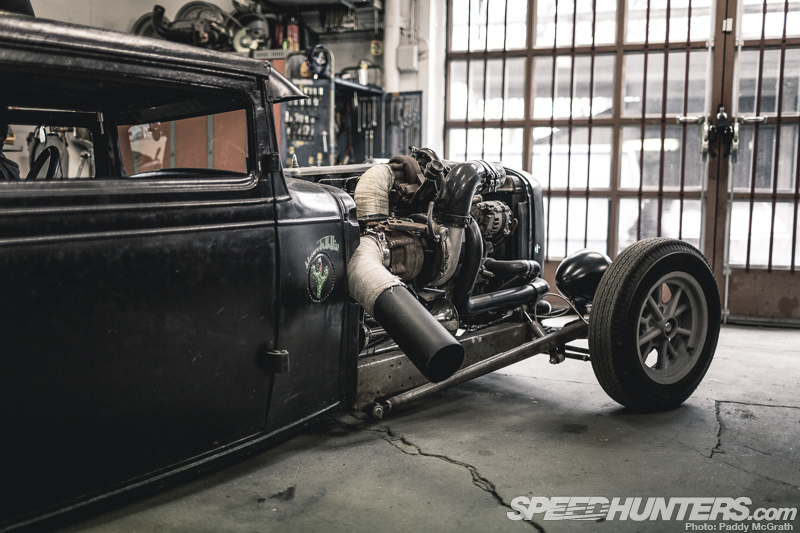 If ever an engine was perfectly suited to a ground-up build, I think this would be it. It perfectly matches the character of the car in that it is wild, but also really well considered. Whilst not a hot rod build in the traditional sense, it epitomises the spirit of the sub-culture. That is, putting a huge engine into a small car.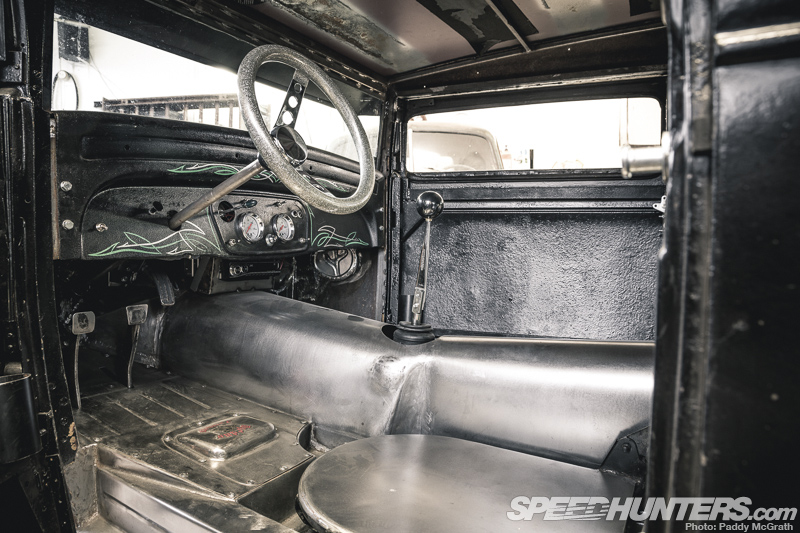 When you look at every aspect of the car, you see that nothing is there by chance or luck. Every last detail has been thought through and implemented in such a way that pleased Emanuel the most.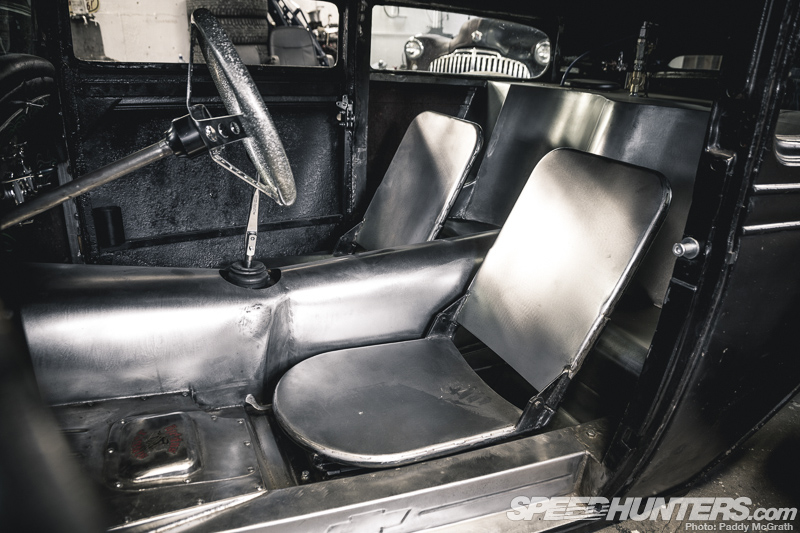 With the roof chop, the seats have been recessed into the floor so grown adults can still fit inside. The seats themselves are handed crafted as are the under seat sliders and hinges for folding them forward…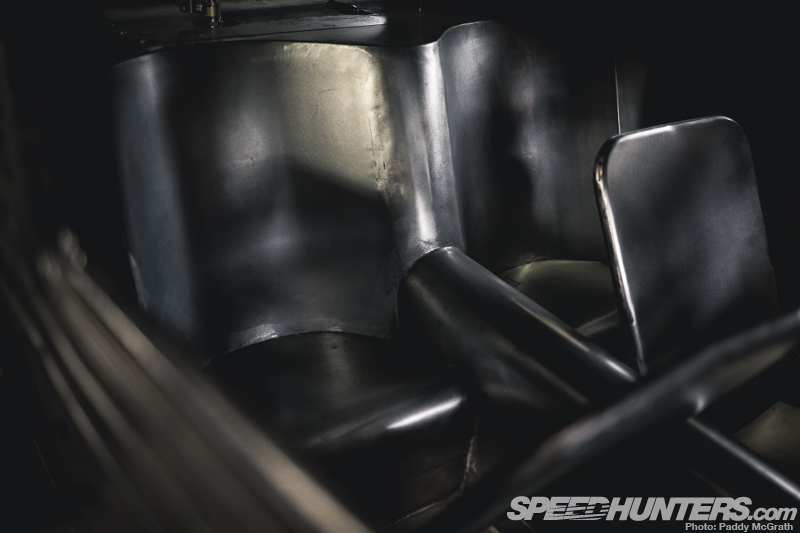 …which allows access to the custom rear seats. They may be crafted from steel, but they are surprisingly comfortable.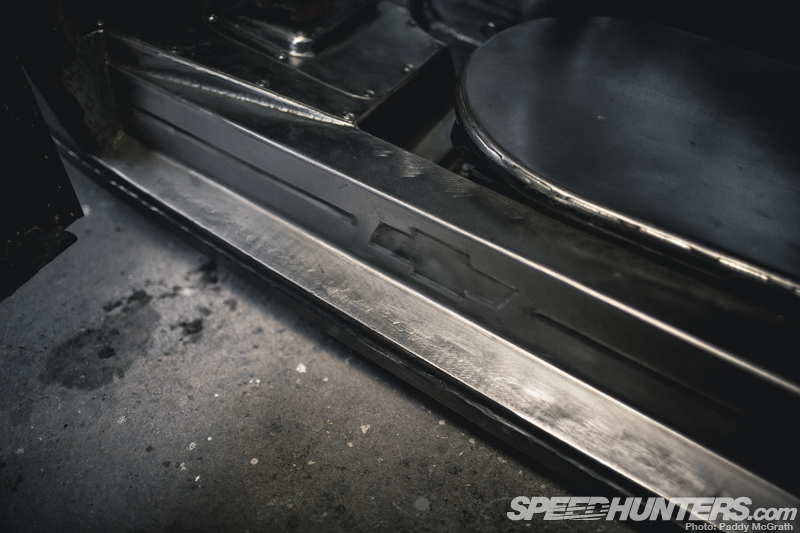 The famous Chevrolet bow tie has been embossed into the sills, just as a reminder that above all other things, this isn't a Ford.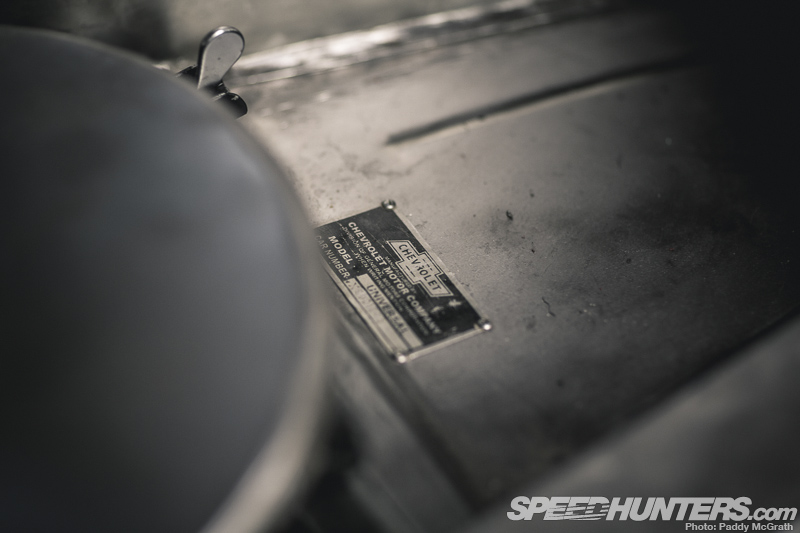 Ford hot rod builds are a lot more commonplace, so you can see why Emanuel is keen to remind people that this isn't your usual build.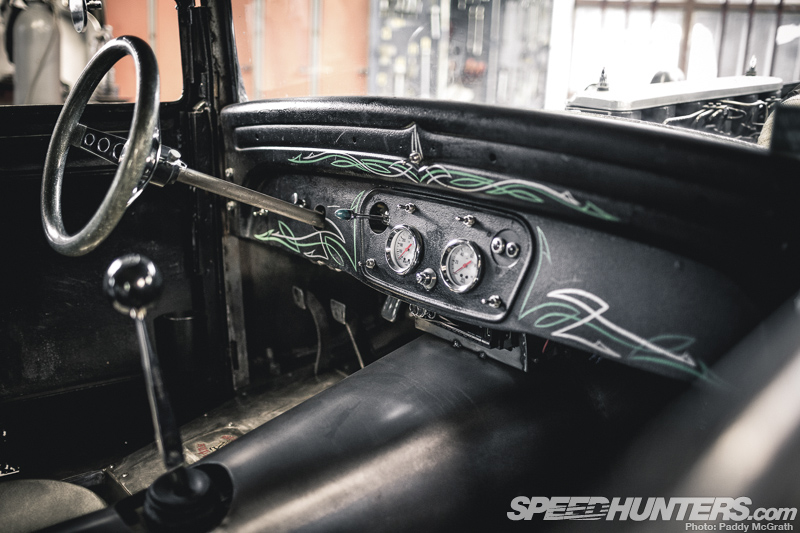 The pinstriping on the dashboard is the only dash of colour inside the cab…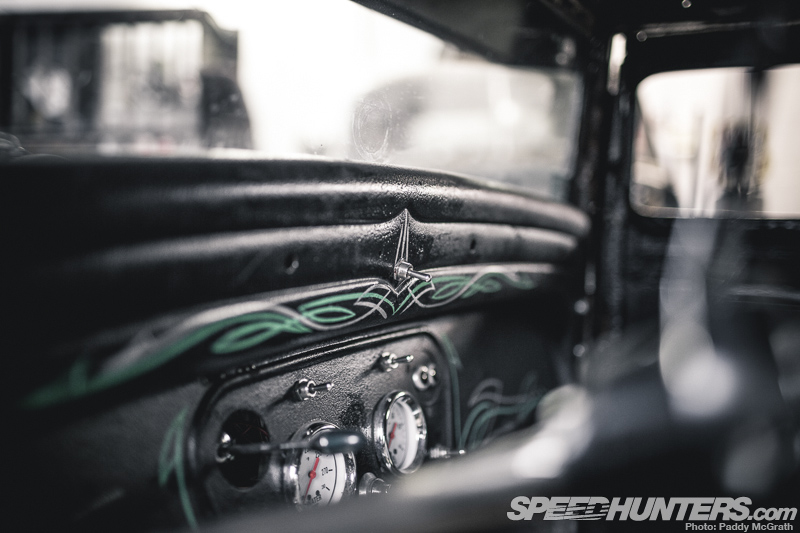 … with minimal toggle switches to control various operations including…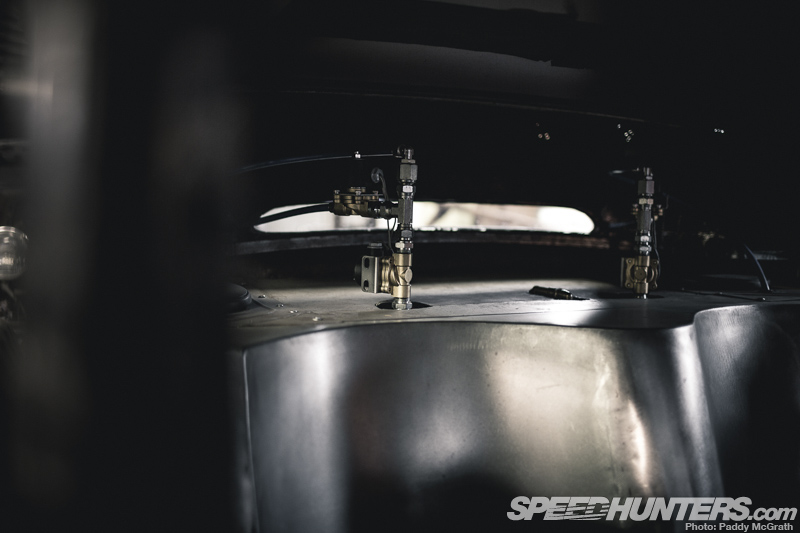 … the completely custom-built rear air suspension running with a four link set-up. In-car entertainment is provided by a train horn. I kid you not.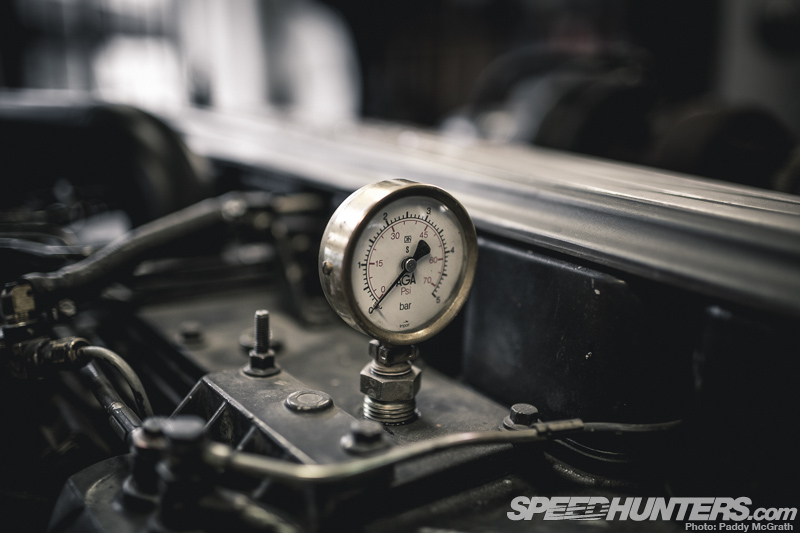 Outside of the cabin, but in full view of the driver is the turbo boost gauge. Emanuel couldn't find a proper gauge which could account for the massive amount of pressure created by the Cummins set-up, so he used a gauge from the top of a welding tank instead…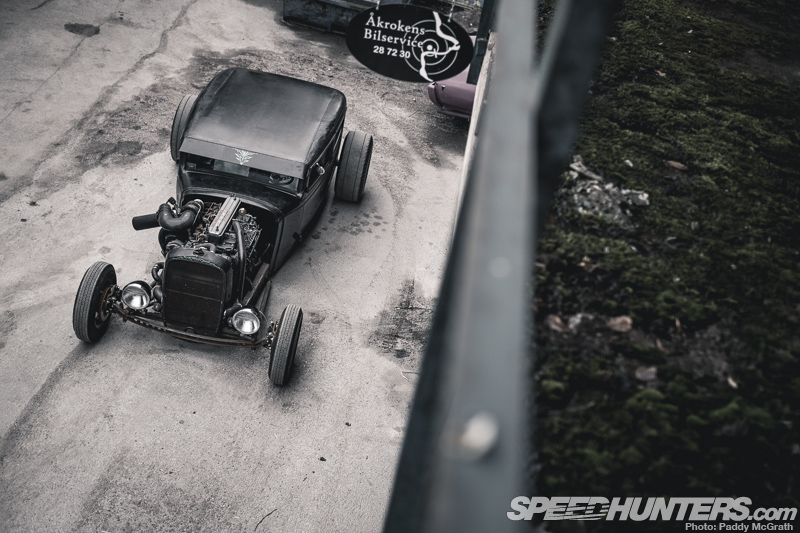 One of the things that fascinates me about hot rod builds is not only the attention to detail but how each build is an extension of its creator. I've always admired the entire scene from afar but have been determined recently to get closer and really understand the entire sub-culture. As like-minded car folk, we should all be able to be dropped into unknown territory, completely out of our normal comfort zone and use the opportunity to learn new things.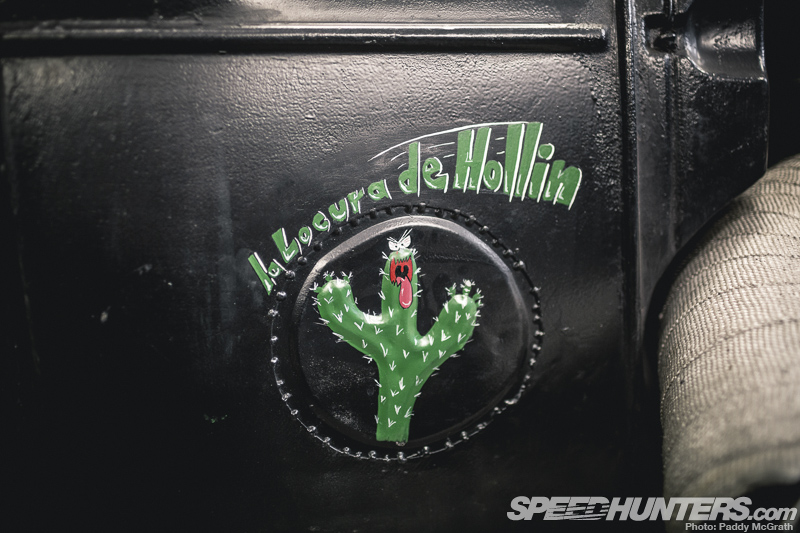 Just behind the 5″ exhaust sits this Chevy's title: La Locura de Hollin. This literally translates from Spanish as the 'Madness of Soot', an appropriate name once you see the car running at speed, black smoke billowing from the side. Speaking of Spain, Emanuel recently drove to the south of Spain in this, a return journey of over 6,000kms, taking in Monaco amongst other places on his journey. Apparently, things get interesting in the rain on the autobahn.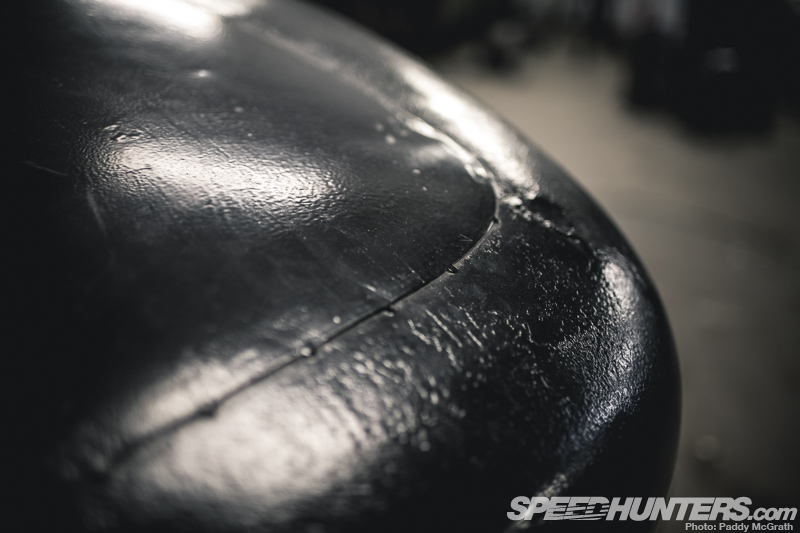 There's a certain authentic quality to the finish of the car too; a far cry from the purposely rusted panels we often see within the VAG scene. Everything about the car just feels right.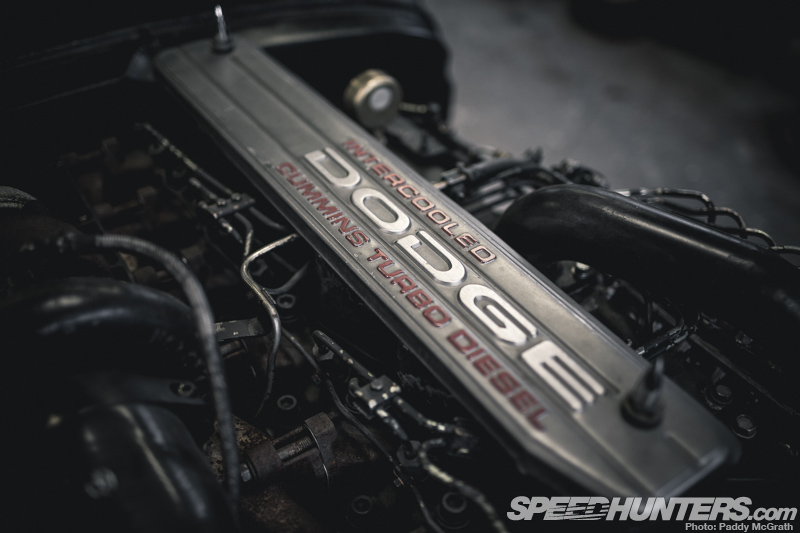 Allowing the Chevy the ability to cruise at 150km/h in sixth gear at just 800rpm is the 5.9L straight six Cummins B 12-valve turbo diesel engine.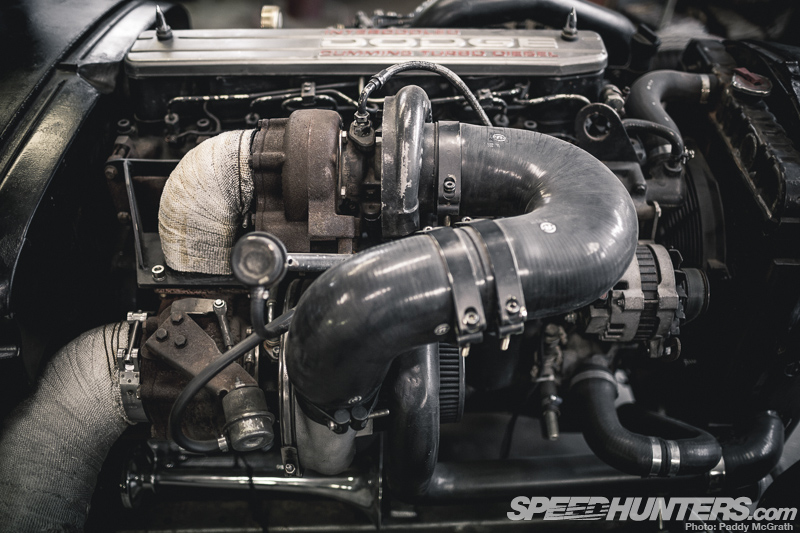 A compound charged system has been implemented to minimise turbo lag, with a Holset HX55 feeding into the smaller HX35. This, along with a rebuilt fuel pump allows the Cummins to make around 500hp at the wheels, along with 1500Nm of torque at 5.0 bar of boost (1106lb/ft at 72.5 PSI).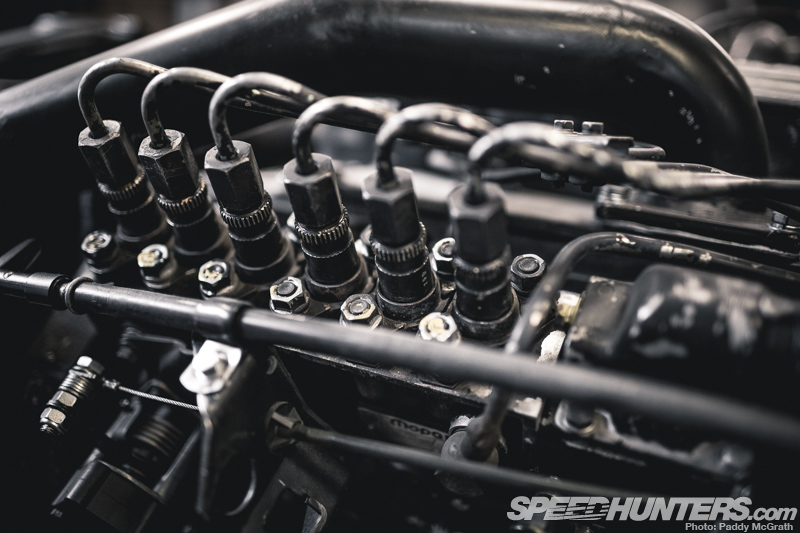 Being diesel, huge pressure figures are the norm but trying to wrap your head around a fuel system running up to 200 bar (3000PSI) is just mind boggling. These engines were intended for powering school buses and eighteen wheelers, so I'm sure you can imagine the level of performance. Emanuel says it goes like 'a runway train on nitrous'. I'm not one to doubt him.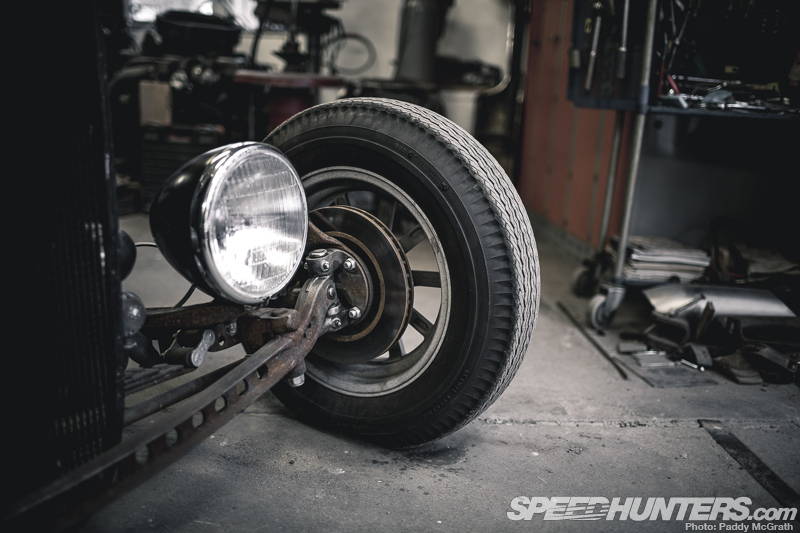 The braking performance is handled by ventilated front discs with a servo booster whilst the rears are large drums. It would be more common place to run drums on the front of a hot rod, but given the power (and torque) behind the build, I'm sure Emanuel gets a pass on this.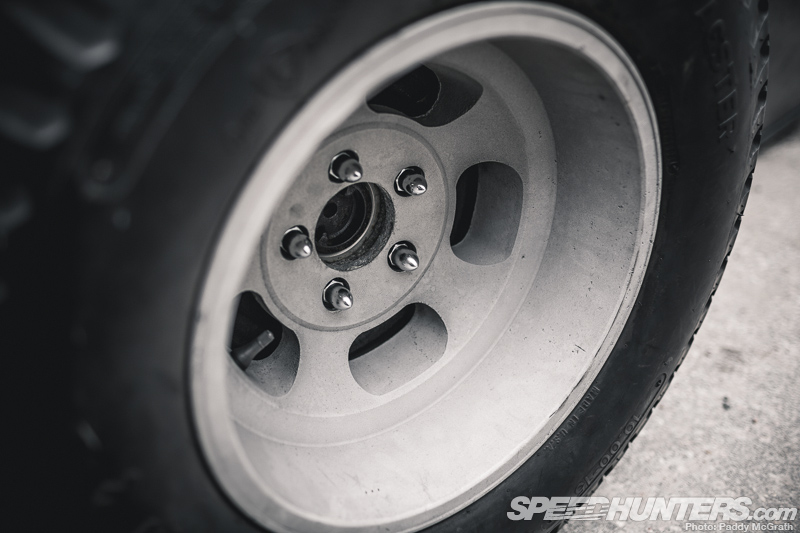 The rear Slot Mags are wrapped in Firestone cheater slicks, with ten spoke Rocket wheels at the opposing end.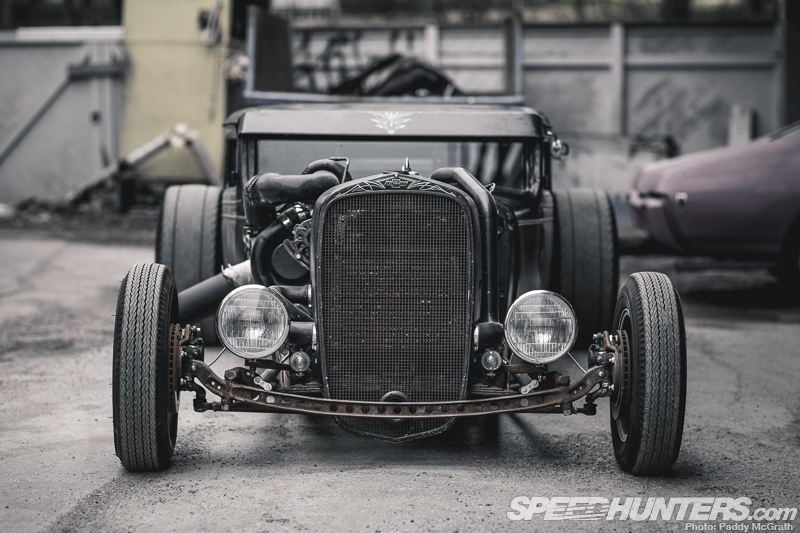 The front axle is dropped and drilled, located with hairpins and suspended by a transverse Ford leaf spring.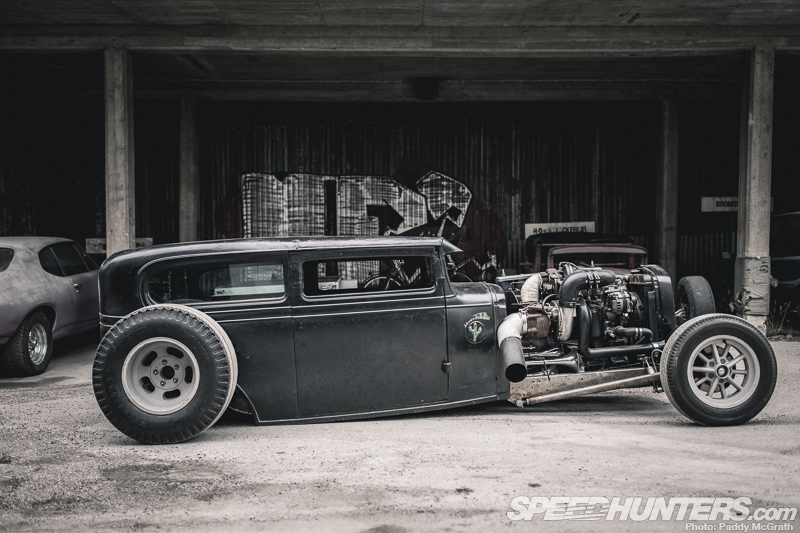 It's also running a Chevy 10 bolt rear end.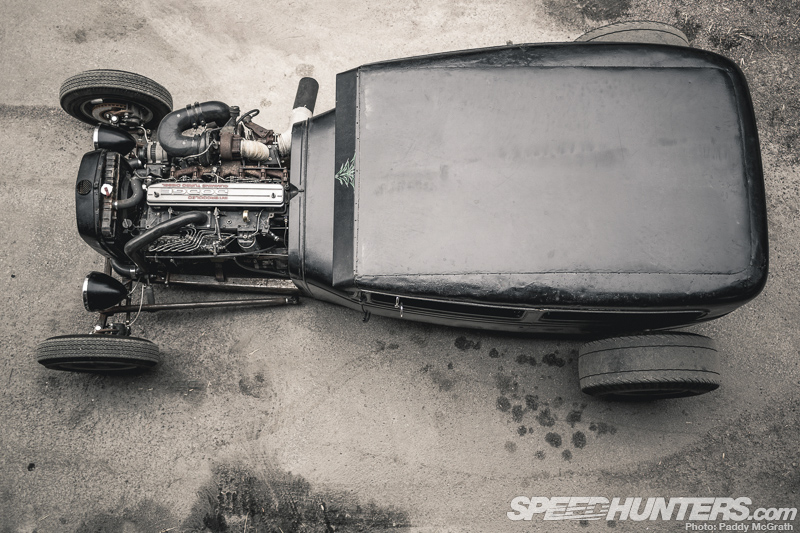 There's no doubt that this is a special car, but as far as choosing my first hot rod to feature, I keep thinking that I probably could have chosen something a lot easier. But then I look back at the photographs, and I become infatuated with the car again and again. I'm certainly not an expert in the hot rod field, and I probably never will be but I do know what I like and I like to think I know a special car when I see one.
I think what has drawn me to this scene is how you don't buy a hot rod, you build it. To a certain extent, this is true for most automotive sub-cultures but I think the hot rodders exemplify it. I mean, you could literally start with nothing but some box steel and build a car from scratch. Is there any better way of creating an extension of yourself with four wheels…?
Paddy McGrath
Twitter: @PaddyMcGrathSH
Instagram: speedhunters_paddy
paddy@speedhunters.com
A special thanks to Keith Charvonia for his help writing this article 
Emanuel Sandén's 1931 Chevrolet Cummins Hot Rod
Engine
Cummins i6 twin turbo with Holset HX35 and HX55 at 5.0 bar
Driveline
T56 six speed manual, Chevy 10 bolt rear axle with 3.08 gears
Suspension/Brakes
Front end runs Ford leaf-spring set-up, rear is custom air ride, Mopar brake system
Wheels/Tyres
Slotmags with Firestone cheater slicks, 10 spoke Rocket wheels
Exterior
All Custom
Interior
All Custom