One of the aspects I liked most about the Long Beach Motorama at Ink-N-Iron was the wide, yet very appropriate, array of custom cars that showed up. Indoors or out, you could find any type of vintage custom you desired. I want to start off this Spotlight-o-Rama with what I expect will be a very polarizing vehicle: a '34 Ford built in a very distinct '60s show-rod style.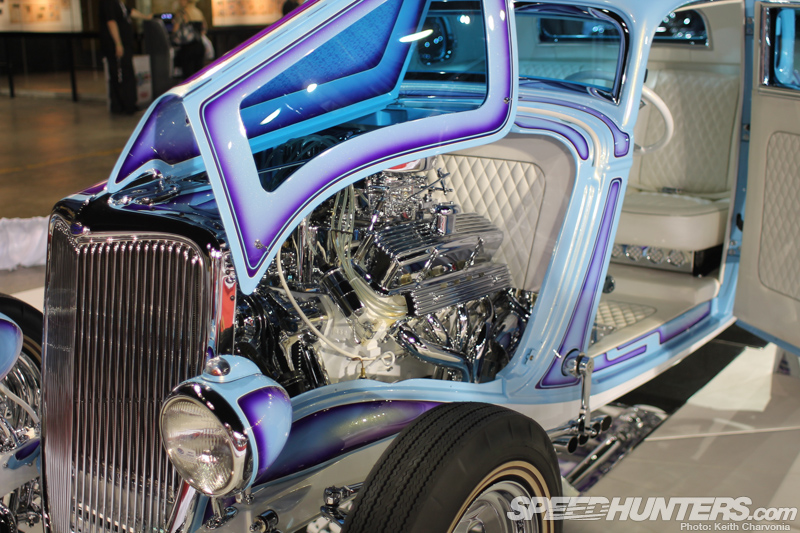 Dave Shuten built this car for the owner of Galpin Auto Sports (GAS), Beau Boeckmann, then took it on the show circuit. This time they won the Diamond Cup award – the highest honor for a hot rod. That's a 427ci side-oiler with some hard-to-find parts, like a timing cover/engine mount from a vintage drag boat.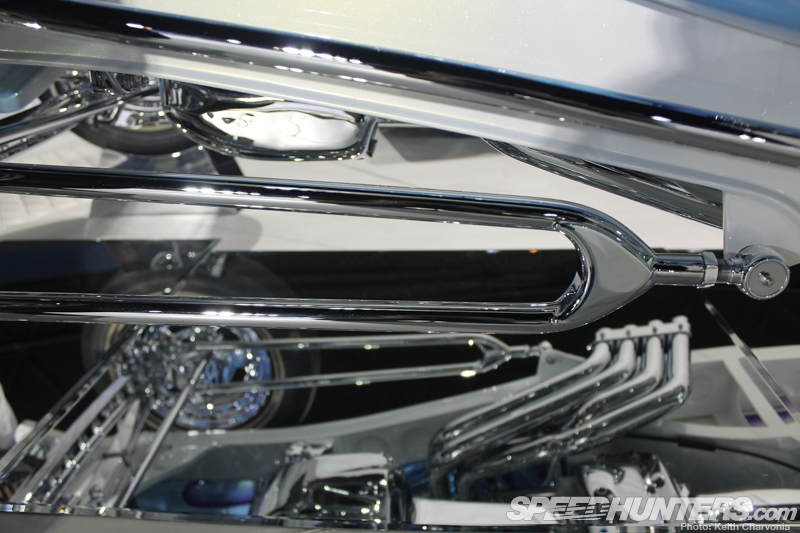 This is one of those intense builds where no detail is left unattended. Everything is pristine, as it should be if you're going to put the car in the air with mirrors underneath. Notice the flared lip added to the bottom edge of the frame and the meticulously calculated header pipes. These things don't happen by accident.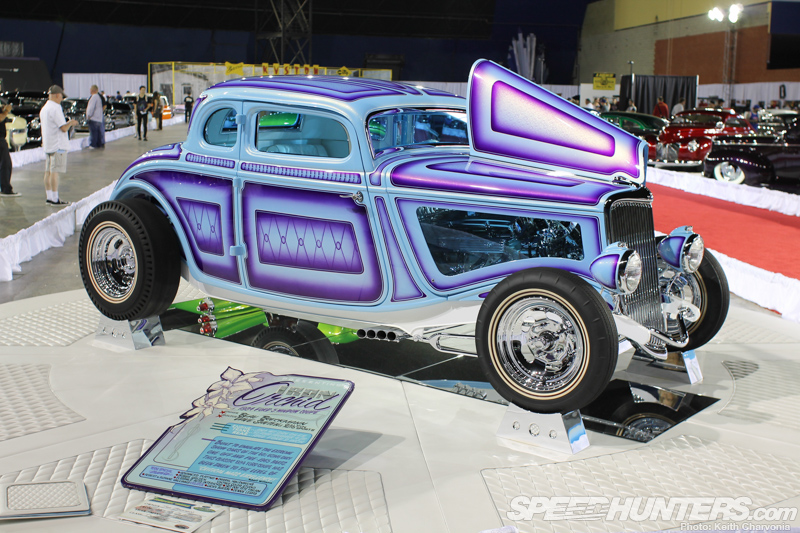 Dave explained to me that while this car is a tribute to the old indoor show cars, it's by no means a copy of anything. It follows the style well without giving up originality. He was able to use ideas on this build that have been swirling in his head for years, like the tinted acrylic hood sides with matching colored windows. Even though they're not obvious he made several more subtle body mods, like pancaking the roof skin while chopping the top 3.5 inches, and sliding the rear axle back 1.5 inches to center the wheel in the fender.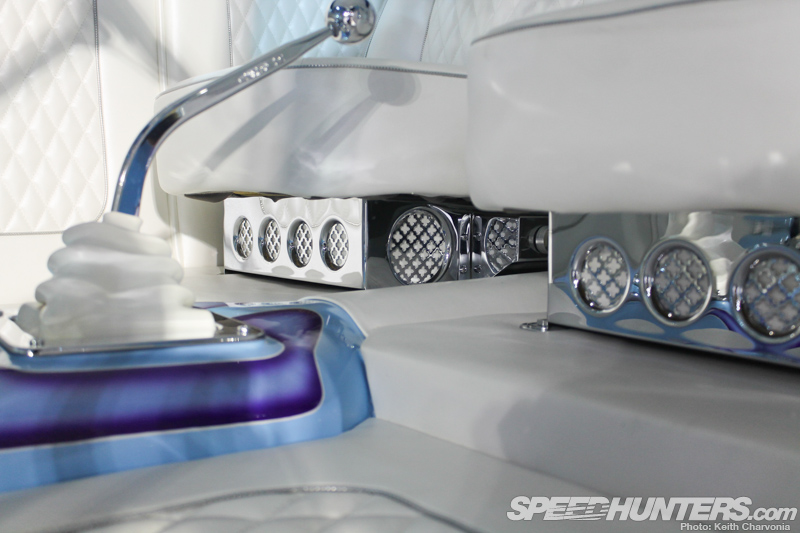 Inside he went just as nuts. Not just with the details, but also with rare parts that only a walking automotive encyclopedia would be able to spot, like the NOS white shifter boot. In fact, there are no parts on this car newer than 1965.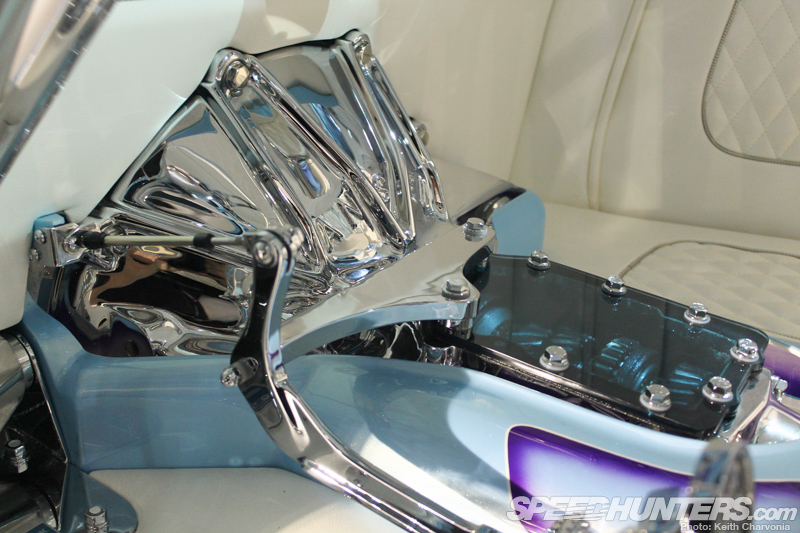 My favorite part is right here though – an exposed cast steel scatter shield from Ansen, apparently a very rare (and heavy) piece. Behind that Dave chose to display the innards of the Toploader four-speed trans, which required plating the gears, making an acrylic lid, a presentable gasket, and adding sealing washers under the bolts. Why? Because Dave likes to watch the gears spin while he drives.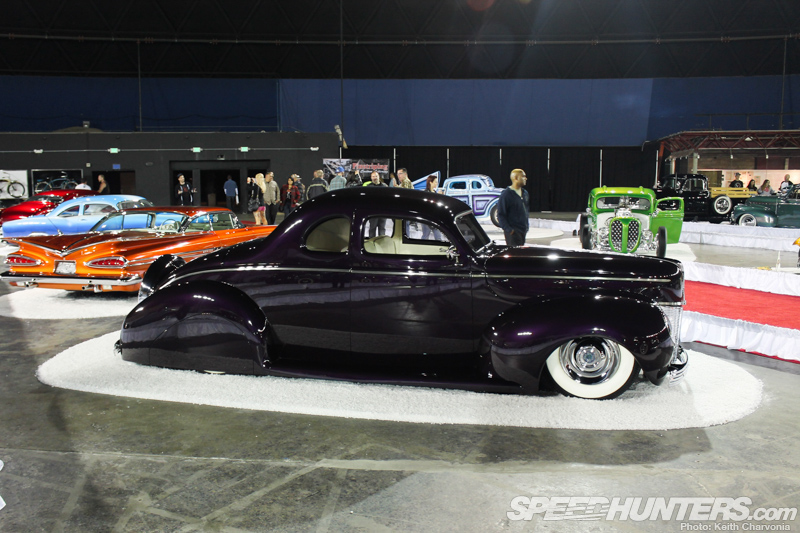 I always feel good about my Spotlight-o-Rama picks when they win awards at the end of the show, so this '40 Ford really made me feel like I was doing my job when it took home the Kustom D'Elegance award. Charly's Garage in Mesa, Arizona built it for Don Kirk, who has only sat in the driver's seat once so far. Right now Charly has possession and is showing the car around for the owner.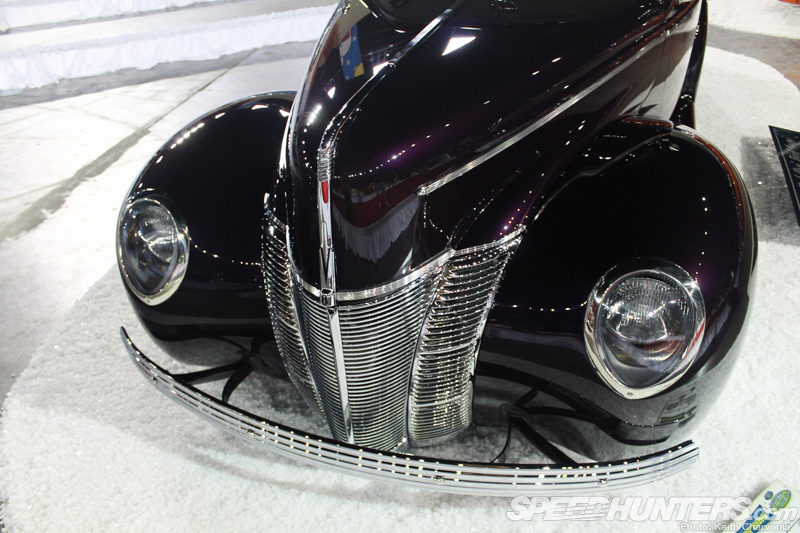 While the '34 Ford Dave Shuten built represents over the top indoor show rods, this '40 takes the opposite approach – subtle and elegant. The '39 headlights probably go unnoticed by many.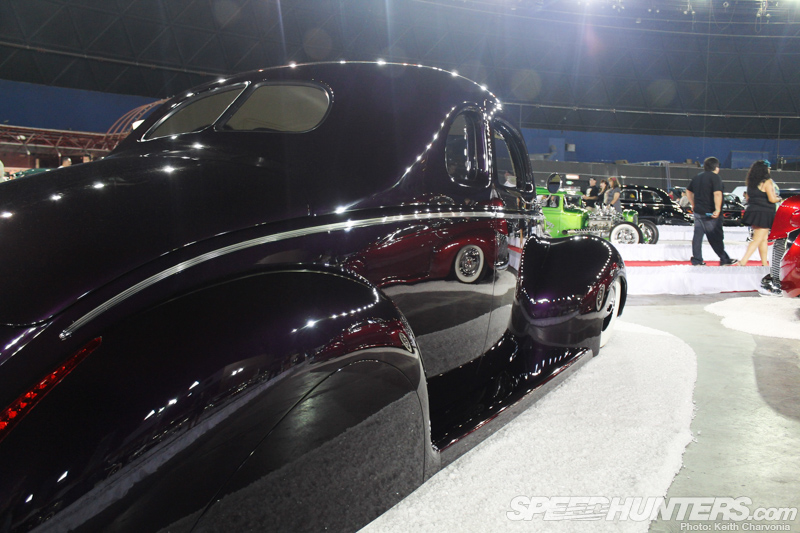 I know I always do this, but I hope it's changing the way you guys look at a car and judge its quality. Look at the reflection in the door – that's 700 man hours just in the bodywork phase, about a third of the total build time. Besides the brilliant and tasteful lines, the quality is what won the top trophy.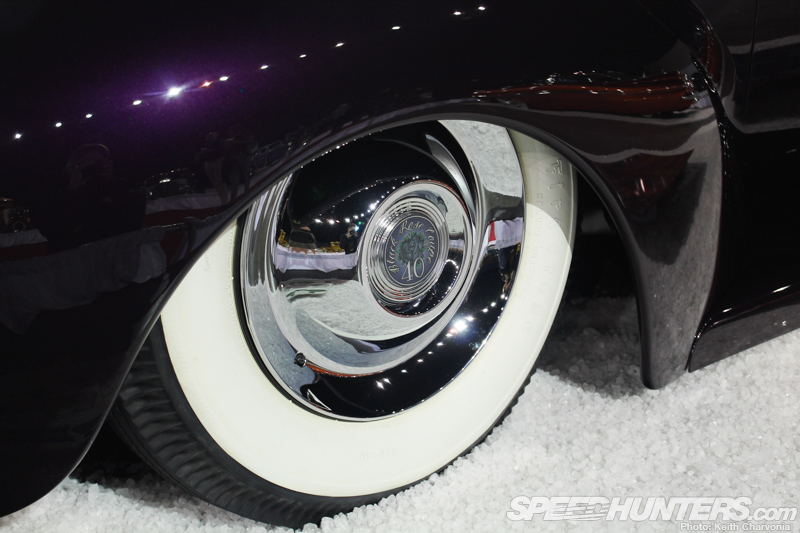 Charly made the themed center caps to hold the sombrero hubcaps in place. I really enjoy talking with other builders about details like this, and I could tell Charly took pride in his work as he explained how they worked. Again, it's one of those small details that took some time to figure out but would be overlooked without being pointed out.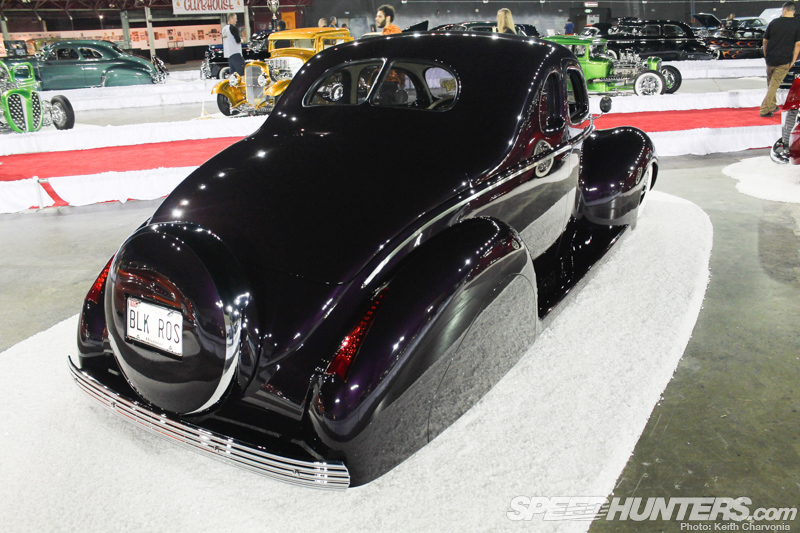 The continental kit on the rear was one of two requirements from the owner (the other being a '48 dash) and Charly got free reign after that. I normally hate continental kits, and I love that this car can pull it off and make me question something I never thought could look good. One other interesting point is the use of Victory motorcycle tail lights.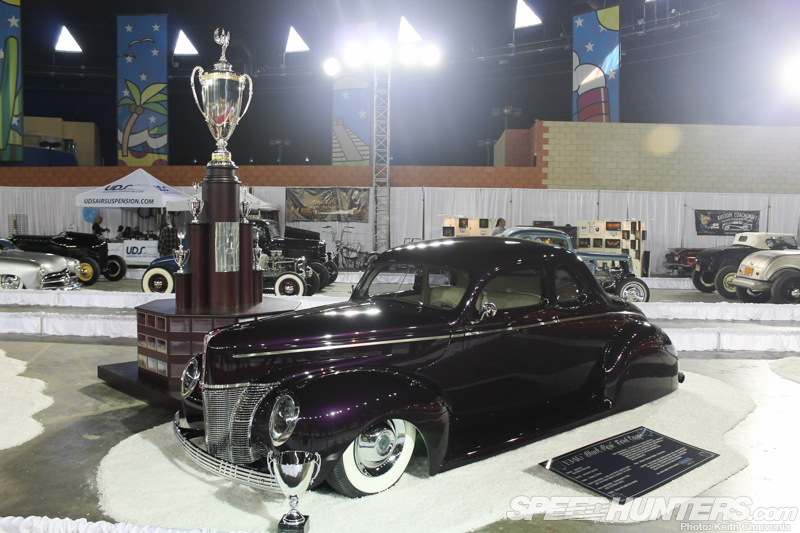 Congrats to Charly and his crew for beating out the rest of us kustom guys and getting his name on the perpetual Kustom D'Elegance trophy. This is a car I didn't mind being bested by, because it truly deserved the win.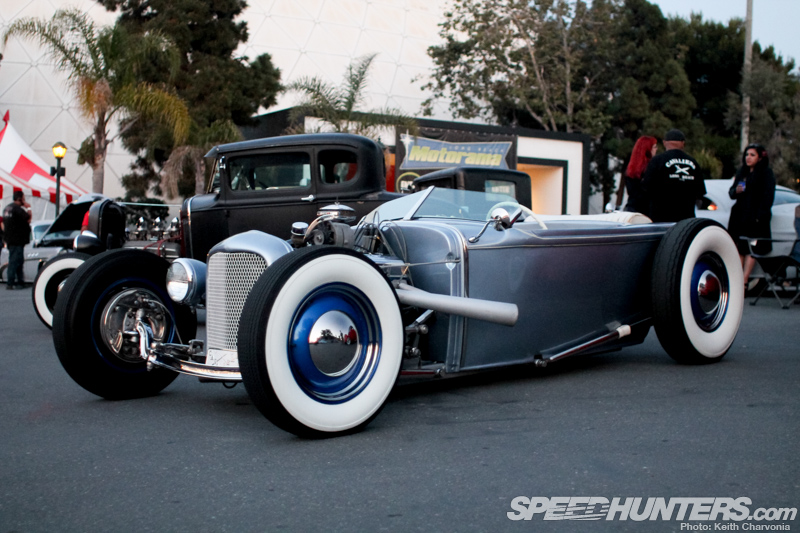 Outside I came across this '29 Chevy roadster that gets driven a bunch by its owner Aladdin. He started off with just a cowl and four doors to build the one-off body. The darker shade of blue on the wheels is a nice contrast to the body color.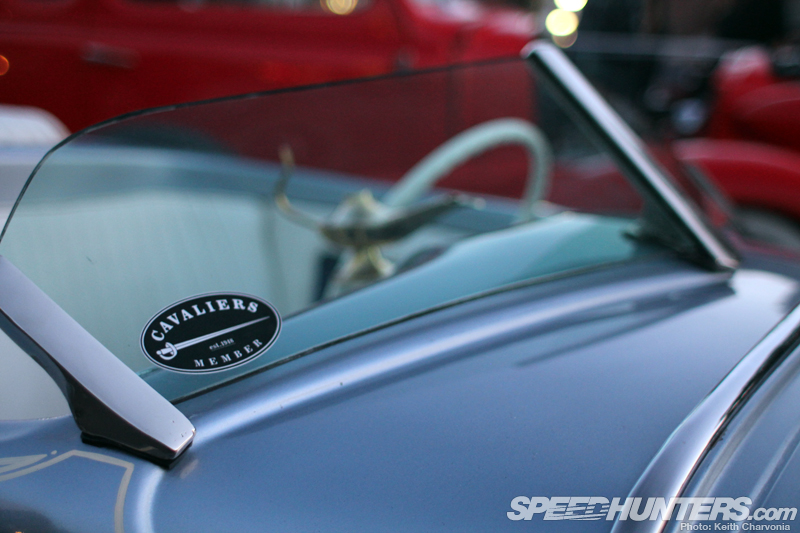 Aladdin is a proud member of the Cavaliers, a local Long Beach club that's been around since 1948. The laid back split windshield gives the roadster its own distinct style. Look closely and you'll see a genie bottle on top of the shifter.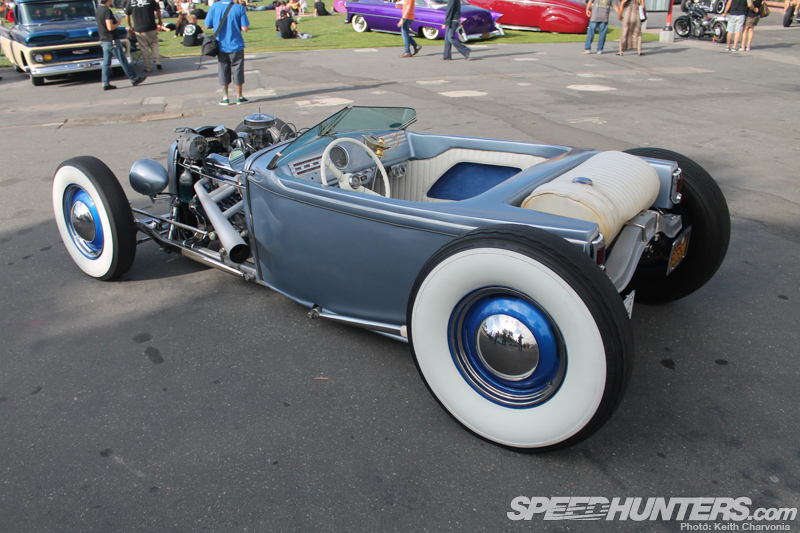 The work Aladdin did on the rear of the body is very unique, extending pontoons out past the gas tank and using a Model A crossmember as a visual element to tie in with the body. The tail lights are from a 1952 Chevy, a very different body style from this. Also notice the placement of the wheels relative to the body, at the outermost corners of the car – I love this look.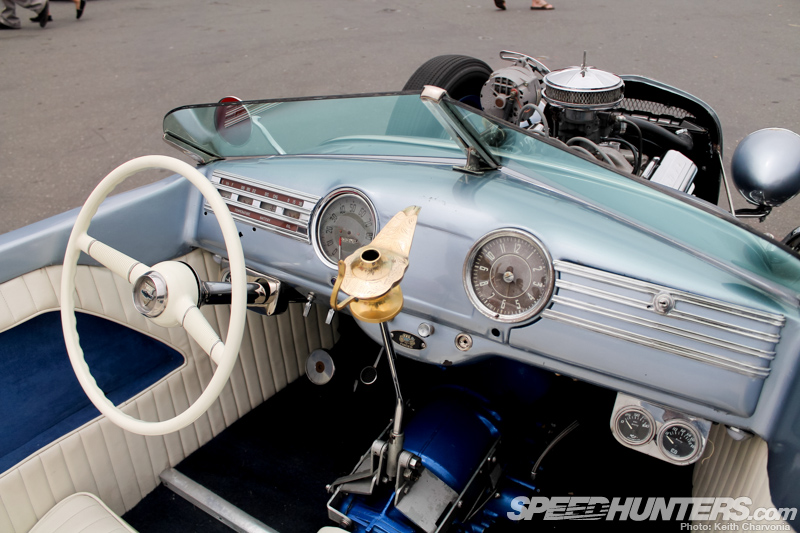 He chose a classic '40 Ford steering wheel, but used a '52 Chevy horn button to match the all-Chevy theme. Then Aladdin fit a '41-48 Chevy dash, which considerably updates the look inside the cabin, and placed a 'Body by Fisher' tag in the center. After all, Fisher used to build car bodies for GM.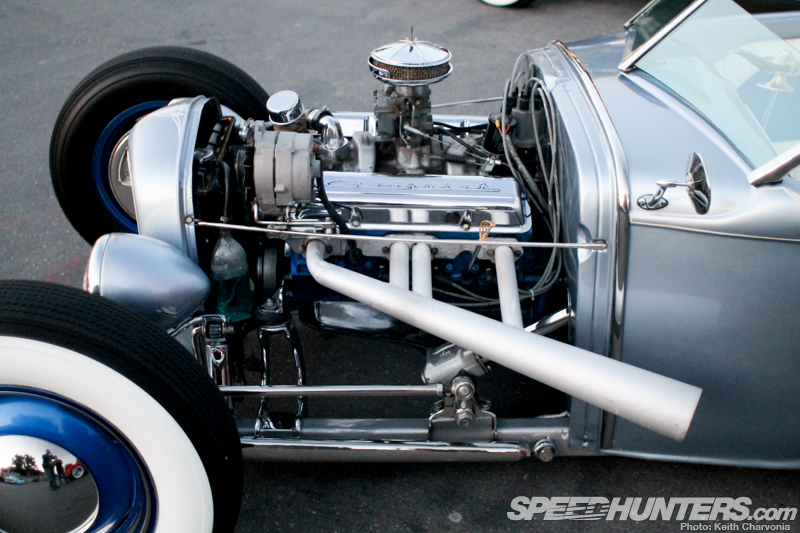 This is where I was really intrigued, because Aladdin did the opposite of what some people might do. He made his 350ci engine look like a smaller 283ci by installing different valve covers and using a small 2BBL Rochester carb on a different intake manifold. The air cleaner sitting high above the engine reminds me of the Space Needle in Seattle.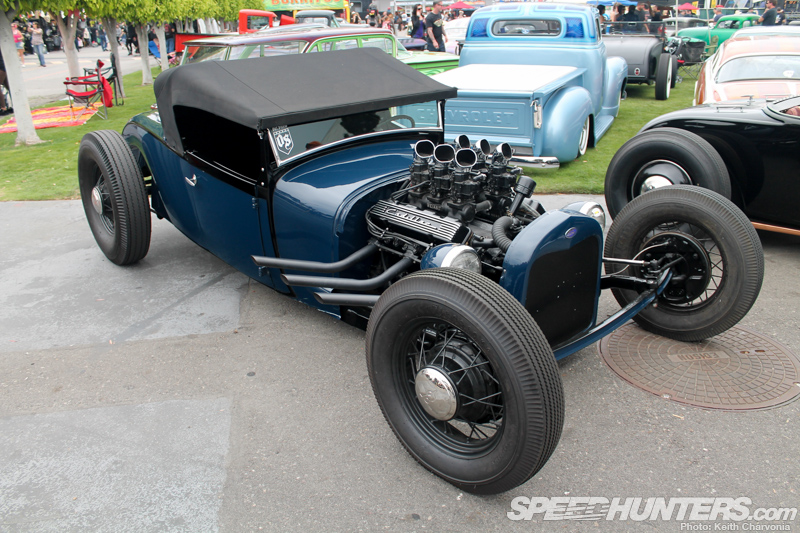 Not far away I found another '29 roadster, this time a more typical Ford, but build in an atypical way. The heavily raked body and interesting color scheme intrigued me.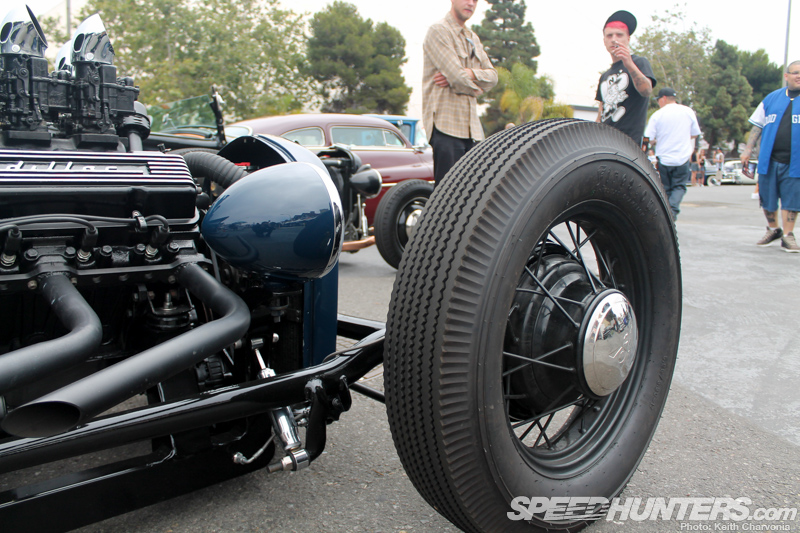 The owner Rez built this car with his club-mates and it has earned him a lot of accolades and opportunities over the past year, like multiple magazine features and even a trip to Yokohama to take part in the Mooneyes show.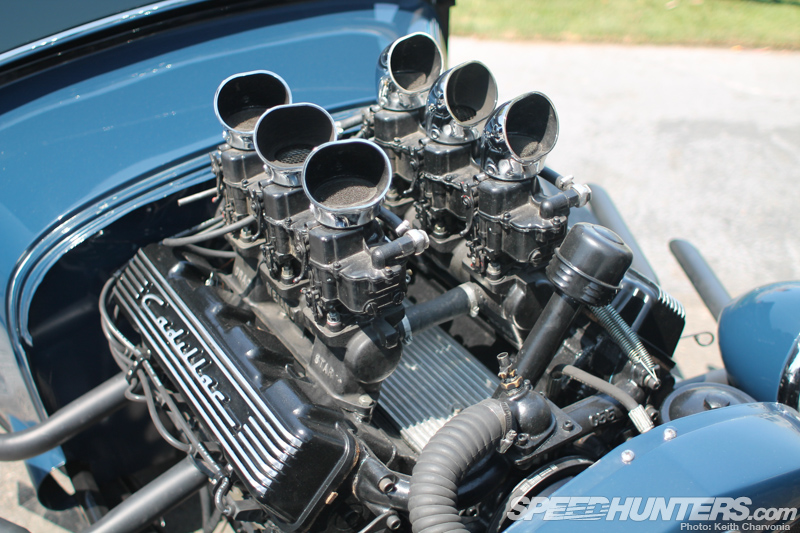 With a stance this extreme I figured Rez was more into aesthetics, but he surprised me with how much work he put into his 1952 331ci engine. He did tons of research and learned he could swap adjustable rockers from a Studebaker, which required the unique Caddy valve covers with four square bumps to clear the the new rockers. Rez also spent two years searching for the six-pack Weiand Drag Star intake manifold loaded with six individual carbs.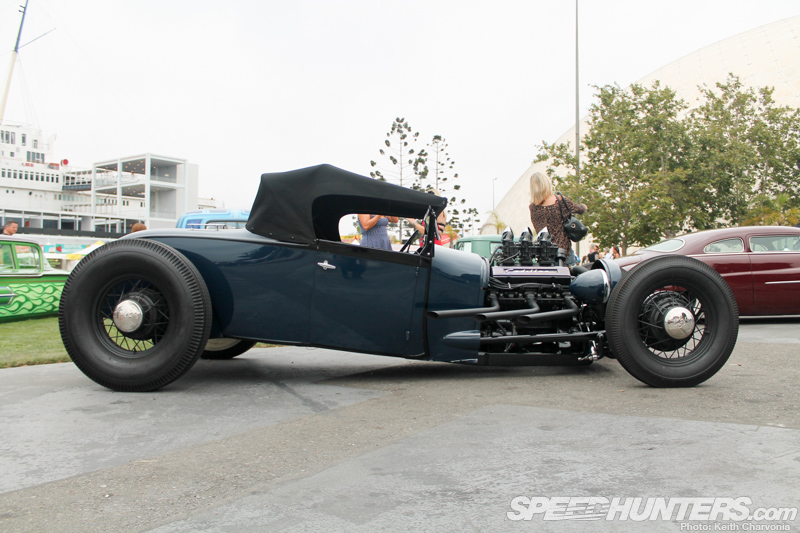 Only in profile can you truly appreciate the stance of Rez's roadster. He built the frame from scratch to make it sit the way he wanted. Painting everything black is a quick way to get the sinister look, but I found the additional black details on the body lines interesting. Rez told me this is a theme in his car club, and the club president came up with this color combo.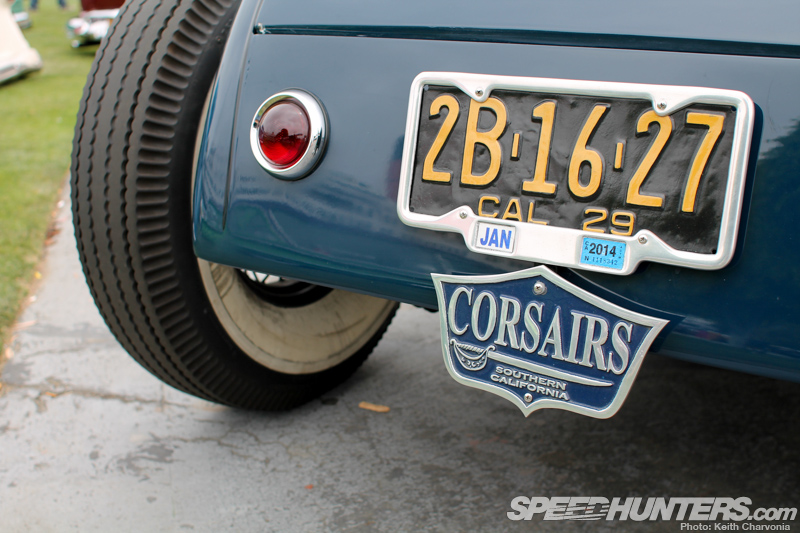 Don't you love it when the license plate matches the car? We should all be so lucky.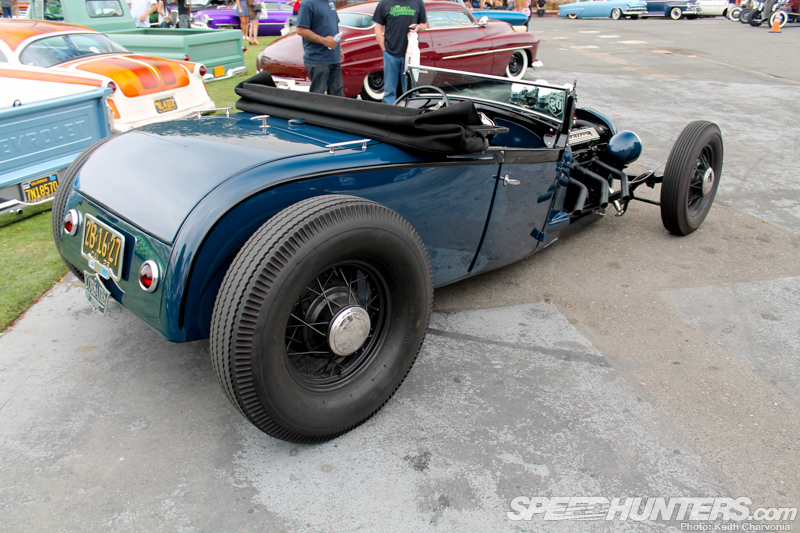 Rez and I had a good time chatting about his car, and I thought it was very cool of him to put the top down for me since it required a bit of effort. It's actually a Model A top that's been chopped four inches. It takes on a rake of its own when up, and Rez prefers to drive the car that way now that he's used to looking out of the tiny windshield.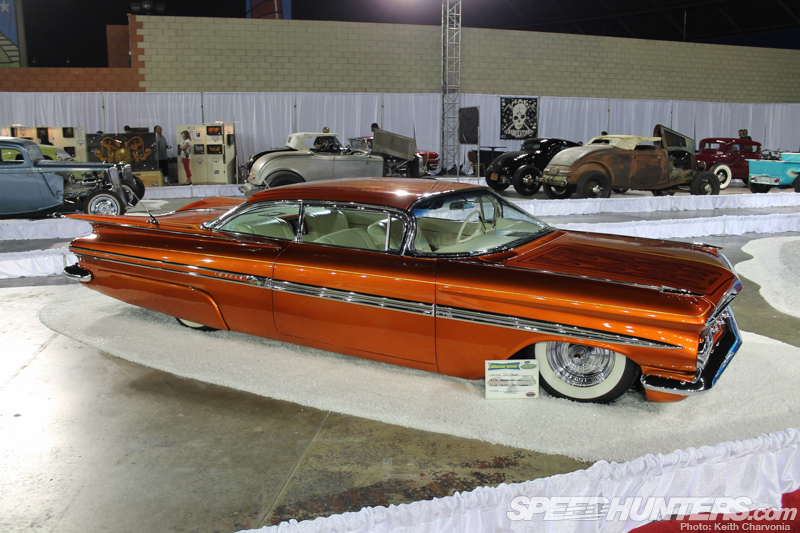 My Kaiser was parked next to Joe and Angela Wallem's bagged and chopped '59 Impala in the indoor show, and there was something familiar about the car that I couldn't place…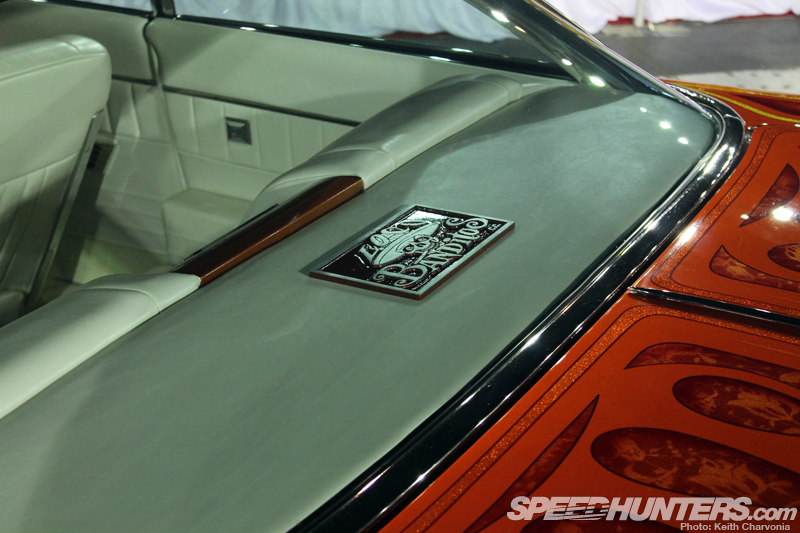 … until I saw the club name in the back window. I've encountered Loco Banditos cars on my last few trips to California and they definitely have their own feel due to the wild paintwork of club member Kyle Gann.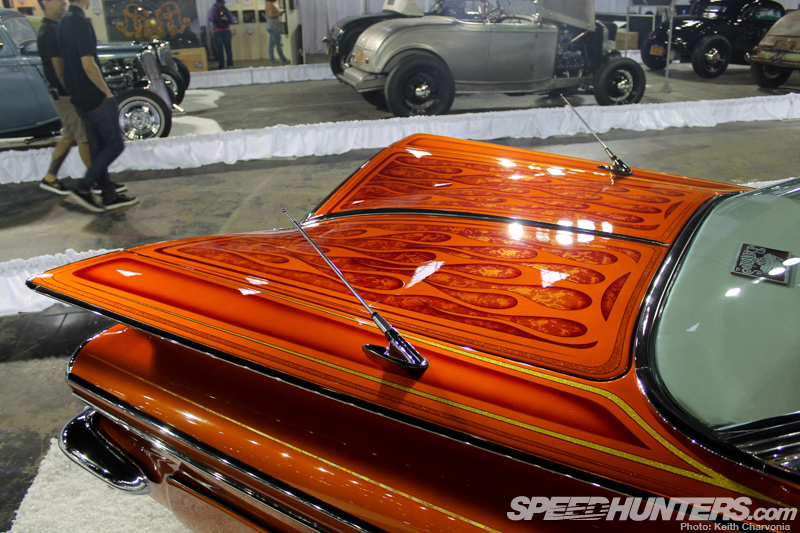 I would know those paneled flames anywhere, even though this is a subtle job for him. I like that they left the twin aerials instead of shaving them. Sure this is a kustom, but some things are better left alone.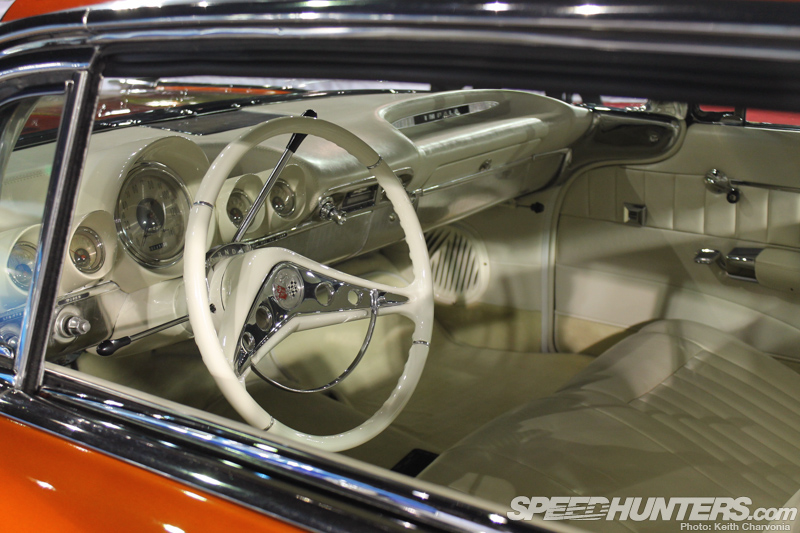 The interior was mostly left alone too, just revitalized with new materials.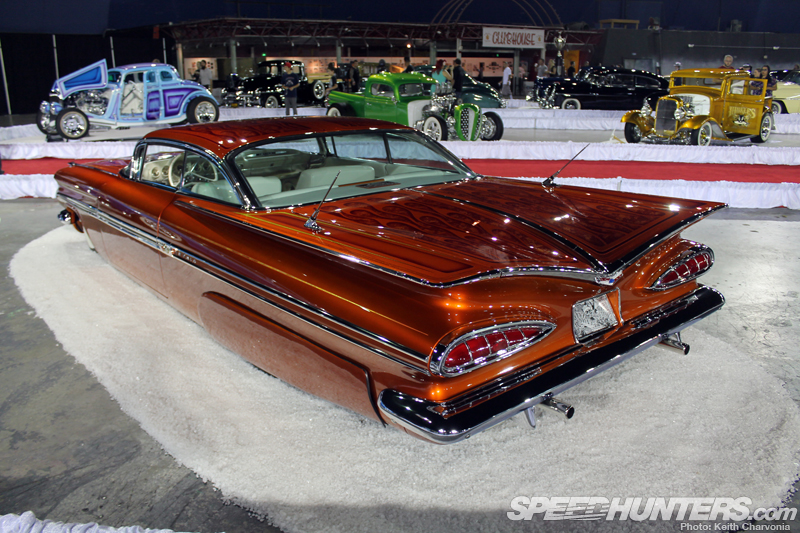 Joe's Impala follows a simple formula that works when you choose the right body style – a chop, air suspension and wild paint to really bring out the best lines from 1959.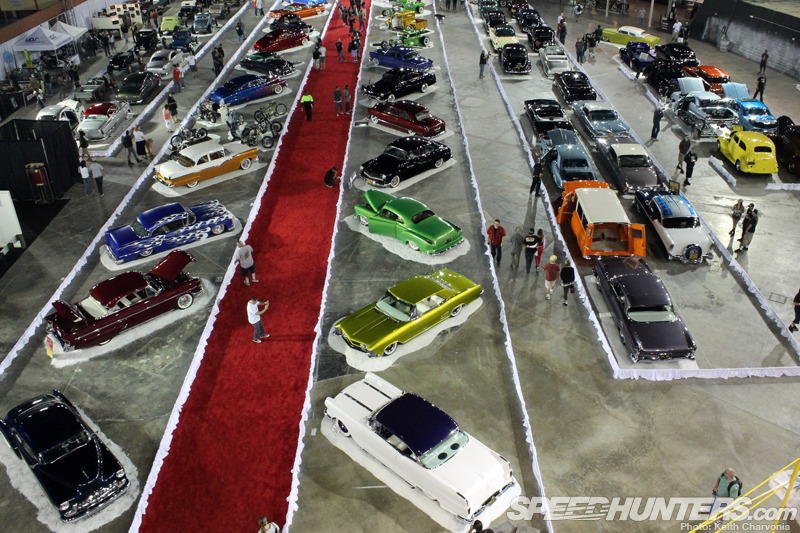 With all of these cars at the Long Beach Motorama, which five would you choose?
Keith Charvonia
Instagram: SpeedhuntersKeith
Email: keith@speedhunters.com