It was just a couple short weeks ago that I was writing about how different car shows can be. Larry and I had visited Santa Maria for the Cruisin' Nationals, and were thrilled to see our favorite kustoms glistening under the sun. Clearly the Long Beach Motorama was different again, and in a very welcome way.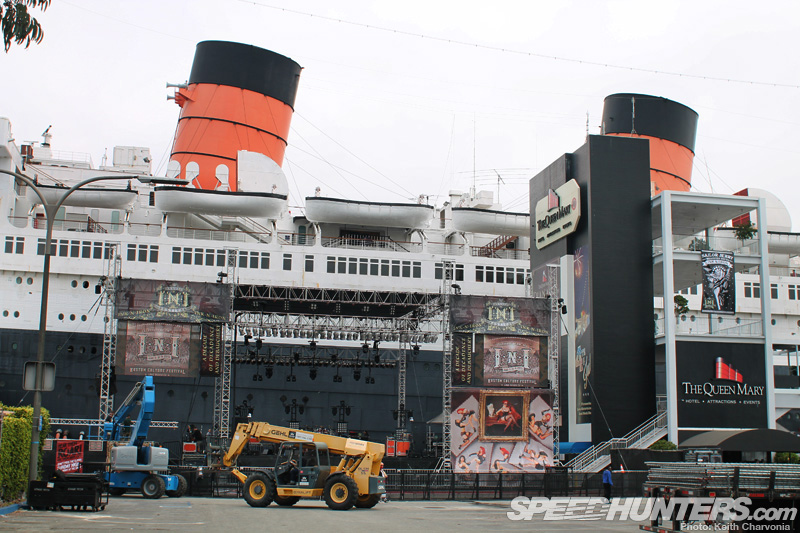 To start, the show would be held at The Queen Mary in Long Beach, CA. This wasn't just a car show though, it was part of Ink-N-Iron – a 'Kustom Culture Festival.'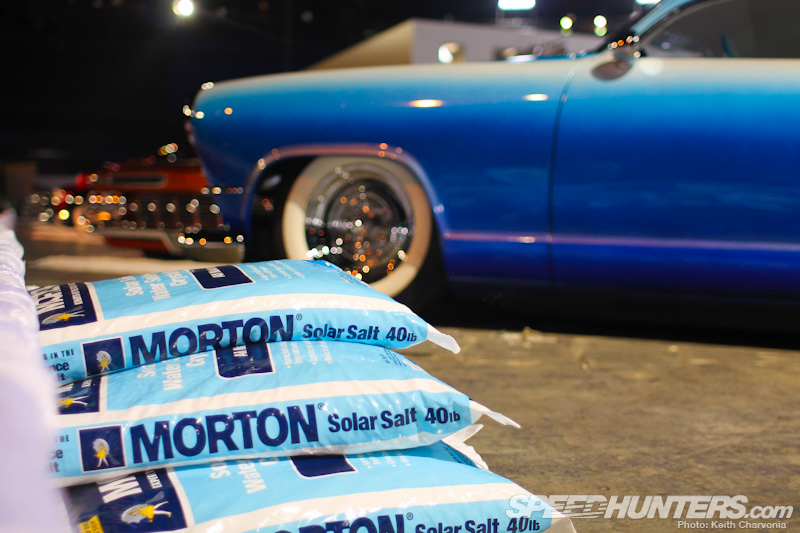 To round out my Kaiser's debut year I had chosen this as the final show. The organizers dictated that all cars would be shown on a bed of rock salt, so after giving the car the requisite post-tow wipedown I started dumping bags of salt – 720 pounds worth in total.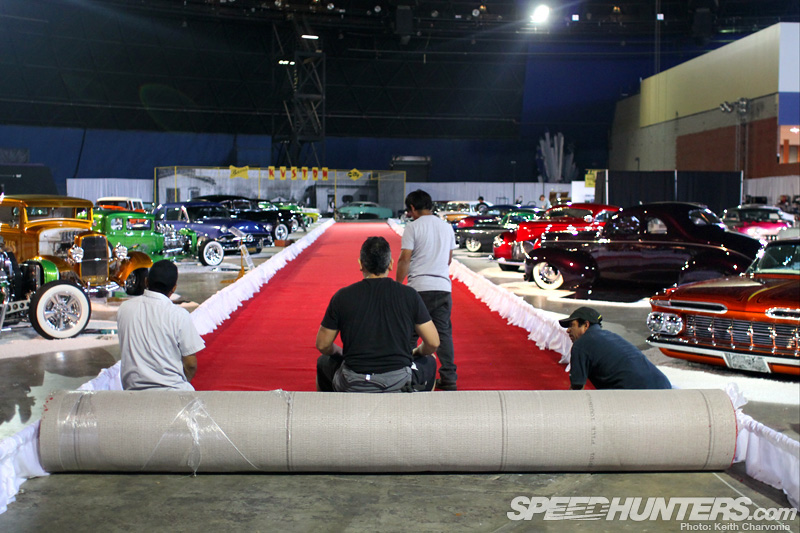 As we prepped and buffed, the red carpet was literally rolled out.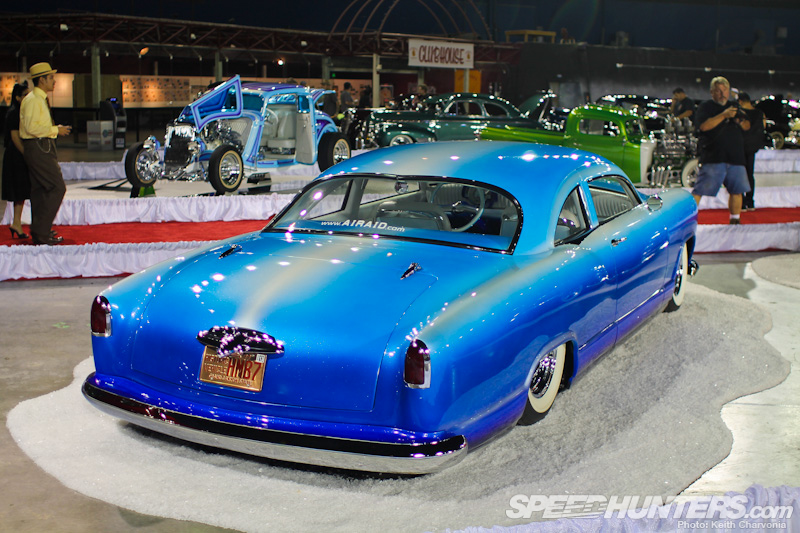 Salt rock is a traditional and classy way to show your car, with the light reflecting off the bright white base and illuminating the car from below.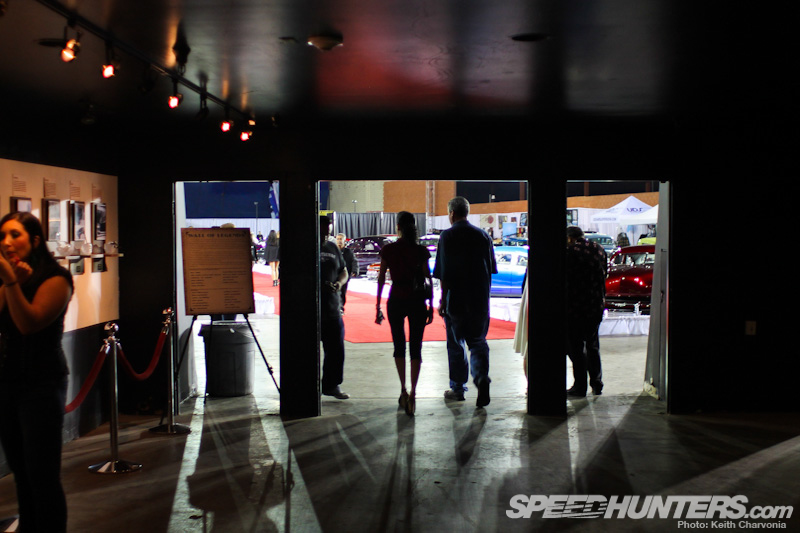 If I was pleased with the presentation of the cars, then I was thrilled with the placement.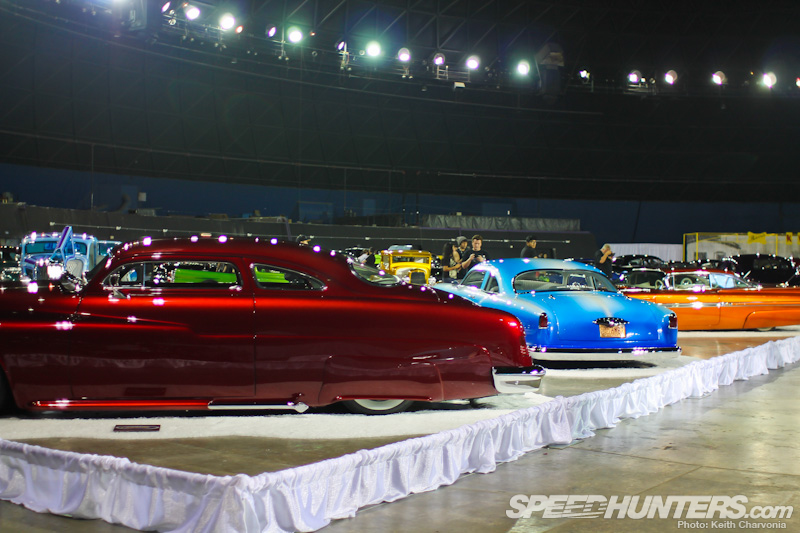 Right when you walked into the dome you were greeted by the ruby red '51 Lincoln of kustomizing great John D'Agostino, and I was fortunate enough to be placed right next to it. The Kaiser would be in some very good company for the weekend.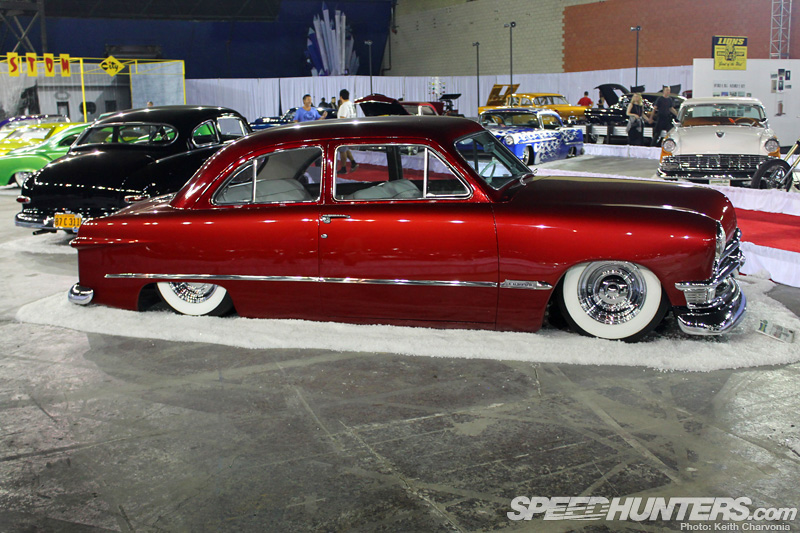 The Long Beach Motorama was invite-only, and there were some extremely high quality cars present like this mild kustom shoebox.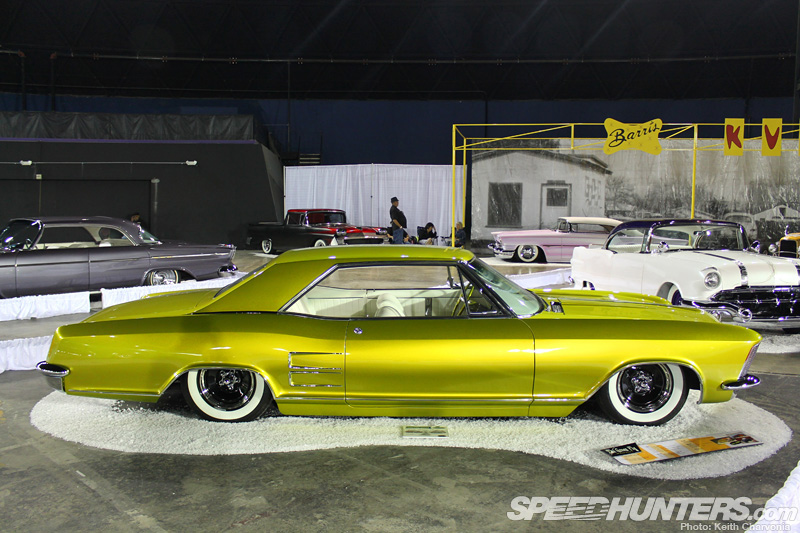 After everyone had their cars set up we got our first look at the competition. I instantly recognized The Green Fly from the Grand National Roadster Show.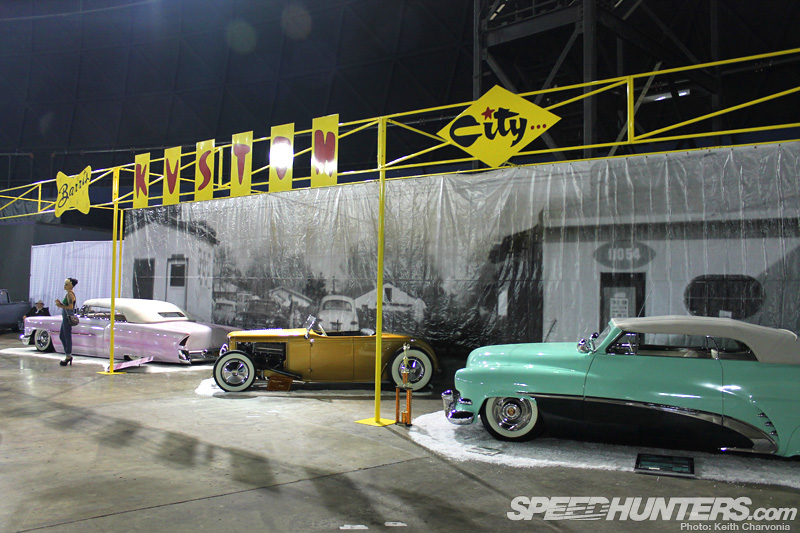 One of the special things the show promoters did was to set up a replica of George Barris's old shop. Out front they would place a convertible version of the Hirohata Merc, a tasteful period roadster…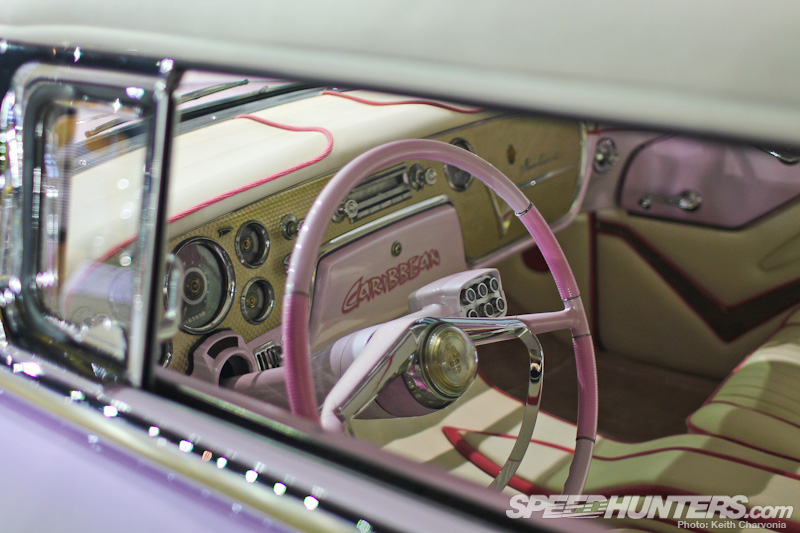 … and another D'Agostino car named The Caribbean.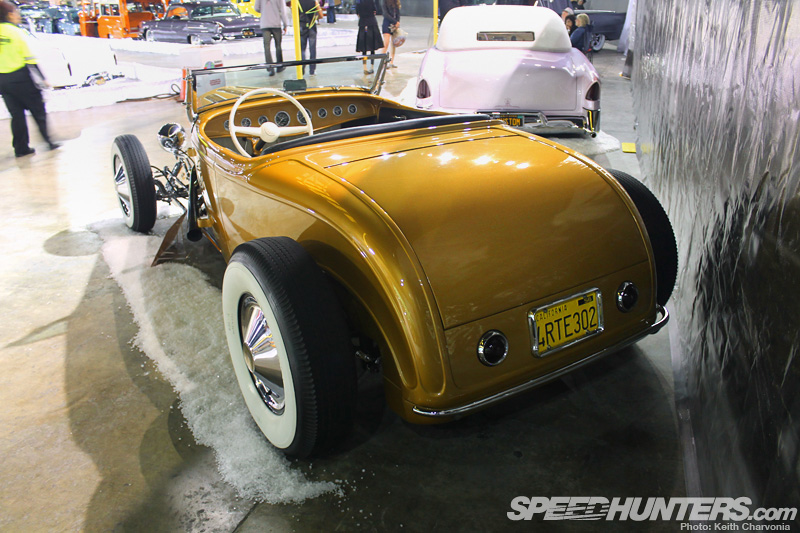 The roadster was fantastic, with Pontiac tails, kustom-feel hubcaps and a simple tube bumper.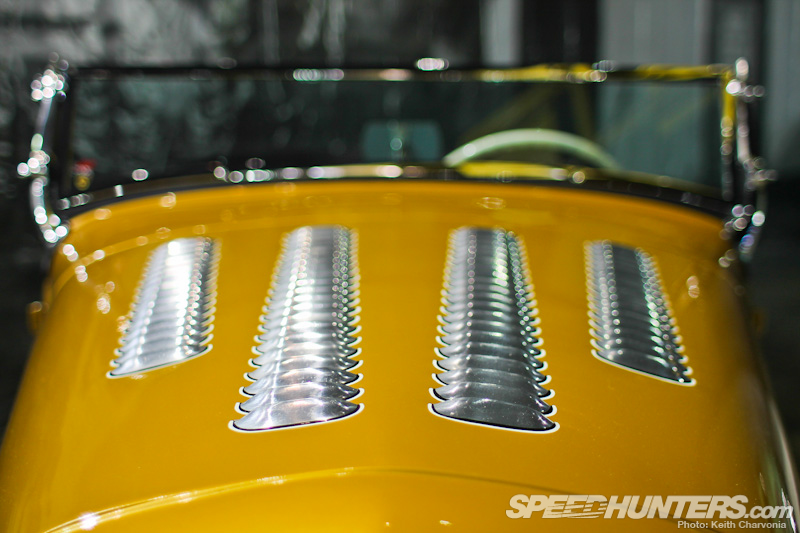 I thrive on the details though, so the bare aluminum louvers were the best part to me.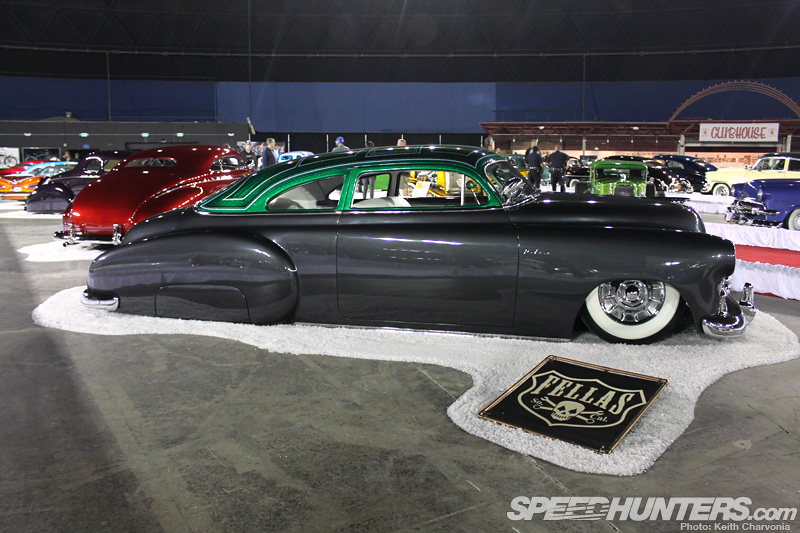 I remembered this Chevy from Santa Maria two weeks prior.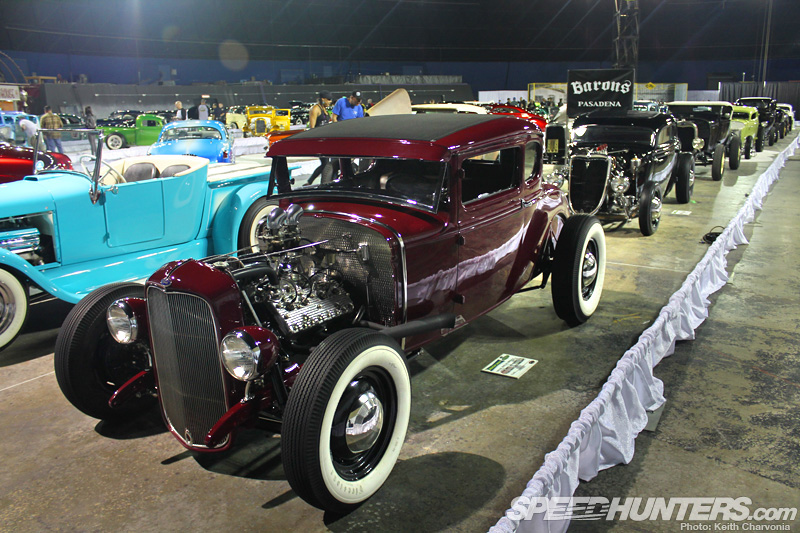 There were rows of hot rods…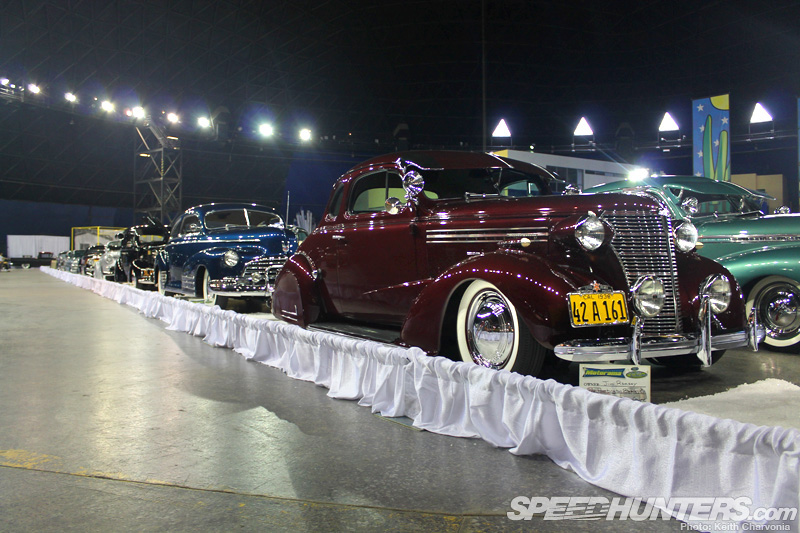 … along with lowriders and bombs.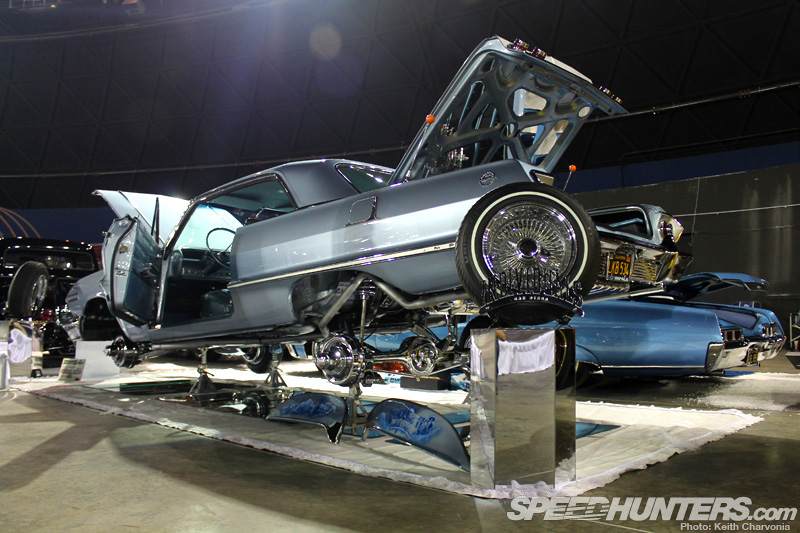 It seemed that every genre of influential custom car was represented.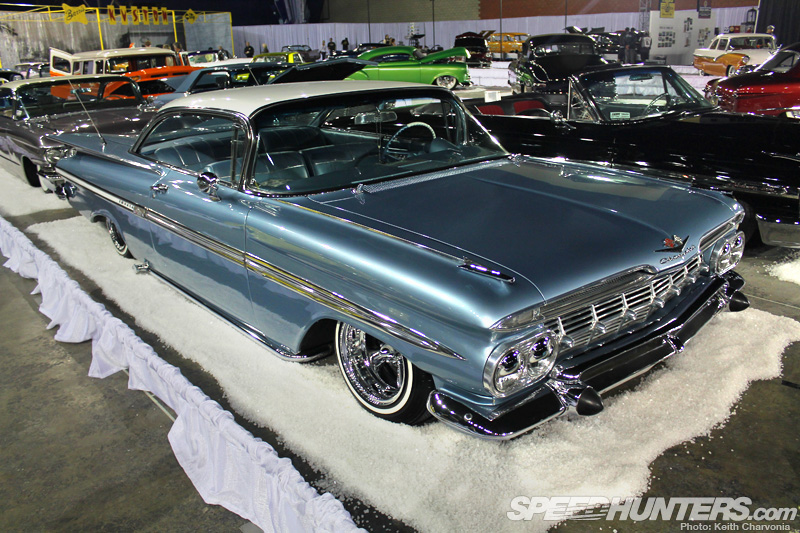 Sometimes the same model would be built in two completely different ways.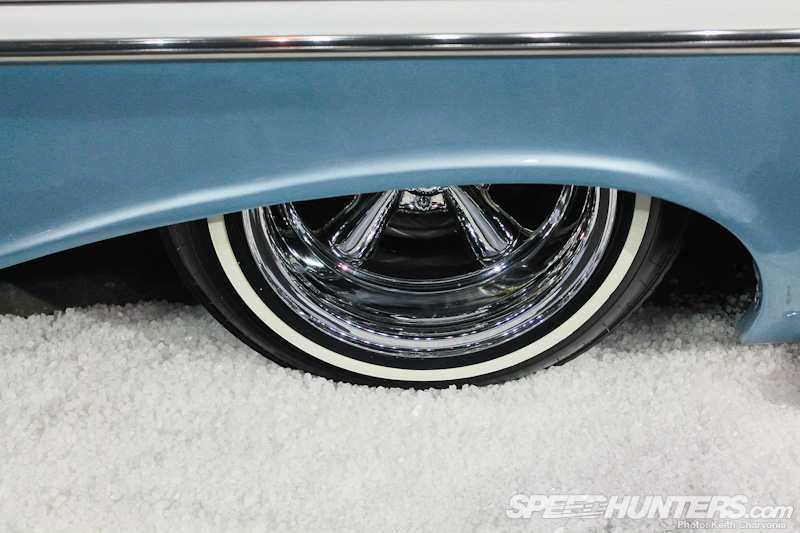 Take for instance this lowrider Impala tucking those oh-so-deep Supremes.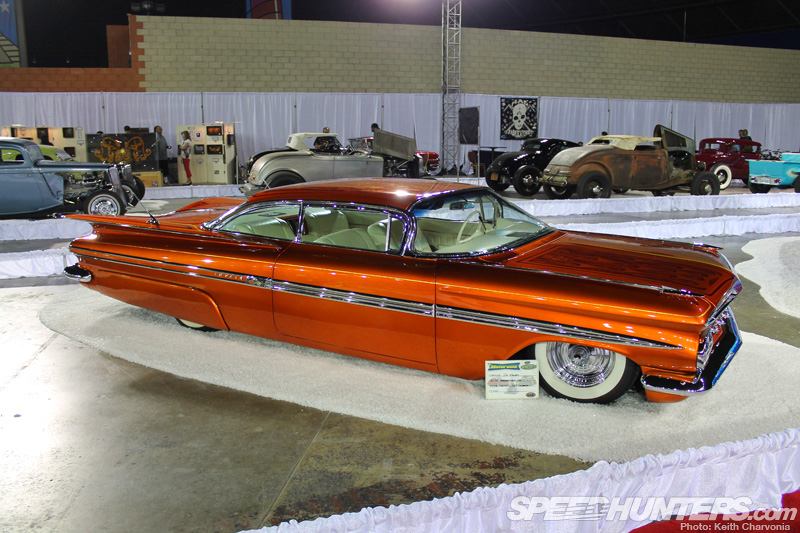 On the other side of the dome you could see a kustom interpretation of the same model.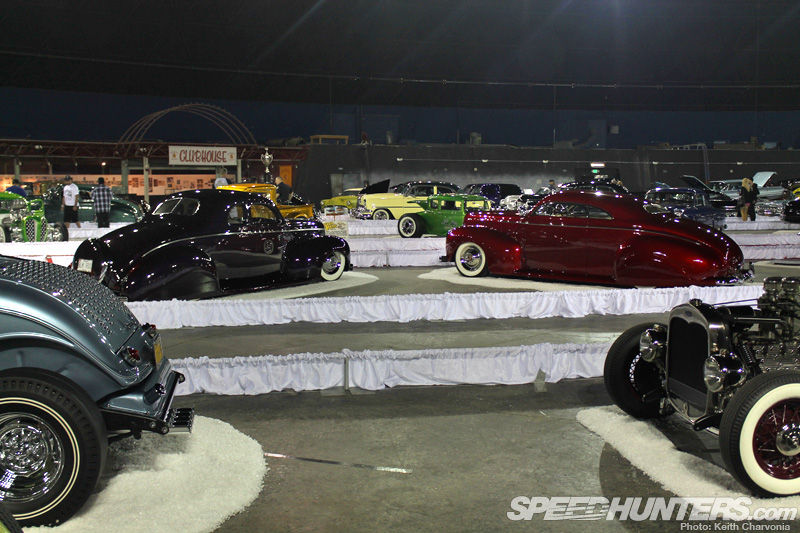 We had layer upon layer of quality show cars to take in.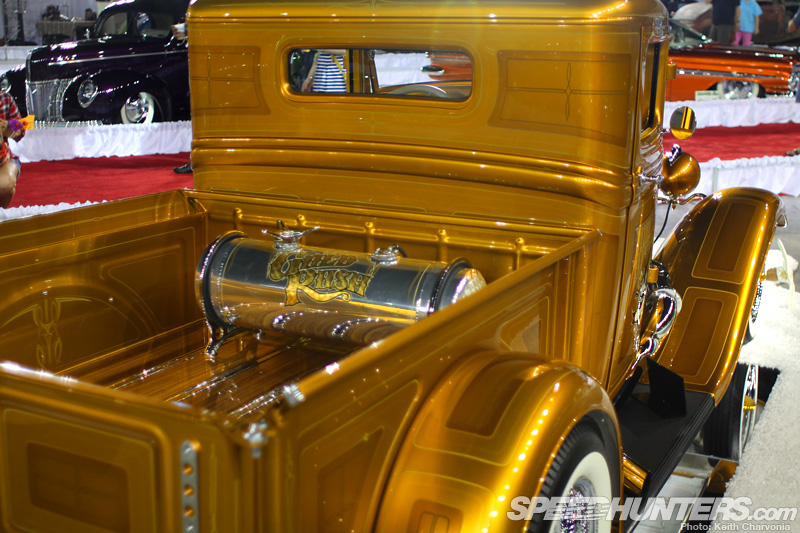 Across from the kustoms was a row of show-rods.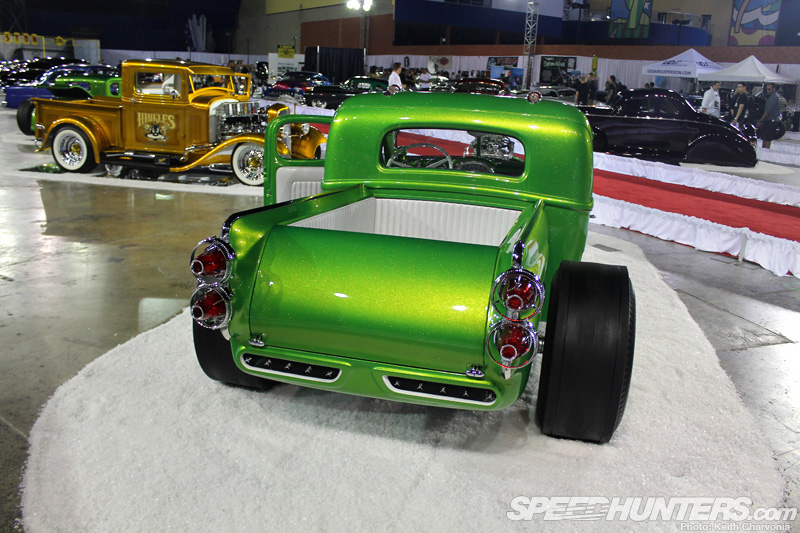 These were hot rods built specifically for indoor shows – the thing to do in the '60s.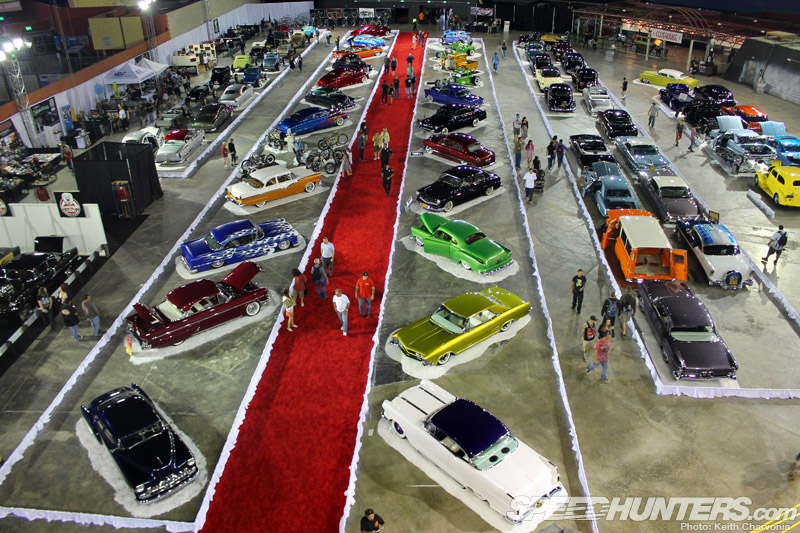 I walked the rows inside the dome for three days and didn't run out of things to look at.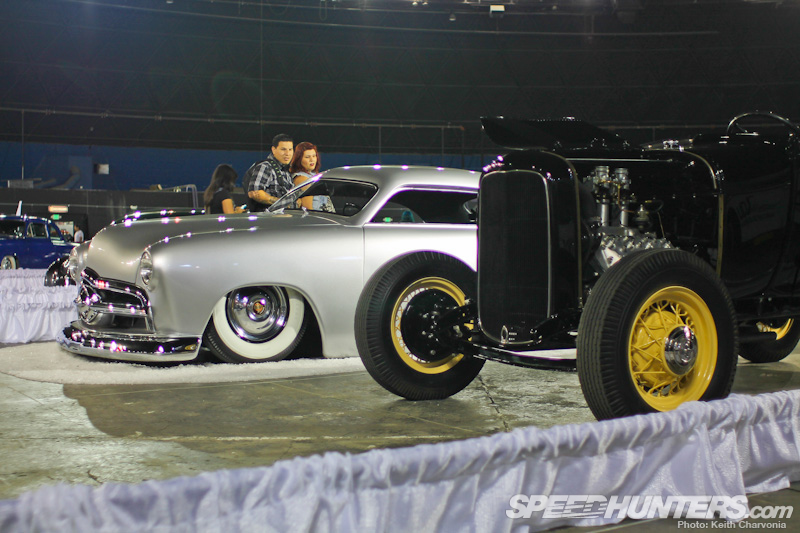 Each class had their individual awards…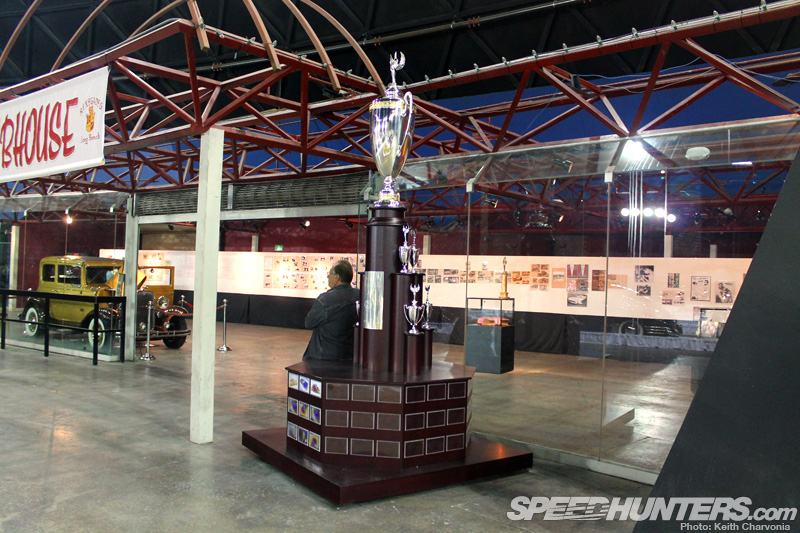 … but it was the perpetual trophy – one big enough to take a rest on – that the kustom guys had their eye on. If you were awarded the Kustom D'Elegance title, your name and a picture of your car would be added to the base.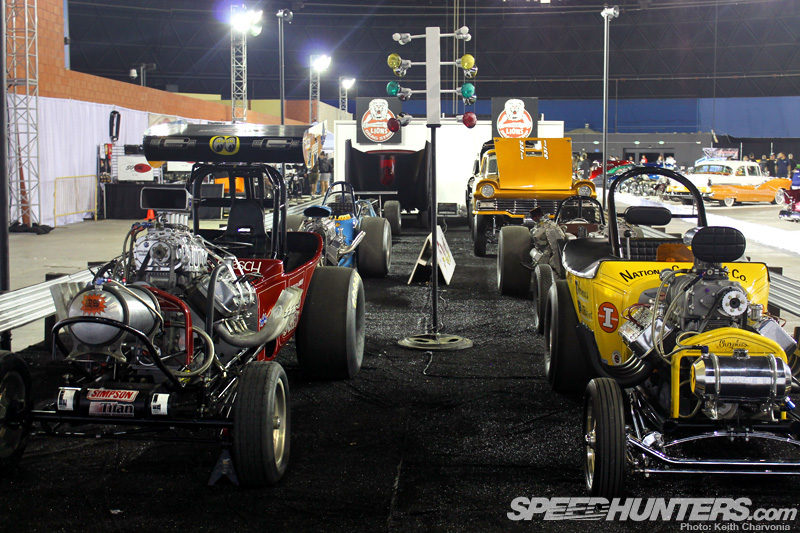 The organizers really put a lot of effort into making this a special show. They created a mock Lion's Drag Strip for the rails and gassers…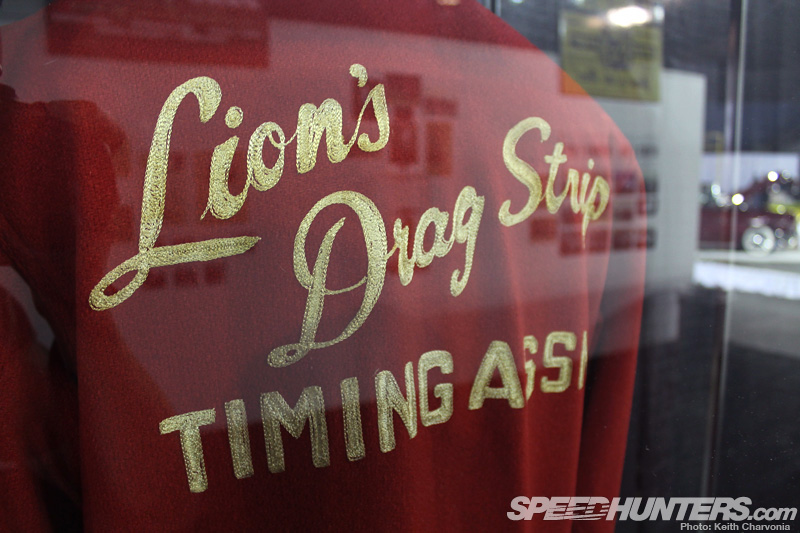 … and even had an old Lion's jacket behind glass.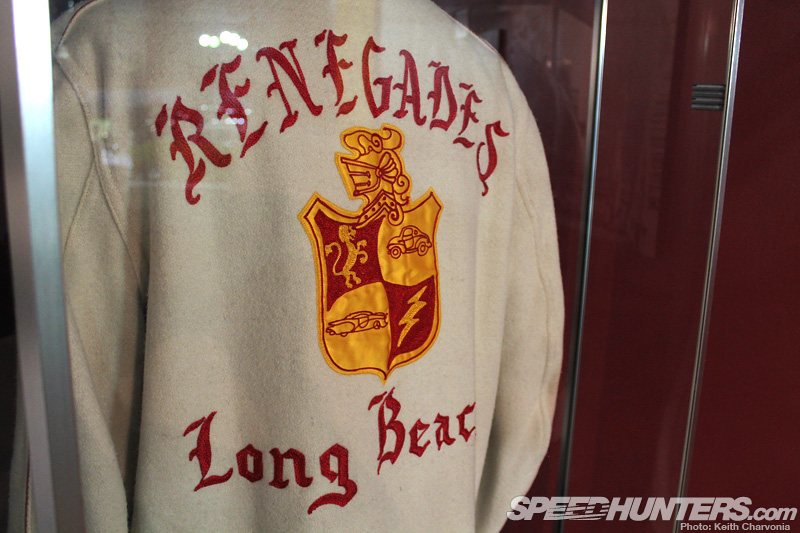 Next to it there was another vintage jacket, this time belonging to the Renegades Car Club. This was only a hint of things to come though.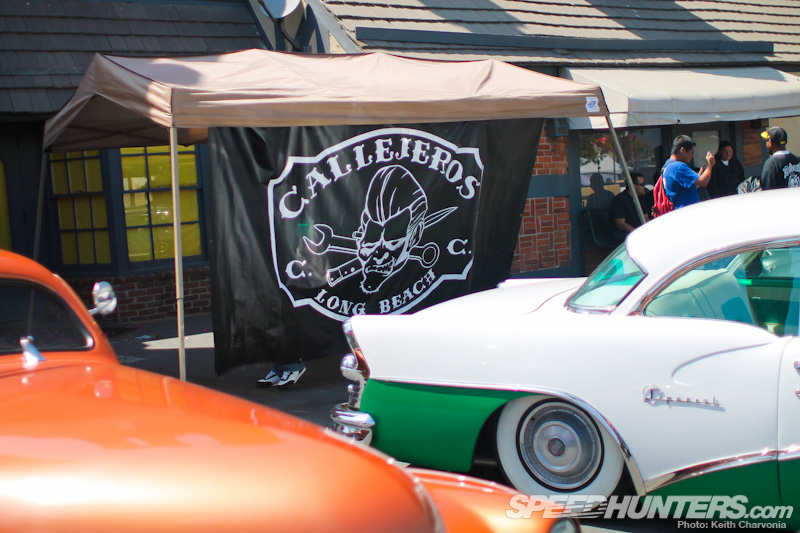 As we headed outside, the abundance of clubs being represented was clear.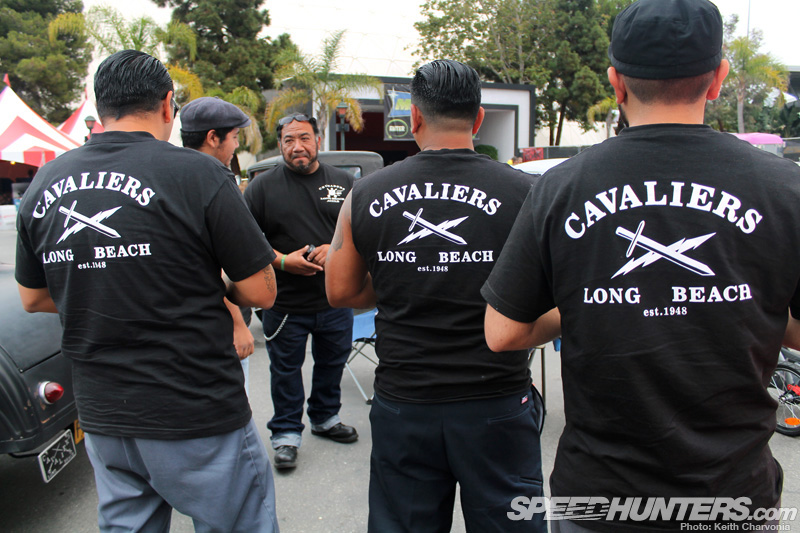 I've been in a handful of small clubs, but none like these.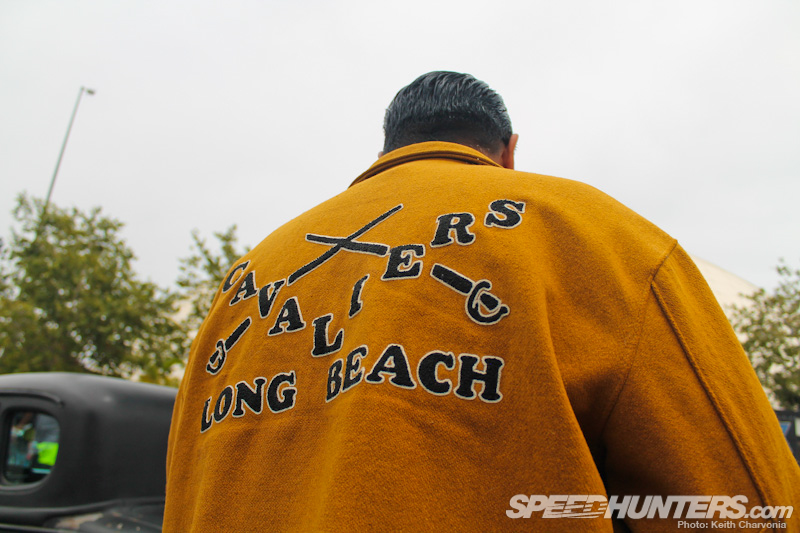 Like their shirts said, the Cavaliers have been around since '48, and they had the original jacket to prove it.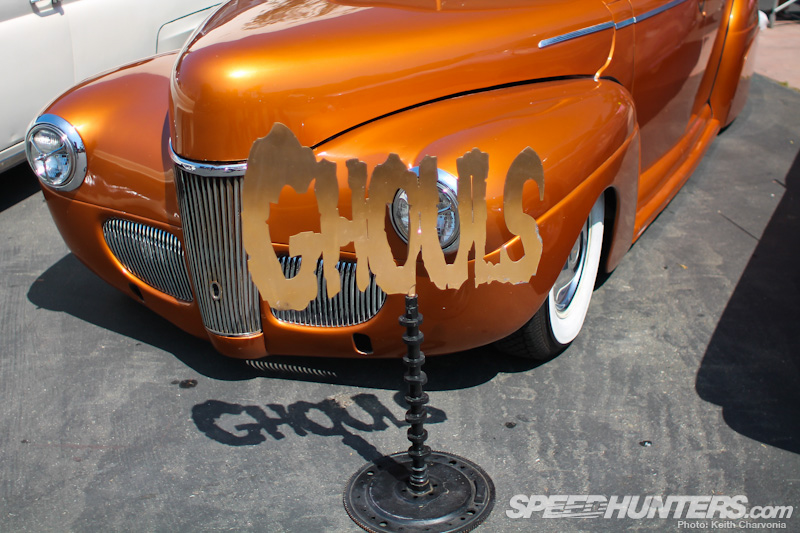 There were signs and plaques everywhere. Membership was treated with equal if not greater importance than the cars themselves.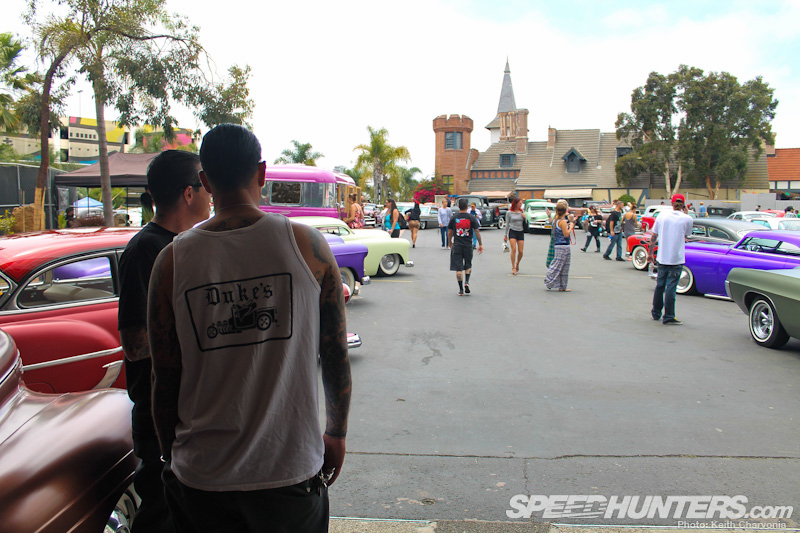 In talking to these guys I grew a little envious of the camaraderie.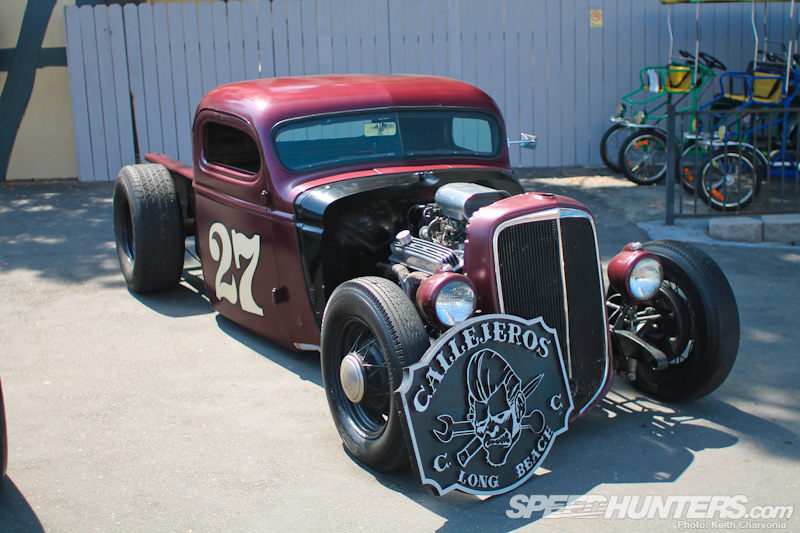 Most of the time they would tell stories about working together to finish one of their buddy's cars in time for the show.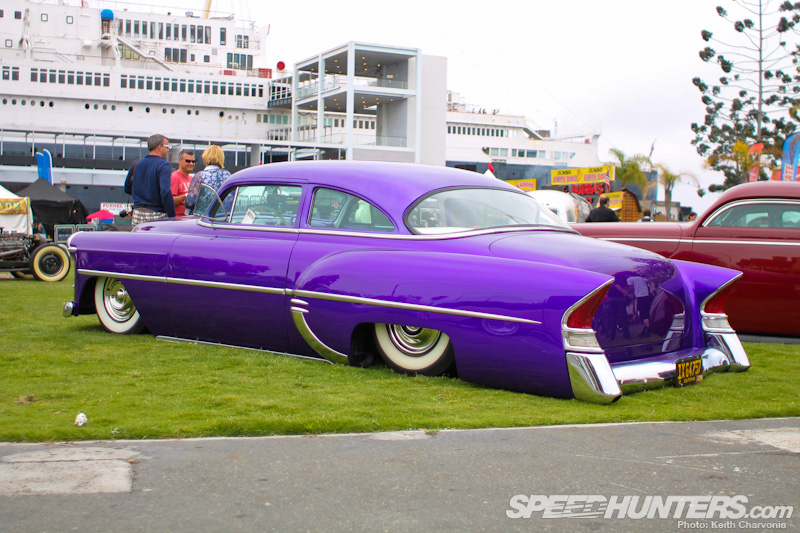 As I looked around outside I quickly realized there were even more cars than inside the dome. This Chevy with Packard lights should have been inside competing for a trophy.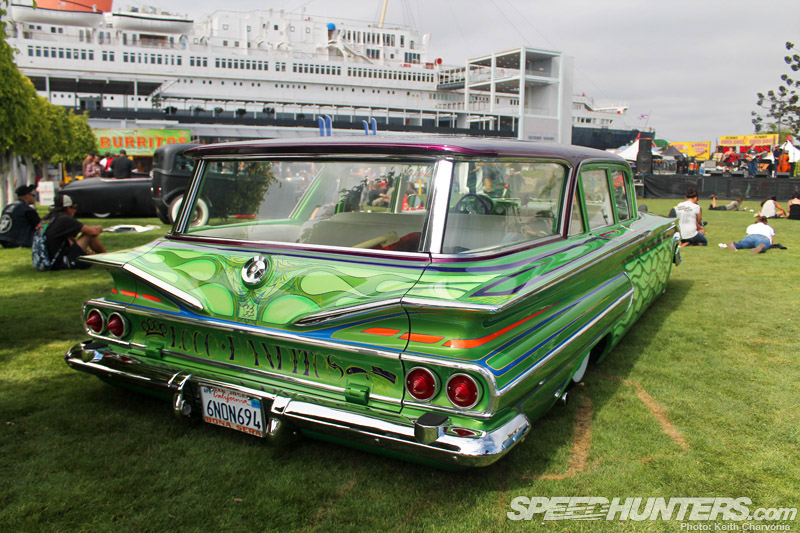 I saw a new friend from some recent shows we've covered, Rob from Loco Banditos and his insane wagon.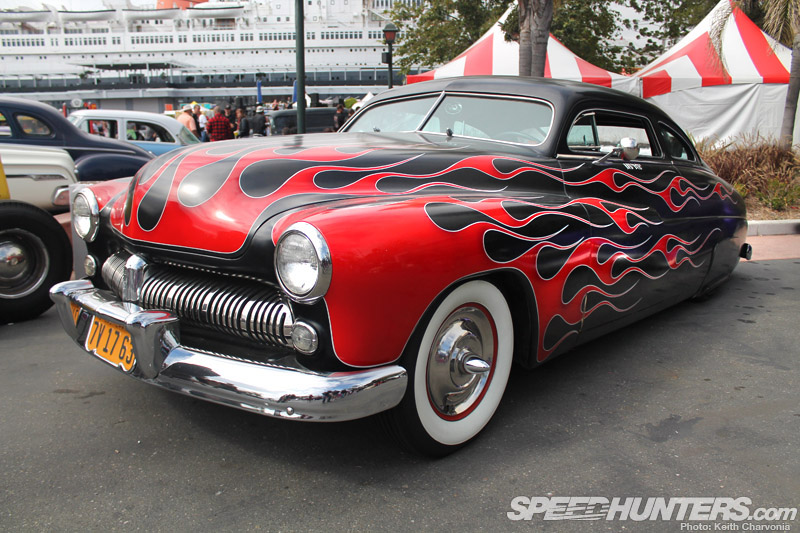 And I finally got to meet an old friend from the HAMB. Bad Bob was one of the early acquaintances I made on the forum when he cheered me along in my build thread. Turns out he was working the event and oversaw the entire indoor car show.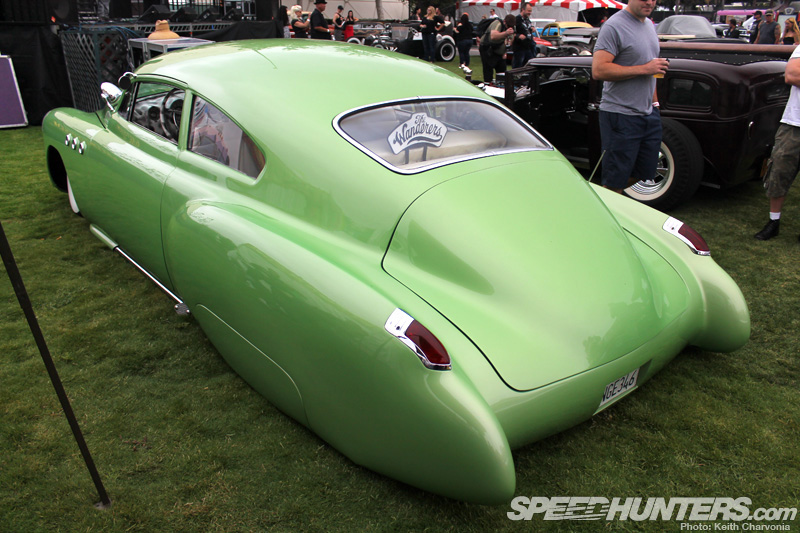 There were quality cars everywhere you looked, including this '49 Buick previously featured on Speedhunters. Notice the car club plaque in the back window?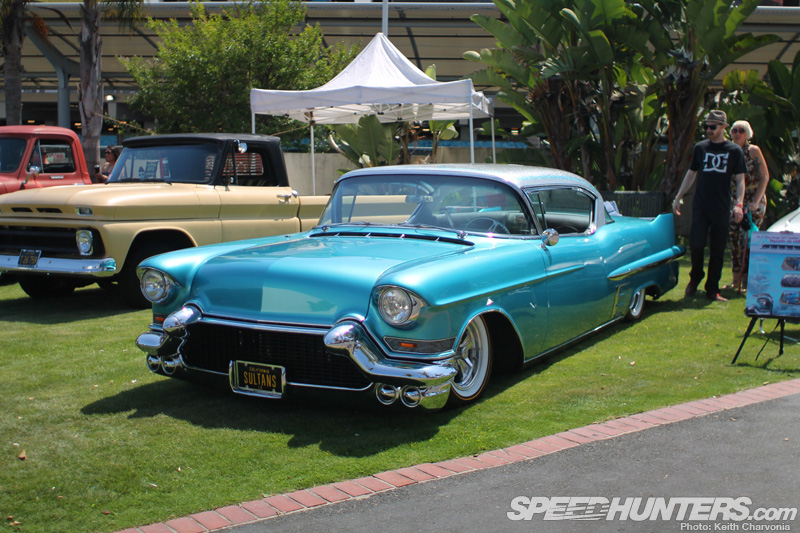 Here's a beautiful slammed Caddy with a club license plate mounted to the bumper.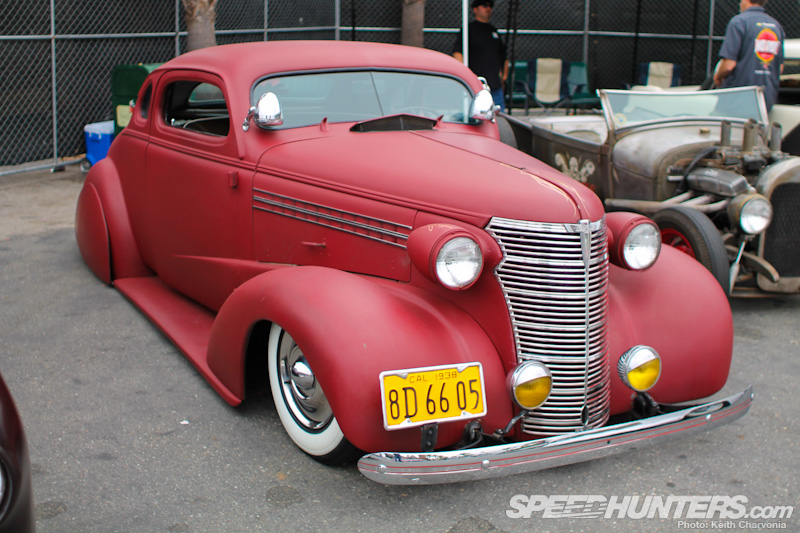 The beauty of an outdoor show is that not everything has to be finished and shining.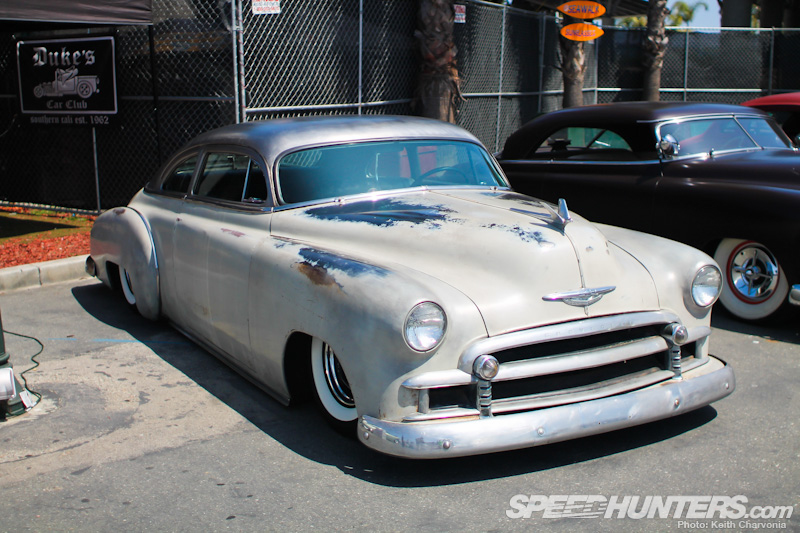 There were some quality builds rocking patina and primer too.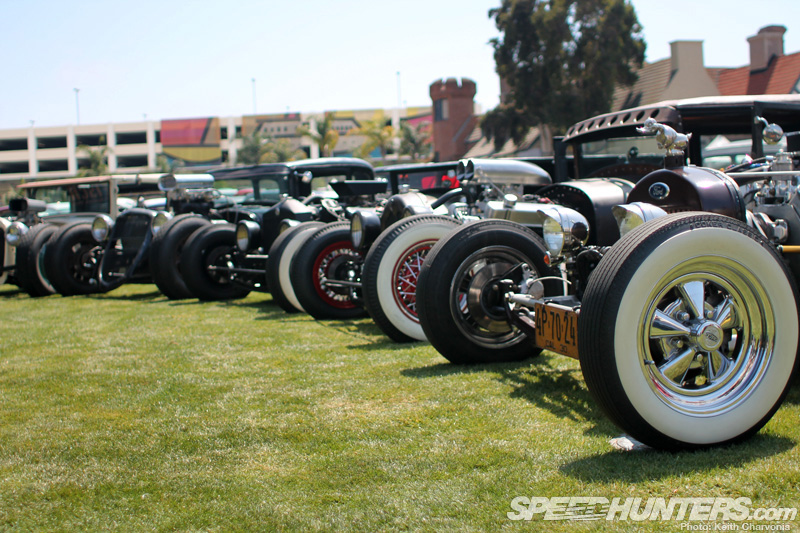 A big group of hot rods had parked together on the lawn, they must have rolled in together.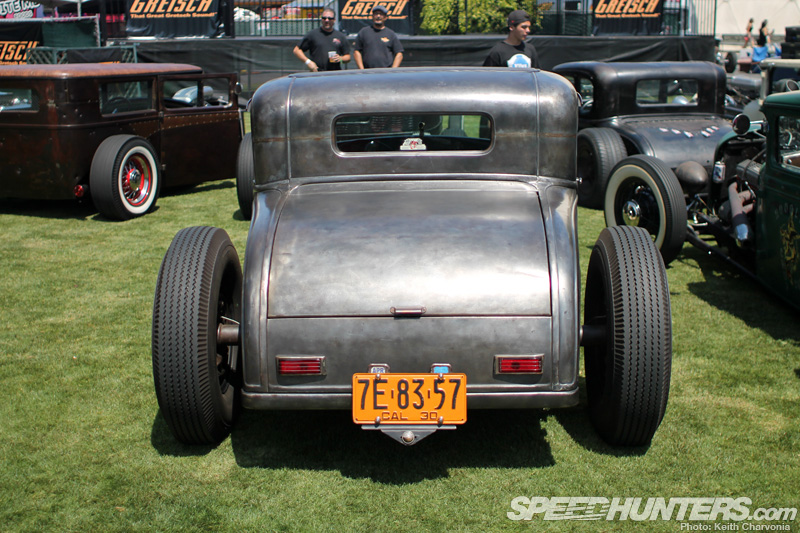 One of my favorites of the bunch was this bare metal, bias ply-shod 5-window.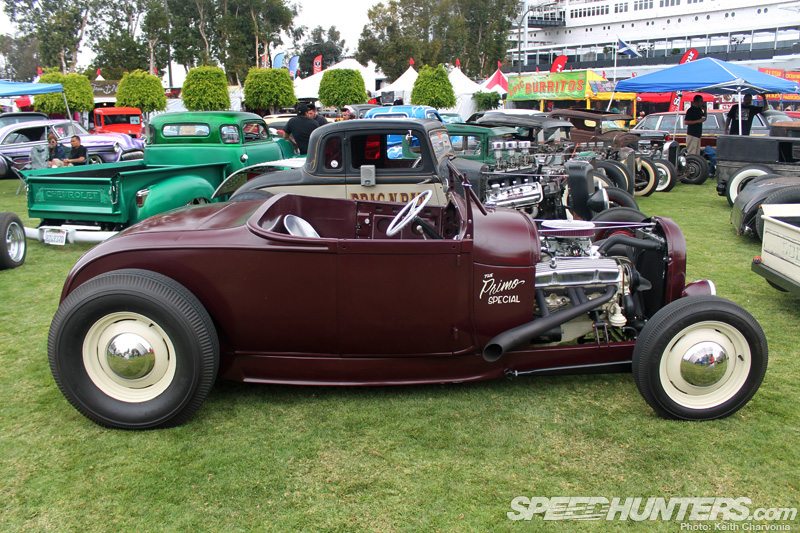 I caught up with the owner of this roadster and it turns out he's from Arizona too. Most people would be happy with this car as is, but he has big plans for it.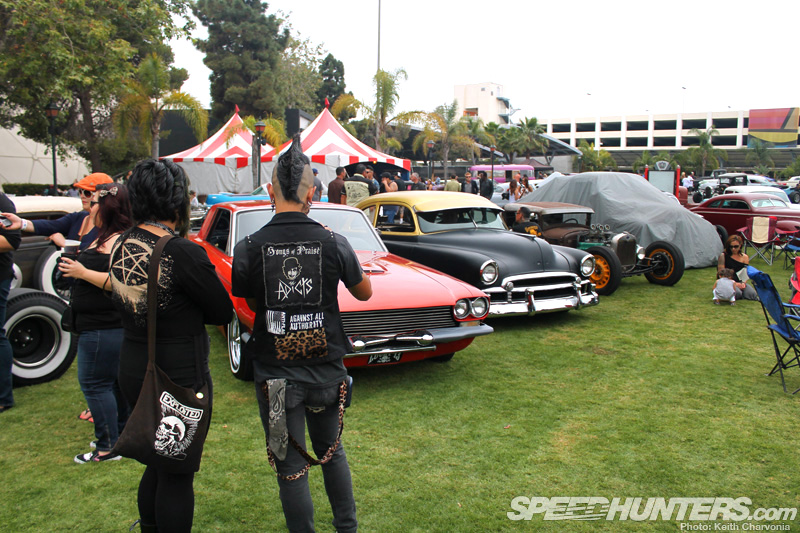 As I mentioned at the beginning of the post, this wasn't just a car show, but rather a 'kustom culture festival.' I didn't know what that was supposed to mean until I noticed some interesting folks around me.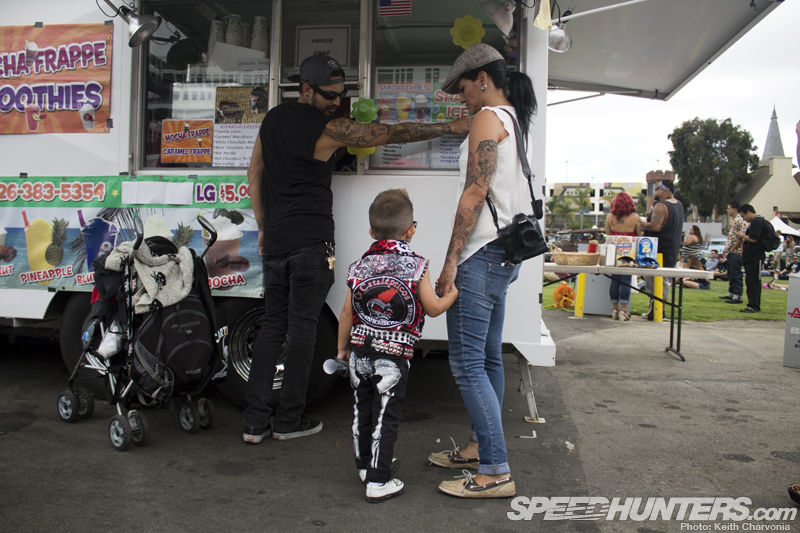 I sniped some photos of the interesting people I saw…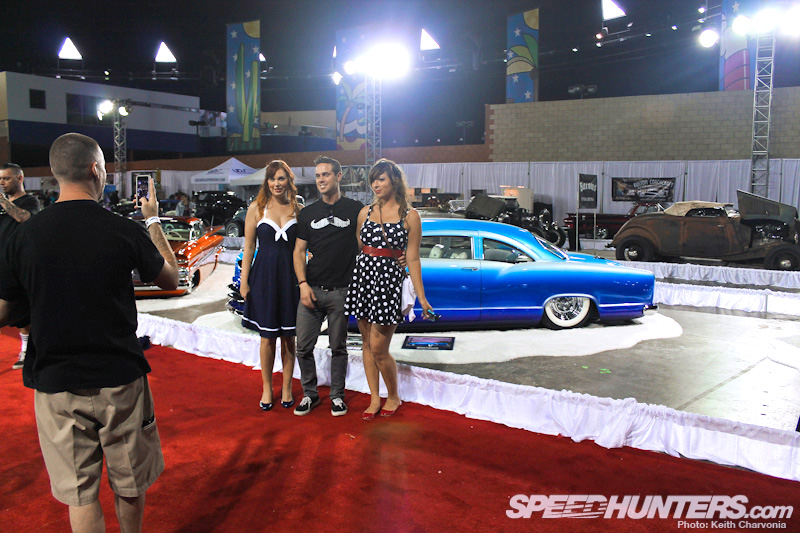 … but soon I noticed something even more interesting…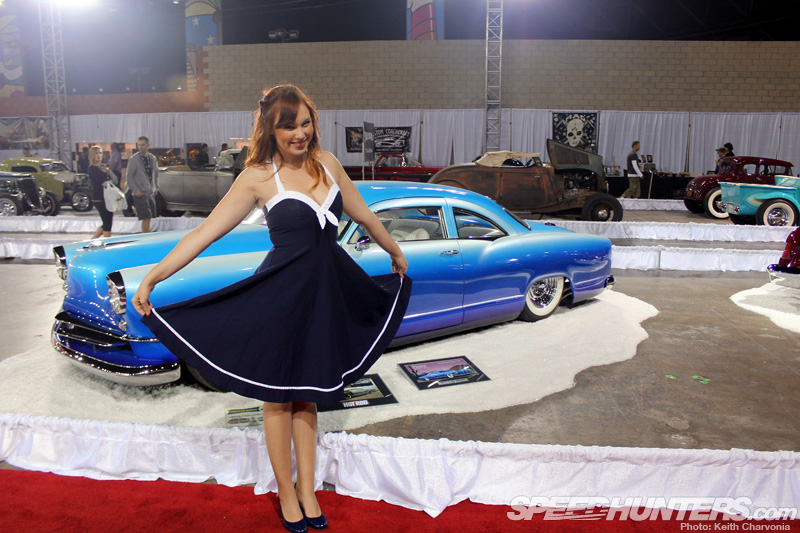 … that they wanted their picture taken.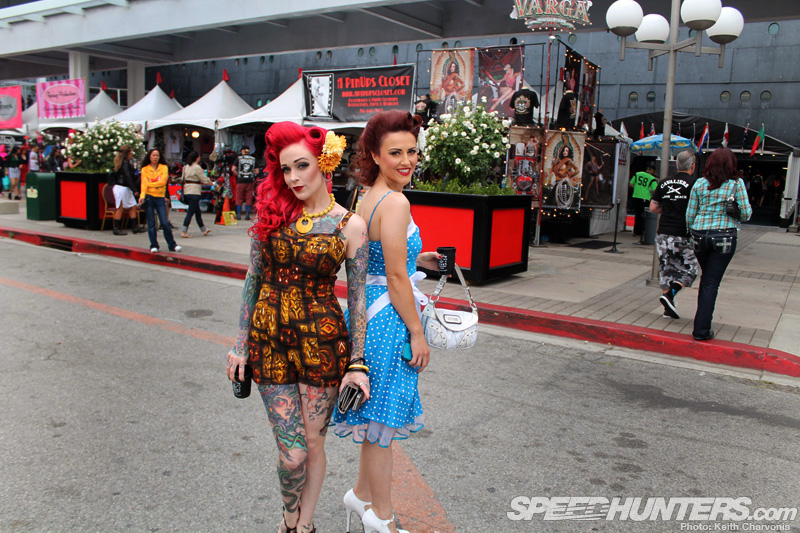 So, I started asking people if I could take their picture.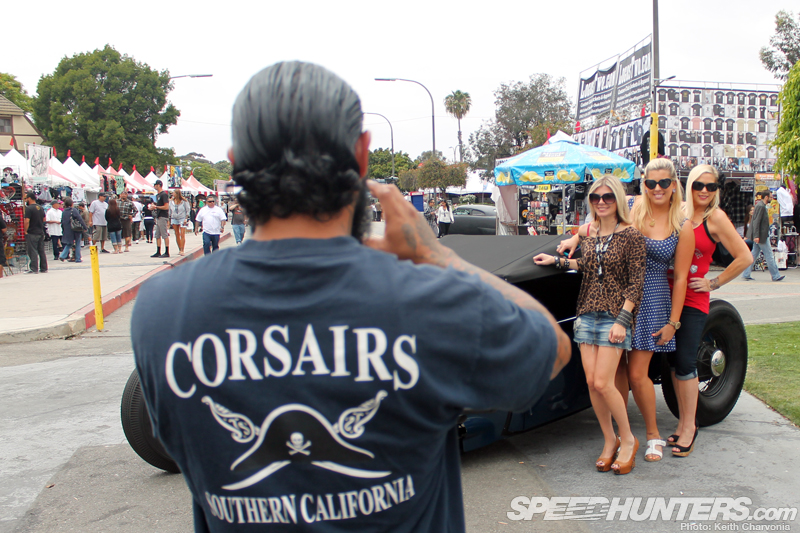 Sometimes we would take a break from a Spotlight-o-Rama interview to take a picture.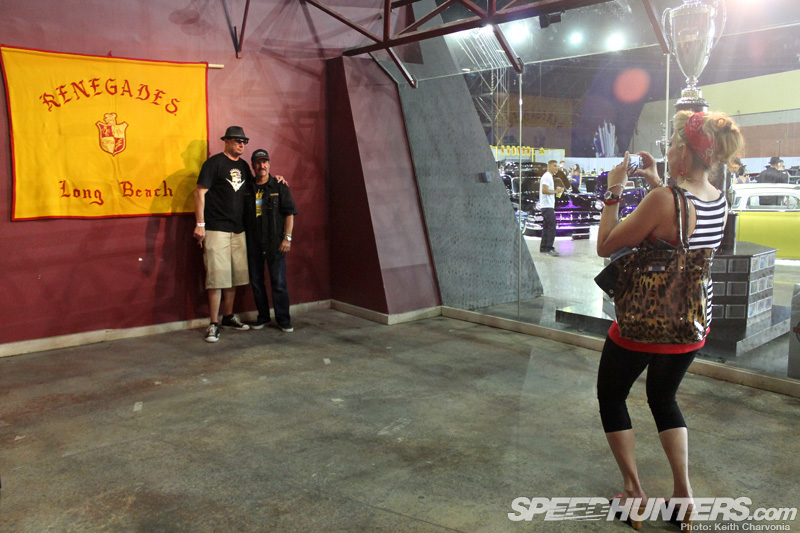 While John D'Agostino and I were planning his upcoming feature a fan asked if he could have a picture taken with him too.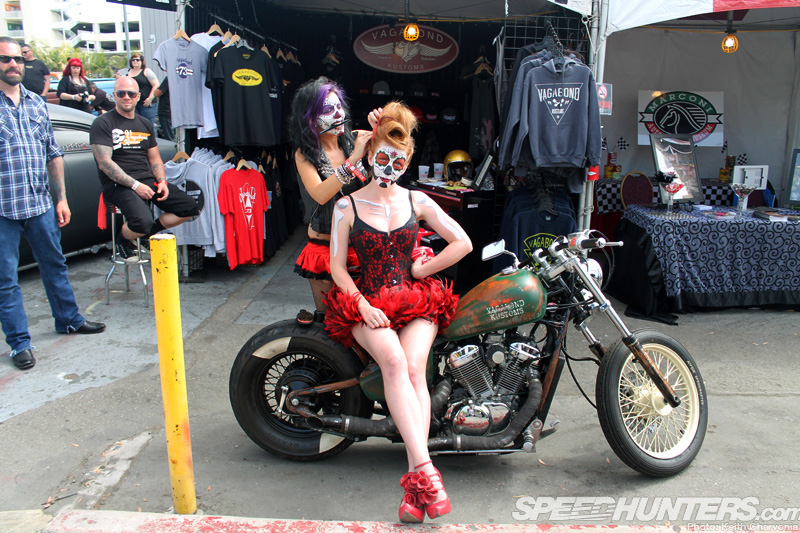 Never in my life have I seen so many people pose for pictures…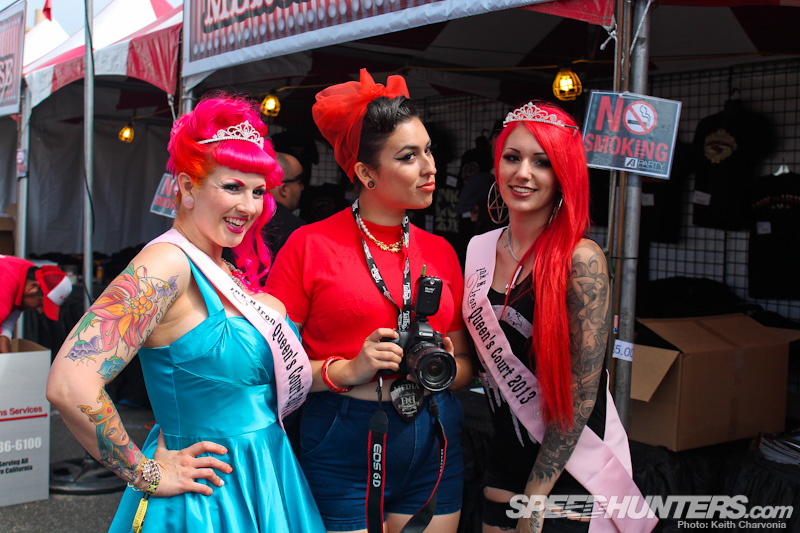 … but I decided I would embrace it.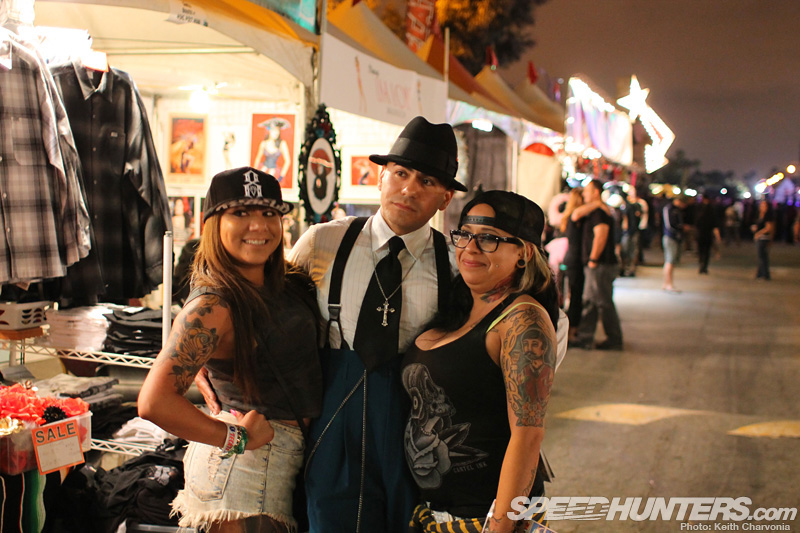 After all this was an opportunity to show more than just the cars…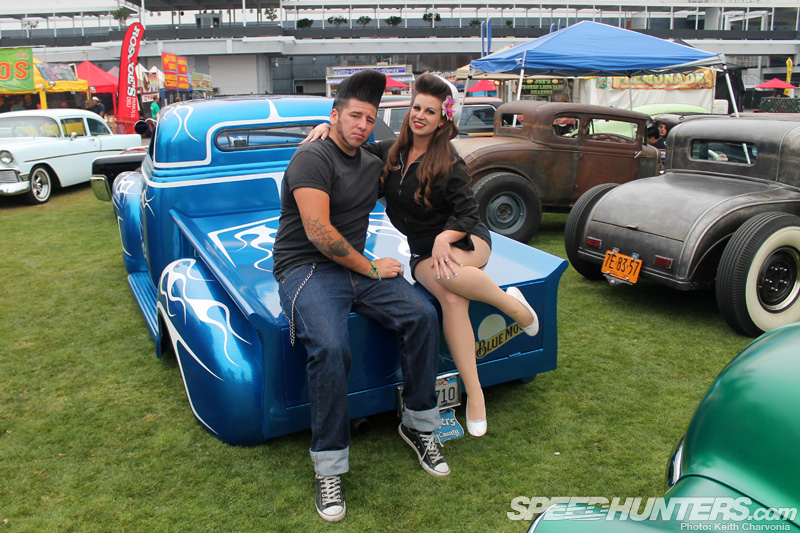 … it was a chance to show the culture that surrounds them too.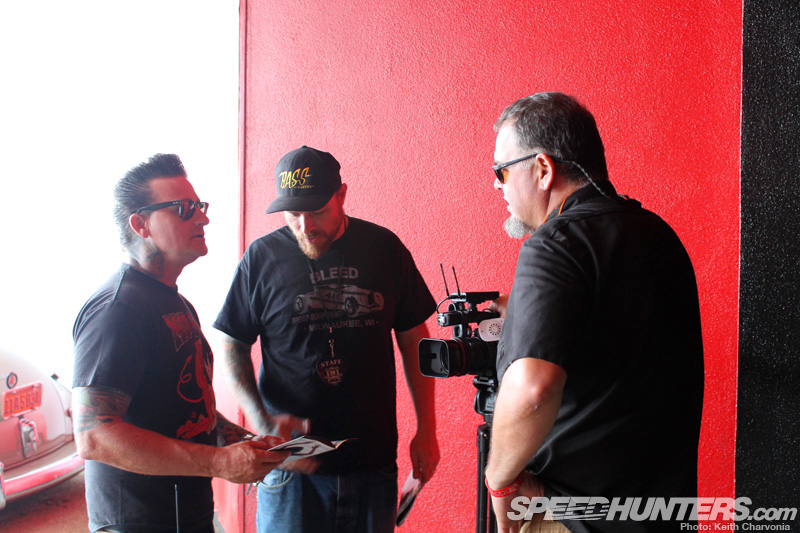 The one guy who I really wanted a shot of was Trace Edwards, on the left in this picture. He's the who invited me to show my car, but I soon found out he actually plans the entire event, from the car show to the tattoo festival and live bands plus everything in between. He would make cameos throughout the weekend, and I would stick my camera in his face until I got a usable shot.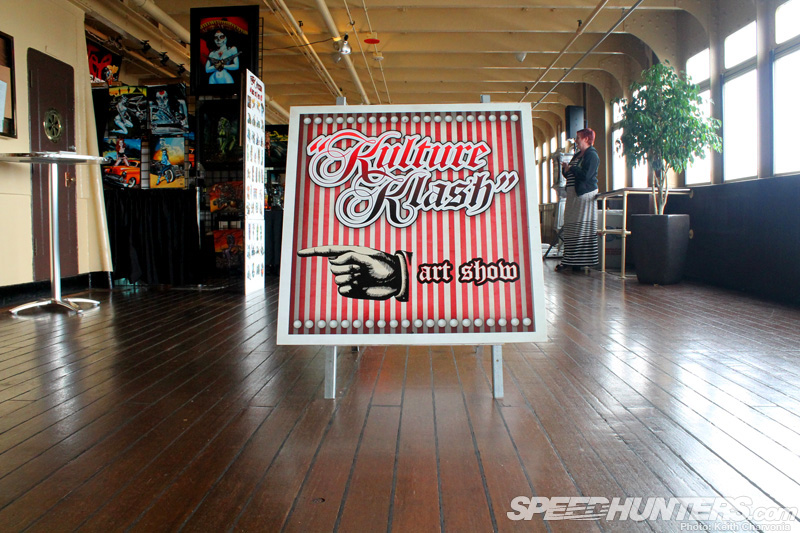 By now I'm sure you've gathered that this was much more than a simple car show. In fact, some of the festival took place on The Queen Mary.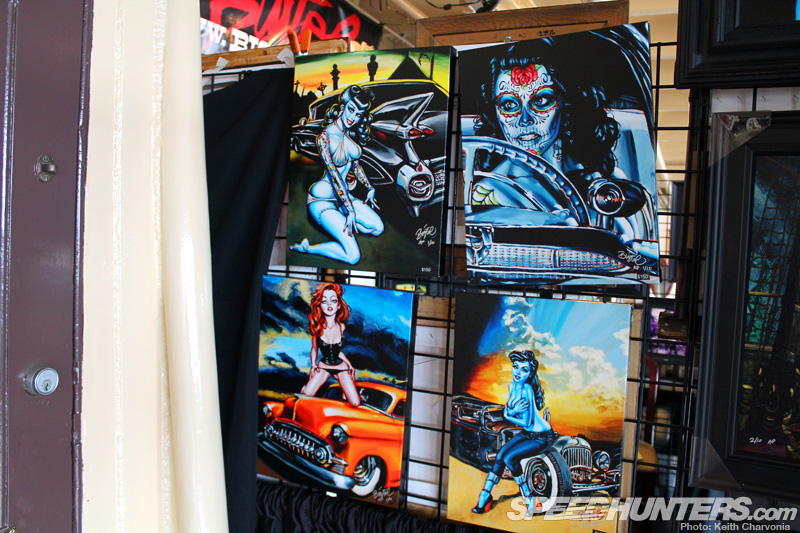 If you wandered long enough you would stumble upon the art show…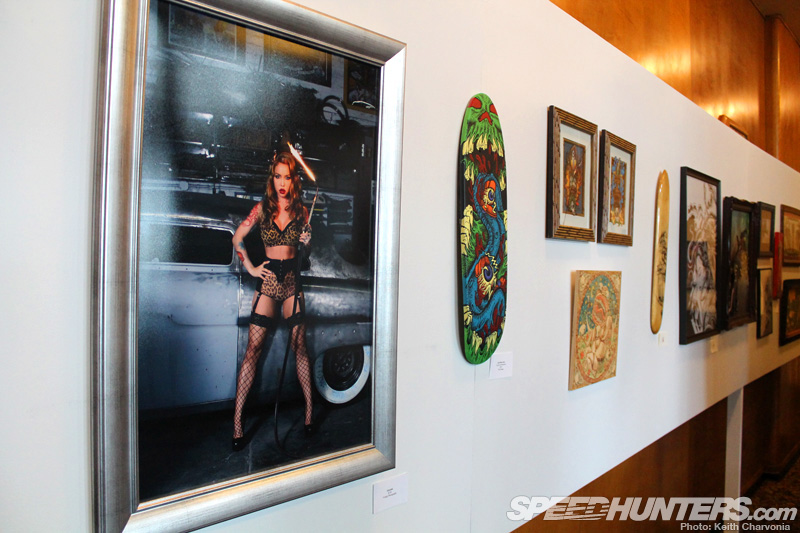 … where all of the artwork was car and culture related.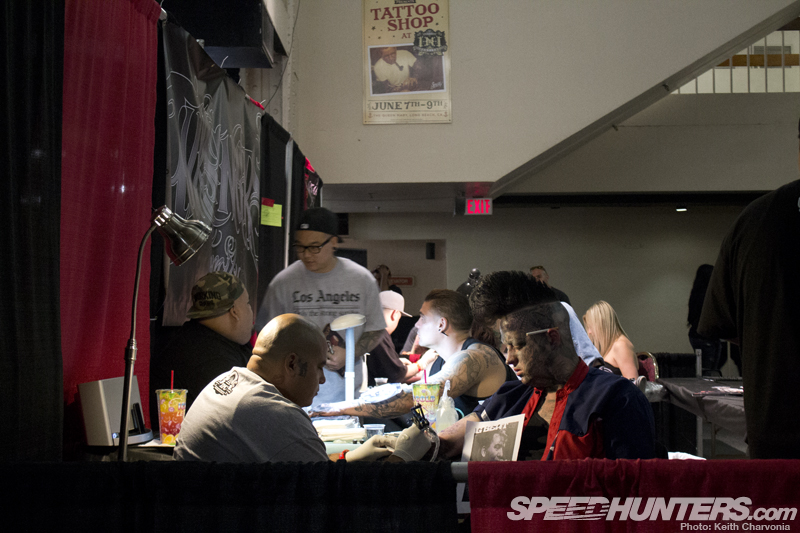 As we ventured deeper into the ship we heard a faint humming.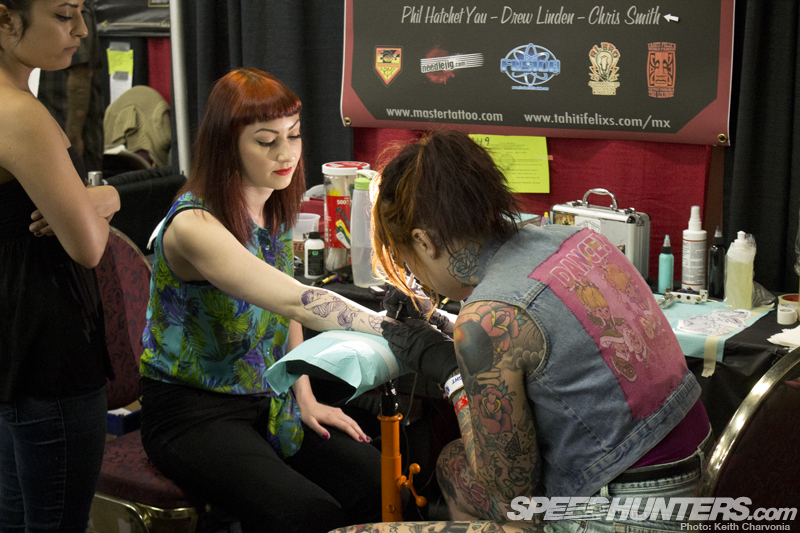 Which became much louder as we rounded a corner and came upon hundreds of tattoo artists plying their trade.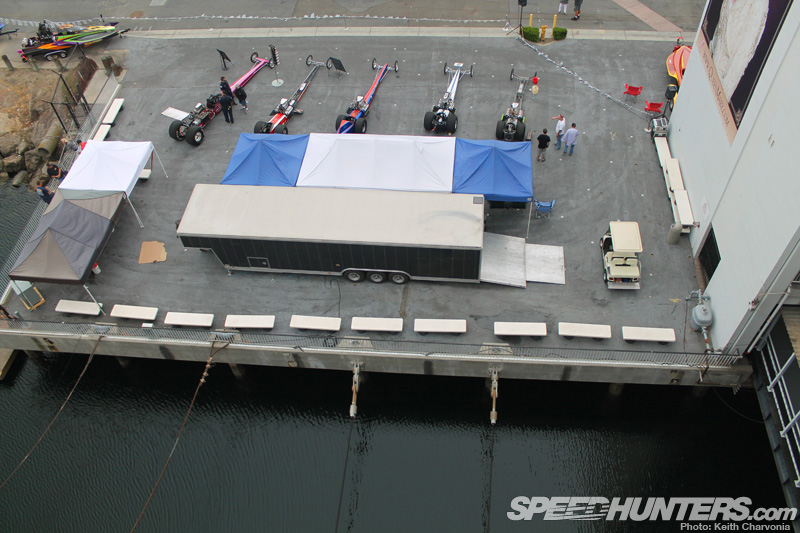 Walking back out onto the upper deck of the Queen Mary we got a bird's eye view of the cackle-fest dragsters.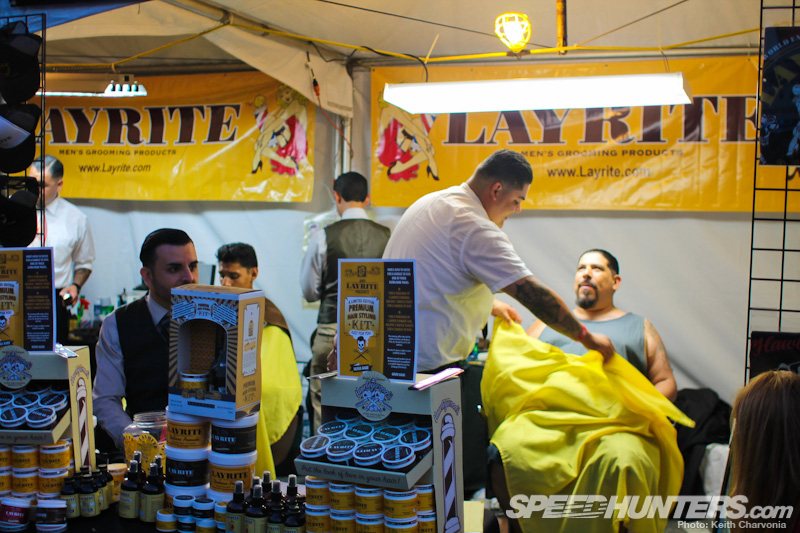 We even found a traditional barber shop set up on site.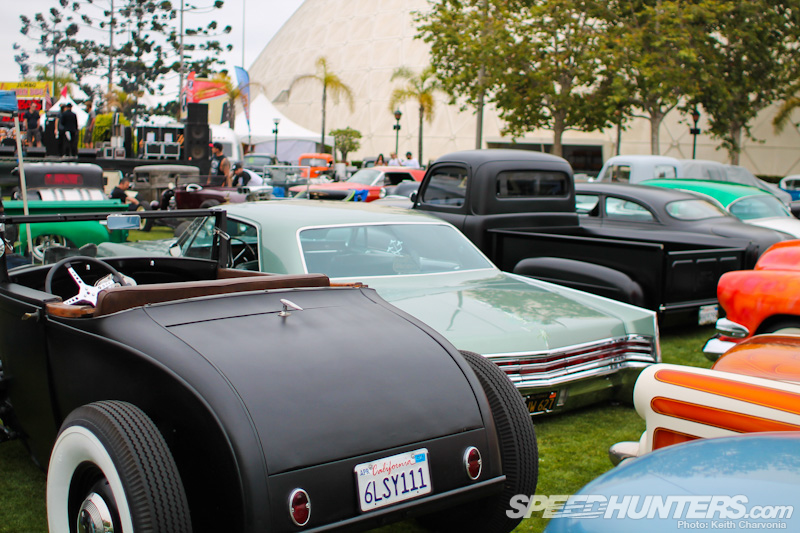 By Saturday morning the outdoor car show was completely full.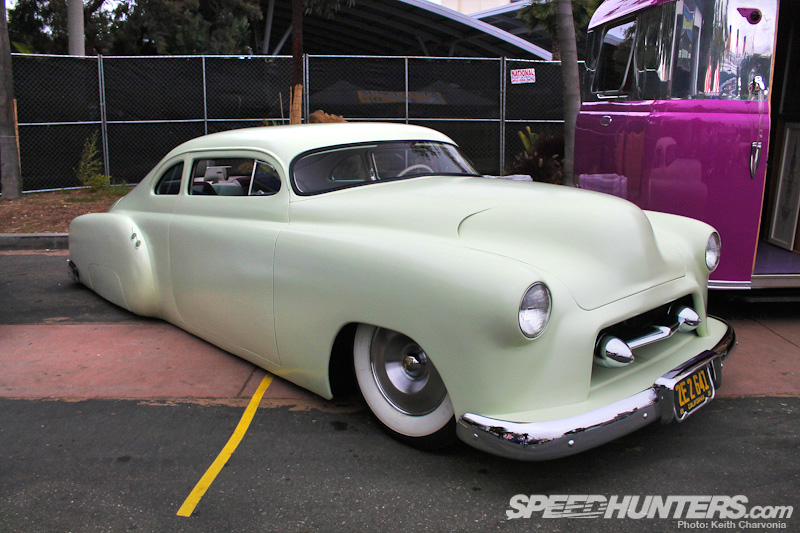 Just like the indoor show, each genre was on hand.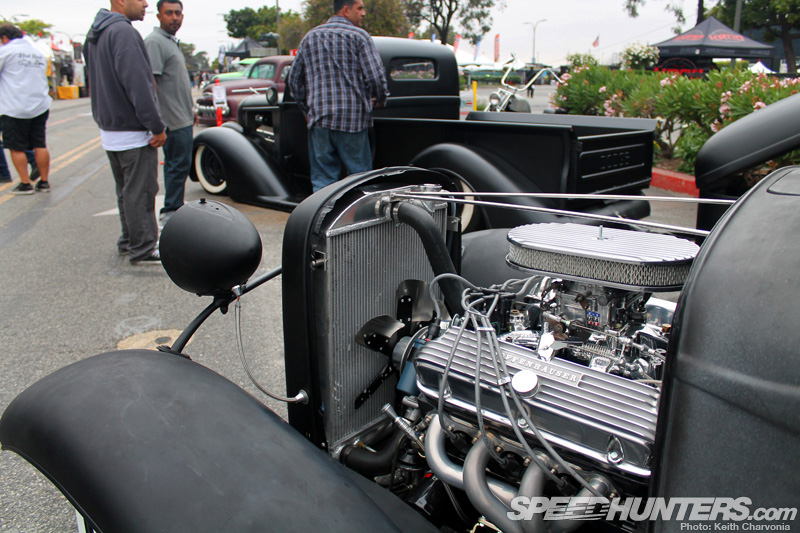 There were '30s hot rods…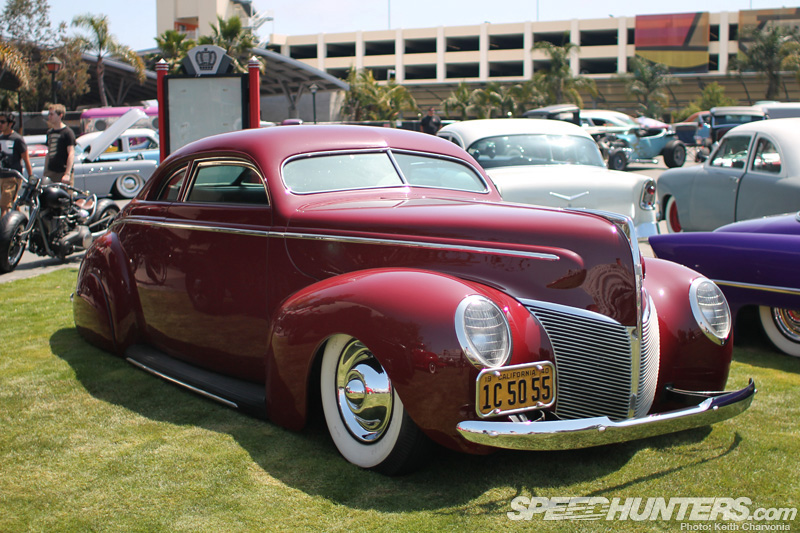 … '40s kustoms…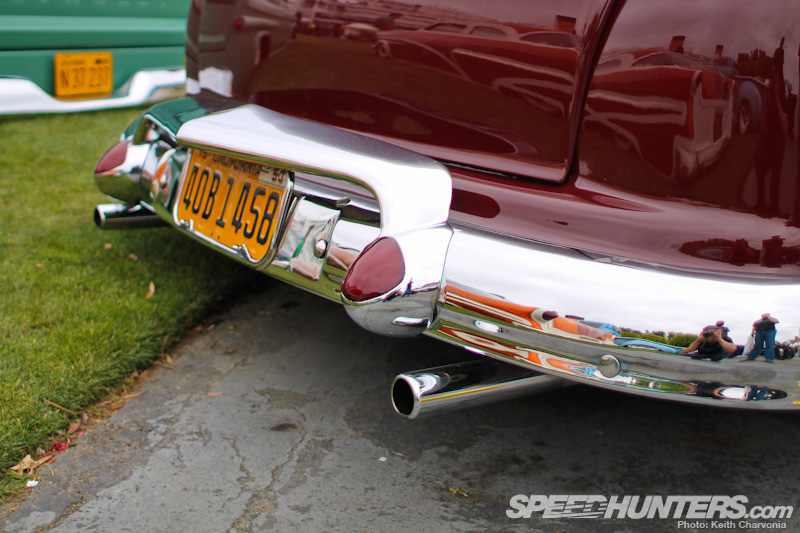 … '50s tail-draggers…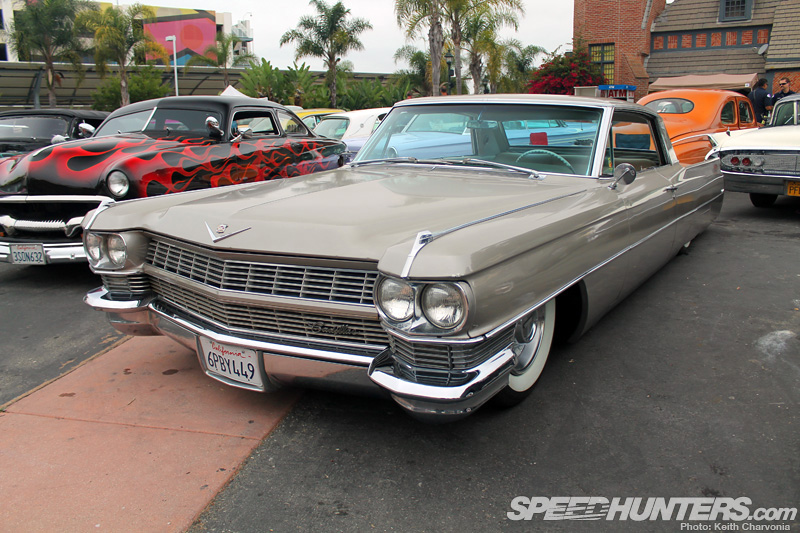 … '60s cruisers that didn't need anything more than a set of airbags…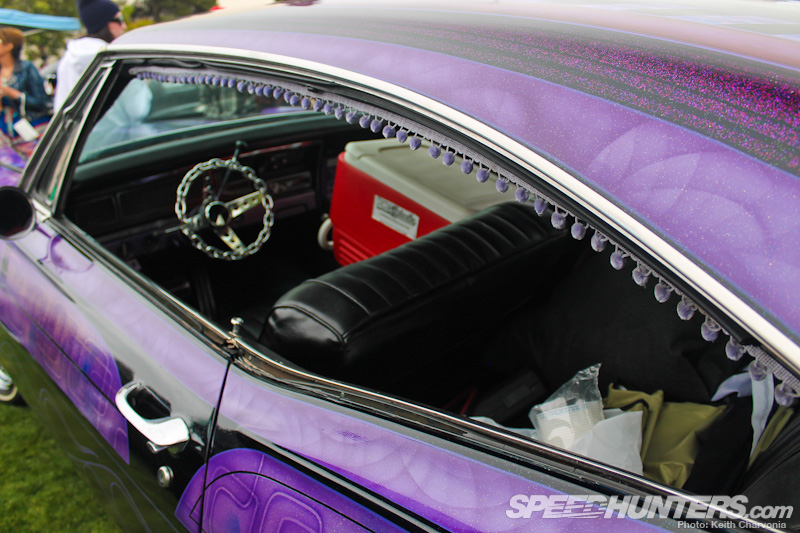 … pimped out '70s lowriders…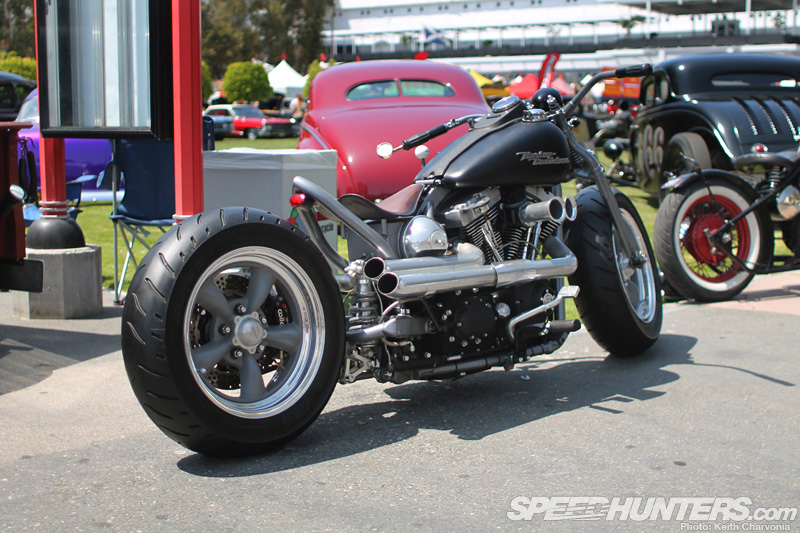 … and even a few bikes. This Harley with five-lug Torque Thrusts and Wilwood brakes fit right in with the hot rods.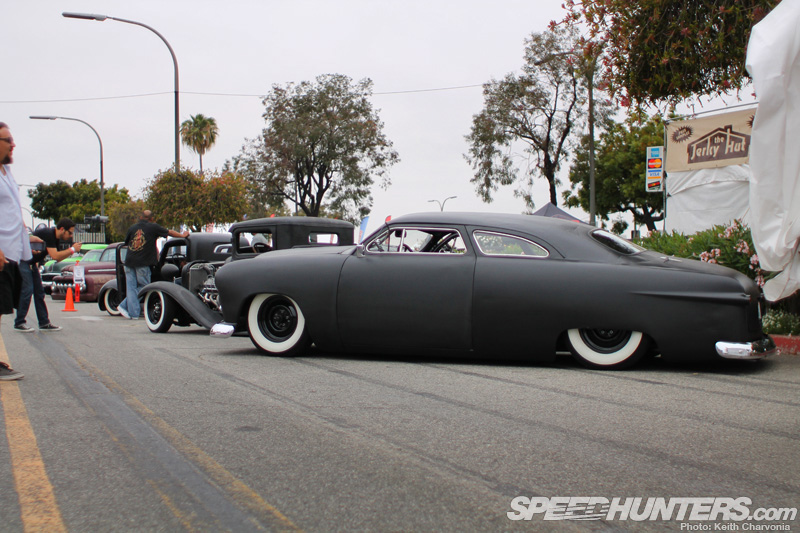 I met a group of guys with matching builds all parked together.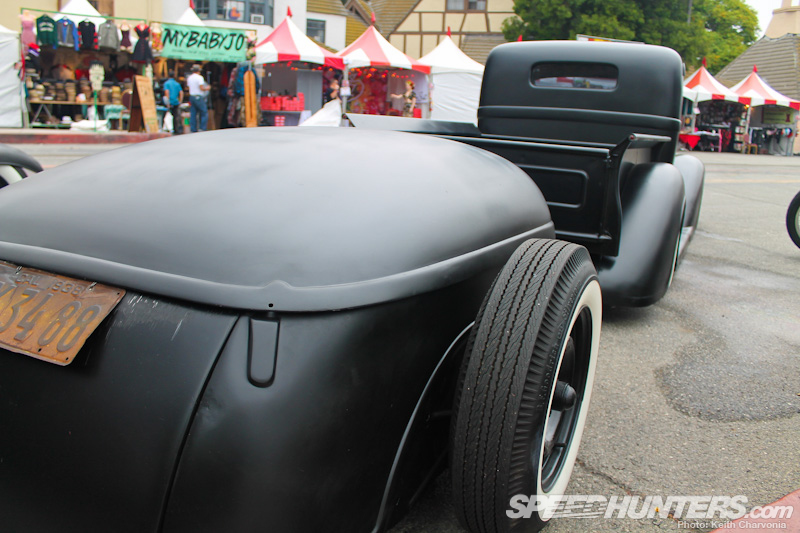 One of them even had a bagged trailer to pull behind his '38 Dodge.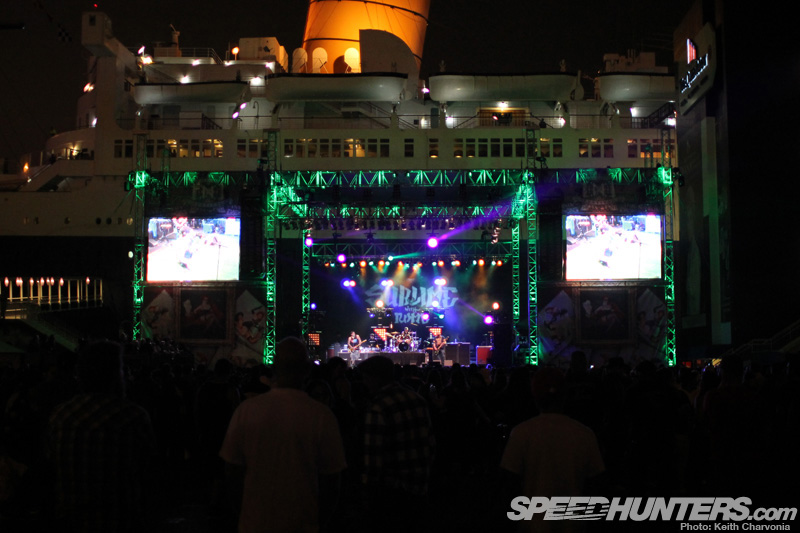 At the end of each long, action-packed day there was a concert that ran late into the night.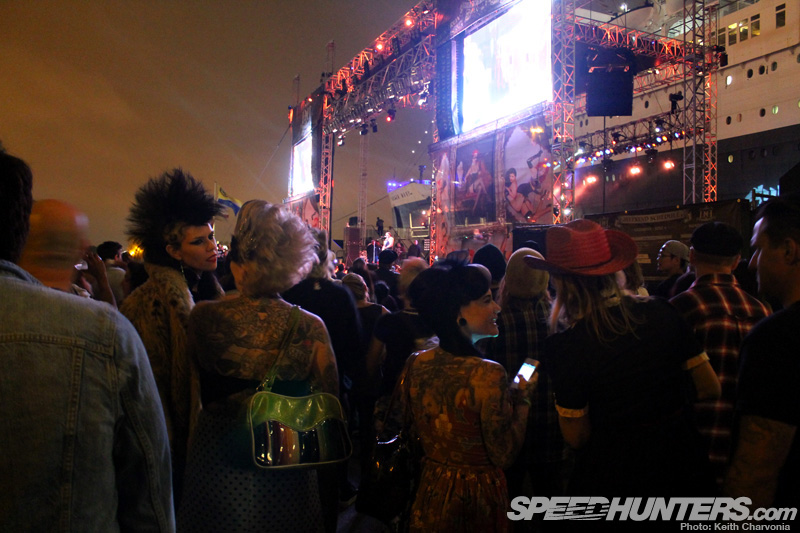 It didn't matter if you came for the tattoos or the art show, the fashion or just the cars – everyone stayed for the show.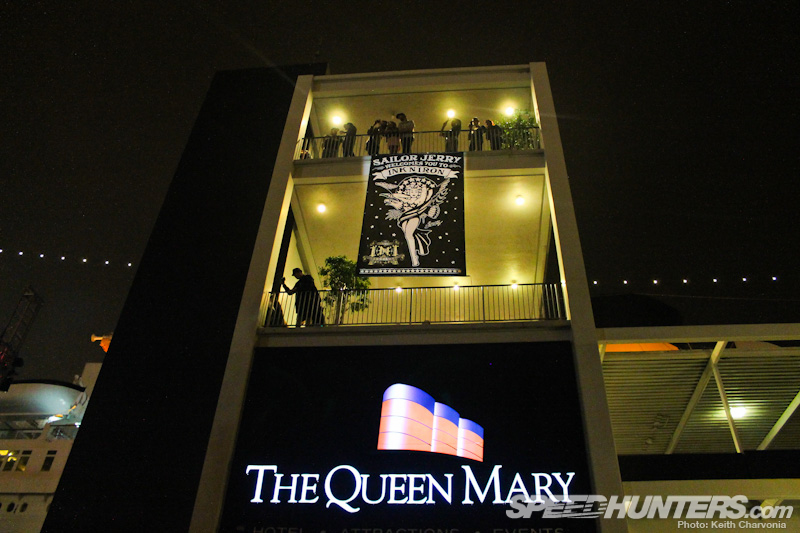 People watched from all sides…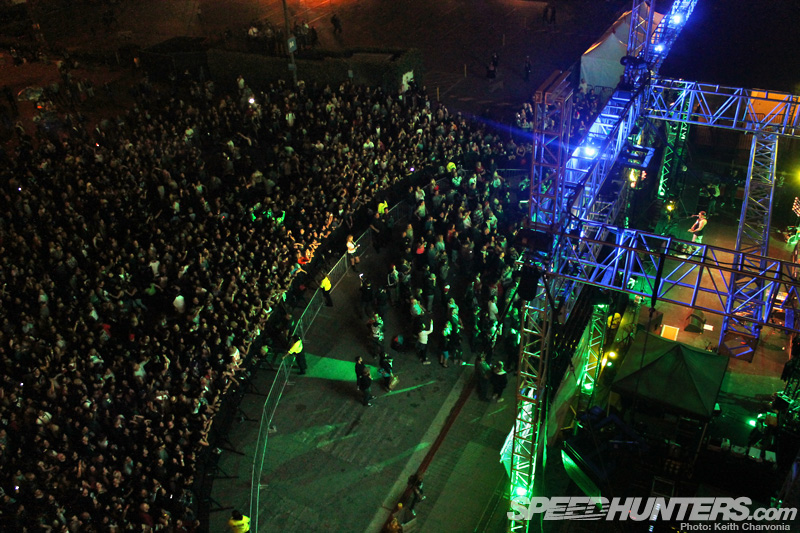 … because everyone wanted to see Sublime, NOFX, Iggy Pop and The Offspring.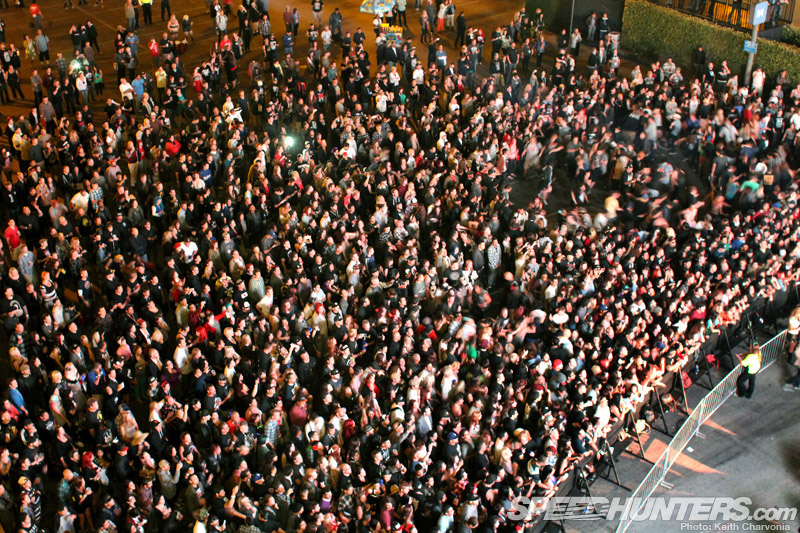 This show, err… culture festival, was all about bringing together folks from all walks of life to celebrate the anti-mainstream.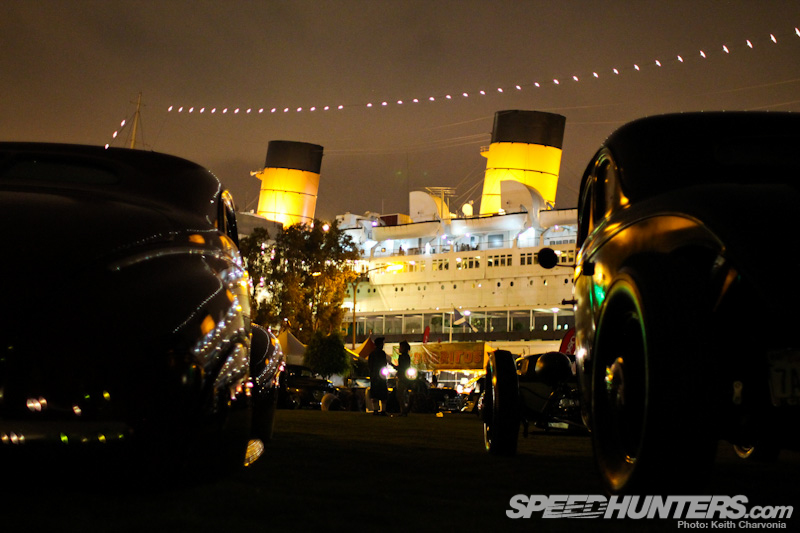 As for me? I just came for the cars. The rest was fun too, though.
Keith Charvonia
Instagram: SpeedhuntersKeith
Email: keith@speedhunters.com