Style is a funny thing, but more so is the speed at how people judge various interpretations of it. I think Nagano Koubou serves as the perfect example here, in particular the pink Onevia I posted last month following a quick tour of the little Kansai-based bodyshop. Over the last few years Masayoshi Nagano has been a trendsetter in the grassroots drift culture of West Japan. He is known for merging a '90s take on the popular cars we all love – especially S-chassis – and fusing it with a more modern approach in wheel choice and fitment…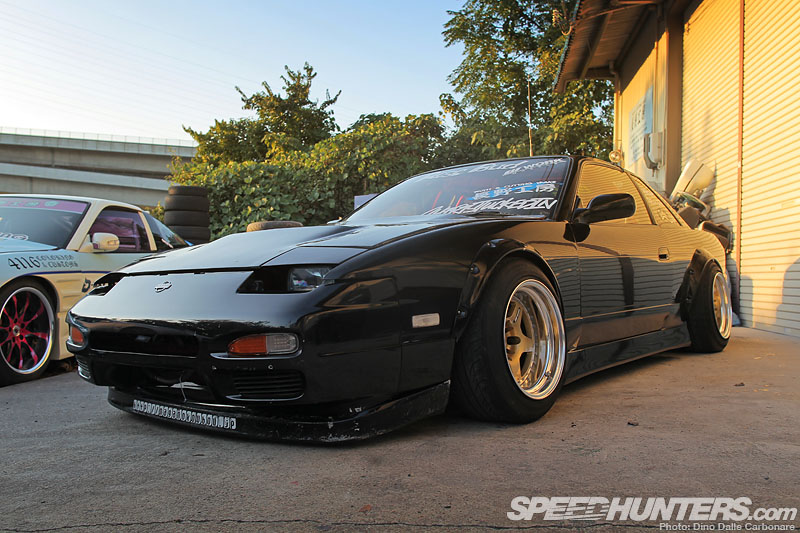 … creating something all his own. The Rose Bud Onevia is one of his most well known creations; a car that to him is the perfect representation of the Osaka drift car.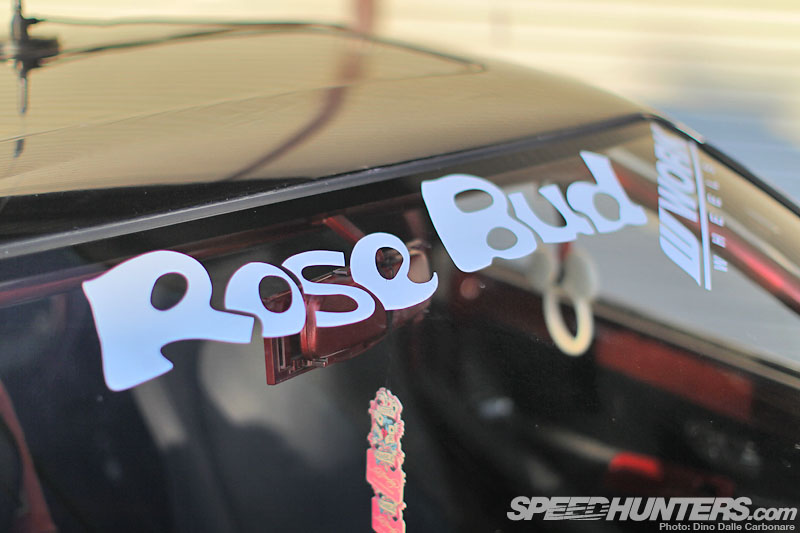 Call it redemption if you will, but this Onevia couldn't possibly be more different from the USDM S13 that caused so much controversy in the comments section last month.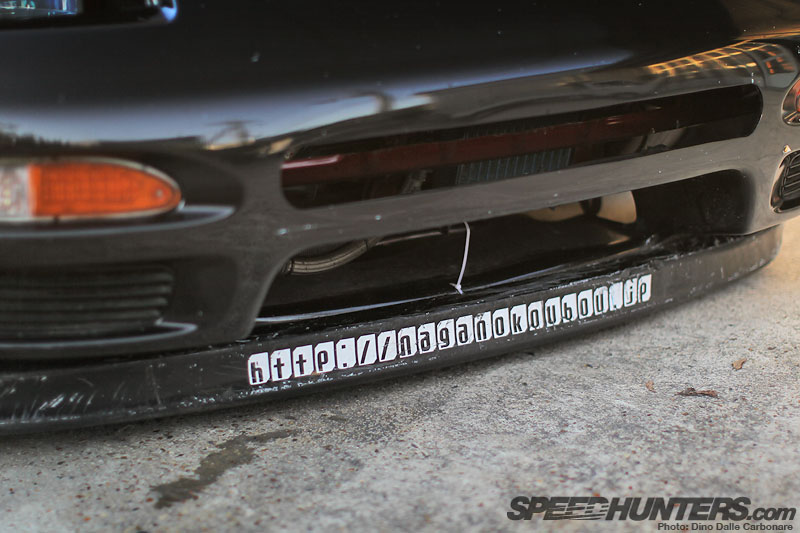 Like almost all Onevia conversions, the changes came after a slight impact while drifting. The face swap is quite simple, using stock RPS13 bits and pieces like the front bumper, front lip and side skirts.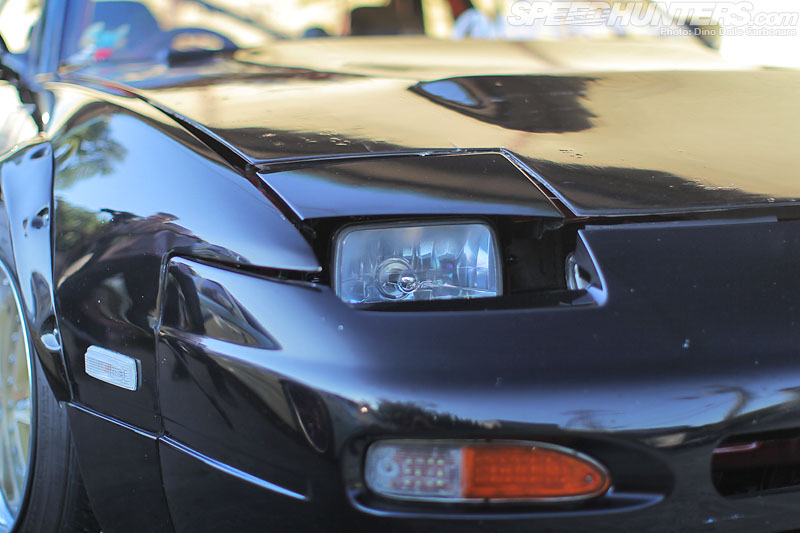 A Nagano Rose Bud headlight face kit was then dropped in, comprising of fixed projectors and the obliquely cut 180SX covers.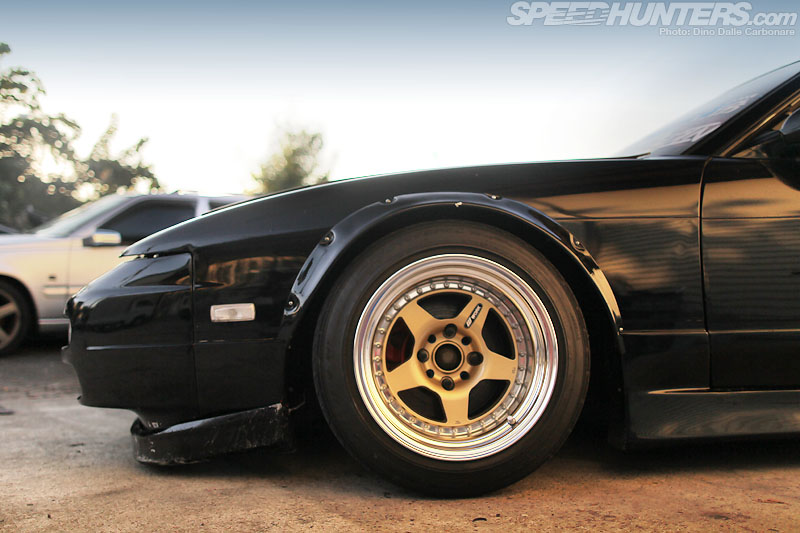 The way in which the car has to sit is one of the most important aspects of getting the true Osaka-style dorisha look spot on. The Rose Bud rides on Tein drift-spec adjustable dampers mated to Swift springs, 10 kg/mm front and 8 kg/mm rear, all set at a pretty low ride height. A multitude of suspension links were fitted for optimal adjustability and the list includes D-Max tie and tension rods, upper arms, toe control arms and traction rods. These join the thicker sway bars and increase steering with Nagano Koubou original knuckles. You won't find D1 spec seventeens or eighteen inch rims here, it's all about keeping it '90s style and going for a chunkier tire with a more modern fitment. The 15-inch Work Meister CR01s achieve this beautifully, the 9J wide fronts…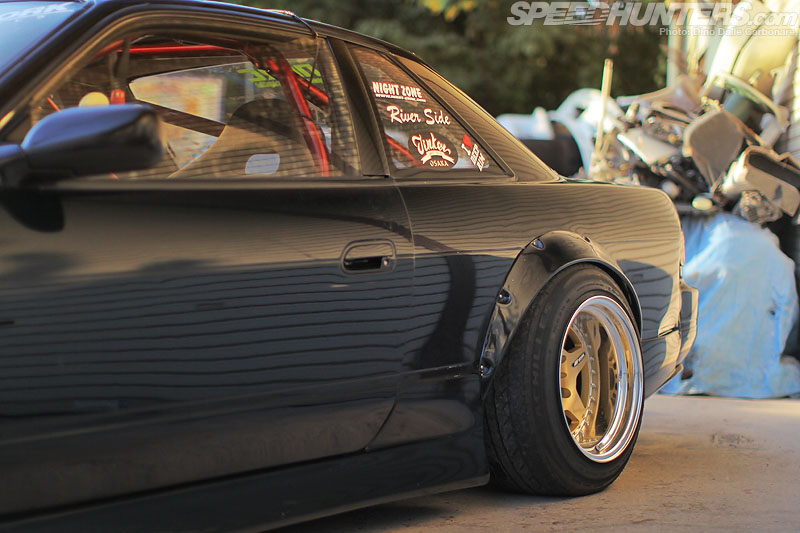 … along with the 10J rears both sporting a -53 offset. For optimal front end bite the front wheels get sticky Goodyear Eagle Revspec RS-02 in 195/55R15 size, while the rears run even more tightly stretched 195/66R15 ATR Sports.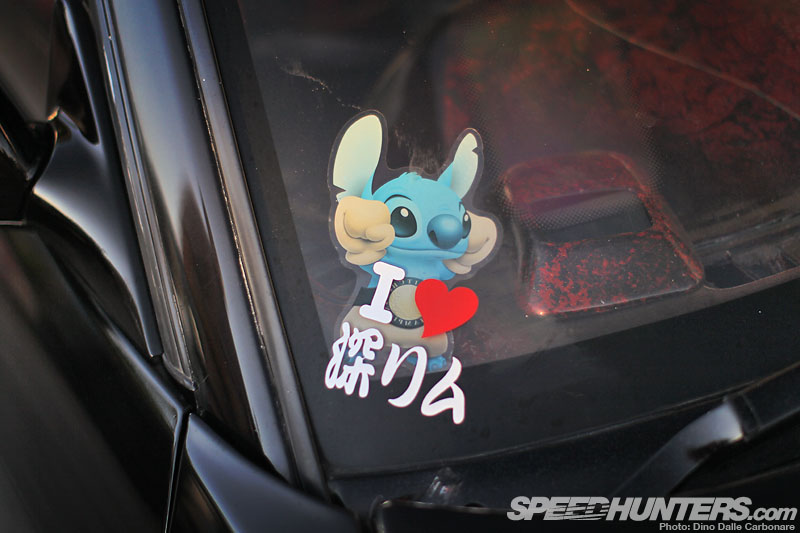 I love fuka-rimu (deep rim) indeed!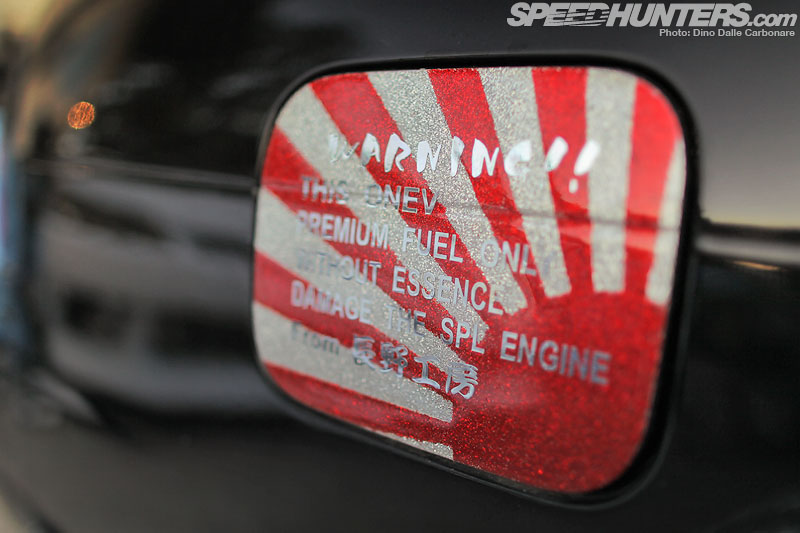 Aside from a healthy dose of stickers and this cool flake rising sun on the fuel filler cover…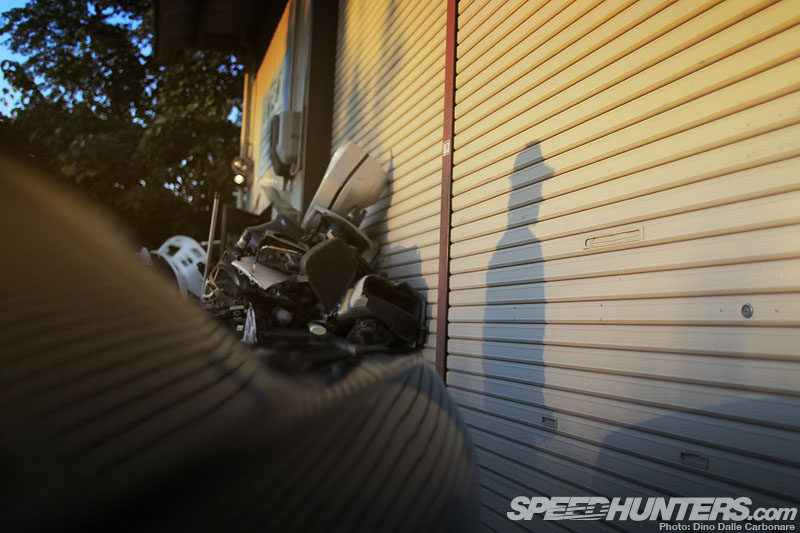 … Nagano-san has kept the rest of the exterior clean, spraying the whole car with a few coats of black paint and avoiding overly complicated detailing.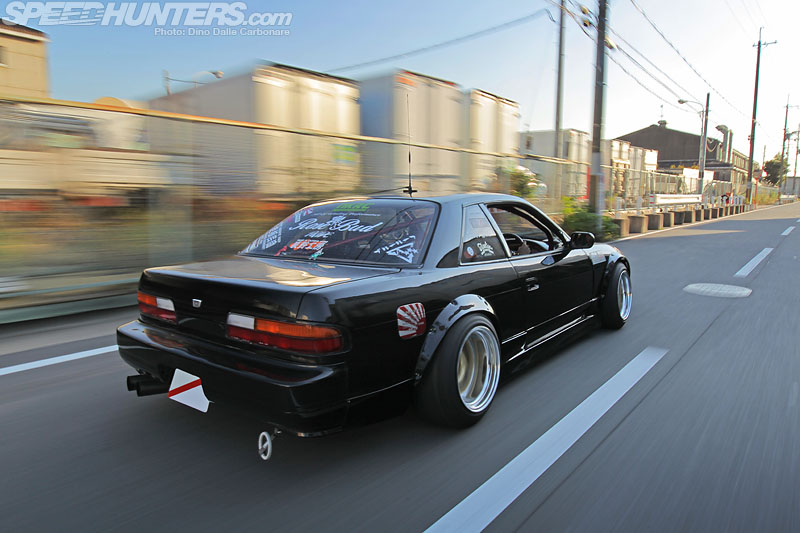 You'll agree the simplicity adds to the car, allowing its pumped fenders and overall stance to do the talking.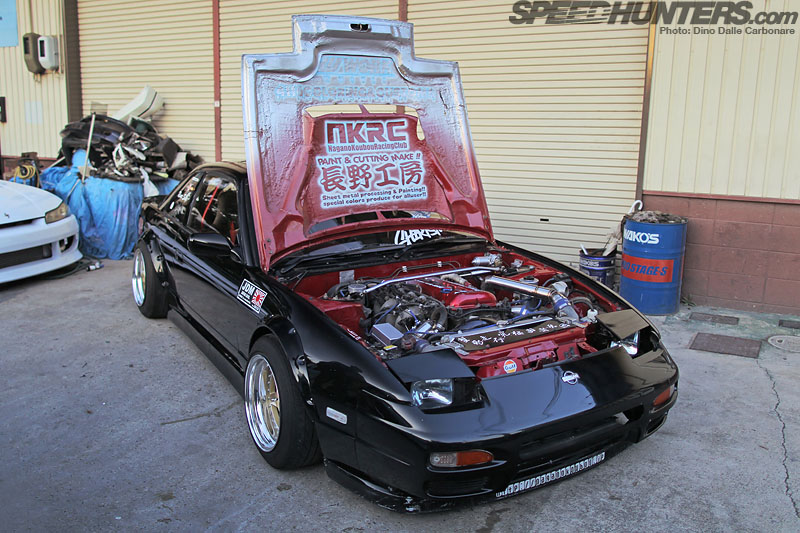 As you would expect most of the work has gone into turning the base S13 Silvia into a competent and well set up drift car…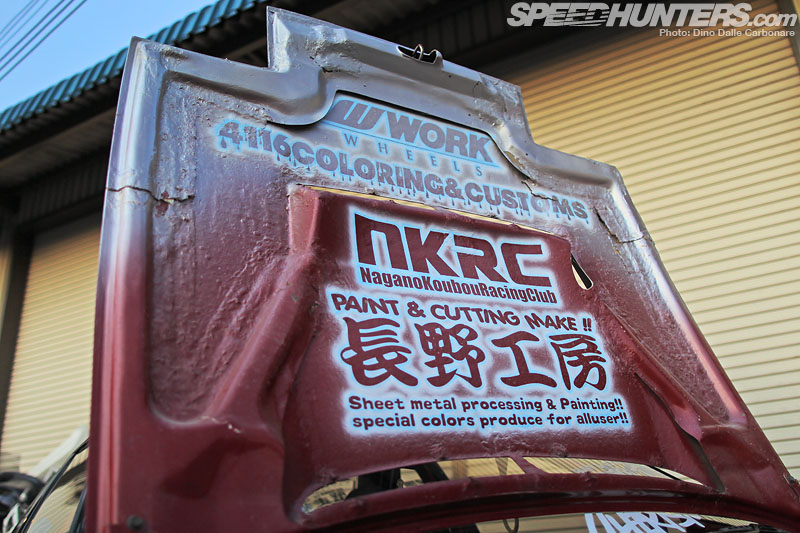 … starting under the Origin FRP vented hood on which Nagano-san couldn't help but go a little crazy with the painting. On a recent drift sokokukai at Meihan the hood actually flipped up and hit the windscreen causing some pretty visible cracks on each side of the structure, something that will either need to be fixed or replaced in the near future.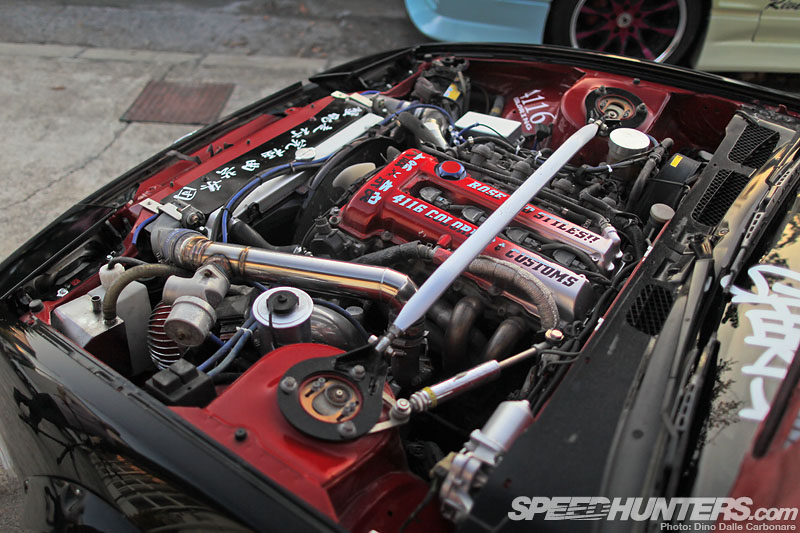 One of the first things that Nagano-san did was to get rid of the CA18 this zenki S13 was originally fitted with and swap in an SR20DET from an S14. Before this was done however the engine was overhauled and refreshed, as well as fitted with pistons and a crankshafts from an S15 SR20. More S15 parts followed with the stock ichi-go turbocharger…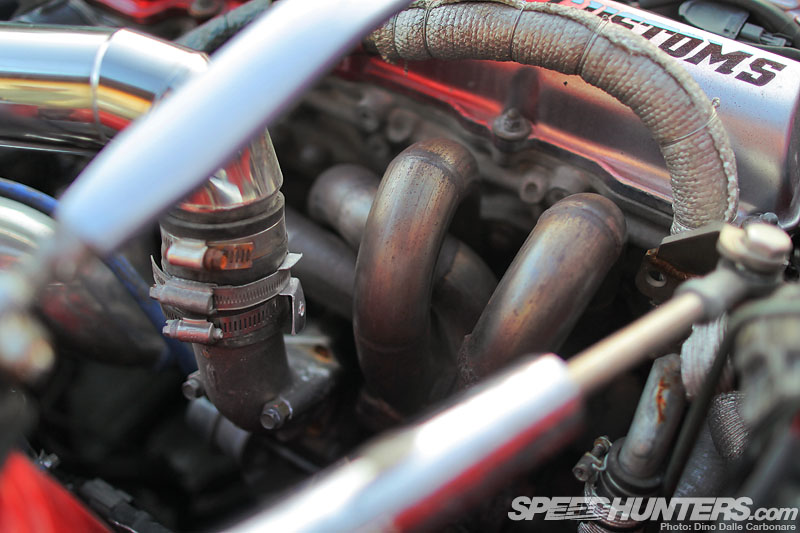 … which was mounted on a stainless steel exhaust manifold of unknown origin.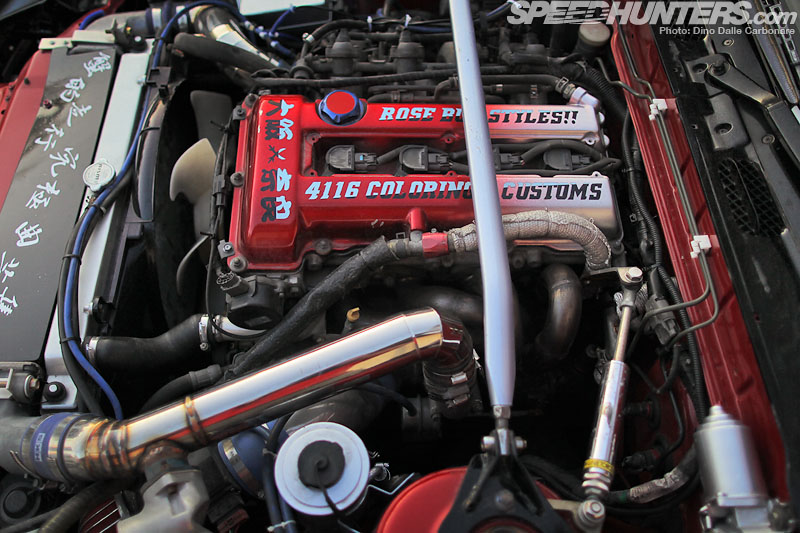 More work was done to the engine with the addition of Tomei Poncams and adjustable cam pulleys, all aimed at extracting a broader spread of power with a stronger top end. Nagano-san has no idea on power, except saying that it's enough for the time being. 350hp wouldn't be too much of an inaccurate guess.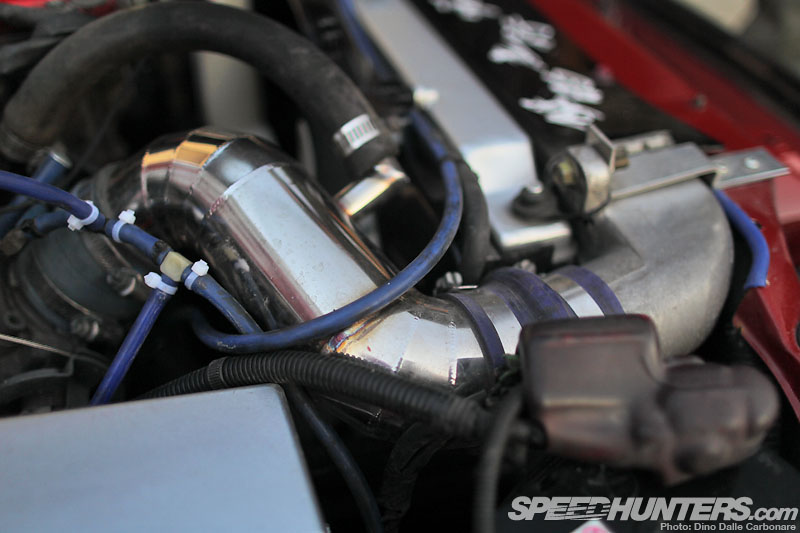 Most of the build was taken care of by Nagano-san himself who also went ahead and fabricated a custom intercooler set-up with end tanks that help keep piping shorter and more direct.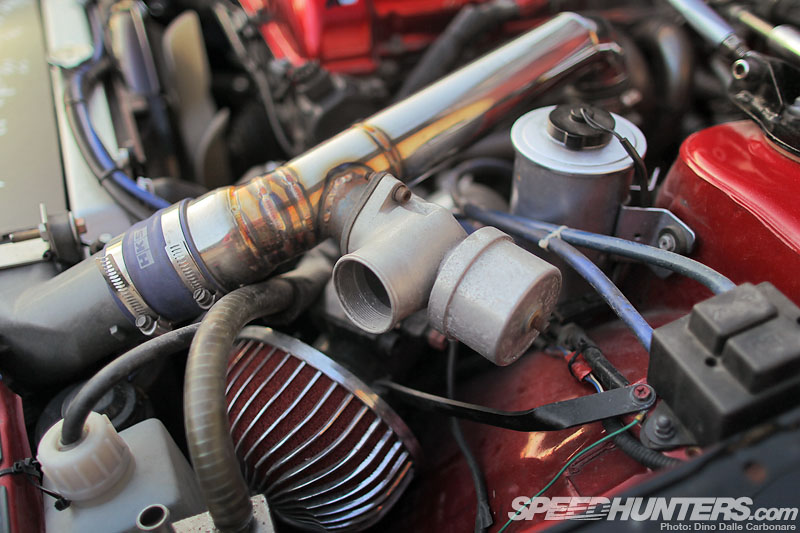 It all serves as a great example of your average Kansai drift car: put together on a tight budget and reusing plenty of stock or second-hand parts or upgrades bought online like the Trust Type-R blow-off valve welded onto the one-off I/C piping. The fuelling was put together in much the same way, with a BNR34 in-tank fuel pump feeding a Nismo FRP and a set of Nismo 555 cc/min injectors. The only thing that was really done by a dedicated tuning shop was the Apex Power FC ECU programming, taken care by River Side, the shop D1 driver Kuroi used to manage before his death in 2010.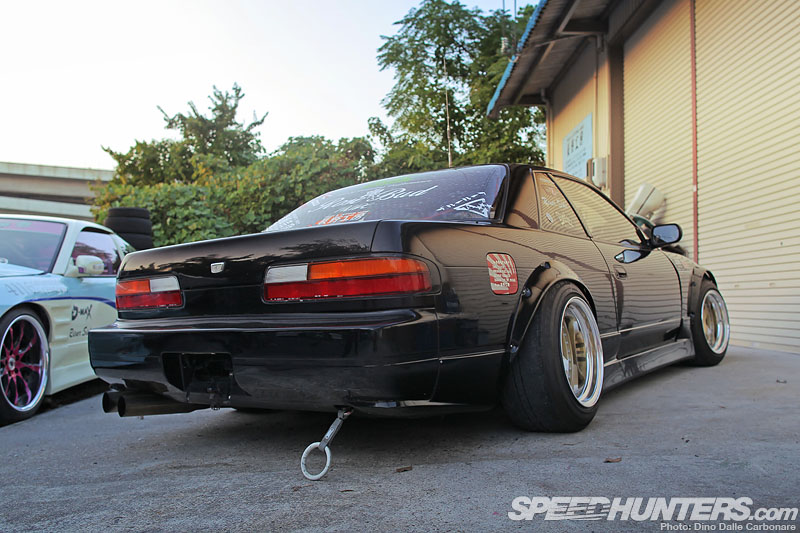 The full twin T-Welding custom exhaust system gives the Onevia that rough SR rumble that screams out badass drift car! Oh and the train handle attached to the tow hook is a bit of a bosozoku accessory and one often seen on drift cars.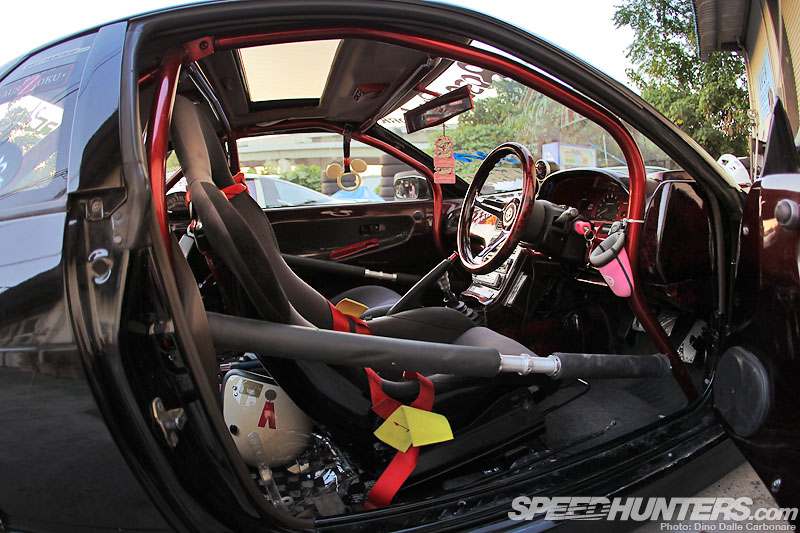 Much like in the engine bay, Nagano-san has really expressed his unique artistic side in the interior too. As soon as you open the doors you are greeted with the Safety 21 bolt-in roll cage that was panted in candy red and is there to offer protection when going for those ballsy initiations at Meihan.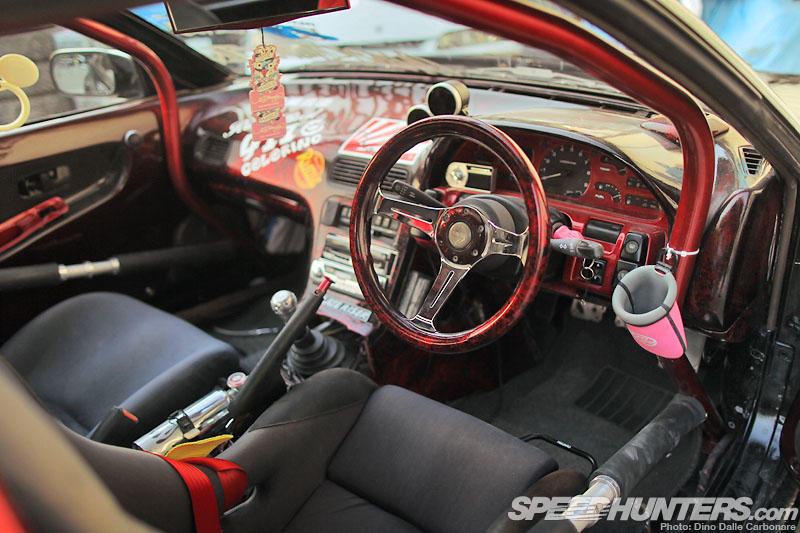 Nagano-san has fitted a supportive Recaro SP-G bucket seat along with Sabelt harnesses on the driver's side, while the passenger gets to sit on a seat out of an R32 Skyline GT-R. Custom paintwork dots pretty much every corner of the cabin from the marbled Mooneyes steering wheel, FRP dash cover and center console…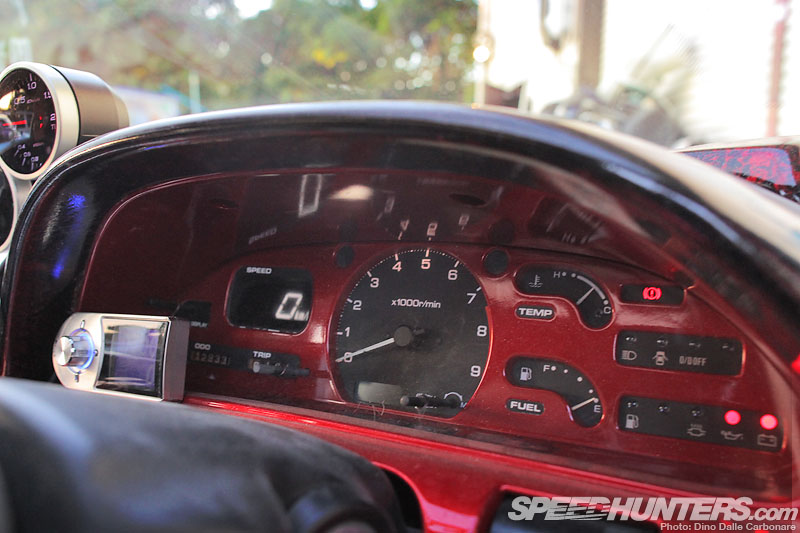 … to even the stock digital meter panel trim.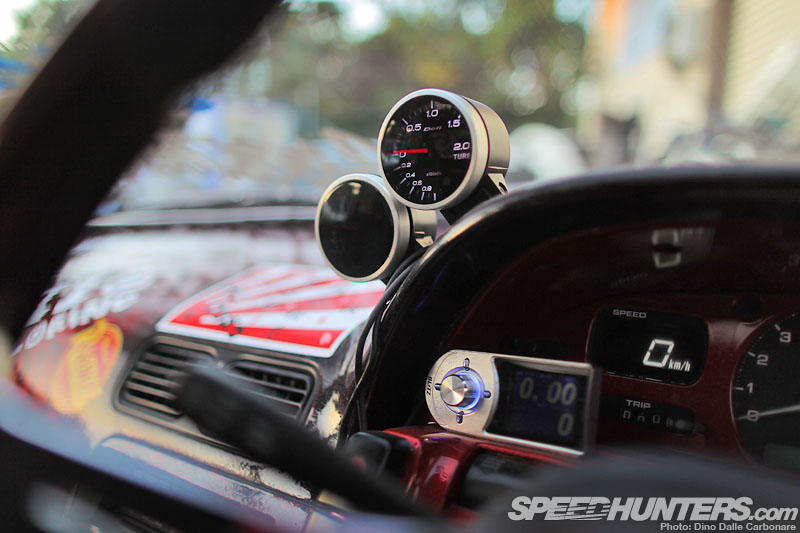 Auxiliary Defi boost and oil temperature gauges help keep a check on vitals when drifting at the track – or other places – while the Blitz boost controller allows for on the fly boost adjustments.
Passengers better hold on tight… and do so in style with a little Disney flair!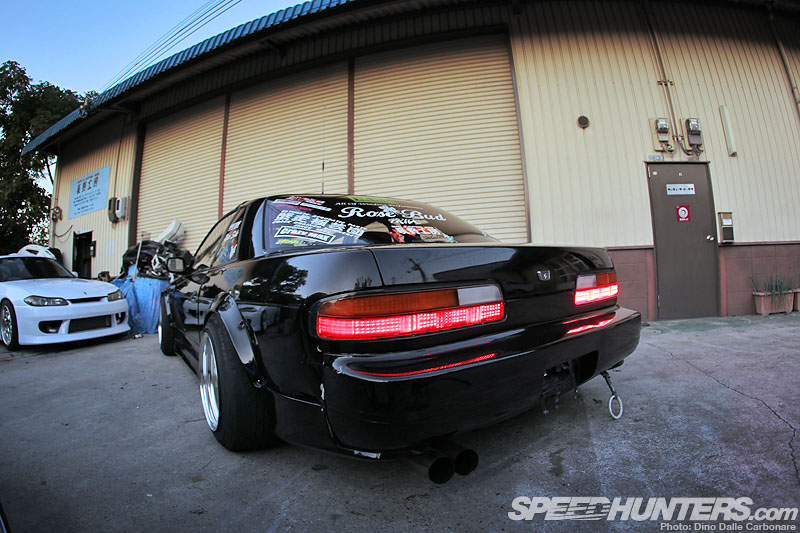 So after having taken some time to look and admire the unique character and sheer rawness of the Rose Bud Onevia, I can't help but pose a question to you. Is it wrong to embrace different styles? Nagano-san follows the market as much as any other business out there, he caters to a lot of different trends in his own creative way, but has never forgotten or stepped away from his ability to build some pretty badass drift cars.
Dino Dalle Carbonare
Instagram: speedhunters_dino
Paint & Cutting Make Nagano Koubou Rose Bud
ENGINE
SR20DET swap, S15 pistons, S15 crankshaft, Tomei 1.2 mm metal head gasket, Tomei Poncams, Tomei pulleys, stainless steel exhaust manifold, S15 turbocharger, Moonface turbo outlet, Moonface front pipe, T-Welding custom twin exhaust system, Trust air filter & intake pipe, Z32 air flow meter, Trust Type-R blow off valve, custom intercooler, custom intercooler piping, BNR34 fuel pump, Nismo FPR, Nismo 555 cc/min injectors, Apex Power FC ECU
DRIVELINE
ORC Super Single clutch, Nismo 2-way LSD (final 4.3:1)
SUSPENSION/BRAKES
Tein Super Drift adjustable suspension, Swift springs 10 kg/mm front & 8 kg/mm rear, Nagano Koubou original short knuckles, D-Max adjustable tie rods, D-Max pillow-ball tension rods, welded-n S15 rear member, D-Max adjustable upper arms, D-Max toe control arms, D-Max traction rods, thicker sway bars, AP Lockheed brake pads
WHEELS/TIRES
Work Meister CR01 9Jx15″ -53 (front) and 10Jx15″ -53 (rear), Goodyear Eagle Revspec RS-02 195/55R15 (front) and ATR Sports 195/60R15 (rear)
EXTERIOR
180SX stock front bumper, 180SX stock front lip spoiler, Nagano Koubou Rose Bud Face headlight kit, Garage S vented hood, 180SX stock side skirts, S13 rear mudguards, 240Z overfenders, LED taillights, Kanjo Style antenna, Nagano Koubou custom paint inside & out
INTERIOR
Recaro SPG driver's seat, Sabelt four-point harnesses, BNR32 passenger seat, Safety 21 roll cage, Safety 21 side bars, Origin FRP door cards, Mooneyes steering wheel, Nagano Koubou custom painted dash cover and trim, Defi boost gauge, Defi oil temperature gauge, Blitz SBC-iD boost controller,
Paint & Cutting Make Nagano Koubou