It seems we can't go more than a few months without indulging in some impossibly-Japanese VIP style. And once again it's Bee Dragon that captivates our minds – a shop that has really made a pretty firm statement when it comes to defining its own take on things. Imamura-san has stepped as far away from the old way of doing things as he possibly could, each time pushing his vision of what the perfect modern day interpretation of bippu style should be all about.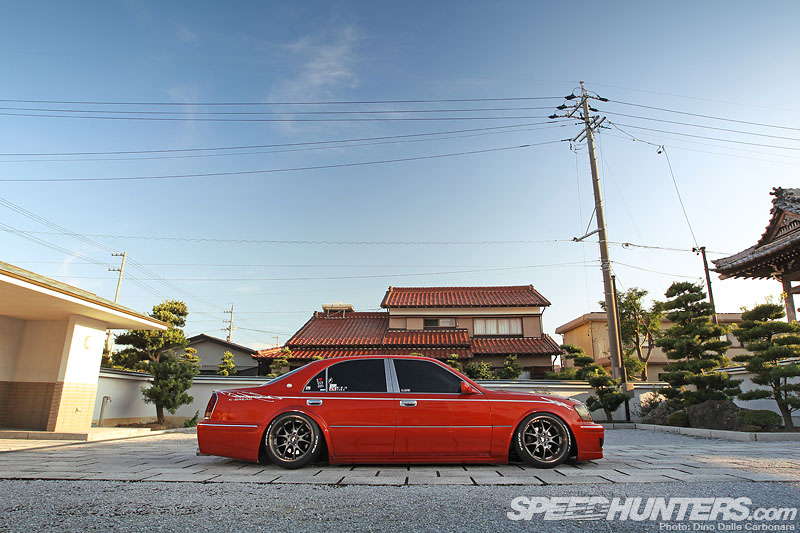 Presence is pretty much one of the most sought after qualities that people strive to achieve with these cars. As Imamura tells us, Bee Dragon has to take seemingly boring domestic sedans and make them look imposing, almost intimidating to other road users. That is the essence of VIP: getting a reaction from onlookers; making them ask themself who on earth could possibly be driving this car. At the same time it's also a friendly in-your-face statement to the authorities – pushing the limits of what is, and isn't legal.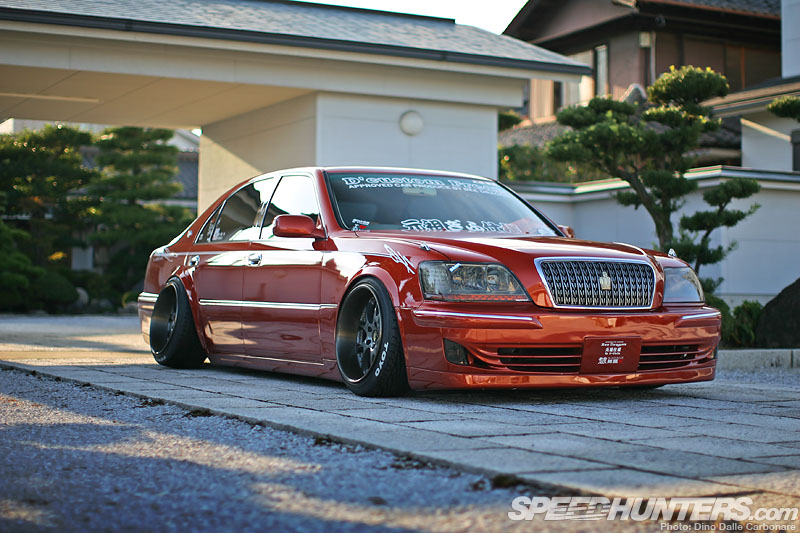 So for the simple reason of what these cars stand for, it's almost impossible not to like them, or at least appreciate them. They are a colorful spin-off to car culture in general, and this Toyota Crown Majesta – much like the other Bee Dragon rides we have seen in the past – is a perfect example.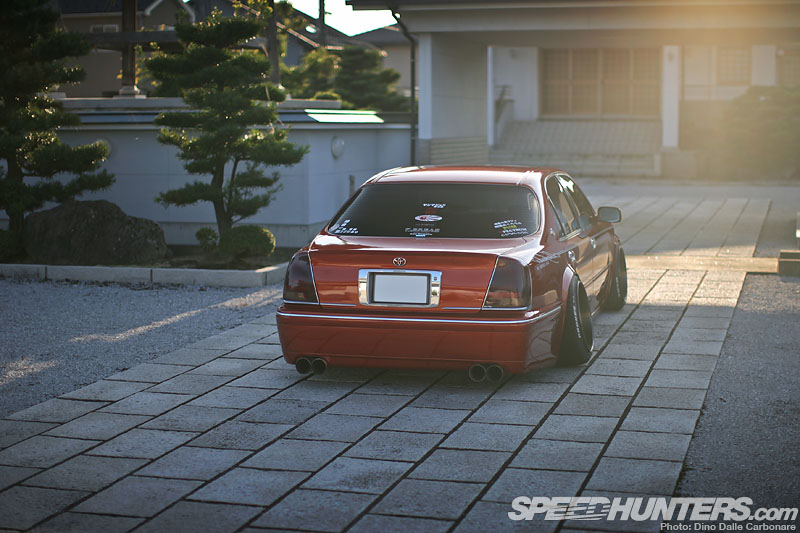 This is owned by one of Imamura's youngest customers…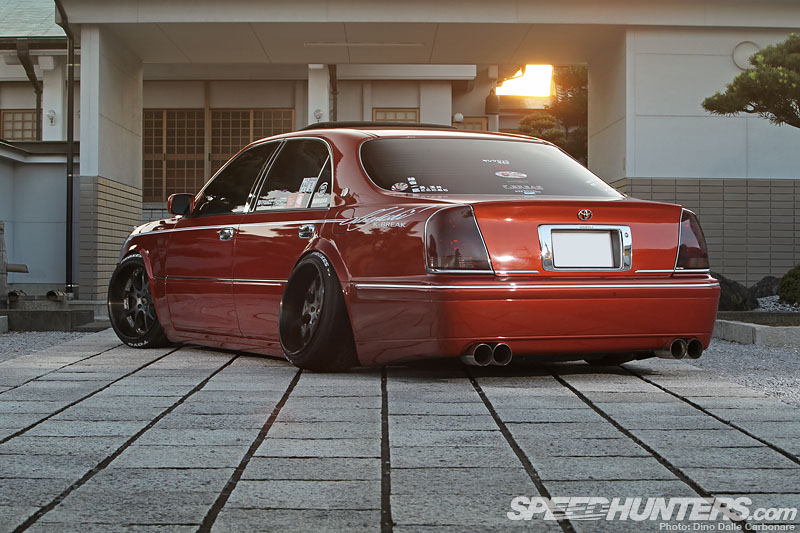 … a local carpenter and member of the D'Custom Freak club that for years has wanted to give his S170 the full treatment.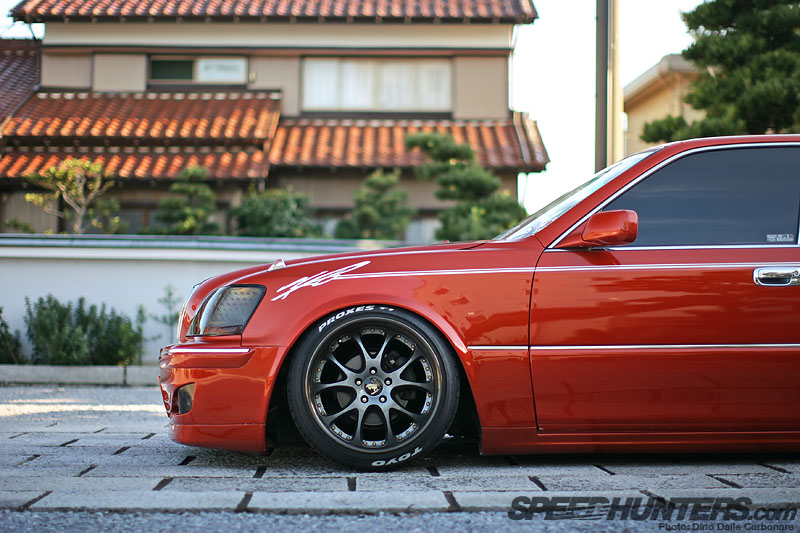 Like all of Bee Dragon's creations the car spent quite a bit of time in the workshop where the body was slowly put together.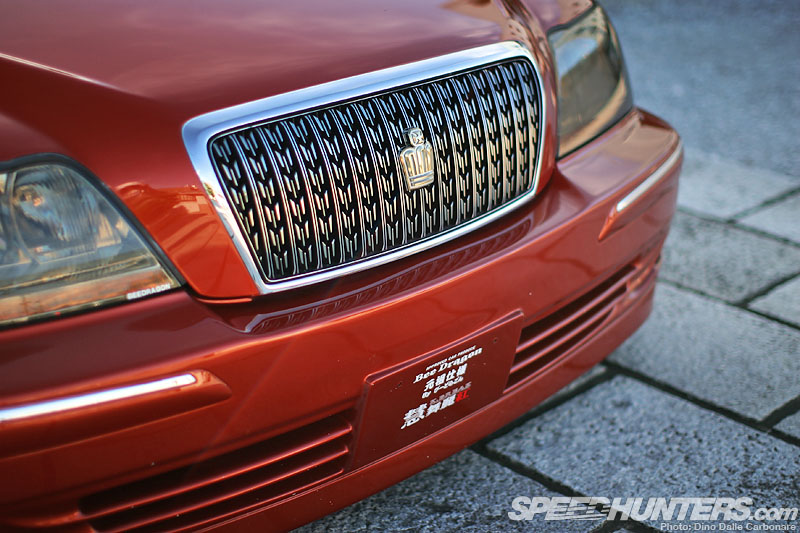 The front K-Break bumper was the first part to be fitted – a piece that would serve as reference…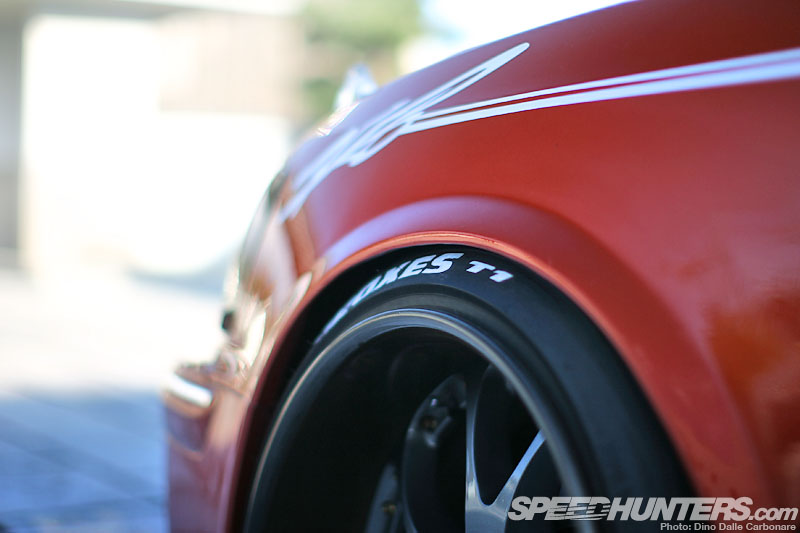 … for the custom widening that was going to be inflicted on the fenders. A VIP sedan's most important quality is its stance, and it's always the key element in Imamura's creations. Here the stock fenders are 4cm wider on each side thanks to hand-shaped flarings that have been welded onto – and beautifully moulded around – the wheel arch.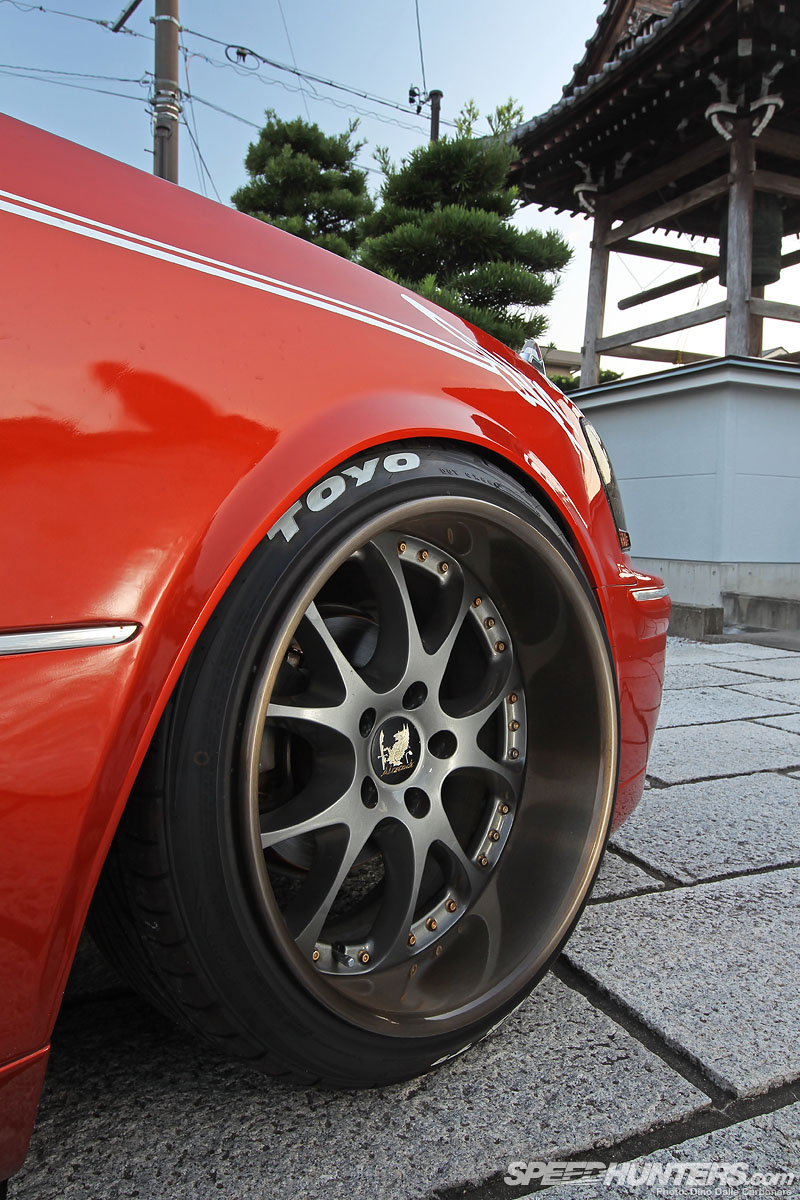 Of course wheel and offset choice is critical so that was one detail that was thought about before the work even began. The shaping is done with the wheels fitted so that the tayazuri look can be easily achieved. This is when the fender sits flush with the tire's stretched sidewall…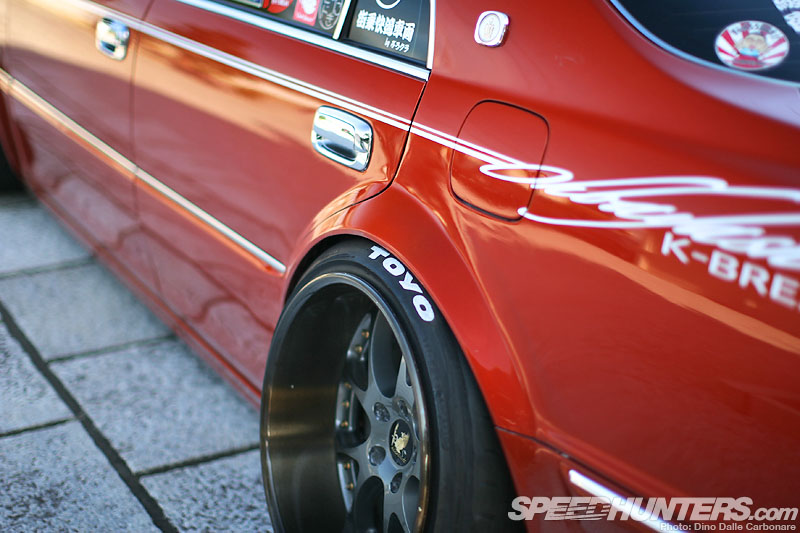 … something that is usually much more evident at the rear of the car. Here the fenders have been extended by 8cm on each side, with the blistering carried over onto the rear doors for a more flowing effect.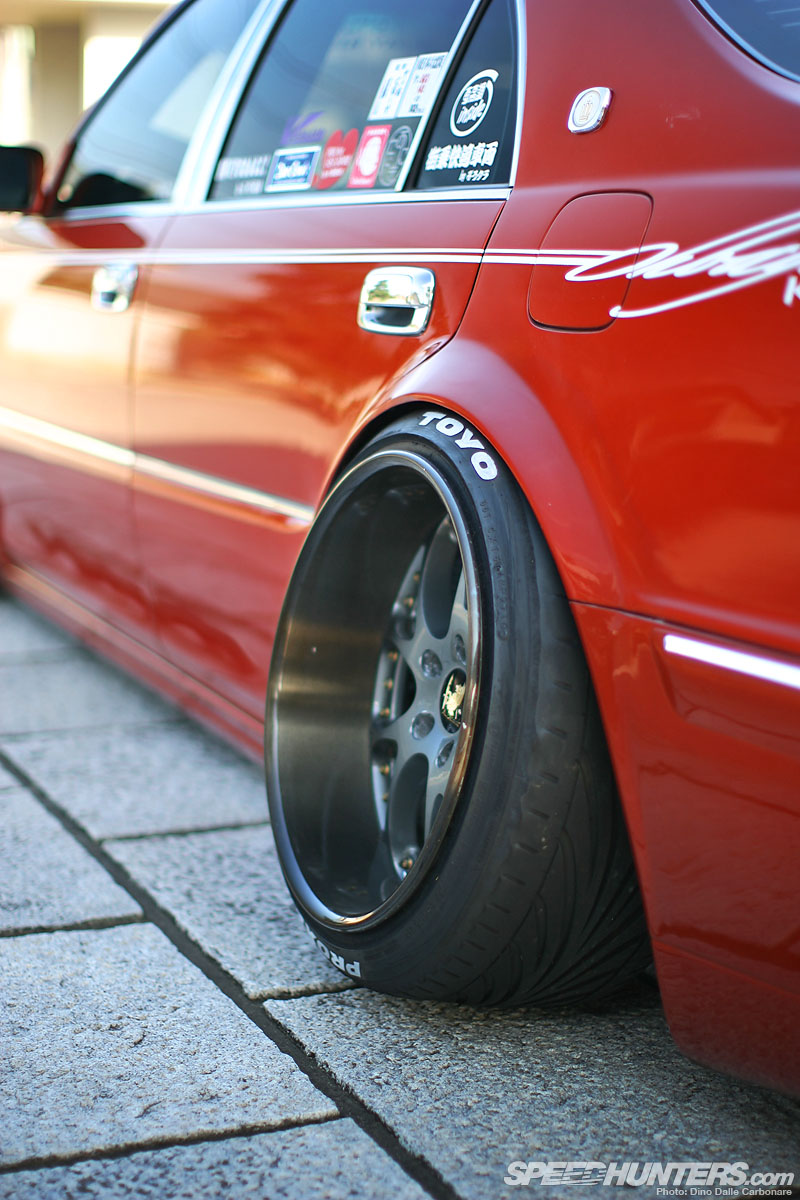 Altstadt Type 1 two-piece wheels where deemed the best fit, measuring 18x10J at the front with wider 18×11.5J filling out those guards at the rear. 215/40 Toyo Proxes have been tightly stretched on the front rims with 255/35s barely managing to bead on the rears.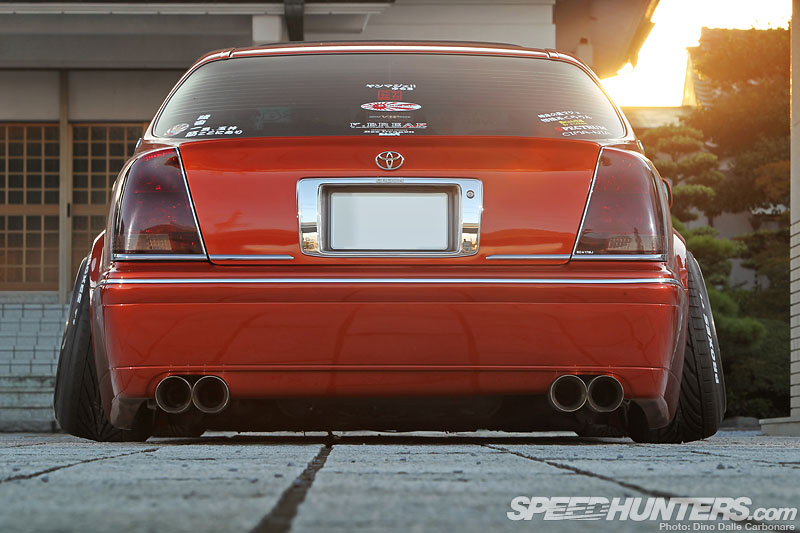 As you can probably imagine, riding around in a VIP sedan with such an aggressive stance is a pretty bouncy experience. Joining the custom adjustable Bee Dragon arms that help dial in the necessary amount of negative camber are a set of Blade coilovers that are pretty much adjusted all the way down to their lowest ride height setting.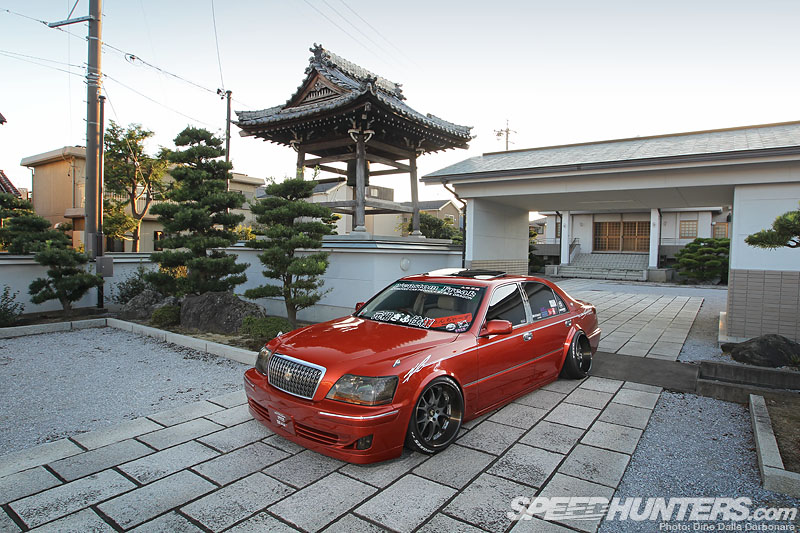 With the car sitting so low, suspension travel has to be limited to, well, almost nothing! That's why the spring rates are on par with a piece of granite – 28 kg/mm front and 50 kg/mm rear.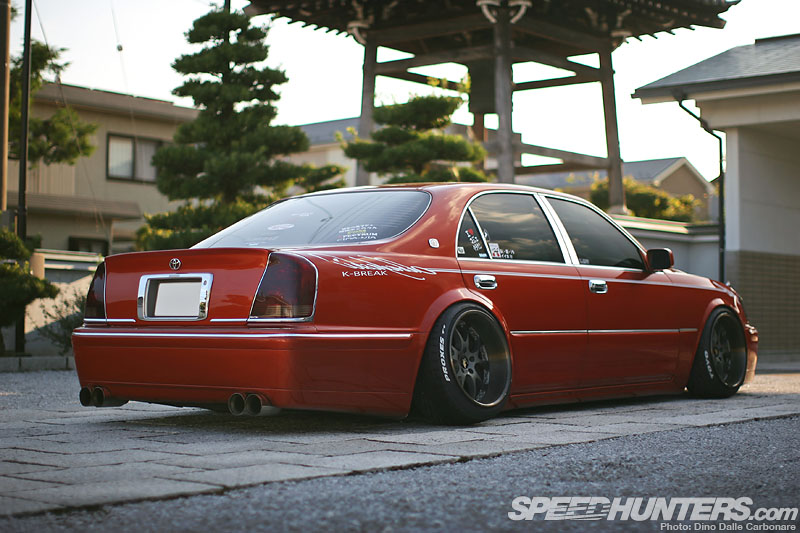 The exterior was completed with the addition of K-Break side skirts and rear bumper…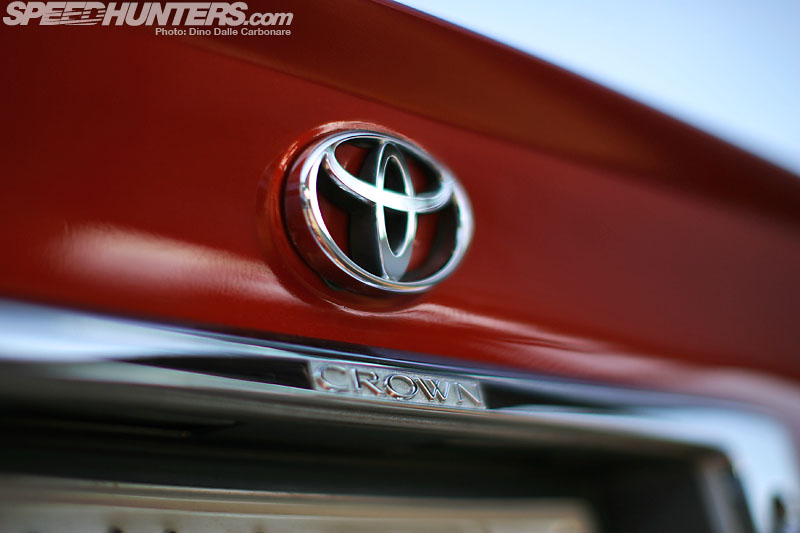 … as well as one of Bee Dragon's trademarks: a subtle integrated lip spoiler extending the Majesta's already present outward flaring.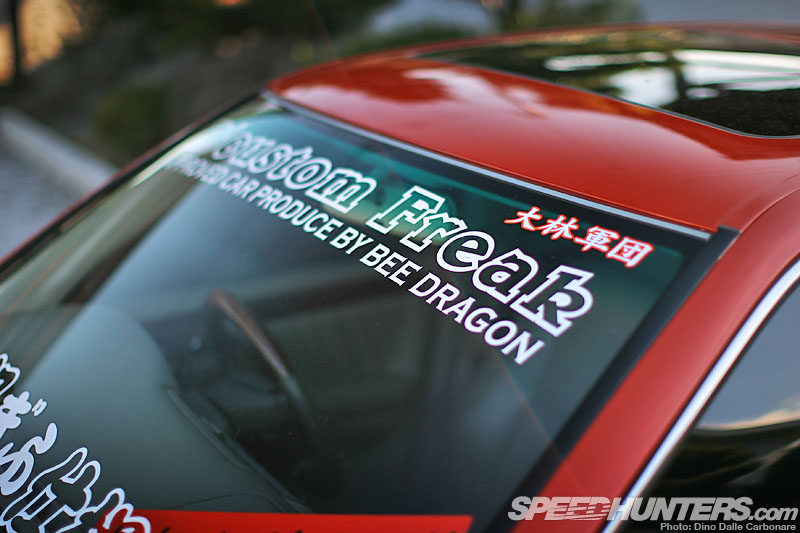 While old school VIP sedans have always typically been black, these days you can go as wild as you want on the color side of things – which explains the choice to go with metallic orange.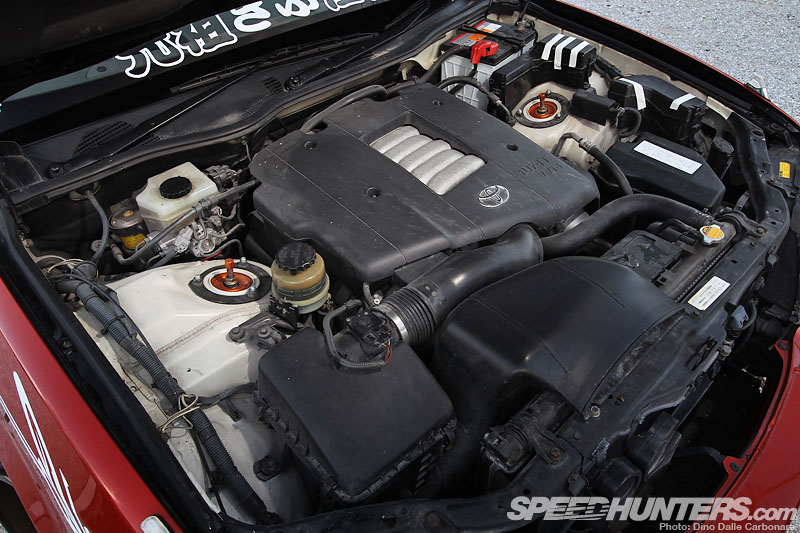 Like with most bippu cars not much attention, if any, has been paid to the engine. The stock 1UZ V8 has simply been made more vocal thanks to a quad-exit K-Break exhaust system. Performance usually takes a second seat to style, but we already knew that right?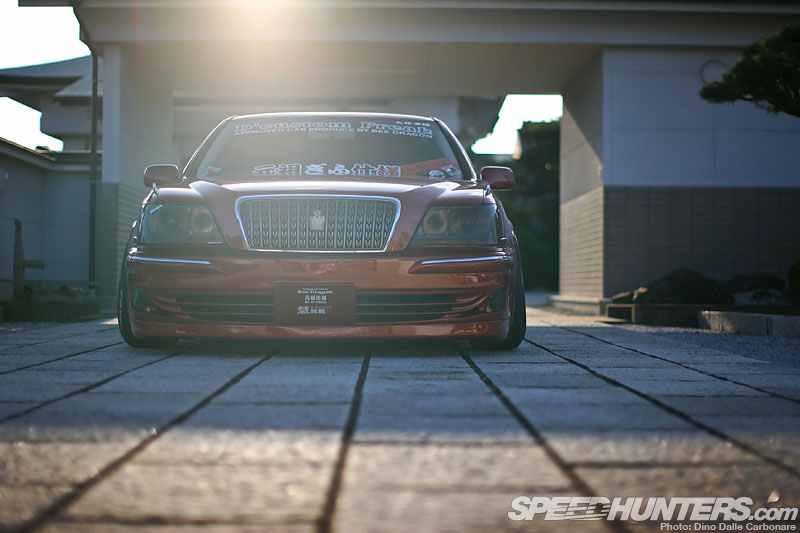 Other subtle touches include slightly smoked front headlight covers…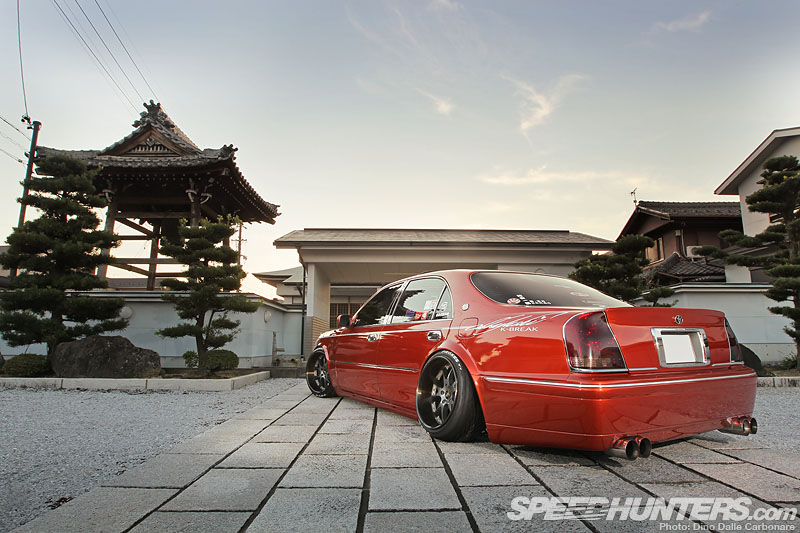 … as well as tail lights – finishing touches to what has to be one of the most widely recognized VIP sedans in Japan.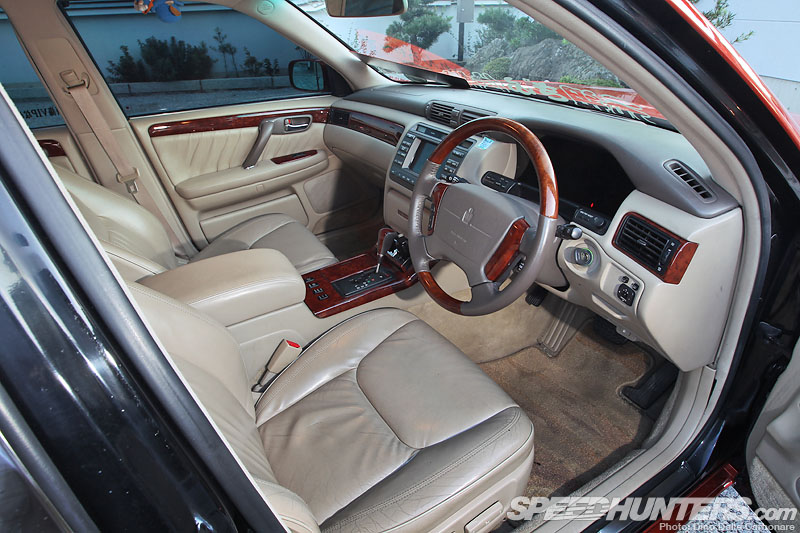 The plush leather-clad interior has been left in its stock form – the owner happy with it for the time being and probably enjoying the softness of the seats seeing the somewhat harsh ride he has to put up with.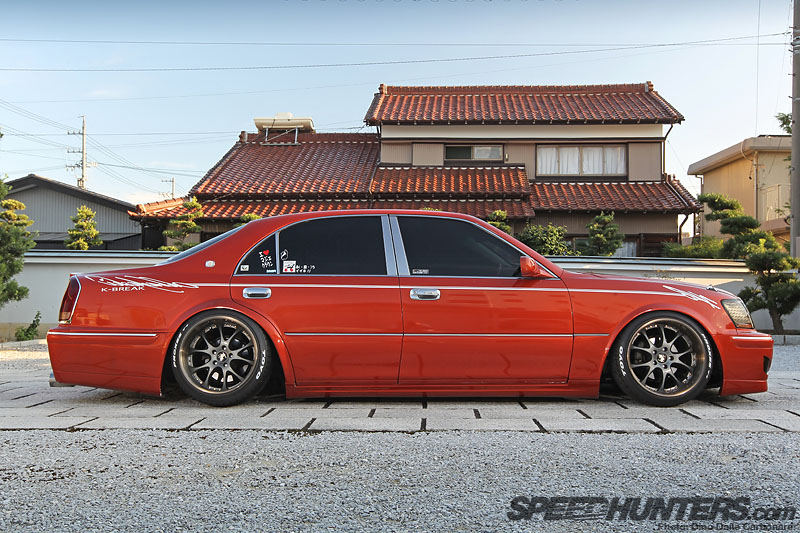 This Majesta is the automotive equivalent of a pretty strong statement which is precisely the intention of every one of Imamura's cars.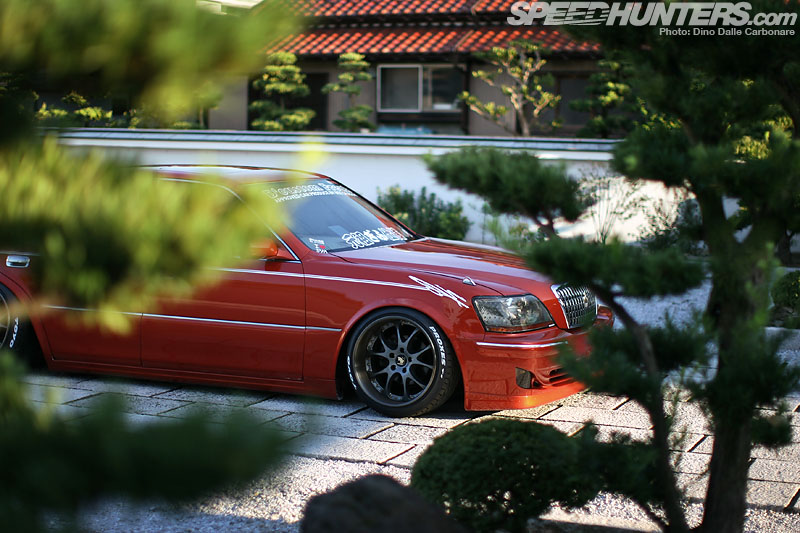 Whether people like it or not is besides the point, taking us right back to the form over function debate. The idea here was not to please, but rather give a modern-day, and very aggressive, take on the whole VIP style.
Dino Dalle Carbonare
Instagram: speedhunters_dino
Bee Dragon VIP Crown Majesta
Engine
Factory 1UZ-FE V8, K-break exhaust system
Driveline
Factory automatic transmission, rear-wheel drive
Suspension
Blade adjustable suspension, 28 kg/mm springs (front), 50 kg/mm (rear), Bee Dragon camber arms
Wheels/Tyres
Altstadt Type 1 18x10J (front), 18×11.5J (rear), Toyo Proxes T1R 215/40R18 (front), 255/35R18 (rear)
Exterior
K-Break front bumper, Bee Dragon custom flared front fenders (+4cm), K-Break side skirts, Bee Dragon custom flared rear fenders (+8 cm), K-Break rear bumper, Bee Dragon lip spoiler, Bee Dragon custom orange paint, Bee Dragon headlights & taillights tint, Bee Dragon LED taillights, chrome pillar garnish
Interior
Factory leather trim
TAS 2013: Bippu Style and Crazy Vans on Speedhunters
---
---
---