We couldn't possibly have ended our TAS 2013 coverage without dedicating some space to one scene that has come to define JDM car culture just as much as extreme tuner cars, vintage rides and dorisha. As we have seen in the course of the last few years VIP style has proven to be the fastest growing and evolving trend, from the usual luxurious sedans…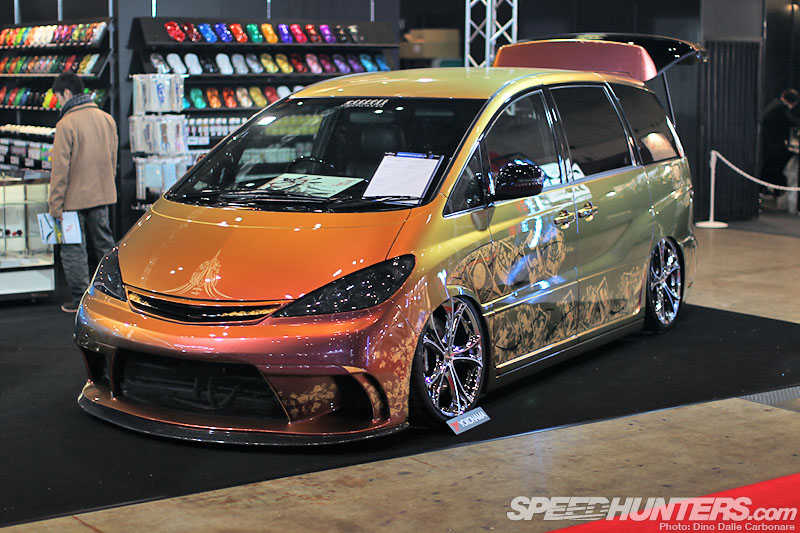 …to wild vans like this Estima that was on display at the Signal Auto booth. So let's quickly take a look at what TAS had in store for those that put style and menacing looks ahead of everything else.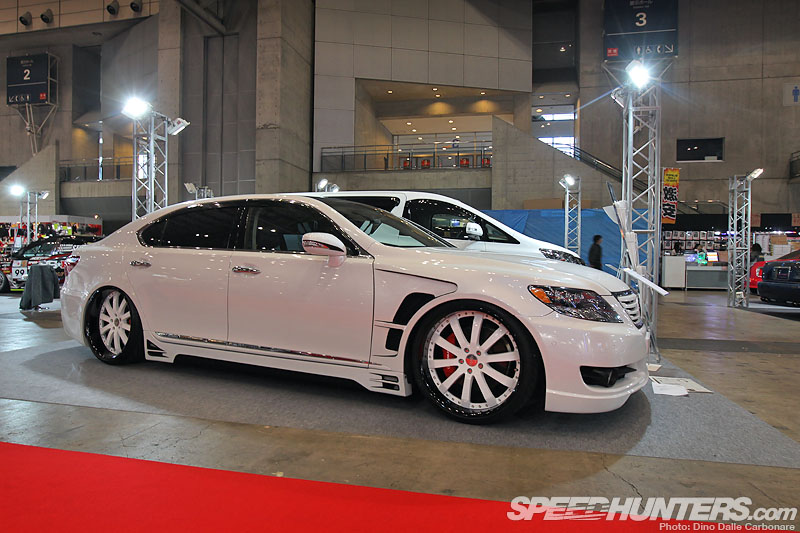 With the Lexus LS becoming quite affordable, now that the refreshed version has just hit the dealerships, companies like Voice Design have been coming up with some pretty wild interpretations. The Lorinser-like fender look seems to be becoming the thing to do on these big cars…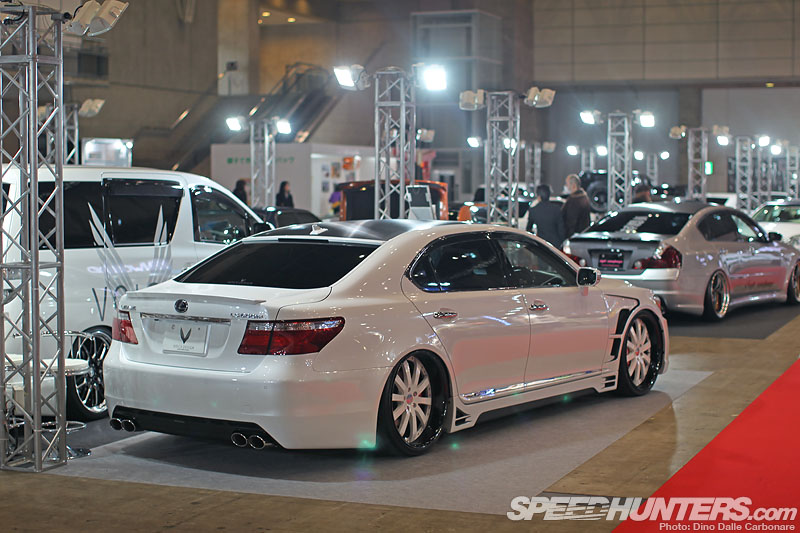 …helping to give it an almost sporty aura. The wheel choice on VIP rides make or break the car.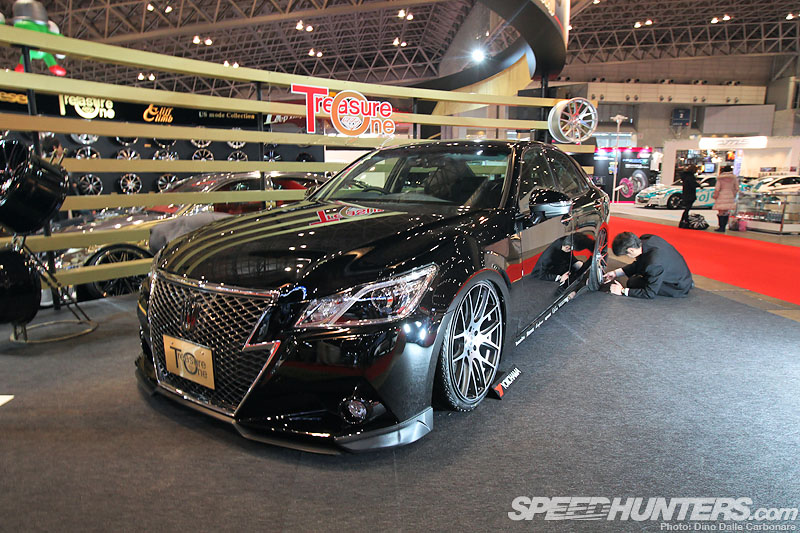 Again from Toyota, and launched on Christmas day, the all new Toyota Crown will quickly become a favorite in these circles too. I'm quite interested to see what established shops will do with it, especially if they keep or get rid of that bold new grille design. This first tuned example by Treasure One is certainly a great first attempt.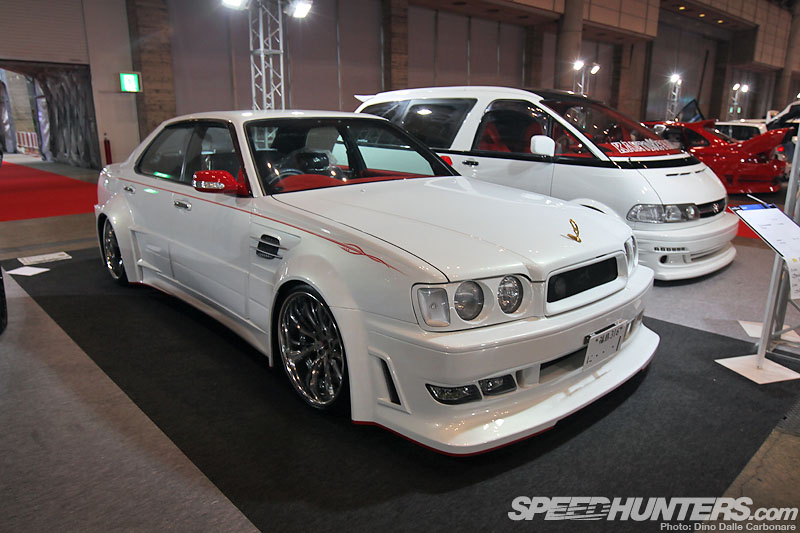 There were plenty of old favorites too of course, like this Nissan Gloria from Kanto 92 Family…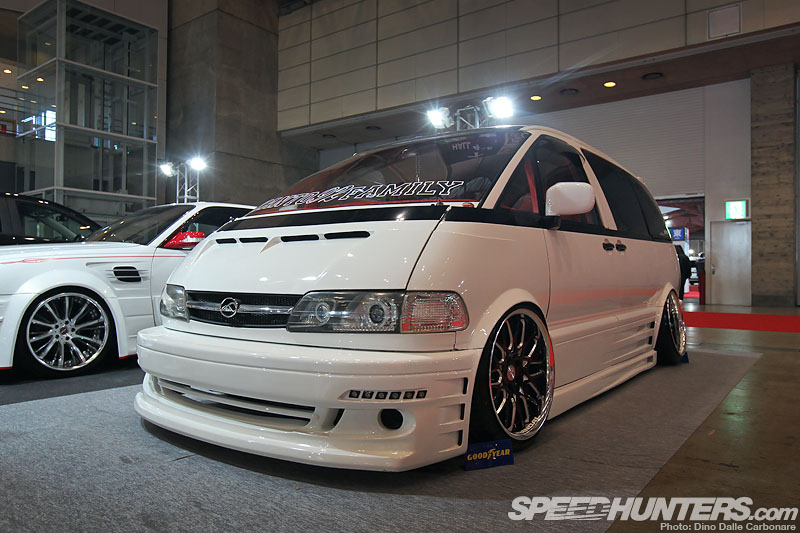 …which was right next to this older Estima which had been give a true bippu feel with blended overfenders…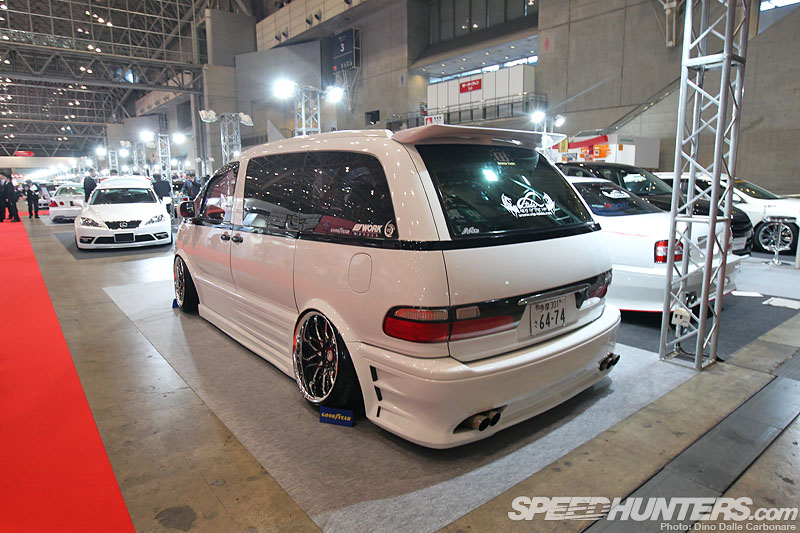 …and plenty of aggressive negative camber.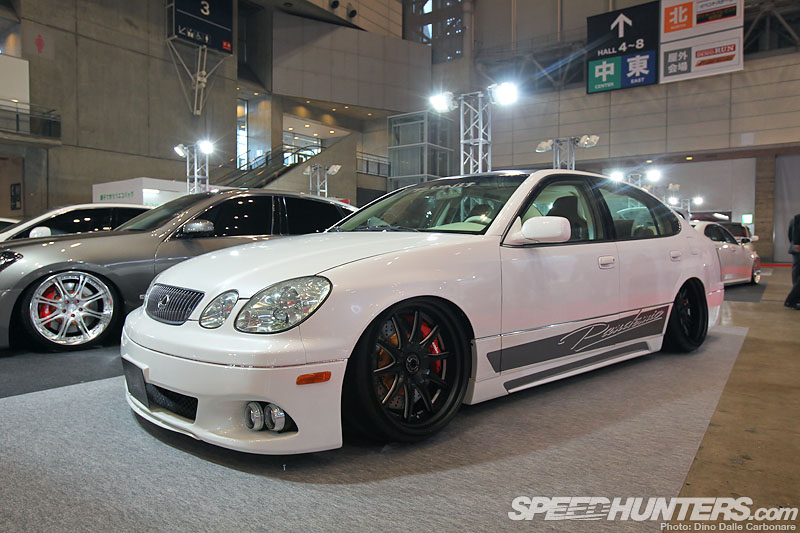 Auto-Style for years has been coming up with some of the nicest VIP rides at TAS and this year was no different. They seem to go for the more sporty take on VIP styling, with simpler J-unit aero and big brakes easily visible through the matte black multi-spoke rims.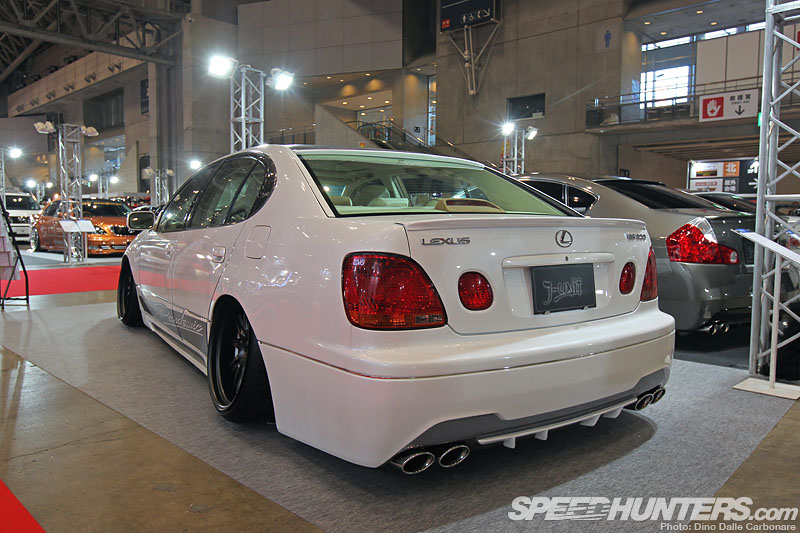 Check that fitment out!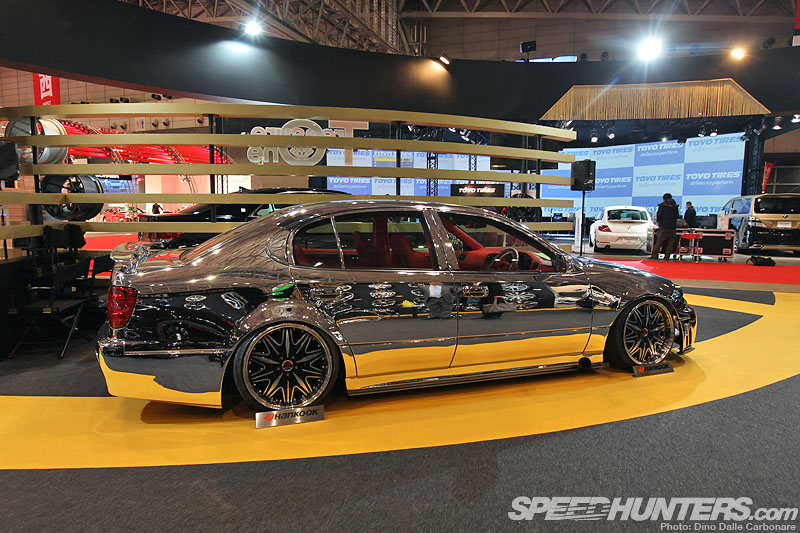 Not too far away was another GS, or rather the JDM Aristo model, built by Yokohama-based shop Sessions. Last year's carbon-look wrap has been replaced with chrome vinyl for a more showy feel.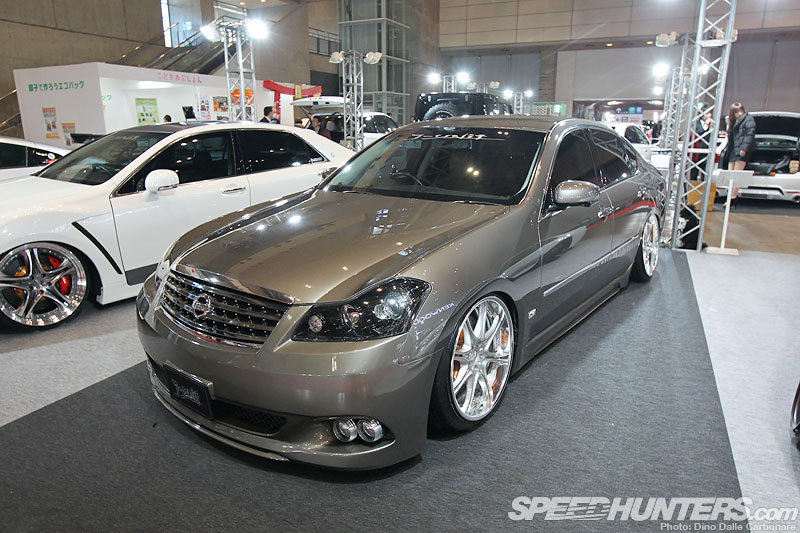 Much like the LS the Nissan Fuga is a car that has become very affordable in the second hand market and I did come across a couple that really stood out from this simple interpretation by Auto-Style…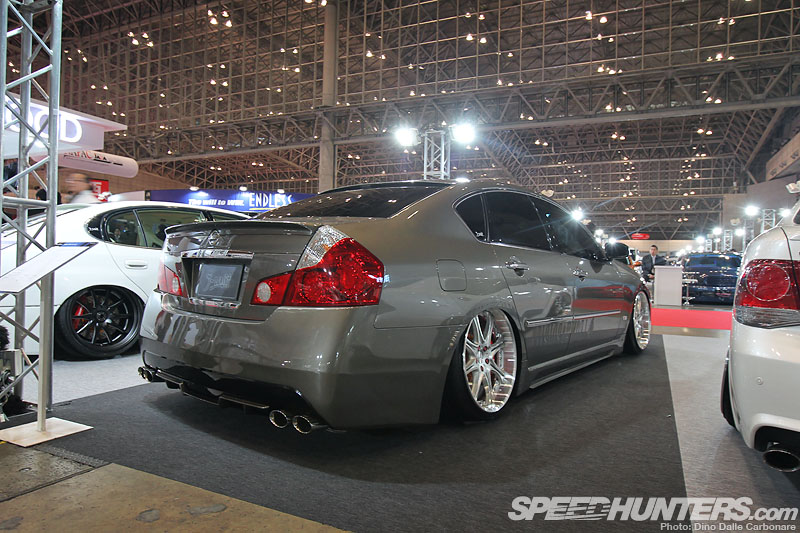 …running a subtle J-unit kit and a little tuck for the rear wheels.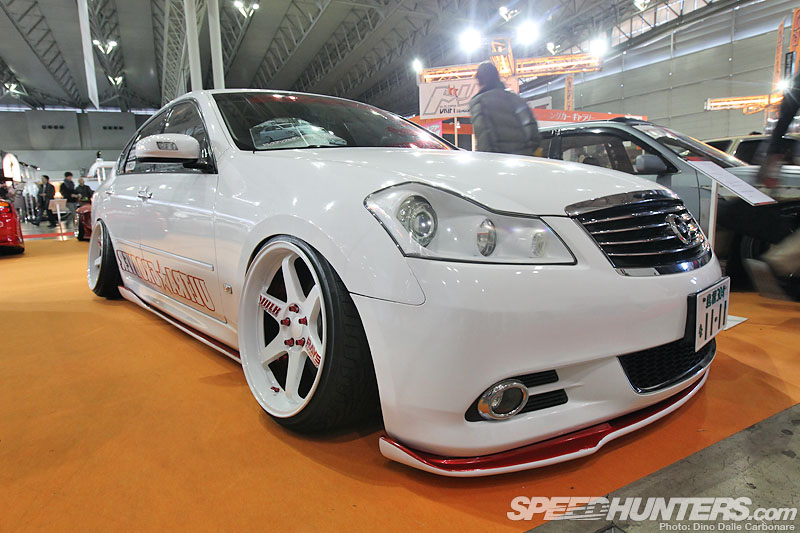 If the luxury feel is too much for you then this Fuga from Ultra Groover might be a better interpretation. It might even not be VIP by the true definition of the style, but it's all been interpreted so differently over the last five years or so, running 19-inch TE37s with stretched tires and tons of negative camber might actually be perfectly fine. One thing is for sure, it looked awesome sitting there and sort of reminded me of the Super Made SR20 powered Gloria that Mike spotted in the parking lot.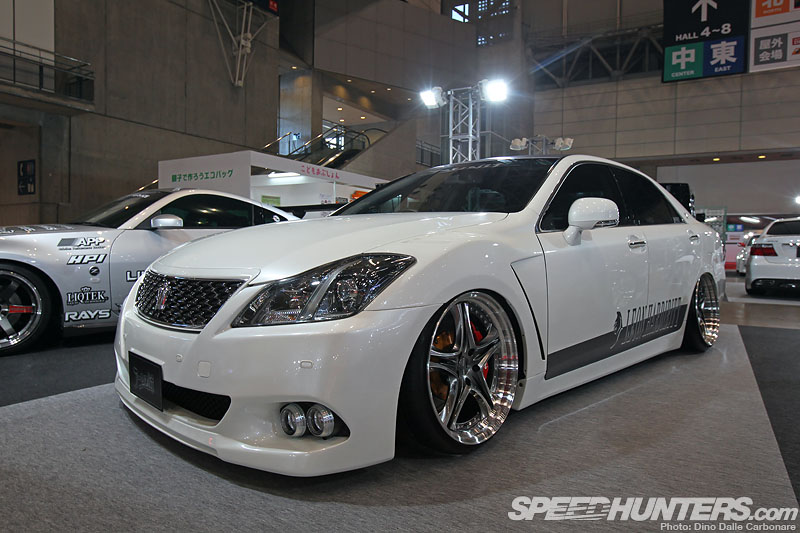 Auto-Style also had this latest gen Crown Athlete executed in a similar style as their GS. Those front fenders were pretty wild.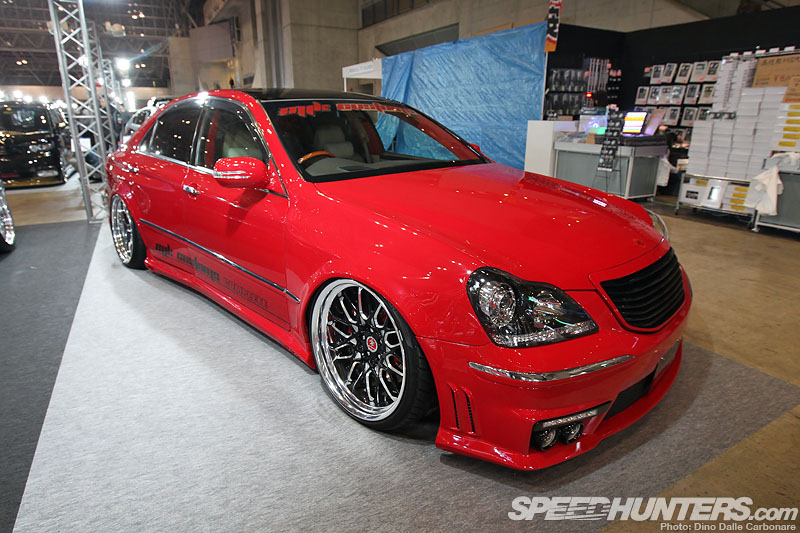 Here is an awesome Crown Majesta, built by MJK Customs as a complete car, a perfect example of how VIP has matured, as there was no way you could paint a bippu sedan red back in the day!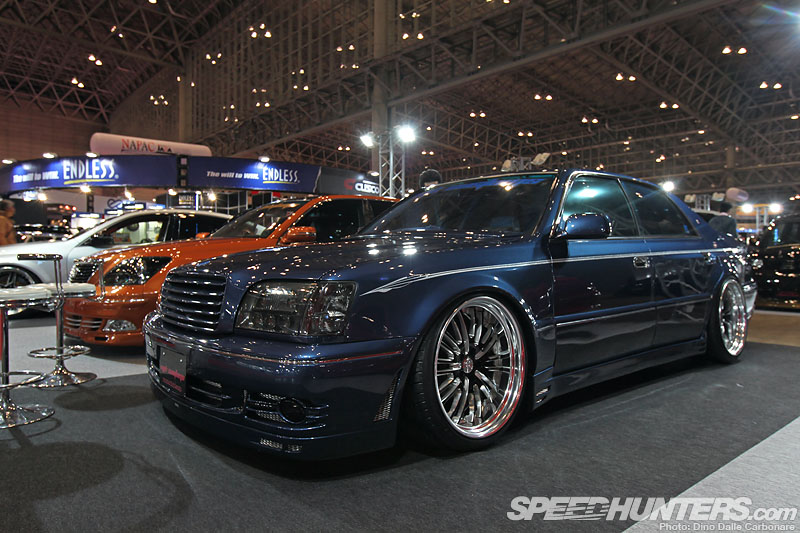 MJK also had this Crown…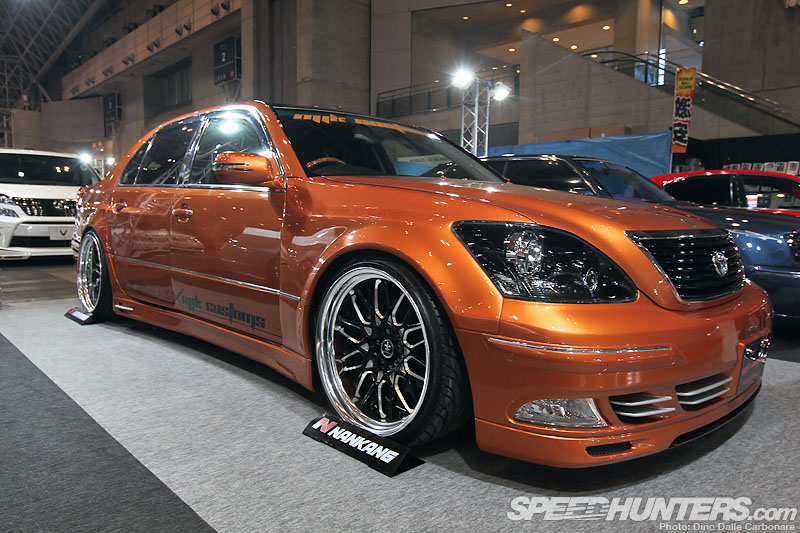 …and a catchy orange Celsior.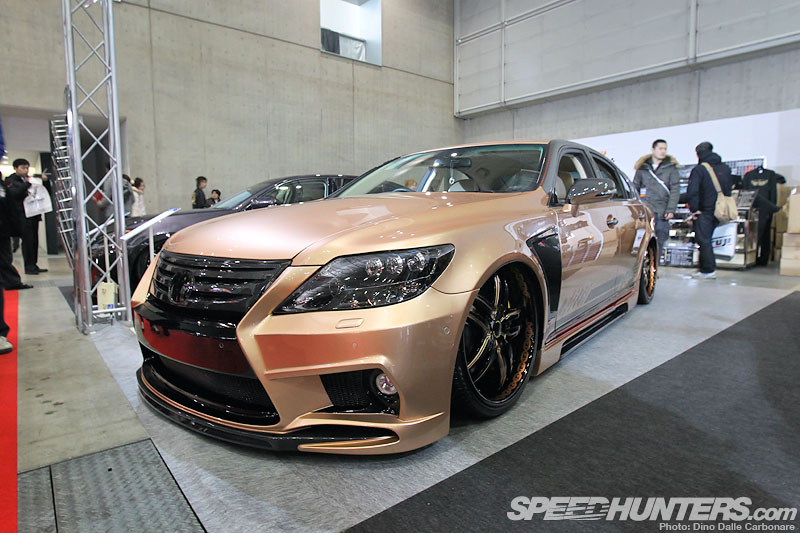 While big luxurious sedans rule the scene…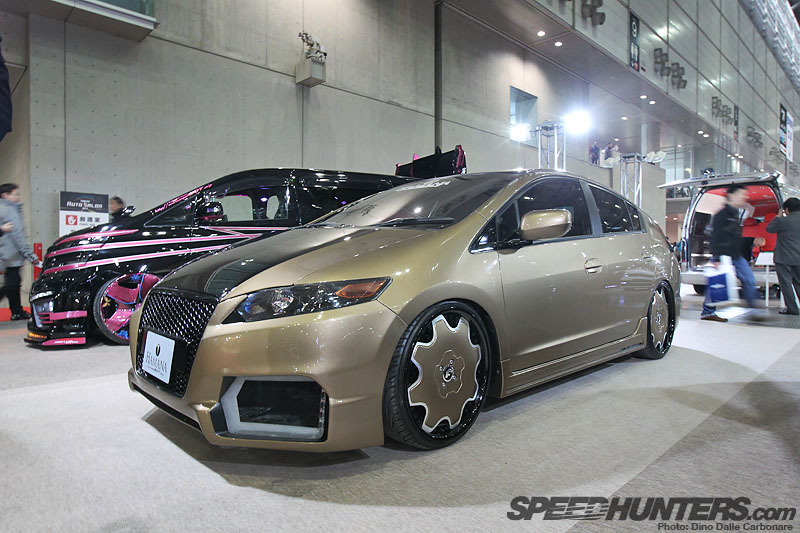 …the hybrid trend that was very evident last year still seems quite popular with shops like Hamana creating crazy interpretations of city cars like the Honda Insight.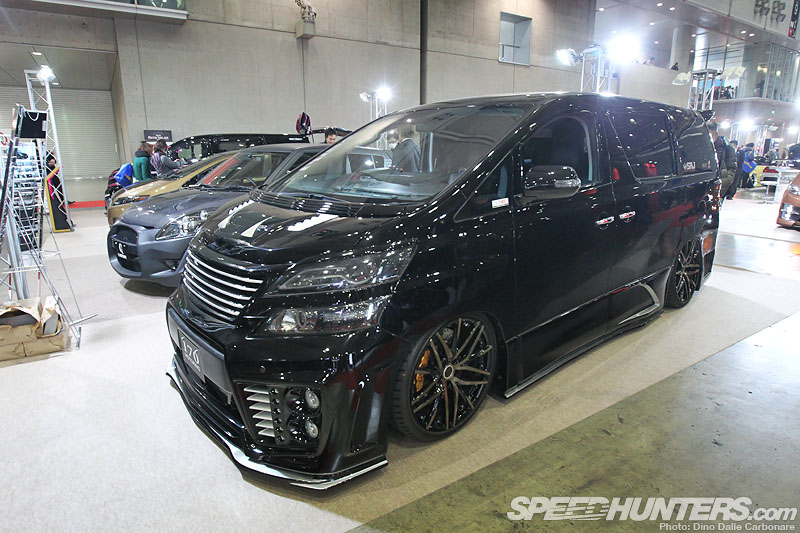 But it's the vanning side of things that most foreign visitors at TAS will probably be more impressed by.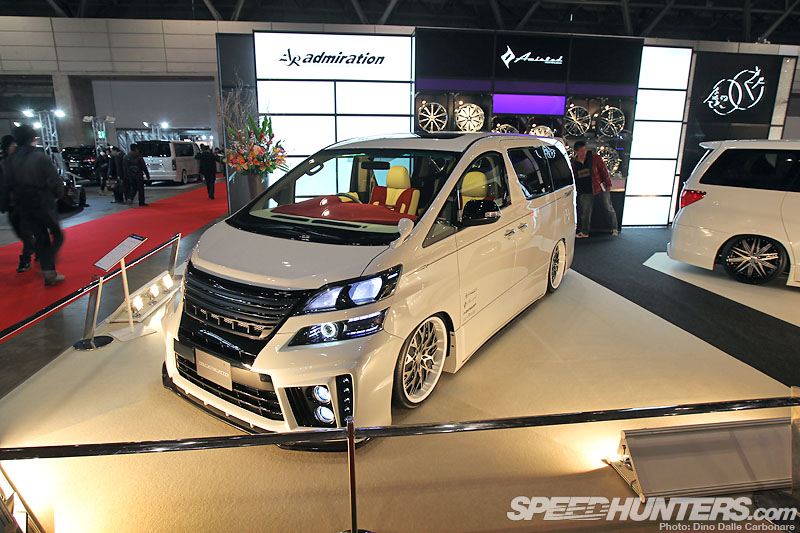 With Japan's roads full of the things it's not surprising that a tuning scene has developed around them, and there is SO much available!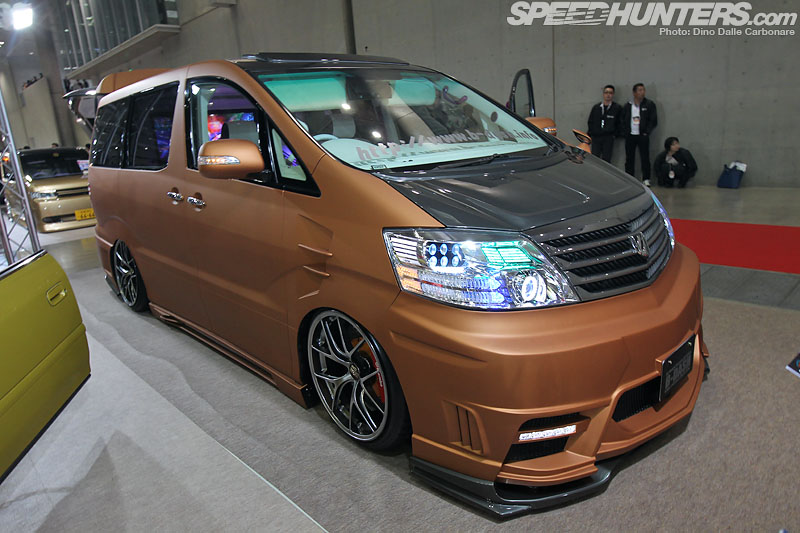 Some of course go overboard both in styling…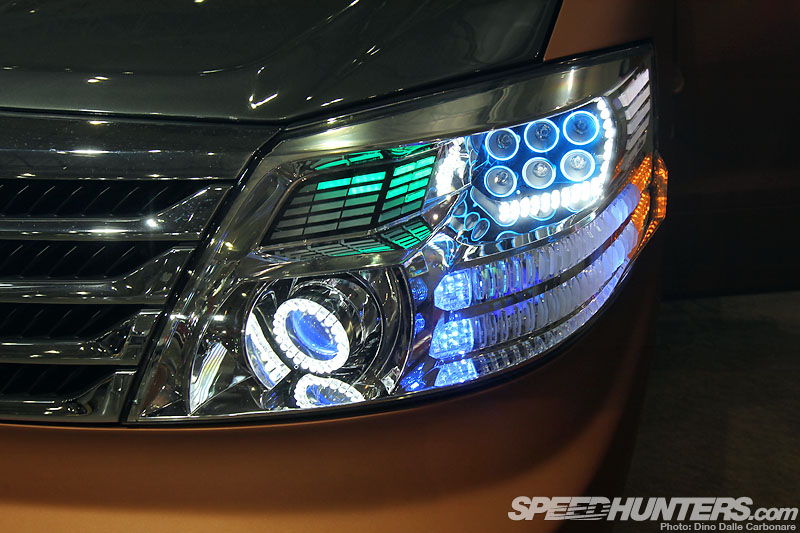 …or on details like headlights and taillights! This particular Alphard built by B-Dash has some of the most complex projectors I've ever seen, resembling the equalizer display on some 90's cheap stereo system!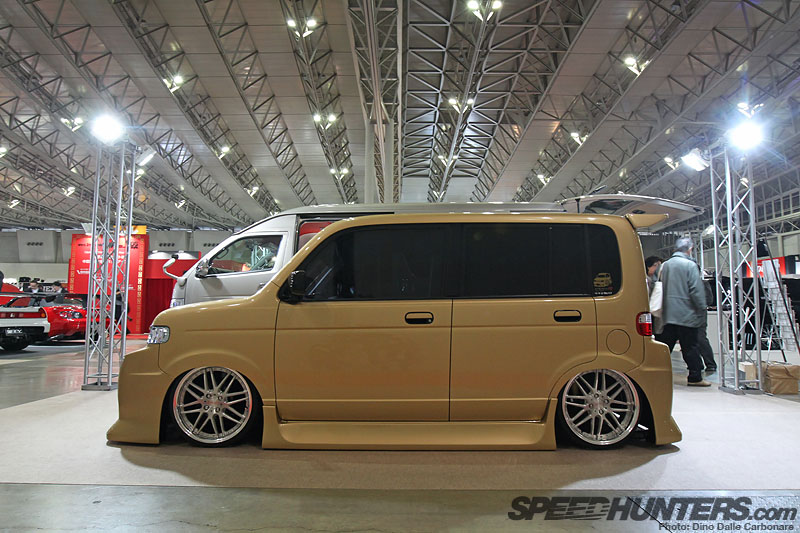 Of course small vans…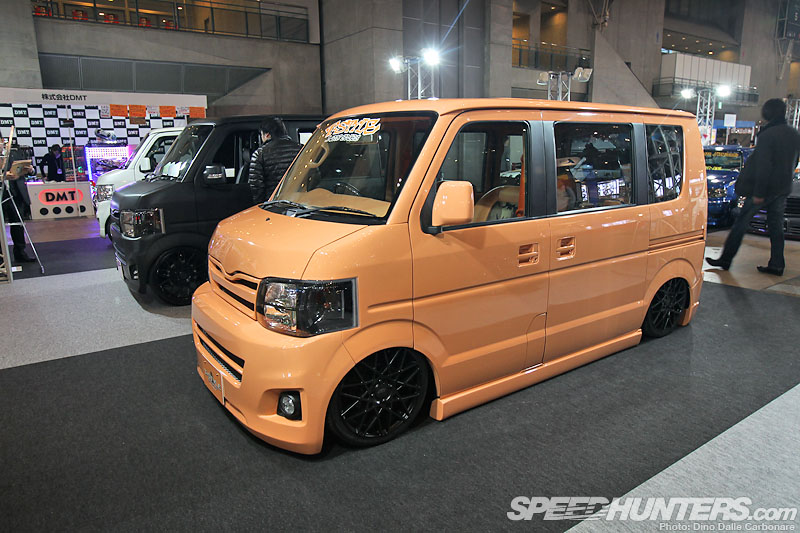 …Kei-vans…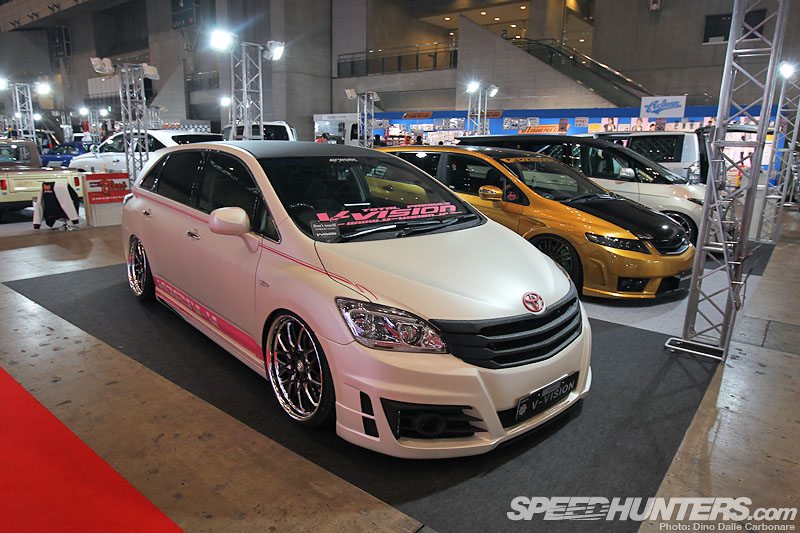 …and strange sedan-van hybrids like this V-Vison Mark X Zio don't escape the VIP treatment!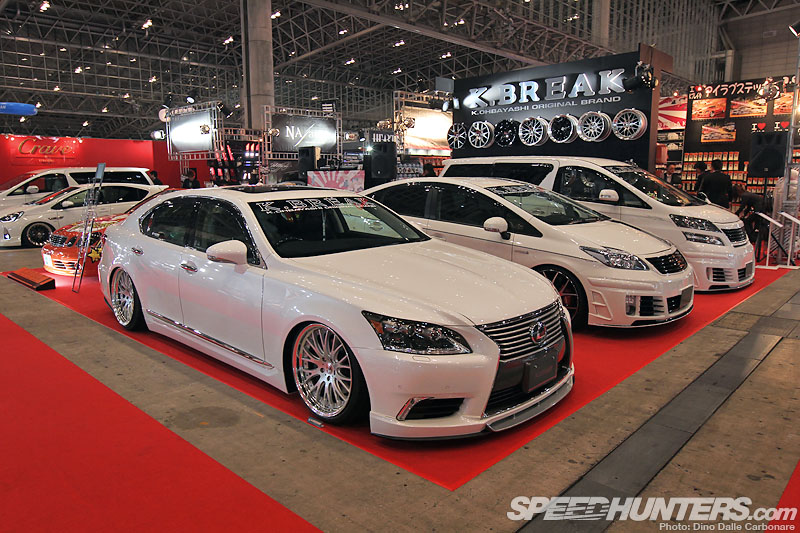 K-Break from Osaka, a trend setter on the more authentic side of VIP had a big display featuring…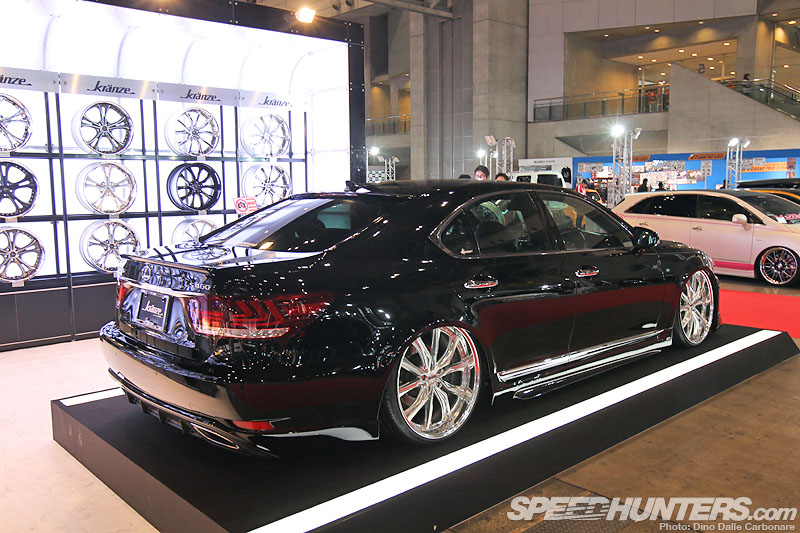 …like at the Weds Wheels booth, the all-new Lexus LS equipped with the new spindle grille design.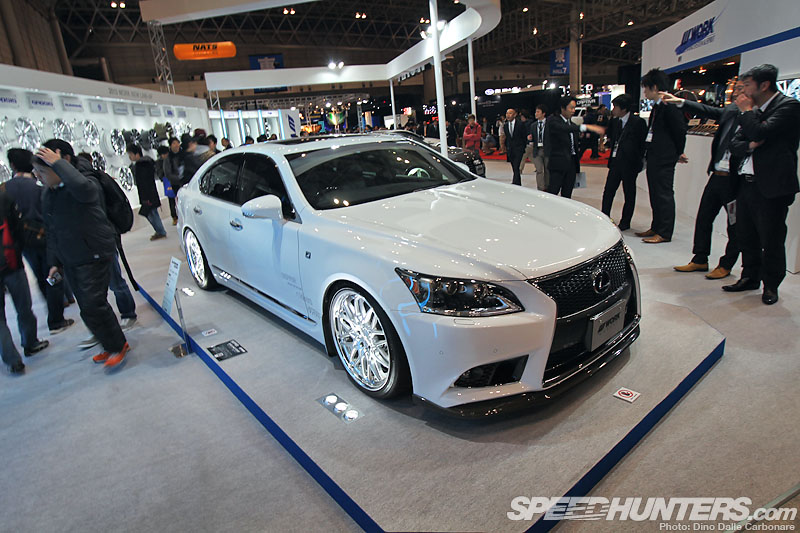 Work Wheels had one too, the F-Sport edition, a more performance oriented version of the big executive sedan.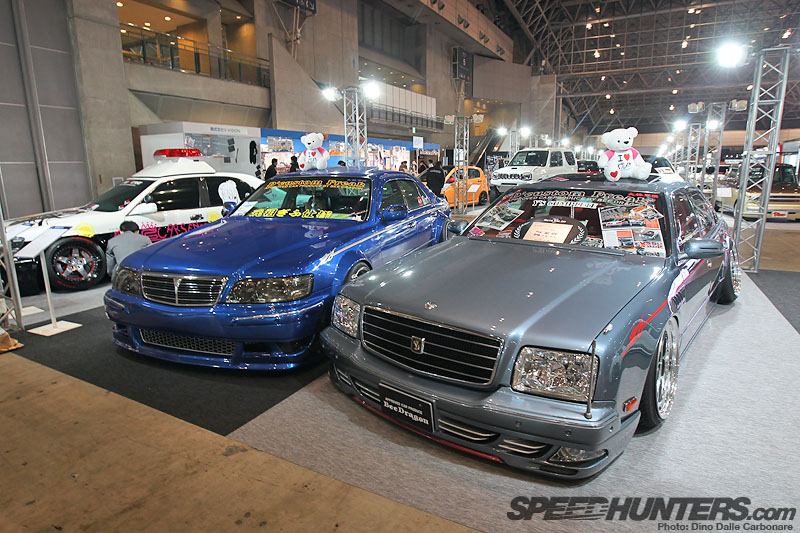 These are two cars you must be pretty familiar with by now, vehicles that have helped Bee Dragon become a true trend setter in the more extreme side of things. I can't wait to see what crazy project they will be working on next!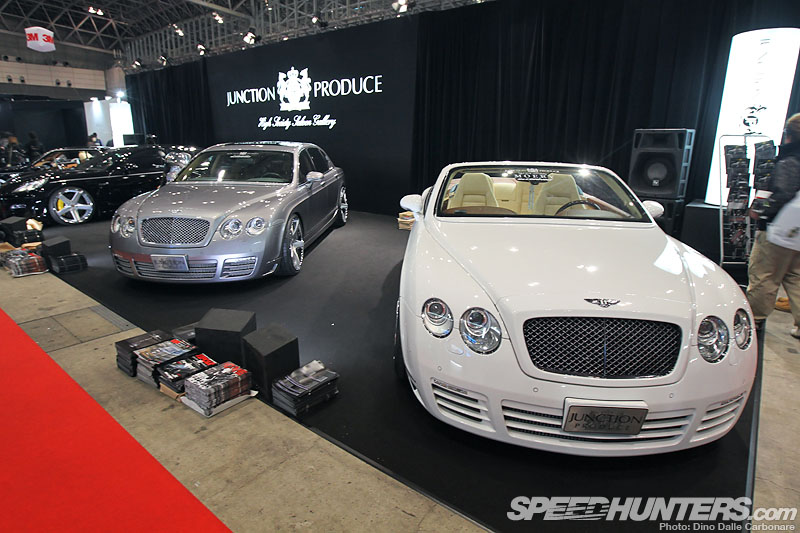 It's literally impossible to talk about VIP without mentioning Junction Produce. Taketomi-san is the founding farther of the style and very much respected for showing everyone the way. For 2013 however it seems he has shifted a lot of his attention to the more luxurious import side of things, with this pair of Bentleys taking center stage on his display.
That's about it from VIP and Vanning portion of this year's TAS. Make sure you check the desktops below and download your favourites!
Tokyo Auto Salon 2013 coverage on Speedhunters
-Dino Dalle Carbonare