In my opinion, Daigo Saito exploding onto the Formula Drift scene in 2012 was the greatest thing to happen in the world of drifting in recent years.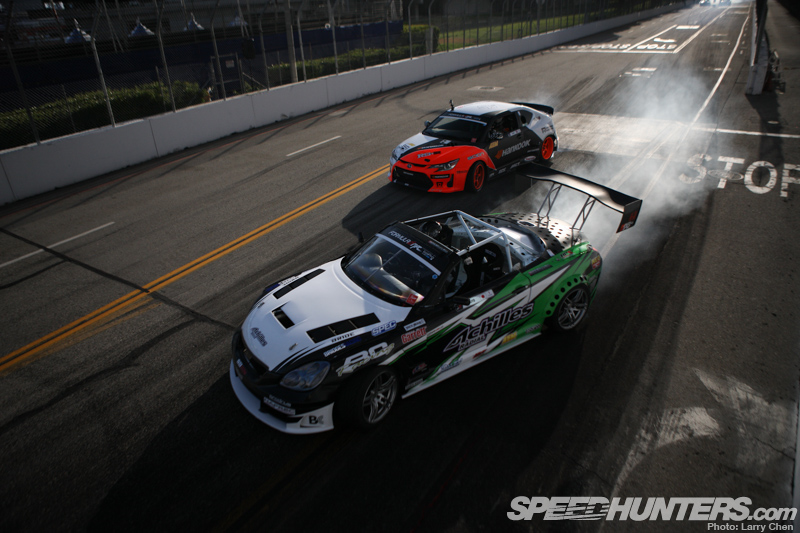 I have known Saito since 2009, but seeing him school everyone in the art of tandem and smoke out every single FD track across the US was incredible. What a feat!
I've actually battled Daigo twice before this past weekend. The first time was in Atlanta last year, where we barely got to nudge him out for our second place podium finish.
The second time was at the Formula Drift Asia finals in Indonesia in November, and he paid me back that time.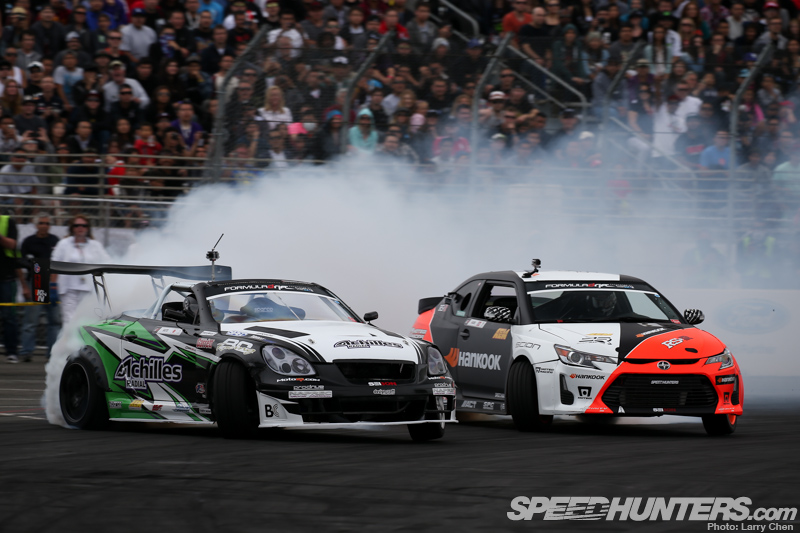 What's so unique about Daigo is that off track, he's the exact opposite of his rowdy, outspoken, American-style competitors. But on track in 2012, he took no hostages on his way to his Rookie season Formula Drift Championship title.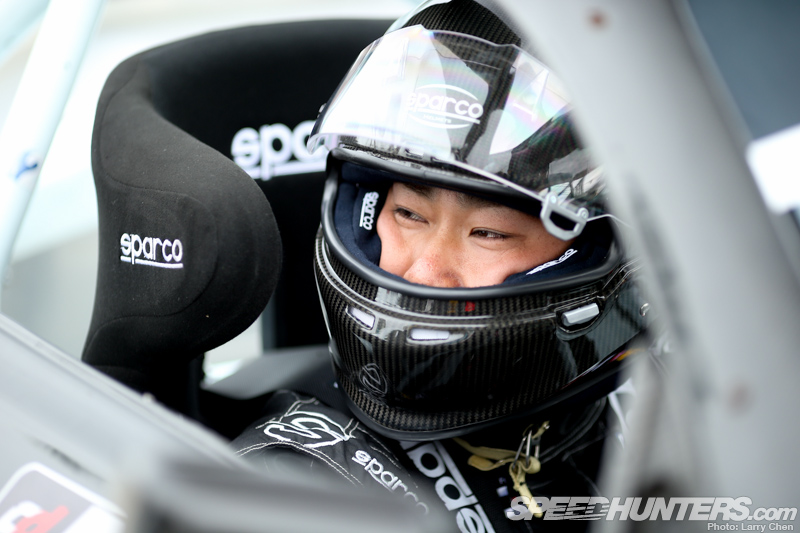 It was like a ninja had silently come onto the WWE wrestling scene. Daigo Saito changed the game.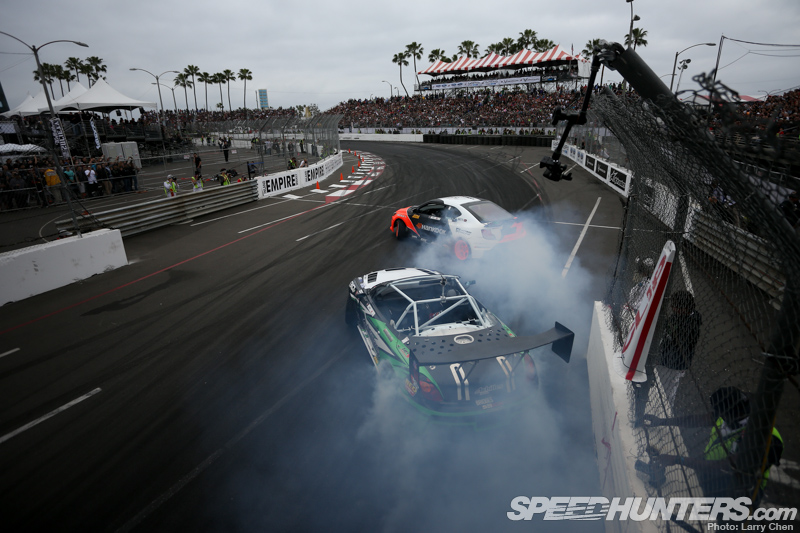 But that was 2012. How would the competition stack up as we entered the 2013 season?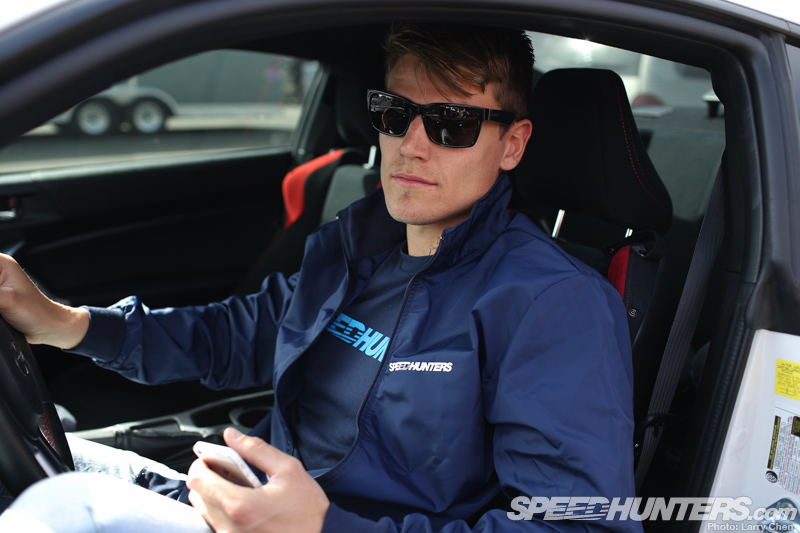 My crew chief Stephan Papadakis has taught me a thing or two over the last couple of years. One of his recent sayings was this: "When you show an American your poker hand and the way you play, he will pay close attention and say 'I'll have that, please. Plus one'."
America is a country built on opportunities, and this past off season I've sensed that the 'Daigo Effect' seemed to have been trickling down to the rest of the Formula Drift field…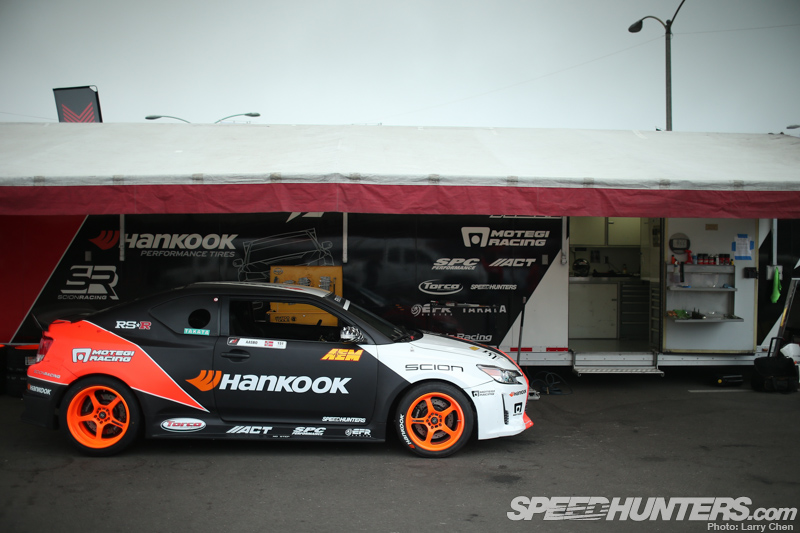 First and foremost, almost all of the teams immediately started hunting for more power. Power adders like turbos, superchargers and nitrous were added to already huge displacement powerboat-spec V8s. Toyota 2JZ engines got their renaissance, and for the field combined, several thousands of extra horsepower were added in preparation for the 2013 season.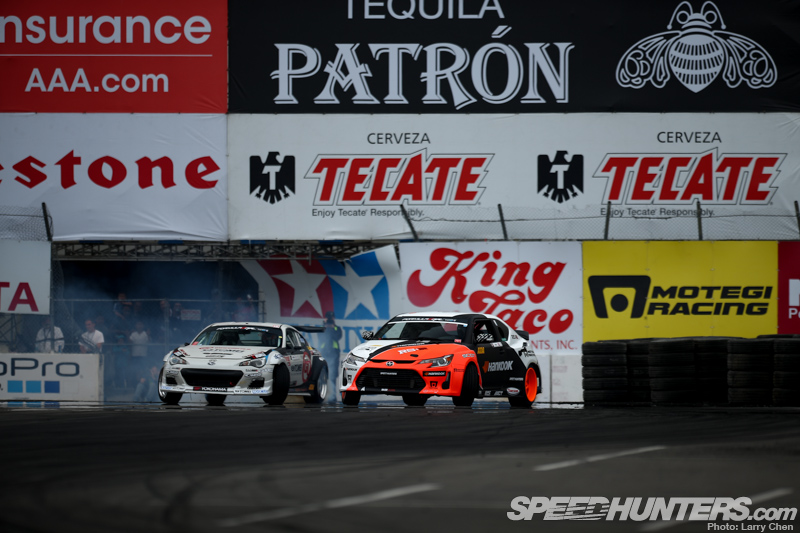 Next, people saw how import tandem skills are. Throughout 2012, the tandem battles got closer and closer, and it was inevitable that the word proximity would follow us into 2013 as well.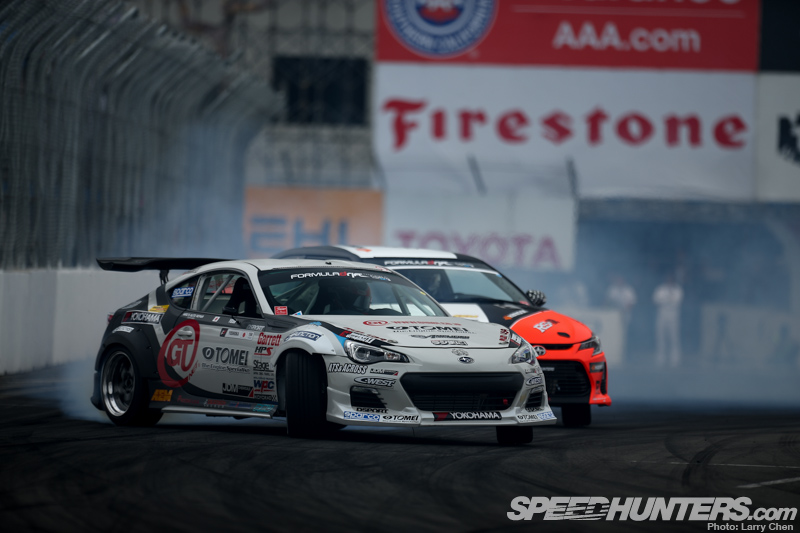 So to keep up with the field, I flew back to Norway for the off season and started my own little training scheme…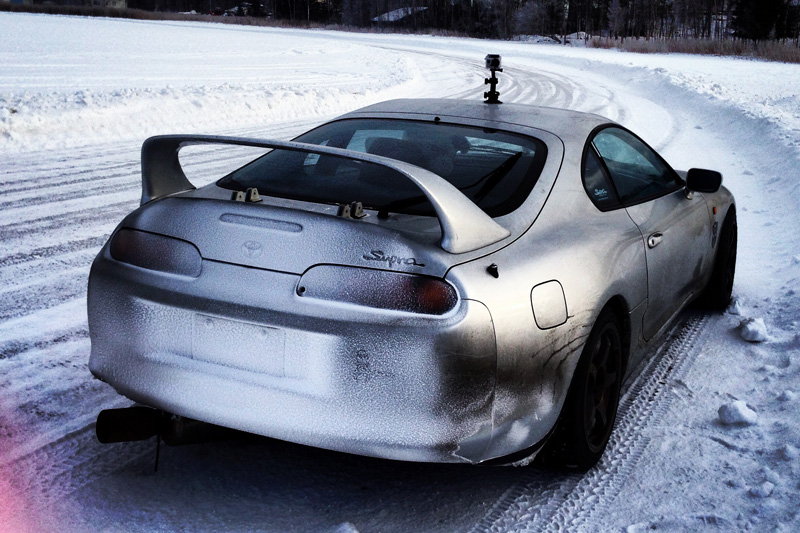 As Christmas came around, I called up my good friend and British drifter Ben Broke-Smith and had him bring me over a naturally aspirated Supra beater car for the frozen lake ice driving in Norway.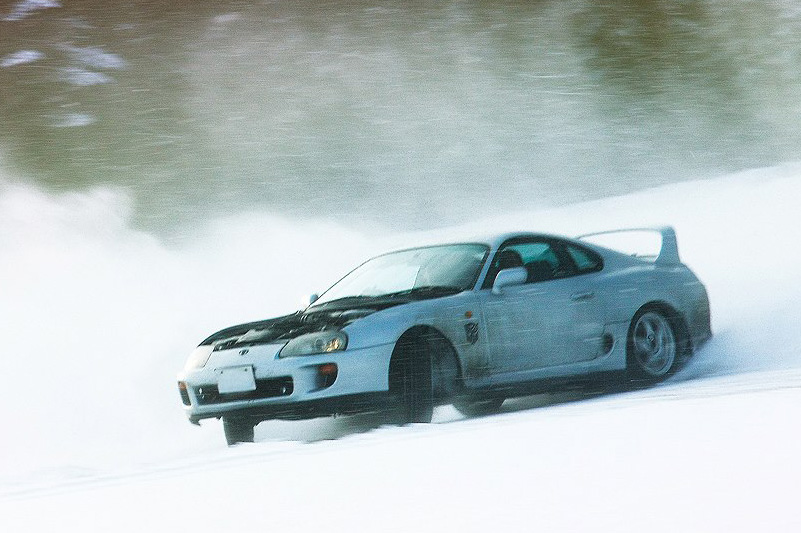 And then we went to work.
In the meantime, Stephan, Shawn and Aldo were at work in the Papadakis Racing shop in Hawthorne, California. They were researching, measuring, cutting and grinding, and dissecting our Scion tC drift car into pieces.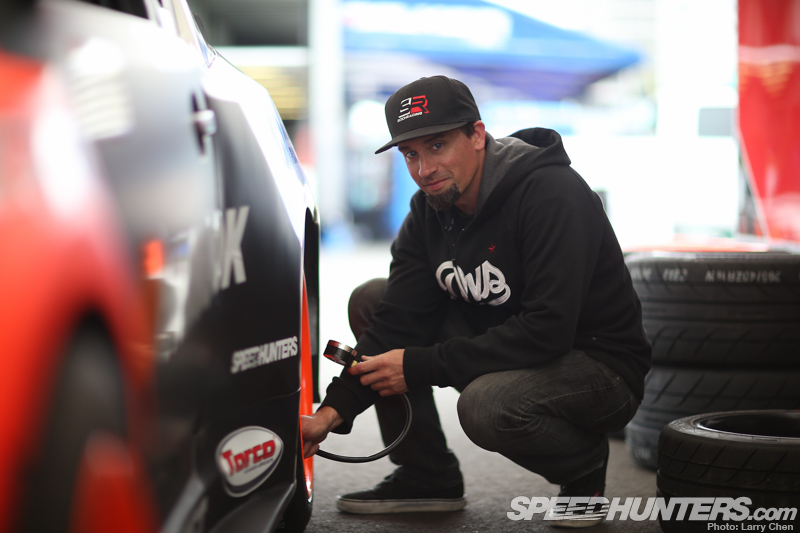 Following the 2012 season, which earned us a couple of podiums, first place qualifier results and some truly heartwarming awards, we felt that we had gotten one step closer to a championship winning set-up.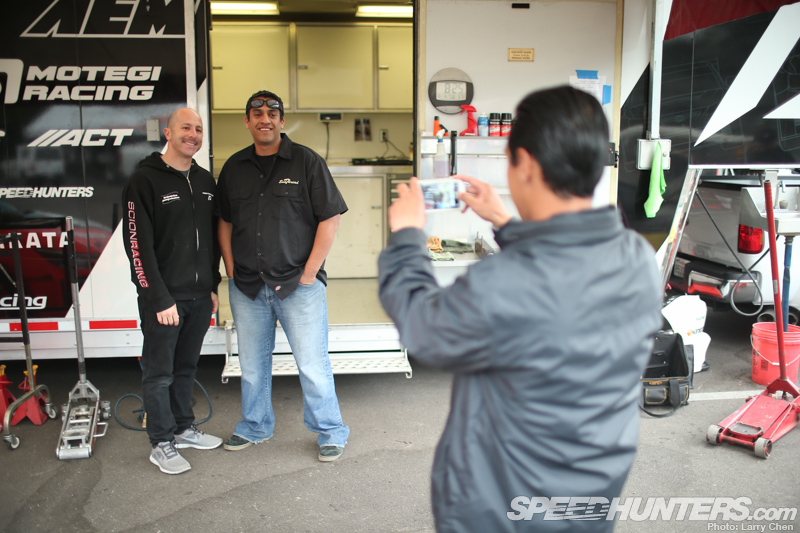 I mean, Papadakis Racing are of course championship material, seeing as they earned Formula Drift's only two back-to-back Championships in 2007 and 2008, which was probably one of the absolutely biggest feats in Formula Drift to date. But the sport and our competitors are evolving every year, and my goal is to grow into the role of a true championship contender to match the team.
And in order to get there, there's really only one thing you need: a never-ending cycle of step-by-step improvements. That's the heartbeat of racing!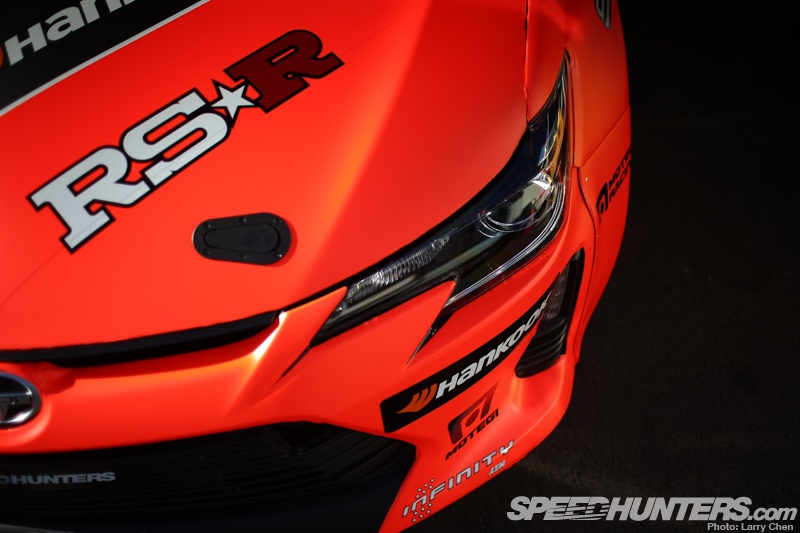 So, while I was driving as much as I could on the other side of the world, these guys meticulously went through our list of proposed changes and ideas. It took a lot of time and dedication, but when April came around, Steph and his crew had turned our Frankenstein tC into a full blown, fire-breathing monster. Can you believe that this super-light four-banger is pushing almost 900 flywheel horsepower now?
For the full specifications of the 2013 Hankook Tire Scion tC, check out Sean Klingelhoefer's recent feature here.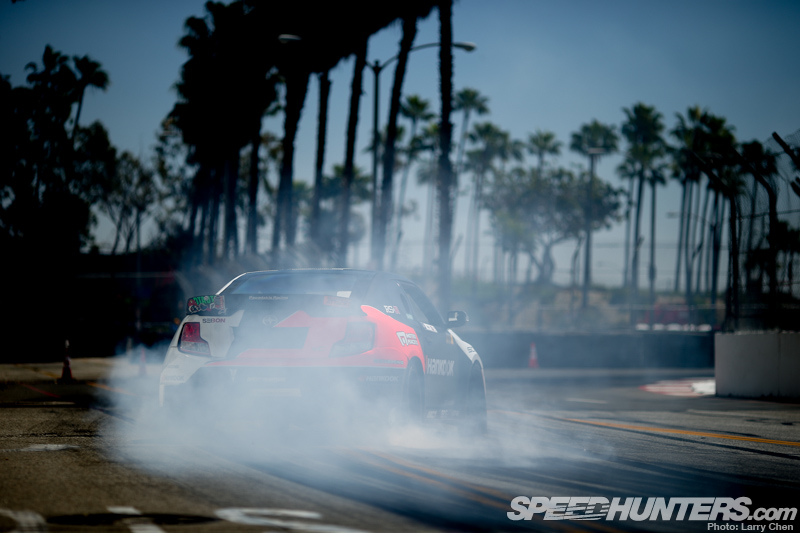 So as we rolled into the Streets of Long Beach for Media Day, we were ready.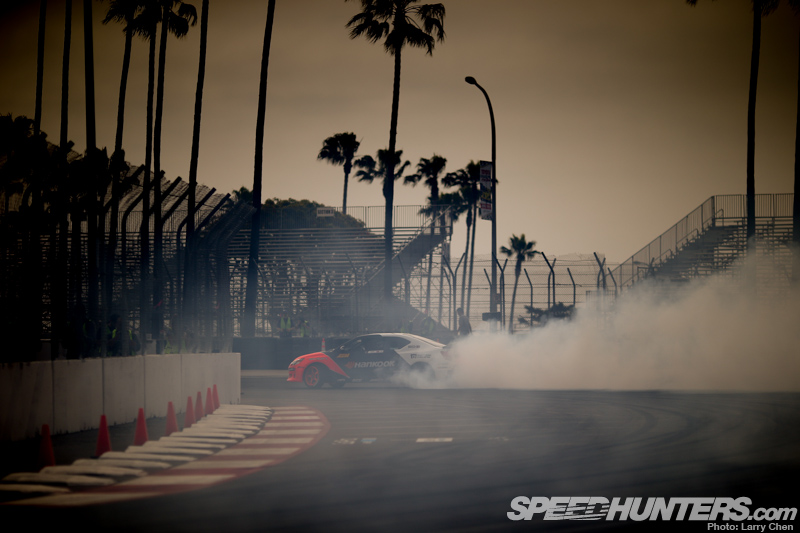 I thought.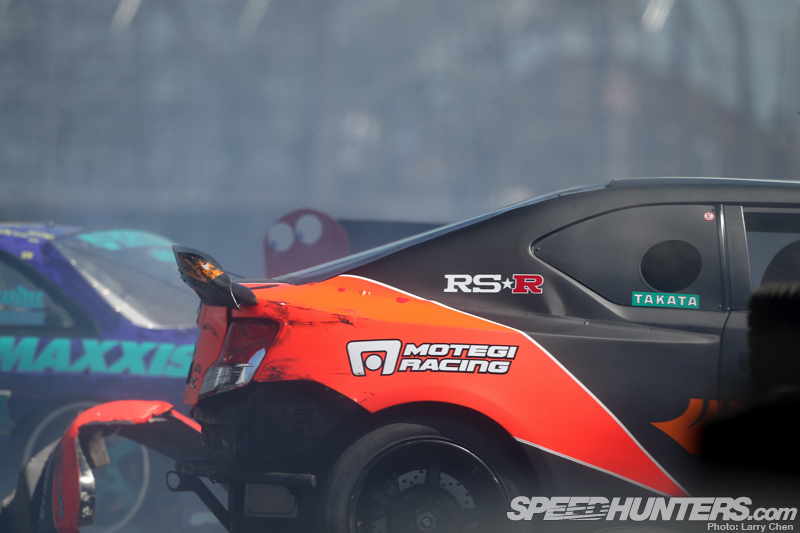 It turned out we had gotten greedy, and while the car was LIGHTNING quick, it had a good amount of understeer to it which made it super hairy going into turn 10: the long, sweeping left-hander where you are hitting the second outer concrete wall almost dead on.
I stuffed it in the tire wall near the end of the Media Day practice.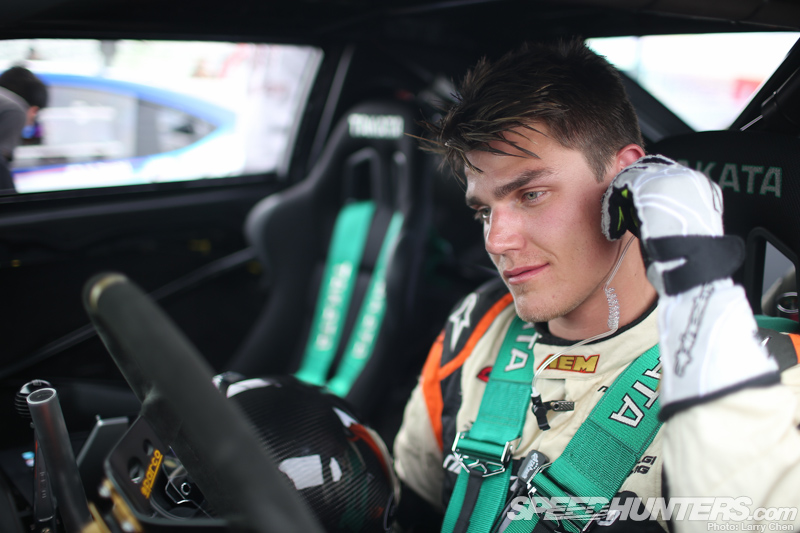 I had been too stubborn on trying to handle the car the way we had it set up. As we left that practice and Media Day with a mangled tC, I had some stuff to go over in my head.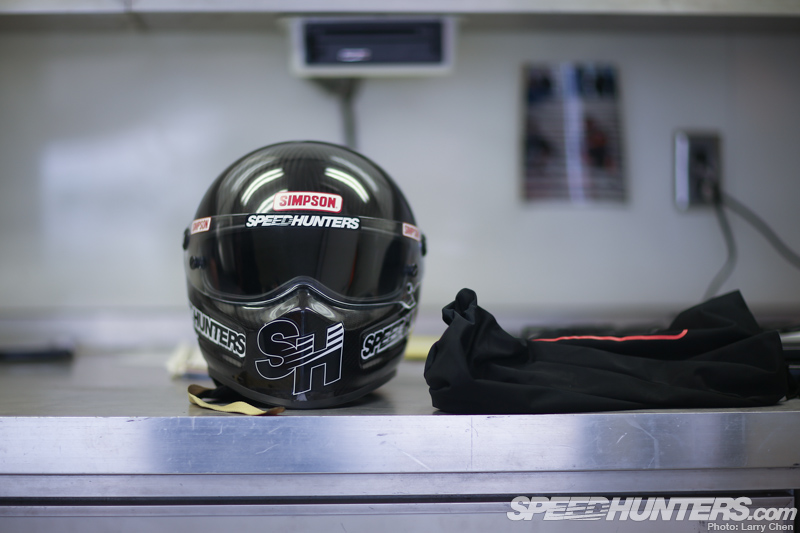 The next day I had a good talk to Steph and my close friend Chris and we came up with a proposed set of changes to test out during our very short pre-qual practice.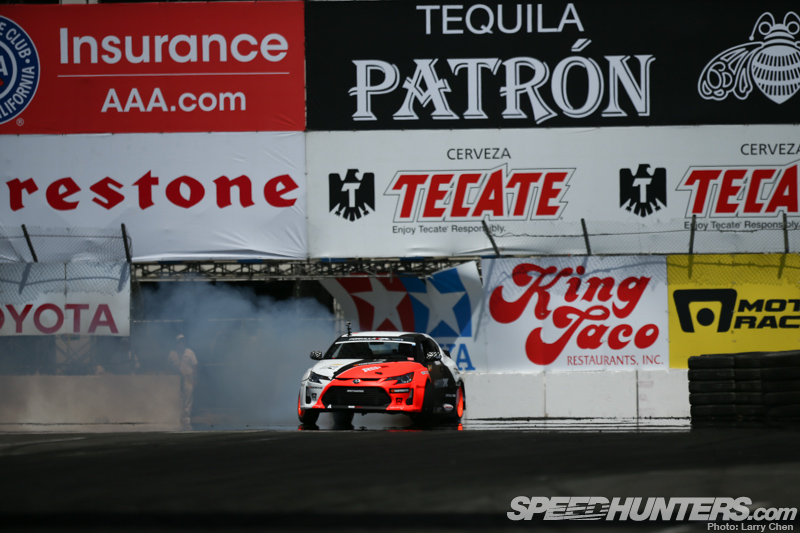 It worked! Phew!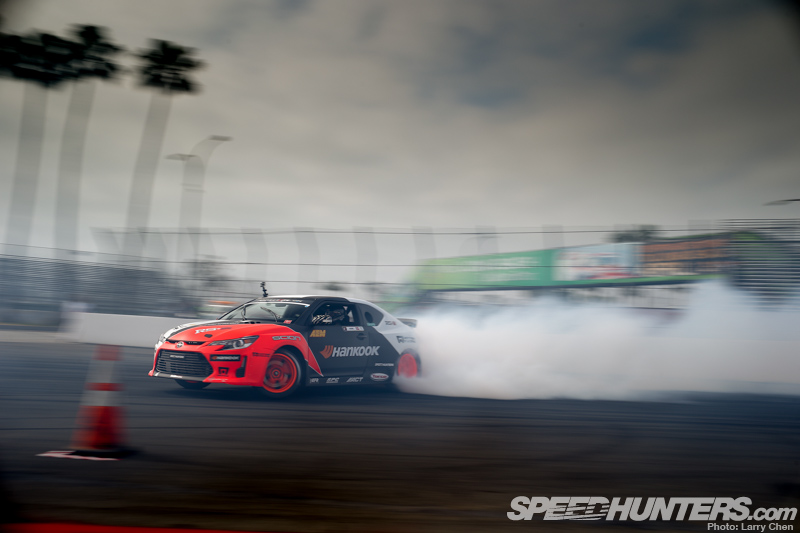 After really struggling in Tuesday's practice, we were dialing ourselves in better and better. We were adding front grip to make the car steer with me instead of against me, which gave me a lot more feel and confidence in the car.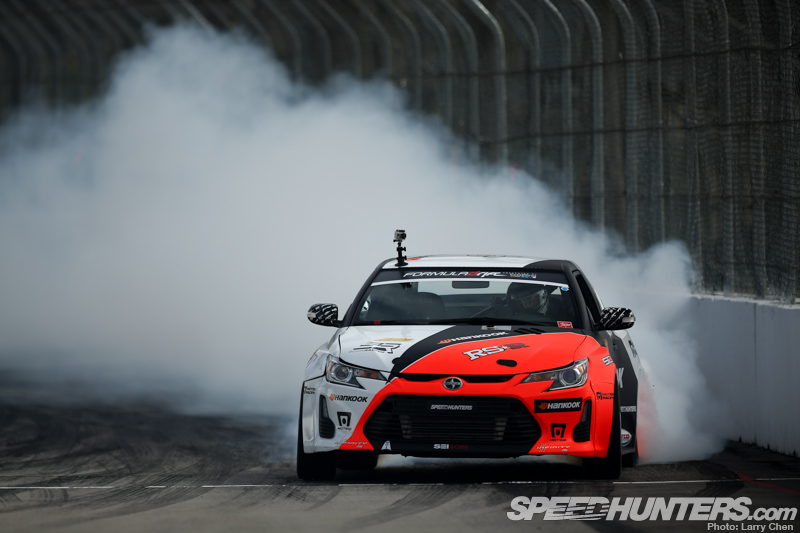 We qualified in ninth place, which was definitely further down the list than where we wanted to be. In light of how we were struggling just laps before, however, we were headed in the right direction.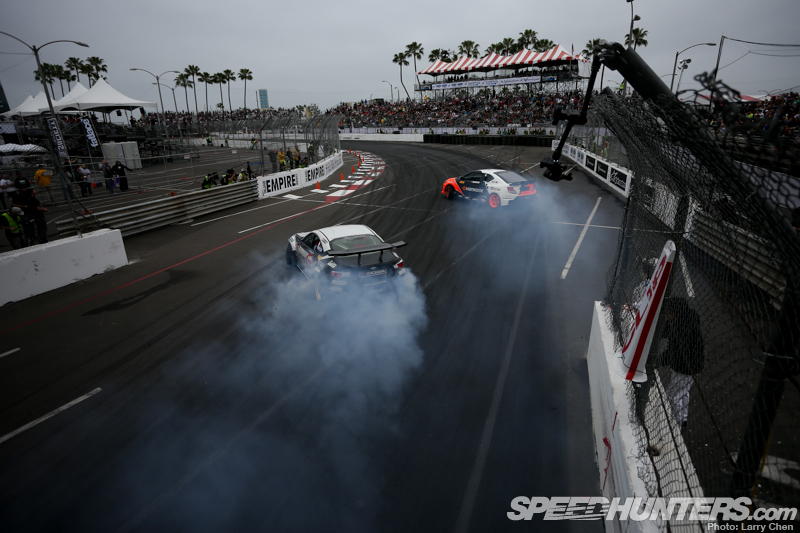 Our Top 32 battle was against Toshiki Yoshioka, and I was able to put on a decent wide lead run.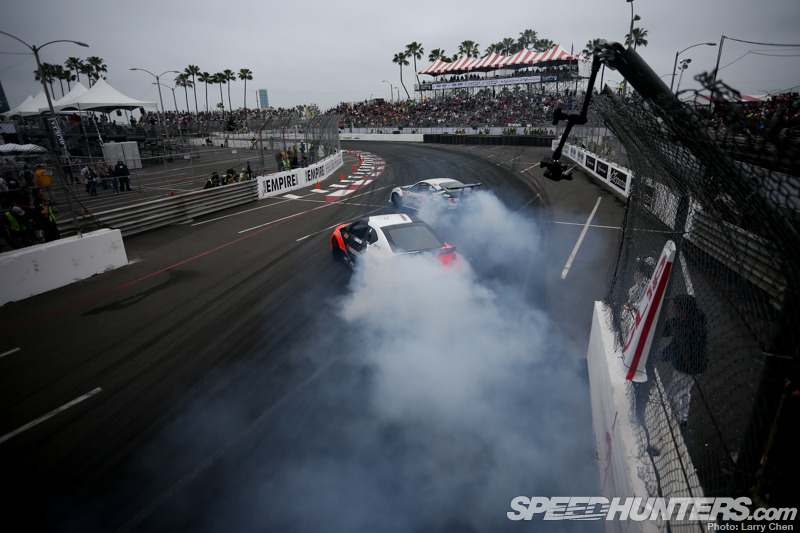 For our chase, I got to stick fairly close to him. We moved on!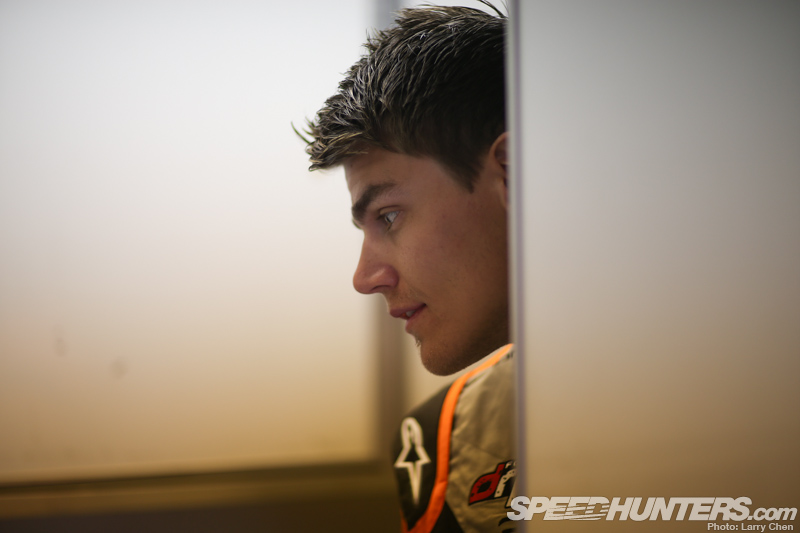 And next? What we had all been waiting for.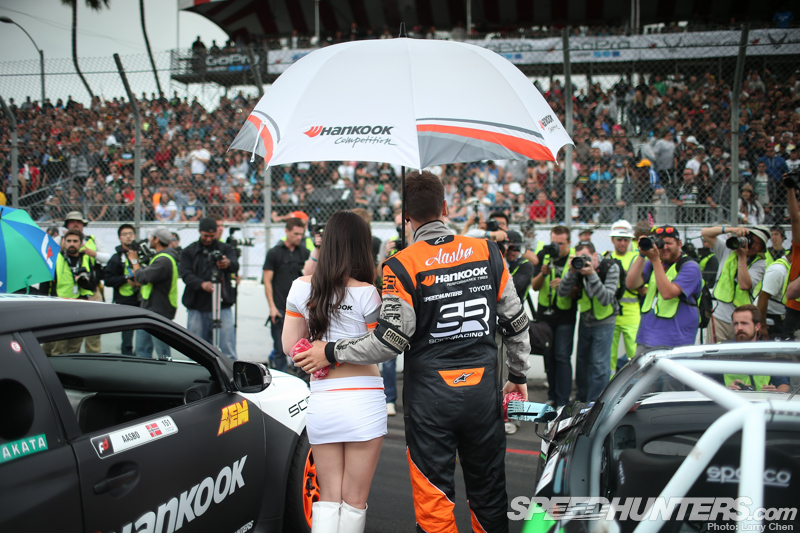 I knew that as soon as we were done with the drivers' introduction, we would take on none other than Daigo Saito.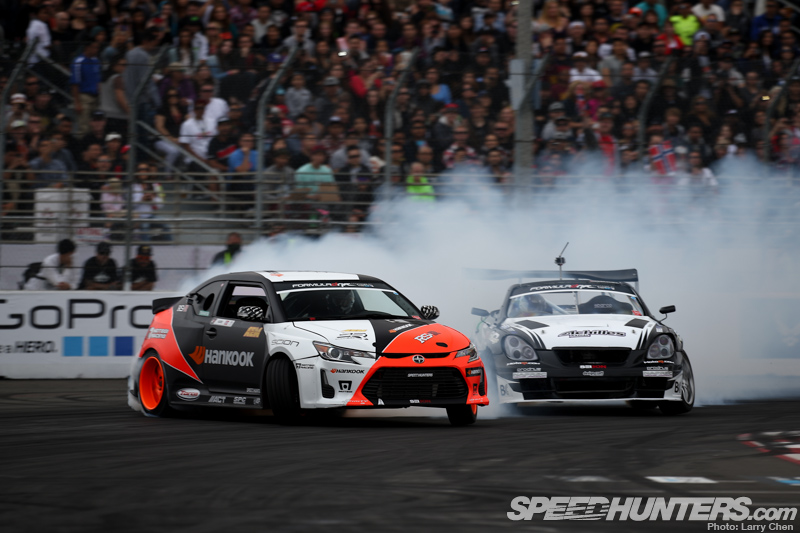 And we went at it.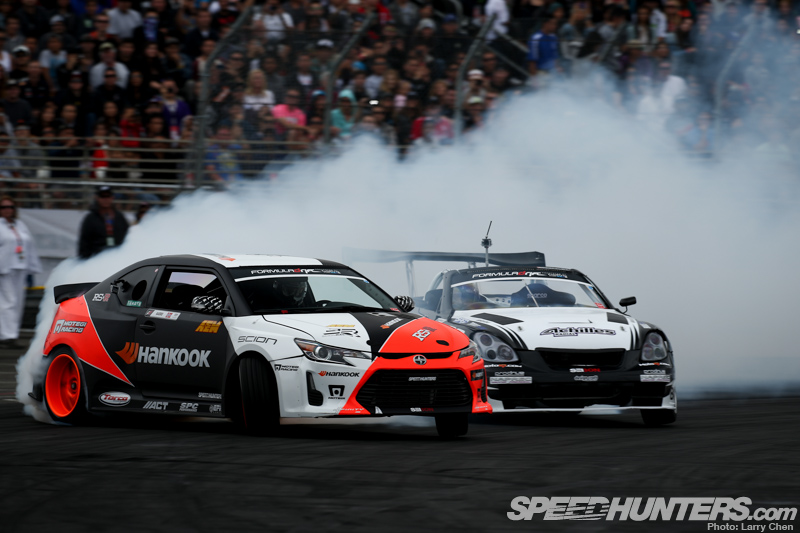 Not just one time…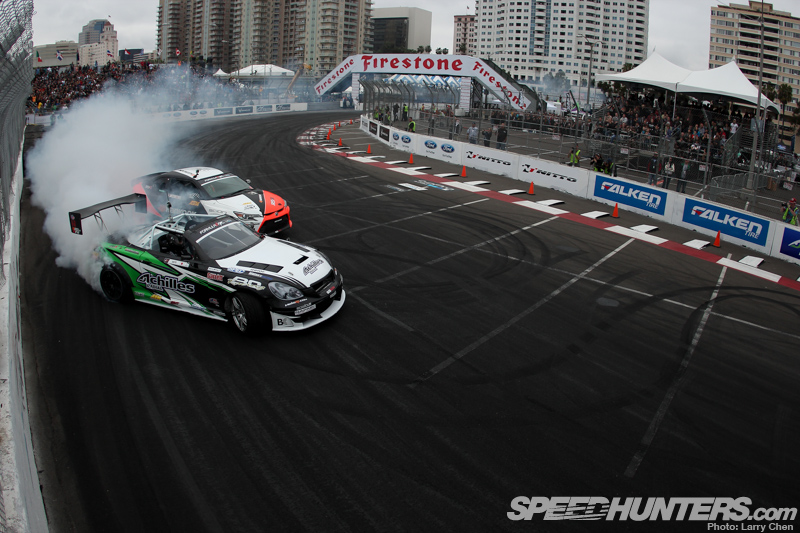 Not twice…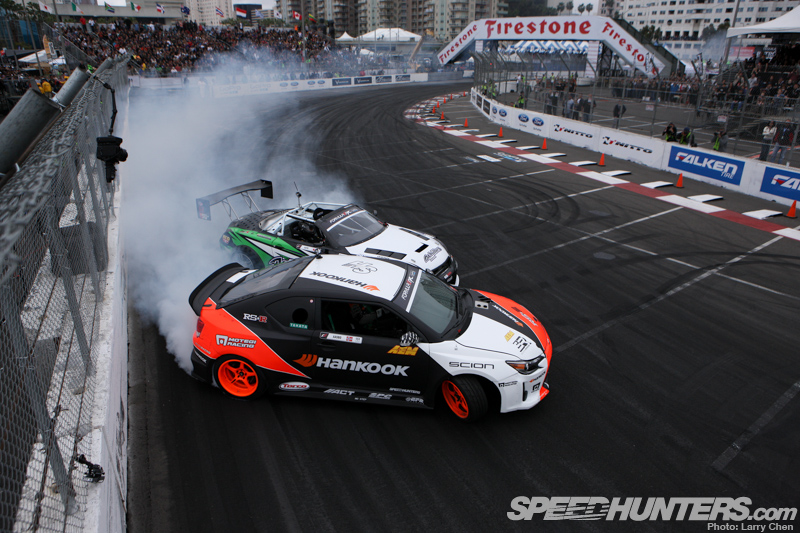 No, a total of two 'one more times' and six runs were in the books before the judges could make a decision.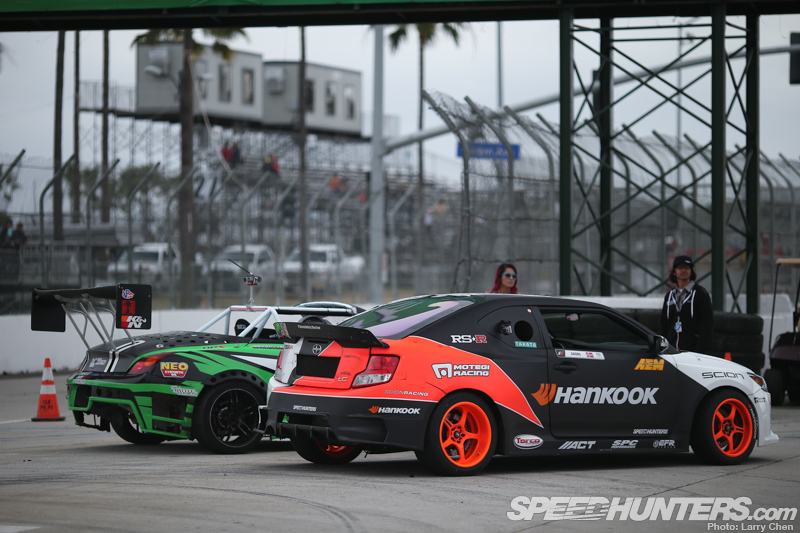 And those six runs were some of the most fun I have ever had in my entire life! Such a rush!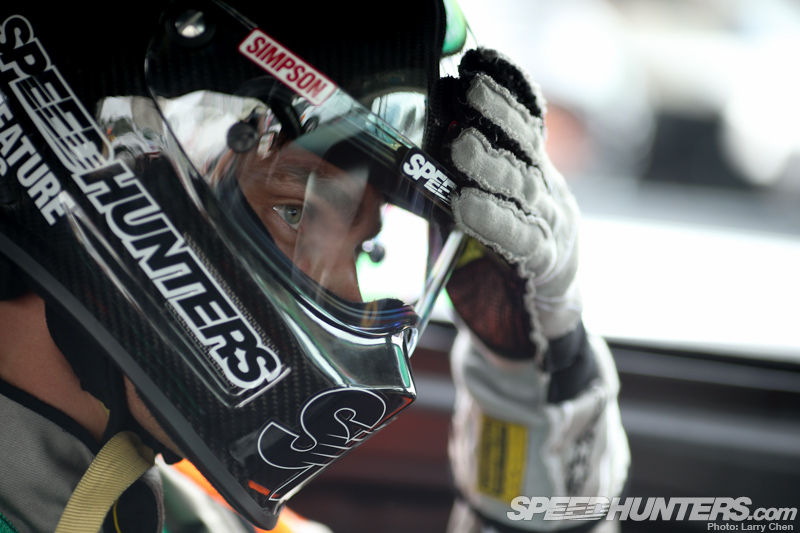 Later that night, I posted up the following quote online: "Can you imagine what it feels like to look over to the side after your run and see Daigo Saito jump up and down in his car, smile with his whole body and give you the thumbs up? THAT was some fun drifting!!!!!!"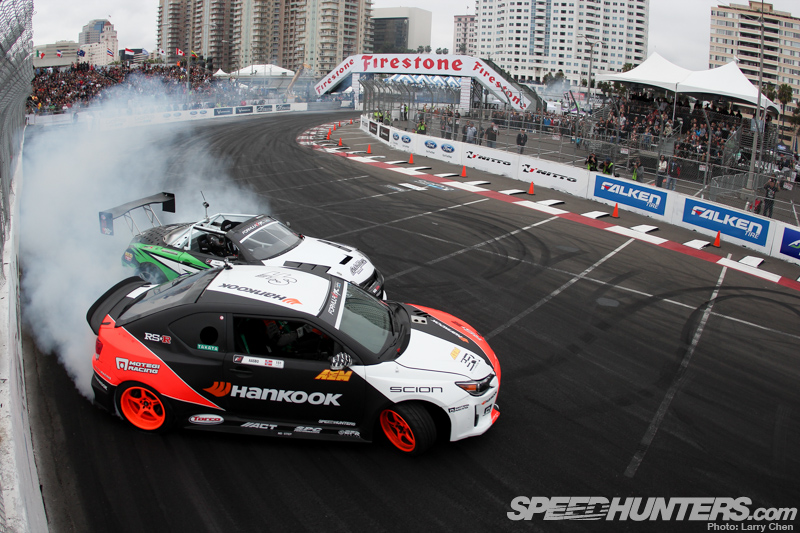 It was so cool to just keep going at it. Here's the video so you can see the runs for yourself:
After claiming victory, I next came up against Dai and although he went on to a much deserved Round 1 victory after what was probably the smoothest and fastest drifting I've seen, this event felt like a huge win for us on a number of levels.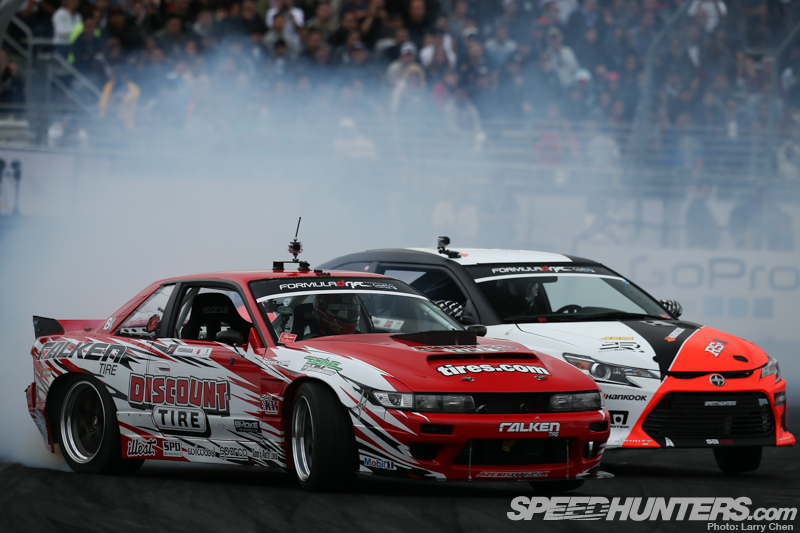 This tC isn't as innocent as it once was…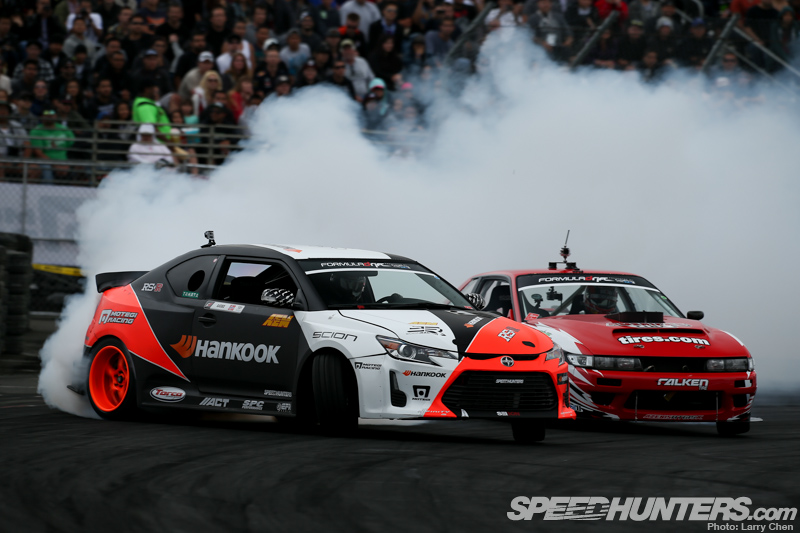 And moving forward, I can assure you one thing: we will be working as hard as we can to push this thing up on the podium, aiming for that championship.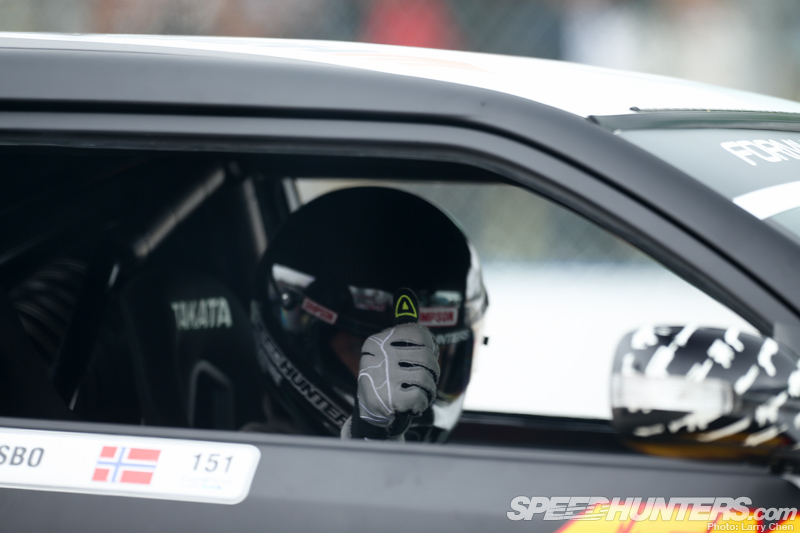 Make sure to tune in to the Livestream at 7pm Pacific this Friday and Saturday for the Motegi Racing Superdrift Competition. This will be the first nighttime drifting event on the streets of Long Beach!
What could be more challenging than playing a game of car pinball along the walls of Long Beach, behind a 1000 horsepower smoke machine? Doing it in the dark. With 100,000+ race fans in town for the Long Beach Grand Prix.
Here we go!!
Fredric
http://www.facebook.com/OfficialFredricAasbo
Instagram/Twitter: @fredricaasbo
Fredric Aasbø related stories on Speedhunters