The 2013 Geneva Salon International De L'Auto opened today, and as has been heavily trailed in the weeks leading up to the event there has been a whole slew of new cars and concepts revealed at the show.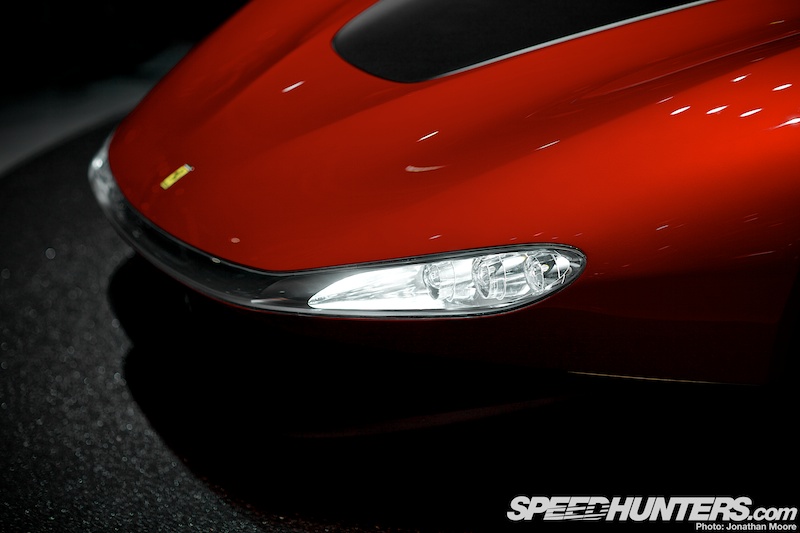 I'll be taking a more detailed look across the myriad of manufacturer, styling and tuner displays in a following story, but as a taster here are some first impressions from the opening press day, two days ahead of the doors opening to the general public. Italy and the USA dominate this first foray, which will feature a brief look at some of the bigger debuts. There's an awful lot of seeing red – it's the colour of 2013, it would seem.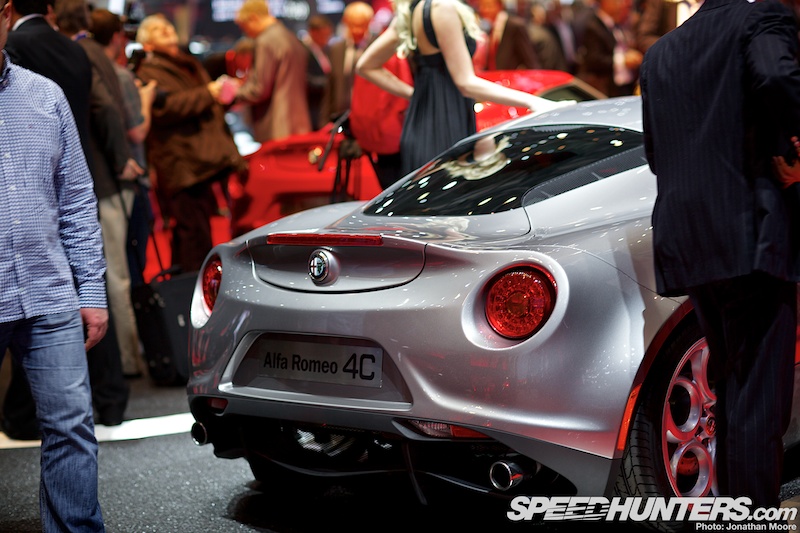 What a trio of launches we've had from Italy, with something long awaited (the Alfa Romeo 4C)…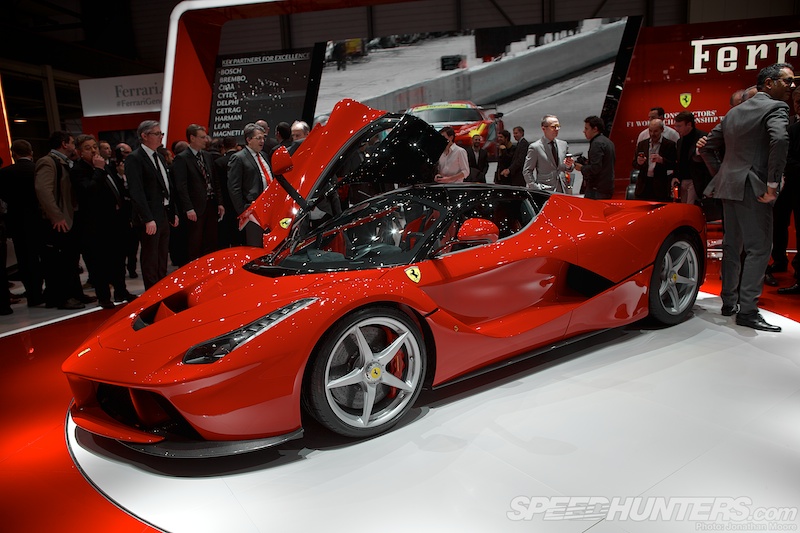 Something expected at some stage but not necessarily now (the LaFerrari)…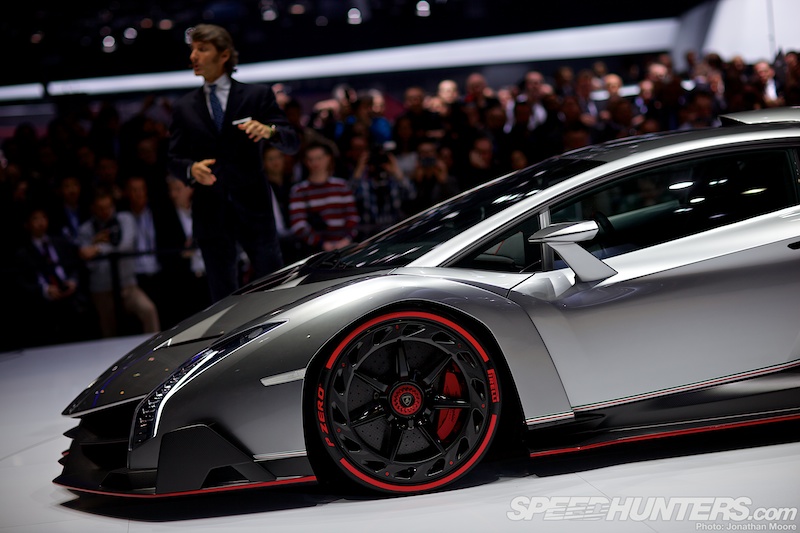 …and something that was a suckerpunch of 'where did that come from' (the Lamborghini Veneno). I think it's actually a shame that new models now get full photo-shoot quality reveals ahead of any big motor show – let alone the one that is still one of the most important international shows on the calendar.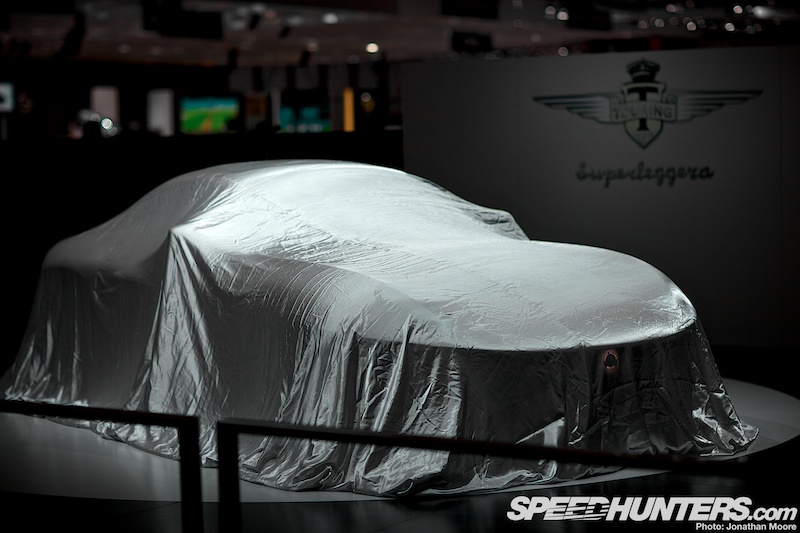 It ruins the night-before-Christmas effect that motor shows should have. When the covers are pulled back, I want to be completely floored, and have jaw ache by the end of the day. Thankfully the coachbuilders still typically take this approach.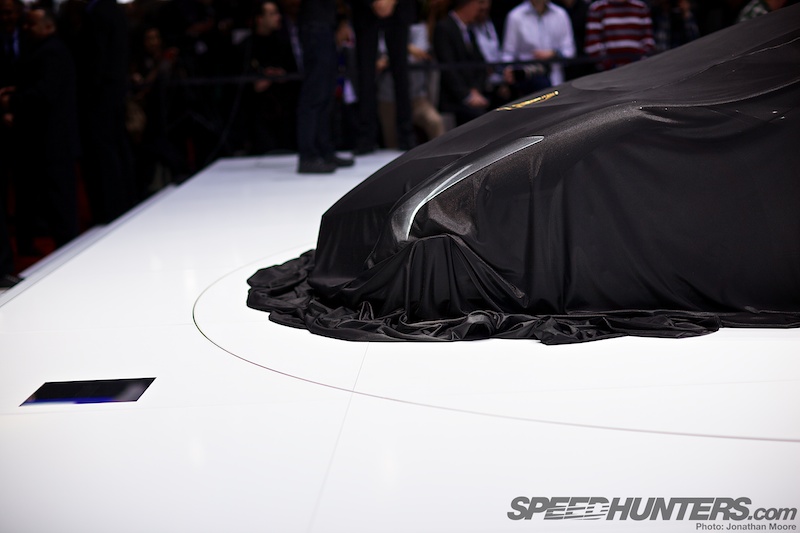 That said, the Lamborghini pictures were never going to do justice to the savage brutality of the car in real life, so everyone was still primed to see just what madness the black drape covered.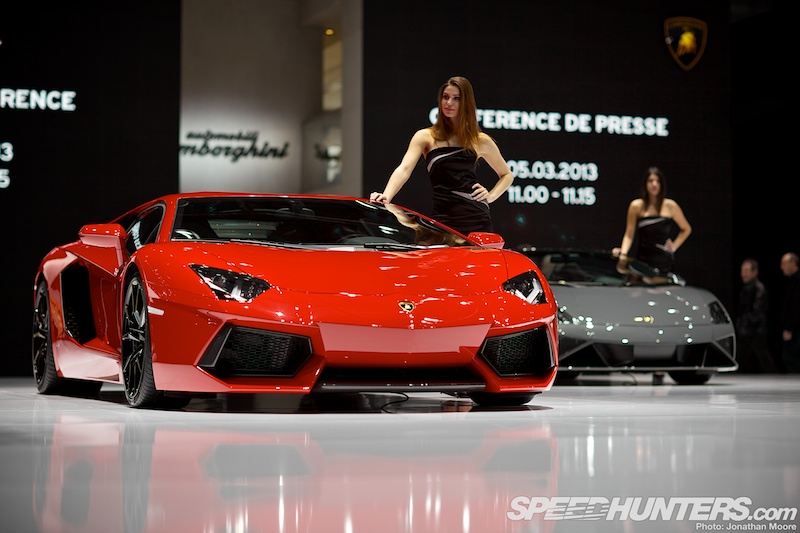 It's not like their existing range is that shabby, so things were only ever going to be positive.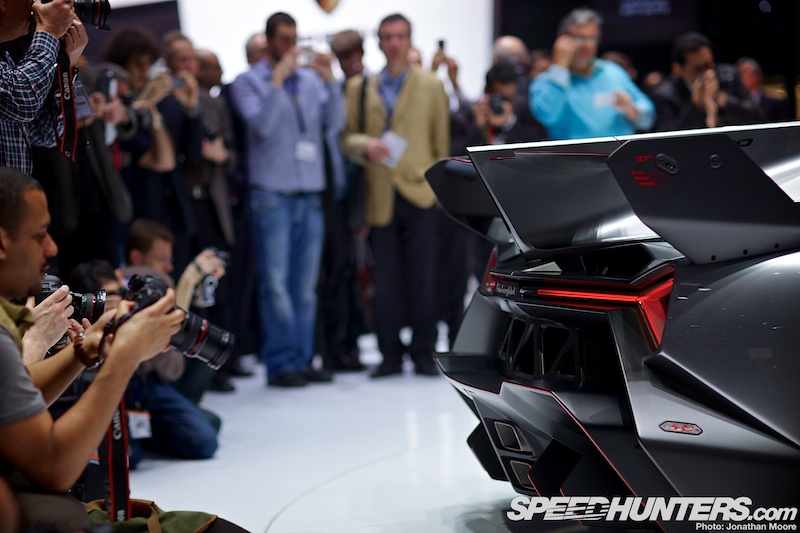 The Veneno turns out to be eye-cripplingly extreme. Like a war robot that was waiting to activate and destroy everything in the immediate vicinity. I didn't want to stand that close at first, until I was sure it was safe… It was like facing off against Gort.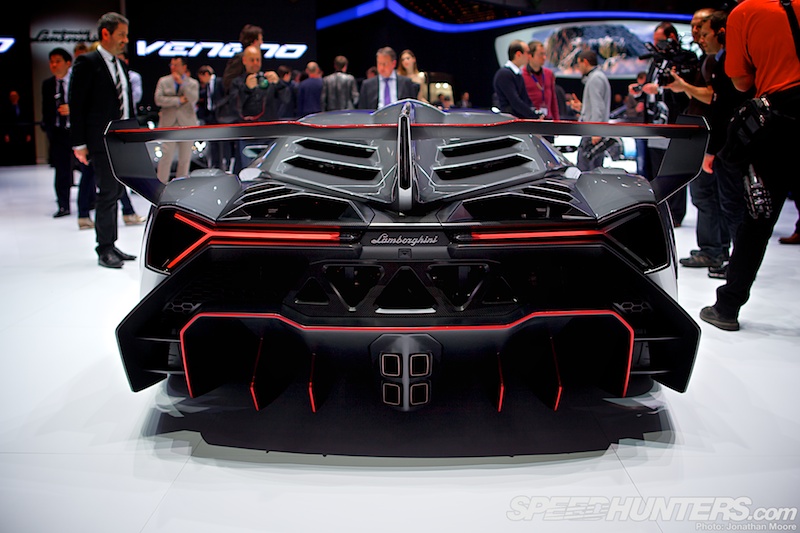 My god. Look at it! Everything has been thrown at it. Over the top? Yes. Are they likely to apologise if you don't like it? No. They're going to destroy you with laser beams.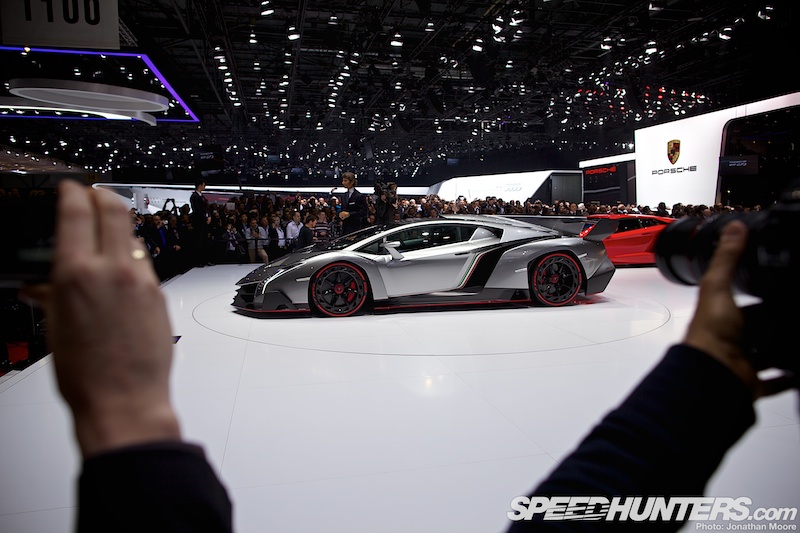 Tomorrow I'm going to try and man up and spend a good amount of time drinking in all the details of this utterly insane car.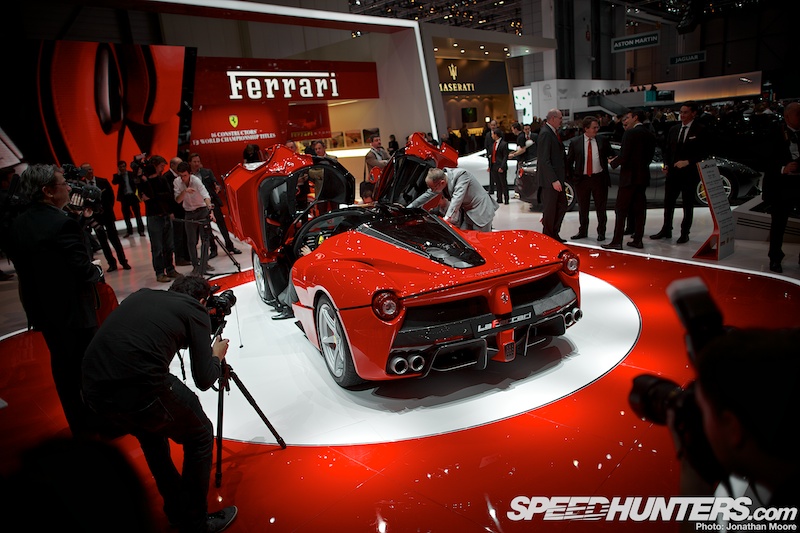 Then there's the so-good-they-named-it-twice Ferrari. If MP4-12C could be accused of being too dry a name, then the LaFerrari is surely the diametric opposite. The only problem is what they'll call its successor (and the amusing comments in Mike's preview story have already followed this kind of theme).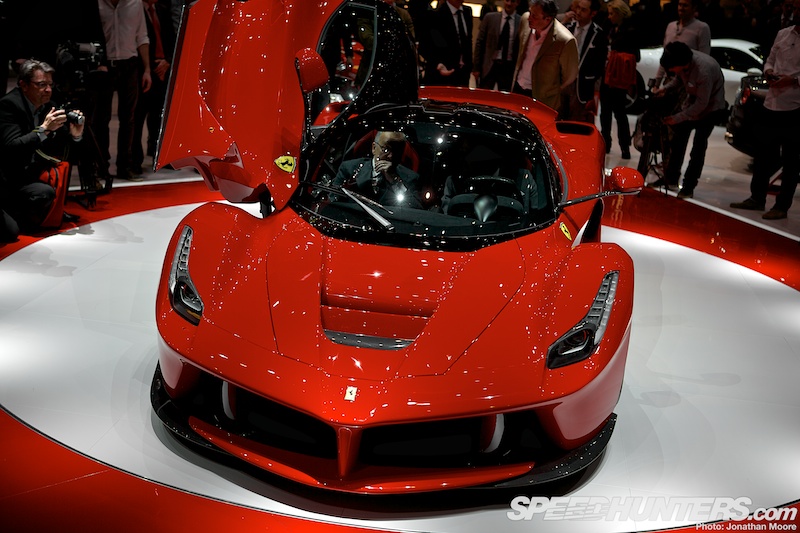 There's a lot going on with the body of this 950hp hybrid hypercar: the wide fenders cut in to a narrow cockpit section before flaring out again at the rear. The nose is obviously generating huge amounts of downforce from the cavernous aperture in combination with the inverted wing – and the rear has similarly impressive diffusers.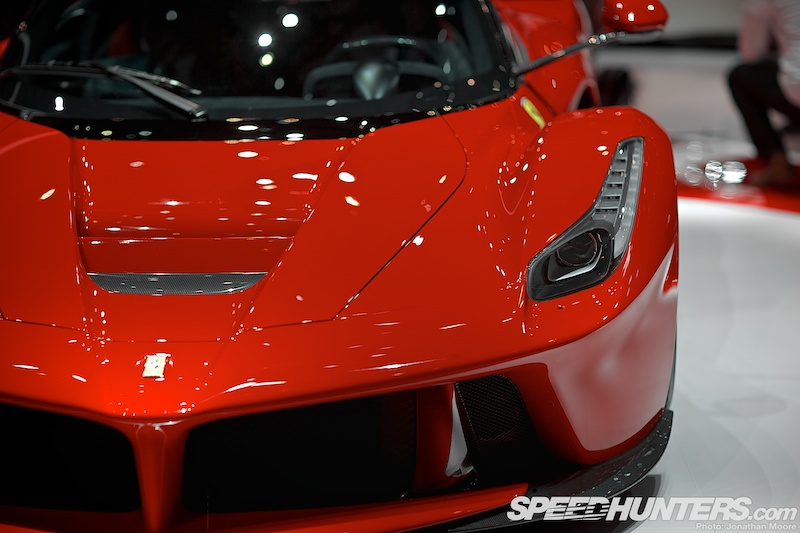 Just as every previous Ferrari hypercar has carried nods to the looks of their mere supercar sisters, so does the LaFerrari. But don't be fooled by the obvious family resemblance: like many car companies, Ferrari are just sticking to designs of certain parts for aesthetic consistency. One light does not this car a 458 make. You've read the performance figures?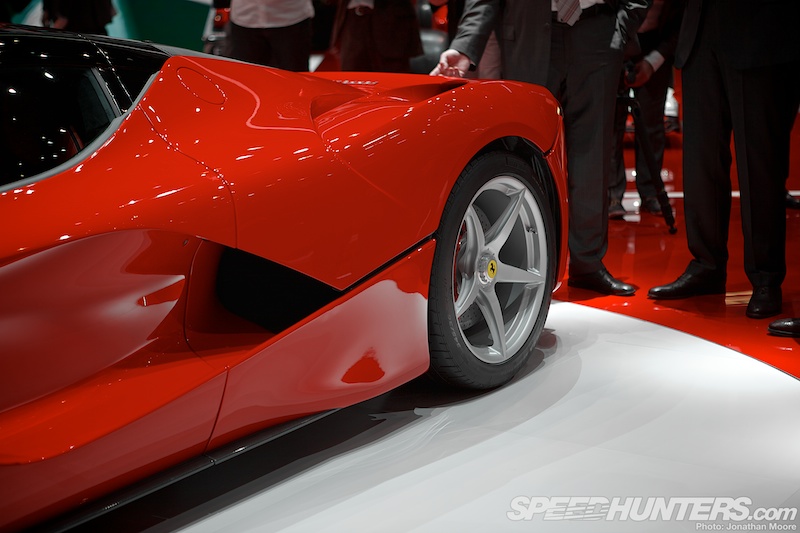 There are plenty of old school cues as well: the wide shut-lines hark back to the '80s. The central dorsal area of the cockpit also has a pleasing visual weight to it (it looks much wider and taller in the flesh), which reminds me of old prototypes.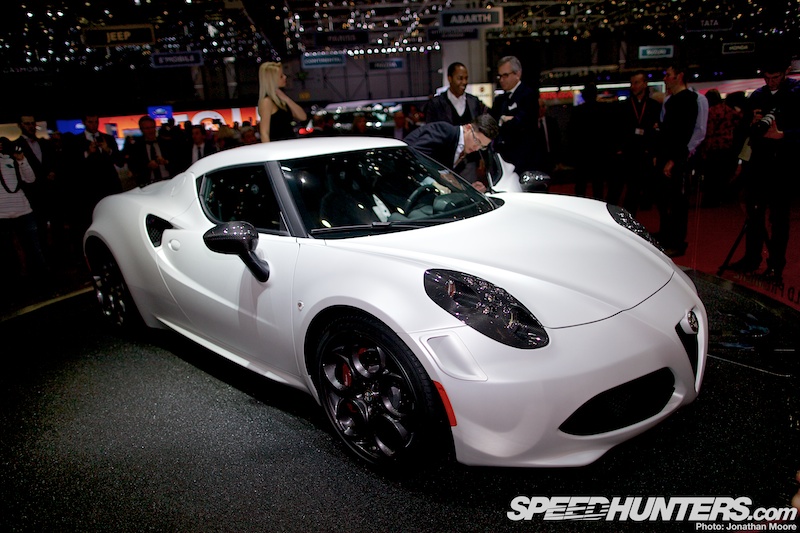 Then there was the Alfa Romeo 4C – yes, there was a red one, but here's to diversity. I carry Alfa bias proudly, but it really is a prettier car in real life than I'd expected. Compact but lithe, it just looks fast.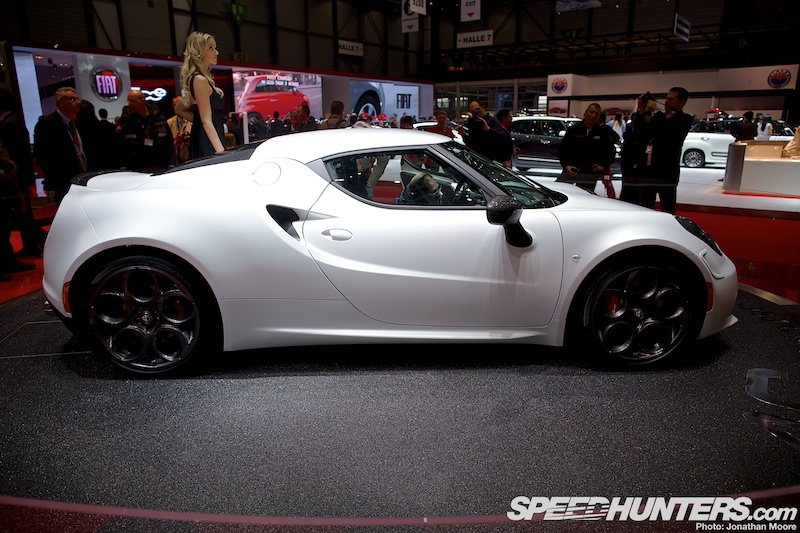 There's been a lot of talk about the two-seat design and high rear suggesting Elise and even Europa. A more positive take would be the influence behind it: there's definitely a concentration on light weight and getting the maximum out of a small but efficient engine, which is definitely a Lotus ethos.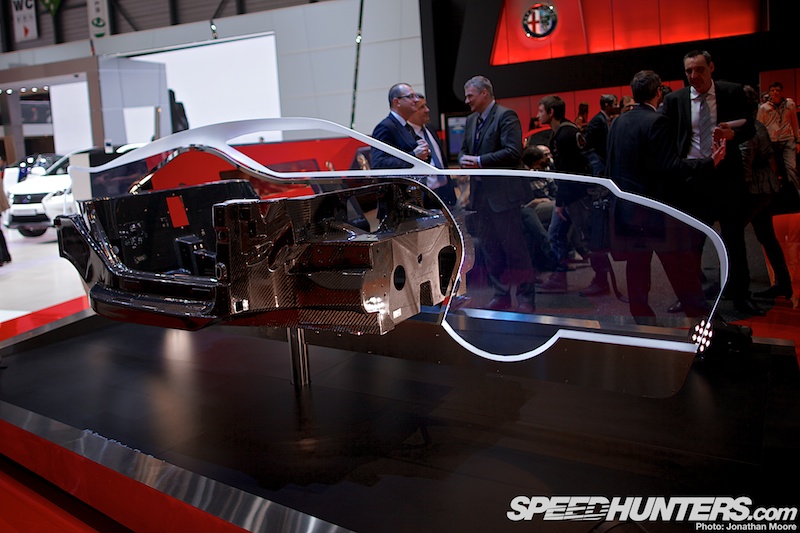 At its heart, like with any self-respecting performance car in the stratospheric price range, is a carbon monocoque. The engine is only a 1.75-litre turbo, but heavily optimised with anti-lag and connected to a sequential 'box.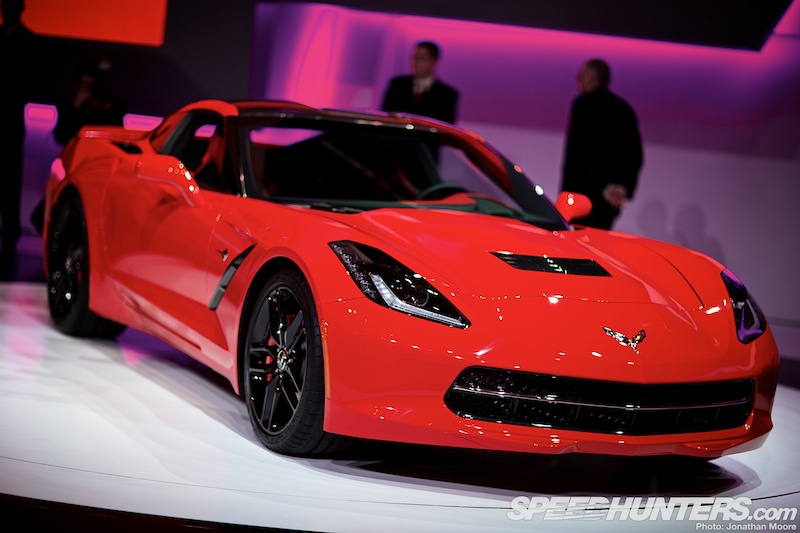 We're back to the red theme with the American contingent: both SRT and the Chevrolet camps have apparently been ordering in plenty of tins of the red stuff.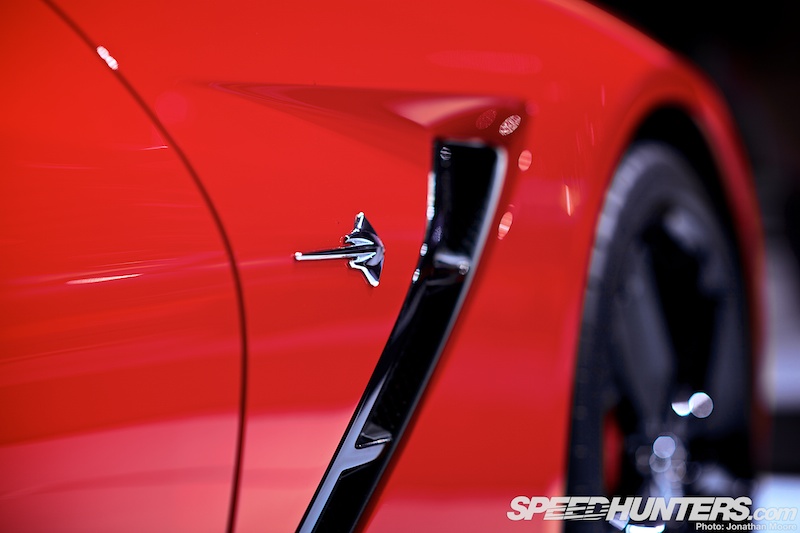 So, what is the Stingray like in real life? Does it deserve to carry such a famous epithet?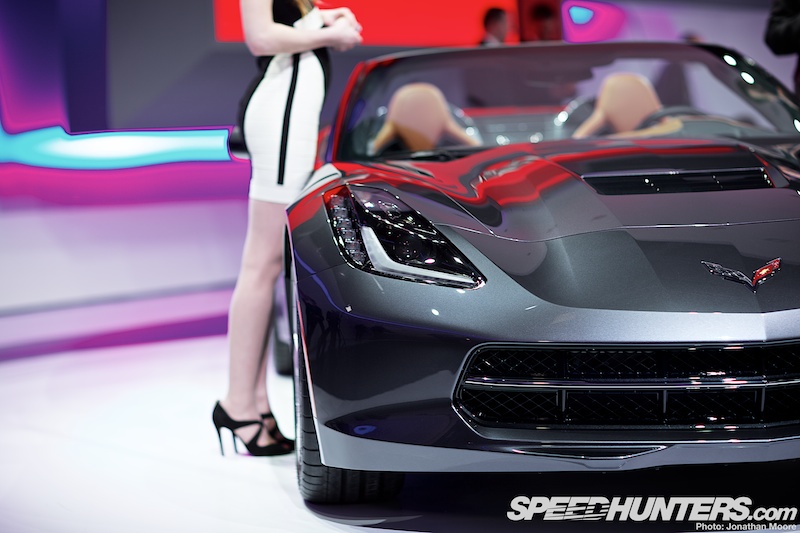 Predictably, I'd say (hell) yeah. The Corvette has been used to major shape changes, and perhaps people have just got a little conservative after the relatively small upgrade from the C5 to C6.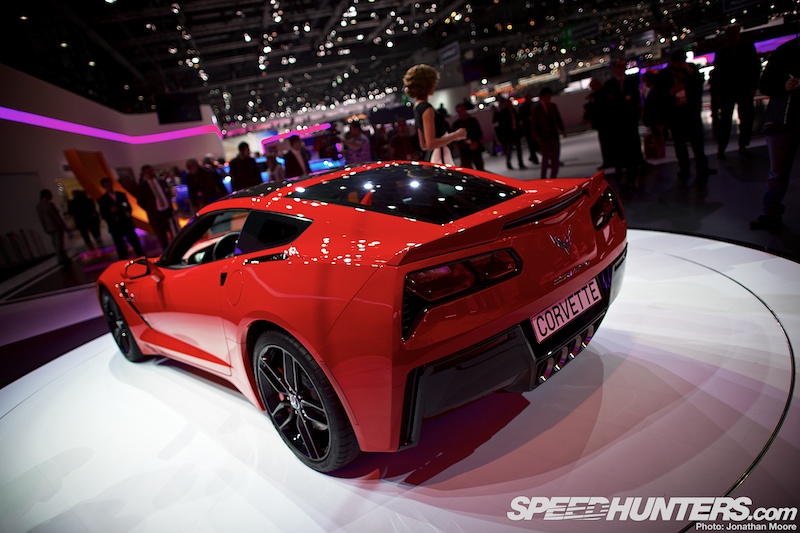 Along with all those angles at the front, the rear is the big change – and in the flesh, to these eyes it just looks exactly how a modern muscle car should. Despite the sharp lines and angles you still get the classic high-to-low three-quarter view, and those quad-exhausts are just as over the top as you'd hope. European influences, perhaps, but not at all European in outcome.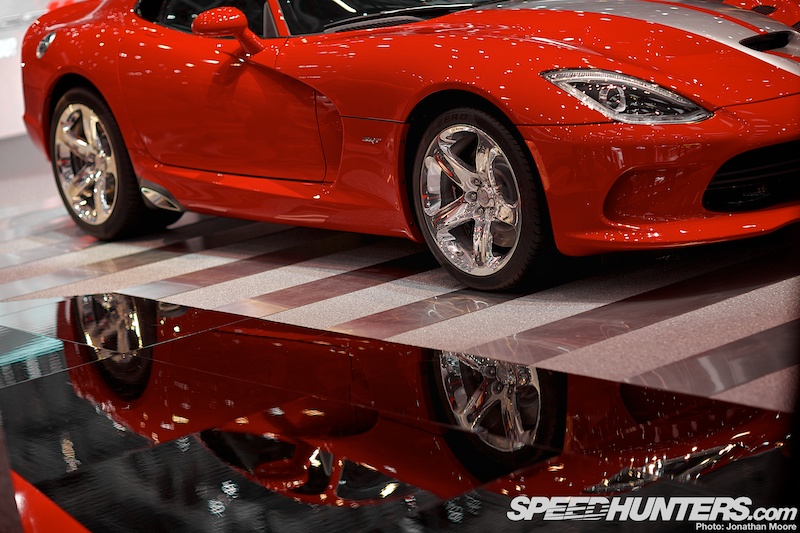 Then there's the Viper. I understand that it can seem like a reflection of the original at first glance…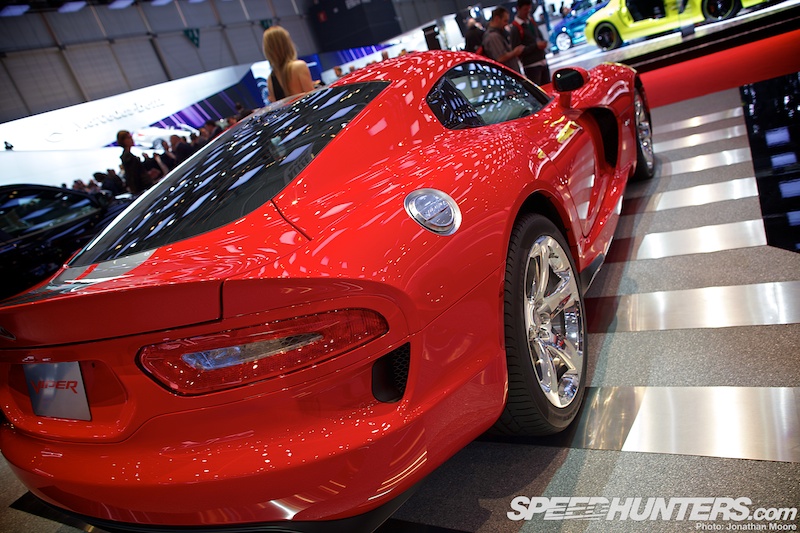 …especially with that oh-so-familar curving rear and slash side intakes.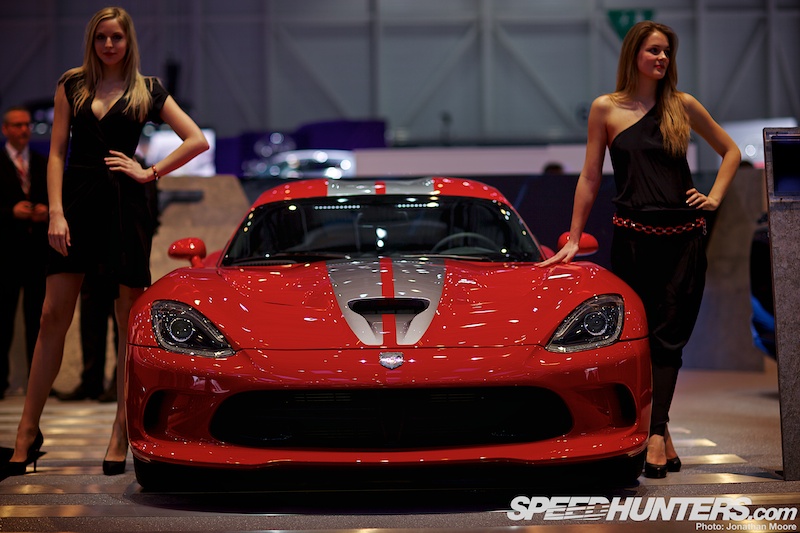 But that what I like about it: not as extreme an evolution as the Corvette, the Viper doesn't seem to have strayed too far from its family line and is all the better for it. And it's still got an enormous truck engine in (or as near as dammit), and that means it's still a Viper. And it's going to Le Mans!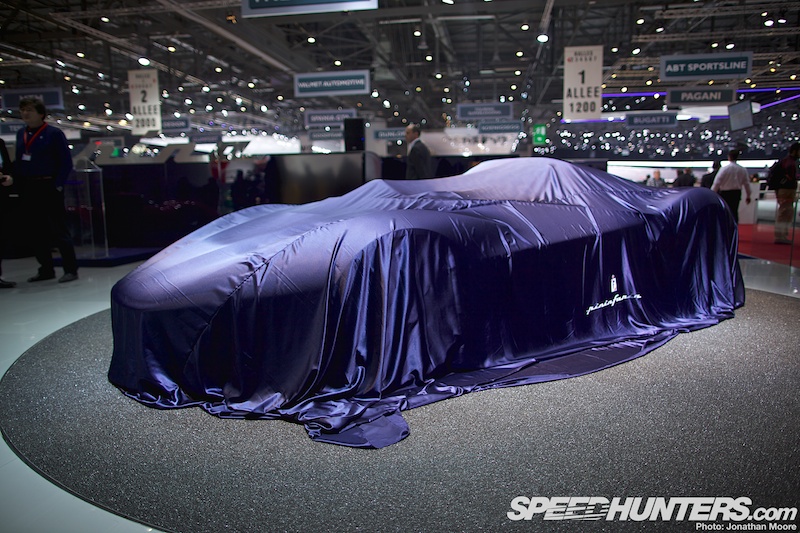 I'll touch on one more red-tinged concept before closing out, on the Pininfarina stand. Badged as a Ferrari, the Sergio (a tribute to the founder of Pininfarina, who died last year…) is based on a stiffened 458 chassis and its mechanicals, but you certainly wouldn't pick that up by looking at the car. The covered outline promised something out of the ordinary…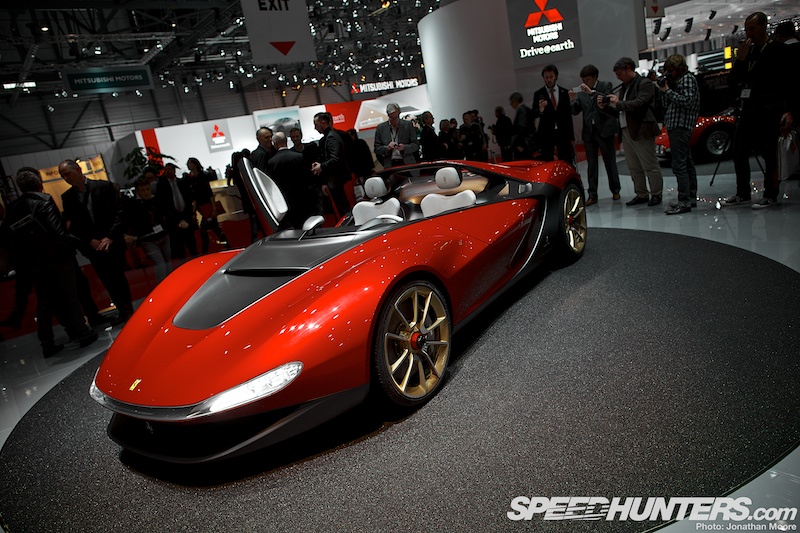 Once the wrap was pulled, this amazing barchetta design was waiting for us. Awash in '70s concept styling cues, it's like the original Pink Panther car crossed with a powerboat. The only thing is that it does look like your head might be ripped off if you drove it at speed – helmets are obligatory, and a special storage compartment is provided.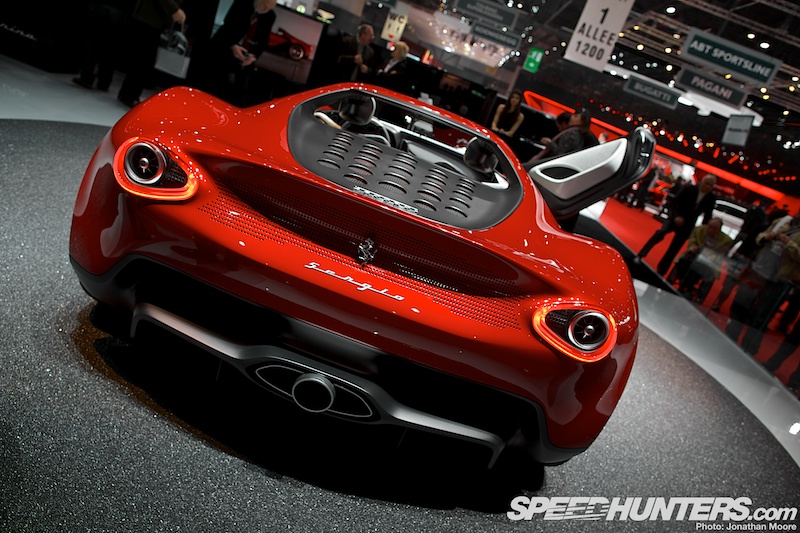 The rear is less retro, badge aside. A limited production run is possible.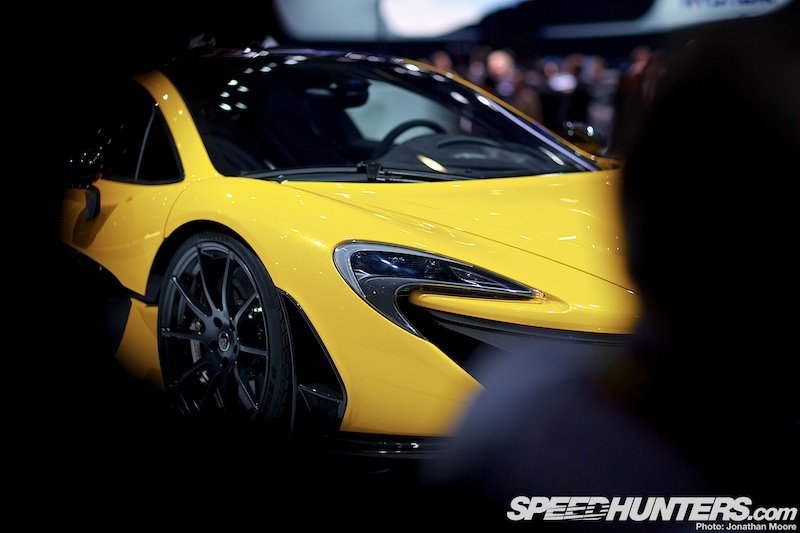 As with the Italian stands, McLaren's stand was mobbed pretty much all day and almost impossible to get to, as the pre-production updates to the P1 were revealed.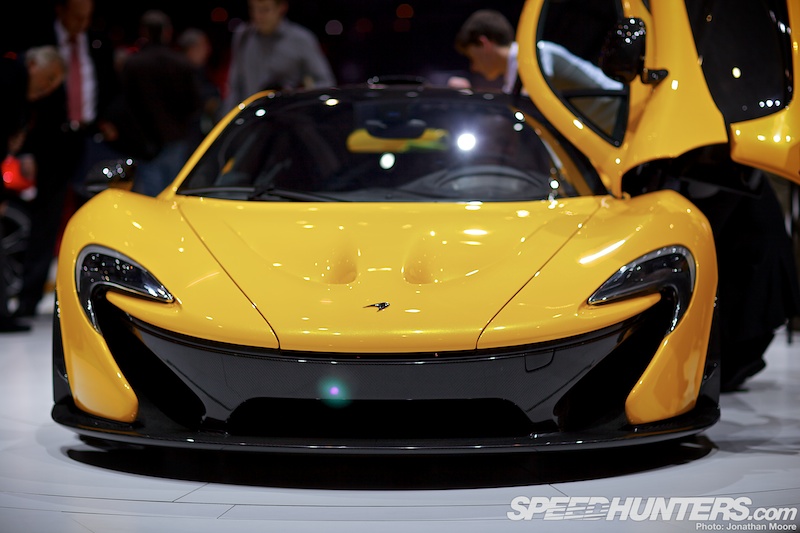 The big change is… that the doors open. Well, that you can now see what's behind the doors at least. And what's inside looks like a very nice place to be. On a serious note, we now have the full power train details: the mid-mounted V8 is mated to a hybrid electric system, and will give a seven-second 0-200kph and 0-300kph in 17 seconds – five seconds faster than the F1. Top speed is limited to 350kph.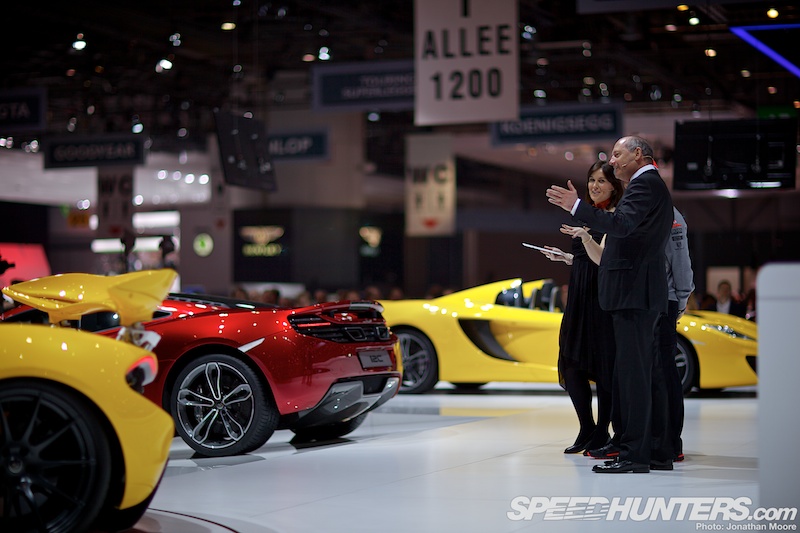 Ron Dennis seemed suitably proud of his new baby – so much so that an F1 was put on display besides all the 12Cs and pointed to rather frequently. I'll naturally show images of that in the next story.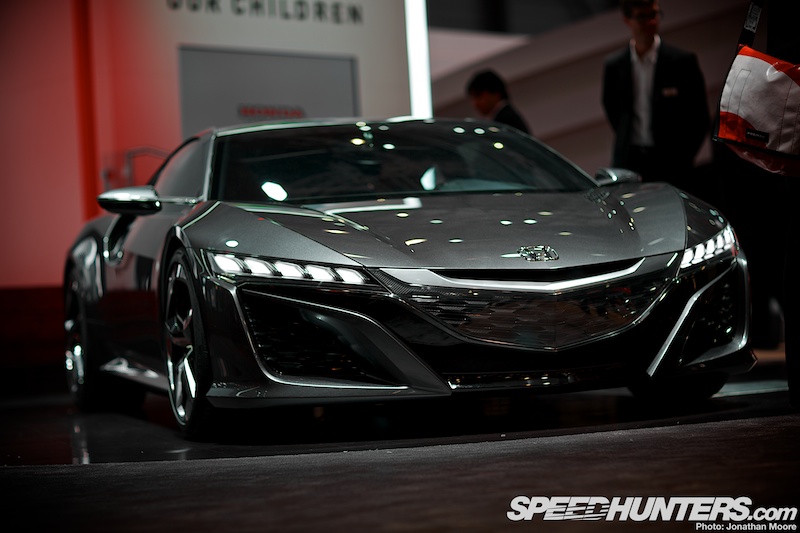 Another car going through pre-production – though one considerably more elongated than the P1 – is the NSX.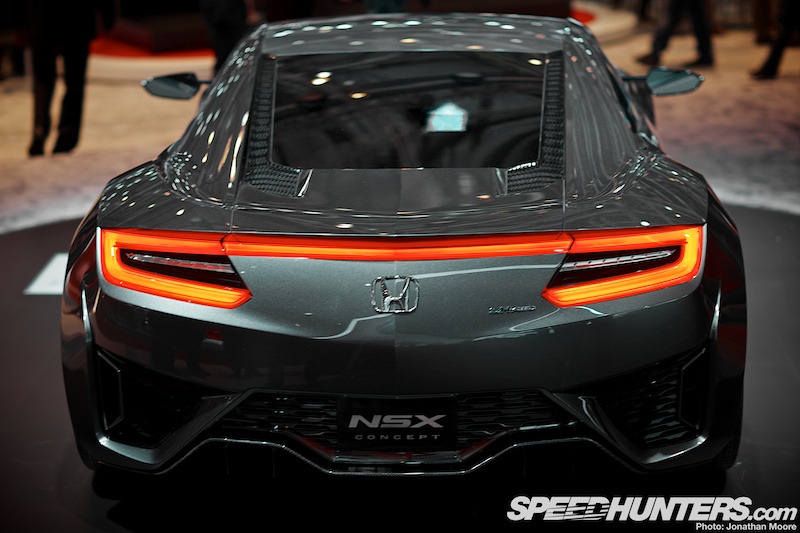 It's being dragged out for all the big motor shows now, and it still looks great. I'm not sure that people care if the grills have changed – we just want to see it on the road.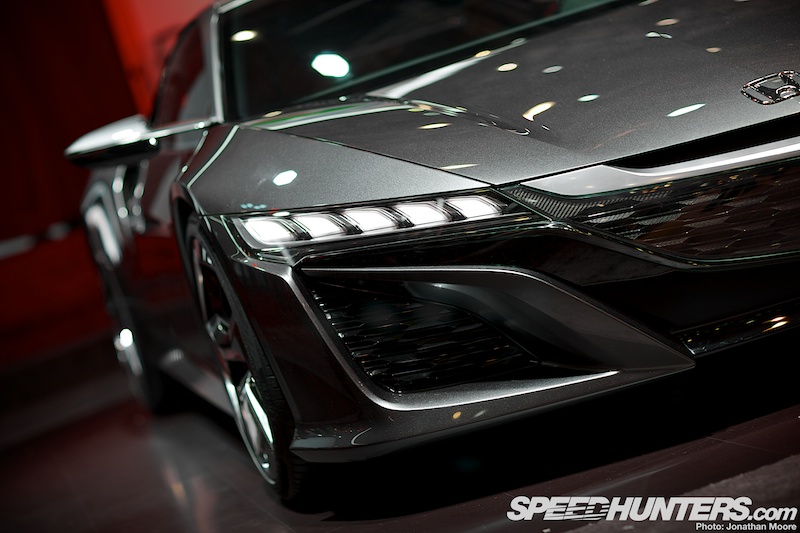 This is (still) a great-looking supercar. It's interesting seeing it in the context of these other cars, which so overtly use historical or family reference points as part of the design. The NSX is unashamedly modern from every angle and resolutely looking forward, not back.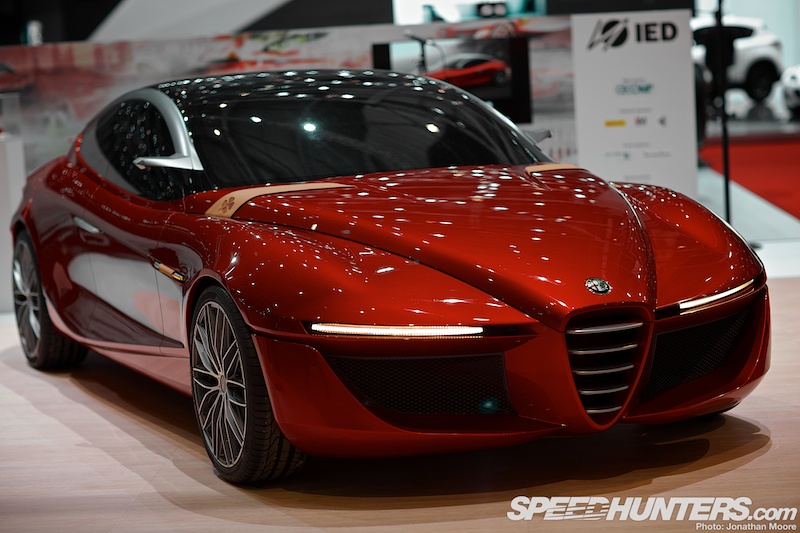 There have been a few concepts this year where, despite the prestigious badges, the designs are ones that maybe only their mothers could love off the bat… This IED design has proved that I don't love everything with an Alfa badge.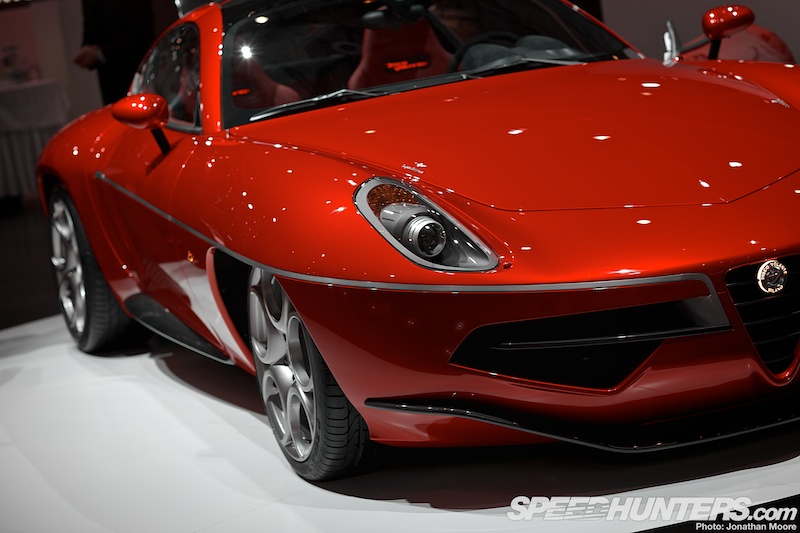 But putting things back in order was Touring's svelte reinterpretation of the Disco Volante.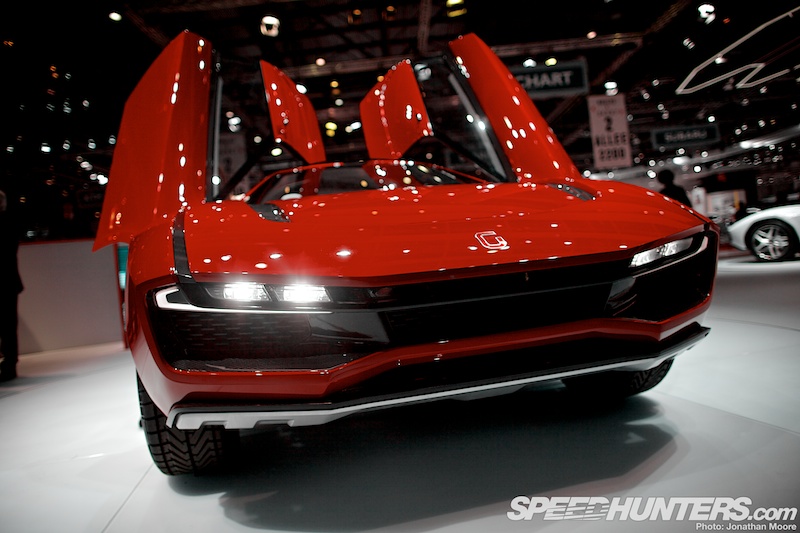 Giugiaro have gone completely mad and jacked up their Brivido to make this Parcour 'off-road' performance coupé – built on a Gallardo platform! A roadster version was also on display.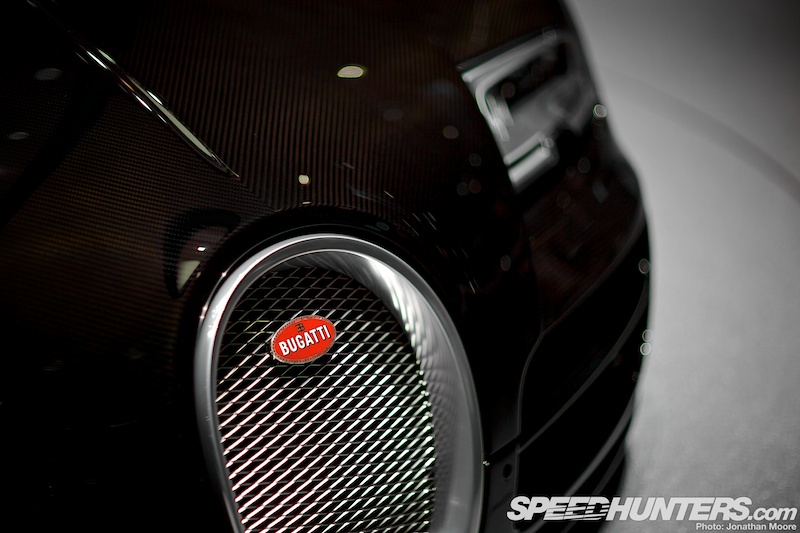 But as well as more details on these cars, I'll have all the usual suspects coming up as well.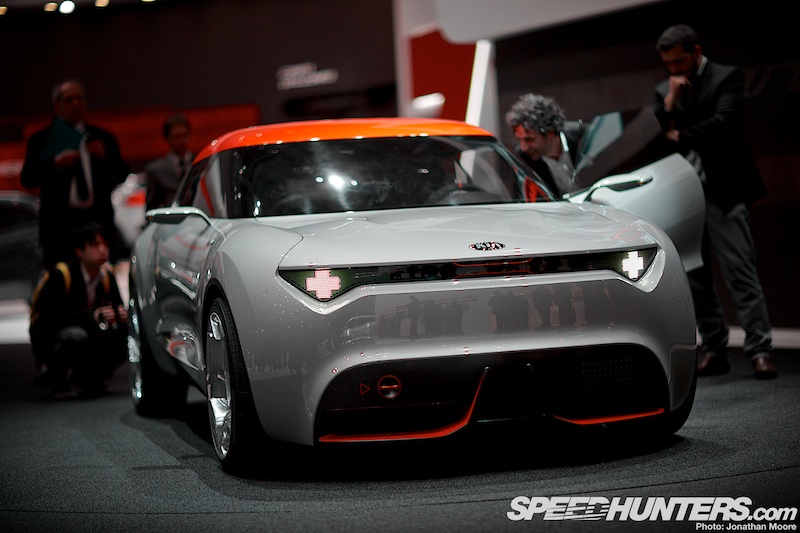 …and more besides. For instance, what are Kia up to? They keep making some actually rather cool cars – and not just this concept. They need to stop it.
Jonathan Moore
---
---
---
---
---