Moving swiftly along with the Battle Evome coverage from Sunday, I've put together a quick spotlight-o-rama of five vehicles that really stood out in the paddock. Now I know there are a lot of other cars you probably wanted to see, but I guess I will have to keep those for future events. To get going let's take a closer look at the Garage Work EG6 Civic, a car that ever since seeing it for the first time years ago has always surprised me for its pace out on track.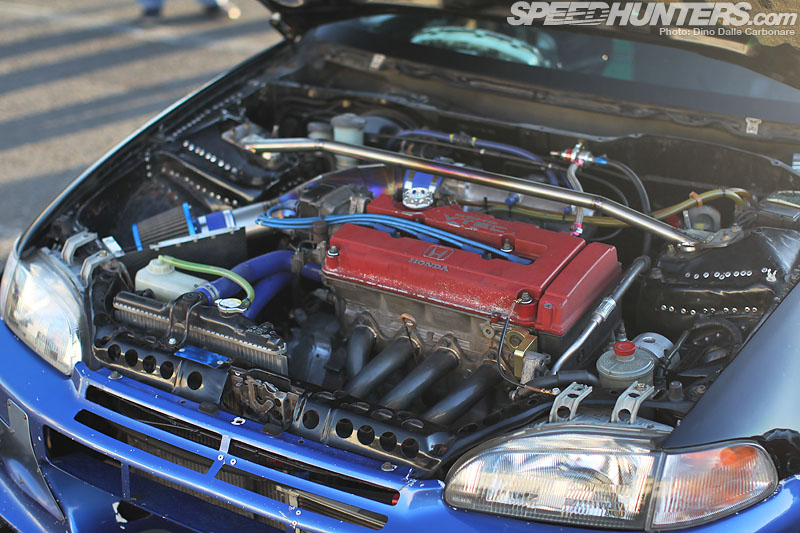 I think at that time it was lapping in a minute flat, which takes a very special car to achieve at a short track like Tsukuba, not to mention a skilled driver. Things under the hood look almost too simple, but what this Civic lacks in raw power it more than makes up in lack of weight…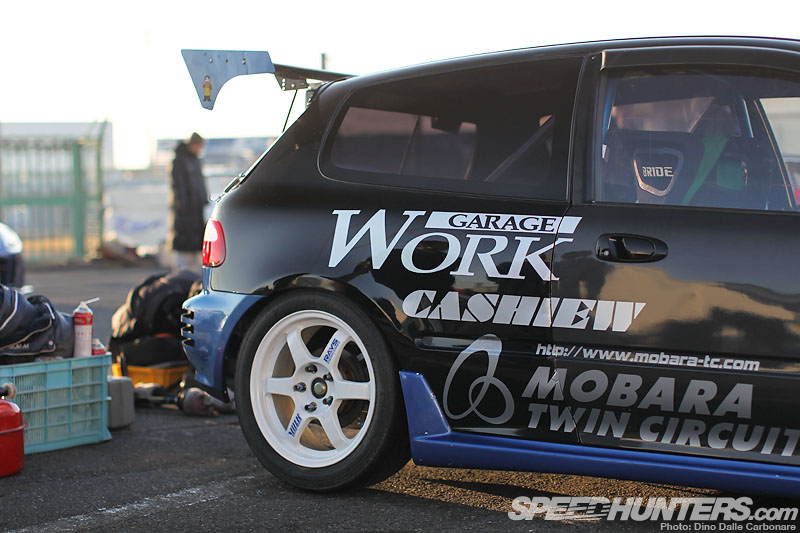 …and a decade's worth of fine tuning and development on both the handling & braking as well as the aero side of things. This time round the little Honda was sitting on TE37s wrapped in medium-compound Advan A050, 255/40R17 up front and 215/50R16 on the one inch smaller rears.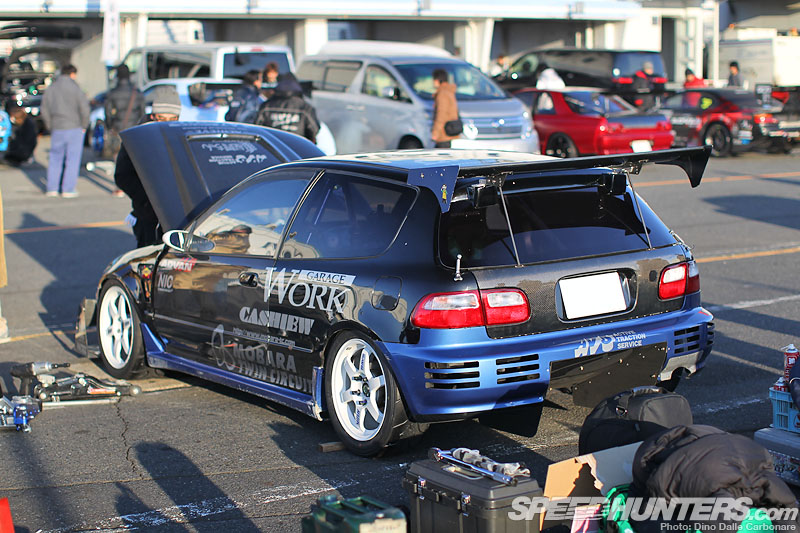 Aside form a shell stripped right down to the bare metal, carbon fiber is used to further reduce curb weight on the doors, trunk & hood. Like I mentioned yesterday its fastest on the day was a 59.398 sec. A little more, and they will be seeing 58s!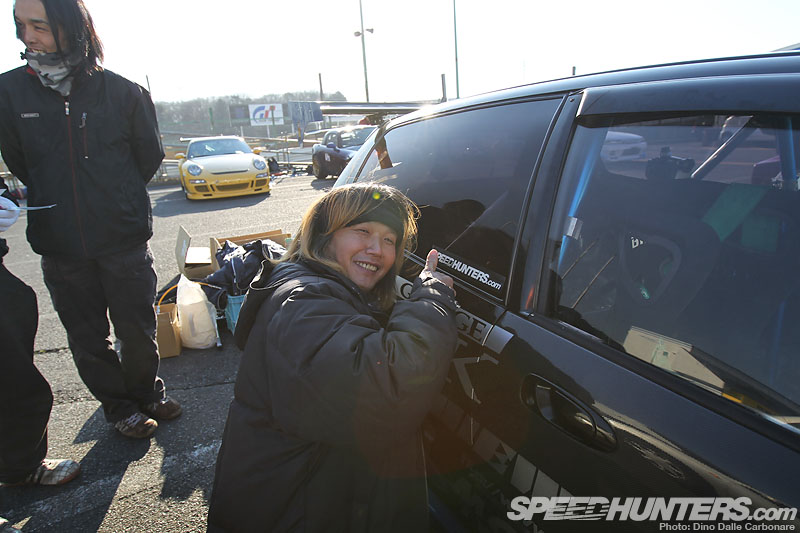 Here is the owner kindly applying a few Speedhunters stickers on the car; thank you!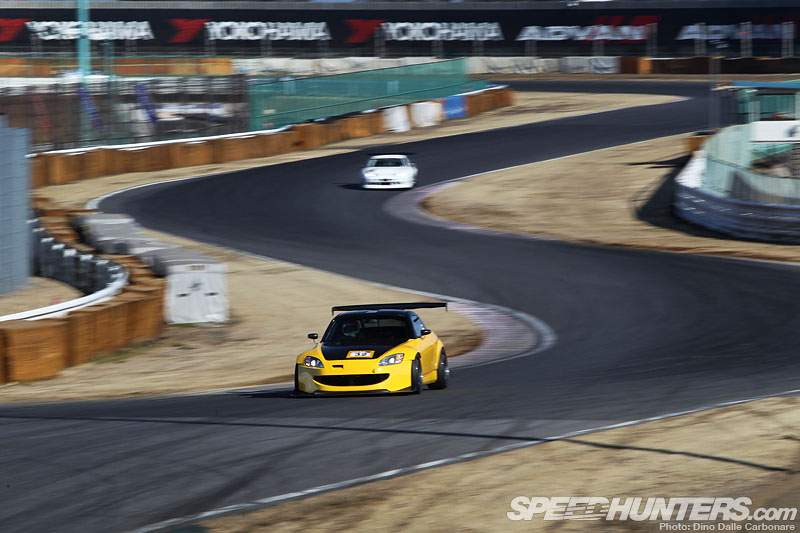 Next up is another Honda, the "smiley" AP1…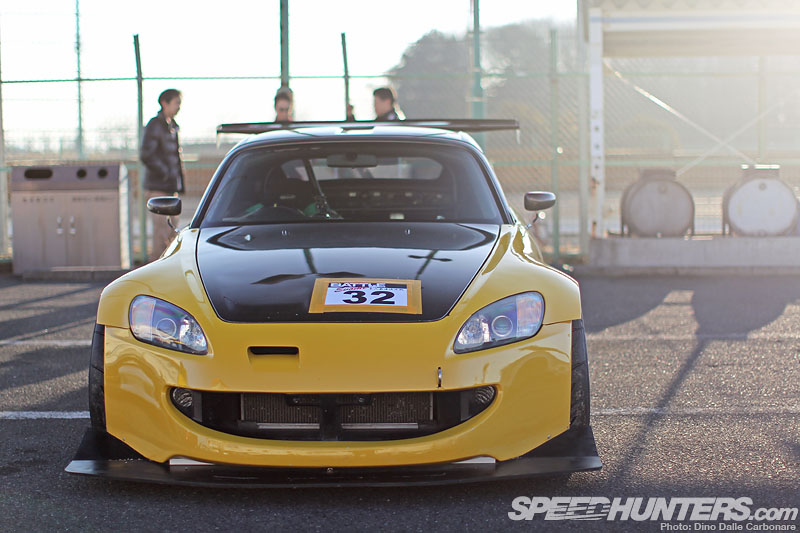 …that at each event always seems to sit in the same place, basking in the warm morning rays of the winter sun. The Mugen front bumper this car runs has been mated to a downforce-boosting custom front splitter…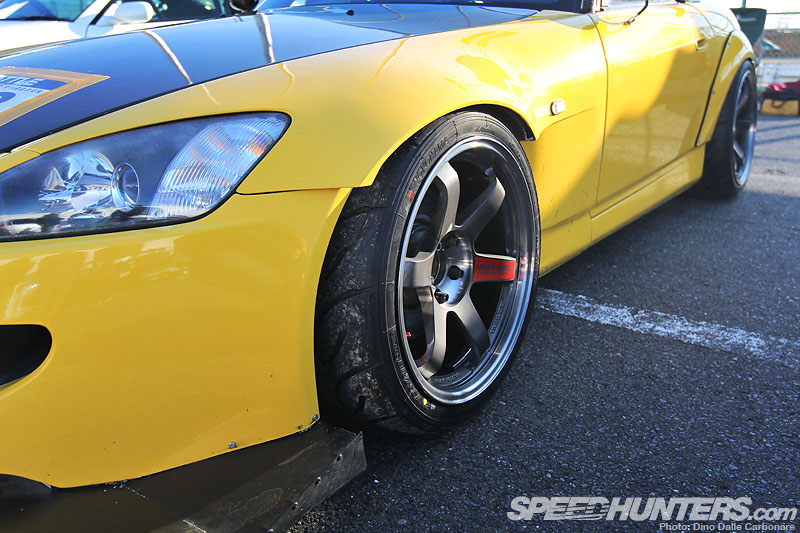 …which wraps right around to the sides. One of my favorite things about this car are the J's Racing front fenders. I like them for two reasons: the first being that they don't line up to the Mugen bumper and that helps give a very raw feel to it, and secondly they struggle to contain the Volk Racing TE37SLs.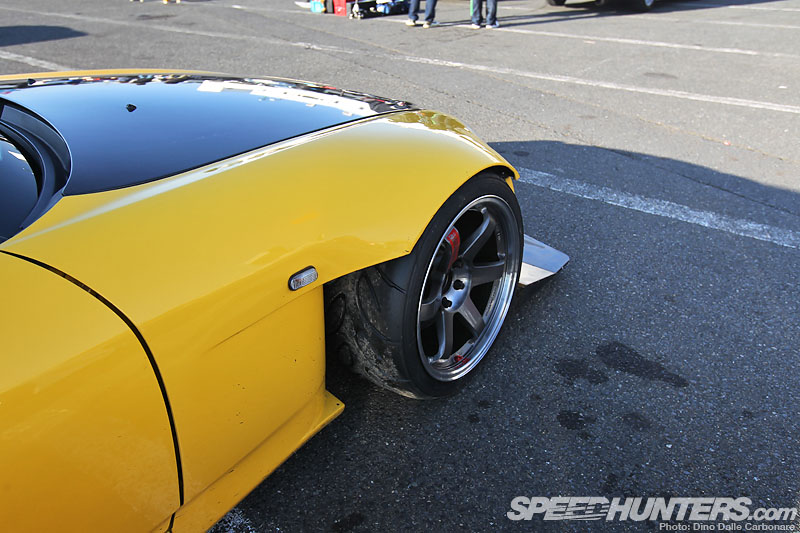 Oh…and they look superb from this angle although I think those A050's must bombard the side of the car with little stones. Still, nothing a quick respray of selected panels won't fix, after all this is a car built for track work, not looking pretty in a garage.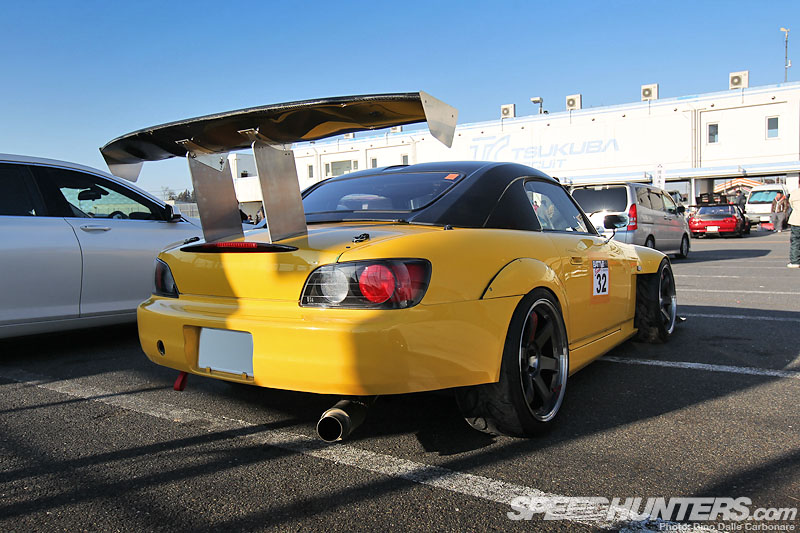 Like everyone at these grassroots time attack events, aero has become just as important as handling, braking and engine tuning. Just look at that rear wing! Best time it got was a 1'00.741.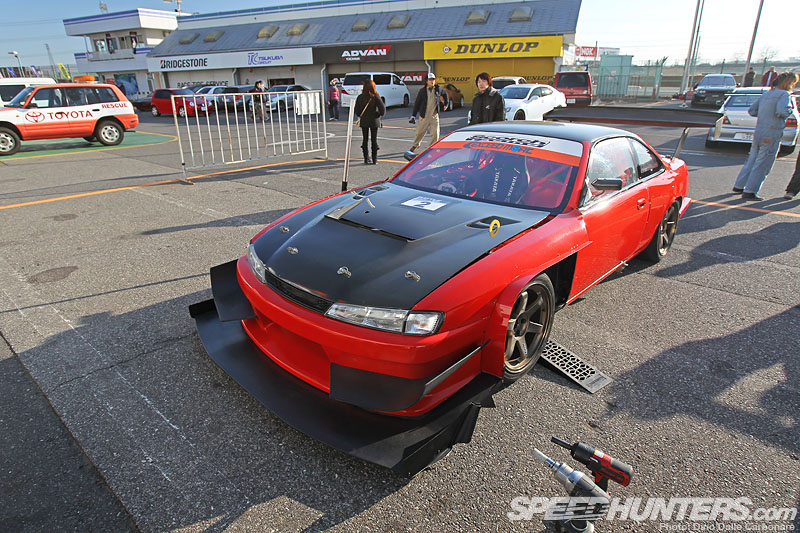 Next up I wanted to focus a little on Horikoshi-san's Exceed Moat S14, yet another car built in collaboration with Takemura-san at Scorch Racing.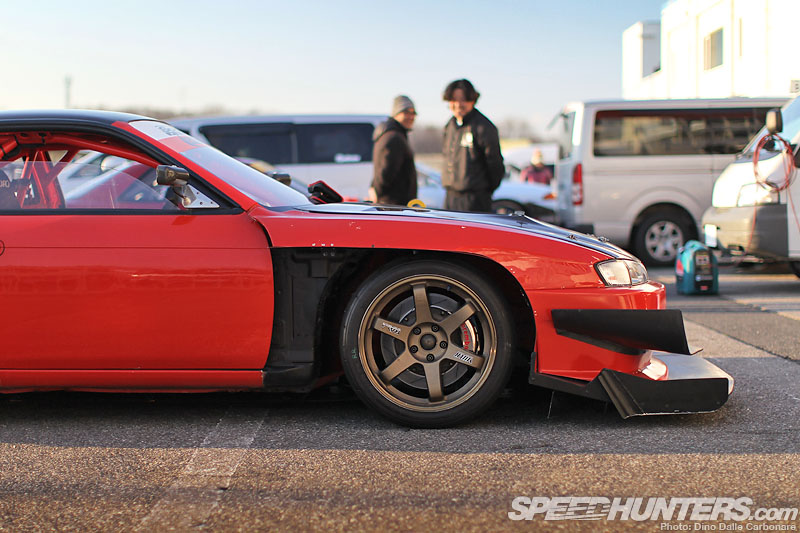 As of late this thing has been evolving at the same pace as Suzuki's S15, especially on the aero side of things. Check out the front fender work he has been running since the beginning of this 2013 season, and if you look closely you will spy the same prohibitively expensive monobloc Brembo Racing brake calipers that Suzuki has also fitted.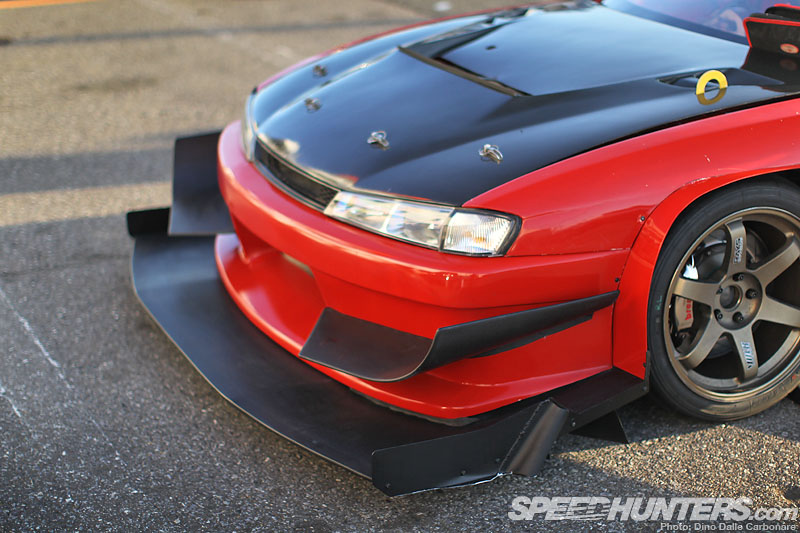 The MDF front splitter he ran for a few years has been replaced now, not really sure what sort of material this new item made of but it definitely looks more presentable. The new canards are also quite impressive, maybe you don't get the impression from the pictures but these things are massive.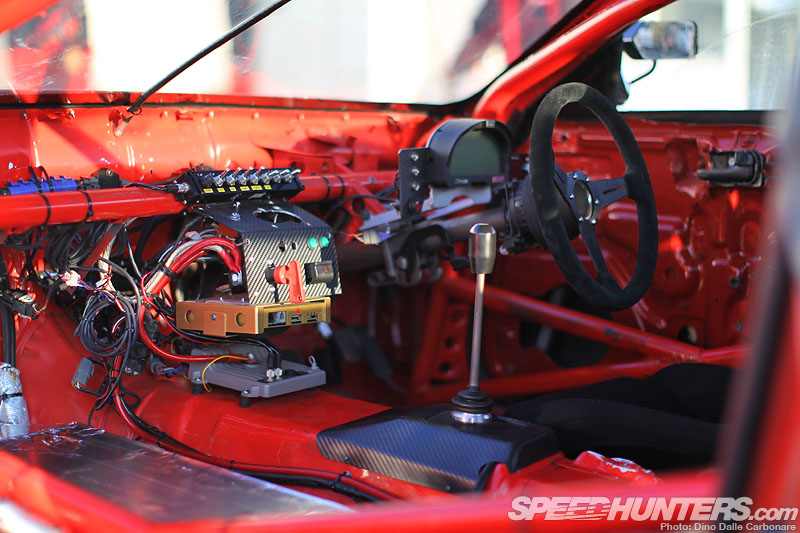 Inside it's as simplistic as it gets. What has been removed was obviously not needed so until Horikoshi-san has time to create his own carbon dash this is how things are staying. I recently shot the car so I will have to post up the feature before it gets too out of date. Damn these time attack guys for working so fast! Anyway the feature will serve as a great example of how much work keeps being put into this thing.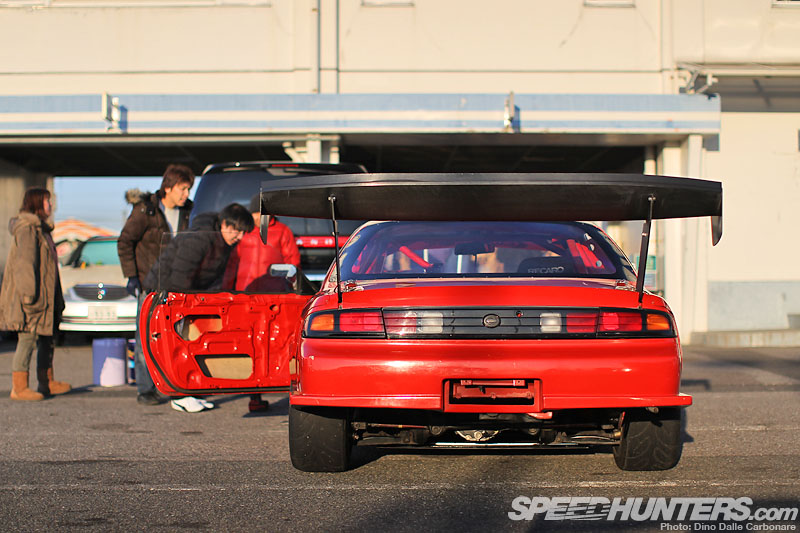 His lap times continue to get faster and like at every single Battle Evome event he finished up in second place behind the mighty carbon S15. Top time for him was a 55.030 sec, just over three tenths quicker than the time his recorded during the first round last month.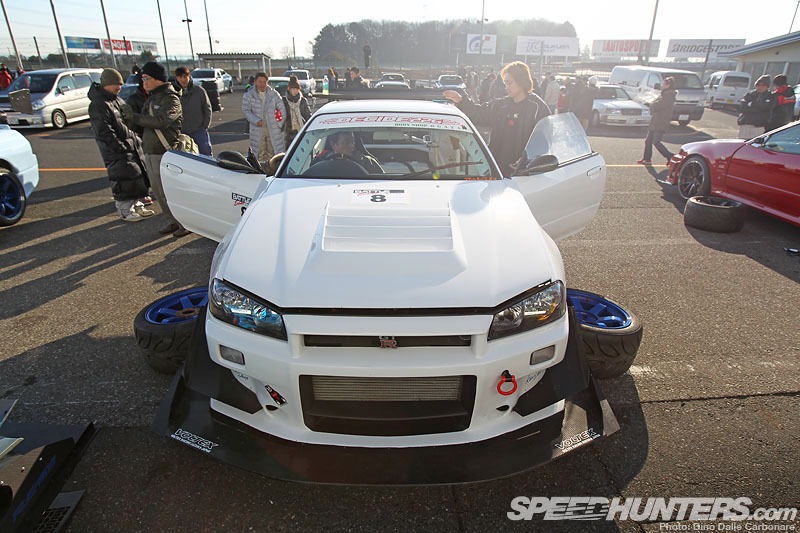 It's not every day that an all new project car shows up at this event so it's not surprising this Decide 226/KyushuDanji BNR34 had a swarm of curious people around it most of the morning. To show up to Tsukuba for the first time and out of the bat come up with the third fastest time of the day, a 56.103 sec, is mighty impressive. It looks like this beast has a ton more potential left in it…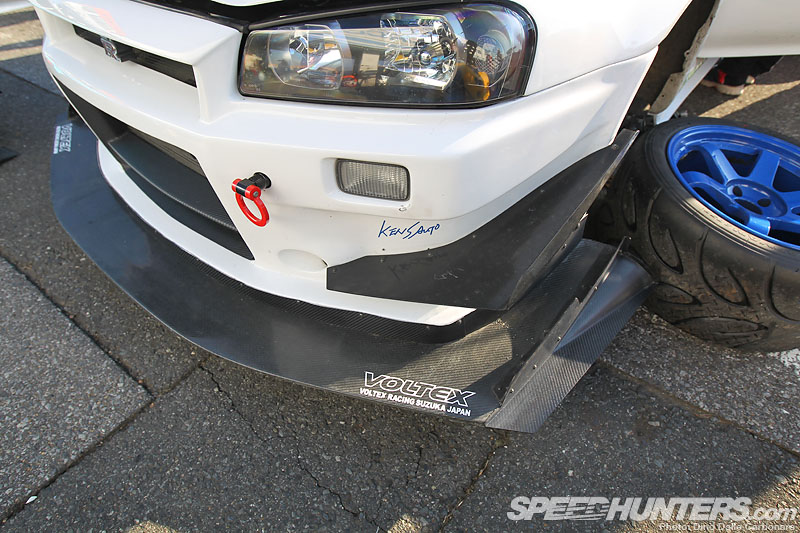 …and it also looks like its owner did a rather nice job of addressing the aero side of things allowing the guys at Voltex to come up with a very sturdy front diffuser, canards, winglets and whatnot.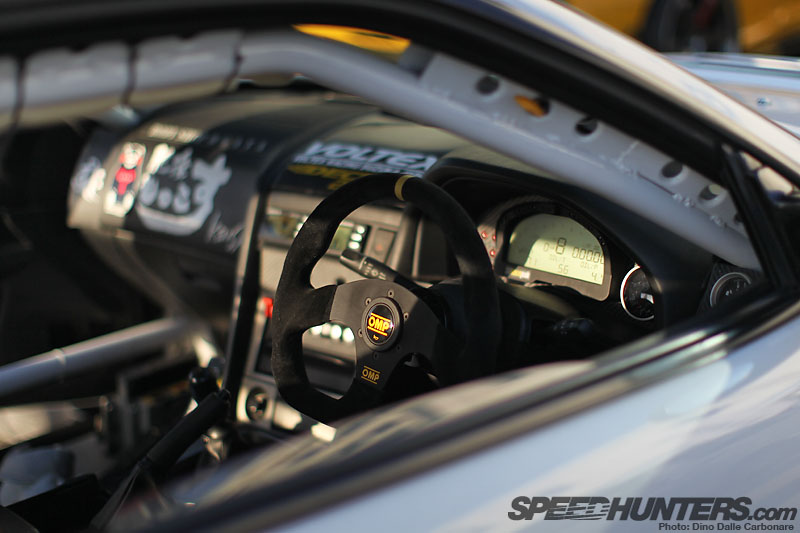 One look inside and it's obvious no cost was spared to put this focused time attack machine together, the chassis stripped and spot welded throughout and a pretty sturdy-looking roll-cage (for Japanese standards) gusseted to all three pillars. Stock instrumentation has given way to a Racepack LCD dash unit/data logger and even the Multi Function Display has been relegated to the trash.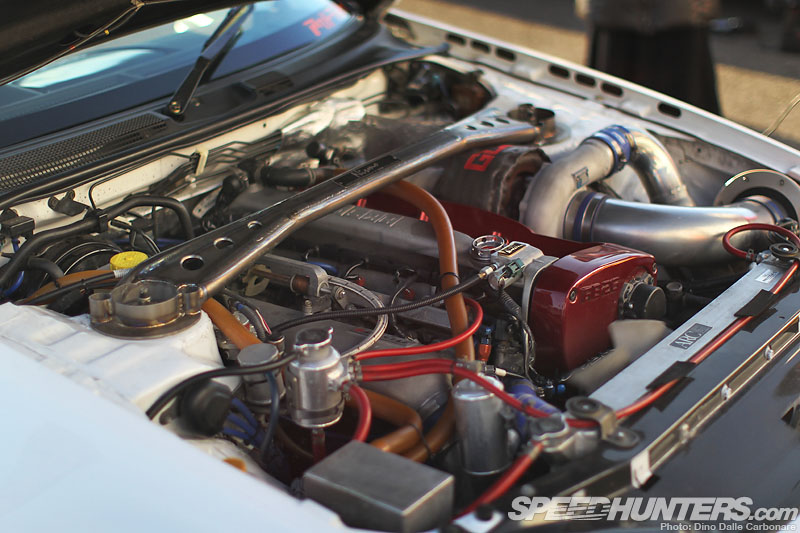 Under the hood the 2.8L RB26 has been joined by the nifty little HKS V-Cam unit which works overtime to maximize low and mid-range response, helping the laggy Trust T88-34D to do it's job even out of its max boost curve.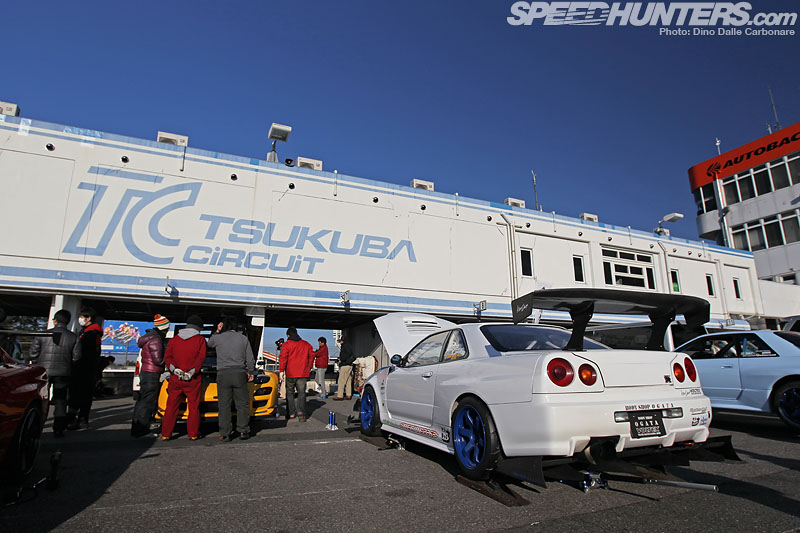 As an R34 owner, seeing a new car like this is very exciting. Of course I won't emphasize the lack of R35s at these sort of events. Wink, wink…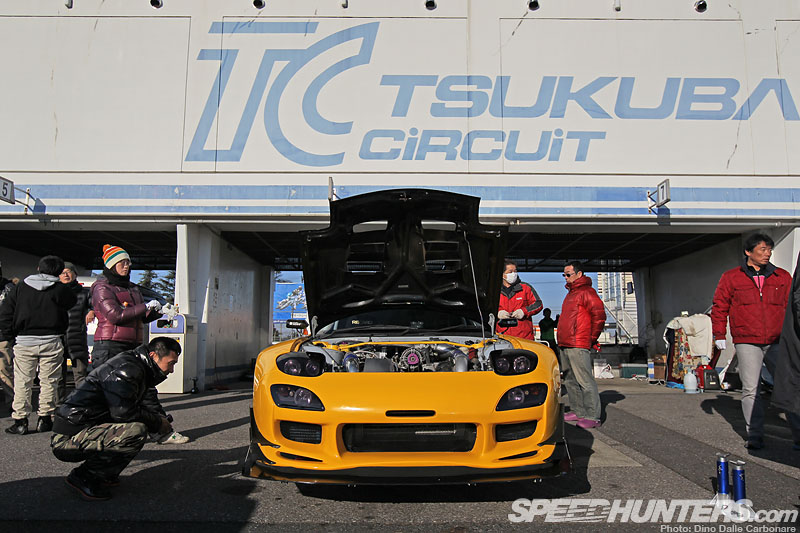 And to finish up this nice selection it was hard to pass up the chance to spotlight a rotary, but equally hard to choose which one of the six FDs present to go for! I went for the yellow TFR…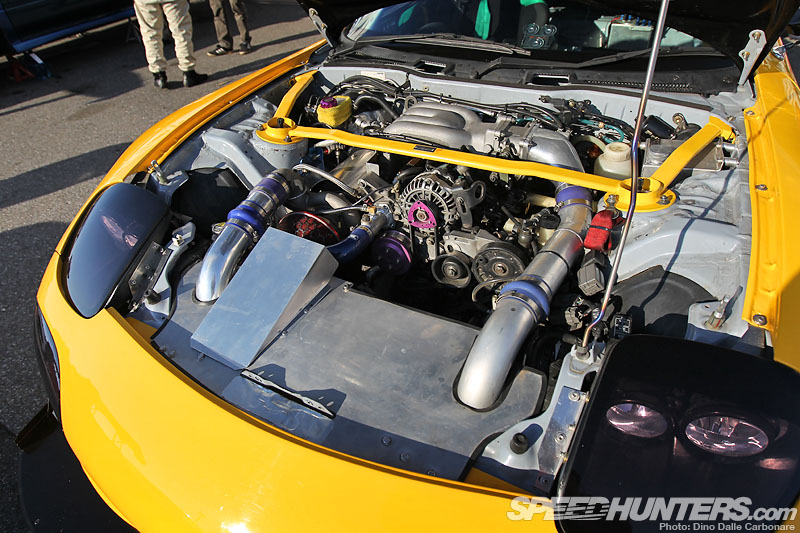 …a seriously prepared and focused track weapon…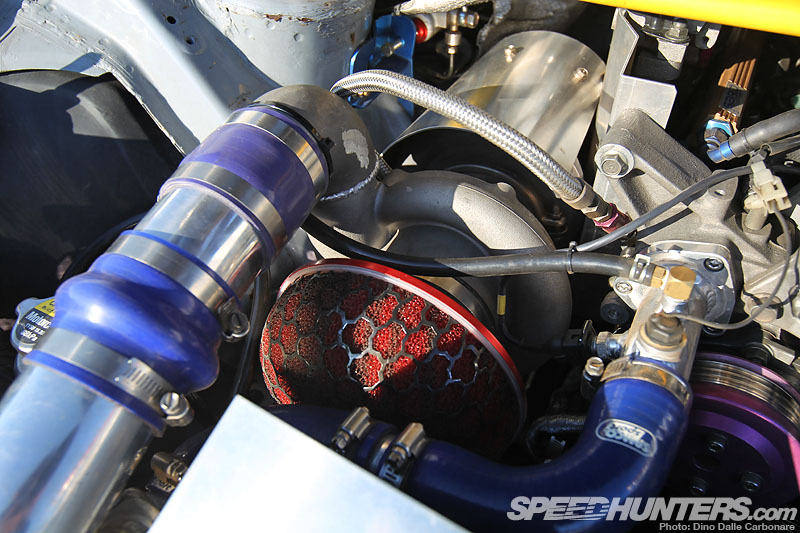 …sporting some serious power.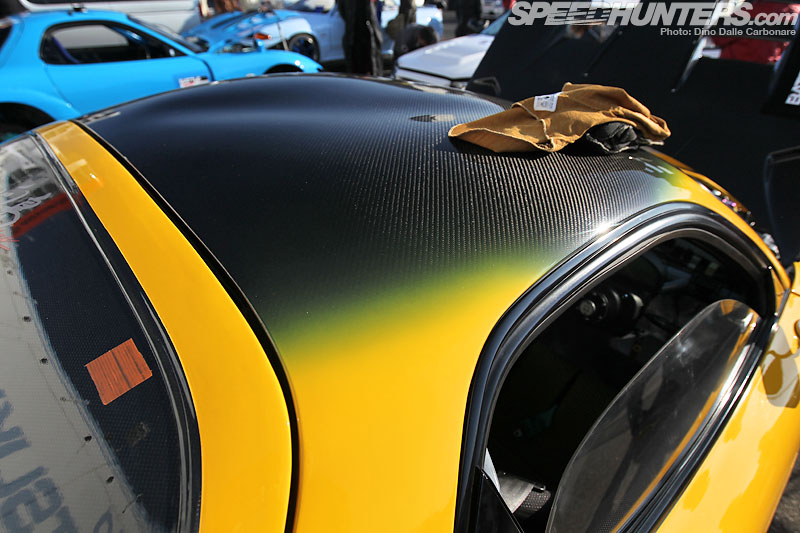 Like a lot of the top cars these days, dry carbon roof conversions are becoming very common; just look at how well this came out. Love the paint fade too!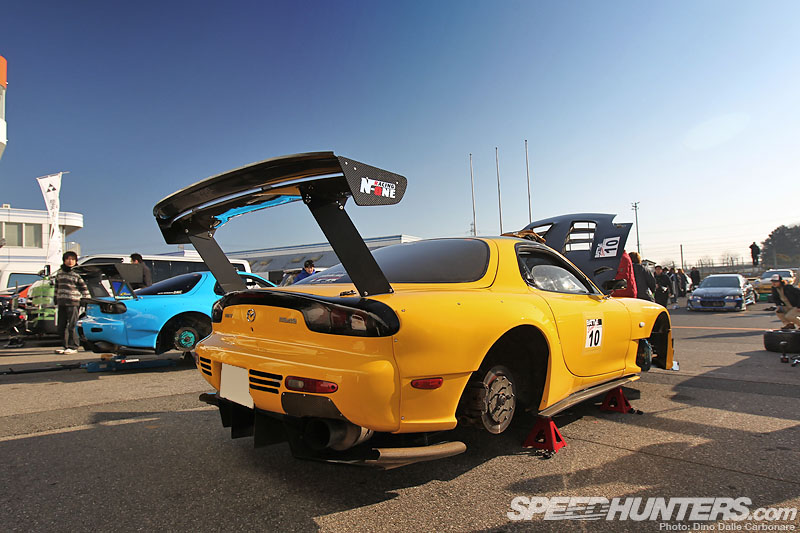 Of course serious performance requires serious aero. Fastest time this RX-7 got was a 57.539 sec lap.
That wraps up the spotlights for this event. Have you guys had enough of time attack cars or do you want to see more?
Battle Evome coverage on Speedhunters
-Dino Dalle Carbonare