It was yet another perfect day for time attacking at Tsukuba circuit yesterday and as ever the paddock at the Battle Evome series had a tantalizing mix of impressive amateur-owned cars. No matter how many of these events I attend, it's always like it's my first one. The excitement of seeing the same cars get better and better…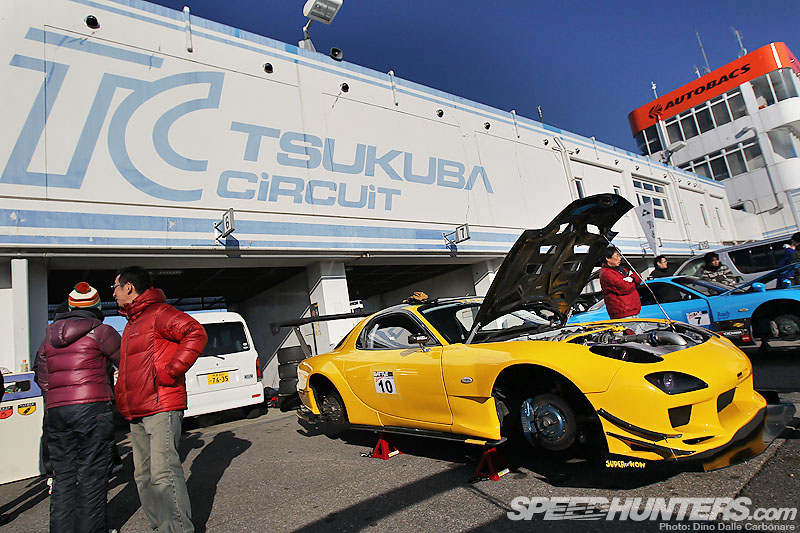 …and at times the bonus of coming across cars I have never seen before. Recording a fast lap at Tsukuba seems to get more and more serious as each month goes by. For those of you that might prefer drifting or other types of motorsports it might all seem like a futile exercise, because at the end of the day these guys are here every other weekend with the same cars seemingly doing the same thing over and over again. But dig deeper and what you will discover is a focused set of individuals…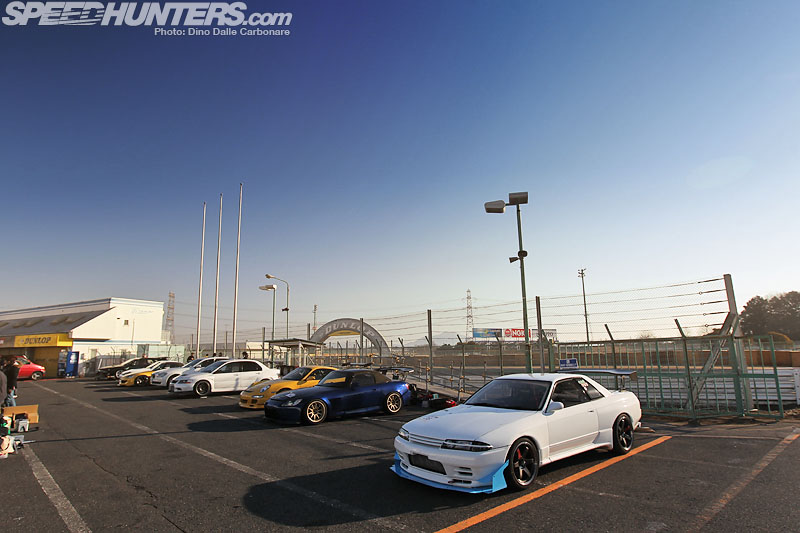 …that through testing and experimentation continue to fine tune their driving skills and their cars. Add to this an obvious camaraderie between the participants and you have a superb atmosphere to complement it all.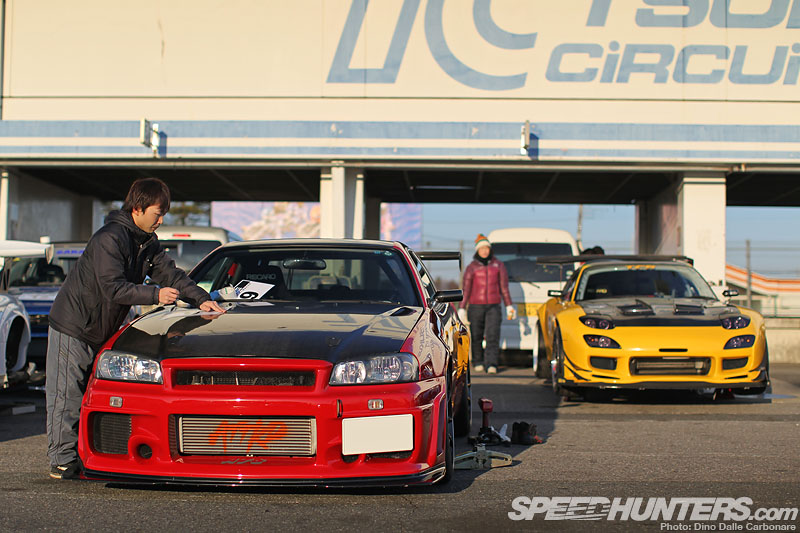 As ever, to make the best use of the coldest air temperatures possible, Battle Evome runs only four 30-minute sessions, from 9 am to 11 am. I always shoot to be at the track by 7 am to see people get ready…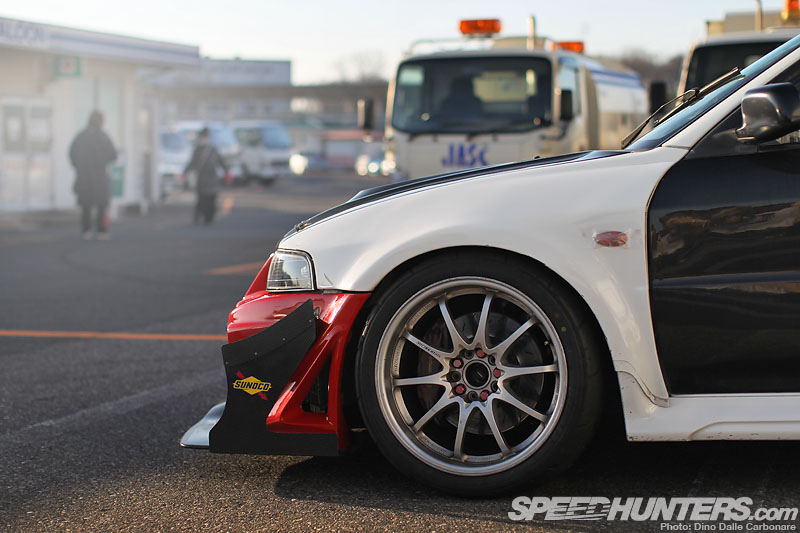 …and check out the cars that have shown up.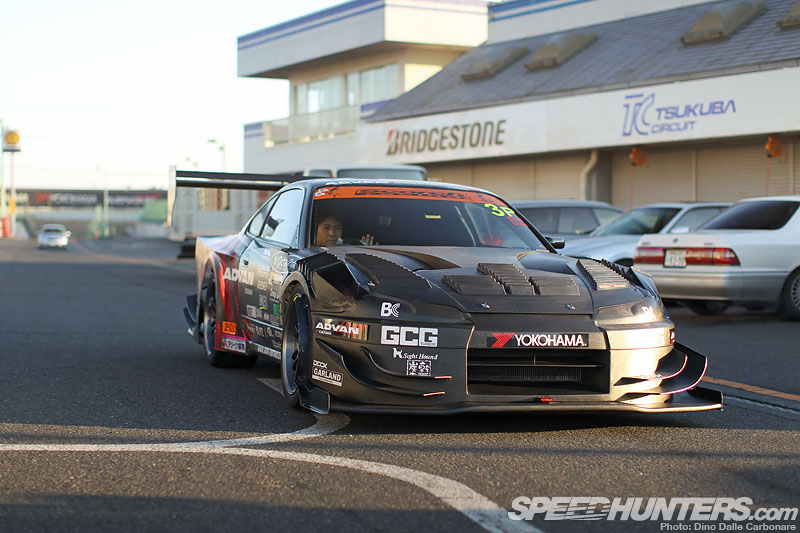 Biggest news of the day was, yet again, Under Suzuki. Following on from his experimentation of cutting a hole in his front fenders…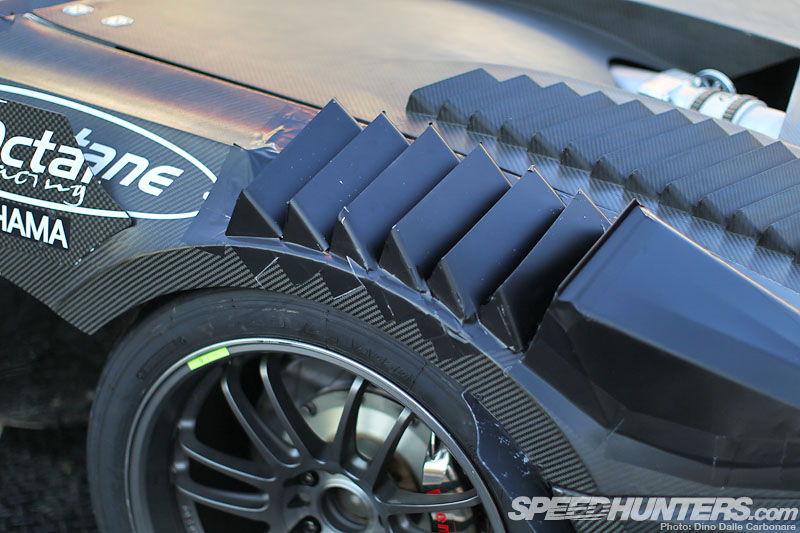 …and losing a great deal of front downforce in the process, he went back to the drawing board. Following some advice from Andrew Brilliant he came up with the idea of adding a series of louvers over the opening, helping make use of the air that now flows up and out through the fenders.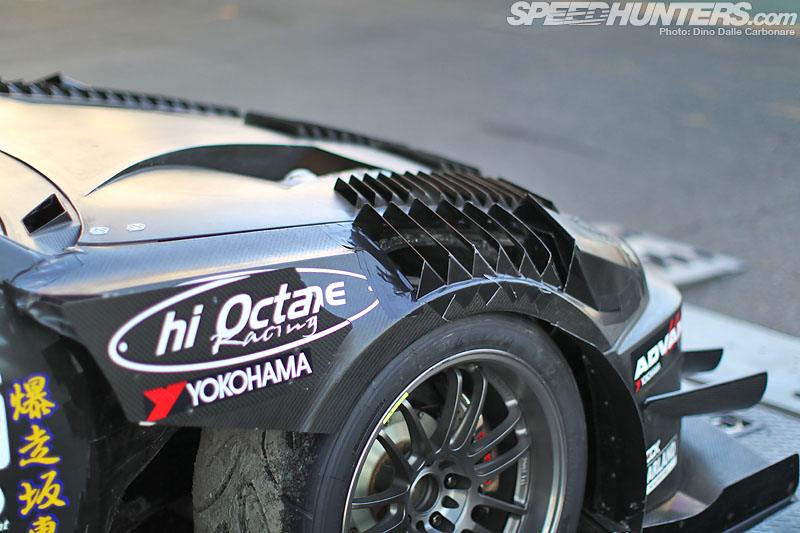 The idea here is, and you should know this already if you took a look at the feature I posted on this car last week, to try to increase the level of front downforce so that – step by step – the massive potential of the new rear wing can slowly be unleashed.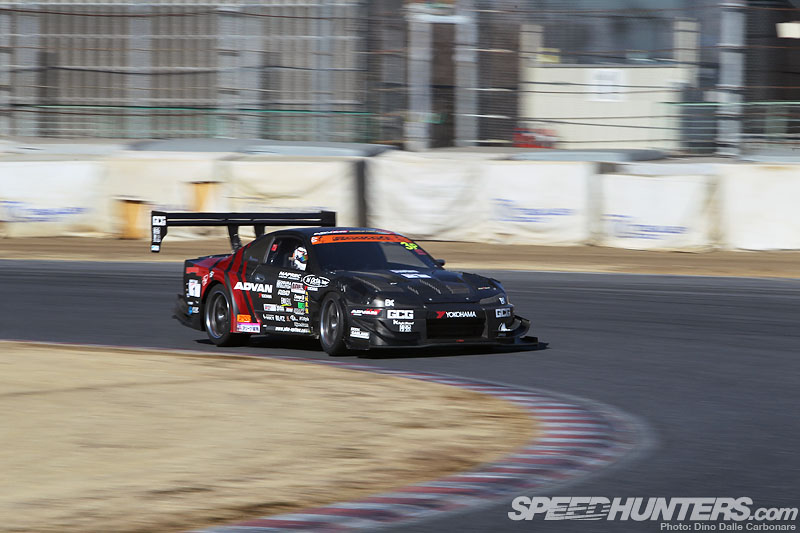 It obviously seemed to work because during the first session he managed to further nibble away at his record time, recording a 52.513 sec lap.
Thankfully Suzuki-san was recording himself as usual, and above is the short video of his new record-braking lap.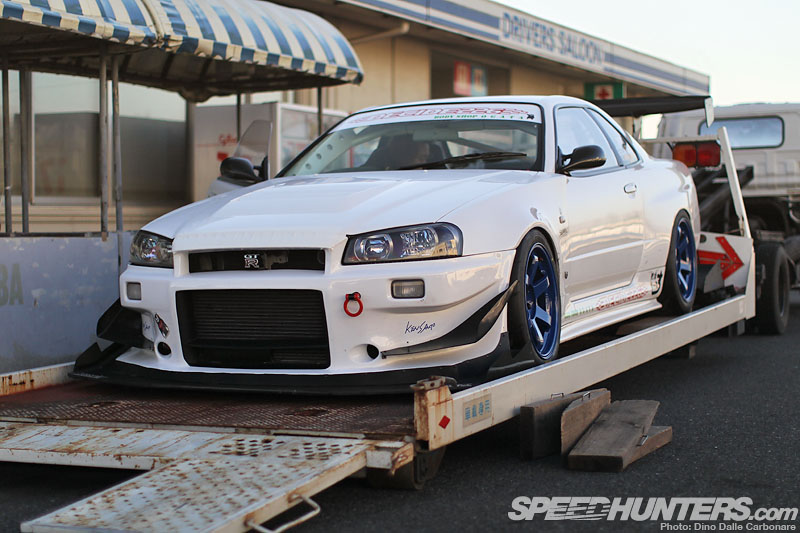 Another little surprise was this wild R34 GT-R. I had been told by the Battle Evome organizers that "Kyushu Danji" would be attending this round, except it wasn't the NSX that was brought up all the way from Kyushu, but rather this new project car.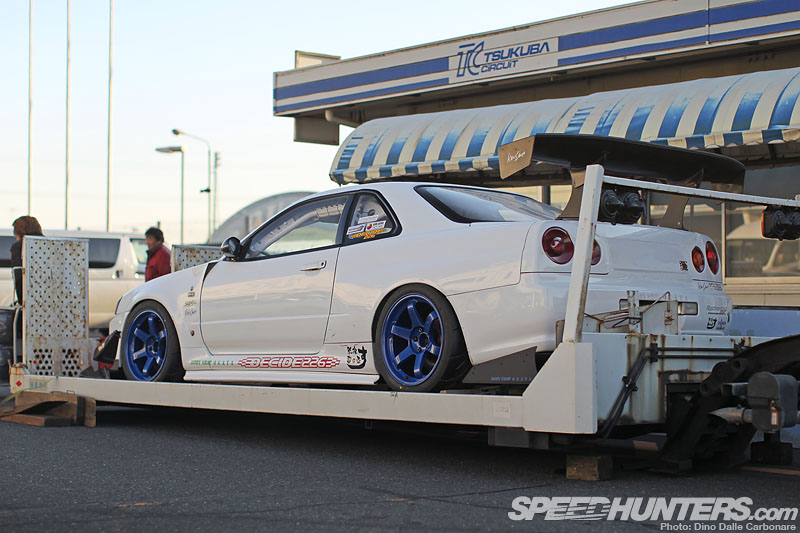 Built in collaboration with Decide 226 this has to be one of the wildest san-yon projects of the last couple of years and on its first outing at Tsukuba managed to clock the third fastest time of the day, a 56.103. I'll be including this awesome machine in the spotlight-o-rama post I have coming so make sure you take a closer look at it.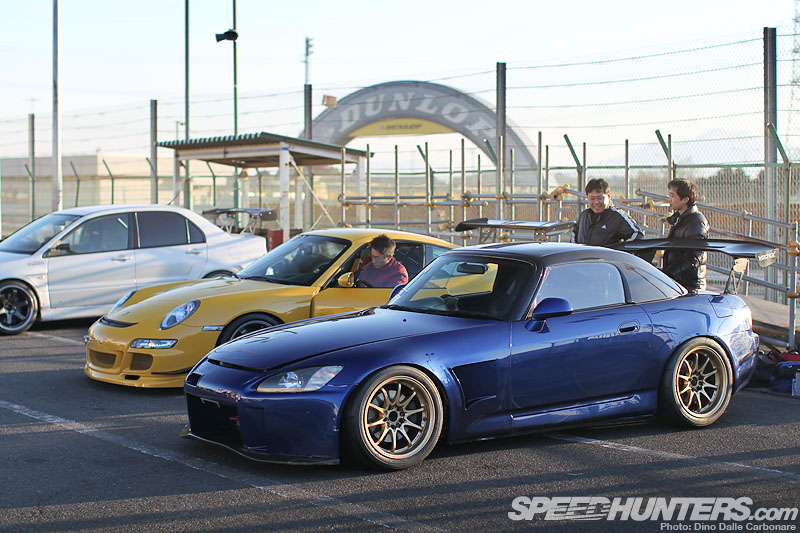 This very purposeful looking S2000 was parked up next to the yellow 997 GT3 I spotted last month at the first Evome round…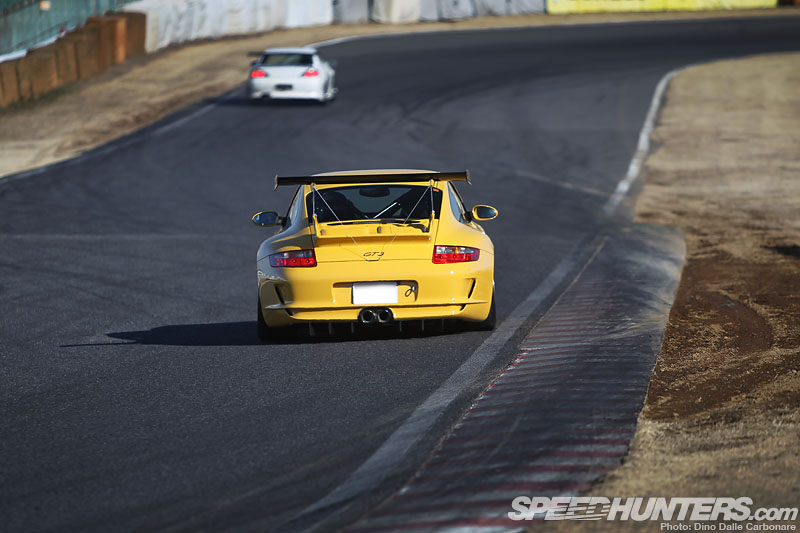 …this time it was out for a play and despite being one of the slowest cars present (1'02.671), it was one of the best sounding.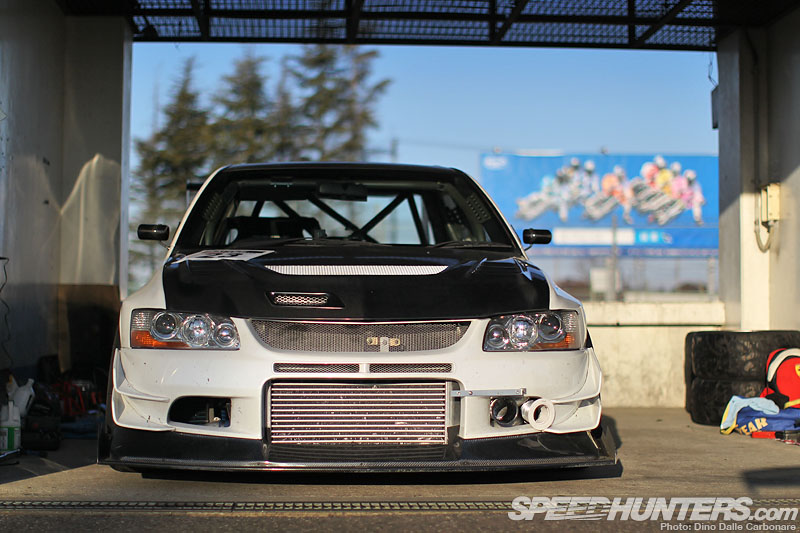 On the all-wheel-drive side of things there was a nice selection of Evos as always, like this CT9A Evo 8 which managed a 57.859 sec lap.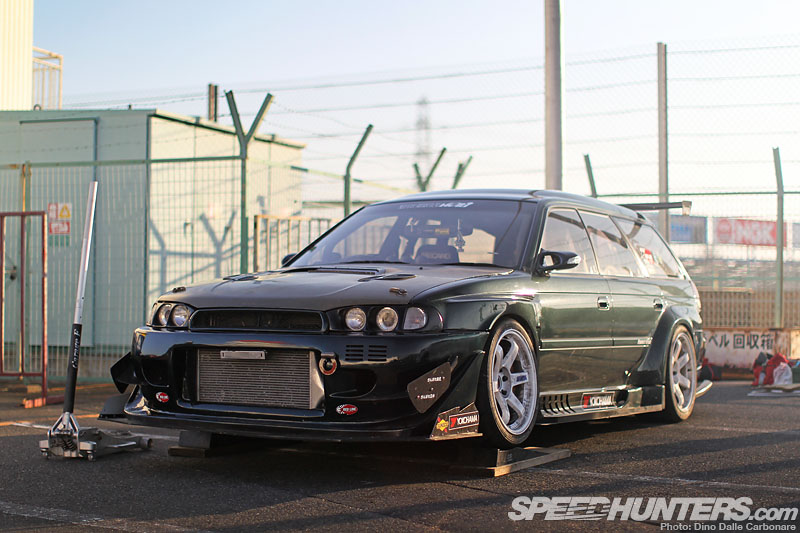 However the BG5 Legacy Wagon built in collaboration with AS Mori, once again stole a lot of the thunder form the other cars present. It is simply an awesome project and its owner/driver managed a 59.287 sec lap, over a second faster than what he was able to achieve last month. Congrats!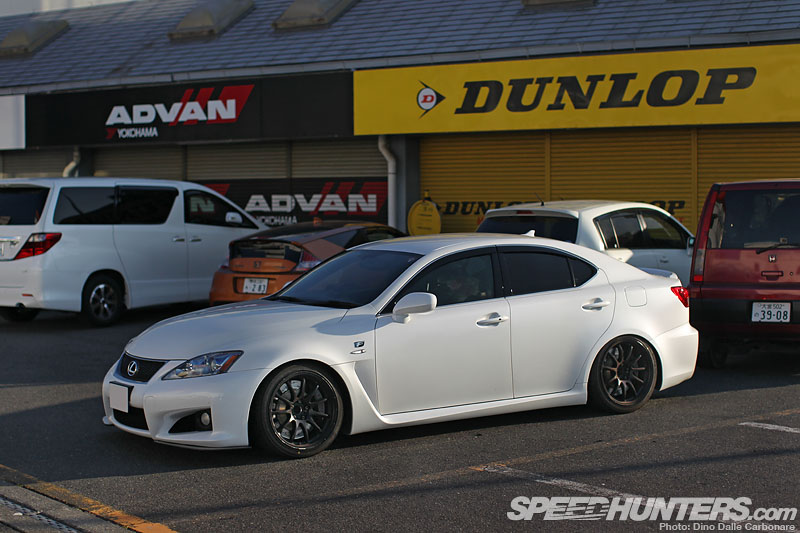 This IS-F wasn't entered in the event but it sure did look mighty hot sitting nice and low on its matte black Yokohama wheels.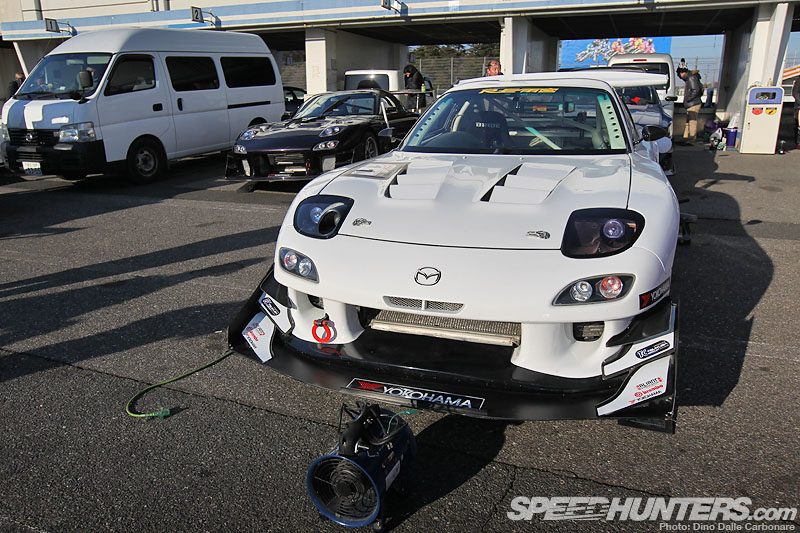 After spending almost two hours in the paddock it was time for the action to get going, so I quickly headed trackside…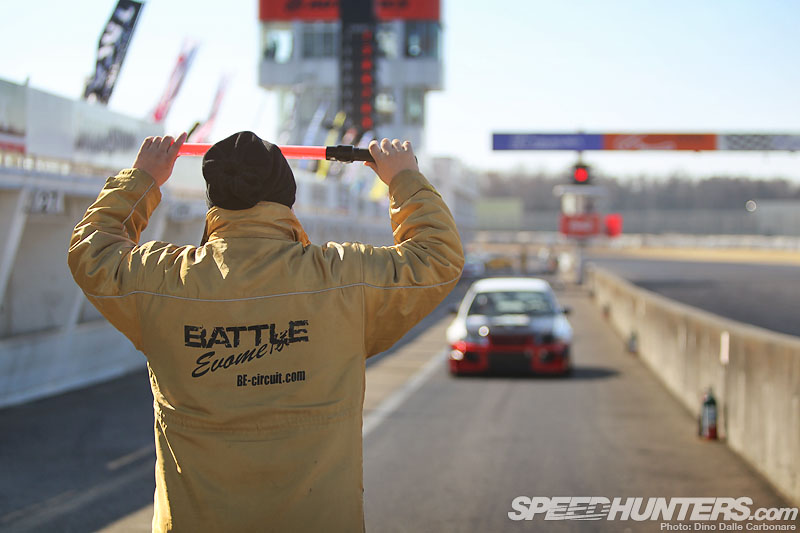 …before the first session got under way.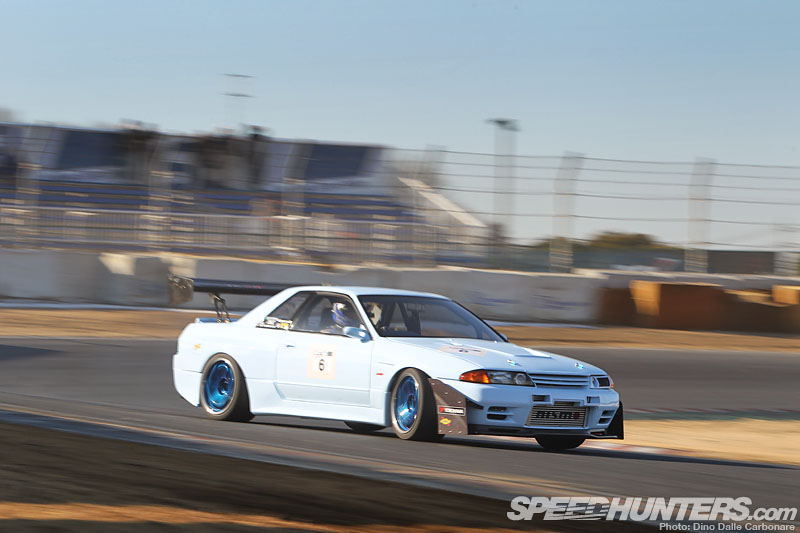 It's almost become a trademark for the driver of this Auto Gallery Yokohama-tuned BNR32 to drift around for the first two laps of the session. It's obviously a fun way to warm up the tires I guess!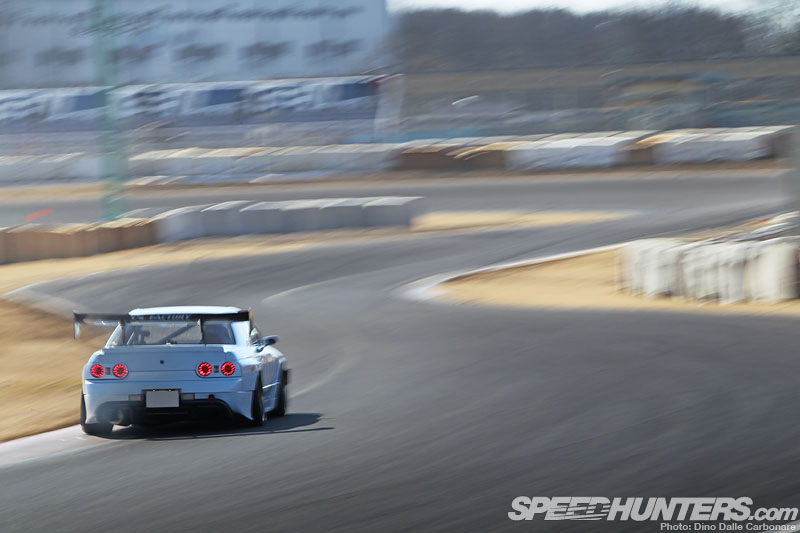 57.368 sec was the best he managed, a time that requires some serious ballsy driving!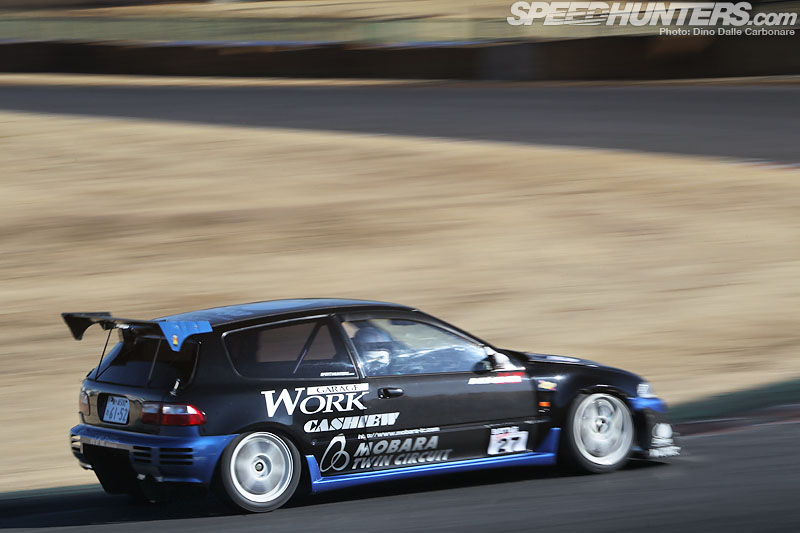 It's been a while since I've seen the Garage Work EG6, and as ever it served as the perfect example that you don't need massive power and big budgets to dip under the 1-minute barrier at Tsukuba. Best time it on the day was a 59.398 sec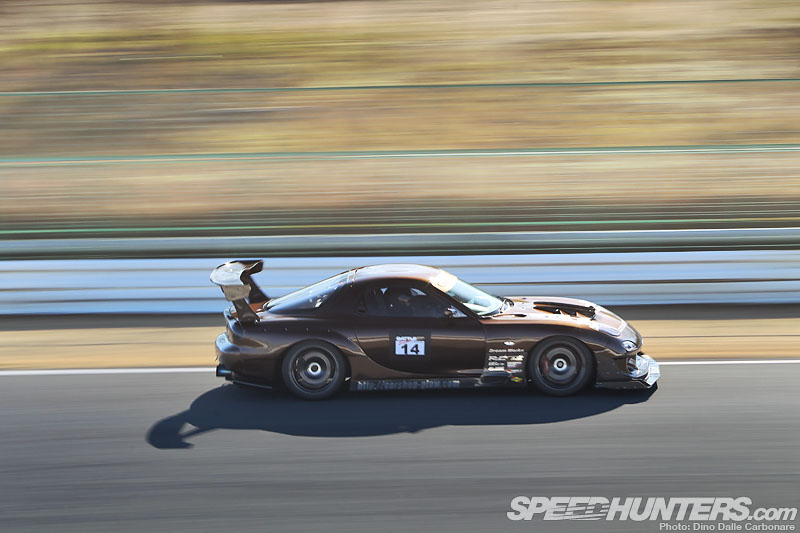 I'm rather partial to the metallic brown of the Car Shop Glow FD, a very unique looking RX-7 and of course like all the cars at Battle Evome a damn fast ride managing a 58.602 sec lap.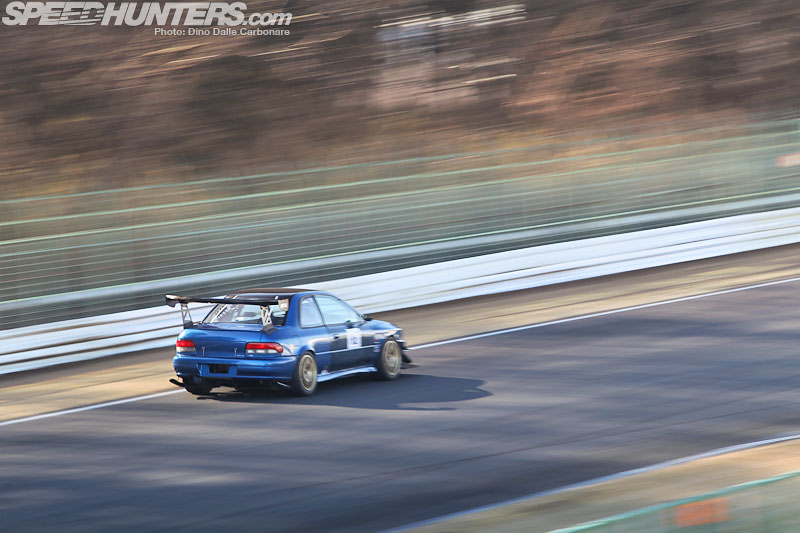 Just a little faster was the GC8 from Fiber Garage K, with a 58.046 sec.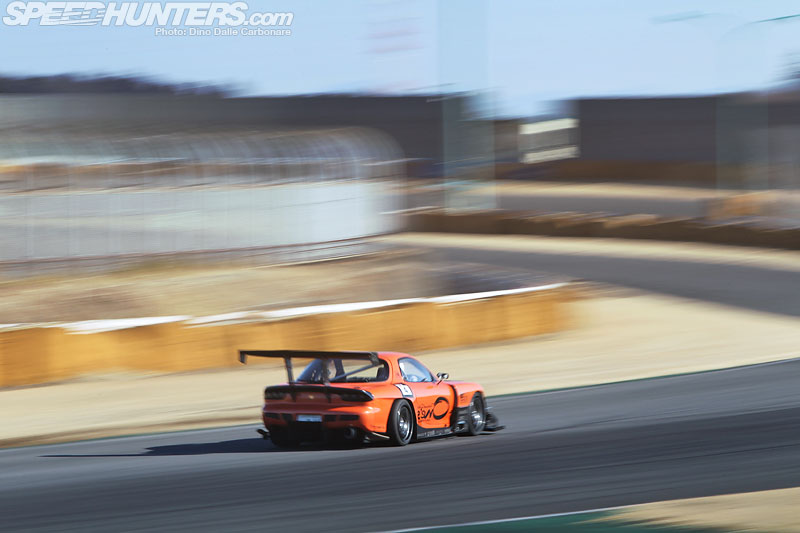 The t-one's RX-7 is always among the fastest cars present and with its 56.651 sec lap it finished in fifth position.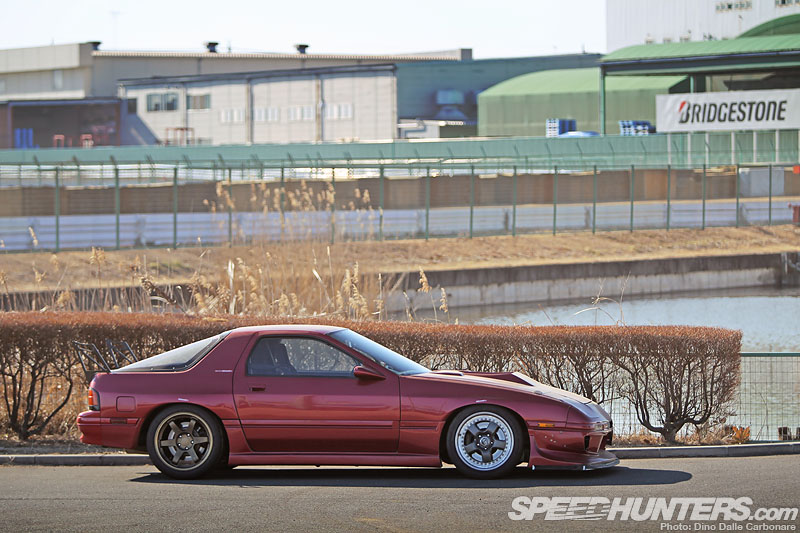 Probably entered in another soukoukai event later in the day this FC was sitting all alone at the far side of the circuit. It was one…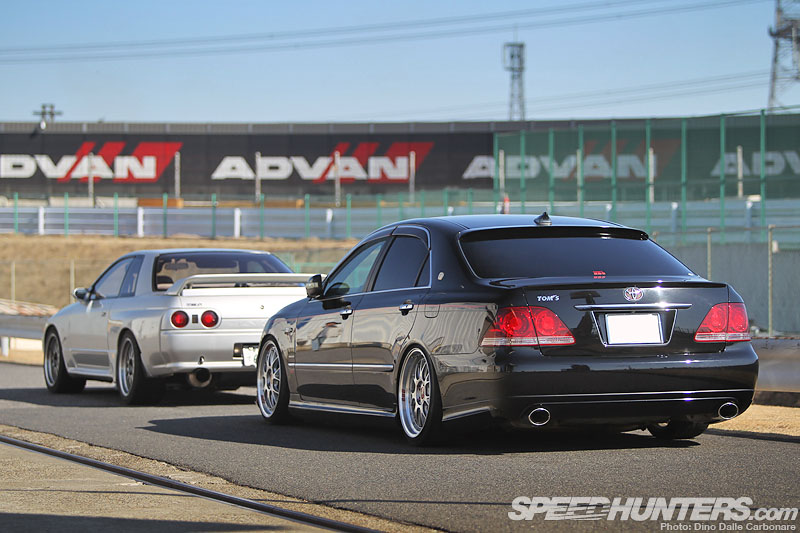 …of a few cars I spotted parked around Tsukuba, much like this Tom's Crown Athlete sporting a superb fitment and hot BBS rims.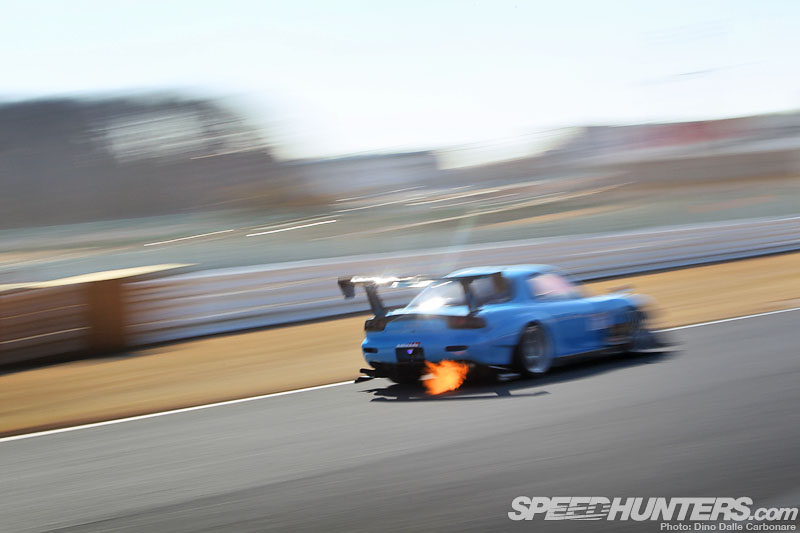 I'll wrap things up here for now, but don't miss the spotlight-o-rama I've going coming up next!
Battle Evome coverage on Speedhunters
-Dino Dalle Carbonare