Konnichiwa Speedhunters! As you've probably noticed, we have decided to launch a #maximumattack on Tokyo Auto Salon this year.  Things have been practically non-stop for me since I arrived at Narita on Wednesday, and all the madness is already taking its tole on my body and soul, but that's the price we pay as Speedhunters! Over the following weeks we'll have tons of amazing stuff to share with you and my contribution starts now…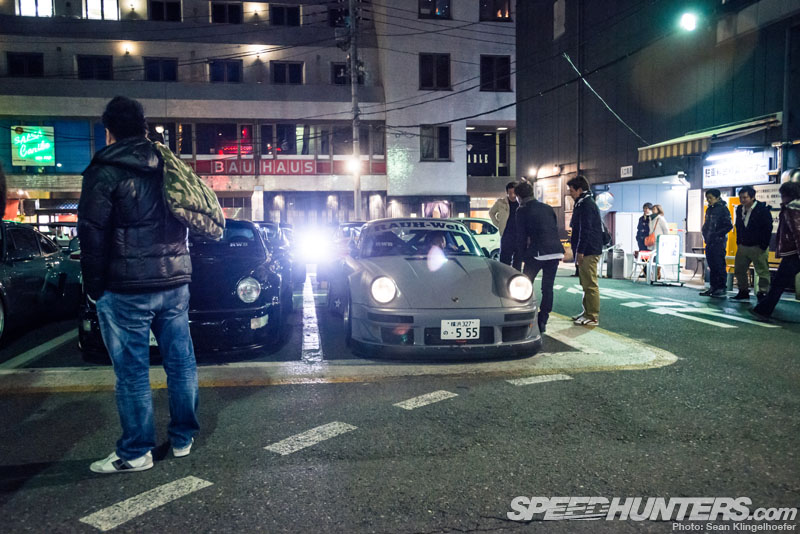 … with some photos from a special meeting organized by Nakai-san himself. Prior to arriving at the parking lot of the Hard Rock Cafe in Roppongi, Dino and I had already completed a staggering amount of work, including two feature shoots and a sneak peek from Tokyo Auto Salon's setup day.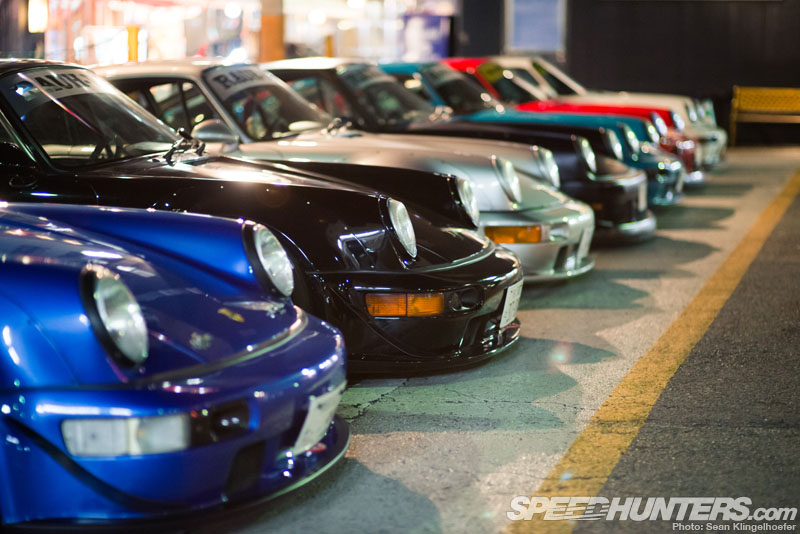 Working with Dino on his home turf has been an eye opening experience, to say the least; I don't know of anyone who works as hard as this guy! Since he did all the work shooting the Makuhari Messe on Thursday, I decided to go ahead and throw in some elbow grease to get this meet knocked out. After all, it was the least I could do.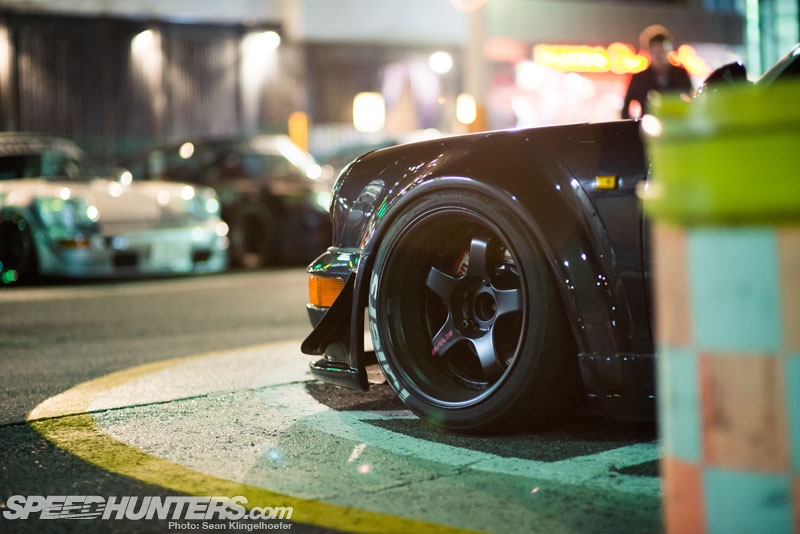 Then again, I suppose it doesn't hurt that I'm completely obsessed with RAUH-Welt. In fact, I can still remember the first time I ever saw one of Nakai's creations in an Autoworks magazine sent to me from Japan by a friend of mine. At that point in time I had seen nothing like it, there was a fusion of what I (and probably the rest of the world) then considered two separate scenes: European and Japanese.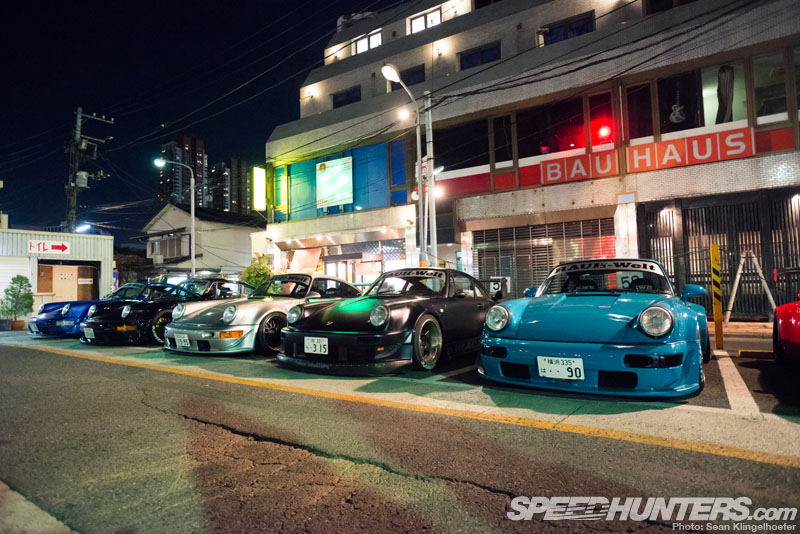 Fast forward eight years and now RWB has become a household name, but back then I was completely floored. I immediately took to the Internet to try and find anything I could about these cars, which is ironically how I first heard about Mike Garrett who is now my colleague. I stumbled upon his personal Auto-Otaku blog and my jaw hit my keyboard.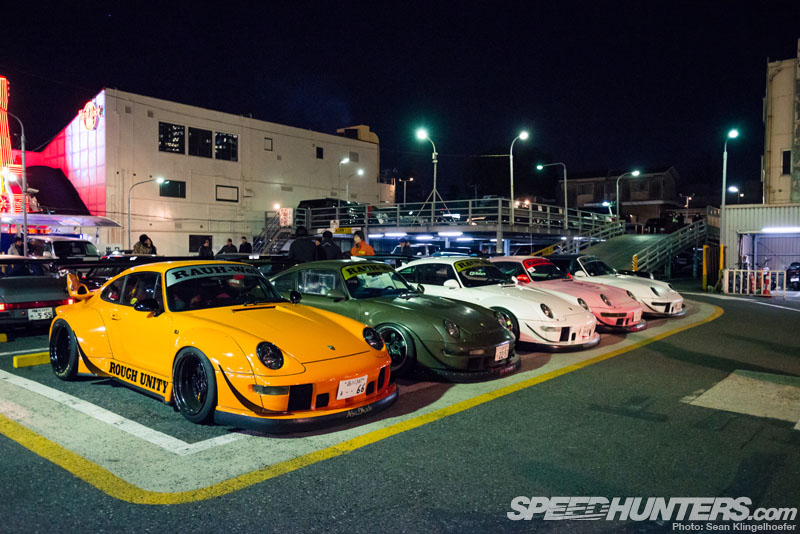 I'm sure he probably doesn't know any of this, but I had saved hundreds of his photos from Tsukuba track days of these savage Porsches. In fact, many of them were my desktops over the years. At that point in time he was simply the only person writing in the English language who was covering these cars. It wasn't long after that he and Dino joined forces at Speedhunters…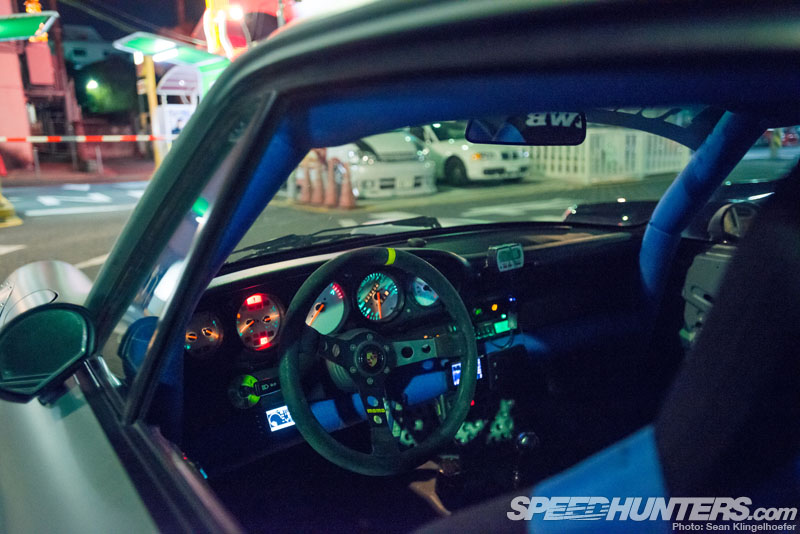 …where they spread the word of RWB the world over. It was five years ago to the week that I first encountered one of Nakai's masterpieces in the flesh, not surprisingly in the G-Works (formerly Autoworks) booth at Tokyo Auto Salon 2009. I remember being completely flabbergasted by the Stella Artois' stance, and no matter how hard I tried to ignore it, I kept coming back to the car over and over.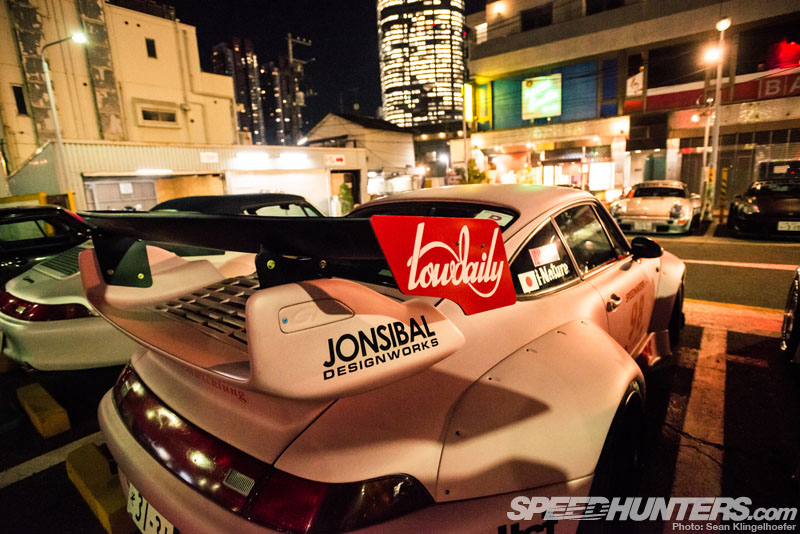 It wasn't until two years later that I would finally make it out to Nakai's shop to meet the man behind these awe inspiring cars. For some reason, as "played out" as they might be, I just never seem to tire of RWB. I suppose it's much like the 911 itself, while some might argue that they build the same exact car decade after decade, I would argue that perfection never gets old.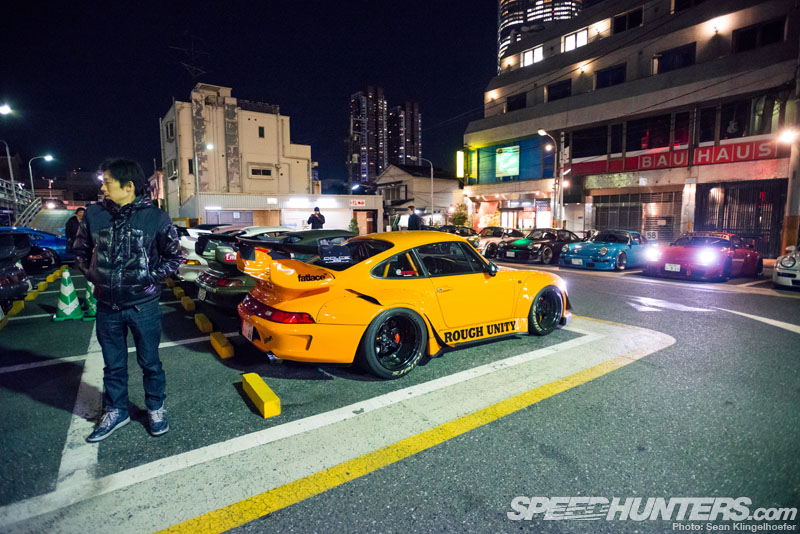 So what does any of that have to do with Thursday night? Well, everything and nothing I suppose, but at the very least it gives you some idea of how excited I was when Toshi-san told me back at SEMA that Nakai was planning something special for TAS.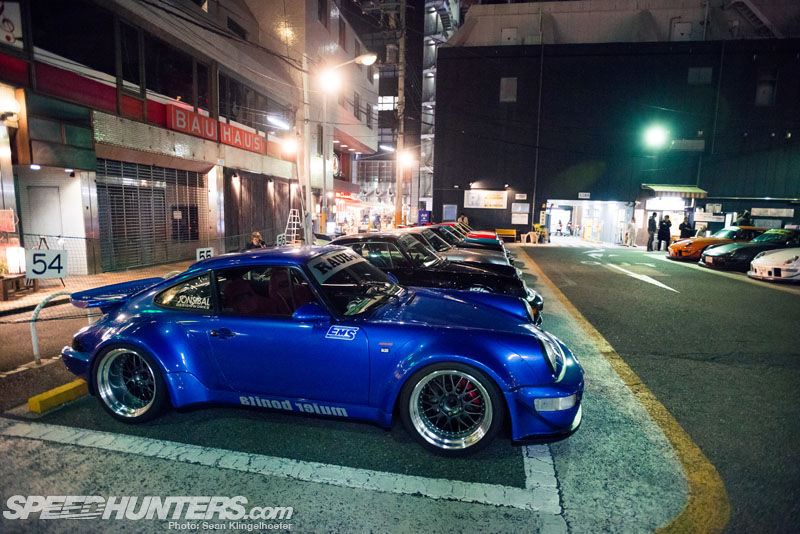 When we left TAS setup my feet were swollen to what felt like double their original size and my jet lag, having come to Tokyo from Stockholm, wasn't helping. All I could think about was going back to the hotel, kicking my feet up and catching some shut-eye, but in the back of my mind I remembered the months of anticipation for this day.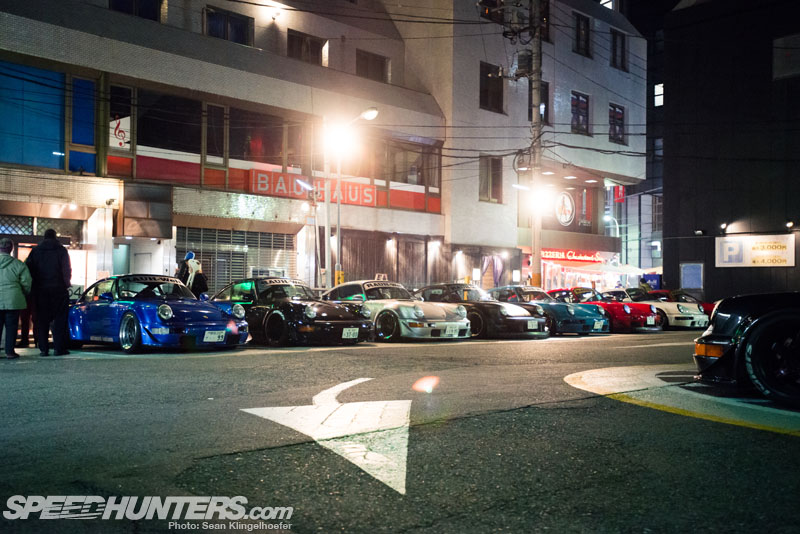 As we drove through Roppongi it was all I could do to keep my eyes open, but as soon as we rolled into the parking lot I was instantly wide awake. The sight of Porsches taking over the car park three rows deep sent my heart racing – it was time to roll up my sleeves and bare the cold.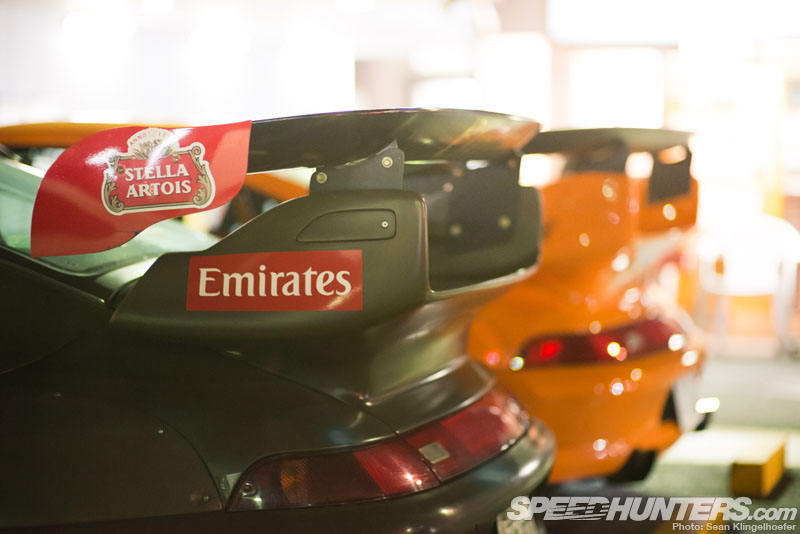 It seems that Nakai's taste hasn't changed much over the years, and he still loves his Stella Artois. Interestingly, I've noticed that his style seems to actually get rougher and rougher with ever car he builds, which makes since considering the concept of his brand. I remember interviewing him a few years back as he explained "I don't care about the paint, I like the rough style… that is why I chose rough world."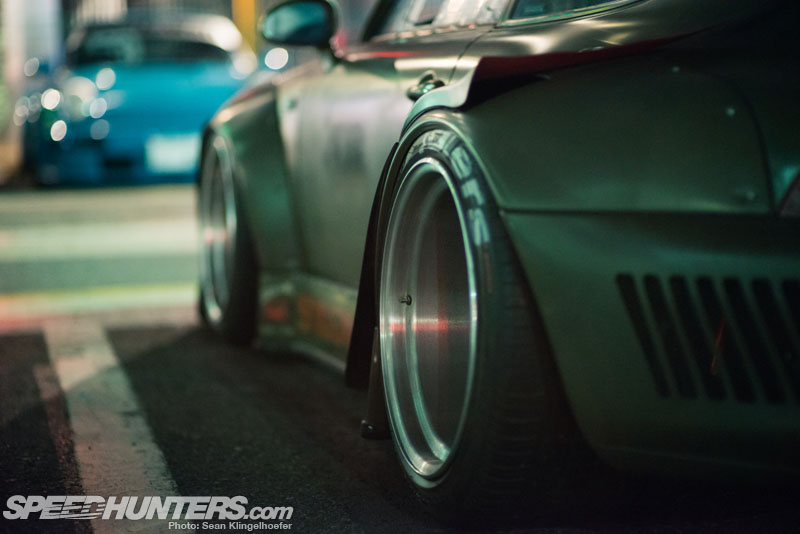 He also has a knack for making his personal cars unbelievably low. I'd be shocked if there is even a single millimeter of clearance between the rear tire and the over fender.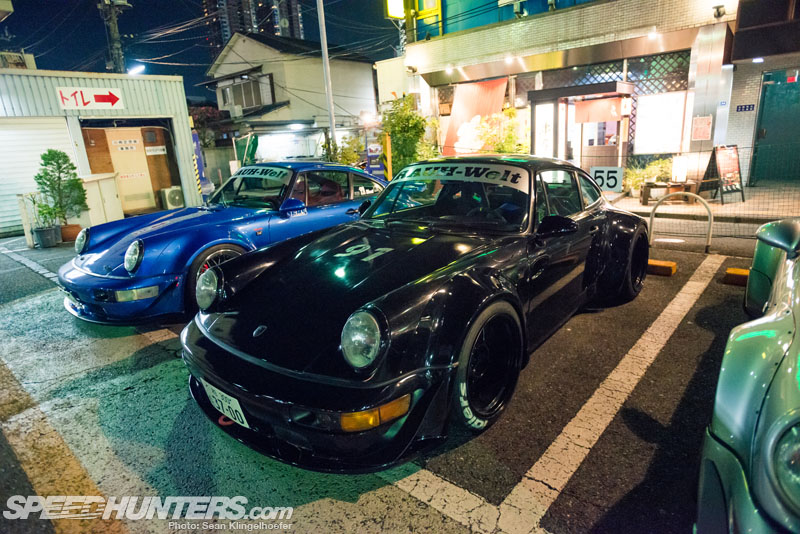 As crazy as Nakai's personal cars are, I was stoked to stumble upon this black beauty. For years I've had this idea floating around in my head of an understated RWB 911 (if one could ever call RWB "understated") that was wingless and plain, with only a set of over fenders and bumpers.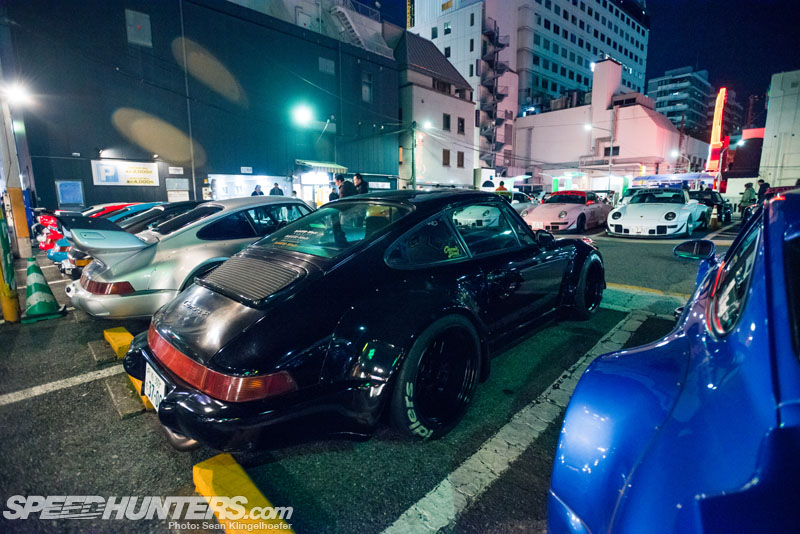 As it turns out, I'm not the only one who had this idea. I've come across several examples on the Internet, but after seeing this one in person I've officially decided I quite like the look. The day will come when I own a 911, of that I can be sure, and this may well be an option worth considering.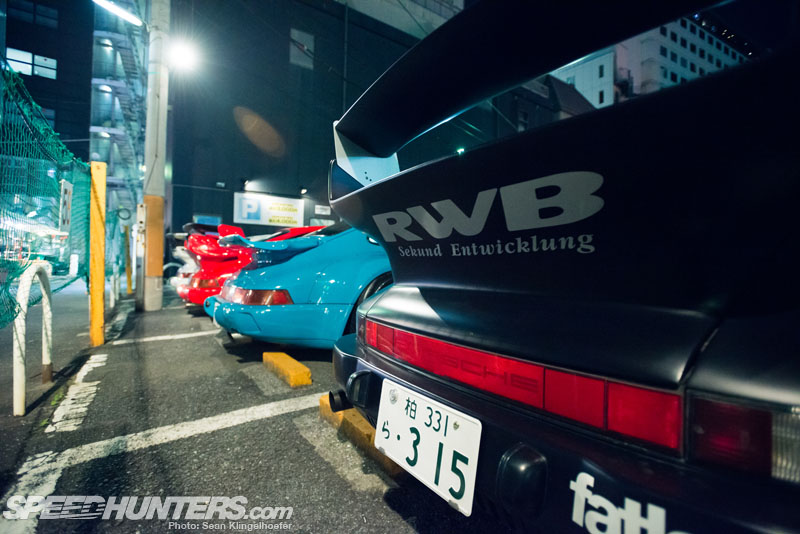 Then again, you can't really go wrong with a whale-tail or a banana wing, they're all excellent choices. It never ceases to amaze me how versatile the 911 is; there isn't really a wrong way to build one.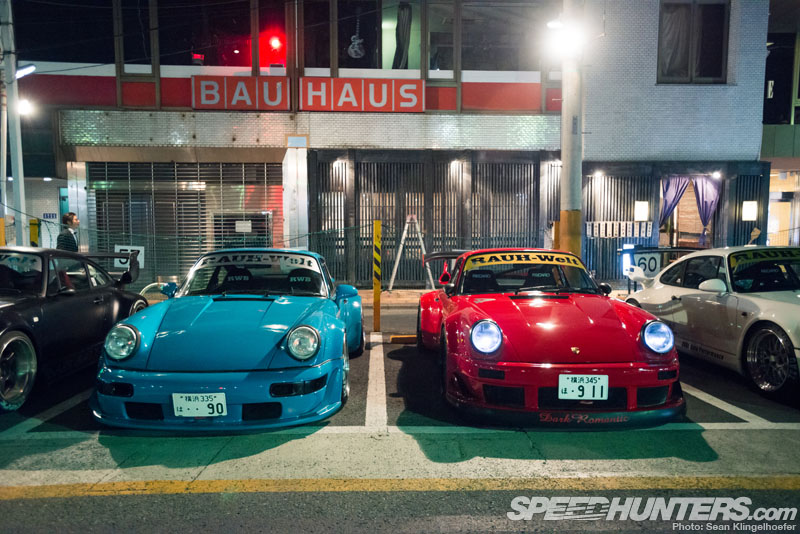 Getting to see this many RAUH-Welt Porsches in one place was undoubtedly a special experience, but if anything I think it may have made things even more complicated in my brain. There are so many decisions to make: which wing?  what wheels? what generation?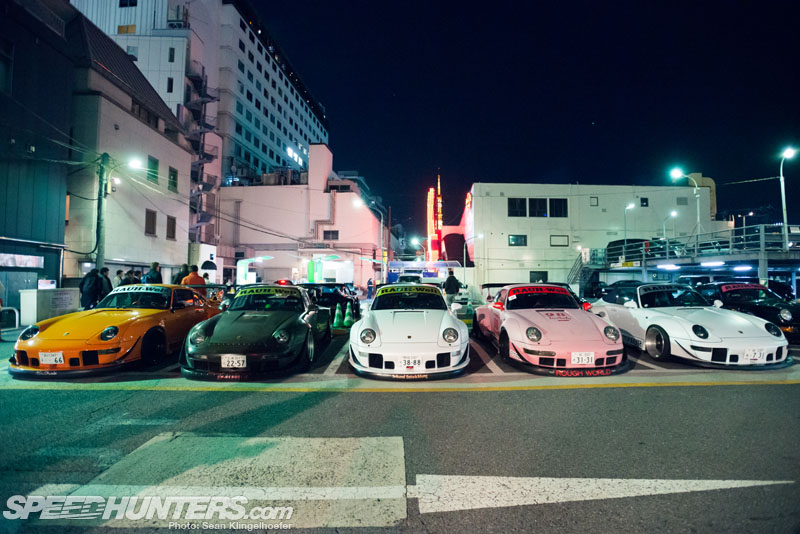 While my gut says to go with the RWB original 930, a 993 is also an excellent choice! Maybe even an original 911, or a 997? A boy can dream…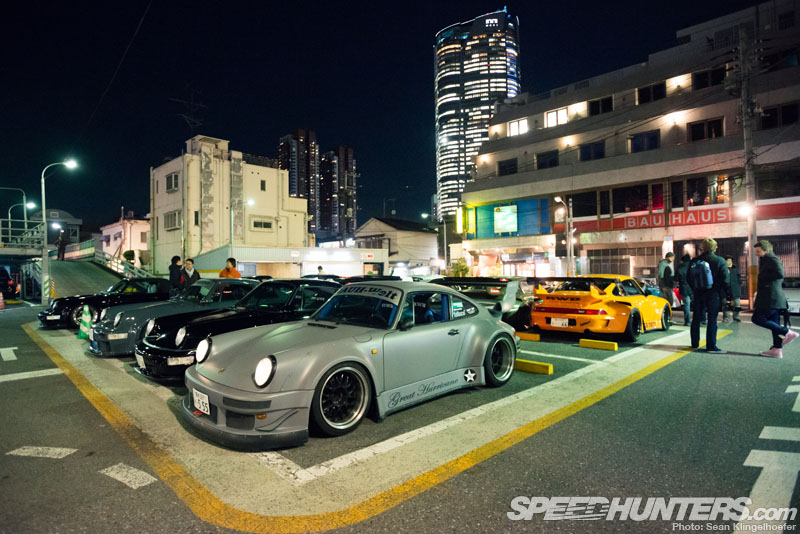 After all, stranger things have happened. For example if you would have told me ten years ago that I'd be shooting a parking lot taken over by RWB Porsches in Tokyo, let alone getting paid to do it, I would have never believed it. But where there's a dream, a will and maybe a little luck, there's a way.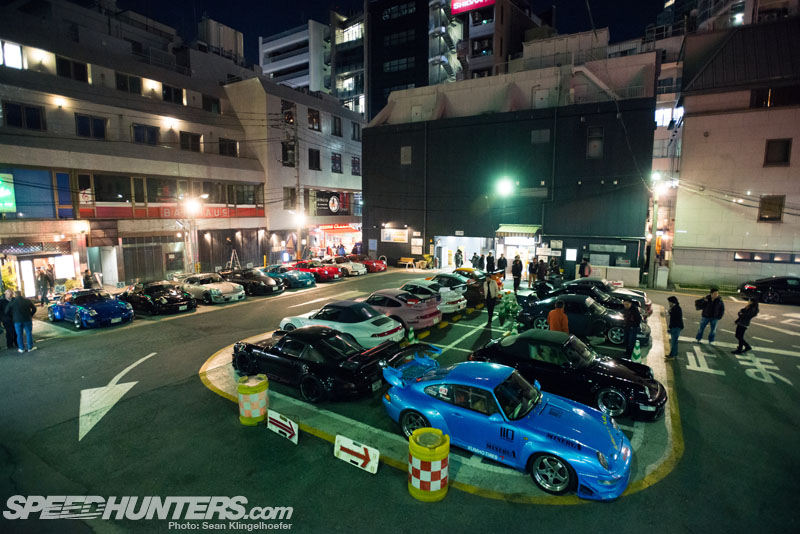 So on that note, dream big Speedhunters… dream very big. It's time to catch a few hours of sleep as we'll be heading out to Tsukuba Circuit dark and early tomorrow. Lots more to come from Japan soon!
-Sean
---
---
---