The Autosport International show at the Birmingham NEC in the UK is one of the biggest shows of its kind in the world, dedicated to competition cars and the plethora of industries that support them. It's a show that isn't specifically directed at the public: that comes more as a convenient cherry on top of the icing of the opportunity for an industry gathering – with the cake being a collection of every conceivable style of competition car in one place. I'll try a simpler analogy next time…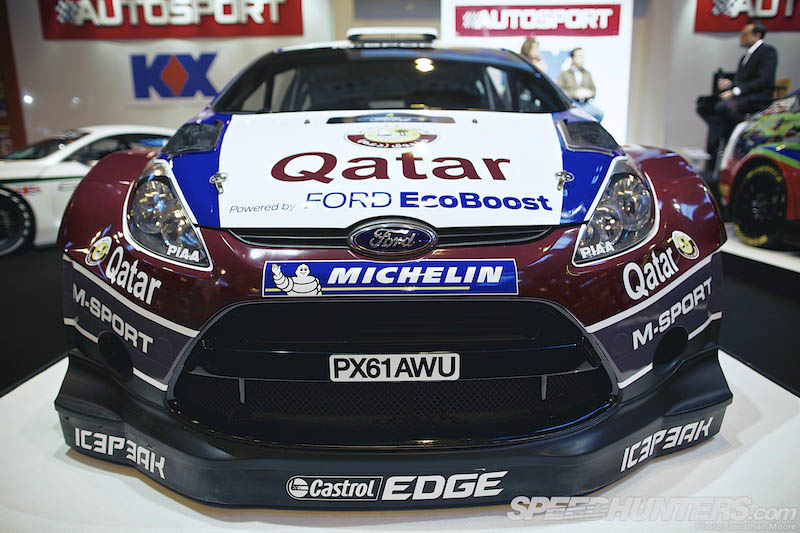 That said, public involvement is still key: it's simply too good an opportunity to miss, and the organisers do their best to trump the previous years as each new event rolls around. There are always more special guests, more new launches and ever more extravagant stands.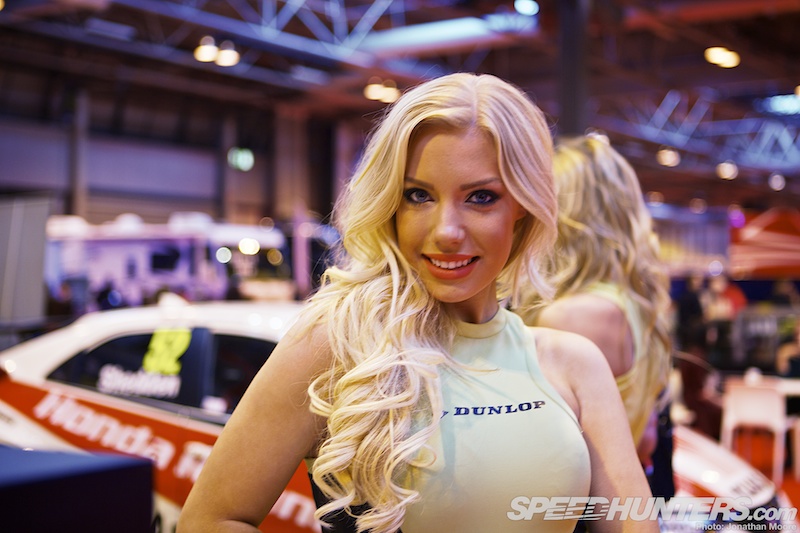 Autosport International is about bringing business and pleasure together: giving the industry an annual meeting place and allowing the fans to see cars up-close that they hope to watch out on track during the upcoming year. And just like the Tokyo Auto Salon, the halls of the NEC are full of promo girls. Though there is less of a school-girl theme…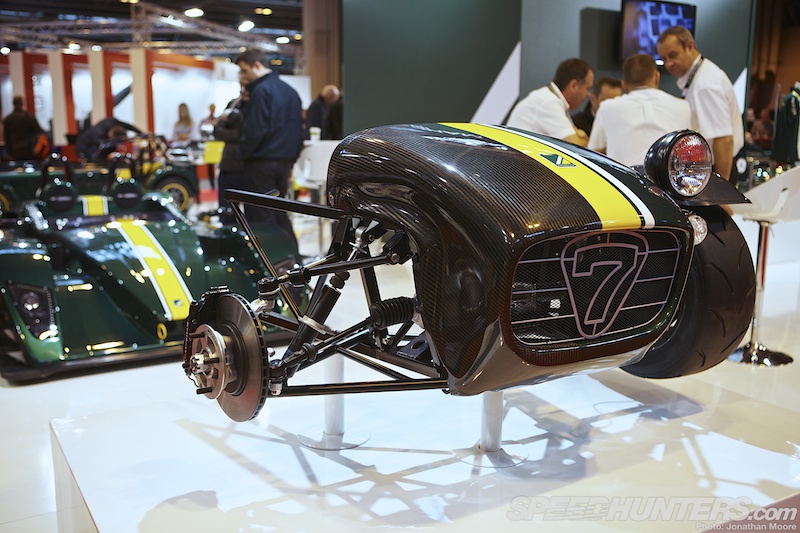 It's a four-day event split into two halves, with the business side normally concluded over the opening Thursday and Friday before the doors of the NEC are thrown open to the general public as well on the Saturday and Sunday. The displays stay the same, and it's an eye-opening experience: you quickly realise just how huge racing is as an industry and how many companies and people are involved.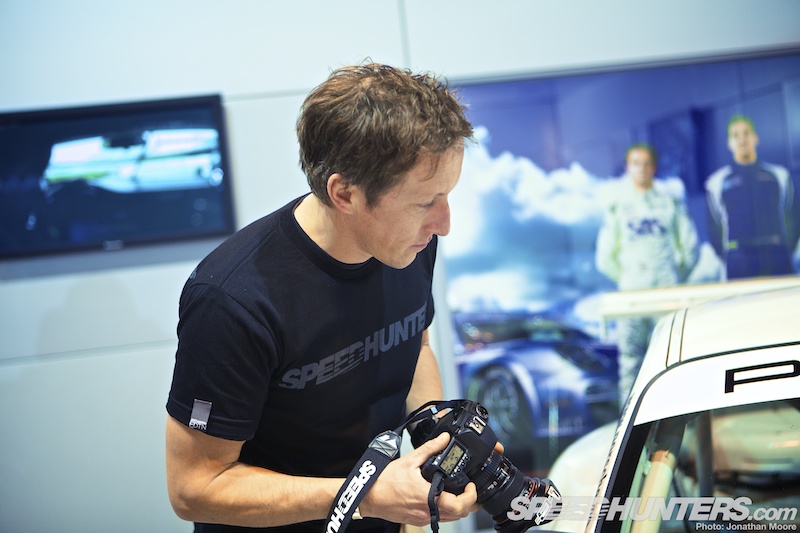 That makes it ideal Speedhunting territory – and the perfect place to try out some new Speedhunters merch. I'll take a look at the pure racing elements tomorrow – the enormous quantity of cars, series and products that you can choose from if you want to get into competition driving. But in this article we'll take a run through the supporting historic displays and exhibitions, an element of Autosport which keeps expanding.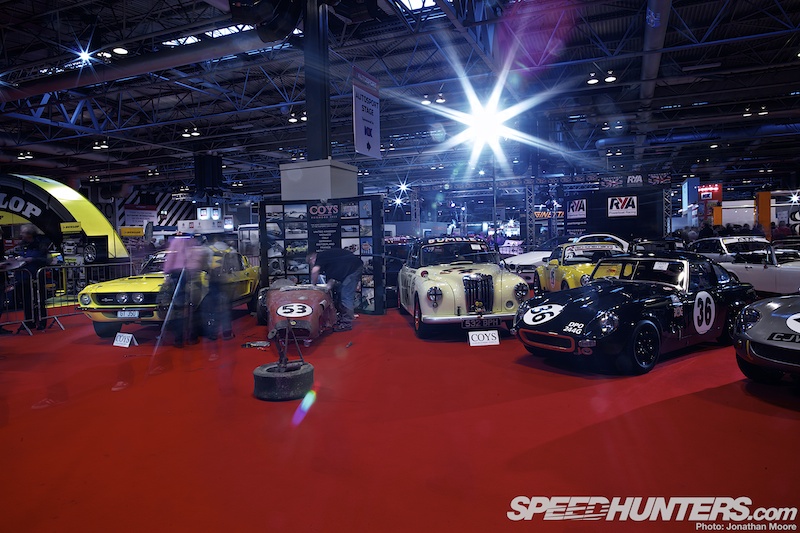 Firstly there's the Coys Auction corral, featuring over 50 rare and iconic cars and always a highlight of the show. The auction itself is held over the weekend, live at the event, and attracts international bids.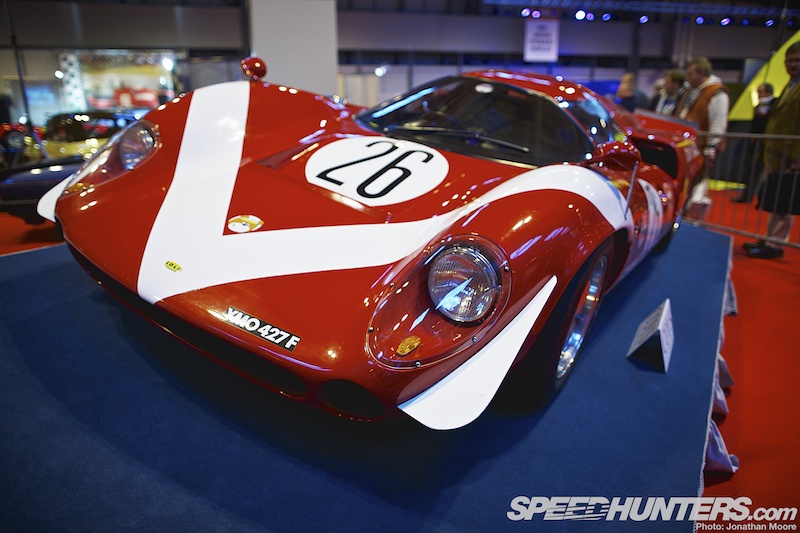 This year a beautiful Lola T70 MkIII B from 1969 took pride of place and was expected to fetch a high price in the auction: well over half a million pounds.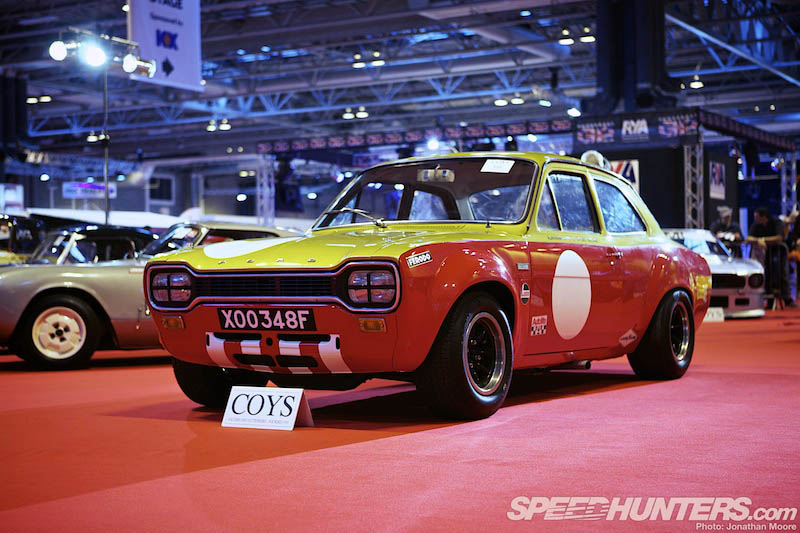 The unmistakable red and gold livery of Alan Mann Racing is a constant at Autosport Coys auction. This year they had this fantastic Group 5 MkI Escort, one of five genuine team cars with fuel-injected F2 power.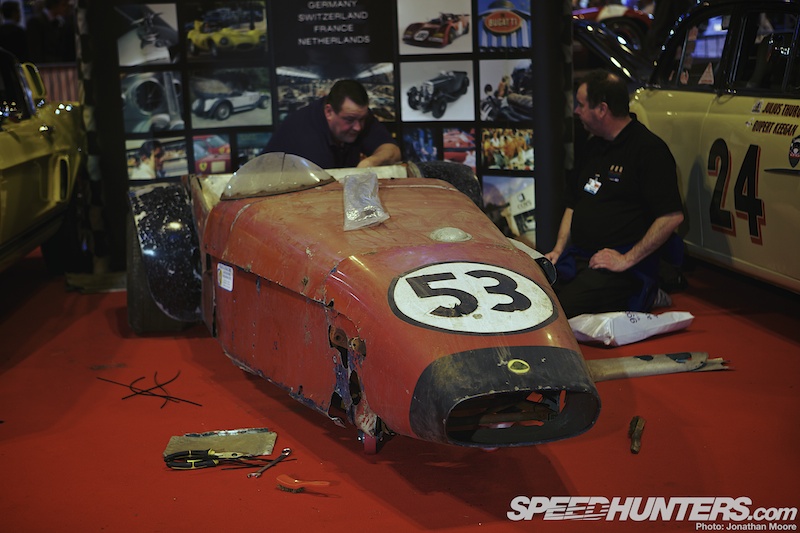 This Lotus Seven was wrapped around a guardrail at Silverstone in 1973, and it's been in this condition ever since. It will definitely provide a serious project for whoever bought it, but the chassis is completely original!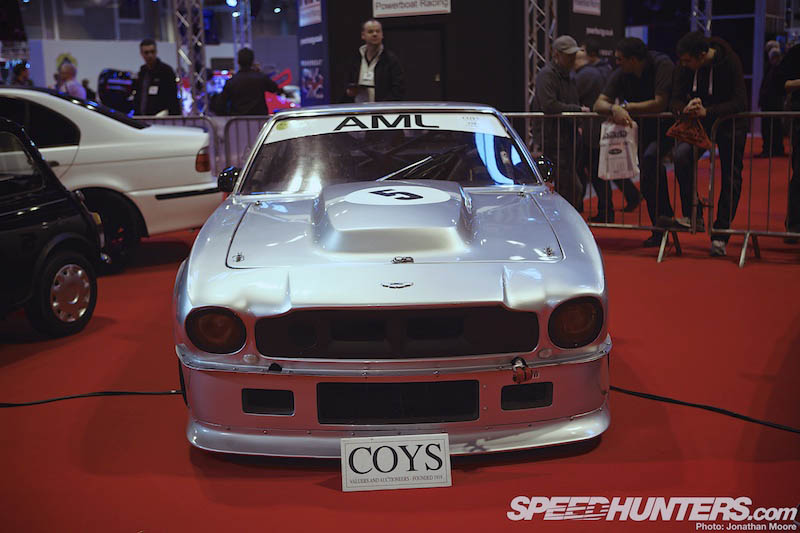 For some serious muscle then we had to look no further than this 1973 Aston Martin V8 Lightweight from Aston's most amped-up period. With 500bhp on tap from the 5.4-litre engine and a hardcore set-up, it's a fearsome racecar.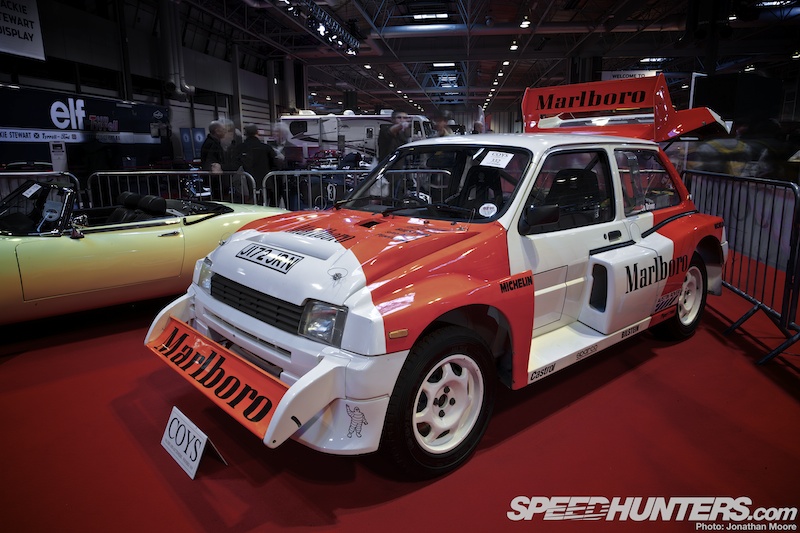 Never raced or rallied, one careful owner… How about an original 1986 Metro 6R4 with just 4,000 miles since new? It was originally a demonstrator, and has been mostly kept in storage since running in the Group B era. There aren't many about in this kind of pristine condition.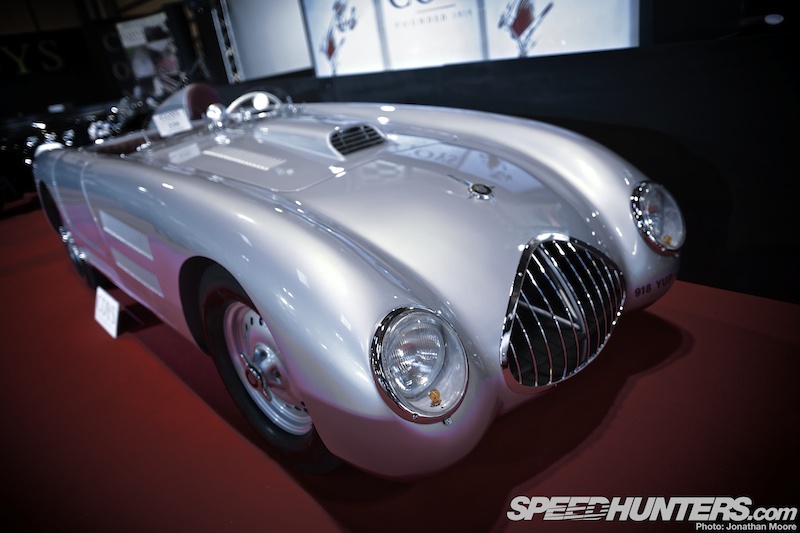 This gorgeous machine is a 1935 BMW Type 309/328 Veritas – it's been the subject a four-year long restoration project by a specialist in traditional coach building. Veritas were a German company who bespoke-tuned pre-war BMW 328s; this car was built up in 1947.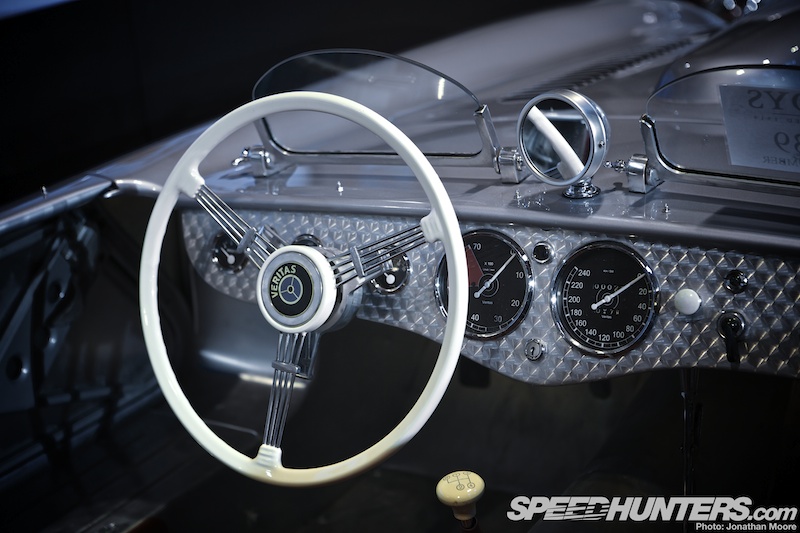 The cockpit was a work of art: it has all the correct Veritas instruments, switchgear and steering wheel, and the running gear, wheels, axles, steering, engine and hubs are the original BMW parts – though the cylinder head is a new BMW item that has been modified to eliminate an inherent fault in the original design.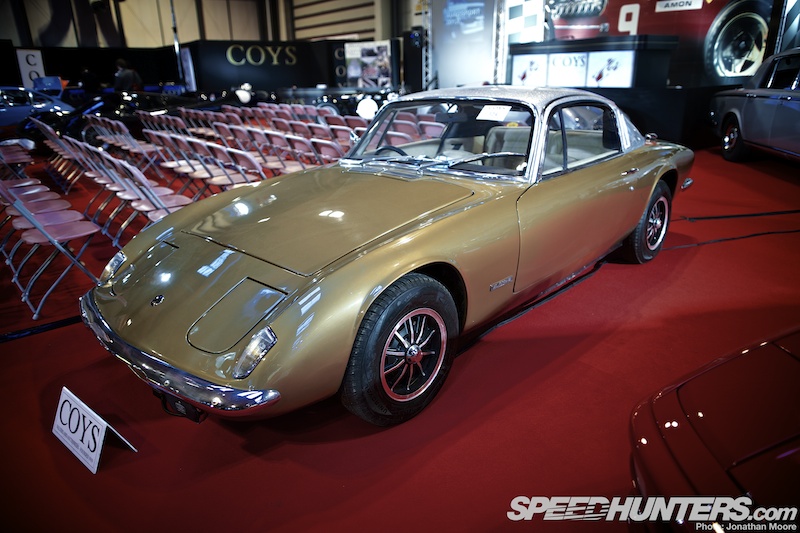 This rather bling-laden Lotus Elan +2 130/5 is from 1973, though the silver-flake roof finish was added as part of a recent restoration.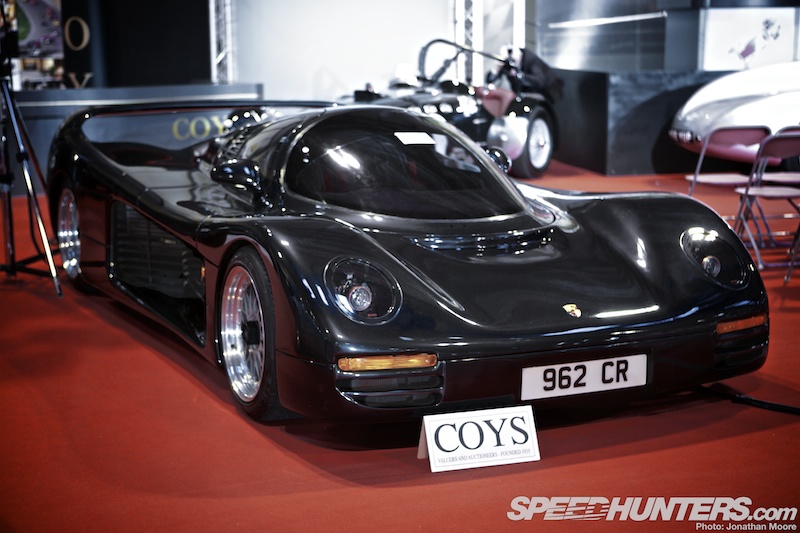 I walked past this low-line stealth bomber twice before spotting it, hidden as it was behind an E-Type and a pair of classic 911s. And then I couldn't break out of its orbit for a good 20 minutes… It's one of just half a dozen ultra-rare Schuppan 962CRs – the crazy road-going 962 Group C racer we featured last year was based on a 962CR.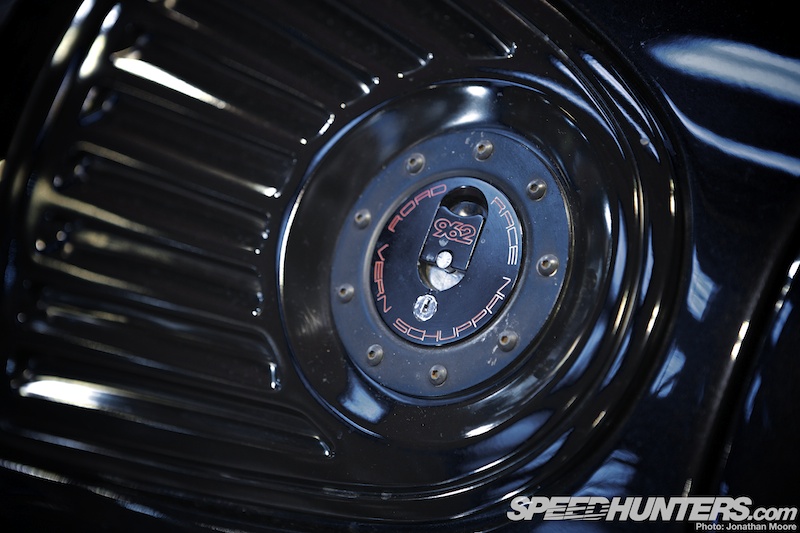 Australian driver Vern Schuppan was a renowned competitor during the Group C era, having won Le Mans in 1983. Porsche had stopped manufacturing 962 chassis in 1989, so Schuppan decided to manufacturer a carbon tub for a new run of 962s. Having completed several racing chassis he decided to try to make the 962 into a road car…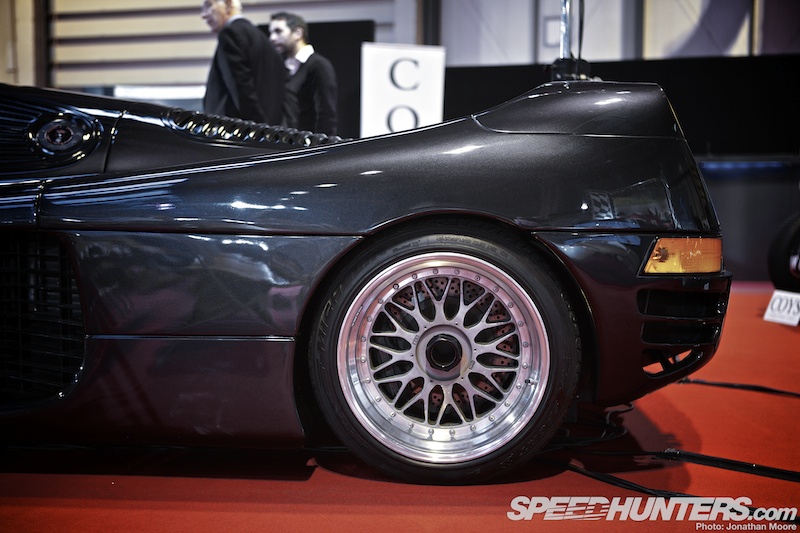 Schuppan's team constructed the new chassis and body and it used the same 3.3-litre 935 flat-six as the Group C 962. Performance was face-melting, with a top speed of 230mph and a 0-60mph time of less than 3.5 seconds. It was an enormous project, full of bespoke engineering as is clear even from the outside. There are beautifully sculpted panels and grills which just add to the swooping shape.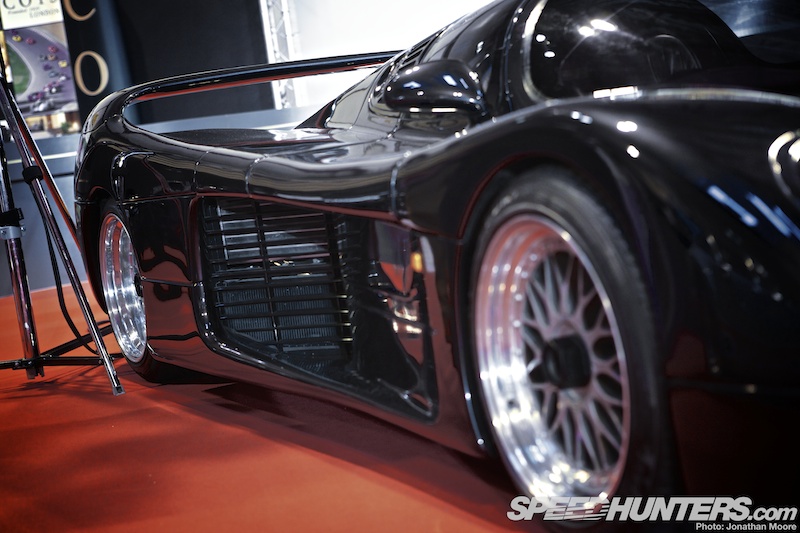 It was also phenomenally costly: barely half a dozen of the $2m supercars were built, which made it one of the most expensive cars ever made. The insane price brought about the downfall of both Schuppan's street project and his racing team…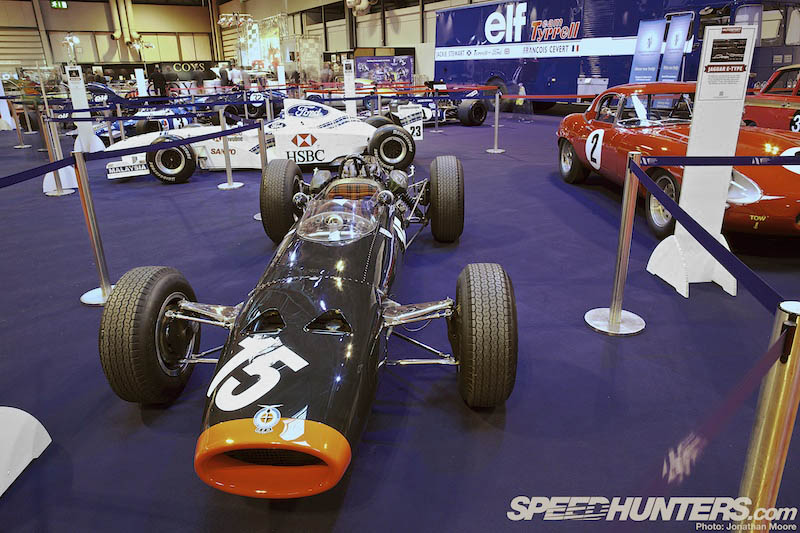 This year's main circuit racing tribute was to three-time Formula 1 Champion Sir Jackie Stewart.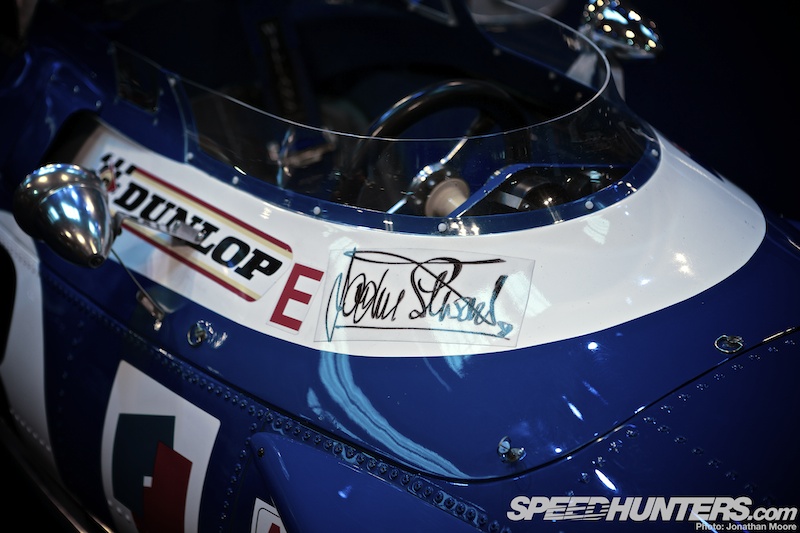 Located up by the race transporter that Bryn liked so much, the display included single-seaters and saloons that the Scotsman had driven during his illustrious career.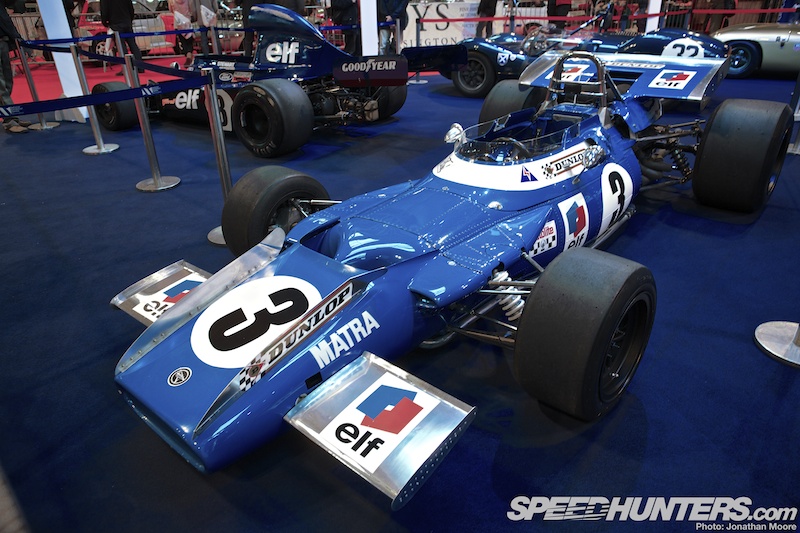 All three of his Championship-winning F1 cars were here, starting with the sublime, screaming Matra MS80. I love the reptilian look of this car, its riveted body, low-line integrated rear wing and the metal aero formers that have been bolted on: you know that they were the result of educated guess-work more than raw computing-power.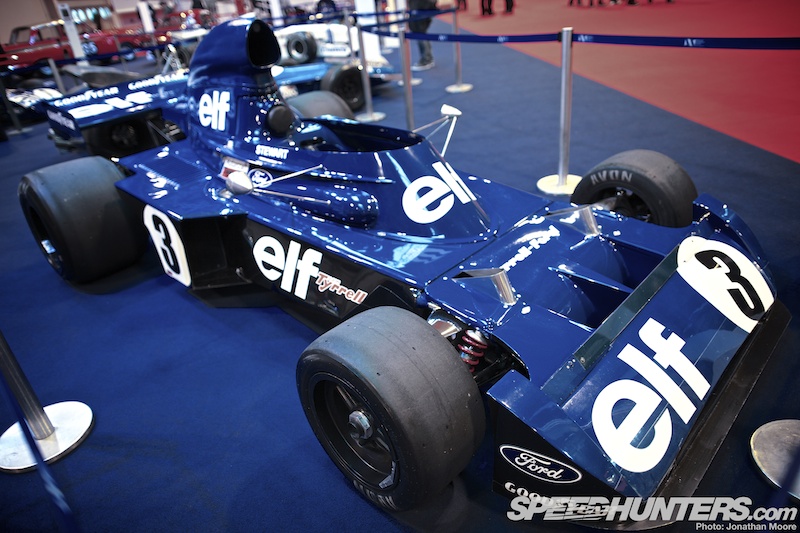 His two Tyrrells were also here: the 003 from 1971 and classic big-airbox 006 from 1973. These cars just have so much individuality and character – it was a glorious period.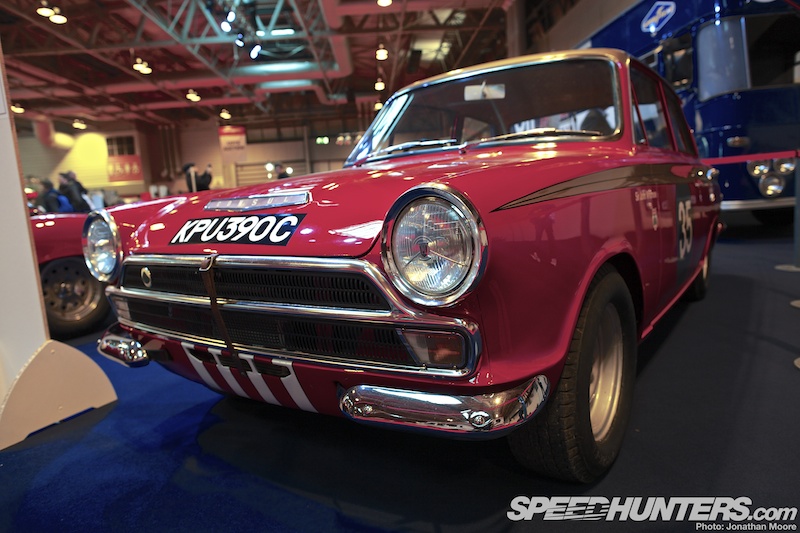 Like so many racers of the time, Stewart was also prolific in cars with a roof: a Cooper Monaco, Elan and E-Type were supplemented by this Lotus-powered Ford Lotus Cortina Consul.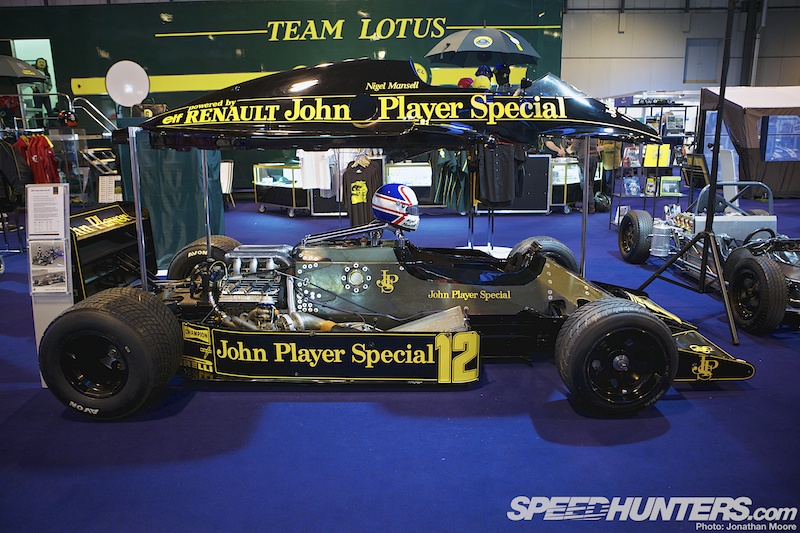 Back in the main part of the hall, the Classic Team Lotus stand is always full of black-and-gold delights. Their main attraction was Nigel Mansell's 94T from the 1983 F1 Championship. The team have made a habit of supporting the bodywork of their F1 cars up on stilts, which is a great way of showing off the engine and mechanicals.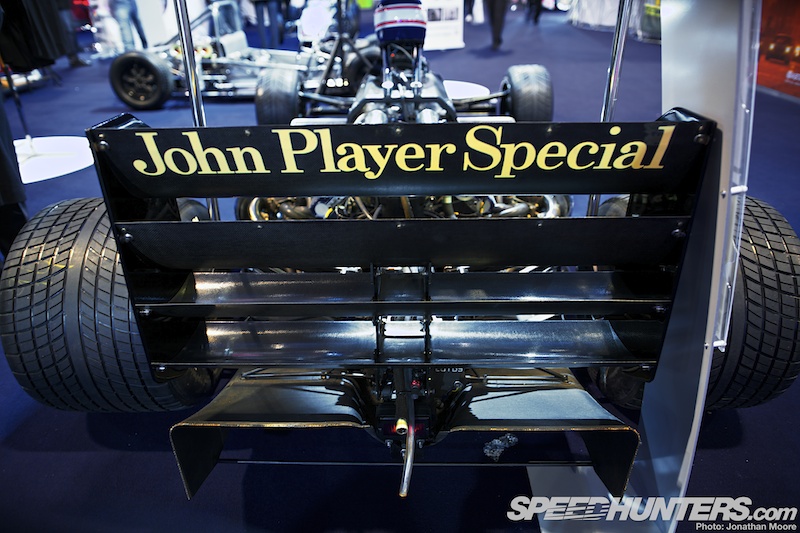 The 94T was a stopgap after the 93T proved a failure – the rear wing is immense, with four planes towering over the diffuser.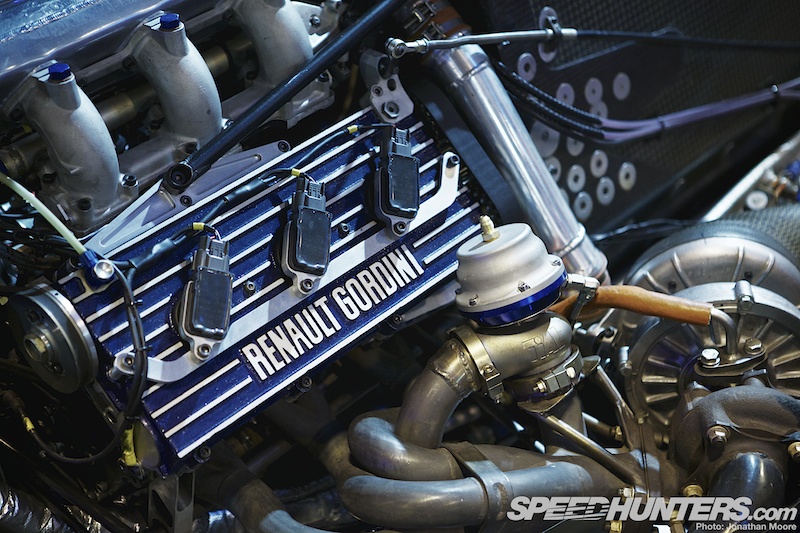 The 1.5-litre V6 turbo engine was badged as a Renault Gordini – a revival of the classic name.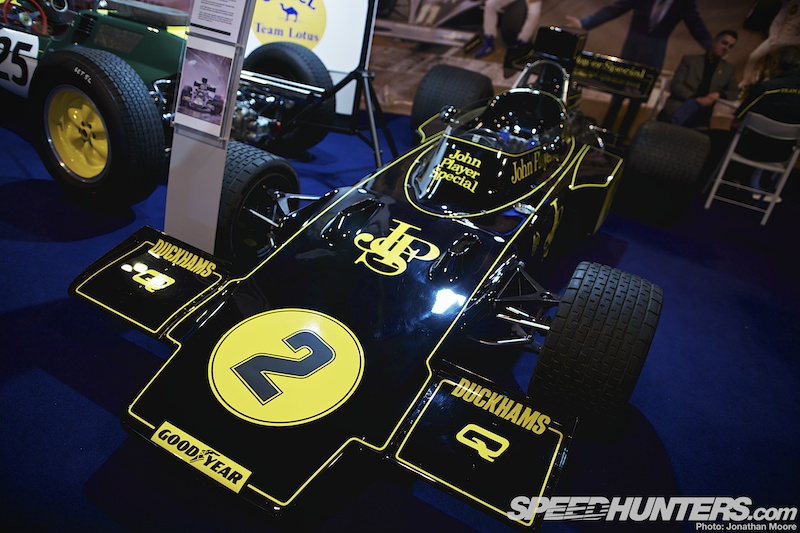 Next door was Jacky Ickx's 72E/5, the ninth chassis to be built, which he raced during the 1974 season. The car is in immaculate condition: the result of an incredible 1,500 hours of pain-staking renovation by Eddie Dennis of Classic Team Lotus. He was originally Team Lotus Chief Mechanic in 1972 and '73, so knew the car inside out.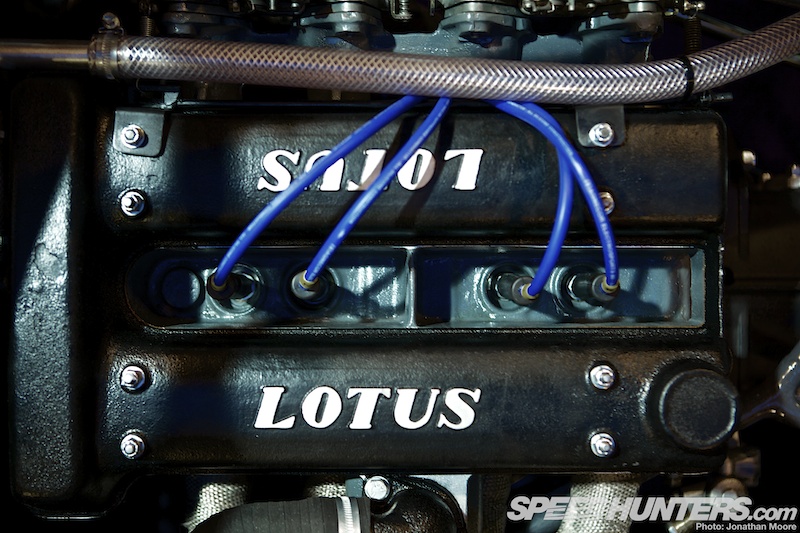 The Lotus twin-cam featured heavily. It's a legendary engine, powering sportscars, rally and touring cars of the '60s and '70s to multiple victories – then and now.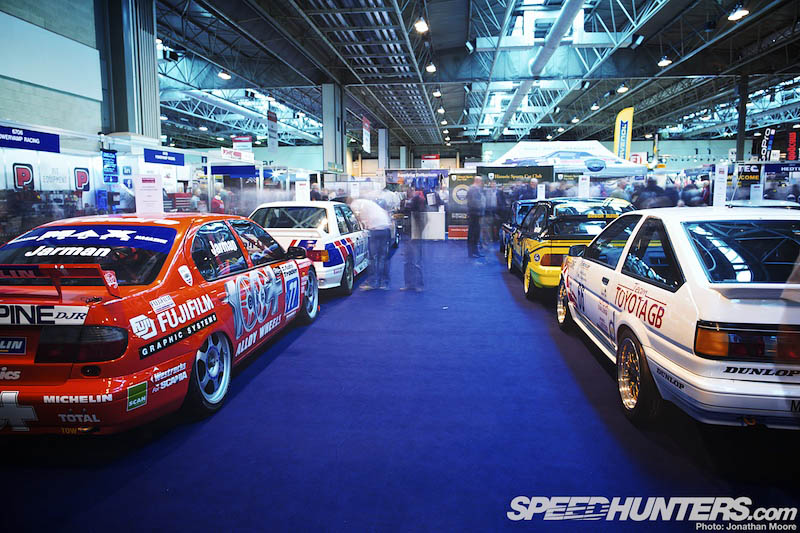 Autosport is also a great excuse to show off the history of the many racing series that are around, and for 2013 it was the turn of the British Touring Car Championship to take centre stage. Modern touring cars dominated at one end of the main hall, but we'll look at those in the next story. Those current cars were backed up by a display of their predecessors from the 54 years of the series – and what a display!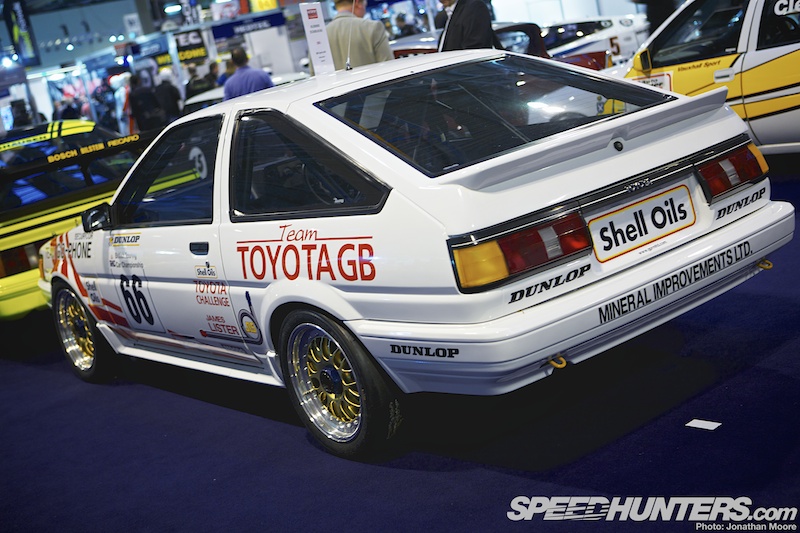 Jaguar, Ford and Hillman represented the era between the start of the series in the '50s and the early '70s. The AE86 was a championship winner in 1986 in the hands of Chris Hodgetts…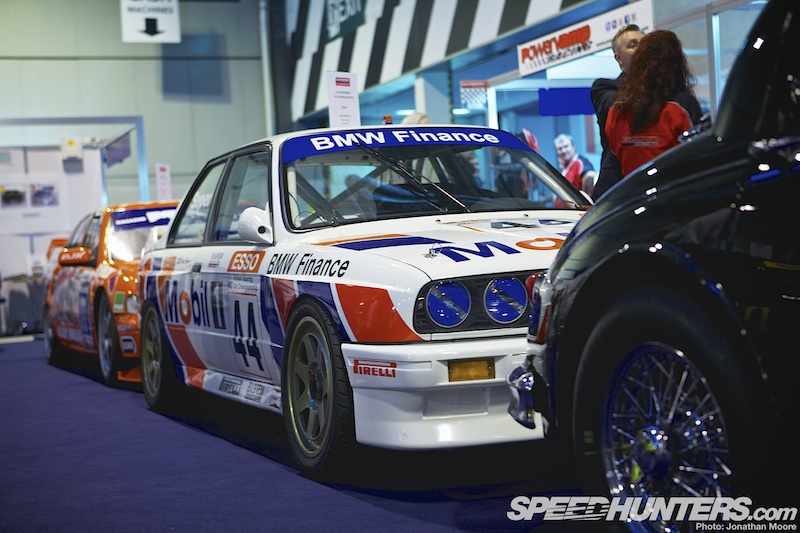 …and BMWs have a long history of terrorising BTCC grids.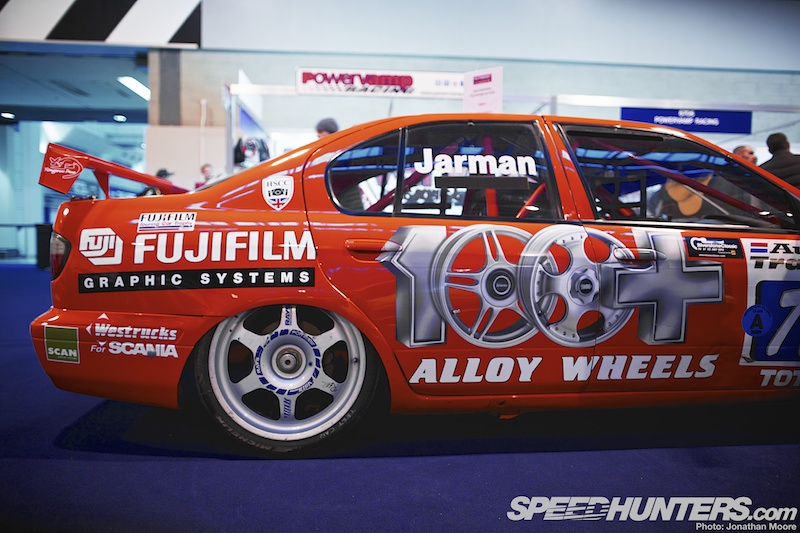 A fire-breathing Sierra showed off the best of Group A, but then we moved onto the awesome SuperTouring era: original stance, maximum speed.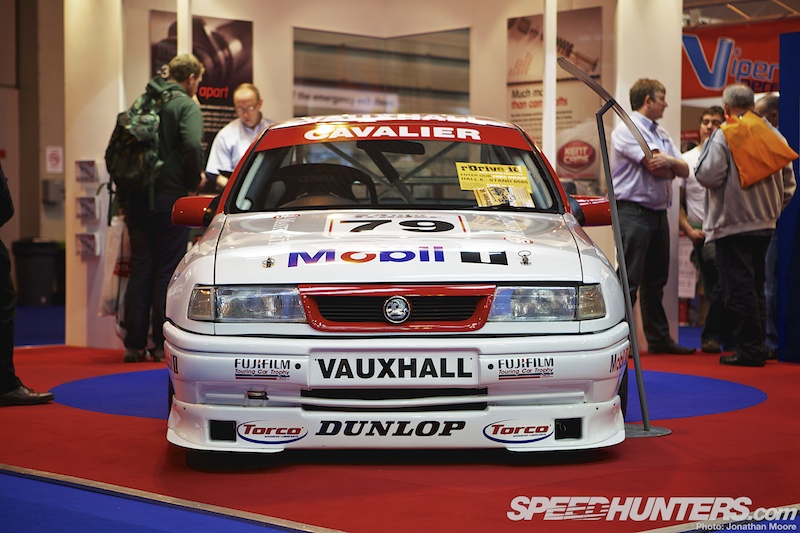 Along with Matt Neal's race-winning privateer Primera above, John Cleland's '95 Vauxhall Cavalier also showed off the SuperTouring power – and this later Cavalier adorned one of the engineering stands close by.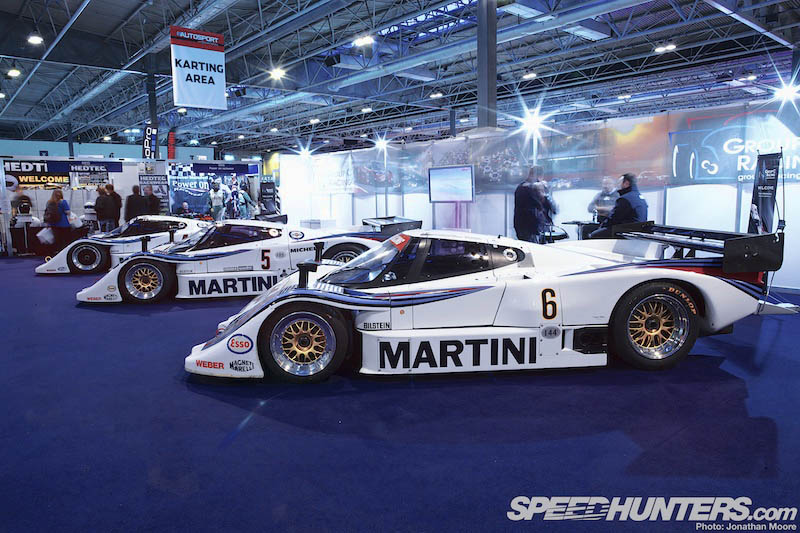 As if the Porsche 962CR and Stewart's Matra weren't enough, another treat was this trio of factory Lancia LC2 Group C machines.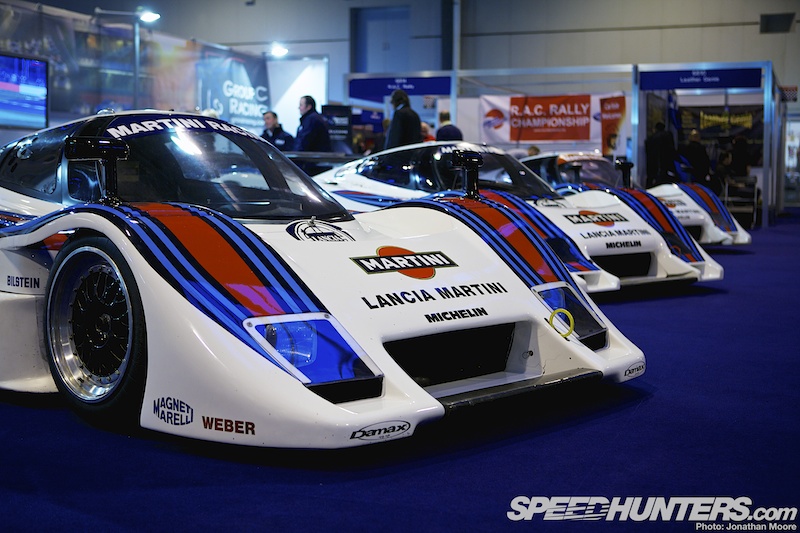 A pair of the Martini-livered, Ferrari-powered icons from the early '90s occasionally raced in retro series about a decade ago but since then had only put in rare appearances. But there are now four LC2s regularly competing in the historic Group C Racing series – what more reason would you need to get out to a track during 2013?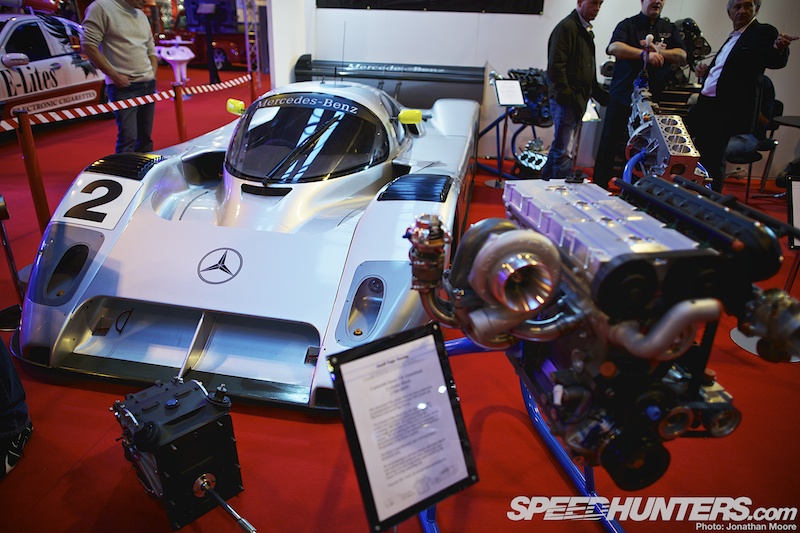 The Lancias weren't the only Group C goodies at Autosport: two more rarities were also dotted about including this brutal Mercedes-Benz C291 looking rather surrounded on an engine builder's stand.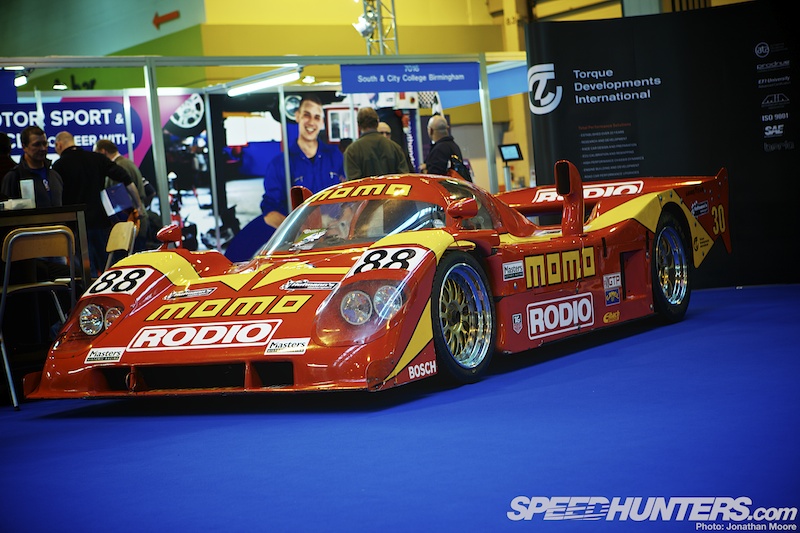 The MOMO-liveried IMSA Nissan NPT90 from 1993 still looks stunning on track… I can't wait for the first opportunity to see these cars out and racing!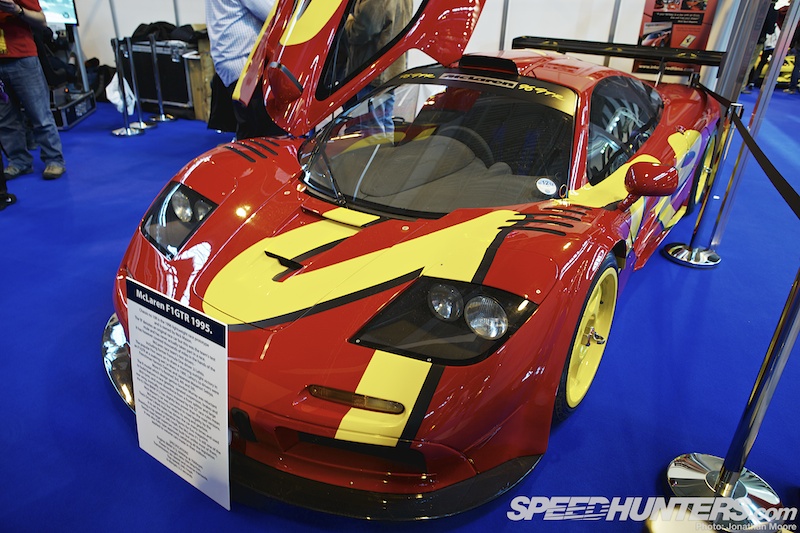 Pink Floyd's Nick Mason is another one who spoils the Autosport crowds by bringing some incredible machinery each year. This time he chose to display a McLaren F1GTR – it's the lightweight race prototype from 1996, used as a test mule by the McLaren sportscar team. It's been converted to road-spec by McLaren – which actually means more power than the racecar – and is still one of the fastest road-legal supercars there is.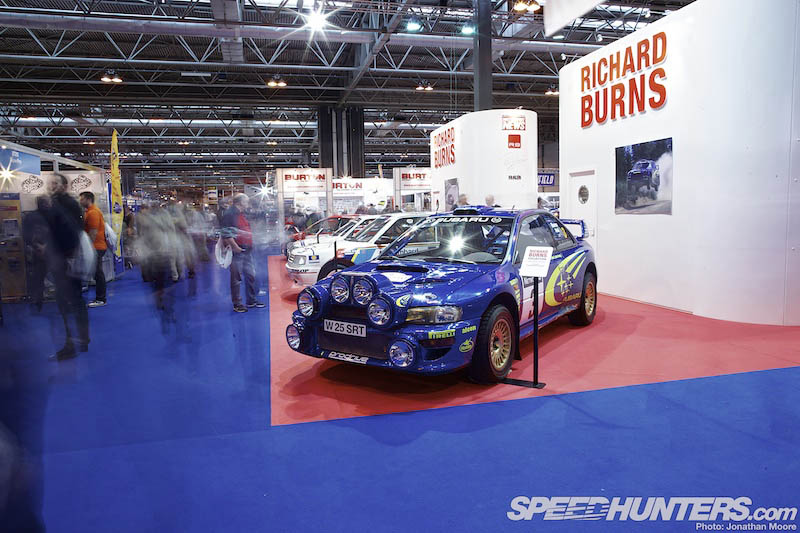 At the far end of the hall, near the Autosport Engineering hall, is typically the main rally exhibition, and for 2013 the spotlight was turned on Britain's 2001 World Rally Champion, the late Richard Burns.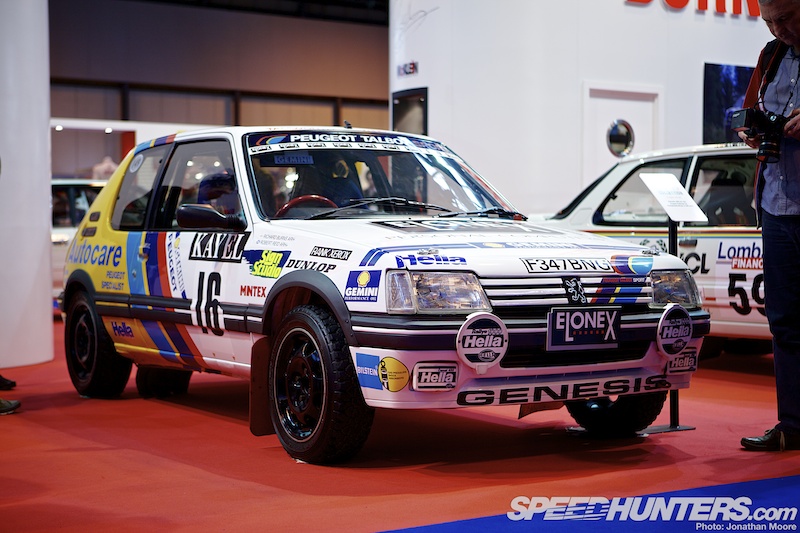 Seven cars from his all-too-short career were on show, which started and ended with Peugeot. The iconic 205 GTI took Burns to the Peugeot Challenge Championship in both 1990 and 1991.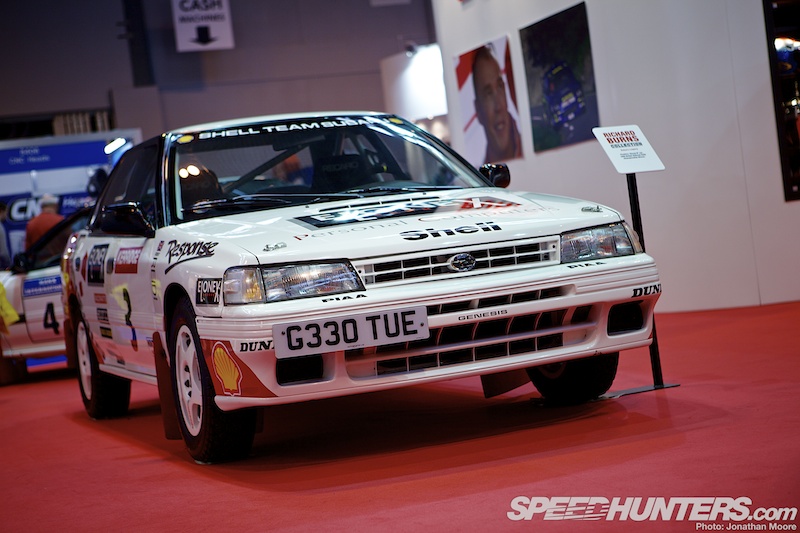 Burns took the 1992 British National Rally Championship in this Prodrive Group N Subaru Legacy.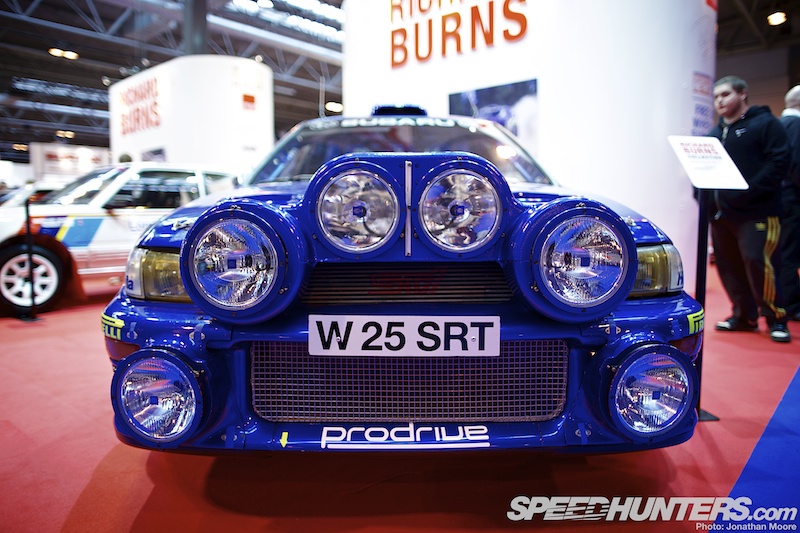 His successful career with Subaru continued with the Impreza, and he won the Portuguese, Argentinian and British rounds of the 2000 WRC in this car, shown here with a full night-lights pack.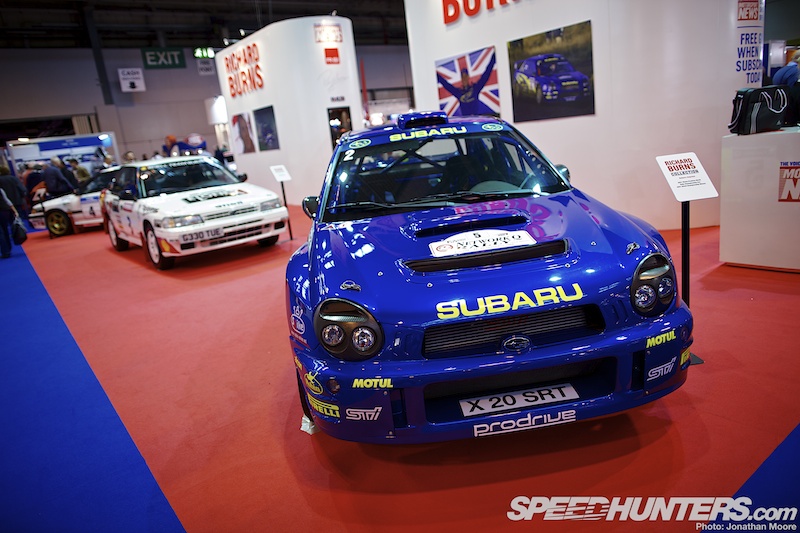 His time at Subaru ended with the 2001 Impreza – but he left the team as World Champion.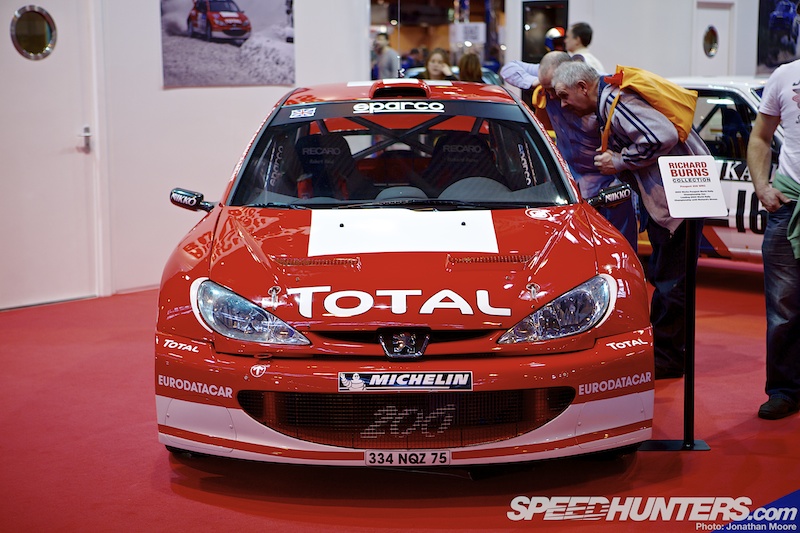 For his final two years of competition before his terminal illness, Burns competed with Peugeot once more, this time in the 206 WRC. His name lives on, thanks to these cars and also the fine work done by the Richard Burns Foundation – a charity dedicated to raising money to help people suffering from brain diseases.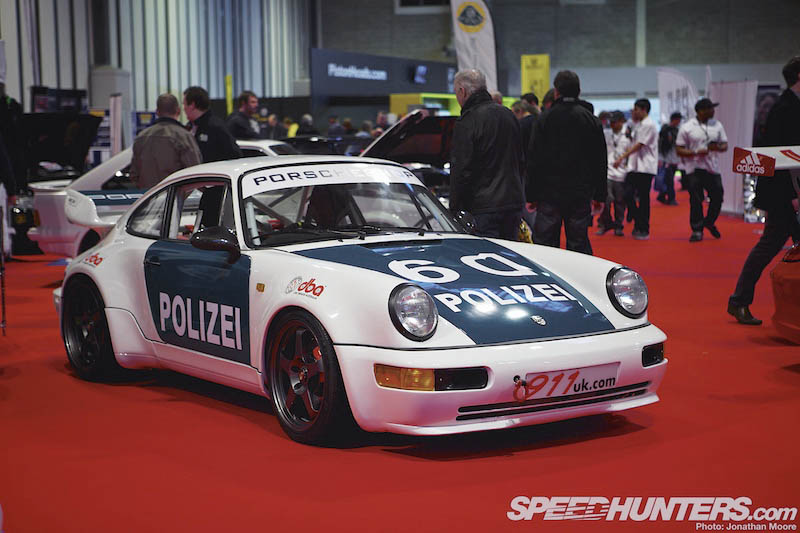 Finally, there are always corners of Autosport that are forever German: last year the Porsche factory put on a stunning display of historic cars, and this time the firm was represented by Porsche Club Motorsport UK.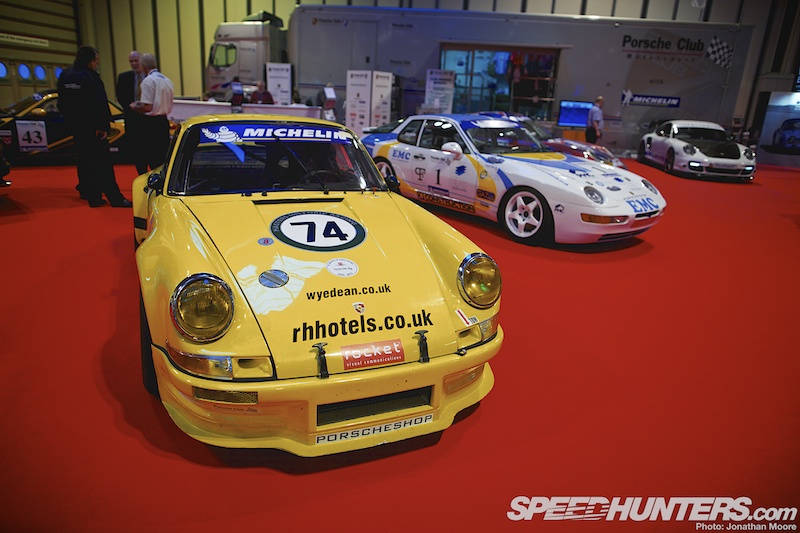 They had a fabulous display of new and old Porsches, many of which compete in the Club Championship, which attracts big grids of over 30 eclectic models split into two performance classes.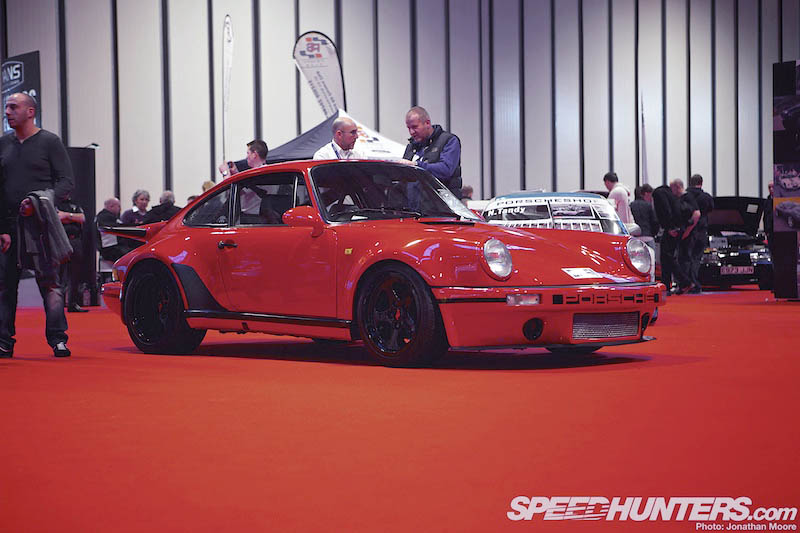 And if you're going to race a Porsche, then you need an appropriate car to get you to the circuit. May I interest sir in… a Porsche? Yes you can. (Though god save us from the worst part of Autosport: the horrible bright red carpets and sickly yellow lighting…)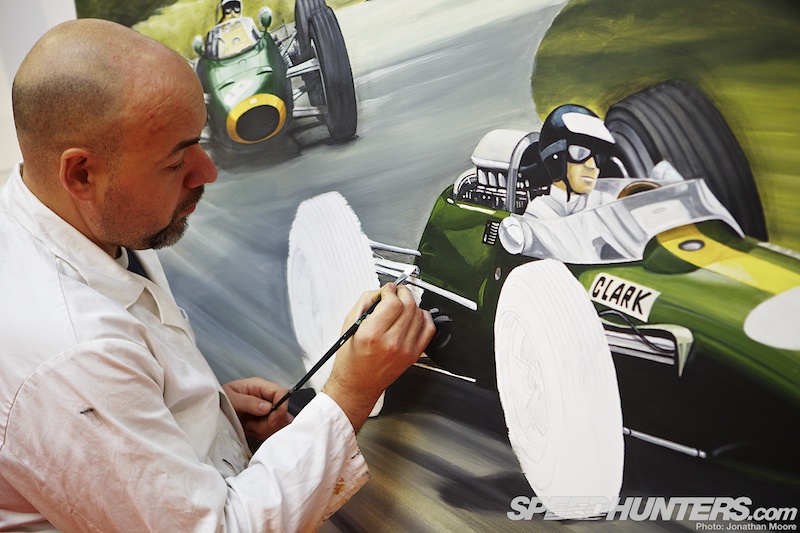 As if the cars weren't enough, motorsport art is also big news – and several artists were at work at the show.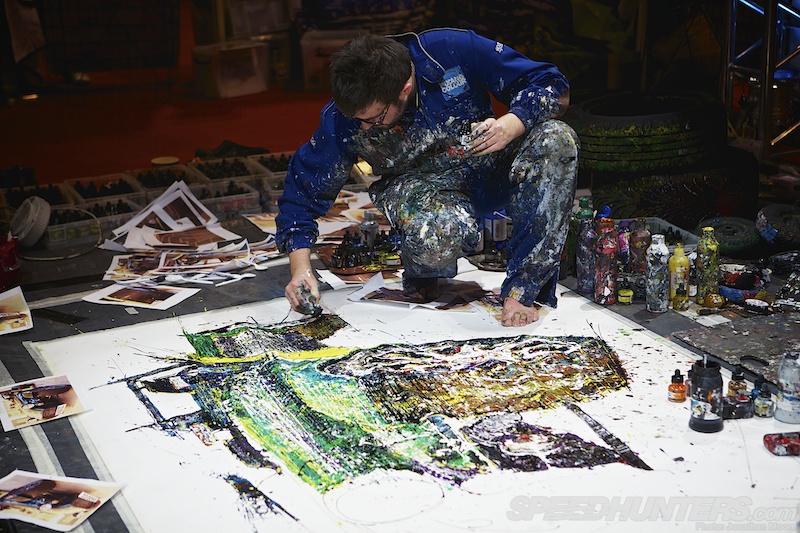 Some more abstract than others! Ian Cook is Artist In Residence at the Heritage Motor Centre, just half an hour south of the NEC, and specialises in live painting using anything that comes to hand! Paint brushes definitely not a prerequisite, but toy cars yes!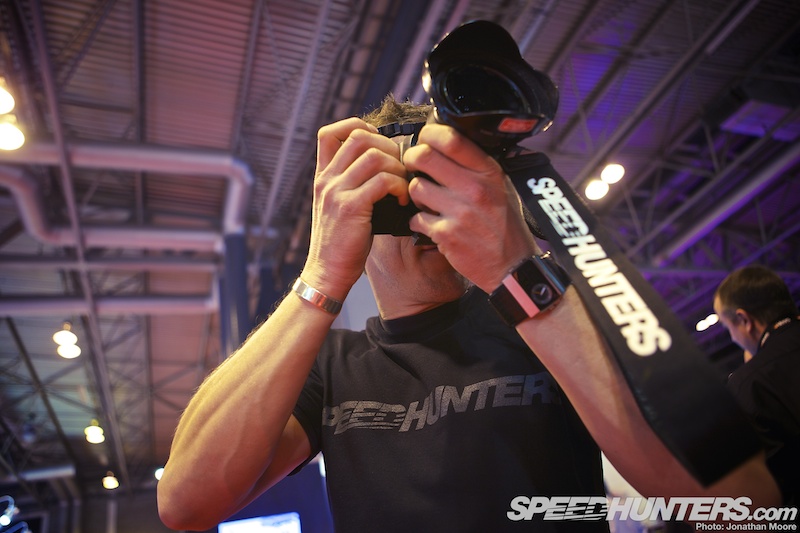 So with all this Bryn and I never had trouble finding things to shoot…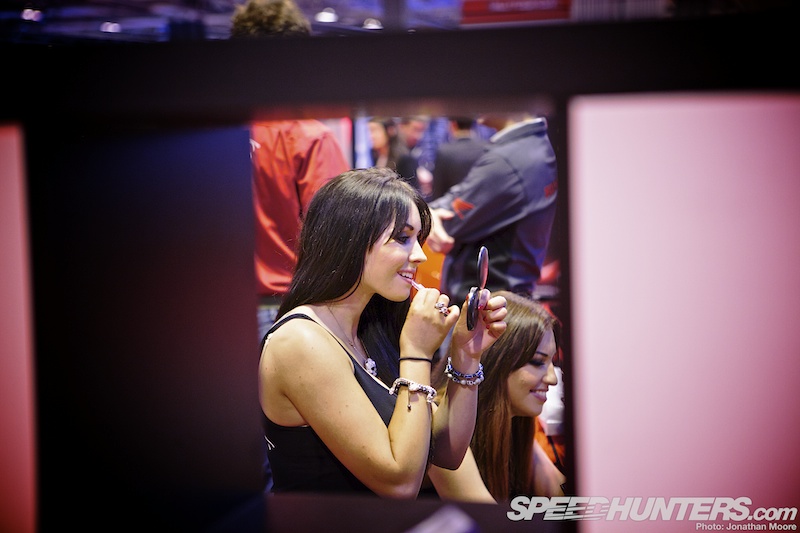 …as the beauty wasn't just made in metal. Or carbon. Next up, I'll be taking a look through the huge variety of racing series that show attendees were faced with if they fancied taking an active part in the 2013 season. Where they could choose to race, the cars they could be driving and the engineering options they could be using – all coming up!
Jonathan Moore
---
---
---
---