After trekking through the Las Vegas Convention Center for three days, I've finally accomplished mission impossible – I've seen almost all of SEMA. Granted I'm sure there were some small nooks and crannies that I may have overlooked, but I've finally managed to walk all three halls and the outside areas and today we'll be taking a look at some of the more interesting European vehicles I've discovered.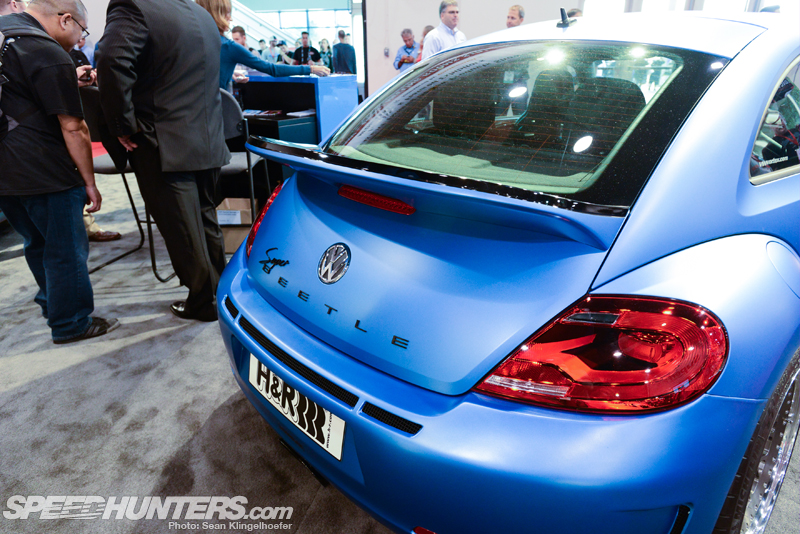 We'll start off with a car built by members of the popular Volkswagen forum VW Vortex that they are calling the Super Beetle. At first glance I figured it was probably another one of those SEMA cars with a disco wrap and some fancy wheels designed to catch the attention of the crowd in order to direct them towards some product, but upon further inspection I found out there was much more to it.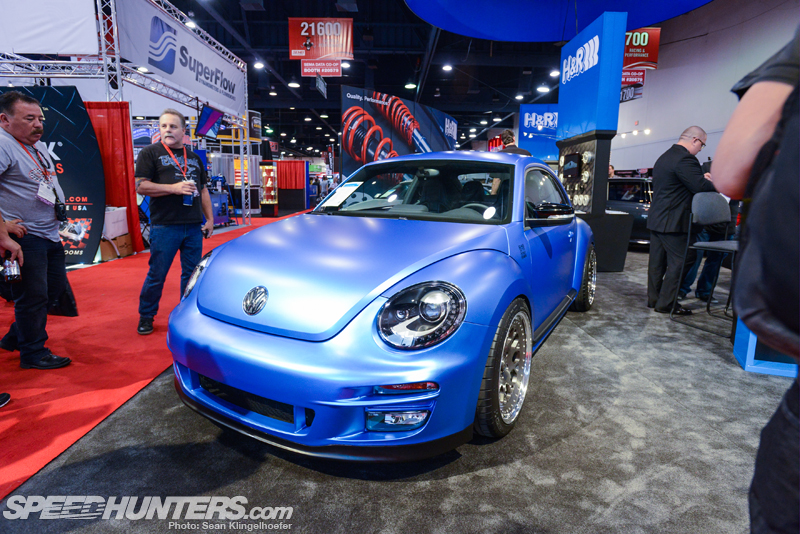 Granted it is breath taking and a definitely neck-breaker on the outside, it's what's on the inside that really sets this Beetle apart. It now houses a fully-built engine with an APR Stage IV turbo kit putting out right around 600hp. In order to accommodate the newly-found power, the guys also installed an AWD drivetrain from a Golf R… totally mental. VW Vortex, if you're listening, we're interested in a feature.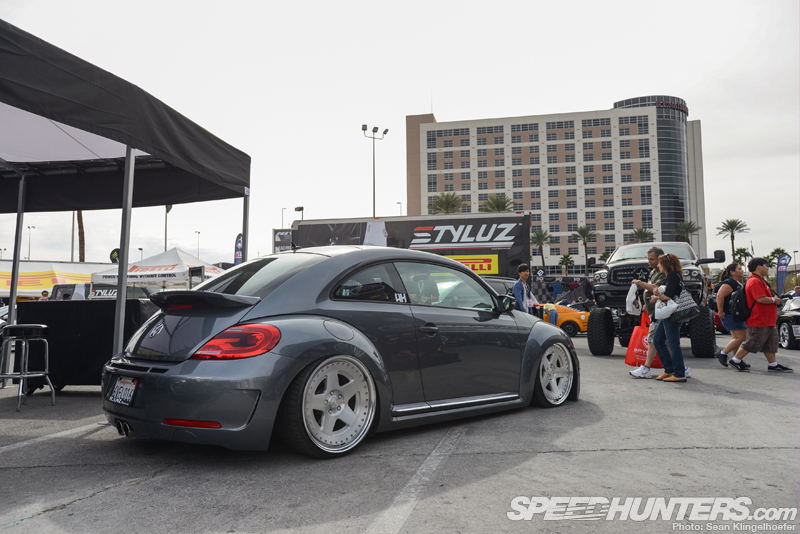 I also spotted this less crazy Beetle outside that I thought was a good look for the car under a more normal budget. Having driven a few of these cars I've appreciated how they drive but never much cared for the styling. However after seeing a few at SEMA they've started to change my opinion.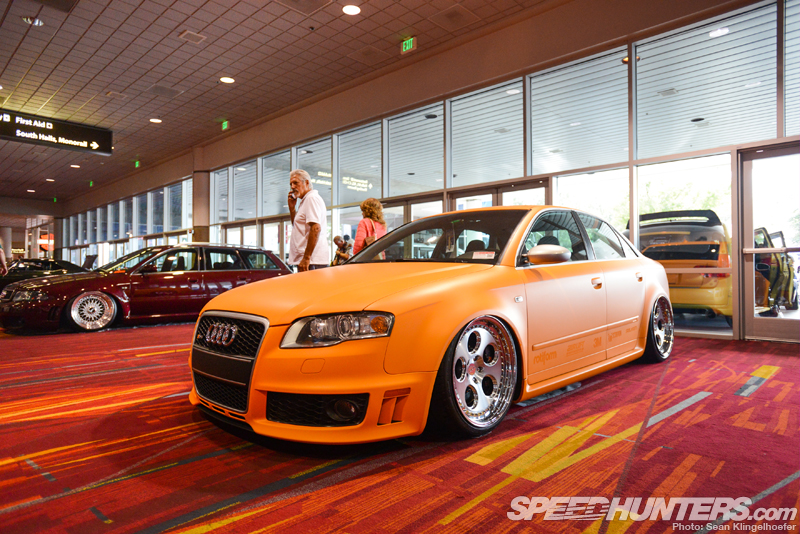 I have to admit that attendance in the Euro scene seems to have been pretty low this year, but for the most part the cars that were on display were very nicely done. I really dug the low-key sponsor logo job on the side of this slammed RS4. Very tasteful.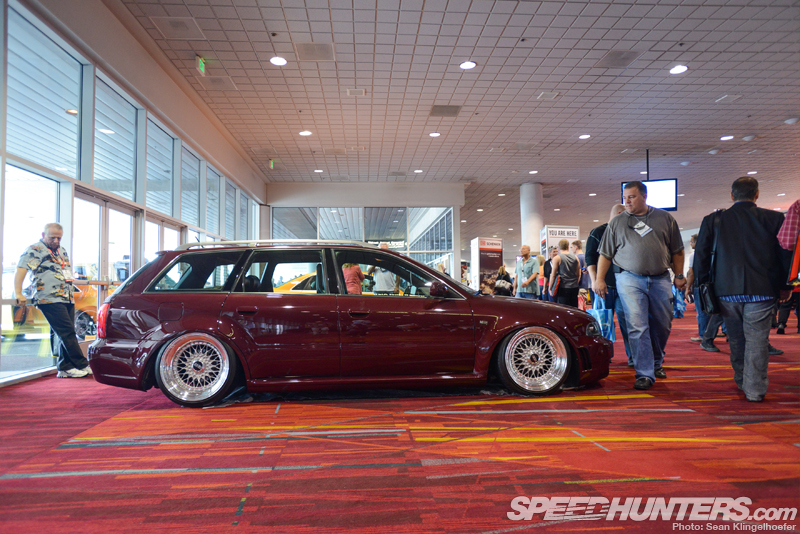 The car sitting beside it was was more of a nod to the Euros I've grown up seeing and although it might not be slammed on some of the currently trendy machined wheels, mesh is an undeniably good look for the car. At one point I saw a few people walking over and touching the front fenders as if in total disbelief that the car could even be that low, something the Euro guys have been doing long before the term "stance" became a buzz word.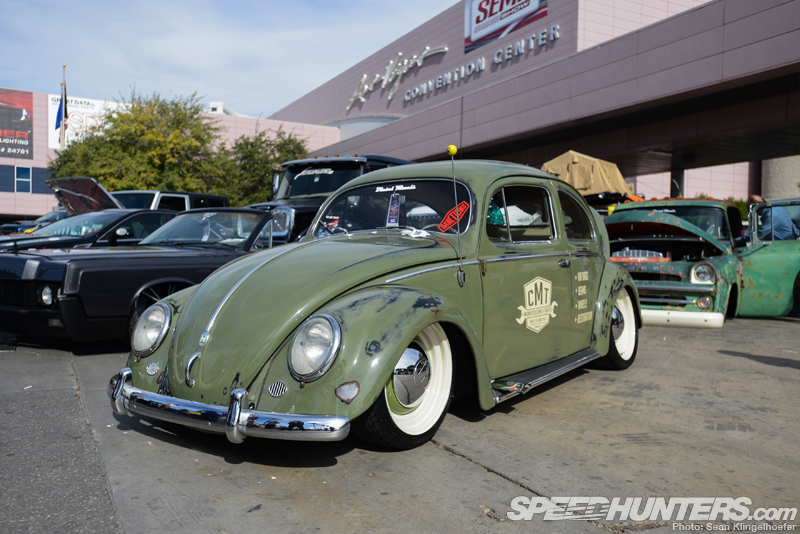 Speaking of low, I saw something even older outside that I felt was worth a mention. This Beetle was an interesting take on the ratty style by creating something that looked a bit ragged from afar but was quite nicely finished up close.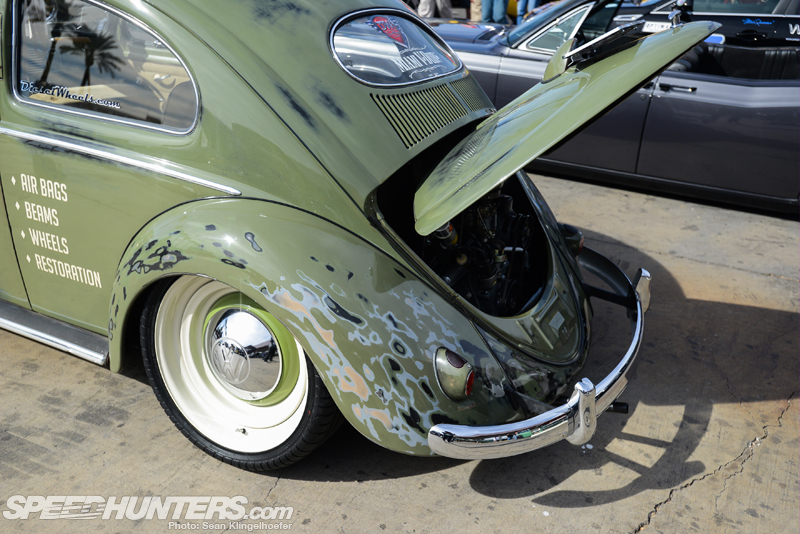 The builder has created that sanded-through-multiple-layers-of-paint-and-bondo look and then cleared over the entire thing, preparing a finish that looks ratty but is quite easy to care for.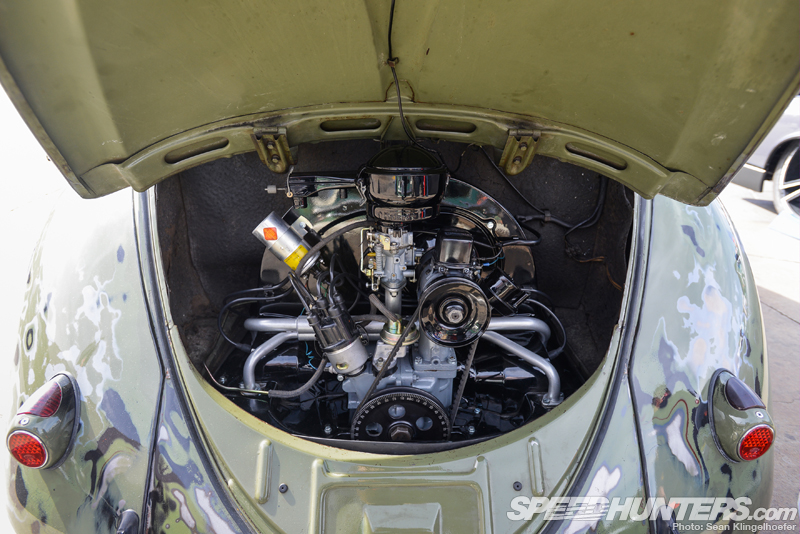 The engine was also immaculate and I wouldn't be surprised if the entire motor were either fresh out of a crate or assembled using all new parts.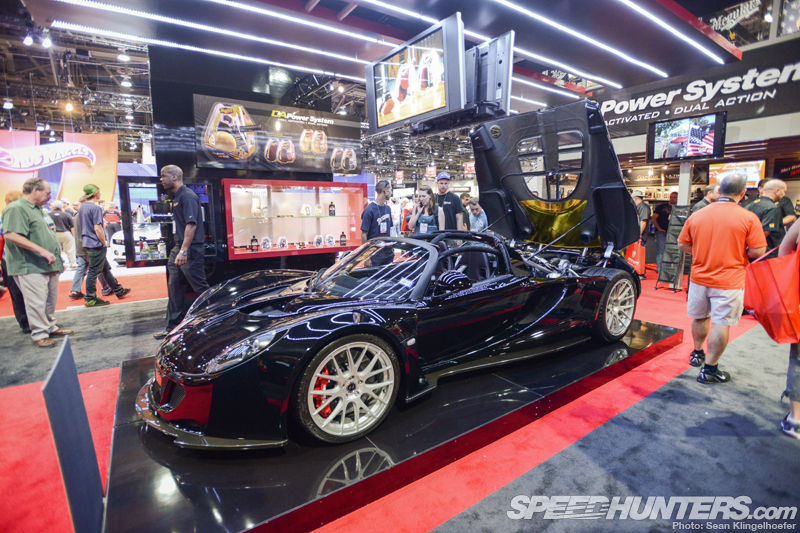 At Speedhunters we're always asking ourselves what you get when you cross-pollinate different automotive cultures because the end result is usually extraordinary. In the case of the Hennessey Venom GT I can attest that mixing British nimbleness with American psycho power nets a seriously potent super car.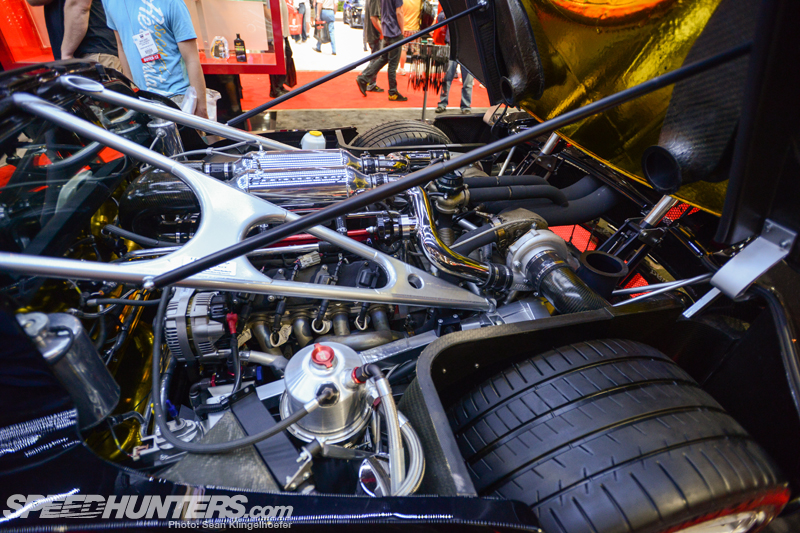 For just over one million dollars the company will take a Lotus Elise, cut it up, stretch it out and throw a turbocharged Chevrolet V8 in it. The result is a 1,200hp monster that will do 0-60 in 2.5 seconds and tops out right around 275mph. If that's not completely insane I don't know what is!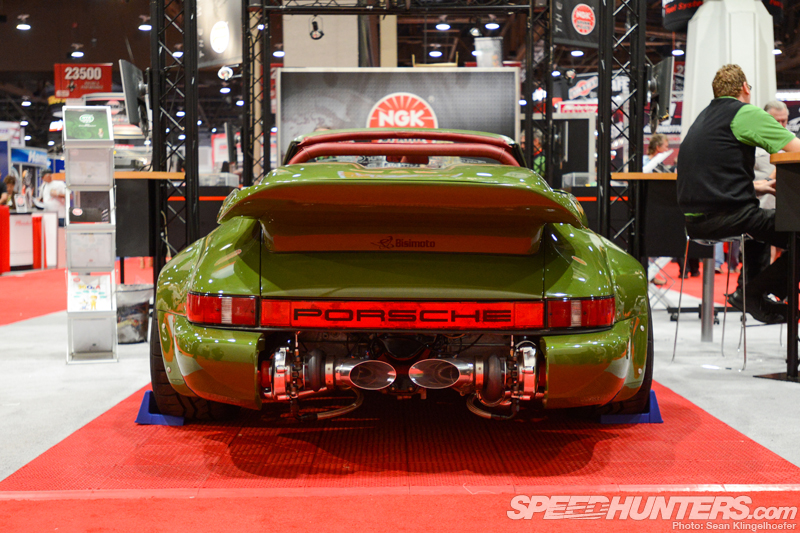 In other totally insane news from SEMA, our friend Bisi has been quite busy in order to finish three cars for this year's show, including this badass 930 convertible. Featuring his trademark exposed twin turbos, he opted for an even shorter no-nonsense slash cut exhaust this time around. I'm not sure which I like more, this one or the setup on his first blue 911 I shot over the summer.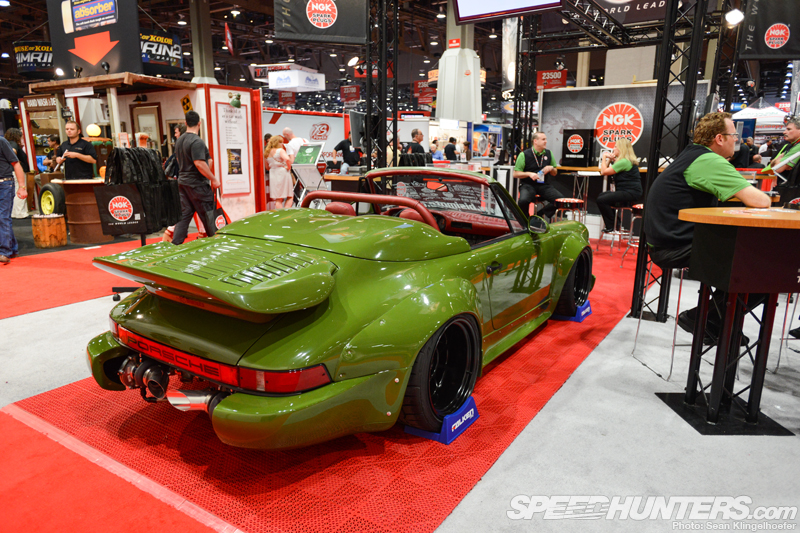 It's a little strange seeing a Bisimoto car in any shade that isn't his signature light blue, but I really like the color on this nine-eleven. I'm also digging the speedster style tonneau cover and GT2-esque widebody kit.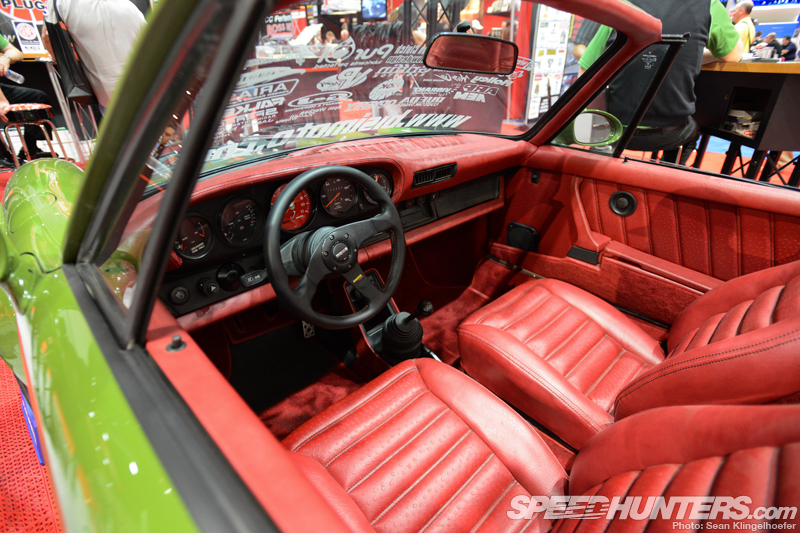 The burgundy ostrich interior was a bit out of character for Bisi but meshes very well with the exterior. Although this car doesn't have the same gutted out track day special vibe of his first Porsche, I really like the usability of this particular car and it could be the ideal commuter for those of us in Southern California.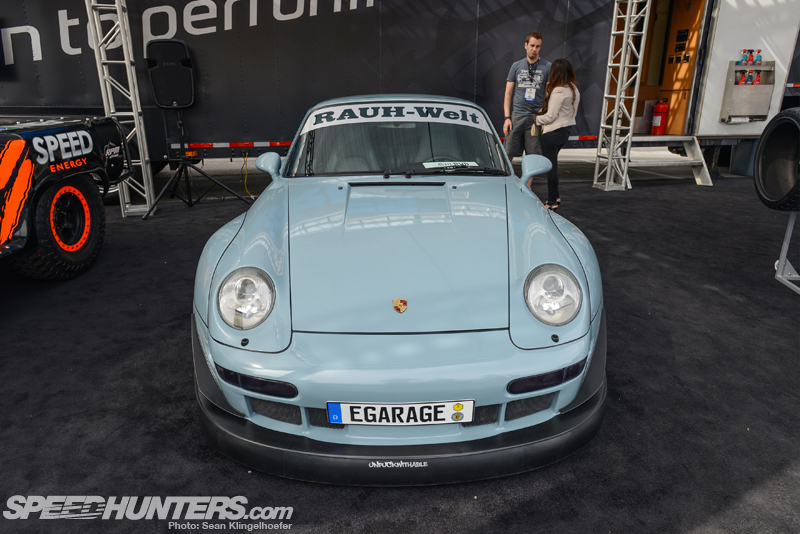 Of course it wouldn't be SEMA without something from RWB on display, this time an awesome 993 from the guys at eGarage.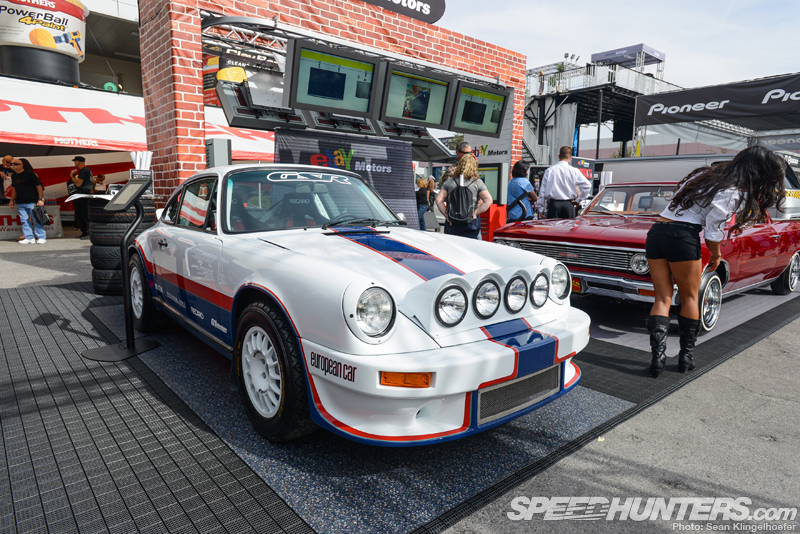 One of the quirkier Euros I saw this week was a car inspired by Porsche's factory rally cars of yesteryear. Built by European Car magazine, it was part of a competition for eBay motors where the car was auctioned off and the proceeds donated to charity.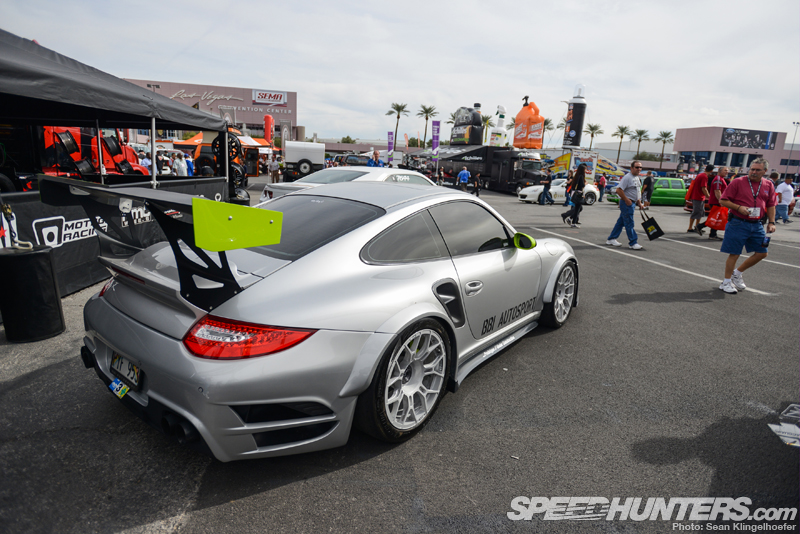 Another fascinating Porsche I saw outside was this wild widebody 997 GT2 sitting at the Motegi Racing booth.  Right up to the middle point of the fender arches the car almost looks like a factory R racer but the kit, which I don't recall ever seeing before, gets a little crazy down below.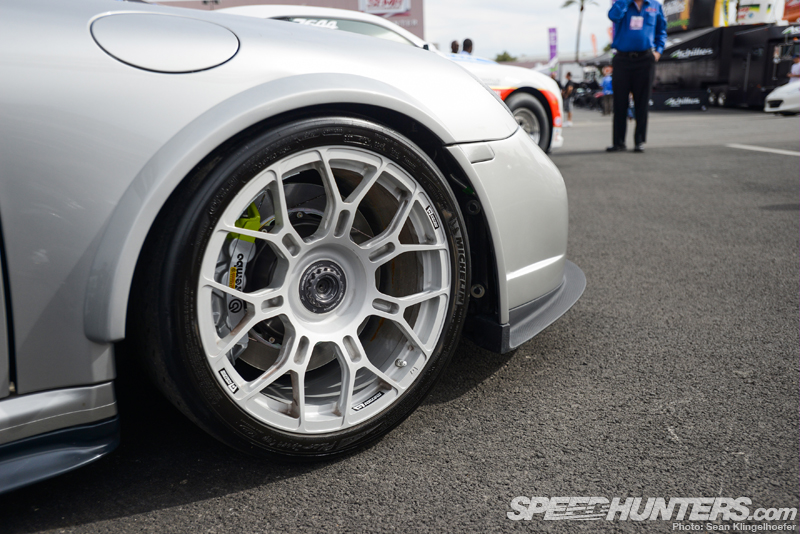 Perhaps it should come as no surprise that it was wearing a set of Motegi Racing wheels, but these are a set of super high-tech center-locking units that Motegi have developed with Ferrari and AF Corse in Europe. Baller stuff indeed.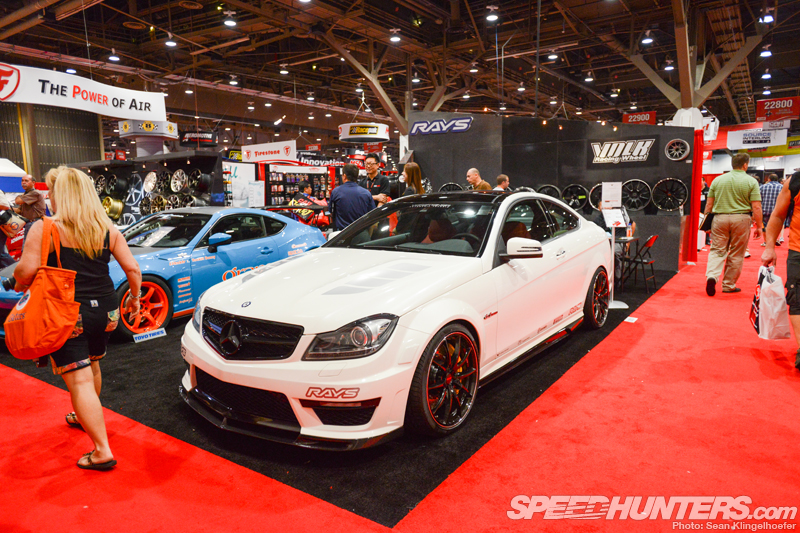 Rays also knows a thing or two about baller stuff and this year they proved it by throwing a car I'd kill a baby in front of its own mamma for – the C63 AMG – in their booth. Complete with a Vorsteiner kit I'd say this is a pretty damn good brand ambassador.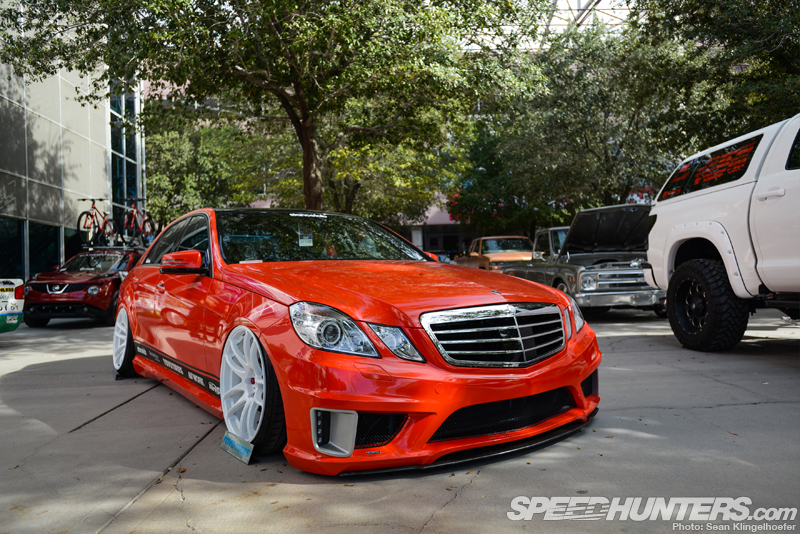 Back out in the light of day I came across an E-Class that probably speaks even louder to the younger generation of car enthusiasts. There's nothing like a set of concave Works, a Carlsson kit and air ride to induce a mad drooling session.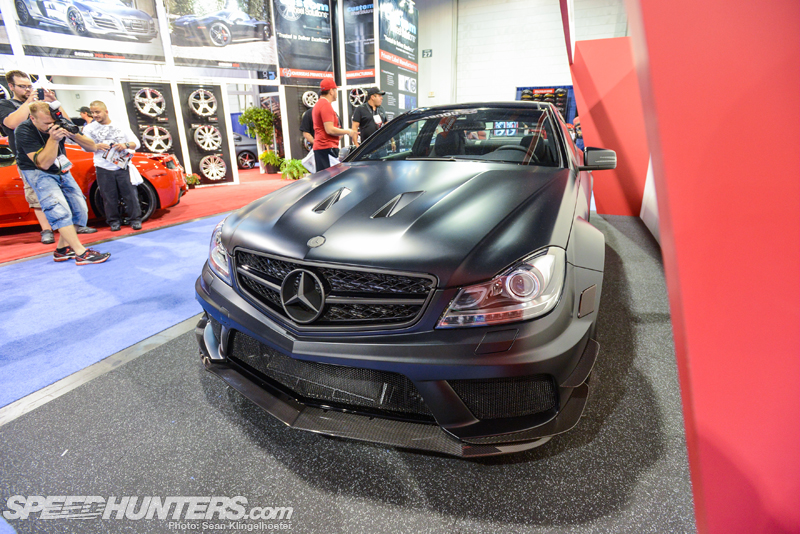 While there were some SLS AMGs and even an SLR McLaren or two, the Merc that really tickled my fancy was a C63 AMG Black Series, black both literally and figuratively of course. As I grow older there's some part of me that likes these cars more and more each year and the thought of rolling around in even a lowly base-model C-Class sounds pleasant these days.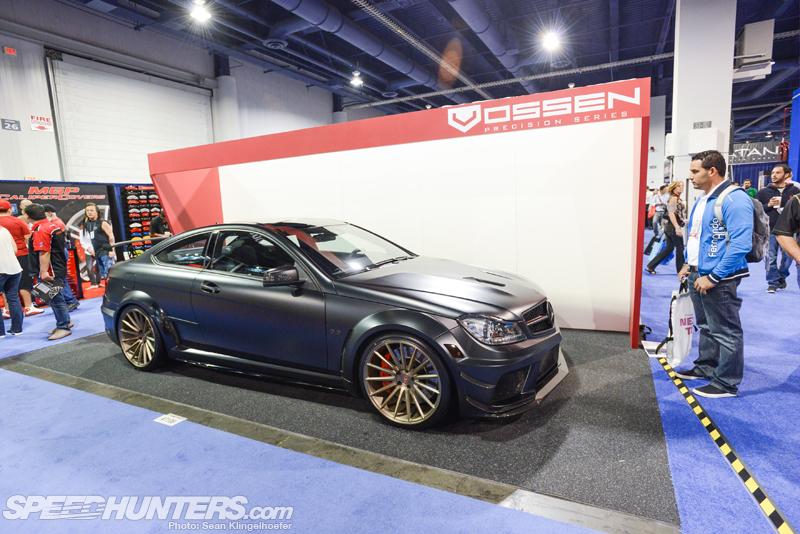 Obviously the Black Series is anything but ordinary with carbon dive planes, wide fenders and a GT wing as standard, this is Mercedes' idea of an affordable track car. It comes from the factory with a 6.2L engine putting out a little over five-hundred horses, more than enough to make my way to the grocery store or around Buttonwillow.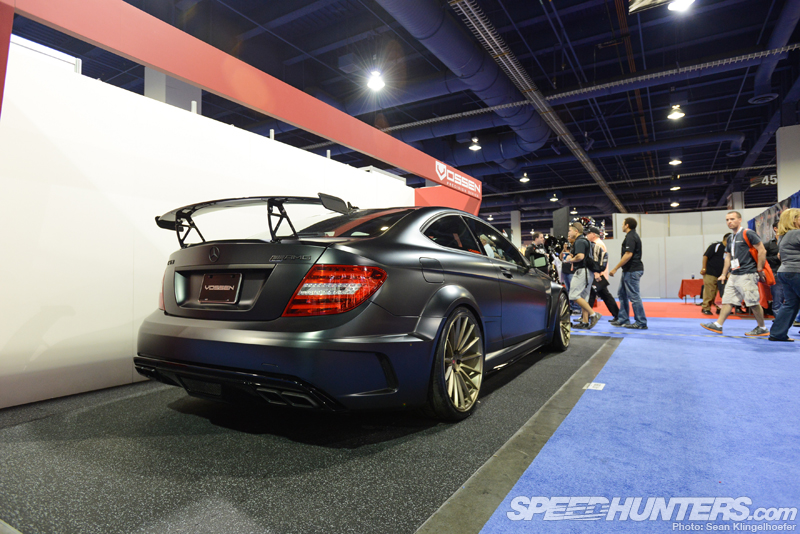 Unfortunately with only 100 units made and a price tag that is several times out of my range, I'm forced to sit and gawk at the ones that belong to others. Luckily the folks at Vossen were kind enough to upgrade the rolling stock on this one and and put it on display for the rest of us to admire.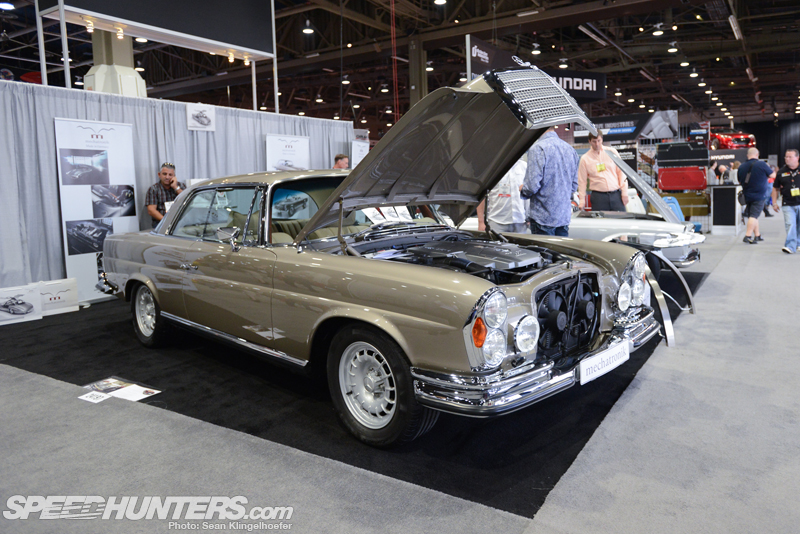 While we're on the subject of pipe-dream Mercedes-Benz vehicles, you've got to check out these cars built by a company called Mechatronik from Germany. I first remember seeing these in the basement of the LA auto show last year and being so perplexed by them that I think my brain ceased to store the information.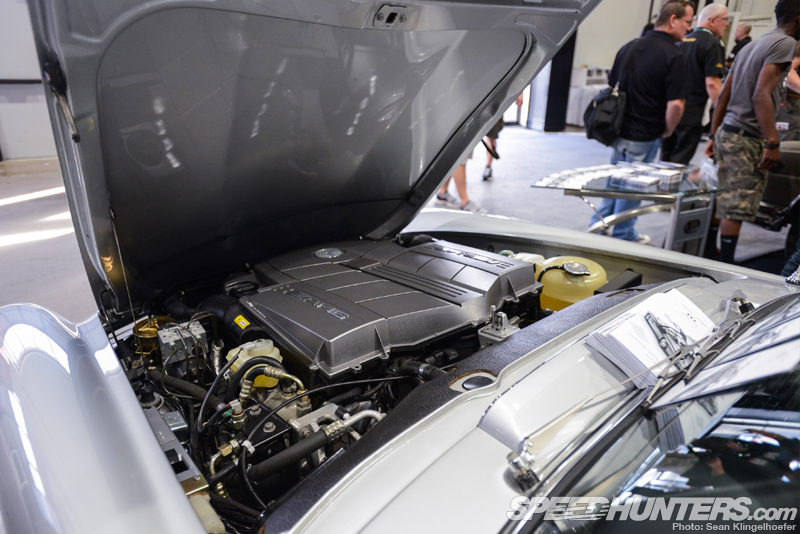 As soon as I took one close look under the hood it all came rushing back. The concept is something they refer to as "tradition meets high tech" where they mate current AMG power trains to classic MB bodies. Retail on the cars is staggering to say the least, but I would imagine for those that can afford one, it's likely a wise purchase.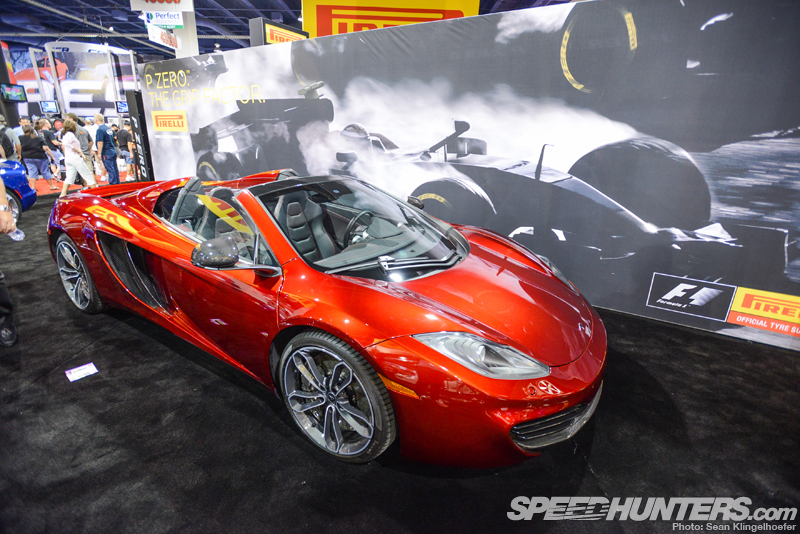 Back in the wheel and tire hall I found a McLaren in the Pirelli booth that seems to be missing its lid. This is, obviously, the new 12C Spider; a car that, to the best of my knowledge, still has not gone on sale anywhere in the world.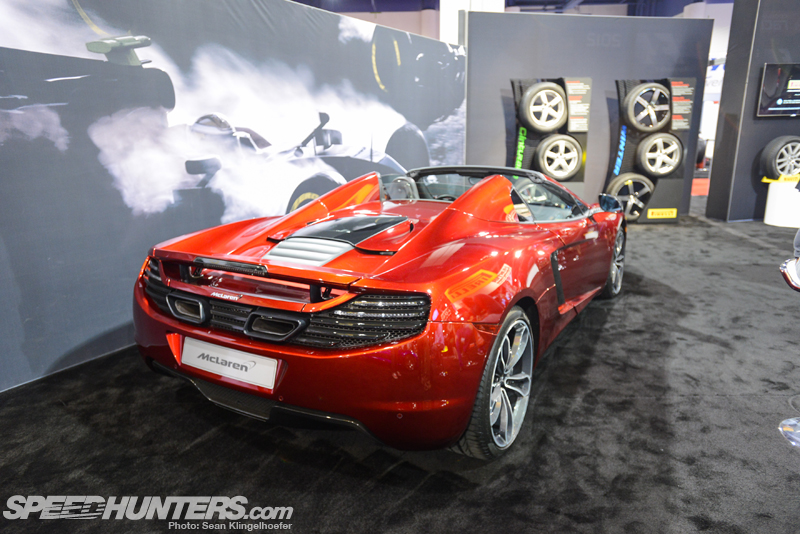 While I normally prefer a coupe to a 'vert, I must say that McLaren has done an excellent job on this car. The way some of the body lines have been restyled to match up to the original shape is exquisite and I can only hope to photograph one in a proper setting soon.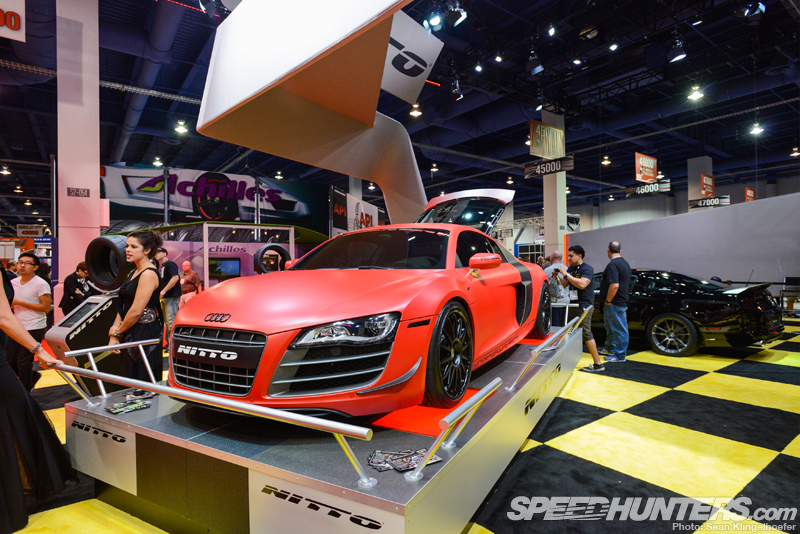 To close out today's post I'm going to move from bonkers to hyper bonkers, courtesy of a car built by the standing mile legends from North Carolina, Underground Racing. These guys have built quite the reputation for themselves in the Lamborghini world by building some of the highest powered twin-turbo Lambos around, so I knew that despite the unsuspecting looking exterior, this R8 was going to be packing some heat.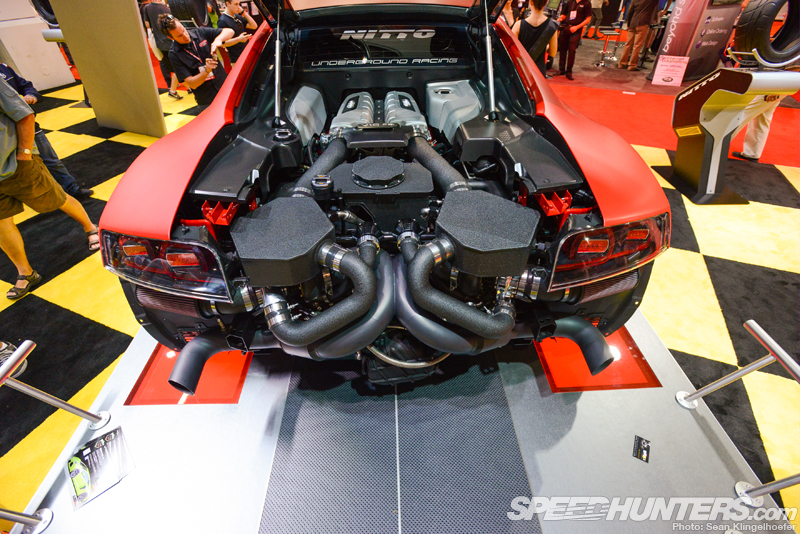 What a difference a change of view can make! Once I had navigated around to the back side of the car I saw that familiar sea of turbo snakes I've come to expect from UR. With fabrication work of this caliber it's almost offensive that bumpers exist at all because it would be a shame to hide that!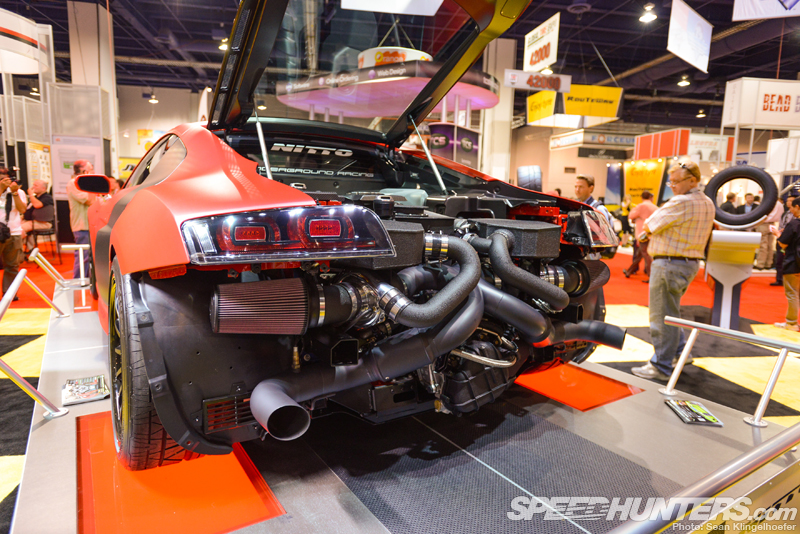 Obviously the amazing looks are just a byproduct of the work here – the effort is clearly aimed at overall power output which has been lifted to an insane 1,200hp! "And on that bombshell…" I'll leave you with this final image to drool over… more to come from SEMA tomorrow!
More from SEMA 2012 on Speedhunters
-Sean