You know what really gets to me when people refer to the MX5/Miata/Eunos? That they're just a bit of fun and they have a bad image, I say it through gritted teeth, but the word 'hairdresser' seems to come up a lot. These tired cliches may have been the general consensus 15yrs ago, but times have changed and thankfully so have attitudes. Mazda did good and shame on you if you think differently. Really, shame on you.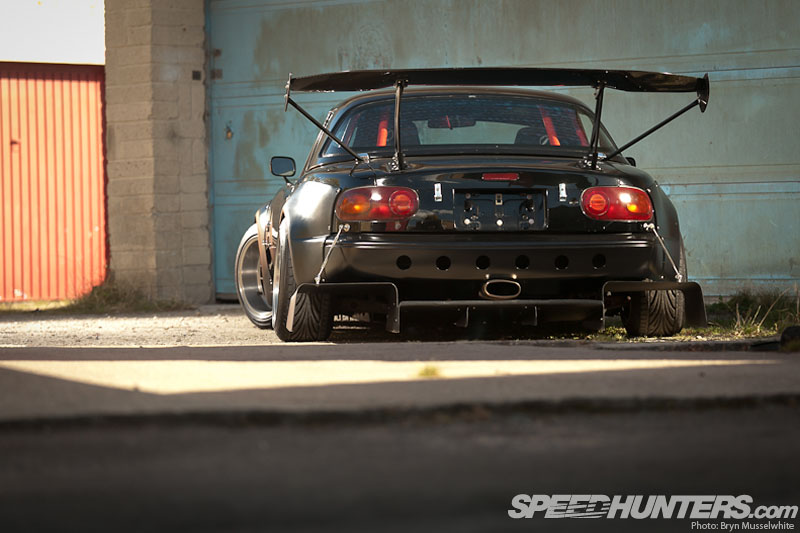 Aside from Rob Godwin's Eunos featured here, which serves to show my point better than many. Why am I so convinced of the two-seaters charms? During the summer of 1999 I spent a lot of miles driving a brand new Mk2 MX5, working for a long since dead modified car magazine called Revs, we were surfing on the bow wave of  all the container ships landing in the UK. Laden with imported Japanese cars, every other feature seemed to shame our own home grown efforts, I remember a couple of supercharged Mk1 MX5s and just how much of a revelation they were. Light, fast and with a few modifications perfectly suited to British roads.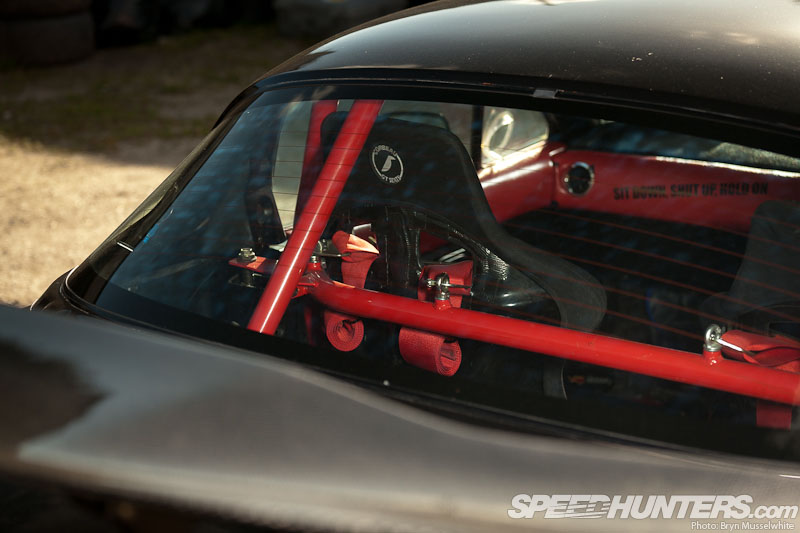 So imagine how tiring it must be to still hear people make excuses for the Mx5? So stop it, stop it now. Go drive one and if you don't agree they're ace then you should check your heart is connected to your head. Rod Godwin's is and it's pumping hard, it has to as his turbo converted 1993 Mk1 takes a lot of concentration.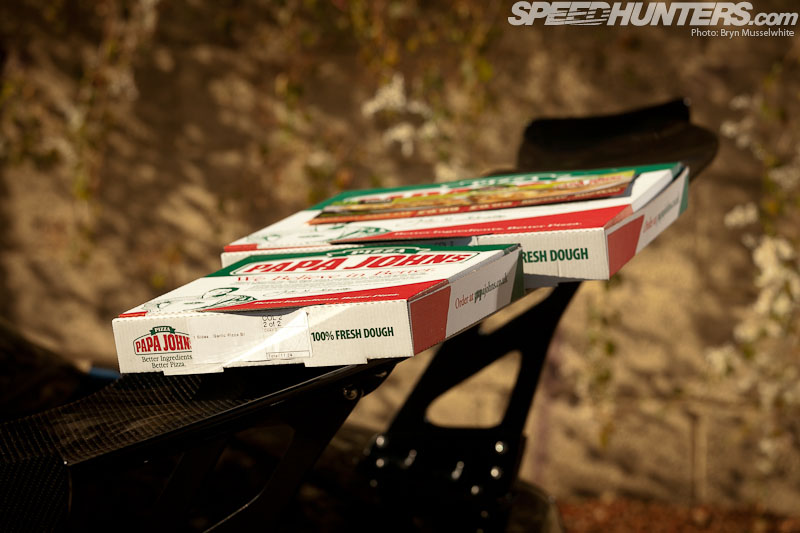 First up we'll deal with the visual side of things, because let's face it, subtle it is not. Like a brick is round.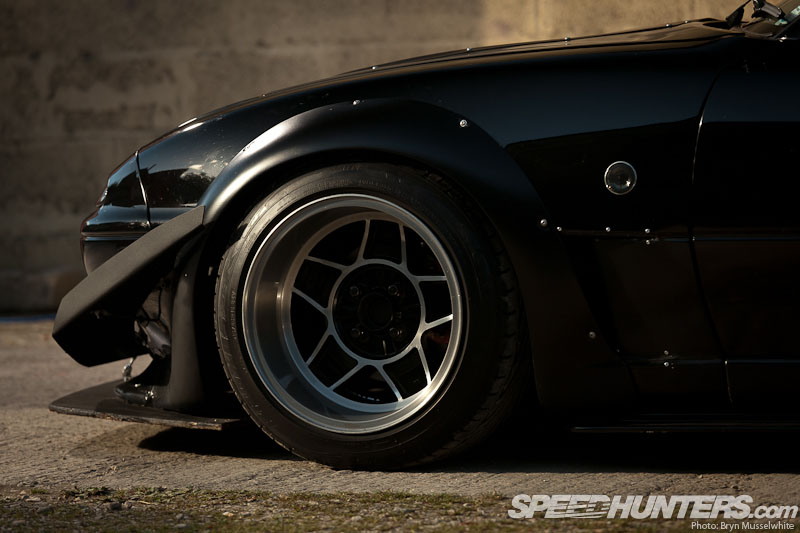 It was quite understandably the first thing I saw at TRAX back in September, some people might think the aero is outrageous but that wing was almost parting the crowds. So I asked Rob about it and as he's a qualified car designer, graduating with a degree from the prestigious Coventry course, his reply of  'as a rule if it looks like it should work, it will,' makes a lot of sense to me. Aerodynamics are often something that suffer at the hands of vanity, why fit full race brake pads or a huge turbo but then baulk at the thought of fully functioning aero to support it?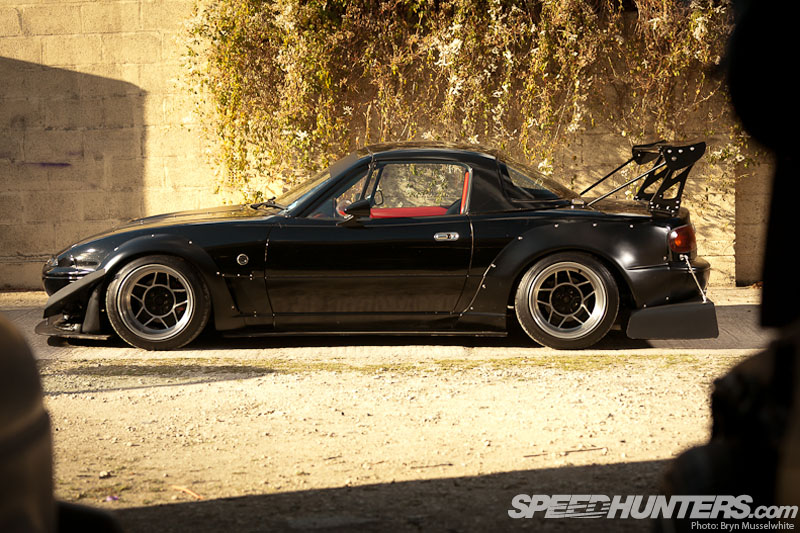 Rob worked his way through a Mk2 Golf at college, stripping it out and fitting a Passat sourced 16v motor. By his own admission it was bought and run cheaply thanks to his student status, this meant when he left and needed a reliable motor for finding work, the Golf wasn't up to the job. We'll skip over the Clio he bought and move quickly on, just like he did to this 1993 Eunos (Miata in the US, MX5 in the UK and Eunos in Japan), we're in the UK so it's an import model we're looking at here.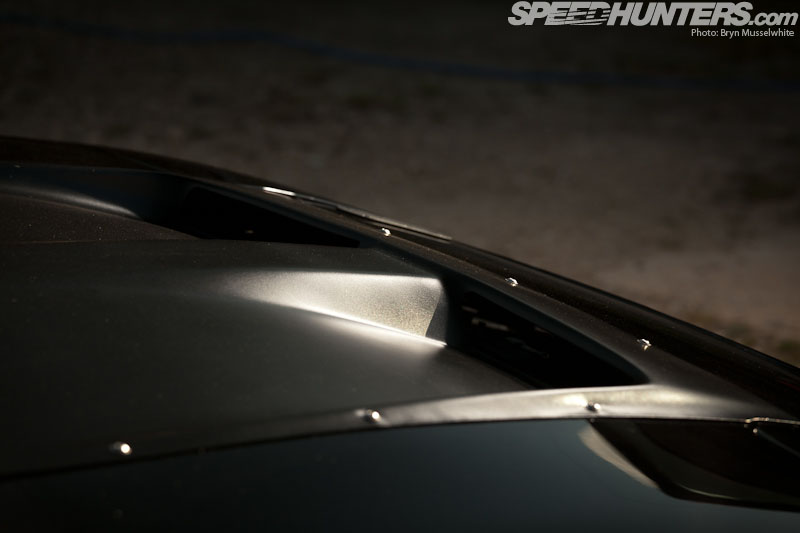 After some research, Rob settled on the first one he saw.  It was the right colour and spec, so why not? Reliability, cheap to buy, cheap to insure and easy to modify all sorted.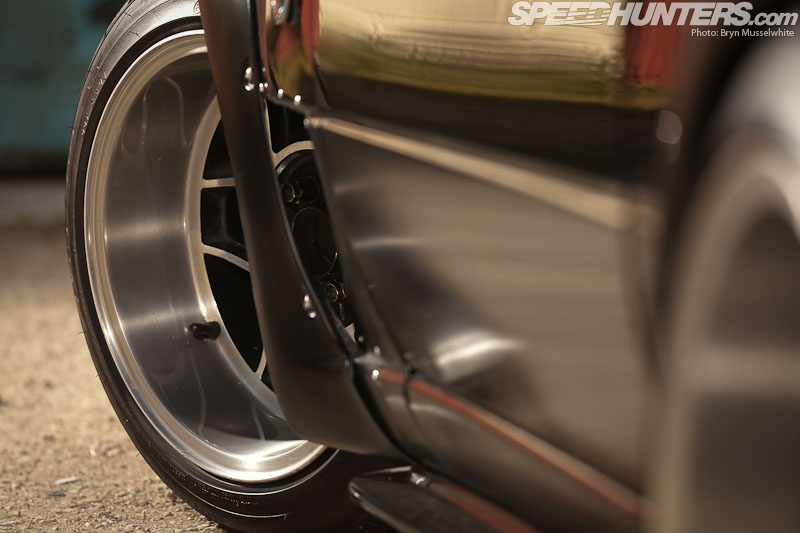 Within a week it was on some budget spec coilovers and ATS Cup rims, I ask Rob if they were a hang over from his VW days? He tells me probably, but that he also seems to have a thing with ATS rims in general. Thankfully they keep getting wider.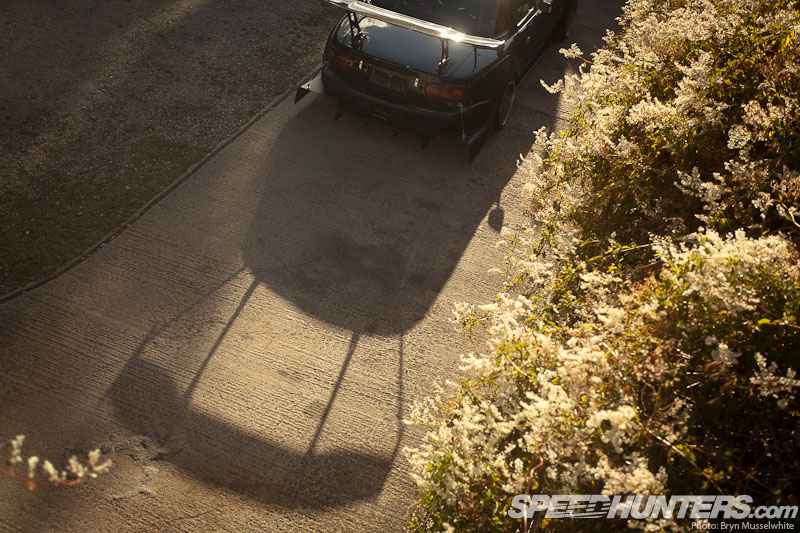 Going through various different degrees of ride height and look, the main turning point was when Rob photoshopped a big wing on to a picture of the 5. As he remembers, "I was looking at the JPS liveried MX5 from Japan," when pushed he says he only did the render because Photoshop was open on his computer, maybe it was instinct? Friends said he should do and it and as one them was selling a suitably large wing, it happened.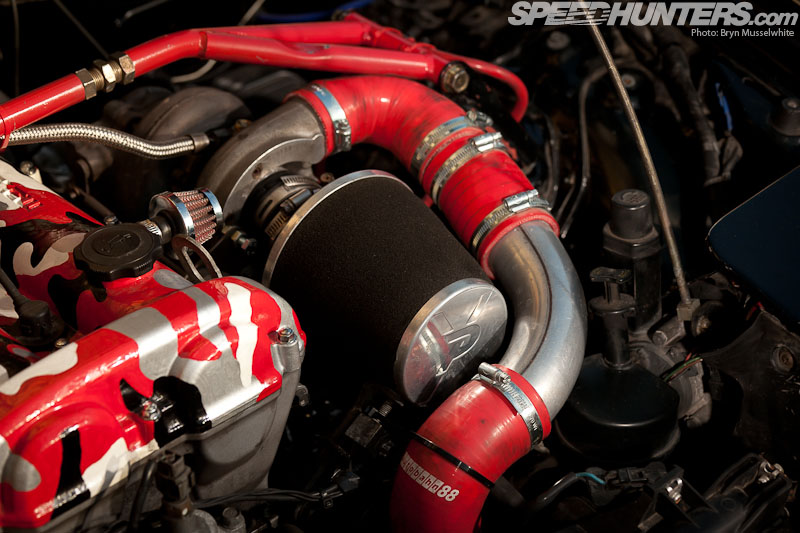 Rob freely admits at that time the wing was fitted purely because it looked cool, but like I said when you talk to Rob prior to that moment his attention was focused on making the 5 look good. After that things changed, in fact not long after the turbo kit was fitted… And another daily was bought.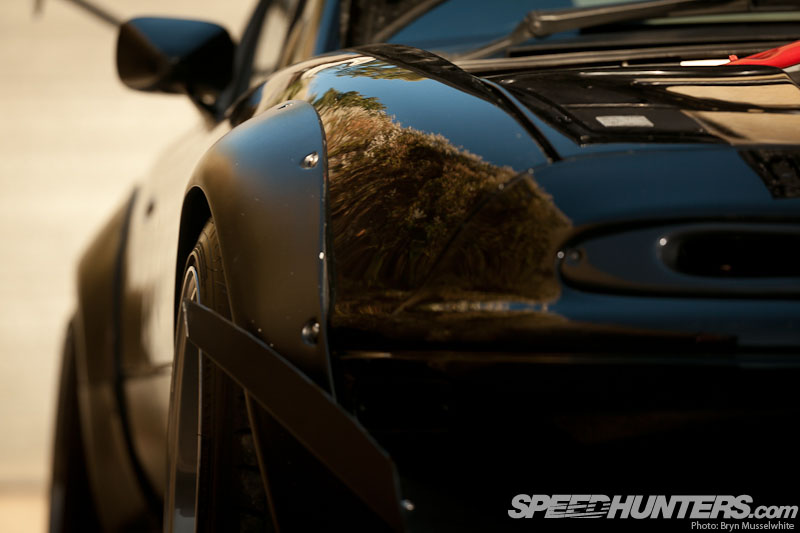 The canards came next, home made, they went through a few different profiles and shapes before Rob was happy.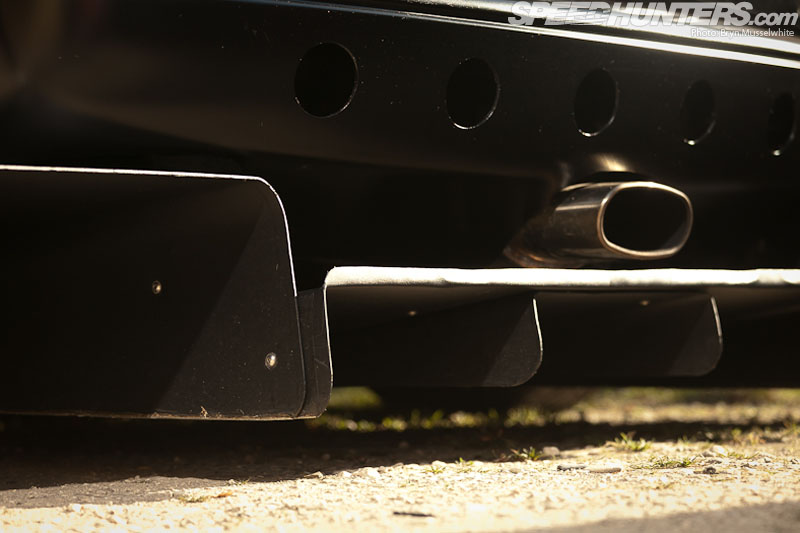 'Now people started to ask why have you done that? Does it work?' From here on in, everything was researched and is based on aerodynamic fact. Rob using online resources and his own experience in simply driving the thing. Something a lot of people underestimate, as he says, "I haven't got a windtunnel in my back garden and there are no graphs or figures, but the way the car drives now it absolutely works."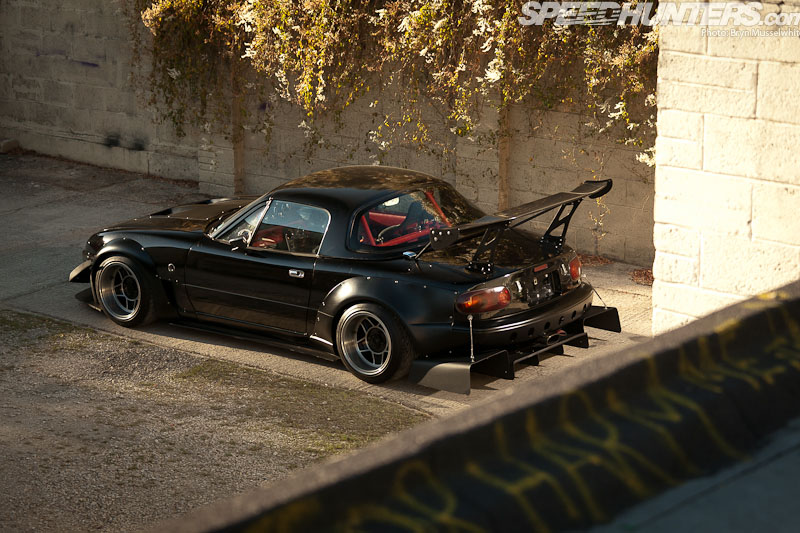 What Rob has done is bold, we all like to think we know a bit about making our cars go faster and often we'll spend a lot of money on chassis upgrades, or horsepower increases. Yet with basic tools in the garage at home, Rob has managed to improve the road holding of his project on a strict budget. That's got to be worth a try huh?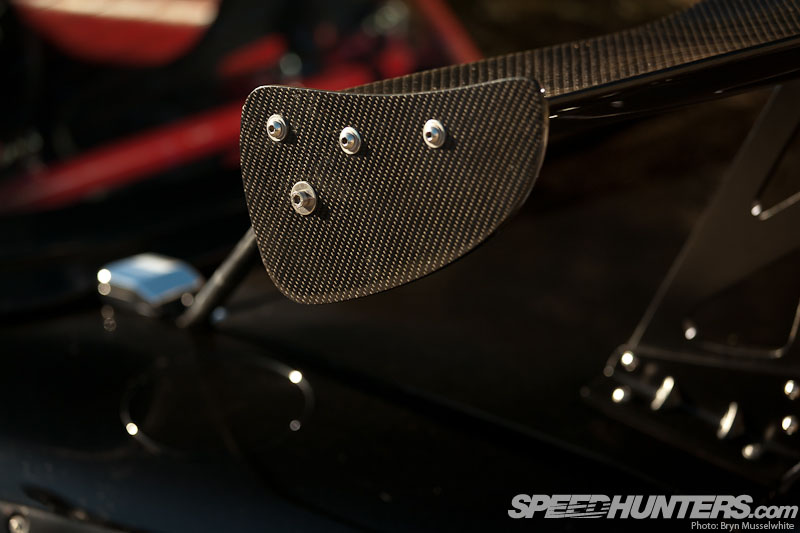 No matter what you think of the overall result, Rob has heard it all before, "It's my car, I designed it the way I like. A lot of the comments I get make me laugh."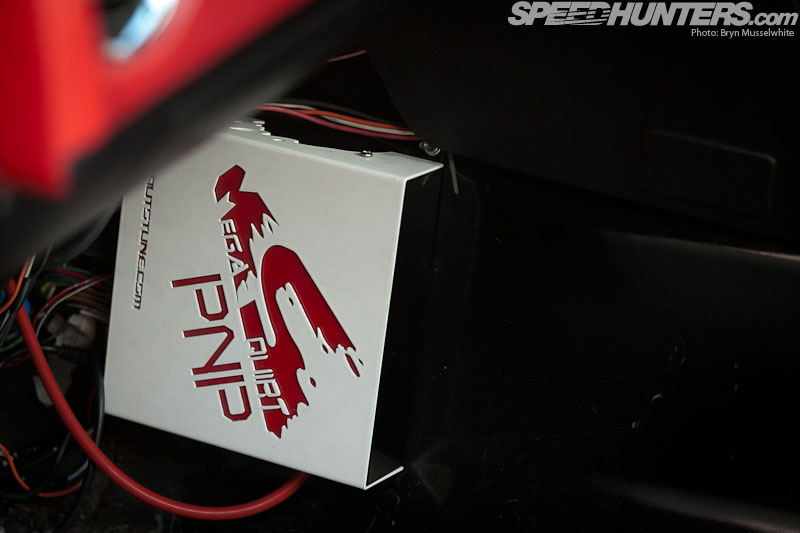 Sat in the tight passenger seat, the Megasquirt ECU is alongside your right calf, the stripped interior is very purposeful and in keeping with the rest of the project.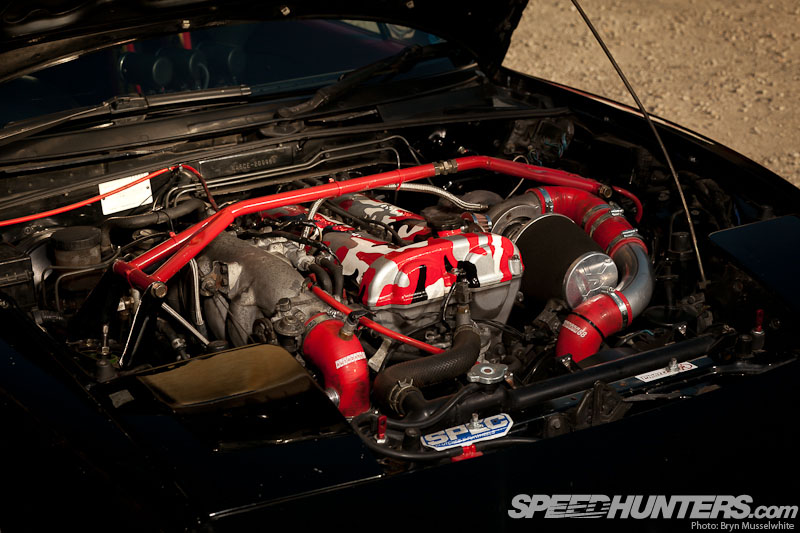 And of course there's the blown 1.6 motor that it bosses around, I duck in with Rob as we head off to find some quiet roads and instantly you get a feeling of intent. It's not overly noisy, although with little in the way of an interior, and 241bhp in front of you it's not exactly quiet either. It's solid, yup that's what it is, close your eyes and you could be in a bigger GT car, I want to say Supra or Skyline GTST, opening my eyes and the handling snaps me back to reality.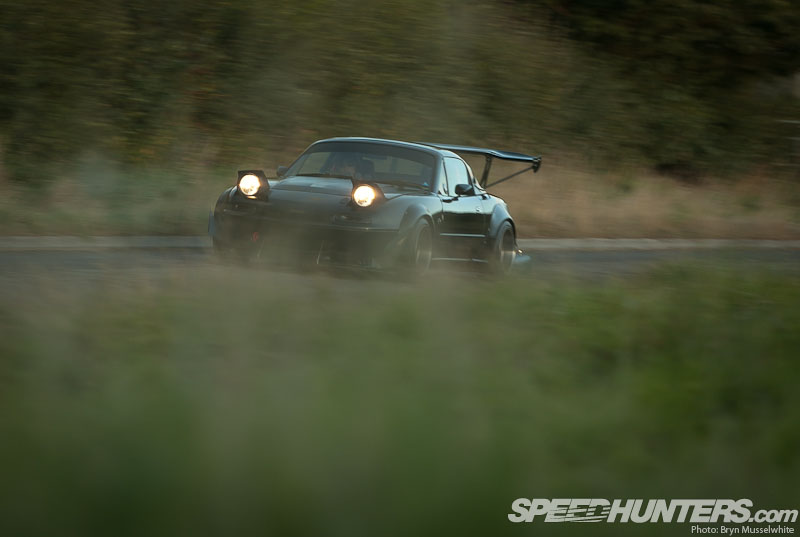 Even at the relatively low speeds we're doing on the open roads, the mechanical grip is ace. 9in wide ATS Classics and 215 section Toyo Proxes T1R will help that, the extra girth along with the N2 front arches and GT rears are a recent addition and complete the external transformation for Rob.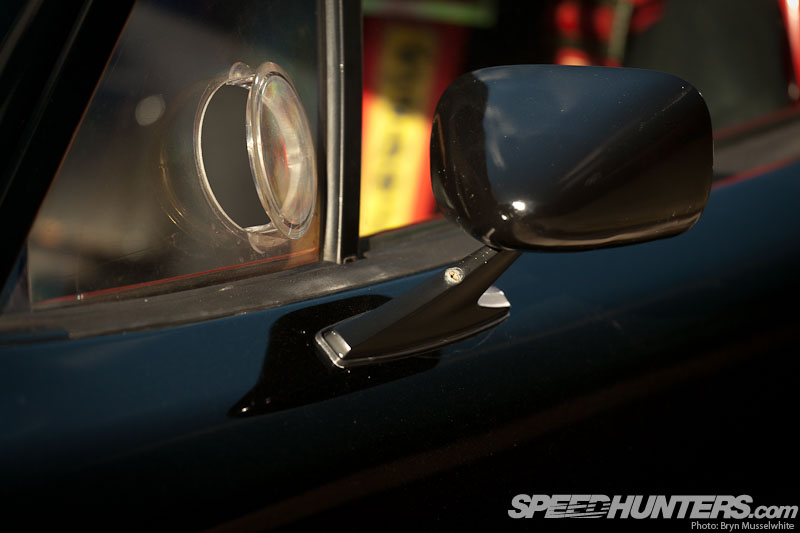 In fact he reckons the project is pretty much complete. What he really wanted was an S13, but what he's ended up with is so much more to us… Although we're beginning to wonder just how that S13 would have turned out. The MX5 has taught Rob to spanner in earnest, whilst being a simple car to work on, as he says, "It's all put together with 1omm bolts, simple and logical."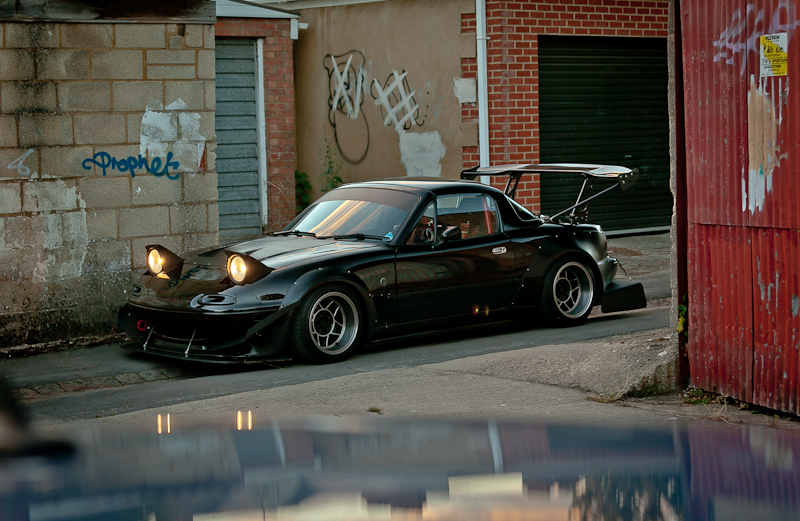 If you still think it's all show, then look at those factory standard headlights. Rob had a set of RS Active headlights fitted for a couple of years, low profile they look good but when he found out how much they were worth and having picked them up for much cheapness, they were sold. Rob saying, 'The lights make it look happy, so they only go up when it's dark."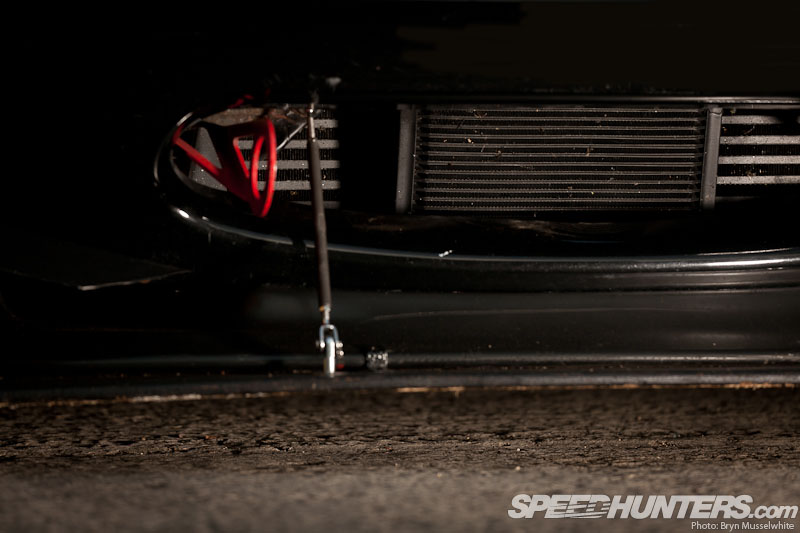 The money going to fund an oil cooler and some mapping.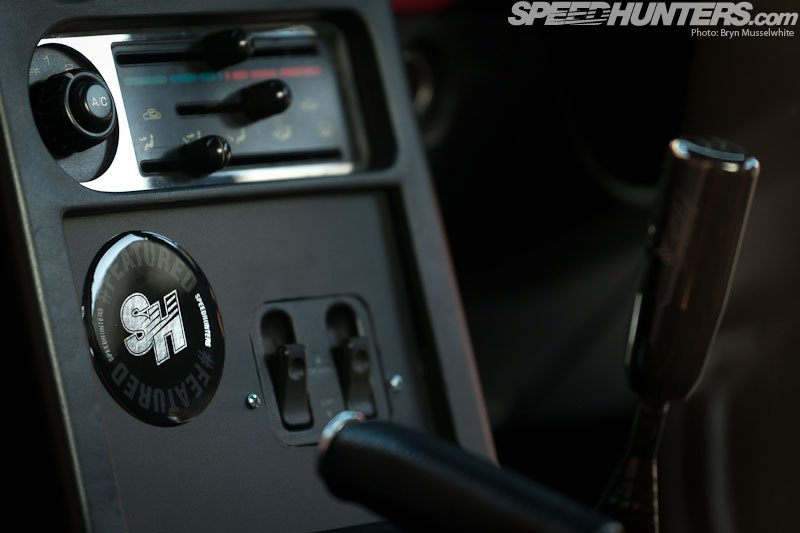 So what's next? More than likely a 350z project, or a rebuilt bottom end and more power. But we suspect it will be the former, the Eunos just seems such a 'complete' package as it is here.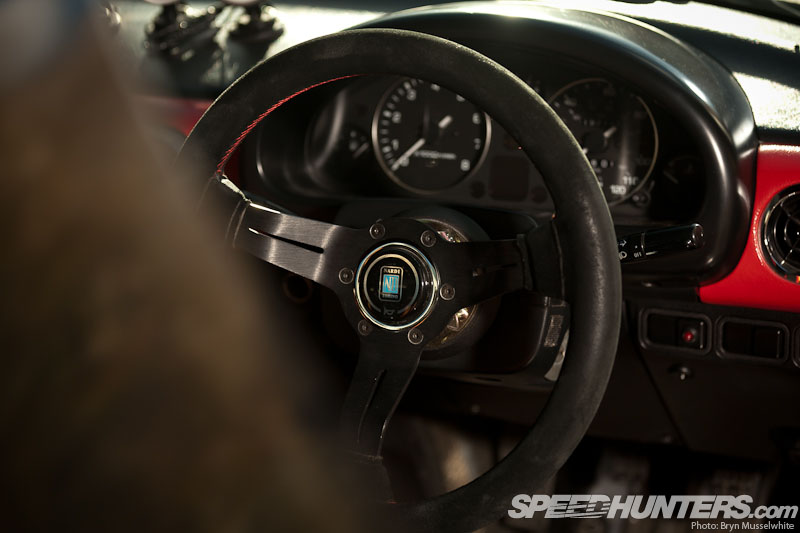 Sat here Rob has covered some serious miles over the last few years, meeting people through the Mx5 has been a huge plus to the whole process. The MX5 Nutz forum being his main source of information and inspiration, which he can't speak highly enough of.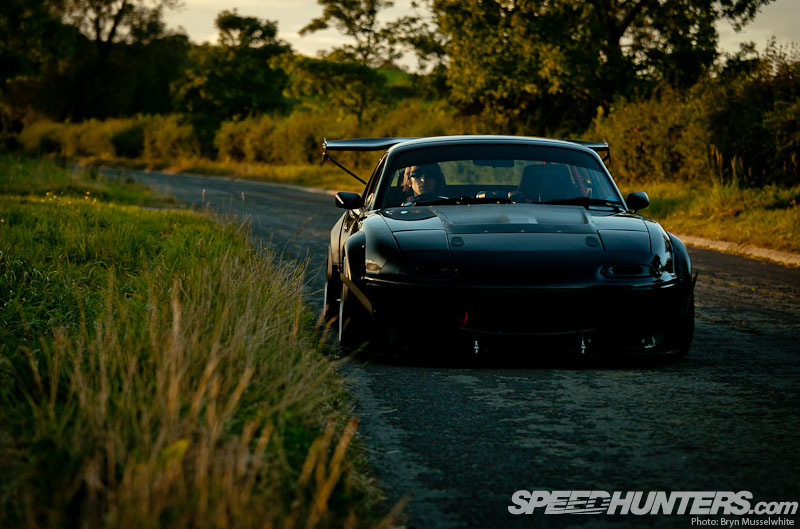 Go on, admit it, looks pretty good huh? Sure Mx5 ownership might not be for everybody, but you should try it at least once… You might even enjoy it.
………………
Bryn Musselwhite
More Miata/Eunos/MX5 stories on Speedhunters

Read all about Rob's build in this excellent and comprehensive forum thread, with the obligatory roll cage in living room shots…
1993 Eunos Roadster S Special
Engine – 1.6-litre, 4-cyl, 16v, B6 engine, TD-04 turbo, GReddy manifold, custom 2.5in stainless steel twin silencer turbo back exhaust with de-cat, Universal Intercoolers XL intercooler with modified piping, RX-7 460cc injectors, custom dual-feed fuel rail, Walbro 190lph fuel pump, Mocal 16-row oil cooler with thermostatic sandwich plate, Pipercross air filter, relocated expansion tank, universal BOV, Megasquirt 'MSPnP' standalone ECU, Innovate LC-1 wideband sensor, GM AIT sensor (AFM-delete)
Transmission – Factory 5-speed manual, Spec 2+ 1.8-Spec hybrid clutch, 1.8-litre flywheel, Torsen Type2 LSD
Suspension – HSD HR Coilovers, Performance5 chassis rail braces, front top strut brace, front and rear subframe braces
Brakes – 1.8-litre brakes all round with Axxis Ultimate pads
Wheels & Tyres – 9x15in ATS Classic wheels, et-19, with 215/45/15 Toyo T1R tyres
Exterior – Autokonexion N2 Front arches, Autokonexion GT rear over-fenders, Garage Vary front lip, Feed style side skirts, Japspeed carbon fibre GT wing with custom bracing, Bomex bonnet vent, Skuzzle Motorsport TSI's, OEM hardtop, aftermarket wing mirrors, custom aluminium rear diffuser, custom front splitter/undertray, custom front canards, Carbing front tow hoop, TRS rear tow strap, custom vented front wings, custom vented rear bumper, Aerocatches, deep windscreen sunstrip, tinted rear lights, Raybridge headlamps, vented quarter windows
Interior – Fully stripped of carpet, sound deadening, audio, plastic trim, soft-top and frame, sidemounted Corbeau Pro Race bucket seats, Sabelt 4-point 3in harnesses, Nardi deep corn steering wheel, Carbing 6-point roll-bar, custom doorcards, dash-mounted dial pods with AFR, boost and oil temp gauges, GDL weighted shift knob, fly-off handbrake, fire extinguisher
Thanks – Each and every person that has ever wielded a spanner or offered advice, in the direction of my car. But first and foremost: Frank Whitham, Chaydon Ford, Alan Walklett, Thom Simpson, Kyle Tilley, Bruce Holder, Shane Robson and Mike Smith. Also a massive shoutout has to go to Dale Bladen @ Bailey Performance for continuing to go above and beyond the call of duty to get the mapping absolutely nailed, and to the guys at Parcel Monkey for being nothing short of legendary in getting my imported goods to my door with the least possible fuss