I'm going to move swiftly along with another look at some of the cars of Slammed Society Japan, and trust me there is so much to see I could post images from the show for the rest of October!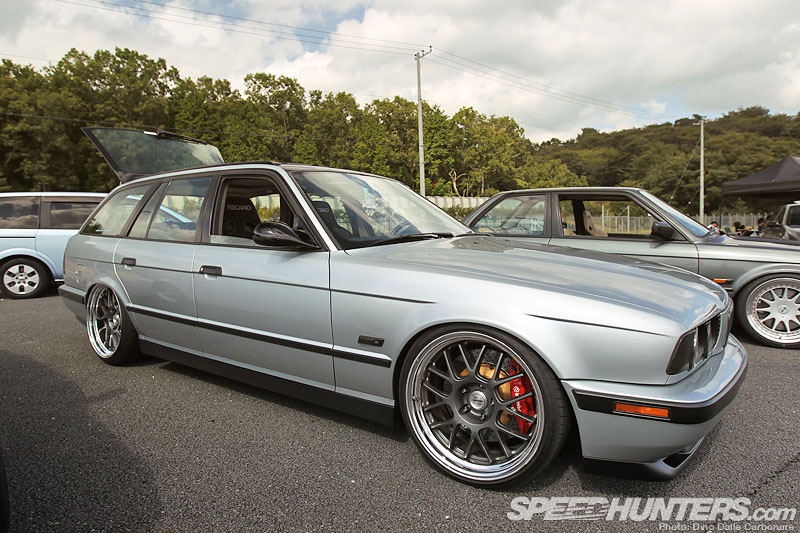 While Japanese cars obviously make up the majority of the vehicles present, there are always some imported gems mixed in too and it was this E34 wagon that I personally really liked. Aside from the fact that I have a strange attraction to station wagons, there was little this big 5-series was doing wrong; clean was the name of the game here, with a nice set of 19-inch Work Meister M1Rs taking care of the visuals along with an appropriate and aggressive lowering. Check out the big brake kit up front too.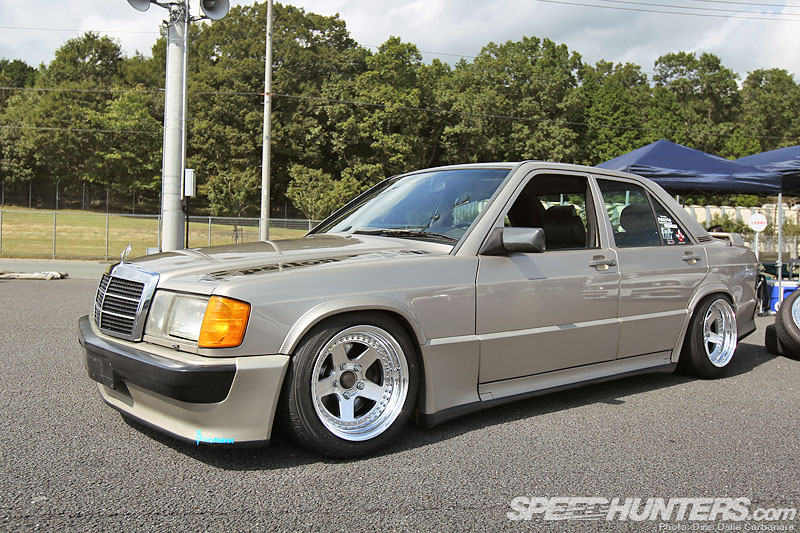 From 19-inch wheels to slightly more period-correct looking Epsilon Raguna wheels fitted to this Benz 190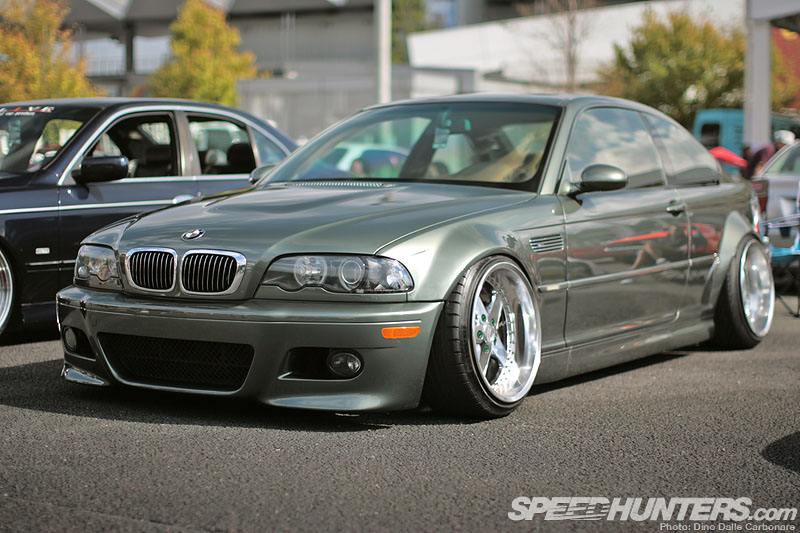 The winner of last year's Hellaflush Japan event in Fuji has swapped his old E46 320i from an M3 but has gone for a similar blistered fender look and those same very shiny Work Equips.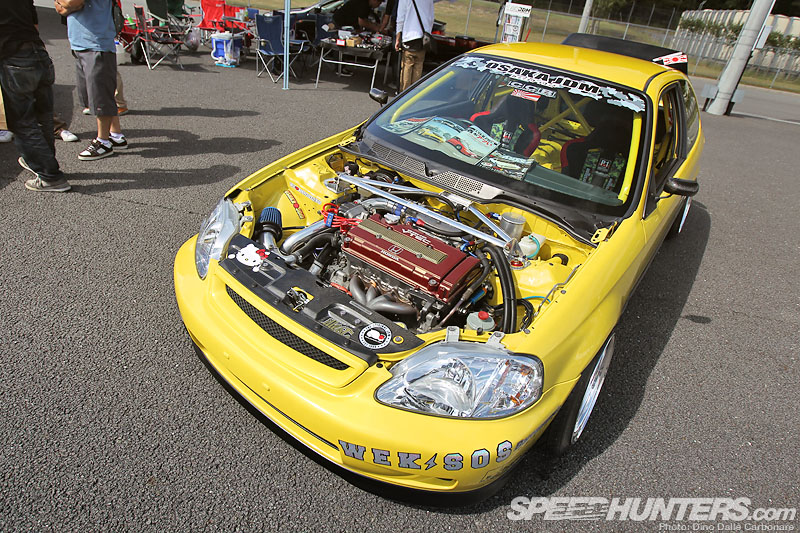 Car Craft Boon, the guys behind Osaka JDM never miss any stance-driven event and came up all the way from Osaka with a few of their customer cars including this yellow EK9 we first saw at Hellaflush Kansai in May.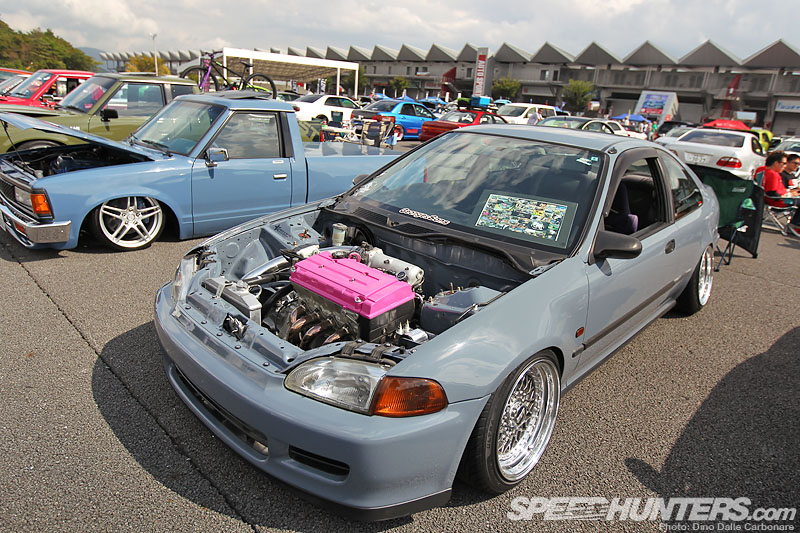 There were plenty of Civics, all uniquely different and most of them sporting quite a lot of work in the engine department too.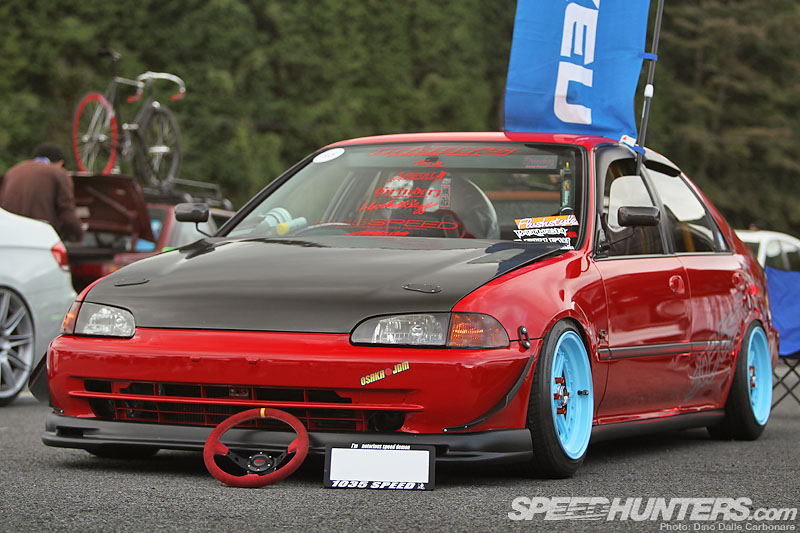 The owner of this EG Civic drove all the way from Kagoshima to participate in the event, that's a 1,400 km drive which took 14 hours. Talk about dedication!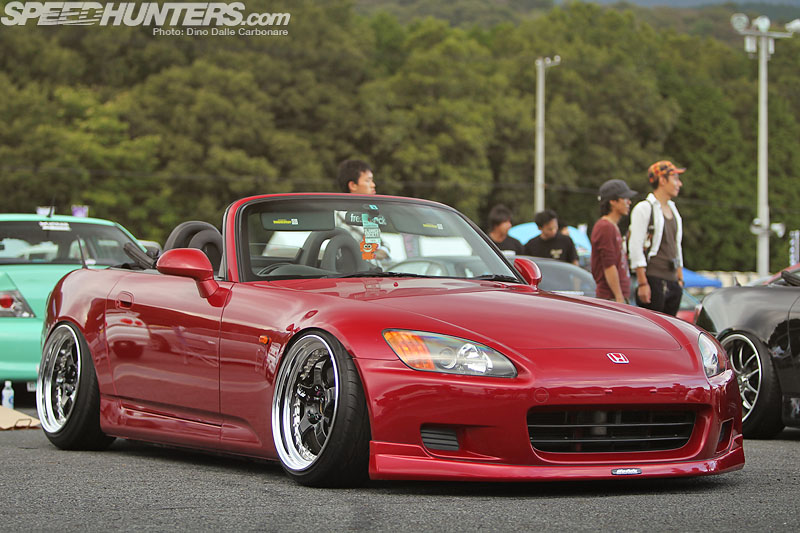 There were tons of S2000s at the show too and you can expect to see one in the spotlight-o-rama I have coming up next.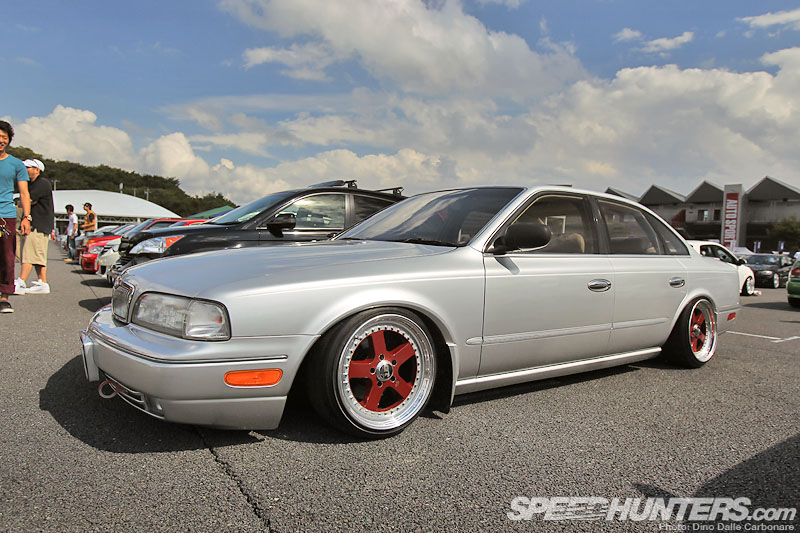 There was plenty to see in the Nissan camp too from big sedans like this Infiniti badged Cima on red Volk Racing G7s…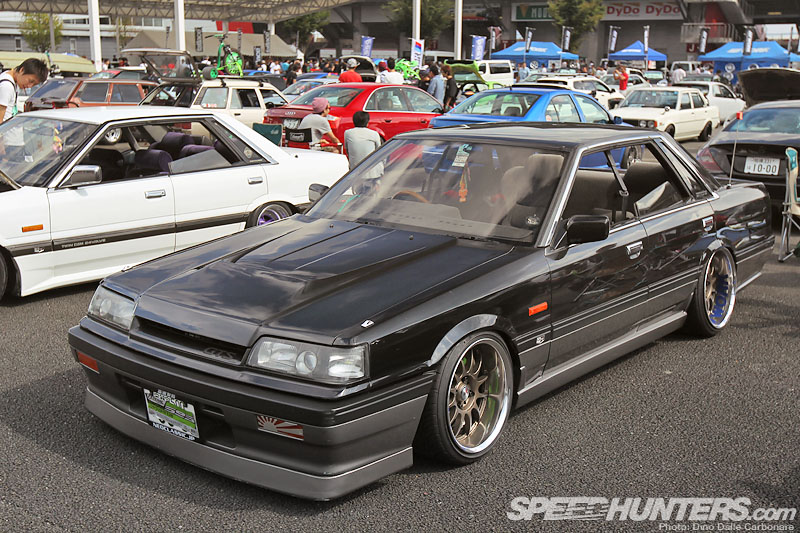 …to some vintage Skyline awesomeness like this R31 GTS on Work XSA 02Cs…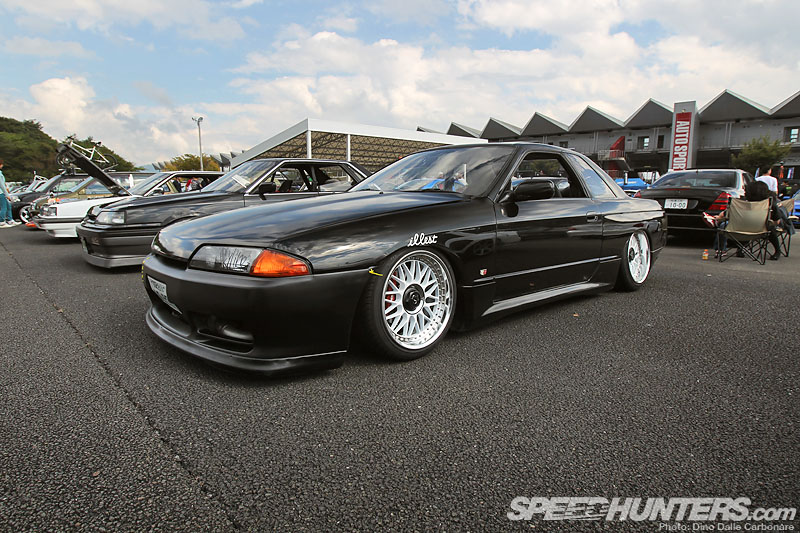 …or this slammed R32 on older Rays.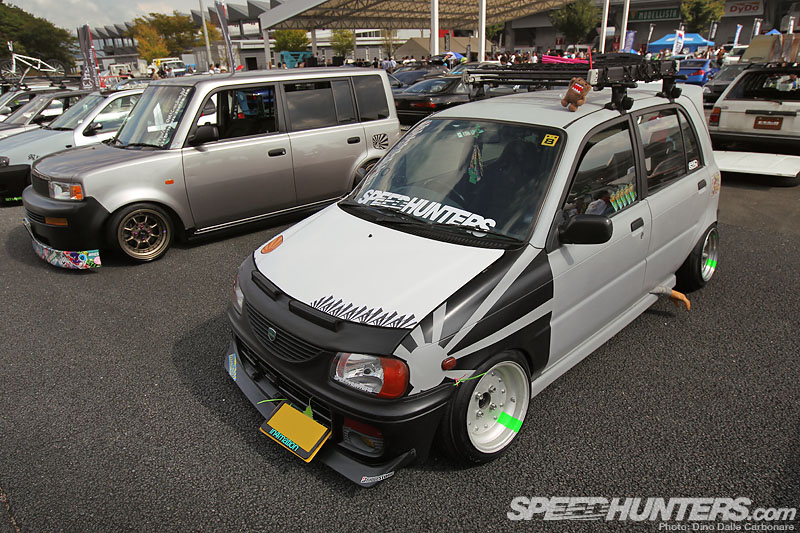 What I like about kei cars is that most people seem to go really crazy with them! This Daihatsu Mira for example really tried hard to stand out and was even displaying a rather large Speedhunters sicker on the windscreen. I just had to grab a few shots!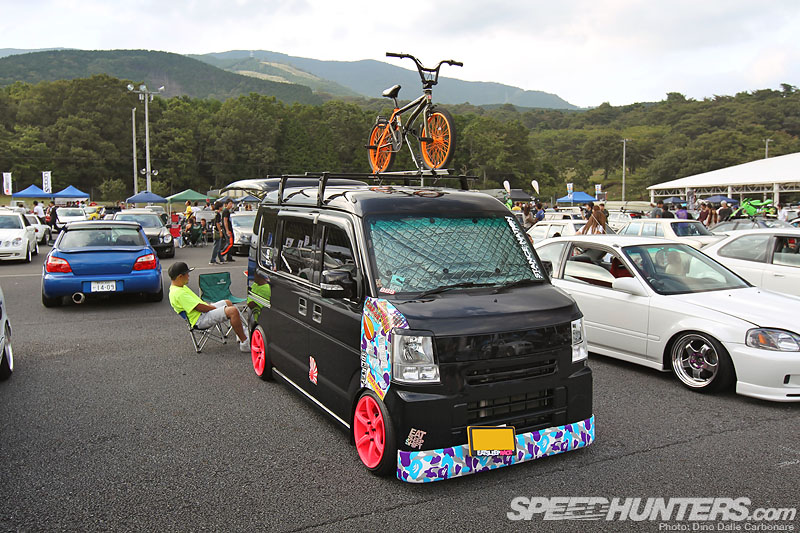 Kei van anyone?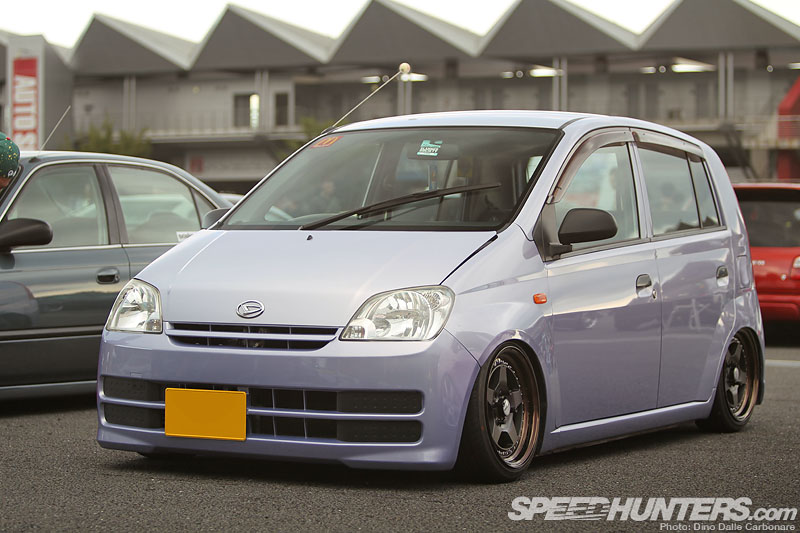 My favorite however was this Daihatsu Charade 4-door slammed on Work Meister CR01s. Absolutely awesome!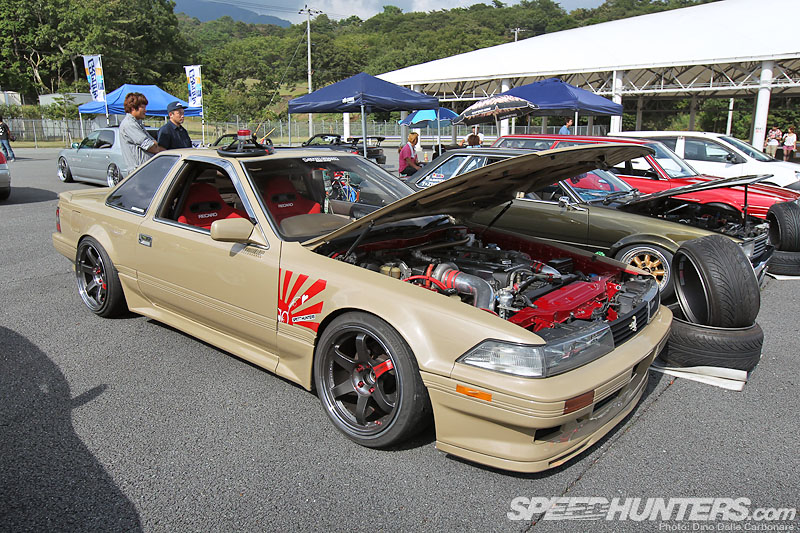 I've seen this N-Style Soarer at tons of events in Nikko and various shows like the Nagoya Exciting Showdown. Makes me stop and have a closer look every time.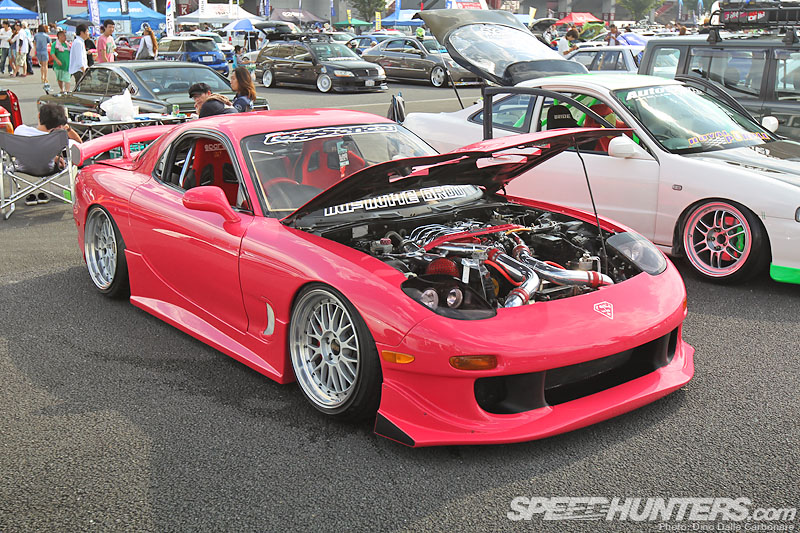 I have to give some love to rotaries too, but there were only a few around like this pink FD…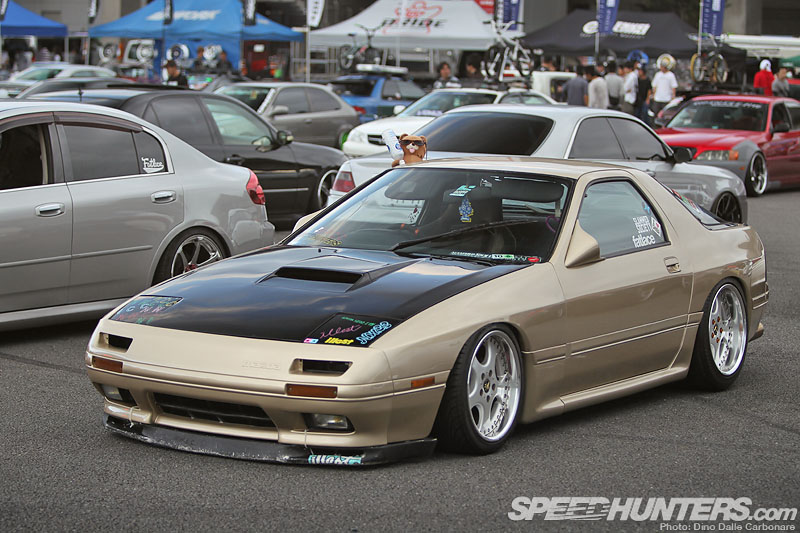 …and this rather nice FC.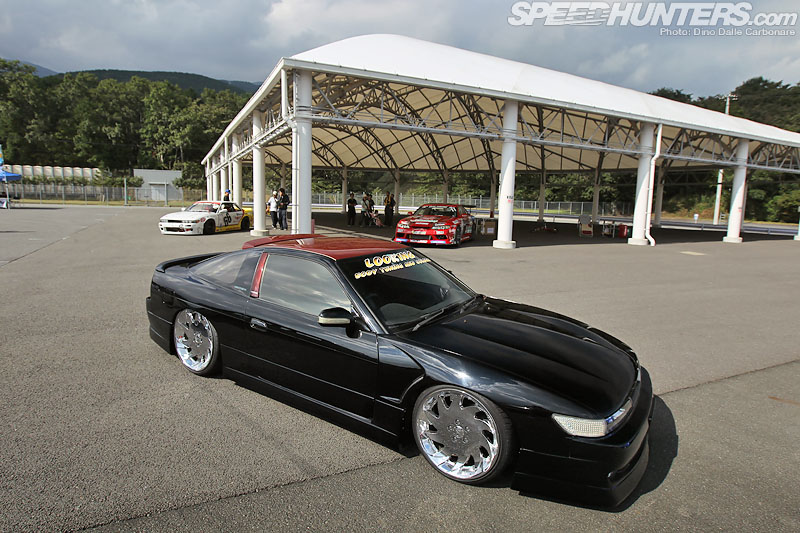 Looking certainly has its very own distinct style, and this Sileighty was the perfect example with two-tone paint job and big 20-inch chrome wheels. Only they can pull this kind of look off successfully.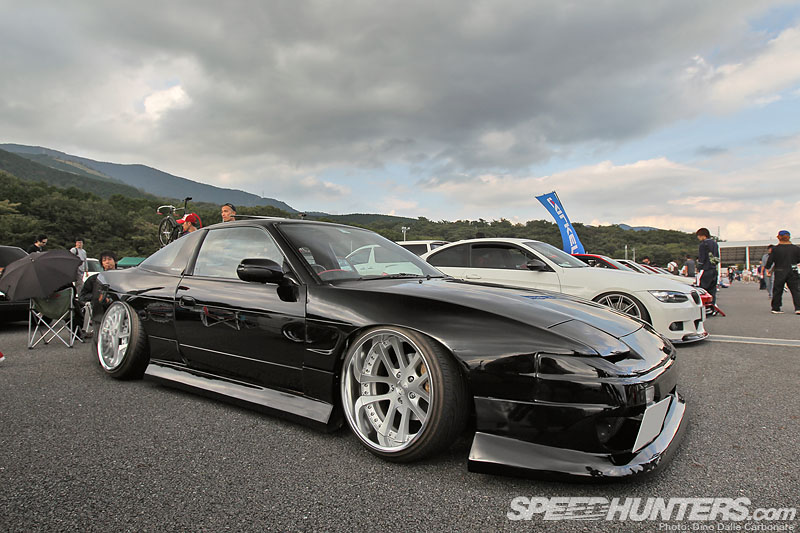 And since we are talking about S-chassis here are some of my personal picks starting off with this 180SX on Weds Kranze LXZs…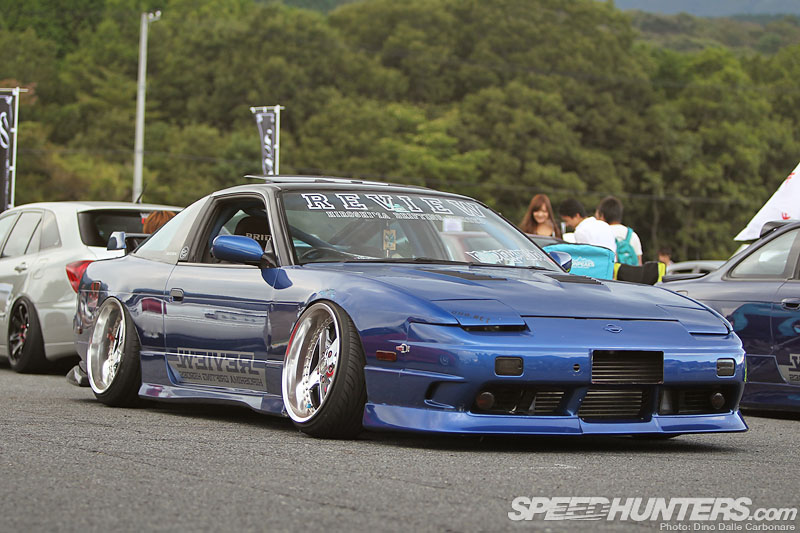 …yet another car from Review…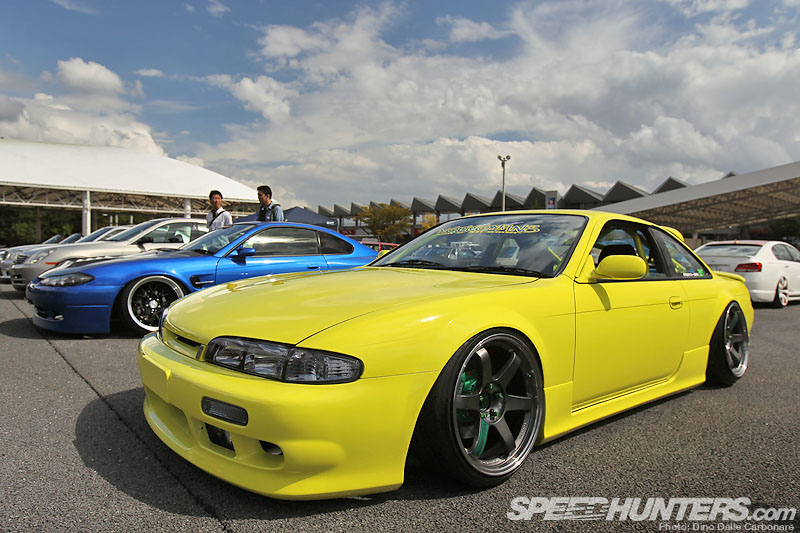 …and this fresh Maccomans S14 zenki on custom-order Volk Racing TE37SLs.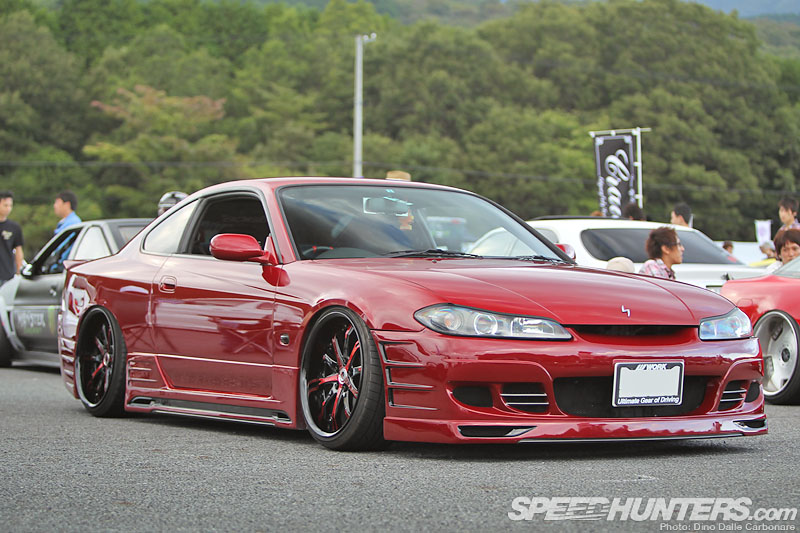 To finish up this nice Silvia line up, a 326 Power kitted S15 from Hiroshima.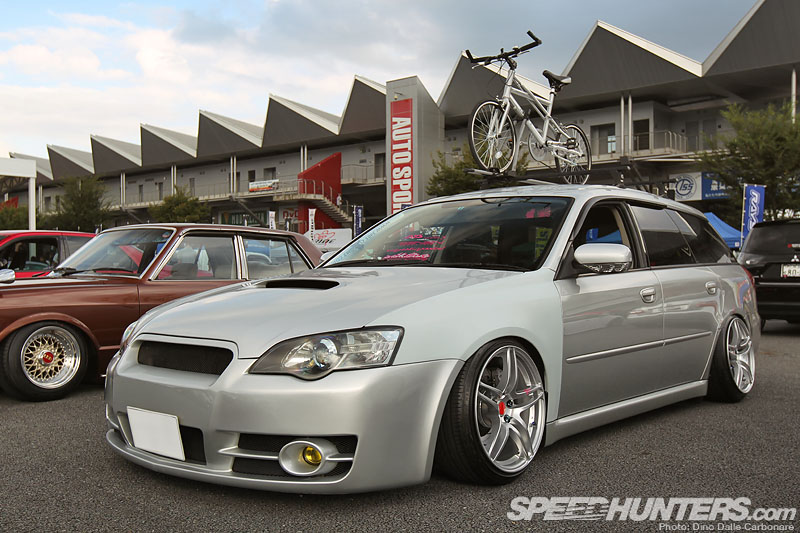 I've been meaning to give my own Legacy wagon a much needed-refresh in the wheel and stance department, and there was plenty of inspiration at Slammed Society. However I had no idea anyone would go this extreme with a Legacy…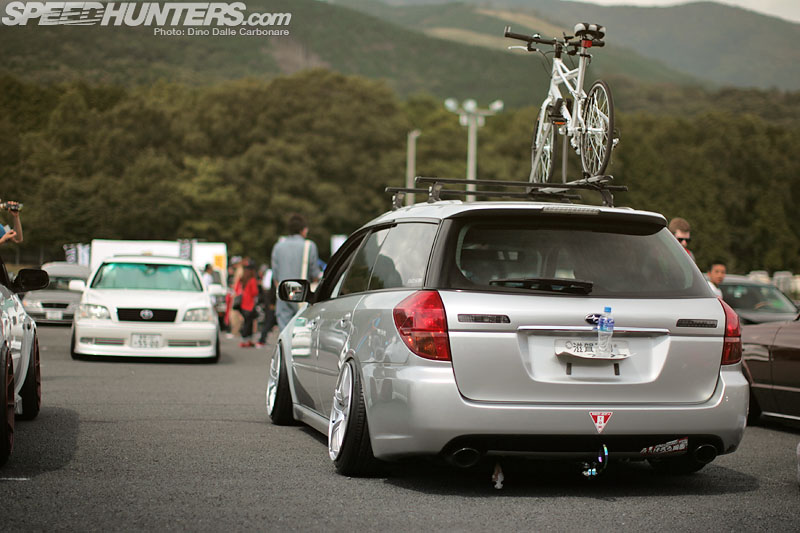 …just look at this thing from the back! Crazy…in a very good way!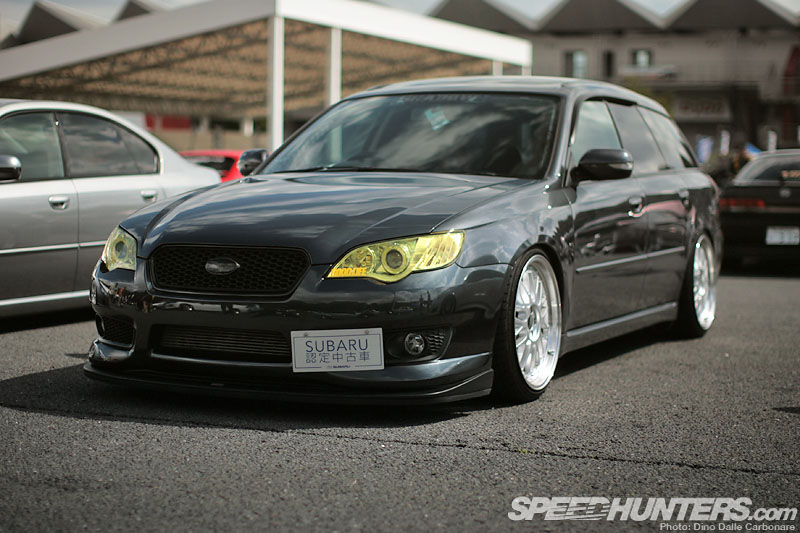 Here is another example, with slightly more street-friendly offset and negative camber.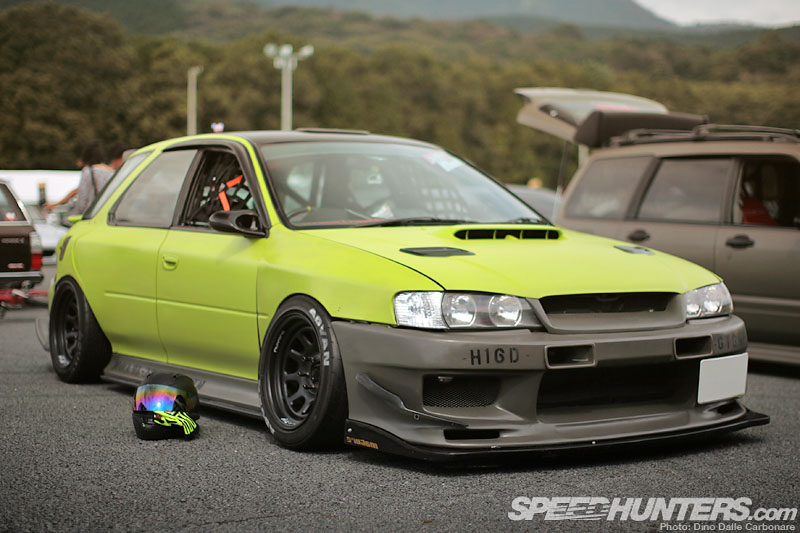 You may remember this N-Style Impreza wagon from last year, now sporting a slightly different paint scheme.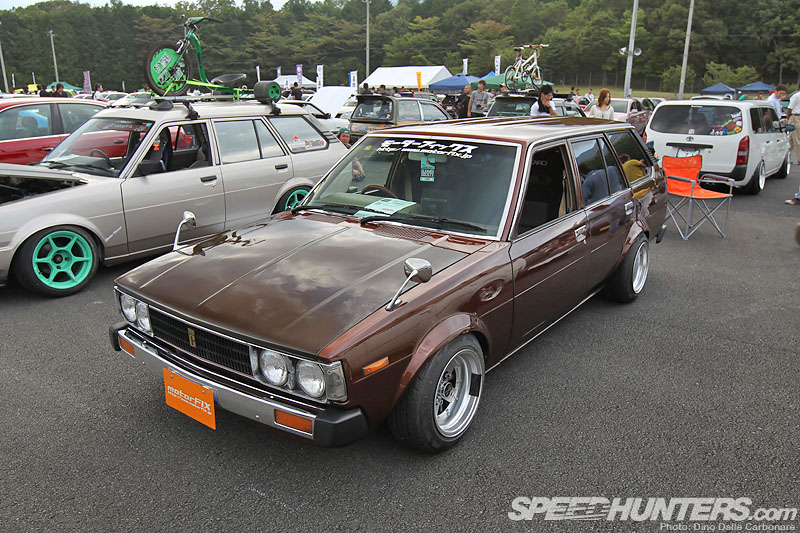 It was cool to meet up with the MotorFix guys again, it's only been a few months since I visited them at their shop in Gifu…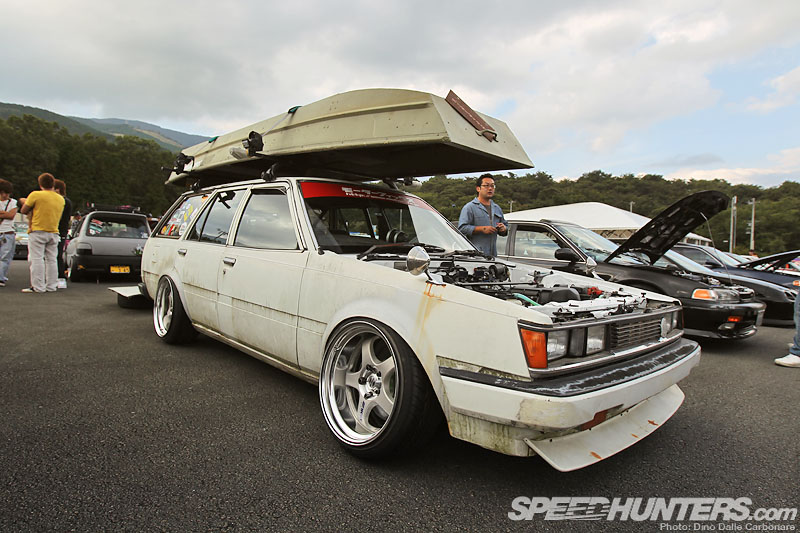 …but they have already completed, well sort of, their Carina wagon project. This car has been sitting outside the workshop for years, and it certainly looks it…except it's all part of their look.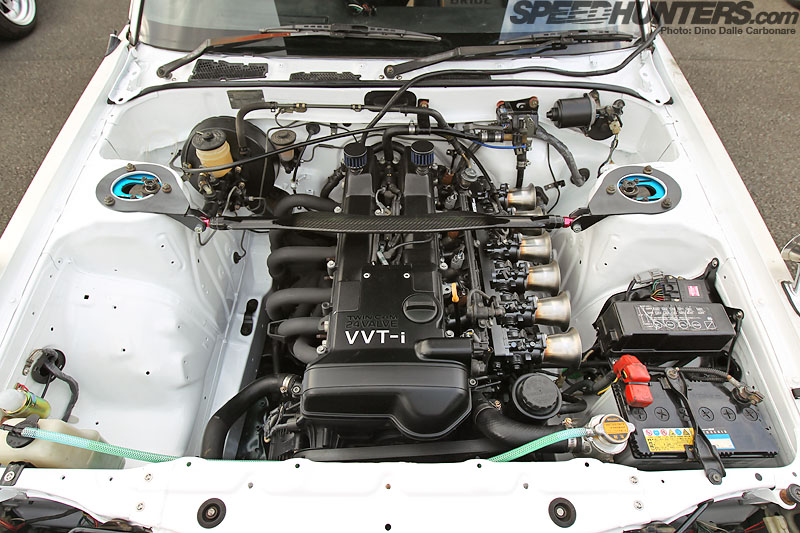 Sakai-san prefers to pay most of his attention to the oily bits and one glance under the hood and you are sure to be left with your mouth wide open. The naturally aspirated 2JZ, now sporting velocity stacks, looks awesome sitting in the spotless and freshly painted engine bay.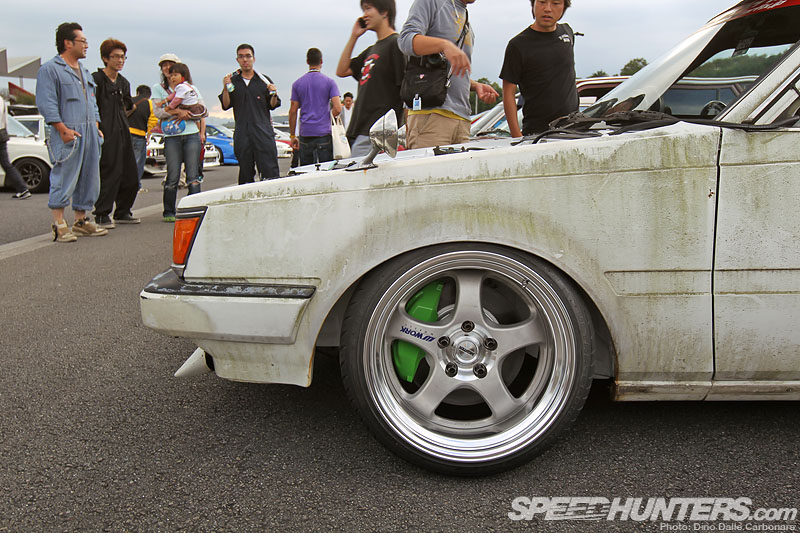 It looks like the car has been fished out of the bottom of a lake or something! Work Meisters and big repainted Toyota calipers are a nice touch.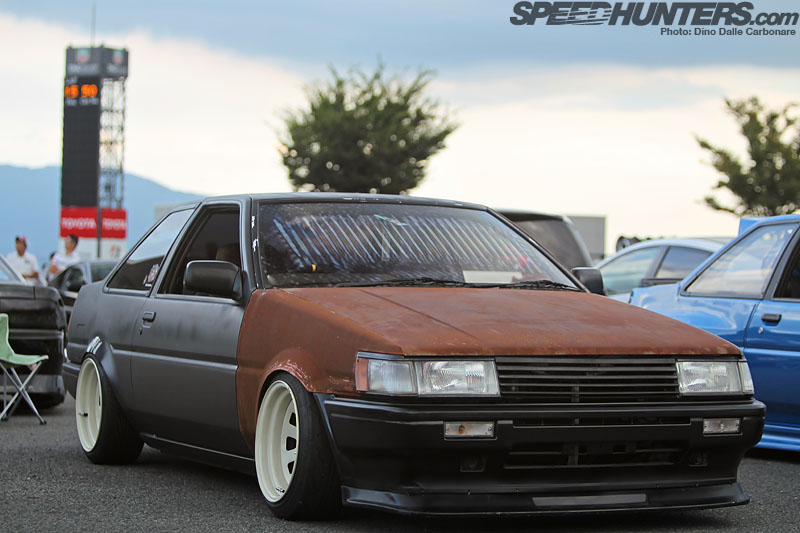 The purposely-neglected look continues!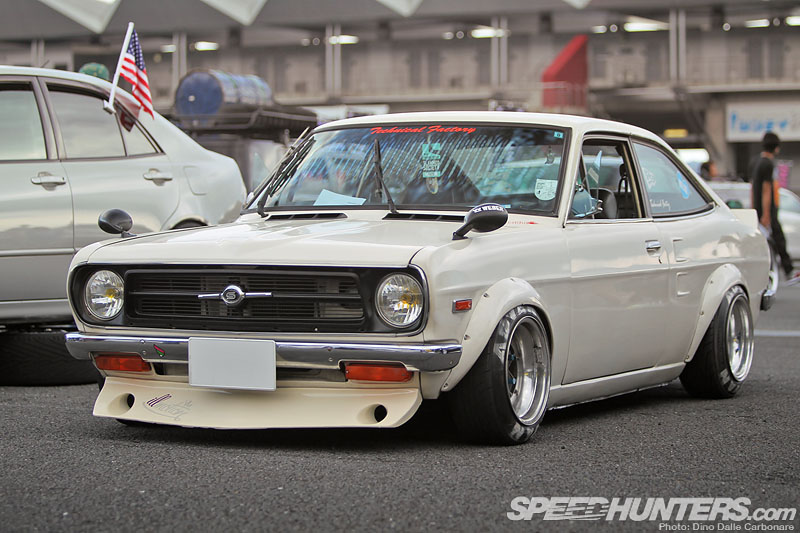 Here is a bit of a gem, a B110 Sunny looking like it's ready to hit the track!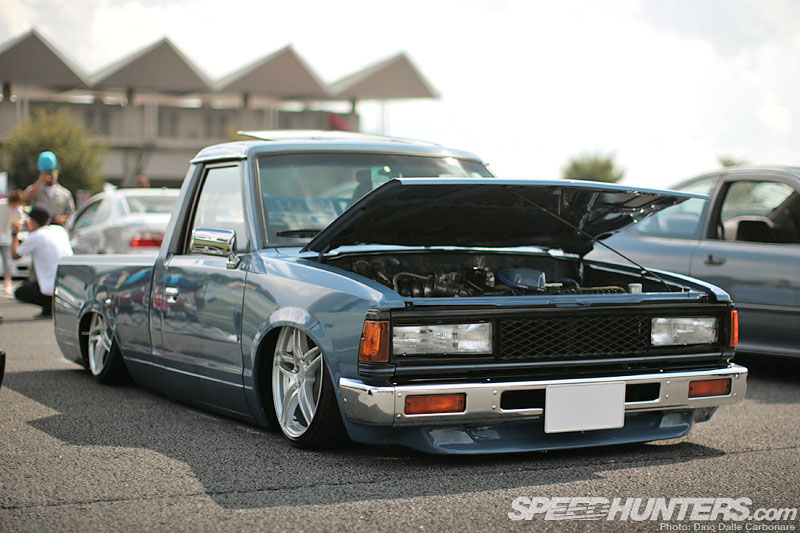 There were only two trucks at the event, but a must have addition because there is a huge custom truck scene in Japan as we usually see at Mooneyes events.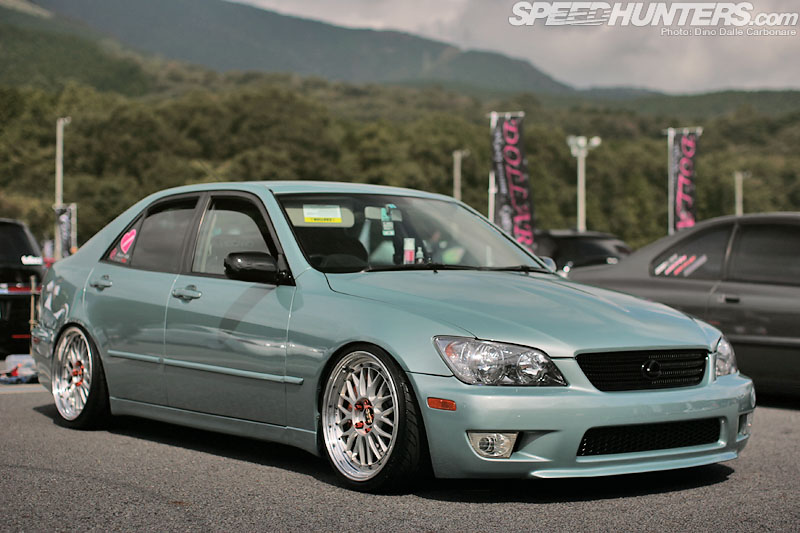 Altezza on BBS. Simple and to the point.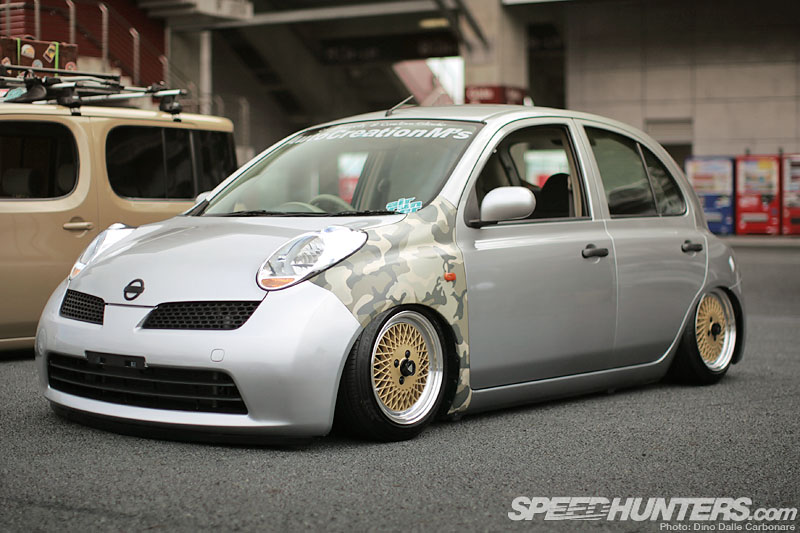 I'll finish up with this shot of a Nissan Mach running Enkei 92s, a wheel that is quickly becoming a popular choice for those that want oldschool looks but the quality of construction of a modern rim. Next up it's the spotlight-o-rama…don't miss it!
-Dino Dalle Carbonare