My Speedhunting adventures had to sooner or later take me to a little special garage nestled in the Sakai-area of Osaka city. I hadn't heard of Osaka JDM up until that warm autumn day in Fuji Speedway last year at the Hellaflush Japan show. One of the first cars that stood out were a pair of older Hondas sporting the coolest set of wheels I had seen in a while and wearing very USDM oriented touches. Later that afternoon I spent a good hour or so shooting a little CRX and an EF9 Civic, along with the guy that had put the cars together, Kazuhiro Furukawa.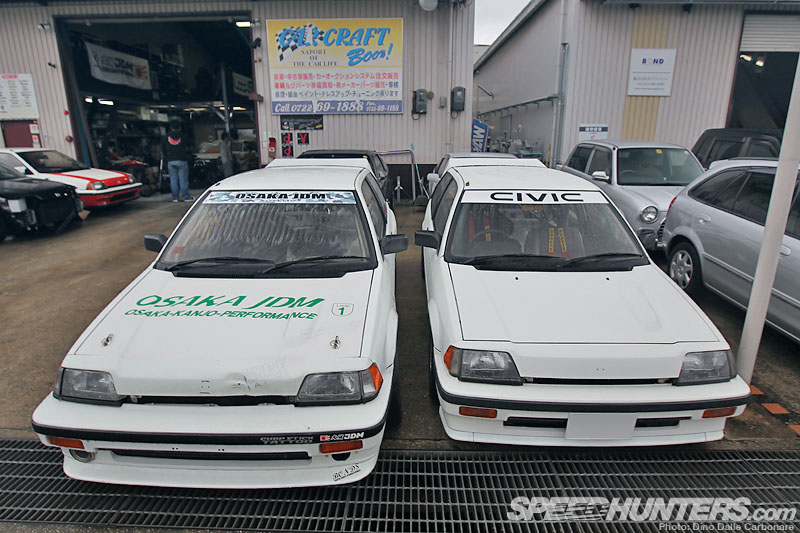 For the past ten years Furukawa-san has been running Car Craft Boon, specializing in all sorts of Hondas. Unlike other Honda specialists however things are done a little differently here. There is an underlying passion that connects Furukawa with all of his clients, and that's the fascination with street racing, and more to the point racing on the Osaka Kanjo, the twisty highway that snakes over the city. Much like Wangan racing that used to happen up north between the cities of Yokohama, Kawasaki, Tokyo and Chiba, spirited night excursions on the Kanjo have all but stopped, the police cracking down hard on this sort of illegal racing. As Furukawa tells us however, while they may have stopped the racing they definitely cannot stop our love for these cars.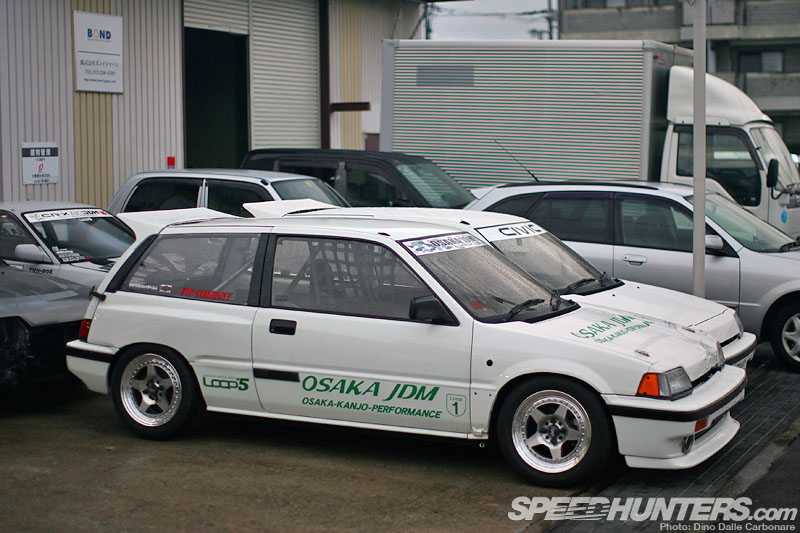 Old Honda Civics and CRX were the preferred weapons of choice on the Kanjo, their light weight and revvy, tuned engines offering the perfect balance to slaloming through traffic and deal with the ninety degree corners that dot the "Loop." A lot of Car Craft Boon's customers still keep their old Civics, continuing to evolve them and perfect them as the years go by.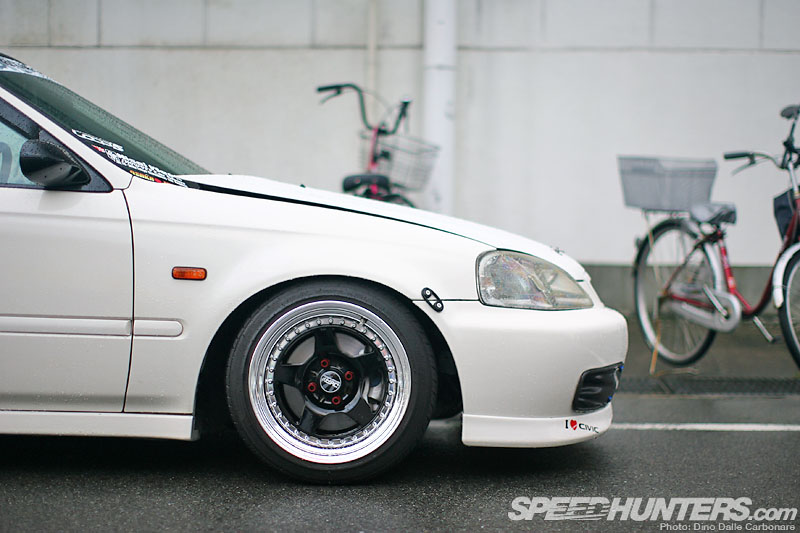 Other customers have moved on to slightly more modern Hondas…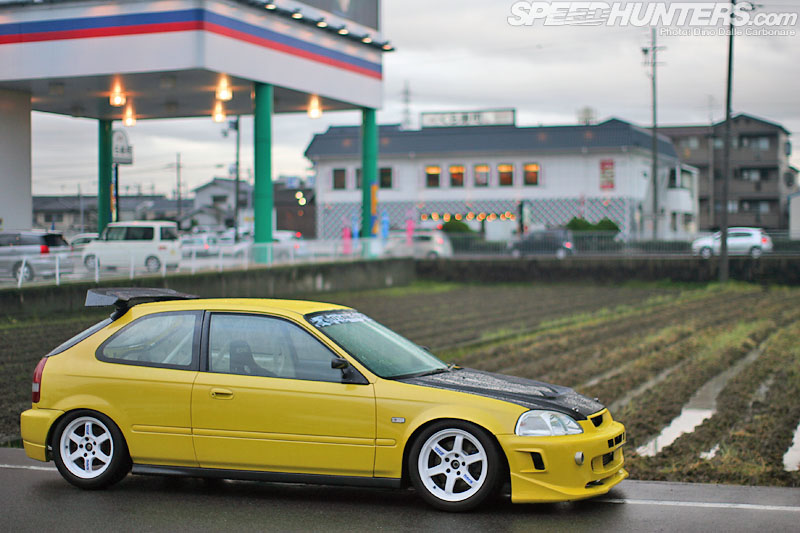 …like this pair of EK9 Type-Rs, adding an even wider variety of cars to the shop's repertoire. They have very much developed their unique style, producing a variety of aero and mechanical parts and taking some influences from the US-scene in a sort of cross-cultural exchange. A few years back they launched the Osaka JDM branding, and ever since then, most people have referred to them by this name.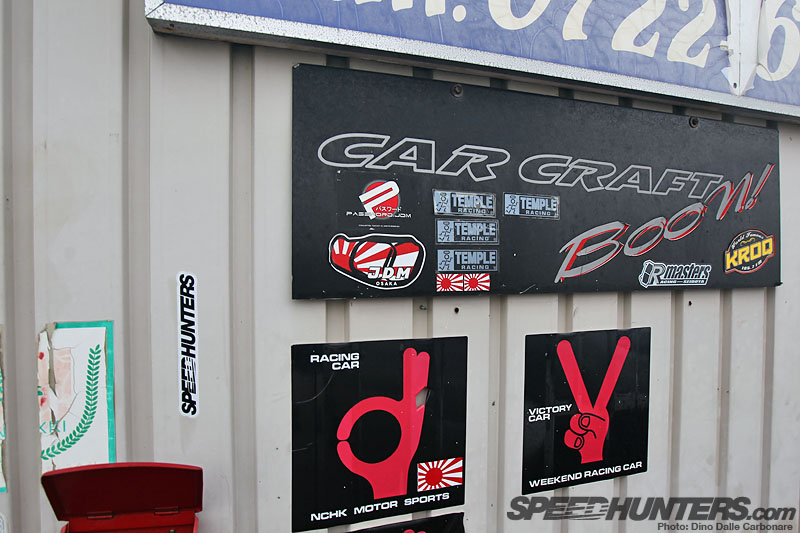 On a recent trip down to Osaka I decided to drop in on Furukawa and some of this customers and take a closer look at the shop, a place where styles are born and where everything is driven by an impressive passion for the Honda brand and what it stands for on the street.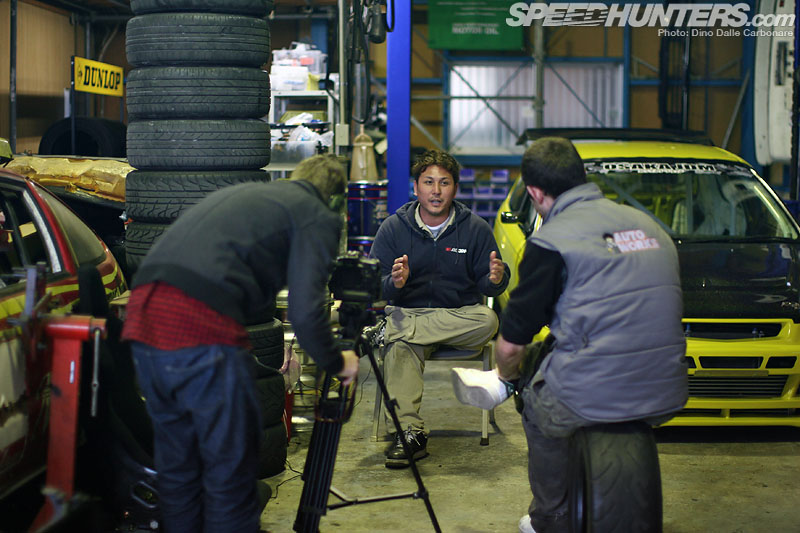 I headed there with Luke Huxham from Maiham Media who, along with JC from AutoWorks magazine interviewed Furukawa-san, above in the hot seat, about the sort of cars he builds. You can expect to see a film from Luke on this soon.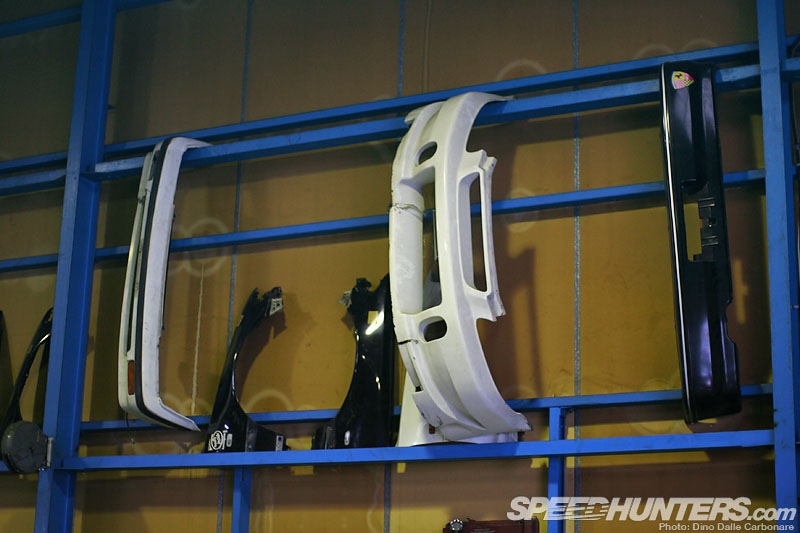 As the interview proceeded I took time to check out the little workshop, which has all sorts of parts lying around…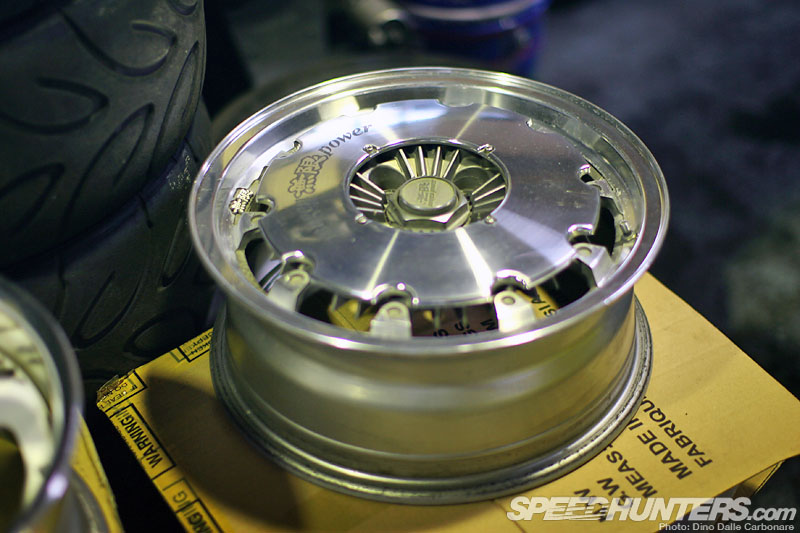 …including some nice vintage wheels like these 14-inch Mugen CF-48.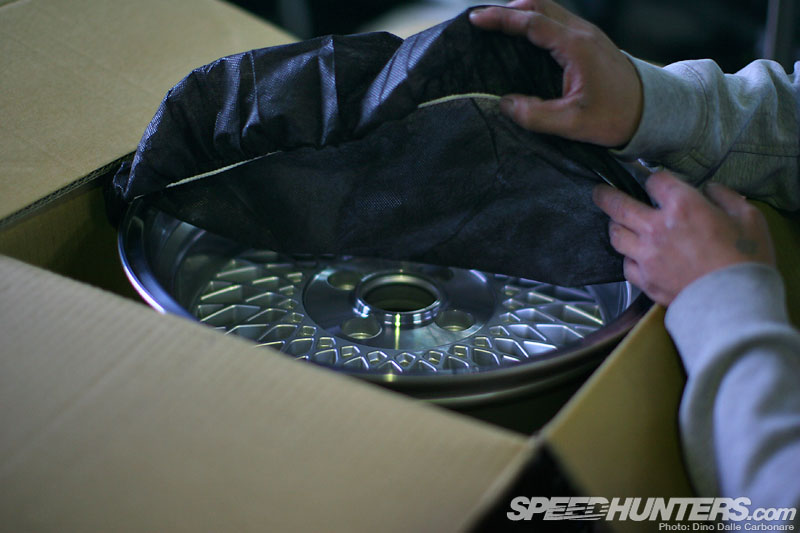 Furukawa's mechanic Yochi gave me a little glimpse of another rare set of wheels they just got in. Klutch rims may be popular in the VW scene but I guess you will soon be seeing them fitted to some oldschool Hondas too!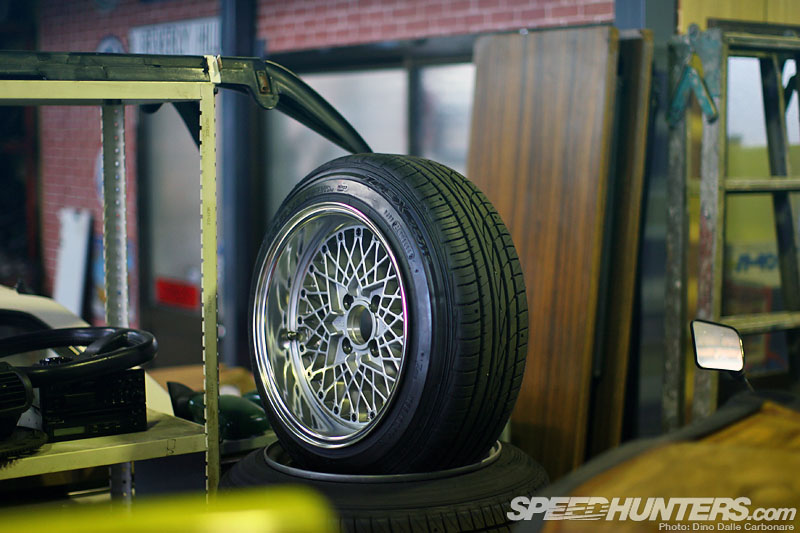 Yummy!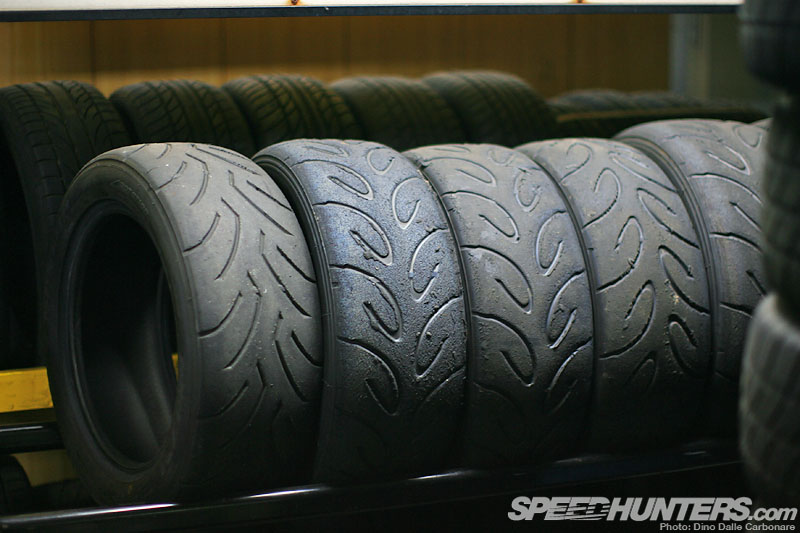 Check out this nice selection of semi-slick tires, Dunlop DZ03G on the left and Advan A050 for the rest. Stick this sort of rubber on little lightweight Civics and they become unstoppable around the right sort of roads.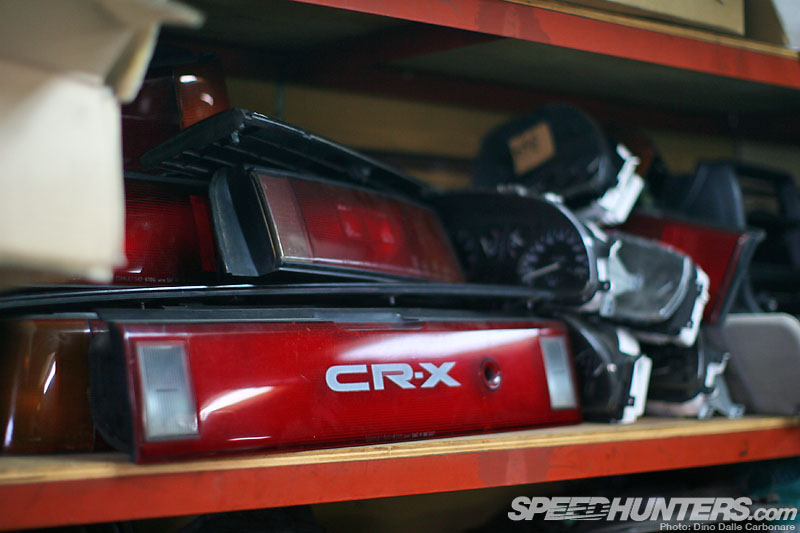 Furukawa keeps an ever expanding stock of parts, not only JDM items either, in fact every time he goes to the US he likes to go and rummage in junk yards to see what sort of USDM things he can get his hands on.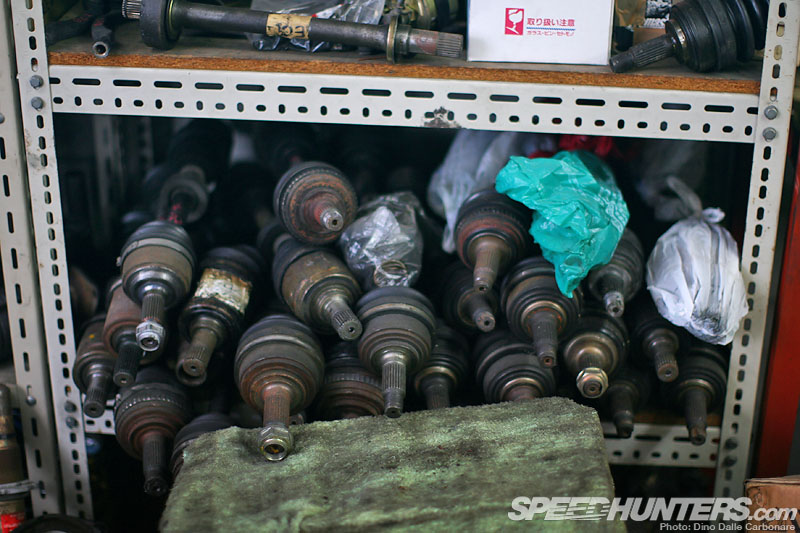 Drive shafts anyone?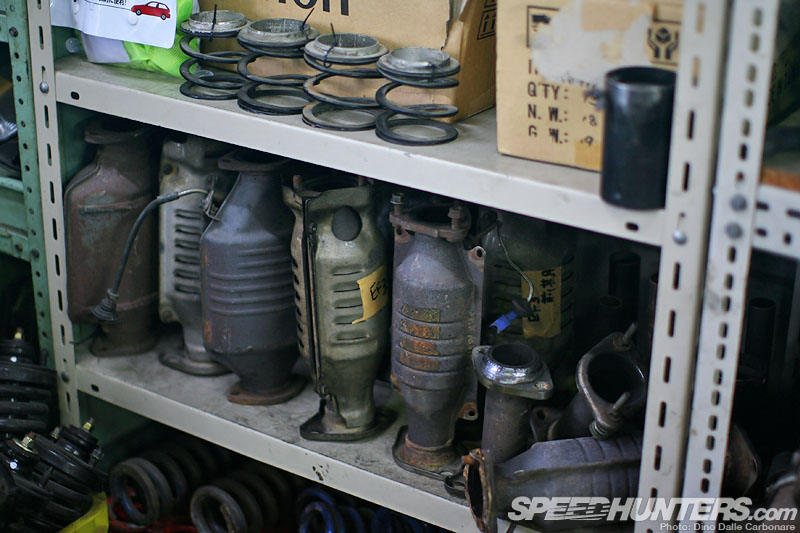 You never know when these sort of things are going to come in handy.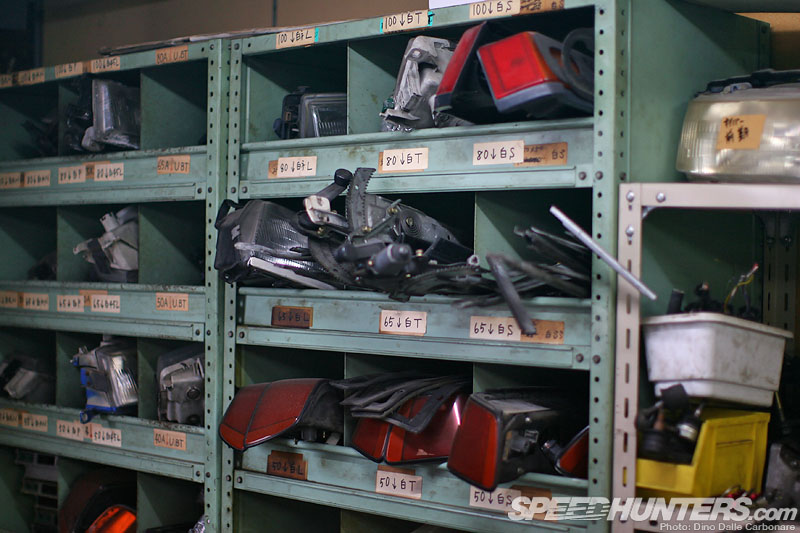 Various trim as well as headlights and taillights are kept neatly organized in these shelves.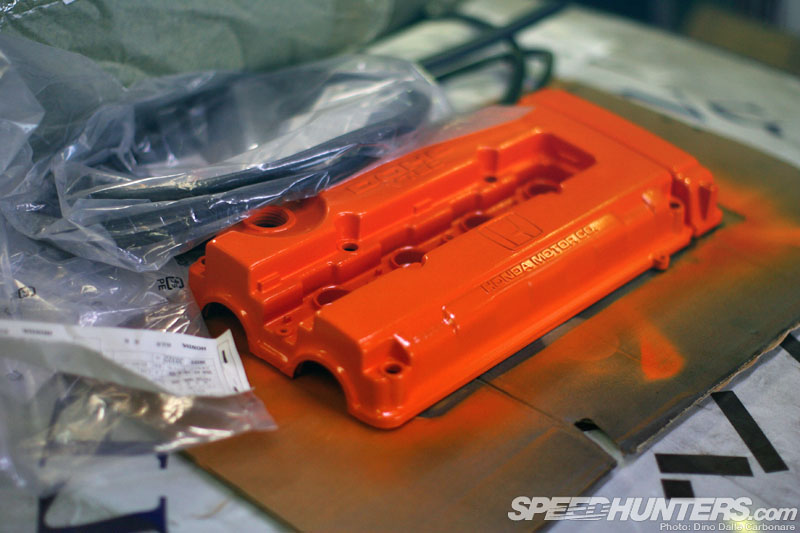 The Honda B16 and B18 are by far the most popular engines Osaka JDM deal in and here is a freshly sprayed cover that was due to be fitted into a customer car.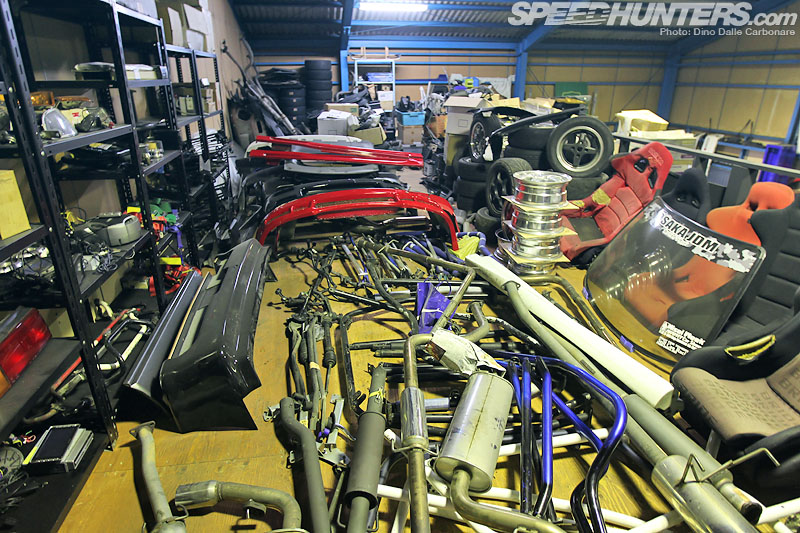 Even more parts are kept upstairs, anything you would ever need to build up a nice old Civic.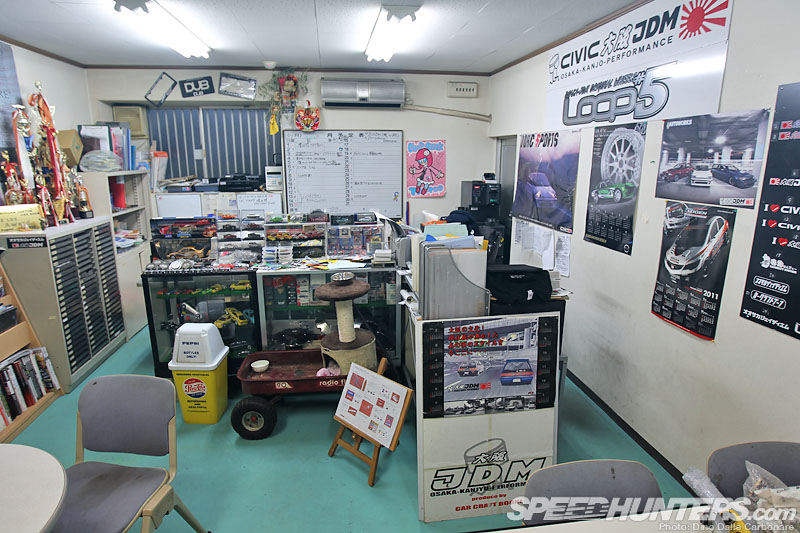 If you are into your Hondas and are visiting Japan then I recommend stopping by Osaka JDM and saying hello…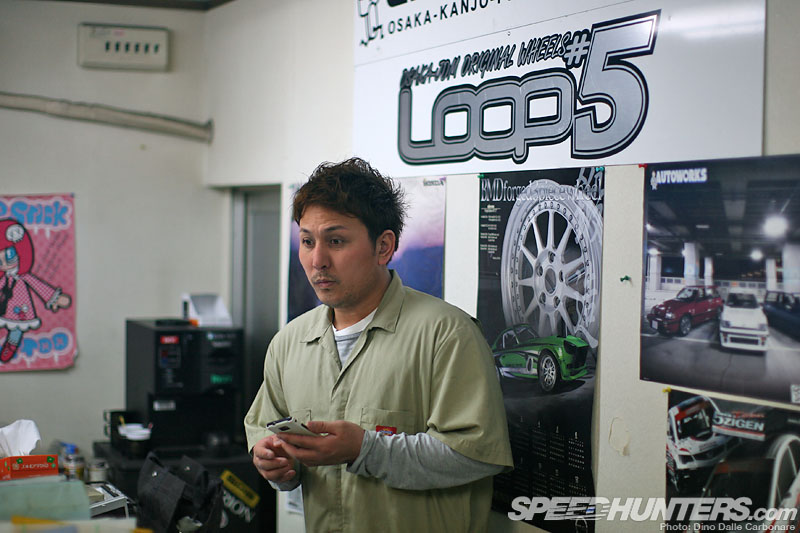 …to Furukawa-san. On top of all the cool cars that he has sitting inside and outside his shop you will probably end up spending most of your time in the office…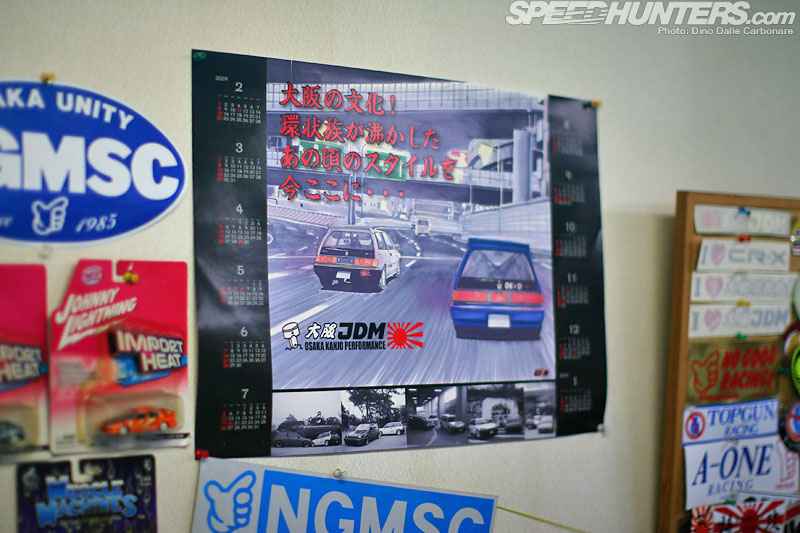 …as it's packed with tons of cool and interesting things like Kanjo racing manga-type calendars…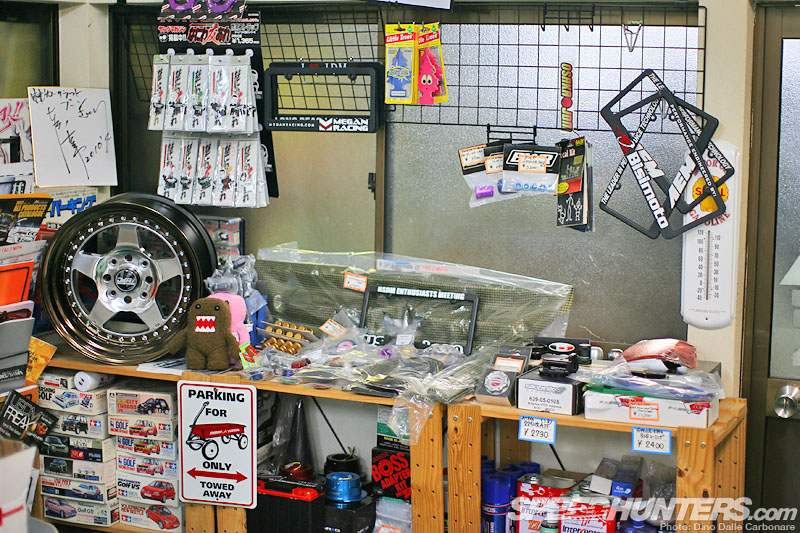 …and a variety of parts and gadgets to look at.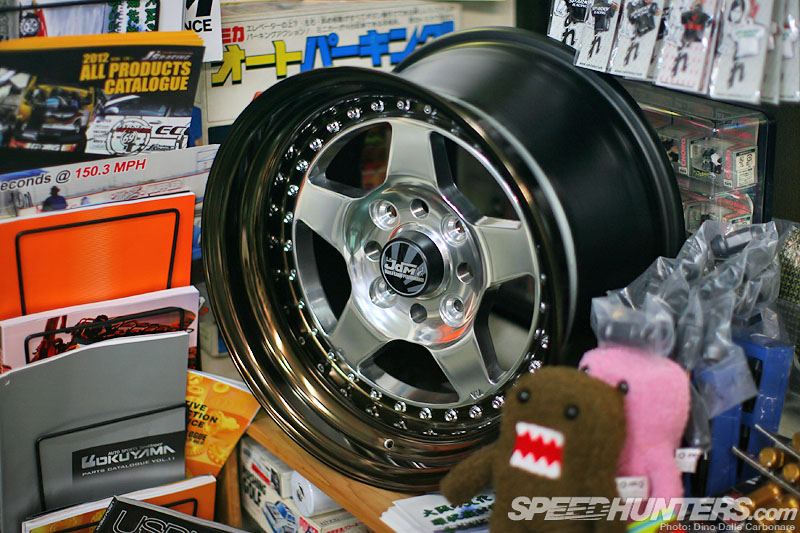 Last year Osaka JDM teamed up with the guys at Work Wheels to create a special version of the Meister CR-01 called Loop 5. These rims come in a special selection of widths and offset to match your Honda and are available in a choice of colors for both the rim and center part (giving a total of 65 different combinations!).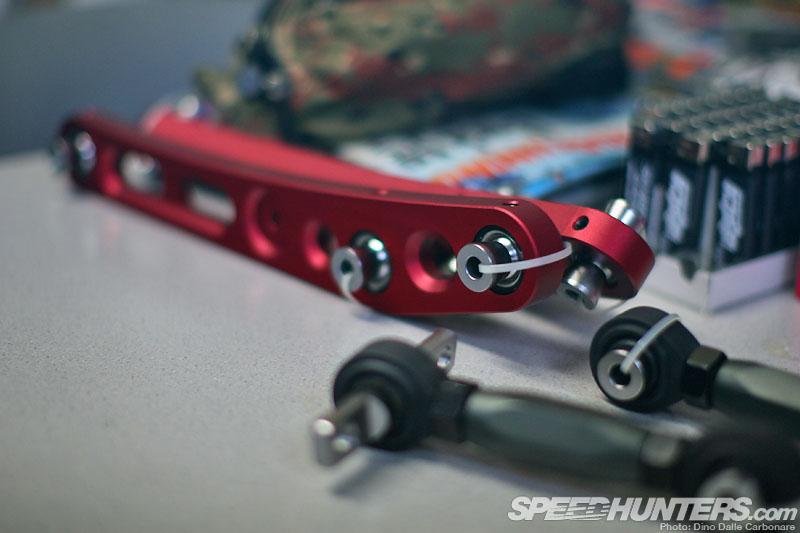 There are all sorts of parts to check out, from suspension goodies…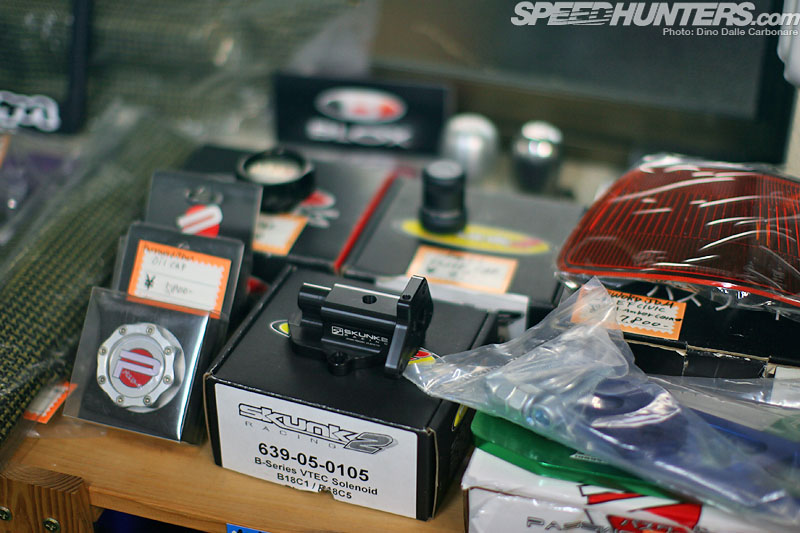 …to things like this Skunk2 billet VTEC solenoid.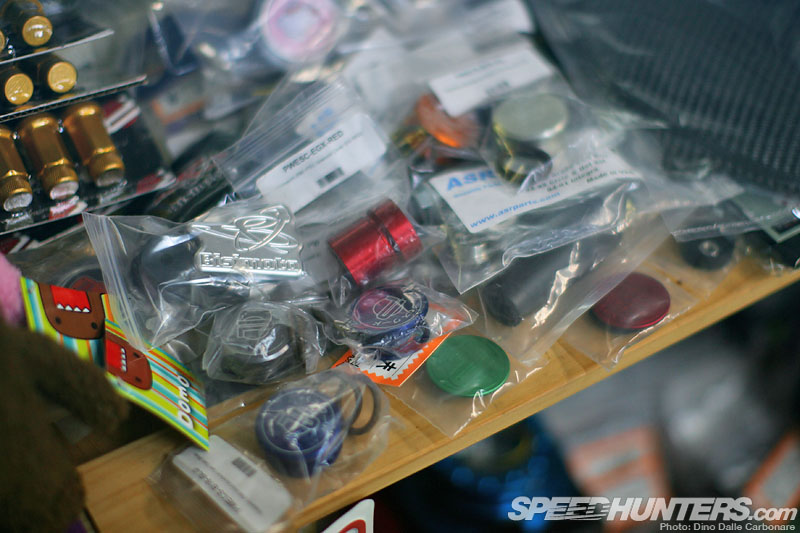 You literally have to dig through the tons of cool gadgets on sale.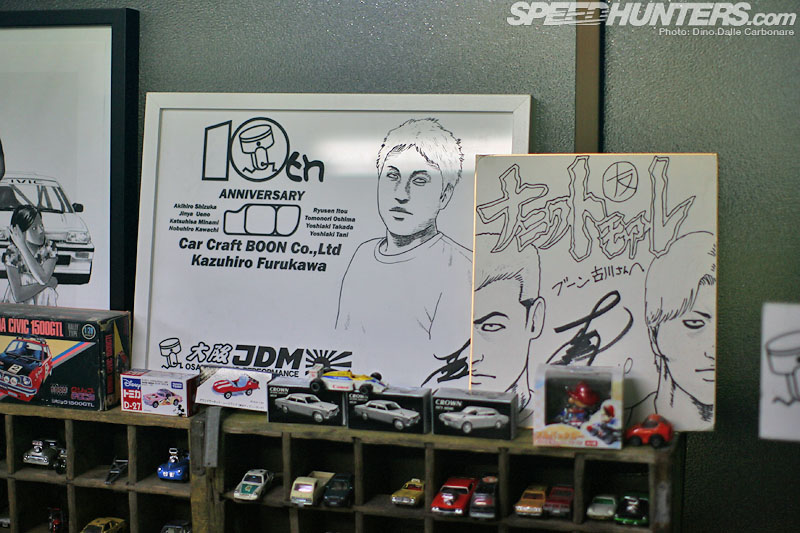 One of the shop's customers is a famous manga artist, Minami-san, who for Car Craft Boon's 10th anniversary presented Furukawa with this cool portrait.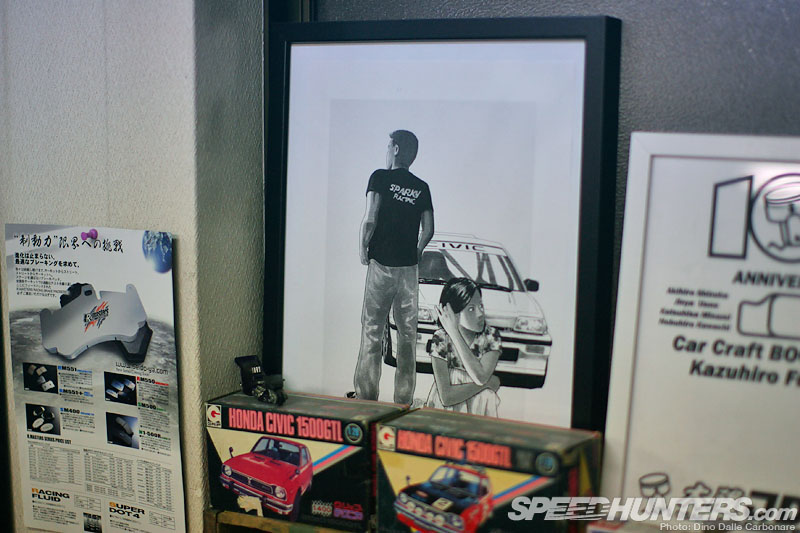 However the coolest thing is that Minami-san often uses the Osaka JDM shop in his manga about Kanjo racing called Naniwa-Tomoare.  There are drawings all over the office…epic stuff! Plus I have to say that the main character in it, part of the Sparky Racing Tribe, bears a passing resemblance to Furukawa-san. Maybe.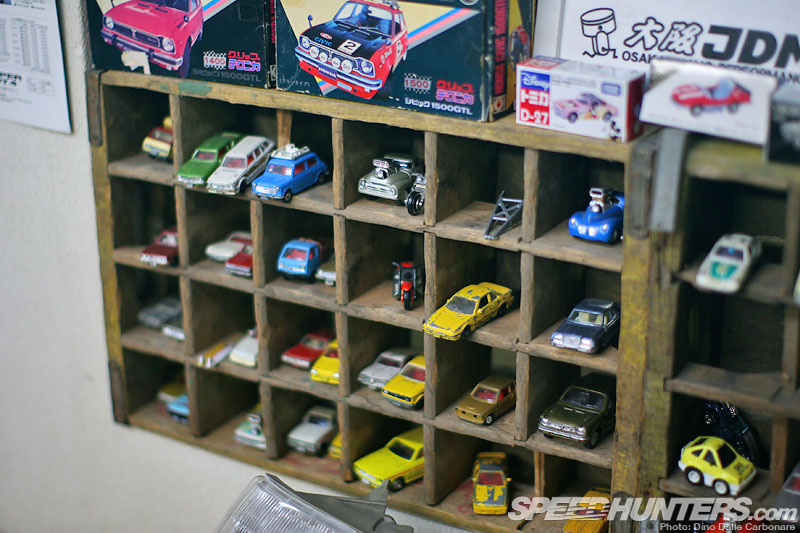 There is also a pretty cool selection of die-cast models to look at, from the vintage…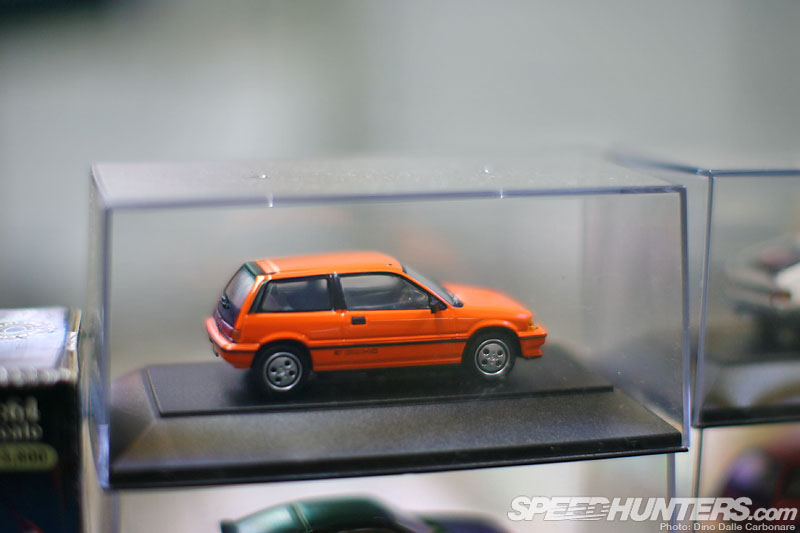 …to the more modern like this Civic…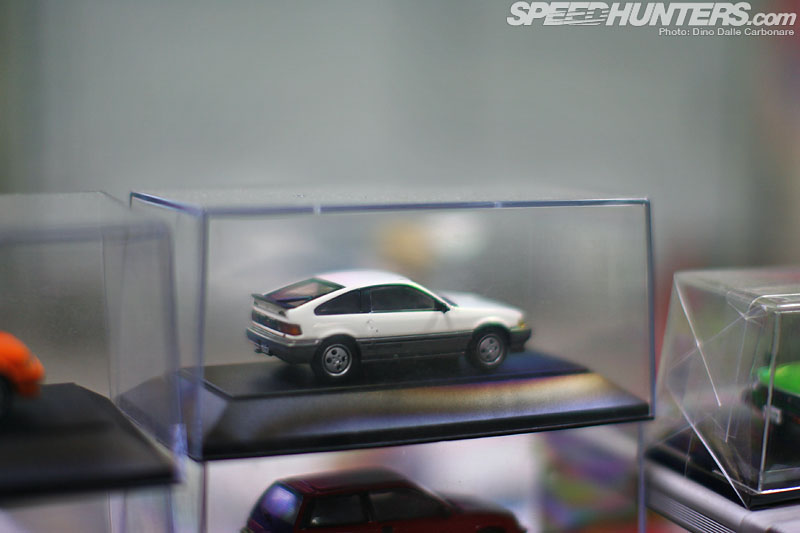 …and CRX.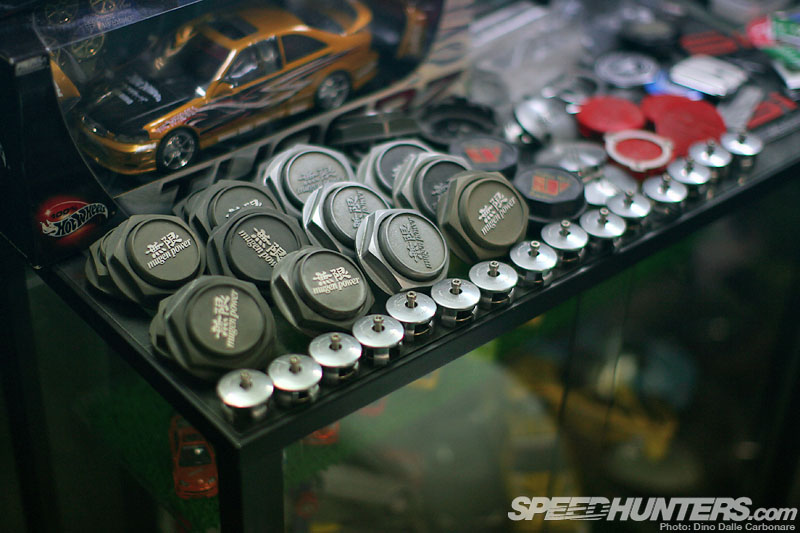 Need center caps for your Mugen wheels? Look no further!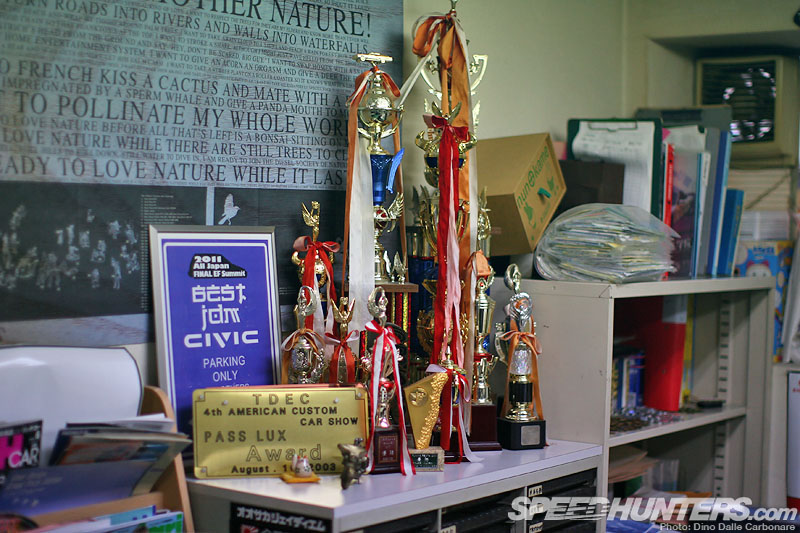 There are also plenty of prizes from some of the shows that Osaka JDM enter…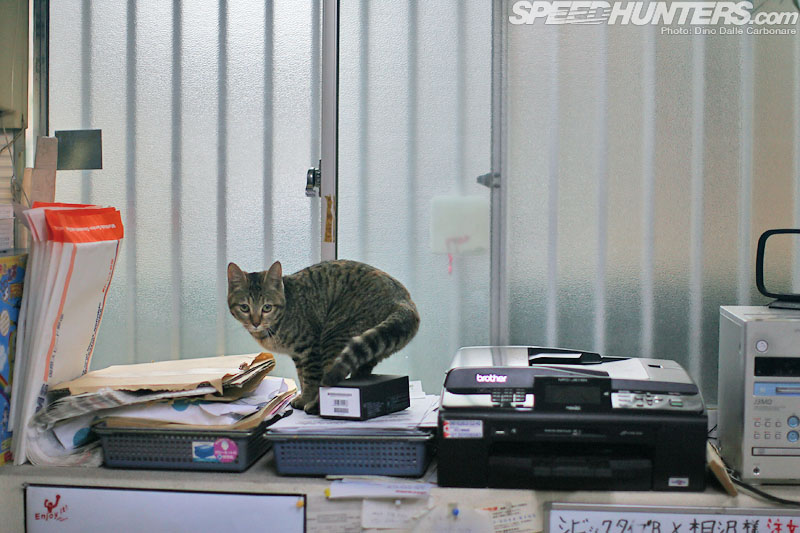 …but the coolest thing about the shop is Kana, the office cat which likes to jump pretty much everywhere!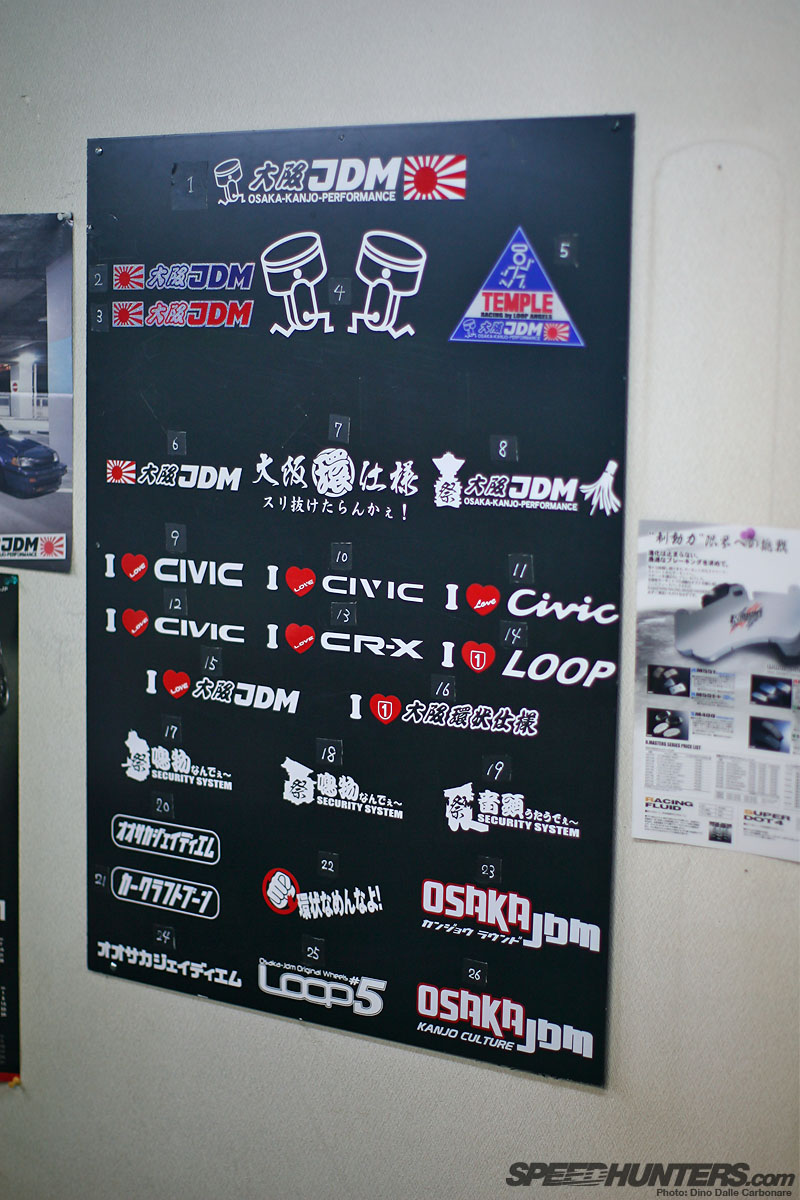 Furukawa is always coming up with nice new sticker designs, hot sellers in the right circles. I quite like the "I love Loop" one myself.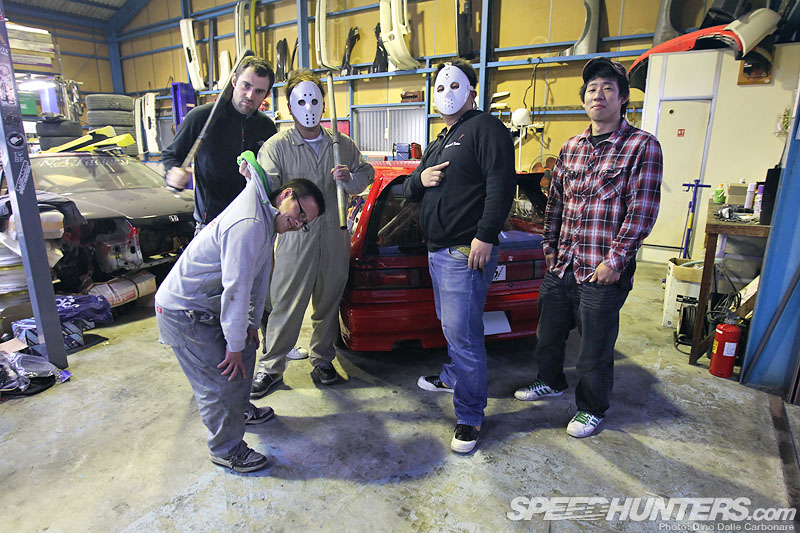 That's it for the shop visit. I'll leave you with this menacing group picture of Furukawa and Yochi along with a few customers…as well as some suspect French journalist that likes to terrorize the locals.
Don't miss the feature on the above red EF Civic I have coming up tomorrow!
Osaka JDM features on Speedhunters 
-Dino Dalle Carbonare