With my second look at the DUMPd show I'll focus a bit more on the old-school rides.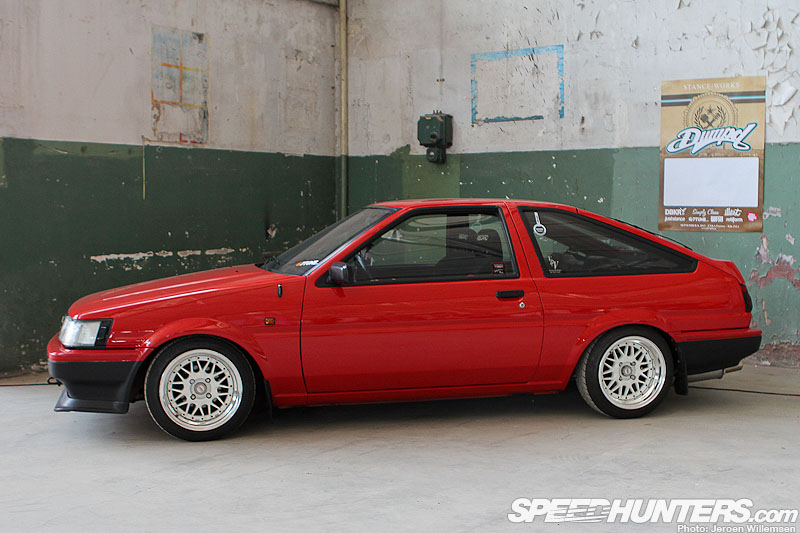 In one corner I saw this immaculate AE86 Levin on white multispoke wheels with a fresh new paintjob. This is something you almost never see on Dutch soil.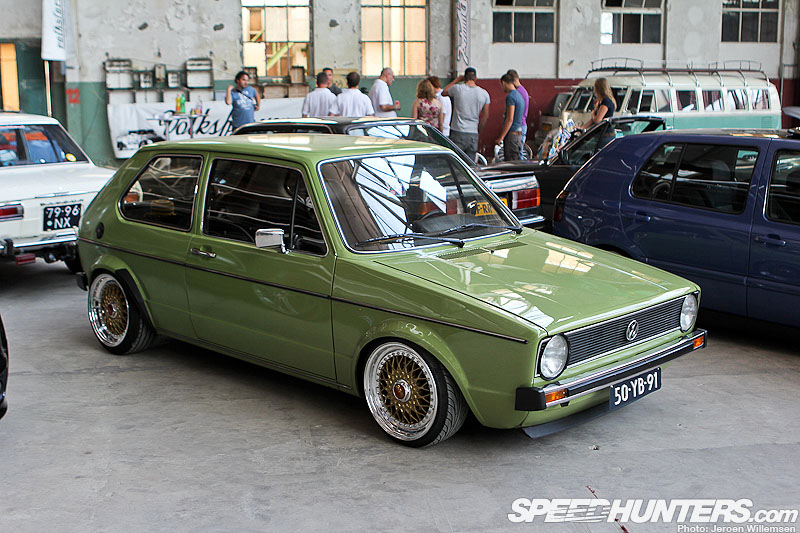 In my book you can never go wrong with a MkI on BBS wheels. I also love the fact that the owner stayed true to the original green color – although he repainted it obviously.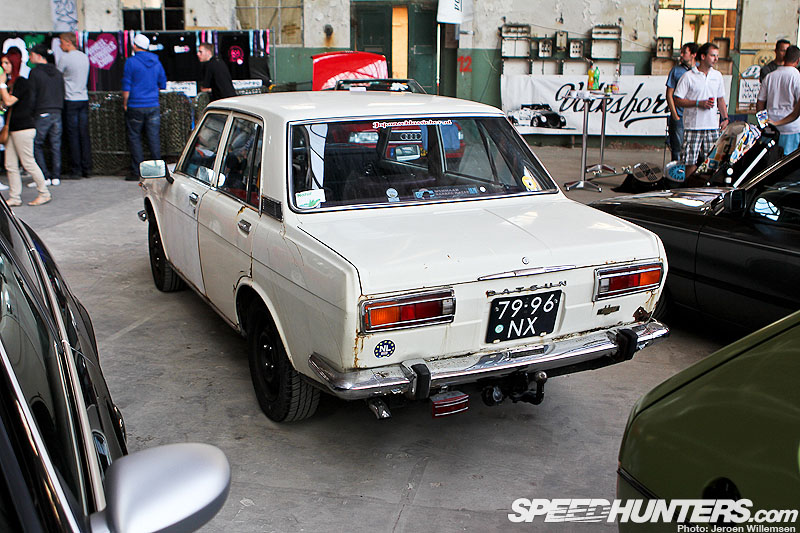 Behind the MkI was this Datsun 510 that looked like it had just been rediscovered, like a barn-find.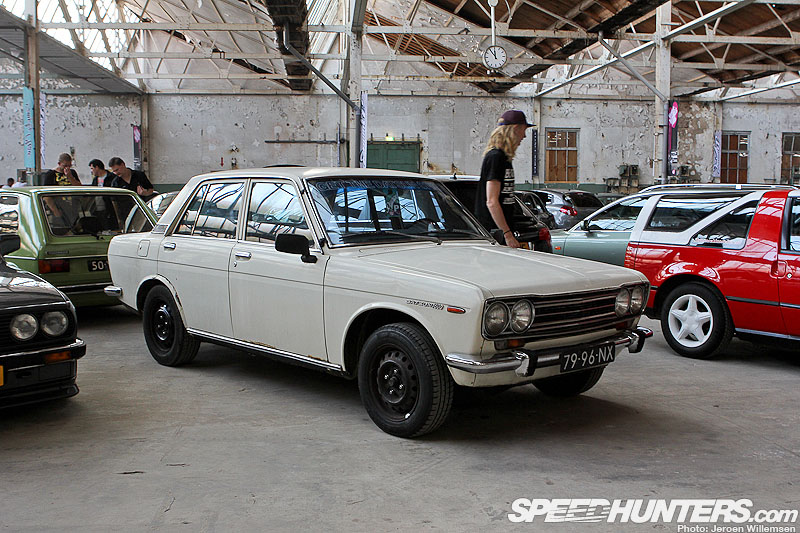 It was completely original with all the moldings and such still intact. Of course it suffered from rust but I'm sure the current owner will take great care of it and maybe restore it to its former glory.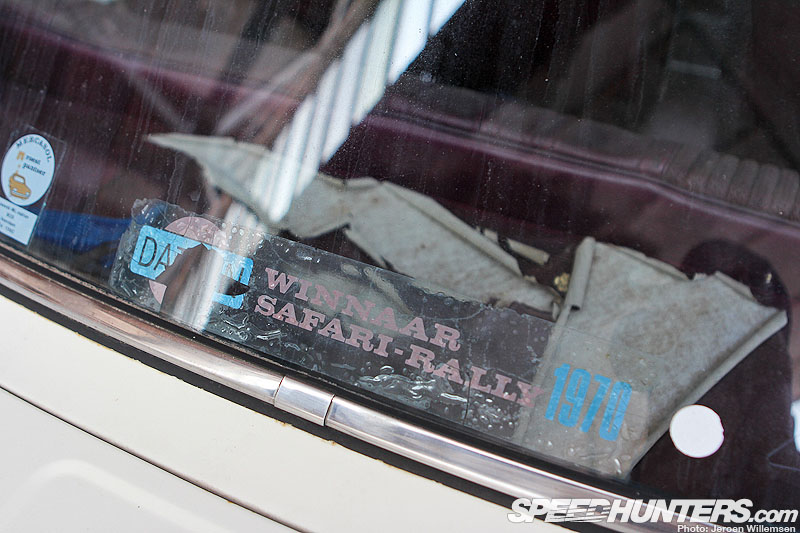 It even featured this worn-down sticker saying that Datsun was the winner of the 1970 Safari Rally – how cool is that?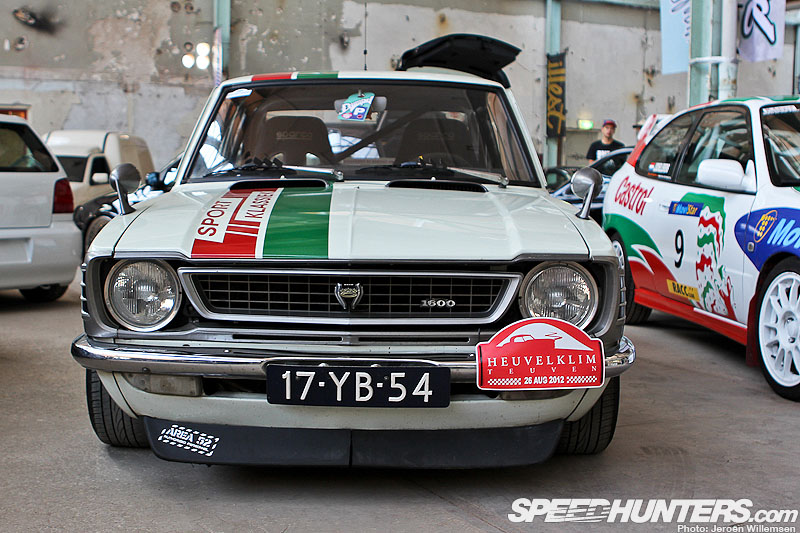 Another amazing Toyota that grabbed my attention when I walked down one of the aisles was this restored TE21 Corolla.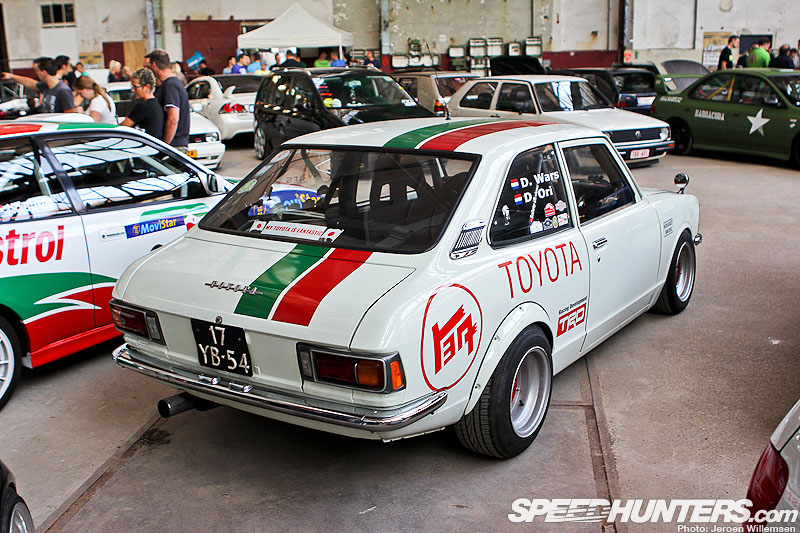 It even sees active-duty during hillclimbs.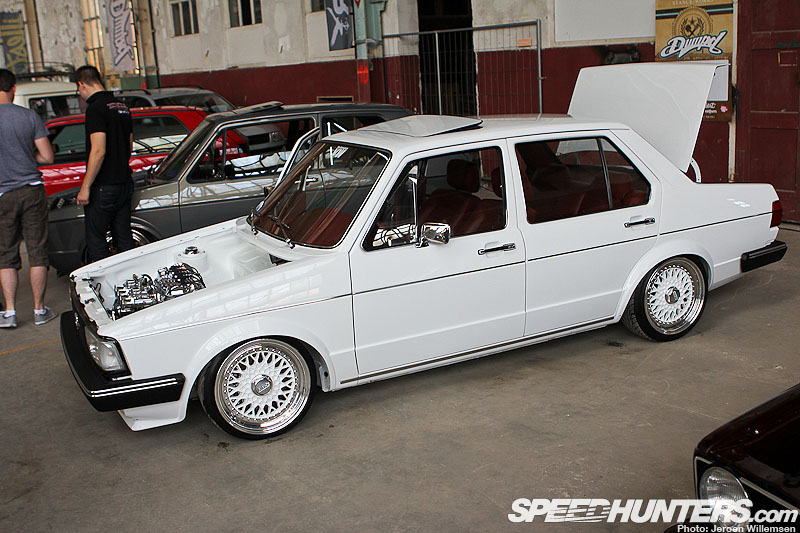 Oliver Verheij and his prize winning Jetta could be called car-show veterans. Oliver has some serious travel miles under his belt.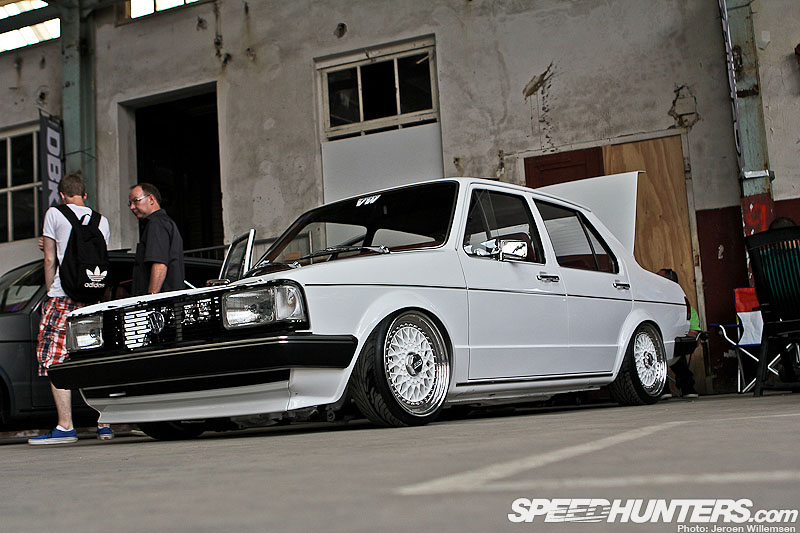 He wins prizes at almost every event. I can't blame the judges because this car can't be ignored.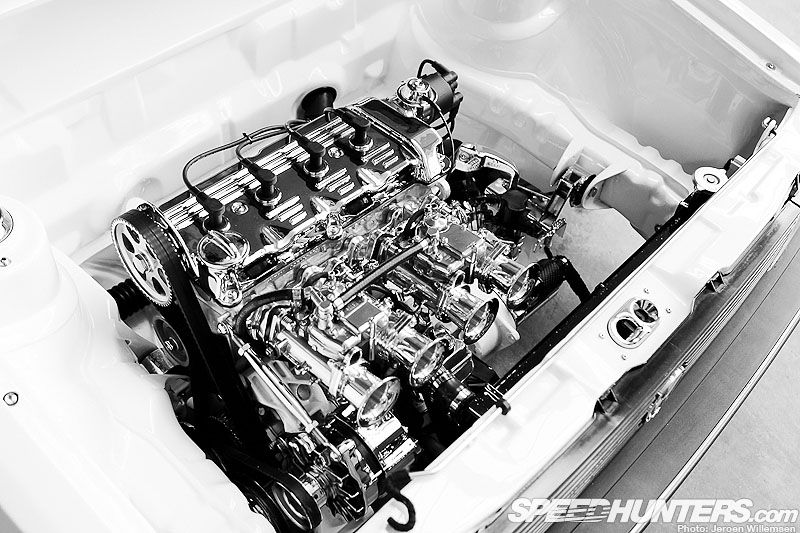 Again the attention to detail is crazy. Shaved engine bay, chrome-dipped parts, a reupholstered interior and BBS wheels. This car has it all!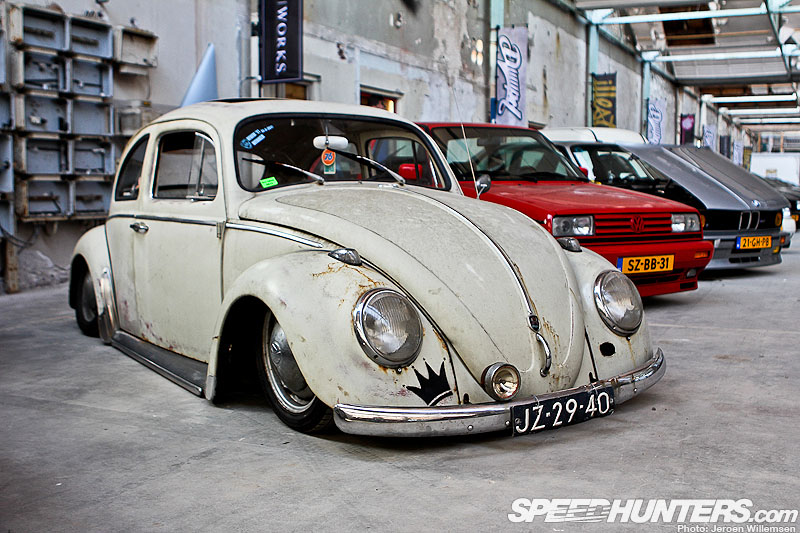 I have seen this Beetle before and even got some time to chat with the owner. This car is slammed: it literally rests on the floor.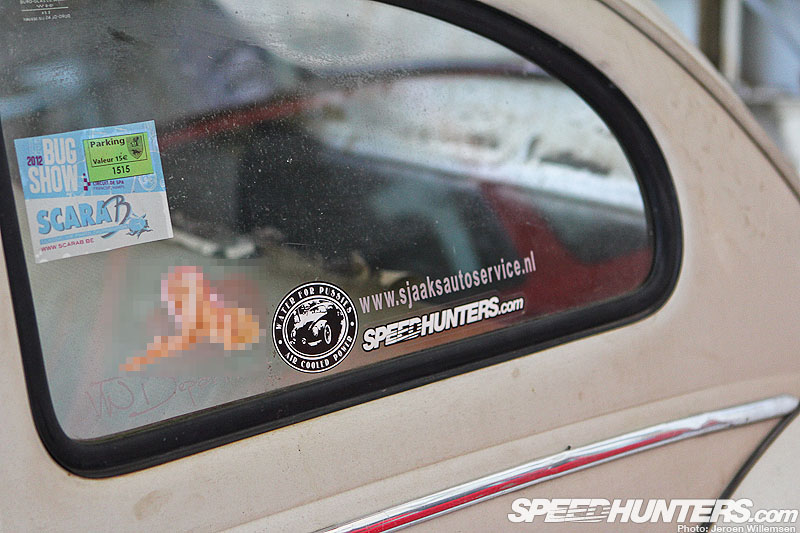 One thing I really liked was checking out all the custom stickers the owners used on their cars. I even had to blur one sticker because it was NSFW! The owner of the Bug showed some love using our Speedhunters sticker.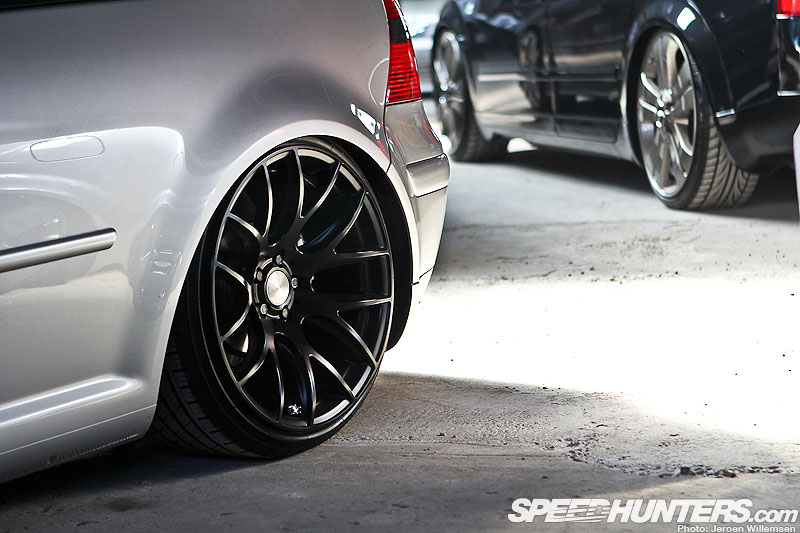 I believe these are 3SDM wheels. They looked pretty sick on this silver Golf IV.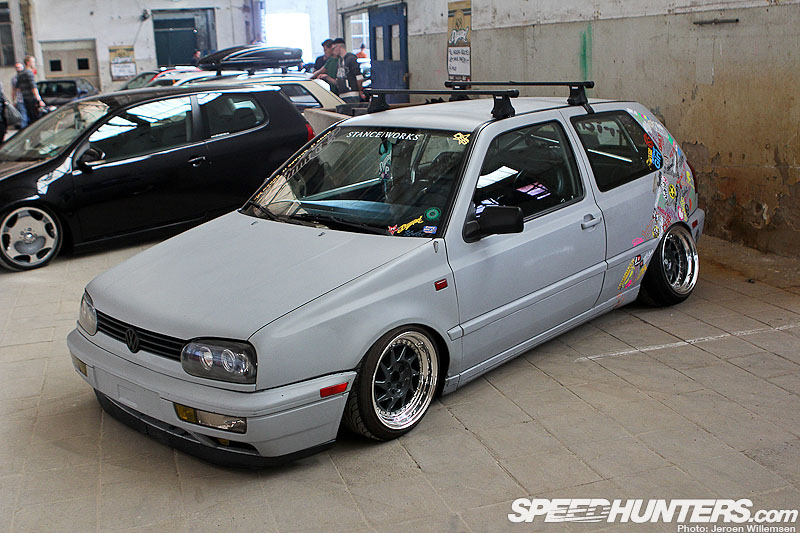 The owner of this Golf took a different route: this MkIII had some very aggressive camber on the rear wheels.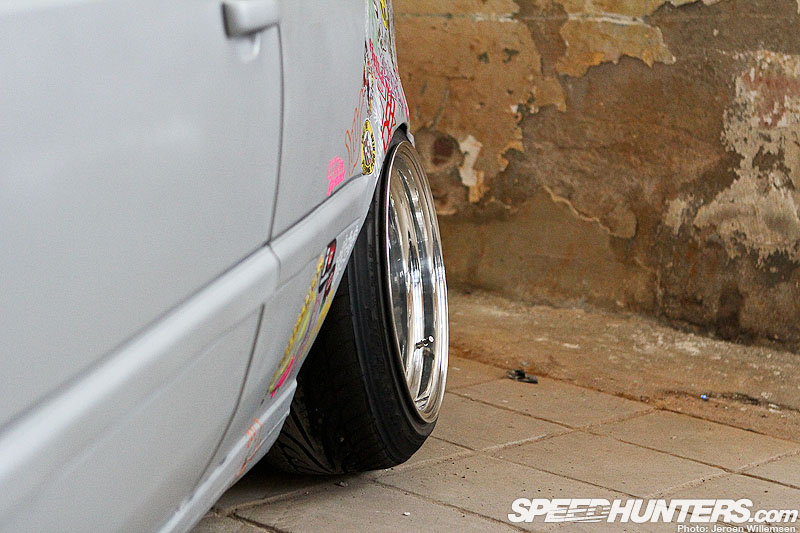 It definitely sparked some discussions. I always love to see people pushing the envelope so it's hard for me to disapprove. I'm sure the owner had a good look at the Japanese cars that Dino always posts.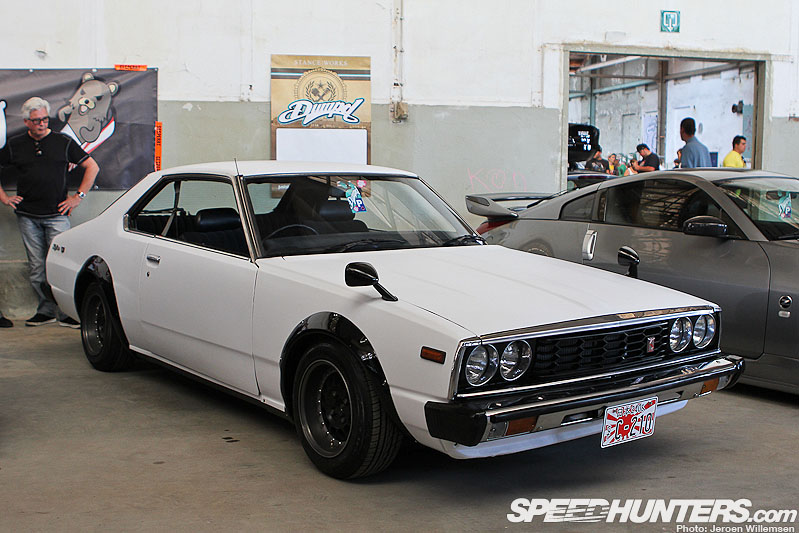 Does anyone remember this post I made about a C210? The owner Rik had to sell it and this is what the new owner has done with it. He completely repainted the car, fitted new chrome pieces and went to work to fully restore the car. He did a great job if you ask me. What do you guys think?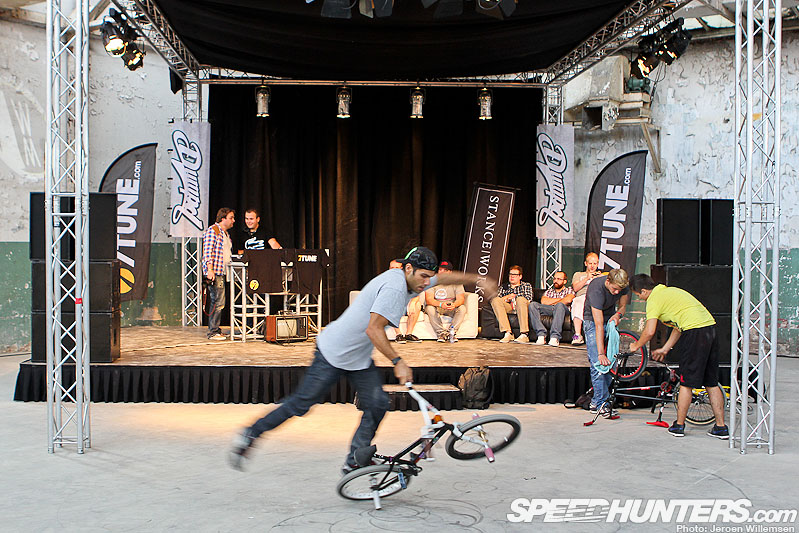 In the far corner of the venue the organizers had setup a small booth where a DJ played some dubstep. When I heard the DJ playing TNGHT with Bugg'n I had to take a closer look. It seemed that some guys on BMX bikes were doing tricks: a cool way to relax for a bit.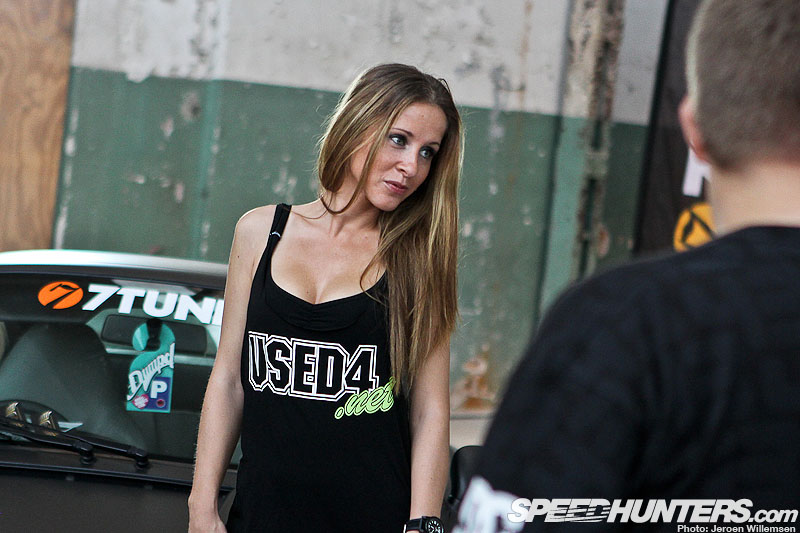 For people who had enough off all the cars they could also grab a shot of one of the models walking around.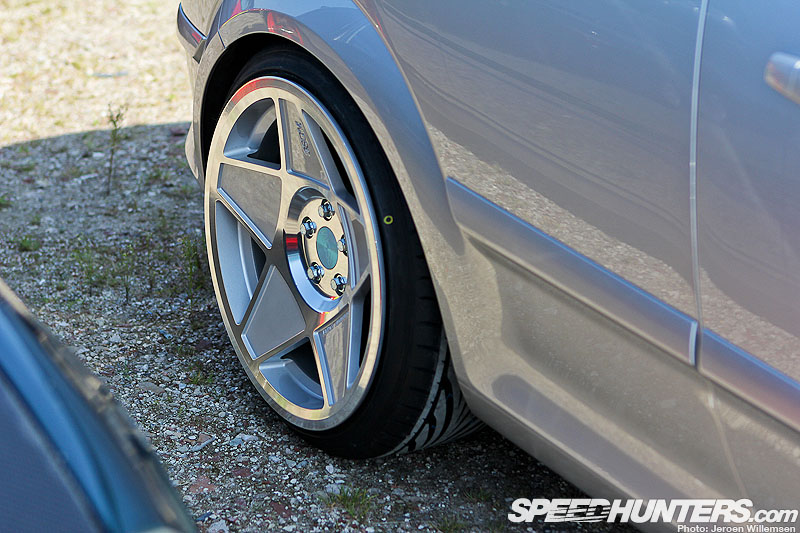 I didn't really bother going outside because the sun was pretty harsh. But I did manage to make a quick round and saw these cool new 3SDM wheels called the 0.05.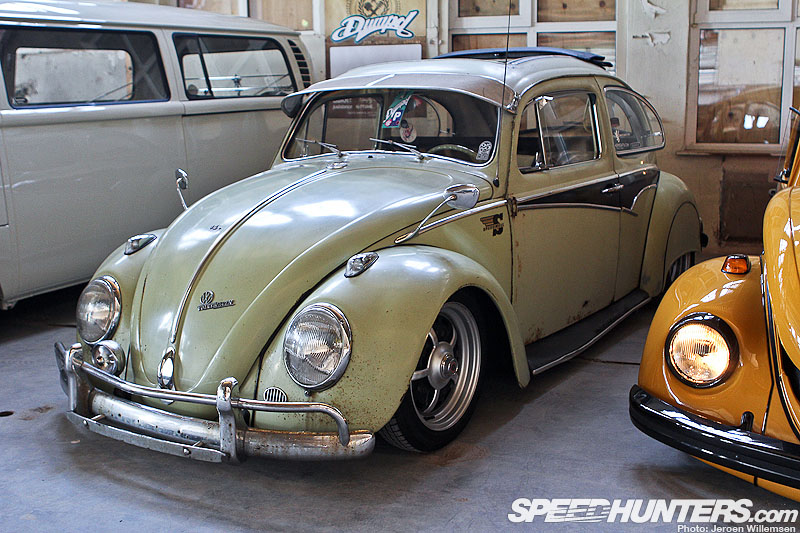 Back inside I found another cool Beetle I had seen at other events. It features a lot of cool extras like the covers over the rear wheels.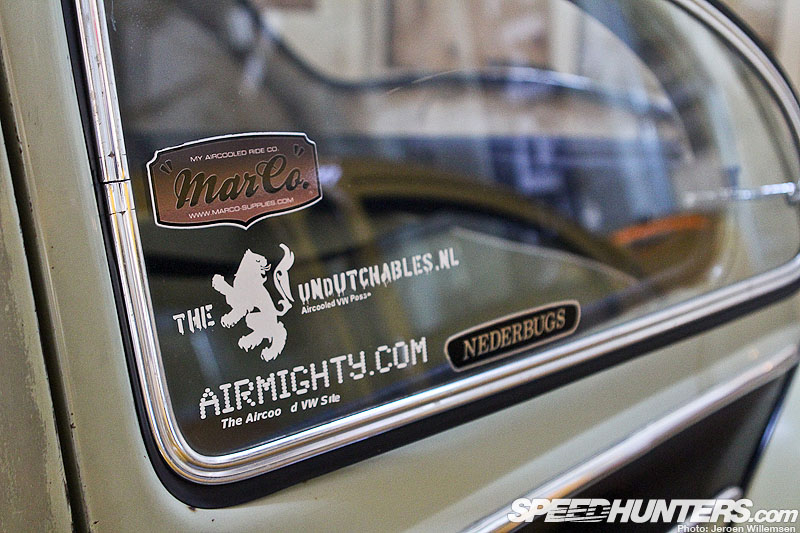 This Beetle also had some nice stickers on its side window.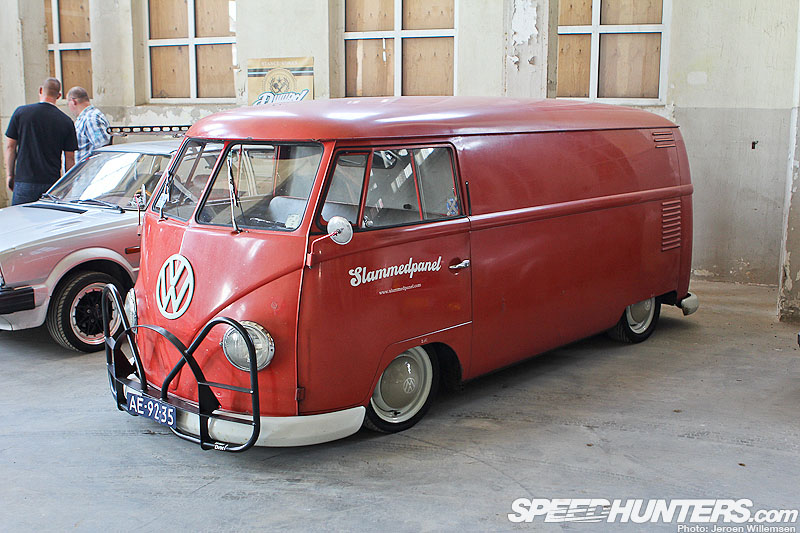 You can never go wrong with VW T1 panel van. I'd love to drive one of these to Wörthersee next year.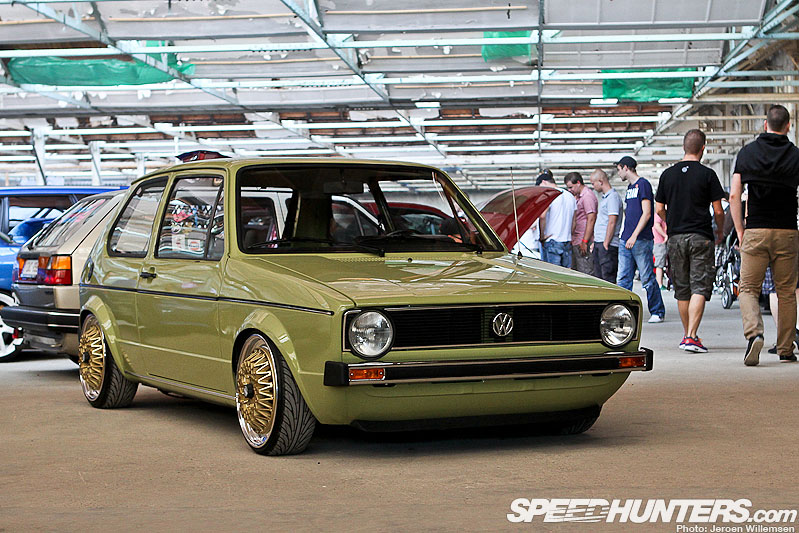 This manilla green MkI belongs to Guy Maes from Belgium. The car has been taken apart and rebuilt with lots of new and refurbished parts. The gold BBS wheels are the latest items that Guy added.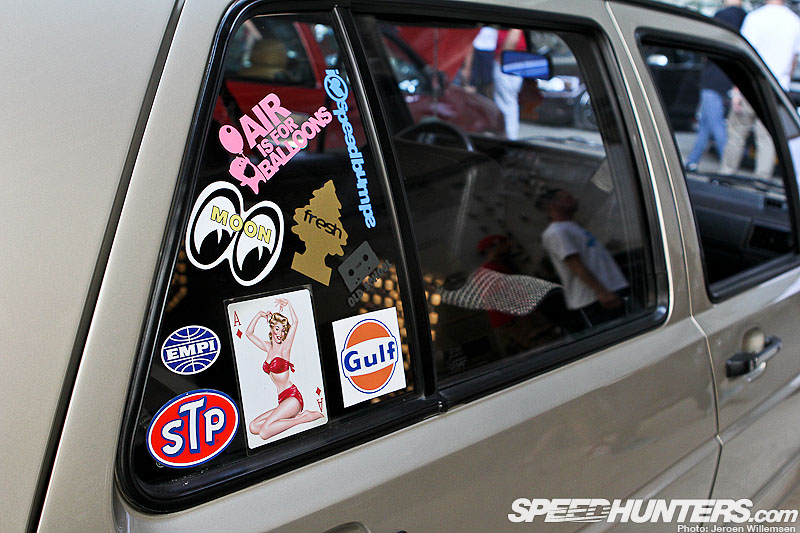 More stickers on this small side window of a Golf MkII.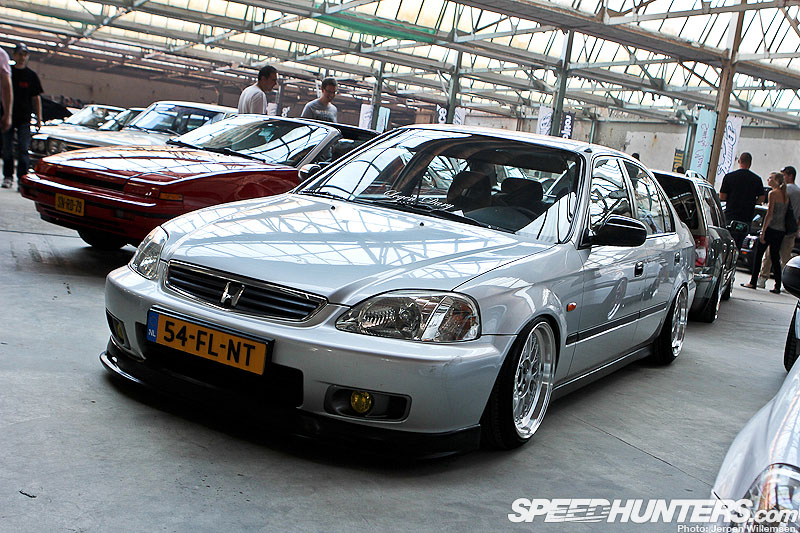 I have always loved Hondas but there was a time that every owner in Holland was rocking big spoilers, bodykits and hideous wheels. Luckily that is changing. One of the nicest Hondas at DUMPd was this sixth generation Civic.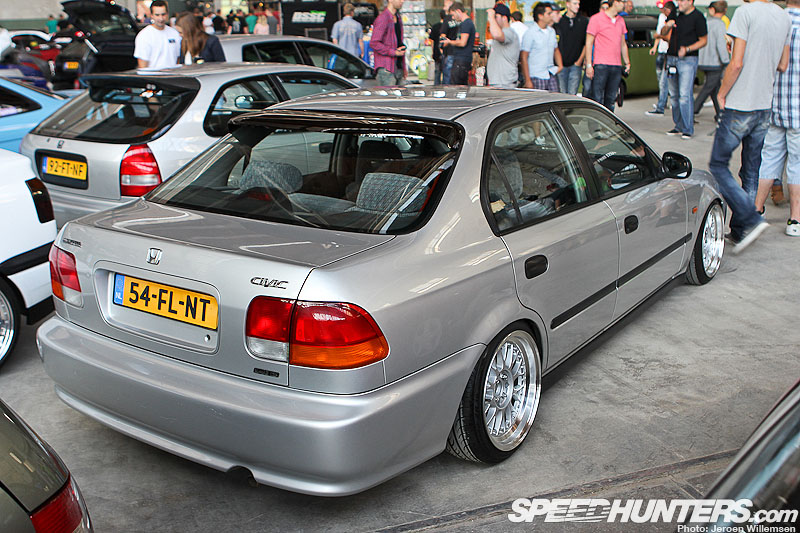 It just had a very clean look with the right wheels and drop.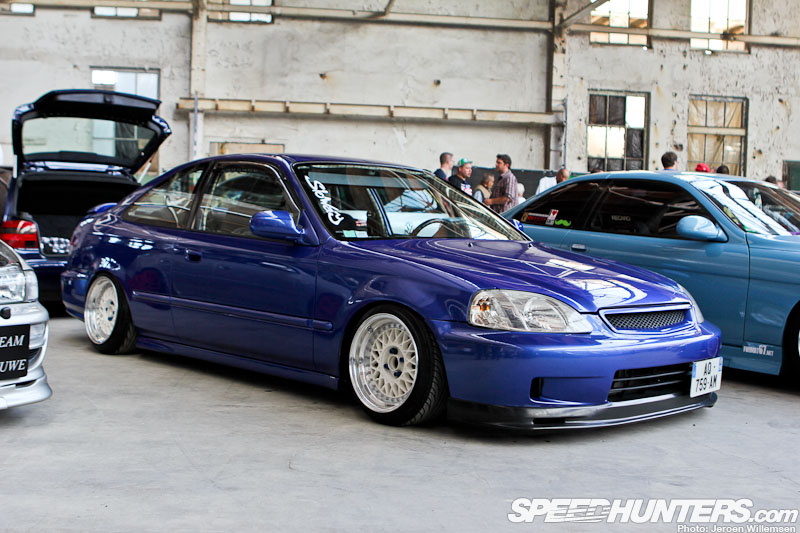 This Civic was also pretty cool; it came all the way from France.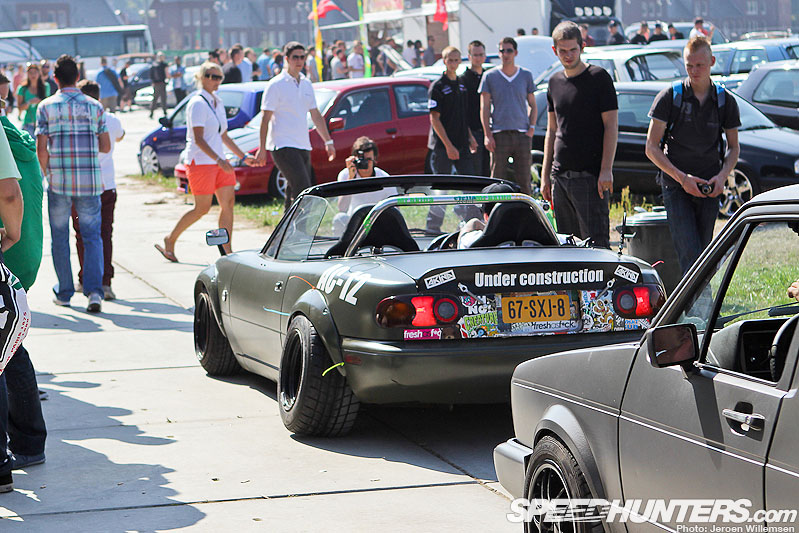 While I was outside I came across this wild-looking MX5. As the sticker on the back says it's still under construction. It was a bit too wild for my taste, but maybe when the owner finds time to finish it it's going to look way better.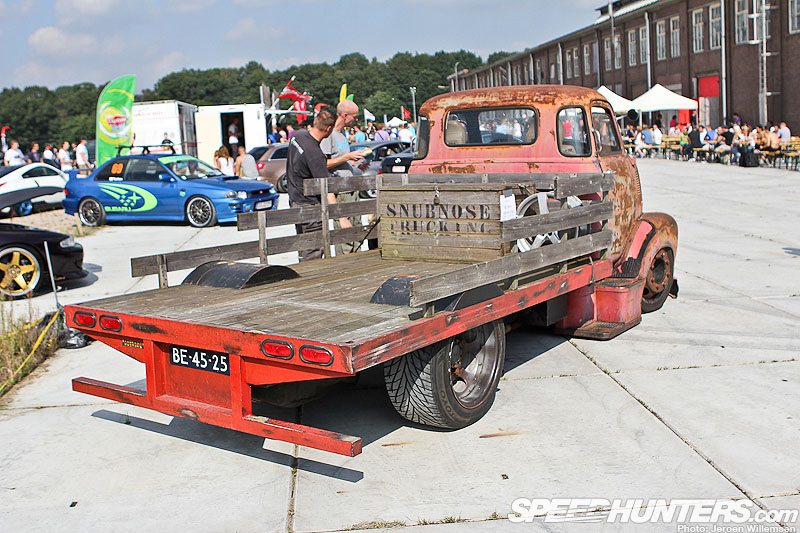 This so-called Chevrolet COE truck was also a big attention grabber. It drives around on airbags, but when it's parked it looks very impressive.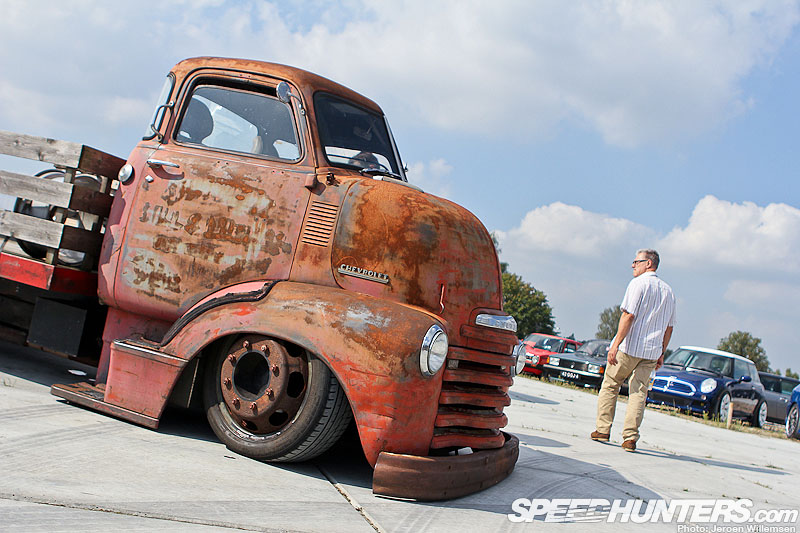 See what I mean?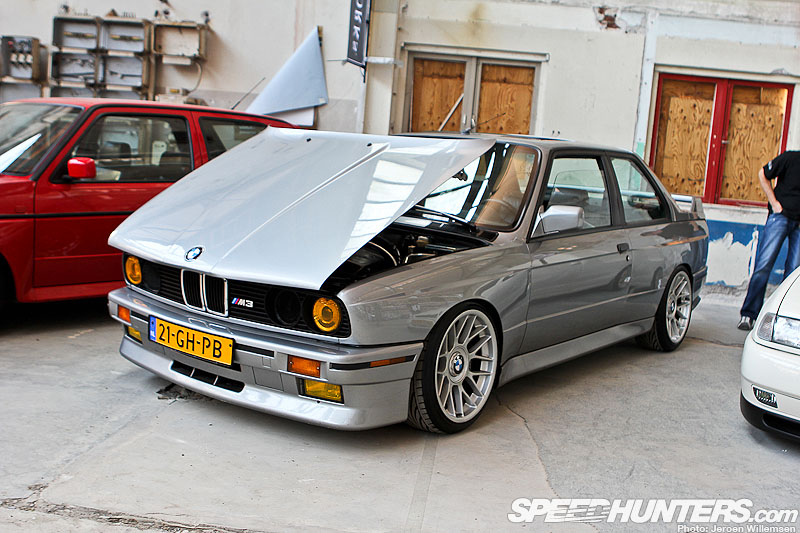 Here is another look at the BMW E30 M3 I showed you guys in part 1.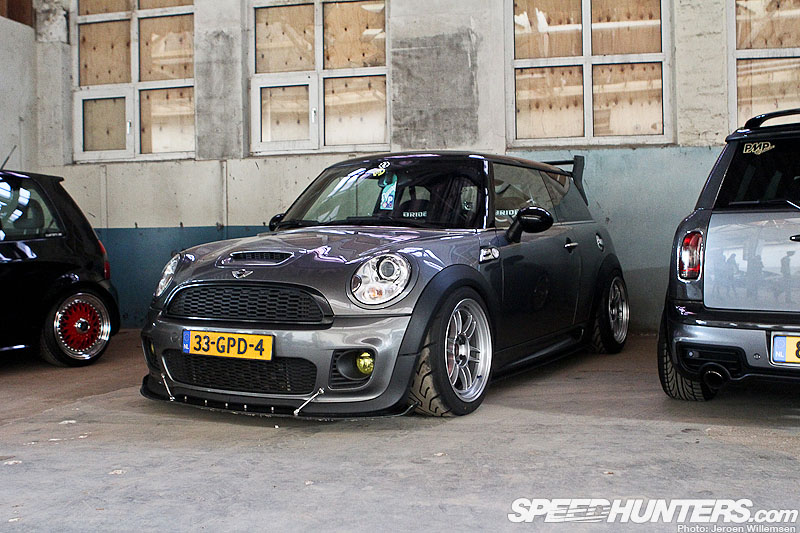 This race-inspired Mini looked like it came straight from the circuit. It had a lot of Japanese influences like the Enkei wheels and the Bride seats. I'm not sure what powers this little car but I'm sure it's great fun on the circuit. That's it for my coverage on the DUMPd show: I hope you guys liked it.
Jeroen Willemsen