After attending so many car shows in Holland over the years I had started feeling a bit jaded and found that the only reason I was visiting the shows was because of the friends I had made. The car shows became boring because there wasn't really anything new to see – all shows started to look alike.
But then I got a call from a friend who told me a about a show called DUMPd. At first I didn't think too much about it, but after I spoke to several people in the industry they persuaded me to come along and visit the show. In the end I was glad that I went because it proved to me that there are still people that are able to pull off a great event. I'm sure that this event has opened the eyes of many.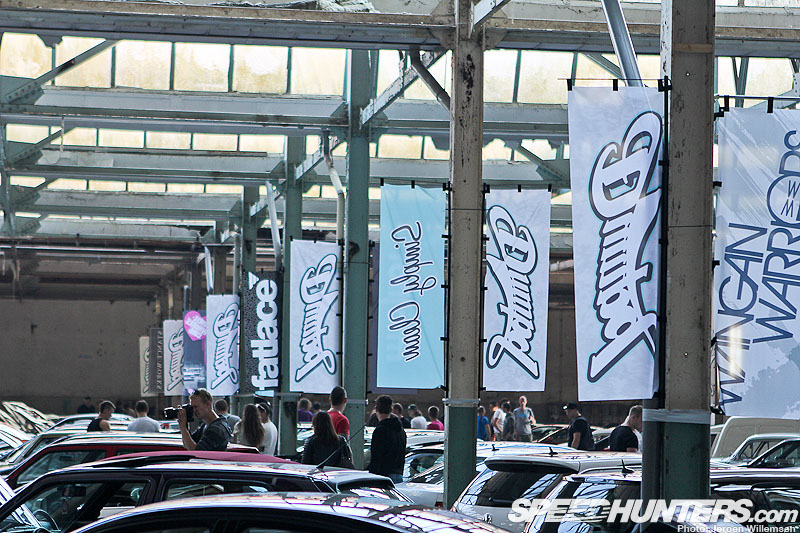 It all starts with the location. Instead of invading a circuit, like Zandvoort or the TT circuit in Assen, the organizer found an amazing place called the Enka factory. It is a vacant factory that is due to be demolished to make room for houses. It proved to be the perfect backdrop for an event.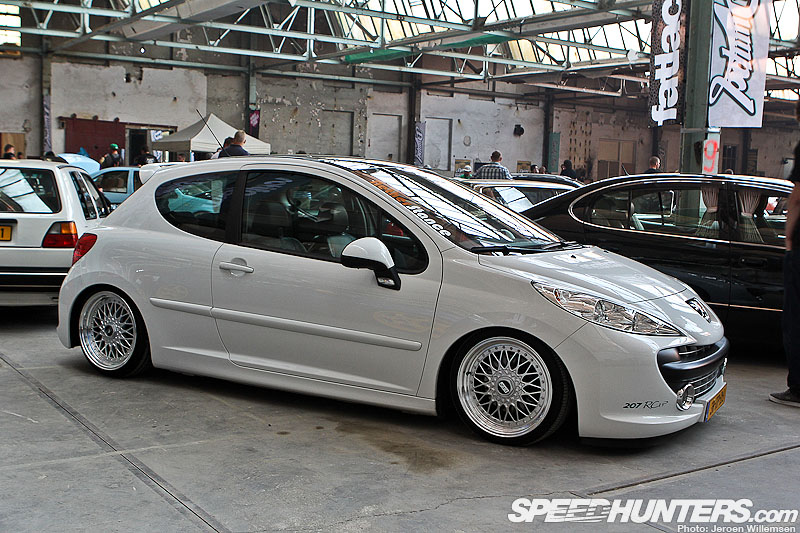 The other part that was equally as important as the venue was the selection of cars. With a strict door policy and pre-selection, the organization was able to showcase the best of the best. It was also the diversity of cars that really surprised me – in a very good way. Just take a look at this Peugeot 207 RC on BBS wheels: it was one of the many surprises at DUMPd.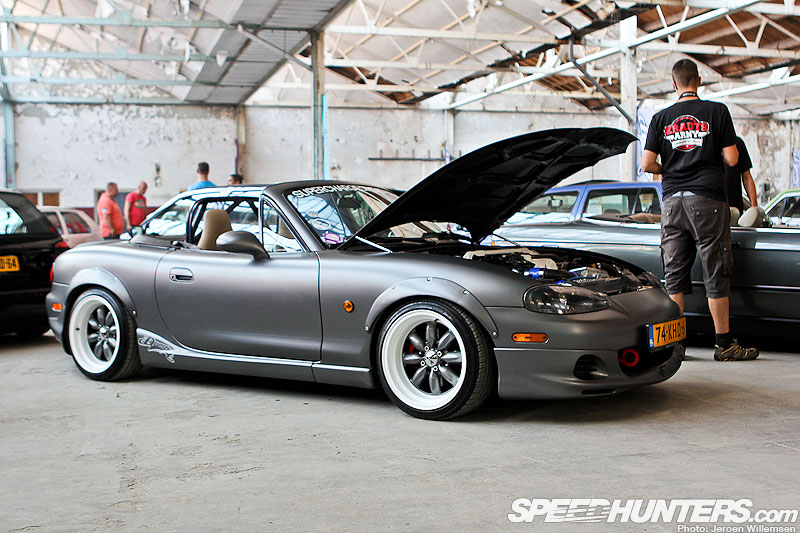 I know that the VW guys are the king of the 'stance' game in Holland, and probably in the rest of Europe. But the Japanese car owners are catching up – not in big steps, but they are getting there. This second-generation Mazda NB featured a supercharged 1.8-liter engine. Other items that attracted my attention were the fender extensions and the rollcage.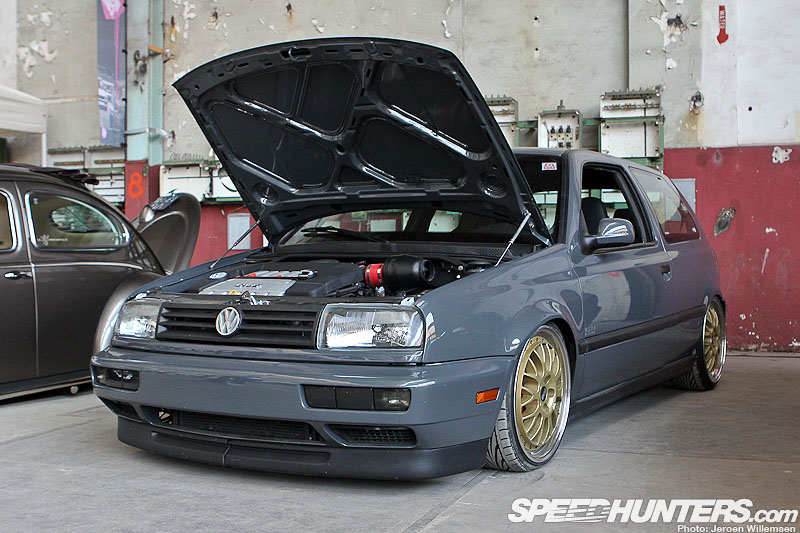 The majority of the cars inside were made in Germany. This Golf MkIII featured Vento headlights, a Nimbus grey paintjob and gold BBS wheels.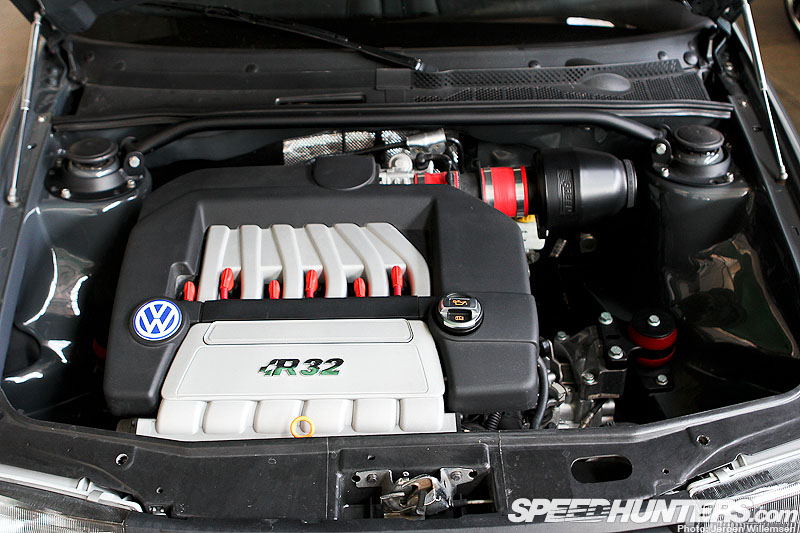 But the most interesting thing about this Golf was the R32 engine on custom mounts.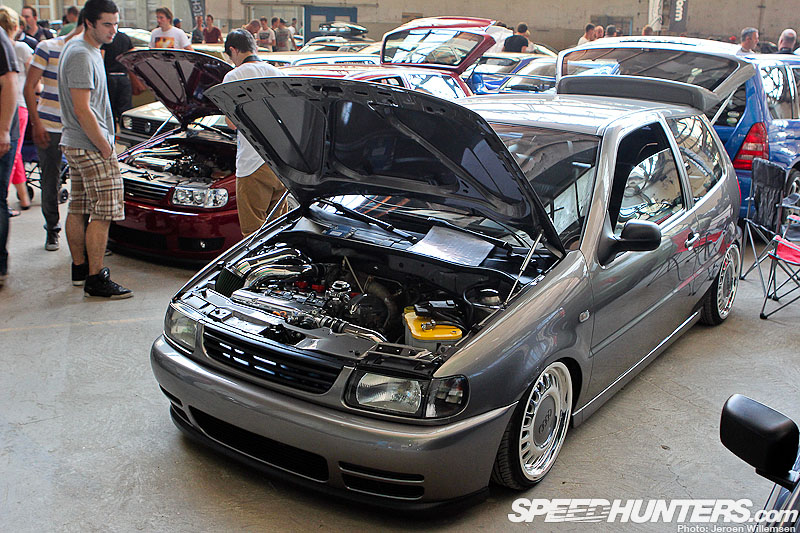 The owner of this grey Polo always travels together with the red one in the background. I have seen them at the recent MIVW event but this time I had the time to take a closer look. The exterior of both cars had been kept fairly simple.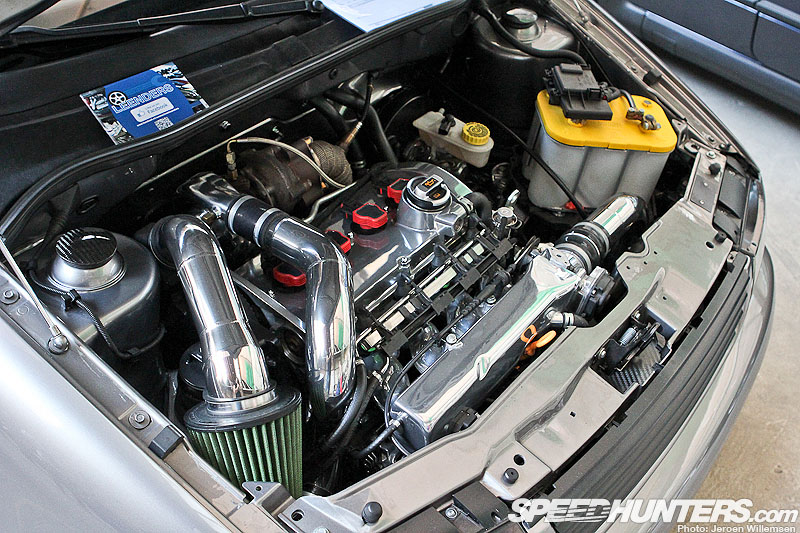 It was under the hood where both these cars really shone. This grey one is owned by Jarno Aantjes and features a fully built 1.8 20v using a Garrett turbo.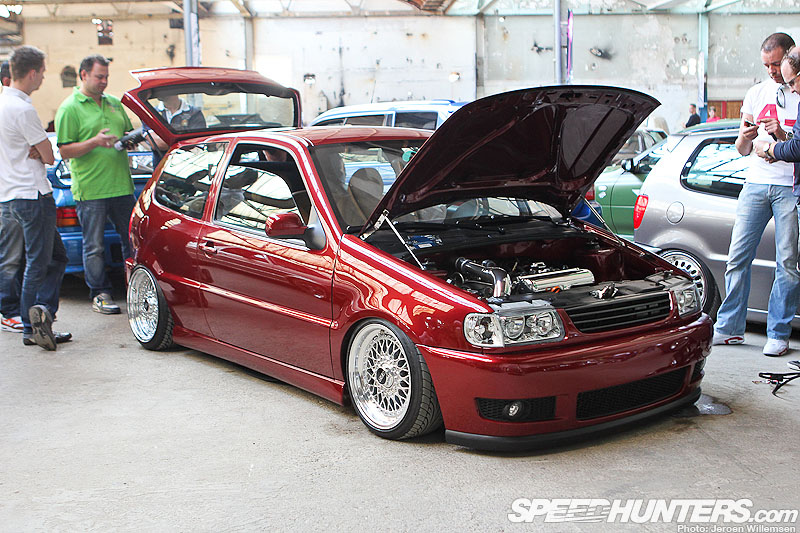 This red one belongs to Jeroen Leenders. The exterior features all the familiar modifications.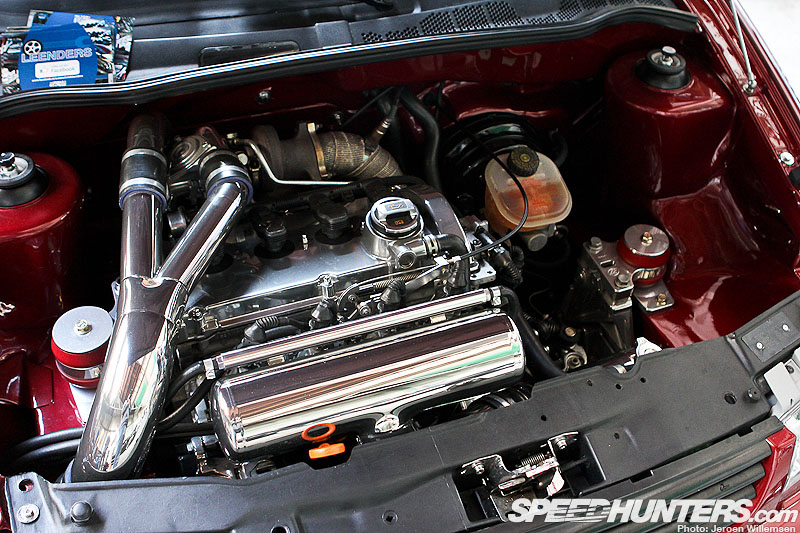 But once again it's under the hood where it gets real interesting. Using custom engine mounts Jeroen replaced the original engine with a 1.8 20v just like Jarno. Again he added a turbo and I've been told it was able to record some serious numbers – in the region of 500bhp.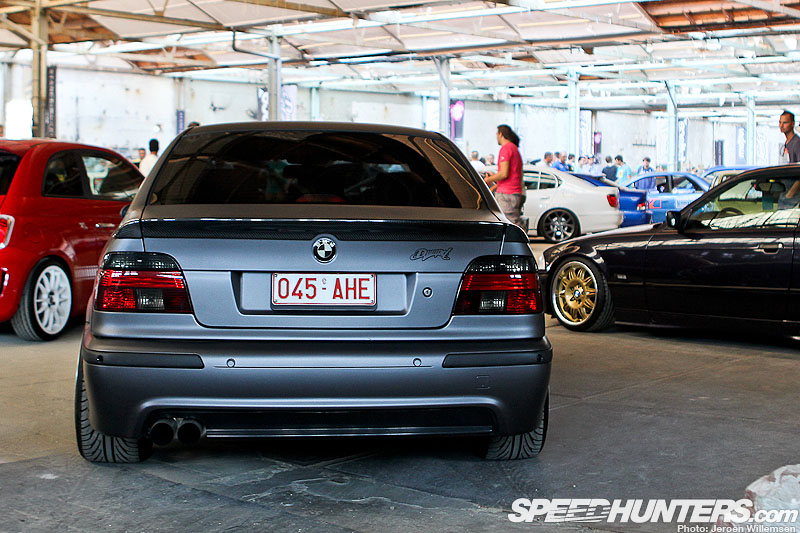 BMW was also well represented at DUMPd. One of them was this matte silver E39 from Belgium.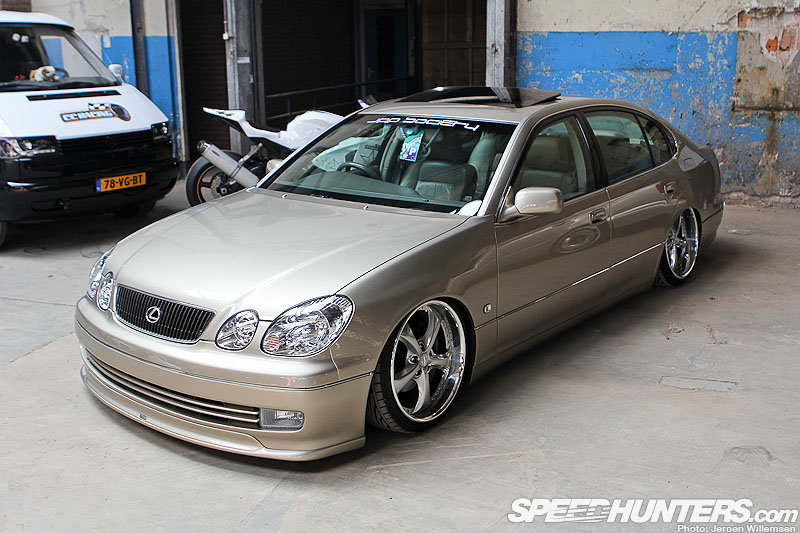 VIP styling is still something you almost never see at events, as the cars that are best suited for these kind of builds are still very expensive even if they're second-hand. But luckily there are still some pioneers that are able to build some fine examples. This 2GS had a nice selection of parts including a genuine TTE front lip.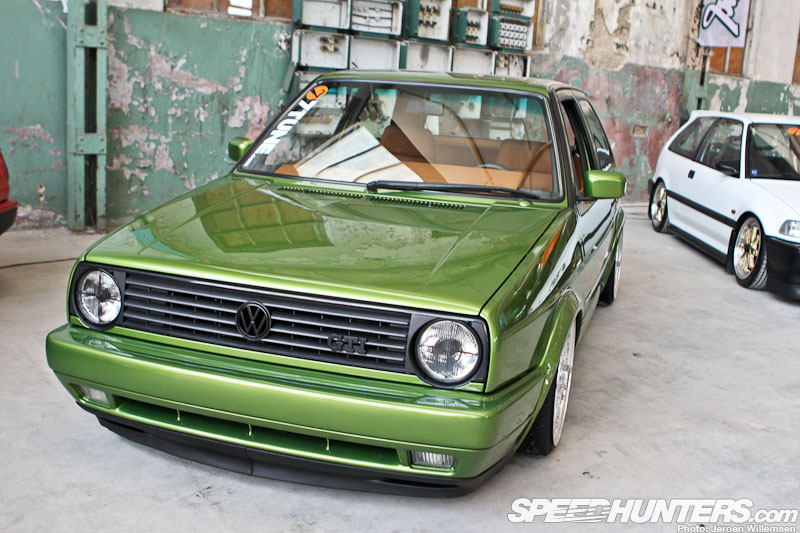 This very green Golf has been featured on Speedhunters before. The owner keeps tweaking the car year after year, and it really shows.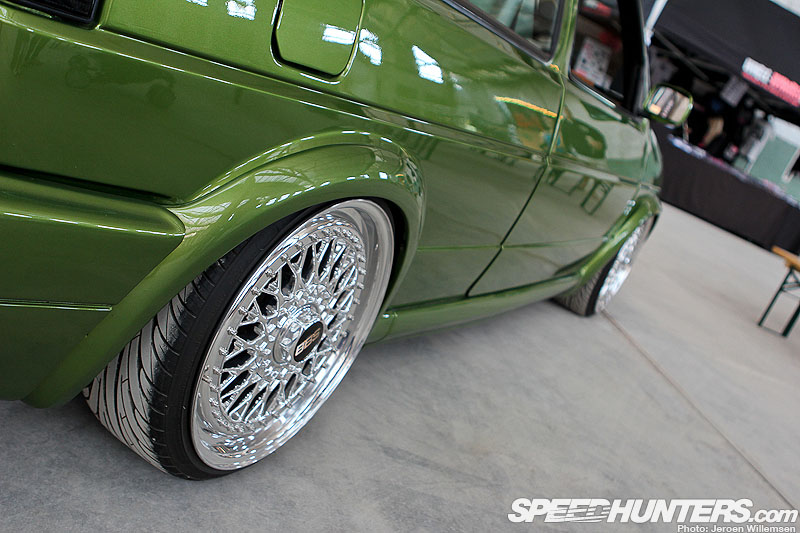 The most striking part of the car besides the fresh green paintjob are the chrome BBS wheels and that perfect stance.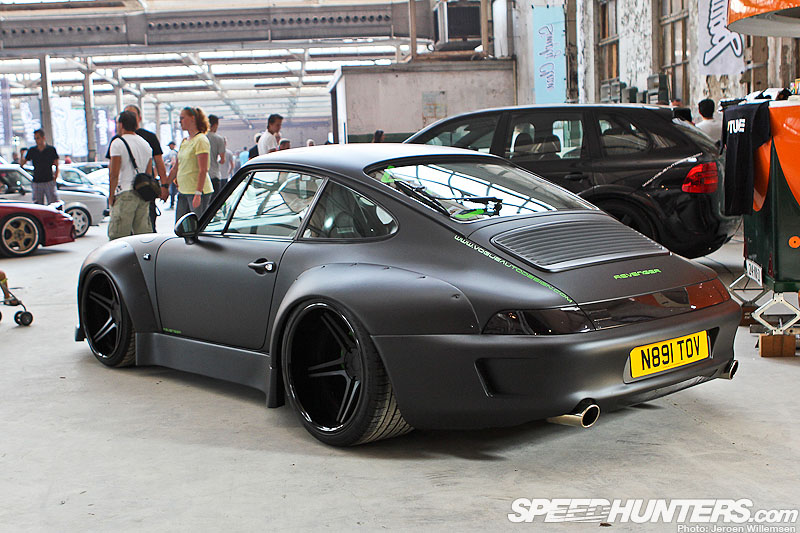 VAD brought their take on the 911 over from the UK. There is no denying that it borrows styling cues from RWB, but I have also seen some heated discussions about whether the kit was directly copied…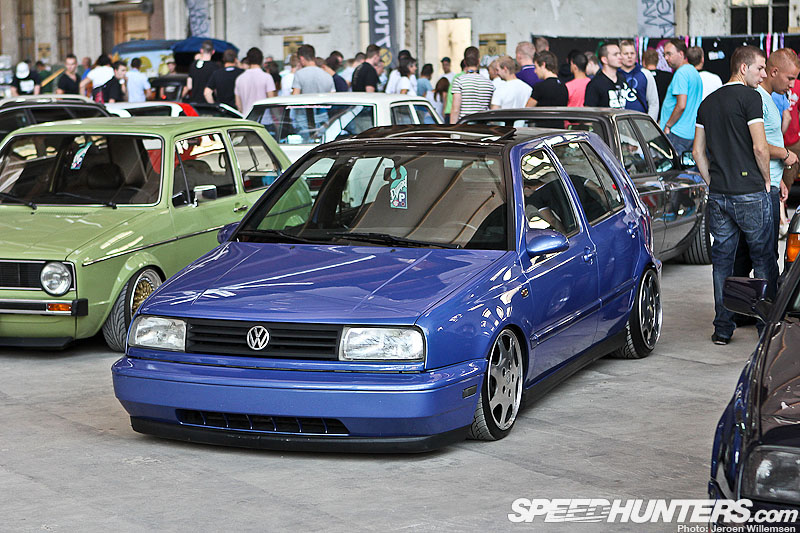 Thomas Visch brought out his blue MkIII.  It looked fairly simple in execution – but don't let that fool you.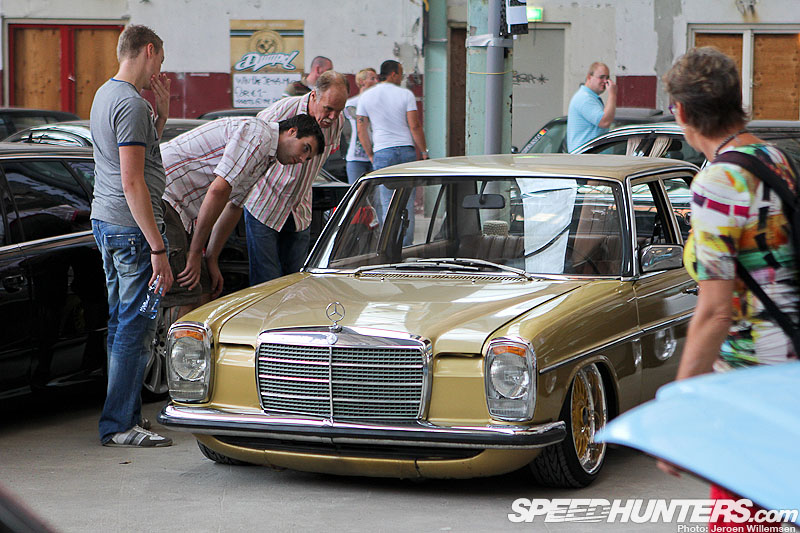 My absolute favorite car at the show was this Mercedes W115 230.4.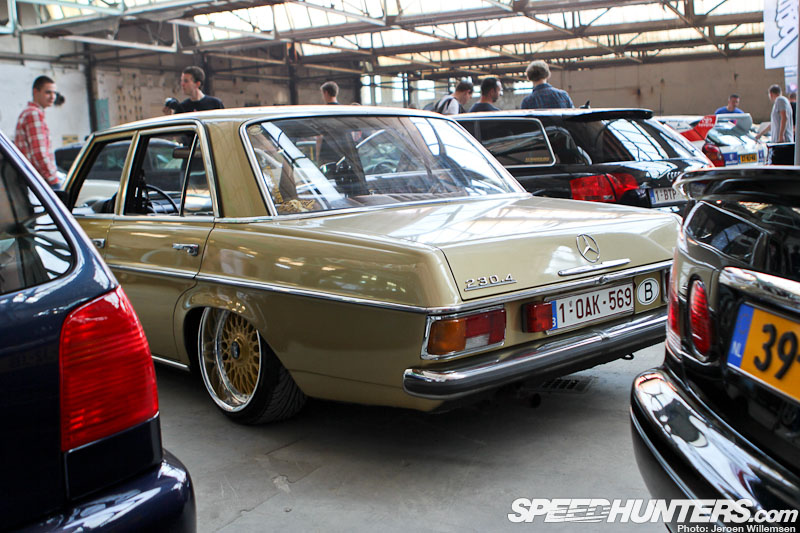 The simplicity of the exterior together with its gold paintjob and the golden BBS wheels is what won me over.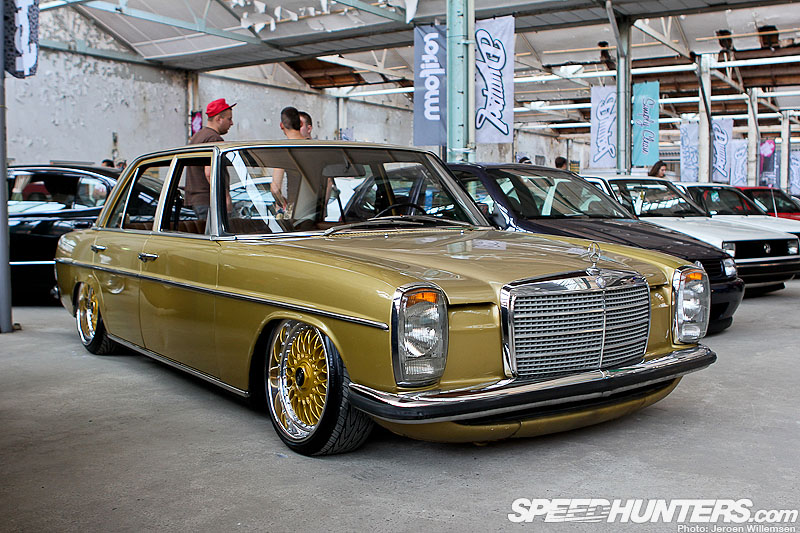 What's not to like?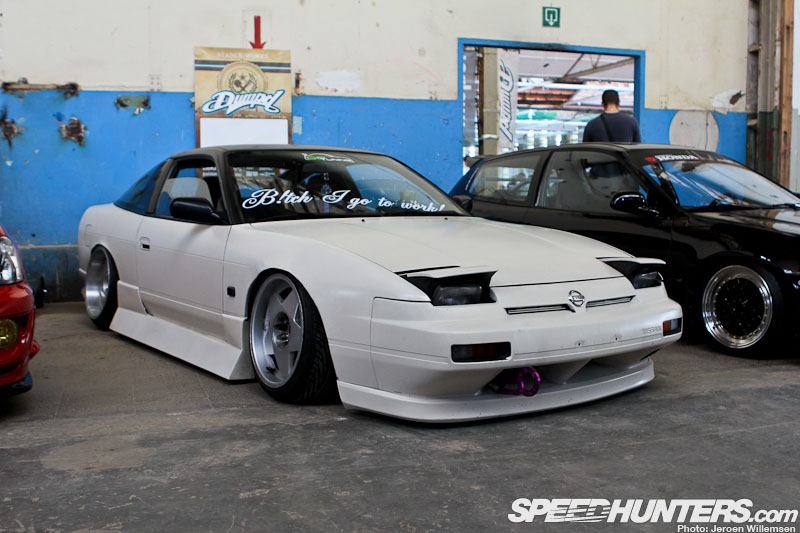 Dex Heine is a familiar face at Dutch events. He turns heads everywhere he goes.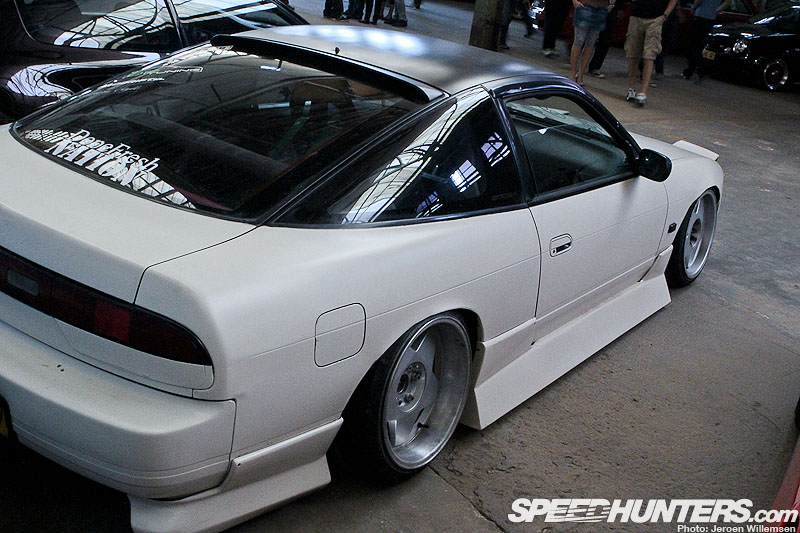 This is probably one of the lowest cars in Holland that is not running airbags. And remember he always drives like this! That's dedication right there.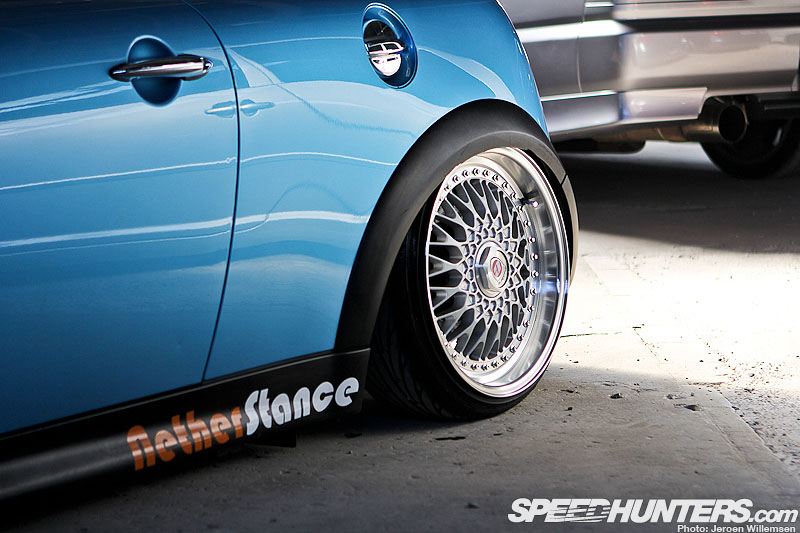 I also found some very cool Minis, like this blue Cooper S on airbags.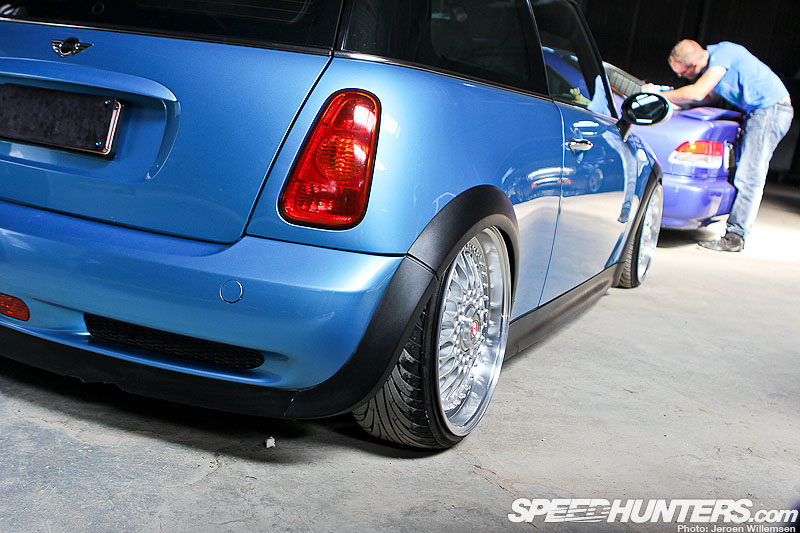 The stance was really on point and it had some nice details like the shaved keyholes.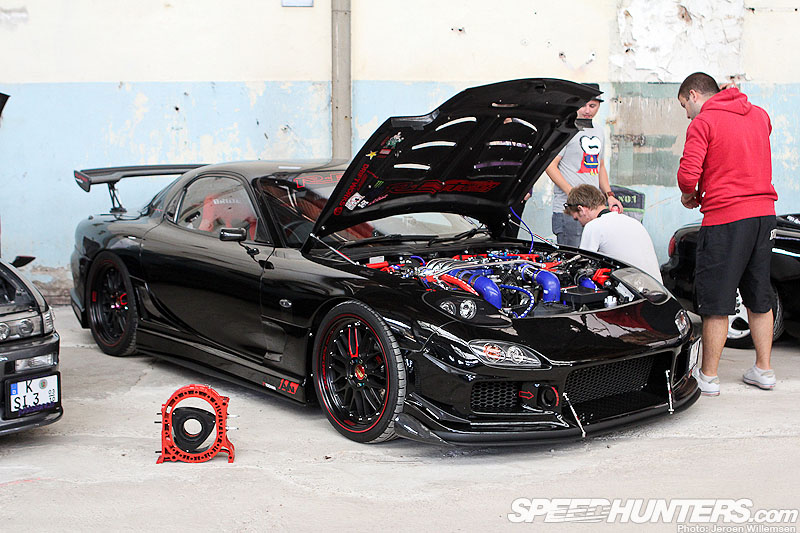 This Mazda RX7 came all the way from Germany to represent the JDM side of things. I liked the black and red theme but it's a shame he didn't go all the way and order red Samco hoses.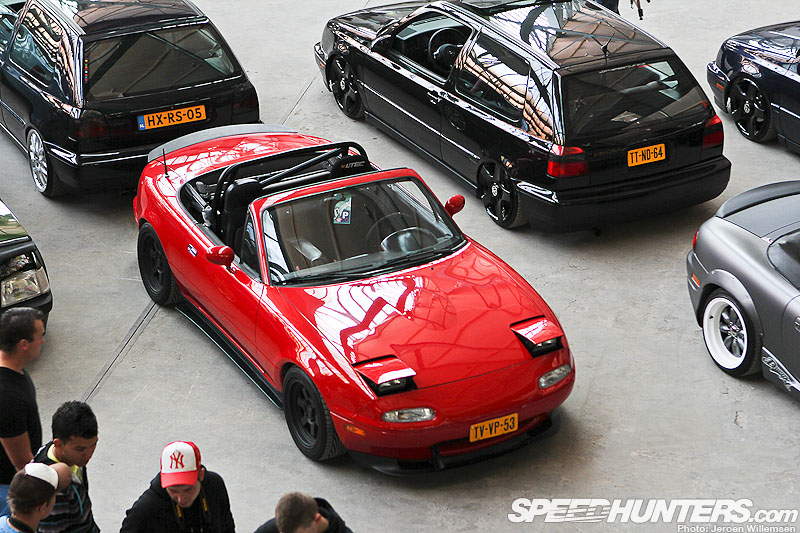 Another favorite was this cool first-generation MX5.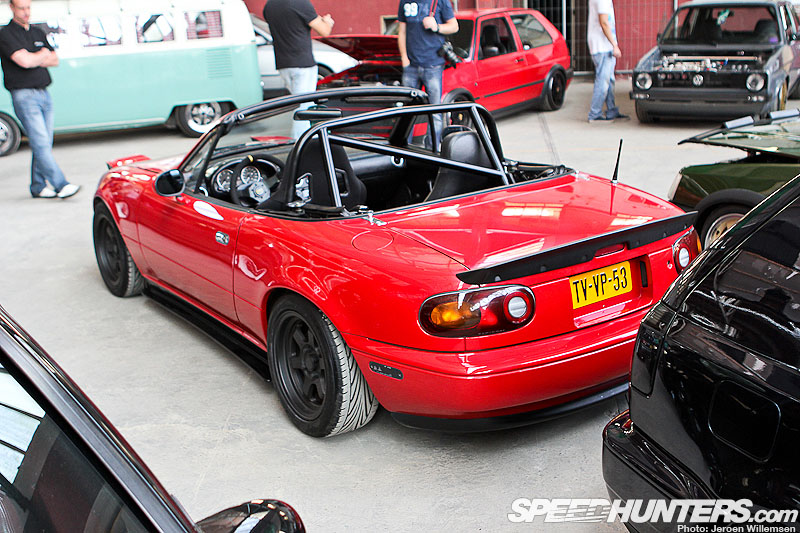 Simplicity goes a long way. It really shows on this car: just some simple black add-ons, a nice ride height and a few interior modifications are all that you need to stand out.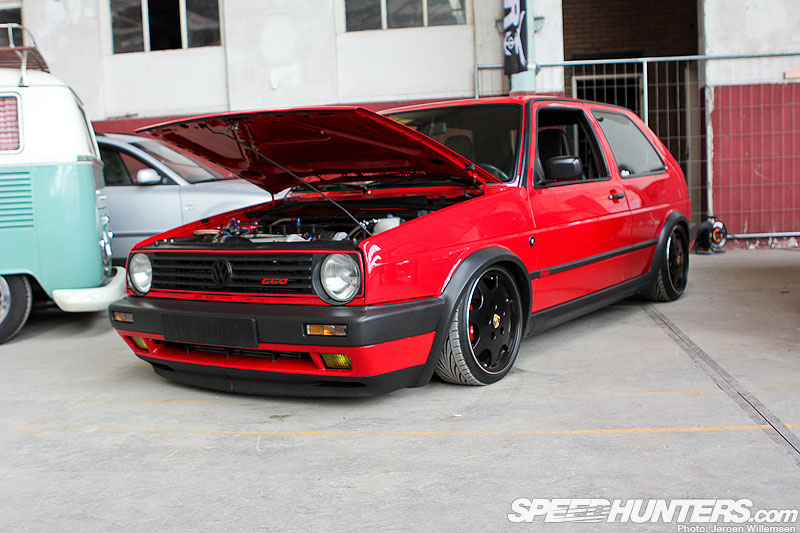 I have admired this Golf MkII built and owned by Chris Muller for a few years now. It has been put together with a very high attention to detail.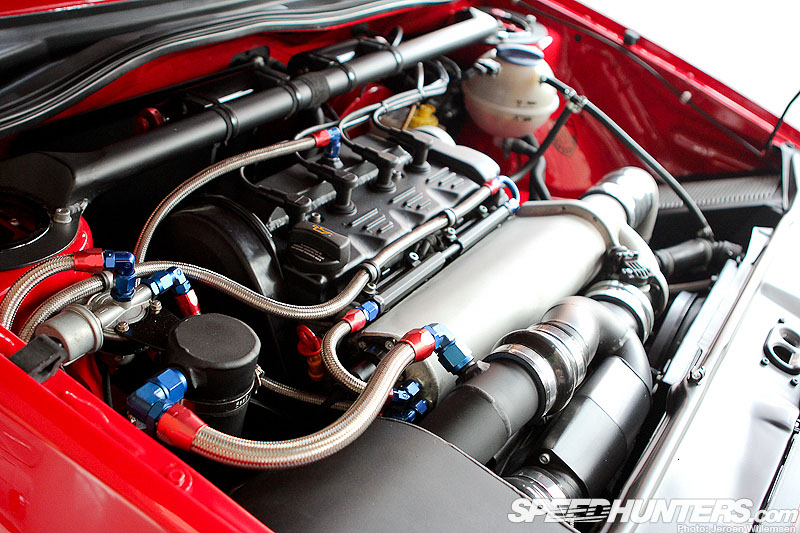 Just a look inside the engine bay proves my point. At the bottom we see the air-filter housing that connects to the G-lader and then they both come as one into the intake manifold. The engine is fed through eight injectors in total, four inside the Jenvey throttle bodies and four inside the intake manifold.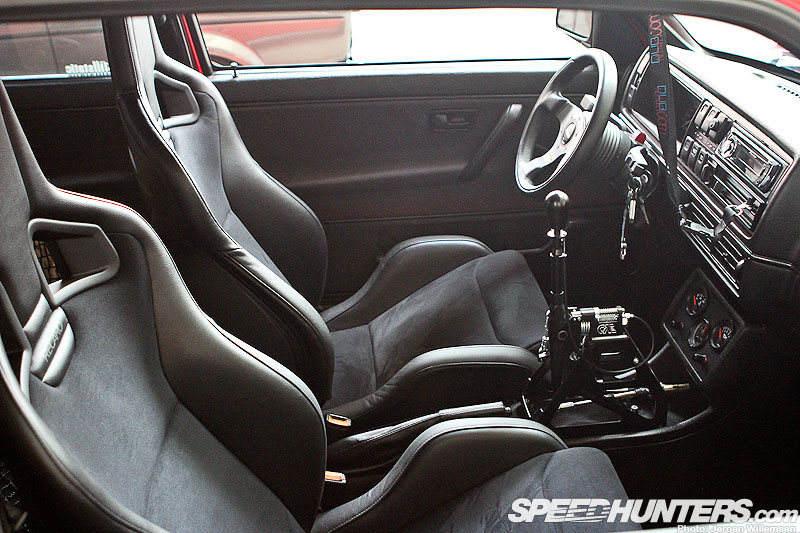 The interior has been upgraded with Recaro seats and a very cool custom gear shifter.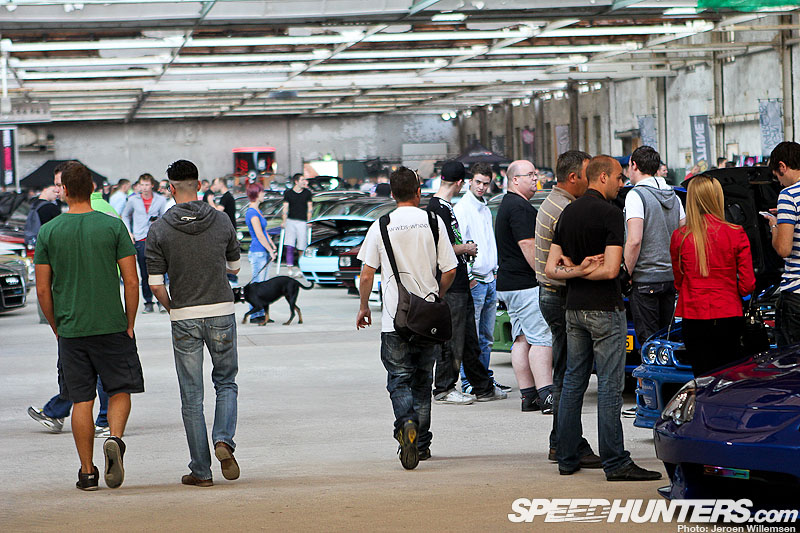 During the show I also spotted some familiar faces like Si Gray of Performance VW fame in the white shirt. He will be showing his photos in an upcoming PVW magazine article.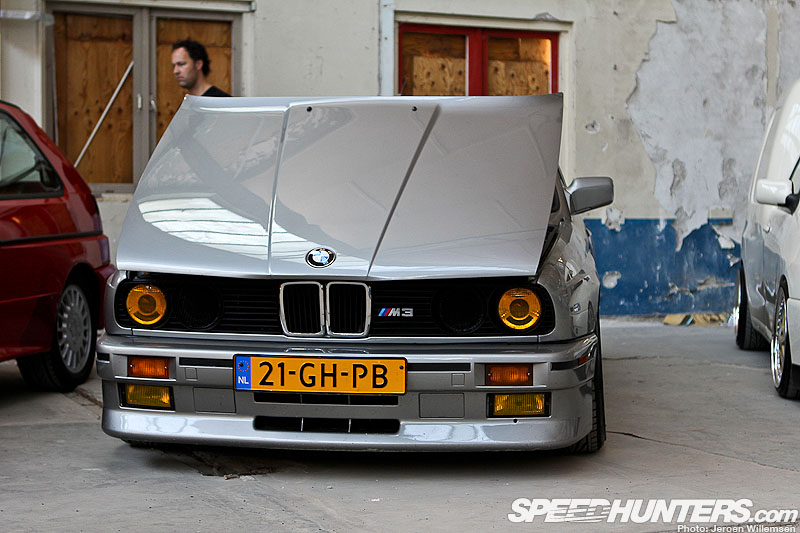 I was all over this BMW E30 M3 and had to pry myself away to continue my show coverage.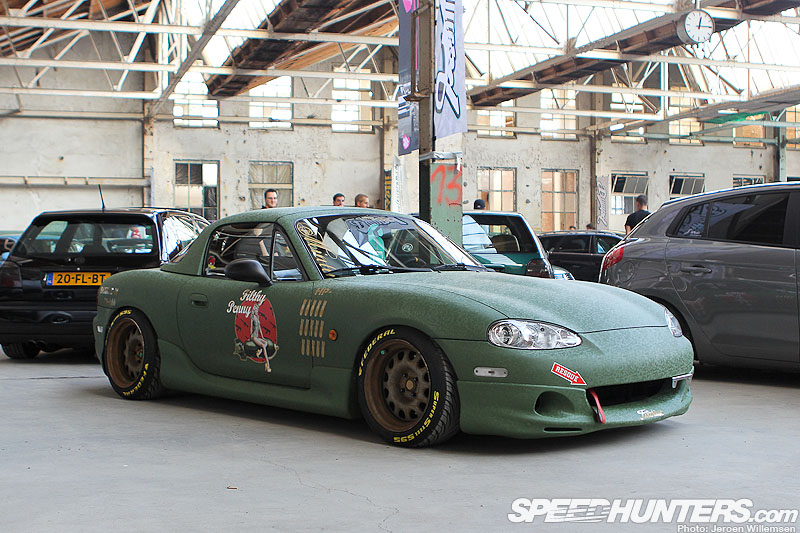 This was a nice surprise. A camo-wrapped MX5 with lots and lots of cool details…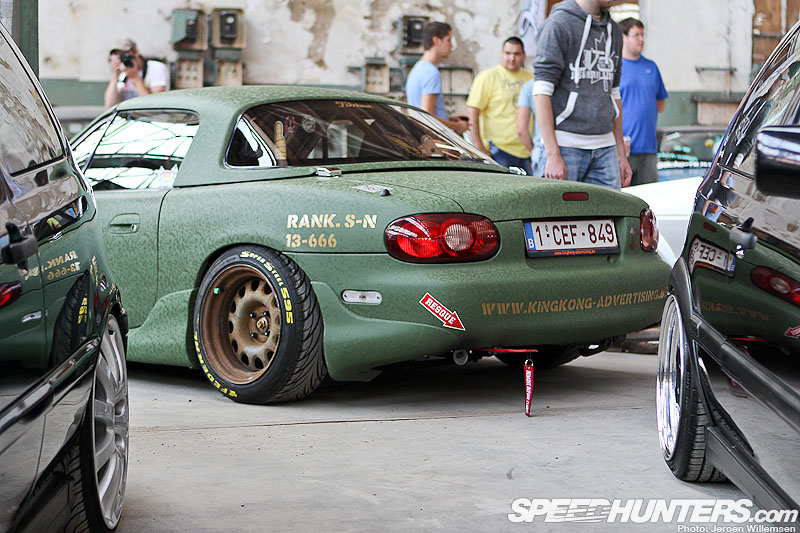 …like the yellow writing on the tyres, the rusted steelies and all the WWII references on the rest of the car.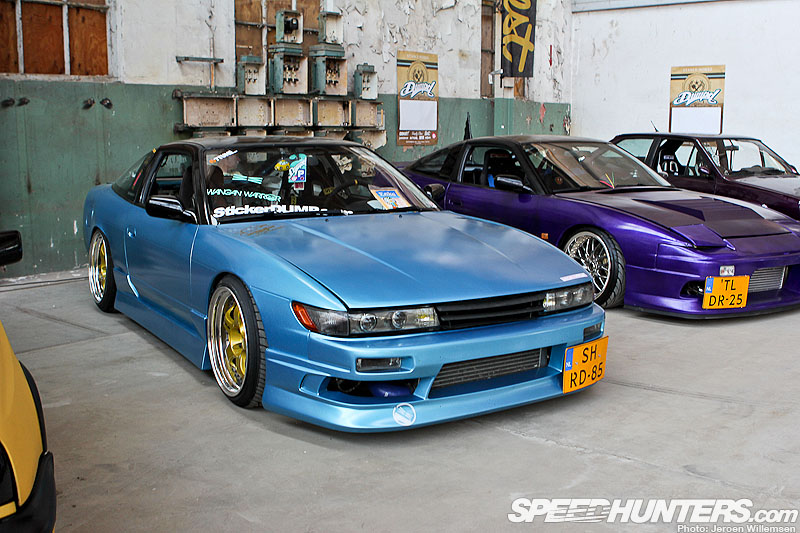 The Wangan Warriors are a group of friends who, as their name suggests, drive in Japanese cars. One of those cars is this light blue Sil-eighty on deep-dish golden Work wheels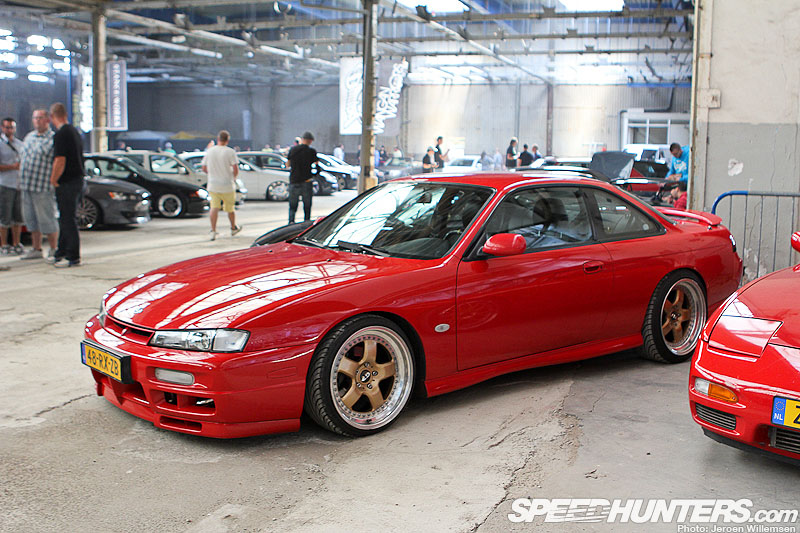 I'll end my coverage with a shot of this very clean S14a on Panasport G7 wheels. You couldn't find a cleaner example if you tried.
This is just part one, so keep an eye out for my next instalment with more old-school metal like air cooled VWs and even a Dutch Skyline C210.
Jeroen Willemsen