Form versus function. A popular debate these last few years and one we continue to encounter. Which one do you go for? This is a question we can't possibly answer, as there are varying opinions and tastes out there, but let me put this to you. Is there a way that we can have both? Is it possible to inject a nice dose of style into a car without impacting negatively upon its performance?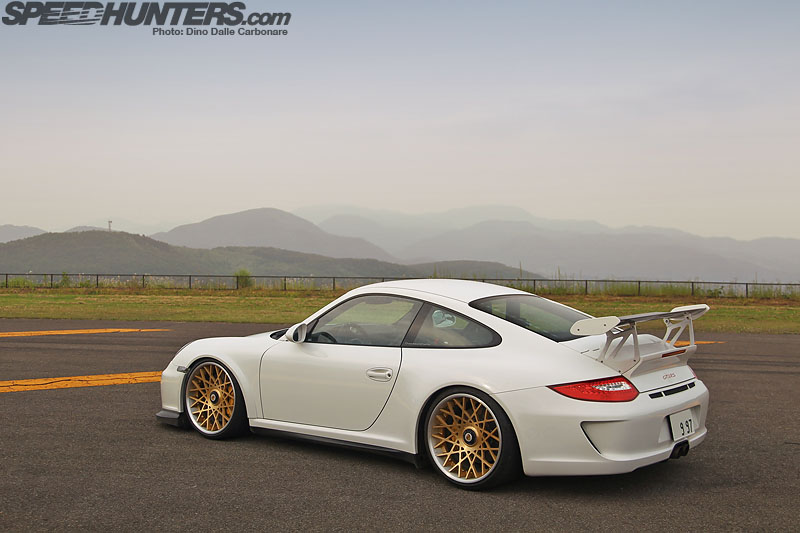 Before we answer this however we need to attempt to define style, or at least the meaning of such a broad term in the context of our little theoretical exercise here. By style I am of course referring to a somewhat noticeable change in a car's overall appearance; ride height, wheel choice, fitment, aero choice – all of these must be part of the equation.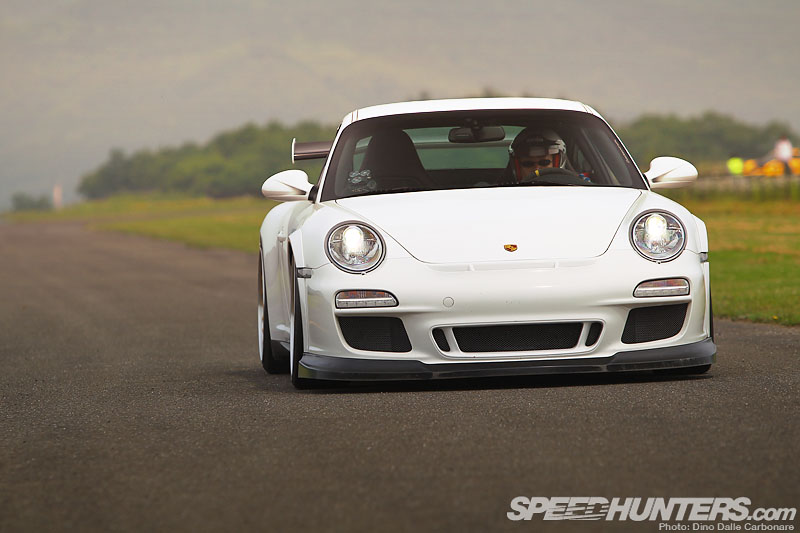 Go overboard on any and you are throwing functionality out of the window. So while it may be extremely cool to have wild negative offset and suspension set so low that you quickly learn where every speed bump in your town is (and alternative routes to avoid them) then you aren't exactly boosting your car's performance. It's a very fine balance and what may work for some, may not work for others.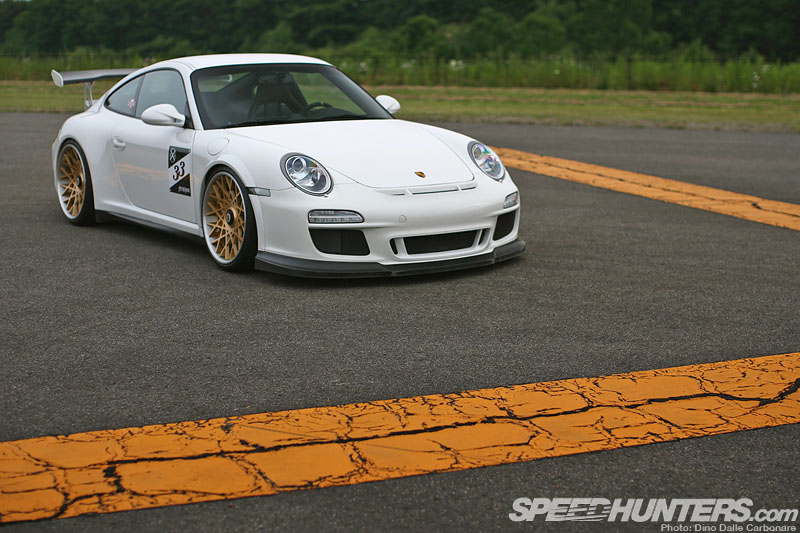 Within reason however I think there are some out there that manage to achieve a perfect harmony between the two, and one of these guys is Otsuka-san from The Check Shop.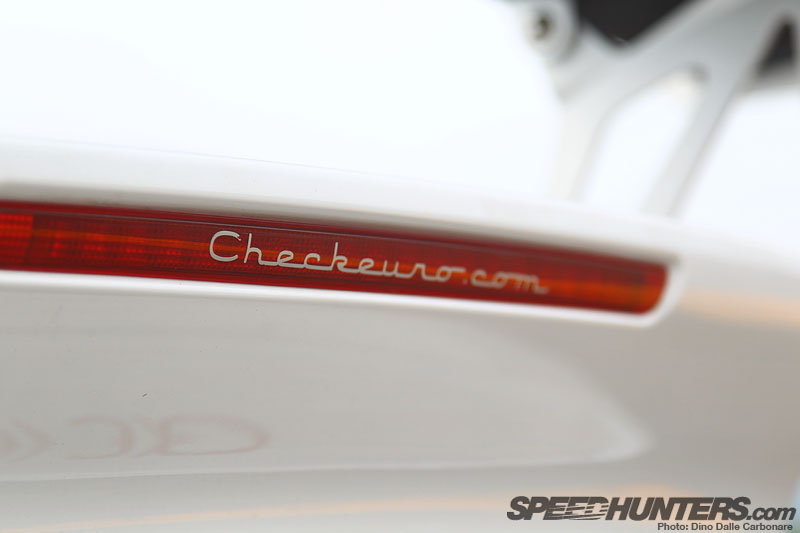 I met Otsuka-san by chance a few years back up at the Hakone Turnpike during a magazine shoot of his then new demo car, a bronze E60 M5 which I later featured in September 2009. To this day his E60 remains my favorite M5, a superb mix of style and performance. Blasting up the Turnpike with the V10 screaming at 8,000 rpm through the titanium headers and exhaust is a memory I will never forget, nor will I forget how awesome the car looked on its 21-inch wheels and subtle aero package.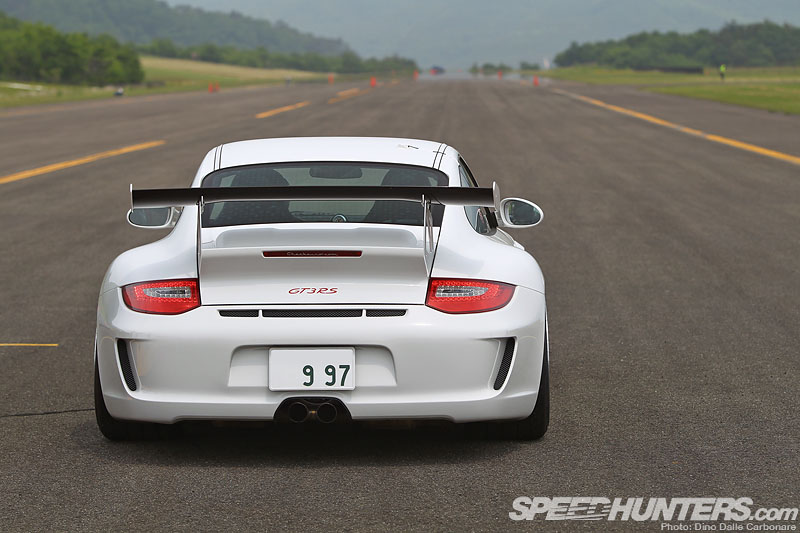 Fast forward three year and Otsuka-san has done it again, this time creating the perfect blend of style and performance on a customer's 997 GT3 RS.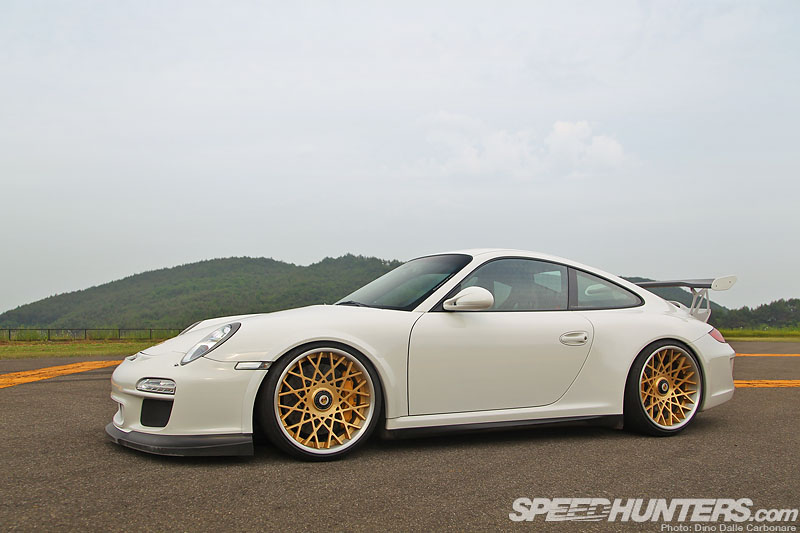 It was at the Motor Head Zero Yon event a couple of months ago that I had the chance to see this car for the first time, a chance to admire its unique looks…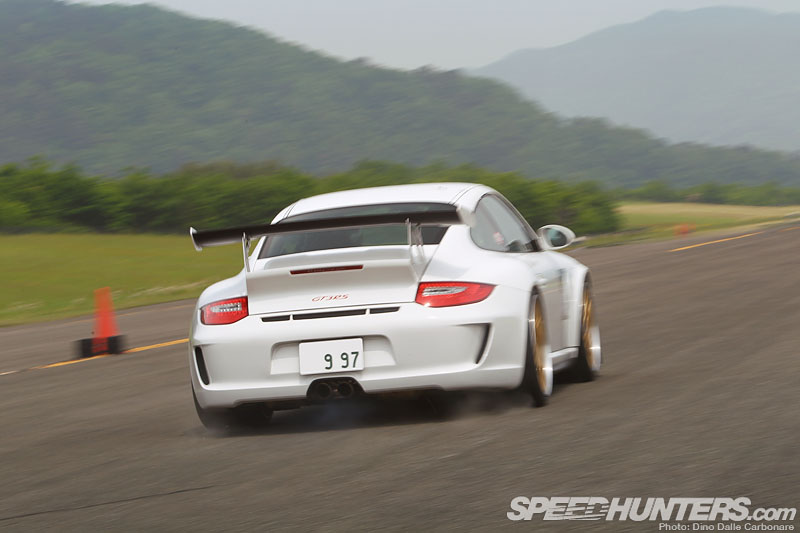 …as well as to witness its performance down the quarter mile.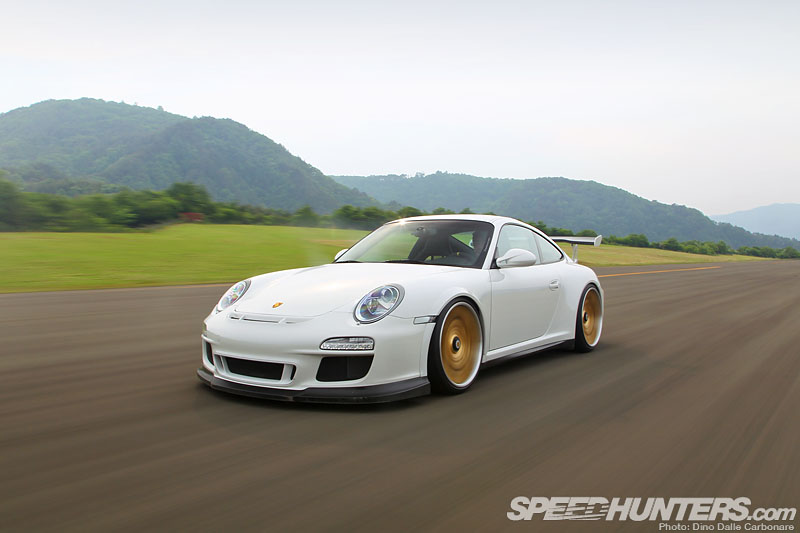 As Otsuka-san told me the idea was to work with a few requests that his customer's had. Not having too much time on his hands the owner wouldn't be able to enjoy the GT3 RS on the track as much as he would like to, so wanted to spice up the looks, injecting a bit of street style, enough to get him noticed but in no way impacting the car's awesome performance.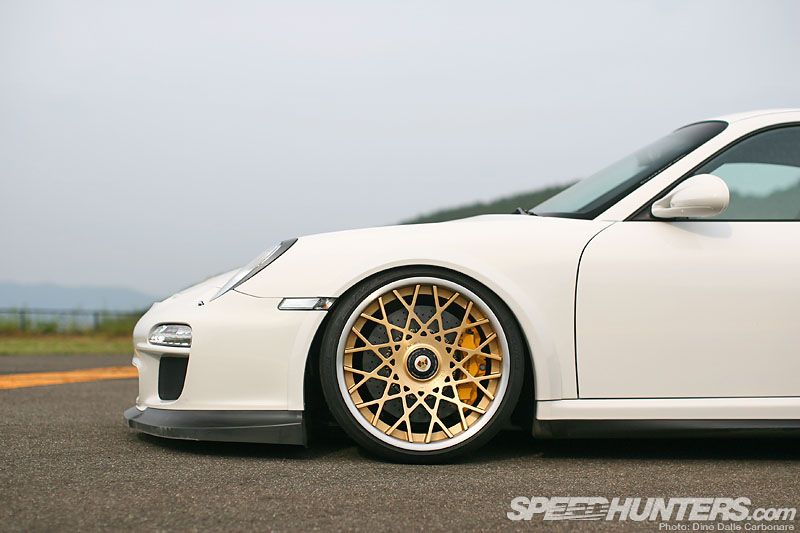 The whole treatment was based around a set of the latest wheels that Otsuka-san designed for his Agio Wheels brand. These Absolute TWM ULTRA CCV pay tribute to the old BBS mesh wheels that were used on Porsche 935 racers that competed in Group-5 during the seventies. It's a fresh design and one that suits Stuttgart's finest race-ready beast perfectly. These are actually special center lock versions of the wheel that can fit the 997 GT2 and GT3 hubs. To really get an impact out of the wheel Otsuka-san fitted 9Jx20″ at the front…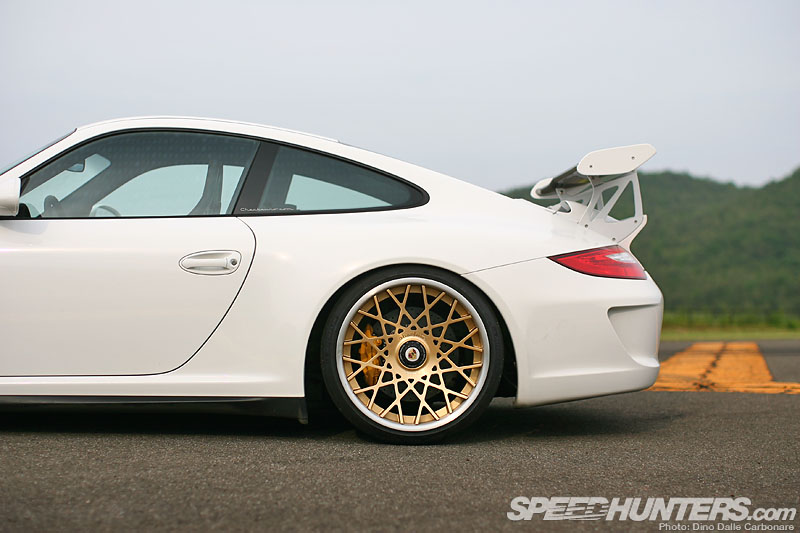 …with the rear sporting a 12J wide 20-inch rim.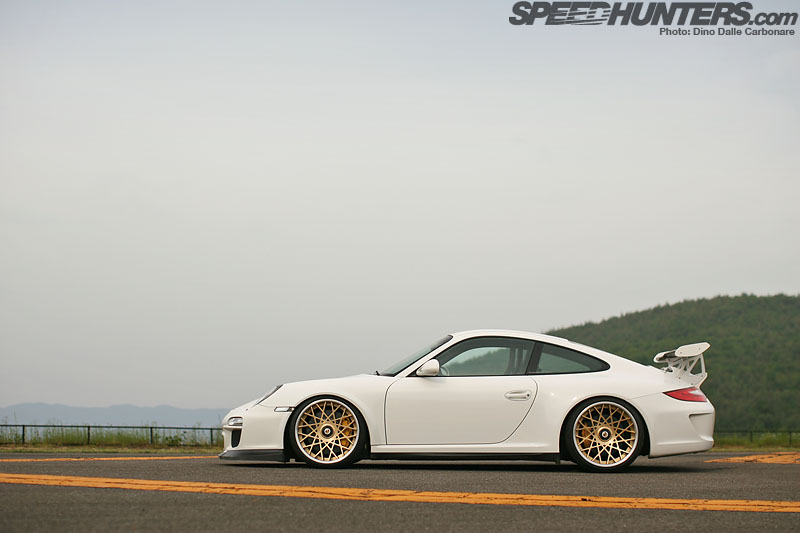 Otsuka-san isn't afraid about pushing boundaries, especially on the wheel size of things. Back three years ago on his M5 he fitted 21-inch rims with low-profile rubber, like on this 997 1-inch up from stock size. Before driving his M5 I was skeptical, thinking he had thrown the ride and handling of the car out of the window, but after driving it for myself I came away very impressed.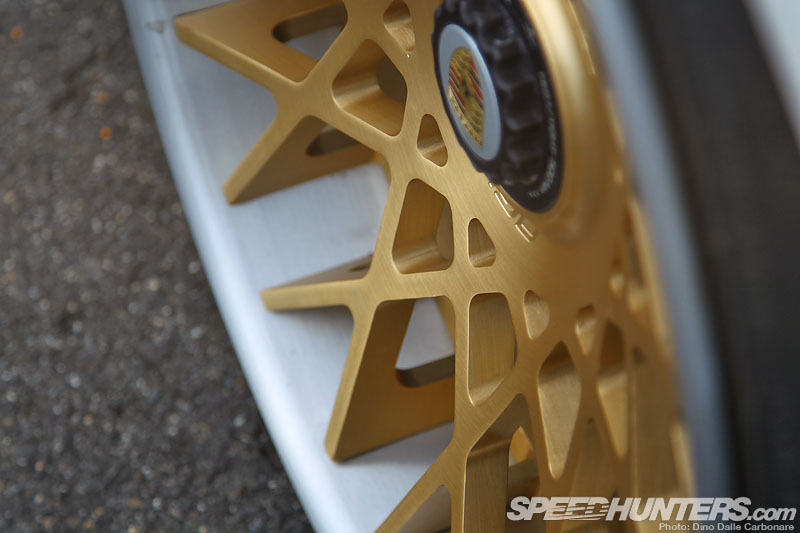 The GT3 RS he says is the same.  The wheels might be very design-focused but in no way do they disrupt the car's amazing handling capabilities.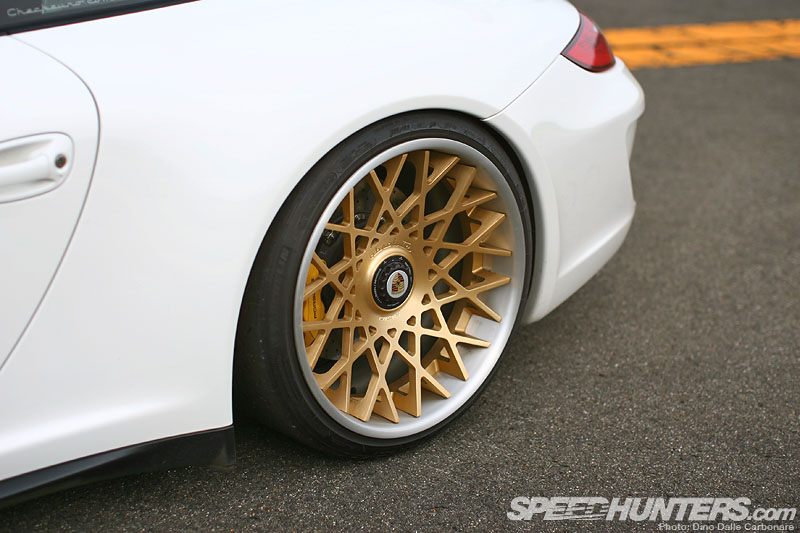 To make sure of this he sourced some Michelin Pilot Sport Cups in 20-inch diameters, fitting 245/25R20s at the front with 315/25R20 at the back.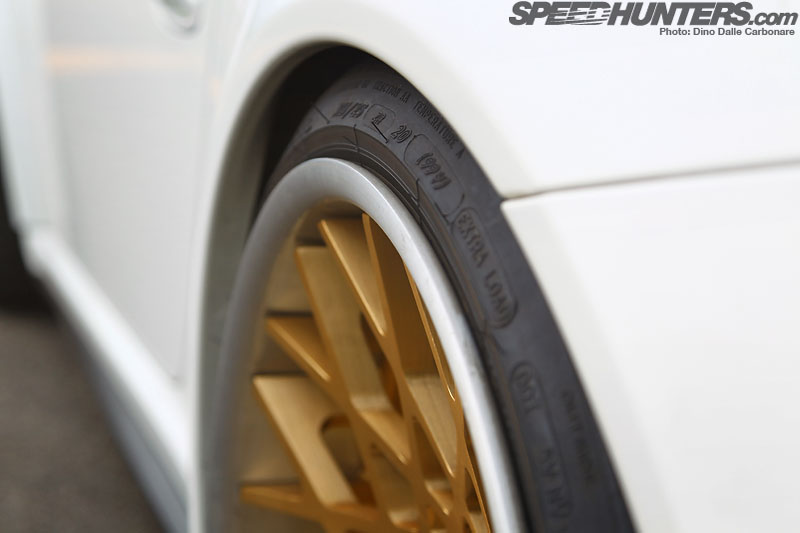 And with a rear 12J rim he was able to go for a nice stretch too, something that in the right kind of circles will earn you instant kudos.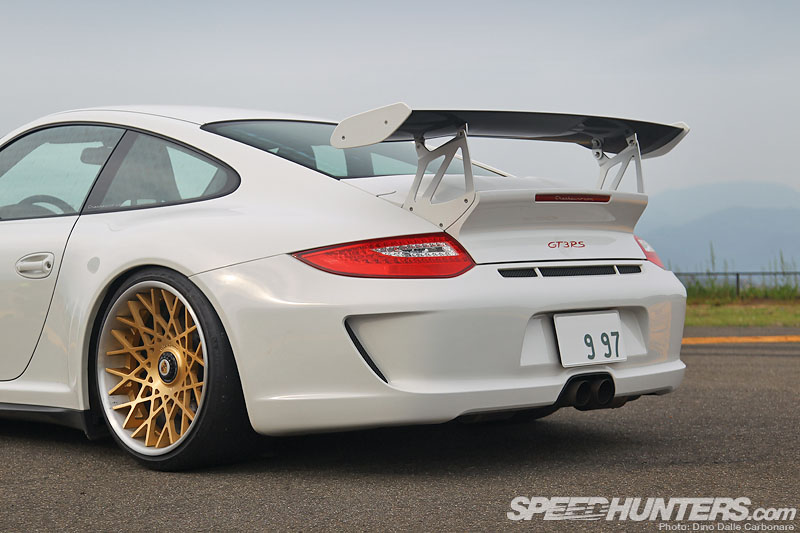 Then of course came the obligatory ride height drop. The 997 GT3 RS 3.8 comes with adjustable track-oriented suspension direct from factory but Otsuka-san's customer required something of higher quality, dampers that would not only have tons of adjustability…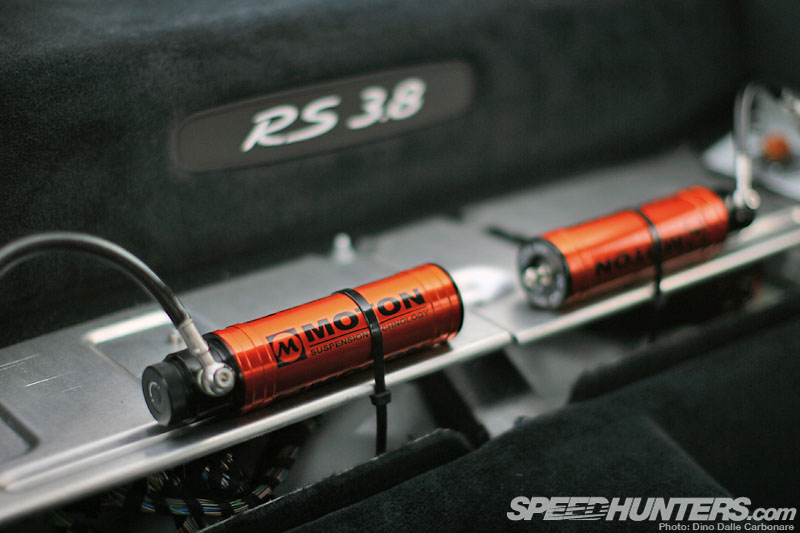 …but also an extra damping quality that only high-end systems boast. So Dutch Moton 3-way coilovers were chosen, fitted at each corner along with their remote reservoir tanks, mounted within easy reach for those small fine-tuning adjustments.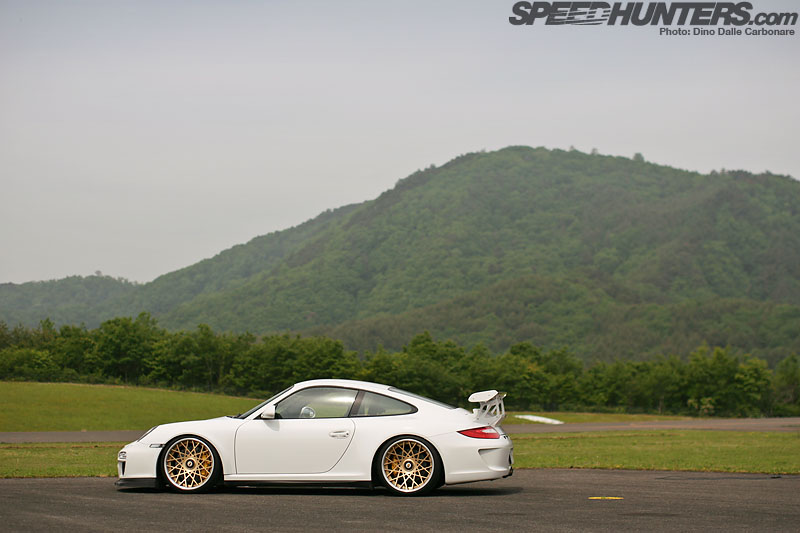 So the result is a GT3 RS that not only oozes style and dare I use this word to describe a Porsche, "stance," but at the same time in no way sacrifices its capabilities.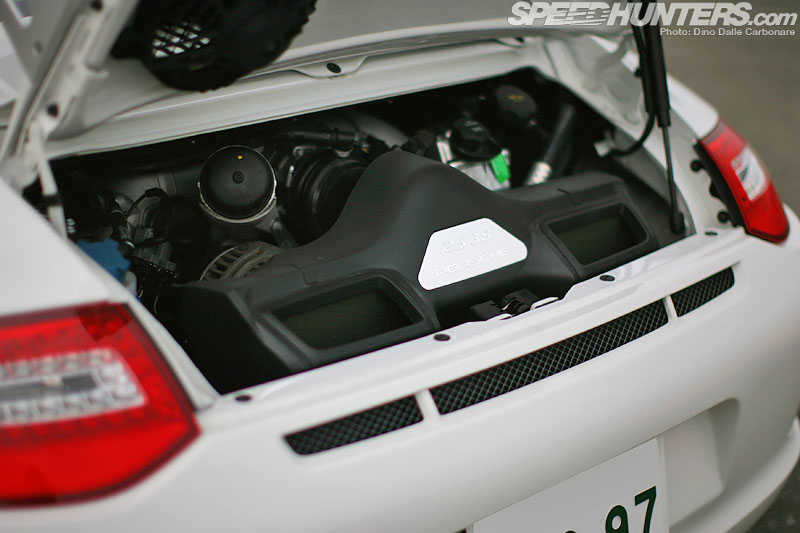 Lift the engine cover and you are confronted with possibly the best naturally aspirated six-cylinder engine ever made, the 450HP…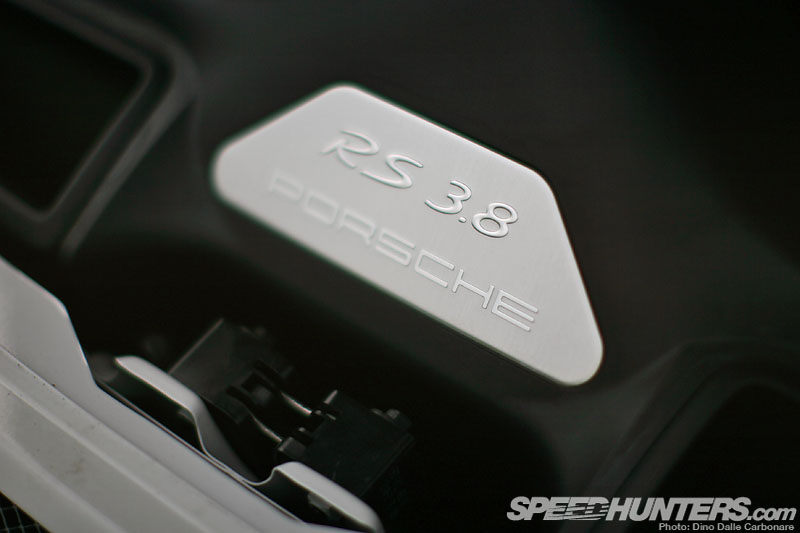 …3.8L flat-six that powers this GT3 RS. While there isn't really any need for more power (well there's the 500 HP GT3 RS4.0 for that of course)…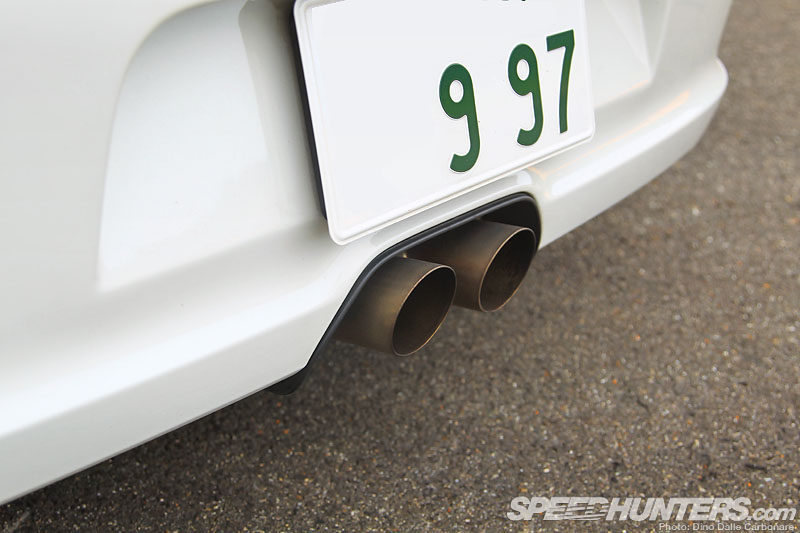 …Otsuka-san has fitted a Cup exhaust system to really intensify that typical Porsche wail and in the process, along with a less restrictive panel air filter, liberate a few more horses.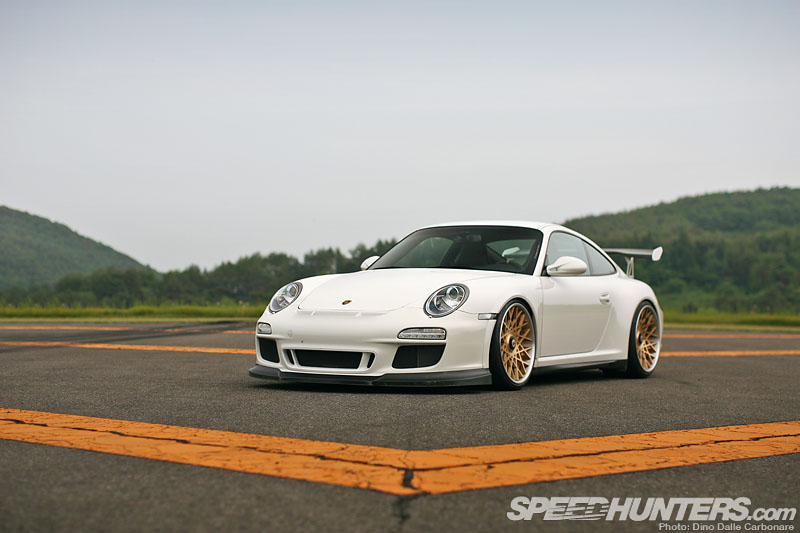 For track duty the stock PCCB carbon-ceramic braking system the car is fitted with from factory is pretty much unbeatable so it has been left untouched, those roughly textured drilled rotors peaking through the gold spokes of the Agio wheels.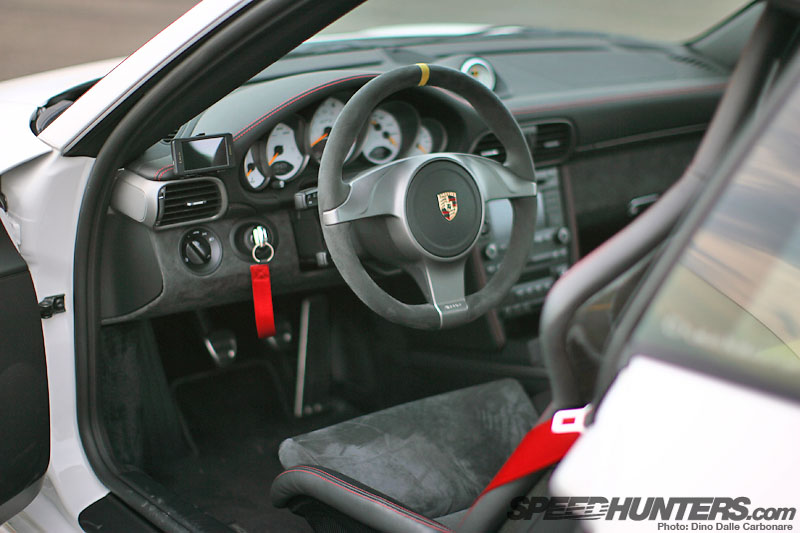 Aside from a digital radar detector the interior is completely stock; and why would you ever want to meddle with perfection! The GT3 RS's cabin is as driver-focused as you could ever find in a modern-day car, so along with lightweight carbon bucket seats…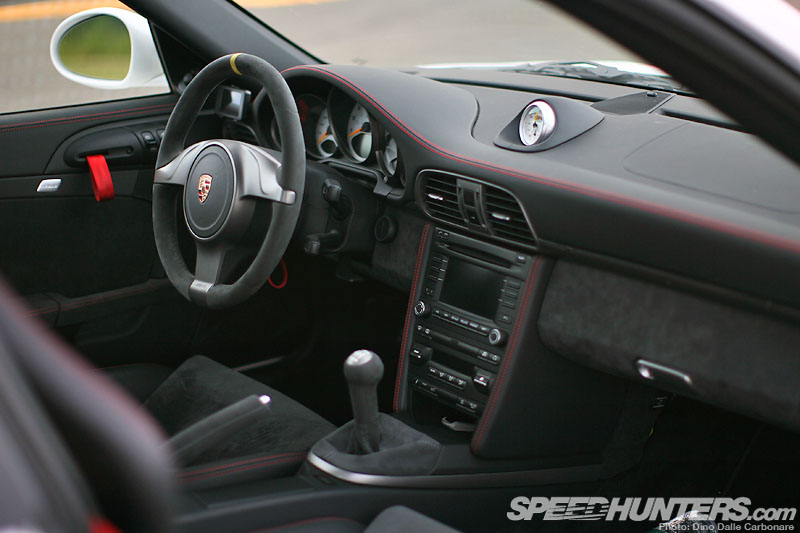 …and acres of alcantara-clad trim, you have nice little weight -saving details…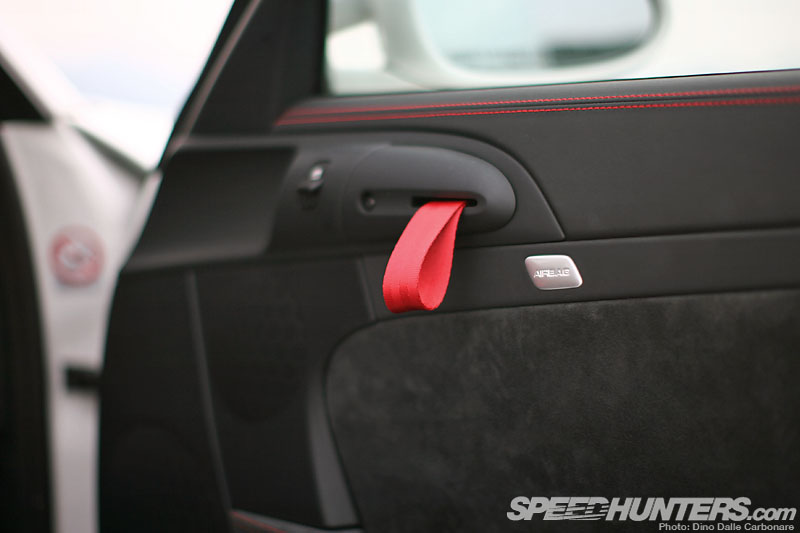 …like the little red pull-straps, a throwback to the legendary 2.7 RS.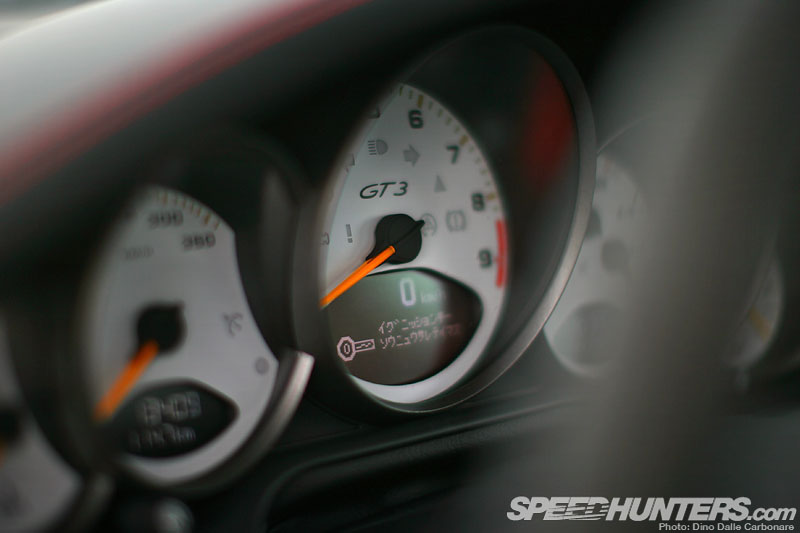 Instrumentation is simple and well laid out…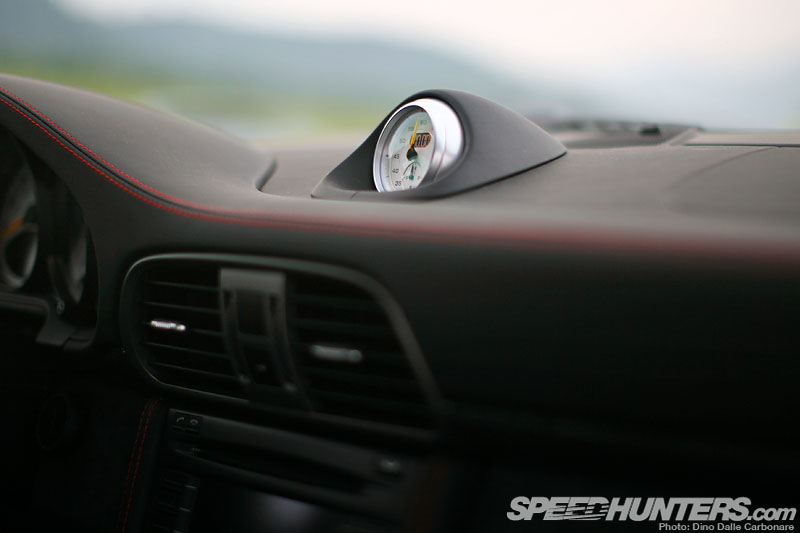 …and on this US-import also includes the dash-mounted analog stopwatch.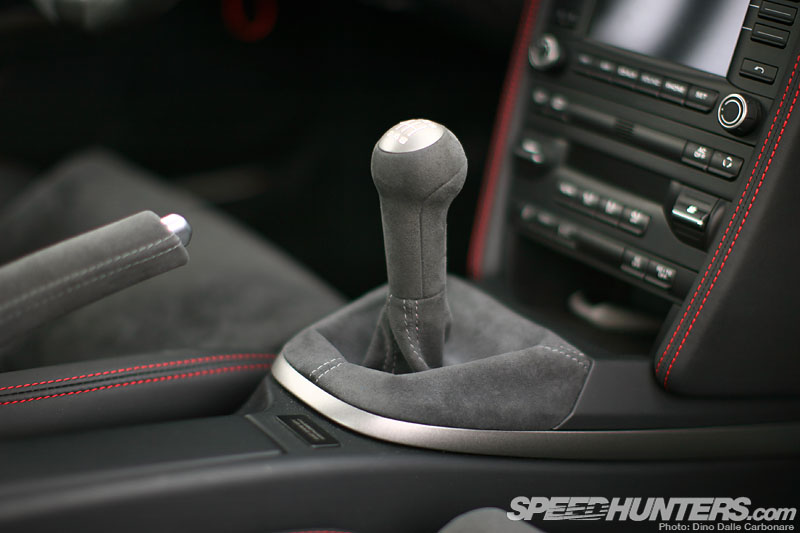 And the best thing? The manual transmission! Porsche obviously understands how to make a driver's car.
Hit play above to see Otsuka-san take the screaming 911 GT3 RS off the line at the Motor Head Zero Yon event.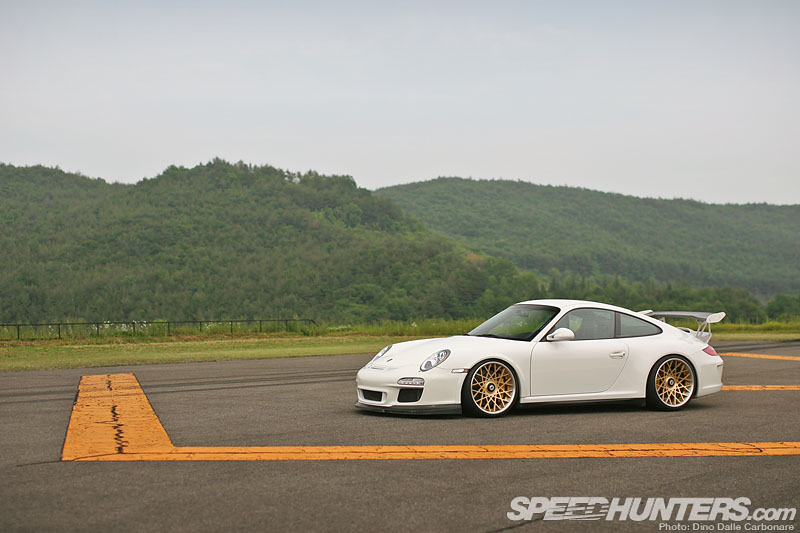 He recorded a 12.667 sec quarter mile and a 4.98 sec 0 to 100 km/h (62 mph) time.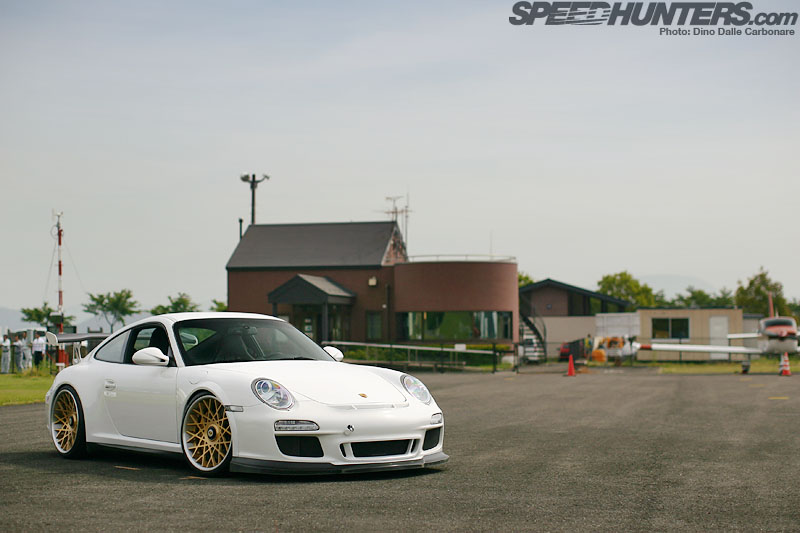 Like with his E60 M5 Otsuka-san managed to achieve the perfect blend of style and performance, a correct balance of form and function that helps make this one of the best GT3s I've ever come across. The final verdict of course is down to you; we all have different views…what is yours?
Specs:
Engine: aftermarket foam panel filter, Cup exhaust system
Suspension: Moton 3-way adjustable race dampers
Wheels & Tires: Agio Absolute TWM ULTRA CCV center locks 9Jx20″ (front), 12Jx20″ (rear), Michelin Pilot Sport Cup 245/25R20 (front), 315/25R20 (rear)
-Dino Dalle Carbonare
---
---
---