While a good part of the global Speedhunters team was gathered at Gatebil last weekend covering all of the madness that event brings, I ended up having quite a busy weekend myself here in California. Besides the Cars & Coffee coverage you saw earlier in the week, I also shot a couple car features as well as a shop visit – all of which you'll be seeing in the coming weeks. Prior to hopping on the road to head home I made one final stop, and that was at Mooneyes USA in Santa Fe Springs where their annual open house was going down.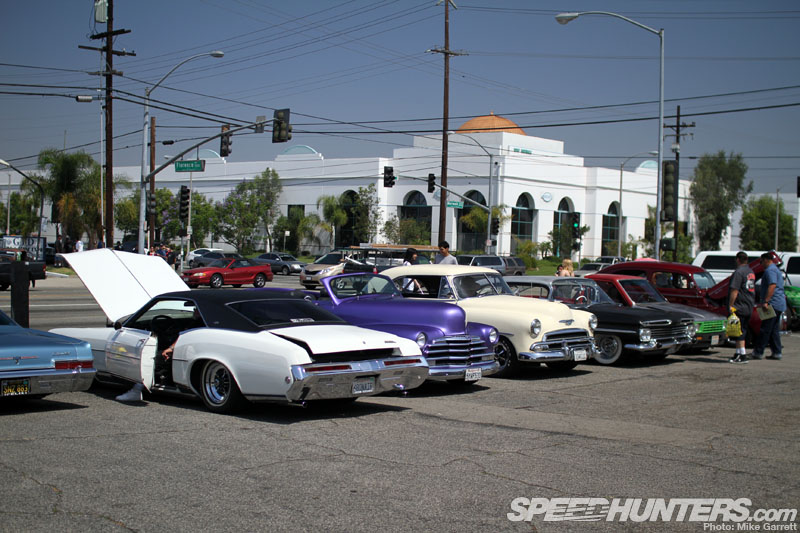 No matter what side of the Pacific they are on, the Mooneyes family certainly knows how to throw a party. I visited the open house and last summer and found it to be one of the most laid back and enjoyable events of the year. Needless to say, I added it once more to my schedule for this month.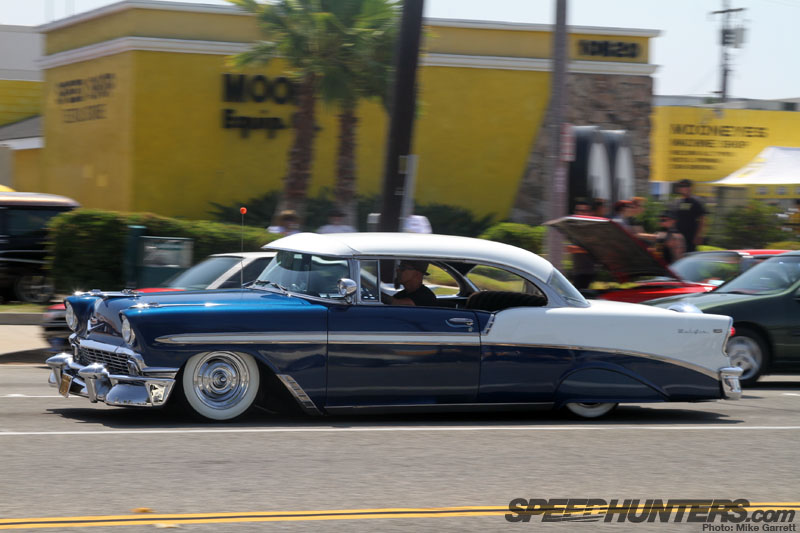 I knew I'd reached my destination once I saw the the dozens of Hot Rods and customs that lined Norwalk Boulevard outside the iconic yellow Mooneyes USA shop. Since there was no set schedule for the open house, the cars were rolling in and out throughout the day. There were actually a few other Hot Rod shows happening in LA on the same day so many people would come through on their way to or from those other events.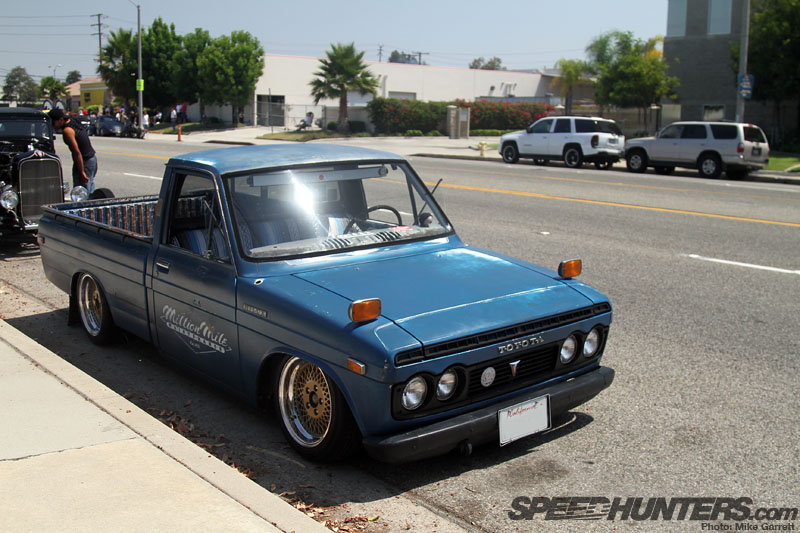 One of the things I noticed is that the increase in vintage Japanese vehicles that are taking part in Mooneyes-hosted events. These cars and trucks are a big part of events like the Street Car Nationals or Hot Rod Custom Show in Japan, and it's nice to see them add some flavor to the US-based Mooneyes events.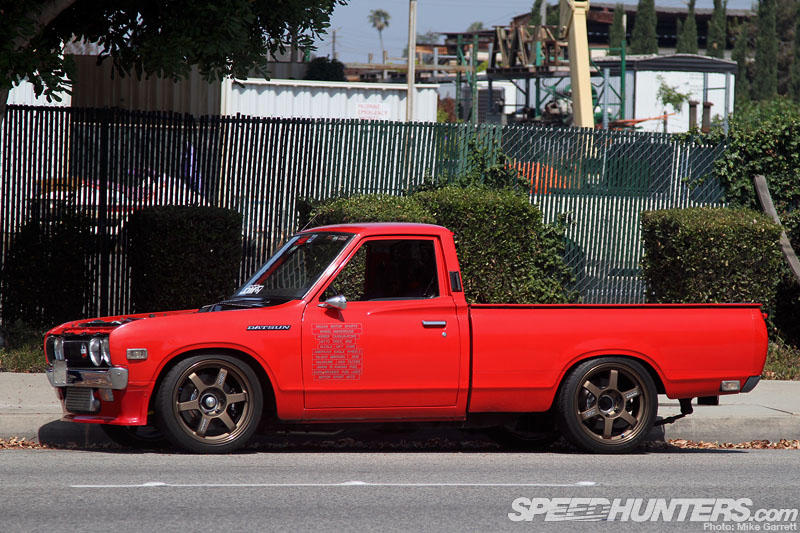 You probably remember this SR20-powered Datsun 620 from the spotlight I ran on it last year. Definitely one of the most well exectued mini-trucks I have ever seen.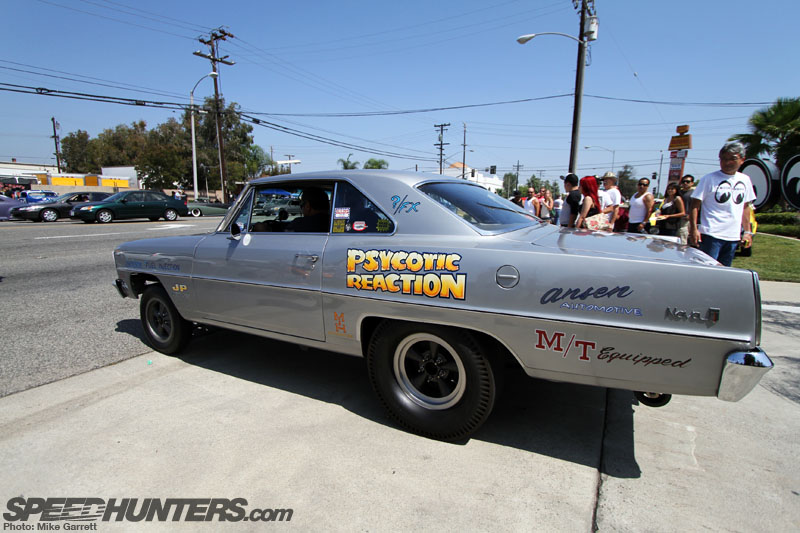 There were a few featured guest cars that came out to be part of the festivities, like the "Psycotic Reaction" altered wheelbase Nova. This is another one those occasions where I wish these photos could have sound clips attached to them…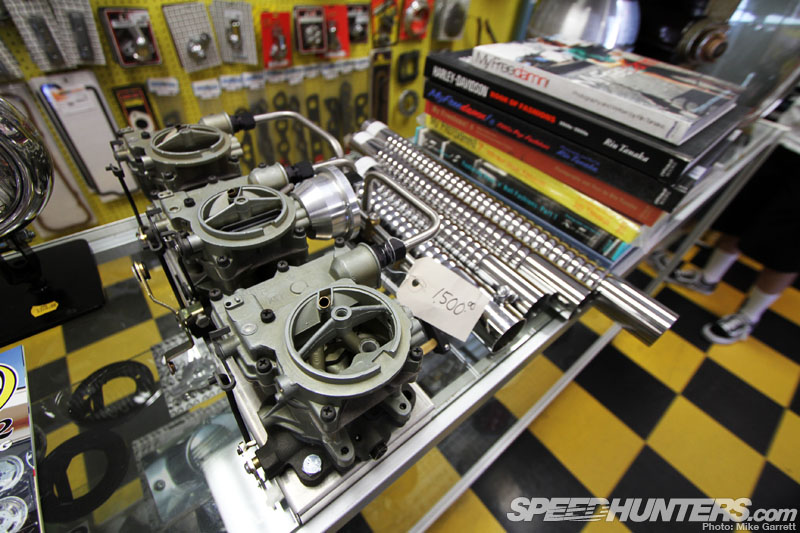 The open house makes for a fine opportunity to do some shopping in the Mooneyes USA retail store…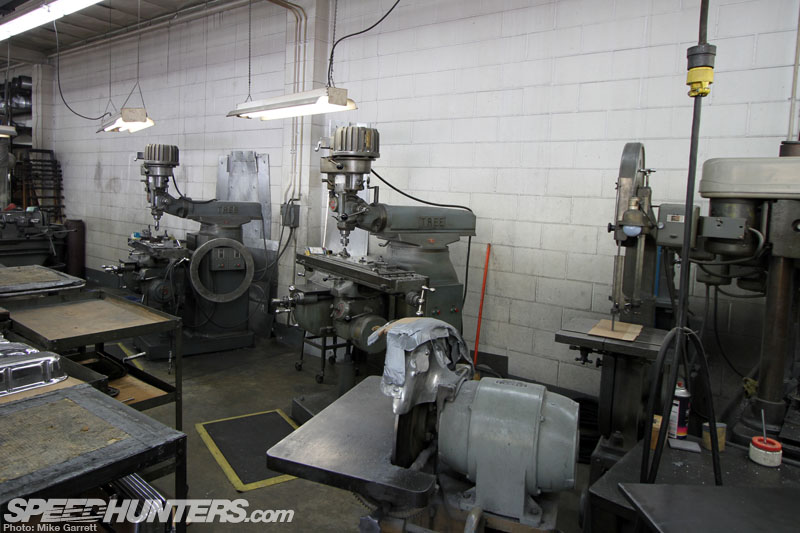 …as well as to get a behind the scenes look at the historic Mooneyes manufacturing facility. There's really a sense of history in here that you don't find in too many other speed shops. For more on this history, make sure you check out my feature from the Dean Moon exhibit at the NHRA Museum.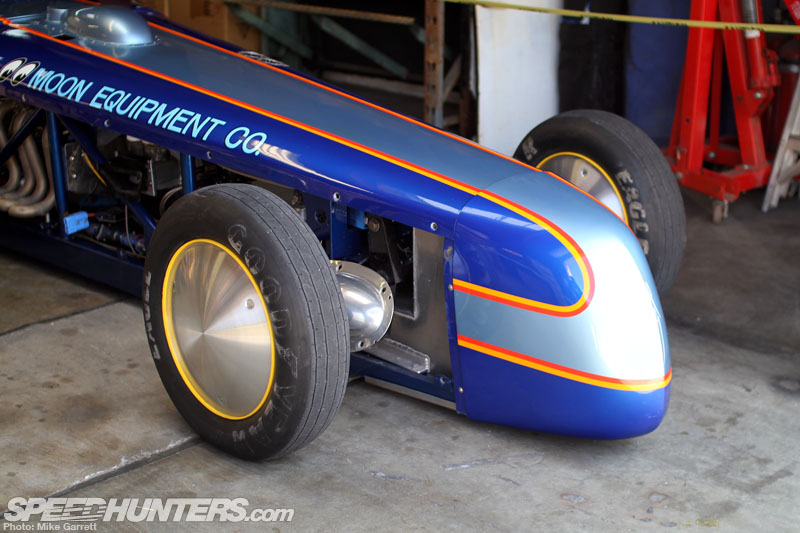 Ready for Bonneville? This reminds me that I need to start preparing for my first ever visit to the salt next month…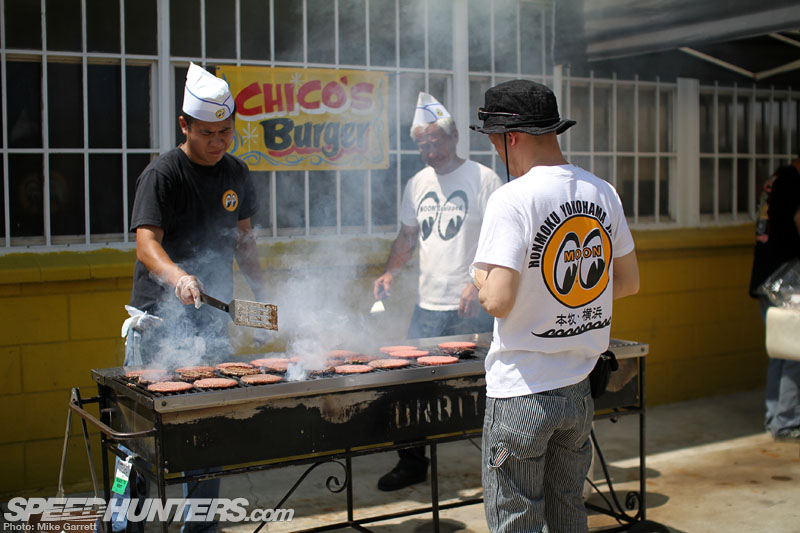 One of the biggest draws at the Mooneyes open house are the world famous "Chico's Burgers", which are served up around lunch time free of charge. This is a company that takes care of its customers and fans.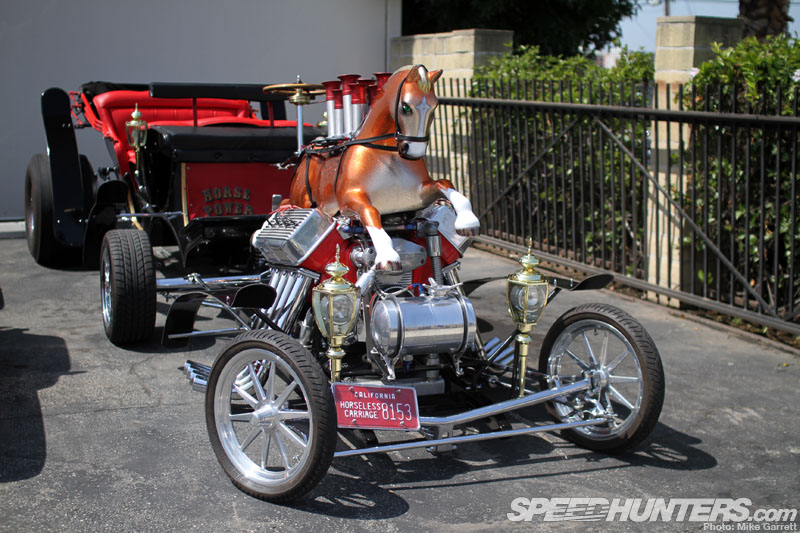 Hmm…I'm not quite sure if that license plate is correct.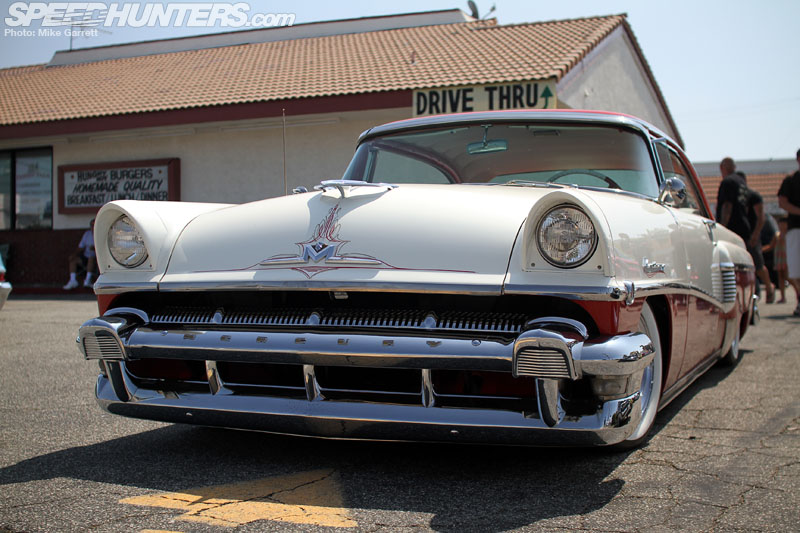 The parking lots around Mooneyes USA are completely full of custom cars, and that's where I found this bitchin' two-tone Merc…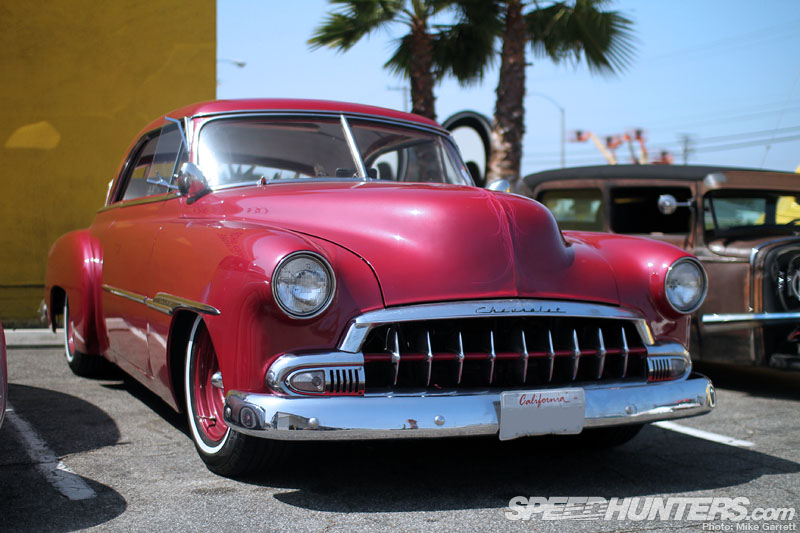 …and this very fresh looking mild custom Chevy hardtop.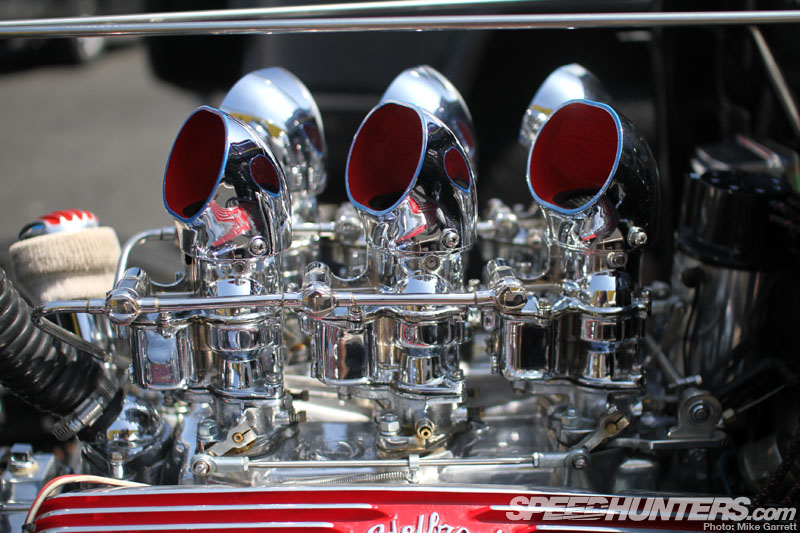 When it comes to aesthetic appeal of engines, there really is nothing better than an early V8 equipped with period correct speed parts. Sure there are more powerful or more exotic powerplants out there – but in terms of beauty this is on the top for me.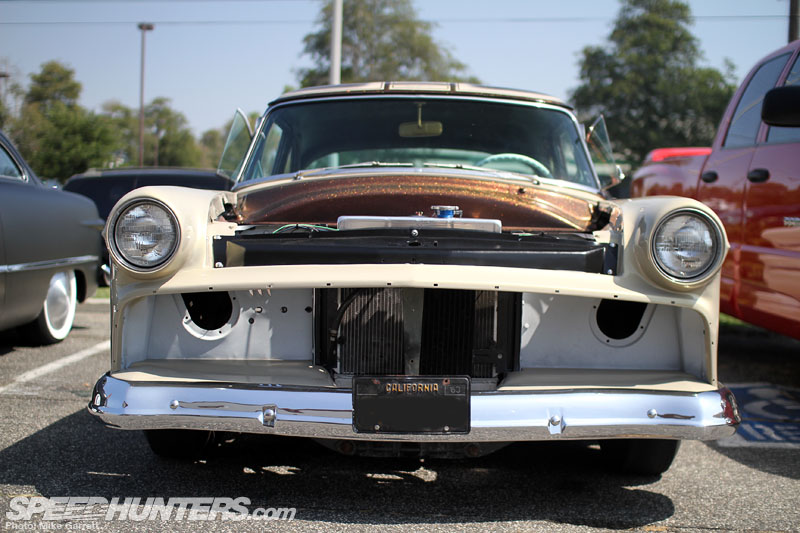 No grill, no problem.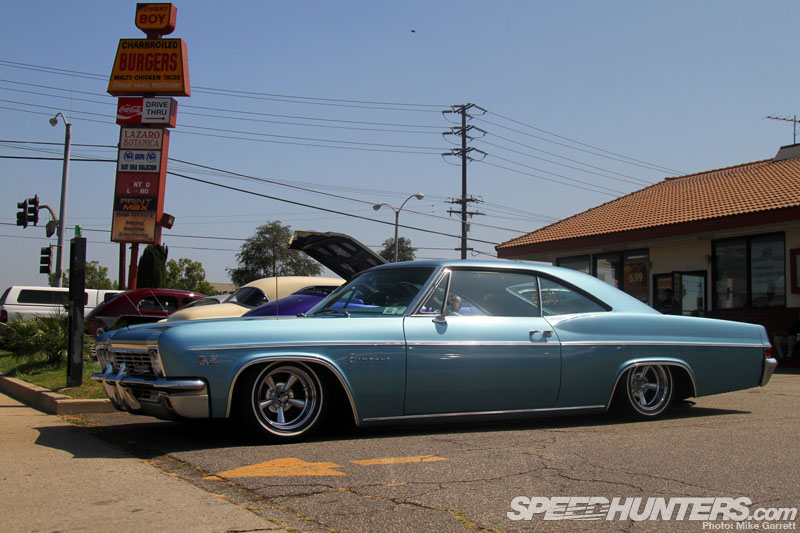 While the 1964 model might be the most famous of the Impalas, I'm quite partial to the '65 and '66 models myself. This example was looking just right dropped over a set of Astro Supremes with skinny white walls. Oh how I'd love to have one sitting in my garage some day.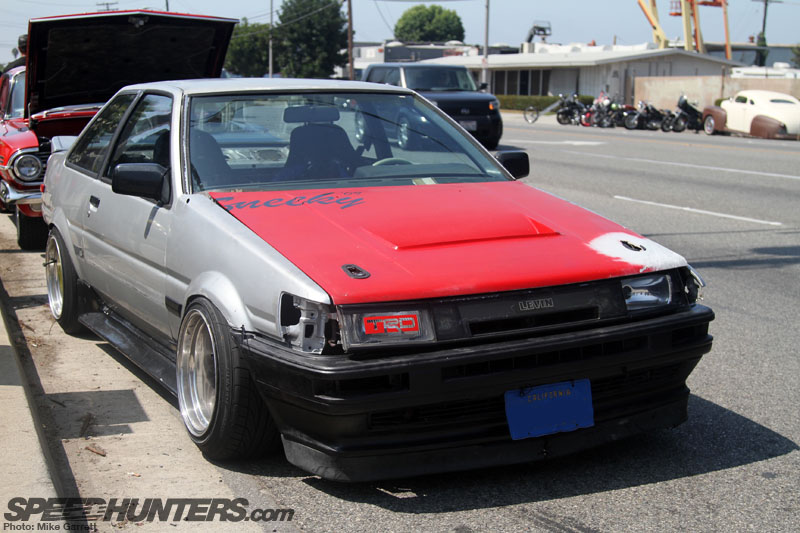 Another one of the non-American machines that was taking part in the action was this slightly boro AE86 coupe with a Levin front end conversion. Nothing wrong with a little battle damage, right?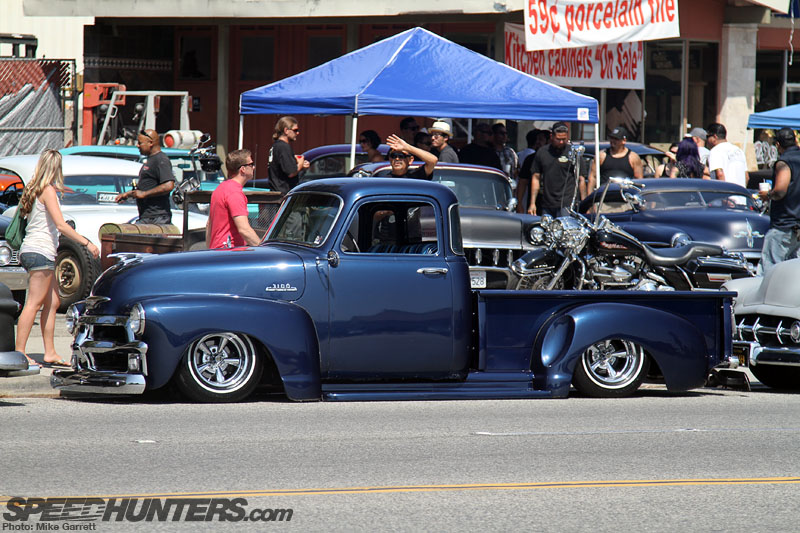 Another solid use of the aforementioned Astro Supremes, this time on a bagged Chevy Pickup.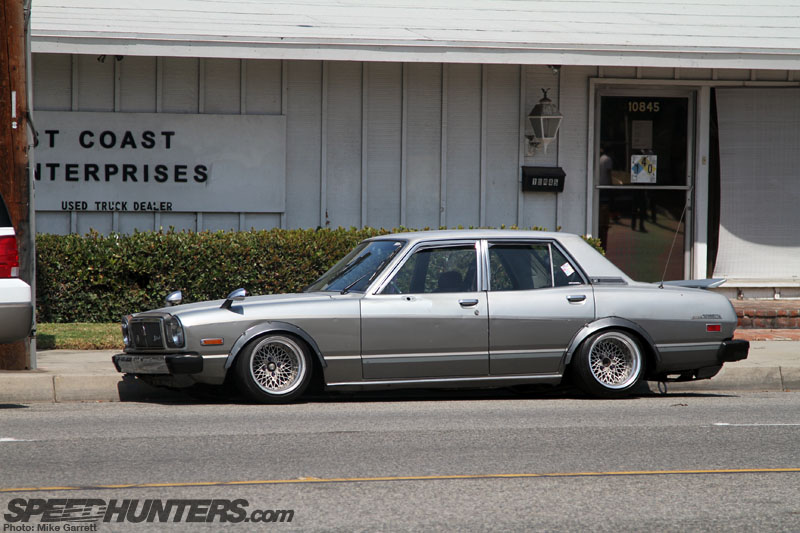 Our buddy Lloyd also brought out his mega low first generation Toyota Cressida. This is another cool car you can expect to see a full feature on in the coming weeks.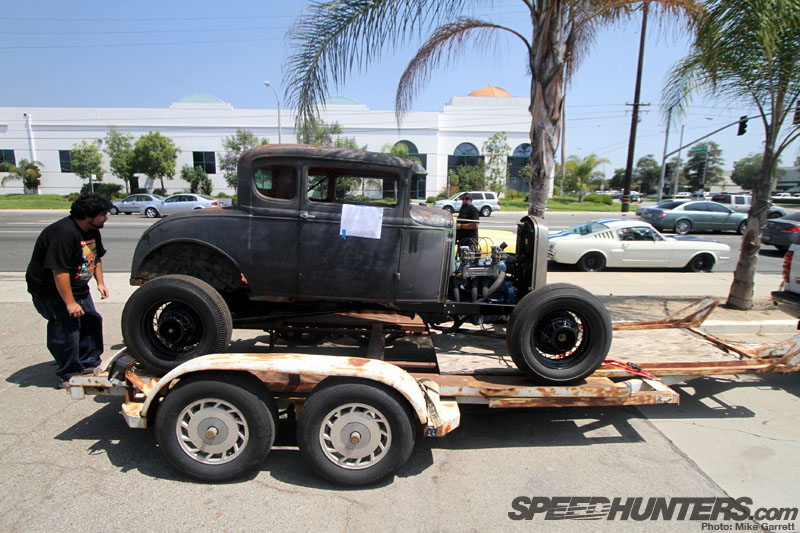 People may have come to the Mooneyes open house with plans to pick up some car parts or maybe a t-shirt. I'm not sure how many came out with plans to bring home a new project car…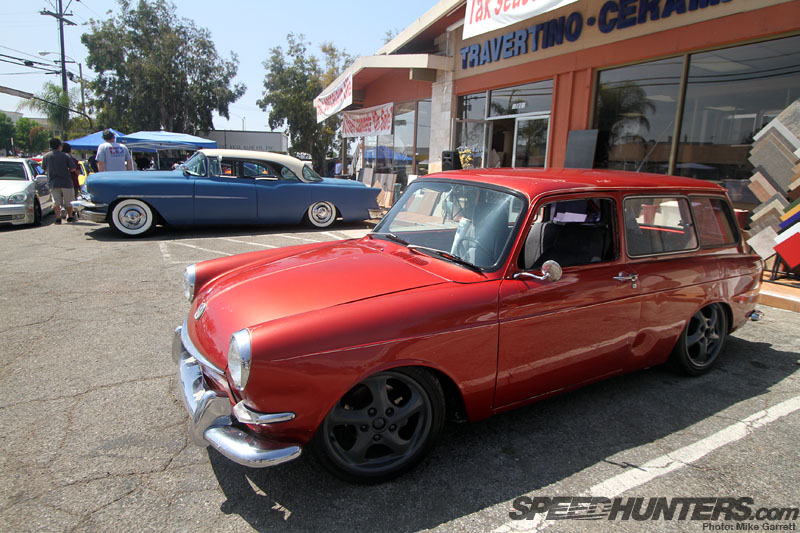 This Squareback with a set of Porsche wheels was the only Volkswagens I recall seeing while I was there. It would definitley be cool to see the US-branch of Mooneyes be as involved in the VW scene as their Japanese counterparts.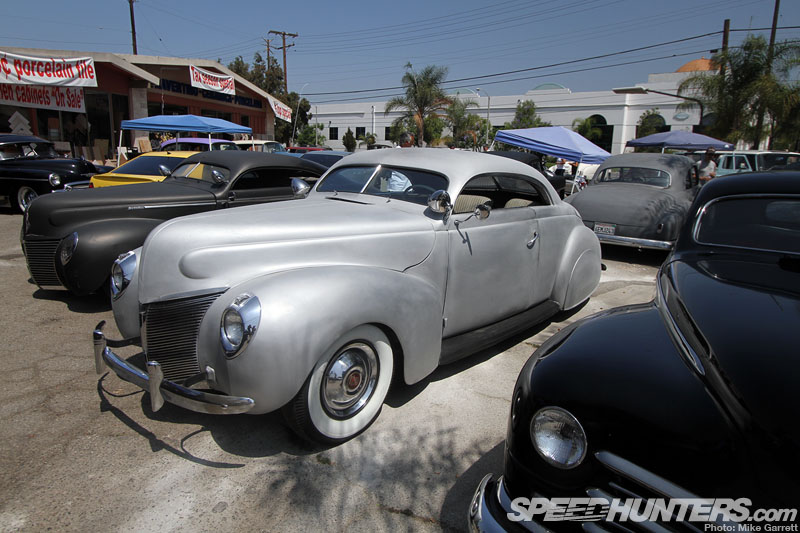 There were, however, plenty of lead sleds and other lowdown customs to go around.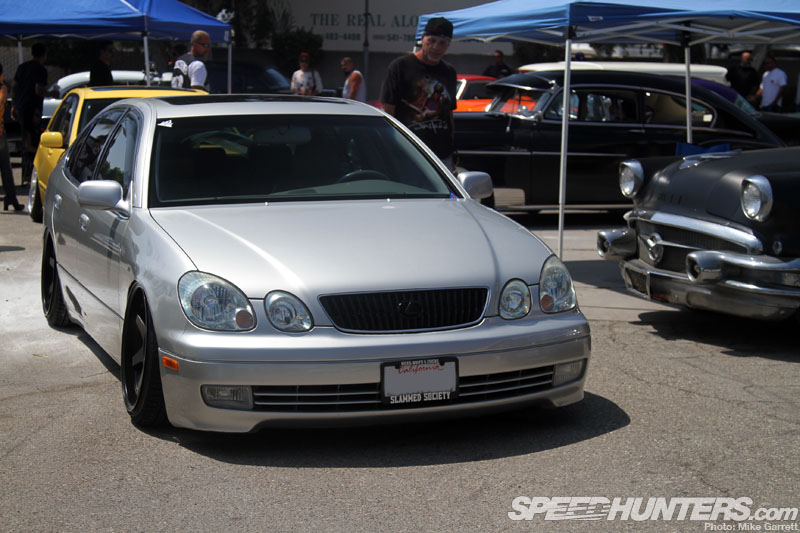 This slammed Lexus GS is a lead sled of a slightly different type.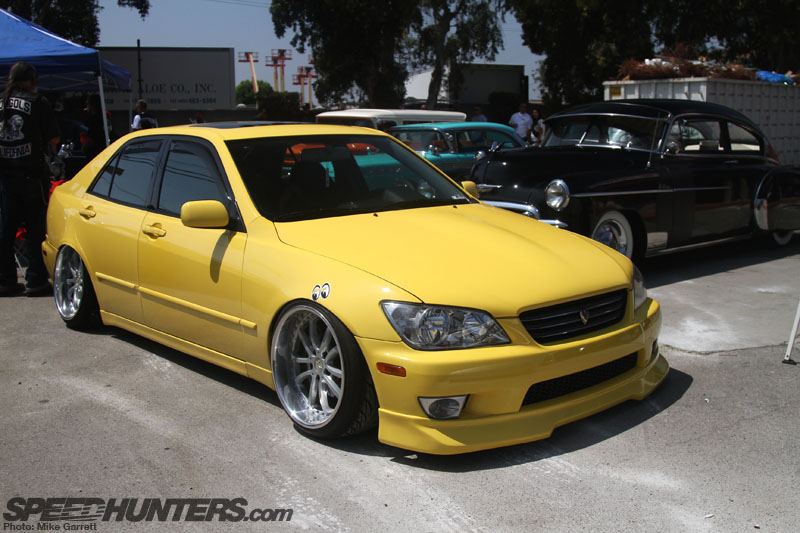 The same goes for this IS300 that was parked right next to it. Hey, it's definitley the right color for a Mooneyes event!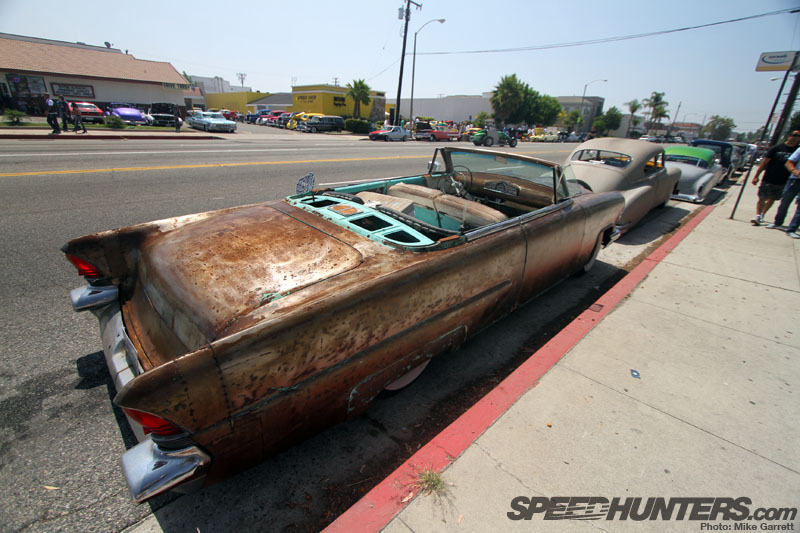 In any other part of the world a car with no top whatsoever might be a bit of an inconvenience, but in Southern California it's really no big deal.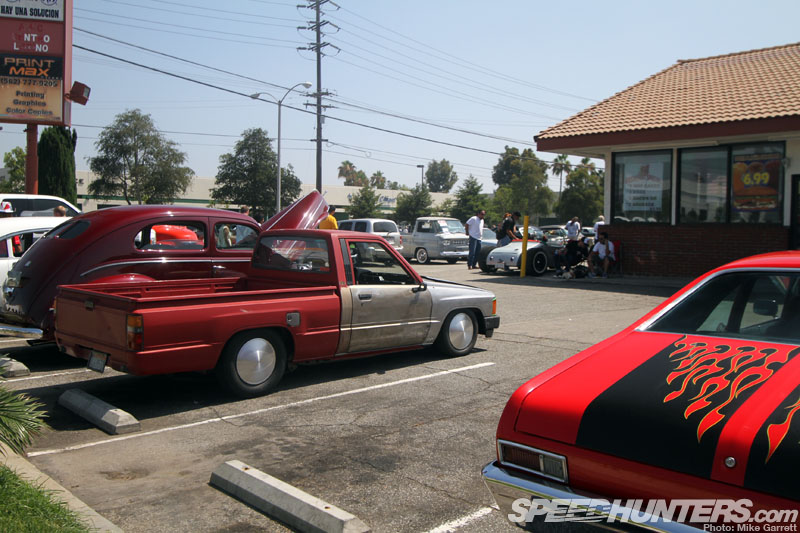 There really isn't a more cost effective way to add a cool custom look to your vehicle than with a set of stainless steel Moon Discs. Case in point, this dropped Toyota mini-truck.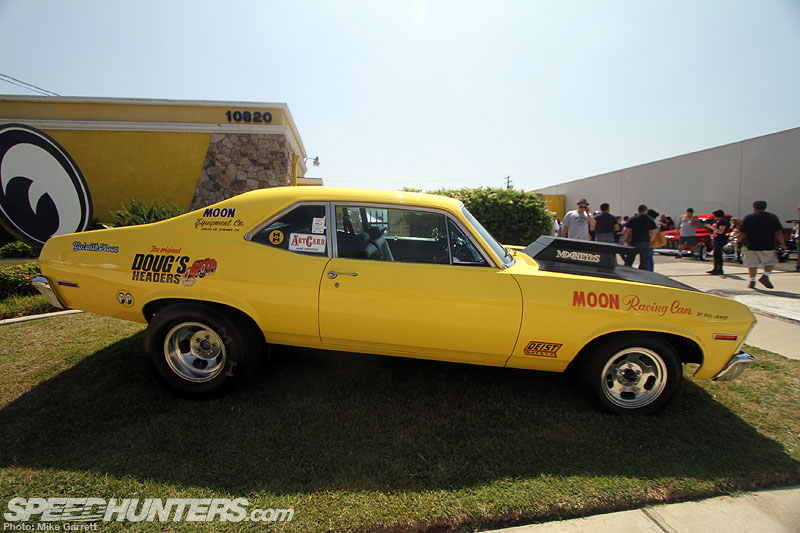 I was going through some old photographs the other day when I found some photos of the Mooneyes Nova I shot in Japan back in 2008. Here's the same car looking quite at home under the Southern California sun.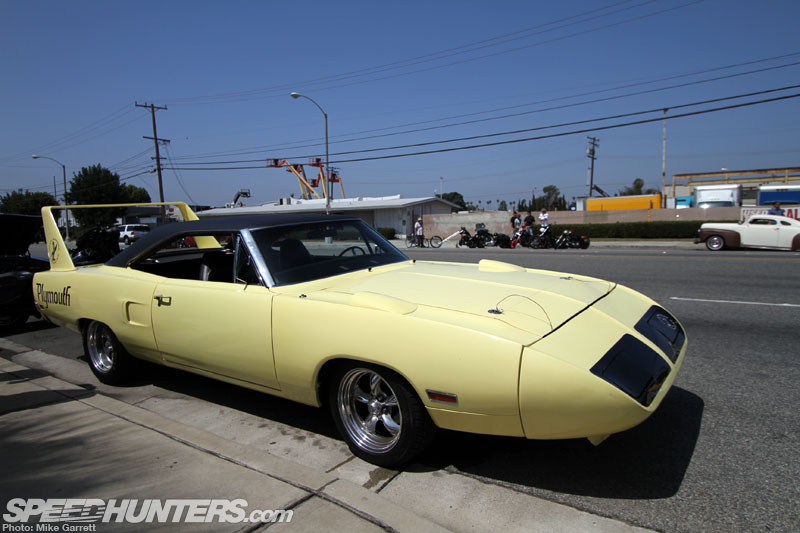 There are really few cars in the world that have more street presence than a Plymouth Superbird. It's one thing to see a photograph of one, but to see one these winged beasts cruising down the street is quite special.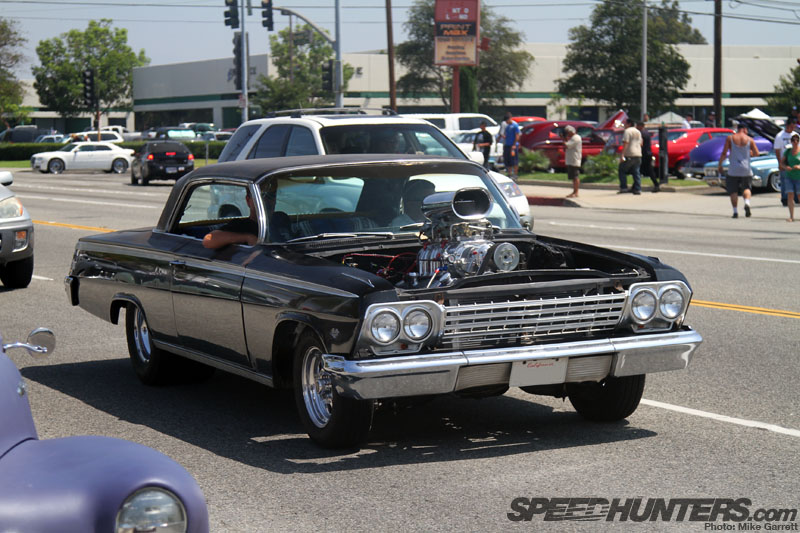 As I was going about my business I heard the distinct whine of a supercharger and I looked up just in time to catch to catch this blown '62 Chevy cruise by on Norwalk Boulevard. Yep, "badass" is the only word to use in this situation.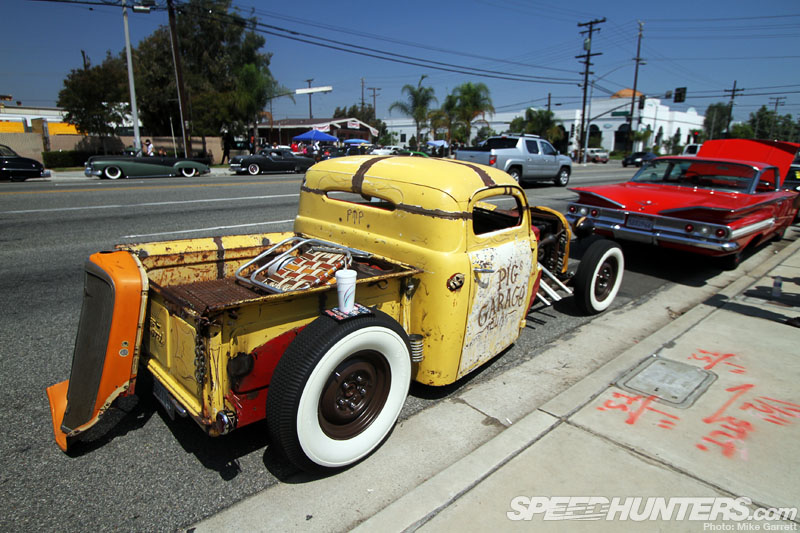 A great setting, great weather, and great cars.  That's another fantastic Mooneyes event in the books.
Until next time!
-Mike
---