Ever since the launch of Speedhunters more than four years ago, stories about vintage Japanese cars have continually been some of the most popular and most talked about among our wide array of features. I've personally fallen quite hard for these cars (points to the old Datsun sitting in the garage), but I've always wondered just what it is that makes these retro Japanese machines so popular. It's a question that grows even bigger in my head after attending an event like Sunday's Bayline Meet.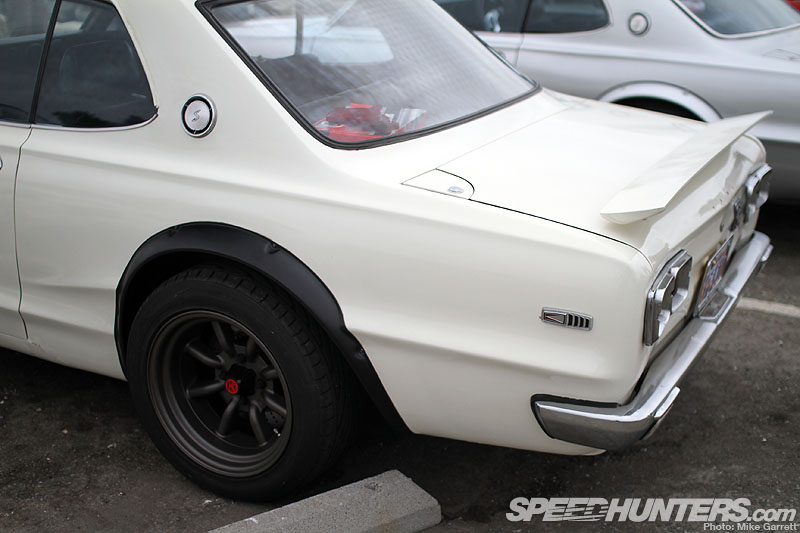 In the grand scheme of the automotive world, classic Japanese cars make up a pretty small slice of the overall pie. Somehow though, their appeal goes far beyond the size of that slice. In fact, I'd say it's as close to universal as it gets in the ever divided world of car enthusiasts.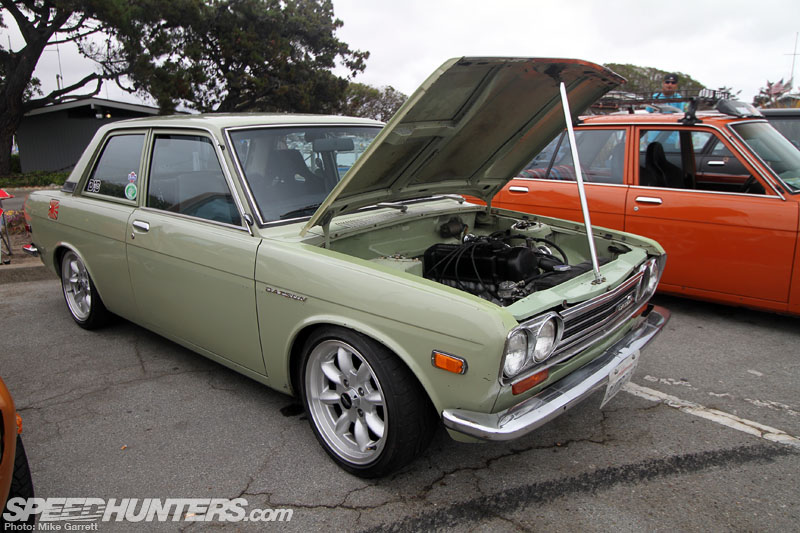 Think about it for a moment. How many people out there can't appreciate something like a well done Datsun 510? It may not be one of the world's most famous or exotic cars, but I can't recall ever hearing anyone saying something bad about one.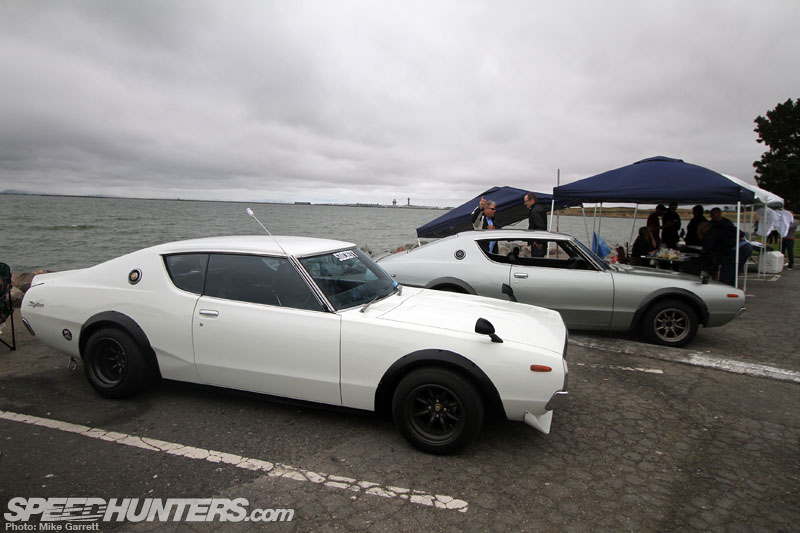 I'm constantly wondering just why it is that vintage Japnaese cars are loved so much. Based on my experience of shooting these cars both in Japan and here in the US, I have a few theories swirling around in my strange head.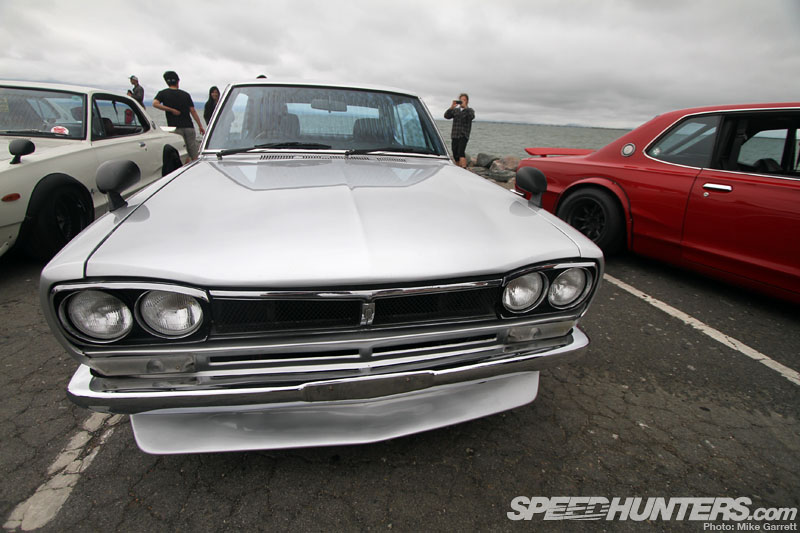 Naturally, fans of modern high tech Japanese cars (the "tuners", if you will) have a great amount of appreciation for these cars as they represent the roots of the Japanese performance car and the birth of a new industry. Respect your elders as they say.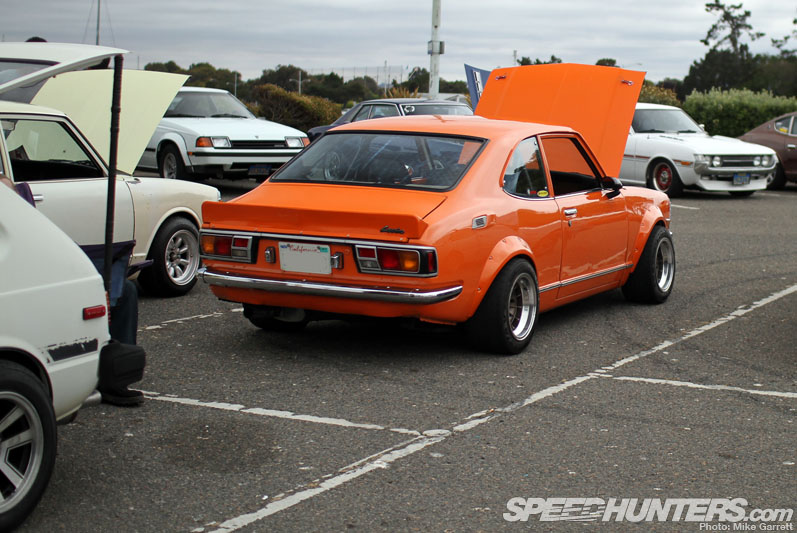 Beyond that, the simple "oldness" of these cars gives them an appeal that transcends different automotive subcultures. A set of sidedraft carbs and a choice set of vintage wheels can win over a lot of people who may not have much interest in  an Evo or a Civic Type R with their variable valve timing or active yaw control.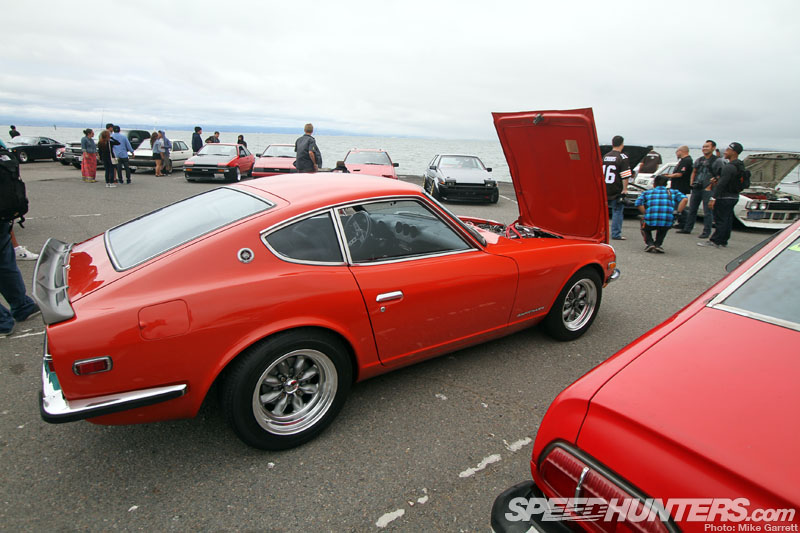 Many of the popular Japanese classics borrowed heavily from both European and American cars in terms of styling and engineering. This is another factor that I believe contributes to their broad appeal, earning them fans who may come from different automotive backgrounds.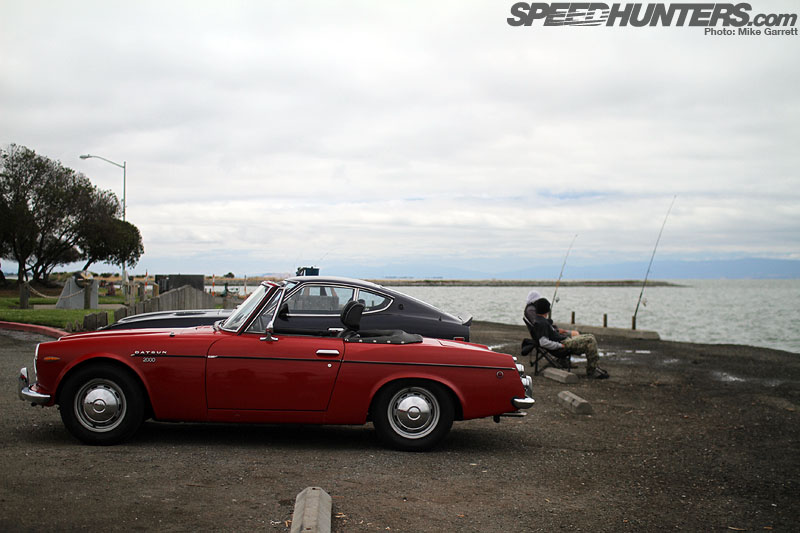 Next, there's the factor of affordability. Sure, the value of vintage Japanese machinery is rising by the day, but for the most part these cars still remain within the budgets of most car enthusiasts. As of now you can still score an early Datsun or Toyota in good shape for significantly less than what it would cost for a popular European or American machine of the same vintage.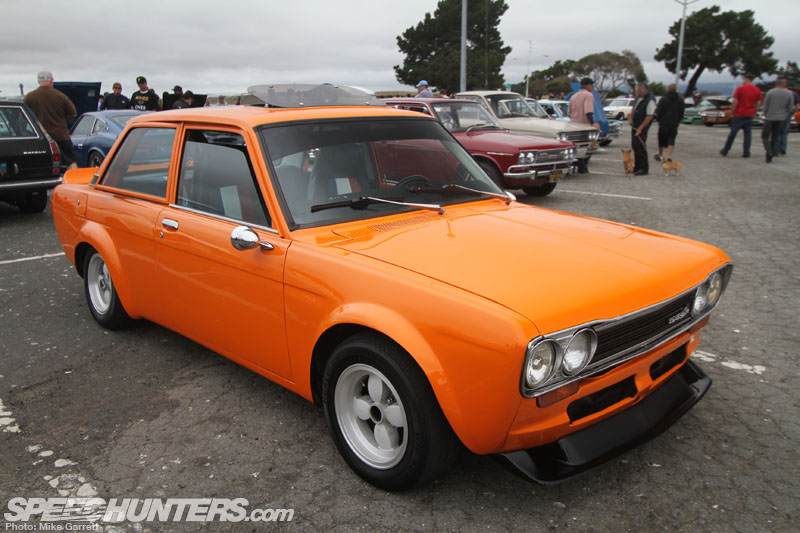 Finally there's the nostalgia factor, or the emotional appeal that comes with these cars. Here in the United States at least, if you roll into a gas station in a 240Z or 510 it's pretty much guaranteed that someone will come up to you and start sharing their memories with these cars. "My buddy had one of these in high school, it was the fastest car in town!" or "I bought one of these brand new back in '72". Sometimes these stories seem slightly exaggerated, but that's part of the fun.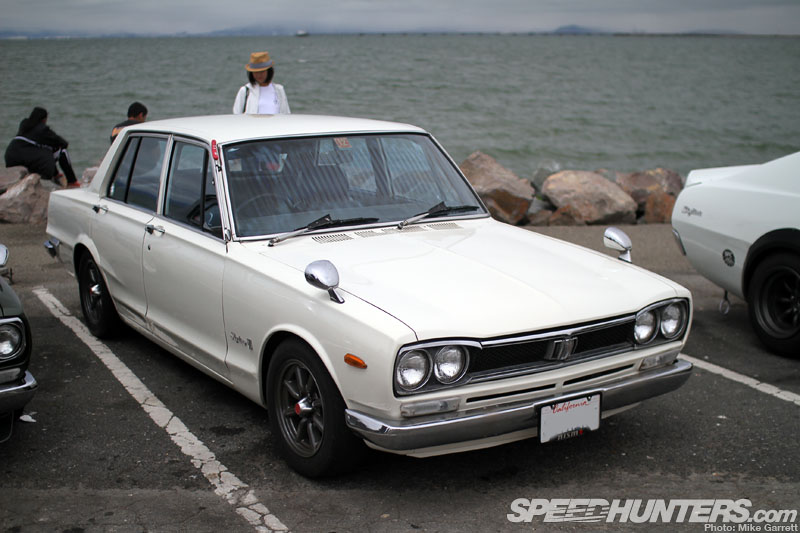 Of course if you are cruising around in a non US market car like a Hakosuka Skyline, the responses you get will probably be more of a "What the hell kind of car is that? That's awesome!" than a "Hey, I used to have one those!", but the enjoyment is all the same.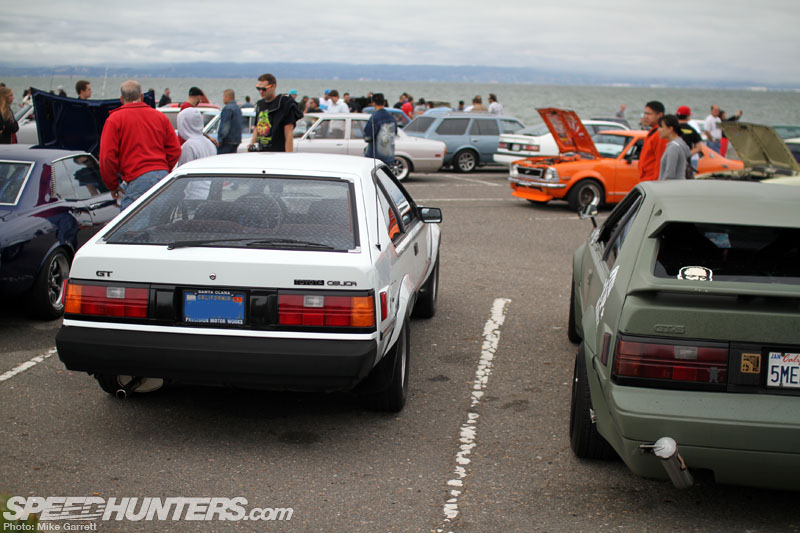 I'll let you guys continue to ponder the appeal of vintage Japanese cars in your minds (as will I), but for now let me to return to my coverage from the Bayline Meet.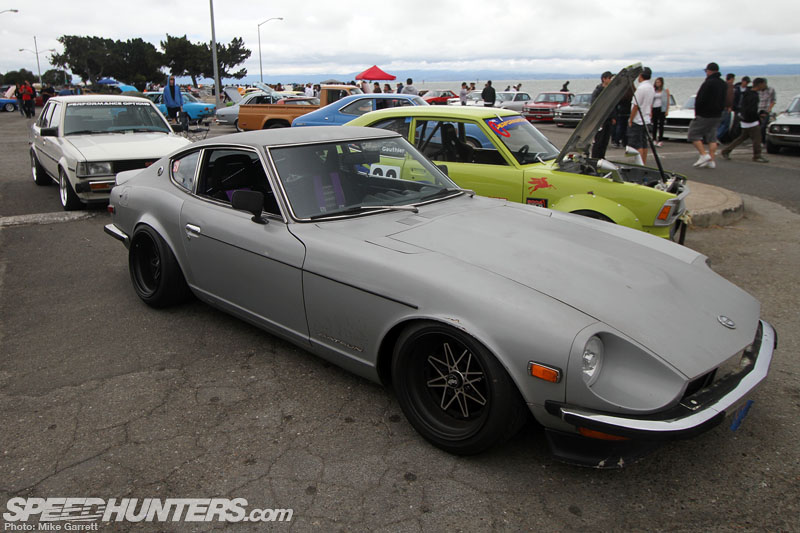 Here is another car that should look very familiar – Sunny's 240Z. The meet was held right in his own backyard so it was only natural for him to bring his shakotan Z out.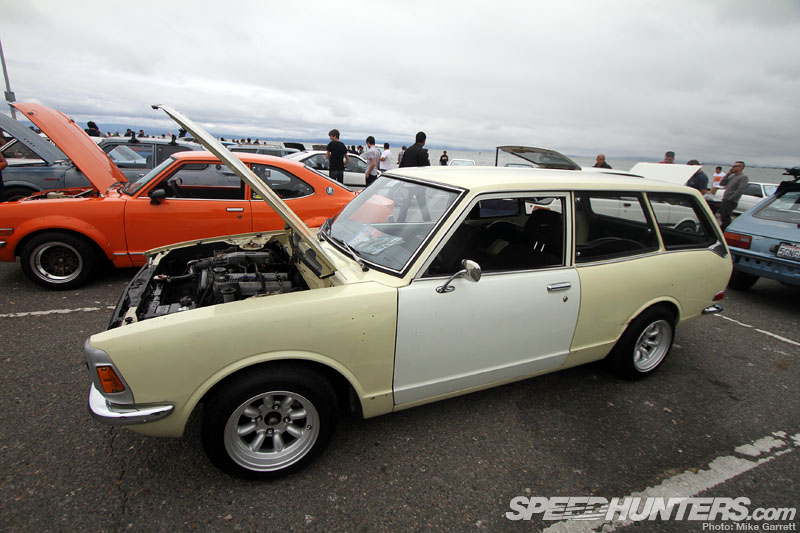 There's something very cool about two-door station wagons like this Corolla. I can't help but think of the iconic Chevy Nomad from the mid '50s when I see cars like this.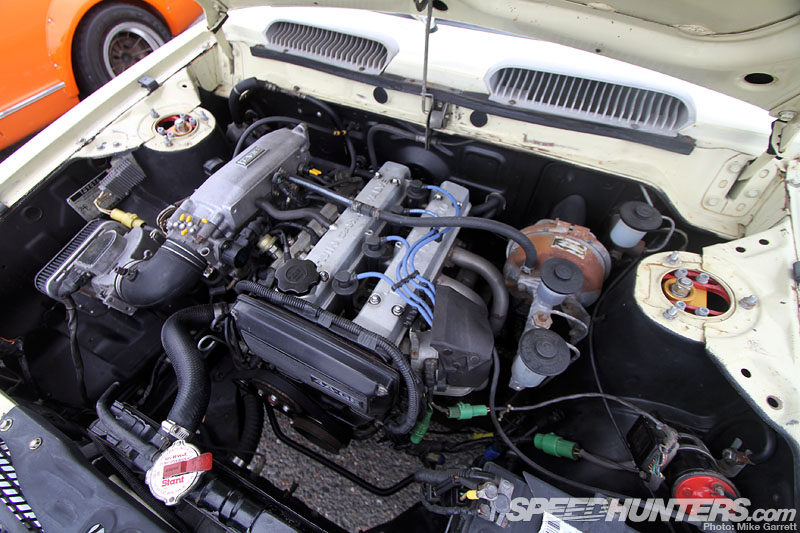 This one was even sporting a 16-valve 4AGE swap that was looked very factory – if Toyota was using fuel injected twin cam engines in the early '70s that is.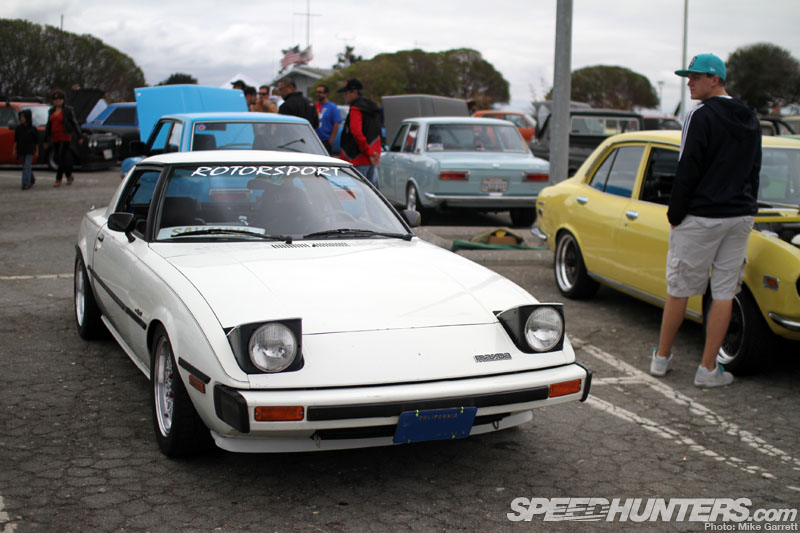 In the previous post someone mentioned the lack of Mazdas. While there weren't too many that came to the meet, a few caught my eye including this first generation RX-7. Speaking of Mazdas, keep an eye out for a spotlight on a very a unique Mazda-powered machine I spotted on Sunday.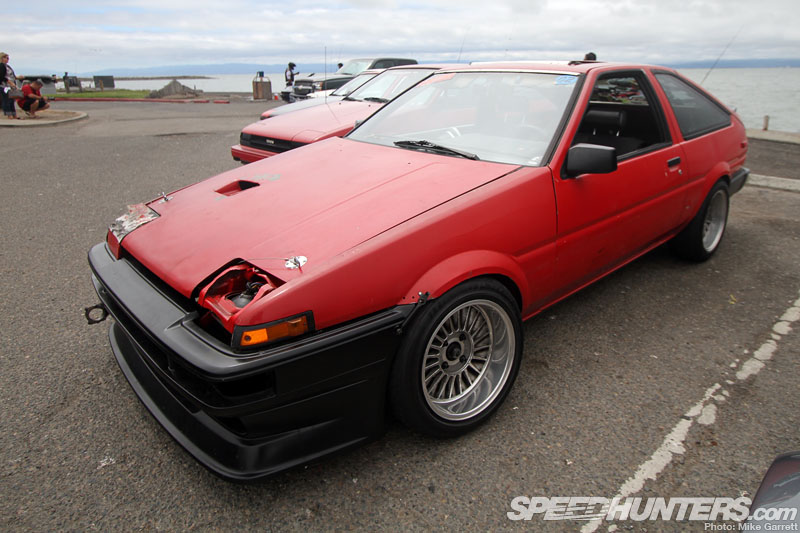 Among the lineup of AE86s was this boro-chic hatchback.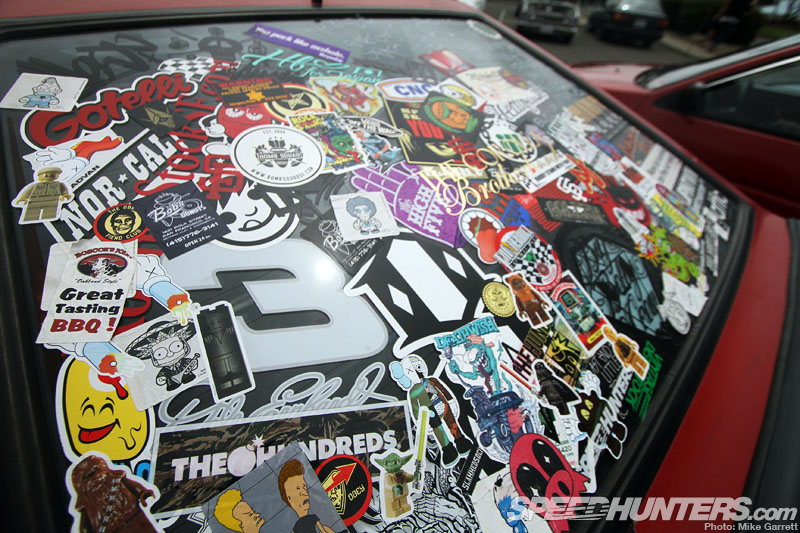 The entire rear window was stickerbombed with everything from Beavis and Butthead and Star Wars to Dale Earnhardt. Don't forget the Speedhunters sticker as well.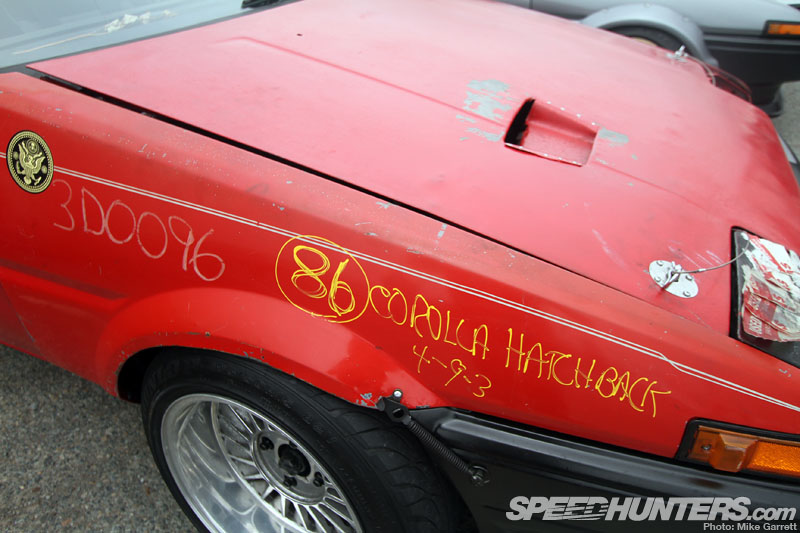 Leaving on the markings from the junkyard. Is this a new stage of rat styling?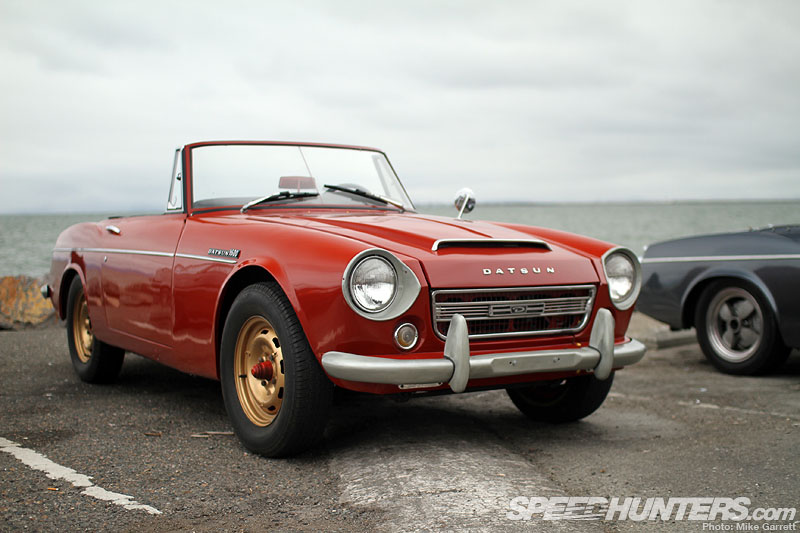 Not to let the Zs, 510s, and Skylines get all the attention, there was a very impressive selection of Fairlady Roadsters taking part in the meet. The styles ranged from full original…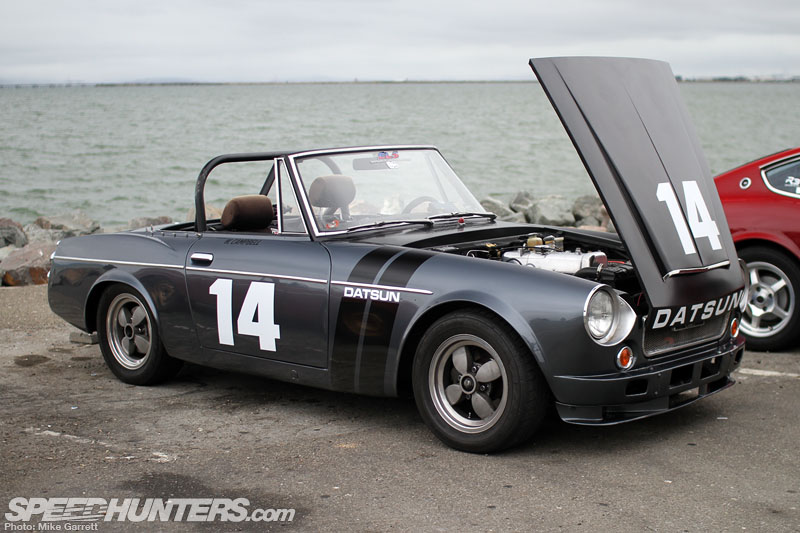 …to vintage race trim.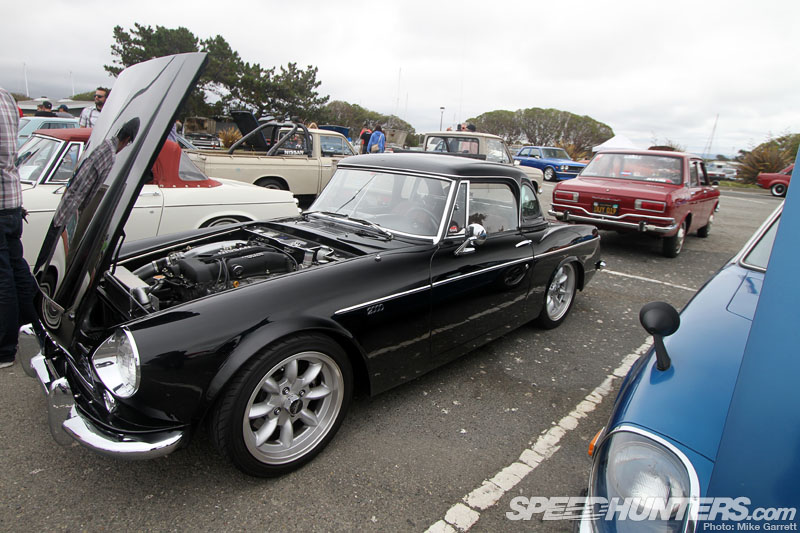 One of my favorites from the entire event was this beautiful Roadster, which I believe I've come across at JCCS in the past. Besides the top notch exterior with a hard top and Panasport wheels…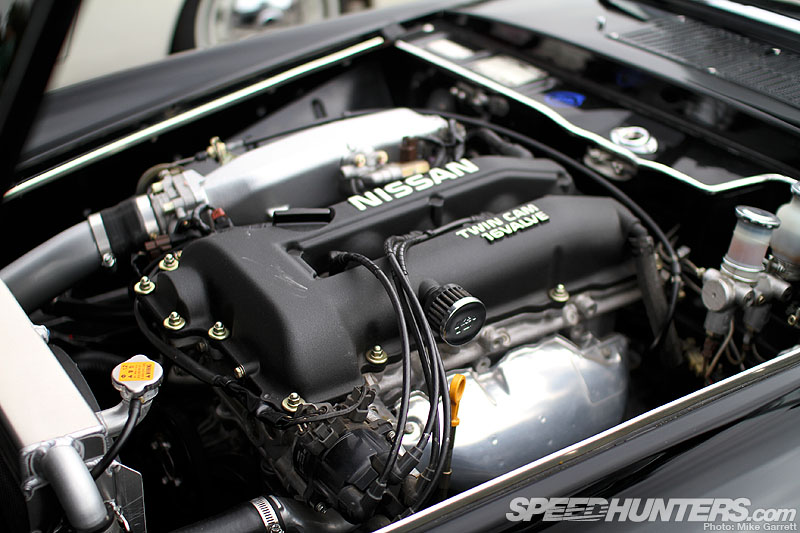 …it's also equipped with a flawless naturally aspirated SR20 swap.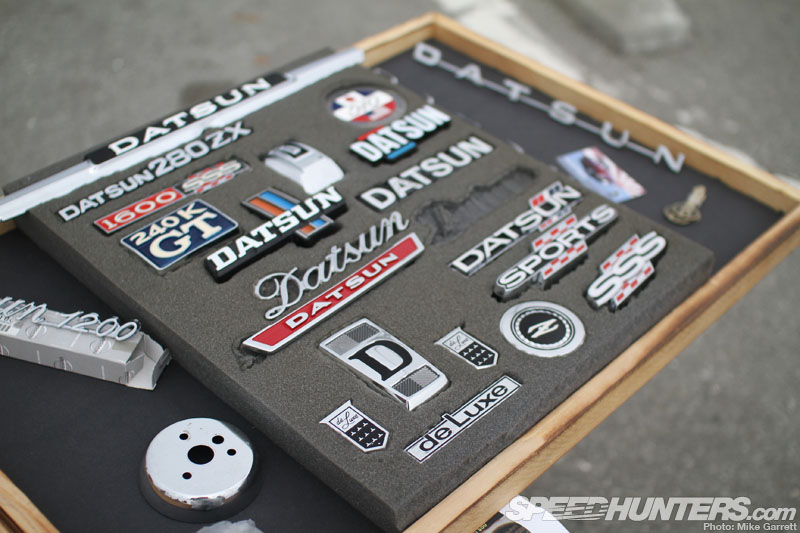 One more view from the swap meet area showing a selection of rare Datsun and Nissan emblems from both the US and other markets.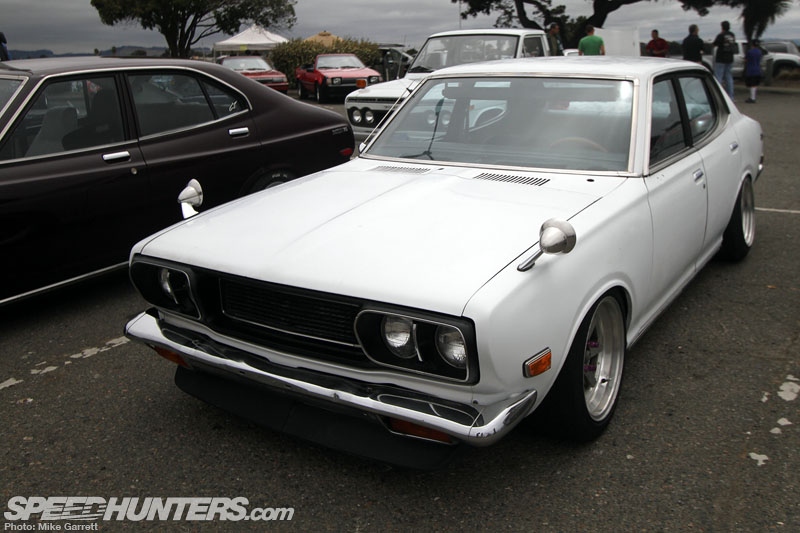 One thing I've really noticed over the past two or three years is the popularity of the Datsun 610 as a platform for customization. It's strange actually, because you almost never see 610s on the street in the US.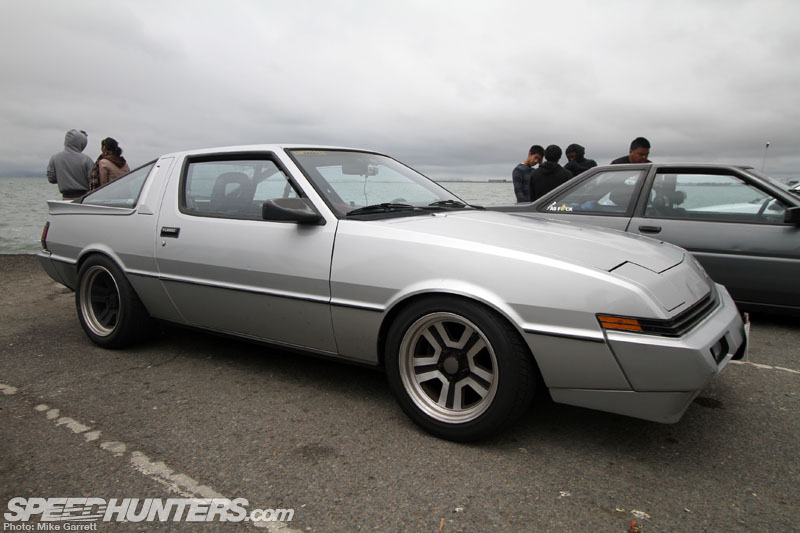 I love this "narrow body" Chrysler Conquest wearing a set of what has to be some of the coolest looking factory wheels ever created.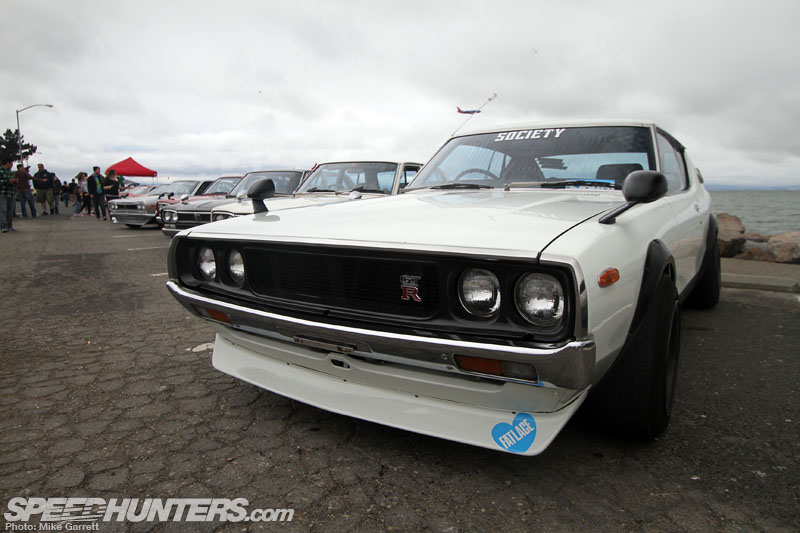 The other half of the Fatlace Skyline pair. No that's not an airplane toy hanging off the antenna, that's a Southwest 737 on final approach to Oakland.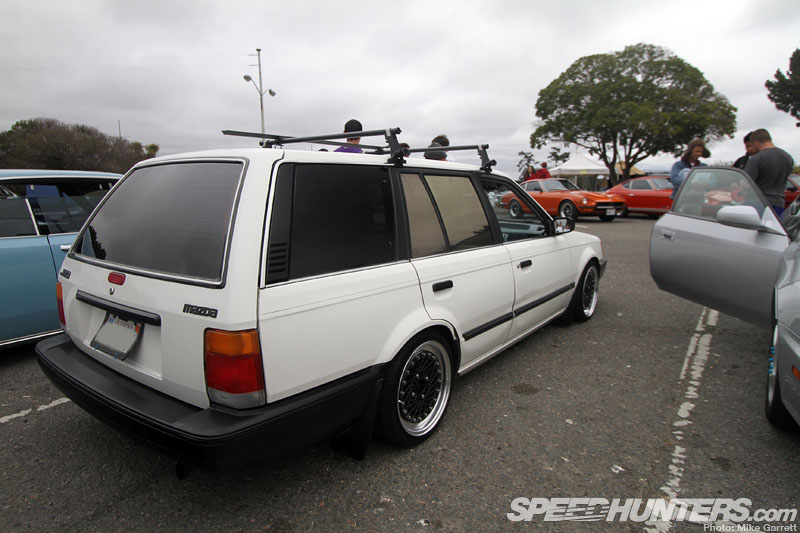 Can't say that I've ever seen a Mazda 323 Wagon done up like this before.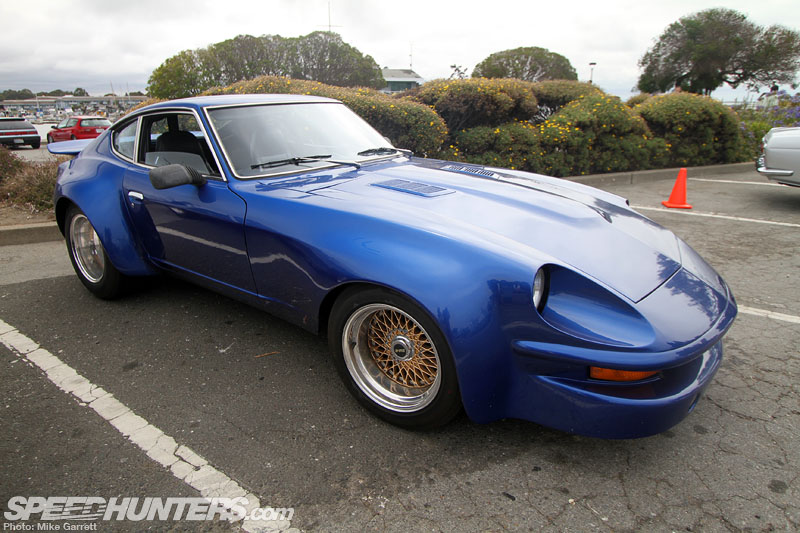 I really don't think there's a better word to describe this IMSA style wide body 240z than "badass". Note the vintage HRE mesh wheels.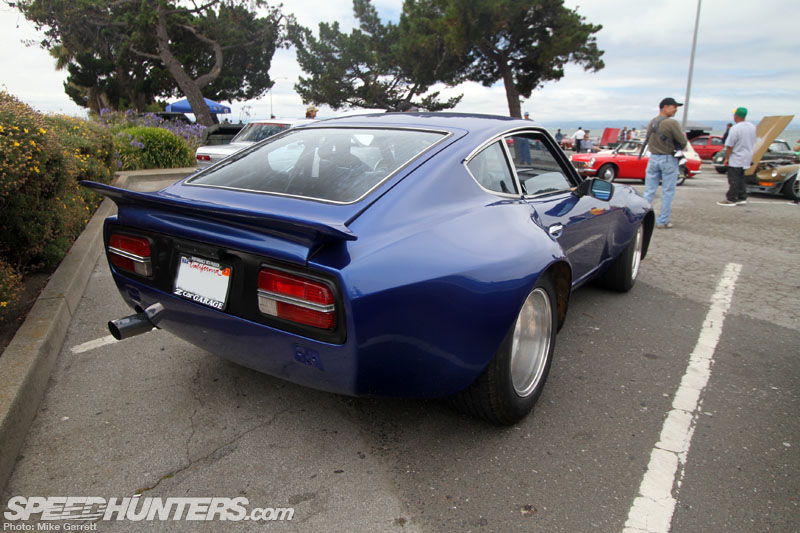 It's really 1970s American Z customization at its best.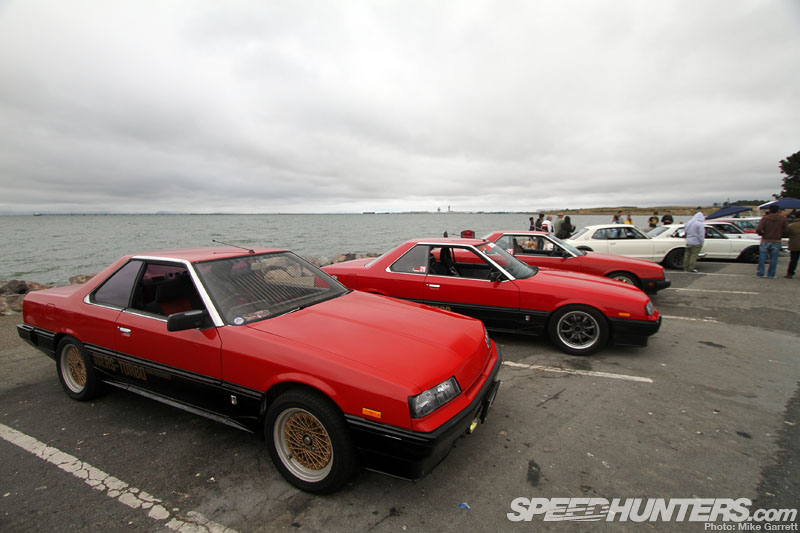 Three R30 Skylines sitting side by side, just one more of the beautiful scenes from this event.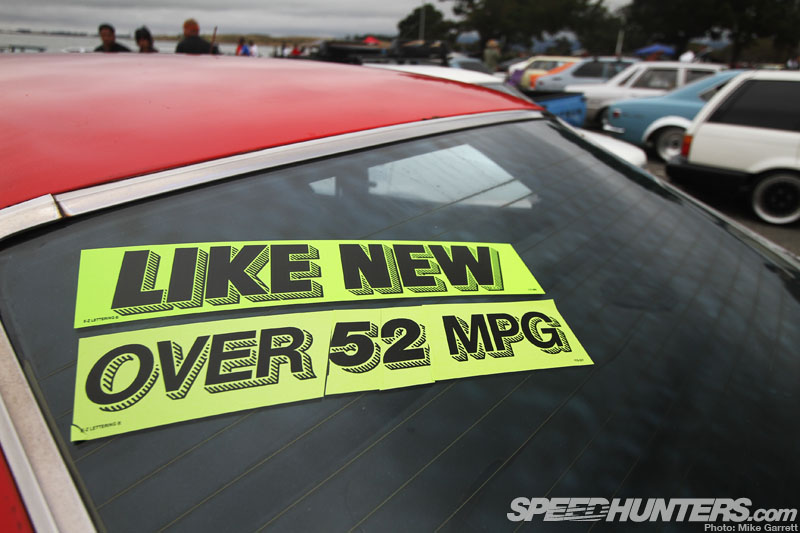 Who needs a Prius?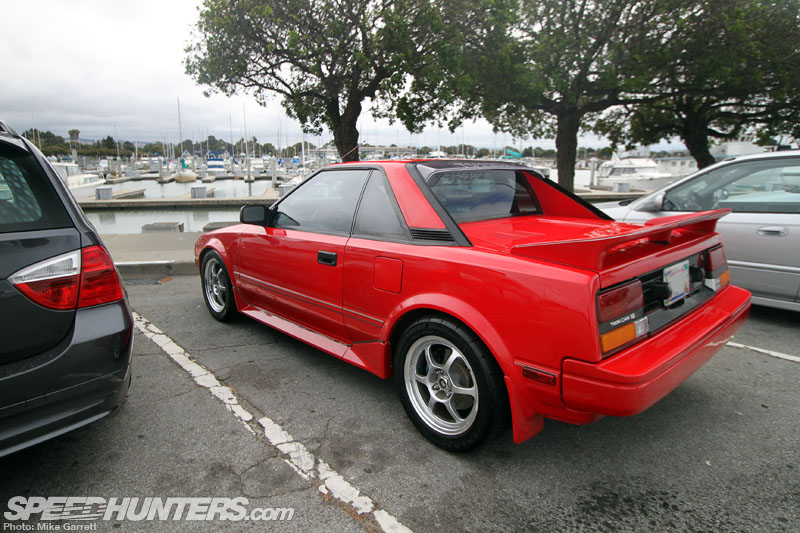 Of course there were some cool cars to be found in the parking lot as well, like this very clean AW11 I found on my way in.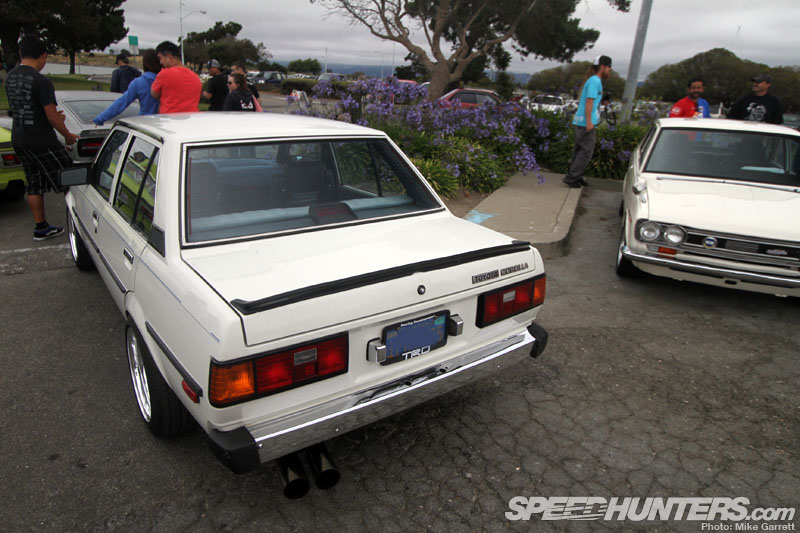 From all accounts the the first ever Bayline Gathering was a massive success.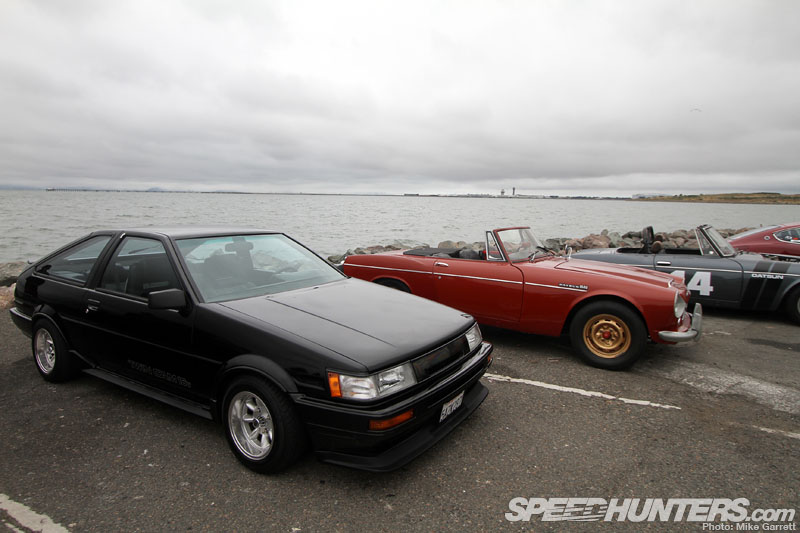 The setting was great, the cars were even better, and the informal relaxed nature of the whole thing was perfect.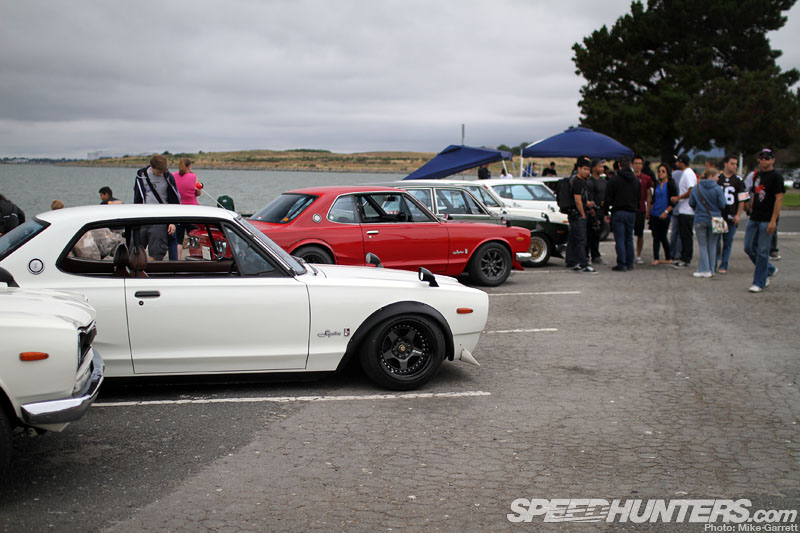 Here's to many more of these gatherings in the future. Perhaps I'll be traveling to the next one in my own Datsun?
And back to my opening original question on the appeal of vintage Japanese cars. Please feel free to sound off below with your own thoughts on this phenomenon.
-Mike
---