Democracy is a powerful thing, and it's because of you guys that I present the following car feature.
Late last year when we did our Speedhunters Awards, we included a category for Reader Cars of the Year – a group that included a huge selection vehicles from across the world. We asked our loyal readers to select their favorite, and when the voting finished a 1973 Datsun 240Z out of Northern California had emerged as the winner.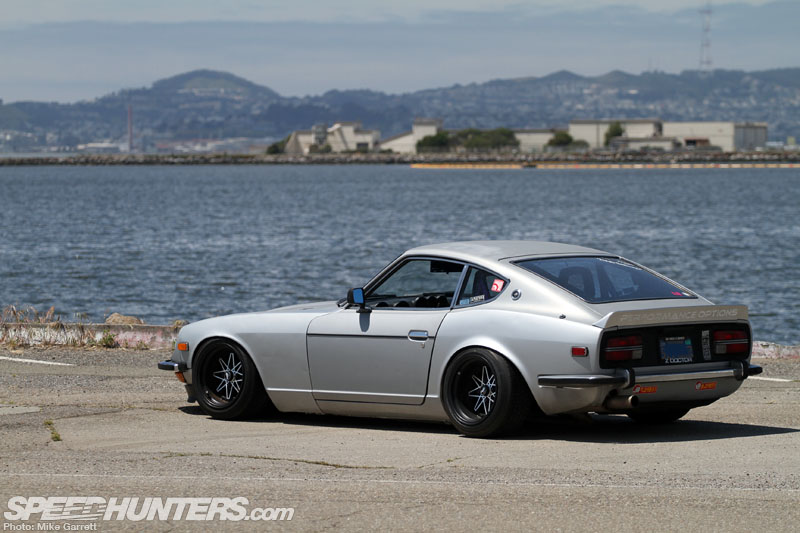 We figured you guys would want to see more on this old Datsun that you had chosen, so I made plans to meet up with its owner Sunny Liang to shoot a full feature.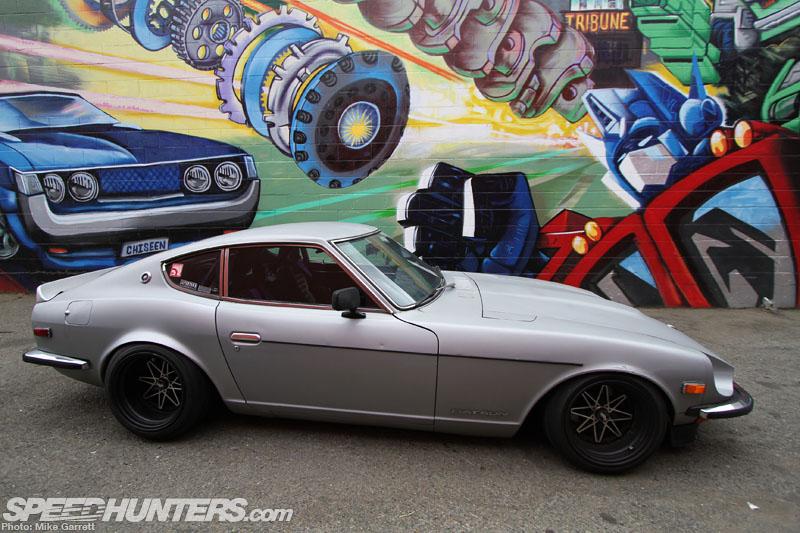 So that's how I found myself in Sunny's hometown of Oakland, California a few weeks ago. We met up near downtown Oakland at a shop called Performance Options. It's a very cool little garage, and I'll be sharing more from my visit next week.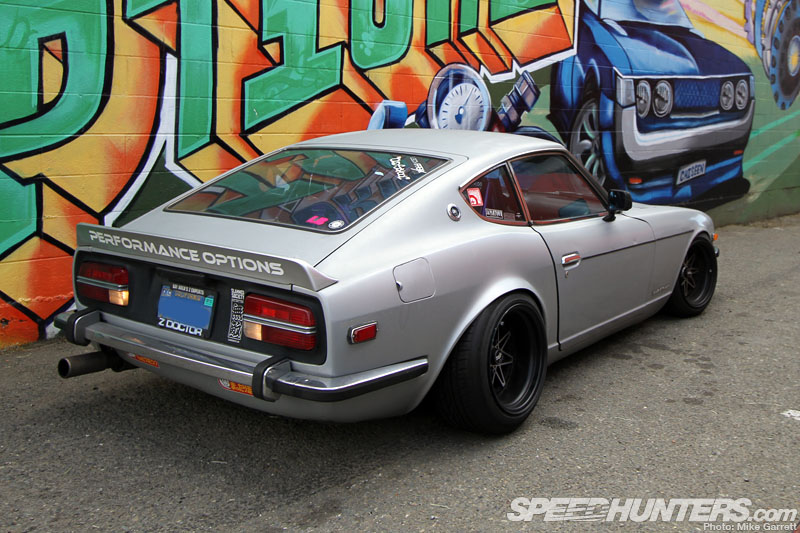 For now though, let's focus on Sunny's Z.  At first glance it's obvious that this S30 is by no means a show car – and that's not a bad thing.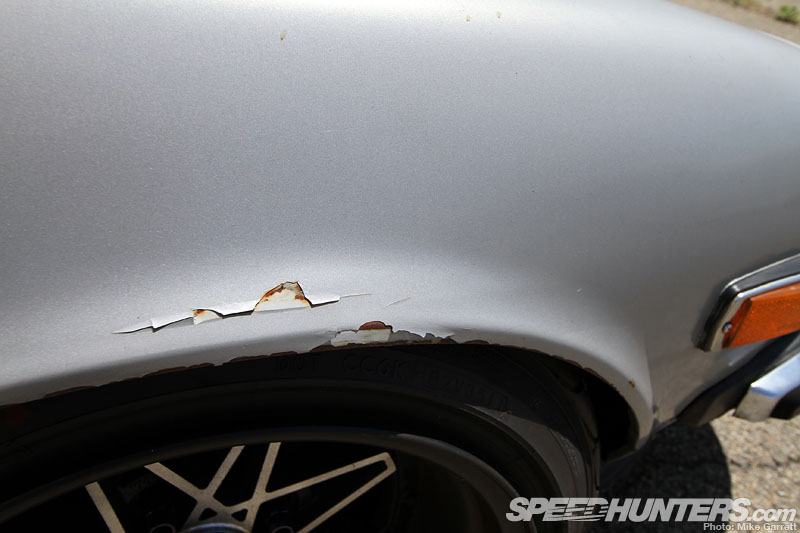 Sunny drives the Z nearly every day – and the car shows all the signs of being a real daily driver – from the scrapes and dings to the multiple shades of silver on the body. Sunny actually owns a newer Honda Civic in addition to the Z, but it's the Z that gets used for the bulk of his driving duties.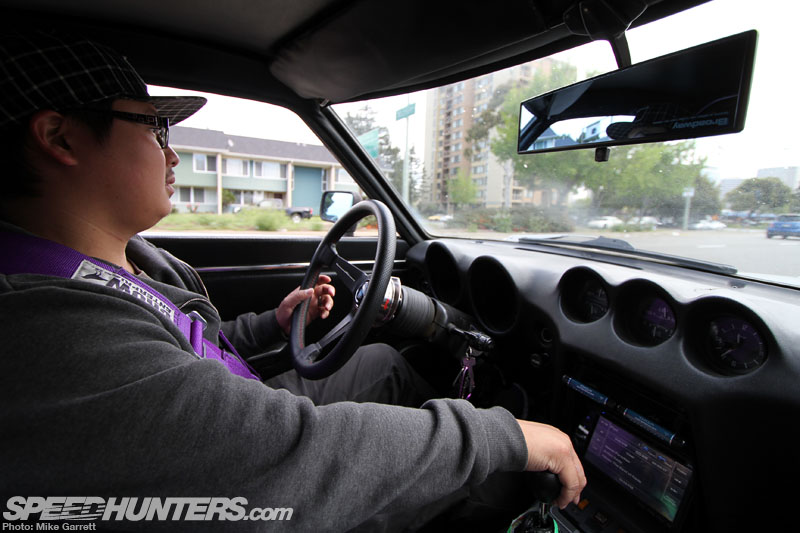 After meeting up with Sunny at the shop, I hopped in the shotgun seat and we set out to the shoot location. Even though the Z sits mere inches off the ground, I was very surprised at how civilized the ride was.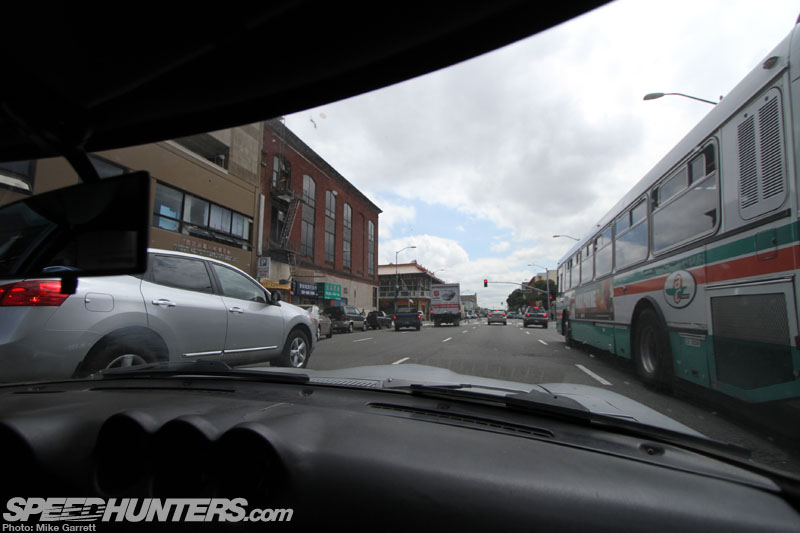 It's not Cadillac smooth of course, and Sunny has to constantly keep his eye out for speed bumps and other obstructions that would hit the frame – but overall the car seemed very adept at cruising the streets of Oakland.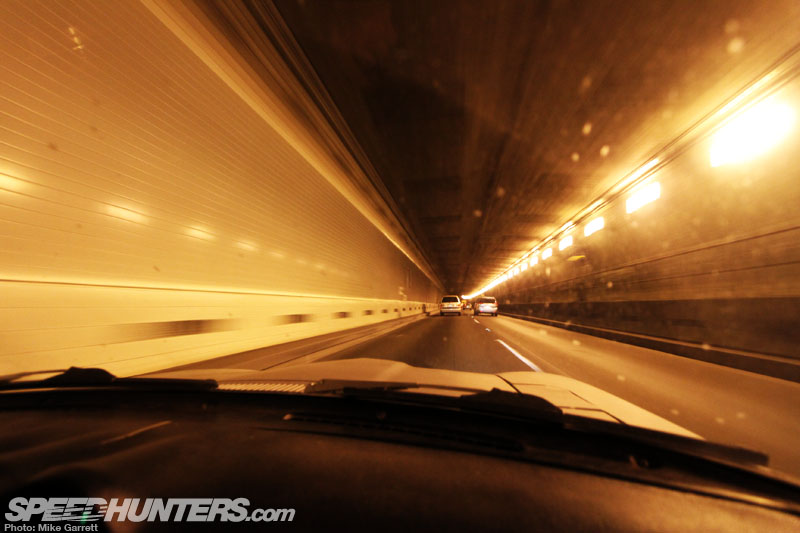 From there it was through the underwater tunnel and on to the island of Alameda. Ah yes, there's nothing quite like the sound of a floored L-series motor in a long tunnel…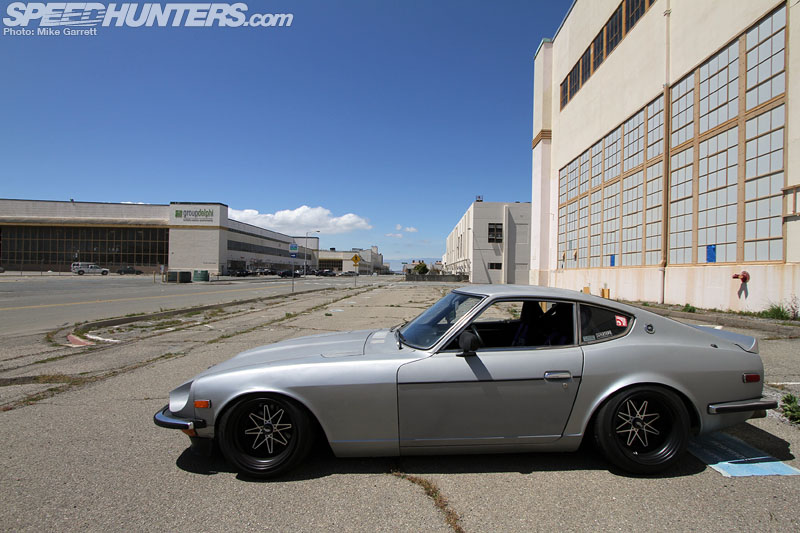 Our destination was the old Alameda Naval Base, which provides some amazing views of the San Francisco Bay and a perfect location to photograph cars.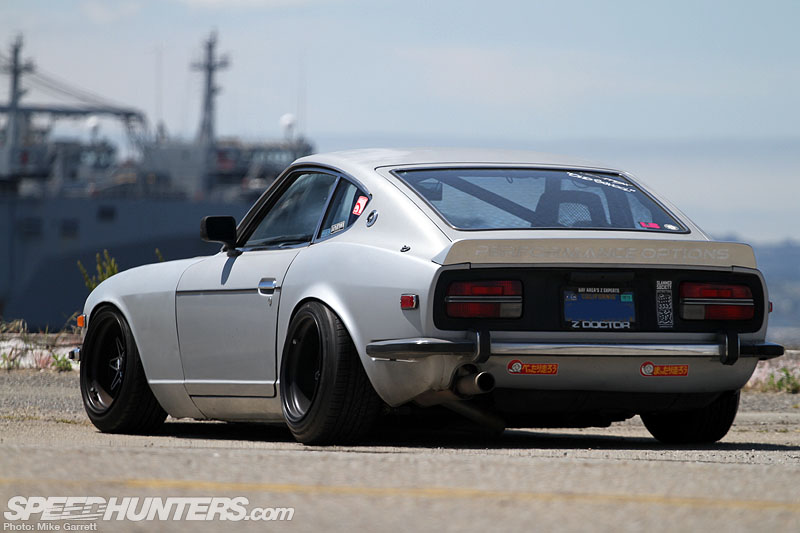 When I asked Sunny how he acquired the 240Z, he told me that his uncle actually gave him the car around the time he graduated high school. It's hard to think of a cooler graduation gift than a vintage Datsun. I personally can't even remember what I got when I graduated high school, probably money that I blew on video games.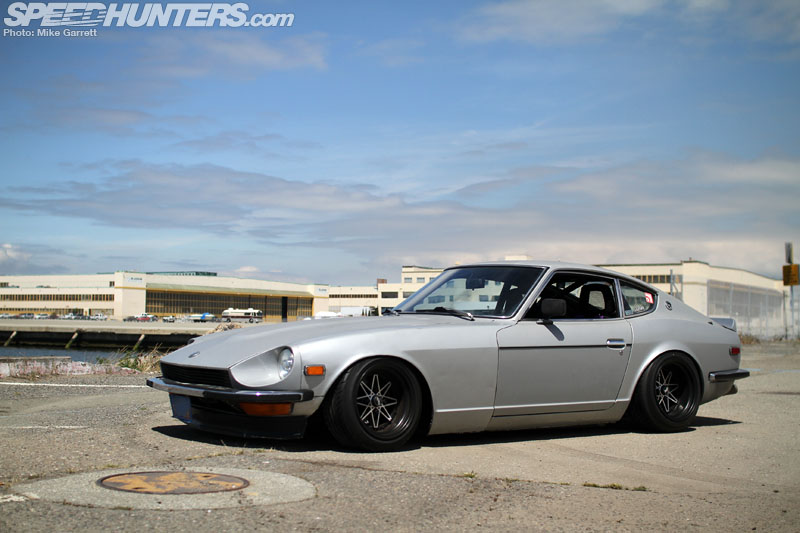 Over the past few years since acquiring the car, Sunny has been working hard to transform the Z into his ideal street machine.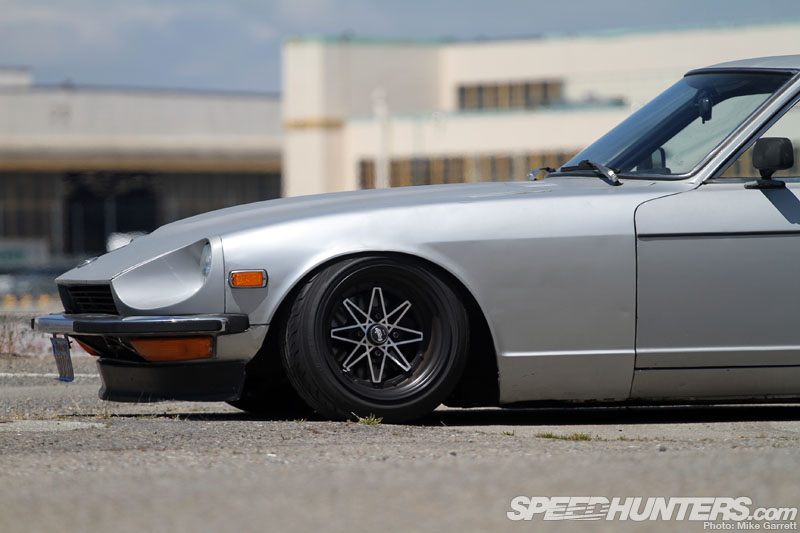 The first thing you notice about Sunny's car is likely the slammed ride height. It's got a stance makes my own stock 240Z look like Grave Digger or Big Foot. Unlike modern cars, getting proper suspension for a 240Z is a bit more involved than jumping on Ebay, waiting for postman to show up and bolting on some badass coilovers.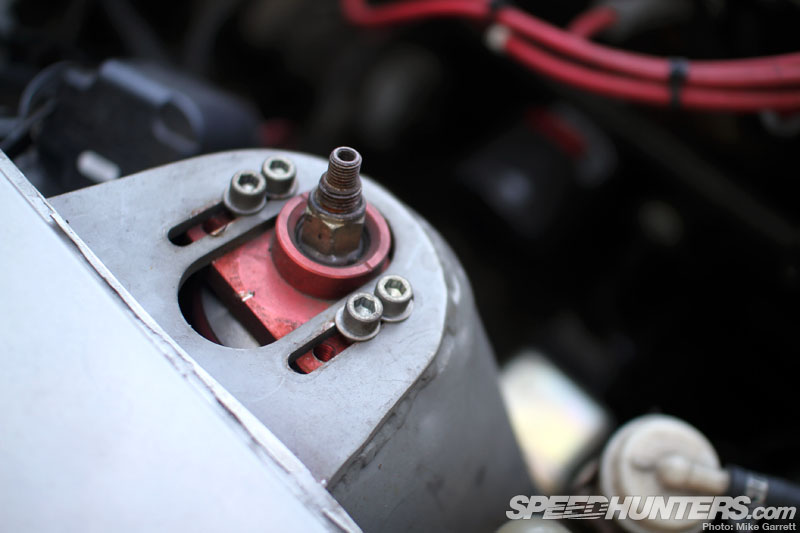 To outfit a Z like Sunny's, you have to piece together a suspension kit which requires both welding and shortening the factory struts. In this case Sunny went with AE86 Tokico HTS short stroke shots along with weld-on Ground Control coilovers from T3. He has also equipped the car with T3 weld-in camber plates.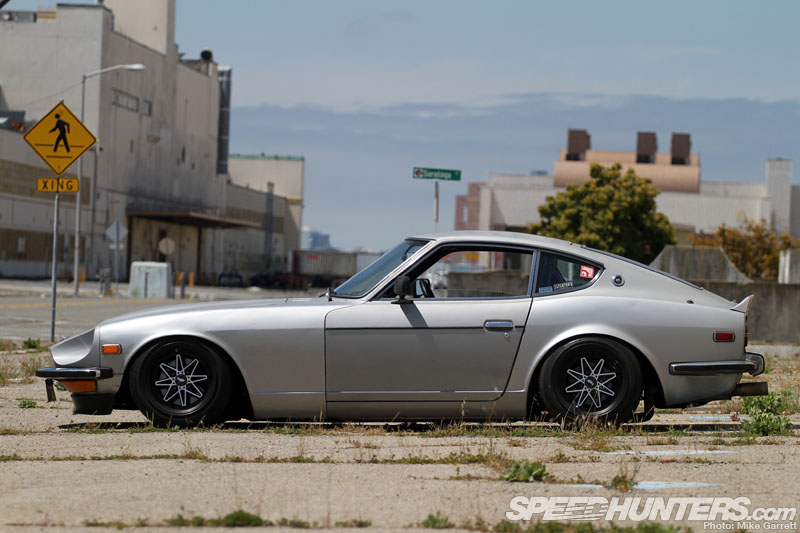 Sunny rounded out his suspension setup with lower control arms, roll center adjusters, and tension control rods from T3, plus a set of sway bars from Suspension Techniques.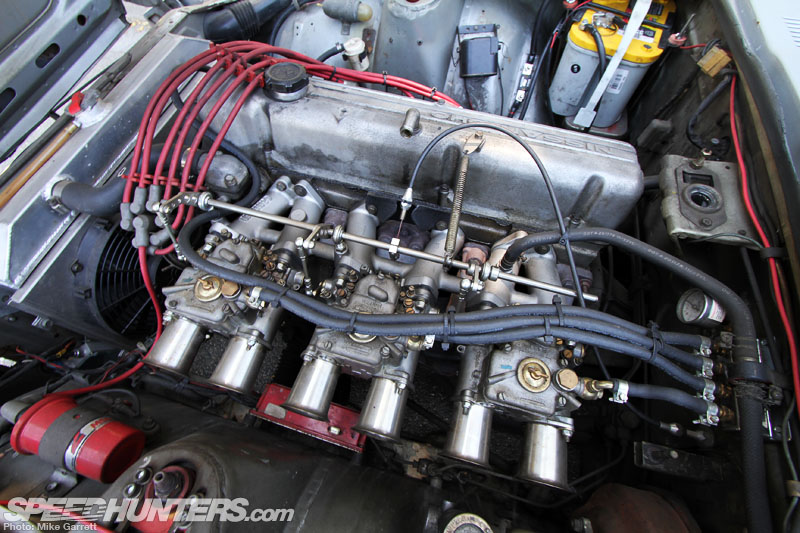 Under the hood of a Sunny's Z is an original L24 inline six. The motor itself is largely stock with the exception of  a ported and polished head.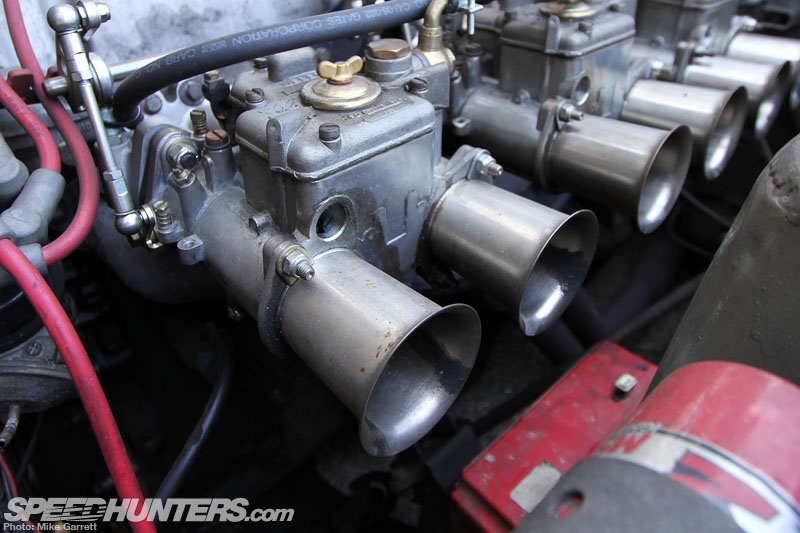 On the induction side, the stock SU carbs have been replaced with a long cannon intake manifold and a set of triple Weber 45 DCOE side draft carburetors. While the naturally aspirated setup with the screaming Webers makes the Z plenty of fun to drive, Sunny is actually in the process of a building a new motor for the car – a turbocharged L28.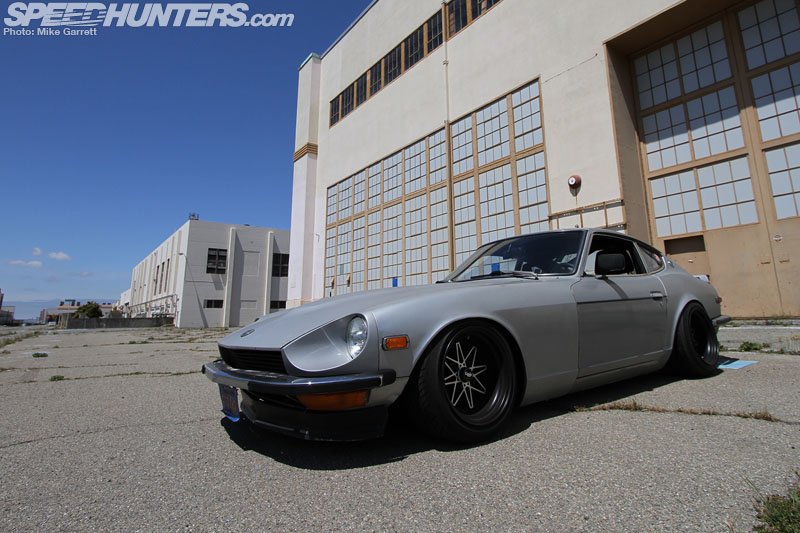 The difficulty of picking the right set of wheels is something every car enthusiast can relate to, and Sunny spent a lot of time trying to figure out what sort of wheels he wanted for his Z. When he saw the special Star Road edition Work Equip 03s in Tokyo Auto Salon coverage online, he knew he had to have them.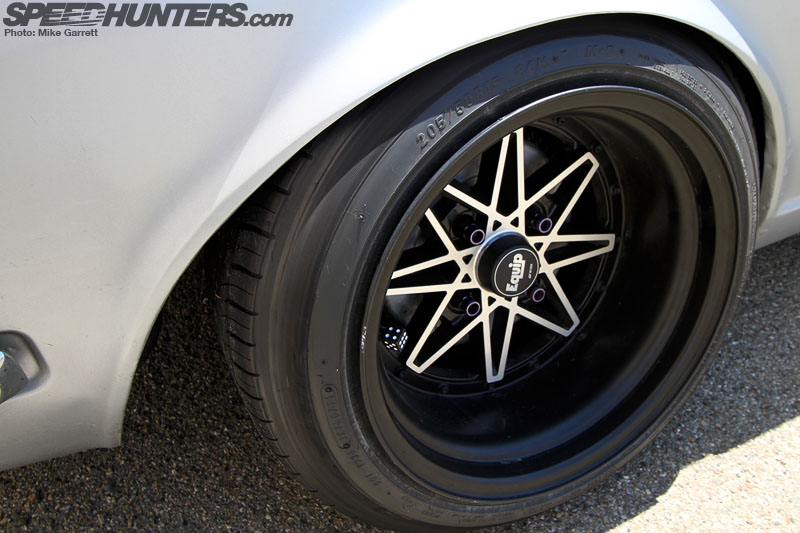 Sunny placed an order through Work Wheels, and a couple months later he had his custom-finished set of Equip 03s, 15x9J -16 for the front and 15x10J -28 for the rear.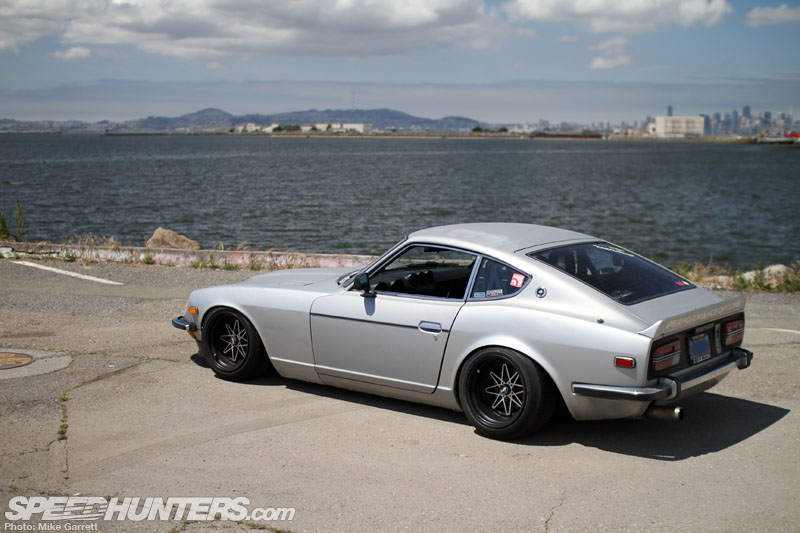 The custom-ordered black barrels and the aggressive sizes ensure they nobody will mistake his legit Equips for the numerous cheap knockoffs that have flooded the market over the last few years. The wheels didn't come cheap, and the wait was long, but Sunny can rest assured he did things right the first time.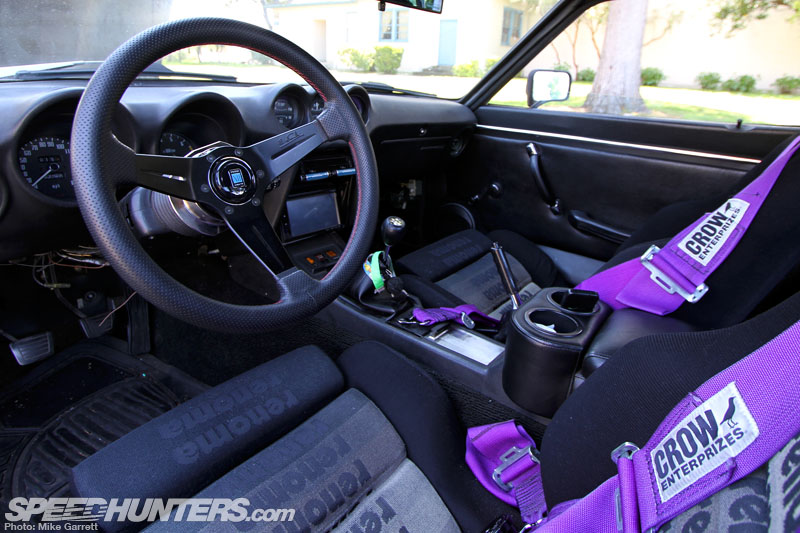 The interior of the Z is full of functional upgrades for both hard driving and urban cruising.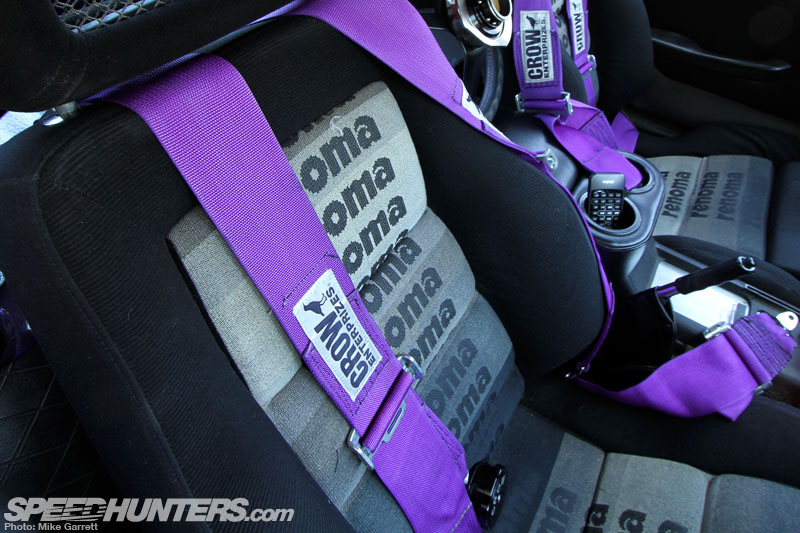 I'd never seen a set of "Renoma" seatsbefore, but it turns out they are actually a specially branded piece that Recaro made back in the '80s. Matched with purple Crow Enterprizes four-point harnesses, the retro seats add a very cool look to the Z's cockpit.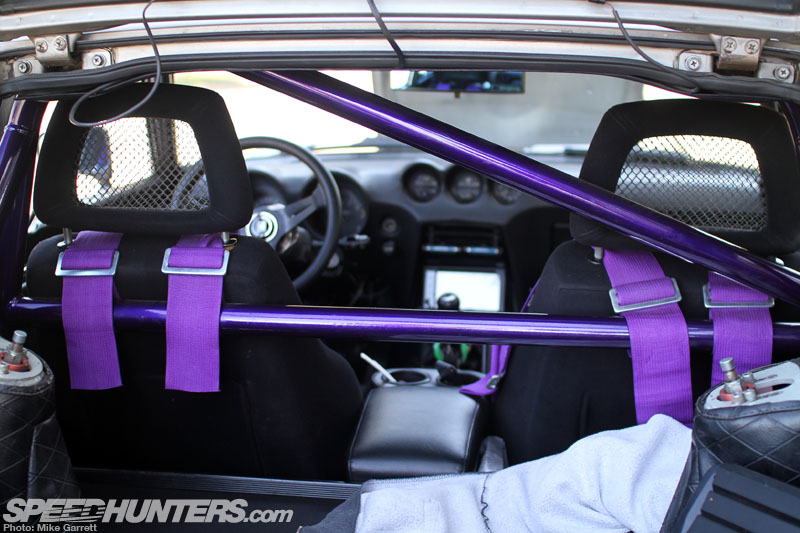 Sunny also added an Autopower roll bar custom painted in candy purple. This is something that comes in handy when Sunny takes the car to Buttonwillow Raceway with his friends.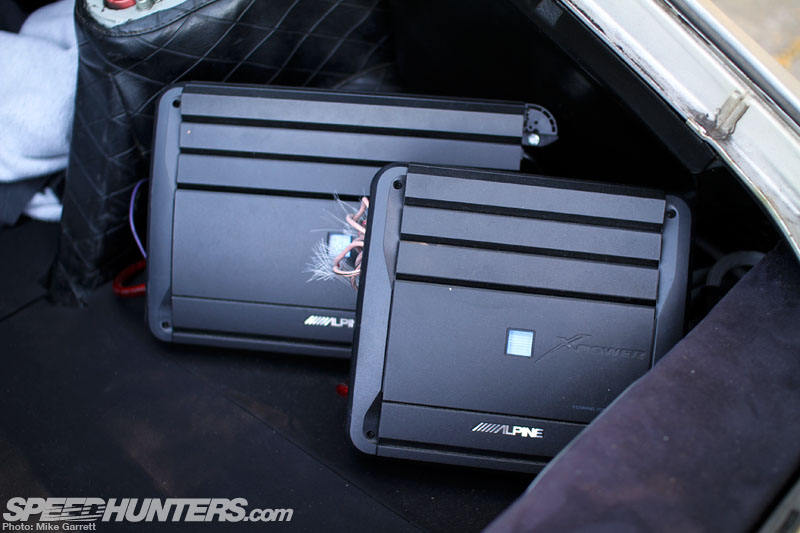 Sunny also outfitted the car with a fully upgraded audio system with speakers, subs, amps, and a Clarion double DIN head unit.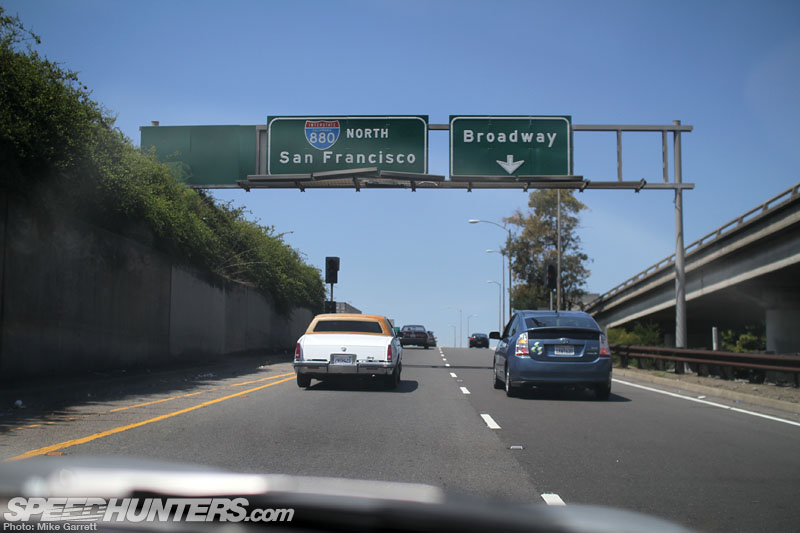 I'm sure the improved sounds from the stereo are a necessity for Sunny when drives the Z all over the Bay Area.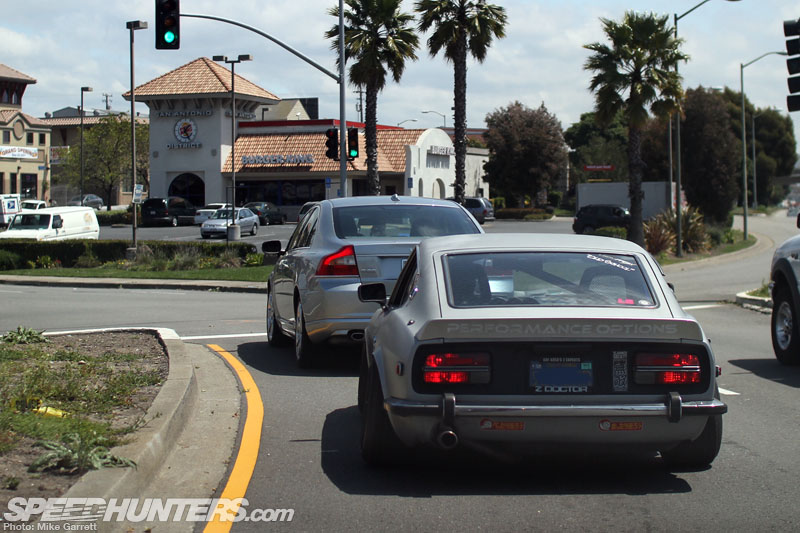 Going down the road, the slammed Z looks absolutely bitchin'. Just don't mind the occasional scrape as the frame makes contact with the ground. I'm sure there's been some serious weight savings with all the metal chips this car has left on the streets of Oakland.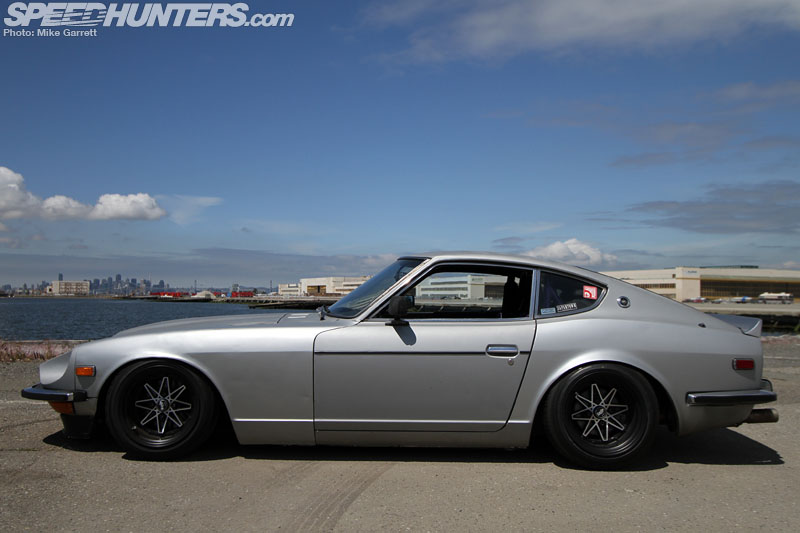 Sunny also likes to take the Z on long road trips, whether it's to the aforementioned track days at Buttonwillow, or a journey down to Long Beach for the Japanese Classic Car Show.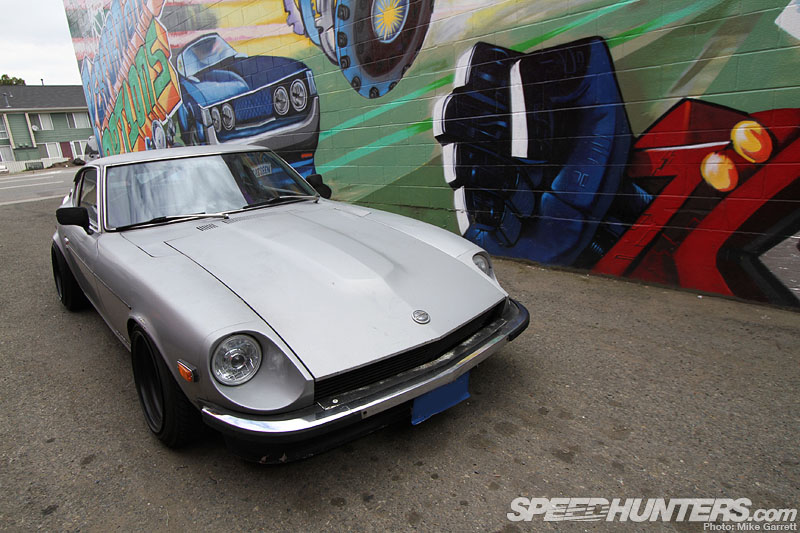 Is Sunny's S30 the most immaculate Z around? No. Is it the fastest? No. Regardless of that, Sunny loves his car and and uses it regularly. That's the important thing.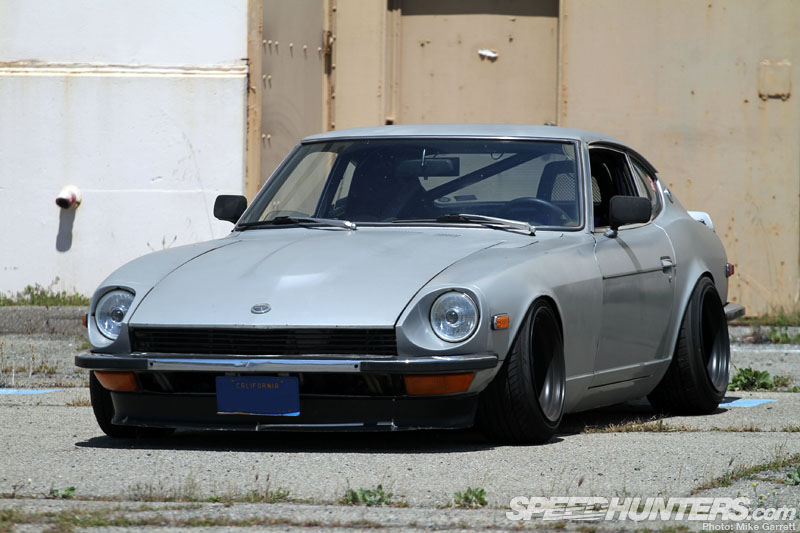 So, was Sunny's Z a worthy choice for 2011 Speedhunters Reader Car of the Year?
After spending an afternoon with him and his car I'm, gonna have to go ahead and say yes.
-Mike Garrett
Specs –

1973 Datsun 240z
Engine/Drivetrain:
Stock L24 + Port/Polish Head
3x Weber Carburetors 45 DCOE
"Long" Cannon Manifold
MSA aluminum radiator + Dual electric fans
MSD Ignition box + coil + wires
Pertronix Electronic Igniton
5 speed transmission
R200 welded differential
Suspension:
T3 front + rear weld in camber plates
T3 front + rear LCA
T3 roll center adjusters
T3/ Ground Control full weld on coilovers
Eibach Springs: F – 350lbs / R – 300lbs
T3 tension control rods
Tokico HTS AE86 (HTS112F) cartridge short stroke shocks
Energy Suspension Polyurethane bushings
Suspension Techniques front + rear sway bar
Wheels and Tires:
"StarRoad Replica" Work Equip 03
Front – 15×9 -16 Yokohama S-Drive 195/55R15  -5 Camber
Rear – 15×10 -28 Falken Ziex 912 205/55R15  -6 Camber
Exterior:
Rolled + Pulled fenders
Dapper Lighting Classic Style HID projectors
Front air dam
Rear spoiler
Interior & Audio:
Recaro "Renoma" seats
Crow Enterprizes 4-point harness
Autopower rollbar (custom powdercoated candy purple)
Momo Hub
Works Bell quick release + flipper
Nardi Deepcorn 350mm leather steering wheel
Boston Acoustics SC55 5 1/4″ Speakers
Boston Acoustics SC95 6×9 Speakers
Alpine SWR-1043D 10″Subwoofer
Alpine MRX-M100 Amplifier
Alpine MRX-F30 Amplifier
Clarion VX401 Double-Din Headunit
Monster Cable RCA/Speaker Wires
More Datsun Stories on Speedhunters